Announcement
DC5n United States software in english 209 articles, created at 2021-12-17 00:04 articles set mostly positive rate 5.4
(3.07/4)

1

0.1

Epic Games Store: An error occurred while trying to process your request fix

Some users are getting an error when trying to checkout on the Epic Games Store. Here's what to do if it fails to process your request. 2021-12-16 20:59 2KB www.gamerevolution.com

(2.08/4)

2

0.2

Epic brings back daily giveaways, Shenmue III is up first

News, Reviews & Betas which includes large community peer support Epic Games has begun its daily giveaways promotion for the third year in a row. The mystery game of today turned out to be a copy of Shenmue III, and it's free to claim for the next 24 hours. 2021-12-16 16:22 1KB www.neowin.net

(2.05/4)

3

0.2

Google Chrome now tracks prices, remembers abandoned shopping carts

Google Chrome updates brings money saving features to online shopping, just in time for the holiday season. 2021-12-16 17:00 2KB www.digitaltrends.com

(2.04/4)

4

0.2

Intel test driver accidentally leaks names of upcoming GPUs

Files inside test driver 30.0.101.9999 for the 11th generation Intel NUC Kit contained the full names of four Intel Arc graphics cards and an Intel Iris GPU,. 2021-12-16 21:37 2KB www.techspot.com

(1.99/4)

5

0.8

Best server deals for December 2021

If you're hosting a website, setting up a game server, building an office network, or just storing your data, here are the best server deals available now. 2021-12-16 21:03 4KB www.digitaltrends.com

(1.23/4)

6

0.7

Best Buy is handing out Samsung Galaxy Tabs for next to nothing

Right now, Best Buy is offering some incredible deals on their Samsung Galaxy Tablet lineup, Save up to $219 on these amazing devices! 2021-12-16 16:36 5KB www.digitaltrends.com

(1.11/4)

7

0.6

gamerant.com

After trying the new Caldera map for Warzone, CouRage reveals he uninstalled the game because streaming it was impacting his mental health. 2021-12-16 20:22 3KB gamerant.com

(1.08/4)

8

0.1

Fortnite chapter 3 guide: Season 1, week 2 quests and how to complete them

Having trouble getting through the new Fortnite chapter 3, season 1, week 2 quests? Here are all the new quests and how to complete them in Fortnite chapter 3. 2021-12-16 17:39 3KB www.digitaltrends.com

(1.07/4)

9

0.4

Spider-Man: No Way Home's ending makes room for MCU Miles Morales

The Spider-Man: No Way Home ending and other Marvel events clearly seems to be setting the stage for Miles Morales to swing in to the MCU. 2021-12-16 16:26 3KB www.gamerevolution.com

(1.05/4)

10

0.6

gamerant.com

One fan shares their UI redesign of Halo Infinite's Item Shop, cleaning up the overall experience and giving players more purchasing options. 2021-12-16 18:04 3KB gamerant.com

(1.04/4)

11

0.7

How to play Pokémon GO

There has never been a better time to start playing Pokémon Go. Here's everything you need to know before jumping into the popular mobile AR game. 2021-12-16 21:23 9KB www.digitaltrends.com

(1.03/4)

12

0.0

gamerant.com

As Spider-Man: No Way Home finally hits theaters, Willem Dafoe explains how he had one request before returning as the iconic Green Goblin. 2021-12-16 21:37 3KB gamerant.com

(1.03/4)

13

0.9

How to change your Google background in Chrome

Make Chrome more interesting! Here's how to change your Google background in a new tab using themes provided in the Chrome Web Store or using a custom image. 2021-12-16 21:37 6KB www.digitaltrends.com

(1.03/4)

14

0.8

A Cheaper Apple Display Might Finally Be On the Way

Apple is reportedly prepping its Mac Pro for a custom silicon transition alongside three new monitors. 2021-12-16 21:00 3KB gizmodo.com

(1.03/4)

15

0.8

Halo Infinite fulfills promises that were two decades in the making

Halo Infinite from 343 Industries is one of Polygon's top 10 games of the year. It's excellent open world and fantastic combat helped give the Halo series a much needed update on PC, Xbox One, Xbox Series X, and Xbox Game Pass. 2021-12-16 19:23 1KB www.polygon.com

(1.02/4)

16

0.1

gamerant.com

The Legend of Zelda: Breath of the Wild 2's real name hasn't been revealed yet, but it could refer to any number of important elements. 2021-12-16 21:12 6KB gamerant.com

(1.02/4)

17

0.8

Epic Games Store's holiday sale brings back the unlimited $10 coupon offer

News, Reviews & Betas which includes large community peer support Epic Games Store's 2021 holiday sale has brought back the coupon offer from past store-wide promotions. The $10 coupon can be used on any game priced above $14.99, stacking on discounted items. 2021-12-16 17:10 2KB www.neowin.net

(1.01/4)

18

0.5

Windows 11's EdgeDeflector block is now in public builds, pushing users towards Edge

After the block initially rolled out in Dev channel builds, the latest Patch Tuesday is blocking EdgeDeflector for all Windows 11 users. 2021-12-16 21:05 2KB www.xda-developers.com

(1.01/4)

19

0.7

Dead Cells' The Queen and the Sea expansion gets January release date and first trailer

It Beheaded to PlayStation, Xbox, Switch, and PC. The Queen and the Sea, the third paid expansion for developer Motion Twin's majestic rogue-like action-platformer Dead Cells, … 2021-12-16 20:15 2KB www.eurogamer.net

(1.01/4)

20

0.6

Dying Light 2 recommends an RTX 3080 for 1080p? You've got to be kidding me

The system requirements for Dying Light 2 have been revealed, and they're absolutely ridiculous, especially if you look at the ray tracing requirements. 2021-12-16 19:53 4KB www.techradar.com

(1.01/4)

21

0.5

gamerant.com

Microsoft confirms five games that are being removed from the Xbox Game Pass subscription service at the end of December, including Yakuza titles. 2021-12-16 19:47 2KB gamerant.com

(1.01/4)

22

0.4

gamerant.com

Final Fantasy 14: Endwalker has some of the greatest villains in the series' history, and the game isn't afraid to let them do bad things. 2021-12-16 19:35 6KB gamerant.com

(1.01/4)

23

0.1

gamerant.com

Nintendo drops a patch for Animal Crossing: New Horizons that takes care of a pesky issue turning Villagers into sudden nudists. 2021-12-16 18:59 3KB gamerant.com

(1.01/4)

24

0.0

Netflix's Live-Action Avatar: The Last Airbender Casts Azula and More

Newcomer Elizabeth Yu will play Prince Zuko's troubled little sister. 2021-12-16 17:30 3KB gizmodo.com

(1.01/4)

25

0.8

Horizon Forbidden West teases giant robot snakes and pterodactyls

A new Horizon Forbidden West trailer offers a closer look at some of the sequel's new enemies. 2021-12-16 16:28 3KB www.techradar.com

(0.06/4)

26

0.7

Five Tips for SQL DBAs to Work Efficiently in Production Environment

Working efficiently in a production environment can profoundly impact performance. In this article, learn 5 tips to make the job of an SQL Server DBA easier. 2021-12-16 18:43 5KB dzone.com

(0.06/4)

27

1.0

gamerant.com

With the launch of Winterfest 2021 for Fortnite, Epic Games brings a bunch of new content to the battle royale, including new Spider-Man skins. 2021-12-16 17:53 3KB gamerant.com

(0.05/4)

28

0.3

gamerant.com

This guide will help Assassin's Creed Valhalla fans find the Barley, Wheat, and Fireflies that they need for the Drink of the Picts Mystery. 2021-12-16 21:21 2KB gamerant.com

(0.05/4)

29

0.5

Full spec sheet of Samsung Galaxy S21 FE leaked

Samsung is close to releasing the Samsung Galaxy S21 FE, the affordable version of last year's flagship handset. As is usual, Winfuture has managed to get its hands on the full specs of the device. The handset is set to feature a 6.4 inch AMOLED screen with 401 PPI and 120 Hz refresh rate, under-screen […] 2021-12-16 20:05 1KB mspoweruser.com

(0.04/4)

30

0.4

Marvel Release Dates: When to See Upcoming MCU Movies & Disney+ Shows

Our guide to when and where to watch everything in the Marvel Cinematic Universe. 2021-12-16 21:00 9KB gizmodo.com

(0.04/4)

31

0.3

gamerant.com

Halo Infinite's lack of campaign co-op feels like even more of a misstep given how solid the singleplayer is and how fun friends would make it. 2021-12-16 19:45 4KB gamerant.com

(0.03/4)

32

0.4

gamerant.com

Players that are looking for the Tequi La La safe combination for GTA Online's Recover Valuables Contract can find help in this guide. 2021-12-16 18:54 2KB gamerant.com

(0.03/4)

33

0.1

How to watch Yellowstone season 4 online from anywhere

From attempted murder to activists, things are getting messy. Make sure you know how to watch Yellowstone season 4 online no matter where you are in the world. 2021-12-16 17:40 3KB www.techradar.com

(0.03/4)

34

0.4

How to watch The Polar Express: stream the Christmas classic online anywhere

Whisk yourself away to the North Pole with this festive favorite - here's how to watch The Polar Express online and stream the Christmas classic today. 2021-12-16 17:36 3KB www.techradar.com

(0.02/4)

35

0.8

gamerant.com

Niantic confirms Pikmin Bloom will get new decor through the addition of 'hamburger shops,' and there are plenty more places with potential. 2021-12-16 21:34 4KB gamerant.com

(0.02/4)

36

0.8

gamerant.com

A new trailer for Pokemon Legends: Arceus makes a few references to a creator deity called Sinnoh, but it is unclear who this Sinnoh could be. 2021-12-16 19:55 6KB gamerant.com

(0.02/4)

37

0.3

How to play Call of Duty: Mobile on PC

If your PC isn't up to the task of running Call of Duty: Warzone, playing Call of Duty: Mobile on your PC is the next best thing. There's an emulator for that. 2021-12-16 19:25 5KB www.digitaltrends.com

(0.02/4)

38

1.0

Best online master's in information technology 2021: Top picks

An information technology master's degree online lets you specialize while continuing to work. Continue reading for top programs and degree details. 2021-12-16 18:51 7KB www.zdnet.com

(0.02/4)

39

3.6

What's New on Netflix in January 2022

The streaming service starts a new year with piles of stuff to watch. 2021-12-16 18:18 602Bytes uk.pcmag.com

(0.02/4)

40

0.7

VPNs with free trial: best providers to try in 2021

Trying a VPN free trial will let you give it a whirl without the commitment - these are the finest VPNs with a free trial you can try before you buy. 2021-12-16 17:30 8KB www.techradar.com

41

0.2

gamerant.com

It appears that CD Projekt Red is finally settling the lawsuit with a group of investors concerning the disastrous launch of Cyberpunk 2077. 2021-12-16 21:32 3KB gamerant.com

42

0.8

Pokemon Go Mega Aerodactyl to be the New Mega Raid Boss

Trainers, the latest datamine hints at the arrival of a new Mega Evolution in Pokemon Go, and it looks Mega Aerodactyl will soon make its Pokemon Go debut 2021-12-16 21:31 1KB www.futuregamereleases.com

43

0.5

Tapping the potential of instant gaming platforms

Breaking away from legacy distribution models that focus on pulling potential players towards them through marketing, video games are starting to push directly to where global audiences are. In doing so, they make their games available to vast numbers of users through nothing more than a couple of q… 2021-12-16 21:30 8KB venturebeat.com

44

0.6

gamerant.com

Three games are available to play for free on Xbox this weekend including major games from Call of Duty and Assassin's Creed. 2021-12-16 21:25 3KB gamerant.com

45

0.7

Best Data Mining Tools & Software

These top data mining tools enable companies to glean major insights from large data sets to gain competitive advantage. 2021-12-16 21:19 6KB www.eweek.com

46

0.4

gamerant.com

Ubisoft is giving away Rayman Origins for free and although it is a decade old, it is still one of the greatest classic platformer titles. 2021-12-16 21:17 4KB gamerant.com

47

0.7

Ubisoft's long-delayed new Settlers game will be sharing "some news" in January

Fans can also register "for a chance to play". If you've been eagerly awaiting news of the long-delayed next instalment in the nearly three-decade-old Settlers … 2021-12-16 21:15 2KB www.eurogamer.net

48

0.3

gamerant.com

The upcoming video game GigaBash reveals another playable character in its roster of giant monsters called Kongkrete, a living building. 2021-12-16 21:13 3KB gamerant.com

49

0.3

gamerant.com

Steel Wool Studios has delayed the launch of FNAF: Security Breach, but players won't have to wait too long. 2021-12-16 21:11 2KB gamerant.com

50

0.1

Reddit has filed to go public and hopes to be worth $15 billion on IPO day

News, Reviews & Betas which includes large community peer support Reddit, the message board that drove hedge fund managers crazy, is going public. Currently valued at $10 billion, the social media platform is looking to grow in size and become worth $15 billion. 2021-12-16 21:10 2KB www.neowin.net

51

0.3

gamerant.com

Destiny 2 players playing the Grasp of Avarice dungeon as part of the 30th Anniversary Pack discover references to the classic 80s film The Goonies. 2021-12-16 21:09 2KB gamerant.com

52

0.2

Almost entire lineup of Intel Alder Lake mobile chips leak ahead of CES 2022

GeekBench database entries reveal details on nearly the entire Intel Alder Lake mobile processor series ahead of its anticipated announcement at CES. 2021-12-16 21:06 3KB www.techradar.com

53

0.7

Surface Duo users complaining of copy and paste issue

Copy and Paste is one of the most fundamental features of an operating system, but it is surprising how often it becomes an issue, as many Windows users are discovering recently. Now Surface Duo users are joining the chorus of users complaining of unreliable and glitchy copy and paste. Anyone having this issue? The December […] 2021-12-16 21:00 1KB mspoweruser.com

54

0.1

gamerant.com

The latest episode of Hawkeye introduced a fan-favorite character from an isolated Marvel series as an official part of the MCU. 2021-12-16 21:00 5KB gamerant.com

55

0.1

GameStop to Sell PS5 in Stores Tomorrow, But Only for Pro Members

GameStop's perks program costs $14.99 a year, but there's another catch: you can only buy the PS5 as a bundle. 2021-12-16 21:00 2KB uk.pcmag.com

56

0.8

No diploma? No problem: 5 tech jobs you can hold with no degree

Want a job in tech, but don't have a college degree? One of these high-paying tech jobs with no degree requirements might be right for you. 2021-12-16 20:56 5KB www.zdnet.com

57

0.1

gamerant.com

Call of Duty: Vanguard features a memorable singleplayer offering, but it certainly feels like the first chapter of a larger story. 2021-12-16 20:55 6KB gamerant.com

58

0.3

Here's a better look at the Huawei P50 Pocket folding phone

Huawei's next folding phone, the Huawei P50 Pocket, was shown off in a new photo shoot ahead of its official announcement. 2021-12-16 20:55 2KB www.xda-developers.com

59

0.3

Mozilla Firefox unable to display Microsoft websites due to 'OCSP', but whose fault is it?

News, Reviews & Betas which includes large community peer support Mozilla Firefox suddenly refused to open several subdomains of Microsoft. The ongoing browser wars may have been an obvious conclusion, but it seems Firefox is a lot more diligent and secure. 2021-12-16 20:54 2KB www.neowin.net

60

0.2

How to factory reset an iPhone

Resetting an iPhone can alleviate software woes and wipe personal data. Here's how to factory reset an iPhone from iOS or iTunes whenever the need arises. 2021-12-16 20:53 4KB www.digitaltrends.com

61

1.0

Pokemon Go Winter Wonderland Collection Challenge featuring Galarian Mr. Mime

Niantic indeed knows how to properly celebrate the holiday season, and it shows in Pokemon GO. Trainers are showered with fun events, new Pokemon, useful 2021-12-16 20:53 1KB www.futuregamereleases.com

62

0.8

gamerant.com

Daniel Radcliffe, Emma Watson, and Rupert Grint pose with other returning cast members in the official Harry Potter reunion poster. 2021-12-16 20:49 2KB gamerant.com

63

0.8

Apple reportedly wants to make its own wireless chips for the iPhone

A new office in Irvine, California seeks to recruit talent from Broadcom and Skyworks. 2021-12-16 20:48 2KB www.macworld.com

64

0.6

gamerant.com

Many Twitch users were shocked to see one of their favorite streamers, Ludwig, erased from their Twitch Recap and are upset by the decision. 2021-12-16 20:41 2KB gamerant.com

65

0.4

Neanderthals Were Altering the Landscape at Least 125,000 Years Ago, New Evidence Suggests

An ancient anthropogenic footprint, brought about by hunting, tool production, fire use, and other behaviors, has been discovered in Germany. 2021-12-16 20:40 6KB gizmodo.com

66

0.9

gamerant.com

The original Super Mario Bros. may seem simplistic compared to its successors, but its secrets put it on par with modern installments. 2021-12-16 20:34 4KB gamerant.com

67

0.8

Uber to trial 'autonomous' food delivery service in early 2022

The two companies said trials will begin in early 2022 in Santa Monica, California. Motional will deploy its all-electric Hyundai IONIQ 5-based robotaxis, which are SAE Level. 2021-12-16 20:32 2KB www.techspot.com

68

0.5

gamerant.com

Legacy, Peter Molyneux's new, yet-to-be-released game has made over $40 million in players buying virtual plots of land for cryptocurrency. 2021-12-16 20:31 2KB gamerant.com

69

0.3

5G wireless could still disrupt flights, US airlines warn

The rollout of C-band 5G could potentially lead to delays, diversions and cancellations for airplanes across the US. 2021-12-16 20:30 2KB www.techradar.com

70

0.3

gamerant.com

God of War's Valkyries are an incredible endgame challenge, and even if it looks different, Ragnarok should feature something similar. 2021-12-16 20:30 6KB gamerant.com

71

0.1

gamerant.com

One fan of Super Mario 3D World shares a video showcasing what happens when a player tries to fight almost every boss at the same time. 2021-12-16 20:28 3KB gamerant.com

72

0.2

What to do if a tax document arrives after you've filed

If you receive a tax document after you've filed, don't panic! Here's what to do. 2021-12-16 20:28 5KB www.zdnet.com

73

0.2

gamerant.com

Now that Denis Villeneuve's Dune is a global success, the famed director wants to try tackling the sci-fi classic Rendezvous With Rama. 2021-12-16 20:28 2KB gamerant.com

74

0.8

Pokemon Go Community Day List 2021

Trainers, the Community Day events in Pokemon Go are happening once a month, featuring a specific Pokemon, its shiny forms, and great bonuses. The first 2021-12-16 20:18 3KB www.futuregamereleases.com

75

0.3

Meta targets 'cyber mercenaries' using Facebook to spy

Facebook parent Meta announced Thursday the shutdown of some 1,500 accounts tied to "cyber mercenary" companies accused of spying on activists, dissidents and journalists worldwide on behalf of paying clients. 2021-12-16 20:14 3KB techxplore.com

76

0.2

A System From Down Under, The Allied Patriot-A Gaming PC

A System From Down Under, The Allied Patriot-A Gaming PC Allied Gaming is a system builder located in Australia, for those of you that might be in that part 2021-12-16 20:13 2KB pcper.com

77

0.4

Get the Chromecast with Google TV for only $39 today

The Chromecast with Google TV is back to its Black Friday/Cyber Monday price of $39, making it as great of a deal as ever. 2021-12-16 20:09 2KB www.xda-developers.com

78

0.9

gamerant.com

There's been a longstanding debate about the parenting abilities of Dragon Ball's main character, but is all of that criticism justified? 2021-12-16 20:00 4KB gamerant.com

79

0.2

Launching your computer science career in the Air Force

Air Force cyber-related jobs are in such demand that this branch is offering sign-on bonuses for certain roles. 2021-12-16 20:00 6KB www.zdnet.com

80

1.1

How ASUS nailed the dual-screened notebook with the ZenBook Pro Duo

While aimed at creative pros, the Duo design can benefit anyone who multitasks. 2021-12-16 19:49 4KB www.zdnet.com

81

0.6

gamerant.com

The third installment of the original Kingsman franchise will return to conclude Eggsy's unresolved story, with Matthew Vaughn at the helm. 2021-12-16 19:48 3KB gamerant.com

82

0.7

Latest Science on Omicron: Vaccine Effectiveness, How It Multiplies, and More

Researchers are learning more about Omicron every day, with both encouraging and worrying results. 2021-12-16 19:47 8KB gizmodo.com

83

0.3

The Power Rangers Will Face Godzilla in a Brilliant Comic Crossover

How has no one ever thought of this utterly perfect crossover before 2021? 2021-12-16 19:45 3KB gizmodo.com

84

0.3

How to gameshare on an Xbox Series X

One drawback with digital games is not being able to share your games, but the Xbox Series X has a solution. Here's everything you need to know about gameshare. 2021-12-16 19:41 4KB www.digitaltrends.com

85

0.7

Meta releases Bean Machine to help measure AI model uncertainty

Meta (formerly Facebook) has released Bean Machine, a tool designed to help measure uncertainty in AI and machine learning models. 2021-12-16 19:40 4KB venturebeat.com

86

0.0

Citroen introduces the adventure-ready My Ami Buggy concept EV

Based on the original Citroen Ami, the My Ami Buggy concept illustrates what the car manufacturer's designers can do, showcasing a leisure-oriented EV full of color and. 2021-12-16 19:39 3KB www.techspot.com

87

0.5

New Intel Alder Lake-P chips may outperform previous generations by over 30%

Intel will soon release several new mobile CPUs from the Alder Lake-P lineup. Some of them have been benchmarked, showing a marked performance boost. 2021-12-16 19:32 3KB www.digitaltrends.com

88

0.1

Movo UM300, Slim In Size And Price

Movo UM300, Slim In Size And Price For a mere $60, the Movo UM300, a compact USB condenser microphone, offers USB-C connectivity for computers, Android 2021-12-16 19:31 1KB pcper.com

89

0.2

gamerant.com

The Unreal Engine 5 tech demo teases the potential of next gen, but it also showcases an opportunity to develop a brand-new Matrix video game. 2021-12-16 19:31 5KB gamerant.com

90

0.1

Dinky racer Circuit Superstars coming to PS4 in the new year

Circuit Superstars, already available on PC and Xbox One, will also be playable on PlayStation 4 in a few weeks. 2021-12-16 19:30 4KB www.thumbsticks.com

91

0.4

OnePlus 10 and 10 Pro: Everything we know so far about the upcoming flagship

The OnePlus 10 lineup is reportedly set to be introduced in China as early as January or February. Here's everything we know so far. 2021-12-16 19:28 4KB www.digitaltrends.com

92

0.3

6 Things That Are Going to Ruin Christmas This Year

The holidays have a lot stacked against them this year. Let's review. 2021-12-16 19:20 5KB gizmodo.com

93

0.3

Detention and Devotion developer announces Sekiro-inspired action-platformer Nine Sols

Following a bit of a tease in March. Red Candle Games, the developer behind critically acclaimed horror outings Detention and Devotion, has - following a bit of … 2021-12-16 19:10 3KB www.eurogamer.net

94

0.7

Verizon and Google partner on new 5G edge computing push

Verizon and Google reveal plans to leverage their respective edge computing products to join the growing list of companies focusing on customized 5G solutions for enterprise-class logistics. 2021-12-16 19:07 3KB www.zdnet.com

95

0.1

Pop! _OS 21.10 makes a mess of Reg hack's laptop

You can really tell System76 is a hardware vendor 2021-12-16 19:02 4KB www.theregister.com

96

0.6

Google wants to help you set up a unique online store

Qaya allows content creators to build their own online stores to showcase both their digital and physical products. 2021-12-16 19:00 2KB www.techradar.com

97

0.4

OnePlus Buds Z2 is now available in the US and Europe

OnePlus has finally announced the much-awaited OnePlus Buds Z2 in the US and Europe. The new Buds Z2 earbuds appear to be significantly better than their predecessor in terms of specs, but it's hard to find any difference between the two products as they share pretty much the same design. The OnePlus Buds Z2 features […] 2021-12-16 19:00 1KB mspoweruser.com

98

0.4

gamerant.com

The conversation between Florence Pugh's Yelena Belova and Hailee Steinfeld's Kate Bishop is the highlight of the latest episode of Hawkeye. 2021-12-16 19:00 7KB gamerant.com

99

0.2

gamerant.com

Hate Skyrim's introdution? Wish you could skip the cart ride to Helgen and begin anew? Look no further than the Alternate Start addon for Skyrim. 2021-12-16 19:00 3KB gamerant.com

100

0.1

New Witcher Graphic Novel Gives a Peek at Season 2's First Episode

Based on a short story by Andrzej Sapkowski, the Dark Horse Comics release arrives next year. 2021-12-16 19:00 2KB gizmodo.com

101

0.6

gamerant.com

Three of Sega's Yakuza titles are leaving Xbox Game Pass at the end of the month, which gives subscribers just enough time to finish them all. 2021-12-16 18:59 6KB gamerant.com

102

0.5

Apple Clears iPhone SE From Shelves: New Model Incoming?

A new analyst report says that the smallest iPhone may be on its way out. 2021-12-16 18:55 2KB uk.pcmag.com

103

0.8

gamerant.com

Upcoming retro-style RPG Sea of Stars announces a Holiday 2022 release window at Nintendo's latest Indie World showcase featuring a brand new trailer. 2021-12-16 18:55 3KB gamerant.com

104

0.3

How to record a gameplay video on Xbox One

The current generation of consoles makes it easier than ever to share your gaming highlights with the world. Here's how to record gameplay videos on Xbox One. 2021-12-16 18:53 5KB www.digitaltrends.com

105

0.4

gamerant.com

Amazon confirms that those signed up for its Amazon Prime subscription service will get first dibs on new PS5 and Xbox Series X console stock. 2021-12-16 18:52 2KB gamerant.com

106

0.5

Log4J patch to fix serious zero-day has its own vulnerability that is already actively exploited

Last week, security researchers notified developers that they had discovered an actively exploited zero-day vulnerability in the Apache Struts framework. The flaw was in the Log4J logging. 2021-12-16 18:48 2KB www.techspot.com

107

0.1

gamerant.com

A Nickelodeon All-Star Brawl developer shares insight into the game's future updates, such as voice acting talent and dedicated crossplay. 2021-12-16 18:46 3KB gamerant.com

108

0.1

Is This Facebook Email a Fake?

Verifying that an email came from Facebook is incredibly simple, but only if you know where to look. We show you how. 2021-12-16 18:44 6KB uk.pcmag.com

109

0.8

Apple has released macOS 12.2 beta 1 to developers

Apple has released the first beta of macOS 12.2 to registered developers. Public testers can expect it within a week or so. 2021-12-16 18:42 2KB www.xda-developers.com

110

0.4

What is TPM? Everything you need to know to run Windows 11

Windows 11 requires TPM 2.0, which has tripped up a lot of PC builders. Here's what TPM does and why you might need it. 2021-12-16 18:41 5KB www.digitaltrends.com

111

0.5

gamerant.com

Fans of James Cameron's record-breaking Avatar are wondering how the worlds of the upcoming game and the first film will compare. 2021-12-16 18:36 5KB gamerant.com

112

0.3

Apple's Return-to-Office Date Is Now 'We Have No Idea'

Apple originally planned to require staff to return to their offices in February, now the date is "to be determined" as Omicron spreads. 2021-12-16 18:35 5KB gizmodo.com

113

0.1

Xiaomi TV Stick 4K is official with Android TV 11 and AV1 support

Xiaomi now has a product page for the Xiaomi TV Stick 4K, a new 4K Android TV streaming device, but it doesn't appear to be for sale yet. 2021-12-16 18:31 2KB www.xda-developers.com

114

0.9

Save $50 on the Bose QuietComfort 45 headphones today

Snap up the fantastic sounding Bose QuietComfort 45 for less at Best Buy right now. 2021-12-16 18:30 2KB www.digitaltrends.com

115

0.3

TikTok Testing Feature That Lets You Stream Live From Your PC

Every app wants to be TikTok, but now TikTok wants to be Twitch. 2021-12-16 18:25 3KB gizmodo.com

116

0.3

Santa has come to Battlefield 2042 after all

DICE has announced the latest Battlefield Portal game mode in Battlefield 2042, "Attack of the Elves," in which the dreaded Santa skin returns. 2021-12-16 18:21 1KB mspoweruser.com

117

0.6

Whoop 4.0 review: Screenless wearable helps you avoid injuries, track sleep details

The Whoop 4.0 is much more than a detailed sleep tracker, and people who work out regularly will see more benefits than those who lead a sedentary life. It's a great way to understand your body and optimize your workout regimen. 2021-12-16 18:19 12KB www.zdnet.com

118

0.4

VR tabletop RPG Demeo releases roadmap, announces non-VR version

Resolution Games Demeo, winner of the VR Awards Game of the Year 2021, is releasing new content and a non-VR mode for PC. 2021-12-16 18:18 3KB venturebeat.com

119

0.0

Meta and ZP's partnership brings VRS to the Meta Portal for the Deaf and Hard of Hearing

News, Reviews & Betas which includes large community peer support The partnership between Meta and ZP Better Together brings VRS apps, that add a sign language interpreter onscreen to allow the Deaf and Hard of Hearing to connect with family and friends, to Portal. 2021-12-16 18:16 2KB www.neowin.net

120

0.6

Nobody Knew The Book of Boba Fett Existed Until The Mandalorian Announced It

I know studios like to keep these things secret, but this is ridiculous. 2021-12-16 18:15 3KB gizmodo.com

121

0.8

Apache Kafka Gains Adoption as Streaming Data Grows

Streaming data platform Kafka uses a "publish-and-subscribe" model that links data sources to data receivers to enable constant and distributed monitoring. 2021-12-16 18:14 9KB www.eweek.com

122

0.4

Blizzard is rebalancing Diablo II classes for the first time in nearly 11 years

Specifics will come later, but for now, here's an overview of the philosophies behind each class change. 2021-12-16 18:13 3KB www.techspot.com

123

0.5

No GPU? Nvidia's RTX 3080-Powered Cloud Gaming Service Is Now Open to All

However, the game-streaming service is pricey, and will set you back $200 for a full year subscription. 2021-12-16 18:11 2KB uk.pcmag.com

124

0.1

gamerant.com

Ubisoft Toronto's surprise announcement of a Splinter Cell remake is the ideal way to bring the franchise after eight years of dormancy. 2021-12-16 18:08 6KB gamerant.com

125

0.9

Pokémon Go announces short list of in-person event locations for February

None in Europe or US. Pokémon Go developer Niantic has named a short list of locations where it will hold in-person events next February, as … 2021-12-16 18:05 2KB www.eurogamer.net

126

0.2

gamerant.com

Sanji has a fairly unique fighting style compared to other Straw Hats. The ongoing Wano Country arc sees him add a brand new technique to his arsenal. 2021-12-16 18:00 6KB gamerant.com

127

0.6

MrBeast + MSCHF team up to ensure Everyone Gets A Car (3-Pack) now $99

News, Reviews & Betas which includes large community peer support EVERYONE GETS A LAMBO… BUT WHAT SIZE LAMBO? The catch is you won't know if you'll receive a 1/64 diecast, remote controlled, ride'on, or the full-sized Lambo. This offer is US only. 2021-12-16 18:00 2KB www.neowin.net

128

0.3

DC's newest Batman comic brings three Batgirls to life in a riot of color

Barbara Gordon, Cassandra Cain, and Stephanie Brown have all been Batgirl before — and now they're teaming up to be Batgirls together. The creative team on DC Comics' new Batgirls series talk about bringing Gotham City to neon life for their new book. 2021-12-16 18:00 1KB www.polygon.com

129

0.1

gamerant.com

Yesterday's Indie World Showcase featured a lot of great titles, but four went live as soon as the presentation ended, giving fans plenty to do. 2021-12-16 17:59 4KB gamerant.com

130

1.3

Best gaming gifts: Surefire wins for a gamer's holiday

Get your game on with any of these consoles, AAA titles, and trinkets for guaranteed holiday satisfaction. 2021-12-16 17:55 933Bytes www.zdnet.com

131

0.4

What is a VPN, what they do, VPN meaning and more explained

Everybody seems to have one, but what is a VPN? We have explain all you need to know about the meaning of VPN in easy to understand terms. 2021-12-16 17:54 9KB www.techradar.com

132

0.5

Coming to Apple TV+: Several new shows and premiere dates announced

Apple has a lot of original content on the way for its subscription streaming video service. Here's what you'll soon (and eventually) be able to watch. 2021-12-16 17:52 40KB www.macworld.com

133

0.1

The U.S. Has So Many Oil Pipelines, Half of Them Are Sitting Empty

New figures reflect how many spare pipelines we've got lying around following a building boom and then a crash in production. 2021-12-16 17:50 5KB gizmodo.com

134

0.6

SD Times news digest: Go 1.18 Beta 1 now available; CData Software raises $140 million in Series B; Deque's axe DevTools Mobile expands support

Software Development News The maintainers of Go, the open source programming language, announced the release of version 1.18 in Beta 1. 2021-12-16 17:49 3KB sdtimes.com

135

0.1

Hyundai Created an Eccentric Robot That Won't Spill Your Drinks

The Mobile Eccentric Droid's four wheels move independently to enable navigation of complex environments. 2021-12-16 17:49 2KB uk.pcmag.com

136

0.4

gamerant.com

Rapper Soulja Boy threatens to sue Twitch after the streaming platform bans him, allegedly without providing any 'proof or explanation.' 2021-12-16 17:49 2KB gamerant.com

137

0.1

Drinkworks shutting down, reimbursement program begins

It had the home bartending world in awe, but Drinkworks is ceasing operations effective immediately. Find out what to do with your machine. 2021-12-16 17:46 2KB www.digitaltrends.com

138

0.8

Hurry — this 65-inch TV is ONLY $480 at Best Buy today

Best Buy is offering the 65-inch Toshiba C350 Series 4K TV for just $480 after a $240 discount, with freebies that include the third-generation Amazon Echo Dot. 2021-12-16 17:45 2KB www.digitaltrends.com

139

0.6

6 life-changing tech habits you need in 2022

Turning the page on the calendar and starting a new year is a great opportunity to develop some good new habits. These tech recommendations will make anyone smarter and safer. 2021-12-16 17:45 6KB www.zdnet.com

140

0.4

Research at Microsoft 2021: Collaborating for real-world change

Over the past 30 years, Microsoft Research has undergone a shift in how it approaches innovation, broadening its mission to include not only advancing the state of computing but also using technology to tackle some of the world's most pressing challenges. That evolution has never been more prominent than it was during this past year. […] 2021-12-16 17:40 22KB www.microsoft.com

141

0.2

Can r/WallStreetBets Make Reddit the Next GameStop?

Users on the subreddit mulled over the opportunities and drawbacks of Reddit's recent move to go public. 2021-12-16 17:40 4KB gizmodo.com

142

0.6

The Witcher season 2 'looks so much different' than what showrunner Lauren Schmidt Hissrich had planned

Things like The Witcher: Nightmare of the Wolf, The Witcher: Blood Origin, and COVID-19 have forced The Witcher's showrunner to adapt the Netflix show and think about seasons 2 and 3 more deeply. 2021-12-16 17:40 1KB www.polygon.com

143

0.7

gamerant.com

Neverwinter is delivering a brand new module in early 2022 and fans can get an early look at the announcement trailer and first details right here. 2021-12-16 17:35 2KB gamerant.com

144

0.9

This temperature-controlled smart mug is the ultimate holiday gift

Even with all of the gift options available out there, a gift that suits almost anyone is hard to find. The Ember Smart Mug 2 comes close. 2021-12-16 17:30 2KB www.digitaltrends.com

145

0.6

gamerant.com

The Fatal Blow is a devastating finishing move in The Legend of Zelda: Skyward Sword, and this guide will help players execute it. 2021-12-16 17:30 5KB gamerant.com

146

0.0

CISA, White House urge organizations to get ready for holiday cyberattacks

The US government provided a list of things companies need to do ahead of the Christmas holiday to protect themselves from cyberattacks. 2021-12-16 17:28 4KB www.zdnet.com

147

0.5

Can Your PC Run Final Fantasy VII Remake Intergrade?

It won't take a lot of power to get this FFVII Remake port up and running 2021-12-16 17:27 2KB uk.pcmag.com

148

0.3

Gran Turismo 7 is the most realistic series entry yet, says director

The director of Gran Turismo 7 explains how the PS5 version of the game has achieved a tangible level of realism. 2021-12-16 17:25 2KB www.techradar.com

149

0.7

Post-event activation: A guide to success

An insider's perspective on how they went about activating leads from a hybrid event as well as tips you can use for your own event program. 2021-12-16 17:25 4KB venturebeat.com

150

0.0

YouTube TV couldn't have picked a worse time to lose ESPN

YouTube TV stands to lose ESPN on December 17 — and the fight with Disney couldn't have come at a worse time. 2021-12-16 17:24 3KB www.digitaltrends.com

151

0.3

gamerant.com

The Lucent Brood will be introduced when The Witch Queen releases for Destiny 2, and the Hive brood should be a fearsome foe for the Guardians. 2021-12-16 17:21 7KB gamerant.com

152

0.7

gamerant.com

Indie developer Thalamus Digital announces that it will be porting classic Commodore 64 games to the Nintendo Switch in 2022. 2021-12-16 17:14 2KB gamerant.com

153

0.2

Can a VPN be tracked or hacked? Everything you need to know

A VPN service can do a lot of things for your digital safety, but are they trackable or hackable? Find out all there is about VPN protection. 2021-12-16 17:13 6KB www.digitaltrends.com

154

0.9

Amazon's new Accelerator program to raise revenue share for Alexa Skill devs

In its ongoing push to grow high-quality Alexa Skills, Amazon announced a new revenue-sharing model and plans for added benefits to help developers grow its voice assistant's capabilities. 2021-12-16 17:13 2KB www.zdnet.com

155

0.6

gamerant.com

The Outlast Trials will be the first Red Barrels game to encourage multiplayer, an approach that might dilute the horror the franchise is known for. 2021-12-16 17:11 5KB gamerant.com

156

0.2

Mystery Group of Humans May Have Populated the Faroe Islands Before the Vikings

Researchers found sheep DNA at the bottom of a Faroese lake that dates to several hundred years before the Viking settlement. 2021-12-16 17:10 4KB gizmodo.com

157

1.2

ONNX Runtime now available for Android and iOS devices

ONNX Runtime release 1.10 now supports Android and iOS. Developers can now build AI applications using Xamarin.Forms for Android and iOS to execute ONNX models on mobile devices with ONNX Runtime. This new package supports the execution of ONNX models on the device's CPU using the default CPU Execution Provider. Some phone hardware contains specialized […] 2021-12-16 17:09 1KB mspoweruser.com

158

0.9

Celebrate the holidays Payday style with the Winter Wonderland update

There is both a free update and a paid DLC adding some new cosmetics. 2021-12-16 17:09 1KB www.gamereactor.eu

159

1.3

gamerant.com

Here are all the Pokemon in Pokemon Brilliant Diamond and Shining Pearl that evolve while knowing certain moves. 2021-12-16 17:08 3KB gamerant.com

160

0.6

Microsoft Envision: The opportunity ahead for all organizations to do good

As we look to the future, organizations including Microsoft have an opportunity and responsibility to drive growth while taking timely action in crucial areas to benefit society and the world. At Microsoft, we believe in doing good while doing well. During last week's episode of Microsoft Envision, presented with Accenture and Avanade, I described Microsoft's. 2021-12-16 17:07 3KB blogs.microsoft.com

161

0.0

gamerant.com

The Xbox Series X will inevitably receive an updated model, and one creator shows off their design of what it may just look like. 2021-12-16 17:05 3KB gamerant.com

162

0.5

gamerant.com

Resident Evil Village took home top honors for the most completed game of 2021, edging out games such as Metroid Dread. 2021-12-16 17:01 3KB gamerant.com

163

1.0

Brainlabs acquires social ad creative studio Consumer Acquisition

Digital marketing agency Brainlabs has acquired the social ad creative studio Consumer Acquisition. 2021-12-16 17:00 4KB venturebeat.com

164

0.9

The latest Ring doorbell just got a $30 discount — but hurry!

This doorbell will keep your home safer and more secure, as well as give you more control over anyone knocking your door. 2021-12-16 17:00 2KB www.digitaltrends.com

165

0.6

Google releases Jetpack Glance Alpha for super-easy widget development

Google is bringing Jetpack Compose to Android app widgets, with the first Alpha release of Jetpack Glance. 2021-12-16 17:00 2KB www.xda-developers.com

166

0.5

gamerant.com

The Black Star of Azura is a Daedric Artifact capable of trapping limitless Black Souls. Here's how to get the best Enchanting artifact in Skyrim. 2021-12-16 17:00 3KB gamerant.com

167

0.4

gamerant.com

2021 saw the release of several excellent movies, and these are the top films viewers got the chance to enjoy on the big screen this year. 2021-12-16 17:00 10KB gamerant.com

168

0.3

gamerant.com

Why can't he just magic himself to Mount Doom and drop the ring in the fire? 2021-12-16 17:00 4KB gamerant.com

169

0.7

Avaya shows evolution to cloud at Engage user conference

The company has moved its business model to subscriptions, cut a deal with RingCentral, and built a communications platform as a service (CPaaS) platform. 2021-12-16 17:00 4KB www.zdnet.com

170

0.8

'I love making shit up': Hellboy's Mike Mignola on his new comic series, Radio Spaceman

Mike Mignola will always be best known as the creator of Hellboy. But during COVID lockdown he discovered a love of sketching even more weird characters. One of those is Radio Spaceman, the subject of a new comics series from Dark Horse. 2021-12-16 17:00 1KB www.polygon.com

171

0.8

gamerant.com

There's a lot to like about The Game Awards, but 2021's show was lacking on the award side with less than 20% of the show being devoted to them. 2021-12-16 16:57 2KB gamerant.com

172

0.7

TikTok Live Studio is a desktop streaming app to rival Twitch

Users who've had access to the streaming app shared images of the UI, chat features, and the settings page to show what the software can do. TikTok. 2021-12-16 16:57 2KB www.techspot.com

173

0.8

The Best Free PC and Console Games to Claim in December 2021

You love video games, but you're not made of money. Lucky for you, game studios and subscription services offer a handful of free titles every month. Don't miss out. Here's what you can download in December. 2021-12-16 16:55 14KB uk.pcmag.com

174

0.5

gamerant.com

The Epic Games Store confirms its latest free game while teasing the next free game that's coming to the service tomorrow morning. 2021-12-16 16:51 2KB gamerant.com

175

0.2

Flexxon SSDs, Laptops Have AI-Based Data Security Inside

The X-PHY AI Embedded Cyber Secure SSD is an internal SSD designed to detect any threats, known or unknown, to your data's security. The company also teamed with Lenovo on three lines of ThinkPad-based laptops. 2021-12-16 16:51 3KB uk.pcmag.com

176

0.6

gamerant.com

Game Rant speaks with PCF CEO Sebastian Wojciechowski, PCF NY's Roland Lesterlin, and PCF Canada's Sam Girardin about their studios and more. 2021-12-16 16:51 29KB gamerant.com

177

0.7

New York City Cops Suspected of Faking Vaxx Cards, Stripped of Badges

Two police officers are under investigation for allegedly submitting fraudulent documentation. 2021-12-16 16:50 3KB gizmodo.com

178

0.9

gamerant.com

Xbox Game Pass is one of the more successful services in gaming, appealing to a broad range of audiences that includes indie gamers. 2021-12-16 16:46 6KB gamerant.com

179

0.8

This 55-inch TV is $330 at Best Buy and comes with a FREE Echo Dot

The 55-inch Insignia F30 Series 4K TV is a steal with Best Buy's $210 discount, especially since it comes with a third-generation Amazon Echo Dot smart speaker. 2021-12-16 16:45 2KB www.digitaltrends.com

180

0.3

Star Trek: Discovery Keeps on Riffing, as Shadows Loom

"The Examples" continues season 4's riffs on classic Star Trek premises, but lays the groundwork for sinister times ahead. 2021-12-16 16:45 8KB gizmodo.com

181

0.5

gamerant.com

The Dawning is one of the oldest in-game events the Destiny series has to offer and has gone through several iterations over the years. 2021-12-16 16:40 6KB gamerant.com

182

0.4

Board game publisher Asmodee up for sale, valued at $3.1B

Board gaming giant Asmodee is once again up for sale, this time for more than $3 billion. The purchaser is the same company that owns Borderlands maker Gearbox as well as the Saints Row franchise. 2021-12-16 16:39 2KB www.polygon.com

183

0.6

This Corsair gaming accessories bundle is just £70

Here's a Corsair gaming accessories bundle on sale for just £70 at Currys. 2021-12-16 16:38 2KB www.eurogamer.net

184

0.5

Signal Expands Encrypted Group Video Calls to 40 People

In a blog post, the Signal Foundation, the nonprofit behind the messaging app, explains how it created the new feature while maintaining the end-to-end encryption. 2021-12-16 16:37 2KB uk.pcmag.com

185

0.4

This Week's Surreal Weather Nightmare, in Photos

A huge portion of the U.S. saw unprecedented December weather, as high winds, dust, and severe thunderstorms spread across the nation. 2021-12-16 16:36 5KB gizmodo.com

186

0.4

This ASUS Chromebook is only $119 at Best Buy right now

If you need a student laptop, you're in luck! Right now, Best Buy is offering this Asus 11.6-inch Chromebook for just $119, which is a huge $100 off. 2021-12-16 16:35 3KB www.digitaltrends.com

187

0.5

gamerant.com

On the "Winter is Coming" edition of AEW Dynamite, the company teased what could be the arrival of some of wrestling's top free agents. 2021-12-16 16:31 3KB gamerant.com

188

0.8

Best SD cards for Switch: which Nintendo Switch memory card should you buy?

The best SD cards for Switch will allow you to download more than a handful of Nintendo Switch games. Here are our top picks. 2021-12-16 16:31 3KB www.techradar.com

189

0.1

Vari Task Chair review

The Vari Task Chair is an ergonomic office chair with plenty of adjustability that can be assembled in minutes. 2021-12-16 16:30 7KB www.techradar.com

190

0.8

The line between online gaming and gambling is fading

Historically, gaming and gambling were considered completely separate activities. Gaming was a mostly free, skill-based activity while gambling was a chance-determined activity for which the player had to invest money to win money. 2021-12-16 16:30 4KB venturebeat.com

191

0.5

This Philips soundbar is down to $50 at Walmart for the holidays

The home theater is front and center with this deal from Walmart, which is discounting the Philips B5105 Soundbar to only $50. 2021-12-16 16:30 2KB www.digitaltrends.com

192

0.8

gamerant.com

Learn how to hijack a tank in Far Cry 6 in order to unlock the Not So Tough Trophy/Achievement, and cause chaos as the new driver. 2021-12-16 16:30 3KB gamerant.com

193

0.0

S.T.A.L.K.E.R. 2 is getting NFT's that'll let you become a 'metahuman'

GSC Game World has announced that S.T.A.L.K.E.R. 2 will be jumping on the bandwagon for one of the worst trends in gaming, NFTs. 2021-12-16 16:29 1KB mspoweruser.com

194

0.6

Last-minute Christmas gift idea: save up to $100 on Facebook Portal devices

Facebook is offering up to $100 on its Portal device lineup, which would make fantastic last-minute Christmas gift ideas. 2021-12-16 16:28 1KB www.techradar.com

195

0.4

Best Buy Cyber Monday deals 2022: what to expect

Bets Buy Cyber Monday deals are known for offering cheap tech and appliances, but is it worth waiting until Monday for them? 2021-12-16 16:27 3KB www.techradar.com

196

0.3

gamerant.com

Call of Duty: Warzone's first map gave fans a memorable first year and a half, but it's gone now, and Verdansk's final moments were bittersweet. 2021-12-16 16:27 4KB gamerant.com

197

0.4

512GB Apple Mac Mini M1 crashes down to just $749 at Amazon - its cheapest price

Don't miss Amazon's latest Apple Mac Mini M1 deals, which include the lowest price yet on the 512GB model. 2021-12-16 16:27 1KB www.techradar.com

198

1.1

The Hottest Tech Toys for Kids

From a build-it-yourself space station to a portable storyteller to Harry Potter's Hedwig, here are the 2021 tech toys that'll bring the kids in your life a ton of fun. 2021-12-16 16:26 1KB uk.pcmag.com

199

0.3

Intel Throws Cold Water on the Metaverse Happening Any Time Soon

We will only see a 10x growth in the next five years. So. 2021-12-16 16:25 4KB gizmodo.com

200

0.6

HubSpot vs Pardot

When it comes to HubSpot vs Pardot for marketing automation, there are some key similarities and differences to know before you buy. 2021-12-16 16:24 13KB www.techradar.com

201

0.6

Professional Open Source Software Management

Programming book reviews, programming tutorials,programming news, C#, Ruby, Python,C, C++, PHP, Visual Basic, Computer book reviews, computer history, programming history, joomla, theory, spreadsheets and more. 2021-12-16 16:24 7KB www.i-programmer.info

202

0.8

New Modules For Azure SDK For Go

Programming book reviews, programming tutorials,programming news, C#, Ruby, Python,C, C++, PHP, Visual Basic, Computer book reviews, computer history, programming history, joomla, theory, spreadsheets and more. 2021-12-16 16:21 3KB www.i-programmer.info

203

0.8

Best Usenet providers of 2022

We feature the best Usenet providers, to make it simple and easy to connect with the newsgroups. 2021-12-16 16:17 15KB www.techradar.com

204

0.8

'NextGen TV' Broadcasts Now on the Air in DC

Updated over-the-air standard allows for more reliable reception, better sound and video, and interactive features 2021-12-16 16:10 2KB uk.pcmag.com

205

1.4

Spotify introduces a star rating system for podcasts

Spotify today announced a new star rating system for podcasts. This rating system will improve podcast discoverability by highlighting shows' popularity. Spotify will allow users to rate a podcast only after listening to it. Like most of the app stores, users can rate using a 1–5 star system. Spotify will also display the average rating […] 2021-12-16 16:07 1KB mspoweruser.com

206

0.5

Pre-order Link's Hylian shield from Zelda: Breath of the Wild

Delivery is planned for Q1 of 2022. 2021-12-16 16:07 1KB www.gamereactor.eu

207

0.9

Oura (Generation 3) review

Improved heart rate monitoring, plus new SpO2 and temperature sensors give the sleep-tracking smart ring a real boost. 2021-12-16 16:06 11KB www.techradar.com

208

0.5

gamerant.com

The Pokemon world is filled with remarkable Mythical Pokemon, including Darkrai, whose mastery over sleep and nightmares is formidable. 2021-12-16 16:06 4KB gamerant.com

209

0.4

OnePlus Nord 2 CE leaked renders give us a comprehensive idea of what it looks like

Leaked OnePlus Nord 2 CE renders reveal the design of the smartphone, giving us a comprehensive idea of what it looks like. 2021-12-16 16:02 2KB mspoweruser.com
Articles
DC5n United States software in english 209 articles, created at 2021-12-17 00:04
Some users that are trying to checkout on the Epic Games Store are getting a message stating, "An error occurred while trying to process your request. Please check your network connection and try again." This is very frustrating for those wanting to pick up the free game for this week, and some might fear they'll miss out on it entirely. Fortunately, there's a simple explanation for this that makes fixing the issue a snap. Everyone loves free stuff, and that's part of the problem happening here. So many people are trying to grab the latest free game on the Epic Games Store that the servers are having errors processing all the requests. The error message suggests users check their network connections, which is the problem, but it's on Epic's end, not the user's. The best way to fix these checkout problems is to just wait until the network congestion dies down. There's a big rush as the free games go live, but it'll quickly drop off. So, if users get a message that the store is having issues processing their request, they should try again in a few hours. However, there are a few fixes users can try if they think the issue might be on their end: Sometimes fixing network errors is as simple as rebooting a PC. However, if this issue persists, users should restart their computer and relaunch Epic Games Store. Again, sometimes users can fix errors by rebooting the router and modem. The checkout error is caused by network issues, so restarting a user's network equipment can solve it. It's not unheard of for files to get corrupted or for updates to fail. If this is the case, completely reinstalling the Epic Games Store program might set things right.

Epic Games Store adds newfangled 'shopping cart,' gets swamped by holiday sale
polygon.com
d01d2c87a04287b23f80bea05d43c841
Shenmue 3 kickstarts two weeks of daily freebies on the Epic Games Store from today
eurogamer.net
befead0ad1c931d035fdfe0a4e5cfcbd
Shenmue 3 is available for free on the Epic Games Store
mspoweruser.com
c1d2622a9af3231b635d9c17f7ab5825
Epic Games Store has brought back its end of the year giveaway festival, and kicking off the promotion is a copy of Shenmue III. It replaces last week's Godfall and Prison Architect freebies. The daily giveaways will last for two weeks straight, so be sure to check back as the store keeps dropping new ones. Released 18 whole years after Shenmue II, Shenmue III continues the story of teenage martial artist Ryo Hazuki as he searches for his father's killer. The open world of Guilin, China, is where the title takes place in, and where you search for clues, talk with residents, fight bad guys, and play mini-games. Here's how the store describes the game's setting: When not on sale the title goes for $29.99. Here are the minimum requirements if you're looking to jump in: Shenmue III is free to claim on the Epic Games Store until 11AM ET tomorrow, December 17, which is when a fresh mystery game will fill the freebie slot. A storewide holiday sale is ongoing as well, and the store has brought back its popular $10 coupon offer.

Shenmue 3 kickstarts two weeks of daily freebies on the Epic Games Store from today
eurogamer.net
befead0ad1c931d035fdfe0a4e5cfcbd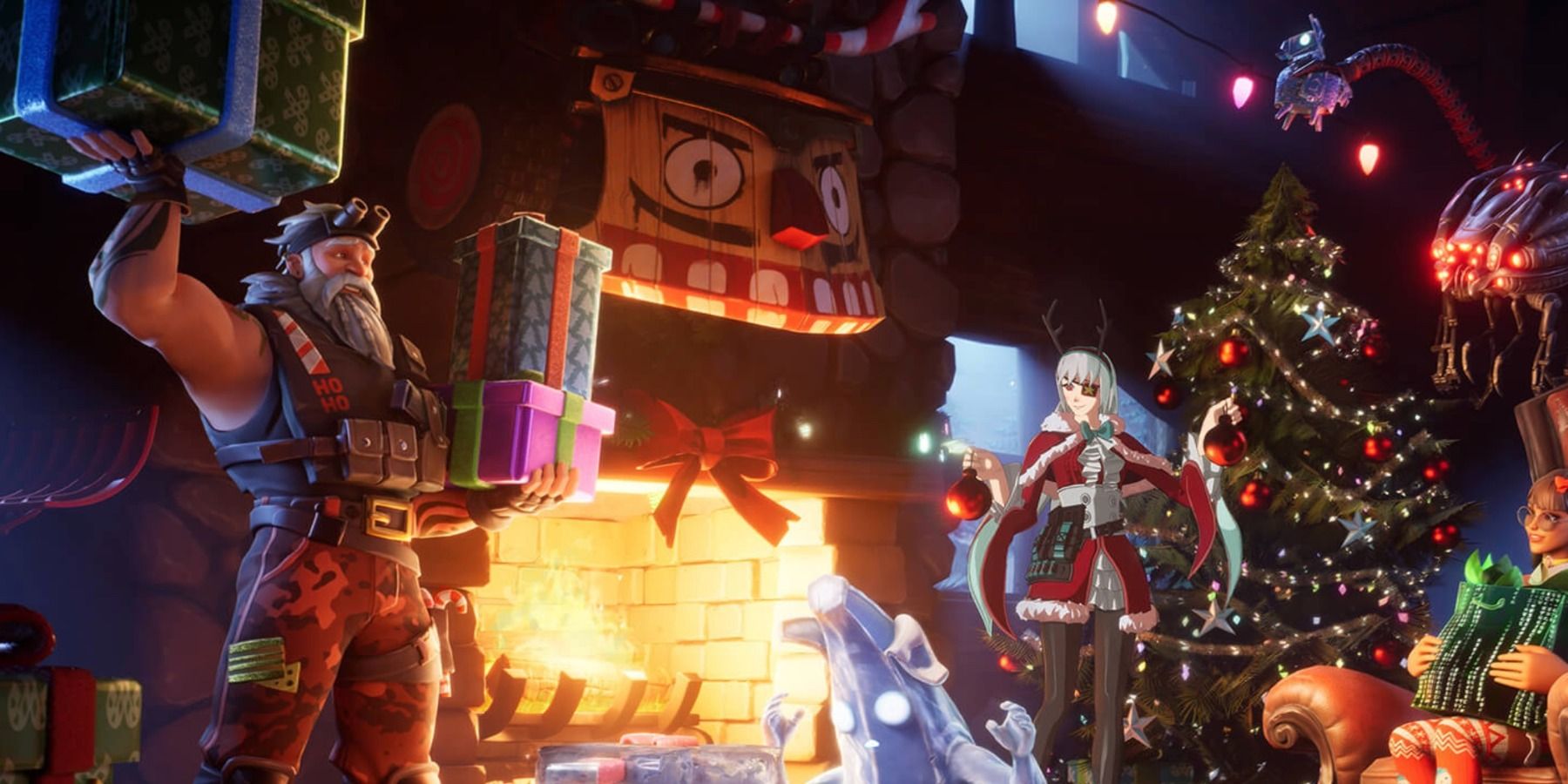 gamerant.com
gamerant.com
113b6905b15c6759394f880693f02cbd
Google is looking to make your online shopping easier, by saving you time and money. The Internet search giant has rolled out a few new features, which when combined with Chrome's autofill and automatic password generator to create safe logins for new websites, will reduce the friction and headache from finding the right prices online. The first feature is the ability to quickly track price history on mobile. The feature will arrive first on Chrome for Android and follow in the coming weeks to Chrome for iOS. Essentially, mobile users will be able to open up the browser's tab grids, Google said of the feature. Along with tabs of recently opened web pages, you'll see the latest price drops highlighted at the top of each tabbed page, making it easy to identify which items are currently on sale. Google's latest online shopping efforts follow that of rival Microsoft, which had recently launched a shopping extension for its own Microsoft Edge browser with similar price tracking features designed to save you money. Indecisive shoppers may find that they tend to place items in carts to save them, but they sometimes forget where to go back to once they've decided to proceed with the purchase. If you're one of those people, Google will make it easier to go back to your cart to check out and potentially save you some money in the process. To rediscover your cart, you can launch the Chrome browser on PC and Mac and open up a new tab. From there, you'll find the "Your Carts" category where Chrome will save all your shopping cart for rediscovery later. Once you're there, you can proceed to check out. The best part is that Google has teamed up with a few retail partners — including Zazzle, iHerb, Electronic Express, and Homesquare — to offer a discount when you're ready to virtually swipe your card. If online shopping isn't quite your thing and you prefer to discover new trends in-person, Chrome on mobile will come with Google Lens integration that will allow you to use your camera to do a search of the latest items in storefronts and window displays. "From the address bar, tap the Lens icon and start searching with your camera," Google said in a press release. In addition to mobile, the feature will also be coming soon to Chrome for desktop. In the future, you can right-click an image and then choose the "Search images with Google Lens" option to do a visual search of any relevant products within that image. This is great if you're browsing an online magazine and want to find the lowest price of the advertised purse, dress, or shoes that you see.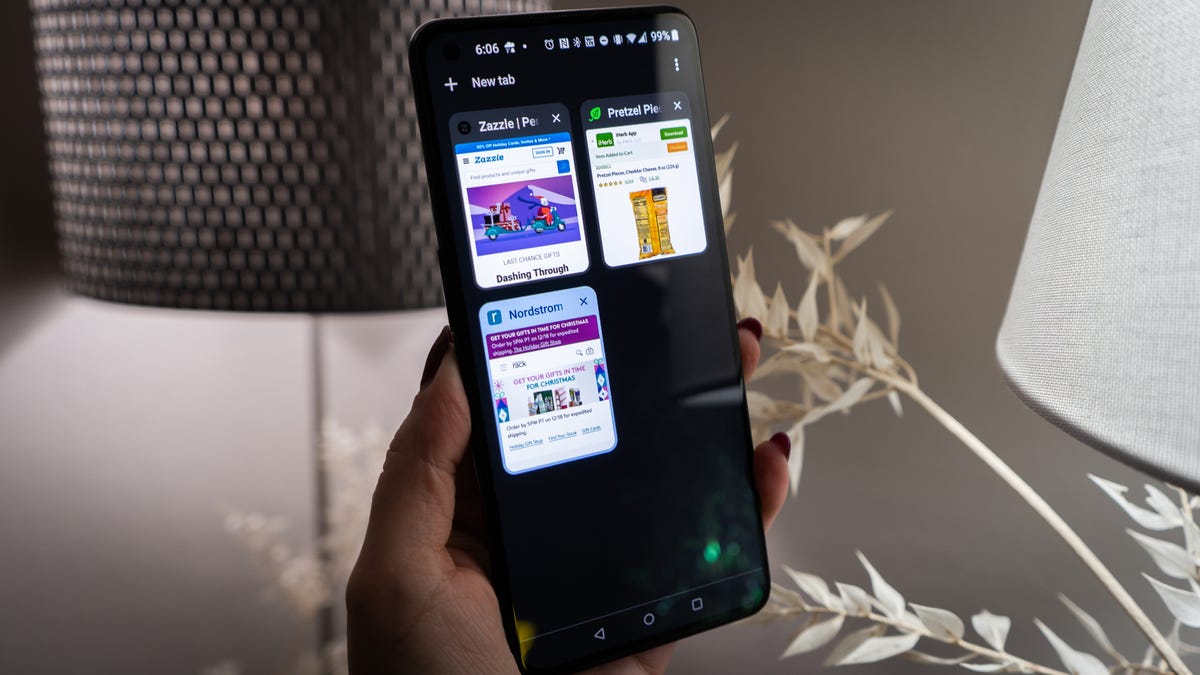 New Google Chrome Features Will Help You Finish Your Holiday Shopping
gizmodo.com
ffcc34f3d745e4b9910955618a73d375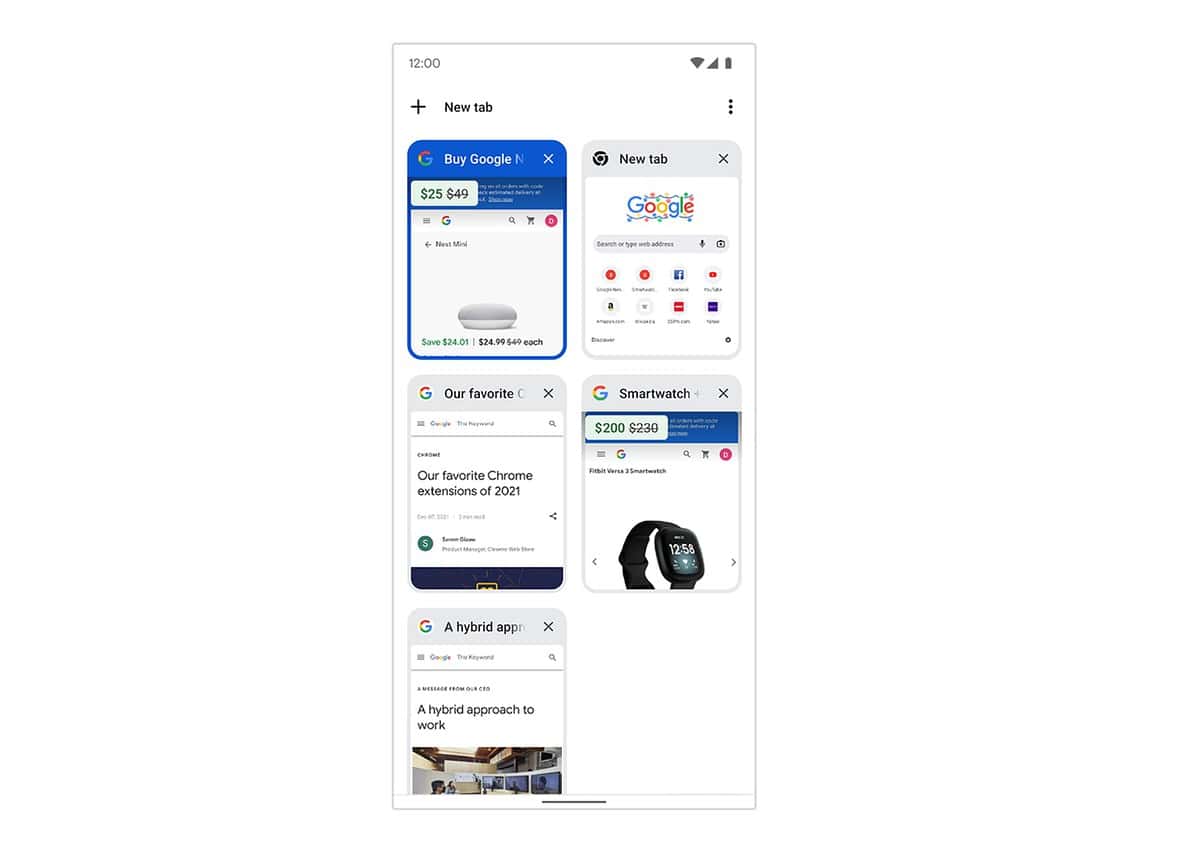 Google Chrome gets several new shopping features
mspoweruser.com
269f0637ff69e12ba61292effc002333
What just happened? This week Intel briefly released a test driver on its website that revealed names and codenames for multiple upcoming GPUs, supporting ongoing rumors. Intel later took the driver down, indicating it was an accident. Files inside test driver 30.0.101.9999 for the 11th generation Intel NUC Kit contained the full names of four Intel Arc graphics cards and an Intel Iris GPU, anonymous sources revealed to VideoCardz. They are the Arc A380, A350, A370M, A350M, and Iris Xe A200M. The first two arc models are dedicated GPUs, and the M models are for laptops. These might not be all the Arc models set to launch in early 2022. Codenames for Intel's future GPUs (in green). Source: VideoCardz The files seem to confirm previous rumors that Intel would name the Alchemist graphics cards after the first initials of their family names, which will go down the alphabet – A being short for Alchemist. The name A380 even appeared in a tweet at the start of this month, claiming it will perform similarly to Nvidia's entry-level GTX 1650 Super, with 6GB of RAM. The driver also mentions the codename "Elasti." In May, YouTuber Moores Law Is Dead said Elasti refers to Intel's Battlemage GPUs, currently expected to succeed Alchemist in 2023. Only two graphics cards appear under Elasti, but there will undoubtedly be more. The integrated graphics for Intel's next four generations of CPUs following Alder Lake also appear. Above and below Elasti are abbreviations mentioning Raptor Lake, Meteor Lake, Arrow Lake, and Lunar Lake. Raptor Lake is expected to launch next year and Meteor Lake in 2023, with the other two following them.

Intel's driver allegedly leak upcoming Alchemist A-series GPU SKUs plus next-gen "Elasti"
neowin.net
17878f4d13ab30c16f2b0dbaca13b45b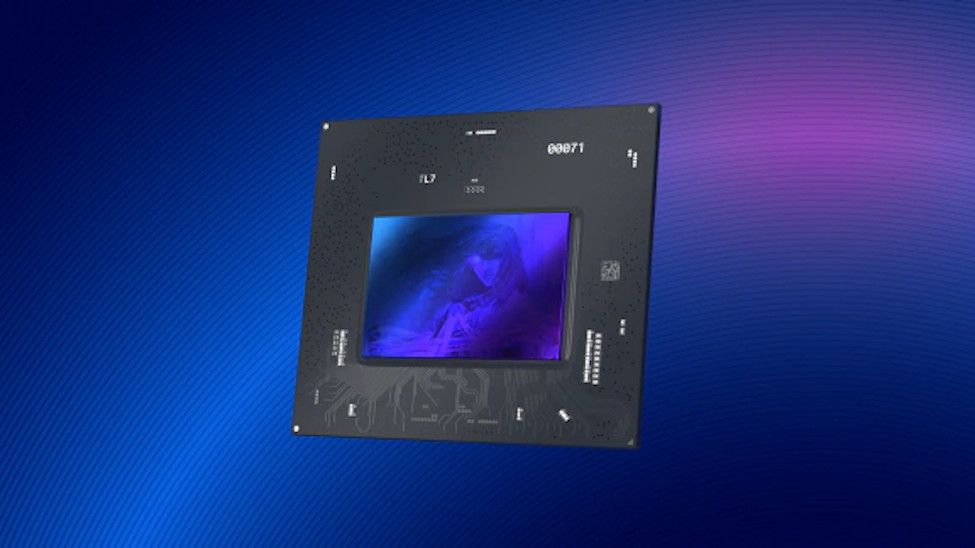 Intel might have just leaked new Arc Alchemist GPU names through a leaked driver
techradar.com
d5005a03d598200d0cc700c1fe6dc239
Whether you run a website, host a server for your favorite game, or manage lots of data for a business or other organization, using the right server equipment is vital. Cloud storage seems convenient, but keeping your files on someone else's computer is not always the best option (and it's certainly not the safest). At the end of the day, nothing beats the convenience, flexibility, and peace of mind that your own server or network-attached storage setup can provide, but since this gear doesn't come cheap, we've smoked out the best server deals and NAS bargains available right now so you can keep your digital goods secure and have some cash leftover. If your PC could also use an upgrade, then also be sure to check out these desktop computer deals once you're done here. The market for networking equipment isn't as broad as that for laptops, smartphones, and other popular consumer-friendly tech, but in our internet-powered digital age, servers cover a pretty wide spectrum of features, designs, and price points. One thing that servers do have in common with those other electronics, however, is that before you rush into a wild hunt for server deals, you need to set a budget and determine your needs. Make a checklist of things you absolutely need, things you would like but can live without, and things you don't need (or don't want at all) before you begin you search. A person setting up their own small, private local server is not going to be working with the same budget and hardware requirements as a network administrator, for example. A person who needs a simple private server should do just fine with one of the many smaller servers that are available so long as they stick to good brands like Dell and HP. For these, you'll want to place a higher value on things like upload and download speeds, ease of setup and use, robust hardware specs for running software (such as for a virtual machine, if you're using it for that), and long-term reliability than on advanced professional-grade features you likely won't need and probably don't want to pay for. Virtual servers are another option for those with modest needs, but bear in mind that in this case, somebody else is in control of the physical server itself and you are effectively renting it from them. Virtual servers are essentially more advanced cloud storage and remote desktop services in that the server is located off-site and accessed remotely. The primary disadvantage of virtual servers over physical ones should be obvious: You are not in possession of the server itself, which may or may not be important to you. The server may also be shared by multiple clients rather than dedicated solely to you. The advantages, however, are the same as with other cloud-based services: The server (and more importantly, the data it contains) are arguably more secure in a professional facility than they would be in your private residence. The equipment will also be handled by experienced technicians who can set up, monitor, and troubleshoot it so you don't have to. And, of course, virtual servers are generally cheaper. It goes without saying that these advantages are dependent upon you choosing a trustworthy virtual server provider. Business owners, IT admins, and other professionals are probably better served by buying their own physical network hardware and will naturally want to look for server deals on something a bit more duty-grade. Business-minded servers are more expensive than consumer-grade models but should offer faster upload and download speeds, enhanced security, and other advanced features. These may also come with extra professional help with things like installation and long-term support, which is something to consider. Modular server systems that can easily be scaled up (rack servers spring to mind here) are also a good idea if you expect your networking needs to grow in the future. Finally, as networking equipment is by its very nature designed to connect things and people to one another, you need to make sure that your hardware components are compatible when searching for server deals. Most servers are built to handle basic things like FTP, but you don't want to buy a server only to discover it doesn't work with certain software or connectivity protocols that you intend to use or that its hardware is lacking for running a VM. This is more important if you're setting up a modular system — for example, a multi-drive server chassis that doesn't come with built-in storage, or a multi-server network where switches are required.

Best Philips Hue deals for December 2021
digitaltrends.com
63184113fc8e9661cd2825b7609c10b1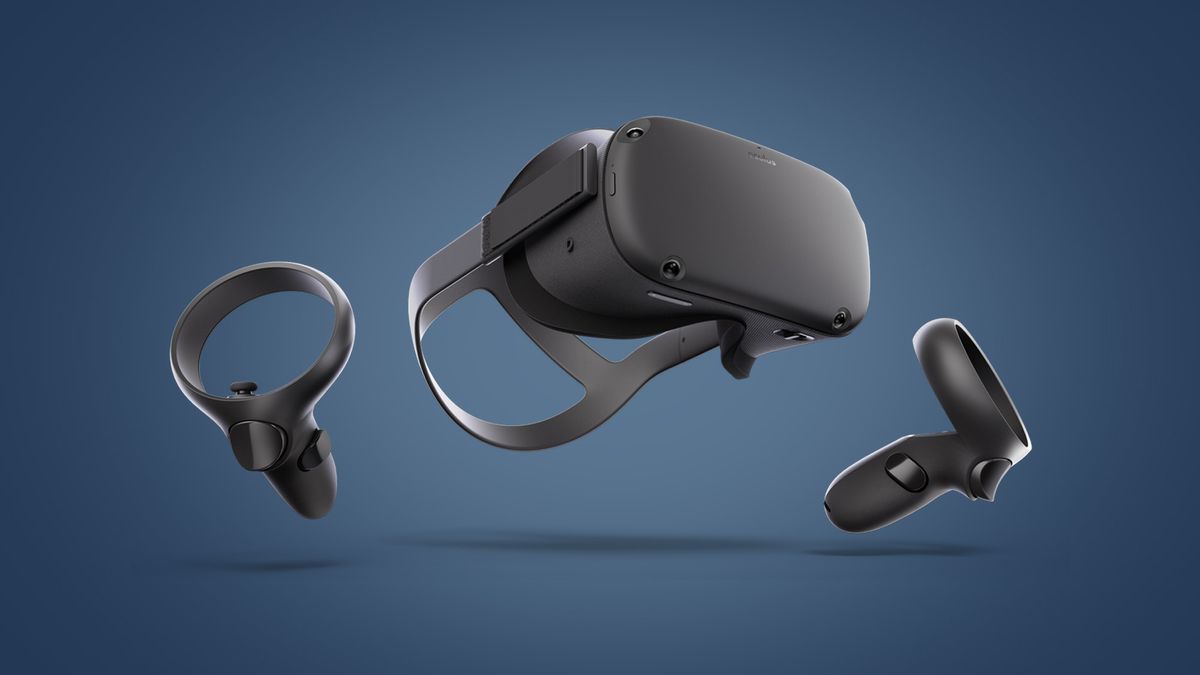 The cheapest Oculus Quest 2 deals in December 2021
techradar.com
767e781fc18d729739f2343682b4b69f
Best oven deals for December 2021
digitaltrends.com
3a02cc143773b6237f367eed05991710
Best Laptop Deals and Sales for December 2021
digitaltrends.com
4161c0b269d348938af627f2565d3013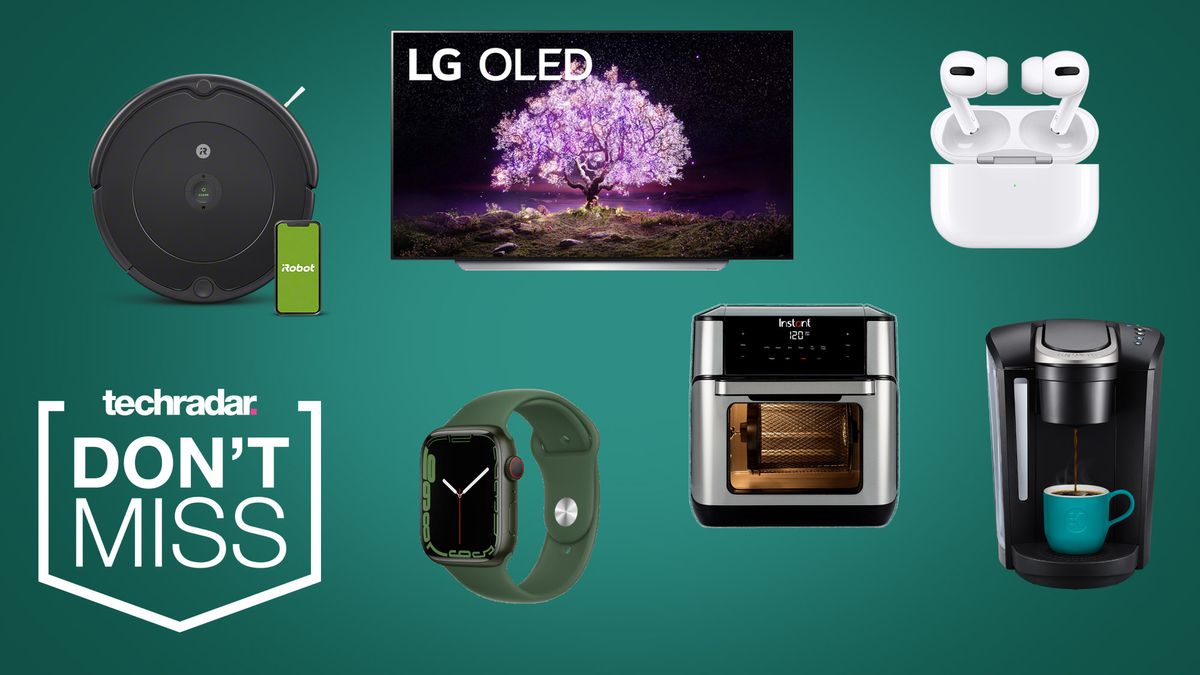 The best Christmas sales 2021: deals from Amazon, Walmart, Best Buy and more
techradar.com
98ff6bfd69253fa73501b3115bfb29a3
Best lap desk deals for December 2021
digitaltrends.com
d419ef717f93977ea27a1e62d18921e8
Best cheap space heater deals for December 2021
digitaltrends.com
e8a6830d233b2688350ae69a95ee1cf7
Best Amazon Fire tablet deals for December 2021
digitaltrends.com
64932b6c11cddddb7672f5ee2664ed98
Best generator deals for December 2021
digitaltrends.com
62877a240f3207c319b8213248e73af5
Best pressure cooker deals for December 2021
digitaltrends.com
1eb3471bff0cbcf424d9c586a2ec17a9
The best foldable phone deals and sales for December 2021
digitaltrends.com
9c0eec5510d1370b8a307edb9663c1dd
The best Samsung Galaxy S20 deals for December 2021
digitaltrends.com
cd31cd46b3c67e4024cb01f364f544f1
If you've been on the hunt for tablet deals, there are a few things to consider. You want tablets that come from a trusted brand, with reliable products that can withstand the wear and tear of daily use. Some of the best tablets on the market right now are made by Samsung as part of their Galaxy series. Samsung Galaxy Tab deals occupy a wide range of price points and technical specifications, with more affordable tablets for your kids or as a backup device to fully functional productivity machines that can help you get work done. Right now, Best Buy is offering some incredible Samsung deals on their Galaxy Tab lineup. If you're looking for a wallet-friendly option, you can pick up the Samsung Galaxy Tab A7 Lite for just $130, which is $70 off the regular price of $200. If you need something with more power, check out the Samsung Galaxy Tab S6 Lite, which has a 10-inch screen and is on sale for $250 — $100 off the standard price tag of $350. Lastly, if you need a robust work device, get the Samsung Galaxy Tab S7 FE with a Keyboard Cover, which sells for just $541. That's $219 off the regular price tag of $760. Keep reading to learn more about what makes these tablets so unique. The Samsung Galaxy Tab A7 Lite offers an incredible value at its price point. Whether you'll be using it for video calls, casual web browsing, or as an interactive learning tool for your kids, this tablet is an affordable way to add an extra screen to your household. It's equipped with a decently bright and clear 8.7-inch screen, so there's plenty of space for you to watch movies, play games, and read books. If you plan to use it as an entertainment device, it comes with three months of free YouTube Premium, so you can watch ad-free and download videos for your kids to watch on the go. This tablet also offers fantastic battery life, so you can keep it running throughout the day and charge it quickly using fast charging. On top of that, there's excellent connectivity with other Galaxy devices, so it's a great pick if you already own a Samsung Galaxy phone or tablet. Right now, you can pick up this value-for-money tablet for just $130 on Best Buy, which is $70 off the standard price tag of $200. That's an absolute steal for the price. Hit that Buy Now button if you're interested in getting this tablet — this deal might not last for much longer! While it's not on our list of the best Android tablets of 2021, with its slim form factor and lightweight design, the Samsung Galaxy Tab S6 Lite was built with both casual and power users in mind. If you plan to use it primarily for everyday entertainment, the excellent 10.4-inch with a 2000 x 1200 screen is terrific for viewing content on the go. It also comes with a dual-array speaker system with Dolby Atmos technology, so you can get an immersive audio experience even without earbuds plugged in. If you plan to use it as a work device, you'll appreciate the included S Pen that makes writing notes, marking documents, or editing photos incredibly easy. There's also a massive 7040 mAh battery that ensures nearly a full day of usage on a single charge, along with a fast-charging USB Type-C port for excellent cross-compatibility with your other devices. Under the hood, the octa-core processor ensures that multitasking is smooth, and the UI stays snappy, even when you're running some processor-intensive apps. There's even facial recognition, so you can unlock your tablet by simply looking at the front-facing camera. The Samsung Galaxy Tab S6 Lite can be yours at Best Buy for only $250, which is a whopping $100 off the regular price of $350. Hit that Buy Now button because we expect this tablet to be in high demand! The Samsung Galaxy Tab S7 FE is a bigger, more affordable version of the Samsung Galaxy Tab S7, which we put on our list of the best tablets for 2021. It has many of the most crucial features of the Galaxy Tab S7, including a powerful internal processor, a gorgeously slim design with thin bezels, and excellent integration with the Samsung Galaxy device ecosystem. It also has a bigger screen, with a massive 12.4-inch 2560 x 1600 display that is amazing for viewing content, multitasking, taking notes, and web browsing. If you're looking for an Android tablet, this device is an absolute no-brainer. The tablet comes with an S Pen out of the box, excellent for productivity, drawing, and designing. There are even some apps that were specifically designed to work with the S Pen, including Clip Studio Paint, which is a visual creation tool, and Noteshelf, which is for note-takers. On top of that, this particular package comes with a slim keyboard cover, so you can even turn this device into a laptop replacement. Right now, you can get this entire package for just $541 on Best Buy, which is a steep $219 drop from the original price of $760. If you're interested in this deal, hit that Buy Now button before it disappears!

The best Samsung Galaxy Watch 4 Classic screen protectors
digitaltrends.com
e53c65af92c263a2e86a236f6f773bf2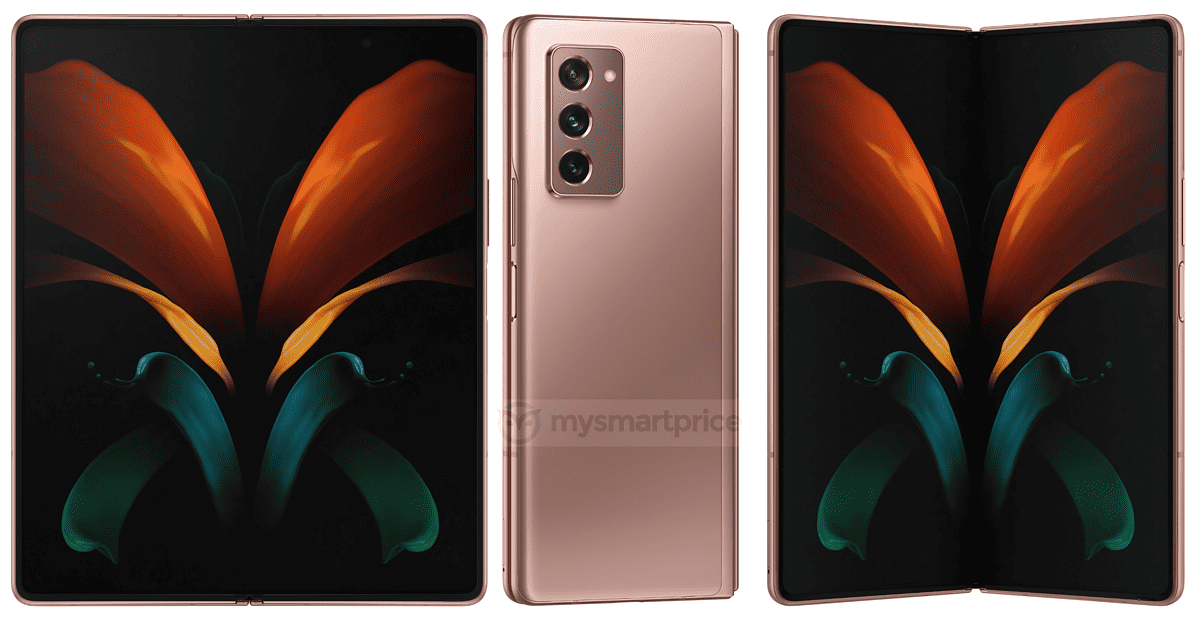 Massive discount: Save $400 on Samsung Galaxy Z Flip 3
mspoweruser.com
37a5d76d3105ec99a920f98dfa71c07a
The best Samsung Galaxy S20 deals for December 2021
digitaltrends.com
cd31cd46b3c67e4024cb01f364f544f1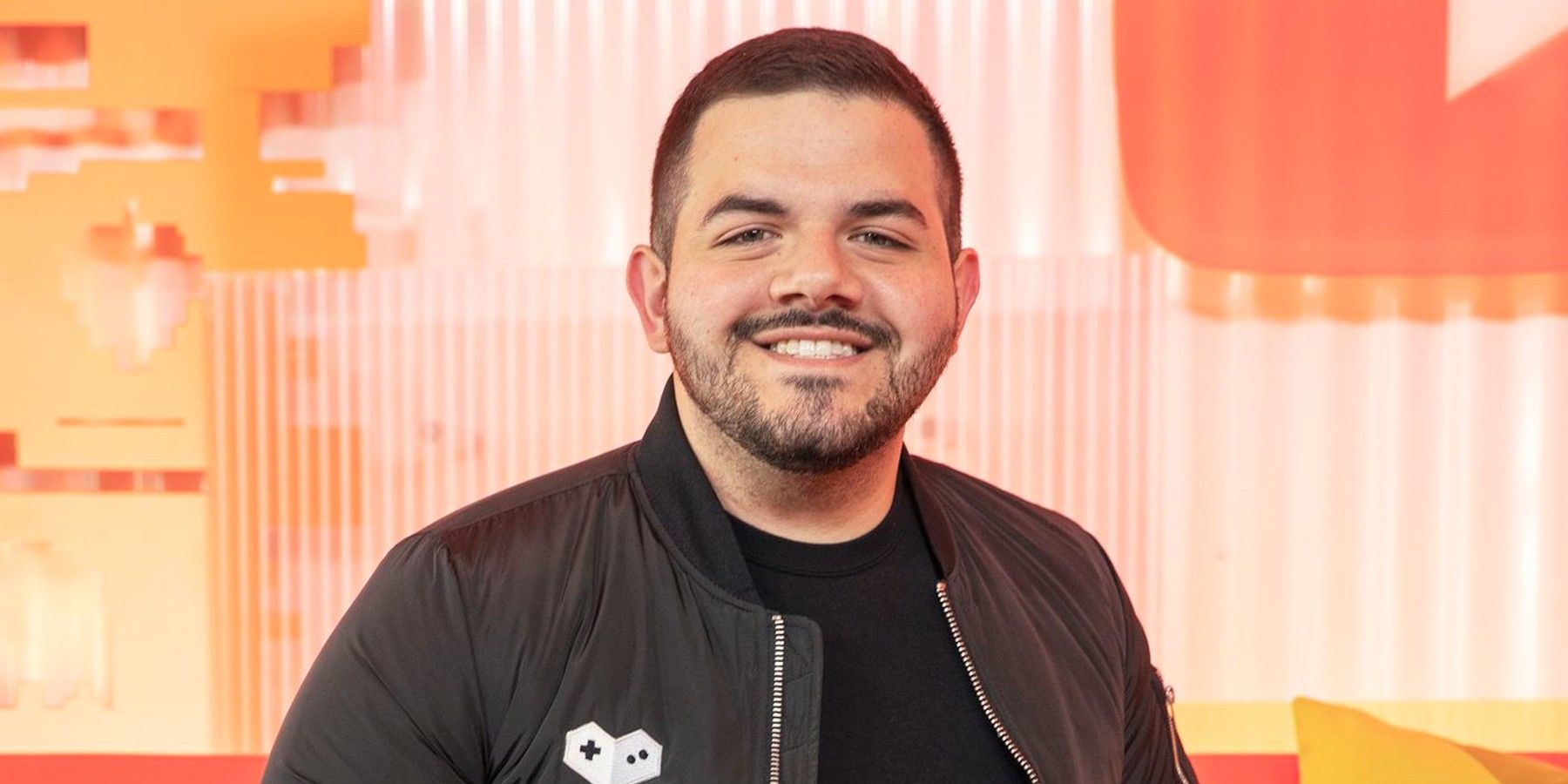 A new season for Call of Duty: Warzone was released a week ago, giving players lots of new content to check out. One highlight of the update for the battle royale was the incorporation of weapons from Call of Duty: Vanguard. In addition, the game finally saw the war-torn streets of Verdansk swapped for the new tropical island setting of the Caldera map. While some players loved the added content, others were less enthused, such as CouRage. As one of the more recognizable gamers on YouTube, CouRage draws thousands of viewers to his livestreams. During his broadcasts, the content creator has been known for playing a variety of titles, such as Warzone. So when the new Caldera map was released on December 8, it was unsurprising to see him jump back into the battle royale. Unfortunately, for those wanting to see him continue to play the game, it seems that his time on Caldera was short-lived. RELATED: Absurd Call of Duty: Warzone Bug Is Giving Players Giant Noses In a recent YouTube video, CouRage revealed that he had uninstalled Call of Duty: Warzone. He even claimed that streaming the game was impacting his mental health. In the YouTube clip, the star streamer talked about the factors causing him not to want to play the game. According to CouRage, the list of problems with Warzone was long. Among the issues, he cited changes to Loadout Drops, as he believed the updated system caused the game to feel slower. In addition, he disliked the terrain of the new Caldera map, claiming that it included too much vegetation. Furthermore, he was skeptical about the effectiveness of the new Ricochet anti-cheat system, noting that he had already run into several cheaters on the new map. As a result of these problems, CouRage has decided to focus on other games. "I'm done being miserable on Warzone," he said. He explained that not only was it harmful to his mental health playing something he dreaded streaming, but it was also unfair to his community to have to watch him play something he clearly disliked. In addition, he noted that his mental health was more important than making more money playing the battle royale. "I've more than come to terms with the fact that means making less money or potentially lose a sponsor or two," he said. "But I can't do it for my mental health." Despite these honest comments about his mental health, CouRage clarified that he wasn't finished with Warzone permanently. He claimed that he would return to the battle royale when the gameplay experience had been improved. With that being said, there was no timeline for when a possible return could happen. Call of Duty: Warzone is available now on PC, PS4, PS5, Xbox One, and Xbox Series X/S. MORE: Call of Duty: Warzone - What Happened During the Last Hours of Verdansk Source: Dexerto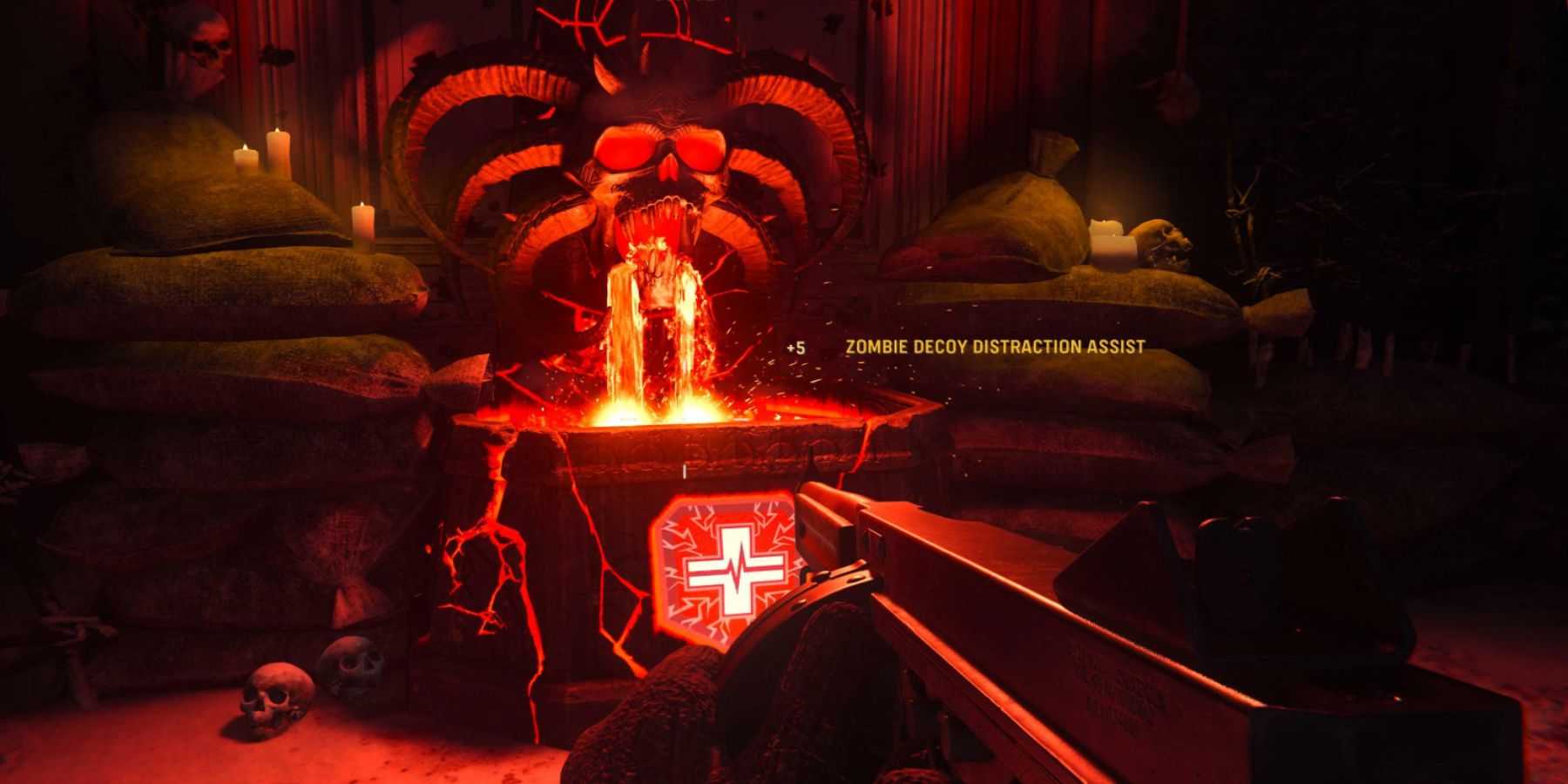 gamerant.com
gamerant.com
3087086726110e002f6917081e9c66c5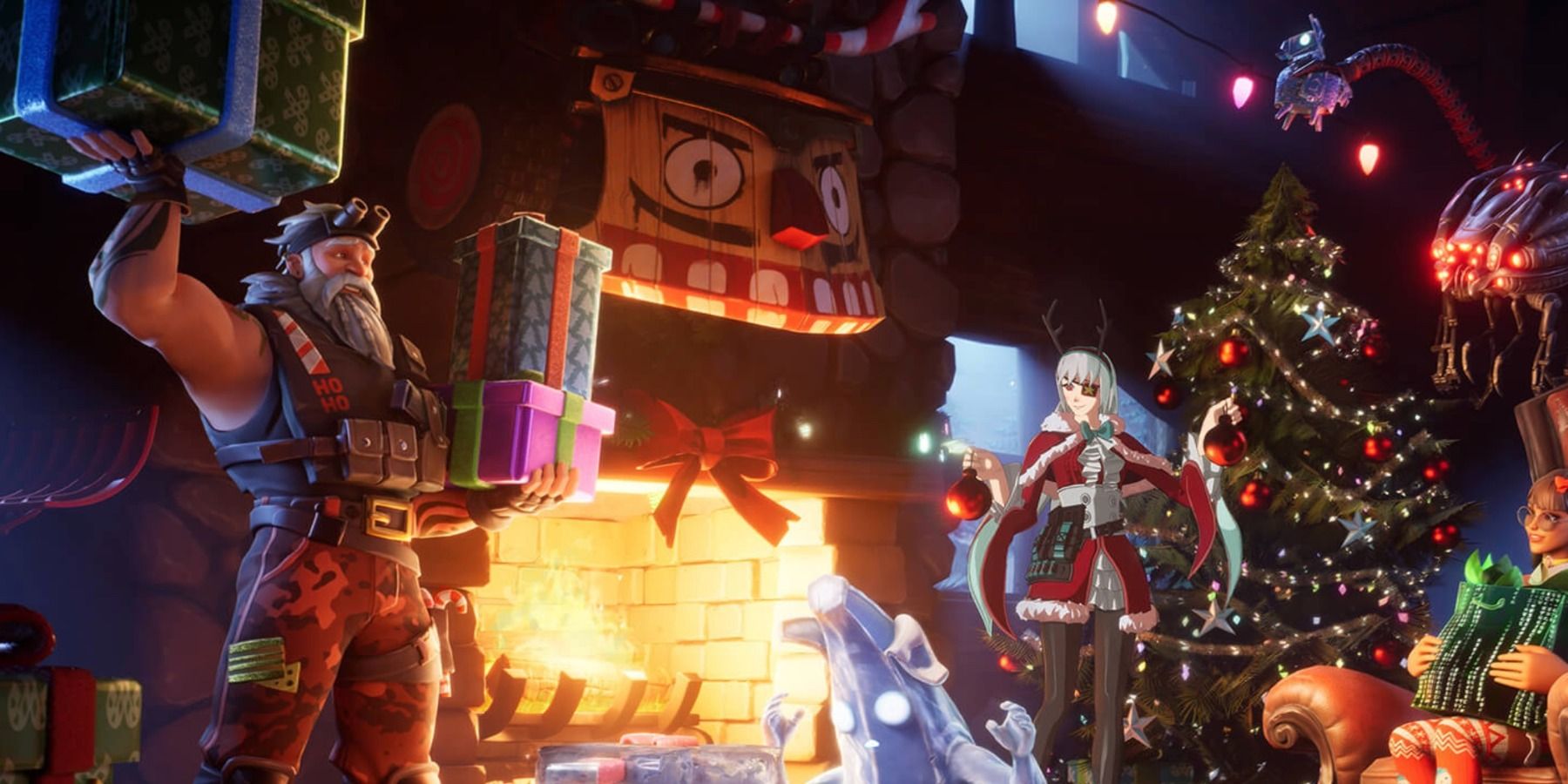 gamerant.com
gamerant.com
113b6905b15c6759394f880693f02cbd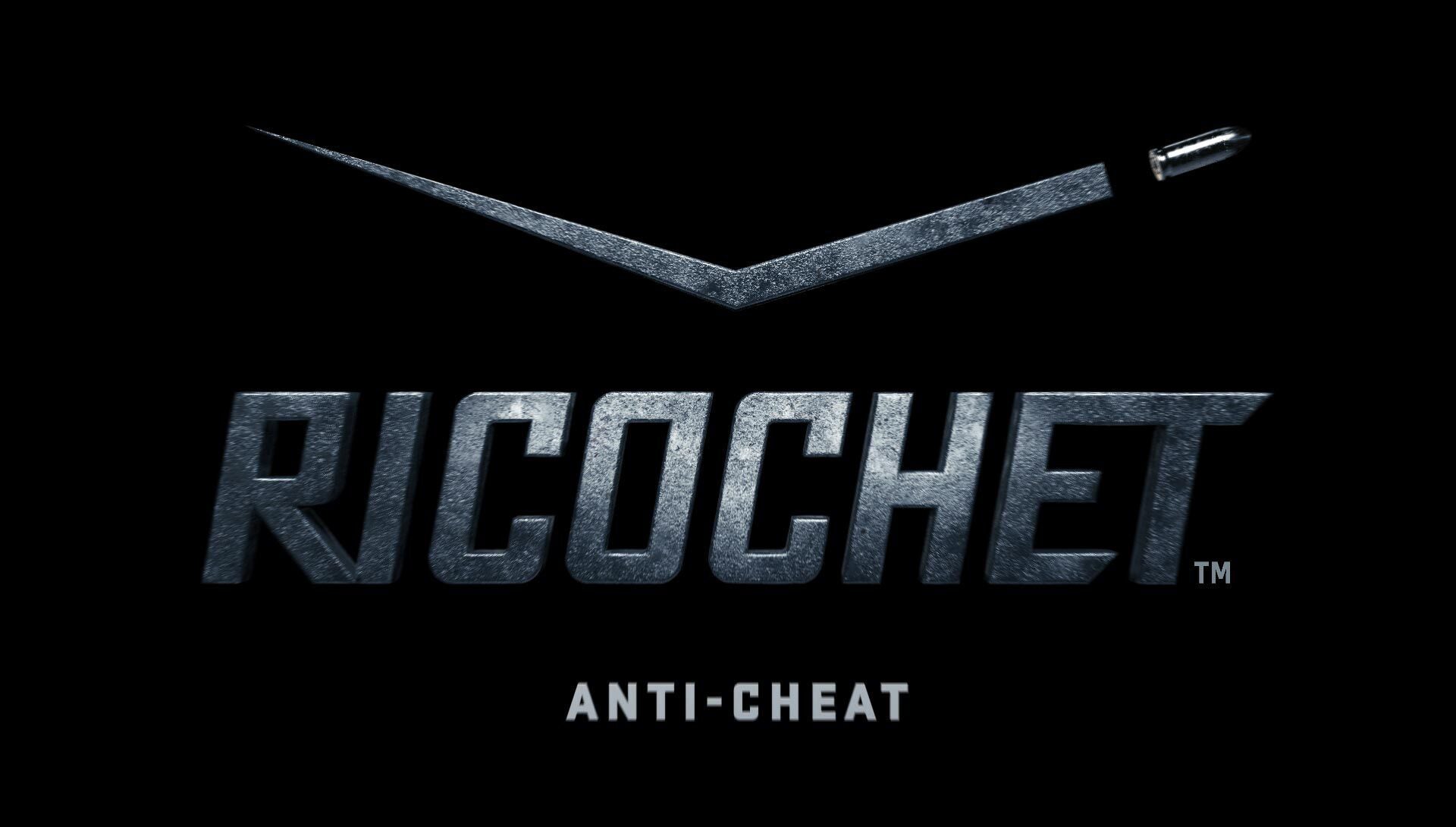 Warzone Ricochet anti-cheat has gone live, and cheaters are getting banned en masse
vg247.com
e9db336673c66b9152a99574cbe3de7e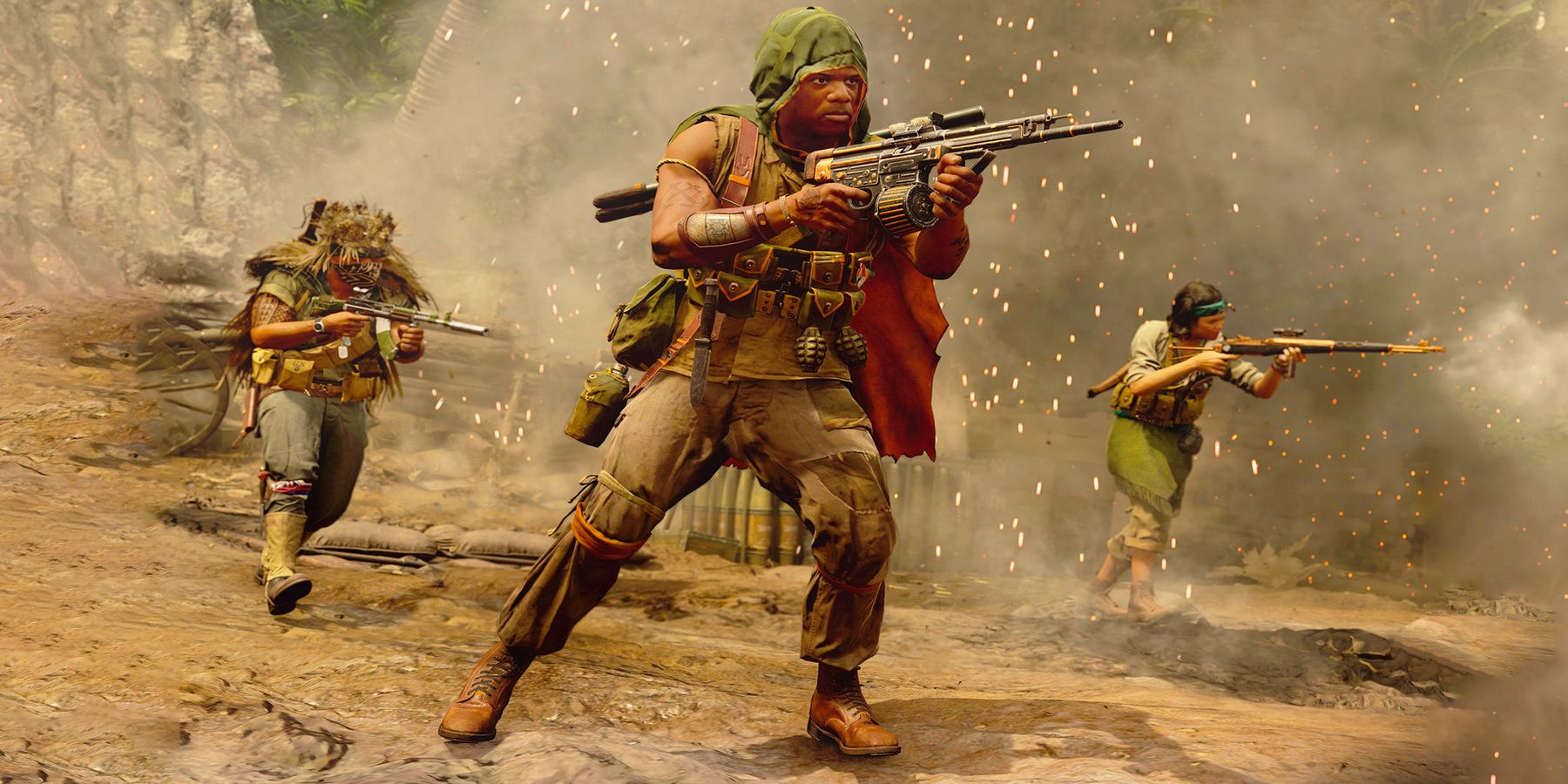 gamerant.com
gamerant.com
4e4ed58dd796aa2746c02b36acbe8829
It's week 2 of Fortnite chapter 3, season 1, and it comes with a new batch of seasonal quests for you to complete. Many of them are tied to new mechanics such as the tents and Spider-Man web shooters, so you'll likely need some tips for getting through the latest objectives. Here, we'll show you all the new quests, with guides on how to complete each and every one of them in Fortnite. Below are all the new quests for week 2: Be on the lookout for the MK-Seven Assault Rifle which can be found in chests around the world. When you finally find it, you can actually get away with damaging llamas or NPCs to complete this challenge. Simply mark the llama or NPC, which will show you how far away you are from it. As long as you're at least 50 meters away, you'll be golden. Then, make sure you deal 200 damage by shooting several shots. You can complete this by shooting a real player, but it's much more difficult. The hardest part about this challenge is simply knowing where each of these lakes is. Use the map above (thanks, Fortnite. gg) to see where both lakes are. Head to either of them and visit a nearby dock where you'll find either a fishing rod or a harpoon to catch fish. You need to catch three to complete this quest. Above is a map of all web shooter locations. You'll find the web shooters attached to surfaces with — you guessed it — webs. Interact with them, collect the shooters, and you'll be ready to start swinging, even if you aren't wearing the Spider-Man suit. From here, all you need to do is swing a distance of 50 meters. Despite the quest saying "in one" swing, it actually just means you need to travel 50 meters before touching the ground (or any surface) again. You'll need gold bars to buy items from NPCs around the island. Use the map above (courtesy of Fortnite. gg) to see all their locations. We typically recommend avoiding the high traffic areas, so stick to the outskirts if you want to avoid conflict. If you're low on bars, try eliminating players and they'll likely drop some for you. Med-Mists are green containers of spray that heal you. They don't spawn in fixed locations 100% of the time, but you might have some luck finding them around gas stations as floor loot. Worst case scenario, play normally until you come across a Med-Mist and you'll be ready to go. After you've found a Med-Mist, take fall damage and then you can perform the final step. From here, run and perform the slide maneuver and while sliding, use the Med-Mist. This is yet another one you'll likely get through by playing naturally. You'll want to find Epic Rarity weapons, which are purple, but Legendary and Mythic — orange and gold, respectively — will work as well. The nice thing is that you don't have to survive four storm circles in one match, so as long as you get through one, you'll make some progress. When you start, make sure you loot often and you'll eventually come across an Epic weapon. You can also upgrade weapons at the Weapon-o-Matic machines around the world. You can play it safe and simply hide on the outskirts of the map as the storm closes in. Tents can be found around the world as floor loot or set up in random locations. From our experience, they're typically located in open areas around the map, so try to stay away from the busier hubs while searching. Once you come across one, simply place two of your items inside and you'll complete the challenge.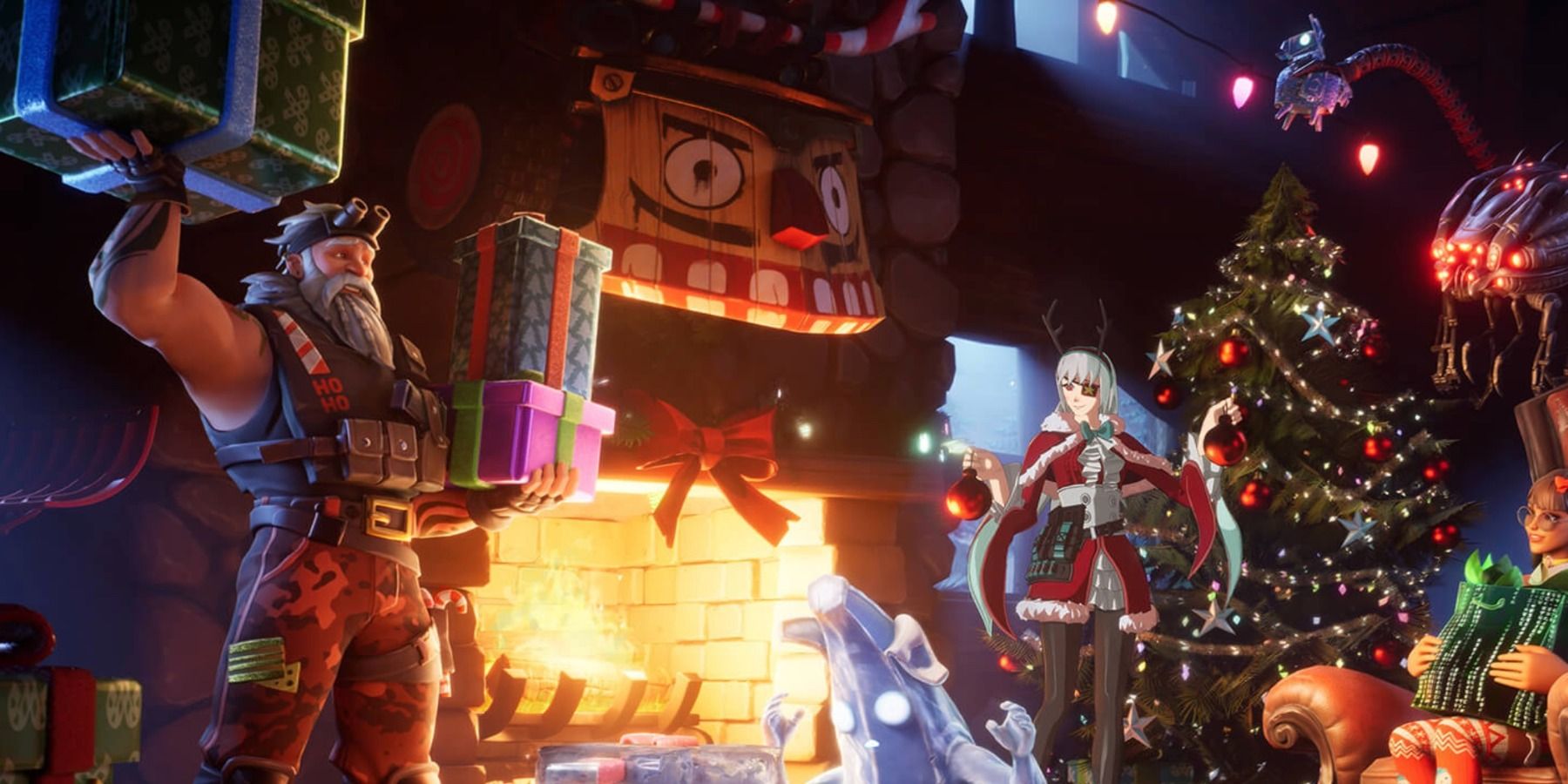 gamerant.com
gamerant.com
113b6905b15c6759394f880693f02cbd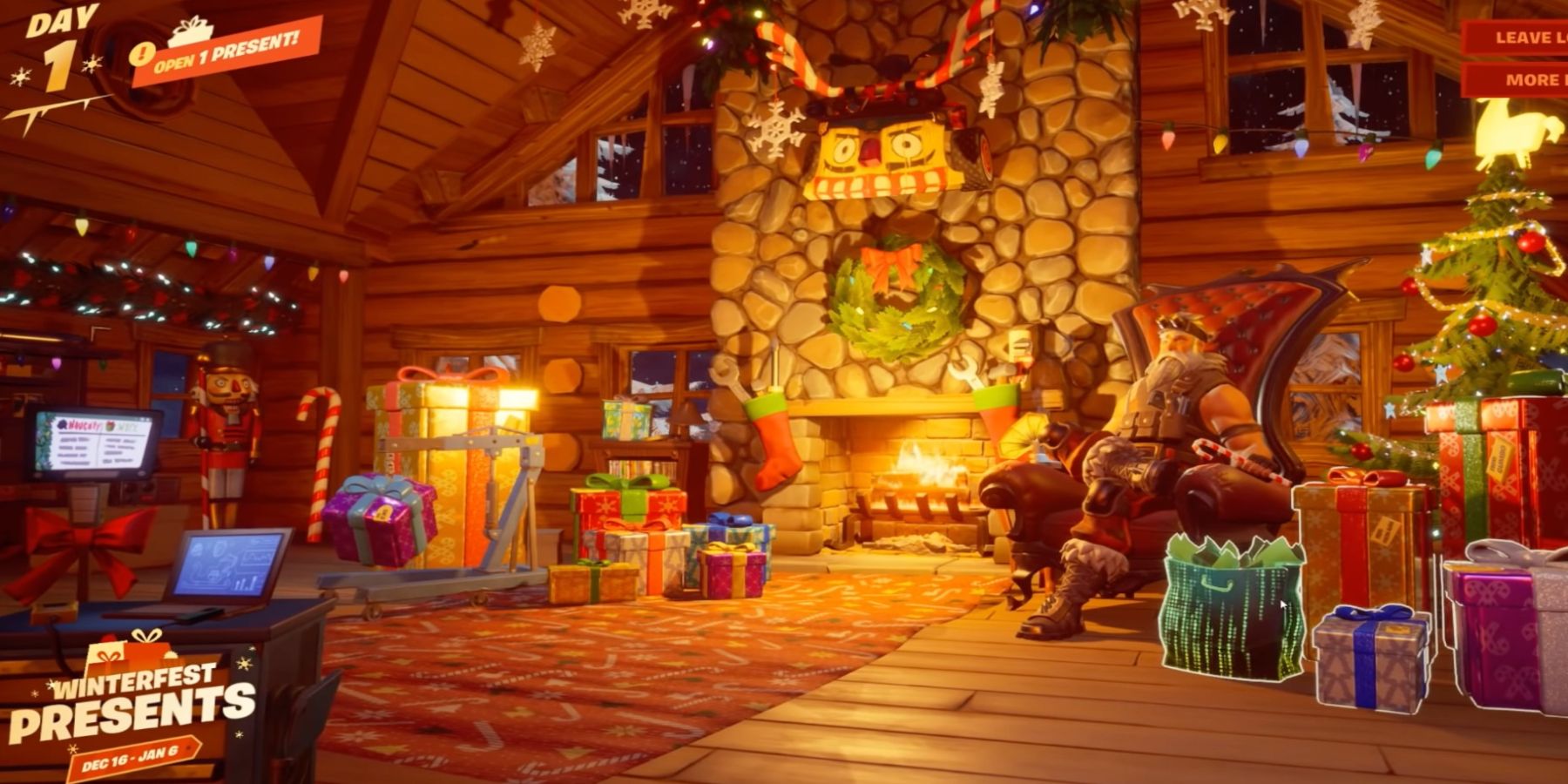 gamerant.com
gamerant.com
39b6c5061e2261c868d0c1815245f292
It seems very likely now that the Spider-Man: No Way Home ending is preparing for the entry of Miles Morales into the MCU. The ending of the new Spider-Man movie clearly sets the scene for a major status quo shift in Spider-Man 4 and it has been theorized that the new trilogy of movies centered around Marvel's popular web-slinger may introduce a live-action Miles Morales. Here's why the Spider-Man: No Way Home Miles Morales setup makes this almost certain. Spoilers for Spider-Man: No Way Home follow! Anyone who's seen Spider-Man: No Way Home knows the truth that despite a few rumors to the contrary, Miles Morales does not appear in the movie — but he is still heavily teased. In fact, he has been teased so much across No Way Home, Homecoming, and even an interview with Tom Holland that it seems very likely that Miles Morales will be introduced as a second Spider-Man in the next movie. The ending of Spider-Man: No Way Home has left Peter Parker (Tom Holland) at his lowest point. His guardian May Parker is dead and everyone on the planet, even Doctor Strange who cast the spell in the first place, has forgotten everything about him. Spider-Man is known about but Peter Parker doesn't exist. All of this leaves Peter with the possibility of making new friends and a brand new status quo, perhaps as a mentor character to a new Spider-Man. Miles Morales has already been confirmed for the MCU back in Spider-Man: Homecoming, after Aaron Davis (Donald Glover) mentions his nephew — that's Miles. Davis also threatens Miles as villain The Prowler in the Into The Spider-Verse movie and Marvel's Spider-Man: Miles Morales game. No Way Home now features Electro (Jamie Foxx) making a knowing reference to "a black Spider-Man." Furthermore, the bridge scene with Doc Ock's attack features a mysterious character only named "MIT Assistant Vice-Chancellor" played by Paula Newsome who seems far too important and cool to not get a name, especially when she tells off Octavius — this could very well be Miles' mother Rio Morales, who is the reason Miles got into science and in the game is running for a city council seat. In an interview with GQ, Spider-Man series producer Amy Pascal said they wanted to keep making movies with Tom Holland but Holland himself said, "maybe it is time for me to move on. Maybe what's best for Spider-Man is that they do a Miles Morales film." Tom Holland has a habit of teasing things about future Spider-Man plans that he isn't supposed to, but it still seems likely that he'll continue on as Peter Parker — just alongside Miles Morales, as in happening in Marvel's Spider-Man II. Spider-Man: No Way Home is out in theaters now. Miles Morales will appear next year in Spider-Man: Across The Spider-Verse Part One, at the very least.

Spider-Man: No Way Home Ned Leeds: Does he die or become a villain?
gamerevolution.com
b862a3d13df87c80ec92d3cab204eac7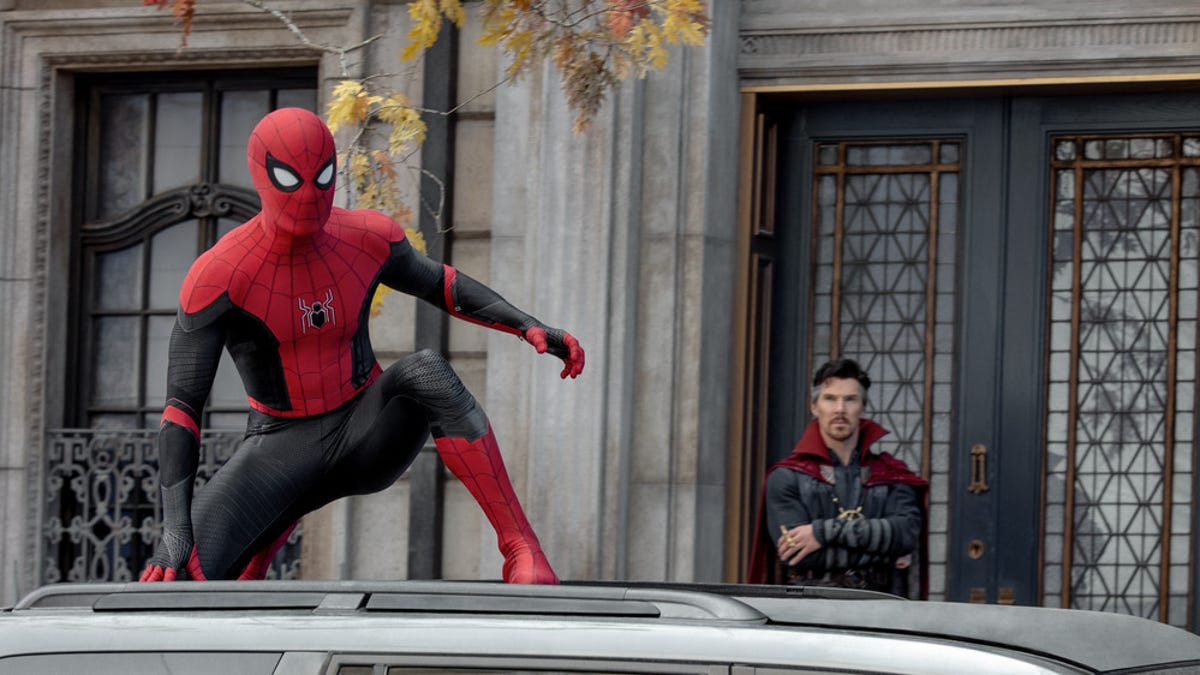 Let's Talk About Those Spider-Man: No Way Home Post-Credit Scenes
gizmodo.com
d39028c84c355e378abe67dac277a9c3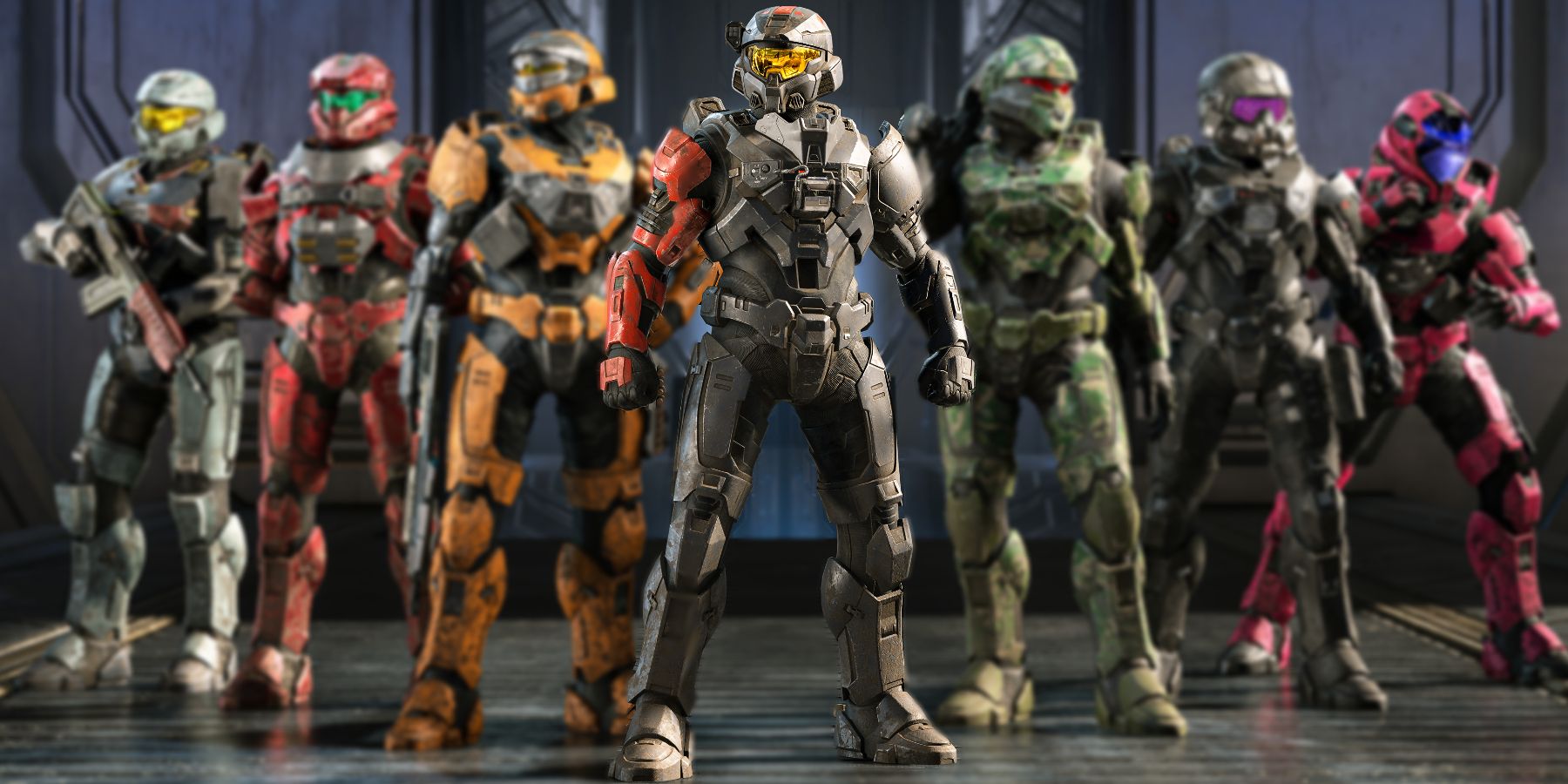 343 Industries has been good listeners regarding fan feedback, with many issues of Halo Infinite 's steadily being addressed since the game's launch. From the price of cosmetics, to what is being offered itself, one of the most desired changes is for Halo Infinite 's Item Shop to be reworked, with one fan completely redesigning its presentation. Halo Infinite 's Item Shop is where players can purchase unique Spartan customization options using real money. To many players' surprise, much of the Item Shop's customization options so far have been not necessarily the most special of pieces, but components that players expected just as part of the base game to start with. This development, the prices of the cosmetics themselves, and the lack of freely attainable armor pieces has seen Halo Infinite players accuse 343 Industries of contradicting former statements regarding the freedom of player customization. Some fans have estimated the cost of purchasing all of Halo Infinite 's Season 1 cosmetics to be over $1,000. RELATED: Buying All Halo Infinite Season 1 Paid Cosmetics Could Cost Over $1,000 Spartan_D1994 took to the Halo subreddit to share an incredible UI redesign of Halo Infinite 's Item Shop, arguably addressing the majority of fans' current gripes. Their redesign splits the Item Shop into two pages: one for weekly rotating items, and one for daily items. Further separation was brought to the current listing format, breaking up some of the available bundles so that their contents can be purchased individually. For example, currently the Golden Eagle AR weapon model, the Arena Clash weapon coating, and the Controlled Leak weapon charm can only be purchased in $15 bundle, but Spartan_D1994's makes them purchaseable a la carte. The full redesign can be viewed here. Those aren't the only considerations Spartan_D1994 took though while making this redesign. After many players were perturbed by Halo Infinit e charging crazy prices for simple armor coatings, Spartan_D1994 brought the Item Shop's prices down across the board. Items like armor coatings, weapon coatings, and weapon charms are $1, playercard and emblem sets are $2, and player stances, weapon models, and vehicle models are just $3. The largest price reduction of all comes to specialty weekly bundle, typically being sold for $20, but in this case, is only $6. There is a very little that Spartan_D1994 misses with their redesign, generally providing a much more welcoming and sensical Item Shop presentation. As a free-to-play game, Halo Infinite having an Item Shop is not the problem—it is how it is structured. Fans are unhappy they have to pay expensive prices for content that was free in prior Halo titles, though obviously they would much rather them just be in the game to begin with. 343 Industries has been very accomadating so far, so hopefully it continues with these Item Shop woes. Halo Infinite is available on PC, Xbox One, and Xbox Series X/S. MORE: Halo Infinite: 10 Best Weapons To Use In Single-Player Campaign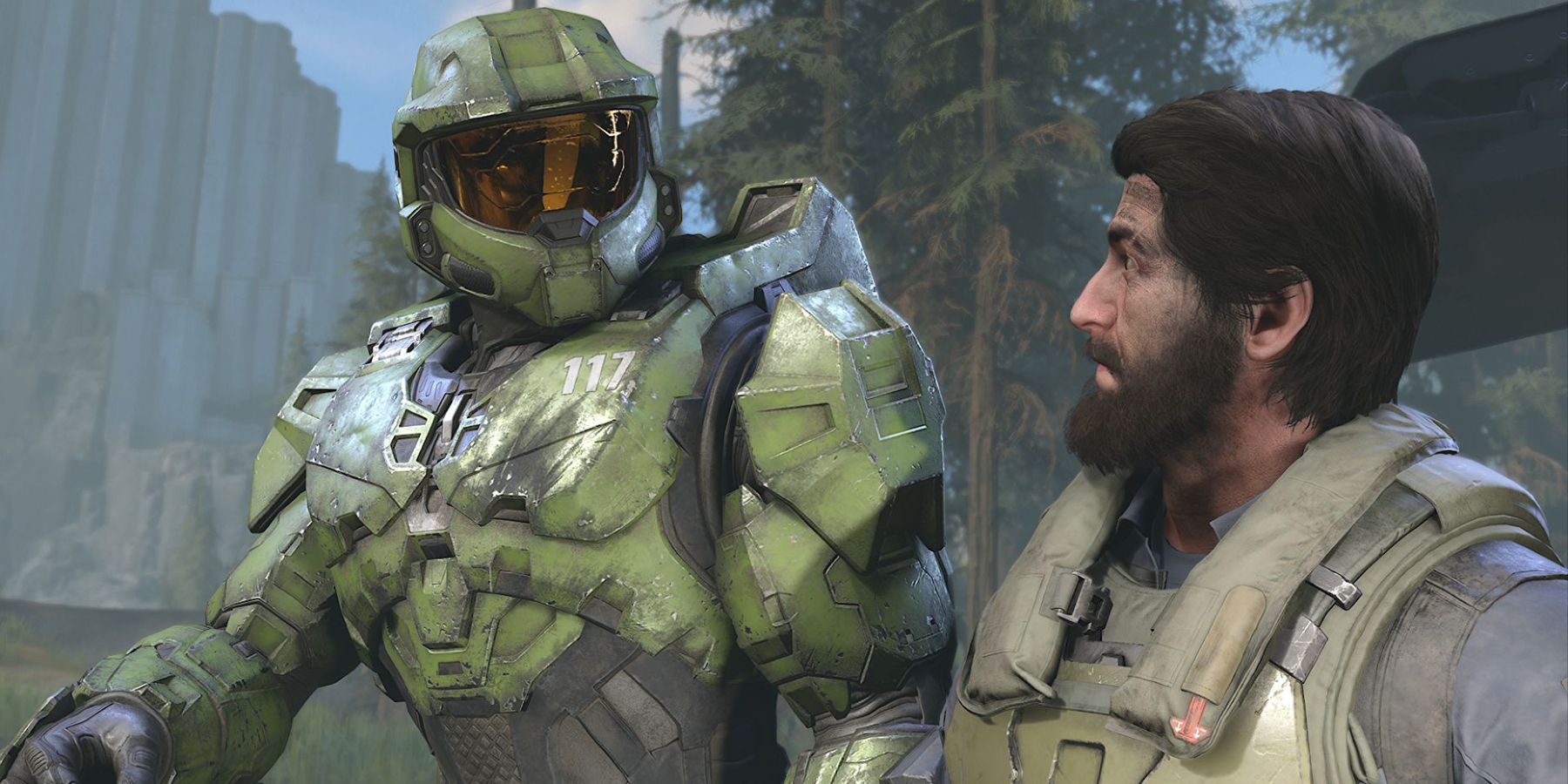 gamerant.com
gamerant.com
7669814a7433b231323080c8709bb59c
Halo Infinite's next samurai multiplayer event will offer more free cosmetics
polygon.com
9a98757c7e8918ab3e10422a997bc1a4
Ever since the game's launch, Pokémon GO has had a dedicated following of Pokémon trainers. In 2020, despite the terrible pandemic that plagued us, Pokémon GO generated over $1 billion in revenue -- an impressive feat considering it first launched in 2016. Even today, the free-to-play title continues to garner millions of players worldwide, rendering it one of the most popular mobile games in history. Thankfully, if you haven't had a chance to play Pokemon GO yet, it's never too late. The studio behind the game, Niantic, has had nearly five years to perfect the experience, add new Pokémon, and introduce new ways to participate in community events. Here's everything you need to know about the beloved augmented-reality title. There are a couple of things you need to do to begin your quest as a Pokémon trainer, including creating an account and selecting your first Pokémon. Step 1: To start playing Pokémon Go, first head over to the App Store or Google Play Store and download the game for free. Step 2: Once it's installed, you'll be asked to customize your avatar and pick your first Pokémon -- Bulbasaur, Charmander, or Squirtle. This selection is all about personal preference, so feel free to pick whichever one catches your eye -- you'll eventually encounter all the others in the wild. Now that you've picked your first Pokémon, it's time to fill your inventory with useful items to help you catch more. In Pokémon GO, players acquire items in two primary ways -- either they collect them by visiting PokéStops, or they purchase them with real cash (or in-game currency called coins, which can be earned by playing). Step 1: PokéStops are marked on the map by large blue indicators. When you are within range of one, it will expand and show an image of the landmark it represents. To interact with it, simply click on it and swipe your finger across the screen. This will cause a bunch of items to float across the screen. You can then either click on these one at a time or simply close the screen -- they'll appear in your inventory regardless. Step 2: The other main landmarks you'll see on the map are Gyms. These are locations where you can battle Pokémon left behind by other players -- so long as you've reached the appropriate level. Here, you'll assemble a team of Pokémon to try and knock out those defending the Gym. If you manage to wipe out the other team, you'll be able to leave your own Pokémon behind and claim the Gym. Don't worry about this too much -- the game will explain the gist of it when you're finally able to compete. Beyond battling, Gyms can also be spun like PokéStops to earn new items. Step 3: Gyms and PokéStops restock every five minutes, so feel free to keep spinning them if you're in the area. The more you spin, the more items you'll find. We won't get into the intricacies of Gym battles here, but it's important to know that you can earn coins by defending a Gym. There's a cap of 50 coins you can earn per day, so make sure you're visiting them often to maximize your coins. As you wander around your neighborhood looking for PokéStops, you've probably already come across your fair share of Pokémon. For the most part, Pokémon appear randomly. However, some are more likely to pop up in certain locations than others. Step 1: You can track the creatures in your location using the Nearby function located at the bottom right of the screen. This allows you to click on the Pokémon you'd like to track, and the game will give you the directions to its location. Step 2: Pokémon GO also includes a feature called Sightings, which will give you hints related to nearby Pokémon, but doesn't include specific directions on where to find them. Certain Pokémon are exclusive to specific territories. For example, Mr. Mime is only found in Europe. While exploring and exercise are both at the heart of this game, so is catching Pokémon. Here's what you need to know. Step 1: Once you've found a Pokémon you'd like to catch, the first step is to walk close enough to interact with it. When they are finally inside the ring surrounding your player, click on them to initiate a battle. This will open a new screen where the action will play out. Step 2: Since Pokémon GO is a mobile AR game, catching Pokémon uses your real surroundings as a backdrop to the action. However, as fun as the feature is, it makes catching Pokémon more cumbersome than it has to be. We'd strongly recommend turning off the AR feature using the toggle at the top right of the screen. If you love the AR implementation, feel free to keep it on, but just know your job becomes much easier without it. Step 3: To catch the Pokémon, throw a Poké Ball at it by swiping your finger up from the bottom of the screen. If done properly, it'll hit the Pokémon and suck it into the Poké Ball. Ideally, you'll want to wait until the circle surrounding the Pokémon is as small as possible before throwing your Poké Ball -- the more accurate the throw, the better the chance of catching them. Just make sure your Poké Ball lands within the circle to increase your chances of success. Step 4: Catch difficulty is indicated by the color of the ring around the Pokémon -- red means the Pokémon will be hard to catch while green indicates an easy target. You can try using higher-level Poké Balls -- such as Great Balls -- if you're having trouble catching stronger Pokémon. Step 5: Or, if you have some in your inventory, using Razz Berries can increase your chances of a successful throw. Golden Razz Berries also exist, but these should only be used for legendary Pokémon, or those you really don't want to risk losing. There are several other items that aid in catching new Pokémon, and combining high-level Poké Balls with different Berries is the key to landing high-level monsters. Step 6: An advanced technique involves spinning the Poké Ball in a circle before throwing it. The spin will cause it to curve and will reward you with more XP if the catch is successful. Once you've got the hang of visiting PokéStops and catching Pokémon, it's time to start knocking out some Research Tasks. There are basic objectives -- such as catching a certain number of Pokémon or making three "Great" throws in a row -- that reward you with high-quality items and rare new Pokémon. Tasks are acquired by spinning Poké Stops and rotate out on a monthly basis. Research tasks can get surprisingly complex, but Pokémon Go does a great job explaining how they work -- be sure to take advantage of them! While taking over Gyms and catching new Pokémon might be at the heart of the casual Pokémon GO experience, there's much more available for players who want to dive deep into the world of Pokémon. The Go Battle League was added in 2020, allowing players to fight other trainers in real time for a spot on the leaderboard. Step 1: Once unlocked, you'll get to assemble your team of Pokémon -- based on certain league guidelines -- then take the fight online to prove you're the best around. Step 2: Or, you can team up with others in your area for Raid Battles. These see teams of trainers trying to knock out one powerful, wild Pokémon. Completing a Raid will reward trainers will an insane amount of experience points, along with the chance to catch the Pokémon for themselves. Though much of your time spent with Pokémon GO will involve walking around and collecting wild Pokémon, you'll also spend a considerable amount of time managing your inventory. Step 1: In Pokémon GO, you have limited inventory space, so you'll need to keep up with the items and Pokémon you have to ensure you don't run out of room. One of the easiest ways to clear room for Pokémon is to transfer them to the Professor, which grants you candy for that Pokémon. Step 2: Candies are required to evolve each Pokémon, so you should get in the habit of transferring your duplicates when you can. This will help you get closer to filling out your Pokédex. Whether you participate in Raids, Gym battles, or other activities, they're all best done with friends in Pokémon GO. Nearly every aspect of the game can be done with a group, so take advantage of that to add to the fun. Step 1: Remember, you can trade with others to acquire hard-to-find Pokémon, or simply exchange gifts each day to increase your friendship level (which rewards you with XP). There's something magical about playing this game with others, and while the past couple of years haven't been the most conducive for in-person meet-ups, there are still online options for enjoying this game together. Step 2: One of the most famous aspects of the game is the annual Pokémon GO Fest, which is normally held in popular cities across the world. The festival gives players a chance to make new friends who share their Pokémon passion, but there are also some in-game exclusives you can snag at the event. With so much content, playing Pokémon GO for the first time can become overwhelming. The game has a lot of layers, but it's possible to jump in and start exploring little by little until you get the hang of it all. Step 1: Follow the steps outlined in this guide to stay focused. Spin PokéStops. Catch Pokémon. Battle in Gyms. Step 2: Once you've figured out that core loop, try diving into the world of Go Battle League. This is an easy way to gain experience from battles without leaving the comfort of your own home. Then, once you've put together an impressive stable of Pokémon, head out and join a Raid. There's a lot to do in Pokémon GO — take your time and enjoy it. With just a little practice, you'll discover how addicting the game truly is, and you'll grow your skills as a trainer.

How to unlock characters in Genshin Impact
digitaltrends.com
81274e3d1fe2d0a6091e9817b3505a34
A battle royale where you fight to the death with words, not bullets
polygon.com
18e34f2a7a61883223ef669ea932278a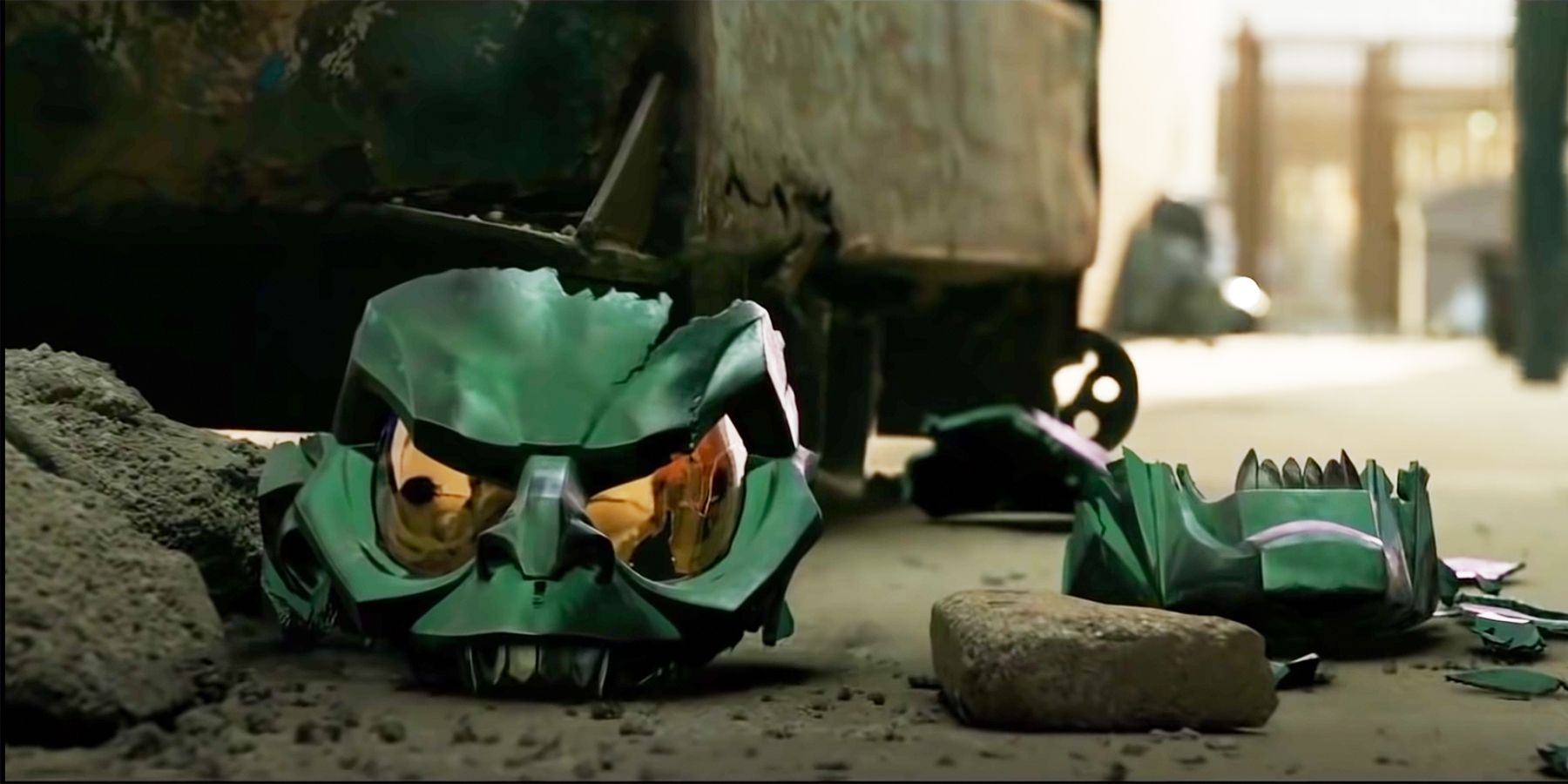 The latest standalone movie about everyone's favorite web-slinging hero, Spider-Man: No Way Home, has been the subject of endless hype. The latest entry to the franchise has been particularly exciting for fans, as the inclusion of the multiverse enables a host of beloved characters to appear from Spider-Man movies past, including the inimitable Willem Dafoe as Green Goblin. But Dafoe has revealed that he had one stipulation before returning. Dafoe delighted as Green Goblin in the first installment of Sam Raimi's original Spider-Man trilogy, released in 2002. The character is the evil alter-ego of Norman Osborn, the father of Peter's friend Harry, and is a manifestation of a violent insanity induced in Norman after being exposed to a chemical formula in an experiment gone wrong. The Green Goblin met his end at the close of Spider-Man, but his return nearly twenty years later was teased for months since the introduction of the multiverse, where different iterations of characters can appear in the MCU through different dimensions. Interestingly, the inclusion of the classic Spider-Man villains was initially meant to be a surprise for fans, but studios decided to confirm the return after months of rumors. RELATED: Spider-Man: No Way Home - How Green Goblin Relates To Mysterio In soundbites from Sony Pictures Creative Content, obtained by Mulderville and subsequently viral on Twitter, Dafoe spoke about returning as the infamous villain Green Goblin. Dafoe mentioned his concerns about the character being contrived or whether it might just be a "power cameo" and that he wouldn't "have something to do." But the idea as pitched to him by producer Amy Pascal and director Jon Watts managed to convince him, especially Watt's unique method of allowing actors to bring their own take to characters, which Dafoe said was particularly gratifying. But the one thing Dafoe was especially concerned with was, as he puts it, "the physical stuff," saying that after the initial pitch and before any script materialized, Dafoe specified, "I want to do the action!" He went on to explain how fun that part is for him, and that he finds it impossible to add integrity to the character without partaking in these scenes. It's refreshing to see such an esteemed actor testify to the integrity and artistic qualities of big action movies, as opposed to directors like Martin Scorsese who loathe the superhero genre. The video was trending on Twitter, with many fans praising the obvious passion and dedication Dafoe has for the iconic character. His scene-stealing performances were highly praised by critics - and he is the original cinematic Spider-Man villain, after all. The hype over his return is testament to how loved the character is. Though everyone involved in the making of Spider-Man: No Way Home has been careful to avoid revealing spoilers and to remain tightlipped, Dafoe alluded to his turn in the movie being "even darker," and to Green Goblin as having absolutely zero interest in compassion, eschewing everyone weak and only valuing strength. Dafoe sees this as a contemporary take on people in power. After astronomical amounts of anticipation, fans can finally see what's in store for Peter Parker and co. this week. Spider-Man: No Way Home releases in theaters on December 17, 2021. MORE: Is Multiverse Hype Distracting From Great MCU Stories? Source: Youtube| Mulderville

Spider-Man: No Way Home Ned Leeds: Does he die or become a villain?
gamerevolution.com
b862a3d13df87c80ec92d3cab204eac7
Google Chrome is fairly plain, but it doesn't need to be. One way to spice it up is by changing the overall look with a new theme. Not only can you change the New Tab background but you can also change the overall colors of your tabs, bookmarks bar, and more. However, this method does not work in the Chromium-based version of Microsoft Edge, nor does it alter the appearance of Google's website. This method only pertains to Google Chrome, the best browser you can download right now, and its New Tab page. Here's how to change your Google background. But before pressing on, be sure to update Chrome, as the following instructions reflect version 91 of Chrome and later. First, we'll walk you through how to change your Google Chrome background using a theme. Here, we install a theme you can download from the Chrome Web Store. Themes typically include a custom image that appears on the New Tab background and new colors splashed throughout the browser. First, locate the Theme setting in Google Chrome. To do this: Step 1: Click the three-dot Customize and Control Google Chrome icon located in the top-right corner. Step 2: Select the Settings option on the drop-down menu. Step 3: Select Appearance listed on the left. Step 4: Click Theme listed on the right. This action takes you to the Chrome Web Store. Note: You can also access this setting by typing chrome: //settings/appearance in the browser's address field. The Chrome Web Store's Themes section opens in a new tab. Here's what to do next. Step 1: Browse the store's many available themes divided by broad categories. The primary image that you see is typically the image that will appear as your New Tab background, so you can use that as a guide for which one to pick. If you need help, these are our favorite themes. Step 2: If you're still undecided, know that category displays eight of the top-rated themes for that content type, but you can expand that category by clicking the View All button. If you only want to view themes developed by Google, click the All option listed under Categories on the left and select By Google on the drop-down menu. Step 3: Once you select a theme, make sure to check out its preview images and reviews. The Support section (if available for that theme) will also give you information about problems (if any) users have encountered using the theme. Checking the Related tab will show you more themes by that particular developer. Step 4: Remember, most themes extend their colors and patterns throughout the browser window and tabs, so take a look at the full appearance before installing. Next, it's time to add your theme to Chrome. Here's what to do: Step 1: If you find something you like, click the blue Add to Chrome button. Step 2: As Chrome applies the theme, this button turns white, reading Added to Chrome. You'll also see a blue Undo button for removing the theme. Step 3: Take a look at your new theme, which automatically transforms the browser's appearance. Tabs may or may not change color, and if you open a new tab, you should see the theme's primary image. Step 4: See if you like the overall theme — sometimes you may like the image, but not what it does to your tabs or the colors it adds throughout the browser. If that's the case, hit the Undo button or head back to Appearance in the Settings menu and revert to the default theme. Warning: While Google supposedly scans everything uploaded to the Chrome Web Store, be cautious about what you install in Chrome. Try to stick with a Google-developed theme and install a custom image for your New Tab background. Not all non-Google themes are malicious, but you never know. Perhaps you don't care for any of the themes, or you'd prefer to use a personal image instead. The next few sections walk you through the steps to add a custom image, while the second part shows you how to change colors without installing a theme. First, let's install a custom image provided by you or Google. Step 1: Open a new tab and click the Customize Chrome button located in the bottom-right corner. Step 2: An in-browser window appears with the Background category open by default. Select a background category to browse the background options in that category, or click Upload from Device to use an image stored on your PC. If you select the latter, Chrome opens a pop-up window ( File Explorer/Finder/Files) so you can locate and select your preferred image. Step 3: If you chose a preset background from Google, click on your desired background and select the Done button to finalize your change. Step 4: When you open a new tab in Chrome, the image now appears on your screen. You can remove it at any time by clicking the Customize button again — it's merely a pencil icon in this case — and choosing Classic Chrome and then selecting Done. You can select a background picture, or if you want a more personalized look, you can customize your entire Chrome layout. If you don't know which theme you want to install, do the following: Step 1: Open a new tab and click the Customize Chrome button in the bottom-right corner. Step 2: An in-browser window should appear. From there, you can choose the Color and Theme tab from the left-hand side. Step 3: You'll see an assortment of complementary color swatches — pick your favorite. Step 4: Select Done to save your changes. You'll see the results immediately on your browser. Step 5: To get rid of your chosen theme, navigate back to the color swatches menu and click the swatch labeled Default Color (it should be the second one from the left on the top row). Then click Done.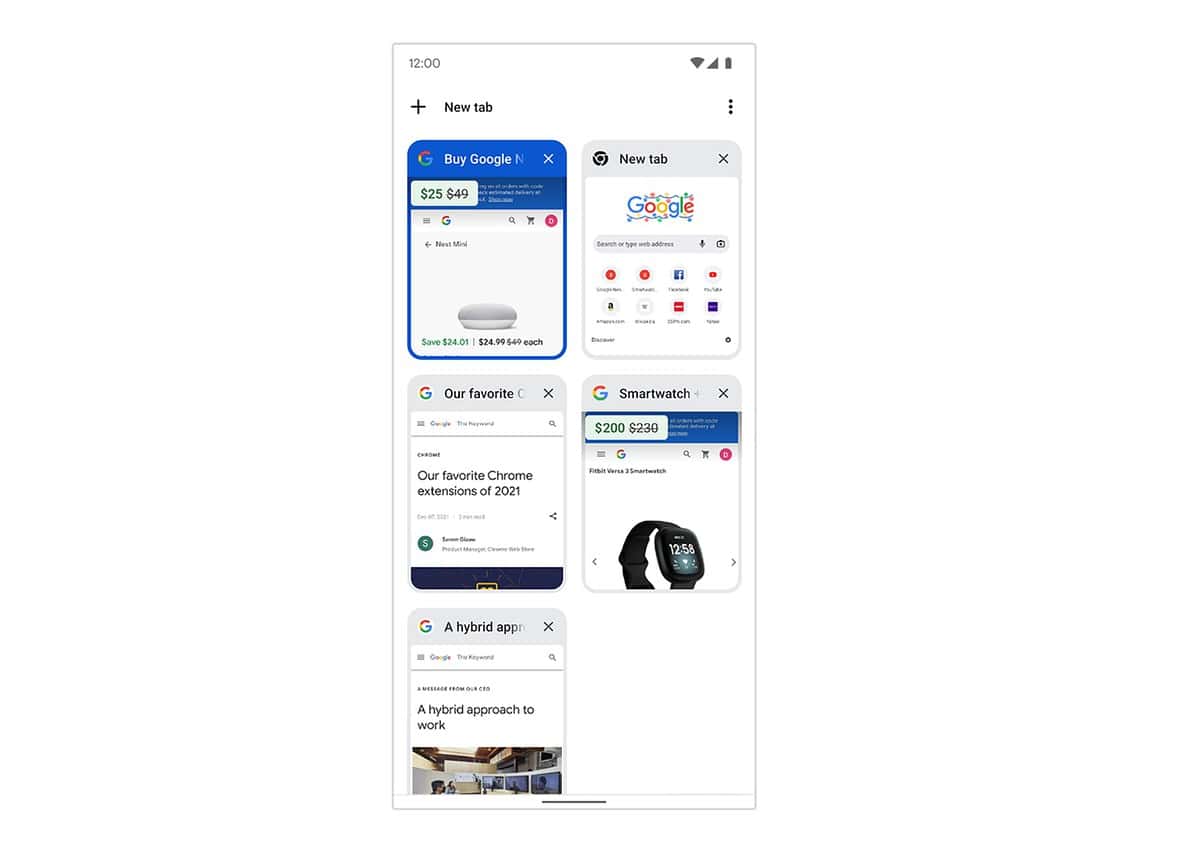 Google Chrome gets several new shopping features
mspoweruser.com
269f0637ff69e12ba61292effc002333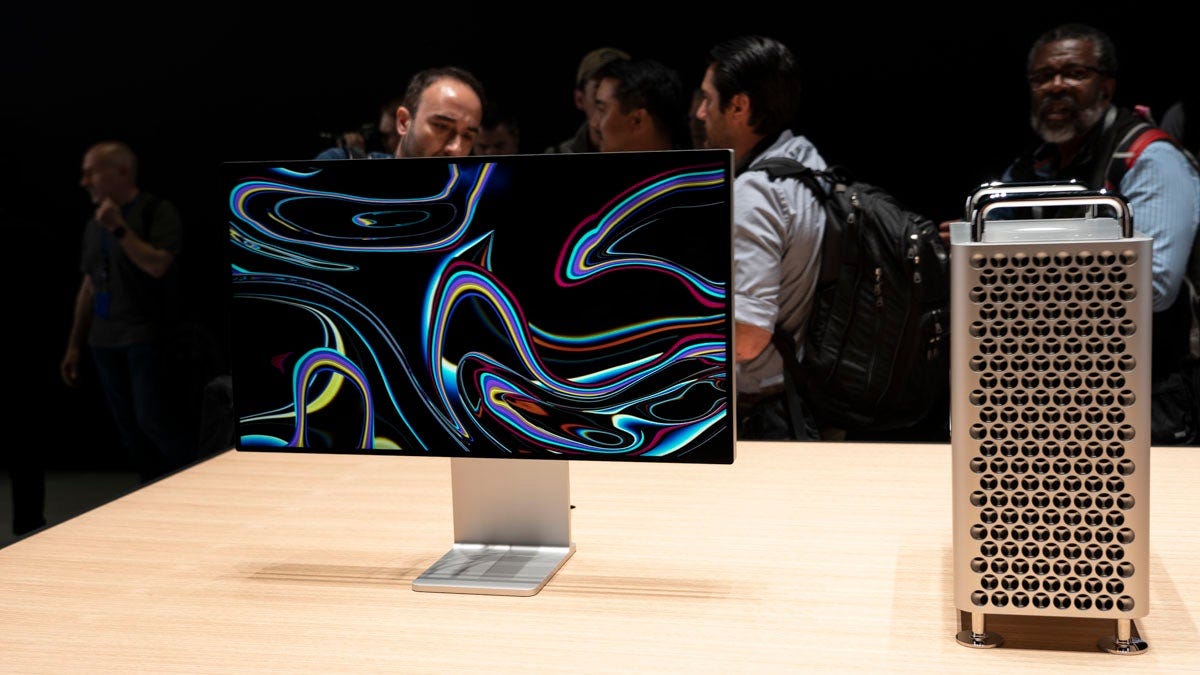 Apple is on track to complete its two-year transition to custom silicon, but the company's Mac Pro (the cheese grater-looking desktop) still runs on a combination of Intel and AMD chips. Given that the Pro is Apple's most powerful, capable computer, it seems like an overhaul with Apple silicon is just about due. While Apple has remained tight-lipped about equipping the Mac Pro with in-house M-series chips, new evidence further suggests the transition is a matter of when, not if. Leaker Dylandkt posted in a Twitter thread that they uncovered three LG displays encased in unbranded monitor enclosures. What makes this notable is that the panels have the same specs as those on the upcoming 24-inch iMac and 27-inch iMac Pro all-in-ones while the third is said to be for an upgraded 32-inch Pro Display XDR monitor. Interestingly, the leaker claims there is a reference to the 32-inch model using custom silicon, though this could be the Apple timing controller chip found in the current model, which regulates high-speed modulation for synchronizing the 20.4 million pixels and 576 LEDs. So what does this have to do with the Mac Pro? As you'll remember, Apple launched the Pro Display XDR alongside the Mac Pro back in 2019 as a companion monitor to its luxury desktop. If Apple updates the Pro Display XDR display next year, one we can presume an M-powered Mac Pro will follow on its heels, as Digital Trends points out. Movie theater quality on the go Just set this baby on a stable surface a few feet up from the ground and enjoy up to 100 inches of 200 Lumen 480p entertainment! We'd normally turn a blind eye to these types of rumors given the lack of evidence backing the claims, however, this anonymous leaker has a surprisingly good track record. The website Apple Tracks, which rates leakers based on their accuracy, gave Dylandkt a 77.5% score, putting them in seventh ahead of Ming-Chi Kuo and Jon Prosser—two other prominent leakers. If you don't happen to have $5,000 to spend on a monitor to pair with your $6,000 desktop, then the second part of this rumor will appeal more to you. That is, that Apple could be prepping smaller 24-inch and 27-inch standalone monitors. This wouldn't be the first time we've heard about Apple wanting to fill a gaping hole in its product catalog; Bloomberg's Mark Gurman reported in January about the planned arrival of at least one smaller, more affordable Apple monitor meant for everyday consumers. I use the term "affordable" lightly here considering the 27-inch and 32-inch models are said to feature miniLED panels, the same technology found on the latest 14-inch and 16-inch MacBook Pro models as well as the 12.9-inch iPad Pro. Moreover, the two larger monitors will supposedly support 120Hz refresh rates for smoother motion. There is no word yet on whether the 24-inch monitor will receive the same treatment, though opting for a standard LCD panel at 60Hz would let Apple keep the price down, something it needs to do if it wants to appeal to anyone who isn't filthy rich.

Apple Watch 7 is CHEAPER than it was on Black Friday right now
digitaltrends.com
d35f0a0a12cc51542e2d0589f12fe7bb
Apple's secret monitors leak, hint at a refreshed Mac Pro
digitaltrends.com
b19713285698e68ec9ba41d3a99d2a25
Halo: Combat Evolved 's second level — fittingly just called "Halo" — was a revelation when it was released in 2001. The wide-open level put Master Chief and Cortana on the surface of one of the series' titular ring-worlds in search of UNSC marines who survived the Pillar of Autumn's crash. It wasn't exactly open-world, yet it outlined what the future of the series could be. But the series' full potential wasn't fully realized until Halo Infinite.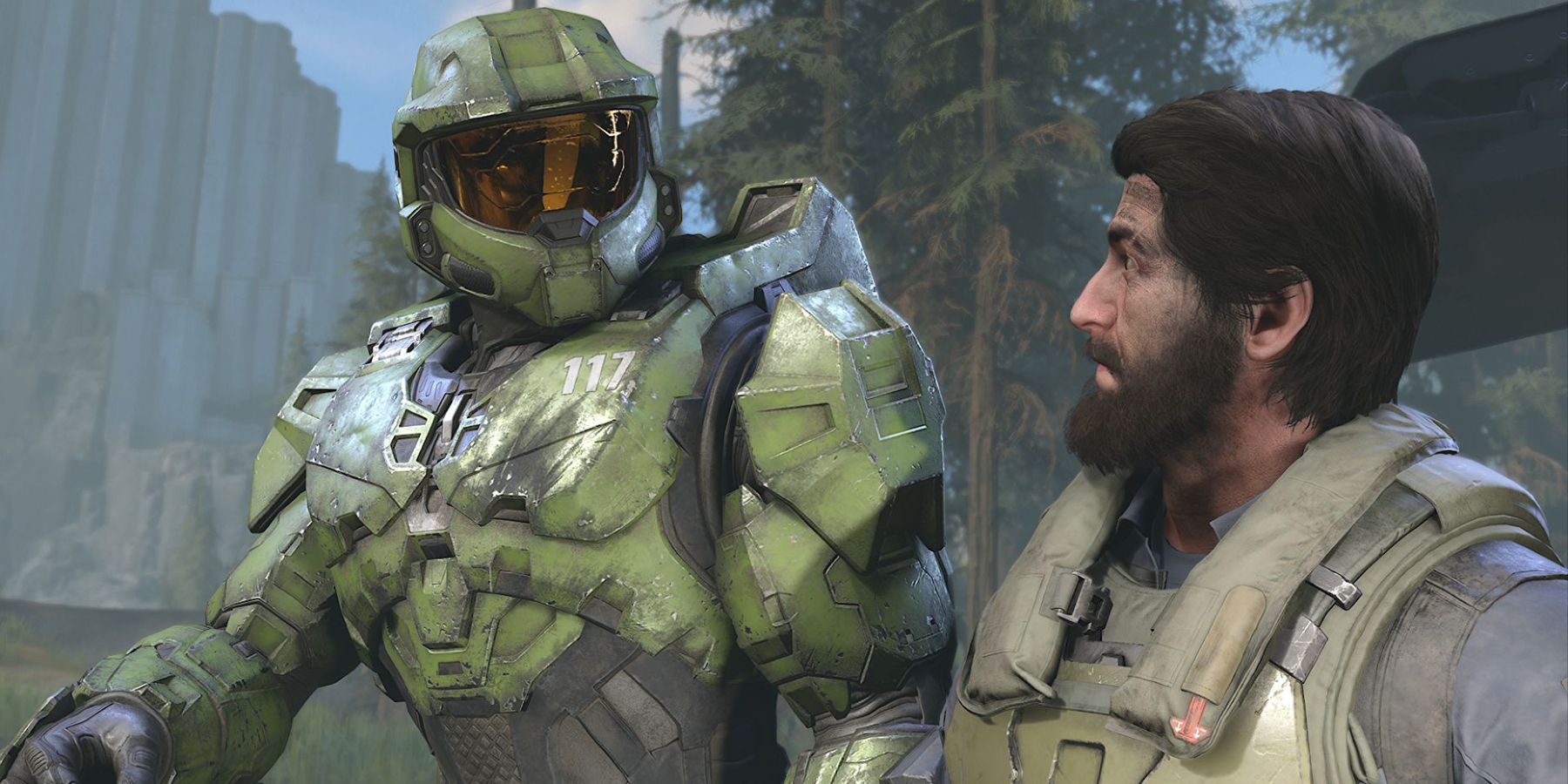 gamerant.com
gamerant.com
7669814a7433b231323080c8709bb59c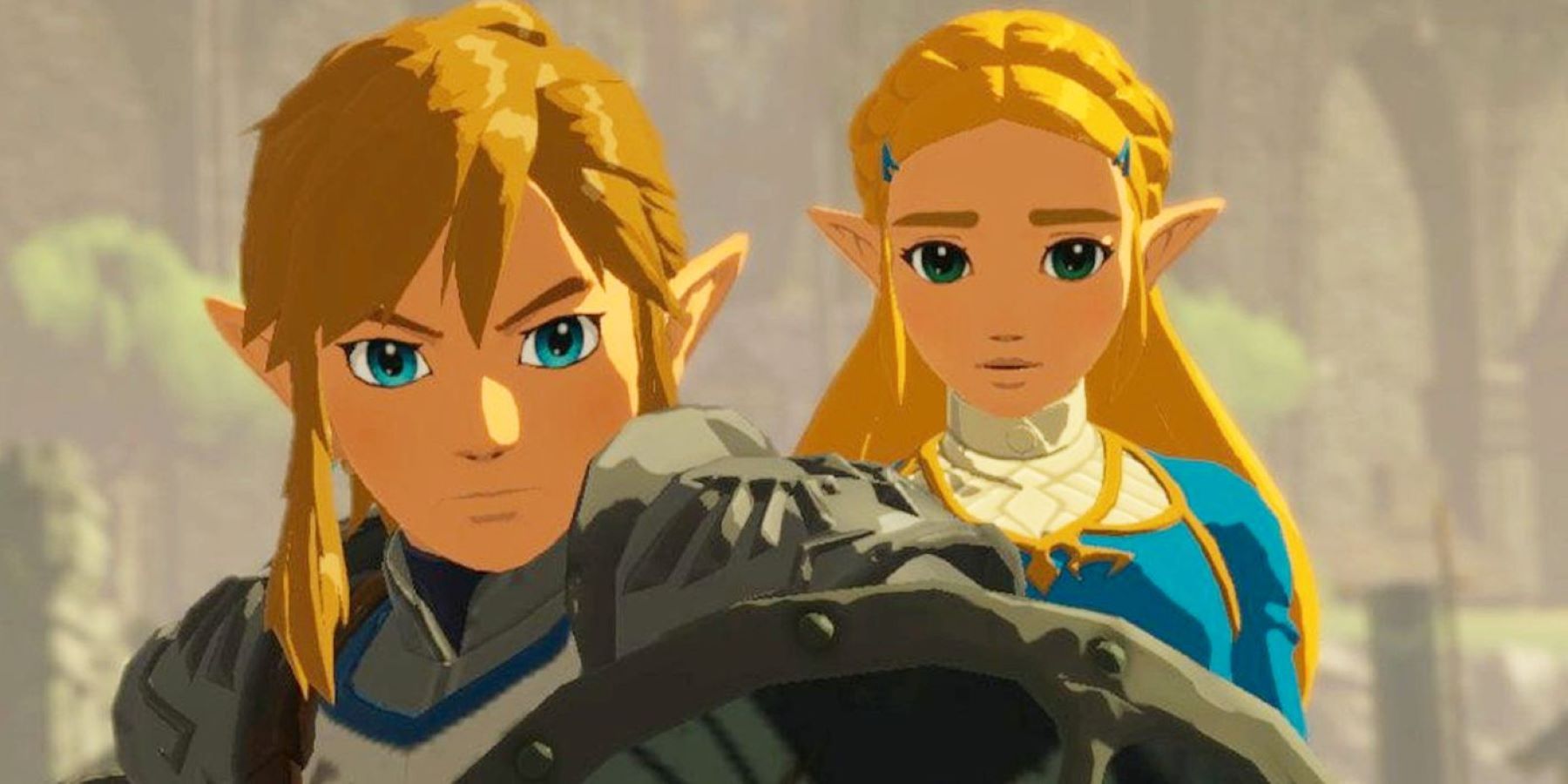 If Nintendo intended for The Legend of Zelda: Breath of the Wild 2 to be a huge mystery, then it certainly succeeded. For years, fans have been speculating about all kinds of details about the game, but on the whole, Nintendo has managed to keep fans guessing. Not even the real title of The Legend of Zelda: Breath of the Wild 2 is public knowledge; it's often simply referred to as the Breath of the Wild sequel by official materials from Nintendo. Without the power to even call the game by its real name, fans are left to theorize based on what little information Nintendo has shared so far. Even though Breath of the Wild 2 's true title is a mystery, one can guess at what it might be like. As a general rule, Zelda game titles fall into one of two categories. Some of them reference important objects or mechanics at the center of the game's story, like Ocarina of Time and its extended use of time travel. Others emphasize a new character at the heart of the game whose story becomes intertwined with Link's, such as Twilight Princess, where Midna and Link work together for almost the entire game. Breath of the Wild 2 's official title will probably refer to either a plot-relevant mechanic or to a major figure in the narrative, meaning the name itself will tell fans a lot about the game's direction. RELATED: Zelda: Breath of the Wild 2 Could Finally Explore the Demon World The various incarnations of Link have come up against a lot of unique mechanics over the course of The Legend of Zelda, from The Wind Waker 's titular baton to A Link Between Worlds ' passageways between realities. Breath of the Wild 2 could still have some innovations up its sleeve, though. Link's seemingly magical arm in Breath of the Wild 2 seems like the perfect gateway for new mechanics, for instance. It's possible that the force that enchanted Link's arm will become such a central element in the plot that it inspires the game's title. Alternatively, the game's name could refer to whatever new abilities Link gains through the magic in his arm. Breath of the Wild 2 's title could also refer a more simple but no less important mechanic, such as the introduction of new areas in Hyrule. Breath of the Wild 2 's E3 2021 trailer showed how Hyrule now features floating islands for Link to investigate, emphasizing that the Breath of the Wild sequel uses the old map of Hyrule, but intends to modify it to keep things fresh. The ways Hyrule changes because of the dark forces lying beneath Hyrule Castle could be the title's focus. Much like how Breath of the Wild's name emphasizes open-world exploration and Link's reliance on the wilderness, Breath of the Wild 2 's title could hint at how exploration and resource gathering are changing. Alternatively, Nintendo might be hiding Breath of the Wild 2 's name because it refers to a demanded mechanic that it intends to save as a surprise. For a long time, fans have hoped to play as Zelda in Breath of the Wild 2, now that she's free from Calamity Ganon's grasp. While she may be in new danger in the sequel, which would probably make Link the sole playable character, there's still some hope that Zelda could be playable, too. Breath of the Wild 2 could be named after a new ability to switch between Link and Zelda, somehow noting the two protagonists' differing skills and the importance of teamwork. RELATED: Zelda: Breath of the Wild 2 Should Give Link a Cookbook with New Recipes There's lots of mechanics that the game could name itself after, but the narrative could still take priority in naming the game. Fans have spent years speculating about what characters might make unexpected returns in Breath of the Wild 2, and if any of those theories are right, then Nintendo has good cause to hide the title as a means of building suspense. The return of Ganondorf would definitely warrant a reference in the title, for example, especially if Ganondorf gets a redemption arc as fan hypotheses state. The corpse under Hyrule Castle certainly looks like Ganondorf, but his true role in the game remains to be seen. If Ganondorf turns his back on his selfish past in Breath of the Wild 2, then one wonders if his demonic ancestor Demise will star in the game as well, returning to power and punishing his traitorous heir. Demise returning to life at the start of Breath of the Wild 2 and serving as the game's main antagonist throughout the game would certainly warrant some reference to Demise in Breath of the Wild 2 's real title. As the force responsible for so many of Hyrule's woes over millennia, Demise could steal the show by getting a greater presence in the next Zelda game. Demise isn't the only Skyward Sword character who could impact Breath of the Wild 2 's title. If the Master Sword spirit Fi comes back, then the game's title might refer to her, too. Lots of questions about Breath of the Wild 2 have been directed at the significance of the Master Sword, which played a pretty small part in Breath of the Wild. Nevertheless, Zelda mentioning a voice inside the sword and a reference to Fi's iconic sound effects at the Trial of the Sword's conclusion suggest Fi is more active than she has been in many generations. She could return in Breath of the Wild 2, which therefore could make her a central influence on Breath of the Wild 2 's name. Of course, it's also possible that the game's title refers to multiple things at once. For instance, one could argue that Skyward Sword 's title referred to many things, including Skyward Sword 's motion controls, the sky islands, and Fi herself. Breath of the Wild 2 's title could simultaneously hint at a new mechanic building on Breath of the Wild 's work and reveal a major Zelda character making a return to the series. With all these possibilities in mind, it's impossible to nail down an obvious canddiate for the game's title, but one thing is clear: once Breath of the Wild 2 's title gets revealed, conversations around the game will shift. The title will tell fans what Nintendo wants fans to focus on in this game, whether it's something fans saw coming or something completely unexpected. The Legend of Zelda: Breath of the WIld 2 releases in 2022 for Nintendo Switch. MORE: Zelda: Breath of the Wild 2 Would Benefit From Armor Transmog

How to unlock characters in Genshin Impact
digitaltrends.com
81274e3d1fe2d0a6091e9817b3505a34
The Epic Games Store is ending the year in style with a holiday sale, and returning alongside it is the popular $10 coupon offer. As before, there are a few caveats to this promotion, but it's still an effective way to grab even brand-new titles at much cheaper prices compared to other stores. Any game on the Epic Games Store that's $14.99 or higher is eligible for the coupon, which is applied automatically when checking out. For example, a $38.99 game will become $28.99, a $14.99 game will be $4.99, a $59.99 game that's not even on sale becomes $49.99, and so on. Don't forget the store finally has a shopping cart now too. Pre-orders, DLC, and in-game purchases can't be used with the offer. Unlike the last time it showed up, however, the coupon is back to being reusable, with the store returning a fresh copy every time an eligible purchase uses one up. Head over here for a handy FAQ regarding the promotion. Noteworthy games discounted in the holiday sale include new releases like Guardians of the Galaxy, Alan Wake Remastered, Battlefield 2042, Far Cry 6, Jurassic World Evolution 2, Kena: Bridge of Spirits, Kingdom Hearts, and much more. There are handy filters in the store search that should help with finding coupon eligible games as well. The Epic Games Store Holiday Sale and its latest Epic Coupon run will end on January 6, 2022, at 11AM EST. The daily freebie offer has returned this year too, and the latest game on offer is Shenmue III.

Epic Games Store adds newfangled 'shopping cart,' gets swamped by holiday sale
polygon.com
d01d2c87a04287b23f80bea05d43c841
We've covered Microsoft's antics regarding its in-house Edge browser a few times in the past, from making it harder to change your default browser in Windows 11 to some very blatant marketing messages when downloading rival browsers. One of the things we've seen the company do recently was blocking EdgeDeflector, a software that was designed to redirect custom Windows 11 links — which are designed to only open in Edge — to your default browser instead. Now, that block has rolled out to all Windows 11 users as part of build 22000.376. Initially, this EdgeDeflector block showed in the Dev channel of the Windows Insider Program, so it was apparent that Microsoft was already planning to do this, but it was hard to tell when it would happen. As reported by HowToGeek, the latest Patch Tuesday update rolled out earlier this week brought that block to the wider Windows 11 userbase, meaning even more users are now forced to use Edge. This only applies to custom links that are found in Windows 11 itself, such as when you click a news article in the Widgets pane or use Windows Search to search the web. These links use a custom handler that redirects them to the Edge browser, regardless of what your default is, which is what EdgeDeflector tried to change. It wasn't the only software that did this, however, as Mozilla's Firefox browser did something similar on its own. Thankfully, shortly after EdgeDeflector was blocked in Windows 11 Insider builds, an alternative solution showed up. This new app, called MSEdgeRedirect, uses a different approach that "filters and passes the command line arguments of Microsoft Edge processes into your default browser". As of now, it hasn't been blocked, so you can still use it if you want to avoid Edge at all costs. However, unlike the other solutions, this one requires the app to be running at all times to redirect the links to the default browser. There's a solid chance Microsoft will try to block this workaround, too, so we don't know how long you'll be able to rely on it. For the time being, though, you can download MSEdgeRedirect from GitHub. Browser maker Vivaldi recently called out Microsoft for its anti-competitive practices with Edge, and we can only hope the company will listen to feedback and relax its aggressive Edge marketing. Recent Windows 11 builds in the Dev channel have shown some signs of progress, with Microsoft adding a button to change the default browser in the Settings app.

Microsoft rolls out final Windows 11 update for 2021
zdnet.com
da77aee04c941fe9fc4ae28807664f1d
It Beheaded to PlayStation, Xbox, Switch, and PC. The Queen and the Sea, the third paid expansion for developer Motion Twin's majestic rogue-like action-platformer Dead Cells, will be coming to PlayStation, Xbox, Switch, and PC on 6th January next year, and there's a first trailer to celebrate the news. The Queen and the Sea, which follows previous paid expansions The Bad Seed and Fatal Falls, brings a touch of the nautical to Dead Cells' acclaimed action, introducing new enemies, bosses, weapons, and two brand-new biomes - Infested Shipwreck and the Lighthouse - that'll run parallel to the existing High Peak Castle and Throne Room late-game stages. Notably, that means the Hand of the King will no longer be Dead Cells' only final boss once The Queen and the Sea arrives, with players also having the option of taking on the titular Queen to experience an entirely new ending. Dead Cells: Queen and the Sea DLC - Gameplay Trailer. As for what we can expect from The Queen and the Sea's new biomes, Motion Twin - or rather, subsidiary Evil Empire, which now handles Dead Cells' development - was previously being a little coy on the matter, only saying one would deliver a "new kind of challenge" that's "definitely not the standard-issue Dead Cells level that you know and love". All seems to be revealed in the expansion's first trailer, however, with that challenge apparently being a frantic dash to climb the Lighthouse and escape deadly green flames rising ever-higher from below. The Queen and the Sea (which also includes the option to wield a shark as a weapon) will cost £4.49/$4.99 USD when it comes to PlayStation, Xbox, Switch, and PC on 6th January. Following its arrival, Evil Empire says it'll be releasing more free content for Dead Cells and plans to continue doing "for at least another year".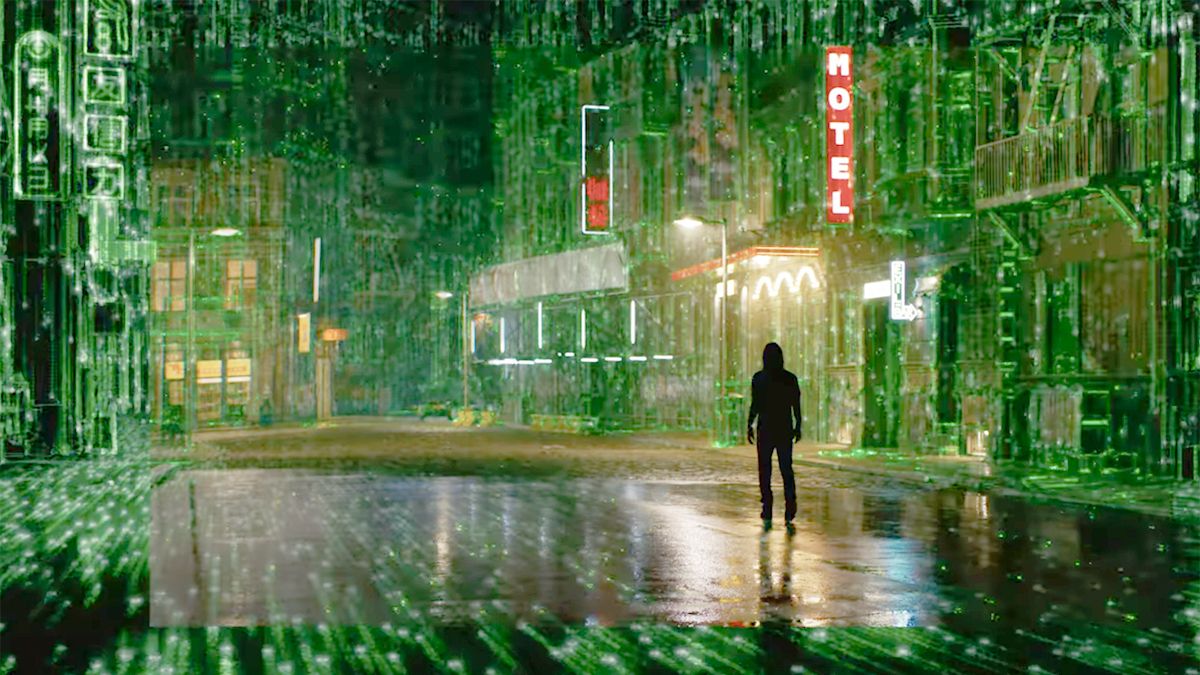 How to watch The Matrix Resurrections from anywhere, trailer, release date, cast
techradar.com
7e0bd48d0a5f83df1b09d9191ef03936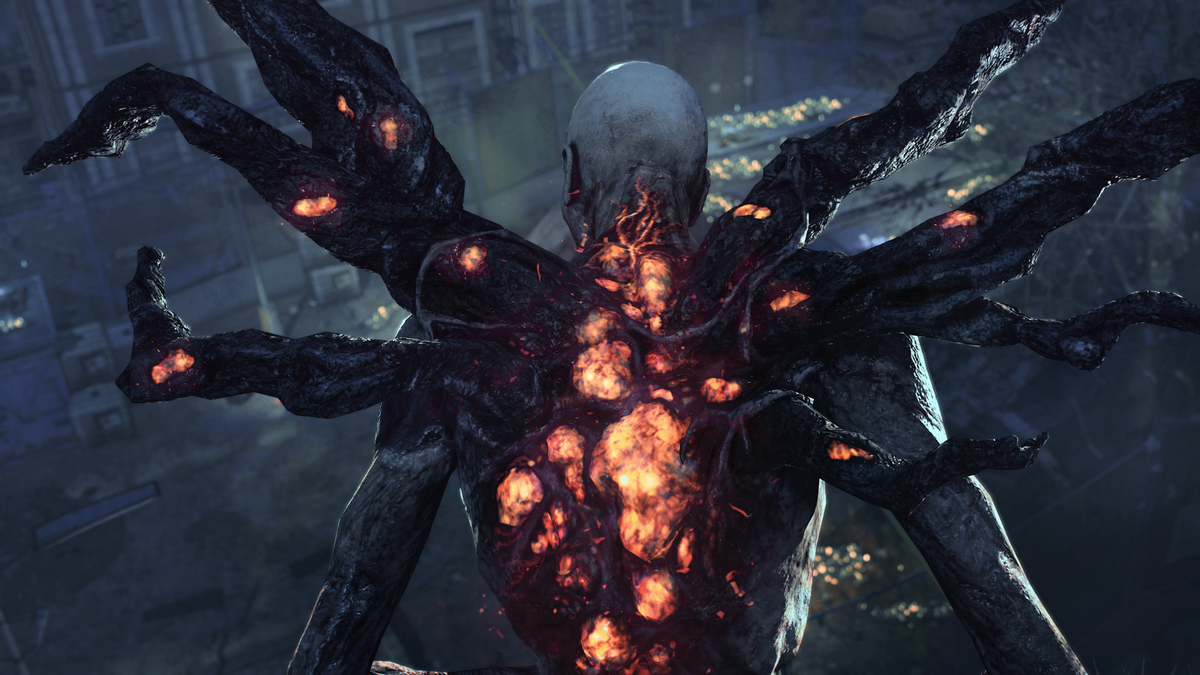 Techland has finally released system requirements for Dying Light 2, and while they start off pretty reasonable, the recommended requirements are a bit obnoxious for a PC game in 2022. For instance, the game will apparently only require a GTX 1050 Ti as a minimum spec, which will be good enough for 1080p at low, with about 30 fps. However, if you want to turn on all the graphics settings and stay at 1080p, you're going to need an Nvidia GeForce RTX 2060 - a graphics card that is way more powerful. It gets even worse when you look at ray tracing specifications. At a minimum, the developer is suggesting an Nvidia GeForce RTX 2070 for the "Low RT" preset at 1080p, 30fps. A bit high, but that's fine, it's a next-generation game and all. However, for the 'High RT' preset at 60 fps, it's calling for an Nvidia GeForce RTX 3080. For 1080p. I legitimately doubt you'll need an RTX 3080 for 1080p in Dying Light 2. While the RTX 3080 is a popular graphics card (even though it's notoriously difficult to find), there's no reason that it should be recommended for 1080p gaming, as it's a 4K GPU, especially when an RTX 2070 is what's recommended for the lower RT preset at the same resolution. We're talking about a gigantic jump in performance between those GPUs. The Nvidia GeForce RTX 3080 was a gigantic generational leap over the flagship of the 2070's era, the RTX 2080 Ti, let alone the mid-range Turing child. In terms of raw performance, the Nvidia GeForce RTX 3080 is nearly double the power that an RTX 2070 brings to the table, and you cannot convince me that the delta between the low graphics preset and the high graphics preset is going to be enough that it's going to require that much of an upgrade. At most, the requirement for the High RT preset is probably going to be closer to the RTX 2080 Ti and worst-case RTX 3070, and that's if (big if) Nvidia DLSS doesn't end up being supported. It's no secret that graphics cards are extremely hard to come by right now, and that's especially true for the Nvidia GeForce RTX 3080. By making that graphics card the "recommended spec", even for a preset with ray tracing, at 1080p could make people think they have to go out and shell out for an extremely expensive piece of hardware to play a game. The fact of the matter is, the RTX 3080 will likely be overkill at 1080p, regardless of what settings you're playing the game at. Unless there's some setting in there that is downscaling the game from a higher resolution, a la Ubersampling in The Witcher 2, there's no reason that it would require such a powerful GPU. I'm not sure why Techland decided that putting such an expensive and coveted GPU as its recommended spec at 1080p was a good idea, and I've reached out to the studio for comment and will update this story if I hear back. I suspect it might just be because it is a GPU the company can be absolutely sure will clear that 60 fps threshold. There's also a possibility that there are some genuine problems with the game's optimization that will make it harder to run on more reasonable hardware at those settings. You can count me as intrigued, and I fully intend to test this game upon release to see what you'll really need to play this game at its best. If the game really does require an Nvidia GeForce RTX 3080 just to play the game at 1080p with ray tracing enabled, then you can pretty much forget about playing the game at 4K, period. Even the RTX 3090 is only about 10-15% faster than the RTX 3080 in most situations, and you're going to need something much more powerful than that to push Dying Light 2 at 4K if these system requirements are at all indicative of how the finished title is going to perform. There are certainly games and franchises that are known for putting hardware to the test, and are designed to push hardware for years to come. But even Metro Exodus was playable at 4K with ray tracing with the Nvidia GeForce RTX 2080 Ti. And even Cyberpunk 2077, with all the problems it had at launch, was also capable of running at 4K, thanks to the inclusion of DLSS. Dying Light 2 does not seem like it's going to be one of those games, and with how long we've been waiting for it, I sincerely hope the developers don't try to make it a tech showcase - because it probably will not end well.

Nvidia GeForce RTX 3050 could launch with 2 models for desktops
digitaltrends.com
444c84bd296a8ef1d087e5e4549e9abe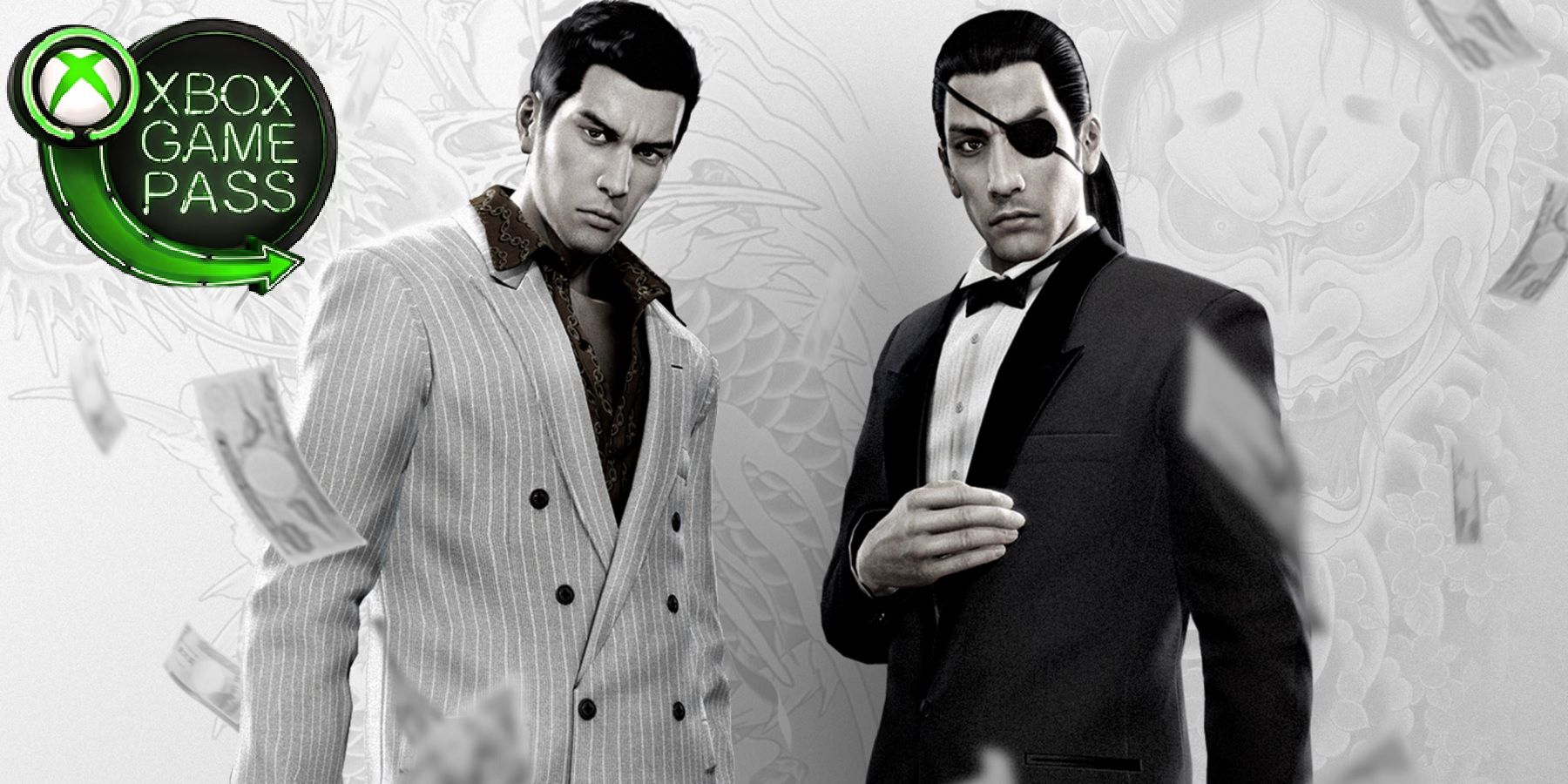 Microsoft's Xbox Game Pass subscription service is constantly adding new games. From day one releases to older titles, there's always something new to play. But while Microsoft ensures that there is always more games coming to Xbox Game Pass than there are leaving, games are removed from Xbox Game Pass every month as well. December 2021 is no exception, with Microsoft having already removed a handful of games and set to give another five the boot come the end of the month. Microsoft removed Destiny 2 and its expansions from Xbox Game Pass on December 8, and then Beholder, Guacamelee 2, The Dark Pictures: Man of Medan, Unto the End, Wilmot's Warehouse, and Yooka-Laylee and the Impossible Lair were removed on December 15. Microsoft typically removes games from Xbox Game Pass in two batches - one batch in the middle of the month and one at the end, so fans have only a couple of weeks to play the games being removed on December 31. RELATED: Xbox Game Pass Adds 10 Games, Including 2 Day One Titles Friday, December 31 will be the last day that Xbox Game Pass subscribers can play Pro Evolution Soccer 2021, The Little Acre, Yakuza 0, Yakuza Kiwami 1, and Yakuza Kiwami 2. At that point, all five of those games will be removed. Anyone interested in retaining them for their collection should note that they will be available at a 20% discount for Xbox Game Pass subscribers that don't have time to play through all the games they want before they're removed from the lineup. Out of all the games leaving Xbox Game Pass in December 2021, the ones that have to hurt the service the most are the Yakuza games. The Yakuza series is admittedly more niche, but it has developed a larger fanbase in recent years thanks to the critical acclaim enjoyed by games like Yakuza 0 and Yakuza: Like a Dragon. Unfortunately, it will take a significant time investment to get through all three of the Yakuza games leaving on December 31, with gamers looking at 70 to 100 hours or so if they want to beat them all. Those who want to play games in release order are going to be in even worse luck, as Yakuza Kiwami 0 didn't come out until after Yakuza 5. As for the other Yakuza games, it seems Xbox Game Pass subscribers don't have to worry about Yakuza 3, 4, 5, 6, or Like a Dragon leaving Xbox Game Pass yet, so if they don't mind playing games "out of order" (chronologically, Yakuza 0 is the "first" game in the series anyway) then they can focus on the three leaving and worry about the rest later. MORE: The Games That Make Xbox Game Pass A Must-Have for Indie Fans

How to access Xcloud on mobile devices
digitaltrends.com
25d5ce5edc60eb3152b7b94dd21cbf21
Final Fantasy 14 just saw the release of the Endwalker expansion, and the first reactions seem overwhelmingly positive. This new chapter concludes a story over 10 years in the making that began when the game first came out in 2010. Endwalker had some big shoes to fill due to fan expectations, based on the incredible work Square Enix had put in during Shadowbringers, but also because of the extra attention the game has been getting as of late. Still, according to fans and critics, it does actually manage to live up to the hype thanks to its rich story, refined gameplay, and hypnotic villains, among many other factors. Final Fantasy 14 was a completely different beast when it first came out, and narratively shared a few things in common with the latest Final Fantasy mainline games. As an MMO, the narrative focus was on the player-controlled Warriors of Light and the Scions of the Seventh Dawn, who were their closest allies. This was thematically similar to what the mainline games had been doing since with the last few entries, where there was more of a focus on the heroes' side, without the looming presences of strong villains such as Kefka or Sephiroth. This is not how fans tend to think of Final Fantasy 14 today. RELATED: Comparing Final Fantasy 14 to World of Warcraft: The Pros and Cons of Each Game There is no denying Sephiroth and Kefka are some of the greatest villains in videogame history. The former in particular is a fan favorite, featured in much of the series merchandise, and was even included in crossovers and featured in Super Smash Bros. Ultimate. His presence loomed over every act of the story in Final Fantasy 7, and he became one of many icons from that console generation. Later villains did not manage to achieve that level of popularity in the games afterward, where the antagonist was either introduced late in the story, or was a conduit for a greater evil concept instead of someone in particular. Ultimecia, Necron, and Sin from Final Fantasy 8, Final Fantasy 9, and Final Fantasy 10 were useful to narrate stories more centered around the heroes, but did not carry the same weight previous villains. When fans think of Final Fantasy 9, they think of Kuja, or even Queen Brahne. Eventually, Final Fantasy 11 and Final Fantasy 12 had plots related to overarching politics, instead involving massive plans, organizations and countries making political and military moves, rather than distinct villains. While very interesting characters in their own right, Eald'narche and Vayne Solidor seemed just like the faces of something bigger, instead of the main villains themselves. The lack of compelling and interesting villains was really felt in Final Fantasy 13 and the original Final Fantasy 14. One of several criticisms of the Lightning saga received was for the lack of compelling adversaries, out of which Dysley/Barthandelus was a prime example. Square Enix did try to turn things around with the inclusion of Caius Ballad, but went back on the concept with Bhunivelze in the sequels. Final Fantasy 14 introduced Nael Van Darnus and Gaius Van Baelsar in the original game and reboot as the faces of the empire. Still, as the story started to grow, things were set in motion and players realized this was not really a story about fighting an evil empire. Stormblood in 2017 marked the introduction of Zenos Yae Galvus as the first who was able to best the Warrior of Light in battle, canonically. However, the interesting part was that he really wasn't fighting for an empire or anyone else, but for himself. An over-accomplished general, he only wished to feel the thrill of battle once more. Shadowbringers, the next expansion, not only made Zenos even more interesting, but also added the fantastic Emet-Selch as the leader of the Ascians, who the Warrior of Light travels along with during a portion of the game. While not exactly a pleasant companion, players got to spend time with him in the First, understand his motives, and even feel sorrow at his last moments. When returning to the Source, players also met Fandaniel, a rogue Ascian as unhinged as Zenos who only wanted to see the world burn. Zenos, Emet-Selch, and Fandaniel all prove the writing is at its best when the villains get time to interact with the heroes of the story in Final Fantasy 14. By talking with them, learning about their past, and seeing how evil they are instead of just being told second-hand, the writing makes them feel like a genuine thread instead of an obstacle to overcome to get more exposition. By giving them as much protagonism as they have in each expansion, they have time to grow into interesting rivals instead of milestones in the main quest. RELATED: Final Fantasy 14 Endwalker: Main Scenario Quest List Final Fantasy 15 came out a full year before Stormblood and introduced Ardyn Izunia. Ardyn's story in Final Fantasy 15 was a step in the right direction, but players only got through his motives once they watched the movies, played his DLC, and played the patched games in the following years. Still, after all was said and done, getting to know him was worth it, as the final encounter between him and Noctis had much more weight. The next game in the series, Final Fantasy 16, is a singleplayer game with Final Fantasy 14 's producer Naoki Yoshida working on the project. Although the identity of the villains are still a mystery, along with its release date, Yoshida and the development team have grown into incredible writers through their tenure with the MMO. If there is one lesson they should carry from their previous effort, it's the importance of having genuine three-dimensional characters opposing the heroes. As the fan reception throughout the years has shown, Final Fantasy villains are usually at their best when the confrontation with the heroes is more a clash of wills than a feat of strength. Final Fantasy 14: Endwalker is available now for PC, PlayStation 4, and PlayStation 5. MORE: Final Fantasy 14 Endwalker is Currently the Highest User Rated Game of 2021 on Metacritic

Square Enix suspends Final Fantasy 14 sales because Endwalker is too popular
polygon.com
ce1195b2d6be0976d0400594abb74a89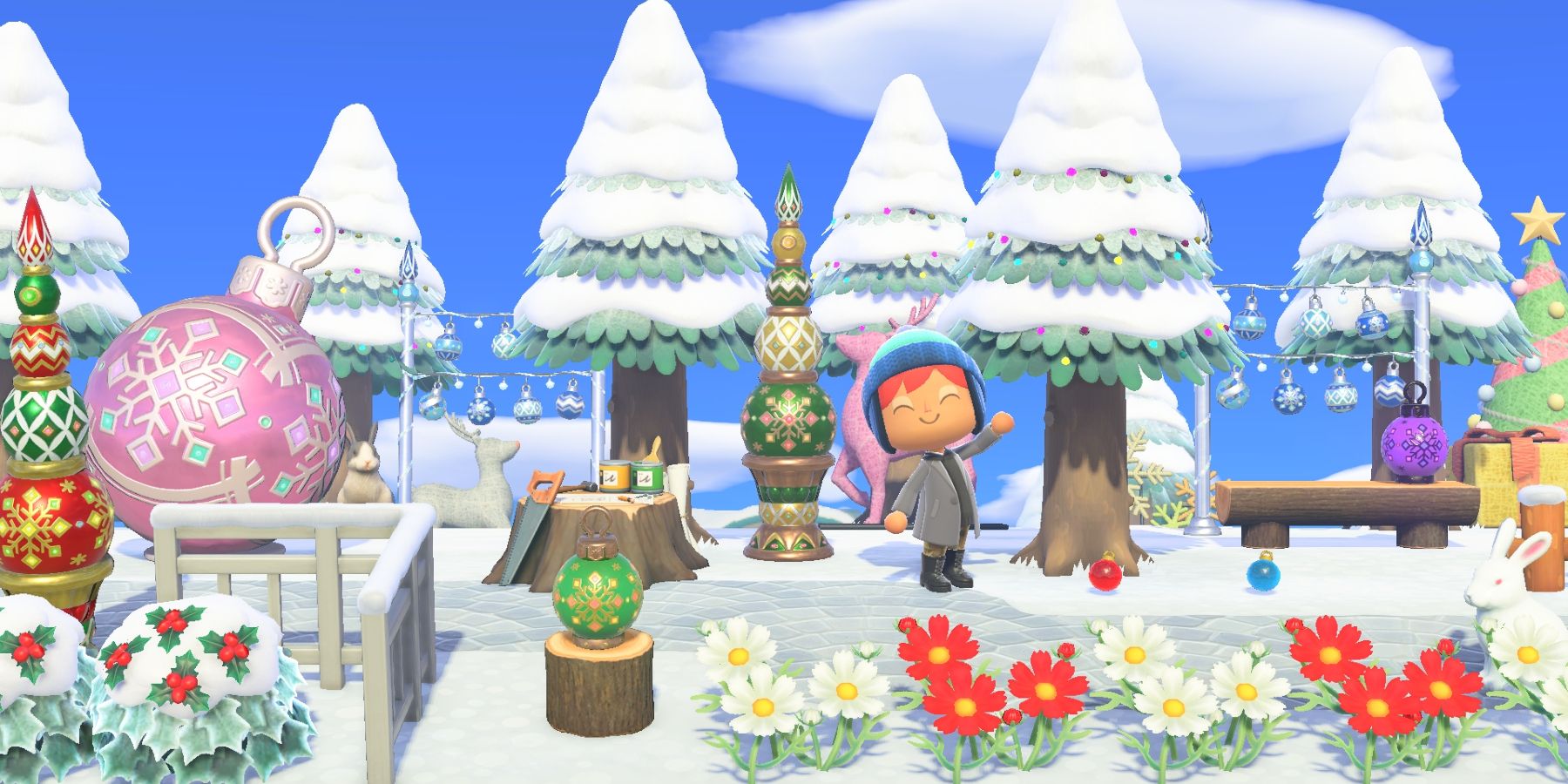 Animal Crossing: New Horizons has seen a resurgence of popularity due to the recent release of its Happy Home Paradise DLC. However, alongside the release of Happy Home Paradise came a wave of new in-game bugs to be addressed -- and not the kind one catches with a net. Nintendo has been hard at work addressing these Animal Crossing: New Horizons bugs and is has now issued a patch. Switch users will receive the update automatically if they're connected to the internet. Perhaps the largest fix of Animal Crossing: New Horizon 's December 15 2.0.4 update is for the notorious naked Villager bug. This bug would make certain Animal Crossing villagers appear to have converted to a nudist lifestyle. They would be completely nude. Nintendo has discovered that the bug was due to an issue with Custom Designs for Villager clothing not loading correctly. Nudism is a feature that will have to wait for another Animal Crossing: New Horizons DLC. RELATED: Animal Crossing: New Horizons Players Shows Off Impressive Maple Syrup Sugar Shack House Another fix that Nintendo has addressed has to do with Happy Home Paradise's Showroom. Sometimes, if a player visited another player's Showroom and then tried to upload their own, their Villagers would be replaced by those from the other player's facilities. That may be a confusing description, but trust that it's no less confusing than a number of strange Villagers suddenly appearing in the Showroom with no explanation. The issue has now been resolved. Other specific issues that have been addressed include one problem where using a "Ladder Set-up Kit" on a diagonal cliff on the third tier of cliff elevation could disappear. Another had to do with seasonal DIY recipes including the "Maple Leaf Rug" and "Frozen Floor Tiles" being listed in the incorrect seasonal menus. Both of these small but notable issues have been resolved. While that's the full extent of Nintendo's Animal Crossing patch notes, there is another notable bullet point made for both the base version of Animal Crossing: New Horizon and the Happy Home Paradise DLC. That bullet point is, "Other fixes have also been made for a more enjoyable experience." Hopefully, that should mean less noticeable aspects of the game like loading times and overall performance have been improved, if only subtly. The December 15 patch for Animal Crossing: New Horizons is significantly smaller than the last several patches following Happy Home Paradise's release. That likely implies that Nintendo is content with the state of the game and forthcoming updates will be rarer. That's not a bad thing, of course, as it likely implies Animal Crossing: New Horizons is in a great state for players to continue enjoying. Animal Crossing: New Horizons is available on PC. MORE: Wytchwood Is Perfect for Stardew Valley, Animal Crossing Fans

Animal Crossing Is No Longer a Nudist Camp
uk.pcmag.com
6a9f3ec4e50193c9fe5fdeb25bac0a08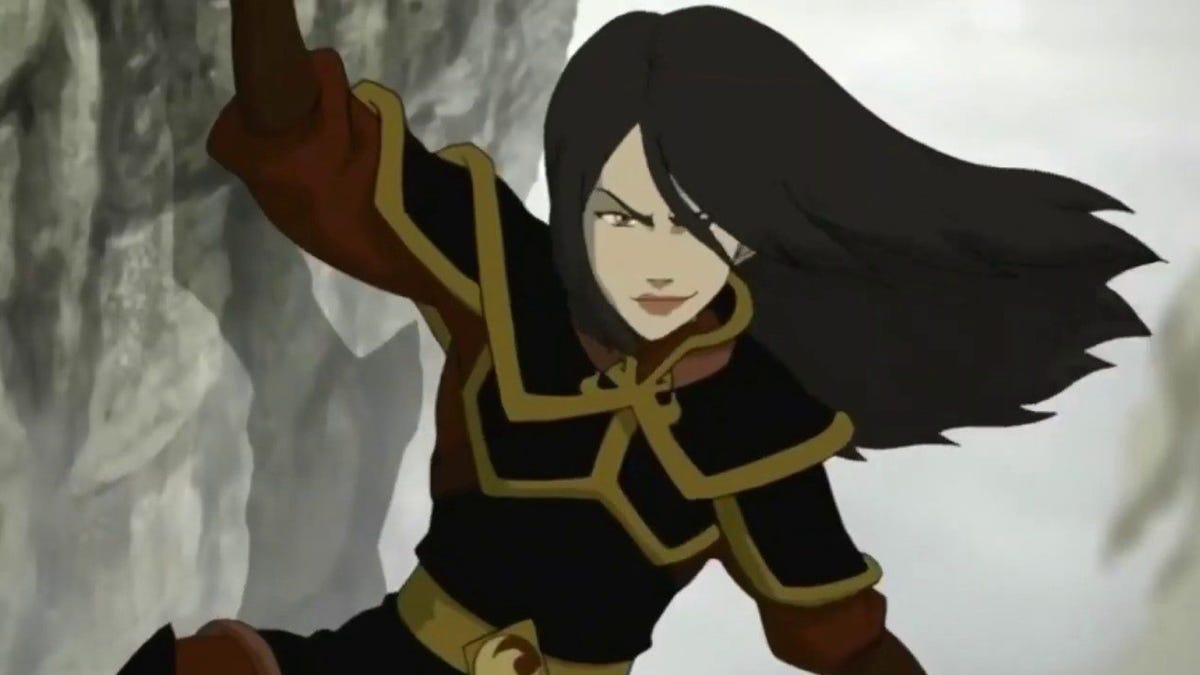 Netflix's live-adaptation of the beloved Nickelodeon animated series Avatar: The Last Airbender may have lost the original showrunners, but the sprawling cast just keeps getting bigger. The streaming service has announced who'll be playing a bevy of roles, including major antagonist Azula. Elizabeth Yu, a newcomer, will play the troubled Fire Nation princess who becomes twisted under her father's emotionally abusive tutelage and serves as one of the series' biggest threats after Prince Zuko (played by Dallas Liu in the live-action series) joins Team Avatar in later seasons. Native rights advocate and actor Casey Camp Horinek will play the Water Tribe leader and grandmother of Katara (Kiawentiio) and Sokka (Ian Ousley), a.k.a. Gran-Gran. Several members of the Earth Kingdom have been announced as well. Maria Zhang will play Suki, a love interest of Sokka's but more importantly the badass leader of the equally badass K yoshi warriors, an elite cadre of all-female fighters founded by the Avatar K yoshi to protect her home island. Tamlyn Tomita ( The Good Doctor, Cobra Kai) will play Yukari, Suki's mother and the mayor of their village on Kiyoshi Island. Finally, speaking of the former Avatar, PEN15 's Yvonne Chapman will play K yoshi herself, the deceased Avatar who preceded Aang (Gordon Cormier). Interestingly, K yoshi's only appearance in the first season of Avatar: The Last Airbender is as a statue in the Air Nomad temple; she doesn't physically appear until the second season, a.k.a. Book Two: Earth, first as a vision experienced by Aang, and later by manifesting in his body. Netflix has presumably hired Chapman ahead of time in order to nail down the look of the statue, but there remains the possibility that Kiyoshi—and potentially the other previous Avatars—might play a larger role earlier on in the Netflix adaptation than she did in the animated series. Netflix's adaptation of The Last Airbender has no release date, but it's currently in production in Vancouver, Canada. Wondering where our RSS feed went? You can pick the new up one here. Movie theater quality on the go Just set this baby on a stable surface a few feet up from the ground and enjoy up to 100 inches of 200 Lumen 480p entertainment!

Netflix's Avatar: The Last Airbender finds its Azula and other key female roles
polygon.com
3652f9705739b93c9fcff726768de4d4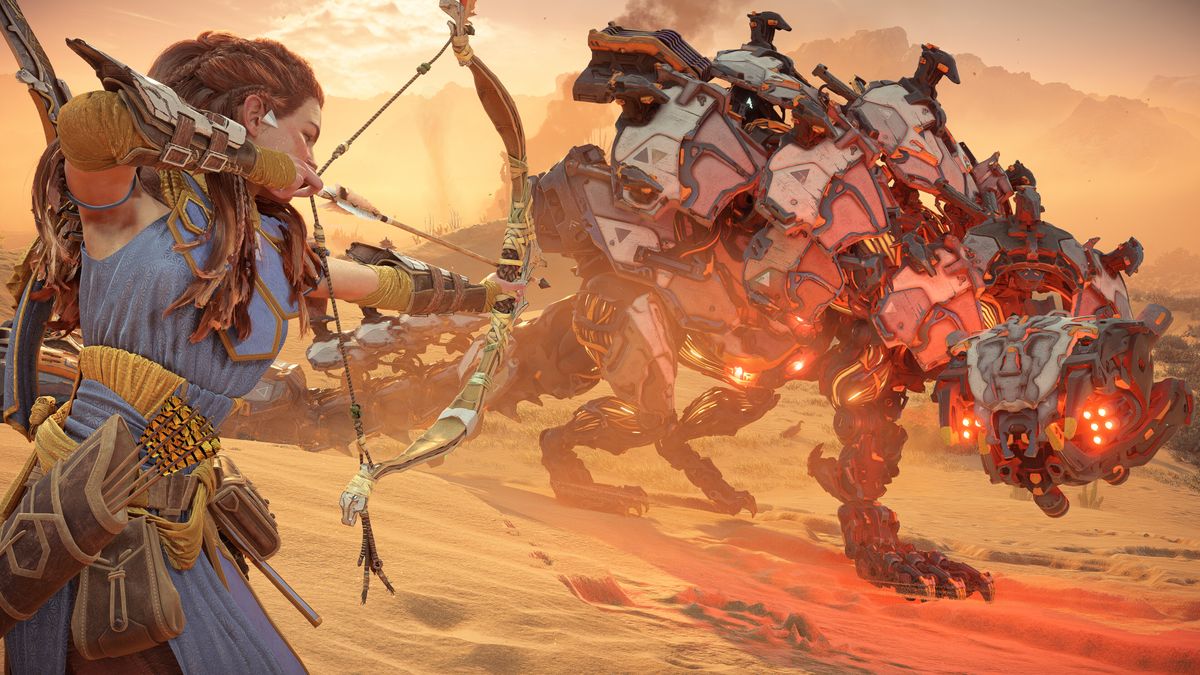 Sony and Guerrilla Games have shared a new trailer for Horizon Forbidden West, showing off a few of the new enemies players will encounter when the game launches for PlayStation 5 and PlayStation 4 in February. This comes not too long after another new trailer premiered at The Game Awards 2021, although that one focused more on the various environments Aloy will traverse. The most recent trailer, on the other hand, provides a closer look at the new enemy types, namely the Rollerback, Sunwing, and Slitherfang. "Some serve as guardians of the natural order, while others are built only to kill", narrative director Ben McCaw explained in a PlayStation Blog post revealing the new enemies. "Even worse, the power to control them has fallen into the wrong hands." McCaw also teased that there are plenty more new machines that are yet to be revealed for the game. The Rollerback appears to be based on an armadillo, with it capable of curling into a ball and rolling at high speeds. The pterodactyl-looking Sunwing doesn't appear to be as antagonistic, with it gently gliding through the air. We expect this one can be tamed and ridden, which would be fun. The Slitherfang, meanwhile, is a giant cobra that, according to McCaw, can spit acid. Between that and its size, this will likely be one of the more dangerous encounters. The way it moves across the ground is also a testament to Guerrilla's animation team although, frankly, all the machines look amazing in motion. So far, Sony continues to push PS5 footage of Horizon Forbidden West in action and has yet to show gameplay footage of the PS4 version. Only yesterday, Guerrilla Games shared screenshots of Horizon Forbidden Dawn running on PS4 and it admittedly looks just as gorgeous. But this won't matter if the game doesn't perform as well as it does on PS5. It's no secret that Sony is looking to push more people into investing in a PS5 and move on from the PS4. Originally, Horizon Forbidden West on PS4 wasn't going to come with any sort of upgrade path to the PS5 version, but Sony backtracked following a fan backlash. Going forward, however, all other first-party PlayStation games that release for both PS4 and PS5 won't offer free upgrades. So, for titles like God of War: Ragnarok and Gran Turismo 7, you'll need to pay an extra $10 to upgrade from the PS4 to the PS5 version. A decision that only makes Microsoft's Smart Delivery service on Xbox look more enticing since any Xbox One purchase comes with the Xbox Series X/S version for free. At least now we know you can take out any frustrations on giant robot snakes, right?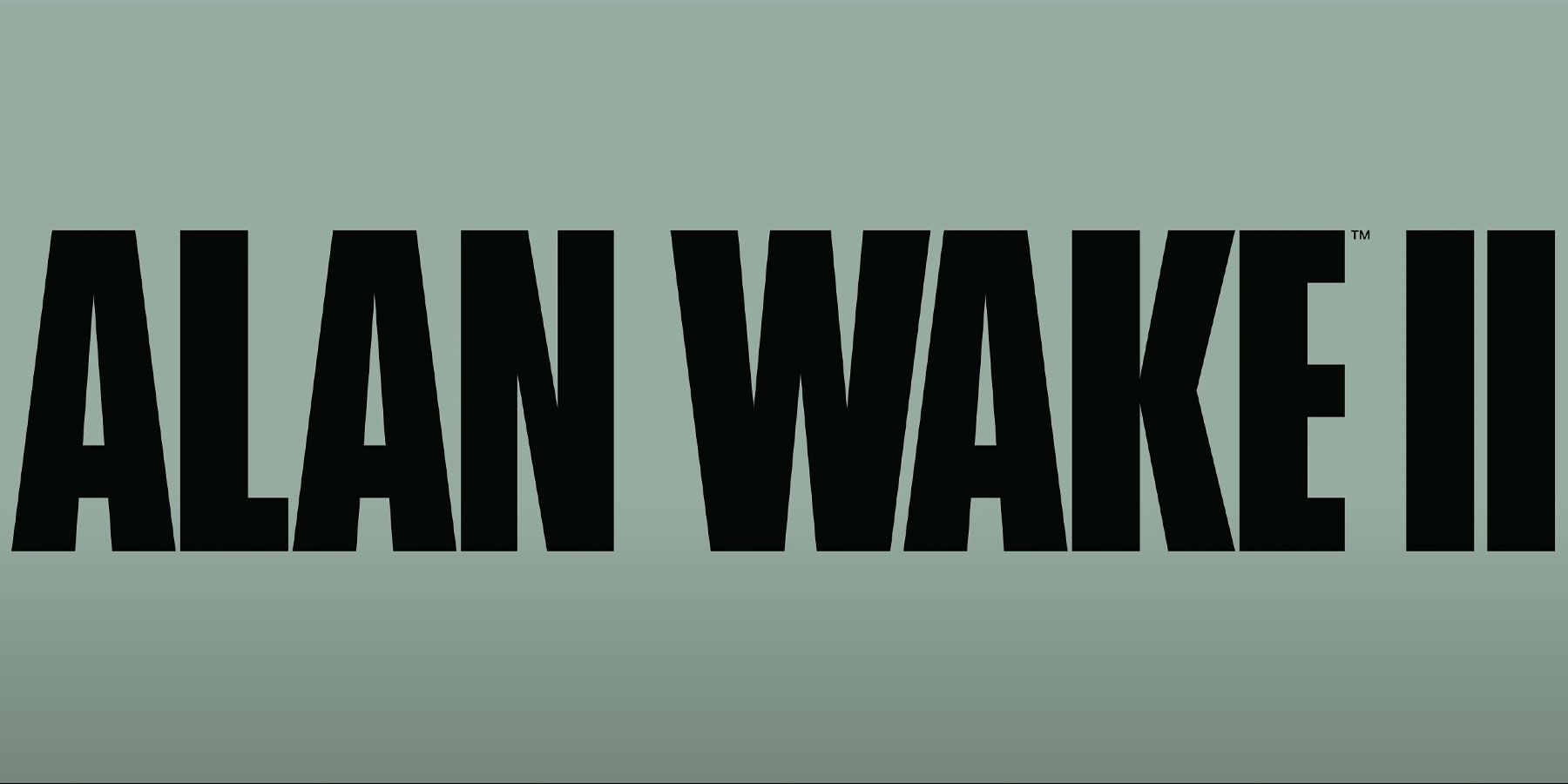 gamerant.com
gamerant.com
4269a45c8ad926675e4450ccdc3129ef
Join the DZone community and get the full member experience. Working efficiently in a production environment where even a minor change can have a profound impact on performance, there are some tips you can follow to ensure the best possible database performance. In this article, we will discuss five tips to make the job of an SQL Server DBA easier in a production environment. While backups are an important part of an effective recovery plan, frequent backups can cause issues if the available storage space is limited. In such a situation, deleting old backups can help clear the storage space. The Maintenance Cleanup Task feature (in SQL Server 2005 and later versions) available in the Maintenance Plan Wizard can help remove obsolete database backup files. Using Maintenance Cleanup Task, you can remove backup of all types (i.e., Full, Differential, and Transaction Log) from the given location. However, you can only delete one type of file in each Maintenance Cleanup Task. In other words, you cannot remove transaction log files (.trn) and full or differential backup files (.bak) in a single task. You need to create two tasks to purge the files. To delete the old SQL backup files created using Maintenance Cleanup Task, do the following: Note: You may also create a new job schedule to run the maintenance plan of deleting old backup files weekly. For more information about Maintenance Cleanup Task, see Microsoft's guide. When a maintenance plan is created in SQL Server, a user logged into the server is the plan's owner. If the owner's account is locked or removed, the maintenance plan for scheduled jobs (like backup, etc.) will fail. By changing the owner of the maintenance plan to another account (besides your domain account), you will ensure that the jobs will run, even if your account is locked or deleted. However, you may need to manually change the job owner when changes are made to a job or maintenance plan. To resolve this, set the maintenance plan owner to SA. Before changing the maintenance plan owner, it is important to find the current maintenance plan and its owner. For this, execute the following T-SQL query: Now run the below code to set the maintenance plan owner to "sa". In our case, we will replace "Login_name" with the owner name returned using the above query. 3. Run DBCC CHECKDB for Large Databases Using Different Strategies Checking database integrity using a basic DBCC CHECKDB command for large databases can take a longer time to complete. To run the CHECKDB command in significantly less time, try using a different strategy to run the command against databases of a large size. Essentially, to prevent DBCC CHECKDB from exceeding the allocated maintenance period, implement solutions discussed in the blog by Paul S. Randal: "CHECKDB From Every Angle: Consistency Checking Options for a VLDB". The blog discusses using a backup to restore the SQL database on another server and running DBCC CHECKDB against that server, as one solution. Also, you can reduce the time to run DBCC CHECKDB by using the PHYSICAL_ONLY option. It is not easy to query thousands of SQL Servers individually in a production environment. But by creating a local server group or a Central Management Server and one or more registered servers, you can execute queries against multiple servers simultaneously. To do so, in SQL Server Management Studio (SSMS), go to Registered Servers, right-click a server group (i.e., Local Server Groups or Central Management Server), and select New Query. In the query editor window, execute the below query: The primary responsibility of a production DBA is to keep the SQL Server running smoothly and ensure data availability. However, a disaster can happen when you least expect it and hamper business continuity. You may have invested in a disaster recovery (DR) solution to deal with such unplanned events. While DR is an important component of a business continuity plan, per Nationwide's study: a majority of small-business owners (68 percent) don't have a written DR plan. If a DR plan doesn't exist, a third-party solution such as a SQL recovery tool can help in extracting data from a database damaged due to hardware failure, ransomware attack, software bug, etc. This article discussed the top five tips to make the job of a SQL Server production DBA easier. These tips included deleting old backups to free up storage space and changing maintenance plan owner to "sa" to ensure that jobs (like backup or restore) will continue running. It also explained the tips on running DBCC CHECKDB against large databases and querying multiple servers simultaneously. Lastly, it discussed how using a third-party SQL Recovery Tool can come in handy when everything else fails to bring the database online. Opinions expressed by DZone contributors are their own.

Checklist for an Efficient Code Review
dzone.com
d0011fbb3c8d60b579412c9326eb43e1
Massive Shift to Remote Learning Prompts Big Data Privacy Concerns
dzone.com
2f646979fbb10a070c6da51a7b4cc2fe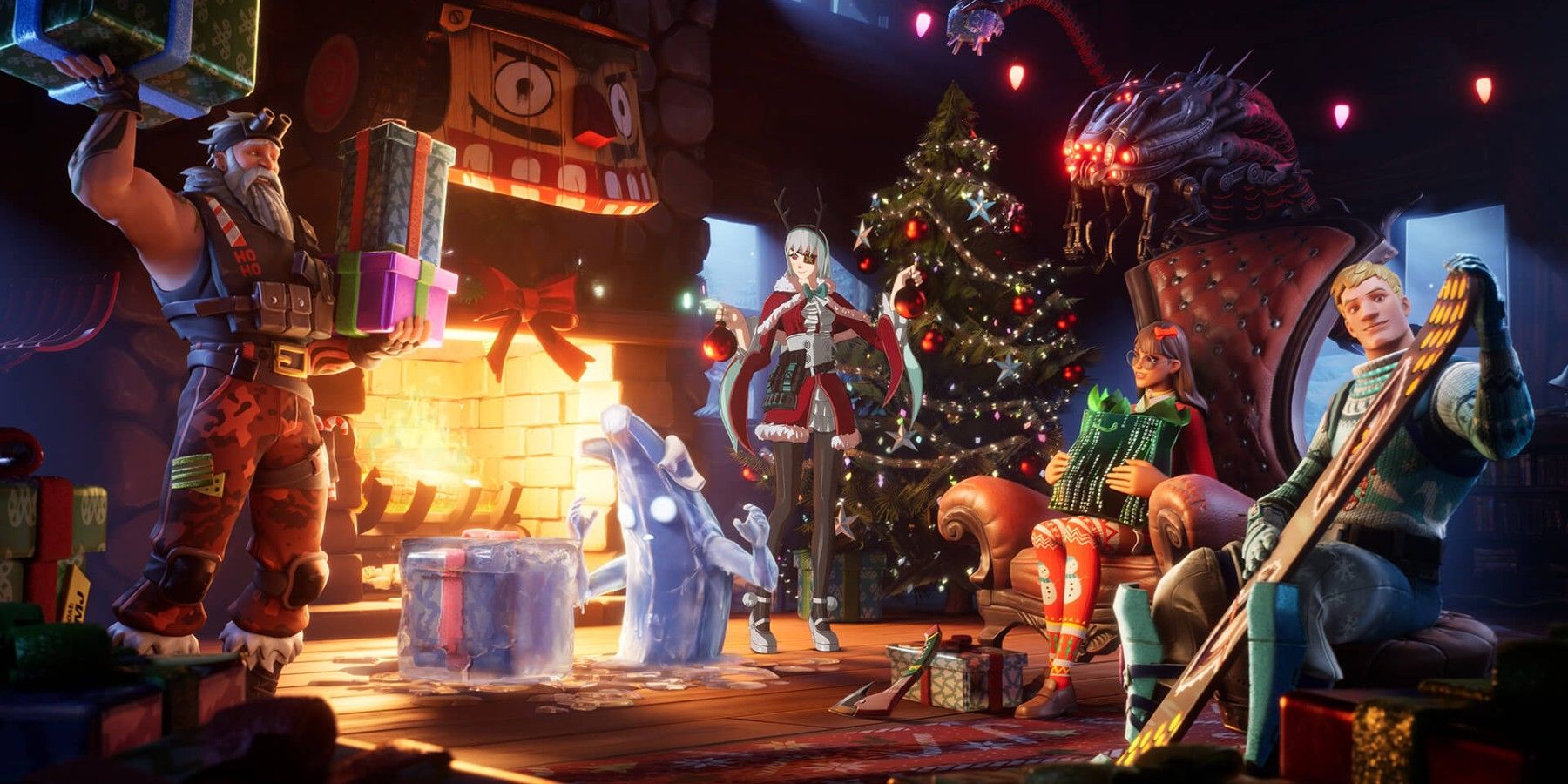 The end of the year is shaping up to be an exciting time for Fortnite fans, as Chapter 3 was released just over a week ago. With the launch of the new chapter came many new cosmetics, along with numerous changes to the map. While this update looks to keep things fresh for players for a long time to come, Epic Games shows no signs of slowing down. Recently, it added a new event for Fortnite just in time for the holiday season. In a blog post, Epic Games announced that Winterfest has begun in Fortnite. As the name suggests, the event features a winter theme full of holiday content. The event started on Thursday, December 16, at 9 am EST and will run until Thursday, January 6, at 9 am EST. There appears to be many reasons for fans to be excited about the festivities. RELATED: PlayStation Plus Subscribers Can Claim Free Fortnite Skin and Harvesting Tool One of the highlights of the event is the introduction of several new Spider-Man skins. Available in the Item Shop, players can get the Spider-Man suit featured in the movie Spider-Man: No Way Home. One of the highlights of this outfit is that it includes a removable mask, meaning players can see a recreation of Tom Holland's face. This mask can be put on and removed by using a built-in emote. Fans can also purchase the MJ skin from No Way Home. In addition, a couple of other outfits featuring the Marvel hero are planned to be rotated into the Item Shop during the winter event. These Spider-Man outfits aren't the only new cosmetics coming to Winterfest 2021. During the event, players can get Blizzabelle from the Item Shop. In addition, several new skins are coming as presents via the Winterfest Lodge. These new outfits include Krisabelle and Polar Peely. The first outfit is based on the community-inspired character Isabelle, while the second skin imagines what a banana might look like frozen solid. Gamers can unlock Krisabelle after unwrapping 6 presents, and Polar Peely becomes available after he thaws. Furthermore, players can unlock the Snowmando Board Glider and the Frosty Back Bling by completing a set number of Winterfest Quests. These are just some of the highlights of the myriad of new content available in the Winterfest update for Fortnite. In addition to these new cosmetics, a number of changes have been made to the gameplay for the event. Some of these alterations include unvaulted snow-themed weapons, such as the Chiller and the Snowball launcher. In addition, players can utilize the Sneaky Snowman disguise once again to hide from enemies. Furthermore, Sgt. Winter is wandering the map accompanied by 2 Red-Nosed Rangers. Players can receive gifts from the NPC, but he and his Rangers will attack if provoked. Fortnite is available on PC, PS4, PS5, Switch, Xbox One, and Xbox Series X/S. MORE: Fortnite: How to Get Spider-Man's Web Shooters Source: Epic Games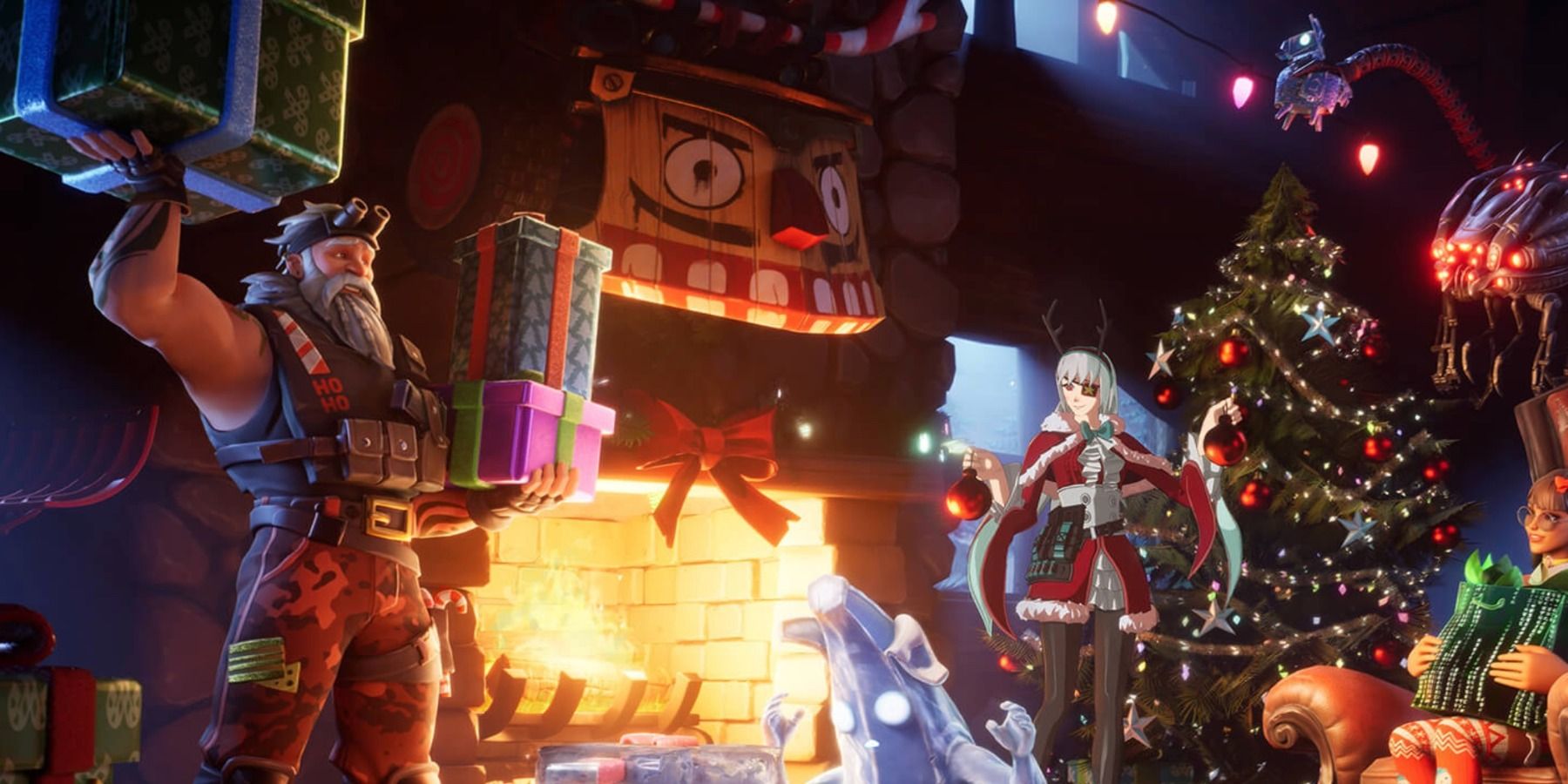 gamerant.com
gamerant.com
113b6905b15c6759394f880693f02cbd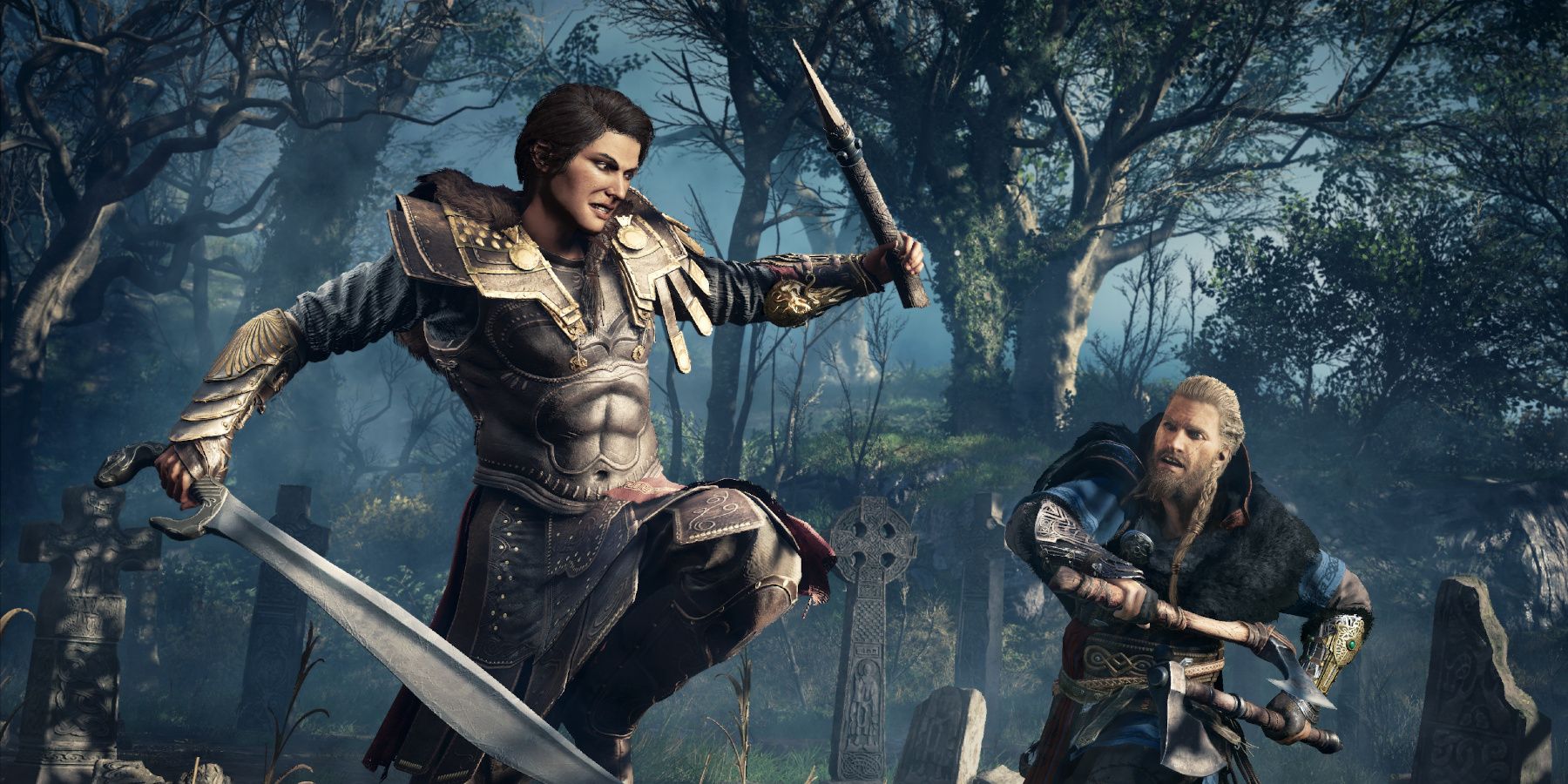 While exploring the Isle of Skye in Assassin's Creed Valhalla, players will come across a Brewer near Dunvegan Village that has lost his notes. These missing notes can be found in the home near the Brewer, and they provide details on the ingredients that are used to make the "Drink of the Picts." Those ingredients are two Barley, one Wheat, and one Firefly, and this guide contains details on exactly where Assassin's Creed Valhalla players can find all of them. Fans that are looking for the Barley that is needed for the Drink of the Picts should start their searches at the house that contains the aforementioned note. There are three sacks pushed against the exterior wall of this house, and interacting with them will grant one Barley. Notably, using Odin's Sight in Assassin's Creed Valhalla will highlight these sacks, making them quite easy to track down. RELATED: Assassin's Creed Valhalla: How to Get Hero's Sword Players should now head west to enter a small field and hop over the stone wall that forms its western boundary. Just on the other side of that stone wall, fans will see a wooden alcove that has a sloped roof, and there are sacks inside of it that contain a second Barley. Again, these sacks can be revealed by using Odin's Sight, and AC Valhalla players that are struggling to find them should certainly feel free to seek assistance from that ability. With the two Barley obtained, fans should jump back over the stone wall to reenter the field and then meditate until night. After finishing this meditation, fans should use Odin's Sight to reveal the Wheat that can be harvested for this Mystery in Assassin's Creed Valhalla, which happens to be the one that is positioned closest to the crate with the candle on it. Players will also see some Fireflies flying around in the field, and they will have all of the ingredients that they need once they catch one. At this point, players should return to the Brewer in order to hand over the ingredients and finally complete the Drink of the Picts Mystery. When that is done, fans will be free to continue their exploration of AC Valhalla 's Isle of Skye, which was added to the game as part of the Assassin's Creed Crossover Stories, and they are likely to encounter additional Mysteries, Wealth chests, and more as they do so. Assassin's Creed Valhalla is now available for PC, PS4, PS5, Stadia, Xbox One, and Xbox Series X/S. MORE: Assassin's Creed Valhalla's Dawn of Ragnarok DLC Sends Havi on a Quest to Save His Son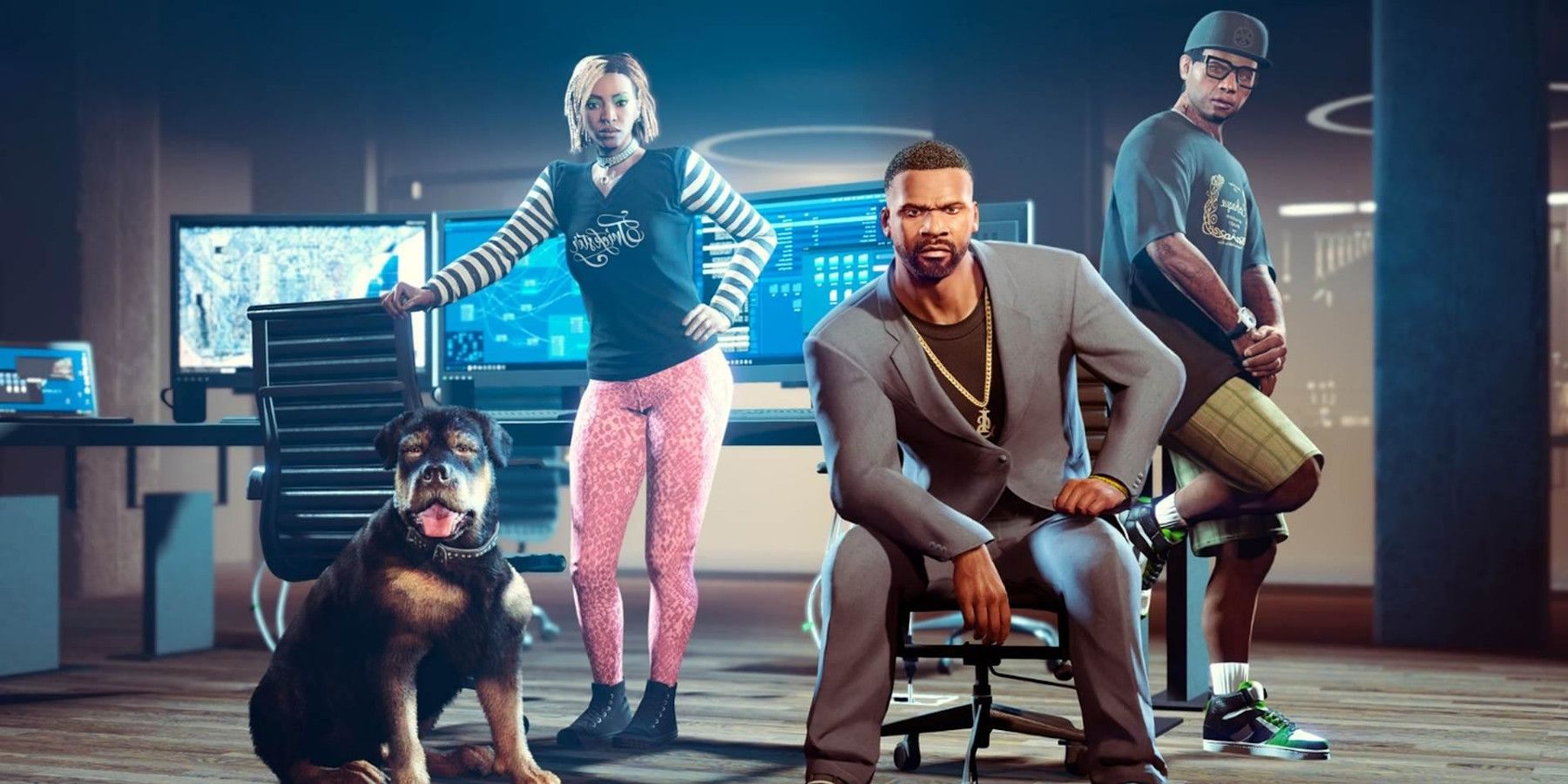 gamerant.com
gamerant.com
72c19b776dfb9bc9d014d5b0afd3d78a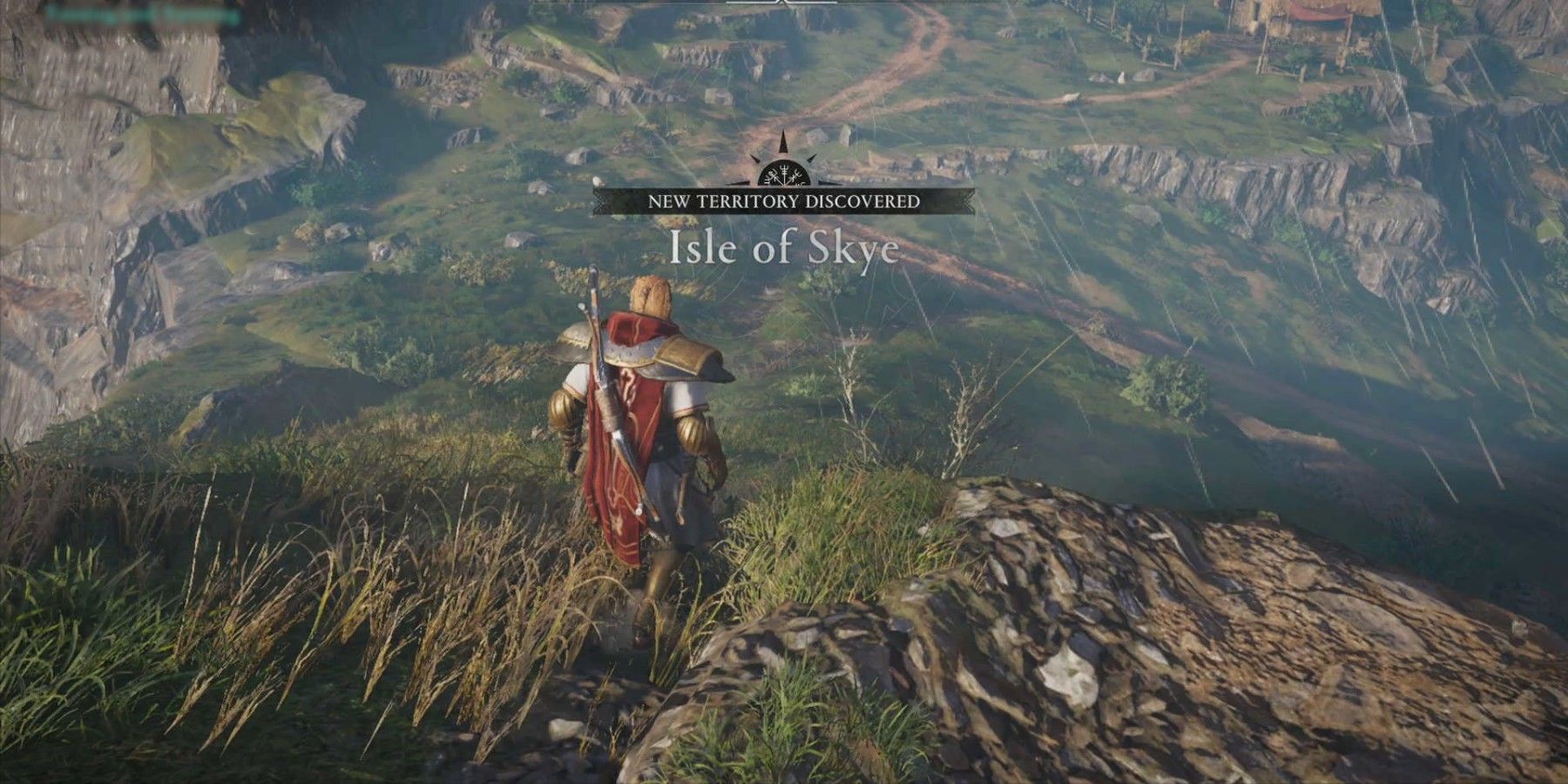 gamerant.com
gamerant.com
0eae07ac0a14b935116ff76437624370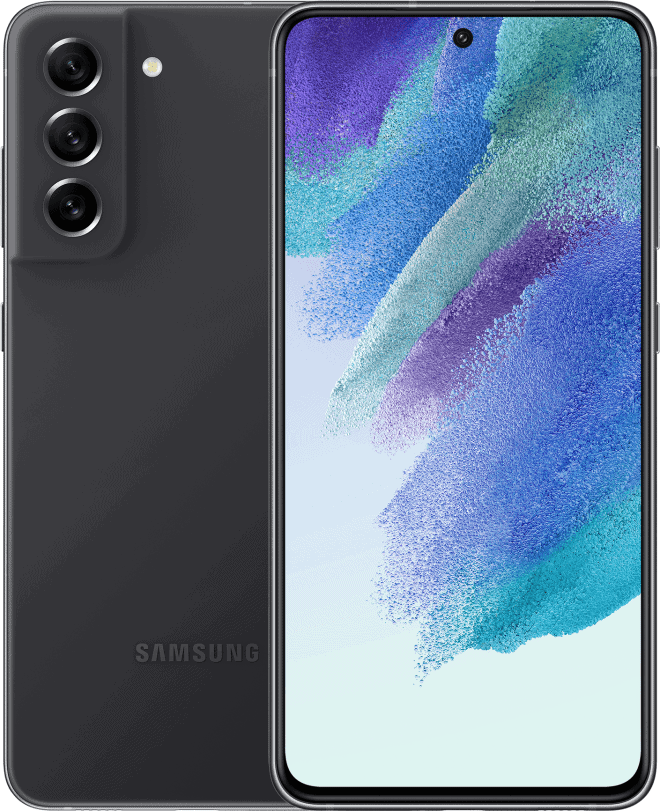 Samsung is close to releasing the Samsung Galaxy S21 FE, the affordable version of last year's flagship handset. As is usual, Winfuture has managed to get its hands on the full specs of the device. The handset is set to feature a 6.4 inch AMOLED screen with 401 PPI and 120 Hz refresh rate, under-screen fingerprint reader, protected by Gorilla Glass Victus. The device has a 32 MP front-facing camera with an 81-degree wide field of view while the three rear cameras are 12 megapixels main, 8-megapixel zoom and 12 megapixels wide-angle. The 3x optical zoom camera benefits from dual-phase detection autofocus as well as a hardware image stabilizer. The device is powered by the Snapdragon 888 Octacore SoC running at 2.84 gigahertz and has an integrated 5G modem. It will have either 6 or 8 GB RAM and 128 or 256 GB storage but no microSD slot. It will however support 2 nano-sims and an eSIM. The Samsung Galaxy s21 FE will have a 4500 mAH battery with USB-C fast-charging, has wireless Powershare, an aluminium frame and polycarbonate shell, and has IP68 certification. It will be available in graphite, olive, lavender and white. As an affordable handset, the 6 / 128GB version will start at 749 euros, while the 8 / 256GB version will probably cost 819 euros. See the full specs below: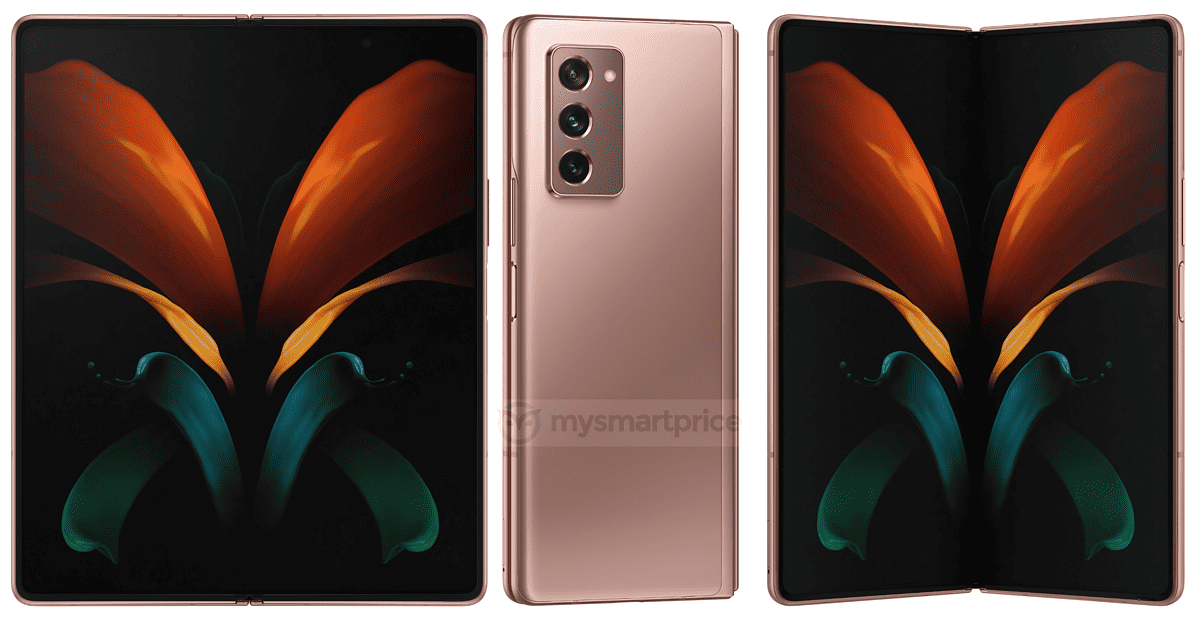 Massive discount: Save $400 on Samsung Galaxy Z Flip 3
mspoweruser.com
37a5d76d3105ec99a920f98dfa71c07a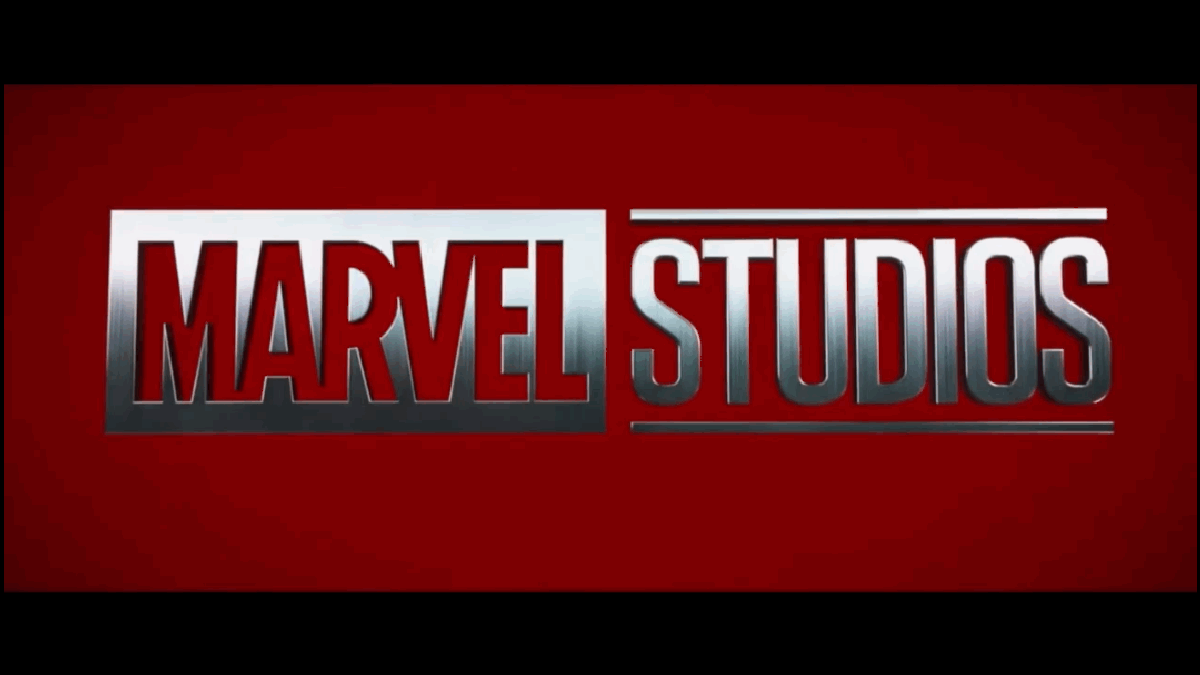 The Marvel Cinematic Universe is one of the biggest entertainment franchises of all time. The 26 movies in the MCU (so far) have grossed over $23 billion at the box office, and the 17 television series have driven massive audiences for their respective networks. So of course parent company Disney is cranking out as much new content as humanly (or Inhumans -ly) possible. There are at least a dozen new movies in various stages of development, and just as many Disney+ streaming TV shows on the way. It can be hard to keep track of all the Marvel theatrical release dates and Marvel TV release dates, especially since they tend to move around a lot, so we've compiled the details here for you. We will keep this list up to date as Disney inevitably moves things around. Movie theater quality on the go Just set this baby on a stable surface a few feet up from the ground and enjoy up to 100 inches of 200 Lumen 480p entertainment! The third movie in the Disney/Sony joint trilogy will be released exclusively in theaters on December 17, 2021. The film starts right where Far From Home left off, with Peter Parker publicly revealed to be Spider-Man. When Parker seeks out help from Doctor Strange in order to undo the outing, they crack open the multiverse and the MCU Spidey must confront classic villains from all of the various Spider-Man films. For more of our coverage of Spider-Man: No Way Home see here: The second film in the Doctor Strange franchise connects to the multiverse storylines of WandaVision and Spider-Man: No Way Home, and stars Benedict Cumberbatch and Elizabeth Olsen. A recent merchandise leak indicates that a classic Strange character might make their first MCU appearance as the movie's villain. The film is directed by Spider-Man vet Sam Raimi, and is currently undergoing reshoots. The fourth feature film in the Thor franchise will bring back Jane Foster, played by Natalie Portman, to become the Mighty Thor, the Goddess of Thunder. Chris Hemsworth, Tessa Thompson and Portman star. Taika Waititi is directing, and calls it " the craziest shit [he's] ever done." Newcomer Iman Vellani stars as Kamala Khan, aka Ms. Marvel, in the Disney+ series Ms. Marvel, expected sometime in 2022. Khan is a teenage girl with the power to shapeshift and stretch her body, and the MCU's first Muslim superhero. The series is based on a comic book created in 2013 by G. Willow Wilson and Sana Amanat. It's really, really good. The Black Panther sequel has run into its share of troubles: First, the tragic passing of star Chadwick Boseman, and then actor Letitia Wright, who plays T'Challa's sister Shuri, suffered an injury during filming which caused the production to go on hold until 2022 (She's reportedly causing trouble with her anti-vax shenanigans, too). Wright is joined by Daniel Kaluuya, Lupita Nyong'o, Danai Gurira and Winston Duke. The film is directed by Ryan Coogler. Moon Knight is a vigilante hero who suffers from dissociative identity disorder, and his multiple identities are thrust into a war of the gods in this new Disney+ series. The show stars Oscar Isaac as a very dreamy-eyed Moon Knight. Orphan Black star Tatiana Maslany stars in this new comedy series as Jennifer Walters, aka She-Hulk, a lawyer who specializes in superhuman-oriented legal cases. The series will star lots of other Marvel characters including Mark Ruffalo as the Hulk and Tim Roth as the Abomination, played by Tim Roth. Can't get enough of the infamous Star Wars Holiday Special? How about a Guardians of the Galaxy Holiday Special on Disney+ that's written and directed by James Gunn. This winter treat is shooting alongside Guardians of the Galaxy Vol. 3 and will come out a few months before that movie hits theaters. The sequel to Captain Marvel will pull together three of the MCU's most powerful women: Brie Larsen's titular Captain, Iman Vellani as Kamala Khan, and Teyonah Parris as Monica Rambeau. Nia DaCosta (who most recently helmed the revival of Candyman) is directing the film. The final movie in the Guardians trilogy was supposed to be completed years ago, but then writer/director James Gunn got fired, then rehired, then did a really fun DC superhero movie. Now GotGv3 is finally underway, starring the usual crew (Chris Pratt, Zoe Saldaña, Dave Bautista, Bradley Cooper, Karen Gillan) and actor Will Poulter as Adam Warlock. The third Ant-Man movie will return to the quantum realm and bring back director Peyton Reed and stars Paul Rudd, Evangeline Lilly, Michael Douglas and Michelle Pfeiffer. There's an appropriate amount of (quantum) uncertainty surrounding this flick: It may tie in the mysterious villain of the Loki series, or include the first film appearance of another classic comics villain. Hell, it may even include Bill Murray. The X-Men are coming to the MCU. kinda. X-Men '97 is a revival of the classic 90's animated show, bringing back the same style, stories and yes, theme song, of the iconic series. This spinoff from WandaVision will star Kathryn Hahn as her fan-favorite character Agatha Harkness. This live-action series will follow James Rhodes (Don Cheadle) as he tracks down stolen tech that allows criminals to replicate Iron Man technology. Disney hasn't revealed much about this reboot of the franchise that features vampire-hunter who is also a vampire, but we know that it stars two-time Academy Award winner Mahershala Ali, who also played Cornell 'Cottonmouth' Stokes in the Netflix program Luke Cage. We also know Blade appeared (or at least his voice did) in the end credits of The Eternals. The film is directed by Bassam Tariq, the first U. S. -Pakistani person to helm a Marvel Studios film. Ryan Reynold's "merc with the mouth" is set to appear in Disney's first R-rated film following the company's completed acquisition of Fox assets. This spinoff from the Hawkeye series will follow Echo, a deaf martial artist, as played by actress Alaqua Cox. Disney has confirmed that Reed Richards, Susan Storm, Johnny Storm and Ben Grimm will finally make an appearance in the MCU. and that's about all we know. This new animated series follows the adventures of Baby Groot, a character first seen in Guardians of the Galaxy Vol. 2. With Tony Stark gone, the MCU needs a new super-genius inventor. Enter teenage prodigy Riri Williams (played by Dominique Thorne), who creates a brand new, ultra-advanced armored suit. The smash hit series about Tom Hiddleston's antihero will return. someday. This new animated show is loosely spun out from a breakout episode of What If? that saw MCU heroes battling a zombie apocalypse. Disney says this new animated series follows Peter Parker "on his way to becoming Spider-Man in the MCU, with a journey unlike we've ever seen and a style that celebrates the character's early comic book roots." This series picks up story lines from both Captain Marvel and Spider-Man: Far From Home to explain the decades-long Skrull invasion of Earth. Samuel L. Jackson and Ben Mendelsohn will star. The speculative animated series and its omnipresent narrator The Watcher will return with an all-new season. The show's creators say next season will focus on new stories, new heroes, and "lots of fun." We've got a new Captain America, so it's inevitable we'll get a new Cap movie. Anthony Mackie will appear in the title role. Not much is known yet about this show set in Black Panther 's home country. Shang-Chi's debut movie was compelling, exciting and fun. It also made a ton of money, so a sequel is inevitable. Now that Disney owns the old Fox assets that included all the "mutant" Marvel superheroes, you can count on characters like the X-Men making an MCU debut.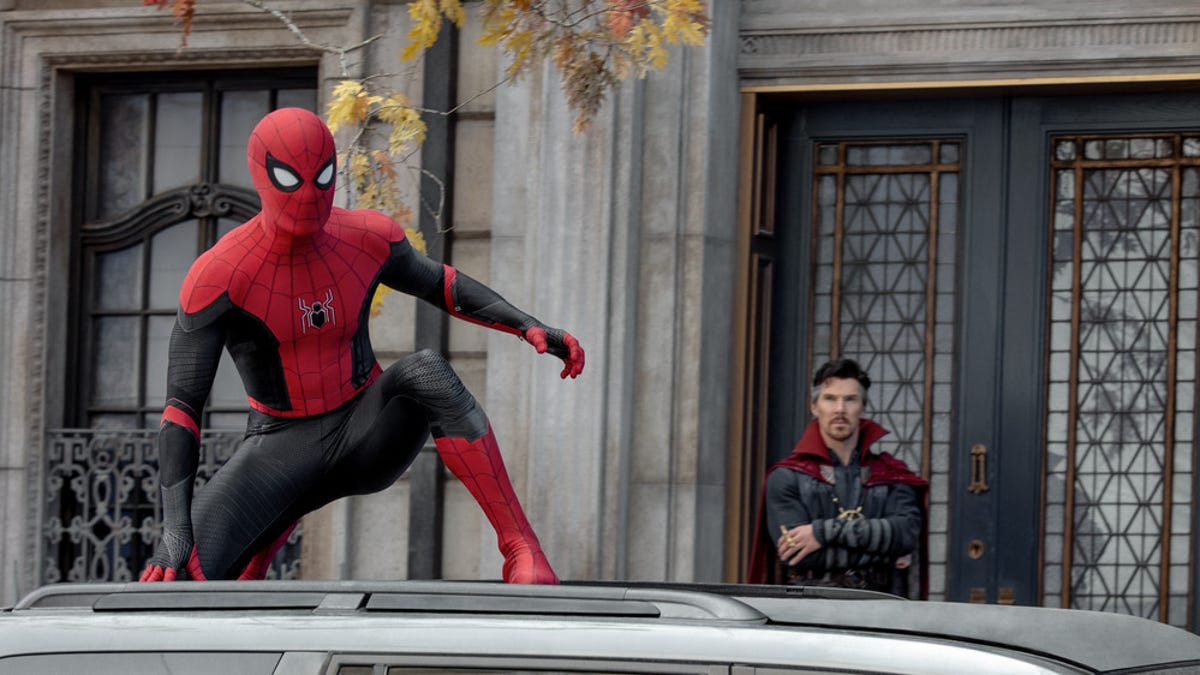 Let's Talk About Those Spider-Man: No Way Home Post-Credit Scenes
gizmodo.com
d39028c84c355e378abe67dac277a9c3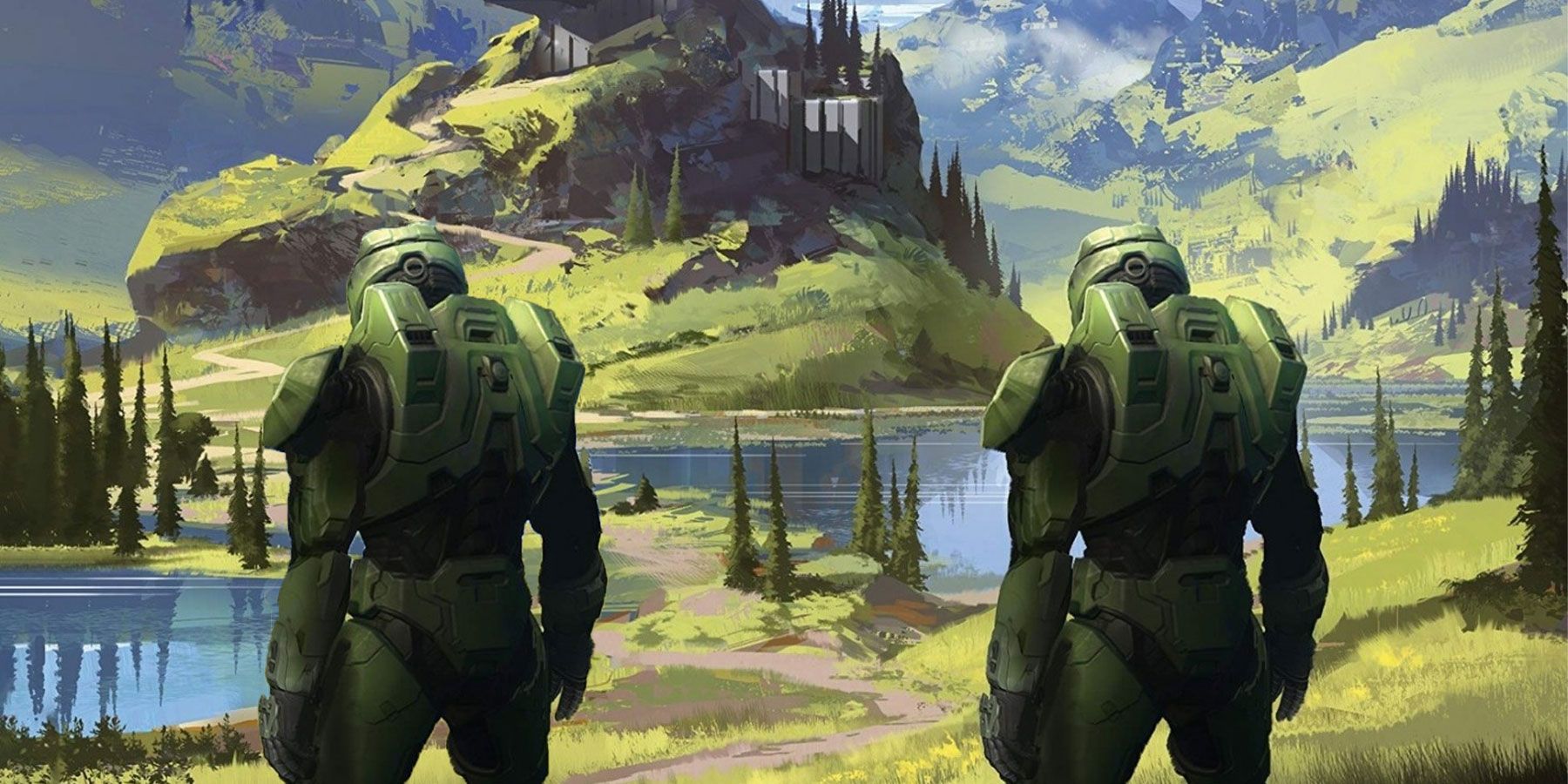 It's no secret that Halo Infinite launched missing a decent amount of content. While the campaign and multiplayer are both excellent experiences, the lack of things such as Forge Mode and multiplayer assassinations at launch gives the entire package something of an unfinished quality that many fans have noted. One of the biggest missing features, however, exists as a sad example of "what could have been" every time players resume Halo Infinite 's open-world campaign: campaign co-op. While it's going to be coming at some point in 2022 as confirmed by 343 Industries, the lack of campaign co-op at launch feels like more of a misstep now than ever before. Now that anyone can try Halo Infinite 's campaign, it's clearer than ever just how fun it would be to play with a friend. Although that will be possible in the future, not having it now, when Halo excitement is at its peak, will lessen the co-op's impact in the future. After all, it'll be more likely that both players will have already completed the campaign by the time the feature launches. RELATED: Halo Infinite Fan Redesigns the Game's Shop UI There are plenty of moments within Halo Infinite 's campaign that feel specifically designed for co-op, which makes its absence all that much more noticeable. This could be because 343 Industries promised that co-op would be included in the game following Halo 5 's lack of campaign multiplayer and the design is simply a remnant of that promise, but without having another player there, it feels a little odd. All too often, players will order a warthog or mongoose from Echo-216 at one of the game's many F. O. B. s, only to load it up with brain-dead marine AIs who couldn't shoot their way out of a paper bag. Given how frequently they're relied on as backup, it seems as if the game wants players to engage with its marines, but they just don't have the skill required to be trusted in the same way that another human player would. As a result, some of the game's combat encounters can be quite difficult, and the marines hardly ever make a difference when it comes to the outcomes of those fights. Halo Infinite 's encounters are so open-ended given the sandbox of the world that they would greatly benefit from another player being added to the fray. There are so many different ways that players can go about reclaiming an outpost, but given the fact that there's only one player, real strategy just isn't a part of the experience. Halo Infinite 's open-world lends itself well to experimentation, and it does a good job reaching its potential when played alone. That said, it takes one watch of the warthog fling video that's made the internet rounds for players to begin imagining the possibilities of what could be achieved with a second Spartan. On that front, the campaign wouldn't necessarily be experienced any differently, but it would open itself up for a lot of goofy fun that's already being seen in private multiplayer lobbies. Eventually, when co-op gets added to Halo Infinite 's campaign, all of these things will be possible - it's just a matter of when. For the time being, however, it can't help but feel like something of a missed opportunity given how strong Infinite 's singleplayer is and all the areas where having a player two would greatly benefit. For now, fans will just have to wait, but there's no telling how much interest they will have in replaying the campaign when co-op is finally added. Based on Halo Infinite 's early success, it seems like there could still be an audience for it, but only time will tell. Halo Infinite is available now for PC, Xbox One, and Xbox Series X/S. MORE: Halo Infinite Really is The 'Far Cry' of the Franchise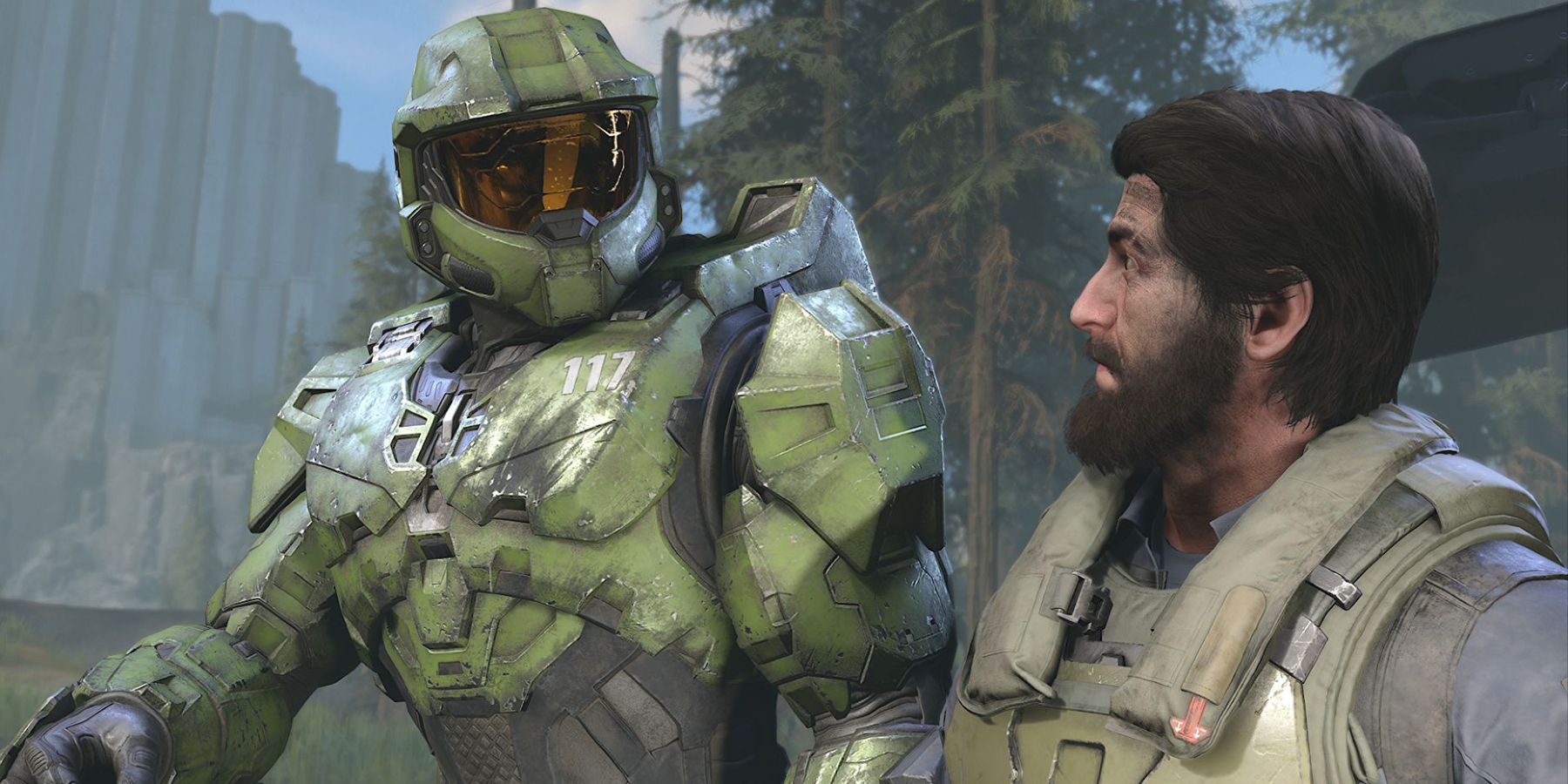 gamerant.com
gamerant.com
7669814a7433b231323080c8709bb59c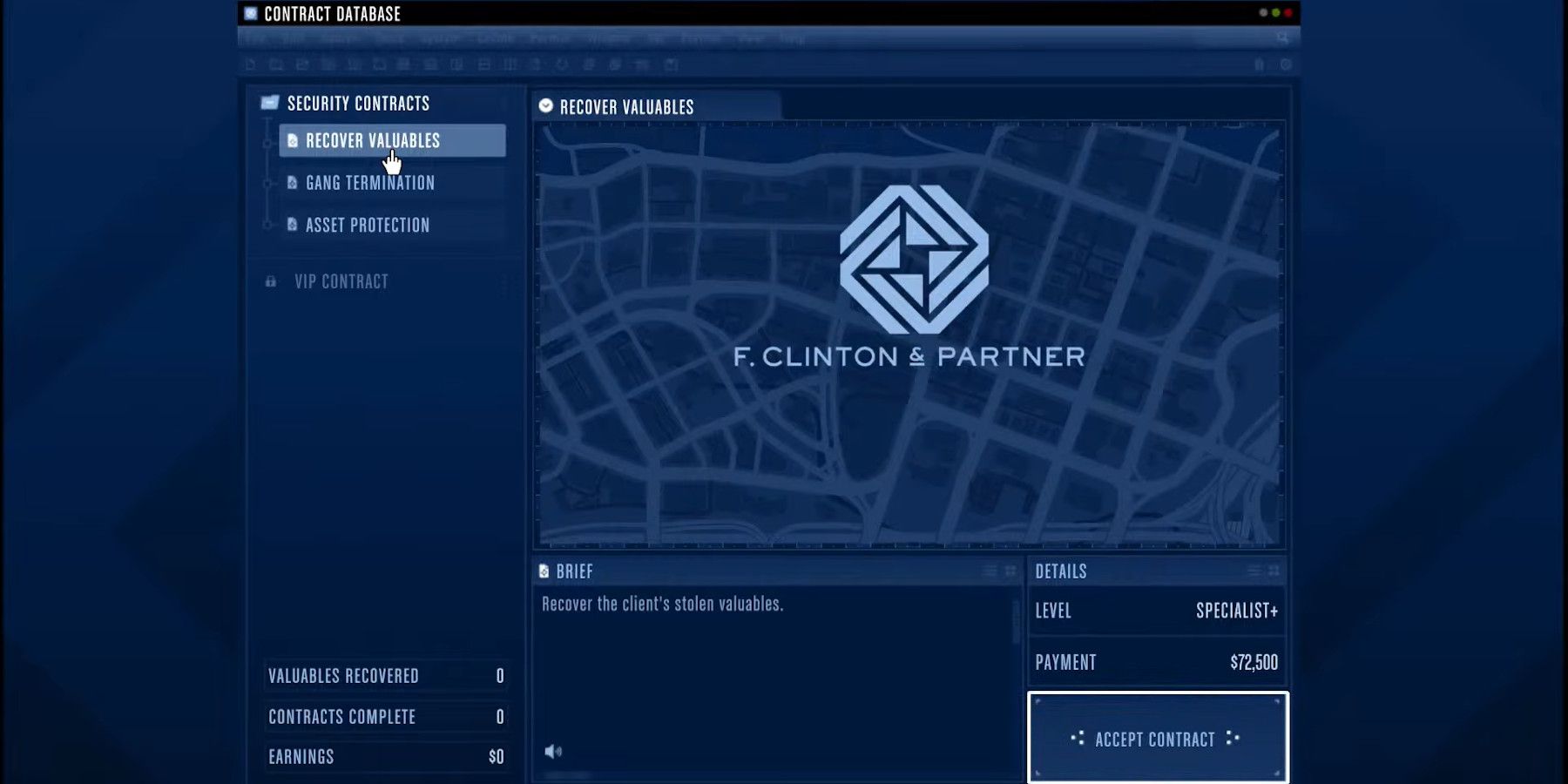 GTA Online 's The Contract DLC adds a number of new missions to Rockstar's extremely-popular multiplayer title, including one that sends players to Tequi La La. While fans are visiting this establishment, they will be instructed to find the combination for a safe, and indeed that must be done in order to advance the mission. For those players that are having some trouble finding the Tequi La La safe combination in GTA Online, this guide is here to provide assistance. The Tequi La La safe combination can be found scribbled on a yellow post-it note, which can appear in several different locations inside of the building. Here is a list of possible spawn points for the post-it, and its yellow color should allow Grand Theft Auto Online players to see it quite easily: RELATED: GTA Online: How to Participate in a Client Job Regardless of where a player ultimately finds the post-it note, they will be told to collect the safe combination as soon as they approach it. After performing this action, fans are ready to open the safe, which is found upstairs in Tequi La La, and collect the necklace from within it. Players can then return to the Agency with the item in hand in order to finally complete the Recover Valuables Contract in GTA Online. To note, completing a Security Contract is one of the preliminary steps toward unlocking GTA Online 's VIP Contracts. Indeed, if the Recover Valuables mission is the first Contract that a player has completed, they should receive a phone call from Franklin after waiting for just a short time. This phone call will unlock a mission that takes place at the Los Santos Golf Club, and fans will gain access to VIP Contracts when it is completed. Currently, the only VIP Contract in the game centers around assisting Dr. Dre, and players will earn a substantial financial reward for taking it on. This reward can be spent on one of the new cars in GTA Online 's The Contract DLC, or fans can certainly opt to use it for something else if they wish to. Grand Theft Auto Online is available now on PC, PS4, and Xbox One, with PS5 and Xbox Series X/S support planned for March 2022. MORE: GTA Online Losing Songs is Inevitable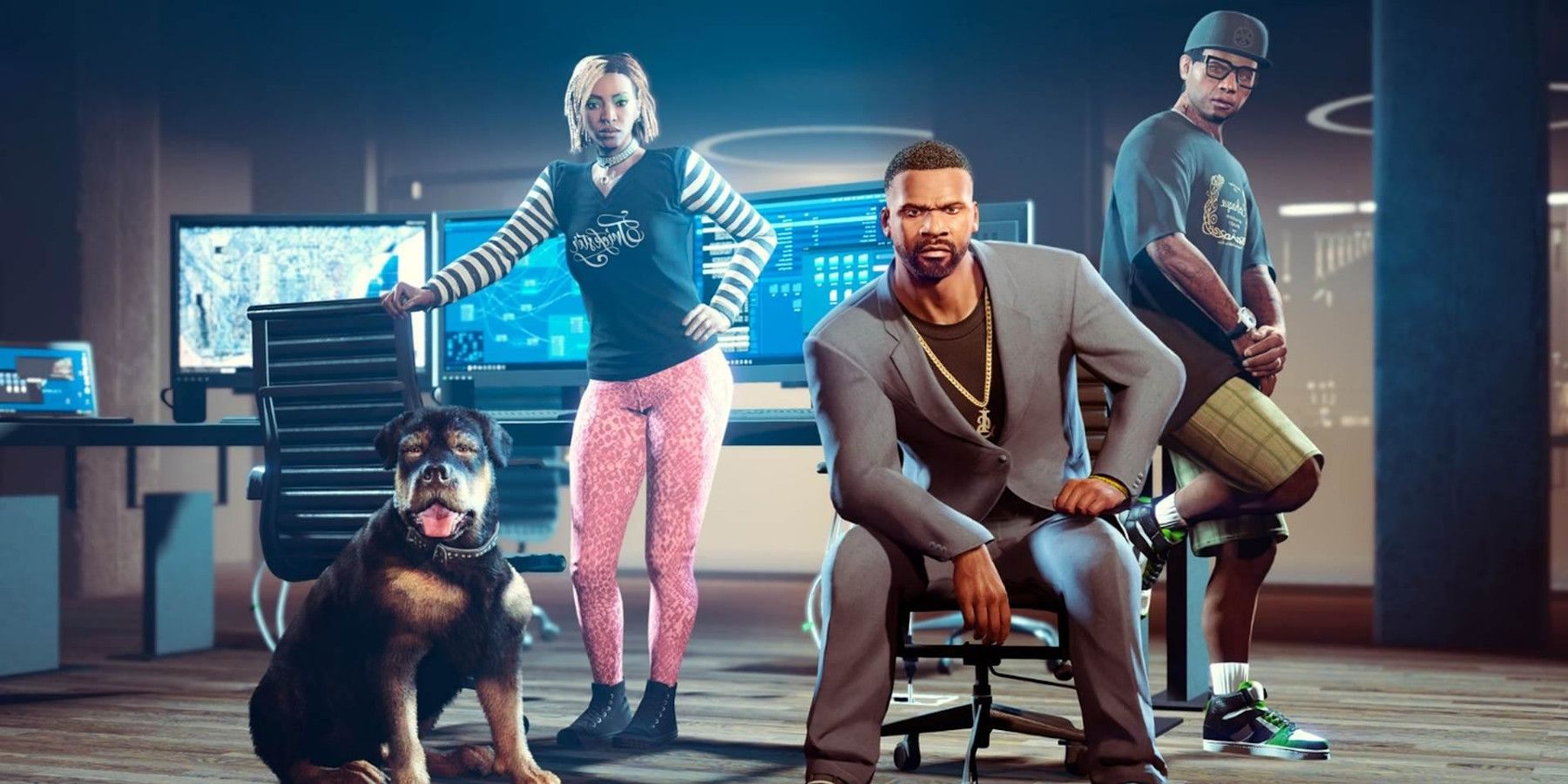 gamerant.com
gamerant.com
72c19b776dfb9bc9d014d5b0afd3d78a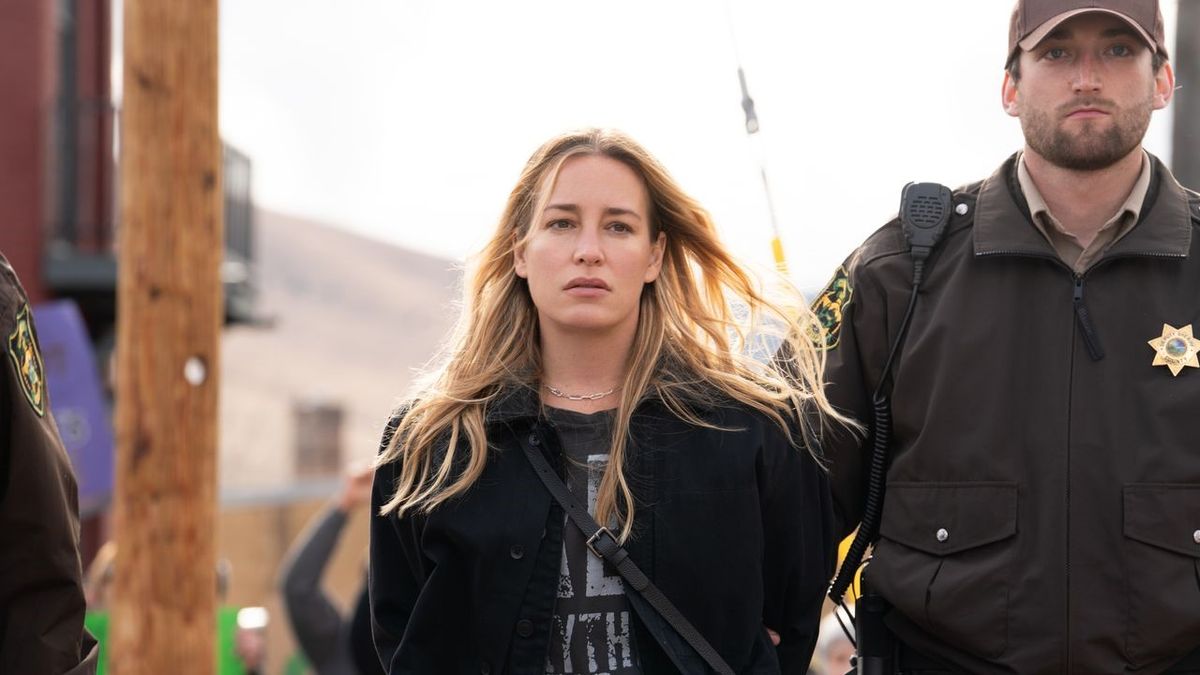 We are well and truly over the halfway mark of the latest season of Yellowstone, which has drawn in a record number of viewers week on week as one of the US's biggest scripted TV series of the year. Return to the Dutton ranch in the state of Montana and ensure you know exactly how to watch Yellowstone season 4 online from anywhere. Following John Dutton (Kevin Costner), a sixth-generation rancher fending off land-grabs from greedy developers, the bordering Native American reservations, and his own children and their self-serving actions - it truly sounds like an American Northwest Succession. Given the events of season 3, with a number of orchestrated attacks, the dynamic is radically changing. But who was behind them? The Dutton's aren't exactly short of enemies, so a better question would be who doesn't want them dead, and how best to invoke revenge? Scorned son Jamie (Wes Bentley), who recently discovered he was adopted, is definitely a prime suspect. What we're certain of is the exciting introduction of a few new characters. Animal Kingdom's Jacki Weaver will play Market Equities CEO Caroline Warner, no doubt willing to use intimidation to get what she wants. Piper Perabo (Angel Has Fallen) stars as Summer Higgins, an avid protester of the industrialized farming industry, and Kathryn Kelly will join the main cast as a veterinary technician who falls for a Dutton ranch cowboy. It's been one hell of an explosive season so far - and there's even more drama expected with its prequel series 1883 airing, too. We don't expect it to let up any time soon. So, read on below for our guide on how to watch Yellowstone season 4 online and stream new episodes every week from anywhere. Out of the country when new episodes of Yellowstone season 4 air? If so you'll be unable to watch new episodes due to annoying regional restrictions. Luckily, there's an easy solution. Downloading a VPN will allow you to stream Yellowstone season 4 online no matter where you are. It's a simple bit of software that changes your IP address, meaning that you can access on-demand content or live TV just as if you were at home. Use a VPN to watch Yellowstone from abroad Sadly, this excellent neo-Western drama starring Kevin Costner hasn't found a streaming home in the UK. The first two seasons were broadcast on the Paramount Network UK over a year ago, but fans across the pond are still waiting on an air date for seasons 3 and 4. You can buy seasons 1 and 2 on Amazon Prime Video, though, from £1.89 per episode or £12.99 per season. So newbies can get a taste of the scintillating cowboy drama that's yet to come. And, with plans for Peacock to become free to Sky and NOW TV customers later this year – with programming ad-supported – all four seasons of Yellowstone could be ready to stream pretty soon. Remember, though, that if you're away from your home country you can still access your streaming service subscription from anywhere, if you download a good VPN and follow our instructions above.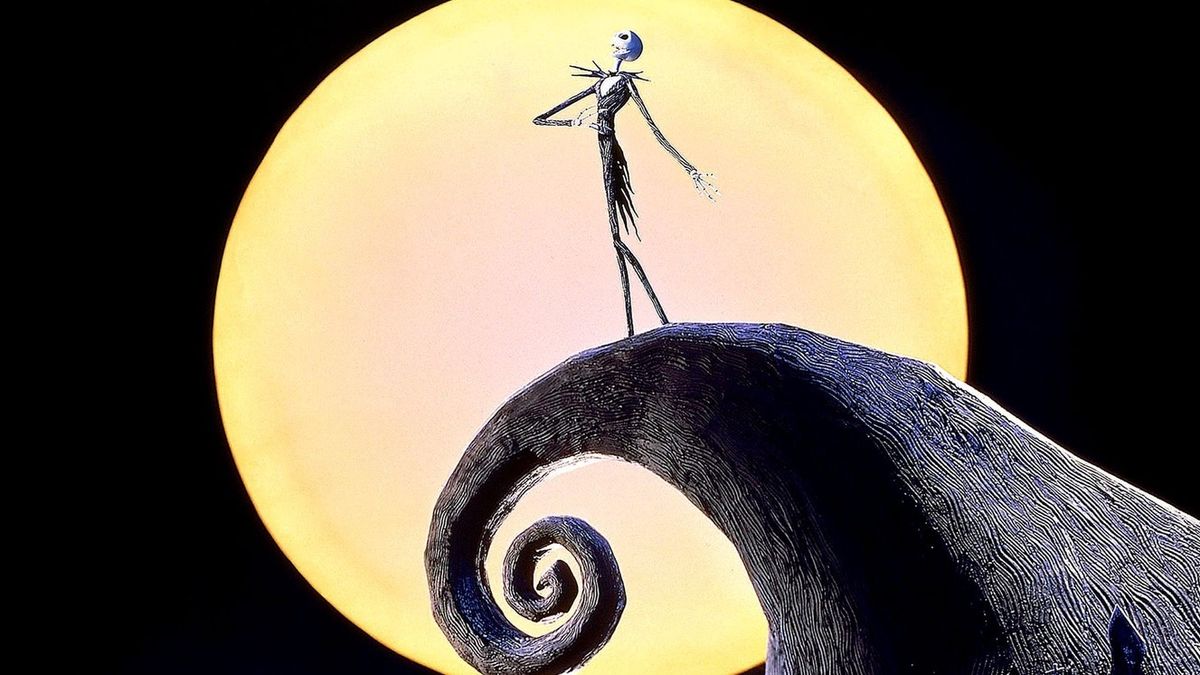 How to watch The Nightmare Before Christmas online from anywhere
techradar.com
4c753b076261f09c76c6c9c9f828491b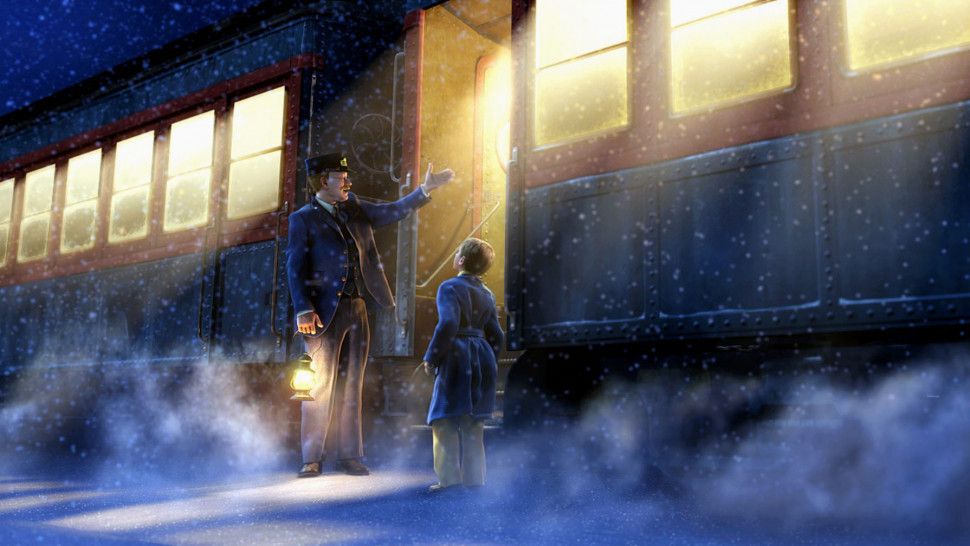 Based on Chris Van Allsburg's 1985 children's book and brought to life by Back to the Future director Robert Zemeckis, Polar Express is a groundbreaking computer-animated movie that's utter Christmas eye-candy, led by Tom Hanks as the benevolent train conductor taking viewers on an immersive adventure to the North Pole. Prepare to be transported - here's how to watch The Polar Express online wherever you are right now. Magical and dream-like, The Polar Express is more a series of events than a story. It begins with a young boy witnessing the improbable: a steam locomotive pulling up outside his house on Christmas Eve. Onboard it's full of equally hesitant yet awe-struck children – a kind-hearted girl (voiced by Nona Gaye), an overzealous know-it-all (Eddie Deezen), and Billy, "the Lonely Boy". Headed for the North Pole, they encounter rowdy railroad ghosts, waiters acrobatically serving hot chocolate, and an Elf command centre on the way, before finally meeting the Father Christmas. It's style over substance, certainly - but geez, what a spectacle! There's a glorious tracking shot of a gold ticket fluttering over a ravine, into the clutches of a great eagle, before being reunited with its owner; while the momentum of a train hurtling down a 179-degree slope is like being on a rollercoaster. And, while it's undoubtedly a technical showpiece – it became the first all-digital capture film in 2006 – it's got a majestic Christmas spirit, too. So, slip on your PJs/jim-jams and settle down with a hot coco as we detail how to watch The Polar Express online and stream this Christmas classic from anywhere, including on Netflix. Yes - but not universally. The Polar Express is available to watch on Netflix in a number of the service's other markets, including: Japan, Belgium, France, Israel, Netherlands, and Poland. However, Netflix's US, UK, Australia, and Canadian libraries don't feature the film, which is a bit of a bummer. But that being said, anyone with a Netflix subscription from a country where the film is available can still watch it wherever they are with the help of a VPN. It's really easy, completely legal, and we'll guide you through the process below - we even have a dedicated guide to the best Netflix VPN if you want to dive even deeper. But everything you need to know to watch Polar Express online is right here. Visiting family abroad over the holidays? If you find yourself in another country, geo-blocking restrictions will mean you're unable to stream regionally specific content like you would back home. Thankfully for fans of Christmas entertainment, there's a simple solution. Downloading a Virtual Private Network ( VPN) will enable you to alter your IP address, meaning you can access geographically restricted content from anywhere in the world. Use a VPN to watch The Poland Express online from anywhere Unfortunately The Polar Express currently isn't available in Australia to stream. However, you can opt to rent or buy the Tom Hanks-starring animation with Amazon. It's AUS$4.99 for a one-off viewing – perfect to get into the festive mood on Christmas Eve – or pay AUS$9.99 to keep it instead. Don't forget - you can watch your home streaming service of choice anywhere in the world with the help of a VPN.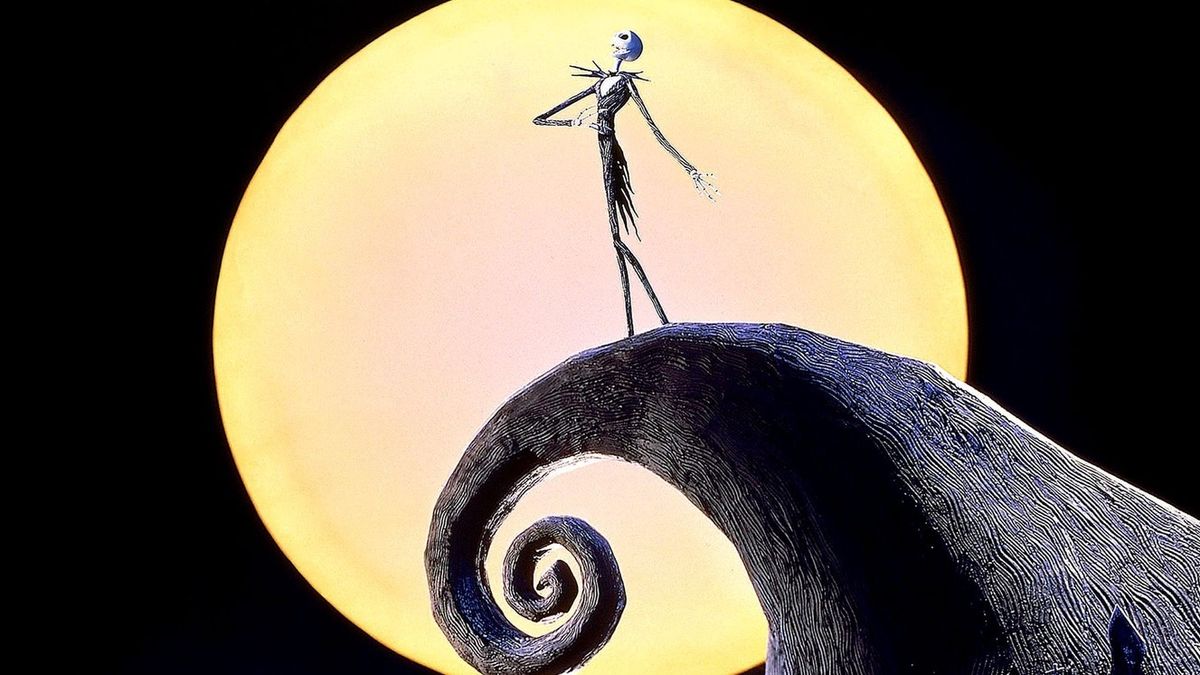 How to watch The Nightmare Before Christmas online from anywhere
techradar.com
4c753b076261f09c76c6c9c9f828491b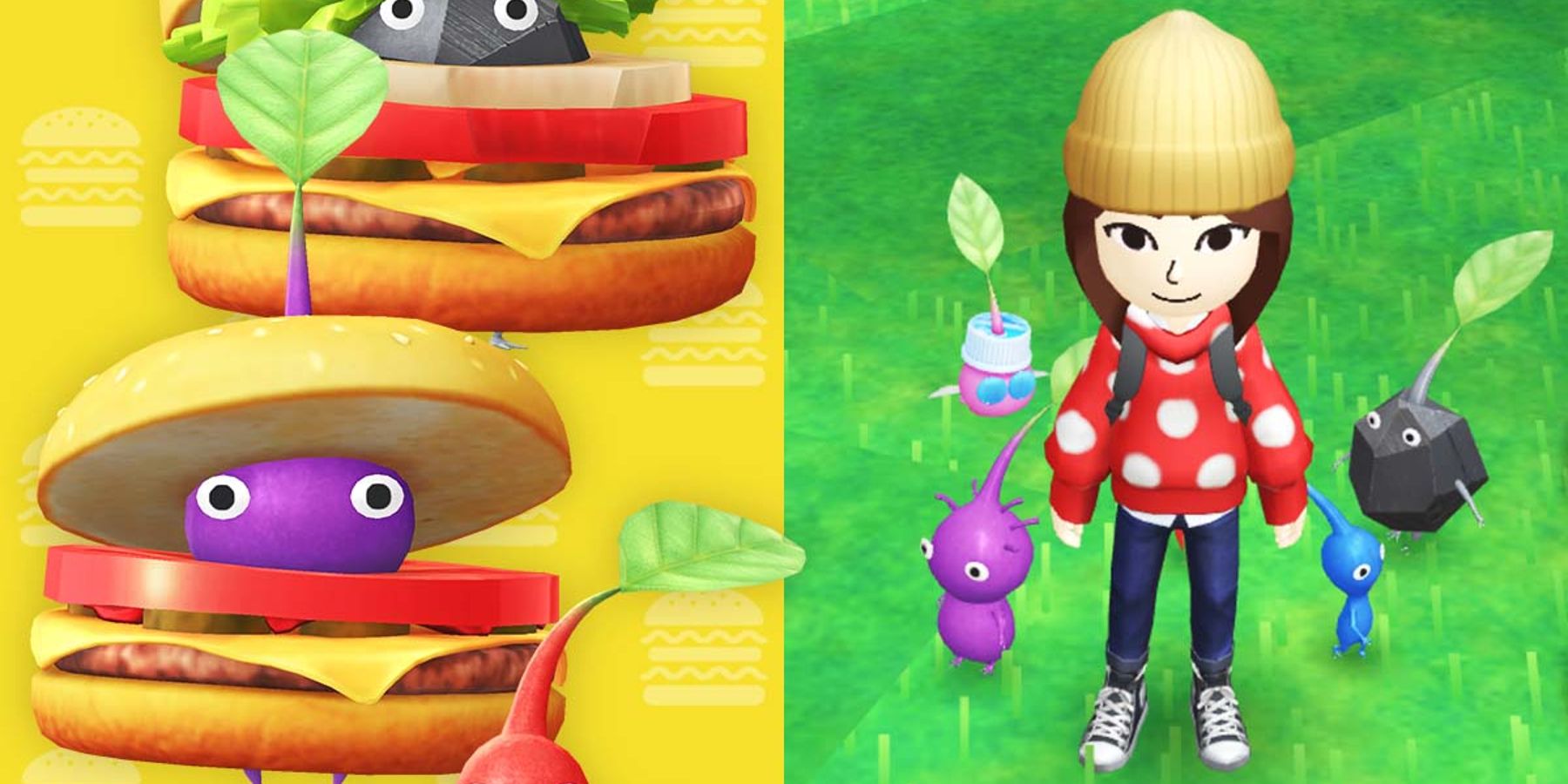 As Niantic's AR mobile game Pikmin Bloom has been out for nearly two months, players have likely gotten into a rhythm. The exercise-focused Pikmin game asks players to wander their neighborhoods and other key places around the world in search of new Pikmin Seedlings that can be grown with enough footsteps. One way it encourages exploration is by giving Pikmin decor once they're friendly enough with players, with whatever cosmetic they wear being based on the kind of location where they were found. Pikmin Bloom is gearing up for its second Community Day on December 18, in which players will be able to grow Pikmin faster while working toward a badge earned at 10,000 steps. Before that, the official Pikmin Bloom Twitter account announced that a new type of decor is available for any Pikmin found around "hamburger shops;" each color adorning classic diner food with different kinds of burgers, fries, and sodas. That new decor types are being added is a good sign for the game overall, as it means there's more longevity to the experience and Niantic can potentially put out special event decor in the future. RELATED: How Niantic's Pikmin Mobile Game Could Handle Seasonal Celebrations There are 22 decor categories available as of this writing, those being: With the exception of "Special", which includes one unit wearing Mario's hat distributed by Nintendo; and "Roadside", a sort of catch-all for any place without a category; the locations available for Pikmin Bloom decor establish a few patterns Niantic can iterate upon. Among the everyday places included in Pikmin Bloom 's decor line-up, it's perhaps most surprising that schools are not an option. On one hand, maybe it isn't the smartest idea to target schools as a place for lots of strangers to walk through - even if higher-education institutions like colleges could also count. On the other hand, a mobile game based on Nintendo characters is no doubt widely enjoyed by a younger audience that could easily fill up their collection while at school every day. It also seems right to imagine Pikmin walking around with pencils, or other signifiers of academia like sharp glasses and blazers. Another place it may not be smart to send smartphone-focused civilians to is police stations, as evident via stories of Pokemon GO players being arrested in the past. However, fire departments much less of a hassle so long as players stay out of the path of fire trucks when they need to attend to an emergency. Pikmin found there could wear different kinds of firemen hats, but the bigger purple and rock Pikmin could also have some fun with belts made out of fire hoses. Full-bodied fire trucks could also be used as decor considering airports and stations use toy planes and trains, respectively. RELATED: Pikmin Bloom Should Add Better Uses for Coins Given places like Las Vegas, Nevada and the Great Pyramids in Giza, Egypt are popular tourist destinations, deserts could fit right alongside forests and beaches as natural environments to pull Pikmin decor from. Various kinds of cacti seem like the most obvious choice for desert imagery to use, though some fun could also be had dressing up one color of Pikmin as an hourglass to incorporate sand directly. Something like a sarcophagus or mummy wrappings could also fit many peoples' general "desert" imagery, but would make less sense to find outside of Egypt. Though observatories are not as ubiquitous as buildings like schools, they are institutions with a lot of potential for costumes. It's unlikely people will be playing Pikmin Bloom on the moon anytime soon, so somewhere like Los Angeles' Griffith Observatory could offer astronomical items. Perhaps the basic red, blue, and yellow Pikmin could be observers with tiny telescopes and the like, meanwhile rarer Pikmin dress up as celestial bodies. If nothing else it would make sense to see a flying Pikmin dressed up like a comet so it could zip after players with a colorful tail. Pikmin Bloom is available now on Android and iOS devices. MORE: Pikmin 4 Should Adapt the Customization Practices of Niantic's Bloom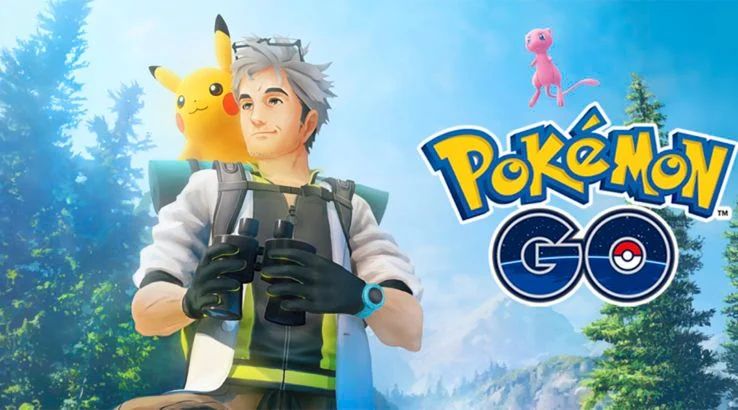 gamerant.com
gamerant.com
602346aefb4c7b299de5bf6aa6911c43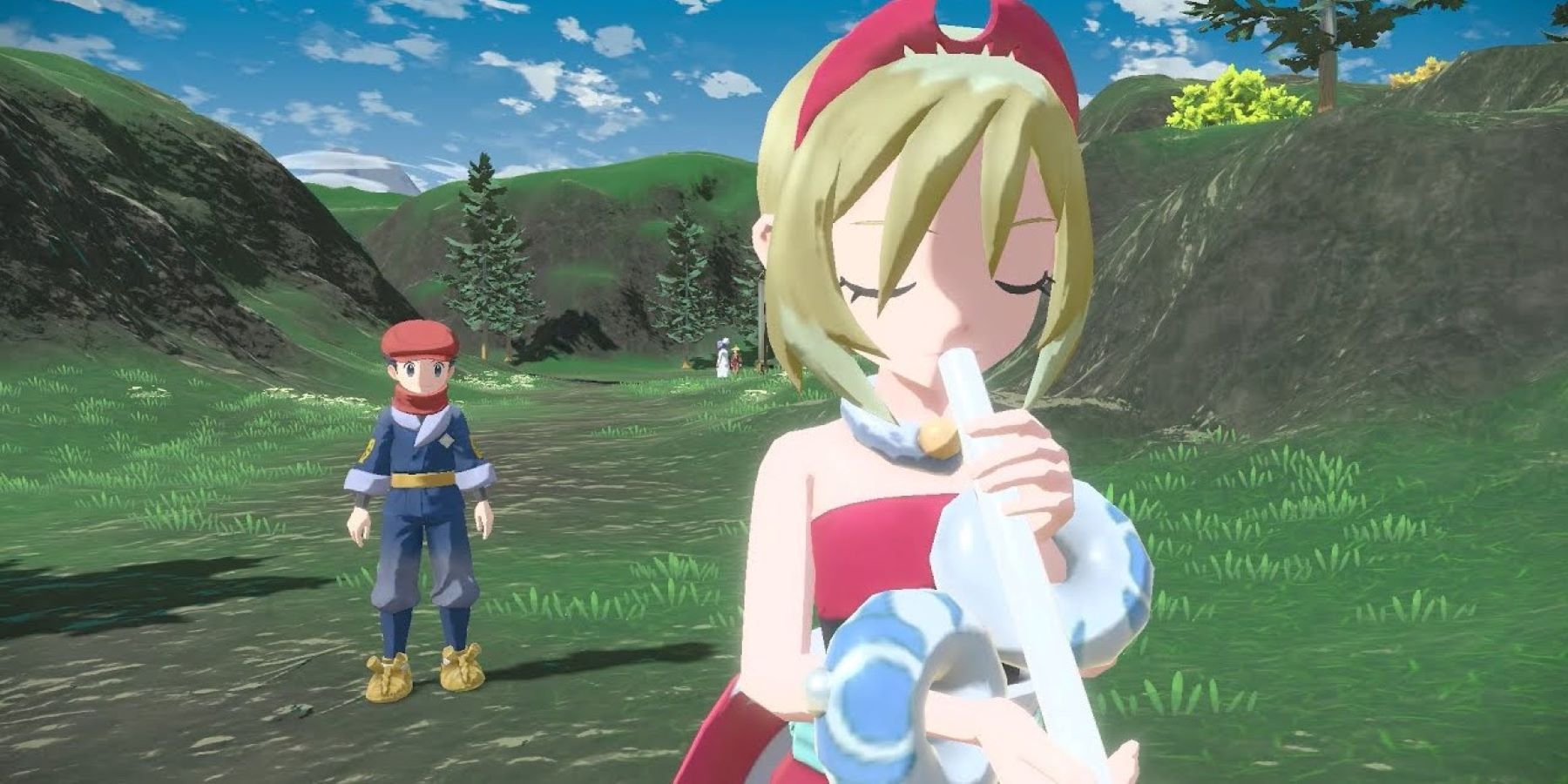 The latest trailer for Pokemon Legends: Arceus spotlights some of the human characters that players can expect to meet, putting a particular emphasis on the Diamond and Pearl Clans and their respective leaders Adaman and Irida. While the trailer didn't go into detail about each clan's significance and activities, it looks like the rivalry between the Diamond and Pearl Clans will serve as a subplot for Pokemon Legends: Arceus. Even as the trailer introduced fans to these characters, though, it hinted at a very different piece of lore. Fans saw characters use the word "Sinnoh", but not in reference to the region; instead, they seem to be invoking some sort of god. The word Sinnoh appears twice in the new Pokemon Legends: Arceus trailer: once when Adaman asks Almighty Sinnoh for forgiveness after getting caught up in an argument with Irida, and once when Irida mentions that Almighty Sinnoh is the creator of the Hisui region. Pokemon fans are no stranger to lore where ancient humans worshipped Legendary and Mythical Pokemon like gods, but as of now, it's not clear who Adaman and Irida are referring to when they talk about Sinnoh. There's multiple ways to interpret their use of Sinnoh, all of which inevitably lead back to Pokemon Legends: Arceus ' core concept. RELATED: Pokemon Legends: Arceus' Special Bonuses May Hinder Brilliant Diamond and Shining Pearl One possibility is that the people of the Hisui region conflate the Diamond and Pearl Legendary Pokemon Dialga and Palkia as one being that they refer to as Sinnoh. Irida's implication that Sinnoh is the one who created the Hisui region makes these two Pokemon seem like likely candidates. Dialga and Palkia are credited with creating space and time, and they seem better known to denizens of the Sinnoh region than Arceus, so it's possible that people in the days of the Hisui region interpreted Dialga and Palkia's influence as two sides of a single god. Conflating the two Pokemon in that way could help explain how the word "Sinnoh" changes from referring to a creator god to being the name of the Sinnoh region. Since Dialga and Palkia were created by Arceus, it seems likely that the Pokemon Legends: Arceus protagonist will encounter both of them, passing on the knowledge that they're only the descendants of the true creator, who goes by a completely different name. From there, the region might be renamed as Sinnoh as a sign of respect to Dialga and Palkia, honoring the way they impacted the region's people. Of course, it might be more likely that Almighty Sinnoh is Pokemon Legends: Arceus ' titular star. Even though Game Freak has released a lot of trailers for the game, Arceus' place in the time of the Hisui region is pretty unclear. Trailers have focused much more on Hisuian forms of Pokemon, Noble Pokemon, human NPCs, and other basic aspects of the game. Because of that, there's no clear indication of how well known Arceus is to the people of the Hisui region. It could have made many appearances that inspired the Hisui region's mythology, or it could be a distant presence that's only rumored to exist. No matter which end of the spectrum Arceus' prevalence falls on, Arceus itself seems like a logical inspiration for the Almighty Sinnoh. As an extremely powerful and versatile Pokemon, any description of Arceus in action could easily inspire stories about a god responsible for making the Hisui region. If Arceus is reclusive, or at least seems dangerous enough that humans haven't investigated it closely, then it'd make sense that people of the Hisui region don't know Arceus' name, and so they refer to it as Sinnoh instead. If the Pokemon Legends: Arceus protagonist speaks with Arceus and learns its name, then the Sinnoh title's role could change. RELATED: Pokemon Legends: Arceus' Hisuian Voltorb is a 'Chicken or Egg' Conundrum There's another intriguing possibility in place. It could be that Almighty Sinnoh doesn't refer to any Pokemon at all, but instead is completely mythological. The people of the Hisui region have a much less tight-knit relationship with Pokemon than characters from the core Pokemon games, thanks to Pokemon Legends: Arceus ' place in the distant past. Some Hisuians even seem to fear Pokemon, making it seem unlikely that the whole culture worships a Pokemon called Sinnoh. What's more, at this point in the Pokemon timeline, people might have such a limited understanding of Legendary Pokemon that there's no concept to worship, meaning humans created their own story about the Hisui region and a deity called Sinnoh. If Almighty Sinnoh isn't a Pokemon, then the path of worship through Pokemon Legends: Arceus might actually go in the opposite direction. By the end of the game, humans might come to worship Dialga, Palkia, and Arceus, rather than the Almighty Sinnoh. As Legendary and Mythical Pokemon become the center of a new religion, humans might decide to lay the Sinnoh name to rest by renaming the region after their old god. That could explain why the current Sinnoh region has so much ancient religious iconography for Dialga and Palkia. Regardless of who or what Almighty Sinnoh actually is, it's interesting to see Game Freak make religion so blatantly important in a Pokemon game in the first place. Core Pokemon games frequently have references to how ancient people used to worship certain Legendary or Mythical Pokemon, but it's rare to see human characters actually worshipping anything within the game. Since the Hisui region is part of Pokemon 's distant past, it makes sense that religion could be more prevalent, as players may actually be in the bygone era of widespread Pokemon worship. Game Freak is making smart use out of Pokemon Legends: Arceus ' time period; this spiritual interaction with the Pokemon world really helps the game stand out. Almighty Sinnoh raises major questions about how Arceus impacts the game's plot as well. No matter who humans refer to as Sinnoh, the strong presence of religion alongside a focus on the Pokemon universe's true creator could make for an heavily faith-driven Pokemon narrative. It's a very different look for the franchise, but when Pokemon games often reuse plot concepts, drastic difference is a good thing. Whether Sinnoh is a name given to a Pokemon or a metaphysical human concept, it'll be interesting to see how human perspectives and Pokemon power collide in this new game. Pokemon Legends: Arceus releases on January 28, 2022 for Nintendo Switch. MORE: Pokemon Legends: Arceus and Future Generations Should Abolish Trade-Exclusive Evolutions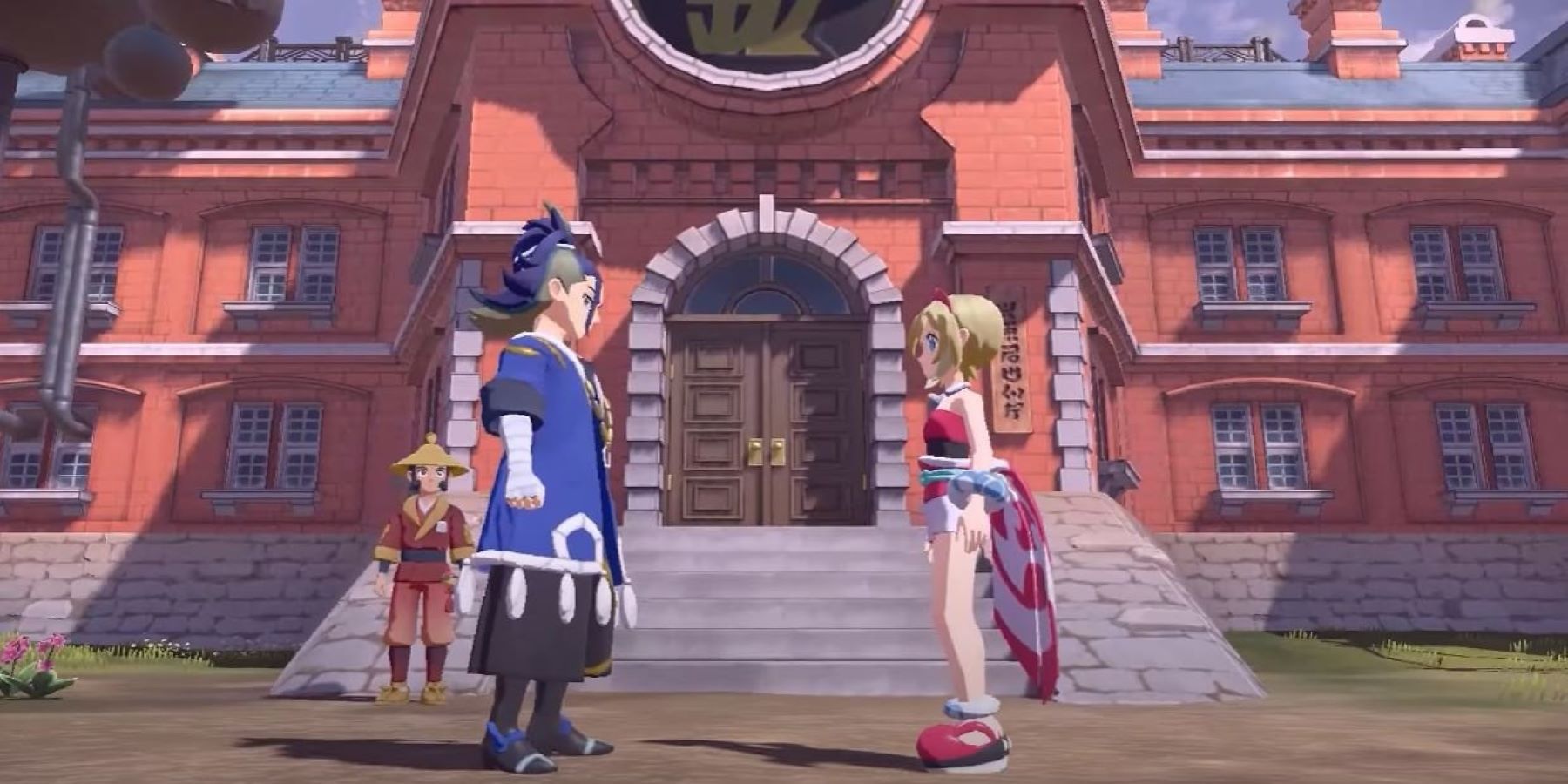 gamerant.com
gamerant.com
d56baac7b92c0b054efb3b9d93a16647
Call of Duty Mobile may have been quickly overshadowed by Call of Duty: Warzone, but there's still a place in the world for this portable entry in Activision's long-running (and bestselling) shooter series. But when we're all staying at home due to global reasons beyond our control, we don't need to restrict ourselves to the small screen. Call of Duty Mobile, being a Tencent project, works flawlessly with the gaming giant's Android emulator, giving us a quick and easy way to play the technological feat on a machine with a bigger screen and superior controls. The emulator in question is called Gameloop. It was initially marketed as a way for PUBG Mobile players to get involved from their desktop PCs but has since become a hub to play a bunch of very popular mobile games — Call of Duty Mobile being one of them. It's completely free, legal, and won't get your account unceremoniously banned. Better yet, it can be configured to add controller support if you'd rather play on the biggest screen in the house. Here's how to play Call of Duty Mobile on PC. Known as "Tencent Game Buddy" up until recently, Gameloop is the new name for this handy piece of software. Step 1: A quick download and installation are all it takes to get in on the action. Keep in mind, you can play other PC games using Gameloop, like PUBG Mobile, Arena of Valor, or Mobile Legends. Step 2: Now, one thing to keep in mind is why Tencent allows people to play its touchscreen-focused games with a distinct hardware advantage. Call of Duty Mobile detects who's using which control scheme. Players are matched only with those playing the same way, eliminating the risk of having hardcore PC players stomp those sliding their thumbs around a 6-inch display. All you need to do to play Call of Duty Mobile on PC is follow the steps below: Step 1: Download Tencent's "Gameloop" Android emulator here. Step 2: Install Gameloop from the downloaded file. Step 3: Click into the Game Center tab. Step 4: Click the Call of Duty: Mobile banner or image under Recommended (you can also find Call of Duty: Mobile by using the search option in the top right). Step 5: Hit Download. At that point, the download and installation should begin automatically. It might even auto-launch, too, so adjust your speaker settings if you don't want the whole office finding out why you've knocked off work 3 hours early. Your Call of Duty: Mobile PC experience should kick off from there, but there are a few things you can do to cater the whole thing to the machine you're playing on. When you dive in, it's likely you'll need to tinker with many of the settings, so we'll show you what you need to know about changing them. Step 1: Within the Gameloop software, you can tap the three horizontal line icon in the top right to find some essential settings like screen resolution, screen capture location, and even which rendering method to use. Step 2: The settings under Engine tend to relate to the Gameloop window and the physical size of game windows. To change the active resolution of Call of Duty: Mobile, you'll need to go into the Game tab beneath and tweak things from there. Step 3: With a competitive game like Call of Duty: Mobile, we'd recommend lowering the settings as much as your eyes can handle for the smoothest experience. If you'd rather witness just how clean and crisp a mobile game can look these days, feel free to crank things as high as you think your PC can take them. Just don't go expecting miracles — it's still at the mercy of Android optimization. You'll probably want to change a few settings within the game itself, too. There are various gamepads to pick from when you want to play Call of Duty: Mobile on your PC. You can use the Xbox controller or the DualSense. And you can do this in a couple of different ways by using a controller or connecting to Bluetooth. Step 1: Ensure that you have access to the appropriate technology if you want to use Bluetooth. Step 2: After you connect your controller, click Key Mapping using Gameloop (you'll see this on the right side of your screen). You must select Gamepad instead of Keyboard. Lastly, check that you have selected the proper method for you. This could be either Multiplayer, Battle Royale, OB, or Bar. Step 3: A critical step is to also double-check the secondary keys beneath the method options. Make sure you choose both Direction (left joystick) and Camera (right joystick). Step 4: After you've gone through this step, you can start using your mouse to map buttons. From here, right-click on your screen. A blank selection will pop up. Once this happens, you're free to use any controller button to map it to the game. Step 5: Continue mapping until you've configured every single control input. Even though it's not necessary to map all buttons, it's essential to make sure that you've successfully mapped all aiming, shooting, reloading, and jump buttons — all the essentials. Step 6: After you're finished, be sure to hit Save in the bottom right corner. Then, we suggest loading a game so you can test out the latency.

How to unlock the OTs 9 in Call of Duty: Warzone
digitaltrends.com
cae6a9275d585c7f1e36f023a9d0f607
Businesses, organizations, and government agencies rely on information technology professionals to keep their computer networks and systems functioning and protected. An information technology master's degree can help IT leaders advance their careers in a booming industry. The U.S. Bureau of Labor Statistics projects 13% job growth for 2020-30 and average salaries of $91,250 for computer and information technology occupations. That category includes database administrators and architecture, information security analysis, and network and computer systems administration. Explore our school rankings to learn more about online information technology master's programs and opportunities in this dynamic sector. ZDNet's ranking methodology employs expert curation and rigorous editorial review to ensure accuracy and timeliness. Schools and programs can't pay for inclusion on our lists, which safeguards the integrity and impartiality of our data. Unless otherwise indicated, data is drawn from the Integrated Postsecondary Education Data System, College Scorecard, and each program's website. Information technology master's programs' online curriculums target IT professionals with several years of experience who plan to work full-time while studying. Coursework delivery tends to be asynchronous and focused on practical skills, IT certification, and business aspects of IT. Learners hone skills in information technology leadership and management. They may specialize in cyber security, database architecture, network administration, or software development. Some programs culminate in a thesis and others in a capstone project. Information technology master's programs require online students to be organized and internally motivated. Some schools offer accelerated learning for those who can handle the fast pace or part-time study for those with extensive work or family responsibilities. The information technology master's curriculum emphasizes advanced level skill development, leadership role preparation, and IT specialization areas like database management, health informatics, and systems administration. Most programs require 30-36 credits, and online students typically complete coursework on their own schedules. The list below includes courses that IT master's students will likely encounter. Depending on the program, remote learners may develop their own projects or participate in experiential learning like online practicums or internships. Advanced information technology In this introductory graduate course, enrollees learn about databases, hardware management, telecommunications, and web software development. Data analytics This course covers data identification, data set analysis, and data analysis software. Participants often learn to use programming languages to solve data analytics problems. Database design Students preparing for careers in database management or architecture learn about data modeling, diagramming tools, and functional dependencies. This course may also cover database management and leadership roles. Network security Graduate students explore cyber security methods, encryption, and file security. They learn to protect networks and computer systems from threats using firewalls and other information assurance tools. Are you a high school student interested in an entry-level IT position, a seasoned professional looking for a next-level management role, or an industry veteran transitioning to an academic or research career? Different degrees suit different learners. Choose the IT degree level that best fits your goals, schedule, and budget. Length: 12-18 months Cost: $160-$648 per credit Post-grad careers: Computer support specialist; computer systems analyst; network administrator IT certificates offer targeted opportunities for students at all levels, including those entering the industry, IT professionals expanding their skills, and career or specialization swappers. A certificate can quickly qualify new entrants to the field for entry-level jobs. Coursework covers topics in computer programming and analysis, cyber security, databases, network support, and business software. Tracks may include hardware and software support, routing and switching, and software development. Length: Two years Cost: $70-$540 per credit Post-grad careers: Data center operations support; desktop support technician; web developer Associate in IT degree programs comprise approximately 60 credits that teach cyber security and defense, internet applications, networking, operating systems, and programming skills. Curriculums also include general education courses that foster critical thinking and problem-solving. Online class delivery tends to be asynchronous, and graduates emerge prepared for entry-level IT positions or to apply their credits toward IT bachelor's degrees. Many schools offer accelerated or part-time learning options. Length: Four years Cost: $186-$913 per credit Post-grad careers: Computer network architect, information systems manager, software developer Undergraduates interested in an information technology degree often pursue a bachelor of science in information technology. The 120- to 125-credit programs include IT courses and general education classes, capstone projects, and often internships. Core IT courses cover applied, managerial, and technical aspects, along with fundamentals of cybersecurity, human-computer interaction, programming, and web systems. Students graduate with the computer, math, and business skills required of the IT workforce. Length: One to two years Cost: $255-$2,196 per credit Post-grad careers: Database administrator; IT project manager; network security manager Information technology master's programs emphasize specialization, with an eye toward IT careers in areas like data analytics, digital forensics, and healthcare informatics. Most require 30-36 credits and may culminate in a thesis, exam, or capstone project. Master's students hone decision-making and management skills. Online programs typically tailor their curriculums for experienced IT professionals interested in career advancement and leadership roles. Course delivery is usually asynchronous, allowing for full-time work, internships, or parenting responsibilities. Length: Three to five years Cost: $500-$1,000 per credit Post-grad careers: Data scientist; IT researcher; postsecondary professor Students often pursue a doctorate or Ph.D. to attain academic and research positions. This terminal degree program attracts industry professionals with on-the-ground experience. The curriculum involves coursework but also focuses on preparing and defending a dissertation, passing comprehensive examinations, and building on experience in a specialization. Graduates find employment at universities, government agencies, business organizations, and government agencies. If you're ready to research and select an information technology master's program, our rankings list will help find the one that fits your academic and career goals. If one catches your eye, reach out to the school to learn more. If you're not sure which path to take, the information and links included on this page can inform your decisions about degree options, concentration areas, and information technology scholarships.

Best online master's in international business 2021: Top picks
zdnet.com
d759fdbc86614098cb87777dfe498902
2022 launches on Netflix with new movies and series, including the return of Ozark. Here's what you need to watch this month.

Everything Leaving Netflix in January 2022
uk.pcmag.com
ce7f5f0d84329b2942937e5fc028cc3a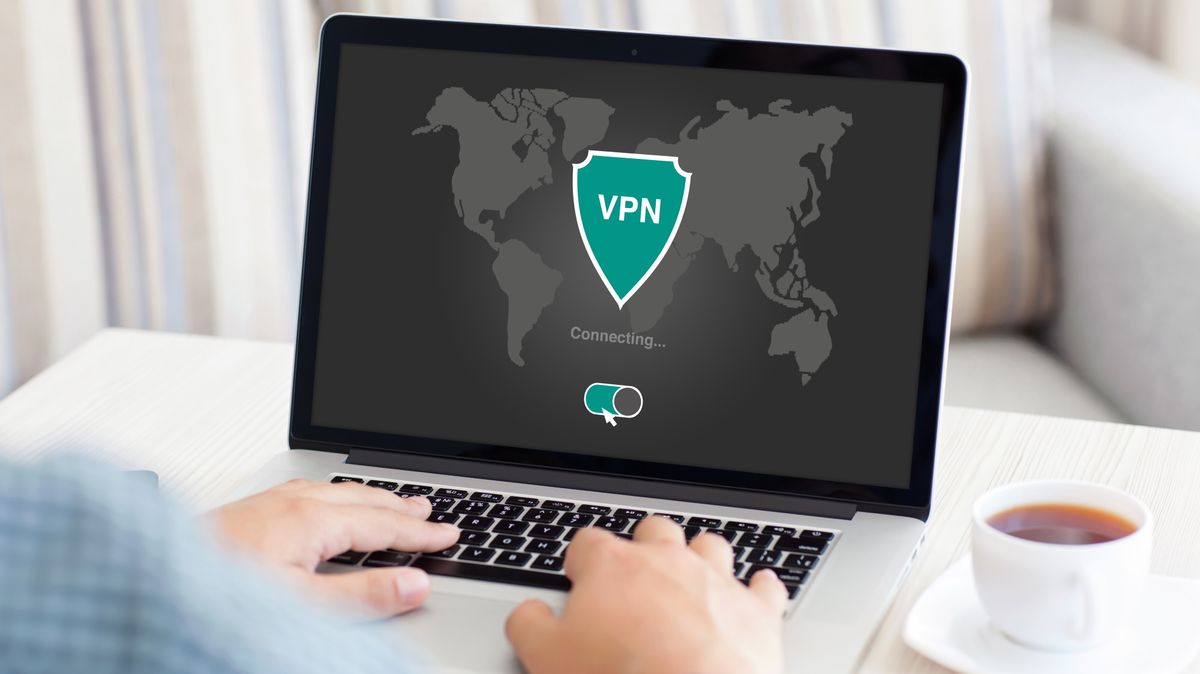 There's no doubt that a VPN is a nifty tool to have installed on your devices. However, if you're new to the world of VPN, you may be reluctant to part with your cash until you've taken it for a spin. Luckily, there are VPNs with free trials available that allow you to see which provider is for you with the added safety net of not being out of pocket if it doesn't meet your criteria. Admittedly, most of the top VPN providers market their 30-day money-back guarantee policy as a free trial. While you technically don't get to try out the service for free, you do have the reassurance that if it isn't for you - and you notify the provider within that period - you'll receive a full refund. That being said, there are a few VPN providers out there that do offer a 'true' free trial experience, whether on desktop or if you opt for a VPN's smartphone app. Whatever the case, we've curated a list of the best VPNs with a free trial that you can test out today. Best free trial VPN 2021 - 100% risk-free 30-day money back guarantee Holding the top spot across our VPN buying guides as the greatest VPN of them all, ExpressVPN offers a 30-day money-back guarantee to its new customers, allowing users to get a taste of what this superb VPN is all about. On top of that you get some of the best security out there thanks to enterprise-level encryption, DNS content unblocking, no logging, a kill switch, P2P support and leak protection. Even payment, if you decide to go beyond the ExpressVPN free trial, is secure with Bitcoin as an optional method. Outside of security you also have all the benefits of a geo-location workaround system meaning you can flit between countries always appearing to be where you need to be seen from. And that works across devices too thanks to iOS, Android, Mac and Windows clients. The 24/7 customer support service is a huge draw with help available whenever you need it. The only negative we have is that you can only use this on five devices at any one time. It's still not bad (just fewer than some other services) and since you can set this up on the router, that helps bypass that issue at home. While its 30-day money-back guarantee doesn't offer a 'true' free trial experience, it does give you ample time to see if this is the VPN for you, all your money back! Better still, you can get the best value ExpressVPN price if you sign up for an annual sub. This gets you 49% off and an extra 3 months FREE. Plus, Express has increased the value even further by throwing in one year's unlimited use of Backblaze secure cloud backup, too. Surfshark is a VPN that proves you can have an affordable version of a product that still delivers powerful features. This little gem offers a seven-day free trial, though it does require your credit card details, as you'll download it from the Google Play Store or App Store for iOS and macOS devices (no luck for those after a VPN for Windows only). It's worth noting however that while this will allow you to benefit from the Surfshark free trial, it will mean potentially missing out on the better rates when signing up direct on Surfshark's website. Still, you'll also benefit from its 30-day money-back guarantee whether you sign up through the dedicated app store or on its website for another device. Not to mention Surfshark offers a price that undercuts much of the competition, yet still crams in loads of security and geo-restriction unblocking powers, making it one of the best cheap VPN options out there. Get access to over 3,200 servers across more than 65 locations and, crucially, works to unblock Netflix - something many cheaper VPNs struggle with. Speeds are great and security is fierce with AES-256 encryption, IKEv2 protocols, OpenVPN UDP and TCP and a kill switch, to name but a few. Despite the complex sounding systems, the app is clear and easy to use, even for beginners. As well as offering a 30-day money back guarantee, ProtonVPN offers a real trial run with its free version. While it may have scrapped the ProtonVPN free trial period, it has the option of a free plan, which allows you to try out many of its features without spending a penny. Of its 1,500+ servers, you can utilize 23 servers in three countries, with middling speeds and the ability to bypass restrictions on blocked content, including BBC iPlayer, Disney Plus, Amazon Prime Video and more. Better still, other than ExpressVPN, it's the only VPN currently that's able to completely unblock Netflix since the streaming giant's recent crackdown on IP addresses. That said, while its free plan does offer unlimited data allowance alongside unlimited bandwidth, practically unheard of for free VPN providers, its streaming service support is reserved for its Plus plan. Still, it gives an indication of the kind of power Proton is capable of. In fact, it offered some of the fastest results in our speed testing with figures of 720-740Mbps. There's also a boatload of features to use in the free version like Auto-Connect, Split Tunnelling, and Alternative Routing. While upgrading to one of its paid-for plans gets you P2P support and use of its adblocker, as well as access to hundreds more servers around the world, with unlimited data for an unlimited time, this is a great stepping stone into the world of VPN and trying before you buy, of which you'll want to considering just how great ProtonVPN has become as a contender for the best of the best as of late. Hotspot Shield is a reliable VPN that offers consistent speeds across its 1,800 servers running over 70 countries. Thanks to its very own Catapult Hydra protocol this gives you superb speeds no matter where you are and works with clients for iOS, Android, Mac and Windows. But perhaps even more noteworthy is the fact that you can take advantage of its full free version otherwise known as its Basic plan, which is a great reflection of Hotspot's premium plan but limited to 500MB use per day. You'll also get limited access to its network of servers and features with streaming remaining exclusive to premium subscribers. If you want to know just how good Hotspot Shield is then download the free version first and give it a whirl. You can also benefit from a 7-day Hotspot Shield free trial of its premium service. Not to mention, Hotspot Shield spoils new customers with its generous 45-day money-back guarantee. CyberGhost is one of our favorite VPN services for unblocking video content thanks to its server selection. Just pick the service you want, be it US Netflix, Hulu, and more, then the VPN will select the best server to get you the ultimate performance. Better still, when it comes to a CyberGhost free trial, you can put it to the test for a 24-hours before you begin paying for it. Explore a whopping 7,000+ servers spanning more than 80 countries, all the usual clients and an impressive live chat support service. You also get automated HTTPS redirection and optional data compression to keep you secure and save you money respectively. The interface could be simpler and the desktop trial period is only 24 hours. Much like Surfshark, by signing up through the Google Play Store or App Store on your Android or iOS device, you can give it a whirl with a 7-day free trial. The money back guarantee lasts a decent 45 days - so a bit more than the industry standard. But that doesn't apply on its one-month sub, where the guarantee is reduced to 14 days. A new entry into our best VPNs with free trials, Hide.me is another provider that offers a completely free version of its services, allowing you to get an idea of if it's the one for you before parting with your cash. Its free service offers users 10GB a month on its limited plan, an extensive amount when you consider some free VPN limit customers to as little as 500MB per month. You can also benefit from five locations in its free plan which support P2P for anyone looking to torrent. These locations are based in US, Canada, Netherlands, and two in Singapore. Unfortunately its free variant won't offer streaming service support and you won't benefit from its WireGuard protocol, which saw some seriously impressive results in our speed testing, charting 750-780Mbps. That said, the plan will give you a strong indication of whether you want to commit to one of its paid-for plans later down the line. If you do want to sign up for a subscription, you'll also have the added security blanket or its 30-day money back guarantee, allowing you to receive a refund if you're not happy within that period. More like this: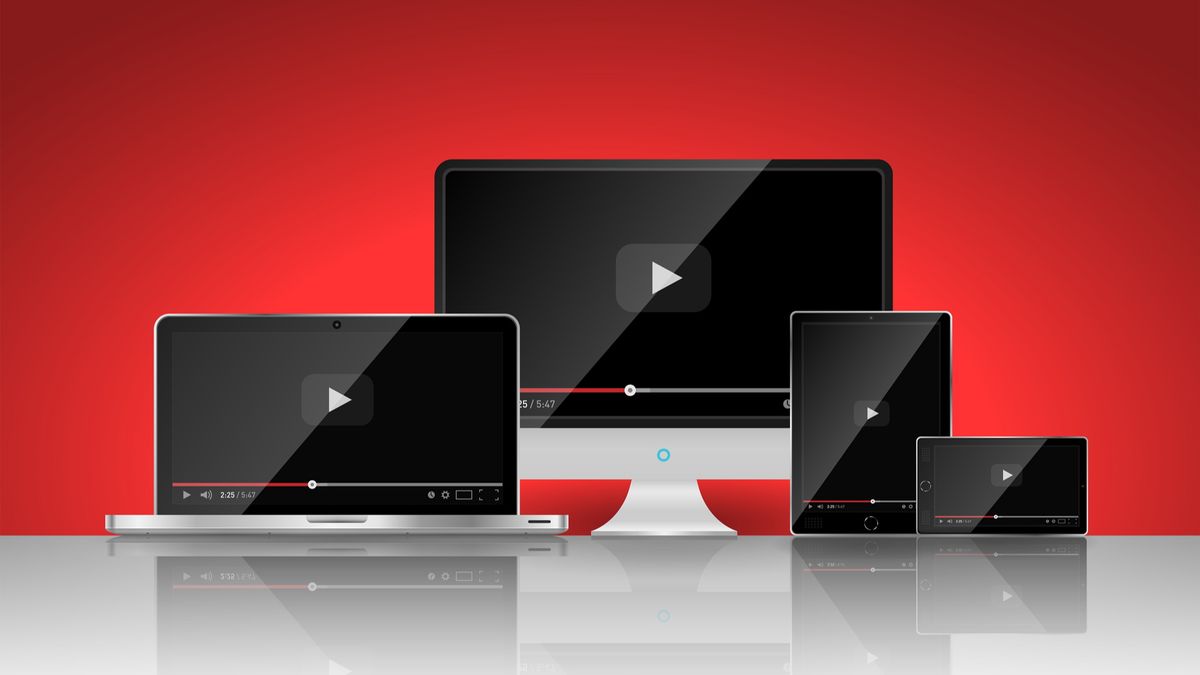 The best streaming VPN for 2021
techradar.com
b218b070198b81c076ee32677e941cce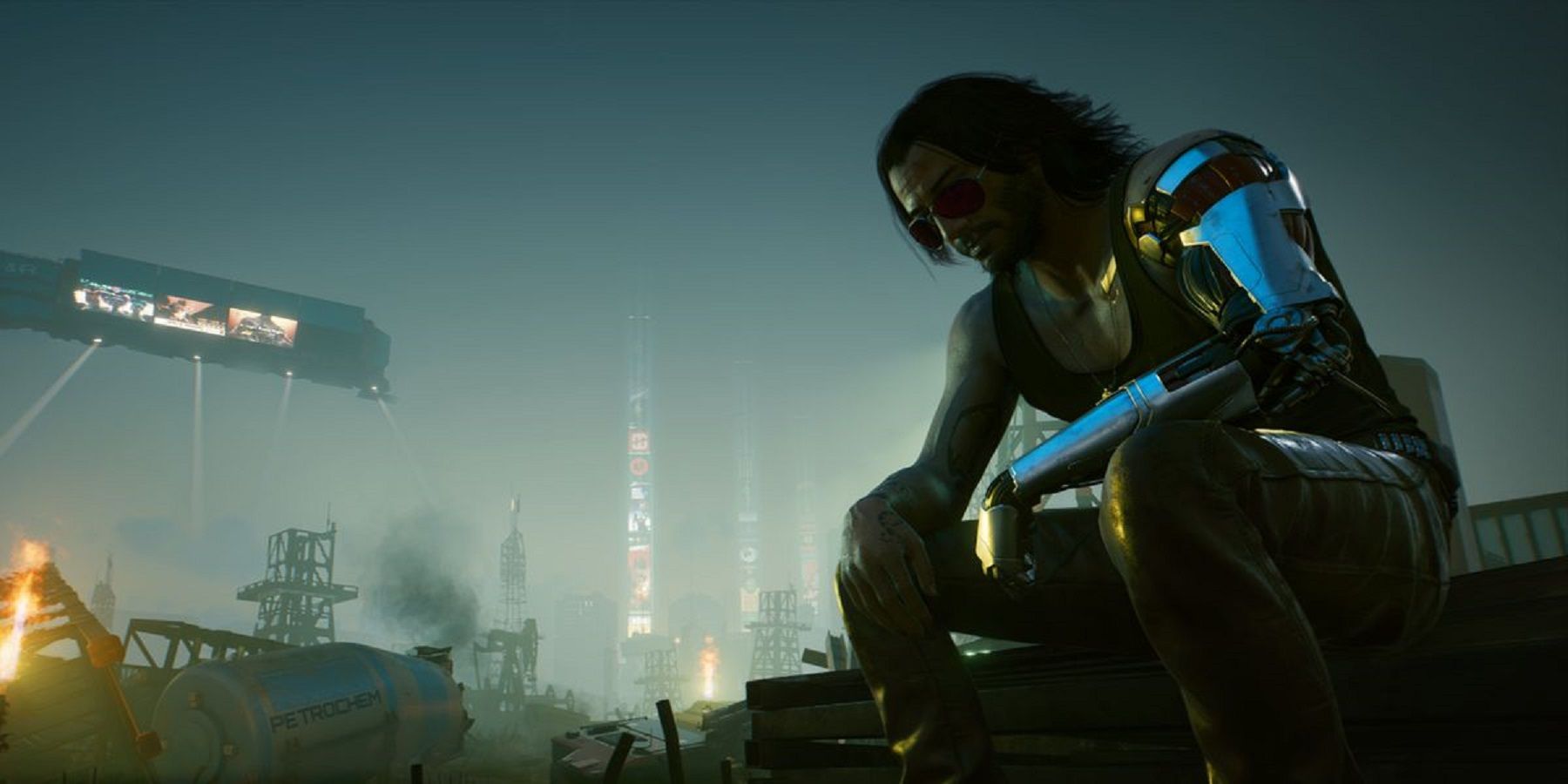 Cyberpunk 2077 was expected to be one of the gaming industry's all-time greats, but when the game launched it soon became clear that something was very wrong. The title that could have been CD Projekt Red's magnum opus was riddled with bugs and featured so many technical problems that refunds were offered and a group of investors sued. Now, CD Projekt Red has finally reached a settlement concerning the Cyberpunk 2077 launch lawsuit. The lawsuit in question is actually four class-action lawsuits filed against CD Projekt, all due to Cyberpunk 2077 's faulty launch. They were consolidated into a single lawsuit back in May and have now been suspended due to CD Projekt Red reaching a settlement with the investors in question. RELATED: Bungie CEO Apologizes For Pain Caused By Toxic Studio Culture According to a new statement released today, CD Projekt Red has agreed to pay out $1.85 million US dollars to the plaintiffs in exchange for the plaintiffs dropping their charges. It appears that the plaintiffs have agreed to relinquish any and all claims against the company and its management board. The statement also makes it clear that CD Projekt Red and the other defendants named during the case are not admitting to any responsibility by agreeing to this settlement. Despite Sony having taken the game off its digital storefront, Cyberpunk 2077 was incredibly successful across platforms, including PS4. The title made over $563 million US dollars in its launch month alone, a figure that dwarfs the numbers laid down by the settlement. Reportedly, CD Projekt Red spent just $2.2 million US dollars on its Help Me Refund campaign, which was designed to help players who were unable to find a refund from the original vendor get their money back. It currently seems to be unclear how CD Projekt Red and the plaintiffs reached an agreement on the $1.85 million dollar payout. In May, business analyst Mike Futter observed that CD Projekt Red has identified about $51 on a financial report as "provisions for returns and expected adjustments of licensing reports related to sales of Cyberpunk 2077 in its release window, in Q4 2020." However, he also observed that the language used was intentionally confusing. Although the Cyberpunk 2077 lawsuit is far from the only massive lawsuit haunting the video game industry at the moment, it may be one of the most important. Not only was Cyberpunk 2077 constructed under a significant crunch, but the game was also such a disaster at launch that its failure has gone down in infamy. Cyberpunk 2077 is available on PC, PS4, Stadia, and Xbox One, with PS5 and Xbox Series X/S versions releasing in 2022. MORE: Why Keanu Reeves Hasn't Played Cyberpunk 2077 Source: VGC

Trainers, the latest datamine hints at the arrival of a new Mega Evolution in Pokemon Go, and it looks Mega Aerodactyl will soon make its Pokemon Go debut in Mega Raids. The great Pokemon Go dataminers have recently discovered something very interesting in the GM file – a new text, that hints at a release of a new Pokemon, more specifically, a new Mega Pokemon. The new Mega Pokemon appears to be Mega Aerodactyl, and to evolve this one, once it arrives in the game, you would need to have a certain amount of Mega Energy. But you know the drill, once you evolve it, the second, third, and so on, the amount of Mega Energy will decrease. There aren't any mentions of the ETA of the new Mega Pokemon, but we are sure that we will have that information soon. We are sure that you know what Mega Evolution means, but for the new members, a Mega Evolution is a temporary transformation of some Pokemon, not all, where the Pokemon reaches its maximum and it stays like that for 8 hours. There are currently 17 Mega Evolved forms released in Pokemon Go, and here is a list of all Mega Pokemon in Pokemon Go. Which Mega Pokemon would you like to see next in Pokemon Go?

Breaking away from legacy distribution models that focus on pulling potential players towards them through marketing, video games are starting to push directly to where global audiences are. In doing so, they make their games available to vast numbers of users through nothing more than a couple of quick taps, dramatically increasing their potential playerbases and creating additional revenue streams. This is the rise of the instant gaming model. It's not entirely new — loads of us will remember sneakily playing browser-based games on the high school computers. Helicopter, one of my personal faves, has to be the most-cloned game on the internet (and quite possibly the inspiration for Flappy Bird). But, more recently, major social media platforms have taken significant steps into instant gaming, adding immense value for their users and creating an unprecedented opportunity for game developers. The greatest threat to the likes of Facebook (Meta), Snap, and even Netflix isn't each other. It's platforms such as Roblox and Fortnite which are increasingly recognized as social networks as well as gaming platforms. To fend off this threat, 'traditional' social media platforms are leveraging their gargantuan audiences to create serious instant gaming offerings that add value to and increase the stickiness of their platform. Yep, it's all about user retention. Leaving aside Facebook's mind-boggling 2.91 billion monthly active users for the moment, other platforms like Snap are creating meaningful instant gaming offers. Snap boasts 500 million monthly active users, but you may not know that around 30 million of those play Snap Games each month. Even with "only" 16-17% of its users playing games, this makes Snap one of the biggest gaming platforms in the world. Another major social platform, Chinese player WeChat, has Mini Games with tens of millions of users each. For context, the PS5, the fastest-selling games console of all time, has shifted 13.4 million units. Most recently, the biggest success story of 2021, TikTok, has announced that it is getting into gaming through an exclusive title created by Zynga. For game developers and publishers, particularly those well-versed in making HTML5 games (the 13-year-old development language now having its time in the sun because of its power to create cross-platform games), the opportunities are crystal clear. However, there's no magic bullet. Snap Games are curated, meaning developers need to be working directly with Snap or experienced partners to get their games on the platform. And, despite 350 million people playing games on Facebook, user acquisition and retention aren't easy. This means social instant gaming is, right now, an additional revenue stream for games with an existing presence rather than a big money spinner for indie developers. But with such vast audiences, in-built social features and ready-made friends lists, who'd bet against social instant gaming platforms becoming a dominant method of gaming? The OG of instant, Flash-based gaming, the humble browser gaming platform has been reinvigorated in the HTML5 era. Take the long-standing Miniclip. Founded in 2001, it sold a majority stake to Tencent in 2015 and now has more than 50 million daily active users playing hit games like 8 Ball Pool and Head Ball 2. Miniclip is far from the only one; there are many more with various specialties. Poki (30 million MAUs) focuses on well-known IP such as SYBO's Subway Surfers or Hipster Whale's Crossy Road, while Crazy Games (11 million MAUs) is an incredibly developer-friendly platform which encourages cross-platform promotion, allowing developers to easily upload browser exports of Unity and Unreal games. The resurgence of browser gaming is partly powered by improvements in browser and particularly mobile browser technology. Mobile browsers now support much of the same technology as desktop, enabling high-quality gameplay experiences on mobile devices and frictionless crossplay browser gaming experiences. Video games companies like GoodGame Studios have even demonstrated that it's possible to build a hugely successful business while bypassing traditional games marketplaces altogether; flourishing as a browser-only studio before expanding into mobile and other areas. More commonly, browser-based instant gaming platforms are one of many routes to market, offering ready-made access to large audiences via relatively simple technology. The fact that browser-based platforms don't typically require exclusivity and allow for cross-platform promotion of games means that they can provide a huge, cost-effective boost to user acquisition across multiple platforms and regions. They can also be a valuable additional revenue stream, although monetization is more challenging than in the app stores due to lower ad performance and lack of seamless payment options for in-game purchases. No piece on instant gaming would be complete without a nod to cloud gaming (where remote servers shoulder the majority of the burden of running the game). Becoming the 'Netflix of Games' has become a goal applied to many nascent cloud gaming platforms (although confusingly not Netflix, which despite being a video streaming platform currently offers games for download). Xbox Game Pass Ultimate is the de facto market leader, with platforms such as Google Stadia rowing back from loftier goals to focus on providing infrastructure for other gaming companies. For developers, there certainly are instant gaming opportunities in the cloud. Retro gaming platform Antstream, for example, gives a new lease of life to much-loved retro titles like the ZX Spectrum platformer curio Manic Miner. Cloud gaming also potentially opens up games to players in developing countries who don't have access to specialist hardware, and introduces a relatively untapped monetization model to gaming in the form of subscriptions, which are of course ubiquitous in music and video streaming. Ubisoft, creator of Assassin's Creed, has recently launched its own proprietary cloud platform, Ubisoft+, allowing subscribers to access the latest PC titles with the added boost of cloud tech for their hardware. Facebook, too, has rolled out its mobile cloud gaming service across the US and is well-placed to offer the scale of user base that cloud gaming requires to be economically viable. Games such as Roblox and Minecraft as well as gamified blockchain gaming platforms like Somnium Space and Axie Infinity are entry points to the formative metaverse. Currently, each of these requires an initial download or install to access. It's early days, and I can see this changing in two ways in the near future. Firstly, metaverse instant gaming will become a reality through games such as Worlds FRVR, a Minecraft-style VR title on Facebook Instant Gaming which requires no download or install. Secondly, the above games and experiences will come to be recognized as standalone platforms in themselves. The way players easily transition between experiences with no additional downloads is, in effect, instant gaming. With over 220 million monthly active users, it's only a small shift in perception that stands between Robox as a 'game' and Roblox as an 'instant gaming platform'. As the popularity of user generated content, blockchain gaming, and play-to-earn increase, the friction currently present on these platforms will rapidly decrease to make them seamless entry points to metaverse instant gaming. Technology has enabled almost frictionless access to music and video content in a way that isn't yet a reality for gamers. But, increasingly, top-tier gaming content is something that they can find on the platforms they are already spending time on or via a couple of mouse clicks in a browser. Whether the greatest market share is eventually achieved by social platforms like Snap, off-blockchain social-gaming metaverses like Roblox or blockchain gaming platforms such as Axie Infinity remains to be seen, but the opportunities of instantaneous content flows among vast, engaged audiences are potentially game-changing for publishers. Michael Hudson is CEO and Co-Founder of GameBake, the complete global games distribution platform.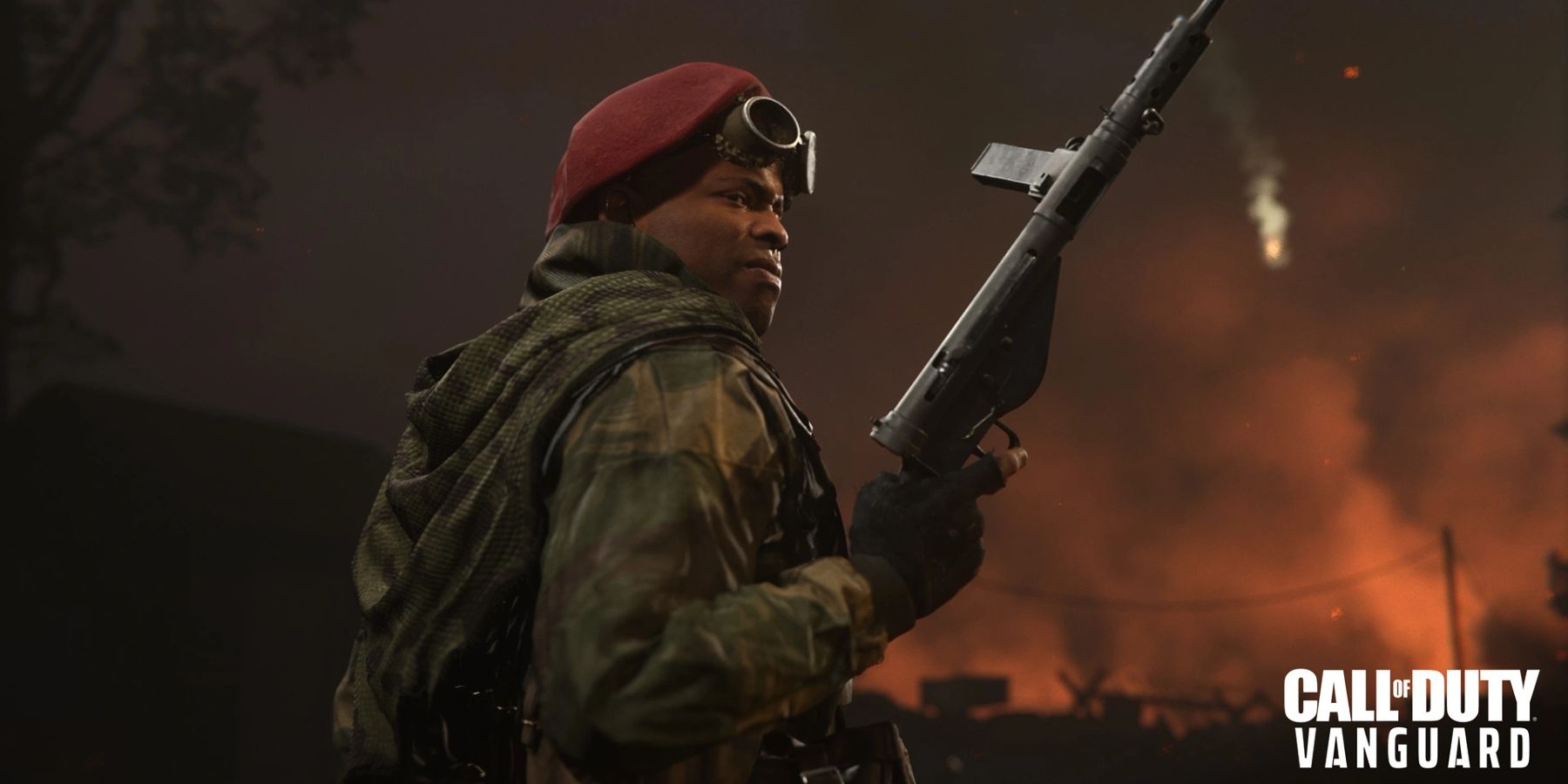 Xbox gamers have had a lot to look forward to this month. Not only did Halo Infinite 's single-player campaign launch after years of wait, but Xbox Game Pass has dropped a big collection of over ten new games to play this past week alone. But Xbox isn't stopping there. The company has a weekend of free game trials planned for December 16 through December 19, featuring titles from franchises including Assassin's Creed and Call of Duty. The first, and easily most exciting game included in Xbox's free weekend is Activision's recently released Call of Duty: Vanguard. While technically separate from the other games on the list, Activision is still making the multiplayer for Call of Duty: Vanguard entirely free for the weekend. This is Activision's most-recent standalone release in the Call of Duty franchise, so a full free weekend of multiplayer is quite surprising. RELATED: Xbox Game Pass Adding 12 New Games This Week The second game on the list is one of Ubisoft's most popular releases from the past several years. It's Assassin's Creed Odyssey, which built off the success of Assassin's Creed Origins but with an epic Greek story based in the Mediterranean Sea. While Ubisoft has since released Assassin's Creed Valhalla, apparently it's not quite ready to share that game via such a large window of free gaming time. Assassin's Creed Odyssey has plenty to offer in its stead, however. Third and last is a surprise inclusion and may be overshadowed quite a bit by Call of Duty: Vanguard 's multiplayer and Assassin's Creed Odyssey. The third game is Olympic Games Tokyo 2020, a sports game allowing players to experience many of the different events hosted at the 2020 summer Olympics. Needless to say, Olympic Games Tokyo 2020 stands apart from the other two games, offering a diverse range of games for Xbox players to choose from this weekend. Call of Duty: Vanguard 's free weekend is a bit different than the other games. It'll be entirely free to access from December 16 at 10:00 AM PT through December 21 at 10:00 AM PT. That's five solid days of free access to Call of Duty: Vanguard 's multiplayer, including the game's new Champion Hill survival tournament game mode. As for Assassin's Creed Odyssey and Olympic Games Tokyo 2020, to start Xbox users must have a subscription to Xbox Live Gold or Xbox Game Pass Ultimate. For those that do, the two games will be available from December 16 at 12:01 PT through Sunday, December 19 at 11:59 PM PT. Both games will also be available at discounted prices if Xbox gamers want to continue playing after the free weekend. MORE: Xbox Game Pass Ultimate: How it Differs from a Regular Subscription

Data mining tools are enjoying a dramatic increase in interest, due to data trends driving today's businesses. Clearly, data analytics is now firmly embraced by businesses of all shapes and sizes, and data mining is a core practice of digital transformation. Success in data mining is all about two factors: First, it's about which data mining techniques you use to extract meaningful insights from a vast ocean of data. This is accomplished by gathering and prepping raw data from innumerable sources and subjecting them to algorithms and analysis to find patterns and common elements. Additionally, it's about which data mining tools you use. To be sure, there's an enormous amount of variety in data mining tools. So let's dive in. Data mining is classified as an advanced data analysis technique. It finds the hidden relationships and patterns that other types of analysis might miss. It incorporates artificial intelligence (AI) and machine learning to spot customer needs, find ways to boost revenue and profitability, and engage more effectively with audiences. These days, data mining is more powerful than ever. It can now take advantage of abundant compute power, and memory to crunch numbers and data rapidly and with more accuracy. Data mining tools can be deployed on-premises on in the cloud. Some are offered as traditional software, some are open source, and many exist as software as a service (SaaS) solutions. These tools use machine learning algorithms and statistical models to make sense of massive data sets. Whether it is social media platforms, CRM systems, website analytic tools, mobile applications, organizational databases, or other enterprise systems, data mining software helps make decisions smarter, and provide better data on which to base strategy. Not all tools use the same approach. Some of the data mining techniques used are descriptive analytics, cluster analysis, rule learning, classification, predictive analytics, regression analysis, forecasting, and risk assessment. Some tools favor one approach. Others combine several. eWeek evaluated many different data mining tools. Here are our top picks, in no particular order: SAS Visual Data Mining and Machine Learning (VDMML) is a comprehensive visual – and programming – interface that supports the end-to-end data mining and machine learning process. SAS VDMML, which runs in SAS Viya, combines data wrangling, exploration, feature engineering, and modern statistical, data mining, and machine learning techniques in a single, scalable in-memory processing environment. Oracle Machine Learning on Autonomous Database uses more than 30 in-database scalable machine learning algorithms accessible from SQL and Python APIs (including OML4SQL and OML4Py). It supports classification, regression, clustering, association rules, feature extraction, time series, anomaly detection, among other machine learning techniques. Talend Data Fabric is a single, unified platform that centralizes data integration, quality, governance and delivery. It is unique in that it is designed to consolidate data activities, providing intelligence and collaboration capabilities to meet data workers at their technical level, in a cloud-based platform. RapidMiner is a business analytics workbench with a focus on data mining, text mining, and predictive analytics. It uses a wide variety of descriptive and predictive techniques to give the insight to make profitable decisions. RapidMiner, together with its analytical server RapidAnalytics, also offers full reporting and dashboard capabilities. IBM SPSS Modeler is a visual data science and machine learning solution designed to speed up operational tasks for data scientists. Organizations use it for data preparation and discovery, predictive analytics, model management and deployment, and machine learning to monetize data assets. SPSS Modeler is also available within IBM Cloud Pak for Data, which is a containerized data and AI platform that lets you build and run predictive models on cloud and on-premises. The Konstanz Information Miner or KNIME is an open-source data analytics, reporting, and integration platform. It integrates various components for machine learning and data mining through modular data pipelining based on a building-block approach. Orange is an open-source machine learning and data visualization tool. It helps to build data analysis workflows visually, and comes with large toolbox. Qlik Sense is a data analytics and data mining platform that includes an associative analytics engine, AI capabilities, and operates in a high-performance cloud platform. It empowers executives, decision-makers, analysts, and anyone else with BI that users can freely search and explore to uncover insights. Key Features Pros Cons eWeek has the latest technology news and analysis, buying guides, and product reviews for IT professionals and technology buyers. The site's focus is on innovative solutions and covering in-depth technical content. eWeek stays on the cutting edge of technology news and IT trends through interviews and expert analysis. Gain insight from top innovators and thought leaders in the fields of IT, business, enterprise software, startups, and more. Advertise with TechnologyAdvice on eWeek and our other IT-focused platforms. Property of TechnologyAdvice. © 2021 TechnologyAdvice. All Rights Reserved Advertiser Disclosure: Some of the products that appear on this site are from companies from which TechnologyAdvice receives compensation. This compensation may impact how and where products appear on this site including, for example, the order in which they appear. TechnologyAdvice does not include all companies or all types of products available in the marketplace.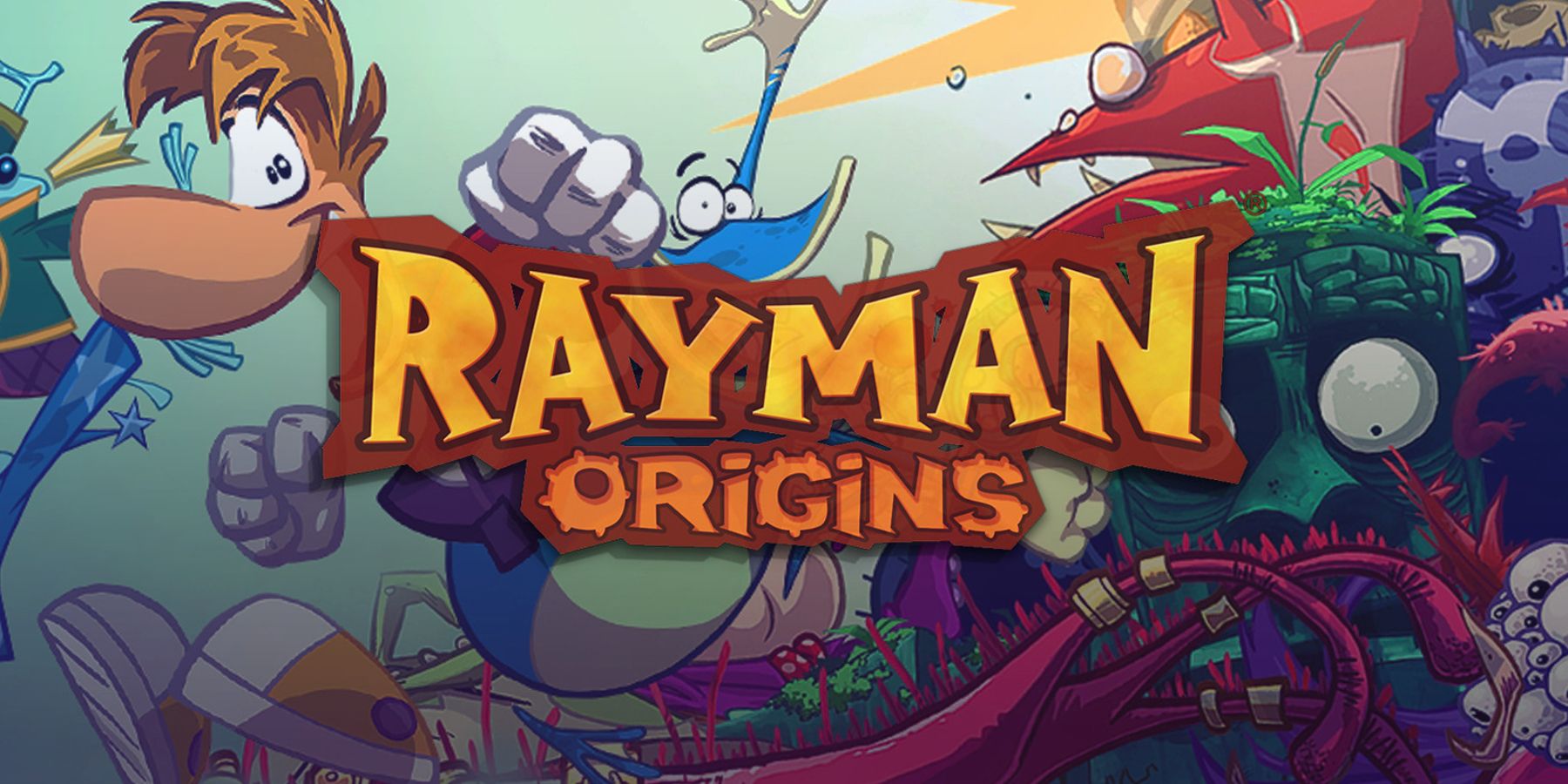 The platforming genre is dominated by a few franchises such as Super Mario and Crash Bandicoot. There are also smaller titles, such as Limbo and Fez, that manage to gain themselves a following by subverting expectations. Nevertheless, for every platformer that makes it big, there are a dozen that are overlooked. Among platformers, there is one franchise that has managed to bring innovation and creativity to the genre over the years - the Rayman series. Although often forgotten, the Rayman games offer some genuinely fun platforming often paired up with a contagious soundtrack and brilliantly colorful visuals. Fortunately, for those who want an entryway into the series, Ubisoft is giving away Rayman Origins for free. The giveaway is being done to celebrate 35 years of Ubisoft. Though the game is a decade old at this point, there are still several reasons to claim what is arguably one of the best platformers available. RELATED: Every Rayman Game, From Worst To Best (Ranked By Metacritic) Rayman Origins can be downloaded for free on PC on the Ubisoft Store, and the offer is available from December 14 until December 22, 9 AM EST. For anyone with even the vaguest interest in platformers, this is an offer that should not be missed. Although it is overshadowed by Rayman Legends which improves on it in almost every way, Rayman Origins is a fantastic enough platformer to stand the test of time. Released in 2011, Rayman Origins follows the titular Rayman as he explores various environments to collect Electoons and save the Glade of Dreams. Though the plot is somewhat interesting, it is not the main draw of the game, and one can ignore it completely if one wishes to. Part of what makes the game so special is its beautiful settings that are as gorgeous to look at as they are fun to play. Each level is bursting with color, and the environments are dynamic and constantly moving, which in turn encourages the player to also keep moving. Thanks to the intricate design of each level, there is plenty of reason to revisit previous levels to find every hidden nook and cranny and collect as many Lums as possible. Every level exudes personality and serves up unique challenges for players to overcome. Environmental elements are used in unique ways, including water geysers that help Rayman hop to certain areas, and water rushes that can lead Rayman to hidden collectibles or danger. The jovial feel of the game is enhanced by the upbeat soundtrack that never fails to put a smile on one's face even when the game does get a bit tough. Fortunately, Rayman Origins never feels unfair thanks to how smooth the controls feel. Although Rayman moves in a quick-paced and cartoonish fashion, it never feels as though he is unwieldy. While many platformers often end up feeling stiff to allow for preciseness, Rayman Origins achieves the magical feat of allowing Rayman to move in a natural, springy manner without sacrificing precise gameplay. With the number of collectibles on offer, a nice variety of enemies to beat up, and plenty of levels to journey through, Rayman Origins is a game that is packed with content. Those who do not catch Ubisoft's Rayman Origins giveaway in time should not fret because forty Rayman Origins levels, remastered, are available in Rayman Legends. However, to access these levels one has to earn and scratch in-game lucky tickets. This is perhaps the best way to play the game, especially if one can play it on a portable device such as the Nintendo Switch or the PS Vita. Rayman Origins is available on PC, Wii, Xbox 360, PS3, PS Vita, and Nintendo 3DS. MORE: 10 Platformers That Define The Genre (& Aren't Made By Nintendo)

Fans can also register "for a chance to play". If you've been eagerly awaiting news of the long-delayed next instalment in the nearly three-decade-old Settlers series, your patient will soon be awarded: publisher Ubisoft has announced it'll be revealing more in January 2022. Ubisoft first revealed it would be revisiting the Settlers' much-loved city-building and real-time strategy formula in a new series instalment back in 2018. At the time, it told fans to expect the title in autumn the following year but, as that window grew near, the publisher announced a delay, pushing the game's release into 2020. 2020, however, proved to be another letdown for Settlers fans, with Ubisoft announcing a second delay as the summer arrived. "While we are on the right path to deliver a great game", it wrote at the time, "we really want to deliver an exceptional gaming experience. Since quality is our main priority, we want to take the time necessary to make it right." The newest Settlers as it appears in its 2018 announcement trailer. Instead of announcing a third launch window for the beleaguered title, Ubisoft simply told fans the game would be postponed "until further notice". Now, though, it seems the publisher is finally ready to crank its hype handle once more. "The Settlers is back!", it bellowed in a newly shared tweet. "Tune-in January 2022 for more news". There's not a lot more to report in terms of specifics just yet, but Ubisoft accompanied its tweet with the suggestion fans should sign up on The Settlers website "for a chance to play".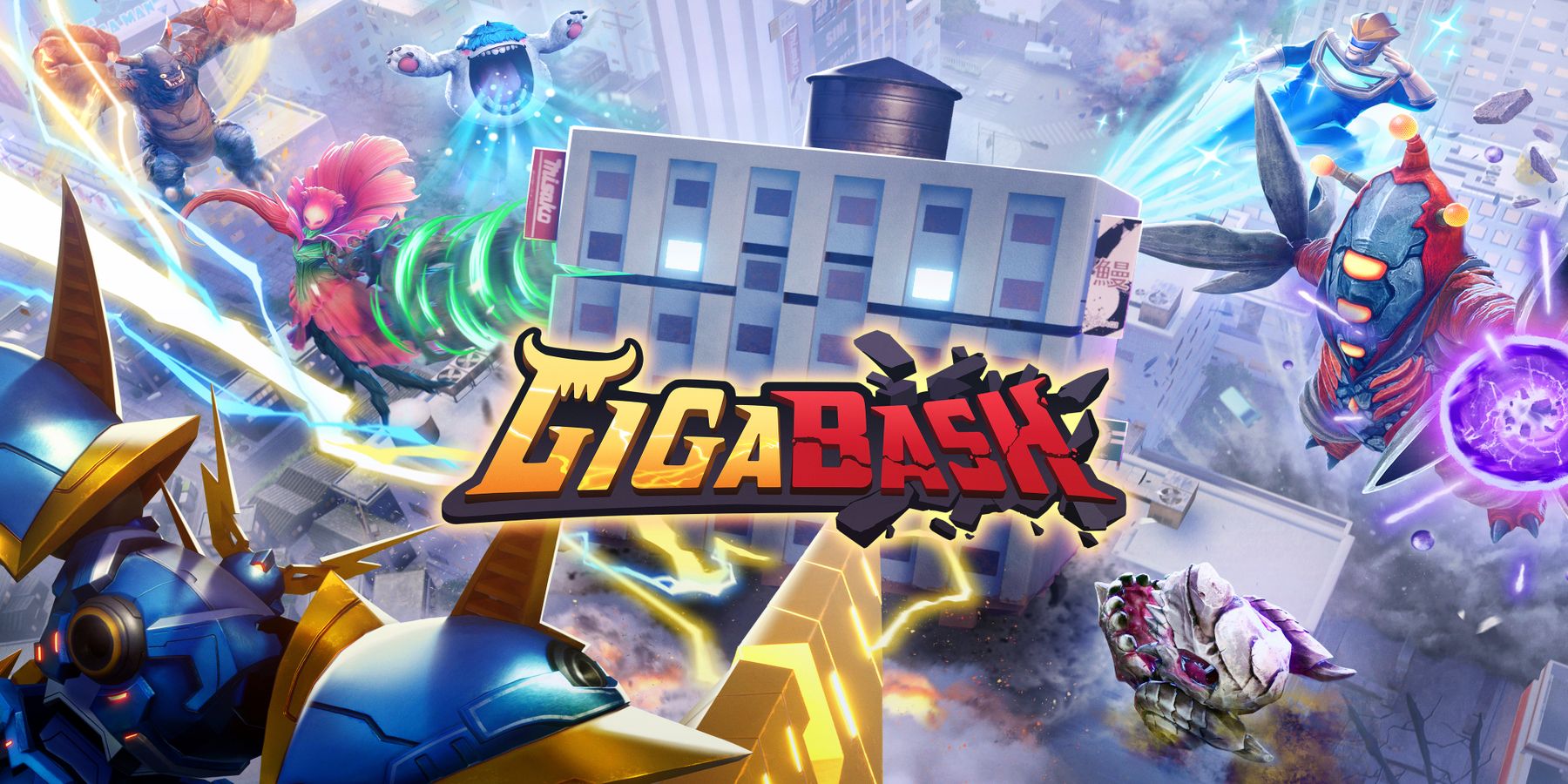 The upcoming game GigaBash is a 4-player arena brawler game about giant monsters fighting it out and features a large roster of giant monsters and heroes to choose from. This giant monster game is being developed and published by the game studio Passion Republic Games, and it has a scheduled release in early 2022. The main premise is that humanity discovers a new form of energy that triggers the awakening of primordial creatures from deep within the Earth. Now the giant monsters rage across the Earth battling for supremacy, while humanity calls on its own heroes to protect them. GigaBash will be released next year on PC, PlayStation consoles, Nintendo Switch, and Xbox One. The game has already shown off characters players can choose to play, including the heroic Gigaman, the giant mech Thundatross, the playful Woolley, and several others. The latest character that the game announced is Kongkrete, the Building Monster. RELATED: Nickelodeon All-Star Brawl is Adding Garfield to the Roster The announcement came with a new reveal trailer showing Kongkrete in action with gameplay displaying the different looks and abilities the character will have in the kaiju beat 'em up game. The trailer shows the combat style of Kongkrete attacking with its giant mouth in multiple ways against the other giant monsters or using its entire body to attack. The trailer even shows that Kongkrete can disguise itself as a building on the map to hide and ambush the other characters. The new reveal trailer also shows Kongkrete's three main skills in GigaBash. Kongkrete's first skill is Concrete Roller, where it rolls itself forward to crush things in its path, and it can also be charged to cover a greater distance. The trailer shows Kongkrete using its second skill, Confusion Flash, while disguised among other buildings. It uses the skill to ambush a couple of enemies with a blinding burst of energy to stun them. Then it shows Kongkrete's third skill simply called Skyscraper, where Kongkrete transforms into a tall skyscraper. In this form, Kongkrete takes to the skies to repeatedly smash opponents with itself. The trailer even shows the other monsters are temporarily stuck to Kongkrete's body in this form. Kongkrete will be joining the fighting game's roster of giant monsters in GigaBash and will be available to players upon the game's release. GigaBash currently has a full roster of ten characters who have been revealed for the game so far, including Kongkrete. However, there are still two characters in the lineup who have not been announced yet, and players can look forward to their reveals in time. GigaBash is scheduled to release in early 2022 for PC, PS4, PS5, Switch, and Xbox One. MORE: 10 Awesome Monsters From Kaiju Movies That Do Not Get Enough Love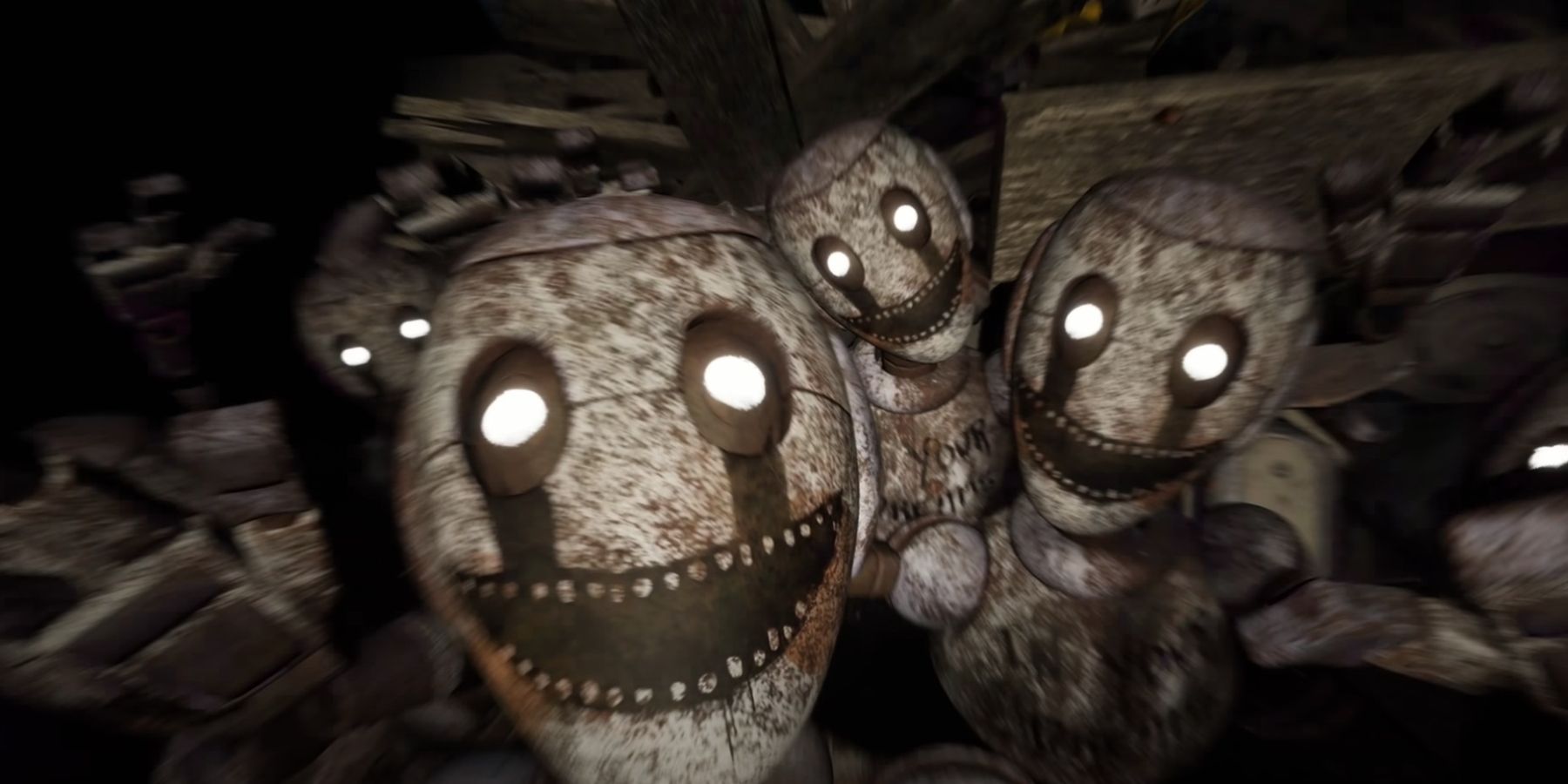 The latest installment in the popular survival-horror series is finally coming out today for fans to enjoy. Five Night's at Freddy's Security Breach puts players into the shoes of a boy named Gregory, who must escape a mall by surviving the night. Of course, he's constantly being hunted by terrifying Five Night's at Freddy 's animatronics. Gregory will need to solve puzzles, uncover secrets, and wait it out until 6 AM before he can get out. Five Night's at Freddy 's fans were probably expecting the game to launch earlier today, but the developers put out a statement on their official website confirming that the game has been slightly delayed. The blog post also explains why the delay happened and the official (new) time FNAF: Security Breach will release on PC, PS4, and PS5. RELATED: 15 Best Horror Games For Kids Five Night's at Freddy's Security Breach will release on all platforms on Thursday, December 16th at 6 PM PST. The team initially wanted the game to launch at midnight but had to push the game's launch a bit further out to deal with some bugs and other pressing issues. As for different time zones across the world, here's when the game will launch: Five Night's at Freddy 's fans might have to wait just a bit longer to get their hands on this new game, but the wait will be worth it, as the developers promise that the experience will be worth it and that many of the bugs have been squashed: " As an indie developer, this is easily the biggest game the studio has ever built. Leading up to launch we've made thousands of balance changes and bug fixes. In order to accomplish that, the team pushed itself to the absolute limit. The talented human beings I work with have poured everything they've got into this game. I for one am immensely grateful for their contributions and beyond proud of what they've achieved. All of this is to say, once any critical issues are addressed the team is going to take a break for the holidays. I think that once you all start playing the game you will agree they've earned it. " However, players should keep in mind that not every single bug will be gone entirely from the game, as that's simply impossible for many developers, especially independent ones. Five Nights at Freddy's: Security Breach launches today for PC, PS4, and PS5. It's planned to come to other platforms in the future. MORE: Five Nights at Freddy's: Security Breach Improves One of the Second Game's Best Features Source: Steel Wool

Reddit, the crusader (or bad boy, depending on the perspective) of meme stocks, has decided to go public. The social media platform that rocked multiple hedge funds, and made many millionaires, could be hoping to take its current valuation of $10 billion, to $15 billion. Reddit has around 52 million Daily Active Users (DAU). Needless to say, this is nowhere in the league of Facebook, WhatsApp, Twitter. However, what it does have, is of far greater value to many day traders and hedge fund managers. The forum-style platform, with more than 100,000 active ' sub-Reddits ', recently became the hottest destination for many day traders during this year's meme stock frenzy. The hottest of them all was the WallStreetBets thread, which drove stocks of GameStop to the stratosphere, and popularized the dialogue, "Hold the line" across social media platforms. Incidentally, owing to meme stocks, Reddit's value doubled to $6 billion from a year earlier. In August, the platform raised $700 million, which further drove its valuation to $10 billion. Reddit currently earns mainly through ads, and has reportedly claimed that it made "$100 million in ad revenue for the second quarter of 2021". This is almost a 200 percent jump from the same quarter last year. Reddit is highly interested in scaling up. The platform confirmed it intends to double its staff by the end of 2021. This means it'll have around 1,400 employees. Its ambitions could easily be fulfilled with a successful IPO. The platform hasn't disclosed how many shares it will offer. Moreover, there's no clarity about the price band for Reddit shares. In fact, Reddit has filed a confidential S-1 with the Securities and Exchange Commission. So everything is shrouded in mystery, as of now. Source: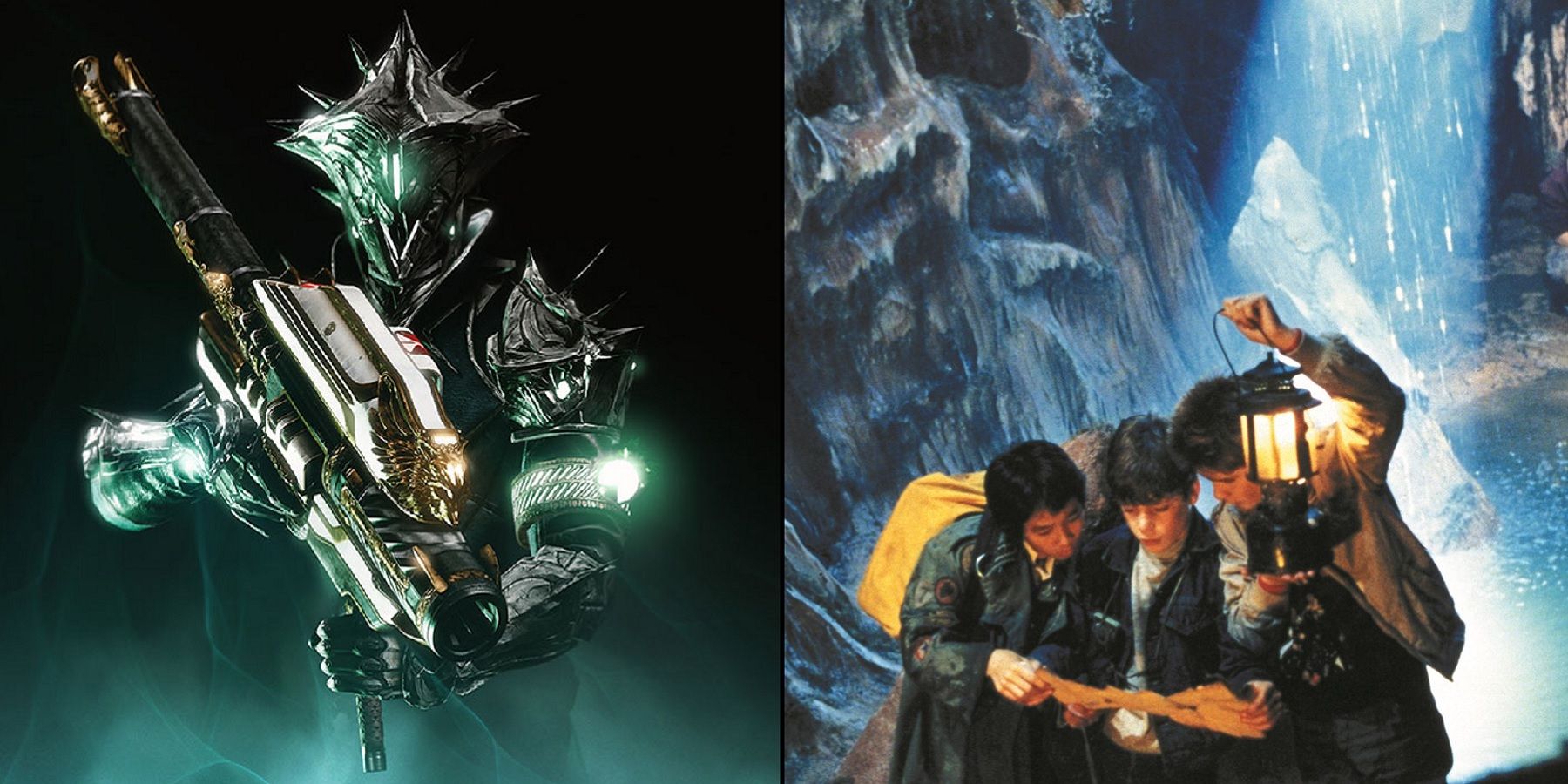 Destiny 2 players have been blasting through the new Grasp of Avarice dungeon for a little over a week now, farming for loot and completing the Exotic quest to unlock the Gjallarhorn rocket launcher. Like other dungeons in Destiny 2, Grasp of Avarice is filled with small details and Easter eggs for fans to discover, with players finding enough evidence in the new dungeon to make the claim that it's inspired by The Goonies. The Goonies is a classic adventure comedy film from the 1980s, produced by Steven Spielberg and directed by Richard Donner. The Goonies ' all-star cast combined with its timeless story and sharp writing has helped it become one of the most popular films of all time, and if the theory from Reddit user hunchback78 is to be believed, it may very well have influenced Bungie when making Destiny 2 's Grasp of Avarice dungeon. RELATED: New Destiny 2 Sword May Have Super Low Drop Rate Hunchback78 points out how the Destiny 2 Grasp of Avarice dungeon is filled with boobie traps, a large rock skull formation, a cave with a waterfall, and pirate-themed music, all things also found in The Goonies. User CMDR_Kai added that the dead Exo players can find at the end of the dungeon is named Wilhelm-7, which is perhaps the most damning evidence that the Grasp of Avarice dungeon is indeed inspired by The Goonies. The dead exo at the end of the Destiny 2 Grasp of Avarice dungeon is named Wilhelm-7. In The Goonies, the main characters are looking for the lost treasure of the legendary pirate One-Eyed Willy. Wilhelm-7 happens to have one eye and the titular Goonies in the film consisted of seven friends, hence Wilhelm-7. While some may still think it's a stretch, it definitely seems like Destiny 2 is purposefully referencing The Goonies with the Grasp of Avarice dungeon. The Destiny 2 Grasp of Avarice dungeon gets creative with the names of other enemies players encounter as well. For example, there's a Hive Ogre players encounter named Phry'zhia (aka "fires you") as well as a Shank named R-M80 (aka "arr, matey"). Funny references like this have helped make the Destiny 2 Grasp of Avarice dungeon and the other associated content well-received by the community, though the next big content update may not be quite as lighthearted. The Destiny 2 Witch Queen expansion promises to be much darker in tone than the 30th Anniversary Pack, and it will be interesting to see exactly what it has in store for Guardians when it launches next year. Destiny 2 is out now for PC, PS4, PS5, Stadia, Xbox One, and Xbox Series X. MORE: Destiny 2: What We Know of the Lucent Brood So Far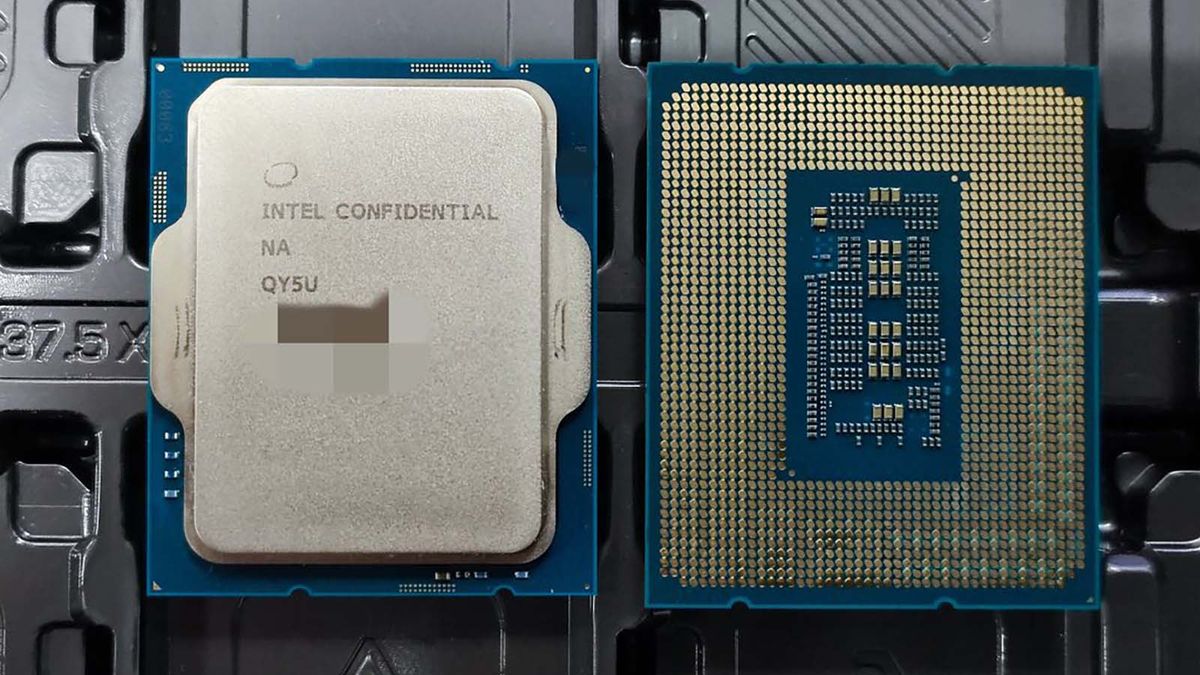 Details on nearly the entire Intel Alder Lake mobile series processors have popped up online, giving our best look yet at Intel's upcoming chips expected to launch at CES 2022. The chip details were found in the Geekbench database by BenchLeaks, and include information on SKUs from both the H-series and an apparently new P-series. Some of the benchmark info is clearly off, with max clock speeds way higher than they should be and score inconsistencies between chips that don't make any sense. Benchmark tools have had trouble in the past measuring the big. LITTLE architecture of Intel's Alder Lake chips before though, so some of these anomalies are expected. The core and thread count as well as the amount of L3 Cache aren't performance metrics but are instead info provided by the processor itself, so there's no reason to doubt their validity as far as a leaked benchmark result goes. That said, while the base clock speeds listed are somewhat in line with expectations, an Core i5-12450H is clearly not maxing out at 26.0GHz, so we'd really like to stress that the base clock speeds can be wrong as well and shouldn't be taken as definitive. Likewise, the actual scores given to each chip by Geekbench 5 are wildly inconsistent, with the Core i7-12700H scoring nearly twice what the i9-12900HK does in multi-core performance, and with the Core i7-1260P scoring higher in single-core performance than the Core i7-12800H, despite having just over half the TDP of an H-series chip. Now all of these scores can end up being valid, but we highly doubt it. What is more likely is that these scores show how benchmarking new technology can be a tricky thing and should serve as a good case study as to why leaked benchmarks always need to be taken with a grain of salt. Still, we included the max clock speeds on the P-series in our breakdown since they look much more in line with expectations, but they shouldn't be taken as the final word as to the chips max frequency. The H-series chips were way off nearly across the board, so we only include the listed base clock speeds on those results. Looking at the chips themselves, we'll start with the P-series chips, which seem to be designed for lightweight laptops like Ultrabooks, and may be replacing the U-series. Geekbench has results for the i5-1240P, the i7-1260P, and i7-1280P, with the topline results shown below. There are also a number of chips from the performance-focused H-series chips that you see in gaming laptops and mobile workstations, including the Core i5-12450H, i5-12500H, i5-12650H, i7-12700H, i7-12800H, and i9-12900HK. These results don't show the whole picture on Intel's upcoming Alder Lake mobile CPUs, it should be noted. As VideoCardz helpfully points out, we haven't seen anything yet on Intel's M-series mobile processors. These chips anchor the ultra-low power end of the market, so are likely to be edge cases for most consumers, but they are important ones nonetheless. The M-series chips are going to be important for Chromebooks and laptops like the Microsoft Surface Laptop SE, which are going to be more focused on affordability than raw performance. While the Alder Lake P-series and H-series processors are where the overwhelming majority of users are going to be served, for the enthusiasts out there on both ends of the spectrum, we'll have to wait a bit longer to find out more on those chips.

Copy and Paste is one of the most fundamental features of an operating system, but it is surprising how often it becomes an issue, as many Windows users are discovering recently. Now Surface Duo users are joining the chorus of users complaining of unreliable and glitchy copy and paste. Reddit user Chris St Aubyn is complaining following the December 2021 update for the Surface Duo (which only brought security fixes) he is unable to Copy and Paste using the device, with the device glitching when the menu is brought up. His complaint is corroborated by another user who said " Not only in edge, everywhere. It is ruining my whole multi-tasking experience ", while a third noted " I'm having a problem where text that is copied from one screen doesn't paste on the other. Which for me destroys almost the whole point of dual screens. " Some of the users are hoping that the long-awaiting update to Android 11 will save them. Microsoft promised this before the end of the year, but it seems unlikely the company will be able to deliver this Christmas present. Are any of our readers experiencing this issue? Let us know below.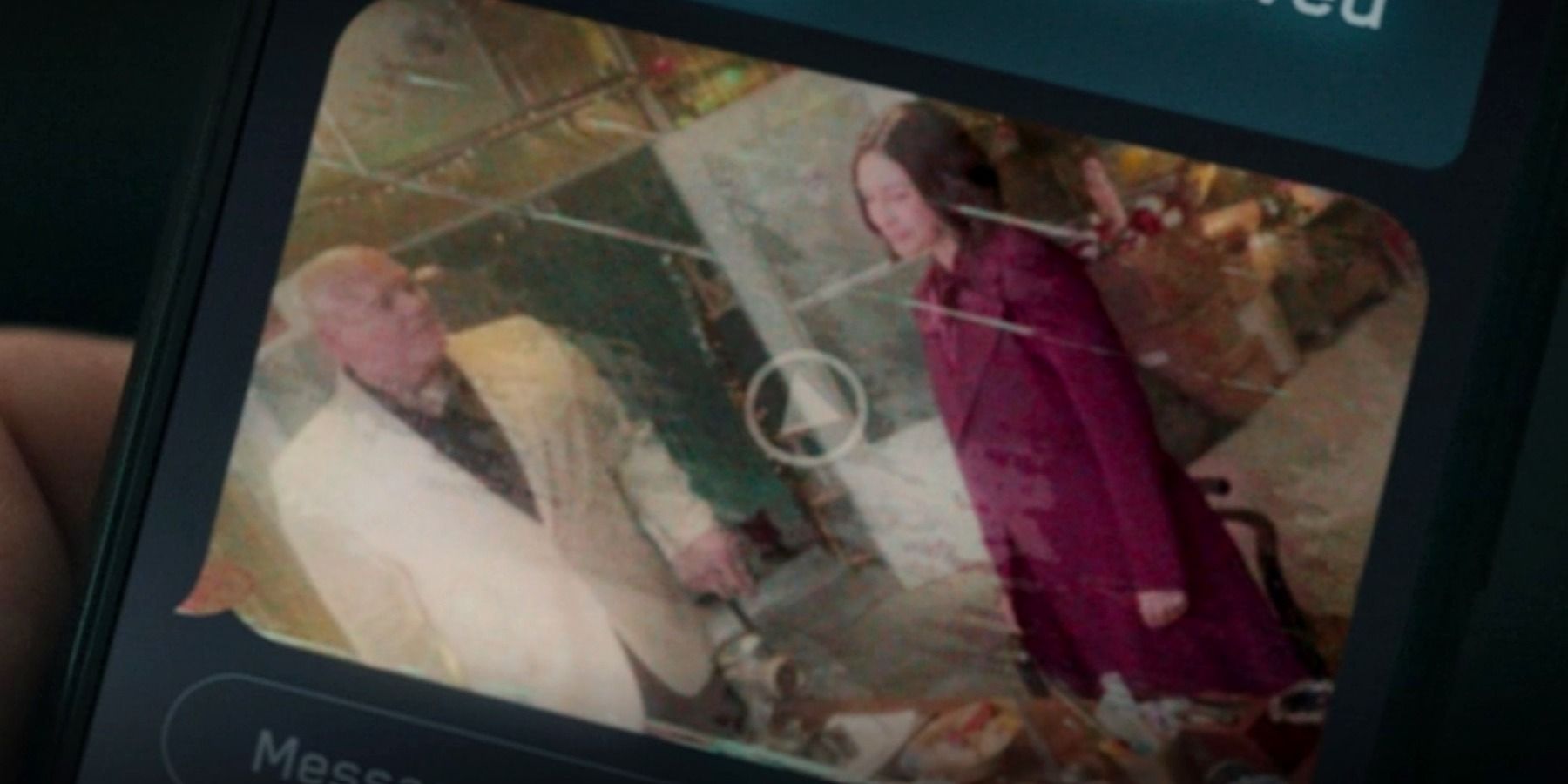 The following article contains spoilers for episode 5 of Hawkeye. The latest episode of Hawkeye delivered the missing piece of the puzzle that fans had been waiting for since the series premiered. The final moments in the episode revealed the notorious leader behind the Tracksuit Mafia and it was none other than Wilson Fisk, aka Kingpin. The character has officially been introduced as a member of the Marvel Cinematic Universe and Vincent D'Onofrio has returned to reprise his role, which he previously portrayed in Netflix's Daredevil. Towards the end of the latest episode of Hawkeye, Fisk is seen talking to Eleanor Bishop in an image that Hailee Steinfeld's Kate Bishop receives. It is revealed that he is the real threat that Jeremy Renner's Clint Barton has been worried about all along, and Eleanor is a pawn in his grand plan. While fans weren't truly surprised by the big reveal, they were relieved to see one of their theories coming to fruition. RELATED: Hawkeye Episode 5 Delivers Another Excellent Dialogue Scene Ever since the Disney Plus series began streaming, fans had been waiting for Fisk to appear. Alaqua Cox's Maya Lopez, aka Echo, was introduced in the second episode of Hawkeye, and fans immediately made the connection and started theorizing about Kingpin being a part of the show. In the comics, he is Lopez's paternal uncle and adopts her after killing her biological father. With the obvious connection from the comics, fans were convinced that Fisk would soon arrive to wreak havoc in Barton's world. Social media was flooded with speculation of the perfect time to bring him into the picture. Fans were convinced that it would happen halfway through the season but were instead offered Florence Pugh's Yelena Belova. While her arrival is an important one as well, Yelena has already been a part of the MCU. Kingpin, on the other hand, was last seen in Daredevil, which is not MCU canon. Soon, Hawkeye leaks related to Kingpin started showing up online and such was the pressure of the fan theories that during an interview, executive producer Trinh Tran almost gave away the information that Fisk would be introduced in the fifth episode. When asked by the reporter about Lopez's involvement in the series, Tran told him that they "need to speak after you've seen the fi… the rest of the episodes." Keen-eyed Marvel fans obviously latched onto her words and were prepared for Fisk's arrival in the latest episode of Hawkeye. Kingpin's reveal in the final moments of Hawkeye's fifth episode is a confirmation that characters that have previously appeared in isolated Marvel projects are being reintegrated into the MCU. Several Marvel movies and television series have been produced in the past that are not part of the MCU. Many of those characters have been appreciated by audiences, but unfortunately do not appear in any of the more popular MCU projects, and are forgotten once the project ends. When Netflix's Daredevil was canceled in 2018, fans asked for years for Charlie Cox to be brought back as the MCU's Devil of Hell's Kitchen. Despite being an isolated series, Daredevil had several references to the MCU and its heroes. Even though fans were aware that Matt Murdock was not officially a part of the MCU, he joined the list of favorite Marvel characters and viewers were not pleased to watch his story being left incomplete. However, Marvel boss Kevin Feige was clearly listening to the fan requests, and recently confirmed that if and when Daredevil is brought into the MCU's fold, Cox will be the actor portraying the character. The news was celebrated by fans of the Daredevil series, and Cox even became a trending topic on Twitter. This goes to show the demand for some of the characters from the non-canonical MCU projects. Kingpin was another fan-favorite character, and Marvel fans have been wanting to see more of the villain ever since his last appearance on Daredevil. In the comics, Fisk is known to have multiple contacts in the underworld, and Hawkeye all but confirms that he is in charge of the mysterious Sloan Ltd. that Bishop finds. Little does she know that her own mother is also involved, but that's a topic for another episode. Regardless, Fisk's introduction in Hawkeye's latest episode has been welcomed with open arms, and fans are now ready to see more characters being brought back into the fold. Some of the other popular non-MCU characters that fans have been asking to see brought back include Jessica Jones, Luke Cage, The Punisher, and the Inhumans. With Kingpin now an official part of the MCU, it only means that the universe can continue to expand and even create new projects while still having a sense of familiarity. Even though Kingpin is technically a new character in the MCU, fans are already familiar with his antics, even if they haven't read the comics. Cox's Murdock has already gone up against him, and now fans are wondering if he will be following soon. There are already several fan theories about Murdock appearing in Spider-Man: No Way Home and they are definitely ready for his return. Hawkeye has already delivered on the much-awaited re-introduction of Fisk. It remains to be seen when Daredevil will follow. Hawkeye is streaming on Disney Plus. More: Hawkeye Episode 5 Easter Eggs

GameStop is offering a rare chance to buy the PlayStation 5 at select stores tomorrow, Dec. 17. There is a catch, however: this pre-Christmas sale will only be available to subscribers of GameStop's perks program. On Thursday, GameStop posted details about the PS5 restock, including a list of participating stores, which spans dozens of locations across the US. The retailer's perks program, dubbed PowerUp Rewards Pro, costs $14.99 a year. So if you're desperate to secure a PS5 before Christmas, it may be worth paying up. Just know that paying for a membership doesn't guarantee you a shot at securing a PS5. GameStop will have limited supplies tomorrow, so eligible customers should consider lining up early. GameStop's email about tomorrow's in-store sale. The other catch is that PS5 units will only be sold as a bundle that includes three games, some accessories, and a $50 GameStop gift card. An employee at one store told PCMag the bundle will probably cost around $860, far more than the $499 standalone, disc version of the PS5. The bundles will be offered to customers on a first come, first served basis once the stores open tomorrow morning, the employee added. The restock occurs as the PS5 continues to sell out in minutes across major retailers due to the ongoing demand from consumers and scalpers. To buy one immediately, you'll have to go to eBay, where the console is being resold for as much as $1,000. It's certainly annoying to see GameStop sell the PS5 as a bundle and behind a membership paywall. But hopefully, the upcoming restock will help at least some consumers finally land the console. If you're still struggling to snag the PS5 or the Xbox Series X, check out our guide.

Finding a tech job with no degree might seem challenging, but it's entirely possible. You don't need a degree to find a rewarding, lucrative career with possibilities for growth and advancement. Tech jobs with no degree requirement exist across the workforce, primarily in entry-level positions. If you're willing to learn on the job, self-study, or leverage relevant experience, you may find opportunities in many industries. According to the U.S. Bureau of Labor Statistics, more than one-third of computer support specialists hold no degrees. Read on to discover more highest-paying tech jobs you may be able to attain without a degree. Tech positions available without a college degree vary by location and your education and experience, among other factors. Many positions and employers do require a bachelor's degree or higher. However, getting your foot in the door as an entry-level tech worker in information technology, engineering, or business can lead to career advancement without ever earning a college degree. 2020 median pay: $110,140 Average salary without degree: $92,145 Important qualities: Creativity, programming language mastery, individual and teamwork skills, analytical and detail-oriented Software developers create and develop computer applications and programs. They also maintain, troubleshoot, and test existing programs. These professionals may work independently or with clients and colleagues to create databases, games, and programs for operating systems. 2020 median pay: $98,230 Average salary without degree: $92,000 Important qualities: Analytical, curious, enjoys gathering and assessing data, strong mathematical and statistics skills, works independently Data scientists discover trends and patterns in data using computer science, statistics, and mathematics. They also validate their findings to ensure accuracy. By converting raw data to a format usable by business professionals, data scientists help solve problems and make projections for the future. Degree requirements are common for data scientist roles, but completing a data science bootcamp might help you appeal to employers. 2020 median pay: $108,830 Average salary without degree: $79,880 Important qualities: Innovative, outgoing, science- and business-minded, team player Sales engineers represent sellers of technology and science equipment and services. Sales engineers put on demonstrations, answer questions, and accommodate sellers' and buyers' needs and expectations. They need a deep understanding of each product's specifications and intricacies. Some sales engineers may work as part of a sales team, while others research and develop new products and services. 2021 average pay: $70,129 Average salary without degree: $65,449 Important qualities: Inquisitive, enjoys mathematics and statistics, technologically adept, problem-solver, strong communication skills Business analysts use data to solve business problems and make decisions. By looking at data, business analysts identify ways to optimize business operations, improve efficiency, and create pathways for change. Business analysts may work internally or as outside consultants. They collaborate with colleagues and clients to collect information before making recommendations through presentations and reports. 2020 median pay: $77,200 Average salary without degree: $62,969 Important qualities: Creative, detail-oriented, technically savvy, knows HTML programming and other programming languages Web developers design, develop, and maintain websites for clients across industries. Web developers may oversee UX design, back-end development, and front-end development. They consult with clients and coworkers about a website's technical needs, implement measures to ensure speed and performance, and create digital designs. As webmasters, web developers update and maintain websites. You can advance your technology career even without heading back to college. By increasing your expertise through coding bootcamps and training programs, you may increase your value to employers. Earning tech certifications demonstrates your knowledge. Self-study, active engagement with colleagues, and exercises to build communication and critical thinking skills may give you a competitive edge. Even if a college degree isn't right for you, a tech job is still an option. Finding a tech position in business, engineering, manufacturing, and information technology without a degree isn't as impossible as it may seem. Equip yourself with the right skills, and you're on your way to a thriving tech career.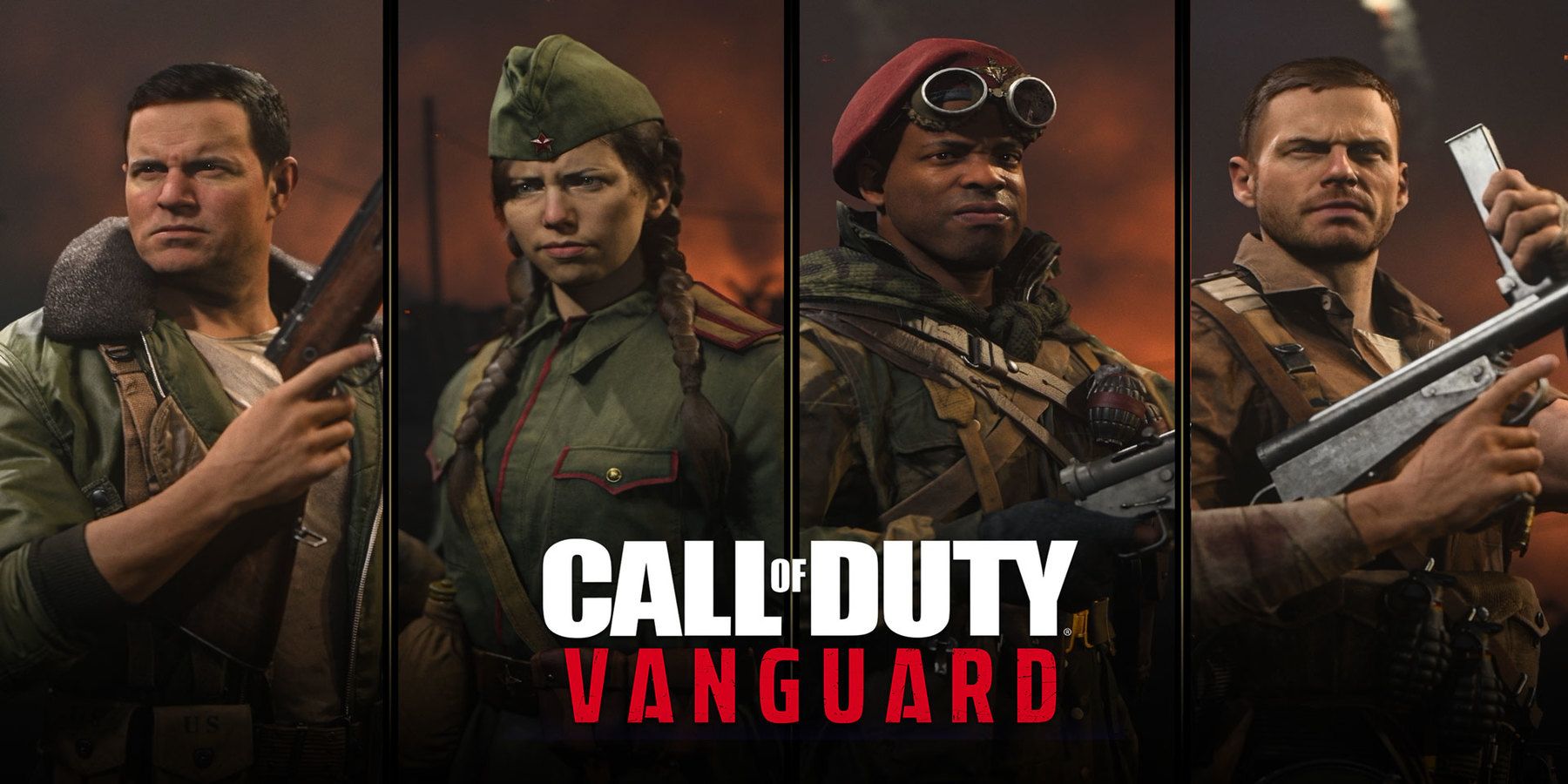 Call of Duty: Vanguard has been out for over a month now, ensuring that most gamers that care about the franchise's campaigns have had time to complete the latest singleplayer adventure. The campaign tells the story of the titular Vanguard, with the group being comprised of some very different allied soldiers and serving as the birth of special forces. During the campaign, players see them fight and defeat Hermann Friesinger, a rogue Nazi attempting to start the Fourth Reich. Throughout the Call of Duty: Vanguard campaign, players learn the backstory of each member of the Vanguard group, with a vast majority of the missions serving as flashbacks to their roles during World War 2. This is a unique storytelling approach for the series; while Call of Duty has jumped between playable characters many times, the fact that most of the campaign is comprised of flashbacks is an interesting change. However, while this approach allows for several well-written characters, its main downside is that gamers do not see them together for very long. RELATED: Call of Duty: Vanguard - Everything New in the Season 1 Update Call of Duty: Vanguard 's campaign centers around four memorable characters, and players see each of their backstories. Wade is a cocky American pilot who's good flying helped make him a hero during the battle of Midway, while Lucas is an Australian demolitions expert that was treated poorly by the British military. Arthur Kingsley is a well-educated leader, while Polina Petrova is a Russian sniper who lost both her father and brother when the Germans invaded Stalingrad. Each of these characters gets a few missions to shine, all of which are memorable. Players get to see Arthur Kingsley's transformation from just another soldier into a brilliant leader, while Polina Petrova's tragic story is made visible in her two missions. Wade learns a valuable lesson about respect, while Lucas proves that it is a bad idea to judge a book by its cover. As a result of these mini storylines, each character feels well developed. This is a big deal for the Call of Duty series, as the campaigns have always struggled to deliver more than one or two memorable characters. Usually, players only grow attached to the character they are playing as, with the other popular character being a Call of Duty icon like Frank Woods or Captain Price. In Call of Duty: Vanguard, though, there are four main characters, each with distinct personalities and unique backstories that make them feel human. This is a major strength for this particular Call of Duty game, and it is a good lesson for future campaigns as well. However, one big downside is that only the first and last missions take place in present day - meaning that players only have two missions where the whole group is working together in playable sequences. While this would be perfectly fine if Call of Duty: Vanguard sequels were confirmed to be in the works, it is currently unclear if the four protagonists will be making a return in a future game. The final mission of Call of Duty: Vanguard 's campaign is easily the most memorable, as it shows the strengths of bringing four unique characters together. Players switch between each of them in this final mission, using Arthur's command ability before scaling walls as Polina. They then move over to Lucas to blow up some enemy artillery before switching back to Wade to clear out a room using his Focus ability. All these switches have smooth transitions that make the campaign feel like a movie, and it would be a lot of fun to have a full campaign where players are constantly swapping between the four heroes to complete tasks with their special abilities. Players simply do not get enough of the main characters together during the five-hour story, which is understandable since the campaign fleshes each of them out to make their final team-up more impactful. However, now that they are together, future Call of Duty games need to make the most out of all this setup instead of wasting it. Gamers have a reason to be attached to Polina, Arthur, and the others, so now they will inevitably want to see them interact more in future projects. Call of Duty: Vanguard feels like the beginning of a series, so Activision and Sledgehammer need to make that a reality. RELATED: Call of Duty: Vanguard - How to Defeat Steiner The interesting thing about a Call of Duty: Vanguard sequel is that there are several directions it could go in. After killing Friesinger and hijacking his plane, the Vanguard soldiers find several important Nazi documents that could hint at the sequel's plot. The one Arthur ultimately settles on is a V2 rocket facility, something that would lead to a more grounded sequel where the remnants of the Nazi party is fought once again. However, the other two boxes are far more intriguing. The first mentions Project Nova, a clear nod to the Call of Duty Black Ops universe. As shown by Call of Duty: Black Ops Cold War's inclusion of Imran Zakhaev, Activision is working to create a shared universe between Black Ops and Modern Warfare. Now, it seems like Call of Duty: Vanguard is part of that universe, as the deadly Nova 6 gas exists in the Vanguard timeline. A sequel could see Nova 6 being a focus once again, and characters like Viktor Reznov could join the Vanguard team to help cripple the project before it goes any further. Even more interesting is Project Aether, a clear reference to the Call of Duty Zombies storyline. The Dark Aether is the alternate dimension that is crucial to the Zombies narrative, and the project's name implies that the Nazis were looking into the concept – something proven to be true via Projekt Endstation. With a standalone Call of Duty Zombies game leaked, players could be looking at their four playable characters in Polina, Wade, Lucas, and Arthur. A proper, Zombies-focused campaign could feature these characters in starring roles, and they could then be playable in new round-based survival maps. No matter what direction Sledgehammer Games and Activision go in, though, these characters deserve to return one day. Call of Duty: Vanguard is available now on PC, PS4, PS5, Xbox One, and Xbox Series X. MORE: Call of Duty: Vanguard Zombies Needs To Rethink Its Approach To Storytelling

The Huawei P50 Pro smartphone was released earlier this year, with an impressive array of cameras, a Snapdragon 888 chipset, and the company's HarmonyOS Android fork. Huawei just released teaser images this week of a foldable version, the P50 Pocket, and a full announcement is expected on December 23. However, we won't have to wait that long to see a full view of the phone, thanks to a promotional photo shoot. The Weibo account for Harper's Bazaar (a fashion magazine) published a photo shoot on its Weibo social media account this Wednesday ( via PhoneArena), featuring Chinese actress Guan Xiaotong. The post appears to be a sponsored advertisement for Huawei, but it shows off more of the phone than Huawei itself did in its teaser announcement. While the original teaser images showed the corners of a white P50 Pocket, the version seen in the photo shoot has a golden finish. The images also reveal the rear camera array and exterior display, both of which are arranged in circles. There's also a photo of the exterior screen being used as a preview for the camera, similar to the Galaxy Z Flip 3 and Moto Razr. Now we know what the Huawei P50 Pocket looks like, but its hardware is still a mystery. Display analyst Ross Young claims the foldable screen measures 6.85 inches diagonally, while the circular exterior display is 1 inch across. The normal (non-folding) Huawei P50 Pro has a 6.5-inch 90Hz OLED screen, a Snapdragon 888 chipset, 8GB RAM, 128 or 256GB storage, four rear cameras, a 4,100mAh battery, 66W fast wired charging, and an IP68 rating. Huawei will likely announce all the details on December 23, 2021, according to the initial teaser. The P50 Pocket will join the rapidly-expanding club of folding phones, including the recently-announced compact Oppo Find N, Samsung's Galaxy Z Fold and Z Flip devices, the Motorola Razr, Xiaomi Mi Mix Fold, and others. Honor is also reportedly working on its own foldable phone, following its split from Huawei earlier this year.

Only Mozilla Firefox couldn't access or display several websites that officially belonged to Microsoft. As it turns out, this wasn't the result of the ongoing browser wars. Several sub-domains, which belonged to Microsoft, refused to load on the latest and stable version of Mozilla Firefox web browser. Irrespective of the platform (mobile or desktop, iOS, Windows, or Android) they all worked perfectly well on Microsoft Edge, Apple Safari, Google Chrome, and other popular web browsers. Internet users, who frequented Microsoft's websites, were greeted with "Secure Connection Failed" error messages. As usual, the truth lay in the details, explained a developer who first discovered this anomaly, and wrote a detailed blog post. After trying the standard and routine troubleshooting steps, the developer looked closely at the error message that appeared in Mozilla Firefox. It read: As is apparent from the error message, the problem had something to do with "OCSP" and its "response" for "Cert" being missing. Needless to say, disabling OCSP stapling functionality in Firefox instantly resolved the issue. It is important to note that disabling OCSP is not a recommended solution, although, it is a temporary workaround. OCSP stands for Online Certificate Status Protocol, which is a method for obtaining certificate revocation information. Technical jargon aside, Mozilla Firefox refused to display Microsoft's sub-domains because they aren't doing their OCSP due-diligence. Simply put, the security protocol checks for certain certificates, and if they were revoked recently. In the absence of such information, Firefox simply chose not to display the sub-domains. Microsoft has slipped up in the recent past, when it forgot to renew a security certificate. Incidentally, Mozilla Firefox seems to be the only web browser that goes the extra mile to check for such information.

At some point in a device's life comes the time of the dreaded memory wipe. This could be because you're parting company, and you want to make sure it's clean of any of your personal data. Or it could simply be that it's become old and creaky, is struggling under the weight of its year, and it desperately needs a new lease of life. In those cases, a factory reset is a useful option. However, it's something of a nuclear option — when you're done, you'll have what amounts to a new iPhone (from a software perspective). Before you get started, it's a good idea to back up your iPhone before you begin. This will allow you to restore your backup once the factory reset is done. Note: If you're selling or giving away your iPhone, be sure to Turn off Find my iPhone before you reset. Is your iPhone frozen or not responding? Follow our guide on how to reset an iPhone so that you can get back up and running again. You should also check out our troubleshooting guide, because there are many steps you can take to fix problems with your iPhone even if a factory reset doesn't fix your issue. Once your backups are in place, the easiest way to reset your iPhone is in the Settings app. Step 1: Tap General. Step 2: Tap Transfer or Reset Phone. Step 3: Tap Erase All Content and Settings. Step 4: Tap Continue. Step 5: Enter your passcode. Step 6: At this point, your phone will try to back up to the cloud. If it works, you'll be allowed to continue. If not, you'll be prompted to Erase anyway Once the restoration process is complete — a process that may take up to several minutes — check to ensure your phone has been restored to its original factory settings. If done correctly, you'll once again be presented with the iOS Setup Assistant upon startup, from which you can then restore your phone from a backup or continue the process as if you were setting it up anew. It's like it just came off the assembly line all over again. When you're resetting your iPhone, iOS presents you with a host of different options, and it can be confusing deciding which ones to choose. Usually, you'll want to perform the aforementioned factory reset, but here's an explanation of what the other options do so that you can choose the best reset for your needs. Note: If you are selling your phone or turning it over to someone else, the only command that safely erases everything and takes your phone back to its original state is Erase All Contents and Settings. If you choose this option, you won't lose all your data, but you will lose your settings and Wi-Fi passwords. Manual settings will disappear, sure, but you'll still have your pictures, apps, and other content. This is the option we described at the start of this post, which erases everything from your device. Your settings, pictures, apps, and other data will vanish for good — unless you've backed up your content. Sometimes you just need to refresh your network settings to set up a better connection. Choosing this option resets your network settings, flushes the cache, and deletes any temporary files you have stored on your device. It's great for those who are experiencing trouble with various Wi-Fi connections. While it can often lead to a good laugh, your iPhone's autocorrect system sometimes hopelessly botches a sentence or word that was fine in its original form. There is still hope if you're constantly getting typo suggestions and irrelevant words when typing messages. This is a simple resolution to autocorrect failures that involves wiping your keyboard dictionary's history. Many users enjoy installing and rearranging apps on their smartphone's home screen. If you get bored of the same old format, you have a surefire way to make a sporadic yet drastic change. Resetting is a great option if you want to return to your iPhone home screen's factory default layout. Oftentimes when you're pushing a bunch of buttons and experimenting with your settings, you can accidentally cause problems. If you need to reinstate your phone's initial privacy and location settings, you may want to consider this reset. You don't have to worry about losing any other information in the process.

Niantic indeed knows how to properly celebrate the holiday season, and it shows in Pokemon GO. Trainers are showered with fun events, new Pokemon, useful bonuses, and many other things that returned the spark in the game. This time, starting on Christmas Day, which is on December 25, 2021, a new special Winter Wonderland mini-event will take place. As mentioned, it will start on December 25, at 10:00 a.m. local time, and this event will bring Trainers bonuses, new Field Research tasks with Holiday Delibird and Shiny Holiday Delibird. Other than this, Pokemon GO fans will have a Collection Challenge, a debut of a Pokemon, and some new costumed Pokemon. If you complete the Collection Challenge that will be featured during this mini-event, you will get an encounter with Galarian Mr. Mime. We have had a few Collection Challenges where we had to catch certain Pokemon, evolve them or trade them. In this particular Collection Challenge, from what we know, you should trade a few Pokemon to complete it. Due to this, Niantic has made it easier for all of us and increased the trade distance to 40km. The Pokemon that are required to be traded to complete the Collection Challenge are: The Mr. Mime Collection Challenge will be available from December 25, 2021, to December 31, at 8:00 p.m. local time.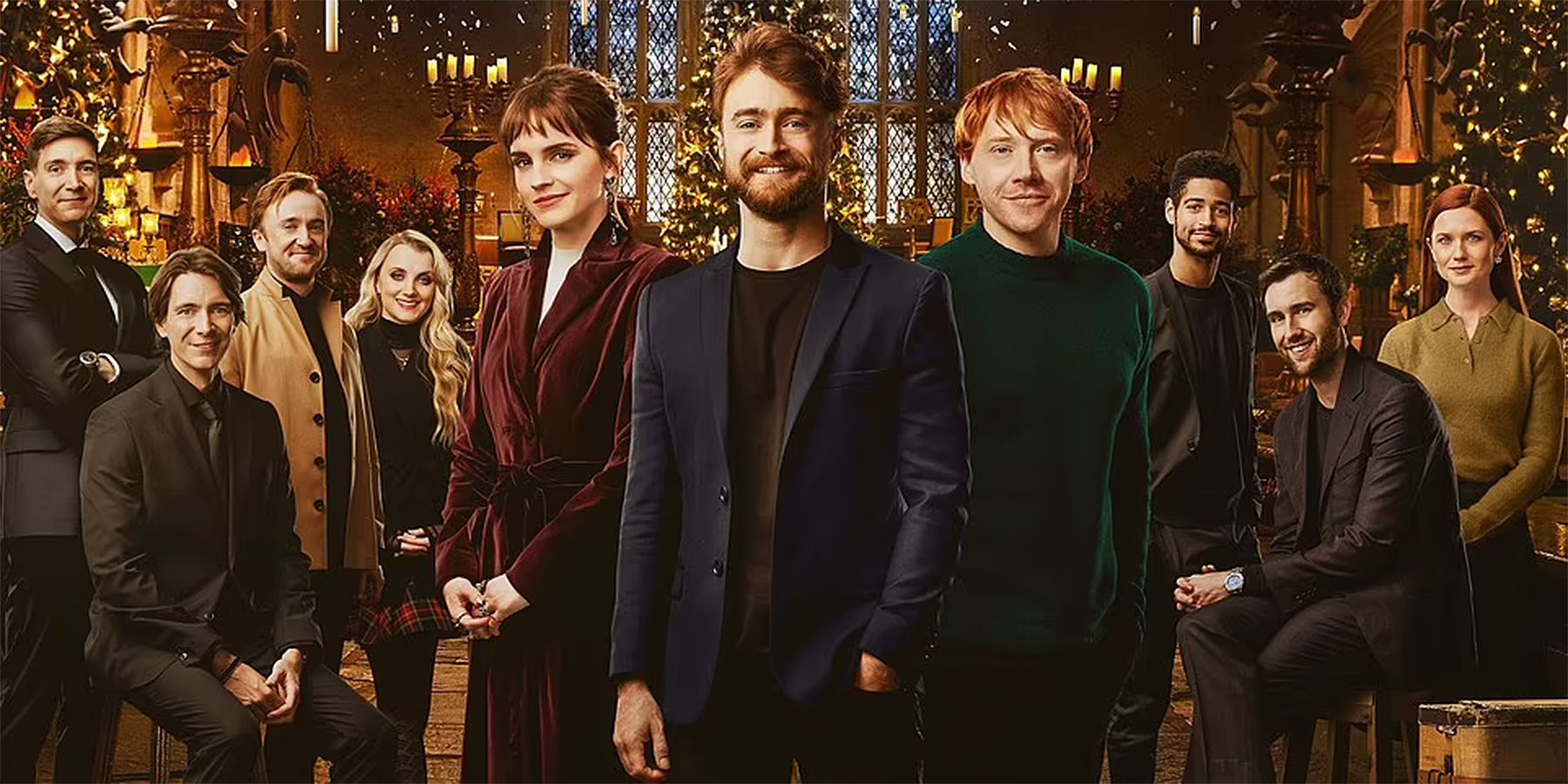 HBO Max has revealed the official poster for the highly-anticipated Harry Potter 20th Anniversary: Return to Hogwarts special, and it is one that is bound to get fans reminiscing about the franchise. The reunion special, which will be available to stream on January 1, brings back the cast of the extremely popular franchise, some of whom are visible in the enchanting poster. The Harry Potter reunion special will mark the 20th anniversary of the release of Harry Potter and the Sorcerer's Stone, which was based on the first book in the extremely popular series by J.K. Rowling. The first Harry Potter reunion special teaser was revealed earlier this month, inviting fans back to the wizarding world of Hogwarts. RELATED: Zack Snyder's Justice League Was The Most-Tweeted Movie Of 2021 The Harry Potter trio of Daniel Radcliffe, Emma Watson, and Rupert Grint are front and centre in the newly released reunion poster, which is set in Hogwarts' iconic Great Hall. They are joined by fellow cast members Tom Felton, James Phelps, Oliver Phelps, Bonnie Wright, Alfred Enoch, Matthew Lewis, and Evanna Lynch. The poster was revealed by HBO Max on its social media channels, with the caption reading, "A moment 20 years in the making." Actors not featured in the poster but who are expected to appear in the special include Helena Bonham Carter, Robbie Coltrane, Ralph Fiennes, Jason Isaacs, and Gary Oldman. Similar to other reunion specials that HBO Max has produced, Harry Potter 20th Anniversary: Return to Hogwarts will include in-depth interviews with the cast members and a unique look at the making of the franchise. The special promises to take fans of the series on a "magical first-person journey" through one of the most popular film franchises. While the Harry Potter books were wildly popular, the film franchise created a whole new loyal fanbase that impacted families around the world. Earlier this week, HBO Max released a Harry Potter reunion photo bringing together Radcliffe's Harry Potter, Watson's Hermione Granger, and Grint's Ron Weasley. The three characters were the protagonists of the series and went through several challenges together. After they didn't appear in the teaser for Harry Potter 20th Anniversary: Return to Hogwarts, fans were worried that they wouldn't be appearing in the special, even though they were confirmed when the event was first announced. So, the image was reassuring. Harry Potter 20th Anniversary: Return to Hogwarts will premiere on HBO Max on January 1, 2022. MORE: 5 Best Non-Christmas Christmas Movies Source: HBO Max/Twitter

It's no secret that Apple is looking to design its own wireless chips, ending its reliance on companies like Qualcomm, Broadcom, and Skyworks. Two years ago, Apple bought most of Intel's smartphone modem business to give it a jumpstart on IP, patents, and engineering talent. Now, according to a report from Bloomberg, Apple is opening an office in southern California in an attempt to recruit talent from Broadcom and Skyworks. According to the Bloomberg report, the Irvine expansion is just beginning and Apple plans to increase its presence gradually. It is hiring engineers to work on wireless radios, radio-frequency integrated circuits, and a wireless SoC. Current Apple products include those parts from Broadcom and Skyworks, both of which have engineering offices in the area. Designing and manufacturing high-performance, reliable, power-efficient wireless radios is an incredibly specialized skill set that is in constant demand. Apple wants future products to have wireless chips that are all designed by Apple and doesn't want them to be second-best, which means it will have to recruit the best talent from existing wireless chip companies. Hence the need to open a local office–telling in-demand engineers they don't need to move makes recruitment a lot easier. Development of wireless chips within Apple has been underway for several years, but it takes a long time to make a great product in this area. It's expected that we probably won't see Apple's own Wi-Fi, Bluetooth, or cellular chips in an iPhone until at least 2023, or perhaps later. The company has long-term supply and licensing agreements with Qualcomm and Broadcom that extend at least that far.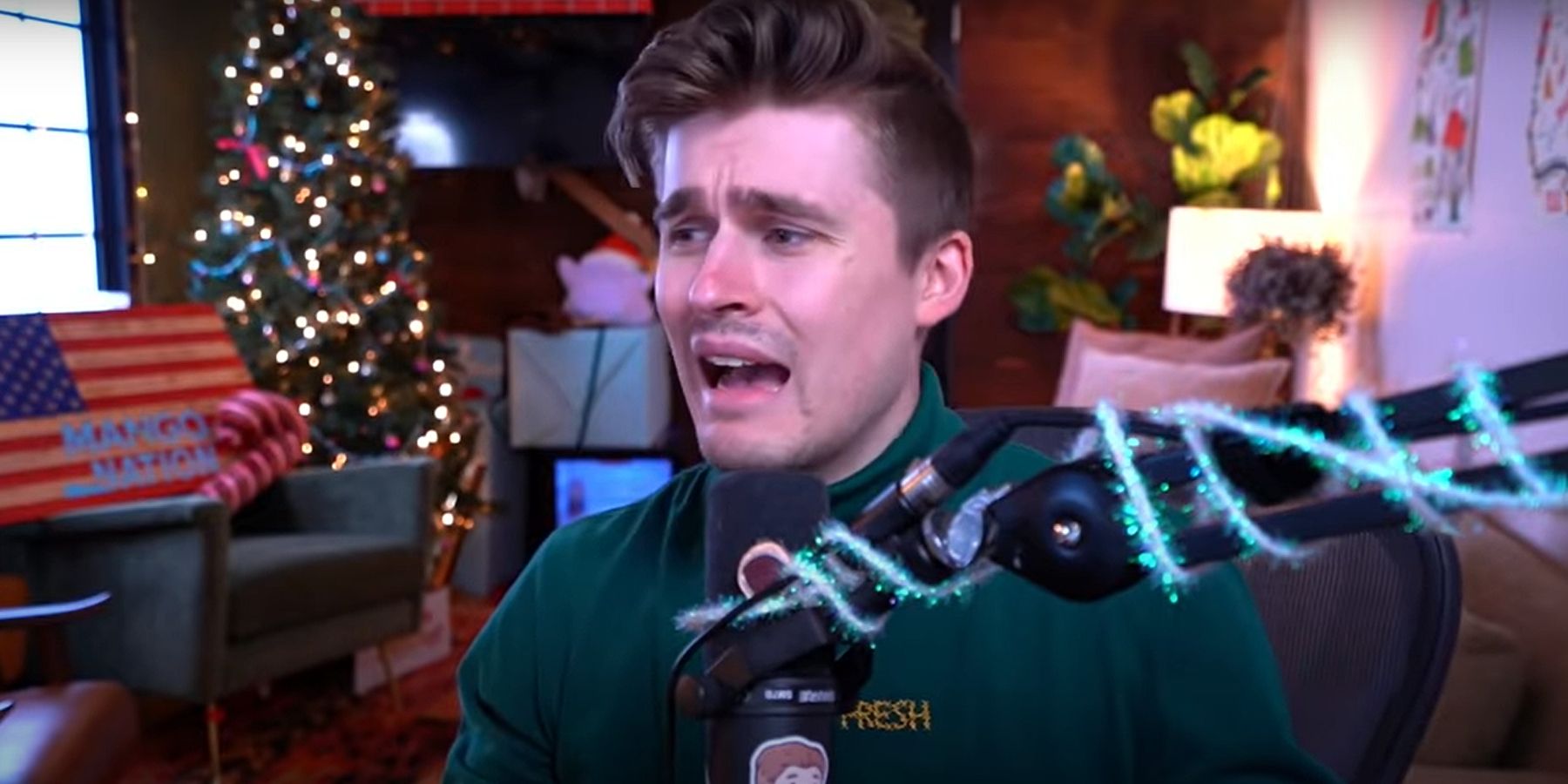 As the year is almost reaching a close, most entertainment websites like Twitch offer tributes to the content and content creators that have kept fans entertained all this time. Much like Spotify's Wrapped, Twitch Recap has a similar function of keeping track of viewers' total hours spent on the site, most-watched categories, and most-watched Twitch streamers. Twitch then collects this data and presents it in a colorful-looking graphic for viewers to post. However, many fans noticed this year that their favorite Twitch streamer Ludwig has been left off their list. While there hasn't been an official announcement as to why this happened, many attribute it to Ludwig's decision to join YouTube gaming and sign an exclusive streaming contract. RELATED: Soulja Boy Threatens to Sue Twitch Ludwig has since tweeted a response saying that while he does understand the decision from a business standpoint, he is sad to see himself erased from his fans' recap. He then thanks everyone who took time out of their day to watch him and that he appreciates his fans on Twitch. Ludwig goes into more detail on his side channel on YouTube called Mogul Gaming. He says that Twitch kept the most-watched games he played in his fan's favorite categories, such as Rust, Pokemon Platinum, and Chess. Sadly, they would take him off of their lists. Ludwig tries to find the bright side in the situation and says that maybe this is Twitch's way of showcasing other smaller streamers still on the platform. However, it was still a bummer for him considering he was active on the site for 11 months out of the year. Many of his fans are siding with Ludwig in this situation and saying that it was the right move for Ludwig to leave Twitch since the website didn't value him. Some even compare Ludwig's legacy on Twitch to Shroud and Ninja, saying that while he may not be on the site anymore, he will always be a part of the culture. Many of Ludwig's friends and fellow content creators have also backed him up on Twitter and are critical of Twitch's actions. It will be interesting to see if these actions will convince any other streamers to jump ship and join another platform. Ludwig's subathon earlier this year holds records for being one of the longest streams ever and made Twitch a substantial amount of money from a single creator. Yet, he was still poorly treated by the platform. Luckily, Ludwig remains hopeful going into 2022 and appreciates his fans supporting his creative endeavors. MORE: Dr Disrespect and Ludwig Feud Explained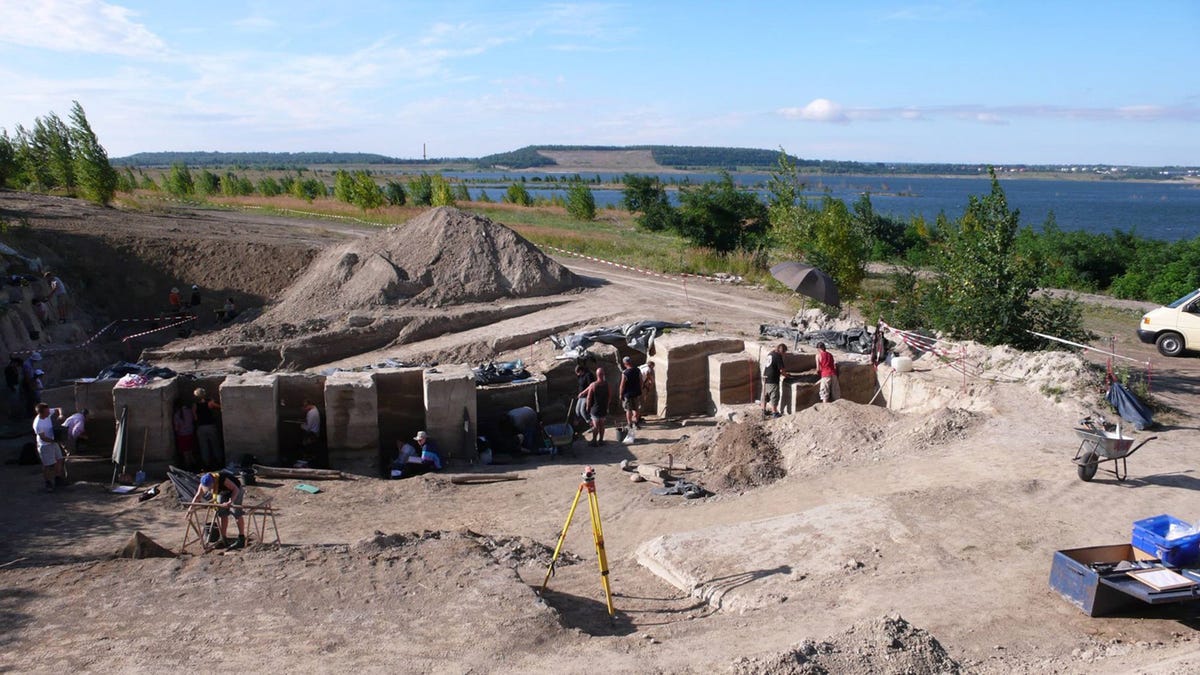 An excavation in Germany appears to have uncovered the oldest evidence of Pleistocene hunter-gatherers making impactful alterations to the local environment. Whether it be clearing forests, damming rivers, or causing dramatic reductions in fauna, altering ecosystems and environments is something that humans do. Anthropogenic, or human-caused, global warming is quite possibly the most profound example of this, but only one of many. Scientists aren't entirely sure when humans first acquired this capacity—the ability to impact the local environment in meaningful and discernable ways—but new research published in Science Advances suggests anthropogenic footprints, though highly local, began to appear at least 125,000 years ago, and that Neanderthals were responsible. That hominins have been reshaping their environments for a long time is hardly surprising. Research from earlier this year showed that modern humans living around Lake Malawi in Africa were impacting the landscape around 85,000 years ago. This latest paper, led by archaeologist Wil Roebroeks from Leiden University, is further evidence—and possibly the earliest evidence—that Pleistocene hunter-gatherers were capable of changing the ecosystems they inhabited by virtue of their daily activities, despite their low population densities. The newly described evidence was found at the Neumark-Nord site in Germany near Halle (it's about a two-and-a-half-hour drive southwest of Berlin). Neanderthals settled this area during the last interglacial—the period between the last Ice Age and the one before that. When the Neanderthals first arrived at Neumark-Nord some 125,000 years ago, the area featured a thick deciduous forest dominated by oak trees, according to the research. Living alongside small lakes, the Neanderthals called this place home for 2,000 years (we know these people were Neanderthals because modern humans had not yet reached this part of Europe). Movie theater quality on the go Just set this baby on a stable surface a few feet up from the ground and enjoy up to 100 inches of 200 Lumen 480p entertainment! Fast forward to today and Neumark-Nord has been split open by lignite mining, exposing the ancient sediments below. Roebroeks's team managed to explore upwards of 62 acres (25 hectares) at Neumark-Nord, finding both paleoenvironmental and archaeological evidence, such as ancient pollen, charcoal, charred seeds, and flint tools, all dating back to this time period. Similar samples dating to the same time period were taken from the nearby sites of Gröbern and Grabschütz, allowing for a comparative analysis. As the analysis of the data showed, the arrival of Neanderthal hunter-gatherers in the area coincided with a "significant" charcoal peak, a "sharp drop" in the number of deciduous trees, and a "rise of upland herbs and plants," indicating the influence of hominin activity, as Roebroeks wrote in an email. The landscape inhabited by Neanderthals, once closed and forested, became strikingly open. Meanwhile, the outlying areas—the aforementioned Gröbern and Grabschütz sites—remained thickly forested, according to the new research. Neumark-Nord stayed this way for 2,000 years, coinciding with the Neanderthal presence. An excerpt from the new paper describes how the Neanderthals were capable of altering their local environment to such a significant extent: Plants were of crucial importance to the Neanderthal diet, as humans cannot subsist on meat alone. Hazelnut, acorn, and blackthorn (also known as sloe plum) were the likely sources of needed carbohydrates, nutrients, and calories. The "increase in upland herbs and grasses," including "wild relatives of wheat and barley, must have enabled easy access to grass seeds, now well established as a widespread component of the Neanderthal diet," the scientists wrote. The paper avoided any hints that Neanderthals deliberately used fire to clear vegetation. Roebroeks said it's currently impossible to tell from the evidence if Neanderthals moved to the area because it had been cleared by natural wildfires, or if the observed dearth of vegetation was caused by Neanderthal burning activities. In his email, Roebroeks admitted this is an "obvious" limitation of the new study. "What we do know is that once Neandertals are in the area, they are using fire on their campsites for a variety of activities, and we find indications for anthropogenic fire use at many locations during an approximately 2,000 year long period," Roebroeks explained. That said, and as the scientists write in their study, "it is very unlikely that herbivores alone would have initiated and maintained open vegetation at Neumark-Nord" over the observed time span. The use of fire dramatically boosted hominin's ability to reshape the environment. Roebroeks said this started around 400,000 years ago, and the case presented in the new paper is a possible example of "the earlier stages of such small-scale fire-assisted reshaping, with earlier cases to be expected." Fire use among hominins may date as far back as 1.5 million years ago, but Roebroeks's point is well taken. We also know that Neanderthals were regular users of the flame, and that they were capable of starting fires themselves, so they weren't reliant on wildfires as a source. The new paper carries important implications for our understanding of Neanderthal behavior. It suggests Neanderthals were clearly capable of altering local vegetation, whether deliberately or accidentally, and they were doing so some 125,000 years ago at the earliest. The new data also suggests some Last Interglacial Neanderthals lived in groups that were larger and less mobile than previously assumed, or at least that's the case for Neanderthals living in Neumark-Nord, which Roebroeks referred to as a "magnet location." Future work will include excavations at other areas in the region and attempts to extract ancient DNA from the sediments, which would paint a clearer picture of the plants and animals local to the area. More: New evidence suggests Neanderthals were capable of starting fires.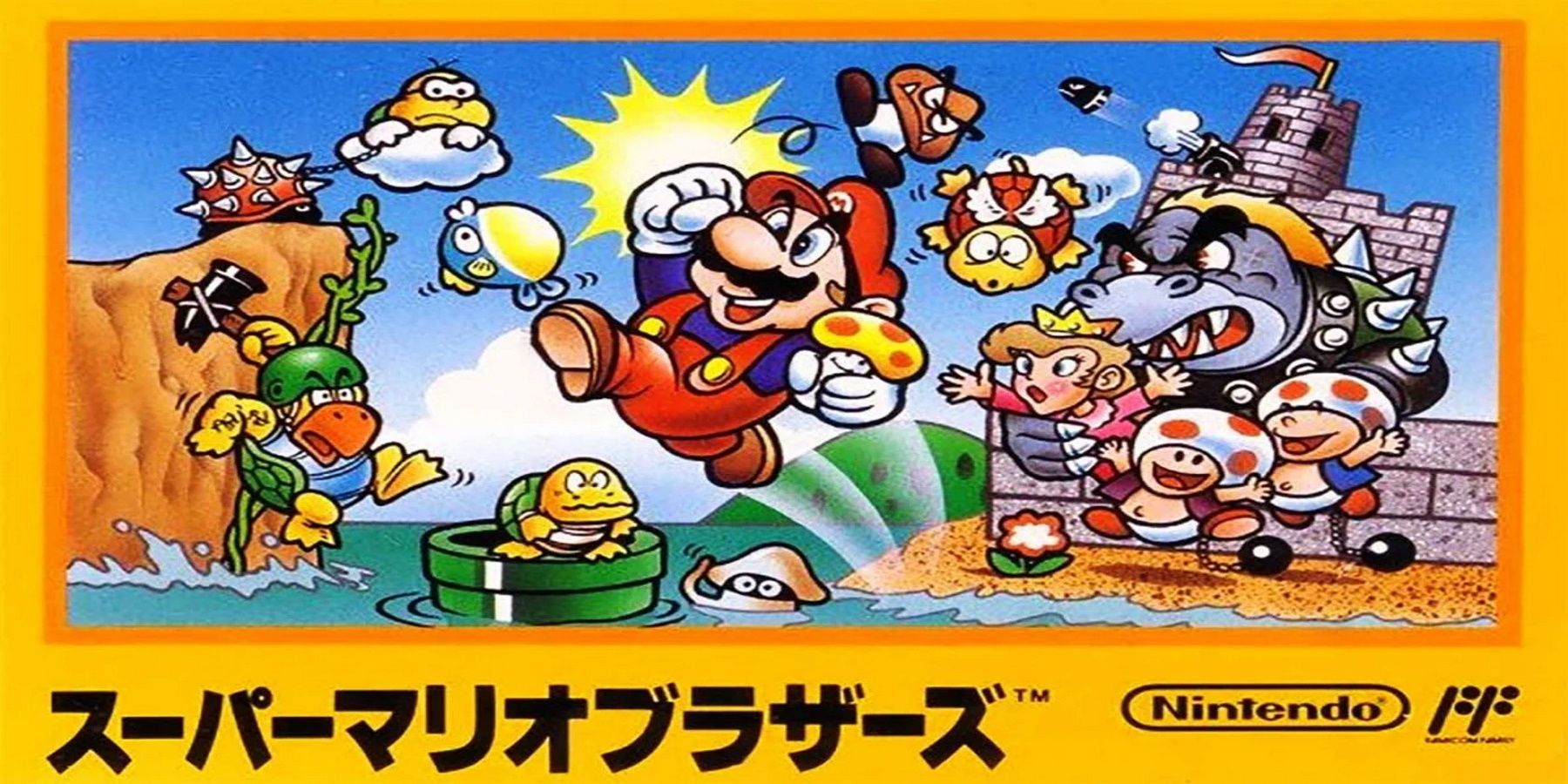 The original Super Mario Bros. is one of the most historically important video games. While it was not the first game featuring Mario overall, it was the first Super Mario game and was definitely the series that made Mario go from being a popular mascot to an international superstar. Although it was partially due to the fact that it came with every Nintendo Entertainment System, the game's success revolutionized the entire industry. Video games were finally legitimized as a source of entertainment, consoles were back on the market, and the platforming genre became one of the medium's staples. One of the reasons people keep coming back to Super Mario Bros. is how timeless it is. Even after countless more advanced platformers have been made, including Mario games on the very same system, Super Mario Bros. remained accessible and grounded enough to stand the test of time. The most dated thing about it is the limited graphics, which says a lot about its strong design. Another reason why the game remains relevant is its secrets. There are plenty of hidden elements, intentional or otherwise, in Super Mario Bros., adding even more replay value. RELATED: What The Mario Movie Needs To Do To Be Successful Alternate paths have always existed in the mainline Mario games, but because of the overworld maps in Super Mario Bros. 3 and Super Mario World, it can be easy for one to think that the idea of having shortcuts in the series came from these games. However, Super Mario Bros. did it before both of them, and its take on alternate paths is perhaps its most memorable secret. Since there is no world map, the player must rely on their knowledge of the level design to access the Warp Zones. There are three Warp Zones in the game. The first one is in World 1-2, accessed at the end of the level. By hopping on the brick wall and walking to its end, Mario can choose between three useful Warp Pipes. Each of them will bring him to a different world: either the second, third, or fourth one. Naturally, players that want to beat the game as fast as possible will usually pick the pipe the takes them to World 4. World 4 itself has two different Warp Zones. The first one is in 4-2, accessed in the same way as its counterpart in World 1-2, but it only has one Warp Pipe that leads to World 5. If the player hits a hidden block midway through the level, said block will spawn a vine that will lead to the other Warp Zones in World 4-2. Players can choose to warp to either the sixth, seventh, or eighth world. World -1 (pronounced "minus one") is a glitch level accessed through unorthodox ways that became famous over the years. Like the first Warp Zone, it is accessible through the last stretch of World 1-2. To get to World -1, the player must first break the second block from the right of the Warp Pipe at the end of the normal path taken to finish World 1-2. They must then jump to the right in a backward stance while ducking. This will allow Mario to walk through the brick wall that normally separates the three Warp Pipes that lead to alternate paths and the bigger Warp Pipe that leads to the regular end of the level. Falling into the first pipe the player can reach will take Mario to the famous World -1. World -1 itself is an endless underwater Super Mario level that can only be exited by turning the game off or letting the timer reach zero. As a bonus, performing the walk-through-walls glitch and going through the second Warp Pipe will take Mario to World 5, bypassing three worlds and a half with the use of a simple combination of commands. While games like Super Mario Bros. 3 and Super Mario World have collectibles and secret levels that are tough to acquire before beating the main game, Super Mario Bros. has a typical postgame. Once the game is beaten for the first time, it informs the player of a "new quest" that can be accessed by pressing the B button. This new quest has the same levels as the regular game, but the difficulty has been increased. Goombas have been replaced by Buzzy Beetles, who cannot be killed by fireballs. The general speed of enemies was increased. Moving platforms got smaller. Firebars and Bullet Bills were also added in levels that did not feature them beforehand. These additions make beating the game worthwhile and give players a reason to revisit it. Super Mario Bros. is available on NES and the Switch via Nintendo Switch Online. MORE: Sealed Copy of Super Mario Bros. Sets New Record at Auction

The big picture: Uber has announced a partnership with driverless vehicle technology provider Motional to provide "autonomous" food deliveries to select customers early next year. It's Uber's first on-road delivery partnership with an autonomous provider, and if everything goes according to plan, it could represent the first phase of a new business model for the ride-hailing and delivery company. The two companies said trials will begin in early 2022 in Santa Monica, California. Motional will deploy its all-electric Hyundai IONIQ 5-based robotaxis, which are SAE Level 4 vehicles, for the job complete with in-vehicle modifications to accommodate food delivery. Initially, customers will only have access to a curated set of meal kits from select restaurants rather than the full array of options available through the traditional Uber Eats service. A Motional spokesperson told Engadget that the service will launch with safety operators present in vehicles, meaning it's not quite a 100 percent autonomous operation – at least, not yet. Motional also wouldn't share how many vehicles it plans to put on the road, nor do we know what hours it'll operate or if the self-driving delivery vehicles would run in inclement weather like rain or fog. Uber found itself between a rock and a hard place when the pandemic set in and lockdown efforts went into effect. Newly minted CEO Dara Khosrowshahi ensured investors that the company had enough money to ride out Covid-19, and started looking to new streams of revenue to get through the outbreak. That summer, the company purchased food delivery service Postmates for $2.65 billion before snapping up alcohol delivery service Drizly for $1.1 billion this past February.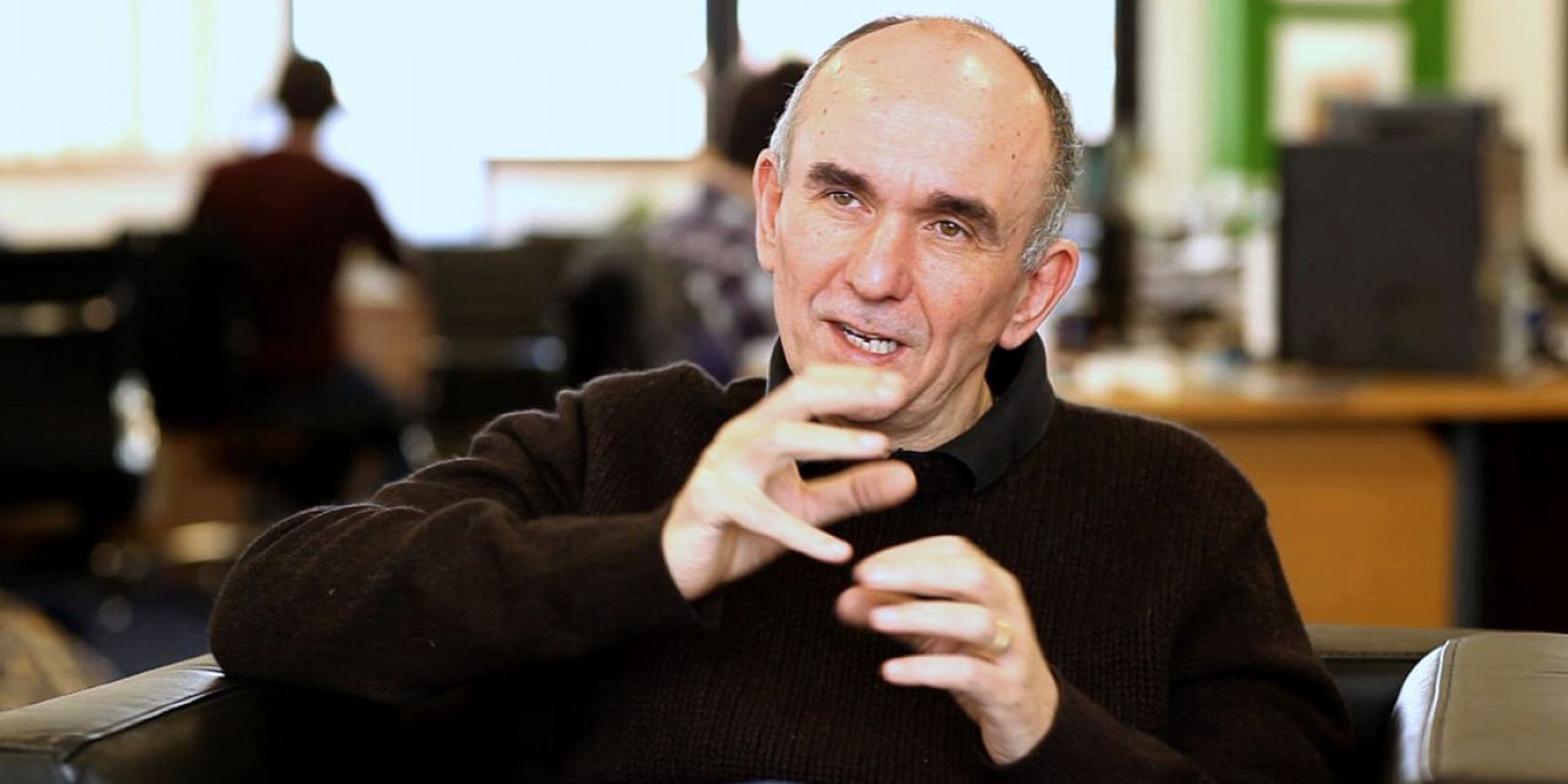 Peter Molyneux is a unique figure in the world of video games, famously known for his enthusiatic – sometimes overtly so – way of generating excitement and buzz for projects that he's worked on. As the founder of Lionhead Studios, Molyneux's creative mind had brought the gaming world titles such as Black & White, as well as the Fable series. Despite often not delivering or fully realizing the initial concepts of the games helmed by Peter Molyneux, one could argue that his bold and ambitious vision has been a net positive for the video game industry as a whole. However, Peter Molyneux's latest project – a video game titled Legacy – is unconventional to say the least. Described as an innovative game that utilizes blockchain technology, Legacy requires players to buy a "Land NFT" – which permits them to construct buildings and create digital products to sell within the game's marketplace to other players, essentially letting a person become a digital entrepreneur of sorts. The game's currency of choice is LegacyCoin, part of the Ethereum blockchain, thus allowing players the opportunity to potentially earn real money through gameplay. RELATED: Peter Molyneux is Done with the Press After 'Godus' Controversy While the game has yet to be launched, with a tentative release date of 2022, the opportunity to buy Land NFTs was made available this weekend, and some of the plots sold for ludicrous amounts of real money. Namely, a digital plot of land in "London" sold for $900,000 – with the total value of Land NFTs exceeding that of over $40,000,000. Given that players do not have access to the game, and the potential of earning back the invested money hinges on Legacy releasing in 2022 as a popular title, one might describe the decision to buy virtual land for a virtual business for an unreleased game a speculatory gamble, banking on the initial hype more than the actual interest. Unfortunately, the legacy of Peter Molyneux's new game development studio, 22cans, does not inspire a great deal of confidence. Its first title, a god-simulation named Godus, is still listed as an Early Access game on Steam, having not received any update in over five years and being abandoned in all but name. Given that the gaming community at large is split on the concept of NFTs as a model of commerce in video games, with Steam banning games that use NFTs entirely, the interest in Legacy may be much lower than the cost of its land might indicate. MORE: Peter Molyneux's Studio 22Cans Hit With Layoffs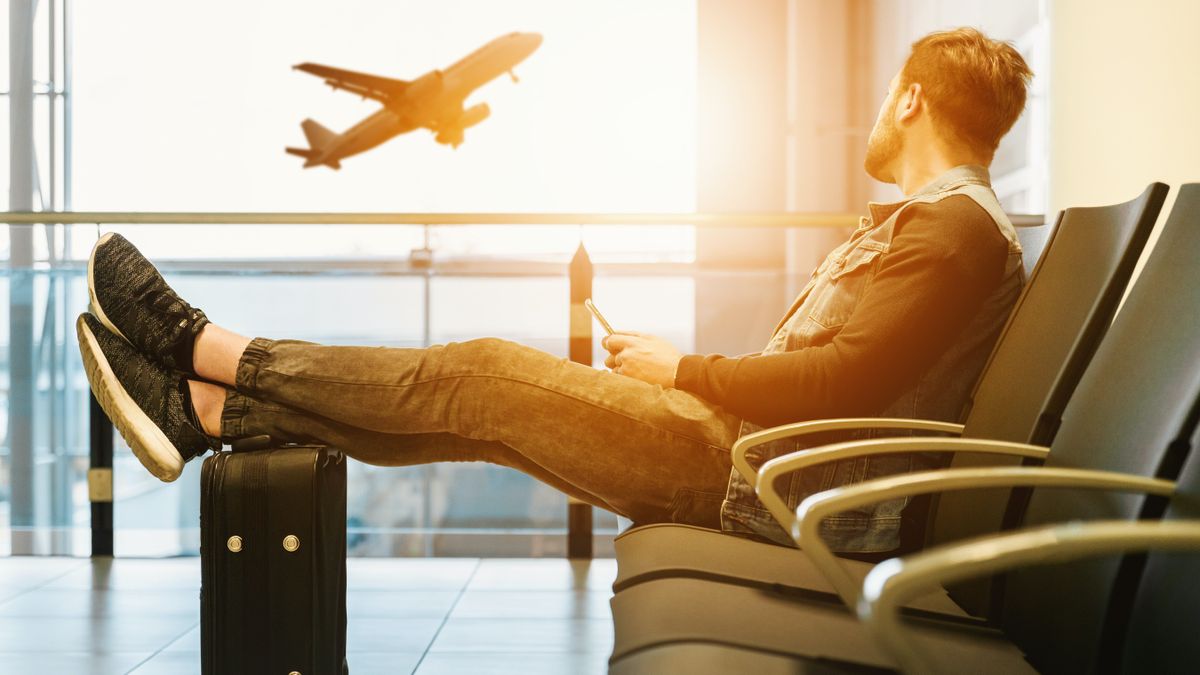 US airlines have warned that plans from Verizon and AT&T to deploy C-band 5G could lead to the disruption of thousands of flights and cost air travelers $1.6bn in delays. At a recent US Senate Commerce Committee hearing, chief executive executive at United Airlines, Scott Kirby explained that the rollout of 5G services using the C-band spectrum could delay, divert or cancel around four percent of daily flights, according to a new report from Reuters. Kirby also noted that once the Verizon and AT&T resume their rollouts of C-band 5G on January 5, the airline's pilots "will not be able to use radio altimeters at 40-something of the largest airports in the country". This means that in the event of bad weather, cloud cover or even heavy smog, pilots would only be able to do visual approaches as their altimeters could be affected by potential interference. The trade group Airlines of America (A4A) also said that if the FAA 5G directive had been in effect in 2019, "approximately 345,000 passenger flights, 32 million passengers and 5,400 cargo flights would have been impacted in the form of delayed flights, diversions or cancellations". The Federal Aviation Administration (FAA) recently issued a set of airworthiness directives that ordered the revision of airplane and helicopter flight manuals to prohibit some operations that require the use of radio altimeter data when in the presence of C-band 5G signals. The government agency also plans to issue notices if necessary to "state the specific areas where the data from a radio altimeter may be unreliable due to the presences of 5G C-band wireless broadband signals". Although airlines are taking issue with the rollout of C-band 5G, the wireless industry has defended the technology as 5G operates safely and without causing harmful interference to aviation operations in almost 40 countries around the world. In addition to delaying the commercial launch of their respective C-band wireless services, AT&T and Verizon have both adopted precautionary measures for six months in an effort limit interference. As it stands now, we'll just have to wait and see as to whether or not C-band 5G leads to the disruptions to flights US airlines are worried about. We've also featured the best 5G smartphones, best business smartphones and best mobile plans for business Via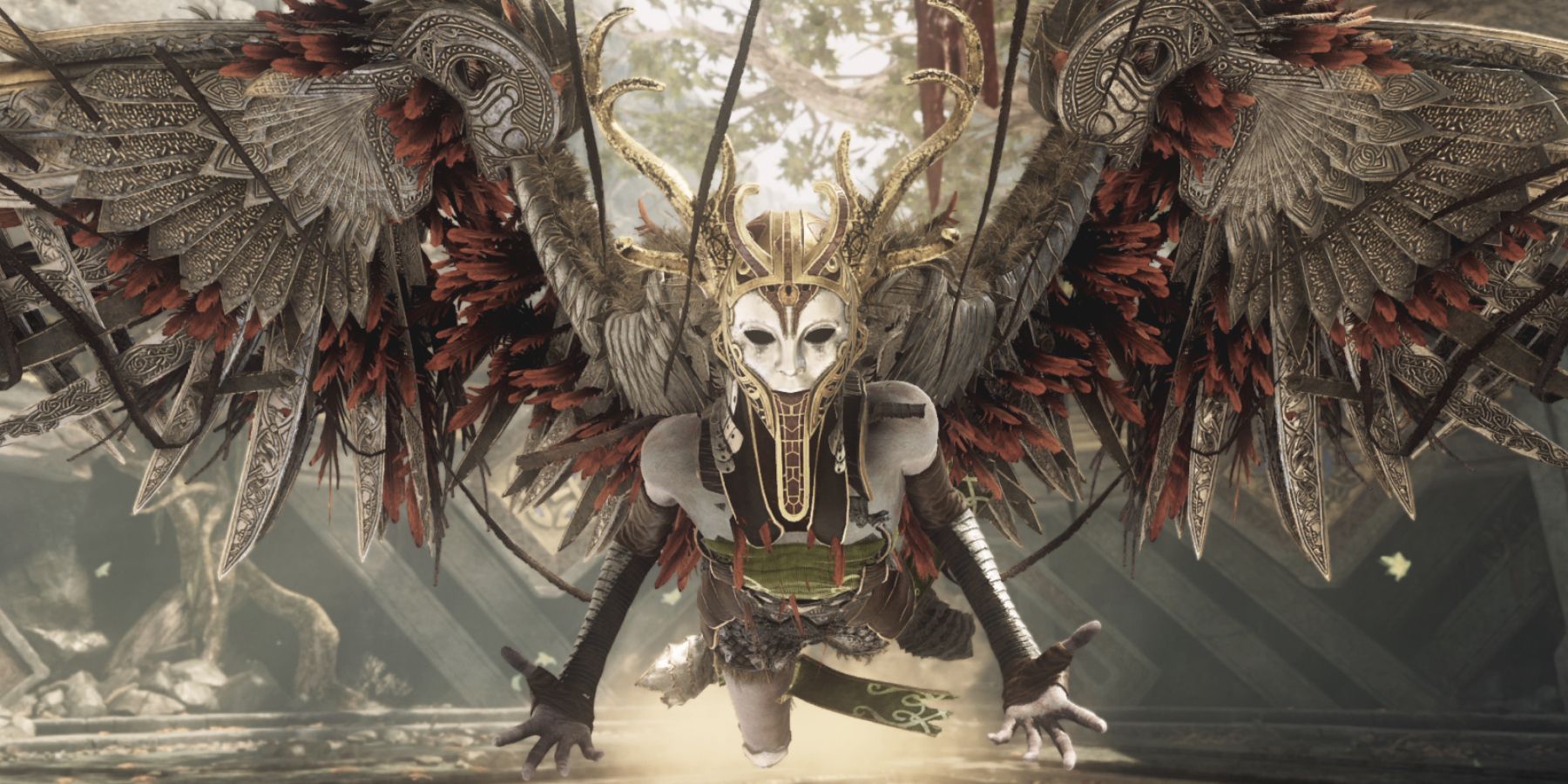 God of War has one of the best endgame challenges in video games thanks to Sigrun and her Council of Valkyries. After completing the main story (or before, if players grind hard enough early on), players can adventure through the realms and find various Valkyries that have been imprisoned by Odin. Mimir warns Kratos and Atreus that he can't think of a more formidable foe than a Valkyrie, and he's quite right. In God of War, the Valkyries are the most challenging bosses, demanding resilience, determination, and a lot of grinding. The Valkyries serve as a great motivator for players to fully complete the game in preparation for the fights, and the boss fight designs are incredible, requiring players to use everything they've learned in the game. Something would be missing if God of War: Ragnarok didn't implement a similar challenge, but what that challenge could look like is up to speculation. RELATED: God of War: Ragnarok Didn't Need The Game Awards, But TGA Needed It There are a lot of things that make God of War's Valkyries special, and one of the main ways is how they continue to build upon Norse mythology and teach the player about the world. The Valkyries are an important part of Norse mythology and deserve the spotlight. There's also an interesting story surrounding the Valkyries' imprisonment, which makes the challenge worthwhile. Valkyries are an elite class of female warriors that collect soldiers from the battlefield and determine which ones are worthy of going to Valhalla, which, rather than being a paradise, is more of a training ground for the Einherjar. The Valkyries train the Einherjar in preparation for Ragnarok, where they will fight for Odin. Valkyries are legendary and formidable, as anyone who has accepted the God of War challenge has experienced. In God of War, Kratos and Atreus find Valkyries locked up, having been imprisoned in their physical forms. The story slowly unfolds as Kratos and Atreus hunt down and free each Valkyrie, revealing that Odin corrupted the Valkyries after Freya lost her position as the Valkyrie Queen. When he corrupted them, Odin trapped the Valkyries in their physical forms. Being in a physical form is not natural for a Valkyrie, and causes them to go insane after a prolonged period of time. When Sigrun realized what Odin had done, she made the decision to imprison the Valkyries and herself so that they would not put anyone in danger. By destroying their physical bodies, Kratos and Atreus free the Valkyries and restore the lost Council. For God of War: Ragnarok to do something similar to the Valkyrie challenge, the most straightforward idea is that there could simply be more Valkyries. Kratos and Atreus faced the Council of the Valkyries, which was made up of 8 Valkyries and their queen, but there are many, many more than just those 9 that could pose interesting and unique threats. At least two new Valkyries are confirmed to appear in God of War: Ragnarok: Hrist and Gna. Erica Lindbeck and Evanne Elizabeth Friedmann anounced their roles on Twitter back in September, so that's at least two Valkyries that will be present. Technically in Norse mythology, Gna is a servant of Freya rather than a Valkyrie, but this wouldn't be the first liberty Santa Monica has taken with the original mythology. Apart from Hrist and Gna, there are dozens of other Valkyries that were never named in the previous game. Simply repeating the Valkyrie formula could feel a little lackluster, but it's definitely possible. Considering that the true Valkyrie Queen Freya will play a large antagonistic role in Ragnarok, Valkyries may play a bigger role in the main story this time. The only thing is that the challenging Valkyrie bosses were optional, and Freya is probably a main villain. She plays a significant role in the story and threatened Kratos pretty dramatically at the end of the first game, so she'll be tracking Kratos down rather than the other way around. Unless the final Valkyrie boss is Freya with her wings, it's hard to imagine anyone that would top the infamous Sigrun. RELATED: God of War: Ragnarok Developer Ready To Start Work on Its Next Game However, it's very possible that God of War: Ragnarok will go in a completely different direction. Valkyries will be present in the game, but they may not be foes. Instead, it's very possible that players will be fighting high-ranking members of the Einherjar. The Einherjar is Odin's personal army comprised of the best warriors, hand-picked from the battlefield by the Valkyries. In preparation for Ragnarok, they spend their days training for battle and get drunk in their free time. Come Ragnarok, the Einherjar will fight to defend Odin and Asgard. The Einherjar is an entire army, not a small group of elite soldiers, but every army has to have some sort of ranking system. Just like nine Valkyries found themselves on the Council, there are probably high-ranking, especially skilled members of the Einherjar who act as generals or gatekeepers of some kind. Especially considering how relevant the Einherjar are to Ragnarok, it would be fitting to have them be God of War: Ragnarok's challenge. They spend almost all of their time fighting, which means they could make worthy foes for Kratos. The great news is that whether they serve as the Valkyrie-esque endgame challenge or not, the Einherjar are confirmed to appear in God of War: Ragnarok. Mimir specifically mentions them just before Kratos and Atreus fight Sigrun, which could be foreshadowing, and there are already some confirmed voice actors. Laura Stahl, Anna Brisbin, and Aaron Phillips all confirmed on Twitter that they are playing members of the Einherjar. One way or another, the elite class of warriors will be in the game, and since they're Odin's puppets, they'll pose a threat. The Einherjar are also closely related to the Valkyries, who help train them to become better warriors, so it's fitting from every angle. Whatever the endgame challenge is in Ragnarok, though, the story might force it to look a little different. If the world ends, there won't be a lot of exploring to do after completing the main story, and the Einherjar will have met their end. If Ragnarok has a more rigid conclusion, players should still be able to go back before the final boss battle to grind and complete an endgame challenge. Whether it's more Valkyries, the Einherjar, or some other elite challenger, it's important that Ragnarok continues the legacy of God of War's Valkyries. God of War: Ragnarok releases in 2022 on PS4 and PS5. MORE: Santa Monica Studio Asks Players to Share Their Favorite God of War Series Moments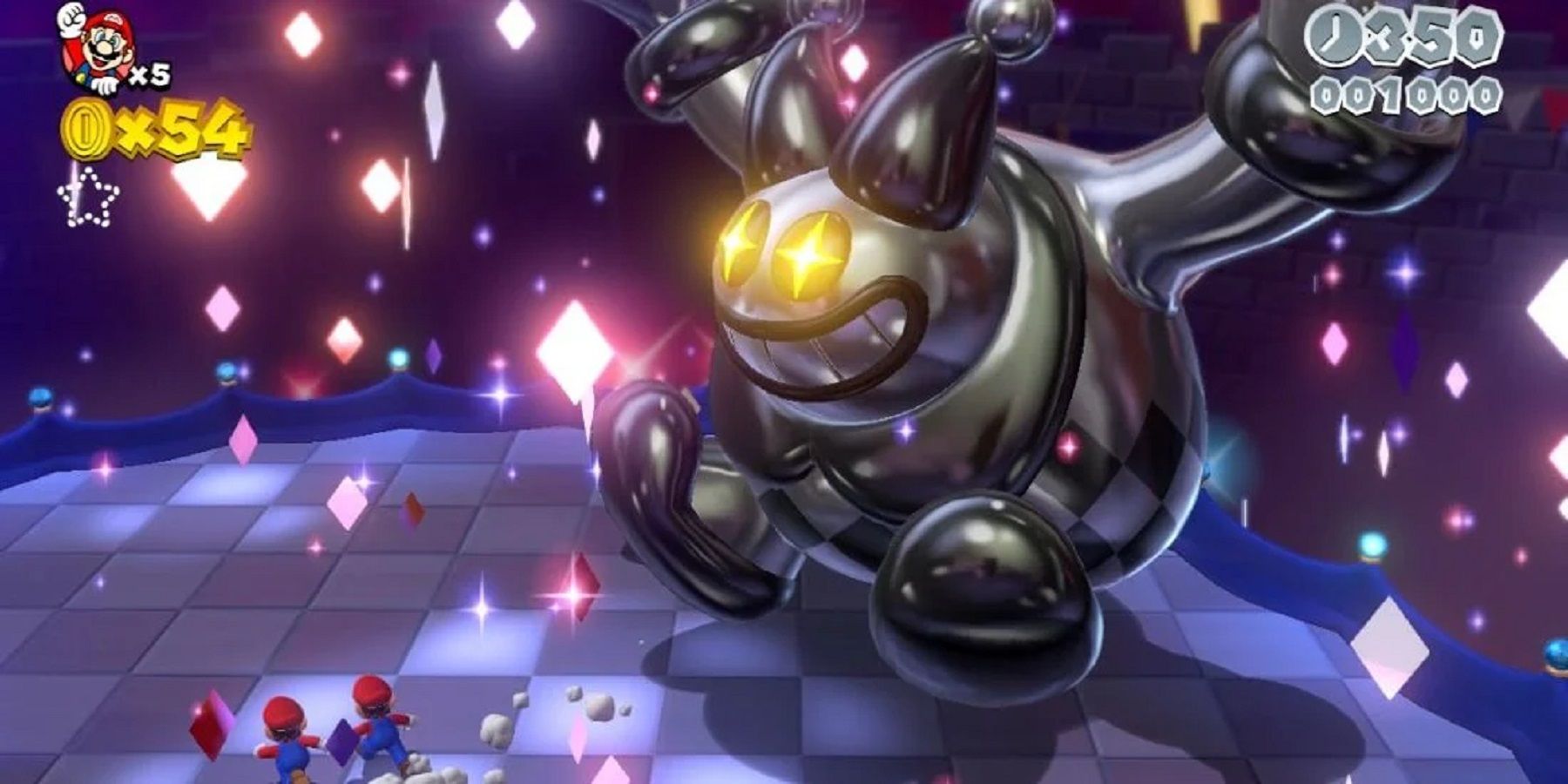 Super Mario 3D World + Bowser's Fury contains a number of exciting bosses, many of which have nothing to do with Bowser. However, the game also contains a few lackluster bosses that may leave players dreaming of a greater challenge. One Super Mario 3D World player shared a video dedicated to taking on what may be the game's greatest fan-created challenge yet: fighting every non-Bowser boss at once. According to YouTuber NinTyler, the mod--which was created by Baconfearmc--couldn't incorporate the Bowser fights thanks to them being anchored to specific boss arenas. The Prince Bully mini-boss appears to be missing for similar reasons, as it might be hard to kick the armored boss across a full-sized arena. However, this Super Mario 3D World mod still features a chaotic array of foes that may be too much for the game to handle. RELATED: Super Mario 3D World + Bowser's Fury Outsold Call of Duty in February NinTyler's video begins by showing the player character, Yoshi, going into a new box and being transported to a large, open boss arena. Once there, several boss fights immediately trigger, revealing King Ka-thunk, Pom Pom, and three separate versions of Boom Boom taken from three separate boss fights. Things immediately begin dissolving into chaos and the whole arena is ringed with bells, but NinTyler still doesn't seem to be satisfied with this level of competition in Super Mario 3D World. After a bit of exploration, NinTyler concludes that more boss fights can be triggered across different parts of the arena and quickly makes a big circuit around the stage. This prompts Boss Brolder, Hisstocrat and Queen Hisstocrat, and Motley Bossblob to take shape and join the brawl. The initial fight is spent grappling with the game engine as much as the crowd of bosses, as there seem to be so many bosses fighting at once that the game has begun to glitch out. NinTyler even spends a while avoiding the cherry power-ups that allow players to make clones in fear that they won't work. After a significant amount of time spent racing around desperately avoiding the seething mass of bosses, NinTyler manages to take down several opponents. This makes the crowd more manageable, which allows the player to tackle the more tactical bosses using a mix of power-ups, determination, and lots of bells. However, even after beating almost every boss in Super Mario 3D World at once, NinTyler still demanded a greater challenge. The YouTuber went on to tackle the mod again, this time while using far fewer power-ups. Super Mario 3D World + Bowser's Fury is out now, exclusively on the Nintendo Switch. MORE: 9 Easter Eggs Only True Fans Caught In Super Mario 3D World + Bowser's Fury

In early 2019, I thought all of my tax documents had arrived in the mail, so I sat down to file my taxes in early March. Everything looked great, so I submitted my return to the IRS and went on about my merry business. In early April, however, an unexpected document popped up in the mail. It was a Form 1099 for a very small amount of freelance work I had done the previous year -- and forgotten about. For whatever reason, the document hadn't been sent to me until fairly close to that year's tax deadline. This was a stressful situation, to be sure. Would I be hit with any fees or interest charges? What documents would I need to file? Should I just "pretend" I didn't see it? (Quick answer to that last one: No.) Here's what you need to know about these situations. Most people receive all of their tax documents by early February and move on to file their income taxes with the IRS before the deadline (in 2022, that's April 18). However, that path isn't always smooth. There are a few reasons why you might not receive a tax document until after you've already filed your taxes. One common reason is that it may have been lost in the mail. If an item isn't delivered properly and gets lost in the mail system, it can show up weeks or months after it was sent. Another reason is that the person or business preparing the tax document was delayed in their preparation. Most larger businesses have accounting services that do this very efficiently on their behalf, but some businesses may try to tackle this on their own. If a business fails to get their own paperwork organized and filed, then they may fail to get your tax documents to you efficiently as well. The IRS deadline for sending most tax documents to individuals is January 31, but businesses can, and do, fall behind that deadline. This can result in documents arriving at your doorstep quite late. If this happens to you, you are not immediately in any sort of trouble. You committed no fraud and did not intentionally miss any deadlines. The IRS is actually very flexible and forgiving in these types of situations. Once you have the document in hand, however, you can't ignore it. The IRS is probably aware of the situation, since the person or business that sent you the tax document has likely also filed it with the IRS. The only reason the IRS wouldn't contact you is if they happen not to notice it. The longer you sit on the document, the more likely you'll face late fees, fines, and other penalties. What happens if you do ignore it? You are committing tax fraud. The question is whether the IRS notices the fraud. Your best approach is to handle it immediately, as that will minimize -- and likely eliminate -- any late fees and penalties. Your best approach with the IRS is always to take action immediately on your own behalf to set the record straight. Follow the steps below as soon as possible to ensure a tax mistake due to someone else's negligence doesn't turn into your own tax fraud. If you wait, you might not be noticed by the IRS. But if they do notice you, you'll face many difficulties and tax penalties. Ideally, you'll have received the tax document before the IRS has contacted you about it. In that situation, the process is straightforward. You simply file IRS 1040-X, which amends your tax return with updated information. If you used tax filing software, you can easily do this within the software. If you used a tax preparer, contact your tax preparer immediately. If the late tax document indicates that you earned more income than you initially reported, this may result in you owing more taxes. Don't worry; the amount of actual tax you owe will always be a relatively small percentage of the new income you're reporting. Don't fear a higher tax bracket, as it doesn't mean you'll suddenly owe a ton more in taxes. If the additional amount you owe is trivial, simply pay it. If it is enough that it may cause you hardship, you should contact the IRS directly to discuss your options. In some situations, particularly if you receive the tax document far past the filing deadline, you may be subject to additional fines or fees. In that situation, contact the IRS directly. You may be eligible to file Form 843, which will request a waiver of those fines and fees. Again, the IRS is flexible with those who are proactive about paying the taxes they owe and will often waive fees in situations outside of your control. How did I handle my own late document? The IRS had not yet contacted me about it, so I quickly filed a 1040-X form along with a small additional tax payment (as the late form showed additional income that I hadn't filed originally). There were no fees involved, and the IRS never contacted me about it in any way. The process took less than 30 minutes. I spent more time worrying about it than it actually took to resolve the situation. If I had waited to file the document, the IRS may have contacted me about it. In that situation, I would have owed the taxes, as well as potential interest on the unpaid taxes and other penalties. Taking care of it immediately and paying the taxes I actually owed made it a minor issue. [This article was originally published on The Simple Dollar in March, 2021. It was updated in December 2021.]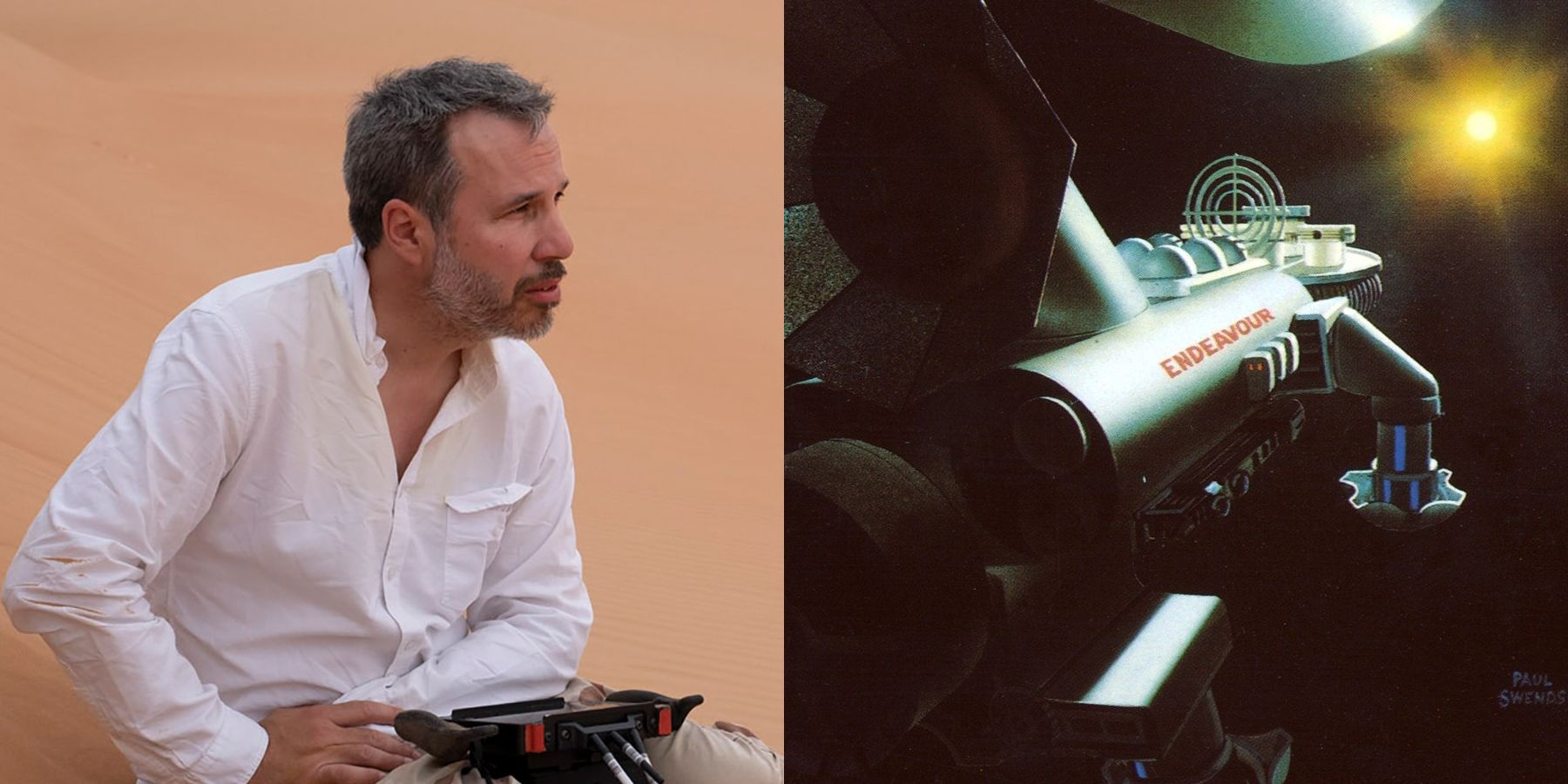 Now that Dune Part 1 has officially been released, it's apparently time for director Denis Villeneuve to start thinking about what projects he wants to take on once both episodes of the massive science fiction film are released. However, it turns out he won't be turning his attention to a project all that different from Dune, as he next wants to work on another classic sci-fi story in Rendezvous with Rama. Villeneuve took on a reboot of a very popular science fiction movie when he decided to redo Dune, and that was met with acclaim. While it doesn't appear that there's anything officially in the works, the director wants to try a slightly different part of the massive sci-fi genre. RELATED: Ridley Scott Reveals Why He Refused To Make His Version Of Dune The Hollywood Reporter has learned that Villeneuve is set to direct Rendezvous with Rama sometime after Dune Part Two is in the can. Morgan Freeman has also signed onto the project as a producer. As of yet, there does not appear to be a cast set for the film, and there certainly isn't any kind of planned release date. Rendezvous with Rama certainly has a different setting than Dune, as this one is set in present times and tells the tale of humanity's first contact with an alien civilization. The Arthur C. Clarke book that the film will be based on involves explorers who intercept and explore an alien spaceship. Alcon Entertainment will finance the project, with co-CEOs Broderick Johnson and Andrew Kosove on board as producers. While it's quite a bit different from what the director has done with Dune, he's not a complete stranger to this kind of science fiction story. Villeneuve treaded similar "alien first contact" ground when he helmed Arrival. It seems likely that he'll be able to turn Rendezvous with Rama into the same kind of grand-scale vision of sci-fi that he's done with his past films. Rendezvous with Rama has quite a bit in common with Arrival, as it turns out as both stories involve the protagonists trying to unravel the mysteries of a visiting race. The book, penned by Clarke in 1973, won several awards and was originally intended as a standalone story. However, the Hugo and Nebula award-winner ended up getting several sequels to continue the story of the crew that found the Rama, as well as the race of aliens that sent the ship towards earth in the first place. At the moment, it's a matter of wait and see as to when production on Rendevous with Rama will begin. Dune is now playing in theaters. MORE: Dune: How Does Spice Make Interstellar Travel Possible? Source: The Hollywood Reporter

Trainers, the Community Day events in Pokemon Go are happening once a month, featuring a specific Pokemon, its shiny forms, and great bonuses. The first Community Day event in Pokemon Go took place on January 20, 2018, featuring Pikachu, and was a great success. Usually, this special Pokemon is accompanied by a bonus, either x2 Stardust, x2 Catch Candy, etc., and has an exclusive move. Also, the Community Day Pokemon shiny form is being released and the odds of getting a Shiny form during the Community Day event is increased 1 in 25. This means it's a lot easier to get a Shiny Pokemon during the Community Day hours, instead of a normal day. Since the first Community Day event in Pokemon Go, we have had a lot of successful Community Day events, 12 in 2018, 12 in 2019, 12 in 2020, and 11 in 2021. There is one more Community Day event in 2021, featuring the 2020 and 2021 Community Day Pokemon. In December 2021, Pokemon featured in Community Day events throughout 2021 will be appearing more frequently in the wild, while Pokemon featured in Community Day events throughout 2020 will be hatching from Eggs and appearing in raids. I would love to see vanillite Ich finde Poke GO wird von mal zu mal schlechter. – Früher hatte man in den Durchbrüchen noch Legis oder besondere Poke's. Nun kriegt man da jeden Monat nur noch Schmutz. – CDay's waren früher was besonderes mit geilen neuen Shiny's. Heutzutage gibt es Wablu, Macho und so einen Mist, was ein Hardcore Spieler, wie ich, schon Dutzendfach als Shiny vor dem Event hat. – Events waren was besonderes, was es eine Woche pro Monat gab. Heutzutage steigt man da nicht mehr durch, weil 3 Events gleichzeitig laufen. Ich habe 4 acc wobei 1x LV 45 und 3x LV 40. Ich habe die App gelöscht und meine Acc verstauben. Ich hoffe die kriegen noch mal die Kurve. Es mancht mehr bock denn jeh und ichspiele seit 2016 wo man noch den preload machen musste. Ich spiele viel und habe weder je ein Wablu noch sonst eines iausserhalb des community days in shiny gefunden ausser mein machollo und 3 shinux. Aber die Pokemon sind gut für PVP und die community days gegen echt was her, nicht so wie früher wo es einfach keinen spass gemacht hat. Beispiel: Quickel oder rizeros, da hat man bei 500 gefangenen ficher am community day 1 shiny gefunden und keinerlei über 60% iv, das ist heute besser, wesentlich besser und es gibt auch die super spezialforschungen die echt spass machen. Du hast dir den spass selbst vertan mit vier accounts und halt gespoofed, selber schuld. Unlikely that Niantic is setting the Dec CD for 26 Dec. It's Boxing day, also December CD is 2 days. Makes no sense. We do some events over again for the people who messed them the last time just saying october is duskull pokemon go already anounced that Thank you for your comment. We updated the list. actually they did announce what the December day would be, it's the 18th and 19th featuring past pokemon from this year All the missed out ones?

December 16, 2021 Facebook parent Meta announced Thursday the shutdown of some 1,500 accounts tied to "cyber mercenary" companies accused of spying on activists, dissidents and journalists worldwide on behalf of paying clients. The Facebook and Instagram pages were linked to seven firms, with services allegedly ranging from scooping up public information online to using fake personas to build trust with targets or digital snooping via hack attacks. Meta unveiled plans to alert about 50,000 people it believes may have been targeted in over 100 nations by firms that include several based or founded in Israel, which is a leading player in the cybersurveillance industry. "The surveillance-for-hire industry. looks like indiscriminate targeting on behalf of the highest bidder", Nathaniel Gleicher, head of security policy at Facebook, told a press briefing. The leading social media network said it deleted accounts tied to Cobwebs Technologies, Cognyte, Black Cube and Bluehawk CI—all of which were based or founded in Israel. India-based BellTroX, North Macedononian firm Cytrox and an unidentified entity in China also saw accounts linked to them removed from Meta platforms. "These cyber mercenaries often claim that their services only target criminals and terrorists", said a Meta statement. "Targeting is in fact indiscriminate and includes journalists, dissidents, critics of authoritarian regimes, families of opposition members and human rights activists ", it added. Unnamed Chinese operation Firms selling "web intelligence services" start the surveillance process by gathering information from publicly available online sources like news reports and Wikipedia. Cyber mercenaries then set up fake accounts at social media sites to glean information from people's profiles and even join groups or conversations to learn more, Meta investigators said. Another tactic is to win a target's trust at a social network, then trick the person into clicking on a booby-trapped link or file that installs software that can then steal information from whatever device they use to go online. With that kind of access, the mercenary can steal data from a target's phone or computer, including passwords, photos, videos, and messages, as well as silently activate microphones, cameras and geo-location tracking, according to the Meta team. Bluehawk, one the targeted firms, sells a wide range of surveillance activities, including managing fake accounts to install malicious code, the Meta report said. Some fake accounts linked to Bluehawk posed as journalists from media outlets such as Fox News in the United States and La Stampa in Italy, according to Meta. While Meta was not able to pinpoint who was running the unnamed Chinese operation, it did trace "command and control" of the surveillance tool involved to servers that appeared to be used by law enforcement officials in China. "In some instances, we found this group's malware framework deployed along with facial recognition software developed by a Beijing based company", the Meta report said. © 2021 AFP 3 hours ago 0 4 hours ago 0 5 hours ago 0 Dec 15, 2021 0 Dec 15, 2021 2 10 minutes ago 1 hour ago 3 hours ago 4 hours ago 4 hours ago 4 hours ago 5 hours ago Mar 24, 2021 Dec 01, 2021 May 06, 2021 Nov 01, 2021 Oct 29, 2021 Jul 15, 2021 Dec 15, 2021 Dec 15, 2021 Dec 13, 2021 Dec 05, 2021 Dec 04, 2021 Nov 24, 2021

Posted by Jeremy Hellstrom| Dec 16, 2021| Systems| 0 The only industry which might have seen some benefit to the dearth of GPUs are boutique system builders, who will sell you an entire system for about the same price as a decent GPU would cost you on it's own. Of course they too suffer from limited inventory, they might be able to get a GPU a little easier than your average consumer but it is still a non-trivial task for them to keep up inventory. Allied Gaming is a system builder located in Australia, for those of you that might be in that part of the world it is worth a look as it was started by someone that once worked with a far more familiar name, Origin PC. The Allied Patriot-A features a low hash rate RTX 3070 as well as a Ryzen 5 5600X and 16GB of DDR4-3200 with a 500GB NVMe SSD. The company focuses on keeping things simple and making it easier for inexperienced customers to get a system to fit their needs without bombarding them with details on the components inside. They do list them if you do prefer the full specifications, but if you know someone who is shopping for a PC who is easily frustrated by long lists of components Allied Gaming is an interesting alternative. They even offer an upgrade program so you can get extra life out of your purchase. The Allied Patriot-A model TweakTown tested was well built inside and out, with exactly the performance you would expect from the components used. If you happen to be in or near Australia check out the system as well as the details of shopping with Allied Gaming right here. Share:

The Chromecast with Google TV is the latest streaming player from Google, packed with the full Android TV operating system and a custom Google TV interface (which is slowly making its way to other TVs and players). There have been a few sales on the Chromecast with Google TV, and now it's discounted again to $39 at multiple retail stores. That's $10 off the original price, and it matches this year's Black Friday and Cyber Monday prices. The Chromecast with Google TV is a 4K streaming player with a full Android TV/Google TV operating system, so unlike the original Chromecast and Chromecast Ultra, it's a self-contained media player with its own Play Store and downloadable applications. However, you can still stream video and music from another device with Google Cast, if you want. The included remote supports voice control with Google Assistant, and has dedicated volume/power controls for your TV or audio equipment (similar to the remote on most Roku and Amazon players). Google has been improving the Chromecast with Google TV with software updates over the past few months, including Sling TV integration, Stadia cloud gaming support (which is also available on many other Android TV/Google TV devices), multi-user profile support, more video playback options, Wi-Fi fixes, and more HDMI-CEC settings. Kid Profiles arrived in March, which can turn the interface into a more child-friendly design with highlights for age-appropriate apps. Google is also reportedly planning to add free "TV channels" soon, which will likely function similar to Pluto TV, Plex, and Samsung TV Plus. The Chromecast with Google TV is a great option to replace an older Chromecast or Roku player, or might be the perfect choice for replacing an older smart TV's built-in software. The Android TV platform gives offers more functionality than most other smart TV platforms, especially when it comes to sideloading apps.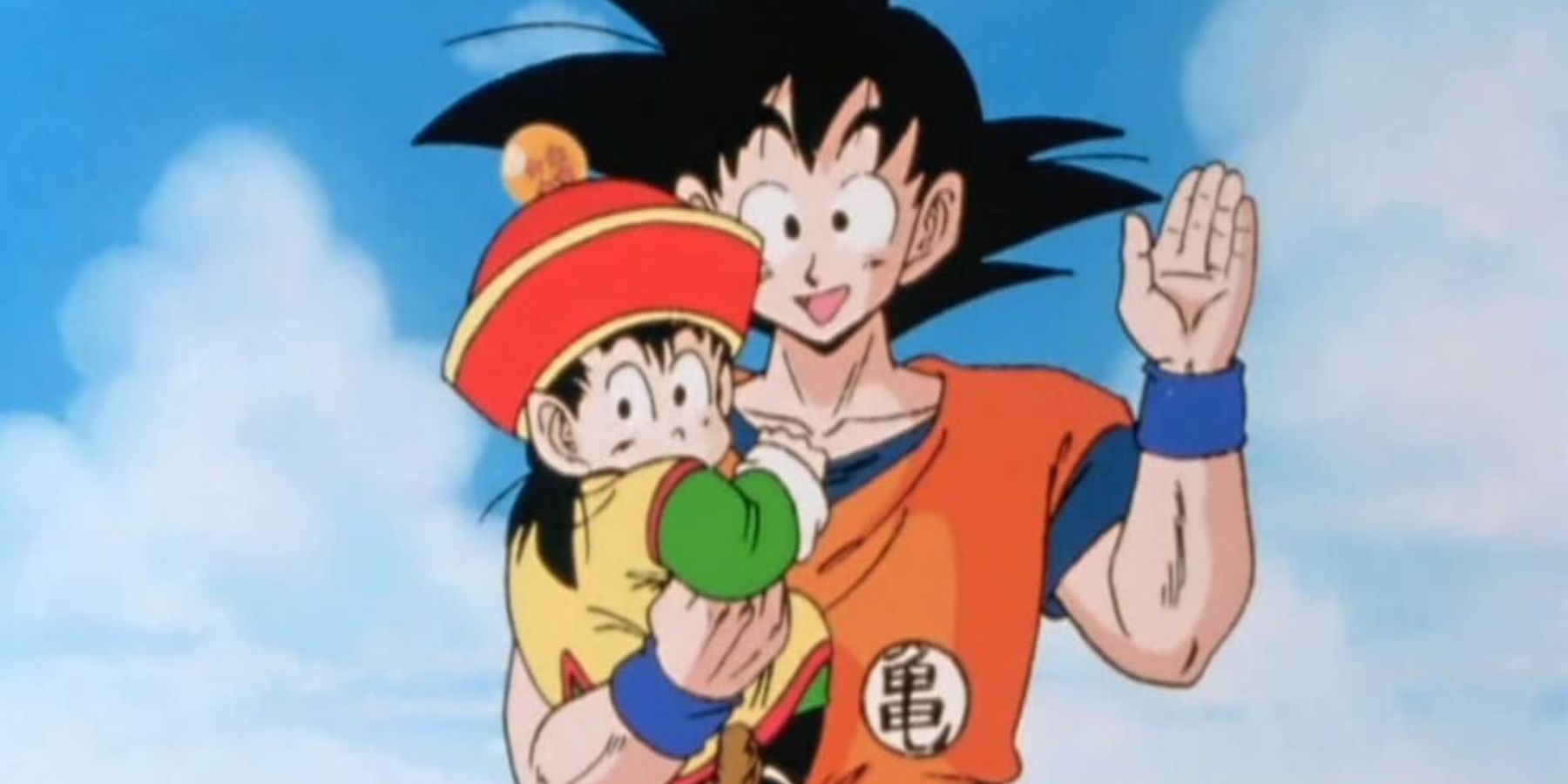 Akira Toriyama's long-running Dragon Ball series has been a favorite of anime fans all over the world since it first began airing in the 1980s. On top of being one of the biggest anime of all time, it also boasts one of the most well-known anime characters as its leading man. Dragon Ball 's lead character Goku is certifiably iconic and beloved among anime fans. Throughout the entire series, viewers first meet him as a child. Audiences followed his journey from this stage, all the way to him being a grown-up. He becomes a father and later, a grandfather. The character is easy to bond with and become attached to. However, he also receives his fair share of criticism. RELATED: Cool Things You Didn't Know About The Slayers Anime Throughout the span of the show, Goku doesn't mature all that much and this can be a point of contention for some viewers. He gets physically stronger and learns how to fight in a smarter way, but his life skills and maturity level never seem to grow. This makes him a little goofy and, sometimes, unintelligent seeming. Because the character does eventually have a family, his nature and actions often make fans question if he's a good father or not. Goku has two sons with his wife Chi-Chi throughout the course of the series. First, he has Gohan, and later in the series he has Goten. His relationship with them is certainly very unique, and definitely different from what most people would feel is a typical father-child dynamic. Some of the ways he interacts with them do make it seem like he's a questionable father, but it's also very clear that he loves his family and his intentions are good. One of the biggest reasons that many think Goku is a bad father, is that he isn't with them as much as people would hope. This is definitely a criticism that makes sense. It's very apparent that martial arts are Goku's main love, and he prioritizes training over time with his family. Goku's wife Chi-Chi tries to keep him home more and gets angry at him always taking off to fight enemies, and it is sad to see. For most of Gohan's childhood, Goku was dead so he missed all of that time. Of course, that wasn't necessarily his fault, but that he doesn't prioritize bonding with his son after that doesn't paint him in the best light. And with Goten, it's rare to see any father-son bonding time. RELATED: The Many Dragon Ball Variants What They Do However, Goku's role is also very important. The bad guys he fights are often threatening to destroy the world or kill many people. In a way, it's not like Goku even has a choice in whether he dedicates his time to fighting them or not because it's a literal life or death situation. Given how Goku just doesn't seem to see his children much in general, it's apparent that most of his time is spent training or doing something else related to martial arts. There are some sweet moments in these training and fighting sessions as well, but it just feels a little shallow and strange. When his oldest son Gohan decides to abandon the martial arts life and become a husband and scholar, he gets made fun of a lot. Even by his father. When his children succeed at martial arts or defeat an enemy to save the day, Goku is incredibly proud. It's in those moments that audiences can see how much he really does love them and how his intentions are to be a good father. His view on being a good father just looks a lot different from what most people would see as a good father. Whether that justifies his actions is what's still up for debate because even the best intentions can have bad results. As previously mentioned, Goku doesn't really grow up-- at least not mentally. Because he is still so young seeming and immature, he does come off a little shortsighted. And because of this, many viewers think he's too dumb to be a good dad. At one point in Dragon Ball Super, Goku even alludes to not knowing what a kiss is. This is extremely suspicious and concerning as he has children. The "Goku is too stupid" argument isn't necessarily wrong, but it does feel a little mean. His level of intelligence isn't really related to how good of a dad he is, or how much he loves his sons. For most of these points, whether Goku is an adequate father or not will come down to interpretation. On one hand, he does seem incredibly absent and doesn't spend much typical bonding time with his children, and he is very childish himself. On the other, he's also a very dedicated person and puts everything on the line so his family is safe. MORE: Sword Art Online: Every Arc In The Anime Franchise, Ranked

A significant number of the Air Force's more than 100 jobs are cyber or IT-focused. "We have a variety of cyber specialties in the Air Force", Leslie Brown, chief of public affairs for the Air Force Recruiting Service, said in an email to ZDNet. "Enlisted applicants will be able to choose from numerous careers such as knowledge ops, or from careers that are mainly desk jobs such as cyber programming, or a career that is a hybrid between a desk job, and on the field such as client systems or a career that is mainly outside such as cable antenna systems." According to Brown, nine cyber-related enlisted jobs are available to people serving in their initial enlistment contract. Two officer cyber-focused officer careers are available. Air Force jobs — and all military jobs — come with unique benefits, challenges, and responsibilities. Some of the benefits include professional hands-on training and job experience, money available for higher education, free on-base lodging and meals, healthcare, and access to military exchange stores, which usually offer lower prices for everything from gas to groceries to household goods. Military members also receive a high level of public trust and respect. In exchange, the military requires you to stay physically fit, obey orders, and perform consistently at a high level — and may require you to relocate or work in hostile overseas environments on short notice. You can't just quit if you're frustrated with a job assignment or supervisor. And most importantly, you may face dangerous, life-threatening wartime or combat situations. If you're OK with those sacrifices, launching your computer science career in the Air Force might be something to consider. Keep reading to learn more about some of the steps you'll need to take. The Air Force's recruitment website has detailed information on the requirements to enlist or serve as an officer. Enlisting in the Air Force gives you the opportunity to work in an entry-level position. Enlisted roles are available to people with a high school diploma or GED. Officers have leadership roles, which requires a four-year degree. Here's a brief snapshot of what you need to know in order to enlist in a computer science-related military career: Enlisted candidate entry requirements include taking the Armed Services Vocational Aptitude Battery test (ASVAB). This timed test measures your aptitude in four areas: verbal skills, math, science and technical ability, and spatial ability. If you're interested in computer science, your ASVAB score and educational background will influence your career opportunities, including Air Force careers in cybersecurity and IT. After taking the ASVAB and meeting the education, health, and citizenship requirements, enlisted personnel must complete the Air Force basic military training. Air Force basic training is conducted at Joint Base San Antonio-Lackland in Texas. The Air Force is also handling basic training for people enlisting in the Space Force. After basic training, also informally known as boot camp, you start training specific to your job. Air Force tech school training is conducted at bases throughout the US. Training time depends on your job and may run from six weeks to more than a year. To become an Air Force officer, several options are available. First, officer candidates must take the Air Force Officer Qualifying Test (AFOQT). If you have a bachelor's degree or are on track to complete your degree within one year, you can apply to and complete officer training school. The Air Force conducts officer training school at Maxwell AFB in Montgomery, Alabama. Another option is entering a college-level reserve officer training corps (ROTC) program. When you earn your bachelor's degree, you'll receive a commission as an officer. You can also apply to and graduate from the Air Force Academy. However, admission to this elite institution is very competitive. The Air Force is offering bonuses to entice people to fill the military's in-demand IT jobs. Bonuses of $12,000 to $20,000 are available for cyber-related jobs, depending on the certification level. If you want to serve but seek even more bonus money, you'll need to look outside the cyber field. For example, enlistment bonuses of $50,000 are available for explosive ordnance disposal and special warfare operators. Prospective applicants should note that bonus amounts frequently change depending on the Air Force's personnel needs. While the military offers the excitement of doing top-secret work that protects national security, Brown said the Air Force recognizes that many airmen want to return to civilian life after working in the Air Force. When those airmen step back into the civilian world, "we feel we are returning outstanding citizens who will make our communities better and may end up at jobs helping us protect our banks, power grids, and economy as a whole", Brown said. Dr. Michael J. Kirchner is an assistant professor of organizational leadership at Purdue University Fort Wayne, where he teaches courses in leadership and human resource development. Dr. Kirchner also serves as the campus' veteran resource center director. Previously, Kirchner oversaw the University of Wisconsin-Milwaukee's Military and Veterans Resource Center, where he guided programming for the campus' 1,500+ military-affiliated student population. Under his leadership (2013-2016), the campus built a nationally recognized "military-college-career" framework focusing on supporting student veteran transitions. Kirchner earned his Ph.D. in human resource development from the University of Wisconsin-Milwaukee. His research on career transitions and leadership development has been published in numerous peer-reviewed journals, including Human Resource Development Quarterly, Advances in Developing Human Resources, New Horizons in Adult Education and Human Resource Development, and Industrial and Commercial Training. Kirchner is the founder and president of Time for Development LLC, where he provides consulting to organizations on military-friendly programming, human resource development strategy, and training design. He served for a year in Baghdad, Iraq, from 2004-2005 as part of the U.S. Army National Guard. Kirchner is a paid member of the Red Ventures Education freelance review network.

It's been over two years since Microsoft first tantalized us with the prospect of Windows 10X and the Surface Neo. While the Neo is still not officially dead (it wouldn't be the only Neo to be resurrected), Windows has moved on. Now, other Windows PC makers are working on dual-screened laptops that offer different takes on Microsoft's concept. Indeed, with a Core i9 processor and powerful Nvidia RTX discrete graphics processor, the ASUS ZenBook Pro Duo offers the kind of muscle one would expect in a modern workstation. It would merely be a capable clamshell, however, if it didn't have the feature that other mobile PCs for creative pros lack: a second screen. That display, the ScreenPad+, is a high-resolution OLED touchscreen that lives between the main screen and the keyboard, spanning the width of the device. Despite its odd aspect ratio, it offers the most meaningful differentiating feature offered on a laptop in years, one that easily eclipses the advent of either Yoga-style or Surface-style 2-in-1s. Particularly on a beast of a laptop like the Duo Pro, which is designed to accommodate apps with multiple palettes or pop-out interface components, the ScreenPad+ provides a convenient home for offloading interface clutter. A great example of this is Adobe's Premiere Pro, where one can pop out the timeline panel and move it to the ScreenPad+. Its short, wide shape is a great fit for working with timelines or music tracks in digital audio workstation software. Read our ASUS ZenBook Pro Duo 15 OLED review But even for those working with less dynamic media forms, the ScreenPad+ proves useful. Writers doing online research, for example, can take advantage of the main screen for corralling multiple web, keeping a few paragraphs visible in a word processor on the second screen. Students can include a note-taking app on the lower screen, too. In fact, those who don't need the horsepower of the ZenBook Pro Duo can pick up the smaller and less expensive 14-inch ZenBook Duo. The ScreenPad+ doesn't offer as much extra working room as a full-sized monitor sitting next to the laptop. But what it lacks in display area, it compensates for in both design and functional integration. The challenge with many brand-specific device features is that their utility stretches only as far as developer support. In contrast, it's easy for any Windows app that supports multiple windows to find a use for the ScreenPad+. ASUS has also developed windowing enhancements that allow for the docking of multiple windows on the second screen. Such utility must be justified; the extra display forces the most significant, ergonomic layout change since the earliest PowerBooks pushed the keyboard toward the top of the clamshell's lower deck to accommodate the trackball (and, later, the trackpad). Taking advantage of the machine's width, the ZenBook Pro Duo moves the trackpad to the right of the keyboard and adds an optional light-up keypad overlay. However, the trackpad reshuffling may not be welcomed by lefties. There is further room for improvement. For one, even with ASUS' clever hinge that elevates its ScreenPad+ when you open the notebook, the viewing angle is still a bit low for extended work. ASUS includes a stand add-on that affixes to the bottom of the notebook to raise it further, as well as a wrist rest add-on designed to compensate for the lack of elevation in front of the keyboard. But these make the experience clunkier. Even if the viewing angle could be improved, a ScreenPad-like lower screen would pose challenges on smaller laptops. That said, as laptop screen ratios return to taller aspect ratios like 16:10 and 3:2, including a second display (sized between Apple's now-abandoned Touch Bar and the ScreenPad+) would be worth cutting into trackpad sizes that have grown to the point of diminishing returns.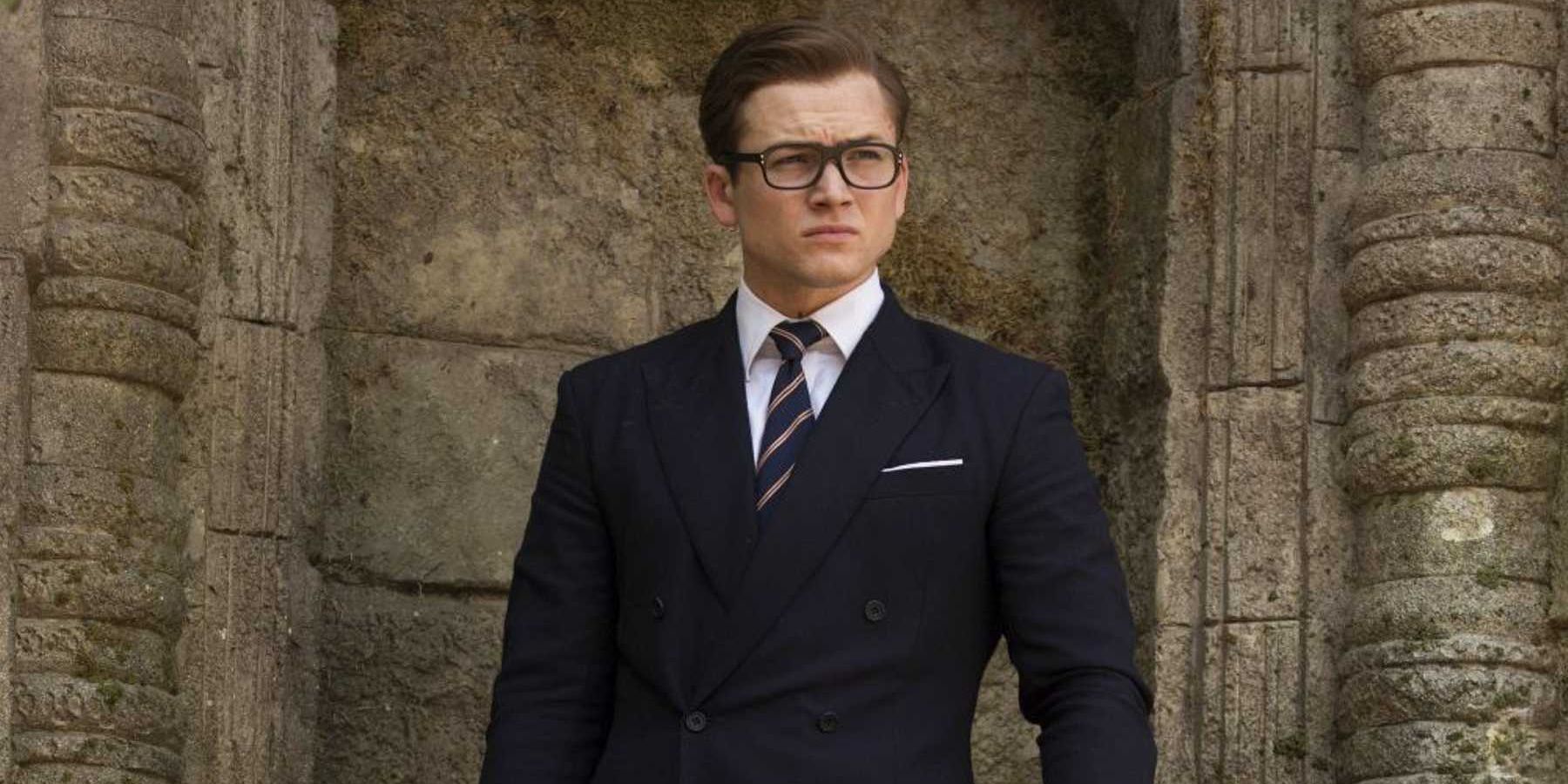 It has been four years since the release of Kingsman: The Golden Circle, which was the second installment of the action-based spy franchise. However, rumors have circulated about the third installment, which Matthew Vaughn confirmed will start filming in 2022. Taron Egerton will reappear as Eggsy, whose character arc will receive a needed sense of closure. The newest film within the Kingsman franchise is The King's Man, which will release December 22nd. It is a prequel set years before the first two installments, and speculation hints that it will plant impressions about what Kingsman 3 will possibly center around. RELATED: The King's Man Director Say Prequel Provides Hints About Kingsman 3 In an interview with ComicBook, Vaughn indicated that a third installment would emerge as a final bow for Eggsy within the series. "We're all set to go. We start filming in September", were the anticipated words Vaughn echoed. Egerton disclosed that a script for the film was in existence in a 2019 interview but became sentimental with the hope of saying goodbye to the character in a respectable way. At the moment, the film does not possess a title, but the ambitious nature of the franchise is sure to build excitement for what is to come. Unfortunately, details of the story are relatively unknown, but Vaughn's The King's Man may provide some breadcrumbs of knowledge. The film is set years before Harry Hart and Eggsy take center stage, but the interconnected nature of the stores should build anticipation. Ralph Fiennes and Harris Dickinson take up the mantel of protagonists, seeking to eradicate a plot to start a destructive war. The film faces early mixed reviews in an ambitious attempt to meet its creative expectations, but the fun it provides is worth the admission price for those who have enjoyed the chaotic ride so far. The first Kingsman was released in 2014 and injected life into the spy action-centered genre. The movie earned over $400 million at the worldwide box office, leading to the development of Kingsman: The Golden Circle, hoping to recapture similar magic. The sequel, ultimately, failed to live up to the expectations, even though it was a rather enjoyable film. What made the original memorable was undoubtedly the church shootout scene, which provided a face-paced action sequence that the other films could not replicate completely. Unfortunately, the franchise set the bar incredibly high, so audiences will find other moments engaging but unfilling at its core. The King's Man seems to have fallen victim to this mindset, but the third installment to Eggsy's story may provide something new and rejuvenating. Trilogies are a staple within most franchises, providing depth to the development of a character while giving audiences the space to properly bid their farewell. It is unclear what hints The King's Man will provide about Kingsman 3 's eventual plot, but audiences will be excited to see familiar faces return to the screen. Egerton has become a household name because of his portrayal of Eggsy, and his desire to complete the arc in his way with Kingsman 3 is a gift deserving of the character. The Kingsman 3 is currently in pre-production. MORE: 7 Best Action Movies of 2021 Source: ComicBook.com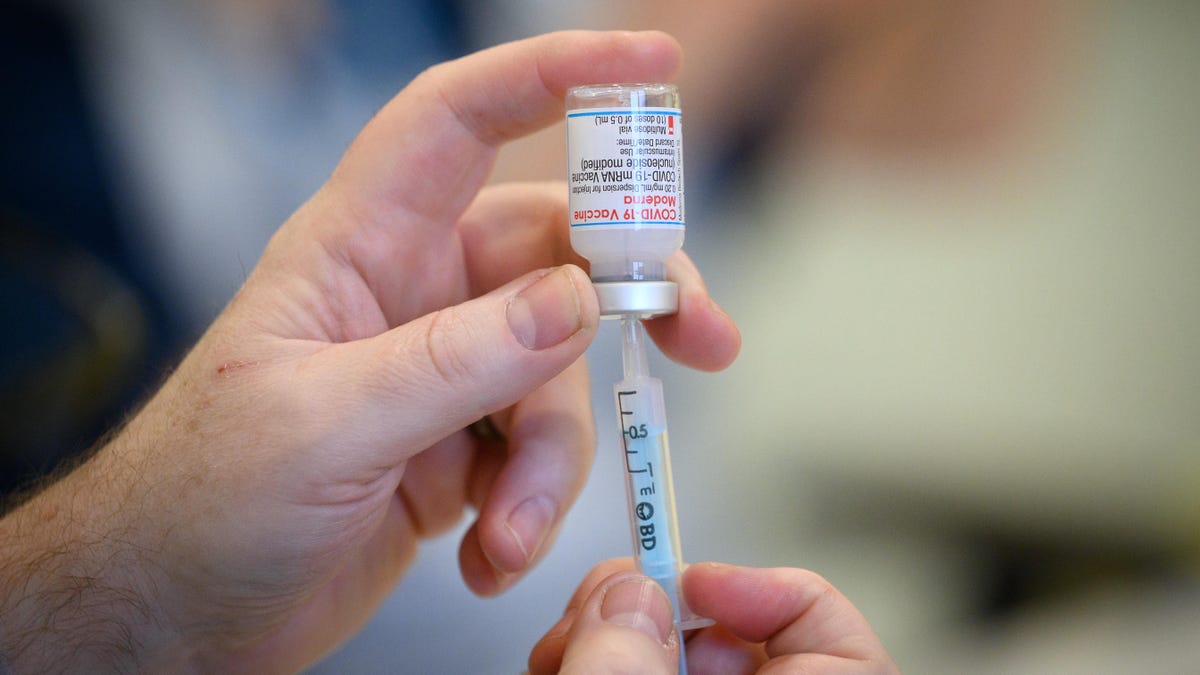 The covid-19 pandemic is once again resurging throughout the U.S. and elsewhere, and while now we have many more tools available against the viral illness than we did last winter—namely, a full armada of preventive vaccines and soon-to-debut treatments —the emergence of the Omicron variant around Thanksgiving tossed a spanner in the works. Even if Omicron hadn't entered the picture, though, the U.S. would still be facing a rise in covid-19 cases, deaths, and hospitalizations. Below is a summary of some of the latest research on Omicron and its risks. It's important to note that many of these studies are still preliminary and may not have undergone peer review yet, so their conclusions should be viewed with added caution. It takes time and a base of evidence to be sure of anything. Omicron has unnerved scientists because of its unique mix of mutations that appear to make it look and behave differently from the original coronavirus, as well as from earlier variants. It's theorized that these mutations might allow the virus to be more easily transmitted between people and to better evade the immune systems of people who have been vaccinated or infected in the past. And we're now starting to see data support those theories. This week, a preliminary lab study from researchers in Hong Kong found that Omicron can infect and multiply inside the cells of our bronchus (the two tubes that carry air from the windpipe to the lungs) much faster than the Delta variant could—up to 70 times faster. This voracious speed could explain why cases of Omicron in the real world have appeared to spread much more quickly than the standard covid outbreak, even among mostly vaccinated populations. But there may be a silver lining here: The same study found that Omicron didn't replicate as fast as Delta in the cells of the lung. That could possibly explain why some data has suggested that Omicron causes milder illness than past variants. But covid-related illness is a complicated process, one that isn't just about how the virus behaves but also how our immune response responds. Because so many people have been vaccinated or previously infected, it's still too early to tell whether Omicron is inherently milder or simply being stopped by these trained immune systems before it can cause too much trouble. Movie theater quality on the go Just set this baby on a stable surface a few feet up from the ground and enjoy up to 100 inches of 200 Lumen 480p entertainment! Speaking of immunity, there continues to be good and bad news on that front. A preprint paper on BioRXiv this week, for instance, compared how the Omicron variant responded to antibodies collected from previously infected people and those given various vaccines—not only the two mRNA vaccines from Moderna and Pfizer/BioNTech, but the AstraZeneca vaccine, the Johnson & Johnson shot, as well as vaccines from Russia and China. Across the board, when compared to the original virus and the Alpha variant, levels of neutralizing antibodies (the kind that help prevent infection from happening) declined substantially to Omicron specifically. For both the Johnson & Johnson vaccine and Russia's Sputnik V, levels dropped to the point where little protection from infection would be expected. The results line up with other evidence indicating that vaccines aren't great at preventing infection from Omicron. Recent data from South Africa, where the variant was first discovered, estimated that the effectiveness of the Pfizer vaccine at stopping infection fell from 80% to 33% once Omicron became dominant. At the same time, antibodies are not the full picture of immunity. Studies released this week have suggested that T cells—another key line of defense against familiar germs—specific to the coronavirus remain robust even in the face of Omicron, as many scientists had expected. These cells are thought to be very important at keeping the infection from causing severe illness. And while scientists are working fast on developing an Omicron-specific vaccine, booster shots based on the original virus do seem to provide a buffer even there. A study from Moderna this week found that levels of neutralizing antibodies climbed back up considerably following a third shot. Boosters were already worthwhile even before Omicron was in the mix, but they're looking more prudent by the minute. One of the many mysteries surrounding Omicron is where it came from. It was first discovered in South Africa in November, but that's not necessarily where it originated—the country's impressive genetic surveillance may have just spotted it before anyone else. Leaving aside geography, there's also the matter of its lineage. All of the variants of concern to date have had only slight tweaks to their basic structure, but Omicron has upwards of 30 mutations in its spike protein alone. Because scientists are now constantly tracking the evolution of the coronavirus by periodically looking at the genetics of virus samples collected from patients, it would be very strange for a variant to pick up that many mutations right underneath our noses without notice—and yet, that's exactly what seems to have happened here. Currently, there are two major theories on how Omicron came to be. One is that the variant emerged in an immunocompromised person, where the infection was able to persist and adapt to a weakened immune system for much longer than usual, allowing some populations of the coronavirus to survive with these mutations and then be transmitted to someone else. The other is that Omicron mutated while in an animal host and then jumped back to humans. A preprint paper by scientists in China this week posits that the ancestor of Omicron jumped from humans to mice, then at some point later, jumped right back to humans, now with a spiffy new genetic get-up. Based on their lab experiments, the researchers argue that the mutations found in Omicron don't look much like the mutations we've seen from human-hosted viruses before, but they do resemble mutations seen in strains collected from mice-hosted cells. Omicron's mutations also look somewhat like the mutations that may allow the virus to better infect mouse cells, they say. "Collectively, our results suggest that the progenitor of Omicron jumped from humans to mice, rapidly accumulated mutations conducive to infecting that host, then jumped back into humans, indicating an inter-species evolutionary trajectory for the Omicron outbreak," they wrote. These aren't the only scientists to theorize an animal origin for Omicron. And it's certainly plausible—scientists have been worried about this kind of evolution for a while now, once it became apparent that the coronavirus could easily jump from humans to other animals. This is still only preliminary work, and there's sure to be more research conducted on this. For context, there are still fierce debates over the origins of the pandemic itself two years in, so answers on Omicron's source may not come easily either. The arrival of Omicron should serve as a reminder that, as much as we can and have adapted to the virus over time, the germ can learn new tricks of its own.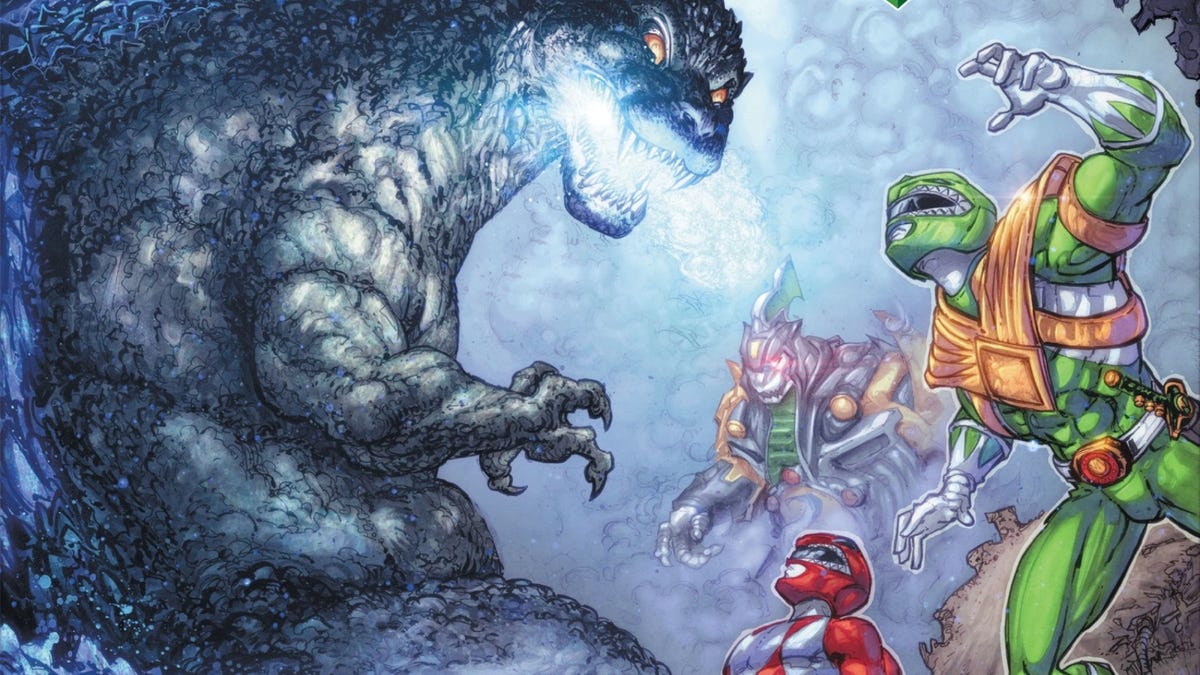 IDW Publishing is a master of bringing two beloved franchises together in comics form. It's created crossovers between Batman and the Teenage Mutant Ninja Turtles, G.I. Joe and Street Fighter, Star Trek: The Next Generation and Doctor Who, and Transformers with. pretty much everybody. Which is why I am shocked— shocked —to discover that it's taken IDW until 2021 to dream up what may be the smartest crossover of all time: Godzilla Vs. the Mighty Morphin Power Rangers. To be fair, I never thought of the crossover either, until IDW sent a press release announcing the five-issue limited series, which will be published with Mighty Morphin Power Rangers comics rights holder Boom Studios, and will be written by Cullen Bunn with art from Freddie Williams II. But it's stunningly obvious in retrospect. Japan's most iconic heroes taking on Japan's most iconic monster? A color-coded quintet who have been defeating giant monsters forever thanks to their massive, combining robot, the Megaz ord? These franchises were absolutely made for each other. I should clarify that while the Power Rangers concept is inherently Japanese—after all, it's based on the iconic tokusatsu series Super Sentai — the comic miniseries itself is of course pitting the American characters from the beloved U.S. adaptation of the '90s against the Big G, which we know because the crossover is Rita Repulsa's fault (of course). Here's the official synopsis: "When Rita Repulsa uses an ancient artifact to transport herself to a universe without Power Rangers, she finds herself in a world with aliens, kaiju, and… Godzilla! Hoping to annihilate this new foe, Rita hurls her own terrible creatures into battle. But she never expects that the Rangers have followed her to this alternate reality, pitting the Dinozords themselves head-to-head with the King of the Monsters!" Movie theater quality on the go Just set this baby on a stable surface a few feet up from the ground and enjoy up to 100 inches of 200 Lumen 480p entertainment! Honestly, I don't even care if the comic is any good when the first issue arrives in March; I'm just happy to know this match-made-in-nerd-heaven is going to exist. And if Japanese Godzilla rights holder Toho isn't already hard at work on a live-action crossover movie between the two franchises, it needs to get on it ASAP. Wondering where our RSS feed went? You can pick the new up one here.

With each new generation of consoles comes a mixture of new and exciting features — but also the loss of smaller conveniences. One of the biggest movements still ongoing is the growth of the digital games market. More and more games are being sold digitally every year, which is great for a lot of reasons. It's convenient, you don't need to go out and make a trip to buy a game, you can't lose or damage it, and it doesn't take up any physical space. One of the main drawbacks with digital games has always been the fear of not being able to share your games, but the Xbox Series X has a solution. While it isn't absolutely perfect, here's everything you need to know about sharing your digital library through gameshare. Gamesharing almost feels like an exploit when you break it down, but as long as you know and trust the person you're sharing with, it's perfectly safe. When you purchase and download a game on the Series X, any account on that console you purchased it on can play it. That's because, by default, the console you created your account on is considered the "home console." But the account who actually made the purchase can also access everything they've purchased as well, regardless of what console they're on. That's how you're able to take your digital library from one console to the next just by logging into your existing account. So, if you were to make someone else's Series X your home console, and theirs yours, then anything either of you buy digitally could be accessed by the other. As long as you are logged in on your account back on your own console, you'll also still have access to your library. Just know that you are only allowed to have one Xbox, Series X or otherwise, set as your home console at a time. You can also only change which console is your home console five times per year, so you aren't able to swap who you're sharing with too often. Other than that, the only real limitation to gamesharing is the fact that you can't download anyone else's physical games — you'll have to share those the old-fashioned way. You can even both play the same title at the same time if you want. Gameshare on the Xbox Series X allows you and a friend or family member to share any and all digital games you have purchased on your console. This includes titles you have access to via Game Pass and Game Pass Ultimate. Just make sure you trust whoever you're going to be gamesharing with because you will need to put your account on their console in order to set it up. That means, even after you log back in on your own console, they could still access your account via their Xbox. Step 1: The first step is to either sign in on the Series X console you want to share with or have the owner of that console sign in on your console. To add your account on another Xbox, open the guide and select Profile and System > Add new. You can then enter your existing account details. Step 2: On the second console, open the guide by pressing the menu button and go to Profile & system > Settings > General > Personalization > My home Xbox > Make this my home Xbox. If you want the sharing to work both ways, so your friend or family member can access all of your games and you access all of theirs, then have them repeat the same process of making your Xbox their home Xbox. And that's it — you and your friend or family member can now download and play any game you have or will purchase digitally moving forward. You won't lose access to anything, but because you have set someone else's Xbox as your home console, you will need to be logged in to your account to play. This is a fantastic way to save money, share your favorite games with friends and family, or make it easier to access your games if you have multiple consoles.

Let the OSS Enterprise newsletter guide your open source journey! Sign up here. Meta (formerly Facebook) this week announced the release of Bean Machine, a probabilistic programming system that ostensibly makes it easier to represent and learn about uncertainties in AI models. Available in early beta, Bean Machine can be used to discover unobserved properties of a model via automatic, "uncertainty-aware" learning algorithms. "[Bean Machine is] inspired from a physical device for visualizing probability distributions, a pre-computing example of a probabilistic system," the Meta researchers behind Bean Machine explained in a blog post. "We on the Bean Machine development team believe that the usability of a system forms the bedrock for its success, and we've taken care to center Bean Machine's design around a declarative philosophy within the PyTorch ecosystem." It's commonly understood that deep learning models are overconfident — even when they make mistakes. Epistemic uncertainty describes what a model doesn't know because the training data wasn't appropriate, while aleatoric uncertainty is the uncertainty arising from the natural randomness of observations. Given enough training samples, epistemic uncertainty will decrease, but aleatoric uncertainty can't be reduced even when more data is provided. Probabilistic modeling — the AI technique that Bean Machine adopts — can measure these kinds of uncertainty by taking into account the impact of random events in predicting the occurrence of future outcomes. Compared with other machine learning approaches, probabilistic modeling offers benefits like uncertainty estimation, expressivity, and interpretability. Analysts who leverage it can understand not only an AI system's prediction, but also the relative likelihood of other possible predictions. Probabilistic modeling also makes it simpler to match the structure of a model to the structure of a problem. And with it, users can interpret why particular predictions were made — which might aid in the model development process. Bean Machine, built on top of Meta's PyTorch machine learning framework and Bean Machine Graph (BMG), a custom C++ backend, lets data scientists write out the math for a model directly in Python and have BMG to do the work of probabilistic modeling, inferring the possible distributions for predictions based on the declaration of the model. Uncertainty as measured by Bean Machine can help to spotlight a model's limits and potential failure points. For example, uncertainty can reveal the margin of error for a house price prediction model or the confidence of a model designed to predict whether a new app feature will perform better than an old feature. Further illustrating the importance of the concept of uncertainty, a recent Harvard study found that showing uncertainty metrics to both people with a background in machine learning and non-experts had an equalizing effect on their resilience to AI predictions. While fostering trust in AI may never be as simple as providing metrics, awareness of the pitfalls could go some way toward protecting people from machine learning's limitations. "[Bean machine quantifies predictions] with reliable measures of uncertainty in the form of probability distributions… It's easy to encode a rich model directly in source code, [and because] the model matches the domain, one can query intermediate learned properties within the model," Meta continued. "This, we hope, makes using Bean Machine simple and intuitive — whether that's authoring a model, or advanced tinkering with its learning strategies." Bean Machine has been available on GitHub as of early December.

In brief: Citroen just presented the My Ami Buggy concept car, a reimagined Ami EV with the looks of a 4x4 offroad truck. We might never see this concept car available for sale, but considering its uniqueness and what it offers, it would seem like a good option for an unexplored market segment. Based on the original Citroen Ami, the My Ami Buggy concept illustrates what the car manufacturer's designers can do, showcasing a leisure-oriented EV full of color and style. Like any buggy, this one doesn't have any doors, instead featuring transparent rainproof canvas that you can pull from the dedicated storage bags behind the seats. As part of its buggy design, Citroen also added dirt tires with golden painted rims, front and rear bull-bars, hubcaps, and headlight grilles. On the side, the vehicle features fender flares and protections on the bottom area of where doors would be located, if there were any. In addition, the top comes with a roof rack with a spare wheel and a LED light bar to give it a more adventurous look. The My Ami Buggy has a two-tone exterior with a black-colored top and rear and a khaki bottom and front, with yellow accents all around it to make it more alive. Moreover, the interior also has yellow parts like the steering wheel and the seats, highlighting the objects serving "a functional purpose." Other aesthetic elements can be found scattered across the whole car, including striations and adhesives representing Citroen's chevrons on the car's interior and exterior and the words "Pilot" and "Copilot" above the driver and passenger seats, as well as the numbers "01" and "02." The seats evolved from the ones used in the original Ami, now with 70mm of memory foam to make them more comfortable. There are also more storage areas to allow drivers to carry more on their adventures. Inside, you can find a "nomadic speaker", a cup or bottle holder, and a cylindrical smartphone holder, which used to be a clamp in the original Ami. "My Ami Buggy is a proposition in line with the philosophy of Ami, which is not a car. We have therefore looked for inspiration in the world of construction games for the fun and functional side, industrial design for ergonomics and aesthetics, encompassing everyday objects (furniture, lighting, etc.) and fashion accessories (sneakers, sports equipment, glasses, etc. )", said Samuel Pericles, the designer of My Ami Buggy. "My Ami Buggy Concept needed to be functional and simple, in the purest spirit of iconic and contemporary industrial objects." Citroen didn't specify if it would sell the My Ami Buggy, but we certainly hope so. It looks like a practical and fun car for a weekend ride across the forest or mountains capable of transporting all you need to camp for a night or two.

Intel will soon release a whole new lineup of hybrid mobility CPUs, dubbed Intel Alder Lake-P, and several of these processors have just been leaked through Geekbench tests. The processors performed well in benchmarks, beating the previous generation of Intel CPUs and current-gen AMD offerings by more than 30%. Intel is rumored to release its new lineup at CES 2022 in January. We can expect to see the introduction of the H-series laptops for gamers, as well as the P-series, which seems to be well-rounded in terms of performance versus energy efficiency. The new Intel Alder Lake laptop line will include six segments, although some of them remain a mystery, namely the M-series and S-series processors. We're not sure when these CPUs are set to release. The M-series, aimed at tablets and ultrathin laptops, is going to feature extreme power-saving capabilities and a low-power requirement. The S-series seems to be aimed at gaming and other demanding activities, and it reportedly uses the same silicon as the desktop versions of Intel CPUs. Several CPU configurations have been found through Geekbench and then shared by Videocardz. The midrange lineup includes the 8-core, 12-thread Core i5-12450H as well as the 12-core, 16-thread i5-12500H. We can also expect to see Core i7 processors, such as the Intel Core i7-12650H, Core i7-12700H, and Core i7-12800H. Lastly, Intel also has a high-end processor in the works, the Core i9-12900HK with 14 cores and 20 threads. This would be the mobile counterpart to the already released desktop Core i9-12900K. Some of these processors have already been benchmarked and performed excellently. The Core i7-12700H is likely to be found in many of the best gaming laptops, and previous benchmarks proved that it could be almost 50% faster than Apple's M1 Max chip. It also outperformed its AMD rival, the Ryzen 7 5700H. The midrange lineup is looking just as promising as the high-end alternatives. The Intel Core i5-12500H CPU outperformed its predecessor, the Core i5-11500H, by over 30% in multi-core testing. It also beat AMD's current Ryzen 5 5600H by similar numbers. Aside from the gaming-oriented H-series, we can also expect to see at least three P-series CPUs during CES 2022: The Core i5-1240P with 12 cores and 16 threads, as well as the i7-1260P and i7-1280P, both with 14 cores and 20 threads. According to Videocardz, these units are likely to come without discrete graphics cards and may rely on integrated Intel Xe-LP graphics. Although these are still early benchmarks, every test with the new Alder Lake processors has gone well for the new line of mobility CPUs. They seem to outperform the previous generation of Intel processors quite consistently. Comparing them to AMD is tricky, as AMD still doesn't have a comparable line of CPUs. Things may change when AMD's Rembrandt chips are released next year.

Posted by Jeremy Hellstrom| Dec 16, 2021| General Tech| 0 TechPowerUp recently reviewed and liked the $80 Movo UM700, now they have followed that up with a review of the less expensive UM300. Movo opted for a USB-C connection on the UM300 as opposed to the microUSB if the UM700 which allows you to plug it into a wider variety of devices, up to and including some cell phones. The extra bandwidth doesn't hurt either, but it doesn't really add anything either. The microphone can be toggled between cardioid and omnidirectional, with the latter implementation not impressing TPU overly, the cardiod mode was much better. The UM300 is also smaller and lighter at 100 x 84 x 226.7mm, with the mic and stand having a combined weight of 703g which does make it slightly more portable than it's larger sibling. It also provides direct monitoring capabilities via a 3.5mm jack. The UM300 looks great on paper, and is a decent mic for portable usage but compared to the UM700 it doesn't offer the same overall build quality nor performance in modes other than cardioid; not to mention that depressing the mute button can be heard by listeners. It is not a bad choice for a low cost, decent quality mic, however the $20 difference in price makes the UM700 a better choice overall. Take a look at the full review for the full details. Share: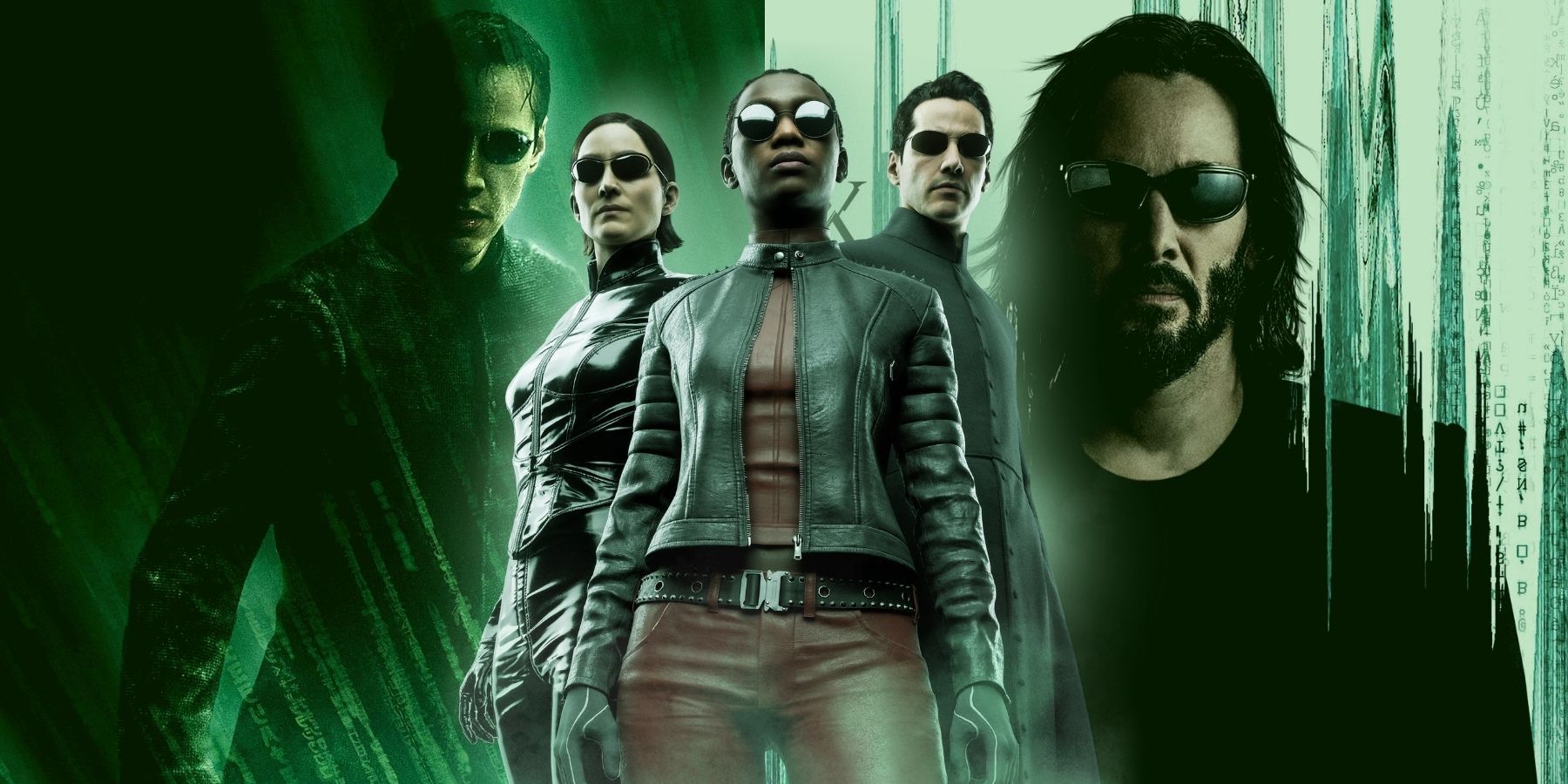 In the early 2000's, The Matrix franchise was at the top of its game. Ushering in a new era of technology, specifically the rise of the internet, the themes and concepts explored in the series were extremely relevant and engaging. Now, almost two decades after the third film, a follow up called The Matrix Resurrections is set to hit movie theaters in a matter of days. Alongside this return to the big screen, the sci-fi epic has also recently made waves in the video game industry with the stunning Unreal Engine 5 demo titled The Matrix Awakens. This brief but sensational glimpse of what the next few years of gaming will look like is a mind blowing tease of things to come. Character models and animations are eerily lifelike, while the amount of onscreen destruction and chaos rivals many Hollywood films. Many gamers who checked out the demo may have left it with an itch for a brand-new game set in The Matrix universe. While this would definitely be exciting, a project like this should be taken a step further and serve as a gap to fill in story threads between The Matrix Revolutions and The Matrix Resurrections. RELATED: The Matrix: 10 Things You Didn't Know About The Games The creators of The Matrix franchise, The Wachowski twins, are avid fans of video games as much as they are of film. This can be seen in much of the visual design in The Matrix, and even the general concept of logging into a virtual world in which the user can perform death defying stunts. This passion for interactive entertainment was taken to the next level when The Wachowski's decided to not only produce but direct a canonical video game tie-in called Enter the Matrix. Released alongside The Matrix Reloaded in May 2003, Enter the Matrix took place at the same time, with its own plot points eventually leading into The Matrix Revolutions. Unlike many other movie tie-in games, which simply adapted the plot of the film, Enter the Matrix was a far more ambitious project in this regard. For fans of the franchise, and anyone wanting more details on this universe, playing the game would help fill the gaps and provide more context in a way the movies could not. The Matrix films generally average around two hours long, but video games as a medium can go far beyond that, allowing for more information and exploration of a world. This unique advantage could be tackled again in a new video game based on The Matrix. With this in mind, there is so much that can be examined in a new game if it were to bridge the gap between The Matrix Revolutions and The Matrix Resurrections. The last time audiences saw this franchise, Neo had sacrificed his life so that humanity could be freed from the machine's reign. Evidently, this may not have completely panned out, as based on the trailers for the fourth film, Neo is brought back into action and something sinister seems to be brewing in the background. The Matrix Resurrections will likely touch upon why this is happening, but as stated above, a movie's time is limited, whereas a video game can be liberal with its length. As proven by the stunning Unreal Engine 5 demo, even more is possible going forward with gaming technology. While the lifelike graphics and animations lend themselves to more polished action sequences, the capacity to build larger, more interactive worlds would help benefit a new game set in The Matrix universe as well. Perhaps opting for a fully open action RPG, in which players can move freely between Zion and the digital world of the Matrix, could lead to an incredibly immersive experience. RELATED: 10 Things We Loved About The Matrix Awakens One need only take a few moments to look at The Matrix Awakens to be left in awe of its amazing achievements in graphical prowess. It may not seem like it, but The Matrix Awakens was allegedly developed in a short amount of time with a relatively small team. If the end result is what was produced under those constraints, it begs the question what would have been possible with years of development time and an entire studio hard at work on the project. While Enter the Matrix may feel clunky and outdated in terms of its graphics and combat, the way in which the storyline connects itself seamlessly into the events of The Matrix Reloaded is the right idea. The Matrix Awakens demo captured the feel and slick look of the films, something that would only help further enhance the feeling of being immersed into the fictional world. These new advancements will blur the line even more between game and movie, helping to sell the notion that a new video game tie-in is just a piece of the bigger story. It remains to be seen exactly what awaits Neo and company when The Matrix Resurrections hits theaters next week. However, with the franchise back in full swing and a tech demo showing the potential of a new video game, it may be a lucrative opportunity for developers to chase after. Whether with a brand new character or a player-created avatar, there has never been a better time to jack back into the The Matrix and all of its intriguing glory. MORE: Why Keanu Reeves Hasn't Played Cyberpunk 2077

Circuit Superstars, already available on PC and Xbox One, will also be playable on PlayStation 4 in a few weeks. Published on By Circuit Superstars, already available on PC and Xbox One, will also be playable on PlayStation 4 in a few weeks. There's a specific type of racing game that we really enjoy at Thumbsticks. We're not sure it has a genre, yet – you might call them retro racers, or top-down racers, or toy racers, though that wouldn't be entirely accurate – but they all share the same few key criteria: There's Lonely Mountains: Downhill for fans of pedals and gravel rash. Then on the automotive front, there's Art of Rally, and the game we're looking at today, Circuit Superstars. Developed by Original Fire Games and published by Square Enix Collective (the mega-publisher's indie arm), Circuit Superstars is firmly in that mould. And it's popular, too. Already released on PC into early access in March 2021, with a full PC and Xbox One release in October, it's built a loyal following. Now PlayStation fans will get their chance to play Circuit Superstars when it releases on PS4 in the new year. Specifically, January 27, 2022. Nothing about the game's content will be much of a surprise, given it's been out for nine months already at this stage. What is a lovely little bonus – and this reflects on Sony rather than the developer that we're so pleasantly surprised by this – is that cross-play is available from release. It'll be supported between PS4, PC, and Xbox One players. For Nintendo Switch fans, Circuit Superstars is slated for release in "the second quarter of 2022". Follow Thumbsticks on Twitter and Facebook for more video game news. Check out our Discovery page for more indie games. If you want to keep abreast of the latest news, features, reviews, guides, and sales, we can send all our latest articles and great content straight to your inbox. You know, collated together, once or twice a week, in a newsletter. We wouldn't send them one at a time – that would be weird and annoying! No, not that Tim Horton. That would be weird. I've never even been to Canada. And I'm pretty sure he's dead? This Tim Horton is a freelance writer and lover of indie games. Painfully shy, powerfully awkward, you won't find me on social media. Release date pencilled in for foxy Zelda-like, Tunic Play 36 crisp, fresh demos in the Xbox Winter Game Fest Demo Event Ladykiller co-creator Christine Love needs you to Get In The Car, Loser! Smashpunks is basically Robot Wars meets Rocket League A Profound Waste of Time: The Reprint smashes its Kickstarter target This Doom adventure lets you blast a reanimated Maggie Thatcher back to hell Circuit Superstars, already available on PC and Xbox One, will also be playable on PlayStation 4 in a few weeks. The Nintendo Switch eShop Festive Offers sale delivers seasonal savings on some top-notch digital games. Sonic Colors: Ultimate gets some much-needed quality of life improvements and a pack of free content. The latest Nintendo Indie World Showcase revealed a lineup of exciting new Switch games and some surprise eShop releases. Shovel Knight: Pocket Dungeon headlines this week's lineup of new Nintendo Switch eShop releases. Do you like games? Do you like discounts? Do you like game discounts? Good news! Here's a look at this. No, it's not a December 2022 Nintendo Direct, but an Indie World Showcase is still a welcome offering from Nintendo. Chocobo GP: On your marks. get set. rip off Mario Kart!

If rumors are to be believed, the OnePlus 10 series launch is just around the corner. The OnePlus 10 and OnePlus 10 Pro are tipped to launch in the first quarter of 2022, with a China-specific launch scheduled before an international release in the following months. Ahead of the launch, leaked OnePlus 10 Pro renders have already given us our first look at the next flagship. Specifications of the device have also popped up online. Here's everything we know so far about the next OnePlus flagship smartphones. The OnePlus 10 and OnePlus 10 Pro are reportedly set to be introduced in China as early as January or February. The global launch is likely to follow soon after in March or April. The OnePlus 9 series was launched internationally in March 2021, so the timeline here lines up. The OnePlus 9 series introduced a new camera module that was located at the top-left corner of the back–- shifting from the top-middle location on the OnePlus 8 series. The camera module is likely to stay there, but with a twist. According to the leaked renders, the OnePlus 10 Pro is likely to borrow design elements from the Galaxy S21 Ultra. The OnePlus flagship is rumored to have a camera module melding into the right edge. If the renders are to be believed, the device will have curvier edges, which is different from the flat-edged trend of the latest iPhone 13 series. The curves should help with ergonomics. The OnePlus 10 Pro looks similar to its predecessor on the front, with curved edges and slim bezels at the top and bottom. The renders show the selfie shooter located in the hole-punch cutout. Furthermore, the OnePlus 10 Pro will likely come in a new forest green color option alongside other unknown color variants. The alert slider and power button lie on the right edge according to the leaked renders. The volume rocker could still be on the left. There is no room for the headphone jack, and that's largely been eliminated from most flagship phones anyway. Both OnePlus 10 models will have a USB-C port, SIM tray, and speaker grille placed at the bottom. The OnePlus 10 Pro will unsurprisingly feature all top-notch specs, as revealed by the leaks. The smartphone is said to feature a 6.7-inch Quad HD+ display with a 120Hz refresh rate. It is confirmed to be powered by the latest Snapdragon 8 Gen 1 chipset, which is built using the 4nm manufacturing process. It is claimed to be the first mobile chipset to incorporate a 10-Gigabit modem-RF combo. It supports LPDDR5 RAM, so we can expect the OnePlus 10 Pro to use the standard for its memory needs. As for the optics, the upcoming OnePlus flagship smartphone is expected to sport a triple rear camera setup. It is rumored to be led by a 48MP primary sensor, which could be accompanied by a 50MP ultrawide-angle lens and an 8MP telephoto lens with 3.3x zoom. To recall, the OnePlus 9 Pro featured a 48MP primary camera, a 50MP ultrawide camera, an 8MP telephoto camera, and a 2MP monochrome camera. It seems like OnePlus has decided against including a monochrome camera on the 10 Pro. As for other specifications, the smartphone is said to come in 8GB/128GB LPDDR5 RAM and 12GB/256GB UFS 3.1 storage options. It could pack a 5,000mAh battery that is rumored to have support for 125-watt wired fast charging — up from 65W on the OnePlus 9 Pro. On the software side of things, the OnePlus 10 series is likely to come with Android 12-based OxygenOS. The OnePlus 10 base model is expected to be a step down in terms of specs and have a lower price. We haven't seen leaked renders of the vanilla OnePlus 10 yet, but it is likely to retain the same design language. The OnePlus 10 Pro will naturally cost more and serve as the higher-specced, premium option.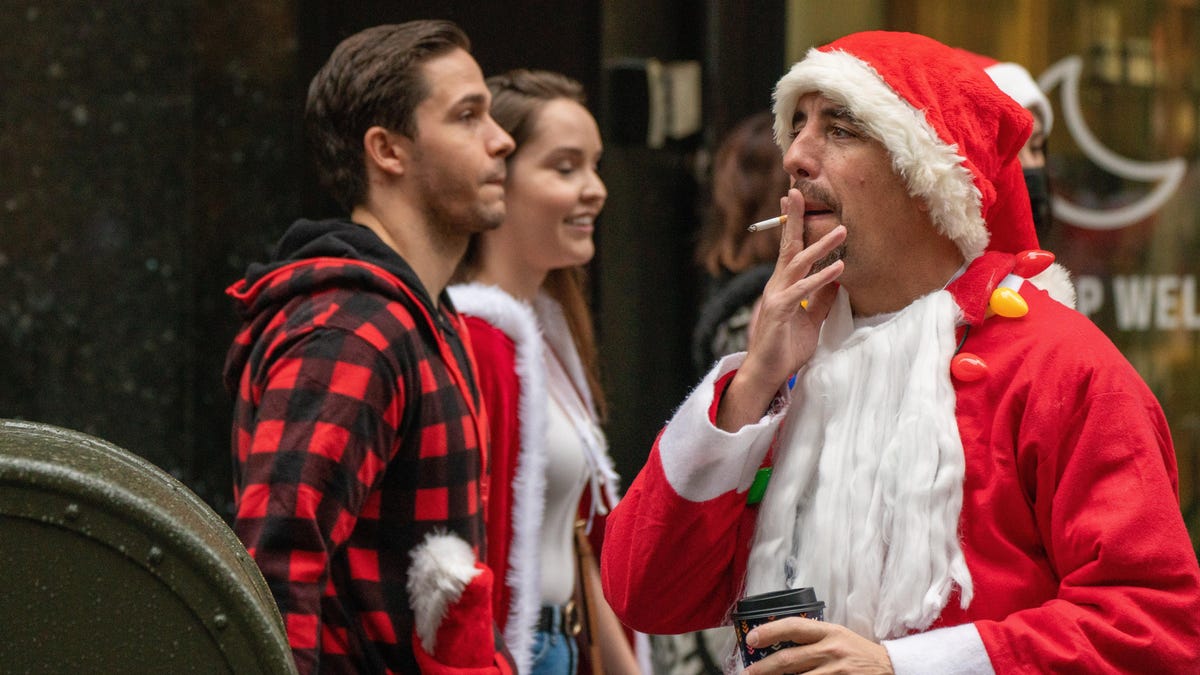 Ah, the holidays. As much as they can be an awesome time to see the people you care about most, take time off, and just generally kick back, we all know they can also be a veritable stress-fest of last-minute shopping, heaps of snow, cross country travel, and familial chaos. In short, there's a lot of stuff that can and will ruin your holiday. While we were all hoping this would be the first normal-ish holiday season in two years, there are a couple of notable things that are most definitely going to make Christmas less than ideal this year. Let's take a look. The forever plague continues unabated. Omicron is clearly about to infect a whole lot of people, and the extent to which that surge is going to lead to a lot of hospitalizations and deaths is still unknown. What is known is that the newest covid-19 strain is def going to royally mess with your Christmas. In addition to renewed anxiety and dread, it promises you: Travel restrictions! Business closures! Lobotomy-inducing culture war effusion! An unceasing commitment to wearing a mask everywhere, all the time, forever. Whatever the long-term consequences of omicron (and the other covid variants that are still with us), you may just find yourself deciding to spend the holidays quarantined. This one goes out mostly to the hordes of tech workers currently sweating their way through the worst software bug in recent memory. The Apache log4j vulnerability, which hackers are currently trying to exploit, affects droves of web platforms—including most of your favorites. All those companies and their diligent staff are currently scrambling to patch their systems before some sort of holiday hack-apocalypse happens and breaks the internet. So much for a relaxing, laid-back holiday season. All I can say is good luck, techies, bless you, and may God have mercy on your souls. If you don't work in IT, well, you still might have the opportunity to get hit with some ransomware while you're opening your presents. Extreme weather has obviously left many communities throughout the country reeling and, unfortunately, the damaging storms may not be over yet. Last week, tornadoes ripped through multiple southern and midwestern states, destroying buildings and leaving at least 90 people dead, as of Wednesday. Crews are still sifting through the wreckage and many people are still missing. This week has been marred by a huge wind storm and accompanying, dust, thunderstorms, and wildfires as well as numerous heat records. Relatedly, the weather is projected to be particularly warm for a majority of the country, with temperatures high enough to promise little to no snow. That abnormally warm weather is projected to contribute to other, potentially destructive weather events. The National Weather Service has issued ongoing warnings that the warmth will be accompanied by abnormally high winds and subsequent potential storms. As the pandemic closes in on its second year, the supply chain issues wrought by our unending crisis are seriously mucking up the chances of you getting your latest Amazon order on time—or getting that gift you want, at all. Supply chain setbacks have wracked multiple industries and made " product availability " a bit of a crisis. Some communities, for instance, are running out of Christmas trees and even Toys for Tots are apparently having some trouble. This year, bots are going to ruin your Christmas. How? By pilfering several thousand copies of that PS5 before you have a chance to buy one. Recent studies have shown that bot armies—affectionately termed "Grinch" bots —are on the move and they're hoovering up online inventory like there's no tomorrow. This often leaves the casual shopper in the lurch when it comes time to buy Xmas gifts and gives the nefarious bot-operators leverage when they resell their automated purchases for a markup on the likes of eBay or some other third-party site. Screw you and the algorithm you road in on, Grinch-bot. Someone is going to get you a cheap-ass NFT for Christmas this year and it's going to suck. Imagine yourself on Christmas morning, two spiked eggnogs down, stranded on the living room couch while your overeager, crypto-pilled cousin explains to you why he got you what is basically a meme that costs money. "It's one-of-a-kind! It has tremendous ROI potential! It's the future of the blockchain!!" And when he finally shuts up, there you are, with an NFT. Great.

Following a bit of a tease in March. Red Candle Games, the developer behind critically acclaimed horror outings Detention and Devotion, has - following a bit of an animated tease earlier this year - formally announced its latest title, an action-platformer loosely inspired by From Software's superb Sekiro: Shadows Die Twice that's currently going by the name of Nine Sols. Details are extremely limited right now, but Red Candle describes Nine Sols (a working title at present) as a "lore rich hand-drawn 2D platformer with Sekiro-inspired deflection-focused combat". The developer has also shared a wonderfully evocative bit of promo art that - while a significant aesthetic departure from its previous games - does suggest, with its mangled limbs and pools of blood, that we're not exactly in family friendly territory here. "Embark on a journey of Asian fantasy, explore the land once home to an ancient alien race and follow a vengeful hero's quest to slay nine Sols, rulers of a forsaken realm", Red Candle teases in its announcement on Twitter. Nine Sols will be Red Candle Games' third title, following on from 2017's acclaimed Detention - a horror-tinged exploration of 1960s Taiwan under martial law that went on to inspire a Netflix animated series - and its 2019 follow-up, Devotion. The latter, an impressive first-person psychological horror unfolding across seven years in a cramped apartment in 1980s Taiwan, drew significant praise on its release but proved controversial. Following its release, Devotion was found to contain an unflattering reference to China's president, Xi Jinping, sparking an outcry among Chinese players. This lead to the withdrawal of its Chinese distributors, the closure of the developer's account on Weibo - one of China's largest social media platforms - and the removal of the game from Steam in China. Devotion - Trailer. Although Red Candle apologised at length, calling the reference a placeholder asset that was accidentally transferred to the final release, the backlash continued and the developer ultimately pulled the game from Steam in all territories and it's never returned. However, those eager to explore Devotion's very personal brand of horror - which found its way to Harvard University last year alongside Detention, as part of the institute's preservation efforts - do now have the option to do so via Red Candle's own digital store, where the game finally returned to sale as a DRM-free edition in March this year. As for Nine Sols, there's no hint of a release date for the game yet, but given the high bar set by Red Candle's previous outings, I am most certainly looking forward to learning more. And if you're interested in a deeper delve into Devotion, do check out Edwin Evans-Thirlwell's wonderful Making Of feature from earlier this year.

Verizon and Google announced a joint effort focused on bringing their respective edge computing services to customers via the telecom giant's 5G network. The collaborative offering will combine Verizon 5G Edge with Google Distributed Cloud Edge to offer both compute and storage services. The pair plans to focus on enterprise customers initially, supplying their solutions via Verizon's On Site 5G and 5G Edge platforms. The goal of the joint catalogue of services will be to bring compute, and storage assets "to the edge of the local network enabling the bandwidth and low latency needed to support real-time enterprise applications like autonomous mobile robots, intelligent logistics and factory automation." Verizon and Google made it clear they see this as the first step in a larger edge computing and 5G collaboration that will eventually grow to include additional solutions for enterprises, as well as products specifically aimed at developers wishing to deploy their applications in edge locations throughout the US. Rima Qureshi, Chief Strategy Officer at Verizon, said the Google partnership will provide its customers with "the ability to connect and manage a broad range of devices at scale and speed while also providing highly secure, near real-time connectivity." The exec promised the result for clients will be "greater value from data", as well as "innovative applications involving computer vision, augmented and virtual reality, and machine learning." As part of the debut, the pair revealed their edge computing capabilities already have their first customer in Ericsson. The Swedish telecommunications company has tapped the duo to install a proof of concept at the new Ericsson USA 5G Smart Factory, a facility opened by the company to explore new 5G use cases for urban areas and to produce 5G hardware for large-scale deployments. The first efforts at the Smart Factory will focus on using Verizon's Sensor Intelligence solution in concert with cameras on autonomous mobile robots. The units will combine the respective technologies to scan packages, applying computer vision to help maintain inventory within the factory's warehouse. All data will travel across Verizon's 5G network. The collaboration between Verizon and Google adds to the growing trend among 5G providers of deploying scalable, on-site networks for logistics management purposes. This announcement follows the revelation that Amazon's AWS would soon be adding private 5G networking to its catalogue of products.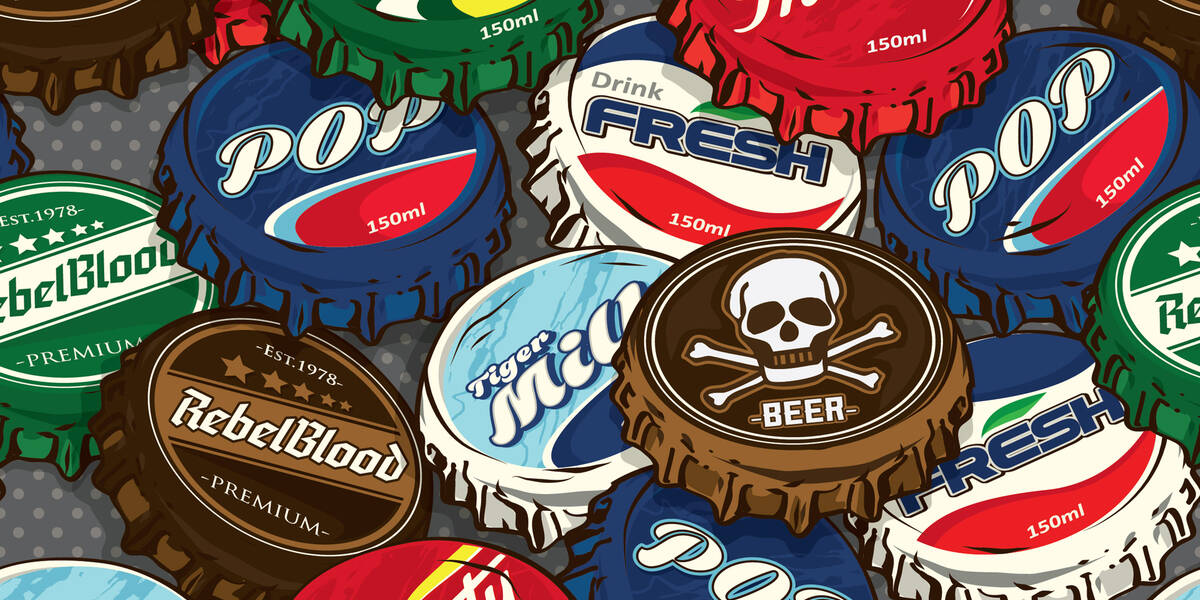 Stateside Linux laptop vendor System76 has released a new version of its own distro, which promptly messed up this hack's test laptop. Although its name alludes to the American revolution in 1776, System76 is rather younger. It was established in 2005, just a year after Ubuntu released its first version. The company sells PCs pre-installed with Linux, and since 2017 has offered its own distro, Pop! _OS [ sick! sorry, sic], a heavily modified version of Ubuntu – and it's just released version 21.10. Pop! _OS (we'll just call it Pop) is probably the most substantially different Ubuntu derivative. Whether that sounds appealing or not depends on taste, and possibly on how well you know Canonical's original. You can choose a version of the ISO which comes preinstalled with the latest version of Nvidia's proprietary graphics drivers, including support for the notoriously tricky Optimus laptop GPU-switching functionality. Pop! _OS 21.10 also comes with the very latest kernel 5.15. If you have a GPU that needs an older driver, tough: you have to scrutinise the startup messages to see that it isn't working, then manually remove it, work out the one you need and add it yourself. On the whole, we prefer Ubuntu's simpler method. So there is lots of new shiny to admire but, as ever, that itself causes issues. Pop has its own, unique installation program. This has pros and cons. It configures full-disk encryption by default – good if you like that kind of thing as it's long been easier with Fedora than Ubuntu. But watch out if you dual-boot: when you pick any existing partition in the installer, the "format" button is always on, but greyed out, so you can't change it. If you try to mount your Windows partition during startup, or share your /home partition with other distros, you will lose everything. Another weirdness is that Pop doesn't install GRUB; it uses systemd-boot to start the OS. This keeps the whole kernel and initrd right inside your EFI System Partition. That means it needs an unusually big ESP – on our test ThinkPad, which was happily triple-booting Windows 10 21H2, Debian 11, and Fedora 35, the standard 100MB ESP wasn't big enough. Pop said it wanted 400MB. But after that message, it doesn't tell you that's the reason the "Erase and Install" button is greyed out. We tried enlarging our ESP using the bundled Gparted tool, which failed – the last few versions can't handle FAT32 partitions under 250MB. Gparted resizes the partition but not its contents, then fails with a "We're working on it" message – which is not actually true and hasn't been for over four years. Since Windows can't resize the ESP or fix a damaged one, you must recreate it. Once we'd done that, Pop! _OS wouldn't boot, as the new ESP had a different UUID. Luckily Debian and Fedora both still worked, so we used them to fix Pop's /etc/fstab. Also, no GRUB means no os-prober package, so if you install Pop alongside other OSes, they won't be detected or added to Pop's bootup menu – but they detect Pop and its nonstandard bootloader, which left us with multiple identical Pop! _OS entries in Fedora's GRUB menu. The only desktop offered is GNOME 40, but System76 pre-installs a bunch of its own extensions, effectively resulting in a custom desktop it calls COSMIC, which The Reg described last time around. COSMIC is well-integrated, but that means it's tricky to tweak. For instance, if you don't like the horizontal dock, it's easily replaced with other extensions such as Dash to Dock or Dash to Panel – but the latter breaks the new Applications and Workspaces buttons. Pop has Flatpak in place of Snap, but a natively packaged Firefox, so unlike Ubuntu it's able to configure GNOME extensions. You can tell that System76 is a hardware vendor. It expects its distro to be the only OS on a new, empty PC. Pop doesn't handle dual-booting at all well, and fancy stuff like being the fourth OS on a machine and sharing partitions with the others just plain doesn't work. Nearly a decade ago, things like this were problems for Fedora, too, but it's improved with time. Pop's relative immaturity shows. We're not GNOME fans, but we liked COSMIC and its tiling windows – just take care if you replace bits. Remodelling GNOME is tricky, which may be why System76 is developing its own desktop. The company isn't afraid to make big changes and has an ambitious roadmap, which is refreshing to see. Pop! _OS is a distro to watch – but only on fresh, clean hardware. ®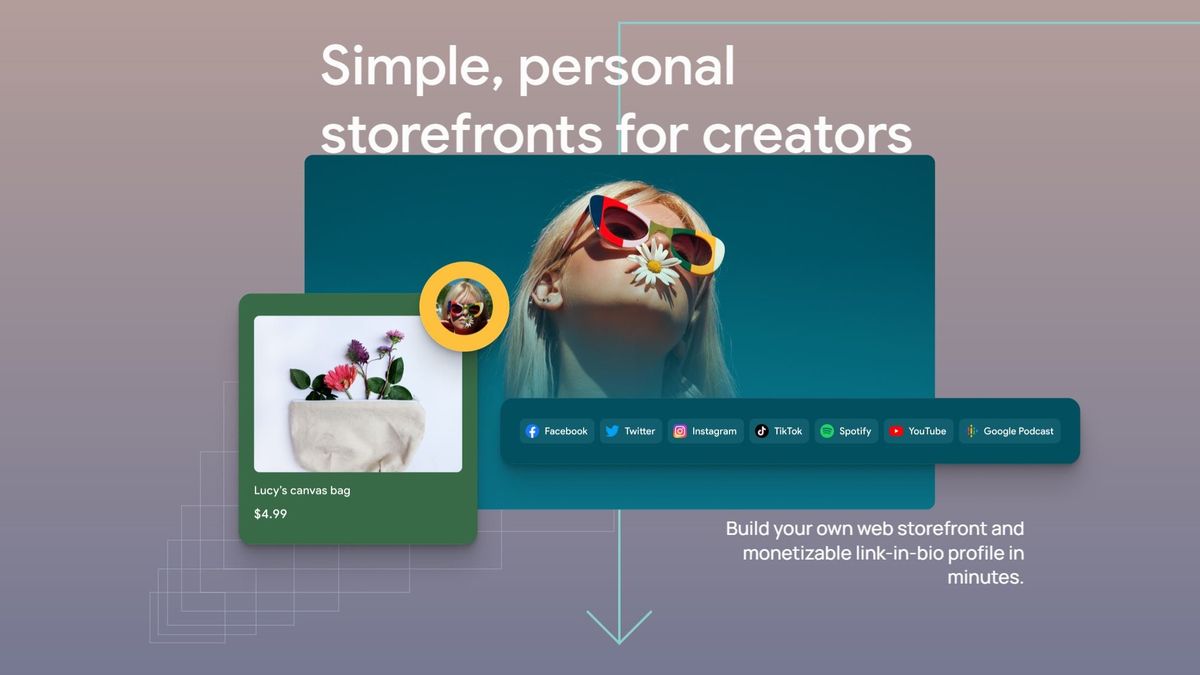 Google's Area 120 incubator has launched a new website builder and ecommerce platform called Qaya which is now available in beta in the US. According to a new blog post, co-founder and GM of Qaya, Nathaniel Naddaff-Hafrey came up with the idea while working from home during the pandemic after spending time with creators who said it was difficult and time consuming to build an online business around their content. This led to the creation of a new product called Qaya which provides web storefronts for creators that want to sell products and services directly to their audiences. The company has a small and agile team that believes creators are the next generation of entrepreneurs. As the CEOs of their own businesses, they require the same commercial tools as any successful founder. Qaya first began live testing its new service in early 2021 and since that time, the company has learned a lot from the creators on its platform, their fans and other creator economy projects. Creators on Qaya can sell everything from workout guides to photo filters, productivity templates, knitting patterns and more. The company currently supports both pay-gated and free products with new features like tipping, subscriptions and other monetization types coming soon. By signing up for Qaya, creators can use the service as the hub for all of their business activity across the web. Many link to their storefronts from their social media bios and showcase digital products they upload or products and services hosted on other sites. The company provides all of its users with a custom yourname. channel or qaya. store/your-name domain with payment functionality built-in. At the same time though, Qaya has also developed customer management and analytics tools that creators can use to connect with their fans and understand sales and content performance. The company has also started to integrate with other Google products including YouTube's Merch Shelf and eligible YouTube creators can now promote products from Qaya directly below videos on their YouTube channels. Qaya is currently in beta in the US though the company hopes to expand to other countries soon. We've also highlighted the best web hosting, best ecommerce hosting and best website builder

OnePlus has finally announced the much-awaited OnePlus Buds Z2 in the US and Europe. The new Buds Z2 earbuds appear to be significantly better than their predecessor in terms of specs, but it's hard to find any difference between the two products as they share pretty much the same design. The OnePlus Buds Z2 features Active Noise Cancellation, a feature that's missing in its predecessor. The new earbuds also have Bluetooth 5.2 connectivity, IP55 certification, support for Dolby Atmos. The Buds Z2 will also have the Transparency Mode, which lets outside sound in so that you can hear what's going on around you. The new Buds Z2 will offer a 38-hour of battery life on a full charge. And 10 minutes of charging will give you 5 hours of playback time. The Buds Z2 earbuds are available in two different colors — Obsidian Black and Pearl White. However, users in the US and Europe will have to settle on the Pearl White at this moment with the Obsidian Black variant becoming available sometime next year. You can now buy the OnePlus Buds Z2 here from the OnePlus store. However, it's worth noting that, while reviewers have given the OnePlus Buds Z2 a thumbs up, you'll need a OnePlus phone if you want to experience a smooth integration.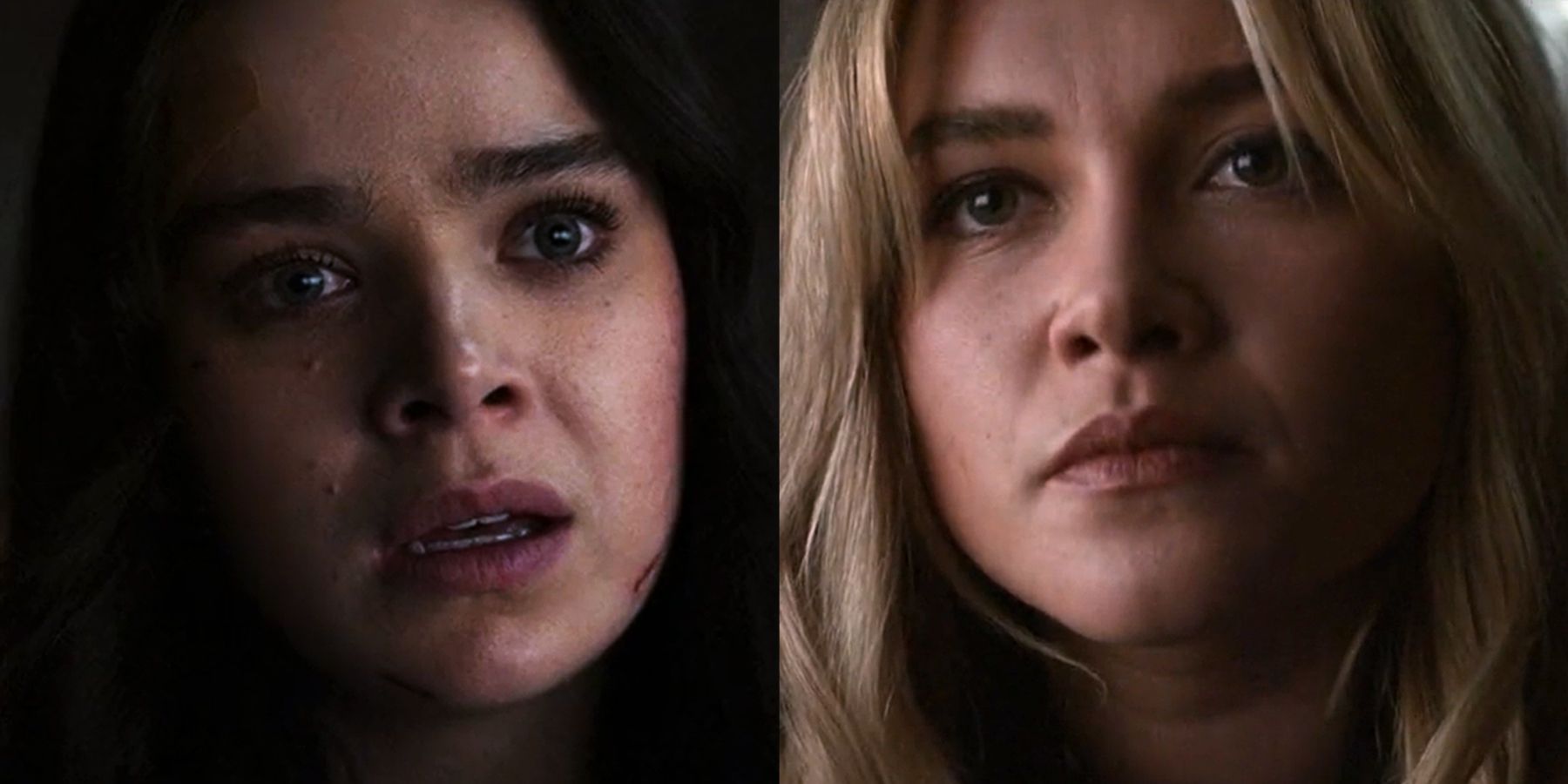 The penultimate episode of Marvel Studios' Hawkeye premiered on Disney Plus this week and brought forward some surprises and returning characters. However, the highlight of the 45-minute episode was not the big reveal at the end but was instead the scene with Florence Pugh's Yelena Belova and Hailee Steinfeld's Kate Bishop having a conversation in the latter's burnt down apartment. The tension in that 10-minute scene is palpable and the conversation is both light and serious at the same time. Pugh does a fantastic job at portraying Yelena's emotions while being friendly and threatening simultaneously. Phase 4 of the Marvel Cinematic Universe seems to have perfected scenes with extensive dialogues, and the latest Hawkeye episode has successfully added to the list of meaningful conversations. RELATED: Hawkeye: Episode 5's Biggest Strength Is Its Pacing The scene begins when Bishop arrives at her apartment after feeling dejected by both her mother and Jeremy Renner's Clint Barton. Waiting for her there is Yelena, cooking a bowl of instant macaroni and cheese. It seems a little odd that Yelena would think of food at such a time, an observation that Bishop immediately makes. "Well I was starving, and you took forever. So, I wanted to make food," she responds. Even though a lot of jokes are made about the dinner, viewers instantly know that this would be a conversation for the books. Yelena begins with light-hearted quips about it being her first time in New York. She even gets Bishop to give her tips on the sites she should visit while she is in town. The whole time, Bishop and the viewers are probably wondering what her next move will be. Will she just leave after having a civil conversation, or stab Bishop to death? The scene perfectly peaks the anticipation factor, reminiscent of the scene in Loki when He Who Remains is introduced. The conversation begins to go south when Bishop asks why Yelena keeps referring to her using her full name. Suddenly the jokes are gone and things get serious when Yelena reveals her plans of killing Barton. It is at this point that she informs Bishop that she is Natasha Romanoff's sister and Barton is responsible for her death. The performances by both actors are phenomenal from here on and the variety of emotions expressed within just a few minutes is a treat to watch. At this point, it becomes vital for Bishop to face the truth. She herself admits that she has only known Barton for a week, so it would be impossible for her to know everything about him and his past. She has only idolized him for years and put him on a pedestal, but she has no insight into his life as Ronin. Yelena seems like the perfect character to offer this reality check. She isn't just fulfilling the role of a star cameo. Even though she has her own mission and purpose, her appearance in Bishop's apartment works towards the latter's character development, too. Yelena also raises a very important question about the idea of being an Avenger, and how it offers the heroes a free pass for anything and everything. "What does that word even mean? You call him a hero no matter what he does?" Events are usually seen from the perspective of the heroes in the MCU, but seeing things from Yelena's point of view changes everything. Romanoff sacrificed herself at Vormir to obtain the Soul Stone and undo Thanos' snap. It essentially means she died for the greater good and her sacrifice played a crucial role in bringing back the blipped population of the world, which included Yelena as was revealed on the latest episode of Hawkeye. But, for Yelena, she lost her sister in the process and that is all that matters to her. Her raw emotions are portrayed beautifully by Pugh. Tempers flare when Bishop unintentionally refers to Romanoff as "collateral damage." No matter how hard Bishop tries, Yelena is not ready for any justification on Barton's behalf. "We are defined by what we do, not nice words," she says. The extremely tense confrontation ends when Bishop reveals that she doesn't know where Barton is, and Yelena simply asks her to never come in her way again. Family has always been important for the MCU's heroes, but Phase 4 is definitely driving the point home. While Yelena is out for blood after losing her sister, Loki and Sylvie's chat on the train in the Disney Plus series Loki had a whole different take on family. Both those characters spoke lovingly about their adoptive mothers and the loneliness they have felt all their lives after losing them. Even though the two didn't entirely trust each other at the time, they were willing to open up about their family members. Loki has an epiphany and realizes that "love is a dagger," and "it's beautiful, until it makes you bleed." Yelena's grief of losing her sister is reminiscent of Wanda's agony in WandaVision. After losing the love of her life, she creates an entire fictional world where she lives happily with Vision and her twin sons, Tommy and Billy. She is ready to kill anyone who tries to take that world away from her. But, the takeaway from the series was Vision's words, "What is grief, if not love persevering?" That one question became the defining moment of the series and reminded audiences that the heroes in the MCU experience human emotions just like they do. There has been a lot of loss in the heroes' lives. Most of the heroes in the MCU have lost family members and are living with this loss every day. But, Phase 4 seems to have decided to place more importance on this aspect. Vision's question in episode 8 of WandaVision struck a chord with many viewers, summarizing the stages of grief that the titular character had been experiencing thus far. Another important aspect that Yelena focuses on, albeit momentarily, in the latest Hawkeye episode is that of the heroes getting away with everything. A similar conversation took place between Isaiah Bradley and Sam Wilson in The Falcon and the Winter Soldier. Bradley was the US government's second successful attempt at creating a Super Soldier, but was then imprisoned for 30 years. With the extremely obvious racial undertones, that conversation makes one question the entire MCU and the mistreatment of certain characters. Yelena is definitely one of the best things to have happened to the MCU in Phase 4 and she isn't just a cameo in Hawkeye or supporting cast in Black Widow, but an integral part of the future projects. The chemistry that Yelena and Bishop have shared in the past two episodes of Hawkeye, especially during the conversation in the apartment, is remarkable. It would be interesting to watch the two share screen space as the new Hawkeye and Black Widow in a future MCU project, perhaps even in a second season of Hawkeye. Hawkeye is streaming on Disney Plus. More: Hawkeye Episode 5 Easter Eggs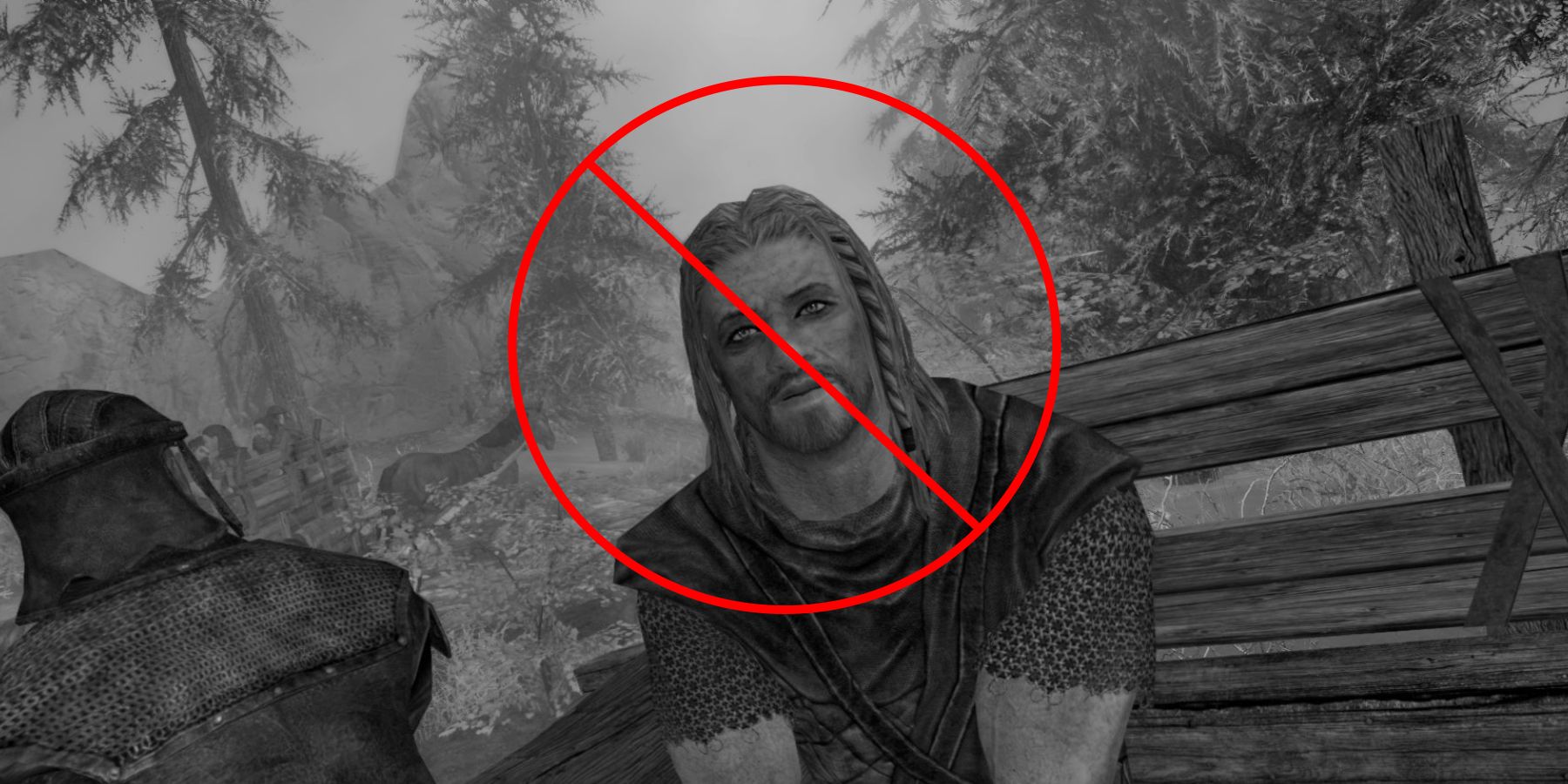 It's no secret that Skyrim is an old game in 2021 with an intro sequence many gamers have memorized by heart. The story of Skyrim is a bit more on-rails than other Elder Scrolls games from the very beginning, but that all changes with one simple (and extremely popular) addon: Alternate Start - Live Another Life. RELATED: Skyrim: Every New Mount In Anniversary Edition (And Where To Find Them) Alternate Start has been a mainstay of many Skyrim modders' load orders since its release. Instead of beginning in the cart ride to Helgen, players can wake up in a prison cell in the middle of nowhere, ready to launch their adventure in any direction without having to suffer through Helgen and the dragon attack. And best of all, it's available on consoles too. Alternate Start does what it says on the tin – after installing, every new Skyrim save file will begin directly at the character creation screen. After customizing and naming a character, players find themselves in a prison (in classic Elder Scrolls fashion) with nothing but a Statue of Mara, a bed, and some ragged furniture. By talking to the Statue of Mara players can customize where their character starts as well as some other basic RPG elements like your character's backstory, which affects things like starting gold, equipment, and more. RELATED: Skyrim: How To Get Netch Leather Armor Alternate Start effectively gets rid of the entire traditional Skyrim opening by giving players the choice to spawn almost anywhere else in the world including player-owned homes, cities, guilds, strongholds, caravans, or a totally random location. The main quest isn't completely gone, though, as discovering Helgen later on will initiate the quest to warn the Jarl of Whiterun of the Dragon attack. It's a very lightweight mod that fundamentally changes how a player experiences Skyrim from the very start, and it's a must-have for players who like to play multiple characters. Alternate Start is a very convenient mod to install as it is listed in Bethesda's in-game modding platform for Skyrim. When it comes to how to install the Alternate Start mod this way, it's literally as simple as opening Skyrim, navigating to "Mods" in the main menu, and finding Alternate Start in the listings. Download it to your device and ensure it's enabled and in your load order before starting a new game. It's also available through the Nexus Mod Manager, which requires players to download the Alternate Start addon through the manager instead of an internet browser. To install it manually as a PC user download the mod files via the Skyrim Nexus or other mod-hosting websites. Then, drop the individual files listed in that zip folder into your Skyrim/Data folder (usually located in Steam/Steamapps/Common). Make sure the. esp files are enabled on launch, and you should be good to go! As always, ensure that the version of the mod you download from any source matches your game's version – Anniversary Edition players, for example, have reported game-breaking glitches when trying to load outdated mods. Skyrim Special Edition is available for Nintendo Switch, PC, PlayStation 4 and 5, and Xbox One and Series X| S MORE: The Complete Guide to Skyrim - Items, Quests, Mods, Builds, and Tips

The Witcher season two is nearly upon us, and while you'll have to wait a bit longer for The Witcher: A Grain of Truth —the new, official graphic novel from Dark Horse Comics, based on the short story written by Andrzej Sapkowski —we've got a sneak peek to share today. The story is the basis for the season two premiere, so really this is kind of two sneak peeks in one! Here's a quick summary of the story: "Geralt comes across a derelict mansion where he is met with the current owner—not quite human, but a beast with the faculties of a man. The beast invites him inside where he shares stories of his family, his life. and his curse. If the weight of his misdeeds could condemn him to the body of a beast—a retribution spoken of only in fairy tales, could there be another grain of truth in these tales of fantasy—one that could help him elude his fate and lead him to salvation?" Movie theater quality on the go Just set this baby on a stable surface a few feet up from the ground and enjoy up to 100 inches of 200 Lumen 480p entertainment! Created by Sapkowski, The Witcher: A Grain of Truth 's graphic novel is written by Jacek Rembis, with art by Jonas Scharf and color by José Villarrubia; the cover artist is Kai Carpenter. It will be published by Dark Horse on April 27, 2022; you can pre-order here. The Witcher season two premieres December 17 on Netflix. Wondering where our RSS feed went? You can pick the new up one here.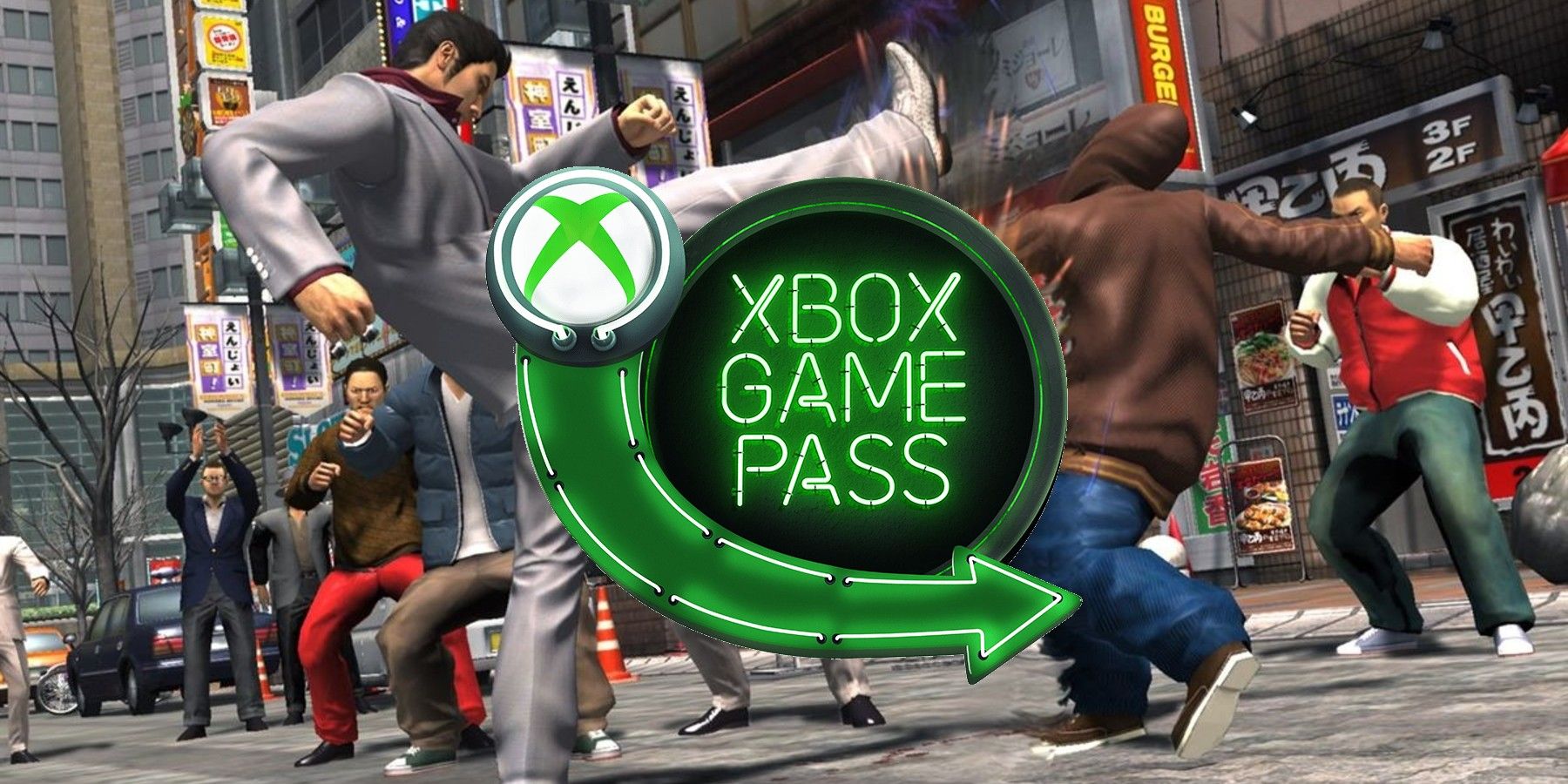 Over the course of Xbox Game Pass' first 4 years of existence, subscribers have gotten used to the fact that games frequently come and go from the Netflix-esque catalogue that they invest into. While Microsoft bestows a bounty of new titles for players to try out each month, it's common knowledge that most third party games that arrive on the service are only going to be temporarily playable. More often than not there's subsequently an invisible expiration date attached to their debuts. Just this week, for example, the publisher announced that 3 of Sega's Japanese crime-themed Yakuza games will be leaving at the end of December. As the year comes to a close on December 31, and 2022 is ushered in across the globe with fireworks and optimism, Yakuza 0, Yakuza Kiwami, and Yakuza Kiwami 2, will all leave the Xbox and PC versions of Game Pass. While 5 other titles in the beloved open-world series will still be accessible after this, it remains to be seen whether or not the departures will return at some point in the future. Considering that the trio represent the chronological start of the Yakuza timeline, there's a lot of incentive either way for players to complete them as soon as possible. Thanks to Microsoft's helpful preemptive announcement, there's just enough time for Xbox Game Pass subscribers to beat the ticking countdown, provided they start now and can avoid getting distracted. RELATED: Sega's New Fragrance Line Proves That No Gaming Merchandise is Too Weird Released originally back in 2015, Yakuza 0 acts as both a prequel and the chronological starting point on the franchise's timeline. Set within the iconic neon-lit cities of Tokyo and Osaka, against the backdrop of a fictionalized version of 1980s-era Japan, players are introduced to the eclectic cast of characters that have helped to make the series an institution in gaming. The stylishly suited Kazuma Kiryu, a member of the titular organized crime-loving Yakuza, is the person that players primarily control as they undertake a quest to clear his name for a murder he didn't commit. Experiencing that thrilling crime-infused narrative can take on average between 30 and 40 hours provided that players stick exclusively to Yakuza 0 's main story missions, whilst doing a decent amount of exp and money grinding on the side. However, based on the dense sandboxes that Sega has created and then populated with a diverse array of activities, it's hard to envision most newcomers not getting distracted by the eye-catching sights that are on offer. Seeing everything that Tokyo and Osaka have to offer for a member of Japan's mafia can lead to a playtime that ranges anywhere from roughly 66 hours, all the way up to a staggering 140. Getting through the trio of Yakuza games that are set to leave Xbox Game Pass at the end of December is therefore going to take a decent amount of discipline on the part of subscribers. After the successful launch of Yakuza 0, which marked the 10th anniversary of the franchise, Sega turned its attention to the next entry point on the series' chronological timeline. Yakuza Kiwami subsequently picks up the action 6 years after the aforementioned game, before quickly jumping forward to 2005, and is a faithful remake of the very first pioneering PS2 entry in the franchise. Players once again find themselves in the leather shoes of Kiryu as he navigates another brilliant mobster-themed story, whilst trying to rise through the ranks of Japan's criminal underworld. Packed once again with side quests, quirky characters, and addictive mini-games, Yakuza Kiwami also features the renovated and modernized brawler combat that made 0 so memorable. However, unlike the aforementioned game, Yakuza Kiwami 1 is considerably shorter. On average most players take around 17 hours to beat the main engrossing story, which will no doubt help those aiming to marathon through the entire trilogy before it departs Microsoft's Game Pass. If anything, the shorter run time should allow players to experience some of the delights that Japan's nightlife has to offer. It's worth keeping in mind, though, that it roughly takes between 32 and 82 hours to see most and all of what's on offer, so those in a rush still need to be a little wary. Picking up the action just 1 year after the events of the previously mentioned game, Yakuza Kiwami 2 is a remake of the original Yakuza 2, and is the last entry in the franchise that's set to depart the Xbox Game Pass library at the end of December. Featuring an explosive story that revolves around Kiryu's quest to unravel an elaborate scheme to detonate bombs across Tokyo, Kiwami 2 benefits graphically in comparison to the aforementioned titles thanks to the fact that it runs on Sega's updated Dragon Engine. The visceral brawler combat that fans have come to know and love is still present, though, and has even been reinforced by the creation of a new separate sub-story that revolves around fan-favorite anti-hero Goro Majima. Being another remake of a beloved classic game from several console generations ago, it's perhaps little surprise that Yakuza Kiwami 2 features a much shorter chain of main quests when compared to Yakuza 0. On average, players will need to invest another 18 or so hours if they want to see the plot through to its conclusion, as well as the short Majima-themed side story. Naturally, that number can grow substantially depending on how much extra content players want to explore. Those looking to get a taste of the quirky side characters and activities on offer will need to set aside 36 hours of their time, for example, whereas completionists will instead need to find a spare 75 hours. Xbox Game Pass subscribers get a handful of free games every month. MORE: The Games That Make Xbox Game Pass A Must-Have for Indie Fans

The iPhone SE has largely left carrier shelves, according to Wave7 Research, giving credence to rumors that a new model of Apple's smallest, cheapest iPhone is coming in early 2022. Wave7 releases monthly reports on the US mobile-phone market based on surveys and interviews with dealers and stores. In its latest report, the firm says the SE has been "dropped by AT&T", is out of stock at T-Mobile, and has 0% market share at Verizon. There's still some SE inventory at prepaid carriers, Wave7 says, but Apple's market share is low there. While Metro is selling the iPhone SE, Apple's share is down to 5% at that carrier. Boost and Cricket also both appear to have iPhone SEs, but they may be in small quantities. Apple may be refocusing its manufacturing capacity to the more profitable and more popular iPhone 13 models. Wave7 reports that there are no longer "broad-based outages" of the iPhone 13, but "each carrier has at least one memory size in short supply." As the cheapest iPhone, the SE may just be getting the short straw during the chip shortage. Apple also clearly prefers its own stores right now. While Wave7 says the SE is out of stock at carriers, Apple's online store shows SE units available for next-day pickup, both unlocked and for each major carrier. Introduced just as the pandemic hit in April 2020, the iPhone SE was seen as "all the phone most people need" in a year of economic uncertainty and near collapse. At $399, it's $200 less than Apple's next model up, the $599 iPhone 12 mini. Even beyond the chip shortage, though, the iPhone SE is a 4G-only phone, and thus hitting up against carrier desires that as much of their lineups as possible support their new 5G networks. Last week, MacRumors had a story citing Ming-chi Kuo, an Apple analyst with a shaky track record for predictions, saying that Apple would launch a new iPhone SE in the first half of next year. That model will retain its 4.7-inch size, MacRumors predicts, but add 5G connectivity. Previous SE models were announced in March or April, so the same time frame in 2022 is likely.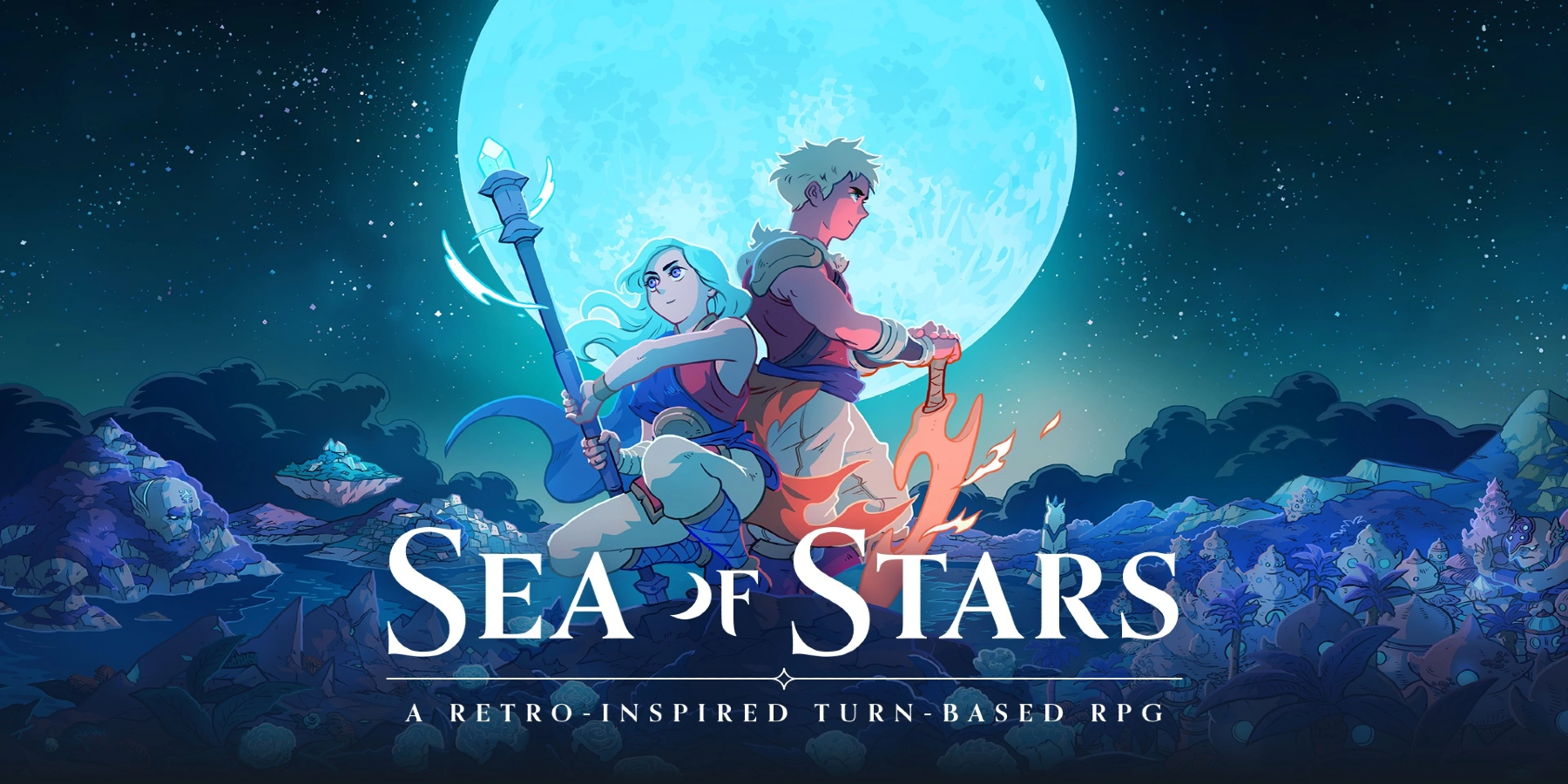 Turn-based RPG Sea of Stars has finally revealed a release window following its announcement trailer at Nintendo's Indie World showcase. The game is a love letter to classic RPGs such as Chrono Trigger, which inspired much of its gameplay. Sea of Stars is a prequel to developer Sabotage Studio's debut title The Messenger, a side-scrolling platformer. The game was fully funded on Kickstarter in just seven hours, following its announcement in early 2020. Initially advertised for "consoles and PC", its latest trailer confirms that one of these consoles will be the Nintendo Switch. RELATED: Chicory: A Colorful Tale Surprise Ported to Nintendo Switch The trailer for Sea of Stars showcases its turn-based combat and fantasy setting, as well as its distinctive pixel art style. Protagonists Zale and Valere must join forces to defeat the evil Fleshmancer, using magic powered by the sun and moon. Sea of Stars is home to a vast world for the player to explore, encountering monsters and formidable boss enemies along the way. According to the trailer, Sea of Stars is slated for a Holiday 2022 release, placing its launch roughly one year from now. Sea of Stars is heavily inspired by beloved JRPG Chrono Trigger, as evidenced by its aesthetic similarity as well as its turn-based battles. Yasunori Mitsuda, composer of Chrono Trigger's soundtrack, is featured as a guest composer on Sea of Stars as well. The game also takes some inspiration from Super Mario RPG; timed attacks play a crucial role in increasing damage output, a key component of Super Mario RPG's combat. If the trailer is anything to go by, Sea of Stars looks to be a promising addition to the Nintendo Switch's growing roster of indie titles. Though clearly reminiscent of Chrono Trigger's 16-bit pixel art, Sea of Stars benefits greatly from modern hardware, with smooth animations, sprawling map design, and dynamic lighting. By turning a contemporary lens onto the nostalgic character of 90s-era JRPGs, Sabotage Studio pays homage to the games that inspired Sea of Stars, while adding their unique touch to the genre. Though a release date has yet to be announced, a Kickstarter update from Sabotage Studio has clarified that this will be revealed sometime next year, alongside other platforms the game will be available on. For now, the studio has promised not to rush the development of Sea of Stars, with an emphasis on quality over compromise. Still, fans can expect a release sometime in Winter 2022, with more updates sure to come. Sea of Stars launches in Holiday 2022 for PC and Nintendo Switch. MORE: Everything Announced at the December 2021 Nintendo Indie World Showcase

Knowing how to record Xbox One gameplay is a skill every gamer should have, especially since sharing gameplay highlights has become an integral part of the landscape of modern video gaming. Luckily, the latest generation of consoles makes it easier than ever to capture and broadcast footage, even without dedicated equipment like expensive capture cards. Are you preparing for a thrilling match in Halo Infinite? Or maybe you're gearing up to face a difficult boss in your latest RPG? Either way, you're going to want to know how to capture the moment, and we're here to show you how. You won't always know when your best gaming moments are going to happen, so the Xbox One uses a handy buffer that records the last 10 minutes of gameplay, giving you plenty of opportunities to capture some awesome in-game moments. The Xbox One's interface only allows you to capture in-game footage, however. If you need to record the menus, you'll still need to use an external capture card. Step 1: If you want to share a cool moment you just experienced while playing a game, simply press the Xbox button at the top center of your controller. This will open up a guide. Along the bottom of the screen, you'll find a few choices, including a menu dedicated to capturing and sharing. This lets you take a screenshot, record footage, and adjust capture options. Step 2: If you would like to take a screenshot, most of the work is already done. The moment you press the Xbox button on your controller, navigate to the Capture & Share menu and then select Capture Screenshot to save an image of whatever is on-screen. Step 3: If you would like to share recent gameplay, simply press Record What Happened and your Xbox One will automatically grab the last 30 seconds of footage it has saved in its buffer. This is the default amount of time for a clip, which is plenty for most gaming highlights, especially moments like the dramatic comeback combo finisher in your last Street Fighter match. Step 4: However, if you want to access more footage than the last 30 seconds, press the Capture Settings option from the Capture & Share menu. Here, you can adjust the recent record time up to 1 minute. Step 5: According to Xbox support, you can record up to 10 minutes of gameplay at a time on the Xbox One's internal storage, depending on the resolution of the footage and the amount of space available on your hard drive. By connecting an external hard drive, you can extend the amount of time you can continuously record by up to an hour. To change the location of where your clips are saved or to change the resolution it's recorded at, go to the guide and select Capture & Share. Then, scroll down to Capture Settings. You'll be given a few options in the column entitled Capture. At the very bottom is where you can select to change the capture locations. This menu has more detailed settings listed on the screen, including several different resolution options (720p is one of them). On the Xbox One X, we were able to record for as long as 5 minutes by selecting a 720p resolution instead of the default 1080p, which has a cap of 2 minutes. This screen also lets you capture at 4K in HDR, but the reduced clip length allowed in this resolution makes it a less-than-ideal option for sharing your gameplay. To view your capture immediately after saving, hold down the Xbox button when the blue notification confirms your recording has been saved. Step 1: From this overlay, you can view your new clip, upload it to Xbox Live or Microsoft OneDrive (if either is set up and linked to your Xbox account), delete the clip, or go to manage all of your saved gameplay. Selecting Edit will send you over to Microsoft's free Upload Studio app or to its entry in the store if you don't have it downloaded. Step 2: To view your gameplay clips at any time, press the Xbox button to bring up the guide. Scroll to the right until you're back at the Capture & Share menu. This menu has a Recent Captures option for you to select and view your saved game moments. On this screen, you'll see a chronological list of all recently captured gameplay. Step 3: An alternative to managing your clips is to select Show All at the bottom of your screen. Here, you can easily choose whether you want to remove, categorize, and copy clips to your activity feed, Xbox Clubs, Twitter page, or OneDrive account. Xbox mobile app developers released an update in 2019 that improves the sharing process. This upgrade lets you do more than just simply record a game. It also allows users to share their game recordings to their social media pages to see their friends and followers. You also can save your recordings in your smartphone's photos. As long as your Xbox One is connected to the internet, it will automatically upload images to the cloud and you can access them from the mobile app. Step 1: You only have to follow a few easy instructions to achieve this. Begin by opening up your Xbox app and looking at your captures by tapping the "books" icon to the left of your profile image on the bottom. Step 2: Next, select the image and then you'll see a Share option at the bottom. Once you press this, you'll see a bunch of networks pop up. You can choose which social media platform you want, whether it's Facebook or Twitter. Step 3: The Xbox mobile app lets users save their photos the exact same way. If you happen to run into problems while trying to do this, we suggest updating your device's privacy settings. This is critical if you're using the most recent software updates.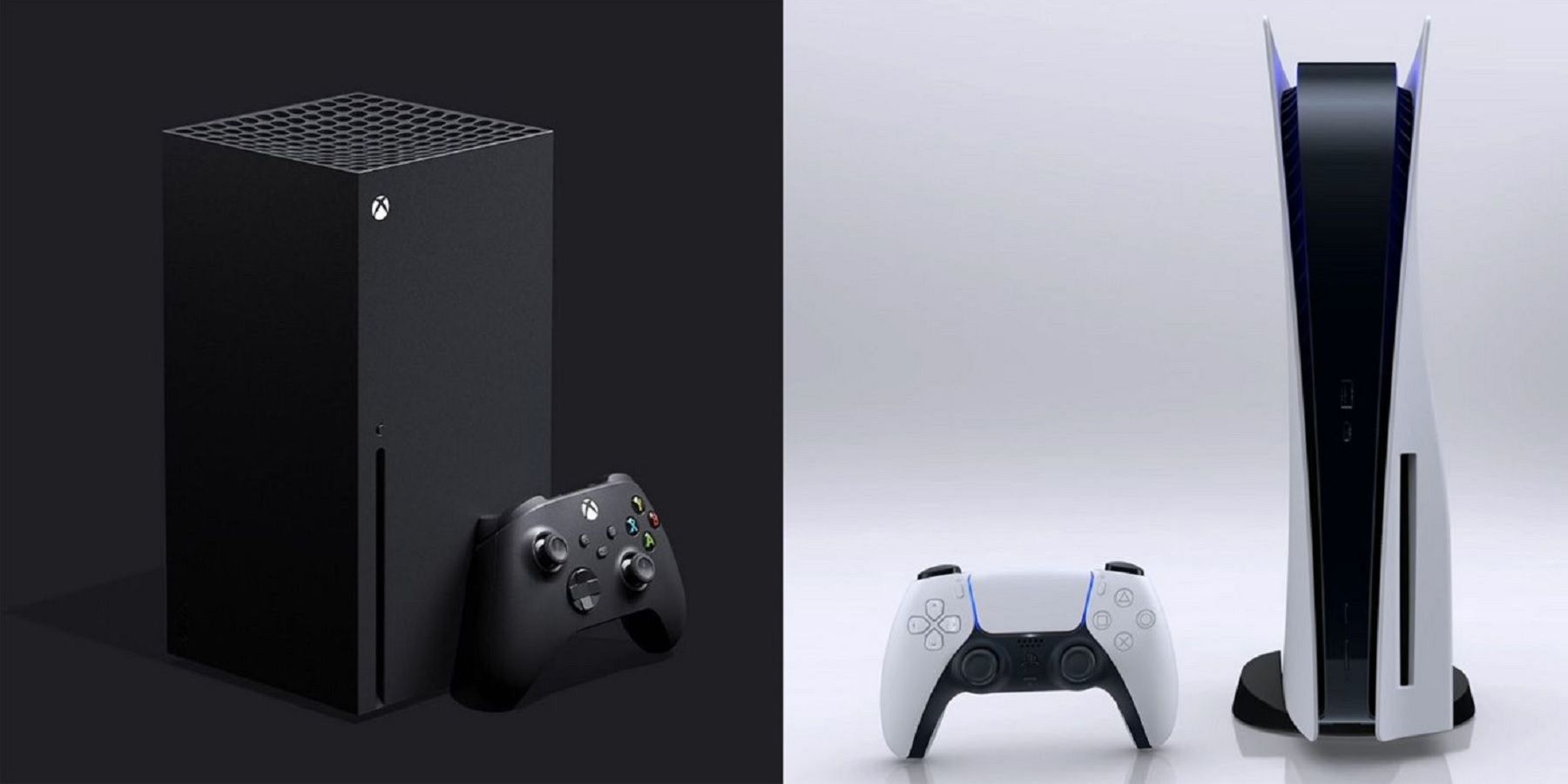 Even though the PlayStation 5 and Xbox Series X consoles have been out for over a year at this point, both are still incredibly hard to find. A variety of factors have made it next to impossible for many consumers to get their hands on a PS5 or Xbox Series X without paying ridiculous marked-up scalper prices, and it doesn't look like things are going to get easier anytime soon. However, there are things that people can do to increase their odds of getting a PS5 or Xbox Series X console, like signing up for Amazon Prime, for instance. Amazon has updated its listings for the PlayStation 5 and Xbox Series X consoles with a new blurb that says Amazon Prime subscribers will get first dibs on new console stock. Amazon is describing this as "priority access" for Amazon Prime customers, which will last until December 31. Amazon has not said when the next PS5 or Xbox Series X restocks will take place, so Amazon Prime members should keep an eye out for more information on that front. RELATED: Amazon Prime Free Games for December 2021 Revealed Anyone that wants to sign up for Amazon Prime to make getting a PS5 or Xbox Series X console a little easier should know that they can pay $12.99 per month for a membership or $119 to get a year's worth of the service. The main benefit is free two-day shipping on anything purchased from Amazon, but now it seems priority access to next-gen consoles can be added to the list of Amazon Prime benefits. Of course, signing up for Amazon Prime in no way guarantees that someone will be able to buy a PS5 or Xbox Series X by the end of the month, it will just increase their chances of doing so. Amazon is far from the first retailer to give next-gen console priority to its paid members. GameStop was one of the first to try something like this out, letting its PowerUp Rewards members get first dibs on PS5 and Xbox Series X console bundles. Walmart later followed suit with its Walmart+ subscription program, which, similarly to GameStop and Amazon, essentially allows subscribers to have the first shot at buying a next-gen console. Eventually, the ongoing PS5 and Xbox Series X console shortages will be rectified and it will be much easier for someone to simply walk into a store and walk out with a console. However, the shortages are expected to continue through 2022, so shoppers should keep that in mind. MORE: Amazon Prime Gaming's December 2021 Free Games Signal an Upward Trend

Facepalm: The Log4J exploits that have been plaguing server administrators for the past week continue as the patch issued to block the intrusions appears to have security flaws of its own. Some companies that had already updated to Log4J 2.15.0 have continued suffering attacks from at least one of two new weaknesses found. Last week, security researchers notified developers that they had discovered an actively exploited zero-day vulnerability in the Apache Struts framework. The flaw was in the Log4J logging utility. The Apache Foundation issued a fix with version 2.15.0 and publicly disclosed the weakness over the weekend. During the 72 hours after issuing the update, exploiting of the flaw skyrocketed, with researchers tracking up to 100 attacks per minute and nearly a million incidents in total. Large firms, including Apple, Amazon, Cisco, and others, scrambled to patch the hole. Almost as quickly as systems were installing Log4J 2.15.0, security firms Praetorian and Cloudflare began seeing active attacks in the patched systems. Researchers pinpointed at least two exploits in a new vulnerability tracked as CVE-2021-45046. One weakness, found on Tuesday, allowed hackers to perform DDoS attacks by manipulating "message lookup patterns" and "JNDI functionality." Apache has now disabled these by default in Log4J 2.16.0. Then on Wednesday, Praetorian analysts found another exploit that would allow hackers to exfiltrate data from vulnerable servers. Praetorian posted a proof-of-concept video demonstrating exfiltration on Log4J 2.15.0 (above). Update 2.16.0 takes care of that too. "In our research, we have demonstrated that 2.15.0 can still allow for exfiltration of sensitive data in certain circumstances", noted Praetorian in a warning to upgrade immediately. "We have passed technical details of the issue to the Apache Foundation, but in the interim, we strongly recommend that customers upgrade to 2.16.0 as quickly as possible." Security firm Cloudflare said on Wednesday that it is tracking CVE-2021-45046 and has already seen the flaw being actively exploited but did not mention whether the attacks were DDoS, data exfiltration, or both. It too recommends system administrators update to Log4J 2.16.0 ASAP. Both companies are keeping technical details of the exploits under wraps while industry workers update their systems.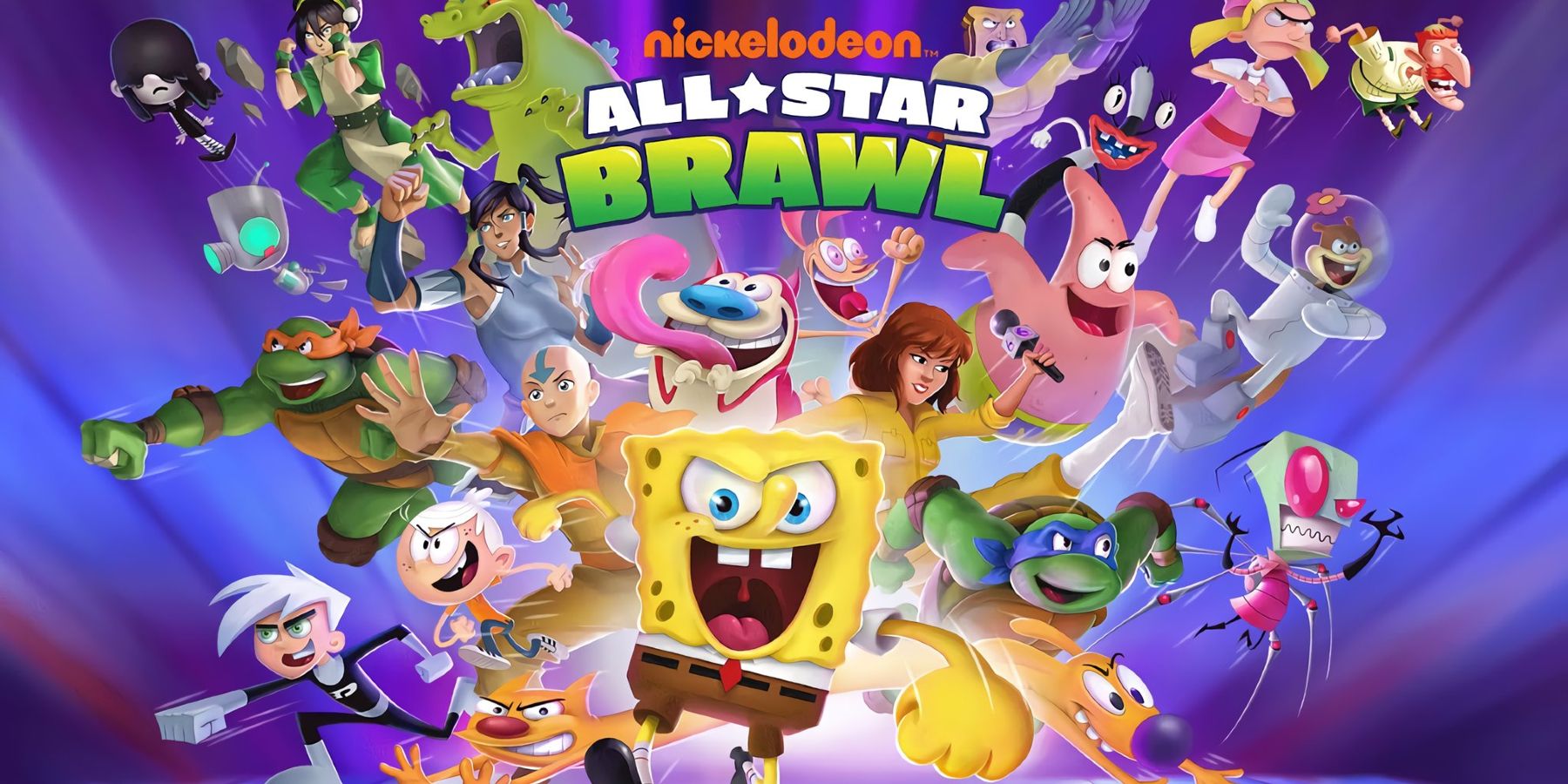 Nickelodeon All-Star Brawl is only one of many platform-fighter games that seek to occupy the void left from Super Smash Bros. Ultimate 's final content update. Platform-fighters such as Brawlhalla, Rivals of Aether, and the recently announced MultiVersus all give one another a tough go in the competitive market. But with iconic character rosters from beloved franchises and stylistic artwork that suits them, many are able to secure an edge over their competitors. Recently, a developer working on Nickelodeon All-Star Brawl shared how the game aims to step it up and draw upon unique advantages as a platform-fighter. RELATED: Nickelodeon All-Star Brawl is Adding Garfield to the Roster Just yesterday, Fair Play Labs' Art Director, Diego Hernandez, joined Hungrybox's livestream to share information about Nickelodeon All-Star Brawl 's future. Hungrybox is a competitive Super Smash Bros. player and streamer who was able to chat recently with the Nickelodeon All-Star Brawl developer about content that players can expect to arrive at a later date. Hernandez states that crossplay, a priority of the developers from the start, will soon be implemented alongside future updates with a highly requested feature that was not previously included. Hernandez's emphasis on the word "hearing" allows fans to infer that they are hinting at dedicated voice acting. Indeed, MultiVersus ' competitive edge was revealed in official showcases and presentations that showed the game would feature voice acting talent from the likes of Kevin Conroy as Batman, Matthew Lillard as Shaggy, and Maisie Williams as Arya Stark. Nickelodeon All-Star Brawl clearly does not want to take this sitting down and is prepared to dole out the money needed to have that competitive edge. Both Nickelodeon All-Star Brawl and MultiVersus deal with massively popular franchise IPs and will therefore need such leverages over the other in order to be the more successful platform-fighter. This could also spell new DLC characters that pique players' interests. Hernandez goes on to share that the second of two free DLC characters will be arriving after Garfield, and that other characters are of course scheduled for the new year. At this rate, Nickelodeon All-Star Brawl 's character announcements may coincide with that of MultiVersus ' throughout 2022. With the superb voice acting talent that Nickelodeon cartoons and characters are known for, voice acting is a feature that is sure to set it apart from the herd, at least as it stands to further identify it as a Nickelodeon IP. It will be interesting to see how both games fare in the new year and what other landmark platform-fighter features may be introduced later on. Nickelodeon All-Star Brawl is available now on PC, PS4, PS5, Switch, Xbox One, and Xbox Series X/S. MORE: Nickelodeon All-Star Brawl's DLC is a Great Sign for the Game's Future

If you work for a company of any size that is even remotely online, chances are good you've had to undergo some training on how to spot phishing (fraudulent) emails. Even if you don't, you may have gained a certain amount of expertise in how to spot phishing scams just by virtue of receiving tons of them. If the sender's email domain is not quite the same as the supposed sending company, that's a red flag. A message from an address at paypal. com may very well be fine; one from paypal-acount-verefy. com probably isn't. Messages telling you to click a link before some deadline or else lose access to your account are also highly suspect. It's too bad that Facebook seems to be sending legitimate mail that raises these flags. Just how do you determine if an email that seems to be from Facebook is legitimate? The best security suites are good at detecting phishing emails, but what if you want to check a particularly tricky message for yourself? I'll show you the process I went through with one such email, below. A Strange Message From Facebook I started looking into this problem when an old friend of mine asked about a slightly odd email he got, purportedly from Facebook. It noted that since his posts have "the potential to reach a lot of people," he's required to enroll in Facebook Protect. Not only that, if he doesn't do it within about three weeks, he'll be locked out of the account. There's that pesky deadline. To top it off, the message was sent from the domain facebookmail. com—a variation on what you'd expect. That's two strikes. Oh, and according to its own description, Facebook Protect was designed for "candidates, their campaigns and elected officials." My friend doesn't fit any of those categories. And yet…the message is not asking him to send money, or give away his password, or anything nefarious. It's insisting that he increase his security. How would a scammer benefit from that? Also, strange as it seems, Facebook confirms that it uses the facebookmail. com domain to send official emails. Could it be that the message is legitimate? How to Verify Whether an Email Is From Facebook As it turns out, verifying that an email came from Facebook is incredibly simple—but only if you know where to look. Here's how. Go to Settings. On your own Facebook profile page, find the down-pointing triangle icon at top right. Click it, then choose Settings & Privacy > Settings to open the main Settings page. Find Facebook's List. Near the top left you should find Security and Login. Click that and scroll down to the Advanced section. Click the item titled "See recent emails from Facebook." Match Your Message. If you see a match for the questionable message's subject line, you can be pretty sure it's legitimate. Be sure to look both in the list of Security-related messages and in the list titled Other. Note that Instagram has a very similar feature —not surprising, as both Facebook and Instagram are owned by Meta Platforms. Other Ways to Verify If the message you're wondering about doesn't appear in the list of messages sent by Facebook, that should make a strong case for it being a fraud. By observation, though, this may not be the case. I shared the instructions above with my friend who received that suspect message. He reported no matches in the list of messages. On the flip side, he pointed out that Facebook recently extended the Facebook Protect program to a wider audience, including journalists. As it happens, he's a journalist, living outside the US. At this point I was convinced that, despite its quirks, the message was probably legit. To further support this judgment, I combed through the original message and checked all the links. A scam message that uses deadlines or other scare tactics to make you click a link will almost certainly link to a dangerous page. All the links in this message went straight to facebook. com. That left the very unlikely possibility that somebody spoofed the sending address, security@facebookmail. com. Nothing I'd learned thus far suggested any possible motivation for that sort of hack, but I checked anyway. The Proof Is in the Header Every email message comes with a collection of routing information and other metadata hidden away in its header. You don't normally see this data. It's not intended for you—it's for use by your email client. But if you want to check for signs of address spoofing, you must dig into that header data. Just how you view an email message's header data varies depending on how you get your mail. In Gmail, you click the More icon (three vertical dots) to the right of the Reply icon and select Show Original. This immediately showed that the message passed three tests designed to detect spoofing: SPF (Sender Policy Framework), DKIM (DomainKeys Identified Mail), and DMARC (Domain-based Message Authentication, Reporting & Conformance). That's all I needed to know; I didn't bother clicking Download Original to view the precise details of header data. Outlook isn't quite as helpful as Gmail. You open the message, select File from the menu, and click the Properties icon. In the resulting dialog you get the full semi-incomprehensible details of the message header, in a small, awkward scrolling window. Carefully picking through the headers I found lines like spf=pass (google. com: domain of security@facebookmail. com designates 69.171.232.140 as permitted sender) That's the unpolished text that Gmail summarizes as "SPF: PASS". Poring a bit more over the header data I confirmed that fields such as Return-Path and Errors-To all correctly contained the sender's address. That cinched it. This was a legitimate email from Facebook. Verify Messages From Facebook If you get an iffy message claiming to be from Facebook, you can log into your account and view a list of recent messages sent to you by the service. Finding your message in this list pretty much guarantees it's legitimate. Not finding it should mean it's a fake, but as we've seen, that isn't always true. For a sanity check, search the web for information about the sending domain; facebookmail. com turned out to be legitimate. Check all links in the message to make sure they link to safe pages. And peruse the email header to make sure the sender's address wasn't spoofed. If the message passes these tests, you can rely on its validity, even if it doesn't show up in Facebook's list.

Apple has released the first beta of the upcoming macOS 12.2 to registered developers. The update comes a few days after the public release of macOS 12.1. macOS Monterey brings a lot of new features and improvements to the table. However, it's not as major as Big Sur. The stable build released earlier this week enables SharePlay, Apple Music Voice Plan, and more. It's still unclear what's new in the first beta of 12.2, but we will update you once we discover any new changes. 9to5Mac reports that Apple has also released a beta version of macOS Big Sur 11.6.3. The update most likely includes security patches and other bug fixes. To update to the latest developer beta, you have to install the macOS beta profile from Apple's developer website. A developer account costs $99 per year and will grant you access to all developer beta profiles across Apple's operating systems. One of the main features the company teased back in June is Universal Control. It was one of the most noteworthy highlights of WWDC21. However, this feature still hasn't shipped as of now. Apple had stated it would be available this Fall. After the release of macOS 12.1 last week, though, it delayed it till Spring 2022. We're still unsure if the first beta of macOS 12.2 enables it, but we wouldn't be surprised if it doesn't — as Spring is still a few months away. For a relatively major 12.x update, we expect this build to include new features. Apple usually includes significant changes with these version number bumps. We don't advise average users to install macOS beta on their daily drivers, though. This is because features and functionalities could break. So if you depend on your Mac for work or studies, it's a good idea to hold back, at least until the public beta is released — if you'd rather not wait for the stable release. Do you run macOS beta on your daily driver? Let us know in the comments section below.

Windows 11 is out and updating on many machines, and in the process a lot of PC builders are tripped up by an odd system requirement: TPM 2.0. A TPM, or Trust Platform Module, is a dedicated processor that handles hardware-level encryption. It's the device that allows you to use biometrics to log in to Windows and encrypt data on your device. Still, it's tough understanding what a TPM is, and more importantly, why you need one for Windows. We're here to help you cut through the cryptographic weeds so you can get your PC up to spec to install Windows 11. A TPM is a chip that lives on your computer's motherboard. It's a dedicated processor that handles encryption, holding part of the secret key you need to decrypt data on your device and access services. In the case of the upcoming Windows 11, the TPM can store things like your biometric data for Windows Hello and part of the encryption key for BitLocker. That's not the only purpose of a TPM, though. It can store any part of a secret you need for decryption, regardless if that's a password, certificate, or encryption key. Furthermore, the TPM stores this information on actual hardware, not through software. That means software attacks can't expose the secrets you have stored on the TPM. A dedicated TPM further raises security thanks to a static Endorsement Key (EK) certificate. This certificate lives on the module and never changes, verifying that any component communicating with the TPM is, indeed, communicating with the TPM. In short, a TPM helps you protect your most sensitive data. Because the device lives on your motherboard, it doesn't need to communicate with any server or require further, offsite authentication. It's a device that helps prove you are who you say you are, and that you're accessing a computer you own. It's not hard understanding what a TPM does, but its application in Windows is a little messy. As mentioned, Windows 10 and Windows 11 use the TPM for BitLocker disk encryption and Windows Hello. The integration with Windows goes a lot deeper, though, which has caused some confusion with Windows 11. It requires a TPM 2.0 chip. Windows takes control of the TPM while your computer is booting. This is a good step for a couple of reasons. The first is that the TPM can verify the integrity of Windows before the operating system loads. That ensures you aren't loading into an OS that has malicious code. It also helps with antivirus software. Most malware is written to run on your OS, so something like adware executes after the operating system has loaded, even if you don't see the program actively running on your desktop. Antivirus services can usually deal with this type of malware, but some struggle with rootkits. A rootkit is a piece of malware that's supposed to live on your computer undetected. Although some rootkits only attack a particular application, many start loading before your OS does. That opens up a world of possibilities to attackers, allowing them to infect the bootloader of your OS or even the kernel (the core of your OS). TPM handles that. Windows automatically leverages the TPM during boot sequences, but other software, such as antivirus, can also leverage it to weed out rootkits before the OS loads. Cyberattacks continue to rise, likely in response to the increasing amount of personal (and valuable) data that people store on their PCs and online. The TPM requirement on Windows 11 is the medicine before the candy. By getting PCs up to date with the latest hardware security, Microsoft can push forward with its security efforts rather than focus on getting more people on board. After the announcement of Windows 11, the price of dedicated TPM hardware has shot up on the secondhand market. Prices have dropped since, but it shows how much of a fuss this requirement caused. You don't need to spend an extra $100 to run Windows 11. This is mainly an issue for the DIY PC market, as Microsoft has required TPM on devices running Windows 10 for the past several years. Off-the-shelf motherboards may not come with hardware TPM, but most boards from the last few years come with firmware TPM. Instead of a dedicated crypto-processor, this form of TPM uses firmware stored elsewhere on your motherboard for authentication. It then borrows your CPU's horsepower to handle the cryptographic functions. Hardware TPM is more secure, simply because it's isolated from other components in your PC. If one component or area of your PC is compromised, the TPM can still function independently. Firmware TPM isn't as isolated. It still performs the same function as hardware TPM, but its more prone to tampering since an attacker can, theoretically, more easily corrupt firmware over physical hardware. Windows 11 doesn't care about the type of TPM you're using, so long as it adheres to the TPM 2.0 standard. If you built your own computer in the last few years, you can enable firmware TPM through your motherboard's BIOS. If you bought a prebuilt machine or laptop, you're fine to run Windows 11 on it as long as it was manufactured after 2016 (when Microsoft implemented the TPM requirement in Windows 10).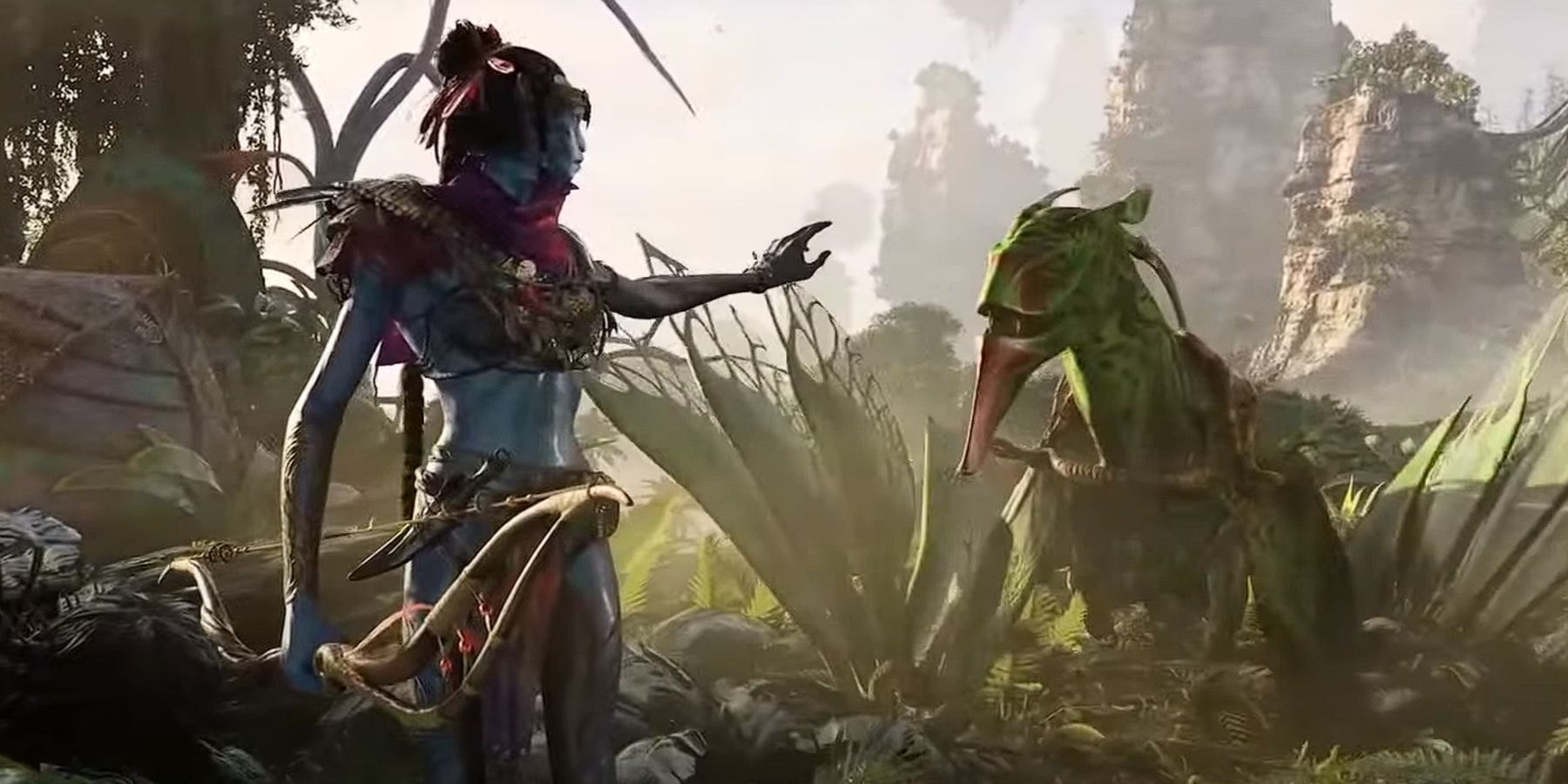 James Cameron's Avatar franchise has seen an incredible level of expansion in recent years. Starting with the release of Avatar in 2009, which went on to achieve astronomical commercial success, 20th Century Fox later announced a series of planned sequels were in the works. While little is known about the upcoming sequels, Avatar 2 is set to release in 2022 barring any other delays. However, that's not the only taste of Pandora that fans will be seeing in 2022 – Publisher Ubisoft has given Avatar: Frontiers of Pandora a tentative release window for next year as well. This is not the first game set in the world of Avatar. James Cameron's Avatar: The Game was released in 2009 along with the first film, but only received mixed reviews. Hopefully, Avatar: Frontiers of Pandora has its sights set on a better critical reception, and with all that fans have been able to glimpse so far, it certainly seems like an ambitious title. Still, with the original film generating such a loyal and widespread fanbase, those already invested in the world of Pandora and its inhabitants are likely wondering how the upcoming game compares to the first Avatar film. RELATED: There's a Good Chance Avatar: Frontiers of Pandora Gets Delayed Despite a release scheduled for next year, not much is known about Massive Entertainment's upcoming Avatar: Frontiers of Pandora. After being officially revealed during the 2021 Ubisoft Forward earlier this year, the details of what players can come to expect from the game have been fairly sparse. From what has been seen so far, however, there are more than enough tidbits to go on to speculate on what Avatar: Frontiers of Pandora might entail. From the First Look trailer, fans were shown the familiar breathtaking and verdant world of Pandora with a look at the jungle, its bioluminescent sections, and its rocky canyons. Pandora's vast, lush landscapes and exotic jungles were some of the best parts of the first film, and it's great to see them recreated in Avatar: Frontiers of Pandora for players to properly explore. The developers have said that the in-game setting will be a "living and reactive world inhabited by unique creatures and new characters", no doubt pushing the capabilities of the Snowdrop Engine. The game will take players across the Western Frontier, a never-before-seen region of the hotly disputed planet of Pandora, which will hopefully provide exciting and fresh landscapes along with the more recognizable regions. Avatar: Frontiers of Pandora will be a completely standalone story, so it's unlikely that the game will crossover too much (if at all) with previously seen characters, although the story will center on the ongoing battle between the indigenous Na'vi and the exploitative Resources Development Administration (or RDA). Players will have the chance to control a Na'vi to fight against the RDA and stop their expansion across the resource-rich planet, as well as explore the immersive open world. While the biggest difference will no doubt be the whole new area that players will be navigating, there are still some smaller changes from the first Avatar film. Along with new characters, the first glimpse provided a look at some brand new species of flora and fauna, with no doubt many more to see once the game releases. Familiar animals like woodsprites, direhorses, and flying banshees make an appearance, with the inclusion of flying banshees opening up interesting combat possibilities. There are still some creatures that keen-eyed fans have spotted in the brief trailer for Avatar: Frontiers of Pandora that appear new to the world, though, like the larger dinosaur-like creatures that roam the plains. The helicopters and mech suits utilized by the RDA are pulled directly from the first film, but the base that players can see in the reveal trailer seems like a new location specifically for Avatar: Frontiers of Pandora. With the aim of the game to stop RDA's invasive expansion across the planet, it's likely that they will have set up new bases or compounds across Pandora that players will have to shut down or destroy. Although the Na'vi look like they will once again be facing up against machine guns and modern weaponry with only their bows and arrows, an explosive arrow takes out a helicopter during the thrilling aerial fight in the reveal trailer, hinting at potentially diverse ammunition types in order for players to match up against RDA's seemingly superior might. With newer elements combined with the familiar ones that made the first Avatar film the highest-grossing in history, it's clear Avatar: Frontiers of Pandora has the potential to be as era-defining as its cinematic predecessor. Avatar: Frontiers of Pandora will be available in 2022 for PC, PS5, Stadia, and Xbox Series X/S. MORE: James Cameron Shares New Avatar 2 Set Photos And Stunning Concept Art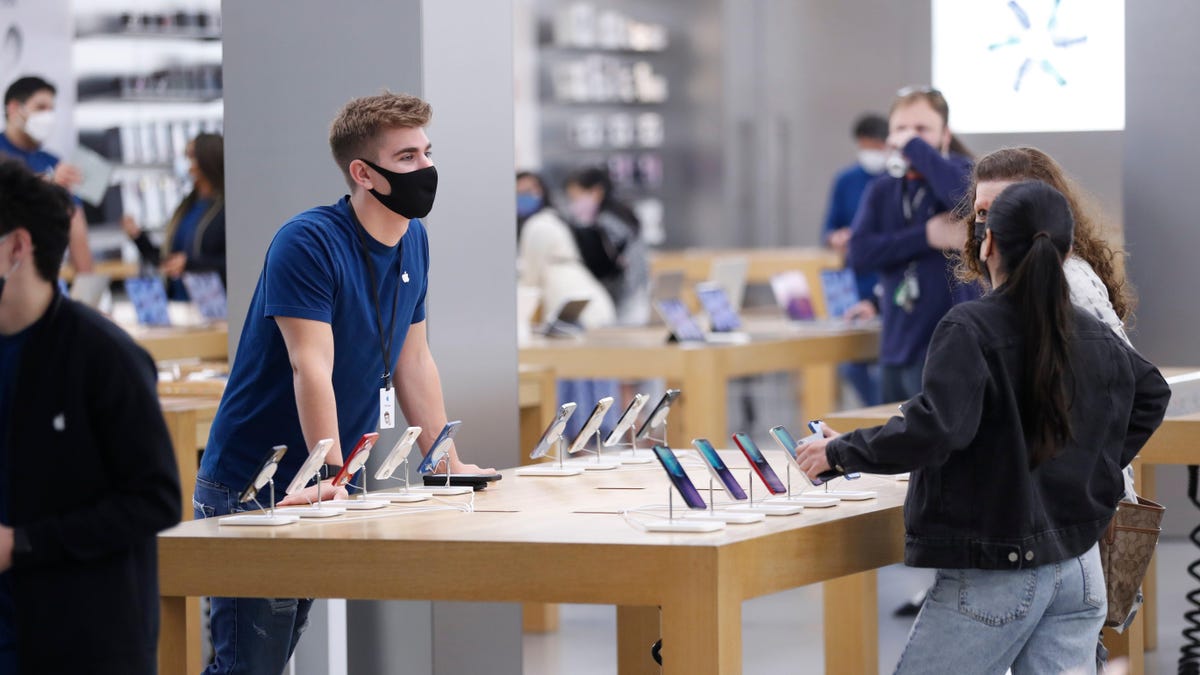 Apple is the latest tech company to mull the state of the coronavirus pandemic and wearily shrug as to when it will finally ask workers to return to the office, according to multiple news reports. Bloomberg reported that CEO Tim Cook sent a memo to staff on Wednesday informing them the company is "delaying the start of our hybrid work pilot to a date yet to be determined. Our offices remain open and many of our colleagues are coming in regularly, including our teams in Greater China and elsewhere." Previously, Apple had asked workers to return to the office by February, although that date had already been pushed back multiple times (scrapped dates have included June, September, October, and January). Cook's memo cited "rising cases in many parts of the world and the emergence of a new strain of the virus," referring to the still poorly understood Omicron variant of the virus, according to Bloomberg. He pleaded staff to get vaccinations and booster shots as "this is by far the best way to keep you and your community safe." Apple employees will also be receiving a $1,000 bonus intended to be used to upgrade their at- home work environments as they see fit, including staff at its retail locations. Apple confirmed the decision to Bloomberg, the New York Times, and CNN Business. As CNN noted, earlier this week, Apple had closed some of its retail locations and brought back mask mandates at all others; the Times reported signs of outbreaks at Apple retail locations in Annapolis, Maryland; Miami; and Ottowa. Cook stated in the memo employees will get at least four weeks of heads up before anyone will be required to return to the office; when they are required, many staff will be on a split schedule in which they only need to show up three days a week. Movie theater quality on the go Just set this baby on a stable surface a few feet up from the ground and enjoy up to 100 inches of 200 Lumen 480p entertainment! Return- to- office dates have basically become the stuff of futurism at a large number of companies. The New York Times recently reported that companies that have announced postponements include DocuSign, Ford, CNN, Google, Facebook (which won't require staff to return at all), and Lyft, with the latter saying mandatory office time wouldn't be re-implemented until at least 2023. Surveys have shown that workers would, in general, very much like not to be required to return to the office, while many organizations have repeatedly pushed back their dates thanks to the unpredictable twists and turns of the global pandemic. The emergence of the highly transmissible Delta variant earlier this year was a major curveball, raising the prospect that vaccination rates were not yet high enough to adequately protect employees or their loved ones from the possibility of an office outbreak. Now there's the Omicron variant, which studies have indicated may be able to bypass some of the protections of existing vaccines, at least without a booster, and result in increased breakthrough infections. (It's important to note that the vaccines are still extremely effective at preventing severe illness from the coronavirus. Early research indicates that while Omicron may be able to sneak its way past antibodies in vaccinated people, it doesn't have any tricks up its sleeve with T cells, the immune system's second layer of defense.) " The reality is, folks are learning that sharing the intention of their return plan is more important than sharing the plan itself. The average CEO has very little command over the state and progress of a global pandemic," Zach Dunn, the co-founder of office space management firm Robin, told the Times. "It feels like in a moment of crisis they should be showing leadership by sharing a clear vision for what they expect, but that's backfired for most folks." "The only companies being dishonest are the ones giving employees certainty," Stanford professor Nicholas Bloom, an adviser to many CEOs, told the Times. "As a parent, you can hide stuff from your kids, but as a CEO you can't do that to adult employees who read the news." Apple didn't immediately respond to a request for comment from Gizmodo, but we'll update this story if we hear back. MORE: Early Data on Omicron: There's Good News and There's Bad News

Xiaomi has sold affordable Android TV devices for a few years now, from the Mi Box series to the cheaper Mi TV Stick. Back in September, an updated version of the TV Stick was spotted at the FCC, and now it has been made official. Following Xiaomi's announcement from August that its future products wouldn't use the 'Mi' brand, the new device is simply called the Xiaomi TV Stick 4K. Xiaomi seemingly hasn't published a product announcement for the new TV Stick, but a product page has appeared on the company's global website ( via Android TV Guide). It looks exactly like the FCC photos from earlier this year, with the stick and remote sharing the same black design. The remote has two branded buttons, one for Prime Video and one for Netflix, but those could vary by location/country. The main upgrade this time around is 4K playback, as the earlier Mi TV Stick was only capable of 1080p video. That makes the Xiaomi TV Stick 4K a viable competitor to the Amazon Fire TV Stick 4K and Chromecast with Google TV, complete with Android TV 11 and hardware decoding support for AV1 and VP9. Xiaomi didn't specify exactly which SoC is used, but previous leaks pointed to the Amlogic S905Y4, which matches Xiaomi's "Quad-core Cortex-A35" description. Even though this is an upgrade over the older Mi TV Stick, there are still some downsides. Xiaomi didn't include an SD card slot or extra USB port, so there's no easy way to add storage — you'll have to live with just 8GB of internal storage. The stick is also running Android TV 11 and not the latest release, but considering Google only released Android TV 12 this month, that's probably to be expected. It's not clear when (or where) the Xiaomi TV Stick 4K will be available to purchase. It will presumably be around the same price as the previous stick, which is $54.99 in the United States and ₹2,999-3,499 in India.

One of the best headphone deals right now is thanks to Best Buy with $50 off the fantastic Bose QuietComfort 45 wireless noise-canceling headphones. Offering plenty of reasons to invest in these high-end headphones, they're down to just $279 right now at Best Buy, reduced from $329. Whether you're looking for a great gift idea for someone or you're keen to treat yourself, these are a great option. Let's take a look at what makes them so good. The Bose QuietComfort 45 provide a wealth of great features. Offering the type of noise cancellation that rivals the best noise-canceling headphones is a great starting point for them. Besides blocking sound when you need them to, Aware Mode means you can focus on what's important in the outside world. Microphones are able to pick up the sounds around you before playing them naturally through the headphones so you can enjoy your environment and music at the same time. Whenever you do listen to music, volume-optimized Active EQ provides you with balanced performance at any volume. That way, bass stays consistent and never overpowering with music sounding clear at all times. Clarity is everything here right down to taking calls with plenty of microphones ensuring your voice sounds as crisp as the sounds you hear back when listening to a conversation. At all times, you get to enjoy a super comfortable fit too so you'll enjoy wearing them for extended periods. Elsewhere, the Bose Music app simplifies getting set up, while extensive battery life of 24 hours means no need to worry about recharging so often. A quick 15-minute recharge gives you up to three hours of play time while a full charge takes just 2.5 hours. Convenience is everything when using the Bose QuietComfort 45. Supremely comfortable, good looking, and providing you with great sound quality no matter what your situation, these are really great headphones to consider. You can even connect them to multiple devices at once. Ordinarily priced at $329, they're down to just $279 right now at Best Buy. Snap them up now while stocks last. They're the perfect Christmas gift or treat for yourself.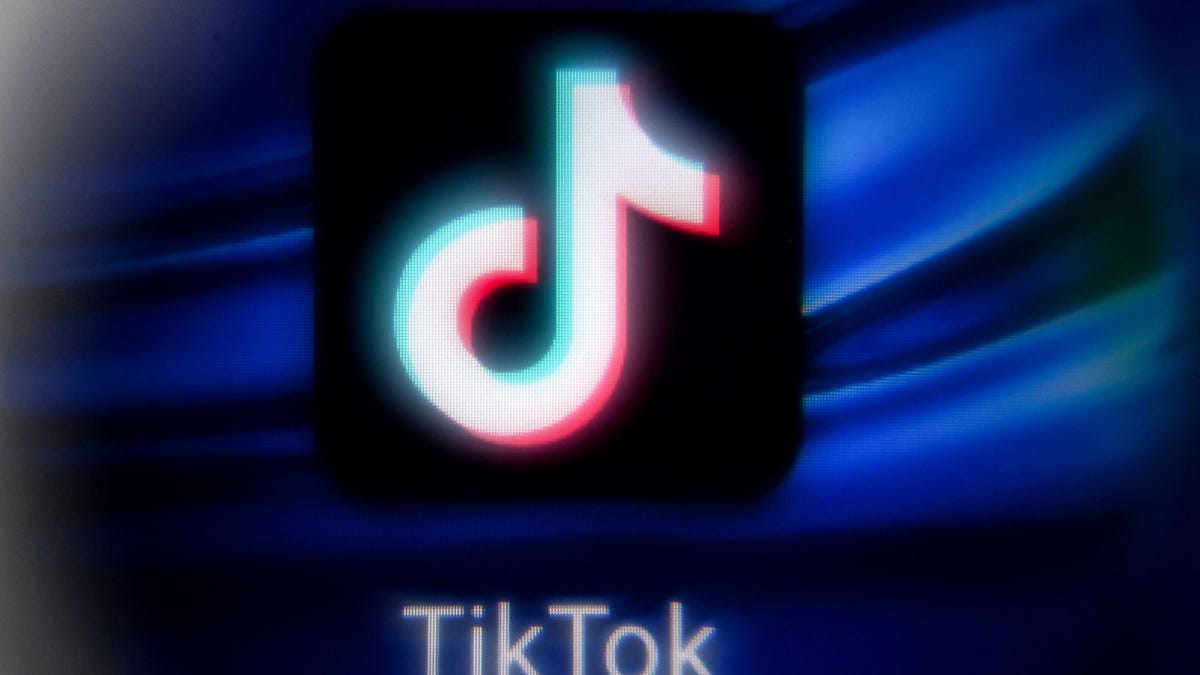 While almost every other app is trying to become TikTok, TikTok is apparently angling to be more like Twitch. On Thursday, TechCrunch reported that TikTok is testing out something called TikTok Live Studio, a Twitch-like feature that lets users livestream their PC video gameplay. Gaming is an increasingly popular genre on TikTok, with many of the app's users utilizing the existing livestream feature to record themselves playing popular console games while interacting with viewers via real-time comments. But streaming from mobile is a relatively crude setup for most gamers, who require a gaming console hookup and desktop-capable software in order to deliver a more polished viewing experience. A sneak peak at the software tweeted out by journalist Zach Bussey shows that the program is still relatively rudimentary, and that it's currently able to pull footage from apps, mobile devices, and cameras in addition to individual games. Users will also seemingly have the option to stream in portrait mode, which is the format their TikTok audiences will be used to, as well as in landscape mode for wider shots. Once downloaded to desktop, users can enter their TikTok credentials to access the program, which will sync their content and list of followers. Movie theater quality on the go Just set this baby on a stable surface a few feet up from the ground and enjoy up to 100 inches of 200 Lumen 480p entertainment! The ability to stream from a desktop isn't new to TikTok—users could previously use third-party software like Streamlabs—but this is the platform's first foray into its own proprietary desktop streaming software. On mobile, livestream audiences have the ability to send tips and "roses," and creators can schedule events and assign moderators to patrol the live discussion. According to TechCrunch, while TikTok Live Studio is currently set up to give creators many of those same abilities, including the option to enable gifting and comments and set up keyword filters, they won't be able to assign moderators or schedule streams—at least not right away. While the program is currently only available to a few thousand users in a handful of Western markets, according to TechCrunch, the new software could someday become a crucial component of TikTok's plans to spice up its live content offerings and devise new strategies to keep its users from ever straying outside the app.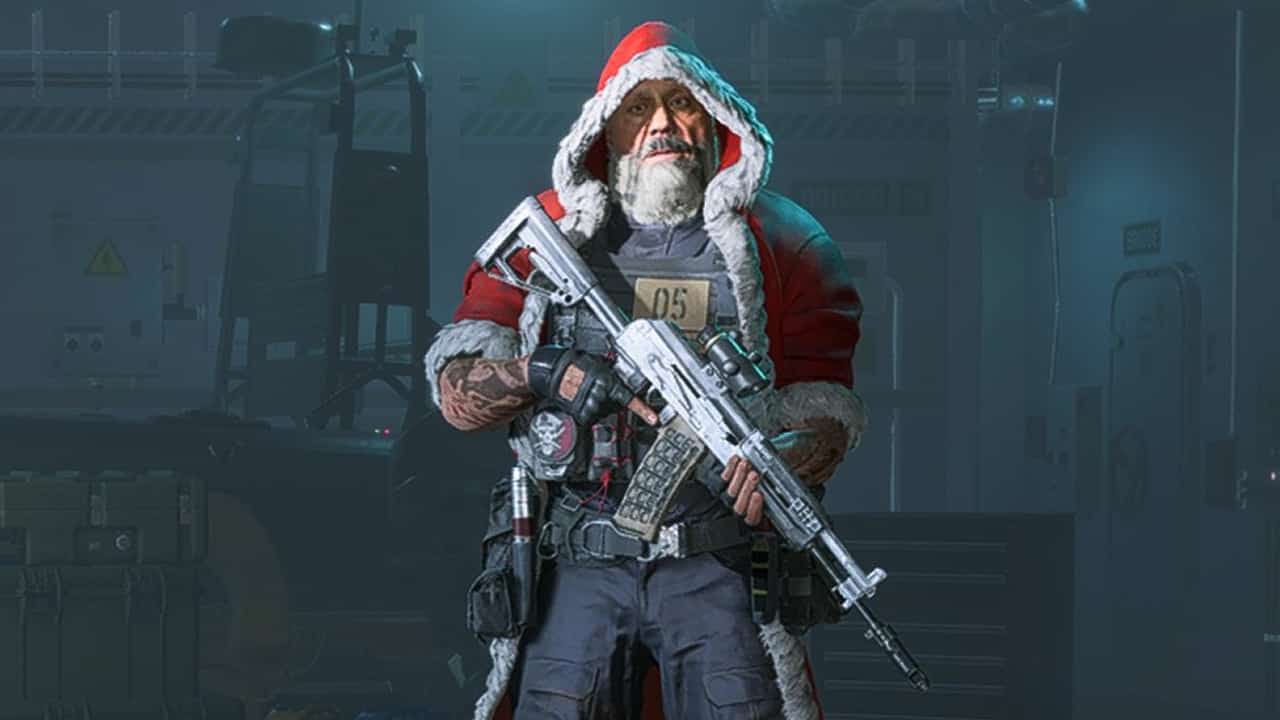 DICE has announced the latest game mode to come to Battlefield 2042 's Portal mode, " Attack of the Elves," in which the dreaded Santa skin returns, ish. The new "Attack of the Elves" mode is a spin on a classic infection game mode, in which a team of heavily armed players in Santa masks are given Christmas-skinned LCMG's and told to survive against Team Elves, who are given lollipop melee weapons and a grappling hook. The result, as you might expect if you've ever played an infection game mode before, is surprisingly intense carnage that'll definitely be fun to play for at least a few rounds, to say the least. Alongside this new temporary mode, which will be around until the 6th of January 2022, Battlefield 2042 players are also being given a "Santa's Little Slayer" player card, so make sure to not miss out on that if you want to be represented in-game by a penguin holding a gun. Previously a few players got a glimpse of some Santa-themed cosmetics in early December, prompting fears that Battlefield 2042's near future aesthetic would be going down the drain only a month after the game's release. Thankfully, just as we've seen now with this Christmas themed event, DICE will be keeping their more outlandish skin designs for special occasions in order to "further enhance the fantasy in special events."

2021 has been the year of wearable technology for me with the task of testing out at least 25 wearables and it is difficult for me to settle in on just a single one to fully satisfy me. For the past three months, I have been testing out the new Whoop 4.0 and despite not having a display I find the device to be more useful to me than the new Oura Ring 3. Watches have been mounted on my left wrist for most of my life and I appreciate the ability to glance down to check the time and date. Watches have evolved over the past twenty years since I've been covering mobile technology with some smartwatches able to provide functions found in phones just a couple of years ago. At first glance, the Whoop 4.0 seems to be a step back with no display at all. However, the power and usefulness of the device is found in the analysis and presentation of the data to help you understand your body and its current state of readiness. See also: Best smartwatch for Android users: Top watches. My Whoop 4.0 review kicked off with a rocky start due to a defective sensor unit and battery pack that charged the device up at a rate of about 2% per hour and also died after a day. For some reason, that unit also kept disconnecting itself from my phone and I had to pair it back up every other day with a limited amount of data collected. I was so frustrated with the experience that I was ready to send it back, but I saw others enjoying the device so knew there was clearly something wrong with that particular unit. After a replacement arrived, things have been going well with the battery pack charging up the sensor in connected and mobile modes, the Whoop 4.0 lasting for four to five days, and data syncing perfectly. I've been wearing the WHOOP 4.0 on my right wrist, and in the band of the boxers (more on this later), since I need to have a watch with a visible face on my left wrist. This works out just fine as the Whoop 4.0 provides key extended wear information while the watch on the left wrist switches out weekly to try something else for a review. I'm almost settled on one or two-star watches, but there is overlap in the data collected with some watches and the Whoop 4.0 so I'm still working through evaluating the optimal setup for me. I love the extremely long battery life, training plans, Training Hub, and nearly everything else about my new COROS Vertix 2 and since it is quite weak in the area of sleep tracking (not to mention it will knock my wife out if I roll over in bed and my arm strikes her head) I take the watch off while I sleep and let the Whoop 4.0 handle the details of tracking my sleep. It would be great to see a bit more synchronization between the Whoop 4.0 and some other services, but I may be asking too much between competitors. Also: COROS Vertix 2 outdoor sports watch review The Whoop 4.0 hardware itself is a small black rectangle that houses the battery and five LEDs (three green, one red, and one infrared) to measure your various body processes. Whoop states that it is 33% smaller than the Whoop 3.0 and I never tested that so we'll trust that metric. It is waterproof up to 10 meters and offers four to five-day battery life. There are two grooves on one side where the strap slides into place (a system called Fast Link) while the other end has two holes on either side to mount the other end of the strap with two pegs on the strap side. The sensors are found on the bottom with a plain black plastic top. It's a rather unremarkable piece of hardware when you look at it. There is an indicator light on one side of the Whoop that shows you different color lights for charging, Bluetooth pairing, and more. A small thicker block of black plastic slides down and onto the Whoop device and serves to wireless charge it up. The battery pack has a USB-C port on one side to charge it up with a very small USB-A to USB-C cable included in the retail package. The greatest aspect of this battery pack is that you can connect it while wearing the Whoop 4.0 on your wrist so you can charge up the Whoop and keep on tracking your data. The battery pack is even waterproof in case you happen to be outside in the rain or something, but I certainly wouldn't go swimming with it on as it could still slide off. Extra battery packs are available for $49 too. A SuperKnit black band was included with the Whoop 4.0 package while Whoop also sent along a light blue, Ice, color SuperKnit 4.0 band to also test out. There are a large number of available colors, priced at $49 each. Whoop also offers a bicep band for $54 and higher-end SuperKnit Luxe bands for $99 each. Whoop also uses its Any-Wear technology to provide data collection with Whoop Body gear. This gear includes sports bras, compression tops, leggings, shorts, athletic boxers, bralettes, and everyday boxes. I tried a pair of Any-Wear Boxers but did not include any photos of them in this review. The Any-Wear gear ranges in price from $34 to $109 with some training packs available that can save you 15% on the combination. See also: Best smartwatch: Apple Watch and more top picks. Since the Whoop 4.0 has no display, you rely upon the smartphone application to setup, manage, sync, view, report, and fully experience your Whoop. It is available for both iOS and Android and for this review I used the lovely large display of my Z Fold 3 to interact with the Whoop data that was captured by the device. At first, I thought the Whoop was just an advanced sleep-tracking device that offered more than my GPS sports watches, but it's more than that. It does track the details of your sleep but is also measuring other key metrics of your body throughout the day. One key metric that is important to Whoop is strain and this is defined as the measure of your cardiovascular load, scored on a scale of 0 to 21. Four categories of strain; light, moderate, strenuous, and all-out, are provided by the Whoop. Even if you are active throughout the day, you could end up with light strain if all of that time was casual walking around. Individual workouts receive strain scores, but there is also a day strain that looks at your body for the entire day and night. Strain is a measure of your heart rate so the longer time you spend in higher heart rate zones then the higher your strain will be. When you launch the Whoop app you will be taken to an overview screen and then you can swipe through to view strain, recovery, and sleep data. Moving down the screen shows you your data over a week-long period. You can also then tap on the bottom buttons to view more details of your data. This includes heart rate variability, resting heart rate, respiratory rate, sleep details, and more with a 7-day average as a comparison. On the overview screen, tapping on sleep takes you into a detailed plot with minute-by-minute sleep tracking heart rate data and summary information. There are some words that describe your night's sleep so it helps you understand the data presented to you in such detail. One interesting aspect of the Whoop system is the journaling feature. There are a ton of available questions and you walk through the setup to select questions that are applicable to your situation and then on a daily basis, the questions appear so you can quickly log your day and night. Over time, the journal will feed into your reports and provide you with a detailed picture of factors that influenced your sleep or performance. The second tab over in the software is the coaching page that provides sections for strain coach, sleep coach, health monitor, and then weekly/monthly performance assessments. The health monitor is one of my favorite features and tapping on it opens up real-time heart rate tracking, along with the details of your last evening's sleep. The data include respiratory rate, resting heart rate, skin temperature, blood oxygen saturation, and heart rate variability. You can then even share your health report as a PDF document with your coach, doctor, or other interested parties. The Whoop application can also be used to track your activity from your phone, in combination with the Whoop 4.0 tracking your heart rate. Since I'm using a big Z Fold 3, I have not yet tested this capability and will have to swap my SIM over to a smaller phone I can run with to test this out. There are communities and teams you can join to share your key data and help motivate you to improve. The last tab is where you manage your membership, purchase Whoop gear, and manage your device. Whoop has limited integrations and the ability to share the data outside of the application, but Strava and Training Peaks are supported. If you want to check out an extremely detailed review of the Whoop 4.0, then I highly recommend you check out Ray Maker's excellent review as he sets the gold standard for wearable reviews and covers the Whoop 4.0 in nearly infinite detail. While the smartphone app is excellent and I have a big screen phone to view it, you should also know that you can review some of your key data using the Whoop web application. One cool feature is the ability to quickly view your data trends as far as six months back. The web application also shows you some information that is not currently in the smartphone application, such as daily sleep consistency and the trend views of individual sleep stages. Weekly and monthly assessments are easy to read in the web application and can also be easily printed to share. See also: Samsung Galaxy Watch 3: Finally, a great smartwatch from someone other than Apple. The Whoop 4.0 is extremely comfortable and I don't even think about it sitting on my right wrist with the band. The Any-Wear boxers are comfortable and offer a nice alternative to mounting the Whoop when I want to test out other watches, don't feel like wearing something on both wrists, or want to sleep without anything on my wrists. I was pleasantly surprised by how well the Whoop still tracked my sleep and activity details while in the band of the boxers and will definitely consider other Any-Wear gear too. The Whoop is supposed to automatically detect activities when you experience heart rate elevation for more than 15 minutes, but I didn't see this happen on a regular basis. My typical scenario was to go back in and manually add my activity, using my GPS sports watch details, after I completed the activity and then a plot of my heart rate and other basic stats appeared. If you use your phone to capture the data during an activity then the experience might be more reliable. I would like to see the ability to have GPS data imported into Whoop to include in the strain calculations for my day. I really appreciate the alarm system on the Whoop 4.0 since I wear it to be every evening. You can set to have your alarm go off at an exact time, once you hit your sleep goal, or once you've achieved a green recovery. One of the best things about the Whoop system is the sleep coach that also informs you when you should go to bed and if you miss that then it will provide real-time information on how much of your sleep need you are likely to reach if you go to bed now. One thing that commonly derails athletes is injury and the Whoop 4.0 is designed to help you understand your body's ability to perform and your recovery status. Whoop has an interesting article on why runners should consider a Whoop, even if they happen to wear a GPS sports watches for real-time run tracking and metric tracking. The Whoop 4.0 hardware is available now and it is free. However, you must sign up for a membership with the shortest period of six months at a price of $30 per month. Thus, six months of service and the Whoop 4.0 will cost you $180. You can sign up for an annual membership for $288 ($24/month) or an 18-month membership for $324 ($18/month). While some people may not like a membership model, the overall cost of the service and the device is reasonable for a wearable that provides such advanced and detailed data capture, coaching, and reporting capability. I'm definitely signing up for membership now that my review is done and look forward to continuing to analyze my data and improve my health and wellness.

Whether you are in the same room or on another continent, multiplayer games can function as a means to bring people together. That said, there's nothing quite like the experience of pushing figures around a board, rolling dice, and slaying evil with your friends. That's where VR games like Resolution Games award-winning Demeo shine. Winner of the VR Awards game of the year 2021, Demeo uses the sense of space given to you by VR headsets to create a feeling of closeness that's hard to get otherwise. However, with the cost of entry and technical requirements, VR isn't feasible for everyone. Fortunately, Resolution Games has a… well, resolution for this problem — Demeo: PC Edition. "Since Demeo launched, we have more than doubled the size of the team dedicated to its ongoing development," said Tommy Palm, CEO and founder of Resolution Games. "The reception from players has been incredible — and with the PC Edition, we're looking forward to bringing an authentic tabletop experience to even more players. This is the real deal for desktop gamers, as we're completely rebuilding Demeo for a native PC experience — and we can't wait to welcome you into the world of Demeo." The Demeo post-launch roadmap for 2022 shows several new features, including three new adventures. The first one, Roots of Evil, comes out today and tasks your party with taking on evil druids. However, you won't have to do this alone as this update adds a fifth playable character class, the bard. Roots of Evil is available immediately as a free content update to current players. Beyond new adventures, the Players Hangout is expected in February and adds a social space for players to spend time together while not exploring the dungeon. The hangout will include ways to dress up your avatar as well as play minigames. One of the minigames is Hauntlet, designed by Doom co-creator and Resolution Games senior creative director Tom Hall. "With Demeo, we set out to make a game that rekindles that feeling of gathering around a table with friends to fight monsters and find gold," added Palm. "The game's first year proved that we absolutely hit the mark. What really made those games fun in the long-term, though, was the promise of more content, more adventures and more ways to play. As we head into 2022, we recognize how beloved Demeo is and have made our most ambitious plans yet as a studio. This is a game we'll all be playing for years to come — and with the launch of Demeo: PC Edition in 2022, even more friends will be able to join the adventure." For fans of competitive tabletop gaming, Demeo will also add PvP(player versus player) in 2022. The new mode will pit up to four players against each other in a duel for supremacy. Details and release dates for PvP mode and the two new adventures will be announced a bit down the road.

Meta has announced that it is collaborating with a video interpreting and communication solutions provider for the Deaf and Hard of Hearing, ZP Better Together, LLC, to add Video Relay Services (VRS) to the Meta Portal. The new resource will enable English- and Spanish-speaking Deaf and Hard of Hearing to communicate in real-time with hearing people with the help of an American Sign Language interpreter. Meta Head of Accessibility, Mike Shebanek stated: VRS apps by ZP are "always available, offering a seamless, immersive video-calling experience with interpreters standing by 24/7". With VRS, anyone who has hearing loss, is Speech-Disabled, Hard of Hearing, DeafBlind, or Deaf, and the organizations that employ them will be provided with the ability to make and receive calls to anyone, anytime. Meta Portal also features a number of third-party apps such as Zoom, Microsoft Teams, WhatsApp, and Messenger for communication and connection, along with apps and features such as Watch Together, Prime Video and Netflix on Portal TV, Story Time, and filters and augmented reality masks during video calls for entertainment. For more information or to apply to receive a Portal for free if you are Deaf or Hard of Hearing, head over to the dedicated webpage here or here, respectively.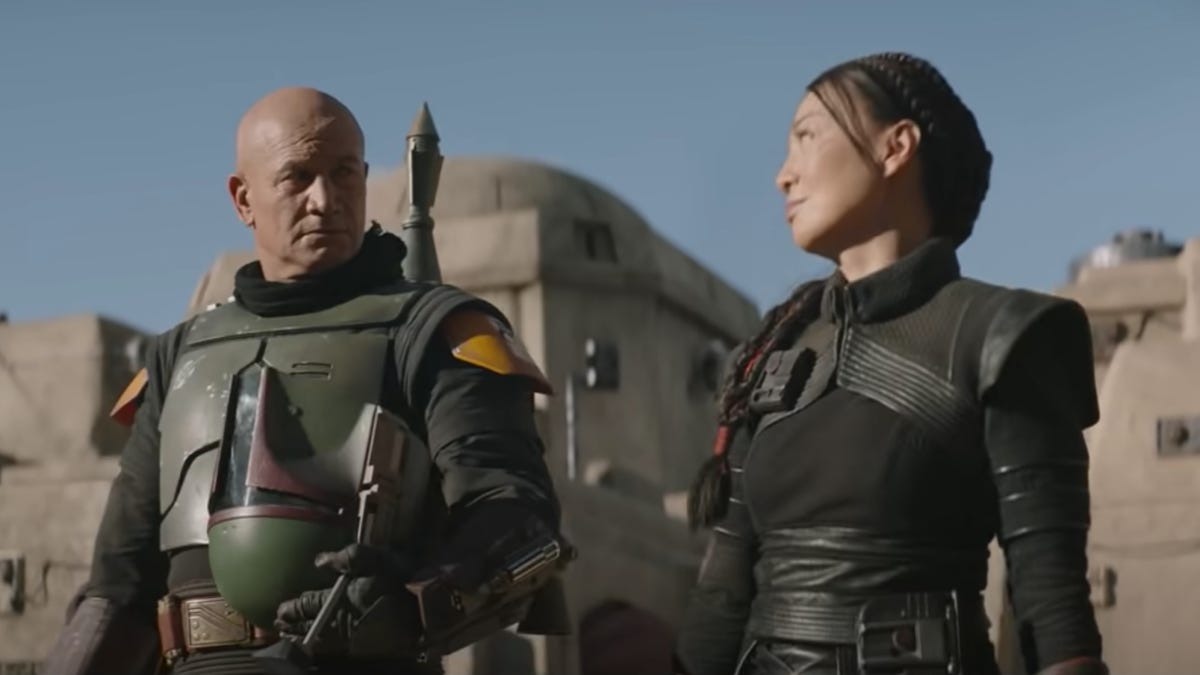 It's very possible no one hates spoilers more than the Disney corporation. Between its Marvel and Star Wars franchises, perhaps no other company goes further out of its way to prevent information about its upcoming projects from getting into the hands of the public, either by forcing workers to sign intimidating non-disclosure agreements or straight-up lying to people. Apparently, that includes lying to the people who are going to work on the projects, too. The Hollywood Reporter has published an article titled "How The Book of Boba Fett Will Shake Up Star Wars," in which there's absolutely no concrete information about how The Book of Boba Fett will shake up Star Wars. That's because Disney has gone to extraordinary lengths to keep the upcoming Mandalorian spin-off secret. The article does detail some of those efforts, including how star Ming-Na Wen (who plays bounty hunter and Boba Fett's right-hand woman Fennic Shand) had no idea what show she agreed to be in when she signed her contract. Wen said, "They're so secretive that when dealing with the contracts, there isn't even a title for the show; it's all under pseudonym. I naturally assumed I was doing Mandalorian season three until I showed up on set." That seems absurd, but it's only the beginning. Apparently, only a handful of Disney executives, along with Star Wars TV head honchos Dave Filoni, Jon Favreau, and director Robert Rodriguez, knew the show was in the works; the rest of the company learned about The Book of Boba Fett when the post-credits scene rolled in The Mandalorian season two finale, including the people who work specifically on Disney+, where the show will be airing. And that's still not all. If you've been underwhelmed by Boba Fett 's trailer so far, that's because of a purposeful decision by Rodriguez and Disney to only use footage from the opening minutes of the very first episode. That's definitely absurd. I know the joy of a good twist, but there's a major difference between learning Luke Skywalker's going to pop by The Mandalorian finale and getting a trailer that makes me significantly more interested in watching the show. I mean, would learning about the existence of Baby Yoda beforehand have made you any less likely to watch Mando? I'm sure there'll be some mind-blowing moments in The Book of Boba Fett, but it sure sounds like Disney is trying to keep them secret regardless of the consequences to the company, its staff, and even the show. Wondering where our RSS feed went? You can pick the new up one here. Movie theater quality on the go Just set this baby on a stable surface a few feet up from the ground and enjoy up to 100 inches of 200 Lumen 480p entertainment!

Apache Kafka is a distributed event-streaming platform that enables companies to monitor and manage real time data feeds. This open source software launched in 2011, following its initial development by LinkedIn, and evolved into a real-time event-streaming platform by 2015. Kafka is not the only event-streaming technology; it competes in the marketplace with Amazon Kinesis. But Kafka has gained solid marketshare, and is the basis for multiple implementations, including Red Hat AMQ Streams. High-profile tech companies like LinkedIn, Netflix, Uber, and others proved the business case for combining Kafka, streaming data, date pipelines, and business analytics. In 2015, using Kafka event-streaming was still a new approach to computing that made it easier to "ingest" large volumes of data from data lakes. That allowed customers to blend enterprise applications with the cloud's scale-out, distributed computing and microservices. Kafka uses a "publish-and-subscribe" model that links data sources (IoT sensors, factory-floor updates, retail sales events, media/entertainment data) to data receivers, labeling them as "topics." The data, sorted by topics, flows in parallel data streams that don't interfere with one another. The Kafka event-streaming process uses software "connectors," linking Kafka event-streams to enterprise data stores and software products. Customers want to take the real-time "data temperature" of their business every day and around the clock. They're increasingly asking Kafka software to help them do that job. This IT strategy for event-streaming in a cloud-centric world is gaining traction. Kafka is often a key element in a business's intelligent process automation initiatives, as implemented by many vendors' software products. The business push to leverage data-in-motion is driving many customers to connect their cloud microservices with enterprise data sources, ranging from sensor data to enterprise databases. Data-in-motion tells the business where the economic "action" is taking place in their organization. Applying event-streaming data—from the factory floor, local banks, retail stores, and sporting events—helps businesses adjust their daily processes to achieve better business outcomes. Recent supply-chain backups are being identified using Kafka to track the real-time placement of the delayed cargo shipments. But the types of applications that can be used with Kafka are very broad, reaching across the enterprise and around the world. Examples include: The worldwide market for messaging and event-streaming software is growing at a rapid 26.9% CAGR. It's projected to grow from $1.6 billion in 2019 to $5.3 billion in 2025, according to IDC. "While this market is growing rapidly, growth in event streaming is explosive," Maureen Fleming, program vice president of intelligent process automation research at IDC, told eWeek. Why is this happening now? What's changed since Kafka's earlier growth spurt in 2015, when it began appearing in software vendor's products? Some recent shifts in enterprise computing are leveraging Kafka in new and important ways: The accelerating pace of customer cloud migrations is giving customers a chance to re-think the way data is distributed across their enterprise—and to use it differently than before. Event-streaming is allowing customers to move into new "patterns" of data management, including scaling capacity by doing data updates in parallel, supporting dynamic analytics across hybrid clouds and multiclouds, and speeding analytics results that improve business outcomes. As cloud migrations accelerate, the business world realizes that the "front end" of their data landscape, associated with data-in-motion and cloud-native microservices, must now be linked to the "back end" enterprise data, which is data-at-rest stored in data centers, data lakes, and data warehouses. "Large enterprise organizations are increasingly looking to become more event-driven," Jeff Pollock, vice president of product development at Oracle Corp, told eWeek. "They want to take advantage of innovative opportunities to work with data—as the data is being born. "Technologies like Kafka empower a lot of these cutting-edge use cases," including the development of cloud-native microservices and new applications, he added. One big change in the event-streaming world is that new roles, also known as "personas," have emerged as the users of Kafka event-streaming systems. Now that the nuts-and-bolts of streaming data are well-understood, there's a greater focus on applications and tools that can be built around the foundation of event-streaming software. That's why the familiar SQL query language for enterprise data—widely used by data scientists—is being integrated into many application tools designed for use with Kafka and event-streaming. Building dynamic, cloud-native microservices will require user-friendly application toolkits. "The interest we're seeing in the last couple of years is not just coming from IT developers, but from business-driven use-cases," George Vetticaden, vice president of product management for Cloudera's Data-in-Motion business unit, told eWeek. "Application developers, data scientists, data engineers, all of these classes of developers now want to tap into Kafka." This broader set of users is demanding a broader set of uses for event-driven software. Since 2016, the market has moved from "easier data ingestion" into enterprise data lakes to a generation of software tools and applications that harvest data for faster business decisions. New patterns are emerging for event-streaming's publish-and-subscribe model, which allows multiple, parallel data streams to move across the enterprise without slowing data updates from corporate data lakes and distributed data sources. From a business perspective, many customers are looking for increased scalability for large data volumes and better support for multi-cloud applications. It's clear that no single vendor controls the Kafka software stack. However, many vendors are providing Kafka-enabled software products and services that enable Kafka-fueled mechanisms to help customers transform traditional enterprise computing. Oracle, Cloudera, and Confluent, to name three examples, extended Kafka-enabled functionality this year to address and simplify operational complexity for customers adopting hybrid cloud and multi-cloud. Let's look at what each one added: Oracle's Golden Gate data-integration software was recently updated and released as a fully managed and automated cloud service for the Oracle Cloud Infrastructure (OCI), Oracle's second-generation public cloud. This latest release of Golden Gate supports Kafka event-streaming, dynamic real-time scalability, improved ease of use, and automation for scaling up large data volumes. Cloudera recently announced Cloudera Data Flow for the Public Cloud, a new cloud-native service leveraging Kafka that provides real-time data-streaming on the Cloudera Data Platform (CDP). Cloudera Data Flow automates complex data-flow operations while auto-scaling the volume of streaming data events across customers' hybrid clouds. Confluent Inc. announced an expanded multicloud strategy, with Confluent Cloud data-management software that runs across public clouds, including Amazon Web Services (AWS), Microsoft Azure, and Google Cloud Platform (GCP). Confluent also announced a strategic partnership with IBM, which allows IBM to resell the Confluent Platform and IBM Cloud Pak software, with unified customer support from IBM and Confluent. As we approach 2022, the drive to pull enterprise data and cloud data together is accelerating, and many customers are using Apache Kafka to do just that. They're using Kafka to move event data throughout the enterprise and the cloud, speeding up data-based decisions with the fierce urgency of "now" that is being built into cloud services based on distributed data. Real-time data, moving through the enterprise through a publish-and-subscribe model, is emerging as an important approach to transforming enterprise infrastructure for the age of microservices and multi-cloud deployments. "Kafka is one of the main tools in the kit-bag that can help organizations adapt toward becoming a more real-time business," said Pollock. "And I think that's at the very heart of many of the digital transformation initiatives that CIOs are embarking on." Also see: What is Data Analytics? A Guide to Data Insights eWeek has the latest technology news and analysis, buying guides, and product reviews for IT professionals and technology buyers. The site's focus is on innovative solutions and covering in-depth technical content. eWeek stays on the cutting edge of technology news and IT trends through interviews and expert analysis. Gain insight from top innovators and thought leaders in the fields of IT, business, enterprise software, startups, and more. Advertise with TechnologyAdvice on eWeek and our other IT-focused platforms. Property of TechnologyAdvice. © 2021 TechnologyAdvice. All Rights Reserved Advertiser Disclosure: Some of the products that appear on this site are from companies from which TechnologyAdvice receives compensation. This compensation may impact how and where products appear on this site including, for example, the order in which they appear. TechnologyAdvice does not include all companies or all types of products available in the marketplace.

In a nutshell: Blizzard Entertainment is rebalancing classes in Diablo II for the first time in nearly 11 years. The developer and publisher said they don't want to "reinvent the wheel" and steer classes away from their core purposes. As such, they'll be reviewing underused skills, making tooltip quality-of-life changes, assessing casting delays and more with the goal of expanding character build diversity. Specifics will come later, but for now, here's an overview of the philosophies behind each class change. Blizzard said they like the current state of the Amazon class, but see an opportunity to improve the character's melee skills and will consider buffing skills in the bow and crossbow tree to improve bow gameplay in higher difficulties. With the Assassin, Blizzard wants to enhance martial arts builds and will do this by re-evaluating how to improve generating and spending combo points. They'll do the same with various underutilized trap skills to promote more builds. Blizzard aims to add more diversity to the Barbarian's combat skills, including the leap attack and grim ward. They also want to give gamers more reasons to use throwing barbarians, and could enhance the double throw and throwing mastery skills. With the Druid, Blizzard believes there are opportunities to boost underperforming elemental skills like druid fire. The controls for arctic blast could also use some adjusting, with Blizzard contemplating allowing for more free form while channeling it. Summons are also weak at high difficulty, so Blizzard wants to see how they can make it more viable later in the game. Like the Amazon, Blizzard is quite content with the current state of the Necromancer but feel some specific summons are underused. Bone skill improvements at high difficulty could also use a boost. The same is also true of the Sorceress. Specifically, they're revisiting fire skills, lightning skills and cold skills in hopes of leading to an uptick in underutilized ones. The inferno skill is also a bit clunky to use, so the controls will be streamlined a bit, we're told. Last but not least is the Paladin, which like the others, has some lesser-used skills that Blizzard would like to bring attention to including fist of the heavens. Offensive aura skills are also on the docket for re-evaluation, and Blizzard wants thorns to deal more reliable damage at higher levels. Aside from class balances, Blizzard is looking into making improvements to mercenaries, adding new rune words, implementing set item changes and baking in new Horadric Cube, in addition to ladder rank play which is slated to arrive early next year. If you are at all interested in the coming changes, I would highly recommend checking out Blizzard's full blog on the matter as this post only scratches the surface of what's coming in patch 2.4 PTR early next year.

If you still can't find an RTX 3080 graphics card to buy, consider renting one. Starting today, Nvidia is allowing anyone to lease access to an RTX 3080 GPU through its cloud gaming service, GeForce Now. In October, Nvidia debuted a new tier to GeForce Now that uses the RTX 3080 to stream the gaming experience over the internet to a customer's PC. But at the time, the service was only available to existing paying customers. On Thursday, Nvidia lifted that limitation, opening up GeForce Now RTX 3080 memberships to the wider gaming public in the US and Europe. Interested customers can sign up on the official GeForce Now website. However, the service isn't cheap. Nvidia is charging $99.99 for six months of access. Subscribers will also need a steady internet connection that can reach at least 15Mbps to enable gameplay at a 720p resolution. In return, consumers can rent the RTX 3080 GPU to stream games at up to 1440p at 120 frames per second on a PC or a Mac, assuming their broadband connection can handle the data. The RTX 3080 membership also represents the highest GeForce Now tier. A step below is the Priority membership, which costs $49.99 for six months of access. However, the game streaming occurs via an "RTX 2080- or GTX 1080-equivalent" GPU, according to Nvidia. As a result, the streaming is capped to 1080p at 60fps for most games. At the bottom is the free membership, where streaming occurs via a GTX 1060 GPU. The game sessions are also capped at one hour, forcing players to log back in and wait for server access. The other limitation to GeForce Now is how you have to buy the games. However, the service lets you play any existing games you have in your Steam or Epic Games library. GeForce Now currently supports over 1,100 titles. Renting access to an RTX 3080 certainly isn't ideal for PC building purists. But it can offer some temporary relief since the GPU shortage is expected to persist into next year. Consumers can also consider other cloud gaming services that might suit them better.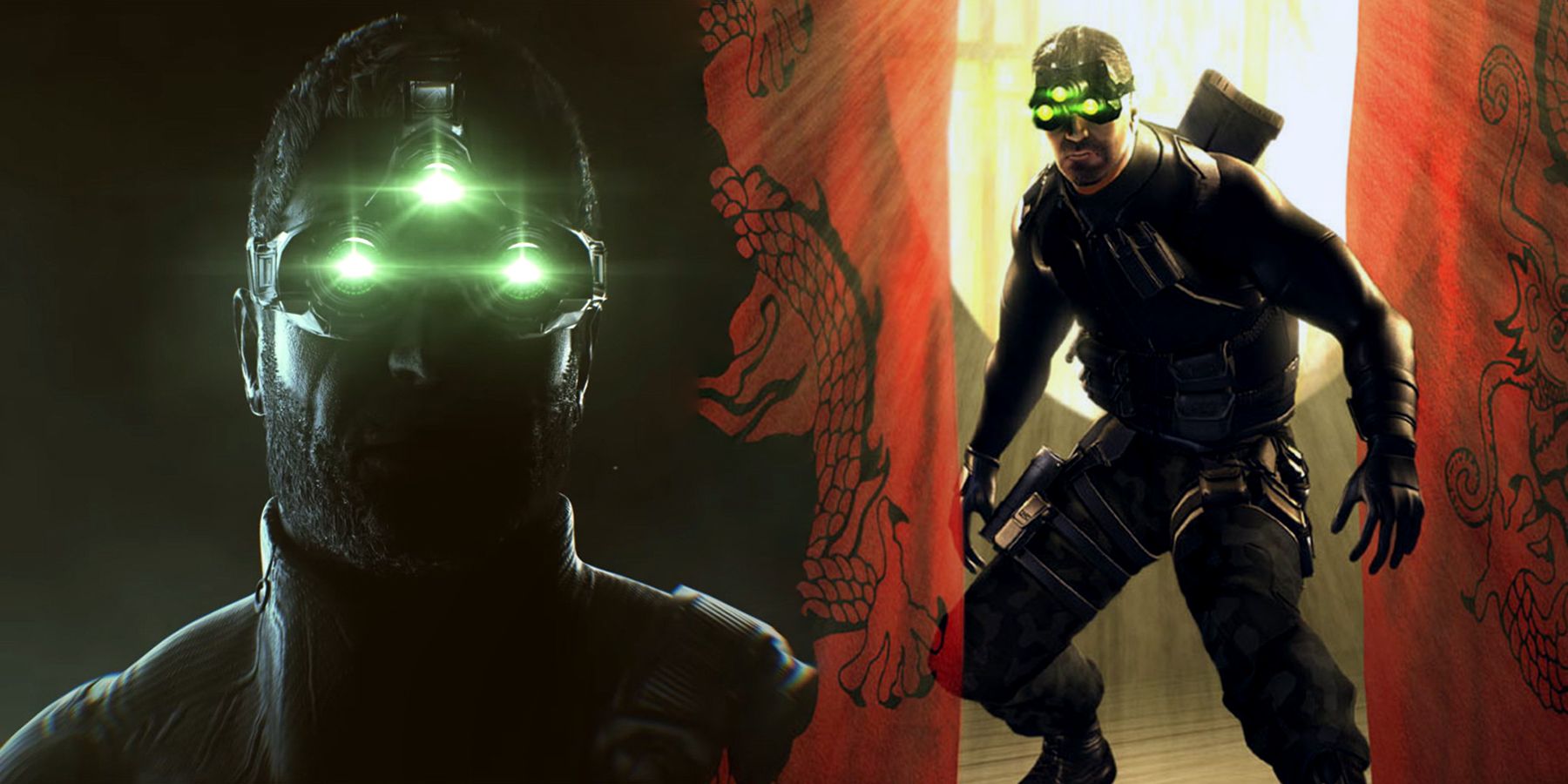 Ubisoft still has plenty of long-running and iconic franchises that are still active today, whether it be Assassin's Creed, Far Cry, or even farther back with Rayman, Ghost Recon, and the Rainbow Six series. Of course, there's one obvious classic Ubisoft franchise, as part of the many other Tom Clancy's games that the publisher puts out, that fans miss dearly. Splinter Cell is one of Ubisoft's most recognizable video game franchises, but its been dormant for years since the last entry, 2013's Splinter Cell Blacklist. Fans have been asking for a proper return to the iconic stealth franchise since Sam Fisher's many cameos began, but the wait may not be much longer. Surprised-announced today in an official post on the Ubisoft blog, Ubisoft Toronto has now begun work on a remake of the first Splinter Cell game. First released back in 2002 for the original Xbox, Splinter Cell was born from Metal Gear Solid 's foundation as a comparatively more grounded stealth action game. Splinter Cell 's hardcore dedication to stealth made it unique at the time, in tandem with its innovative usage of light and sound as gameplay mechanics. It may not have aged well when viewed through a modern lens, but at the time, Splinter Cell was innovative. To bring Splinter Cell back with a remake could be the best decision for the franchise right now. RELATED: New Splinter Cell Game Could Be Announced in 2022 Rumors of a new Splinter Cell entry have been fluctuating within the games industry for several years now. As far back as 2016, a new Splinter Cell game was reportedly in development, with Michael Ironside rumored to reprise his role as Fisher after he was unfavorably replaced by Eric Johnson in Splinter Cell Blacklist. These rumors were exciting to fans for a while, but as the years passed by with no official news or announcements, hope was dwindling for a new entry. Fast forward to 2021, and more recent Splinter Cell rumors are no longer exciting fans because of the current state of Ubisoft, both as a developer and publisher. As mentioned by prominent leaker Tom Henderson, an "open world of sorts" Splinter Cell game is reportedly in development, which would be a first for the series. However, many fans were quick to judge this leak as disappointing, considering the series has thrived with excellent linear gameplay design. Mention of "open world" brought on inevitable comparisons to Far Cry and Assassin's Creed, eliciting a negative reaction from fans who want to play a modern but traditional Splinter Cell game. Of course, this is also without even including the state of Ubisoft as a publisher currently, which isn't exactly making a great impression on fans at the moment. Reports of a toxic work culture, sexual harassment in the workplace, and misconduct/ambivalence among executives have not painted Ubisoft's management in the most positive light. Even outside of the existing corporate controversy surrounding Ubisoft, the publisher continues to make highly controversial decisions. First, it was comments from the publisher's 2021 annual fiscal report that Ubisoft would be focusing on "even greater integration of live services" in existing and future games, a statement that saw mixed reaction from fans. Then it was the largely derided inclusion of NFT skins in Ghost Recon Breakpoint, a previously published Ubisoft title that has its own fair share of controversy due to its largely negative reception. Splinter Cell fans who have been keeping up with news regarding Ubisoft are rightfully justified in being cautious over a new Splinter Cell announcement. In all fairness, the announcement of the Splinter Cell remake seems to contradict the public-facing Ubisoft fans have witnessed in the last year. While it was a bit strange that a remake of 2003's Splinter Cell was revealed in a simple blog post with little fanfare from the publisher itself, the post itself was quite candid. The game's creative director (Chris Auty), producer (Matt West), and technical producer (Peter Handrinos) all showed a distinct reverence for the original Splinter Cell while emphasizing how the remake would remain faithful to its origins. West even made it clear that the remake would remain "linear like the original games, not make it open world." Remaking the first Splinter Cell game really is the ideal way to bring back the franchise after such a long period of dormancy. Ubisoft Toronto can balance the desires of fans to bring back Splinter Cell in a traditional form, without potentially compromising the series by straying too far away from its roots. By design, excellent linear mission design was what made games like Splinter Cell Chaos Theory and Pandora Tomorrow so successful and revered by fans. Coming back after eight years with an entirely new entry in the Splinter Cell series would be risky, but a faithful remake of the original game gives a chance to celebrate and modernize Splinter Cell in a big way. RELATED: How Well The Splinter Cell Series Holds Up Today Overall, there's a degree of cautious optimism to be had with the announcement of a Splinter Cell remake. The most important factor is that the Ubisoft Toronto developers working on the project have expressed an excitement over developing and iterating on the traditional Splinter Cell stealth experience. While Splinter Cell Blacklist was a return to form in some capacity, it still iterated on the contentious action-oriented changes that Splinter Cell Conviction made to the franchise. Compared to earlier Splinter Cell games, the degree of stealth gameplay complexity was pared down in favor of freedom in playstyle, taking a "jack of all trades" approach that limited options in stealth. Eight years later, plenty of the hardcore Splinter Cell fans yearn for the more traditional stealth experience that the series was founded on. Ubisoft Toronto is seemingly aiming to recapture that magic with the Splinter Cell remake, which does inspire some optimism. The enthusiasm shared by the developers, many of whom already have experience with the franchise previously, will theoretically bode well for this Splinter Cell remake. That being said, there are enough problematic factors surrounding Ubisoft currently that may conversely not instill confidence. Time will tell how Splinter Cell 's return will fare once the remake is revealed and released. A Splinter Cell remake is in development. MORE: What Happened To Splinter Cell: Pandora Tomorrow? Source: Ubisoft

None in Europe or US. Pokémon Go developer Niantic has named a short list of locations where it will hold in-person events next February, as part of the game's Pokémon Go Tour: Johto celebration. An initial day available to all players globally will take place on Saturday, 26th February - this was already announced and detailed. A separate, second day featuring in-person events with themed habitats will then be held on Sunday, 27th February. This Sunday event has now been confirmed for Parque Fundidora (Monterrey, Mexico), Yas Bay (Abu Dhabi, UAE) and the Taiwan Lantern Festival (Kaohsiung, Taiwan). No locations were announced today for the UK, mainland Europe or North America. The expectation from fans had been that this second day would be held more widely than those three settings - but it is perhaps unsurprising Niantic is not making plans it may not be able to stick to come February in the face of the many unknowns from COVID's Omicron variant. As it stands, the above three locations will offer a $25 (~£18) ticket to explore real-world themed habitats with their own collection challenges, photo ops, exclusive merchandise, plus in-game special research and numerous other bonuses. Could other, more local sites get announced at a later date - perhaps such as Liverpool, which partnered with Niantic for Pokémon Go Safari Zone? "Further details will be announced in the future", Niantic said today.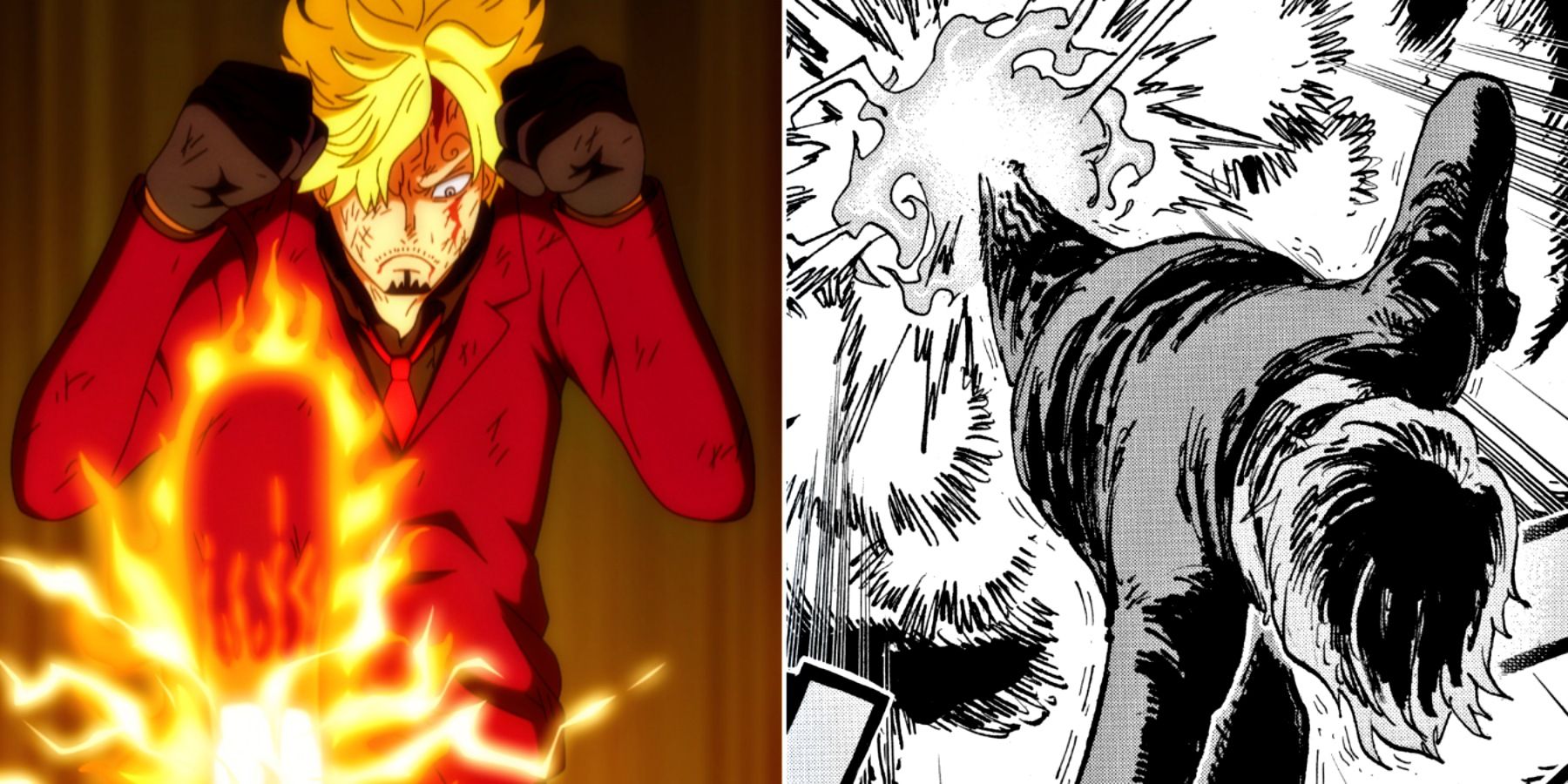 Sanji serves as the cook of the Straw Hat Pirates and the fourth recruit of the crew in One Piece's East Blue Saga, making him one of the five core members of the story. Along with being an incredible cook on the high seas, Sanji is also extremely powerful as he is regarded to be one of the three monsters of the crew, along with Luffy and Zoro. Together, the three are often referred to as the "Monster Trio", a term that goes to show that they're superior to the rest of the crew in terms of combat skills. When it comes to the Monster Trio, the three have very distinct fighting styles. Luffy primarily uses his Gomu Gomu no Mi while Zoro relies on the famous Three-Sword Style. Sanji, on the other hand, doesn't use any weapons or Devil Fruit. Instead, he uses his feet in combat because as a cook, his hands are way too precious to him and only exist to serve food to those he loves. Sanji's unique fighting style that he developed under Red-Leg Zeff, called Black-Leg Style, has received several power-ups over the years in One Piece. In the Enies Lobby, Sanji was able to strengthen his leg by using Diable Jambe. Now, in the Wano Country arc, he's turned the heat up a notch and developed an even stronger technique, called Ifrit Jambe. RELATED: One Piece: Is Sanji Not A Human Anymore? To understand Ifrit Jambe, fans first need to understand where Diable Jambe comes from. During the Enies Lobby arc, Sanji took on Jabra in a fight to recover one of the many keys that could've belonged to Robin's cuffs. However, defeating Jabra was no easy task, given that he was a Rokushiki master and, above all, the only member of the CP9 who could use Tekkai while moving. To overcome his powerful Tekkai, Sanji needed stronger kicks, which is where Diable Jambe comes in. By spinning at an extremely fast speed, Sanji was able to set his foot aflame and according to him, this increased the speed of his kicks much more. At the same time, this also meant that his kicks would be much heavier due to the higher speed, which was proven when he easily managed to burn Jabra. With merely two kicks, Sanji was able to defeat Jabra, an accomplished CP9 member whose strength was next to only Lucci and Kaku. Sanji has, since then, continued using Diable Jambe and strengthening it over time but the biggest of all power-ups came against Queen in Wano Country. Before the two began their fiery duel, Sanji noted that his body felt weird after having put on the Raid Suit for the third time. Although fans didn't think much about it at the moment, it was soon established that Sanji was actually developing the genetic augmentations of the Vinsmoke Family that were suppressed within him for quite a long time. With time, Sanji's genetic modification got stronger and not even Queen's attacks that were powerful enough to crush Haki masters were able to hurt him anymore. RELATED: How One Piece Does A War Arc Right With Marineford The Wano Country arc has been huge for Sanji and his biggest power-up has certainly been the genetic augmentations. So far, Sanji has received the power of a tough exoskeleton, extra muscle, a rapid healing factor and all this means that he's much faster and stronger than he was before. Sanji's physical speed has been enhanced to the point where even a 1.32 billion berri man and a good user of Haki can't even see or track him. Taking all things into consideration, this very power-up forms the basis for Ifrit Jambe. The power of Ifrit Jambe was always within Sanji and if he wanted to, he could've tried using it but would've failed to do so as his leg wouldn't have been able to sustain the pressure. According to Sanji, his passion is infinite, meaning the temperature of his flames has no limit. The only limiter that Sanji has is the durability of his body. Thanks to the exoskeleton, the added muscle, and his extremely powerful Color of Armament Haki, Sanji becomes able to sustain much hotter flames, giving rise to Ifrit Jambe. The naming for Ifrit Jambe is quite interesting, as "Ifrit" is known to be an incredibly powerful demon in Islamic mythology. Often, they are associated with the underworld and even the spirits of the dead, which perfectly fits Sanji's theme of becoming a "demon", something that he has kept on repeating since he joined the crew. Ifrit Jambe being related to the underworld implies that Sanji's foot is the literal manifestation of the Devil's powers. In fact, when Sanji developed Diable Jambe, he called its power "demonic", and it would only make sense for Ifrit Jambe to be even more demonic in nature. Interestingly, this implies that Sanji might even have some connections to the "D" clan in One Piece, who are often associated with demons as well. RELATED: One Piece: Things You Didn't Know About Nico Robin When it comes to power, Ifrit Jambe is lethal as it makes Sanji's legs much hotter, meaning his kicks are much faster than before. This would also mean that his kicks are much heavier than before as speed does increase weight, after all. With the power of Ifrit Jambe, Sanji was able to defeat Queen in just two techniques, similar to how he defeated Jabra in Enies Lobby. The first technique, called Collier Coup, has been used with Diable Jambe as well. The second one, however, saw him barrage Queen with several kicks and finish off the move with a new technique called Boeuf Burst. Essentially, with his new powers, Sanji was able to take Queen down without any trouble whatsoever and is now strong enough to fight well against the first Yonko Commanders such as Katakuri, King, and the others in the same bracket. Without a doubt, Ifrit Jambe has made Sanji a monstrous fighter who can fight almost anyone in the story. What's more, Sanji's best is yet to come as he is far from unlocking his full potential as a fighter, meaning he is only going to get better with time. Until then, fans can finally sit back and enjoy the demonic flames of Ifrit Jambe consuming all of Sanji's enemies. MORE: One Piece: The Strongest Pirates With Unknown Bounties

Today's highlighted deal comes from our Lifestyle section of the Neowin Deals store, where you can score a 3-Pack of MrBeast + MSCHF Everyone Gets A Car for $99. EVERYONE GETS A LAMBO… BUT WHAT SIZE LAMBO? The catch is you won't know if you'll receive a 1/64 diecast, remote controlled, ride'on, or the full-sized Lambo. Everyone Gets A Car! Every purchaser receives a dope collectible 1/64 scale toy Lambo, plus a chance to win a toy RC Lambo, a kids ride'on. or even a real Lamborghini Gallardo or Aventador. You won't know what size until your Lambo arrives in the mail. MSCHF & MrBeast have teamed up to ensure Everyone Gets a Car, and to give away 2,000+ in prizes: MSCHF MSCHF is a next-generation street art collective that's been described as "Supreme for the internet," and compared to Warhol and Banksy. MSCHF creates products and experiences that mashup hypebeast culture, art, luxury fashion, and social commentary. MrBeast MrBeast, a.k.a. Jimmy Donaldson, is an American YouTuber, entrepreneur, and philanthropist. He is regarded as being the first to create a YouTube video genre centered on pricey stunts. He currently has 75.2 million subscribers on his main channel and has over 13.2 billion views. Important Details For the full terms of this deal, and other pack sizes (between 1 and 10) please click the link below. That's OK, there are other deals on offer you can check out here. Get a Chance to Win from 25 Cents to a Million Dollars! Just Complete This Puzzle, Scan the Code, & Try Your Luck. Neowin Deals · Free eBooks · Neowin Store Disclosure: This is a StackCommerce deal or giveaway in partnership with Neowin; an account at StackCommerce is required to participate in any deals or giveaways. For a full description of StackCommerce's privacy guidelines, go here. Neowin benefits from shared revenue of each sale made through our branded deals site, and it all goes toward the running costs.

They way they tell it, writing duo Becky Cloonan and Michael W. Conrad ( Wonder Woman) jumped at the chance to helm DC's new Batgirls series — featuring not one, or two, but all three Batgirls of Gotham City — before they knew who the artist on the series would be. But when they were teamed up with Jorge Corona ( Robin), it was serendipity.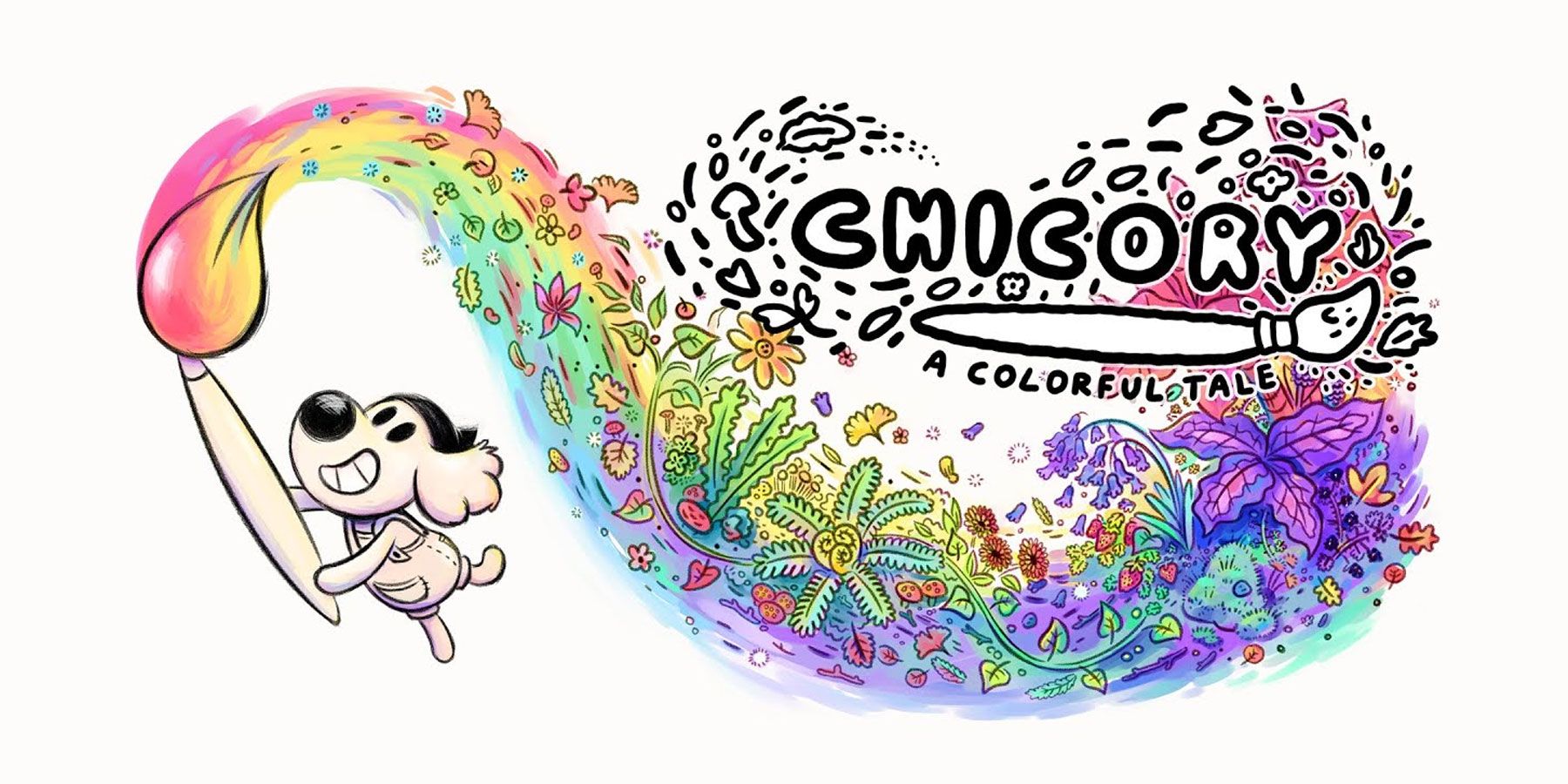 Nintendo's Indie World showcases are always fun to watch for anyone interested in the vast number of indie titles that are published on the Switch throughout the year. Yesterday's showcase had no shortage of announcements and indie game news, and one of the best parts about Indie World showcases is the shadow drops that happen each time a show goes live. Fortunately, the latest Indie World showcase did not disappoint on that front. Shadow drops have become something of a staple of Indie World showcases, with several games launching alongside every show. While many i ndie fans were hoping for the surprise release of Hollow Knight: Silksong despite its development silence, the games that went live following yesterday's show are all quality titles that fans of indie games should consider picking up, as AAA releases have died down for the rest of the year. Below are the four titles that were featured during yesterday's show and are available now. RELATED: Everything Announced at the December 2021 Nintendo Indie World Showcase Chicory: A Colorful Tale is a game that's been regarded as one of 2021's absolute best ever since it launched on PC, PS4, and PS5 in June. Given its 2D cartoon art style and its relatively simple control scheme, it seemed like a no-brainer that it would eventually be making its way to Switch. After yesterday's show, it officially has, which might end up being the best place to play it. A major part of Chicory revolves around a painting gameplay mechanic, as the main character is entrusted with repainting the now black-and-white world. While controllers do a serviceable enough job with the painting element, the Switch's touchscreen will really allow those portions of the game to shine, as players will be able to get a little bit more detailed with their art. The dungeon crawler genre has seen a lot of innovation in the last few years, with games like Enter the Gungeon, Darkest Dungeon, and Boyfriend Dungeon all providing unique experiences. Dungeon Munchies follows in those titles footsteps as another unique entry in the genre. Dungeon Munchies is a side-scrolling dungeon crawler, but instead of primarily searching for upgraded loot, the player's goal is tracking down specific monsters to kill in order to use their remains in food dishes that have magical effects. What the player eats changes their playstyle and determines what sort of character build they'll use for the rest of the game. Lovers of tabletop gaming will want to keep an eye on Let's Play! Oink Games, as it's a collection of board games that are now playable on consoles. Similar to Clubhouse Games with a less traditional board game skew, Oink Games offers four discrete games of various player numbers for fans to dig into. The four games included are Deep Sea Adventure, Startup, Moon Adventure, and A Fake Artist Goes to New York. Oink Games is the perfect type of party game to play after the latest Jackbox Party Pack has run its course. Timelie has been available on PC for over a year, which makes its first console debut an exciting one. The game leans heavily into its mechanics as a stealth adventure game that gives the player the ability to bend time. Each area that players enter serves as its own puzzle room akin to the likes of Portal or The Turing Test and is a great pick for anyone looking to flex their brains and think through multistep problems. In addition to boasting interesting mechanics, Timelie also features striking visuals that have a dream-like quality to them. The entire game revolves around an adventure with a cat, so it can whet players' appetites until Stray launches later in 2022. MORE: Hollow Knight's World Design Sets the Bar for Indie Games

It should come as no surprise that over the past year and a half, the popularity of gaming has risen exponentially. People are spending more time at home and video games have become the vehicle to satisfy our wanderlust. and boredom. Whether you're spending the next few weeks gift shopping for a gamer, or yourself, we've thoughtfully put together a list of the very best consoles, games, and accessories that will satisfy any gamer's heart.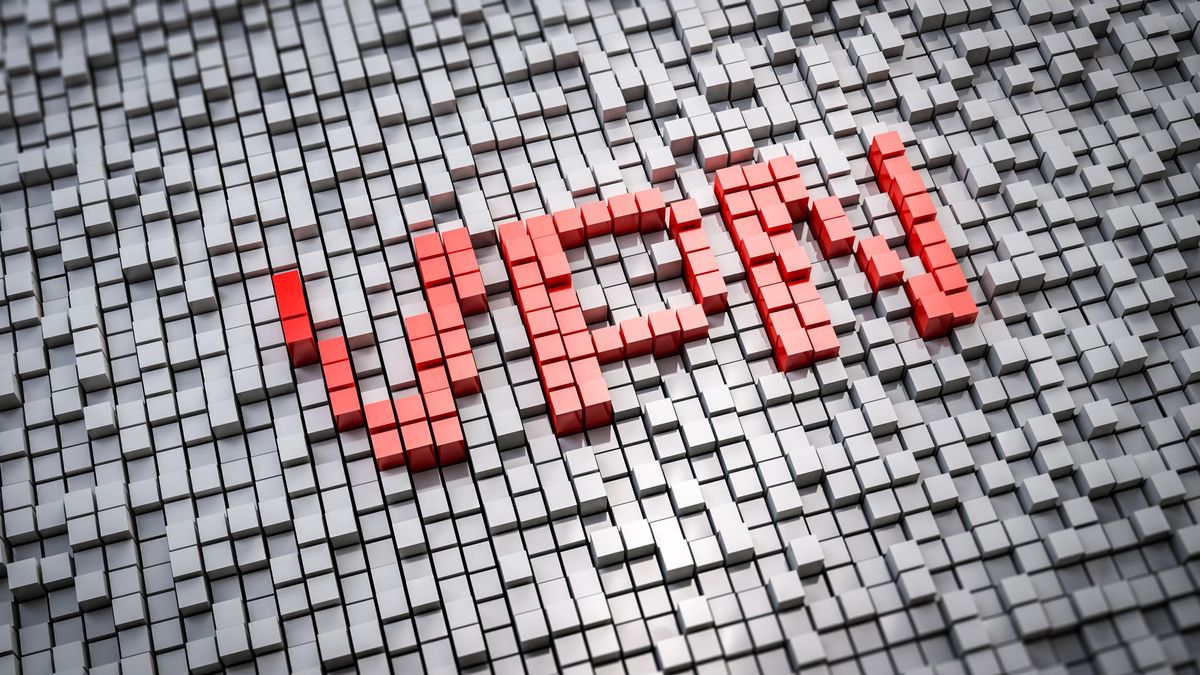 VPN is an abbreviation you've likely heard bandied about with considerably more regularity in recent years. But you may remain unsure of what one actually is and are still asking the question: "So what is a VPN, anyway?" In the simplest terms, a VPN - or Virtual Private Network - is a way of keeping yourself secure and anonymous online, while also helping you get around apps and services that may have been blocked where you are. Pretty handy! How does it do all this? That's what we're going to address here, explaining the basics of what a VPN is, what they do and the most popular VPN uses, as well as looking at how they work in a bit more depth. We'll also discuss why you might want one – and indeed potential downsides to a VPN – and how to get one of these services up and running if you wish. And by the end, we assure you you'll understand fully the meaning of VPN. and which one to get. When you go online, you're constantly sending out data, and receiving data back. You might request a picture, for example, then receive that image as a download. Normally, data travels from your device straight out onto the internet effectively naked, and can be viewed by your Internet Service Provider (ISP), or possibly others if intercepted. When using a VPN, you install client software on your device, and this hooks up with the software on the VPN provider's server elsewhere. These two apps create a link – an encrypted 'tunnel' – between them, and your data goes down that instead, before heading out onto the internet. This way, your ISP, or anyone else who might seek to intercept and view the data, won't be able to make any sense of it because it's encoded. Furthermore, the origin of the data appears to be the VPN server – the exit point of your 'virtual network' – and not your own device, and this has benefits in terms of online anonymity. Building on what we just discussed, a good VPN will likely have thousands of servers, based in dozens of countries across the globe. When you start the VPN client software on your machine, you choose to connect to one of these many VPN servers via the aforementioned encrypted tunnel. Incidentally, that encryption can come in a number of different forms, known as VPN protocols. Any of the best VPNs out there will use a modern highly secure protocol, as you'd expect, with that often being OpenVPN (but there are other good choices including the new WireGuard, as well as some providers who have their own proprietary protocols, like ExpressVPN 's Lightway or NordVPN 's NordLynx). So, the benefit from robust encryption is super-tight security, and the benefit of having a choice of thousands of servers is the ability to change your location with all manner of options. As mentioned, the VPN connection will make it seem like the VPN computer (server) is where your data is coming from, and not your own PC. Therefore, to all intents and purposes, you will actually look like you're based in that location – hiding your true location and giving anonymity. Furthermore, you can gain access to content that might otherwise be blocked in your home country (we'll discuss that in a moment). For a more in-depth look at exactly how all this happens, see our dedicated article on how a VPN works. There are many uses for a VPN that you can benefit from, alongside the obvious boon of beefing up your security – because your data is encrypted, even if it is viewed or somehow intercepted, it'll mean nothing because it's scrambled and unintelligible. That means you're much safer even in riskier online scenarios, like using public Wi-Fi which can be insecure and a potentially dicey proposition for various reasons. As we've seen, staying anonymous online is also a compelling benefit of a VPN, hiding the real identity (and location) of your computer, and stopping any actions being traced back to you. This isn't just useful for folks who may be engaging in, say, copyright-infringing downloads – which obviously we don't condone – but also those who simply prefer not to be tracked by advertisers or other third-parties. Unblocking content is another biggie that we just touched upon. Because a VPN can allow you to appear to be in a different country, you can access services that would otherwise be geo-blocked. For example, if you live in the UK, and want to stream a show on US Netflix that isn't shown in the UK, you can simply connect to, say, the New York server of your VPN. This means that you will appear to be using a computer in New York, and can therefore view that US content (in theory – VPNs aren't 100% bulletproof in this respect). It's no wonder that so many people search the web for the ' best Netflix VPN ' day-in day-out. A VPN can also be used to bypass content restrictions if you live in – or are visiting – a place where the authorities impose censorship (so you can still get on your social media sites while on holiday in a country where they're banned, for example). There are small extra bonuses, too, where using a VPN could potentially save you money in certain circumstances, like, for example, booking a flight. You might get cheaper prices by appearing to be from a different country, because airlines can adjust their pricing depending on where they think you're from (and reportedly factors like repeated viewing of the same flight: if you see the price is going up when you revisit, you might be coerced into buying – but the anonymity a VPN provides stops this kind of tracking). The first obvious downside of using a VPN is that it could slow down the performance of your internet connection. That's particularly the case when using servers in far-flung countries, as the distance of the server matters. While that might sound drastic, the reality is that in most cases, any performance impact will probably not be that noticeable – certainly with the top VPNs which we fully test for performance in our reviews. So you'll barely notice any performance issues at all if you opt for one of the fastest VPNs, and even those with more average speeds are still unlikely to cause you too much discomfort. The main scenario where you might want to switch off a VPN is online gaming, an area that's very sensitive in terms of latency. Although gaming VPNs certainly have their uses, too! Another potential thorny area is that while using a VPN means your ISP can no longer snoop on your data, instead that data is going through the VPN provider's system, and an unscrupulous VPN could play fast and loose with your data. Every VPN will insist that it maintains your privacy, though (it'd hardly say otherwise – that's why you're signing up, after all!), and claim not to keep any 'logs'. They're small bits of logged data relating to the service, which can – but hopefully shouldn't – include how you use it. A clear 'no logging' policy is a must for watertight privacy, then, but how can you trust that a VPN is actually true to its word, and doesn't keep any potentially privacy-trampling logs? There's one sure-fire way, and that's to pick a VPN service that has had its security levels and policies independently audited – some of the top providers are already doing this. In short, most of the potential disadvantages of adopting a VPN can be neatly swerved around by choosing a highly-rated and trusted provider. Having made the decision that you want to take the plunge with a VPN, the first step is to pick a provider. You'll find plenty of guidance on this, and we've got a great resource in our best VPN services roundup. When you've made a choice, it's simply a matter of heading to the VPN provider's website, where you can sign up for a subscription plan. Yearly plans offer the best value – particularly multi-year contracts – but of course you're making more of a commitment in these cases. Some providers will offer a VPN free trial of some kind, which is great for giving the VPN a spin before committing at all (also keep an eye out for money-back guarantees, which can effectively act as a trial). There are free VPN services, too, but these are often limited in many ways, or have other hidden costs. Once you've signed up and created your account, you'll need to download the VPN client app, and install it. Just start the app and you can connect to a VPN server and immediately benefit from tighter online security (plus all the other boons we've covered here). When you first fire up the VPN app, there could be a little setup to go through, but don't worry – we've got you covered on that front with further advice on how to set up a VPN right here. No, there is nothing illegal about using a VPN. However, there can be a bit of confusion around this area because some people use VPNs to cover up the fact that they're doing something illegal. Obviously, though, the use of the VPN isn't the illegal thing – it's the activity which breaks the law, and that would remain true whether the perpetrator was a VPN user or not. While in the vast majority of countries, VPN usage is perfectly legal, the caveat is that a small number of regimes across the globe have banned VPNs. If you travel to these places – or live there – obviously you would have to respect the law or potentially face the consequences. Using a VPN in China is the most obvious example of a country where VPNs are banned, but even here, there are no actual reports of visiting travelers being arrested for using a VPN. Read more: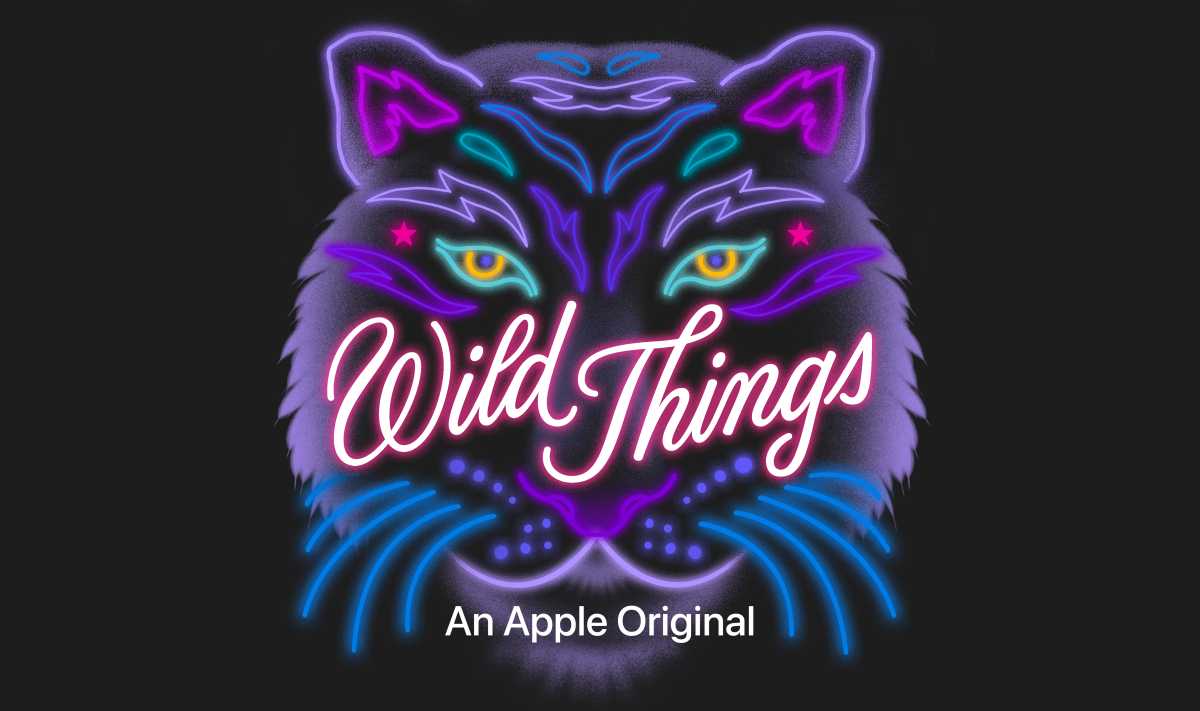 Apple's list of currently available content for Apple TV+ continues to grow, but there's an even faster-growing list of projects in the works. Films, limited series, specials, and multi-season series, Apple's got lots of irons in the fire for all of them. Some of these projects have been officially announced and acknowledged by Apple, but many have just been reported by the Hollywood press, which always has its ear to the ground about what actors, directors, and producers are getting involved with which projects. We've divided this list in two: Coming Soon is a list of shows for which Apple has given an official release date or release window, and Further Out compiles other announced and not-officially-announced projects that are still in production or perhaps haven't even begun yet. Updated 12/16/21: Several new shows and premiere dates have been announced. Dark workplace comedy " Severance " premieres on February 18, kids animated series " El Deafo " premieres on January 7, and documentary film " The Sound of 007 " will land in October of 2022. The following shows, series, and movies have been officially announced by Apple and will typically will begin streaming in the next few weeks or months. What it's about: Apple describes it like this: Set in the near future, the film explores how far someone will go, and how much they'll sacrifice, to make a happier life for the people they love. Important names: The film stars Mahershala Ali, who won Oscars for his roles in Moonlight and Green Book. It is written and directed by Benjamin Cleary. When you can watch: The film will debut on December 17, alongside a theatrical release. What it's about: A three-part animated series for kids and families that follows a child named Cece as she loses her hearing and finds her inner superhero. Important names: Author Cece Bell executive produces and narrates the series. Voices include Lexi Finigan, Pamela Adlon, Jane Lynch, and Chuck Nice. When you can watch: El Deafo streams on January 7, 2022. What it's about: Emmy Award-winning filmmaker and journalist Steven Leckart goes behind the velvet curtain to reveal shocking moments, surprising details and hidden truths about two men who were lionized by millions of fans, lampooned by the media, criticized by animal welfare advocates, and endlessly scrutinized by the public. Apple Important names: Narrated and produced by Steven Leckart. When you can watch: Wild Things: Siegfried and Roy will stream on January 12, 2022. What it's about: This drama is the latest film by celebrated director Joel Coen. We don't know whether it's an actual retelling of the Shakespeare tragedy, though. Important names: Stars Denzel Washington and Francis McDormand, directed by Joel Coen. When you can watch: The film is due in theaters in late 2021, with an Apple TV+ release on January 14, 2022. What it's about: After producing a few shorts ( Fraggle Rock: Rock On!), Apple has struck a deal with the Jim Henson Company to produce a full reboot of the classic kids show. Important names: The Jim Henson Company is in the driver's seat again. When you can watch: The original shows became available on May 27, 2020. The reboot, titled Fraggle Rock: Back to the Rock, will premiere on January 21, 2022. What it's about: The third season of this psychological thriller series produced by M. Night Shyamalan. Important names: Stars Lauren Ambrose, Toby Kebbell, Rupert Grint, and Nell Tiger Free. When you can watch: Season 3 of Servant starts streaming on January 21, 2022. What it's about: A comedy murder-mystery set in a high school reunion afterparty. Each of the eight episodes will feature a retelling of the same night told through a different character's perspective, each with its own unique visual format and film genre to match the teller's personality. Important names: The series is created by Chris Miller and Phil Lord, who worked together on projects like The LEGO Movie and Spider Man: Into the Spider-Verse. When you can watch: The Afterparty will stream on January 28, 2022. What it's about: Based on the book Killers Of The Flower Moon: The Osage Murders And The Birth Of The FBI. It tells the story of a series of murders of wealthy Osage Native Americans in Oklahoma in the 1920s after oil was found on their land. According to Deadline, Paramount will distribute the film in theaters, while it will be an Apple TV+ streaming exclusive. Apple Important names: Directed by Martin Scorsese, with Leonardo DiCaprio and Robert De Niro in the leading roles. When you can watch: Apple lists this movie as "Coming Soon." What it's about: Mark Scout leads a team at Lumon Industries, whose employees have undergone a severance procedure, which surgically divides their memories between their work and personal lives. This daring experiment in 'work-life balance' is called into question as Mark finds himself at the center of an unraveling mystery that will force him to confront the true nature of his work… and of himself. Important names: Adam Scott plays Mark, and the series will be directed and produced by Ben Stiller. Patricia Arquette will play Mark's boss. Christopher Walkin and John Turturro have roles, too. When you can watch: Severance will premiere on February 18, 2022. What it's about: The first Russian-language series for Apple TV+, via a co-production deal with subscription-based streaming service START. Important names: Will star Oksana Akinshina, Filipp Yankovskiy, Marusya Fomina, and Artem Bystrov. When you can watch: The series already premiered in Russia on START and will come to Apple TV+ in the spring of 2022. What it's about: A documentary film that "will go behind the lens into the greatest movie franchise in history from the genesis of Dr. No and the iconic 007 theme song all the way to No Time To Die, mixing heartfelt interviews with incredible James Bond archive material." Important names: We don't yet know the key participants in this project. When you can watch: The Sound of 007 will release in October, 2022, to coincide with the 60th anniversary of the James Bond film franchise. These shows, series, and movies may or may not have been officially announced, and do not yet have definitive release dates. Some may debut in the next few months, others be more than a year away. It's even possible that some of these projects will never be released. What it's about: A live-action kids series based on the graphic novel series of the same name. Sam and Jade are psyched to spend their summer riding the waves and catching the rays. That is until they meet a ghost. The girls dive head-first into a mystery about a pirate ship and the cursed treasure that allegedly lies beneath Surfside's beloved Danger Point bluff. Important names: Stars Miya Cech and YaYa Gosselin. When you can watch: Surfside Girls does not yet have a release date. What it's about: Based on the novel of the same name by Renee Knight. Catherine Ravenscroft is a television documentary journalist whose work has been built on revealing the concealed transgressions of long-respected institutions. A novel written by a widower has her as a key character in a story that she had hoped was long buried in the past. A story that reveals her darkest secret. A secret she thought was hers alone. Important names: Acclaimed filmmaker Alfonso Cuarón will write and direct all episodes. Cate Blanchett and Kevin Kline will star. When you can watch: This series has no release date yet. What it's about: Apple is producing a four-part documentary series about the life of famed two-time NBA hall of famers Earvin "Magic" Johnson. Important names: Directed by Rick Famuyiwa with editor Dirk Westervelt and cinematographer Rachel Morrison, the docuseries is produced by XTR and New Slate Ventures. When you can watch: This series has no release date yet. What it's about: A thriller in which two lone-wolf fixers (Pitt and Clooney) get assigned to the same job. Deadline reports that Apple outbid other major studios and distributors for the film rights. The film doesn't have a title yet. Important names: Written and directed by Jon Watts, starring George Clooney and Brad Pitt. When you can watch: This film has no release date yet. What it's about: A series based on the best-selling books by Paula Danziger. Apple describes it as, "an unfiltered look at a girl finding her own voice through art and music in the wake of her parents' divorce." Important names: Written and directed by Bonnie Hunt, starting Carsyn Rose, Sarah Drew, Darin Brooks, and Liliana Inouye. When you can watch: Amber Brown has no release date yet. What it's about: A beloved Nickelodeon series that ran for six seasons and featured live action, puppets, short sketches, and music. Apple has acquired the entire back catalog and rights to produce new episodes. So far, there are plans to produce 20 new episodes as a "a reimagining based on the heart and essence of what Yo Gabba Gabba! is." Important names: It's unclear which of the original cast or crew will participate in the new episodes. When you can watch: We don't have word yet on when old episodes will appear on Apple TV+, nor when the new episodes will debut. What it's about: Deadline reports that this is a romantic action-adventure film, though we don't know much more than that yet. Important names: Scarlett Johansson and Chris Evans are in negotiations to star. Directed by Dexter Fletcher and written by Paul Wernick and Rhett Reese. When you can watch: Ghosted has no release date yet. What it's about: According to Apple, The Changeling is a fairytale for grown-ups. A horror story, a parenthood fable and a perilous odyssey through a New York City you didn't know existed. It's based on the novel of the same name by Victor LaValle. Important names: The series will star LaKeith Stanfield and be written/adapted by Kelly Marcel, who will also serve as showrunner. When you can watch: The Changeling has no release date yet. What it's about: An adaptation of the Carl Hiaasen novel of the same name, "Bad Monkey" tells the story of Andrew Yancy, a one-time detective demoted to restaurant inspector in Southern Florida. A severed arm found by a tourist out fishing pulls Yancy into the world of greed and corruption that decimates the land and environment in both Florida and the Bahamas. And yes, there's a monkey. Important names: Written and produced by Bill Lawrence (Scrubs, Ted Lasso, Cougar Town) and starring Vince Vaughn. When you can watch: Bad Monkey has no release date yet. What it's about: Samantha Cicciaro is an NYU student that is shot in Central Park on the Fourth of July, 2003. As the crime is investigated, she's revealed to be the crucial connection between a series of mysterious citywide fires, the downtown music scene, and a wealthy uptown real estate family fraying under the strain of the many secrets they keep. Important names: Written and executive produced by Josh Schwartz and Stephanie Savage. When you can watch: This series has no release date yet. What it's about: Follows the life and career of legendary pitcher Leroy "Satchel" Paige. Important names: The series is produced by Erving "Magic" Johnson, among others. It is in conjunction with the Negro Leagues Baseball Museum and MLB. When you can watch: This series has no release date yet. What it's about: A modern-day thriller about how our past mistakes can destroy our futures that includes action, espionage, and political intrigue. Important names: The series will star Vincent Cassel and Eva Green, and will be directed by Stephen Hopkins. When you can watch: Liaison does not yet have a release date. What it's about: An animated series based on the web-based comic and graphics novels by Nathan Pyle. The comic features aliens who live lives not unlike our own, but refer to our everyday activities with usual, sometimes scientific-ish verbiage (like calling a hug "limb enclosure"). Important names: The series is being developed in part by Dan Harmon, of Community and Rick and Morty fame. When you can watch: The series has no release date yet. What it's about: Based on the bestselling novel by M. O. Walsh. The residents of the small town Deerfield one day discover a mystery machine in their local grocery story that promises to predict one's future potential, and craziness ensues. Important names: David West Read, who was writer and executive producer on Schitt's Creek, will write the adaptation and serve as showrunner. When you can watch: The Big Door Prize does not have a release date yet. What it's about: Set in a ruined and toxic future where a community exists in a giant silo underground, hundreds of stories deep. There, men and women live in a society full of regulations they believe are meant to protect them. Based on the book trilogy by Hugh Howey. Apple Important names: Starring Rebecca Ferguson, written by Graham Yost, directed by Morten Tyldum. When you can watch: Wool has no release date yet. What it's about: Set in a retro-future world, "Hello Tomorrow!" centers around a group of traveling salesmen hawking lunar timeshares. Apple Important names: Billy Crudup stars and executive produces. Jonathan Entwistle is set to direct. When you can watch: This series has no release date yet. What it's about: A documentary series about basketball phenom Makur Maker and his decision to play for Howard University in support of Historically Black Colleges and Universities instead of one of the big-name college basketball schools. Apple Important names: Directed and produced by Seth Gordon. When you can watch: The series does not have a release date yet. What it's about: A pair of documentary films that examine the history of black actors and actresses in Hollywood. One focuses on leading men, the other on leading women. Important names: Producers include Jamie Foxx, Kevin Hart, Datari Turner, Dan Cogan, Angela Bassett, Halle Berry, Reginald Hudlin, and Bryan Smiley. When you can watch: These two companion films have no release date yet. What it's about: A documentary film about the life of the pioneering jazz musician. Using a ton of never-before-seen archival footage, the film will tell the story of Armstrong's life entirely through his own words. Apple Important names: Louis Armstrong is the big name here. The film will be directed by Sacha Jenkins. When you can watch: This film has no release date yet. What it's about: Gong Show host Chuck Barris famously claimed to be a secret CIA assassin in his autobiography Confessions of a Dangerous Mind, which was made into a feature film in 2002. A Deadline report says Apple is developing an hour-long drama series about Barris as both Gong Show host and CIA assassin. Important names: Justin Timberlake is attached to star as Chuck Barris. When you can watch: This series has no release date yet. What it's about: Inspired by the biography "The Minds of Billy Milligan," this is a multi-season anthology series that Apple says will, "explore the true and inspirational stories of those who have struggled and learned to successfully live with mental illness." This is one of a growing list of shows developed and produced by Apple Studios, Apple's own TV and film production outfit. The first season will be 10 episodes. Important names: The first season will star Tom Holland with Akiva Goldsman as writer and executive producer. When you can watch: Apple has no release date for this series yet. What it's about: Apple describes the show as being about, "Molly, a woman whose seemingly perfect life is upended after her husband leaves her with nothing but 87 billion dollars." The unnamed comedy series will be comprised of half-hour episodes. Important names: Molly will be played by Maya Rudolph. The show creators/writers/producers are Alan Yang and Matt Hubbard. When you can watch: No release date yet. What it's about: Apple's description of this limited series says it "takes place in '60s Baltimore, where an unsolved murder pushes housewife and mother Maddie Schwartz to reinvent her life as an investigative journalist and sets her on a collision course with Cleo Sherwood, a hard-working woman juggling motherhood, many jobs and a passionate commitment to advancing Baltimore's Black progressive agenda." Important names: It will star Natalie Portman and Lupita Nyong'o. Directed by Alma Har'el. When you can watch: No release date yet. What it's about: An adaptation of the novel In With The Devil: A Fallen Hero, A Serial Killer, and A Dangerous Bargain for Redemption. The six-episode limited series is told from the point of view of two prisoners who seek redemption for their wrongdoings. Important names: Stars Ray Liotta, Taron Egerton, and Paul Walter Hauser. When you can watch: No release date yet. What it's about: An anthology series of "darkly comic feminist fables" with a star-studded cast. Based on a book of short stories by Cecelia Ahern. There will be eight half-hour episodes. Important names: Some stars attached so far include Nicole Kidman, Allison Brie, Cynthia Erivo, and Merritt Wever. When you can watch: No release date yet. What it's about: Based on the children's book by Tony DiTerlizzi, which follows the story of Eva Nine, a girl who spent most of her life living underground before being forced to flee outside and survive with a robot named Muthr, an alien named Rovander Kitt, and a water bear named Otto. Apple plans to run at least two seasons of this show. Important names: Written and produced by Lauren Montgomery. When you can watch: No release date yet. What it's about: When an unlucky girl stumbles upon the never-before-seen world of good and bad luck, she teams up with magical creatures to uncover a force more powerful than even luck itself. Important names: The film is directed by Peggy Holmes. When you can watch: Luck is currently scheduled to be released in early 2022. What it's about: A musical that follows Elian, a young girl who sets out to break the spell that has divided her kingdom in two. Important names: Directed by Vicky Jenson, with music by Alan Menken and lyrics by Glenn Slater. When you can watch: Spellbound is currently expected to be released in late 2022. What it's about: Deadline describes it as a "sci-fi courtroom drama in which a robotic 'companion doll' kills its owner and then shocks the world by claiming that she is not guilty and asking for a lawyer." Important names: Florence Pugh and Vanessa Taylor are attached to star and Drew Pearce will write the script. When you can watch: No release date yet. What it's about: A kids' series blending live action and CGI, in which young Jane Garcia leads her friends on missions to save endangered animals. The series was produced in collaboration with the Jane Goodall Institute. Important names: We don't yet know who will star in the series. It is being produced in collaboration with the Jane Goodall Institute. When you can watch: No release date yet. What it's about: A limited series about the rise and fall of the company WeWork. Apple has officially announced the series and will produce it at Apple Studios. Important names: The big star power here is Anne Hathaway and Jared Leto. The series will be co-written and executive produced by Lee Eisenberg and Drew Crevello. When you can watch: No release date yet. What it's about: Variety reports that this will be a drama series based on the upcoming novel by Bonnie Garmus. Set in the 1960s, the story follows a woman who dreams of being a scientist in a world that demands women stay homemakers. She eventually lands a job hosting a TV cooking show and uses it as a platform to teach science to housewives. Important names: Brie Larson will star, and Susannah Grant will write (she previously won an Academy Award for writing Erin Brockovich). When you can watch: No release date yet. What it's about: Deadline reports that Apple has landed the rights to a two-part biographical documentary film about Oprah Winfrey. Important names: Oprah, of course. Lisa Erspamer and Kevin McDonald are producing the two-part film. When you can watch: No release date yet. What it's about: According to a Deadline report, this is to be a big historical epic film about Napoleon Bonaparte. The report says production begins early in 2022. Important names: Joaquin Phoenix is to star as Napoleon, Ridley Scott will direct. When you can watch: No release date yet. What it's about: We don't know any details of the plot yet. We only have a report from The Hollywood Reporter that Apple has picked up this project for the Apple Studios production house and that it is a sci-fi comedy/drama. Important names: Attached are Andy Samberg, Andy Siara, Ben Stiller, and Noah Hawley. When you can watch: No release date yet. What it's about: Based on the novel of the same name by Walter Mosley, it a bit of a murder mystery thriller featuring a 91-year-old man with dementia as the protagonist. Variety says this is to be a six-episode limited series. Important names: Samual L. Jackson is to star in the lead role. Walter Mosely is adapting his own book. When you can watch: No release date yet. What it's about: A limited series adaptation of Laura Dave's upcoming novel of the same name, which is slated to release on May 4, 2021. It tells the tale of a woman who bonds with her 16-year-old stepdaughter while searching for the truth about why her husband has mysteriously disappeared Important names: The series will star and be executive-produced by Julia Roberts. When you can watch: No release date yet. What it's about: A series based on the novel Dark Matter; an alternate-universe thriller about a man who is abducted, drugged, and wakes up in a reality in which he made different choices in the past. Important names: The series is being adapted as a series by the author Blake Crouch. When you can watch: No release date yet. What it's about: A six-part documentary series following the world's best surfers as they compete on the World Surf League championship tour. Important names: The series will be executive-produced by James Gay-Rees, Paul Martin, and Erik Logan. When you can watch: No release date yet. What it's about: A documentary series inspired by The Book of Gutsy Women: Favorite Stories of Courage and Resilience by Chelsea and Hillary Clinton. Episodes feature biographies of trailblazing women in a variety of areas. Important names: Hillary and Chelsea Clinton will executive produce the series with Johnny Webb and Roma Khanna. When you can watch: No release date yet. What it's about: Another project from Reese Witherspoon's Hello Sunshine production company (which is responsible for The Morning Show), Deadline reports that Surface is an eight-episode psychological thriller series, but doesn't have much else to say about it other than production is slated to begin in 2021. Important names: The series will star and be produced by Gugu Mbatha-Raw (Hannah Shoenfeld in The Morning Show) and will be executive produced by Veronica West (co-creator of High Fidelity). When you can watch: No release date yet. What it's about: A drama about the creation, licensing, and distribution of one of the most famous and popular games of all time. Important names: Taron Egerton stars, with Jon S. Baird directing. The rest of the case has not yet been determined, according to Deadline. When you can watch: No release date yet. What it's about: A 10-episode half-hour comedy series about former best friends who met as children and had a falling out, then reconnect as adults and try to mend the rift. Their friendship starts to destabilize their lives. Important names: The friends are played by Rose Byrne and Seth Rogan. The series is written and directed by Nick Stoller and co-written by Francesca Delbanco. When you can watch: No release date yet. What it's about: Deadline reports that this is a genre-bending film about an engineered "ideal wife" who rejects her creator, escapes captivity, and discovers her true self. Important names: The film will star Scarlett Johansson and will be directed by Sebastián Lelio. When you can watch: No release date yet. What it's about: A natural history documentary series that uses new audio technology and cinematic 360-degree audio to reveal untold nature stories from every continent. Important names: It will be executive produced by Alex Williamson, and the series producer is Sam Hodgson. When you can watch: No release date yet. What it's about: A documentary series exploring the careers of Naomi Campbell, Cindy Crawford, Linda Evangelista, and Christy Turlington. Four models whose fame and prestige made them bigger names than the fashion brands and designers they showcased. Important names: Outside of the four aforementioned models, the series is directed by Barbara Kopple, who has two academy awards. When you can watch: No release date yet. What it's about: Based on the book by Jandy Nelson, it's about a teen who is trying to work through the loss of her sister. Important names: Cherry Jones plays the teen's grandmother, Jason Segel plays her uncle. When you can watch: No release date yet. What it's about: A half-hour comedy about a former addict in Yucca Valley, CA, who makes a new start after the death of her mother, deciding to become a private investigator. Important names: The first episode will be directed by Ben Stiller (who also produces) and the series will star Patricia Arquette. When you can watch: No release date yet. What it's about: From the novel by Sheri Fink that documents the first five days at a New Orleans hospital after hurricane Katrina made landfall. Important names: The series will be directed by John Ridley and star Vera Farmiga. When you can watch: No release date yet. What it's about: This adaptation of a novel by Sarah Perry Remove non-product link is set in 1893. Recently-widowed Cora Seaborne relocates to Essex, where a mythical creature that once roamed the marshes has returned. Important names: Claire Danes will play the lead role. Clio Barnard is the director. When you can watch: No release date yet. What it's about: A music competition series that Apple describes as having a, "fresh, new documentary sensibility. The hybrid series will break down cultural and musical barriers in the country music space, inviting innovative musicians to unleash their authentic voices and take center stage." Important names: Adam Blackstone will serve as musical director of the series. We don't know know who the host(s) will be or the contestants. When you can watch: No release date yet. What it's about: According to Variety, this is to be a "spy movie with romance set in Africa" but little else is known about the nascent project. The report says it's early in production. Important names: The film will star Idris Elba and is produced by Simon Kinberg and Audrey Chon. When you can watch: No release date yet. What it's about: An adaptation of the best-selling novel by Lauren Beukes. Moss plays a Chicago reporter who survives an assault and hunts down her attacker to find he is traveling through time from depression-era Chicago to hunt a series of women—Shining Girls—with extraordinary potential. Important names: Elisabeth Moss will star and executive produce. Silka Luisa will adapt the novel for TV and serve as showrunner. When you can watch: No release date yet. What it's about: An adaptation of the Isreali show When Heroes Fly. The Hollywood Reporter says that the 10-episode series will center around a young American scientist that goes missing along the Colombia-Venezuela border. Her brother and her husband struggle set out in search of her and discover more than they expected. The series features both English and Spanish language dialogue. Important names: The showrunners will be Mark Boal and Jason Horwitch. The cast includes Luke Evans and Michiel Huisman. When you can watch: No release date yet. What it's about: When a high school student in a small Alaskan town posts a photo of his dad online, and discovers that his family is in the Witness Protection Program. A man seeking revenge soon finds them, the FBI shows up…but what if his dad's reasons for going into the program aren't as innocent as he says? Important names: Jake Gyllenhaal is set to start with Gustav Möller directing. When you can watch: No release date yet. What it's about: Will Smith plays Peter, a runaway slave in Louisiana who has to evade capture as he makes his way to the North, where he joins the Union Army. Important names: The film stars Will Smith and is directed by Antoine Fuqua with a script by William N Collage. When you can watch: No release date yet. What it's about: According to The Hollywood Reporter, it's an eight-episode series about the 1930s and 40s actress and inventor Hedy Lamarr (whose frequency-hopping radio technology is still the basis for many modern wireless communications). Important names: Gal Gadot is set to star as Lamarr, with a script written by Sarah Treem. When you can watch: No release date yet. What it's about: Apple has struck an overall deal with The Maurice Sendak Foundation to produce shows or series based on the author's works for children. The most famous of these, by far, is Where the Wild Things Ar e. Important names: Apple is working with longtime Sendak collaborator Arthur Yorinks and his production studio Night Kitchen Studios. When you can watch: No release date yet. What it's about: A limited-series adaptation of the Edith Wharton novel The Custom of the Country. The novel, published in the early 20th century, is about a midwestern girl who climbs the ladder of New York high society. Important names: The big one is Sofia Coppola, who is developing the series for Apple. No word yet on whether she will direct it. When you can watch: No release date yet. What it's about: Based on the Israeli series False Flag, Apple describes the show as a "high-paced thriller about the kidnapping of the son of a prominent American businesswoman. Twenty-one-year-old Leo's abduction from a large, upmarket hotel in central New York is captured on video and goes viral. Swiftly, four British citizens staying at the hotel become the prime suspects. But are they guilty of any more than being in the wrong place at the wrong time?" Important names: The mother of the son who is kidnapped is played by Uma Thurman. The series also stars Kunal Nayyar, Noah Emmerich, Georgina Campbell, Elyes Gabel, Elizabeth Henstridge, and Angel Coulby. When you can watch: No release date yet. What it's about: According to Deadline, all we know is that it tells the, "unbelievable true story of one of the largest scams in government history." Important names: The documentary series is produced by Brian Lazarte and James Lee Hernandez, who produced the hit documentary series McMillion$. When you can watch: No release date yet. What it's about: A limited series anthology about climate change. It follows a group of interconnected human tales to show how every aspect of our world is going to be changing in the near future. Important names: The show is expected to be produced by Scott Z. Burns, the writer and director of documentary hits An Inconvenient Truth and The Report. When you can watch: No release date yet. What it's about: When the British MI-5 agency's spies screw up their career, they are sent to the "Slough House" to while away their days doing unimportant work. They are referred to by the rest of the agency as "Slow Horses," hence the TV show title. There are more than six books in Mick Herron's "Slough House" series, with more on the way. Important names: Gary Oldman is to star (he doesn't do a lot of TV!) as Jackson Lamb, the leader of the Slough House spies. When you can watch: No release date yet. What it's about: A musical adaptation of A Christmas Carol starring Will Ferrell and Ryan Reynolds. You know: Scrooge, three ghosts, Bah Humbug, etc… Important names: Will Ferrell and Ryan Reynolds star. When you can watch: No release date yet. What it's about: Based on Richard Dominguez's comic book about an aging luchador who teams up with his grandson to use the El Gato Negro persona to fight crime in South Texas. Important names: Robert Rodriguez will direct and produce, while Diego Boneta will star and also produce. When you can watch: No release date yet. What it's about: A limited series about the bombers of World War II. It is something of a follow-up to the hit HBO series Band of Brothers. Nearly all of the content on Apple TV+, while original and exclusive, is produced by outside production companies and studios. But according to Variety, Apple is also building its own internal studio, named Masters, and this is its first project. Important names: It will be written by one of Band of Brothers writers, John Orloff, with Steven Spielberg and Tom Hanks once again on as executive producers. Several other producers and alumni of Band of Brothers will be involved with the project, too. When you can watch: No release date yet. What it's about: Tells the story of a con artist among the billionaire elites of Manhattan. Important names: Julianne Moore will star and produce. Jon Lithgow, Sebastian Stan, Justice Smith, and Briana Middleton also star. When you can watch: No release date yet. What it's about: According to a report from The Hollywood Reporter, Apple has teamed up with indie production company A24 to produce a film adaptation of the young adult novel The Sky is Everywhere. The novel tells the story of a high school girl whose older sister suddenly dies. She forms a relationship with her sister's former fiancé and also with the new boy in town, who loves music as she does. Amid the coping with the loss of her sister, she has to choose between these two romantic entanglements. Important names: Josephine Decker will direct and produce, and author Jandy Nelson will write the screen adaptation of her own book. When you can watch: No release date yet. What it's about: Apple has ordered a new natural history series from Jon Favreau and Mike Gunton. The CGI-heavy series will be produced by BBC Studios' Natural History Unit, and will follow the last days of the dinosaurs. Important names: Jon Favreau made waves using CG animals in The Jungle Book and The Lion King, and Mike Gunton produced Planet Earth II. When you can watch: No release date yet. What it's about: A report in Variety says that Apple has made a direct-to-series order for a new drama based on the real-life experiences of CIA undercover operative Amaryllis Fox. Fox has a hot novel named Life Undercover: Coming of Age in the CIA that released in October 2019. Important names: Brie Larson will star and executive produce the series. When you can watch: No release date yet. What it's about: A report from Variety says that Apple has made a direct-to-series order of My Glory Was I Had Such Friends. The limited series, based on the Amy Silverstein memoir about a woman awaiting heart surgery and the women who supported her, will star Jennifer Garner and be executive produced by J.J. Abrams through his Bad Robot production company. Important names: J.J. Abrams and Jennifer Garner are working together again for the first time since the show Alias. When you can watch: No release date yet. What it's about: This summer, The New York Times Magazine published an epic feature titled, " Losing Earth: The Decade We Almost Stopped Climate Change." At over 30,000 words, it took up an entire issue of the magazine and earned critical acclaim. It focused on how, from 1979 to 1989, a small team of scientists, activists, and politicians tried to stop climate change while there was still time. We don't know the format the show will take, but The New York Times specifically calls it a "series." Based on the source material, it seems like a single-season limited series makes the most sense. Important names: The article's author, Nathaniel Rich, will serve as executive producer together with Anonymous Content founder and CEO Steve Golin. When you can watch: No release date yet. What it's about: The best-selling novel Pachinko follows four generations of a Korean immigrant family, following the line from Korea to Japan and finally America. The New York Times named it one of the 10 best books of 2017. According to Variety, Apple has secured the rights to develop Min Jin Lee's novel into a series. A later report in The Hollywood Reporter stated that Apple has moved from simply optioning the novel to ordering a full eight episodes. It's not clear if it's a single season of a multi-season arc, or just an eight-episode miniseries. Important names: It will be written and directed by Soo Hugh, who was the showrunner for the first season of AMC's The Terror. Min-Ho Lee ( Boys Over Flowers) and Jin Ha ( Devs) will star. When you can watch: No release date yet. What it's about: Terry Gilliam's time-traveling adventure comedy Time Bandits may make its way to the small screen in a TV series. Deadline reports that Apple is buying up the rights to make a TV show of the cult classic film. The film, about a young boy who gets caught up with a troupe of thieves as they hop across history to steal treasure, ever on the run from the "supreme being" from whom they've stolen their time map, is good fodder for a TV show. But the film has a dedicated cult following who will place high demands on maintaining the film's heart and quirky sense of British humor. Important names: Terry Gilliam will have an executive producer role, but will not write for the show. A report in Variety says that the series will be directed by Taika Waititi, whose quirky film What We Do in the Shadows earned him a cult following, and who earned huge international acclaim for his direction of Thor: Rangrarok and Jojo Rabbit. When you can watch: No release date yet. What it's about: The hit novel Shantaram has a somewhat tumultuous history in Hollywood. According to Variety, the book was first to be developed as a film, with Johnny Depp having acquired the book rights and Warner Bros. producing with Joel Edgerton in the starring role. Then, the plans were scrapped and the rights auctioned off, with Anonymous Content and Paramount Television winning the rights to Shantaram and its sequel novel The Mountain Shadow. Gregory David Roberts' novel tells the story of Lin, an escaped convict from a maximum security Australian prison. On the run and cut off from friends and family, he disappears into the Bombay underground in India. Important names: Eric Warren Singer ( American Hustle, The International) will write and executive produce the series. According to a report from Variety, the lead character will be payed by Charlie Hunnam, who is known for his work on Sons of Anarchy and for starring in Pacific Rim. When you can watch: No release date yet. What it's about: According to Variety, Apple has ordered a 10-episode, half-hour run of a new comedy variety show. The show is inspired by Curtis Sittenfeld's collection of short stories You Think It, I'll Say It. Important names: SNL alum Kristen Wiig was set to star, but pulled out citing scheduling conflicts with Wonder Woman 1984. The show is created and produced by Colleen McGuinness ( 30 Rock, About a Boy). When you can watch: This project does not yet have a title or release date. What it's about: According to Variety, Apple has gone straight-to-series (ordered a whole season of a series without first shooting a pilot) on a drama by Damien Chazelle. Chazelle is the acclaimed writer and director of La La Land and Whiplash, and is currently working on a Neil Armstrong biopic called First Man. No details have been given about the series at all, except that Chazelle will write and direct every episode. We don't know the subject matter, the stars, the length of each episode…really nothing at all. Important names: Chazelle is the acclaimed writer and director of La La Land and Whiplash, and is currently working on a Neil Armstrong biopic called First Man. When you can watch: No release date yet. What it's about: This documentary film follows a former music executive who is debating whether publicly tell her story of assault and abuse by a notable figure in the industry. Important names: The film was executive produced by Oprah Winfrey, with Kirby Dick and Amy Ziering ( The Hunting Ground) directing and producing. Update 01/13/20: Oprah Winfrey has stepped away from the project, issuing the following statement: First and foremost, I want it to be known that I unequivocally believe and support the women. Their stories deserve to be told and heard. In my opinion, there is more work to be done on the film to illuminate the full scope of what the victims endured, and it has become clear that the filmmakers and I are not aligned in that creative vision. Kirby Dick and Amy Ziering are talented filmmakers. I have great respect for their mission but given the filmmakers' desire to premiere the film at the Sundance Film Festival before I believe it is complete, I feel it's best to step aside. I will be working with Time's Up to support the victims and those impacted by abuse and sexual harassment. When you can watch: As a result of Oprah leaving the project, it will no longer appear on Apple TV+.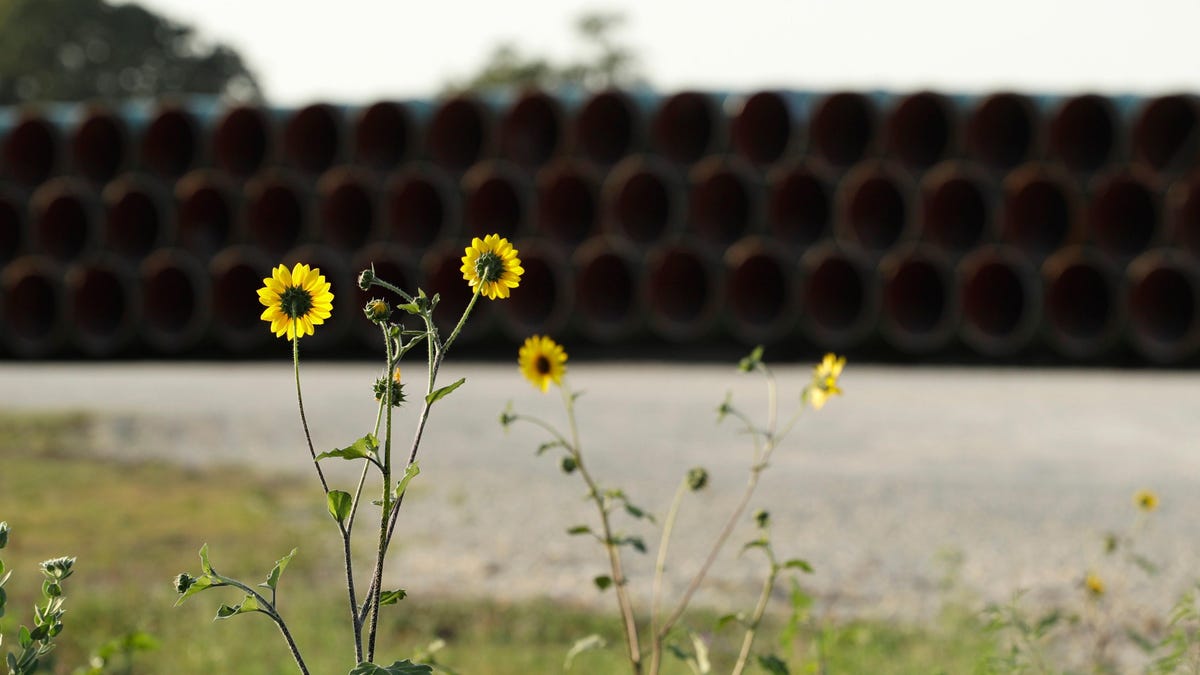 If you're in the market for an oil pipeline, you're in luck—we've got a lot of extra ones right now. About half of the oil pipelines in the U.S. are sitting unused, energy research firm Wood Mackenzie said in figures shared with Reuters Thursday. The situation reflects a downturn in oil production that was kicked off by the pandemic. Oil production, like a lot of other supply chain functions, isn't an exact science; there's usually a push-and-pull dynamic between production and pipelines as supply ebbs and flows. In early 2020, when U.S. oil production was still relatively high, somewhere between 30 and 40% of the nation's pipelines were sitting unused, Wood Mackenzie reported. However, the fall in output as a result of covid-19, when demand was so low that oil prices briefly dipped into the negative, was so precipitous that the ratio of unused pipelines to oil output is really out of the ordinary right now. Part of this incredible drop-off is thanks to the oil boom that preceded the pandemic. Between 2017 and 2020, operators scrambled to build more pipelines as a sharp increase in oil production in Texas' Permian Basin caused transport bottlenecks and threatened to overwhelm the existing infrastructure. This was the cherry on top of a 15-year rush in American oil production unlike any other in history. "The shale boom has been unprecedented in its size and the rate of production growth," said Lorne Stockman, a director at Oil Change International. "Especially with the Permian, to my knowledge, there's never been an oil basin or a plain that has grown so much, so fast." Another contributing factor to the pipeline building frenzy is the simple fact that Texas loves to encourage oil and gas production and puts very few guardrails in place. "There weren't any huge regulatory hurdles to get over to get a pipeline built," said Stockman. "You almost don't need a permit to build them." Movie theater quality on the go Just set this baby on a stable surface a few feet up from the ground and enjoy up to 100 inches of 200 Lumen 480p entertainment! The ghost network of pipelines has been a concern in the Permian for most of the pandemic. Last year, the Wall Street Journal reported that the slowdown in production was bad news for some of the country's major pipeline operating companies, which previously had faced a huge glut of business. These operators include big names like Energy Transfer Partners, which owns the Dakota Access Pipeline. The Wood Mackenzie report notes that the Dakota Access Pipeline is only running at 77% of its usual capacity, compared to 100% before the pandemic. Plains All-American Pipeline is another biggie; the company tried ( and failed) to build a pipeline through a majority-Black neighborhood in Memphis this year, and is pushing to replace a California pipeline that shut down in 2015 after a major oil spill. Pipeline operators and those supporting the fossil fuel industry like to use language about how pipelines are necessary to serve the nation; the idea of pipelines having a "public interest," Stockman said, is often used in eminent domain cases where companies are trying to make a case for building pipelines on private land. Permitting agencies often parrot that language when allowing projects to move forward. Meanwhile, pipelines and other fossil fuel infrastructure have been "dubbed" critical, allowing conservative lawmakers to pass extreme policies to protect them from protesters. But the excess pipelines in the Permian right now show that a lot of American oil and gas infrastructure is built not out of some noble drive to serve the energy needs of a nation, but because fossil fuel companies are looking for the best bang for their buck. "You then see, actually, there's overbuild," Stockman said. "This is not about meeting demand—it's about companies being able to make more money by having choices about where they can send their oil." I t's easy to blame covid-19 for the sharp drop in fossil fuel production and pipelines lying unused. Even with omicron, there's also perhaps an expectation that production will pick back up again at some point. But the story of American oil production isn't so simple. Global forces like OPEC are keeping their reins on production tight to control prices, while American investors—many of whom lost money during the shale boom because the sheer amount of oil being produced made prices bottom out—are pressuring U.S. producers to keep production down. Meanwhile, the global energy transition is looming, as the world begins to recognize the urgency of stopping fossil fuel production. It remains to be seen whether those abandoned pipelines in the Permian will stay empty—or if fossil fuel interests will get their way and find another way to put them to use.


The maintainers of Go, the open source programming language, announced the release of version 1.18 in Beta 1. This first preview release is now available and can be downloaded directly. The beta release is the first to support generic code using parameterized types, the most significant change to Go since the release of Go 1. With this, certain subtle cases have been postponed to a future release. Additionally, Go 1.18 Beta 1 includes built-in support for writing fuzzing-based tests in order to automatically find inputs that cause the user's program to crash or return invalid answers. This preview release also adds a new "Go workspace mode," allowing the user to work with several Go modules at the same time. CData Software, a provider of cloud connectivity and integration solutions, today announced a $140 million Series B funding round led by Updata Partners. This financing follows a $20 million Series A round also led by Updata Partners in March of 2020, bringing the total amount raised to $160 million. This funding round will allow CData to expand its cloud capabilities, investing in further development of its cloud-native universal platform. Additionally, CData will use this funding to bring new talent in across the organization in order to broaden its global presence. Deque Systems, a software company that focuses on digital accessibility, today announced that axe DevTools Mobile now offers support for both Apple, including support for UIKit and SwiftUI, and Android ecosystems. This allows developers and application owners to integrate accessibility into their whole native mobile development ecosystem. Currently, axe DevTools Mobile tests Apple apps written in Swift or Objective C and Android apps written in Kotlin or Java, with support for Android apps written in JetPack Compose coming in Q1 2022. Axe DevTools in SwiftUI help users integrate accessibility into mobile development processes in order to streamline accessibility testing. "Mobile accessibility matters. The potential for lost revenue is enormous and growing every year. And, with mobile technology becoming critical for industries from retail and business to financial services and healthcare, accessibility has become a core business issue in almost every industry," said Preety Kumar, founder and CEO of Deque Systems.

Fresh from acquiring Boston Dynamics, Hyundai has unveiled a new mobility platform called MobED that "overcomes the limitations of existing indoor guide and service robots." The Mobile Eccentric Droid (ModED) consists of a flat, rectangular bodied riding on four large wheels with independent suspension and 12-inch pneumatic tires. The wheels can all rotate independent of each other and the body can tilt across its four corners. The end result, as the video below demonstrates, is an agile little robot that's capable of transporting difficult loads over a range of terrain types and obstacles. According to Dong Jin Hyun, Head of Hyundai Motor Group Robotics Lab, "We have developed the MobED platform to overcome the limitations of existing indoor guide and service robots while maximizing its usability in cities by dramatically improving the platform's overall mobility." So as well as serving indoors, it looks as though MobED could end up being an autonomous delivery robot at some point in the future. Hyundai refers to the combination of the steering, braking, and altitude controls as the "Eccentric Wheel" drive system. It results in the ability to perform in-place rotation, omnidirectional movement, and posture control for advanced stabilization. ModED can travel at up to 30km/h and has a battery life of four hours using a 2kWh battery. Although availability and pricing for MobED has yet to be revealed, Hyundai will have the robot on display at CES 2022 next month.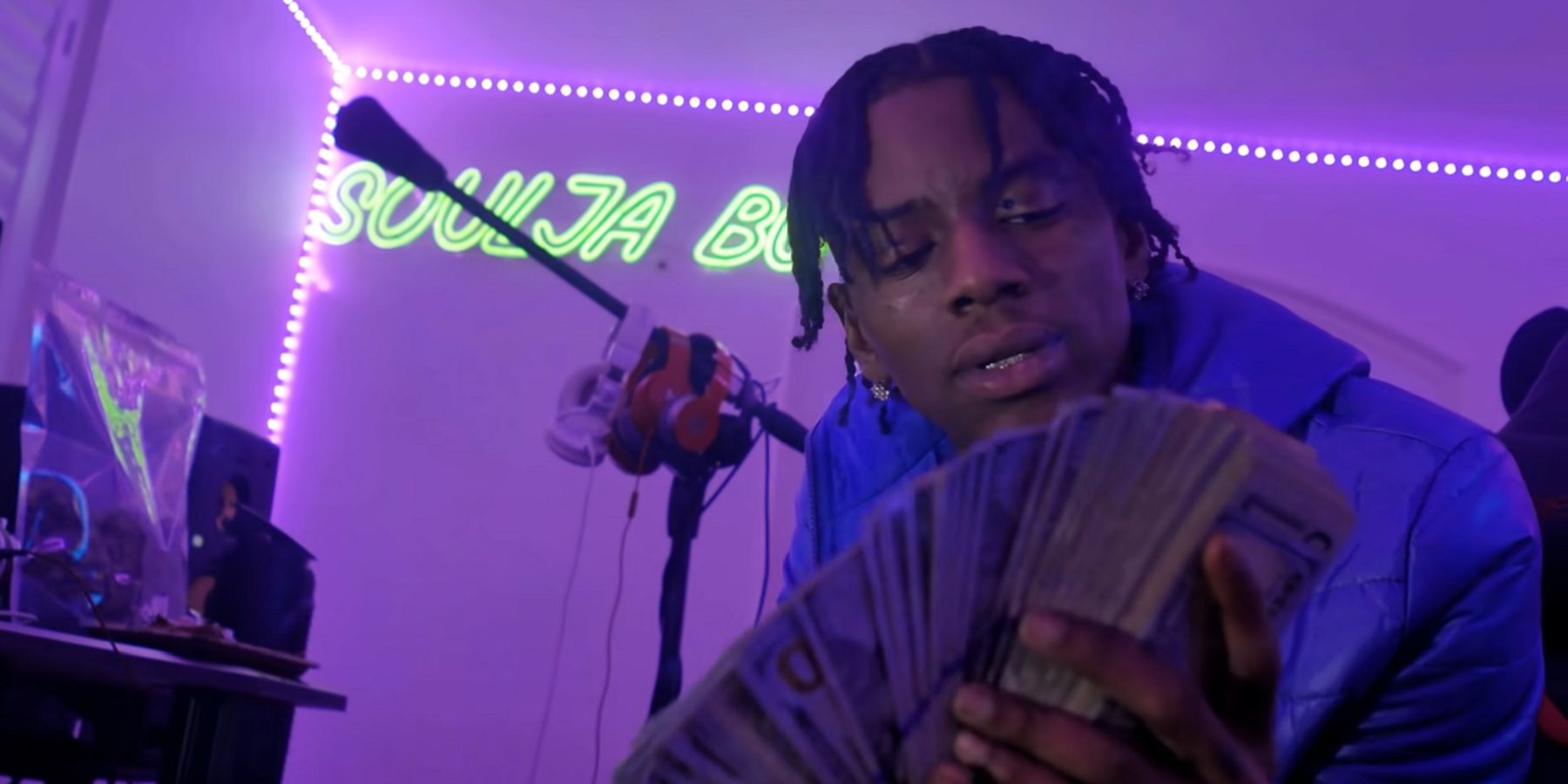 Rapper DeAndre Cortez Way, aka Soulja Boy, is one of many celebrities that have tried their hand at Twitch streaming. Soulja Boy has enjoyed a bit more success on Twitch than other celebrities that have given the streaming platform a shot, though he has recently found himself in hot water, with Twitch banning Soulja Boy twice in one day. Soulja Boy has not taken kindly to the Twitch ban, and has taken to Twitter with his complaints. Soulja Boy was banned from Twitch on December 9, though the streaming platform quickly reversed the ban. Not long after, Twitch banned Soulja Boy again, and his account is still suspended at the time of this writing. On December 15, Soulja Boy tweeted about his frustration with his Twitch ban, asking who the CEO of Twitch is and where he would be able to find him, and then also complaining that Twitch can ban users without providing an explanation. RELATED: Soulja Boy Criticizes Twitch Streamers That Are Leaving for YouTube Twitch's ban policies have long been a source of frustration for users, not just Soulja Boy. While it's sometimes obvious, other times people have no idea why they have been banned from Twitch, and they are basically left at the mercy of the platform until it decides to bring back their account. Soulja Boy has taken exception to this, saying, "I gotta sue these people." Whether or not Soulja Boy actually files a lawsuit against Twitch remains to be seen. Soulja Boy is known for stirring the pot on Twitter, finding himself at odds with the likes of Epic Games and even WWE superstar Randy Orton. It's entirely possible that Soulja Boy will indeed file a lawsuit against Twitch because of his ban from the platform, but it's also possible that he's just trying to get a reaction from the streaming giant and its executives. The Soulja Boy Twitch ban isn't the first time that the rapper has found himself at the center of a gaming controversy. A few years ago, Souljaboy started selling game consoles, though it was essentially a bootleg system full of stolen software. This prompted legal action from Nintendo, and in turn, Souljaboy removed his consoles from sale, though not before lashing out with some homophobic tweets. Soulja Boy was quiet on the video game front for a couple of years after the console debacle, but more recently reached out to Tony Hawk about setting up a meeting with Activision to produce his video game idea. It's unclear if anything ever came of that, but it seems unlikely. MORE: Soulja Boy is a Good Case Study on How Celebrities Can Break Into Twitch

In an era where it seems more and more of us want fancy food, drinks, and services at home — and instantly — it may come as a shock that Drinkworks is shutting down operations. Drinkworks is a ready-made bartending machine that's able to deliver custom cocktails at the push of a button. Despite the apparent ease of having a countertop mixologist, Drinkworks says it will no longer be selling new bar machines, and it will stop producing drink pods too, though it will continue to sell off stock on its website and through retailers until the supplies are gone. Apparently aware that a legion of customers may be irate at having shelled out for a pricey machine ($300-350) that will soon cease to be able to execute its only function, the company is launching a reimbursement program. "As the Drinkworks machine will no longer be able to be replaced or serviced, we are offering you the opportunity to receive reimbursement for your system," according to to the Drinkworks website and a special reimbursement page. "This offer is valid until February 28, 2022. Please use your Reimbursement ID, found in your email, to submit a reimbursement claim." Drinkworks was a partnership between Keurig Dr Pepper (makers of the popular single-serve coffee machines) and Anheuser-Busch which launched back in 2018 and made a splash at CES when it was introduced. The company has numerous brand partnerships with the likes of Absolut, Jack Daniels, and Kahlua bringing big-name bar drinks to home sippers. Naturally, if you're still a die-hard believer in your mess-free custom drink mixing solution, you can snap up remaining pod stock and keep cranking out cocktails as long as that lasts. Drinkworks says the shutdown of machine sales was effective as of December 15, 2021.

There's no shortage of 4K TV deals if you search for discounts among various retailers, but not all of them are worth your while. For offers with immense value for money, you should check out Best Buy TV deals, which currently include this $240 discount for the 65-inch Toshiba C350 Series 4K TV, bringing its price down to a more affordable $480, from its original price of $720. The Toshiba C350 Series 4K TV features a 65-inch screen with 4K resolution for crisp and clear visuals, and support for Dolby Vision HDR and HDR10, which offer a much more impressive change to overall picture quality than resolution alone, according to Digital Trends' 4K TV buying guide. The TV is powered by Toshiba Regza Engine 4K, which optimizes every detail of picture and color output for stunning picture quality, and it also comes with DTS Virtual: X technology for an immersive audio experience. It also offers Color Remaster technology, which restores the original color of images, and Game Mode, which significantly reduces input lag so that the commands from your controller are instantly seen on the screen. The best 4K TVs are smart TVs, and the Toshiba C350 Series 4K TV follows suit with Amazon's Fire TV platform that lets you access a variety of apps and your favorite streaming services, including Amazon Prime Video, Disney+, and Netflix. The TV is compatible with Amazon's Alexa through the Alexa Voice Remote, which can recognize your voice commands for functions such as navigating the menus, controlling playback, and searching for content. Included with every purchase of the 4K TV is a third-generation Amazon Echo Dot, 30 days of FuboTV, and three months of Apple TV+. For an upgrade to your home theater setup that won't break the bank, you should take advantage of Best buy's offer for the 65-inch Toshiba C350 Series 4K TV. It's currently on sale for just $480, after a $240 discount from its original price of $720. The deal may disappear at any moment though, so if you're already looking forward to watching your favorite shows and movies on the 65-inch Toshiba C350 Series 4K TV, you shouldn't waste any time. Click that Buy Now button as soon as you can, before stocks run out.

This is the year you're going to go to the gym three times a week, and you're going to get organized, and you're going to live life to its fullest, and. Aw, who are we kidding? Everyone makes those resolutions, and they're usually just a distant memory by Super Bowl Sunday. So instead of those unrealistic promises to yourself, how about if we start with something that's a little more achievable? I've got some recommendations for smart things you can resolve to do with your technology in the new year to make you happier, more productive, and maybe even less anxious. I wrote the original version of this column back in 2019, but the advice is still timely. Even if you only check one or two of these items off your 2022 to-do list, I promise you'll be better off. No matter how many times well-meaning advice columnists tell us to back up, we find excuses to not do that task. And so, when (not if) some horrible catastrophe renders the data on our PC or smartphone completely inaccessible, there's no backup available. Or there's a backup from several months ago that's missing everything you've done lately. This is where the cloud becomes a digital life saver, capturing the bits that document your digital life. It is easy to configure your smartphone so that every photo and video on your camera roll is backed up to whichever cloud you call home: Google Photos, Dropbox, Microsoft OneDrive, or Apple's iCloud. Meanwhile, on your PC or Mac, sync your important data files to that same cloud. It's particularly easy to do this with a consumer OneDrive account. After signing in, open OneDrive Settings, click the Backup tab, click Manage Backup, and follow the instructions. Just make sure to save important files to the Desktop, Documents, and Pictures folders, which are then backed up automatically. Also: Using a bad, easy-to-guess password can turn your life upside down. Just ask anyone who's ever had a bank account compromised. Reusing any password, even a strong one, is just as bad. If a sloppy website allows your credentials to be stolen, a determined thief will try them at other sites. So, how do you generate a strong, unique password for every account, and how do you keep track of them all? Use a password manager. I prefer to store my heavily encrypted password file in the cloud using 1Password, but you have plenty of other choices, as I explain in this article. Also, don't use "correct horse battery staple" as your password. It's almost as bad as "123456." Also: If, despite your best precautions, an online thief steals your credentials for an important website or service, you have another roadblock to put in their way. Add multi-factor authentication (often called two-factor authentication, or 2FA) to every important online account. This is especially important for email credentials, any kind of banking or payment service, and all your social media accounts. In fact, if an important service doesn't offer 2FA as a security option, you should perhaps ask them why not. Both Google and Microsoft make simple, elegant authenticator apps for smartphones. If you're the independent sort, try the free Authy app. I've put together a 2FA explainer that can get you started. Do it today. See also: Better than the best password: How to use 2FA to improve your security In the early days of the PC revolution, computers were like the Ford Model T. If you took one out on the road, you'd better have a full toolkit handy and be prepared to get very greasy while tinkering under the hood. The heyday of the Model T was almost exactly a century ago. In the 21st Century, when cars are mostly code, you are not going to make your Tesla go faster by going in and editing some config files. The same is true with PCs. I routinely see people who insist that they can make their computing machines go at warp speed with a few registry edits. But when I look deeper into those magical tweaks, I almost never find that any of these trivial changes truly make a difference, and each one involves the risk of unintended, performance-sapping consequences. Most of modern computing is just physics, after all. You want a faster computer? Add more memory, or replace that old spinning disk with an SSD. Also: Among the tinfoil-hat set, it is fashionable to argue that true experts focus their energy on preventing software developers from installing updates. They believe, after all, that the best version of your OS was the one released three years ago (or five years ago, or even ten) and everything that has happened since has been an unmitigated disaster. Meanwhile, here on Earth-1, every major software platform updates itself continuously. Problems with updates are relatively rare and generally solved within days or, very rarely, a week or two. If you'd prefer to take a conservative approach, it's easy enough to defer updates for up to a month while you wait for others to identify any issues. But spending energy trying to override built-in update code is time you'll never get back. Also: There might have been a case for installing third-party antivirus software on a Windows PC a decade or two ago, but today? Not so much. Windows Defender, which is part of every Windows 10 installation, is good enough. That's not just damning with faint praise, either. These days, the only reason that third-party antivirus exists is so that PC makers can actually squeeze out a profit from the bounties they get for preinstalling this crap on cheap new PCs for consumers. The overwhelming majority of malicious software should be shut off long before it gets to your PC, using the built-in protections provided by your email provider, your ISP, and your web browser. In fact, that third-party software is just as likely to get in the way of an update or accidentally quarantine a crucial system file. Save your money and just get rid of it. If you've got a PC on which one of the large third-party security programs came preinstalled, you might have to use a special tool to get rid of it completely. Here are some handy links for Norton, McAfee, and Trend Micro products. Also: The 5 best VPN services

Over the past 30 years, Microsoft Research has undergone a shift in how it approaches innovation, broadening its mission to include not only advancing the state of computing but also using technology to tackle some of the world's most pressing challenges. That evolution has never been more prominent than it was during this past year. Recent events underscore the urgent need to address planet-scale problems. Fundamental advancements in science and technology have a crucial role to play in addressing ongoing societal challenges such as climate change, healthcare equity and access, supply chain logistics, sustainability, security and privacy, and the digital divide. Microsoft Research is increasing focus on these areas and others to help accelerate transformational change and build trust in technology as it evolves. However, these challenges are too large for any single organization to meet alone. They require broader and more diverse coalitions across the global science and technology community, including businesses, scholars, governments, nongovernmental organizations, and local communities. This year, Microsoft Research hosted the first-ever Microsoft Research Summit, a virtual event that embodied our aspiration to catalyze collaboration and innovation across traditional boundaries. The summit brought together experts from around the world—a mix of speakers from Microsoft and external organizations—to critically examine the way technology can increase understanding and further drive advancement; support creativity and achievement; build a resilient, sustainable society; and open healthcare advances to all while maintaining ethical practices that put people first. This post explores just some of the work that's been done this year by Microsoft Research, alongside its partners and collaborators, to drive real-world impact in critical areas, and our aspirations for further impact in the years to come. Fundamental insights into technology and computing can inspire breakthroughs and new computing paradigms while helping to drive scientific discovery forward. In his plenary talk at Research Summit, Peter Lee, Corporate Vice President, Microsoft Research & Incubations, cited "The Usefulness of Useless Knowledge," an essay published in Harper's Magazine in 1939 by pioneering educator Abraham Flexner. Among other things, the essay stresses the role that curiosity and exploration play in game-changing technological leaps. It's at this root of invention and innovation, Flexner argues, where patience and belief in shared knowledge is key. To make networks in data centers more scalable to future needs, researchers in Optics for the Cloud explored how optical circuit switches could replace resource-heavy electrical switches at a network's core. They demonstrated the system's potential to switch between wavelengths at nanosecond speeds—a necessity for supporting low-latency networks at the scale required—using a microcomb and semiconductor optical amplifiers. A research team moved the bar forward for DNA storage, introducing a proof-of-concept molecular controller in the form of a tiny DNA storage writing mechanism on a chip. The chip demonstrated the ability to pack DNA-synthesis spots three orders of magnitude more tightly than before and results in much higher DNA writing throughput than current systems. AI at Scale continued to gain momentum in 2021. With exponential growth this year, large artificial intelligence (AI) models trained using deep learning are one example of fundamental science where applications in the real world are becoming more ubiquitous. Microsoft Research teams were recognized for advancing the state of the art and developing new multilingual capabilities to build more inclusive language technologies using AI as well as pushing the boundaries of natural language processing (NLP) and computer vision. In June 2021, Microsoft Research's LReasoner system set a new standard for logical reasoning ability among pretrained language models. It reached the top of the official leaderboard for ReCLor, a dataset built using questions from the LSAT and GMAT, two standardized admissions tests. Microsoft Turing's T-ULRv5 achieved breakthrough performance on the XTREME leaderboard in September. A few weeks later, Microsoft Turing's model T-NLRv5 reached the top of the SuperGLUE and GLUE leaderboards. Ultimately, these benchmarks and respective leaderboards help to measure progress toward creating AI that better understands language and better converses with people within and across language boundaries. To understand how quickly these advances are happening, one need only look to Megatron-Turing NLG, the language generation model with 530 billion parameters trained to convergence—a collaboration between Microsoft and NVIDIA. To train the Megatron-Turing model, DeepSpeed and NVIDIA Megatron-LM paired up to create an efficient and scalable 3D-parallel system harnessing data parallelism, pipeline parallelism, and tensor slicing–based parallelism. Beyond this achievement, the DeepSpeed optimization library added a number of features and tools this year, including DeepSpeed Inference, its first foray into improving inference latency and cost using multiple graphic processing units (GPUs). The team also introduced DeepSpeed MoE, supporting five types of parallelism and training 8x larger models when compared with existing systems. Zero-Infinity allowed for scaling of large model training from one to thousands of GPUs, furthering its effort to democratize model training for everyone. These large AI models are impressive in their own right, but it's what they're able to do to support people and democratize innovation that makes them especially valuable. Advances in language technologies resulted in the expansion of Microsoft translation and spelling-correction technologies into over 100 languages, breaking down language barriers in products like Microsoft Bing and Microsoft Translator. The Microsoft Turing Team also introduced Turing Bletchley, a 2.5 billion-parameter Universal Image Language Representation model (T-UILR) that can perform image-language tasks in 94 languages. Meanwhile, researchers from Microsoft Research Asia worked on bridging the gap between computer-language and computer-vision modeling. In October, members of the Visual Computing group won the Conference on Computer Vision (ICCV) 2021 award for their paper on the Swin Transformer. This vision transformer surpasses the state of the art with its high performance, flexibility, and linear complexity, making it compatible with a broad range of vision tasks. With this work, the research team hopes to inspire additional research in this area that will ultimately enable joint modeling between the computer vision and language domains. Research teams in the same lab examined the potential for transformers to find success beyond language and vision, demonstrating the neural network architecture can be applied to graph representation learning. With their standard transformer architecture Graphormer, the researchers achieved state-of-the-art performance in the KDD Cup 2021 graph-level prediction track and topped popular graph-level prediction leaderboards. People are multidimensional, pursuing goals and tasks across different areas of their lives, under a variety of circumstances. Microsoft researchers are dedicated to not only helping individuals accomplish more in their personal, professional, and creative lives, but also to helping them feel more confident doing so. Over the past year and a half, researchers and product teams throughout Microsoft have responded swiftly to workplace challenges and opportunities arising from the pandemic. Supporting organizations in executing hybrid work models, they explored technology as an intermediary between people who are physically in the room and those who are not, with some researchers presenting their findings in a hybrid meeting prototype during Research Summit. Researchers investigated remote and hybrid work from a variety of angles—from longitudinal studies on multitasking behavior to workplace communication insights gleaned using network machine learning—to understand where technology needs to grow to help people thrive under these fluid working conditions. Previous and ongoing work in this area is captured by the New Future of Work Initiative and the annual Work Trend Index. As ML techniques and approaches advance, so does the potential for applications to empower individuals in the workplace and beyond does, too. Research teams are leveraging few-shot learning to help support AI that is truly more customizable to the individual with the ORBIT dataset and benchmark. The dataset and benchmark are inspired by a real-world application for people who are blind or have low vision called teachable object recognizers. The dataset strives to reflect the variance within object types and input quality that recognition systems will encounter in the day-to-day, while the benchmark challenges models to identify objects for single users from a few, high-variation examples. Earlier in the year, at the CHI 2021 Conference on Human Factors in Computing Systems, researchers presented tools and learnings guided by a changing definition of accessibility, one that focuses on helping individuals rise above limitations imposed by a world built to accommodate the majority to realize their full capabilities. Also, members of the Enable Group explored the continuing evolution of Soundscape, an app that uses 3D spatial audio to elevate users' perception of an environment they're navigating. Technology has the ability to not only empower at an individual level but also at a systemic level, emboldening people with tools and support to pursue and achieve large-scale positive change in their communities and society as a whole. Microsoft Research India's Center for Societal Impact through Cloud and Artificial Intelligence (SCAI) was established to extend the lab's research and technologies to create impact across domains such as healthcare and sustainability. SCAI collaborates with social enterprises to augment their ability to make a difference, as has been the case with Respirer Living Sciences. This year saw SCAI and the climate science startup integrate Microsoft Research India's Dependable IoT solution with Respirer's PM2.5 sensors for monitoring kits that are providing real-time air-quality data that is easier to access and understand. Project Amplify, a collaboration between the India lab, Microsoft for Startups, and Accenture, serves as another channel for SCAI to share its resources, helping startups committed to addressing societal and sustainability challenges. In its first year (2020–2021), the initiative supported work in aquaculture, agriculture, and mental health. Meanwhile, the Research for Industry (RFI) initiative connects researchers and industry partners to help a variety of domains—from retail and financial services to energy and entertainment—operate in a dynamic world. The value of such collaboration can be seen by the work already being done in agriculture, where individual farmers are able to preview a suite of technologies developed to bring together low-bandwidth wireless technology, micro-climate prediction using deep learning, and data analysis in Microsoft Azure to improve crop returns and sustainability. In May 2021, Microsoft Research introduced a new societal resilience research agenda. Inspired in part by the rapid development of COVID-19 vaccines and a rising tide of global challenges, it advocates a "reset" between science and society. As we continue to pursue foundational academic advances, we must also accelerate research that addresses societal challenges. Societal Resilience deploys open, adaptable technologies to enable community-oriented, collective problem solving. It drives new tools to help domain experts translate real-world data into evidence (see figure below). This means collaborating across traditional boundaries and engaging people who live where the challenges exist. A new video series looks more closely at the changing nature of innovation and discovering new ways to build resilience. Environmental sustainability is a key focus area for Microsoft Research. We support our customers' efforts to reduce carbon emissions, including our work with Project Zerix, which combines biotechnology, chemistry, and materials science with computer science and engineering to develop more environmentally sustainable materials for the IT industry. Project Eclipse is an example of local collaboration toward building sustainable and resilient cities. It's the largest real-time, hyperlocal air-quality sensing network in a North American city. The Urban Innovation team worked with local partners in Chicago to deploy over 100 low-cost air pollution sensors across the city. The team provided several updates this year, including a new video showing how the system works, plus a demo and related presentation at Research Summit. Technology is driving amazing progress in human health, exemplified by the unprecedented development of testing, vaccines, and treatments for COVID-19. It's important to make those treatments and therapies available as broadly as possible. Microsoft Research supports inclusive and equitable technologies and studies that improve scientific discovery, along with better, more equitable delivery of health care of people everywhere. In 2021, as the pandemic raged, it hit some populations harder than others, including people with limited access to or experience with technology. To lower barriers to health information, Microsoft Research developed the Covid-19 Vaccine Eligibility Bot to help people understand their eligibility to receive COVID vaccinations. The bot is accessible across a range of communication channels and in local languages to serve non-English speakers. Separately, a new partnership including Broad Institute of MIT and Harvard, Verily, and Microsoft will provide cloud, data and AI technology, and access to its global network of more than 168,000 health and life science partners, to help researchers interpret an unprecedented amount of biomedical data to advance the treatment of human diseases through the open-source platform Terra. As with any health-related technology, it's important that new medical AI applications adhere to privacy regulations that safeguard sensitive data. Microsoft Research India developed a framework for secure, privacy-preserving, and AI-enabled medical imaging inference using CrypTFlow2, a state-of-the-art end-to-end compiler allowing cryptographically secure two-party computation (2PC) protocols. CrypTFlow2 may allow developers without cryptography experience to build efficient and scalable multi-party computation (MPC) protocols for inference tasks, dramatically improving health providers' ability to process and analyze sensitive data while respecting privacy. Deep learning and open-source strategies can improve cancer radiotherapy workflows and care. But the learning models are not easily accessible to researchers and care providers. This webinar provides an update on Project InnerEye, which aims to democratize AI for medical image analysis and empower health professionals to build medical imaging AI models. Microsoft Research continued to research and develop new technologies to improve healthcare and access for all. Two examples from 2021 include: Fully realizing the value of technology requires the trust of those it's intended to help. And trust is earned, which is why developing AI responsibly is a key tenet of the Microsoft mission. Researchers at the company are guided by the principles of fairness, reliability and safety, inclusiveness, and transparency, among others, in their pursuit of advancement, and they build and share resources and tools to incorporate those principles into research and development. Those tools include the Responsible AI (RAI) Toolbox and the Human AI eXperience (HAX) Toolkit. Combining error analysis, model interpretability, fairness, counterfactual example analysis, and causal analysis tools, the RAI Toolbox provides practitioners with the means to understand model behavior, identify and address issues, and support real-world decision-making, while HAX provides actionable resources for prioritizing the safety and needs of people throughout the development of human-AI experiences. Understanding the benefits and harms of language models has been of particular interest to the broader research community. In discussing the topic at Research Summit, researchers explored limitations of current task framing in building tech that meets real needs and called for interdisciplinary methods to more effectively study real-world impact. Microsoft researchers also covered a variety of other topics related to cultivating trust in AI systems, including executing responsible AI and identifying, assessing, and mitigating harms in AI systems, as part of the Microsoft Research Webinar series. Microsoft Research also launched a monthly lecture series examining the relationship between technology and the perception of race and its ramifications (for more information, see the section below). New complexity in AI systems and an increased reliance on using data to develop and train those systems brings with it increased requirements for keeping those systems secure. This year, researchers at Microsoft started the Privacy Preserving Machine Learning (PPML) initiative to address the need for preserving individual data privacy throughout the ML pipeline. Differential privacy (DP) is one technique that plays an important role in this initiative. Microsoft Research is pushing the boundaries in DP research with the overarching goal of providing Microsoft customers with the best possible productivity experiences through improved ML models for NLP while providing highly robust privacy protections. Cryptography and privacy researchers are committed to protecting the confidentiality of people's data, and in January, they collaborated with the Microsoft Edge product team to introduce Password Monitor for Microsoft Edge, a security feature that notifies users if any of their saved passwords has been found in a third-party breach. The underlying technology uses homomorphic encryption, a technique pioneered at Microsoft Research, which ensures the privacy and security of users' passwords. Watch For, a technology incubated in Microsoft Research, has been helping to create safe and inclusive digital spaces for Xbox and other platforms. The real-time media content analytics platform traces its beginnings back to the 2017 internal hackathon hosted by Microsoft and has garnered attention as the engine behind HypeZone, gaming's version of NFL RedZone. Watch For is now officially a part of Xbox Family, Trust, and Safety and will continue to help support content moderation and online safety throughout Microsoft. Microsoft Research values its ties to the academic community, and it continued to support research and learning through its fellowship and grant opportunities in 2021. This year, Microsoft Research made changes that enabled our growth and created new opportunities. In January, Ashley Llorens joined Microsoft Research as VP, Distinguished Scientist, and Managing Director of Microsoft Research Outreach. He's helping Microsoft Research achieve its mission of amplifying the impact of research at Microsoft and advance the cause of science and technology research worldwide. Before joining Microsoft, Llorens served as founding chief of the Intelligent Systems Center at the Johns Hopkins Applied Physics Laboratory. In July, Microsoft Research announced the addition of a new satellite research lab in Amsterdam. Building on work being pursued at Microsoft Research Cambridge and Microsoft Research Asia in a larger research effort at Microsoft, the Amsterdam lab will focus on molecular simulation using ML. Distinguished scientist and renowned ML researcher Max Welling will lead the lab, bringing a deep background in physics and quantum computing to the role. By using compute power to run physical simulations, he and the lab's growing team hope to help Microsoft further explore the application of ML to molecular science and uncover its tremendous potential in tackling some of the most important challenges facing society, including climate change, drug discovery, and understanding biology to help treat disease. To confront challenges through research and technology, we're sometimes required to engage in new ways. This year, Microsoft Research started the Race and Technology lecture series, a virtual speaker series designed to foster understanding of, and inspire continued research into, how the perception of race influences technology and vice versa through the work of distinguished academics and domain experts. This series continues through June 2022. In 2021, Microsoft Research broadened its engagement with the larger global research community, and the events we hosted and attended this year provided new and enriching opportunities to engage with our community of researchers. Highlights include the ACM Special Interest Group on Data Communication (SIGCOMM) 2021 in August, where Microsoft was a gold sponsor, and the 35th Annual Conference on Neural Information Processing System (NeurIPS 2021) in December. Visit our event page for the full list of events and conferences in which Microsoft participated. Susan Dumais elected into ACM SIGIR Academy Abi Sellen elected a Fellow of the Royal Society Ranveer Chandra included in Newsweek's inaugural list of America's Greatest Disruptors Sébastien Bubeck awarded Outstanding Paper Award at NeurIPS 2021 Neeraj Kayal awarded Infosys 2021 Prize for Mathematical Sciences For 30 years, Microsoft Research has invested in rigorous scientific research and ambitious long-term thinking. We have made a lot of progress on both foundational and real-world challenges, but our work is not done. In the coming year, we'll continue to build on the foundation we've developed and focus on creating solutions that drive long-term real-world impact, and ultimately help to create a more resilient, sustainable, and healthy global society. We look forward to the breakthroughs that can make that happen. Hear from generations of Microsoft researchers as they reflect on the past and look ahead to the future at Microsoft Research. Explore the 30th Anniversary Generations of Inspirational and Impactful Research panel series to learn more.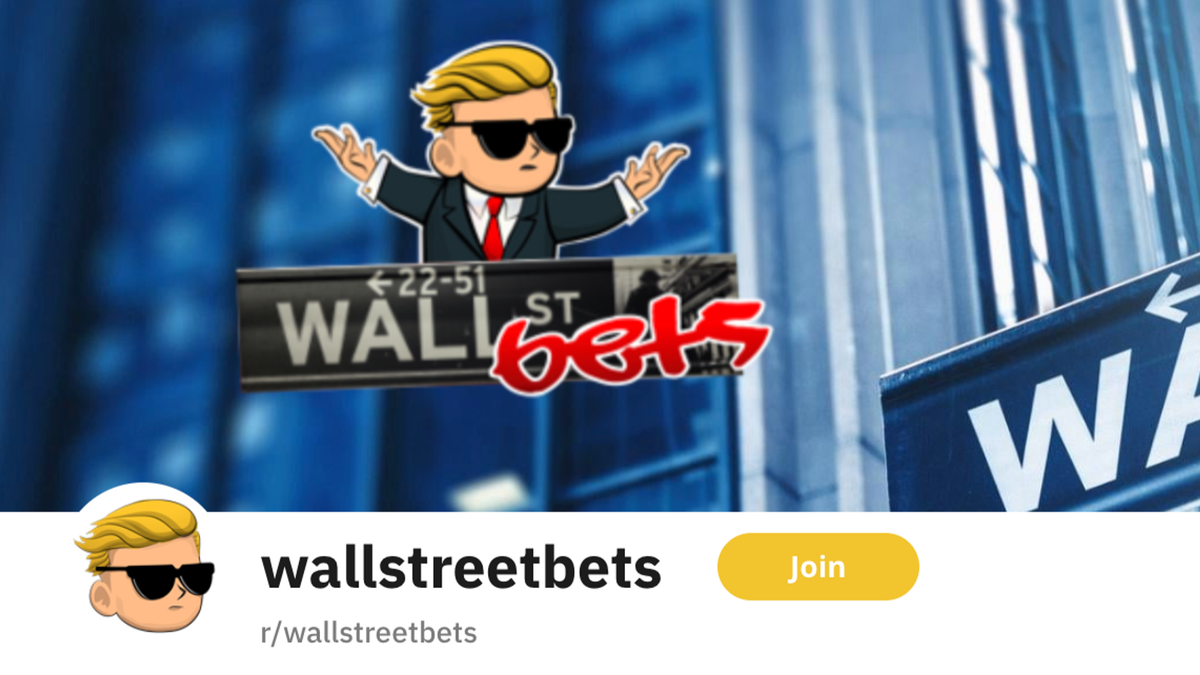 Members of the now-infamous "meme stock" vigilante subreddit r/WallStreetBets may have found their ultimate target—the mothership itself. The subreddit has been filled with users discussing the prospect of deploying some of the same successful tactics used to pump the stocks of GameStop and AMC earlier this year and apply them to Reddit itself, which just announced its intention to go public. Reactions to the IPO news weren't all positive though. "You either die a hero, or live long enough to become a public company that will monetize the shit out of us," Reddit user renameCorei said. That fundamental question of whether or not r/WallStreetBet would essentially be monetized from the IPO came up again and again. Users also voiced concerns Reddit's IPO could welcome a new wave of content censorship on the platform. Meanwhile, others asked the equally important question of whether or not they would be able to buy shares with Reddit karma points Let's back up for a moment. Reddit announced it had confidentiality filed an S-1 with the U.S. Securities and Exchange Commission this week but it has yet to decide the number of shares that would be offered or the price range for the offering. This comes less than six months after Reddit reached a valuation of around 10 billion dollars, a hefty price tag driven in large part by the attention the company gained from daily news headlines generated in large part by r/WallStreetBets, the Wall Street Journal notes. Reddit co-founder and CEO Steve Huffman have previously credited the r/WallStreetBets crew for helping bring in millions of new users and new advertising money to the platform. In August, the company revealed that it had made $100 million in advertising revenue in the second quarter of 2021, a huge gain representing a 192% increase from the same time a year before. Movie theater quality on the go Just set this baby on a stable surface a few feet up from the ground and enjoy up to 100 inches of 200 Lumen 480p entertainment! "This whole event is showing the power of large communities of everyday people," Huffman told the Journal at the time. "Not just massive institutional and professional investors get to participate in the stock market." Reddit is bulking up as well. Earlier this year the company said it planned to double its staff to around 1,400 employees by the end of 2021, according to The Verge. The IPO will mark a pivotal moment for the company founded in 2005. Reddit was sold to Condé Nast in 2006 for around $10 million and then spun off in 2011. For anyone who forgot, r/WallStreetBets rattled the investment world earlier this year when its members pumped up video game retailer GameStop's stock, bleeding out some hedge funds along the way. (One of those hedge funds, Square Capital, was forced to shut down earlier this year). Though GameStop was the most memorable case, r/WallStreetBets also had a hand in boosting the stocks of AMC and Blackberry as well. One thing r/WallStreetBets users are undoubtedly right about is the fact that their fights with hedge funds likely helped drive up Reddit's valuation. While it would be fitting for those users to use the same tactics to pump up their host's value, Reddit differs from the likes of Game Stop or Blackberry in that just about everyone else sees its value.

If The Witcher season 1 lays out a chessboard, season 2 is when the chess match begins. Also, Netflix's new season sets up dominos that will fall across spinoffs like Blood Origin, future anime, and the previously greenlighted Witcher season 3. There's probably a solitaire metaphor to be made somewhere, but The Witcher showrunner Lauren Schmidt Hissrich doesn't want you to peg her for a mundane-game-enthusiast- turned-TV-titan. She's just very excited to bring her Witcher dreams to life.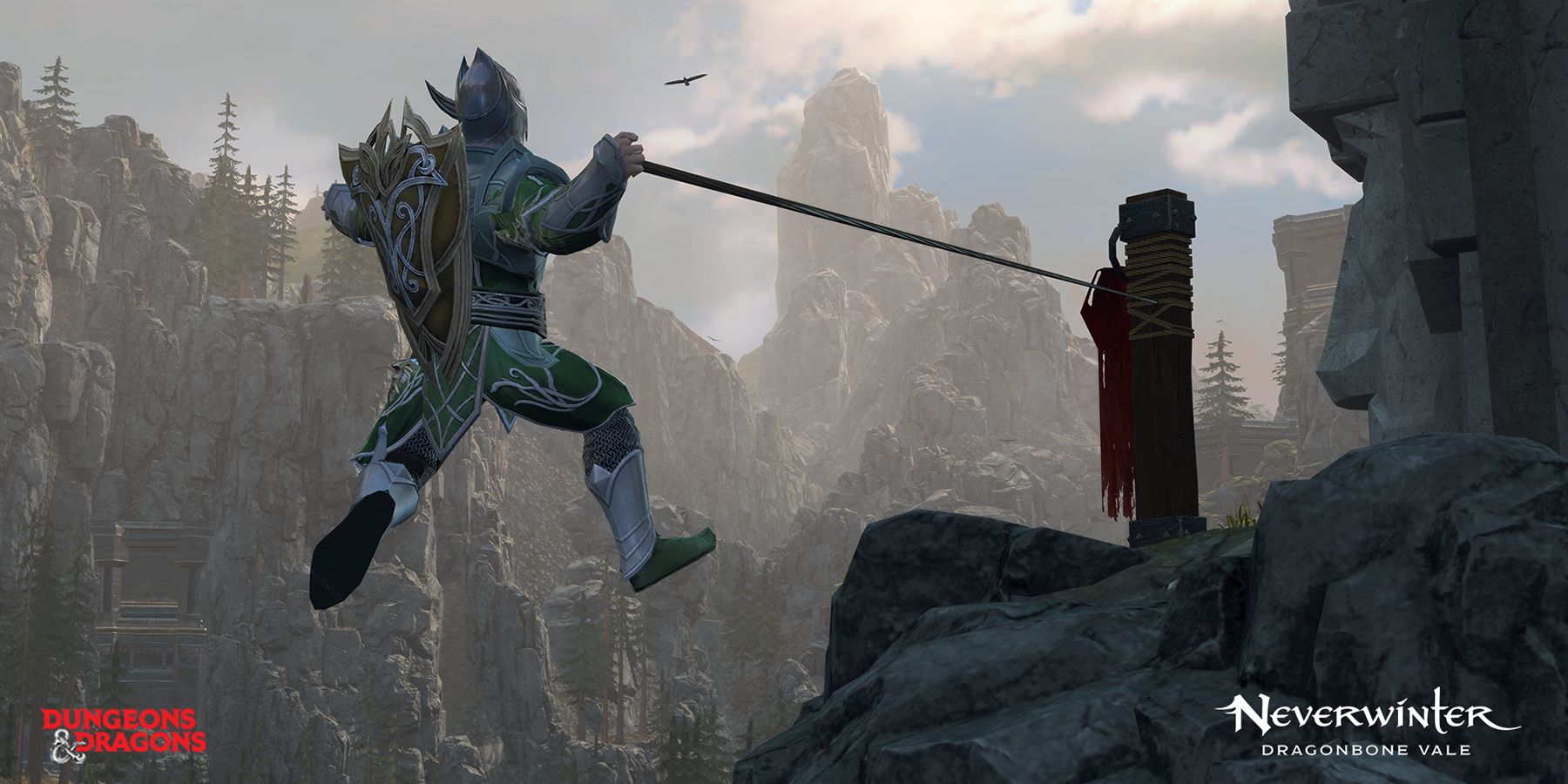 Dungeons and Dragons fans with a taste for MMOs are about to get a special treat in early 2022 when Neverwinter's 22nd module becomes available. The new zones and quests to have drawn some exciting inspiration from the recent Fizban's addition to 5th edition DnD, so expect lots of dragon-themed content. The Dragonbone Vale module was announced earlier today and is set to release on PC January 11 and on consoles February 8. That means that PC Neverwinter players only have a few weeks left before they can dive into the new content when the 22nd module arrives. RELATED: Fantasy-Themed MMOs to Try if You Enjoy Final Fantasy 14 Some new details emerged this morning and offered an exciting look at what the story will be like in Dragonbone Vale and what sort of gameplay updates are also arriving. The grappling hook is sure to draw the most attention, but that's just the tip of the iceberg… In Dragonbone Vale, the evil moon elf lich Valindra Shadowmantle has returned to threaten the Sword Coast alongside the Cult of the Dragon, who have gathered in the Sword Mountains as they plan to invoke the Rite of the Dracolich to bring undeath to dragons across Faerûn and beyond. To make it to the Scaleblight Summit and stop the Cult of the Dragon once and for all, adventurers, alongside the Heroes of Neverwinter and allied forces, will need to make their way through the four distinct neighborhoods of the Sword Mountains. That's just about everything we know about the Dragonbone Vale module so far, but be sure to check back in the coming weeks leading up to the January release for more news, updates, and guides. Neverwinter is free-to-play on PC, PlayStation, and Xbox consoles. Dragonbone Vale releases on PC January 11 and on consoles February 8. MORE: Developer Cryptic Studios Talks Neverwinter's 4th Edition Roots, D&D 5E Fever

Holiday shopping in the modern age brings both the pro and con of having a lot of gifting options available right at our fingertips. This makes holiday shopping easy, but it can also make it overwhelming. Even with all of those options out there, a gift that suits almost anyone — a true no-brainer gift — is still hard to find. But the Ember Smart Mug 2, we feel, comes close. Maybe you are shopping for the coffee lover in your family, or maybe it's the tech-minded friend. The Ember Smart Mug 2 makes an obvious gift for each, and it covers a lot of the people in between. It is a temperature-controlled mug that allows you to set your preferred drinking temperature, keeping your coffee right where you like it from the first sip to the last. It does this with a built-in battery that maintains a 1.5-hour battery life for the roaming coffee drinker, or an all-day charge when set upon the included charging coaster. It even cleans up nicely, as it's safe to hand wash and is submersible in up to 1 meter of water. Smart mugs in general can bring a cool, modern design to one's morning coffee routine, and the Ember Smart Mug 2 is one of the simplest, most elegant mugs out there, making it a great gift for just about anyone. The Ember Smart Mug 2 is even one of the top items to gift yourself, so if you're a creative who can't brainstorm without a cup of joe, or if you just like the quiet morning hours with the crossword puzzle, don't hold back on spoiling yourself with an Ember Smart Mug 2. Decked with tech, style, and convenience, the Ember Smart Mug 2 is made to accompany every morning routine. It blends in nicely, taking a load off in the office break room, accompanying the sunrise on the back deck, and steaming quietly alongside breakfast. It's the ultimate gift for anyone who likes a nice, hot beverage, and is the easy, no-brainer gift we're all looking for this holiday season.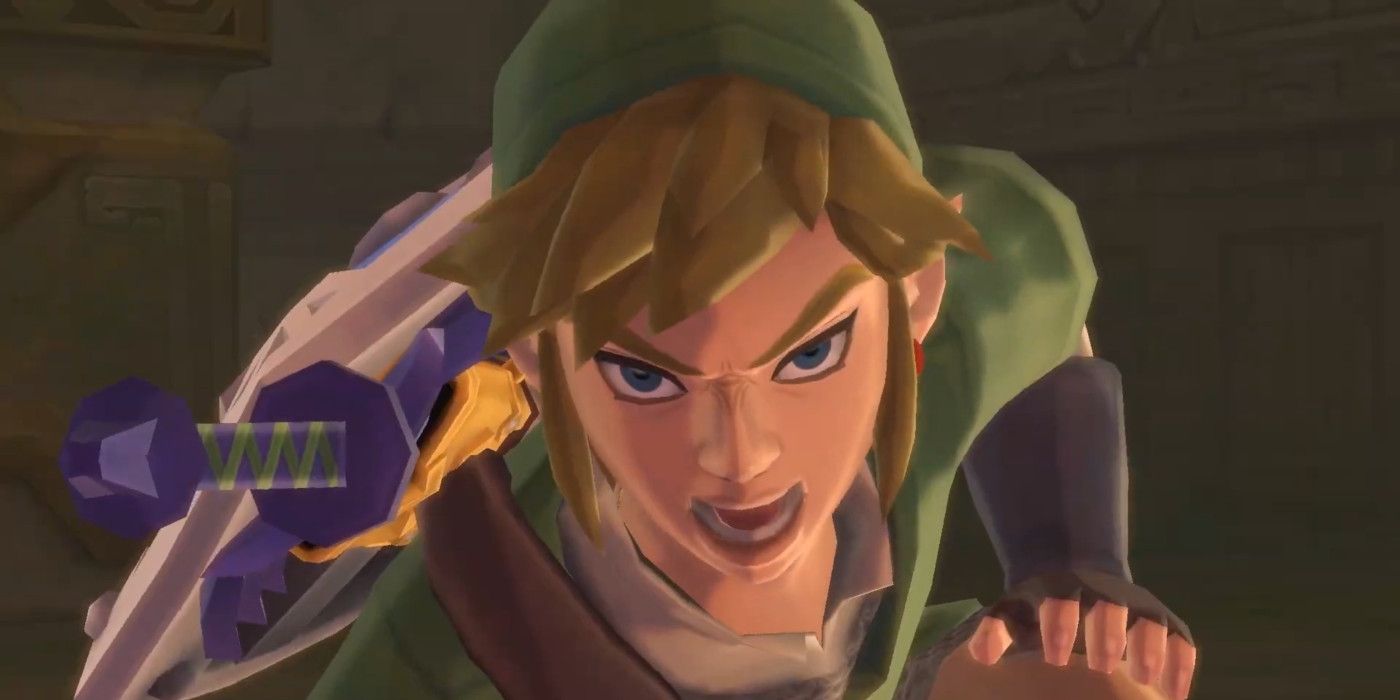 Link has a variety of offensive options at his disposal in The Legend of Zelda: Skyward Sword HD, one of which is the deadly Fatal Blow. However, Link cannot simply turn to this finishing move whenever he feels like it, as certain criteria must first be met. RELATED: The Legend of Zelda: Skyward Sword HD: Every Weapon, Item & Upgrade (& Where To Find Them) Detailing the exact criteria and the specific inputs that are needed in order to perform a Fatal Blow is the precise purpose of this guide. With this in mind, Legend of Zelda fans that read on should have no trouble adding this powerful strike to their offensive arsenals. Updated December 16, 2021 by Tom Bowen: It's now been five months since the release of The Legend of Zelda: Skyward Sword HD, yet the Switch port continues to sell well. This is perhaps due to the fact that, unlike the original release, the HD remaster allows players to choose between either motion controls or a more traditional control scheme. While this extra choice is undoubtedly great for players though, it can make performing certain attacks a little trickier for those who are switching between the two. This guide will therefore explain how to perform a Fatal Blow attack in Skyward Sword HD, both while using button controls and when using motion. The first step toward performing a Fatal Blow in The Legend of Zelda: Skyward Sword is to knock the enemy down. This is not something that can be done to all of the adversaries in the game, but repeatedly striking a foe with powerful moves like spin attacks, is the best way to get one on the ground. Once an enemy has been floored, players should use ZL to target it and then walk toward the creature until the words "Fatal Blow" appear at the bottom of the screen. At that point, it's time for players to unleash the finishing move, though the inputs that are needed will depend on the control scheme that the player has selected. For those who have opted for button controls, administering a Fatal Blow is as simple as pressing up, down, up on the right analogue stick. For anyone that's playing Skyward Sword with motion controls, the attack is instead performed by shaking both Joy-Cons up and down. One thing to note is that players do not have a tremendous amount of time to act once they have put an opponent on the ground. Indeed, some of the enemies in The Legend of Zelda: Skyward Sword have the ability to rapidly recover from a knockdown, so players should make sure to quickly take advantage of the opportunity to perform a Fatal Blow when it presents itself. Players that don't may soon find that Link is in peril as the rejuvenated foe resumes its assault. As previously mentioned, the Fatal Blow is just one of many tricks that Link has up his sleeve, and players should spend some time familiarizing themselves with attacks like thrusts and spin attacks in Skyward Sword. Almost all of these unique maneuvers have very useful applications, and fans that master every one of them will have a much easier time with the game than those that don't. Generally speaking, players should perform a Fatal Blow whenever the opportunity presents itself, though there are occasional situations where it might actually be better not to. When Link is surrounded by larger groups of enemies, for example, stopping to perform a Fatal Blow can sometimes lead to the young hero getting dog-pilled and taking unnecessary damage in the process. After performing just a handful of Fatal Blows, however, players should begin to get a pretty good feel for how long the animation for the attack lasts. Upon mastering the timing, they should then be able to quickly decide when they'll have enough time to use a Fatal Blow without other enemies attacking Link in the moments immediately afterward. Conversely, there are a handful of enemies that can only be killed using the Fatal Blow attack. The most common of these is the Cursed Bokoblin, which players will encounter in the Ancient Cistern as well as in the game's final dungeon, Sky Keep. Due to how slow these enemies are though, many players opt to simply run past them whenever the situation allows it. Players will also need to utilize the Fatal Blow in the final two boss fights of the game. The first sees Link using the attack to dish out massive damage from a great height, while the second ultimately ends up being the very final attack that players will use in the game. More so than usual though, players will need to be quick when performing the maneuvers, as these powerful bosses recover a lot faster than standard enemies do. The Legend of Zelda: Skyward Sword HD is available now on the Nintendo Switch. MORE: The Legend of Zelda: Skyward Sword HD Complete Guide For Dungeons, Items & Collectibles

The Cybersecurity and Infrastructure Security Agency and the White House have released warnings to companies and organizations across the country, urging them to be on alert for cyberattacks ahead of the Christmas holiday. CISA has released "CISA Insights: Preparing For and Mitigating Potential Cyber Threats" to provide critical infrastructure leaders with steps to proactively strengthen their organization's operational resiliency against sophisticated threat actors. In a letter sent out on Thursday, White House Deputy National Security Advisor for Cyber and Emerging Technology Anne Neuberger and National Cyber Director Chris Inglis said there are typically breaches around national holidays because cybercriminals know that security operations centers are often short-staffed. Cyber officials released a similar message earlier this year after major attacks on Colonial Pipeline and Kaseya took place on Memorial Day Weekend and July 4 Weekend respectively. "Beyond the holidays, though, we've experienced numerous recent events that highlight the strategic risks we all face because of the fragility of digital infrastructure and the ever-present threat of those who would use it for malicious purposes", Neuberger and Inglis said. "There are specific steps that you, as leaders, can initiate now to reduce the risk of your organizations during this time of heightened risk and into the New Year. In many cases, criminals plan and actually begin an intrusion before the holiday itself -- they infiltrate a network and lie in wait for the optimal time to launch an attack. It is therefore essential that you convene your leadership team now to make your organization a harder target for criminals." The two urged organizations to make sure all patches are up-to-date, enable logs, back up data, investigate incidents quickly, change passwords, mandate multi-factor authentication, manage IT security schedules and make employees aware of phishing. CISA's warning focused on critical infrastructure owners and operators, telling them that security personnel coverage needs to be sketched out now in light of the coming Christmas holiday, and incident response plans need to be updated. Organizations should also make sure all the cybersecurity best practices are being followed and that the current cybersecurity threats and malicious techniques are being monitored. CISA even said the threshold for information sharing should be lowered, and any cybersecurity incidents and anomalous activity should be reported to CISA or the FBI Immediately. The FBI sent out its own notice on Wednesday notifying potential victims of the Log4j vulnerability that they "may be unable to respond to each victim individually, but all information we receive will be useful in countering this threat." While some cybersecurity experts have said cybercriminal interest in Log4j is waning, Microsoft said nation states and other groups are exploiting the bug, including Chinese government-linked group Hafnium as well as groups from North Korea, Turkey and Iran. VMware head of cybersecurity strategy Tom Kellermann told ZDNet that he was very concerned about the organizations that haven't followed the "very specific and holistic advice" given by CISA and the Joint Cyber Defense Collaborative (JCDC). As a member of the JCDC, VMware has worked alongside Google, Microsoft, Verizon to help address the threat posed by Log4j. "Ever since the first proof of concept exploit was made available, attackers around the world -- from cybercrime cartels to rogue nation states -- have been actively exploiting the vulnerability, and that's been going on for days. Everyone uses Apache in some form and it's really a question of them updating immediately", Kellermann said. "But in addition to that, I think people should apply outbound micro-segmentation rules to prohibit new connections from being established from workloads. They should be scanning their environment and code bases for vulnerable systems employing Log4j. They should be monitoring their workloads for abnormal traffic flow, and they should be reviewing their log files to look for unauthorized configuration changes." Kellermann added that if an organization doesn't know where Apache ends and begins in their environment, they need to "dramatically expand their threat hunt game" because, more than likely, they've already been compromised given the level of scanning and exploitation occurring.

Final Fantasy VII Remake Intergrade brought more content, features, and a visual upgrade to the hit recreation of an RPG classic, and it made the leap from PlayStation to PC on Dec. 16. Despite the visual enhancements available with this game (as Intergrade was a PS4 to PS5 upgrade), players can still get in at the ground level with system specs more in line with a PS4's performance. Read on to see what it'll take to play and dial up the settings. Why the Final Fantasy VII Remake Intergrade Hype? Final Fantasy VII Remake Intergrade breathes fresh life into one of the best-regarded RPGs in history. Final Fantasy VII came out in 1997, when 3D graphics, rich plots, and symphonic scores for video games were still in their infancy. The Final Fantasy VII Remake brought the game into the 21st century with modern graphics, gameplay, and audio. In our review, we found that the PC version is an excellent reimagining of the iconic PS1 JRPG that features fantastic visuals and addicting combat. The new Yuffie side content provides additional fun, and even addresses a few minor issues from the 2020 console release. Where Can You Buy Final Fantasy VII Remake Intergrade? Final Fantasy VII Remake Intergrade for PC is on sale via the Epic Games Store for $69.99. Final Fantasy VII Remake Intergrade Minimum System Requirements OS: Windows 10 (64-bit) CPU: Intel Core i5-3330 or AMD FX-8350 RAM: 8GB GPU: Nvidia GeForce GTX 780 or AMD Radeon RX 480 VRAM: 3GB Direct X: Version 12 Available Storage Space: 100GB Final Fantasy VII Remake Intergrade Recommended System Requirements (1440p) OS: Windows 10 (64-bit) CPU: Intel Core i7-3770K or AMD Ryzen 3 3100 RA