Announcement
DC5n United States sport in english 86 articles, created at 2021-12-06 03:45 articles set mostly positive rate 6.2
(17.99/18)

1

2.0

Whicker: Cincinnati proves the College Football Playoff is no closed shop

Cincinnati vaulted past more celebrated teams into a place where it could compete for a national championship, a feat previously believed impossible. 2021-12-05 20:46 5KB www.ocregister.com

(10.99/18)

2

0.6

Michigan football grades: Offense mostly fine, everything else near perfect in Big Ten title game

Free Press sports writer Michael Cohen grades Michigan football on a scale of A to F after the Wolverines' 42-3 win over Iowa on Saturday: 2021-12-05 11:02 7KB eu.freep.com

(8.99/18)

3

0.3

Lions score on final play, beat Vikings for their first win of the season

Dan Campbell threw his arms in the air, fists clenched in jubilation. Jared Goff sprinted to his coach and the sideline, and the two embraced … 2021-12-05 23:36 3KB www.usatoday.com

(8.71/18)

4

0.2

Jets torched by Gardner Minshew, Eagles to clinch another losing season

The Jets' offense got off to its best start of the season … and then returned to form. Gang Green scored touchdowns on its first … 2021-12-05 21:24 5KB nypost.com

(5.99/18)

5

0.4

Mike Glennon can't get Giants offense going in loss to Dolphins

MIAMI GARDENS, Fla. — It doesn't matter.  It doesn't matter who plays quarterback for the Giants. They previously could … 2021-12-05 21:22 5KB nypost.com

(5.46/18)

6

0.1

College Football Playoff rankings winners and losers: Pitt, Group of Five teams on rise; Baylor, Notre Dame on the outs

In the end, everything came together for the College Football Playoff . There's the established juggernaut in Alabama. The Crimson … 2021-12-05 20:48 1KB www.usatoday.com

(5.13/18)

7

1.1

Strome, Panarin Lead Rangers To Win Over Blackhawks

Adam Fox added a goal and an assist and Alexandar Georgiev made 25 saves for New York, which has won 10 of its last 11. 2021-12-05 05:06 4KB newyork.cbslocal.com

(4.84/18)

8

0.4

NFL Week 13 schedule, scores, updates and more

The only thing certain in the NFL heading into Week 13 of the 2021 season is that nothing is certain. The playoff picture is still … 2021-12-05 22:11 1KB www.foxnews.com

(4.71/18)

9

0.0

'I'm a College Football Player With a Stutter—My Goal Is To Inspire Others'

Some coaches I talked to at different colleges asked whether, if I saw something and I had to make a call, I would stutter in the heat of the game. Perhaps they were scared that if I were to stutter 2021-12-05 11:10 6KB www.newsweek.com

(4.54/18)

10

0.4

Notre Dame will take on Oklahoma State in Fiesta Bowl

The Fighting Irish (11-1) finished fifth in the final College Football Playoff rankings. 2021-12-05 20:47 2KB chicago.suntimes.com

(4.29/18)

11

0.2

Emotional Dan Campbell dedicates Lions' first win to Oxford community

Lions head coach Dan Campbell dedicated Sunday's game ball to the Oxford community following Tuesday's school shooting that left four high school students dead. In … 2021-12-05 23:26 2KB nypost.com

(3.99/18)

12

0.6

Dolphins swarm Giants for fifth straight win, keeping themselves in playoff contention entering bye

The Miami Dolphins' defense was swarming once again, and quarterback Tua Tagovailoa and the offense did enough while a pair of rookies set team records Sunday. The Dolphins continued their su… 2021-12-06 00:04 6KB www.ocregister.com

(3.75/18)

13

2.0

Oregon State to face Utah State in first LA Bowl

The LA Bowl will be played at SoFi Stadium in Inglewood on Dec. 18. 2021-12-06 00:24 1KB www.ocregister.com

(3.63/18)

14

0.3

Week 13 updates: Andy Dalton intercepted on the 1st 2 drives of the game for the Bears, who trail the Cardinals 21-7 at halftime

After moving past rumors about coach Matt Nagy' s job status, the Chicago Bears had a week of relative peace following their Thanksgiving win against the Detroit Lions. Now the 9-2 Arizona Ca… 2021-12-05 19:45 5KB www.ocregister.com

(3.34/18)

15

0.3

Live updates: Lions lead Vikings 20-6 to start 3Q

Follow along for live updates from Detroit News contributor Nolan Bianchi as the Lions play host to the Minnesota Vikings on Sunday at Ford Field. 2021-12-05 19:21 6KB eu.detroitnews.com

(3.30/18)

16

0.8

UCLA football will play No. 18 NC State in Holiday Bowl

Quarterback Dorian Thompson-Robinson and the UCLA football team will travel to San Diego for a postseason meeting with NC State in the Holiday Bowl. 2021-12-05 20:16 1KB www.ocregister.com

(3.18/18)

17

0.8

Ravens vs. Steelers - Game Summary - December 5, 2021

Get a summary of the Baltimore Ravens vs. Pittsburgh Steelers football game 2021-12-05 22:58 1KB www.espn.com

(3.17/18)

18

0.2

Union without 11 players for MLS East final against NYCFC

The Philadelphia Union will be without 11 players on Sunday when the team plays NYCFC in the MLS Eastern Conference finals because of COVID-19 … 2021-12-05 14:26 2KB www.foxnews.com

(3.09/18)

19

0.3

No. 17 Pitt rolls by No. 18 Wake Forest for ACC title

Erick Hallett II saw the receiver running to his side and knew the ball was coming his way. 2021-12-05 10:44 6KB www.ocregister.com

(3.09/18)

20

0.7

LaVine, DeRozan Lead Bulls To Win Over Nets

The Bulls also beat the East-leading Nets on Nov. 8 and have clinched the season series. 2021-12-05 05:01 4KB newyork.cbslocal.com

(2.36/18)

21

0.8

Iowa State football is headed to the Cheez-It Bowl; here's how to get there and what to do in Orlando

For many Cyclone fans, travel plans start as soon as the bowl game is announced. Here's some travel information to help you get there. 2021-12-06 00:10 5KB eu.desmoinesregister.com

(2.36/18)

22

0.1

The Jets and Giants Played. They Did Not Win.

Neither team won on Sunday, with the Jets falling to the Philadelphia Eagles' backup quarterback, and the Giants' offense scuffling against the renewed Miami Dolphins. 2021-12-05 23:42 8KB www.nytimes.com

(2.32/18)

23

1.8

The AP Top 25

The Top 25 teams in The Associated Press college football poll, with first-place votes in parentheses, final records, total points based on 25 points for a… 2021-12-05 18:21 1KB wtop.com

(2.02/18)

24

0.7

Hamiltion wins Saudi Arabian F1 Grand Prix to tie Verstappen heading into season finale

The increasingly tense Formula One title fight between defending champion Lewis Hamilton and his formidable challenger, Max Verstappen , will head to the last race of … 2021-12-05 23:06 5KB www.foxnews.com

(1.22/18)

25

0.1

Iowa vs. Michigan postgame mailbag: What needs to change on offense before the bowl game?

Time for another Iowa football postgame mailbag. Topics this week center around the offense's continued struggles. 2021-12-05 15:18 5KB eu.hawkcentral.com

(1.16/18)

26

0.5

Northwood football loses to Righetti in SoCal Regional 5-A championship game

The Timberwolves, who won their first CIF-SS title last week, had a chance to tie the score late in the fourth quarter Saturday, but a turnover ends their hopes of a comeback. 2021-12-05 05:09 3KB www.ocregister.com

(1.12/18)

27

0.6

Bowl game matchups announced for Virginia, Virginia Tech, Maryland

There are a few college football bowl games for fans of D.C.-area teams to watch, headlined by Virginia Tech vs. Maryland in the Pinstripe Bow. 2021-12-05 22:00 1KB wtop.com

(1.06/18)

28

1.4

Old Dominion to play Tulsa in 2nd ever Myrtle Beach Bowl

The Monarchs advanced to a bowl for the second time in history by winning their last five games. It's their first time in the postseason since the 2016 Bahamas Bowl. 2021-12-05 20:36 1KB wtop.com

(1.05/18)

29

0.5

'Encanto,' 'Ghostbusters,' 'Gucci' hang on to top 3 spots

All three films are playing exclusively in theaters. 2021-12-05 22:45 2KB www.pressherald.com

(1.03/18)

30

0.5

Celtics notebook: Schröder did it all in Boston's win over Portland

Guard Dennis Schröder scored 31 points, but also had eight assists and only turned the ball over once. 2021-12-05 19:59 4KB www.pressherald.com

(1.03/18)

31

0.6

Fred scores unlikely winner as Ralf Rangnick era starts with Man Utd victory

The Ralf Rangnick era got off to a winning start as Fred fired Manchester United to a hard-fought victory against Crystal Palace. 2021-12-05 16:15 4KB www.independent.ie

(1.03/18)

32

0.6

Manchester City are built to win football matches, says forward Raheem Sterling

Raheem Sterling believes Manchester City are built to win football matches after they eased to a 3-1 victory at Watford. 2021-12-05 12:37 2KB www.independent.ie

(1.02/18)

33

3.7

Canadian Football League Playoffs

All Times EasternSunday, Nov. 28SemifinalsEast Division Hamilton 23, Montreal 12 West Division Saskatchewan 33, Calgary 30, OT Sunday, Dec. 2021-12-05 21:57 731Bytes wtop.com

(1.01/18)

34

0.4

Ravens starting RT Patrick Mekari doubtful to return vs. Steelers

Ravens starting right tackle Patrick Mekari left Sunday' s game versus the Pittsburgh Steelers in the third quarter and is doubtful to return with a hand injury, the team announced. Mekari in… 2021-12-06 00:03 1KB www.ocregister.com

(1.01/18)

35

0.1

Trenton Cannon taken off field in ambulance after scary 49ers collision

Former Jets running back Trenton Cannon was taken off the field in an ambulance Sunday afternoon after taking a scary hit during the 49ers-Seahawks … 2021-12-05 22:15 1KB nypost.com

(1.01/18)

36

1.2

Kaillie Humphries wins second World Cup women's bobsled race in Germany

Kaillie Humphries completed a perfect weekend Sunday, teaming with Kaysha Love to win a World Cup women's bobsled race to go with her monobob win Saturday and gaining her U.S. citizenship Thursday. 2021-12-05 16:11 1KB www.espn.com

(1.01/18)

37

0.7

Teravainen scores twice, Hurricanes sock Sabres 6-2

Teuvo Teravainen scored two goals and the Carolina Hurricanes rode an early burst of offense to a 6-2 win over the Buffalo Sabres on Saturday … 2021-12-05 14:43 4KB www.foxnews.com

(1.01/18)

38

0.5

Ovechkin beats Tarasov for 750th goal, Capitals top Columbus

Alex Ovechkin found a new goaltender to score on for another milestone goal, though this time the name rang a bell. Ovechkin beat Daniil Tarasov … 2021-12-05 14:34 4KB www.foxnews.com

(1.01/18)

39

0.3

Leipzig reacts after 3 league losses: Marsch no longer coach

LEIPZIG, Germany (AP) — American Jesse Marsch is no longer coach of Bundesliga team Leipzig. The club said Sunday that the two had "mutually agreed to end the… 2021-12-05 10:56 1KB wtop.com

(1.01/18)

40

0.1

Raiders will be challenged against Washington Football Team

The Raiders finish off the interconference portion of their schedule with Washington's first-ever trip to Allegiant Stadium . 2021-12-05 10:00 6KB lasvegassun.com

(0.06/18)

41

0.3

Hockey Men's Junior World Cup: India lose bronze medal playoff against France to finish fourth

France skipper Timothee Clement slammed a hat-trick, his fourth of the tournament, to leave the Indian players in tears. 2021-12-05 13:44 4KB scroll.in

(0.04/18)

42

0.7

FSU vs BYU Women's Soccer Live Stream: How to Watch Online

Florida State and BYU meet in the women's soccer national championship on Sunday. Here are some ways you can watch a live stream of the match online. 2021-12-05 17:00 7KB heavy.com

(0.02/18)

43

0.6

Chase Elliott Reaches NRX Final As Travis Pastrana Wins Championship

The inaugural Nitro Rallycross season ended on December 5 with Travis Pastrana winning the championship. NASCAR driver Chase Elliott finished eighth. 2021-12-06 00:12 4KB heavy.com

(0.02/18)

44

0.4

Joe Judge defends Giants' conservative decisions: 'Play to our defense'

The Oxford English Dictionary defines "aggressive" as "ready to attack."  Giants head coach Joe Judge defines it as trying to win the field-position … 2021-12-05 23:55 3KB nypost.com

(0.02/18)

45

0.8

Miller scores 24 to carry Monmouth past Canisius 79-65

BUFFALO, N.Y. (AP) — Walker Miller had a career-high 24 points as Monmouth stretched its winning streak to seven games, beating Canisius 79-65 on Sunday. 2021-12-05 21:28 1KB wtop.com

(0.02/18)

46

0.7

ISL: Kerala Blasters edge out Odisha FC to register their first win of the season

Kerala climbed to sixth in the table with five points from four games. 2021-12-05 16:31 3KB scroll.in

(0.02/18)

47

0.5

Tshituka, Zeilinga the highlights of Lions excellence in win over Stormers

It may ring true that the Lions' 37-19 win against the Stormers in their United Rugby Championship clash at Newlands on Saturday had all the hallmarks of a team effort, two Lions players had a significant outcome on the game. 2021-12-05 16:07 2KB www.news24.com

48

0.7

Bears coach Matt Nagy plans to keep OT Teven Jenkins on bench — for now

Jenkins made his NFL debut against the Cardinals, but it was on special teams, and coach Matt Nagy indicated he plans to stick with Jason Peters at left tackle going forward. 2021-12-06 00:41 1KB chicago.suntimes.com

49

0.2

Skiing Santas back to shredding Maine slopes for charity

NEWRY, Maine (AP) — Santa is back to "sleighing" it on the ski slope. More than 230 skiing and snowboarding Kris Kringles took to a western Maine resort on… 2021-12-06 00:18 1KB wtop.com

50

0.1

Islanders' Oliver Wahlstrom 'became a really good teammate' vs. Detroit

To Barry Trotz, the two goals Oliver Wahlstrom scored on Saturday night weren't the most impressive part of the game.  Instead, the Islanders coach … 2021-12-06 00:09 3KB nypost.com

51

0.6

State trooper comes mere inches from losing his life, and a dashcam catches the whole thing

Every cop knows that death rides with him on every patrol, emerging out of nowhere when a shift may seem routine. For one Idaho state … 2021-12-05 23:55 2KB www.wnd.com

52

0.2

Thunder Forward Darius Bazley's Inconsistent Production Continues

Thunder forward Darius Bazley is roughly a quarter of the way through the what is the most important season of his career to this point. While many young players in the NBA start to hit a stride in their third season, the 21-year-old has been wildly inconsistent in Oklahoma City this season. 2021-12-05 23:15 4KB www.forbes.com

53

0.4

BC to face East Carolina in Military Bowl

The game will be the first meeting between the two programs. 2021-12-05 23:12 2KB www.bostonherald.com

54

0.4

No. 9 Iowa women beat MSU 88-61 for coach Bluder's 800th win

IOWA CITY, Iowa (AP) — Caitlin Clark had her second triple-double of the season with 24 points, 12 assists and 10 rebounds, and McKenna Warnock had 21 points as… 2021-12-05 23:00 2KB wtop.com

55

0.4

Sports Digest: Kennebunk High's Samantha McGrath named Miss Maine Field Hockey

McGrath, a midfielder, is chosen by coaches as the state's top senior field hockey player. 2021-12-05 22:59 4KB www.pressherald.com

56

0.8

Negro League baseball players could earn spots in the National Baseball Hall of Fame today

Baseball legends who played in the Negro Leagues are finally getting a chance to take their rightful place in the National Baseball Hall of Fame. 2021-12-05 21:30 2KB edition.cnn.com

57

0.7

23XI Racing Names Veteran Spotter for Kurt Busch's No. 45

23XI Racing has made another significant move for the 2022 season. The team has added Jason Jarrett as Kurt Busch's spotter in the NASCAR Cup Series. 2021-12-05 20:29 3KB heavy.com

58

0.3

2021 Was the Year of Vindication for Trump

The year could not have started any worse for former President Trump. Thousands of his supporters from all over the country, of all different races and… 2021-12-05 20:01 7KB amgreatness.com

59

0.1

Lying to voters to pass bonds

The HSR project has been the target of multiple lawsuits 2021-12-05 20:00 4KB www.ocregister.com

60

0.2

In defeat, USC shows pieces that could help Lincoln Riley

Freshman quarterback Miller Moss says he looks forward to returning and competing with Jaxson Dart. 2021-12-05 19:40 4KB www.ocregister.com

61

0.5

Sofia Goggia wins super-G race, goes 3 for 3 in Lake Louise

LAKE LOUISE, Alberta (AP) — Sofia Goggia captured a World Cup super-G on Sunday to go 3 for 3 in races at Lake Louise. The 29-year-old Italian finished in 1… 2021-12-05 19:34 1KB wtop.com

62

0.0

Live updates: Jacksonville Jaguars vs. Rams at SoFi Stadium

Keep it here for live updates from reporter Kevin Modesti along with analysis and stats during and after the game. 2021-12-05 19:00 899Bytes www.ocregister.com

63

2.4

Sunday's high school basketball scores

All the scores from around the area. 2021-12-05 18:29 844Bytes chicago.suntimes.com

64

0.1

Weah set to miss Champions League game due to thigh injury

LILLE, France (AP) — American forward Timothy Weah is set to miss Lille's crucial Champions League group match at Wolfsburg on Wednesday after picking up a… 2021-12-05 17:14 1KB wtop.com

65

0.4

Derek and Hannah Jeter welcome third daughter, River Rose Jeter

The model and the baseball star added to their team Thursday. 2021-12-05 16:26 1KB www.nydailynews.com

66

0.3

USA Badminton board member calls for firing of CEO Linda French

Recommendation by Olympian Nancy Hogshead-Makar comes as Congress investigates NGB's handling of two sex abuse cases. 2021-12-05 15:54 10KB www.ocregister.com

67

0.1

Politicians are still stuck on Prohibitionist policies

The only real beneficiaries of all prohibitions are bootleggers. 2021-12-05 15:00 5KB www.ocregister.com

68

1.2

Taubitz wins 2 luge World Cup golds, Britcher grabs a silver

KRASNAYA POLYANA, Russia (AP) — Julia Taubitz of Germany won a pair of women's World Cup luge races Sunday, while Summer Britcher gave USA Luge its best… 2021-12-05 14:10 2KB wtop.com

69

0.0

11 Pros and Cons of the Keto Diet, According to Health Experts

The low-carb diet has been a popular for those trying to lose weight. But how safe is the ketogenic diet? 2021-12-05 14:00 7KB www.newsweek.com

70

0.7

Celtics Twitter Reacts to Young Guard's High Scoring Night

The Boston Celtics sophomore guard scored 19 points in the team's blow-out win against the Portland Trail Blazers. 2021-12-05 13:55 6KB heavy.com

71

0.6

Mumbai Test, Day 3 session-wise recap: Big scores elude Kohli, Pujara but India in control

The home team dominated with bat and ball to almost finish off the NZ challenge with two days still left in the match. 2021-12-05 12:24 5KB scroll.in

72

0.2

On its 4-Year Cue, Skiing Re-enters the Spotlight Ahead of Olympics

A series of races known as Birds of Prey in the Rocky Mountains helped to show who is rounding into form ahead of the Beijing Games. A Norwegian, the Swiss and Austrians appear strong — as usual. 2021-12-05 10:00 7KB www.nytimes.com

73

0.8

NFL Notes: Patriots' throwback style brings enjoyment to former players

Even though it's been 20 years since that first championship season, much about how this Patriots team plays and performs is recognizable to those who were part of those early championship teams in particular. 2021-12-05 09:56 10KB www.bostonherald.com

74

0.6

Scituate wins one for Michael Spinola

SCITUATE — In the weeks leading up to the Div. 4 Super Bowl, there was plenty of excitement in Scituate. If you were to walk into a business on Front Street, chances are you would have heard the game being discussed by anxious Sailors fans, since they were making their second trip to a state […] 2021-12-05 09:42 4KB www.bostonherald.com

75

1.2

Powerball Results, Numbers for 12/4/21: Did Anyone Win the $278M Jackpot?

The Powerball numbers on Saturday were 10, 40, 45, 56 and 67. The Powerball was 2 and the Power Play was 2X. 2021-12-05 08:59 3KB www.newsweek.com

76

0.6

Walkinshaw Andretti United team win Bathurst 1000 race

BATHURST, Australia (AP) — Walkinshaw Andretti United team driver Chaz Mostert fought back from a wheel puncture and encounters with native wild animals to win… 2021-12-05 08:52 2KB wtop.com

77

0.0

Political cartoon of the day: Coming to a retailer near you?

Coming to a retailer near you?  12.5.21 ( ) Classroom conflict  12.5.21 ( ) Special Delivery 12.4.21 ( ) losing the race 12. … 2021-12-05 08:49 10KB www.foxnews.com

78

0.1

India vs NZ 2nd Test: India declare at 276/4, set 540 run target

India declared their second innings at 276 for seven to set New Zealand an improbable victory target of 540 on the third day of the … 2021-12-05 08:49 2KB www.business-standard.com

79

0.5

Hockey Women's Asian Champions Trophy: Gurjit Kaur scores five as India thrash Thailand 13-0

This was India Women's team's first match since the historic fourth-place finish at the Tokyo Olympics. 2021-12-05 08:16 3KB scroll.in

80

1.7

High school football regional playoffs: Saturday's scores, state championships schedule

Scores from Saturday's regional championship games and the schedule for the state championships on Dec. 10-11. 2021-12-05 08:02 2KB www.ocregister.com

81

0.1

From Serbia, Afghan boxers seek refuge, careers in West

BELGRADE, Serbia (AP) — They practiced in secret and struggled to get to an international tournament in Europe. Now, members of the Afghan national boxing team… 2021-12-05 07:22 5KB wtop.com

82

0.2

Sangita Jogi is part of a family of manual labourers. This is what the book of her art says

In 'The Women I Could Be', draws the lives she imagines. 2021-12-05 07:00 8KB scroll.in

83

0.4

Portland Timbers' Major League Soccer dream becomes a reality

Portland Timbers' win over Real Salt Lake on Saturday means that, for the first time, they will play host to Major League Soccer's grandest stage. 2021-12-05 05:54 4KB www.espn.com

84

0.2

Thousands Of Runners Take Part In Ted Corbitt 15K In Central Park

Corbitt was the first president of New York Road Runners and the first African-American to compete in the Olympic marathon. 2021-12-05 04:33 2KB newyork.cbslocal.com

85

0.7

Bulls beat Nets for second time this season thanks to second half run

It looked like a going-through-the-motions game for the Bulls in the first half in Brooklyn, and then midway through the third it all flipped. Just like that the Bulls pulled off one of the more impressive wins of the season. 2021-12-05 04:14 4KB chicago.suntimes.com

86

0.8

Tkachuk scores early in OT, leads Senators past Avalanche

OTTAWA, Ontario (AP) — Brady Tkachuk scored his second goal 51 seconds into overtime, giving the Ottawa Senators a 6-5 win over the Colorado Avalanche on… 2021-12-05 03:54 3KB wtop.com
Articles
DC5n United States sport in english 86 articles, created at 2021-12-06 03:45
The University of Cincinnati had seven head football coaches between 1969 and 1993. One left for Harvard. Another left for Rice. The Bearcats also won one conference championship between 1964 and 2008 and if you're not immediately sure which conference, don't worry. There were several. Everyone can win in basketball. Gonzaga proved that. Not everyone can win in football, or at least turn winning into a championship. When Cincinnati was buzzed into the College Football Playoff on Sunday, it repudiated the last plausible criticism of the CFP. A "Group of Five," or Triple-A, conference can indeed win it all. It takes a little extra, sure, but it's not a closed shop. When Cincinnati went to 13-0 with its American Conference championship win over Houston, a Bearcats' fan held a sign that said, "Power Five Is An Opinion. 13-0 Is Fact." This became possible with a 24-13 win over Notre Dame, which was undefeated otherwise. That's all the selection committee demanded of the Group of Fives. Win all your games, schedule a giant and slay it. The 2015 UCF team that went unbeaten and knocked off Auburn in the Peach Bowl did not have that gleaming regular-season breakthrough. Plus, Cincinnati had gained credibility, right or wrong, by taking Georgia to the last three seconds of last year's Sugar Bowl, a 24-21 loss. The Bearcats have won 23 of their past 24 games. Such New Year's Six bowls as the Sugar last year, with all the money, is how the CFP bought off the Group of Five and recognized their viability. A sudden powerhouse like Cincinnati shouldn't be held responsible for the state of its conference. But neither should it be able to cruise into the throne room while stronger conference runners-up are left behind. That means Cincinnati had to thread an extremely narrow needle, and knew it well in advance. Thanks to a roster that is projected to send at least five players into the first three rounds of the NFL draft, it did. Ask Pittsburgh if it's easy to go undefeated. The Panthers are celebrating an ACC Championship win over Wake Forest and are also crestfallen when they realize they were 11-2 with losses to Central Michigan and Miami, both at home. If they win those two chippies, they're in the playoff. There were some who screamed that Notre Dame should somehow replace Georgia after the Bulldogs imploded in the SEC Championship, but that was just honkery. Georgia gave up 83 points in 12 regular season games and was 5-0 against teams that were ranked at the time, including Clemson in the opener. Notre Dame beat two ranked teams. Alabama beat five ranked teams, won an SEC West that serves as college football's toughest minefield, and only lost at Texas A&M by three points. The Big Ten East is similar, and Michigan beat Ohio State and Penn State and only lost to Michigan State by four. The SEC has two teams in the playoff for the second time. That seems about right. There were many reasons, perhaps 100 million, for Lincoln Riley to become USC's coach, but one was Oklahoma's avaricious decision to bolt the Big 12 for the SEC. There was no reason for Oklahoma to butt heads with the SEC West, particularly when the Sooners would have to recruit in SEC territory, a place they have no roots or clear advantage. There was no cultural connection either. Why should Oklahoma be in the same league with Florida or Kentucky, especially when it affects thriving secondary sports like baseball and volleyball? This might become an issue if and when TCU and Houston join the Pac-12, but Oklahoma's SEC move was a fait accompli, and coaches like Riley don't get much input. Meanwhile, college football moves on without a solid expansion plan. Big 12 commissioner Bob Bowlsby said that it isn't likely a plan will be approved by 2024, and the CFP contract expires in 2025. Any change must be approved by 10 conference commissioners and Notre Dame AD Jack Swarbrick. Related Articles Whicker: Gervonta Davis' power is likely to bring out the stars at Staples Center Whicker: UCLA's Tyger Campbell broadens his game as Bruins stifle Colorado Whicker: Lincoln Riley, Mike Bohn and the power of USC's calculated audacity Carlos Arias' miraculous journey from past tense to Thanksgiving present Whicker: UCLA-Gonzaga rematch is a mismatch, thanks to Chet Holmgren That's good news for those who believe in the best regular season in sports and were riveted on Nov. 27 by 10 hours of Ohio State-Michigan, Alabama-Auburn and Oklahoma-Oklahoma State. A 12-team playoff format would have robbed all those games of their underlying juice and turn college football into college basketball, where the only really crucial day is Selection Sunday. This way, every game really does count, and the season is a 12-game tightrope. Meanwhile, the Big 12 is expanding by four teams. One is Cincinnati, no later than July of 2024. More Power-Five to the Bearcats. They lived the American dream.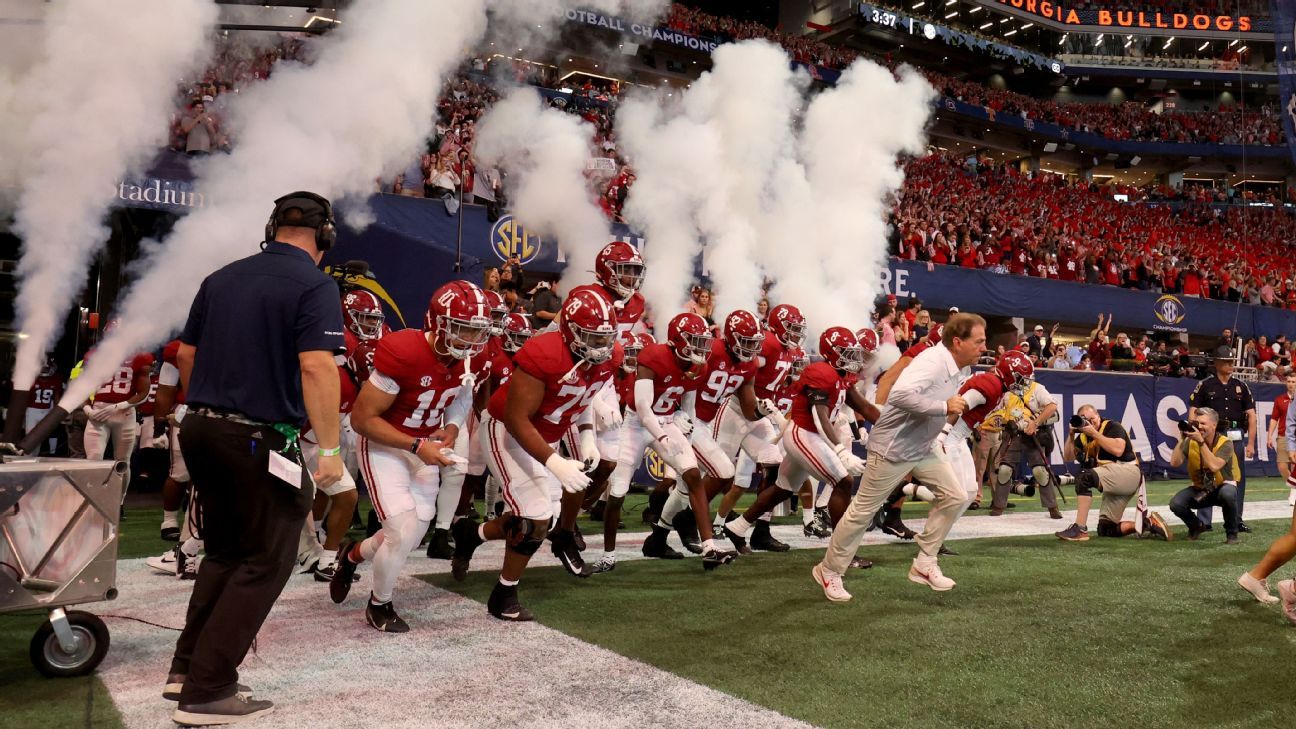 Alabama, Michigan, Georgia, Cincinnati reach College Football Playoff
espn.com
e0943719f083a6f99e95a6c302eeab14
College Football Playoff committee's job made easier with upsets
nypost.com
75aa131b1a9613acee002b3540a3e50b
Opinion: Cincinnati barbarians are at the gate of the College Football Playoff. Let them in
usatoday.com
795700255235393988c9015b0b572511
COLLEGE FOOTBALL TODAY: Young leads Tide over Georgia
wtop.com
58e88562731ef1a8f4884753d008ca8c
Who's in the College Football Playoff? Michigan, Alabama, Georgia and Cincinnati
usatoday.com
16a749ed6be07f210d2ebb12bbae484d
Breaking down Michigan football's potential College Football Playoff semifinal opponents
eu.freep.com
3b61884426522366cc8d74f8e6159c0d
College Football Playoff: Alabama Number One, Michigan, Georgia, Cincinnati Round Out Top Four
dailywire.com
c48e52efc456b8eb6cac9269a51310f4
Michigan lands at No. 2 in College Football Playoff and fans think the fix is in
eu.freep.com
f6d7d534a2cf82937aed0fcbfc090fb0
Michigan No. 2 in final College Football Playoff rankings, will play Georgia in Orange Bowl
eu.freep.com
e1ec8ef7d377a9e1a2fa71dd3104af6b
Alabama, Michigan, Georgia, Cincinnati earn football playoff bids
upi.com
84a432635128ee4a5ced7a7badb2a4ba
Alabama, Michigan, Georgia And Cincinnati Make The College Football Playoff
dailycaller.com
86157b4f22f0125ff9808a8e397f3ef5
College Football Playoff field set: Alabama vs. Cincinnati, Michigan vs. Georgia
nypost.com
fd7e9308c148e05fbf5d38e46b12dde1
Alabama, Michigan, Georgia and Cincinnati picked for College Football Playoff
pressherald.com
13a545cc535308a05a9baeff407641ca
Michigan storms to Big Ten title, eyes College Football Playoff
eu.detroitnews.com
9d9a4bb8288b93e90497c80edd4994da
Alabama, Michigan, Georgia and Cincinnati Make College Football Playoff
nytimes.com
ab7040b530efbfc7cb3cf305a8a4eebb
Playoff set: Alabama vs. Cincinnati, Michigan vs. Georgia
lasvegassun.com
1216b084d9df3cea65546d87da3963e7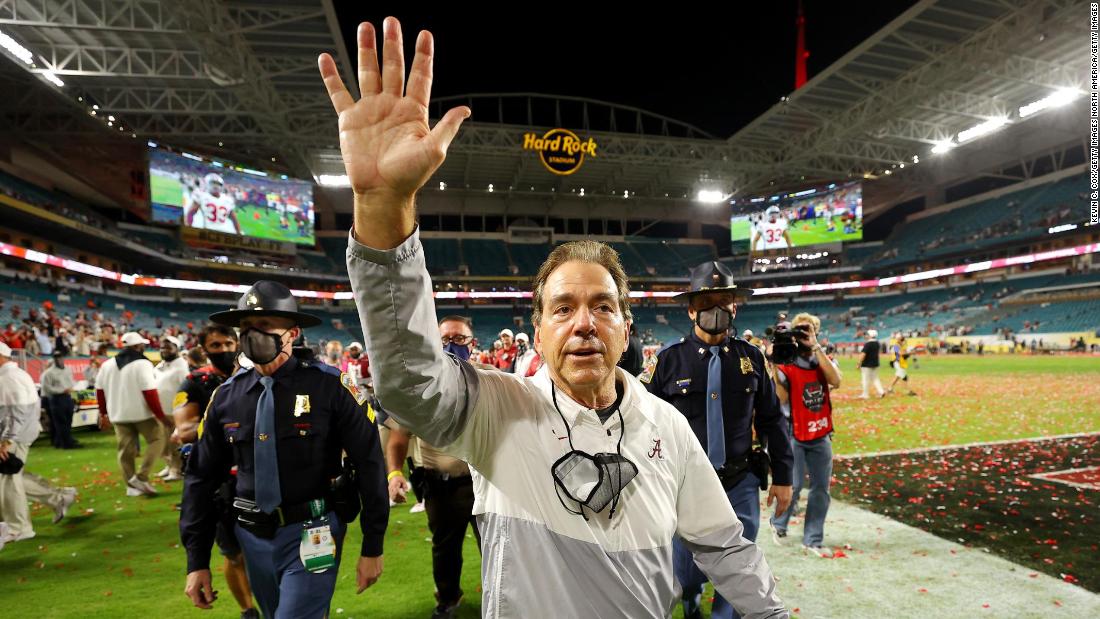 The College Football Playoff will feature Alabama v. Cincinnati and Michigan v. Georgia
edition.cnn.com
e5e36ccaae64138d262824826f50136b
The College Football Playoff committee got the top four right, no question about it
espn.com
4d3f4493bc5ebacfbda5cc4653b50559
History is made as Cincinnati becomes first Group of Five school to make College Football Playoff
deseret.com
2a2e5c221cce8caafd791b89c3fe8e4f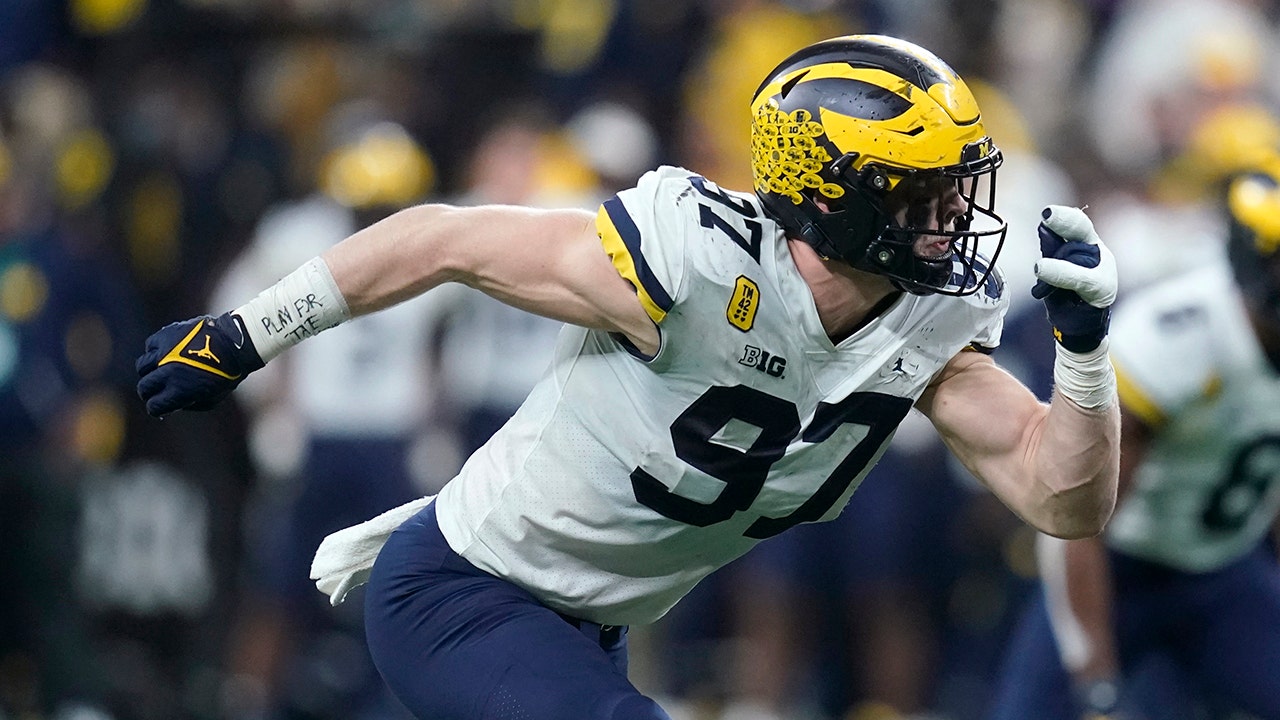 Michigan routs Iowa for Big Ten Championship, likely secures spot in College Football Playoff
foxnews.com
acf5376f0d1271bc83965d3bd5dbb13c
Alabama-Cincinnati And Georgia-Michigan Will Play In The College Football Playoff Semifinals
uproxx.com
e8eb2eb99d365e8901a6406483a1a9d3
Playoff set: Alabama vs. Cincinnati, Michigan vs. Georgia
wtop.com
65b78ac800616be2bfdf6bb60eb43fbd
Alabama gets No. 1 seed in College Football Playoff, followed by Michigan, Georgia and Cincinnati
usatoday.com
158a2bc65bd083b00743069925912b71
Michigan vs. Georgia: Wolverines rejoin elites by barging into College Football Playoff
eu.freep.com
f285dbf9de940b41bfd0177db4a7f71e
Alabama gets No. 1 seed in College Football Playoff, followed by Michigan, Georgia and Cincinnati
usatoday.com
891aac3a23ef927935018b30b9ceea2c
College Football Playoff is set: Alabama vs. Cincinnati, Michigan vs. Georgia
chicago.suntimes.com
21c69d433221741363615f066d7d067c
College Football Playoff preview - Keys to Alabama-Cincinnati, Michigan-Georgia
espn.com
3b8edee7f81bb46881f9316aa315767f
Opinion: Michigan finally rejoins the elites by barging into College Football Playoff
usatoday.com
88909d753e38a63c585a6a92df4e2187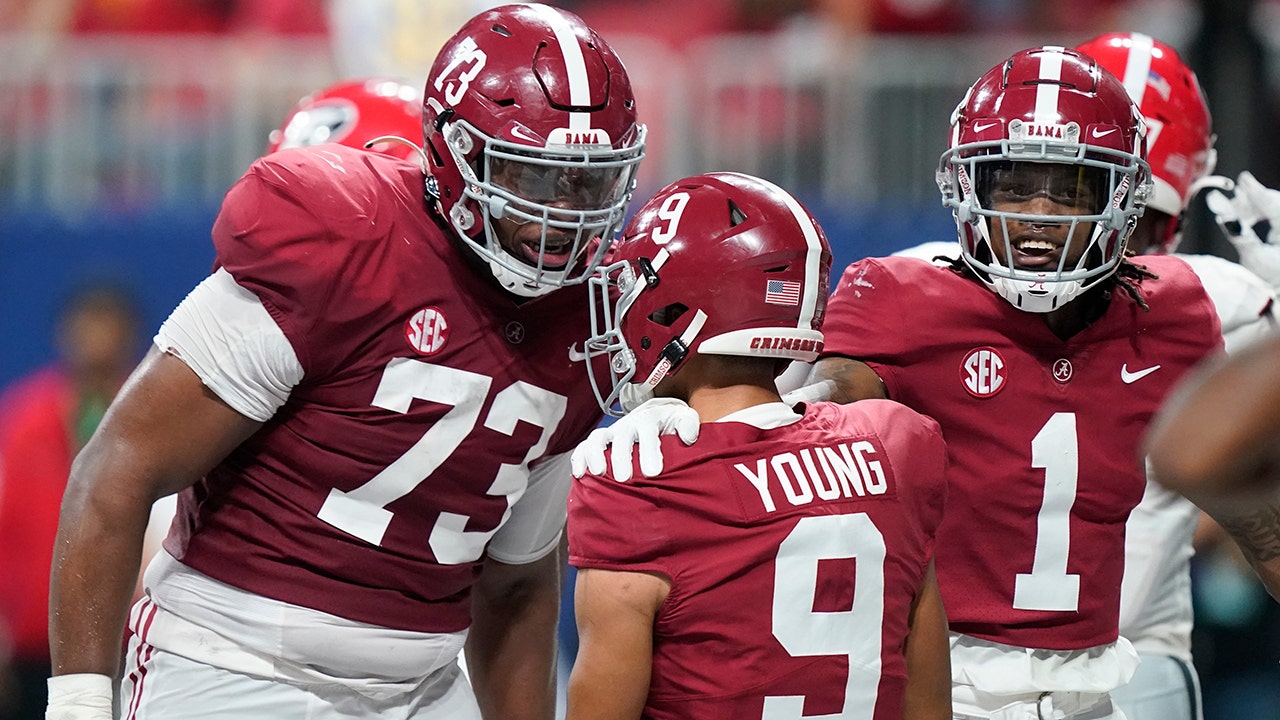 College Football Playoff: Alabama, Michigan, Georgia and Cincinnati make final 4
foxnews.com
8440d945af41067bd4f0a5491e7bcd10
Free Press sports writer Michael Cohen grades Michigan football on a scale of A to F after the Wolverines' 42-3 win over Iowa on Saturday: [ Breaking down Michigan's potential College Football Playoff semifinal opponents] In their most important game of the season, the Wolverines scored 42 points, gained 461 yards of offense, averaged 7.4 yards per play and scored touchdowns on all four of their trips to the red zone. There were some creative play calls by offensive coordinator Josh Gattis — most notably a halfback pass from Donovan Edwards to wide receiver Roman Wilson for a 75-yard score — and dominant ball control in the fourth quarter, when Michigan held the ball for more than nine minutes to ice the victory. But quarterback Cade McNamara, who tossed an early interception and said the offense turned in an uncharacteristically poor performance in the first half. Yes, U-M led by 14-3 after two quarters, but tailback Hassan Haskins was limited to 2.6 yards per carry during that stretch, the Wolverines converted only 2 of 7 third-down attempts and the longest pass from McNamara gained just 13 yards. Nearly the entire offensive output boiled down to the long reception by Wilson and a 67-yard run by tailback Blake Corum. The tide turned in the second half when the Hawkeyes, bloodied on the scoreboard and beaten on the field, lacked the same competitive fire they showed early in the game. Michigan pulled away with three touchdowns in the final 12 minutes fueled by a series of highlight-reel plays: a one-handed catch by tight end Luke Schoonmaker, a one-handed touchdown by tight end Erick All, a record-setting touchdown from Haskins, who eclipsed the Michigan single-season mark that stood for more than 50 years and a blocked punt by wide receiver Cornelius Johnson. Jim Harbaugh's club certainly deserves credit for winning with style, but it took the Wolverines two quarters to really kick into gear. RAINER SABIN: Why Michigan's Big Ten title will reverberate in the years ahead A week ago, defensive coordinator Mike Macdonald's group played its heart out against a highly skilled, highly explosive Ohio State team whose quarterback, C.J. Stroud still threw for 394 yards in defeat. It was a test of Michigan's willingness to fight as much as anything else. What the Wolverines did in Indianapolis was far more dominant, more imposing, more menacing against an Iowa offense that was mediocre at best and abysmal at worst. Macdonald's unit battered the Hawkeyes from the first possession to the last in the kind of stifling performance that snuffed out hope by the middle of the third quarter. Quarterback Spencer Petras got the start and played horribly. His offensive line was unable to contain edge rushers Aidan Hutchinson and David Ojabo, nor could it impede U-M's blitzers, especially nickel back Daxton Hill. Petras finished 9 of 22 for 137 yards on a night when his accuracy was questionable and his poise evaporated. Kirk Ferentz benched Petras midway through the third quarter, but Alex Padilla made little difference. He guided the Hawkeyes down the field on his first possession only to check the ball to a running back on fourth down. He finished with 10 completions on 15 attempts but managed just 38 yards and tossed a late-game interception to reserve safety Caden Kolesar. The Wolverines limited tailback Tyler Goodson to 2.8 yards per carry as the Hawkeyes faced a series of lengthy third downs. Iowa converted just 26.3% of its third downs and went three-and-out four times. The chants of "Hutch for Heisman" in the aftermath of Saturday's game offered an indication of how dominant Macdonald's group proved to be. SHAWN WINDSOR: Michigan's amazing renaissance story is still far, far from ending [ Michigan honors Oxford High victim Tate Myre by scoring 42 in Big Ten title game] The highlight of the evening for special teams coordinator Jay Harbaugh's group was another blocked punt for wide receiver Cornelius Johnson, his second of the season. With a lengthy frame and plenty of speed, Johnson has emerged as a dynamic weapon off the edge. He's shown a knack for correctly timing his final lunge or dive toward the punter without making the type of contact that could draw a flag. Johnson's first block of the season came against Northwestern after Harbaugh noticed a flaw in protection on film. His block against the Hawkeyes gave Michigan the ball deep in Iowa territory, and the Wolverines reached the end zone four plays later on a 1-yard run by Haskins that pushed the lead to 28-3. Punter Brad Robbins also had a strong showing. He averaged 51 yards per punt on five attempts Saturday with a long of 64. His only misstep was an overhit punt that bounced into the end zone for a touchback. This was the second game in a row when kicker Jake Moody did not have to attempt a field goal thanks to excellent offensive execution in the red zone. Michigan's coverage units did a terrific job containing punt returner Charlie Jones, who was honored as the league's top return specialist earlier in the week. Jones finished with minus-6 yards on two returns. On the opposite side, punt returner A.J. Henning continues to make adventurous decisions with field position. He made fair catches at the 8-yard line, 9-yard line and 3-yard line that all led to Michigan punts. [ Hail to the 'conquering heroes': A look back at Michigan football's past conference titles] [ Celebrate Michigan's historic Big Ten championship with a new Free Press book!] The remarkable year for Jim Harbaugh continues. It's incredible to think about the number of significant decisions he made in the offseason — from hiring a slew of new coaches, to reshaping the team's offensive identity, to trusting McNamara over five-star freshman J.J. McCarthy, to entrusting the defense to a first-time coordinator — and how virtually all of them turned out to be home runs. Surely Harbaugh's heart skipped a beat when Hutchinson, the star player to whom he owes so much, heaped praise in his direction during the on-field interviews after the game. And then it must have skipped again when McNamara, the player who exemplifies the characteristics Harbaugh loves in a quarterback, said one of the first things he thought about after the final buzzer was what this victory meant for his coach. It's fair to wonder if athletic director Warde Manuel, who watched the postgame news conferences from the back of the room, is already working on a revised contract to restore some of the money Harbaugh gave up after last season. Considering how much ground the Wolverines have covered since then, when it felt like the program had reached a nadir both on the field and in the recruiting world, there's a strong case to be made for Harbaugh as national coach of the year. Winning Big Ten titles and reaching the College Football Playoff is what Michigan fans hoped for when he returned to Ann Arbor in 2015. Better late than never. Contact Michael Cohen at mcohen@freepress. com. Follow him on Twitter @Michael_Cohen13.

Why Michigan football's Big Ten title will reverberate in the years ahead
eu.freep.com
243b781f6e41a754236915d6b927931e
Big Ten championship: Michigan locks up playoff slot with 42-3 win over Iowa
usatoday.com
29b4336059150a3bba4e2dfcf5c80bc8
Michigan storms to Big Ten title, eyes College Football Playoff
eu.detroitnews.com
9d9a4bb8288b93e90497c80edd4994da
Michigan steamrolls Iowa 42-3 in Big Ten title game, all but wraps up berth in playoff
chicago.suntimes.com
9cb5d9ba519b19e96cfbabe9c14d4eb7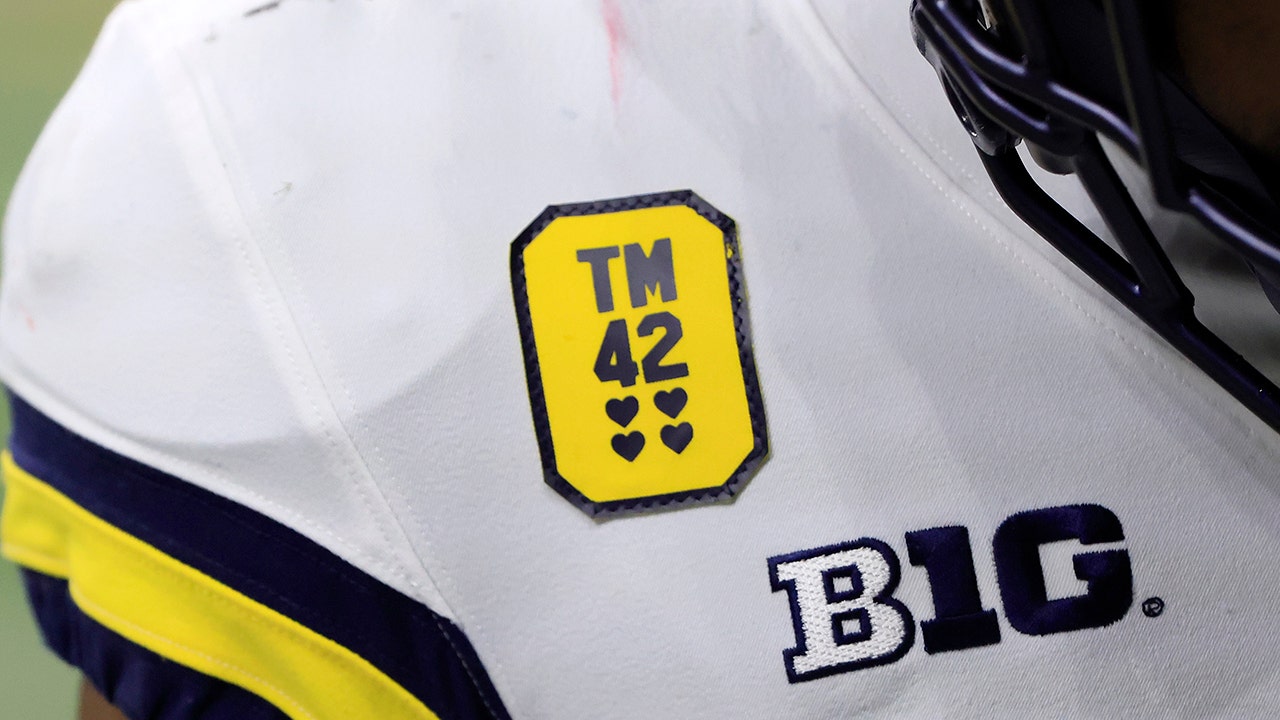 Michigan scores 42 points in Big Ten title game as they honor Oxford High School shooting victims
foxnews.com
0b15fa03274607e533e6a58e0b77d864
Michigan's Cade McNamara on Big Ten title - 'We wanted to win for Coach Harbaugh'
espn.com
5ced46c63444bbdad0dea4ea8b5e2043
Michigan Rolls to a Playoff Spot With Big Ten Title
nytimes.com
f049a6b5cb776f20e2231afe68b7b899
Alabama, Michigan, Georgia And Cincinnati Make The College Football Playoff
dailycaller.com
86157b4f22f0125ff9808a8e397f3ef5
Michigan football defeats Iowa 42-3 to win the Big Ten championship: Game thread recap
eu.freep.com
d530c30805fa25fc67b495a86405353b
Alex Padilla in for Iowa football against Michigan in the Big Ten Championship game
eu.hawkcentral.com
54cee7065dca34c915183e6ec7ac141e
Alabama, Michigan, Georgia and Cincinnati Make College Football Playoff
nytimes.com
ab7040b530efbfc7cb3cf305a8a4eebb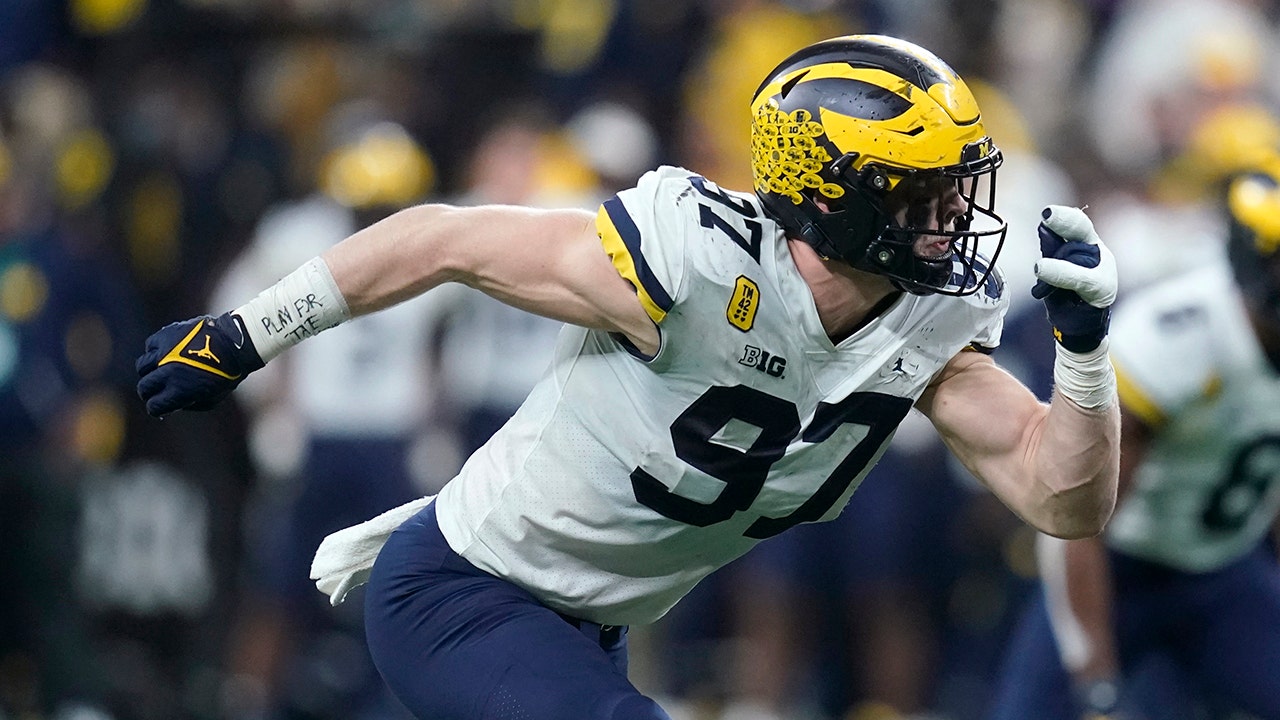 Michigan routs Iowa for Big Ten Championship, likely secures spot in College Football Playoff
foxnews.com
acf5376f0d1271bc83965d3bd5dbb13c
No. 2 Michigan takes Big Ten in rout, makes playoff pitch
wtop.com
85b6e4c790b09ee92855c18da8d02bea
Michigan's point total in Big Ten Championship Game victory serves as tribute to Oxford victim
eu.detroitnews.com
fc3c7403109e2437fa87067dd631ce6f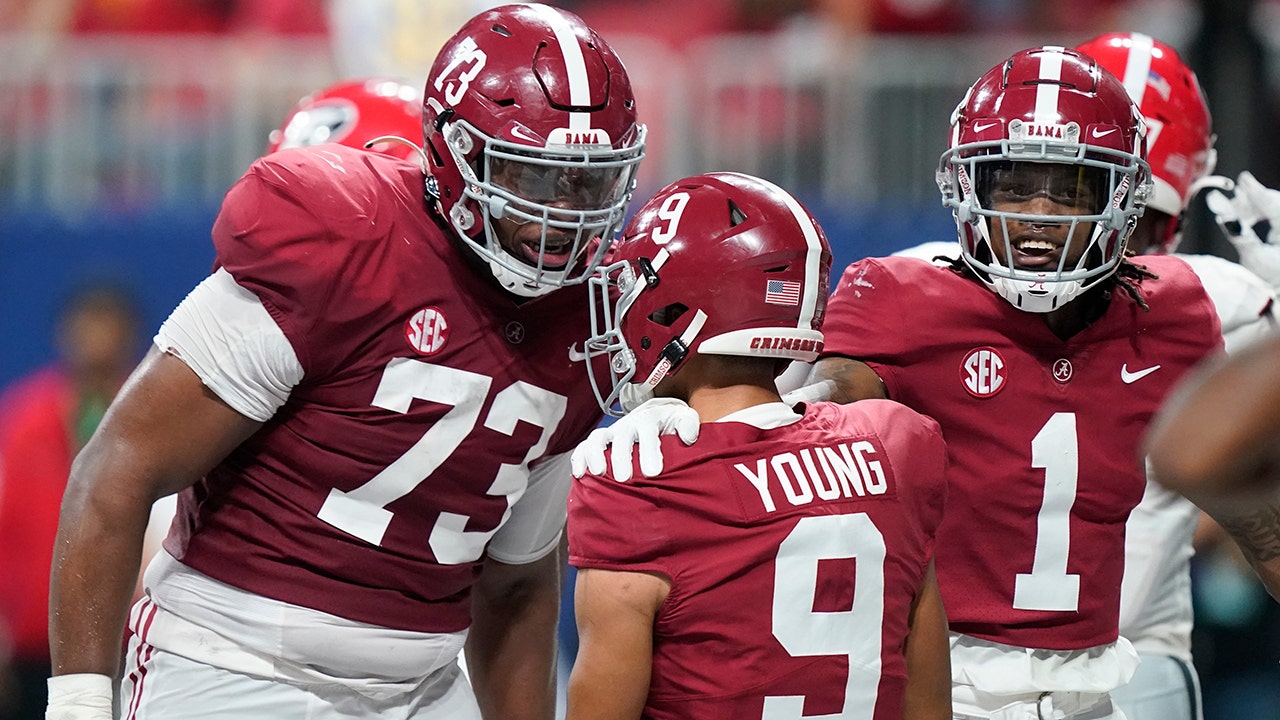 College Football Playoff: Alabama, Michigan, Georgia and Cincinnati make final 4
foxnews.com
8440d945af41067bd4f0a5491e7bcd10
Celebrate Michigan football's historic Big Ten championship with a new Free Press book!
eu.freep.com
4603ecdb610d6334981a1da0386afdc0
Michigan football honors Oxford High victim Tate Myre by scoring 42 in Big Ten title game
eu.freep.com
c464bcb71dd81eb2a5399eb036267c66
No. 2 Michigan takes Big Ten in rout, makes playoff pitch
ocregister.com
93e30453cf9413ef82266accee0f07f0
Dan Campbell threw his arms in the air, fists clenched in jubilation. Jared Goff sprinted to his coach and the sideline, and the two embraced in a big bear hug. After 11 games of shock, frustration and sometimes pitiful play, the Detroit Lions finally got a late-game break to go their way. Goff rebounded from two fourth-quarter turnovers and the Lions overcame a questionable late-game coaching decision by Campbell that backfired to win their first game of the season, 29-27, on an 11-yard touchdown pass from Goff to Amon-Ra St. Brown as time expired. The Lions, 1-10-1, had been the only winless team in the NFL, and had lost three times on field goals as time expired, including to the Vikings earlier this season in Minnesota, 19-17. The Lions played their best offensive football of the season in the first half, then nearly wilted under pressure in the final nine minutes. Leading 23-21, Goff threw his seventh interception of the season when he tried to squeeze a pass to T.J. Hockenson through two defenders as St. Brown ran wide open across the other side of the field. The Lions forced a punt on the next possession with the help of two Vikings penalties, and started their next possession at their own 28-yard line with a chance to run the final 5:32 off the clock. Jamaal Williams was stopped for a 1-yard gain on third-and-2, leaving the Lions in fourth-and-1 with 4:08 on the clock. Rather than punt, Campbell called a play-action pass, but Blake Lynch came unblocked off the edge and ripped a fumble out of Goff's hands as Goff cocked his arm to pass. The Vikings (5-7) took over at their own 19-yard line, and Kirk Cousins threw a touchdown pass to Justin Jefferson with 1:50 left that seemed to seal the Lions' fate. Instead, Goff answered with a touchdown drive, moving downfield in small chunks: 5 yards to Hockenson; 6 to Josh Reynolds; 9 to KhaDarel Hodge. Godwin Igwebuike converted a third-and-10 with a 13-yard pass and outraced a Vikings defender to the sideline to preserve key time on the clock. The Lions had second-and-10 at their own 19-yard line with 12 seconds left when Goff threw a short out to St. Brown for a 7-yard gain. After throwing incomplete in Reynolds' direction on third down, the Lions lined up for one final play on fourth-and-2 with 4 seconds left. St. Brown lined up to the far left of the formation and found a soft spot in Minnesota's zone, between cornerback Cameron Dantzler and safety Xavier Woods for the easy touchdown catch that sent the Lions' sideline into a frenzy. Goff finished 25-of-41 passing for 296 yards with three touchdowns as the Lions topped 20 points for the first time since Week 1. St. Brown added 86 yards receiving on 10 catches. Kirk Cousins was 30-of-40 passing for 340 yards for the Vikings. Alexander Mattison added 90 yards rushing and a touchdown on 22 carries.

Detroit Lions get their 1st win in almost a year, beating the Minnesota Vikings 29-27 to end a 15-game drought
bostonherald.com
ffdcba9da82fd7d0dad2221ac12388e3
Detroit Lions get their 1st win in almost a year, beating the Minnesota Vikings 29-27 to end a 15-game drought
ocregister.com
b4750e74c388a9b7bf5ca980dde87cf4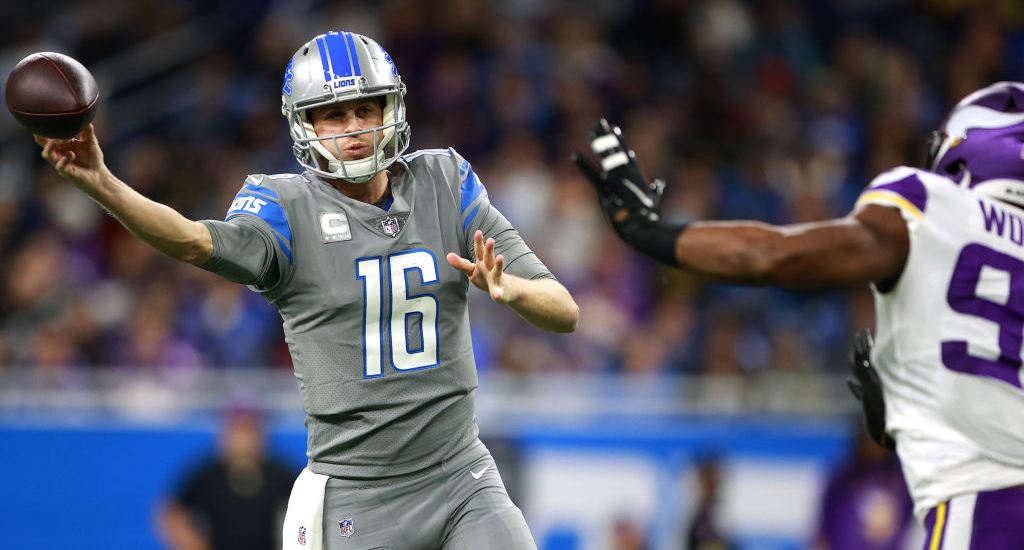 The Lions Got Their First Win Of The Season On A Walkoff TD Pass Against The Vikings
uproxx.com
d98d130bad547936f5b00f24d9589f50
Detroit Lions stun Minnesota Vikings with TD on final play for first win, 29-27
eu.freep.com
981495f891391cff8db9100e719d9af2
Lions score on final play, beat Vikings for their first win of the season
usatoday.com
f9f152fff6e1200252cb878ea59ab2c0
How in the world did Detroit Lions get their first win of season? Thank Jared Goff
eu.freep.com
c1c2d35f79f911286316f6c97d8c5203
Detroit Lions get first win of season with walk-off TD to beat Minnesota Vikings
espn.com
f8da92e6a923858c619cf56b6cfbeb20
Detroit Lions beat Minnesota Vikings, 29-27: Game replay thread
eu.freep.com
d6fc8a00a2fbf77fdbbf47a68d72c283
Detroit Beats Minnesota 29-27 On Insane Final Play
dailycaller.com
786bbbf4bc566b1df6732c7015da36f2
Lions get first win of season after stunning finish against Vikings
nypost.com
9d34891770db2ea76fc2f9e1fe66fdbb
Detroit Lions vs. Minnesota Vikings predictions: Will Lions finally win in 2021?
eu.freep.com
064ad6176318539e51cca3831b303171
Lions get first win with 29-27 victory over the Vikings
chicago.suntimes.com
ee3af5cadc4a680ce8ddc5fa30870bfb
The Jets' offense got off to its best start of the season… and then returned to form. Gang Green scored touchdowns on its first three possessions but then did not score again the rest of the day and lost 33-18 to the Eagles at MetLife Stadium on Sunday. The Jets — who fell to 0-12 all time against the Eagles — are now 3-9, meaning they will have a losing record for the sixth straight season. The Eagles improved to 6-7 and kept their playoff hopes alive. Philadelphia threw the Jets a curveball with Gardner Minshew starting at quarterback in place of Jalen Hurts, who is dealing with an ankle injury but had been projected to play all week. The Eagles rolled up 418 yards on a Jets defense that had no answers. The Eagles scored on their first seven possessions and did not punt until there was two minutes left in the game. Early in the game, rookie quarterback Zach Wilson and the offense matched the Eagles. Both teams scored touchdowns on their first three possessions and it looked like the fans at MetLife, including former Jets quarterback Ken O'Brien, would see a shootout reminiscent of O'Brien versus Dan Marino in 1986. But the Jets' offense disappeared after scoring its third touchdown of the game in the second quarter. It was not all the offense's fault as the Jets' defense could not get the Eagles off the field. The Jets had just three plays and 1:10 of possession in the third quarter. The Eagles opened the third quarter with a 14-play drive that lasted 8 minutes, 22 seconds and ended with one of Jake Elliott's four field goals. The Eagles were aided by a few questionable penalty calls, one a pass interference penalty on Bryce Hall on third down and an encroachment call on C.J. Mosley on fourth down. Both calls, and a few others, had Jets coach Robert Saleh screaming at the officials. Wilson's hot start cooled off considerably and he threw an interception with 13:02 left in the game to Marcus Epps that ended any hopes the Jets had of winning the game. It was Wilson's 11th interception of the season and continued his streak of not having a game without a turnover. Wilson completed 23 of 38 passes for 225 yards, two touchdowns and one interception. Minshew went 20-for-25 for 242 yards and two touchdowns. The first half was an unexpected shootout between the teams. Each team scored a touchdown on its first three drives and the Eagles went into halftime with a 24-18 lead. Both quarterbacks started off the game hot. Minshew completed his first 11 passes and went 14-for-15 in the first half for 188 yards and two touchdowns, both to tight end Dallas Goedert. Wilson played his best half of the season to open the game. He went 12 of 14 for 108 yards and two touchdowns. Wilson looked in rhythm early, something he's struggled with this year. The two touchdowns were his first in the opening half this season. The Jets opened the game with a 79-yard kickoff return by Braxton Berrios that set the Jets up at the Philadelphia 21. Wilson and the Jets needed five plays to find the end zone with Wilson throwing a 3-yard touchdown to Elijah Moore. Kicker Alex Kessman, signed off the practice squad on Saturday, missed the extra point and the Jets led 6-0. Minshew answered with a 75-yard, six-play touchdown drive to put Philadelphia up 7-6. He finished it off with a 36-yard touchdown pass to Goedert, who beat Mosley on the play and scored after safety Ashtyn Davis made a poor attempt at tackling him. The Jets took a 12-7 lead after Wilson scored on a 1-yard run to cap an 11-play drive. Kessman again missed the extra point, keeping the Jets' kicking woes an ongoing story. The Jets cut Matt Ammendola on Saturday and replaced him with Kessman after Ammendola struggled lately. But Kessman had a brutal first game. As bad as the kicking game was, the Jets' defense was worse in the first half. It could do nothing to slow down Minshew and the Eagles. Minshew connected with Goedert again on a 25-yard touchdown pass early in the second quarter to put the Eagles up 14-12. The Jets gave up 262 yards in the first half, 188 through the air. The Jets kept the shootout alive with another nice 75-yard drive that was finished off with a 1-yard touchdown pass from Wilson to tight end Ryan Griffin on fourth-and-goal. The Jets went for two this time but failed on the conversion and led 18-14 with 9:22 left in the first half. The offense then went dormant. Kenneth Gainwell ran right through the middle of the Jets' defense for an 18-yard touchdown with 4:30 left in the half as the Eagles retook the lead, 21-18. The Eagles tacked on a field goal before halftime to lead 24-18. The Jets have five games left to try to get good vibes going into the offseason, starting with next Sunday's home game against the Saints.

Gardner Minshew's 'Short Shorts' Push Eagles Past Jets
heavy.com
5f58cdee5f20003774b6b47dd9a89d43
Minshew steps in, Eagles score on 1st 7 drives to beat Jets
wtop.com
6fa69dbe022babbe2413b563e5e90be8
Philadelphia Eagles fill-in QB Gardner Minshew beats New York Jets with perfect first half
usatoday.com
505c0847f6cf9e751f49b25aea404d6a
REPORT: Jalen Hurts Is Out Against The Jets, Gardner Minshew Will Start At Quarterback
dailycaller.com
411c377f35dc3b0b731b6a96cf8d9bcc
Philadelphia Eagles to start Gardner Minshew at QB vs. New York Jets with Jalen Hurts ailing
espn.com
095b51d99c47e8d32d0cbc10f079c576
Jets start strong, then sputter in loss to Gardner Minshew, Eagles
bostonherald.com
47e21da857f726eaaa2fa303c9683204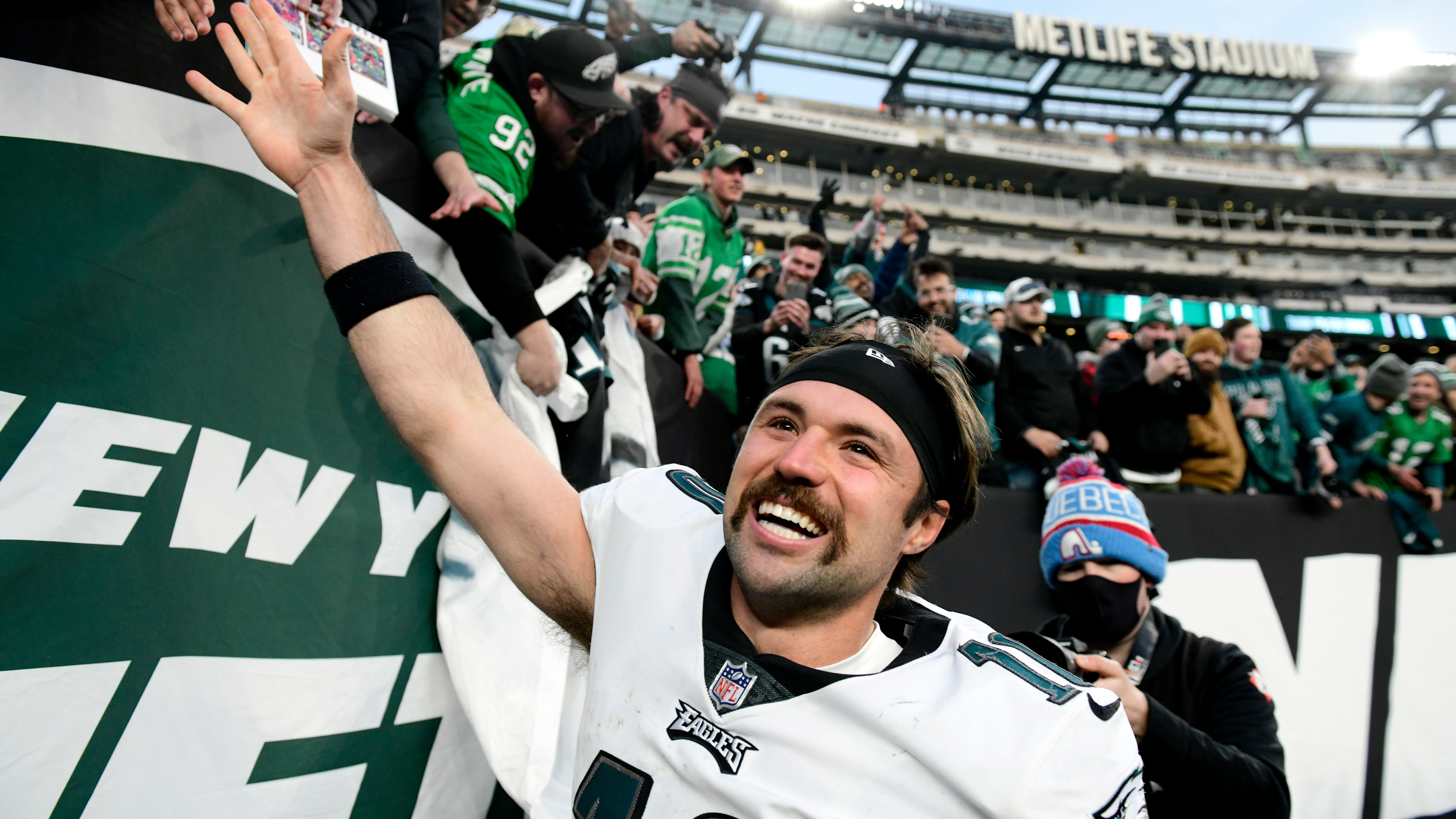 Gardner Minshew shines in first Eagles start, dominates Jets in 30-18 victory
foxnews.com
b357522aa1dd9b8afef768c3355161e3
Jets start strong, then sputter in loss to Gardner Minshew, Eagles
ocregister.com
e5d75885831f523ff9cf275135443bd0
MIAMI GARDENS, Fla. — It doesn't matter. It doesn't matter who plays quarterback for the Giants. They previously could not score enough with Daniel Jones, and on Sunday they could not score enough with Mike Glennon. It doesn't matter who calls the plays. They were impotent with Jason Garrett and continue to be just as atrocious with Freddie Kitchens. It doesn't matter where they play, who they play or if it is cold or warm or windy or calm. The Giants are equal-opportunity dreadful when it comes to finding a way to take the ball and stick it into the end zone. Considering that scoring touchdowns is kinda, sorta a prerequisite for winning in the NFL, you can pretty much assume what went down at Hard Rock Stadium. Glennon took over at quarterback because Jones has a strained neck and what was already bad looked worse, if that is possible. Oh, it was possible. Even for the Giants, this 20-9 loss to the Dolphins feels like a low point, considering it was indeed their lowest point total of the season. Three Graham Gano field goals was all there was. Glennon after the game was diagnosed with having sustained a concussion. Coach Joe Judge before the diagnosis said if Jones is not ready, Glennon would get the start against the Chargers. Now the Giants might have to turn to Jake Fromm, added to the team this past week. There were two dropped passes in the first half by Saquon Barkley, who continues to struggle (55 rushing yards on 11 carries). Glennon (22 of 42, 187 yards, one interception) looked like a career backup who is now 6-22 as a starter in his career. He was shaky in the first half and overwhelmed in the second half, with no help whatsoever from his offensive line. A Giants defense that limited a limited Tua Tagovailoa attack watched Tagovailoa fire short passes to his receivers, mostly Jaylen Waddle. Allowing 20 points is supposed to help a team win games, but not with this team. Just like that, the Giants (4-8) once again failed in their bid to win back-to-back games for the first time this season. The Dolphins (6-7) won their fifth consecutive game. They were in control the entire second half and sealed the deal on Jason Sanders' 48-yard field goal with 1:11 remaining, extending the Dolphins lead to 11 points. The Giants beat the Eagles last week despite scoring only one touchdown. That was with Jones playing almost the entire game with a neck strain. Glennon took over and he sprayed the ball all over the place. This was a ridiculously feeble offense. This was embarrassing. On the last series of the third quarter, John Ross broke wide open in the middle of the field and Glennon threw it about 3 yards behind him. Glennon on consecutive plays held onto the ball, resulting in two sacks for Jaelan Phillips. Add in the requisite wasted timeout on offense and a delay of game penalty and the Giants were left with a third-and-35 situation. Here is a hint: They did not convert. The lackluster defensive struggle turned the Dolphins' way when Tagovailoa put together a 14-play, 89-yard drive to end the first half, completing 11 of 12 passes for 77 yards, no pass gaining more than 9 yards as he sent the ball into tight spaces, risking little. The final shot was a 5-yard scoring flip to Mack Hollins with 26 seconds left in the first half. Hollins was wide open in the end zone and should not have been, considering Tagovailoa rolled to his left and threw to his left, fooling no one — except the Giants. The lone touchdown put the Giants down 10-3 at halftime. With Sterling Shepard and Kadarius Toney injured and out once again, the last man standing in the group of offensive playmakers, Kenny Golladay, did not last long, as the ridiculous injury curse continues. Golladay on the first play of the second quarter slid to haul in a 12-yard pass, extended himself to make sure he picked up the first down and then exited with a rib injury. On the final play of the first quarter, Golladay caught a pass for 5 yards on the sideline and it looked as if a Dolphins defender punched at the ball and instead hit Golladay in the midsection. Golladay was able to return in the second half, broke open on the first series and Glennon was so late with the throw that the ball should have been intercepted. Glennon completed his first eight passes, for only 59 yards, but pass No. 9 was one he wished he could get back. He threw into double coverage, with Darius Slayton blanketed by Jevon Holland and Xavien Howard. The ball was underthrown, allowing Howard to leap with Slayton and come away with an interception. The one positive aspect of the turnover was that Slayton touched Howard on the way down, pinning the Dolphins on their 3-yard line. The Giants forced a three-and-out — Quincy Roche dropped Tagovailoa on a third-down sack to prompt a "Let's Go Giants'' chant from the many blue-clad Giants fans — and the ensuing punt gave the ball back to the Giant on the Miami 37-yard line. Glennon, other than a 12-yard strike to Golladay on a third-down pickup, did not do much with the possession and Gano's 39-yard field goal put the Giants up 3-0. That was not going to be enough, considering the Giants' defense could not be asked to pitch a shutout.

Saquon Barkley can't elevate Daniel Jones-less Giants' offense in pathetic loss to Dolphins
bostonherald.com
cf3f7261d5e883db5a8477d505570572
Mike Glennon suffers concussion as Giants' quarterback situation gets bleaker
nypost.com
e6623791d52868356daa7519075c3d40
Giants' Offense Sputters, Tagovailova Leads Dolphins To 5th Straight Win
newyork.cbslocal.com
00a7aff8afb2b0ec939bce3775444cee
Live updates: New York Giants at Miami Dolphins, 1 p.m. kickoff
ocregister.com
09287e6c0b0d31ccbd545a68c6d3d869
New York Giants QB Mike Glennon concussed in loss to Miami Dolphins
espn.com
ad5c5a7b68beb789a46bf7c51d9513cb
Saquon Barkley can't elevate Daniel Jones-less Giants' offense in pathetic loss to Dolphins
ocregister.com
0aa9128b0d6485f18d12abb9e3698394
Dolphins swarm Giants for fifth straight win
ocregister.com
bb600d846fb64dd922457085403ac091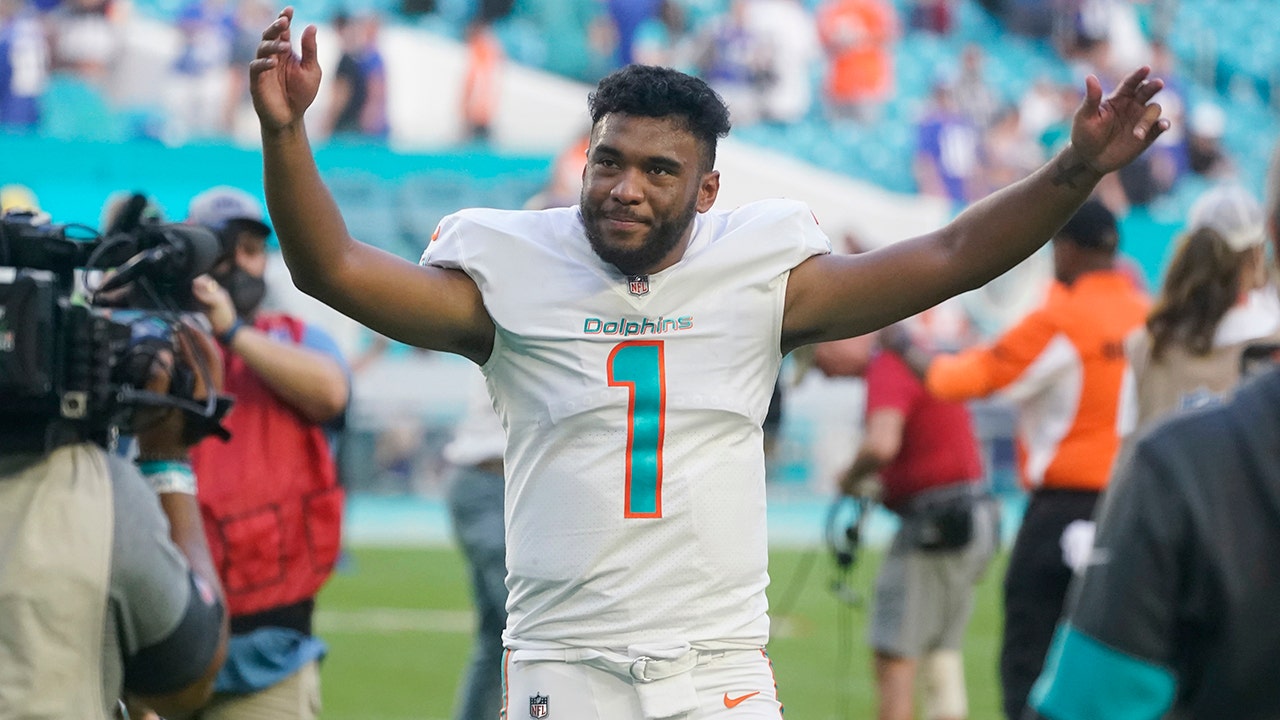 Tua, Dolphins hold off Giants, win 20-9
foxnews.com
94932da0d9d689fdb25179818275117e
Saquon Barkley a non-factor, Mike Glennon concussed as Giants lose to Dolphins without Daniel Jones
ocregister.com
e08629ea6c5b8e0f5d07afed42a48d9f
Dolphins swarm Giants for fifth straight win
bostonherald.com
4ee027372807870af44fca48503b1e98
Giants vs. Dolphins: Preview, predictions, what to watch for
nypost.com
3e3269ca60aeb2d6bc998d6b2ca03b48
Live updates: New York Giants at Miami Dolphins, 1 p.m. kickoff
bostonherald.com
71e70321d59fdf3f29b260db9e9e4406
In the end, everything came together for the College Football Playoff. There's the established juggernaut in Alabama. The Crimson Tide are chasing a second straight national championship and a seventh under coach Nick Saban. There's the second SEC powerhouse chasing its first title in more than 40 years. Seen as nearly unstoppable before being cut down to size in the conference championship game, Georgia will have more than three weeks to rediscover its lost mojo.

Cincinnati Breaks Glass Ceiling, Becomes First 'Group Of Five' Team To Make College Football Playoff And Will Face No. 1 Alabama
forbes.com
4edc0ec8cb2b95c9f155ad70e8281222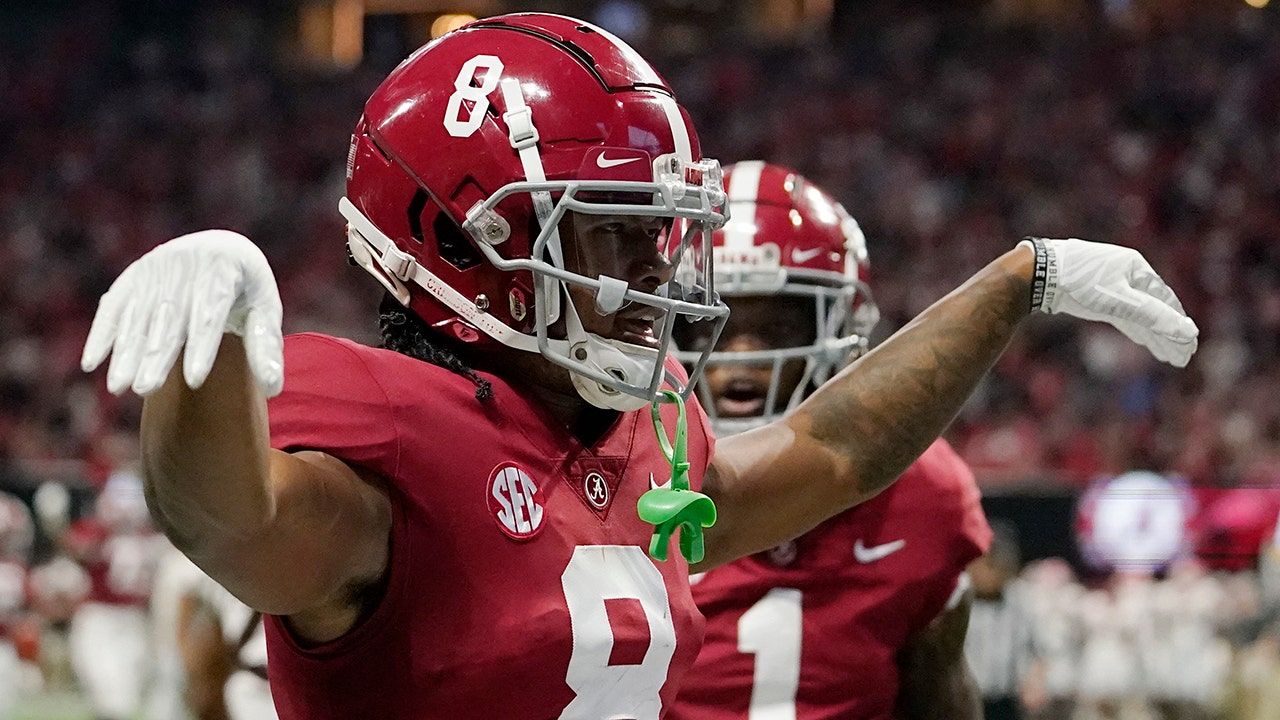 Alabama likely without star wide receiver for remainder of the season
foxnews.com
071e757843f3c34790f420f39d8023e0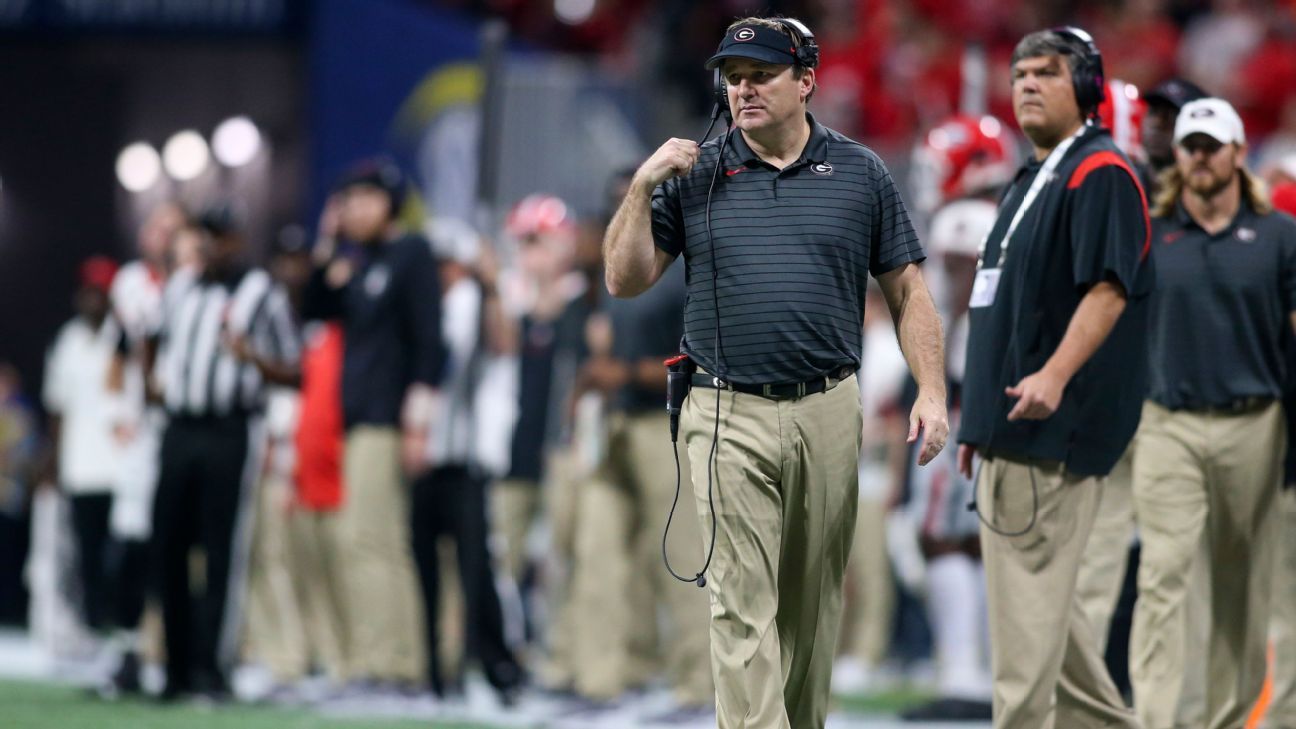 Georgia Bulldogs coach Kirby Smart hopes loss to Alabama 'reinvigorates our energy'
espn.com
f9612f0cd05d2457379f122a0dd67b97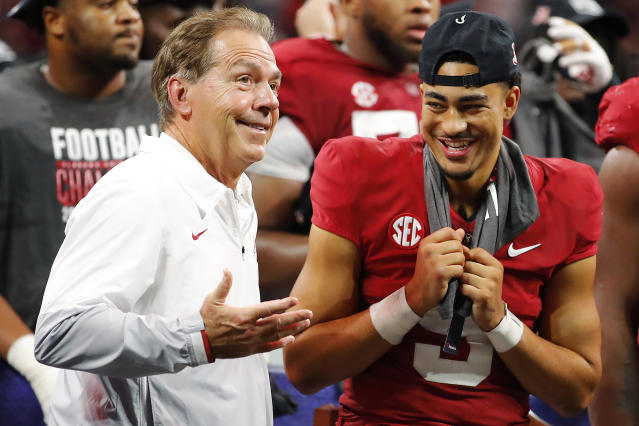 Alabama Beats Georgia, Back to Playoff
outsidethebeltway.com
66d9f6b2a30e0190cd171c579c11691e
College Football Playoff rankings winners and losers: Pitt, Group of Five teams on rise; Baylor, Notre Dame on the outs
eu.usatoday.com
cd208856ec40b554a251aa2ac9100242
— Artemi Panarin and Ryan Strome each had a goal and two assists, and the New York Rangers beat the Chicago Blackhawks 3-2 on Saturday night for their sixth straight win. Adam Fox added a goal and an assist and Alexandar Georgiev made 25 saves for New York, which has won 10 of its last 11. "We're a confident team," Strome said. "We're coming to the rink expecting to win games." Patrick Kane and Alex DeBrincat scored for the Blackhawks and Kevin Lankinen finished with 28 saves. Chicago has lost four of its last 11. Georgiev started for the first time since Nov. 21 after replacing Igor Shesterkin in the third period of Friday night's win against San Jose. Georgiev came in 2-1-1 record with a 3.89 goals against average and.867 save percentage this season. He was sharp throughout, starting with a save on Josiah Slavin 6:18 into the game in which he moved side-to-side to turn away an attempt from the slot. Georgiev also benefitted from good fortune as a Kane wrister hit the post 5 1/2 minutes later. "It was huge," said Georgiev, when asked if he needed a strong game to boost his confidence. However, Chicago broke through first on a controversial Kane goal with 22.8 seconds left in the first period. Seth Jones began a rush up the ice before firing a high cross-ice pass that Brandon Hagel knocked down with a backhand. The puck bounced away from Georgiev and Alexis Lafreniere to Kane, who had a half-empty net to deposit his seventh of the season. Rangers coach Gerard Gallant challenged the goal, presumably arguing the puck was played with a high stick but a review ruled that the puck was below Hagel's shoulder when he played it with his stick. Strome lasered a power-play goal over a diving Lankinen 4:41 into the second during a four-minute man advantage to tie it. "We can be better," Panarin said of a power play that entered the game ranked ninth in the NHL in efficiency, and went 1 for 4 against Chicago. New York took its first lead of the game with about 2 1/2 minutes remaining in the period on Fox's fifth of the season. The reigning Norris Trophy winner snuck to the top of the crease and poked Panarin's centering pass past Borgstrom and Lankinen for the go-ahead goal. "We started turning over pucks," Jones said. "(And) then they started buzzing around." Panarin made it 3-1 with his seventh of the season with 5:14 remaining in the third. New York's star left wing fired a shot from the left circle into an empty net as Lankinen had overcompensated for Strome at the goalmouth. "That what he does," Gallant said about Panarin. "He always makes the right reads." Panarin's goal capped a wild third period in which New York had two power plays and Chicago's Dominik Kubalik had a chance to tie the game at 2-2 but his semi-breakaway attempt hit the crossbar. DeBrincat's 14th of the season with 1:20 remaining ended the scoring. Prior to the game, New York announced Shesterkin had been placed on injured reserve with a lower body injury. Shesterkin suffered the injury early in the third period of the Rangers' 1-0 win over the San Jose Sharks the previous night, and had to be helped off the ice by the trainer. He was replaced by Georgiev, who made nine saves to help complete the shared shutout. During his pregame availability, Gallant said organizational decision-makers "feel comfortable" that the injury will not sideline Shesterkin for an indefinite period of time. He will miss New York's next three games, so Adam Huska was called up from AHL Hartford in the corresponding roster move. Chicago interim coach Derek King announced defenseman Ian Mitchell had been called up from AHL Rockford due to Jake McCabe having "family matters" which required him to return to Chicago. King added "it was nothing really major." Blackhawks: At the New York Islanders on Sunday night. Rangers: At Chicago on Tuesday night to complete the season series with the Blackhawks.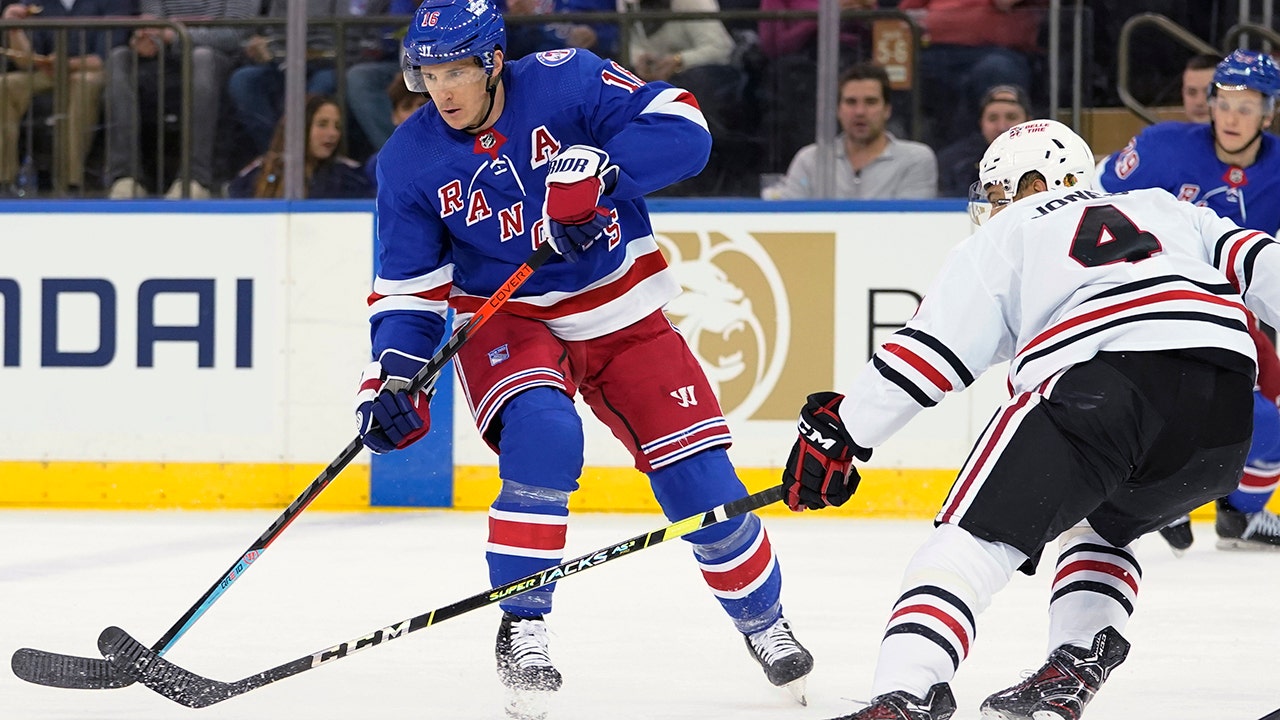 Strome, Panarin lead Rangers to 3-2 win over Blackhawks
foxnews.com
0ffb13fb783ca7fe76044c516ea1aded
Strome, Panarin lead Rangers to 3-2 win over Blackhawks
wtop.com
f642fb491bdff3a64c4d866ace810dca
Blackhawks fall to Rangers despite makeshift defense holding its own
chicago.suntimes.com
90e796e2abe7b6448635b9ea6e1d30ab
Rangers clip Blackhawks in first game without Igor Shesterkin
nypost.com
99f76e2f9377ade94ff07366e135c0b5
Strome, Panarin Lead Rangers To 3-2 Win Over Blackhawks
chicago.cbslocal.com
a6117728fafe3f96ed1004dcd25eff41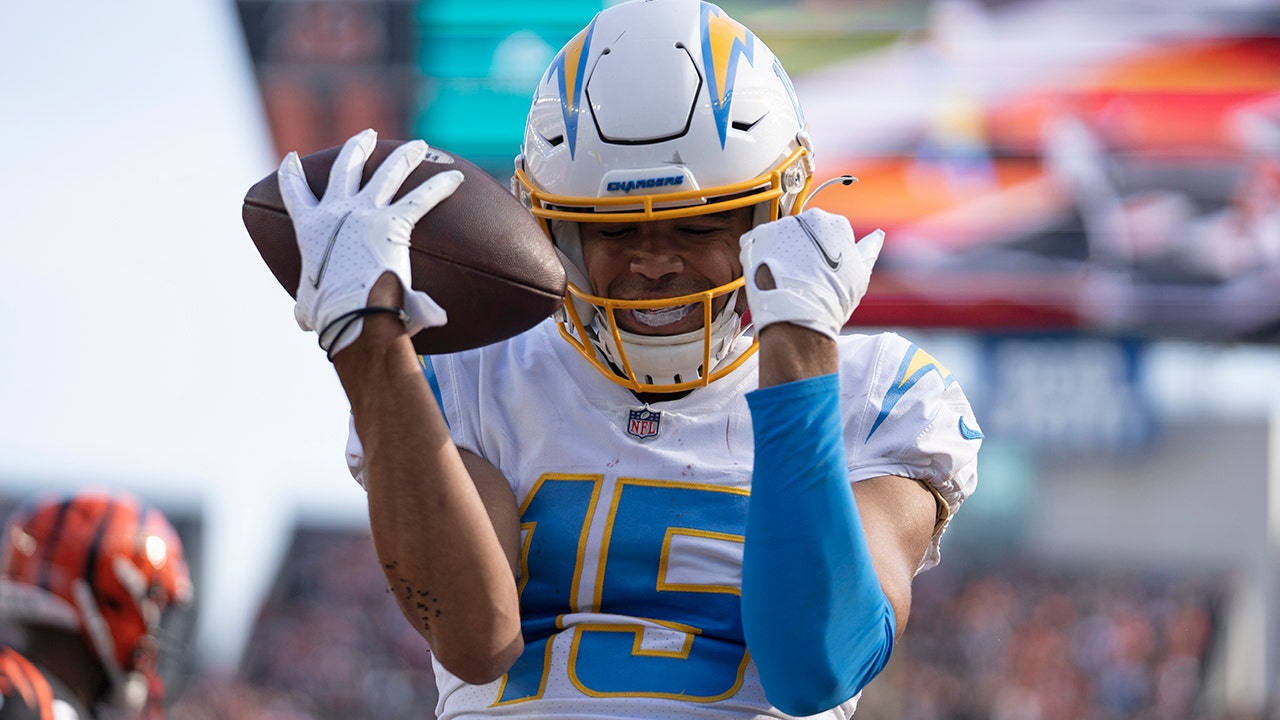 The only thing certain in the NFL heading into Week 13 of the 2021 season is that nothing is certain. The playoff picture is still as murky as ever and could change at the drop of a hat based on the games scheduled for this week. The Baltimore Ravens hold the No. 1 seed in the AFC and the Arizona Cardinals hold the No. 1 seed in the NFC if the playoffs were starting this week instead of next month. Here's how No. 2 through No. 7 looks in the AFC: New England Patriots, Tennessee Titans, Kansas City Chiefs, Cincinnati Bengals, Buffalo Bills and Las Angeles Chargers. And in the NFC: Green Bay Packers, Tampa Bay Buccaneers, Dallas Cowboys, Los Angeles Rams, San Francisco 49ers and Washington Football Team. There are four teams with six wins and two teams with five wins in the AFC, and there are six teams with five wins in the NFC. The clouded picture makes this week all that more interesting. Here's what's going down in Week 13. All times are Eastern. - 4:05 p.m.: Jaguars @ Rams (FOX) 4:05 p.m.: Washington @ Raiders (FOX) 4:25 p.m.: 49ers @ Seahawks (CBS) 4:25 p.m.: Ravens @ Steelers (CBS) 8:20 p.m.: Broncos @ Chiefs (NBC) 8:15 p.m.: Patriots @ Bills (ESPN/ESPN2) -

NFL Week 13 game picks, schedule guide, fantasy football tips, odds, injuries and more
espn.com
a1eaccebb624a91b49fd7d6e2cc20ac3
Giants vs. Dolphins odds, analysis and predictions for all Week 13 NFL games
nypost.com
c6d7197ae3757b03095096e5b53bcb08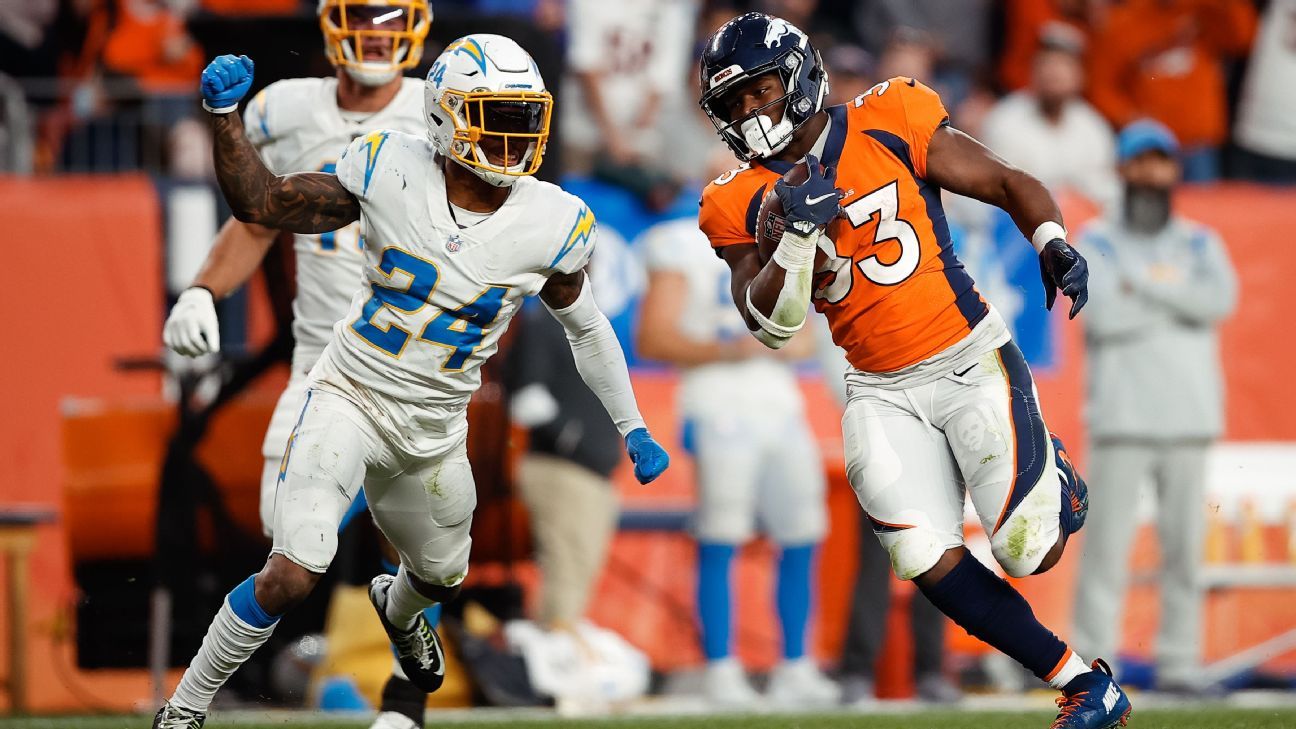 NFL Week 13 fantasy football inactives watch - Who's in and who's out?
espn.com
58f9b4974160a0d5fc9187441c3a6701
NFL Week 13 takeaways - What we learned, big questions for every game and future team outlooks
espn.com
aca5945192b6408ac65997e515ddd59d
NFL Week 13 predictions: Ride with Derek Carr and the Raiders
nypost.com
b8543787e3241b3244f8a16c9db24d5f
List of inactive players for NFL games in Week 13
wtop.com
b1cc96395c5fdeb4928e1cb64e3b3a92
N.F.L. Week 13 Predictions: Our Picks Against the Spread
nytimes.com
a7184c72ac92e2247f08fd7a8cfcb5d2
Fantasy football rankings - NFL Week 13
espn.com
781cf7ca488a482e26d65a0073eb99b5
What We Learned From Week 13 in the N.F.L.
nytimes.com
cdcff18715dc8d5c6e09eaa1fc811cb4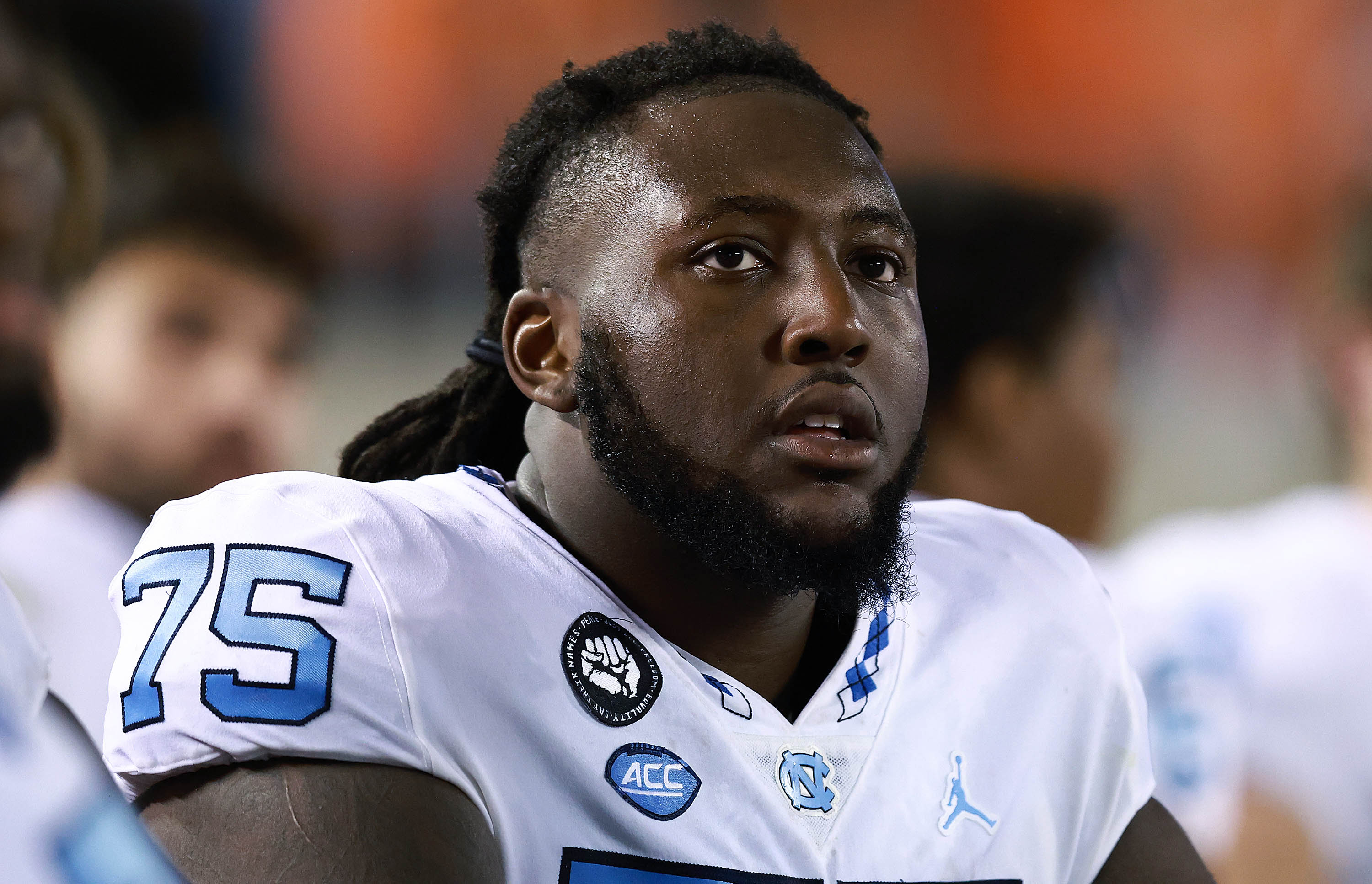 My mom has told me that she first noticed I stuttered when I was around 4 years old and put me into speech therapy straight away. But the point where I myself became aware of my stutter was when I was around 9 or 10, in the fourth grade. At that age, I got bolder and started to talk more, but I also became more self aware and began to see how other people viewed me. Other kids would ask me why I was talking in a different way because they didn't understand stuttering. As soon as that started to happen, I became more introverted. I was really smart as a kid; when the teacher would ask the whole class a question, I would know the answer about 90 percent of the time. I just never raised my hand because I knew I would stutter. Although I was the biggest child in class, I still had some kids tell me that I talked funny, ask why I didn't talk normally, or laugh at me. Although I've always wanted to play football, growing up I was just more in love with basketball and soccer. It wasn't until the summer of 2015, before freshman year at high school that it became something I considered. All my friends were telling me that I should try out for the high school football team. They were begging me to do it. So, I went home and asked my mom and dad if I could. They said yes and ever since then I've been on the football field. I started off playing defensive line, but in my sophomore year at Archer High School in Lawrenceville, Georgia, the offensive line coach there, Coach Brian Lane, pulled me to the offensive line, which is where I've been playing ever since. Coach Lane is honestly the person who taught me how to play football. I had thought that because I watched and had knowledge about football, I knew what to do on the field. But it's a whole different world actually being out there. He really built me up from nothing. He took the time—and had the patience—to actually teach me what to do, how to do it and how to understand the concepts of play. In junior year, I started my first game for the high school team. I had a very good season and in January 2018, I got my first college offer. After that, other schools started talking to me and offering me places. It all happened really quickly and in January 2018, I signed to the University of North Carolina. I arrived in June 2018 and I've been here ever since. Some coaches I talked to at different colleges asked me whether I stuttered on the field. They asked whether, if I saw something and I had to make a call, I would stutter in the heat of the game. Perhaps they were scared that if I were to stutter on the field it might affect or hurt the team. I always tell everyone that if I'm in the heat of the game, I do not stutter at all. If I see something and then have to tell my teammates, I will not stutter. I just feel like it comes down to being comfortable. I have played in a lot of football games and I have felt everything you can feel, so I am comfortable in the heat of the game. The older we get, the more of an understanding we have about the world and other people. So the first time my teammates in college heard me talk and heard that I stutter, they did not say a thing. That was a big deal to me because I was so used to people making comments. My teammates actually tell me to slow down because talking faster causes me to stutter more. It's really helped me. I started speech therapy as soon as I got into elementary school and although I stopped in middle school, I started it again in high school and I've been in speech therapy ever since, including here at college. My speech therapist will tell me that if I'm stuttering and I'm stuck on a word, I shouldn't try to force it out. I should stop and let the word roll out by itself. If you try and force it out then more tension will build up in your face and that can make you stutter more. If you let the words roll out the tension in your face will begin to ease up. Developing confidence has really helped me. And I try to keep my stress levels down, because it's important to be calm and not scared to stutter. Most stutterers would probably agree that the times they are nervous and uncomfortable are when they stutter the most. For me, it's important to accept that I am stuttering and that I will talk how I talk. I can't be scared to speak up. It's crazy, because in my personal life and when I'm out talking to people, I barely stutter. And, If I'm talking to someone I don't know and I do stutter a little, I'm at the age where it's not that big of a deal. I also don't let anyone's reaction affect me. No one in this world is perfect. Everybody has something that they wish they could change. In the next few weeks I have to choose between coming back for another year of college football or if I want to enter my name into the NFL draft. I graduate in December, so it's a big choice to make. But it has to be made so I will talk to my family and my coaches and we will all come to a decision. I would be happy to play for any NFL team, but my favourite team is the Atlanta Falcons, because I'm from Georgia! Whenever I go back home to Georgia, I volunteer with children at my church, including those who have learning disabilities. I like to do that to help instil confidence in all the kids, especially those with learning disabilities. I had confidence issues when I was a kid because of my stutter, so I just don't want them to have to go through what I did. In the future, I would like to start a foundation to give back to people who stutter and create a program where kids all across the world who have a stutter can have a safe space. One thing I want to say to people who stutter and anyone with any kind of disability, is that you can still do whatever you want. Don't let anyone's words or the looks they may give you affect you and your confidence. As a kid growing up, I did not come into contact with other people who stuttered. My mom would tell me that a lot of famous people stutter, like President Joe Biden. She would tell me that I could still do whatever I wanted to do and I would take that in but it was still hard. All I want is for young kids to see me, someone who is not much older than them, achieving all this and feel that they can also do whatever they want. If you had asked me 10 years ago to say where I'd be now, I would not have said that I'd be a college football player. So, if any kids need someone to look up to, they can look up to me.

Opinion: Cincinnati barbarians are at the gate of the College Football Playoff. Let them in
usatoday.com
795700255235393988c9015b0b572511
COLLEGE FOOTBALL TODAY: Young leads Tide over Georgia
wtop.com
58e88562731ef1a8f4884753d008ca8c
The College Football Playoff committee got the top four right, no question about it
espn.com
4d3f4493bc5ebacfbda5cc4653b50559
COLLEGE FOOTBALL: Championship Saturday Recap
dailywire.com
fc4f66cdeecae79db625c82f21b798e5
No. 5 Notre Dame missed the College Football Playoff by one spot. No. 9 Oklahoma State's bid came up inches short. The disappointment sets up a nice consolation: another marquee matchup in the Fiesta Bowl. Just short of the CFP, the Irish and Cowboys will meet in a New Year's Day bowl that's produced some high-level games through the years. The Irish (11-1) shook off an Oct. 2 loss to Cincinnati to win their final seven games, putting themselves in position to earn a CFP playoff spot despite coach Brian Kelly's decision to leave for LSU. Notre Dame promoted defensive coordinator Marcus Freeman to head coach Friday and had hoped for a bit of chaos during the conference championship games Saturday. The Irish didn't get it. Wins by No. 4 Cincinnati and No. 2 Michigan left them on the outside looking in, fifth in Sunday's final CFP rankings. The Cowboys (11-2) were agonizingly close to reaching the CFP for the first time. They rallied from a 21-3 halftime deficit against No. 6 Baylor in the Big 12 championship game and put together a late drive, reaching the Bears' 2-yard line. Oklahoma State failed on three tries and, with the clock winding down, Dezmon Jackson ran around the edge toward the end zone. Baylor's Jairon McVea tracked him down and Jackson's reach to the pylon missed by inches. The 21-16 loss left the Cowboys short of the Big 12 championship and the playoff. They finished ninth in the final CFP rankings. The first meeting between Notre Dame and Oklahoma State sets up what could be another memorable game at the Fiesta Bowl. The Cowboys have one of the nation's stingiest defenses, finishing third in total defense, fifth against the run and eighth in scoring defense. The Irish have a well-balanced offense that produced four straight lopsided wins to close the regular season, capped by a 45-14 victory over Stanford in the finale. Jack Coan threw for 2,641 yards and 20 touchdowns, with Kyren Williams adding 1,002 yards and 19 TDs on the ground. Oklahoma State's last win in a New Year's Six bowl was a 41-38 win over Stanford in the 2012 Fiesta Bowl. The Irish, who haven't won a major bowl since 1993, played in the 2016 Fiesta Bowl, a 44-28 loss to Ohio State.

Bowl projections: Will Michigan football or Alabama be the No. 1 seed in CFP?
eu.freep.com
5c9a25780a7b24b221118c6137215f23
Bowl projections: Where will Notre Dame, Oklahoma State land?
usatoday.com
daeaf11d5fa1e2c88e1790cfe1a69397
Week 14 winners and losers: SEC, Michigan, Baylor come out on top; Oklahoma State suffers heartbreak
usatoday.com
d912a559d15b555b53fc4bbf7ef80701
No. 5 Notre Dame to face No. 9 Oklahoma State in Fiesta Bowl
wtop.com
d4d310cf1f206a3652530c07574df4bf
Bowl projections: Where will Notre Dame, Oklahoma State land?
usatoday.com
650de68b57045a256181aa241ccc94fe
Notre Dame, Oklahoma State to meet in Fiesta Bowl; Ohio State faces Utah in Rose Bowl
espn.com
c98a6f0fa33bbcd097cd40ef14abd8c1
Lions head coach Dan Campbell dedicated Sunday's game ball to the Oxford community following Tuesday's school shooting that left four high school students dead. In an emotional press conference, Campbell offered his support to the Michigan community and to all who were affected by the recent tragedy. The first-year head coach also took a moment to remember the lives of those who were lost and those injured. "First thing I'm going to start with, this game ball goes to the whole Oxford community, all those who were affected," Campbell said Sunday after the Lions logged their first win of the season. "And that being said, I want us to not forget these names, Madisyn Baldwin, Hana St. Juliana, Justin Shilling, Tate Myre, Phoebe Arthur, John Asciutto, Riley Franz, Elijah Mueller, Kylie Ossege, Aiden Watson, and Molly Darnell, who's a teacher," Campbell continued. "Those names… will never be forgotten. They're in our hearts, in our prayers, and all the families, and not to mention all of those that were affected by all of this, the classmates, brothers or sisters, cousins, the teachers, everybody, coaches." Madisyn Baldwin, 17, Tate Myre, 16, and Hana St. Juliana, 14, were killed in Tuesday's shooting, while Justin Shilling, 17, died the following day from wounds suffered in the rampage. Myre, a football player, reportedly tried to disarm the accused shooter, 15-year-old Ethan Crumbley. Ahead of Sunday's game against the Vikings, in which the Lions defeated their NFC North rival, 29-27, Detriot safety Jalen Elliott paid tribute to Myre by wearing his name on the back of his No. 42 jersey. Myre also wore No. 42 on Oxford's football team. Both the Lions and the Vikings had "O" decals on their helmets for Sunday's game in honor of Oxford. Quarterback Jared Goff, who was traded to the Lions in January from the Rams, also spoke about honoring the Oxford community Sunday. "You hope to be a light for those people and a positive thing that they can have fun watching today. I hope they were all watching today and were able to enjoy that win and we can take their minds off it for, whatever it may be, three hours," Goff said. "I think anytime that we can do that, it's a lot bigger than our sports, a lot bigger than us. And I think today was one of those special circumstances that we were able to rise to the occasion and make something special happen."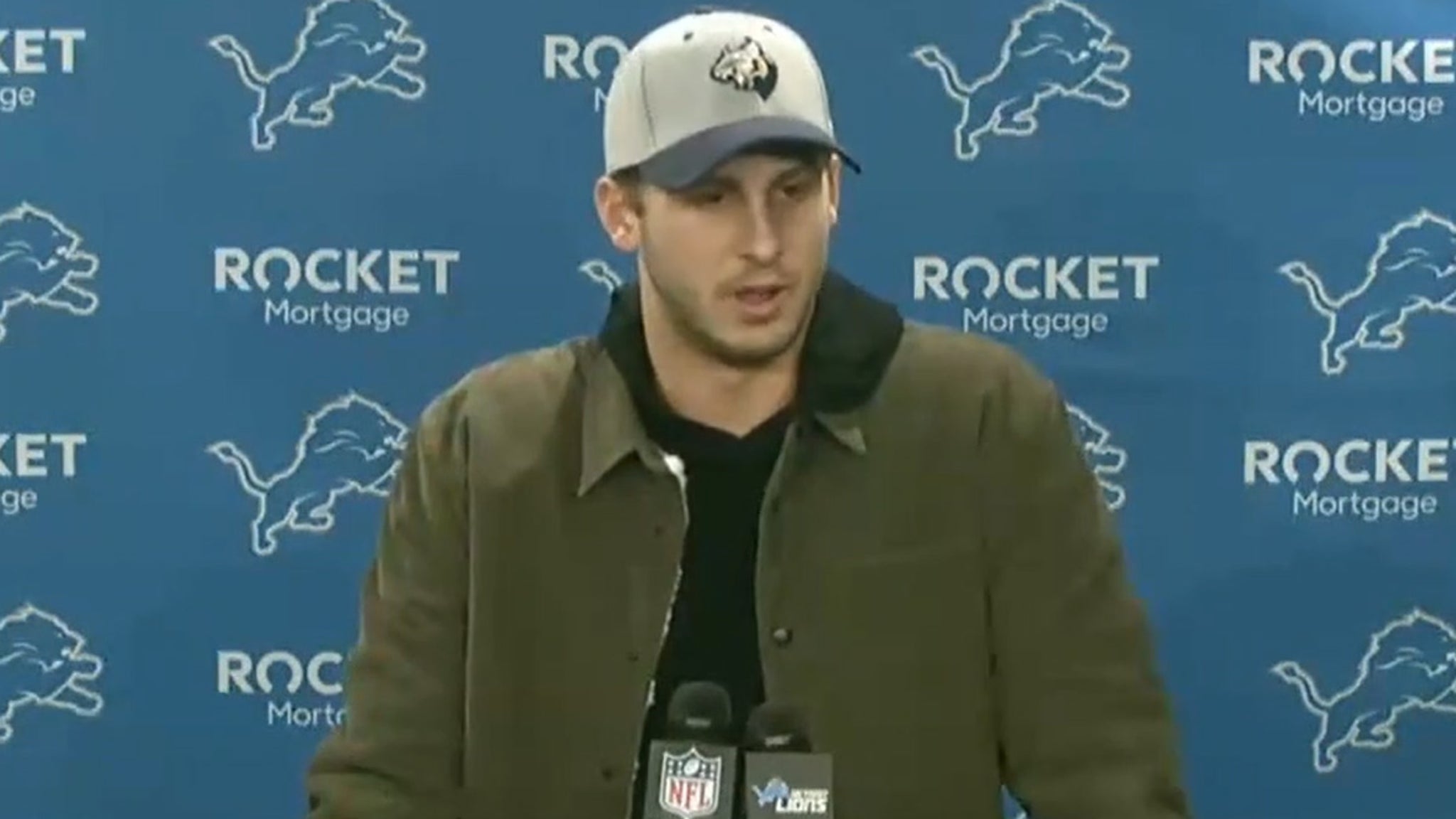 Detroit Lions QB Jared Goff Dedicates 1st Win To Oxford Shooting Victims
tmz.com
480bdd905c4c4f3fefd06249c2bd5ce5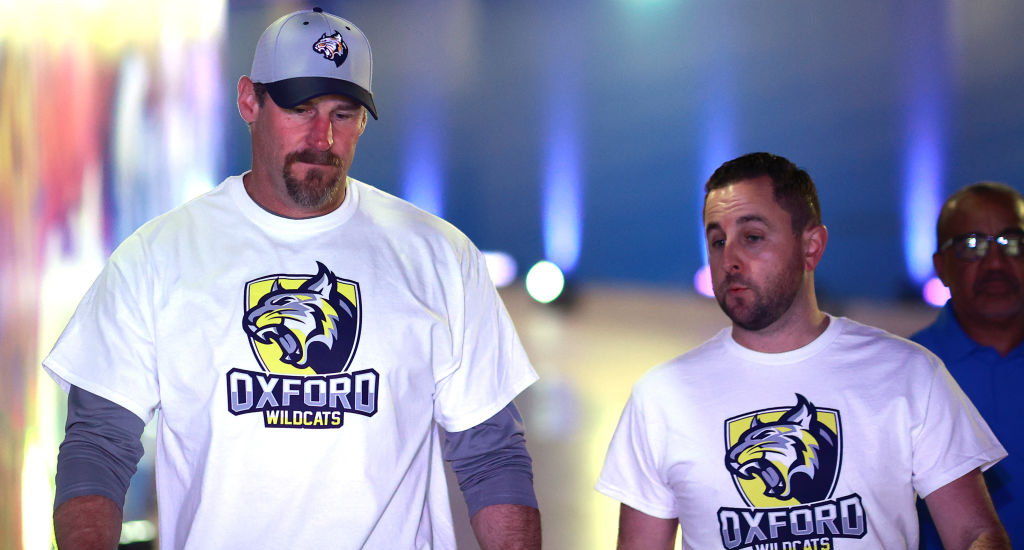 An Emotional Dan Campbell Dedicated The Lions First Win To The Victims Of The Oxford School Shooting
uproxx.com
318b534b712ba4cdb1e40bae469c2fb2
Dan Campbell, Jared Goff Emotionally Dedicate Lions Win to Oxford
heavy.com
be2723331daa434c7816418f296c00c6
Detroit Lions fans' anger with Dan Campbell turns to shock after win vs. Vikings
eu.freep.com
eb565e78de3b1f1681a286eaa4e713ce
The Miami Dolphins' defense was swarming once again, and quarterback Tua Tagovailoa and the offense did enough while a pair of rookies set team records Sunday. The Dolphins continued their surge that started halfway through the season, defeating the ailing New York Giants, 20-9, at Hard Rock Stadium and extending their winning streak to five games. The five consecutive victories match the Dolphins' longest streak under coach Brian Flores. With Miami now 6-7, the Dolphins are putting themselves in the AFC playoff picture before their bye week with four games remaining in the regular season. They remain 1 1/2 games out of a wild-card spot. "We're just kind of focused on today," Flores said as his team has gone from seven consecutive losses to five straight wins. "A tough victory in a 60-minute ball game, and we just try to take it one day at a time and not think about what's happened in the past or talk about the future too much." Tagovailoa was 30 of 41 for 244 yards and two touchdowns, avoiding mistakes with mostly underneath throws and extending late drives to preserve Miami's lead. "I'm glad we won, but I think there's a lot of things that we left out there on the field," Tagovailoa said. "A lot of plays that we wish we could have back, but then again, it falls down to the execution of us. It starts with me and the center, and then it being communicated out there." The Miami defense kept New York (4-8) out of the end zone, intercepting journeyman backup Mike Glennon once and holding him to 23-of-43 passing for 187 yards. Glennon was playing for injured starter Daniel Jones, and he was also without such playmakers as receivers Sterling Shepard and Kadarius Toney. "We have the mentality now that, 'Don't let anybody score,' " said linebacker Jerome Baker as the Dolphins' defense has not allowed a touchdown in seven consecutive quarters, going back to the first period of the previous week's win against the Carolina Panthers. "We believe that, and it's showing." The Dolphins' two 2021 first-round picks each set rookie records in the win. Receiver Jaylen Waddle had nine receptions for 90 yards against the Giants, which now gives him 86 on the season, surpassing Jarvis Landry's club record of 84 set in 2014. Outside linebacker Jaelan Phillips added two sacks to his season total, and the 8 1/2 he now has on the season also established a Miami franchise mark, edging the eight that Bill Stanfill had in 1969 and Lorenzo Bromell in 1998. The Dolphins scored a touchdown with 26 seconds left in the first half to take their first lead and go into halftime up, 10-3. Tagovailoa threw a pass up to Mack Hollins in the corner of the end zone from 5 yards out for Hollins' fourth touchdown catch on the season, which is tied with Waddle and running back Myles Gaskin for the team lead. The drive went 14 plays for 89 yards and took 3:52. Miami increased its advantage to two possessions, 17-6, when Tagovailoa rolled out and found receiver Isaiah Ford tip-toeing by the pylon for a touchdown from third-and-goal at the 2-yard line with 11:06 remaining. With Dolphins kicker Jason Sanders missing a 52-yard field goal in the fourth quarter and Giants' Graham Gano hitting from 51 with 4:59 left, New York crept back within one possession. Miami then put it away with a 48-yard field goal by Sanders with 1:11 remaining after extending the drive with a pair of first downs, one an acrobatic catch by DeVante Parker on the sideline as he returned from injured reserve on Sunday. Aside from the first touchdown, Miami's other big first-half play came on an Xavien Howard interception the first quarter. Glennon threw deep into double coverage between Howard and safety Jevon Holland, and Howard came down with the interception at the Miami 3-yard line. He was ruled down by contact at the spot but originally had a lengthy return that would've started the Dolphins in Giants territory. Before the touchdown, Miami and New York exchanged second-quarter field goals. Gano connected from 39 yards out, and the Sanders was good from 48 yards. Gano also hit a 34-yard field goal in the third quarter after the Giants got into range for it on back-to-back Saquon Barkley and Devontae Booker runs. Safety Eric Rowe's pressure on a blitz forced Glennon into a rushed, errant third-down pass to the end zone. Along with Phillips' two sacks, Adam Butler had another for the Dolphins. Giants rookie outside linebacker Quincy Roche, a Miami Hurricane last year, also had a sack in his first game back at Hard Rock Stadium. Barkley finished with 11 carries for 55 yards and six receptions for 19. Giants tight end Evan Engram had four receptions for 61 yards. Sunday's game marked just the fourth time the Dolphins hosted the Giants. Miami lost the previous three games in 2015, 1996 and 1993. The teams' 2007 meeting, a scheduled home game for the Dolphins, was played in London. The Dolphins now have their bye week with four games remaining on the other side of it, beginning with hosting the other New York team, the AFC East-rival Jets, on Dec. 19. "It's good to have some time right now for us to reassess, re-evaluate and for the players to get some rest," said Flores. After the Jets, the Dolphins then have a Monday Night Football game at the New Orleans Saints on Dec. 27, play at the Tennessee Titans on Jan. 2 and host the New England Patriots for the regular-season finale on Jan. 9.

3 keys to a Giants win over the Miami Dolphins in Week 13
ocregister.com
3c1225fc6ebe2f06d2b33599bec33db0
Giants' Offense Sputters, Tagovailova Leads Dolphins To 5th Straight Win
newyork.cbslocal.com
00a7aff8afb2b0ec939bce3775444cee
Dolphins swarm Giants for fifth straight win
ocregister.com
bb600d846fb64dd922457085403ac091
Dolphins swarm Giants for fifth straight win, keeping themselves in playoff contention entering bye
bostonherald.com
9432f86328c9c6f4f0bc8219062cd9bd
3 keys to a Giants win over the Miami Dolphins in Week 13
bostonherald.com
ae4535130fd0b70b38f8fdc887688c77
Dolphins swarm Giants for fifth straight win
bostonherald.com
4ee027372807870af44fca48503b1e98
Dolphins Dominate Depleted Giants 20-9 For 5th Straight Win
miami.cbslocal.com
2651f7d797efe0cbd742548806e80adc
LA Bowl: Utah State (10-3, Mountain West) vs Oregon State (7-5, Pac-12) WHEN: Dec. 18, 4:30 p.m. PT LOCATION: Inglewood, California Utah State: QB Logan Bonner, 3,560 yards passing, 36 touchdowns. Oregon State: RB B.J. Baylor, conference-high 1,259 yards rushing, 13 touchdowns. Utah State: Won a surprise Mountain West title with a 46-13 victory against West Division champion San Diego State for just the fourth 10-win season in school history. Related Articles Utah's 1st Rose Bowl to be against Ohio State Cal tops USC to win NCAA men's water polo national title Winner and losers from the CFP and bowl selections: Utah, meet the Granddaddy (and Ohio State) Whicker: Cincinnati proves the College Football Playoff is no closed shop UCLA football will play No. 18 NC State in Holiday Bowl Oregon State: Finished third in the Pac-12 North at 5-4 and is 3-3 in its last six games. Oregon State 20, Utah State 16. (Oct. 3, 1998) Utah State: First appearance in LA Bowl; ninth bowl game in the last 11 seasons after playing in six bowl games in its first 119 years. Oregon State: First appearance in LA Bowl; 18th bowl game appearance overall and first since 2013.

Utah State will face Oregon State in the LA Bowl
deseret.com
56dade71edea89f03e94403b32686946
Utah will face Ohio State in the Rose Bowl
deseret.com
86b6283bff20db8c6b6edfdb49def736
Utah's 1st Rose Bowl to be against Ohio State
ocregister.com
438eca966a4f2eabbdd9b67cba33d12d
Utah will likely face Ohio State in the Rose Bowl
deseret.com
c9a2904e704ed27bc13e87612dfcd764
No. 5 Notre Dame to face No. 9 Oklahoma State in Fiesta Bowl
wtop.com
d4d310cf1f206a3652530c07574df4bf
Utah heads to Rose Bowl for first time to face Ohio State
wtop.com
b09bfd422f74d2dc7797bcf15dfcd39f
Winner and losers from the CFP and bowl selections: Utah, meet the Granddaddy (and Ohio State)
ocregister.com
924fd4cf31caf94809d86e3b378ff0e2
Notre Dame, Oklahoma State to meet in Fiesta Bowl; Ohio State faces Utah in Rose Bowl
espn.com
c98a6f0fa33bbcd097cd40ef14abd8c1
After moving past rumors about coach Matt Nagy's job status, the Chicago Bears had a week of relative peace following their Thanksgiving win against the Detroit Lions. Now the 9-2 Arizona Cardinals come to town to try to disturb that calm. We've got Week 13 updates all day from Soldier Field. Arizona Cardinals quarterback Kyler Murray threw two touchdown passes and ran for another score for a 21-7 halftime lead against the Chicago Bears. In his first game since Oct. 28 after recovering from an ankle injury, Murray completed just five of 8 passes for 73 yards and rushed for 19 yards on four carries. But Bears quarterback Andy Dalton was intercepted on the Bears' first two drives of the game, and the Cardinals capitalized with two touchdowns. On the Bears' first drive, Cardinals safety Jalen Thompson grabbed Dalton's high pass that bounced off Jakeem Grant's hands, setting up a 28-yard Cardinals touchdown drive. On fourth-and-3, Murray's 21-yard touchdown pass to DeAndre Hopkins gave the Cardinals a 7-0 lead with 10:55 to play in the first. The Bears got to the Cardinals' 20 on their next drive, but Budda Baker intercepted a pass that Cole Kmet dropped and returned it 78 yards. Murray scored on a 9-yard touchdown run on third-and-goal. Behind running back David Montgomery, the Bears responded with a 77-yard drive, capped by Montgomery's 1-yard touchdown run. Deep in Cardinals territory, Dalton hit Grant with an 11-yard pass on fourth-and-8 and Damiere Byrd with a 10-yard pass on third-and-5 to keep the drive alive. The Cardinals responded quickly, with James Conner scoring a 23-yard touchdown on a pass from Murray for a 21-7 lead with 5:40 to play in the second quarter. Xavier Crawford missed the tackle on Conner. The Bears were playing without cornerback Jaylon Johnson during that touchdown, after he came off briefly because of injury. He returned on the next drive. Montgomery rushed for 63 yards and the touchdown on 14 carries and had four catches for 26 yards. Bears inside linebacker Roquan Smith is active Sunday against the Cardinals. Smith missed practices Wednesday and Thursday with a hamstring injury but returned in a limited capacity Friday. He worked out at Soldier Field hours before the game to test out his hamstring before the Bears made the decision. Bears rookie offensive tackle Teven Jenkins also is active for his first NFL game after the Bears activated him Saturday. Jenkins missed training camp and the first 11 games after having back surgery. Bears quarterback Justin Fields and wide receiver Allen Robinson are officially inactive. Bears coach Matt Nagy said Friday that Fields hadn't been medically cleared to play, so Andy Dalton will start and Nick Foles will be the backup. Robinson had been listed as doubtful as he recovers from a hamstring injury. He will miss his third straight game with the injury. The Bears already ruled out defensive linemen Akiem Hicks (ankle) and Mario Edwards Jr. (ribs), wide receiver Marquise Goodwin (foot/ribs) and running back Damien Williams (knee). Defensive back Teez Tabor also is inactive for the Bears. For the Cardinals, quarterback Kyler Murray and wide receiver DeAndre Hopkins are both active and will play for the first time since Week 8. Murray has been out with an ankle injury and Hopkins has been out with a hamstring injury. Both were gameday decisions. Wide receiver Andy Isabella, quarterback Trace McSorley, cornerback Jace Whittaker and offensive lineman Justin Pugh are inactive. The Cardinals had extra time to prepare for the Bears coming off their bye week. They opened the season with seven straight victories before going 2-2 in their last four games, including 2-1 without quarterback Kyler Murray. Murray, who had a left ankle injury, could return Sunday after coach Kliff Kingsbury deemed him a game-day decision. The Bears, however, won't have starting quarterback Justin Fields, who isn't medically ready to return from broken ribs. Bears coach Matt Nagy named veteran Andy Dalton the starter for the second straight game. Dalton led the Bears to a 16-14 comeback victory over the Lions on Thanksgiving but will have a tougher test against one of the NFL's top defenses. "We've got to be consistent with what we're doing," Dalton said. "To have that last drive (against the Lions), to go on the long drive that allows us to win the game, kick the field goal right at the end, there's stuff we can build off of for sure. We have to carry a little bit of that momentum into this week and where we're going from here on out."

Chicago Bears vs. Arizona Cardinals: Everything you need to know before the Week 13 game at Soldier Field
bostonherald.com
a46d0171e042b98e581b4c0d923fcecb
Chicago Bears vs. Arizona Cardinals: Everything you need to know before the Week 13 game at Soldier Field
ocregister.com
d77adde4c6c3e2b90c973725a36f7a3a
Week 13 recap: Andy Dalton throws 4 INTs — the most for a Chicago Bears QB in a game since 2016 — in a 33-22 loss to the Arizona Cardinals
bostonherald.com
3b951c34f93679afe8cf650b1507fb4e
Andy Dalton to start against Cardinals in Chicago Bears game today
abc7chicago.com
3dffcd469d619ebd2f2c19cf19c8bf62
Week 13 recap: Andy Dalton throws 4 INTs — the most for a Chicago Bears QB in a game since 2016 — in a 33-22 loss to the Arizona Cardinals
ocregister.com
b77ae71b253d5a727813f771cb81949b
NFL Week 13 takeaways - What we learned, big questions for every game and future team outlooks
espn.com
aca5945192b6408ac65997e515ddd59d
Week 13 updates: Andy Dalton intercepted on the 1st 2 drives of the game for the Bears, who trail the Cardinals 21-7 at halftime
bostonherald.com
4a08a9d6e017dde136cb855995d60a44
Follow along here for live updates from Detroit News contributor Nolan Bianchi. The Lions take over at their own 25, leading 20-6, to start the third quarter. The Vikings take over at their own 25 to start the drive, trailing 17-6 with 1:33 left in the half. The Lions are able to force Kirk Cousins into a sack on fourth down, and they'll take over at their own 45 with a timeout left and 32 seconds on the clock. Lions 17, Vikings 6 (0:32 2nd) Jared Goff gets the ball to Amon-Ra St. Brown for 5, then fires deep to Kalif Raymond for a pickup of 24 yards to the Minnesota 25. Timeout #3 Detroit (0:19 2nd) St. Brown gains 7 yards, then the Lions take a delay of game penalty. The Lions will try a field goal after a throw to the end zone winds up incomplete. Riley Patterson makes the 41-yard field goal attempt. Lions 20, Vikings 6 (0:06 2nd) The Vikings take a knee to end the half. END 2ND: Lions 20, Vikings 6 The Vikings take over at their own 25, and immediately get a 14-yard gain from Alexander Mattison. But after a 2-yard run by Mattison on the next play, Charles Harris comes up huge for the Lions again and sacks Kirk Cousins for a loss of 6. He's in the backfield again, hitting Cousins, as he lets go of a third-down pass that goes for 6 to end the drive. Lions 14, Vikings 6 (7:06 2nd) The Lions will take over at their own 10 to start the drive. A couple short gains get Detroit first-and-10 at the 20, where a neutral zone infraction and 6-yard run moves the chains again. Jamaal Williams runs for 8, then 2 to move the chains. Josh Reynolds then gets open for a 27-yard reception that puts Detroit at the Minnesota 27. Two-minute warning. Jared Goff picks up another first down with a 7-yard pass to Amon-Ra St. Brown, as Williams runs for 3 yards on the next play. Timeout #1 Minnesota (1:48 2nd) Goff's next two passes go incomplete, and the Lions will settle for a field goal. Lions 17, Vikings 6 (1:33 2nd) The Vikings' Kene Nwangwu gives Minnesota starting field position at the 48 with a 44-yard return. Minnesota works it down to Detroit's 32-yard-line in just three plays, then run for no gain on first-and-10. Timeout #1 Detroit (11:16 2nd) Charles Harris strip-sacks Kirk Cousins, and it's scooped up by the Lions' Julian Okwara and returned to the 44 of the Lions, where it'll be first-and-10, Detroit. Lions 7, Vikings 6 (11:08 2nd) The Lions move downfield with a 5-yard run by Jamaal Williams, a 28-yard completion to Josh Reynolds, and a 23-yard touchdown pass to Brock Wright. This Lions offense is on fire, folks. Lions 14, Vikings 6 (9:45 2nd) The Lions take over at their own 31, and pick up a first down with a gain of 9 and gain of 8. It'll be first-and-10 at the 42 when we come back to start the second quarter. END 1ST: Vikings 6, Lions 0 Jared Goff drops a dime to T.J. Hockenson, who is hit hard and draws an unncessary roughness penalty that puts Detroit at the 15 of Minnesota, first-and-10. Goff finds Hockenson in the end zone just two plays later to give the Lions their first lead. Lions 7, Vikings 6 (13:50 2nd) The Lions take over at their own 25, trailing 3-0 with 6:49 left in the first quarter. They try to run it twice, and Jared Goff is obliterated from the blind side on third down for a loss of 8. Jack Fox's punt is returned to the Vikings 34. Vikings 3, Lions 0 (5:10 1st) Justin Jefferson takes the first-down pass for a gain of 34 yards to the Detroit 32. Alexander Mattison brings up third-and-1 with a 9-yard run on second down, and he fights his way through the line for a pickup of 2 that keeps the chains moving. A completion to Tyler Conklin moves the Vikings to Detroit's 9-yard-line, where it'll be first-and-goal. Mattison is taken down for a loss of 4, and the second-down pass is incomplete. Third-and-goal from the 13 coming up: Kirk Cousins' pass is over the target and incomplete. Greg Joseph puts home the 31-yard field goal attempt. Vikings 6, Lions 0 (0:59 1st) The Vikings take over at Detroit's 41-yard-line in a 0-0 game. Kirk Cousins immediately hits Justin Jefferson for a gain of 18 to the 23-yard-line. A short run and pass that loses yardage sets up third-and-8, where Jerry Jacobs blows up Dede Westbrook for another 2-yard loss. Greg Joseph makes the 41-yard field goal. Vikings 3, Lions 0 (6:49 1st) The Lions have won the toss and elect to defer to the second half. The Vikings take over at their own 22. The Vikings reach the 34 with a run by 7-yard run Kirk Cousins and a 5-yard run by Alexander Mattison. Injury alert: Lions DL Nick Williams was hurt on the play. A 19-yard completion to Tyler Conklin gets Minnesota to the 47 of Detroit. Charles Harris absolutely smokes Charles Harris while letting go of a pass on second-and-9, and his third-down pass to Adam Thielen is caught for a loss of 1. Injury alert: Vikings WR Adam Thielen was hurt on the play. The ensuing punt goes for a touchback. Lions 0, Vikings 0 (12:01 1st) The Lions take over at their own 20, and quickly get to the 32 with a pair of runs by Jamaal Williams. After a first-down incompletion, T.J. Hockenson just drops the second-down throw that could have moved the chains. Kalif Raymond's third-down catch isn't enough to move the chains, and the Lions are lining up to go for it on fourth-and-1 from their own 41: Jared Goff sneaks it on fourth down, and after the chain gang comes out to measure, they're about an inch short. Turnover on downs. Lions 0, Vikings 0 (9:40 1st) The Lions are back in action for the first time since their Thanksgiving Day stumble against the Chicago Bears. Winless Detroit (0-10-1) will try to break through against another NFC North foe as the Minnesota Vikings (5-6) visit Ford Field on Sunday. The Lions will be without their top offensive threat, running back D'Andre Swift, who is dealing with a shoulder injury. The Vikings will likely be without their top rusher, Dalvin Cook. Can Detroit's Jared Goff or Minnesota's Kirk Cousins make things happen through the air? ► Kickoff: 1 p.m., Sunday, Ford Field, Detroit ► TV/radio: CBS/97.1 ► Records: Lions 0-10-1, Vikings 5-6 ► Line: Minnesota by 7.5

No surprises among Detroit Lions inactives; Minnesota Vikings without 2 starting LBs
eu.freep.com
398c1d2fdee54368eb11660916283cde
Lions pull out first victory after wasting double-digit lead to Vikings
eu.detroitnews.com
8e0fef9b31257bdad7490a481b4c3ade
Lions get first win of season after stunning finish against Vikings
nypost.com
9d34891770db2ea76fc2f9e1fe66fdbb
Lions get first win with 29-27 victory over the Vikings
chicago.suntimes.com
ee3af5cadc4a680ce8ddc5fa30870bfb
Quarterback Dorian Thompson-Robinson and the UCLA football team will travel to San Diego for a postseason meeting with No. 18 NC State in the Holiday Bowl. It will be the first football game played at Petco Park on Dec. 28 at 5 p.m. PT on Fox. The Bruins finished in a tie for second in the Pac-12 South and will compete in a bowl game for the first time since 2017. It will be the first bowl game appearance for most of the Bruins' roster, including Thompson-Robinson, defensive lineman Otito Ogbonnia, receiver Kyle Philips, who all joined the program as members of the 2018 recruiting class for Chip Kelly's first year. Thompson-Robinson led the Bruins' offense, which led the conference with 36.7 points per game this season. He's also second in the conference with 21 touchdowns passes. Philips, a San Diego native, is the Pac-12's touchdown receptions leader with 10. More to come on this story. Related Articles College Football Bowl Game live updates: Who will play in the 2022 Rose Bowl, playoffs? UCLA DL coach Johnny Nansen hired as Arizona's defensive coordinator USC hires Lincoln Riley: The winners and losers from a momentous Pac-12 development What USC's hiring of Lincoln Riley means for the Pac-12 (hint: it's gargantuan) UCLA's Myles Jackson, A.J. Campbell Jr. plan to enter transfer portal

Boyd, No. 2 NC State women top Elon 78-46 for 8th win in row
foxnews.com
ed45665efca1fa10486adc99a9a41378
Boyd, No. 2 NC State women top Elon 78-46 for 8th win in row
wtop.com
916e9981f4126511d46dfc2c7c51954f
Michigan No. 2 in final College Football Playoff rankings, will play Georgia in Orange Bowl
eu.freep.com
e1ec8ef7d377a9e1a2fa71dd3104af6b
BAL 10 PIT 3 3rd & 8 at PIT 47 (3:53) (Shotgun) B. Roethlisberger pass short right to P. Freiermuth to BLT 49 for 4 yards (B. Stephens). Penalty on PIT-J. Washington, Offensive Pass Interference, declined. Current Weather 55° DK Metcalf hauls in the reception getting the Seahawks inside the five-yard line. They capitalize a couple plays later with Adrian Peterson's touchdown. Joe Burrow said he doesn't anticipate missing any playing time after dislocating his right pinkie finger in the Bengals' loss to the Chargers. George Kittle hauls in the short pass then somehow stays in bounds for an incredible 48-yard touchdown. Kittle's tightrope walk along the sideline pushes him over 100 yards receiving in the first half. Texans coach David Culley changed his stance that Tyrod Taylor is the team's starting QB when healthy, saying after Houston's loss to the Colts that he's ready to "evaluate everything." Las Vegas Raiders veteran running back Kenyan Drake was carted off the Allegiant Stadium field with an apparent right ankle injury midway through the second quarter Sunday against the Washington Football Team.

Ravens gameday portal: Live updates, everything you need to know during Sunday's game vs. Steelers
ocregister.com
949ec32360e4e2718993dc2ee287021a
Ravens gameday portal: Live updates, everything you need to know during Sunday's game vs. Steelers
bostonherald.com
b09a6c3cd344cc9ebdaeb540690c0678
Steelers vs. Ravens Live Stream: How To Watch The Steelers-Ravens Game Live
decider.com
bb1007b4ece6ca25aacddc53d4e65f86
49ers vs. Seahawks - Game Summary - December 5, 2021
espn.com
19bb04f2d11144c461e3e301a863a863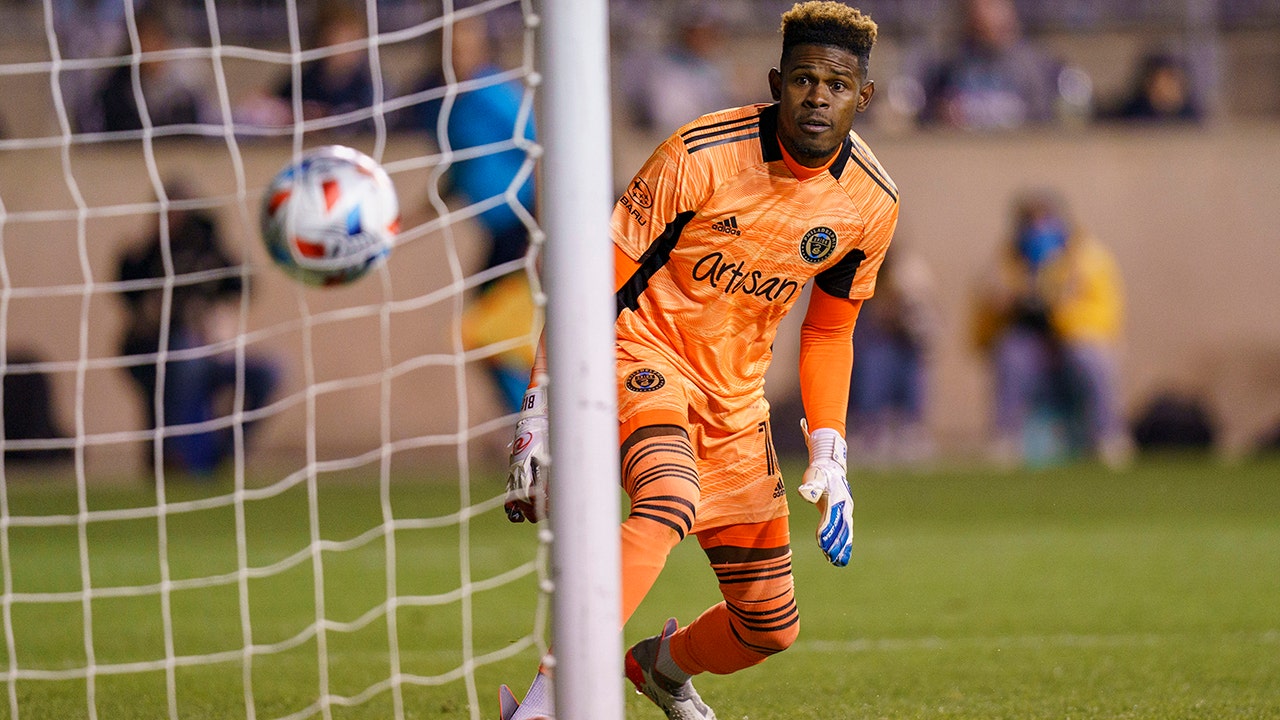 The Philadelphia Union will be without 11 players on Sunday when the team plays NYCFC in the MLS Eastern Conference finals because of COVID-19 health and safety protocols. The players out for the game included captain Alejandro Bedoya and goalkeeper Andre Blake, as well as defenders Jack Elliott, Jakob Glesnes, Kai Wagner and Alvas Powell. Forwards Corey Burke and Sergio Santos, midfielders Ilsinho and Quinn Sullivan and goalkeeper Joe Bendik were also on the team's list. The Union were unable to practice on Thursday because of the league's protocol, but resumed training on Friday. "Our players have worked tirelessly to get to this point. I know that they'll be brave, even in the adversity that we're facing right now", Union coach Jim Curtin said. "We've stepped up in big moments all year long, whether it be international absences, the challenges of CONCACAF, players losing loved ones, adversity both on and off the field. This group always finds a way to step up. And I expect this weekend to be more of the same. We look forward to the challenge. We've had a next-man-up mentality all season long." Curtin announced during the regular season that all of the Union players had been vaccinated. The individual players may not have tested positive for coronavirus, but may have come into contact with someone with a suspected case. On Saturday, Philadelphia added three players to its roster for the game, signing defenders Brandan Craig and Anton Sorenson to short-term agreements and adding league pool goalkeeper Greg Ranjitsingh. The Union were able to bring in the players because of extreme hardship.

NYCFC outlasts Union 2-1 to reach 1st MLS Cup final
wtop.com
94bb9f5e5c56588e1a370b33976aca1a
NYCFC Rallies Late, Stuns Philadelphia For Spot In MLS Cup Final
newyork.cbslocal.com
06005093488468453dd127e25dce8928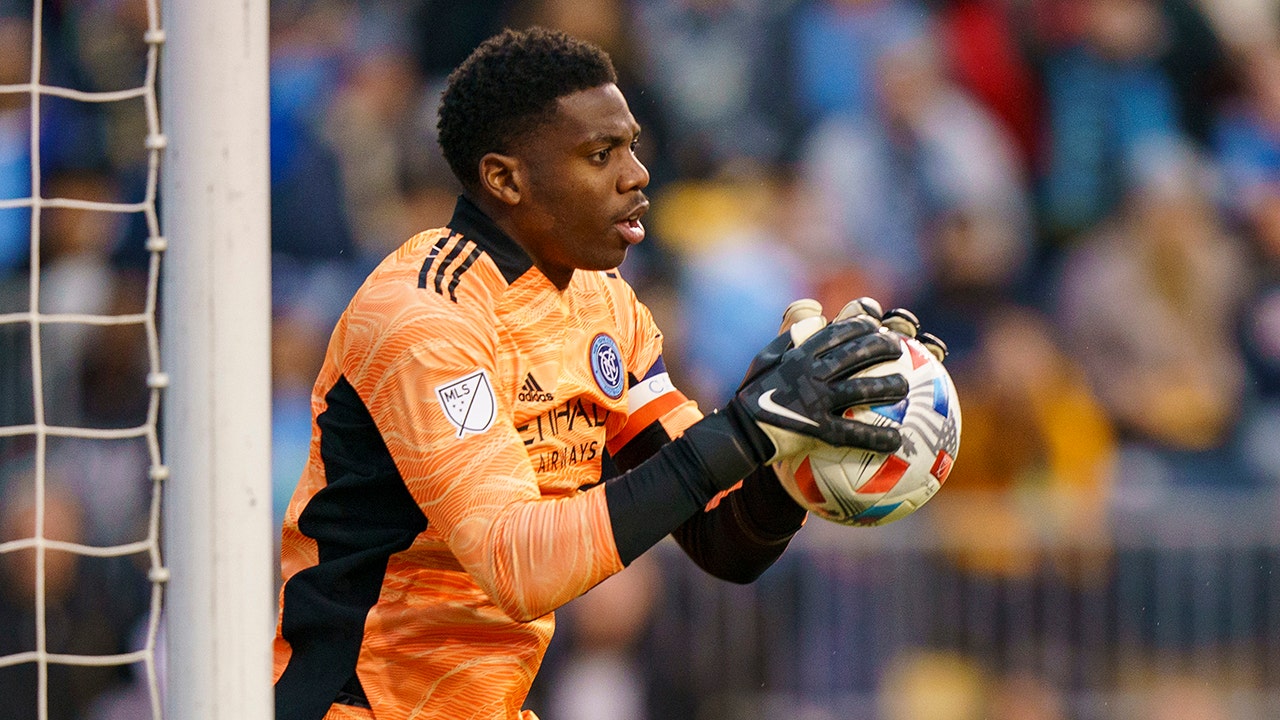 NYCFC outlasts Union 2-1 to reach 1st MLS Cup final
foxnews.com
5b8406d72f70736796ad51b39b221153
Talles Magno's late goal lifts NYCFC over Union, into first MLS Cup final
nypost.com
c9bf1acacbc63aeb136c3f728821bb66
CHARLOTTE, N.C. — Erick Hallett II saw the receiver running to his side and knew the ball was coming his way. He cut in front to snag a jumping interception and began sprinting for the end zone with the ball clutched in his right hand — then extended the ball as he crossed the goal line for the touchdown that transformed No. 17 Pittsburgh's lead into a rout. It was the highlight on a night full of them for a defense that powered the Panthers to the first Atlantic Coast Conference championship in program history. Hallett's 19-yard score was one of Pittsburgh's four interceptions to help the Panthers beat No. 18 Wake Forest 45-21 in Saturday night's ACC title game. It came on the heels of A.J. Woods having a 75-yard interception return that fell only 3 yards short of taking it all the way for the score early in the fourth quarter. And it all came as the Panthers locked up the high-scoring Demon Deacons after the opening quarter and ultimately carried the Panthers to their first league title since leaving the Big East in 2013. "In the second quarter we used that take-it mentality," Woods said. "That was the word on our board this week: take it. Because that is what champions have to do, they take it." The Panthers (11-2) sure took all momentum from the Demon Deacons, and abruptly at that. After surrendering touchdowns on three first-quarter possessions, Pittsburgh held Wake Forest scoreless for its last 13 drives while getting after Sam Hartman for five sacks to stymie the Demon Deacons' tempo-controlling flow. "They bowed up and we played some great coverage," coach Pat Narduzzi said. "Our guys made plays on the ball. I think we shook them up a little bit in the backfield and got them a little antsy.…. Our defense did a great job to shut them down." Hallett was game MVP with two interceptions. Wake Forest (10-3) was back in the ACC title game for the first time since winning the 2006 championship. But the Demon Deacons finished with 295 total yards, with only 109 of those coming after the opening quarter. "It was just tough on us," said receiver Jaquarii Roberson, who was Hartman's target on Hallett's TD return. "Pitt was playing really good defense and we just couldn't get a flow going." That only made things easier on star quarterback Kenny Pickett and the offense. Pickett accounted for three touchdowns while Israel Abanikanda ran for two second-half TDs, one after Woods' return that stands as longest in the title game's 17-year history. "It's not like we played an average football team and blew all these opportunities," Wake Forest coach Dave Clawson said. "They were good. A lot of errors today were because of how good Pitt is, and I give those guys all the credit." The game offered a departure from a recent tradition: watching Clemson roll past an overmatched Coastal Division champion on the way to another league title and trip to the College Football Playoff. And going back a decade, either Clemson or Florida State had won this game as the Atlantic Division champion before Wake Forest interrupted that run this year. This game began with a high-revving show of four straight touchdown drives between the teams, including a dazzling 58-yard scoring run by Pickett in which he stutter-stepped near the 40 as though he was going to slide then took off around pulling-up defenders the rest of the way. Wake Forest led 21-14 when Hartman hit Taylor Morin on a contested TD catch near the left pylon. But after that, Pittsburgh's defense started getting to Hartman more often while the secondary that found itself under early duress began to hold up against those deep throws. Related Articles No. 3 Cincinnati claims AAC crown, possible playoff spot Baylor holds on for Big 12 title, knocks Oklahoma State out of CFP No. 2 Michigan takes Big Ten in rout, makes playoff pitch USC football season ends in fitting fashion with loss to Cal Bryce Young, No. 4 Alabama beat No. 1 Georgia in SEC championship game Sam Scarton's 41-yard field goal gave Pitt a 24-21 lead at the break, then Abanikanda scored from 12 yards out around the right side late in the third to make it a two-possession lead and send the Panthers on their way. "We're gritty," Hallett said. "We don't take no for an answer." Related Articles No. 3 Cincinnati claims AAC crown, possible playoff spot Baylor holds on for Big 12 title, knocks Oklahoma State out of CFP No. 2 Michigan takes Big Ten in rout, makes playoff pitch USC football season ends in fitting fashion with loss to Cal Bryce Young, No. 4 Alabama beat No. 1 Georgia in SEC championship game Wake Forest: The Demon Deacons just couldn't add another milestone in a what had become a special season full of them under their eighth-year coach, including the highest AP Top 25 ranking in program history (No. 10 in early November) and the program's best-ever start (8-0). Pittsburgh: The Panthers had reached the ACC title game in 2018 before losing a blowout loss to Clemson. They're leaving Charlotte this time with the program's first ACC title after sharing the Big East title in 2004 and 2010. Hartman threw for two scores and ran for another in the opening period. But by the end of this one, Hartman had suffered through another nightmarish performance on a field about 20 minutes from his hometown in Cornelius. He ended last year here with four interceptions in a Duke's Mayo Bowl loss to Wisconsin, then threw for 213 yards before exiting with 8:09 left. "Sometimes when you fall behind you force things," Clawson said, adding: "This does not take away from the year that he had." Pickett broke a tie with program great Dan Marino for most career TD passes (now 81), and surpassed former Clemson star Deshaun Watson's 2016 single-season league record touchdown passes (now 42).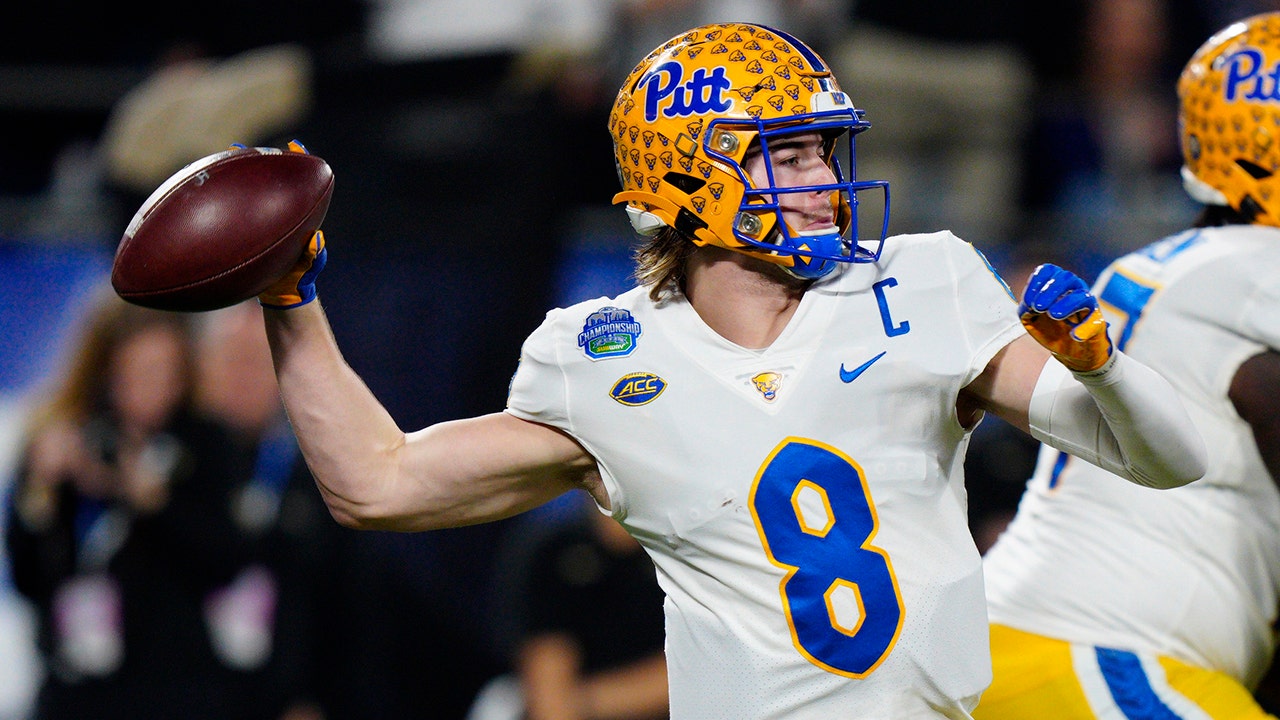 No. 17 Pitt rolls by No. 18 Wake Forest 45-21 for ACC title
foxnews.com
8c0c8947fef6b89dc67d8617f427819c
No. 17 Pitt rolls by No. 18 Wake Forest 45-21 for ACC title
wtop.com
bc5be4859e0396aed3779d2a5d11be34
No. 17 Pitt rolls by No. 18 Wake Forest 45-21 for ACC title
wralsportsfan.com
8dac1e6a47e1b57187e80cb1f094b71f
— The Bulls were down, but not out. Behind Zach LaVine's 31 points and DeMar DeRozan's 29, 13 in the fourth quarter, Chicago overcame a double-digit deficit in the second half to beat the Brooklyn Nets 111-107 on Saturday night. "I thought they were the quicker, more responsive team earlier in the game," said coach Billy Donovan. "Coming out of the half we talked about the adjustments we had to make, and they went out there and did it. What DeMar did out there in the third and fourth quarter was amazing." Nikola Vucevic and Ayo Dosunmu each added 11 points for the Bulls in a matchup of the top teams in the Eastern Conference. "If you want to be the best, you have to beat the best," DeRozan said. The Bulls also beat the East-leading Nets on Nov. 8 and have clinched the season series. "We're just going to keep coming," DeRozan added. "We're learning not to get down on ourselves if we're missing shots. We're learning a very critical part of the game is to stay level-headed and to stay balanced. There's a lot of time in the game for things to turn over. Stay the course. That's what we do." Kevin Durant led Brooklyn with 28 points and LaMarcus Aldridge had 20. James Harden added 14 points and 14 assists, but shot 5 for 21 from the field. The Bulls opened the fourth on a 13-4 run and took their biggest lead at 92-86 on DeRozan's short jumper with 7 minutes remaining. "The greatness that DeMar displays each and every night in those crunch-time situations, to be able to witness what he's doing on such a high level, making tough shot after tough shot while also being a leader just shows the type of person he is," Sosunmu said. Aldridge's layup brought the Nets within 101-100, but they never got closer. Durant's 3-pointer with 39 seconds left cut it to 107-105, but Lonzo Ball answered with a 3 with 16 seconds remaining to end the threat. Patty Mills, who scored 12 points, gave Brooklyn its biggest lead at 71-60 with 6:34 left in the third quarter. Chicago rallied and LaVine's 3-pointer trimmed it to 80-79 before Paul Millsap, who scored a season-high 13 points, hit a buzzer-beater to give the Nets an 82-79 lead after three quarters. Brooklyn scored the first nine points of the game, all on 3s, and led 34-28 after the first quarter. The Nets were ahead 56-52 at the half. "We did a lot of good things," coach Steve Nash said. "Our guys did what we asked them to do. We got 111 shots at the basket. They just didn't go tonight." Bulls: Javonte Green, who had appeared in each of Chicago's first 23 games, did not play Saturday after testing positive for COVID-19. That leaves DeRozan, LaVine and Ball as the only Bulls to play in every game this season. Nets: Brooklyn has had four back-to-backs so far this season and gone 1-1 each time.… The Nets had won eight of their previous nine home games against the Bulls.… James Johnson did not play due to left shoulder soreness. Durant has played at least 37 minutes in each of his last seven games, including a season-high 45 vs. Phoenix on Nov. 21. "Kevin's mentality is why he's one of the best players of all-time," Nash said. "He loves the game. To tell him we're going to limit his minutes is not going to go over very well. We try to sneak minutes from him here and there and keep him on the bench for an extra 30 or 40 seconds when we can." In their two games prior to Saturday, LaVine, DeRozan and Vucevic all scored 25 or more points while shooting 50% or better from the field. It was the first time three teammates had reached those marks in consecutive games since Mitch Richmond, Chris Mullin and Tim Hardaway did it for Golden State in 1990. Harden has shot 13 for 49 (26.5%) over his last three games.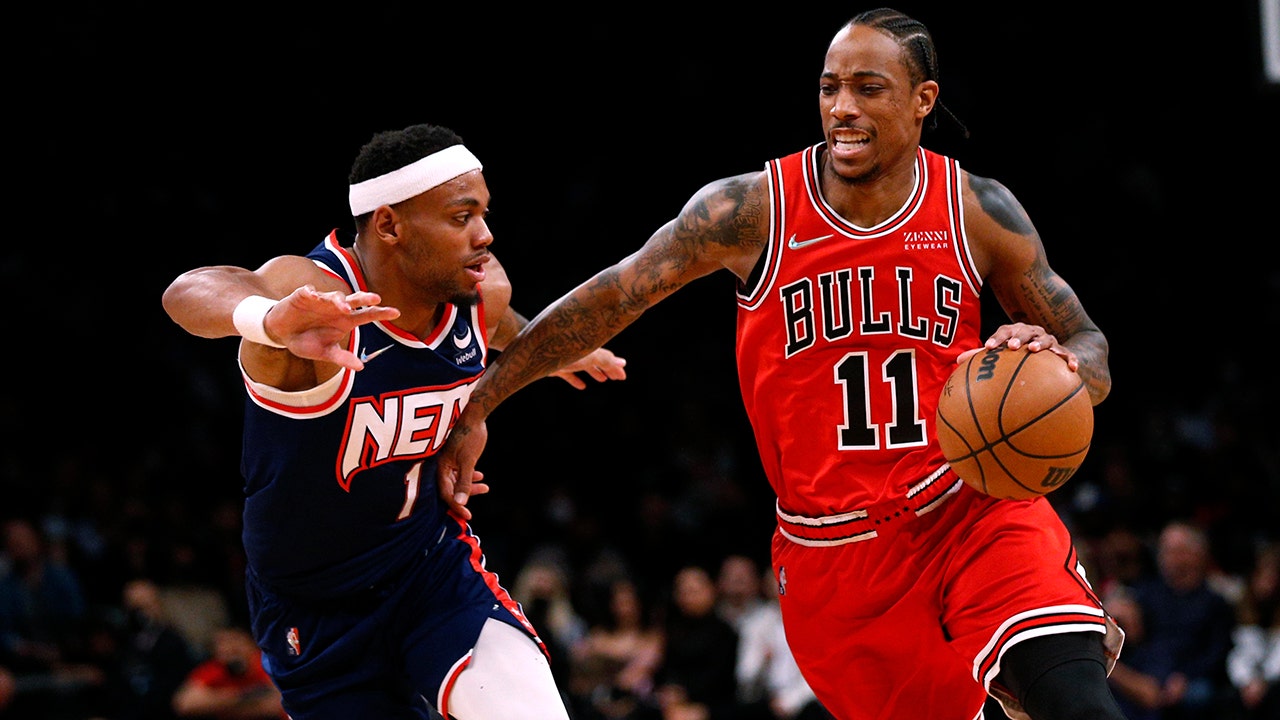 LaVine, DeRozan lead Bulls to 111-107 win over Nets
foxnews.com
69f6fc9395ba75f912a0f47327f36e00
LaVine, DeRozan Lead Bulls To 111-107 Win Over Nets
chicago.cbslocal.com
397d25ef37aef2fbfd71ebf3589726dd
LaVine, DeRozan lead Bulls to 111-107 win over Nets
wtop.com
a0ce532a42b6f58a084ac537dba3f617
Cyclone fans can spend the holidays in Orlando, where Iowa State will face Clemson in the Cheez-It Bowl for a 4:45 p.m. kick on Dec. 29. While down this year, Clemson offers Matt Campbell's Iowa State program another opportunity to claim a bowl victory over a brand name program. Dabo Swinney's Tigers finished 9-3 this season. The bowl game presents Iowa State an opportunity to send a historic senior class off with one final game while also getting further experience for a group of youngsters that will work to fill their spots in 2022. For many Cyclone fans, travel plans start as soon as the bowl game is announced. Here's some travel information to help you get there: Camping World Stadium features several premium options including luxury suites, midfield loge boxes, indoor club seating and on-field bunker suites if you want to make the most of your experience. If you're planning to travel with friends or family, group tickets are available at a discounted price, according to the Cheez-It Bowl website. ADA tickets are also available to purchase on the Cheez-It Bowl website. The Cheez-It Bowl Pep Rally will be from 4 to 5:30 p.m. on Dec. 28 at Pointe Orlando. The band and cheerleaders from both teams will perform and the head coaches will make a special appearance to fire up the crowd before game day. Cheez-It Bowl FanFest will be from 1:45 to 5:45 p.m. on Dec. 29 at Tinker Field next to Camping World Stadium. It features interactive games, inflatables and face painting. Admission is free and local vendors will sell a wide selection of food and beverages. Cyclone fans who drive to Orlando will be faced with a grueling 19-hour drive from Ames. For those who opt to fly, a round trip flight between Dec. 27, 2021, and Jan. 3, 2022, from Des Moines to Orlando starts at $650, although you might save money by flying from Minneapolis or Chicago. A round trip flight from Minneapolis to Orlando between Dec. 27, 2021, to Jan. 3, 2022, starts at $500. Chicago flights start at $430. Camping World Stadium is an 11-minute drive from Orlando Executive Airport and a 22-minute drive from the Orlando International Airport. Prices for hotels shoot up for dates around game time. Lodging nearing Camping World Stadium ranges from $50 to $300 per night. For those looking to stay near the airport, hotels near the Orlando Executive Airport range from $195 to $350 a night. Near Orlando International Airport, prices range from $50 to $300 per night. For meat-lovers, Priceless Bar-B-Que By Ray, a food truck located at 1831 West Central Boulevard, is a five-minute walk from Camping World Stadium. It offers chicken sandwiches, wings and ribs. Meals start at $7. For those who are craving some seafood, Notcho Momma's Seafood is a 10-minute walk from the stadium and located on 18 North Dollins Ave. It offers fish baskets, shrimp or you can build your own platter. Meals start at $7. Orlando has plenty to offer Cyclone fans or Iowa fans who may head down to watch Iowa State before Iowa's Citrus Bowl appearance. Orlando is home to Walt Disney World and its four theme parks, the Magic Kingdom, EPCOT, Disney's Hollywood Studios and Disney's Animal Kingdom. Iowans seeking a respite from the winter weather could cool off at Disney's Blizzard Beach Water Park or Disney's Typhoon Lagoon Water Park. Movie fans can head to Universal Studios' Parks and Resorts where they can go to the Wizarding World of Harry Potter, fly with E.T. to his home planet on E.T. Adventure or crash through Krustyland on "The Simpsons Ride." Midwest fans seeking an underwater adventure can head to SeaWorld and watch playful groups of bottlenose dolphins, explore an Empire Penguin habitat or pet stingrays in a stingray lagoon. Thrill-seekers can "soar like a ray" at 55 mph a few feet water on the Manta coaster or ride the Mako "hyper coaster" with nine zero-g sections and speeds up to 73 mph. Football fans who want turn want to take in some NBA action could catch the defending NBA Finals Champion Milwaukee Bucks take on the Orlando Magic at 7 p.m. Dec. 28 and Dec. 30. Their home, the Amway Center, is just a mile east of Camping World Stadium. Fans who want to stay away from theme parks and other sports can find plenty of things to do in Orlando's downtown. The Thornton Park District offers an array of shops and shops on a cobblestone street. Lake Eola Park in Orlando's downtown could be a perfect place for a peaceful stroll before the game. CityArts Factory and the Orange County Regional History Center could be two more artsy stops on a sports-heavy trip.

5 things to know about Kentucky football, Iowa's opponent in the Citrus Bowl
eu.hawkcentral.com
52caaf85710bdf6873038462baa8c4bb
Utah heads to Rose Bowl for first time to face Ohio State
wtop.com
b09bfd422f74d2dc7797bcf15dfcd39f
Iowa football heading to Citrus Bowl for Hawkeyes' first trip to Orlando since 2005
eu.hawkcentral.com
bd193ec433cd5922d6e559abb939eb03
Bowl projections: What's the latest outlook for Iowa, Iowa State?
eu.desmoinesregister.com
0a77e037e6887a2f4fc8454404005377
Iowa State football draws Clemson in the Cheez-It Bowl
eu.desmoinesregister.com
816632af5fe59772244b6ac85734a8e8
Peterson: Matt Campbell and Iowa State against Clemson is a very intriguing bowl matchup
eu.desmoinesregister.com
618d0fdf2b6e1ea1c00ed94c10cd95a0
Our N.F.L. playoffs calculator has an up-to-date look at the latest playoff picture. Time is a flat circle, but we want to help you break it. To that end, we've enlisted two experts — one familiar with the ins and outs of New York's professional football teams, the other a nationally focused football analyst — to answer an essential question as a weekly service to readers: Are the Jets and the Giants good yet? Devin Gordon, the author of "So Many Ways to Lose: The Amazin' True Story of the New York Mets, the Best Worst Team in Sports," observed the teams from a locally focused perspective. Diante Lee, an N.F.L. analyst at Pro Football Focus, offered a national view. Jets Zach Wilson connected on 23 of his 38 passes for 226 yards, two touchdowns and an interception, but the Jets (3-9) were stuffed in the second half as Gardner Minshew led the Philadelphia Eagles (6-7) to a 33-18 win. In the 1993 meeting between these teams, Eagles quarterback Randall Cunningham broke his leg after the Jets had stormed out to a 21-0 lead in the second quarter. He was replaced by career backup Bubby Brister, who led Philadelphia all the way back to within two points, 30-28. Then with the Jets looking to seal the win late in the fourth quarter, Boomer Esiason, threw a 94-yard pick-six to instead ice it for the Eagles. Before Sunday, that was the closest the Jets had ever come to beating the Eagles. In their 61-year history, the Jets had been 0-11 against Philadelphia, lending this otherwise meaningless game something akin to stakes. Would the Jets extend their 0-for-forever streak against this not-all-that-distinguished franchise? Or would the rookie quarterback Zach Wilson show the city of Philadelphia that nobody beats the Jets 12 times in a row? For one half, at least, Wilson looked ready to make his mark on Jets history. He spearheaded three straight touchdown drives to open the game, including his first career touchdown connection — a 3-yard toss — with the rookie receiver Elijah Moore. Those three scores, though, netted the Jets a sublimely Jets-y 18 points, after two missed point-after attempts and a flubbed 2-point conversion. By halftime, the Jets trailed the Eagles by 3 thanks to their N. F. L. -worst defense, which allowed another Eagles backup, Gardner Minshew, to score on all four of Philadelphia's first-half drives (three touchdown drives and a field goal put the Eagles up, 24-18). Jets Coach Robert Saleh arrived from San Francisco with a reputation as a defensive wizard, but his first Jets defense is surrendering more than 30 points a game — three more than the N. F. L. 's next-worst defense, the 31st-ranked Atlanta Falcons. This time the unit allowed 33. Wilson and Moore, the first Jets player worth nabbing in fantasy football since receiver Brandon Marshall in 2015 during peak Fitzmagic, can't score from the sideline. In the decisive third quarter, the Eagles' offense held the ball for all but 70 seconds. The streak has reached a dozen. Verdict: Zach Wilson + Elijah Moore + a trash Jets defense = fun shootouts the rest of the way! I have now been a Jets fan for [ checks watch] three weeks, having semiretired my Eagles fandom, and today I'd like to pen a thank-you note to Gang Green for its tireless work to maintain its identity. Philadelphia is familiar with winning at MetLife against hapless organizations, and Sunday's game got appropriately weird, as the Eagles went on to a 33-18 victory. What game involving either of these franchises doesn't? The Jets found offense early, with such efficiency that gave the impression that Zach Wilson had finally solved the team's problems with its aerial attack. Of course, after its third touchdown drive of the game, the Jets' offense never again entered the red zone. At least the offensive coordinator, Mike LaFleur, is figuring out his opening script. There are several points of frustration on the Jets' defense, with the inability to stop the run at or near the top of the list. Philadelphia has vastly improved its rushing attack over the last six weeks, but most of that involved using quarterback Jalen Hurts as a threat in the read-option. On Sunday, Hurts sat with an ankle injury and the Eagles still managed to gain 185 rushing yards — the surest indication of the Jets' lack of talent up front. The holes on this defense don't end with the front seven, either. Eagles tight end Dallas Goedert likely hadn't felt this unguardable since high school. He had 105 yards on six catches, with two receiving touchdowns, by either gliding uncovered up the seams, or skying over defenders. Gardner Minshew probably earned himself another contract in the N.F.L. off this performance, and he can join me in giving his thanks to the Jets for their consistency. Verdict: This is as watchable as they'll be this year! Giants The Giants' (4-8) offense was able to convert only three field goals and the Miami Dolphins (6-7) won easily at home, 20-9, to claim their fifth consecutive victory. After last week's snoozy win over the Eagles — arguably the dullest nail-biter of the season — the Giants topped themselves with an even more stultifying game against the Dolphins on the road, losing, 20-9. The offense's two-game total since firing offensive coordinator Jason Garrett: one touchdown and five field goals (albeit without starting quarterback Daniel Jones on Sunday). Backup Mike Glennon got the start, which meant Giants fans had plenty of quiet time to contemplate all of the many existential questions facing this franchise. With their team mustering only nine points against the middling Dolphins, Giants General Manager Dave Gettleman and his handpicked head coach, Joe Judge, are likely to survive only through the season's end, so that's two existential answers right there. Whoever fills those jobs will immediately confront existential question No. 3: whether to extend the contract of Daniel Jones or draft another quarterback this spring — or both. Existential question No. 4 (probably the toughest of all): What of Saquon Barkley? He had just nine total yards in the first half against Miami and finished with 55 rushing yards on 11 carries. He hasn't scored a touchdown in two months. He hasn't looked like Saquon in two years. Verdict: Don't forget to put "head coach" and "general manager" on your holiday wish list! The Dolphins and Giants played tug of war over who'd inspire the least amount of confidence in the event of a win, before Miami pulled away and brought a merciful end to Sunday's 20-9 puntfest. Football games are played on an infinitely microscopic level, with most of the 22 participants on a given play never touching the ball, but fighting crucial battles that determine whether it will advance or not. So much of the balletic play-by-play context gets lost if only evaluating the final score. Sunday's box score, though, paints a very clear picture of what happened in Miami. Mike Glennon, filling in for a banged up Daniel Jones, averaged just 4.3 yards for his 44 passing attempts. Somehow, his decision-making still felt more ambitious than the run-pass option-heavy approach of his Dolphins counterpart, Tua Tagovailoa. Between these two offenses, I think I've had my fill of slant routes and screens for the remainder of 2021. The best news for the Giants was that new Freddie Kitchens, Jason Garrett's replacement at offensive coordinator, seemed committed to getting tight end Evan Engram involved downfield. In each of the last two games, he was targeted at least five times and averaged over 12 yards per reception, leading a team that has had instability at the receiver position all year. Up next, the Giants hit the road to face the Los Angeles Chargers, a sure playoff team that's been as bad at stopping the rush as the Giants have been at running the ball. If Jones returns, there may be some passing fun ahead. Verdict: No Daniel Jones, no chance.

Dolphins swarm Giants for fifth straight win
ocregister.com
bb600d846fb64dd922457085403ac091
Dolphins swarm Giants for fifth straight win
bostonherald.com
4ee027372807870af44fca48503b1e98
The Top 25 teams in The Associated Press college football poll, with first-place votes in parentheses, final records, total points based on 25 points for a first-place vote through one point for a 25th-place vote, and previous ranking: Others receiving votes: Utah St. 109, Wisconsin 66, San Diego St. 63, Minnesota 38, Purdue 36, Appalachian St. 9, Army 7, Mississippi St. 4, Penn St. 4, Northern Illinois. kill FBCT25 Copyright © 2021 The Associated Press. All rights reserved. This material may not be published, broadcast, written or redistributed.

AP Top Stories December 5 P
usatoday.com
0abcd6f141152641b2f23ac5bbdd9d76
The AP Top 25
wtop.com
049a45ad839411b4f8afb7c439a2aeb9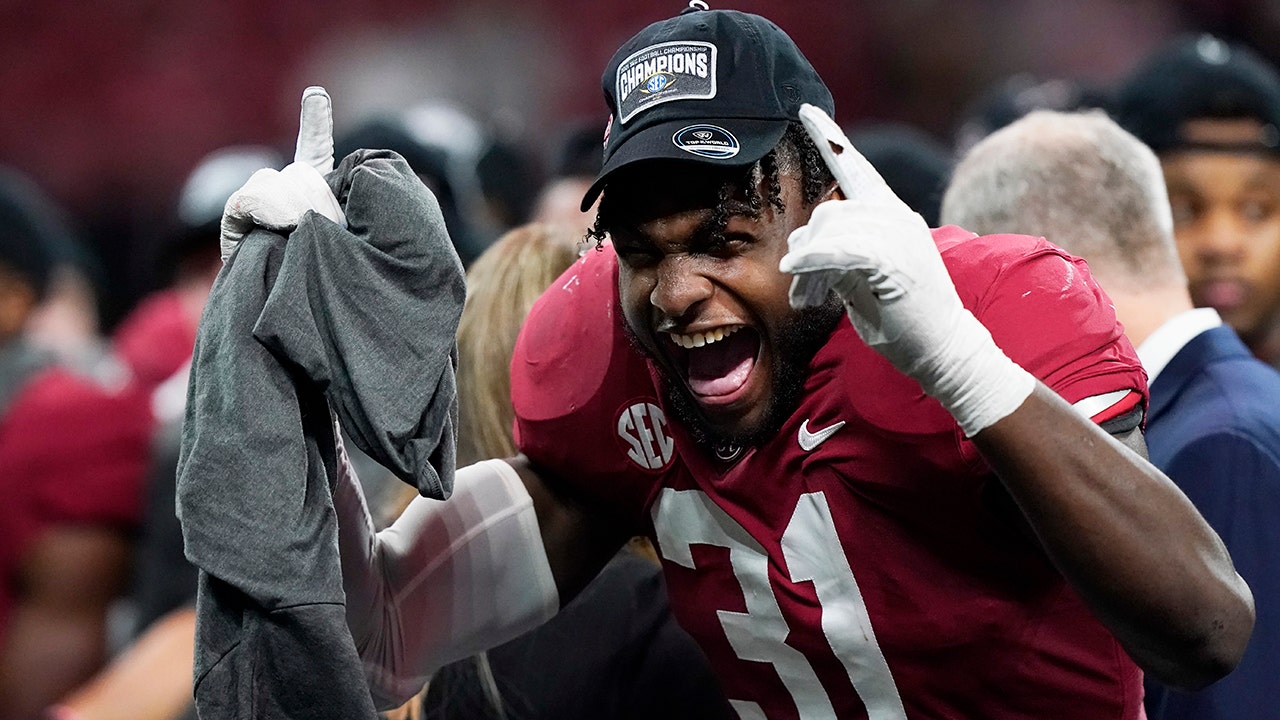 AP Top 25: Alabama reclaims No. 1; Georgia slips to No. 3
foxnews.com
1b5f6b9daf68f683dce58f9a2f701200
AP Top 25: Alabama reclaims No. 1; Georgia slips to No. 3
wtop.com
d1f2099c54be29344d410a82e99b4d58
Top 25 College Basketball Schedule
wtop.com
e96a01e61f19e4b43f15a13073fd1749
Top 25 College Basketball Schedule
wtop.com
2ada292598fd3309d997d03450598cd4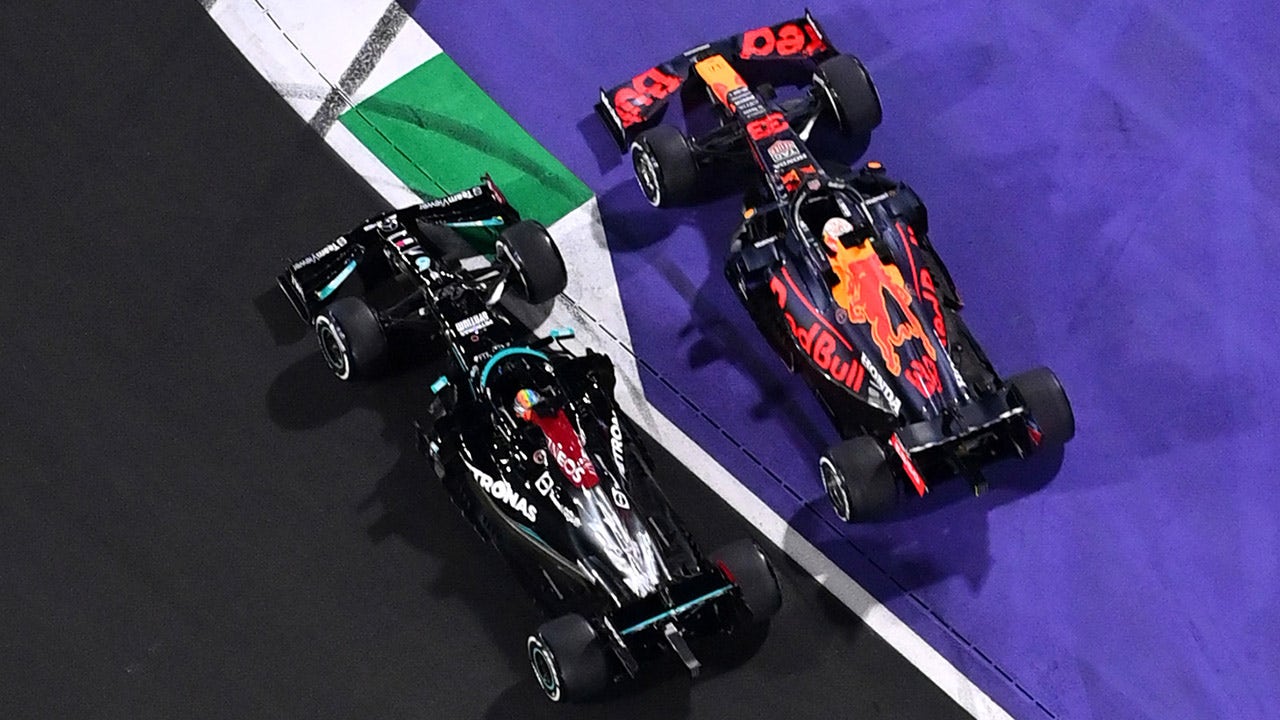 The increasingly tense Formula One title fight between defending champion Lewis Hamilton and his formidable challenger, Max Verstappen, will head to the last race of the season with the fierce rivals level on points. Next weekend's Abu Dhabi showdown will see Hamilton crowned for a record eighth time — or Verstappen win his first title. Hamilton's nail-biting win at the Saudi Arabian Grand Prix on Sunday was his third straight to pull him level with Verstappen on 369.5 points. The British veteran is within touching distance of title No. 8 to move one ahead of Michael Schumacher and stand alone among F1 greats. Verstappen still leads by a hair's breadth, only because he has more wins: 9-8. "Of course it's exciting", said Verstappen, who won last year in Abu Dhabi. "We're starting again like we started the season." Hamilton's win in the heat and humidity of Jeddah saw him pass Verstappen with six laps remaining of a chaotic race, as the pair tangled again this season following high-octane crashes at the British GP and the Italian GP. "It was clear that others around were willing to take it to all sorts of levels to overtake", Hamilton said after the race, with Verstappen sat right next to him. "We've seen multiple incidents this year." Hamilton is in no mood to back down with the finish in sight, but Verstappen has drawn out the street fighter in him. The race on the street circuit under the lights on the 30-kilometer (18.6-mile) coastal resort area in Jeddah will go down as one of the more memorable events of the season — if not the last several years. It saw three standing starts, a pair of restarts, multiple safety cars, and an intense back-and-forth between the title contenders including a minor late collision. Red Bull was allowed to negotiate a penalty for Verstappen, Mercedes head Toto Wolff slammed his headset in rage, and Hamilton drove into the back of his title rival before ultimately passing Verstappen for the win. Verstappen was dejected and incredulous after finishing second. "What happened today is unbelievable", he said. "I'm just trying to race. This sport is more about penalties than racing. So for me this is not Formula One but at least the fans enjoyed it." Verstappen is exasperated at some decisions that stewards have made this season "Not just this race (but) in general, lately, (it's) the trend in F1", said Verstappen, whose father Jos was Schumacher's teammate. "That's not how I grew up watching Formula One." Hamilton needed a few moments to recover after one of the most draining of his record-extending 103 career wins in the heat and humidity of the Middle East. He sat on a chair next to his physical trainer, with his face buried into a towel as he waited for the podium ceremony. "That was incredibly tough", said Hamilton, who will be 37 next season. "I tried to be as sensible and as tough as I could be." Verstappen was penalized for going off course on the second restart, was later told to yield position to Hamilton, but Hamilton ran into the back of his Red Bull to damage the front wing on his Mercedes. The two differed on what happened, and Verstappen was summoned before the stewards post-race. "I didn't understand why all of a sudden he hit the brakes quite heavily then I moved into the back of him", said Hamilton, who wasn't told by Mercedes that Verstappen was going to let him by for the lead. "All of a sudden (Verstappen) slowed at a really rapid pace. I feel really grateful that I didn't take us both out." During the race Hamilton used an expletive in describing Verstappen as "crazy" and called his driving "dangerous." "I definitely felt there were scenarios where that was the case", Hamilton said after. "It's not the first time I've had to avoid collision." Verstappen insisted it was Hamilton's fault. "I slowed down, I wanted to let him by", he said. "He didn't want to overtake and then we touched." Wolff has overseen seven straight drivers' and constructors' championships and is closing in on No. 8. Valtteri Bottas pushed Mercedes closer by finishing third on the home stretch ahead of Esteban Ocon of Alpine was fourth. Sebastian Vettel and Sergio Perez were among five who failed to finish because of the messy restarts and the blind turns on the second-longest circuit on the calendar. It spans 6.2 kilometers (3.8 miles) with 27 corners and was only completed days ahead of the F1 debut in the country. Once he passed Verstappen, Hamilton controlled the finish and stayed competitive in his post-race news conference. When asked about rules for going too wide off track, Hamilton said "all the drivers understand it except one of us here", clearly aiming that comment at Verstappen. The Dutchman bit back. "I find it interesting that I'm the one who gets a penalty when both of us run outside the white line", Verstappen said. "We're talking more about white lines and penalties than Formula One racing and that's a bit of a shame." Next Sunday night, the time for talking will be over and one of them will be celebrating.

2021 Saudi Arabian Grand Prix Free Practice 1 Report - F1 Racecast - Dec 03 to Dec 05
espn.com
1f3f145f1fc3ebf36d48b799d146e3ba
Hamilton wins 3rd straight in chaotic Saudi Arabian F1 race
wtop.com
68013c76993070944544d40d3ad3f783
That was ugly. Michigan defeated Iowa 42-3 in Saturday's Big Ten championship game. The Hawkeyes were looking to pull of an upset of the College Football Playoff-bound Wolverines but left Indianapolis with one of the worst losses (point differential) in the Kirk Ferentz era. Iowa is a 10-win team but Saturday's result takes some juice out of what's been a successful season to date. And this loss will simmer for longer than any other this year. Iowa's next game likely won't come until Jan. 1. So let's get to the Iowa football postgame mailbag, championship weekend edition: MORE: Leistikow: Time for Kirk Feretz to make tough decisions about his offense Crazy but true: Michigan led 14-3 at halftime without taking a single offensive snap in Iowa territory. How's that possible? Michigan exploited one area of the game that Iowa defensive coordinator Phil Parker emphasizes more than anything: big plays. Michigan recorded three 25-plus yard plays in the first quarter alone, and two of them went for touchdowns. The Hawkeyes settled down for the remainder of the half but the damage had been done. "It just comes down to fundamentals and details", linebacker Seth Benson said. "We didn't execute on those two plays." Iowa surrendered their longest rush (67 yards) and pass (75 yards) on two consecutive possessions. The most notable play was Michigan's Donovan Edwards' 75-yard trick-play touchdown pass to extend the lead to 14-0. Those type of plays aren't easy to defend. Michigan banked on Iowa selling out to stop a running back sweep and Edwards pulled back at the last second for a surprise pass. MORE: Iowa vs. Michigan report card: Hawkeyes overwhelmed in all areas Iowa is a team that prides itself on complimentary football. The defense's blunders early disrupted the team's rhythm from the start and playing catchup against a power like Michigan is not the ideal scenario. And it also marks yet another week where opposing teams have found early success against Iowa's defense. Fans probably won't like this answer but the strategy was living to fight another day. The score doesn't indicate it but for large stretches of the game Iowa dominated field position and played solid defense. In those situations — second-and-20, third-and-18, etc. — the Hawkeyes opted to play conservative football. Punt it, hopefully pin Michigan and set up another favorable scoring opportunity. That type of conservative play in a championship game is frustrating but Ferentz noted after the game a recent example in which not playing that way hurt them. Down 10 points in the fourth quarter against Wisconsin, the Hawkeyes found themselves in similar situations and opted for the non-conservative route. The result: a strip sack followed by an interception that broke the game open for the Badgers. Ferentz admitted there's some "scar tissue" from that moment and wanted to avoid the game getting out of hand quickly if Michigan were to wreak havoc. Second-and-long runs were designed to set up third-and-mediums; the third-and-long runs were meant to avoid an untimely turnover. Perhaps the most frustrating part for fans is that, in the end, the game got out of hand anyway. Most of the attention will focus on the offensive line, quarterback play or play-calling but I want to turn the attention to one specific area and one ugly stat: touchdown conversion rate in the end zone. Iowa's offense is one of the nation's worst in raw stat output but held the "opportunistic" label early in the season. But, through 13 games, it's one of the worst teams in terms of cashing in on opportunities deep in opponent territory. Iowa ranks 126 out of 130 teams in red zone touchdown rate at 43.9%. The four teams below them, Colorado State, UConn, New Mexico and Arizona, have a combined eight wins this season. Against Michigan, three red zone trips netted only 3 points. In those possessions, the Hawkeyes managed only 10 total yards on seven plays. Looking in totality, the numbers are even more grim: Iowa's averaging 297.5 yards per game, the lowest of the Ferentz era. With Saturday's loss, they've scored just two offensive touchdowns in their past three games. Even more staggering is that they've only scored nine offensive touchdowns since the Penn State game. There's not one component holding the rest back. The entire unit is searching for answers. An offensive collapse like Saturday's sets up fascinating scenarios for the bowl game upcoming: Who will start at quarterback? Will anyone new on this unit emerge? Will Iowa start overhauling its philosophy with the extra prep time? I don't expect any major offensive changes until after the bowl game, if any at all. I think it's possible to see different personnel variations, perhaps new wrinkles that the Hawkeyes haven't put on film this year. What's for sure is coaches, players and fans don't want the last offensive showing before the offseason to mirror anything like the one in Indianapolis. Kennington Lloyd Smith III covers Iowa Hawkeyes football and men's basketball for the Des Moines Register. You can connect with Kennington on Twitter @SkinnyKenny_ or email him at ksmith@gannett.com.

Week 14 winners and losers: SEC, Michigan, Baylor come out on top; Oklahoma State suffers heartbreak
usatoday.com
d912a559d15b555b53fc4bbf7ef80701
Alex Padilla in for Iowa football against Michigan in the Big Ten Championship game
eu.hawkcentral.com
54cee7065dca34c915183e6ec7ac141e
Postgame Podcast: Michigan 42, Iowa 3
eu.hawkcentral.com
31ae810ac4f2a11ff0f0c199159ac083
Northwood had just lost in the CIF Southern California Regional Division 5-A game when Northwood coach JC Clarke decided to look on the bright side. "I'm glad I don't have to take an eight-hour trip to Northern California," Clarke said. Plans for such a trip ended Saturday with the Timberwolves' 14-7 loss to Righetti in the 5-A game at Irvine High. Righetti (6-8) plays at Division 5-A Northern California Regional winner Sacred Heart Prep of Atherton (7-7) on Saturday, Dec. 11 at 6 p.m. Sacred Heart defeated University Prep 20-0 on Saturday afternoon. Northwood finished with a 10-5 record. The Timberwolves won the school's first CIF football championship last week with a 37-14 win over Long Beach Jordan in the Division 11 championship game. Saturday's game, and the CIF-SS championship, were all bonuses in Clarke's mind. His goal was for Northwood to win the Pacific Valley League championship, which the Timberwolves did with a 3-0 league record. "I never thought about three or four more games and winning a CIF championship," Clarke said. Northwood had a late chance to extend its season for one more week. The Timberwolves in the final two minutes drove to the Righetti 25-yard line. An end-zone interception by the Warriors' Elroy Perez ended the opportunity. Righetti had a 7-0 lead at halftime. The Warriors increased the lead to 14-0 with 3:36 left in the fourth quarter on an 18-yard reverse run by Bradley Spence. Northwood made it 14-7 on a 1-yard touchdown run by junior quarterback Eugene Miyata with 2:05 remaining. The score was set up by a 38-yard option pass from junior receiver Andrew Penrod to junior receiver Ryan Kesler. Righetti's first offensive play after that was a fumbled handoff exchange. Daniel Kamel quickly jumped on the ball to give Northwood possession at the Righetti 42 with 1:55 to go. The Timberwolves, with the help of a Warriors personal foul penalty, advanced to the Righetti 25 where the chance was stopped by Perez's interception in the end zone. Northwood's top offensive player, junior running back Adam Harper, who rushed for 214 and two touchdowns on 34 carries in the Division 11 final last week, was limited to 57 yards on 22 carries. Harper, who also plays safety on defense, was injured on Righetti's first touchdown, a 39-yard run by Elias Martinez during which Harper was blind-sided by a block. He arose slowly, limped off the field and limped again after his next carry, a 1-yard run. Clarke said Harper's production was off because of the Warriors' excellent defense, not because of an injury. "We couldn't block them," Clarke said. "They're fast and they're all in the right places at the right time. Everybody knows their job." Righetti took a 7-0 lead on the first play of the second quarter. Martinez took an end-around handoff before cutting 90 degrees to exploit a wide opening in the middle for a 39-yard touchdown run.

Alex Padilla in for Iowa football against Michigan in the Big Ten Championship game
eu.hawkcentral.com
54cee7065dca34c915183e6ec7ac141e
The college football regular season is over, the dust has settled and the bowl matchups are decided, headlined by a four-team playoff including No. 1 Alabama, No. 2 Michigan, No. 3 Georgia and No. 4 Cincinnati. For fans in D.C., Maryland and Virginia, here's a list of matchups with teams close to home:

College Football Bowl Game live updates: Who will play in the 2022 Rose Bowl?
ocregister.com
60906b6d542cdaf22105fa6b86910ef4
College Football Playoff: Alabama-Cincinnati in Cotton Bowl, Michigan-Georgia in Orange Bowl on New Year's Eve
ocregister.com
536709df0b3326af08a620ab132ff7b1
Old Dominion (6-6, Conference USA) vs. Tulsa (6-6, American Athletic Conference), Dec. 20, 2:30 p.m. ET LOCATION: Conway, South Carolina TOP PLAYERS Old Dominion: TE Zack Kuntz, 71 catches for 694 yards, five touchdowns. Tulsa: QB Davis Brin, 2,984 yards passing, 16 touchdowns. NOTABLE Old Dominion: The Monarchs advanced to a bowl for the second time in history by winning their last five games. It's their first time in the postseason since the 2016 Bahamas Bowl. Tulsa: The Golden Hurricane won their final three games of the season to reach a bowl. They've averaged 436 yards a game, second behind undefeated Cincinnati in the AAC. LAST TIME The teams have never played before. BOWL HISTORY Old Dominion: First appearance in the Myrtle Beach Bowl, second time reaching the FBS postseason. Tulsa: First appearance in the Myrtle Beach Bowl, 23rd bowl appearance in school history. ___ More AP college football: https: //apnews. com/hub/college-football and https://twitter.com/ap_top25 Copyright © 2021 The Associated Press. All rights reserved. This material may not be published, broadcast, written or redistributed.

College Football Playoff: Alabama-Cincinnati in Cotton Bowl, Michigan-Georgia in Orange Bowl on New Year's Eve
ocregister.com
536709df0b3326af08a620ab132ff7b1
Leftovers were on the menu for moviegoers in North America this weekend. "Encanto," "Ghostbusters: Afterlife" and "House of Gucci" repeated in the top three spots, according to studio estimates on Sunday. All three films are playing exclusively in theaters. The weekend after Thanksgiving is usually pretty quiet at the box office and this year was no exception considering new offerings like "Flee" and "Benedetta" were playing only in limited release. Disney's "Encanto," an animated tale with original music from Lin-Manuel Miranda, earned $12.7 million to take the top spot, down 53 percent from its opening last weekend. Globally, it's earned $116.1 million to date. "Ghostbusters: Afterlife" took second place in its third weekend with $10.4 million, pushing it just past the $100 million threshold. And Ridley Scott's ripped from the headlines "House of Gucci," starring Lady Gaga and Adam Driver, came in third place in its second weekend with $6.8 million from 3,477 locations, bringing its domestic total to $33.6 million. In other notable showings, Warner Bros.' brought "Dune" back to IMAX screens this weekend. The premium screens accounted for over half of its $1.8 million domestic earnings. Neon's animated documentary "Flee" also opened on four screens, earning $25,033. The film is about a man who fled Afghanistan as a child in the 1980s. Things should pick up next week as Steven Spielberg's take on "West Side Story" dances into theaters nationwide. Success. Please wait for the page to reload. If the page does not reload within 5 seconds, please refresh the page. Enter your email and password to access comments. Forgot Password? Don't have a Talk profile? Create one. Invalid username/password. Please check your email to confirm and complete your registration. Create a commenting profile by providing an email address, password and display name. You will receive an email to complete the registration. Please note the display name will appear on screen when you participate. Already registered? Log in to join the discussion. Only subscribers are eligible to post comments. Please subscribe or login to participate in the conversation. Here's why. Use the form below to reset your password. When you've submitted your account email, we will send an email with a reset code. Send questions/comments to the editors. « Previous Next»

Box Office: 'Encanto' And 'Ghostbusters' Tops Hollywood's Deadest Weekend
forbes.com
f42d4969e7b4b3f3e9310c41a4cff6ee
PORTLAND, Ore. — It wasn't his most notable scoring outburst, but Dennis Schröder put together arguably his best game as a Celtic on Saturday. There were the typical bursts of speed and shotmaking from the guard, who filled in for the injured Jaylen Brown in the starting lineup. He had eight assists and even chipped four rebounds. But there was another important stat: One turnover. So, yes, those 31 points were great, but so were the other supporting details. It was the second-straight game the Celtics were sparkling on offense. They poured it on against the hapless Trail Blazers in a 145-117 win Saturday at the Moda Center. It was a great recovery after the brutal loss against the Jazz a night earlier. "We play fast, move the ball," Schröder said. "I think when we do that, we're going to be in great shape. I think that's what we have to focus on. Not too much iso and somebody switched on me, wait for the iso." Life was also easy for Schröder, who hit 5-for-7 3-pointers. He's not known for his outside shot, but when he's on, that makes his speed that much deadlier. Defenders have gone under screens to try to coax him into shooting, but he said he's comfortable hitting that shot throughout his career. That's a pick-your-poison scenario that makes life difficult for the opposition. Schröder has proven his playmaking skills, and if he gets to the paint, his lightning speed also gives him an advantage. "He's a guy that can get to the basket pretty much on anybody, teams are going under on him, so he made five 3s tonight," Celtics Coach Ime Udoka said of Schröder. "We constantly stressed to everybody: Isolation is not always for yourself, it's for your teammate as well — especially if you can penetrate and create and so he did that tonight." Schröder's scoring opens up other elements of the offense and should make life easier for Jayson Tatum and, when he returns, Brown. Saturday was just another testament to the value Schröder brings to the Celtics. He's a starter in the league and Boston has the luxury to bring him off the bench when they're fully healthy. But he can also slide in and contribute when he is in the starting lineup. That's a bargain at a $5.9 million salary. And the Celtics continue to reap the benefits. "When I know people are going under, I can set my feet whenever I feel like it, that I want to shoot it, I can shoot it," Schröder said. "I just try to be aggressive, even if they go under, I can attack it sometimes, good angles, and I think we did a great job tonight." Udoka said he didn't know why his team came out like that and joked he didn't care – especially since they got the bounce-back victory. Tatum said it was his idea, just something that popped into his mind. It wasn't anything serious, he said, more just leaning into camaraderie. And it helps the Celtics are now 1-0 when every player dons a headband. "It was an idea I threw out before the game, do something as a team," Tatum said. "It don't got to be permanent or anything, but the season can be long and tough. Just do some things to have fun and kind of bring us together." That meant guys like Payton Pritchard, Aaron Nesmith, Jabari Parker, Bruno Fernando and other bench players got valuable live-game reps. That's been missing for the Celtics when they blew fourth-quarter leads this season. So Udoka said it was a nice change-of-pace for the youngsters – and the starters got plenty of rest. "Those are all opportunities for young guys who need to grow and get real live game action," Udoka said. "That's invaluable as much as you workout or practice, or play 5-on-5, it's nothing like real live game action." Success. Please wait for the page to reload. If the page does not reload within 5 seconds, please refresh the page. Enter your email and password to access comments. Forgot Password? Don't have a Talk profile? Create one. Invalid username/password. Please check your email to confirm and complete your registration. Create a commenting profile by providing an email address, password and display name. You will receive an email to complete the registration. Please note the display name will appear on screen when you participate. Already registered? Log in to join the discussion. Only subscribers are eligible to post comments. Please subscribe or login to participate in the conversation. Here's why. Use the form below to reset your password. When you've submitted your account email, we will send an email with a reset code. Send questions/comments to the editors. « Previous

Celtics explode with 145-117 win over Portland
bostonherald.com
9250453dfacea7cc0796e0897c431b79
The Ralf Rangnick era got off to a winning start as Fred fired Manchester United to a hard-fought victory against Crystal Palace. H aving watched Thursday's 3-2 triumph against Arsenal from the stands, the 63-year-old interim manager was on the Old Trafford touchline for the first time when Patrick Vieira's men came to town. Rangnick's reign – and first match as a manager in 925 days – began in victorious fashion on Sunday, when Fred proved the unlikely match-winner with a superb curling late effort that saw off Palace 1-0. United's third Premier League win in 10 matches also brought with it a first home clean sheet of the campaign on an afternoon when a superb start petered out, providing the German with plenty of food for thought. The hosts began with impressive intensity and energy under their new boss, with Cristiano Ronaldo having a host of chances before their performance began to drift against hard-working Palace. Alex Telles saw a free-kick skim the bar and Jordan Ayew went agonisingly close at the other end as United began to slip into familiar ways, only for Fred to produce a moment of magic to seal three points. Rangnick stood in the technical area for the majority of his first match in charge. The German kept with the side that beat Arsenal but favoured a 4-2-2-2 formation as players pressed with more regularity and effectiveness. That tweak, and the chance to impress Rangnick, saw the hosts start strongly, with Telles flashing an early shot wide before a Ronaldo cross-shot just evaded Bruno Fernandes. David De Gea held onto a Wilfried Zaha snapshot on a rare Palace voyage forwards, before Ronaldo fired a free-kick over and then saw Marc Guehi recover well to get in a block on him after being found by Fernandes. The 36-year-old star powered over a header from just inside the box and stung Vicente Guaita's palms as United continued on the front foot. James Tomkins blocked a goalbound Fred drive as sustained pressure continued. Guaita stretched to tip away a low Fernandes effort, before Palace survived some penalty box pinball and a deflected Jadon Sancho effort looped just over. But a break in play for treatment after Nathaniel Clyne's foul on Fred allowed Palace to gather their thoughts and gain more control. Ayew's hopeful curling effort skipped just wide as the Eagles frustrated a United side that had settled into old patterns towards the end of the first half. However, they had a big change in stoppage time as dogged play and good link up with Scott McTominay ended with Diogo Dalot flashing just across the face of goal. It was an encouraging first half followed by a more cumbersome second period by United. Cheikhou Kouyate saw a header blocked from a threatening set-piece from Conor Gallagher, who helped close down Marcus Rashford as the forward shaped to shoot. Mason Greenwood replaced Sancho in a bid to inject new life into a performance that had become flat and somewhat sloppy. An audacious free-kick nearly provided a 68th-minute opener. Guehi was booked for bringing down Rashford and Telles clipped the top of the crossbar from the resulting set-piece, which he hit well from an acute angle. Greenwood swiped wide and Rangnick turned to Anthony Elanga to aid a performance that was now a far cry from the start of proceedings, with Palace going agonisingly close to breaking the deadlock in the 75th minute. Tomkins headed a fine corner to the far post, where Ayew could only direct across the face of goal from an acute angle. It was a let-off punished in style two minutes later as Greenwood laid back to Fred, who curled a superb 20-yard effort beyond Guaita in front of the Stretford End. The goal was met with a mixture of relief and joy by the Old Trafford faithful, who soon sung former manager Ole Gunnar Solskjaer's name as well as that of ex-caretaker boss Michael Carrick. Harry Maguire had to be bandaged up after a clash of heads and De Gea had to tip a threatening cross behind as Rangnick started his reign with victory.

Manchester United vs. Crystal Palace - Football Match Report - December 5, 2021
espn.com
1f03d03c954a2e439aa39e1180c6ba34
Raheem Sterling believes Manchester City are built to win football matches after they eased to a 3-1 victory at Watford. B ernardo Silva scored twice in a 3-1 win that moved City to the top of the Premier League, following Sterling's opener. Watford pulled one back through Cucho Hernandez, who followed up his own shot after it rebounded off a post, to deny Pep Guardiola's side a ninth clean sheet of the season. Sterling told the City website: "(It was) good. Good game management, really disappointing to concede in the end but overall I thought we battled really well. "We had a few chances we could have taken in the first half to finish it off but a great win in the end." City made the most of Chelsea's defeat at West Ham earlier in the day with a seventh straight win in all competitions, climbing back above Liverpool who had won 1-0 at Wolves to briefly reach the summit. "That's all we can keep doing is keep winning football matches. That's what this football club is built to do, we just need to keep doing that," the City forward said. He added: "It's a winning team, a team that challenges every three days and we keep doing that, we've been doing that for many years now and we'll keep doing that." Watford goalkeeper Daniel Bachmann remained upbeat after the match, insisting that games against the likes of Manchester City will not determine the success of the Hornets' campaign. "These aren't the sorts of games that are going to define our season," the goalkeeper told his club website. "When the fixture list came out in the summer we always knew it would be tough to pick up points in this period, but we've proven we can compete with some of the league's best in our last few games, which is very positive." He added: "The right team won today, but we tried until the end. It's been a tough week for us, playing Leicester, Chelsea and Manchester City in quick succession, but the fixtures coming up are really important now."

Manchester United vs. Crystal Palace - Football Match Report - December 5, 2021
espn.com
1f03d03c954a2e439aa39e1180c6ba34
Hamilton 23, Montreal 12 Saskatchewan 33, Calgary 30, OT Hamilton 27, Toronto 19 Saskatchewan vs. Winnipeg, 4 p.m. Finals winners, 6 p.m. Copyright © 2021 The Associated Press. All rights reserved. This material may not be published, broadcast, written or redistributed.

The 2021 N.F.L. Playoff Picture, Explained
nytimes.com
c669f4a8f3b4174b3aee6c0a4e1f4e08
Ravens starting right tackle Patrick Mekari left Sunday's game versus the Pittsburgh Steelers in the third quarter and is doubtful to return with a hand injury, the team announced. Mekari limped off the field in the second quarter, favoring his ankle. He was replaced by Tyre Phillips, but then returned the next series. But Phillips took over at right tackle later in the third quarter, and the team said he is dealing with a hand injury. Mekari injured his ankle against the Cincinnati Bengals on Oct. 24 and missed nearly a month, including two games. He returned on Nov. 21 against the Bears in Chicago and played every snap last week against the Cleveland Browns.

Ravens starting RT Patrick Mekari doubtful to return vs. Steelers
bostonherald.com
cb0cb085109af4c1c6bb2445e807080d
Former Jets running back Trenton Cannon was taken off the field in an ambulance Sunday afternoon after taking a scary hit during the 49ers-Seahawks game in Seattle. Cannon, now with the 49ers, was diagnosed with a concussion and ruled out for the game, the team announced. Cannon, 27, was on special teams duty for the opening kickoff when he took a teammate's knee to the helmet while trying to make the tackle. His neck and head then got further impacted when it hit another teammate on the way down. He remained down on the field after the play and received medical attention. He was placed in a neck brace but was moving his left hand as he was stretchered into the ambulance, according to reports. Cannon was playing in his 11th game of the year for the 49ers after starting the season with the Ravens. The Jets drafted Cannon in the sixth round in 2018 before waiving him during training camp in 2020.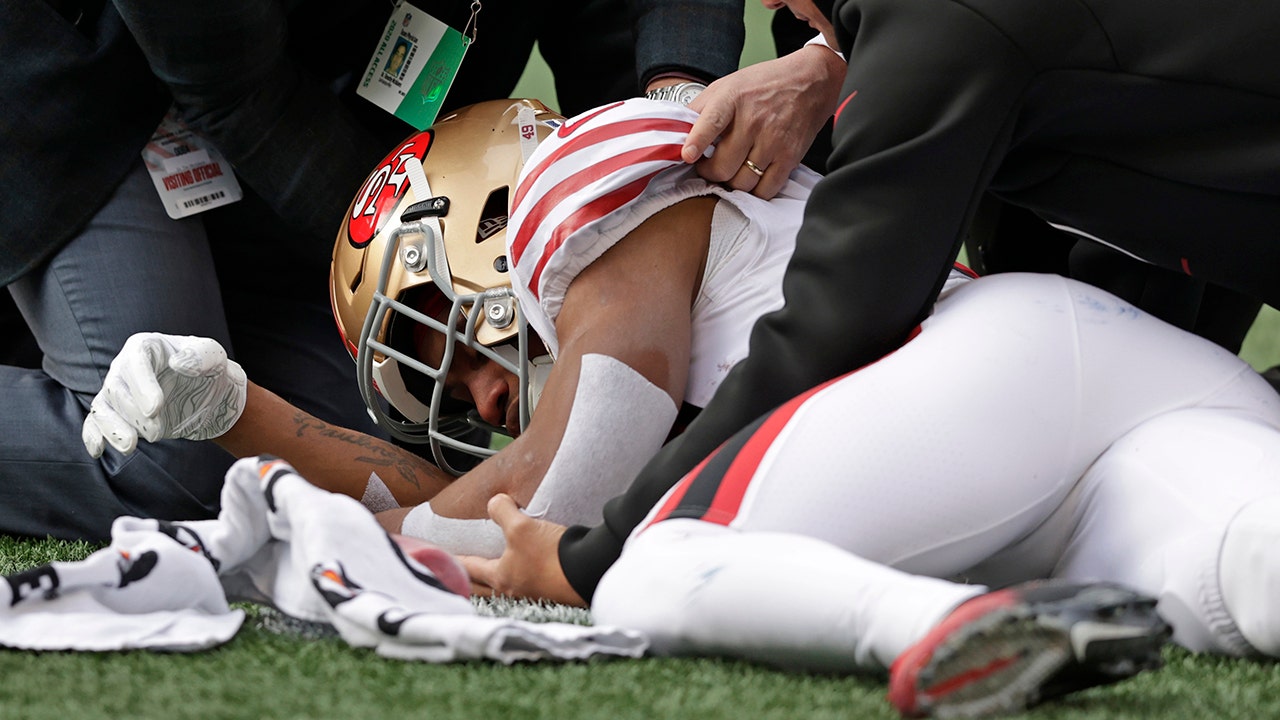 49ers' Trenton Cannon taken off the field in ambulance after injury on opening kickoff
foxnews.com
91bbc682178a17b41ba9a5cebda17915
-- Kaillie Humphries is 2-for-2 as an American. Humphries completed a perfect weekend Sunday, teaming with Kaysha Love to win a World Cup women's bobsled race. It was the 28th World Cup win of Humphries' career, coming three days after she was sworn in as a U.S. citizen and one day after she won a monobob race on the same Altenberg track. Humphries and Love finished two runs in 1 minute, 54.10 seconds. Laura Nolte and Deborah Levi of Germany were second in 1:54.14, and Canada got the bronze with Christine de Bruin and Kristen Bujnowski crossing the line in 1:54.45. "It's so exciting", Love said. "I was very excited to push for Kaillie, and I was hopeful that I could give her a chance for another podium finish. As always, you never know what's going to happen, but I wanted to go out there and do my best." It was Love's first medal in only her second World Cup start. "I'm really excited for our program that we have a young, fantastic brakeman", Humphries said. "She is super coachable and eager to learn, and I'm looking forward to seeing her continue to grow in this sport. She stepped up in this race, knowing I wouldn't be at my best, and I applaud her." Elana Meyers Taylor and Sylvia Hoffman were fifth for the U.S.

Humphries wins another World Cup women's bobsled race
wtop.com
eec5094770a1cf942f5292fd4e060384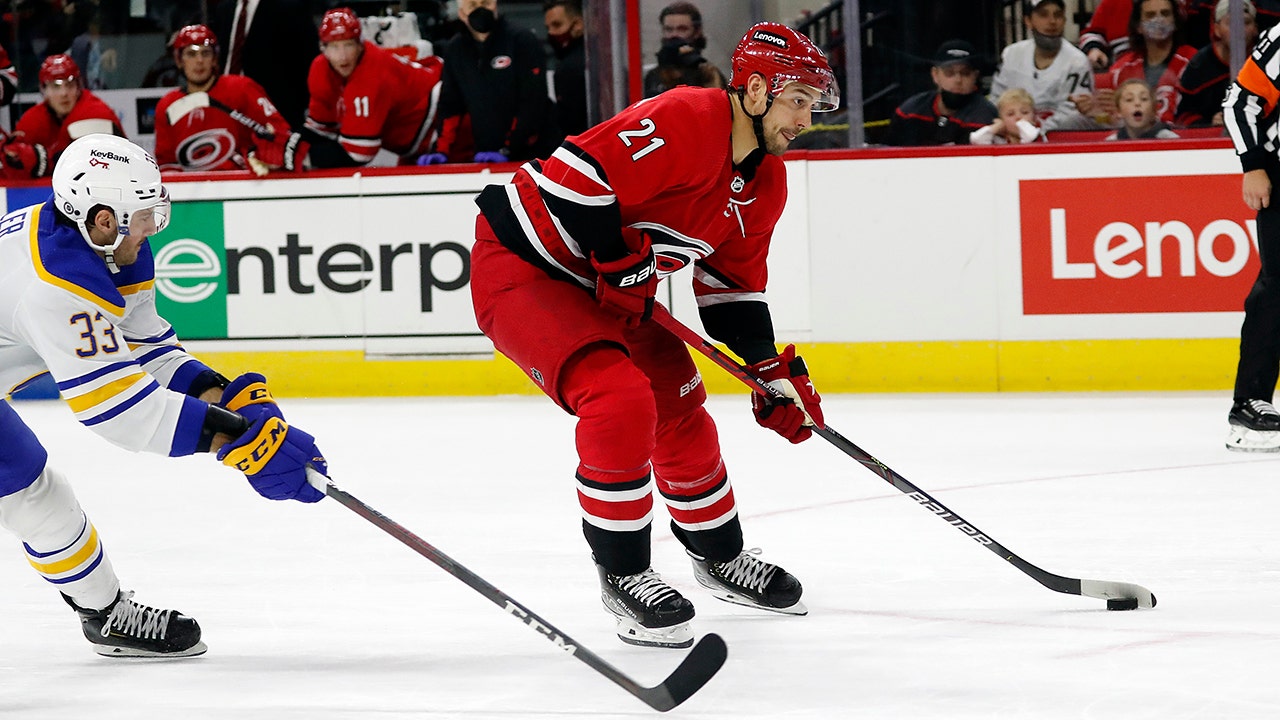 Teuvo Teravainen scored two goals and the Carolina Hurricanes rode an early burst of offense to a 6-2 win over the Buffalo Sabres on Saturday night. Martin Necas, Ian Cole, Vincent Trocheck and Nino Niederreiter also scored for the Hurricanes, who snapped a season-worst three-game losing streak for only their second win in the last seven games. "We kind of had some tough times lately so it's nice to get a night like this", Teravainen said. "It's good for our confidence", Trocheck said, who had gone eight games without a point. "We know what we're capable of." Sebastian Aho recorded three assists and Trocheck had two assists. And Hurricanes goalie Antti Raanta, playing in consecutive games for the first time this season, made 32 saves. "Pretty much scored every chance we had, it felt like", Hurricanes coach Rod Brind'Amour said. "I think we deserved it." Henri Jokiharju scored his first goal of the season and Zemgus Girgensons also had a goal for the Sabres, who've lost four in a row and eight of their last nine. They've allowed 20 goals in a three-game span. "Everyone in that locker room can do better", Sabres left winger Victor Olofsson said. Goalie Malcolm Subban, making his Sabres debut after a trade Thursday with Chicago, played his first NHL game of the season and stopped 19 shots before departing midway through the third period with an injury. "It seemed like the scoring chances they had were really good ones", Olofsson said. The Hurricanes did all their scoring in their previous three games in the third period. They entered the third period against Buffalo with a 5-2 lead, and Teravainen's second goal was a short-handed tally 69 seconds into the third period. "Hopefully this bodes well going forward that we have a little confidence that we can score some goals again", said Cole, whose goal was his first of the season. Teravainen scored just 2:16 into the game. Later in the period, Necas scored on a wrap-around. A goal was waved off initially, but through video review it was determined that the puck cross the line before it was pushed out by Subban. Buffalo got on the board with 32 seconds left in the opening period when Jokiharju was credited with a goal, though the puck went in off Carolina's Cole. "Some tough bounces there, but there's really no other alternative but to keep playing and keep going hard", Cole said. Carolina has won its last 11 meetings with the Sabres. Andrei Svechnikov, the second-leading scorer for the Hurricanes, sat out with an injury. He had a goal in two of the last four games, including Thursday night's loss to Ottawa. "A little finger issue and had to have it repaired, so he should be fine going forward", Brind'Amour said. Svechnikov missed a game for the first time this season. So did Jordan Martinook, who left the Ottawa game with an injury and didn't play Saturday. Goalie Frederik Andersen, who has been the team's top goalie, wasn't on the bench. Brind'Amour said he hasn't been feeling well. The good news for Carolina is that defenseman Ethan Bear returned after a six-game absence due to being in the COVID-19 protocol. For Buffalo, defenseman Robert Hagg was out of the lineup for the first time this season. Will Butcher played for just the second time in seven games. Subban's injury will be further assessed when the Sabres return to Buffalo, coach Don Granato said. He would have liked to have seen a better performance in front of his newcomer. "We gave up too many uncontested chances", Granato said. Sabres: Host Anaheim on Tuesday night to start a three-game homestand. Hurricanes: At Winnipeg on Tuesday night to begin a five-game trip.

Teravainen scores twice, Hurricanes sock Sabres 6-2
wralsportsfan.com
aa6a23e7b90774fe7a1b6f7567498c32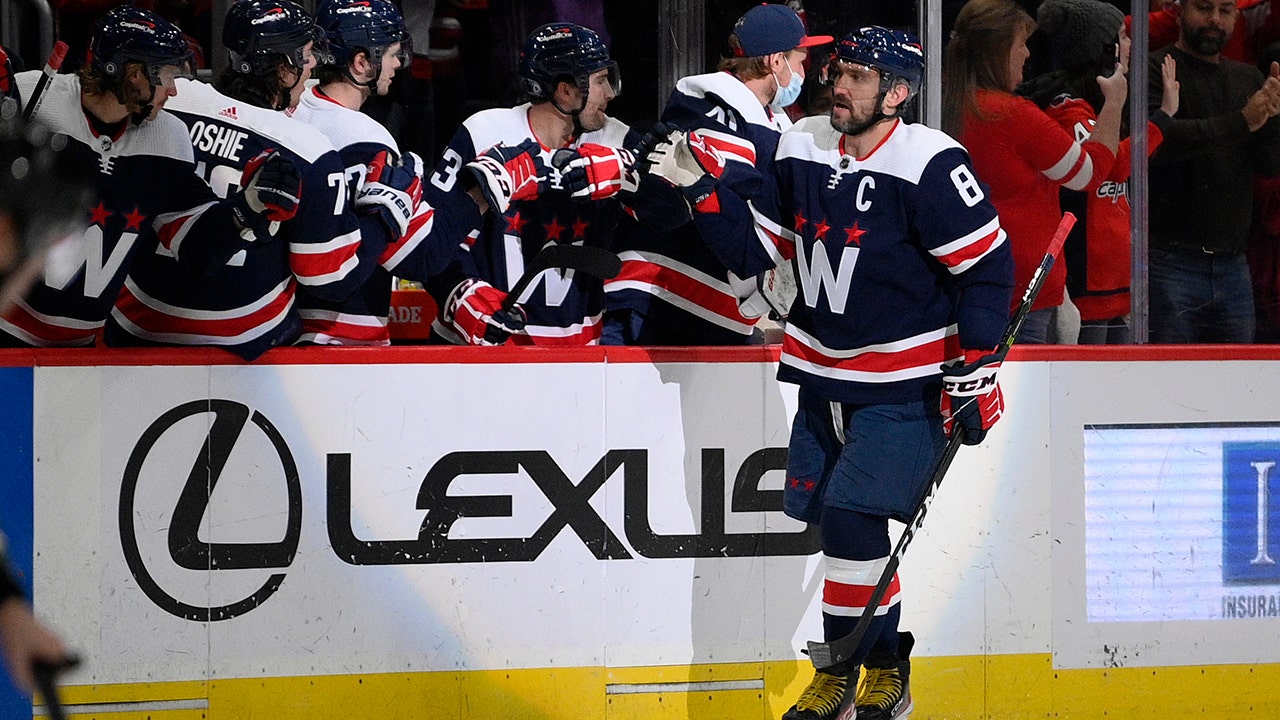 Alex Ovechkin found a new goaltender to score on for another milestone goal, though this time the name rang a bell. Ovechkin beat Daniil Tarasov for his 20th goal of the season and 750th of his NHL career to help the Washington Capitals beat the Columbus Blue Jackets 3-1 Saturday night and snap a two-game skid. "I think I play against his father back in Russia", Ovechkin said. He wasn't joking. Ovechkin went up against Vadim Tarasov during three seasons in the Russian Superleague from 2002-05 before coming to North America. His son is the 152nd goalie Ovechkin has scored against in the NHL. Daniil Tarasov remembers growing up watching Ovechkin. That was more fun than trying to stop a shot from the best goal-scorer of this generation. "It's pretty hard", Tarasov said. "I think all goalies say he has one of the hardest shots in the league." Ovechkin became the second-fastest player to reach the 750-goal mark, doing so in his 1,222nd regular-season game. Wayne Gretzky, whose record of 894 Ovechkin is chasing, got to 750 in 1,001 games. "It's a pretty cool number", Ovechkin said. "Just keep going." Ovechkin reached the 20-goal mark in his 25th game of the season. The Capitals' captain joined Marcel Dionne, Jaromir Jagr and Mats Sundin as the only players to score 20 or more goals in each of his first 17 seasons in the NHL. After ending a two-game goal drought, Ovechkin now trails Jagr by 16 goals for third on the career list. The 36-year-old Russian superstar needs one more on the power play to tie Dave Andreychuk for the most power-play goals in league history. Capitals rookie Aliaksei Protas scored his second career goal by following his own rebound in the first. Garnet Hathaway sealed it with an empty-netter with 1:27 remaining in regulation. Tarasov, playing his second game for Columbus after making his NHL debut Thursday at Dallas, gave up a lot of rebounds early before settling down. He denied Washington's Connor McMichael with a sliding right-pad stop late in the second, the most impressive of his 29 saves on 31 shots. "It's more comfortable when you have a lot of shots", Tarasov said. "It's much easier to play, so you just be focused on the game, don't thinking about wrong things in your head. You just keep it in the game." Capitals goalie Ilya Samsonov made 17 saves for his 10th win in 11 starts this season. He was at his best when the Blue Jackets tilted the ice toward him during a penalty kill in the first, and Samsonov turned aside Zach Werenski on a point-blank scoring chance soon after when play returned to 5-on-5. Despite missing center Nic Dowd and defenseman Trevor van Riemsdyk because they're in league COVID-19 protocol, the Capitals got a boost with the return of wingers T.J. Oshie and Conor Sheary after matching six-game absences. Oshie had missed 16 of the previous 17 games with lower-body injuries. "They're both key players for us", Ovechkin said. "Obviously we're going right now through injuries, through COVID protocol, but different guys come in and stepping up." Eric Robinson scored the only goal of the night for the the Blue Jackets, who lost their fourth in a row in regulation. They have been outscored 18-6 during this losing streak. "We're learning some hard lessons here", said Columbus' Brad Larsen, one of four active NHL head coaches who played against Ovechkin. "No one's going to come hand you a game. They're not. You got to go get it, and you're going to have to find a way and grind through not just for 10 minutes or 12 minutes. It's going to have to be shift after shift." NOTES: Defenseman Matt Irwin made his Capitals debut, dressing for the first time this season. Capitals winger Daniel Sprong was a healthy scratch for the third time in four games. Forward Gregory Hofmann replaced Jack Roslovic in the Blue Jackets lineup. Roslovic was a healthy scratch for the first time this season. Players from the National Women's Soccer League champion Washington Spirit received a standing ovation when shown on video screens. Ovechkin and wife Nastya are part of the Spirit's ownership group. Blue Jackets: Return home to face the San Jose Sharks on Sunday. Capitals: Continue their four-game home stand Monday against the Anaheim Ducks.

Ovechkin nets 750th career goal, Caps beat Blue Jackets 3-1
wtop.com
f9ec4615702a1f244d7f2f52e73fce1f
American Jesse Marsch is no longer coach of Bundesliga team Leipzig. The club said Sunday that the two had "mutually agreed to end the cooperation. That is the result of an in-depth analysis and intensive discussions" after Friday's 2-1 loss at Union Berlin. It was Leipzig's third successive domestic defeat and it left the team midtable in the Bundesliga, away from the Champions League qualification places that it has targeted. Leipzig said Marsch, who took over in the offseason from the Bayern Munich-bound Julian Nagelsmann, was being "released with immediate effect" and that assistant coach Achim Beierlorzer will take charge of the team for Tuesday's Champions League game against Manchester City. The club said a successor for Marsch will be "presented soon." ___ More AP soccer: https: //apnews. com/hub/soccer and https: //twitter. com/AP_Sports Copyright © 2021 The Associated Press. All rights reserved. This material may not be published, broadcast, written or redistributed.

American coach Jesse Marsch out after eight months at RB Leipzig
espn.com
e0061ba058acbaef9ddd49ed9a687ddd
The Raiders finish off the interconference portion of their schedule with Washington's first-ever trip to Allegiant Stadium. Las Vegas has gone 2-2 against the NFC so far, knocking off the two higher-rated teams in Dallas and Philadelphia but getting upset by the two lesser teams in Chicago and the New York Giants. Washington falls somewhere in between. The Football Team grades out poorly by any advanced measure but has turned its season around and currently sits in the final NFC playoff spot with a three-game winning streak. That includes a 29-19 upset of the defending Super Bowl champion Tampa Bay Buccaneers three weeks ago and a 17-15 victory against the Seattle Seahawks on last week's Monday Night Football. The Raiders may appear a level above the Football Team on the surface, but things have rarely gone according to plan in their games this season, as the underdog has won outright in seven of 11 contests. Favorable matchup: Raiders' offensive creativity vs. Washington's defense Las Vegas broke out of an offensive slump in last week's 36-33 Thanksgiving day victory in Dallas largely because it diversified its attack. A preceding three-game losing streak where the Raiders averaged only 14 points per game had seen the rest of the league get comfortable in defending against offensive coordinator Greg Olson's tendencies. Olson switched it up against Dallas, however, by using better-timed and designed runs, calling a higher rate of play-action passes and inserting backup quarterback Marcus Mariota in a couple of crucial short-yardage situations. Starting quarterback Derek Carr, who currently leads the NFL in passing with 3,414 yards, said all the new wrinkles the Raiders showed against the Cowboys should make it harder on future opponents to prepare. That could especially ring true against a sliding Washington defense, which rates 29th in the NFL in giving up 5.9 yards per play and 31st on defense overall by Football Outsiders' DVOA metric. Problematic matchup: Wide receiver Terry McLaurin vs. Raiders' secondary Most expected Washington to be a more defensive-led team coming into the season, but it's turned out to be the opposite. The Football Team has been more lethal offensively with a scheme built around the skills of the third-year receiver out of Ohio State who sits 16th in the NFL with 786 receiving yards on 58 catches. He has four games with at least 100 receiving yards and has particularly heated up during the win streak, catching 15 passes on 22 targets from improving first-year starting quarterback Taylor Heinicke. Las Vegas' top cornerback, Casey Hayward, and free safety, Tre'von Moehrig, have been solid throughout the year but opponents have started hunting matchups with the likes of second cornerback Brandon Facyson and strong safety Johnathan Abram. Washington won't be any different as it will specifically be seeking out favorable spots for McLaurin, who's one of the rare receivers who can truly do it all. He came into the league scouted mostly as a deep threat but has turned out to be just as dangerous in picking up yards after the catch. Gamebreaker: Kicker Daniel Carlson The AFC Special Teams Player of the Week deserves some love. The Raiders wouldn't have beaten the Cowboys without Carlson. Not only did the fourth-year veteran kick the game-winner in overtime and a 56-yarder near the end of regulation, but he was also perfect on the rest of his attempts and extra points — more than could be said for Dallas counterpart Greg Zuerlein. For Carlson, it was nothing new. He struggled a bit in his first full year with the Raiders in 2019 but was great last season and has been even better this year. He's made 24 of 27 field goal attempts, including going 5-for-6 from 50-plus yards and 4-for-5 from 40-49 yards. Team leaders like linebacker Denzel Perryman and running back Josh Jacobs have gone out of their way to praise Carlson in recent news conferences. Jacobs even revealed that he has his own nickname for Carlson — "sniper" because he's such a sure shot. Big Number: 4 Straight games that edge rusher Yannick Ngakoue has registered at least one sack, tying the career-best run of his six-year stint in the NFL. He'd set a new personal-record streak with a sack against his hometown team this week, and there's no reason to think he won't be able to get one. Washington sits 20th in the NFL in allowing sacks on 6.11% of snaps. All eight of Ngakoue's sacks with the Raiders have come in the last six weeks, putting him on the type of tear that would usually call for double-teams and extra attention from opponents. It's hard for teams to do that against the Raiders, though, because Maxx Crosby has been arguably even better on the other side. Crosby has three fewer sacks than Ngakoue on the season with five but even better pressure numbers despite regularly appearing to be held by opposing offensive linemen. Raiders' fans have been irate with uncalled penalties against Crosby, and to a lesser extent, Ngakoue, but defensive coordinator Gus Bradley said he thought officials would be on the lookout going forward. Best Bet (5-6): Josh Jacobs over 13.5 rushing attempts Reports surfaced before the Cowboys' game that the Raiders were emphasizing getting Jacobs more involved in the offense, and they turned out to be true as he ran a season-high 22 times for 87 yards. That should be more of the norm going forward than his previous season average of 11 carries per game. Jacobs was on the injury report this week as a limited practice participant with a sore ankle, but the Raiders are always cautious with him. It doesn't appear to be a major concern. And, keep in mind, if Jacobs does end up tweaking the ankle further and sitting out of his third game of the season, all prop bets would be refunded.

Raiders vs. Washington prediction: Las Vegas will roll
nypost.com
8540d8f30f3249a20ec2ef362eca43eb
Hopes of defending the title already over, India missed out on the podium too as they lost 1-3 to France in the bronze-medal play-off match of the FIH Junior Hockey World Cup in Bhubaneswar, Odisha on Sunday. France skipper Timothee Clement slammed a hat-trick, his fourth of the tournament and second against India, to stun the hosts once again and secure the bronze medal. Clement converted three penalty corners for France in the 26th, 34th and 47th minutes while India's lone goal was struck by Sudeep Chirmako in the 42nd minute. It was the second consecutive defeat for Indians after their superlative performance against Belgium in the quarterfinals. The third-fourth place match was a chance for India to avenge their 4-5 defeat against France in their tournament opener, but it was not to be as the European side continued to dominate the hosts with a superb performance. France were the better side on the pitch as they controlled the proceedings after a sedate first quarter and earned a flurry of penalty corners as against India's three. India started on a bright note and exerted pressure on France defence in the first quarter, which resulted in a penalty corner as early as in the first minute of the game, but the hosts failed to utilise the chance. The Indians continued to press hard and came close to securing the lead in the 12th minute when Araijeet Singh Hundal's shot from top of the circle hit the post. France got their footing into the match at the fag end of the first quarter when they secured three penalty corners in succession but the Indian defence did just enough to keep their rivals at bay. France continued to attack in the second quarter as the Indians played catch-up hockey. Three minute into the second quarter, France secured another penalty corner but again it went in vain. India too created a few chances but all those fizzled out inside the France circle. France continued to press the Indian defence and in the process earned their fifth penalty corner in the 26th minute which was converted by Clement with a low drag-flick to the right of Indian custodian Prasanth Chauhan. France continued their attacking game after the change of ends and secured five penalty corners minutes after the start of the third quarter, the last of which was converted by Clement to hand the European side a 2-0 lead. Minutes later India earned a penalty corner but Shardanand Tiwari's flick was deflected wide by the first rusher. Seconds later Sudeep's try from close range was saved by the France goalkeeper. In the 42nd minute Sudeep gave the host's a ray of hope by reducing the margin with a well-taken field goal. But France continued to attack and earned their 11th penalty corner in the 47th minute and once again Clement was bang on target. France did not ease pressure on the Indian defence and in the process earned three more penalty corners but failed to extend their lead. Sudeep got a bright chance for India minutes later but his touch from Hundal's pass went wide. India had another chance to reduce the margin in the form of a penalty corner but vice-captain Sanjay Kumar's flick was well defended by France. The game then fizzled out to a finish as France celebrated their first bronze medal of the tournament, adding to the silver they had won in 2013.

Hockey Men's Junior World Cup, India vs France live updates: Goalless in Q1 so far
scroll.in
149eb9e777eb8e20215c0a444e493e09
Hockey Men's Junior World Cup: Lautaro Domene stars as Argentina beat Germany to win title
scroll.in
6af8af02d2fe7afb26487f9e1f86e8a7
FSU Athletics Florida State look for their third national championship on Sunday against BYU The Florida State Seminoles will face the BYU Cougars on Sunday for a chance to win their third national championship against a team that got to the big game for the first time in their history. The match (8 p.m. ET start time) will be televised on ESPNU. But if you don't have cable, here are some different ways you can watch a live stream of Florida State vs BYU online: You can watch a live stream of ESPNU and 100-plus other live TV channels on FuboTV. You'll need the Sports Plus add-on, but you can include the main channel package and any add-ons with your free seven-day trial: FuboTV Free Trial Once signed up for FuboTV, you can watch Florida State vs BYU live on the FuboTV app, which is available on your Roku, Roku TV, Amazon Fire TV or Fire Stick, Apple TV, Chromecast, Xbox One or Series X/S, Samsung TV, LG TV, any device with Android TV (such as a Sony TV or Nvidia Shield), iPhone, Android phone, iPad or Android tablet. Or you can watch on your computer via the FuboTV website. You can also watch live via ESPN. com or the ESPN app. You'll need to sign in to a cable provider to watch this way, but if you don't have that, you can use your Fubo credentials to log in and watch. DirecTV Stream (formerly AT&T TV) has four different channel packages: "Entertainment," "Choice," "Ultimate" and "Premier." ESPNU is included in "Choice" and above, but you can pick any package and any add-on you want with your free 14-day trial. Note that the free trial isn't advertised as such, but your "due today" amount will be $0 when signing up. If you watch on your computer, phone or tablet, you won't be charged for 14 days. If you watch on a streaming device on your TV (Roku, Fire Stick, Apple TV, etc.), you will be charged for the first month, but you can get still get a full refund if you cancel before 14 days: DirecTV Stream Free Trial Once signed up for DirecTV Stream, you can watch Florida State vs BYU live on the DirecTV Stream app, which is available on your Roku, Roku TV, Amazon Fire TV or Fire Stick, Apple TV, Chromecast, Samsung TV, any device with Android TV (such as a Sony TV or Nvidia Shield), iPhone, Android phone, iPad or Android tablet. Or you can watch on your computer via the DirecTV Stream website. You can also watch live via ESPN. com or the ESPN app. You'll need to sign in to a cable provider to watch this way, but if you don't have that, you can use your DirecTV Stream credentials (may still be listed as AT&T on the list of cable providers) to log in and watch. You can watch a live stream of ESPNU and 40-plus other live TV channels via Sling TV's "Sling Orange + Sports Extra" bundle. This option doesn't include a free trial, but it's the cheapest long-term streaming service with ESPNU, and you can get your first month for just $21: Get Sling TV Once signed up for Sling TV, you can watch Florida State vs BYU live on the Sling TV app, which is available on your Roku, Roku TV, Amazon Fire TV or Fire Stick, Apple TV, Chromecast, Xbox One or Series X/S, Samsung TV, LG TV, any device with Android TV (such as a Sony TV or Nvidia Shield), airTV Mini, Oculus, Portal, iPhone, Android phone, iPad or Android tablet. Or you can watch on your computer via the Sling TV website. You can also watch live via ESPN. com or the ESPN app. You'll need to sign in to a cable provider to watch this way, but if you don't have that, you can use your Sling credentials to log in and watch. You can watch a live stream of ESPNU and 90+ other TV channels on Vidgo, which comes with a free seven-day trial: Vidgo Free Trial Once signed up for Vidgo, you can watch Florida State vs BYU live on the Vidgo app, which is available on your Roku, Roku TV, Amazon Fire TV, or Firestick, Apple TV, Chromecast, any device with Android TV (such as a Sony TV or Nvidia Shield), iPhone, Android phone, iPad, or Android tablet. Or you can watch on your computer via the Vidgo website. You can also watch live via ESPN. com or the ESPN app. You'll need to sign in to a cable provider to watch this way, but if you don't have that, you can use your Vidgo credentials to log in and watch. You can watch a live stream of ESPNU and 65+ other TV channels via Hulu With Live TV, which comes with a free seven-day trial: Hulu With Live TV Free Trial Once signed up for Hulu With Live TV, you can watch Florida State vs BYU live on the Hulu app, which is available on your Roku, Roku TV, Amazon Fire TV or Fire Stick, Apple TV, Chromecast, Xbox One or Series X/S, PlayStation 4 or 5, Nintendo Switch, Samsung TV, LG TV, any device with Android TV (such as a Sony TV or Nvidia Shield), iPhone, Android phone, iPad or Android tablet. Or you can watch on your computer via the Hulu website. You can also watch live via ESPN. com or the ESPN app. You'll need to sign in to a cable provider to watch this way, but if you don't have that, you can use your Hulu credentials to log in and watch. The final pits two squads with different types of experience in these types of games. For Florida State's seniors this could be one of the great crowning moments as they could become the first class to win two national titles in three finals during their time in Tallahassee. The top-ranked Seminoles, for the past few years, are the best team in the best soccer conference in the collegiate sports. Mark Krikorian's side is also playing in their eighth College Cup in the last 11 years. In this tournament they became the second most successful program in College Cup history, only trailing North Carolina for that distinction. They get to this stage after grinding out a 1-0 victory against Rutgers on Friday night in what was a game filled with fouls and lots of exciting moments. But it was a 71st minute goal from Jenna Nighswonger off a set piece that ended getting to her on the far post. BYU get to this stage of the season for the first time in their program's history. They beat defending champions Santa Clara in penalties in the Broncos own backyard. For them it was something the accomplished when they beat them 2-1 this past March. The Cougars were an offensive juggernaut this season as they were the best team in the country as they scored 3.5 goals per game as well as shots taken. But against Santa Clara, the challenge was different as they had to find a way to prevent the defending champs to beat them. So they depended on goalkeeper Cassidy Smith with her season-high seven saves on top of shining the penalty kicks. On the offensive side, BYU outshot Santa Clara 26-13, maintain possession of the ball the majority of the game and remain patient in a physical game. In this encounter, both Mikayla Colohan and Cameron Tucker were shut down and this would appeal more to the control that this team would need in order to compete and they did do exactly that as they closed down many opposing players while still getting to the opposing goal. For the Cougars, this might end up being a very similar formula that could see them raise their first national title, especially against a team as experience as Florida State.

National Christmas Tree Lighting 2021 Live Stream: How to Watch Online
heavy.com
f75be2a2f5155254f29f8859cdbd0d91
Getty Chase Elliott finished eighth in his Nitro Rallycross debut. The first full season of Nitro Rallycross came to an end on Sunday, December 5, with Travis Pastrana winning the championship trophy. The series creator capped off a late-season run while Chase Elliott finished out his debut weekend in eighth place. The 2020 NASCAR Cup Series champion lined up on the last row for the final event, next to Foust. Elliott stuck on his fellow driver's tail during the early portions of the race and opted to take his alternate Joker lap at the first possible opportunity. Elliott proceeded to run a clean final race while the Hansen brothers battled with Pastrana at the front of the pack. Elliott did not fight the Rallycross veterans for a podium spot, but he maintained a solid pace and finished only 1.852 seconds behind Steve Arpin. My first attempt of purposely having all 4 tires off the ground… little deep but better than the alternative 😳 #ashocenergy #di9 @NitroRallycross pic.twitter.com/qf2K6jqyL9 Chase Elliott (@chaseelliott) December 3, 2021 Timmy Hansen scored the win, holding off his brother in Kevin Hansen. Pastrana finished third while Scott Speed captured fourth. Robin Larsson rounded out the top-five while Tanner Foust, Arpin, and Elliott finished sixth through eighth. Timmy may have won the final race, but he ended the year third in the championship standings. Pastrana captured the trophy while Speed finished second. CHASE TO THE FINAL VIA PENALTY @chaseelliott| #GoNitro pic.twitter.com/znslKU88qX — Nitro Rallycross (@NitroRallycross) December 5, 2021 The 2020 NASCAR Cup Series season lost his battle bracket race to Tanner Foust on Saturday, December 4, after a penalty took away his victory, but he returned to The Florida International Rally & Motorsport Park for more events. Elliott competed in the semifinals event and then made it to the finale. Interestingly enough, he secured his spot in the main event in the same manner as fellow Cup Series driver Kyle Busch. The second semifinal race featured a multitude of head-turning events. The first attempt ended under red-flag conditions after Arpin ended up stuck on the edge of a jump. The second attempt at the semifinal race also came to an end early due to Oliver Eriksson stalling at the start-finish line. Liam Doran hit the rear of his fellow driver's supercar, ripping the right rear wheel off of his vehicle. The drivers were able to complete the third attempt with Arpin winning and Fraser McConnell and Elliott in second and third, respectively. However, the stewards penalized McConnell for his collision with Oliver Bennett, moving Elliott up into third place. soak it in, TP 🍾 pic.twitter.com/l8BEXgt9oB — Nitro Rallycross (@NitroRallycross) December 5, 2021 The final weekend of the Nitro Rallycross had no shortage of big moments. There were massive jumps, multiple penalties, jaw-dropping action on the track featuring both asphalt and pavement, and a considerable amount of math. The result is that Pastrana won his championship by the smallest margin. The driver of the No. 199 ended the year with 219 points, tied with Speed. Timmy Hansen ended the year third with 218 points, a number that he reached by winning Round 5 of the NRX season. Pastrana headed to The FIRM on a hot streak. He won Round 3's trip to Wild Horse Pass Motorsports Park in Arizona and then repeated in Round 4 at Glen Helen Raceway. However, he only had a seven-point lead in the championship standings over Speed, the winner of Round 2, and a 17-point lead over Timmy, the winner of Round 1. READ NEXT: Insider Ties Landon Cassill to Championship-Contending Team Unlock the latest NASCAR news, rumors and exclusives — direct to your inbox. ↓

Travis Pastrana Pays Off 'Airplane Deal' With Chase Elliott
heavy.com
4cfc7c4338ede791093c78d9e3857016
The Oxford English Dictionary defines "aggressive" as "ready to attack." Giants head coach Joe Judge defines it as trying to win the field-position battle. Judge's game management again was under scrutiny Sunday because all decisions are magnified in a one-score game, which was the case for most of the Giants' uninspiring 20-9 loss to the Dolphins. Despite acknowledging that last week's blueprint for beating the Eagles — a suffocating defense paired with conservative offense in a 13-7 victory — was not a sustainable winning formula, Judge tried to replicate it. The Giants faced a fourth-and-2, a fourth-and-3 and a fourth-and-4, all within 4 yards in either direction of midfield. Judge, a longtime special teams coordinator who promised to play an "aggressive" style in his introductory news conference, punted all three times, including on fourth-and-2 from the Dolphins' 46-yard line when the Giants trailed 10-6 with five minutes to go in the third quarter. "We had [forced] three straight three-and-outs at that point and the defense was really playing well," Judge said. "Points were really at a premium in that game. We don't want to give them a short field." Except Riley Dixon — who has hurt the Giants all season with poor situational punting — booted it into the end zone for a touchback, so the Giants gained only 26 yards of field position on the kick compared to if a fourth-down risk to help their own meek offense had failed. "If we execute the plays, we're probably going to get the ball back somewhere around midfield, maybe lose about 15-20 yards from the initial starting point," Judge said. "If we can play to it, we have to do that. We're not afraid to play to our defense." The Dolphins managed three scoring drives of 10 plays or more and scored two red-zone touchdowns, while the Giants settled for a field goal on their only red-zone trip. The Giants also burned two timeouts to avoid delay of game penalties. The play clock and game clock were in virtual lockstep late in the first quarter. Fans saw a broadcast showing the game clock about a half-tick ahead, meaning the Giants didn't have to run another play. But that wasn't the case, and Judge gave the officials an earful as he called a timeout with 12 seconds left that might have come in handy later in the half when the Giants elected to cautiously run out the final 26 seconds despite kicking off to start the third quarter. In the third quarter, the offense had one of the worst 95-second stretches imaginable. Mike Glennon was sacked to set up a second-and-23. Then the Giants avoided a delay of game penalty with a timeout, which proved a waste in a close game when the sequence that followed was another sack and a delay of game penalty to set up third-and-33 and a fourth-down punt. "I wanted to make sure we gave ourselves the best chance of staying out of third-and-long," Judge said of the timeout. "Obviously, they made a play."

Giants aren't displaying any of the traits Joe Judge keeps promising
nypost.com
326079c5d1eb452fc4027ae521978ba9
BUFFALO, N.Y. Walker Miller had a career-high 24 points as Monmouth stretched its winning streak to seven games, beating Canisius 79-65 on Sunday. Miller hit 9 of 11 foul shots. George Papas had 19 points and 11 rebounds for Monmouth (7-1, 2-0 Metro Atlantic Athletic Conference). Shavar Reynolds Jr. added 18 points. Armon Harried had 20 points for the Golden Griffins (2-7, 0-2). Akrum Ahemed added 16 points. Jordan Henderson had 13 points. ___ For more AP college basketball coverage: https: //apnews. com/hub/college-basketball and http://twitter.com/AP_Top25 ___ This was generated by Automated Insights, http: //www. automatedinsights. com/ap, using data from STATS LLC, https: //www. stats. com Copyright © 2021 The Associated Press. All rights reserved. This material may not be published, broadcast, written or redistributed.

Balanc scores 31 to carry Quinnipiac past Manhattan 90-73
wtop.com
8a18e144ab1e37be52622b8d3678244d
Kerala Blasters registered their first win of the season as they beat Odisha FC 2-1 in the 2021-22 Indian Super League at the Tilak Maidan Stadium in Vasco on Sunday. Alvaro Vazquez (62nd) and substitute Prasanth Karuthadathkuni (85th) scored second-half goals to hand the yellow shirts their first victory in 11 months. For Odisha, Nikhil Raj – in for Javi Hernandez – pulled one back in second-half stoppage time. Attacking Adrian Luna was brilliant throughout the game and was instrumental in both the goals. Courtesy the result, Kerala rise to sixth in the points table with five points from four games. Odisha, meanwhile, remain on third having six points from three outings. Kerala boss Ivan Vukomanovic went for a 4-4-2 formation while Odisha counterpart Kiko Ramirez opted for a 4-2-3-1 formation. Kerala started on the front foot, Sahal Abdul Samad warming Odisha keeper Kamaljit Singh's gloves early on. Minutes later, skipper Jessel Carneiro swung in a delightful ball into the box which was cleared for a corner. Adrian Luna tried his luck from a free kick in the seventh minute, forcing Kamaljit to dive to his left and deny the Uruguayan. Odisha got their first real chance in the 12th minute when Aridai Cabrera bombed down the left flank and set Javi Hernandez up, but the Spaniard's effort fizzed over the bar. Kerala continued to have the upper hand as Thoiba Singh was booked for a challenge on Luna. Against the run of play, Javi almost scored with a long-range effort after spotting Albino Gomes standing well outside his line. Moments after the water break, Vincy Barreto was marginally offside after being through on goal. For Odisha, who were kept under the cosh by Kerala, full back Hendry Antonay attempted an audacious long-ranger which dipped at the top right corner but Albino was on hand to parry the ball over the bar. At halftime, both teams were level but the men in yellow bossed proceedings. The second half started in the same vein with Kerala ruling the roost. Sahal looked in great touch from the off, dancing his way past defenders inside the box only to be thwarted, but the ball fell kindly for Luna whose effort went wide of the bar. Luna was in the thick of things again just after the hour mark, and this time his through ball found Vazquez who timed his run to perfection. The Spaniard ran 30 yards, rounded the keeper and put the ball in the back of the net. Three minutes after the goal, Kerala replaced Barretto with Nishu Kumar while Odisha threw in Gaurav Bora for Thoiba. Vazquez could have doubled his and the team's tally in the 67th minute after being set up beautifully by Sahal, but his low effort was blocked by Kamaljit. Daniel Lalhlimpuia replaced Jerry Mawihmingthanga as Odisha looked for an equaliser. Kerala suffered a setback when Albino went down after taking the goal kick and had to be taken off. India U-23 custodian Prabhsukhan Gill replaced him as Sahal also went off after a stellar show, with Prasanth Karuthadathkuni replacing the national team midfielder. Midfielder Prasanth's moment to saviour came five minutes to the final whistle when he dinked a perfectly weighed Luna ball past the keeper after a lovely run off the Uruguayan. Raj scored a late goal for Odisha but it did not matter in the end.

ISL 2021-22: Angulo, Fall score again as Mumbai City FC go top after victory over Bengaluru FC
scroll.in
d5e08a42140dbbd5b81b8551e56618ee
It may ring true that the Lions' 37-19 win against the Stormers in their United Rugby Championship clash at Newlands on Saturday had all the hallmarks of a team effort, two Lions players had a significant outcome on the game. The ever-improving blindside flank Vincent Tshituka was boisterous and caused the Stormers plenty of defensive and breakdown problems. Flyhalf Fred Zeilinga has been for the longest time much-maligned and rightly accused of occupying a place better suited to a younger player. However, he had an excellent game for Ivan 'Cash' Van Rooyen's side and contributed to their success. Tshituka had a hand in two tries, but was also a bothersome presence throughout the game and that's something that made Van Rooyen very happy. "As a player, his growth has been impressive and awesome. He's the kind of guy who can flourish in the loose and in the tight", Van Rooyen said. "The tight five gave him the opportunity to thrive and he's got a relentless work rate, along with a hunger to get better. "I'm really happy he had this kind of game against the Stormers." With Jordan Hendrikse injured, Zeilinga was able to get some game time and made the most of it with a 17-point haul. The fierce wind that pumped through the Cape Town Stadium did not dim his kicking performance. "He managed the game well and he's got an excellent ability to attack from anywhere and manage the game for us", Van Rooyen said. "It would have been exciting to see him against Cardiff, but I'm really happy for him."

Stormers coach John Dobson blames ill-discipline, inaccuracy for heavy Lions defeat
news24.com
d7b4cc4549e3c86330c7d0811ac31798
It was three months late, but the Bears finally got second-round pick Teven Jenkins on the field. Jenkins, the presumptive left tackle of the future, made his pro debut on special teams and did not get a snap on offense. His return from preseason back surgery presents a decision for the Bears, who must weigh whether to stay with veteran Jason Peters at left tackle. Peters has been solid for them, but is 39. Jenkins might not be at Peters' level now, but the Bears need to kick start his development as soon as possible with an eye on next season. Bears coach Matt Nagy said Jenkins "most likely" will remain a backup the rest of the season, but left open the possibility of changing course. "Just getting him into the groove, just getting him up active is good," Nagy said. "J.P.'s been doing a good job there at left tackle. I love Teven's attitude. We'll just kind of take it day-by-day and see. But in the end I know we'll make the best decision for him and us."

Santa is back to "sleighing" it on the ski slope. More than 230 skiing and snowboarding Kris Kringles took to a western Maine resort on Sunday to raise money for charity. The jolly ol' St. Nicks took a break last year because of the global pandemic. But they returned to kick off the ski season in full holiday garb, including white beards, red hats and red outfits. A sea of red Santa suits descended the mountain, carving wide turns as their beards fluttered in the icy wind. At least one green-costumed Grinch snuck his way into the mix, disguised in Santa's coat and hat. The event took place in the western Maine town of Newry, home to the Sunday River Ski Resort, the state's busiest. Before dashing through the snow, the Santas must all donate a minimum of $20, which helps support local education and recreation programs. The event raised several thousand dollars for the Sunday River Community Fund, a local charity. Copyright © 2021 The Associated Press. All rights reserved. This material may not be published, broadcast, written or redistributed.

To Barry Trotz, the two goals Oliver Wahlstrom scored on Saturday night weren't the most impressive part of the game. Instead, the Islanders coach chose to highlight Wahlstrom dropping the gloves with Detroit's Adam Erne after the Red Wings left winger leveled Anthony Beauvillier in the first period of an eventual 4-3 Detroit win. "He stepped in and became a really good teammate at that point," Trotz said prior to Sunday's game against the Blackhawks. "If he is emotionally involved, he is a much better player." Wahlstrom, prior to Saturday, had been among a long list of Islanders who struggled to produce during the team's current 10-game losing streak. Despite possessing a big shot and starting the season off with a promising five goals in eight games, Wahlstrom proceeded to go cold. The two power-play goals he scored on Saturday were his first points in a month. That may be a symptom of a bigger problem for the Isles — the team's 1.89 goals per game is ahead of only the hapless Arizona Coyotes with Jean-Gabriel Pageau, Kyle Palmieri and Zach Parise among the players who have struggled to score. But it's been noteworthy nonetheless to see Wahlstrom not just struggle to score, but often disappear from games. Without scoring, he's been unable to make much of an impact, and his minutes have been limited. If not for the Islanders' lineup issues, it's even possible Wahlstrom could have been dropped from the lineup. Instead, Trotz has mostly kept him on the third line, where Wahlstrom has averaged just 13:05 of ice time. "I think he's been pressing a lot of one-on-one hockey," Trotz said. "That's one of the reasons I haven't moved him up is he's gone into a one-on-one mode, and I thought yesterday, that was a sign of him being a real good teammate there [standing up for Beauvillier]. "But it also freed him up to maybe understand you can move the puck, you don't have to do it by yourself, you can do it as a group." Wahlstrom could also help answer the Islanders' power-play woes, which lie at the root of some of their offensive issues. The Isles are converting man-advantages at just a 13.46 percent rate, good for 29th in the league. Against the Red Wings, though, all three of their goals came on special teams: two from Wahlstrom on the power play and the third from Cal Clutterbuck while shorthanded. Trotz, who has noted before that he felt like the Islanders were losing momentum by repeatedly coming up empty on power plays, said on Saturday night that their play in that phase of the game felt like a step in the right direction. "I think the most important thing is a breakout," Wahlstrom said following the loss. "It hasn't been pretty this year. We just gotta hone down and keep working on it." Added Noah Dobson: "I think we made some adjustments. I think we played with a lot more urgency on the power play." At this point, the Islanders will happily take goals wherever they can get them. If he can start stringing together good games, Wahlstrom — whose last two-goal game prior to Saturday came against the Blackhawks earlier this season — could be a potential answer. "When he's enjoying the details and he's playing hockey and he's just engaged, he's having a lot more fun," Trotz said. "And he's getting more done."

Every cop knows that death rides with him on every patrol, emerging out of nowhere when a shift may seem routine. For one Idaho state trooper, that moment almost came on Wednesday along Interstate 84 near the town of Meridian, according to the Idaho Stateman. Dashcam video of the incident shows that in less time than it takes to read this sentence, the trooper and a motorist he was helping on the shoulder of the highway had to jump over a concrete median as a pickup truck came barreling toward them. According to an Idaho State Police news release, the trooper had been helping a motorist with a flat tire. The officer was wearing a yellow safety vest. His patrol car had its emergency lights on and was parked behind the Toyota with the flat tire. What the dashcam video does not show was described in the release. "One vehicle began to slow prior to passing the patrol car. That vehicle was hit by another, causing a chain reaction of four eastbound vehicles," the release said. But that was not all. "Two involved pickups were pushed left, sideswiping the parked patrol car and hitting the rear of the Toyota." The trooper was taken to a hospital with injuries sustained when he vaulted the concrete barrier, but was sent home with what the release called "minor injuries." The owner of the wrecked Toyota was also injured leaping out of the truck's way, but was not taken to a hospital. The wreckage from the chain reaction crash blocked the highway for about 90 minutes. "Traffic stops are very high risk. They're necessary to keep people safe on the road and to help those stranded, but we need motorists' help so we can all go home at night", Idaho State Police Sgt. Brandalyn Crapo said. "Slowing down and moving over for emergency vehicles and workers isn't just a courtesy, it's the law. Drivers need to be alert to emergency lights and vehicles and always alert to what's happening around them. That keeps all of us safe." Idaho law requires drivers to slow down, change lanes or both when passing police and other emergency vehicles that are stopped on the roadway. This article appeared originally on The Western Journal.

Thunder forward Darius Bazley is roughly a quarter of the way through the what is the most important season of his career to this point. While many young players in the NBA start to hit a stride in their third season, the 21-year-old has been wildly inconsistent in Oklahoma City this season. "He keeps showing new peaks, but it's about how consistently he can stay there," said Thunder coach Mark Daigneault earlier this season. The 6-foot-9 forward has a team option worth roughly $4.3 million for the 2022-23 season and a qualifying offer of around $6.2 million for the 2023-24 season. With that in mind, decisions around his future with the team will be made over the next year or two. Thunder GM Sam Presti is known for always getting value out of players, rarely letting them walk in free agency. We saw this last season with Hamidou Diallo. Prior to entering restricted free agency, Presti traded him away to extract value. If OKC doesn't have plans to sign someone to a new contract, it makes sense to move them before they're able to be picked up by another team. With the Thunder are essentially in control of Bazley over the next two seasons, they've got a ton of options on what they can do with him. If he's going to be traded away, it'll likely be in the next 18 months. Bazley has been a solid player in Oklahoma City, but hasn't proven to be a long-term starter. Through 22 games this season, he's averaged just 8.5 points and 6.5 rebounds per game while shooting 34.8% from the floor, including 27.5% from deep. Among starters in the NBA, there's only five players shooting worse from the floor than Bazley. This season has been a tale of two halves for Bazley. Through the first 11 games of the season, he averaged 11.7 points and 6.9 rebounds per contest while shooting 43.2% from the floor. Over his last 11 games, he's produced just 5.3 points and 6.0 rebounds per game while shooting 24.4% from the field. Over this span, he's had the worst field goal percentage of any starter in the league. Even within these respective 11 game stretches, Bazley has been inconsistent. Early in November, Daigneault talked about Bazley's highs and lows following a win over the San Antonio Spurs. "He was really good on both ends from the jump," said Daigneault. "I thought tonight from an energy and physicality standpoint, that was a new ceiling for him." In that contest, Bazley produced 11 points and 11 boards while knocking down four of his nine shot attempts. It was just days later that his production started to fall off. The ceilings Daigneault refers to are certainly there, but not consistently enough. When Bazley is playing well, he's spectacular. The modern forward has shown the ability to impact the game on both ends of the floor at so many levels. On the flip side, there's times where he can't be played late in games. Inconsistency is normal for young players, but at some point they have to break through in order to take that next step as a long-term NBA player. In Bazley's case, inconsistency isn't new, as it's something he's struggled with since his first day in the league. It's worth noting that he did skip college and came straight to the NBA after a gap year, making him a unique young prospect. However, Bazley has played nearly 150 career games at this point between the regular season and playoffs. There's still plenty of reason for optimism about the young forward. As quickly as his efficiency has fallen off over this recent stretch of games, he can get it back on track just as easily. If he's able to start to have more peaks than valleys, or even be somewhere in the middle on a more frequent basis, he'll have a place in OKC for a long time. Regardless, in his third NBA season, he's playing for another contract with the Thunder.

Boston College has an opportunity to amend its season of unfulfilled expectations with a winning record. The Eagles (6-6, 2-4) will face the Pirates of East Carolina (7-5, 5-3) when the ACC meets the AAC in the 2021 Military Bowl on Monday, Dec. 27. The first meeting of the two programs will take place at Navy-Marine Corps Stadium at 2:30 p.m. in Annapolis, Md. BC quarterback Phil Jurkovec is the centerpiece of the Eagles' unmet ambitions through no fault of his own. The 6-5, 226-pound, redshirt junior was projected to be the lynchpin of the Eagles multiple threat offense after a stellar debut season in 2020. But Jurkovec broke his right hand in the opening drive at UMass on Sept. 11 and missed the next six games. Jurkovec was the caretaker in BC's win over Virginia Tech and enjoyed a career day at Georgia Tech the following weekend. BC had a chance to secure an upper-tier ACC bowl at a warm weather venue with eight wins, but the Eagles closed the season with home losses to Florida State and Wake Forest. BC was bowl eligible after the 2020 season but declined to participate after playing 11 straight ACC games under pandemic restrictions. BC is 14-13 in bowl games that began with a 6-3 loss to Clemson in the Cotton Bowl on Jan. 1, 1940. The Eagles first postseason win was a 19-13 victory over Tennessee in the Sugar Bowl on Jan. 1, 1941. The Eagles last postseason win was a 36-30 victory over Maryland in the Quick Lane Bowl on Dec. 26, 2016, at Ford Field in Detroit, Mich. BC's last two bowl games were weather-related disasters. BC was up 7-0 on Boise State in the first quarter of the First Responders Bowl at the Cotton Bowl on Dec. 26, 2018, in Dallas. But the game was cancelled due to an apocalyptic lightning storm. BC was smacked 38-6 by Cincinnati in the TicketSmarter Birmingham Bowl on Jan. 2, 2020, in a game that was delayed two hours by lightning. BC coach Steve Addazio was fired at the end of the 2019 season and Rich Gunnell served as interim head coach against the Bearcats. In a related bowl announcement, Virginia will play Southern Methodist in the inaugural Wasabi Fenway Bowl at Fenway Park on Dec. 29 at 11 a,m.

Caitlin Clark had her second triple-double of the season with 24 points, 12 assists and 10 rebounds, and McKenna Warnock had 21 points as No. 9 Iowa beat Michigan State 88-61 on Sunday for coach Lisa Bluder's 800th career victory. Monika Czinano added 19 points as the Hawkeyes (5-1, 1-0 Big Ten) bounced back from Thursday's 79-64 loss to Duke, their first game since Nov. 17 after a COVID-19 outbreak within the program forced the cancellation of three games. Bluder, in her 22nd season as Iowa's coach, is 800-377 in her career and 444-235 at Iowa. She is one of six active Division I coaches, and one of 14 overall, with 800 or more wins. Clark, a sophomore guard who was an Associated Press preseason All-American, is averaging 21.7 points this season, but has struggled with her shooting. She was 9 of 25 from the field, 2 of 10 on 3-pointers, and in her last three games has gone 20 of 61 from the field and 4 of 29 from long range. Iowa outscored the Spartans (6-4, 0-1) 33-11 in the third quarter after leading 39-37 at halftime. The Hawkeyes held Michigan State to four field goals in the quarter and shot 68.8% from the field. Nia Clouden led Michigan State with 18 points, snapping her streak of six consecutive games with 20 or more points. Deedee Hagemann added 12 points and Tamara Farquhar had 10. LONE MATCHUP It was the Big Ten opener for both teams, but it was the only game between the Hawkeyes and Spartans this season. Iowa has a 41-30 all-time lead in the series. BIG PICTURE The Hawkeyes might be able to stay in the top 10 in the AP poll after responding impressively after the loss at Duke. Michigan State, which opened the season with four consecutive wins, has lost three of its last five. UP NEXT Michigan State: Hosts Illinois on Thursday. Iowa: At Iowa State on Wednesday. ___ More AP women's college basketball: https: //apnews. com/hub/womens-college-basketball and https://apnews.com/hub/ap-top-25-womens-college-basketball-poll and https://twitter.com/AP_Top25 Copyright © 2021 The Associated Press. All rights reserved. This material may not be published, broadcast, written or redistributed.

Kennebunk midfielder Samantha McGrath received the Miss Maine Field Hockey award Sunday afternoon at the Maine Field Hockey Association awards banquet at the Augusta Civic Center. McGrath, a four-year varsity player, had 17 goals and six assists this season and was an MFHA all-state selection for the third time. She has signed a letter of intent to play for St. Michael's College, an NCAA Division II team. The other finalists were York midfielder/back Sage Works and Belfast goalie Madison Shorey. HOCKEY ECHL: Tyler Irvine and Sebastian Vidmar each scored twice and the Adirondack Thunder sent the Maine Mariners to a fifth straight loss – 4-1 at Cross Insurance Arena. Maine's Justin Brazeau scored the only goal of the first period, and the lead stood until Irvine tied it at 13:26 of the second. Vidmar knocked in a rebound to put the Thunder ahead less than four minutes later. Irvine made it 3-1 midway through the third, and Vidmar scored into an empty net with 2:43 left. SOCCER MLS: Talles Magno scored in the 88th minute to send New York City FC into the MLS Cup final with a 2-1 win over the COVID-19-ravaged Philadelphia Union in Chester, Pennsylvania. New York won its first Eastern Conference championship and will play at the Portland Timbers on Saturday for the MLS Cup. Philadelphia, also trying to reach its first MLS Cup final, had 11 players ruled out of the game because of COVID-19 health and safety protocols. ENGLAND: Ralf Rangnick began his tenure as Manchester United manager with a 1-0 win at home against Crystal Palace, thanks to a rare goal by Brazilian midfielder Fred. GOLF HERO WORLD CHALLENGE: Viktor Hovland made consecutive eagles while overcoming a six-shot deficit to win the 20-player event in Nassau, Bahamas. Hovland closed with a 6-under 66 despite finishing with back-to-back bogeys. He finished at 18 under – one shot better than Scottie Scheffler (66). Collin Morikawa would have moved to No. 1 in the world rankings with a victory, but he was unable to protect a five-shot lead entering the round. He closed with a 76 and tied for fifth. TENNIS DAVIS CUP: Daniil Medvedev capped a breakout season with a 7-6 (7), 6-2 win over Marin Cilic as Russia beat Croatia in Madrid to win its first Davis Cup title since 2006. It was the fifth consecutive straight-sets victory in the Davis Cup for Medvedev, who three months ago defeated Novak Djokovic to win the U.S. Open for his first Grand Slam title. Andrey Rublev earlier had beaten Borna Gojo in straight sets to put the Russians ahead. AUTO RACING FORMULA ONE: Lewis Hamilton passed Max Verstappen with six laps remaining to win the inaugural Saudi Arabian Grand Prix and pull even on points with his rival as the championship race heads into the title-deciding finale. SKIING WORLD CUP: Sofia Goggia captured a super-G to go 3 for 3 at Lake Louise, Alberta. The 29-year-old Italian, who won downhill races on Friday and Saturday, finished in 1 minute, 18.28 seconds to beat Swiss racer Lara Gut-Behrami by 0.11 seconds. Mirjam Puchner of Austria finished third, while two-time Olympic champion Mikaela Shiffrin wound up sixth as she rounds into form after dealing with a back ailment. Success. Please wait for the page to reload. If the page does not reload within 5 seconds, please refresh the page. Enter your email and password to access comments. Forgot Password? Don't have a Talk profile? Create one. Invalid username/password. Please check your email to confirm and complete your registration. Create a commenting profile by providing an email address, password and display name. You will receive an email to complete the registration. Please note the display name will appear on screen when you participate. Already registered? Log in to join the discussion. Only subscribers are eligible to post comments. Please subscribe or login to participate in the conversation. Here's why. Use the form below to reset your password. When you've submitted your account email, we will send an email with a reset code. Send questions/comments to the editors. « Previous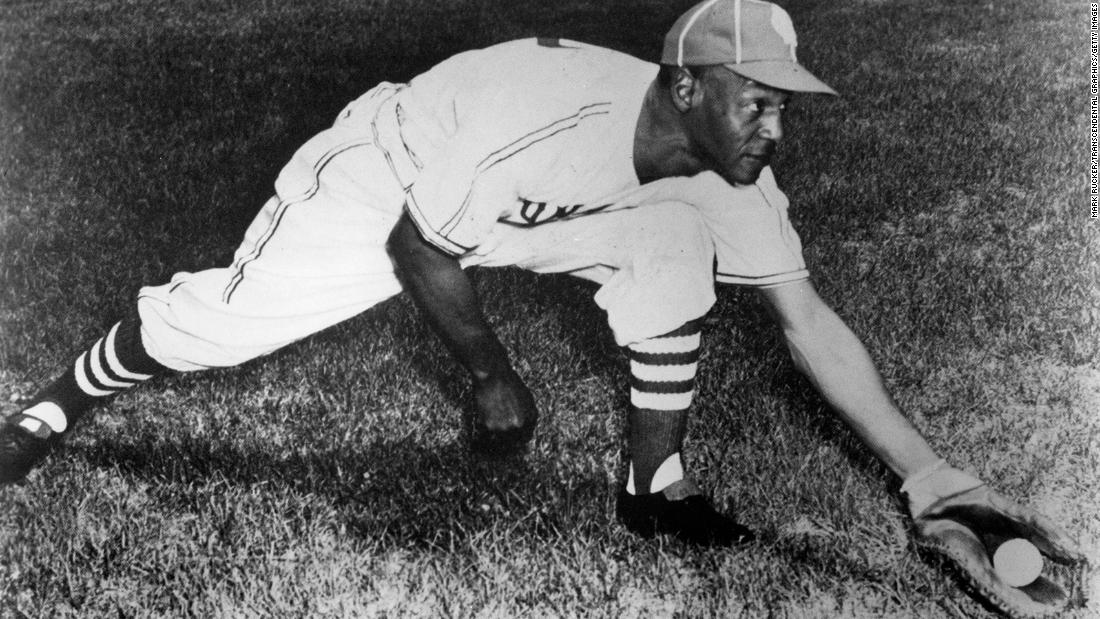 The Early Baseball Era and Golden Days Era Committees were meeting Sunday to decide whether Buck O'Neil and other Negro League players -- as well as pre-Negro league players -- will be selected for induction into the Hall of Fame. In total, 20 players are being considered for induction. Candidates for induction include O'Neil, who played 10 seasons with the Memphis Red Sox and Kansas City Monarchs, and Grant "Home Run" Johnson, who was a shortstop and second baseman in the pre-Negro Leagues era, according to the Hall of Fame website. Each 16-member committee will consider candidates on their ballot, and any candidate receiving votes on at least 75% of all ballots cast will earn induction, according to the Hall of Fame's website. Those elected will be inducted in Cooperstown, New York, on July 24, 2022. Sunday's vote comes one year after Major League Baseball announced it was recognizing the Negro Leagues as a major league and counting the statistics and records of thousands of Black players as part of the game's storied history. MLB said it was "correcting a longtime oversight in the game's history" by elevating the status of the Negro Leagues -- which consisted of seven leagues and about 3,400 players from 1920 to 1948. The decline of the Negro Leagues began in 1947 when Jackie Robinson became MLB's first Black player, joining the Brooklyn Dodgers. In 1969, the Special Committee on Baseball Records did not include the Negro Leagues among six "Major Leagues" it identified since 1876.

Getty Kurt Busch (right) will work with a new spotter during the 2022 season. The Denny Hamlin and Michael Jordan co-owned team has just made a significant move for the 2022 NASCAR Cup Series season. 23XI Racing has brought in veteran spotter Jason Jarrett to work with Kurt Busch on the No. 45 team. Racin' Boys provided the scoop during the trip to Nashville, Tenn., for the NASCAR Awards banquet. Insider Lee Spencer confirmed that Jarrett will work with Busch for the first time and learned that the two NASCAR veterans previously partnered during the Next Gen test at Charlotte Motor Speedway on November 17-18. Busch used this two-day session to debut the No. 45 Toyota Camry TRD. Jarrett, the son of Hall of Famer Dale Jarrett and the grandson of Hall of Famer Ned Jarrett, has been a spotter since 2005. He has spent the past nine seasons working with Ryan Newman, resulting in two trips to Victory Lane. Prior to his work as a spotter, Jarrett competed in both the Busch (Xfinity) Series and Cup Series. He made one Cup Series start for Yates Racing in 2003 — a 29th-place finish at Talladega Superspeedway — and one for SCORE Motorsports in 2004. As an Xfinity Series driver, Jarrett suited up for multiple teams while making a total of 40 starts. His best run was a 16th-place finish at Hickory Motor Speedway for DAJ Racing in 1998. Getty Tate Fogleman (left) pulls the upset at Talladega Superspeedway. The veteran driver will not simply focus on Busch and the 23XI Racing No. 45 entry. He will also join forces with two drivers that reached Victory Lane during the 2021 Camping World Truck Series and Xfinity Series seasons. Jarrett will serve as the spotter for Tate Fogleman during the 2022 Truck Series season. The winner of the 2021 Talladega Superspeedway Truck Series race will join a new team in On Point Motorsports, and Jarrett will try to guide him to another win. Additionally, Jarrett will work as a spotter for Josh Berry at JR Motorsports, who makes his return to the No. 8 Chevrolet Camaro on a full-time basis. Berry won two races for JRM while running a part-time schedule in 2021 — Martinsville Speedway and Las Vegas Motor Speedway. Now he will compete for a spot in the playoffs while working with Jarrett. Now that 23XI Racing has a spotter in place, the No. 45 team is ready to compete in 2022. The entry already had a charter, crew chief, car chief, and race engineer. Adding the spotter set the stage for Busch's first season with 23XI Racing. 23XI Racing announced multiple hires on November 16, setting the stage for the 2022 season. Chief among them was Billy Scott, who will serve as Busch's crew chief as they move to a Toyota team. The duo previously worked together at Stewart-Haas Racing during the 2018 season and reached the playoffs after a win at Bristol Motor Speedway. Along with Scott, David Bryant will make the move with Busch from Chip Ganassi Racing to 23XI Racing. He will serve as the car chief for the No. 45 Toyota Camry. Steve Wolfe will also move from CGR and take over as 23XI Racing's assembly manager. Julian Pena, a current 23XI Racing employee, will take over as race engineer for the No. 45. READ NEXT: Chase Elliott & Tanner Foust Take Part in Wild Nitro Rallycross Race Unlock the latest NASCAR news, rumors and exclusives — direct to your inbox. ↓

The year could not have started any worse for former President Trump. Thousands of his supporters from all over the country, of all different races and religions gathered at the Ellipse in Washington, D.C., to show their support for a president who for four years fought for the forgotten men and women of this country. They were proud of his many accomplishments. Even with four years of lies and conspiracy theories about Russian collusion, and a bogus quid pro quo charge involving the president of Ukraine that led to an embarrassing impeachment, Trump still managed to cut taxes, reduce regulations, and preside over the highest labor force participation rate ever recorded in U.S. history, with 157 million Americans working—until the Chinese coronavirus decimated our economy. Although the Left painted Trump as a sexist and a racist, he started a $50 million initiative to help create employment opportunities for women, offered new mothers the first ever paid family leave plan, and signed a bill that would permanently provide more than $250 million annually to historically black colleges and universities. Trump rebuilt our military, increased national defense spending, eliminated the ISIS caliphate, negotiated peace treaties in the Middle East, secured our southern border by beginning construction of a wall and through robust law enforcement. He renegotiated unfair trade agreements, stood up to China, and delivered three vaccines and therapeutics during a once-in-a-century pandemic. He fought for the factory workers in Indiana, the farmers in Michigan, the ranchers in Texas, the truckers in Pennsylvania, the military who kept the peace, and the police officers who kept us safe. But in the blink of an eye, the real estate magnate-turned-politician was shunted back to Mar-a-Lago after supposedly losing the first ever mail-in ballot election to a 77-year-old feeble and often confused man who campaigned almost exclusively from his basement on the lie that he would restore our national unity. The ruling class told us we weren't allowed to question the outcome of the most bizarre and corrupt election in history, one in which tens of millions of ballots were mailed out, without proper safeguards in place to ensure that the identity of the voter could be verified, and where several Democratic secretaries of state illegally changed election laws in defiance of state legislators. Trump's 75 million supporters were rightfully outraged, as they saw his election night lead slip away in the wee hours of the morning, while being labeled rubes and conspiracy theorists by the ruling class. Before Trump had even finished speaking on January 6, and told his supporters to "peacefully and patriotically" make their voices heard, hundreds of people had already stormed the Capitol building as a riot ensued. No one who illegally trespassed should be excused from breaking the law. But contrary to false media reports, the only two people who were killed on that day were two unarmed female Trump supporters, Ashli Babbitt and Rosanne Boyland. Most consumers of the New York Times, , CNN, and MSNBC are probably unaware of that fact, and probably still believe that Officer Brian Sicknick was killed at the rally by deranged QAnon followers. The leftist corporate media and the Democrats would use the events of January 6 as their final "big lie" of Trump's presidency, and absurdly claim he had incited an insurrection. Big Tech would subsequently use January 6 as a pretext for deplatforming him from Facebook and Twitter, and a second impeachment farce occurred while he was no longer in office. According to the Fourth Estate, that event was worse than two 110-story buildings disappearing from the New York City skyline, a gaping hole in one side of the Pentagon, a plane crashing into a field in Shanksville, and 2,977 people murdered in a single day on September 11, 2001. The goal for these corrupt entities was always very clear: Punish Trump and any of his supporters to ensure that he could never be elected president again. But try as they may, the ruling class has once again failed at disarming Trump. Most, if not all of the false stories and intentional lies that were peddled about him during the course of his presidency—an in-kind contribution to the Democratic Party—have been completely disproved in the last several months. We now know, as many of us already did during his presidency, that hydroxychloroquine works, and has been proven to be an effective treatment at fighting COVID-19. And we now know the China virus in all likelihood originated from a Chinese lab. We know, as we did all along, that Hunter Biden's laptop documenting his family's corruption and pay for play schemes was real, and was not "Russian disinformation." We now know that Lafayette Square was not cleared for a photo op, and the Antifa and Black Lives Matter rioters who refused to disperse, after being told to do so by law enforcement, were not generally "peaceful." We know now as we did then that Kyle Rittenhouse never was a Trump-supporting white supremacist, but rather a good Samaritan who acted in self-defense, while protecting his friends' business from being burned to the ground. We now know as we did then that the "Russian bounties" story was fake, and we know that Trump who loved our military and our soldiers never did call them "suckers and losers." We know now as we did then that blue state lockdowns didn't work, and schools should be opened for in-person learning. We now know that critical race theory is being practiced in our K-12 schools, even if the mouthpieces on CNN and MSNBC continue to deny it, and Trump's southern border security program was successful before Biden reversed it. We knew all along that both of the Trump-hating Cuomo brothers were corrupt partisan hacks who are no longer useful for the Left and got the fate they deserved. We began to wonder, but we now know it was only a matter of time before associates of Hillary Clinton and the DNC were finally indicted for orchestrating a plot to overthrow the president. And we now know that the current occupant of the White House was exactly who we thought he was. A man who never once had an original thought, an individual who always had a tenuous relationship with the truth, a race-baiting huckster, whose cognitive decline appears to be worsening by the day. A grifter who is owned by the far-Left radical wing of his party, and who does whatever his puppetmasters tell him to do, while they destroy our country, and turn it into a socialist hellhole, all in the name of equity. It turns out Trump knew who the real enemy of the people was all along. But at least now their lies are now in plain sight.

If ever voters needed a reason to vote no on every single bond measure that appears on the ballot, here it is: The Court of Appeal for Third Appellate District just ruled that, despite all the lies voters were told about California's infamous High-Speed Rail project, taxpayers have no remedy, even though the project as it exists today bears no relation to what voters were told when they approved the $9.9 billion bond in 2008. Californians were promised a super-fast train that would travel between Los Angeles and San Francisco in about two and a half hours; the ticket price would be about $50; the total cost of the high-speed rail would be about $40 billion; and there would be significant private-sector support –money from investors — to build the project. Even before the 2008 vote, transportation experts were warning that the project would become a massive black hole into which California taxpayers would be committed to pouring hundreds of billions of dollars. In fact, a 2008 study sponsored by the Reason Foundation and the Howard Jarvis Taxpayers Foundation predicted that the promised total cost of $45 billion would quickly turn into $100 billion or more, stating that "There are no genuine financial projections that indicate there will be sufficient funds." The only error in the study now appears that the dollar amount was too low. The HSR project has been the target of multiple lawsuits, including a few that challenged the legality of the entire enterprise. But it now appears that the last legal roadblock to this continued wasting of taxpayer dollars has been removed. In Tos v. State of California, the court ruled that even though nothing the voters were promised in 2008 could possibly become true, the bonds could now be sold to finance the project. There is a disturbing message here for all California voters and taxpayers. When it comes to bond measures, nothing that is promised in the law authorizing the bond is worth the paper it is written on. If a bond act states that voter approval will authorize the construction of a high school, don't be surprised if the revenue is later used for a prison. While that may be an extreme example, it is not beyond the realm of possibility. Even more disappointing is the fact that whenever a state or local government spends bond funds for a project that deviates in substantive ways from what was described in the ballot material presented to the voters, there will be no legal remedy. The voters' only option to prevent this bait-and-switch is to adopt a policy of blanket rejection of all bond measures. The court's ruling creates an even greater incentive for public entities to misrepresent what bond measures will accomplish. If they can secure initial voter approval, no judge in California is going to interfere once the project has started construction. This is the cynical playbook used by the HSR Authority, which followed Willie Brown's advice. The former Assembly Speaker, in a moment of candor, once told the San Francisco Chronicle, "In the world of civic projects, the first budget is really just a down payment. If people knew the real cost from the start, nothing would ever be approved. The idea is to get going. Start digging a hole and make it so big, there's no alternative to coming up with the money to fill it in." Unless state lawmakers have the courage to acknowledge, as did the State Auditor in 2018, that the project is unlikely ever to be completed as promised, the high-speed rail hole will only grow bigger. Since there's no sign of that courage and no help from the courts, California is now stuck with what surely will be judged in the future as the largest waste of money in state history. Jon Coupal is president of the Howard Jarvis Taxpayers Association.

USC's players were raw as they left the locker room following a 24-14, season-ending loss to Cal on Saturday. Yes, the defeat stung, just like the seven before it. But there was a sense of the unknown that permeated the roster: Where do I fit in under new head coach Lincoln Riley? Was this the last game I'll play with my position coach? Still, despite the uncertainty, there was another feeling that everyone around the program could relate to, even if only senior defensive end Nick Figueroa could put it into words. "The season's behind us," Figueroa said simply. It's the opportunity for a new start for USC (4-8). Gone is the season full of missed tackles, failed red-zone opportunities and mindless penalties, all of which reared their heads in the finale against Cal. But the game did offer a glimpse into some future contributors for the Lincoln Riley era. Freshman defensive end Korey Foreman, the former top recruit in the 2021 class, recorded a sack. It brought his total for the season up to 2.5. An expanded role in new coordinator Alex Grinch's defense, known for letting defensive linemen bounce around and play fast, could unlock Foreman next season. Freshman running back Brandon Campbell got some chances with Keaontay Ingram out, rushing nine times for 36 yards. Campbell didn't play in the first nine games of the season but got 12 carries across the last three to get his feet wet heading into the off-season. It was a similar drill for young wide receivers Kyle Ford and Michael Jackson III. The freshman Jackson led USC with 73 receiving yards in his first career start. Ford, meanwhile, caught his first touchdown since Week 3, taking advantage of an over-eager defender to turn a routine first-down reception into a 45-yard touchdown pass. He finished with five receptions for 71 yards, leaving room to wonder what he could do with a full role and some extra separation from his second ACL tear. And USC had two true freshman quarterbacks who did good things on Saturday. Jaxson Dart got the start, as he did through the final three games of the season. He completed 65% of his passes for the second straight game while throwing for 191 yards and the touchdown to Ford. But a hit to the head on a scramble attempt in the third quarter sidelined Dart for the remainder of the game, putting fellow freshman Miller Moss into the game for his first serious action of his career. Moss said he felt a little shaky to start, but completed 8 of 13 passes for 74 yards and led USC on an 87-yard touchdown drive in the fourth quarter, finding K.D. Nixon for a 16-yard TD pass. "Once I got rolling I felt like we could score every time," Moss said. Moss committed to returning to USC next season, saying that he is approaching the off-season like a competition with Dart for the starting quarterback position. (Kedon Slovis is widely expected to either transfer or declare for the NFL Draft.) Dart is considered the more mobile of the two, which makes him a more traditional fit for what Riley likes to do on offense. But Moss said as long as he gets a fair chance, he is excited for the new era at USC. "As a quarterback, that's pretty much all you can ask for, you take one of the best coaches in college football and a guy that's known for developing quarterbacks," Moss said. "So I'm really excited to work with him and learn as much as I possibly can from him." USC has as many questions to answer these next two weeks as it had leaving the locker room on Saturday. Running back Keaontay Ingram and center Brett Neilon both said they want to speak with Riley before making a decision on the NFL. Others have choices to make about going pro or going to another school. But amid the transition, there was just a hint of what might be next for USC. Related Articles USC football season ends in fitting fashion with loss to Cal USC football vs. Cal: Live Pac-12 updates No. 20 USC edges Washington State to stay unbeaten 5-star Los Alamitos WR Makai Lemon commits to USC No. 20 USC men's basketball gains as Max Agbonkpolo's confidence grows

Sofia Goggia captured a World Cup super-G on Sunday to go 3 for 3 in races at Lake Louise. The 29-year-old Italian finished in 1 minute, 18.28 seconds on a cold day to beat Swiss racer Lara Gut-Behrami by 0.11 seconds. Mirjam Puchner of Austria, starting 29th overall, finished in third place, while two-time Olympic champion Mikaela Shiffrin wound up in sixth place as she rounds into form after dealing with a back ailment. Goggia won a pair of downhills on the Lake Louise hill leading into the super-G race. She was the 14th racer on the course Sunday and slightly behind Gut-Behrami's time at the third interval. But Goggia found speed at the bottom of the course. It was Goggia's 14th career World Cup win and first in the super-G since 2019. She will try to defend her Olympic downhill title at the Beijing Games in two months. Gut-Behrami picked up her 62nd World Cup podium. She's the world champion in the super-G courtesy of her win last February in Italy. ___ More AP skiing: https: //apnews. com/hub/skiing and https: //twitter. com/AP_Sports More AP Winter Olympics: https: //apnews. com/hub/winter-olympics Copyright © 2021 The Associated Press. All rights reserved. This material may not be published, broadcast, written or redistributed.

The Rams (7-4) play at home vs. the Jacksonville Jaguars (2-9) on Sunday Dec. 5 at 1:05 p.m. Keep it here for live updates from reporter Kevin Modesti along with analysis and stats during and after the game. Follow reporter Kevin Modesti and subscribe for Rams updates all season long. Sign up for the Horn Blasts Rams newsletter. A Twitter List by InsideSoCalSpts

Please send scores and corrections to preps@suntimes. com NON CONFERENCE ACERO-Cruz at Fasman Yeshiva, 1:30 KISKI (PA) Lake Forest Acad-Org vs. Lawrenceville (NJ), 9:00 RIDGEWOOD Maine South vs. St. Viator, 12:00 Ridgewood vs. Taft, 1:30 Glenbard West vs. Glenbrook South, 3:00 Yorkville Christian vs. St. Patrick, 4:30

American forward Timothy Weah is set to miss Lille's crucial Champions League group match at Wolfsburg on Wednesday after picking up a thigh injury. Weah did not play in Lille's 2-1 win against Troyes in the French league on Saturday because of the injury. "He got injured during training on Friday, we waited for the examination's results," Lille coach Jocelyn Gourvennec said after the game in remarks quoted by local newspaper La Voix Du Nord. "It's a quadriceps injury." French media reports said Weah would miss the upcoming game against Wolfsburg. Lille tops Group G in the Champions League and the French champions will qualify for the knockout stage if they avoid defeat in the last round of games. Lille will also be without the suspended Jonathan Bamba and Xeka in Germany. ___ More AP soccer: https: //apnews. com/hub/soccer and https: //twitter. com/AP_Sports Copyright © 2021 The Associated Press. All rights reserved. This material may not be published, broadcast, written or redistributed.

It's number three for number two. Derek and Hannah Jeter welcomed another daughter to their family on Thursday. The arrival of River Rose Jeter was announced by the Players Tribune, which was founded by the former Yankees shortstop in 2014. "Congratulations Derek and @hannahbjeter on the birth of your baby girl, River Rose Jeter, born Thursday, Dec. 2," the sports site wrote. River Rose Jeter is the third child for the Jeters, who married in 2016 ending 42 years of bachelorhood for the Bronx Bombers' team captain who wore pinstripes for 20 years. Derek Jeter, 47, and Hannah, 31, had been dating since 2012. When it comes to having girls, the Jeters are three-for-three. River Rose Jeter joins a lineup that includes a 4-year-old sister named Bella and a 2-year-old big sis named Story. The whole family made the trip to Cooperstown, N.Y., in September when Derek Jeter was inducted into the Major League Baseball Hall of Fame. During his acceptance speech, Jeter told daughters Bella and Story "your dad was far from perfect," but said he worked as hard as he could during his glory days on the baseball diamond and had no regrets "other than the fact that "I didn't get to share it with you."

A prominent USA Badminton board member has recommended that the national governing body fire its chief executive Linda French, according to a letter obtained by the Southern California News Group. The letter by the board member, Nancy Hogshead-Makar, an Olympic swimming champion, comes against the backdrop of Congressional investigations into whether French and other USA Badminton handled allegations of sexual abuse against a former U.S. national team coach and another sex abuse case involving a young female player in accordance to U.S. Center for SafeSport guidelines. Hogshead-Makar's recommendation also comes a month after Alistair Casey, a USA Badminton employee who alerted the U.S. Center for SafeSport to French and the NGB's handling of the two sexual abuse cases, was fired. "I believe Linda should be terminated because, in the totality of circumstances, I no longer trust her actions to be in the best interests of the sport," wrote Hogshead-Makar, who was appointed to the USA Badminton board in June 2020. "Rather, she is interested in defending herself to the detriment of the sport. She does not act definitively forward with any plan, one that presumably should have been changed during the pandemic to focus on issues that 'normal times' don't allow for." The U.S. Center for SafeSport on Nov. 4 placed temporary restrictions on French's duties regarding sexual abuse cases, according to SafeSport documents obtained by SCNG. French did not respond to a request for comment. Hogshead-Makar declined to discuss the specifics of the letter, citing confidentiality issues. Sen. Chuck Grassley (R-Iowa), the ranking member of the Senate Judiciary Committee in an October 1 letter warned USA Badminton about "potential criminal violations amid allegations that it sought to conceal claims of child sexual abuse and is obstructing an investigation by U.S. Center for SafeSport" in the two sex abuse cases. According to Grassley, USA Badminton "discouraged reporting of sexual misconduct, encouraged the destruction or withholding of evidence, contested their obligations under the law, and refused to cooperate with SafeSport." Grassley said he alerted the FBI about the allegations. "As the Nassar case exemplifies, inaction may lead to many more victims being harmed, which would be intolerable," Grassley wrote, referring to the Larry Nassar case in which USA Gymnastics officials are accused of covering up allegations of sexual abuse against the former U.S. Olympic and U.S. national team physician, enabling Nassar to sexually assault dozens if not more than 100 new victims. A day later Sen. Maria Cantwell (D-Washington) and Sen. Roger F. Wicker (R-Mississippi), the chairman and ranking member of the Senate communication, science and transportation committee, wrote to USA Badminton that it has received allegations from the USA Center for SafeSport "detailing possible interference by senior USA Badminton officials, including allegations that on multiple occasions, senior USA Badminton officials discouraged staff with the organization from reporting possible sexual abuse of a minor to SafeSport." Hogshead-Makar in her December 1 letter to the other USA Badminton board members said she had been forwarded a letter from the House energy and commerce committee that stated "it has recently been brought to our attention that officials at USA Badminton may have failed to report allegations of child sexual abuse, discouraged others from reporting these allegations, and may be obstructing an investigation into those allegations undertaken by the U.S. Center for SafeSport. If true, this is unacceptable, deeply troubling, and a violation of federal law." Jon Little, an attorney for USA Badminton and a prominent survivors advocate who has frequently clashed with the U.S. Olympic and Paralympic Committee and NGBs over their handling of sexual abuse cases, responded to the House committee that "the false allegations of not reporting in United States Badminton are currently being 'investigated' by the United States Center for Safe Sport and in the last month USA Badminton has produced over 1,000 pages records including multiple privilege logs to the USA Center For Safe Sport and the Senate Committee on Commerce; we are happy to produce the documents to your committee." Little was notified by the U.S. Center for SafeSport on October 13 that he was under investigation by the center. The allegations, according to a U.S. Center for SafeSport letter included that Little was "made aware of allegations of sexual misconduct and failed to timely report such allegations to appropriate authorities; discouraged the reporting of sexual misconduct; encouraged the concealment and destruction of evidence on the subject; contested the need to follow federal reporting requirements; refused to cooperate in the Center's investigation; and retaliated against a USA Badminton employee for reporting sexual misconduct to the Center. It has been further alleged that you engaged in Abuse of Process by improperly disclosing the identity of Claimants in communications with both the USOPC and the United States Congress." "The allegations are absolutely false," Little said. Little in an Oct. 13 letter to Senate aides wrote, "The Safe Sport complaint against me is part of a long running campaign by Safe Sport and its predecessors to silence the voices in sport that protect athletes in sports and I will publicly defend myself." The U.S. Center for SafeSport and Congressional investigations are focused on whether USA Badminton discouraged the reporting and failed to report in a timely manner allegations that a former U.S. national team coach raped a young foreign female player training in Southern California and another rape of a young female by another USA Badminton member, according to U.S. Center for SafeSport and USA Badminton documents. In the second case, the female became pregnant and underwent an abortion, according to two people familiar with the case. Allegations in both cases were known by USA Badminton, including some board members, for years, according to USA Badminton, U.S. Center for SafeSport and Congressional documents. In their Oct. 2 letter to French, Cantwell and Wicker wrote the U.S. Center for SafeSport allegations of interference against USA Badminton "were made in connection with SafeSport's investigation into 'allegations of child sexual abuse [by a USA Badminton coach] that were apparently known by an NGB official as far back as 2014.'" "This behavior is exactly the sort of retaliatory abuse of process Safe Sport regularly utilizes to protect coaches who produce medals and money – in this case (the U.S. national team coach)," Little wrote in the Oct. 13 letter to Senate aides. "Safe Sport wants to perpetuate the narrative that Badminton failed to report (the U.S. national team coach) when in reality (the coach) had been the subject of a complaint made by the former athlete ombudsmen in 2009 and then again by USA Badminton in June/July 2020. Badminton correctly assumed that any additional complaints would be dismissed out of hand and without any sort of investigation by Safe Sport. This was the case regarding the August 2020 complaint as it was disposed of in less than three weeks." In an Oct. 5 email to French, Hogshead-Makar and USA Badminton chairman Ken Wong, Little wrote, "Bottomline in June of 2020 we discussed USA Badminton banning (the coach) and I think we need to do so now, I know it will be expensive as he is likely to fight but I think this guy is going to be a problem in the future, if he hurts a kid in the future we would get the pants sued off of us civilly – but besides that removing him is the right thing to do." Both cases were reported to USA Badminton on August 12, Little said. U.S. Center for SafeSport officials were unable to locate the alleged victim in the first case which was closed September 1, Little said. The second case was closed on August 28, Little said. The center did not issue sanctions in either case, Little said. "Linda did not understand the rules of SafeSport, and made the mistake of thinking she did not need to report some incidents of sexual abuse to the US Center for SafeSport," Hogshead-Makar wrote in the letter. "After texts and a discussion with her, she did report them, and both reports were administratively closed.… But rather than clean up the mess her mistake caused, she got defensive and became unable to speak with Alistair, her only employee. "Linda has made a SafeSport issue/ complaint into a federal case by failing to say what was true: that she did not think she had to report when she heard about a coach molesting a badminton player. She ultimately did report, and SafeSport has administratively closed those reports. In my mind, it was a good-faith mistake that didn't get cleaned up swiftly." In an interview with SCNG, Hogshead-Makar said "in my impression was a mistake was made and my impression was that we cleaned it up. Related Articles Agreement would address sustainability, access to LA Olympic and Paralympic Games Olympic champ Suni Lee says she was pepper-sprayed in racist LA attack "This was not in any way like (USA) Gymnastics where they knew about (Nassar) and they didn't do anything about it." Hogshead-Makar in the letter also alleges "the 2022 budget was used to dismiss Alistair Casey from employment. To my mind, this 'emergency board meeting' (on the budget) was created in order to give Linda 'cover' to fire Alistair. I feel she was not being straight with us about her intentions of our meeting, or why she was firing Alistair." Casey said he was fired because he was reporting to the U.S. Center for SafeSport. "Absolutely," he said. "Had I not reported to SafeSport, I would still be working there."

Few explanations about the ultimate pointlessness of Prohibition are better than the one found in the 1969 Creedence Clearwater Revival song, Bootleg: "Take you a glass of water, make it against the law. See how good the water tastes when you can't have any at all. Bootleg, bootleg, bootleg, howl." That's a howling good way of saying that when government bans stuff, people still want it – and they'll do almost anything to get it. If you don't believe the CCR lyricists, then you haven't watched enough Netflix shows about the Mexican narcotics trade, which show how drug-eradication efforts boost demand, corrupt officials and reward the most ruthless suppliers. We've long known these lessons. Eighty-eight years ago today, two hard-drinking states, Pennsylvania and Ohio, and one tee-totaling one, Utah, approved the 21st Amendment to the Constitution repealing the 18th Amendment's Prohibition on the manufacturing, sales and transportation of intoxicating beverages. It ended a 14-year experiment in insanity. "By the 1930s, it was clear that Prohibition had become a public policy failure," History. com noted. Passed against a backdrop of progressive do-gooding, the ban "had done little to curb" drinking and a lot to create modern organized-crime syndicates. Stuck in the Depression, "money trumped morals, and the federal government turned to alcohol to quench its thirst for desperately needed tax money." Cutting government in on profits often protects an industry – in a similar way that paying "protection money" to mobsters allows a business to continue. In California, however, the government has gotten too greedy in dealing with its emerging cannabis industry, thus defeating the purpose of legalization. Californians passed the Proposition 64 weed-legalization measure in 2016. Its proponents made the proper conceptual argument – that legalization would extinguish the black market and provide revenues that fund government programs. The revenues have been far less than predicted. The "legal weed industry has struggled in the face of high taxes, local government opposition, and burdensome regulation," the libertarian Cato Institute explained. "As a result, much of the market remains underground.… (E)stimates from 2018 suggest legal sales account for only 20 – 25 percent of total sales." The problem isn't legalization, which is a wise policy that lessens the cost and injustice of prosecuting people for victimless "crimes." The problem is the continuation of Prohibitionist restrictions, which keep the underground economy flourishing. At least Proposition 64 attempted to further legalize a product. What explains California's efforts to impose new prohibitions on highly addictive products that currently are legal? Gov. Gavin Newsom last year signed Senate Bill 793, which banned the sale of flavored tobacco products. It's on hold pending a referendum next November. This is full-fledged Prohibition, and will have the totally foreseen consequences that accompany government bans. The law targets menthol cigarettes, as well as vaping and various smokeless tobacco products such as Swedish snus. There's little question tobacco companies targeted African Americans in marketing menthol, but an outright sales ban will lead to black markets – such as the peddling of "loosies" on the streets of inner-city neighborhoods (and all the potentially dangerous police encounters that will take place as a result). "Economic studies demonstrate that cigarettes and e-cigarettes are substitutes for each other," wrote public-health professor Kenneth Warner in the . "(I)f e-cigarette prices rise relative to cigarette prices … some people will smoke cigarettes who would otherwise have used e-cigarettes." He was referring to the Biden administration's misguided attempt to raise taxes on alternative nicotine products that are, per the top British health agency, 95 percent safer than cigarettes. Imagine how many smokers will return to their deadly habit if California prohibits their sale – or how many underground entrepreneurs will find ways to smuggle them into the state. In terms of alcohol policy, California regulators have done a decent job learning Prohibition's lessons, given that alcohol sales aren't hobbled here by many prudish regulations that are common in more conservative states. I recently visited Pennsylvania, which mandates that hard liquor is sold through state-run stores with the choice and ambience one expects in a DMV office. Related Articles California's economic recovery lags Nebraska The political implications of the Omicron variant for President Biden and Democrats UFOs only love Anglophones, and vice versa CalPERS gambles with taxpayer money once again How Congress can help reduce the West's wildfire problem Prohibition doesn't only apply to "sin" products and services such as booze, drugs and prostitution. As these editorial pages have frequently detailed, California prohibits honest work through Assembly Bill 5's limits on independent contracting – and through occupational-licensing rules that turn handymen into scofflaws. Instead of legalizing honest work, the state is punishing "economic crimes." Like tobacco and other addictive substances, work is a lot like water. People will do whatever they have to do to find it. The only real beneficiaries of all prohibitions are bootleggers. Steven Greenhut is Western region director for the R Street Institute and a member of the Southern California News Group editorial board. Write to him at sgreenhut@rstreet.org.

Julia Taubitz of Germany won a pair of women's World Cup luge races Sunday, while Summer Britcher gave USA Luge its best individual finish in nearly two years by grabbing a silver medal. Taubitz won the women's race in 1 minute, 39.434 seconds, beating German teammate Natalie Geisenberger by 0.368 seconds in that two-run competition. Kendija Aparjode of Latvia was third in 1:39.856. For the U.S. women, Britcher was 10th, Ashley Farquharson was 13th and Brittney Arndt placed 19th. In the women's sprint race that followed, Taubitz won again, in 31.743 seconds. Britcher was second in 31.764 and Dajana Eitberger of Germany was third in 31.775. Farquharson placed 14th for the Americans. Britcher's silver medal was the best finish for the U.S. in a singles or doubles World Cup race since she won silver at Lillehammer in January 2020. In the men's sprint, Dominik Fischnaller of Italy got his seventh career World Cup victory by prevailing over Roman Repilov of Russia and Wolfgang Kindl of Austria. Jonny Gustafson was 15th for the U.S. And in the doubles sprint, Latvian brothers Andris Sics and Juris Sics got the win over Aleksandr Denisev and Vladislav Antonov, both of Russia. Germans Robin Geueke and David Gamm were third, two spots ahead of the American sled of Chris Mazdzer and Jayson Terdiman. The World Cup luge series moves to Altenberg, Germany, next weekend. ___ More AP Winter Olympics: https: //apnews. com/hub/winter-olympics and https: //twitter. com/AP_Sports Copyright © 2021 The Associated Press. All rights reserved. This material may not be published, broadcast, written or redistributed.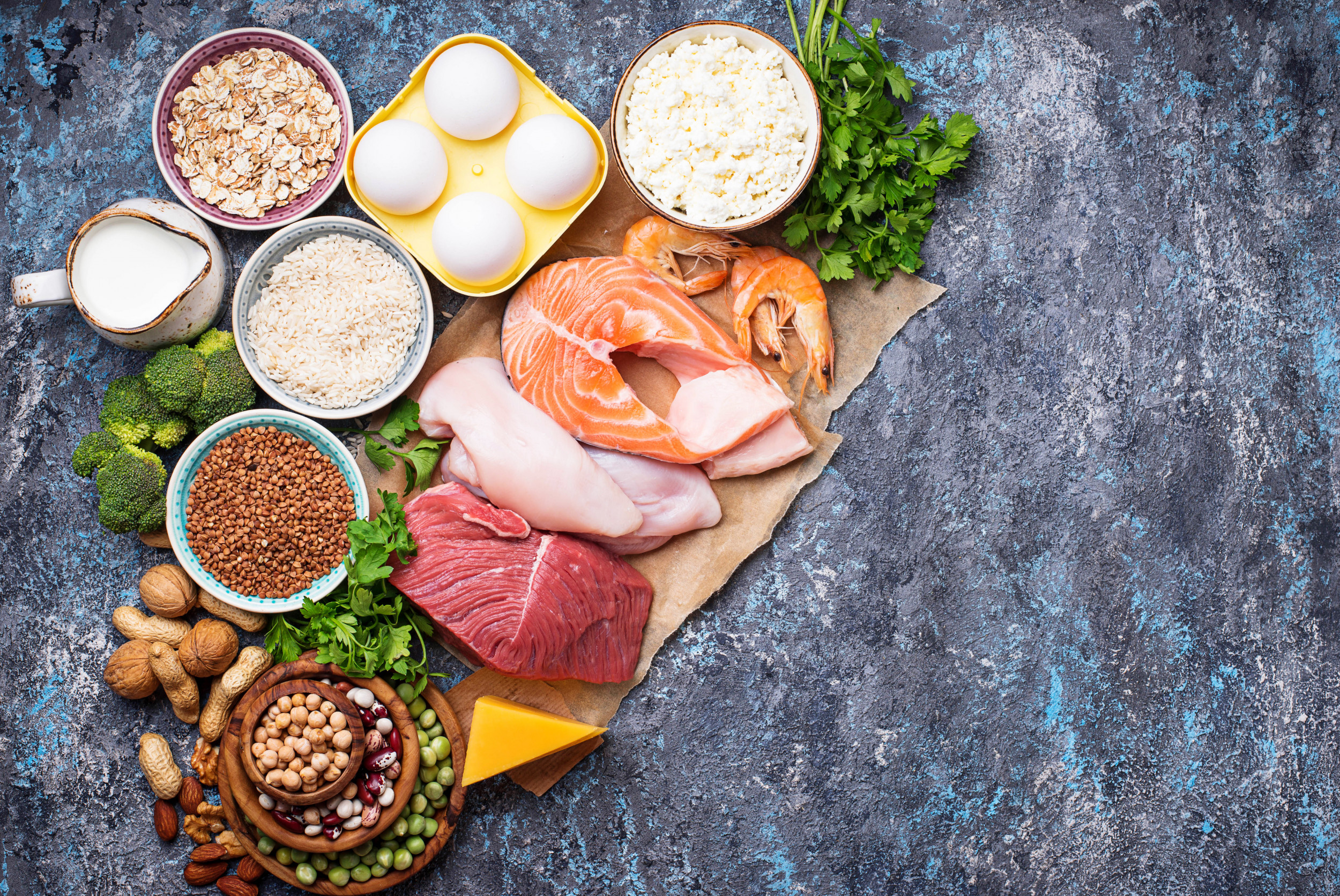 The ketogenic diet—also known as the keto diet—has gained traction in the past decade or so due to its alleged positive effect on weight management. The diet has been popular among celebrities including Gwyneth Paltrow. The Hollywood actress previously faced backlash from health experts who said there was a lack of evidence to support her suggested "healing" remedies, which included a keto and plant-based diet. A ketogenic diet is defined as a diet high in fat and low in carbohydrates (sugars), which causes the body to break down fat into molecules known as ketones. "Ketones circulate in the blood and become the main source of energy for many cells in the body", the U.S. National Institutes of Health (NIH) explains. Some people follow a plant-based keto diet with no animal products that entails consuming lots of fiber from non-starchy vegetables but very little starch or sugar, while other keto diets include a lot of animal products but very few non-starchy vegetables. Some versions of the diet contain less red meat and processed meat, less saturated fat as well as more fish and plant-based fats that have lower levels of saturated fat. But the commonality of all these keto diets is that "they are all sufficiently low in dietary carbohydrates that the body increases its production of ketones, resulting in elevated blood levels of ketones", Hall said. Ketones are substances produced by your body if your cells don't get enough blood sugar (glucose). Glucose is the main energy source for your body. Due to there being a low level of carbohydrates available for energy, your body breaks down fat into ketones, which become the primary source of fuel for the body. Ketones provide energy for the heart, kidneys and other muscles such as the brain. A ketogenic diet is essentially considered "a partial fast", explains the Academy of Nutrition and Dietetics. "During a total fast or starvation state, the body has no source of energy. Thus, it breaks down lean muscle mass for fuel. With the keto diet, the ketones provide an alternative source of energy. Unlike a full fast, the keto diet helps to maintain lean muscle mass", the academy says. A keto diet helps reduce seizures in pediatric patients with epilepsy, the ASN's Psota added. Dr. Russel Wilder of the Mayo Clinic was the first to coin the term "ketogenic diet", using the diet to treat epilepsy in 1921. For nearly a decade, the ketogenic diet was considered a "therapeutic diet" for pediatric epilepsy and was widely used until the introduction of antiepileptic agents, which led to the decline of the diet's popularity, the Ketogenic Diet book says. The NIH's Hall noted: "It's also important to consider a diet's benefits and risks in the context of the comparison diet." For example, compared to a typical Western diet that's high in ultra-processed foods, which contains lots of sugar and fat but are low in fiber, a ketogenic diet can result in weight loss, he explained. According to the ASN's Psota, research suggests a keto diet may present potential benefits related to blood glucose (sugar) control, such as improving insulin sensitivity. The NIH's Hall said a keto diet may lower glucose and insulin levels in the blood, which may be beneficial for people with type 2 diabetes or pre-diabetes. When your body's blood sugar levels rise, it releases insulin, which lets the glucose into your body's cells to be used as energy. Diabetes patients either don't produce enough insulin or their bodies can't utilize the insulin as well as it should and too much blood sugar stays in their bloodstream. When you're on a keto diet, the body is deprived of carbohydrates and insulin secretion is significantly reduced. Ketogenesis provides the body with an alternate source of energy in the form of ketone bodies, replacing glucose as a primary source of energy. "During ketogenesis due to low blood glucose feedback, the stimulus for insulin secretion is also low, which sharply reduces the stimulus for fat and glucose storage", the book explains. According to the Academy of Nutrition and Dietetics, research findings on the benefits of the keto diet for health conditions including obesity and diabetes are "extremely limited." Among the short term health risks of keto diets are flu-like symptoms, referred to as the "keto flu." These may include upset stomach, headache, fatigue and dizzy spells, while some have also reported trouble sleeping, according to the Academy of Nutrition and Dietetics. The keto diet requires either "cutting out or drastically reducing" many nutrient-dense foods, such as fruits, vegetables, and grains. This can lead to micronutrient (i.e. vitamin and mineral) deficiencies over time, said the ASN's Psota. Ehsani from the Academy of Nutrition and Dietetics said the diet "eliminates nutrient dense foods essential to your overall health and well-being." Keto diets limit your intake of grains, starchy veggies, beans, lentils, fruits, vegetables and dairy products. All of these foods are loaded with essential vitamins, minerals, antioxidants and dietary fiber, the registered dietitian nutritionist said. The ASN's Psota said one way to avoid these "micronutrient deficiencies" while on a keto diet would be to take a multivitamin supplement. "However, supplements do not provide the fiber that whole foods like fruits, vegetables, whole grains, and beans contain", she warned. The low intake of dietary fiber may cause constipation, Ehsani said. Those on a keto diet are often required to take a fiber supplement to maintain regular bowel movement. The NIH's Hall said another concern is that some people may experience "a substantial increase in blood LDL cholesterol and Apolipoprotein B [ a protein that forms the backbone of LDL]" due to the high fat content of keto diets. These concerns may be mitigated by decreasing the saturated fat content of the diet and replacing it with sources of monounsaturated fats, but more research is needed on this topic, he said. According to Hall, there are also medical interventions that can help decrease blood LDL cholesterol levels and Apolipoprotein B to consider, "but the efficacy of such medications also needs more research." The potential for high levels of LDL cholesterol ("bad" cholesterol) raises the risk of heart disease in keto dieters, the ASN's Psota said. According to the Academy of Nutrition and Dietetics, a "considerable body of research" has shown diets high in saturated fat may increase the risk for heart disease and other chronic health problems. "The risk that keto dieters might be taking with regards to their long-term cardiovascular health has not been fully studied", the academy said. Kidney stones and liver disease are among the other long-term health risks of a keto diet. The diet is also not recommended for those who suffer from the following conditions, according to the Academy of Nutrition and Dietetics: Ehsani from the Academy of Nutrition and Dietetics said the keto diet is by nature very restrictive and therefore not sustainable. "Most people have a very hard time following such a rigid diet that cuts out major food groups", she said. Ehsani explained: "The keto diet is a fad diet, meaning it works until it doesn't. You may experience rapid weight loss, but it's not a healthy solution towards attaining weight loss. "If you're looking for a healthy way to lose weight, instead work with a registered dietitian nutritionist (RDN)", who can create a personalized plan based on your unique health and nutrition needs and goals, she added.

Getty Payton Pritchard of the Boston Celtics. Multiple members of the Boston Celtics roster have ties to Portland, from head coach Ime Udoka and the majority of his coaching staff to sophomore point guard Payton Pritchard. Pritchard grew up in Oregon, playing basketball at youth, high school, and college levels, making him somewhat of a hometown hero. So, when the sophomore guard got hot against the Portland Trail Blazers, you could understand the excitement on the bench and in the stands. "It feels good to come back and play in your hometown. Obviously, I played high school ball here, grew up here, and then played college ball. So, you know, Oregon is a special place to me. For me and our team to come out here and play well and get a win on this West Coast trip feels good," Pritchard told the media after he dropped 19 points in the Celtics' latest win. PP PUTTING ON A SHOW 🔥 pic.twitter.com/qn9X1V7lhD Boston Celtics (@celtics) December 5, 2021 Following the game, some sections of NBA fans stated that Pritchard's play down the stretch could be considered unprofessional, as he continued to fire shots up with the clock winding down and the win already in the books. "We hitting shots, I don't know what they want us to do, at the same time I get it if you're like free-balling it, but we was just playing ball, hitting shot's, so," Pritchard said when discussing his thoughts on being labeled unprofessional, "I think at the same time, I was just playing ball. I know I got a lot of support here in Portland, but it was fun just going out there playing ball." Pritchard has had some excellent scoring nights since entering the NBA and has become a beloved member of the roster for the fan base. After a summer that saw him have some dominant performances in Summer League and then his 92 point outing during a Portland Pro-Am game, many were expecting big things from the guard this year. However, after 24 new season games, we've been left waiting for a big night from Pritchard. And then, in his hometown, the diminutive guard turned on the style in the third and fourth quarter to help his team get a big victory over his hometown franchise. Of course, whenever the Celtics are doing something good, Twitter is the place to be, with fans, analysts, and media members all getting in on the good vibes following the December 4th contest. PAYTON PRITCHARD HAS LOST HIS MIND! ! ! ! — Dan Greenberg (@StoolGreenie) December 5, 2021 Payton Pritchard scored 16 points in a 3 minute stretch in the 4th quarter. — 𝙍𝙞𝙡𝙚𝙮 ☘️🎄 (@CelticsRiley) December 5, 2021 " Nobody dislikes amateur teams running up scores more than me, but this is the NBA! Payton Pritchard deserves to take advantage of some PT. If teams aren't allowed to try, the @NBA should institute a rule where the team losing is allowed to throw in the towel. No apology needed," Twitter user @DanKelley66 wrote following the Celtics "unprofessional" celebrations to Pritchard's hot streak in the fourth quarter. Payton Pritchard just took 6 3-pointers in the final 2 minutes of a total blowout i'm dying lmao — Jason Patt (@Bulls_Jay) December 5, 2021 Payton Pritchard looking for the cherry on top to a big game (and garbage time show) in his hometown. This sequence 😂 pic.twitter.com/mXNID62R5V — Aidan Maher (@Aidan_Maher17) December 5, 2021 " And another one! ! ! ! ! ! ! ! ! ! Dennis on the floor needing CPR! ! ! ! Let's go!!!! Pritchard going crazy with the 3s!!!!! #Celtics," @Cmoon05 wrote on Twitter while the Celtics guard was hitting shot after shot. If you want to see more of the reactions on Celtics Twitter, you can find them here. According to Basketball-Reference, Pritchard has already missed five games this season due to the coach's decision not to play him. And when he has seen the floor, the sophomore guard's touches have been limited, leading to him forcing his shots a little. In 19 appearances this season, Pritchard has averaged 9.3 minutes per game – a considerable drop from his 19.2 minutes per night last season. With just 2.2 points, 1.2 assists, and 1.2 rebounds per game, the Oregon native's impact on games has been subdued compared to his rookie year, which has come as a surprise to fans worldwide. "He had a little bit of frustration because he hasn't played that much, hasn't seen the court much yet. But, I mean, it's great to see these people who are working hard every single day. I think Jayson Tatum mentioned that everybody in this locker room, they work, try to get better, and everybody tries to help the team win. And to see it pay off like that, getting hot in the fourth quarter, it means a lot to for me and my teammates for sure," Dennis Schroder said when discussing Pritchard's scoring exploits. Pritchard and Nesmith haven't taken advantage of their limited opportunities this season. Complete opposite tonight from both. They've both done some really good stuff. — Keith Smith (@KeithSmithNBA) December 5, 2021 The Celtics have a demanding schedule through December, which entails multiple back-to-back games. Following his performance against the Trail Blazers, one would hope that Pritchard gets more opportunities to repeat his scoring exploits moving forward. The Celtics have a few days rest now before facing off against their fierce rivals in the Los Angeles Lakers on Tuesday, December 7th. Unlock the latest Boston Celtics news, rumors and exclusives — direct to your inbox. ↓

At close of play on Day 3, New Zealand needed a further 400 runs to win with just five second innings wickets remaining. These are numbers that give you a measure of India dominance in the match. India put on a solid batting effort in the second innings on a pitch that can be described as challenging but the if the main goal was to see Cheteshwar Pujara and Virat Kohli get some big goals, then one can say that the home team didn't achieve it. But as far as winning the match goes, India made solid strides in the right direction. They scored quick runs and took quick wickets to virtually snuff out any chance of NZ escaping with any points Day 3 was all about the Indian batters. New Zealand were so behind the eight ball and that getting back into it would require a miracle of sorts. So the focus was instead all on India's decision to bat. It was a chance for Kohli and Pujara to find some runs and confidence ahead of SA tour. An opportunity for Iyer to stake a stronger claim on the middle order slot and of course, a chance for Mayank Agarwal to get into the squad. And for a while in the morning session, it looked like Mayank Agarwal and Cheteshwar Pujara would make mincemeat of the Kiwi bowlers. Both looked to be positive but it was Pujara who stood out. He showed great intent against the spinners and kept using his feet to them. Southee once again was solid and Ajaz Patel did his bit too but for the first hour, it was all India. The duo brought up the century stand and looked good for plenty more but an injury to Agarwal seemed to put a spanner in the works. He tried to get a few quick runs but the injury to his right forearm proved to be his undoing. He was dismissed after reaching his fifty while trying to run down the track to Ajaz Patel. The ball gripped a little and the opener was caught in the deep. A little later, Pujara edged it to first slip. It was a good innings to that point but he would have been disappointed that he couldn't make it a big one. Gill had walked in at the fall of Agarwal's wicket and he was joined by Kohli in the middle after that. India went into lunch at Ind 142/2. In the session: 25 overs, 73 runs, 2 wickets. All eyes were on Kohli as India's batters took the field after the lunch break. His extended run of poor form has prompted him to talk about workload management and he has looked to mentally get back in a good space but nothing will work better than some runs in the middle. The pitch wasn't the easiest to bat on but the NZ skipper Tom Latham did the two batters a favour by starting the session with Somerville and Ravindra. The two had been the least impressive of the NZ bowlers in the match and having them bowl in tandem gave the batters some breathing room. It allowed both Gill and Kohli to settle back in and then play a few shots. But neither batter was very convincing. Gill was risking it a bit too much and Kohli just hadn't found his rhythm. The fluency that one usually associates with Kohli was not on display. Yes, the pitch had something for the bowlers but with no pressure on the batters, one might have expected him to take on the bowlers a bit more. Ravindra, who had usually only bowled ahead of the scheduled breaks, made the most of his long spell to eventually claim the wickets of Gill (47) and Kohli (36). The other Indian batters were in the mood to hit the big shots. Iyer had two sixes in his 14, Axar Patel hit 4 sixes in his 41 and Jayant Yadav had one in his six. Kohli's declaration with India's total on 276/7 gave New Zealand a victory target of 540 runs. A day after he took 10 wickets in an innings, Ajaz Patel broke another long-standing record against India, which was previously held by Ian Botham. He finished with match figures of 14/227 – the most wickets taken against India in a Test match. At tea, the visitors were 13/1. Ashwin was back among the wickets and it really didn't look like the NZ innings would last very long. In the session: 28 overs, 134 runs, 6 wickets After play resumed, NZ quickly collapsed to 55/3 and with India's spinners settling in from both ends, life wasn't easy. But this is where Daryl Mitchell stood up and played a classy innings. He came out looking to be aggressive even against the spinners but he was decisive in his footwork. He only went for the big shots when the bowlers were giving the ball some air, unlike Ross Taylor came out ready to attack everything. He showed that it was possible not just to survive but also to put pressure back on the Indian bowlers. As he said after the game, he took a leaf out of the notebook of the Indian batters who had done exactly the same to the Kiwi bowlers. The 73-run stand between Mitchell and Nicholls came off 111 balls and allowed NZ to fight as we have come to expect from them. When Mitchell was dismissed after making 60 off 92 balls, there was a thought that the floodgates might open again but Ravindra kept his cool and stood firm with Nicholls till the end of the day. New Zealand need exactly 400 runs to win the match. India need a more likely five wickets. In the session: 41 overs, 127 runs, 4 wickets

BEAVER CREEK, Col. — Pretty much everywhere besides the Alps, ski racing tends to fly under the radar most of the time. And then, every four years, an Olympic Games approaches and with the flick of a switch, ski racers once more capture the imagination of anyone who catches a glimpse of the high-speed daredevilry that unfolds across Europe and North America in the winter escapade known as the "white circus." In an Olympic season, the prospect of the Games and the glory and riches it can deliver tends to hover over every turn and spray of snow. Every result becomes a hint of who is rounding into form and who still has work to do and what might happen come early February when the eyes of the world lock in on this rarefied sport. The men's half of that roadshow landed in Colorado's Rocky Mountains this weekend for the series of races known as Birds of Prey, featuring the usual collection of speed hounds that many sport scientists count among the best all-around winter sports athletes. They are willing to hurl themselves down a nearly two-mile sheet of ice at upward of 80 miles an hour on a couple of fiberglass composite sticks. Through the first three days of racing, they did nothing to dispel that notion, with Aleksander Aamodt Kilde of Norway winning two of the first three races to reassert his claim as the best of the best even though he tore a knee ligament less than a year ago. A final downhill is scheduled for Sunday afternoon. Despite his prowess, Kilde, the 2019-20 overall champion, is best known in these parts as the boyfriend of Mikaela Shiffrin, arguably the world's top female skier who has a chance to add an armload of medals at the Beijing Olympics. She is a beloved local who makes her home one town closer to Vail, just a few ridges away. Though Shiffrin struggled in her downhill race in Lake Louise this weekend, she won her 71st World Cup race, and her 46th in slalom, in Vermont last weekend, and is one of the sport's biggest stars. "She's awesome," Kilde said of his girlfriend Saturday, after shredding the downhill course to win by two-thirds of a second over Austria's Matthias Mayer and reading a congratulatory message from Shiffrin. "We are good for each other." Looking for hints ahead of Beijing? Kilde and Shiffrin look poised to be the golden couple of the Games. NBC, the Olympic broadcaster in the United States, does love its golden couples. That these races are happening at all this weekend is something of a miracle. Despite some scattered snowfall last month, the weather has been balmy in the Colorado mountains of late, with chilly nights and mornings giving way to bright, 50-degree afternoons. With the exception of a few runs, the mountains are mostly dull shades of green and brown. Technicians spent weeks blowing man-made snow onto the course in a furious battle to build up a suitable base and gain approval from skiing's international federation inspectors to go ahead. It was touch and go until the final days, and hundreds of workers with picks and shovels have labored long days to maintain the narrower than usual strip of snow for the race. "Not as much terrain as we are used to," said Ryan Cochrane-Siegle, America's top speed skier, who finished sixth in Saturday's downhill, an encouraging result for someone whose previous season ended with brutal crash and a broken neck. While the Beijing Games are the short-term elephant on the ski hill, climate change is the long-term one. Ski racing can't happen without cold temperatures and snow. Shorter winters are increasingly squeezing the beginning and end of the World Cup season and making summer training on high-altitude glaciers ever more precarious. Gaming the weather became essential strategy this week, with the top racers vying to start early in the schedule before the course started to break down from a combination of sun, warming temperatures and ski edges. Alpine skiing at the 2022 Olympics will take place in the Yanqing District, where it should be plenty cold but where it snows little and every flake ski racers careen across will be man-made. The skiers actually prefer it that way, because man-made snow provides the kind of hard, densely packed and consistent surface they like and feel safest on. They are less enthused about traveling to a mountain where they have never competed in a host country with a government that has become increasingly authoritarian. There have been calls for boycotts of the Games and complaints against the International Olympic Committee for its embrace of China's government, most recently amid Beijing's reaction to sexual assault allegations made against a top Communist Party leader by the tennis star Peng Shuai. "It's a big problem, and I am not afraid to say it," Kjetil Jansrud of Norway, the 36-year-old veteran and five-time Olympic medalist, said after his 14th-place finish Thursday. "As athletes, we are stuck in the middle." A day later, Jansrud had another problem to deal with when he crashed violently coming out of one of the course's sweeping turns. Jansrud tumbled out of bounds at nearly 60 m. p. h. , his skis helicoptering into the netting on one side of the slope. The American men, who have been snakebit by injuries the past few seasons, have skied clean so far as they try to get back to the standard that the now retired stars like Bode Miller and Ted Ligety set on the World Cup tour the past 15 years. Travis Ganong, a 33-year-old Californian who tore a major knee ligament a few years ago, registered the most encouraging result, finishing third in Friday's Super-G race. "We needed that," said Steve Nyman, 39, the team's elder statesman, who is mounting a comeback from his own series of injuries. "You see a guy up there on the podium it fires us all up." The Swiss and the Austrians, who generally rule this sport, don't often need much firing up but they have gotten their fair share the past few days. Marco Odermatt of Switzerland, a fast-rising 24-year-old, won the Super-G Thursday, took second Friday, and looks likely to carry on his country's Alpine traditions. And if it is an Olympic year, then it is a safe bet that Meyer, one of the smaller skiers on the tour, will be finding his unique form, skiing in his trademark position like an upside-down U. Meyer was the downhill Olympic champion in 2014 and the Super-G champion in 2018. Meyer finished second in Thursday's super-G and was sitting in the leader's seat for a good half-hour Saturday before Kilde knocked him out it. "I brought my confidence from yesterday," Kilde said after his second straight win. "A great feeling."

Players from the Patriots' early championship teams are getting a kick out of watching the 2021 edition. Even though it's been 20 years since that first championship season, much about how this Patriots team plays and performs is recognizable to those who were part of those early championship teams in particular. Their throwback style brings retired Patriots back to their playing days. Patriots Hall of Famer Rodney Harrison said he's been inspired to jump up and shout when he sees Bill Belichick 's current defense executing similar coverage schemes from the past that also allowed him to make plays all those years ago. "I can tell when they're playing soft coverage, I can tell when they're going to blitz at times, or double-team guys, or when they're going to call certain plays. Yeah, I see it," Harrison said when reached last week. "It's hilarious because I'm yelling and screaming at the TV: 'That's the same coverage we played in the Super Bowl!'… it's just awesome to see." Harrison wasn't kidding. His voice rose up a few decibels when he described the excitement he gets watching something so familiar. He giddily brought up a play from the past, where he got an interception after he and linebacker Roman Phifer double-teamed Pro Football Hall of Fame tight end Tony Gonzalez, then with the Chiefs, by the goal line. The 2021 Patriots have made similar plays, using the same strategy. The similarities were noticeable to Mike Vrabel, too. The Titans head coach, in town last week, told the Herald he could definitely draw some parallels to the 2001 team and the early championship versions of the Patriots while watching film to prepare for last week's game. Said Vrabel: "You're starting to see some of those plays start to look like they looked in the past." The throwback style of the 2021 Patriots brings a smile to the faces of those from past teams who also rode a great defense, with a punishing ground game and stout offensive line. Heath Evans, who played against those early Patriot teams before arriving in New England in 2005, said he has enjoyed tuning in every week from his Texas home. "It's really been fun to watch. They just play a brand of football that's very frustrating for opposing teams," said Evans, the former fullback. "It's not that people can't beat it, it's just that no one has the patience." It's a passing league. Teams want to throw the football. Teams also want to defend the passing game, because that's what they're built to defend. In 2021, it's tougher for smaller and speedier defenders to handle a ground-and-pound, bully-ball attack, with an accompanying passing game predicated on short, quick throws. That was the Patriot Way in the early 2000s, and after a changeup in 2007 with the arrival of Randy Moss, Wes Welker and Donte Stallworth, it's been slowly turning back. "Having smart, tough team guys that can morph into any type of offense, or any type of defense is just a beautiful thing," said Evans. "Modern day football is played very different. I don't want to say it's not strategic, but the patience factor of letting this young quarterback do what he's doing is special, and the defense, it just overwhelms (opposing) coaches and quarterbacks." Judging by the performances of Justin Herbert, Baker Mayfield, Sam Darnold and Ryan Tannehill, just to name a few, it's overwhelming, much like the unit that took down the Greatest Show on Turf in that first Super Bowl. Harrison, however, had one bone to pick, pointing out a difference between then and now. In his day, he said there was a certain pride at being able to stop the run. He didn't like what he saw both during and after the game against the Titans from a few Patriot defenders who didn't seem overly bothered by getting gashed by the run game. "I'm not letting no team run no 270 yards. Are you kidding me?" he said. "If that would have happened to our team, we wouldn't have given a damn about the win. That run game would have haunted us the entire week until we got a chance to play again." After the game, a few Patriots suggested that it was more important allowing just 13 points and getting the win. That bugged Harrison. But, all in all, he's still enjoying the ride from week to week. "I am enjoying watching, because, to me, it's kind of like the transition," Harrison said, referring to a transition from the Tom Brady era. "Now you got Mac Jones, it's the start of an era, and it's exciting. And it's really exciting to see a guy like Matthew Judon come in and just dominate, and be that guy, and shoulder that pressure, and make those plays. And seeing J.C. Jackson grow, and how much he's improved. "It's just been so much fun to watch, and I'll tell you, these guys are really starting to understand what Patriot pride is about." A Matt Judon minute It's always interesting and entertaining listening to Judon, whether he's talking about his dislike for macaroni & cheese or football. On Thursday, he gave a terrific answer to ESPN's Mike Reiss when asked how he'd describe what defines the Patriots defense in terms of style of play. "I think, honestly, whatever we need to do, just to get the job done," Judon began. "Whether we gotta stop the run this week because they're coming out heavy, or they're coming out empty and trying to throw the ball all over the field. "Whatever we gotta do that week, to stop that team that play, we can transform into that. I think that's kind of our style." That's another way of saying bend-but-don't break, which has been the Patriots style since Belichick arrived. Injured Patriot staying active The Patriots lost slot corner Jonathan Jones for the season after he suffered a shoulder injury Week 6 against Dallas, but he's managed to remain active with the team. He's also stayed involved with other local endeavors, which we'll get to in a bit. First up, his providing a helping hand in Foxboro. In between coming in for his rehab, Jones has been a sounding board for members of the secondary, namely Myles Bryant. He's provided whatever pointers he can give the second-year defensive back, who has taken over for Jones in the slot. Those should come in handy this week when Bryant takes on Buffalo's Cole Beasley. "I've been able to talk with him, tell him things I've seen, and let him know that the game will come to him," Jones told the Herald when reached last week. "He's doing a great job and he's just going to continue to get better and better." On Thursday, during his session with the media, Bryant also mentioned keeping connected with Jones. "Jon, he helps a lot," Bryant said of Jones. "He's still in and out of the building. I mean, that star position (slot corner) is a very cerebral position. You have to be on your toes in terms of thinking. If I have a question, I'll go to him, whether it's a text, or if I see him in person, just ask him about his insight, or his perspective on a certain thing we're trying to iron out." Jones is happy to do it. At the same time, it's hard to be done for the season at any time, much less when the team's put together a lengthy win streak and seems poised to make the postseason. "It's been tough," said Jones. "I've reached out to some of the older guys who've gone through the same thing, anyone who's been in a similar situation." Dont'a Hightower has been a good sounding board. Ditto Devin McCourty. "Being around the team, trying to support them in any way I can keeps me focused," said Jones. "Those guys are working hard. It's a certain focus and a certain chemistry you see being around the guys. I feel their energy. Like coach (Belichick) says, you can't fake chemistry." Game of Codes Outside of Gillette, Jones has done work for his foundation, and also entered a partnership with a Boston-based education startup — Unruly Studios — that will connect sports and active play to computer science education in schools across the country. "It's been a great shift of focus. Usually, during this time, it's football, football, football," said Jones, the Pats injured corner. "So I'm using this time to have a little bit more family time, friends and redirect my attention to my foundation. "This has given me the opportunity to devote more attention to other places I wouldn't usually have time for during this season." Jones and his six-year old daughter Skylar are learning how to code, and recently put out a video that shows how computer science in K-8 education can be fun and physically active. In the video, the Patriots star and Skylar are hopping up and down on Unruly Splats, which are programmable floor buttons that students code to light up and make different sounds depending on the game that's been created. Jones' "Next Step Foundation" is also offering a $20,000 scholarship, split among three schools, to expand access to cross-curricular computer science and STEM education in K-8 schools. "It's combining coding with exercise, two big aspects of my life and also my daughter's life," said Jones, who was involved with coding in high school. "She loves education and athletics, so she's always functioning and moving. After meeting with Unruly, and their team, it just fit well." Perfect November The Patriots weren't the only team to go 4-0 in November. AFC East mate Miami also swept the month. After starting out 1-7, Brian Flores ' team is playing a much more respectable brand of football. What's behind them producing four straight wins? Mack Hollins, a wide receiver and offensive captain, pointed to practice. "I think we talked about (improving) more than we did it," Hollins said via the Miami Herald. "We said we practiced hard but we weren't really practicing hard. We said we were studying extra film; we weren't studying extra film. We said we were coming into a meeting and we weren't. I think when guys realized we can win if we do it, we started doing it. And now it's like, 'Oh, it's second nature. It's what we do.' We come in and get extra work in. We come in and we lift hard. We come in and we practice hard. And now we're getting the results." The Dolphins, who beat the Patriots in the season opener, will host New England in Miami the final week of the season.

In the weeks leading up to the Div. 4 Super Bowl, there was plenty of excitement in Scituate. If you were to walk into a business on Front Street, chances are you would have heard the game being discussed by anxious Sailors fans, since they were making their second trip to a state championship in the past four years. But few outside of the confines of the Irish Riviera are aware the program suffered two devastating losses during their playoff run — including former assistant coach Michael Spinola. Spinola, 29, was killed in a car accident on Nov. 18. The Sailors and the community have since hoped to honor the life of someone who meant so much to so many in the coastal town. "That was definitely a hard week," said Scituate coach Herb Devine. "In years past, I've talked about the heart Mikey played with, the leadership he had. He would do anything for you. We tell the story all the time, about playing Duxbury one year where we put him up against their 6-foot-7, 260 pound offensive lineman going full scholarship to Boston College. We put Spinola, 5-foot-4, probably about 165 pounds soaking wet, up against the kid, and he was just like a little gnat all day. That just kind of shows the heart he had, and I think the kids rallied around that." Spinola was a key player for Scituate in 2009 and 2010, primarily as a running back. However, he was always willing to play any position when called into duty. In 2015, Spinola joined the Scituate coaching staff, along with his close friend, Mike Stewart. "Mikey was a person with great character, great heart," Stewart said. "Obviously, on the football field, he's a player you want on your team. As a coach, he's one that you want to have on your staff. He knew a lot about the game… anything he had to say about something, I'd listen. A lot of kids would listen." The month of November hit Scituate's program hard. On Nov. 15, Ramapo (NJ) High School coach Drew Gibbs experienced chest pains at practice before collapsing on the field. He was rushed to a nearby hospital, where he later died due to complications from emergency surgery at the age of 59 on Nov. 16. Longtime friends, Devine and Gibbs had been exchanging advice and sharing wisdom on the game of football with one another. Gibbs was widely regarded as one of the premier coaches in New Jersey, and frequently hosted camps at Scituate High with Devine during the summer. Itt was Gibbs who taught Scituate senior Keegan Sullivan one of his favorite plays — the stretch — which allowed the Sailors star to get into space more consistently. For 13 straight years, Duxbury had dominated the Patriot League, defeating each and every conference opponent that it took on. Despite the fact that the Sailors owned the top overall seed in the Div. 4 field, the predominant line of thinking shared by most experts was that they were simply too dinged up to keep pace with such an explosive Dragons team. But as the Sailors walked onto the field at Gillette Stadium, many were wearing black wristbands for Spinola, while others donned green decals remembering Gibbs on their helmet, reading "DG." Draped over the Sailors' bench was Spinola's old No. 28 jersey. With 27 seconds left in regulation Friday, and Scituate trailing 13-12 following a 10-yard touchdown rush by Andrew Bossey, Sullivan jogged over to the sideline, where Devine was waiting. "He said, 'We're going for it,'" said Sullivan. "Didn't even hesitate." Devine drew up a play, one which he had been pondering since Scituate's initial loss to Duxbury back in September. That night, the Sailors found themselves in essentially the exact same spot, only to falter with a mishandled snap during a grueling 27-26 loss to the Dragons. The Sailors lined up in a T formation. Then, quarterback Henry Gates handed the ball to Sullivan. The senior cut to his left, then slid past a tackler to pay dirt for the go-ahead, two-point conversion rush, clinching the state title for Scituate. "I know Mikey's watching down right now," Stewart said. "He's so proud of us. He's so proud of this team, he's so proud of this program. It's been a long couple of weeks, and he's been watching us the whole time. For it to end the way it did tonight, it was truly something special."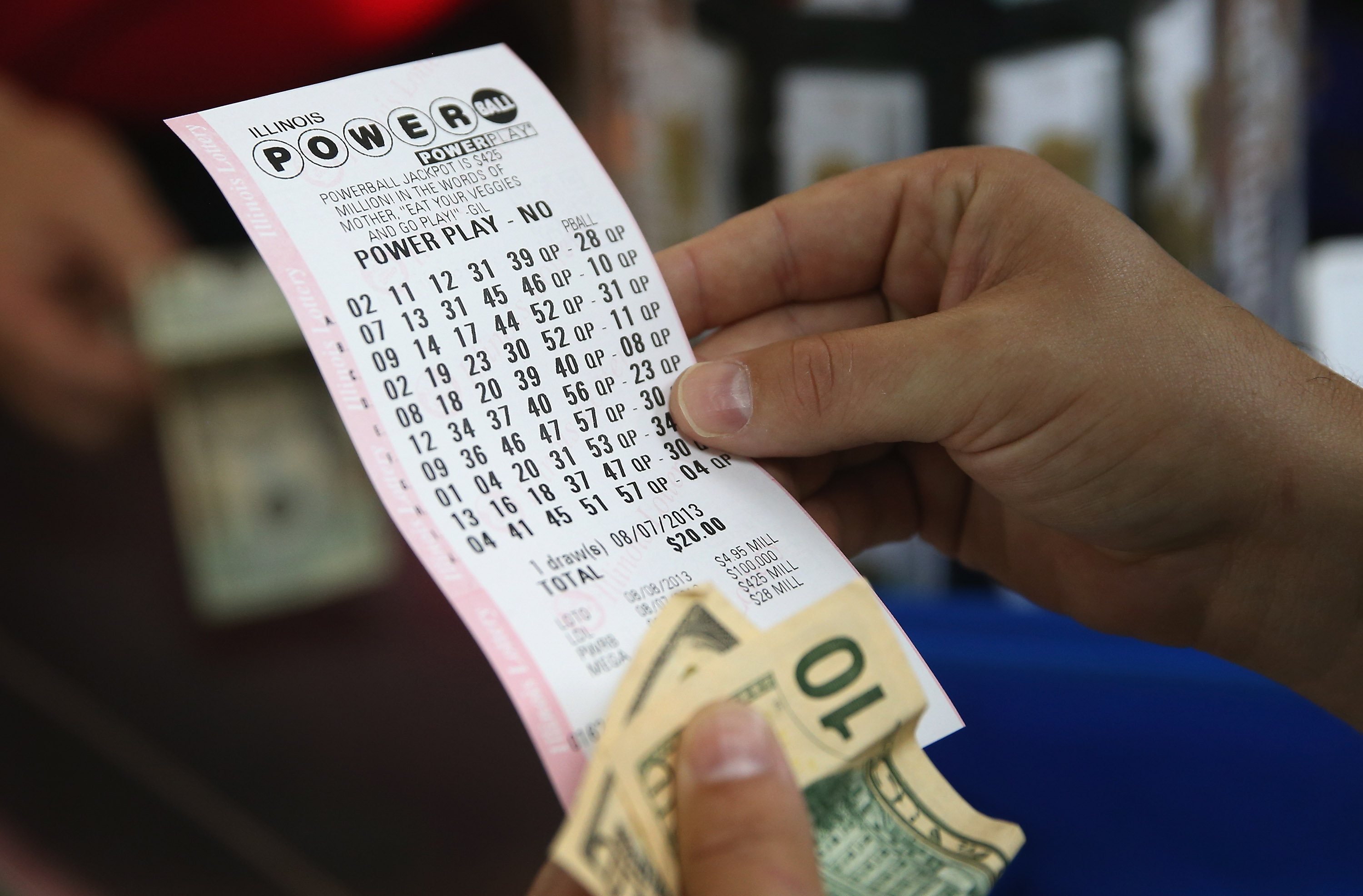 The Powerball numbers on Saturday were 10, 40, 45, 56 and 67. The Powerball was 2 and the Power Play was 2X. No one has won the $278 million jackpot in the December 4 drawing, according to the Powerball website. Therefore, the top prize will continue to climb to an estimated $280 million—with a cash value of $205 million—for Monday's Powerball drawing. But although the jackpot wasn't won, there were some big prize winners. Two players, from Michigan and New Jersey, correctly guessed the five white balls to win $1 million each. Eighteen players matched four white balls and the Powerball to win $50,000 each, with one more person doubling their winnings to $100,000 with a Power Play purchase. Some 380 players also matched four white balls to win $100, with 91 winning $200 each thanks to their Power Play purchase. The Powerball's jackpot has not been won since a player from California scooped a prize worth almost $700 million, the fifth-largest in Powerball history, in the October 4 drawing. The player had the choice between receiving an estimated annuity of $699.8 million, paid in 30 graduated payments over 29 years, or a lump-sum payment of $496 million. The winning ticket for that drawing was purchased at Albertsons in Morro Bay. That retailer received a maximum bonus of $1 million for selling the winning ticket, according to the Powerball website. The win was the 41st drawing in the jackpot run, rolling over steadily for four months since a player from Florida scooped a $268 million jackpot in June. Before that, the jackpot had not been claimed since March 27 when another player from Florida scooped a $238 million prize. Powerball tickets are $2 per play, with players selecting five numbers from 1 to 69, in addition to one red Powerball number from 1 to 26. In certain circumstances, players can also multiply non-jackpot prizes by using the Power Play option for an additional $1. Tickets are sold in 45 states, the District of Columbia, Puerto Rico and the U.S. Virgin Islands. Powerball drawings are broadcast live every Monday, Wednesday and Saturday at 10:59 p.m. ET from the lottery studio located in Tallahassee, Florida. Jackpot winners may choose to receive their prize as an annuity, paid in 30 graduated payments over 29 years, or a lump sum payment. Both advertised prize options are prior to federal and jurisdictional taxes. The overall odds of winning a prize are 1 in 24.9, according to the Powerball websites. The odds of winning the jackpot are 1 in 292.2 million. "Even if there are more tickets sold in a particular drawing, your odds of winning a prize are the same", the website states. If you do win a Powerball jackpot, call lottery officials at 1-800-222-0996.

Walkinshaw Andretti United team driver Chaz Mostert fought back from a wheel puncture and encounters with native wild animals to win an incident-strewn Bathurst 1000 touring car race on Sunday. Mostert finished the 161-lap race in the regional town of Bathurst, about a two-hour drive west of Sydney, four seconds ahead of Ford's Cameron Waters in second. Erebus' Brodie Kostecki came third. Mostert and his co-driver Lee Holdsworth were heavily favored to win at Bathurst for the Walkinshaw Andretti United team which is about one-third owned by Andretti Motorsport. A left-wheel puncture on lap 49 threatened to derail the team's victory bid, but after pitting Mostert was able to guide his Commodore through the field and back into the lead. The 64th running of the race included close encounters with a wallaby and a blue-tongued lizard before a wild echidna entered the track during lap 105. Several cars, going at more than 250 km/h (155 miles/h), narrowly missed hitting the spiny anteater, similar in appearance to a porcupine, as it slowly wandered across the track, before the safety-car was called. The safety-car was called out another four times after the echidna's appearance, as tired drivers started to make mistakes in the 1,000 kilometer (620 mile) race. -— More AP auto racing: https: //apnews. com/hub/auto-racing and https: //twitter. com/AP_Sports Copyright © 2021 The Associated Press. All rights reserved. This material may not be published, broadcast, written or redistributed.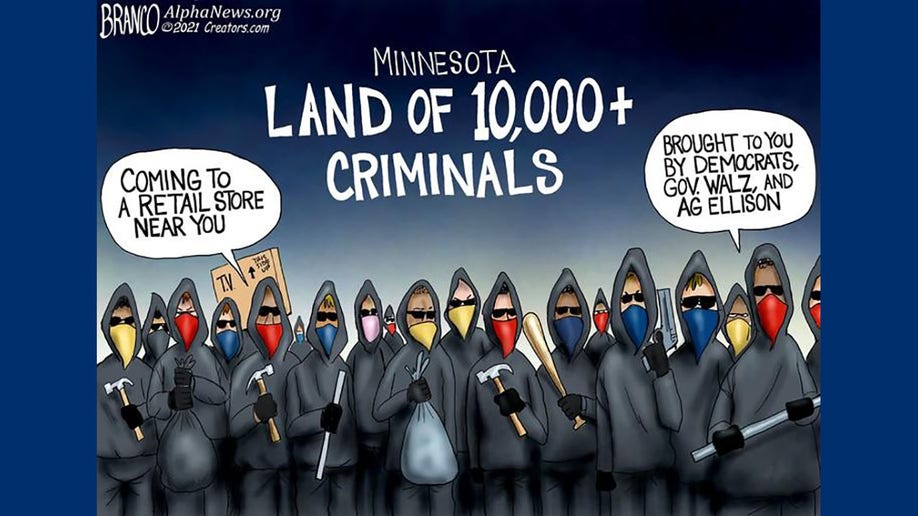 Coming to a retailer near you? 12.5.21 () Classroom conflict 12.5.21 () Special Delivery 12.4.21 () losing the race 12.3.21 () Milking the system 12.2.21 () Mixed messages 12.1.21 () The science of Fauci 11.30.21 () It's based on science! 11.29.21 () No more mean tweets 11.28.21 () Equity justice 11.27.21 () Socialists drool 11.26.21 () Safe spaces 11.25.21 () Master of disguise 11.24.21 () On the chopping block 11.23.21 () Woke blinders on? 11.22.21 () Taking notes 11.21.21 () Kenosha blowback 11.20.21 () Adding fuel to the fire 11.19.21 () Down the toilet 11.18.21 () Pointing fingers 11.17.21 () Misplaced priorities? 11.16.21 () Hung out to dry? 11.15.21 () Political science 11.14.21 () Dems' go-to arguments 11.13.21 () Moving the goalposts 11.12.21 () Media's missing priorities. 11.11.21 () Plugging the pipeline 11.10.21 () Shooting himself in the foot 11.9.21 () Steaming mad 11.8.21 () Hibernation over 11.7.21 () Driven to win 11.6.21 () That failed far-left magic 11.5.21 () Virginia is for lovers. of Democracy 11.4.21 () While Biden sleeps 11.3.21 () 'Jab' turns into low blow 11.2.21 () This next dedication goes out to Brandon 11.1.21 () Far-left logic 10.31.21 () Not Nancy 10.30.21 () Not intimidated 10.29.21 () Joe's got it under control 10.28.21 () Bad buzz 10.27.21 () () () Crime spike? What crime spike? 10.24.21 () Hypocrisy exposed 10.23.21 () Let's go, Biden? 10.22.21 () Diving into debt 10.21.21 () Misplaced priorities? 10.20.21 () How old are you kids? 10.19.21 () Dumpster fire 10.18.21 () () Breaking point 10.16.21 () 2020 hindsight 10.15.21 () Fauci in the rearview 10.13.21 () Border redrawn () Garland's memo 10.11.21 () Traditions in the Trash 10.10.21 () Along for the ride 10.9.21 () Art meets reality 10.8.21 () Justice is blind? 10.7.21 () Deception in vogue? 10.6.21 () US is selling the farm 10.5.21 () Full steam ahead 10.4.21 () Laughing at whose expense? () () Finger pointing 10.1.21 () Too many curveballs 9.30.21 () Save the lipstick 9.29.21 () Misplaced outrage? 9.28.21 () Trial by fire 9.27.21 () What amendment? 9.26 () () Newsom on notice 9.25.21 () Lifeguard's litmus test 9.24.21 () Bridge over Biden's disaster 9.23.21 () Sick and sickle? 9.22.21 () Dems immigration policy flaws 9.21.21 () Give us your tired, your poor and Democratic voters 9.20.21 () Biden's wrecking ball () Master plan 9.18.21 () Wrong priorities? 9.17.21 () Anything Goes 9.12.21 () Somebody 'woke' up Gen. Milley 9.16.21 () America's greatest threat? 9.15.21 () Joe's Taliban booster shot () Something stinks 9.13.21 () America Remembers 9.11.21 () Dems' diversion () Biden's bungled airlift 9.9.2021 () One happy fetus 9.8.21 () Wandering thoughts 9.7.21 () Larry v. Goliath 9.6.21 () After the defunding 9.5.21 () Odd man out 9.4.21 () Gunslinger Joe 9.3.21 () Their hero 9.2.21 () September 1, 2021 () No comparison 9.1.21 () Hey Joe, somewhere you need to be? 8-31-2021 () A failed plan 8.30.21 () Fair warning 8.29.21 () Biden's care package 8.28.21 () Remembering the fallen 8.27.21 () Who's the boss? 8.26.21 () A major cleanup 8.25.21 () Who's pulling the strings 8.23.21 () Blame the middleman. 8.22.21 () Didn't see it coming 8.21.21 () Pulling the pin on diplomacy 8.20.21 () While Milley napped. 8.19.21 () House specials 8.18.21 () Fiddling while the world burns 8.17.21 () Joe's Saigon moment 8.16.21 () Word police watching 8.15.21 () Dems' cover-up 8.14.21 () Burning money 8.13.21 () Taking a bite out of the dollar 8.12.21 () Biden, Dems seize opportunity 8.11.21 () Congress tosses away kid's future 8.10.21 () Iceberg on the Potomac 8.9.21 () For me, not thee 8.8.21 () Worms crawl in, worms crawl out 8.7.21 () Sticking it to the Constitution 8.6.21 () Dems crawl back 8.5.21 () A helping hand 8.4.21 () Bubble Wrap to the rescue 8.3.21 () Puttering along 8.2.21 () Life in the nanny state 8.1.21 () Selective outrage 7.31.21 () Biden's mixed messages 7.30.21 () 'Follow the science' 7.29.21 () Judge and jury 7.28.21 () A load of bull 7.27.21 () Best of political cartoons: AOC's solution to methane problems () Gold Coast loses its shine 7.26.21 () Best of political cartoons: When Democrats attack 7.25.21 () Best of political cartoons: History of leftist panic 7.24.21 () Erasing history 7.23.21 () Bye bye golden goose 7.22.217.22.21 () Spreading fear 7.21.21 () Best of political cartoons: America's most lethal virus 7.19.21 () Best of political cartoons: Eye of the beholder 7.18.21 () His greatest fear realized 7.16.21 () Biden's Cuba policy 7.15.21 () Highly 'critical' 7.14.21 () The coattails of prosperity 7.13.21 () Best of political cartoons: Losing the patient () Introducing: The Hunter Biden Art Gallery 7.12.21 () (Devil in the details 7.10.21) Sounding the alarm 7.10.21 () The man behind the. bag? 7.9.21 () Slaying the three-headed dragon 7.8.21 () Dem's 'repair' kit 7.7.21 () Dem's new credo 7.6.21 () Milley's medal 7.5.21 () 'With liberty and justice for all' 7.4.21 () The ol' ball and chain 7.3.21 () Dont't let school interfere with education 7.2.21 () No shelter from the storm 7.1.21 () Who's the dummy? 6.30.21 () On the backs of slave labor 6.29.21 () Psaki's shoe licker 6.28.21 () Do as I say 6.27.21 () Mismatch 6.26.21 () Chuck sees dead people 6.25.21 () Garbage in, garbage out? 6.24.21 () Dem's crime solution 6.23.21 () I'll Take Potpourri for $1,000 6.22.21 () Misplaced concerns? 6.21.21 () Biden mails it in 6.20.21 () Tagger Joe 6.19.21 () Art of the deals 6.18.21 () Threat to homeland 6.17.21 () The world stage 6.16.21 () Pandemic origins 6.15.21 () Who has America's back? () Nowhere to hide 6.13.21 () Changing the subject 6.12.21 () Consumers bear the costs 6.11.21 () Constitution up in smoke 6.10.21 () Swinging the pendulum 6.9.21 () Chasing windmills 6.8.21 () Rookie mistake 6.7.21 () Minnesota Woke 6.6.21 () Wrong-way Biden 6.5.21 () Fauci's droplets 6.4.21 () Worth rewriting 6.3.21 () Upside down world 6.2.21 () Pelosi's taking names? 6.1.21 () Freedom's foundation 5.28.21 () Xi's pets 5.27.21 () () Bait and switch 5.25.21 () (Flocking together 5.24.21) None of your lip 5.23.21 () Governors lead the way 5.22.21 () Petro pals 5.21.21 () Damned if he does 5.20.21 () All bark, not bite 5.19.21 () Follow the money 5.17.21 () Class warfare 5.16.21 () Crash and burn 5.15.21 () Buyer's remorse 5.14.21 () 'Squad' cheering on Israel's sworn enemy 5.13.21 () And the award goes to. 5.12.21 () Long-term side effects 5.18.21 () Shifting political winds 5.11.21 () Buyer beware 5.10.21 () Dems' loose lips 5.9.21 () Joltin' Joe 5.8.21 () Censorship meets its match? 5.7.21 () Media splitting country over race 5.6.21 () The smell test 5.5.21 () Critical race theory accessory 5.4.21 () Facing racism head on () Please Riot Again! 5-2 () Hit Piece 5-1 () Burdened with debt 4.30.21 () Rudy Giuliani under the microscope 4.29.21 () Foot in the mouth 4.28.21 () The man behind the mask 4.27.21 () Equity isn't always equal(ity) 4.26.21 () License to abuse 4.25.21 () Weather happens 4.24.21 () State of emergencies 4.18.21 () Merit, schmerit 4.23.21 () Silenced by color 4.22.21 () Pouring gasoline on the fire 4.21.21 () One last roadblock 4.20.21 () Two-headed monster 4.19.21 () The irony 4.17.21 () Harris a puppeteer for Biden China policy 4.16.21 () One big joke 4.15.21 () From Bernie to BLM 4.14.21 () Biden's infrastructure plan like putting lipstick on a pig 4.13.21 () Ready to ignite 4.12.21 () Weighty decision 4.11.21 () Editor Joe 4.10.21 () Senseless acts 4.9.21 () Mixed message 4.8.21 () It's starting to show 4.7.21 () Democratic denial 4.6.21 () MLB buys into 'woke' propaganda 4.5.21 () Easter in Minnesota 4.4.21 () Packed in 4.3.21 () Mad about taxes 4.2.21 () Pumping up his rep 4.1.21 () Devil in the details 3.31.21 () Election reform stake 3.30.21 () Mixed messages 3.29.21 () Unlimited supply 3.28.21 () Any Democrat who's handy 3.27.21 () () Running on empty 3.25.21 () Second Amendment under fire 3.24.21 () Off with their heads! 3.23.21 () Rolling out the red carpet. 3.22.21 () No police allowed 3.21.21 () Biden's fall 3.20.21 () Ultimate slap in the face 3.19.21 () Biden's Border Crisis 3.18.2021 () The blame game 3.16.21 () Obedience training 3.16.21 () Inside Biden's mind 3.15.21 () Dangerous waters 3.14.21 () Just read the prompter 3.13.21 () Cagey president? 3.12.21 () Have you seen my dogs? 3.11.21 () Royal robbery 3.10.21 () Playing Biden like a violin 3.9.21 () Return to open borders 3.8.21 () AlphaNewsMN. com Cartoon, March 7, 2021 () The Gipper speaks 3.6.21 () A Cancel lineup 3.5.21 () Rush Limbaugh at the Pearly gates () Biden's migrant blood on hands () The real Andrew Cuomo? 3/3/2021 () Mr Potato Head goes gender-neutral 3.2.21 () Fauci moves the goalposts yet again 3.1.21 () First things first 2.28.21 () Shot in the dark? 2.27.21 () Going to the piggy bank 2.26.21 () Free speech under fire 2.25.21 () Mixed media message 2.24.21 () The man behind the curtain 2.23.21 () Who's running the White House 2.22.21 () Licenses for all 2.21.21 () Biden checks the boxes 2.20.21 () Trump gone, but not forgotten 2.19.21 () Passing the torch of truth and liberty 2.18.21 () Global chill 2.17.21 () Another swing and a miss! 2.16.21 () Mickey Mouse fights freedom of speech 2.15.21 () Dem governor's priorities 2.14.21 () Cuomo wins again 2.13.21 () Taking aim 2.12.21 () Where is the media's attention? 2.11.21 () Dems going "where no one has gone before" 2.10.21 () Left's unhealthy addiction to Trump Feb 09, 2021 () Feb 08, 2021 () Feb 07, 2021 () Feb 06, 2021 () Feb 03, 2021 () Jan 31, 2021 () Feb 05, 2021 () Feb 04, 2021 () Feb 02, 2021 () Feb 01, 2021 () Jan 29, 2021 () Jan 28, 2021 () Jan 27, 2021 () Jan 26, 2021 () Jan 25, 2021 () Nowhere to hide 6.13.21 ()

India declared their second innings at 276 for seven to set New Zealand an improbable victory target of 540 on the third day of the second and final Test here on Sunday. First-innings centurion Mayank Agarwal top-scored with a 62, while Cheteshwar Pujara and Shubman Gill made 47 each. Axar Patel smashed 41 off 26 balls with four sixes and three fours. For the visitors, left-arm spinner Ajaz Patel followed up his historic 10-wicket haul with four more scalps in India's second essay. With a match haul of 14/225, Ajaz now has the best bowling figures in a Test against India. At the lunch break, the home team was placed at 142 for two. Resuming at overnight 69 for no loss, India lost the wickets of Mayank Agarwal (62) and Pujara in the first session but still strengthened their hold of the match. After bowling out New Zealand for 62, India had decided against enforcing follow-on despite taking a huge first-innings lead of 263 runs. Brief Scores: India: 325 and 276 for seven declared in 70 overs (Mayank Agarwal 62, Cheteshwar Pujara 47, Shubman Gill 47; Ajaz Patel 4/106, Rachin Ravindra 3/56). New Zealand 1st innings: 62 all out in 28.1 overs (Ravichandran Ashwin 4/8, Mohammed Siraj 3/19).

Dragflicker Gurjit Kaur scored five goals as Indian Women's Hockey team registered an emphatic 13-0 win over Thailand in their first game at the Donghae Women's Asian Champions Trophy 2021. Gurjit gave India the lead in the 2nd minute of the match after an infringement from Thailand in their defensive third awarded India a penalty stroke. Gurjit, who scored four goals at the Tokyo Olympics 2020, kept a cool head and put the ball in the back of the nets to give India a 1-0 lead in the 2nd minute. Conceding an early goal put Thailand on the back foot straight away, and Vandana Katariya, the only Indian women's player to score a hat-trick at the Olympics, scored the second goal five minutes later By the time the first quarter ended, Lilima Minz added another field goal in the 14th minute, while Gurjit Kaur and Jyoti scored two more from penalty corners in the 14th and 15th minute, giving India a 5-0 lead The second quarter started much the same way as India kept most of the possession giving no room to Thailand to cause any danger. Within the first minute of Q2, Rajwinder Kaur, who made her International debut today, scored a field goal in the 16th minute, and in the 24th minute, Gurjit scored her third goal and Lilima scored another from a PC also in the 24th minute. The Indian team demolished the Thai defence as they struck another PC in the 25th minute through Gurjit, thus giving India a massive 9-0 lead at the end of the second quarter. Returning from the 10-minute half-time break, India dominated by continuing to make threatening circle penetrations from the left flank. But Thailand dug in deep and defended well for the first six minutes in the third quarter. But Jyoti broke the threshold, scoring another field goal in the 36th minute to exceed India's lead by 10 goals A defensive error four minutes later from Thailand gave India another PC, but this time Gurjit's powerful flick was deflected by the opposition. A well-constructed move from the middle late in the 43rd minute caught Thailand's defence napping as Sonika struck in her first goal in the match The fourth quarter, which was a mere formality by the time it started, saw Navneet Kaur threatening Thailand's defence with penetrating runs from the right flank. But Thailand's defensive troops managed to keep the danger at bay, preventing any further damage to the scoreline. In the 55th minute, Monika managed to get her stick on a long pass inside the circle, as she deflected the ball into the back of the nets to exceed India's lead by another goal. Three minutes later, Gurjit Kaur scored her fifth goal in the match from a late penalty corner, adding in the 13th goal for India This was India Women's team's first match since the historic fourth-place finish at the Tokyo Olympics. In the absence of Captain Rani, who has been rested from the tournament, India was led by veteran goalkeeper Savita. Indian Women's Team Vs Malaysia scheduled for 6th December will not be able to play due to covid-related issues, as officially stated by the Asian Hockey Federation. India will next play hosts Korea on 8 December at 1130hrs IST.

Scores from Saturday's regional championship games and the schedule for the state championships on Dec. 10-11. HIGH SCHOOL FOOTBALL PLAYOFFS CIF SOUTHERN CALIFORNIA REGIONAL CHAMPIONSHIPS Saturday's results Division 1-A Serra 21, Long Beach Poly 17 Division 2-A San Diego Scripps Ranch 45, Valencia 38 Division 3-A Birmingham 42, San Diego Henry 35 Division 4-A Northview 27, Colony 26 Division 5-A Santa Maria Righetti 14, Northwood 7 Division 6-A Arlington 24, El Camino Real 14 STATE CHAMPIONSHIP GAMES at Saddleback College Friday, Dec. 10 Division 2-AA Chula Vista Mater Dei (12-0) vs. Modesto Central Catholic (13-1), 4 p.m. Division 1-AA San Diego Cathedral (10-2) vs. Folsom (11-3), 8 p.m. Saturday, Dec. 11 Division 2-A San Diego Scripps Ranch (12-1) vs. Santa Clara Wilcox (10-4), noon Division 1-A Serra (10-4) vs. Bakersfield Liberty (11-2), 4 p.m. Open Division Mater Dei (11-0) vs. San Mateo Serra (11-1), 8 p.m. Other divisions Saturday, Dec. 11 Games start 6 pm unless noted Division 3-AA Aquinas (10-5) at Fairfield Vanden (12-2) Division 3-A Birmingham (9-5) at Oakland McClymonds (11-1) Division 4-AA Visalia Central Valley Christian (11-4) at Kentfield Marin Catholic (13-1), 1 p.m. Division 4-A Northview (9-6) vs. San Francisco Sacred Heart Cathedral (7-7) at Kezar Stadium Division 5-AA Bakersfield Independence (9-6) at Novato San Marin (13-1) Division 5-A Santa Maria Righetti (6-8) at Atherton Sacred Heart Prep (7-7), 1 p.m. Division 6-AA Quartz Hill (9-4) at Jackson Argonaut (11-3) Division 6-A Arlington (7-8) at Richmond Salesian (10-2), 1 p.m. Related Articles Northwood football loses to Righetti in SoCal Regional 5-A championship game High school football regional playoffs: Friday's scores, Saturday's schedule, championship updates Orange Lutheran football loses to Cathedral Catholic in high-scoring CIF SoCal regional final Newport Harbor football can't keep up with Aquinas in CIF SoCal Divsion 3-AA championship game Loara football keeps it close, but Morro Bay pulls out win in CIF SoCal Division 7-AA final Division 7-AA Morro Bay (8-6) at McArthur Fall River (12-0) Division 7-A Taft (7-7) at San Francisco Balboa (8-4), 1 p.m.

They practiced in secret and struggled to get to an international tournament in Europe. Now, members of the Afghan national boxing team are seeking refuge in the West, hoping to continue both their careers and their lives without danger or fear. The Afghan boxers, their coach and a top boxing federation official remained in Serbia after the AIBA World Boxing Championships finished in early November, saying they could face retribution from the Taliban if they returned home. "When the Taliban regime came to Afghanistan, everything became changed," Waheedullah Hameedi, the secretary general of Afghanistan's boxing federation, said. "It was difficult to come for a world championship during the new regime, the new government." The team has contacted several foreign embassies about securing humanitarian visas and asylum protection. Some European Union nations have turned them down, but the 11-member group has not given up hope of finding a safe haven. Tens of thousands of Afghans, including athletes, have fled the country since troops from the United States and other foreign nations pulled out in August and the Taliban took over. Hameedi said the Taliban do not approve of boxing, and team members stand little chance of pursuing their careers freely in Afghanistan. "As you know, the situation in Afghanistan is very tough, very bad," he said, speaking in English. "They (Taliban) didn't allow in first days to continue the boxing and open the gym. Everyone was afraid to go anywhere for boxing or for anything else." Hameedi's father, a previous secretary general of the Afghan Boxing Federation, was gunned down in 2019 by unknown assailants. After the national team participated in the Asian Boxing Championships in Dubai in May, Hameedi was determined to take his boxers to Serbia for the world championships in late October. Boxing was banned in Afghanistan during the Taliban's previous rule in 1996-2001. While its leaders have sought to portray themselves as more tolerant this time around, Hameedi insisted the officials and boxers have faced threats and feared for their safety. "Boxing is 'haram' for them (Taliban,) something in Islam that is illegal for them," he said. Ahead of the trip to Serbia, the boxers trained at hidden locations and tried to stay under the radar, hiding their plan to compete in the international tournament, Hameedi said. They managed to get visas to go to Iran, and once in Tehran they applied for visas at the Serbian Embassy before rushing on to Belgrade, he said. The 11 Afghan boxers competed in Serbia as part of a 14-member "fair chance" team sponsored by the International Boxing Association for refugees and other athletes who had to flee their countries, said Hameedi. The group's Serbian visas have since expired. Hameedi said friends and relatives warned them not to return to Afghanistan. While thousands of migrants and refugees arrive in Serbia, most do so planning to continue on to countries in Western Europe where it is easier to find jobs and make a living. 'We hope we will receive visas as soon as possible so there is no problem in Serbia," Hameedi said." We can leave easily to some safe country and their future will be granted." Hameedi said he, the coach and the nine boxers who still are with them in Serbia do not want to cross borders illegally to reach Western Europe, but neither have they applied for asylum in the Balkan nation. Attorney Marko Stambuk, who works with the Belgrade Center for Human Rights, said the Afghan boxers contacted the organization and have been informed about their options for seeking asylum in Serbia. Stambuk acknowledged that the boxers fear the return to Afghanistan because of the Taliban policies and a generally volatile situation. They are "aware of their rights and obligations (in Serbia), and now they are thinking of what to do next," he said. Amid the uncertainty, the boxers have continued training in local gyms. Hasibullah Malikzadah, 20, said he is afraid to go back to Afghanistan and wants to continue boxing somewhere else. "I want to be good champion," and a role model for children around the world, he said after a practice session. "I really want this. I really have a good dream." ___ Follow AP's global migration coverage at https: //apnews. com/hub/migration Copyright © 2021 The Associated Press. All rights reserved. This material may not be published, broadcast, written or redistributed.

Sangita Jogi has a dream. It's a simple one: she wants to be many different women. Currently she's young, she lives in a village in rural Rajasthan, is a mother of two children, she's the youngest daughter-in-law in a family of manual labourers. She cooks, cleans, feeds the family and, when her elder sisters-in-law go out to work in the fields, she looks after their children and her own. As the youngest in the hierarchy, this is her responsibility. Her day is full, often overfull, and there's little time for leisure. But the burden of work cannot stop the untrammelled journeys of the mind. So, no matter how busy she is, Sangeeta holds her dreams in her heart and with them, the mind journeys far and wide and the dreams take her where reality cannot manage to go. It's not that when she allows the mind to roam free, Sangita slacks off her work (women are often told, and indeed sometimes they believe it too, that dreams are not for them as they take attention away from their work), or that she is filled with resentment at what she does not have (for example the freedom the women in her dreams have). There's a wisdom and grace with which Sangita receives that which is her lot – early marriage, economic hardship, heavy workloads, barely any leisure, increasing responsibilities – and a joy and longing with which she cherishes her dreams. And the two – the real and the imagined – cohabit, as they do in the lives of so many women, embracing complexity and contradiction. If Sangita cannot actually live her dreams, she does the next best thing: she draws them. Whenever she can find the time, the dreams take form and shape on paper, the imagination soaring in free quirky lines, amazing detail and constant activity. You can almost hear her thinking, and as the reader engages with her wonderful book The Women I Could Be (Tara Books, 2021) they cannot but be affected by the delight and relish in the way she articulates her thoughts on paper. I imagine her drawing and thinking "oh, this one, let me give her a fan and a gown with a train, then here's one who needs to wear tight shorts and high heels, perhaps the pilot lady needs a bomber jacket". Sangita's imagination conjures up many different women – for her, these women are different, they're free, they're modern, and they're women she would like to be. She says: For Sangita, the modern woman is all this and more, and if her own life hasn't taken her in this direction, she wants to make sure her daughter's will. "I know," she says, "this won't be easy. In my husband's community they think that if a girl is educated, she'll leave home. As the youngest bride in the family, I'm expected to be mindful of family honour. So let's see how I do this." Her inspiration comes from her parents – in particular her mother, who encouraged her to draw, to develop her own style and who gave Sangita the space to fill her world with pictures of edgy, fun, funny, feisty women. The mother-daughter pact continues: "When my daughter grows up, I'll teach her painting. I want to pass on everything I know to her. Maybe she'll take it ahead." Among modern women Sangita counts beauty queens, women who walk the ramp, those who are behind the camera, women who travel, singly and together, others who fly planes and surf on choppy waters. And then there are American women, among whom the Statue of Liberty – also a modern woman – stands tall. Sangita dreams of going to America, she doesn't know why, but it's a place that draws her and so she imagines it and then gives shape to it in her drawing. "When I'm painting, I don't think about anything else. Even if there are a thousand chores waiting for me, I keep pushing them away, trying to squeeze a bit more time to draw." Sangita's parents were wandering singers – they'd go from village to village, singing and earning their keep. Later, they switched to becoming folk painters. She learnt to draw by watching them, copying what they did, and blossomed. And now, it's her mother who continues to encourage her – it's when she visits her that Sangita feels really free to paint. "I find enough time for art only in one place. And that is my mother's house…. She understands that I need to draw." This understanding of drawing as a need – not a luxury but a necessity – is the gift of the mother to the daughter. Talking about her mother, Sangita muses on the meaning of being modern. She likes the way modern women talk, the way they walk. But then she wonders, who is a modern woman really? "Someone once asked me," she says, "if I thought a woman could be forward in her thinking without having to dress fashionably. At first, I thought how can something be modern if it's only in the mind and doesn't show?" She asks herself, is a woman modern only if she looks modern? "Then I thought about a person like my mother. She looks traditional, but she's modern in her views. She does the work she enjoys, she supports her family and she wants women to be educated. I'll have to think more about that." Appearances may count, but they're not everything, real modernity lies deep, beneath the surface, and once again, this lesson comes to Sangita from her mother. Produced with the care and attention to detail that characterises so many of Tara's books, Sangita's stunning book of drawings is rich in wisdom and insight, and is a pleasure to hold. Each page is carefully composed, each drawing filled with love and often humour. Dressed in her flowing robes, the Statue of Liberty joins the ranks of American women who Sangita would like to be, there are Miss Indias who sport whimsical, almost Japanese looks, complete with handbag, fan, stylish hairdos; there are women in motorboats, in planes, on cycles who are seeing the world, something that Sangita aspires to, even as she muses, "Maybe if I start moving, I'll never stop" (inadvertently echoing the fear most people have about allowing women the freedom of movement in the public world). What must the life of a modern woman be like? Sangita speculates: And then she draws "all the things they're free to do and be." Sangita's book is more than just a beautiful object. In a discussion on Tara's particular kind of publishing, V Geetha, the publishing director, talks of Tara's understanding that "book-making is essentially a collaborative activity" in which author, illustrator, designer and producer come together, and that "words and visuals are integrally linked in the illustrated book", either forming parallel texts that can be "read" separately or together, or with one illustrating the other. In this kind of book-making, designers are communicators, printers and paper makers give form and shape to the book, and the final product combines in it all of these different threads, already imbued with an intermesh of stories that we, as readers, can read, internalise, expand with our own stories, and often even "feel" in a tactile way on the paper and in the visuals. Sangita's story is something like this. The pictures she draws are exuberant, lush, filled with joy and fun and often they almost "explode" on the page (the addition of colour was a suggestion of her publishers, the transformation wrought by this a delight for the author). By contrast, her text is spare, almost spartan, and yet it is nuanced, thoughtful, sometimes speculative – it has the quality not of settled thought, but of loud thinking and questioning. That this thinking, questioning, seeking is taking place in the minds of so many young, often rural, women, and that it comes, not necessarily from participation in a "movement" but from a felt and internalised quest, a search for answers, possibilities, justice, is truly remarkable. It is also this that strikes fear in the minds and hearts of our self-appointed guardians of morality, who increasingly seek to represent women as those who can be easily manipulated (as in situations when women choose to marry outside caste or community or religion). Sangita's dreams are nothing if not subversive. They not only bring art out of the ivory tower and place it, vibrant and alive, squarely in the hands and hearts of people on the ground, but they are also a mirror of what young Indian women like Sangita are thinking today.

Portland Timbers midfielder Santiago Moreno settled the ball with his chest and turned centrally. He had received the pass near midfield and suddenly found himself in acres of space with teammates flanking him on both sides. He drove toward the penalty box and when the defenders didn't close out, he released a shot from just beyond the penalty arc. Real Salt Lake goalkeeper David Ochoa has his post covered, but Moreno's shot ricocheted off the post, into Ochoa and back into the net. "What a perfect moment to score his first goal", Timbers coach Giovanni Savarese said. - ESPN+: MLS chat and more on ESPN FC Daily (U.S. only) The strike put Portland up 2-0 in the 61st minute and, with the way Savarese's side had been playing, it might as well have been lights out. The Timbers still had to see out the match, but it was at that moment when the raucous crowd at Providence Park could start to taste it: The Timbers were going to MLS Cup. Half an hour later it was official. And not only that, by virtue of their regular season points total, the Timbers will host whoever comes out of the Eastern Conference, the Philadelphia Union or New York City FC. Reaching MLS Cup isn't new territory for the Timbers -- they won it in 2015 and were runners up in 2018 -- but Saturday's return trip will be the first time they will play host to Major League Soccer's grandest stage. For Savarese, that has been the dream since he started managing the team in 2017. "The dream became a reality", he said. "And the only way this became a reality is because of the hard work everyone has put in this year and all these years that have been here. To be able to win this game tonight and host MLS Cup is something that we feel very proud and excited about." It also provides the Timbers with plenty of reason to be confident headed Saturday's game. During the regular season, only the New England Revolution -- which set the league's single-season points record -- won more games (12) than Portland did at home (11). The combination of one of the league's most enthusiastic fan bases with a turf playing surface has turned Providence Park into a fortress. "It's definitely very important for us to be home", said Timbers forward Felipe Mora. "Just being with our fans here, they make us feel great at home. So that's going to be really important to play in the final." As the No. 4 seed in the Western Conference, Portland took an unlikely path to get here. It opened its playoff run with a 3-1 win against Minnesota United before beating top-seeded Colorado Rapids 1-0 on the road to earn another home game in Saturday's conference final. Both Philadelphia and New York City went into the playoffs with better seeds, but were just off the Timbers' regular-season points total (55). Sloppy defending from Salt Lake in the fifth minute gave Portland the cushion it was looking for. A poor effort to clear the ball from seven yards in front of goal by Aaron Herrera put the ball at Mora's feet and his quick reaction sent the ball back toward goal beyond Ochoa's reach. Portland got the win despite its best attacking player, Sebastian Blanco, watching from the bench. With another week to recover from a hamstring injury that was initially thought to have kept him completely out of the lineup against RSL, he figures to have a good shot at being back in the starting XI. The loss spells the end of the line for RSL, but what a magical run it was. The team was moments from being eliminated on Decision Day only for Damir Kreilach's last-minute goal to keep the season alive. Then came the historic win-without-a-shot game to advance through Seattle and a strong showing to knock off Sporting Kansas City. "I couldn't be more proud of being a part of this group", RSL interim head coach Pablo Mastroeni said. "Nobody gave us a shot when the season started and no one gave us a shot when the playoffs started either. And so to have the mental toughness to overcome the perception of who we are is fantastic. You can always look at things from either perspective, but I couldn't be more proud of the effort and commitment of this group that I was able to lead." As usual, MLS Cup will run through a team from the Pacific Northwest. No team other than Portland or Seattle has represented the Western Conference since 2014.

23rd Annual 'A Home For The Holidays At The Grove' Comes To CBS On Sunday, December 5thCBS presents the 23rd Annual A Home For The Holidays At The Grove, featuring uplifting stories of adoption from foster care and raising awareness of this important social issue. Keri Hilson Says 'Hip Hop Family Christmas' Is All About 'Honoring Your Family, Not Living For The World'Keri Hilson discusses her new movie, 'Hip Hop Family Christmas', coming to VH1 on Monday, December 6th at 9PM ET/PT. Ravens-Steelers Preview: Pittsburgh 'Just Not That Dominant Team On Sunday', Says CBS Sports' James LoftonThe Ravens lead the AFC North after a series of close wins, while the Steelers continue to struggle. Liana Wallace On 'Survivor' All-Black Alliance Falling Apart: 'Just Wanted Us To Make Top 8, Then We Can Have World War II''Liana Wallace discusses her 'Survivor' experience. 'Survivor 41' Episode 11 Recap: Do Or DieThe 41st season definitely throws out every expectation you've had of Survivor. This week's episode brought in an entirely new twist, with some unpredictable outcomes. Trevor Noah To Host 'The 64th Annual GRAMMY Awards' On CBSCBS and the Recording Academy announced today that Trevor Noah, Comedy Central's Emmy Award-winning "The Daily Show" host and comedian, will return as master of ceremonies for the GRAMMY Awards.

It isn't often that Matt Thomas gets some run. Let alone is handed minutes against an Eastern Conference powerhouse like the Brooklyn Nets. But that's where the seldom-used shooting guard found himself at the end of the Nov. 8 meeting between the two teams – getting a few minutes in mop-up time after the Bulls completely dominated the Nets at the United Center. Saturday's rematch in Brooklyn wouldn't offer up such an opportunity. What it did offer up, however, was another Bulls win over the talented Nets, and even more impressive, a Nets squad that had seemingly evolved into the team to beat in the conference. Guess who just got beat… again? Thanks to more fourth-quarter heroics from DeMar DeRozan, as well as clutch three pointer from Lonzo Ball with 16.9 seconds left, the Bulls came back to beat Brooklyn 111-107 and improve to 16-8 on the season. "They've obviously had some different things going on with their team in terms of some of the lineups and rotations are different than they were the first time we played them,'' coach Billy Donovan said. "Their team has evolved and I give them a lot of credit – during their start of the season until now, the evolution of their team, they continue to get better and improve.'' But so do Donovan's Bulls. Zach LaVine finished with 31 points, DeRozan 29, and the defense held Brooklyn's "Big Two'' of Kevin Durant and James Harden to 28 points and 14, respectively. Toss in some key stops in the final quarter and another energy-filled performance from rookie Ayo Dosunmu, and the two-game sweep of both New York teams was complete. "I thought the way it looked to start the game was we got beat on the glass pretty handedly, had some turnovers … it was one of those games where we weren't doing enough against a high-caliber team like that,'' Donovan said. "It looked like in every aspect of the game Brooklyn had control, and they did.'' Until late in the third quarter, when the Bulls went on a 10-2 run after being down nine and served notice they weren't going away. "For us it was two different halves,'' Donovan said. "We're capable of being better. I give our guys a ton of credit. Coming out of halftime we talked about the adjustments and they came out and did it. I love the competitive spirit of these guys.'' A spirit that seemed to be at the concession stand most of the first half. The Bulls actually had to feel pretty good about being in shouting distance of the Nets at halftime, especially considering all that went on leading up to the game and into the first quarter. Javonte Green was back in Chicago after testing positive for the coronavirus, meaning the gimpy hamstring of Alex Caruso gave it a go in Green's starting spot. Then Brooklyn came out and hit three three-pointers to start the game, Caruso's hamstring lasted about eight minutes, and the bench rotation was suddenly called on to dig deeper. Yet, the deficit was only four going into the locker room at halftime, with the home team holding the 56-52 lead. It felt like the knockout punch was coming in the third, especially after Patty Mills hit a shot to put the Nets up 71-60 with 6:34 left in the third, but that's when the run started and never really stopped. "We know it's a game of runs,'' Dosunmu said. "It's about what team can overcome the runs, what team can stay together like a family.''

Brady Tkachuk scored his second goal 51 seconds into overtime, giving the Ottawa Senators a 6-5 win over the Colorado Avalanche on Saturday night. Tkachuk added an assist. Tim Stutzle also added two goals and an assist. Josh Norris and Austin Watson also scored for the Senators, who won consecutive games for the first time this season. Thomas Chabot had two assists and Anton Forsberg had 26 saves. Alex Newhook, Devon Toews and Gabriel Landeskog each had a goal and an assist for the Avalanche. Darren Helm and Tyson Jost also scored. Nathan MacKinnon had three assists. Jonas Johansson started the game for Colorado and allowed four goals on 16 shots before being replaced by Justus Annunen, who made his NHL debut and allowed two goals on 19 shots. Jost scored 1:52 into the third period to pull the Avalanche within 5-4. The Avs looked to have tied the game in the final three minutes, but a challenge by the Senators showed the play was offside. Toews then scored on a point shot at 18:40 to send the game to overtime. The Senators went into the third period with a 5-3 lead thanks in part to two second-period goals by Stutzle. Tied 2-2, Stutzle gave the Senators a 3-2 lead after he was pushed into Johansson by Jack Johnson while on a partial break. All three ended up in the net, as did the puck, but only after the net was dislodged. After a lengthy review, the goal stood just 1:13 into the period. Norris gave the Senators a 4-2 lead at 2:49 and knocked Johansson from the game. Annunen came on and gave up a power-play goal to Stutzle at 7:46. Then came the prettiest goal of the night as Newhook stepped around Lassi Thomson, went in alone and beat Forsberg on the short side, cutting Ottawa's lead to 5-3 just shy of the halfway mark in the game. The teams combined for four goals in the opening 10 minutes of the second period, but they also combined for four goals just over eight minutes into the first. Helm gave the Avalanche a 1-0 lead 1:26 into the game. The Senators replied with goals from Tkachuk and Watson 29 seconds apart about four minutes later. Watson's goal was his first of the season. Landeskog tied the game when he tipped a shot by Toews from the point past Forsberg at 8:19, just seven seconds into a power play. Landeskog extended his point streak to seven games. NOTES: Michael Del Zotto, Adam Gaudette and Victor Mete were scratches for the Senators. Bowen Byram, Cale Makar, Nazem Kadri and Darcy Kuemper were the scratches for the Avalanche. UP NEXT Avalanche: At Philadelphia on Monday in the fourth of a five-game trip. Senators: At New Jersey on Monday night in the makeup of a game postponed due to Ottawa's COVID outbreak. ___ More AP NHL: https: //apnews. com/hub/NHL and https: //twitter. com/AP_Sports Copyright © 2021 The Associated Press. All rights reserved. This material may not be published, broadcast, written or redistributed.



Total 86 articles.
Version: 9.83.38380-256015. Input files: 1, items detected: 3286, scanned: 3286, accumulated: 86, inserted: 86, exclude filters: 0, include filters: 0, empty media: 152, filtered media: 186, duplicated media: 71, not matched limits: 361, passed http check: 0, not passed http check: 0, http check errors: 0, skipped: {total: 3197, by unique value: 0, by limits: 569, by similarity: 136, by unicity: 291, by dates: 245, by classifier: 2257, by blacklist: 320, by mandatory tag: 0, from input files: 0}, bad dates: 0, similar from same domain: 920, unique Ids: 0, unchangeble patterns: 1404, words comparisons: 28461448/3115661, python: 2.7.13 (default, Sep 26 2018, 18:42:22) [GCC 6.3.0 20170516]; the same images URLs found 2675 times; total 0 languages detected: {}; {u'text': {u'chars': 4918345, u'bytes': 20240440, u'words': 799063, u'sentences': 52000}}
Created at 2021-12-06 03:45