Announcement
DC5n United States music in english 16 articles, created at 2021-12-06 04:13 articles set mostly positive rate 2.5
(5.25/6)

1

0.8

Grand Ole Opry country singer Stonewall Jackson dies at 89

A guitarist, he performed on the show beginning in 1956 and was still appearing in 2010. 2021-12-05 23:56 3KB www.pressherald.com

(2.06/6)

2

0.4

Prince William Was 'In a Trance' During 2013 Musical Performance With Taylor Swift and Jon Bon Jovi

Prince William opened up about his impromptu musical performance with superstars Taylor Swift and Jon Bon Jovi in November 2013 — get details 2021-12-05 19:27 4KB www.usmagazine.com

(2.04/6)

3

0.5

Grimes seemingly shades ex Elon Musk in new song 'Player of Games'

Grimes dropped a new breakup song titled "Player of Games" that seemingly makes several digs at the singer's ex-boyfriend, SpaceX founder Elon Musk. 2021-12-05 17:51 2KB pagesix.com

(1.01/6)

4

0.5

Lizzo Sang A Seductive Song About Chris Evans & Drake That's Too Perfect

Lizzo dropped the names of two of her celebrity crushes in her most recent performance of Erykah Badu's "Tyrone." 2021-12-05 20:20 3KB www.elitedaily.com

5

0.6

Joanne Shenandoah, Indigenous singer of majestic lyricism, dies at 64

She played guitar, piano, flute, cello and other instruments, gave up to 200 concerts a year, and sold millions of recordings. 2021-12-06 00:25 7KB www.pressherald.com

6

0.8

Britney Spears Shared The Celeb Birthday Message That Left Her Speechless

Plenty of famous friends sent well wishes for Britney Spears' 40th birthday, but one musical message from the Hudson siblings stood out to the "Toxic" singer. 2021-12-05 21:21 2KB www.bustle.com

7

0.3

Billie Eilish Changed Her Hair Color Again — And Announced A New Video

The rising pop star is once again a brunette. 2021-12-05 21:17 2KB uproxx.com

8

0.3

PHOTO: 'TMOG' Ex Looks 'Better With Age' After Breakup

The former "Teen Mom OG" star dated the MTV personality from 2010 to 2012. 2021-12-05 19:58 4KB heavy.com

9

0.7

Rock Legend Tom Petty Receives Posthumous Ph.D. for Music

GAINESVILLE, Fla. (AP) — Nearly two decades after earning a place in the Rock and Roll Hall of Fame and more than four years after … 2021-12-05 18:34 1KB www.breitbart.com

10

0.3

Mike Rowe, John Rich's 'Santa's Gotta Dirty Job' track tops Adele on iTunes chart

FOX Business' Mike Rowe, narrator and Executive Producer of "How America Works" and country music star John Rich joined forces with the Oak Ridge Boys … 2021-12-05 18:30 2KB www.foxnews.com

11

0.2

'Let's Go Brandon' Store Opens in Massachusetts

It's been two months since an NBC reporter pretended that chants of "F**k Joe Biden!" at the NASCAR Xfinity Series race at Talladega were actually the crowd shouting "Let's go, Brandon!". 2021-12-05 17:40 1KB pjmedia.com

12

0.8

Mya Teases A 'Very Surprising' Romance & Lots Of Singing In Her Very First Christmas Movie

Mya opens up about her first Christmas movie 'My Favorite Christmas Melody' and a possible holiday album. 2021-12-05 17:06 7KB hollywoodlife.com

13

0.3

Music critics mock Kenny G's 'safe sax.' But a new documentary will change how you see him

If the Jazz Police began launching midnight raids against musicians who offended their sensibilities, Kenny G might be at the top of their list. But a new film may inspire his critics to reconsider. 2021-12-05 13:33 7KB edition.cnn.com

14

0.7

"Assassins" is Stephen Sondheim's killer musical that we don't talk about

It's never a good time to mount a musical in America about murdering presidents 2021-12-05 13:00 7KB www.salon.com

15

0.9

Amid Backlash, Hulu Pulls Documentary About Deadly Travis Scott Concert

Amid backlash, Hulu pulled a documentary about a Travis Scott music festival that resulted in ten deaths. Last month, the Astroworld Festival in Houston turned … 2021-12-05 09:10 3KB www.dailywire.com

16

0.4

Kat Edmonson takes a jazz pop swing at Christmas classics

From the start, the Texas-born singer was blurring the lines between classic and alternative: Her first album in 2009 opened with back-to-back covers of Gershwin's "Summertime" and The Cure's "Just Like Heaven," the latter done as a sultry torch ballad. 2021-12-05 05:27 4KB www.bostonherald.com
Articles
DC5n United States music in english 16 articles, created at 2021-12-06 04:13
NASHVILLE, Tenn. — Country musician Stonewall Jackson, who sang on the Grand Ole Opry for more than 50 years and had No. 1 hits with "Waterloo" and others, died Saturday after a long battle with vascular dementia. He was 89. The Opry, the longest-running radio show in history, announced Jackson's death in a news release. Jackson, a guitarist, performed on the Opry beginning in 1956 and was still appearing on the show in 2010. His real name was Stonewall, after Confederate Gen. Thomas "Stonewall" Jackson. According to WSMV-TV, the late Porter Wagoner would introduce Stonewall on his show by saying he came to the Opry "with a heart full of love and a sack full of songs." "Waterloo" was a hit on the country and pop charts in 1959. His other hits, mostly in the 1960s, included "Don't Be Angry," "B.J. the D. J," "Why I'm Walkin'," "A Wound Time Can't Erase" and "I Washed My Hands in Muddy Water." In 1971, he recorded his version of Lobo's "Me and You and a Dog Named Boo." Over the course of his career, Jackson landed 44 singles on the Billboard country chart. In 2008, at age 75, he settled a federal age discrimination lawsuit against the Opry. He claimed Opry officials had cut back his appearances starting in 1998, and sought $10 million in compensatory damages and $10 million in punitive damages. Terms of the settlement were not disclosed. Jackson was born in eastern North Carolina and was raised on a south Georgia farm. Jackson's mentor in his early career was country legend Ernest Tubb, who bought him his first stage clothes and hired him as his opening act. He was presented with the Ernest Tubb Memorial Award in 1997 for his contributions to country music, according to the Grand Ole Opry website. In 1991, he privately published his autobiography, "From the Bottom Up." Success. Please wait for the page to reload. If the page does not reload within 5 seconds, please refresh the page. Enter your email and password to access comments. Forgot Password? Don't have a Talk profile? Create one. Invalid username/password. Please check your email to confirm and complete your registration. Create a commenting profile by providing an email address, password and display name. You will receive an email to complete the registration. Please note the display name will appear on screen when you participate. Already registered? Log in to join the discussion. Only subscribers are eligible to post comments. Please subscribe or login to participate in the conversation. Here's why. Use the form below to reset your password. When you've submitted your account email, we will send an email with a reset code. Send questions/comments to the editors.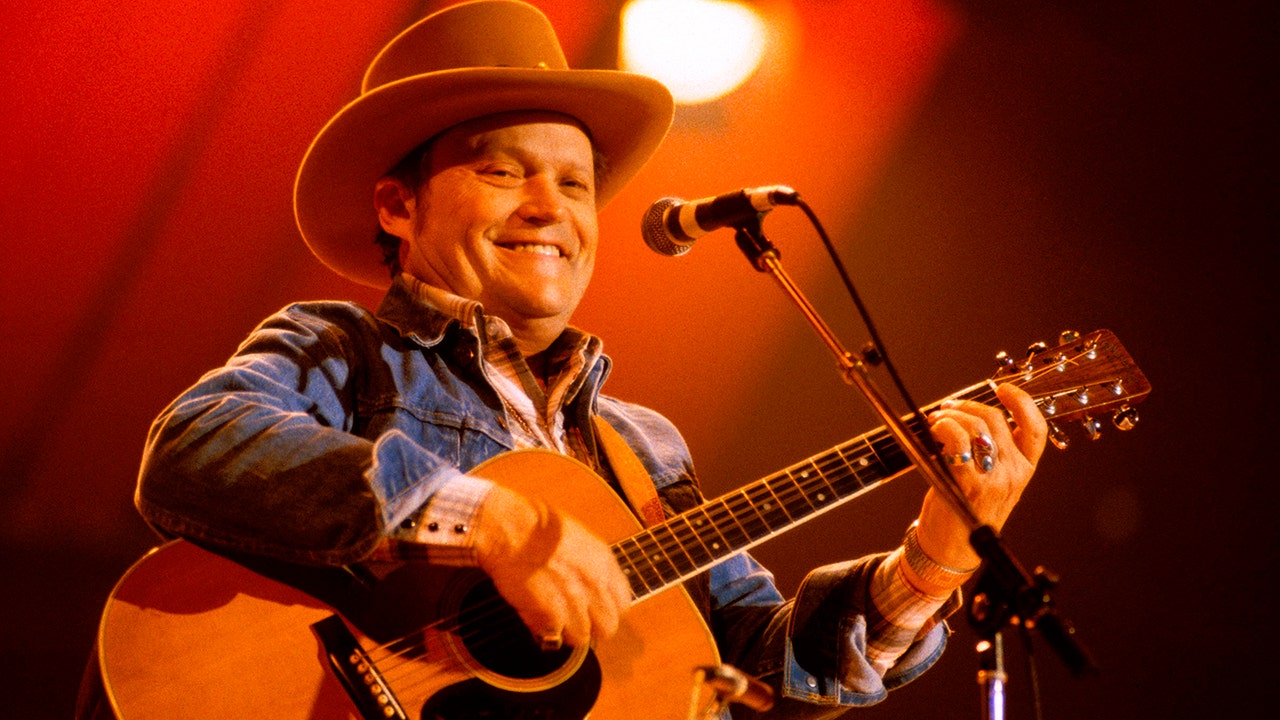 Stonewall Jackson, country artist with the Grand Ole Opry, dead at 89
foxnews.com
60bcbeb956a314e1caf1b5dc729465a1
Country singer Stonewall Jackson, a longtime Grand Ole Opry member, dies at 89
usatoday.com
b0e07cc2127a2c9e6ab0b5054b492693
Stonewall Jackson, Country Singer and Grand Ole Opry Member, Dies at 89
thewrap.com
2a0c9cbe9cf772983f04890201e2c960
Grand Ole Opry singer Stonewall Jackson dead at 89
nydailynews.com
46889d295e133f6c0b8e606870cd5093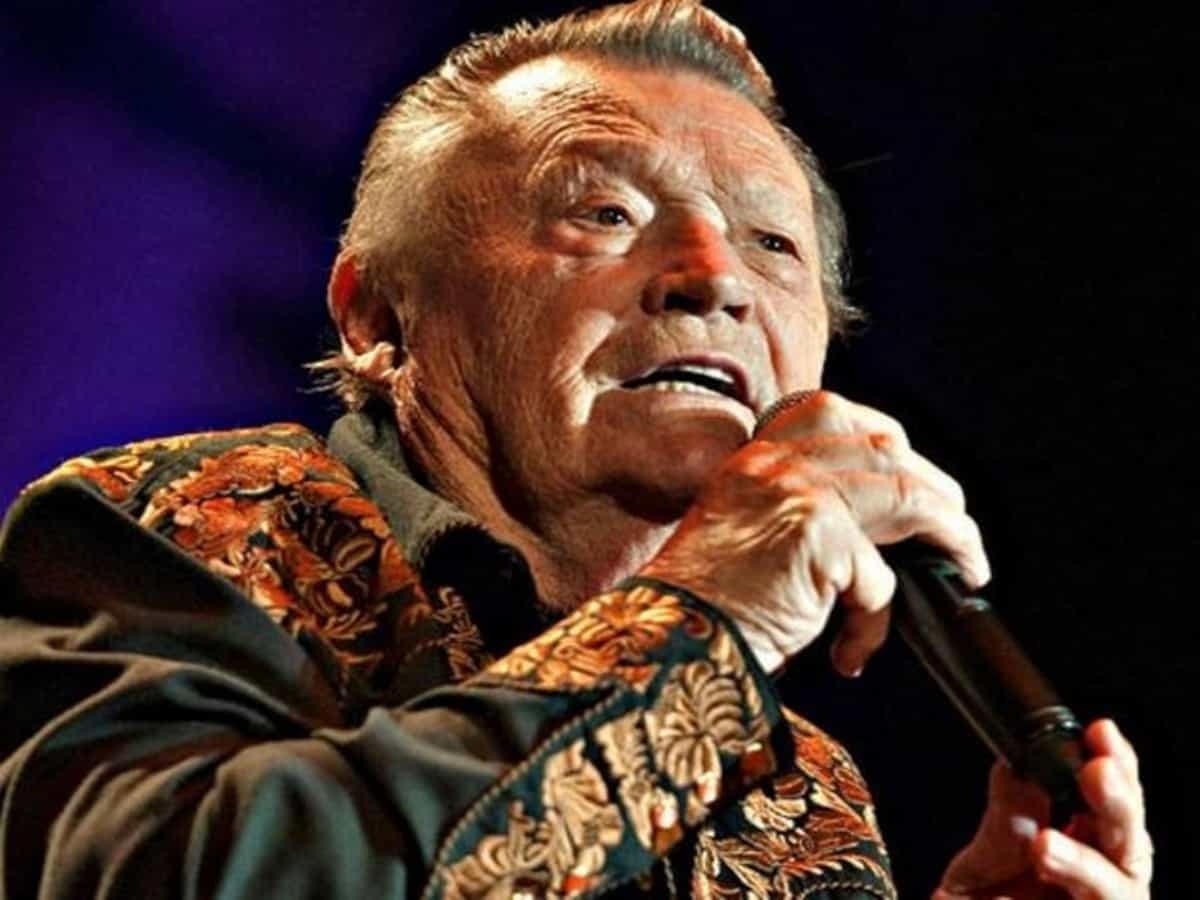 Longtime Grand Ole Opry member Stonewall Jackson dies at 89
siasat.com
11930e4835fc2715e2d8732418282bcc
Fond memories. Prince William initially made headlines after his impromptu musical collaboration with Taylor Swift and Jon Bon Jovi in November 2013, and he's finally explained how he ended up so "out of his comfort zone." "So, around about – it must be nearly 10 years ago now – I can't believe I'm actually telling this story. I went to a charity fundraising gala for Centrepoint, which is a young homeless charity that I am very fond of and have supported for many years," the Duke of Cambridge, 39, recalled on the Monday, December 6, episode of the "Time to Walk" series for Apple Fitness+. "It's an annual fundraiser, and I turn up, and Jon Bon Jovi and Taylor Swift are at the event, which nearly knocked me off my feet." While the England native initially thought he'd make his planned speech before having a relaxed evening eating a nice dinner and watching the musical icons perform their greatest hits, he couldn't imagine he'd be up on the stage beside them. "I'm sat next to Taylor Swift, she's on my left, and after Jon does his first song, there's a pause, and she turns to me. She puts her hand on my arm, looks me in the eye, and says, 'Come on, William. Let's go and sing,'" the father of three — he shares Prince George, 8, Princess Charlotte, 6, and Prince Louis, 3, with wife Duchess Kate — explained via ET Canada. "To this day, I still do not know what came over me. Honestly, even now, I'm cringing at what happened next, and I don't understand why I gave in. But, frankly, if Taylor Swift looks you in the eye, touches your arm, and says, 'Come with me.' I got up like a puppy and went, 'Yeah, OK, that seems like a great idea. I'll follow you.'" He continued: "I walked up on stage in a trance, and then sort of halfway through Jon Bon Jovi's 'Livin' On a Prayer' song, I wake up, and I'm thinking to myself, 'Am I standing on the stage singing 'Livin' On a Prayer' when I don't even know the words,' but the Centrepoint young guys and girls were there, all loving it and cheering away. So I thought, 'Well, if they're enjoying it, then the night is for them. So sod it. I can't be the doofus who's going to ruin it for everyone.'" While William was nervous to publicly sing — and to remember the 59-year-old crooner's lyrics — he was ultimately glad to take that step out of his comfortable boundaries. "At times, when you're taken out of your comfort zone, you've got to roll with it," the University of St. Andrews alum added. "And I think we've gotten to the stage in this life where we do micromanage ourselves. We do worry about: How do we look on social media? Who said what about me? What am I wearing? There's so many pressures, but I think making a fool of yourself is OK. It's OK to not take yourself too seriously and have those moments where you let go and you just go, 'Do you know what? I'm OK with this.'" The Winter Whites Gala in Aid of Centrepoint, in which William's been the patron since 2005, was the 31-year-old "Lover" songstress' first royal gathering. While there, she had the opportunity to belt a medley of her popular hits. During the festivities, she couldn't help but gush over the magical experience. "Oh my God, this is so incredibly exciting to be performing at Kensington Palace," the Cats actress told Us Weekly upon her arrival at the time. "With the snow, the lighting, the decorations, it's all so Christmas-y. It's kind of surreal, right? I'm at a palace! I'm just soaking it all in. It's going to be a great night."

Prince William Recalls 'Cringe' Moment Taylor Swift Led Him Onstage To Sing With Bon Jovi
hollywoodlife.com
d136b517ebf06bd203805b46b33fea98
Prince William recalls singing with Taylor Swift and Jon Bon Jovi: 'I'm cringing'
pagesix.com
d63dbf978917b68b1edb952ac2985ba4
Grimes appears to make several subtle digs at ex-boyfriend Elon Musk in her new single, "Player of Games." Throughout the track, the 33-year-old singer – who split from the SpaceX founder and avid PC gamer in September – sings about being in love with the "greatest gamer." "I'm in love with the greatest gamer," she croons, "but he'll always love the game more than he loves me." According to NDTV. com, Musk was creating video games before he became a millionaire at 27 years old. The Tesla CEO, now 50, tweeted in January that he he still plays Halo, a military science fiction video game. Speculation that Grimes' new song could be about Musk becomes even more evident around the 0:36 mark of the lyric video, when she sings, "Sail away to the cold expanse of space, even love couldn't keep you in your place." Musk exclusively told Page Six back in September that his work was a primary reason for his split from Grimes. "It's mostly that my work at SpaceX and Tesla requires me to be primarily in Texas or traveling overseas and her work is primarily in LA," he said at the time. Grimes and Musk dated for three years and share one child together: son X Æ A-12, aka "Baby X." Musk shares five other children – twins Griffin and Xavier, 17, and triplets Damian, Saxon and Kai, 15 – with his first ex-wife, author Justine Wilson. Their first son, Nevada, was born in 2002 but died of sudden infant death syndrome at only 10 weeks old. Musk was also previously married to "Westworld" star Talulah Riley. They married in 2010 and divorced in 2012, only to remarry in 2013. They divorced a second time in 2016.

Grimes Seemingly Shades Elon Musk On Break-Up Song: 'Loves The Game More Than Me'
hollywoodlife.com
d65af0a0ab8928cf2a701d18f0ac8946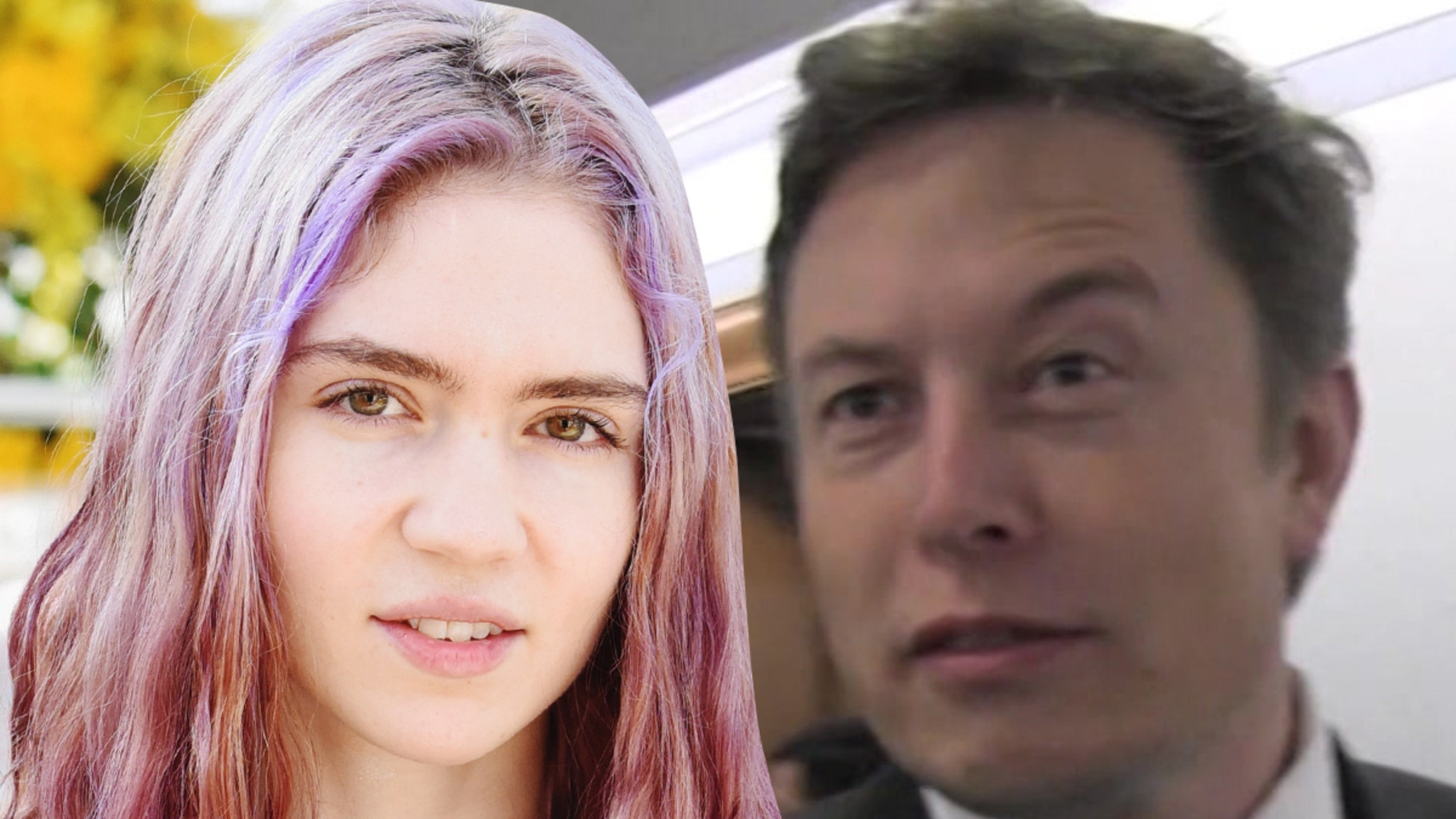 Elon Musk Grimes Sings. He's a Great Gamer But a Lousy BF!!!
tmz.com
f3a580066b48d8250aad66392f5055e7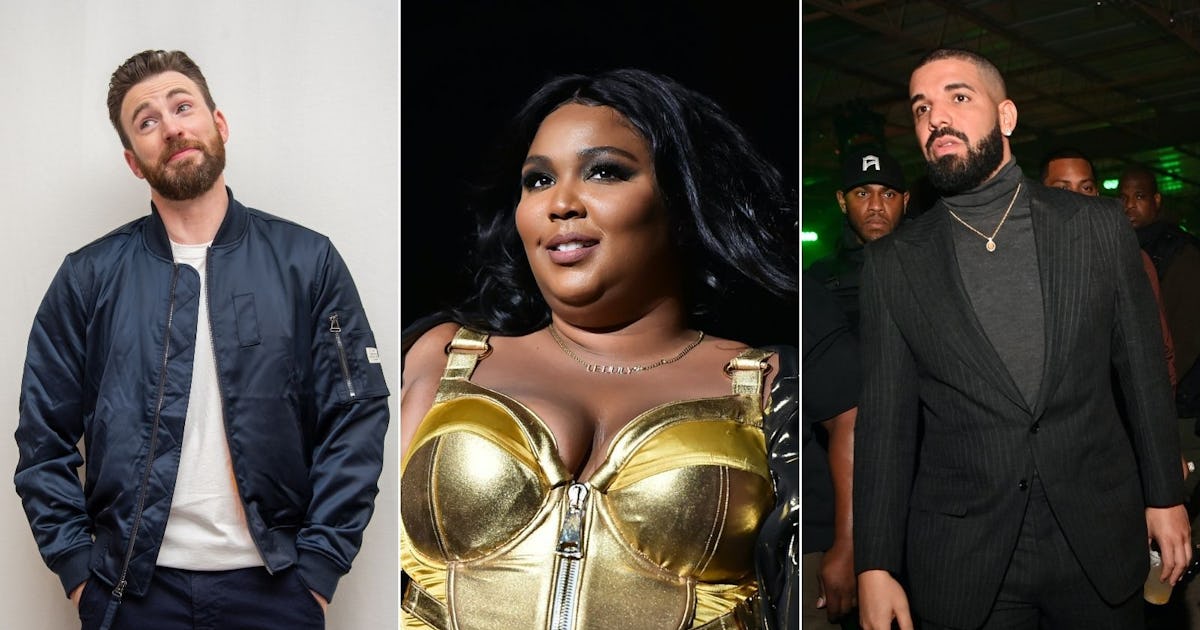 Nobody shoots their shot like Lizzo. We all know Lizzo is not shy when it comes to shooting her shot. Especially when it comes to her two most famous crushes: Chris Evans and Drake. During a Dec. 4 private performance, the "Juice" singer added a her own personal flair to Erykah Badu's "Tyrone" lyrics and shouted out Chris Evans and Drake. The 1977 song's chorus originally goes "better call Tyrone," but Lizzo had something else in mind and instead sang, "Maybe I should call Chris Evans/So Captain America can put another bun up in my oven" — which references the stars' banter about having a baby together. Lizzo continued her version of the song and then sang, "Or maybe I should call Drake?" referencing her "Rumors" lyric of " No, I ain't f*ck Drake yet." A 1-minute clip of Lizzo singing the personal version of the song quickly began trending on Twitter shortly after the performance. And, Lizzo, even retweeted the clip saying, "WHY AM I THIS WAYYYYYY." Fans really appreciated Lizzo's version of the song and joked that she should " blame it on the juice " and she should have a cameo in the next Captain America film and compare Evans to new lead Anthony Mackie. In her most recent single, "Rumors," the singer drops a fun lyric "No, I ain't f*ck Drake yet," and explained in an Aug. 13 interview that the lyric is a little more than a joke. " You know what I haven't manifested yet? F*cking Drake," Lizzo said. "I just feel like women, there's so many times where girls' names get dropped in songs because they're fine," she said. And Lizzo didn't stop there. In the "Rumors" music video, there's a hidden reference to Drake's Instagram handle —@ChampagnePapi— where you can see a champagne bottle with the words "Champagne Papi" on it explode simultaneously as she sings the lyric. Then there's Lizzo and Chris Evans' flirtationship, which has become something of an internet obsession. It all started on April 17 when Lizzo DMed the Marvel superhero on Instagram and made a TikTok telling everyone, " Don't drink and DM, kids. for legal porpoises, this is a joke." And leave it to America's superhero to respond in the best way possible. " No shame. God knows I've done worse on this app lol." Their exchange was widely adored by fans and some joked with the singer that was having Captain America's baby. And again, Lizzo took the joke one step further to address the rumors on TikTok saying, " This is something that I've been really trying to keep personal and private just between me and the father of my child, but since we're airing out all the rumors today. I've been sucking in. We're gonna have a little America." Evans responded like the true superhero he is and texted Lizzo, " Hi! Just heard about our little bundle of joy my mother will be so happy lol." Lizzo's flirty friendships with Chris Evans and Drake are def ones to look out for. Here's hoping her shoutout to the stars will manifest a Captain America cameo or Drake collab.

Lizzo Name-Dropped Drake And Chris Evans During Her Cover Of Erykah Badu's 'Tyrone'
uproxx.com
4cd2f9ecd6d68a2fff5b8020f2d73c16

Joanne Shenandoah, a singer and songwriter who received worldwide acclaim for her music that drew on her heritage as a member of the Oneida Nation and made her one of the country's most honored and popular Indigenous performers, died Nov. 22 at a hospital in Scottsdale, Arizona. She was 64. The cause was internal bleeding as a result of liver failure, said her husband, Doug George-Kanentiio. She had been hospitalized with a liver infection in 2016 and recovered after several months. When she became ill this year, her husband said doctors at the Mayo Clinic could not determine the cause of her liver disease, but it was not related to alcohol abuse or hepatitis. Shenandoah, whose father was a chief in the Onandaga Nation and whose mother was from the Wolf clan of the Oneida Nation, grew up in Oneida territory in central New York. Surrounded by music as a child, she was given the name Tekaliwhakwah, which means "she sings." Before launching her career in music, Shenandoah spent about a dozen years in the Washington area, where she had a computer consulting business and found occasional jobs singing for commercials and as a backup vocalist. "I was working very hard and was doing all the things I thought were important in life," she told the Associated Press in 1997. "One day I was looking out my office window. This huge tree was being cut down, and something clicked: What am I doing with my life here?" In 1989, she released the first of more than a dozen albums, and the next year she moved back to Oneida territory. She sought out elders to learn more about the history and languages of the Oneida people and other groups in the Iroquois Confederacy, which also includes the Mohawk, Onondaga, Cayuga, Seneca and Tuscarora nations. Shenandoah did not perform traditional Indigenous music but borrowed certain melodic and rhythmic motifs from it as she wrote original songs, sometimes in English and often in Mohawk or other Iroquois languages. "In the Iroquois way," she said in 2013, "music is a healing force, and the vibration of music lifts the spirit." Shenandoah, who played guitar, piano, flute, cello and other instruments, gave as many as 200 concerts a year, often with her sister and daughter as backup vocalists. International sales of her recordings were in the millions. She generally used modern instrumentation in her music and sometimes had an electronic, techno sound pulsing beneath her ethereal, soaring voice. Her songs reflected her interests in nature, women's lives and Iroquois culture. "In all of her music, her voice is always very much an expression of what the Iroquois refer to as 'the good mind,' " Christopher Vecsey, a scholar of Native American studies at New York's Colgate University, told NPR in 2000. "Her voice never stretches," he added. "It never goes to edges. It's always right in the center, beautifully calm, and I think that voice really expresses the message as much as the words express the message." Shenandoah quickly gained a following that spread far beyond the world of Native American music. Her songs were featured in the 1990s television series "Northern Exposure," she performed several times at the White House and at inaugural events for presidents Bill Clinton, George W. Bush and Barack Obama. In 1994, Shenandoah sang before a crowd of several hundred thousand at the 25th anniversary of the Woodstock music festival in New York. During the 1990s, she wrote a song with Neil Young and Brian Kirkpatrick, "Treaty," which addresses the treatment of Native groups by federal authorities: "You can drain all the oceans / and fill them with tears / You will never remove me / I'll always be here." Shenandoah sang for the Dalai Lama and South African leader Nelson Mandela, and in 2012 she appeared at the Vatican to honor the canonization of Kateri Tekakwitha, the first Native American saint. She shared the stage with such varied performers as Waylon Jennings, Pete Seeger, Richie Havens, John Denver, Willie Nelson, Rita Coolidge and Robbie Robertson – the latter two of whom have Indigenous ancestry. Shenandoah was nominated for several Grammy Awards and sang two of her songs on the 2005 album "Sacred Ground: A Tribute to Mother Earth," which won a Grammy for best Native American Music album. (The category no longer exists.) She also received 14 Native American Music Awards, more than any other artist. "Joanne is to contemporary Native American music what Aretha Franklin, Etta James, or Billie Holiday are to their respective genres," Mohawk musician Ed Koban told Native News Online. Joanne Lynn Shenandoah was born June 23, 1957, in Syracuse, N.Y., and grew up nearby in Oneida territory. One of her ancestors was an Oneida chief known as Shenandoah (there are several spellings of his name), who was a close associate of George Washington and helped to feed his troops during the Revolutionary War. Her father was an ironworker who played jazz guitar. Her mother had a Native crafts business and enjoyed singing. As a girl, Shenandoah often made music with her family at home. "What amazed me when she was young, she could just pick up any instrument and start playing it," her mother said in 1997. "It was just born in her." She attended Andrews University in Michigan and Montgomery Community College in Maryland. In the 1990s, Shenandoah and George-Kanentiio, her husband, wrote "Skywoman: Legends of the Iroquois," a book for young people about Iroquois history and culture. She later composed a work of the same name for symphony orchestra and voice. In addition to her music, Shenandoah had an acting role in the 2006 horror film "The Last Winter," set in the Arctic. She was an activist for Native rights and was often at odds with leaders of the Oneida Nation. During the Obama administration, she was the co-chair, with U.S. Attorney General Eric Holder, of the Task Force on American Indian and Alaska Native Children Exposed to Violence. Her most recent album, "Shenandoah Country" (2020), included songs about violence toward women. Shenandoah's marriage to Edward Smith ended in divorce. Survivors include her husband of 30 years, George-Kanentiio, a journalist and commentator on Native affairs of Oneida Castle, New York; a daughter from her first marriage, Leah Shenandoah of Oneida Castle; four sisters; and a grandson. Shenandoah and her husband established a foundation that is the repository of the world's largest collection of recorded Iroquois music. "I really believe that a lot of the music I write and sing is completely ancestrally inspired," Shenandoah said in 1997. "If I didn't live here on our ancestral homeland, I truly believe it wouldn't have come out the same." Success. Please wait for the page to reload. If the page does not reload within 5 seconds, please refresh the page. Enter your email and password to access comments. Forgot Password? Don't have a Talk profile? Create one. Invalid username/password. Please check your email to confirm and complete your registration. Create a commenting profile by providing an email address, password and display name. You will receive an email to complete the registration. Please note the display name will appear on screen when you participate. Already registered? Log in to join the discussion. Only subscribers are eligible to post comments. Please subscribe or login to participate in the conversation. Here's why. Use the form below to reset your password. When you've submitted your account email, we will send an email with a reset code. Send questions/comments to the editors. « Previous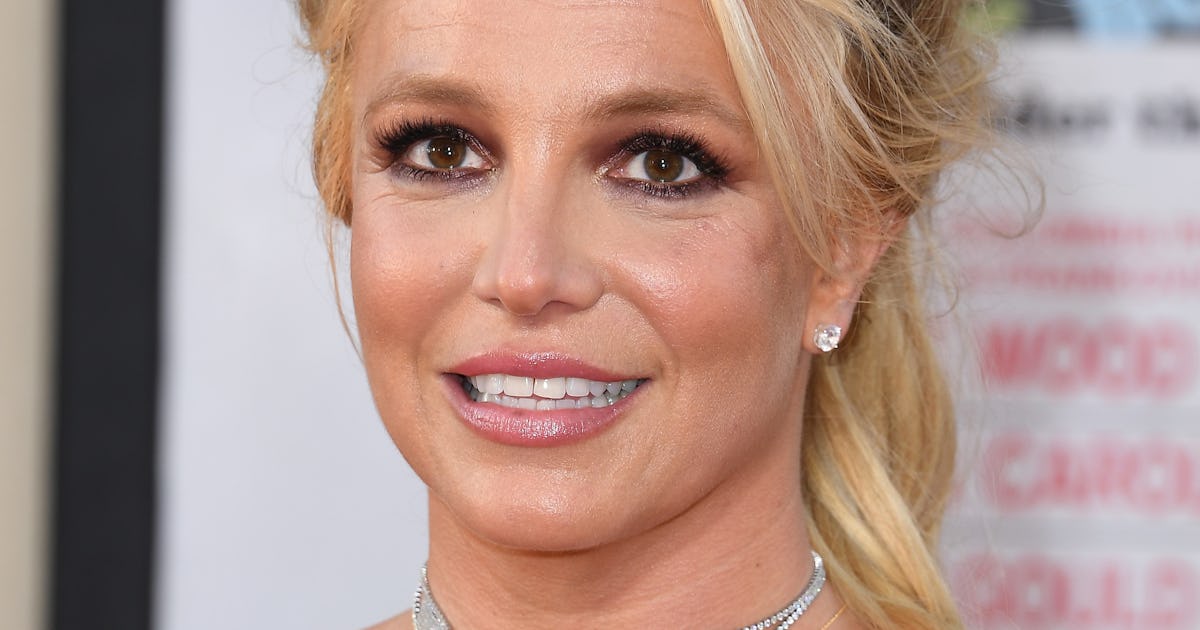 Celebrity This Hollywood friendship is super sweet. Britney Spears' birthday Dec. 2 marked more than one major milestone. Not only was it her 40th, but it was also her first birthday post-conservatorship — and as such, Spears celebrated in a big way. Her Instagram teased lavish details like fireworks and a private-plane getaway, plus plans to party it up even more in the future: "I think I will have to put on my hot little dresses 👗 on every night for the rest of my life to break even for working for my family my whole life," she wrote in one post. Her partner, Sam Asghari, celebrated Spears' "relentless strength" in his message, likening the big day to a rebirth of sorts. "Happy 1st birthday to my wife," he wrote, prompting some fans to wonder whether the couple secretly tied the knot. Meanwhile, the #FreeBritney camp and Spears' famous friends also marked the occasion with fanfare — including everyone from Marion Cotillard to Paris Hilton to a pair of actor siblings who hail from Hollywood royalty. In a video Spears reposted on Friday, Dec. 3, Kate and Oliver Hudson can be seen singing their "Happy Birthday" to Spears. Or, as Oliver puts it, Britney f*cking Spears. Adorably, Kate's daughter, Rani Rose, tries joining in, too. It looks like Spears was pretty touched by their musical tribute. She received loads of birthday wishes, after all, but this is the first she's reposted. But as far as actually reacting to the sweet musical moment, well, the woman was too moved for words. All she could do was caption the video with three coffin emojis. In other words: dead. Apparently, a friendship has been brewing between Kate and Spears for some time. In 2015, Spears attended her game night and had tacos with the Fabletics founder, which Kate couldn't resist sharing on Instagram. "The moment when @britneyspears shows up to your game night and your all like. #itsbritneybitch," she wrote. Two years later, Spears gushed about Kate's mom, Goldie Hawn, on Instagram. She shared a clip from the actor's 1987 rom-com Overboard, writing, "One of the many reasons to love Goldie Hawn." Here's hoping Spears and her musical besties get to connect again soon — perhaps for another game night?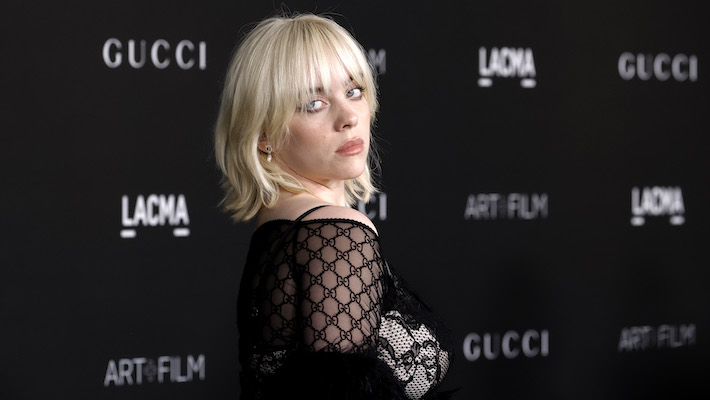 For most people, changing hair color is an exciting update that a few friends will notice and pay compliments to… when you're Billie Eilish, that update is a news story. Or at least, Eilish set the tone for dramatic shifts in her hair back when she flipped the script from dark brunette with green streaks, and went full-on bombshell blonde for a Vogue cover that surprisingly showed off her figure, something she'd sought to avoid up until that point in her career. After that cover broke an Instagram record, racking up one million likes, it became clear that fashion statements from Billie were going to be very impactful. And so a shift back in the brunette direction felt equally shocking when Eilish posted the new look on Instagram this weekend, especially considering all the promo for her Happier Than Ever album cycle was tied to her dramatically blonde, pouty look. Now that Grammy nominations are in place, maybe it felt like the right time to change things up again, as Eilish captioned the first post with her darker hair: "Miss me?" Though the pics are very close up, it looks like her hair might be significantly shorter, too. A post shared by BILLIE EILISH (@billieeilish) A post shared by BILLIE EILISH (@billieeilish) A post shared by BILLIE EILISH (@billieeilish) Billie capped off the weekend by announcing that her "Male Fantasy" video would drop tomorrow morning, also noting that it was directed and edited by her. Take a look at the clip below and be on the lookout for that full video tomorrow. A post shared by BILLIE EILISH (@billieeilish)

MTV The former "Teen Mom OG" star dated the MTV personality from 2010 to 2012. "Teen Mom" fans flooded Maci Bookout 's ex with compliments after a social media user posted recent photos of him and his family to Reddit. Bookout dated her ex-boyfriend, Kyle King, from 2010 to 2012. It was Bookout's first serious relationship since her split from ex-boyfriend Ryan Edwards, with whom she shares 13-year-old son Bentley. King and Bookout bought a house together, but they split after Bookout discovered King was talking to women behind Bookout's back online. "In case anyone is wondering how Maci's ex Kyle is doing these days," the original poster wrote, sharing a series of photos that showed King with his wife, Kendall, and their three sons. King just welcomed his third son, Kai Ridge, on November 24, 2021. It turned out that fans were interested in King's whereabouts, with the post garnering over 700 likes and nearly 200 comments. A post shared by kyle king (@kyleking1000) Some people said that King got lucky by moving on from Bookout — who is currently f acing divorce rumors — while some fans were focused on King's apparent glow-up. It's been nearly 10 years since viewers saw the former "Teen Mom OG" star on TV. "Good. He dodged a bullet with Maci," said a social media user. "She was always begging him to put a baby in her." "He definitely is the definition of looking better with age," another added. "He looks way better," a second agreed. A few commenters made references to when Edwards asked Bookout if King was "slow" during an earlier season of "Teen Mom OG." "He looks infinitely faster than Ryan these days, that's for dang sure!" read one of the most popular responses. A post shared by kyle king (@kyleking1000) At the time of their split, King and Bookout had different definitions of cheating. King told Dr. Drew Pinsky during the reunion special that he acted inappropriately, but didn't consider it "cheating" because nothing physical happened. The couple tried to stay together for her son, Bentley, who was 3 years old at the time. "For the longest time I didn't think of myself," King told Pinsky in 2012, according to H ollywood Life. "I was trying to make something out of me and her that was perfect, [but] wasn't, just so we could be there for Bentley." After splitting from King, she met her husband, Taylor McKinney, in 2013. They went on to tie the knot in 2016 and have two children together: 6-year-old Jayde and 5-year-old Maverick. Bentley, now 13, also lives with them and has a strained relationship with his biological father, Ryan Edwards. A post shared by Teen Mom (@teenmom) Realizing they needed to work on their marriage, Bookout and McKinney decided to take a minivacation without their kids. The plan was for them to focus on on their relationship and reconnect, but things became tense when Bookout and McKinney sat down at a swanky restaurant to have their childfree meal. "Ain't it weird how oddly quiet it is," McKinney asked. "'Cause I don't have to get up and get somebody some water or yell at somebody for chewing with their mouth open," Bookout answered. When McKinney began to eat his Panzanella salad, Bookout told him, "I'm gonna need earplugs for you eating that toast." "There's no soft, silent way to eat those," he told her. Bookout continued to roll her eyes when McKinney dropped a shrimp on the floor and said she was tired in the middle of their meal. During a voiceover, the "Teen Mom OG" star admitted the dinner was "awkward" and wanted to make more of an effort while they had drinks by a fire outside. Some fans began to speculate about the status of McKinney and Bookout's union. READ NEXT: Maci Bookout's Face Ignites Fans After Family Photo Leaks Unlock the latest Teen Mom news, rumors and exclusives — direct to your inbox. ↓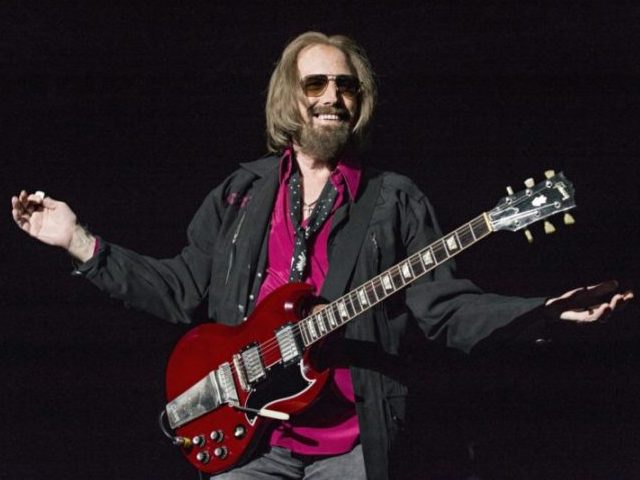 GAINESVILLE, Fla. Nearly two decades after earning a place in the Rock and Roll Hall of Fame and more than four years after his death, rock icon Tom Petty has been awarded an honorary Ph.D. from the University of Florida. The school's board of trustees unanimously voted to award Thomas Earl Petty a posthumous doctoral degree in music during a Friday meeting. Born and raised in Gainesville, Petty once worked as a groundskeeper at UF as he tried to make it in the music industry, but he was never enrolled. Petty passed away from an accidental drug overdose in October 2017. Days later during a UF home football game, the song "I Won't Back Down" was played at the stadium as a memorial to Petty. The song has since become a regular feature at Gators games. Usually backed by the Heartbreakers, Petty broke through in the 1970s and went on to sell more than 80 million records, featuring hits like "Free Fallin,'" "Refugee" and "American Girl." Petty and the Heartbreakers were inducted into the Rock and Roll Hall of Fame in 2002.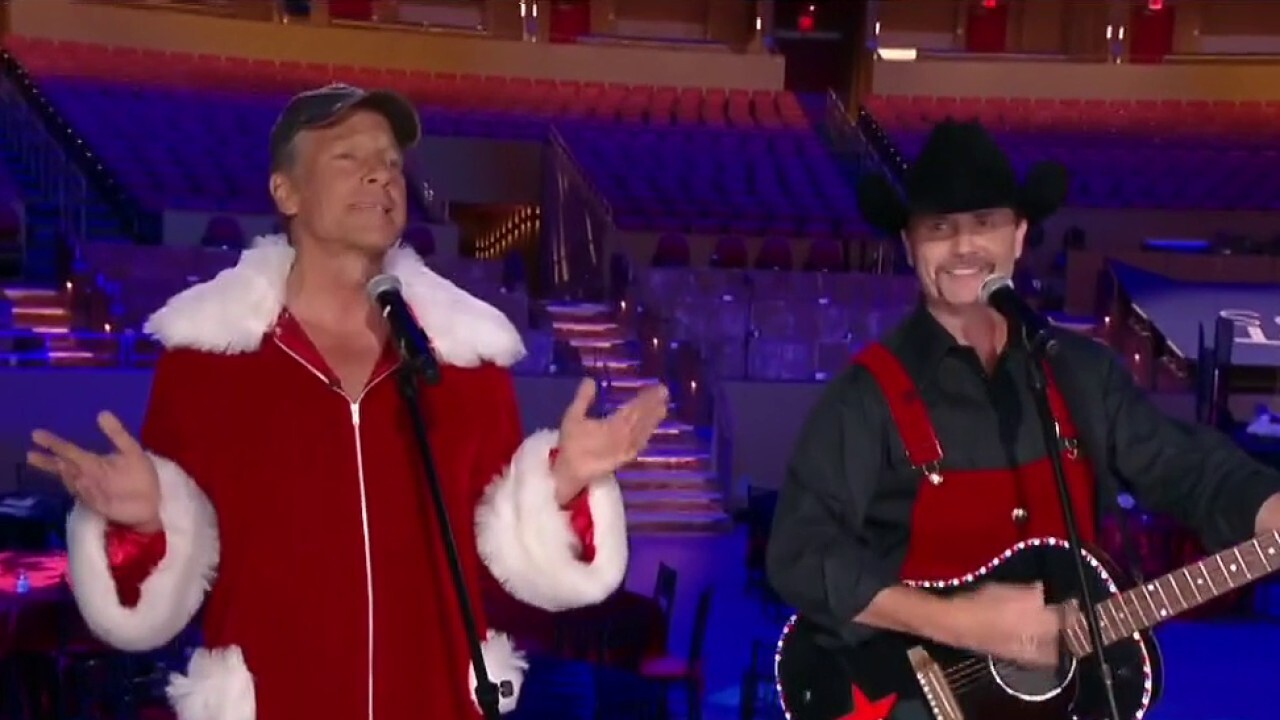 FOX Business' Mike Rowe, narrator and Executive Producer of "How America Works" and country music star John Rich joined forces with the Oak Ridge Boys to release "Santa's Gotta Dirty Job" — and the Christmas single is topping the charts. The pair joined " Fox & Friends Weekend " on Sunday to discuss the traction after they outperformed Adele's "Easy On Me" for the top spot on iTunes earlier this week. "This is one of those songs you cannot not smile when you listen to it", Rowe stated. "And our country right now, man, we need to smile… and hopefully this song's doing it." The silly track highlights the nitty-gritty bits of Santa Claus' job, which includes reindeer kicking "buttock in his face", climbing up and down messy chimneys, outrunning "big guard dogs" and "making a B-line for the bathroom" after consuming too many cookies. Rich provided viewers insight into the making of the hit song: "I was interviewing Mike for my show… and I said, hey, Mike, you know somebody who's got a dirty job that you probably never thought about? And he said, who's that? I said Santa Claus", Rich explained. The duo debuted the track, which is also available on Spotify, Apple Music, and Amazon Music, on "Fox & Friends" last week, with an accompanying pre-recorded music video. The video features Rowe, 59, and Rich, 47, singing their new tune while decked out in Christmas wear. The Oak Ridge Boys also appear in the video, offering up backing vocals for the track. All proceeds directly benefit Folds of Honor, an organization that provides scholarships to military families, and the mikeroweWORKS Foundation, which promotes trades and apprenticeships.

It's been two months since an NBC reporter pretended that chants of "F**k Joe Biden!" at the NASCAR Xfinity Series race at Talladega were actually the crowd shouting "Let's go, Brandon!" In that short time, the phrase went from a viral social media meme to a chart-topping song on iTunes. It's on shirts, bumper stickers, and face masks and has made its way into the House chamber. It even has its own dance. But the saying's journey isn't over. There is now a "Let's Go Brandon" store. The retail outlet, which is located in North Attleboro, Mass., sells "Let's Go Brandon" merchandise such as hats, shirts and signs. WJAR-TV of Providence, Rhode Island first reported on the store's opening on Saturday.

Mya is getting into the holiday spirit with her new movie My Favorite Christmas Melody, which premieres December 5 on Lifetime. After years of acting, this is actually Mya's first-ever holiday movie. She gets to balance her two loves in the film, singing and acting. HollywoodLife spoke EXCLUSIVELY with Mya about how the movie "reeled" her in. She admitted fans will get a real "treat" in getting the chance to hear her singing Christmas songs for the first time. Plus, is she thinking about releasing a Christmas album? Read our Q&A below: What stood out about the role of Abby that really made you want to go for this role? Mya: Abby's just so relatable as a person, and I think we can all find a little bit of ourselves in her struggle in doing something that is not necessarily pulling on our heartstrings and finding her way back home. I think rekindling her love for music and chasing her dreams with courage, and then also letting the possibility of love and a little bit more merry, especially around the holidays, reeled me right on in. Plus, there was the musical aspect and that was really, really nice to know that there was going to be a theatrical component, the musicality, the songs, and even the jingles. A lot of Abby's journey is her rediscovering her voice and her confidence. I'm sure you related to that over the course of your career at some point, right? Mya: Absolutely. Abby actually experiences something that's very, very common in the music business with someone stealing a part of her composition. That can be very, very detrimental to your belief and wanting to move forward in the actual business. You still have a love for music, but it's suppressed because of trying to protect yourself. So, yes, I think we've all experienced something in life, whether it's music or another field, but to see that full circle change eventually, without giving the whole story away, is just an awesome, inspiring moment to keep pushing through obstacles. You do perform some holiday music in this. Are we going to get those as their own singles? I feel like we need a soundtrack. Mya: I know! All the fans that love music are going to be asking me that, but it's not Mya singing. It's Abby. But it's really, really nice because this is also a treat for the fans that get to hear my voice that have never heard me sing a Christmas song. They have to watch Lifetime, however, to tune in. They can't go to iTunes. Have you thought about doing a holiday album at this point? Mya: I've always thought about doing a holiday album, but it's about making sure the composition aspect is there. Christmas songs are not to be played with. You could have a grand element from orchestras or sometimes even choirs. So that's a budget. That's taking your time to really create something amazing and timeless that's going to live forever because Christmas is every year worldwide. It's about having the right team. I've always thought about it, so maybe this is prompting me to move forward in it. Is there a possibility for romance in this movie? What can you tease about Abby's connection with this music teacher? Mya: Well, it's very, very surprising and not expected. I think the last thing that she's looking for or is on her brain is love and the possibility of that because she's just pushing through to survive in a very expensive place — of course, New York. Sometimes in your backyard, you have the biggest surprises and find what's really close to you and it revives your spirit. Let's just say things don't start off on the greatest foot. There are a lot of surprises for her, and the least expected moments can happen in a place that we often call home. That's also beautiful because it's a lesson not to necessarily have to go out into the world and move so many places and seek from other places. You can also find love and happiness and what makes you feel alive in your own backyard. This is your first Christmas movie. Now that you've done one, are you going to continue to do them? Mya: Christmas always has a musical aspect, and I love music. So if the possibility is there, if the opportunity is there, I'm usually going to be game for that because I love the holidays. Being an east coast girl and getting to see snow on the ground and reindeer outside, literally. When it snows, it's something beautiful because as a child you look at all the fairy tales and the stories and to get to see them and witness that and the cold and the warmth of the fireplace, which I do have, it's kind of nostalgic in a way from your childhood. I think magical things come to life right in your backyard, so I love the holidays and what that can bring for people through the television. You have consistently juggled acting and music over the years. What keeps you coming back to acting? Mya: I grew up in a performing arts school. So it was orchestra, it was choir, it was plays. Like I said before, I'm a theater kid. I'm a child of the arts. So any opportunity where I get to fuse all three, or even the composition aspect, it's a dream for me. It's like being on a playground because you get to do so many different types of things. Broadway was actually the first goal before I got my recording contract, which came first. But that's still the goal, to be alive in my performances, and I get to do that in my recording career. But Broadway is the ultimate because you're acting, you're singing, you're dancing. Sometimes you're playing a part or an instrument allows you to compose and be a part of the process from ground zero, and see it come to life is amazing and then share, so I think that is what it is for me. The multitude of facets and the playground of the arts. This movie was filmed during the pandemic. What was that like for you? Mya: Well, it was really interesting. Technology is amazing these days. I filmed this in Toronto, but Toronto at the time had a mandatory 14-day quarantine. As a recording artist, I travel with equipment, so I set up my microphone, laptop, my Pro Tools, and I got to virtually work with the composer Phil Giffin and his wife while they were in California. We recorded all of the Christmas music as well as some of the jingles that I was not singing live for this movie right there in my condo during the 14-day quarantine, which was awesome. Did you approach the songs as Abby or did you as Mya add your own flair to them? Mya: Both, actually. Some of the inflections were definitely Mya because I know fans watching would probably expect something a little extra. So in that sense vocally, yes. But even pronunciation I changed with Abby in mind, stepping outside of the comfort zone of Mya and sort of visualizing how she would sound to separate the two.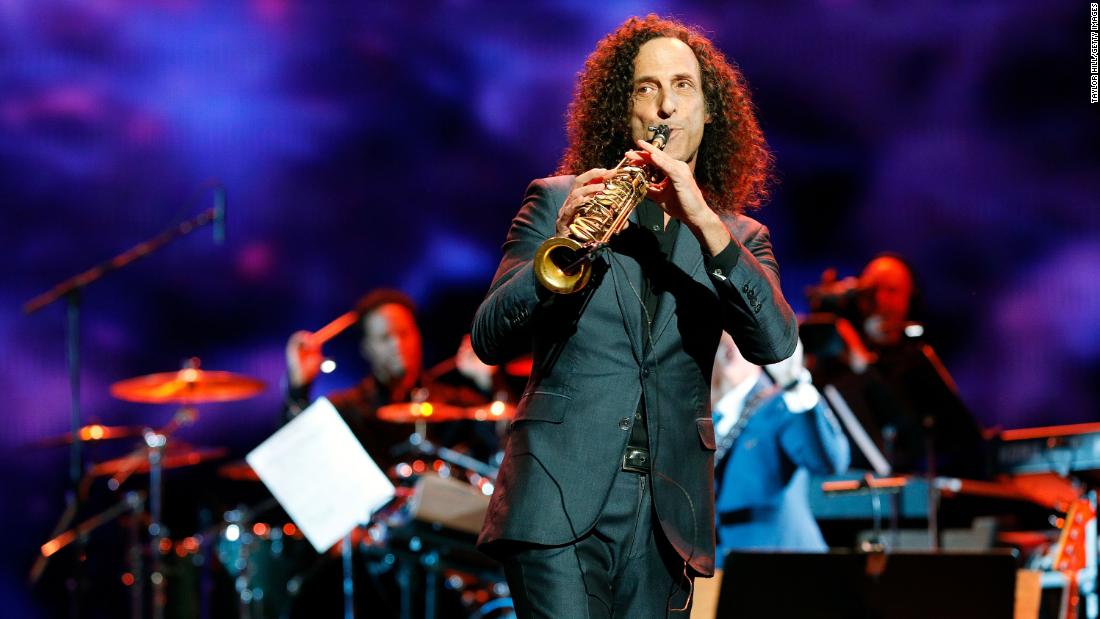 The 65-year-old saxophone player has been called the best-selling instrumentalist of all time, someone whose songs have formed the sonic backdrop of so many weddings, shopping mall and dental office visits that one music critic said he's "part of the musical furniture of American culture." The Jazz Police -- fans and critics who are self-appointed enforcers of jazz purity -- have called Kenny G's music "safe sax" and compared it to takeout Chinese food ("an hour later you're hungry again"). Jazz guitarist Pat Metheny has dismissed Kenny G's style as " lame-ass, jive, pseudo bluesy out-of-tune, noodling." But a new documentary film by Penny Lane may lead some of Kenny G's critics to reconsider. " Listening to Kenny G ", which premiered this week on HBO Max, offers surprising glimpses into the songs and private life of the skinny, White guy who became the face -- and hair -- of smooth jazz. The film suggests that Kenny G, who just released his first album in six years, is not only unappreciated but a groundbreaking artist who pursues perfection and innovation in his own sweet way. The documentary also asks bigger questions outside of music. It explores racial prejudice and the art vs. commerce debate, and offers some lessons on what it takes for someone to be successful in any field. What comes through is that Kenny G probably would have been successful at whatever he chose to do. He is relentless striver -- practicing his sax at least three hours each day -- with a compulsive need to get better at everything, even if it's just baking an apple pie in his opulent kitchen. Many critics have disparaged his music Kenny G's devotion to his craft, though, will probably not impress his critics. His music has been described as bland and soporific -- like an aural hit of Ambien. It has furnished many Internet memes, and shows like "Saturday Night Live" and "South Park" have made fun of his "Snooze Jazz." Some of the funniest scenes in the documentary come when jazz critics are asked to appraise Kenny G's music. Many squirm like toddlers at the dentist, with looks of discomfort across their faces as Kenny G standards like "Songbird" play in the background. When Ben Ratliff, a well known jazz and pop music critic, was asked what he thought of Kenny G's music, he struggled to give an assessment. "I'm sure I heard of a lot of Kenny G's music -- while waiting for something", Ratcliff says, referring to the piped-in music he hears in stores or during visits to his bank. Another critic, though, cited Kenny G's massive popularity -- he has sold at least 75 million records -- as a form of defense. "It can't simply be that millions of people are just stupid and Pat Metheny is the smart one", says Jason King, a musician and scholar at New York University. The center of the documentary, though, is Kenny G himself. His canny deflections of his detractors take the film in unexpected directions. Kenny G refrains from labeling his own music. Is it jazz, pop? You tell me, he says. He also dismisses the notion that he deliberately set out to create jazz Muzak that would appeal to the masses. "These are songs from my heart", he says. "This is just the way I hear it. They [critics] think I just decided to play these songs because I knew they would sell well. If only I was that smart." Even so, he created a signature sound But the film makes clear, as it traces his rise in the musical world, that Kenny G is a lot smarter than people realize. He was born Kenneth Bruce Gorelick in Seattle, Washington, a quiet Jewish kid who was expected to take over his father's plumbing business one day. But young Kenny became enthralled by the silky music of jazz saxophonist Grover Washington Jr., whose hits like "Just The Two of Us" heralded the 1980s rise of the smooth jazz genre. Kenny G's high school music teacher recalls him as a shy kid with no girlfriend who was "super, super smart." The teacher tells a funny story about Kenny G stealing the show during one of his first live gigs by holding a prolonged note -- a signature stage move that would be recognizable to any of his fans today. Some of the best scenes show Kenny G's cockiness. He's also an outstanding golfer as well as a pilot and a successful investor. "That's a hard lick and I just played it really well", he says with a self-satisfied smile after an impressive practice run on his soprano sax. The film also does a good job explaining why some jazz critics despise him. Many say his music is not jazz. Jazz, they say, is about improvisation and vigorous interplay between musicians who are testing musical boundaries. Those qualities don't describe Kenny G's music. But even some of his critics concede that Kenny G created a new type of instrumental music with massive hits like "Songbird" and "Silhouette." What's inarguable is that he has a distinctive sound that's sold millions of records. How many musicians can claim that? "I don't think a lot of people could say they created a new sound, but I did", he says. Some dismiss that sound as "easy listening", but Kenny G seems nonplussed by the label. "When you hear the words, 'easy listening', it almost sounds bad", he says. "Well, I don't see anything wrong with something that's easy to listen to." His music sparks debate about what is authentic jazz Jazz purists criticize Kenny G because they don't think his music reflects any exceptional jazz chops or innovation. They also complain that he's earned so many millions from his music while many jazz musicians who are much more skilled toil in relative obscurity. As the film makes clear, the debate over what constitutes true jazz is as old as jazz itself. Louis Armstrong is widely seen as the greatest jazz musician of all time for his virtuoso trumpet playing and singing. But is "What a Wonderful World", one of his biggest hits, jazz? And if not, does it tarnish his legacy? Miles Davis, another jazz legend, was accused of selling out when he went electric on his album "Bitches Brew", which helped launch jazz fusion music in the 1970s. Yet no one would claim Davis isn't an authentic jazz artist. Besides, there is another purpose that jazz, and all music, serves. Music offers people an escape, a way to feel good. Some of the most moving passages in the documentary show Kenny G's wide appeal. His fans come in all races, age groups and nationalities (he's huge in China). The film depicts them all blissfully nodding along to his music with the same contented look. The great jazz drummer Art Blakely once said that "jazz washes away the dust of everyday life." Kenny G's music may not fit the classical definition of jazz. And it may put some listeners to sleep. But maybe we shouldn't underestimate a musician who can wash away the dust of everyday life for many listeners who are worn down by living in an increasingly divided world. If we go by that standard, Kenny G just might be a maestro.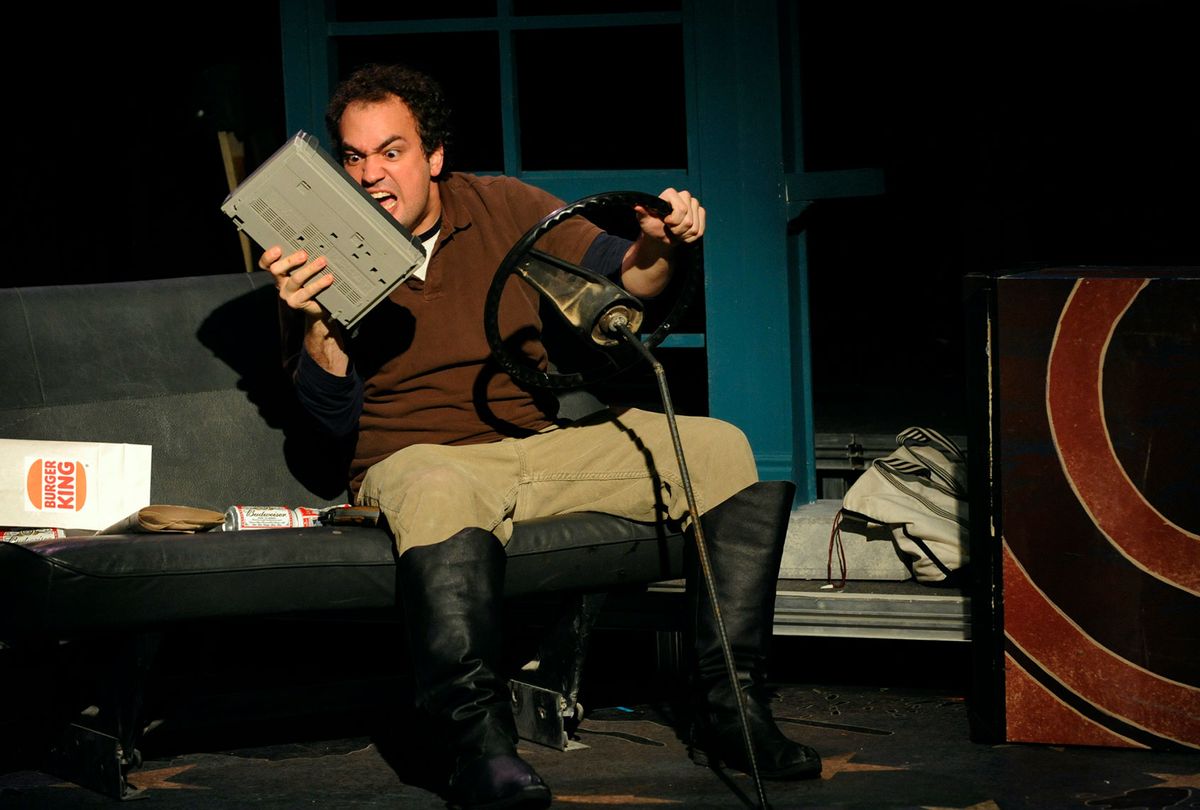 I first saw "Assassins", the late Stephen Sondheim's musical, in high school at a theater festival, after sneaking inside. I was at the festival because I had won a playwriting contest, and I was supposed to be at a rehearsal for my own play. But as soon as the music of "Assassins" started, a circus-like tune, I was spellbound. I couldn't leave. Sondheim composed the music and wrote the lyrics for "Assassins", with a book by John Weidman, and the show premiered Off-Broadway in 1990, closing after only 73 performances and mixed reviews. Sondheim's name may have helped the performances to sell out, but as the legendary Frank Rich wrote in the New York Times: "'Assassins' will have to fire with sharper aim and fewer blanks if it is to shoot to kill." After Sondheim's death on Nov. 26 at the age of 91, tributes poured in about the musical theater legend, with many praising his passionate songs, his twisty lyrics that play so much with language, his love of writing showstoppers. Obituaries and odes to Sondheim highlight "Company" (1970), 1979's "Sweeny Todd", and "West Side Story" (1957). Not many people bring up "Assassins." NPR's list of " 10 Stephen Sondheim's Songs We'll Never Stop Listening To " doesn't include a single tune from the show. It wasn't exactly a flop, but it's not exactly celebrated, either. RELATED: Bet your bottom dollar that NBC's "Annie Live!" will usher in a new inclusive era for an old classic Through vignettes, "Assassins" tells the stories of presidential assassins and would-be assassins from John Wilkes Booth to John Hickley Jr. As with Sondheim musicals like 1986's "Into the Woods", a narrator, called The Balladeer, loosely strings the tales together. A bleak sideshow provides the staging inspiration. The set often has the feel of a shooting gallery with bells that ding or buzzers that blare. The calliope-heavy incidental music sounds like a carousel. It's "Something Wicked This Way Comes", but for presidential murder. The songs are just as catchy, melodic, and surprising as most Sondheim — even if a bit reminiscent, sometimes startlingly so, of "Into the Woods", especially its prologue and "Last Midnight." The rhymes sound just as strong with couplets like, "Some guys think they can't be winners. /First prize often goes to rank beginners." And Sondheim's work is certainly no stranger to violence. "Sweeny Todd" has a murderer — has cannibals even. But "Assassins" has only murderers. Even the Balladeer doubles up on roles and plays Lee Harvey Oswald in most productions. Early reviews criticized all that violence, with some accusing the show of being "unpatriotic" in the midst of the Gulf war. " Talk about bad timing ", is the first line of a Los Angeles Times piece about the show. But is there ever a good time to mount a musical in America about assassins? In the show, assassins hang out through space and time in a kind of killers' clubhouse where they encourage each other. Charles Guiteau (assassin of President James A. Garfield in 1881) gives 1975's Sara Jane Moore shooting practice. Moore and Squeaky Fromme, a Manson girl who, with Moore, attempted to kill President Gerald Ford, take shots at a bucket of chicken. A lot of guns go off onstage in "Assassins." Characters wave guns in the melodic "The Gun Song Ballad." Guiteau points one at the audience. Guns seem to always be in the hands of the characters, less of a prop and more of an extension of their bodies. A dog is shot, a child crying for ice cream threatened with a gun by his mother, Moore. There isn't really a central story to "Assassins." It's more like a central feeling, which, unfortunately, is one echoed by some modern-day mass shooters. The assassins feel alone, alienated by sadness, unrequited love, their failures. They think killing someone known will make them famous, happy. Make them known by proxy. Or, that it will change the world they're so unhappy with: "We do the only thing we can do./We kill the president." In the '90s, "Assassins" productions were cancelled after school shootings. Productions were cancelled after 9/11. But a revival is on Off-Broadway right now, with the same tepid reviews that dogged the original, including one from the New York Times that mentions the most recent shooting at the time of print, the shooting death of cinematographer Halyna Hutchins on the Alec Baldwin "Rust" set. Of course, there has been another shooting since that review. Of course, there will be another before I finish writing this. In an America after a Donald Trump presidency, it's hard not to draw contemporary parallels with lyrics like, "What I did was kill the man who killed my country", and the constant sadness of the characters, mostly men, that they are alone, being left behind by a world that they feel no longer has a place for them. Only one scene shows an aftermath of violence: the assassination of JFK, the climax of the show. And even the bystanders singing about where they were when they heard the news eventually come to a kind of grim resolve by the end of the song: "Nothing has really ended/just suspended." It feels like a weird justification for the musical itself. Want a daily wrap-up of all the news and commentary Salon has to offer? Subscribe to our morning newsletter, Crash Course. In parts, "Assassins" can feel extremely dated. Several of the assassins are immigrants with heavy accents. The mental health issues of characters like Moore and Guiteau are played for laughs. Just a few months ago, the Shaw Festival canceled an upcoming staging after rights holders refused to allow the production to change the n-word, sung by Booth in a tirade against President Abraham Lincoln. A few months after seeing "Assassins" as a high schooler, I saw a then-new play called "Front" at a university. Written by British playwright Robert Caisely, "Front" tells the story of Londoners during the Blintz in WWII. Though not a musical, the characters sing wartime songs a capella in starkly stunning moments. And the story focuses on women: women working in bomb factories, women left behind as husbands go to war, a daughter growing up alone. Both "Front" and "Assassins" taught me that history is alive, still happening. That history can be sung, and that stories are not only to be found in imagination ("Company"), other art ("Passion", "Sunday in the Park with George") and faerie tales ("Into the Woods") — but in the past. Decades before "Hamilton" dominated musical theater, we had "Assassins", which uses some historical text, including a poem Guiteau wrote the morning of his execution and read aloud at the gallows. Perhaps Sondheim's musical has not aged well and should not be staged lightly. I wonder, for example, about the line asked by Oswald, "What should I do?" And Booth, who the characters describe as their "pioneer", answering: "You should kill the president of the United States." Does the line get a laugh, as it did in the video of a 2004 production on YouTube? Or, is there silence in a newly opened theatre in 2021, knowing that this dark joke isn't a joke at all, that violence like it keeps on happening. I may never know, as the revival of "Assassins", lukewarm reviews and all, has sold out its extended run after the composer's death. Sondheim was always at his best when writing about darkness, composing terrible things in beautiful, soaring melodies. Terrible things are a lot of history. It's what we endure. And as we know, those who don't learn from history are doomed to repeat it. Or, to sing it. More stories like this:

Amid backlash, Hulu pulled a documentary about a Travis Scott music festival that resulted in ten deaths. Last month, the Astroworld Festival in Houston turned fatal when crowds "suddenly surged toward the stage during a performance by rapper Travis Scott, squeezing fans so tightly together that they could not breathe or move their arms," according to the Associated Press. The youngest victim was a nine-year-old boy who was kept on life support for several days after the incident. On Wednesday, however, Hulu posted a 50-minute documentary entitled "Astroworld: Concert From Hell," which detailed the events surrounding the concert. Also on Wednesday, a tweet assuming that Hulu had produced the documentary gained tens of thousands of likes. "Hulu making a documentary about Astroworld is in poor taste all around," it said. "People are still burying their loved ones. The legal cases haven't even started. Great documentaries are done when all the facts are laid out. Not enough time has passed to fully discuss this." As a result, Hulu clarified that it did not produce the film — and stated that it had nevertheless been pulled from the platform. "This was an investigative local news special from ABC13/KTRK-TV in Houston that originally aired on November 20th," a Hulu spokesperson told Variety. "This was not a Hulu documentary and has since been removed to avoid confusion." An earlier report from CNN detailed the chaos felt by concertgoers. "The crowd became tighter and tighter, and at that point it was hard to breathe. When Travis came out performing his first song, I witnessed people passing out next to me," said 20-year-old TK Tellez. "We were all screaming for help, and no one helped or heard us. It was horrifying. People were screaming for their lives, and they couldn't get out. Nobody could move a muscle." "Everybody was crying; it was the scariest sound I've ever heard.… Imagine listening to Travis Scott and people screaming for their lives at the same time," he said. "There was just not enough people to help everyone… Travis Scott would have a short time in between songs, and we would scream our vocal chords out so someone could hear us but nobody did. This year's festival will be stuck with me forever. I've never seen someone die in front of my eyes. It was horrific." "I picked some kid up and his eyes rolled to the back of his head, so I checked his pulse. I knew he was dead," explained Billy Nasser, who said he works as a disc jockey. "I checked the people around me. And I just had to leave him there, there was nothing I could do. I had to keep going.… Kids were dropping left and right.… There wasn't enough security guards and there wasn't enough EMTs and people helping out the crowd. The paramedics couldn't even reach the crowd." After the tragedy, Nike postponed the release of its planned Travis Scott sneaker line. Scott is also facing a deluge of lawsuits, which also name rapper Drake, whose real name is Aubrey Drake Graham, as well as Live Nation and NRG Stadium. The Daily Wire is one of America's fastest-growing conservative media companies and counter-cultural outlets for news, opinion, and entertainment. Get inside access to The Daily Wire by becoming a member.

The jazz/pop vocalist Kat Edmonson would probably have made a great singing star in the '40s and '50s. But she's also doing fine right now. From the start, the Texas-born singer was blurring the lines between classic and alternative: Her first album in 2009 opened with back-to-back covers of Gershwin's "Summertime" and The Cure's "Just Like Heaven," the latter done as a sultry torch ballad. "I always enjoy raising eyebrows," she said in an interview this week. "I like defying people's expectations and getting them to think differently; that's part of the joy of being an artist. But in the same breath, I love to bring them what's familiar and remind them of what feels good inside of them. And that's not for the sake of safety, it's more about being comfortable. In my show and my music I'm ultimately driving to a place of vulnerability, and I want the audience to go there with me. So I don't turn out the classics because everybody likes them, it's more because I want to put them into a warm and fuzzy place, so we can go deeper into the vulnerability of what the music has to offer." One of her favorite things to do, she says, is to completely rearrange a familiar song — something she definitely did with the Cure tune. "I fell in love with that song in high school and would always request it at parties. I'd love to spin around on the dance floor and get lost in it, and it always takes me back to being 14 and in love with a new person every week. It was the kind of song that I wanted someone to sing for me. So when I sang it, I took all my romantic feelings about the song and made it more of a sensual thing." Thursday night at City Winery she'll connect with another longstanding love, namely Christmas music. Her new album "Holiday Swingin' " offers impeccably hip takes on the Christmas classics, plus an occasional ringer like the '50s novelty "The Chipmunk Song." As she said, "I grew up loving those old records, my mom was always playing them. As I've been getting older and learning more about the music I love, I've realized that Christmas tunes weren't always such a thing; then there were movies like 'White Christmas' and it started exploding. So that's something I absolutely cherish. I know there are always camps — some people never want to hear Christmas songs again, but I'm part of the camp that can't wait." During shutdown she got to realize another longtime ambition; being the host of an old-fashioned variety show. Her weekly livestreams grew into a full-fledged production with sets, comedy, special guests and audience requests; and all 60-plus episodes of "The Kat Edmondson Show" can now be found on YouTube. "I loved reruns of the variety shows that Dean Martin and Dinah Shore and Perry Como hosted, and always had the fantasy that I could do that too. I loved how those people could do everything — Dean Martin sang, danced, acted, hosted a show. And I always assumed that's what it meant to have a career in show business. When I actually got into show business I saw that things are done differently now, but this was my chance to have the variety show I always wanted." Part of the shows was real-time interaction with the online audience. "It's a much different relationship; when I perform live it's more a one-sided conversation. But I loved getting to know my fans better, and it became like a club. As things went on, I discovered they were more compassionate than I thought, more open-minded than I ever expected them to be. That created such an intimacy with the audience, and I can't imagine giving that up."



Total 16 articles.
Version: 9.83.38380-256015. Input files: 1, items detected: 3286, scanned: 3286, accumulated: 16, inserted: 16, exclude filters: 0, include filters: 0, empty media: 152, filtered media: 186, duplicated media: 71, not matched limits: 361, passed http check: 0, not passed http check: 0, http check errors: 0, skipped: {total: 3270, by unique value: 0, by limits: 628, by similarity: 8, by unicity: 291, by dates: 304, by classifier: 2408, by blacklist: 320, by mandatory tag: 0, from input files: 0}, bad dates: 0, similar from same domain: 906, unique Ids: 0, unchangeble patterns: 1404, words comparisons: 26751776/2942561, python: 2.7.13 (default, Sep 26 2018, 18:42:22) [GCC 6.3.0 20170516]; the same images URLs found 2675 times; total 0 languages detected: {}; {u'text': {u'chars': 4801530, u'bytes': 19759764, u'words': 779142, u'sentences': 50774}}
Created at 2021-12-06 04:13