Announcement
DC5n United States events in english 12 articles, created at 2021-12-06 04:02 articles set mostly negative rate -5.0
(12.99/13)

1

0.8

Alabama Beats Georgia, Back to Playoff

An epic but improbable win. 2021-12-05 12:59 5KB www.outsidethebeltway.com

(8.99/13)

2

0.4

Lions score on final play, beat Vikings for their first win of the season

The Detroit Lions nearly found another excruciating way to lose Sunday at a far-from-filled Ford Field. But after a 15-game winless streak spanning one … 2021-12-05 21:29 2KB www.usatoday.com

(7.99/13)

3

0.7

Photos: Bob Dole through the years

The World War II veteran, senator and presidential candidate died on December 5 at the age of 98. 2021-12-05 21:42 8KB www.cbsnews.com

(2.07/13)

4

1.2

Four people die in small plane crash in US California

Four people were killed when a single-engine plane crashed Saturday evening in Visalia a city 320 kilometres north of Los Angeles 2021-12-05 23:55 1KB www.bignewsnetwork.com

(0.04/13)

5

1.2

Postgame Podcast: Michigan 42, Iowa 3

Where to start? With the offense, of course. 2021-12-05 07:08 849Bytes eu.hawkcentral.com

6

0.0

Rams beat up the Jaguars to end 3-game losing streak

The Rams win by surviving a sloppy first half and a Matthew Stafford injury scare. 2021-12-06 00:10 4KB www.ocregister.com

7

0.5

Senator and War Hero

Remembering Bob Dole 2021-12-05 20:01 7KB www.city-journal.org

8

2.6

Six people killed in road mishap in AP's Chittoor

Chittoor: At least six people died in a fatal accident in Chittoor district on Sunday when the speeding car took a sudden turn and hit a divider. 2021-12-05 15:29 1KB www.siasat.com

9

95.1

Muncie woman killed in early morning crash

Emergency dispatchers said they first received a report of a crash, on White River Boulevard near Hawthorne Road, at 3:37 a.m. 2021-12-05 14:49 1KB eu.thestarpress.com

10

0.1

Leistikow: Time for Kirk Ferentz to make tough decisions about his offense

After a colossal big-stage failure on offense again, Iowa has to try something different. 2021-12-05 13:48 5KB eu.hawkcentral.com

11

0.7

Three Months After Hurricane Ida, Residents Are Still Waiting for FEMA Housing

As storms and fires become more severe, disaster housing policy has failed to keep up, leaving people displaced for months on end. 2021-12-05 08:00 11KB www.nytimes.com

12

1.6

Alabama Wins SEC, But Likely Captured Another First in Its Storied History

Alabama could celebrate something never done in its history. 2021-12-05 06:54 3KB www.newsweek.com
Articles
DC5n United States events in english 12 articles, created at 2021-12-06 04:02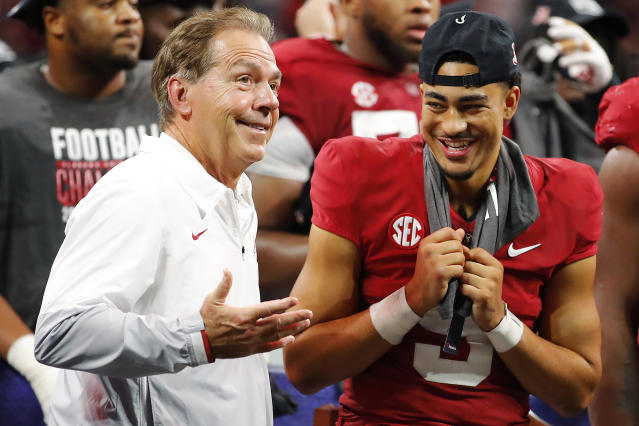 The 2020 Crimson Tide football team was one for the ages. Alabama won its 6th championship under Nick Saban, cementing his legacy as the greatest coach in college football history. In a pandemic-shortened season that probably shouldn't have happened, the team went undefeated through an all-SEC schedule and then dominated Notre Dame and Ohio State in the playoffs. But that was a special collection of talent. DeVonta Smith, the second-best wide receiver on the roster at the start of the season, won the Heisman Trophy. His quarterback, Mac Jones, and running back Najee Harris were on the virtual stage with him. Those three and three others—the aforementioned better-than-the-Heisman winner wideout, Jaylen Waddle, who got injured early in the season, corner Patrick Surtain II, and offensive lineman Alex Leatherwood went in the first round of the NFL draft. Offensive lineman Landon Dickerson and defensive tackle Christian Barmore went early in the second. That's eight players in the first 38 picks of the draft. While we had high hopes for this team, it's hard to replace that many stars, including the heart of the offense. But, after a dominating 44-13 over a highly-ranked Miami team in the opener, we thought we hadn't missed a beat. A close 31-29 win over Florida a couple weeks later gave us pause but they were a tough opponent. (They collapsed afterward, so much so that they fired their head coach.) And, after a 42-21 blowout over Lane Kiffin's Ole Miss team, we thought we were going to cruise to another title. The next week, though, a tough road loss to Texas A&M brought us crashing to reality. While it ended 41-38, with the Aggies needing a last-second field goal to clinch the win, Bama had seemed lost most of the night. It ended a 100-game streak of wins over unranked opponents (although, ironically, they turned out to be a good–and ranked—team). It ended a ridiculously-long unblemished streak of Saban when facing teams coached by his former assistants. But, hey, maybe it was the wake-up call that the team needed to get into high gear. Blowout 49-9 and 52-24 wins over Mississippi State and Tennessee followed, giving us the impression it had. Then, the team had a bye week before hosting an LSU Tigers team that had already fired its head coach. It took everything the team could muster to pull out a 20-14 victory, ending a ridiculously long string of games scoring 30 points or more. After blowing out a New Mexico State team we had no business playing, we limped to a 42-35 win against Arkansas and clinched the SEC West and a spot in the SEC Championship Game. Then, Saban unleashed one of his epic rants. He called out "self-centered" fans for complaining about close wins. That this went against everything Saban had been preaching since arriving in Tuscaloosa—it's about the Process, not the scoreboard—was immaterial. He was sending a message to his players that he had their back and knew they were working their tails off to win. The next week, it took a comeback for the ages and four overtimes to knock off in-state rival Auburn, 24-22. That set up yesterday evening's game against Georgia, who was having its own magical season. Led by Kirby Smart, who was Alabama's defensive coordinator for the first three of its Saban-era championships, it had dominated opponents with the best defense college football had seen in years. And its offense had steadily improved. I had been telling people for weeks that I thought Bama had "a puncher's chance" to win the game. But, if I'd had to bet my house on it, I'd have gone the other way. In a Zoom call yesterday morning with a gang of Alabama fans, I predicted a 27-24 win, but allowed it could easily go 27-24 the other way. Instead, after falling behind 10-0 a play into the second quarter, Alabama put on a show. It completely dominated Georgia, putting up 41 points to the Bulldogs' 24. First-year quarterback Bryce Young set new SEC Championship Game records and almost certainly locked up a Heisman of his own. The selection committee is meeting as I write and will announce the bracket for the four-team Playoff that kicks off on New Year's Eve at noon. Most expect Alabama to be the #1 seed and face #4 Cincinnati. Michigan and Georgia will likely be #2 and #3 but the order only determines which will be the nominal "home" team and select their jersey color. If that's the way it lines up, the odds strongly favor an Alabama-Georgia rematch for the national championship in Indianapolis on January 10. Beating Georgia twice with everything on the line will be daunting, indeed. But I'm definitely not counting Saban and company out.

POLL: Does Notre Dame Deserve To Get In The Playoff Over Georgia?
dailycaller.com
b5c51fe9755f2ef8d9374b7dc4ffbbbc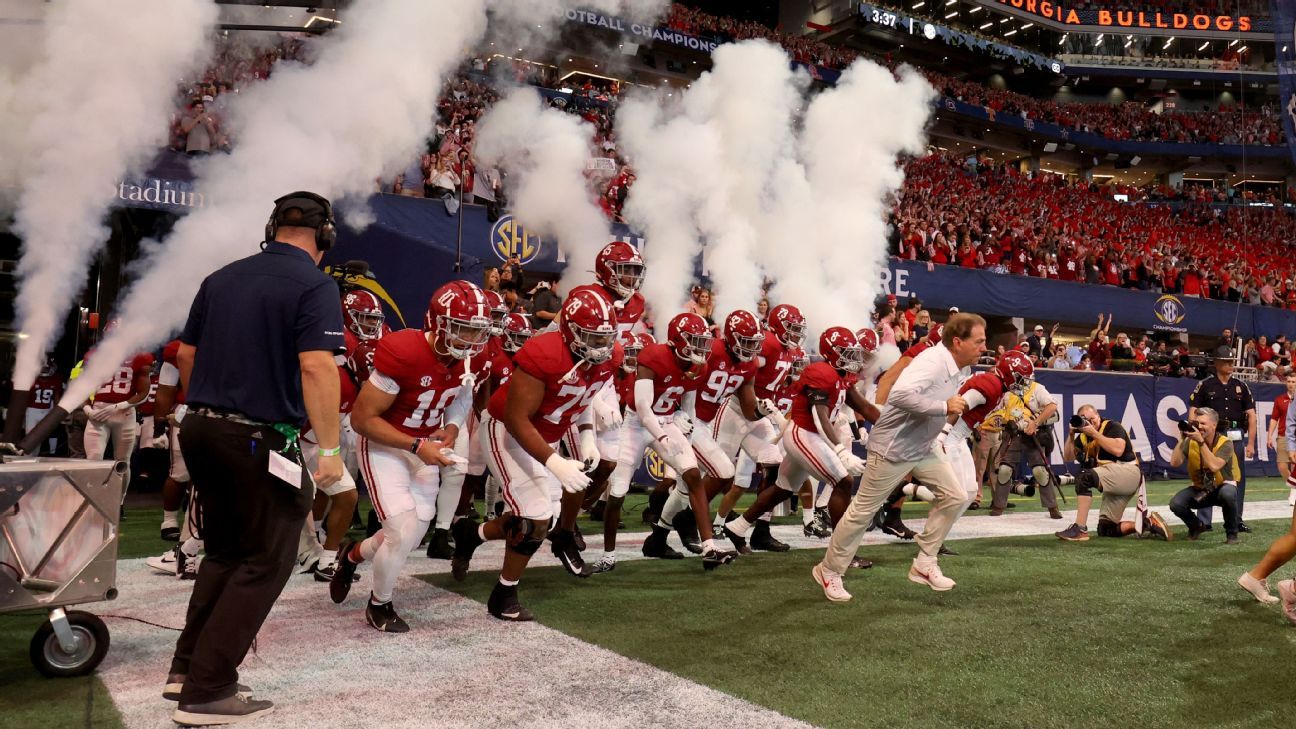 Alabama, Michigan, Georgia, Cincinnati reach College Football Playoff
espn.com
e0943719f083a6f99e95a6c302eeab14
Alabama gets No. 1 seed in College Football Playoff, followed by Michigan, Georgia and Cincinnati
usatoday.com
158a2bc65bd083b00743069925912b71
Playoff set: Alabama vs. Cincinnati, Michigan vs. Georgia
lasvegassun.com
1216b084d9df3cea65546d87da3963e7
Who's in the College Football Playoff? Michigan, Alabama, Georgia and Cincinnati
usatoday.com
16a749ed6be07f210d2ebb12bbae484d
Alabama gets No. 1 seed in College Football Playoff, followed by Michigan, Georgia and Cincinnati
usatoday.com
891aac3a23ef927935018b30b9ceea2c
Alabama, Michigan, Georgia, Cincinnati earn football playoff bids
upi.com
84a432635128ee4a5ced7a7badb2a4ba
South Alabama beats Jacksonville St. 74-64
wtop.com
cd4ed70a9e8a45870c49ca002957159e
College Football Playoff field set: Alabama vs. Cincinnati, Michigan vs. Georgia
nypost.com
fd7e9308c148e05fbf5d38e46b12dde1
Alabama, Michigan, Georgia And Cincinnati Make The College Football Playoff
dailycaller.com
86157b4f22f0125ff9808a8e397f3ef5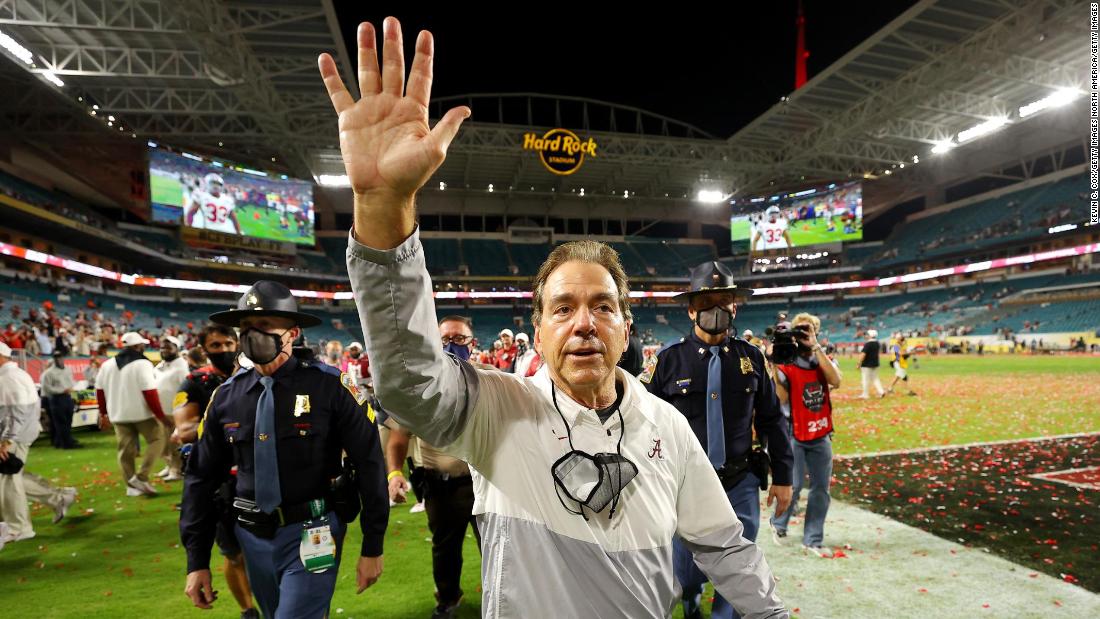 The College Football Playoff will feature Alabama v. Cincinnati and Michigan v. Georgia
edition.cnn.com
e5e36ccaae64138d262824826f50136b
College Football Playoff is set: Alabama vs. Cincinnati, Michigan vs. Georgia
chicago.suntimes.com
21c69d433221741363615f066d7d067c
Alabama, Michigan, Georgia and Cincinnati Make College Football Playoff
nytimes.com
ab7040b530efbfc7cb3cf305a8a4eebb
Alabama, Michigan, Georgia and Cincinnati picked for College Football Playoff
pressherald.com
13a545cc535308a05a9baeff407641ca
Nick Saban thanks media for 'yummy' rat poison after Alabama beat Georgia
nypost.com
a62f5fdfa33c71b61c3dbdf501d2d283
Playoff set: Alabama vs. Cincinnati, Michigan vs. Georgia
wtop.com
65b78ac800616be2bfdf6bb60eb43fbd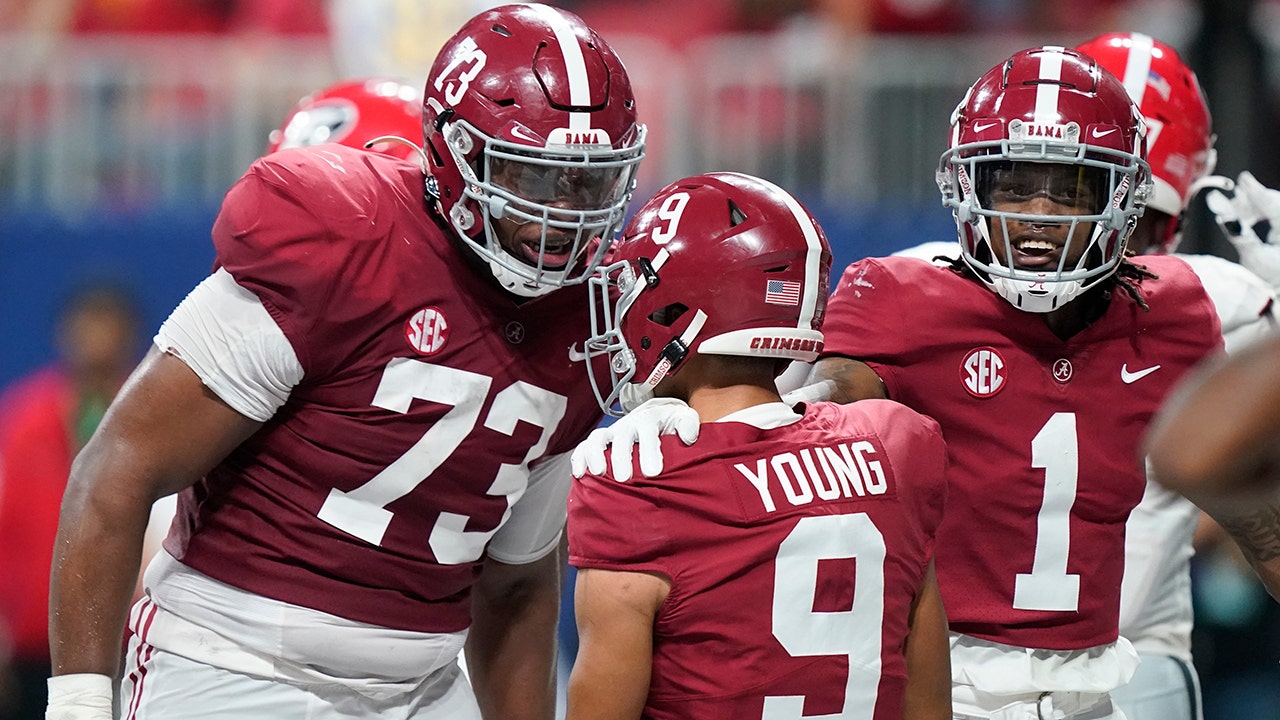 College Football Playoff: Alabama, Michigan, Georgia and Cincinnati make final 4
foxnews.com
8440d945af41067bd4f0a5491e7bcd10
The Detroit Lions nearly found another excruciating way to lose Sunday at a far-from-filled Ford Field. But after a 15-game winless streak spanning one year, they finally pulled out a victory — on the final play of the game — on an 11-yard touchdown pass on fourth down from Jared Goff to rookie receiver Amon St. Brown in a 29-27 defeat of the Minnesota Vikings. After controlling the game for most of the afternoon in building a 14-point lead, and up 23-21 with just over four minutes left, Lions coach Dan Campbell decided to go for it on fourth-and-1 from his own 28. A play-action fake didn't work, as the Vikings defense smothered three different receivers, and Goff ended up fumbling on a sack after holding the ball, his second consecutive possession with a turnover. The Vikings (5-7) scored six plays later, on Kirk Cousins' 3-yard touchdown pass to Justin Jefferson on third-and-goal, but missed for the third time on a two-point conversion, setting up the Lions with 1:50 remaining. They drove 75 yards on 14 plays for the victory. Earlier in the fourth quarter, Goff stared down his target and his short pass over the middle was intercepted at the Minnesota 31. But the Lions' defense got a stop, setting up the fateful drive and fourth-down call. The Lions built a 20-6 lead halftime lead, their biggest advantage at any point this season.

Detroit Lions get their 1st win in almost a year, beating the Minnesota Vikings 29-27 to end a 15-game drought
bostonherald.com
ffdcba9da82fd7d0dad2221ac12388e3
Detroit Lions get their 1st win in almost a year, beating the Minnesota Vikings 29-27 to end a 15-game drought
ocregister.com
b4750e74c388a9b7bf5ca980dde87cf4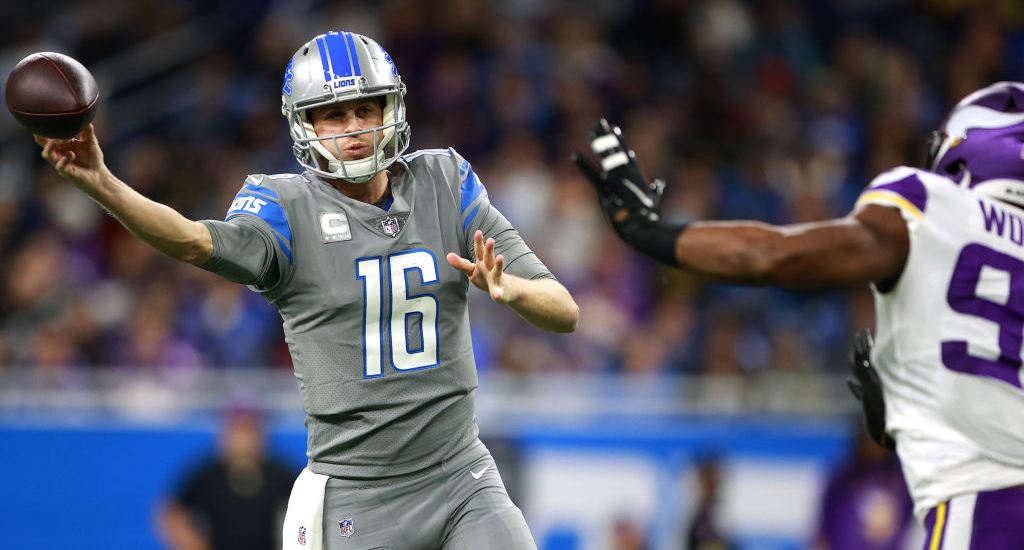 The Lions Got Their First Win Of The Season On A Walkoff TD Pass Against The Vikings
uproxx.com
d98d130bad547936f5b00f24d9589f50
Detroit Lions stun Minnesota Vikings with TD on final play for first win, 29-27
eu.freep.com
981495f891391cff8db9100e719d9af2
How in the world did Detroit Lions get their first win of season? Thank Jared Goff
eu.freep.com
c1c2d35f79f911286316f6c97d8c5203
Detroit Lions get first win of season with walk-off TD to beat Minnesota Vikings
espn.com
f8da92e6a923858c619cf56b6cfbeb20
Lions get first win with 29-27 victory over the Vikings
chicago.suntimes.com
ee3af5cadc4a680ce8ddc5fa30870bfb
Lions score on final play, beat Vikings for their first win of the season
usatoday.com
c6835ecb0757b47645a84340edd7a5a2
Detroit Beats Minnesota 29-27 On Insane Final Play
dailycaller.com
786bbbf4bc566b1df6732c7015da36f2
Lions get first win of season after stunning finish against Vikings
nypost.com
9d34891770db2ea76fc2f9e1fe66fdbb
Detroit Lions vs. Minnesota Vikings predictions: Will Lions finally win in 2021?
eu.freep.com
064ad6176318539e51cca3831b303171
Detroit Lions beat Minnesota Vikings, 29-27: Game replay thread
eu.freep.com
d6fc8a00a2fbf77fdbbf47a68d72c283
Bob Dole, a World War II veteran, longtime senator representing Kansas and the GOP presidential nominee in 1996, died Sunday at the age of 98. The Elizabeth Dole Foundation said Dole died early Sunday morning in his sleep. When Dole became the Republican presidential nominee in 1996, it was the high point of more than a half-century in the national spotlight as a congressman, senator, vice-presidential candidate, two-time presidential candidate, national chair of the Republican Party and longtime leader of Senate Republicans. In this August 1, 2000, file photo, Bob Dole salutes after a speech at the Republican National Convention in the First Union Center in Philadelphia. Originally from Russell, Kansas, Dole grew up during the Dust Bowl and the Great Depression. He was a star athlete in high school who planned to become a doctor, and he enlisted in the Army while at the University of Kansas. An undated photo of Dole in the Army. Dole was so badly injured in World War II that he nearly died twice and lost a kidney to infection. The people of Russell, Kansas, collected money in cigar box for his recovery. The wounds left him unable to use one arm. He worried that he would wind up in a wheelchair selling pencils on the street, and as he later told "60 Minutes" correspondent Lesley Stahl, his life became a living nightmare. "They got me out of bed one day, and the bathroom door was open", said Dole. "There was a mirror on the far wall on the shaving cabinet. I couldn't believe that was Bob Dole. So I didn't look in the mirror. I still don't look in the mirror, except to shave." This is a 1945 file photo of Sen. Bob Dole recuperating from injuries received while serving in Italy during World War II. After serving in the Kansas state legislature, Dole was first elected to the U.S. House of Representatives in 1960. Although a Republican, he voted for the Civil Rights Act in 1964 and the Voting Rights Act in 1965. He won the Senate seat in 1968. A January 5, 1971, file photo of Bob Dole. Dole was a power broker in Washington, and President Richard Nixon named him the Republican National Committee chairman in 1971. In this April 22, 1972, file photo, Dole speaks in Chicago. Dole's first marriage ended in divorce in 1972. He married Elizaeth Hanford of Salisbury, North Carolina, in December 1975. She would go on to become a Reagan and Bush Cabinet member and eventually a senator herself. Dole posed with his bride-to-be on Saturday, December 6, 1975, at a wedding breakfast in Washington. President Gerald Ford chose Dole to be his running mate in the 1976 race, and the campaign brought out another side of Dole, a political gutfighter who accused Democrats of being warmongers. In the vice presidential debate, Walter Mondale labeled him a "hatchet man", a phrase that would follow Dole the rest of his career. Dole, center, his mother Bina Dole, left, and President Gerald Ford appear together on the final night of the Republican National Convention in Kemper Arena in Kansas City, Missouri, August 19, 1976. After Ford and Dole lost to Jimmy Carter in 1976, Dole returned to be a power broker in the Senate. He was the Republican author of the Food Stamp Act with Democrat Hubert Humphrey in 1977, and crafted bipartisan legislation with Democratic Senator Daniel Patrick Moynihan to rescue Social Security. Dole became chairman of the Senate Finance Committee under President Ronald Reagan, where he helped push through Reagan's tax cuts. He was elected majority leader after the 1984 election. In this Nov. 28, 1984, file photo, Dole, newly chosen as Senate Majority Leader, is kissed by his wife, Transportation Secretary Elizabeth Dole and his daughter, Robin, on Capitol Hill in Washington. President Ronald Reagan's pick for the Supreme Court, Robert Bork, was blocked by Senate Democrats. The 12-day nomination hearings marked a turning point for how confirmation hearings were held. Republican senators escort embattled Supreme Court nominee Robert H. Bork and his wife Mary Ellen, center, as they leave the Capitol Building, October 7, 1987. Dole took a second run at the Republican nomination for president in 1988. He won the Iowa caucus but dropped out after losing New Hampshire and several southern states to then-Vice President George H.W. Bush. At the debate in New Hampshire, he confronted Bush and called him a liar. In this Sunday, February 14, 1988, file photo, Republican presidential candidates, from left, Vice President George Bush, Pat Robertson, Representative Jack Kemp, Pierre "Pete" du Pont and Senator Bob Dole, pose before starting their last debate before the primary in Goffstown, New Hampshire. While in the Senate, Dole had championed through the American with Disabilities Act, which was passed in 1996. Dole told ABILITY Magazine that because of his own disability, he knew he "had to do something special" with his life. It "changes your whole life, not just your attitude", he said. "Prior to my injury I was a pretty good athlete, but afterwards I learned to apply myself more and made good grades for a change", he said. Dole advocated for Americans with disabilities in his maiden Senate speech on April 14, 1969 — the 24th anniversary of the day he was wounded in WWII — and continued to do so throughout his career. The Americans with Disabilities Act, a landmark piece of civil rights legislation prohibiting discrimination based on disability, was signed into law by President George H.W. Bush on July 26, 1990. Dole said he considered the act one of his proudest achievements. Republican presidential hopeful Bob Dole addresses the Veterans of Foreign Wars Texas State Convention in Dallas, Texas, Saturday, June 29, 1996. Dole ran for the GOP nomination again in 1996, this time successfully. Dole, then 73, became the oldest first-time nominee for president at the time. Dole announces his bid for the Republican nomination for president in Topeka, Kansas, April 10, 1995. After winning the GOP nomination, Dole had to fight off popular incumbent President Bill Clinton. In this photo, Republican presidential hopeful Bob Dole holds a gas nozzle and says "It's out of gas just like Bill Clinton", as he greets supporters while entering the Kentucky GOP State Convention in Louisville, Kentucky, on Saturday, May 11, 1996. Kentucky Representative Harold Rogers, at left, looks on. Dole resigned from the Senate in the summer of 1996 to focus on campaigning full time. "My time to leave this office has come, and I will seek the presidency with nothing to fall back on but the judgment of the people, and nowhere to go but the White House or home", Dole said. Dole and his wife Elizabeth wave from the podium on the floor of the Republican National Convention in San Diego, as confetti falls after Dole accepted the Republican presidential nomination. Once a private citizen, Dole surprised even close friends by becoming a TV pitchman. He did a soft drink commercial with Britney Spears and, as a prostate cancer survivor, ads for Viagra as well. Dole attends the unveiling of his portrait at the U.S. Capitol, in Washington, July 25, 2006. Dole didn't stay out of politics long. He helped his wife, Elizabeth, first in a bid for the White House, and then successfully in her run for the U.S. Senate from North Carolina. And in 2016, Dole was the only former Republican nominee to back Donald Trump in the primaries. The Doles acknowledge well-wishers during a Memorial Day ceremony, Monday, May 27, 2019, at Arlington National Cemetery in Arlington, Virginia. Dole was awarded the Presidential Medal of Freedom in 1997, where he jokingly began to give what sounded like the oath of office for president. And in 2018, he was honored with a Congressional Gold Medal. In this January 17, 2018 file photo, Dole smiles as he gets a kiss from his wife Elizabeth Dole.

Remembering the life of Senator Bob Dole
cbsnews.com
95c17164bc183217f64410c2d5fcb803
Washington mourns Bob Dole
cbsnews.com
4e885ace3db4a5fbab0ae0a320cf83a6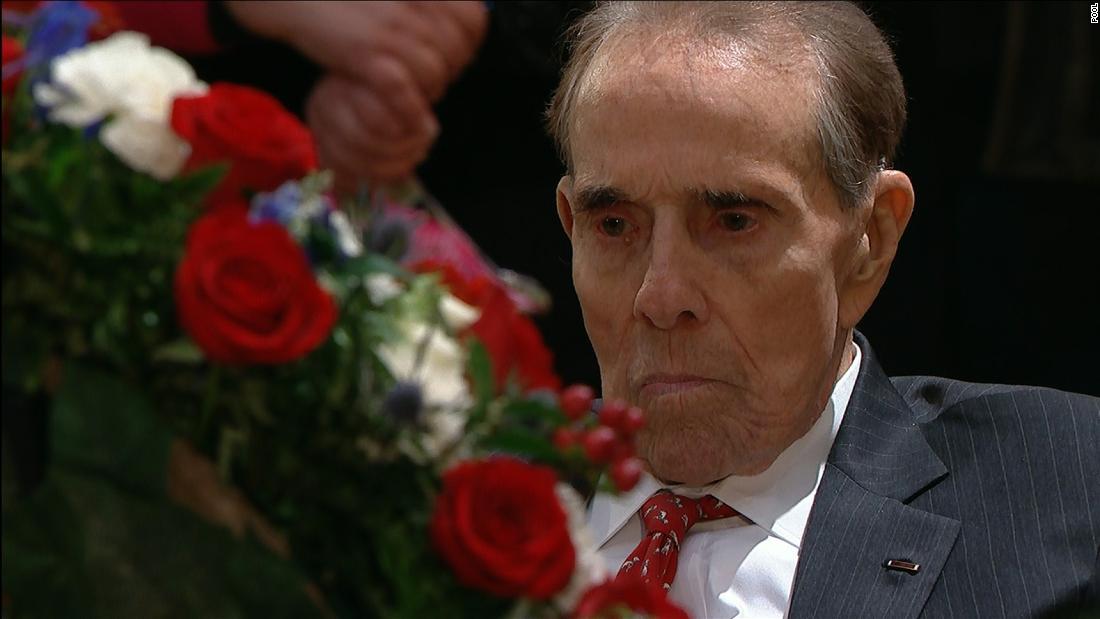 Bob Dole served 27 years as a US senator
edition.cnn.com
42e4e4eb11107477ffd1e39a7fd1d326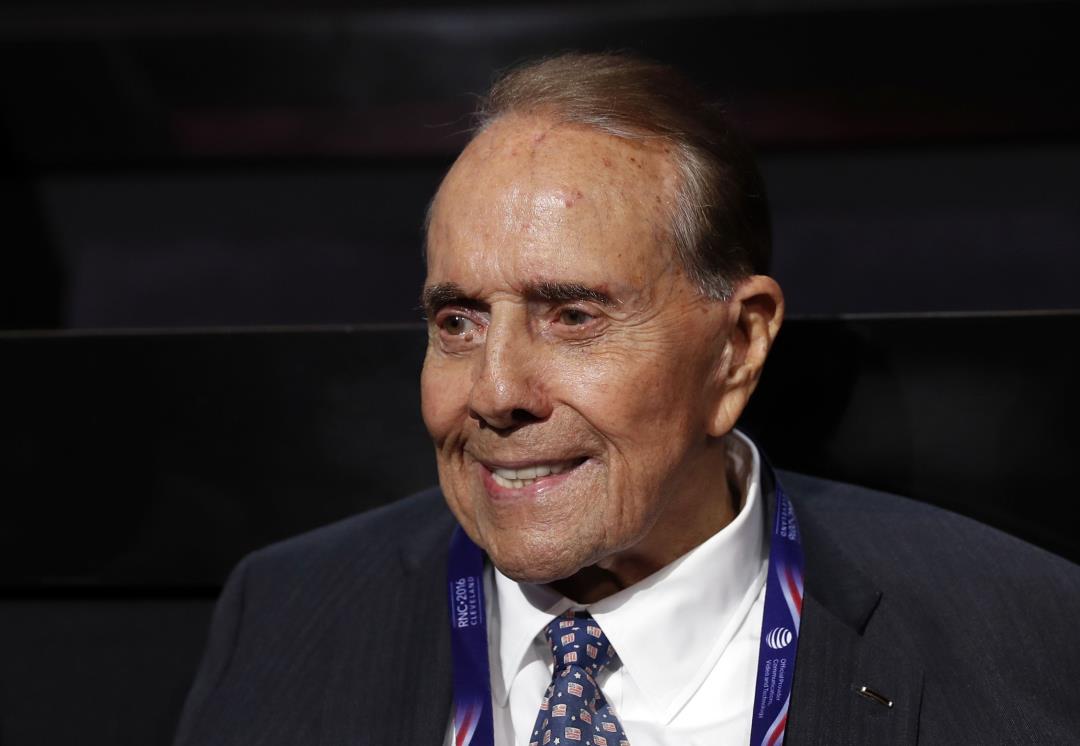 Bob Dole Became War Hero, Senate Leader
newser.com
b9c03a7903e5741058b568af8dc6e374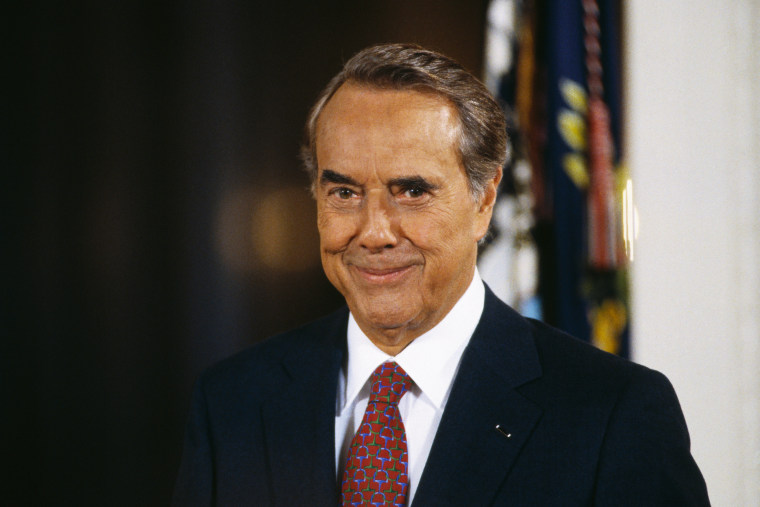 Bipartisan tributes pour in after death of Bob Dole
nbcnews.com
e7489f53ef008f0e406973a9ce4c1bb5
Bob Dole dead at 98
wnd.com
43add8189059d16a07c2f7c8cde552c1
Bob Dole Fast Facts
edition.cnn.com
5295f8f0cf4420a971e2459ce3f66a73
Former Sen. Bob Dole dies at 98
thehill.com
a5ba4670d275c7c9e86e48939d4aecbc
Biden on Bob Dole: 'the greatest of the Greatest Generation'
thehill.com
cdb416fc8041b95ec589b08ccb35c745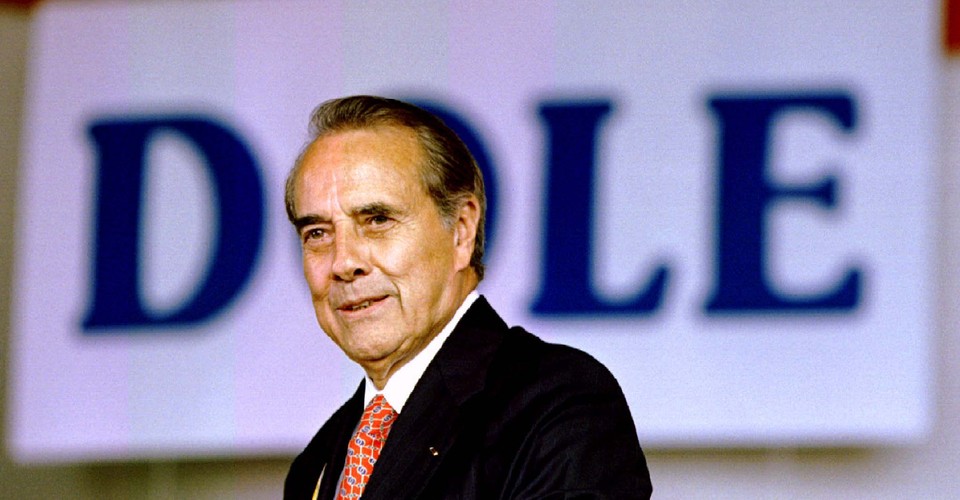 Bob Dole Saw Every Stage of the GOP
theatlantic.com
6118cb801675244d030302237e2673ff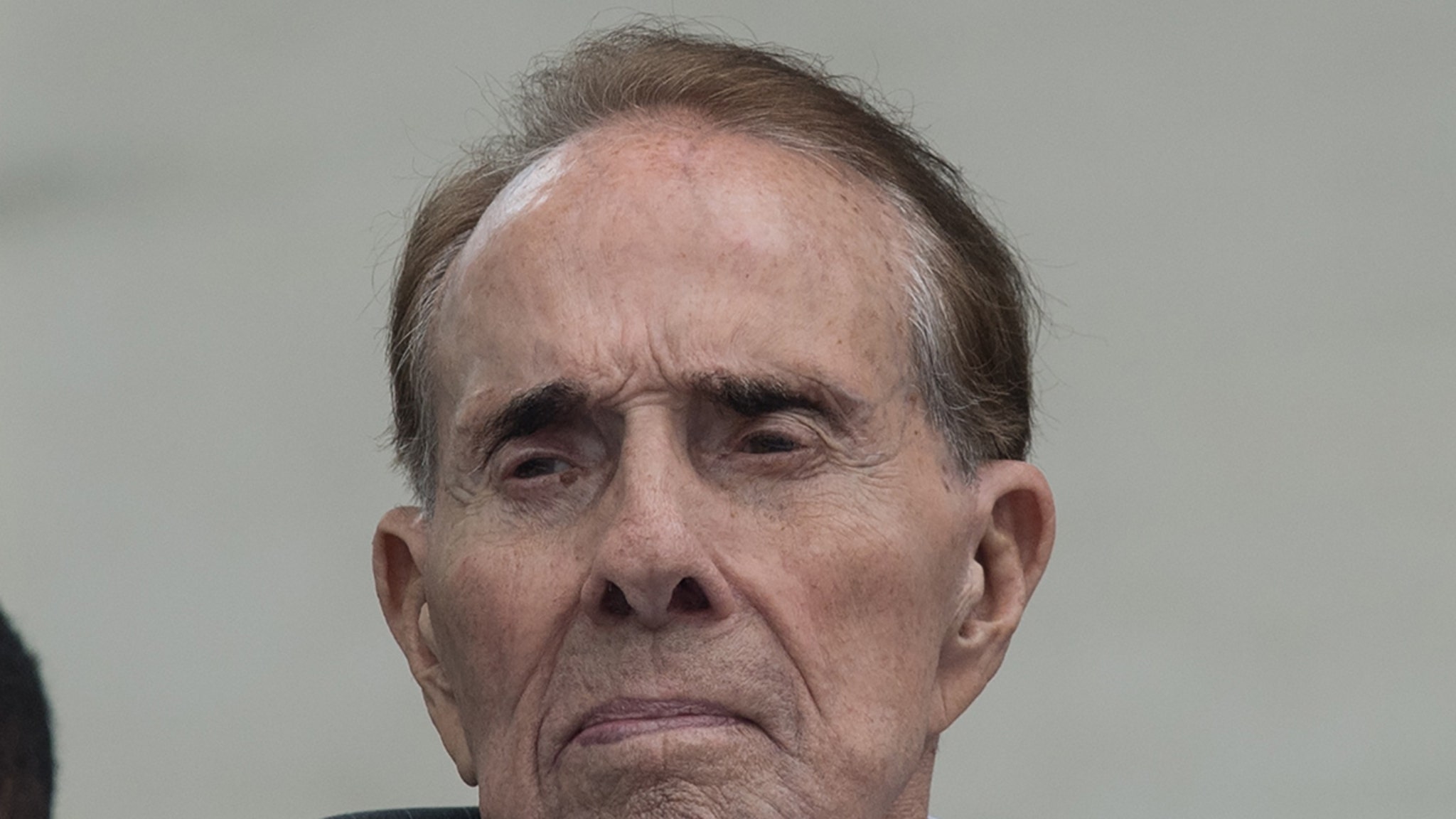 Bob Dole Former U. S Senator Dead at 98
tmz.com
0c6efc84603663d5b3b2ed435e753eb9
Los Angeles [US], December 6 (ANI/Xinhua): Four people were killed when a single-engine plane crashed Saturday evening in Visalia, a city 320 kilometres north of Los Angeles. The Tulare County Sheriff's Office was quoted by the local FOX 40 news channel on Sunday as saying that deputies responded to reports of a possible downed aircraft around 6:35 p.m. local time, just a few minutes after the plane took off from the Visalia Municipal Airport. It took police officers a long time to locate the wreckage because of darkness and dense fog, the authorities said, adding the plane crashed near the airport. There were four people aboard the Beechcraft Bonanza, a six-seater, single-engine aircraft which has been in continuous production, according to the Federal Aviation Administration. The victims were not immediately identified. (ANI/Xinhua)

4 dead after single-engine plane crashes near California airport, authorities say
usatoday.com
598aff8c4a4a146d45186375ff270ecf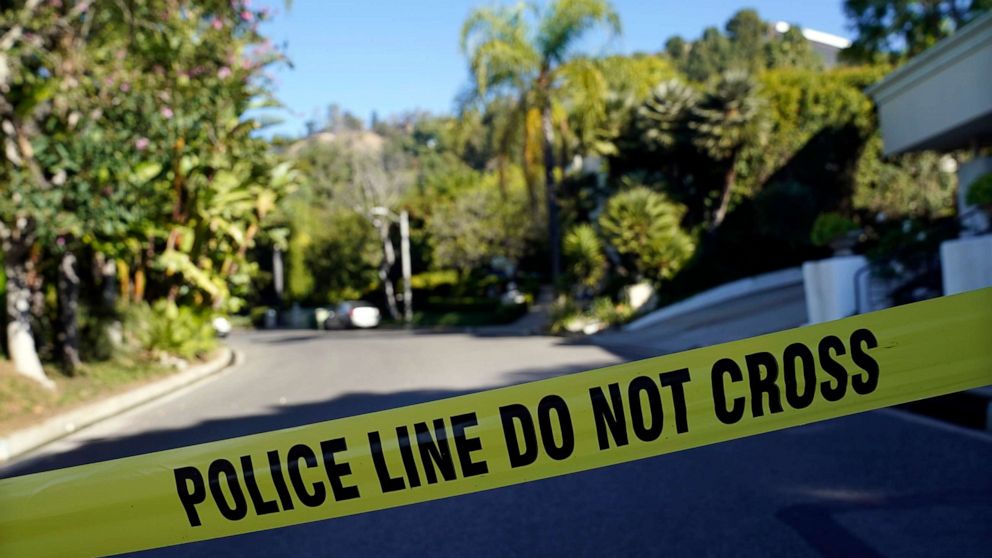 4 dead after small plane crashes in California
abcnews.go.com
6efedf3538b761377dd8abe241be0d00
The Hawkeyes went down badly in Indianapolis, and the Register's Chad Leistikow and Kennington Smith break down their thoughts, your 3-word headlines and where this Iowa offense and quarterback situation goes next. For a direct link to the podcast, click here.

Iowa vs. Michigan postgame mailbag: What needs to change on offense before the bowl game?
eu.hawkcentral.com
150c68abcf152c14d366eff844634a23
Iowa threw everything at Michigan superstar Aidan Hutchinson. It still wasn't enough.
eu.hawkcentral.com
f8dad2a431863b8f27198b96dc73f36f
Matthew Stafford was down on his back, not far from the penalty flag for one of the two defensive lineman who'd landed on Stafford's chest after he released an incomplete pass. SoFi Stadium held its breath as Rams trainers ran onto the field. Even a slumping starting quarterback is too important to lose. Stafford would be able to get up, walk off the field and return after missing one play, but the moment summed up how fragile even the Rams' successes feel right now. The Rams pulled away from the Jacksonville Jaguars to win 37-7 at SoFi Stadium on Sunday afternoon, ending a losing streak at three games. But the Rams (8-4) asserted their superiority over the Jaguars (2-10) only after a sloppy first-half performance that gave hope to one of the NFL's worst teams. And this might be only a pause to catch their breath before the Rams go to Arizona next Sunday, their slim chance for a division title at risk. Their offense will have to pick up where it left off in the second half, when Stafford and Cooper Kupp began to click as they had early in the season. Stafford hit the receiver for 43 yards and then 29 and a touchdown on one drive, 8 and 19 on another drive to a short scoring pass to Van Jefferson. After a 1-yard scoring pass to Odell Beckham Jr., the Rams had touchdowns on their first three drives after halftime and Stafford was on his way to his best day in more than a month. Stafford completed 26 of 38 passes for 295 yards, three touchdowns and zero interceptions, the last number being vital after he committed two turnovers in each of the Rams' losses to the Titans, 49ers and Packers. Kupp caught eight passes for 129 yards, holding his NFL leads in those categories and becoming the sixth player to record at least 90 receiving yards in eight or more consecutive games in the Super Bowl era. Sony Michel, making all the carries with Darrell Henderson active but not playing with a thigh injury, rushed for 121 yards and a touchdown, the best day by a Rams running back this season. The defense, meanwhile, sacked Jaguars quarterback Trevor Lawrence only once but gave the No. 1 overall draft pick a hard time, holding him to 145 yards passing. At halftime, the Rams held one of the uglier 16-7 leads they'll ever wish to have. The Rams' one touchdown, on a 27-yard drive to a 5-yard push by Sony Michel, was set up by a Jaguars fumble forced by Aaron Donald and Jalen Ramsey. But they had gone 0 for 6 on third downs and failed to take advantage of their best field advantage in weeks. They'd settled for Matt Gay's 40-yard field goal after starting the game in Jaguars territory thanks to first-time kickoff returner Brandon Powell's 65-yard run with the opening kick. And they'd managed only a 44-yarder and 37-yarder by Gay after drives of 57 and 70 yards stalled. The Jaguars' touchdown, a 1-yard run by Carlos Hyde that cut the Rams' lead to 10-7, was the result of lax and undisciplined defense. Related Articles Live updates: Jacksonville Jaguars vs. Rams at SoFi Stadium Rams vs. Jacksonville Jaguars: Who has the edge? Rams need better pass rush, passing attack against Jaguars Rams' Jalen Ramsey brings more 'maturity' to Jaguars game Rams' Sean McVay must reverse another late-season decline The Rams gave up conversions on two third downs and a fourth, a pair of those coming on runs by Lawrence. Ramsey was flagged for taunting and Darious Williams was called for holding inside the red zone. Those were two of the team's five penalties in the first half. The worst moment could have been when Stafford was buried by the Jaguars' Roy Robertson-Harris and Dawuane Smoot as he threw a first-down pass from the Rams' 36 late in the first half. Stafford clutched his chest as he lay on the turf. John Wolford trotted out to play quaterback. But after Wolford executed a handoff to Michel, Stafford returned from the bench and finished the field-goal drive. Stafford's health has been a topic of speculation after he missed practice time with a stiff back before the Rams' loss to the Titans, played with a sore ankle against the 49ers, and was reported to have a sore arm too. The Rams need him to hang tough. Now two games behind the Cardinals in the NFC West, going to Glendale, Ariz., that goes for all of them. This story will be updated.

Bob Dole tried and failed to reach the White House several times, but he leaves a powerful legacy as a war hero and senator who served the United States with honor, sacrifice, and humor. Dole was born in Russell, Kansas, in 1923. He was a star basketball player in his youth and served in the Army in World War II. He was grievously wounded in combat in Italy in 1945, hit by a German shell in the upper back and right arm and not expected to recover. But he did, through grit and determination, though he permanently lost the use of his right arm. He would forevermore shake hands with his left, something he learned to do so as not to make the people he met uncomfortable. Dole graduated college and earned a law degree, and then got involved in local politics in Kansas. He won a seat in the House of Representatives in 1960 and in the Senate in 1968, where he would serve until 1996. He first came to national prominence as a staunch defender of Richard Nixon following Nixon's election to the presidency in 1968. Dole had known Nixon since the 1950s and was eager to support a Republican after eight years in the House, during which he had largely opposed the legislative efforts of John F. Kennedy and Lyndon B. Johnson. Nixon communications director Herb Klein appreciated how cooperative Dole was; Klein's office would send Dole talking points, and about "75 percent of the time he was receptive." Dole's support of Nixon helped make him chairman of the Republican National Committee, a position he held from 1971 to 1973. It was during this period that Dole gained his reputation as a "hatchet man," for his relentless critiques of Nixon's opponents. Dole "took a bite out of me every morning for breakfast," said George McGovern, Nixon's 1972 presidential opponent. Dole's RNC experience illuminates two crucial relationships in his career—with Nixon, and with George H. W. Bush, who would become his great rival. After the president's reelection in 1972, the Nixon team decided to replace the outspoken Dole with the more genteel Bush. They asked Dole to travel to New York to deliver the news to Bush in person, but Dole discovered that Nixon had already told Bush about his appointment. Dole angrily complained of having been "bushwhacked." Bush would be his rival in Republican politics for the next two decades. Both men wanted to be Gerald Ford's vice-presidential nominee in 1976. Dole won out, with the help of a positive comment from Ronald Reagan, who didn't know him well but amiably hyped him to Ford at aide Lyn Nofziger's request. It was a pyrrhic victory, though, as Ford lost the election to Jimmy Carter, and Dole damaged himself in his debate against Walter Mondale by complaining about the 1.6 million Americans who had died in "Democrat wars." Mondale was quick to pounce, saying, "Senator Dole has richly earned his reputation as a hatchet man tonight. Does he really mean to suggest that there was a partisan difference over our involvement in the war to fight Nazi Germany?" In 1980, Dole and Bush ran for president but were underdogs to Reagan. Bush won a surprise upset in the Iowa caucuses before Reagan overwhelmed him in the New Hampshire primary. Bush's defeat was a foregone conclusion after a debate in which Reagan outmaneuvered and outperformed him with his now-legendary comment, "I am paying for this microphone, Mr. Green!" Dole played a small role in this episode; he was one of the candidates Bush wanted off the stage so he could have a one-on-one against Reagan. After the crowd cheered Reagan, who clearly emerged as the winner, Dole whispered words of consolation rival: "There'll be another day, George." Dole was right—there was another day for Bush. He ended up as Reagan's vice president and vied to replace Reagan in 1988. Once again, Dole ran against him, and this time, each man had a genuine shot at the title. Dole, by now the Republican leader in the Senate, beat Bush in Iowa, making New Hampshire a make-or-break state for the vice president. Bush won, arguing that Dole was soft on taxes. Dole was angered by the loss and the accusation; when Tom Brokaw asked Dole, with Bush present, whether he had anything to say to his rival, Dole replied: "Yeah, stop lying about my record." Bush maintained a disciplined smile on the air, but later, writing in his diary, branded Dole "a no-good son-of-a-bitch." Bush won the presidency in 1988 but lost his reelection bid to the moderate-sounding Bill Clinton in 1992. As president, though, Clinton initially veered sharply to the left. As a result, in 1994, Dole became Senate majority leader again (he had held the post before), in the Republican Revolution that swept the GOP into control of both Houses. He held this post for only a few years, though, during which he had a testy relationship with House speaker and fellow Republican Newt Gingrich, who had once derided Dole as "the tax collector of the welfare state." Gingrich's comment demonstrated how Dole, once seen as a right-winger, had become a moderate in the modern, more conservative Republican Party. In 1996, Dole finally won the GOP nomination, and he faced off against Clinton, who was seeking a second term. In resigning his Senate seat to make the presidential run, Dole gave the speech of his life—written by novelist Mark Helprin—on the Senate floor, saying, "I will then stand before you without office or authority, a private citizen, a Kansan, an American. Just a man." The speech shocked the political establishment and got great reviews but did not change basic political dynamics. Dole seemed old and overmatched in the race, even though, at 72, he was young compared with today's politicians like Joe Biden, Donald Trump, Nancy Pelosi, or Mitch McConnell. Dole's odd habit of referring to himself in the third person emerged in his debate against Clinton, and it did not wear well: "Of the people listening tonight, the working families who will benefit from economic packages, they'll be better off when Bob Dole is president and Jack Kemp is vice president." And once again, Dole was unhappy with how his opponent portrayed him, complaining that Clinton "chose to engage in a campaign to scare American seniors. We call it Medicscare! Mediscare! Mediscare! All the ads you see in Florida, all the ads you see in Florida, are negative Mediscare ads!" It didn't help. Clinton won easily. With his political career over, another side of Dole emerged. For too long, his image was that of the thin-skinned hatchet man, who spoke Senate-ese, a language only resembling English. The most famous instance of this was in 1988, when he incomprehensibly told a college student worried about acid rain, "That bill's in markup." Now people began to see what his Senate colleagues had long understood—that he was a funny guy and delightful company. David Letterman asked him about Clinton's weight. Dole's reply: "I never tried to lift him. I just tried to beat him." He also became an ad pitchman, doing commercials for Visa, Pepsi, and Viagra. And he did TV commentary with Bill Clinton on CBS, holding his own when many feared he would be overmatched by the glib Clinton. But he remained the essential Dole, beloved by former Senate colleagues on both sides of the aisle. When President Biden, who served with Dole in the Senate for over two decades, heard about his cancer diagnosis, he came to visit Dole at his Watergate apartment, prompting Dole to call him "A great, kind, upstanding, decent person." But he remained a Republican to his core, criticizing Biden for moving too far left and for shutting the Keystone Pipeline. And he remained Dole to the core. Describing his meeting with the president, he said—now using the first person—"I asked him, I said, 'Why did you close that pipeline in (South) Dakota?'"

Chittoor: At least six people died in a fatal accident in Chittoor district on Sunday when the speeding car took a sudden turn and hit a divider. Chandragiri Inspector, BV Srinivas, said, "A total of 8 people were travelling in the car while they were travelling from Chittoor district. The speeding car took a turn and hit a driver. Due to the oil leak, the car caught fire at Aitepalli in Chandragiri zone on the Puthalpattu-Naidupet road. Five people were caught in the blaze and died on the spot. Three others were rushed to Rua Hospital in Tirupati with serious injuries. Another person died in the hospital." Further investigation is underway. Get the news updates on WhatsApp & Telegram by subscribing to our channels. For all the latest Andhra Pradesh updates, download our app Android and iOS.

A Muncie woman was killed early Sunday in a one-vehicle crash on Muncie's west side. Emergency dispatchers said they first received a report of a crash, on White River Boulevard near Hawthorne Road, at 3:37 a.m. Delaware County Coroner Rick Howell confirmed the victim — identified as Hailey K. Rainey, 32 — had been pronounced dead at the scene. An autopsy was expected to be conducted Sunday at IU Health Ball Memorial Hospital. (This story will be updated.) STAY INFORMED AND SUPPORT LOCAL JOURNALISM: Subscribe today using the link at the top of this page. Douglas Walker is a news reporter at The Star Press. Contact him at 765-213-5851 or at dwalker@muncie.gannett.com.

The cruel part of Iowa's 42-3 loss to Michigan in Saturday's Big Ten Conference championship game was that this was the second emotional crash to earth this football season. Hawkeye fans — and players, too, they admitted in the early hours of Sunday morning — had a tough time dealing with the back-to-back losses after a 6-0 start that had their team up to No. 2 in the national polls. But the hopes were ratcheted way up this week again, after four straight (tense) wins plus an unlikely bit of help put the Hawkeyes in the Big Ten title game. As West Division champions, they had a single shot against Michigan for a history-making moment. Hawkeye fans flocked to Indianapolis and entered Lucas Oil Stadium revved up to see if their team could punch their ticket to the Rose Bowl and earn the program's first outright Big Ten championship in 36 years. Hawkeye players were doubted nationally but believed internally … they could do this. Once again, a deflating loss, and a familiar culprit. The Iowa offense. Sure, Saturday's loss was a three-phase debacle. But the Kirk Ferentz/Brian Ferentz offense colossally failed this team in one of its biggest program moments. More: Recap: Iowa football trounced, 42-3, in Big Ten title game against Michigan As the oft-repeated Bill Parcells quote of "you are what your record says your are" when it comes to wins and losses, the same could be true for "your offense is what the numbers say it is." And these numbers are gross: After Iowa's 6-0 start, it scored nine offensive touchdowns in its final seven games. Think about that. Barely one touchdown per 60-minute game for more than half a season. It's a miracle that Iowa is 10-3 with an offense that has this profile: These are historically bad numbers. The only FBS teams below Iowa in offense are Indiana (2-10 record), Temple (3-9), Navy (3-8), Southern Mississippi (3-9), Connecticut (1-11), Colorado (4-8) and New Mexico (3-9). Clearly, Iowa won 10 games this season in spite of its offense. Saturday, Iowa had the ball five times with a chance to cut into Michigan's 14-3 lead. Despite giving up some big plays early, Phil Parker's defense adjusted and forced two second-quarter turnovers; and punter Tory Taylor pinned the Wolverines repeatedly into their own territory. But in those five offensive possessions, Iowa went … Punt. Punt. Punt. Punt. Punt. (Punting was not winning on Saturday.) "A lot of it was Michigan's defense," Kirk Ferentz said. "They're good. They've got a good defense." To win championships these days in college football, it takes innovative offense to conquer good defenses. Even the best defense in college football, Georgia, found that out the hard way Saturday against Bryce Young and Alabama. Michigan figured that out, too, after a disappointing 2020 season. It revamped its approach to become more diverse in its running game. The results under coordinator Josh Gattis have been tremendous, and they've paired that upgrade with its usually stout defense. For the better part of a month, Kirk Ferentz has explained that inconsistent play up front has been at the root of Iowa's struggle to get consistent offensively. But he also needs to take his CEO approach and understand that if the Hawkeyes are going to take the next step in 2022 with what should be a pretty solid roster, they need to seriously look at two areas. No. 1: The quarterbacks. Spencer Petras and Alex Padilla didn't consistently elevate their team this season. Depending on Petras' health (he suffered a core injury Saturday), maybe Padilla will get another audition in the bowl game. Do the Hawkeyes need to explore acquiring one of the many options in the transfer portal? Do they believe in freshman Joey Labas enough to give him a serious chance — not just a token chance — to win the job this spring? No. 2: The coordinator/style of play. Brian Ferentz is running the style of play his father wants, but that style is rarely functional in the big-stage games. What would it hurt to try something new? The numbers are the numbers. Gattis at Michigan got help from a new co-coordinator in Sherrone Moore. It feels like Iowa's offense wasted having a center as dominant as Tyler Linderbaum with those aforementioned run-game woes. "It comes down to running the ball. It's really like the jell to the offense," tight end Sam LaPorta said afterward. Kirk Ferentz, 66, has four years left on his contract. He's created an environment that's produced outstanding defense, year after year, and elite special teams. But If he's going to try to give his program a better chance to win championship games like Saturday's, he can't keep doing the same thing on offense. Hawkeyes columnist Chad Leistikow has covered sports for 27 years with The Des Moines Register, USA TODAY and Iowa City Press-Citizen. Follow @ChadLeistikow on Twitter.

In Tammy Manuel's neighborhood, hulking piles of debris fester at the edges of lawns cleared to make way for thousands of mobile homes intended for families who saw their homes destroyed by Hurricane Ida in late August. But three months after the storm tore the roof off her pale yellow house down the bayou from Houma in southeast Louisiana, sending the ceilings crashing in and soaking her belongings, the yards of Ms. Manuel and many of her neighbors are still bare. Like thousands of others in the rural communities hardest hit by the storm, Ms. Manuel said she requested assistance from the Federal Emergency Management Agency right away. But FEMA said that the first trailers — boxy structures also known as manufactured housing units — wouldn't arrive until mid-November. Instead, the agency offered Ms. Manuel a voucher to reimburse her for a hotel or her rent elsewhere. But many of the area's already limited available houses and hotels were destroyed or full of recovery workers. That left Ms. Manuel and her two siblings, whose mobile homes were also left uninhabitable, seeking shelter at the closest hotel they could find, a two-hour drive west in Abbeville, La. Ms. Manuel is still there, making the commute back home multiple times a week to salvage what she can. She and many of her neighbors who were devastated at losing everything are now frustrated at the lack of safe housing options near their homes and jobs. As climate change contributes to more punishing natural disasters across the country, federal agencies have repeatedly failed to provide temporary housing swiftly in their wake, exposing wide gaps in disaster policy. In fact, since Hurricane Ida, a makeshift effort by the state of Louisiana has been more successful in providing short-term shelter to storm victims than FEMA has been. "This process of bringing in units is complicated, it's complex, it takes time," said Keith Turi, assistant administrator of recovery at FEMA. The agency has secured enough units to house everyone who needs one after Hurricane Ida, he said, but the challenge is how and where to put them. "They're each like miniature construction projects," Mr. Turi said, noting that topography, debris and utility hookups can present obstacles at each site. It's expensive, too: Each unit can cost about $200,000 altogether, according to disaster housing experts. It wasn't until November of 2021 that every resident was placed in temporary housing after Hurricane Laura hit southwest Louisiana in August of 2020, though many residents were put in units before then. After Hurricane Harvey hit the Houston area in August of 2017, it wasn't until the following June that every resident was placed in a unit. At issue is not just competence but difficult policy choices still being debated. Is supplying housing for disaster victims the appropriate role for government? If so, which level of government? And how long after a disaster do victims need housing assistance? "It can be done if there's a will," said Laurie Schoeman, a disaster recovery specialist for Enterprise Community Partners, a nonprofit. But FEMA has steered away from direct housing toward rental and hotel vouchers. "FEMA doesn't want to be in the business of housing," Ms. Schoeman said. Caught in the middle are people like Ms. Manuel and her neighbors, some of whom have resorted to sleeping in cars or tents or inside moldy, damaged homes. Some have doubled or tripled up with family and friends. "It seems like they would already have steps, like: This is what we do when something happens," said Ms. Manuel. "It's like they're trying to figure out what to do next instead of already knowing." More than three months after Hurricane Ida tore through coastal Louisiana, likely thousands of residents of the hardest hit bayou communities southwest of New Orleans remain displaced. Just 126 households out of the 4,465 found eligible by FEMA for direct housing had moved into units, according to a FEMA spokeswoman. There is no estimated timeline for completion. After months of waiting for FEMA housing, Ms. Manuel's older brother and sister finally received help from a different source: The state provided them each with a trailer, part of a new program to meet the acute housing need. The program has rolled out much more quickly than FEMA's: By the beginning of December about 1,200 families had moved into Louisiana's trailers — campers that can be towed by a vehicle — with another 800 expected to move in over the coming weeks. But the program, started from scratch, faced delays, too. On Nov. 10, more than two months after the storm, just 368 families had moved into trailers. And while the more compact trailers may be easier to set up, they are less sturdy over the long term. Plus, they can be used for only six months under the state's current agreement with FEMA. Given the logistical challenges of setting up direct housing, FEMA views trailers as a last resort, Mr. Turi said. In the aftermath of several major hurricanes in 2017 and 2018, FEMA provided rental assistance to 745,660 households, according to a report from the Government Accountability Office. It provided direct housing — through trailers, mostly— to just 5,368. But in the wake of far-ranging disasters like Hurricane Ida that cut a wide swath in the available housing, housing experts say these assistance funds are a weak substitute for direct housing, especially in rural areas with few hotels. FEMA's shift away from direct housing began after Hurricane Katrina, when trailers used to house the displaced were found to have high levels of formaldehyde. Since then, when direct housing has been necessary, the agency has tended toward larger, sturdier manufactured housing units and abided by strict rules and regulations, and an often lengthy process for determining eligibility. But the delays in providing temporary housing have subjected disaster victims to other dangers. Christine Ledet spent nearly three months using a generator for electricity after the storm's winds lifted her mobile home off its pilings and moved it eight feet away. She received $13,000 from FEMA for repairs, she said — enough to put it back in place. But the money is not enough to repair the windows that were blown in, the electric box that was damaged or the mold spreading on her walls, she said. Her appeal is pending. "The people that really need the trailers and the campers are the ones that don't have nothing," said Ms. Ledet, who's been sharing her damaged home with her granddaughter and daughter-in-law. "And they're being overlooked." With every passing week that residents wait for temporary housing, the prospect of rebuilding falls further out of reach. Over a year after Hurricane Laura, Lake Charles, La., still looks like a ghost town, said Brandi Weldon, a lifelong resident. In the 10 months before Ms. Weldon's FEMA trailer arrived after Hurricane Laura tore the roof off her home in Lake Charles, La., she and her sons bounced among the couches of family and friends and hotel beds. Moving around so much was not just difficult but dangerous for Ms. Weldon, who is diabetic. She struggled to set up her home dialysis equipment every night and often had to rely on fast food, which led her blood pressure to spike. "A lot of people were in a predicament to where they had no choice but to move away," Ms. Weldon said. "Our federal programs are federal programs at the end of the day," said Lauren Lefebvre, public affairs director for a FEMA regional office that includes Louisiana. "They can oftentimes involve a process, there's paperwork, there's multiple things you have to do to be able to take advantage of it. And that might not always be the best thing for a survivor." That bureaucracy, she said, hampers the agency's ability to quickly deploy housing and makes it hard for the agency to adapt its disaster response to particular circumstances. To get around some of this red tape, FEMA has recommended that states design and implement their own temporary housing programs when they are necessary, to be reimbursed by FEMA. But state and local governments have had difficulty standing up temporary housing programs that would comply with FEMA's often complex reimbursement policies. Even Louisiana, among the states most frequently hit by climate disasters, had no temporary housing plans before Hurricane Ida hit. "Housing is not anywhere in our scope — that's always been a federal mission here," said Mike Steele, communications director with the Governor's Office of Homeland Security and Emergency Preparedness. Emergency management experts say that some responsibility for temporary housing necessarily falls on the shoulders of local governments, who know their communities and can more easily identify vulnerable residents and group sites for trailers. But for many local governments, especially smaller ones on limited budgets, this sort of planning isn't a priority and often conflicts with FEMA's approach. Junia Howell, a sociologist at the University of Pittsburgh, said that when FEMA relies on a reimbursement model but doesn't provide state and local governments — especially those with fewer resources — the tools they need to implement their own programs, the system breaks down. "And it breaks down over and over and over again," she said. By the time many disaster survivors make it into FEMA housing, they are confronted with a new problem: where to go next. Ms. Weldon, who moved into her FEMA trailer in June, has less than three months until the FEMA program expires, 18 months after a federal disaster was declared for Hurricane Laura. In some cases, FEMA trailers can be purchased by recipients for longer-term use. But often, the trailers aren't compliant with floodplain or wildfire hazard restrictions, leaving FEMA to auction them off for cheap after the disaster period. With much of the housing stock of Lake Charles still awaiting repairs, and the few available apartments going for hundreds of dollars a month more than they were before the storm, Ms. Weldon is out of options. The long-term struggles after Hurricane Laura are a foreboding message to residents and advocates reeling from Hurricane Ida. "We're going to end up in the same situation we're in now but worse, because they won't have the trailers to live in," said Genie Trahan-Ardoin, who has been providing assistance door to door with the Helio Foundation, a local nonprofit. "Everybody you talk to, you ask them, 'What are you going to do?'" she said. "They say, 'I don't know.' "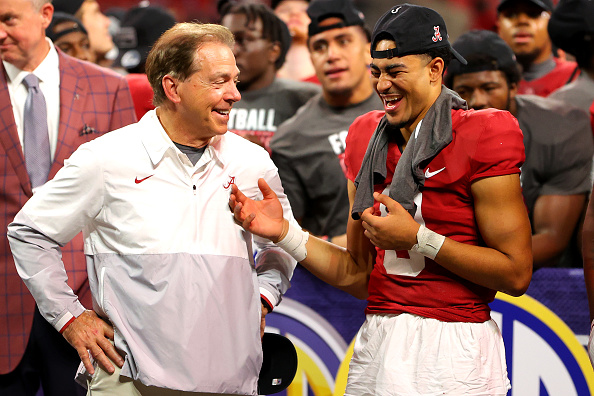 It's like Forrest Gump was talking about Alabama football Saturday night in Atlanta. "We went to the SEC championship, again. We won it, again. We're going to the College Football Playoff, again. We'll be the No. 1 seed, again." And it seems like the Crimson Tide will have another Heisman Trophy winner, again. One year after the school's first wide receiver won college football's most-coveted individual award, its first quarterback now seems poised to win it. Alabama quarterback Bryce Young has done pretty much did what it takes to win the award. In the second-consecutive week, he put up Heisman moments. Eight days ago, he led a 97-yard drive to tie the Iron Bowl and eventually put away Auburn in a heart-wrenching four overtimes. On Saturday at the SEC title game in Atlanta, Young got shifty with his legs, launched perfect touchdown strikes and used an improvised triple option on the fly to extend another drive. Heck, he even fumbled the ball into massive Georgia defensive arms, only to recover it himself. The Alabama Crimson Tide won, 41-24, to secure a spot into the College Football Playoff, which will be announced Sunday at noon ET. Heisman Trophy voters have been mailed their ballots, and Young was the slight frontrunner heading into championship weekend. With Ohio State quarterback C.J. Stroud watching from home while Michigan won the Big Ten on Saturday night, the Heisman award seems to be a done deal for Young. What did Young do on Saturday against Georgia, who had the prohibitive best defense in college football? Young completed 26-of-44 passes for 421 yards and three touchdowns with no interceptions. He also ran three times for 40 yards and a 15-yard touchdown—something not designed for him. Georgia took a 10-0 lead early in the second quarter, but Bama struck quickly with a 67-yard pass from Young to wide receiver Jameson Williams to cap a three-play drive. Alabama took a 17-10 lead before Georgia tied the game in the second quarter. The Crimson Tide took a 24-17 lead by halftime and 31-17 lead in the third quarter before salting the game away. Young had a sparkling game without star receiver John Metchie III the entire second half, just one week after dealing without Williams for the second half against Auburn. During one scramble Saturday night, Young pulled a Houdini act to get away from pressure and found a teammate on a last-second pitch to gain more yards. When his offensive line gave him time, he found Williams for a 55-yard touchdown bomb. Young was impressive when it counted the most. Now, they move onto the playoffs, again. Alabama was the No. 3 team in the CFP rankings before knocking off top-ranked Georgia. No. 2 Michigan won the Big Ten title Saturday night over No. 13, and No. 4 Cincinnati won, pretty much guaranteeing them a spot in the playoff. Alabama is expected to be the No. 1 team when the final rankings are released Sunday, followed by Michigan, Georgia and Cincinnati. No. 5 Oklahoma State lost the Big 12 championship Saturday to Baylor, and No. 6 Notre Dame is unlikely to leapfrog Cincinnati since the undefeated Bearcats went into South Bend and handed the Irish their only loss this season.



Total 12 articles.
Version: 9.83.38380-256015. Input files: 1, items detected: 3286, scanned: 3286, accumulated: 12, inserted: 12, exclude filters: 0, include filters: 0, empty media: 152, filtered media: 186, duplicated media: 71, not matched limits: 361, passed http check: 0, not passed http check: 0, http check errors: 0, skipped: {total: 3274, by unique value: 0, by limits: 614, by similarity: 18, by unicity: 291, by dates: 290, by classifier: 2413, by blacklist: 320, by mandatory tag: 0, from input files: 0}, bad dates: 0, similar from same domain: 906, unique Ids: 0, unchangeble patterns: 1404, words comparisons: 26780118/2968894, python: 2.7.13 (default, Sep 26 2018, 18:42:22) [GCC 6.3.0 20170516]; the same images URLs found 2675 times; total 0 languages detected: {}; {u'text': {u'chars': 4806472, u'bytes': 19781300, u'words': 780974, u'sentences': 50953}}
Created at 2021-12-06 04:02