Announcement
DC5n United States criminal in english 49 articles, created at 2021-12-06 03:56 articles set mostly negative rate -6.7
(6.37/7)

1

0.3

It's Jussie Smollett's turn to testify. Will he?

Some legal experts say the only chance he has of beating charges that he lied to police is by telling jurors his version of what happened. 2021-12-05 23:01 5KB www.pressherald.com

(6.28/7)

2

0.3

Mississippi to Get Near-Total Ban on Abortions if Roe v. Wade Overturned: Gov. Reeves

The state ban would automatically take effect if the case is overturned and prohibit all abortions except in cases of rape or to save the life of a mother. 2021-12-05 17:28 1KB www.newsweek.com

(5.26/7)

3

0.9

Lawyer: Artist didn't know Michigan parents stayed in studio

A Detroit -area artist whose studio was where the parents of the Oxford High School student charged in a deadly shooting were found by police … 2021-12-05 21:34 3KB www.washingtontimes.com

(4.35/7)

4

1.1

Michigan school shooter's parents aren't showing 'any remorse' in jail, sheriff says

The parents of Michigan school shooter Ethan Crumbley have shown "no remorse" since being charged in connection with their teen's slaughter of four students at … 2021-12-05 18:05 1KB nypost.com

(4.28/7)

5

1.1

3 feared dead as Myanmar army truck runs down protesters

An army vehicle barreled into a peaceful march of anti-government protesters in military-ruled Myanmar's biggest city on Sunday, reportedly killing at least three … 2021-12-05 10:00 4KB abcnews.go.com

(4.24/7)

6

1.4

Israeli police questioned on Palestinian attacker's shooting

Israel's Justice Ministry said Sunday that two police officers were brought in for questioning following the shooting death of a Palestinian who had stabbed … 2021-12-05 07:53 4KB abcnews.go.com

(2.37/7)

7

0.0

Cardinals Unleash NFL's 'Most Dangerous Weapon' on Bears

Kyler Murray was back in MVP form following a monthlong break, scoring four touchdowns in the Cardinals' 33-22 victory over the Chicago Bears. 2021-12-05 22:25 1KB heavy.com

(2.10/7)

8

3.8

UN and US condemn Myanmar military after protest reportedly turns deadly in Yangon

According to a statement by Myanmar's military, eleven protesters were arrested at the scene of the incident, including two men and one woman who were injured. However, the statement did not acknowledge the reported deaths or the alleged vehicle attack. 2021-12-05 21:13 2KB edition.cnn.com

(1.25/7)

9

2.9

Nagaland civilian killings: Army 'misled' by intelligence agencies

In the Nagaland killing case, it is said that Special Forces in that area were tipped off by intelligence agencies about terrorists. 2021-12-05 14:30 2KB www.siasat.com

(1.06/7)

10

16.5

6 killed, 2 teens among 15 wounded in citywide shootings since Friday evening

In one of the fatal attacks, a woman was shot to death inside a building in South Shore. 2021-12-05 15:11 4KB chicago.suntimes.com

(1.02/7)

11

1.5

'Black day': Naga groups, politicians condemn civilians killing by security forces

The BJP's Nagaland unit said the firing that left 13 civilians dead on December 4 'amounts to genocide'. 2021-12-05 14:31 7KB scroll.in

(1.02/7)

12

1.9

Java Volcano Has Now Killed At Least 13

The death toll following the eruption of the highest volcano on Indonesia's most densely populated island of Java has risen to 13, with seven people still missing, officials. 2021-12-05 14:00 1KB www.newser.com

(1.01/7)

13

0.5

Ghost guns have no place in America

Since their rise, ghost guns have become the weapon of choice for white supremacists, violent criminals, gun traffickers, dangerous extremists and, generally, people legally prohibited from buying firearms — which was the case in my own shooting. 2021-12-05 10:00 4KB lasvegassun.com

(0.12/7)

14

2.0

60 Minutes Archive: Stealing America's Secrets

In 2010, 60 Minutes obtained an FBI videotape showing a Defense Department employee selling secrets to a Chinese spy that offers a rare glimpse into the secretive world of espionage. 2021-12-05 23:44 834Bytes www.cbsnews.com

(0.02/7)

15

1.1

He Never Touched the Murder Weapon. Alabama Sentenced Him to Die.

Nathaniel Woods was unarmed when three Birmingham police officers were fatally shot by someone else in 2004. But Woods, a Black man, was convicted of capital murder for his role in the deaths of the three white officers. 2021-12-05 10:00 27KB www.nytimes.com

16

1.0

2 CPD officers hurt, 21 arrested after large crowds of teens gather in Loop, police say

Two Chicago police officers were hurt Saturday trying to break up large crowds of teens in the Loop. 2021-12-06 00:43 2KB abc7chicago.com

17

0.1

Alicea: "Dobbs and the Fate of the Conservative Legal Movement"

"The Supreme Court's ruling in the abortion case, expected next June, will be a defining moment in the Right's battle for the Constitution." 2021-12-05 23:44 5KB reason.com

18

1.2

She Feared Her Partner Would Kill Her. Death Came Differently

"Your girl just jumped off the 95 bridge." It was a text that made Detective Kristyn Bernier pull over her car and start crying, and it's the end to one woman's. 2021-12-05 23:15 2KB www.newser.com

19

1.0

Alleged kidnappers wanted to perform ritual on 4-year-old Durban girl, say cops

Four suspects, aged 17 to 79, have been arrested for allegedly kidnapping a four-year-old girl in Durban on Friday. 2021-12-05 21:37 2KB www.news24.com

20

0.7

Cambodian Effort to Find Artifacts Won't End With Informant's Death

Officials plan to use evidence from the former looter known as Lion as they seek the return of stolen objects from museums and private collections. 2021-12-05 21:00 4KB www.nytimes.com

21

0.3

Man Allegedly Kidnapped and Tortured New Girlfriend, Held Her Against Her Will for About a Month

A woman lived a month in sheer horror at the hands of her new boyfriend before she escaped, according to sheriff's deputies in Stanislaus County, California. Saul Ortega, 29, is now locked up on charges including kidnapping and torture. 2021-12-05 20:17 2KB lawandcrime.com

22

0.4

Congress must investigate Hunter Biden – and those protecting him. Here's why

Despite every effort of the Biden administration , the Justice Department, the congressional Democrats and the propaganda media, Hunter Biden is going to end up being … 2021-12-05 19:00 5KB www.foxnews.com

23

1.7

A pedestrian was killed during a police pursuit of robbery suspects in Houston, officials say

A Houston police cruiser struck and killed a pedestrian during a robbery pursuit Saturday afternoon, authorities said. 2021-12-05 18:36 3KB edition.cnn.com

24

0.2

10 Films You Probably Forgot Were Christmas Movies—and Where to Watch Them

From Santa season shark attacks to Christmas killer thrillers, here are some films that deserve a place in your December streaming list. 2021-12-05 18:00 2KB www.newsweek.com

25

0.3

Alice Sebold's "Lucky" and the problem with memoirs with happy endings

Anthony Broadwater was falsely convicted of rape. In Sebold's memoir, it reads like a novel. It shouldn't 2021-12-05 16:00 7KB www.salon.com

26

0.3

Actor Nick Searcy on Jan. 6: FBI's use of armored vehicles to arrest protesters in homes is 'terror campaign'

Actor Nick Searcy, who is the producer of the new documentary film "Capitol Punishment," says the FBI has been employing "terror tactics" against American citizens … 2021-12-05 15:59 5KB www.wnd.com

27

0.6

Mexican gang whisks off nine inmates after dramatic prison break

A Mexican gang crashed vehicles into a Mexican jail this week in a successful bid to free nine prisoners 2021-12-05 15:56 1KB www.bignewsnetwork.com

28

0.2

Tennessee Court Holds That Black Defendant Did Not Receive A Fair Trial Because Jury Deliberated In Room With Confederate Flag and Portrait of Jefferson Davis

The court did not decide if all jury verdicts from that court are now subject to review. 2021-12-05 15:52 4KB reason.com

29

2.4

Mother Accused of Stabbing 5-Month-Old Daughter to Death: 'She Seemed Like Such a Good Mom'

Officials say the infant's cause of death was homicide "as a result of multiple stab wounds," and that they found "multiple knives" at the scene. 2021-12-05 15:36 3KB www.newsweek.com

30

0.5

Two LeT militants arrested in J-K's Shopian

Srinagar: Security forces arrested two Lashkar-e-Taiba (LeT) militants and recovered arms and ammunition in Shopian district of Jammu and Kashmir on 2021-12-05 15:13 1KB www.siasat.com

31

0.1

Politicians are still stuck on Prohibitionist policies

The only real beneficiaries of all prohibitions are bootleggers. 2021-12-05 15:00 5KB www.ocregister.com

32

0.2

Seahawks Ownership Breaks Silence on Team's Struggles: Report

Changes could be coming for the Seattle Seahawks. 2021-12-05 14:26 5KB heavy.com

33

1.8

A bomb, a death, a war's painful legacy: Remembering the first Californian killed in Afghanistan

20 years ago, Cody Prosser became the first Californian killed in Afghanistan. His death became emblematic of the war that followed, one friend says. 2021-12-05 13:00 23KB www.latimes.com

34

0.2

Neil Gorsuch's terrifying paragraph

I am terrified by a paragraph that Supreme Court Justice Neil Gorsuch wrote a few weeks ago. You should be, too. He and two other … 2021-12-05 13:00 6KB thehill.com

35

0.7

"Assassins" is Stephen Sondheim's killer musical that we don't talk about

It's never a good time to mount a musical in America about murdering presidents 2021-12-05 13:00 7KB www.salon.com

36

0.4

TRENDING ON TOWNHALL MEDIA

The Biden administration's losses in court keep stacking up 2021-12-05 12:31 4KB hotair.com

37

1.3

Vanessa Bryant lawsuit a 'no-win' situation for LA County trying to put up defense

In the heavyweight legal fight between Vanessa Bryant and Los Angeles County, the court of public opinion already has decided who it likes and who … 2021-12-05 12:00 1KB www.usatoday.com

38

0.7

Minnesota federal judge, appointed by Reagan, marks 40 years on the bench

U.S. District Court Judge Paul Magnuson's tenure on the federal bench is the second longest in Minnesota. 2021-12-05 11:16 14KB www.twincities.com

39

0.2

The Sunday Read: 'The Emily Ratajkowski You'll Never See'

With her new book, the model tries to escape the oppressions of the male gaze. 2021-12-05 11:00 1KB www.nytimes.com

40

0.8

12 truck drivers arrested for Friday's N3 blockades

Twelve truck drivers are due to appear at the Ladysmith Magistrate's Court, in KZN, on Monday in relation to the N3 Van Reenen's Pass road blockades which took place on Friday. 2021-12-05 10:47 2KB www.news24.com

41

0.5

Donald Trump Peddled His 'Stolen Election' Story. The Job was to Promote GOP Candidates

In this daily series, Newsweek explores the steps that led to the January 6 Capitol Riot. 2021-12-05 10:00 5KB www.newsweek.com

42

1.3

Germany: 'Allahu Akbar' Migrant Knifeman Threatened to Slaughter Children

An Eritrean migrant has been convicted of attacking two men with a knife while also threatening to kill children in the car park of a … 2021-12-05 09:35 2KB www.breitbart.com

43

0.7

Woman Killed By Comfort Animal At Cultivate Care Farms In Bolton

A comfort animal is believed to have caused the death of a volunteer at a farm in Bolton. 2021-12-05 09:07 1KB boston.cbslocal.com

44

1.0

Conviction of Ahmaud Arbery's killers puts new focus on first prosecutor

Those demanding justice for Ahmaud Arbery want another conviction beyond the three White men found guilty of murdering the 25-year-old Black jogger running in their south Georgia neighborhood in 2020. 2021-12-05 09:02 4KB edition.cnn.com

45

0.6

What Haircare Experts Really Think About TikTok's Rice Water Hack

Here's the truth behind the trend. 2021-12-05 09:00 3KB www.bustle.com

46

0.8

Saudi Arabia: Over 14k 'illegal' residents arrested in one week

The Kingdom of Saudi Arabia (KSA) arrested 14,519 violators of residency, labour and border security laws across the nation 2021-12-05 08:07 2KB www.siasat.com

47

0.9

Sex offender stages suicide to avoid court date

A West Virginia man is accused of pretending to kill himself to avoid being sentenced for failing to register as a sex offender. Jesse Lee Wood … 2021-12-05 07:57 2KB nypost.com

48

0.6

"48 Hours" show schedule

True-crime. Social justice. Impact. To miss it would be a crime. 2021-12-05 07:36 30KB www.cbsnews.com

49

0.7

Cincinnati priest pleads guilty to raping 10-year-old alter boy 30 years ago

A Catholic priest from Cincinnati pleaded guilty on Thursday to raping a 10-year-old altar decades ago, one day before the jury was to … 2021-12-05 05:18 3KB nypost.com
Articles
DC5n United States criminal in english 49 articles, created at 2021-12-06 03:56
After two brothers spent hours telling a jury how Jussie Smollett paid them to carry out a fake racist and anti-gay attack on himself in downtown Chicago, the big question when the actor's trial resumes Monday will be whether or not he will tell his side of the story. Attorneys rarely announce whether or not their clients will take the stand before they actually call them to testify, and Smollett's attorneys have not made their plans public. The reasons why Smollett might want to testify begin with just how bizarre the case is. During the trial that started last Monday, what emerged was the story of a television star who cast two brothers as his attackers, gave them dialogue to recite, and paid for the rope he told them to fashion into a noose and loop around his neck. As strange as that sounds, it is the only narrative that has come to the jury from the siblings, Abimbola and Olabinjo Osundairo. And some legal experts say the only chance Smollett has of beating charges that he lied to the police is by telling jurors his version of what happened on Jan. 29, 2019. "The jurors might be thinking, 'Who does this guy think he is, not getting up and telling his story?' " said Terry Ekl, a prominent Chicago-area defense attorney not involved in the case. Ekl and other legal experts said jurors are not supposed to read anything into a defendant's decision not to testify but that when they return to the deliberation room they often do just that. As to the importance of a defendant testifying, legal experts said one need look no further than the recent trial in Kenosha, Wisconsin, where Kyle Rittenhouse was acquitted of all charges after he testified that he fatally shot two men and wounded another because he feared for his own life. "They won the case by putting him on," said Kathleen Zellner, a Chicago area defense attorney. "The jury believed him." In Smollett's case, it may be important for him to testify because, as bizarre as the brothers' testimony was, they are the only witnesses to the incident who have testified. And, said Chicago-based defense attorney, Joe Lopez, Smollett's attorneys "haven't been able to impeach these brothers." Nor have they located a white person that a woman told police she saw carrying a rope in the area earlier that night, leaving the brothers and Smollett as the only three people that the jury can conclude know what happened. "I think they just want to hear his story and if they don't, the only one they've got is the prosecutions' story," said David Erickson, a former state appellate judge who teaches at Chicago Kent College of Law. Another reason why Smollett might want to testify: He should be good at it. "He's an actor. He should be testifying," Lopez said. "He has the ability to communicate (and) he thinks he can take the witness stand and play a role," said Ekl. Erickson said that when he teaches trial advocacy, he makes it clear from the outset that jurors vote for people they like. Right now, he said, he's sure they like the special prosecutor, Dan Webb. "Dan Webb is Everyman, he seems like a nice guy, a good next-door neighbor. " In contrast, they don't know Smollett, and have not heard his voice since he introduced himself during jury selection. But testifying could pose all sorts of problems for Smollett, starting with his need to explain how the brothers knew they would run into him in the dead of a brutally cold night in an unfamiliar neighborhood as he returned from a sandwich shop. Unless he told them he would be there. Also, if he's convicted, Smollett's words could land him in yet more trouble. "You can't be penalized (by a judge) for not testifying but if he takes the stand and the judge believes he perjured himself, he can add (jail or prison) time," said Erickson. Both Erickson and Ekl think Smollett will end up testifying, even if his attorneys beg him not to. "I think you've got a guy who is so arrogant and self-centered, he really thinks he can make people believe what he says is true… (and) schmooze a jury to get them to like him," Ekl said. Success. Please wait for the page to reload. If the page does not reload within 5 seconds, please refresh the page. Enter your email and password to access comments. Forgot Password? Don't have a Talk profile? Create one. Invalid username/password. Please check your email to confirm and complete your registration. Create a commenting profile by providing an email address, password and display name. You will receive an email to complete the registration. Please note the display name will appear on screen when you participate. Already registered? Log in to join the discussion. Only subscribers are eligible to post comments. Please subscribe or login to participate in the conversation. Here's why. Use the form below to reset your password. When you've submitted your account email, we will send an email with a reset code. Send questions/comments to the editors.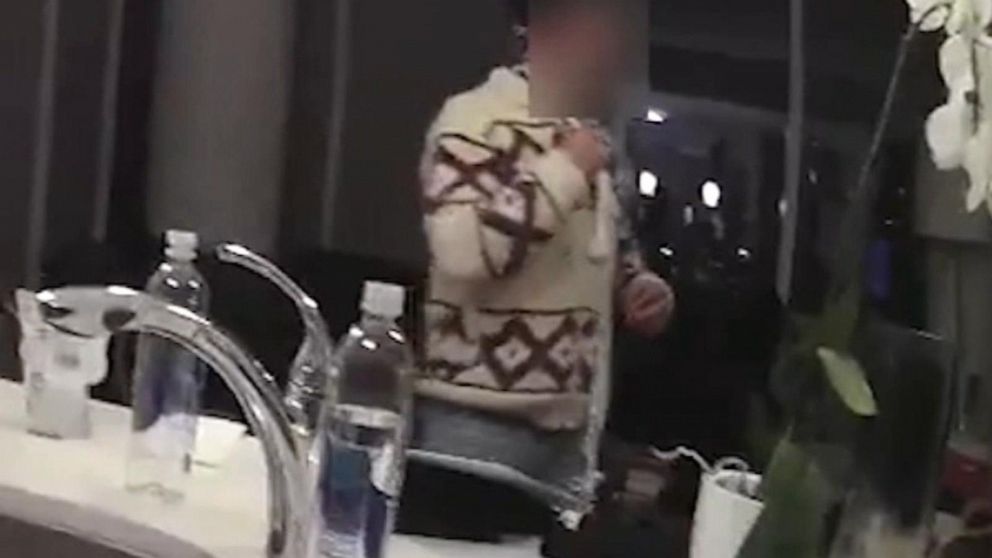 EXPLAINER: Jussie Smollett's turn to testify. Will he?
abcnews.go.com
1b915a2c0fe3db11d2ca0edab8429229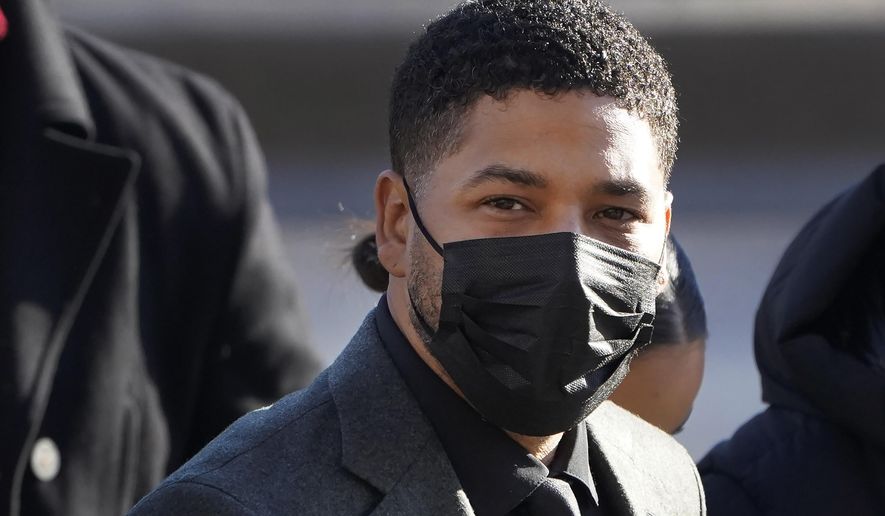 Jussie Smollett's turn to testify. Will he?
washingtontimes.com
eb833b698a87c83b233dc98bc99f70ac
EXPLAINER: Jussie Smollett's turn to testify. Will he?
wtop.com
519f19e107b6524303f797608360969e
Will Jussie Smollett testify in Chicago trial? Legal experts weigh in
usatoday.com
9bbffbbb178e4c4468854b8d8587a58b
EXPLAINER: Jussie Smollett's turn to testify. Will he?
wral.com
5b46de72d850e16eaf7be424dc980453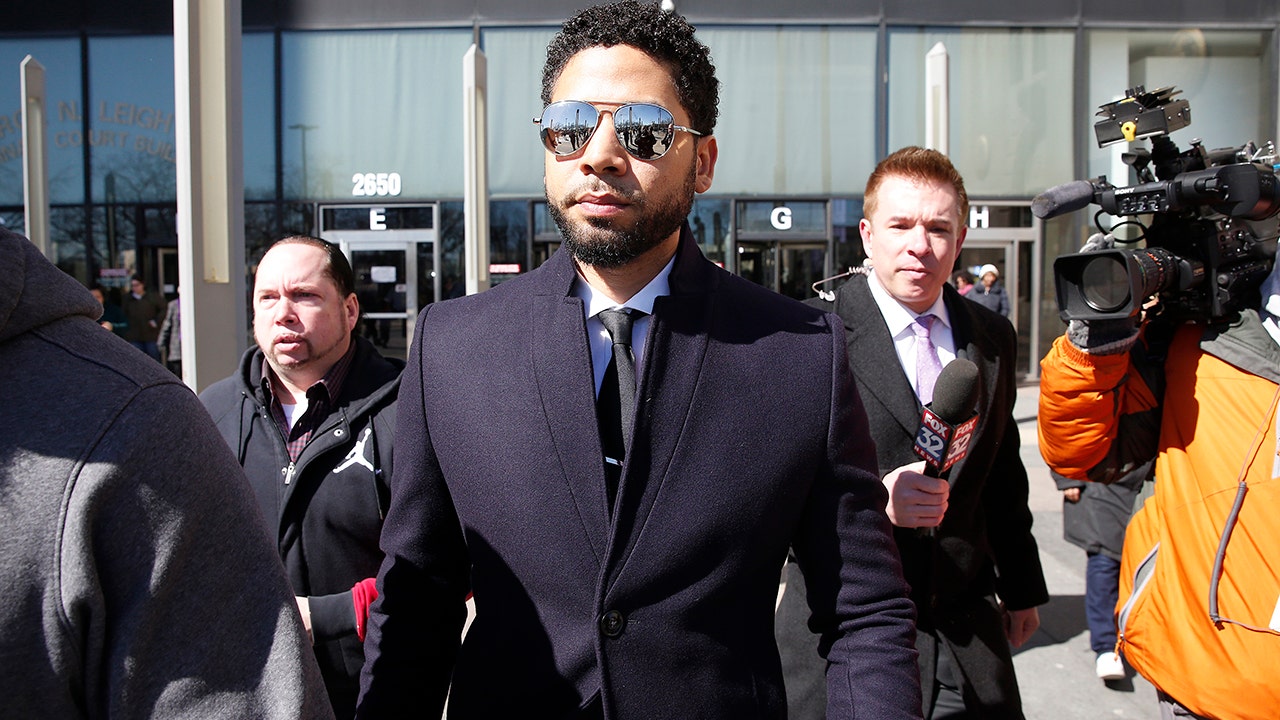 Jussie Smollett may have to testify to convince the jury of his case, legal experts say
foxnews.com
4e6dac530b720557bfd35292e1a39455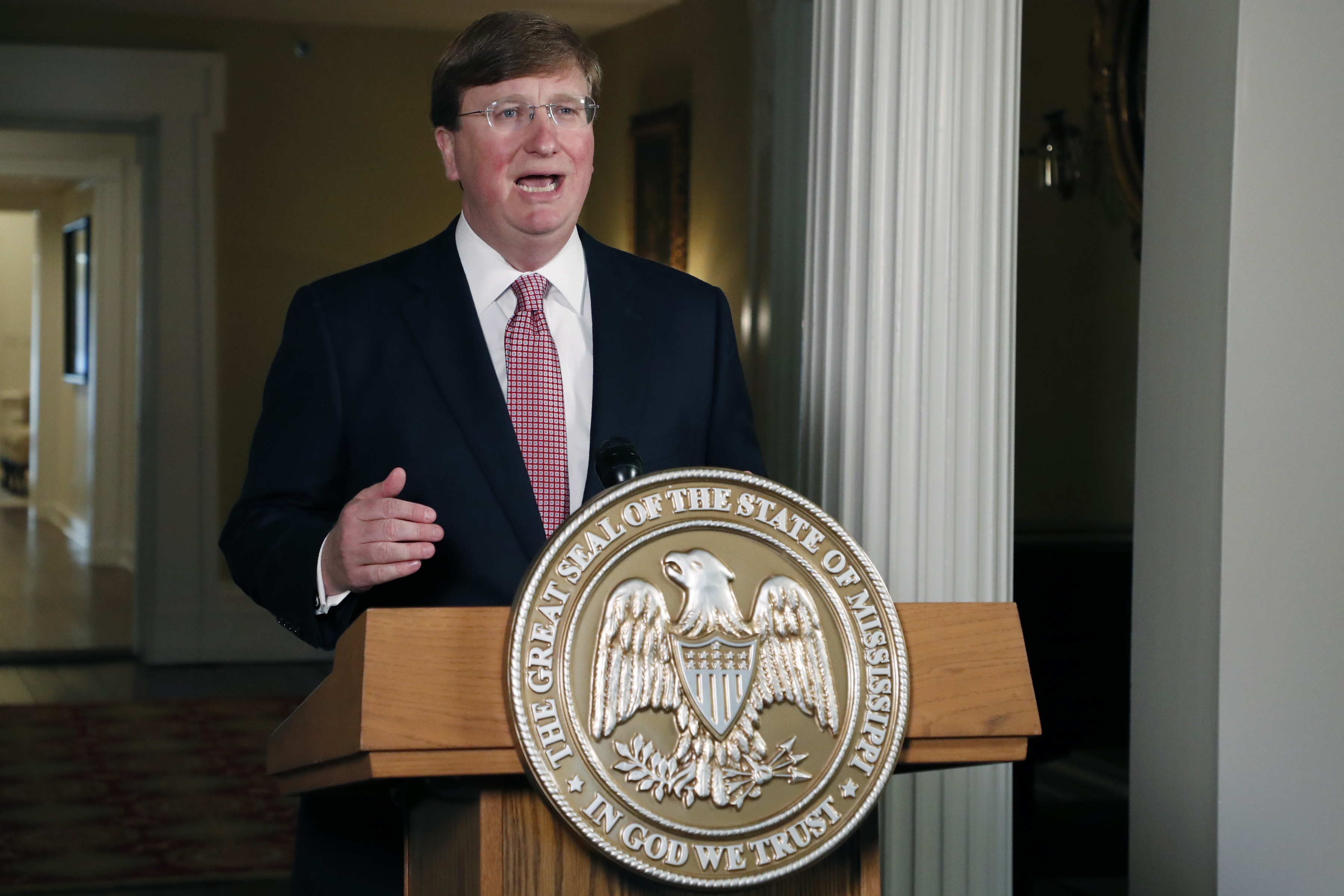 "If that happens, would you start enforcing that in your state— the almost complete ban, regardless of how many weeks of the pregnancy?" Tapper asked. Tapper then asked his question again. "Yeah Jake, that is a yes, because if you believe as I believe, very strongly that that innocent, unborn child in the mother's womb is in fact a child—the most important word when we talk about children is not unborn, but it's children", Reeves stated. "And so yes, I will do everything I can to protect the lives of those children", the governor said. In addition to Mississippi, the states include Arkansas, Idaho, Kentucky, Louisiana, Missouri, North Dakota, Oklahoma, South Dakota, Tennessee and Texas.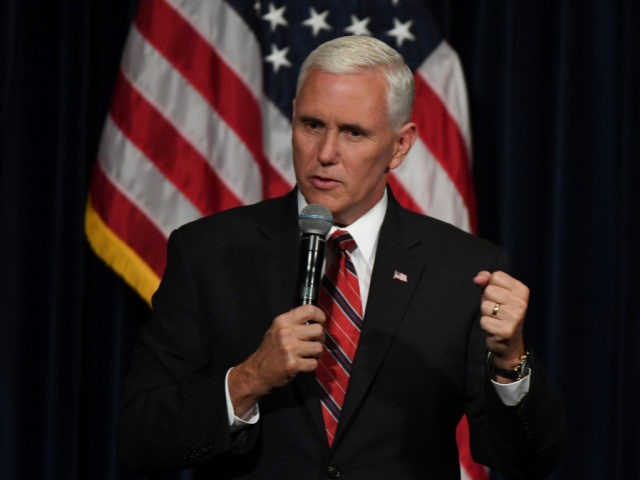 Exclusive — Pence: 'I Know' Roe V. Wade Will Be Overturned, Either in Mississippi Case or Future One
breitbart.com
b01b55aabd8391ba505bba42320e1c56
Mississippi governor says he will enforce law banning most abortions in state if Roe is overturned
thehill.com
7e981a6f60375d0c8f9303813f1a37c2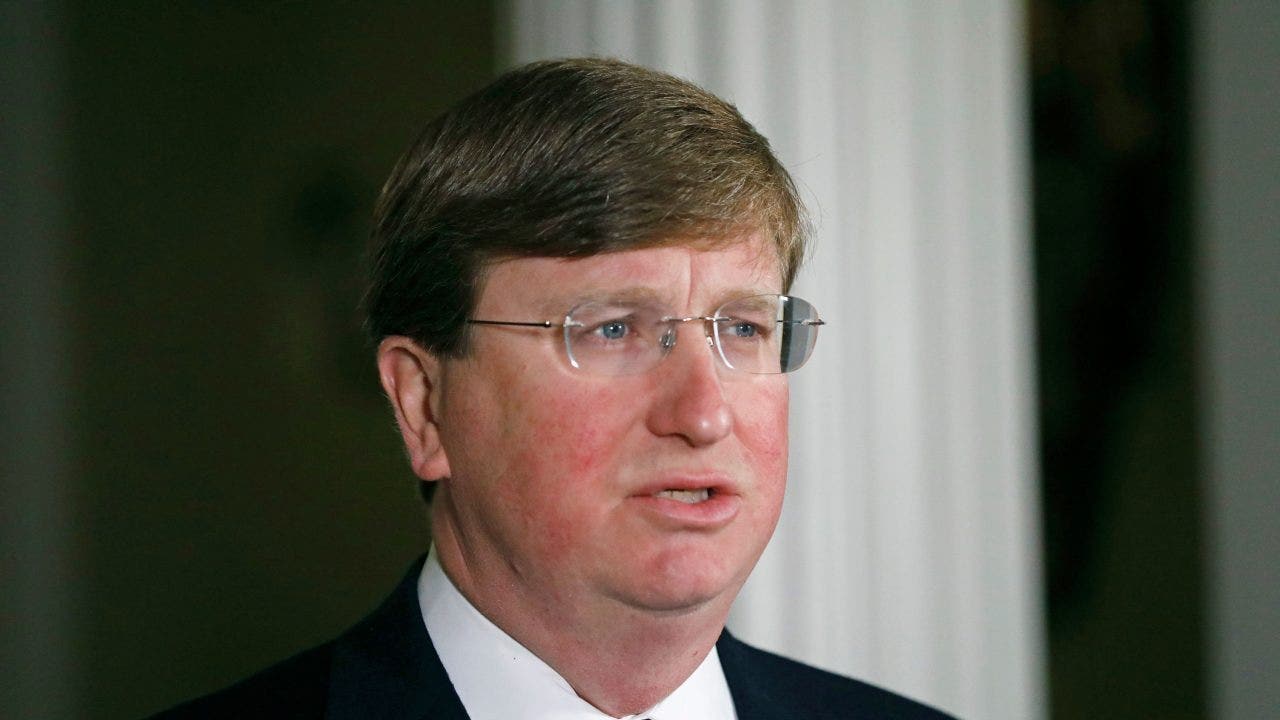 Mississippi Gov. Reeves: 'No guaranteed right to an abortion' in Constitution
foxnews.com
aaa5525a96e602cf9a38e2d895516f14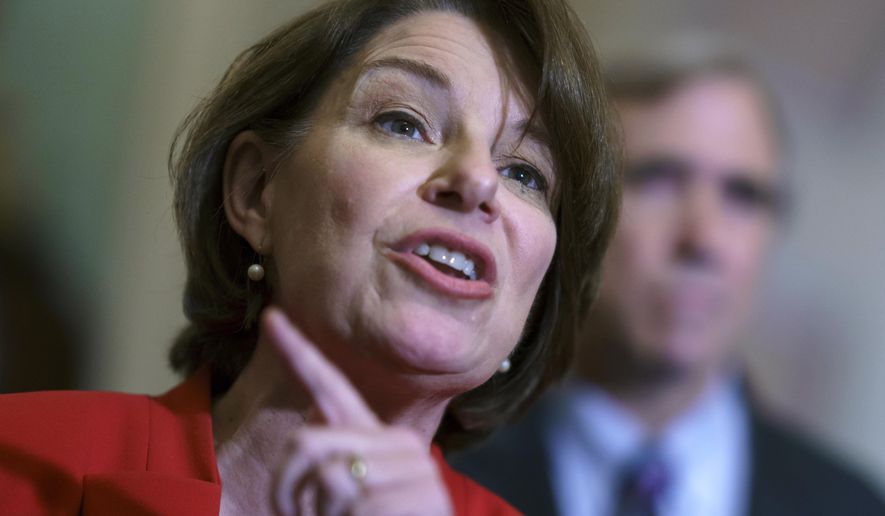 Klobuchar: Pro-choice Republicans interested in codifying Roe v. Wade's abortion protections
washingtontimes.com
c2aceae58b6b4542ef17cc4b5819fece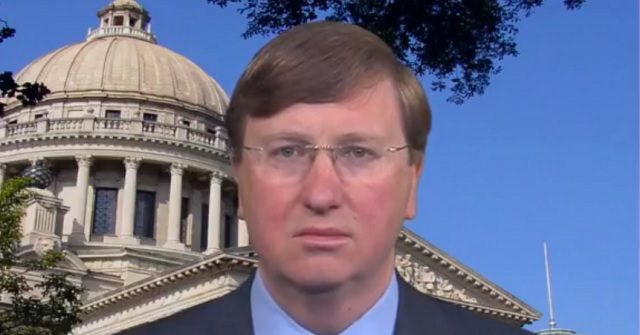 MS Gov. Reeves: If Roe v. Wade Overturned State Would Enact Stricter Abortion Ban
breitbart.com
56f29f5d0ca4f8f6048d82cb5faeab46
Mississippi poised to impose abortion ban, governor says
nydailynews.com
715246040441262ca71f36f731dd8a79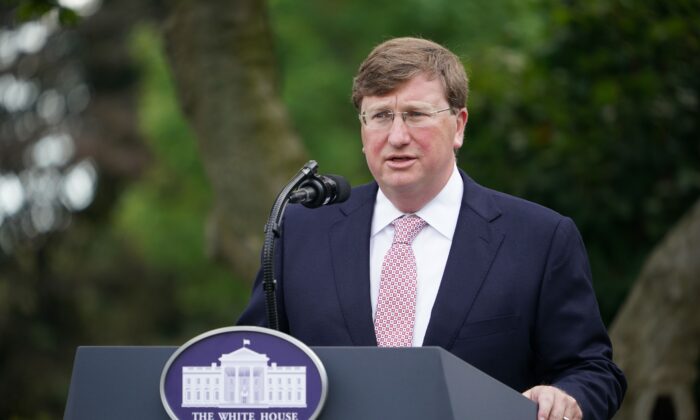 Mississippi Governor Vows to Enforce Abortion Ban If Roe Is Overturned
theepochtimes.com
c6aa49b75b5e2ec70116d966daa833c0
Klobuchar says 'best way' to protect abortion rights is to codify Roe v. Wade into law
thehill.com
688ec8a79493fde91d1a80e8a4365b6b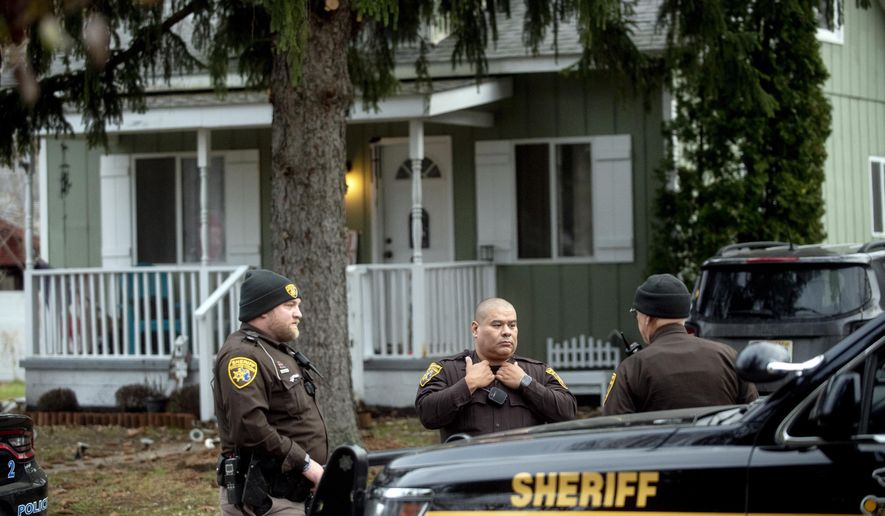 A Detroit -area artist whose studio was where the parents of the Oxford High School student charged in a deadly shooting were found by police is cooperating with authorities and didn't know the couple had stayed overnight, his attorney said Sunday. James and Jennifer Crumbley, who face involuntary manslaughter counts, were found early Saturday inside a Detroit commercial building. The couple's attorneys have said they didn't intend to flee, countering authorities who accused them of eluding capture for their alleged role in a school shooting that left four students dead. Their 15-year-old son, Ethan Crumbley, has been charged as an adult with murder, terrorism and other crimes. The couple went to artist Andrzej Sikora's studio inside the downtown building Friday morning, but the artist was unaware of the charges against the couple or that they stayed after he left for the day, according to attorney Clarence Dass. He said Sikora had a "friendly relationship"' with the Crumbleys but declined to give details, citing an active investigation. Dass said when the artist awoke Saturday and heard news of authorities taking the couple into custody, he voluntarily contacted authorities. Authorities had been looking for the couple since Friday afternoon. "There was a lot of confusion and the Crumbleys went to him for safety. He didn't know about the charges," Dass said. "They were there in the daytime. He left in the early evening. He didn't even know they were still there." Sikora, 65, has not been charged, but Detroit police have said the Crumbleys "were aided in getting into the building," and that a person who helped them may also face charges. Detroit police did not have further information Sunday. Oakland County Undersheriff Michael McCabe confirmed Sunday that Sikora's attorney had reached out and authorities were setting up an interview. Sikora, a Polish-born American artist who lives in Oakland County, has been in the country for years, Dass said. His work, largely murals, can be found around the Detroit area, including on homes and businesses. Six students and a teacher were also injured in Tuesday's shooting at Oxford High School, roughly 30 miles (50 kilometers) north of Detroit. On Friday, Oakland County Prosecutor Karen McDonald's office made the rare decision to file charges against Ethan Crumbley's parents. Prosecutors accused them of failing to intervene on the day of the shooting despite being confronted with a drawing and chilling message - "blood everywhere" - that was found at their son's desk. They could each face up to 15 years in prison. The Crumbleys committed "egregious" acts, from buying a gun on Black Friday and making it available to their son to resisting his removal from school when they were summoned a few hours before Tuesday's shooting, McDonald alleged. Defense attorneys for the Crumbleys have argued that they never intended to flee and had made plans to meet their lawyers Saturday morning. School district officials have said a third party will investigate the events at Oxford High School that occurred before the shooting. On Sunday, Michigan Attorney General Dana Nessel said her office could conduct the probe.

Artist whose studio where Michigan parents found cooperating
wtop.com
5a8f984956c3475f3cb88eaeeda237f7
Detroit artist identified as person whose studio accused Michigan shooter's parents fled to after manslaughter charges
nydailynews.com
45f8513d52ceec8f9565ac2d2577ac32
Wayne prosecutor charges 7 juveniles with school threats
eu.detroitnews.com
f21309f38ed67c91ef5d4e9ac650bffe
Why aren't parents charged more often in school shootings?
wral.com
8a3af3dd4c7cafef37ceac4086484bde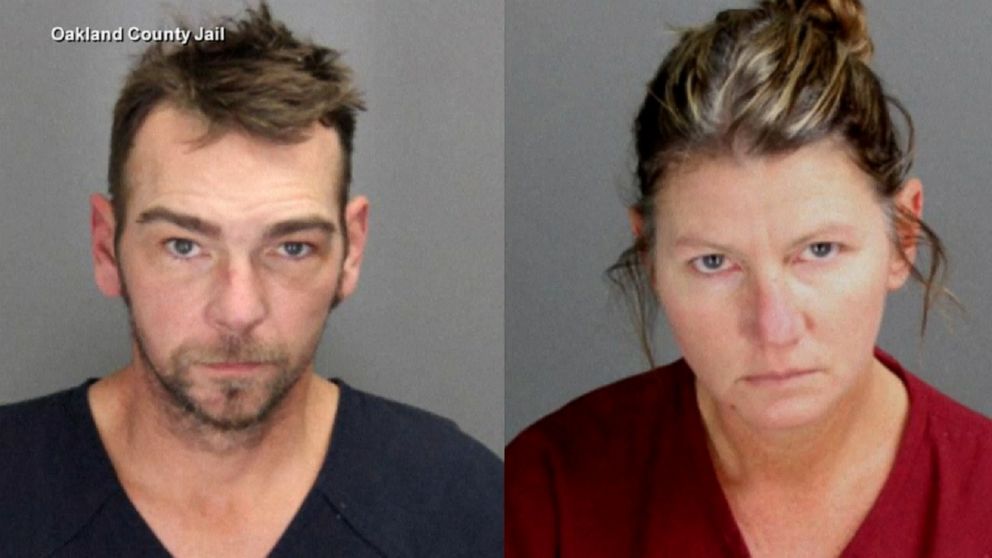 Artist whose studio where Michigan parents found cooperating
abcnews.go.com
5825ec80d58c23ff9f8325ce53eac98e
Lawyer: Artist didn't know Michigan parents stayed in studio
wral.com
9b191c77414d302c392c60ad9af591d0
The parents of Michigan school shooter Ethan Crumbley have shown "no remorse" since being charged in connection with their teen's slaughter of four students at school last week, a law-enforcement official says. James and Jennifer Crumbley have appeared "sullen" in their separated sections of the Oakland County jail, Sheriff Michael Bouchard told MSNBC on Saturday. "They're not talking much to us," Bouchard said. "We've not seen any remorse." The parents were apprehended Saturday hiding out in an art studio in Detroit. They were arrested for allegedly giving their son access to the newly bought 9mm handgun he used in his slay spree while also knowing there were deeply troubling warning signs about his behavior. The couple is accused of withholding such information from officials when they were summoned to the school on the day of the shooting to discuss disturbing drawings a teacher found on Ethan's desk. James and Jennifer reportedly took out $4,000 in cash from an ATM and turned off their phones after their son's arrest before fleeing, the Sun reported. Cops have now identified a person of interest who allegedly helped the couple hide out before their capture Saturday, the Sun said.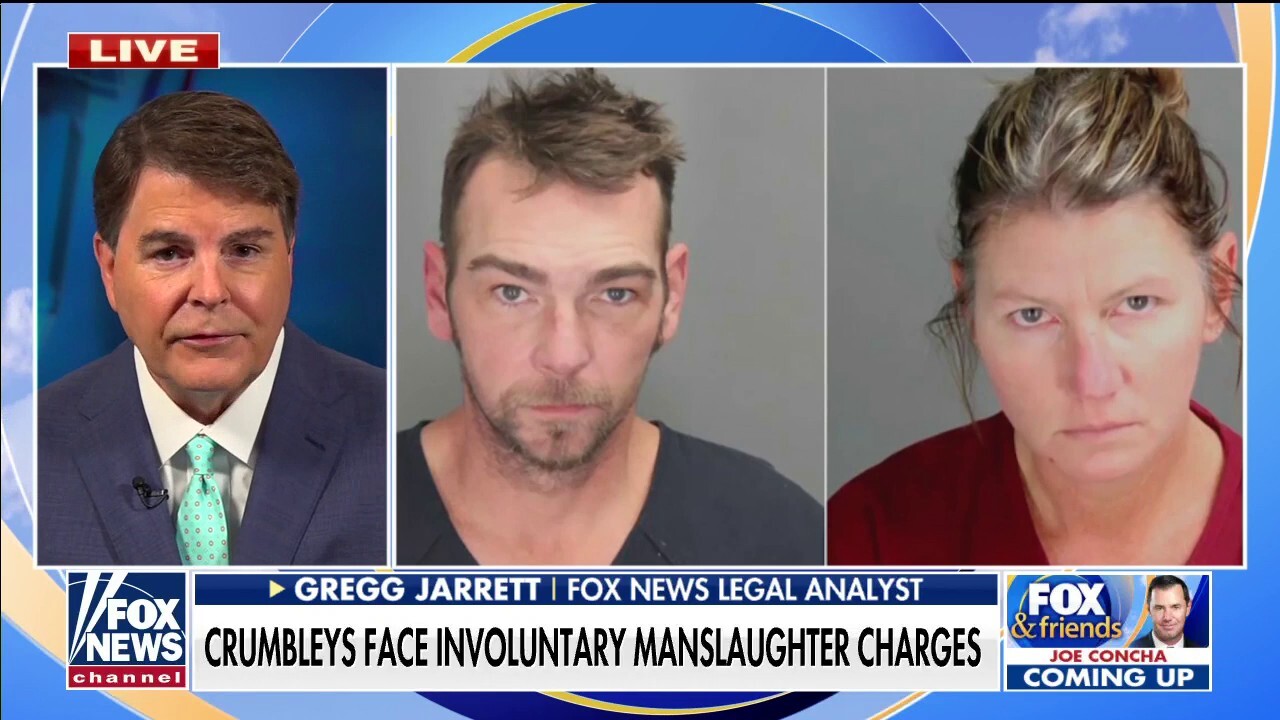 Criminal charges against Michigan school shooter's parents justified
foxnews.com
f9b194b3a03ed06d8ba0e975158b1e7f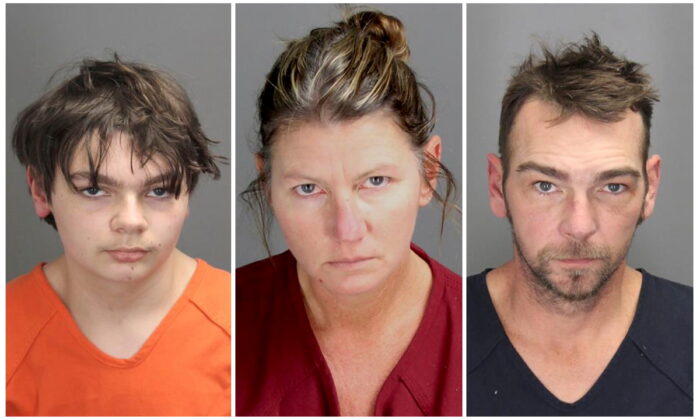 Suspected Michigan School Shooter, Parents All Housed at Same Jail: Sheriff
theepochtimes.com
819140cfa450d4fbfaba95795b6937d8
Man who helped Michigan school shooter's parents was 'friendly' with them, unaware of overnight stay
abc7chicago.com
8ae086f9191a276235d5910bae990195
Tipster who led cops to parents of Michigan school shooter could get $20K reward
nypost.com
97ffeb727108852002249de1f960aa63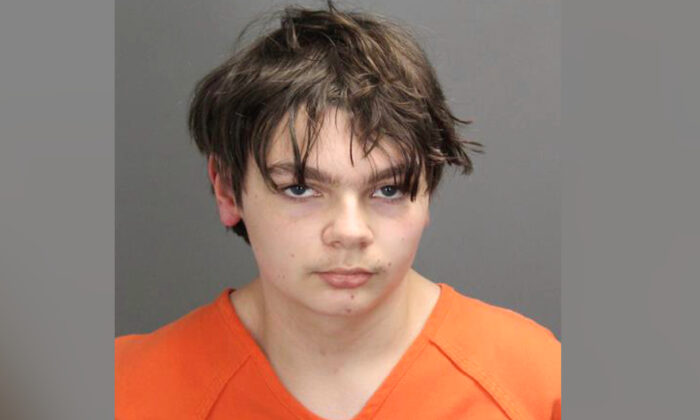 Sheriff: Deputies Would Have Taken Michigan Shooting Suspect's Guns If School Had Told Them
theepochtimes.com
8ee8e166cfe786b97d184c2ba9019787
Finley: A child killer, perhaps. But still a child
eu.detroitnews.com
748110f4e939ecfccb099a6c369d97a4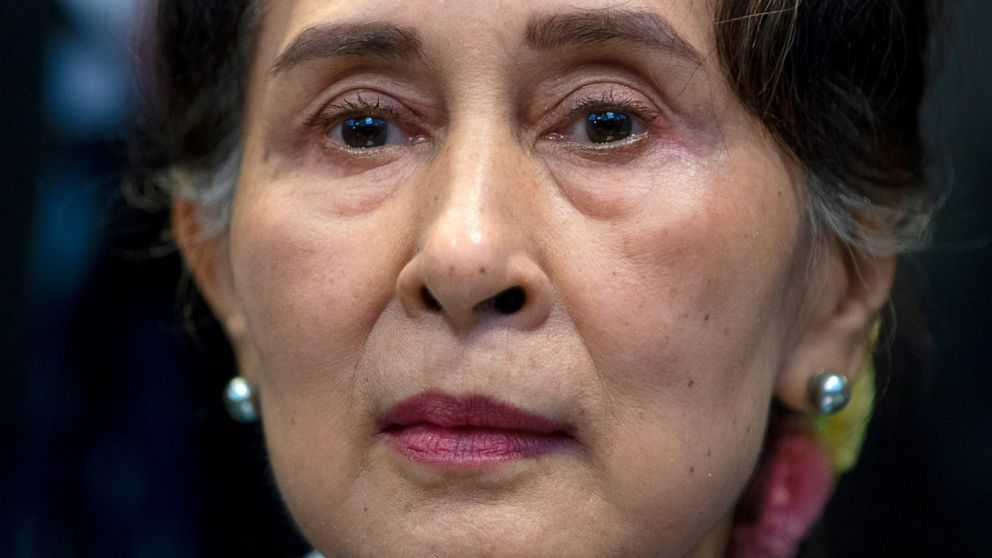 An army vehicle barreled into a peaceful march of anti-government protesters in military-ruled Myanmar's biggest city on Sunday, reportedly killing at least three people, witnesses and a protest organizer said. Sunday's march was one of at least three held in Yangon, and similar rallies were reported in other parts of the country a day ahead of an expected verdict in the first of about a dozen criminal cases against Myanmar civilian leader Aung San Suu Kyi, who was toppled in a military takeover Feb. 1. A video posted on social media showed a speeding small army truck heading into the marchers from behind. Voices can be heard, saying: "The car is coming. Please help! It hit the children. Oh!. Dead!. Run,. run!" The video shows about a dozen people running from the spot. A witness told The Associated Press that the protesters had been on his street for just two minutes when the military truck hit them, leaving three people without any sign of movement lying on the road. "About five armed soldiers got out of the vehicle and chased after the protesters," said the witness, who insisted on anonymity for fear of arrest. "They opened fire and also arrested young people who had been hit by the car. At least 10 people were arrested." Security forces have previously used cars to attack protesters since the army took power. They have also freely used live ammunition, killing about 1,300 civilians, according to a detailed list compiled by the Assistance Association for Political Prisoners. The use of lethal force by the army and police has led to less large-scale street protests, which have been replaced by small, quickly organized marches that usually break up at the first sight of the authorities. Sunday's deaths in Yangon's Kyeemyindaing neighborhood could not be immediately confirmed. Another witness said that when several people came to gather their items, three more military vehicles arrived and arrested several of them. "At least four people, including two young girls who were crying near the shoes, were arrested," he said. "The soldiers told us to go inside or they would shoot us." About 30 people took part in the march, according to a member of Yangon People's Strike, the local resistance group that organized it. Media posted online showed the protesters carrying placards with Suu Kyi's image, and calling for the immediate release of the country's detained civilian leaders. The organizer, who spoke on condition of anonymity because of the threat of arrest, said the group held such protests to keep the residents involved in the struggle against the military-installed government. At the same time, militant urban guerrilla groups have attacked officials and planted bombs, while open armed conflict had engulfed rural areas, leading to a warning the country may slide into civil war. Since she was detained by the military, Suu Kyi has faced charges from breaching coronavirus regulations to corruption. They're seen as contrived in order to discredit her and justify the military takeover. The army claims it acted because last November's election was marked by widespread electoral fraud. Independent observers of the polls, won by Suu Kyi's National League for Democracy party, say have seen no evidence justifying the army's claim.

Indian villagers protest as army kills 13, fearing rebels
wtop.com
fac818466b3c4df3b2de39f5e3743bca
Five dead when Myanmar army vehicle rams into protesters
upi.com
ddb9d6ce4dff0e82e09625da23422ae8
Fatalities Reported After Military Truck Rams Protesters in Myanmar
nytimes.com
b9855b9c0c27a92928a109a2a4cb2211
3 feared dead as Myanmar army truck runs down protesters
wtop.com
52ab5571604345d78d0164d9f705565b
Five dead after Myanmar security forces ram car into Yangon protest – media
nypost.com
18c0d2a60d4b3ee8e8d6a3003c074f2a
Indian villagers protest as army kills 13, fearing rebels
abcnews.go.com
dab47e0433156c56f8099ee423eb4133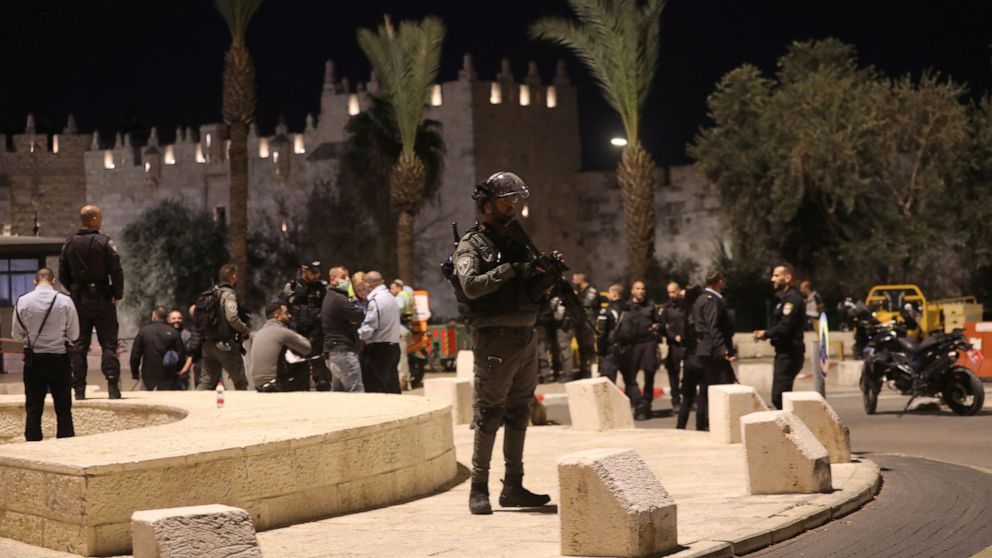 Israel's Justice Ministry said Sunday that two police officers were brought in for questioning following the shooting death of a Palestinian who had stabbed an Israeli man in east Jerusalem. Israeli police released surveillance video in which the attacker can be seen Saturday stabbing the ultra-Orthodox Jewish man and then trying to stab a Border Police officer before being shot and falling to the ground. Police identified the attacker as a 25-year-old from Salfit, in the occupied West Bank. Police could later be seen carrying the body away on a stretcher. A widely circulated video shot by a bystander appeared to show an officer from Israel's paramilitary Border Police shooting the attacker when he was already lying on the ground, and another appeared to show police with guns drawn preventing medics from reaching him, prompting calls for an investigation into possible excessive use of force. The shooting drew comparisons to a 2016 incident in which an Israeli soldier was caught on camera shooting a wounded Palestinian attacker who was lying on the ground. The Justice Ministry's police investigations unit said the police officers were questioned shortly after the incident and released without conditions. Israeli Prime Minister Naftali Bennett released a statement in support of the officers. Other leaders also defended their actions. "It's not clear if the terrorist maybe has an explosive belt. All sorts of things could happen," Public Security Minister Omer Barlev, who oversees the police, told Israeli Army Radio Sunday. "They acted correctly." The incident happened near Damascus Gate just outside Jerusalem's Old City, a tense and crowded area that is often the scene of demonstrations and clashes. The Old City is in east Jerusalem, which Israel captured in the 1967 war along with the West Bank and Gaza. Israel annexed east Jerusalem in a move not recognized internationally and considers the entire city its capital. The Palestinians want east Jerusalem to be the capital of their future state, to include the West Bank and Gaza. There have been dozens of attacks in recent years in and around the Old City, nearly all carried out by individual Palestinians with no known links to armed groups. Palestinians and Israeli rights groups say security forces sometimes use excessive force in response to attacks, killing suspected assailants who could have been arrested or who posed no immediate threat to security forces. Rights groups also say Israel rarely holds members of its security forces accountable for the deadly shootings of Palestinians. Investigations often end with no charges or lenient sentences, and in many cases witnesses are not summoned for questioning. Israel says its security forces make every effort to avoid harming civilians and that it investigates alleged abuses. In the widely publicized 2016 case, Israeli soldier Elor Azaria was caught on camera shooting a wounded Palestinian attacker who was lying on the ground. Azaria later served two-thirds of a 14-month sentence after being convicted of reckless manslaughter. His case sharply divided Israelis. The military pushed for his prosecution, saying he violated its code of ethics, while many Israelis, particularly on the nationalist right, defended his actions. In a more recent case, a Border Police officer was charged with reckless manslaughter in the deadly shooting of an autistic Palestinian man in Jerusalem's Old City last year. The indictment came just over a year after the shooting of Eyad Hallaq, whose family has criticized Israel's investigation into the killing and called for much tougher charges. The shooting has drawn comparisons to the police killing of George Floyd in the United States.

Israeli police officers questioned over death of Palestinian who stabbed man
independent.ie
2293d7b5948a002aa6b3a07e26f931c8
Chicago Police Investigate Shooting Of Off-Duty Officer
chicago.cbslocal.com
03e4c0af5ceebd24d53250b558508e2b
Israeli police questioned on Palestinian attacker's shooting
wtop.com
5d835b6c672a56e59bb0d8b6bf6223e2
Man dies after west Orlando shooting, police said
orlandosentinel.com
9f1e14ee498c59e93eab404470919eb5
Murray also was efficient in the passing game, completing 11 of 15 attempts for 123 yards and two TDs for a passer rating of 136.9. It was the fewest passing yards in a game this season for Murray, whose previous season-low of 229 yards came in Week 6 against the Cleveland Browns. Murray connected with DeAndre Hopkins for the game's first touchdown, something Cardinals fans haven't seen since Week 7. Hopkins, who played sparingly in his return from a hamstring injury, made a spectacular diving catch across the goal line for touchdown on fourth-and-2 at the Bears' 20-yard line. The catch at first was ruled incomplete, but that was quickly overturned: "I could have played it safe," Murray said of the fourth-down play. "We had somebody else wide open. But that's, in my eyes, the best receiver in the league, so you give him a chance, and he made a play." Murray's other TD toss came on an impressive one-handed catch from Conner, who then rumbled 23 yards down the sideline to give the Cardinals a 21-7 lead with 5:40 to play in the first half: On that same drive, Murray became the fourth-youngest player in NFL history to reach 10,000 career passing yards:

Cardinals QB Kyler Murray to play vs. Bears
chicago.suntimes.com
17f3c02971c923d6de81ff23bf9e5a1c
The Latest: Cardinals' Murray, Hopkins active vs. Bears
wtop.com
89a0b79c59050f945cf22e12095d743b
Takeaways from the Bears' loss to Cardinals
chicago.suntimes.com
de99ff70ccd1e1974c930f688e2bb3f3
Bears LB Roquan Smith active vs. Cardinals
chicago.suntimes.com
1bf9788697c55d04ad7560bd84bf0d36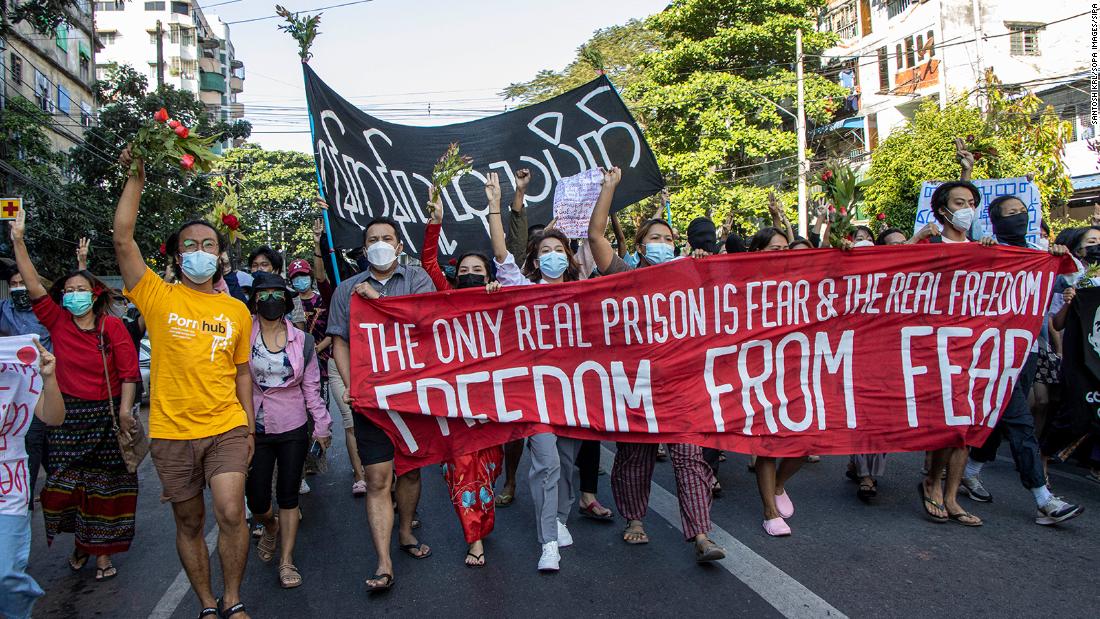 One reporter who witnessed the incident told CNN that it was a military vehicle that rammed demonstrators. Eleven protesters were arrested at the scene of the incident, including two men and one woman who were injured, according to a statement by Myanmar's military. However, the statement did not acknowledge the reported deaths or the alleged vehicle attack. The United Nations in Myanmar has condemned the incident, issuing a statement slamming the "reported attack on a number of unarmed civilians in Kyimyindaing Township, Yangon, in which a vehicle belonging to security forces rammed into protesters who were then fired upon with live ammunition leading to deaths and injuries to numerous people." The US Embassy also reacted, saying it was "horrified by reports that security forces opened fire against, ran over, and killed several peaceful protesters this morning in Yangon." "We support the right of the people of Burma to protest peacefully", the embassy added. The incident comes as Myanmar awaits verdicts in trials of deposed civilian leader Aung San Suu Kyi, who faces nearly a dozen charges including incitement and violation of Covid-19 protocols. She has rejected all allegations. The 76-year-old Nobel laureate was Myanmar's state counselor and de facto leader until the military seized power in a February 1 coup.

Five dead after Myanmar security forces ram car into Yangon protest – media
nypost.com
18c0d2a60d4b3ee8e8d6a3003c074f2a
Fatalities Reported After Military Truck Rams Protesters in Myanmar
nytimes.com
b9855b9c0c27a92928a109a2a4cb2211
Kohima: In the Nagaland killing case where 13 civilians lost their lives in firing by troops, it is emerging that the Special Forces in that area were tipped off by the intelligence agencies about the movement of some terrorists of the NSCN (KY) and ULFA. Sources in the security forces said the unit had deployed different teams for surveillance and ambush after receiving the inputs about the movement of terrorists in the Tiru area of the Mon district of Nagaland. The civilians travelling in the Bolero vehicle were fired at by the troops after they crossed one of the ambush parties and reached the area of the second one which fired at the civilians, they said. In the initial firing, six civilians were killed as the troops fired for effect, the sources said adding that the initial confusion may have been caused as the civilians were carrying a hunting rifle. After the incident took place, the Special Forces troops were waiting for the police to arrive when 14 troops were surrounded by over 200 civilians protesting against the killings. Sources said the civilians were very angry and were carrying machetes. A soldier was also attacked who lost his life after which the Special Forces started firing in self-defence. This led to the death of seven to eight more civilians. The injured included a number of civilians and army personnel present there. The Nagaland area is under the 3 Corps which looks after the state along with the Assam Rifles. The Special Forces unit involved in the incident is affiliated with the 3 Corps and is responsible for special operations in that area. After the operation went wrong, the Indian Army issued a statement saying the "incident and its aftermath is deeply regretted." "The cause of the unfortunate loss of lives is being investigated by a Court of Inquiry at the highest level and appropriate action will be taken as per the course of law," it stated. The Army said the security forces have suffered severe injuries in the operation including one soldier who succumbed to his injuries. Get the news updates on WhatsApp & Telegram by subscribing to our channels. For all the latest India updates, download our app Android and iOS.

Nagaland CM condemns 'killing of civilians', announces SIT probe
business-standard.com
cf2da1f5bbc4499b054e006c13f9af90
Nagaland: Public outrage breaks out after army guns down civilians
siasat.com
074e0796c3b7ee3ffe3152c2cd90b342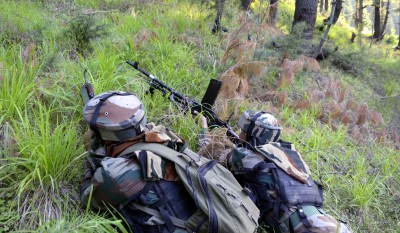 Nagaland: Army orders CoI into killing of civilians in operation
siasat.com
6ff362eb5e2561ff3e7537a3581ff7a4
Army orders Court of Inquiry into killing of civilians in Nagaland
business-standard.com
aad09724e3803f3c5f68876f70813de9
At least six people were killed and two teens among 15 others wounded in citywide shootings since Friday, 5 p.m. One person was killed and another was critically wounded while walking in an alley Sunday morning in Jefferson Park on the Northwest Side. A woman and man, 20 and 23, were walking in an alley about 4:30 a.m. in the 4800 block of North Central Avenue when they were struck in their bodies by gunfire, Chicago police said. The woman was taken to Community First Hospital, where she was pronounced dead, police said. Her name hasn't been released yet. The man self-transported to Illinois Masonic Medical Center, where he was in critical condition, police said. About an hour earlier, two people were shot, one fatally, while sitting in a car Sunday morning on the Near West Side. About 3:20 a.m., a woman and man, 41 and 56, were sitting in a car in the 300 block of South Hoyne Avenue when they were struck by gunfire, police said. Both were struck in the body and were taken to Stroger Hospital, where the man was pronounced dead, police said. His name hasn't been released yet. The woman was in good condition, according to officials. A man was fatally shot by an acquaintance Friday night during an argument outside a home in West Chatham, officials said. Lynnez Patterson, 44, was arguing with a male acquaintance on his porch about 8:25 p.m. in the first block of 78th Place, police and the Cook County medical examiner's office said. The acquaintance then shot the man multiple times, striking him in the torso and head, police said. He was taken to Stroger, where he was pronounced dead, police said. A few hours later, a woman was shot inside a building in South Shore. About 8:20 p.m., the 27-year-old was shot in the head by someone in a hallway in the 7100 block of South Ridgeland Avenue, police said. She was taken to the University of Chicago Medical Center where she was pronounced dead, police said. She has not yet been identified. An 18-year-old man was killed at a gas station Saturday night in Englewood on the South Side. The man was walking through a gas station about 8 p.m. in the 1100 block of West 63rd Street when a vehicle drove by and someone from inside opened fire, police said. He was shot multiple times in the body and was taken to Holy Cross Hospital, where he was pronounced dead, police said. His name hasn't been released. A few hours earlier, Parrish Peeples was fatally shot in West Englewood, police and the Cook County medical examiner's office said. The 54-year-old was standing on the porch of a home about 5:15 p.m. in the 6500 block of South Claremont Avenue when people got out of a vehicle and fired shots at her, police said. She was struck in the leg and abdomen and was taken to Christ Medical Center in Oak Lawn, where she was pronounced dead, police said. In nonfatal attacks, a 17-year-old passenger was shot and seriously wounded Saturday night in Chicago Lawn on the South Side. About 9:20 p.m., the teen was a passenger in a car traveling in the 3400 block of West 61st Place when the vehicle he was in passed by two males who were shouting at him, police said. The driver of the car heard gunfire, and the teen was shot in the back of his head, police said. He was taken to Christ, where he was in serious condition, police said. A 15-year-old boy was shot Saturday night after an argument in the Loop. About 11:20 p.m., the teen was walking in the 200 block of North Wabash Avenue when he bumped into a male walking in the opposite direction, police said. Following an argument, the male shot the 15-year-old in the arm, police said. He was taken to Lurie Children's Hospital, where he was in good condition, police said. A man was critically wounded in a shooting Friday evening just blocks from the Mag Mile. About 6:50 p.m., the 31-year-old was inside a vehicle in the first block of East Huron Street when another vehicle pulled up alongside and someone opened fire, police said. He was shot in the legs and brought himself to Stroger in critical condition, police said. At least 11 others were wounded in shootings in Chicago since Friday, 5 p.m. Three people were killed and 26 others wounded in gun violence across Chicago last weekend.

6 Killed, 22 Wounded In Weekend Shootings In Chicago
chicago.cbslocal.com
c563038f0591724c1a7db9fd4de34c68
Several Naga armed groups, civil society bodies and politicians have condemned the killing of 13 civilians, who were gunned down by security forces in Nagaland's Mon district on Saturday evening. In a statement on Sunday, the National Socialist Council of Nagalim (Isak-Muivah faction) – the biggest Naga armed group involved in peace talks with the goverment – described Saturday as a "black day" and said the "absurdity and insanity" of the armed forces have been exposed. The armed group said that the incident was nothing new but a repeat of the past and was meant to "suppress the legitimate Naga political movement". For decades, Naga groups have waged an armed struggle for a separate ethnic homeland. "The Indian security forces will never be able to wash its hands off, smeared with the blood of innocent Nagas no matter how it come out with a nonsensical statement which is linked to credible intelligence reports of movement of insurgents," the statement issued by the NSCN (IM) said. According to an Indian Army statement, an operation Mon district had been planned, based on "credible intelligence of likely movement of insurgents". The army expressed regret about the "unfortunate loss of lives" that ensued. One more civilian was killed and another injured on Sunday after people barged into an Army camp of the Assam Rifles. The local residents were protesting against the killings on Saturday. The NSCN (IM) statement went on to describe the security forces as "trigger happy", adding that this was not the first time they had acted with impunity under the Armed Forces (Special Powers) Act, which the group said is used against the Naga political movement. The Armed Forces (Special Powers) Act gives the military sweeping powers to search and arrest, and to open fire if they deem it necessary for "the maintenance of public order", and to do so with a degree of immunity from prosecution. The Act was extended in Nagaland for six more months in June, reported the Hindustan Times. In its statement, the NSCN (IM) added that the killing could not be justified at a time when the "Indo-Naga peace process" had seen much progress. "Such a barbaric act of killing innocent people is against humanity and those responsible for such heinous acts should be brought to justice," the group said. In 1997, it had signed a peace treaty and started a dialogue with the Union government in 1997. Since then, seven other groups have followed suit and the peace talks are said to have been expedited under the Narendra Modi government with Ravi as the interlocutor. Also in a statement issued on Sunday, the Konyak regional unit of the NSCN (IM) called also for the removal of the Armed Forces (Special Powers) Act from Nagaland: "Let this incident be the first and the last in the Naga soil and together we will flush out the AFSPA from the Naga soil once and for all." Meanwhile, protests were reportedly held outside the district court in Dimapur, the commercial nerve centre of Nagaland, on Sunday evening. Several tribal and civil society bodies joined in the condemning the incident. The Eastern Naga National Workers' Association described the firing by the security forces as a "cowardly act". It added that the incident will be remembered as a tumultuous moment in Naga's history. The Lotha Hoho, the tribal body which represents Lotha Nagas, said it would close the Lotha Heritage Chumpo (Morung) at the Naga Heritage Village in Kisama with immediate effect in order to condemn the killings. It said there would be a "show of condemnation and solidarity" in the Wokha district from 6 am on Monday. It asked all shops, schools and colleges to hoist black flags. It added that movement of any Army personnel, convoy or patrol in the region would be considered in defiance of human rights. The state unit of Bharatiya Janata Party condemned the firing and said it was time to exercise caution and patience to maintain peace in the region. In a statement, the party's state unit chief Temjen Imna Along, who is also the minister of tribal affairs, pointed out that unarmed civilians were killed in the incident. "It is therefore tantamount to war crimes during peace time and amounts to summary execution as well as genocide," he said. "This cannot be tolerated by anyone at any cost and simply putting the blame on intelligence failure is the lamest excuse." Along said that the Army personnel responsible for killing should be brought to justice and made to answer how they could not understand the labourers were unarmed and on what basis the commanding office gave the firing order. He urged the Union and the state government to provide ex-gratia relief to the families of the deceased and also take further compensatory measures. Meanwhile, Union Home Minister Amit Shah expressed grief about the deaths and offered his condolences to the families of the deceased. "A high-level SIT [Special Investigation Team] constituted by the state government will thoroughly probe this incident to ensure justice to the bereaved families," he said in a tweet. The Rising People's Party, a Nagaland-based political party, called the incident "unforgivable" and suspected that the civilians were deliberately targeted. In a statement, the party demanded that the state government declare a seven-day state mourning. It said that all the MLA of the state Assembly should issue a joint statement calling the incident a "case of murder". "The Mon killings require a thorough probe by a sitting judge of the High Court/ Supreme Court," the party said. "The state government should initiate steps to ensure that the Army personnel involved in the killings are tried in civilian courts." It also asked the state government to pay compensation to the families of the deceased and those injured in the firing. "With the Mon killings, the AFSPA [Armed Forces (Special Powers) Act] is once again in the limelight," the statement said. "Perhaps it would be pertinent for the Naga negotiating groups and the Naga CSOs [Civil Society Organisations] to first work towards the repeal of the Act." Congress leader Rahul Gandhi sought a response from the government on the deaths. "This is heart wrenching," he wrote on Twitter. "What exactly is the home ministry doing when neither civilians nor security personnel are safe in our own land?" West Bengal Chief Minister Mamata Banerjee expressed condolence to the families of the deceased. "We must ensure a thorough probe into the incident and ensure that all victims get justice," she tweeted.

Anger Spreads in Northeastern India After Security Forces Kill 14 Civilians
nytimes.com
821fe9cdcfdd227f968c89765704ed56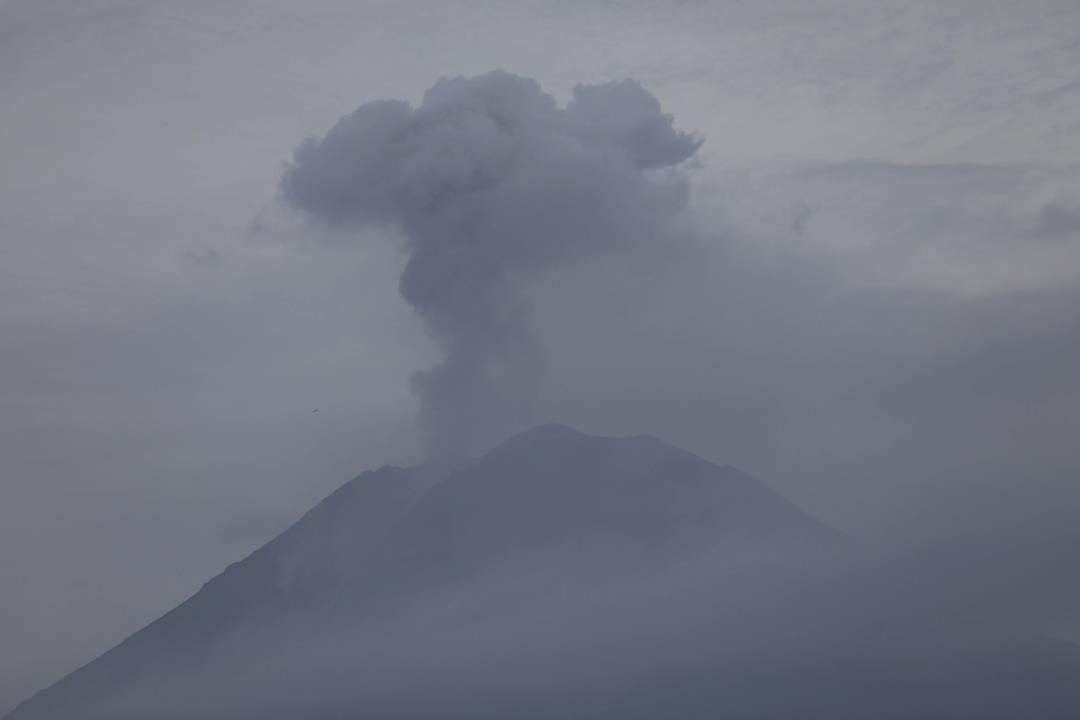 (Newser) – The death toll following the eruption of the highest volcano on Indonesia's most densely populated island of Java has risen to 13, with seven people still missing, officials said Sunday as smoldering debris and thick mud hampered search efforts. Mount Semeru in Lumajang district in East Java province spewed thick columns of ash more than 40,000 feet into the sky, and searing gas and lava flowed down its slopes after a sudden eruption Saturday triggered by heavy rains. Several villages were blanketed with falling ash. A thunderstorm and days of rain, which eroded and finally collapsed the lava dome atop the12,060-foot Semeru, triggered the eruption, said Eko Budi Lelono, who heads the geological survey center.

At least 13 people are dead after volcano erupts on the Indonesian island of Java
npr.org
4de5ecc7b25739128279da6d950fe424
The proliferation of ghost guns is the fastest-growing gun safety problem our nation has seen in years. These weapons allow anyone, anywhere to easily obtain an untraceable firearm with no background check, no serial number, and no questions asked — all you need is a credit card number. Too often ghost guns are talked about with numbers and figures, but this threat is more than the scary research we see. Ghost guns are stealing lives, devastating communities and changing families every single day. I know, because that's my story. A little over two years ago, I was a freshman at Saugus High School in Santa Clara, Calif., hanging out in the Saugus Quad before class with my best friend, Dominic. Before I knew it the shootinghad started. I convinced myself it was a drill. After a few seconds, I started to feel intense pressure on my stomach. I told myself, "Don't look at it." I touched the area, and it felt wet. This was no drill. It was the day my whole life changed. A 16-year-old student at the school had brought a homemade.45-caliber semiautomatic pistol. He started shooting. I was hit in my lower abdomen, and two other students were shot and wounded. Dominic and a fun, loving, kind, 15-year-old girl, Gracie, were killed. The entire shooting lasted less than 20 seconds. Less than 20 seconds to steal my 14 year-old best friend and the best person I had ever met. Since their rise, ghost guns have become the weapon of choice for white supremacists, violent criminals, gun traffickers, dangerous extremists and, generally, people legally prohibited from buying firearms — which was the case in my own shooting. Across the country, we have seen an uptick in these untraceable firearms at crime scenes in major cities such as Chicago, Las Vegas and Los Angeles. From Jan. 1, 2016, through Dec. 31, 2020, there were approximately 23,906 suspected ghost guns reported to the Bureau of Alcohol, Tobacco, Firearms and Explosives (ATF) that were recovered by law enforcement from potential crime scenes, including 325 homicides or attempted homicides. host gun sellers like Polymer80, located in Nevada, continue to sell these easy-made kits that only require a few simple tools and some spare time to make a deadly weapon. Now those companies are trying to challenge the ghost gun law passed last legislative session in Nevada, a bill that will save lives and must be implemented to keep communities safe. This law is a necessity — ghost guns are no longer a distant fear, they are ruining people's lives. We can stop this before more childhoods, and lives, are cut short. After my shooting, I joined Students Demand Action because I couldn't sit by and watch gun violence continue to affect families and communities the way it affected mine. Through Students Demand Action, I have found my voice to fight against ghost guns and honor Dominic. I don't remember the aftermath of the shooting, but I'm told that as my classmates and a teacher worked to save my life, I asked them repeatedly to make sure the emergency responders were helping Dominic. He was my No. 1 priority. I never thought he would be gone. Now two years later, I'm only a junior in high school. I should be thinking about SATs and taking the drivers test, but instead I am fighting to prevent gun violence, especially violence with ghost guns. I don't have the power to change all the laws in our country or even vote in our next leaders, but by sharing my story, I hope to remind people that the issue of ghost guns is more than statistics and numbers — it's about saving lives. We have made such important progress on the fight against ghost guns. Two years ago, no one knew what these weapons were. Now I see this issue being brought up on the biggest stages. I'm grateful that not only has my home state of California done something, but Nevada followed closely behind to address ghost guns. Stopping the proliferation of ghost guns will save lives, yet the gun lobby is suing against this life-saving legislation. We must fight back, so no other families and communities go through the tragedy that mine has. Every day, I wake up and fight. I fight for myself, for Gracie, and, most importantly, for my best friend Dominic — and I won't stop fighting. Mia Tretta continues to attend Saugus High School.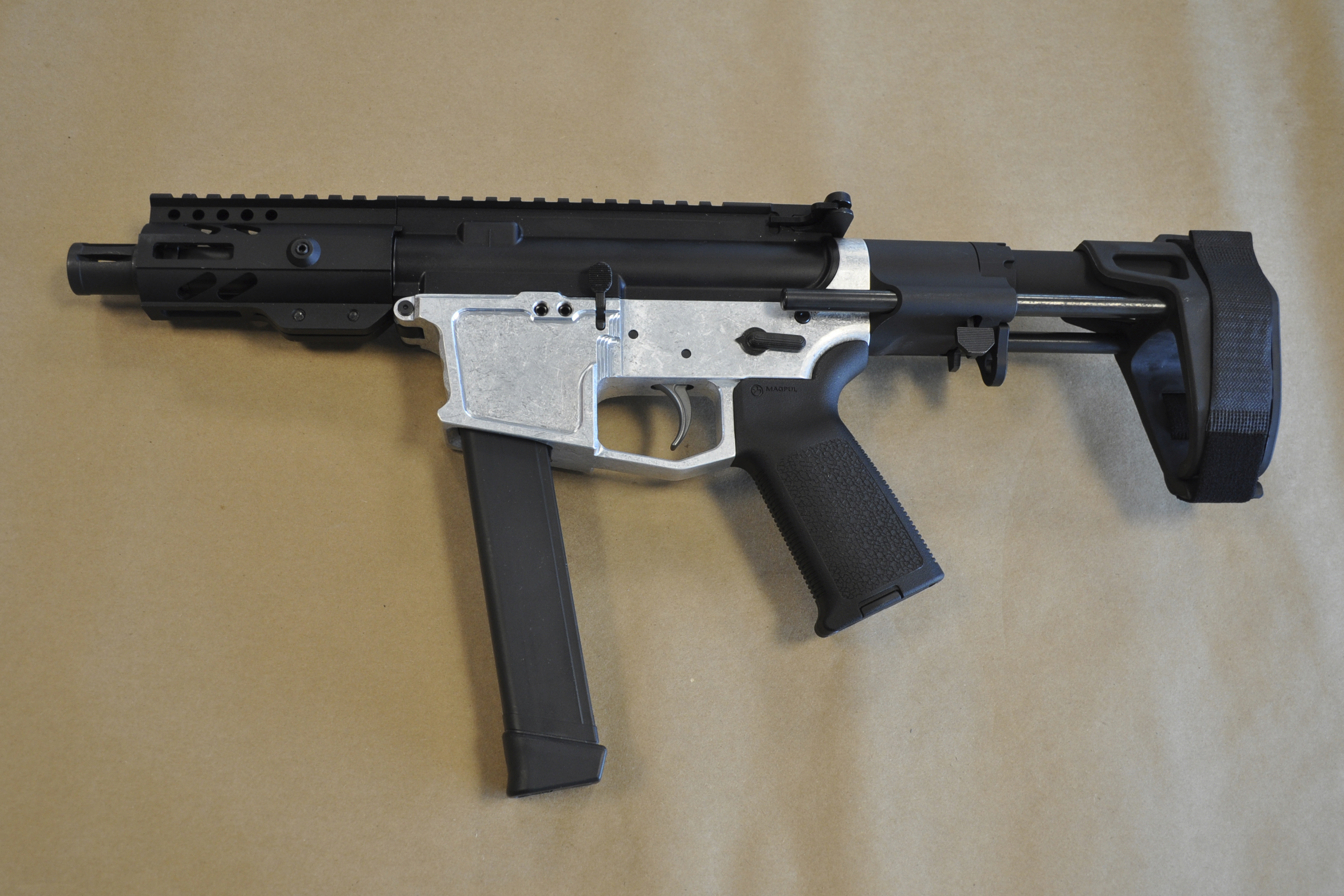 4 Ghost Guns Facts Showing America's Gun Controls At Breaking Point
newsweek.com
11a60d5ea7f1b324e45c88e549fe5898
In 2010, 60 Minutes obtained an FBI videotape showing a Defense Department employee selling secrets to a Chinese spy that offers a rare glimpse into the secretive world of espionage.

60 Minutes Archive: Bob Dole (Steve Kroft, 1993)
cbsnews.com
5f894684d57d8774293c382300de5e1d
60 Minutes Archive: Bob Dole (Morley Safer, 1984)
cbsnews.com
81781b06397ecb1cc928e3d8515ed863
60 Minutes Archive: U.S. v. Whistleblower Tom Drake
cbsnews.com
ba1590a2af3fec6372810c0fd586e5e9
He cradled his infant grandchild for the first and final time. He picked at some food. He posed for family photographs that captured smiles as strained as the conversation. Then someone in charge said it was time. The center of attention, Nathaniel Woods, assured his heavy-hearted father that everything would be all right. Dad, I love you, he said. But when y'all walk out this gate today, I'm gonna walk out with y'all, but y'all aren't going to know it. It was late afternoon on March 5, 2020, the overcast day chosen by the State of Alabama to be Mr. Woods's last. He had been convicted 15 years earlier in connection with the shooting deaths of three Birmingham police officers — and ever since had been rechristened Cop Killer Nathaniel Woods. But Mr. Woods never killed anyone. He was unarmed when the officers were gunned down while rushing into a cramped drug house to execute a warrant for his arrest on a misdemeanor. Alabama — one of 26 states where an accomplice can be sentenced to death, according to the American Civil Liberties Union — argued that Mr. Woods had intentionally lured the officers to their deaths. It did not have to prove that he actually killed anyone in seeking his conviction for capital murder. The Death Penalty Information Center estimates that of the country's 1,458 executions between 1985 and 2018, 11 involved cases in which the defendant neither arranged nor committed murder. Even rarer are cases in which the person was unarmed and uninvolved in a violent act, such as a robbery — cases like that of Mr. Woods, whose defenders say he had no foreknowledge of the violence to unfold and fled in terror as the bullets flew. "Nathaniel Woods is 100% innocent," another death-row inmate, Kerry Spencer, wrote in a letter in support of Mr. Woods. "I know this to be a fact because I'm the man that shot and killed all three of the officers." Mr. Woods — whose case is the subject of a new documentary by The New York Times, "To Live and Die in Alabama" — was a Black man living in the Black-majority city of Birmingham. But only two of the dozen jurors hearing his case were Black. The judge and the two prosecutors were white, as were the three victims. He was also a Black man living in Alabama, a state with a history of racial injustice and a full embrace of capital punishment. It has the country's highest number of death-row inmates per capita and is the only state that does not require jury unanimity in recommending death. After brief deliberations, the jury had voted, 10 to 2: Death. In the annals of capital punishment, Mr. Woods is not the most sympathetic figure: a drug dealer whose evasive actions led to three deaths; who taunted one of the widows in a letter; who refused to show compassion, even at his sentencing. Still, just as jurors struggled with reading Mr. Woods's impassive facial expression, so too does the law struggle with measures of punishment. How could it be that the armed man who killed three officers continues to live, while the unarmed man who fled dies? "The tragedy is that people like Nathaniel Woods become victims of our indifference to injustice," said Bryan Stevenson, the executive director of the Equal Justice Initiative, a human rights organization based in Alabama. He added, "Being in the wrong place at the wrong time doesn't make you someone who is evil." Time, said someone in charge. Dark-bearded but still boyish, his slight frame dressed in his death-row whites, the condemned man looked back at his family. Then he disappeared behind a door held open just for him. Heavenly Woods, one of his sisters, said she can't get that last look out of her mind. "It's just stuck," she said. "It's just, you know, just: What was he thinking?" The path to 18th Street On a hot afternoon getting hotter by the second, all that separated the hostility between Nathaniel Woods, drug dealer, and Carlos Owen, police officer, was a back screen door. Their fraught standoff on June 17, 2004, was unfolding at a one-story, bare-bones apartment in the city's Ensley section. The surrounding empty lots and vacant storefronts told the familiar American story of steel and prosperity moving out and drugs and crime moving in. Mr. Woods was a clerk in a 24-hour drug operation run by his cousin Tyran Cooper, who went by Bubba. His job: Collect the money and hand over the drugs. "A good dude," Mr. Cooper said. Mr. Woods spent his early childhood in Tuscaloosa, nursing stray animals and teasing his younger sisters, Heavenly and Pamela, who still call him by his nickname Quail. But they say the familial mirth all but ended when their parents split up, partly because their mother used beatings to keep them in line. "I told the police if I can't whoop their ass, then they need to take them to jail or take me, because ain't no child going to run my house when I'm getting up and going to work two jobs taking care of them," their mother, also named Pamela Woods, said. "And all I get is, 'You mean, you hateful, you abuse us.' "No, I whipped them," she added. "If I abused them, they would have had marks." Mr. Woods left school after the sixth grade and eventually moved to Birmingham to live with his father, Nathaniel Woods Sr. He developed a knack for electronics, able to revive a dead television, as well as a knack for trouble, with arrests for burglary, reckless driving and public drinking. He got a job driving a forklift at a Piggly Wiggly warehouse, where his father was a foreman, but it didn't stick. Now he was 28, with three young children and a job selling drugs in an operation taking in $3,000 a day. His work partner and friend Kerry Spencer, 23, had followed a similar path. He, too, had left school, had worked at the Piggly Wiggly warehouse and had young children. But he was also snorting $350 worth of cocaine a day, and was usually armed. This wasn't warehouse work, after all. Just two months earlier, in April 2004, their boss, Mr. Cooper, had helped set a Birmingham corner aglow with gunfire during a dispute that left two people wounded. He was arrested a short while later in his bullet-riddled white Buick. For all the drugs and bullets, life at the 18th Street apartment passed without police interruption, Mr. Spencer would later testify. "Everyone around us was getting busted, but we never got touched," he would say. Except the police were now at the back door. Curly and RoboCop Officer Carlos Owen, 58, was a Birmingham Police Department fixture assigned to patrol the Ensley streets he knew so well. Though he was a graying grandfather with plans to retire in two years, everyone called him by a nickname based on an old hairstyle: Curly. In his 26 years on the job, he had been shot at three times, bitten by a dog once and involved in too many chases to remember. He had led the police union and been repeatedly honored for his police work, including as Officer of the Year in 2002. "He epitomized the community policing idea," Bill Lowe, an Ensley business owner, would later tell The Birmingham News. He added: "He knew where the good guys were and where the bad guys were." Others praised Officer Owen as strict but fair. "He was good to me," said Lou Lou Chatman, 60, a self-described former drug dealer. "A couple of times he could have took me to jail. And even if he had to take you to jail, he would pull over and let you get rid of everything on you." Looming beside Officer Owen at the back door was Officer Harley Chisholm III, a few days short of his 41st birthday. His on-the-job enthusiasm, coupled with his six-foot-four frame and wraparound sunglasses, had earned the six-year police veteran and former Marine a nickname of his own: RoboCop. "He knew when to police from the book and police from his heart," one of his sisters, Starr Chisholm Sidelinker, wrote to The New York Times. "He chose to work in one of the bad-ass areas to help make it a better place for the community." Officer Chisholm had been both honored and disciplined for his police work. In 2002, a year after being named the West Precinct's officer of the year, he was suspended after admitting to opening a woman's car trunk, dousing some baby clothes with beer from bottles he had broken, and destroying a television set in the vehicle with a knife. Curly and RoboCop, the patrolling guardians of Ensley. Some in the neighborhood respected them, some feared them, and some — including Mr. Woods's employer and cousin, Bubba Cooper — considered them corrupt. In a 2012 affidavit, and again in an interview this summer with The Times, Mr. Cooper claimed to have paid protection money to Officers Owen and Chisholm for years — with weekly payoffs of as much as $1,000 usually made at a local steakhouse called Niki's West. In return, he said, they suppressed local competition and tipped him off to the buy-and-bust operations of narcotics officers. "That's how I was able to operate so long," he told The Times. But Mr. Cooper said that after he was arrested on attempted murder charges — in connection with that shooting spree in April 2004 — the two officers raised their price to $3,000 a week. At that point, he said, he stopped paying them for protection. Others who lived in Ensley, including some involved in the drug trade at the time, told similar stories about the two officers. But neither man was ever formally accused of corruption, according to Annetta Nunn, the police chief at the time. "Where is the proof?" she asked. Mr. Owen's daughter, Andrea Elders, dismissed the allegations against her father — who, she said, used to deliver bicycles to disadvantaged children in Ensley — as untruths concocted after his death by local criminals. "'Oh, he was a crooked cop,'" Ms. Elders said with derision. "No, he wasn't. Twenty-six years on the police force, he was not a crooked cop. You would think if he was, it would have come out." A burst of violence The screen-door standoff was the culmination of escalating tensions that day at the 18th Street apartment. There had already been one previous encounter, if not two. Mr. Spencer and Mr. Woods later claimed that Officer Owen first appeared at the apartment around dawn, pulling up in his truck on his way to the West Precinct building a half-mile away. Police records indicate that he reported to work at 6:30 that morning. They said that he kicked at the door, demanding to talk to Bubba, before finally leaving. But this account could not be verified, and another witness later testified that neither Mr. Woods nor Mr. Spencer was at the apartment early that morning, though she said someone later told her that Officer Owen had indeed stopped by. There is no question that Officers Owen and Chisholm arrived at the apartment around 10:30 that morning — to check on stolen cars, they said — and that they got into a heated argument with Mr. Woods and Mr. Spencer. The two sides swapped obscenities and threats that centered on hiding behind a badge and hiding behind a door. "It wasn't a friendly conversation," Mr. Spencer later testified. At some point, Officer Owen briefly removed his badge. At some point, Mr. Woods gave his name because, his defenders say, he believed he had done nothing wrong. Before the officers left the scene, they used the patrol-car computer of Officer Michael Collins, who had arrived in the midst of the confrontation, to run Mr. Woods's name through criminal databases. The drug dealers, meanwhile, began hiding their paraphernalia — in anticipation. Mr. Spencer said that he then took a pill, drank a Bud Lite and went to sleep. Beside him: a semiautomatic rifle he had recently acquired in exchange for $35, a handgun and a half-gram of cocaine. Less than three hours later, the police received confirmation by phone that Mr. Woods was wanted in nearby Fairfield on a misdemeanor assault charge related to a four-month-old domestic disturbance - eliciting a "Woohoo" from Officer Chisholm. This time, four police officers pulled up to the 18th Street apartment: Mr. Owen, Mr. Chisholm, Mr. Collins and Charles Robert Bennett. Now Officer Owen was at the back door again, telling Mr. Woods through the screen that there was an outstanding warrant for his arrest and to come outside. Mr. Woods profanely refused. When Officer Chisholm was summoned from the front yard to confirm the warrant's existence, Officer Collins later said, Mr. Woods cursed again and ran deeper into the small apartment, where the covered windows cast the drug-house clutter in eternal dusk. Officer Chisholm rushed in after him, followed by Officers Owen and Collins. Some of what happened next is in dispute: whether the police used pepper spray; whether the police drew their guns. But there is no doubt of the sudden explosion of violence that followed, detailed by Mr. Spencer in a cellphone video recorded from death row last year. He said that he woke up to commotion, looked out a window to see a police car and then saw Mr. Woods stumbling out of the kitchen, holding his face as if in pain — perhaps from pepper spray. Then, seeing movement, he opened fire with his semiautomatic, killing Officers Chisholm and Owen. One bullet nicked Officer Collins as he fled out the back door. "I was so shocked," Mr. Woods later told the police. "And I was hollering, telling him to stop, stop, stop." Then Officer Bennett — 33 and married, with a 4-year-old daughter — came through the front door and, Mr. Spencer said, "I hit him like three times." Amid the gunfire, Mr. Woods scrambled out the bathroom window and started to flee, passing Officer Bennett lying on the ground. "He said, 'Uh, I been hit,'" Mr. Woods told the police. But he kept running. Mr. Spencer said he went to the back door and sprayed a patrol car with bullets to scare off Officer Collins. As he ran out the front door, he sensed that the gravely wounded Officer Bennett was trying to grab his leg. He shot him in the head. An anxious but determined manhunt followed, with crouched officers searching alleys and houses with guns drawn. Mr. Woods watched the activity while sitting on a porch diagonally across from the apartment, as if the drama had nothing to do with him. He surrendered when identified, convinced that he would be fine because he hadn't killed anyone. "I won't shoot no police officer," he would say while being interrogated later that day. "Ain't do nothing like that. That ain't, that ain't me." The judge and the jurors A memorial plaque hangs inside the Birmingham Police Department's West Precinct building in Ensley. It depicts in bas-relief the likeness of three police officers killed in the line of duty. Carlos Owen, grandfather. Harley Chisholm III, former Marine. Robert Bennett, young father. Whenever their former police chief, Annetta Nunn, sees the memorial, she is instantly returned to that hot afternoon of June 17, 2004. To that 18th Street apartment. "Bennett was the youngest," Ms. Nunn said. "And, you know, looking in his eyes just reminds me of that day, because his eyes were partially opened when I saw him. It just brings that memory back, seeing his eyes." The deaths staggered Alabama. A year later, it was time to prosecute the two men charged with causing those deaths. The gunman, Kerry Spencer, was convicted first. In presenting a case of self-defense, his lawyer, Michael Blalock, apparently raised enough doubt about what the police were doing at the apartment that the jury recommended life without parole, rather than the death penalty. "Something's going on that shouldn't be going on, bottom line," Mr. Blalock said in an interview. "And I think the jurors picked up on it." But Alabama at that time allowed judges to overrule jury recommendations — which Judge Tommy Nail of the Jefferson County Circuit Court did by sentencing Mr. Spencer to death. "May God have mercy on your soul," the judge said. A month later, in October 2005, Mr. Woods stood trial on the same capital murder charges for which Mr. Spencer had just been convicted. "Most people think that you can only get the death penalty for murders that you are responsible for, in the sense that you committed the killing or you paid somebody to commit the killing," said Robert Dunham, the executive director of the Death Penalty Information Center. But he said that the Supreme Court permitted a person to be sentenced to death "if you had 'reckless disregard' for the life of the victim and were a major participant in the underlying felony." Still, Mr. Woods's lawyers had confidence in their case. He never fired a shot, he didn't have a gun and even the shooter, Mr. Spencer, said Mr. Woods had nothing to do with the killings. True, Mr. Woods had talked trash about the police and had challenged Officer Owen to a fight. "Makes him guilty of having a big mouth," his lawyer, Cynthia Umstead, told the jury. "Makes him guilty of stupidity for saying that. Does not make him guilty of capital murder." But prosecutors challenged the premise that the shooting was unplanned by portraying Mr. Woods as a police-hating criminal who had purposely led the officers to their deaths in the tight apartment. "They wanted them trapped," a prosecutor, Mara Sirles, said. Mr. Woods "was the bait," she said. "Kerry Spencer was the hook." Three officers had died because Mr. Woods refused to cooperate with a simple, legitimate arrest warrant, Ms. Sirles said. And, under the law, he was just as culpable for their deaths as the gunman. Throughout, Mr. Woods's flat expression invited interpretation. At least one white juror believed that the defendant tried to intimidate the jury with his stare. But a Black alternate juror, Christina Bishop, saw only defeat. "His demeanor was just as serious as the crime that he was being charged with," said Ms. Bishop, a retired postal worker who, as an alternate juror, was excused before the votes on conviction and sentencing were taken. Mr. Woods was convicted of all counts, after which a couple of jurors questioned the rigor of his legal team's defense. Then came the sentencing phase, with Mr. Woods's unapologetic defiance cast in a damning light. Prosecutors presented a piece of paper taken from his prison cell, on which he had rewritten the lyrics of a rap song by Dr. Dre to include the line, "I drop pigs like Kerry Spencer." They presented a taunting letter that Mr. Woods had sent to Officer Chisholm's widow shortly after his conviction. "This is a good friend of yours, yes Gurl it's me 'Nathaniel Woods,'" he began, before maintaining his innocence and saying that he didn't give a damn what she and other family members "think, want or are seeking." Prosecutors also summoned the widows of the officers to give voice to their profound loss, and to assert that — as Officer Owen's wife, Bobbie, put it — Mr. Woods "needs the death penalty." With the jury about to decide whether he should live or die, Mr. Woods took the stand. His lawyers had prepped him in how best to seek the jury's mercy, Ms. Umstead later said, "but when he got on the stand, it's like he had never heard a word." Asked by Ms. Umstead whether he had anything to say to the families of the dead officers, Mr. Woods responded: "Well, I really don't have no feeling about the officers. I really didn't have nothing to do with it, but if they feel they need to take my blood, then fine. If they be satisfied with that, then it's fine." His response flabbergasted one juror, Chris McAlpine, a loss-recovery specialist for an Alabama utility. "That's all he said," he recalled. "And I remember sitting there going, 'You've got to be kidding me. That's the best you could come up with, knowing what we're fixing to decide?'" "If I could have just shaken him and said, 'You need to come up with some kind of heartfelt something to give us,'" Mr. McAlpine said. "Oh, I wanted to. If I could turn back time and do it, I would do it." Another juror, Curtis Crane, a retiree, recalled feeling the full gravity of the jury's responsibility. "You ask yourself: What gives you the right to do this?" he said. "You're just a man; just a person. What gives you the right to tell somebody else they've got to die?" This fundamental question explains why, in 2005, nearly every state with a capital-punishment statute required a jury to be unanimous in recommending death. At the time, only Florida, Delaware and Alabama allowed for a non-unanimous jury recommendation of death; today, the practice continues only in Alabama, where 10 of a dozen jurors is considered sufficient. Deliberations were short — less than two-and-a-half hours — but intense. According to Mr. McAlpine, the vote came down to 10 jurors in favor of death, and two jurors, both Black women, opposed. They didn't offer an explanation, he said. "It was: 'I just can't do it.'" The fight to spare a life Mr. Woods spent the next 15 years at the William C. Holman Correctional Facility, infamous for its violence and overcrowding. The state began shutting down most of the prison in early 2020, but it remains the place where Alabama's condemned live and die. In those 15 years, 32 other men on Alabama's death row were executed. One had killed a Montgomery police officer. Another had robbed and killed a married couple. Another had killed a family of four. Each man was put to death on a Thursday, always a Thursday. In the moments before his execution, those he left behind on death row would bang on their doors, in faint hope that he might hear their clatter of solidarity. All the while, Mr. Woods's family fought to have his life spared. A succession of lawyers made a succession of desperate arguments, including that his legal representation during the trial and the appeals process had been deficient or negligent. None found purchase. As Mr. Woods swayed between hope and despair, he corresponded with family members. He wrote poetry. He converted to Islam. He waited. Finally, on Jan. 30, 2020, prison officials presented Mr. Woods with a one-page document to sign. It stipulated that he was to be executed on March 5 and advised him to provide contact information for a funeral home. No similar letter has been sent to Mr. Spencer. Unlike Mr. Woods, he managed to extend his life by opting for death by nitrogen hypoxia. The protocols for this untested gassing method have yet to be finalized in Alabama — the only state to approve it — which means that the man who killed three police officers would continue to live while his unarmed associate would die. A month before Mr. Woods's scheduled execution, two unlikely advocates took up his case: Lauren Faraino, 30, a corporate lawyer with no experience in capital murder cases, and her mother, Elaena Starr, 60, who had recently ended her support of the death penalty after reading the 2018 memoir of Anthony Ray Hinton, who spent three decades on Alabama's death row before being exonerated. Turning Ms. Faraino's kitchen into a command center, they scoured court documents, interviewed witnesses and capitalized on the media contacts of Ms. Starr's husband, Bart Starr Jr., the son of the Hall of Fame quarterback Bart Starr. Celebrities of varying fame and notoriety — including Martin Luther King III, Kim Kardashian and the rapper T.I. — were soon championing Mr. Woods's cause. Ms. Faraino was troubled that more people seemed to pay attention to Mr. Woods's story only when two affluent Southern white women got involved. "A person on death row should not live or die based on whether the 'right' activists, politicians and celebrities speak out on their behalf," she said. Finally, March 5. The Thursday. It was a somber day for Andrea Elders, the daughter of Officer Carlos Owen. The thought of that evening's execution did not fill her with joy — though she felt that Mr. Woods deserved death for taking the life of a father whose last words to her had been, "I love you. I'll talk to you in the morning." No one in her family was cheering, she said. "It's just: He broke the law and made a bad choice and that was his punishment." At about 4 p.m., Mr. Woods said his final goodbyes to his family and disappeared behind a door. By now, corrections officials were far down their 17-page list of execution procedures. The execution team had rehearsed. The intravenous equipment had been tested. The veins of the condemned man had been checked. Ms. Faraino, meanwhile, was frantically trying to have the 6 p.m. execution called off, in part by persuading a relative of one of the murdered officers to ask Alabama's governor, Kay Ivey, for compassion. With less than an hour to go, Kimberly Chisholm Simmons, a sister of Officer Harley Chisholm, returned her call. "He didn't kill my brother," Ms. Simmons told Ms. Faraino, according to a recording of their call. "He was just at the wrong place at the wrong time." Ms. Faraino began to cry. "If I, if I can get you in touch with, with, someone at the governor's office, would you convey that message to them?" she asked. "Yes I will," Ms. Simmons said. With Ms. Simmons still on the line, Ms. Faraino tried to reach the State of Alabama. "You have reached the Alabama Department of Corrections. Please listen to the following options…" "Thank you for calling the office of the Alabama attorney general, Steve Marshall. Our office hours are 8 a.m. to 5 p.m. …" "You have reached Governor Ivey's state office. We are either in a meeting or …" Ms. Faraino finally managed to send the governor a statement from Ms. Simmons that asserted Mr. Woods's innocence and included a plea: "I beg you to have mercy on him." Mercy was fleeting. About 22 minutes before the scheduled 6 p.m. execution, Justice Clarence Thomas of the U.S. Supreme Court granted a temporary stay, allowing for one more review of the case. With the death warrant expiring at midnight, the Supreme Court had six hours to decide Mr. Woods's fate. At 7:35, word came that Governor Ivey had decided that clemency for Mr. Woods was "unwarranted." A few minutes later, the Supreme Court lifted the stay, allowing the execution to proceed. There was nothing more to do. At 8:08, a disconsolate Ms. Faraino sent an email to one of the lawyers who had fought for Mr. Woods's life. All it said was: "It's over Alicia. They are executing him." The final minutes The ritual resumed. The condemned man was strapped to a gurney of white sheets and black restraints. The prison warden read aloud the death warrant, then asked whether there were any final words. No. Prison officials checked the integrity of the IV lines one last time. Then, at 8:38, there began to flow a saline solution with midazolam hydrochloride, which is intended to render the condemned unconscious. The man lifted his head and shoulders, as if straining to see into one of the witness galleries. He moved his lips. He held up an index finger. Then his head lowered. After a few minutes, a member of the execution team stepped forward to assess the condemned man's awareness. First, by saying the man's name; second, by stroking his eyelashes; third, by pinching his arm. Once unconsciousness was confirmed, the rest of the chemicals began to flow through the IV lines: a muscle relaxant called rocuronium bromide, and potassium chloride, to induce cardiac arrest. Nathaniel Woods was declared dead at 9:01 p.m. He was 43. He is buried in a Muslim cemetery in Georgia, a good 50 miles from the Alabama line.

He Never Touched the Murder Weapon. Alabama Sentenced Him to Die.
nytimes.com
bb50af947203e628cd7b806bc946c1ce
CHICAGO A rash of violence in downtown Chicago over the weekend has city officials on alert. Chicago police said they arrested 21 young people Saturday night when large crowds of teens filled the Loop. Chicago police also said two officers were hurt while breaking up the crowds. One of them has a broken arm. after he bumped into someone on Wabash Avenue, according to police. About 11:20 p.m., the teen was walking in the 200-block of North Wabash Avenue when he bumped into a male walking in the opposite direction, Chicago police said. Following an argument, the male shot the 15-year-old in the arm, police said. He was taken to Lurie Children's Hospital, where he was in good condition, police said. after being beat up Saturday night near Michigan Avenue and Washington Street. About 9 p.m., the driver, a 49-year-old man, was inspecting the bus after hearing a loud noise in the 100-block of North Michigan Avenue when he was pushed and repeatedly punched by an unknown male and female, Chicago police said. He was taken to Northwestern Memorial Hospital with bruises to his face and body, police said. He was listed in fair condition, police said. A 15-year-old boy has been charged with a felony count of aggravated battery of a transit employee and disorderly conduct in connection with the incident. He was arrested soon after the reported attack, police said. Mayor Lori Lightfoot said Sunday that parents need to take responsibility for their kids. At least 25 people have been shot, six fatally, in

Professor Joel Alicea wrote a most-read piece in City Journal about Dobbs and the conservative legal movement. I share many of his concerns. Moreover, Joel addresses arguments raised by Steve Sachs and others about the relationship between originalism and the conservative legal movement. Here is an excerpt: With both Jackson Women's Health Organization and the solicitor general likewise arguing that the Court must either reaffirm or overrule Roe and Casey, legal conservatives now expect that, after nearly 50 years of unceasing effort to overrule Roe, they will finally see the Court do it. If it does not, a sense of betrayal and disillusionment will likely follow. That would place enormous strain on the intellectual fault lines within the movement. If a Supreme Court with a 6–3 conservative majority consisting of five committed originalists refuses to overrule Roe and Casey, it is unlikely that any originalist Court will ever do so—raising serious questions within the conservative legal movement about its attachment to originalism. Immediate recriminations and accusations of betrayal would ensue, likely tearing the movement apart. Those who offer a moral critique of originalism would point to Dobbs as proof positive that originalism lacks the moral foundation necessary to be a plausible constitutional methodology. Vermeule has openly predicted that if "Roe (not merely Casey) survives in any form without being overturned [in Dobbs], it will represent a shattering crisis for the conservative legal movement." If the Court fails to overrule Roe and Casey, there is a very good chance that Vermeule would become the most important intellectual figure in whatever succeeds the current conservative legal movement. Similarly, those advocating an instrumental view of originalism, especially in favor of judicial restraint, would have good reason to question whether originalism actually achieves the restrained judiciary they favor, since the failure to overrule Roe would keep the Court enmeshed in the most contentious social issue in America, without clear constitutional warrant. Some may argue that the more restrained position would be to uphold Roe, since that would be minimally disruptive to American constitutional law. But Chief Justice Roberts—the most committed judicial-restraint member of the Court—has shown himself willing to make great changes in constitutional law to keep the Court out of political and social policy if the Court's intervention has no firm constitutional basis. For example, he wrote the Court's opinion in Rucho v. Common Cause (2019), which held that the federal judiciary has no authority to adjudicate political-gerrymandering challenges to redistricting maps. That controversial decision ended several decades of gerrymandering jurisprudence, but its effect was to withdraw the Court from fraught political and social battles. Those who believe that originalism is the only legitimate methodology of constitutional adjudication would have no logical reason to abandon their view, since it is not based on the results that originalism achieves. But their theoretical arguments would sound less convincing to an audience that had witnessed such a seismic failure of originalism to translate its arguments into reality, just as those arguments have already lost some of their purchase after Bostock. The conservative legal movement has always been an intensely intellectual but also intensely practical movement; a methodology right in theory but self-defeating in practice will not retain many adherents.… A forthright overruling of Roe, however, would significantly alleviate the tensions within the movement and bolster its long-term outlook. It would, in the eyes of instrumentalist and non-instrumentalist originalists alike, vindicate their half-century support for originalism. It would take much of the wind out of the sails of originalism's moral critics, since originalism will have been the means of achieving the critics' most earnestly sought moral goal. There is likely no avoiding the consequences, then, for the conservative legal movement in Dobbs: complete victory or crisis-inducing defeat. Upholding Roe would not weaken originalism as a theory. Steve is right about that much. But for many instrumentalists, originalism would no longer be an attractive theory. And without that support, the academic theory would remain just that. In time, Judges and Supreme Court justices, who seek political support, would no longer be willing to subscribe to the once-prevailing academic theories. Maybe this prediction is right. Maybe this prediction is wrong. But the risk is real. And Vermeule is laughing all the way. Mumblings in the Mayflower have now spilled into national discourse. You heard it here first.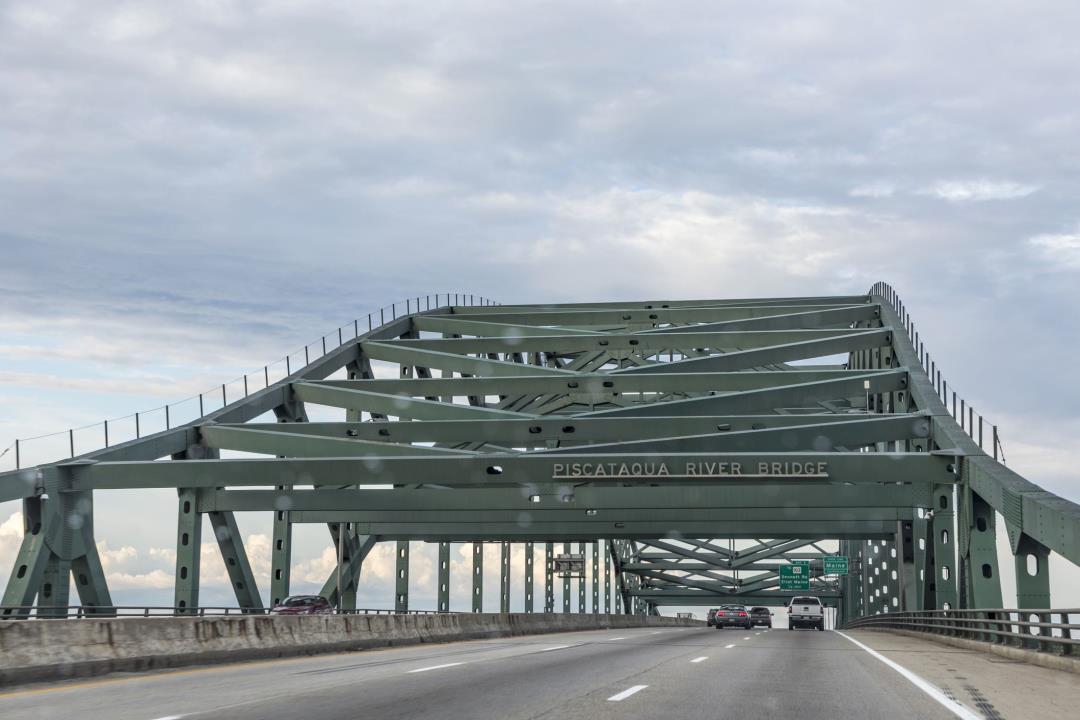 (Newser) – "Your girl just jumped off the 95 bridge." It was a text that made Detective Kristyn Bernier pull over her car and start crying, and it's the end to one woman's years-long tangle with domestic violence—but there's a coda. Writing for the New York Times, Ellen Barry has the story of Tanya Neal, a Maine woman who is 38 when the story opens in 2016 and had spent nearly half her life in two abusive relationships. When she was pulled over for erratic driving in April of that year, the officer noticed her bruised face; she said her partner, Nelson Dion, had threatened and assaulted her so often over their four years that she was once in a coma. As Barry explains, Officer Ryan Sanford "engaged all the elements of the criminal justice system at his disposal"—from prosecutors to social workers. He got her set up in a New Hampshire shelter, which got her a job. And he handed prosecutors enough info that they were able to charge Dion with felony aggravated assault, which carries a sentence of up to 10 years. Per Dion's bail, contacting Neal would be another felony. But as Barry's piece emphasizes, restraining orders are routinely violated. That was the case with Dion and Neal. By late May they were together again, with Neal repeatedly calling the district attorney's office asking that the charges be dropped. In late June, she showed up to work with a front tooth knocked out. Days later, Dion and Neal fought over text. She pulled over on the Piscataqua River Bridge on I-95 and jumped. "This could have been the end of the story", writes Barry, but then something highly unusual happened: a federal prosecutor took on the case. ( Read the full story to learn about the FBI sting on Dion, and the outcome of his case.)

Four suspects, aged 17 to 79, have been arrested for allegedly kidnapping a four-year-old girl in Durban on Friday. They were reportedly planning to perform a ritual on her in rural Nkandla on Saturday. The suspects will appear in the Durban Magistrate's Court on Monday facing a charge of kidnapping. Brighton Beach police arrested them in Durban's largest township, Umlazi, on Saturday. The child has since been reunited with her mother. KwaZulu-Natal police spokesperson Colonel Thembeka Mbhele said she was abducted while playing with other children at Dayal Road sports grounds. READ| Grandmother and church leader arrested in connection with marriage of Eastern Cape girl, 15 "According to the victim's friend's [mother], they were playing at Dayal Road sports ground when an unknown man, who was sitting not far from where they were playing, called them to come nearer and play next to him." Mbhele added eyewitnesses saw both the victim and the suspect walking away. She said the child's mother was called by a neighbour at around 13.40 while at work, informing her they had spotted an unknown man walking with her daughter. She was shocked to hear the news as the child's father was in Malawi, added Mbhele, saying a kidnapping case was opened at Brighton Beach police station and a search team was immediately formed. "After an intensive investigation by the team, the child was found at Q Section in Umlazi. The victim was found unharmed and reunited with her mother." READ| Katlehong kidnap rescue: EMPD female officer among five arrested Mbhele said all four suspects were immediately arrested and taken to the Brighton Beach police station for further processing. "It is further alleged that the suspects were going to leave at 06:30 this morning to Nkandla to perform a ritual with the child." She declined to reveal the gender of the other suspects or describe the type of ritual that was going to be performed on the child. Mbhele added the police team was commended for their quick response which led to the arrest of suspects and the recovery of the missing girl.

Cambodian officials say a reformed looter who directed a ring that pillaged Khmer-era temples for two decades, ending in the late 1990s, has died, but that they will continue to use the testimony he provided as they work to reclaim more stolen artifacts. The man, Toek Tik, 62, spent the last two years informing officials of his activities as he sought to help them reclaim hundreds of statues and other relics he said he had personally looted, many of which, Cambodia says, are now in private hands and museum collections. Based in part on Toek Tik's testimony and on evidence like bases, pedestals and the broken remnants of statues found at the sites he said he had pillaged, Cambodia recently asked the Metropolitan Museum of Art to document how it had obtained 45 "highly significant" Khmer items that are part of its collection. The Met is in discussions with Cambodian officials and has said it had "proactively" begun to research its collection, independent of the recent request. Diagnosed with pancreatic cancer, Toek Tik, who went by the nickname Lion, died on Nov. 29 after contracting the coronavirus, his family said. He had been assisting Cambodian officials in efforts to recover artifacts by revisiting overgrown temples and crawling into hidden alcoves where the objects had once stood in search of remnants that would provide evidence of the items' origins. Hab Touch, secretary of state for the Ministry of Culture and Fine Arts, said: "We are deeply saddened by the passing of Lion. He is one of the most important witnesses for our work in gathering evidence on the loss of Cambodian cultural heritage and demanding its return to its rightful owners, the Kingdom of Cambodia." With an understanding of the severity of Toek Tik's illness, Cambodian archaeologists and lawyers documented his accounts through multiple excavations and by videotaping hours of conversations in which he explained in detail how he had removed statues and sculptures. "Thankfully, before he died, he shared with us countless names of sites, dates, maps and descriptions of looted items, along with introducing us to many former looters who we are in touch with," said Bradley J. Gordon, an American lawyer who represents Cambodia. In interviews with The Times, Toek Tik recently described how from 1977 to 1997, under the cover of Cambodia's decades of genocide and upheaval, he had systematically targeted temples and shrines in the nation's forests and jungles and fed the plundered statuary to dealers and brokers. While Toek Tik said he and his gang rarely received more than a few hundred dollars for the objects they removed, many were sold through Thai intermediaries for hundreds of thousands of dollars. In an interview with The Times, Toek Tik said he rued his actions and was hoping to redeem himself. "I regret what I did," he said through a translator. "I want the gods to come home." Toek Tik's testimony has so far led to the recovery of statues from the Denver Art Museum and private collectors, and has been cited in court papers by the Justice Department. A father of eight who grew up in a poor village about 100 miles south of the Thai border, Toek Tik said he was impressed into the Khmer Rouge while a teenager in the 1970s and forced to take part in killing squads. He said he fled the Khmer Rouge around 1977 and, while hiding in the jungle, discovered many abandoned temples. After learning he could barter relics for hard currency, he made a career of it. Mr. Gordon, who knew Toek Tik for nearly a decade and described him as a close friend, said Toek Tik felt haunted by his actions under the Khmer Rouge and by the devastating effects of his looting. "There is a strong belief among Cambodians that looting is a cursed business and possession of looted objects only leads to bad luck and hardship," Mr. Gordon said. Speaking of Toek Tik's help in locating forensic evidence of looting, Phin Samnang, an archaeologist with the Ministry of Culture and Fine Arts, said: "Lion helped us very much in the excavations by taking us right to the pedestals of statues inside the chambers. His instructions are very specific and help to prove that our statues have been looted."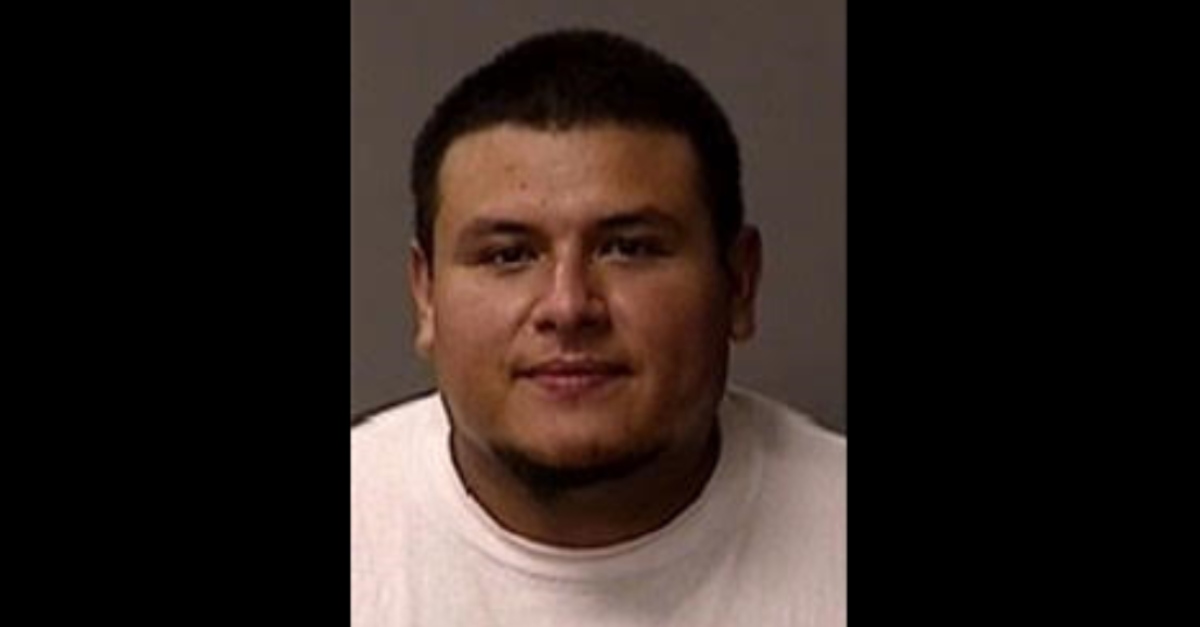 A woman lived a month in sheer horror at the hands of her new boyfriend before she escaped, according to sheriff's deputies in Stanislaus County, California. Saul Ortega, 29, is now locked up on charges including kidnapping and torture. It all started with a welfare check, deputies said. Their counterparts in Fresno County contacted them early Saturday morning to look in on a 25-year-old woman who said she had been held against her will and tortured by Ortega in Stanislaus County, authorities said. "Patrol deputies were able to locate the female who had escaped Ortega Thursday afternoon," authorities said. "She had extensive injuries to her body, including bruises and burns, and was transported to an area hospital for treatment. The female did not immediately call police because Ortega threatened her and her family." SWAT officers executed an arrest warrant against Ortega at the 1000 block of Paradise Road. You can see footage below: "The female reported being held against her will for approximately one month," authorities said. Ortega was arrested for kidnapping, false imprisonment, rape, torture, mayhem, domestic violence, criminal threats, possession of cocaine with the intent to sell, and felon in possession of firearms, deputies said. He is being held at the Stanislaus County Public Safety Center. From deputies: [Booking photo via Stanislaus County Sheriff's Office] Have a tip we should know? [email protected]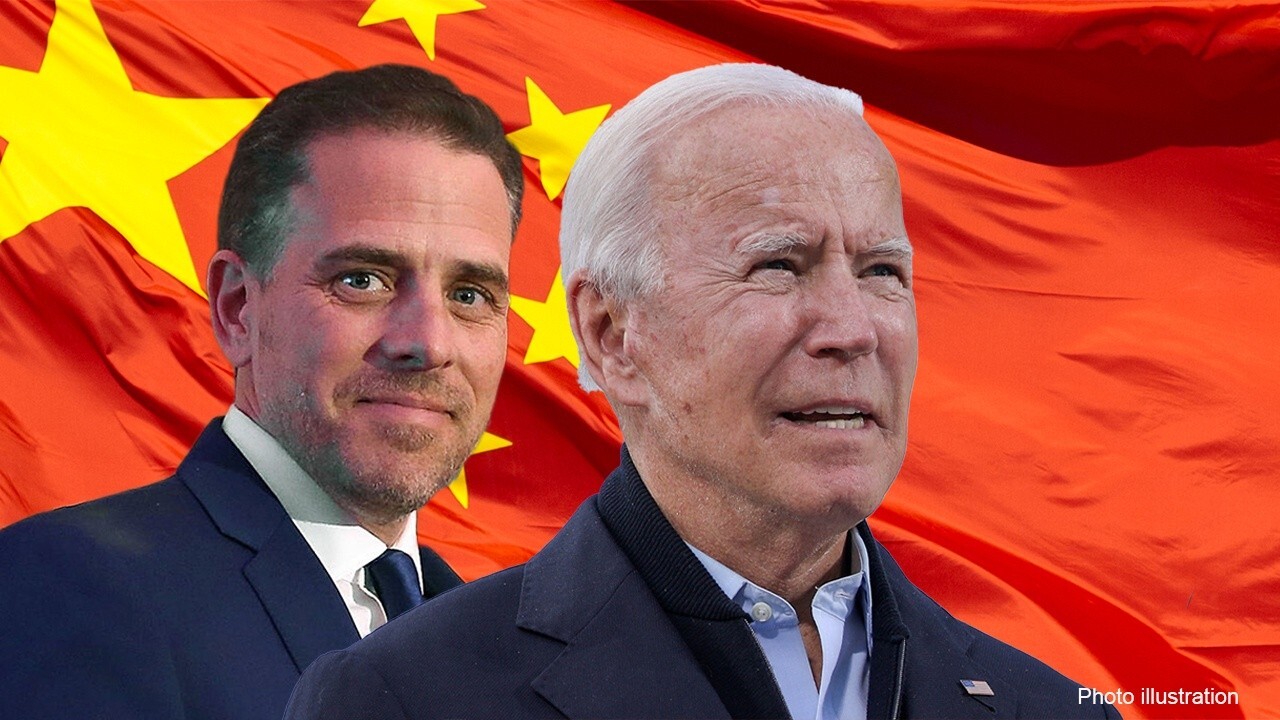 Despite every effort of the Biden administration, the Justice Department, the congressional Democrats and the propaganda media, Hunter Biden is going to end up being investigated – and the impact on President Joe Biden, his administration and his legacy is going to be enormous. As more stories about Hunter Biden 's meetings with foreign agents in Serbia, China and elsewhere come out, serious scrutiny will become unavoidable. The evidence is overwhelming that Hunter Biden's activities in Ukraine, Russia and China have direct national security implications. We simply do not know how much the Biden administration's weakness toward Communist China is influenced by the Chinese corruption of the Biden family and its allies. We do not know how much Vladimir Putin has been emboldened by his knowledge of the corruption of Hunter Biden – and through him the governing family of the United States. There has been a complete absence of honesty and inquiry from the FBI and the Justice Department. It is amazing that the Hunter Biden laptop has not already led to an indictment of President Biden's son for a series of amazing influence-peddling schemes. Sadly, the U.S. attorney for Delaware, where the laptop was found and where the Bidens live, has shown no interest in pursuing a case that involves public corruption at the highest levels. The FBI has had the laptop and yet nothing has been done to pursue the clear corruption outlined in the various emails it contains. Hunter Biden's irresponsible marketing of "a unique relationship" with the vice president during the Obama years, (then with a presidential candidate, and now with the president) has enormous national security implications. It is no accident that Hunter was actively seeking business in Communist China, Putin's Russia and Ukraine. These were countries keenly interested in developing influence in Washington and it seems they felt they were getting real access and impact through Hunter and his family. Former U.S. Navy Lt. Tony Bobulinski has had virtually all his allegations of Biden corruption validated by the emails discovered in the Hunter Biden laptop. His allegations clearly implicated the president and his son – and suggest a Biden family mired in the most venal kinds of corruption. It resembles the scene from "Jerry Maguire" in which Tom Cruise has to repeatedly yell "show me the money" to convince his football playing client to keep him as his agent. Imagine the contempt with which Chinese, Russian and Ukrainian bribers must have looked at the cocaine-using, prostitute-hiring son of a major national politician as they paid him again and again for influence. Ask yourself: Is it at all plausible that all this foreign money and business was coming to Hunter Biden – a clearly unqualified, deeply troubled and totally unprepared broker – and Joe Biden did not ask about it, look into it or ask staff to monitor what Hunter was doing? If Joe Biden knew, he is clearly implicated in corruption involving foreign powers. If he willfully avoided knowing, it would be a sign of parental indifference and determined neglect that seems almost impossible to believe. While the congressional Democrats and the Biden executive branch may refuse to investigate the corruption revealed by the laptop – and a range of other sources – a Republican Congress in 2023 should feel obligated to thoroughly explore the potential corruption. It is vital that any investigation include Hunter Biden and his associates (which may or may not include his father). It should also look into the network of cover-up officials who were clearly failing to do their duty and the widespread collection of traditional and social media collaborators who consciously suppressed and lied about Hunter Biden's corruption. How could the FBI have avoided taking apart the Hunter Biden laptop and tracking down the details found in the emails? How could the authorities have avoided tracking the vice president's son as he dealt with nations actively dangerous to America? What officials made the decisions to avoid looking and avoid knowing? Not since Hillary Clinton deleted more than 33,000 emails while her staff used a hammer to literally destroy the hard drives on her computer has there been such a willful avoidance of knowledge by law enforcement officials. When you compare the Justice Department's benign neglect of Clinton and Hunter Biden with its illegal overreach in pursuing what we now know was a totally phony Russian dossier designed to smear President Donald Trump, it is clear something is profoundly sick in our federal criminal justice system. I will talk more about this in an upcoming column – and an upcoming podcast episode with Miranda Devine, who just wrote, " Laptop from Hell." Devine's work – and the work of other watchdogs – virtually guarantees that Hunter Biden will face both congressional and criminal justice scrutiny. The investigation must and will occur. The only questions are how soon and by whom. To read, hear, and watch more of Newt's commentary, visit Gingrich360.com.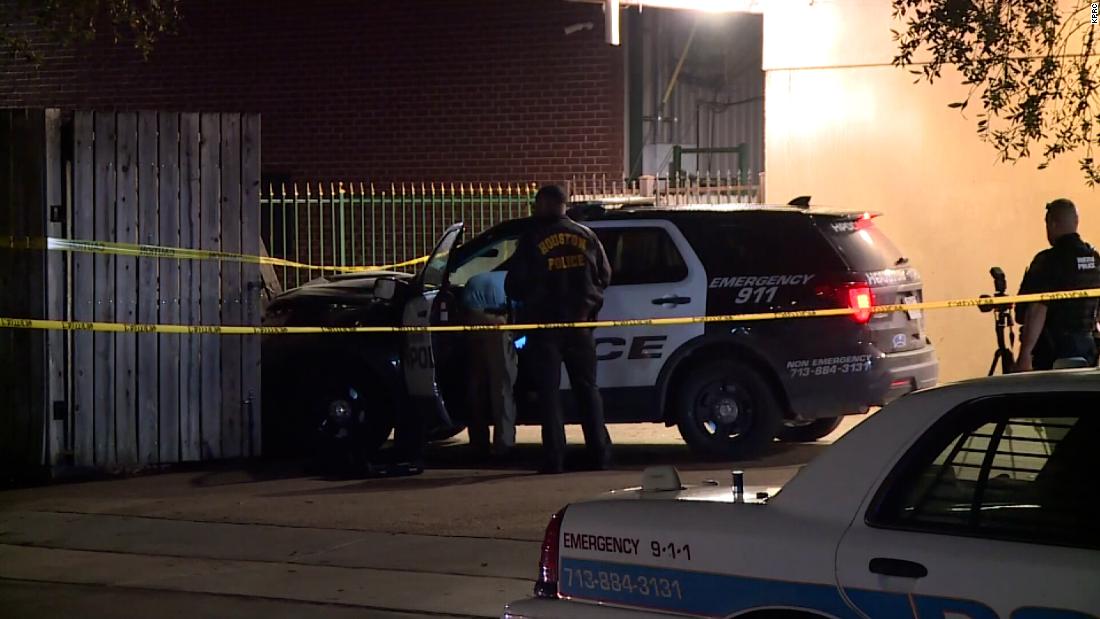 The two Houston police officers who were involved in the incident are said to be "distraught" after striking a 45-50 year-old man who has not yet been identified, Houston Police Department (HPD) executive assistant chief Larry Satterwhite said in a news conference Saturday. "This is a tragic night and a man lost his life", Satterwhite said. "Our prayers are going out to our victim and his family. It is an absolute tragedy." Officers received a call around 5 p.m. from a woman who said she was robbed at gunpoint and that the thieves stole her black Ford truck and her purse, according to Satterwhite. When police found the stolen vehicle, the suspects drove off and a pursuit began, the executive assistant chief said. When another HPD vehicle came to assist, that cruiser went out of control and ended up on a sidewalk, killing the pedestrian, he explained. "They were running lights and sirens trying to catch up and help our officers in the pursuit and apprehension of the suspects that were involved in the aggravated robbery", Satterwhite said. "Tragically, as they were coming westbound on Reed Road, coming up to the intersection, somehow they lost control of their vehicle." The officers administered CPR on the scene but the victim was pronounced dead, Satterwhite said. The officers in the vehicle that hit the pedestrian are on routine administrative leave while an investigation is underway to determine what caused them to lose control of the cruiser, according to Satterwhite. Both officers are around 25 years old and have been on the Houston force for less than two years, he continued. Of the five suspects being pursued in the aggravated robbery and stolen vehicle case, three of them -- all juveniles -- were caught and charged with aggravated robbery, Satterwhite said. Two others escaped. Another officer received minor injuries when he was struck by the moving stolen vehicle as it was abandoned by the suspects, according to Satterwhite. Sean Teare, chief of the Harris County District Attorney's Office Vehicular Crimes Division, said during the news conference that the incident will not be treated any differently because it involves officers. "It involves a human being who lost his life, so we're going to look at it from that lens", Teare said, adding that authorities are examining multiple pieces of evidence including surveillance footage and information on the speed of the police cruiser at different points in the chase. "The officers were responding to a violent felony", Teare said. "This is not a normal crash. A normal crash in situations like this would probably constitute different charges than we're even going to think about in this case."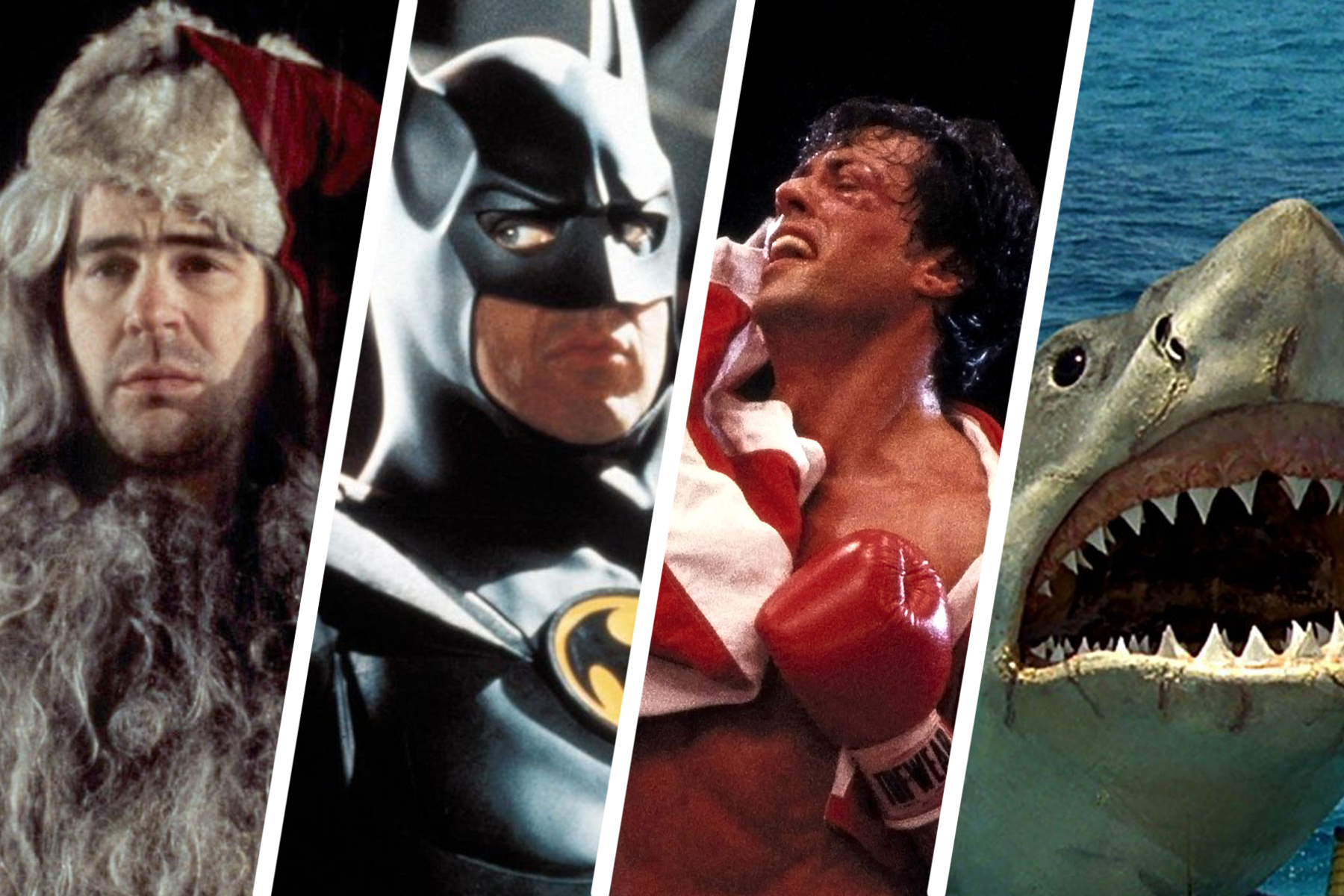 The problem with watching the same films year in, year out is that it can film samey. Sometimes, you just want something new, something that you may not have considered yet to be a Christmas movie. Of course, everyone's definition of what exactly Christmas movies are differs from person to person, explaining how we manage to have the " is Die Hard a Christmas movie " argument every single year. For some, it needs to have a general Christmassy feeling of festive cheer, while for others a few snowflakes are enough to turn something into a seasonal classic. For this article, we are taking the most traditional definition of a Christmas film. Every film on this list has at least one scene set at Christmas. And while not every movie goes full tinsel, mistletoe and Santa in his sleigh, and all might not leave viewers with big Christmassy feelings, all of them could find a place in your December rotation. Gotham is not really a place that makes you think of festive cheer, and Tim Burton makes the most of the contrast between the darkness of Gotham and the lightness of Christmas in his second Batman movie. The whole film is set at Christmas, with Gotham covered in snow and the streets decked out with trees, lights and candy colors. A tree-lighting ceremony is even a major plot point. Just do not expect The Penguin's heart to grow three sizes by the end. Where to watch: HBO Max Where to watch: The Roku Channel and IMDb TV Where to watch: Starz Where to watch: FuboTV and AMC+ Where to watch: HBO Max and Peacock Where to watch: HBO Max Where to watch: Both films on HBO Max Where to watch: Hulu, Paramount+ and Epix The 80s comedy classic starring Dan Aykroyd and Eddie Murphy takes places over Christmas to New Year, with Aykroyd even wearing one of the rattiest Santa costumes ever committed to the screen in one key scene. Where to watch: Starz Where to watch: Disney+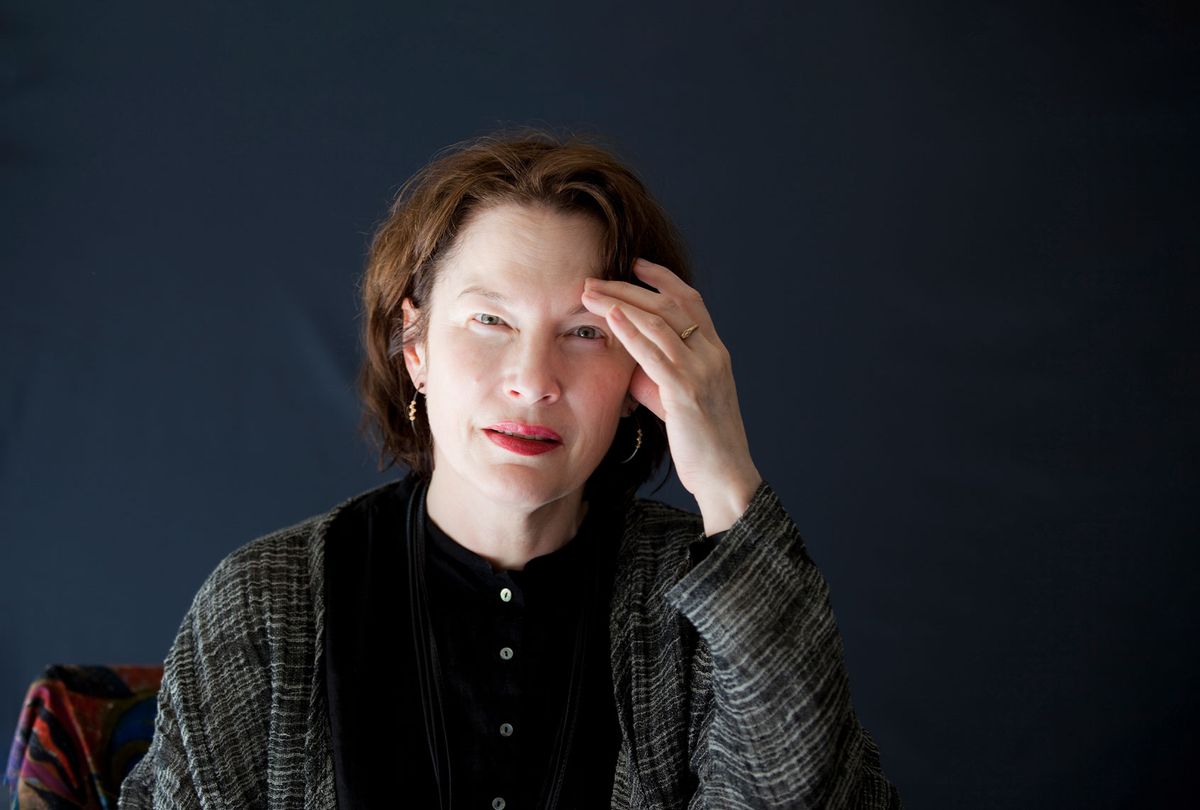 I knew very little about memoir when I began a graduate program in nonfiction. I thought I would study personal essays and narrative journalism. Most of my classmates, however, wrote memoir, works of nonfiction that unfolded like novels, about substance abuse or spiritual journeys, world travel or doomed marriages. Some of my classmates had survived or done great feats, experiences they believed were worth writing a whole, true book about. Though true was a thing we kept arguing over in class. Last summer, Timothy Mucciante, executive producer on a planned Netflix adaptation of Alice Sebold's acclaimed 1999 memoir "Lucky", about her rape as a 18-year-old college student, hired a private detective to look into what Mucciante believed were some discrepancies in the book. Because the memoir wasn't just about Sebold's rape; it was also about the trial, conviction, and imprisonment of a man called Gregory Madison in the book. In real life, it is Anthony Broadwater who was identified by Sebold — wrongly, it turns out — as her rapist, convicted for the crime and sentenced to eight to 25 years, the maximum sentence. Released in 1998 and forced to register as a sex offender, Broadwater's conviction was overturned last week, after Mucciante's detective shared his findings with lawyers, who took them to the New York Supreme Court. Broadwater had spent more than 16 years in jail, always maintaining his innocence, and had been denied parole five times. RELATED: A timeline of Alice Sebold's "Lucky" saga, from a wrongful conviction to a redemptive documentary Most of the initial conversations around this revelation have rightfully centered racial justice and false convictions. Sebold is a white woman. Broadwater, a Black man. Black men serving time for sexual assault are three and a half times more likely to be innocent than white men convicted of the same crime, with the major reason for their false convictions being misidentification by victims who are white, according to The National Registry of Exonerations at the University of Michigan Law School. But not everyone who ends up helping send an innocent man to jail writes a book about it —and profits hugely from it, as Sebold did. "Lucky" sold over 1 million copies. "The Lovely Bones", Sebold's follow-up novel about a teenager who is raped and murdered, sold over 8 million, and was made into an Oscar-nominated film. Part of the success of "Lucky" was that it had a happy ending. Along with exploring the darkness of trauma and its aftermath, the memoir dramatizes a court case that ends in conviction. "Exhilarating to read!" Francine Prose wrote in a blub on the back cover of the paperback. This memoir of rape purported to have what most experiences of rape never have: consequences. But that ending, it turns out, was not the end at all. And happy for whom? One of the strengths of Sebold's memoir was that it did dwell in darkness; it didn't pretend that everything was fine even after the case had been allegedly solved. Sebold wrote frankly about her continued struggles with addiction and depression. But as for Broadwater? His story in the memoir simply ends, having never been told. Want a daily wrap-up of all the news and commentary Salon has to offer? Subscribe to our morning newsletter, Crash Course. My former classmates who have published memoirs spoke of their editors' desire for the books to have a resolution, to have everything be better by the conclusion. The reader wants to feel like the writer has grown and changed, they said the editors insisted, that the author has made it through something. So, the very line last of James Frey's "Million Little Pieces", the bestselling addiction memoir, once lauded by Oprah, is: "James has never relapsed." Joyce Maynard's "At Home at the End of the World", a memoir about a relationship the author had with J.D. Salinger when she was only a teenager, ends with Maynard as an adult, happy at the house of friends, where they've put up streamers for her and made cake: "In ten minutes, it will be my birthday." Memoir readers want to be taken on a journey — often, a journey of intensity and struggle — but at the end, they want to rest assured that everything is fine now. Everything is rarely, actually fine. Frey famously fictionalized large chunks of his memoir, which had originally been shopped around as a novel. It's a not uncommon fate for memoirs: "Love and Consequences" by Margaret B. Jones and "Misha: A Memoire of the Holocaust Years" by Misha Defonseca are only a few of the many memoirs later revealed to have been fabricated or falsified. There's going through an experience — and then there's going through a book of the experience, a process of revision after revision, layers of combing through a text that can take years. In the whole process of taking a memoir like "Lucky" from draft to publication, did no one question the events, not of the rape but of what happened after the rape? What happened with the court case; what happened with the man Sebold admitted in the memoir she was unsure she had identified correctly? It's significant that the holes in the court case of "Lucky" were uncovered not by the publisher of the book, but the producer of the would-be film adaptation, an adaptation that has now been canceled. As a writer, someone will likely always say you're wrong, even if you're writing from your own lived experience. But what if, as "Lucky" does, that lived experience includes a lot of another person's lived experience? What if it's wrong? What if it changes their life, harms, or ends it? How many memoirs, like Sebold's, end with an uplifting resolution that, in retrospect, feels forced upon the story? The last line of "Lucky" is "I live in a world where the two truths coexist: where both hell and hope lie in the palm of my hand." The two truths she is specifically speaking of are that, long after her rape, having sex with a friend felt like the first sexual experience for her, even though it wasn't. But the line takes on new resonance given what we know now about the case. Like some popular memoir, "Lucky" reads like a novel, like a crime novel. Fast-paced, propulsive. Perhaps a memoir shouldn't read that way, shouldn't be so quick to sum up. Real life is confusing, and there are no easy answers. Often, there are no answers at all. In the rush to find an ending, to wrap everything up in a bow, what innocent life might be tied up too? As with "Lucky", Sebold's novel "The Lovely Bones" has an impulse to answer everything, the main character helping to solve her own murder from beyond the grave. But healing is not linear, and neither is justice — and there really is no resolution for either of these violent acts: sexual assault or a false conviction. There is a strong outcry for Sebold to do much more for restorative justice than to simply release an apology statement to Broadwater (which reads as heavily vetted), and for Broadwater to be given the chance to tell his own story. A terrible thing happened. Another terrible thing happened after. It's the thing that happens next that we watch for now. More stories to check out:

Actor Nick Searcy, who is the producer of the new documentary film "Capitol Punishment", says the FBI has been employing "terror tactics" against American citizens who participated in the Jan. 6 protest in order to send a message far and wide: Don't speak out against the government. Searcy, appearing on the popular Christian commentary show " Flashpoint " Thursday, was in Washington, D.C., on Jan. 6. Searcy said what the media portrayed and what he witnessed were very different. "Why are they lying to us?" he wondered. "Why are they not showing all the people I saw praying and saying the Pledge of Allegiance and singing 'The Star-Spangled Banner?'" Why were they only showing windows being broken at the Capitol? This misrepresentation about what the vast majority of people in Washington were there to do that day is what motivated Searcy to make " Capitol Punishment ", which is now available for streaming. "It also became a movie about what the FBI and the Department of Justice is doing to patriotic, faithful Americans who have never been arrested for anything else, who went to Washington on Jan. 6 to make their voices heard", Searcy said. "Flashpoint" host Gene Bailey showed a clip from the documentary featuring Derek Kinnison, who has been charged with crimes related to the Jan. 6 protest. The Californian recounted that on Feb. 19 at 6:02 a.m. a BearCat tactical vehicle rolled into his neighborhood with FBI agents dressed in combat gear. A loudspeaker then announced that the FBI had a search warrant for the home and ordered the occupants to come out with their hands up immediately. Kinnison, in "Capitol Punishment", said he did not even go into the Capitol building that day, but was on the Capitol grounds. The indictment, according to USA Today, states that he was on the upper west terrace of the Capitol building. He has been charged with unlawful entry on the grounds, conspiracy and obstructing an official proceeding and tampering with documents or proceedings. Regarding the FBI's massive show of force during the arrest, Searcy pointed out that Kinnison had no history of criminality. "You would expect them to call", Searcy said. "Give him a phone call and say, 'We'd like to talk to you.' Right? But no, they do this on purpose, because they're trying to terrorize." "By driving these armored vehicles and all these SWAT team members into these little neighborhoods, they are not only terrorizing Derek and his family, they are sending a message to his community, to all of his neighbors, that 'This is a dangerous person here,' he added. Searcy argued the feds were "deliberately stigmatizing people who dare to disagree with them." "This is a terror tactic, and it's being used on American citizens. It's being used to silence you, to make you say, 'Woah, I better not ever ever speak up against the government myself 'cause that might happen to me,'" he said. Searcy also interviewed Felipe Antonio Martinez, another Californian charged with crimes related to Jan. 6. Similar tactics were used when he was arrested. In fact, the " Capitol Punishment " producer said many people he spoke with offered the same type of accounts. The FBI knocks early in the morning, gives them 60 seconds to open the door and if they do not comply, the door gets broken down. They smashed Martinez' sliding glass door in the back of the house. His young teenage daughter told Searcy that the feds deployed two concussion grenades and handcuffed her. As with Kinnison, Martinez did not go into the Capitol. He has been charged with obstructing an official proceeding and unlawful entry on restricted grounds. "In our movie, the only people who went in the building are these two 74-year-old grandmothers, twin sisters, who went into the building because they saw some people going in and out", Searcy said. "They walked up to the door and they saw the police standing there inside and they asked them if it was ok. to come in and they said, 'Yes.' They went inside the Capitol building, took a few selfies, walked back out. Two weeks later -- 'boom, boom, boom' -- the FBI is at their door." "It's really is a terror campaign and it's shocking to see. our own government is attacking American citizens who disagree", Searcy said. The Western Journal founder Floyd Brown, also appearing on "Flashpoint" Thursday, agreed. "This movie tells the story of people who have been terrorized by the government", Brown said. The Western Journal is streaming "Capitol Punishment" here. This article appeared originally on The Western Journal.

A Mexican gang crashed vehicles into a Mexican jail this week, in a successful bid to free nine prisoners. Officials in the central Mexican state of Hidalgo said two policemen were injured in the assault, which took place in the early hours of the morning. The police force under the state's authority noted that both the National Guard and police are moving to apprehend the gang members and escaped prisoners. "An armed group burst into the prison aboard several vehicles, and it is worth noting that near the prison, two vehicles were burned as part of the criminal group's operation, as a distraction", Simn Vargas, interior secretary of the state, noted. Mexican gang members have been known to set ablaze vehicles as a means of diverting the attention of policemen. Police have not yet identified the gang that planned the jail break.

, a state judge in Virginia made headlines by removing judicial portraits from his courtroom. The judge reasoned that the portraits depicted white men. Thus, the mere presence of these portraits could deprive non-whites of fair trials. At the time, I didn't have any intrinsic objections to this decision. Judges have certain inherent powers over their courtrooms, including decor. Rather, I raised a concern. If, in fact, the mere presence of these portraits could render a trial unfair, then defendants convicted in those courtrooms could object to their convictions in those courtrooms. If Judge Bernhard is correct, could an African-American defendant previously convicted in that courtroom file a motion to set aside his conviction, on the ground that trial was inherently biased? Thousands of defendants who were convicted in those courtrooms could challenge their convictions. Those arguments could be raised on direct or even on collateral appeal. Now, the Tennessee Court of Appeals has taken a first step towards that outcome. For more than four decades, juries in Giles County have deliberated in a room named after the United Daughters of the Confederacy. The room is decorated with a Confederate flag and a portrait of Jefferson Davis. A jury that deliberated in that room convicted a black defendant of aggravated assault. The defendant objected that the jury could not hold fair deliberations in that room. The trial court rejected the claim, but the appellate court agreed. Here is a summary of the arguments presented: The defendant next contends that having the grand and petit juries deliberate "in an inherently prejudicial Confederate Jury Room violated" his constitutional right "to a fair trial, his right to an impartial jury, his right to due process, and right to equal protection of the law", arguing that the jury room utilized in Giles County violates the 14th Amendment's "protection against state-sponsored racial discrimination" and the 6th Amendment's "right to a jury trial"; violates the state and federal constitutional right to trial by "an impartial jury"; violates "evidentiary standards"; "constitutes extraneous prejudicial information and improper outside influence"; and "violates the trial court's duty of judicial impartiality." The State asserts only that the defendant has waived plenary consideration of this issue by failing to challenge the conditions of the jury room prior to trial. In its amicus brief, the Tennessee Association of Criminal Defense Lawyers ("TACDL"), noting that "[m] ultiple courts have recognized the racially hostile and disruptive nature of the Confederate flag", argues that "a jury's exposure to Confederate Icons denies the defendant a fair trial free of extraneous prejudicial information and improper outside influence." The court ordered that the defendant must be retried. In consequence, the weight of the evidence adduced at trial does not support a conclusion that the State rebutted the presumption of prejudice created by the jury's exposure to extraneous communication in this case. Because the defendant established that the jury was exposed to extraneous information or improper outside influence and because the State failed to sufficiently rebut the presumption of prejudice, the defendant is entitled to a new trial. The Court did not decide if Giles County had to remove the confederate symbols from the room. The question whether the U.D.C. Room should remain in the Giles County Courthouse and in its current condition is not before this court. It is sufficient that we have concluded that permitting the jury to deliberate in the U.D.C. Room resulted in the jury's being exposed to extraneous information and that the State failed to rebut the presumption of prejudice flowing therefrom. Presumably, Giles County will take a hint and redecorate. But what next? Juries have deliberated in this room for more than four decades. Presumably, every black defendant convicted in that courtroom can now object and secure a new trial. The Court did not address this issue. And other courts in the state, and probably throughout the south, may have similar deliberation rooms, or even courtrooms. If these opinions catch on, countless convictions will be vacated. The consequences of this decision would make the fallout of McGirt seem tame.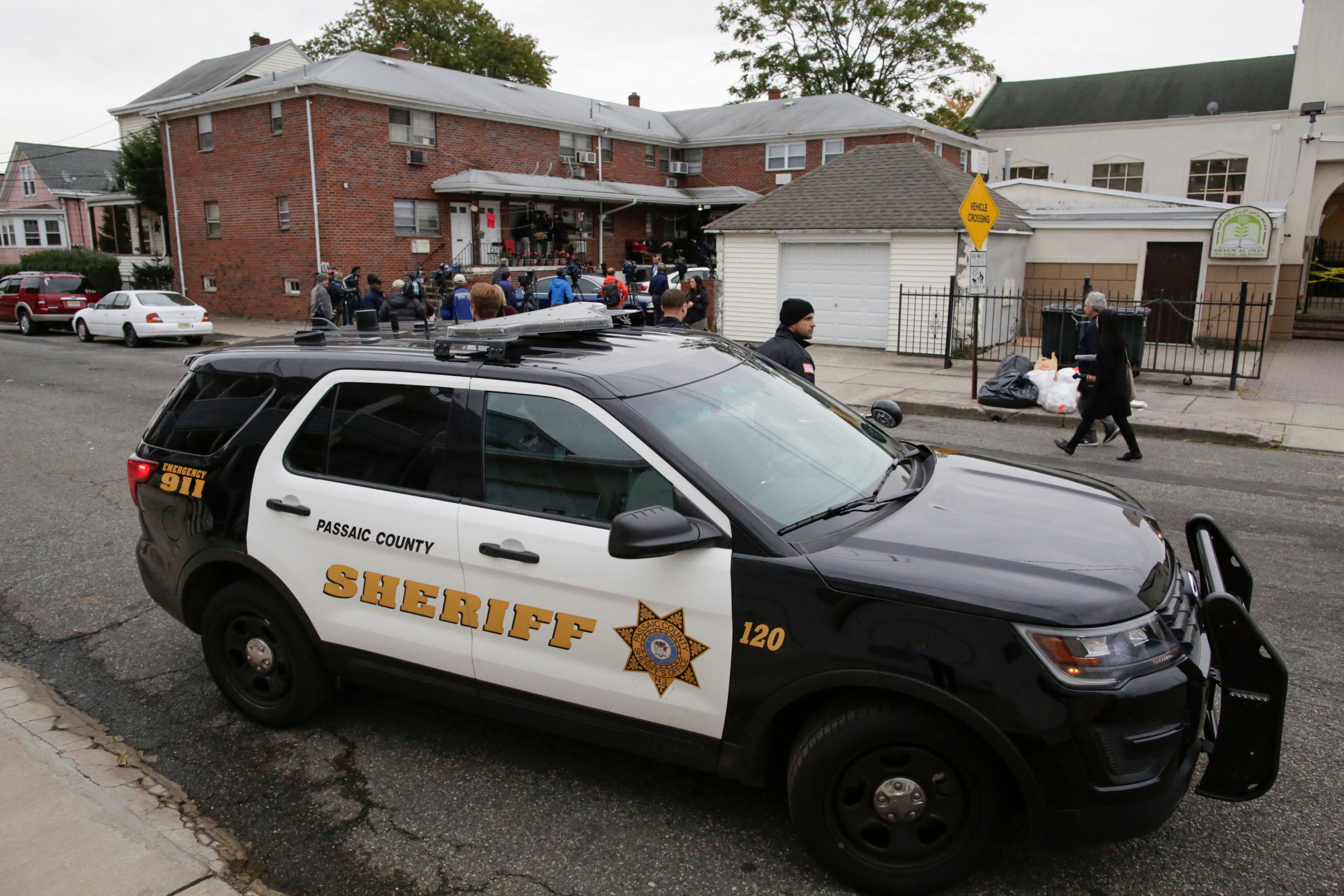 Authorities in New Jersey have arrested a 26-year-old New Jersey mother who they believe stabbed her infant daughter to death. The Salem County Prosector's Office announced Saturday that police responded to a 911 call at a residence in Penns Grove, New Jersey on Friday night. When investigators arrived at the scene they say they found Kristhie Alcazar, 26, "arguing with another person and the body of a deceased infant with visible stab wounds to the chest." "Multiple knives and additional evidence were recovered at the scene", the prosecutor's office wrote in a description of the arrest posted on Facebook. The prosecutor's office said that the cause of death for Alcazar's infant was homicide "as a result of multiple stab wounds to the chest area." "No other persons were injured. The father of the infant was not at the residence at the time of the incident", the office added. Alcazar has been charged with murder, prosecutors say. Alcazar's neighbors said they were shocked following the news of her arrest. "It happened in my community. It happened right next to my house", neighbor Arthur Edge told Philadelphia news station WPVI. "When I first came out they were putting the lady in handcuffs. They were putting her in the car", another neighbor, who declined to be identified, told CBS Philadelphia. "She seemed like such a good mom, but they said she had post-partum and I have no idea what that's like so I can't judge", the neighbor added. Other reported killings have occurred at the apartment complex where the infant was allegedly killed, according to NJ.com. The news outlet reported that in 2019, a man was shot in the face and killed at the Penns Grove Gardens apartments when he tried to intervene during an argument over stolen money. In 2020, a man killed his wife and two children at a home in the complex, NJ.com noted. The wife's family members have filed suit against the apartment owners, alleging that the woman had asked the owners to change the lock on the apartment so that her estranged husband couldn't get in, but that the request was denied. In a separate incident last month, a woman in Minnesota was accused of stabbing her 3-month-old son to death, wrapping him in a garbage bag, and discarding him in a dumpster outside. The woman was charged with second-degree murder and could face up to up to 40 years in prison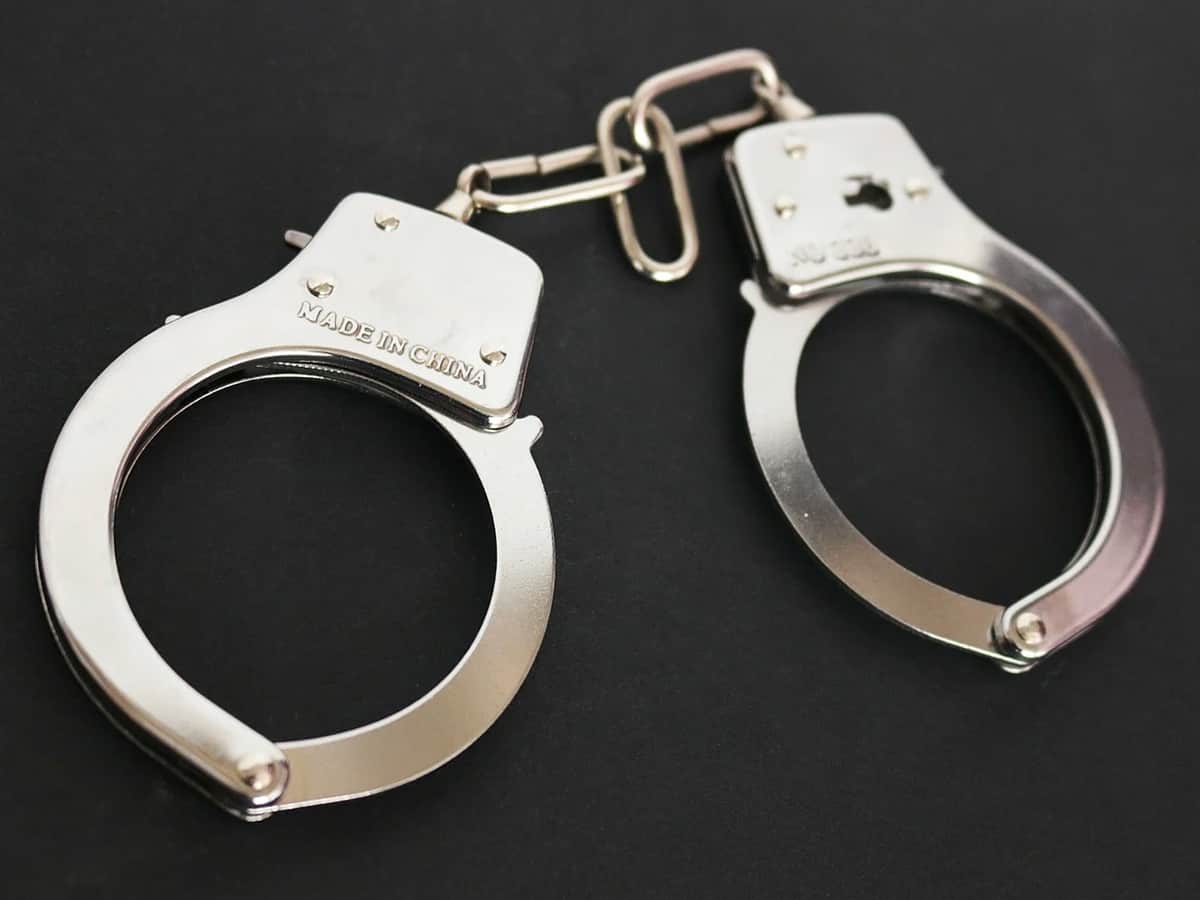 Srinagar: Security forces arrested two Lashkar-e-Taiba (LeT) militants and recovered arms and ammunition in Shopian district of Jammu and Kashmir on Sunday, police said. Acting on specific input regarding the presence of LeT terrorist Shahid Ahmad Gaine, a resident of Doomwani Keegam, and his close associate in Doomwani village near Rambi Ara, security forces launched a cordon and search operation in the area, a police spokesman said. He said as the security forces approached the suspected spot, the duo tried to flee. However, they were apprehended by the search party, the spokesman added. He identified the other arrested as Kifayat Ayoub Alie, a resident of Pinjoora Shopian. Incriminating material, arms and ammunition including a Chinese pistol, a pistol magazine, two Chinese hand grenades and eight pistol rounds were recovered from their possession, besides cash amount of Rs 2.9 lakh, the spokesman said. A case has been registered and investigation taken up, he said. Get the news updates on WhatsApp & Telegram by subscribing to our channels. For all the latest Kashmir updates, download our app Android and iOS.

Few explanations about the ultimate pointlessness of Prohibition are better than the one found in the 1969 Creedence Clearwater Revival song, Bootleg: "Take you a glass of water, make it against the law. See how good the water tastes when you can't have any at all. Bootleg, bootleg, bootleg, howl." That's a howling good way of saying that when government bans stuff, people still want it – and they'll do almost anything to get it. If you don't believe the CCR lyricists, then you haven't watched enough Netflix shows about the Mexican narcotics trade, which show how drug-eradication efforts boost demand, corrupt officials and reward the most ruthless suppliers. We've long known these lessons. Eighty-eight years ago today, two hard-drinking states, Pennsylvania and Ohio, and one tee-totaling one, Utah, approved the 21st Amendment to the Constitution repealing the 18th Amendment's Prohibition on the manufacturing, sales and transportation of intoxicating beverages. It ended a 14-year experiment in insanity. "By the 1930s, it was clear that Prohibition had become a public policy failure," History. com noted. Passed against a backdrop of progressive do-gooding, the ban "had done little to curb" drinking and a lot to create modern organized-crime syndicates. Stuck in the Depression, "money trumped morals, and the federal government turned to alcohol to quench its thirst for desperately needed tax money." Cutting government in on profits often protects an industry – in a similar way that paying "protection money" to mobsters allows a business to continue. In California, however, the government has gotten too greedy in dealing with its emerging cannabis industry, thus defeating the purpose of legalization. Californians passed the Proposition 64 weed-legalization measure in 2016. Its proponents made the proper conceptual argument – that legalization would extinguish the black market and provide revenues that fund government programs. The revenues have been far less than predicted. The "legal weed industry has struggled in the face of high taxes, local government opposition, and burdensome regulation," the libertarian Cato Institute explained. "As a result, much of the market remains underground.… (E)stimates from 2018 suggest legal sales account for only 20 – 25 percent of total sales." The problem isn't legalization, which is a wise policy that lessens the cost and injustice of prosecuting people for victimless "crimes." The problem is the continuation of Prohibitionist restrictions, which keep the underground economy flourishing. At least Proposition 64 attempted to further legalize a product. What explains California's efforts to impose new prohibitions on highly addictive products that currently are legal? Gov. Gavin Newsom last year signed Senate Bill 793, which banned the sale of flavored tobacco products. It's on hold pending a referendum next November. This is full-fledged Prohibition, and will have the totally foreseen consequences that accompany government bans. The law targets menthol cigarettes, as well as vaping and various smokeless tobacco products such as Swedish snus. There's little question tobacco companies targeted African Americans in marketing menthol, but an outright sales ban will lead to black markets – such as the peddling of "loosies" on the streets of inner-city neighborhoods (and all the potentially dangerous police encounters that will take place as a result). "Economic studies demonstrate that cigarettes and e-cigarettes are substitutes for each other," wrote public-health professor Kenneth Warner in the . "(I)f e-cigarette prices rise relative to cigarette prices … some people will smoke cigarettes who would otherwise have used e-cigarettes." He was referring to the Biden administration's misguided attempt to raise taxes on alternative nicotine products that are, per the top British health agency, 95 percent safer than cigarettes. Imagine how many smokers will return to their deadly habit if California prohibits their sale – or how many underground entrepreneurs will find ways to smuggle them into the state. In terms of alcohol policy, California regulators have done a decent job learning Prohibition's lessons, given that alcohol sales aren't hobbled here by many prudish regulations that are common in more conservative states. I recently visited Pennsylvania, which mandates that hard liquor is sold through state-run stores with the choice and ambience one expects in a DMV office. Related Articles California's economic recovery lags Nebraska The political implications of the Omicron variant for President Biden and Democrats UFOs only love Anglophones, and vice versa CalPERS gambles with taxpayer money once again How Congress can help reduce the West's wildfire problem Prohibition doesn't only apply to "sin" products and services such as booze, drugs and prostitution. As these editorial pages have frequently detailed, California prohibits honest work through Assembly Bill 5's limits on independent contracting – and through occupational-licensing rules that turn handymen into scofflaws. Instead of legalizing honest work, the state is punishing "economic crimes." Like tobacco and other addictive substances, work is a lot like water. People will do whatever they have to do to find it. The only real beneficiaries of all prohibitions are bootleggers. Steven Greenhut is Western region director for the R Street Institute and a member of the Southern California News Group editorial board. Write to him at sgreenhut@rstreet.org.

Getty The pressure is on Seahawks general manager John Schneider (left) and head coach Pete Carroll (right). All eyes will be on Seattle Seahawks acting owner Jody Allen this offseason as many wonder if the franchise could be headed towards major changes. NFL Network's Mike Garafolo reported that Allen is "not happy" with the state of the Seahawks franchise and will not be quick to dismiss this season as a "one year thing." "I will add this, Jody Allen, who is the acting owner for the Seahawks right now, the sister of the late Paul Allen. 'They don't know the fan base up there. How involved is she?' No, she's very involved and she's not happy," Garafolo detailed on December 4. "She's not looking at this like it's a one year thing, we've been successful for a decade. I'd imagine there's gonna be some changes in some form or fashion, but we'll see what happens once we get to the offseason." Allen took over for the late Paul Allen in 2018 and has not been vocal (at least publicly) in her ownership role. The Seahawks are heading towards a pivotal offseason, especially if Russell Wilson's unhappiness ramps up for a second straight offseason. Here is a look at Garafolo's full report about the Seahawks. From @gmfb Weekend on the struggling #Seahawks ' future, which includes multiple years left on the contracts for Pete Carroll and Russell Wilson and has even @RealMikeRob wondering what's coming. pic.twitter.com/7nK4GiBvsP Mike Garafolo (@MikeGarafolo) December 4, 2021 ALL the latest Seahawks news straight to your inbox! Join the Heavy on Seahawks newsletter here! Join Heavy on Seahawks! Back in November, Seahawks head coach Pete Carroll described his recent conversations with Allen as "pretty normal." It remains to be seen if those discussions will intensify when the Seahawks' season ends after Week 18, barring a miraculous December turnaround. "You know, we're [in] communication, really communicates a lot through John, for the most part," Carroll detailed during a November 19 press conference when asked about his conversations with Allen. "Send messages once in awhile and talk once in a while. We had a middle of the year meeting, like we always do. Pretty normal. It is normal." The News Tribune's Gregg Bell noted that Vulcan executive vice president Bert Kolde plays a significant role with the Seahawks on behalf of ownership. "Normal thus far has meant Carroll in charge, with Schneider's path co-leading the team in lock-step with the coach's," Bell detailed on November 21. "It's also meant Carroll's daily and routine interactions with ownership staying directly with Bert Kolde. Kolde is Allen's right-hand man. He is the team's vice chair and the executive vice president of sports strategy and operations for Vulcan, Inc. "Vulcan is the Seattle-based company Paul Allen founded to oversee his business activities and philanthropic efforts. After he pioneered personal computing and founded Microsoft with Bill Gates, Allen eventually spent $2 billion of his massive wealth (estimated by Forbes to be $20 billion in 2017) on philanthropic causes. "Kolde is in the Seahawks' locker room and watches Carroll's, Russell Wilson's and others' press conferences following games, home and away. The week after Paul Allen's death in 2018, Carroll said Kolde is the man he talks to about ownership issues and interests. Kolde was that for Carroll during Paul Allen's ownership of the team, as well." Allen faces challenges if she does want to make changes this offseason as Garafolo detailed. Carroll just signed a contract extension in 2020 and his deal runs through 2025. General manager John Schneider signed a contract extension in January that runs through the 2027 draft. Allen has the power to make changes at either position but would pay a hefty amount of money in future years given they both just signed contract extensions. Finally, there is Wilson who is under contract for another two seasons with the Seahawks and has a no-trade clause in his deal. Allen would be wise to talk with the team's franchise quarterback for guidance on how to move forward. The most logical first step is an offensive overhaul that takes the power out of Carroll's hands and implements the kind of system Wilson wants to run. The Seahawks are consistently bargain shoppers in free agency but this roster is not talented enough not to open up their wallet if the team wants to once again be contenders in 2022. As we just saw with the Blazers firing president Neil Olshey, Allen will not be afraid to make major changes. For the Seahawks, it will be difficult financially to make sweeping changes, but we could see a restructure of power this offseason, at the very least. Unlock the latest Seattle Seahawks news, rumors and exclusives — direct to your inbox. ↓

The 2,000-pound bomb followed its instructions as it raced through the cold December sky above the small Afghan village of Shawali Kowt. At more than 1,000 mph, it pierced the northwestern slope of a small hill. Cody Prosser had seen a contrail coming out of the northeast and for a split second heard a roar, then an explosion. His eardrums ruptured. A wind exceeding a tornado's strongest gust blew him off his feet as the air around him caught fire. Airborne, he floated through an avalanche of sand and earth. A shard of fragmenting steel struck his head. He crumpled to the ground. Twenty years later, the life and memory of U.S. Army Staff Sgt. Brian Cody Prosser are still mourned. The first Californian to die in Afghanistan, he lies in Arlington National Cemetery. Cody, 28, had boarded a helicopter for a predawn flight into Afghanistan on Dec. 5, 2001. He and 13 other soldiers and airmen from Ft. Campbell, Ky., had been chosen to join a small contingent of Green Berets who had been fighting on the ground for three weeks. "We must support our nation. We must avenge our brother and sisters," he wrote to his family not long after the attacks on Sept. 11. "Remember that our nation's symbol is the eagle.… Different parts of the country make up different parts of this glorious bird. I am proud to say that I stand ready to do my part as I am in an organization that makes up the balls of the eagle." Cody's swagger reflected a moment in American history when the currents of patriotism and belligerence ran together. After his death, his family and friends kept his story and their grief private. Twenty years later, they speak more openly about their loss and the frustrations they have felt as the country's longest war ground to an end. The bomb that killed Cody was released from a U.S. Air Force B-52. It had followed its instructions, but those instructions were wrong. Cody died by friendly fire. "Cody's death was emblematic of the war to follow," said Jason Amerine, who stood near Cody that morning in Shawali Kowt. "Soldiers and civilians died, and the war dragged on without the fundamental questions being answered: What are we doing here? What does success mean, and how do we achieve that?" :: Growing up in Riverside and Kern counties, Cody was a young man whose childhood never suggested the heroics or moral clarity ascribed to acts of bravery. Limited opportunities fostered a rebelliousness that bordered on delinquency. He reminded his mother, Ingrid Solhaug, of Dennis the Menace with his towheaded, blue-eyed charm that could get him out of any jam. She had come to Los Angeles from Sweden to be a model. A few years later, a mother at 24, with an 8-month-old child and separated from Cody's father, she headed to Bakersfield to work as a waitress. Money was tight, but Cody seldom let its absence get in the way of what he wanted. Shoplifting was the thrill, candy bars the reward. When his half sister Lisa Donato was born, Cody, then 7, helped take care of her. She adored him, and Cody and Lisa made the most of their time. "We used to go next door to the apartment complex when it was being built and pretend we were camping," she said. "We would build a little fire to heat up some soup — a classic 'Don't tell Mom' moment." Their time together ended when Cody, 13, stole $100 from a neighbor. Ingrid, by then living in Indio, knew that she needed help raising him. "Do you want to live with your father?" she asked. Yes, he said, and Ingrid agreed. Saying goodbye, she never thought she would feel such pain again. A college football player who served briefly in the Army before becoming a Los Angeles firefighter, Brian Prosser knew the meaning of discipline. After a career-ending injury, he opened a welding shop, and his wife, Juliana, ran a nail and hair salon next door. Pops wasted no time putting Cody in his place. After a shoplifting incident in Bakersfield, Cody spent the afternoon confined to a hot car with his brother Jarudd. After another incident, Cody spent the night in juvenile hall. "That dude was big trouble," said Ruben Gonzalez, one of Cody's oldest friends. The two played baseball and football at Maricopa High School. "He could have been a straight-A student if he wanted to, but he loved to get into fights. He was kind of a bully." Sports helped channel that energy. Not even a dislocated shoulder could stop him, Gonzalez said. "Pops would come onto the field, give it a tug, and Cody would be back." In 1991, the year the Gulf War ended when American troops drove Saddam Hussein out of Kuwait after 43 days of combat, the fathers in Frazier Park arranged for an Army recruiter to meet a few of the seniors. The pitch was easy, Gonzalez recalled: "Who wouldn't want to jump out of planes, shoot guns and get paid for it?" :: Cody's first assignment was at Ft. Bragg, N.C., where he unexpectedly ran into his old high school friend while working a traffic accident on base. Gonzalez was a firefighter, and Cody was with the military police. Soon they were hanging out together, barbecuing on weekends and swapping stories. The more Cody shared details of his life, the more Gonzalez appreciated what his friend had overcome: his parents' separation, raising himself and Lisa while Ingrid worked. Cody married when he was 21. His wife was a captain in military intelligence, nine years older and with two children. "He always wanted to have a family," his sister said. The marriage didn't last, but Cody had a second chance when he met Shawna Glenn at a honky-tonk in Bakersfield. He was on Thanksgiving leave from Ft. Huachuca, Ariz., when he saw her across the crowded, smoky bar. She was celebrating her 23rd birthday and was flattered to have a handsome stranger approach her. "He was very easy on the eyes," she said, "and he had a great sense of humor." They slow-danced to Deana Carter's "Strawberry Wine" and exchanged phone numbers. They met again the next weekend. Cody already had been to Somalia and Haiti and had decided to go into intelligence. During his next deployment, a yearlong stint in Korea, he and Shawna grew close over phone calls, letters and a two-week leave in San Francisco. When she met him at Los Angeles International Airport in early 1998, they hugged, and he knelt down and presented her with a ring and a poem. Five months later, they were married in Ventura and, by the end of the year, had bought a two-story home in Clarksville, Tenn., next to Ft. Campbell, where Cody was based. They went to church, got baptized together and talked about starting a family. But Shawna, who taught elementary school, wanted to get a master's degree, and Cody was overseas as much as he was at home. "In our five years, we were probably apart more than we were together," Shawna said. Showing a focus that eluded him in high school, Cody flourished as an intelligence analyst with the 5th Special Forces Group. A friend described him as a "true believer," devoted to the mission of Special Forces: De oppresso liber, to free the oppressed. His job — intercepting and interpreting information about potential enemies — took place against a darkening backdrop of Al Qaeda attacks against the U.S.: truck-bomb explosions at the American embassies in Tanzania and Kenya in 1998 and a suicide attack in Yemen against the USS Cole in 2000. After the 9/11 attacks on the World Trade Center and the Pentagon, Cody spent long hours on base, but one night he and Shawna were cuddling on the couch. "If anything happens," he told her, "I want you to know, I want to be buried in Arlington." :: Cody shipped out on Sept. 26, 2001, 11 days before the United States and Britain launched airstrikes against Taliban positions and Al Qaeda training camps. Cody and his battalion arrived in Jordan for a training exercise. At its conclusion, the commander requested 14 soldiers for a mission into Afghanistan. Cody's senior officer, Capt. Jeff Leopold, didn't hesitate to recommend an intelligence analyst. "Cody's the guy," he said. Next stop was Uzbekistan, where Cody wrote Shawna a letter, filled with the wistful loneliness of a soldier reflecting on his life. "Princess," he began, "well, today is the first of November, and by now you know that I am not coming home as expected. I was laying here on my cot thinking about how much I miss you. I want you to know how much you mean to me." The war was ramping up. Special Forces, fighting alongside tribal leaders on horseback, were pushing the Taliban out of northern districts. CIA officer Johnny Micheal Spann, killed during a prison uprising, became the first American fatality of the war. To the south, U.S. soldiers had joined Pashtun guerrillas opening a second front. Cody spent Thanksgiving in Pakistan and called Shawna. "I don't know what's going on," she told a friend afterward. "But something is happening, and it sounds very serious." She never heard from him again. :: Jostling for hours through the night, Cody's helicopter set down in Afghanistan at 3:45 a.m. Flashlights, headlamps and high beams cut through dust as soldiers unloaded two four-wheel-drive trucks, piled in their gear and rode 20 minutes to an empty medical clinic where they tried to sleep against the pulse of their racing adrenaline. Shortly after first light, Cody and his team climbed a small hill the Americans called the Alamo. Scruffy Green Berets mingled among bearded locals armed with AK-47s. The ragged assembly smelled of sweat, camp smoke and weeks of combat. The threat level was low. Letters were being opened, photos of family shared, treats passed out. Cody and Leopold began to gather information. Amerine, a captain at the time, was one of the commanders that morning on the Alamo. A fellow Californian, he got to know Cody two years earlier in Kuwait. "What the hell are you doing here?" he said at their unexpected reunion. F-18 jets screeched across the sky in a bombing run against a reported Taliban position, a cave complex near a bridge more than a mile away. Smoke plumed into the sky. Leopold went to get the latest intel on operations in the north and south. The communications team had set up a tactical laptop with satellite phone and antenna. Leopold bent over the equipment. Then he was hurtling through the air. :: When the cloud of dirt began to settle, Amerine stumbled to his feet. Shrapnel was buried in his left thigh. Through black smoke and grit, he could see casualties all around him. Not far away, Leopold came to. His eyes stung from the dust. His ears felt stuffed with cotton. He heard a voice. "Can you walk?" Yes, he answered. "Well, good. There are others who can't, so get up." Leopold helped move the injured off the hill. Shrapnel had shredded legs and arms, opened skulls and chests, severed limbs. Medics had begun writing triage numbers on foreheads. During an official inquest weeks later, a soldier described the scene. "If you try and picture it in movies or what you're trained to in a triage scenario, it was probably 100 times worse than anything I've ever pictured, as far as that goes. Highly trained Special Forces people were just sitting there, not able to look or do or just try and comprehend what had happened." Amerine saw Cody laid out on the ground. A white bandage circled his head. Amerine initially thought he was fine. "It looked like he was sleeping," Amerine said. "He was breathing heavily, and his hands were moving like he was having an intense dream." He was in a coma, bleeding internally. The injuries got worse as inflammation progressed. "I recall walking over to him," Leopold said. "His head was wrapped up, and he was laying there. I don't believe he was suffering. I knelt by him and touched his arm." The Army estimated that 23 Afghan fighters were killed; unofficial estimates put the number closer to 50. Amerine lost two of his men: Master Sgt. Jefferson Donald Davis, 39, from Tennessee, and Sgt. 1st Class Daniel Henry Petithory, 32, from Massachusetts. Hours later, after being evacuated to a forward operating base south of Kandahar, Cody was pronounced dead. Leopold held his hand and told Cody how much he admired him. "It was hard to say goodbye," he recalled, "hard to realize that someone I had gotten to know over the last few months was gone, and we'd been unable to save him." :: On Dec. 5, Shawna woke up, poured her coffee and read the news online: Three American soldiers dead, no names, no units. But 5th Group was in Afghanistan, and that would likely bring the tragedy to Ft. Campbell. Because most of her students' parents worked on base, she braced herself. She expected Cody to be fine — his job had kept him out of combat — but still, she worried. "If the guys in green show up, don't send them my way," she told a friend. Halfway into a math lesson, she was interrupted by a teacher's aide. The guys in green had arrived. "They need you in the front office." Shawna barely got into the hallway before hitting a wall and sliding to the floor. She remembers bellowing in pain. The aide rushed to close the door behind her. Other teachers came out and helped her to her feet. They led her down the hall. She felt as if they were dragging her. The base commander and chaplain met her. "On behalf of the United States," the commander began, and Shawna felt her knees buckle. Cody's mother had stayed up the night before preparing a care package for her son. She knew he missed his dogs back home, so she had bought him a stuffed Husky, mascot of the University of Washington, where his father played football. She also included a Husky sweatshirt for warmth against the Afghan winter. Later, she couldn't sleep, so she decided to pray, and in her prayers, she saw lights that she imagined to be angels. They would keep her son safe, she thought. "Ingrid," her husband roused her a few hours later. "Ingrid, it's Cody." She didn't understand. Then two soldiers were standing in her bedroom. They regretted to inform her that her son had been killed in action. That afternoon, Ingrid called Cody's sister, Lisa, who was working at Chili's in Cypress. The receiver fell out of her hand. Shawna couldn't reach Cody's father but called one of his brothers who lived in Bakersfield. He got hold of the elder Prosser, who called Jarudd. "Hey, Pops, what's up?" Jarudd remembers asking. He had never heard his father cry. By the time Jarudd got to Lockwood Valley, the family home was crowded with friends and neighbors. Then two soldiers from Ventura drove up in a white car. :: Cody's story became the nation's story. When Shawna turned on the television, she saw her husband's face along with those of the two other soldiers who had been killed. Following instructions from the base, she kept away from the media, turning down an invitation to talk with Katie Couric on the "Today" show. The Seattle media tried to reach Cody's mom. They invited her to their studios, but she wasn't ready. Lisa also held her memories close. "I didn't want to talk to reporters," she said. "Cody was the most important person for me growing up." Meanwhile, in Lockwood Valley, the Prossers found themselves surrounded by media vans. The following day, Cody's father spoke publicly about his son. "I just want to say we are extremely proud of him," he told reporters from the porch of his home. "He is a hero in our house, and I hope in your house, too." Cody's family knew that the media wanted to address the fact that he had been killed in friendly fire. "There is no such thing in this house as friendly fire. Fire is fire," Cody's father said. "Those guys were there to do a mission." In the days that followed, Prosser and Shawna often spoke. They agreed: No one was at fault. The bombing was just a terrible accident. "I didn't know the details," she said. "But I wasn't naive. I know that when you go into a situation like this, there is chaos and confusion, and mistakes will happen." She also knew that Cody would have nothing to do with any second-guessing. "Had he known what he was in for," she said, "he would have done it anyway." Two years later, U.S. Central Command issued a lengthy report, citing "fatigue, frustration, distraction and overconfidence" as factors leading to the tragedy. But there was more. Shortly before the bomb was released, new batteries had been placed into the GPS targeting system. That action deleted the coordinates of the cave and reset the coordinates to a few meters in front of the GPS. :: Laid out in a casket, dressed in his Army green Class A uniform, Cody was memorialized in two ceremonies. The first drew nearly 1,000 people to Hillcrest Memorial Park in Bakersfield, where, at a private viewing, Ingrid kissed her son goodbye. Lisa slipped into his pocket a ring shaped in the symbol of the Sanskrit word Om. "I wanted to give him something to take with him," she said. Later, family and friends left mementos in a niche at the Court of Honor: a picture of Cody's dogs, a baseball he had hit over the fence in high school, a parachutist badge recognizing a jump taken at Ft. Bragg and a letter with the wish that "things could go back to the way they were." The next day, Cody was flown to Washington, D.C., and transferred to Arlington National Cemetery. Ingrid's brother had brought red roses to the interment, and Ingrid handed one to Shawna, who held tightly to her father's arm before giving in to the sorrow of a final goodbye. In the distance, three soldiers, wrapped in white blankets, watched from their wheelchairs. They had been with Cody that morning in Afghanistan. Cody's funeral was among the first of nearly 7,000 for American service members who died in Afghanistan and Iraq. The unity forged in the aftermath of 9/11 faded into a stubborn commitment that cost the U.S. trillions of dollars and left hundreds of thousands dead worldwide. Shawna remarried, and she and her husband, a Green Beret who left the Army after three tours in Iraq and one in Afghanistan, moved away from Ft. Campbell. They have a teenage son and a daughter and have adopted a granddaughter whose mother died of a fentanyl overdose. In the face of tragedy, Shawna turns to her faith. "All I can do is pray," she said, "drop down on my knees and give it up to God." For Ingrid, who lives in Rancho Mirage, the memories of those first years after Cody's death are especially vivid. "I looked at the world, and everything went around," she said. "How could people talk or smile? I could barely breathe. I couldn't move." The pain, still so visceral, sometimes catches up with her and is hard to put into words. She knows no one will ever understand how she feels. Lisa feels her brother's absence in her life daily. Some days are filled with more memories than others, "but now it's a little easier to smile at them rather than cry." Jarudd's sorrow was compounded two years later, when Brian Prosser died. "I went through all the emotions," Jarudd said. "Angry, then sad, then smiling at the memory of something fun, all in the course of a half-hour." Gonzalez still holds his friend close. Last year on Dec. 5, when his son brought home a pit-bull mix, there was no question what to name the dog. "Kodi," Gonzalez said, "because there will only be one Cody in my life." Every day, Leopold wrestles with the memory of that morning in Shawali Kowt and wonders how it might have played out differently. "Maybe I would have died if Cody had been the one to reach for the laptop," he said. "I still struggle with that, that butterfly effect kind of thing." Leopold, who lives in Texas, keeps a piece of shrapnel from the bomb on his desk. On Sunday, the 20th anniversary of the bombing, he plans to visit Arlington. He wants to introduce his 16-year-old son to his friend. :: Grief is a lonely experience, said Amerine, who retired from the Army in 2016. People gather around, but everyone must handle loss in their own way. If 20 years have eased the pain, the last six months have only reawakened it. Watching Afghanistan fall back into the control of the Taliban, Amerine considered the "insane symmetry" between the start of the war and its end. He didn't see the need for a bombing run that morning and believes the Army never adequately addressed why it took place. Recent scenes from the airport in Kabul reawakened "all the tragedy and stupidity" of that day in 2001. The American mission in Afghanistan deserved a better ending, he said. Watching events from her home in Tennessee, Shawna also felt the limitation of America's intervention. "You dream that you will bring in change, but the change will not be what you want it to be," she said. "Now we're left wondering what will happen to our allies, to those who helped us. It is heartbreaking." Shawna doesn't want to believe that Cody died in vain, but the scenes of the American withdrawal, the chaos on the streets and the Taliban's suppression of women have shaken her. "I feel for Cody and the soldiers and families who sacrificed so much to do something good in the world and make a change," she said. "Perhaps everything they did was in vain." Cody's mother still regrets signing the paperwork that allowed her son to enlist before his 18th birthday. Waiting just a few months might have kept him alive. In a memory box in her closet, she keeps his baby rattle, cowboy boots, Winnie-the-Pooh PJs. "Of course I think his death was in vain," she said. "My son is dead." Leopold rejects the notion that Cody died for nothing. "Times have changed; situations have changed," he said. "But that doesn't change the impact those individuals had in making lives over there better, if only for a short time. I don't think anyone who lost their life in Afghanistan would say they died in vain. They died believing in what they stood for." :: Memory and grief, now reawakened, will once again lose their sharp edges. The passage of time has already transformed the past. At Ft. Campbell, a sugar maple planted in Cody's honor is no longer a sapling. In Frazier Park, the flags that encircle the stainless-steel memorial to Cody are wind-whipped and tattered. At Green Hills Memorial Park in Rancho Palos Verdes, the bronze finish to the statue of St. Michael the Archangel standing beside a marble monument honoring Cody is slowly aging. At Ft. Huachuca, soldiers are housed in barracks at Prosser Village without knowing its namesake's full story. In Bakersfield, Cody's uniform, placed in a shadow box by his father, hangs in the entry hall of his older brother's home. At Arlington, Grave No. 7186 is more weathered. Honored with a Bronze Star for valor and a Purple Heart, Staff Sgt. Brian Cody Prosser is interred near a row of ginkgo trees not far from a memorial dedicated to those who perished in the 9/11 attack on the Pentagon. Like the other veterans beside him, Cody holds formation in death as in life. :: This report is based on telephone interviews with Cody's widow, Shawna Blue, and her friend Dawn Johnson; Cody's mother, Ingrid Solhaug, and sister Lisa Donato; Cody's stepmother, Juliana McMurtrie, and his half brothers, Jarudd and Reed Prosser; his friends Jason Amerine, Jeff Leopold, Ruben Gonzalez, Patrick Horton, Stan Lavery and Richard Walker; bomb blast expert Ibolja Cernak at Mercer University; neurotrauma expert Christopher Giza at UCLA; and Eric Blehm, author of "The Only Thing Worth Dying For: How Eleven Green Berets Fought for a New Afghanistan." Additional reporting came from the 2003 redacted and unclassified "Report of Investigation" by the U.S. Central Command.

I am terrified by a paragraph that Supreme Court Justice Neil Gorsuch wrote a few weeks ago. You should be, too. He and two other justices think the Constitution forbids states from imposing, on religious dissenters, the kind of vaccination requirements that freed the United States from diphtheria, measles and polio. If these judges have their way, those diseases may come back. A bit of background. In June, Justice Samuel Alito, joined by Gorsuch and Clarence Thomas, declared that the Free Exercise Clause of the First Amendment should be understood to hold "that a law that imposes a substantial burden on the exercise of religion must be nar­rowly tailored to serve a compelling interest." The compelling-interest test is, the Court has said, "the most demanding test known to constitutional law." It means that a right has been infringed, the party challenging the law will probably win and government has a heavy burden of proof. The Court has never defined what counts as a compelling interest. Generally, it has relied on common sense: an interest that any reasonable person would understand to be very important. Most litigation turns on whether what the law proposes to do is really all that necessary to the end the state is pursuing — whether, for instance, prison security (obviously a compelling interest) is really jeopardized if Muslim inmates grow half-inch beards. But compelling interest is the indispensable starting point. Unless the state can point to such an interest, it will automatically lose. Now here is the paragraph. In October, the Court declined to block Maine's requirement that health care workers be vaccinated against the coronavirus notwithstanding their religious objections. Gorsuch, dissenting (joined by Thomas and Alito), wrote: I accept that what we said 11 months ago remains true today — that "[s] temming the spread of COVID–19" qualifies as "a compelling inter­est." At the same time, I would acknowledge that this interest cannot qualify as such forever. Back when we decided Roman Catholic Diocese, there were no widely distributed vac­cines. Today there are three. At that time, the country had comparably few treatments for those suffering with the disease. Today we have additional treatments and more appear near. If human nature and history teach anything, it is that civil liberties face grave risks when governments proclaim indefinite states of emergency. It is hard to know what future Gorsuch imagines. When he wrote this, COVID-19 was killing 1,000 Americans every day. The wonderful new interventions he cites so triumphantly have been less successful than everyone had hoped, in large part because of the very vaccine resistance he is trying to abet. Gorsuch is, one hopes, not fool enough to think that the disease is about to be eradicated. If that is right, then he can only mean that the level of death will decline to a point that is acceptable to him — so acceptable that the state will no longer have a compelling interest in preventing those deaths, and he will vote to order religious exemptions even if the state proves that people will die as a result. (Are you terrified yet?) The logic here has nothing specifically to do with COVID. It necessarily implies that there is at present no compelling interest in refusing religious exemptions for any other vaccine: measles, rubella, tetanus, diphtheria, pertussis and all the other nasty diseases that you got jabs for when you were a child. Right now, those illnesses hardly ever kill anyone. Most Americans don't remember (but may soon learn) the fear that your child will die of measles or diphtheria or be paralyzed by polio. The accuracy of his final sentence is beyond question; its relevance is doubtful. Must an indefinite state of emergency exist before the state can require health care workers, who are in daily contact with very vulnerable people, to be vaccinated against deadly plagues that they might transmit to those people? How about requiring children to be vaccinated before they attend school? Right now, there are not five votes for the mandatory-accommodation regime that Gorsuch, Alito and Thomas want. But Justices Kavanaugh and Barrett have been willing to aggressively deploy religious liberty arguments to constrain anti-COVID measures, and in the Maine case they said nothing to distance themselves from Gorsuch's argument. Gorsuch argued that the Maine regulation discriminates against religion, because it grants medical but not religious exemptions. The Court's conservative majority has been aggressive in discerning such discrimination whenever a law has any nonreligious exemptions. There are good public health reasons for Maine's policy, to which Gorsuch seemed oblivious. But if his reading of the Free Exercise Clause prevails, it won't matter whether anyone else is excused. Religious exemption will be a constitutional right. As the crazy anti-vaccination ideology increasingly takes over the Republican Party, we can expect many to exercise that right, sincerely or otherwise. One of the principal attractions of the idea of religious liberty has always been that the exercise of one person's religion doesn't hurt anyone else. In Thomas Jefferson's classic formulation: "it does me no injury for my neighbour to say there are twenty gods, or no god. It neither picks my pocket nor breaks my leg." Now, however, the pickpockets and leg-breakers are in charge. Andrew Koppelman, John Paul Stevens Professor of Law at Northwestern University, is the author of "Burning Down the House: How Libertarian Philosophy Was Corrupted by Delusion and Greed" (St. Martin's Press, forthcoming). Follow him on Twitter @AndrewKoppelman.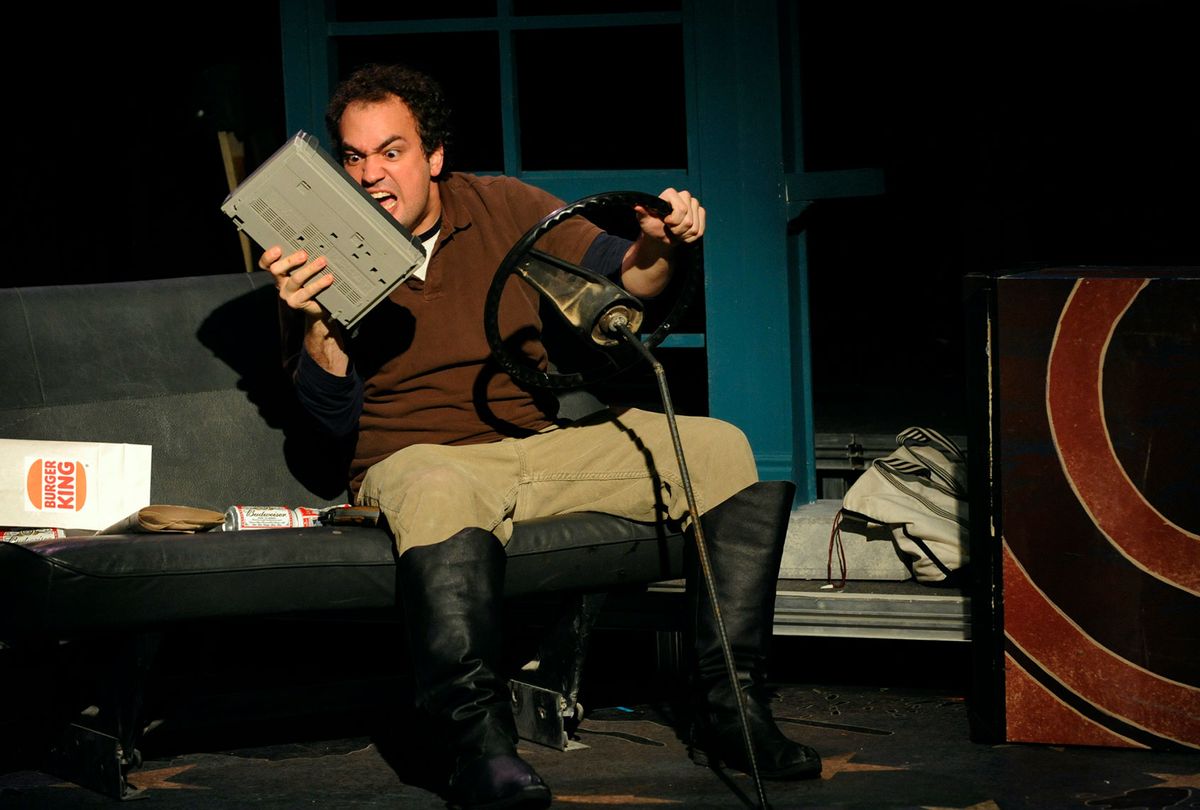 I first saw "Assassins", the late Stephen Sondheim's musical, in high school at a theater festival, after sneaking inside. I was at the festival because I had won a playwriting contest, and I was supposed to be at a rehearsal for my own play. But as soon as the music of "Assassins" started, a circus-like tune, I was spellbound. I couldn't leave. Sondheim composed the music and wrote the lyrics for "Assassins", with a book by John Weidman, and the show premiered Off-Broadway in 1990, closing after only 73 performances and mixed reviews. Sondheim's name may have helped the performances to sell out, but as the legendary Frank Rich wrote in the New York Times: "'Assassins' will have to fire with sharper aim and fewer blanks if it is to shoot to kill." After Sondheim's death on Nov. 26 at the age of 91, tributes poured in about the musical theater legend, with many praising his passionate songs, his twisty lyrics that play so much with language, his love of writing showstoppers. Obituaries and odes to Sondheim highlight "Company" (1970), 1979's "Sweeny Todd", and "West Side Story" (1957). Not many people bring up "Assassins." NPR's list of " 10 Stephen Sondheim's Songs We'll Never Stop Listening To " doesn't include a single tune from the show. It wasn't exactly a flop, but it's not exactly celebrated, either. RELATED: Bet your bottom dollar that NBC's "Annie Live!" will usher in a new inclusive era for an old classic Through vignettes, "Assassins" tells the stories of presidential assassins and would-be assassins from John Wilkes Booth to John Hickley Jr. As with Sondheim musicals like 1986's "Into the Woods", a narrator, called The Balladeer, loosely strings the tales together. A bleak sideshow provides the staging inspiration. The set often has the feel of a shooting gallery with bells that ding or buzzers that blare. The calliope-heavy incidental music sounds like a carousel. It's "Something Wicked This Way Comes", but for presidential murder. The songs are just as catchy, melodic, and surprising as most Sondheim — even if a bit reminiscent, sometimes startlingly so, of "Into the Woods", especially its prologue and "Last Midnight." The rhymes sound just as strong with couplets like, "Some guys think they can't be winners. /First prize often goes to rank beginners." And Sondheim's work is certainly no stranger to violence. "Sweeny Todd" has a murderer — has cannibals even. But "Assassins" has only murderers. Even the Balladeer doubles up on roles and plays Lee Harvey Oswald in most productions. Early reviews criticized all that violence, with some accusing the show of being "unpatriotic" in the midst of the Gulf war. " Talk about bad timing ", is the first line of a Los Angeles Times piece about the show. But is there ever a good time to mount a musical in America about assassins? In the show, assassins hang out through space and time in a kind of killers' clubhouse where they encourage each other. Charles Guiteau (assassin of President James A. Garfield in 1881) gives 1975's Sara Jane Moore shooting practice. Moore and Squeaky Fromme, a Manson girl who, with Moore, attempted to kill President Gerald Ford, take shots at a bucket of chicken. A lot of guns go off onstage in "Assassins." Characters wave guns in the melodic "The Gun Song Ballad." Guiteau points one at the audience. Guns seem to always be in the hands of the characters, less of a prop and more of an extension of their bodies. A dog is shot, a child crying for ice cream threatened with a gun by his mother, Moore. There isn't really a central story to "Assassins." It's more like a central feeling, which, unfortunately, is one echoed by some modern-day mass shooters. The assassins feel alone, alienated by sadness, unrequited love, their failures. They think killing someone known will make them famous, happy. Make them known by proxy. Or, that it will change the world they're so unhappy with: "We do the only thing we can do./We kill the president." In the '90s, "Assassins" productions were cancelled after school shootings. Productions were cancelled after 9/11. But a revival is on Off-Broadway right now, with the same tepid reviews that dogged the original, including one from the New York Times that mentions the most recent shooting at the time of print, the shooting death of cinematographer Halyna Hutchins on the Alec Baldwin "Rust" set. Of course, there has been another shooting since that review. Of course, there will be another before I finish writing this. In an America after a Donald Trump presidency, it's hard not to draw contemporary parallels with lyrics like, "What I did was kill the man who killed my country", and the constant sadness of the characters, mostly men, that they are alone, being left behind by a world that they feel no longer has a place for them. Only one scene shows an aftermath of violence: the assassination of JFK, the climax of the show. And even the bystanders singing about where they were when they heard the news eventually come to a kind of grim resolve by the end of the song: "Nothing has really ended/just suspended." It feels like a weird justification for the musical itself. Want a daily wrap-up of all the news and commentary Salon has to offer? Subscribe to our morning newsletter, Crash Course. In parts, "Assassins" can feel extremely dated. Several of the assassins are immigrants with heavy accents. The mental health issues of characters like Moore and Guiteau are played for laughs. Just a few months ago, the Shaw Festival canceled an upcoming staging after rights holders refused to allow the production to change the n-word, sung by Booth in a tirade against President Abraham Lincoln. A few months after seeing "Assassins" as a high schooler, I saw a then-new play called "Front" at a university. Written by British playwright Robert Caisely, "Front" tells the story of Londoners during the Blintz in WWII. Though not a musical, the characters sing wartime songs a capella in starkly stunning moments. And the story focuses on women: women working in bomb factories, women left behind as husbands go to war, a daughter growing up alone. Both "Front" and "Assassins" taught me that history is alive, still happening. That history can be sung, and that stories are not only to be found in imagination ("Company"), other art ("Passion", "Sunday in the Park with George") and faerie tales ("Into the Woods") — but in the past. Decades before "Hamilton" dominated musical theater, we had "Assassins", which uses some historical text, including a poem Guiteau wrote the morning of his execution and read aloud at the gallows. Perhaps Sondheim's musical has not aged well and should not be staged lightly. I wonder, for example, about the line asked by Oswald, "What should I do?" And Booth, who the characters describe as their "pioneer", answering: "You should kill the president of the United States." Does the line get a laugh, as it did in the video of a 2004 production on YouTube? Or, is there silence in a newly opened theatre in 2021, knowing that this dark joke isn't a joke at all, that violence like it keeps on happening. I may never know, as the revival of "Assassins", lukewarm reviews and all, has sold out its extended run after the composer's death. Sondheim was always at his best when writing about darkness, composing terrible things in beautiful, soaring melodies. Terrible things are a lot of history. It's what we endure. And as we know, those who don't learn from history are doomed to repeat it. Or, to sing it. More stories like this:

The Biden administration keeps stacking up legal defeats over COVID-19 vaccine mandates. Just last week there was two major defeats in court and another one was announced this weekend when the 6th Circuit of Appeals denied the administration's request for a change in location for a case. On Thursday, the Department of Health and Human Services (HHS) Centers for Medicare & Medicaid Services (CMS) announced it was suspending enforcement of Biden's vaccine mandate because the United States District Court for the Eastern District of Missouri and the United States District Court for the Western District of Louisiana issued preliminary injunctions against it. This is the mandate that Medicare-and-Medicaid-certified providers and suppliers be vaccinated. The memo states, "Between the two of them, these injunctions cover all states, the District of Columbia and the U.S. Territories." CMS released a statement after the defeat. Louisiana Western District U.S. Judge Terry Doughty saw it as a separation of powers violation by the administration. He wrote that "if the separation of powers meant anything to the Constitutional framers, it meant that the three necessary ingredients to deprive a person of liberty or property – the power to make rules, to enforce them, and to judge their violations – could never fall into the same hands." A second ruling was announced last week from Kentucky. A district court judge blocked the administration's mandate requiring government contractors to get vaccinated. This ruling applies to three states – Kentucky, Ohio, and Tennessee In November, the administration was scolded by the 5th Circuit of Appeals for its attempt to workaround Congress with its vaccine mandates. The stay on the federal mandate that companies with 100 or more employees enforce a requirement for COVID-19 vaccinations remained in place. On Friday night, the 6th Circuit of Appeals denied a motion requested by the Biden administration to move the location of the OSHA vaccine mandate case. OSHA is the government agency tasked with enforcing the mandates when or if they fully take effect. The administration was hoping for a more liberal-leaning court to rule on the case. It affects about 85 million employees. So, by the unusual method of choosing a ping pong ball in a lottery drawing, the 6th Circuit will handle the case. The 6th Circuit Court of Appeals is described in the press as a conservative-leaning one, with more judges appointed by Republican presidents than Democrat presidents. The circuit court in D.C. leans liberal, which is why the administration wanted a change in location. The 6th Circuit Court of Appeals will decide about the sweeping mandate aimed at companies with 100 or more employees. Liberals are feeling the pain of so many Trump-appointed judges. Poor old Sleepy Joe is a victim, you see, of the Trump administration's focus in filling vacant seats on the bench. What's an authoritarian Democrat besotted with presidential power and acting as though he has a mandate to "transform" America to do? With any luck, Joe Biden will continue to lose in court over his grab for power. There is no history of federal mandates for vaccines for the civilian population. The military delivers mandatory vaccinations to service members but for civilians, traditionally it has been the states that have mandated some vaccinations. For example, back in earlier times in our country's history, smallpox vaccinations were required in Massachusetts in a 1901 outbreak of that disease. We know that there are state requirements for vaccinations for school enrollments. Eventually, it is generally expected that the Supreme Court will have to rule on the constitutional legality of COVID vaccine requirements. The conservative majority on SCOTUS that liberals fear so much hasn't always panned out in favor of conservative rulings, though. We'll just have to wait and see how it all plays out.

In the heavyweight legal fight between Vanessa Bryant and Los Angeles County, the court of public opinion already has decided who it likes and who it doesn't, regardless of the facts or the law. On one side of the case is the widow of Kobe Bryant, the NBA legend who died with their daughter in a helicopter crash last year near Los Angeles.

Paul Magnuson was well into his career as an attorney in South St. Paul when U.S. Sen. Dave Durenberger, R-Minn., called one day with a job offer. U.S. District Court Judge Edward Devitt had decided to step back from full-time duty, Durenberger told Magnuson, so there was going to be an open seat on the bench. "He said, 'Hey, Mag, Ed took senior status. Do you want to be judge?'" Magnuson recalled. Magnuson told Durenberger that Keith Hughes, an attorney and state senator from St. Cloud, should get the job. "Ten minutes later, he called me back and said, 'No, Keith says you should be judge'," Magnuson said. "That was the essence of it. We went through a bunch of dog-and-pony-show stuff, but that was essentially it." Forty years later, Magnuson, 84, is still serving. Magnuson was appointed by President Ronald Reagan in November 1981. He moved to senior status in 2002, but has continued to serve essentially full time. His tenure on the federal bench in Minnesota is second only to U.S. District Court Judge Gunnar Nordbye, a President Herbert Hoover appointee who served from 1931 to 1977. "I'm not going to bet that I can beat that, but I have the runner-up position," Magnuson said. Magnuson, who served as chief judge from 1994 to 2001, said he plans next year to move out of his coveted corner chambers on the top floor of the Warren E. Burger Federal Building in downtown St. Paul and begin decreasing his caseload. "One of my clerks said last year I had about the same number of cases as the active judges," he said. "I didn't intend to do that; I intended to do less. I'm consciously working now on winding that down." Magnuson's 40-year tenure "reflects the steadfastness of his commitment to serve the country and the rule of law," said U.S. District Court Judge Eric Tostrud. "He is an exemplary servant leader," Tostrud said. "He sets a great example for the rest of us. He's direct. He has the ability to identify what matters most, whether it be an issue in a case or any other issue confronting the court, and the disposition to get right to it. He also does the job with quiet humility. He runs a tight courtroom without drawing attention to himself." Said Chief Judge John Tunheim: "He has the best of the judicial temperament: a willingness to listen carefully, to study the issues carefully and to decide them in a very fair manner. He is not ideological in any way; he is a very fair and careful judge, and I think that's what we all appreciate. He's someone that we in the judiciary would call a judge's judge — that means that he really does his work the right way all the time." Born and raised on a farm in Carthage, S.D., Magnuson attended a one-room schoolhouse for elementary school and was one of 13 students in his high school graduating class. Magnuson went to Gustavus Adolphus College in St. Peter, where he served as president of the Student Senate and majored in business and history and minored in economics and political science. After he graduated in 1959, Magnuson said he knew he "didn't want to go back to the farm because the work was too hard. I thought I was going to go into business, but once I started interviewing with the corporate structures — I have a little independent streak and I could just not see myself doing that." He considered applying to Valparaiso University Law School in Indiana, when he got a call from the chairman of the board at William Mitchell College of Law in St. Paul. "He was recruiting a registrar for the law school, and so I went up and became registrar and student," he said. The job came with free tuition and "a little spending money," he said. He later became a claims adjuster for Anchor Casualty Co., working during the day and going to law school at night. Magnuson served as class president at William Mitchell and clerked for the St. Paul law firm of Bertie & Bettenburg during his last year of law school. After graduating in 1963, he took a job at LeVander, Gillen, Miller & Durenberger in South St. Paul, where he specialized in eminent domain and municipal law. He became a partner and worked at the firm for 18 years. Between his work as an attorney and a judge, Magnuson estimates he's participated in about 500 jury trials. During his first 15 years on the bench, he heard about 35 jury trials a year. "It was just out of one courtroom and into the next. Boom, boom, boom," he said. Now, he said, he rarely has trials in his courtroom. "In the earlier days, it was more swashbuckling," he said. "You went out and threw it in front of the jury and saw what happened. Now there are so many depositions and other discovery things that cause people to have a real solid knowledge of their case, and that gives them a pretty good idea of the value, if you will, of the case. They end up settling. Good people doing their job will recognize where it will fall." One of Magnuson's most high-profile cases was in 2003, when he had to determine who owned the Mall of America. Twelve years later, he presided over the Target Corp. data-breach case — a class-action lawsuit that affected 13 million people, he said. "While we spend a lot of time talking about lawyers and litigation, the reality is that we're in the people business," Magnuson said. "What we do to any person who is involved is oftentimes the most important thing that occurs in their life. You think of this guy sitting in the crowbar hotel, who has been wrongfully put there, who files a habeas case (to try to get released). That is incredibly important to that person." Assistant Washington County Attorney Kevin Magnuson said his father has always been a firm believer in "lawyer as counselor." Related Articles Mahtomedi man charged for Maplewood shooting that followed dispute over whereabouts of juvenile girl Jury seated for Kim Potter trial in Daunte Wright's death. Here's a look at its members. Thursday's fatal stabbing over a parking dispute marks 35th homicide in St. Paul, most on record Overworked assistant set bail too low for Waukesha parade suspect, DA says Alleged carjacking suspect shot by police in Mounds View ID'd as a 21-year-old St. Paul man "He believes lawyers have the ability to do a tremendous amount of good in people's lives," he said. "In the back of his mind, there was always the small-town lawyer who did everything for everybody, kind of like the preacher, the barber and the doctor. It was always, in his mind, a really noble profession and one that is really oriented to solving problems and helping people — both of which he is very good at because he has tremendous judgment. He is very wise, but he is also very unassuming and humble, so he doesn't shove things down their throats." His father's legal opinions are not written to be "read and venerated and studied in law school," Kevin Magnuson said. "He really does not see his role as writing this marvelous opinion; that's for the appellate courts," he said. "He sees himself as calling balls and strikes. You try to make the narrowest ruling you can on a matter. You solve a problem. You resolve the legal issue that is before you — nothing more. He's trying to mete out justice efficiently, and part of doing that is to not do too much." In addition to hearing cases in Minnesota, Magnuson spent years hearing cases in U.S. District Court in Florida. He started out going two weeks a year to help alleviate that district's backlog of cases, but later extended his stays to include February, March and April. He divided his time between Fort Myers and Jacksonville; his law clerks would take turns filling the Florida assignment a month at a time. Magnuson and his current and former law clerks gather each year for a reunion at The Lexington in St. Paul. The gatherings are referred to as meetings of the Lake Elmo Federal Bar Association; Magnuson lived in Lake Elmo for decades. "It's pretty typical for judges to have a close relationship with their alumni clerks, but I think Dad's is really special," Kevin Magnuson said. "That has a lot to do with the kind of people he chooses — they are typically people who get along well with each other and like each other." Anita Terry, Magnuson's permanent clerk, said her boss came to see her in 2002 at St. Joseph's Hospital in downtown St. Paul after the birth of her daughter, Caroline. A friend, who was visiting from Iowa, commented on the judge's attire after he left the hospital room, she said. "She said, 'He was wearing Dickies,'" she said. "And I'm like, 'Yeah, he's just a regular guy.' That's the best thing about him. He's never had black-robe disease. He calls me and says, 'Anita, this is Paul,' and I think, 'I will never in my life call you Paul.' But that's just who he is. He's a humble, just genuine guy who takes the job seriously — but doesn't take himself too seriously and that is exactly what we want in this country for our jurists, it seems to me." Magnuson and his first wife, Sharon, had four children. Sharon died in 2007; their daughter Margaret died in 1997. He and his second wife, Elaine Torrey Holmen Magnuson, celebrated their 10th wedding anniversary on Nov. 26. The couple are members of St. Lucas Community Church in Lake Elmo, and Magnuson participates in a weekly Bible study. A copy of Micah 6:8 hangs on the wall of his office: "What does the Lord require of you but to do justice, and to love kindness, and to walk humbly with your God?" "Every time I walk out, I see that," he said. "Faith-based living is important because you know there is something bigger than yourself, and you can rely on that in making the decisions that we are required to make." His office bookshelves are filled with mementos from international trips. There's a white felt hat from Kyrgyzstan, a flag from Rwanda, and a figurine from Albania — all countries where Magnuson has helped leaders establish and sustain independent judiciaries. Magnuson has traveled to 53 countries and is considered "the foremost leader within the judiciary for doing international rule-of-law development," Tunheim said. "I have done a lot, but I pale in comparison to Judge Magnuson. He really has been my inspiration for going to a lot of these foreign countries and helping them understand the importance of an independent judiciary and the importance of democratic values." Magnuson also has been instrumental in helping bring judges from other countries to the United States to learn about the American judicial system, government and culture. More than 200 judges have visited Minnesota as part of delegations from Russia, Ukraine, Kyrgyzstan, China and elsewhere. Magnuson's international work started in the mid-1990s, when he was asked to fill in for Eighth Circuit Judge Myron Bright on an educational trip to China; Bright threw his back out a week before he was to leave. "He called me and said, 'Hey, Mag, you got a passport?' I said, 'Uh, yeah, why?' He said, 'I want you to go to China for me next week.'" While in China, Magnuson ended up with a free weekend, so he flew to Ulaanbaatar, Mongolia, to visit friends whom he had met in Lake Elmo. "I had a delightful time with them and an extremely delightful meeting with the chief justice of the Mongolian Supreme Court," he said. "We sat in one of those gers (yurts) all afternoon and just talked law." When he got back to Minnesota, Magnuson wrote up a trip report, which "caught the imagination of the people in Washington," he said. That led to an appointment to the International Judicial Relations Committee, a committee of the United States Judicial Conference, which he later chaired. Over the past 30 years, he has worked in Russia, Ukraine, Kazakhstan, Kyrgyzstan, Romania, Bulgaria, Montenegro, Albania and Rwanda, among other places. Magnuson's work in Albania began one day in the late 1990s when Supreme Court Chief Justice William Rehnquist called him into his office and handed him a letter from the chief judge of the Supreme Court of Albania. "Essentially what the letter said was, 'I understand that you have an independent, ethical judiciary. Please come to Albania and tell us what that is'," he said. "That was the essence of the letter. The chief justice asked me to go and do that, and I did." He has made almost 20 trips to Albania. "With all of the work he's done in Albania, I consider him almost a member of the Albanian Supreme Court," Tunheim said. But Magnuson said he is most proud of his work in post-genocide Rwanda. After an estimated 800,000 people were slaughtered in Rwanda in 1994, Magnuson helped establish community-based "gacaca," or grass courts — called that because they met outdoors — to try genocide criminals. Rather than go through a formal court process, the gacaca worked to bring an entire village together to hear from all the parties where a crime took place, with village elders acting as judges. The gacaca promoted ownership of guilt by perpetrators, forgiveness by victims, and reconciliation as a way to move forward, Magnuson said. "Being from Minnesota, I knew about the circles of justice in our Native community," Magnuson said. "I knew that it was a rough justice, but it works. Rwanda is now a very peaceful country." The U.S. judicial system remains the gold standard, Magnuson said. "I am such a thorough believer in the jury system," he said. "Juries just get it right. We are unique in the world with juries in both civil and criminal cases, and it is the basic underpinning of everything we do. I've got the best job in the world." Related Articles Celebration to remember poet Carol Connolly set for Dec. 11 Readers and Writers: Gary Goodman writes about his life as a rare sort of bookseller Hair stylist seeks sponsors for elder makeovers in St. Paul Rice Street and Larpenteur Avenue in St. Paul to host 'Winter Warm-Up' Saturday St. Paul-based seminary receives $1 million toward new social justice center

In her book, "My Body," Emily Ratajkowski reflects on her fraught relationship with the huge number of photographs of her body that have come to define her life and career. Some essays recount the author's hustle as a young model who often found herself in troubling situations with powerful men; another is written as a long, venomous reply to an email from a photographer who has bragged of discovering her. Throughout, Ratajkowski is hoping to set the record straight: She is neither victim nor stooge, neither a cynical collaborator in the male agenda, as her critics have argued, nor some pop-feminist empoweree, as she herself once supposed. There are a lot of ways to listen to The Daily. Here's how. Additional production for The Sunday Read was contributed by Emma Kehlbeck, Parin Behrooz, Anna Diamond, Sarah Diamond, Jack D'Isidoro, Elena Hecht, Desiree Ibekwe, Tanya Pérez, Marion Lozano, Naomi Noury, Krish Seenivasan, Corey Schreppel, Margaret Willison, Kate Winslett and Tiana Young. Special thanks to Mike Benoist, Sam Dolnick, Laura Kim, Julia Simon, Lisa Tobin, Blake Wilson and Ryan Wegner.

Twelve truck drivers are due to appear at the Ladysmith Magistrate's Court, in KZN, on Monday in relation to the N3 Van Reenen's Pass road blockades which took place on Friday. This comes after numerous trucks were parked across the N3 blocking both carriageways. It is believed that the blockade started at approximately 3am. According to the KwaZulu-Natal provincial police spokesperson, Jay Naicker, the arrested truckers allegedly parked their trucks on the road. Naicker said the drivers then alighted from their trucks, causing traffic to come to a standstill for the entire day. He said that the arrested drivers had taken the keys of some of the trucks rendering them immovable for a long period of time. Naicker said members of the SAPS, N3 Toll Concession, and Road Traffic Inspectorate responded and began the process of moving the vehicles that were blocking the N3. "Various specialised units from throughout the province were mobilised and also assisted in getting the trucks moved out of the road which resulted in traffic beginning to flow. "Twelve truck drivers, whose vehicles were obstructing the flow of traffic and who defied instructions by police officials to remove their trucks were subsequently arrested," he said. Naicker said detectives from the provincial investigative unit took charge of the investigation on the scene. He added that the drivers were charged for contravention of the Criminal Law Amendment Act - Infrastructure contravention, Intimidation, Economic Sabotage as well as contravention of the Road Traffic Act. "The suspects will appear in the Ladysmith Magistrates Court tomorrow (Monday)," he said on Sunday.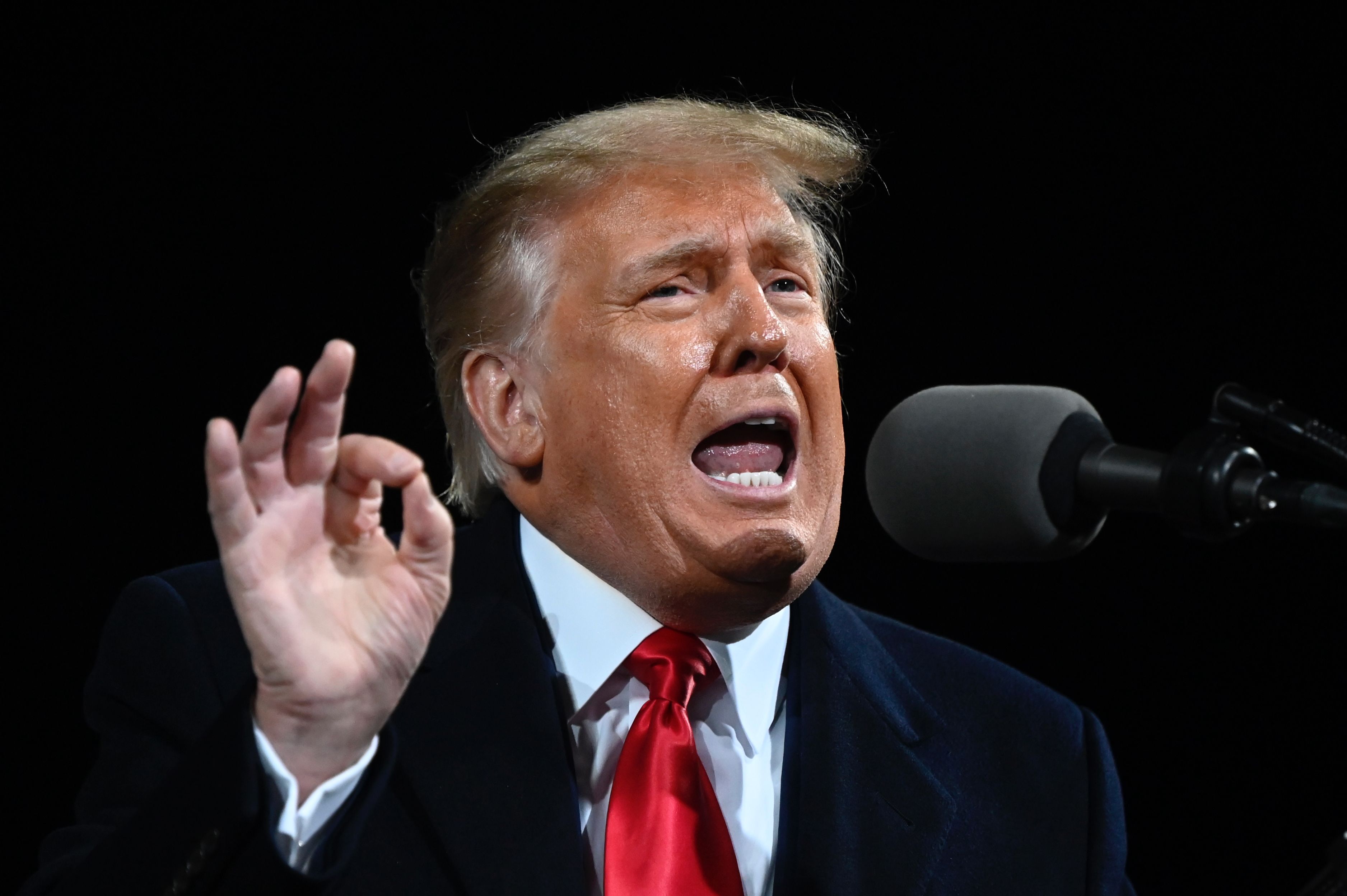 On Saturday, December 5, Donald Trump flew to Valdosta, Georgia, to speak at a rally to support two Republican party candidates for the Senate, Kelly Loeffler and David Perdue. It was his first rally since the election, a month earlier. The point of Trump's trip to Georgia was to encourage voting in the January 5 runoff, a race that would decide the balance of power in Washington. Republicans needed only one victory in Georgia to maintain their majority. Democrats need a Georgia sweep to create a Senate divided down the center, making Vice President-elect Kamala Harris president of the Senate and the tiebreaking vote. Thousands of Georgians came out, largely unmasked, to the rally site at Valdosta airport—not for the candidates, but for their president, the fighter, their fighter. Chants of "fight for Trump" drowned out the senate candidates when they briefly spoke. The rally was a success for Trump, strengthening his connection to his personal base. For the Republican party, it was a disaster. After perfunctory introductions of Loeffler and Perdue, Trump pivoted back his favorite subject, his fictitious narrative of a stolen election. "You know we won Georgia, just so you understand", the president said, "and we won Florida and we won a lot of places. remember we were going to lose Florida. I think they say that if you win Florida and if you win Ohio, in history you've never lost an election this has got to be a first time, but the truth is they were right we've never lost an election. We're winning this election." In his two-hour speech, Trump called the state of Georgia corrupt and said that votes were coming out of the ceiling and out of leather bags. He urged everyone to vote, cautioning that they needed to make sure that no one threw out any ballots, that the Georgia secretary of state didn't know "what the hell he's doing." And at every point, the crowd interrupted with shouts of "stop the steal." "Very simply you will decide whether your children will grow up in a socialist country or whether they will grow up in a free country and I will tell you, this socialist is just the beginning for these people, these people want to go further than socialism they want to go into a communistic form of government and I have no doubt about it", Trump said. Calling the Democratic Party candidates two of the most "extreme far left candidates in the history of our country", Trump urged people to vote, while also saying that "they could cheat in Georgia" and "they're going to try and rig this election too." He went on and on, about all the good he'd done, about everyone else being a fraud or a danger, about saving America, about protecting their right to free speech, about saving their guns, about stopping the "radical indoctrination" of their children. "We can't let them do it again. steal Georgia. Your governor could stop it very easily if he knew what the hell he was doing", he said. Hours before his appearance in Valdosta, the president called Georgia Governor Brian Kemp, a fellow Republican, asking him to convene the state legislature, appoint pro-Trump electors and overturn the results. Governor Kemp refused, according to the AP's account. Kemp tweeted that Trump asked him to order an audit of signatures on absentee ballots—a move, he said, that he was not empowered to take because he has no authority to interfere in the electoral process. Trump responded on Twitter: "Your people are refusing to do what you ask. What are they hiding? ." "As I told the President this morning", Kemp tweeted, "I've publicly called for a signature audit three times (11/20, 11/24, 12/3) to restore confidence in our election process and to ensure that only legal votes are counted in Georgia." An audit had been initiated by Secretary of State Brad Raffensperger and the race had already been certified; Biden had won. At this point, many mainstream Republicans in Washington were concerned that Trump's harping on fraudulent elections would actually discourage people from going to the polls. The margin for Biden in Georgia was only 12,500 votes of five million cast, so even a small shift could have an outsize effect. Vice President Mike Pence was worried enough to address the issue. Campaigning with Perdue in Savannah, he said: "I know we've all got our doubts about the last election, and I hear some of you saying, 'Just don't vote'. If you don't vote, they win." The Republicans would go on to lose both races in historically deeply red Georgia. Back in Washington on December 5, Attorney General William Barr wrote out his resignation letter.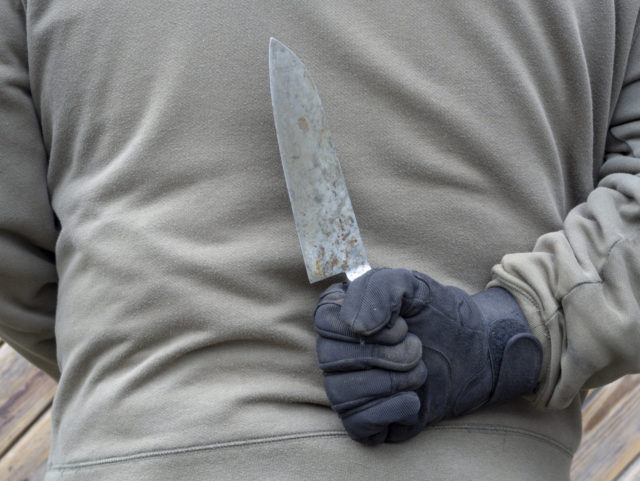 An Eritrean migrant has been convicted of attacking two men with a knife while also threatening to kill children in the car park of a local shopping centre in the German city of Dresden. Eritrean migrant Ismail M. approached a number of children said to be around 13-years-old at a car park of the Gorbitz Center in June and made a throat-slitting gesture while stating "I'll slaughter you!" The 26-year-old Eritrean was then confronted by a pair of Iraqis who noticed that he had been yelling at the children. One of the men, Muhamed Al M., told news website TAG24: "I came from work. Then we saw the man yelling at the children. We are there to protect the children." Achmut, the other Iraqi man involved in the incident, added: "He insulted our mothers, shouted insulting words and 'Allahu Akbar'… At first he shouted in German. When he learned that we were Iraqis, he yelled at us in Arabic." At that point, the Iraqis say that the Eritrean pulled a knife and stabbed Mohammed Al M. in the leg, then fled the area. According to Achmut, the Eritrean had a knife at least 15 inches long. Turkish National Accused of Deliberately Running Down German Schoolchildren, Killing One https://t.co/qwbiFwW5Rx Breitbart London (@BreitbartLondon) November 4, 2021 The case comes just weeks after another migrant, a Turkish national, was accused of deliberately running down several young children with his car, killing an eight-year-old girl and leaving two other girls, aged seven and eight, seriously injured. Initially, police had theorized that the incident had been accidental, but after listening to witness testimony they determined that the 30-year-old Turkish national had purposely driven his vehicle into the children. Multicultural Europe Swept by Week of Migrant Violence and 'Allahu Akbar' Attacks https: //t. co/AUNmFQjGvj — Breitbart London (@BreitbartLondon) November 9, 2021

Tom Brady Racks Up 4 TDs In Bucs Win, Including Pair To Rob GronkowskiTom Brady was a busy man early and often against the Atlanta Falcons on Sunday. Report: Antonio Brown's Return To Bucs Not Guaranteed After Fake Vaccine Card SuspensionCould Antonio Brown's time in Tampa be over after he was suspended three games for giving the team a fake COVID vaccination card? News And Notes For Patriots-Bills Week 13 MatchupThe Patriots head to Buffalo to take on the Bills this weekend. We'll have to wait an extra for the Monday night matchup to take place, but in the meantime, Levan Reid has the news and notes heading into the clash. Tatum And Schroder Each Net 31 As Celtics Cruise Past Trail BlazersJayson Tatum and Dennis Schroder scored 31 points apiece and the Boston Celtics rode a sizzling start to a 145-117 victory over the Portland Trail Blazers on Saturday night. Stamkos Scores In OT To Lead Lightning Past Bruins 3-2The Tampa Bay Lighting bounced back after blowing a two-goal lead on Saturday night, beating the Boston Bruins 3-2.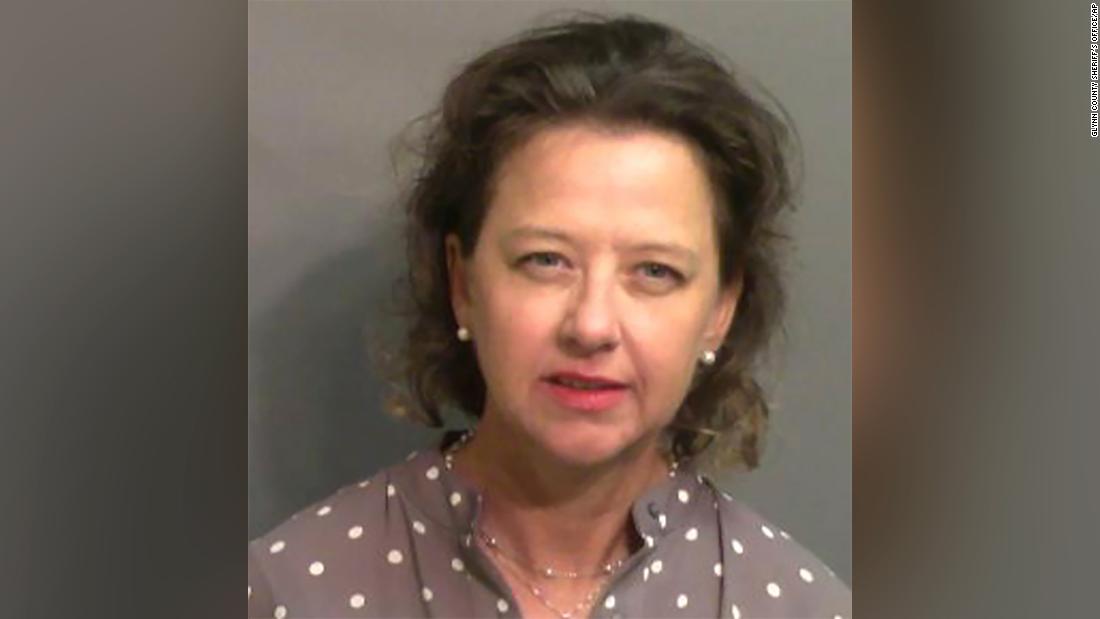 An hour after his son Travis had shot Arbery twice point blank with a shot gun, call records show Gregory McMichael dialed a number on his cell phone and left a voicemail. "Jackie, this is Greg. Could you call me as soon as you possibly can. My (inaudible) and I have been involved in a shooting and I need some advice right away." Gregory McMichael said in the voicemail, according to evidence presented in pre-trial hearings in the Ahmaud Arbery murder trial. "Jackie" was Jackie Johnson, the Brunswick District Attorney. Until he retired in 2019, Greg McMichael worked as an investigator in Johnson's office. The call lasted just 39 seconds, but Arbery's family contends it was the reason no one was arrested in the case for 74 days -- and almost prevented a trial. McMichael wasn't the only person calling his former boss for advice that day. Officers with the Glynn County Police Department investigating the killing also reached out to Johnson's office seeking advice on what to do. How Johnson allegedly responded to those calls is behind a two-count indictment accusing her of violating her oath of office and hindering law enforcement. According to the indictment handed down September 2, Johnson obstructed law enforcement "by directing that Travis McMichael should not be placed under arrest, contrary to the laws of said State." The more serious count alleges Johnson violated her oath of office "by showing favor and affection to Greg McMichael during the investigation into the shooting death of Ahmaud Arbery." The crime is a felony punishable up to five years in prison. Attempts by CNN to contact Jackie Johnson and her lawyers for comment have gone unanswered. The indictment contends even as she recused herself from the case because of her connection to Greg McMichael, Johnson steered the investigation to nearby Waycross Judicial Circuit District Attorney George Barnhill. Then she recommended to the Georgia Attorney General's Office that Barnhill handle the case, allegedly failing to disclose she had already discussed the case with Barnhill. It was Barnhill who sent a letter to Glynn County police, giving his legal opinion and describing the chase of Arbery by armed men in pickup trucks as "perfectly legal" under Georgia law. Barnhill's conclusion: "We do not see grounds for an arrest of any of the three parties." CNN has contacted Barnhill for comment but has not heard back. Supporters of Arbery's family believe that could have ended the investigation, were it not for the role another cell phone played that day. William Bryan Jr., also among the men found guilty last week, used his phone to record the pursuit and killing of Arbery. The video was made public May 5, 2020. In the resulting national outrage, Georgia Governor Brian Kemp had the Georgia Bureau of Investigation take over the case. Less than two days later Gregory and Travis McMichael were arrested. The GBI also investigated allegations of prosecutorial misconduct, and their findings formed the foundation of the Johnson indictment. Johnson turned herself in to the Glynn County Jail September 8. She was free in less than an hour without having to pay any bond. In early September, Arbery's mother, Wanda Cooper-Jones, applauded Johnson's indictment. "She didn't pull the trigger, but she is just as much to hold accountable as the three guys who actually did this to Ahmaud", she said. Johnson has denied any wrong doing, instead telling her constituents during her re-election campaign she was being falsely accused. "That case is a terrible tragedy for the community", Johnson said in October 2020 during an online debate between Johnson and other candidates running to be Brunswick district attorney. "It is a tragedy for the family. I'm sorry how things happened. I'm sorry that a lie got started and I could not turn it back." After serving a decade as the Brunswick district attorney, Johnson was voted out of office. Under Georgia law an elected district attorney is accountable to no one except voters. If there is a trial and no change of venue, then Jackie Johnson's jury will be selected from that same pool of voters, in the same county, that convicted Gregory, McMichael, Travis McMichael and William Bryan Jr. The Georgia Attorney General says the investigation is ongoing.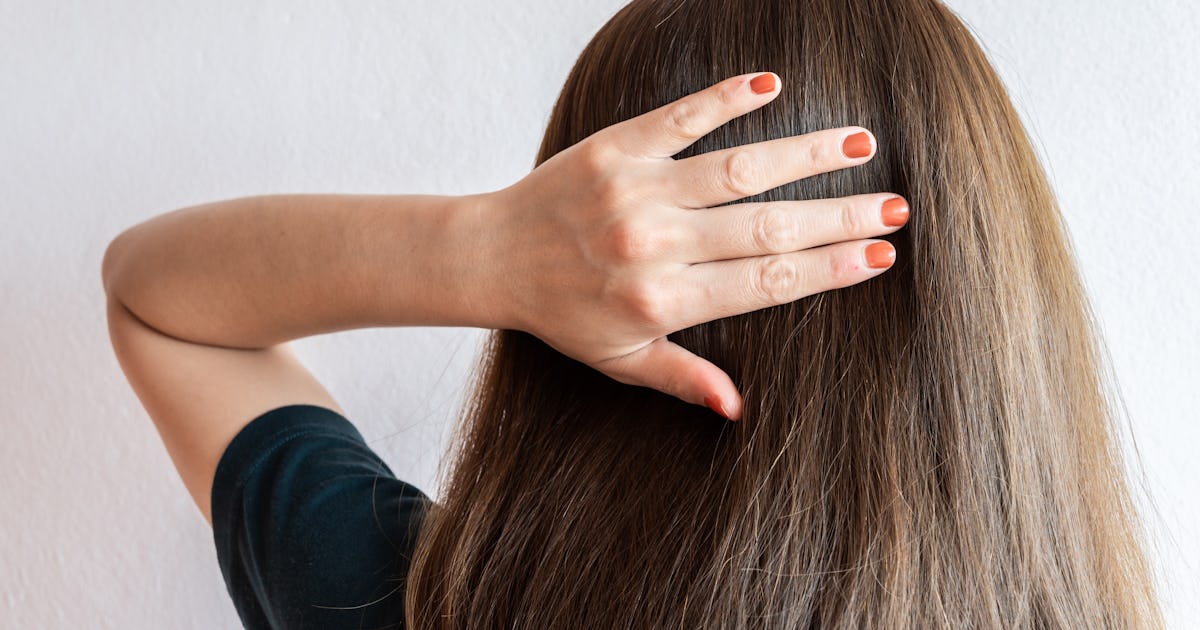 Beauty Here's the truth behind the trend. If you're into TikTok beauty hacks, chances are you've been hearing lots about rice water recently. And if you're on a mission to grow your locks, this is a technique that could come in very handy. Here's everything you need to know to try it yourself from the comfort of your own home. While the rice water trend has gained popularity on TikTok and social media in 2021, it has actually been around for decades, originating in East Asia. It is traditionally used in Japan as well as China, where the Red Yao women who use rice water have resulted in their region of Huangluo in Guangxi being known as 'Long Hair Village.' The women there have used milky fermented rice water (as in, the water leftover when you boil rice) on their hair for generations. It is supposed to feed the hair and encourage growth, with ample antioxidants, vitamins, and amino acids. This is a trend that really took off on TikTok, with hair influencers such as @audreyvictoria_ (who, FYI has the silkiest, longest locks ever) posting about rice water regularly. The technique has also been heavily covered in the media, with Kourtney Kardashian's Poosh website kicking things off way back in Apr. 2020. "Kourt recently learned this DIY trick from Kim, who's been doing this treatment on her hair and has seen a noticeable difference in growth and thickness," the post read. If it's good enough for the Kardashians. "For some hair types a rice wash will work wonders, promoting smoother, shinier hair, and for some it may also promote hair growth," says Anita Rice, co-founder of Buller & Rice salons. The leftover rice water is said to be super high in all sorts of minerals that support a healthy scalp therefore creating a great base for growth. It's also high in starch, meaning potentially more volume for finer locks. Writers, including Jacquelyn Greenfield, have praised the rice water trend for natural hair, writing it has helped her own hair grow for Coveteur. Anita Bhagwandas also shared that her own rice water test had made her locks "silkier than an afghan hound's" for The Guardian. However, Rice explains that it's important to approach this trend with caution if you have finer hair. "What works for one person might not work for another," she says. "It really depends on the natural texture of your hair. Finer hair or hair with low porosity and/or a dry scalp should approach with caution, as the high levels of starch in the rice water can create a protein build-up, causing hair to become brittle and break." "If you are interested in tying this hack then the only way to find out is to give it a go and see how your hair feels after it," she recommends. For finer hair, it may also be better to do it every couple of weeks rather than regularly. If you want to follow the traditional method used by the Red Yao women, you should wash sticky white rice in water to extract its nutrients, before boiling it and leaving it to ferment. They leave it for up to two months, but you can try after around 48 hours instead. After the mixture is ready, simply pour it over your dry locks, leave on for around 20 minutes to an hour (and work through with a wooden comb), and rinse off. You may want to shampoo and condition afterwards too.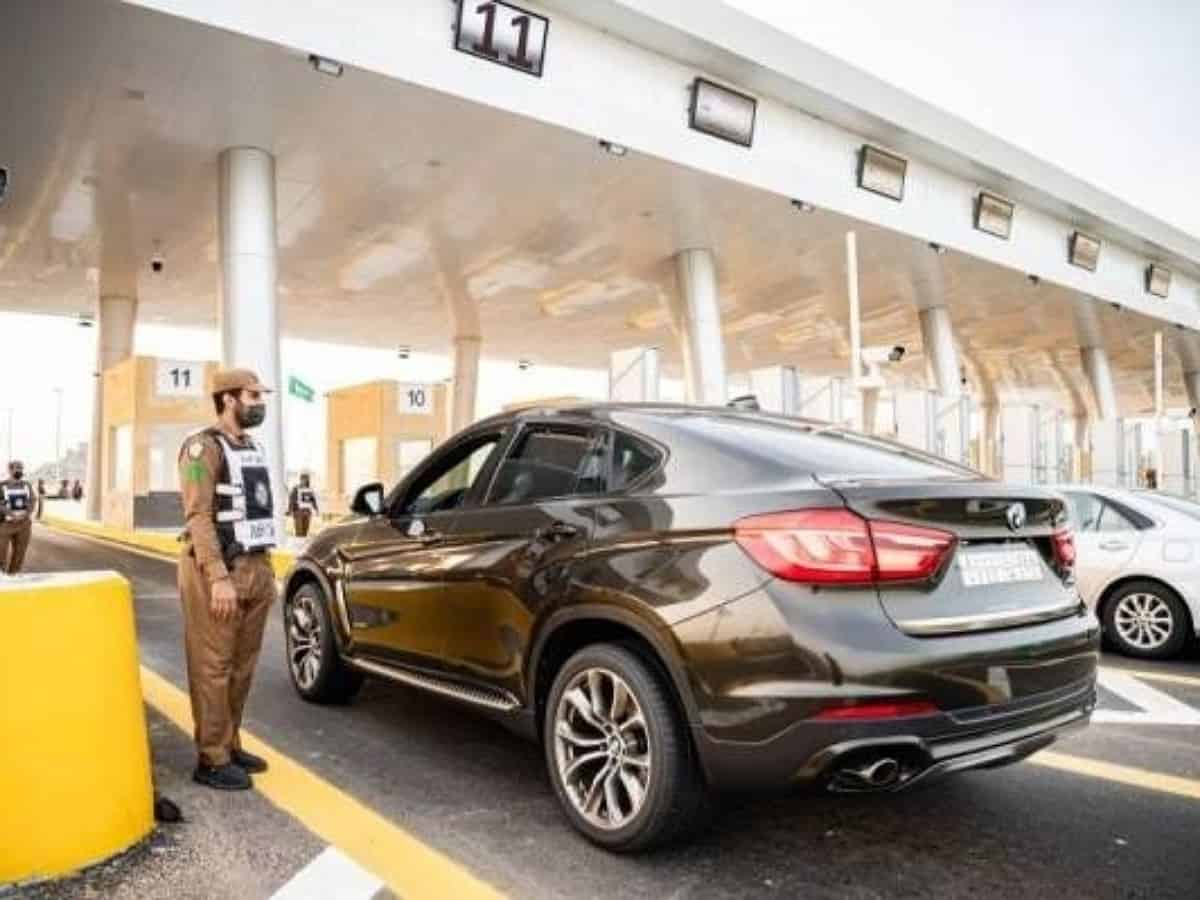 Riyadh: The Kingdom of Saudi Arabia (KSA) arrested 14,519 violators of residency, labour and border security laws across the nation between November 25 to December 1, the Saudi Press Agency (SPA) reported on Saturday, December 4, 2021. Those arrested include 7,413 violators of the residency laws, around 5,398 violators of the border security regulations, and further 1,708 violators of the labor law. A total of 381 people were arrested while trying to cross the border into the Kingdom, of whom 40 per cent were Yemeni nationals, 57 percent were Ethiopians, and 3 per cent belonged to other nationalities while 17 people were arrested for trying to flee the Kingdom crossing borders. The security forces also arrested 7 people who were involved in transporting violators and giving them shelter. The total number of offenders currently undergoing subject to the punitive measures, reached more than 88,511, including more than 80,587 men and 7924 women, while the cases of 77,501 offenses were referred to their diplomatic missions to obtain travel documents for deportation. The ministry of interior has warned that a maximum prison sentence of 15 years will be imposed on anyone caught to facilitate someone entering the kingdom, in violation of border security regulations, or shelter. The punishment includes a fine of up to 1 million Saudi Riyal, and the confiscation of one's means of transport, residence used for shelter, in addition to the publication of their names in the local media. Get the news updates on WhatsApp & Telegram by subscribing to our channels. For all the latest Middle East updates, download our app Android and iOS.

A West Virginia man is accused of pretending to kill himself to avoid being sentenced for failing to register as a sex offender. Jesse Lee Wood allegedly tried to make it look like he had jumped into the Ohio River off the Ravenswood Bridge on Thursday morning, a day before he was set to face a judge, according to WCHS. Wood parked his truck near the bridge overnight, and emailed an acquaintance a suicide note that detailed where his belongings could be found, cops told the station. When first responders arrived on the scene they found his vehicle nearby and his cellphone on the ledge of the bridge that separates West Virginia and Ohio, the article said. "When we got there what we found what was originally believed to be a legitimate bridge jumper," Jackson County Sheriff Ross Mellinger said during a briefing on the incident. "We've had several here over the years and by and large on the surface it didn't look much different than what we've had in the past." Once cops learned Wood was due to be sentenced in the circuit court of Jackson County the next day, they checked his home and found him hiding in a closet, the sheriff stated. "We asked him just straight up why in the world would you want people to believe that you would want to commit suicide and jump off this bridge?" Mellinger said. "His only response was 'cause I wanted them to believe that.' So, we have to believe wholeheartedly at this point this was directly to the impending court day." Cops reportedly believed Wood was planning to wait until cops left the scene, then go get his car and hit the road. He was charged with falsifying an emergency report and sent to jail, authorities said.

"48 Hours" is the one to watch Saturday nights at 10/9c on CBS. DOUBLE FEATURE| SATURDAY, DECEMBER 4| GAME DELAY: 10:14 ET/9:14c : After a young girl is adopted from Russia, her American parents come to believe she is capable of murder and return her. Years later,. "48 Hours" contributor Troy Roberts learns her surprising story. DOUBLE FEATURE| SATURDAY, DECEMBER 4| GAME DELAY: 9:14 ET/8:14c : A farmer says he found his wife impaled by a corn rake. The rake has just four tines – so why does she have six puncture wounds? "48 Hours" contributor Jim Axelrod reports. SATURDAY, NOVEMBER 27| 10:01/9:01c : When Ahmaud Arbery was chased by three White men and shot in the street, his mother laid him to rest promising to get him justice. The promise is fulfilled when the men are found guilty. CBS News correspondent Omar Villafranca reports. DVR ALERT: Please note the show started one minute late at 10:01/9:01c SATURDAY, NOVEMBER 20 | 10/9c : When a woman uploads her DNA to a genealogy website, authorities show up at her door. Is there a double murderer in her family tree? "48 Hours" correspondent Erin Moriarty reports SATURDAY, NOVEMBER 13 | 10/9c : An undelivered engagement ring leads to murder. "48 Hours" correspondent Peter Van Sant reports. SATURDAY, NOVEMBER 6 | 10/9c : A 15-year-old girl beaten to death with a golf club in a wealthy Connecticut neighborhood. Does her diary hold clues to the killer? SATURDAY, OCTOBER 30 | 10/9c : Five deaths with a connection to one family. "48 Hours" contributor Nikki Battiste investigates SATURDAY, OCTOBER 23 | 10/9c Club owners open up for the first time after deadly fire kills 100. "48 Hours" contributor Jim Axelrod reports. SATURDAY, OCTOBER 16 | 10/9c :The "voice" of 11-year-old Linda O'Keefe goes viral in the search for her killer. CBS News correspondent Tracy Smith reports. SATURDAY, OCTOBER 9: "48 Hours" did not air due to college football on CBS. SATURDAY, OCTOBER 2 | 10/9c : Socialite Jasmine Hartin admits killing a top police official in Belize. For the first time she tells her detailed story of what happened to "48 Hours." Correspondent Peter Van Sant reports. SATURDAY, SEPTEMBER 25 | 10/9c : "48 Hours" goes inside the disappearance of Gabby Petito and the hunt for Brian Laundrie. CBS News national correspondent Jericka Duncan reports. SEASON PREMIERE| SATURDAY, SEPTEMBER 18| 10/9c : How did images of a 17 year old girl's murder go viral? CBS News national correspondent Jericka Duncan reports. SATURDAY, SEPTEMBER 11 | 10/9c : A judge's son is gunned down by a man delivering a package. 2,800 miles away, an eerily similar crime - this time the target is a lawyer. Who is behind the killings? "48 Hours" contributor Tracy Smith reports. SPECIAL NIGHT| WEDNESDAY, SEPTEMBER 8| 10/9c : ALL NEW: A former ballerina shoots her husband. Did she kill to save herself or was it out of spite? "48 Hours" contributor Jim Axelrod reports. DOUBLE FEATURE| SATURDAY, SEPTEMBER 4| 10/9c : A former beauty queen vanishes. One man said he had answers. Why didn't anyone listen?. "48 Hours" correspondent Peter Van Sant reports. DOUBLE FEATURE| SATURDAY, SEPTEMBER 4| 9/8c : A man dies from a gunshot wound – his friends say they discovered him. Police rule out foul play, but his family says there are troubling clues. "48 Hours" correspondent Peter Van Sant reports. SPECIAL NIGHT| WEDNESDAY, SEPTEMBER 1| 10/9c : ALL NEW: The Daybell children claim their father was framed for the murders of JJ and Tylee. CBS New correspondent Jonathan Vigliotti reports SATURDAY, AUGUST 28 | 10/9c : College student Aniah Blanchard had a deep fear of being kidnapped. When she disappears, UFC fighter Walt Harris battles for justice for his stepdaughter. CBS News special correspondent James Brown reports. SPECIAL NIGHT| WEDNESDAY, AUGUST 25| 10/9c : ALL NEW: An anonymous letter writer threatens to expose a town's rumored secrets. Is anyone safe? "48 Hours" correspondent Erin Moriarty reports. SATURDAY, AUGUST 21 | 10/9c : A little girl grows up wondering who murdered her mother. Decades later, prosecutors learn a secret that answers the question."48 Hours" correspondent Maureen Maher reports. SATURDAY, AUGUST 14 | 10/9c : After a chance encounter at a bar a college student is murdered. Was it because she resembled the killer's ex? CBS News' Jim Axelrod reports. DOUBLE FEATURE| SATURDAY, AUGUST 7| 10/9c : A young mother shoots her partner claiming self-defense and abuse. The killing of the popular gymnastics coach divides a town. CBS News correspondent Jericka Duncan reports. DOUBLE FEATURE| SATURDAY, AUGUST 7| 9/8c : Michelle Martinko fought for her life in a parking lot. Her attacker was left bleeding - creating the evidence that solved the case. CBS News correspondent Jamie Yuccas reports. DOUBLE FEATURE| SATURDAY, JULY 31| 10/9c : Did a love triangle lead to murder? After his fiancée is found dead, a man researches time travel to "correct a horrible mistake." CBS News correspondent Tracy Smith reports. DOUBLE FEATURE| SATURDAY, JULY 31| 9/8c : Did Lizzie Borden really hack her parents to death? A surprising answer and an inside look at the haunting crime scene. "48 Hours" correspondent Erin Moriarty reports DOUBLE FEATURE| SATURDAY, JULY 24| 10/9c : A young woman says she accidentally shot her boyfriend. Police say she confessed to murder – but there's no audio to prove it. What will the jury decide? CBS News correspondent David Begnaud reports. DOUBLE FEATURE| SATURDAY, JULY 24| 9/8c : A man on death row says his blood was planted at the crime scene. Will an empty vial help his case? "48 Hours" correspondent Erin Moriarty reports. SATURDAY, JULY 17 | 10/9c: : A music producer on the edge of stardom has a dark premonition – then he's gunned down. His parents want answers. "CBS This Morning: Saturday" co-host Michelle Miller reports. SATURDAY, JULY 10 | 10/9c : A young woman vanishes from her Florida condo - security footage captures a phantom figure calmly parking her car. Is it the kidnapper? "48 Hours" correspondent Peter Van Sant reports. SATURDAY, JULY 3 | 10/9c : A survivor deals with the trauma after her stepbrother is convicted of killing her family in order to go to the prom. CBS News chief investigative and senior national correspondent Jim Axelrod reports. SATURDAY, JUNE 26 | 10/9c : A boxer is shot and stabbed by her husband but refuses to go down for the count. CBS News correspondent David Begnaud reports. SATURDAY, JUNE 19 | 10/9c : A mother fights for the truth behind her son's killing - captured on video. Ahmaud Arbery was jogging when he was chased and shot. CBS News correspondent Omar Villafranca reports. SATURDAY, JUNE 12 | [10:22/9:22 start time due to SRX Racing on CBS] : A beloved cheerleader dies - what explains the unusual injuries to her body? "48 Hours" correspondent Peter Van Sant reports. SATURDAY, JUNE 5 | 10/9c : Did an out-of-control home makeover lead to murder?"48 Hours" correspondent Erin Moriarty investigates. SATURDAY, JUNE 5 | 9/8c : Notorious serial killer Ted Bundy targeted three young Florida women in one of his final attacks. They survived and share their terrifying ordeal and long road to recovery. CBS News correspondent Tracy Smith reports. SATURDAY, MAY 29 | 10/9c : A brilliant Ivy League student is murdered after he went to a California park with a former high school classmate. Was he killed because he was gay and Jewish? CBS News correspondent Tracy Smith reports. SATURDAY, MAY 29 | 9/8c : The untold story of how investigators found Lori Vallow's missing children – buried on Chad Daybell's property. CBS News correspondent Jonathan Vigliotti reports. SATURDAY, MAY 22 | 10/9c : Millionaire Forrest Fenn hid a gold-filled chest somewhere in the Rockies and wrote a poem with cryptic clues. Tens of thousands searched for it and five people died trying. A story of obsession. "CBS This Morning" co-host Tony Dokoupil reports. SATURDAY, MAY 15 | 10/9c A Sister's Fight for her Brother: A sister stands by the brother accused of murdering their parents. She insists he's innocent and there's more to the story. "48 Hours" correspondent Erin Moriarty reports. SATURDAY, MAY 8 | 10/9c : A mother disappears. Texts reveal she has coronavirus - was someone using COVID to cover up a killing? "48 Hours" correspondent Peter Van Sant reports. SATURDAY, MAY 8 | 9/8c : A college student goes missing and a podcaster turns up the heat to solve the case. "48 Hours" tracks down the prime suspect. CBS News correspondent Jonathan Vigliotti reports. SATURDAY, MAY 1 | 10/9c : He was convicted of murdering his pregnant wife. The "other woman" recorded his calls for the prosecution. With his death sentence now overturned there's a renewed push to clear him. CBS News correspondent Jonathan Vigliotti reports for "48 Hours." SATURDAY, APRIL 24 | 10/9c : Dani Green claimed the family dog killed her ex-husband, Ray, but when police arrived at the home there was no sign of man or dog. Dani told police they could search anywhere on the grounds -- except for a large toolbox. Peter Van Sant reports. SATURDAY, APRIL 17 | 10/9c : The emotional homecoming of a man imprisoned for nearly 32 years. A judge ruled he was wrongfully convicted of murder, but is he home for good? Questions linger about the witness who blamed him. Erin Moriarty reports. DOUBLE FEATURE| SATURDAY, APRIL 10| 10/9c : A woman is found dead and the scene appeared to be staged with a bottle of absinthe. West, a Marilyn Monroe look-alike, posted on OnlyFans, a website some use to share adult content - was a fan involved? "48 Hours" correspondent Maureen Maher reports. DOUBLE FEATURE| SATURDAY, APRIL 10| 9/8c : A teenager learns she's the target of a hit on the dark web. "48 Hours"' Peter Van Sant goes on a global manhunt to find Yura, the shadowy figure behind murder-for-hire sites. SATURDAY, APRIL 3: "48 Hours" did not air due to the 2021 NCAA Men's Basketball Tournament on CBS. SATURDAY, MARCH 27 | 10/9c : A 12-year-old is kidnapped from her home 36 years ago. An unusual suspect is charged. "48 Hours" correspondent Richard Schlesinger reports. SATURDAY, MARCH 20: "48 Hours" is preempted due to the 2021 NCAA Men's Basketball Tournament on CBS. *GAME DELAY: Our March 13 double feature started 12 minutes late in the east and central time zones due to NCAA basketball on CBS. DOUBLE FEATURE| SATURDAY, MARCH 13| 10/9c* : Did an item found in many medicine cabinets play a role in the death of a millionaire? "48 Hours" correspondent Peter Van Sant reports. DOUBLE FEATURE| SATURDAY, MARCH 13| 9/8c* : The FBI believes skulls drawn in blood are the number of victims murdered by a prolific serial killer. Inside the FBI search to identify them.:"48 Hours" correspondent Peter Van Sant reports. SATURDAY, MARCH 6 | 10/9c : College student Aniah Blanchard had a deep fear of being kidnapped. When she disappears, UFC fighter Walt Harris battles for justice for his stepdaughter. CBS News special correspondent James Brown reports. SATURDAY, FEBRUARY 27 | 10/9c : Thirteen years after a child is abducted investigators have a credible suspect. Is the puzzle of what happened to her complete? "48 Hours" correspondent Peter Van Sant investigates. DOUBLE FEATURE| SATURDAY, FEBRUARY 20| 10/9c : A judge's son is gunned down by a man delivering a package. 2,800 miles away, an eerily similar crime - this time the target is a lawyer. Who is behind the killings? CBS News correspondent Tracy Smith reports. DOUBLE FEATURE| SATURDAY, FEBRUARY 20| 9/8c : A wealthy Florida businessman is arrested after a violent confrontation with his wife – she survived. Did his daughter's sumptuous wedding lead to a murderous rage? "48 Hours" correspondent Peter Van Sant reports. SATURDAY, FEBRUARY 13 | 10/9c : Newly released video shows police grilling Michelle Troconis, the ex-girlfriend of Fotis Dulos, about the disappearance of his wife Jennifer: "I didn't do it." But does she know more? "48 Hours" correspondent Erin Moriarty reports. SATURDAY, FEBRUARY 6: "48 Hours" did not air due to the "NFL Honors" on CBS. Join us on February 13 for an all-new show. SATURDAY, JANUARY 30 | 10/9c : She was last seen leaving a casino. How her mom and detectives teamed up to find her body hidden for 15 years. "48 Hours" correspondent Erin Moriarty reports SATURDAY, JANUARY 30 | 9/8c : A college student goes missing -- the "Find My Friends" app leads to her body as her suspected killer flees the country. Will he get away with murder? CBS News contributor Maria Elena Salinas reports SATURDAY, JANUARY 23 | 10/9c : A little girl grows up wondering who murdered her mother. Decades later, prosecutors learn a secret that answers the question. "48 Hours' correspondent Maureen Maher reports. SATURDAY, JANUARY 16 | 10/9c : After a chance encounter at a bar a college student is murdered. Was it because she resembled the killer's ex? CBS News' Jim Axelrod reports. DOUBLE FEATURE| SATURDAY, JANUARY 9| 10/9c : A man dies from a gunshot wound – his friends say they discovered him. Police rule out foul play, but his family says there are troubling clues. "48 Hours" correspondent Peter Van Sant reports. DOUBLE FEATURE| SATURDAY, JANUARY 9| 9/8c : A 13-year-old girl vanishes in 1981. Detectives believe she was murdered. Years later, a woman appears and claims to be the missing girl. Is she an impostor? "48 Hours" correspondent Maureen Maher reports. SATURDAY, JANUARY 2 | 10/9c : A former beauty queen vanishes. One man said he had answers. Why didn't anyone listen?. "48 Hours" correspondent Peter Van Sant reports. DOUBLE FEATURE| SATURDAY, DECEMBER 26| 10/9c Did Lizzie Borden really hack her parents to death? A surprising answer and an inside look at the haunting crime scene. "48 Hours" correspondent Erin Moriarty reports DOUBLE FEATURE| SATURDAY, DECEMBER 26| 9/8c : A story of tragedy and triumph -- the murder of a young woman and how a her killer's heart saves the life of a dying woman. CBS News' Jim Axelrod reports. SATURDAY, DECEMBER 19: "48 Hours" did not air due to the SEC Championship on CBS: Alabama @ Florida. SATURDAY, DECEMBER 12 | 10/9c : New clues in one of the largest unsolved murder cases in the U.S. A victim's daughter speaks out for the first time. "48 Hours" correspondent Erin Moriarty reports. PROGRAM NOTE| SATURDAY, DECEMBER 5: "48 Hours" did not air due to the SEC on CBS: Alabama @ LSU SATURDAY, NOVEMBER 28| 10:01/9:01c : A college student goes missing and a podcaster turns up the heat to solve the case. "48 Hours" tracks down the prime suspect. CBS News correspondent Jonathan Vigliotti reports. DOUBLE FEATURE| SATURDAY, NOVEMBER 21| 10/9c The Case Against Nicole Addimando: A young mother shoots her partner claiming self-defense and abuse. The killing of the popular gymnastics coach divides a town. CBS News' Jericka Duncan reports. DOUBLE FEATURE| SATURDAY, NOVEMBER 21| 9/8c : A woman accused of setting her house on fire and then intentionally running over her husband as he escaped the flames speaks out for the first time. "48 Hours" correspondent Erin Moriarty reports. SATURDAY, NOVEMBER 14 | 10/9c A boxer is shot and stabbed by her husband but refuses to go down for the count. CBS News correspondent David Begnaud reports. SATURDAY, NOVEMBER 7 | 10/9c : Michelle Martinko fought for her life in a parking lot. Her attacker was left bleeding - creating the evidence that solved the case. CBS News correspondent Jamie Yuccas reports. 'SATURDAY, OCTOBER 31 | 10/9c The Murder of Anna Repkina: Did a love triangle lead to murder? After his fiancée is found dead, a man researches time travel to "correct a horrible mistake." Correspondent Tracy Smith reports. SATURDAY, OCTOBER 24 | 10/9c A young woman vanishes from her Florida condo - security footage captures a phantom figure calmly parking her car. Is this the kidnapper? "48 Hours" correspondent Peter Van Sant reports. PROGRAM NOTE: SATURDAY, OCTOBER 17: "48 Hours" was preempted due to the SEC on CBS: Georgia at Alabama. We return Saturday, October 24 at 10/9c with an all-new show. DOUBLE FEATURE| SATURDAY, OCTOBER 10| 10/9c : A mother fights for the truth behind her son's killing - captured on video. Ahmaud Arbery was jogging when he was chased and shot. CBS News' Omar Villafranca reports. SATURDAY, OCTOBER 10 | 9/8c : A rare look inside a murder case where virtually everything from the first moments of the investigation through the verdict are captured on camera. "48 Hours" correspondent Richard Schlesinger reports. SATURDAY, OCTOBER 3 | 10/9c : The untold story of how investigators found Lori Vallow's missing children – buried on Chad Daybell's property. CBS News correspondent Jonathan Vigliotti reports for "48 Hours." WEDNESDAY, SEPTEMBER 30, 2020 | 10/9c : A music producer on the edge of stardom has a dark premonition - then he's gunned down. His parents want answers. "CBS This Morning" co-host Michelle Miller reports. SATURDAY, SEPTEMBER 26, 2020 : A farmer says he found his wife impaled by a corn rake. The rake has just four tines – so why does she have six puncture wounds? CBS News chief investigative and senior national correspondent Jim Axelrod reports WEDNESDAY, SEPTEMBER 23, 2020 : A young woman says she accidentally shot her boyfriend. Police say she confessed to murder – but there's no audio to prove it. What will the jury decide? CBS News correspondent David Begnaud reports. SATURDAY, SEPTEMBER 19, 2020 : A beloved cheerleader dies - what explains the unusual injuries to her body? "48 Hours" correspondent Peter Van Sant reports. WEDNESDAY, SEPTEMBER 16: "48 Hours Suspicion" will not air due to the Academy of Country Music Awards on CBS. The show returns Wednesday, September 23 -- with an all-new episode. SATURDAY, SEPTEMBER 12, 2020 [SEASON PREMIERE] : Did an out-of-control home makeover lead to murder? "48 Hours" correspondent Erin Moriarty investigates. SEPTEMBER 9, 2020 [SERIES PREMIERE] A woman denies feeding her husband to tigers - what happened to Don Lewis? "48 Hours" has new clues. Correspondent Richard Schlesinger reports. SEPTEMBER 5, 2020: : A family man targeted for death lives to climb out of his own "grave." Who wanted him dead? "48 Hours" goes inside the sting that took down a hit man-for-hire scheme. "48 Hours" correspondent Peter Van Sant investigates. AUGUST 29, 2020 : An investigation into the death of a Hollywood therapist. Did the system do enough to protect her from alleged killer Gareth Pursehouse? Her former fiancé Drew Carey calls for updated laws. "48 Hours" correspondent Erin Moriarty reports. AUGUST 22, 2020| DOUBLE FEATURE : Did a Florida man hire a look-a-like to kill his wife? A GPS leads police right to the hitman's door. "48 Hours" correspondent Erin Moriarty reports. : Survivors confront the man known as The Golden State Killer, after his 40 year reign of terror. Correspondent Tracy Smith has the latest in the case. AUGUST 15, 2020 : A survivor deals with the trauma after her stepbrother is convicted of killing her family in order to go to the prom. CBS News' Jim Axelrod reports. AUGUST 8, 2020 : Hear from the woman at the center of a case prosecutors said was all about "sex, lies, money and murder." "48 Hours" correspondent Peter Van Sant reports. AUGUST 1, 2020| DOUBLE FEATURE Justice for Kelsey Berreth: An inside look at the startling evidence that helped convict against Colorado man Patrick Frazee for the murder of his fianceé. CBS News correspondent Nikki Battiste reports. Storm of Suspicion: "48 Hours" goes behind the scenes with investigators as they search for a mother of two who vanished just before Hurricane Harvey hit. Correspondent Maureen Maher investigates. JULY 25, 2020 A California man shot dead in his home — his ex-wife admits she pulled the trigger. Did a photo posted on social media lead to the man's death? "48 Hours" correspondent Erin Moriarty reports. JULY 18, 2020| DOUBLE FEATURE : How a bakery worker's secret plan to recover DNA from a discarded Coke can helped investigators solve the cold case of a college student murdered over Thanksgiving weekend. "48 Hours" correspondent Peter Van Sant reports. : More than two decades after Iowa TV anchor Jodi Huisentruit disappeared, "48 Hours" reveals new information into the investigation. CBS News' Jim Axelrod reports. JULY 11, 2020 : Twenty-six school children abducted and buried alive in a truck trailer by three young men. An incredible survival story. CBS News correspondent David Begnaud reports. JULY 18, 2020 : Nearly four decades after the death of Hollywood star Natalie Wood, Los Angeles County Sheriff's investigators reveal new clues, new witnesses and a shocking revelation. "48 Hours" correspondent Erin Moriarty reports. : "48 Hours" explores the family feud over radio legend Casey Kasem -- how he died and who was responsible. At stake: an estate that could be worth $100 million. "48 Hours" Correspondent Peter Van Sant reports. JUNE 27, 2020 : A brutal murder and police have DNA evidence. Could a discarded cigarette lead investigators to a possible killer and close a case two decades later? CBS News correspondent Anne-Marie Green reports. JUNE 20, 2020| DOUBLE FEATURE : A woman repeatedly threatened to kill her ex. She enlisted her father to help make good on her promise. Why couldn't anyone stop her? "48 Hours" correspondent Peter Van Sant reports. Cold-Blooded Killer: A father goes hunting in a Florida lake and vanishes. Many thought he was eaten by alligators, but not his mother. Seventeen years later, stunning courtroom revelations: it was murder. "48 Hours" correspondent Richard Schlesinger reports. JUNE 13, 2020| DOUBLE FEATURE : The wife of a NYC businessman is suspected of murdering him with help from her brother -- why would she want him dead and why did it take more than two decades to crack the case? "48 Hours" correspondent Richard Schlesinger reports. : "48 Hours" goes inside a family's mission to restore their son's reputation after he was fatally shot by a police officer. CBS News special correspondent James Brown reports. JUNE 6, 2020 An Ohio mom is brutally murdered. A detective pursues the wrong suspects, while the real killer walked free. It would take a dedicated sheriff to find a real suspect. Were there other victims? CBS News' Jim Axelrod reports. MAY 30, 2020 : Four young women attacked, only one survivor. "48 Hours"' Maureen Maher has been on the trail of serial killer Michael Gargiulo for more than a decade. How "48 Hours" helped crack one of the cases. MAY 23, 2020 : The parents of Brooke Skylar Richardson speak out -- the real story behind the international headlines in the case of an alleged unthinkable crime. "48 Hours" correspondent Erin Moriarty investigates. MAY 16, 2020 : Two children vanish and an Idaho mother won't say where they are. In their first network TV interview, her mother and sister say she'd never harm her children. So where are the kids? CBS News correspondent Jonathan Vigliotti reports. : A young woman vanished after a night out in Milwaukee in October 2013. Did a meeting set up on a dating app lead to the disappearance or was it someone she knew? "48 Hours" correspondent Peter Van Sant reports. MAY 9, 2020 : The FBI believes skulls drawn in blood are the number of victims murdered by a prolific serial killer. Inside the FBI search to identify them. "48 Hours" correspondent Peter Van Sant reports. MAY 2, 2020 : A 13-year-old girl vanishes in 1981. Detectives believe she was murdered. Years later a woman appears and claims to be the missing girl. Is she an impostor? "48 Hours" correspondent Maureen Maher reports. APRIL 25, 2020 : A college student goes missing -- the "Find My Friends" app leads to her body as her suspected killer flees the country. Will he get away with murder? CBS News contributor Maria Elena Salinas reports for "48 Hours." APRIL 18, 2020 : Did a young white woman cause a wrongful conviction by blaming a murder on a "black guy"? "48 Hours" correspondent Erin Moriarty has new details in the case she been covering for 20 years. APRIL 11, 2020 : Notorious serial killer Ted Bundy targeted three young Florida women in one of his final attacks. They survived and share their terrifying ordeal and long road to recovery. CBS News correspondent Tracy Smith reports. APRIL 4, 2020 : A wealthy Florida businessman is arrested after a violent confrontation with his wife – she survived. Did his daughter's sumptuous wedding lead to a murderous rage? "48 Hours" correspondent Peter Van Sant reports. MARCH 28, 2020 : Did Lizzie Borden really hack her parents to death? A surprising answer and an inside look at the haunting crime scene. "48 Hours" correspondent Erin Moriarty reports. MARCH 21, 2020 : A man on death row says his blood was planted at the crime scene. Will an empty vial help his case? "48 Hours" correspondent Erin Moriarty reports. MARCH 14, 2020 : A story of tragedy and triumph -- the murder of a young woman and how her killer's heart saves the life of a dying woman. CBS News' Jim Axelrod reports. MARCH 7, 2020 : A rare look inside a murder case where virtually everything from the first moments of the investigation through the verdict are captured on camera. "48 Hours" correspondent Richard Schlesinger reports. FEBRUARY 29, 2020 Find Yura – Manhunt on the Dark Web: A teenager learns she's the target of a hit ordered on the dark web. "48 Hours"' Peter Van Sant goes on a global manhunt to find Yura, the shadowy figure behind murder-for-hire sites. FEBRUARY 22, 2020| DOUBLE FEATURE : An investigation into the death of a Hollywood therapist. Did the system do enough to protect her from alleged killer Gareth Pursehouse? Her former fiancé Drew Carey calls for updated laws. "48 Hours" correspondent Erin Moriarty reports. : An Irish businessman is killed by his American au-pair-turned-wife and her father. They claim self-defense. The dead man's sister fights to clear his name. "48 Hours" correspondent Maureen Maher investigates. FEBRUARY 15 2020 : Did a Florida man hire a look-a-like to kill his wife? A GPS leads police right to the hitman's door. "48 Hours" correspondent Erin Moriarty reports. FEBRUARY 8, 2020| DOUBLE FEATURE : A young woman claims she was attacked by an ex-boyfriend who carved the word boy into her arm. But the crime scene tells a different story. CBS News correspondent Jamie Yuccas reports. : Could a teenager be brainwashed by one parent to help murder the other parent -- and then make it look like a suicide? "48 Hours" correspondent Erin Moriarty reports. FEBRUARY 1, 2020 : A woman accused of setting her house on fire and then intentionally running over her husband as he escaped the flames speaks out for the first time. "48 Hours" correspondent Erin Moriarty reports. JANUARY 25, 2020 : A survivor deals with the trauma after her stepbrother is convicted of killing her family in order to go to the prom. CBS News' Jim Axelrod reports. JANUARY 18, 2020| DOUBLE FEATURE : Hear from the woman at the center of a case prosecutors said was all about "sex, lies, money and murder." "48 Hours" correspondent Peter Van Sant reports. : Michelle Carter, convicted of involuntary manslaughter because she used text messages to encourage a friend to take his own life, is being released from jail. "48 Hours" correspondent Erin Moriarty has the latest in the headline-making case. DECEMBER 31, 2019 : Three murders in Austin, Texas, and little evidence to go on. Did a man testing a thermal imaging camera inadvertently capture the image of one of the killers? "48 Hours" correspondent Maureen Maher investigates. DECEMBER 14, 2019 : Hostages chillingly reveal the terrifying three hours they spent held captive by a gunman inside a California supermarket. CBS News' Jim Axelrod reports. DECEMBER 7, 2019 : A California man shot dead in his home — his ex-wife admits she pulled the trigger. Did a photo posted on social media lead to the man's death? "48 Hours" correspondent Erin Moriarty reports. : A former TV producer and windsurfing champion says he's in prison for a murder he didn't commit -- the only physical evidence against him: a teaspoon of sand. "48 Hours" correspondent Erin Moriarty investigates. NOVEMBER 30, 2019 : How a bakery worker's secret plan to recover DNA from a discarded Coke can helped investigators solve the cold case of a college student murdered over Thanksgiving weekend. "48 Hours" correspondent Peter Van Sant reports. NOVEMBER 23, 2019 Justice for Kelsey Berreth: An inside look at the startling evidence that helped convict against Colorado man Patrick Frazee for the murder of his fianceé. CBS News correspondent Nikki Battiste reports. NOVEMBER 16, 2019| DOUBLE FEATURE : A woman repeatedly threatened to kill her ex. She enlisted her father to help make good on her promise. Why couldn't anyone stop her? "48 Hours" correspondent Peter Van Sant reports. : Can a daughter's frantic 911 call convict or free her father from charges that he killed his wife? CBS News'Jim Axelrod reports. NOVEMBER 9, 2019 : A brutal murder and police have DNA evidence — could a discarded cigarette lead investigators to a possible killer and close a case two decades later? CBS News correspondent Anne-Marie Green reports. NOVEMBER 2, 2019 : A young woman vanished after a night out in Milwaukee in October 2013. Did a meeting set up on a dating app lead to the disappearance or was it someone she knew? "48 Hours" correspondent Peter Van Sant reports. OCTOBER 26, 2019| DOUBLE FEATURE : The wife of a NYC businessman is suspected of murdering him with help from her brother -- why would she want him dead and why did it take more than two decades to crack the case? "48 Hours" correspondent Richard Schlesinger reports. : A teen's death appeared to be a suicide -- but investigators say she was helped by a friend who recorded it and weeks earlier texted "it's like getting away with murder." CBS News correspondent David Begnaud reports. OCTOBER 19, 2019 An Ohio mom is brutally murdered. A detective pursues the wrong suspects, while the real killer walked free. It would take a dedicated sheriff to find a real suspect. Were there other victims? CBS News' Jim Axelrod reports. OCTOBER 12, 2019 : Twenty-six school children abducted and buried alive in a truck trailer by three young men. An incredible survival story. CBS News' David Begnaud reports. OCTOBER 5, 2019 : A mom vanishes and now her fiancé is in jail awaiting trial for her murder. His former rodeo queen girlfriend says she knows what really happened. CBS News correspondent Nikki Battiste reports. SEPTEMBER 28, 2019 : The parents of Brooke Skylar Richardson speak out -- the real story behind the international headlines in the case of an alleged unthinkable crime. "48 Hours" correspondent Erin Moriarty investigates. SEPTEMBER 14, 2019| SEASON PREMIERE : Four young women attacked, only one survivor. "48 Hours"' Maureen Maher has been on the trail of serial killer Michael Gargiulo for more than a decade. How "48 Hours" helped crack one of the cases.

A Catholic priest from Cincinnati pleaded guilty on Thursday to raping a 10-year-old altar decades ago, one day before the jury was to be selected for his trial. The Rev. Geoff Drew, 59, was reportedly emotionless at his court appearance when he was directly addressed by his victim, now in his 40s. "The truth is no amount of time will make up for the child that you murdered," the victim told his abuser, according to Fox 19. "Any chance of having intimacy, any chance to actually live, love, find joy, was stolen," the victim said. "You made me unusable, undesirable, dirty and broken, but I trust in God that this is bigger than you. This is bigger than me. And this is in his authority to have vengeance. And one day you will have to stand in front of him." Drew was sentenced to seven years in prison after pleading guilty to nine counts of rape from 1988 to 1991, far less than the possible 99-year sentence he would have faced if convicted by a jury. He must register as a sex offender for the rest of his life. The victim said in court Thursday that a photo on social media of Drew baptizing the child of someone he knew moved him to come forward. Hamilton County Common Pleas Court Judge Leslie Ghiz said Drew had lucked out with his plea bargain, as she would have "gladly" sentenced him to life in prison if convicted. She said the jury may still be out on his eternal sentencing in the afterlife. "This is shameful, just shameful. It's shameful for the church, it's shameful for you," the judge told Drew, according to Fox 19. "I will tell you this, I believe in the afterlife. I believe God is a forgiving God, but I truly believe that he's going to think twice when he sees you at the gates of heaven." Prosecutors said Drew raped the boy multiple times at St. Jude School in Green Township, Ohio, where Drew was musical minister prior to becoming a priest. The abuse reportedly occurred after school hours in Drew's office. Drew became a priest in 2004 and also taught at Elder High School in West Price Hill. He was indicted in August 2019, and was subsequently placed on administrative leave by the Archdiocese of Cincinnati, Fox 19 reported. Drew has now been stripped of all his ministerial duties, according to the Archdiocese. "Father Geoff Drew will never again have a priestly assignment in the Archdiocese of Cincinnati or any other diocese," Archbishop Dennis M. Schnurr said in a prepared statement, according to Fox 19. The Archdiocese of Cincinnati admitted "serious mistakes" for its response to allegations against Drew, according to Fox 19. Court records showed that the abuse continued throughout Drew's career, which were expected to be detailed by the prosecution during his trial. Another student at St. Jude also alleged that Drew groomed and sexually abused him between 1985 and 1987, when he was 12 years old or younger, according to court documents. One of the Archdiocese's highest ranking officials, Auxiliary Bishop Joseph R. Binzer, resigned over his handling of sexual complaints against Drew. He was removed in 2019 after he failed to report a 2013 accusation that Drew behaved improperly with children. His resignation was accepted by Pope Francis in May 2020. "I am deeply sorry for my role in addressing the concerns raised about Father Drew, which has had a negative impact on the trust and faith of the people of the Archdiocese of Cincinnati," Binzer said in a statement at the time.



Total 49 articles.
Version: 9.83.38380-256015. Input files: 1, items detected: 3286, scanned: 3286, accumulated: 49, inserted: 49, exclude filters: 0, include filters: 0, empty media: 152, filtered media: 186, duplicated media: 71, not matched limits: 361, passed http check: 0, not passed http check: 0, http check errors: 0, skipped: {total: 3237, by unique value: 0, by limits: 595, by similarity: 33, by unicity: 291, by dates: 271, by classifier: 2375, by blacklist: 320, by mandatory tag: 0, from input files: 0}, bad dates: 0, similar from same domain: 912, unique Ids: 0, unchangeble patterns: 1404, words comparisons: 27280587/3015224, python: 2.7.13 (default, Sep 26 2018, 18:42:22) [GCC 6.3.0 20170516]; the same images URLs found 2675 times; total 0 languages detected: {}; {u'text': {u'chars': 4857181, u'bytes': 19990948, u'words': 789535, u'sentences': 51430}}
Created at 2021-12-06 03:56