Announcement
DC5n United States IT in english 137 articles, created at 2021-12-06 02:10 articles set mostly positive rate 4.7
(2.05/3)

1

0.4

Fortnite Chapter 3 Features Spider-Man, Web-Swinging, Sliding, and the Ability to Store Items Between Matches

Epic is about to release Fortnite Chapter 3 Season 1, which features Spider-Man and his Daily Bugle, not to mention web-swinging and sliding. 2021-12-05 13:06 2KB wccftech.com

(2.04/3)

2

0.7

Car Thieves Are Using AirTags to Track Vehicles

York Regional Police said at least five vehicles have been targeted by car thieves who used Apple's item tracker. 2021-12-05 18:57 2KB uk.pcmag.com

(1.09/3)

3

0.2

The Google Pixel Watch shows up again in newly leaked marketing images

The rumors are starting to build up again about a Google smartwatch – and there are newly leaked images too. 2021-12-05 19:30 3KB www.techradar.com

(1.09/3)

4

0.7

Apple to Launch iPad Pro With Wireless Charging in 2022, iPad Air 5 With Updated Internals, More

A new report suggests that Apple will launch new iPad Pro models with wireless charging option in 2022 along with new iPad Air 5, and entry-level iPad. 2021-12-05 18:18 2KB wccftech.com

(1.08/3)

5

1.0

The best Google Pixel 6 Pro wallet cases

Protect your phone and add another layer of functionality to your phone case with these excellent wallet cases for the Google Pixel 6 Pro. 2021-12-05 23:00 1KB www.androidauthority.com

(1.05/3)

6

0.4

Broncos vs Chiefs live stream: how to watch NFL Sunday Night Football from anywhere

Here's how to get a Denver Broncos vs Kansas City Chiefs live stream and watch NFL Sunday Night Football from anywhere, as Vic Fangio's improving team take on a very well-rested KC. 2021-12-05 22:28 2KB www.techradar.com

(1.04/3)

7

0.0

In 2021 Marvel shows took over your TV

After an intergalactic, time-traveling war and a silly trip to Europe , the  Marvel Cinematic Universe  had a quiet 2020 , prompted by the pandemic and … 2021-12-05 21:35 8KB www.cnet.com

(1.04/3)

8

0.7

These smartphones are coming next year, and they look pretty amazing

We are less than a month away from the new year, and many of the smartphones that debuted this fall easily made CNET's list … 2021-12-05 16:30 9KB www.cnet.com

(1.03/3)

9

0.8

Netflix: The best documentaries you need to watch

The Last Dance, Tiger King and  -- more recently -- 14 Peaks. When it comes to documentaries,  Netflix 's selection is incredible. True crime, history, … 2021-12-05 21:28 1KB www.cnet.com

(1.03/3)

10

0.2

If you loved Great British Bake Off, watch this Netflix show now

One of my favorite things about the Great British Bake Off  (and I've gobbled up every season) is the camaraderie that blunts some … 2021-12-05 20:00 4KB www.cnet.com

(1.03/3)

11

0.6

Fortnite players have their world turned upside down

Fortnite, one of the largest and most popular games in the battle royale genre, is undergoing another major update. The introduction of a new chapter will infuse. 2021-12-05 10:04 2KB www.techspot.com

(1.01/3)

12

0.2

Apple's AR Headset Still on Track for a 2022 Release, Will Be a Product Focused on Gaming and Media Consumption

Apple is reportedly still on track to launch its first AR headset in 2022 and it will be a product that focuses on gaming and media 2021-12-05 23:49 2KB wccftech.com

(1.01/3)

13

0.5

Hackers take $196 million from crypto exchange Bitmart, security firm says

Bitmart said all withdrawals had been temporarily suspended until further notice and a thorough security review was underway. 2021-12-05 22:56 4KB www.cnbc.com

(1.01/3)

14

0.1

If you ask me, your new iPhone 13 doesn't really need a case

Ever since I experienced the anguish of back-to-back iPhone screen-shattering accidents, I've been firmly pro-case. "It's just safer and … 2021-12-05 20:00 7KB www.cnet.com

(1.01/3)

15

0.4

Spider-Man: Across the Spider-Verse leans on previous movie's post-credits scene

The first trailer for Spider-Man: Across the Spider-Verse (Part 1)  dropped this weekend, reuniting us with Miles Morales and Gwen Stacy for the … 2021-12-05 19:28 4KB www.cnet.com

(1.01/3)

16

0.1

How to View Wi-Fi Passwords on Windows 11 Computers

If you forgot you password for current or previous connections, you can view the Wi-Fi passwords on Windows 11 very easily. Learn how. 2021-12-05 17:41 1KB wccftech.com

(1.01/3)

17

0.4

Grim Dawn on Xbox Series X: A dated classic on consoles

News, Reviews & Betas which includes large community peer support Grim Dawn: Definitive Edition launched on Xbox consoles last week. However, how does this game from 2016 hold up on Microsoft's machines? While the content is great, the technical front is lacking. 2021-12-05 17:14 3KB www.neowin.net

(1.01/3)

18

0.7

AWS Re:Invent Wrap-Up: Social Issues, Networking Focus, Partner Revenue

Ever the fierce competitor, AWS unveiled plenty of new initiatives in its annual event, and even evinced a budding social awareness. 2021-12-05 14:36 6KB www.eweek.com

(1.01/3)

19

0.1

Street Fighter 5 is one of gaming's best redemption stories

After five years, Street Fighter 5 has finally reached its end. The road it traveled wasn't the smoothest, but its journey was an interesting one. 2021-12-05 14:00 5KB www.digitaltrends.com

(1.01/3)

20

0.8

Best mobile phones under Rs 40,000: OnePlus 9R, Mi 11X Pro among top choices

The sub-Rs 40,000 smartphone segment has witnessed several new launches this year. As this year comes to an end, here is a list of top phones you can consider if you are planning to buy a new smartphone. 2021-12-05 10:42 3KB www.indiatoday.in

(1.01/3)

21

0.7

Moto G51 launch: Specs, features, India price, and all that we know so far

The Moto G51 is confirmed to arrive on December 10 in India. The smartphone will be powered by the Snapdragon 480+ chipset, 50-megapixel triple rear cameras and a 5000mAh battery. Here's everything we know about Moto G51 ahead of the India launch. 2021-12-05 08:35 3KB www.indiatoday.in

(0.99/3)

22

0.9

Ihre Daten. Ihr Umfeld.

Yahoo ist Teil der Markenfamilie von Yahoo . Durch Klicken auf " Alle akzeptieren " erklären Sie sich damit einverstanden, dass Yahoo und seine Partner Cookies und … 2021-12-05 22:28 1KB consent.yahoo.com

(0.12/3)

23

0.0

The bumpy road to 5G in India is not over yet, so can we really expect 6G by 2023?

At present, 58 countries have 5G networks as of June 2021, according to a GSA report. Truth be told, India is not among them. The question here arises where do we stand in terms of 5G implementation at the moment? India is yet to make its debut in 5G technology when almost all the well-known smartphone manufacturers have already unveiled the 5G enabled smartphones. 2021-12-05 11:30 3KB www.bgr.in

(0.06/3)

24

1.2

Michigan Boy, 13, Makes Threatening Message to Middle School, Charged with Felony

A middle schooler was arrested after he made a threatening 'better watch out' message with the picture of a gun. 2021-12-05 15:33 3KB www.ibtimes.sg

(0.06/3)

25

1.4

AI can't steal your job if you work alongside it — here's how

An upcoming research project will explore how humans can collaborate with AI for improved productivity — and keep our jobs. 2021-12-05 15:00 5KB thenextweb.com

(0.05/3)

26

0.1

Samsung Galaxy S21 FE release date rumors, news, price and leaks

The Samsung Galaxy S21 FE is likely to land in 2021 and we've heard a lot of rumors about it. 2021-12-05 21:44 11KB www.techradar.com

(0.05/3)

27

0.2

2022 Apple Watch Lineup Rumored to Include New Apple Watch SE and 'Rugged' Model for Sports

Apple is planning an entire revamp of its Apple Watch lineup for 2022, including an update to the Apple Watch SE and a new Apple Watch with a rugged. 2021-12-05 16:22 2KB www.macrumors.com

(0.03/3)

28

0.6

Learn Windows Automation In This Cyber Week Training Package Deal

While Microsoft exploring some areas more than Windows, the latter's operating system is likely the product most of us know the best. Yet if you're not familiar with PowerShell, you're not getting the most from a tool you use every day. The 2022 Windows PowerShell Certification Bundle will show you what you're missing, and you can […] 2021-12-05 16:44 3KB futurism.com

(0.03/3)

29

0.4

Protect Your Pet's Health With This Cyber Week DNA And Allergy Test Bundle Deal

Dogs love us, even if we go to space without them, so return that love this Cyber Monday with the DNA My Dog Breed Identification Test & Allergy Test My Pet Kit Bundle and save 20% with code CMSAVE20. DNA My Dog Winners of the Leaders in Ethical Canine Testing award at the BHP Biotechnology […] 2021-12-05 05:12 2KB futurism.com

30

0.8

Here's how and where you can watch the best 4K content

Here is where you can find the best 4K content. This list highlights the best places to find 4K and HDR content, both on-demand and live. 2021-12-05 23:04 17KB www.digitaltrends.com

31

0.3

Best elliptical machine deals for December 2021

Elliptical machines give a solid cardio workout without damaging impact. We found the best elliptical deals available this month. 2021-12-05 22:53 2KB www.digitaltrends.com

32

0.1

Last chance to land 5 years of Ivacy VPN for $1 per month

News, Reviews & Betas which includes large community peer support At just $60 for the entire billing period, this Cyber Monday week treat yourself to a premium VPN service. Unblock geo-protected streaming services and regain your online privacy. Ends Dec 5th. 2021-12-05 22:38 2KB www.neowin.net

33

0.1

How to watch Gervonta Davis vs Isaac Cruz and live stream title fight from anywhere

Undefeated Gervonta Davis will need to be at it from the first bell against the ferocious Isaac Cruz - discover how to watch a Davis vs Cruz live stream online from anywhere. 2021-12-05 22:21 2KB www.techradar.com

34

0.5

Here's a list of portable tech gadgets you'll want to use every day

If you're looking for some portable tech devices to keep you charged up while on the go (or for some great small gift ideas), we've rounded a list of must-have gadgets. You'll find everything from a Tesla Coil rechargeable lighter to a folding Bluetooth keyboard on our list. 2021-12-05 22:17 10KB www.digitaltrends.com

35

0.4

Tajezzo PZ5 Smart Backpack review

The Tajezzo PZ5 is packed full of features that proved themselves useful, especially if you get around on two wheels. 2021-12-05 22:09 5KB www.techradar.com

36

0.6

Best board games 2021: For adults, families, two players, and more

Video games? Who needs them, when you and your friends can gather around a table and play some board games? Here are our favorites. Start planning game night. 2021-12-05 22:04 14KB www.digitaltrends.com

37

0.4

Some Chromecast with Google TV, Netflix bundle buyers accidentally get another 6 months for free

A bug looks to be causing some Chromecast with Google TV bunder buyers to get another 6-month Netflix promo code for free service. 2021-12-05 21:21 1KB 9to5google.com

38

0.4

Smart home privacy: What data is collected, and how is it used?

Are you worried about Amazon, Apple, or Google snooping on you with smart speakers and displays? Here's what you need to know about smart home privacy. 2021-12-05 21:00 4KB www.androidauthority.com

39

2.0

Whicker: Cincinnati proves the College Football Playoff is no closed shop

Cincinnati vaulted past more celebrated teams into a place where it could compete for a national championship, a feat previously believed impossible. 2021-12-05 20:46 5KB www.siliconvalley.com

40

0.6

What is the Fermi Paradox?

The Fermi Paradox asks why we haven't found signs of alien life yet. Does it not exist? Or have we simply not been looking hard enough? 2021-12-05 20:19 8KB www.livescience.com

41

0.4

US military has reportedly acted against ransomware groups

The US military has gone on the offensive against ransomware groups as US companies increasingly become targets of malware attacks, the nation's top cyber … 2021-12-05 20:14 3KB www.cnet.com

42

0.9

Ant-Man 3 leak gives us our first look at Marvel's next scary villain

An Ant-Man 3 leak gives us our first look at the film's big villain and Marvel's Thanos replacement, Kang the Conqueror. 2021-12-05 20:06 4KB bgr.com

43

0.8

Potentially Beastly Apple M1 Quadra CPU Detailed In Chip Die Map Analysis

Looking at the bottom of the M1 Max CPU die, experts see Apple may be planning on interconnecting the SoCs. 2021-12-05 20:00 1KB hothardware.com

44

0.6

Huawei MateBook E vs Surface Pro 8 vs iPad Pro M1: Specs Comparison

A comparison between the high-end tablets Huawei MateBook E, Surface Pro 8 and iPad Pro M1. 2021-12-05 19:44 1KB www.gizmochina.com

45

0.6

Antivaxxer Caught Using Fake Arm to Pretend to Get Vaccine

A man in Italy used a fake arm to try and avoid getting a real COVID-19 vaccine. The man's arm seemed different, and a nurse realized it was rubber foam. 2021-12-05 22:01 2KB futurism.com

46

1.0

Your data. Your experience.

Engadget is part of the Yahoo family of brands. By clicking " Accept all " you agree that Yahoo and our partners will store and/or access … 2021-12-05 20:56 1KB consent.yahoo.com

47

1.3

Actual 3D-printed steaks are now being served in restaurants – here's where

These 3D-printed steaks look, feel, and taste just like real meat, and now they're available in even more restaurants than ever. 2021-12-05 18:35 3KB bgr.com

48

0.3

Report: US Wants Allies to Restrict Exports of Surveillance Tools

The US government reportedly wants to lead a global effort to prevent surveillance tools from being exported to authoritarian countries. 2021-12-05 18:35 2KB uk.pcmag.com

49

0.9

russia: Russia files court cases for fines on annual turnover of Google, Meta

Roskomnadzor in October threatened both Alphabet's Google and Meta's Facebook with fines based on a percentage of their annual turnover for a repeated failure to delete content that Moscow deems illegal. 2021-12-05 18:31 1KB www.gadgetsnow.com

50

0.3

Beware: Fake KMSPico Windows activator carries crypto wallet info stealing malware

News, Reviews & Betas which includes large community peer support A fake KMSPico Windows activator has been discovered by security company Red Canary. The malware is capable of stealing information from various crypto wallets, among other things, using a Cryptbot. 2021-12-05 18:26 2KB www.neowin.net

51

0.0

Apple MagSafe Battery deal: Stay charged on the go and save $24

Apple products are notoriously difficult to find on sale, but every now and then you can find good deals at authorized Apple retailers. The MagSafe Battery Pack … 2021-12-05 18:11 1KB www.cnet.com

52

0.7

Get a 1-year subscription to TravelHacker Premium for only $23.40

News, Reviews & Betas which includes large community peer support See the world again! Uncover low airfare deals to pandemic-friendly destinations without booking months in advance. For a limited time, enter a promo code and save an additional 40% off. 2021-12-05 18:10 2KB www.neowin.net

53

0.2

Chinese rover spots weird cube-shaped feature on the far side of the moon

China's Yutu-2 rover, currently exploring the far side of the moon, has spotted a strange cube-shaped object on the moon's surface. 2021-12-05 18:00 2KB www.digitaltrends.com

54

0.0

What to stream in December 2021 on Netflix, Disney Plus, HBO Max, and more

Don't know what to stream this December? Here's our monthly list of streaming suggestions for titles you can enjoy on popular services. 2021-12-05 18:00 4KB www.androidauthority.com

55

0.3

With Its Exit, Didi Sends a Signal: China No Longer Needs Wall Street

With plenty of its own money and a greater desire to control the private sector, Beijing is pushing its companies to tap investors closer to home. 2021-12-05 17:41 8KB www.nytimes.com

56

0.6

Starlink Download Speed Touches 370 Mbps At 14,000 Feet Altitude - But With A Catch

SpaceX's Starlink satellite internet service blazes past 350 Mbps in the Rocky Mountains of Colorado reveals latest speed test. 2021-12-05 17:39 3KB wccftech.com

57

0.2

Harvard Professor Roasts Elon Musk For Dumb Space Mistake

A Harvard astronmer corrected Tesla CEO Elon Musk after the billionaire incorrectly tweeted his Tesla Roadster was orbiting Mars in space. 2021-12-05 20:55 2KB futurism.com

58

0.5

Ohio Man Catches Newborn with One Hand While Driving with Another as Wife Gives Birth in Car

A Cincinnati couple welcomed their baby daughter in the most unusual manner on the way to the hospital. 2021-12-05 17:20 2KB www.ibtimes.sg

59

0.2

Clearview AI Wins Web-Scraping Facial Recognition Patent Triggering Big Brother Privacy Concerns

The award of this patent and acceptance of the needs outlined within indicate that Clearview and the government are willing to open the door to numerous facial recognition implementations. 2021-12-05 17:19 2KB hothardware.com

60

0.1

How to Fix a Cloud Deployment That's Losing Money

To optimize our cloud deployments, we clearly need to fix the planning problems ASAP and define clear paths for our IT staff to improve cloud's business value. 2021-12-05 17:17 9KB www.eweek.com

61

0.8

Netflix movies, shows, & series: New releases for the week of December 5th

We update this page constantly with all of the Netflix releases that hit the streaming service this week, so check back often. 2021-12-05 17:06 1KB bgr.com

62

0.6

Fossil footprints puzzle scientists: Bear or ancient human?

Prehistoric footprints that have puzzled scientists since the 1970s are getting a second look: Were they left by extinct animals or by human ancestors? 2021-12-05 17:00 4KB phys.org

63

0.3

Google Photos' Locked Folder Reaches More Users

The feature, which was originally exclusive to Pixel owners, is reportedly expanding to other Android devices. 2021-12-05 17:00 1KB uk.pcmag.com

64

0.3

Battlefield 2042 tips and tricks: Use these hints to dominate BF2042

These tips should help you get started in the new Battlefield, or to refine your playstyle. 2021-12-05 17:00 6KB www.pocket-lint.com

65

0.1

Best VPN service for Amazon Fire TV Stick in 2021

Amazon Fire TV devices are a great way to stream your favorite TV shows and movies, but do you really need to use a VPN  on … 2021-12-05 16:39 3KB www.cnet.com

66

0.2

Giant black hole inside a tiny satellite galaxy defies explanation

A tiny galaxy orbiting at the outskirts of the Milky Way appears to have a giant black hole at its center, comparable to that of the much larger Milky Way itself, and scientists don't know why. 2021-12-05 16:37 3KB www.livescience.com

67

0.0

Roman Republic: The rise and fall of ancient Rome's government

The Roman Republic flourished for nearly 500 years, so what caused it to collapse? 2021-12-05 16:29 18KB www.livescience.com

68

0.1

Chemical pollutants disrupt reproduction in anemonefish

Ocean pollution is unfortunately becoming more commonplace, raising concerns over the effect of chemicals that are leaching into the water. In a new study, researchers have discovered how these chemicals can affect the reproduction in common anemonefish Amphiprion ocellaris. 2021-12-05 16:17 4KB www.sciencedaily.com

69

0.2

Potent Acer Alder Lake Gaming Laptop Breaks Cover In Retailer Leak

Next-gen gaming laptops pairing mobile Alder Lake CPUs with an unannounced NVIDIA Ampere GPU have been spotted at a retailer in France. 2021-12-05 16:12 2KB hothardware.com

70

0.1

Hubble Space Telescope captures a sparkling spiral galaxy

This week's image from the Hubble Space Telescope shows a picture-perfect galaxy, located 120 million light-years away in the constellation of Virgo. 2021-12-05 16:00 1KB www.digitaltrends.com

71

0.9

Best vegetarian and vegan meal delivery for 2021

If you keep to a plant-based diet, you're not excluded from the easy meal kit and meal delivery revolution. There are some truly … 2021-12-05 16:00 4KB www.cnet.com

72

0.4

My Galaxy S22 wishlist: 5 upgrades I want to see from Samsung next year

The Galaxy S21 impressed us with its pro-level camera, vibrant screen and speedy processor. But now that the smartphone is nearly a year old, … 2021-12-05 16:00 6KB www.cnet.com

73

0.5

Far-Right Trolls Abuse Twitter's New Policy to Get Critics Banned

Journalists and researchers are being banned from Twitter due to coordinated efforts to abuse the company's recently updated private information policy. 2021-12-05 15:58 2KB uk.pcmag.com

74

0.2

Thanksgiving may have made this Windows 11 ex-user thankful that Windows 10 still exists

News, Reviews & Betas which includes large community peer support Windows 11 is not everyone's cup of tea as it seems many are dissatisfied. For example, a Redditor went on a rant about their experience almost as if Thanksgiving made them thankful for Windows 10. 2021-12-05 15:52 1KB www.neowin.net

75

0.1

Watch This Maniac Drive His Tesla Through the Ocean

One brave Tesla owner took a red Model 3 off-road this week, posting a video of the car driving through what appears to be the ocean. 2021-12-05 18:47 1KB futurism.com

76

0.8

Netflix is turning this heartwarming viral tweet from 2016 into a movie

When you think of Netflix originals, pulse-pounding action movies like Extraction or Red Notice might be the first that come to mind. But the reason that Netflix is the biggest streaming service on Earth is because of its diverse library. In fact, the movies and shows based on actual events are often the ones that … 2021-12-05 15:35 3KB bgr.com

77

0.1

Ford and Honda hit with major recalls over brake and hood issues

The automotive world is no stranger to significant recalls on various vehicles for different reasons. Recently, Ford confirmed that it recalled almost 115,000 2021-12-05 15:34 5KB www.slashgear.com

78

0.8

Windows 11 SE Vs Windows 11: 5 Key Differences You Should Know

Let's have a look at how the Windows 11 SE vs Windows 11 compare, and what the SE stands for? Or should you go for this toned-down version or full-fledged Windows 11? 2021-12-05 15:22 5KB gadgetstouse.com

79

0.6

Best cheap true-wireless earbuds in 2021: Top AirPods alternatives for $100 or less

Here's a look at the best AirPods alternatives among the current crop of budget true wireless earphones I've tested: All of these cheap … 2021-12-05 15:22 1KB www.cnet.com

80

0.1

Donald Trump says new social media company has raised $1bn

The former president said: "As our balance sheet expands, Trump Media & Technology Group will be in a stronger position to fight back against the tyranny of Big Tech." 2021-12-05 15:01 2KB news.sky.com

81

1.2

Sony Xperia Pro-I review: Not for 'normals,' best left to the pros

Are you a photography or videography pro? Need a powerful imaging device that does it all? Find out more in this Sony Xperia Pro-I review. 2021-12-05 15:00 1KB www.androidauthority.com

82

0.2

Closest pair of supermassive black holes is merging into one mega black hole

Astronomers have recently discovered the closest ever pair of supermassive black holes, which will eventually merge into one even larger black hole. 2021-12-05 15:00 2KB www.digitaltrends.com

83

0.3

45 secret WhatsApp tips and tricks you might not know about

For those familiar with WhatsApp, here are some secret tips you might not know about, mixed in with a few standard tips for those new to the service. 2021-12-05 15:00 22KB www.pocket-lint.com

84

0.4

Contra Costa got 80 complaints against restaurants that allegedly broke COVID vaccine check mandate but didn't fine any

Health officials say they're moving toward an "educational" approach to encourage vaccinations, though that doesn't mean fines are now out of the question. 2021-12-05 14:45 6KB www.siliconvalley.com

85

0.4

UK to Return Stolen 8th-Century Statue of Goat-Headed Deity to India

The Boris Johnson Administration has decided to return a stolen 8th-century goat-headed deity to India. 2021-12-05 14:40 2KB www.ibtimes.sg

86

0.2

Bitcoin continues weekend volatility, now at $48,000

Bitcoin prices held steady on Sunday after a wild 48 hours of trading send the world's largest cryptocurrency tumbling. 2021-12-05 14:32 3KB www.cnbc.com

87

0.1

Elizabeth Holmes trial: After stunning testimony, where does she stand and what comes next?

'The question for this jury is, "Did Elizabeth Holmes go too far?"' said Steven Clark, a legal analyst and former Santa Clara County prosecutor. 'I can't answer that a… 2021-12-05 14:17 9KB www.siliconvalley.com

88

0.0

10 tips to better your smartphone battery life

Smartphones have come a long way over the last few years when it comes to design, camera, or even processing power. However, we have not seen much breakthroughs when it comes to battery technology --which is critical today given that handsets come packed with mammoth sized displays, multiple sensors, and faster processors that take a toll on battery life.While a number of smartphone makers offer 'Fast charging' and 'Power modes' to deal with the situation, a concrete solution is still nowhere to be seen.That said, here we have listed out some lesser known tips and tricks that will help you get the most out of your smartphone battery. 2021-12-05 14:16 5KB www.techradar.com

89

0.6

Walmart Cyber deals: Last chance to save on AirPods, 4K TVs, home goods and more

If you missed your chance to take advantage of the big savings on Black Friday and Cyber Monday, don't fret, Walmart is still offering … 2021-12-05 14:06 3KB www.cnet.com

90

0.1

Livermore Valley wineries hoping to tap into city sewer system to draw more visitors, build resort

Roughly five miles of sewer lines would be needed to serve vineyards and wineries in unincorporated South Livermore Valley. 2021-12-05 14:03 6KB www.siliconvalley.com

91

0.5

This adorable, cheap Amazon gaming keyboard is better than name brands

The Akko 3068B is a keyboard you may have overlooked for name brands. But this cheap Amazon gaming keyboard is better and cheaper than the names you recognize. 2021-12-05 14:00 6KB www.digitaltrends.com

92

0.7

Astronauts on the ISS pick a second peck of chili peppers

Astronauts on board the International Space Station (ISS) have harvested a second batch of chili peppers grown on the station. 2021-12-05 13:52 2KB www.digitaltrends.com

93

0.7

PDRM Will Soon Use Bodycams That Can Live Stream

PDRM is in the midst of getting body cameras for their officers, equipped with artificial intelligence and live video streaming. 2021-12-05 13:45 2KB www.lowyat.net

94

0.3

The Las Vegas strip's latest $4.3 billion crypto-friendly hotel has $15,000-a-night 'villas' and 'palaces' — see what it's like to stay in one

Viva Las Vegas — in June, Resorts World Las Vegas, the Strip's first new casino resort in over a decade, officially opened its doors … 2021-12-05 13:26 3KB www.businessinsider.com

95

0.7

Best wireless chargers for smartphones (Android and iOS)

Given the choice, we'd all prefer gadgets that work as part of a wire-free ecosystem. Wireless chargers are the best example of this technology, enabling modern 2021-12-05 13:12 5KB www.slashgear.com

96

2.6

The top video games of 2021: Halo Infinite, Forza Horizon 5, NHL 22, Super Mario 3D World

Looking for what to buy the gamer in your life? Tech columnist Marc Saltzman offers up his top picks for kids, teens and adults. … 2021-12-05 13:00 840Bytes eu.usatoday.com

97

0.0

All the confirmed Snapdragon 8 Gen 1 phones and brands so far

From Black Shark to ZTE and beyond, here are all the Snapdragon 8 Gen 1 phones and partners that are confirmed so far. 2021-12-05 13:00 3KB www.androidauthority.com

98

0.6

What is the best order to watch the X-Men movies?

Here's how all the X-Men movies fit together, by order of the events that happen in the films. 2021-12-05 13:00 10KB www.pocket-lint.com

99

0.0

Cyber criminals are using fake advertising to distribute malware

Known as malvertising, Cisco's Talos Intelligence believes a specific campaign known as "Magnat" uses fraudulent online advertising to trick users that are searching for legitimate software installers. 2021-12-05 12:46 3KB www.techspot.com

100

1.6

Love tech? Here are the best cars for you

We get it, you're looking for technology. You want the biggest screens, the smartest interfaces and most clever elements packed into your car. This … 2021-12-05 12:30 1KB www.cnet.com

101

0.8

Zoom will soon take your attendance: Talking Tech podcast

Hit play on the player above to hear the podcast and follow along with the transcript below. This transcript was automatically generated, and then edited … 2021-12-05 12:27 4KB eu.usatoday.com

102

0.5

These Nintendo Switch accessories make gaming better at home or on the go

This list rounds up some of the best Nintendo Switch accessories to take your Switch games to the next level. The Switch is a great … 2021-12-05 12:00 1KB www.cnet.com

103

0.3

Did the Great Wall of China work?

The Great Wall of China was built to defend the empire from enemy armies, but now it acts as a unifying symbol and a useful propaganda tool for the ruling Communist Party. 2021-12-05 12:00 4KB www.livescience.com

104

0.0

More Bioshock 4 Details Make Their Way Online

The upcoming Bioshock game, which may be called Isolation, will reportedly take place in the 1960s in Borealis, a fictional Antarctic city. 2021-12-05 11:55 1KB www.lowyat.net

105

0.1

Physics Nobel belies Italy's scientific brain drain

Italian physicist Giorgio Parisi will receive a shared Nobel prize at a ceremony Monday, but behind the celebrations is consternation at the brain-drain that for years has seen many young scientists leave to work abroad. 2021-12-05 11:35 4KB phys.org

106

1.2

Indonesia volcano eruption death toll rises to 13

Rescuers in Indonesia raced to find survivors in villages blanketed by molten ash Sunday after the eruption of Mount Semeru killed at least 13 people and left dozens injured, officials said. 2021-12-05 11:33 5KB phys.org

107

0.0

Intel Raptor Lake CPU spotted in first benchmark leak

Early leakage doesn't tell us anything much about performance, but does back up previous rumors on the spec. 2021-12-05 11:19 2KB www.techradar.com

108

0.6

I wish all smart security cameras had this one feature

Blink's rapid security camera notifications are less accurate, but they can make all the difference when preventing an accident. 2021-12-05 11:00 4KB www.androidauthority.com

109

0.0

Here's why Oppo's upcoming foldable phone could be a real Samsung Galaxy Z Fold rival

The Oppo Find N sounds like it's coming soon, and it could take the foldable phone world by storm. 2021-12-05 11:00 2KB www.techradar.com

110

0.2

Sex and the City reboot 'And Just Like That' release date and how to catch up

Everything we know so far about the Sex and the City reboot 'And Just Like That', including when it is due out and how to catch up on previous seasons 2021-12-05 11:00 7KB www.pocket-lint.com

111

0.6

Fossil Gen 6 – recension review

Fossil Gen 6 smartwatch har bättre specifikationer och en blodsyresensor, men den är i stort sett densamma som sin föregångare, med batteritid som är en besvikelse. 2021-12-05 10:54 9KB global.techradar.com

112

0.5

5 reasons why HUAWEI WATCH GT 3 – Moon Phase Collection II stands out in the crowded premium smartwatch segment

HUAWEI WATCH GT 3 - Moon Phase Collection II comes in two variants (46mm and 42mm) and delivers an upgraded, more powerful, and convenient user experience. 2021-12-05 10:32 7KB www.91mobiles.com

113

0.3

Motorola shows off the Moto Edge X30 – but you may not be able to buy it

This 6.67-inch flagship phone is making its debut on December 9 in China, but Motorola has given us an early look at it. 2021-12-05 10:30 2KB www.techradar.com

114

91.5

Myanmar Soldiers ram Car Into an Anti-Coup Protest Killing 5 in Yangon: Report

A 'flash mob' anti-coup protest in Yangon on Sunday morning saw 5 people dead after a security forces car rammed into the protestors. 2021-12-05 10:22 2KB www.ibtimes.sg

115

0.8

KitGuru Advent Calendar 2021 Day 5 – Win a Deepcool PC gaming bundle!

For day 5 on the KitGuru Advent Calendar 2021, we are teaming up with Deepcool to give one lucky KitGuru reader a PC gaming upgrade bundle, including a new case, cooler and power supply, as well as a new gaming keyboard and mouse. 2021-12-05 12:32 2KB www.kitguru.net

116

0.2

Is an All-Encompassing Mobility App Making a Comeback?

Versions of "mobility as a service," or MaaS, apps exist, but companies and cities will need to come together for the idea to gain momentum. 2021-12-05 10:00 9KB www.nytimes.com

117

0.8

iPhone privacy features not a lot of people know about yet

Many people likely want a better grip on their data privacy and security, and with iOS 15, Apple took steps to bolster its privacy credentials. … 2021-12-05 10:00 6KB www.cnet.com

118

0.7

unifi Mobile 5G Coming Soon To Postpaid Customers In Kuala Lumpur, Cyberjaya, and Putrajaya

TM today has announced that it will be conducting a 5G trial with Digital Nasional Berhad (DNB). Even though the trial is meant for service optimization, unifi Mobile postpaid customers will be able to access the 5G network during the said period. The announcement came a day after The Straits Times of Singapore reported that […] 2021-12-05 09:49 2KB www.lowyat.net

119

0.5

Nintendo Switch OLED consoles and bundles are still in stock at these stores

Nintendo Switch OLED consoles and bundles are still in stock at these retailers so you can pick one up before Christmas. 2021-12-05 09:44 1KB www.techradar.com

120

0.0

UN Chief Antonio Guterres puts Iran under pressure, calls for Nuclear Weapons-free Middle East

UN Secretary General Antonio Guterres has made it clear that the World Body wants no nuclear arms race in the Middle East. 2021-12-05 09:23 3KB www.ibtimes.sg

121

0.4

Convicted media mogul of Hong Kong Jimmy Lai wins Press Freedom Award

A couple of days after media magnate of Hong Kong Jimmy Lai announced that he would shut the Taiwanese unit of his flagship 'Apple Daily' later this month, he and his newsroom staff have won the Golden Pen of Freedom Award for defending Press Freedom. 2021-12-05 09:23 3KB www.ibtimes.sg

122

0.6

What are video codecs? Everything you need to know about AV1, VP9, H.264, others

Between H.264, VP9, AV1, and others, nearly half a dozen competing video codecs are currently in use today. Find out why they matter here. 2021-12-05 09:00 2KB www.androidauthority.com

123

0.5

Over 25 years of PlayStation: The consoles and accessories that changed gaming forever

Join us as we take a pictoral stroll through the last 25 years of PlayStation consoles and some of the accessories that we remember so fondly. 2021-12-05 09:00 14KB www.pocket-lint.com

124

0.8

Phones launched in November 2021: Redmi Note 11T 5G, POCO M4 Pro, Lava Agni 5G and more

The list of phones launched in November 2021 includes OPPO Reno7, Redmi Note 11T 5G, Redmi Note 11 4G, POCO M4 5G, Samsung Galaxy A22s, and more. 2021-12-05 08:58 6KB www.91mobiles.com

125

0.2

Ring Video Doorbell Pro 2 vs Arlo Video Doorbell: Which doorbell camera is right for you?

We pit Ring's top-of-the-range video doorbell against its rival from Arlo to help you choose the best video doorbell for your home. 2021-12-05 08:00 7KB www.techradar.com

126

0.3

Google app tests more conventional Search bar that matches other first-party apps

In addition to a bottom field, the Google app is testing a Search bar that appears at the very top of the screen. It matches other first. 2021-12-05 08:00 2KB 9to5google.com

127

0.4

Ultimaker S5 review

The Ultimaker S5 is a sizeable investment for any business to make, but its performance and configurability will impress you like no other. 2021-12-05 07:48 18KB www.techradar.com

128

0.3

This is the most used emoji of 2021 and we are not surprised

The ranking of most used Emojis has been released by The Unicode Consortium. The teary eyed laughing emoji continues to reign at the top. 2021-12-05 07:26 2KB www.indiatoday.in

129

0.8

What is Intel XeSS? Intel's answer to Nvidia DLSS and AMD FSR explained

Intel is set to enter the GPU business, and that comes with its own supersampling technology. Here's all you need to know about Intel XeSS. 2021-12-05 07:00 3KB www.androidauthority.com

130

0.2

Goldman Sachs Cuts US GDP Growth Forecast for 2022 Over Omicron Fears

The firm now sees 2022 gross domestic product (GDP) growth of 3.8%, down from 4.2% previously on a full year basis, 2021-12-05 06:14 1KB www.ibtimes.sg

131

0.7

Xiaomi 11 Lite 5G NE now receiving MIUI 12.5 Enhanced Edition update: What's new

The MIUI 12.5 Enhanced update is now being rolled out to users of the Xiaomi 11 Lite NE 5G in India. 2021-12-05 05:53 2KB www.indiatoday.in

132

0.1

Can you use Alexa in non-supported countries?

Amazon Alexa is only officially supported in a few dozen countries, but the platform can work elsewhere — with a little effort. 2021-12-05 05:01 3KB www.androidauthority.com

133

0.7

DNA storage gathers momentum as US university discloses exciting new proof-of-concept

Still a long, long, long way to go though. 2021-12-05 04:15 2KB www.techradar.com

134

0.3

Reliance Jio's new prices, new powerful Android SoC, popular iPhone and Android apps of 2021 and other top tech news of the week

The list of India-born CEOs heading global technology companies grew longer this week, with Parag Agarwal taking over as the new Twitter CEO. In the gadget launches front, Xiaomi brand Redmi launched a new smartphone, Microsoft Stereo headsets and more. Here's all this other top tech news of the week. 2021-12-05 03:46 1KB www.gadgetsnow.com

135

0.3

How to check all SIM cards registered on your Aadhaar card

Named Telecom Analytics for Fraud Management and Consumer Protection (TAFCOP), the portal can be used to see the list of mobile numbers issued against a user Aadhaar card. As per DoT guidelines, registration for up to 9 mobile connections is permitted for one user. 2021-12-05 03:37 1KB www.gadgetsnow.com

136

0.3

Etherium Whale Gobles Up 28 Billion SHIB Tokens Worth $1.1 Million Amid Crypto Market Correction

Shiba Inu surged 38% last Tuesday and is currently ranking at number 13. 2021-12-05 03:18 2KB www.ibtimes.sg

137

0.4

Save An Extra 20% On the One Million Dollar Puzzle This Cyber Week

We all love puzzles, and some puzzles have the potential to unlock the human mind. This Cyber WEek, you can save an extra 20% on the One Million Dollar Puzzle, and give the puzzle lover on your list both a head-scratcher and a chance to unlock a $1 million prize. The Puzzle When you first […] 2021-12-05 05:12 2KB futurism.com
Articles
DC5n United States IT in english 137 articles, created at 2021-12-06 02:10
Following The End, the concluding Live Event in Fortnite Chapter 2: Season 8 where players fought The Cube Queen, Epic is preparing to launch Fortnite Chapter 3 shortly. As was the case with previous Chapters, the Battle Pass trailer leaked out ahead of the official announcement, which came just a few hours ago. There's more than enough on display to excite fans on what's to come. Fortnite Chapter 3 Leaked Ad Seemingly Confirms New Map, The Rock Teases His Involvement First of all, Epic is apparently making good on its promise to upgrade Fortnite Chapter 3 to Unreal Engine 5 technology. This will be the first real taste of UE5, which is expected to formally launch early next year, in a live game yet. We don't know yet what kind of improvements this will entail, and the video's meager 1080p resolution doesn't help sell any potential visual enhancements, but we do see trees properly falling when cut down whereas they used to simply disappear. This new Chapter will feature a brand new map, an island codenamed Artemis. Four locations (Greasy Grove, Loot Lake, Shifty Shafts, and Sunny Steps) will return from Chapter 1, while only Butter Barn is staying from Chapter 2. But the most interesting addition for Season 1 is possibly that of the Daily Bugle, which fits perfectly given Spider-Man's skins being front and center in the video. Epic is once again leveraging the cross-media power of a major film release (Spider-Man: No Way Home, launching in US theaters on December 17th) in Fortnite. There are also two notable gameplay mechanics added to Fortnite Chapter 3: sliding and web-swinging, with the latter meant as a homage to Spider-Man, of course. Arguably, though, the most interesting change is the ability to build camps that can be used to heal up and even to store weapons between matches. Needless to say, that's a major differentiating point from most Battle Royale titles, and it'll be interesting to see how players react to it. Last but not least, Fortnite Chapter 3 Season 1's trailer promises that 'there are new weapons and items to help win a victory royale and earn the all-new, ultimate prestige — the Victory Crown'. Apparently, you'll get to keep the Victory Crown as long as you're on a consecutive streak of Battle Royale wins. Fortnite Chapter 3 Kicks Off Next Month Following "The End" Event What do you think of these changes and additions?

Fortnite Chapter 3: When does it start, The End event, The Rock and more
cnet.com
6f38c9b1c971165b269977604df1eb90
Fortnite Chapter 3 map and other features officially released
indiatoday.in
e8b271faf963b74593364336a241db68
Apple released the AirTag in April to help people keep track of their keys, luggage, and other easy-to-lose items. Now the device is being used to monitor the location of something else: cars. Or, more specifically, high-end vehicles that car thieves have started tracking with AirTags. "Since September 2021, officers have investigated five incidents where suspects have placed small tracking devices on high-end vehicles so they can later locate and steal them", York Regional Police say. "Brand name 'air tags' [sic] are placed in out-of-sight areas of the target vehicles when they are parked in public places like malls or parking lots. Thieves then track the targeted vehicles to the victim's residence, where they are stolen from the driveway." The police say that AirTags are being hidden in trailer hitches, bumpers, and other hard-to-spot places on vehicles. Because the AirTag was designed to be as unobtrusive as possible, there are plenty of hiding places for car thieves to place the device on an intended target. Stowing one of the trackers is quicker than actually stealing the car, and after the vehicle leaves the public parking lot, it's probably going to be kept somewhere private enough for the theft to occur. Apple previously updated the AirTag to reduce the length of time one of the trackers would need to be away from its owner before it started to alert people who have been traveling in close proximity to the device as a safeguard against the product being used to stalk someone. (Although that change only helps iPhone owners; Android users are left with third-party solutions while they wait for the company to deliver the app it promised to release on the platform.) AirTags are still designed to start issuing this warning sometime between eight and 24 hours after being separated from their owner. That leaves plenty of time for a car thief to place the device on a vehicle, track it to a more secluded area, and potentially steal it before the owner realizes they've picked up a stowaway AirTag. York Regional Police recommend storing cars in garages, purchasing steering wheel locks, or taking other steps to deter would-be thieves.

Thieves can use AirTags to track and steal your car from your driveway
bgr.com
7e88c2bd35cad8d226900b376115e1a0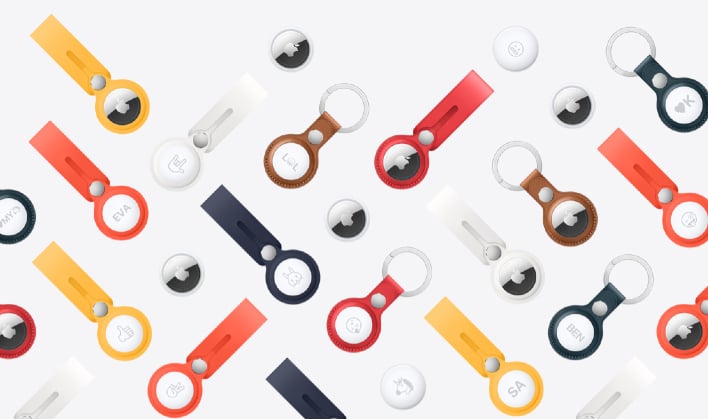 Car Thieves Could Be Using Apple AirTags For Tracking And Jacking Your Ride
hothardware.com
42eb54eee9008de681a005bb10d7491d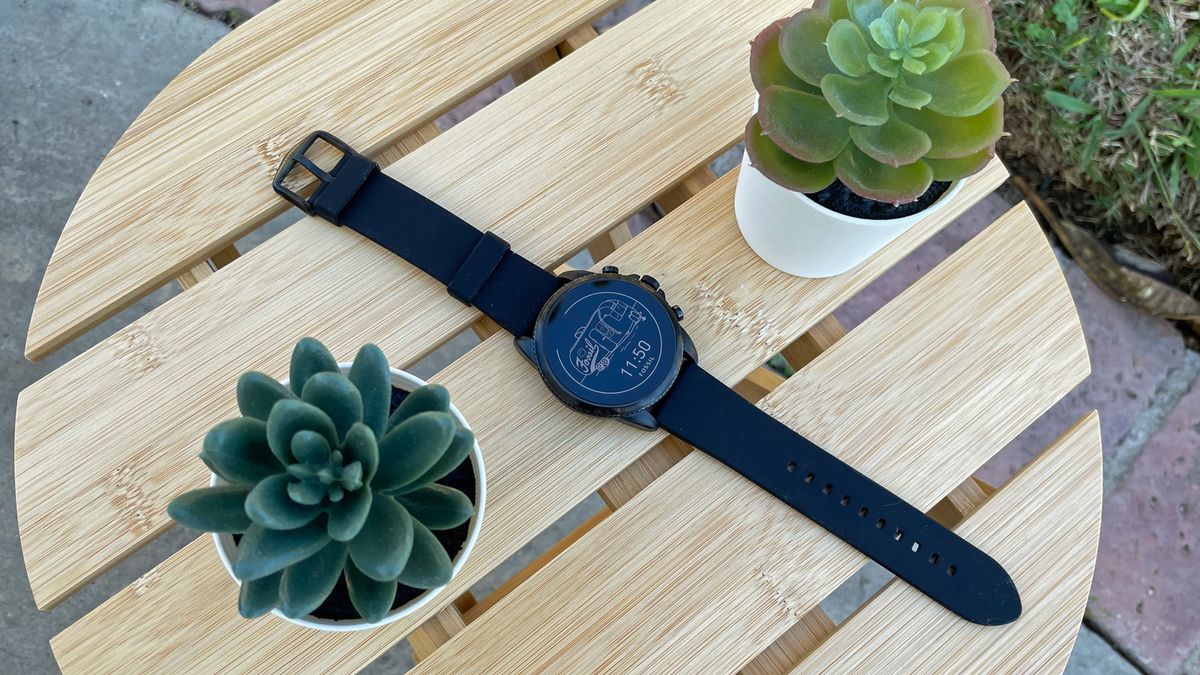 The rumor buzz is building, and it seems as though the Google Pixel Watch might finally become a real and released product in the near future. Now we've got some leaked marketing materials that give us another look at the purported design of the upcoming Wear OS smartwatch. The fuzzy images come courtesy of well-known tipster Jon Prosser and Front Page Tech, and are apparently official promotional renders made by Google – so we might see these pictures again when the wearable actually launches. These new pictures match up with unofficial renders we saw earlier this year from the same source, with the Pixel Watch sporting a very minimal design and barely anything in the way of bezels around the side of the screen. What we don't get here are any details of the smartwatch's specs or dimensions – it's just the visuals for now. We'll have to wait to find out what sort of colors the Pixel Watch is going to be offered in, how much you should expect to pay for it, and so on. What we do know is that the wearable is going to come running Wear OS: Google will be hoping that the Pixel Watch acts as a showcase for the capabilities of its software in the same way that the Pixel phones are standard bearers for the potential of Android. A few days ago we heard that the Pixel Watch might finally be seeing the light of day at some point during 2022, though it's been talked about for years at this point. It's possible that Google's acquisition of Fitbit is part of the reason that the device is finally being pushed from being developed to actually getting a launch. It seems as though it's a question of when rather than if the Pixel Watch launches at this point, and we're glad that it's on the way: Google has been neglecting Wear OS in recent years, until the major update this year, and the new wearable should hopefully mean that the smartwatch software gets more time and effort invested in it. The Pixel Watch is coming into a very strong market though. There are some excellent smartwatches out there at the moment – not least the Apple Watch, which through seven generations has been refined and improved to be a genuinely useful and stylish gadget. We also see top-tier smartwatches from Garmin appear every year as well, right across the spectrum in terms of features and pricing. Garmin wearables appeal to everyone from casual runners to serious outdoor enthusiasts, and are packed with functionality. Fitbit, which is now owned by Google, makes both the Sense and the Versa smartwatches as well as its many fitness trackers, and let's not forget the Wear OS-powered Galaxy Watch 4 and Galaxy Watch 4 Classic from Samsung. Add in other Wear OS timepieces like the Fossil range, and the Pixel Watch is going to have to work hard to stand out.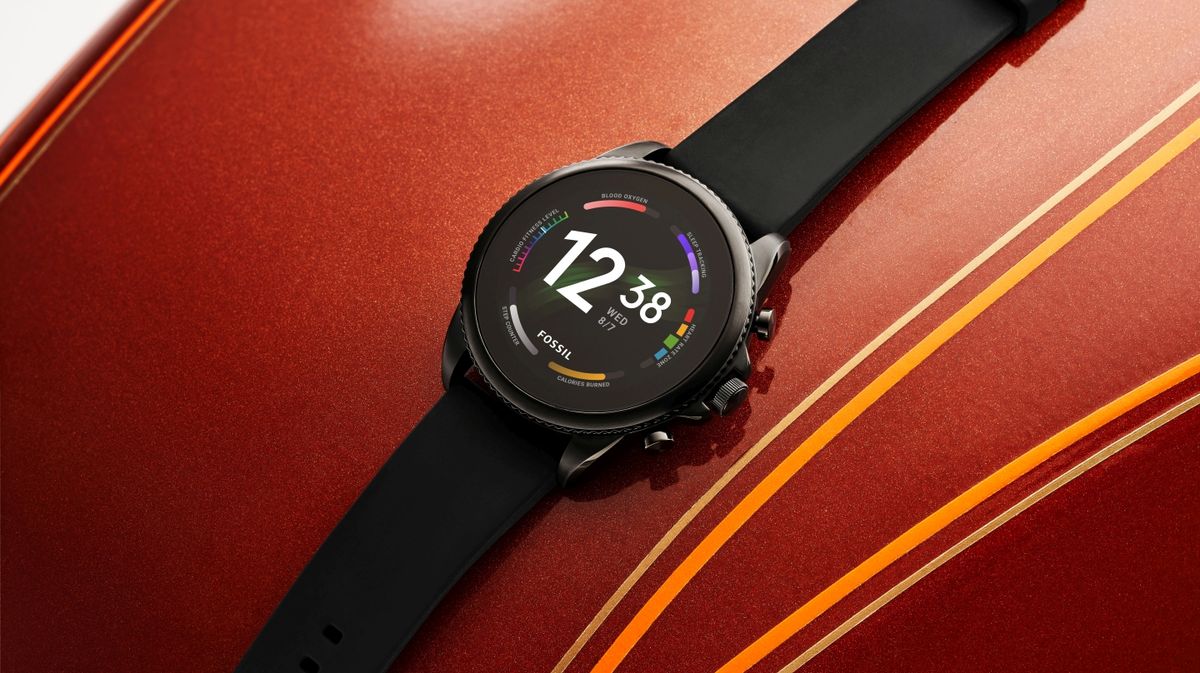 Google Pixel Watch release date rumors, price, news and leaks
techradar.com
155ebe54fb95a7c26f80b73592fdb6fd
This might be our first look at the Google Pixel Watch
indiatoday.in
30e3fe58348f5c76c154844f52be3c0e
Apple recently launched its latest iPad mini 6 which has been received pretty well. The device is powerful, easy to hold, and comes in a variety of color options. Now, we are hearing that the company is now planning to update three of its iPad models next year. To be precise, Apple is planning to update the new iPad Pro with wireless charging, the entry-level iPad, and iPad Air 5. Scroll down to read more details on the subject. The news is shared by Bloomberg's Mark Gurman in his latest Power On newsletter. Gurman states that Apple will launch a redesigned iPad Pro model in 2022 which will house wireless charging. He also states that the company is also looking to release new iPad Air 5 and entry-level iPad models. Google's 'Pixel Watch' Could Launch in Spring 2022 With Fitbit Integration on Wear OS Apple launched the new entry-level iPad this year with upgraded internals. We got the A13 chip, True Tone, 12MP ultrawide camera with Center Stage capabilities for video calls, and much more. Apple is keen to upgrade its entry-level iPad every year with minor tweaks and new internals. The changes are not made on a broader scale to keep its price at bay. It has been coined in the past that the upcoming entry-level iPad will feature a thinner design and a larger display. However, it rests with Apple if it sees fit to upgrade the design and display of the long-running iPad. Apple's 2022 iPad Pro launch will bring major shifts in design language and we only hope it transitions to mid-range models in the coming years. Other than this, Apple is also planning to launch the iPad Air 5 in 2022. Multiple rumors have suggested in the past that the iPad Air could house Samsung's OLED panels in 2022. However, it appears to be far from reality as Apple might stick with an LCD panel once again. Since the iPad Air 4 brought major design changes, we suspect that the iPad Air 5 will only revolve around updated internals. We can expect the device to feature the A15 Bionic chip, 5G capabilities, Center Stage, and much more. However, the flagship 2022 iPad Pro will remain the highlight of the year. This is all for now, folks. What is your expectation from the launch of the 2022 iPad Pro? Do you think it will feature a glass back for wireless charging purposes? Let us know in the comments section below.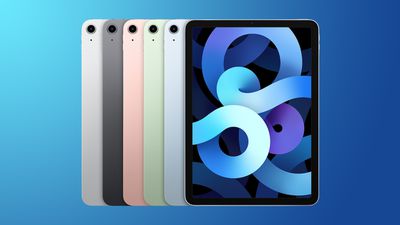 iPad Pro With Wireless Charging, iPad Air 5, and iPad 10 Reported to Debut in 2022
macrumors.com
e00df15d71443022ef3747d47a60c615
Apple Planning to Launch Entry-Level MacBook Pro in 2022 Along With New Mac Pro, iMac, More
wccftech.com
d56de003effb6cf4e7335459a44d7eaa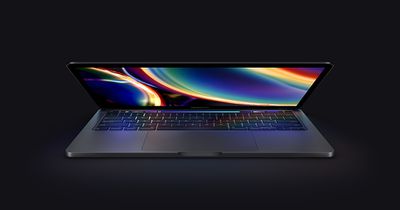 Apple Planning Five New Macs for 2022, Including Entry-Level MacBook Pro Refresh
macrumors.com
a927ee45771b6b1e42d910b3811eda9f
While keeping your brand new Pixel 6 Pro safe is important, a wallet case adds more functionality. Phone wallet cases not only keep the phone protected — some are quite rugged — but they also let you ditch your wallet and carry credit cards, ID, and some cash. Here's a look at the best Pixel 6 Pro wallet cases you can get right now! If you'd like to learn more about our favorite Pixel Google 6 Pro cases or other smartphone accessories we recommend, check out our guides below. See also: Best Google Pixel 6 Pro cases| Mobile accessories Editor's note: We'll update this list of the best Google Pixel 6 Pro wallet cases as new options launch. This faux leather wallet case comes with three slots for credit cards or ID and a large cash pocket. The folio cover doubles as a kickstand and is held in place with a magnetic strap. Ditch your wallet with this excellent phone wallet case for the Pixel 6 Pro. The Feitenn wallet is made with faux leather that looks stylish and feels great. A TPU casing holds the phone firmly in place. The folio cover can also be folded and used as a kickstand. The case comes with three card slots and a large cash pocket. There are a few color options to choose from too, between black, blue, green, and red. Looking for more Google Pixel 6 Pro wallet case options? We also recommend:

Google Pixel 6a: All the rumors in one place
androidauthority.com
1377a1a0ed277f27bbd948efdb943f23
This might be our first look at the Google Pixel Watch
indiatoday.in
30e3fe58348f5c76c154844f52be3c0e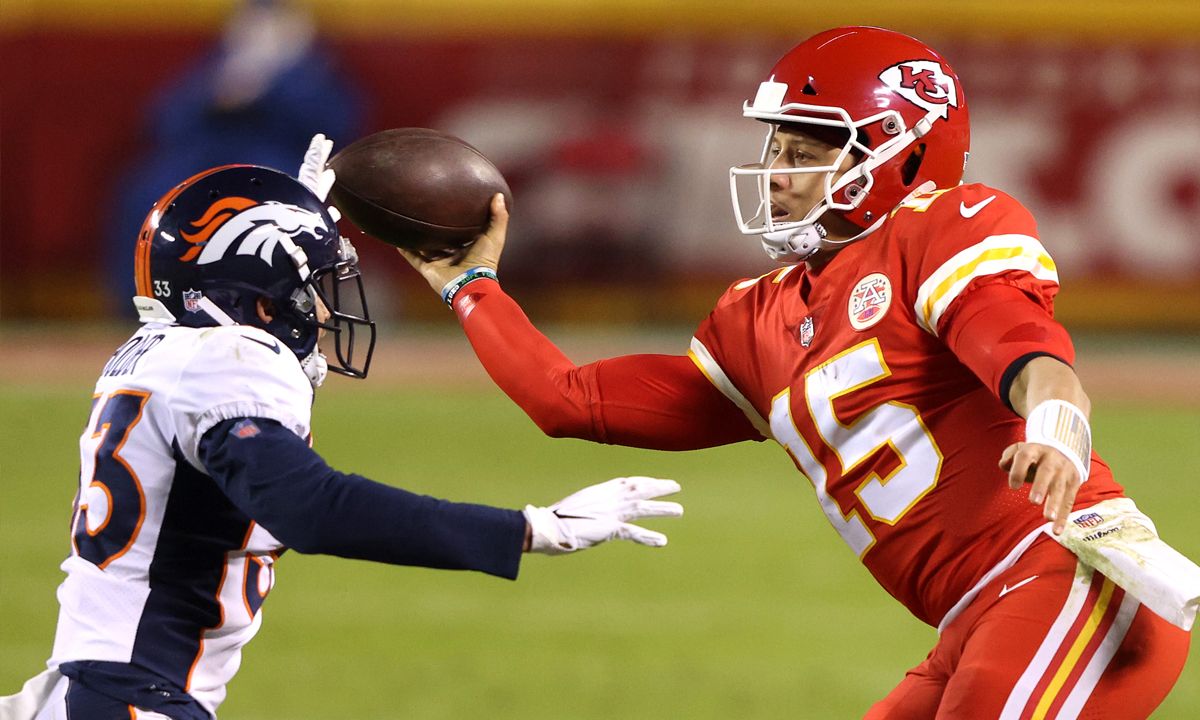 The Chiefs are back! Or are they? Patrick Mahomes and co. looked like they were finally getting something going before their bye, and they'll be put to the test by an unpredictable Broncos team that has quietly put together one of the league's more solid defenses. Read on as we explain how to get a Broncos vs Chiefs live stream and watch NFL Sunday Night Football online from anywhere. Vic Fangio's men have allowed an average of 17.2 points per game over the past five weeks, a mark that KC have really had to toil to get to most games. And despite blowing hot and cold, they've been taking down some big game, namely the Cowboys, a resurgent Washington, and the Chargers, rookie cornerback Patrick Surtain coming up with a career game last weekend. The Chiefs' 41-14 demolition of the Raiders three weeks ago was their most convincing performance of the season, but they followed it up with a frustrating showing against the Cowboys. The important thing is they still got the win to cling on to the AFC West's top spot, but the Broncos are just one victory behind. Follow our guide for how to watch the Broncos vs Chiefs online and get an NFL live stream wherever you are in the world right now. If you've mismatched a holiday or you're away on business and you want to watch your country's coverage from abroad, then you'll need to use a VPN. This will help you dial in to a location back in your home country to avoid geo-blocks and regain access to the content and services you already pay for back home. A VPN is generally perfect for this as it allows you to change your IP address so you appear to be in a completely different location when the big game is on. Use a VPN to live stream Broncos vs Chiefs from anywhere

NFL 2021: How to watch Chargers vs. Bengals, Ravens vs. Steelers, Broncos vs. Chiefs
cnet.com
e8f5119cf9e9ebe7931ca3db9af9bf9d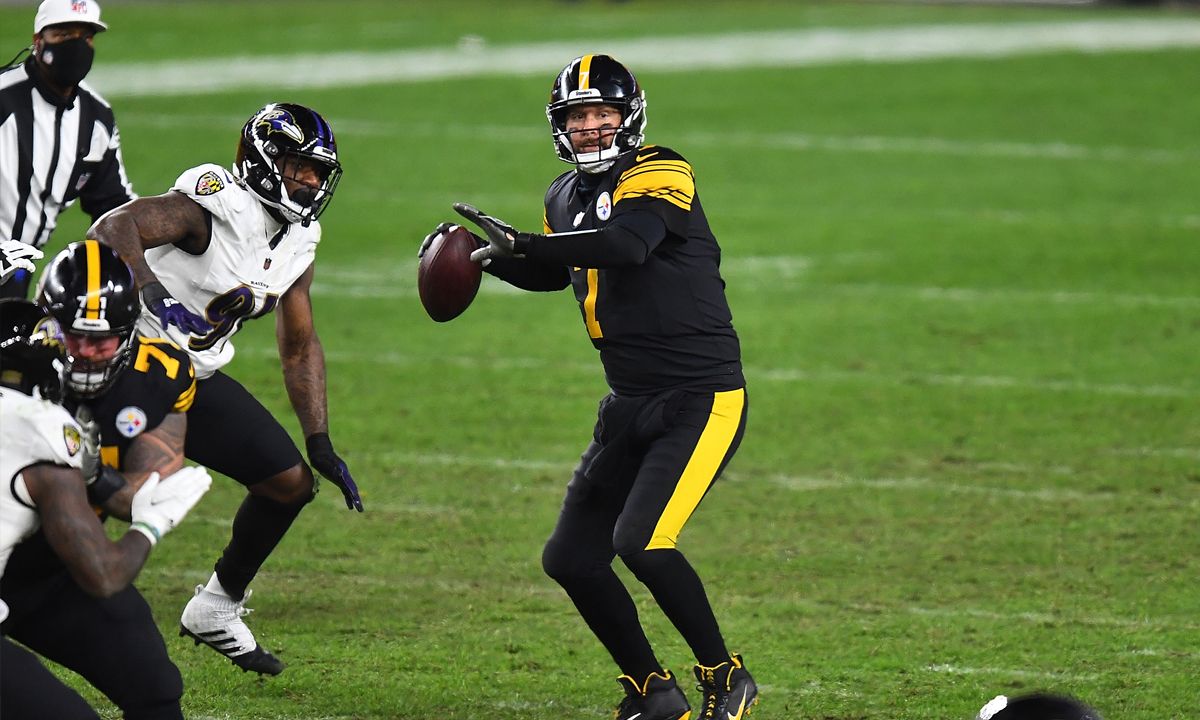 Ravens vs Steelers live stream: how to watch NFL online from anywhere
techradar.com
5d7c78cccd4511e8b6848a20e851c154
After an intergalactic, time-traveling war and a silly trip to Europe, the Marvel Cinematic Universe had a quiet 2020, prompted by the pandemic and subsequent lockdowns. This year, the MCU had a mountain of content at the ready, leaning hard into TV via Disney Plus. New episodes of its five shows will have come out in 34 of the 52 weeks of the year. That's 34 weeks of fan excitement, word-of-mouth recommendations, intense social media and old-school advertising. It's an astounding blitz of content, and was likely essential in getting Disney Plus to hit 118.1 million subscribers within two years of launching. (Market leader Netflix has around 214 million after more than a decade.) We've had plenty of MCU TV shows before -- Agents of SHIELD, Agent Carter, the six Netflix series and the truly terrible Inhumans -- but their connections to the movies felt increasingly tenuous as their seasons wore on. They seemed to happen in tiny pockets of Marvel's world, while the Avengers and their cinematic buddies explored the whole world. The Disney Plus shows changed all that. Each of the four live-action series picked up on plot threads left hanging after the events of Avengers: Endgame, meaning they feel utterly essential for fans. Much like the comic universe that spawned the MCU, we've hit the point where characters will move seamlessly between movies and shows. And unlike the one-shot effect of the movies, having the shows stretch over several weeks meant they were the stuff of (virtual) water cooler discussion for a far longer period. Marvel movies made their tentative return as well, with Black Widow launching simultaneously in theaters and on Disney Plus Premier Access. Shang-Chi and the Legend of the Ten Rings and Eternals hit theaters first, as will Spider-Man: No Way Home. Marvel kicked off its 2021 TV blitz through the medium's tropes in the sitcom-inspired WandaVision, which ran from Jan. 15 to March 5. It didn't even feel much like a Marvel show at first, with the 1950s-style opening episode leaving us a bit clueless about what was going on. However, the show's Marvel-ness gradually emerged over the course of its eight episodes, revealing how Wanda Maximoff's grief over the death of her robot boyfriend Vision (seen in Avengers: Infinity War) led her to bewitch an entire town into taking part in her idyllic, TV-inspired fantasy existence. Fans also theorized relentlessly about who the show's true villain was, believing that the devil himself must be pulling Wanda's strings. The answer turned out to be hiding in plain sight, giving us one of the year's catchiest music jingles and setting up a spinoff show. It also appeared to rip open the fabric of the MCU's reality through the appearance of a character from a different Marvel movie universe, but that storytelling possibility was seemingly cast aside with a cheap joke. Marvel's reality would remain intact for another few months at least. WandaVision proved to be a critical darling, with a 77 critical average and 7.0 user score on CNET sister site Metacritic. Two weeks after the WandaVision mystery was solved, things took a patriotic turn with The Falcon and the Winter Soldier, occupying Marvel fans' minds from March 19 to April 23. It followed Sam Wilson as he tried to figure out how to take up the Captain America mantle after Steve Rogers entrusted him with the shield, bickering delightfully with Cap's buddy Bucky Barnes along the way. These six episodes felt like pretty standard Marvel fare after the weirdness of WandaVision, with Sam and Bucky teaming up with a terrorist, taking on a pretender Captain America and chasing down a group of superhuman antinationalists. There were some flashes of brilliance though, especially when Sam discovered shameful treatment of Black men in the government's past attempts to recreate Captain America and grappled with what his taking up the role would mean. There were flashes of racial tension that appeared to be nods with the broader racial reckoning around the world, but the show didn't explore these issues in a truly meaningful way. This may all be setup for a deeper analysis somewhere down the line. The Falcon and the Winter Soldier didn't fare quite as well with critics or audiences as the MCU's first show, holding a 75 Metacritic critical average and a 5.7 user score. The summer's show was the big one, picking up on Endgame's most exciting loose end -- the 2012 Avengers incarnation of Loki's escape from custody. Loki drummed up major excitement from June 9 to July 14, and created seemingly infinite storytelling possibilities as it stepped outside the familiar MCU reality. It also shifted the established Disney Plus new show day from Friday to Wednesday, likely to stop new episodes from cannibalizing viewers from Marvel movie Black Widow, which landed on the service on a Friday (as have subsequent movie additions). Over six episodes, we followed Thor's brother as he joined the chronological cops of the Time Variance Authority in hunting escapees from divergent timelines and keeping those alternate realities in check. Events became wholly unpredictable after Loki encountered his badass female Variant Sylvie, whose quest to destroy the TVA became increasingly sympathetic. It also had an epic season finale, opening up Marvel's multiverse and setting up a villain of terrifying potential. Loki is also the only live-action Marvel show we know is getting a second season. This show was warmly received, with a 74 critical average and 7.2 user score on Metacritic. Marvel turned to animation later in the summer, with What If.? episodes dropping from Aug. 11 to Oct. 6. It took Loki's multiverse concept to the next level, with an anthology series exploring divergent timelines where familiar MCU events played out differently. Its nine episodes dived into realities where Peggy Carter gained the power of Captain America, Doctor Strange used dark sorcery to achieve ultimate power, and zombified Avengers gobbled up most of the world's population (to name a few). The show's alternate heroes and antiheroes ultimately came together to face an all-powerful version of Ultron before he could wipe out the multiverse. What If…? felt like the MCU at its most unashamedly comic book-y, presenting with more heightened situations than even Loki. The second nine-episode season is confirmed as well. Critics and audience members weren't quite as enamored with this show, with the groups giving it respective averages of 69 and 6.3 on Metacritic. It also failed to create the same level of social media buzz as the live-action shows, suggesting that a chunk of the audience skipped this one (likely because it was animated). We're halfway through the final 2021 Marvel show, Hawkeye, which runs Nov. 24 to Dec. 22. This one follows the charming pairing of Avenger Clint Barton and new apprentice Kate Bishop, as they face off against New York City's criminal underworld during the festive season. It's unclear how Hawkeye will play out, but it's already set up another Disney Plus show and seems likely to shake up the MCU again by reintroducing a beloved villain. Right now, this show has a 66 critical average and 6.6 user score on Metacritic. After this year's Marvel TV marathon ends, details of upcoming releases get a little fuzzy. Ms. Marvel, Moon Knight, She-Hulk, season 2 of What If…?, Secret Invasion, and The Guardians of the Galaxy Holiday Special are expected to hit Disney Plus in 2022, but Marvel hasn't given us firm dates for them yet. Ms. Marvel is expected to drop in the fall, while the Guardians holiday special will probably come in November or December, suggesting next year won't be quite as Marvel TV-heavy for Disney Plus.

Why you need to check out the best TV show on Netflix
cnet.com
88287f7759a874d7e2c001931abdc2a5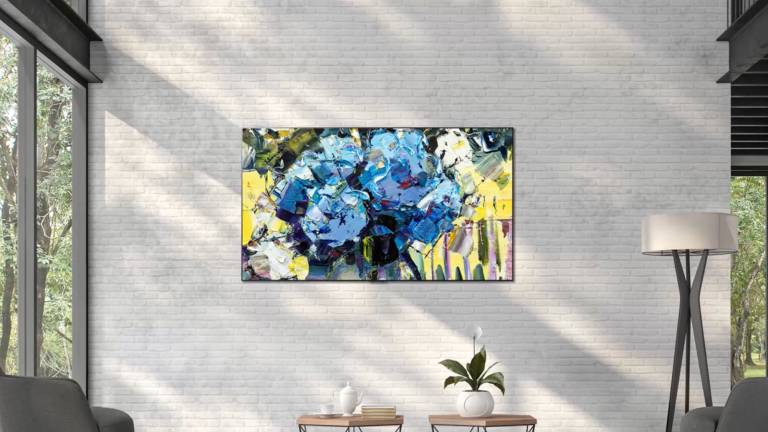 Best TVs in 2021: Which TV is perfect for your needs?
bgr.com
8c931702625a5d2a79286e99ecb55430
We are less than a month away from the new year, and many of the smartphones that debuted this fall easily made CNET's list of best smartphones. 2021 brought the Google Pixel 6 and Apple iPhone 13 (here's how the four new iPhone models compare), but we are excited to see what 2022 has in store in terms of smartphone launches. There's already plenty to look forward to in 2022 -- including new budget-friendly phones from Samsung and Apple that may launch in the first half of the year. A giant new version of the standard iPhone and a Samsung phone that could feel like a real successor to the Galaxy Note are also reportedly in the pipeline for later in the year. Here's a look at the smartphones we're looking forward to most in 2022 based on rumors and reports that have surfaced so far. Apple refreshed its $400 budget iPhone for the first time in four years in 2020, but it looks like we won't have to wait that long for the third-generation model. The iPhone SE 3 could launch in the first half of 2022, according to a note from analyst Ming-Chi Kuo that MacRumors reported. It's expected to get 5G support and a boost in performance, thanks to the addition of Apple's A15 Bionic chip, the same processor that powers the iPhone 13, according to Nikkei Asian Review. The current iPhone SE, by comparison, runs on Apple's older A13 Bionic processor from the iPhone 11. The next-generation iPhone SE might also be the first to get Face ID, Bloomberg's Mark Gurman wrote in his Power On newsletter. The 2020 iPhone SE and 2016 version both have Touch ID since they still have the physical home button. But reports are conflicted over whether the next iPhone SE will get a makeover or retain its retro look. Kuo says it will likely have a similar design that's the same size as the current model, according to MacRumors, while the Chinese tech site MyDrivers suggests it will look more like the iPhone XR. The second-generation iPhone SE stands out for its balance of great performance, affordability and portability. Based on the reports that have circulated so far, it sounds like Apple plans to expand on that by giving the iPhone SE some more modern features while hopefully retaining the qualities that have made it so appealing in the first place. The iPhone 13 is just a few months old, but that doesn't mean it's too soon to start talking about the iPhone 14. The biggest upgrades we're expecting to see from next year's flagship iPhone come down to the camera, design and screen size options. But it's the reported iPhone 14 Max that I'm most excited about, which is said to be a super-size version of Apple's standard next-gen iPhone. Apple will ditch the iPhone Mini and instead add another 6.7-inch iPhone to the mix next year, according to Nikkei Asian Review. That means the iPhone 14 lineup may consist of two 6.1-inch models (the iPhone 14 and iPhone 14 Pro), and two 6.7-inch versions (the iPhone 14 Max and iPhone 14 Pro Max). Apple's iPhone 14 Max will seemingly be aimed at those who want a larger screen but don't necessarily care about the other upgrades that come with Apple's Pro line, like a triple-lens camera and Lidar sensor. It could be a great choice for iPhone fans that have been waiting for a gigantic display but don't want to splurge on the $1,099 iPhone 13 Pro Max. There are some other exciting upgrades reportedly in store for the rest of the iPhone 14 lineup that could make it feel like more of a leap than the iPhone 13. The Pro and Pro Max versions of Apple's 2022 iPhone may have a 48-megapixel wide rear camera, reports Kuo in a note reported by 9to5Mac. That's a noticeable jump from the iPhone 13 Pro's 12-megapixel camera system. In terms of design, 2022 might be the year Apple says goodbye to one of the iPhone's most polarizing physical traits: the notch. Kuo also notes that the iPhone 14 lineup could have a hole punch cutout for the front camera, but only on the iPhone 14 Pro and Pro Max models. That falls in line with a previous report from Bloomberg's Mark Gurman which said Apple has been working on a notch-free design for future iPhones. The iPhone 14 lineup will likely launch in September, as is usually the case with Apple's major smartphone releases. With its spacious screen and S-Pen support, the Galaxy S21 Ultra is a worthwhile alternative for Galaxy Note fans. But at the same time, the S-Pen experience felt a little half-baked compared to the Note's functionality. For one, the S21 Ultra doesn't come with an S-Pen in the box, there's no slot built into the phone for storing it, and it lacks Bluetooth and gesture support for the S-Pen. But Samsung could address at least one of those concerns with the Galaxy S22 Ultra. A leak from Front Page Tech suggests the Galaxy S22 Ultra may come with a storage slot for the S-Pen, making it much easier to keep track of Samsung's stylus without losing it. A built-in slot also hints that the S-Pen may come in the box with the S22 instead of being sold separately as an optional accessory. Otherwise, rumors suggest that the Galaxy S22 Ultra will have a camera system with continuous optical zoom, according to leaks from Ice Universe. That would result in a crisper, uncropped zoom when switching between focal lengths. All told, the upgrades we're expecting to see could make the Galaxy S22 Ultra an even more compelling choice for Galaxy Note loyalists, or for those seeking a super-powerful camera phone. Samsung typically reveals its new Galaxy lineup in the January through March time window, so we likely won't have to wait much longer to learn more. Samsung's budget-friendly Galaxy S20 FE earned a CNET Editors' Choice Award in 2020 for the incredible value it offered for the price. With 5G, great performance, and a multilens camera, it was a much-needed budget option that fit nicely alongside the premium Galaxy S20 lineup. Now, Samsung is planning to launch a sequel called the Galaxy S21 FE in January, according to the Korean new website DDaily. However, if that report turns out to be true, the phone will only be available in Europe. That would be a loss for the US, where Samsung is the second-largest smartphone maker behind Apple. Another aspect I'm curious about, though, is how Samsung plans to differentiate this year's "Fan Edition" phone from other midrange options like the $500 Galaxy A52 5G, which offers similar features. There's a chance Samsung could price it somewhere in between the $800 Galaxy S21 and $500 Galaxy A52 5G, possibly landing it in the $600 to $700 range. That could make it a nice option for those who want a phone that feels a bit premium but isn't quite as expensive as the S21 family. As for what we can expect from the Galaxy S21 FE, Samsung's next midrange phone may have a 6.4-inch screen with a 2,340 by 1,080 resolution and three cameras that include a 32-megapixel, 12-megapixel and 8-megapixel lenses, according to specifications that appeared on China's TENAA Certifications website, which MyFixGuide reported. It could also come with a Qualcomm Snapdragon 888 processor, according to a leak that surfaced on the Google Play Console, which was also spotted by MyFixGuide. That could be one way in which Samsung distinguishes the Galaxy S21 FE from the Galaxy A52 5G, which comes with a less powerful Qualcomm Snapdragon 750G 5G chip. The Galaxy S21 FE is also expected to be similar in appearance to the Galaxy S21, as shown in renders published by prolific leaker Evan Blass. OnePlus made a name for itself by offering phones with hardware capabilities that could compete with the likes of Samsung at cheaper prices. More recently, its premium "Pro" lineup has gained notoriety, with CNET's Andrew Hoyle calling the OnePlus 9 Pro " the best phone OnePlus has ever made." If the rumors hold true, the same may be said for the OnePlus 10 Pro, which is expected to come with some camera updates. Renders from high-profile leaker OnLeaks and deals website Zouton claim to show a redesigned camera bump on the OnePlus 10 Pro. The camera system appears to include three lenses like the OnePlus 9 Pro, but with a new arrangement that more closely resembles the quadruple-lens camera setup on the Samsung Galaxy S21 Ultra. Otherwise, the phone is expected to come with a 6.7-inch 1,440 pixel AMOLED screen with a 120Hz refresh rate, a 5,000 mAh battery and 128GB or 256GB of storage, according to Zouton, which also reports it will launch in the first half of 2022. It's too soon to know how significant of an upgrade the OnePlus 10 Pro will be over its predecessor. But if camera upgrades truly are in store for OnePlus' next high-end phone, it could address one of our only complaints. While the OnePlus 9 Pro's camera is good, according to CNET's Andrew Hoyle, there's definitely room for improvement. Looking for more advice about the phone you currently have? Check out our guide to the Galaxy S21's best features, the iOS 15 settings you should change on your iPhone, and how to get the most out of your Pixel 6.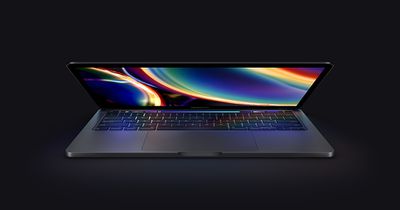 Apple Planning Five New Macs for 2022, Including Entry-Level MacBook Pro Refresh
macrumors.com
a927ee45771b6b1e42d910b3811eda9f
The Last Dance, Tiger King and -- more recently -- 14 Peaks. When it comes to documentaries, Netflix 's selection is incredible. True crime, history, sports. it's got it all. Almost too much. To the point where it's overwhelming. you don't want to get caught in the endless scroll we've created the following list. Broken down by genre, here are our favourite documentaries on Netflix. Good luck and happy watching! Read more: Best streaming deals: Save on Netflix, Disney Plus, HBO Max, Hulu, Spotify and more

Shows like You: What to watch if you like Netflix's twisted "romantic" thriller
androidauthority.com
79246d73901846e20bc9516744436523
One of my favorite things about the Great British Bake Off (and I've gobbled up every season) is the camaraderie that blunts some of the more toxic elements of competition shows, while still letting contestants' stunning baking achievements shine. A new Netflix TV series, School of Chocolate, takes GBBO a step further, in one sense, by turning the competition on its head. It simply eliminates the elimination. In the opposite of cutthroat competition, everyone gets to stay in the tent. Nobody is asked to pack their whisks and go. The result is somehow richer, more impressive and more compelling than watching contestants get picked off one by one -- which, if you think about it, is actually pretty boring compared with seeing devastatingly beautiful chocolate art unfold (although the people who spent literal billions of hours watching Squid Game may disagree). Hosted by Swiss-born chef Amaury Guichon, whose TikTok videos of amazingly intricate and realistic chocolate creations garner millions of views, School of Chocolate is a masterclass in technique that eight professional pastry chefs -- and all of us -- get to see firsthand. Chocolate sculpture with interactive hinges. A chocolate octopus that looks impossibly real (pictured below). Edible surprises layered within clever cakes that are both instantly mouthwatering and too gorgeous to eat. As with actual school, the School of Chocolate cohort remains intact throughout the entire competition, shedding tears, getting catty, jockeying for position -- and a $50,000 cash prize -- and creating piece after piece of astounding, towering, gravity-defying show art out of pure chocolate and pastry that at times makes me gasp in awe. The point of it all is for contestants to learn advanced techniques and improve over challenges that push their skills to the brink and reveal the breakout chocolatiers we can't help but elevate to star status. Netflix may call the show "feel-good", but that doesn't mean it's all fondant and buttercream in School. The tone is a squeeze sharper than the good-natured, sometimes frothy and saccharine Great British Bake Off. There's deep tension from the start of the eight-episode season, and the stakes feel surprisingly real. Poor performers are forced to sit out rounds, and only the top two vie for the final challenge. Amid grudging pats on the back, gamesmanship occasionally rears its head. But while the cream quickly rises to the top, keeping the class together gives viewers who care more about the jaw-dropping creations and less about the backstabbing a wonderful gift: more. Rather than eject skilled professionals who had a bad day or didn't quite master an architectural challenge mere cake-baking mortals would be hard-pressed to attempt, we lovers of food art witness even underdogs create feats of incredible culinary imagination (including an astonishing salmon roe "nigiri" you have to see to believe). School of Chocolate isn't perfect by any means. Favored contestants were too obvious, and one episode literally divided the group's strongest and "weakest" players -- remember, these are all skilled professionals -- into two glaringly unequal assignments. By retaining many of the usual competitive elements and structure, more time than I would like is spent on character triumphs and angst, with less time on the whizzbang confections I came here to lap up. While the announcement of winning "student" is anticlimactic, each contestant has their moment of accomplishment and growth. The journey feels deliciously satisfying, earned. I chalk that up in large part to the decision to preserve more contestants in the total mix, who are given a chance to rebound with soaring creativity. Ultimately, this decision treats viewers to more cakes and chocolate overall, not fewer. Keeping the cohort together is a bold decision for a competition show -- and it works. School of Chocolate dares to imagine the treasured luxury ingredient as not simply a momentary treat but a deeply challenging medium for artistic expression, one that engages the eyes and mind as well as the tongue. Technical, temperamental and ultimately, ephemeral. I'm ready for a second helping.

Shows like You: What to watch if you like Netflix's twisted "romantic" thriller
androidauthority.com
79246d73901846e20bc9516744436523
Highly anticipated: The Fortnite world was once again forever changed following a colossal in-game event to close out chapter 2 and usher in the beginning of chapter 3. Players participating in the event were able to watch it all unfold in real time as UFOs, zombies, and even Duane "The Rock" Johnson invaded the game's island. Fortnite, one of the largest and most popular games in the battle royale genre, is undergoing another major update. The introduction of a new chapter will infuse the game with fresh content, characters, mechanics, and storylines. The change was kicked off by an in-game live event that changed the face of the game's iconic map. Similar to the black hole event used in the game's previous transition, Fortnite players found themselves floating across a vast ocean following yesterday's events. Players expect this visual to persist until the update's officially go live, at which time everything from a new map to new character skills and interactions will become available to the game's playerbase. One of the biggest changes is the game's island itself, which literally flipped during the in-game event. Much like the previous Athena and Apollo islands of chapters 1 and 2, chapter 3's Artemis Island looks to bring players additional features including new places of interest (POI), weather events, and wildlife. In addition to a new play area, chapter 3 will deliver players new gameplay mechanics that may fundamentally change how the game is played. According to Epic's official chapter 3 announcement, players will now have the ability to slide and swing their way across the map. Players will also be able to use camps that can heal and retrieve weapons and items that were stashed away during previous matches. As expected, no release would be complete without a host of new playable characters to choose from. The announcement also references a previous leak that provided viewers with a sneak peek of chapter 3's newest additions, which looks to include Spider Man, Gears of War 's Marcus Fenix and Kait Diaz, and "The Foundation", the Duane Johnson-based character who was instrumental during the live event. The new chapter is rumored to go live sometime today, however Epic has not yet released a formal statement on the update's availability or when season 1, "Flipped", will begin.

Fortnite Chapter 3: When does it start, The End event, The Rock and more
cnet.com
6f38c9b1c971165b269977604df1eb90
Several reports have been hovering around Apple's rumored AR headset, which can only mean that we may have an actual product on our hands. The latest information revolves around the device's release timeline happening in 2022, and it looks like the company wants the headset to be focused on both gaming and media consumption. On the latest 'Power On' newsletter by Mark Gurman, MacRumors talks about how the reporter claims that the AR headset will also include a fan. Whether or not the inclusion of an active cooling solution will disrupt the immersive experience for the user, we will find out in the coming future. Apple to Launch iPad Pro With Wireless Charging in 2022, iPad Air 5 With Updated Internals, More One reason why Apple's AR headset could be a strong contender as a gaming headset is because, according to a previous report, it will feature two chipsets. One of them will deliver compute performance equal to Apple's M1, while the second one will handle tasks such as sensor-related computations. The headset is also said to feature a pair of 4K micro-OLED panels from Sony, and that is expected to give the AR headset VR capabilities, which will make it ideal for a device laser-focused for media consumption. Gurman previously stated that the AR headset will be pricey but did not care to weigh in on how much it will actually set consumers by. What we have mentioned in previous reports is that it may cost a whopping $3,000, which suggests that it will be a niche product rather than something that is manufactured for the masses. Then again, it may cost a more affordable $1,000, making it more accessible for a larger percentage of customers. However, Apple's true AR headset could be up to four years away, as predicted by Gurman previously, suggesting that in less than half a decade, you might not need to pair your iPhone to the device to unlock its full suite of capabilities. For now, just like the Apple Watch, the AR headset will need to be tethered. Hopefully, we will get to hear more about this ambitious product in the coming days, so stay tuned. News Source: AppleInsider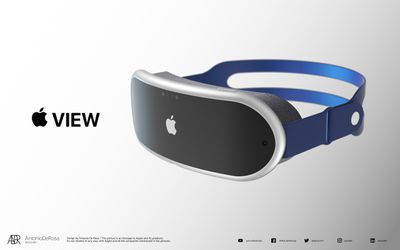 First Apple Mixed Reality Headset Rumored to Focus on Gaming, Media, and Communication
macrumors.com
8f998b489bbdd50e1b5b3d12fda5186f
Hackers have taken $196 million from crypto trading platform Bitmart, a security firm said Saturday. Bitmart confirmed the hack in an official statement Saturday night, calling it "a large-scale security breach" and writing that hackers withdrew about $150 million in assets. However, blockchain security and data analytics firm Peckshield estimates that the loss is closer to $200 million. Bitmart added in a statement that all withdrawals had been temporarily suspended until further notice and said a thorough security review was underway. Peckshield was the first to notice the breach on Saturday, noting that one of Bitmart's addresses showed a steady outflow of tens of millions of dollars to an address which Etherscan referred to as the "Bitmart Hacker." Peckshield estimated that Bitmart lost around $100 million in various cryptocurrencies on the ethereum blockchain and another $96 million from coins on the binance smart chain. The hackers made off with a mix of more than 20 tokens, including binance coin, safemoon, and shiba inu. Bitmart says that the affected ethereum and binance smart chain "hot wallets" carried only a "small percentage" of the exchange's assets. The statement went on to say that all other wallets were "secure and unharmed." People who choose to hold their own cryptocurrency can store it "hot", "cold", or some combination of the two. A hot wallet is connected to the internet and allows owners relatively easy access to their coins so that they can access and spend their crypto. The trade-off for convenience is potential exposure to bad actors. CNBC reached out to multiple Bitmart employees to ask for more clarity on the hack, including whether customer funds had specifically been targeted in the breach, and if so, whether users would be reimbursed. CNBC has not yet heard back, but an email to the work address of Bitmart founder and CEO Sheldon Xia (as listed on Xia's unverified Twitter account) bounced back with a message that read, "Recipient address rejected: Access denied." Bitmart, which offers a mix of spot transactions, leveraged futures trading, as well as lending and staking services, typically ranks as one of the top centralized crypto exchanges by volume, according to CoinGecko data. Bitmart says it is still unclear what possible methods the hackers used, but what happened after the breach was pretty straightforward, according to Peckshield. It was a classic case of "transfer-out, swap, and wash", according to the security firm. After transferring the funds out of Bitmart, hackers apparently used the decentralized exchange aggregator known as '1inch' to exchange the stolen tokens for ether. From there, the ether coins were deposited into a privacy mixer known as Tornado Cash, which makes the money harder to trace. Cybercriminals often look to a mixing or tumbling service, according to Rick Holland, chief information security officer at Digital Shadows, a cyberthreat intelligence company. Holland told CNBC these services allow users to combine illicit funds with clean crypto to essentially make a new type of cryptocurrency, at which point they turn to currency swaps. So even though the blockchain is public, there are still ways to make it difficult for investigators to trace transactions to their ultimate destination. This latest breach comes amid a wave of recent hacks. Last week, crypto lender Celsius Network admitted to losing funds (though it didn't specify how much it lost exactly), as a result of the $120 million hack of the decentralized finance platform BadgerDAO. And in August, a hacker stole more than $600 million worth of tokens from the cryptocurrency platform Poly Network. In a strange twist, the attacker subsequently returned nearly all of the money.

HACKED! Crypto Exchange BitMart Loses $200 Million Worth of Cryptocurrencies Including Safemoon, BabyDoge
ibtimes.sg
d67bc477392d2f666af5a205e4f64b08
Ever since I experienced the anguish of back-to-back iPhone screen-shattering accidents, I've been firmly pro-case. "It's just safer and more pragmatic", I told myself after my iPhone 7, and later my iPhone 8, had their screens irreparably cracked following accidental drops. "Why risk spending another thousand bucks on an iPhone?" But all it took was a single, seemingly mundane moment to alter my perspective: when I slipped off the case to extract the SIM card from my iPhone 12 Pro Max after months of leaving it swaddled in rubber. I was instantly reminded of why these phones are premium: The flat display looked all the more stunning without the case protruding from the sides. The phone felt lighter and more comfortable in my hands and the soothing Pacific blue shone through, unadulterated. It was as if the very integrity of the iPhone's hardware had been revealed. The newly unveiled iPhone 13 lineup is just as aesthetically pleasing -- here are all the design changes and color options. "Maybe you should go caseless, it'll be awesome. " a voice in my head whispered. "Nah, you're crazy!" interrupted another, louder voice. "Pop the case back on ASAP and forget about it! Not worth the risk." Ignoring the rational voice in my head, I decided to find out if I was the only person bonkers enough to secretly want to carry a $1,200 iPhone without a case. I wasn't. After a quick Google I discovered droves of caseless iPhone crusaders: Fans claiming that using a naked iPhone is the only way to experience the best-known consumer tech product on the planet. "This phone [iPhone 12] is too gorgeous to hide away',' said one Reddit user in response to a question about going case or caseless. "I'm rocking it naked. Bought AppleCare for peace of mind", wrote another person on Reddit. "Ceramic coming in clutch", the post said, referring to Apple's Ceramic Shield, which the company said offers four times better drop protection than the iPhone 12's predecessor had. Read more: See the results of our iPhone 12 drop test, iPhone 12 Mini drop test and iPhone 12 water resistance test. Former CNET contributor Chris Matyszczyk put it this way: "You don't buy a BMW and cover it in black rubber, do you?. You don't buy a Prada purse and then wrap it in pink cling film just to make sure none of the corners get scratched." Tucking your iPhone "safely" into a case is a norm woven into the fabric of global smartphone culture. Take a look at the protective phone case industry, which is already worth billions and is projected to expand alongside phone ownership. Add nonstop marketing into the mix, and it starts to feel like cocooning your iPhone in a case is an absolute necessity. The choices are endless: There are shock-resistant cases, eco-friendly cases, cases with sparkly purple dinosaurs, cases fancied by Miley Cyrus, 3D-printed cases you can make complete with a photo of your own dog -- if you're so inclined -- and so on. But this way of life didn't come out of nowhere. Encasing your iPhone has melded into our mainstream culture for legitimate reasons, of course: Nobody wants to risk their iPhone's destruction (most are just too expensive), and everyone wants to preemptively save time, money and resources. Despite all that, I still believe iPhones are best experienced without a case. (And yes, I absolutely recognize this lifestyle choice will not appeal to the pragmatic -- an uncased iPhone probably sounds outrageous -- but it might make sense to the purists of this world.) Read more: Not convinced? These are the best cases for iPhone 12 and here are the best iPhone 13 cases. In recent years, Apple has invested tens of billions on research and design, of which a portion has gone toward carefully crafting the luxurious look and feel of each year's iPhone. It's also easy to forget that Apple employs teams to test its iPhones to make sure they're designed to perfection, even if they don't quite get there. The reality is iPhones are sturdier than ever, too. Apple's ceramic-glass shielding, which debuted with the iPhone 12, went above and beyond expectations, protecting the hardware from drops as high as 9 feet. (Take a look at the results of CNET's iPhone 12 drop test if you need more evidence.) Also, cases don't necessarily guarantee full protection. In fact, according to some insiders, many broken-phone claims reportedly are made about iPhones that were in cases. Just take a look at Amazon reviews for certain highly protective cases and you'll see a smattering of reviews from people who broke their phone in the first week of using a case. Read more: Stop buying breakable phones, and you won't even need a case anymore After doing research, I made the informed decision to go caseless. Here's what I'm enjoying: the lightness, thinness, portability and in-hand feel. I'm also appreciating that I can now take advantage of Back Tap more easily. (To be sure, it worked when I used an iPhone case, but I noticed I had to tap slightly harder with my case.) I've programmed it to perform tasks like launching TikTok and taking screenshots. And guess what? Because of this lifestyle choice, I've evolved into a more careful human being. Will that transcend into other elements of my life? Maybe. Still, the caseless iPhone lifestyle -- although far superior to the encased experience -- hasn't been perfect. As it turned out, I had sacrificed peace of mind. I hadn't fully accepted the risk associated with carrying a caseless iPhone around Hong Kong. Anxiety over my iPhone 12 Pro Max slipping then crashing down onto rock-hard floors hit me in waves some days (even if I do have AppleCare). My Pro Max, which features a matte finish, is still pretty slippery. Then, as I made my way to a charming Hong Kong beach, I worried about grains of sand infiltrating my iPhone's stainless-steel chassis -- regardless of its IP 68 rating, indicating it's both dust- and waterproof. "Don't underestimate the kind of damage even a single grain of sand can do to your iPhone", my rational inner voice cautioned, yet again. Maybe the caseless life wasn't for me, after all. So I decided to mix it up and swing for the best of both worlds. Now I save the case for higher-risk activities like hitting the beach and hiking trails, and for when I eventually hop aboard an airplane. For lower-risk shenanigans like hanging out at home, heading to my neighborhood haunts or catching up with my girlfriends over dinner, I can enjoy the iPhone the way Apple intended. Complete with double taps on the back. Perhaps the "right" way for me isn't about living a pro- or anti-case life, or about being divided between case-haves and have-nots -- but instead it's taking a hybrid approach, where case and caseless days can peacefully coexist.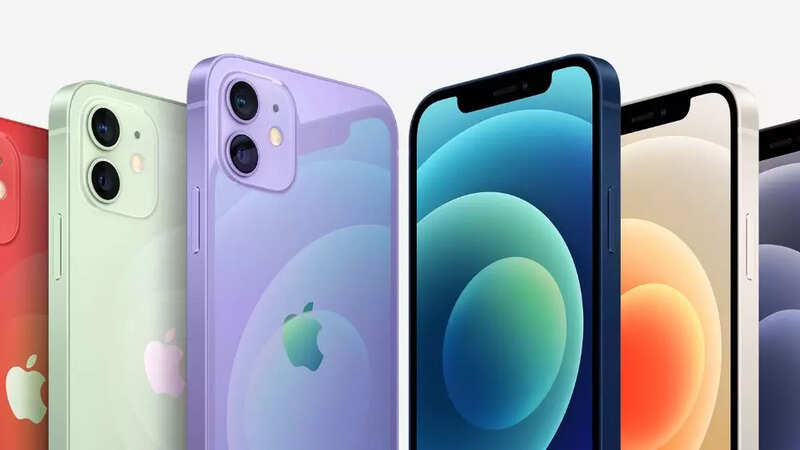 13 hidden iPhone hacks you should know
gadgetsnow.com
abd4f29017f0d1ba75b38a1a569f2825
The first trailer for Spider-Man: Across the Spider-Verse (Part 1) dropped this weekend, reuniting us with Miles Morales and Gwen Stacy for the first time since 2018's Spider-Man: Into the Spider-Verse brought us on an Oscar-winning thrill-ride. You might be wondering about the character Miles is battling in the futuristic city, but we already glimpsed him in the previous movie's post-credits scene. Spider-Man: Across the Spider-Verse (Part 1) is scheduled to hit theaters in October 2022. Part 2 will come out in 2023, writer-producers Phil Lord and Chris Miller told EW on Saturday. Time to party like it's 2099 and swing some into three-year-old SPOILERS. After Miles, Gwen and their fellow Spider-People stop Kingpin's city-endangering plot to travel to parallel universes and everyone goes home, we meet another pair of Spider-Men, one from the distant future and another from more than 50 years ago, before they end up in an intense (and meme-worthy) bout of literal pointing. The first of these is Miguel O'Hara, better known as Spider-Man 2099 ( Oscar Isaac), who's been monitoring the action with his holographic assistant Lyla ( Greta Lee) and sees that everyone has returned to their own realities. With the multiverse saved, Miguel decides to go on his own reality-hopping adventure. "Let's start at the beginning." Miguel travels to Earth-67, the reality of the 1967 Spider-Man animated series. That's the one with the glorious theme song and the first animated Spidey. Thus "the beginning" here. He encounters the Spider-Man of this universe, and the pair end up arguing over who pointed first -- a moment based on the famous pointing meme that's been around since 2011. We even get a cameo from Earth-67's J. Jonah Jameson. Spider-Man 2099 was created by Peter David and Rick Leonardi, and made his debut in 1992's Spider-Man 2099 No. 1. Miguel is a gifted geneticist living in New York (renamed Nueva York) in 2099, an era when a dystopian US is run by evil megacorporations like Alchemax, a company that plays a big role in the Spider-Verse. While trying to replicate the abilities of original Spidey Peter Parker for Alchemax, Miguel is forced by his unethical boss, Tyler Stone, to take an addictive drug. In an effort to shake the addiction, Miguel accidentally splices his DNA with that of a spider and gains a similar set of abilities as the original Spider-Man. He's also the first Latino character to become Spider-Man. His costume is available in Spider-Man PS4, and he was a playable character in 2010's Spider-Man: Shattered Dimensions and its 2011 sequel, Edge of Time. In the post-credits scene, Miguel travels to Double Identity, a Season 1 episode of the 1967 animated series. It focuses on an actor impersonating others to throw off police as he commits crimes. The pointing scene is from a moment when he pretends to be Spider-Man, and it inspired one of the many memes based on the show. It's not clear why Miguel is traveling through the multiverse, but the trailer for Across the Spider-Verse suggests that Miles will end up in 2099 at some point. Also, the spider that gave Miles Morales his powers suffered from the same temporal distortion as Peter and the other heroes who'd been pulled from other realities. Since the spider had an Alchemax logo, could it have come from Miguel's reality? The company exists in Miles' universe as well, so it might also have been branded after it arrived there.

Here's Your First Look at Spider-Man: Across the Spider-Verse
gadgets.ndtv.com
d377e4094832c7aa6e46df966bac3322
If you want to share your Wi-Fi password with someone and you forgot what it is, or if you need the password for some other reason, you can easily check it on your Windows 11 systems. This tutorial will show you how to view Wi-Fi passwords on Windows 11 computers. You can check the current connection's password and the previously connected connection's passwords. Viewing Wi-Fi passwords is easy, and it is okay to forget them. If you are logged in and want to use the password on some other device, too, you can easily check it through the connected PC. How to Run File Explorer as Administrator on Windows 11 Systems Step-1: Open the Windows settings app using the shortcut keys Win + I. Step-2: Select Network & Internet from the left pane. Step-3: Select the Advanced network settings option from the right pane when the Network settings open. How to Save Screenshot as PDF on Windows 11 Systems Step-4: In the Related settings section, click on More network adapter options. Step-5: Right-click on the Wi-Fi connection and select Status. Step-6: Select Wireless Properties. Step-7: Select the Security tab. Step-8: Select the Show characters box. Let us know if this helped.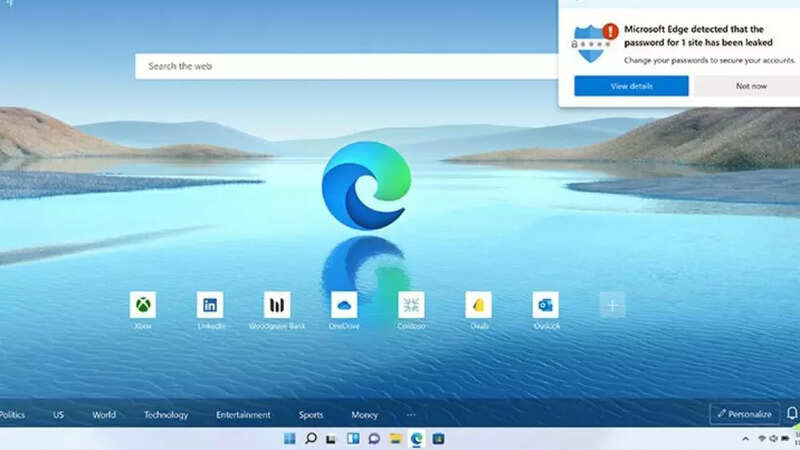 microsoft: How to change default browser in Windows 11
gadgetsnow.com
c449c588388ad713a4adc99f9974c71c
Grim Dawn: Definitive Edition is a Diablo -like action role-playing game (ARPG) that originally launched on PC in 2016. The title garnered stellar reviews from critics and has received strong post-launch support over the years. The Ashes of Malmouth and Forgotten Gods expansions not only add more items and weapons, but also bring new environments for you to explore. All of this content is available in the Definitive Edition of the game. A few years ago, developer Crate Entertainment announced that it was working on an Xbox One port of the popular ARPG. Development hasn't been smooth, and since then the Xbox Series X| S have launched around the world. Now that Grim Dawn is finally available on Microsoft's consoles, how does it hold up? I was provided early access to the game and played it on Xbox Series X. The title runs at 1080p and 30 frames per second (FPS) on the powerful machine and features no optimizations for current-generation hardware. This is disappointing, to say the least, but I contacted the developer and a spokesperson told me that the team didn't receive an Xbox Series X Developer Kit from Microsoft in time. However, what about Xbox One X enhancements? Surely more could've been done for that. Grim Dawn costs $54.99 on the Microsoft Store so it's competing with AAA games. The fact that it lacks Xbox One X or Xbox Series X| S optimizations will not only hurt sales, but also hurt the reputation of the game and Crate Entertainment. Maybe delaying it would've been a better option, but I think if Grim Dawn had included Xbox One X enhancements, many gamers would've been pleased with the results. Since the performance and resolution targets are so low, the game runs smoothly no matter what's happening on-screen. It plays exactly like an ARPG should with the controller. You directly controller your character with the left thumbstick and use a variety of attacks by pressing buttons like X or Y. My only real complaint would be that the text is too small in the inventory, but that can easily be fixed with an update. Grim Dawn is a fantastic experience on PC. It's one of the best ARPGs out there in my opinion, but on Xbox One, it's a letdown. It looks like an Xbox 360 title to be honest, even though the content is absolutely stellar. The game is complex with a lot of mechanics, features an excellent story, amazing continuous loot drops, and much more. It's a shame that the title doesn't shine on consoles. Hopefully, the developer will at least issue an Xbox One X patch while it waits to receive Xbox Series X| S units from Microsoft. Unfortunately, the market has moved past Grim Dawn because we're in a new console generation. Despite whatever problems Crate Entertainment experienced, the team has to take into account that the asking price of $54.99 puts their title in a highly competitive league where there are plenty of other options like Diablo II: Resurrected. Until G rim Dawn receives an update that overhauls the visuals and frame rate on either Xbox One X or Xbox Series X| S, I simply can't recommend it. It doesn't matter how good other aspects of the game are. With that said, the exemplary post-launch support Grim Dawn has received over the years is a testament to the developer's commitment to its titles. However, it all depends on when those patches are released. Let's hope it's soon and not in a few years when there's even more competition in the ever-growing ARPG genre.

Diablo II: Resurrected gets support for Nvidia DLSS, but there are some kinks to iron out
techspot.com
1beb9367cd7e84638dd466df2392bcd3
The Amazon Web Services (AWS) Re:Invent conference was held last week in Las Vegas. This year, the 10 th Re:Invent, returned to an in-person format after a year as a digital event due to the pandemic. It was also the first Re:Invent under new CEO Adam Selipsky, who takes the helm from Andy Jassy, who had arguable one of the most successful tenures of any CEO in history, leaving big shoes to fill. Going into the event, I wasn't sure if we would see Jassy 2.0 or a different kind of event. Different is what we got, in many positive ways. Below are my top takeaways from AWS Re:Invent 2021. Also see: Top Cloud Service Providers For an organization the size of AWS, the company is remarkably quiet when it comes to climate change, sustainability, social justice, and other ESG issues. If one looks at presentations from the likes of Cisco's Chuck Robbins or Nvidia's Jensen Huang, their focus is on how their technology can be used to make the world a better place. In contrast, the typical Jassy keynote was filled with product announcements; and while we got a heavy dose of that, Selipsky did talk up front about the impact AWS can have on the globe; and why that's important, as AWS can change the planet in ways others can't because of its might and scale. Selipsky also brought in the theme of being a "Pathfinder," which is an individual or company that continually challenges the status quo and finds new ways to do things, even though the norm is currently acceptable. An example of this is United Airlines; its Chief Digital Officer, Linda Jojo, described how her company used the AWS cloud to digitize the international flying experience – a prime example of digital transformation. While there were many products unveiled, I thought the two most notable reflected AWS's entry into networking. The company announced its own private 5G offering where customers could build, provision and operate a 5G network via the AWS console in a subscription model. Start-up Celona Networks launched an infrastructure private 5G solution earlier this year, which is great for IT shops that take a "do it yourself" approach to networking. In contrast, AWS Private 5G is an excellent option for companies that prefer a turnkey managed service. The other network announcement was the launch of Cloud WAN, which is a WAN service that is also managed through the AWS console. Customers can build a network, using the AWS global network, or from their carrier. A point and click interface reduces much of the complexity in operating a global network. In the near term, I anticipate Cloud WAN being used to connect corporate locations to AWS clouds. But given AWS's ability to disrupt markets, I can see them taking share from the traditional telcos, which tend to have high prices and low innovation. One of the interesting aspects of Cloud WAN is that it's consumption-based pricing versus flat fee, which could result in significant savings. The Monday keynote was by AWS Head of WW Channels and Alliances, Doug Yeum, who will be moving into a new role at Amazon. Taking over is Dr. Ruba Borno, formerly SVP and GM of Cisco's CX Centers and Managed Services. One of the interesting aspects of the hiring of Borno is that AWS has elevated the position to a VP role, so clearly the company is expecting big things from Borno – and I think she will deliver. Although AWS is one of the biggest IT companies in the world, it's only been selling enterprise services for a little over a decade. Because of this, its partner program is very basic in many ways. Juxtapose this with Cisco, which has one of the most advanced partner programs, and it's easy to see why Borno was such an attractive hire. Look for her to take the program to the next level. I clearly see increases in partner focus and revenue. AWS has been the de facto standard in cloud since there has been cloud with Azure and GCP continually looking up at them. In the great AWS vs. Azure vs. Google cloud competition, AWS is the leader hands down. AWS has, by far, the broadest set of services, which includes everything from app development tools to artificial intelligence to contact center and now networking. At the event it announced updates to the second generation of its ARM-based Graviton processors, artificial intelligence security and even mainframe modernization software. What's notable now is that AWS is doing a better job of packaging multiple products into solutions. For example, at the event, Goldman Sachs and AWS debuted its "Financial Cloud for Data" running on AWS, which is a data management and analytics solution for financial clients. Previously, Selipsky had discussed more customized products for specific industries, making this something to watch for soon. For all its success with IT pros, AWS has yet to dent making products directly for end users, despite having a handful of products in this area. For example: The one end user focused product that does seem to be gaining traction is Connect, AWS's contact center product, which got a boost from COVID. Its consumption-based pricing has helped customers like Hilton Hotels save money, while its AI features enable companies like Traeger Grills to provide significantly better customer service. I'd like to see AWS put a bigger focus on its apps, as I do think it could disrupt in this sector as it has done in IT services. That's a wrap on Re:Invent 2021 and I was glad it's back live. A new CEO, Global Channel Chief and lots of new products should enable AWS to not only maintain its growth trajectory but accelerate it. See you in 2022. eWeek has the latest technology news and analysis, buying guides, and product reviews for IT professionals and technology buyers. The site's focus is on innovative solutions and covering in-depth technical content. eWeek stays on the cutting edge of technology news and IT trends through interviews and expert analysis. Gain insight from top innovators and thought leaders in the fields of IT, business, enterprise software, startups, and more. Advertise with TechnologyAdvice on eWeek and our other IT-focused platforms. Property of TechnologyAdvice. © 2021 TechnologyAdvice. All Rights Reserved Advertiser Disclosure: Some of the products that appear on this site are from companies from which TechnologyAdvice receives compensation. This compensation may impact how and where products appear on this site including, for example, the order in which they appear. TechnologyAdvice does not include all companies or all types of products available in the marketplace.

Activision Blizzard won't have a role at the 2021 Game Awards outside of its nominations
techspot.com
7324aaa7d18c0e11867a207fd12551fc
Five years after its launch, Street Fighter 5 has finally added its final character, American MMA fighter Luke Sullivan. Capcom states that Luke is a sign of things to come, as he will be a very important character going into the next numbered entry of the long-running fighting game series. Hearing about the future got me thinking about Street Fighter 5's long journey. This game has literally been to hell and back in its five years. Street Fighter 5 was initially released on February 16, 2016, and as of November 29, 2021, the game has added its final DLC character. While Street Fighter 5 is fondly thought of today, it wasn't always that way. It had to contend with a rough launch and its producer exiting the series after 30 years. But perseverance from Capcom showed us how a mediocre game can transform into a classic through its lifetime. Street Fighter 5 's vanilla release was met with mixed reviews from critics and fans, with many citing the same issues. The game was fun, no doubt, but I remember starting the game up and noticing how embarrassingly dry the package was initially. If you weren't there, good for you, because you would have been stuck with strictly offline versus mode, half-baked character story modes, and a survival mode that would bore anyone after one go. There was no arcade mode to be found and Capcom's promises of a cinematic story, similar to Mortal Kombat and Injustice, didn't materialize at launch. Even on the core gameplay side, hardcore fans were finding many flaws with the game, which resulted in a rather tame and boring experience when compared with the rest of the series. Just about everyone was unhappy with Street Fighter. The game wasn't fit for newcomers (those looking to mess around in arcade mode) and even higher-end players weren't seeing the fun in the game. It didn't help that Capcom was swearing by a new fight money currency that players could obtain to not only buy in-game cosmetics but DLC as well. The fight money was useless to anyone not grinding online matches 24/7, and that made Capcom look even worse along with its poor netcode and input lag. The game went through its first two seasons until finally Capcom released an all-new edition of SFV titled, Street Fighter 5: Arcade Edition. This new expansion included all the DLC characters released in seasons one and two, an arcade mode, an Extra Battle mode, and a new V-Trigger (a unique power-up mechanic) for every character in the game. Arcade Edition, released in 2018, saw SF5 finally get the praise it was after and more. Not only were reviewers changing their tune, stating that the game finally felt like a full package, but casual and competitive players alike were finding actual joy in returning to the fighter game. Of course, in classic Street Fighter fashion, there was another new edition ready in the chamber. Two years later, in 2020, Capcom released the next big update to Street Fighter 5 in the form of Championship Edition. The gameplay was given a huge overhaul, with character balance tweaks and a second V-Skill for every character. Capcom was listening to the initial complaints that bombarded Street Fighter 5 and it responded in spectacular fashion. Suddenly, Street Fighter 5 was becoming the hit entry that it promised to be on release, bringing tons of variety to characters similar to that of the Alpha series games. This update was so well-received that Capcom gave it one more season with more characters, new mechanics such as the V-Shift dodge and counter, and even more stages. That extra season has now concluded with the addition of Luke Sullivan, leaving fans much more positive on the final package. Fans now hail Street Fighter 5 as one of the best entries of the series, with some even comparing it to other Street Fighter greats like Third Strike. Though the game has transitioned into the good graces of fans, that's not to say absolutely everything was fixed. While its networking is done with an amazing rollback standard that fighting game players clamor for, it was implemented poorly, making for a subpar online experience at times. That shouldn't be the case in a genre-defining series like Street Fighter. It doesn't help that games before it like Skullgirls and Mortal Kombat, or games released after it like Guilty Gear Strive and even Marvel vs Capcom Infinite, implemented nearly flawless netcode. For years, SFV has been a great fighting game trapped in a bubble by bad netcode, which has even driven some players to drop the game completely — which is even worse in an era where offline events can't happen as much due to the pandemic. Street Fighter 5 is another member of a classic modern gaming curse club that no game wants to join. That list includes games that had to go through significant updates to finally get recognized, overcoming poor planning and bad mistakes. Throughout all the buffs, nerfs, mechanical changes, tournament circuits, and booty attack censoring, it's found its way into the light thanks to Capcom pushing to fix nearly every issue players had. Let's all just hope that they can fix that netcode issue by the time Street Fighter 6 hits shelves.

Resident Evil 4 HD Project Comparison Shows How Truly Stunning This Upcoming Fan-Made Remaster Will Be
wccftech.com
dc2a07adbebf63cef0dfdf7615bd70ff
Are you looking for a new smartphone within the range of Rs. 40,000? Within this price bracket, you can find several premium offerings from brands such as OnePlus, Xiaomi, Oppo among others. These smartphones not only offer flagship-level performance but also great camera picture quality and battery life and support for fast charging. Moreover, the good news is, most of them offer 5G support. So let's dive into this list that we have compiled for you of the best smartphones under Rs 40,000 this month. The OnePlus 9R comes with a 6.5-inch full-HD+ with 1,080x2,400 pixels OLED display with a 120Hz refresh rate. The phone is powered by the Qualcomm Snapdragon 870 SoC, paired with 8GB or 12 GB of RAM and 128GB or 256GB of onboard storage respectively, It comes with a quad rear camera setup including a 48-megapixel Sony IMX586 primary sensor, 16-megapixel secondary sensor, 5-megapixel macro shooter, and a 2-megapixel monochrome shooter. The Mi 11X Pro 5G is available in an 8GB RAM with 128GB storage variant and 8GB RAM with 256GB storage option. The smartphone features a 6.67-inch AMOLED display with a1 120Hz display, IP53 rating for dust and water resistance, Qualcomm Snapdragon 888 processor, MIUI 12 on top of Android 11, and a 4520mAh battery. There is a triple camera setup with a 108-megapixel primary camera, an 8-megapixel ultra-wide-angle camera, and a 5-megapixel tele macro lens. These cameras offer good performance in moist lighting scenarios for the price. The iQOO 7 Legend sports a 6.62-inch FHD+ AMOLED display with a resolution of 1080x2400 pixels and a peak brightness of 1300nits, 120Hz refresh rate, and 300Hz touch sampling rate. It is powered by the Qualcomm Snapdragon 888 5G system-on-chip, paired with up to 12GB LPDDR5 RAM and 256GB UFS 3.1 storage. It boots Android 11-based Funtouch OS 11.1. IQOO 7 Legend features a triple-camera setup at the back with a 48-megapixel primary Sony IMX598 sensor, a 13-megapixel ultra-wide-angle lens with 120-degree FoV, and a 13-megapixel depth sensor for portrait shots. There is a 16-megapixel camera on the front for selfies. The Vivo X60 comes with a Qualcomm Snapdragon 870 SoC paired with either 8GB RAM with 128GB storage or 12GB RAM with 256GB onboard storage. It features a 6.56-inch AMOLED display with a 19.8:9 aspect ratio and 120Hz refresh rate. The triple rear camera setup with Zeiss optics includes a 48 megapixel primary unit with an f/1.79 lens, a 13-megapixel telephoto unit with 2x optical zoom, an f/2.46 lens, and a 13-megapixel ultrawide unit with an f/2.2 lens. There is a 32MP front camera, a 4,300mAh battery with 33W fast charging, Android 11, 5G connectivity, and an in-display fingerprint sensor. Oppo Reno 6 Pro features a 6.5-inch full-HD+ AMOLED panel with a 90Hz refresh rate, HDR10+ playback certification, and a 180Hz touch sampling rate. One of the biggest upgrades to the Oppo Reno 6 Pro is the new MediaTek Dimensity 1200 SoC paired with 12GB RAM and 256GB storage. It has a quad rear camera setup with a primary 64-megapixel camera and a front selfie camera which is 32 megapixels. It has a large 4500 mAh battery. Read our full review here

Top 5 smartphones under Rs 30,000 to buy in December 2021: OnePlus Nord 2, Mi 11X, and more
bgr.in
0c8f82b7f8174649208bb3cff1982bfe
Motorola has been busy with smartphone launches lately. The smartphone maker launched the Moto G31 in India recently. Following the launch, Moto G51 is set to arrive in country on December 10. The leak adds that the smartphone will be a Snapdragon 480+ chipset. It is said to be a true 5G device with a total of 12 5G bands. You can check all mobile deals here The Motorola G51 has already been launched in Europe. Hence, we are aware of the complete details of this smartphone. The Moto G51 sports an enormous 6.8-inch IPS LCD panel with a 120Hz high refresh rate. It is powered by the Snapdragon 480+ chipset and coupled with up to 4GB RAM and 64GB of onboard storage. The smartphone is equipped with a 50-megapixel triple camera system and a 13-megapixel shooter for selfies. A 5000mAh battery powers the Moto G51. The smartphone was launched at EUR 229.99 (roughly Rs 19,300) in Europe. While that was a brief description of the Moto G51, we have more details to share with you, so let's get started. --Moto G51 is set to enter the Indian markets on December 10. Motorola tweeted to confirm the upcoming launch. The teasers showcase the design and a few other details. As per which, Moto G51 is a 5G device with a total of 12 5G bands. --The smartphone has already been launched in Europe, so we are aware of the complete details of the Moto G51. The design of the Moto G51 is similar to the other G series smartphones. It sports a rectangular camera module that holds triple rear cameras and an LED flash. The rest of the panel is plain with a Motorola logo. Motorola has used a side-mounted fingerprint scanner on this device. The front panel has a flat-screen with minimal bezels and a centred punch-hole camera. --The Moto G51 is a big and heavy device that measures 170.5 x 76.5 x 9.1 mm and weighs 204gms. It sports a 6.8-inch IPS LCD panel with a 120Hz high refresh rate. A Snapdragon 480+ chipset powers the Moto G51. It is an octa-core chipset based on an 8nm manufacturing process and coupled with Adreno 619 GPU. The smartphone is offered in a sole 4GB RAM and 64GB storage model, which is expandable up to 512GB via micro-SD. --The Moto G51 sports a triple rear camera setup consisting of a 50-megapixel primary sensor, an 8-megapixel ultra-wide lens and a 2-megapixel macro lens. While on the front, it gets a 13-megapixel shooter for selfies. --The Moto G51 is powered by a 5000mAh battery with 10W charging. Motorola claims more than 30 hours of battery life on this smartphone. The Moto G51 comes with IP52 dust and water resistance. Connectivity options on the device include 5G, Bluetooth, GPS, 3.5mm audio jack and a Type-C port. Motorola has confirmed that the Moto G51 will launch in India on December 10, and the smartphone will be available via Flipkart. The Moto G51 is likely to launch as a budget 5G smartphone in the country. It will compete with the likes of Redmi Note 11T 5G, Realme 8s 5G and iQOO Z3 5G when it arrives in the country. The smartphone was launched at EUR 229.99 (roughly Rs 19,300) in Europe. Keeping that in mind, we can expect the smartphone to launch under Rs 20,000 in the country.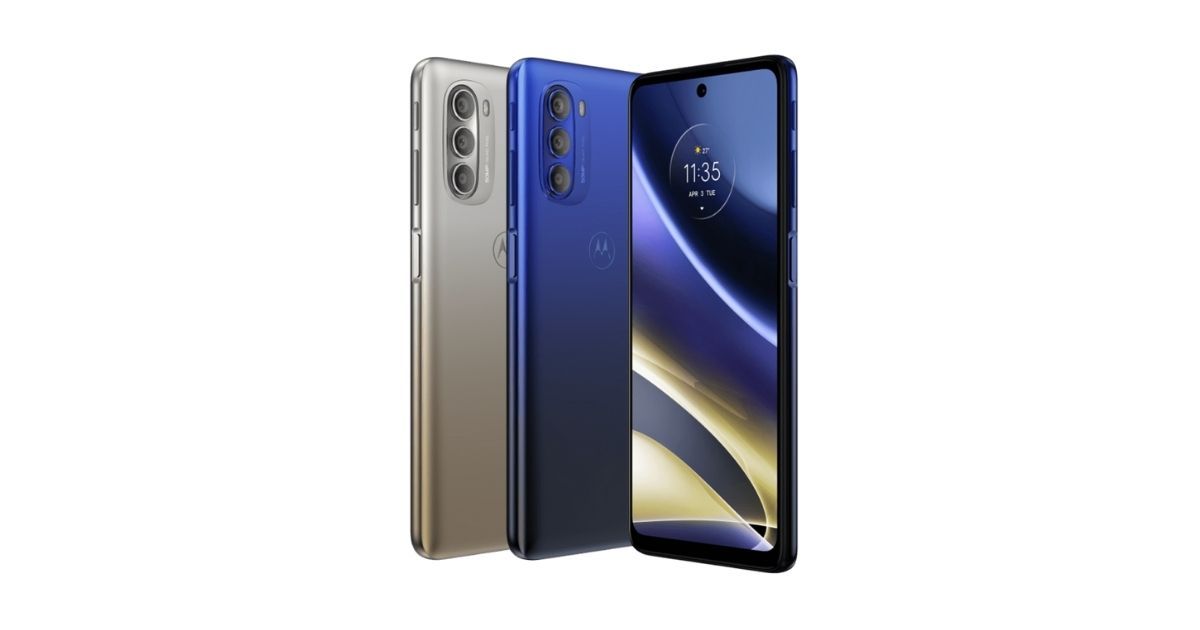 Moto G51 India Launch Officially Set for December 10
mysmartprice.com
be9bd78dff4e1c22b6f501fad64d702d
Yahoo ist Teil der Markenfamilie von Yahoo. Durch Klicken auf " Alle akzeptieren " erklären Sie sich damit einverstanden, dass Yahoo und seine Partner Cookies und ähnliche Technologien nutzen, um Daten auf Ihrem Gerät zu speichern und/oder darauf zuzugreifen sowie Ihre personenbezogenen Daten verarbeiten, um personalisierte Anzeigen und Inhalte zu zeigen, zur Messung von Anzeigen und Inhalten, um mehr über die Zielgruppe zu erfahren sowie für die Entwicklung von Produkten. Sie können ' Einstellungen verwalten ' auswählen, um weitere Informationen zu erhalten und Ihre Auswahl zu verwalten. Sie können Ihre Auswahl in den Datenschutzeinstellungen jederzeit ändern. Weitere Informationen darüber, wie wir Ihre Daten nutzen, finden Sie in unserer Datenschutzerklärung und unserer Cookie-Richtlinie. Klicken Sie hier, um weitere Informationen zu unseren Partnern zu erhalten.

Ihre Daten. Ihr Umfeld.
consent.yahoo.com
e8c3336036bc0bdc991abcf962081334
Ihre Daten. Ihr Umfeld.
consent.yahoo.com
b2b0dcd8bf126a29c7172727a2d26892
Ihre Daten. Ihr Umfeld.
consent.yahoo.com
6948174862c4e06ba2bfd51ffb3216f4
Ihre Daten. Ihr Umfeld.
consent.yahoo.com
8bb4a3760556d20226cb76494539a894
Ihre Daten. Ihr Umfeld.
consent.yahoo.com
40674f924cfb443458f9a5baefa74984
Ihre Daten. Ihr Umfeld.
consent.yahoo.com
d1216c6216c899d4ec8e94d419d3483b
Ihre Daten. Ihr Umfeld.
consent.yahoo.com
0271460469bd9901a9d43434396a6a75
Ihre Daten. Ihr Umfeld.
consent.yahoo.com
b4ba7230888ac8296dbdfbe7b03d8e00
Ihre Daten. Ihr Umfeld.
consent.yahoo.com
94d108bf65269f57bf63a4b773292d3f
Ihre Daten. Ihr Umfeld.
consent.yahoo.com
935db05937561a187c4aa7a82198684b
Ihre Daten. Ihr Umfeld.
consent.yahoo.com
ff534530c0a3151a28d0b0908b894a3f
Ihre Daten. Ihr Umfeld.
consent.yahoo.com
a982b80da96a55a3c225ccf380318de9
Ihre Daten. Ihr Umfeld.
consent.yahoo.com
416342bad272c63161f6961aee18ed00
Ihre Daten. Ihr Umfeld.
consent.yahoo.com
2c527988c4e8b22e6327402aee0eb2f8
How To Mobiles Photo Gallery Photo Gallery Gaming Reliance Jio to increase its tariff prices following Airtel and Vodafone-idea? MediaTek dominates the sub-Rs 30,000 smartphone space in 2021, where is Qualcomm? OnePlus 9RT could be so much more than just a mild camera update Goodbye Realme X series, we will remember your greatest hits Cool WhatsApp features that should be introduced soon Vivo TWS Neo Review Logitech G502 Lightspeed Gaming Mouse Review Asus ROG Phone 3 First Impressions OnePlus Nord First Impressions Asus TUF A15 (FA566) Gaming Laptop Review Can we really expect 6G by 2023 when India is still facing its biggest challenges in implementing 5G How to enable dark mode on Google Search: Follow these simple steps Xiaomi launched 27-inch 4K monitor and Redmi monitor 27-inch Pro: Check price, specifications, display, features Top 5 smartphones under Rs 30,000 to buy in December 2021: OnePlus Nord 2, Mi 11X, and more Top 5 smartphones under Rs 30,000 to buy in December 2021: OnePlus Nord 2, Mi 11X, and more Can we really expect 6G by 2023 when India is still facing its biggest challenges in implementing 5G Omicron impact: Why smartphone makers must be wary of the new COVID-19 variant How Spotify is giving major FOMO feels to Apple Music users Can the new Snapdragon 8cx Gen 3 chipset take on Apple M1? Google Pay vs Amazon Pay: Which one is better to get offers, deals, other benefits Features Telecom Telecom News Telecom Moto Edge X30 के लॉन्च से पहले कंपनी ने शेयर किए पिक्चर और फीचर, 144Hz रिफ्रेश रेट और 60MP सेल्फी कैमरा होने की उम्मीद Free Fire Redeem Codes December 5: यह कोड आज फ्री दिलाएगा Pumpkin Warrior बॉटम और Vandal Revolt Weapon Loot Crate Google Photos Locked Folder का फीचर अब सभी एंड्रॉयड स्मार्टफोन में होगा उपलब्ध, जानें कैसे अपनी फोटो और वीडियो को करें लॉक? Free Fire के नए इवेंट में मिलेगी Money Heist वाली Sports Car, जानें तरीका Top-10 Emojis of 2021: यहां देखें इस साल सबसे ज्यादा यूज किए जाने वाले इमोजी की लिस्ट News News News News How To Mobiles Photo Gallery Photo Gallery

How to enable dark mode on Google Search
bgr.in
33bcd70b5f0d2fe3d27c5e1bc998c8d8
Xiaomi launched 27-inch 4K monitor and Redmi monitor 27-inch Pro: Check price, specifications, display, features
bgr.in
207c5112249c6ab550cf748ea794460f
Garena Free Fire codes for today, December 5: How to avail skins, characters, diamonds more
bgr.in
b1d30c5e002a4c923b825c0ed0c884dd
A 13-year-old middle schooler was arrested by the police in Waterford Township of Michigan on Friday, December 3 after he allegedly made threats against his school involving a gun. The Detroit News reported that the precautionary arrest comes days after a sophomore at Oxford High School in Michigan, Ethan Crumbley, 15, opened fire killing 4 students and injuring several others. The 13-year-old boy, whose identity is not known at the moment, made a social media post on Thursday with a picture of a gun captioned "Mason better watch out." Police described the post as a direct threat to Mason Middle School. The Oxford High School shooter, Ethan Crumbley also made similar social media posts with a picture of a gun, days before the shooting on November 30. According to police, almost 60 schools in Michigan have suspended classes following Tuesday's shooting after receiving similar threats. Oakland County Sheriff Mike Bouchard and Prosecutor Karen McDonald said there has been a surge of threats of school shootings since the last three days. Police informed that the 13-year-old suspect admitted to making threats while being interviewed. He is facing charges of a felony carrying up to 20 years in prison. The teen was charged in juvenile court with 'knowingly making a false report of terrorism.' It is a 20-year felony in Michigan if convicted. Police noted that the boy is scheduled to be presented before a court on December 20, and will remain in custody until then. According to the Detroit News, Waterford Township Police Chief Scott Underwood noted that all threats are taken seriously and being investigated. "We will use all available investigative tactics and resources, arrest those responsible, and seek to charge them to the fullest extent possible", he said. The Oxford School shooter, 15-year-old Ethan Crumbley also made disturbing social media posts in the days leading up to the fateful day of the shooting. According to DailyMail, Ethan and his parents were called for a meeting with his teachers 3 hours before the shooting after a teacher found him searching for ammunition on his phone. Ethan reportedly used the gun bought for him by his parents in the shooting. The suspect's parents, James and Jennifer are charged with four counts of involuntary manslaughter and face up to 20 years in prison if convicted. Ethan, on the other hand, is charged as an adult with 4 counts of first-degree murder, 7 counts of assault with intent to murder, 12 counts of possession of a firearm in the commission of a felony, and 1 count of terrorism causing death.

Are Oxford School Shooter Ethan Crumbley's Parents Suicidal? Couple Placed on Suicide Watch
ibtimes.sg
99218bc8639094aa437cd458c3c77abd
Congressman Posts Family Christmas Picture Flaunting Guns days after Michigan School Shooting, Gets Trolled
ibtimes.sg
b68de07b764668e2bd7624903850f9be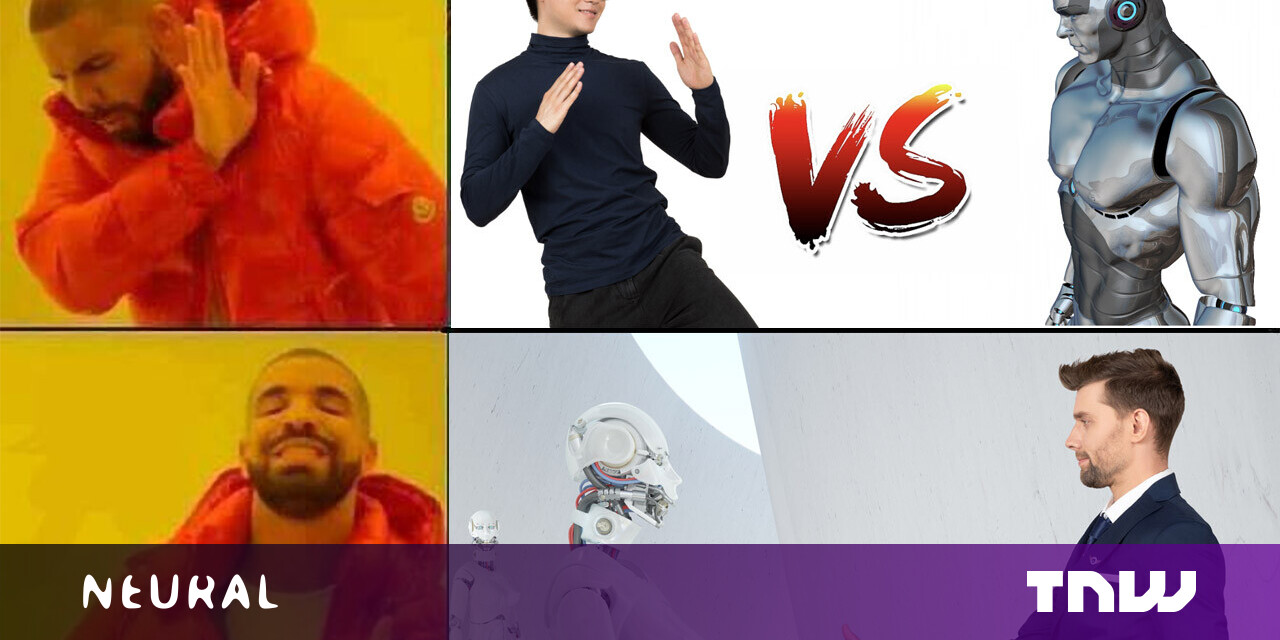 The latest tech news Your sardonic source for consumer tech stories Human-centric AI news and analysis Driving the future of sustainable mobility No-nonsense stories about startup growth Inside money, markets, and Big Tech The hottest new jobs in tech Help build the bank of the future Coding for Public Service Small country, big ideas Whether it's athletes on a sporting field or celebrities in the jungle, nothing holds our attention like the drama of vying for a single prize. And when it comes to the evolution of artificial intelligence (AI), some of the most captivating moments have also been delivered in nailbiting finishes. In 1997, IBM's Deep Blue chess computer was pitted against grandmaster and reigning world champion Garry Kasparov, having lost to him the previous year. But this time, the AI won. The popular Chinese game Go was next, in 2016, and again there was a collective intake of breath when Google's AI was victorious. These competitions elegantly illustrate what is unique about AI: we can program it to do things we can't do ourselves, such as beat a world champion. But what if this framing obscures something vital – that human and artificial intelligence are not the same? AI can quickly process vast amounts of data and be trained to execute specific tasks; human intelligence is significantly more creative and adaptive. The most interesting question is not who will win, but what can people and AI achieve together? Combining both forms of intelligence can provide a better outcome than either can achieve alone. This is called collaborative intelligence. And this is the premise of CSIRO's new A$12 million Collaborative Intelligence (CINTEL) Future Science Platform, which we are leading. While chess has been used to illustrate AI-human competition, it also provides an example of collaborative intelligence. IBM's Deep Blue beat the world champion, but did not render humans obsolete. Human chess players collaborating with AI have proven superior to both the best AI systems and human players. And while such "freestyle" chess requires both excellent human skill and AI technology, the best results don't come from simply combining the best AI with the best grandmaster. The process through which they collaborate is crucial. So for many problems – particularly those that involve complex, variable and hard-to-define contexts – we're likely to get better results if we design AI systems explicitly to work with human partners, and give humans the skills to interpret AI systems. A simple example of how machines and people are already working together is found in the safety features of modern cars. Lane keep assist technology uses cameras to monitor lane markings and will adjust the steering if the car appears to be drifting out of its lane. However, if it senses the driver is actively steering away, it will desist so the human remains in charge (and the AI continues to assist in the new lane). This combines the strengths of a computer, such as limitless concentration, with those of the human, such as knowing how to respond to unpredictable events. There is potential to apply similar approaches to a range of other challenging problems. In cybersecurity settings, humans and computers could work together to identify which of the many threats from cybercriminals are the most urgent. Similarly, in biodiversity science, collaborative intelligence can be used to make sense of massive numbers of specimens housed in biological collections. We know enough about collaborative intelligence to say it has massive potential, but it's a new field of research – and there are more questions than answers. Through CSIRO's CINTEL program we will explore how people and machines work and learn together, and how this way of collaborating can improve human work. Specifically, we will address four foundations of collaborative intelligence: One of our projects will involve working with the CSIRO-based robotics and autonomous systems team to develop richer human-robot collaboration. Collaborative intelligence will enable humans and robots to respond to changes in real time and make decisions together. For example, robots are often used to explore environments that might be dangerous for humans, such as in rescue missions. In June, robots were sent to help in search and rescue operations, after a 12-storey condo building collapsed in Surfside, Florida. Often, these missions are ill-defined, and humans must use their own knowledge and skills (such as reasoning, intuition, adaptation and experience) to identify what the robots should be doing. While developing a true human-robot team may initially be difficult, it's likely to be more effective in the long term for complex missions. This article by Cecile Paris, Chief Research Scientist, Knowledge Discovery & Management, CSIRO and Andrew Reeson, Economist, Data61, CSIRO, is republished from The Conversation under a Creative Commons license. Read the original article.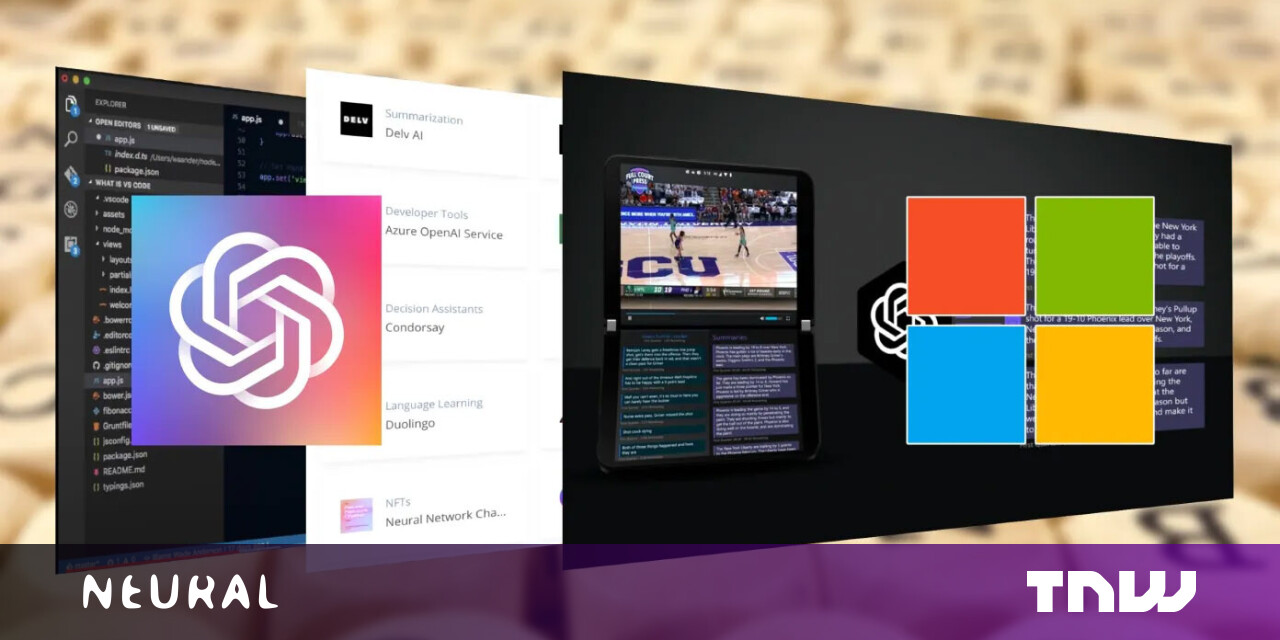 Building apps with GPT-3? Here's how to balance cost and performance
thenextweb.com
80aa794db1b8b57b9004e3a51909d2be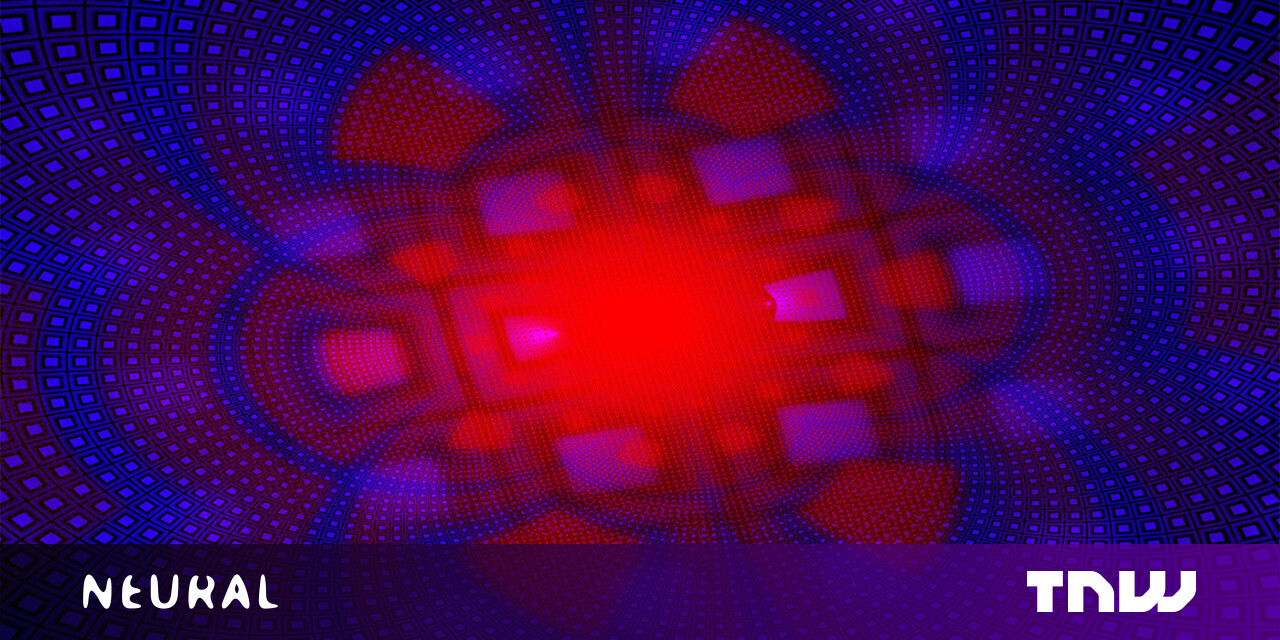 The future of scientific research is quantum
thenextweb.com
d5f86f488b272e38a07171658cdaf8bb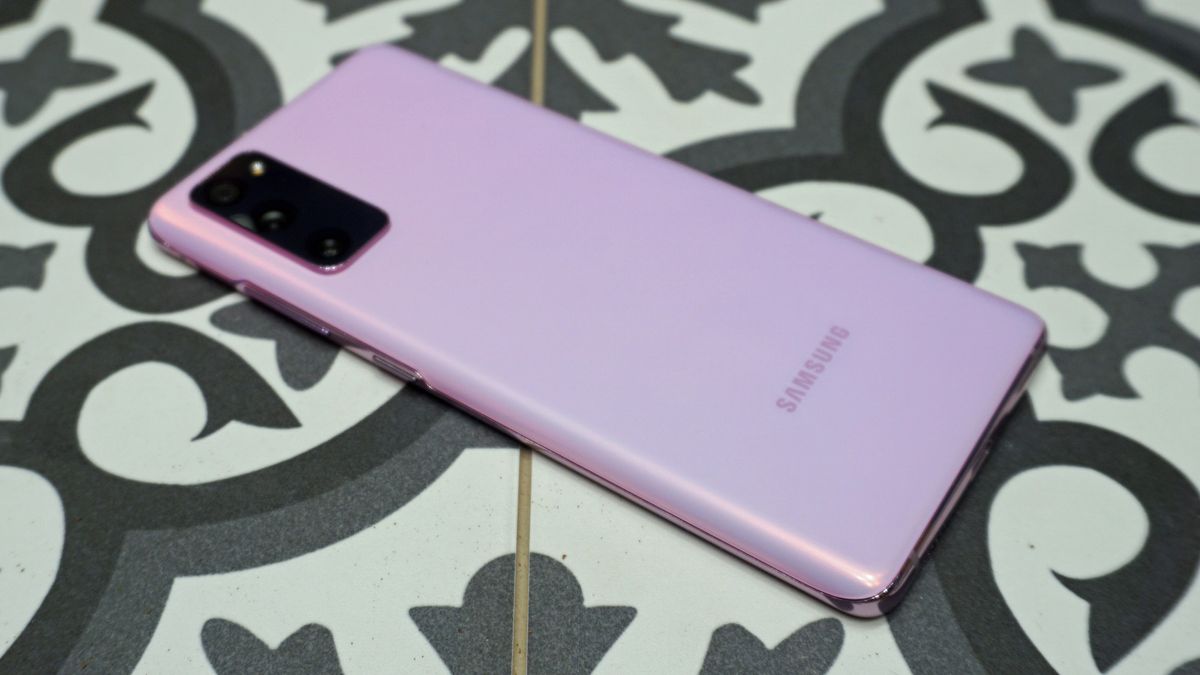 While the Samsung Galaxy S21 range was unveiled in early 2021, there's more to come: it seems certain that Samsung will follow the initial trio up with a Samsung Galaxy S21 FE (or Galaxy S21 Fan Edition as it might be called) in the coming months. What makes us so certain is that Samsung itself has accidentally mentioned the phone by name – although on the other hand there have also been hints that the phone is in danger of being canceled. It didn't show up at the Samsung Unpacked October 2021 event, and we're still waiting for it to break cover. Most of the smart money now seems to be on it making an appearance at some point during January 2022. The Galaxy S21 FE would be a cheaper, lower end alternative to the S21, much as the Samsung Galaxy S20 Fan Edition is to the Samsung Galaxy S20. However, the reduction in cost and specs are both likely to be minimal, with the S21 Fan Edition still likely to be fairly high-end – and priced accordingly. The news and rumors around this phone continue to roll in rapidly – we've covered all the best ones below, and come up with a list of things we want from the Samsung Galaxy S21 Fan Edition, along with our best educated guesses at the release date and price. For a long time we thought the Samsung Galaxy S21 FE was sure to land, even though there has only been one Fan Edition model so far. As SamMobile reported, the company said it would launch a new one every year. There have been doubts though: a report that the phone may have been canceled due to the global chipset shortage, a Samsung official saying that the phone was under review, and Samsung removing support pages for the Galaxy S21 FE from its websites. Those documents have since reappeared. The S20 FE launched in August, so it's clear that the S21 FE is way overdue at this point, but we're hopeful that it's still coming. Predictions of a launch in October haven't been accurate, but we've seen predicted launch dates come and go before. A recent leak asserts that the Galaxy S21 FE is indeed January, potentially even taking the release window of the Samsung Galaxy S22 (a second source has now backed that up, saying that it could land at CES 2022, which takes place from January 5-8), while another source points to January 11. So sometime in January looks likely. The price is something that we don't have much idea of either, but it may have a launch price in line with the Samsung Galaxy S20 Fan Edition, which cost $699 / £699 / AU$1,149 for a 5G model, or £599 / AU$999 for a 4G one (with this version not being available in the US) - and with more S20 FE deals appearing still at the moment. If anything though the Samsung Galaxy S21 FE might be cheaper than its predecessor, as the Samsung Galaxy S21 has a lower launch price than the Galaxy S20 did. A listing for the Samsung Galaxy S21 FE on a Chinese certification database has revealed that the phone likely has a 6.4-inch 1080 x 2340 Super AMOLED screen with a 120Hz refresh rate and an in-screen fingerprint scanner - specs that are very similar to the S20 FE. The phone apparently also has an IP68 rating, meaning it's dust and water resistant. One other rumor has mentioned a 1080 x 2009 resolution though, which is strange. At the moment, the 1080 x 2340 option seems more likely, as it more closely matches the S21. As for the design, numerous leaks have now shown us the possible appearance of the Samsung Galaxy S21 FE, starting off with one from reputable tipster @OnLeaks, and we've embedded one of their tweets below. The upcoming phone will apparently be slightly taller and slightly wider than the main Galaxy S21, with a 6.4-inch display rather than a 6.2-inch one. The rear camera bump, meanwhile, will supposedly be connected to the rear casing rather than the metal frame. Since this leak, LetsGoDigital has shared unofficial renders based on leaked information, and they look very similar to those above, as you can see in the images below. Note however that the colors chosen here aren't all rumored for the phone (more on which further down), they were simply chosen because they're "high-profile." There have been further leaks too: check out these renders (one of which we've embedded below) from seasoned tipster Evan Blass, which are based on details of the supposed dimensions and design of the Galaxy S21 FE. Since then, Blass has returned with updated renders, showing the Samsung Galaxy S21 FE in green, white, blue, violet and grey, which you can see below. The shades are slightly different to those in his previous leak, and probably more accurate, but the design is much the same. A different leaker points to black, white, pink and green versions of the phone, with no blue like we've seen elsewhere. Blass has one-upped himself yet again, this time with 360-degree GIFs showing the phone from all sides, some of which you can see below. While we can't guarantee that the final phone will look exactly like this, these pictures seem likely to be close to the mark – and it seems as though we're going to get a lot of colors to pick from as well. Speaking of which, we've elsewhere heard that it could come in light green, white, gray, purple, and pink shades. A subsequent leak has provided some of those same colors, listing gray, white, violet and green - that's a similar, though not identical, list. We've also now seen what appears to be photos of the back cover and inside of the phone, and you can see the same design as above, complete with black, white, purple and green shades. For even more of an idea of what the phone is going to look like, check these leaked case images. That back cover has also been attached to the frame of a Galaxy S10 on video, giving us a clear look at how the S21 FE might look. One of the more recent leaks we've seen spilled a whole host of information about the Galaxy S21 FE, including some of the key specs and the official case designs we can expect from Samsung. There were also some images that look like official promo materials from Samsung, which you can see below. A certification listing for the Samsung Galaxy S21 FE mentioned a 12MP main camera, a 12MP ultra-wide one, and an 8MP telephoto one with 3x optical zoom, along with a 32MP selfie camera. We've also previously heard that it will reportedly have a 32MP front-facing camera, and from the renders above it looks to have a triple-lens rear camera, so that matches what we've heard. When it comes to battery capacity, one tipster says there'll be a 4,500mAh battery installed in the Samsung Galaxy S21 FE, beating the 4,000mAh capacity battery in the regular Galaxy S21. It could also charge faster than any other S21 model, with a certification listing pointing to 45W charging - even the Galaxy S21 Ultra only supports 25W, so that would be an impressive spec. We've also seen both that battery size and charging speed mentioned a second time, with wireless charging also mentioned. That said, the phone almost certainly won't come with a charger, as a leaked user manual for the Samsung Galaxy S21 FE says that wall chargers are sold separately. This manual does mention both wireless and reverse wireless charging though. Some sources claim that a phone with the model number SM-G990B is in development, and it's believed that might be the Samsung Galaxy S21 FE. At the very least the model number would seem to place it in the Galaxy S21 range. On its own that doesn't tell us much, but that model number has also now been spotted in a benchmark, where a Snapdragon 888 chipset, 6GB of RAM and Android 11 are also mentioned. We've also seen the phone listed on a Chinese certification database, with a Snapdragon 888, 8GB of RAM, 128GB or 256GB of storage, and a microSD card slot mentioned. Those specs have since been backed up by a subsequent leak as well. A similar model number (SM-G990U) was also spotted on the FCC (Federal Communications Commission) database, with mention of the same chipset. In another benchmark though we've seen the Exynos 2100 mentioned, alongside 8GB of RAM. So it's possible the Galaxy S21 FE will have a different chipset in different regions, as Samsung does that with some of its phones. Both of those chipsets are very powerful though, and are currently among the best you can get in a smartphone. A multi-chipset approach may work, as a report suggests Samsung is going to use both its own Exynos, and Qualcomm's Snapdragon chipsets in order to avoid further release date delays. If true, we'll likely see the Snapdragon version of the phone in the US and Asia, and Exynos versions elsewhere - the latter will probably be slightly weaker than the Qualcomm counterpart. We were moderately impressed by the Samsung Galaxy S20 Fan Edition, but there are a few key improvements we'd like to see from the S21 FE. The Samsung Galaxy S20 Fan Edition has a fairly premium price but its 'Glasstic' back (plastic that's designed to feel like glass) is anything but. This was one of our biggest disappointments with the phone, and we really want to see Samsung up the quality of materials for the Galaxy S21 Fan Edition. Either that or lower the price, or better yet both. However, since we made this wish Samsung launched the Galaxy S21 with a Glasstic back, and it seems unlikely that the Samsung Galaxy S21 FE will get a more premium rear than that phone. As noted above, the Galaxy S20 Fan Edition is quite an expensive phone, and that's despite being the baby of the Galaxy S20 range. While the specs and features go some way towards justifying the price (plastic back notwithstanding), the Samsung Galaxy S21 FE could certainly stand out more if it were a bit more affordable. This may way well come to pass, given that the rest of the Galaxy S21 range is cheaper than the Galaxy S20 range. We were generally quite impressed by the Galaxy S20 Fan Edition's screen, but one aspect that could use some improvement is its brightness. In our review we noted that it struggled in direct sunlight, and that the automatic brightness sometimes felt dimmer than it should. So for the Samsung Galaxy S21 Fan Edition we want both a higher maximum brightness and improvements to the auto brightness mode. While the Galaxy S20 Fan Edition has a 4,500mAh battery, we found that it didn't actually last very long, and often struggling to even reach a full day before it needed charging again. That's just not good enough, especially when you consider that over time the battery will begin to wear out and become even more problematic, so we want big improvements here for the Samsung Galaxy S21 FE. 4,500mAh isn't actually a bad size, so it's likely poor optimization that's at fault, but whether through a bigger battery or improvements elsewhere, we want to be able to comfortably get a day of life from the Samsung Galaxy S21 Fan Edition at an absolute minimum. Another issue we have with the battery in the Samsung Galaxy S20 Fan Edition is its charging speed. At 25W (or 15W for wireless charging) it's not terrible, but when even the substantially cheaper OnePlus Nord can manage 30W charging, and some phones are up to 65W or higher, we really want increased charging power from the Samsung Galaxy S21 FE.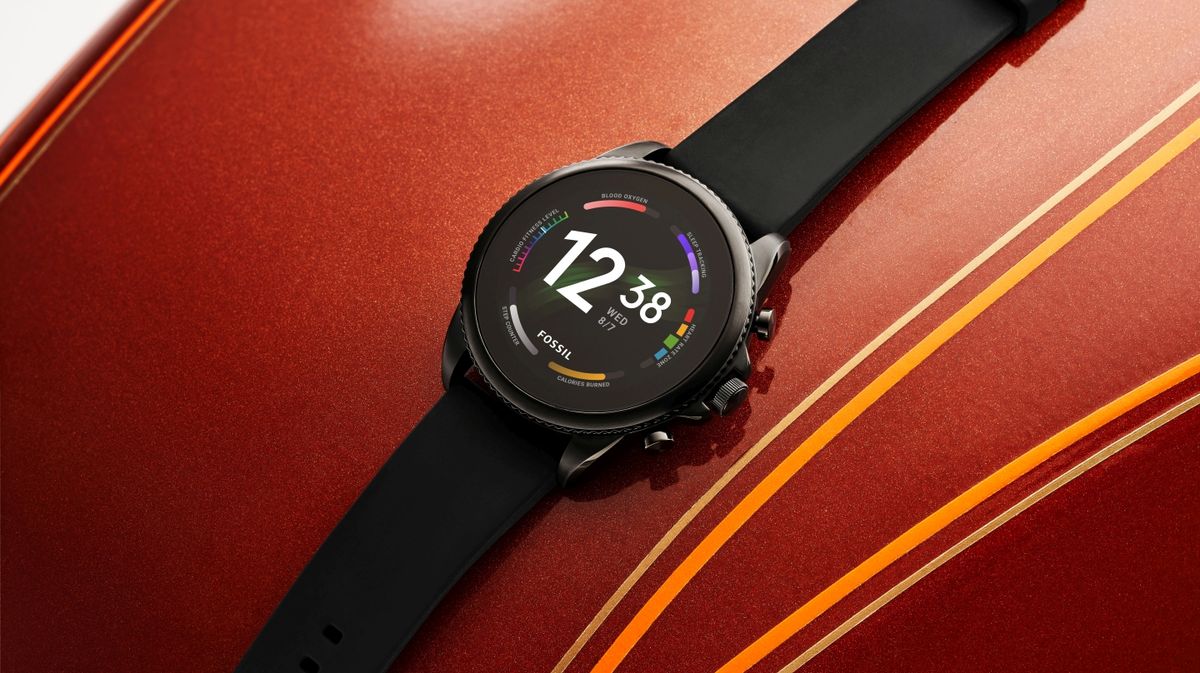 Google Pixel Watch release date rumors, price, news and leaks
techradar.com
155ebe54fb95a7c26f80b73592fdb6fd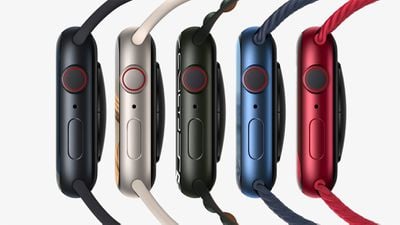 Apple is planning an entire revamp of its Apple Watch lineup for 2022, including an update to the Apple Watch SE and a new Apple Watch with a rugged design aimed at sports athletes, according to respected Bloomberg journalist Mark Gurman. Writing in the latest installment of his Power On newsletter, Gurman said that for 2022, alongside the Apple Watch Series 8, Apple is planning an update to the ‌Apple Watch SE‌. The ‌Apple Watch SE‌ was released in September 2020 and has since served as a mid-level option for customers. The ‌Apple Watch SE‌ features the same design as the Apple Watch Series 6 but lacks advanced features such as an always-on display, blood oxygen sensor, and ECG functionality. Apple typically doesn't update its "SE" devices, such as the iPhone SE, for several years. Given that Apple didn't announce an update this year, a new model can presumably be expected for 2022. Gurman didn't say what can be expected from the new ‌Apple Watch SE‌, but it may include a slightly tweaked design and health features more in parity with higher-end models. Alongside an update to the existing ‌Apple Watch SE‌, Apple is planning an entirely new Apple Watch aimed at sports athletes. Bloomberg had previously reported that Apple recently considered launching a rugged version of the Apple Watch with bolstered durability. The new Apple Watch, according to Gurman, will feature a "ruggedized" design that may feature a case that's more resistant to scratches, dents, falls, and more. Before its official unveiling, rumors and reports confidently suggested that the Apple Watch Series 7 would feature a flat-edged design. Those rumors failed to come true, and the ‌Apple Watch Series 7‌ turned out to feature a more curved design. Those rumors, instead, may have been referring to the "rugged" Apple Watch allegedly in the works, however, that remains purely speculative. The current Apple Watch lineup features the ‌Apple Watch Series 7‌, the ‌Apple Watch SE‌, and the Apple Watch Series 3 from 2017. Apple is now rumored to be planning to expand the lineup to more customer demographics in 2022, such as athletes who may have so far decided against purchasing an Apple Watch due to its durability.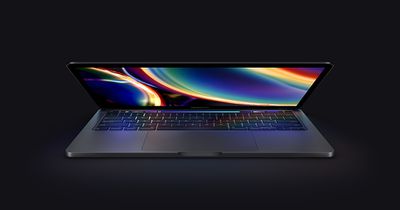 Apple Planning Five New Macs for 2022, Including Entry-Level MacBook Pro Refresh
macrumors.com
a927ee45771b6b1e42d910b3811eda9f
While Microsoft exploring some areas more than Windows, the latter's operating system is likely the product most of us know the best. Yet if you're not familiar with PowerShell, you're not getting the most from a tool you use every day. The 2022 Windows PowerShell Certification Bundle will show you what you're missing, and you can save even more on it during our ongoing Cyber Monday sale. PowerShell is an automation and configuration tool in Windows that uses a command line and coding. If you've ever had the IT department upgrade your laptop remotely, PowerShell was likely involved. It's particularly beloved and used by systems administrators, yet PowerShell is a tool anybody can use, and instructor Vijay Saini, an IT professional specializing in automation, built these courses around that. Saini's instructor rating is an impressive 4.3/5 stars, and his key point in these classes is that anybody can use PowerShell to take repetitive work off their plate. It's just a question of mastering the tool and the scripting. The bundle starts with an introduction to PowerShell, where to find it, and the basics of running programs in it, before moving on to the scripting language used to automate work. Then Saini moves the course into a set of real-world problems you might encounter and how PowerShell can solve them, sharpening your scripting skills while illustrating some practical ideas. From there, you can pick up advanced knowledge on Active Directory (AD) Management, and diagnosing problems in Windows by running detailed HTML reports. Even if you're only planning to use Windows for basic tasks, understanding PowerShell can help you better understand how it works and how to troubleshoot issues before you call IT, and it's also a great way to introduce yourself to practical coding skills. Get the 2022 Windows PowerShell Certification Bundle for $6 (reg. $1200) with code CMSAVE70. Prices subject to change. Futurism fans: To create this content, a non-editorial team worked with an affiliate partner. We may collect a small commission on items purchased through this page. This post does not necessarily reflect the views or the endorsement of the Futurism. com editorial staff. Care about supporting clean energy adoption? Find out how much money (and planet!) you could save by switching to solar power at UnderstandSolar. com. By signing up through this link, Futurism. com may receive a small commission.

Master The Adobe Creative Cloud With This Cyber Week Training Bundle Deal
futurism.com
409ed5040c517d327bec68b46fd68123
Dogs love us, even if we go to space without them, so return that love this Cyber Monday with the DNA My Dog Breed Identification Test & Allergy Test My Pet Kit Bundle and save 20% with code CMSAVE20. Winners of the Leaders in Ethical Canine Testing award at the BHP Biotechnology Awards in 2020, DNA My Dog makes it easy to learn just what breeds lie in your pooch's history with a painless test. Just use the included cheek swab to collect a sample and send it in using the prepaid envelope. In return, you'll get a full report within two weeks, discussing breed mix, DNA composition, personality traits, and possible health concerns to keep an eye out for as your dog gets older. You even get a certificate suitable for framing, so the next time somebody asks if they've got a little Corgi in them, you can prove it. Yes, dogs get allergies too, and just like human allergies, they can lead to unexplainable symptoms. The Allergy Test My Pet kit was built to help you find out what's troubling your four-legged pal. Just use the saliva collector for a quick and painless sample. Once it's sent in, the kit's team will test the proteins in the sample and look for signs of reactions to 100 common allergens found in food and the environment. Then you get a complete report, detailing what possible sensitivities you may need to look out for, with recommendations on foods to avoid and common environmental factors that might irritate their sensitive skin. You can cut down on pricey vet trips while making your dog a bit happier every day. Get the DNA My Dog Breed Identification Test & Allergy Test My Pet Kit Bundle for $96 (reg. $178) with code CMSAVE20. Prices subject to change. Futurism fans: To create this content, a non-editorial team worked with an affiliate partner. We may collect a small commission on items purchased through this page. This post does not necessarily reflect the views or the endorsement of the Futurism. com editorial staff. Care about supporting clean energy adoption? Find out how much money (and planet!) you could save by switching to solar power at UnderstandSolar. com. By signing up through this link, Futurism. com may receive a small commission.

Master The Adobe Creative Cloud With This Cyber Week Training Bundle Deal
futurism.com
409ed5040c517d327bec68b46fd68123
Not sure where to watch the best 4K content out there? Once upon a time, a 4K TV was a luxury reserved for the wealthy. Not anymore. Today, you can get 4K TVs for less than $500, and with 8K just around the corner, they're bound to become even more affordable. But despite the great price, finding good 4K content still isn't that easy. Just because it exists doesn't mean it has become standardized on every platform. Once you know where to look, though, there's plenty of 4K content available. Yes, you'll need to pay for it, and you'll need the right gear, but it's worth the visual experience. We've found all the best sources of 4K content around and have gathered them here for you. Cost: $15 per month. Requirements: Only select devices support 4K HDR on HBO Max and it's not exactly clear which devices do and don't. While HBO has definitively stated that Android TV, Chromecast with Google TV, Chromecast Ultra, 4K Fire TVs, Apple TV 4K, and the Android TV-powered AT&T TV support HBO Max in 4K, that's the entire list at the moment. While HBO Max launched without 4K compatibility, it caught up by making the day-and-date release of Wonder Woman 1984 available in 4K. Warner Bros. also announced that it would release its entire 2021 slate on HBO Max at no extra cost to subscribers, all of which will be available in 4K. No word yet on whether other content will eventually be made available in 4K. Cost: $18 per month for the Premium plan that includes Ultra HD content. Requirements: Recommended internet speed of 25Mbps or higher; a 4K Ultra HD smart TV with the Netflix app built-in, from manufacturers including Samsung, LG, Panasonic, Sony, Vizio, Philips, TCL, and Hisense; or a compatible 4K Ultra HD TV connected to any of the recent 4K-capable Roku streamers, Amazon Fire TV Cube, Google Chromecast Ultra, or Google's latest Chromecast with Google TV, among others. Netflix, a constant innovator, was one of the first services to offer 4K Ultra HD content, which took flight with the second season of its original series House of Cards. Since then, the content has been growing consistently — all of the service's major original series are now being shot in 4K, and some in HDR and Dolby Vision, including recent hits and old favorites. Netflix is also continuously adding new original 4K films and breathtaking nature docs to its library among select 4K blockbuster titles. If you've made the leap to 4K Netflix, but for some reason you're not getting it, head to our guide on how to fix it. Cost: Included with a $120 per year or $13 per month Prime Membership; select titles for a rental start at $6, and titles for purchase range from $10 to $20. Requirements: Recommended internet speed of 25Mbps or higher; a 4K UHD TV with the Amazon Prime app installed or installable, from manufacturers such as Samsung, LG, Sony, Vizio, TCL, and Panasonic; or a compatible 4K Ultra HD TV connected to 4K-capable Roku streamers, Chromecast, Nvidia Shield TV streamer, Apple TV 4K, and (of course) Amazon Fire TV 4K-capable streaming devices. Amazon's "free" service — which comes with a Prime subscription — launched with 4K Ultra HD versions of some of its original series like Mozart in the Jungle and Transparent and has since expanded to include most of its original series, as well as lots of other television series and films. Amazon also streams many of its original series in HDR, including Jack Ryan in Dolby Vision. The service also has a rotating selection of 4K Ultra HD movies as part of its Prime collection; the exact number of specific titles available will vary from month to month. As for the not-so-free selections, Amazon sells a number of 4K Ultra HD titles starting at around $20. Cost: Starting at $6 for an ad-riddled experience, $12 for ad-free. Requirements: Recommended internet speed of 16Mbps or higher; select 4K UHD TVs, including 4K Vizio SmartCast TVs and LG TVs; compatible 4K streaming devices, such as Apple TV 4K, Xbox One S or Xbox One X, Roku 4K devices, Google Chromecast Ultra or Chromecast with Google TV, or Amazon Fire TV and Fire TV Stick. After pulling its entire catalog of 4K content without so much of a sniffle to its customers back in 2018, Hulu has once again ventured into the wonderful world of 4K Ultra HD. Originally only available for Apple TV 4K and Chromecast Ultra owners, 4K support has since been expanded. You'll find most of your 4K content in Hulu Originals, but not all of them are available that crisp. You'll also find a smattering of 4K movies, but these are a lot more scarce and take a bit of work to find. Expect Hulu to expand its selection throughout 2020 and beyond. Cost: $6 per month Requirements: Select Ultra HD TVs by Samsung, Sony, and LG; Streaming boxes and sticks like 4K-capable Roku devices, Apple TV 4K, Chromecast, Amazon Fire TV, Nvidia Shield TV, and Xiaomi Mi Box S; Xbox One and PlayStation 4. Many of the services featured on this list existed before the 4K streaming explosion, so their respective content injections were slow and painful, but you don't have to worry about that with Disney+. There are over 600 movies and shows to choose from, many of which are available in 4K Ultra HD and HDR. You can expect most new stuff to be delivered in 4K, including Star Wars spinoff series The Mandalorian, Marvel's WandaVision and their latest films, and all the National Geographic documentaries you can handle. Keep digging, and you'll see that Disney+ even offers some of your favorite classics at this level of fidelity. Cost: Starting at $6 for new release rentals, $20 for new release purchases; Apple TV+ is $4.99/month Requirements: Compatible 4K UHD TV; Apple TV 4K streaming box; minimum internet speed of 25 Mbps for 4K streaming Following the release of the Apple TV 4K, iTunes began adding a selection of 4K and HDR content to its store. These titles are available to purchase or rent. Finding content in the iTunes store is easy — icons flag the content as 4K, HDR, and/or Dolby Vision (Dolby's proprietary HDR format). One perk of iTunes is that the 4K versions of titles cost the same as the HD versions, which is drastically cheaper than most other services. Additionally, you can find 4K content on your Apple TV 4K across apps. 4K content is available from streamers like Amazon Prime Video, Netflix, Disney+, HBO Max, ESPN, as well as Apple Originals from the Apple TV+ subscription. In most cases, you will not have to pay extra to view available content in 4K when using an Apple TV 4K. Cost: Some rentals are free (ad-supported); paid 4K rentals start at $3, or $10 to $20 for purchase. Requirements: Recommended internet speed of 10 to 11Mbps or higher; Select Sony, Samsung, Vizio, LG, and Roku-equipped 4K TVs and Blu-ray players; Xbox One X or Xbox One S; 4K-enabled Roku streamers, Apple TV 4K, Chromecast Ultra/Chromecast with Google TV, or Nvidia Shield TV device paired with compatible 4K Ultra HD TVs; Windows 10 PC Movie rental/downloading service Vudu has been quietly working its way into the 4K Ultra HD conversation. The service has slowly expanded the number of supported devices and is constantly adding more. Vudu's library is continually updated with many of the latest UHD movie releases, and it's now one of the better services for finding UHD films to show off your 4K TV's capabilities. It's also part of Movies Anywhere, which lets you store your digital vault from multiple services. Cost: Free; $12 per month for YouTube Premium subscription; $2 to $15 for film rentals/purchases. Requirements: Recommended internet speed of 25Mbps or higher; Ultra HD TV with Android TV OS and select Samsung, LG, Sony, Sharp, and Hisense TVs, as well as Vizio SmartCast TVs; Xbox One S and Xbox One X; 4K-capable Roku streamer, Amazon Fire TV, Nvidia Shield TV, or Chromecast Ultra or Chromecast with Google TV hooked up to a 4K TV. Keep in mind that the number of TVs that support YouTube's brand of 4K is still in flux — just because there's a YouTube app doesn't mean it'll be in 4K — so check with retailers before making a purchase. Thanks in large part to its massive army of video contributors and a barrage of 4K cameras now on the market, YouTube has quickly become one of the best sources for 4K Ultra HD content. You won't find a big catalog of films or TV series, but those looking for some brilliant scenes to show off their TV's mad 4K Ultra HD skills will find them here — everything from nature videos to high-flying stunts. And perhaps best of all, most of it is free — such as the popular HDR Channel. Cost: $1 to $10 per rental. Requirements: Recommended minimum download speed of 10Mbps or higher; app available on select Samsung, Hisense, Vizio, and Sony Bravia Ultra HD TVs, 4K-capable Roku devices, Apple TV 4K, Amazon Fire TV, Nvidia Shield TV streaming box, or Windows 10 PC. As the self-proclaimed host of the largest 4K Ultra HD library of streaming content available, Ultraflix hosts several hundred hours of 4K nature documentaries (including multiple titles originally created for Imax), dozens of concerts, videos from musical acts, and hundreds of hours of sci-fi, action, comedy, and drama, all for rental in 48-hour blocks. Cost: Starting at $2 for TV episode rentals, $3 per movie for a 24-hour rental, and $10 to $35 for purchases. Requirements: Sony 4K Ultra HD TV; 4K Ultra HD TV with HDCP 2.2 copyright protection and a PlayStation 4 Pro for 4K Ultra HD playback (other Sony devices are supported, but they do not have 4K playback). Sony's video on demand (VOD) service allows the purchase and rental of more than 200 movies and TV shows. It's one of the less common services on this list, with only select 4K Sony devices — TVs, Blu-ray players, and the PlayStation 4 Pro — being compatible. That's not a great situation if you're not all-in on Sony, but PlayStation Video has a sizable library of 4K content. Sony regularly runs promotions for films coming out of its own studios, such as Spider-Man: Homecoming or The Dark Tower. If these bonuses are important to you, PlayStation Video is a perfectly fine source for 4K entertainment. Cost: Rentals start at $5 (varies by title) and movies cost $15 to $35 to purchase. Requirements: Recommended minimum 10Mbps download speed; select Samsung and LG Ultra HD TVs, PC, or 4K-capable Roku streamer hooked up to 4K Ultra HD TV. This service was originally known as M-Go, before Fandango purchased and rebranded it. It offers 4K UHD movies for either purchase or rental, as well as a healthy selection of films that are also offered with HDR. Unlike some other services, FandangoNow has a list on its website that makes it easy to see which movies are available with HDR, and what is only available in standard 4K. Cost: $6 rentals, $10 to $30 for purchase. Requirements: 20Mbps internet connection; 4K-capable Android TVs from Samsung, Sony, or LG; Chromecast Ultra or newer Chromecast with Google TV, Nvidia Shield TV, or 4K-capable Roku streamer connected to a 4K TV, among other Google devices. Google has its own 4K streaming devices, the latest being the Chromecast with Google TV (which has replaced the Chromecast Ultra), and the Google Play Store has a selection of 4K movies available for rental or purchase. This service isn't just relegated to the Chromecast, however. Any 4K-capable streamer that supports Google Play — such as Roku devices or the Nvidia Shield — can access these movies via the Google Play app. Cost: Starts at $55 per month. Requirements: 30Mbps internet speed recommended; Streaming devices like Chromecast Ultra, Fire TV, Roku, or Apple TV; Select Ultra HD Android TV sets by Sony, Sharp, Hisense; Nvidia Shield Android TV box; Xiaomi Mi Box In July 2018, FuboTV became the first live-sports TV-streaming service to offer programming in 4K with HDR. At first, the only games to take advantage of this increased visual fidelity were 2018 World Cup matches, but the service later added some NCAA football games in 4K as well. While 4K content is still fairly limited, the service is equipped to show both Fox and FS1 in 4K with HDR10, so if nothing else, expect to see more live sports making use of these technologies moving forward. Fubo also has a limited selection of 4K content on-demand, so check it out if you want a first-hand preview of what the live events might look like. Cost: $4 to $16 per 4K Ultra HD title on demand; live channel requires DirecTV Choice or higher package. Requirements: On-demand: Manufacturer-certified DirecTV 4K-ready TV (or standard 4K TV and 4K Genie Mini) and DirecTV's Genie HD DVR (model 530 and up). Live: Previous requirements plus the latest Genie HD DVR. Pioneering the first 4K Ultra HD service for any cable or satellite provider, DirecTV has delivered a handful of VOD movies in 4K since 2014. Currently, DirecTV offers a wide range of 4K movies, including titles like Tenet, The New Mutants, and Promising Young Woman. The channel also offers live programming on a limited, event-based schedule, which you can preview at any time right here. Cost: $8 per 4K Ultra HD title on-demand, live packages start at $60; $10 per month access fees. Requirements: Dish Hopper 3, 4K Joey (optional add-on for more than one TV), and compatible 4K Ultra HD TV, Dish Network programming package. With the introduction of its Hopper 3 hardware and 4K Joey, Dish joins a growing list of cable providers offering 4K content both live and on-demand. As long as you've got the equipment, the money, and the ability to commit two years to pay it, live 4K programming is available on any channel that offers 4K, though that is an admittedly small list at this point. As more channels add 4K programming, you'll theoretically be able to access it as long as the channel is in your programming package. A fair number of movies are available in 4K on-demand as well, for $8 per rental, compared to $3 for standard definition and $7 for high definition. In August 2018, Dish added Epix's full catalog of 4K movies to its catalog. This brought titles like Arrival, The Magnificent Seven, Star Trek Beyond, and Transformers: The Last Knight to the service in 4K. You'll either need to subscribe to Epix for $7 per month or the Dish Movie Pack for $10 a month, but in general, more 4K content is better than less 4K content. If you can't find what you're looking for in 4K via Dish's live or on-demand offerings, the company's hardware also supports Netflix and Amazon Prime Video streaming in 4K, though you'll need the appropriate subscriptions to access them. Cost: Free to Xfinity TV customers. Requirements: Xfinity XG1v4, Xi6, or select Roku devices, select 4K TVs from LG, Samsung, and Sony. Comcast premiered its own 4K service in December 2014 with a streaming app. For now, there are limited titles available, most of which fall under the umbrella of Comcast subsidiary NBCUniversal's library. At first, 4K content was only available from a VOD app for Samsung UHD TVs, but the service eventually released 4K set-top boxes with support for live broadcasts, though you can't yet record the higher resolution feeds. The service also offers Netflix integration and even includes a subscription in some packages, letting you watch Netflix in 4K via your Xfinity set-top box. Cost: Ultra HD Blu-ray players run anywhere from $80 to $1,000; Ultra HD Blu-rays average $15 to $30 per movie. Requirements: 4K Ultra HD Blu-ray player, discs, and compatible 4K Ultra HD TV. A physical format some have dismissed as obsolete in the streaming age, Ultra HD Blu-ray discs and their corresponding players offer the best way to watch 4K Ultra HD content in terms of quality. The platform exhibits fewer artifacts than highly compressed 4K streams and brings along HDR10 and Dolby Vision support (along with Dolby Atmos and DTS:X immersive sound). Just note you will need an Ultra HD Blu-ray viewer to view them, or an Xbox One S or Xbox One X. Requirements: Xbox Series X ($499), PlayStation 5 ($499), PlayStation 4 Pro ($400) or Xbox One X ($400) console and 4K UHD TV. Price: About $20 to $60 per game, plus fees for additional content and premium online services. While there's plenty to watch from the services and platforms discussed in this article, it's not the only form of entertainment your 4K TV can enhance. For the gaming crowd, there are now four 4K- and HDR-compatible consoles on the market: The Xbox Series X, PlayStation 5, and the immediate predecessors PlayStation 4 Pro and the Xbox One X. Xbox Series X, Xbox One X, Xbox One S, and PS 5 all support 4K Ultra HD Blu-ray, although PS4 Pro does not. The PS4 Pro does play HD Blu-rays and supports 4K streaming on Netflix and Amazon Prime Video. Each console has its own list of 4K and HDR titles ( PS4, Xbox), as well as its own premium online services with perks like online play and complimentary games every month. All of the consoles listed above support HDR. Be sure to check out our guides for how to enable HDR for the new generation, as well as the Xbox One X and PS4 family of consoles.

If you're shopping for home cardio equipment and trying to decide between a treadmill or an elliptical machine, listen to your joints. Many people prefer ellipticals because they put less stress on their bodies compared to the impact of running on a treadmill. With an elliptical machine, your feet never leave the pedals, which minimizes the potentially damaging impact on joints. Equally important to note, is that, unlike treadmills, most elliptical machines have handles that provide both an upper and lower body workout. If your 2021 goals include better cardiovascular conditioning, you'll be all set with an elliptical machine ready to use. Below, we've collected some fantastic elliptical deals, after scouring many storefronts. Elliptical training works the glutes, quadriceps, hamstrings, calves, and anterior tibialis. Also, ellipticals work your quadriceps and hamstrings harder than treadmills. When you use the movable handles on most ellipticals, you also exercise your triceps, biceps, and shoulders, which doesn't happen with most exercise bikes. Using an elliptical allows you to follow the natural path of your feet and legs when they are in motion. The motion that your ankles, knees, and hip joints make during walking, jogging, or running is the same motion that an elliptical makes. Also, ellipticals provide a weight-bearing exercise, which is essential to prevent the onset of osteoporosis. Since ellipticals exercise more muscles simultaneously than most other cardio exercises, you can burn more calories and fat in a short period. Studies show most people report that they didn't think they worked as hard during workouts with an elliptical machine as when they were on a treadmill. This means that you are actually working out harder than it feels like you are. Many elliptical machines today feature menus of challenging exercise programs that mimic hill climbing or interval training, which can make workouts more enjoyable and less repetitive. Many machines also have heart rate monitors and controls that allow you to optimize your workout based on heart rate control. As you can see, there are many benefits to investing in an elliptical machine. There are hundreds of brands and elliptical machine models, but we have you covered. We've put together a list of some great deals on ellipticals for your home gym — some even double as an exercise bike. Also, be sure to check out our fitness equipment deals page for other items to round out your home gym.

If you use the internet, you likely know how important it is to protect your data in an increasingly dangerous cyber environment. But like other essential tasks that tend to be tedious (like filing taxes early and brushing your teeth for the full two minutes), most installing and running a VPN can sound unappealing to many: sure, they encrypt your internet traffic and hide your location — but they can also run frustratingly slowly, delaying the way you'd usually use the internet for entertainment and work. That's where Ivacy VPN is different: not only will the speedy service let you browse and stream lag-free, it also offers real-time threat detection technology, removing malware and viruses at the server level. It ensures that all your downloads and devices stay totally secure, so you can stay safe online without being inconvenienced. In addition, all plans allow 10 simultaneous logins and unblocks BBC iPlayer, Disney+, Hulu, and major Netflix regions including U.S., France, Japan, UK, Australia, Germany, and Canada. With Ivacy, you can enjoy protection anywhere by connecting to 1,000+ servers in hundreds of locations. You'll have unrestricted access to your favorite apps and websites, no matter where you are in the world. There's also a dedicated secure downloading feature using P2P optimized servers, and useful extensions available across browsers and platforms, whether you're an Android or iOS user, with split-tunneling available for both. And unlike other players in the digital security space, Ivacy VPN has a decade of experience delivering excellence, receiving a 4.7/5 TrustPilot rating and a 99.8% crash-free performance. This offer also includes FREE encrypted 2TB Cloud Storage and on top of that a FREE Password Manager tool. It's also available in Europe and other regions (clicking on the below link will show local currencies). Get a five-year subscription to Ivacy VPN for just $0.99 per month. (offer ends Dec 5). As an Ivacy affiliate, Neowin may earn commission from qualifying purchases.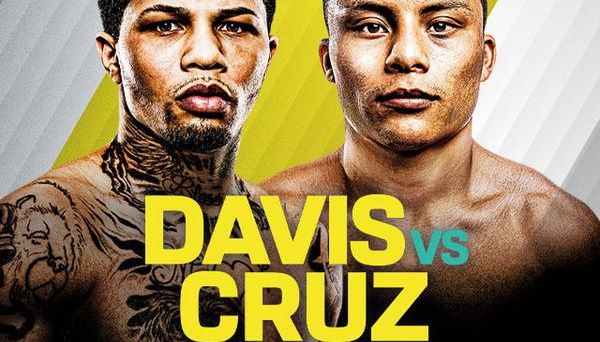 Undefeated lightweight world champion Gervonta "Tank" Davis (25-0) fights the ultra-aggressive Isaac "Pitbull" Cruz (22-1-1), one of the hardest hitters in the division, in a title showdown that promises to be explosive right from the first bell. So read on as we explain all the details you need on how to watch a Davis vs Cruz live stream and catch all the boxing action online from anywhere in the world. Of course, you can't mention punching power without a salute to Davis's extraordinary 96% knockout rate. The American's fists have decided his past 16 consecutive fights, an extraordinary six-year run that has included title fights at super featherweight, lightweight, and super-lightweight. Cruz - four years Davis' junior at 23 years old - has already racked up 24 professional fights, including five in the past two years. But it's his 53-second annihilation of Diego Magdaleno last year that put him on the map, a brutal demonstration of body-punching that twice sent the former lightweight contender sprawling in under a minute. The Mexican was parachuted in as a late replacement for Rolando Romero, and this fight should be all the more thrilling for it. Follow our guide below to watch a Davis vs Cruz live stream online from anywhere. We've rounded up ways to watch the boxing in various countries around the world below. But if you're abroad this weekend and your home coverage is geo-blocked, then the only alternative that we know is to use a VPN to dial in to a country where the fight is being shown. The software is generally ideal for this as it allows you to change your IP address and appear to be in a completely different location - and all through a safe, encrypted connection. Here's how to get started. Use a VPN to live stream Davis vs Cruz from anywhere Sadly there's no confirmed broadcaster for Davis vs Cruz in Australia at the time of writing. The only alternative is to use one of the best VPN service providers to tap into coverage from another nation, as described above. The software is generally ideal for this as it allows you to change your IP address and appear to be in a completely different location - and all through a safe, encrypted connection. But do bear in mind that most paid streaming services do require a credit card based in the country the service is from.

Electronics seem to keep getting smaller and smaller, and everyone has their own specific gadgets that they never leave home without. You undoubtedly have a smartphone with you whenever you leave the house, but that's not to say there couldn't be a few more conveniences. If you're in the market for some new tech or a few cool add-ons, we've rounded up a large handful of palm-sized devices to add to your EDC loadout. If you know where to look, you can get affordable prices on key finders, SD cards, car USB chargers, wireless earbuds, portable speakers, and more. Below are some of our favorite portable tech deals going right now, from a folding keyboard to a cheap smartwatch. Not only do these deals fit in your pocket, but they're also generally cheap enough that you can fit them into your budget, as well. The one major drawback with cool tiny gadgets these days is that they can easily get lost. If you need some help keeping tabs on the small stuff, Tile Mate item finders are just the ticket. The keychain-sized Tile Mate is a diminutive 1.3 inches long and is just 0.2 inches thick. Simply attach a tracker to any item and you can use the Tile companion app to locate it virtually anywhere. Even without the app, you can still find nearby items by remotely making the Tile vibrate, flash, or ring. A single Tile costs around $22, but this four-pack of Tile Mate trackers is available from Amazon for under $60 with free shipping. Also, be sure to take a look at some of the best Bluetooth trackers for more options. This multi-tool combines several go-to tools into one handy, convenient sized device you can take anywhere with you. It is equipped with more than 16 functions including a metric and standard sized closed wrench and bit driver, TSA-compliant serrated edge and handy scoring tip, a bike spoke wrench, bottle opener, and more. The tool is made of durable stainless steel, lightweight, and fits onto your keyring. If the palm-sized portable chargers whet your appetite for cool gadgets but you want something with a bit more juice, the Anker PowerCore 10,000 is another excellent pocket-friendly power bank. Its 10,000mAh battery can charge your iPhone multiple times, even though this PowerCore is barely larger in length and width than a credit card. Like other Anker power banks, this unit also boasts Anker's proprietary PowerIQ and VoltageBoost technology, which optimizes charging speed for different devices, ensuring that you're not waiting around too long for your gadgets to recharge. This very practical charger rings in below $40 on Amazon. SD and MicroSD cards are a cheap, portable way to move tons of data, but not all computers have slots to accept them, and even laptops that do typically only have one. Plus, if you only have a MicroSD card, then you need an additional adapter to use it with the SD card reader anyway. The Anker USB 3.0 SD card reader can make your life a little easier. It has SD and MicroSD card slots that let you read and write both simultaneously on any computer. It's compatible with all types of MicroSD cards, too, and will only set you back around $15 from Amazon. This is a great piece of equipment for photographers and on-the-go professionals. Another great gadget from Anker isn't necessarily one you'll carry in your pocket all day, but it is nonetheless something you don't want to leave home without: a speedy car charger. The PowerDrive Speed 2 USB charger plugs right into your car's 12V outlet and features two high-speed USB ports that pump out 30 watts of combined power for juicing up your tech. Anker's IQ2 technology allows this handy charger to detect and automatically optimize the power output for compatible devices, letting it power many phones up to 80 percent in about 35 minutes. You can score the PowerDrive Speed 2 car charger for around $20. A good pair of earbuds is invaluable if you're frequently on the move and don't want to be without your music and other entertainment, and when it comes to in-ear headphones, you can't beat a classic: The Panasonic ErgoFit earbuds remain one of the best and most popular pairs you can buy, with more than 50,000 Amazon reviews. If you don't want to dish out the cash for a pair of wireless earphones like the AirPods, these headphone earbuds are available in a variety of colors at around $10 on Amazon (and just a few bucks more for the model with an in-line microphone). Gone are yesterday's bulky, goofy-looking Bluetooth earpieces — a quality miniature Bluetooth earbud like this one from JLab is a simple, lightweight, and low-profile way to use your phone totally hands-free. Whether you're on the road or just walking about and want to keep both of your hands untied, this handy mono headset lets you make and receive calls without even having to take out your phone. The JLab Bluetooth earbud is a cheap portable gadget and the black model is available for under $40 from Amazon. Earbuds are great to have on you, but having the cable become a tangled mess in your bag or pocket is no fun to deal with (and it always seems to happen no matter how neatly you tuck them away). The Tophome earbud holder and cord organizer, made of thick genuine leather, ensures you never have to deal with that hassle again. This is the perfect gift for anyone who hates tangled cords, and is currently under $10 from Amazon, so it's a smart purchase for traveling techies. Need a light? Electric lighters like this one put a whole new spin on old-school designs. Fluid lighters can be messy and can run out of fuel quickly — the famous Zippo, while an all-American classic, is notorious for this — not to mention that lighter fluid and butane canisters are an extra expense. The Tesla Coil arc lighter, on the other hand, uses an internal rechargeable battery to project a windproof electric arc that is produced instead of a flame. The design is environmentally friendly and delivers up to 300 lights on a single charge. When it needs more juice, simply plug it in and power it up via the included USB charging cable. No wicks, flints, fluid, or gases to fuss around with. You can score this unique tech gadget for just $17 from Amazon. If you love to take pictures with your phone but find the camera's capabilities a little bit limiting, then this top tech gadget is for you. The Amir clip-on camera lenses feature sturdy aluminum-and-glass construction. The bundle contains a 180-degree fisheye lens, a 0.4x super wide-angle lens, and a 10x macro zoom lens for detailed close-up shots. The metal housing is also water- and dust-resistant. The universal clip-on design works with most popular brands of Android phones as well as the latest Apple iPhones. The Amir smartphone camera lenses come in at under $20 on Amazon. With most smartphones already sporting a high-resolution camera, this awesome attachment is a great piece of EDC gear for any burgeoning photographer — though it's not that good for selfies. A good RFID wallet provides an extra layer of security for the digital age, keeping your credit and ID cards safe from remote readers. You don't have to sacrifice style for function, however, thanks to the leather Travelambo wallet. This minimalist wallet is made of genuine leather lined with RFID-blocking material. It has six card slots, an ID window, and a compartment where you can tuck away a few bills. Best of all: It'll only set you back $10 to $15 from Amazon depending on your color choice (there are a ton), making it a pretty smart purchase for security-conscious individuals. It never hurts to have a bit of extra storage (especially when you're frequently on the move), and now you can replace those bulky thumb drives with this super-compact MicroSD card from Samsung. The Evo Select MicroSD card offers a lot of space and speed for the money, with 95MB per second read and 20MB-per-second write speeds. It even comes with an SD adapter (or you can use it with the Anker card reader if your computer lacks an SD card slot). The Samsung Evo Select MicroSD card with SD adapter can be yours from Amazon for under $10 for the 32GB model. Many of us have flashlights on our phones, but they aren't always convenient to use or the best option. This nano torch from Streamlight, one of the best flashlight makers around, is the perfect addition to any keychain. This powerful and compact flashlight is perfect for navigating small, dimly lit spaces or just providing LED light where it's needed the most. The Streamlight 73001 keychain flashlight is available for around $5 on Amazon, and makes the perfect night light when you need it most. These folding keyboards are nothing new, but most of them — even fairly compact models — aren't very pocket-friendly gear. This folding wireless keyboard from MoKo is the perfect solution, giving you a miniature set of QWERTY keys that folds down to roughly the size of a large smartphone for easy storage. Its metal and polymer construction is both durable and light, weighing in at roughly seven ounces. The MoKo folding wireless keyboard is compatible with any Bluetooth-capable iPhone, Windows, or Android phone or tablet, and is available for around $30 from Amazon. The Bellabeat Leaf health tracker is the fitness tracker that she'll actually want to wear. This fitness accessory can be worn as a necklace or bracelet without looking bulky or obtrusive, and syncs with both iOS and Android to collect activity metrics via the companion app. The Bellabeat tracks steps taken, calories burned, sleep quality, stress levels, menstrual cycles, and more. You can pick up this perfect hands-free tech gift for as low as $88 right now, and check out our review to see why we love the Bellabeat family of stylish health trackers. Wireless speakers are arguably the most popular implementation of Bluetooth technology today, allowing you to take your music virtually anywhere. Most of these speakers won't easily fit in your pocket, but this one from Momoho is an exception. This tiny, cool tech gadget packs a two-hour battery life, delivering great sound from a package that fits in the palm of your hand. Measuring the same size as a quarter, the Momoho speaker can be your pocket party companion for as little as $17 from Amazon. It may not come with Alexa like the Amazon Echo hub, but it's a great way to bring your music with you. Looking for more great stuff? Find tech deals and much more on our curated deals page. Follow @dealsDT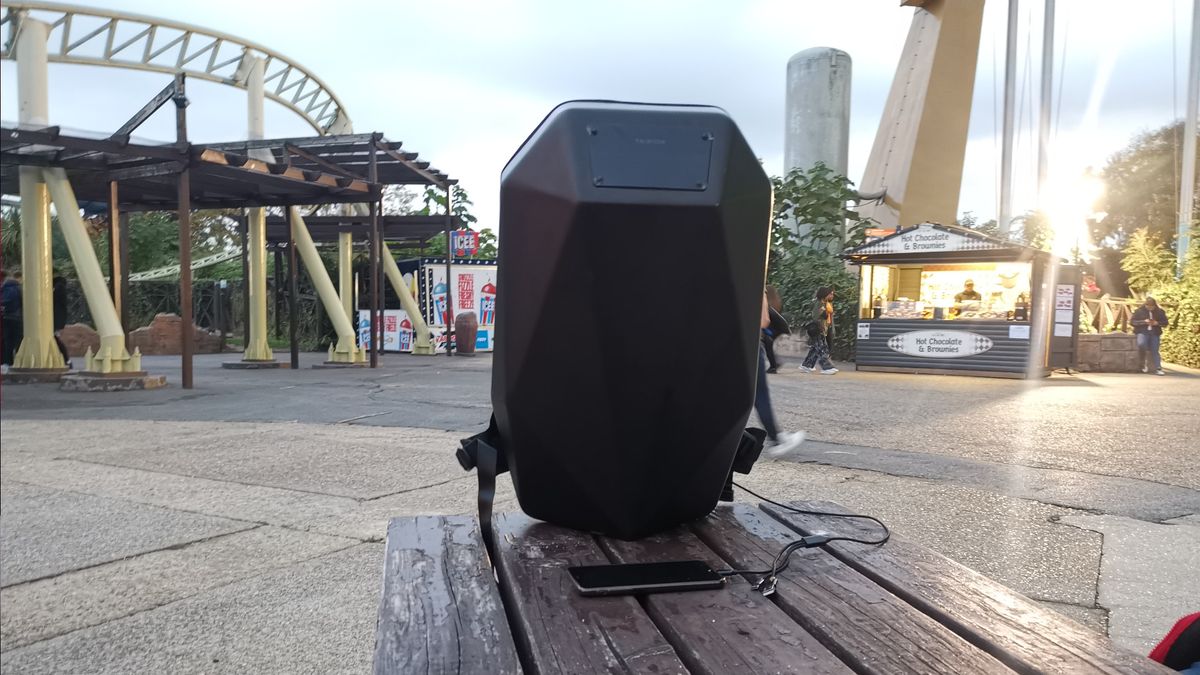 The Tajezzo PZ5 Smart Backpack is a hardshell backpack with an LED display that offers multiple features and oodles of style. If you regularly ride bikes or motorcycles then you can appreciate most of its features as quality-of-life improvements, but there's still plenty of fun to be had simply wearing it around town. You can get the bag in two styles, a black model that has an 'exposed' display with visible screws, and a white version with an inset screen and a slightly different shape. Both have the same features and dimensions so this is purely down to aesthetics over actual function, though we did notice that the exposed screws on the black version of the bag made removing the protective plastic film almost impossible without digging around with a pair of tweezers. You can see some plastic still present in our review images to reflect this. The design isn't going to appeal to everyone, but with a retail price of $359 (around £270 / AU$510), the Tajezzo PZ5 Smart Backpack is hardly something you'll grab on a whim. For context, that makes it pricier than some designer backpacks from brands like Ted Baker, Radley and Michael Kors, so before we start singing its praises (and it does have many), we'll be blunt – this bag should be much cheaper. It did go on sale as part of a crowdfund project on Kickstarter with early bird prices though, so it could very well be more affordable when it officially becomes available. The features and build quality are great, but the high pricetag makes it difficult to recommend. Right, onto the good stuff. The Tajezzo PZ5 Smart Backpack isn't just a bag to throw your laptop into, equipped with a microphone and speaker, an LED display and a smart control on the bag strap to switch between different modes. We took the bags around a busy event, throughout central London and a busy theme park, and we did naturally end up using all of these features. You can connect to the bag via Bluetooth to take calls thanks to that built-in mic, though we couldn't find a way to have the audio play through headphones whilst using the bag's microphone. If you did want to answer your phone, be prepared for everyone in the vicinity to hear your conversation. By doing this though, we did confirm that both the microphone and speakers are pretty impressive, with clear vocals detected through the mic even in a busy environment. The speakers are also seriously impressive for something built into a bag. Located along the top rear, directly behind your ears when wearing it, the volume is loud, the bass is punchy and just a genuine pleasure to listen to. It's unlikely you'd find much of a use for this when walking around (unless you're one of those youths who likes to blast their 'music' on public transport), but it was especially useful for taking calls while biking around, improving safety by negating the need to wear headphones. The LED display is rather simple. There are a few different light modes to choose from: Music Mode that fluctuates with your tunes, Breathing Mode that just calmly, uh, breathes, Night Mode for a solid line of light and Sport Mode, which detects rapid deceleration to flash red if you come to a sudden stop. That's a pretty neat safety feature for riders, though we wish there was some way to build an indicator feature into the bag too. The voice that lets you know what mode you're switching to is hauntingly bad, but Tajezzo has informed us that a new, improved English vocalization is being developed so we've left that off our list of cons for now. There's a 5,000 mAh battery pack that powers the bag and also charges other devices, with three cables: a USB-C, Lightning, and Micro USB. 5,000 mAh isn't a lot, working out to around a full charge on most modern smartphones, but Tajezzo informed us that a larger battery pack wasn't possible with the design of the backpack. We found it was enough to use the bag for a day and charge a phone after heavy use, but you'll need to recharge the backpack daily if you want the full benefits. The bag is charged via the Micro USB and takes around four hours to regain a full battery. The hard shell is seriously well built. It was able to support the weight of our reviewer as a step stool, and protected the innards from torrential rain. You can fit a 17-inch laptop inside with few issues, and there are separators in the bag itself to keep your belongings from rattling around in the case. As a standard backpack, it serves its purpose well, but that hard shell is a real benefit if you're worried about coming off your bike at speed and want to protect expensive gadgets and tech. The fit is on the small side. The straps are adjustable and have anti-theft mechanisms to secure yourself in, but even at the largest size it was a snug fit around the shoulders. If you're a healthy weight and have a slim frame then you'll be fine, but anyone muscular, or with a wide frame might find it gets a little tight after a few hours of wear. In all, this is a really fun bag. It's not worth the standard retail price, but the features did prove useful, and we were stopped multiple times by people on the street to compliment the style of the backpack, so this could go down a real treat with fans of streetwear fashion or Cyberpunk aesthetics. If you have cash burning a hole in your pocket and you need a bag to wear while riding a bike or motorcycle, it's a great product, but otherwise you might not use all of the features that have made it so expensive.

If you haven't been paying attention, board games have really made a comeback over the past couple of years. Especially now that we're allowed to gather again, board games are a good choice. With so much of our lives mediated through screens, it's refreshing and humanizing to play face-to-face with people. Millions of people have taken the step from the tedious Monopoly and Life of their youth to modern gateway classics such as The Settlers of Catan, Ticket to Ride, or Cards Against Humanity, but where do you go from there? What is the best board game? We've hand-picked this list of fantastic games to suit a wide range of players and interests, showing off just a sample of the most fun and interesting games that have been released in the last few years. Since you have likely been stuck at home for months, these might be just the thing you need for some new activities to do with the family. Ah, the simple pleasure of laying down tiles to build a bustling French town. What could be better? How about squatting on your friend's plot of land and claiming it as your own, turning all their hard work into sweet, sweet points for yourself? That magical feeling can be yours in Carcassonne, a game that looks charming and simple, but hides a competitive core. Gameplay in Carcassonne is straightforward: When it's your turn, you draw a tile at random and then place it next to one of the already-placed tiles that make up the growing landscape. Connect roads to roads, fields to fields, cities to cities, and then place your workers down to claim these features as your own. If two different areas eventually collide, the player with the most pieces there will end up scoring all the points in the end, so you have to decide whether to build in isolation, watching from afar as you friends bludgeon each other over prime land, or get in on the action yourself. Modern board gaming isn't just about zombies and elves and space marines. Sure, there's a ton of that, but every year the range of possible tabletop experiences grows by leaps and bounds. Enter Fog of Love: a romantic comedy board game for two. Both players create their own fictional character and work through one of several scenarios with fixed chapters and randomized scenes, charting the course of their relationship to its happy (or unhappy) ending. It's an elegant game that strikes an incredible balance between mechanics that create an interesting puzzle to solve while keeping story and character forward, instead of getting lost in abstract min-maxing. Fog of Love 's genesis speaks worlds about its revolutionary place in the industry. Designer Jacob Jaskov played and loved hundreds of board games, but his wife was never interested in any of them. For all the industry's growth and diversification in the last several decades, games still almost exclusively focus on external conflicts, and never on internal, character-driven stories. Jaskov developed Fog of Love for this uncompromising audience of one, and the result is an exquisitely sharp application of some of modern gaming's best design practices and ideas, while also totally defying industry convention. Its Walmart-exclusive distribution deal in the US hopefully speaks to a radical diversification of the mainstream board gaming industry in the near future. Buy at Walmart Some games are built entirely around a single idea or theme, with every mechanic designed to serve it. For others, a "theme" is just a thin aesthetic veneer over its crunchy, abstract systems. Azul, a game about laying beautiful tiles for the Portuguese royal palace, is squarely the latter. Players compete to build the most complete and aesthetically-pleasing square of colorful tiles. Drafting tiles from a shared pool, combined with rules for how to lay them or save them for future rounds, makes for a satisfying puzzle that's easy to learn, but hard to master and plays well (and differently) at its full range of two to four players in just about half an hour. When building a game collection, it's important to have a range of weights and interaction-styles. Azul is a fantastic "opener" for a game night, since it plays quickly and provides a constant stream of interesting decisions without ever overwhelming players into "analysis paralysis." It also features a pleasant level of passive-aggressive interaction (through denying tiles to other players), making it important to keep up with what your friends are doing without ever putting you into direct clashes, which can be the perfect, congenial tone that some people like to set for an evening of laughter and conversation around the table, with games as the excuse to get there. In Gloomhaven, two to four players team up for a co-operative fantasy adventure campaign that spans hundreds of hours, with over a dozen, unique characters to unlock. You'd be forgiven for thinking this was a video game, but no, Gloomhaven is the latest massive dungeon crawl board game to blow up on Kickstarter. Players assume the role of wandering adventurers in a persistent world full of treasure to find, monsters to hunt, and dungeons to clear, accruing new items and abilities as they go. It's standard video game fare, but Gloomhaven has set the board gaming world ablaze for how elegantly it distills that experience into an analog format. Fantasy dungeon crawl is a crowded genre in board games as well as video games. Historically dungeon crawls fall under the "Ameritrash" lineage, with their mechanical excess, focus on simulation, and a heavy dose of randomness. This tracks from poorly aged classics like Hero Quest to Gloomhaven's immediate Kickstarter precedent, Kingdom Death: Monster. While similar in the broad strokes as ponderous coffin boxes, laden with ridiculous amounts of monsters and loot, Gloomhaven takes a more restrained and thoughtful approach than KD 's maximalism, with tighter mechanics reminiscent of European-style board games There are big board games, and then there's Twilight Imperium. Fantasy Flight's signature strategy game of galactic diplomacy and conquest is famously massive, hosting four to six players in a galaxy that takes up an obscene amount of table square footage, pounds of plastic miniature spaceships, and up to eight whopping hours of playtime. Every player assumes the mantle of a unique alien civilization, competing to be top dog in space in the wake of a galactic empire's collapse. Whether you want to be savvy traders like the Ferengi, haughty imperialists like the Centauri, or a hive mind like the Formics, the expansive mechanics and broadly sourced archetypes of TI allow for basically whatever flavor of space opera tickles your fancy. TI 's first edition released in 1997, making it ancient by the standard of contemporary board games. Several iterations have tightened up and streamlined the rule set towards more elegant, Eurogame-style mechanics and a vastly more appealing visual presentation. The 2017 fourth edition incorporates 20 years of player feedback, making a surprisingly smooth and refined version of a game that by all rights should be massively unwieldy. There are myriad, more focused versions of the TI fantasy now available in board and video games (from Eclipse to Stellaris), but nothing quite matches the maximalist grandeur of TI 4th Edition when you want to go all-in on a day of pretending to be on Babylon 5 with your friends. As the themes and mechanics of modern board games grow increasingly elaborate, sometimes you just want the simple thrill of beating someone to the finish line. Flamme Rouge is a brilliant bicycle racing game that elegantly distills the real-world mechanics of team cycling into a fast, fun, strategic, and family-friendly board game. Each of 2-4 players controls two racers (a "rouleur" and a "sprinteur"), each with a corresponding deck of cards with the numbers 2-9 (the rouleur has an even spread of 3-7 while the sprinteur has a more boom-or-bust deck with twos and nines in the mix). Every turn each player draws four cards from each deck and chooses one for each of their riders to determine how far they move down the two-lane, modular track. Drafting and exhaustion mechanics encourage you to stay in packs and end with exactly one space (but no more) between you and the next rider in a rule set that is remarkably easy to teach because of how cleanly it distills real-world cycling. Racing games are as old as board games themselves — Snakes and Ladders traces all the way back to ancient India as a meditation on karma and morality. Note "meditation," however: the "roll and move" mechanic at the heart of Snakes and Ladders was random and non-interactive by design, but in modern gaming "roll and move" has been relegated to children's and "Ameritrash" games. Flamme Rouge 's card-driven racing mechanics keep some of that randomness, but temper it to put skilled decision-making front and center. As the general complexity of board game rules goes up, Flamme Rouge is an excellent reminder for the value of elegance and simplicity. Espionage and associative vocabulary have never gone so well together. Codenames is a spy-themed party word game where two teams compete to locate all of their agents first. Random words are laid out in a five-by-five grid. Both teams' spymasters can see a card that tells them which words are for each team, which are neutral, and which one is the black assassin word. The spymasters take turns saying one word and a number. Their team has that many guesses (plus one) to find the words associated with that clue. Pick correctly and the word gets covered with their color and they continue. Guess wrong and the turn passes, unless they picked the assassin word, which means they lose immediately. The first team that finds all of their words wins. It's extremely simple and easy to teach, but the granular variability of the words makes it an interesting and challenging puzzle. Few games have been so rapidly embraced by the community as classics as Codenames was in 2016. Czech designer Vlaada Chvátil has become a notable auteur of modern board gaming; his games, which include Space Alert, Dungeon Petz, and Galaxy Trucker, vary widely in terms of mechanics, but are generally unified by being side-splittingly hilarious. In addition to the original Codenames, the publisher has subsequently released a visual version with Codenames: Pictures and a naughty, Cards Against Humanity- inspired version called Codenames: Deep Undercover. Like Battleship, but in real time and with teams, Captain Sonar is a thrilling game of dueling submarines designed for up to eight players. It begins with two teams setting up on opposite sides of the table and dividing into different roles. The captain, for instance, charts their course on a transparency with a marker over the map and decides when to fire torpedoes, while the engineer works to maintain the sub's systems as it takes damage. Players can also take on the role of the radio operator, who must listen to the other team's chatter to deduce their location. It's a tense battle of wits that requires teamwork, quick thinking, and clever deduction. We've seen team-on-team duels with interlocking mini-games like this before — just take a look at the excellent Space Cadets or its spin-off, Space Cadets: Dice Duel — but combining it with hidden movement and deduction like in Letters from Whitechapel or Fury of Dracula is an absolute stroke of genius. The game also comes with five scenarios that have different maps and special rules, along with a turn-based variant for more methodical play, adding more replay value to an already great base game. The world is being wracked by four horrific diseases. A team of experts must race around the globe to find cures before society descends into chaos. First released in 2007, Pandemic is a tense, fun, and challenging cooperative game for two to four players. Easy to learn and hard to master, it is widely considered a classic and an excellent introduction to what modern games have to offer. Pandemic Legacy uses that foundation for one of the most exciting and surprising games we've ever played. Like 2011's Risk Legacy before it, Pandemic Legacy ties each individual session into a larger campaign, with the events of one game having permanent effects on the board and subsequent games. Each game represents one month of the year and you can play each month a second time before moving on if you fail the first attempt, with the challenge modulating up or down based on how you are doing. Every month adds new mechanics from a veritable Advent calendar of boxes and compartments full of stickers, cards, and components that alter the game in both small and sweeping ways. All at once it would be overwhelming, but the game's gradual evolution keeps the challenge fresh and creates a gripping and twisty narrative. Over the course of the year, cities will irrevocably fall, characters will form relationships and develop post-traumatic scars, viruses will evolve, and within even just a few games your copy of Pandemic Legacy will be unique. Don't research too much because surprise is part of the fun; this is easily one of the best games in years. Supposedly popularized by biker gangs, this game played with coasters is perfect for playing at a bar. Everyone has three roses and one skull, laying them face down one at a time in front of them until one player bets on how many they can flip without finding a skull. Everyone else goes around either raising or folding until someone finally has to test their luck. Succeed twice and you've won the game, but find a skull and you lose one of your cards at random. It's like poker, but with much simpler math. Skull is a beautifully stripped-down game of bluffing and bravado that is as tense as it is easy to learn. The game is so simple that once you know the rules it's easy to just make your own copy with a stack of coasters and a marker, which is great in a pinch at a bar, but the artwork and components are so nice that you'll want to own the official edition.

From launch, the Chromecast with Google TV has been available with a Netflix bundle that gets you six months of access to the streaming service for just $40 more. A bug looks to be causing some of those Chromecast buyers to get another Netflix promo code for free service. The Chromecast with Google TV comes in at $49.99 — currently $10 off — and the Netflix bundle is $89.99. For $40, you get six months of a 2-screen Netflix Standard Streaming plan that normally costs $83.94. It's quite a good deal, with the bundle said to be available until December 31, 2021. (That said, you have until March 1, 2022 to redeem if you purchased over the holidays.) Many took advantage of this offer, with this variant out of stock when it first became available in late 2020. Some of those first Chromecast buyers now report that they have received another email to get six more months of Netflix for free. These handful of people assumed that the redemption process wouldn't work, but they now have six more months of Netflix, thus increasing the value of their original purchase by a great deal. This in all likelihood is a bug with the redemption system. It's unclear how widespread this problem is, and it will be interesting to see what steps Google takes for those that have successfully redeemed the additional offer. I would not expect people that rush out to buy a new Chromecast today in hopes of getting double the advertised credit to get lucky. Check out 9to5Google on YouTube for more news:

It's impractical to detail the privacy policies of every company and platform in the smart home industry, but to cover a broad base we can examine what Amazon (Alexa), Apple (Siri/HomeKit), and Google (Google Home/Google Assistant) collect via compatible smart speakers and displays. Read more: The best smart home devices you can buy Amazon, Apple, and Google all use an anonymous sample of recorded voice commands to analyze and improve their smart home assistants. In the case of Amazon and Google, this can sometimes include accidental recordings when their speakers mistake a wake word. With those two firms, the things you ask for (like product orders and music) may also indirectly be used in advertising. All three companies are increasingly using on-device processing to reduce data collection, and offer some way of deleting past recordings. Both Apple and Google make it easy to avoid voice recording histories. Which smart home platform has the best privacy? Except for people who opt out or stop recording entirely, Amazon uses 'an extremely small sample' of voice recordings to analyze Alexa's performance. Except for people who opt out or stop recording entirely, Amazon uses "an extremely small sample" of voice recordings to analyze and improve Alexa's performance, as hinted at earlier. Some people are uncomfortable with this, since while review teams shouldn't be able to identify you personally, that still means strangers are hearing a tiny slice of your life. There's also the chance false Alexa triggers will be picked up, and that your Alexa recordings might be useful in criminal cases, even if Amazon seems to resist sharing them with law enforcement. You should also be aware that, as with any interaction with Amazon, the things you do on an Alexa device will ripple out to marketing, advertising, and linked services. If you order products via your Echo, for example, Amazon is going to learn your cumulative shopping habits and target ads accordingly. If you listen to music on Spotify, that service will decode your tastes just as if you were picking tracks on your phone, serving up ads and recommendations. See also: How to use Amazon Alexa On Apple's end, a selection of recordings (and/or transcripts) may be used for review, and they remain linked to you by a random identifier for six months. You can opt out of review pretty easily however, and delete anything saved within that initial six-month window. In fact anything deleted within 24 hours will never be reviewed, and if your Apple device supports local processing, Siri can catch and delete some false triggers before they're uploaded. Apple also promises that it will delete most accidental recordings if they make it to the cloud, the exception being a portion used to make sure false trigger detection is working. Apple is eager to sell how much it cares about privacy, and for the most part the company lives up to its promises. It's an advantage in that there's a lot of flexibility. Assistant is omnipresent, and doesn't care if you're talking to it from Chrome, an Android phone, the Google iOS app, or a Nest Hub Max — everything is tied into your Google account, so you can theoretically control speakers, lights, and other smart home accessories from any device, anywhere. You also get to tap into the vast power of Search, YouTube, and other Google services. More: The best Google Home services To help make this equation work, Google has decided to unify data and privacy settings under the Google Dashboard. You do have a fair amount of control, but it can be intimidating, and changing some settings there can have wide ramifications, whereas people might only be concerned with what their speakers and smart displays are doing. There are also odd exceptions — if you want streamlined activity history for your smart home accessories, you need the Google Home app, because the company's My Activity web tool is focused on Assistant as a whole. What might surprise some people is that when you trigger Assistant with 'Hey Google' or 'OK Google', voice recordings aren't kept by default. Even if its policies and track record aren't perfect, Apple is taking privacy more seriously than its competitors.

The University of Cincinnati had seven head football coaches between 1969 and 1993. One left for Harvard. Another left for Rice. The Bearcats also won one conference championship between 1964 and 2008 and if you're not immediately sure which conference, don't worry. There were several. Everyone can win in basketball. Gonzaga proved that. Not everyone can win in football, or at least turn winning into a championship. When Cincinnati was buzzed into the College Football Playoff on Sunday, it repudiated the last plausible criticism of the CFP. A "Group of Five," or Triple-A, conference can indeed win it all. It takes a little extra, sure, but it's not a closed shop. When Cincinnati went to 13-0 with its American Conference championship win over Houston, a Bearcats' fan held a sign that said, "Power Five Is An Opinion. 13-0 Is Fact." This became possible with a 24-13 win over Notre Dame, which was undefeated otherwise. That's all the selection committee demanded of the Group of Fives. Win all your games, schedule a giant and slay it. The 2015 UCF team that went unbeaten and knocked off Auburn in the Peach Bowl did not have that gleaming regular-season breakthrough. Plus, Cincinnati had gained credibility, right or wrong, by taking Georgia to the last three seconds of last year's Sugar Bowl, a 24-21 loss. The Bearcats have won 23 of their past 24 games. Such New Year's Six bowls as the Sugar last year, with all the money, is how the CFP bought off the Group of Five and recognized their viability. A sudden powerhouse like Cincinnati shouldn't be held responsible for the state of its conference. But neither should it be able to cruise into the throne room while stronger conference runners-up are left behind. That means Cincinnati had to thread an extremely narrow needle, and knew it well in advance. Thanks to a roster that is projected to send at least five players into the first three rounds of the NFL draft, it did. Ask Pittsburgh if it's easy to go undefeated. The Panthers are celebrating an ACC Championship win over Wake Forest and are also crestfallen when they realize they were 11-2 with losses to Central Michigan and Miami, both at home. If they win those two chippies, they're in the playoff. There were some who screamed that Notre Dame should somehow replace Georgia after the Bulldogs imploded in the SEC Championship, but that was just honkery. Georgia gave up 83 points in 12 regular season games and was 5-0 against teams that were ranked at the time, including Clemson in the opener. Notre Dame beat two ranked teams. Alabama beat five ranked teams, won an SEC West that serves as college football's toughest minefield, and only lost at Texas A&M by three points. The Big Ten East is similar, and Michigan beat Ohio State and Penn State and only lost to Michigan State by four. The SEC has two teams in the playoff for the second time. That seems about right. There were many reasons, perhaps 100 million, for Lincoln Riley to become USC's coach, but one was Oklahoma's avaricious decision to bolt the Big 12 for the SEC. There was no reason for Oklahoma to butt heads with the SEC West, particularly when the Sooners would have to recruit in SEC territory, a place they have no roots or clear advantage. There was no cultural connection either. Why should Oklahoma be in the same league with Florida or Kentucky, especially when it affects thriving secondary sports like baseball and volleyball? This might become an issue if and when TCU and Houston join the Pac-12, but Oklahoma's SEC move was a fait accompli, and coaches like Riley don't get much input. Meanwhile, college football moves on without a solid expansion plan. Big 12 commissioner Bob Bowlsby said that it isn't likely a plan will be approved by 2024, and the CFP contract expires in 2025. Any change must be approved by 10 conference commissioners and Notre Dame AD Jack Swarbrick. That's good news for those who believe in the best regular season in sports and were riveted on Nov. 27 by 10 hours of Ohio State-Michigan, Alabama-Auburn and Oklahoma-Oklahoma State. A 12-team playoff format would have robbed all those games of their underlying juice and turn college football into college basketball, where the only really crucial day is Selection Sunday. This way, every game really does count, and the season is a 12-game tightrope. Meanwhile, the Big 12 is expanding by four teams. One is Cincinnati, no later than July of 2024. More Power-Five to the Bearcats. They lived the American dream.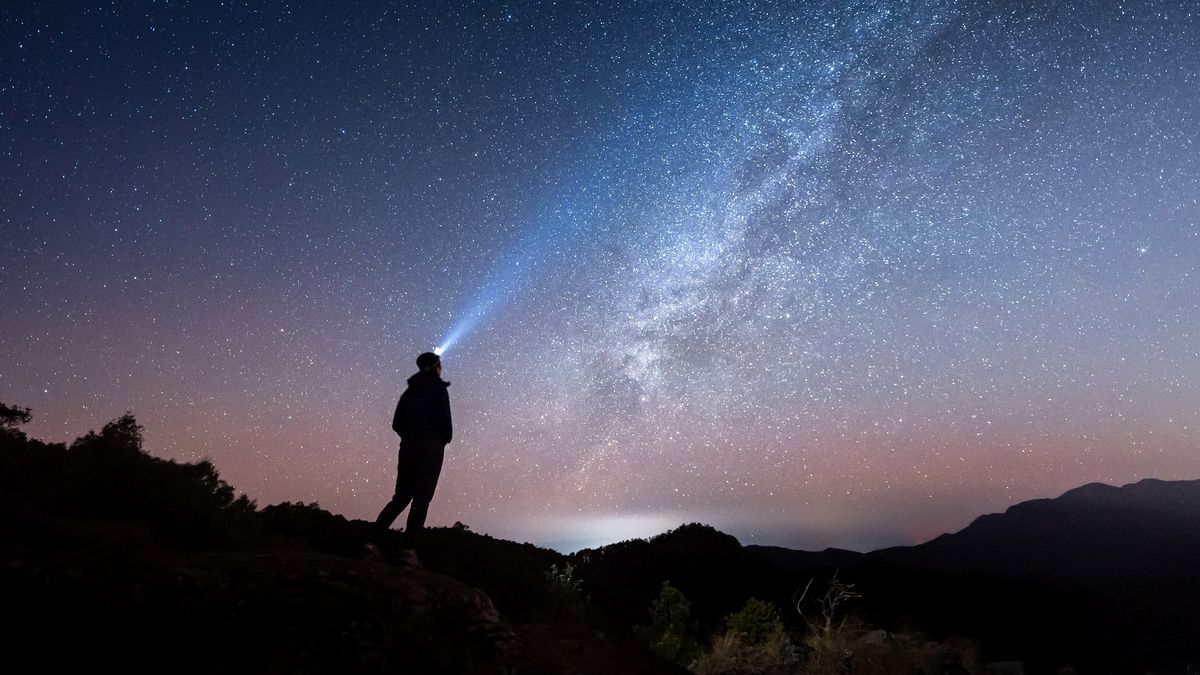 The Fermi Paradox refers to the dichotomy between the high probability that extraterrestrial intelligence exists and the fact that we have no evidence for such aliens. This paradox was described by the late British science-fiction author, Sir Arthur C. Clarke, who said: "Two possibilities exist: Either we are alone in the universe or we are not. Both are equally terrifying." Many experts since have grappled with the same question. Why, considering the multitude of planets and stars in the Milky Way, have we not heard from anyone? We call this problem the Fermi Paradox, and there are a number of possible solutions — some more unnerving than others… Related: Roswell UFO crash: What is the truth behind the 'flying saucer' incident? What is the Fermi Paradox? The Fermi Paradox is a problem that asks, where are all the aliens in the universe? If life is so abundant, why haven't we been visited by, or heard from, anyone else? According to NASA, in just the last two decades we have found more than 4,000 planets beyond our solar system, with trillions of stars thought to exist in our galaxy — most of which host their own planets. Considering life sprang up on Earth, would we not have expected it to start in at least one other location in the last 14 billion years of the universe? Who came up with the Fermi Paradox? Enrico Fermi in his laboratory. (Image credit: Corbis via ) The Fermi Paradox was devised by the Italian-American physicist Enrico Fermi, according to the Planetary Society. He is said to have come up with the idea in a throwaway remark over lunch with colleagues in 1950 when he asked "Where is everybody?" He wondered, given that our planet was relatively young compared to the universe, we might have expected someone to have visited us by now — but we had no evidence of that ever occurring. Fermi died four years later, in 1954, so did not have long to ponder the question. But his idea has sparked whole fields of science hoping to solve the problem, including the search for extraterrestrial intelligence (SETI). What are the solutions to the Fermi Paradox? Are we alone in the universe? Scientists hope to find the answer. Illustration of an alien planet. (Image credit: MEHAU KULYK/ ) There are a number of solutions to the Fermi Paradox. The most obvious, and likely, is that we simply haven't looked hard enough to find other life, and interstellar travel between stars is difficult. The first planets beyond our own solar system were only discovered in the 1990s. This means we have barely started to scratch the surface of studying other worlds. For example, we are yet to find many planets that look exactly like Earth, orbiting stars like our sun — but upcoming telescopes are hoped to be capable of such detections in the coming decade or two. Even then, the distances between star systems are enormous, making journeys between them difficult. Our closest star system for example, Alpha Centauri, is four light-years away. The distance from Earth to Neptune, for comparison, is 0.0005 light-years — a journey that would still take us decades with current technology. Intelligent aliens might simply have decided to never visit us, or did so long ago without leaving any trace. Alternatively, it might be that life is simply so rare that the chances of two intelligent species being positioned relatively near each other in the vastness of space is exceedingly slim. A more somber suggestion is that we are alone in the universe. Life, like that found on Earth, is simply so vanishingly unlikely to arise, that ours was the only world where this happened. Most scientists think this is unlikely. But there is the possibility that some sort of event, known as a Great Filter, might prevent civilizations like our own from progressing far enough to make contact elsewhere. What is the Great Filter? The Great Filter is the idea that catastrophic events, either manmade or natural, cause intelligent life to be extinguished on habitable worlds before they have a chance to extend their reach into the universe. These events could be one of many things. They might be powerful solar flares, climate change, asteroid impacts, or perhaps something of the planet's own doing like a nuclear apocalypse. If this idea is correct, it's not clear if we have already passed this filter — or we are yet to reach it… What is the Drake equation? The Drake equation is an idea, proposed by the American astronomer Frank Drake in 1961, that the number of potential civilizations in the universe can be calculated if we know a few key variables. The formula for the Drake equation is: N = R* x 𝑓p x ne x 𝑓1 x 𝑓i x 𝑓c x L R* = average rate of star formation in Milky Way 𝑓p = fraction of stars supporting planets ne = average number of planets that could potentially support life for each star that hosts planets 𝑓1 = fraction of those planets that "could" support life that actually develop life 𝑓i = fraction of planets that develop intelligent life, and thus intelligent civilizations 𝑓c = fraction of those civilizations that develop a technology to communicate their existence L = length of time over which these civilizations send those detectable signals into space By including all of these factors in the equation, the idea is you might be able to work out how many other intelligent civilizations exist in the universe. This "simple" formula, Drake once said, would be akin to estimating the number of students at a university by multiplying the number of new students entering each year by the average number of years a student will spend at a university, according to SETI. As of yet, however, a number of key variables in the equation remain unknown, meaning we can't yet come up with a possible number for other species of intelligent life. Can we solve the Fermi Paradox? An artist's conception of the James Webb Telescope. (Image credit: NASA GSFC/CIL/Adriana Manrique Gutierrez) Many scientists hope that we can solve the Fermi Paradox. Upcoming telescopes, like NASA's James Webb Space Telescope launching in December 2021, will be able to study the atmospheres of exoplanets like never before, while the search for new planets is continuing unabated. By finding more planets in habitable zones around their stars, where temperatures are just right for liquid water to exist, scientists could narrow down the possibility of other Earth-like worlds in the universe — and, by using advanced telescopes, study some of these Earth-like orbs in our galaxy. Ultimately, scientists simply need more data in order to truly understand the Fermi Paradox. But if it turns out that habitable planets are common, and astronomers are still yet to hear from anyone, then it might suggest intelligent life such as that on Earth is rare. Are we alone in the universe? We don't know if we are alone in the universe, but scientists hope to answer this question in the coming years. Ongoing missions, like NASA's Perseverance rover on Mars, could give us vital clues. Perseverance is collecting samples that will be returned to Earth in the 2030s and could contain signs of past or present life on Mars. If we can discover even simple life on Mars or another location, like an icy moon of Jupiter or Saturn such as Europa and Enceladus, that would be proof that life had sprung up in at least two locations — Earth and this other world. In that instance, it would suggest life is not just limited to our own planet. With that, it would raise the prospect that other intelligent life, like us, might well exist in our galaxy and beyond. Additional resources Learn more about the Fermi Paradox with the SETI Institute. Revisit the Drake equation with this article on NASA's exoplanet webpage. Watch this informative video from the Royal Institution on why we are yet to discover aliens.

The US military has gone on the offensive against ransomware groups as US companies increasingly become targets of malware attacks, the nation's top cyber defender acknowledged on Saturday. Up until about nine months ago, reining in ransomware attacks was seen as the responsibility of law enforcement agencies, Gen. Paul M. Nakasone, the head of US Cyber Command and director of the National Security Agency, told the New York Times. But attacks like the ones on Colonial Pipeline and JBS beef plants have been "impacting our critical infrastructure", Nakasone said, leading federal agencies to ramp up the gathering and sharing of intelligence on ransomware groups. "The first thing we have to do is to understand the adversary and their insights better than we've ever understood them before", Nakasone said in an interview at the Reagan National Defense Forum, a gathering of national security officials. Nakasone didn't describe the action taken or identify the groups targeted, but said one of the goals is to "impose costs" for ransomware groups. "Before, during and since, with a number of elements of our government, we have taken actions and we have imposed costs", Nakasone said. "That's an important piece that we should always be mindful of." The increased activity follows a string of cyberattacks on the federal government and private companies, reigniting concerns about the vulnerability of critical infrastructure. A crippling ransomware attack on Colonial Pipeline forced the shutdown of a major US petroleum pipeline in May, leading to concern of widespread gas shortages along the East Coast. A month later, JBS USA, one of the biggest meat producers in the US, suffered a ransomware attack that temporarily knocked out processing plants. In ransomware schemes like the one used on Colonial, attackers use code to seize control of a computer system and then demand money to unlock it. The worldwide WannaCry ransomware attacks in 2017, for instance, locked up computer systems at hospitals, banks and phone companies. City governments in the US have also been hobbled by ransomware assaults. President Joe Biden signed an executive order in May aimed at improving US cybersecurity defenses, saying that the attack on Colonial Pipeline highlighted the need to do more to protect critical infrastructure. The order outlined a number of steps aimed at shoring up the nation's cybersecurity, including a call for the removal of contractual barriers to reporting federal agency breaches, the reporting of severe cyberattacks within three days and the establishment of a Cybersecurity Safety Review Board to investigate significant incidents.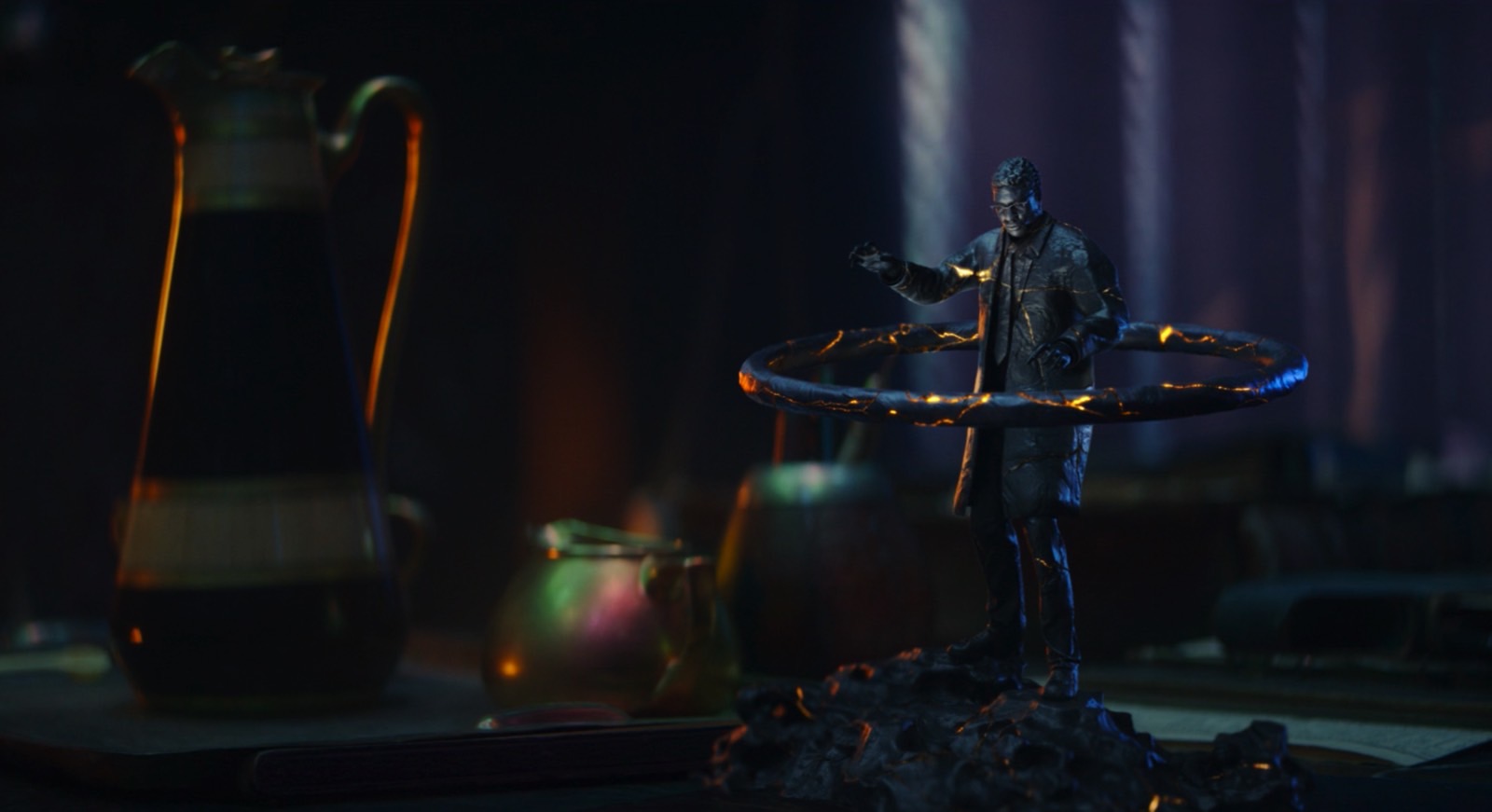 After a year of MCU Phase 4 stories, it's clear that Marvel could have done a much better job with the Infinity Saga villains. We needed more than a decade and 20 movies to finally get to Thanos (Josh Brolin). And then we lost Thanos twice in the same film, with Marvel killing two variants of this iconic MCU villain. Comparatively, Phase 4 throws several big villains at us right from the get-go. They're not just terrifying, they're bigger and badder than Thanos ever was. The Avengers have no idea what's coming their way, but we do. And a brand new Ant-Man 3 leak gives us our first look at Thanos's big successor, Kang the Conqueror (Jonathan Meyers). We explained after Loki — and again after What If…? and Eternals — why Kang is the scariest foe the Avengers might face. It's not about the sheer power alone because Thanos with the Infinity Stones might be more powerful than Kang. The same goes for the Infinity Ultron in What If…?. Not to mention Strange Supreme (Benedict Cumberbatch). And Arishem (David Kaye) seems to be an even more terrifying threat than everyone else combined. But considering everything we saw so far, it's Kang who is probably the most difficult villain to beat. And we're going to get the first real taste of Kang in Ant-Man 3, which is set to be released in 2023. However, before we get to this early Ant-Man 3 leak, I'll remind you what makes Majors' character so terrifying. Kang does something none of the other villains can. He can control time, as the He Who Remains variant from Loki showed us. He can control timelines so that he can nullify all the other villains. Kang can set events in motion that could turn Thanos, Infinity Ultron, and Arishem into puppets. All of these new Marvel villains could turn out to be even bigger threats to the Avengers than Thanos. We'll put a pin in Infinity Ultron, however, whom The Ancient One (Jeffery Wright) managed to neutralize in What If…?. But we can add Wanda (Elizabeth Olsen) to the list of Phase 4 antagonists, as she's about to experience some serious madness. Technically, we saw Kang already. The He Who Remains version from Loki is what Kang looks like. Not to mention that the TV show's finale gives us a statue of Kang at the new TVA that Loki (Tom Hiddleston) discovers. But it's still not the same thing. Fast-forward to early December, and the following Ant-Man 3 leak started circulating on social media. It's an image of Ant-Man and the Wasp: Quantumania merchandising for the movie's stunt team. In it, we see Scott Lang's (Paul Rudd) helmet from the Ant-Man suit, with a huge hole on one side. That's a heartbreaking callback to the broken Iron Man helmet in Endgame. But what's more interesting is the reflection on the helmet. We're probably looking at Kang in that image. As The Cosmic Circus explains, the leak suggests we'll get a comic-accurate Kang costume in Ant-Man 3. The Loki finale also hinted at Kang's comic-based suit. The reflection isn't enough to reveal any big Quantumania spoilers. But we assume Scott Lang & Co. will embark on another Quantum Realm journey, where they're likely to face-off against at least one Kang variant. The Quantum Realm is likely the place where the TVA operates, although that's just speculation at this point. Ant-Man 3 and Kang aside, the movie opens on July 28th, 2023, after Marvel's recent calendar reshuffle. That means we're a long way from seeing Majors play Kang in this particular movie. Needless to say, the character could also appear in Loki season 2 and other productions before then.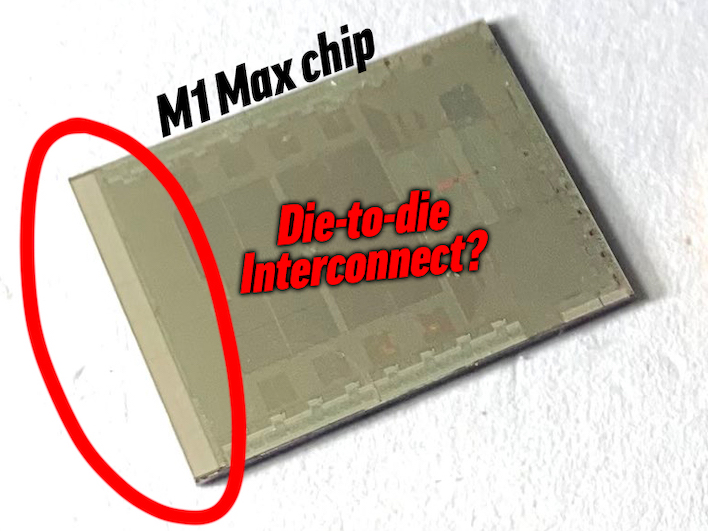 Twitter user @VadimYuryev showed the hidden section on the bottom of an M1 Max chip (seen above in our hero shot). It's important to note, this potential interconnect was never included in Apple's official renders of the M1 Max die. Connecting multiple M1 Max chips together in this manner would result in essentially an M1 Max Duo or even an M1 Max Quadra. Other analysts have been suggesting this possibility for months Now. In May 2021, programmer and tech writer John Siracusa suggested Jade-C as the building block for Pro Mac SoCs. Apple's M1 Pro chip, an intermediate SoC between the M1 and M1 Max in terms of performance, doesn't have the interconnect bus. This probably means Apple intends the performance scaling only for users who need it, like 3D rendering or video production workstation pros. The M1 Pro and Max already outperform most Intel processors; joining two or four of them together would definitely up the ante.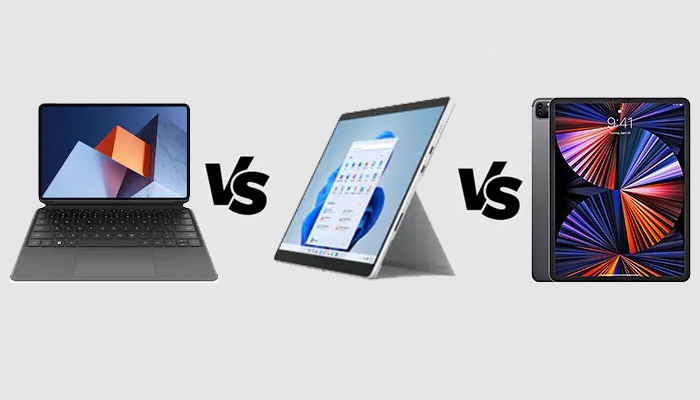 This website uses cookies to improve your experience while you navigate through the website. Out of these, the cookies that are categorized as necessary are stored on your browser as they are essential for the working of basic functionalities of the website. We also use third-party cookies that help us analyze and understand how you use this website. These cookies will be stored in your browser only with your consent. You also have the option to opt-out of these cookies. But opting out of some of these cookies may affect your browsing experience.

A man in Italy used a fake arm Thursday morning to try and avoid getting a real COVID-19 vaccine, according to the New York Times. The nurse administering the vaccine noticed the man's arm seemed pinker than the rest of his body, and said she realized it was rubber foam after touching his "skin." "It was so humiliating," the nurse told the NYT, "thinking that a nurse cannot tell the difference between rubber foam and skin." The man, whose identity has not been released, was apparently hoping to be able to work without actually getting the shot, according to the news outlet, and wore a thick theater corset covered in rubber foam with two fake arms attached. It's worth noting that in the early stages of the pandemic, Italy was among the hardest hit countries in Europe with COVID-19 cases and deaths, with a tragic 132,000 deaths. The country isn't quite out of the woods yet, as the NYT reports that about 13 percent of Italy's adult population haven't had a single shot, and cases have been rising again since October. Given that Italy had such a traumatic experience with the coronavirus in 2020 and is still seeing new cases, you'd think the man wouldn't be so set against getting a shot that could save his life. Still, even in a country intimately acquainted with COVID consequences, conspiracy theories abound. US residents may think the anti-vax movement is a local problem, but that's not the case. Italy has a thriving fake vaccination card black market, and doctors will even give saline shots to avoid giving the real vaccine but still give out vaccination cards, according to the NYT. As the Omicron variant spreads, fighting anti-vax misinformation will require a global perspective. And it's especially disheartening to see the spread of conspiracy resulting in expired or trashed vaccines while other countries simply don't have enough doses for everybody who wants one. More on Omicron: A Disastrous Collision Between COVID and HIV May Have Caused the Omicron Variant Care about supporting clean energy adoption? Find out how much money (and planet!) you could save by switching to solar power at UnderstandSolar. com. By signing up through this link, Futurism. com may receive a small commission.

Engadget is part of the Yahoo family of brands. By clicking " Accept all " you agree that Yahoo and our partners will store and/or access information on your device through the use of cookies and similar technologies and process your personal data, to display personalised ads and content, for ad and content measurement, audience insights and product development. You can select ' Manage settings ' for more information and to manage your choices. You can change your choices at any time by visiting Your Privacy Controls. Find out more about how we use your information in our Privacy Policy and Cookie Policy. Click here to find out more about our partners.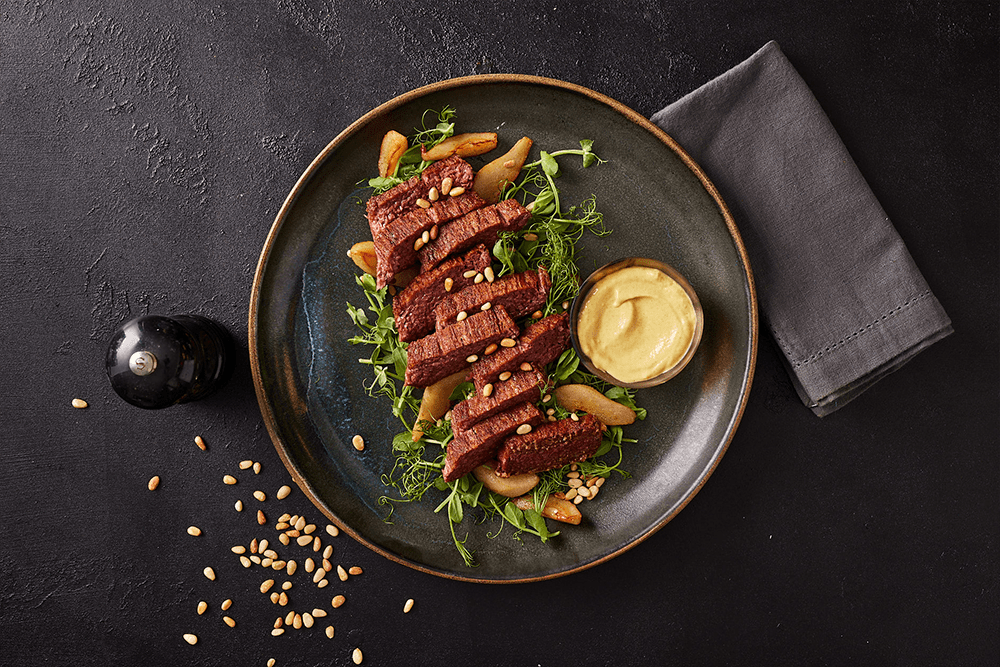 The future of eating out at fancy restaurants could be built on 3D-printed steaks. Redefine Meat, an Israeli startup, is expanding where its product is available in Europe. The products in question are 3D-printed steaks. The steaks are created from plant-based beef substitutes. But it's all configured to taste and feel like real beef steaks. Redefine Meat has expanded its operations into Europe. Restaurants in London, Berlin, and Amsterdam now carry the 3D-printed steaks the company has become known for. A full list of the restaurants that plan to offer Redefine Meat hasn't been shared. However, we do know that restaurants owned by celebrity chef Marco Pierre White will offer the meat alternative (via Independent). White's and three other restaurants in the London area will serve Redefine Meat for £20 to £30. That's a similar price to the way those restaurants charge for traditional beef steak. On top of 3D-printed steaks, Redefine Meat will also provide "premium quality" burgers, lamb kebabs, ground beef, and sausages to other restaurants throughout the Netherlands, UK, and Germany. That should give restaurant goers multiple ways to try the plant-based meats the company offers. Plant-based meat is something multiple companies have tried to push over the years. However, it often falls short in some way. Whether that's by the touch, taste or, smell depends on the company making it. With these new 3D-printed steaks, though, Redefine Meat uses 3D printing, along with artificial intelligence to recreate the meat. This includes capturing the feeling of the muscle fibers of the animal meat, as well as the juicy, yet firm, texture. This has allowed the company to create 3D-printed steaks that look, taste, and feel like real beef or lamb. While they might look like real meat, the steaks are made from plant-based materials. These materials include soy and pea protein, as well as beetroot. The company also uses chickpeas and coconut fat to make the steaks seem more like the meat that inspired them. Redefine Meat wants to offer its 3D-printed steaks in more restaurants, as well as in supermarkets. It also wants to create additional cuts, like thicker or thinner. This should help to make the offering more appealing to more customers as they can choose the cut they want. Right now, the 3D-printed meat is designed to mimic flank steak, which is also known as bavette. This isn't the first time we've seen innovations pushed by 3D printing, either. But, it is notable because of how closely the new steaks resemble real meat. It's unclear when Redefine Meat will expand to other restaurants, or when the 3D-printed steaks might start appearing on store shelves, too.

The US government is reportedly looking to lead other nations in prohibiting the export of surveillance tools to authoritarian countries that could use them to commit human rights abuses. The Wall Street Journal reports that the Biden administration is expected to "launch an initiative with friendly nations to establish a code of conduct for coordinating export-licensing policies" at the Summit for Democracy event hosted by the US Department of State that starts on Dec. 9. The report cites unidentified administration officials who told the Journal that countries participating in this initiative will also "share information on sensitive technologies used against political dissidents, journalists, foreign government officials and human rights activists." It's not clear what countries will be part of this initiative at the start, but based on existing US policies and the Summit for Democracy's invite list, it seems likely that the export controls will be intended to prevent advanced surveillance technologies from being sold to Russia and China This report follows the US Department of Commerce's addition of NSO Group, Candiru, Positive Technologies, and Computer Security Initiative Consultancy to the Entity List for selling their spyware to governments that used them to target journalists, human rights groups, and others. That makes it harder for the quartet to do business with American companies. It doesn't prevent them from selling their existing surveillance tools to authoritarian countries, however, and the new export rules expected to be announced at the Summit for Democracy might change that.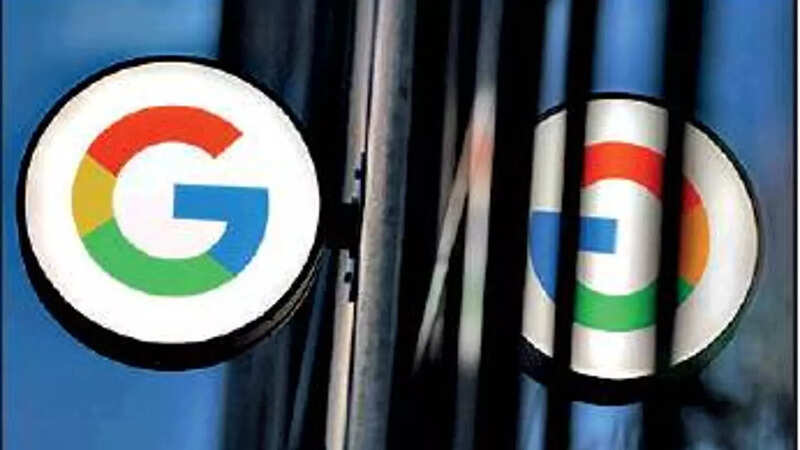 has filed cases against U.S. tech firms that could see imposed on their annual turnover in Russia, a Moscow court said on Friday. Roskomnadzor in October threatened both Alphabet's Google and Meta's Facebook with fines based on a percentage of their annual turnover for a repeated failure to delete content that Moscow deems illegal. Russian law allows for companies to be fined between 5% and 10% of annual turnover for repeated violations. Moscow's Tagansky District Court said court dates for both companies - neither of which immediately responded to a request for comment - were set for Dec. 24. Russia has increased pressure on foreign tech companies as it seeks to assert greater control over the Internet, slowing down Twitter since March and routinely fining others for content violations. Google has paid more than 32 million roubles in fines this year. Google, Twitter and Meta have significantly reduced the number of posts prohibited by Moscow on their platforms. Russia last month demanded that 13 foreign and mostly U.S. technology companies be officially represented on Russian soil by the end of 2021 or face possible restrictions or outright bans.

Cybersecurity provider Red Canary has warned in a recent blog post that a malicious KMSPico installer is doing the rounds on the internet. This malware-carrying fake installer is capable of stealing user information from various cryptocurrency wallets, among other things. This is made possible with the help of a cryptbot. Red Canary says that the cryptbot delivered by this malware is capable of collecting information from the following applications: While there are several browsers on this list, Microsoft's very own Edge isn't one of them, sort of validating its recent claim of being better than Chrome, at least in this instance. KMSPico is an unofficial Windows and Office activator that are used to activate pirated copies of Windows or Office. The tool essentially allows for illicit Windows license circumvention by emulating Mircosoft's Key Management Services (KMS) activation. Red Canary also notes that it is not just individuals who use KMSPico to fraudulently activate Windows as the firm says it has also noticed various IT departments using the tool. Hence, a malicious KMSPico is especially dangerous for such situations. It is also quite easy to fall for a malicious KMSPico as many sites claim themselves as official KMSPico creator as shown in the image below: The malicious KMSPico also installs the actual KMSPico file itself so that a user of a compromised system may not even suspect anything fishy until it is too late. You can find more technical details on the official blog post linked here.

Apple products are notoriously difficult to find on sale, but every now and then you can find good deals at authorized Apple retailers. The MagSafe Battery Pack is compatible with iPhone 12, iPhone 13 (including Mini, Pro and Max editions) and it snaps directly onto the back. It starts charging automatically, so there's no button to press and no hassle. It can be a great way to keep you phone topped off on-the-go. The pack usually retails for $99, but right now you can score it for $75. Like with most tech, there are pros and cons, so let's talk about some of the MagSafe battery features. First, it's tightly integrated into the iOS and will show up in the battery widget alongside your other devices. It can also work as a passthrough for charging to other products, like your AirPods case and other tech that is compatible with Qi charging. It is also built to protect your battery, which is why it caps charging at 90%, which will increase your iPhone's longevity. If this feature bothers you, there is an override, but it's probably best to use the product as intended. Note: There is no Lightning cable or charger included in this deal, so if you want those items, you'll have to buy them separately.

Today's highlighted deal comes via our Apps + Software section of the Neowin Deals store, where you can save 84% off a 1-year subscription to TravelHacker Premium. See the world again! Uncover low airfare deals to pandemic-friendly destinations without booking months in advance. Imagine being able to find the cheapest flights to the safest destinations, automatically! Wouldn't that be the coolest thing in the world for travelers right now? Unfortunately, finding cheap flights to pandemic-friendly amazing destinations requires good timing, luck, and psychic powers. This revolutionary smart travel app uncovers the cheapest flights to the safest destinations automatically! TravelHacker uncovers low airfare deals and detects the reopening status and restrictions present in 124 countries and 3,800+ airports worldwide, updated in real-time. You can use TravelHacker to cleverly monitor airfare on thousands of routes leaving your home airport to countries all across the globe, and it lets you know when airline ticket prices drop. TravelHacker gives you the psychic powers you need to save an average of $200 - $500 for each flight ticket booked. Click and book your flights directly with your favorite flight booking website like Skyscanner, Kiwi, Google Flights. A 1-year Subscription to TravelHacker Premium normally costs $250, but this can be yours for just $39 for a limited time, a saving of $211. For specifications, and license info please click the link below. Apply the CMSAVE40 promo code on check out for an additional 40% off. That's OK, there are other deals on offer you can check out here. Neowin Deals · Free eBooks · Neowin Store Disclosure: This is a StackCommerce deal or giveaway in partnership with Neowin; an account at StackCommerce is required to participate in any deals or giveaways. For a full description of StackCommerce's privacy guidelines, go here. Neowin benefits from shared revenue of each sale made through our branded deals site, and it all goes toward the running costs.

China's Yutu-2 rover, currently exploring the far side of the moon, has spotted a strange cube-shaped object on the moon's surface. As reported by space. com, the image was shared in a Yutu-2 diary posted by Our Space, a space news channel related to the China National Space Administration (CNSA). It was part of a "Yutu-2 driving diary" which describes what the Yutu-2 rover has been up to since it resumed operations on October 29, 2021. The cube shape is interesting, but the journalist Andrew Jones who first drew attention to the photo doesn't think it's a sign of extraterrestrial life. "It's not an obelisk or aliens, but certainly something to check out, and hard to discern much from the image," he tweeted, and suggested that it could be a large boulder which was thrown up by an impact. The object, described informally as a "mysterious hut," is located around 80 meters from the rover's current location and is next to a large but young impact crater. The researchers are curious to learn more, so the rover will visit the object but it will take a while — approximately two to three months, according to the authors. One reason it takes so long to travel across the moon is due to the day and night cycle there. Because of the way the moon spins, it completes a rotation every 27 days, which is around the same amount of time it takes to orbit our planet. That's why one side of the moon faces us and the other, far side, where Yutu-2 is located, can't be seen directly from Earth. The other effect of this rotation is that a full lunar day lasts 29 Earth days, meaning there is a period of just over two Earth weeks when the moon is in daylight, and just over two weeks when it is night there. As rovers like Yutu-2 rely on solar power, they must hibernate for these nighttime periods and they can only explore during the daytime period. That's why lunar explorers take so long to get across the moon's surface — not to mention the need to go slowly to avoid large rocks or components being worn down by sharp moon dust.

The holiday season is upon us, and an exciting array of TV shows and movies are landing on your favorite streaming services throughout the month of December. In this one-stop-shop, we'll tell you what to stream monthly across Netflix, Disney Plus, Amazon Prime Video, Paramount Plus, Peacock, and other major platforms. Jane Campion's latest film has been getting lots of critical attention since it premiered at the Venice International Film Festival and now it's coming to Netflix. A cruel, domineering rancher wages a war of intimidation on his brother's new wife and quiet, reserved son in this simmering family drama set in the Old West. There's already Oscar buzz around Campion, and actors Benedict Cumberbatch and Kirsten Dunst. Two-time Academy Award nominee, and the Fresh Prince himself, Will Smith, takes viewers on a wild journey, exploring Earth's greatest wonders, from the highest mountain peaks to the deepest parts of the ocean, and everywhere in between. Smith is guided by some of the world's foremost explorers in this six-part documentary series from National Geographic, and celebrated filmmaker Darren Aronofsky that's coming to Disney Plus. The first five seasons of The Expanse have all been leading up to this point. The final season of the sci-fi fan favorite coming to Amazon Prime Video sees Marco Inaros continue his attacks on Earth and Mars, as he seeks to strengthen the Belt. Meanwhile, Chrisjen Avasarala sends former Martian Marine Bobbie Draper on a secret mission to stop Inaros, with the help of the crew of the Rocinante, as a mysterious new power begins to rise on a distant planet. Will Forte returns to his absurd MacGyver spoofing Saturday Night Live role, MacGruber, in this brand new series heading to Peacock. A sequel to the 2010 feature film of the same name, MacGruber sees the titular hero released from prison to take on a villain from his past: Brigadier Commander Enos Queeth. Forte is joined onscreen by Kristen Wiig, Ryan Phillippe, Sam Elliott, Laurence Fishburne, Billy Zane, and Timothy V. Murphy. Emily St. John Mandel's award-winning 2014 novel Station Eleven comes to life in this 10-part miniseries on HBO Max. When a flu pandemic wipes out a huge percentage of the world's population, the survivors must find a way to forge a new path forward for humanity, remembering the past while envisioning and bringing about some kind of future, in this remarkably timely post-apocalyptic series. Geralt of Rivia is back! Now he's found Princess Cirilla, he can fulfil his duty of protecting her as he continues to face off against the forces of darkness, and takes her back to his hometown of Kaer Morhen. It looks like season two will also reacquaint us with the sorceress Yennefer, not to mention everyone's favorite bard, Jaskier (just when you thought you'd got "Toss a Coin to Your Witcher" out of your head). A prequel to the Paramount Network's wildly successful Yellowstone, 1883 looks way back to the origins of the Dutton family. In the late 19th century, the Duttons make their way west to claim the land that will eventually become the Yellowstone Ranch in Montana. Tim McGraw, Faith Hill, and Sam Elliott star in this brand new spinoff that kicks the western elements of Yellowstone into overdrive. It's finally time to dive back into the Matrix in the latest installment of the massive, genre-redefining franchise. Not much is known about the plot of The Matrix Resurrections, but the official trailer suggests Neo and Trinity have been plugged back in since we last saw them in The Matrix Revolutions, and they'll need to find their way back out, if they can. The film will stream on HBO Max the same day as it premieres in theaters. Everyone's favorite intergalactic bounty hunter is back. In the latest Star Wars series, we see Boba Fett — who made his comeback in season two of The Mandalorian — taking over operations in Jabba the Hutt's old palace on Tatooine. While Jabba ruled with fear, Boba plans to rule with respect, he says in the trailer. The Karate Kid spinoff continues in its fourth season. Longtime rivals Johnny and Daniel will have to work together as co-mentors in the latest season coming to Netflix, less than a year after season three. The two will join forces in their bid to defeat Cobra Kai, which will surely lead to some internal struggles. You can also look forward to seeing some more familiar faces from the original Karate Kid series.

The decades-long, trillion-dollar love affair between China and Wall Street is coming to an end. Didi Chuxing, a $39 billion company that is China's answer to Uber, said on Friday that it would delist its shares from the New York Stock Exchange. Just six months ago, Didi was a Wall Street darling, raising billions of dollars from American pension funds and international investors in a splashy New York initial public offering. Those sorts of deals once fueled a three-decade relationship that helped reshape the global political and financial landscape. China generated heaps of money for Wall Street by hiring banks to manage deals like I. P. O. s. In return, Wall Street gave China access to the halls of global finance and political power, especially when it came to introductions in Washington. Didi's abrupt decision to leave brings home a stark truth for Wall Street: China doesn't need it anymore. The world's No. 2 economy has plenty of its own money and few problems attracting more from elsewhere. China's friends on Wall Street have lost their sway in Washington at a time when mistrust of Beijing's intentions is running high. And China's leaders would rather keep tight control of its companies than open them up to investors on American markets. Now Wall Street has become the latest area in which leaders on both sides are trying to weaken the extensive and complicated ties between the world's two largest economies. And just as the alliance of China and Wall Street helped shape business in the past, the way the two sides disentangle those ties could reshape its future. " It is mutual decoupling, but it is also a contest to set the rules by which international intercourse takes place," said Lester Ross, a partner in the Beijing office of the WilmerHale law firm. Beijing has been asserting greater control over its private companies, particularly those like Didi, which has extensive data on hundreds of millions of the Chinese taxi hailers and ride sharers. It seeks a private sector more in line with the Communist Party's growing focus on spreading wealth and meeting its policy goals — aims that Wall Street investors most likely can't help with. The American government, which sees China as the greatest economic, political and military rival, has been putting pressure of its own on Chinese ties. It has forced some state-controlled Chinese companies in delist their U.S. shares. On Thursday, the U.S. Securities and Exchange Commission adopted rules that would require reluctant Chinese companies listed in the United States to further open their books to American accounting firms or get kicked off its stock exchanges. The attraction between China and Wall Street is increasingly one-sided. Wall Street banks like Goldman Sachs and JPMorgan Chase are hiring and investing heavily in building out their businesses in mainland China. Chinese regulators have loosened limits on what foreign banks can do inside the country, but the firms will still be subject to Chinese laws and mores. China also has Hong Kong, which remains a financial capital despite Beijing's tightening its grip over the government and daily life. Didi on Friday paved the way for allowing investors who bought shares on the New York exchange to swap them for those that will someday soon be traded in Hong Kong. Didi's move will put a focus on Chinese companies that still trade in the United States, and they represent a lot of money. A congressional commission estimated this year that nearly 250 Chinese companies had a total of $2.1 trillion in shares trading on American exchanges. The most prominent is Alibaba, the e-commerce giant, which once conducted the biggest I.P.O. in the world when it sold shares in New York in 2014. The company didn't immediately respond to a request for comment. Chinese regulators were said to have been looking at ways to limit Chinese listings in the United States. This week, they denied a report that they would close a legal loophole that Chinese companies like Didi and Alibaba have long used to list overseas while keeping corporate control in the mainland. But even without more regulatory action, few Chinese companies have listed in the United States since Didi's I.P.O. and a subsequent regulatory crackdown on the company by Beijing. There was a time when Wall Street's bankers could lobby Washington on China's behalf and get results. In the late 1990s, as China was trying to lower trade barriers, Zhu Rongji, then its premier, flew to New York to meet with finance and business leaders. The heads of Goldman Sachs and American International Group later worked to persuade President Bill Clinton to strike a deal to help China join the World Trade Organization in 2001. Wall Street was also able to intervene when Presidents George W. Bush and Barack Obama considered labeling China a currency manipulator, urging lawmakers to reconsider taking official action against Beijing's attempts to weaken its currency in order to boost its importers. These days, calls from Wall Street executives like Blackstone's Stephen A. Schwarzman, who has raised over $500 million for a scholarship program at China's prestigious Tsinghua University, have increasingly fallen on deaf ears in Washington. In 2019, the Trump administration labeled China a currency manipulator. The designation was later formally removed, but the sentiment of getting tough on China has remained. As the U. S. -Chinese relationship cools, more companies like Didi will get caught in the middle. "It's bad for business to be caught between two superpowers flexing their economic and regulatory powers," said Paul Leder, a lawyer at Miller & Chevalier and a former director of the S. E. C. 's Office of International Affairs. The delisting is likely to increase investor concerns about what seems to be a growing hostility by Chinese officials toward domestic companies that list shares on overseas exchanges. For Didi, once hailed as an innovator and disrupter in China's staid transportation sector, it has been a fast fall from grace. In 2016, it was considered the pride of China's spunky start-up scene when it vanquished its American rival, Uber, and bought that company's Chinese operations. Promises to use its banks of data to unsnarl traffic and develop driverless car technologies made its executives icons. When it listed over the summer in New York, Didi appeared to be following a long list of Chinese success stories that saw getting into Wall Street as an ultimate validation of a company's business achievements. Beijing's sudden clampdown on Didi jolted the company's new Wall Street shareholders. Since its blockbuster I. P. O. , Didi's share price has roughly halved in value. In a rebuke to Didi, Chinese regulators followed up its megabucks listing with a series of regulatory slaps. Worried that the listing meant Didi might transfer sensitive data on Chinese riders to the United States, regulators forced the company to halt registering new users two days after the I.P.O. as they began a cybersecurity review of its practices. Shortly after, officials ordered a halt to downloads of Didi's main, consumer-facing application, before broadening the block to 25 more of the company's apps, including its car-pooling app, its finance app and its app for corporate customers. Investors can still go to Hong Kong if they want to invest in Didi or other Chinese stocks, said David Webb, a former banker and longtime investor in Hong Kong. But broadly, China wants its companies to be only a short distance away. "It is all part of a mainland government plan to 'bring them home' and disengage from U.S. regulation," he said.

Space Exploration Technologies Corporation's (SpaceX) Starlink satellite internet constellation has managed to achieve strong internet speed test results at an altitude of 14,000 feet according to a user who shared his results on the social media platform Reddit. Starlin operates through a constellation of more than a thousand internet small satellites which orbit the Eart at significantly lower altitudes than competing services that use larger spacecraft in different orbits to provide coverage. Today's test is the latest in a series that has seen Starlink significantly outperform its well established rivals as it ushers in a new era of satellite internet connectivity. The user, who shared his results yesterday, tested Starlink as part of his trip to the Rocky Mountains in Colorado. This range is the largest mountain range in America and its highest mountain is Mount Elbert, which has an elevation exceeding 14,000 feet. The Reddit user who tested Starlink did so on top of the Pike Peak, which is also more than 14,000 feet tall, with an official elevation of 14,115 feet according to the U.S. Geodetic Survey. Starlink's Thanksgiving Surprise Sees A Thousand Pre-Orders Pushed To 2022 According to the post by Reddit user u/tuckstruck, his Starlink performed well as he camped on Pike Peak, but he did not share any speed tests for that altitude. The initial post saw him describe the experience as: However, the speed tests did come later on as other users asked him about his experience and whether he had checked how well SpaceX's internet service performed in the mountain range. In response, u/truckstruck replied that he had tested Starlink at 9,300 feet while he was camping for the night. This test revealed a download speed of 370 Mbps, an upload speed of 9.6 Mbps and latency, which is the time taken for a packet of information to travel from and back to a user, ranging between 34 milliseconds and 36 milliseconds. In his own words: While the download speed is, once again remarkable, the upload speed leaves much to be desired. This is not the first time a Starlink test has revealed a wide gap between download and upload speeds. Another test that we covered late last month saw a British user achieve 400 Mbps in download speeds but 18 Mbps in upload. Starlink coverage and performance are determined by a variety of factors, the most important of which is the number of satellites in orbit. SpaceX is currently operating more than 1,700 satellites as it continues to launch more amidst a global semiconductor shortage. Another factor that determines service quality is the number of users in a given 'shell'. The upload speed sits below the average Starlink was able to achieve in October last year, and it's also likely that the higher power input required by the user dish to beam data up to the satellites is not working as intended in a mobile environment.

Elon Musk got schooled in space science this week after a Harvard astronomer corrected Musk's tweet about the Tesla Roadster he launched into orbit in early 2018. "My car is currently orbiting Mars," Musk tweeted yesterday, as part of a larger exchange. But Harvard's Jonathan McDowell, who works at the university's Center for Astrophysics, wasn't going to let the comment slide. He corrected Musk on what the car is actually orbiting, still attached to the Falcon Heavy rocket that launched it into space, and presumably still occupied by Starman, its spacesuit-wearing mannequin driver. "Well, no," McDowell tweeted in response. "It's orbiting the Sun, and occasionally passes the orbit of Mars. Not the same thing." You'd think Musk would know what his own car was orbiting, but apparently not. It's hard to say exactly why Musk made that tweet. Perhaps it was an oversimplification he thought readers would better understand, or maybe he thought they'd just let him get away with a tweet clearly aimed at marketing the Tesla brand. Or maybe he was trolling, another common Musk motif. Either way, there's no question McDowell is right — he calculated the trajectory of the car/rocket combo himself. He tweeted a helpful follow-up image that depicts the Roadster's orbital path, and said in a reply that the rocket stopped transmitting data a few days after launch. "We determined the orbital elements soon after launch," McDowell tweeted. "Kepler's laws let us propagate them to the present day." Some replies to the tweet beef seemed concerned the Roadster might crash land on Mars or the Earth, but we've got good news. Science found that there's only a six percent chance the car crashes into either planet over the next one million years, and even if it did, the car would likely burn up as it reentered Earth's atmosphere. It's good to know that even if Musk doesn't know where his car is, it's not currently putting anybody in danger. More on Musk's space junk: Everyone's Condemned Russia Blowing Up a Satellite… Except Elon Musk Care about supporting clean energy adoption? Find out how much money (and planet!) you could save by switching to solar power at UnderstandSolar. com. By signing up through this link, Futurism. com may receive a small commission.

An Ohio couple welcomed their baby daughter in the most unique and memorable way possible. Ryan Emge was driving his expecting wife to the hospital in haste when the couple was faced with a tough situation. Fox19Now reported that Kelli Emge gave birth in the passenger seat of the car on the way to the hospital, while her husband, Ryan was driving the car. Cincinnati residents, Ryan and Kelli were driving on the highway on their way to the hospital on Friday, December 3, when his wife gave birth in the passenger seat, and he caught his newborn with one hand while holding the steering with another. Ryan told Fox 19 of Cincinnati that his wife Kelli "took her seatbelt off, put her knees on the seat facing the back, and started giving birth in the passenger seat." He further said that he was freaked out asked her if he should pull over but the wife insisted he keep driving since they had to reach the hospital in time. "The baby started coming out, so I just reached over with my hand and I caught the baby", he said. The baby then landed in Ryan's hand and he laid her down gently on the seat below. The couple named their newborn daughter, Rebecca. Ryan further noted that his wife's composure during the crucial time was utterly impressive. Kelli, on the other hand, noted that baby Rebecca "made it evident that she was coming and not waiting", during their drive to the hospital. The mother and the baby were later attended to at the Mercy Health Fairfield Hospital. Baby Rebecca is the couple's fourth child. During the post-birth interview, baby Rebecca was fast asleep in her mother's arms, dressed in a pink onesie, not aware of the surprising way she decided to come out into the world.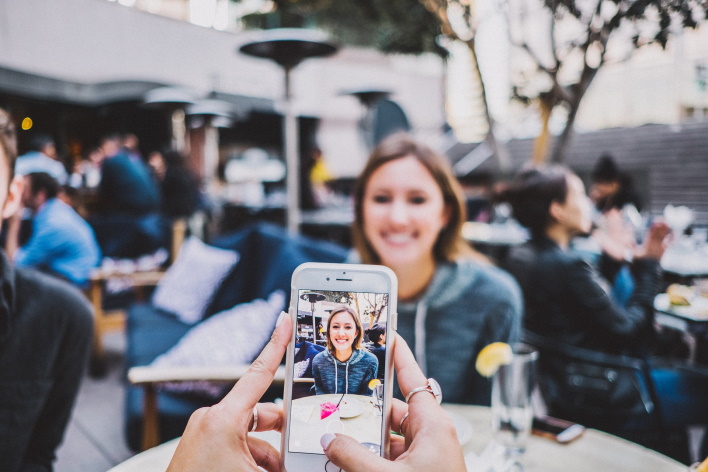 Late last year, the Los Angeles Police Department banned the use of facial recognition software like Clearview AI, which is used by thousands of law enforcement agencies. However, despite the mounting concerns and push-back regarding facial recognition technology, the United States-based company has effectively been awarded a patent for its technology, which amounts to a search engine of sorts for faces. Clearview's technology works by scraping images from public social media pages to assist law enforcement in matching images or videos held by an agency. More specifically, the patent outlines that the data used to match faces to images or video may come from "an online profile of the subject on a social networking website, a professional networking website, or an employer website." However, it does not appear that is all that Clearview is limited to in terms of use cases. In an interview with Politico, Clearview CEO Hoan Ton-That explained that the company "[doesn't] intend to ever make a consumer version of Clearview AI." However, the patent, which has nearly been approved, explains a use case wherein "it may be desirable for an individual to know more about a person that they meet, such as through business, dating, or other relationship." Further, the summary of the invention explains that "this disclosure addresses the need mentioned above in a number of aspects," which is quite concerning despite Ton-That's reassurances of government-only clients. Another interesting item of note is that it seems Clearview is trying to buck the system after Facebook shut down its facial recognition system earlier this year. Funnily enough, though, Clearview uses images uploaded to Facebook for its system, citing first amendment rights to use public materials. However, Facebook and other companies such as Google, Twitter, LinkedIn, and others have either expressed their ire with Clearview or even sent cease and desist letters. In any event, the award of this patent and acceptance of the needs outlined within indicate that Clearview and the government are willing to open the door to numerous facial recognition implementations. Whether this violates your privacy or not is for you to decide, so let us know what you think in the comments below.

Cloud computing will save you money. Ten plus years ago that was a familiar refrain when the technology hype machine touted cloud computing as the best thing since sliced bread. Today we have over a decade of cloud deployment data that often disproves or redefines the context of that statement. NetEnrich recently conducted a survey of 100 IT decision-makers in companies with 500 or more employees. Amongst this group, 85% claimed either moderate or extensive use of cloud computing infrastructure, while 80% stated that they have moved at least a quarter of all workloads to public cloud providers. Now the bad news. The survey identifies security as the top cloud computing issue (68%), followed by IT spend and cost overruns (59%), day-to-day maintenance (36%), and root-cause analysis and post-mortems (22%). Some 48% also claim that the cost of recruiting cloud skills is an ongoing issue in their IT organization, with an estimated 10 open positions that chase every one qualified candidate. All in all, cloud computing is not the cost-savings slam-dunk once promoted. This is especially true about delivered cloud value, in terms of business agility, compression of time-to-market, and instant scalability. In some situations, enterprises see negative values for every cloud computing dollar spent rather than the business efficiencies they expected. Our decade of cloud implementation data indicates that enterprises often need to take operational cost savings off the table as value justifications of cloud computing, which leaves soft value savings such as agility and speed-to-deployment. If those soft savings are not there, or not valuable to a specific enterprise, the enterprise will see negative value in cloud computing. This is a concerning situation for enterprises and cloud technology vendors alike. So, what can be done about this problem? Also see: CloudOps: How Enterprise Cloud Migration Can Succeed If cloud computing delivers a negative value, you might think the best solution is to push off future cloud migrations and/or pull cloud applications and data back to traditional systems within enterprise data centers. Unfortunately, those ideas won't work. The major enterprise technology providers dedicate 80% of their research and development (R&D) budget to build technology for cloud-based platforms or to build clouds themselves. That means R&D d o llars are not spent on the upkeep of existing products or development of net-new products for more traditional enterprise systems. Enterprises already see fewer software updates and upgrades for non-cloud products and dwindling updates and upgrades for security and database systems. The larger enterprise technology providers know their future is in the cloud, and thus, they spend their innovation dollars in the cloud. That money will naturally come from the budgets of their more traditional business software and services. At the end of the day, those who want to avoid value delivery issues around cloud-based projects may discover even less value by staying put or repatriating systems back into the data center from the cloud. So, you can't avoid the pull of cloud platforms to move forward, and you can't save any money if you move backwards. At this point, it looks like cloud is the only game in town. Most negative cloud values arise when an enterprise does not correctly leverage cloud-based resources. Typically, this means someone did not pick the best platforms, tooling, and processes for the project, and those choices are not or cannot be optimized. Those incorrect choices almost always track back to a lack of planning in the initial phases of a technology project, cloud or not. A universal truth: If you don't have a thorough understanding of the problem, you will only have a partial understanding of the solution required to solve the problem. The somewhat good news? There is no immediate pain to an unoptimized cloud operation. Most of the time, moving systems to the cloud works just fine and, initially, appear to be successful migrations. However, even though it "works," the team will soon realize the migrated or net-new cloud-based systems do not deliver the value defined and promised in the business case. This includes value metrics in terms of how the business value of cloud computing can be measured. Here, many cloud projects get an F. For example, look at a generic enterprise that moved their inventory management and inventory data to the cloud over the last five years. There are about five variations of cloud technologies they could have deployed, and an exponential number of configurations within those variations. Most of these solutions and configurations work, but these enterprises will not realize their peak hard and soft savings because the defined value metrics are misaligned with the chosen cloud solution. Therefore, the enterprise will experience some degree of negative cloud value. In the case of our inventory management system, let's say the enterprise defined a cloud-based database that won't store complex data and/or can't deal with nesting as needed for advanced predictive analytics. It turns out these features are required to create automations to optimize inventory, such as just-in-time (JIT) inventory and automation across a supply chain. Let's also say the enterprise leverages a cloud-based user interface development system that does not support mobile computing platforms. To top it all off, the applications and data storage systems were defined without regard for operations, security, and governance during initial planning. Thus, the system must deal with the inefficiencies created when those parameters are added into the system just prior to deployment. The trouble with the slam-dunk cloud conclusion – this cloud deployment is clearly a success or a failure – is that it doesn't account for real-life variables, such as skills shortages and an almost chronic lack of planning that's necessary to make good technology decisions. The goal is to build better systems with better thought-out cloud technology and configurations to find the desired value. That's a hard goal to reach if you can't find the skills required to correctly complete the first step or if you forge ahead without those skills. Some would argue that cloud computing is so new we've yet to build up sets of best practices to cover every cloud situation, and these types of issues are just a part of the growing pains. It's now a proven fact that we can't go backwards. That means we must find a way forward to establish business value for every cloud project. In short, we have to learn from our mistakes and reconfigure our cloud deployment. If you think about it, we can almost always trace a cloud project's negative value issues back to substandard skills at the outset of a project. Whoever made those calls with faulty information often found that their choices led to negative values, even when the system "worked." We clearly need to fix the planning problems ASAP and define clear paths for our IT staff to gain the knowledge required to close the skills gap. The good news: now that we've been down this path, we know enough to step back and rectify our earlier decisions, to use a now-informed cloud strategy to alter key variables to move toward a profitable cloud deployment. An optimized and high-value cloud solution is almost always possible, but most enterprises will fall short. If your new cloud-based applications and data sets lack the value the enterprise assumed was a guaranteed outcome of the move to the cloud, it's time to go back to the beginning. Take a hard look at the initial planning processes for current and future cloud migrations and look for opportunities to optimize existing migrations. It's never too late. eWeek has the latest technology news and analysis, buying guides, and product reviews for IT professionals and technology buyers. The site's focus is on innovative solutions and covering in-depth technical content. eWeek stays on the cutting edge of technology news and IT trends through interviews and expert analysis. Gain insight from top innovators and thought leaders in the fields of IT, business, enterprise software, startups, and more. Advertise with TechnologyAdvice on eWeek and our other IT-focused platforms. Property of TechnologyAdvice. © 2021 TechnologyAdvice. All Rights Reserved Advertiser Disclosure: Some of the products that appear on this site are from companies from which TechnologyAdvice receives compensation. This compensation may impact how and where products appear on this site including, for example, the order in which they appear. TechnologyAdvice does not include all companies or all types of products available in the marketplace.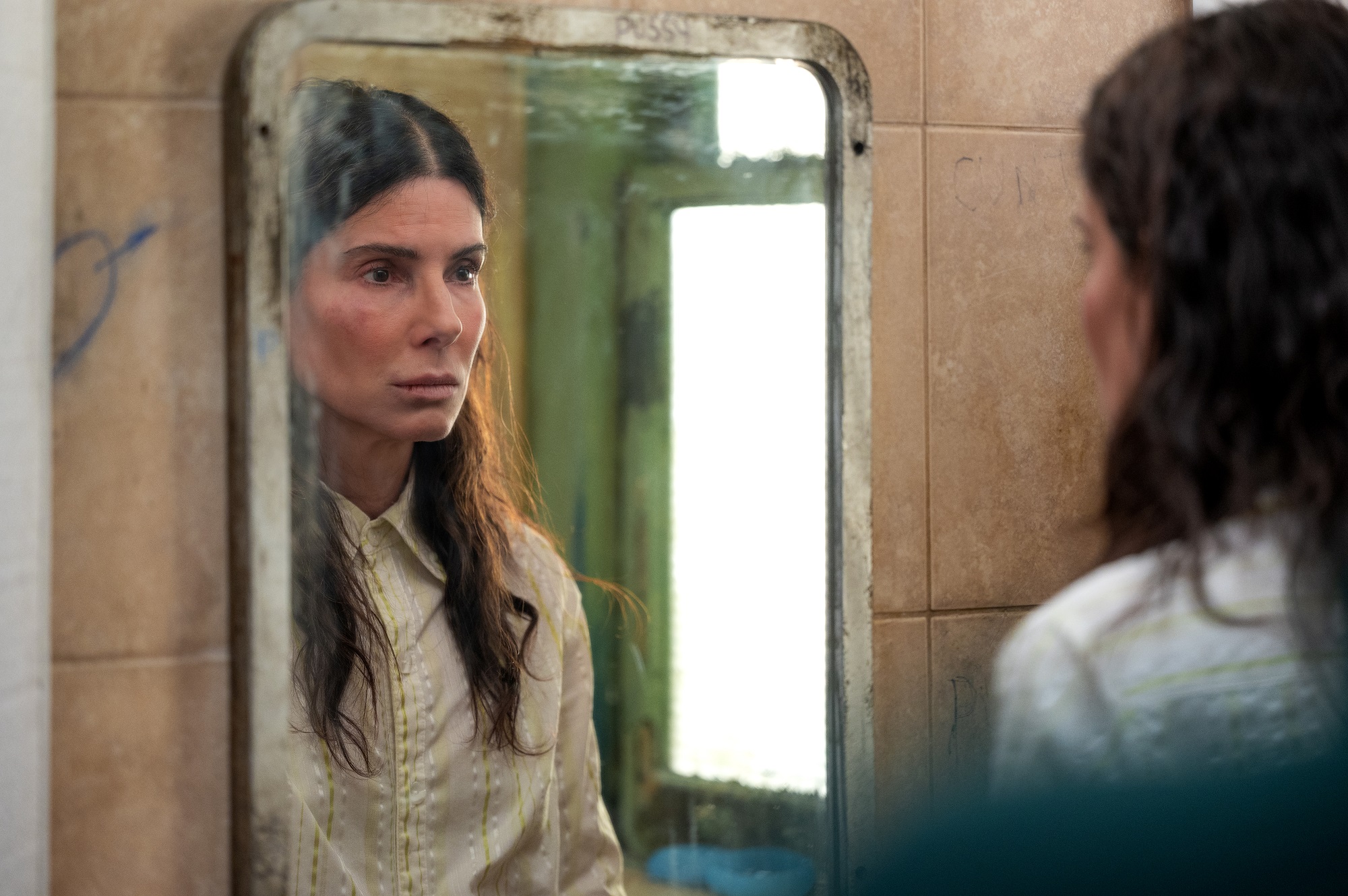 We're back once again to share all of the latest Netflix releases for this week. As always, you can see everything Netflix has been adding to its library this year in our huge roundup of all the best movies and series. Some of the notable highlights coming to Netflix for the week of December 5th include Voir, Saturday Morning All Star Hits!, The Unforgivable, and a new comedy special from Nicole Byer. Those are all of the Netflix releases this week, covering the week of October 10th. Those are all of the Netflix releases this week, covering the week of October 3rd. Those are all of the Netflix releases this week, covering the week of September 26th. That's it for new Netflix releases this week. But there are also plenty of movies and series that are leaving Netflix before the end of the week. Those are all of the Netflix releases this week, covering the week of September 19th. Those are all of the Netflix releases for the week of September 12th. We will be back every week with more new movies, TV shows, and specials coming to the world's biggest streaming service.

December 5, 2021 Prehistoric footprints that have puzzled scientists since the 1970s are getting a second look: Were they left by extinct animals or by human ancestors? When famed paleontologist Mary Leakey first uncovered the footprints in Tanzania 40 years ago, the evidence was ambiguous. Leakey focused her attention instead on other fossil footprints that could be more clearly linked to early humans. Those footprints, found at a site called Laetoli G, are the first clear evidence of early humans walking upright. Decades later, a new team re-excavated the confusing footprints, found at a site called Laetoli A, and made photos and 3D scans available for other researchers to continue the debate. The research was published Wednesday in the journal Nature. "These footprints have been in the mystery category for 40 years", said Rick Potts, who directs the Smithsonian Institution's Human Origins Project. "It's a really exciting idea to re-exhume them and study them again", added Potts, who was not involved in the research. What's long perplexed scientists is that those tracks—broad footprints with enlarged fifth toes and estimated to be around 3.7 million years old—don't closely match anything scientists have elsewhere identified. "They didn't have the right weight and foot movement to be easily identified as human, so other explanations were sought", including that they may belong to an extinct species of bears, said co-author and Dartmouth paleoanthropologist Jeremy DeSilva. He and other researchers returned to the site in 2019 and used Leakey's original maps to locate the enigmatic prints, preserved in a layer of volcanic ash that had cooled and hardened. Co-author Ellison McNutt of Ohio University studied the foot mechanics of black bear cubs at a wildlife rescue center in New Hampshire to see whether a small bear walking on hind legs could leave similar footprints. She held a tray of apple sauce to lure the cubs into walking toward her. Each footstep was recorded in a track of mud, to be analyzed. Bears walking upright first put weight on the heels of their feet, like humans, she said. "But the foot proportions aren't the same." She concluded that the fossil footprints were not left by bears. Other factors, such as the spacing of the footprints, led the study authors to conclude that that the footprints were left by a previously unknown species of a very early human ancestor. Not everyone is convinced. Smithsonian's Potts said it's a toss-up between an ancient bear or an ancient human, adding that an ancient bear may have walked differently than a modern black bear. William Harcourt-Smith, a paleoanthropologist at the American Museum of Natural History who was not involved in the research, said he was convinced that it wasn't a bear, but wasn't certain it was an early human. "These prints could still belong to some form of non-human ape", he said. If two different species were walking upright on the landscape at the same time, that suggests different simultaneous experiments in bipedalism—complicating the conventional view of human evolution as strictly linear. "That's really cool to think about", said Harcourt-Smith. © 2021 The Associated Press. All rights reserved. This material may not be published, broadcast, rewritten or redistributed without permission. Dec 03, 2021 0 Dec 03, 2021 0 Dec 03, 2021 0 Dec 02, 2021 0 Dec 02, 2021 0 5 hours ago 21 hours ago Dec 04, 2021 Dec 04, 2021 Dec 03, 2021 Dec 03, 2021 Dec 03, 2021 Dec 01, 2021 Oct 11, 2021 Apr 23, 2018 May 14, 2020 Apr 16, 2021 Jun 11, 2020 Dec 03, 2021 Dec 03, 2021 Dec 02, 2021 Dec 02, 2021 Dec 01, 2021 Dec 01, 2021

Google Photos is reportedly making Locked Folder, a feature that allows users to add password protection to photos they want to keep private, available on more Android smartphones. Locked Folder was exclusive to Google's lineup of Pixel devices when it debuted in May. The company said in October that it would reach other Android phones by the end of the year, however, and Android Police reports that Google appears to have started that rollout. Android Police reports that some Android smartphones, including a Samsung Galaxy A52, "are getting notifications about the new feature." If you see this notification, you can "access your Locked Folder by heading into Google Photos, hitting the Library tab, and then Utilities." Just be warned: Moving a photo into the Locked Folder doesn't simply allow you to protect it with a password; it also removes that image from Google Photos entirely. This kind of local storage offers greater control over who might see that picture, but it also means it can easily be lost. Google said in October that Locked Folder will be available on iOS devices "early next year."

Why you can trust Pocket-lint (Pocket-lint) - Battlefield 2042 is here, and while its launch has been a little bit challenging, there are still a huge number of players sinking in the hours to get new weapons and improve at the game. Battlefield 2042 initial review: A rocky start We've been right in amongst them, trying out all its modes and maps and getting better all the time, and with a wealth of experience from Battlefield games past, we've gathered some tips and tricks for you right here, which should help you as you get used to the game. Check them out below! squirrel_widget_4940981 1. SMGs are a great early bet While updates and patches are improving things all the time, the gunplay at launch in Battlefield 2042 is a little ropey in places, with some guns just feeling a little off, and accuracy frequently inconsistent. However, we've found that for beginners the SMG class is the one to go with. These guns, especially once you unlock the dominant PP-29, offer low recoil and can quickly transition from sprinting to firing, all of which makes them a great place to get started. You can branch out pretty quickly, of course, and change as the situation demands, but to get some fights that don't frustrate under your belt, an SMG is your best bet right now. Dice 2. Take time to practise However, even when you have a couple of guns that you like, BF2042 takes some getting used to, especially if you're new to the series. There are a lot of movement mechanics, gadgets and weapons to try out, and 10 specialists with different abilities to mix into that. We recommend that you drop into solo or co-op matches against bots every so often if you're thinking of trying something new - you'll get a more relaxed environment in which to do so, and can really experiment without costing your team or getting sniped by unreal players. Plus, with weapon levelling activated at the time of writing, it's a great way to get some attachments unlocked before taking a gun into the full online fray. 3. Vehicles need patience If weapons can take some practise, vehicles are even more of a challenge - in particular air options like jets and helicopters. Again, we really recommend that you hop into a solo server and grab some of these without having to nab them in the first 0.01 seconds of a game, and try flying around a bunch. While the controls are a little complex compared to something like Call of Duty Warzone, they give you plenty of control, and if you can get adept with them you'll become a huge asset to any team you join. 4. Spawn carefully Respawning in BF2042, like most Battlefield games before it, can be a delicate matter. Whether you're playing Conquest, Breakthrough or other modes in Portal, you'll want to get close to the action by spawning near a fight, but not so close that you die instantly upon arriving. We like to use Spawn Beacons, which you unlock at level 16, to have a bit more control and direct our squad to a location near the battle, but not too close. However, occasionally spawning further back in order to set off on a big flank, or to sit back and snipe, are also well worth considering. Dice 5. Make the most of the Plus system We love the Plus system, BF2042's weapon customisation, although figuring out how to customise it may take you a few minutes in the menus. You can set up a gun to have the options you actually want, so that you can quickly swap between configurations without having to respawn. This is game-changing, and really does let you change things as you like, and it unlocks a whole lot of control for you. Be sure to spend the time to set things up before a game, once you've unlocked a few attachments for a given gun, and you'll reap the benefits. 6. Other modes offer changes of pace Speaking of game modes, while Breakthrough and Conquest are the main modes, don't forget about Hazard Zone and indeed Portal - these two can give you a huge amount of rewarding gameplay that breaks up the pace a little. Whether it's the increased tension of Hazard Zone or the option of smaller maps and modes on Portal, you can get a more gunplay-focussed fix, and both offer a really nice way to break things up if you're struggling with the point-capture mechanics of All-Out Warfare. 7. Be a team player Regardless of your mode, though, being a team player is key in Battlefield - this isn't a lone wolf run-and-gun simulator like Call of Duty. If you're not making the biggest dent on the kills side, consider choosing the medical or ammo crate as your gadget and helping out on the frontline. Restocking players' ammunition and health is vital, as are revives, and you'll get plenty of XP for it, too. Playing as certain specialists will help this, too like Falck who can revive allies to full health, or Boris whose turret can help stop flanking enemies. Dice 8. Follow your squad leader Within your huge 64-player team, though, you'll be in a four-player squad, and playing coherently in this smaller group is just as important. Each squad has a randomly-assigned squad leader who can give orders to their squadmates, such as nominating a point to charge towards or bunker down in. This is a great way to make sure that everyone pulls together for a bigger impact on the match, and you get XP bonuses at the end of a round to reward your teamplay, so we really recommend obeying squad orders when you get them. 9. Be the change you want to see This is a Battlefield game, though, and even with the best squad in the world there will be times when you get penned in by helicopters or repeatedly blasted by a tank, and that's where seizing the initiative becomes key. Rather than spawning over and over to the same result, make a change! Equip the anti-air launcher, sneak up with some C5 or hop into a vehicle of your own to counter the threat, and make sure to do it before the match has been lost. This sort of tacticaly flexibility is key if you're going to get wins under your belt. squirrel_widget_4940981 Steelseries celebrates its 20th anniversary, a legacy of glory By Pocket-lint Promotion · 5 December 2021 Writing by Max Freeman-Mills. Editing by Britta O'Boyle. Originally published on 25 November 2021.

Amazon Fire TV devices are a great way to stream your favorite TV shows and movies, but do you really need to use a VPN on your Fire TV Stick? If care at all about your privacy, don't want advertisers to treat you like data-producing livestock, and want to get past streaming service geoblocking, then yes, we highly recommend using a Fire TV Stick VPN. Long gone are the days of viewer anonymity that we enjoyed with the now-extinct bunny-eared TV antennas. Thanks to the rise of the smart TV, now we're in the age of smart surveillance. And as with any other internet-connected device in the home, your media habits are subject to monitoring by your ISP, malicious snoops and Uncle Sam. But luckily, drawing the encryption curtains on would-be peepers isn't too difficult with the help of these top VPN picks for Amazon Fire Stick users. As I would do for other types of devices, I recommend avoiding a free VPN for your Fire TV Stick and instead -- if you're on a disciplined budget -- sticking to a tried-and-true paid VPN that offers the cheapest deals. Two important callouts for this list: First, each of these are available as an app on current versions of the Fire Stick -- just search the store for the VPN app as you would for any other streaming app, such as Showtime and Hulu. Second, you'll notice all my recommendations are drawn from the top three performers in CNET's directory of the best overall VPNs to use in 2021. That's primarily due to the obstacle course CNET puts VPN services through during testing and evaluation. A key factor in securing a top spot on the list is a VPN's platform compatibility, so it's little surprise that my top three picks are VPN services that work on a wide range of devices and systems. However, when we evaluate VPNs for Fire TV Stick use, the priorities are straightforward. We're looking for the fastest, most streaming-friendly services with strong-enough security to keep your service provider blind to your whereabouts and your ISP blind to your content choices. Here are our picks for the best VPN for Amazon Fire Stick users. Editors' note: Following the Sept. 13 sale of ExpressVPN to Kape Technologies, a company that has raised significant privacy concerns for us in the past, we're carefully re-evaluating ExpressVPN to determine the implications that its new ownership may have on users' privacy. We'll update our recommendations and reviews if and when warranted. The three services above are my favorites, whether you're using an Amazon Fire TV device or some other device. But note that these other services are also available as downloadable apps on the Fire TV platform: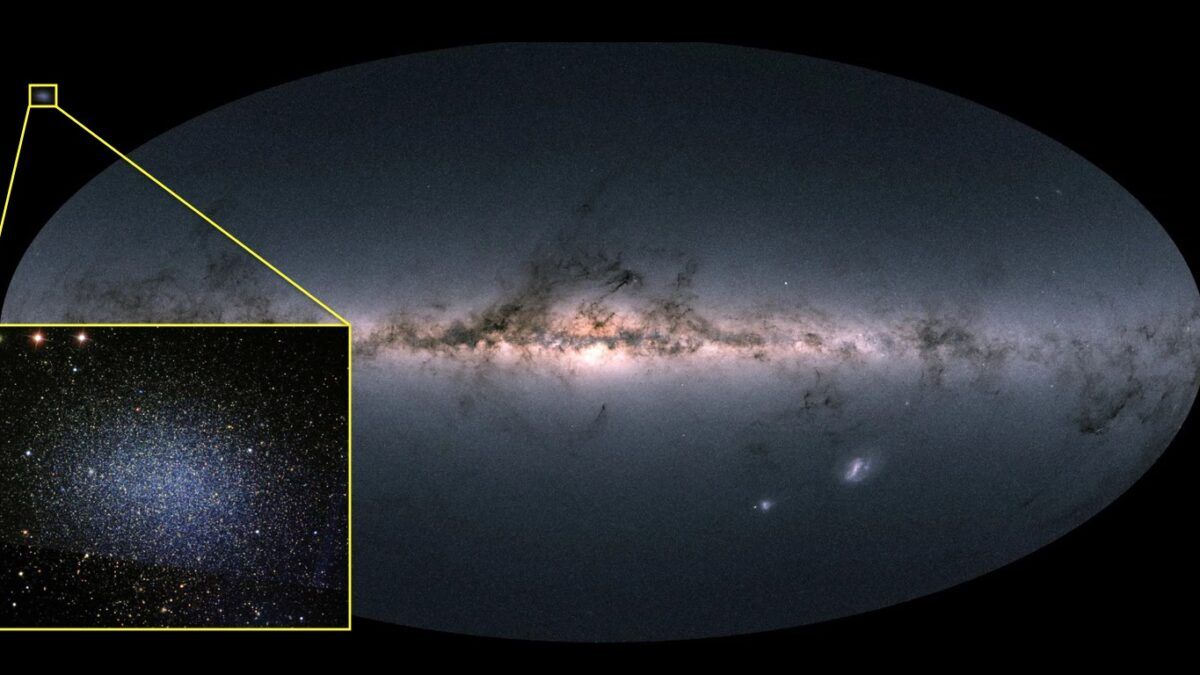 A tiny galaxy orbiting at the outskirts of the Milky Way appears to have a giant black hole at its center, comparable to that of the much larger Milky Way itself, and scientists don't know why. The Leo I dwarf galaxy, some 820,000 light-years from Earth, is only about 2,000 light-years across. Until now, astronomers thought the galaxy's mass was about 15 to 30 million times the mass of our sun. That's tiny compared to the Milky Way, which is estimated to weigh as much as 1.5 trillion suns and whose disk is over 100,000 light-years wide. Unexpectedly, at the heart of the little Leo I sits a black hole that is nearly as large as the one at the heart of the entire Milky Way, a new study found. The discovery defies expectations as astronomers believed giant black holes grow from collisions between galaxies and should correspond with the galaxy's size. Related: 8 ways we know that black holes really do exist "There is no explanation for this kind of black hole in dwarf spheroidal galaxies", María José Bustamante, an astronomy doctoral graduate at the University of Texas, Austin and lead author of the new paper, said in a statement. The discovery came rather by chance. The scientists originally set out to measure the amount of dark matter in Leo I using the Virus-W instrument on the University of Texas' McDonald Observatory's 2.7-meter Harlan Telescope. Virus-W measures the motion of stars in small galaxies around the Milky Way and infers the amount of dark matter in those galaxies from those motion. Dark matter is the mysterious invisible stuff that counteracts the force of gravity. Scientists can measure its concentrations in the universe based on its effects on orbits and velocities of nearby stars. The more dark matter in the star's orbit, the faster it travels. When the team ran data gathered in the observations through their computer models, they found that Leo I appears to have basically no dark matter but a black hole at its center as heavy as 3 million suns. (The Sagittarius A* black hole at the center of the Milky Way is only 25% larger.) "You have a very small galaxy that is falling into the Milky Way, and its black hole is about as massive as the Milky Way's", Karl Gebhardt, an astrophysicist at the University of Texas, Austin, and a co-author of the new study, said in the statement. "The mass ratio is absolutely huge." The results differ from previous calculations of dark matter in the Leo I galaxy, the astronomers admitted in the statement. The previous studies, they said, were based on less precise data and didn't have access to such powerful supercomputers as the Austin team. Related content: — The strangest black holes in the universe Did astronomers see the light from two black holes colliding for the first time? — Black Hole Quiz: How Well Do You Know Nature's Weirdest Creations? In previous studies, scientists didn't see the denser inner regions of the galaxy and mostly focused on accessible information about a few individual stars. These data sets, however, seemed to contain a disproportionate number of slow stars. Calculations based on these biased dataset then failed to reveal the dark matter in the inner regions. In the case of Leo I, the amount of dark matter in the previously unseen central regions appears much higher than that at the fringes. The study was published on Dec. 1 in The Astrophysical Journal. Follow Tereza Pultarova on Twitter @TerezaPultarova. Follow us on Twitter @Spacedotcom and on Facebook.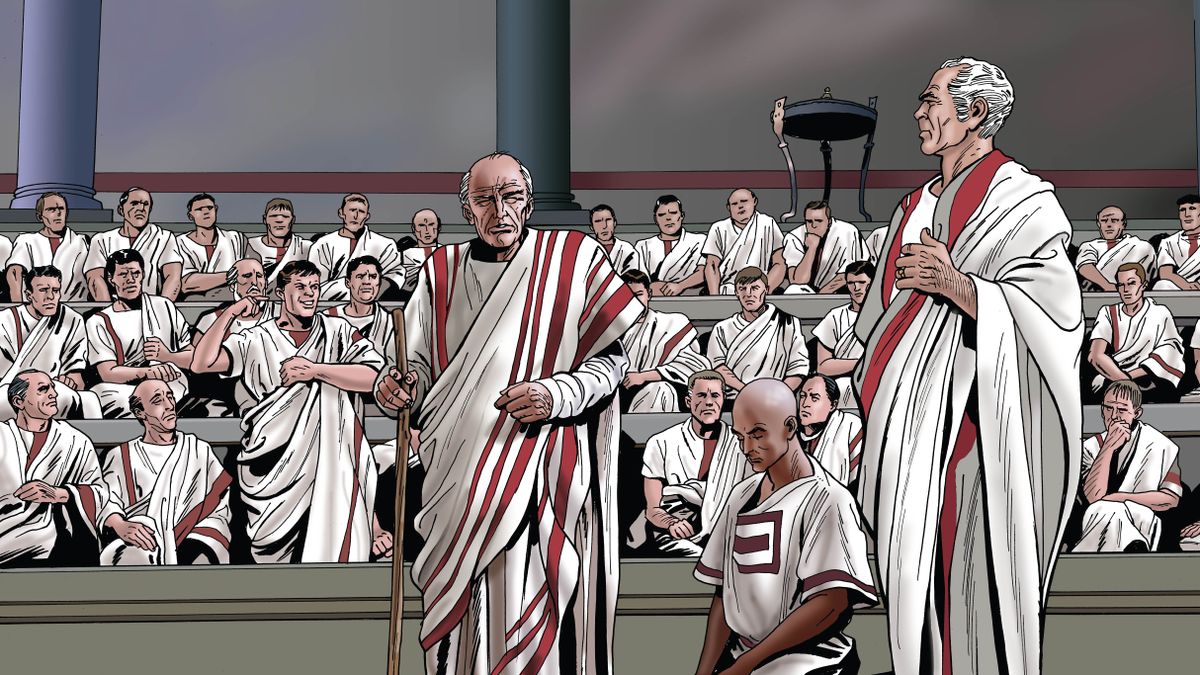 The Roman Republic was a form of government in Rome that lasted from around 509 B.C. to 27 B.C. According to ancient Roman writers, the Roman Republic emerged in 509 B.C., after the last king of Rome was deposed. Modern-day historians often consider the official end of the Roman Republic to be 27 B.C., which was the year that Octavian — who had risen to become the ruler of Rome — was given the title "Augustus" (a title that means "revered one") by the Roman senate. The Roman Republic was a period of territorial expansion presided over by a government that was designed to represent both the wealthy and poor citizens of ancient Rome. While this system somewhat benefited Roman citizens, it often resulted in harsh treatment for anyone who was not a citizen of Rome. Slow expansion Surviving historical and archaeological remains indicate that it took centuries for Rome to conquer all of Italy. Progress was very slow with the conquest of even a single city, sometimes taking a century; for instance "the whole fifth century B.C. was taken up with battles against the wealthy and powerful Etruscan city of Veii", wrote Klaus Bringmann, who was a professor of Greek and Roman history at Johann Wolfgang Goethe University in his book " A History of the Roman Republic " (Polity Books, 2007). It wasn't until 396 B.C. that Veii "was conquered and destroyed", wrote Bringmann. Any celebratory attitude in Rome was undone when the Gauls sacked Rome in 390 B.C. Rome recovered, however, and in the fourth century B.C. the Roman military fought against both a people called the "Samnites" and a group of cities known as the "Latin League", wrote Bringmann, noting that at times Rome was allied with Carthage, a city against which it would later fight a series of wars. The Gauls defeat the Romans and demand ransom; when the Romans complained about a false weight on the scale, the leader of the Gauls, Brennus, put his sword on the scale in 390 B.C. (Image credit: Leemage/Corbis via ) Rome gradually took over cities and territories in Italy, employing a variety of tactics, Bringmann noted. Sometimes Rome built a colony on newly conquered territory. Sometimes a city would join with Rome, its inhabitants granted full or limited Roman citizenship. At other times, a city would agree to form an alliance with Rome and promised to provide troops to Rome when requested. These tactics would gradually see Rome take control of much of the Italian mainland during the fourth and third centuries B.C. With these tactics, Rome built up a large force of soldiers who were either Roman citizens or citizens of cities allied with Rome. The Greek historian Polybius (ca. 200 B.C. — 118 B.C.) claimed that by 225 B.C. Rome could field a force of over 700,000 soldiers. "None of the great Mediterranean powers with whom Rome fought wars in the third or second centuries B.C. could match figures of this kind", Bringmann said. This large source of military manpower meant that Rome could readily replace soldiers who had been killed or wounded. This proved important during many conflicts. For instance, between 280 B.C. and 275 B.C., Rome fought a war against King Pyrrhus, who ruled a kingdom called "Epirus" that incorporated parts of modern-day Albania and northern Greece. During this war, Pyrrhus won several military victories during which both sides sustained heavy casualties. However, while the Romans could readily replace their losses, King Pyrrhus could not and ultimately his forces were whittled down and defeated during the war. The term "Pyrrhic victory" is used today to describe a victory that takes a heavy toll on the victor, a toll heavy enough that it may prevent them from winning a war. What was the Roman Republic? A modern-day artist's depiction of the Roman senate, an institution that was vital to the Roman Republic. (Image credit: Shutterstock) The Roman Republic used a complex system that incorporated a senate, consuls, magistrates, tribunes, and at times a dictator and other public officials. This system changed over time, incorporating the interests of both the patricians (the families of Rome that were from a noble, elite, background) and the plebeians, Roman citizens who were not nobles and often came from poorer backgrounds. By 366 B.C., this system consisted of two consuls; a praetor, plebeian tribunes (who could hold a great deal of power); quaesters (who specialized in financial affairs); two aediles (who were in charge of public safety, grain supply, Rome's markets and public religious games); censors (who kept track of Rome's population); a senate; several magistrates; a plebeian assembly (or council); a centuriate assembly and at times a dictator who, with the approval of Rome's senate, could hold absolute power for six months during a military campaign, Bringmann said. By 321 B.C., the republic established a rule that required one consul to be from a patrician background and one from a plebeian background. For voting purposes, citizens were often divided into a system of centuries and tribes, a person's wealth or geographic location sometimes having a bearing on which century and tribe they belonged to, wrote Bringmann. As time went on, and Roman territory expanded, the republic system broke down and sometimes led to two or more strongmen fighting for control of Rome. The Punic Wars Rome fought three wars against Carthage, a city in North Africa, that ended in Rome gaining control of Sicily, Sardinia, Corsica and parts of Spain and North Africa. The first war, which lasted from 264 B.C. to 241 B.C., saw battles in Sicily, Malta, Lipara, the coast of mainland Italy, North Africa and the Mediterranean Sea, wrote Bringmann, noting that Rome built up its navy during this lengthy war. During the final battle of the first war, Rome gained naval superiority, trapping a Carthaginian force in Sicily. Carthage ceded a sizable amount of territory, including Sicily, to Rome. The second Punic War occurred from 218 B.C. to 201 B.C., when the Carthaginian general Hannibal led an invasion force overland through the Alps into Italy, allying with the Celts. This force moved south through Italy, capturing several towns but taking sizable losses. Meanwhile, the Romans invaded North Africa, forcing Hannibal to retreat. The Romans succeeded in conquering Carthage, forcing the city to give its remaining territory, and cede its autonomy, to Rome, Bringmann wrote. In this painting, Hannibal is showing crossing the Alps during the second Punic War. (Image credit: Fine Art Images/Heritage Images/ ) During the third Punic War, fought from 149 B.C. to 146 B.C., a Roman force landed in North Africa and destroyed Carthage, wiping out the city. This destruction would lead to a myth that the Romans "salted the earth" after Carthage's destruction to make it harder for anyone living in the area to grow crops where Carthage once stood. While the myth is not true, and the Romans eventually built a new city where Carthage had stood, the wars left Rome as the most powerful state in the Mediterranean, putting it in a strong position to expand its power eastward into the Balkans, Greece and the Middle East. Key to Rome's victory was the fact that it had a much larger military force to draw on. Polybius claimed that during the second Punic war the Carthaginian general Hannibal invaded Italy with fewer than 20,000 men, while the Romans could draw on over 700,000 to counter this invasion force. Bringmann noted that during the Punic Wars, Carthage tried to augment its troops by hiring mercenaries — something that put a financial burden on Carthage as it had to come up with cash to pay a mercenary force. Rome expanded in the Balkans and Greece between the second and third Punic Wars, gaining territory that it held either direct or indirect control over. The year 146 B.C. proved pivotal, as Rome not only destroyed Carthage but also Corinth, a city in Greece that had opposed Roman expansion into the eastern Mediterranean. "Rome had now annihilated its richest, oldest and most powerful rivals in the Mediterranean world", wrote Mary Beard, a professor of Classics at the University of Cambridge, in her book " SPQR: A History of Ancient Rome " (Liveright, 2016) With both Carthage and Corinth destroyed, Rome secured an immense territory that included Sicily, Sardinia, much of Iberia, parts of North Africa and a considerable amount of Greece. It also controlled territory in the Balkans. Roman governors often controlled the recently conquered territories, sometimes profiting personally from the territory they ruled, wrote Beard, noting that in 149 B.C. a permanent court was set up in Rome so that foreigners could seek redress against Roman governors who had taken property from them. Private companies who bid on contracts sometimes collected taxes in the newly conquered territories, wrote Beard. The company would try to make a profit by keeping anything over the amount it bid on, providing an incentive for them to mistreat individuals, Beard wrote. End of the Roman Republic In the period after 146 B.C., Rome's territory continued to grow, but the city's republic government crumbled. Strongmen such as Sulla, Pompey, Crassus, Julius Caesar, Mark Antony and Octavian vied for control of Rome. Civil wars and violent unrest occurred during this time. The Roman historian Sallust (lived 85 B.C. to 35 B.C.) believed that the increasing amount of wealth in Rome, generated partly through Rome's conquered territories, helped bring about the rise of these strongmen and the fall of the Roman Republic. "The lust for money first, then for power, grew upon them; these were, I may say, the root of all evils", wrote Sallust (translation by John Carew Rolfe). "Roman historians regretted the gradual destruction of peaceful politics. Violence was increasingly taken for granted as a political tool. Traditional restraints and conventions broke down, one by one, until swords, clubs and rioting more or less replaced the ballot box", Beard wrote in her book. In the period after the destruction of Carthage and Corinth, tensions spiked between Rome's poorer and wealthier classes. On three occasions, Roman senators killed tribunes of the people after they pressed for land reform or the distribution of free food to Rome's poor, Beard wrote. In 121 B.C., after a tribune named Gaius Gracchus was killed, those who supported the senators and murdered him went on a killing spree. Roman historical records say that the "bodies of thousands of [Gaius Gracchus'] supporters clogged the river", wrote Beard. Another problem the republic faced was that many communities in Italy had limited or no citizenship status, leaving them unrepresented in the republic government and more vulnerable to abuse. The "social war", fought between 91 B.C. and 88 B.C. saw a number of communities in Italy rebel against Roman rule. "It involved fighting throughout much of the peninsula, including at Pompeii where the marks of the battering by Roman artillery in 89 B.C. can be seen even now on the city walls", wrote Beard, noting that in the end Rome offered citizenship to people in Italy who had not taken up arms or who were prepared to lay them down. Taking advantage of the instability, a Roman consul named Lucius Cornelius Sulla marched on Rome with the forces under his command. Sulla wanted command of a military expedition against Pontus, a kingdom around the Black Sea. He got the command and four years later, after defeating Pontus, he marched on Rome and had himself appointed dictator, Beard wrote. Sulla then "presided over a reign of terror and the first organized purge of political enemies in Roman history", Beard wrote. "The names of thousands of men, including about a third of all senators, were posted throughout Italy, a generous price on the heads for anyone cruel, greedy or desperate enough to kill them", Beard wrote. Sulla resigned in 79 B.C. and died the following year. In the wake of Sulla's death Rome found itself fighting wars in Spain, Thrace and, most seriously, in Italy itself where an escaped gladiator named Spartacus built up an army that may have numbered 40,000 people. It was made up of slaves who had escaped their Roman captors and freedmen who decided to join their cause. Spartacus defeated several Roman forces before being defeated himself in 71 B.C. The strongmen would keep rising up. In 66 B.C., Gnaeus Pompeius Magnus (also called "Pompey") became leader of a Roman army that fought against Pontus, conquering the kingdom. Pompey also campaigned in Judea, conquering Jerusalem in 63 B.C. and returned to Rome in triumph in 60 B.C. Pompey formed a triumvirate with Julius Caesar (100 B.C. - 44 B.C.) and Marcus Licinius Crassus (115 B.C. — 53 B.C.) that governed Rome and its growing number of territories. Crassus was one of the richest, if not the richest, man in Rome and used his wealth to help build his political power. Caesar grew his power base by becoming commander of an army that conquered Gaul and campaigned in Britain between 58 B.C. and — 50 B.C. Crassus also tried his hand at being a military leader but was not so successful and was killed in 53 B.C. while campaigning in the Middle East against the Parthians. After the death of Crassus, tensions grew between Caesar and Pompey and in January 49 B.C. Caesar led his troops across the Rubicon river (the boundary of northern Italy) and marched on Rome. Some historical records say that when Caesar crossed the Rubicon he said words that are sometimes translated as "the die is cast." Pompey retreated to the east to gather reinforcements and faced Caesar in Greece, suffering a decisive defeat at the Battle of Pharsalus in 48 B.C. Pompey fled to Egypt after this defeat, hoping to gain support from Egyptian pharaoh Ptolemy XIII, the teenage ruler of ancient Egypt; however, the pharaoh decided to kill Pompey and give his head to Caesar. Caesar stayed in Egypt for a time, ordering that Cleopatra VII become co-ruler of Egypt. Ptolemy XIII tried to fight Caesar and Cleopatra, but he was killed in 47 B.C., either by Roman forces or by drowning while attempting to flee Rome's army. Cleopatra and Caesar began a romance that resulted in her giving birth to a son, Caesarion. Whether the child was truly Caesar's is a matter of debate among historians. Though Pompey was dead, there were forces loyal to him and Roman senators (such as Cato the Younger) who refused to accept Caesar's rule; battles against these Pompey loyalists took place in North Africa and Spain. There were also battles against Pontus, the Black Sea kingdom that Pompey had defeated just a few decades earlier. After a successful battle against a force from Pontus, Caesar supposedly uttered words in Latin that are translated as "I came, I saw, I conquered" or "I came, saw and conquered." But no matter how much conquering Caesar did, there were still many in Rome who opposed the idea of one man having so much power. In 44 B.C., the Roman senate named Caesar "dictator for life." While Caesar had enough support from the senate to get the measure passed, many senators, led by Brutus and Cassius, were opposed to giving Caesar the title. On March 15 of that year, the Ides of March, a group of senators stabbed Caesar to death inside the senate. In the wake of Caesar's death, three major factions amassed power in Rome. One was led by Octavian, Caesar's great-nephew, who in Caesar's will was named as his adopted son and heir. The other was led by Mark Antony, one of Caesar's generals, while the other faction was led by Brutus and Cassius. Forces loyal to Octavian and Antony battled against each other in northern Italy and Gaul for a brief period, before the two men decided to form an alliance against Brutus and Cassius. The combined forces of Octavian and Antony marched east, facing off against Brutus and Cassius' force in Greece, decisively defeating the two in 42 B.C. at the Battle of Philippi. Octavian and Antony settled into an uneasy truce forming a triumvirate with a politician named Marcus Aemilius Lepidus. Antony married Octavian's sister Octavia however it was an unhappy marriage with Anthony forming a romance with Cleopatra VII that led to Antony and Cleopatra having three children together. The Battle of Actium was the decisive confrontation of the Final War of the Roman Republic, a naval engagement between Octavian and the forces of Mark Antony and Cleopatra in 31 B.C. (Image credit: Bildagentur-online/Universal Images Group via ) The truce broke down within a decade with the two finding themselves in a conflict that would pit Octavian, who controlled troops based in the western half of the Roman Republic, against the combined forces of Antony and Cleopatra, who together controlled both Egypt's troops and Rome's forces in the Middle East. In September of 31 B.C., Octavian's forces destroyed Antony and Cleopatra's naval forces at the Battle of Actium. Octavian's forces were able to land in Egypt and, after some fighting, were able to capture Alexandria. Both Antony and Cleopatra died by suicide in 30 B.C., not wishing to be held captive by Octavian's forces. Octavian's forces then took control of Egypt, turning it into a Roman province. After decades of nearly constant civil war, Octavian became the last strongman standing. In 27 B.C., the senate gave him the name "Augustus", a title that can be translated as "revered one", wrote Beard. Modern-day historians sometimes consider 27 B.C. to be the year that the Roman Republic fully came to an end. The decision by some modern day historians to mark 27 B.C. as the start of the Roman Empire is somewhat arbitrary. While the title "Augustus" cemented Octavian's position as sole ruler, he had, for all practical purposes, assumed full control in 30 B.C. after the death of Antony and Cleopatra VII. Additional resources Kids can learn more about ancient Rome and the Roman Republic with this book published by Dinobibi. For adults, Klaus Bringmann wrote an in-depth book about the history of the Roman Republic. Check out this Smithsonian Magazine article, " Lessons in the Decline of Democracy From the Ruined Roman Republic."

Endocrine disrupting chemicals -- which interfere with how the body's hormones work -- can obstruct normal reproduction in animals. Bisphenol A and 17a-Ethinylestradiol (EE2) are two common chemicals of this nature. BPA is an endocrine disruptor and is found in a lot of different plastics like water bottles and EE2, commonly found in birth control pills, enters into the ocean from human waste and wastewaters of manufacturing plants and hospitals. "In Indonesia, for example, there are beautiful coral reefs found below a lot of garbage, so anything that enters the water is affecting the fish", said Jose Gonzalez, a former undergraduate researcher in the Rhodes group. "There have been previous studies that have established that these pollutants tend to feminize animals like freshwater fish, rats, mice, and even humans", said Justin Rhodes (GNDP), a professor of psychology. "However, no one has studied their effects on a fish whose sex is totally determined by the environment." A. ocellaris live in small groups with one alpha female, one beta male, and lower ranking non-reproductive males. Their sex is not genetically programmed and, instead, is dependent on environmental cues: A male transforms into a female if the female is removed from the group or if males are paired together. "We looked at these fish specifically because they can transition from male to female helping us understand how BPA and EE2 can affect reproduction", said Sarah Craig, an undergraduate research assistant in the Rhodes group. The researchers paired sexually immature, male fish and fed them twice daily with normal food, food containing BPA, or EE2. There were 9 pairs of fish per group and they were monitored for six months. The amount of BPA and EE2 were determined based on the environmental concentrations of these chemicals. "Since these fish are able to change their sex, we looked at different indicators such as behavior, gene expression in the brain, and hormone levels", said Abigail Histed, an undergraduate research assistant in the Rhodes group. "Interestingly, other than behavior, we found a feminizing effect in all the other categories." The researchers found that fish that were fed BPA had no testicular tissue, lower androgen levels, just like female fish, and increased expression of genes in the brain that are responsible for feminization. Surprisingly, although females tend to be more aggressive, BPA decreased aggression in these fish. In contrast, the effects of EE2 were similar, but less pronounced. "In nature, the females are very aggressive and do not tolerate the presence of other females", Rhodes said. "We discovered that although BPA is feminizing the gonads, the fish are not that aggressive and can live with each other. These results suggest that the feminization in the brain occurs independently of gonadal hormones." It is still unclear how BPA is exerting its effects. In other studies BPA was thought to bind to estrogen receptors. However, since EE2 is an estrogen mimic and had subtle effects, the researchers believe that BPA has other additional effects. "BPA could be affecting other hormone receptors or interfering with androgen signaling. It could be a mix of different effects and we don't know yet", Rhodes said. The implications of the findings, however, are clear. "These fish can only change their sex from male to female. If BPA is turning them female in the wild, they can't go back to being a male and that can influence their population numbers", Gonzalez said. The researchers are interested in investigating the effects of EE2 further. Specifically, they would like to use higher concentrations of EE2 because they are concerned that the administered levels were not high enough. They would also like to follow the fate of these fish for longer since the fish normally take more than six months to mature completely. "A longer time frame would be better to compare the degrees of feminization with BPA compared to natural feminization. Maybe they do eventually fight and kill each other and it's something we missed with a shorter time frame", Rhodes said.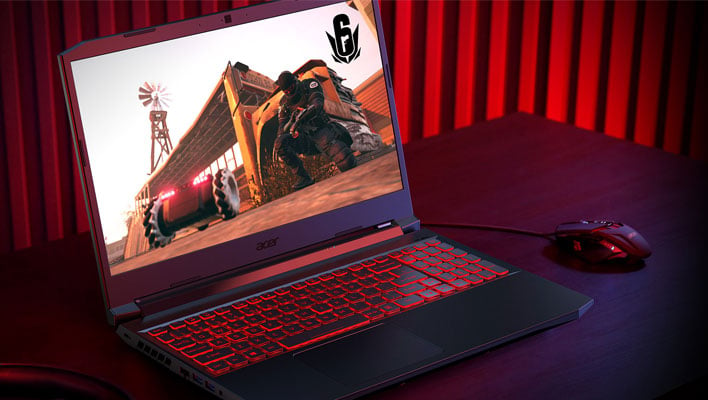 More evidence is piling up to suggest Intel will soon be expanding its Alder Lake universe with mobile chips for laptops. Our best guess is a Consumer Electronics Show unveiling next month. We'll see, but in the meantime, another overseas retailer has posted listings for gaming laptops with unreleased and unannounced Alder Lake laptop chips. There are three of them, all of which are part of Acer's Nitro 5 lineup. The most potent of the bunch (AN515-58) rocks a Core i7-12700H processor paired with a GeForce RTX 3070 Ti GPU, which is another part that could see an unveiling next month (NVIDIA's current mobile Ampere stack consists of the GeForce RTX 3080, 3070, 3060, 3050 Ti, and 3050). Less impressive is the paltry 8GB of DDR4-3200 memory that's situated in this thing. Other features include a 512GB solid state drive (NVMe, undoubtedly) and a 15.6-inch IPS display with a 2560x1440 resolution and fast 165Hz refresh rate. Based on past leaks, the Core i7-12700H is expected to debut with in a 14-core/20-thread configuration comprised of six P-cores (Golden Cove) with Hyper Threading support, and eight E-cores (Gracemont). And as for the GeForce RTX 3070 Ti mobile GPU, it's not clear how many CUDA cores it will have (somewhere between 5,120 and 6,144), only that it is expected to arrive with 8GB of GDDR6 memory tied to a 256-bit memory bus. The Alder Lake laptop is listed at PC21, a retailer in France, with a price of €1,530.13 (around $1,730 in US currency). That's quite a bit lower than the price points for a set of recently leaked MSI laptops with mobile parts that have not been announced yet, albeit those were also higher-end configurations. There are two other Acer Nitro 5 laptops with Alder Lake on board that appear at the French retailer's website. They include the AN517-55 (17.3-inch, 1080p, 165Hz) and AN515-58 (15.6-inch, 1080p, 144Hz), both of which pair a Core i5-12500H CPU with a GeForce RTX 3050 Ti GPU. The Core i5-12500H also sports a hybrid design, but with four P-Cores, eight E-Cores, and 16 threads. Clock speeds are not yet known. We should find out soon, though, as these retail listings strongly hint that formal launches are not too far away.

This week's image from the Hubble Space Telescope shows a picture-perfect galaxy, known somewhat unimaginatively as Mrk 1337. It is located 120 million light-years away in the constellation of Virgo, and is a weakly barred spiral galaxy. A spiral galaxy is one like our Milky Way, in which "arms" of stars reach out from the busy center of the galaxy to form a spiraling shape. And a "barred" spiral galaxy is one that features a central bar — again, like the Milky Way — which is where dust and gas give birth to new stars in an elongated region in the center of the galaxy. This galaxy's bar is only a weak one, which means it is hard to see, but you can see a clearer bar in images of other galaxies such as Hubble's previous image of galaxy NGC 7773. "Hubble's Wide Field Camera 3 snapped Mrk 1337 at a wide range of ultraviolet, visible, and infrared wavelengths, producing this richly detailed image," Hubble scientists write. By capturing data in different wavelengths, scientists can see different features of the galaxy. By looking in the infrared wavelength, for example, telescopes can "see" heat and identify which areas of an image are warmer than others. And by looking in the ultraviolet wavelength, Hubble can see the illumination of hotter objects like very young stars. Astronomers can combine observations from the visible light, ultraviolet, or infrared wavelengths to pick up different features and get a more detailed overall look at an object — in this case, this beautiful spiral galaxy.

If you keep to a plant-based diet, you're not excluded from the easy meal kit and meal delivery revolution. There are some truly excellent vegan and vegetarian meal delivery services that will send premade meals or pre-measured ingredients for tasty meat-free meals. The best vegetarian meal subscriptions I've tried are ones that keep the recipes interesting and the food fresh -- always a winning combination. But not all plant-based meal services are created equally, so we tried a whole bunch to find the best vegetarian (and vegan) meal delivery in 2021. Vegan and vegetarian food isn't hard to come by, and neither are meal delivery services. Unsurprisingly, there are now dozens of services that'll send vegan-ready meals to your home, giving you back time and the ability to keep your healthy eating goals on track. Many of these ready-to-cook or ready-to-eat meal subscriptions have sprawling menu options filled with plant-based meals. These healthy meal services are perfect for folks looking to cut down on meat consumption but also for meat-eaters who want to add a few more vegetarian and vegan meals to their diet. Purple Carrot is still the only fully dedicated vegan meal-kit service -- there are no animal products or animal byproducts used in any of its recipes -- but most other meal kits and meal-delivery services have plenty of vegan or plant-based recipes, meals and snacks. Green Chef, for instance, offers as many as nine organic vegan or vegetarian meal kit recipes per week in addition to its lineup of meals that have meat. HelloFresh has roughly six plant-based options per week, and Sunbasket -- the best overall meal kit service by my unscientific calculations -- offers three or four vegetarian or vegan meals along with a full market of vegan-friendly grocery items and snacks you can add to your weekly order. The same goes for prepared meal-delivery services, which require no cooking at all. There are a few strictly vegan meal services like Veestro, Mosaic and Daily Harvest to peruse, but even services that provide meaty meals (such as Fresh n' Lean and Factor) offer vegan and vegetarian plans -- with as many as 12 plant-based options a week to keep you well-fed, even when there's no time to cook. These vegan meal services often send frozen vegan meals, but some will send their meals fresh, wrapped up with eco-friendly ice packs and recyclable coolers. You may be wondering, with all these plant-based players in the game, which is the best meal delivery service for vegans and vegetarians in 2021? The answer varies a bit depending on what you're looking for, and each meal kit or delivery operation takes a slightly different approach. For example, some vegetarian meal-kit companies use plant-based foods like Impossible Burger that imitate meat, while others emphasize whole foods in lunch and dinner recipes. There are also vegetarian meal kits that specialize in organic ingredients and produce, in case that's important to you, while others aren't organic but are able to offer more budget-friendly meal plans. Some meal kits are also more complicated to execute, aimed at chefs with cooking experience looking to hone their skills, while others are quick to prepare and help you get a healthy, no-fuss dinner on the table sometimes in as little as 20 minutes. Having personally tested as many of the plant-based meal kits and prepared meal services as I could get my hands on, I've settled on this list of the absolute best meal delivery for vegans and vegetarians in 2021. We'll continue to update this list periodically as new players enter the arena. Read more: Best healthy meal delivery services for 2021 Read more: Best prepared meal delivery for 2021 The information contained in this article is for educational and informational purposes only and is not intended as health or medical advice. Always consult a physician or other qualified health provider regarding any questions you may have about a medical condition or health objectives.

The Galaxy S21 impressed us with its pro-level camera, vibrant screen and speedy processor. But now that the smartphone is nearly a year old, what will Samsung's rumored Galaxy S22 have in store? The Galaxy S22, which could arrive during a February Unpacked event, is said to sport a 200-megapixel picture sensor and a smaller display, among other features. (Check out how the Galaxy S22 could stack up against the Galaxy S21 and the Galaxy S21 FE.) As a demanding tech addict, I have my own wish list of features I'd like to see in Samsung's upcoming phone. We've already had the launch of the Apple iPhone 13 and Google's Pixel 6. Those phones may well influence Samsung's plans for its own phones. Expect to see this article updated as the months progress, and keep an eye on CNET's ongoing rumor roundup for the latest on the Galaxy S22 series and the Galaxy S21 FE. Read more: Next year could bring 5 exciting new smartphones Here then, are my top five wishes for the Galaxy S22. The camera on the S21 Ultra is superb, with an awesome optical zoom that lets you get shots that few phones can compare to. But it wasn't a big upgrade over the S20. Both had 100x zooms, both did 8K video, both had 108-megapixel sensors. The S20 Ultra was the big leap forward, the S21 Ultra just refined it slightly. It's time then for a bigger update, and some early rumors suggest a 200-megapixel sensor and much-improved zoom systems on the S22 Ultra. That would be lovely, but more megapixels doesn't necessarily mean better photos, so I'd also like to see an even bigger image sensor -- maybe a 1-inch sensor. It's no secret that a bigger image sensor allows for better dynamic range in a photo. If Samsung paired that resolution with a big sensor capable of capturing tons of light and contrast details it could have an absolutely astonishing camera system on its hands. But Samsung needs to make sure its software is on point too. There are more advances needed to allow for improved computational photography and better raw image capture. Apple's ProRaw has blown me away: It can capture beautiful HDR images that still give me full control over editing in apps like Adobe Lightroom, just as I would with any raw file from a DSLR. Samsung's software isn't quite at that level and I'd like to see more focus here. Samsung used to allow you to expand the base storage of its phones with microSD cards, but it removed that option with the S21 range. This means you're stuck with only the phone's built-in storage. That might not be an issue on lower models in the range, particularly if you don't shoot a lot of video or play many demanding games, but if you're into your photos and videos and you plumped for the Ultra model, that base storage can be limiting. If you shoot 8K videos on the S21 Ultra you'll know that you can fill up that storage quickly -- and it'll go even faster if Samsung brings 200-megapixel photos to the S22. I can't even begin to imagine how big those files might be. The 512GB maximum storage currently available on the S21 Ultra won't last long. Even if you're not into photography, there are plenty of glossy games on the Google Play store (such as Asphalt 9: Legends) that are multiple gigabytes in size and may result in you having to delete other apps or media in order to make room. Popping in a microSD card would allow you to dramatically increase the storage by 1TB or more, which would give a huge amount of space for all your apps and videos. But then Samsung wouldn't be able to charge you extra for a higher-capacity model, so don't cross your fingers for this one. The S21 series already offers superb performance all-round, but a partnership between Samsung and graphics chip manufacturer AMD has us hoping for a big leap forward in graphics power for gaming applications. This partnership actually happened back in 2019, but so far Samsung hasn't stuffed any kind of AMD hardware into its phones. I'd love to see dedicated AMD graphics on the S22 line that pushes the boundaries of what we expect from mobile gaming. Sure, some games already come close to rivalling quality you'd expect on older consoles, but if Samsung and AMD could give that processing power a big push forward, it could allow for a lot more console-standard games to make their way to phones, turning your handset into a capable mobile games console. Today's top-end phones with the best specs around are, let's face it, huge. The S21 Ultra measures a whopping 6.8 inches, while even Apple's iPhone 12 Pro Max comes in at 6.68 inches. That means that if you want the best performance and the best camera, you've got to be prepared to stretch out those jeans pockets to accommodate a massive slab of a phone. And maybe start doing some thumb exercises to help stretch them across the screen. I'd love to see smaller versions -- 6 inches or under -- that don't force you to compromise on performance. There are rumors suggesting the base S22 models might get a little reduction in screen size, which is great news if you have smaller hands, but there's unlikely to be any real size reduction in the top-end Ultra model. So yet again we'll likely be in a situation where buying a smaller phone size means missing out on those top-end features. Excuse me while I go and sew expansion panels into my pockets. Sure, we all want the best tech and we want it wrapped up in a slick design, packed with cool new features. But we also want it to be affordable. That's a difficult combination to achieve, but Samsung did manage to make its S21 range cheaper than the preceding S20 series. It needed to, as the S20 series didn't sell well, in part due to financial uncertainty around COVID-19. Samsung employed a range of tactics to make the S21 range more affordable, including swapping out the glass backs on some models for strengthened plastic. And you know what? It worked. It also knocked a decent amount off the asking price. While the base Galaxy S20 went on sale for $1,000, the base S21 undercut that at $800. So I'm keen to see similar decisions being made with the S22 that will allow for a great all-round mobile experience at an approachable price. So what I'm asking for is a super-powered, AMD-equipped phone with the world's best camera that'll also fit comfortably in the palm of your hand, that's reasonably priced and lets you expand the storage on the cheap. That's not too much to ask, is it Samsung? Come on guys, step up.

It's reportedly taken less than a week for members of the far-right to abuse Twitter's updated private information policy to have journalists and researchers banned from the platform. Twitter announced on Nov. 30 that it was updating its private information policy to prohibit the sharing of "media of private individuals without the permission of the person(s) depicted." The company said it would make exceptions if the tweets were about public figures, however, or if the media in question was captured during public gatherings such as protests or sporting events. Those assurances did little to alleviate concerns about how the updated policy could be abused, though, and now it seems those fears were justified. The reports that Twitter was bombarded with "coordinated and malicious reports" soon after the policy was changed. The company ended up suspending numerous researchers and journalists as a result. Vice reports that efforts to get researchers and journalists banned from Twitter began soon after the updated policy was announced. The report says "one well known neo-Nazi" sent a Telegram message urging people to report a list of "several anti-fascist accounts", as Vice described it, at least one of which Twitter actually suspended after the new policy was implemented. Twitter said in a statement to Gizmodo that "The Tweet in question was not in violation of our private information policy—our teams took enforcement action in error. We've sent a communication to the user noting this error." Gizmodo says it sought comment on multiple actions that resulted from this new policy, however, and Twitter didn't clarify which one it meant. All three reports were published on Dec. 3—less than three full days after Twitter's policy was updated. That might be a record for least amount of time between a tech company announcing a policy change, being warned that someone might abuse that new policy, and that policy being subject to coordinated abuse despite the company's assurances that everything would be fine. Twitter didn't immediately respond to a request for comment.

Let's be honest, any major upgrade, and especially when it comes to something as massive as an entire OS like that of Microsoft's Windows 11, is bound to have some issues here and there. There are likely many things that may probably not be to everyone's liking. We made a compilation of the top 10 such changes and additions the people want to see, according to the Feedback Hub. Some of the users are also expressing their views online on various social media sites and forums. Here's a Reddit user with the username BrokenDynamov2 below who goes on a rant about the new OS after being thoroughly dissatisfied by it. It's almost as if Thanksgiving made the person realize how thankful they are for Windows 10 still existing as they seem to have rolled back to Windows 10. While individual rants like these are not uncommon, the post has been overwhelmingly upvoted on the Windows 10 subreddit and from the replies in the thread, it seems like the majority of others hold similar sentiments towards Windows 11, ie, more people, at least for now, seem to like Windows 10 more. While we are on that topic, here's our very own Usama's editorial piece on the five Windows 11 things he hates. Source: BrokenDynamov2 ( Reddit)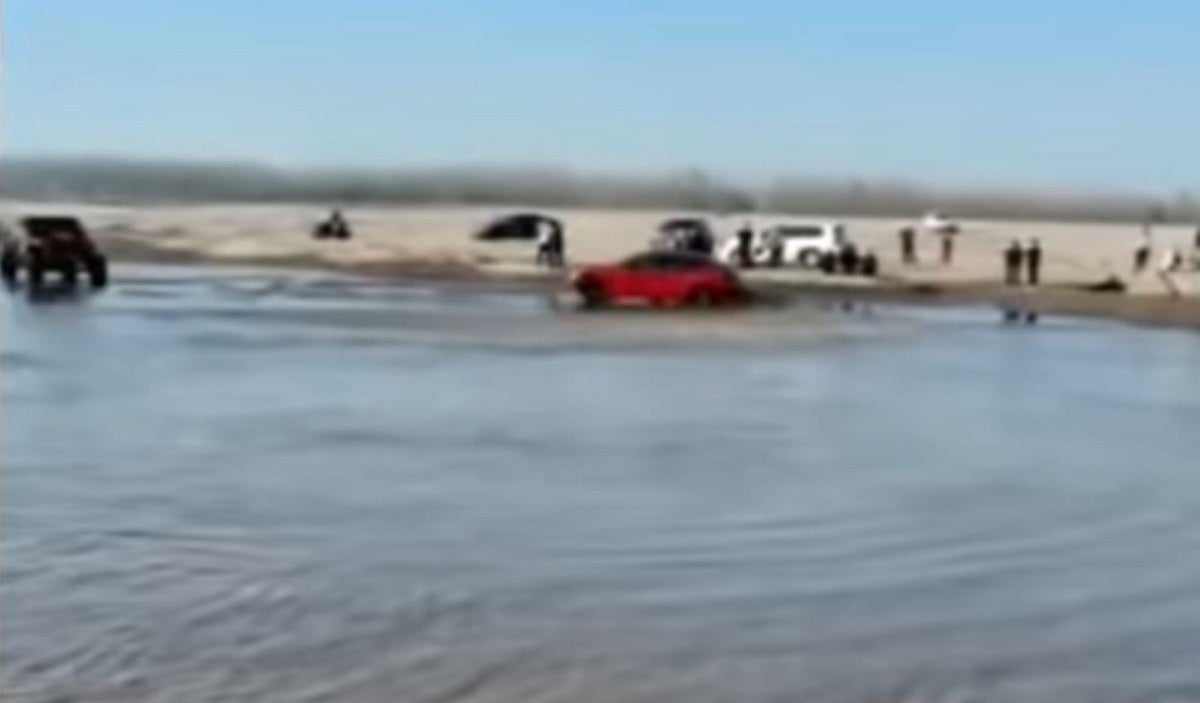 One brave Tesla owner took what appears to be a red Model 3 off-road this week, posting a video of the car driving around a beach. At first the water is shallow, but the driver slogs through hood-deep water pretty easily halfway through the short 30-second clip. It's unclear whether the driver is the owner of t he YouTube channel that posted the clip. The Tesla is also surrounded by cheering viewers, a handful of other vehicles, and a small crowd in what appears to be some kind of friendly meetup. The YouTube channel, called " Wu Wa," is dedicated to information about the Shanghai location and says the channel owner is based in Japan. Most videos feature drone shots taken over the Shanghai facility, so it's not clear if the poster is an employee or just a dedicated Tesla superfan. Although the Model 3 seems to handle the water just fine, the clip is short and doesn't show the aftermath of the all-terrain expedition. While the aquatic adventure does look fun, we're not sure we'd recommend driving your Tesla through the ocean any time soon. If the channel is run by a Tesla employee, it's possible they were just showing off for the benefit of their employer — which would explain the vid's friendly title, "Tesla's amazing performance." More on ocean-inspired Teslas: Elon Musk Says Cybertruck Will Be Able to Drive Sideways like 'A Crab' Care about supporting clean energy adoption? Find out how much money (and planet!) you could save by switching to solar power at UnderstandSolar. com. By signing up through this link, Futurism. com may receive a small commission.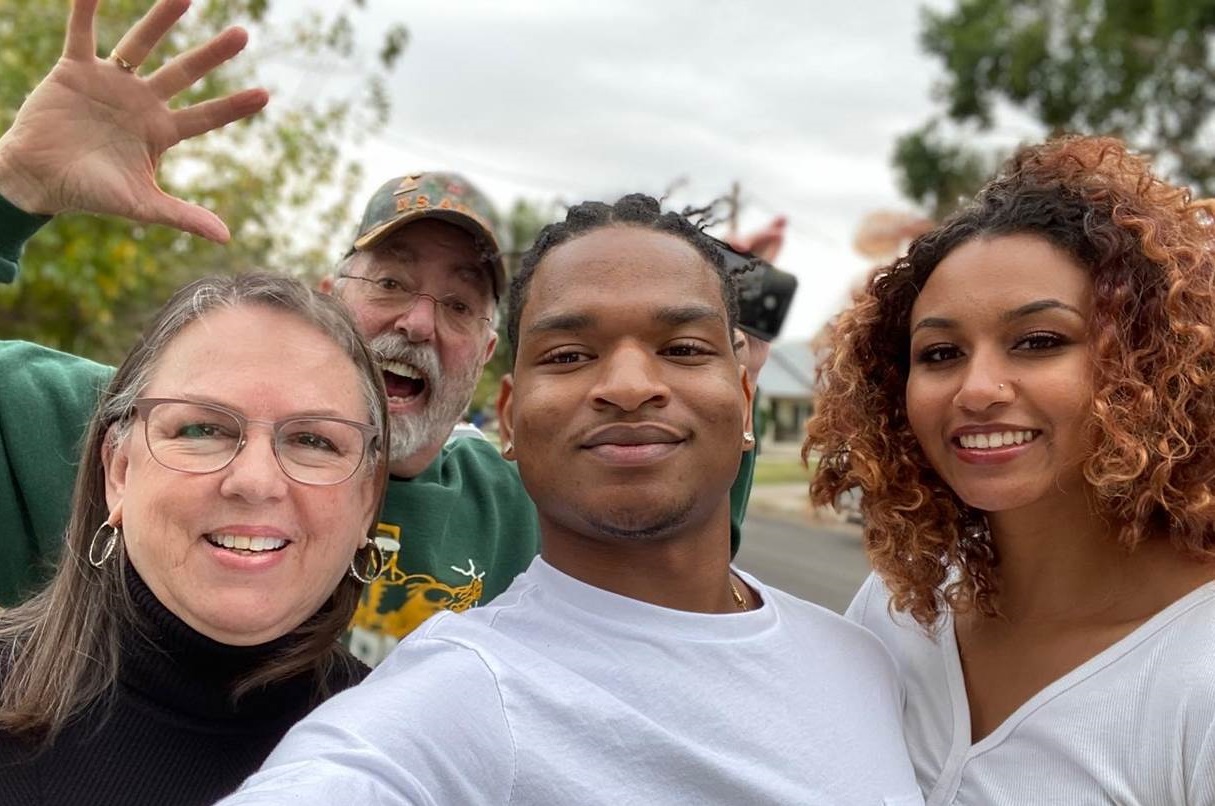 When you think of Netflix originals, pulse-pounding action movies like Extraction or Red Notice might be the first that come to mind. But the reason that Netflix is the biggest streaming service on Earth is because of its diverse library. In fact, the movies and shows based on actual events are often the ones that rocket up the charts. Netflix is always on the lookout for new stories that could be adapted to the screen, and this week, the company announced that it found one in the form of a viral tweet. Coming soon to Netflix: The Thanksgiving Text — based on an uplifting true story. Days before Thanksgiving in 2016, Jamal Hinton received a text from a number he did not recognize. Wanda Dench was trying to reach her grandson, but accidentally texted Jamal instead, inviting him to Thanksgiving dinner. Hinton, a senior in high school at the time, asked who was texting him. Dench and Hinton then exchanged selfies. At this point Hinton noted that Dench definitely wasn't his grandmother, but asked if he could get a plate anyway. Dench said yes, and now, five years later, the unlikely pair are still celebrating the holiday together every year. It's a sweet story, and as tragic and depressing as the news often is, it's a great reminder that people are often kind to one another. And so, Netflix has decided to turn it into a feature film. According to Netflix's press release, Abdul Williams (Lottery Ticket, Salt-N-Pepa) will write the script for The Thanksgiving Text. Robert Teitel and George Tillman, Jr. will produce for State Street Pictures, and Lawrence Mott (Beats) will serve as the executive producer on the film. Netflix has yet to announce any members of the cast, as it sounds like the movie is still very early in production. "We are excited to share our story with the world," said Dench and Hinton. "We hope it inspires more people to reach out and make connections that they wouldn't ordinarily make. We are so blessed to find a genuine friendship brought together by God from a mistaken text message." We have no idea when the movie will come out, but there's no lack of content on the story online. For example, days ago, a local news station in Arizona interviewed the two after their sixth Thanksgiving together. You can watch the full interview with Dench and Hinton below: This certainly isn't the first time that a studio has turned a tweet (or series of tweets) into a movie. A year before Dench and Hinton went viral, Aziah King posted a 148-tweet epic about a falling out with another woman. Filmmakers eventually adapted the thread into the movie Zola, which premiered at the Sundance Film Festival in January 2020. Zola is currently sitting at 88% on Rotten Tomatoes, and has been reviewed hundreds of times. And it's all based on a bunch of tweets. While you're waiting for The Thanksgiving Text, check out what's coming to Netflix this week.

The automotive world is no stranger to significant recalls on various vehicles for different reasons. Recently, Ford confirmed that it recalled almost 115,000 Escape and Bronco Sport SUVs. Those two SUVs look vastly different but are built on the same platform. The recall comes after a government audit uncovered a potential problem with how the vehicles brake in an emergency. To meet federal regulations, a vehicle has to stop within a required distance even if the power brakes fail (via Gov Info). In the instance of the Escape and Bronco Sport, if the power boost failed, neither vehicle would be able to stop within the required distance. The recall has to do with a problem involving improperly manufactured rear brake linings (via NHTSA). However, Ford claims the issue would only cause a problem for owners of impacted vehicles if the power brakes failed. READ: 2021 Ford Bronco Sport Review – A name to live up to Interestingly, the problem was discovered when the National Highway Traffic Safety Administration (NHTSA) randomly tested the vehicles to see if they were compliant. Ford and other automakers typically self certify compliance of their vehicles. In the instance of the Escape and Bronco Sport, Ford had certified the vehicles met federal regulations. The federal regulation that the SUVs run afoul of has to do with a rule that requires vehicles to stop within 551 feet at a speed of 60 MPH with no power brakes active. It's worth noting that with power brakes working, the Escape and Bronco Sport can easily stop from 60 MPH within 126 feet. Ford testing from 2018 reported that the vehicle could stop without power brakes within the regulations, but NHTSA testing showed it took the vehicle 583 feet to stop. Ford then conducted an internal investigation finding that the Escape might also be impacted. The recall covers 2021 and 2022 Escape and Bronco Sport SUVs without the electronic brake booster. Ford will repair the issue at no cost and will be contacting customers with vehicles that are impacted. Currently, Ford reports that it is still developing a fix for the issue; the NHTSA recall number is 21V922. Additionally, Ford is unaware of any injuries or accidents resulting from the issue. Honda is dealing with its own major recall covering the Passport, Pilot, and Ridgeline. In all, Honda's recall covers 725,000 vehicles sold in the US from 2016 through 2020. The reason for the recall has to do with a hood problem that could cause the hood to fly open while driving. Honda filed the recall with the NHTSA on November 29, 2021; it has the NHTSA number 21V932000. Components covered in the Honda recall include the structure, latches, locks, and linkages of the hood. READ: 2019 Honda Passport First Drive: 5-seat SUV with off-road style Models covered include 2019 Passport SUVs, 2016 through 2019 Pilot SUVs, and 2017 through 2020 Ridgeline trucks. According to the NHTSA, the hood latch striker could be damaged and separate from the hood leading to the hood flying open while driving. Having a hood fly open while driving down the road at highway speeds would obstruct the driver's vision and could certainly lead to an accident. Honda dealerships will either repair the hood latch striker or completely replace the hood if necessary at no cost to owners. Presumably, if the vehicle has to have the hood replaced, it would also be painted to match. Honda plans to send notification letters to vehicle owners starting January 17, 2022. However, owners of potentially impacted vehicles can also reach out to Honda at 1-888-234-2138. While any recall is a serious issue for car manufacturers and impacted owners, Ford and Honda's recalls are nothing compared to what GM went through with the Bolt. General Motors was forced to recall the Chevy Bolt after some vehicles caught fire. In that initial recall, Chevrolet changed software and called things good. However, additional fires happened even after the fix was applied, and Chevrolet recalled the Bolt again. Eventually, the recall expanded to cover every Bolt electric vehicle produced so far. Every one of the Bolt vehicles will get a new battery pack and an extended warranty. Eventually, GM and battery supplier LG figured out what was causing the short-circuits that led to fires in the vehicles. Robots on the manufacturing line at LG were misaligned, causing battery defects that caused the batteries to short out in some instances. During the recall, Chevrolet warned Bolt owners to park their vehicles outside and away from any other vehicles or structures. It took LG and GM some time to figure out who would be on the hook for the cost of the battery replacements, which will ultimately cost over $2 billion. LG is on the hook for the vast majority of the expenses for the recall, but it and GM continue to work together.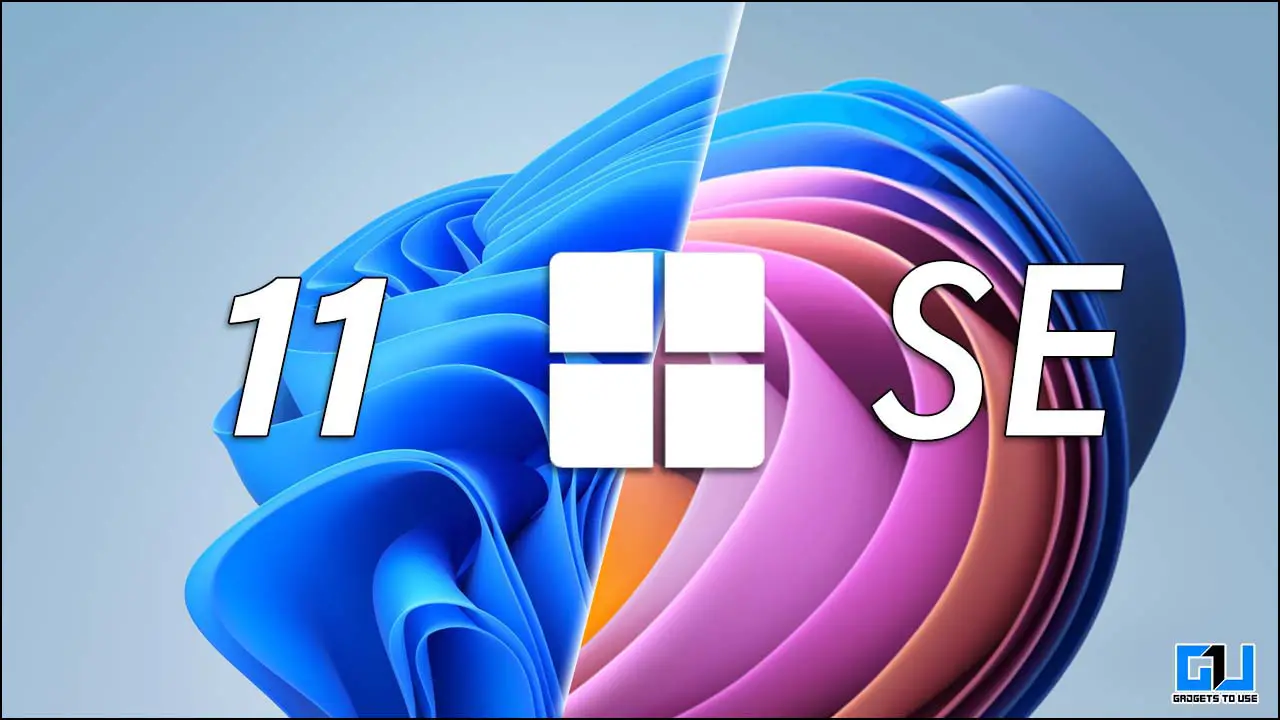 Just a few days later after announcing Windows 11, Microsoft announced another version called Windows 11 SE. This edition of Windows is a toned-down version of Windows 11, which is targeted for education and students. Let's have a look at how the Windows 11 SE vs Windows 11 compare. What the SE stands for and should you go for this toned-down version or full fledges Windows 11? Also, Read| 11 Hidden Windows 11 Features You Should Know Windows 11 SE is a cloud-focused version of Windows 11, that offers the power and reliability of Windows 11 with a simplified design and modern management tools that are optimized for low-cost devices in educational settings, especially grades K-8 (up to 14 years olds). Aimed at education and students, Microsoft is competing with Google's ChromeOS, with Windows 11 SE. Windows 11 SE has the same accessibility, security, privacy, and remote learning benefits as Windows 11, with the added advantage of being optimized to deliver great education experiences on low-cost devices, removing distractions to help students stay focused, and simplifying deployment and management for IT professionals. Also, Read| Top 10 Features of Windows 11 For Which You Should Upgrade Microsoft clearly mentioned that SE stands don't have any Full Form, so it is not Student Edition, so does it stands for Special Editon? Might be. But it does fall under Microsoft's Education Umbrella, as the main objective of this edition is to provide a secure, fast, distraction-free environment for education. Also, Read| 6 Privacy Features of Windows 11 You Should Use Right Now As mentioned earlier, Microsoft has cut down features in Windows 11 SE to make it fast, and distraction-free, so that students stay focused on their studies. Today I'll be comparing Windows 11 with Windows 11 SE. One major difference in Windows 11 SE is the absence of Microsoft store, also windows 11 SE does limit the installation of Win32 apps. However, there are some six categories of apps that Microsoft allows you to sideload on a Windows 11 SE-powered computer. The IT admin can have the access to install or remove any app, covered under these six categories: Also, Read | 3 Ways to Get Rid of All Notifications in Windows 11 Since Windows 11 SE is an education-oriented version of Windows 11, you do get the support for Offline Microsoft Office Suite, apps like MS Word, Powerpoint, MS Excel, OneNote. Enabling you to complete your assignments, make presentations, etc. However, since Windows 11 SE is a cloud-first platform, these files are stored on OneDrive for easy access. Currently, OneDrive is the only cloud service supported, Microsoft does state that they can include more cloud services in the future. The existing license of Microsoft Office 365 A3 and A5 can also be used with Windows 11 SE. Another difference in Windows 11 SE is that Snap windows are limited to Two windows as compared to four on full-fledged Windows 11. Another thing to note is that all the apps are launched in full screen by default in Windows 11 SE, this might help students stay focussed on less number of task, and also keep the screen less cluttered. With Windows 11, Microsoft improved the Widgets panel that can be used to get the latest updates about news, weather data, scores, pictures, etc. All this is great, but since it can distract the students from their studies or whatever project they're working on. So, Microsoft removed the Widgets panel from Windows 11 SE. Microsoft has released a comparison chart about the difference in features between Windows 11 and Windows 11 SE. We can see below, limited support to run apps and upgradability as you can only upgrade from Windows 10 to Windows 11 and not Windows 11 SE. All other features are exactly the same as Windows 11, such as accessibility, security, privacy, and remote learning benefits, optimized for low-cost computers. Also, Read | 5 Windows 11 Features You Can Use on Your Windows 10 PC You can't install Windows 11 SE on any of your personal computers, as Microsoft has not released any ISO file. Microsoft is not looking forward to making Windows 11 SE available to retail users, as they have the regular Windows 11. Windows 11 SE is only available pre-installed on new Windows 11 SE-compatible devices, made available to educational institutions. Yes, only if the IT admin completely removes the SE version of Windows 11, and installs a fresh copy of Windows on the computer. Do note, it's only a one-way process, as once Windows 11 SE is removed from that computer, then there's no way to install Windows 11 SE on that computer. With the launch of Windows 11 SE, Microsoft mentioned a few brands that will make low-cost laptops that will ship with Windows 11 SE. Here's the compatible list of laptops: So, this was all about Windows 11 SE, as compared to Windows 11. Should you go for a Windows 11 SE computer? Well if you want low cost, fast, secure, and distraction-free laptop for your kid, but feel ChromeOS is too basic. Then you can definitely go Windows 11 SE, as it will help your kid stay focused on studies.

Here's a look at the best AirPods alternatives among the current crop of budget true wireless earphones I've tested: All of these cheap true wireless earbuds are under $100, several cost less than $50 and all are truly wireless. Equipped with Bluetooth 5.0 or higher, they also all maintain solid wireless audio connections with minimal Bluetooth audio-pairing hiccups. These budget wireless earbuds also worked well for making phone calls, and, in some cases, really well. I've also included info on battery life, as well as how water-resistant they are in case you're interested in using these for running or gym use. I'll update this list as new affordable earphones are released. Read more: Best wireless earbuds for 2021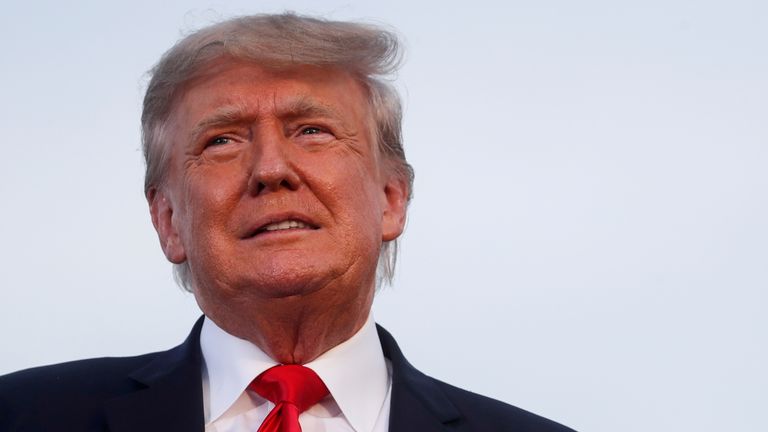 Donald Trump's social media company says it has agreements in place to raise $1bn from investors ahead of a US stock market listing. The Trump Media & Technology Group, which will be listed on the Nasdaq, plans to launch a new social media platform next year called Truth Social. The former US president has criticised Twitter and Facebook for banning him over concerns his social media activity incited the 6 January attack on the Capitol as rival Joe Biden's election win was certified. Mr Trump had previously accused those platforms of censorship and political discrimination against conservatives, and repeated that accusation alongside the funding news. Following the ban, he launched the "From The Desk of Donald J. Trump" blog - initially describing it as a platform - but closed it down less than a month later One of his aides, Jason Miller, told CNBC the page "was just auxiliary to the broader efforts we have and are working on", hinting towards the new social media platform launch. "$1bn sends an important message to Big Tech", Mr Trump stated in a press release announcing the funding. "As our balance sheet expands, Trump Media & Technology Group will be in a stronger position to fight back against the tyranny of Big Tech", he added. First reported by Reuters, the former president's success in attracting financial backers was due to his personal and political brand. No public details are yet available on whom the investors are, nor the financial details of the new company, and the deal to merge with the so-called blank cheque firm of Digital World Acquisition Corp has not yet been closed, reported Bloomberg. Reuters reported that US Senator Elizabeth Warren had asked the Securities and Exchange Commission (SEC) chairman Gary Gensler to investigate the planned merger for potential violations of securities laws around disclosure. The SEC has declined to comment on whether it plans any action. It comes as Mr Trump has continued to solicit donations, teasing that he may run again in 2024 but without making any formal pledge - which could impose restrictions on his fundraising activities. Truth Social has been pitched as allowing conservatives the freedom of speech without the platform moderating their messages "on the basis of political ideology". Mr Trump has continued to claim without evidence that the election of his opponent Mr Biden was fraudulent.

About this Sony Xperia Pro-I review: I tested the Sony Xperia Pro-I review unit over a period of 10 days. It was running Android 11 on the October 2021 security patch. The unit was provided by Sony for this review. What you need to know about the Sony Xperia Pro-I What's it like to use the Xperia Pro-I? The dedicated camera button has a good profile, a nice patterned texture to it, and well-defined two-stage action. Why is the Xperia Pro-I for "pros"? Sony's marketing claims about the 1-inch sensor are a bit suspect. Sony's Pro apps are not for beginners. Sony suggests the Pro-I offers pro-level photo and video editing on-device — that's simply not the case. How good is the Xperia Pro-I camera? The Xperia Pro-I's color accuracy gives pro-level photographers ample latitude to make adjustments in post. Sony's pro offering captures exceptionally accurate photos that give professionals the most possible room to tweak in post. How is the 4K screen? The Xperia Pro-I has a phenomenal screen that rivals any phone you can buy. Does the battery hold up? Wireless charging is a baffling miss considering the price. At $1,799 before you get to the official first-party accessories, Sony is asking a hell of a lot for the Xperia Pro-I. The brutal price tag puts the Sony Xperia Pro-I out of reach for most buyers, but professional photographers and videographers may find value here.

At the heart of almost every galaxy, including our own, is a monstrously large black hole with mass millions or billions of times that of the sun. These supermassive black holes are generally lonely beasts, but astronomers have recently discovered the closest-ever pair of them which will eventually merge into one even larger black hole. The galaxy NCG 7727 is host to the black hole pair, which is located around 89 million light-years away from Earth — far closer than the closest previously recorded pair, which is 470 million light-years away. The recently discovered pair are very close together by black hole standards, at a distance of 1,600 light-years, and are thought to have been brought together by two galaxies merging. "It is the first time we find two supermassive black holes that are this close to each other, less than half the separation of the previous record holder," said lead author Karina Voggel, an astronomer at the Strasbourg Observatory in France. The team detected the pair using the Multi-Unit Spectroscopic Explorer (MUSE) instrument on the European Southern Observatory's Very Large Telescope, which was able to measure the masses of the two black holes by observing how they affected the movements of the stars around them. They found that the larger of the black holes has a mass 150 million times that of the sun, and its smaller companion has a mass 6.3 million times that of the sun. The fact that the two are so close together (relatively speaking) means it is likely that they will merge together in the future. "The small separation and velocity of the two black holes indicate that they will merge into one monster black hole, probably within the next 250 million years," said co-author Holger Baumgardt, a professor at the University of Queensland, Australia.

Why you can trust Pocket-lint (Pocket-lint) - There are now heaps of messaging services around, but WhatsApp has stacks of features and is extremely widely used - the Facebook-owned app claims to have over two billion users worldwide, which is pretty staggering. So here are some secret tips you might not know about, mixed in with a few standard tips for those new to WhatsApp. What is Signal and how do you use it: The WhatsApp rival explained WhatsApp general tips and tricks Send your location to a contact WhatsApp allows you to send photos and videos to contacts, as well as share a contact or document, but you can also send your location. This is very handy if you're meeting a friend somewhere, especially if you opt for Share Live Location, which allows your contact to see your Live Location for the duration you choose so they can track you. Duration times are set at 15 minutes, 1 hour or 8 hours. iOS: Chat > Specific chat > Tap on "+" to the left of the message box > Location > Share Live Location > Select time frame. Android: Chat > Specific chat > Tap on the paperclip to the right of the message box > Location > Share Live Location > Select time frame. You can see everyone you are sharing your live location with by opening Settings > Account > Privacy > Live Location. Search all your chats Someone might have sent you their address or you might remember talking about a specific programme or film but you don't want to scroll through all your messages to try and find what you're looking for. At the top of all your chats on iOS there is a search bar if you pull down. On Android, there's a search icon. You can type anything into the search bar, from the start of a town name if you're looking for an address to a specific word and all the chats with that word will appear below as specific messages. When you tap on the Search bar, you will also see a list of options, from Photos to Audio, allowing you to minimise your search. Clicking on a respective result will take you to that part of the chat conversation you had. Search a specific chat If you want to search a specific chat rather than all of your chats, this is possible too. Maybe you had a conversation about a specific meeting place, or they sent you their other contact number or their address for example. iOS: Chats > Specific chat > Tap on contact info at the top > Chat Search > Type in the search bar that appears at the top of that specific chat. Android: Chats > Specific chat > Open the menu top right > Search > Type in the search bar that appears at the top of that specific chat. Make a video or voice call using WhatsApp WhatsApp isn't just for instant messages, you can use it to make video and voice calls too. WhatsApp calling uses your internet connection rather than your plan's minutes. iOS & Android: Chats > Specific chat > Press the call icon or video icon in the top right corner. Find who you talk to most Who is really your favourite person? It might not be who you think. There is a way to find the people you send the most messages to and how much storage each person takes up, among other things. iOS & Android: Settings > Storage and Data > Manage Storage > You'll see a list of contacts at the bottom in in order of which is using the most storage. Quickly delete all photos, GIFs, videos, messages or stickers from a certain chat It's possible to delete all the messages, photos, or videos, GIFs, contacts, locations, voice messages, documents and stickers in one chat. For example, you can delete all the messages in a specific chat or group chat, but leave all the photos. iOS & Android: Settings > Storage and Data > Manage Storage > Select Contact > Manage > Select > Tick the boxes next to what you want to delete (videos or images) > Tap on the bin to delete. It's possible to sort by which files are taking up the most room, the newest and the oldest if you tap the circle in the bottom left corner after you tap on the contact. Quickly review and delete items to help clear storage WhatsApp has made it easier to manage what is taking up storage on your device. Not only can you see which chats are most storage as above, but you can also see which files are larger than 5MB and which files have been forwarded multiple times. iOS & Android: Settings > Storage and Data > Manage Storage. Under the Review and Delete Items section you can click on either the larger than 5MB tab or the forwarded multiple times tab and then select the ones you want to delete. As with the individual chats, you can sort by tapping on the circle in the bottom left corner. Save your data allowance If you've got a limited data allowance, you don't want WhatsApp munching it all away. Thankfully, you can customise when media is allowed to download, as well as ensure calls use as little data as possible. iOS & Android: Settings > Storage and Data > Media Auto-Download > Switch to Wi-Fi only for each option to save your data. Find out how much data you're using If you're worried about your data usage, you can find out exactly how much you are using. You'll get a breakdown of total number of sent and received messages, as well as data sent and received. iOS & Android: Settings > Storage and Data > Network Usage. Use WhatsApp on the web and desktop WhatsApp isn't limited to your mobile phone. There's a web app that syncs everything from your phone and there's a desktop app too. Go to https: //web. whatsapp. com/ or download the desktop app from whatsapp. com/download/ You'll then need to open WhatsApp on your phone > Settings > WhatsApp Web/Desktop > Scan the QR code on the browser or Desktop app > Follow the instructions. Both the web and desktop app will serve up chats and alerts on your computer, allowing you to reply quickly and easily. how it works in our separate feature. Change the wallpaper on your WhatsApp chat screen WhatsApp has a standard wallpaper, which will appear as a background on all of your chats. You can change this wallpaper though, with options including solid colours, your own photos as well as a collection of images from WhatsApp itself. iOS: Settings > Chats > Chat Wallpaper > Choose Wallpaper Library, Solid Colours or Photos. Android: Settings > Chats > Chat Wallpaper > Choose Wallpaper Library, Solid Colours, Gallery, Default or No Wallpaper. How to set custom wallpapers on Whatsapp Pocket-lint WhatsApp privacy tips and tricks Turn on Disappearing Messages Turning on Disappearing Messages will make any new messages in a chat disappear after seven days. Remember the messages can still be saved elsewhere though. You can read more about Disappearing Messages in our separate feature. iOS & Android: Specific chat > Click on the person's name at the top of chat > Disppearing Messages > On. Send a disappearing image or video It's possible to send an image or video that disappears once the recipient has viewed it once. This is great for photos of a password or bank details for example that contain sensitive information. When the recipient closes your picture, it will disappear, though remember, they can screenshot. You can read a full breakdown of the feature in our separate feature. iOS: Specific chat > Tap on the "+" next to the message input field > Choose 'Camera' to take a photo or 'Photo & Video Library' to select a photo > Choose the photo > Tap on the "1" next to the blue send arrow > Press the blue arrow to send. Android: Specific chat > Tap on the paperclip next to the message input field > Choose 'Camera' to take a photo or 'Gallery' to select a photo > Choose the photo > Tap on the "1" next to the blue send arrow > Press the blue arrow to send. Require Face ID or Touch ID to unlock WhatsApp If you want double security on your WhatsApp chats, it's possible for iOS users to set their WhatsApp account to require Face ID or Touch ID authentication when opening WhatsApp, even when your device is already unlocked. You'll still be able to reply to messages from notifications and answer calls if WhatsApp is locked. It's also possible to set the duration of time you want the Screen Lock feature to kick in. iOS: Settings > Account > Privacy > Screen Lock > Toggle on Require Face ID / Require Touch ID > Select the time duration (Immediately, after a minute, after 15 minutes or after an hour). How to lock WhatsApp on iPhone How to see and turn off last seen WhatsApp's last seen feature allows you to see when someone last checked WhatsApp, as well as allow users to see when you last checked. If a contact hasn't disabled last seen, it will appear under their name at the top of an open chat. To disable last seen: iOS & Android: Settings > Account > Privacy > Last Seen > Switch to Nobody. Hide the blue ticks Those blue ticks can get you in a whole world of trouble, especially when you don't reply instantly and someone sees you have read their messages. You can turn them off, but it's worth noting that if you do, you won't get read receipts for your messages either. Apple users: If you get Siri to read the message, the blue ticks won't appear so this could be a good way to read a message without the sender knowing you have. Android users: If you read your messages in notifications, the sender won't get the blue ticks. iOS: Settings > Account > Privacy > Toggle off Read Receipts. Android: Settings > Account > Privacy > Untick Read Receipts. Stop people seeing your messages Ever passed your phone to a friend and instantly panicked about the messages they might see come through? Yeah, we haven't either. For those who have, you can turn off message previews on iOS so only the contact's name will appear, rather than their life story, or you can turn off notifications altogether. iOS: Settings > Notifications > Toggle off Show Preview / Settings > Notifications > Toggle off Show Notifications. Android offers a range of notification controls. Within the WhatsApp app itself, you can turn off high priority notifications - those that will pop-up at the top of the screen. Or you can control the notifications at a system level to keep details private or remove them completely. Android: Settings > Notifications > Toggle off Use high priority notifications. Hide your profile picture You might not want everyone to see your profile picture, especially if you're part of several groups where you don't know everyone in the group. Or perhaps you just fancy being a little mysterious for the day. Either way, you can choose if everyone, no-one, or only your contacts see your picture. iOS & Android: Settings > Account > Privacy > Profile Photo. How to block a WhatsApp contact There are plenty of reasons why you might want to block a contact so we won't ask why. We will just let you know that if you block a contact, you won't be able to send or receive messages, or make or receive calls from them and even if you unblock them, you won't see any messages sent to you whilst they were blocked. iOS & Android: Chats > Specific chat > Tap on contact subject at the top > Scroll down to the bottom > Block Contact. Stop images and video appearing in your gallery Sharing photos and video on WhatsApp is great, but you might not want it added to your phone's gallery. On Android, a folder is created in the gallery by default, while on iOS, it saves to your camera roll. If you don't want that, you can turn it off. iOS: Settings > Chats > Toggle off Save to Camera Roll. Android: Settings > Chats > Toggle off Show Media in Gallery. Change automatic image/video saving preferences for specific chats It's also possible to change the automatic image and video preferences for specific chats. You might want to make sure images are always saved from your family for example, while you'd prefer not to have all images from a group chat in your gallery or camera roll. All chats are set to default (off) unless you change them individually but there is the option to always save images and videos from a contact or never save them. iOS: Chat > Specific chat > Tap on contact or subject at top of display > Save to Camera Roll > Set to Always or Never. Download and view your WhatsApp data report If you want to download and view the data Facebook-owned WhatsApp collects on you, you can download and view a data report. iOS and Android: Settings > Account > Request Account Info > Request Report. Pocket-lint WhatsApp Chats tips and tricks Reference and reply to a specific message Ever been talking about multiple things in a WhatsApp chat and need to reply to a specific message? WhatsApp allows you to reply to a particular message, presenting it above your reply to make it easy for the person or people you are messaging to see what you are replying to. iOS: Chats > Specific chat > Specific message > Swipe left to right on message > Type in your reply and hit send. Android: Chats > Specific chat > Specific message > Long Press > Hit reply. TomTom Go Navigation App is a premium mobile navigation app for all drivers, with a three-month free trial By Pocket-lint International Promotion · 5 December 2021 Reply to a group message privately It's possible to reply to a group message privately in your one-to-one chat, without having to find the one-to-one chat you have with that particular person. iOS: Press and hold a message in a group chat > Select More > Reply Privately. The message will appear in your one-to-one chat with the text box below, as it does if you reply to a specific message like above. Android: Press and hold a message in a group chat > Select the three buttons in the top right corner > Reply Privately. The message will appear in your one-to-one chat with the text box below, as it does if you reply to a specific message like above. Turn words bold, italic or strikethrough Sometimes certain words need more emphasis and shouty caps just don't cut it. Don't worry, WhatsApp allows you to make whichever words or phrases you want bold, italic, or strikethrough them altogether. iOS & Android: Add an asterisk either side of the word or phrase for * bold *. Add an underscore either side of the word or phrase for _ italic _. Add a tildes to either side of the word or phase for ~ strikethrough ~. Send a voice message Don't have time to write out a lengthy reply or just can't be bothered to? No problem. WhatsApp allows you to send voice messages to your contacts which is great if you're walking somewhere for example, making constant typing a bit of a pain. iOS & Android: Chats > Specific chat > Tap the microphone on the right of the message box > Press and hold the microphone while you record your message. Warning, it send automatically after you lift your finger off. Send a voice note without hands If you want to send a voice note on WhatsApp, rather than writing out a message, you can press and hold the microphone on the right of the message input box. It's also possible to lock the microphone button down so you can record your message without having to hold your phone. iOS & Android: Chats > Specific chat > Tap the microphone on the right of the message box > Press and hold the microphone > Swipe up to the lock. The microphone will then be locked on record until you send the message. Speed up playback of a voice message You can speed up playback of a voice message by 1.5x or 2x, allowing you to listen to longer messages quicker. It's simple to do and it doesn't change the pitch of the person's voice. iOS & Android: Chats > Specific chat > Tap the play icon next to the voice message you want to speed up > Tap on the 1x icon that appears to make it 1.5x > Tap 1.5x to make it 2x faster > Tap the 2x icon to change back to 1x. Mark chats as unread Ever been out and about, read a chat and then completely forgot to reply? We do it all the time. There is a way to mark important chats with dot to remind you to go back to it though. iOS: Chats > Swipe left to right > Mark as Unread. Android: Long press chat > Open Menu > Mark as Unread. Pin a chat to the top If you're prone to forgetting to reply to messages, you can also pin a chat so it appears at the top of all your chats, including above new and unread chats, rather than just marking it as unread. It's only possible to pin three chats though so don't get too complacent with your replying. iOS: Chats > Swipe left to right > Pin Chat. Android: Long press chat > Press the pin at the top of the screen. Mute a chat or group chat Group chats can be the worst. You might not be able to leave the conversation, but you can mute notifications so you aren't awakened every time someone throws in their two cents. iOS: Chats > Open the group chat / chat > Tap the subject to get the Group Info / Contact Info screen > Mute > Select how long you want to mute it for. Android: Chats > Open chat > Menu button > Mute. Archive your chats Archive Chat allows you to hide a conversation from your Chats screen. It does not delete the chat - it just allows you to remove it from your main chat screen without losing it, helping you organise your conversations. You can archive groups or individual chats, and they will disappear until you pull down from the top of the Chats display and tap the Archived Chats tab. You can also archive all chats. iOS: Chats > Specific chat > Swipe right to left > Archive / Settings > Chats > Archive All Chats. Android: Chats > Long press on chat > Press the archive folder at top right of the screen Back up your chats To make sure you don't lose any of your chats if you lose your device or you switch devices, make sure you back up your chats to iCloud or Google Drive. Unfortunately if you are switching between iOS and Android and vice versa, there is no simple way to move your chats over so be prepared to lose them. Also, be aware that archived chats are no longer encrypted. iOS & Android: Settings > Chats > Chat Backup > Back Up Now. Clear all chats If you want to keep all the contacts you are chatting with on your WhatsApp but you want to clear all your messages, WhatsApp gives you an easy option to do this. iOS: Settings > Chats > Clear All Chats. Delete all chats Want a clean WhatsApp slate? Start from scratch by deleting all of your chats. It means you'll get rid of everything though, not just the content of the chats but you'll have to start a new chat for every contact too. iOS: Settings > Chats > Delete All Chats. Delete or clear a specific chat If you want to clear or delete a specific chat without losing all of your chats, then it's possible to do this too. iOS: Chats > Specific chat > Swipe right to left > Tap the three dots > Clear Chat / Delete Chat. Android: Chats > Specific chat > Tap the menu top right > More > Clear Chat Bookmark important messages Some messages are more important than others. Whether it's a date you need to remember, or a good restaurant you've been recommended. It's possible to bookmark these messages and find them all easily in the Starred Messages section. iOS: Chats > Specific chat > Specific message > Double tap or hold down and press star. Android: Chats > Specific chat > Specific message > Hold down and press star. Delete a specific message within a chat Just as you can star a specific message within a chat, you can also delete a specific message within a chat. You can also "delete for everyone" but you have to do this within 1 hour, 8 minutes and 16 seconds. Choosing delete for everyone will also result in a message appearing in the chat saying the message has been deleted which although looks suspicious, could be better than whatever message you sent in the first place. iOS & Android: Chats > Specific chat > Press and hold on specific message you want to delete > Press Delete. Send a public message privately Ever had a free evening and wanted to ask several of your friends if they are around without having to open up each chat to ask them separately? You can send a broadcast message to a list of contacts with it appearing as though you've asked them individually. Great for saving time, terrible if they all reply yes. iOS: Chats > Broadcast Lists > New List > Add contacts. Android: Chats > Menu > New Broadcast. Find out how long you've been ignored for There is nothing more annoying than seeing those blue ticks appear without a reply following soon after. If you want to torture yourself a little more and find out when your message was actually read and how long you've been ignored for, you can. We don't advise it though. iOS: Chats > Specific chat > Specific message > Swipe right to left. Android: Chats > Specific chat > Specific message > Press and hold > Tap the info "i" icon at the top. Pocket-lint WhatsApp convenience and notification tips and tricks Get Siri to read your last message, reply or send a new message Apple users can get Siri to read any unread WhatsApp messages, once you have followed the steps to give the personal assistant access. You can also get Siri to reply to the message with your voice or start a new message to a contact. iOS: "Hey Siri, read my last WhatsApp message" > "Hey Siri, send a WhatsApp message to [contact]" See recent chats without opening WhatsApp Apple users can see which contacts they have unread messages from without opening the WhatsApp app by adding the WhatsApp Recent Chats widget to their device. Up to four of your latest chats will appear within the recent chats widget when you swipe left to right from your main home screen or lock screen. The widget shows the circular profile picture icon with a number of how many unread chats you have from that particular contact. You can then click on the chat you want to read and WhatsApp will open on that specific chat. iOS: Swipe left to right from your lock screen or your main home screen > Scroll down to the Edit icon at the bottom > Add the WhatsApp Recent Chats icon > Rearrange the order of your widgets. Customise notifications There might be certain contacts you want to know instantly if they are calling or messaging you. To make sure they don't blend into the crowd, you can change their specific alert tones so you recognise when that particular person has sent you a message or is WhatsApp calling you. iOS & Android: Chats > Specific chat > Tap on contact name at top > Custom Tone. Get shortcuts to specific conversations Do you have a few extra special people you talk to all the time via WhatsApp? We do too. You can create a shortcut for specific conversations on Android, making it easier to access those chats you need all the time. Android: Chats > Specific chat > Menu > More > Add Shortcut or Chats > Press and hold individual chat > Menu > Add Chat Shortcut. Add dates to your calendar automatically If you're prone to forgetting dates mentioned in various chats, it's possible to automatically create an event directly from WhatsApp on iOS. iOS: Press and hold date within chat > Create Event. Writing by Britta O'Boyle. Originally published on 30 June 2016.

Despite receiving 80 complaints last month that restaurants weren't checking indoor diners for proof that they're vaccinated against COVID-19, Contra Costa County didn't fine or even officially warn the eateries that were breaking its rules, health officials have acknowledged. Instead of meting out punishment, Contra Costa Health Services told this news organization in a statement it is "focusing on education to gain compliance" from restaurants that don't ask to see vaccination cards or evidence of a negative COVID-19 test within three days. When asked to comment about the health department's go-easy approach, county Supervisor Karen Mitchoff said she was surprised and angered by the revelation. Mitchoff said she and other county officials — including Health Services Director Anna Roth and County Administrator Monica Nino — didn't know so many restaurants weren't being fined or formally warned for ignoring the proof requirement. Roth and Nino could not be reached for comment. "It's unacceptable," Mitchoff said, adding later that she looked into who had made the call not to issue fines. "I called the individual in the department and let them know I was unhappy about it." Mitchoff also said she would push the health department to retroactively fine restaurants that broke the rules. "I can assure you that we are not slacking off on citations," she said. "Citations that need to be made will be made." In September, Contra Costa Health Services joined San Francisco County and the city of Berkeley in becoming the only Bay Area agencies to declare that restaurants, bars and gyms cannot allow customers inside unless they prove they've been vaccinated or recently tested. The order was intended to slow the spread of COVID-19 inside places where people breathe heavily from exercising or remove their masks to eat and drink. It was a step that even Santa Clara County — which fined almost 400 businesses during the first year of the pandemic for violating health orders involving mask wearing, social distancing and other COVID-preventive measures — didn't take. Under Contra Costa County's vaccine passport order, the health department can issue warnings to restaurants after verifying complaints, then follow up with successive fines of $250, $500 and $750 for continued violations. If a restaurant still fails to comply after that, the department can suspend its permit to serve food indoors. Bars and gyms are also supposed to check for vaccine cards, but violations among those businesses are handled by the District Attorney's Office, which could not immediately be reached to provide information about any penalties levied. After fining multiple restaurants earlier in the fall and indefinitely suspending the permit of an In-N-Out Burger in Pleasant Hill for openly defying the order, health officials last month stopped cracking down on restaurants. That doesn't mean fines and other penalties won't be issued again or that the health department has shifted its policy from the top down, agency spokeswoman Kim Carlson said. She said the department's enforcement staff has the authority to decide whether a restaurant's noncompliance warrants a fine and in November decided to take a more lenient tact. Reaction among restaurants to the vaccination proof order has been mixed. Some owners say they like the mandate because it's safer for employees when everyone dining indoors is fully inoculated. Others have complained that it shouldn't be their job to police customers. Between late September and late October, the county issued warnings or fines to five restaurants: national chains In-N-Out and Fuddruckers, as well as locally owned Lumpy's Diner in Antioch, MJ's Downtown Café in Brentwood and Huckleberry's Breakfast and Lunch in Concord. The co-owner of Lumpy's Diner told this news organization in early November she didn't agree with the mandate and considered it an attack on customers' individual freedoms. "I don't care to know who is and who isn't vaccinated," Lumpy's Diner co-owner Gena Noack said. "I'm saying, 'I'm not checking, because I respect you.' " The restaurant was fined $750 but remains open. On Friday, a worker at MJ's Downtown Café said "we're following the rules" but declined to elaborate. An assistant manager at Huckleberry's who asked to not be named said she didn't believe the county should be fining businesses. County health officials say although they prefer educating businesses about the importance of checking for vaccine passports as part of a unified effort to get the upper hand on COVID-19, they're prepared to resume punitive enforcement if needed. The In-N-Out in Pleasant Hill, for instance, will be allowed to reopen indoors only if it agrees to follow the health order, Will Harper, another department spokesperson, said in an email. Until then, it must stick to drive-through and takeout orders only. One restaurant manager in Walnut Creek said he hopes the county continues enforcing vaccine passport rules however it can. "We haven't gotten (any) pushback yet," Burma 2 manager Darryl Wong said. "Nobody gives us problems; they all understand." Candace Williams, the manager of Broderick Roadhouse in Walnut Creek, said the mandatory checks have made things awkward between management, employees and customers. "It's just been very difficult to have to ask for things like that," Williams said, referring to vaccination proof. "We're not trying to embarrass anybody. It's kind of an unfortunate situation for us when we're left to implement this, when we just want to serve people food and give them a good time."

The Boris Johnson Administration has decided to return a stolen 8th-century goat-headed deity to India. The British media have reported that the statue of a goddess was stolen from Lokhari, an Indian village, in 1979-82. It is a statue of yogini, a female religious figure, which was worshipped by millions of Indians. Christopher Marinello, an expert in recovering stolen and missing artefacts, has said that the statue has recently been found in an English country garden. "This piece is considered a god, not just a sculpture", he stressed. Marinello has recalled that Sotheby's, one of the largest auctioneers in the world, had made an attempt to sell the statue in 1988. Later in 1997, some unidentified miscreants looted the statue and other artefacts that were featured in "Sotheby's: Inside Story", a book authored by former journalist Peter Watson. Watson secretly filmed Indian dealers, who admitted that they had handed over a lot of objects to Sotheby'. Experts criticized the auctioneer not only for selling stolen artefacts, but also for encouraging people to loot such items from ancient Indian religious sites. For his part, expert Vijay Kumar has said that the stolen statue is a unique sculpture, and it was his dream to find it. "I was actually beginning to lose hope", he stressed. Kumar further said: "Sotheby's, as I understand, pulled this from their auction, though that is still unclear. What was shocking was that they did not reveal the consignor or turn over the details to the Metropolitan police, even during the investigations in 1998, when Watson broke the story." According to Kumar, the UK could have handed the statue over to India before, as it was there for more than two decades. Meanwhile, the Government of Britain has decided to give the statue to the High Commission of India in London. It may be noted that the Imperialist British rulers had stolen many artefacts, including Koh-i-Noor (one of the largest cut diamonds in the world), from India during their 190-year-long Colonial Rule in the Sub-continent. Later, most of those items became the property of the British Royal Family. India and Pakistan have repeatedly urged Britain to return Koh-i-Noor. However, London has rejected the request.

Bitcoin prices dipped about 3% on Sunday morning, continuing a weekend of wild trading that sent the cryptocurrency tumbling more than 17% in just 24 hours. The cryptocurrency traded at $48,012 around 10:50 a.m. Sunday on Wall Street, according to data from Coin Metrics. Earlier in the day the cryptocurrency traded slightly higher at $49,000 as the cryptocurrency struggles to regain the $50,000 market, after dropping to a low near $43,000 on Saturday. On Friday morning bitcoin stood at $57,000. Bitcoin's sharp tumble follows Friday's risk-off tone in the broader market. All three major averages finished Friday's trading in the red and posted losses for the week amid fears over what the omicron Covid variant means for the ongoing economic recovery. Investors ditched equities in favor of safer areas of the market, with the yield on the 10-year U.S. Treasury moving lower. The Nasdaq Composite underperformed the Dow and S&P 500 on Friday, with technology stocks getting hit especially hard. This selling extended to cryptocurrencies, with no fundamental reason prompting the sharp declines across the crypto universe. "It looks like somebody likely got hit with a margin call yesterday and thus was 'forced' to sell", noted Matt Maley, equity strategist at Miller Tabak. "The Bitcoin market tends to be much more "thin" on the weekends, so that probably exacerbated the decline. Once the dust had settled, the buyer came back in and it stabilized." Still, the selling over the last 48 hours builds on recent declines for bitcoin. The cryptocurrency officially entered bear market territory on Nov. 26, after dropping to a then seven-week low around $54,000. Maley added that where bitcoin stabilized on Sunday — under the $50,000 level — is notable given that it's below the trend line from the July lows. "Whether it regains that level or not next week (once regular trading activity resumes) should be important to Bitcoin", he said. Bitcoin is now nearly 30% below its all-time high close to $69,000, which it hit in early November. "Bitcoin is in 'no man's land' right now and that does not seem to be changing anytime soon", noted Ed Moya, senior market analyst at Oanda. "The long-term bullish case remains intact but prices seem poised to consolidate between $52,000 and $60,000", he added. Ether also stabilized on Sunday, advancing about 1.5% to $4,176. On Saturday the cryptocurrency hit a low near $3,500, after plunging more than 16% between Friday and Saturday morning. Ether is the world's second-largest cryptocurrency by market value.

For Theranos founder Elizabeth Holmes, the stakes could hardly be higher: a new mother at 37, in a relationship with an MIT-educated hotel heir, she could find herself locked away for years in a prison cell if the jury in her trial decides she committed criminal fraud. Holmes, whose spectacular startup crash has led to one of the most closely-watched trials in Silicon Valley history, is accused of swindling investors out of hundreds of millions of dollars and defrauding patients with false claims that her defunct Palo Alto company's purportedly revolutionary blood-testing machines could conduct a full range of tests using a few drops of blood from a finger stick. To convict Holmes, federal prosecutors must go beyond the well-documented deficiencies of Theranos' technology and persuade the jury that Holmes deliberately schemed to take money from investors and patients when she knew the technology did not work. "The question for this jury is, 'Did Elizabeth Holmes go too far?'" said legal analyst and former Santa Clara County prosecutor Steven Clark. But with both sides having made strong cases — and the possibility that additional testimony and evidence could emerge before the trial ends — Clark said, "I can't answer that at this point." With a parade of 29 former Theranos employees, investors and patients, prosecutors have sought to portray Holmes as a greedy CEO who was in full control of her company, spinning a web of lies about the capability of her machines that ensnared investors and put patients' lives and health in jeopardy. Ex-laboratory staff and lab officials detailed serious problems with the accuracy of Theranos' machines. Internal emails showed that Holmes —who has sought to distance herself from lab operations — was told about the issues, but she concealed them from investors and her board. Patients and a doctor also told jurors about test results from Theranos' own machines that falsely indicated possible HIV infection and cancer. The prosecution, said Bay Area legal analyst Michele Hagan, presented the jury with "consistent and corroborating testimony from one witness after another that showed that Holmes knew the problems were not being addressed and was still representing… that everything was A-OK." Investors testified about the promising and persuasive claims Holmes made, and expressed bitterness at what she left out, including that Theranos' technology was unreliable, and that even as the company was claiming its blood tests could perform all the offerings of laboratory giants, it was relying on other firms' machines for dozens of tests it could not actually perform. In some of the most damning testimony, former U.S. Secretary of Defense James Mattis and an investment manager for the family of former U.S. Education Secretary Betsy DeVos testified that Holmes' insinuations about the military using Theranos devices on medevac helicopters were misleading. A long-time lawyer for former U.S. Secretary of State Henry Kissinger — who, like Mattis, was a Theranos board member and investor — and former Walgreens chief financial officer Wade Miquelon also testified that Holmes had sent them glowing reports about Theranos altered to look like they came from major pharmaceutical firms. "What the government spent a lot of time doing was showing that Ms. Holmes was intimately involved with the day-to-day activities at Theranos, and she's apprised of these problems and at the same time she's making all these statements," Clark said. In a surprising move, Holmes' attorneys almost immediately put their client before the jury as a witness in their case — a decision Clark believes was driven largely by the strength of the government's case. Defendants take a huge risk in testifying, Hagan noted, but Holmes "has the tool set to do it. She's had years of experience answering difficult questions and persuading and convincing people, so why should a jury be anything different?" Responding with ready answers and a frequent small smile, Holmes took aim at the evidence against her, claiming that she truly believed Theranos had developed technology capable of performing any blood test. Then, point by point, she sought to explain away the alleged evidence of deception, at several moments expressing regret for her actions as Theranos' CEO. She admitted applying the stolen company logos from Pfizer and Schering-Plough to Theranos reports, but said it was only to highlight the work done with those companies. She also conceded that Theranos had mishandled its response to whistleblowers amid a federal probe and imminent media exposé from the Wall Street Journal, and that she erred in hiding the company's use of third-party machines from investors. "There are many things I wish I did differently," she told the jury. "She's acknowledging that mistakes were made," Clark said. "She was able to artfully do it in such a way that she said, 'I made mistakes but I didn't commit a crime,' and that's the theory of her case." Then, on the fourth day of her testimony, Holmes, in tears, dropped a bombshell, accusing former company president Sunny Balwani, with whom she had a secret intimate relationship for more than a decade, of controlling her life, her work, and forcing sex on her when she displeased him, she claimed. "He impacted everything about who I was, and I don't fully understand that," Holmes told the jury. A lawyer for Balwani, who also faces fraud and fraud-conspiracy charges and will be tried separately, has declined to comment on the allegations. "There's this public persona of Elizabeth Holmes and then there's this young, fragile woman — she's been able to change the narrative through the allegations of abuse," Clark said. The narrative presented by Holmes' lawyers bolstered the notion that she was not in control of her company, and raised the idea that her traumatized mental state may have affected her decision-making and her intentions, Hagan said. More importantly, Hagan added, it may have provoked feelings of sympathy among the jurors who hold her future in their hands. The question looming over the government's cross-examination of Holmes, which resumes Tuesday, was whether they could switch the focus back to the damning evidence against Holmes that they presented. And on the first day of cross-examination, Clark said, they made a big mistake when prosecutor Robert Leach had Holmes read aloud text messages full of loving sentiments between Holmes and Balwani. Not only did Holmes get weepy, humanizing her as a vulnerable person, he said, but she was handed an opportunity to tell the jury that one message showed her delicately asking Balwani for permission to see her friends. The messages were "fool's gold for the government," Clark said. "They do not in any way suggest that she was not abused. The way she's handled herself so far in this trial is with total decorum, total politeness. The last thing you want to do with someone who's alleging a claim of domestic abuse is bully them further." *But the prosecution also highlighted messages Balwani sent to Holmes clearly informing her about deficiencies in Theranos' technology. Crucially for prosecutors, Holmes also admitted that as CEO, she was responsible for everything that happened at the company. "That shows the conspiracy," Hagan said, speaking of the government's allegations. "They actually planned this out. They knew about problems and they were working together on how to address or not address them, furthering the scheme to defraud investors and patients, to keep the alleged sham going." Holmes' abuse claims also could backfire if the jury does not find them credible, Clark said. "That's a societal issue that's very sensitive," he said. "You better be genuine regarding those claims." And Holmes acknowledged that Balwani neither forced her to make statements to investors or journalists nor controlled her interactions with Theranos board members or executives from companies she sought to partner with. Holmes admitted that in 2016 she fired Balwani, which Hagan said may have shown her power over him and "could be a counter-indicator of abuse." But, Hagan added, Holmes may have undercut that notion by testifying that she pushed Balwani out of her life and the company, and brought on an array of business and laboratory experts to "fix the issues" at Theranos. "She is pointing the finger at him and showing that she got rid of the problem and she brought in the cleanup team," Hagan said. Whether Holmes' lawyers will call as a witness a psychologist specializing in relationship violence who has analyzed Holmes remains to be seen. Though the psychologist's testimony could help Holmes' team make the connection between the purported abuse and her actions at Theranos, it would allow the prosecution to call their own expert witness, a psychiatrist who has also examined Holmes Holmes' cross-examination is expected to end Tuesday, and the defense has said it will likely conclude its case by the end of next week. Both sides can then call rebuttal witnesses. "They both could be holding back on witnesses that are going to drop bombs," Hagan said. "Or not."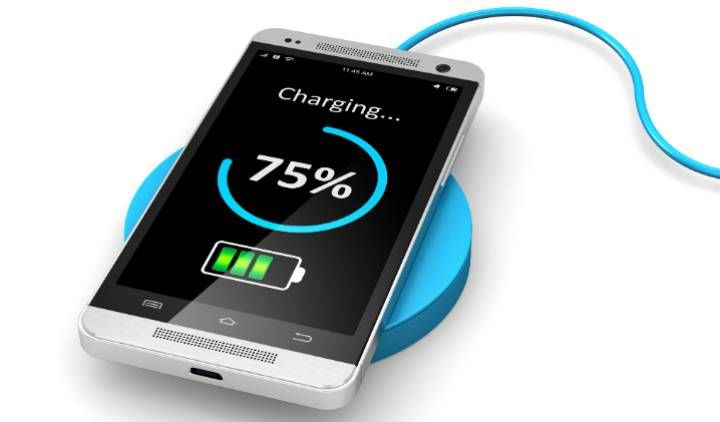 Smartphones have come a long way over the last few years when it comes to design, camera, or even processing power. However, we have not seen much breakthroughs when it comes to battery technology --which is critical today given that handsets come packed with mammoth sized displays, multiple sensors, and faster processors that take a toll on battery life. While a number of smartphone makers offer 'Fast charging' and 'Power modes' to deal with the situation, a concrete solution is still nowhere to be seen. That said, here we have listed out some lesser known tips and tricks that will help you get the most out of your smartphone battery. We all like that mild vibrations while typing on the smartphone keyboard or while tapping the capacitive buttons, however they absorb a good amount of juice. Turning off the 'Haptic feedback' will help you save a good amount of battery because we spend a lot of time on typing throughout a day. Besides, if you don't really need to get notified by vibration, then turn it off as It actually takes more battery power to vibrate your phone than it does to ring it. Turning off Google's Hotword detection will also improve your Android smartphone's battery life. This prevents your phone from always ready to listen to your command to perform a search function. Below are the steps to turn it off. Go to Apps > Settings > Google Services > Search & Now > Voice. Click on 'OK Google detection' Turn Off Always on If your smartphone boasts an AMOLED display, then applying Black coloured wallpapers will help you save battery life. This is because pixels that make the AMOLED displays only utlise battery power to illuminate light colours and don't need any energy to show black colour. To simply put, the more dark or black pixels you have on your AMOLED display, the less power it consumes to illuminate them, thus saves the battery. Most of the apps that are installed on your smartphone (Android/iOS) constantly track your location. You might not want to turn it off while using Google Maps, Uber, sending location on WhatsApp, Tinder, etc. however keeping it on throughout the day while you don't need location tracking will simply kill your smartphone battery. Turn it off while you are just using your handset for watching videos, sending e-mails, and apps where you don't need location tracking. Updating apps might seem to be a cumbersome task, but it actually helps in improving the overall smartphone performance and battery life. This is because developers keep updating apps to improve on battery and memory optimization. SO make sure your smartphone has the latest version of apps installed. This is not an everyday solution but can really help you cut battery usage. Turning on Airplane mode will cut you from the outside world but will allow your smartphone to last longer for multimedia apps such as videos, music player or games that don't need any connectivity. It can do wonders if you are travelling in a poor network zone where your smartphone antennas consume a lot of power to register on the available networks. Simply turn on the Airplane mode if you don't want to receive any calls, messages or use internet. Android operating system is all about widgets that offer tons of information on your smartphone displays. It is indeed a good thing to have everything on screen, however proves havoc for your smartphone battery. The battery has to supply continues power to make those widgets deliver latest updates from backend servers. Delete the widgets that are placed to offer information not required throughout the day and still fetch data from internet such as weather apps, stock apps, scoreboards etc. Apps such as Gmail, Twitter, calendar, etc. constantly refresh themselves to offer latest information. This is required if you just cannot afford to miss an important information but also takes a toll on battery life. Go to Settings > Google account and turn off auto-sync for apps you don't need constantly updated. Doze mode is the latest addition to Android OS and works on devices running Android 6.0 Marshmallow. You don't need to do anything to use the new Doze feature and basically there are no switches or settings to activate or deactivate it. However you can edit the apps that utilise the battery optimization feature from Settings menu. Doze mode simply works in background on Marshmallow devices and puts your phone in hibernation mode whenever it lies unused for a longer duration. Last but not the least; check on Bluetooth, GPS, Wi-Fi, NFC and mobile data if you are not using them. Switch off the Wi-Fi if you are connected on Mobile data and vice versa. The NFC feature might get turn on if you restart your NFC enabled handset, s keep a check on it. Besides, activate the low power mode on your smartphone if you are running low on battery.

If you missed your chance to take advantage of the big savings on Black Friday and Cyber Monday, don't fret, Walmart is still offering plenty of impressive "Cyber Week" deals that you can shop right now. While there's no clear-cut end date for these sales, based on the name it's fair to assume that we'll see quite a few of these deals expire after tonight. You can see the whole selection on Walmart's "Deals for Days" homepage here: We've pulled the absolute best deals from the sale, and you can see our top pics below. For more great Cyber Week deals, you can see our complete roundup of all the best items on sale. When you're sifting through these pages of deals, it's not always easy to tell what's actually a great bargain and what's junk at a low price. That's exactly why Walmart has a page just for CNET's top picks, filled exclusively with products that have been meticulously vetted and reviewed by our team of experts. While all the products on that page are a great buy, we've pulled some of our absolute favorites here. More great CNET picks: We saw great deals from Walmart throughout November, but there are still a few more deals in December that are worth getting excited about. Without any further ado, here are all of the best Walmart holiday deals we've come across so far. A big change for 2021's Cyber Monday TV deals was that we didn't see the $100 doorbusters we did in previous years. Some of this is due to chip shortages and some of it is due to component cost increases over the past year or so. There are still some great deals to be had during the holidays, but only if you're willing to part with a little more of your hard-earned money. More holiday TV deals at Walmart: And streaming stick deals at Walmart: Whether you're looking for a new gaming PC or want something for casual web browsing, Walmart has you covered. There are a bunch of Windows-based laptops on sale during Cyber Week, as well as a few different Chromebook options to consider. A lot of what's on sale here is best suited for casual web browsing, document creation, social media interacting and not so well for resource-intensive tasks like gaming and video editing. You can save too on keyboards, mice and other PC accessories to upgrade your setup this Cyber Week if you aren't in the market for a whole new system. More great PC deals at Walmart: Some really good Chromebook deals at Walmart: And some excellent PC accessory deals at Walmart: If you're looking for gifts for friends, family and maybe even to donate, toys are always a great option. Walmart has a bunch of holiday toy deals that range from Lego bricks to Play-Doh, kids' bikes, Barbies and everything in between. Some of these are perfect for stocking stuffers and others are nice standalone gifts, especially for those who you think already have everything. More Walmart holiday toy deals: These discounts come in at a variety of price points and styles, so whether you want something cheap, something wired, blue headphones, red headphones or even pink ones, Walmart's holiday deals on headphones have you covered. More great holiday headphone deals at Walmart: You can always use something new for around your house, whether it's a vacuum, new pots, lights or even some luggage to get you out of the house. Walmart's holiday deals have you covered on all of this and so much more. These discounts may not be on flashy new tech or cool gadgets, but sometimes the best thing to get a discount on is things that you need or use every day. More Walmart holiday home deals:

Winemakers in the southern Livermore Valley want to expand their industry, increasing the total acreage of vineyards, and possibly building out a resort, restaurants and other entertainment options, but to do all that, they need to hook up to the city's sewer system, a move that would require voter approval. Currently, most of the wineries in the unincorporated area are on septic systems, and the state has banned any significant expansion of the industry as it exists now to prevent further groundwater contamination. Prompted by a request from the nonprofit Tri-Valley Conservancy — which works to preserve and expand vineyards and other agricultural and open space in the region — the Livermore City Council is having city staff work up a draft sewer expansion initiative that could be placed on the November 2022 ballot. "Livermore's current vineyards and wineries need all the support we can give them to become more profitable and gain a reputation for the fine wines it produces," Laura Antrim, executive director of the conservancy, told the City Council at a Nov. 22 meeting. The council also approved spending about $212,500 to pay a consultant to work up a supplemental environmental impact report on the potential sewer expansion, as well as help clarify how the current sewer system would handle such an expansion. Livermore operates its own sewer system, with about 28,,000 customers. About 27,000 feet, or roughly five miles, of new sewer lines would be needed to hook up the wineries and vineyards into the city's system, according to city consultant estimates. Further details on the work, including how much it would cost, aren't yet clear, city officials said. The Alameda County Board of Supervisors, acting on a request from Livermore in 2020, put aside $6.5 million of county money to help fund the potential project. Most wineries and vineyards in the area use septic systems. During the harvest season especially, they have to get rid of large amounts of wastewater from the production of wine, which can include diluted wine, organic particles and other material. There are about 50 operating wineries in the area, city reports said. That dark reddish water and wine mix, often high in nitrates, can contribute to the degradation of the groundwater when dumped. In some areas, that can add to existing problems from a buildup of contaminants from earlier agricultural uses, such as hog and chicken farms, in the region over the decades, officials said. Strict state water regulations prevent further expansion of current wineries or the addition of new ones with the current septic systems, advocates and city reports said. "Over time, if things aren't done to sort of allow the water to recharge and regain its quality, then it's just going to continue to degrade, and adding more septic systems and wells out there would compound the problem," Steve Stewart, the city's planning manager, said in an interview Thursday. Advocates and city officials say hooking these rural properties up to the city's system would allow for groundwater quality to improve, and, crucially, would promote more growth in the winemaking region, realizing plans laid out in 1993 to expand vineyards to cover a minimum of 5,000 acres. There currently are about 4,000 acres of vineyards, city reports said. Antrim, in an interview Friday, said plans for the area originally envisioned a variety of winery sizes, but the valley mostly has "micro-wineries," along with two large producers: Concannon and Wente. Some smaller wineries have a hard time making a profit, she said. "Some of our vineyards are not economically sustainable, so we are doing what we can to try to help increase the value of the grapes here, and the value of keeping these grapes planted," she said. Hooking up to Livermore's sewer system would hopefully help attract medium-sized wineries and would allow "a destination-type hotel or resort" to be added. Antrim said that would help boost the valley's profile to better compete with other winemaking areas, preserve the region's greenbelt of vineyards and olive orchards, and support wineries of all sizes. Kevin Baskin, the head of facilities at Concannon Vineyard, and a board member of the conservancy, said he thinks hooking up to the city system would be a boon for many wineries. Concannon in 2017 was fined $635,000 by the San Francisco Regional Water Quality Control Board for discharging eight times the permitted limits of nitrates into the groundwater. Baskin said the winery has since improved its operations with an above-ground wastewater treatment plant that brings wine production water back into acceptable environmental levels before it's pumped back out to the vineyards. The winery also successfully petitioned to be annexed by the city of Livermore, so its domestic wastewater — from toilets and sinks in kitchens and bathrooms — is now hooked up to the city system. Before that arrangement was complete, the winery was spending roughly $10,000 a month to collect and truck its wastewater offsite to be treated elsewhere. "That was not sustainable for the long term," Baskin said, and noted it threatened the viability of the winery as a whole. While the total cost for the potential expansion is unclear, draft ballot language from the city says the expansion would be done "at no cost to the current ratepayers." "Those taking advantage of the extension would be paying for it," Stewart said, but how the costs would be calculated and assessed is still being determined. If the council ultimately decides to seek voter approval for the sewer extension, the city would have to pay the county to place the measure on the ballot. Stewart didn't have an estimate of how much that would be. "It's not cheap," he said. The City Council will get a chance to review the ballot initiative language in the spring.

When you're shopping for the best gaming keyboard, there are only a handful of brands that stand out: Razer, Corsair, Logitech, and Asus, to name a few. All of them make excellent keyboards, but I haven't been using any of them. I've been using the Akko 3068B, a cheap Amazon gaming keyboard that's as much as $100 less than similar name-brand options. It's almost the full package, just for less money. It's wireless, with support for 2.4GHz and up to three Bluetooth devices, and it comes with transparent mechanical switches for built-in RGB lighting. For that, most name brands charge about $150. The Akko 3068B, on the other hand, is only $100. It comes with more features, too, and it makes a better first impression than even the most expensive gaming keyboards. I've been using the Akko 3068B, and after slamming the keys down on thousands of words and endless raids in Destiny 2, I'm going to stick with it for a while. You might expect a name-brand keyboard to have better attention to detail than a cheap Amazon one, but the Akko 3068B proves that's not always the case. Unboxing the keyboard and finding all of the unique and specialized accessories was an experience on its own, shooting up my expectations before I depressed a single key. The attention to detail shows up in small places. Take the included USB-C cable. Akko could have included a bare-bones USB-C cable for charging and probably saved some money, but it didn't. The cable perfectly matches the color of the keyboard, it comes with an Akko-branded Velcro cable tie (also the same color as the keyboard), and the USB port is shaped to fit flush against the keyboard. There are other examples, like the Akko-branded keycap puller. It's not a big deal, but it makes a better first impression than the cheap, knuckle-busting keycap pullers that come with even the most expensive keyboards. The Logitech G915, a keyboard that costs twice, made me feel like I spent too much money when I unboxed it. The Akko 3068B made me feel like I didn't spend enough. I can't ignore the World Tour keycaps, either. Akko is better known for its keycaps, and this World Tour set shows why. They're remarkably detailed, and even after having the keyboard on my desk for a few days, I always returned shocked at just how good they look. This keyboard comes with a wide assortment of specialty keycaps, too, which I swapped out immediately. You may get a few extra keys with a name-brand board, and keyboards like the Razer BlackWidow V3 Mini don't include extra keycaps at all. I picked out the World Tour edition for the extra art, but Akko sells several versions of the 3068B with different keycaps and colors. First impressions matter. I wouldn't recommend the Akko 3068B if the typing experience was bad, no matter how much attention to detail Akko paid. But the typing experience is excellent, and the extra goodies make the keyboard feel like a premium offering immediately — just cheaper. My Akko 3068B came with Akko's CS Jelly Pink switches, which are the equivalent of a Cherry MX Red switch. I'm not a fan of linear switches, but the typing experience is still excellent on the Jelly Pinks, and gaming is top-notch. It doesn't really matter what switches you prefer, though: You can swap them out in a matter of seconds. Yes, this $100 keyboard features hot-swappable switches. Even the cheapest keyboards with hot-swappable switches are $200 or more. The Massdrop ALT, for example, is $220, and the Glorius GMMK is around $150 when configured with anything but black keycaps. For that price, you could pick up the Akko 3068B and a few sets of key switches. I love the idea of hot-swappable switches. It turns mechanical keyboards into a living product, one that you can upgrade and tweak over time and that doesn't have a definitive end of life. The more expensive options come with aluminum frames, but I could tell from the moment I picked up the Akko 3068B that it wasn't cheap. You're not locked to Akko's switches, either. Although Akko has a solid selection of Cherry-like switches — all of which are cheaper than branded options — you can slot in any 3-pin or 5-pin key switch. I already have a set of Cherry Blues in the mail, and I can't wait to slot them in. There's a catch with the Akko 3068B, and it's the software. Frankly, going with a name brand doesn't buy you a better keyboard; it buys you better software. I had to search for Akko's Cloud Driver far and wide, and once I found it, Windows Defender flagged it as a potentially malicious program. It's not, but this isn't the software experience you find with keyboards like the Corsair K70 RGB. The software itself is horrible, too. It only works if the keyboard is connected in wired mode, lighting and macro controls aren't intuitive, and some of the options (such as the Exit option in the tray) aren't written in English. Frankly, I ignored the software. I'm not big on macros, and you can access most of the functions of the Akko 3068B on the keyboard itself. The included manual has a handy list of functions that are already programmed on the board. You can swap between the wireless modes — including up to three separate Bluetooth devices — customize your lighting settings, and access additional functions like locking the Windows key. I wish I didn't have to reference a chart to understand how the Akko 3068B works. But after a few days with the keyboard, I was able to find my way around the functions that are most important to me without double-checking. Keep the manual handy, though. I referenced it more than once while using the keyboard. You shouldn't jump on Amazon and buy the cheapest mechanical keyboard you can find, but the Akko 3068B proves that going outside of name brands can pay off. Razer, Asus, Corsair, and Logitech make excellent keyboards. Some of the price you pay comes down to the name and software, though. I couldn't be happier with the Akko 3068B. It feels more premium than name brands in some cases, and it comes with many more features — all for a lower price. It's not the cheapest mechanical gaming keyboard you can buy, but it's hard to argue with more features for less money. And that's what the Akko 3068B delivers.

Astronauts on board the International Space Station (ISS) have harvested a second batch of chili peppers grown on the station, bringing to an end one of the most complex experiments in growing plants in space to date. Although some edible plants have been grown on the ISS before, like leafy greens and radishes, the experiment with chili peppers was more challenging than the previous experiments because the chilies are flowering crops and grew for a total of 137 days, compared to the one or two months most previous plants had been grown for. The chilies were grown in the ISS's Advanced Planet Habitat as part of an experiment called Plant Habitat-04. "PH-04 pushed the state-of-the-art in space crop production significantly," said Matt Romeyn, principal investigator for PH-04 from NASA's Kennedy Space Center in Florida. "With this experiment, we took a field cultivar of a Hatch chile pepper from New Mexico, dwarfed it to fit inside the plant habitat, and figured out how to productively grow the first generally recognized fruiting crop in space – all in a span of a couple of years." The first batch of chili peppers was harvested on October 29 and was turned into tasty tacos for the crew. One of the big advantages of growing chilies is that their spicy flavor is appealing to astronauts, who often request condiments like hot sauce to make their food more interesting. "The level of excitement around the first harvest and the space tacos was unprecedented for us," Romeyn said. "All indications are some of the fruit were on the spicier side, which is not unexpected, given the unknown effect microgravity could have on the capsaicin levels of peppers." As well as the physical health benefits of fresh vegetables, tending to crops and then harvesting and eating them can be psychologically beneficial for the astronauts as well. "The biggest benefit that I've seen personally is the impact growing plants has on the crew," said Nicole Dufour, PH-04's project manager. "They are so engaged when they are interacting with the plants, especially when it's a crop plant like the peppers. We discovered the crew had been taking the door shade off every day to check on the plants and look at the peppers. That's not something we asked them to do – they just wanted to because they enjoyed it so much."

According to a written parliamentary reply by Home Minister Hamzah Zainuddin to the MP of Kepong, Lim Lip Eng earlier this week, the Royal Malaysia Police (PDRM) is in the midst of procuring body cameras for its officers. Hamzah said that the exact specifications needed are still being worked out, so no specific model has yet to be identified for the open tender procurement. The minister also said that a total of 2040 units of the bodycam will be purchased and distributed among 84 locations, including police stations, district police headquarters, contingent police headquarters, and the PDRM headquarters in Bukit Aman. The cameras will use artificial intelligence with live video streaming capabilities and will be certified by SIRIM. [Photo: CEphoto, Uwe Aranas] Equipping the police with bodycams has been in the works since 2019, with Hamzah himself saying that the procurement process had already started in 2020, although the number of units announced back then was 2168. He also said that the cameras would be able to use 4G. Though the cost of the cameras hasn't been revealed, then-Prime Minister Muhyiddin Yassin announced in March that the government had allocated RM30 million for the procurement of bodycams for the PDRM. Shortly after, then-Inspector-General of Police Abdul Hamid Bador said that he expected the body cameras to be in use by September or November this year. Notice the Axon body camera on the belt of these PDRM officers next to the TASER stun gun. This image came from 2015. [Image: PDRM / Facebook.] It should be noted that the Malaysian Auxiliary Police had adopted bodycams with facial recognition back in 2018 through a collaboration with YITU Technology although it is not known whether the partnership is still active or otherwise. Not only that, PDRM has tested the Axon body camera even much earlier in 2015 which means that the technology is not new to our police force. (Source: Parlimen [ pdf], Lim Lip Eng / Twitter.)

Viva Las Vegas — in June, Resorts World Las Vegas, the Strip's first new casino resort in over a decade, officially opened its doors as the hospitality industry began its COVID-19 recovery. The $4.3 billion Hilton hotel is filled with all the classic Las Vegas accoutrements, like plenty of food, gambling opportunities, pools, and watering holes. But unlike many of the Strip predecessors, Resorts World's amenities have a tech-friendly twist, such as the option to pay with cryptocurrency. A multibillion-dollar modern hotel that's this flashy needs suites that are equally flamboyant…. and Resorts World's recently debuted ultra-luxurious suites are just that. Along with the classic rooms and suites, Resorts World Las Vegas has "palaces" and villas" with nightly costs fit for royalty. These suites include two and four-bedroom "villas" … … and three and four-bedroom "palaces." The hotel's line of villas and palaces embody Las Vegas' opulence and grandeur and have price tags to show for it. These four suites range from 3,300 square feet to 7,000 square feet, and start at $15,000 a night. Let's take a closer look. The four-bedroom Chairman's Villa sits on the 65th floor, providing panoramic views of the Las Vegas Strips' bright lights. It's more than just a suite with a living room and bedroom. The 5,500-square-foot "villa" has a grand foyer, powder room, living room with billiards and a stocked bar … … an entertainment space, a formal dining room, and a kitchen. It also has four primary suites that all have en-suite bathrooms and walk-in closets. If you prefer having half the number of bedrooms but still want the villa "experience", there's also a 3,300-square-foot two-bedroom pool villa. with features like a massage room, sauna, media room, and terrace with a pool and kitchen. Then, there's the two "palaces." First up, the 6,500-square-foot three-bedroom palace, which also has a foyer, powder room, media room, and terrace with a pool and kitchen. But if you want double the bedrooms and a larger space, opt for the 7,000-square-foot four-bedroom palace. This option is the hotel's largest suite. It has a long list of rooms, so buckle up: There's a foyer, formal dining room, media room, game room with billiards, and a bar … … four primary suites that each have en-suite bathrooms with tubs and walk-in closets (of course) … … and a terrace with a private pool, spa, garden, and kitchen. These suites are undeniably lavish, but if you're looking to drop more cash — maybe the equivalent cost of a home in the Midwest — Resorts World has the package for you. The hotel also has a $300,000 suite package, the most expensive of its kind on the Las Vegas Strip, according to the company's press release. This package includes a private flight to Las Vegas for eight people, transportation to the hotel in Rolls Royce cars, and a two-night stay in the aforementioned Chairman's Villa. Its hefty price also includes a private dinner, backstage access to the theater, a group spa day. … a pool party, a security team, VIP at the hotel's Zouk Nightclub … … a photographer, a drink named after you that'll be included on a menu somewhere in the hotel for six months, and more. Just make sure you don't gamble away all the money you might need to afford the splurge. For you

Given the choice, we'd all prefer gadgets that work as part of a wire-free ecosystem. Wireless chargers are the best example of this technology, enabling modern smartphones to recharge without the hassle of cables and power bricks. The market is packed with Qi-certified chargers, but consumers need to be careful when they select a model, as low-quality products can damage phones. Belkin Avoiding low-quality wireless chargers isn't too difficult, fortunately, with a number of well-known and reliable companies offering models to suit every need. Not sure where to start? Check out these options to get the ball rolling. Belkin is high up on the list of reliable companies that offer wireless charging tech consumers can bank on. The Belkin Boost Up Wireless Charging Stand is tactically designed for placing any Android or Apple device in portrait or landscape mode. The stand charges Android devices at up to 10W and newer iPhones at 7.5W, plus it is priced at a comfortable $35 USD on Amazon. What we like – 10W safe power delivery – Good build quality and finish – Two-year warranty What we don't like – Can be a tad pricey for budget buyers – Front LED can be bothersome while sleeping This wireless charger complies with the highest Qi wireless charging standards, according to the company, and is compatible with all Qi-enabled devices. The Belkin Boost Up Wireless Charging Stand is engineered to work with plastic cases that are up to 3mm thick, so you can just drop the phone and let it charge. Anker is another wireless charging veteran that you can't go wrong with. The company's PowerWave Stand rides on the success of its previous wireless charging stands and pads. Put your wireless charging-compatible smartphone on the PowerWave Stand and the device will be juiced up in no time. What we like – Vertical and horizontal placement – Portable and handy to use – Case-friendly What we don't like – The micro USB cable is only 3ft long – Heat dissipation may be problematic at times, based on some customer reviews The PowerWave Stand can be used to charge Samsung Galaxy smartphones at 10W and iPhone models at 5W. This model offers a couple of benefits over Belkin's aforementioned alternative, as well — it is compatible with rubber, TPU, and plastic cases that have up to 5mm thickness, plus it only costs $20 USD. The Mophie brand is known for its portable battery banks and quality wireless charging solutions. The Mophie Wireless Charging Stand Plus is no exception and can, the company says, be used with any smartphone or gadget that supports wireless charging. This model features dual charging pads – one angled and the other positioned horizontally to maximize usability, as well as 15W power delivery for fast charging. The $80 price tag is high, but it makes sense for consumers who have more than one gadget to charge wirelessly. What we like – Excellent built quality and fabric covering – Perfect for Apple customers who own an iPhone, Apple Watch, and AirPods What we don't like – Travelers may not like the device's bulkiness – The charger is only available in the color black Logitech needs no introduction when it comes to gadgets and accessories. The company's 10W Powered Stand is a great option from the manufacturer, offering support for Apple, Google, and Samsung smartphones, as well as models from other companies. What we like – Compact, stylish design – Tested with over 100 Qi-certified devices – Works with 3mm phone cases What we don't like – High price for features offered – May falsely detect objects and stop charging at times, according to some customer reviews Samsung smartphone owners can expect 9W fast-charging support, while iPhones are charged at 7.5W. The Powered Stand's build quality is great, making this model ideal for your desk, nightstand, or coffee table. At $60 USD, this model is one of the pricier options on this list, but the cost may be worth it for those seeking a high-quality product. For those who want a minimal wireless charger at the best price, Yootech's wireless chargers are worth considering. The company offers multiple models, including one that only charges smartphones and another that offers three-in-one charging for multiple devices. The phone-only Yootech wireless charger is notable for its 15W fast-charging support, compatibility with a wide variety of modern smartphones, USB-C to USB-A charging cable, and support for both vertical and horizontal charging. What we like – Compatible with most Android and Apple phones – Minimal, modern design – 15W charging power What we don't like – Short 3.3ft charging cable – Only one color option (silver) This Yootech model is compatible with smartphone cases made of rubber, TPU, and plastic up to 4mm thick. The wireless charger is one of the cheaper options on this list at $20 USD. When shopping for a wireless charger, there are multiple factors to consider, including power delivery and design — though, of course, the most important thing to check is whether they're safe to use with your gadgets. Depending on one's needs, the above models are excellent options to consider. If we were forced to choose, we'd say the Anker PowerWave Stand is the best overall option, though the Yootech Wireless Charger is a great value and the Mophie Wireless Charing Stand Plus is perfect for charging multiple devices at once.

Looking for what to buy the gamer in your life? Tech columnist Marc Saltzman offers up his top picks for kids, teens and adults.

Needless to say, loads of Android brands have confirmed that they'll be offering the chipset. But who's signed up for the SoC and which phones will have it? We've got you covered with our rundown of confirmed Snapdragon 8 Gen 1 phones and manufacturers. The Xiaomi-affiliated gaming phone manufacturer has confirmed that it will indeed be using the Snapdragon 8 Gen 1 for its new Black Shark gaming phones. The firm also has a video on Qualcomm's website where it discloses this information, but we don't get any word on a rough launch window or the name of the phone. Nevertheless, frequent leaker Digital Chat Station has previously claimed that the new chipset will land inside the Black Shark 5 series. This name seems like a no-brainer as the Black Shark 4S and 4S Pro were the last phones released by the company. If the new phones are anything like their predecessors, then we can expect physical shoulder triggers, fast charging, and a 144Hz+ screen. The former Huawei brand struck out on its own and produced its first Snapdragon flagship phones this year in the Honor Magic 3 series. It will stick with that strategy next year as it announced in a video that the "next-generation Honor flagship" will be using the Snapdragon 8 Gen 1 in 2022 as well. The Lenovo-owned company took to Weibo to say that it will indeed offer the Snapdragon 8 Gen 1 in a smartphone very soon. More specifically, the upcoming Moto Edge X30, which will launch on December 9, will offer the SoC. Nubia is another brand that's confirmed it'll be using the Snapdragon 8 Gen 1 processor in 2022. It said in a video on Qualcomm's website that it'll offer a phone with the chipset "as soon as possible" and that it will be available soon. So which phone should we expect? The company specifically used the Red Magic gaming phones and the Nubia Z series as examples of its partnership with Qualcomm. So we're guessing these are the series that will adopt the new processor. In fact, the unannounced Red Magic 7 was spotted in a certification listing recently along with 165W charging support. The BBK-owned company has also thrown its hat into the Snapdragon 8 Gen 1 arena, saying it will be one of the first manufacturers to offer phones with the new processor. It was also one of the few companies to dish out a rough release window, saying its first phone with the Snapdragon 8 Gen 1 (presumably the Find X4 Pro) will be hitting the market in Q1 2022. Japanese manufacturer Sharp has offered Aquos R series flagships for several years now, and it's a real shame that 2021's Aquos R6 didn't come to global markets. Sharp has announced plans to adopt the Snapdragon 8 Gen 1 as well but didn't dish out any details bar a 2022 time frame. Presumably, this is for the Aquos R7. However, the company has claimed that it will be the first to launch a phone with the new chipset, namely the Xiaomi 12 series. Rumors point to a December 12 launch date, which would actually mean the Moto Edge X30 could edge it out by a few days. Then again, it's possible Xiaomi will announce its flagships sooner.

Why you can trust Pocket-lint (Pocket-lint) - It's hard to believe, but the X-Men Cinematic Universe (XCU) began two decades ago - with the release of X-Men in 2000. Although the XCU technically concluded with 2019's Dark Phoenix, the only thing that's truly ended is 20th Century Fox's involvement with producing the popular mutant franchise. Marvel acquired the rights to X-Men, and Marvel Studios president Kevin Feige is rebooting it and teasing future inclusion in the Marvel Cinematic Universe. We could begin to see mutants in the MCU soon. To help you prepare, we're combing through all the X-Men films to figure out the best way to watch the existing films. It's difficult to do, considering the X-Men timeline constantly jumps. Nevertheless, here's how all the X-Men movies fit together, by order of the events that happen in the films. squirrel_widget_187869 The best X-Men movie order: Chronological Our guide below has some spoilers, so be sure to jump to the bottom to check out the spoiler-free version of this X-Men chronological movie order. And, for those of you who'd prefer to watch all the films in order of release, we've included that at the bottom, as well. NOTE: THERE ARE SPOILERS BELOW. 20th Century Fox X-Men: First Class (2011) squirrel_widget_167932 X- Men: First Class is actually the fifth X-Men film released by Fox, but it's first on our list, as it's the origin story for some of the most important characters in the X-Men Cinematic Universe. The story follows James McAvoy's Charles Xavier and Michael Fassbender's Erik Lehnsherr as they become Professor X and Magneto. It's set primarily in 1962, as the two assemble a team of mutants to stop another mutant, the energy-absorbing Sebastian Shaw (Kevin Bacon), who wants to trigger a nuclear war between the US and the Soviet Union. 20th Century Fox X-Men: Days of Future Past (2014) Days of Future Past begins in the dystopian future of 2023 - when mutants are hunted down and murdered by indestructible robots known as Sentinels. Kitty Pryde (Elliott Page) uses their powers to send Wolverine (Hugh Jackman) to 1973 to stop the assassination of the inventor of the Sentinels, Bolivar Trask (Peter Dinklage), by the mutant Mystique (Jennifer Lawrence). We put this film at No. 2 on our list, as the events that matter most to the timeline take place in the 70s, while the events happening in 2023 are all part of a future that's avoided. 20th Century Fox X-Men Origins: Wolverine (2009) This film is considered one of the worst superhero films of all time. That said, we learn important things about Wolverine (Hugh Jackman). It spans Wolverine's life, from his childhood in the 1840s in Canada, before he and his brother Victor Creed (Liev Schreiber) are forced to run away. A short montage reveals the brothers, who are nearly indestructible, thanks to their healing-factor mutation, have fought in every American war up until Vietnam - when they're recruited by William Stryker (Danny Huston) to join a special task force known as Team X. 20th Century Fox X-Men: Apocalypse (2016) Oscar Isaac plays the first mutant ever, Apocalypse, who awakens in 1983 after being entombed in ancient Egypt. The arrival of Apocalypse causes disturbances that alert James McAvoy's Charles Xavier to his presence, and soon, the X-Men realise that the mutant-being is intent on destroying the world as we know it, with the help of his own team of mutants, called The Four Horsemen. 20th Century Fox Dark Phoenix (2019) squirrel_widget_167946 This is the final X-Men film released by 20th Century Fox. The studio attempts to portray one of the most beloved X-Men comic storylines centered on Jean Grey. The X-Men - hailed as heroes throughout the world, following their victory over Apocalypse eight years earlier - are sent to space to save a group of astronauts. But the telepath Jean Grey (Sophie Turner) is struck by a mysterious energy force that greatly improves her powers while also awakening traumatic memories that Xavier (McAvoy) suppressed from her mind. 20th Century Fox X-Men (2000) squirrel_widget_167922 The very first film in the franchise is No. 6 on our list. It stars Patrick Stewart as Professor X and Ian McKellan as Magneto. These old friends are on opposite sides of a debate over the Mutant Registration Act, which requires all mutants to reveal themselves and add their names to a government database. Magneto wants to turn the world's leaders into mutants using a machine, in conjunction with the powers of a young mutant named Rogue (Anna Paquin), but unbeknownst to him, the machine kills whomever it turns. 20th Century Fox X2 (2003) The mutant Nightcrawler (Alan Cumming) tries to assassinate the US President, giving Colonel William Stryker (Bryan Cox) an opening to investigate Xavier's school for its ties to mutants. Stryker leads a team to capture Professor X (Patrick Stewart) and Cyclops it's then revealed that Stryker used his son's mutant abilities of mind control to try to force Professor X to kill all mutants. 20th Century Fox X-Men: The Last Stand (2006) The Last Stand focuses on a cure for the mutant genome marketed by a company known as Worthington Labs. The cure creates an immediate divide in the mutant population, causing Magneto (Ian McKellan) to recreate his Brotherhood of Mutants. Meanwhile, Jean Grey (Famke Jansen) suddenly returns to life, following her sacrifice at Alkali Lake in the previous film. When her behavior begins to worry Wolverine (Hugh Jackman), Professor X (Patrick Stewart) reveals her death unleashed a dangerous side of her personality known as the Phoenix. 20th Century Fox The Wolverine (2013) This film deals with the aftermath of Wolverine (Hugh Jackman) killing Jean Grey (Famke Jansen) at the end of The Last Stand. He's become a recluse in the woods and is discovered by Yukio (Rila Fukushima), a mutant with the power to foresee anyone's death. She asks Wolverine to come with her to Japan to meet with Ichiro Yashida, CEO of Yashida Industries, whom Wolverine saved during the Nagasaki atomic bombing. 20th Century Fox Deadpool (2016) squirrel_widget_167938 Ryan Reynold's technically debuted as the Merc with a Mouth in 2009's X-Men Origins: Wolverine, and for a normal hero, this would be considered a total reboot, but Deadpool is the furthest thing from normal. So, it's still worth including here. This film follows mercenary Wade Wilson (Reynolds) as he falls in love with Vanessa (Morena Baccarin). Shortly after they're engaged, Wade receives a terminal cancer diagnosis, leading him to enter an experimental program, in which he receives a serum that awakens his dormant mutant genes. 20th Century Fox Deadpool 2 (2018) The follow-up to the surprise success of 2016's original sees Deadpool (Ryan Reynolds) team up with Domino (Zazie Beetz), Colossus (Stefan Capicic), Negasonic Teenage Warhead (Brianna Hildebrand), and Peter (Rob Delaney) to form X-Force. They try to stop Cable (Josh Brolin), a cyborg soldier from the future, from killing a young mutant named Russel Collins (Julian Dennison), who murdered Cable's family. 20th Century Fox The New Mutants (2020) squirrel_widget_4141962 The New Mutants began production under 20th Century Fox, but then the rights to the X-Men were sold back to Marvel. The film follows five teenage mutants who are undergoing treatment to "cure" them of their powers at a creepy old asylum. The New Mutants basically turns into a horror film from that premise. The only problem is that the film isn't very good. This all led to The New Mutants getting an on-demand release during the pandemic and quickly being forgotten. Still, the film features a host of young stars including Anya Taylor-Joy from The Queen's Gambit and Maisie Williams from Game of Thrones. 20th Century Fox Logan (2017) Logan is Hugh Jackman's final turn as Wolverine. In 2029, Logan is living as a limo driver in a dystopian version of El Paso. His mutant healing factor has begun to fade, and the world hasn't seen a mutant born in 25 years. While Logan wants to continue his life in peace, taking care of a 90-year-old, dementia-riddled Charles Xavier (Patrick Stewart), he is forced to protect a young girl, named Laura (Dafne Keen), with powers mysteriously similar to his own, as they journey to a refuge center that may not even exist. Spoiler-free version: X-Men movie orders at a glance The first list below is the same exact chronological one that is detailed above, only free of spoilers so you can read at a glance. As for the second list, it's all the X-Men films - again, listed spoiler-free - but in order of release. It's up to you which order to follow. X-Men chronological movie order X-Men: First Class (2011) X-Men: Days of Future Past (2014) X-Men Origins: Wolverine (2009) X-Men: Apocalypse (2016) Dark Phoenix (2019) X-Men (2000) X2 (2003) X-Men: The Last Stand (2006) The Wolverine (2013) Deadpool (2016) Deadpool 2 (2018) The New Mutants (2020) Logan (2017) X-Men theatrical movie order X-Men (2000) X2 (2003) X-Men: The Last Stand (2006) X-Men Origins: Wolverine (2009) X-Men: First Class (2011) The Wolverine (2013) X-Men: Days of Future Past (2014) Deadpool (2016) X-Men: Apocalypse (2016) Logan (2017) Deadpool 2 (2018) Dark Phoenix (2019) The New Mutants (2020) Did you like this? Then maybe you'll like our other movie order viewing guides: What order should you watch all the DC movies? What order should you watch every Marvel movie and TV show? What order should you watch all the Star Wars films and shows? What order should you watch the Star Trek movies and TV shows? What order should you watch every Quentin Tarantino movie? What is the best order to watch all the Spider-Man movies? What order should you watch the Batman movies and shows? What is the best order to watch the James Bond movies? What order should you watch the Jason Bourne movies and TV show? What is the best order to watch the Rocky and Creed movies? What's the best order to watch The Conjuring Universe movies? What is the best order to watch all the Spider-Man movies? What's the best order to watch all the Halloween movies? What is the best order to watch the Alien Universe movies? What is the best order to watch the Terminator movies and TV show? Pixar Theory: The best Pixar movie order We also have these rumour round-ups on upcoming movies: Upcoming Marvel movies: Every new MCU film and TV show in the works Upcoming Star Wars movies and TV shows: Everything confirmed so far Writing by Maggie Tillman. Editing by Britta O'Boyle. Originally published on 26 September 2019.

Why it matters: Cyber criminals are constantly analyzing the technology space for new ways to exploit users and obtain their personal data. In the past, phishing attacks have been leveraged to trick users into providing sensitive information by posing as a credible source and requesting the user's data. But according to Cisco's Talos threat intelligence organization, a new malicious campaign has been gaining traction as an effective method to harvest information from unknowing users. Known as malvertising, Cisco's Talos Intelligence believes a specific campaign known as " Magnat " uses fraudulent online advertising to trick users that are searching for legitimate software installers. The Cisco threat intelligence team believes the Magnat campaign may have started in late 2018 and targets users in Canada, the United States, Australia, and several other European nations. Once a user is directed to the fraudulent download, they run a fake installer that deploys three distinct pieces of malware to their system. While the fake installer gets to work installing multiple malware components, it does not install the actual application the user was originally searching for. The first piece of malware is a password stealer used to collect user credentials, often via a common tool known as Redline. Another piece of malware, known as MagnatBackdoor, sets up remote access to the user's device via Microsoft Remote Desktop. This access, combined with the user credentials stolen by Redline (or a similar tool), can provide unfettered access to the user's systems despite being secured and firewalled. The final piece of the malware trifecta is a Chrome browser extension known as MagnatExtension, which is used for keylogging, obtaining screenshots of sensitive information, etc. An August 2021 tweet provided screenshots and download samples of a suspected malvertising campaign. Talos analyzed the samples referenced in the tweet and verified at least one sample contained the MagnatBackdoor, MagnatExtension, and Redline malware components. #RedLineStealer being delivered through fake WeChat installers, coming from @GoogleAds. .zip ->.iso ->.exe https://t.co/J5npamHM1P Creates a new user account, forwards RDP port, drops RDPWrap. Damn. cc @JAMESWT_MHT @James_inthe_box @malwrhunterteam pic.twitter.com/0Jvaz4tChc Aura (@SecurityAura) August 9, 2021 Talos believes the Magnat tools have been developed and improved over the course of several years and show no signs of slowing down anytime soon. The installer package's name is constantly evolving and typically references the name of popular applications to lend credibility and trick users into deploying the package. Examples of past package names include viber-25164.exe, wechat-35355.exe, build_9.716-6032.exe, setup_164335.exe, nox_setup_55606.exe and battlefieldsetup_76522.exe. Image credit: Magnat malware diagram from Cisco Talos

We get it, you're looking for technology. You want the biggest screens, the smartest interfaces and most clever elements packed into your car. This is the right list for you. We asked our editors to choose the best vehicles for anyone wanting the best technology on the market today. The best part is, not everything on this list is a luxury car. Believe it or not, you can get a lot of tech in some more affordable packages. Read on for the full list. Read more: Roadshow's guide to vehicle subscriptions We drove these cars, trucks and SUVs! Roadshow's new-car testers and editors are constantly on the road, evaluating a wide variety of vehicles in all conditions and situations (not to mention other gearhead essentials like garage heaters, floor jacks, tool sets and more). It's our collective experience and decades of knowledge that guides the decisions that turn into these best lists. The vehicles seen here represent our favorite new SUVs, trucks and passenger cars for tech lovers of all stripes. Whether you're someone who wants an EV packed with the latest cabin conveniences and advanced driver assist systems; a low-cost DIYer who relishes personalizing your ride with your own brought-in solutions, or just someone who wants an affordable everyday car with commute-easing tech, the Roadshow by CNET editorial team has you covered.

Hit play on the player above to hear the podcast and follow along with the transcript below. This transcript was automatically generated, and then edited for clarity in its current form. There may be some differences between the audio and the text. More: Daily news, true crime, and more USA TODAY podcasts Brett Molina: Hey there, listeners. It's Brett Molina. Welcome back to Talking Tech. I love Zoom. I love all the video tools that we've been using amid the pandemic, whether it's Zoom, yes, even Microsoft Teams. I love all of it, but now there's a new feature coming to Zoom, and I'm little worried here, because I feel like maybe it's going to tattle on me. Here's why. Zoom Meetings is going to introduce a feature called attendance status, which makes it easier for hosts to track whether people in the meeting are there, but also, if they were late for the meeting. Participants that are invited to the meeting, who haven't joined, will be singled out under a not-joined section in the participant's panel of the call, along with their response. If there's a calendar invite, it'll say whether they accepted, declined, it'll explain whatever it is you need. You can read more about this feature in a story on tech. USAtoday. com. The host can then click ask to join, and then it'll invite all the people that were not there and bring them into the current meeting. It's available to folks with Google and Outlook Calendar integrations, and it's currently beta testing. It's not available right now, but it's currently in beta testing. Now, Zoom says there are certain limits to how you can use the tool. It can't be for a recurring meeting. It seems like it's only like a one-time meeting that you set up. Also, it has to be scheduled after the tool has rolled out, so you can't like retroactively have a meeting and then add this integration. It has to be done right after they roll out this attendance status. I'm not going to lie. I'm not a fan of Zoom kind of, sort of snitching on me because I'm late for a meeting. It's kind of funny. I mean, I don't know. It's definitely interesting to have that as an option. I guess if you're a manager or a boss, it's great because if you want to really keep close track of attendance, and who's on time, and who's not, but it's just funny how these new features are popping up. Now, it's one of several that Zoom has announced. This isn't the only thing they're planning. Soon, there's going to be enhanced slide control, so if someone's doing a presentation, you can have multiple people control the slides, instead of just one person. You're also going to have updates to polls, so you can have things like ranked responses, or other stuff. That way, if you want a little more of a dynamic experience, polling a group of people within a meeting, that's easier. It's safe to say Zoom has been a lifeline for all of us over the last close to two years now, with the start of this pandemic. It has really helped us stay connected with our coworkers, with our family, and, obviously, it's a super useful tool, but I am very interested to see how this attendance status all plays out down the road. You could read more about this and anything else Zoom on tech. USAtoday. com. Listeners, let's hear from you. Do you have any comments, questions, or show ideas? What do you think of Zoom taking your attendance? Let me know about it on Twitter I'm @brettmolina23. Please don't forget to subscribe and rate us, or leave a review on apple podcasts, Spotify, Stitcher, anywhere you get your podcasts. You've been listening to Talking Tech. We'll be back tomorrow with another quick hit from the world of tech.

This list rounds up some of the best Nintendo Switch accessories to take your Switch games to the next level. The Switch is a great plug-and-play gaming console, but with the right Nintendo Switch accessory or two -- like a screen protector, microSD cards, controllers and grips and docks -- you can noticeably improve your gaming experience. Read more: The 37 best Nintendo Switch games to play in 2021 Keep in mind that these products are all designed for the original Nintendo Switch console, which you can play on your TV or in handheld mode. While many of these might work with the new Switch OLED and smaller Switch Lite, such as the controllers, several items on the list won't because of the size differences in design and screen or lack of video output. (There may be other versions to buy that are compatible with the Switch Lite.) Also see: Nintendo Switch OLED restock: Where to find a console Our friends at GameSpot also have a roundup of the best Nintendo Switch controllers. Read more: 20 best Animal Crossing: New Horizons tips: From fishing to fertilizing flowers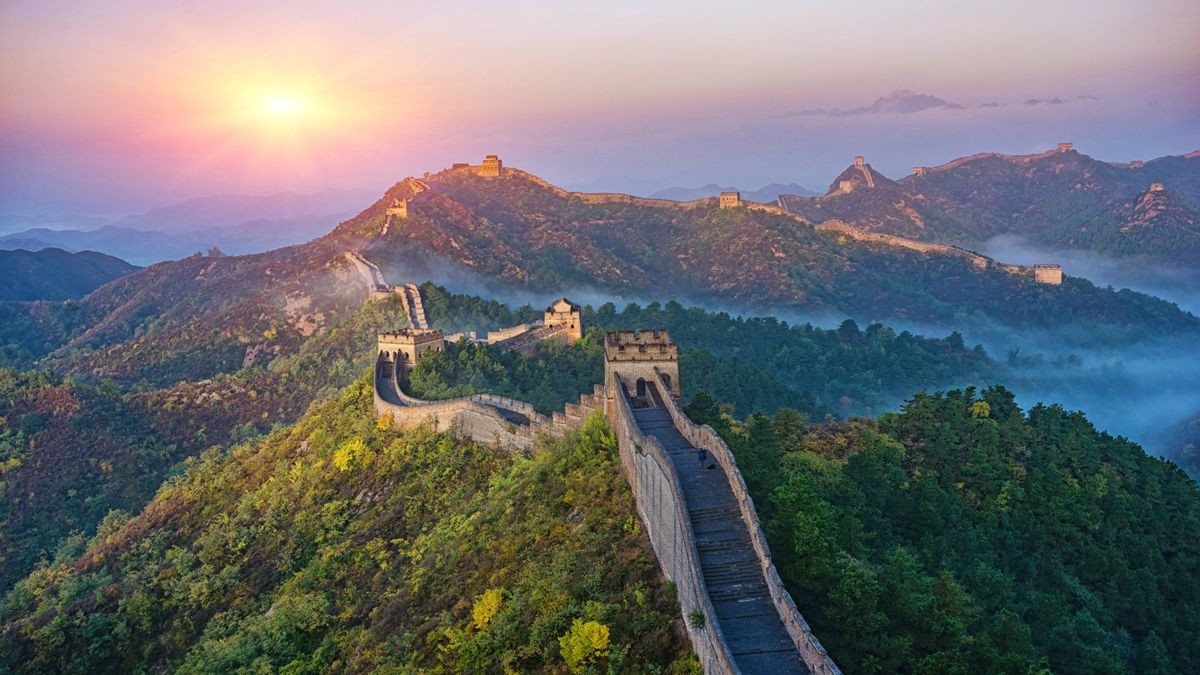 The Great Wall of China — built over the course of two millennia to bolster China's northern frontier — is made of several overlapping walls that run parallel to each other. Collectively, they stretch over 13,000 miles (21,000 kilometers) — more than half the circumference of Earth. But did these extensive walls, with an average height of 25.6 feet (7.8 meters), actually protect China against the outside world? The answer largely depends on how you define the wall's successes and failures. The Chinese built the wall as a masterpiece of defensive architecture, and while Chinese troops controlling these barriers certainly helped to thwart the attacks of some would-be invaders, the Great Wall was by no means impenetrable. In other words, sometimes it helped protect China, and other times it didn't. On the other hand, it was also a display of imperial China's wealth, architectural expertise and engineering prowess. On this front, it undoubtedly succeeded and continues to do so, as the ruling Communist Party has adopted the wall as a patriotic symbol. Related: Is the Great Wall of China really visible from space? The Chinese began building walls in the country's far north in about 700 B.C., but it wasn't until Qin Shi Huang unified China's warring states to become the first emperor in 221 B.C. that the Great Wall project got underway in earnest. He directed peasants to connect preexisting forts to protect his burgeoning empire against the various nomadic tribes of the Mongolian region, according to Britannica. Later emperors further extended and fortified the wall, adding beacon towers, which could be lit to send messages about forthcoming raids. By the 1300s, the wall had begun to resemble what it looks like today. The wall helped the Chinese Empire prepare for invasions, buying valuable time for China's forces to mobilize. It was also used to lure enemy troops into compromising situations, according to the book " The Great Wall of China From History to Myth " (Cambridge University Press, 1990) by Arthur Waldron, a professor of international relations in the department of history at the University of Pennsylvania. In 1428, for example, a Chinese general managed to force Mongol armies toward the wall, pinning them down without an escape route and defeating them. But the Great Wall didn't guarantee safety. The wall isn't contiguous — it was initially used to bulk up defenses where the geography was less challenging for armies to traverse — and in some cases, intruders simply marched around various sections. One of the wall's most infamous failures, however, brought about the end of an entire dynasty of rulers. "It had offered little or no protection to the greatest wall builders of all, the Ming Dynasty, from their most threatening adversaries, the Manchus to the northeast", said Julia Lovell, a professor of modern Chinese history and literature at Birkbeck University of London. A disaffected Chinese general simply opened the gates to let the Manchus into China, Lovell told Live Science. The Manchus then went on to found the Qing dynasty in 1644, which lasted until 1912. Because of its ultimate failure, by the 19th century many people in China saw the Great Wall as "an enormously expensive strategic folly", Lovell said. RELATED MYSTERIES What was the largest empire in the world? — What's the world's longest bridge? — When did Constantinople become Istanbul? This negative perception persisted for quite some time. "Ordinary people had to provide labor over many years to construct it, and it became a powerful symbol of the emperor's imperial oppression", said Louise Edwards, emeritus professor of Chinese history at the University of New South Wales in Australia. But then it had something of a rehabilitation in 1912, when the nationalist revolution ousted the last Qing emperor and established a republic. In the absence of a monarch, the new leaders were on the hunt for ways to unite a sprawling country with many different cultures. "They were looking around for symbols to create a new national identity", Edwards said. The Great Wall, as one of the world's largest construction projects built by China's hardworking denizens, was the perfect example of what could be achieved through unity. "It had a bit of a PR makeover", Edwards said. When the communists took over in 1949, the same narrative fit with their political ideology. The modern-day success of the wall lies in this same symbolic value, Edwards said. "The symbolism of it all is so important", she told Live Science. "This is its real and lasting power." Originally published on Live Science.

Last month, details on Bioshock 4, which may be called Isolation, made their way online via a leak on Twitter. More details have since come to light, including the setting and time period of when the events of the game take place, as well as the name of the studio behind it. VGC reports that journalist Colin Moriarty shared these details during a Sacred Symbols video for his Patreon subscribers. In it, he says that the game will take place during the 1960s, and in a fictional Antarctic city called Borealis. Narratively, it will also connect to the previous entries in the series. These new details also hint at perhaps a story that will run concurrently with the first two Bioshock games, given the time period. The game is being developed by Cloud Chamber, a relatively new studio founded in 2019 under the 2K umbrella. The studio is also targeting a 2022 release, which matches with the leak from last month. Though it's worth noting that there's no mention of the name Isolation this time around. Beyond that, nothing much else is known about the upcoming Bioshock title. Assuming last month's leak is at least partially accurate, at least an announcement is expected within the first quarter of next year. (Source: VGC)

December 5, 2021 Italian physicist Giorgio Parisi will receive a shared Nobel prize at a ceremony Monday, but behind the celebrations is consternation at the brain-drain that for years has seen many young scientists leave to work abroad. Some 14,000 Italian researchers quit the country between 2009 and 2015, according to Italy's national statistics agency Istat—a trend explained in large part by a lack of investment. "Italy is not a welcoming country for researchers, whether Italian or foreign", Parisi said in October after being awarded the Nobel prize for his work on the interplay of disorder and fluctuations in physical systems. "Research is underfunded and the situation has worsened over the past 10-15 years." Government funding fell from 9.9 billion euros ($11.2 billion) in 2007 to 8.3 billion in 2015—the latest figures available—while in 2019, research spending in the eurozone's third largest economy was significantly below the EU average. As well as Parisi, Italy has produced some top scientists in recent decades, notably Carlo Rubbia, the CERN physicist who won a Nobel in 1984, and neuroembryologist Rita Levi-Montalcini, who won in 1986. But commentators note that research budgets were slashed after the 2008 financial crisis, while Italy's notorious bureaucracy also plays a role in sending young talent abroad. "In Italy, unfortunately, there are big obstacles to getting a university job", said Eleonora D'Elia, a 35-year-old biologist from Rome, who has been teaching for the past four years at Imperial College London. She cited "a lack of funding, and jobs available, the contacts needed and a highly complex system based on the number of articles published". Like a vegetable garden The scale of the problem was confirmed by Roberto Antonelli, head of the prestigious Lincean Academy in Rome, who told AFP there had been "an enormous reduction in funds for universities and Italian research facilities". This was accompanied by "a reduction in the quality of positions available for young people compared to other countries". The number of professors and of long-term contracts at universities has fallen from 60,882 in 2009 to 48,878 in 2016—a drop of almost 20 percent. In London, d'Elia told AFP, there is "more support in terms of salary and research budget", whereas in Italy, where she hopes one day to return to be with her family and friends, she "would have to constantly fight to get that". The Italian government has vowed to use some of the massive post-pandemic recovery funds it expects to receive from the European Union between now and 2026 to help boost home-grown research. Research Minister Cristina Messa in October promised six billion euros in funding for 60 projects. 'Like a vegetable garden' Antonelli welcomed the funds, but warned: "The problem is the continuity of funding. what will happen after 2026?" He said research must be measured in percentage of GDP, which ranges from "the highest such as in Finland, Japan and South Korea, to the lowest among developed countries such as Italy, which do not invest comparable funds when compared to neighbours such as Germany or France". Italy spent just 1.45 percent of gross domestic product (GDP) on research in 2019, below the EU average of 2.19 percent and Germany's 3.17 percent, according to data from European agency Eurostat. Parisi has also emphasised the importance of a long-term view. "Research is like a vegetable garden, if you think you can water it every fortnight, things will go wrong", he said. © 2021 AFP Dec 03, 2021 0 Dec 03, 2021 0 Dec 03, 2021 0 Dec 02, 2021 0 Dec 02, 2021 0 34 minutes ago 16 hours ago Dec 04, 2021 Dec 04, 2021 Dec 03, 2021 Dec 03, 2021 Dec 03, 2021 Oct 08, 2021 Nov 25, 2020 Jan 27, 2021 Mar 10, 2021 Mar 26, 2021 Sep 06, 2021 Nov 23, 2021 Nov 19, 2021 Nov 16, 2021 Oct 08, 2021 Oct 06, 2021 Sep 30, 2021

December 5, 2021 Rescuers in Indonesia raced to find survivors in villages blanketed by molten ash Sunday after the eruption of Mount Semeru killed at least 13 people and left dozens injured, officials said. The eruption of the biggest mountain on the island of Java caught locals by surprise on Saturday, sending thousands fleeing and forcing hundreds of families into makeshift shelters. At least 11 villages of Lumajang district in East Java were coated in volcanic ash, submerging houses and vehicles, smothering livestock and leaving at least 900 evacuees seeking shelter in mosques, schools and village halls. "We did not know it was hot mud", said Bunadi, a resident of Kampung Renteng, a village of about 3,000 people. "All of a sudden, the sky turned dark as rains and hot smoke came." Dramatic footage showed Semeru pumping a mushroom of ash into the sky, looming over screaming residents of a nearby village as they fled. "The death toll is now 13 people. Rescuers found more bodies", national disaster mitigation agency spokesman Abdul Muhari told AFP, without specifying the cause of death. Two of the victims have been identified, he said in a later statement. At least 57 people including two pregnant women were injured in the eruption, of whom 41 suffered burns and were hospitalised, the agency said in a press release. President Joko Widodo on Sunday ordered a rapid emergency response to find victims after the scale of the disaster became clear, said state secretary Pratikno, who like many Indonesians goes by only one name. As many as 10 trapped people were rescued from areas surrounding Lumajang, according to Muhari, as villagers and rescuers worked through the night to find anyone trapped or retrieve bodies. Local broadcaster Kompas TV reported those rescued were local workers at a sand mining site. But the rescues efforts have been hindered by hot ash and debris with evacuations temporarily suspended on Sunday due to hot ash clouds, Indonesia's Metro TV reported, highlighting the difficulty of the rescue operation. There is also a risk of heavy rain causing ash sediment to form a new river of hot lava, the country's top volcanologist Surono told the station. Most of those burnt in the immediate aftermath misunderstood the hot mud flow for floods so had stayed in their villages, Lumajang Public Order Agency spokesman Adi Hendro told AFP. "They did not have time to run away", he said. 'Still alive' At least seven people remain missing after the eruption, Hendro said, including two who authorities believe are still alive. "There were signs they are still alive as there were lights maybe from their cellphones", he said. "But we cannot go there as the ground is still very hot." Lava mixed with debris and heavy rain had already destroyed at least one bridge in Lumajang, preventing rescuers from immediately accessing the area. But emergency services footage on Sunday showed a desolate scene in the village of Kampung Renteng with rescue workers toiling surrounded by buckled buildings and fallen trees. "There were 10 people carried away by the mud flow", said Salim, another resident of Kampung Renteng. "One of them was almost saved. He was told to run away but said 'I can't, who will feed my cows?'" Wrecked homes In other areas, villagers desperately tried to salvage their belongings from wrecked homes, carting mattresses and furniture on their shoulders while others carried goats in their arms. The rescue teams were using heavy loaders to remove debris and clear roads, Muhari said. Locals have been advised not to travel within five kilometres (3.1 miles) of Semeru's crater, as the nearby air is highly polluted and could affect vulnerable groups, he added. Officials have sent aid to shelters, including food, tarpaulins, face masks, and body bags. Ash spewed by the volcano travelled up to four kilometres away, Indonesia's geological agency said, reaching as far as the Indian Ocean in the southern part of Java. The volcano's alert status has remained at its second-highest level since its previous major eruption in December 2020, which also forced thousands to flee and wrecked villages. The head of Indonesia's centre for volcanology said it warned officials on Thursday about increased volcanic activity. Indonesia sits on the Pacific Ring of Fire, where the meeting of continental plates causes high volcanic and seismic activity, and has nearly 130 active volcanoes. In late 2018, an eruption in the strait between Java and Sumatra islands caused an underwater landslide and tsunami killing more than 400 people. © 2021 AFP Dec 03, 2021 0 Dec 03, 2021 0 Dec 03, 2021 0 Dec 02, 2021 0 Dec 02, 2021 0 16 hours ago Dec 04, 2021 Dec 04, 2021 Dec 03, 2021 Dec 03, 2021 Dec 03, 2021 Dec 03, 2021 Jan 16, 2021 Nov 30, 2020 Jul 28, 2021 Aug 17, 2021 Aug 16, 2021 Feb 19, 2021 Dec 03, 2021 Dec 03, 2021 Dec 02, 2021 Dec 02, 2021 Dec 02, 2021 Dec 02, 2021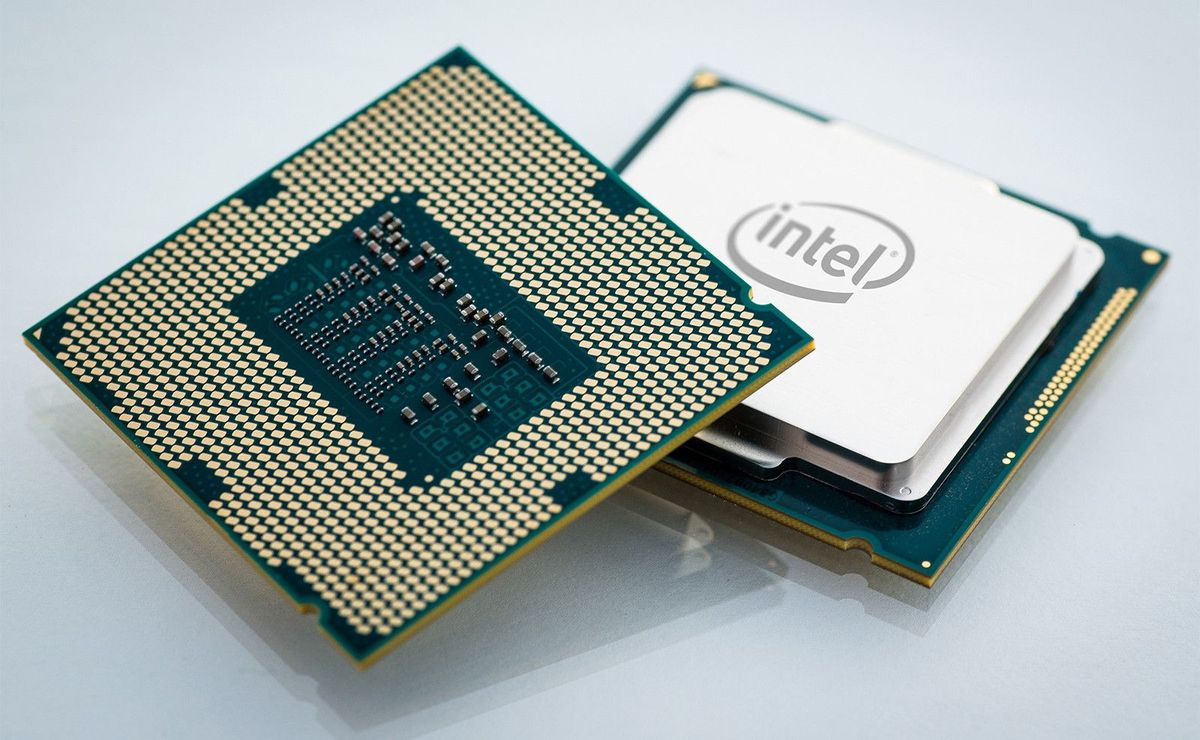 Raptor Lake is Intel's range of next-gen processors expected to come out in 2022, and we've just seen the first purported benchmark of these CPUs. As highlighted by regular hardware leaker Komachi_Ensaka on Twitter, what could be the 13th-gen flagship processor has been sighted in a BAPCo Crossmark benchmark as Tom's Hardware reports. Note that the benchmark has since been removed – of course, it shouldn't have been aired in the first place – but not before Tom's screen grabbed and shared the news. According to the details given here, the spec that the chip runs with is eight performance cores (new Raptor Cove cores), and 16 efficiency cores (Gracemont cores – the same as with Alder Lake). This is what was previously rumored, and gives the processor a theoretical 32-threads (as efficiency cores don't have hyper-threading). The benchmark itself shows the Raptor Lake CPU hitting an overall score of 1,591, which compares to a result of 2,376 for the Core i9-12900K, Intel's new Alder Lake flagship. It's no surprise – assuming this benchmark is genuine, which is always a bit of a leap of faith with very early leaks – to see that Raptor Lake is a good deal slower than Alder Lake at this point in its development (the 12900K is almost 50% faster here, in fact). Obviously, when the Raptor Lake flagship is finished, that won't be the case (if it wasn't measurably faster, Intel would go back to the drawing board until it was). What's happening here is because this is a very early testing sample, it's doubtless locked to slow clock speeds and doesn't remotely reflect the performance of the final product which should emerge later in 2022 ( maybe in Q3). Right now, Raptor Lake will still have plenty of optimization to be done on both the hardware and software fronts. The theory is that Intel's 13th-gen CPUs will be a simple refresh of Alder Lake, but it's bound to make some decent architectural gains as Intel refines its new hybrid tech, and obviously the addition of more efficiency cores – a lot more if these early rumors are right – should make a considerable difference to performance too. There is also speculation about Raptor Lake taking some big strides forward in terms of power-efficiency as well, so we can still remain quietly optimistic about what the next-gen might bring.

Recently, I had the opportunity to review the Blink Outdoor, one of Amazon's many smart security cameras. Without spoiling the rest of my thoughts, a standout feature was the "early notification" option found in the Blink app. This triggers alerts the instant motion is detected, at least within your sensitivity settings. The technology is so quick that if you've got a steady connection and you're already looking at your phone, you can often catch seconds-long events while they're still in progress. This contrasts with most security cameras — whether from Ring, Nest, or others — which often take a few seconds to deliver a notification, much less open a livestream. The gap may be small, but it can mean all the difference in situations where it's important to act fast, such as scaring away a thief or catching an accident before it happens. Security cameras are most valuable when they deter problems rather than just provide a record of them. The gap may be small, but it can mean all the difference in situations where it's important to act fast. Hair-trigger notifications are not only rarer than they should be, but strangely undersold by Amazon/Blink. There's no mention of early notifications in the company's marketing, and even within the app, the option is labeled "beta." How is this technology not the norm in smart security? Admittedly, there's at least one obvious risk with faster notifications: battery drain. Frequent, rapid-fire alerts can burn through the batteries many cameras rely on. In a worst-case scenario, some people might gripe about having to recharge or replace their batteries every few months, leading to bad reviews, and/or customers drifting away to different camera brands. As much as people want speed, they sometimes crave convenience more. The Blink Outdoor is somewhat "cheating" in that while the camera itself uses two AA batteries, it broadcasts to a hub plugged into an indoor AC outlet — many cameras use built-in Wi-Fi or 4G to communicate to the cloud, both of which are inherently more power-hungry. Still, if those AA batteries can last half of their estimated two years, it's not unreasonable for other camera makers to keep up. Another bottleneck Blink bypasses is object recognition. Many cameras can now identify people, pets, vehicles, and packages, which is helpful for prioritizing alerts. Nest devices go a step further with an Aware subscription, distinguishing friends from strangers. Object analysis demands extra processing time whether it's handled on the device or via the cloud — and the cloud option is more common, making for additional delays caused by network traffic. Admittedly, there's at least one obvious risk with faster notifications: battery drain. A final deterrent is the need to minimize false alarms. This is probably why Blink's tech is still in beta — people would start to ignore alerts if many of them were useless, and the company is no doubt trying to temper expectations until it refines its algorithms. Indeed, I did occasionally get "empty" recordings during my tests, even with limited detection zones set in the Outdoor's field of view. But those were few and far between, and can potentially happen with any camera, so once more there doesn't seem to be an excuse for leaving early notifications by the wayside. Security camera notifications can and should be quicker For some people, a slight delay in notifications may be acceptable. They might feel like the odds are against having to react in a hurry, and they could be more concerned with battery life and the quality of alerts. That is they'd rather be told that a package was just delivered, or that it's a person approaching the door instead of a bird, while ignoring everything else. And that's perfectly understandable — when I'm heads-down in my writing, I try to tune out everything irrelevant on my phone. I imagine, though, that if you put extreme scenarios in front of people — stopping someone from smashing your car window for example, or preventing your child from burning their hand on the stove — they would probably insist on better response times from their cameras. False alarms here and there would be a minor tradeoff. Read more: The best smart home devices you can buy The solution I think is to make some version of Blink's early notifications option front and center in every camera app, even if it's not on by default. If need be, makers could disable object recognition when this mode is active, but there's a good chance on-device processing will be fast enough in the next few years to offer the best of both worlds.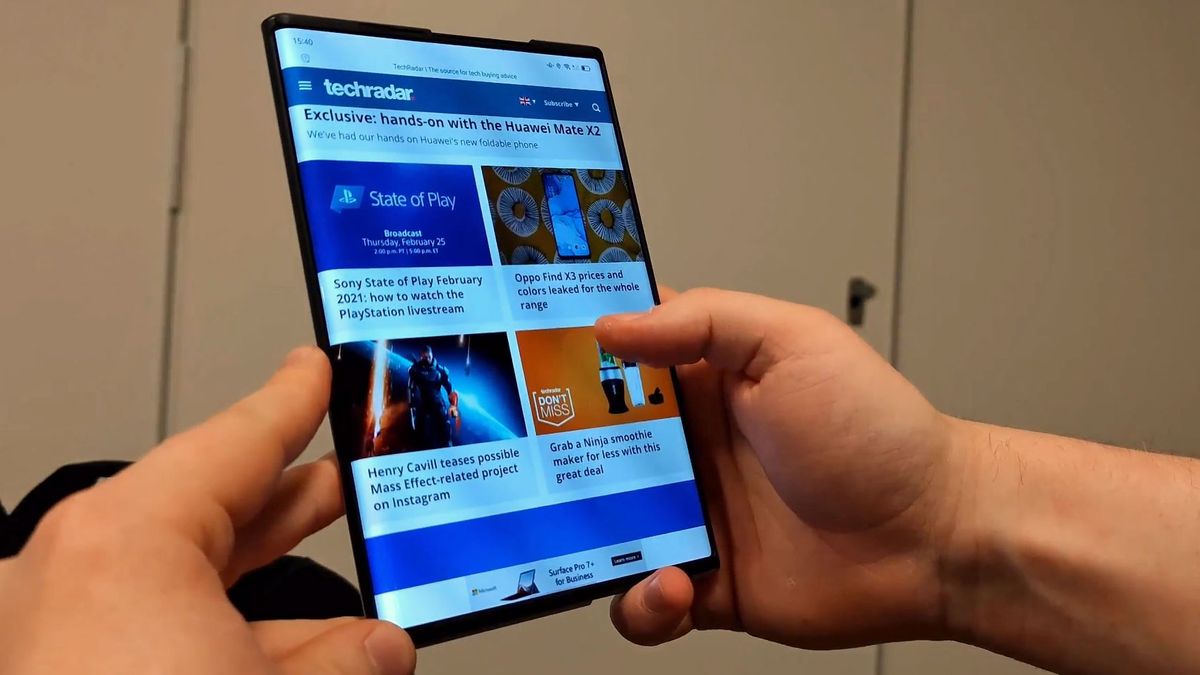 Although the biggest name in foldable phones is arguably Samsung, with its top-spec Galaxy Z Fold 3 being its most recent top-end bending handset, a rival device from Oppo might take the top spot soon. We've heard rumors about the Oppo Find N for a while now, though that name isn't official. Judging by its rumors and specs, it sounds like this could be a contender for the top entry in our list of the best foldable phones – and some rumors claim it could launch very, very soon. Rumors point to the Oppo Find N having a screen between 7.8 and 8 inches across when it's unfolded. The main display will apparently have a 120Hz refresh rate, though the outer one is said to be stuck at 60Hz. It's also believed there will be three rear cameras, including a 50MP main one and also a 32MP selfie snapper. Additionally, the phone is expected to use the Snapdragon 888 chipset, have a 4,500mAh battery, and charge at 65W. But when could we see the thing? Well, one source thinks it'll get launched by the end of December. Oppo is hosting its annual Inno Day on December 14 and that could be when we see the device. The specs to the Oppo Find N seem decent but we don't know enough to get too excited just yet – and those specs alone aren't enough to call the phone a decent Galaxy Z Fold rival. What's more promising is the name behind the foldable: Oppo. The company has a legacy of making phones with great displays and cameras, and it's that advantage that the Find N could have over other foldable rivals. For example, the Find X3 Pro had a "Full-Path Color Management System" which basically avoids compression ruining the look of streaming videos and makes them look better. Features like that could give the Find N an edge for viewing media. Plus, Oppo often has an edge over its rivals when it comes to its cameras. Oppo worked with Sony to create a bespoke main camera sensor for the Reno 5, which also ended in in the X3 Pro, and took vibrant pictures. We don't know enough about the phone's display or camera features, but judging by Oppo's reputation and past phones, we're looking forward to the Find N already. We'll certainly be tuning into the Oppo Find N launch when it happens so we can see if this really is the game-changing foldable phone to rival Samsung's alternatives.

Why you can trust Pocket-lint (Pocket-lint) - Sex and the City is coming back for a special reunion series, that's dropping the Sex and the City name and getting the title "And Just Like That" - one of narrator Carrie Bradshaw's classic sayings. Here's everything you need to know about Sex and the City's next chapter, And Just Like That, including when it is due to be released, where you will be able to watch it and where to catch up on previous Sex and the City episodes and films. Sex and the City And Just Like That release date: When is it out? The Sex and the City reboot series - And Just Like That - has been confirmed as happening and HBO Max has revealed it will start streaming on 9 December. Production has started, and Sarah Jessica Parker shared a snap on her Instagram, while HBO Max also shared a video on YouTube with SJP announcing the release date. View this post on Instagram A post shared by SJP (@sarahjessicaparker) How and where to watch SATC And Just Like That? When the Sex and the City reboot series does get released on 9 December, it will air on HBO Max for those in the US. The streaming service is lapping up the 90s nostalgia, with Friends: The Reunion having aired on 27 May 2021. In the UK, it will be available to watch on Sky and streaming service NOW. How many episodes will there be of Sex and the City And Just Like that? There will be 10 episodes of the Sex and the City reboot, And Just Like That. The episodes will be 30 minutes each, like the original Sex and the City episodes were. These 10 episodes will add to the 94 episodes across six seasons of Sex and the City that ran until 2004. There are also two films. What is expected to happen in Sex and the City 3 And Just Like That? The Sex and the City revival show And Just Like That will focus on Carrie, Charlottle and Miranda - Samantha isn't in it - navigating life and friendship in their 50s, 20 years on from when they did the same in their 30s during the initial six seasons of the show. WarnerMedia said in a statement about the show: "The new Max Original series is based on the book, 'Sex and the City', by Candice Bushnell and the original TV series created by Darren Star. The series will follow Carrie, Miranda and Charlotte as they navigate the journey from the complicated reality of life and friendship in their 30s to the even more complicated reality of life and friendship in their 50s." Regarding the absence of Samantha Jones, TV Line said Casey Bloys, HBO Max Chief Content Officer, said: "[EP Sarah Jessica Parker and King] are trying to tell an honest story about being a woman in her 50s in New York. So it should all feel somewhat organic, and the friends that you have when you're 30, you may not have when you're 50." Sarah Aubrey, Head of Original Content at HBO Max, said: "I grew up with these characters, and I can't wait to see how their story has evolved in this new chapter, with the honesty, poignancy, humour and the beloved city that has always defined them." While there is no official trailer yet, Sarah Jessica Parker did share a teaser on Instagram, though it doesn't give much away, except saying "the story continues…". View this post on Instagram A post shared by SJP (@sarahjessicaparker) There has also been a script leak, which does tell us a little more, though includes spoilers so skip down to the next section if you don't want to know. Based on the script leak, Carrie and Mr. Big are divorced and they appear to be in the middle of a messy divorce in the show, which is supported by a snap of the two filiming in New York and not looking too happy with each other. Surely it's not the end for them though? Who will be cast in Sex and the City And Just Like That? Sarah Jessica Parker (Carrie Bradshaw), Cynthia Nixon (Miranda Hobbes) and Kristin Davis (Charlotte York) have all confirmed they will be returning for the Sex and the City reboot, but Kim Cattrall (Samantha Jones) will not be returning. It's rumoured the first episode will address Jones' absence. Chris North (Mr Big) will be back though, with executive producer Michael Patrick King saying: "I'm thrilled to be working with Chris again on 'And Just Like That…' How could we ever do a new chapter of the 'Sex And The City' story without our Mr. Big?". John Corbett (Aidan Shaw), who plays Carrie' ex-fiancee will also be returning. Mario Cantone, David Eigenberg, Willie Garson and Evan Handler are also all confirmed to be reprising their roles in the reuniuon series as Anthony Marentino, Steve Brady, Stanford Blatch and Harry Goldenblatt, respectively. There are rumoured to be several new characters too - according to TV Line - and there's also some chatter of Jennifer Hudson coming back as Louise from St Louis. Sara Ramierz will also play "Che Diaz, a non-binary, queer, standup comidian that hosts a podcast on which Carrie Bradshaw is regulary featured", HBO Max announced. HBO Max chief content officer, Casey Bloys, previously said Sarah Jessica Parker and Michael Patrick King "didn't want to tell a story with all-white writers or an all-white cast" because "it's not reflective of New York. So they are being very, very conscious about understanding that New York has to reflect the way New York looks today." Is there a trailer for And Just Like That? There is. You can watch it below. There's also a trailer that you can watch. Prior to the trailer, HBO Max released a video on its YouTube channel confirming the month the show will begin streaming and there are some snippets in the video of the characters on set. Where to stream and watch previous Sex and the City episodes and films? There are 94 episodes across six seasons of Sex and the City to catch up on if you want to refresh your memory before the reboot And Just Like That comes out. There are also two films, Sex and the City and Sex and the City 2. In the UK, you can stream all 94 episodes of Sex and the City on Sky On Demand and Now. If you don't have a Now or Sky subscription, you can buy all six seasons through Apple TV, Amazon Prime Video, Google Play, Rakuten TV or Chili. In the US, all 94 episodes are available to catch up on through HBO Max, if you have a subscription. With a HBO Max subscription, you can also access the HBO Channel through Prime Video. For the films, the first film isn't available to stream for free in the UK. Though you can buy or rent it through Apple TV, Amazon Prime, and others. Sex and the City 2 the movie is available to stream on Netflix though. In the US, both movies are available on HBO Max. Best UK streaming services Writing by Britta O'Boyle. Originally published on 7 May 2021.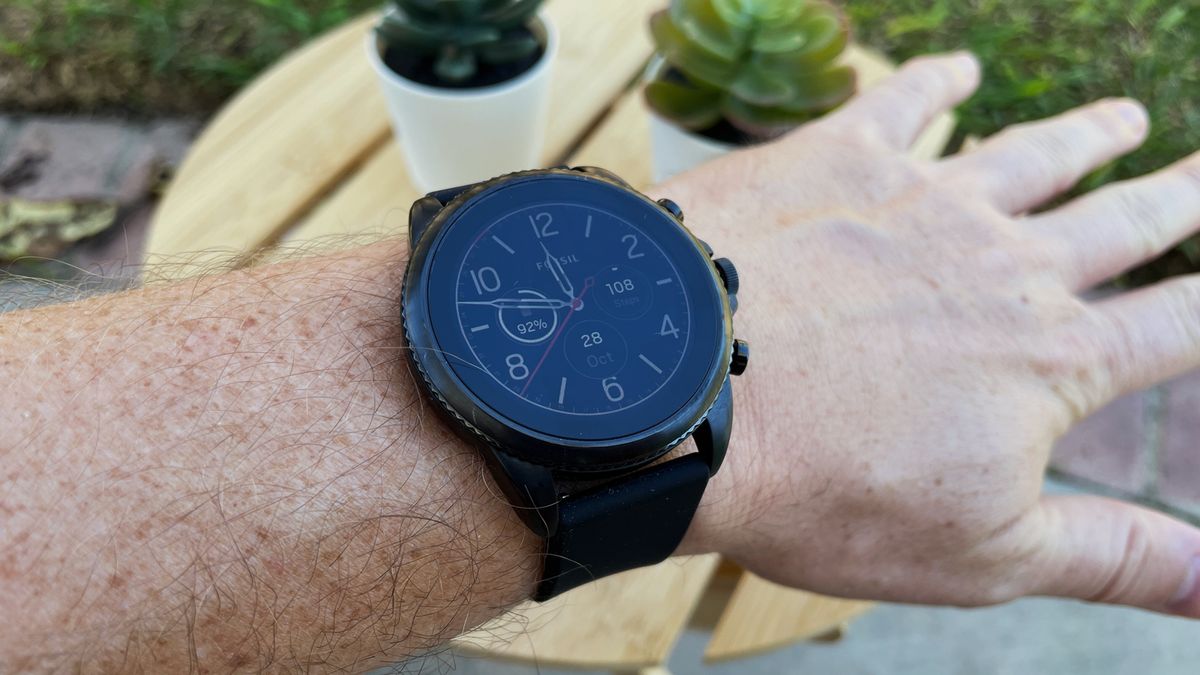 Fossil-klockorna har varit solida Wear OS-enheter som stöder sig på snygg design snarare än banbrytande nya funktioner. Den nya Fossil Gen 6 följer i denna tradition och innehåller några nya förmåner som få andra gör: Snapdragon 4100 Plus-chipset och så småningom (2022), det nya Wear OS 3, mer känd som versionen som kombinerar Googles bärbara operativsystem och Samsungs Tizen OS. Du kan få Wear OS 3 nu i Samsung Galaxy Watch 4, men den bärbara enheten fungerar bara med Android-telefoner, och vissa funktioner fungerar inte ens om inte enheten är kopplad till Samsung-telefoner. Således är Fossil Gen 6 huvudalternativet för folk som äger en iPhone eller bara gillar den eleganta Fossil-looken. Utseendet har bara ändrats lite från Fossil Gen 5, men om du kände att den sista smartklockan var lite för snygg, har den nya Fossil Gen 6 mer uttalade tryckknappar som är lite lättare att trycka på, plus skydd runt kronan, och en kant runt infattningen. Det är fortfarande stilrent, även om det inte ser så annorlunda ut. Det är de interna uppdateringarna som verkligen skiljer klockan åt. Förutom Snapdragon Wear 4100 Plus-kretsuppsättningen, som driver smartklockan till vad Fossil hävdar är 30 % snabbare hastigheter än Fossil Gen 5, har nya Fossil Gen 6 1 GB RAM och 8 GB lagringsutrymme. Du kommer att märka dessa hastigheter när du växlar smidigt mellan appar. 1,28-tums AMOLED-skärmen verkar oförändrad från sin föregångare, men den är fortfarande av högsta kvalitet. På sensorsidan lägger Fossil Gen 6 till en SpO2-sensor för att spåra blodets syrenivåer, samt en uppgraderad pulssensor för periodisk spårning. Utan mycket i vägen för programvara från första part, men du kommer förmodligen att lita på Google Fit-apparna för att spåra din kondition och hälsa. Återigen, det skulle vara trevligt att se mer läggas till Wear OS-upplevelsen, men om du har varit bra med dess gränssnitt och Googles svit med appar, kommer du att klara dig här. Batteriet är en annan blandad väska. Du kommer att ha turen att hålla mer än en dag med tillfällig användning, vilket gör klockan till en nackdel jämfört med Samsung Galaxy Watch 4, som kan ta upp till tre dagar, och den kämpar till och med mot de 18 timmarna du skulle få från en Apple Watch 7. Det finns en ljus sida: Fossil Gen 6 kommer med en ny, snabbare laddare som pressar din klocka från noll till full på mindre än en timme, så att du kan tänka dig att ladda upp under dagen för att mildra den låga batteritiden. Sammantaget har Fossil Gen 6 flera framsteg jämfört med sin föregångare, men med en begränsad batteritid, en prislapp som konkurrerar med de bästa smartklockorna som inte kommer från Apple, och Wear OS 3 fortfarande många månader efter att klockan kom till klockan, tror vi inte att Gen 6 kommer att toppa de absolut bästa smartklockorna på marknaden. Men vi tror att det finns situationer där det kan vara det bästa alternativet som är tillgängligt för vissa konsumenter och kommer att tjäna dem väl. Fossil Gen 6 släpptes den 27 september 2021, och den kommer i en storlek på 42 mm med flera färgalternativ för fodralet, inklusive svart, en gråaktig Smoke och Rose Gold. Standardversionen med grundläggande klockarmband inklusive silikon och läder har en prislapp på 3 195 kr (men går att hitta billigare än så), medan köp av en modell med ett klockband i rostfritt stål kostar 3 395 kr. Notera att Fossil Gen 6:s klockarmband är 22 mm breda, vilket betyder att de inte kommer att vara kompatibla med 20 mm klockband som används av andra smartklockor som Apple Watch 7 eller Samsung Galaxy Watch 4. Fossil Gen 6:s design förändras inte mycket jämfört med sina föregångare – det är fortfarande en rund smartklocka med svart hölje med olika klockband (som standard svarta flexibla klockband i plast) och en krona på höger sida flankerad av tryckknappar på båda sidor. Den nya bärbara enheten har fått några justeringar för att skilja den från Gen 5, så den är inte exakt densamma, men du måste komma nära för att se skillnaden. Den mest uppenbara förändringen är den lilla upphöjningen på kanten av ramen, som verkligen är mer visuellt intressant än de rena kanterna på Fossil Gen 5 – och innan du frågar, nej, den roterar inte som Samsung Galaxy Watch 4 Classic, så det är mer en estetisk touch som du kanske eller kanske inte uppskattar. Med tanke på hur få smartklockor som har fysiska urtavlor är avsaknaden av en på Gen 6 inte precis ett fel, men det är lite tråkigt att ramdesignen ser ut att rotera. Kronan verkar något plattare och bredare, men det finns nu två skyddsklackar som reser sig för att flankera den, vilket förhoppningsvis betyder att kronan kommer att fånga mindre på fickor eller ärmar. Du kan fortfarande klicka på kronan för att komma till din applista. Att vrida kronan ger precis tillräckligt med motstånd för att den inte ska rotera av misstag, och att bläddra igenom appar och menyer är faktiskt ganska trevligt. Tryckknapparna på vardera sidan av kronan har bredare ändar, vilket innebär mer yta och, förmodligen, enklare att trycka på än samma knappar på Gen 5. Det hela ger klockan ett lite mer industriellt utseende, vilket vi som, även om vi inte hittade oss själva att använda tryckknapparna mycket alls (de fungerar som anpassningsbara genvägar för appar). I övrigt följer klockdesignen sina föregångare, med stora öglor som sträcker sig från vardera sidan av boetten för att säkra klockbanden, samt en uppsättning sensorer på undersidan av kroppen, som ligger i nivå med huden. Klockan är onekligen snygg, och även om den känns tyngre än andra smartklockor som antingen är lättare (som Samsung Galaxy Watch Active 2) eller balanserar sin vikt bättre (som Apple Watch 7), så tynger den inte handleden obekvämt. Du kommer att kunna träna med den – men om du bär den på vänster hand kan det leda till att du oavsiktligt trycker länge på kronan och tillkallar Google Assistant om du roterar handen under träningen. Fossil Gen 6:s skärm verkar vara samma 1,28-tums AMOLED-skärm som den på sin föregångare, och den är fortfarande jävligt bra. Upplösningen på 416 x 416 med 328 pixlar per tum densitet bland skärmarna på de bästa smartklockorna, visar en tydlig bild och grafik. Vårt enda stora gnäll är att skärmen inte sträcker sig till kanten av ramen - det finns ett gap på flera millimeter mellan där klocktavlan slutar och metallen börjar, men den kanten är så djupt svart att det inte är ett störande fel. Fossil Gen 6 är inte en smartklocka för fitness, men du kan säkert ta den med dig på löpträning och träning. Förstapartshälsoprogramvaran är ganska begränsad – Cardiogram-appen mäter och kartlägger regelbundet hjärtfrekvensen, och det finns en syrespårbricka för blod om du sveper åt vänster på hemskärmen, samt en träningsruta som helt enkelt frågar om du är inomhus eller utomhus utan specifik träningsspårning. Således kommer de flesta användare förmodligen att välja den installerade som standard Google Fit-sviten med appar för att spåra träning och andra hälsomått. Det inkluderar Fit Workout, som har flera träningstyper att spåra, såväl som andra appar för att övervaka puls, sömn, träningsmål och meditativ andning. Att ta Gen 6 ut för träning är bara bra – dess design och knappar är inte alltför besvärliga och inte heller är smartklockan tung nog för att komma i vägen när du tränar, även om du kommer att känna det när du svänger med armarna på intensiva löpturer. En mer slank fitnessinriktad smartklocka som den äldre Samsung Galaxy Watch Active 2 eller en nyare Fitbit Versa 3 kan vara lättare för handleden under långa träningspass, men för styrketräning eller andra lågrörelseövningar passar Fossil Gen 6 bra med träningspass. Fossil Gen 6 innehåller några av de bästa specifikationerna vi har sett i en smartwatch som inte kommer från Apple. Snapdragon Wear 4100 Plus-chipset är stjärnan i showen, och med 1 GB RAM, samt 8 GB lagringsutrymme för appar och data ombord, har smartklockan hårdvara som konkurrerar med de bästa smartklockorna. Med sådana specifikationer är Fossil Gen 6 mycket snabb och växlar från app till app och skärm till skärm snabbt och utan fördröjning. Övergångarna är smidiga och det finns ingen inmatningsfördröjning. Det kommer så småningom att köra det nya Wear OS 3 efter en uppgradering någon gång under 2022, men fram till dess har vi det beprövade (och knappt ändrade på flera år) Wear OS 2 att använda. Batteritiden är en stor svaghet i smartklockan, åtminstone om du jämför den med andra Wear OS-klockor – den håller ungefär lika länge som en Apple Watch 5, vilket innebär att du måste ladda den innan dagens slut. Det är om du håller alla snyggare funktioner påslagna; om du stänger av Always-On Display, utökar den periodiska pulskontrollen till maximalt intervall (var 15:e minut) och byter till en enklare Fossil urtavla (ingen Facer, specifikt), kommer du att kunna tappa ur drygt en dags användning, vilket räcker för att passa i sömnspårning. Baksidan till det är mycket snabbare laddning: Fossil Gen 6 förbättras jämfört med sin föregångare med den inbyggda laddaren som pressar upp smartklockan från noll till full inom en timme (Fossil hävdar att den går från 0 % till 80 % på 30 minuter). Ett tips: laddarens nuddar ansluter till kapacitiva halvcirklar på baksidan av Fossil Gen 6, som har ett litet mellanrum mellan dem – och om du vrider nubbarna över gapet slutar klockan att laddas. Knäpp bara laddaren magnetiskt på baksidan av smartklockan och snurra inte runt den.

If you are looking to buy a smartwatch this year, then there are some key features to look out for while doing your research. Design and material are important factors as they epitomise style and decide wearing comfort. Battery life is another important factor, especially with all the background features working in a smartwatch, you want to make sure you never run out of juice. Then, of course, there are the health and fitness tracking features that are imperative to give you updates about your general physical condition. Huawei recently unveiled its next-generation smartwatch, the HUAWEI WATCH GT 3 – Moon Phase Collection II that comes in two variants: 46mm and 42mm. This smartwatch delivers an upgraded, more powerful, and convenient user experience. On top of its fashionable and classic looks and new interface design, it comes with up to 14 days of battery life, all-day health management, disciplined workouts, as well as convenient life assistant features, which add to the overall value of the smartwatch. Moreover, you do not have to worry about the HUAWEI WATCH GT 3 – Moon Phase Collection II compatibility. The smartwatch is compatible with Huawei devices as well as other Android and iOS devices, which is definitely an advantage if you use devices from other brands. Traverse the nature with the Moon Phase Collection II The HUAWEI WATCH GT 3 – Moon Phase Collection II is designed to help users explore more, whether they are exploring the world around them or exploring the limits of their fitness potential. Its high-end design is complemented by a Moon Phase function that brings unique watch faces from which they can observe the different phases of the moon as it changes. Apart from moon phases, users can choose different layouts showing tide times, constellations, and more to master the elements as they explore outdoors. Moreover, in terms of design and aesthetics, the HUAWEI WATCH GT 3 – Moon Phase Collection II innovative design is inspired by nature, focusing on the beauty of nature and the integration of cutting-edge technologies. The minimalist lugs, large lenses, and lightweight design give the HUAWEI WATCH GT 3 46mm a classic look, delivering a highly distinguished smartwatch. Without a strap, the HUAWEI WATCH GT 3 46mm weighs just 42.6g with an overall thickness of 11mm, and the HUAWEI WATCH GT 3 42mm weighs. Both offer a lighter and thinner wearing experience. Bringing a brand-new smart interactive experience, the HUAWEI WATCH GT 3 comes with a rotating crown with tactile feedback, offering high-precision finger movement recognition. The new chessboard design of the launcher can be moved and zoomed freely, operating in a more convenient way. Always-on Display Dials (AODs) can stay awake during daily usage, and custom watch faces allow exercise data and applications to be easily accessed just by lifting the wrist. Battery that lasts as much as 2 weeks! The HUAWEI WATCH GT 3 46mm supports a 14-day battery life in typical usage, while the 42mm variant offers 7-day of long battery life in typical usage. The longer battery life ensures you can wear it all day and use it continuously, even during sleep. All-day health management The HUAWEI WATCH GT 3 provides continuous, real-time, and accurate SpO2 (blood oxygen saturation), along with sleep and stress monitoring features for comprehensive health management. HUAWEI WATCH GT 3 is equipped with HUAWEI TruSleep™ 2.0 sleep monitoring technology. It can perform sleep stage monitoring, real-time heart rate monitoring, sleep breathing monitoring, and assessment of sleep quality without disturbing the user's sleep. The smartwatch also acts as a stress management assistant. It monitors your stress 24×7 and will notify you if your stress levels are higher than normal. Moreover, it will even help you out with breathing guidance to help relieve some of the stress off you. The new Healthy Living Shamrock has added many small features to better fit users' daily health needs. Through personalised settings, users can receive regular reminders like health challenges, daily water intake, daily mindfulness, early sleep reminder, exercise volume, and stay positive, among other small things related to your health. Disciplined workouts The HUAWEI WATCH GT 3 features an all-new HUAWEI TruSeenTM 5.0+ heart rate monitoring technology, which adopts eight photodiodes in a circular layout, two sets of light sources 8-in-1 LED lens light-emitting chip, multi-channel for receiving light signal, curved design to realise better light penetration, lower power consumption, and a more comfortable wearing experience. The Dual-Band Five-System GNSS positioning also provides users with more accurate geographic location positioning. With the WATCH GT 3, Huawei combines scientific consideration and user experience to develop the AI Running Coach. Huawei's new running ability measurement – named Running Ability Index uses historical running heart rate, pace, and other data to analyse the running performance after each training, which is convenient for users to understand the training progress and witness their improvements. The HUAWEI WATCH GT 3 also comes with an upgraded workout-monitoring feature, providing over 100 workout modes, including 18 professional workout modes and 12 outdoor workouts. Stay connected right from your wrist HUAWEI WATCH GT 3 supports Bluetooth calls. In addition, you can receive, read, and reply to SMSes right from your wrist thanks to the convenient message notifications. With Petal Maps onboard, users can also navigate instructions for their destinations right from their wrist. The HUAWEI WATCH GT 3 also supports watch faces to bring consumers a more personalised experience. Users can set frequently used functions or applications, allowing them to gain instant access to exercise data and important applications when raising the wrist. There are also over ten thousand watch face themes for download. With advancements such as these, it is apparent that HUAWEI WATCH GT 3 – Moon Phase Collection II brings several major upgrades in smartwatch technology! If you want a smartwatch with a premium, classic look and a myriad of health and fitness features, then you would absolutely fall in love with this smartwatch. The new HUAWEI WATCH GT 3 – Moon Phase Collection II will be up for grabs in the UAE this month. Price and availability The HUAWEI WATCH GT 3 — Moon Phase Collection II is available in 46mm and 42mm sizes, with prices starting from AED 899. The former comes in Black Fluoroelastomer and Brown Leather strap options, while the latter is available in Gold Milanese strap. You get the smartwatch via Huawei e-Store, Huawei Experience Stores, and select retailers across UAE. Pre-orders start on December 9th and include gifts valued at AED 598, namely the HUAWEI Scale 3 and HUAWEI FreeLace.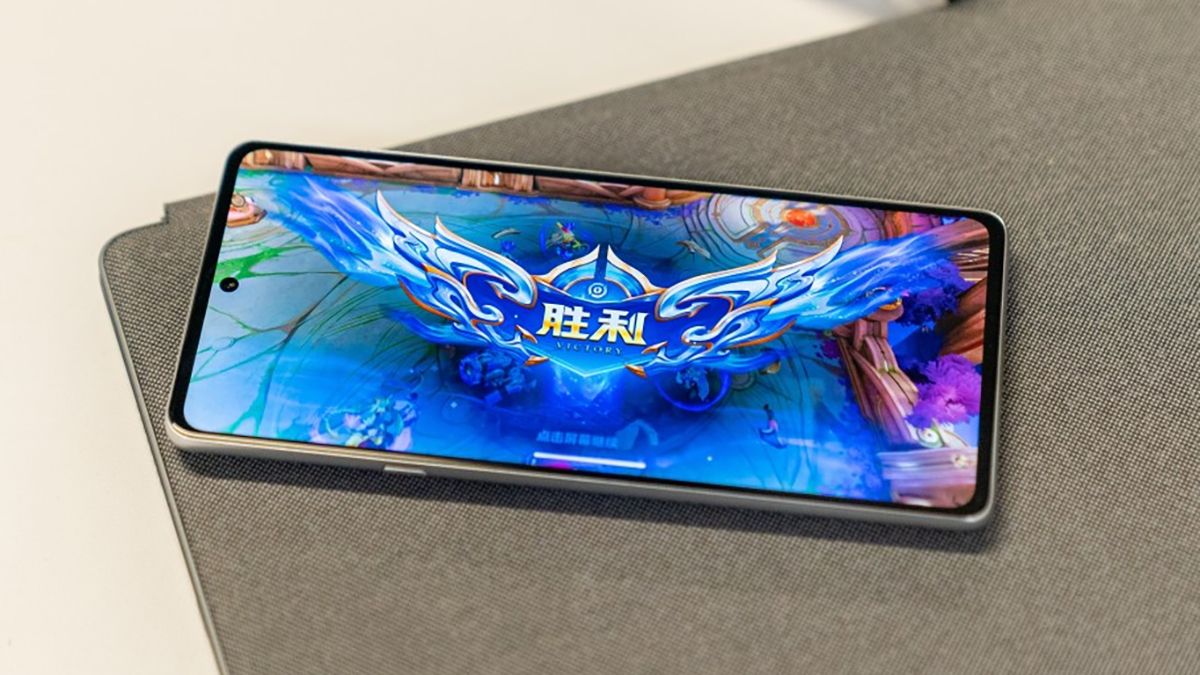 A few days ago Motorola promised that it would be launching a flagship-level smartphone sometime this month, and it's now used one of the company's official social media accounts to show off the Moto Edge X30 to the world. The single, official picture was posted to the Motorola account on the Chinese social network Weibo (via GSMArena), and gives us our first proper look at the Moto Edge X30 device, with slim display bezels and a punch hole camera up at the top of the screen. Before you get too attached to it though, it's important to note that we're not exactly sure which markets this phone will be coming to. It's definitely launching in China first of all, but it's unclear whether it will eventually find its way to the US, Europe, and other regions. What makes the Moto Edge X30 particularly notable is that it's set to be one of the first phones running on the Snapdragon 8 Gen 1 chipset that was just unveiled by Qualcomm – a chipset that is likely to be powering a lot of top-end Android phones throughout 2022. Motorola has made some of the other specs of this phone official too: we know the display is going to come with a 144Hz refresh rate, support for HDR10+ content, and the ability to display more than a billion colors. Unofficially, we've also heard that the handset is going to come sporting a display that's 6.67 inches from corner to corner. Apparently it will also come with a triple-lens 50MP+50MP+2MP rear camera. It's scheduled to be unveiled in full on December 9. The Moto Edge X30 will be one of the very first phones that we see running the Qualcomm Snapdragon 8 Gen 1 chipset, but many more handsets will follow. As with any processor launch from Qualcomm, there are a bunch of new features to look forward to. For a start the chipset is going to enable always-on cameras – not to keep you constantly under surveillance, but to enable functionality like hands-free unlocking (because your phone will be able to recognize who you are while it's doing other tasks). There are also updates in terms of reducing background noise on phone calls, and in getting up to internet speeds of 10Gbps. If you have access to the latest and greatest 5G connections, then the Snapdragon 8 Gen 1 is going to make sure that you're always hooked up at the fastest speeds possible. Then there are the performance improvements as well of course: the chipset is going to mean the Android phones of 2022 will be faster and more capable than ever, with a jump of around 20% in terms of speed over the Snapdragon 888.

A car occupied by Myanmar security forces rammed into a congregation of anti-coup protestors Sunday, December 5 morning in Yangon, according to the local news portal Myanmar Now. 5 people were killed in the carnage and at least 15 arrested. Reuters reported that dozens were injured in the incident. Viral photos and videos of the fateful incident show a vehicle crashing through the crowd and bodies lying on the road. The bloodied protest in the morning gave way to another anti-coup demonstration in the afternoon. The opposition's shadow government paid condolence to the deceased and noted that it was heartbroken to see peaceful protesters crashed to death. "We will strongly respond to the terrorist military who brutally, inhumanly killed the unarmed peaceful protesters", the National Unity Government's defense ministry released a statement on social media in the aftermath of the Sunday morning's attack. Ever since the military overthrew an elected government led by Nobel laureate Aung San Suu Kyi earlier this year on February 1, the country of Myanmar has seen numerous anti-coup protests despite over 1300 people killed during these protests. According to eyewitness accounts, a 'flash mob' anti-coup protest in the streets of Yangon was run over by a car occupied by soldiers, minutes after it started. A protestor on the condition of anonymity told Reuters on the phone that after he got hit and fell down in front of a truck, a soldier beat him with his rifle and as he proceeded to escape, the soldier even fired several rounds at him. The protestor, however, successfully escaped without getting shot. Other witnesses noted that the military car hit the crowd from the back, took advantage of the chaos that unfolded, and followed the scattered protestors, arresting and beating them. Some protestors sustained severe injuries. The ruling junta has not released any statement on Sunday's carnage yet. The military, however, alleged that the protestors who were killed initiated the violence.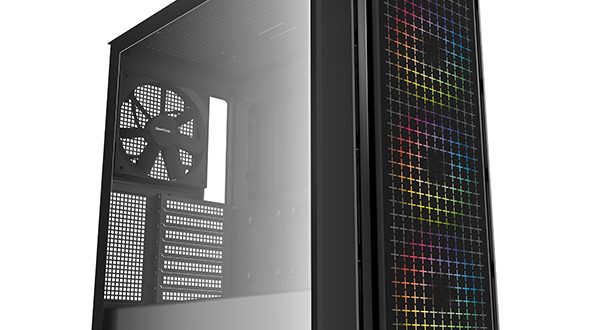 For day 5 on the KitGuru Advent Calendar 2021, we are teaming up with Deepcool to give one lucky KitGuru reader a PC gaming upgrade bundle, including a new case, cooler and power supply, as well as a new gaming keyboard and mouse. The Deepcool bundle includes five prizes – the CG540 chassis with a tempered glass window side panel and ARGB fans, the PM750D 80Plus Gold rated power supply, and the AK620 dual-tower CPU cooler. To go with that new hardware, Deepcool is also bundling in an MC310 gaming mouse and a KB500 gaming keyboard, so you can give your PC gaming setup a nice refresh. Entering this giveaway is simple, all you need to do is head over to THIS POST on our Facebook page and leave a comment. We plan to have a new discussion topic each day, today we are asking you guys to tell us – what keyboard and mouse are you currently using? If you can send in a picture, then even better! This competition is open in the EU and UK. The winner will be picked at random by 10am GMT December 6th, and a new competition will also be announced for Day 6. The chosen winner has 48 hours to respond, if we do not hear from them, then the prize will be revoked and a new winner will be picked. Terms and Conditions: This competition is open in the EU and UK, starting at 10AM GMT on December 5th and ending at 9:59AM GMT on December 6th. Due to the busy Christmas season, prize deliveries could take longer than usual and some prizes may not ship until January 2022. In compliance with GDPR, we will not collect or store any personal information as part of this competition. Once the winner has been contacted and their prize received, personal details will be deleted from our email servers. Your details will not be shared, we respect your privacy. KitGuru Says: Good luck to everyone entering today's competition! We'll be back to announce the winner tomorrow morning and open the door for Advent Calendar Day 6! Become a Patron!

Imagine an app on your smartphone where every form of transportation you could ever need can be found. Tap a button, and you have your subway, bus or train ticket in hand. Another tap activates nearby bikes, scooters and mopeds. (Even the electric ones.) And another unlocks a rental car for the weekend or hails an Uber downtown. This is the pitch of "mobility as a service," or MaaS, a late-2010s craze that took the transit world by storm. It would be "the Netflix of transportation," as proponents sometimes call it, one that would give you an all-access subscription to the increasingly busy world of mobility. And maybe, in turn, it would solve one of urban planning's greatest foes: private car ownership. Like many other so-called tech disrupters, the hype of MaaS has been cooled by real-world realities. Yet efforts still exist: In late October, Austria, for example, debuted its KlimaTicket, or Climate Ticket, where one annual price gets you aboard all public transit in the country. But such innovations have been the exception to the status quo. Now, amid a pandemic that kneecapped transit ridership and renewed urgency over carbon emissions, MaaS — or some version of it — may be mounting a second act, though attempts at expansion face significant obstacles. The story starts in Finland. Backed by the Finnish government, Sampo Hietanen, an engineer, started Whim, the world's first MaaS "operator," in 2017; Helsinki was the test site. "It's a nice sandbox to try out things," said Mr. Hietanen, smiling over Zoom. Whim offers "mobility packages" in Finland's capital: The Urban 30 (originally 99 euros, about $115, a month) got you unlimited public transit rides, price-capped taxis and fixed day rates for car rentals; the Unlimited (€500 a month), as its name implies, covered pretty much everything. Shared bikes and e-scooters have since been added, with cheaper plans for each mode. But packages take assembly. An operator, like Whim, has to corral "providers" (say, Uber or the local subway system) under one roof — a tricky task, to put it mildly. "These modes are not designed to fit each other, but you need to get them onto the same service, and somehow agree to that," Mr. Hietanen said. On a technical level, the app has to sync the systems. "That was a tough one." Mr. Hietanen has since founded MaaS Global, which operates Whim in Tokyo; Vienna; Antwerp, Belgium; Turku, Finland; the West Midlands region in Britain; and all of Switzerland and the Flanders region of Belgium. In Antwerp, in fact, Whim is just one of many operators offering seamless transit in app form. The city takes a market-based approach: Rather than elevating one app to users, a team there works with companies to create apps that meet users' needs more precisely. (You will hear the term "ecosystem" a lot.) "We want to support as many players as possible," said Stijn Vernaillen, a MaaS expert who works for Antwerp. "But as a city, we are not going to build a MaaS application or solution and put that in the market." This is a stark departure from the early days of MaaS, when it was envisioned that cities, with power over transit systems, would fill the role of de facto app provider. But Mr. Vernaillen said this was not a good fit. Antwerp, Europe's second largest seaport, frequently welcomes tourists, who would then have to download an app upon visitation. Travel, too, is often regionally or nationally focused, so a city-provided app could be limited. (New York State, for example, controls the city's subway, bus and commuter rail systems.) Then there is the question of the trips we take. An all-inclusive subscription may appeal to a regular commuter, but in the ever-expanding world of remote work, mostly local journeys that could be done by bus, bike or e-scooter would demand a different subscription. In other words: Do all people need all transit, all the time? "For most people, that won't be the most interesting solution," Mr. Vernaillen said, adding, "It'll be more expensive to them." Another option, one that Antwerp has adopted, is customization. KBC Mobile, the app for the major Belgian bank, allows users to book transit trips. Skipr, another operator, helps employers devise a "mobility budget" for employees, in which they can choose which aspects of their commute to cover. For example, in lieu of a company car, they can apply their monthly travel stipend on a public transit pass, if they commute regularly, or a rental for occasional trips. MaaS has had the most success in Europe, where mass transit is more central to everyday life than in the United States. But this summer, it made landfall in Pittsburgh. About a fifth of Pittsburgh residents do not have access to a car, according to census figures. In that case, said Karina Ricks, the former director of the city's Department of Mobility and Infrastructure, "necessity is the mother of invention." The result is Move PGH, a platform still in its early stages. "We looked around the country at cities where they had a plethora of different mobility offerings, and it was a little bit of chaos," Ms. Ricks said. "It wasn't necessarily user-friendly, either — you needed to have a transportation graduate level understanding of these apps and systems." So, Pittsburgh asked companies to pitch a platform that wove together its transit landscape. Spin, a shared e-bike and e-scooter company owned by Ford Motor Company, won the bid, although no public money is attached. The platform, available through the Transit app, is still in its infancy. Users can plan routes that include multiple modes like Healthy Ride (bike-sharing), Scoobi (e-mopeds) and Spin itself. Public transit and e-scooters can be paid for through the app, but for the other modes, users are redirected to individual apps. (Ms. Ricks said payment for mopeds and bike sharing would soon be done through the platform. But car rentals and car-pooling? Hopefully one day.) "The goal that we're working towards is actual fare integration," Ms. Ricks said. "That it would be working as a single system from a price standpoint. That's the holy grail, but we're taking baby steps to that." Pittsburgh has created 50 "mobility hubs," in-person locations where all the modes can be found; residents can jet off on a Spin or Scoobi from there. The city is also piloting "universal basic mobility," where 50 low-income residents are being given "all you can eat" access, as Ms. Ricks described it, to public transit, bike-sharing and e-scooters. Discounts for e-mopeds, car shares and car-pooling are also included. "If people don't need to worry about the cost of those individual services, or frankly of transportation itself — if they can remain focused on trying to reliably get to work, doctor appointments or get their kids to school on time, and they don't have to be price sensitive — do we get better social outcomes from that?" asked Ms. Ricks. The question also harkens back to the original dilemma: Can MaaS lure people out of their cars? So far, the evidence of a modal shift appears shaky. In Finland, Whim and other operators never amassed a huge following, and the pandemic reportedly battered finances. The last year and a half has not been a banner time for travel routines. And 2022 may not be either. But compared to the car, a century-old invention, the concept of one-stop-shop transit is brand-new, Mr. Hietanen said; growing pains are only natural. "The one that creates dreams is going to win this," he added. "And we can create dreams. We'll just do it in a bit of different format." Time, then, to get creative. Can car-free transportation be bundled in other ways? There is at least one place in the United States that is making a strong attempt. In September, Culdesac Tempe, a 17-acre development outside Phoenix that calls itself "the first car-free neighborhood built from scratch in the U.S.," announced that residents moving in next year would have access to a mobility package that includes a Platinum Pass with Valley Metro, the local transit agency, with unlimited free rides on streetcars, buses and the light rail; free use of over 100 Bird e-scooters; and discounts on Lyft rides and Envoy electric car rentals. (There are also over 1,000 bike parking spots.) It is all included in the rent. Developers, said Lava Sunder, Culdesac Tempe's general manager, have a long history of intermingling with transit, from building out streetcar lines to offering free parking. Theirs is just a new take on tradition. "We've been hearing from residents that they have different mobility preferences," Ms. Sunder said. "There isn't a one-size-fits-all for mobility."

Many people likely want a better grip on their data privacy and security, and with iOS 15, Apple took steps to bolster its privacy credentials. The latest OS arrived in September, and Apple has since rolled out iOS 15.1, while iOS 15.2 is in beta. (Here's how to check if your iPhone can run iOS 15 and how to download it.) Once you've downloaded the operating system, you'll have access to Apple's new FaceTime features that, for the first time, let Android and PC users participate. You'll also get iMessage improvements that make it easier to track links and photos your friends have sent. And there's access to plenty of new privacy and security features included with iOS 15. If you're like me -- one of the billion-plus people who use an iPhone -- then I'd say it's worth learning about new privacy updates available on Apple's latest OS as well as going ahead and changing some of your settings right away. Read more: This iPhone setting can stop ads from following you across the web In a nutshell the privacy changes, unveiled in June, will give you better control of the data you're sharing with third parties and will tell you how those apps are using data from your Apple devices. In some cases, the changes also limit data collection. Even though these privacy changes might not drastically change your day-to-day experience -- except maybe in the case of Siri -- they're worth knowing about. They can alter how your Apple device interacts with the internet, specifically third parties that crave your personal information. Keep in mind, Apple has long been using privacy as a selling point to stand out from rivals like Google and Facebook. Even though the Cupertino-based company has been harping about protecting consumer data from digital advertisers and internet service providers, it has reportedly bolstered its own search ad business at the same time, and also hired (and then fired) a former ad executive from Facebook. There's also a catch: Most new privacy features are available for free, but not all of them. To take advantage of the other ones, you'll either have to own a newer Apple device or pony up some cash to buy a new one. These privacy changes have digital advertisers and even journalists behind popular newsletters up in arms for reasons that I won't get into here. But they're good news for you, regardless of what Apple's motives might be. Read more: Why you need to stop texting people your iPhone photos. Hint: It's about your privacy With iOS 15, one of the biggest privacy concerns for voice assistants will be stamped out, according to Apple. Unlike Amazon Echo and virtually all other competitors, Siri will no longer ship your audio to servers for processing. Instead it'll process the sound of your voice directly on your Apple device, thanks to on-device speech recognition. Apple said iPhones and iPads will take advantage of processing power on Apple devices to analyze speech, meaning Siri will no longer need an active internet connection to function. For you that means, Siri will respond to basic commands such as setting an alarm, setting a reminder or launching an app while offline. This update doesn't include asking Siri to search the web for something. Beyond amped-up privacy, Apple says you can expect Siri's response time to speed up for some requests, since the audio processing can now happen offline. As I said earlier, some privacy features have a catch. For this one, only iPhone and iPads stacked with the A12 Bionic chip can take advantage of Siri's in-device audio processing when it rolls out. If you were a fan of Apple's App Tracking Transparency feature, then you'll probably love the App Privacy report too. Taking a page from Safari's playbook, the report will be a new section accessible in Settings, giving you an overview of how apps treat your privacy. You can see when individual apps request to access features like the camera, microphone, and also see where or with whom your data might be shared within the last seven days, bringing an added layer of transparency to iOS 15. Apple's Mail Privacy protection feature coming to the Mail app will limit the amount of data senders collect from you when you open their promotional emails or even newsletters. In particular, the feature will give you the option to hide your IP address, so it can't be linked to other online activity or used to determine their location. This feature can potentially block spammy email marketers from learning more about your email or internet activity. Here's how Apple described it: "In the Mail app, Mail Privacy Protection stops senders from using invisible pixels to collect information about the user. The new feature helps users prevent senders from knowing when they open an email, and masks their IP address so it can't be linked to other online activity or used to determine their location. Apple also said IP address obfuscation will happen on Safari. Apple also announced the paid subscribers to iCloud Plus will get a couple of new privacy features. One of them is Safari's private relay feature, which is designed to hide an individual's web browsing behavior from advertisers and internet service providers. It'll do this by encrypting the traffic leaving an Apple device, so that it cannot be intercepted by third-parties including Apple, who can then go on to read what's being searched for. The second feature is called hide my email. If you're a subscriber, it will let you enter a randomly generated email when you're signing up for things -- such as a new account with an online retailer -- and the feature will have whatever it's sent forwarded directly to your actual email address. The idea is that fewer companies will have access to people's direct email addresses.

TM today has announced that it will be conducting a 5G trial with Digital Nasional Berhad (DNB). Even though the trial is meant for service optimization, unifi Mobile postpaid customers will be able to access the 5G network during the said period. The announcement came a day after The Straits Times of Singapore reported that TM has become the first major telco to sign up with DNB. Last month, Reuters reported that none of the telcos has signed a commercial deal with the 5G SPV so far but DNB then brushed it off by saying that it can only sort out commercial deals with telcos after the company's Reference Access Offer document is completed and published to the public. While no actual date was revealed by TM inside the brief press statement, the company did note that 5G network coverage covers selected areas within Cyberjaya, Kuala Lumpur, and Putrajaya. This is in line with the 5G rollout plan that has been announced by DNB who has previously said that 5G will be turned on at these areas before the end of 2021. Hence, it is likely that unifi Mobile postpaid customers that are in these three cities will be able to tap into 5G in a matter of days or weeks. Interesting enough, TM also mentioned that the access will be enabled for customers with certified 5G devices although no further clarification was made by the company in the statement.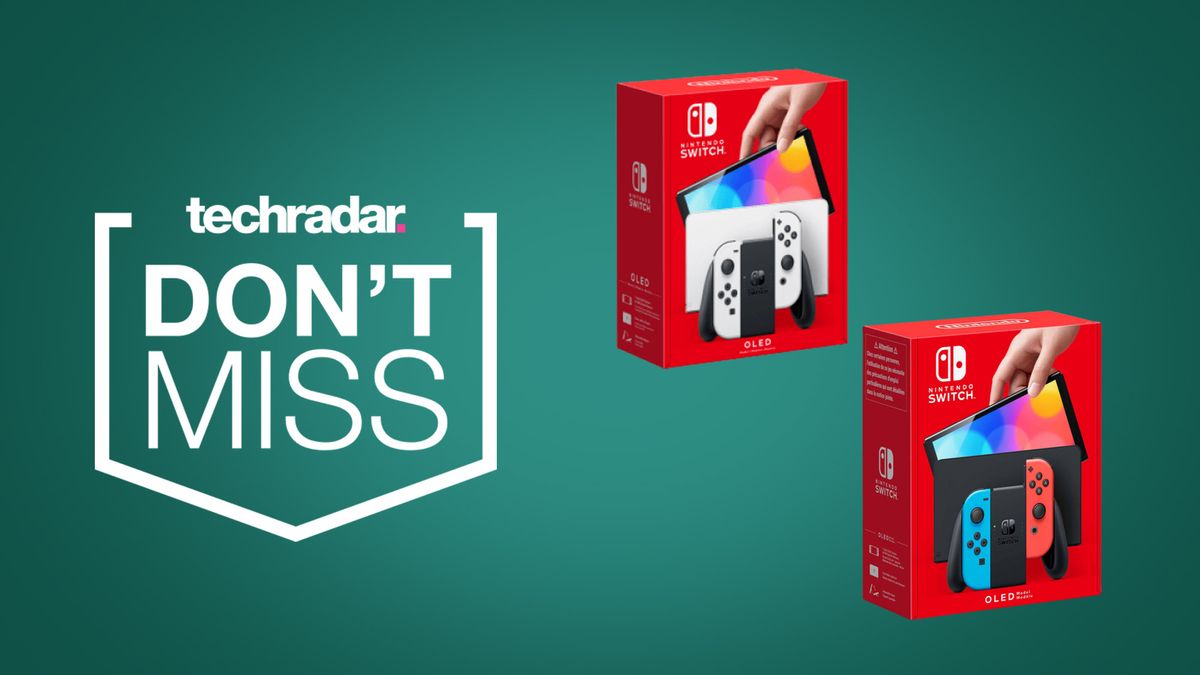 Even a week after this year's big Black Friday and Cyber Monday sales events, Nintendo Switch OLED stock is still available to buy at a few stores. The console and a number of bundles are currently available to order for immediate delivery so you can get yours before the end of the year. At Amazon, you can get the Neon version of the Nintendo Switch OLED in stock for £309.99. When it comes to bundles, the best value option includes a Switch OLED and Just Dance 2022 for £338.99. You can also pick up a console with Metroid Dread or Assassin's Creed 3 Remastered if you prefer. However, if those options don't interest you - or you'd prefer the Neon console - there is still some availability at Very. With these bundles, you can save up to £10 and delivery is available immediately. We've seen stock here slowly dwindle over the last couple of weeks so it may be running out soon. Lastly, for the most bundle options, you want to go to the official My Nintendo Store. As well as both console colours, you can also pick it up with many different games - from new releases such as Mario Party Superstars to classics like The Legend of Zelda: Skyward Sword HD. That's everything out there right now. For the regular console, you can take a look at our guide to all the very best Nintendo Switch deals that are available today. And if all these Nintendo Switch OLED bundles dry up, you can keep an eye on our Nintendo Switch OLED restock hub for the latest updates.

Just a day after a senior US State Department official claimed that Iran walked back all compromises made in previous talks on reviving the 2015 Nuclear Deal, UN Secretary General Antonio Guterres has made it clear that the World Body wants no nuclear arms race in the Middle East. Speaking at a Conference on the Establishment of a Middle East Zone Free of Nuclear Weapons and Other Weapons of Mass Destruction in New York on Saturday, the UN chief said that the international community had established five nuclear weapons-free zones way back in 1967, and those were Latin America and the Caribbean, the South Pacific, Southeast Asia, Africa and Central Asia. He claimed that these areas cover almost the entire Southern Hemisphere. According to Guterres, the UN wants to expand such zones in an attempt build a safer world. The UN chief explained: "That is particularly the case in the Middle East, where concerns over nuclear programs persist, and where conflicts and civil wars are causing widespread civilian casualties and suffering, undermining stability and disrupting social and economic development." He also urged all the member states to show restraint, and avoid escalation of tension. Meanwhile, the UN chief stressed on the Joint Comprehensive Plan of Action (JCPOA), or the Iran Nuclear Deal, insisting that Iran and the Western World's decision to return to dialogue was "an important step", as far as the global peace and security were concerned. He requested Iran, the European Union and five permanent members of the UN Security Council to work hard in order to ensure the "valuable instrument remains effective". Guterres told the audience that the positive consequences of a Middle East, free of nuclear weapons, would certainly help strengthen the international bans on chemical and biological weapons. "It will build trust, reduce tensions and prevent conflicts and human suffering", he added. At the same time, the UN chief highlighted the importance of deescalating regional arms races, apart from tackling other major challenges, like COVID-19, Climate Change, and achieving the Sustainable Development Goals. For his part, President of the UN General Assembly Abdulla Shahid said that progress should be made on the Treaty on Prohibition of Nuclear Weapons. At the same time, he said that the renewal of the START Treaty between the US and Russia was also important for maintaining Global Peace. He admitted that the Regional Geopolitics of Middle East was a complex one, and all the issues should be resolved through sound diplomacy and peaceful negotiations on the basis of good faith. "The addition of nuclear weapons and other weapons of mass destruction to the region's politics will complicate an already challenging process, undermining trust and portending existential consequences", added Shahid.

A coupleof days after media magnate of Hong Kong Jimmy Lai announced that he would shut the Taiwanese unit of his flagship 'Apple Daily' later this month, he and his newsroom staff have won the Golden Pen of Freedom Award for defending Press Freedom. Currently, Jimmy is in jail, as he faces charges under a draconian National Security Law. President of World Editors Forum Warren Fernandez has made an announcement in this regard, saying that the award recognized "the jailing of a publisher, the arrest of an editor-in-chief and his senior colleagues, the shuttering of a newsroom, and the closure of a media title". Earlier, the National Security Police conducted a raid at the office of Jimmy's Next Digital Limited, and asked the media magnate to shut down the pro-democracy Apple Daily newspaper. In June 2021, the concerned authorities also froze his company's assets, apart from detaining several senior editors. Later, all of them were charged with "collusion with a foreign power" on the basis of the National Security Law. Jimmy, who is all set to turn 74 on December 8, has been in jail for the last one year, as he is serving a 20-month prison term for taking part in an "illegal assembly". He had reportedly joined more than 1,000 people, who participated in peaceful protests. However, the Police claimed that they were allegedly involved in "rioting". The Police also called the protests "illegal assembly" as per the Public Order Ordinance. Meanwhile, Cédric Alviani, the East Asia Bureau Chief for Paris-based press freedom group Reporters Without Borders (RSF), has issued a statement, stressing: "The detention and harassment of Jimmy Lai, who did nothing but exercise his right to impart and comment on factual information, demonstrates the determination of the Hong Kong government to silence a symbolic figure of press freedom." Alviani requested the global community to put the Communist Party of China (CPC) under tremendous pressure to secure the release of Jimmy and other defenders of Press Freedom. The RSF has also urged the UN to "take all necessary measures" in order to safeguard Press Freedom in Hong Kong, and to ensure Jimmy's release from the jail. It may be noted that the World Association of News Publishers (WAN-IFRA) had honored Jimmy's son Sebastien Lai with the Golden Pen of Freedom Award. After receiving the award, he stated: "Journalism is at the forefront of history. It is a check against the powerful, and the voice of the people in times of strife." Sebastien further said: "With Apple Daily closing in Hong Kong, and a crackdown against journalism across the region, there will be less and less people shining light in these dark corners."

A single 30-minute video — stored in the form of raw images – would weigh well over 1TB. Codecs aim to deliver an acceptably accurate image at a fraction of the original file size. From streaming services to chat apps, video codecs are an integral part of our connected lives. Yet, we rarely notice their impact. That said, modern smartphones have plenty of brute-force CPU power to decode unsupported codecs. To that end, third-party video player apps like VLC will offer to playback such files through software decoding, without any hardware acceleration. However, this has the potential to heat up your device and drain your battery over longer periods, so it's best to not rely on it. Related: The best media streaming devices you can buy in 2021 Competing codecs and standards were once a major problem for the video industry. Many popular codecs only really worked well with hardware from specific manufacturers. Thankfully though, the past few years have seen device makers converge on a handful of codecs. While fragmentation is no longer a problem, it's still worth knowing which codecs you're likely to encounter in the real world and how we got here. MPEG-2 was developed for the DVD era. It became the dominant video codec in the early 2000s. Most content on the internet is encoded in the H.264 codec because of its wide comaptibility. Google developed VP9 as a free and open codec to avoid dealing with H.265's confusing royalty situation. The AV1 codec is backed by the Alliance of Open Media — a cross-industry coalition of giants like Intel, Apple, Google, Adobe, Facebook, and Arm. Apple ProRes is an intermediate codec that prioritizes quality over compression. It is meant for video editing and color grading, not content delivery like the other codecs.

Why you can trust Pocket-lint (Pocket-lint) - Sony's PlayStation console line is over 25 years old. Insane how time flies isn't it? The first PlayStation was released in Japan on 3 December 1994 and pretty much changed the games industry for good. In the interim years, it has seen off Sega, the console manufacturer battling Nintendo at the time, and even returned to its position of number one in the games industry when the PS4 broke sales records a few years back. But the journey is equally as interesting as the games we all play on our shiny PlayStation 5 these days. Indeed, the PlayStation released over 25 years ago wasn't even going to be the company's bow into the games console market. It had unveiled a Play Station machine three years earlier - one that played both Super Nintendo cartridge games and SNES-CD titles it had planned in association with now rival Nintendo. Fast forward to the present, and we've delved into the history books to bring you a timeline of Sony's consoles and gaming devices, including some lesser-known iterations you might have forgotten - check them out! Sony The Play Station (1991) Sony's first attempt at a PlayStation console appeared in 1991 and featured a CD drive but played SNES games. It originally started life as a joint project between Nintendo and Sony that came about in order to create a CD-ROM for the Super NES. Before anything could hit the market though, Nintendo broke the deal and opted to go with Philips technology instead. It is thought that this enraged the Sony President who then set about instructing his team to create the PlayStation to rival Nintendo and that's how the PlayStation console was born. Sony The original PlayStation (1994) The actual first PlayStation was released in Japan on 3 December 1994. It was part of the fifth generation of video game consoles in the heyday of console gaming and the new era. The original PlayStation reached the market in time to compete with the Sega Saturn and the Nintendo 64. It would quickly go on to be the best selling console of that time too, going on to be the first video game console to sell 120 million units. The Sony PlayStation would certainly change gaming forever if nothing else. Sony The PlayStation mouse (1994) In terms of accessories, the PlayStation Mouse - released in Japan in 1994 - became the one most likely to end up at the back of a drawer. Cláudio Luiz Castro on Unsplash The PS One (2000) The PS One came in 2000 as a cheaper alternative to the just-released PlayStation 2. It was essentially a smaller, redesigned version of the original console that included both design tweaks and a new menu. The updated PS One actually performed surprisingly well and even went on to not only outsell the original console but also the PlayStation 2 as well. Sony PlayStation 2 (2000) The first PlayStation 2 was released in Japan in March 2000. It was a big old beast but effectively killed Sega's console ambitions, forcing the rival to make its Dreamcast its last machine. The second proper PlayStation proved even more popular than the last, perhaps partly aided by the backwards compatibility with original PlayStation games. The PS2 was also a record-breaker. It was the fastest console to sell 100 million units and reached that title within a little over five years from first launching. By the end of 2012, it had sold over 155 million worldwide. Sony PlayStation 2 (2000) As well as being one of the best selling consoles of all time, the PS2 was the first console to embrace multiple colour options. It was also credited as being a major driving force behind the take up of DVD as a movie medium. Sony PlayStation 2 Hard Disk Drive (2001) Remarkably, the PS2 had its own hard drive as an optional accessory. The 40GB drive plugged into the expansion bay of the original machine and could be used to install games onto to speed up loading times. Sony PlayStation X (2003) The PSX - or PlayStation X - was only ever released in Japan. It featured a PS2 inside but was also a digital video recorder, able to burn video onto DVD-RW and DVD-RAM discs. It was designed by Sony to be a general-purpose video device - an all-singing, all-dancing machine, but high costs of the PlayStation X made it undesirable and poor sales quickly turned the PSX into a failure. Interestingly, the PlayStation X was the first device to use Sony's XrossMediaBar (XMB) graphical user interface, something that would later appear in the PlayStation 3 and Bravia televisions a few years later. Sony PlayStation 2 Slimline (2004) The first slimline revision of the PlayStation 2 arrived towards the end of 2004. As the name suggested, the PS2 Slimline was smaller, thinner and quieter than the first version. It was also improved with the addition of an ethernet port. Sony SingStar (2004) Singstar was a competitive music game for PlayStation consoles that also came with accessories for the PS2 - two wired microphones. They also went wireless for the PS3 version and all can still be used on the PS4 today. Sony PlayStation Portable (2004) At the same time that Sony was slimlining its PS2, the company revealed the first handheld console, the PlayStation Portable. It received rave reviews but many wondered about the reliance on a proprietary disc format, UMD. The PSP was the company's first handheld games console and its attempt to compete with the Nintendo DS. It was immediately familiar to Sony fans and had a similar control layout to the standard PlayStation controller in terms of button layout. Sony Buzz! (2005) One of our favourite PS2 games was Buzz, which came with its own buzzer controllers for four people. There were wireless versions too for the PS3. Sony PlayStation 3 concept (2006) The first time anybody saw the PlayStation 3 it was in official concept art released by Sony. A wave of shock descended upon the industry as the conventional DualShock controller was seemingly replaced by a boomerang. Sony PlayStation 3 (2006) Sony ditched the controller design that had been heavily criticised, but stuck with the "pregnant" design of the console itself on its Japanese unveiling. The first PlayStation 3s were released with backwards compatibility and 20GB and 60GB hard drives in 2006. However, Sony soon saw the need to ditch the hardware and software emulation for PS2 titles. However, if it wasn't for the PS3, HD-DVD rather than Blu-ray might have become the more popular HD disc standard. The PS3 was a hit right from the start, with an estimated 81,639 units selling in the first 24 hours of the console being released in Japan. It then went on to sell 600,000 units in just two days of going on sale in the rest of the world. All this despite being compared to a George Foreman grill. Sony PSP 2000 (2007) A slimmer PSP - the PSP 2000 - was released in 2007. The PSP 2000 was a major upgrade to this handheld console and like the other slim devices in Sony's console line-up, the slimmer model was lighter, thinner and faster. It also had the ability to output to televisions and had a USB charging mode too. Sony PlayStation Eye (2007) The PlayStation Eye was a camera, that was essentially a webcam and worked to track players and allow gamers to play games that used motion control and colour detection too. We just found it fell over a lot. Sony PlayStation 2 Slimline v2 (2008) A few years later, Sony released another version of the Slimline that was even lighter. This slimmer version of the PS2 was released before the console was officially discontinued. However, that was remarkably not until January 2013. Sony PSP 3000 (2008) Another PSP - the PSP 3000 - followed in 2008. The PSP 3000 had a few more upgrades that included an improved screen, a built-in microphone and the ability to output to other televisions that the previous models could not. Sony PlayStation 3 Slim (2009) Sony kept up the trend of releasing slimmed-down models of its console by releasing the PS3 slim in 2009. This trimmed down version was smaller, lighter, quieter, cooler and used less power too. The first slim models also greatly expanded the amount of space available to store downloaded games. At maximum it had 320GB. It went on sale in September 2009 and sold over a million units before the first month had even passed. Sony PSP Go (2009) Strangely, the next PSP console ditched the UMD drive to play games on disc and prompted gamers to download titles instead. As standard, it had 16GB of internal storage for games, videos and other files. You could also use an M2 flash drive to add an extra 32GB of space if you needed it. The PSP Go was sold alongside the PSP 3000 and not intended to replace it. Steelseries celebrates its 20th anniversary, a legacy of glory By Pocket-lint Promotion · 5 December 2021 Sony PlayStation Move (2010) The PlayStation Move controller was Sony's answer to the Xbox Kinect but never really took off. It was originally released for the PS3 but later also used in the PS4 and even for PlayStation VR. The system used PlayStation Eye or PlayStation Camera to track the wand's movement in your room as you gamed. Sony PSP E1000 (2011) A last PSP - the E1000 - brought back the UMD format in 2011. It was cheap and cheerful, mainly because it didn't have Wi-Fi connectivity and had only one speaker instead of two stereo speakers. Sony PlayStation 3 Super Slim (2012) Not content with the Slim, Sony also released a " Super Slim " version in 2012, an incredible six years after the original console launched. The storage size expanded even further with the second PS3 slim model and it also adopted a top-loading Blu-ray deck. Sony PlayStation Vita (2011/2012) The first, beefier PS Vita was released in Japan in time for Christmas 2011 and its front and rear touch panels excited at the time. It then released a few months later in the US in 2012. The original PS Vita had a 5-inch touchscreen display, Bluetooth and Wi-Fi connectivity and even a 3G option. It was designed to capitalise on the rising interest in mobile gaming though it is thought to have struggled to compete well during that time. Sony PlayStation 3 remote (2012) The PlayStation 3 was more than just a games machine, it was also seen as a media hub, what with the built-in Blu-ray player and access to the web. The release of a remote control to go along with that functionality made a lot of sense. The company also went on to release a remote for the PS4 a few years later. Sony PlayStation 4 (2013) Unbelievably, the PlayStation 4 was released way back in 2013. It was seen as part of the eighth-generation of games consoles and a competitor of Microsoft's Xbox One and Nintendo's Wii U. The new console bought several design enhancements including not only more processing power, but also things like support for HDR10 video and 4K resolution playback. The PS4 was highly thought of (and still is) and included many enhancements that gamers loved, including the ability to do things like play games off-console on PlayStation Vita. It's no surprise that the PS4 managed to sell 100 million units since its launch. Sony White PlayStation 4 (2013) Shortly after the PS4 was released, a white version became available too. It was included in a bundle with Destiny originally and a great alternate option. Sony DualShock 4 controllers (2013) The DualShock 4 was the first major leap for Sony's gamepad since near the beginning, with its touch panel and LED lighting. Shame about the battery life. Sony PlayStation camera (2013) The PS4 camera is a smarter affair than the original for the PS3. Perhaps smarter still was Sony's decision not to bundle it with the console and therefore charge less. The PlayStation Camera has two 1280×800 pixel cameras with a 30 cm focusing distance, and an 85-degree field of view. This system was used for a number of games and required for use with the PlayStation VR headset. Sony claimed that 900,000 PlayStation Camera were sold alongside the PS4 in 2014. Sony PS Vita (PCH-2000) (2013) The PS Vita didn't really take off until the PS4 and Remote Play entered the scene. The redesigned, slimmer and lighter PS Vita also had better battery life, 1GB of internal storage and a variety of colours to choose from. Sony PlayStation TV (2013) One interesting modern addition to the PlayStation family was the PS TV (PS Vita TV in Japan). It's essentially a Vita that you plug into your telly. It was a small set-top-box based on Sony's portable gaming device that gave users access to compatible Vita, PSOne and PSP games through the PlayStation Store or an included game card slot. The PlayStation TV was also capable of remotely streaming PlayStation 4 content too, which is nifty. Pocket-lint Sony PlayStation VR (2016) PlayStation VR was released in 2016 and was perhaps one of the most affordable and accessible VR headsets available at the time. It features a 5.7-inch 1920x1080 resolution OLED display capable of 120 Hz refresh rate and can even duplicate its display to the TV. We found the PSVR was far from perfect, but still a fun bit of kit and the only real VR device for console users at the time. Pocket-lint PlayStation 5 (2020) The end of 2020 saw the launch of the PlayStation 5. The PS5 comes in two variants, the standard model and PS5 Digital Edition, that doesn't have a disc drive. The PS5 features a bold new design, along with drastically rethought DualSense controllers. Under the hood is AMD CPU and GPU technology which makes for a gaming machine offering 4K gaming at 60FPS and even up to 120FPS with the right support. The PS5 also boasts SSD storage and expandable NVMe space too. Meaning faster load speeds cutting down load times and making games start in the blink of an eye. Pocket-lint PS5 DualSense controller The PS5 DualSense controller is worth a mention on its own. So drastic is the departure from the previous controller design, the DualSense looks like something from the future. The attention to detail on these controllers is so minute that even the grips are covered in tiny triangle, square, circle and cross patterns. DualSense boasts a haptic feedback system that adds crazy immersion to games. These controllers also include built-in microphones, meaning no more requirements for headsets for the social gamer. The highlight for many though is the improved battery life over the previous controllers. One trade off for a larger controller design, no doubt. Writing by Rik Henderson and Adrian Willings. Editing by Britta O'Boyle. Originally published on 2 December 2014.

With 2021 almost coming to an end, smartphone manufacturers have started to update their catalogue with the next generation of smartphones. Motorola announced a bunch of new G-series smartphones, including the Moto G31, G41 G51, G71, and G200. Meanwhile, OPPO introduced the brand new OPPO Reno7 series. We also had Lava making a comeback with the Agni 5G, which is the brand's first 5G phone in India. Then, Xiaomi launched the Redmi Note 11T 5G in India, the successor to the Redmi Note 10T 5G. These and a lot more phones were launched in November 2021. Let's take a look at some of the major phones released in November 2021. OPPO's new Reno7 series includes three new smartphones – the Reno7 5G, Reno7 Pro 5G and Reno7 SE 5G. The Reno7 series smartphone comes with a 90Hz AMOLED display, Android 11, 4,500mAh battery, and a 5G network support. The OPPO Reno7 and Reno7 Pro are powered by the Snapdragon 778G and Dimensity 1200 chipsets. Meanwhile, the Reno7 SE comes with the Dimensity 900 chipset. The Reno7 and Reno7 Pro feature a 32MP Sony IMX709 sensor. The new sensor increases light sensitivity by 60% and reduces noise by 35%. The OPPO Reno7 series is expected to debut in India in January. The fourth addition to the Redmi Note 11 series in China, the Redmi Note 11 4G, brings the Redmi Note 10 with a new name. The Redmi Note 11 4G features a 6.5-inch FHD+ LCD with a refresh rate of 90Hz. The smartphone is powered by the Helio G88 chipset paired with 4GB/6GB RAM LPDDR4X and 128GB EMMC 5.1 of internal storage. The Redmi Note 11 4G boasts a 5,000mAh battery with 18W fast charging support. The 4G variant of Redmi Note 11 comes with a 50MP main camera, an 8MP ultrawide, and a 2MP macro camera. The Redmi Note 11 4G starts at CNY 999 (around Rs 11,658). Moto G Power 2022 was launched in the United States for USD 199.99 (around Rs 14,840). The Moto G Power 2022 has a 6.5-inch HD+ display with a 90Hz refresh rate. The Mediatek Helio G37 chipset powers the smartphone. Under the hood, the chipset is paired with 4GB RAM and 64GB/128GB of internal storage. The Moto G Power 2022 features a rear triple camera setup consisting of a 50MP main camera and a pair of 2MP depth and macro cameras. The phone boasts a 5,000mAh battery with support for 10W charging. The Moto G Power 2022 comes with an IP52 rating for water and dust resistance. Earlier this month, Lava introduced the Agni 5G, one of the first 5G smartphones from an Indian brand. The Lava Agni 5G ( review) sports a 6.78-inch FHD+ LCD display with a 90Hz refresh rate. Under the hood, the smartphone is powered by the Dimensity 810 chipset paired with 8GB RAM and 128GB of internal storage. The Agni 5G runs near-stock custom skin on top of Android 11. It features a 64MP main camera on the rear, a 5MP ultra-wide-angle camera, and a pair of 2MP depth sensor, and a macro camera. There's a 16MP camera on the front for selfies. The Lava Agni 5G is priced at Rs 19,999 in India. Last month, Xiaomi unveiled the Redmi Note 11T 5G in India, the successor to the short-lived Redmi Note 10T 5G in India. The Redmi Note 11T, a rebadged Redmi Note 11 5G for India, is the first Redmi Note 11 series smartphone launched in India. The Redmi Note 11T 5G features a 6.6-inch FHD+ display with a 90Hz refresh rate. Under the hood, it comes with the Dimensity 810 chipset paired with up to 8GB RAM and 128GB of internal storage. The smartphone runs MIUI 12.5 on top of Android 11. The Redmi Note 11T 5G features a dual-camera setup consisting of a 50MP main camera and an 8MP ultra-wide camera. A 16MP camera on the front is housed inside the centred punch-hole cutout. The smartphone boasts a 5,000mAh battery with support for 33W fast charging. The Redmi Note 11T 5G price in India starts at Rs 16,999. In November, Motorola launched a new roaster of Moto G series smartphones in Europe. The Moto G roaster includes G31, G41, G51, G71, and G200. The Moto G200 is the headliner of the G series and comes with the top-of-the-line Snapdragon 888+ chipset. The Moto G71 is powered by the Snapdragon 695 chipset and features a 50MP main camera. The Moto G51 comes with a 120Hz LCD display, Snapdragon 480+ chipset, and a 50MP primary camera. Meanwhile, the G41 and G31 are powered by the Helio G85 chipset and are the only 4G smartphones of the lot. The Moto G31 was recently launched in India at Rs 13,999. Also, the Moto G51 is set to launch in India on December 10th. The Samsung Galaxy A22s was launched last month in Russia. The Galaxy A22s features a 6.6-inch FHD+ with a refresh rate of 90Hz and a waterdrop notch for the selfie camera. Under the hood, the Galaxy A22s is powered by the Dimensity 700 chipset paired with 4GB RAM and 64GB/128GB of internal storage. The smartphone comes with a 48MP main camera accompanied by a 5MP and a 2MP camera. It boasts a 5,000mAh battery with support for 15W fast charging. The Galaxy A22s runs Samsung's One UI custom ROM on top of Android 11. Last month, Realme announced a new mid-range offering dubbed Realme Q3t in China. The Realme Q3t features a 6.6-inch FHD+ IPS LCD panel with a refresh rate of 144Hz. The smartphone is powered by Snapdragon 778G chipset paired with 8GB LPDDR4x RAM and 256GB UFS 2.2 storage. The Q3t comes with a 48MP primary sensor, a 2MP depth lens and a 2MP macro camera. It runs on Android 11 OS with Realme UI 2.0 on top of it. The Realme Q3t is priced at RMB 2,099 (around Rs 24,400) in China. POCO M4 Pro 5G is a rebranded Redmi Note 11 5G that launched in Europe last month. The POCO M4 Pro features a 6.6-inch FHD+ LCD display with a 90Hz refresh rate. It is powered by the Dimensity 810 chipset paired with up to 8GB RAM and 128GB of internal storage. The POCO M4 Pro boasts a 5,000mAh battery with support for 33W fast charging. It runs MIUI 12.5 on top of Android 11. It comes with a 50MP primary camera paired with an 8MP ultra-wide camera. On the front, it gets a 16MP camera for selfies. The POCO M4 Pro price starts from EUR 229 in Europe. Vivo V23e 5G is a 5G variant of the V23e, and successor to Vivo V23e was launched last month in Thailand. The V23e 5G comes with a 6.44-inch AMOLED display, MediaTek Dimensity 810 chipset, 44MP selfie snapper, 50MP triple cameras, and Android 11 OS. There's no word on the global availability of Vivo V23e 5G. In November, Infinix announced a new smartphone in the Note 11 series, the Note 11i, joining the Note 11, Note 11 Pro, and Note 11S. The Infinix Note 11i was launched in Nigeria for USD 160 (roughly Rs 11,900). It comes with a 6.95-inch IPS LCD, Helio G85 chipset, 48MP triple camera, and 5,000mAh battery.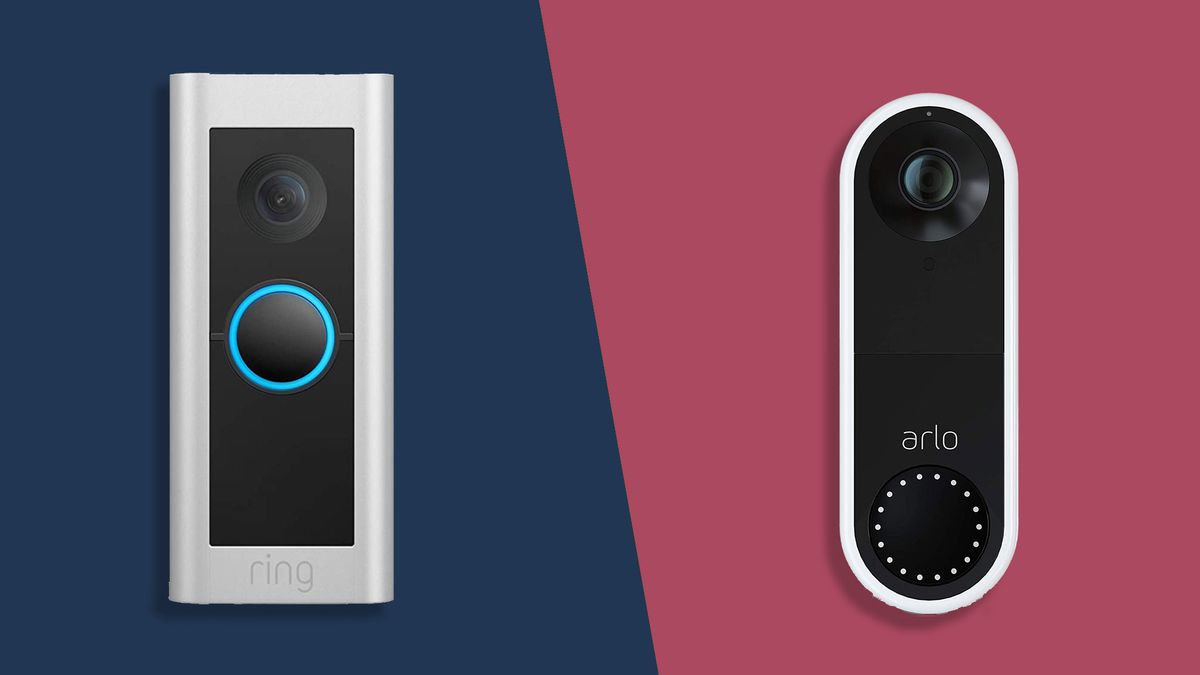 The best video doorbells ensure that you never miss a delivery again (and that you can give cold callers the cold shoulder) by enabling you to see and speak to whoever is on your doorstep from your smartphone, even when you're not at home. Arlo and Ring are two of the biggest names in the video doorbell market right now, and each offers a flagship video doorbell that captures footage in an aspect ratio that ensures you can see the full length of someone on your doorstep, and any packages at their feet - ideal if you're doing your holiday shopping online. The Arlo Video Doorbell will set you back $149.99 / £179.99 / AU$289.99, while the Ring Video Doorbell Pro 2 is a good bit more expensive at $249.99 / £219 / AU$399.99. You may be wondering whether spending an additional $100 / £40 / AU$110 will result in a better experience when conversing with people at your threshold, so we pitted the Ring Video Doorbell Pro 2 against the Arlo Video Doorbell to help you choose the best video doorbell for your home. Read on to find out how these doorbell cameras compare – or, if you already know which smart doorbell you want to buy, you can check out the current best prices for both products below: Wen it comes to cost, the Arlo Video doorbell is more affordable than Ring's top-of-the-range smart doorbell. As we've mentioned, Arlo's model is priced at $149.99 / £179.99/ AU$289.99, while the Ring Video Doorbell Pro will set you back $249.99 / £219 / AU$399.99. Both models are mains powered, although Arlo does offer a wireless version of its doorbell, which costs $199.99 / £179.99 / AU$329. In the US and Australia, the Arlo Essential is $50 / AU$40 more expensive than the wired doorbell, while in the UK the two are the same price. Ring doesn't offer a battery-powered version of the Ring Video Doorbell Pro 2. If you want a wire-free option, you'll need to invest in the Ring Video Doorbell 4, which doesn't offer the same video quality or aspect ratio as the Pro model, but is more affordable at $199.99 / £179 / AU$329. To get the most out of both doorbells, and review footage recorded by the camera at a later date, you'll need to subscribe to the relevant online storage service. In the case of Ring Video Doorbell, this is Ring Protect, which is priced from $3 / £2.50 /AU$4 per month. For Arlo devices, you'll need an Arlo Secure subscription, which starts at $2.99 / £2.79 / AU$4.4 9 per month. While both video doorbells are compact, with a small footprint, each has a distinct look. The Ring Video Doorbell Pro 2 has a rectangular design, which combines a glossy black fascia with a slim silver surround, which is removable and can be swapped for alternatives in an array of colors including red, blue, and gold. The Arlo Video Doorbell sports a rounded design with a stylish monochrome finish. Both doorbells feature a button that illuminates when pressed and have a built-in camera, microphone, and speaker that enable you to see and speak to anyone on your doorstep. The Ring Video Doorbell's lens has a 150-degree field of view, and captures footage at a resolution of 1536 x 1536p, while the Arlo Video Doorbell has the same resolution but a wider 180-degree field of view. As mentioned, both doorbells are mains-powered and need to be connected to existing doorbell wiring, although in the UK the Ring Video Doorbell Pro 2 is available with an adapter that enables you to plug it into a power outlet. If you have an existing chime in your home, both doorbells will activate this when they're pressed. If you don't already have a chime, both Ring and Arlo offer an additional plug-in chime that connects to the doorbell wirelessly. The Ring Chime will set you back $29.99 / £29.99 / AU$59, while the Arlo Chime is priced at $49.99 / £44.99 / AU$79. Alternatively, both video doorbells can be connected to a smart speaker or smart display to sound an alert in your home. However, in the case of the Ring Video Doorbell Pro 2, this only applies to Amazon's range of Echo smart speakers and Echo Show smart displays. Arlo's doorbell, meanwhile, is compatible with Amazon's devices, as well as those that use Google Assistant, and also has HomeKit support for those invested in Apple's ecosystem. When it comes to essential functionality, the Ring Video Doorbell Pro 2 and Arlo Video Doorbell are evenly matched. Both will send an alert to your smartphone and will activate a connected chime when the doorbell is pressed, or motion is detected in the field of view. On receiving this alert you can either log in and view the doorbell's live feed from your smartphone or, provided that you've subscribed to the relevant storage service, review the footage at a later date. During testing, we were impressed with the quality of video captured by both doorbells. The footage was clear, and audio was in sync with the picture. Ring's doorbell has an advantage over Arlo's here, as it captures colorized night-vision footage when it's dark. While there's no built-in LED (a feature that many of Ring and Arlo's home security cameras offer), the doorbell uses ambient light in the camera's field of view to apply a simulated color to the image and provide more detailed footage. This comes in handy if you don't have a porch light, or it's not always on. However, the Arlo doorbell's wider field of view means more of your driveway is captured in the video. Both video doorbells allow you to set activity zones so that you're only notified about motion in these areas, although as with many of the other features this does require a subscription. The Arlo doorbell is slightly better at distinguishing between different types of motion, and can identify people, animals, vehicles, and packages, while Ring's video doorbell can identify people, but not animals and vehicles; it does have a package detection mode, but this is more fiddly to set up than on Arlo's doorbell. We also found that the notifications Arlo's video doorbell sends when the doorbell is pressed are harder to miss. The doorbell places a Voice over IP (VoIP) call to your smartphone, rather than just sending an alert. On test, once this call was answered it was slightly faster to load the live feed from the doorbell's camera than the feed from the Ring Video Doorbell Pro 2. Ring also offers a couple of features not found on the Arlo Video Doorbell. 3D Motion uses radar to identify the distance of a person, animal, vehicle, or another source of motion from your door, and only sends a notification when the motion is within a certain range so that you're not plagued by unwanted alerts. The Bird's Eye View feature provides an aerial map charting the path of any motion, which can be useful in working out where a delivery person went with your package if you weren't home, for example. When it comes to choosing the best video doorbell, both the Ring Video Doorbell Pro 2 and the Arlo Video Doorbell perform their basic tasks equally well. For those on a tighter budget, or who want a video doorbell that prioritizes speed of alerts and offers the widest field of view, the Arlo Video Doorbell is the better choice. However, the Ring Video Doorbell Pro 2 is better suited to those who want color night vision, or a device that's loaded with features to reduce unwanted alerts, and track motion once the source leaves the doorbell's field of view.

In addition to a bottom field, the Google app is testing a Search bar that appears at the very top of your screen. It matches other first-party apps, but is a departure from what Google Search has looked like on mobile for the past several years. This A/B test sees the pill-shaped search field appear above the Google logo/Doodle. In the process, Google removes the weather condition and temperature button at the top-left, while your profile picture is now part of the field in a change that matches every other first-party application. As part of that integration, you can now swipe down on the avatar to switch between accounts. There's a faint divider with the microphone and Lens icons moving left. In shifting down, the Doodle gets a bit more space. Meanwhile, there is no change to the design of Search (tab) result pages. There's still a compact logo and avatar with the bar coming after. The change introduces a uniformity with the likes of Gmail and the Play Store in how the search bar becomes the very first thing you can interact with. That said, Google has long placed the bar underneath its logo on mobile and the web. We first spotted the change on one device this Thursday, and it has since rolled out to all Android phones signed into the same account. However, switching to another Google Account loads the old design. Given that Google is also trialing a search bar above the bottom bar, it's safe to assume that several designs are being A/B tested. The company could ultimately decide to just stick with the current iteration. Check out 9to5Google on YouTube for more news: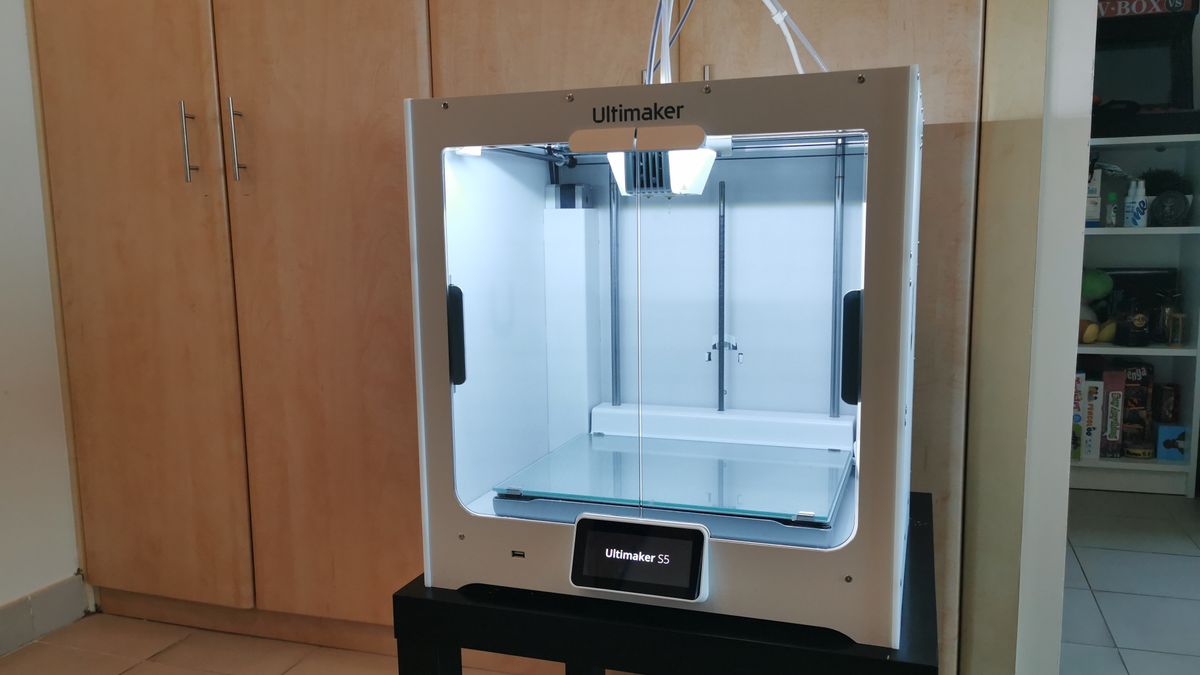 There's a lot to take in with the Ultimaker S5. For starters, its massive footprint is the first thing that jumps out at you. Second, is its impressive build quality and just how much thought has been put into every part of this machine. It requires barely any assembly once unpacked, apart from threading through your filament of choice and running through some simple setup steps with the embedded software. Its ease of use is just the start – the Ultimaker S5 packs a lot of printing options and features that will momentarily make you forget about its slightly eye-watering price tag. Anyone interested in a reliable, easy to understand 3D printer that can churn out designs with minimal fuss is going to love the Ultimaker S5. There are some nuances with printing that will boil down to the kind of materials being used, but when it comes to software and execution alone, the Ultimaker S5 absolutely won us over. Features such as dual-extrusion and swappable print cores make the Ultimaker S5 an absolute must-have for anyone who has changing 3D-printing requirements and wants a quicker way to reconfigure a printer for a particular print job. And if you can afford it, the Pro Bundle makes this reconfiguration even easier to manage - deftly swapping filaments and keeping things running smoothly with minimal supervision. The Ultimaker S5 is available now, and is priced at $5,995 (around £4,360; AU$8,080). The price also includes their enterprise software Ultimaker Essentials, which allows for printer management, plugin support, firmware firewalls, and more. There's a host of other software on offer as well, tailored (and priced) according to your business needs. In addition to the base 3D-printer, Ultimaker also offers the Pro Bundle, which adds on an automatic material handling module as well as an air filtration component. This bumps the total price up to $9,550 (around £6,950; AU$12,875) – the price you'll have to pay for complete peace of mind when it comes to your 3D prints. Either is a steep investment to make, but the Ultimaker S5 isn't geared for the everyday hobbyist – there are plenty of other 3D printers on the market for that. This printer is purely for professionals to toy around with, and designers and engineers are going to appreciate the variety of prints that can accomplish with this printer. The Ultimaker S5 is certainly a hefty piece of kit, weighing in at 20.6 kg (45.4 lbs). It's certainly not portable, and we highly, highly recommend moving it around as little as possible – and with the help of another person. It measures a stout 495 x 585 x 780 mm (19.5 x 23 x 30.7 inches), so it's not quite something you'd like to perch nearby on your desk. You'll want to set up the Ultimaker S5 in a dedicated area, so that it can print undisturbed, and you're not interrupted by its gentle whirring. Glass doors in the front help to keep prints safe, and the overall structure and build quality of the Ultimaker S5 is strong and very impressive. The build volume is quite impressive, sitting in at 330 x 240 x 300 mm (13 x 9.4 x 11.8 inches). That's enough room for some fairly sizeable models to print comfortably, and with PVA supports from the second extruder, your prints will remain secure on the print bed. The bed itself is heated, and you have a sheet of glass that you slide on top of it. Two clips at the front of the bed hold the glass in place, which you can easily slide out again if you want to carefully remove a print from it. We wish that Ultimaker included a second glass panel as well, so that a blank one can be swapped in while the other cools down before a print is removed. Certain users may prefer an aluminum build plate instead, but there's unfortunately no official way to request one, so you're stuck with a single glass one for now. Near the bottom of the Ultimaker S5 is a large, color touchscreen, which is what you'll use to interact with and set up the printer. It's clear and easy to navigate around, though it can be a bit difficult to read from higher angles. There's also a USB Type-A port at the front to read files off a thumb drive, and a LAN port at the back if you prefer using a wired connection than Wi-Fi. The Ultimaker S5 has an impressive list of features that can cater to a variety of 3D printing needs. Its biggest selling point is the multitude of filaments it can handle, along with dual-extrusion. At the back of the unit, you'll find a spool holder that can hold two spools of filament, and feed them into separate Bowden tubes that lead to the actual print head. While third-party filaments can work in the Ultimaker S5, filament that's made by Ultimaker has an added advantage of having a small NFC tag attached to it. Simply place the spool on the holder, and the machine will automatically read the tag and apply the correct material settings, making it even easier to swap out materials at any time. Another advantage to the Ultimaker S5 is its print cores – while most 3D printers come with one fixed print head, you can swap out the print cores on the Ultimaker S5 at any time. This allows you to change the thickness of material being extruded, or if you're handling materials that only specific print cores are able to print. The cores behave like printer cartridges – simply pop open the printing compartment, press down on a print core to release it, and then snap in the new one. The Ultimaker S5 ships with one core already installed, and two more in the accessories box. Depending on what model you're printing, the Ultimaker S5 will utilize the correct print head. If you're printing a model with two different colors of filament, it will quickly swap between each print head on the fly, navigating to a special corner that physically flips a lever to lower or raise the second print head for printing. The print heads move along an X and Y axis, while the print bed itself moves on a Z axis as the print is produced. The movements themselves are very smooth, and an accurate series of gears and belts moves everything with absolute precision. Ultimaker also includes a bit of maintenance kit to ensure that everything remains well lubricated and operating smoothly as time goes on. The Ultimaker S5 is well-illuminated by a concealed strip of LEDs, making it easy to keep an eye on the progress of your print jobs. There's also a small camera located in one corner that lets you remotely check how much of your print has completed or if there are any problems. The Ultimaker S5 comes packaged up extremely securely, with plenty of foam and padding keeping everything in place. Once unpacked, you simply snap away zip ties holding the print head in place, and install the glass panel onto the print bed. Once it's switched on, you'll go through the setup via the Ultimaker S5's LCD screen. You'll be able to connect to a wireless or wired network, load filament using detailed instructions, and then prepare for your first print job. 3D printers are only as good as the software they come with, and thankfully Ultimaker S5 has plenty to show off. Firstly, Ultimaker Cura is what you'll use to load models and prepare them on the build plate. The software needs a bit of time to get used to, but it's worth taking your time to ensure that all of your print settings are correct, just to minimize the chance of failed prints. Selecting print quality is very simple – there's a dropdown of presets that range anywhere between 0.6mm to 0.06mm in filament thickness, which determines the final quality of your print. Ultimaker Cura will also show you where and if support structures are required, which again you can configure to be printed with material from either print head. Ultimaker Cura also links into Ultimaker Marketplace, which lists various plugins that work with the software to make your workflow easier. From integrating new printers to broadening file compatibility, everything is synced to your Ultimaker account, and activating any of these plugins is extremely easy. Lastly, Ultimaker Digital Factory is truly where the Ultimaker S5 shines. With this web-based management console, you can see what's currently printing, look back at previous print models, and also manage projects and team access. It's the core of what makes Ultimaker S5 so unique when it comes to working on important projects together. In this way, several members can quickly upload prototypes and make changes on the fly, as well as looking at print history. You'll also be able to delegate who has access to printing, as well as share printers with other users and control security settings such as disabling access to the local web interface or requiring a PIN to change any settings on the printer itself. Of course, this excellent integration comes at a price – the basic version of Ultimaker Cura is free to download and use, but any further integration or access to Digital Factory will require a special subscription. Ultimaker are very flexible on this, and should any of their upfront pricing not be quite what you're looking for, they're able to work with companies to come up with something that's a better fit. What's slightly odd is that the Ultimaker S5 doesn't have a companion app to go along with it. While an Ultimaker app does exist in the Google Play store when we checked, it hasn't been updated since 2018, and Ultimaker commented that they're actively trying to encourage users to access their printers through Digital Factory rather than relying on an app. While Digital Factory will work in any browser on mobile or desktop, we still find it odd that these features couldn't have been built into an app instead, which would provide for much faster access and control to the printer. The biggest challenge with 3D printing is ensuring that you don't end up with a failed print. This could be due to any number of reasons – running low on filament during a print, uneven bed levels, poor filament heating – the list goes on. Thankfully, the Ultimaker S5 tries its best to minimize failed prints by taking a few extra steps that other 3D printers might not. For one, bed leveling is done automatically, and before every print the Ultimaker S5 goes through a checking process across the print bed to ensure that it is entirely level. This does mean that you'll have to wait an extra 2-3 minutes before every print job, but it's a small price to pay to avoid your print peeling off the print bed or warping. Secondly, the Ultimaker S5 will tell you if you've run out of filament, so you can quickly add more and resume your print job. This is something that cannot be appreciated enough, and especially when you're printing complex parts, you'll want to ensure that your 20-hour print is going to finish successfully. Ultimaker advises that you use its 'Tough' filament with the Ultimaker S5, which is stronger than regular PLA and isn't prone to warping during large print jobs. Our review model shipped with Ultimaker's standard PLA due to stock shortages, but it was just as durable and printed excellently. We did do some other prints with other filament manufacturers as well, and we could clearly see the difference in print quality with the cheaper PLA. So, if you're investing in something as expensive as the Ultimaker S5, make sure you're also investing in high-quality filament. As with any 3D printer, the quality and printing time of your prints will vary greatly depending on your model and print settings. We printed a small-scale figurine from the game Destiny on a draft print first, before scaling the model up and reprinting it at higher quality setting. The resulting print quality is plain to see – the draft print loses all detail of the model, and retains the basic shape. This is great for when you want to see if a model will actually print properly before committing to a higher quality print. The draft 0.2mm print took around 5 hours to complete, while the full-scale model took a staggering 32 hours to print at a layer detail of 0.1mm. Figurines are cool, but where the Ultimaker S5 really shines is with complex engineering models. Whether it's parts for a mock-up car engine, intricate models to place in an architectural diorama, or new fan blades for a redesigned cooling system, the Ultimaker S5 is more than capable of handling anything that you throw at it. A turbine fan that we printed came out very well, and fitted effortlessly on the shaft of an electric motor. Removing your completed prints from the Ultimaker S5 might occasionally pose a slight challenge if you haven't prepared your print bed correctly. Ultimaker includes a simple glue stick in the box, and advises that a thin layer of glue is applied to the glass panel before printing starts. We did several prints with and without applying the glue layer, and definitely found that for larger, more delicate prints, the base glue level was a necessary precaution. One print that we did without the glue layer ended up warping horribly as we tried to pry it off the still-warm bed, so if you aren't utilizing the glue, make sure your print and the print bed are cooled completely before attempting to remove anything. Another time we ran into some awkward printing issues, where the automatic bed leveling was refusing to work properly, resulting in haphazard prints and wasted filament. Thankfully, Ultimaker provides a bed leveling troubleshooter that walks you through a manual leveling process step by step. Once this was done, prints turned out again without any issue. The support team is also very responsive to customer issues, so if there's anything that isn't working properly, they'll respond quickly with advice or ask for detailed system logs to help you troubleshoot. PLA filament is something you'll see in any 3D printer, but the Ultimaker S5 takes things one step further by including PVA filament via its second print core. PVA is a semi-transparent filament that is printed alongside a PLA model, providing structural support as the model is completed. This prevents the model from warping, sagging, or even falling over due to an odd center of gravity. While print supports can still be done using regular PLA filament, they have to be removed manually by being snapped off, which often leaves a rough edge. With PVA filament, all you have to do is drop the completed model into water, and within hours it will dissolve away, leaving your finished model. For larger models with a lot of PVA supports, it can take more than 10 hours for all of the PVA to dissolve away, and we recommend using slightly warm water to help the process move along faster. The wait is worth it – the finished model looks great and may merely only require a little bit of cleaning up of the jelly-like PVA after it's done soaking. It is however, far from perfect. There were definitely parts of our models where the PVA had bled slightly into the PLA, so that when it dissolved away, small imperfections and holes were visible in the model surface. This happened often enough that almost any model we printed using PVA supports had a small imperfection somewhere, so this is something you'll need to keep in mind if you're looking for absolutely flawless prints. The other thing to note about PVA filament is that it is very sensitive to humidity, and won't be safe to be left on the printer spool if you're not using it regularly. Our test PVA spool eventually stopped printing properly after a month of being on the printer for everyday printing, with the filament sizzling on the print bed and curling up in various places. Ultimaker does include instructions to 'dry' out the spool using the print bed, but even after following these instructions we were unable to restore the PVA filament to its original use. For the ultimate 3D printing solution, Ultimaker encourages you to opt for their Pro bundle, which adds on two separate components to the S5. First, there's an automatic material handing station which has room for 6 separate spools of filament. The chamber is also humidity-controlled, so if you've got spools of PVA filament or other sensitive materials, they'll be kept safe with minimal intervention. The material station is able to automatically load filament depending on what your print job requires, which again minimizes exposing the materials to humidity and other elements. Secondly is an Air Manager that sits atop the Ultimaker S5, helping to circulate air properly through the machine and filter out 95% of ultra-fine particles. Again, this is most practical for when you're printing with materials that are highly susceptible to interference, or for when you just want to have a closed system for undisturbed printing. If you make the investment for these add-ons, you'll definitely reap the rewards, but you're still able to make perfectly good prints even without them. The Ultimaker S5 demands little supervision once it starts going, which means you can easily queue up a print job, walk away, and come back in a few hours to a fully-completed print that's ready for use. The combination of software and materials at your disposal is equally impressive, and the ability to work together as a team on a single print project is also a huge bonus. Clear, easy-to-follow instructions makes setting up the Ultimaker S5 very easy, and there's a wealth of learning information on the site to talk you through every single feature at length. When it comes to efficiency and speed of printing, there's a lot to look into with the Ultimaker S5. Do you just want rough draft prints that don't have to have much detail but are more about testing the possibilities of a particular model or idea? Then you'll have no problems waiting for a model to print in a few hours. But if you're looking to print highly detailed models, then you'll need to be patient and let the Ultimaker S5 do its thing, especially if you're printing with PVA supports. Your patience will pay off with a beautifully printed model, but if time is of the essence, then you'll want to switch to other print modes for faster results. Overall however, the Ultimaker S5 is a fantastic piece of engineering, and regularly impressed us with what we could churn out of it. It's something that will take pride of place in any space – be it a school lab or an engineer's office. It's a sizeable investment to make, but this is something that professionals are certainly going to opt for, especially for complex builds that require more than one person to work on. The breath of software and support for the Ultimaker S5 makes it one of the most competent 3D printers we've tested, and an excellent choice for anyone who wants a professional printer with a sizeable print volume and excellent material handling.

The Unicode Consortium, a not-for-profit organization that sponsors the development and maintenance of international Bidirectional Algorithm for Language (BEL) coding systems, has released data about 2021's most popular emojis. "Face with tears of joy" takes first place, it accounted for more than 5% of all emojis used, according to the report. Hearts come in second during the ranking from one to ten respectively followed by rolling on the floor laughing at third place, thumb ups 4th & loud crying face 5th. The report also looked at emojis by category too, flags, despite being the group with the most emojis, were the least used category. The findings also include that the rocket ship emoji topped the Transport-air subset and that the flexed bicep was used the most under Body-parts. The results show that categories like Face-smiling and Hands were some of the most frequently used emojis. Meanwhile, Plants and Flowers emoji were also very frequently used and dominated the 'Animals and Nature' category despite being a smaller sub-group. The 'bouquet' is most used in the plant flower category, and the 'butterfly' is the most common animal emoji. Unicode notes that the top 200 list contains bigger jumps. The biggest gainers were the 'birthday cake' emoji that climbed to the 25th position from its earlier 113. The 'balloon' emoji is now in the 48th position from the earlier 139th place, and the 'pleading face' emoji is now at the 14th position from the earlier 97th place. It is noteworthy that the coronavirus pandemic has contributed little to the popularisation of emoji microbes, which barely entered the top 500. Only two health-related emojis cracked the top 100 used in 2021 - the hot and woozy faces. Note that at the moment there are only 3,663 emoticons. The top 100 emoji comprise 82 percent of total emoji shares in terms of usage. This type of data being just interesting is actually quite useful for the Unicode Consortium. It helps them to understand and gauge which emojis are most popular and helps them decide which characters to add next.

Intel has traditionally been a CPU maker, and has done more than its fair share of work on CPU hardware, as well as software implementations that work to enhance the performance of its hardware. It has also had integrated graphics processors in its CPUs, but it hasn't been anything to write home about. It now has a newfound focus on GPUs, including a new Xe GPU architecture, and its own brand of image supersampling and upscaling technology to go with the hardware — XeSS. Intel XeSS, short for Intel Xe Super Sampling, is Intel's answer to Nvidia DLSS and AMD FSR. Also read: What is Nvidia DLSS? Nvidia Deep Learning Super Sampling explained What is Intel XeSS and how does it work? Intel XeSS, or Intel Xe Super Sampling, is an image upscaling technology that uses both spatial and temporal data, and relies on artificial intelligence to do it. Supersampling is an anti-aliasing technology that takes color samples of the pixels in an image at different instances. It then uses this color data and renders the image at a much higher resolution. Intel is making XeSS use its new XMX matrix math units present in its new Xe-HPG graphics processors to do the heavy lifting for the AI processing on the hardware end. However, it also has a version of XeSS in the pipeline, which won't rely on these units. This version will use the 4-element vector dot product (DP4a) instruction, which has wider support, making XeSS not limited to the latest Intel hardware. Intel says you'll get up to a 2x performance boost with Intel XeSS. It also says that it will let systems with weaker hardware, limited to 1080p resolution and low settings, run games at 4K. Also read: Nvidia GPU guide: All Nvidia GPUs explained, and the best Nvidia GPU for you Intel's implementation is similar to Nvidia DLSS 2.0. Both have a similar approach to supersampling. Intel XeSS uses spatial data, which is the data from the surrounding pixels, as well as temporal data, which is the motion information from previous frames with regards to time. It then feeds this data to a neural network trained to upscale images, quite like Nvidia DLSS does. Nvidia DLSS, however, requires newer Nvidia hardware to work. On the other hand, Intel XeSS has two versions, as mentioned before. Intel is using its hardware elements to make a higher-end XeSS, but it's not abandoning users with older hardware either. That sets it apart from Nvidia DLSS, even though the DP4a version of XeSS won't perform as well as the XMX version. That's also where Intel XeSS stands similar to AMD FSR. AMD FSR doesn't require you to use AMD hardware. However, AMD FSR is also more of a run-of-the-mill spatial upscaling technology, and doesn't use the hybrid approach that makes DLSS as good as it is. Intel XeSS sounds like the best of both worlds, and a balance between DLSS and FSR. We're yet to get more details about real-world performance, but the demos do look great. Intel XeSS is aiming at broad hardware support. The XMX version will support Intel Xe-HPG graphics processors. The DP4a version will support the Xe-LP GPU, as well as the discrete GPUs from the past. The technology is still new, and as such, there isn't much to go on about supported games. We got a custom Unreal Engine demo at the unveiling at Intel Architecture Day. Since then, Intel has put out a demo featuring Hitman 3, and The Riftbreaker, which are the two games confirmed to support Intel XeSS so far. It's likely that a bunch of games will join the list, even though Intel is yet to announce any strategic partnerships with game developers.

Goldman Sachs on Saturday cut its outlook for U.S. economic growth to 3.8% for 2022, citing risks and uncertainty around the emergence of the Omicron variant of the coronavirus. Goldman economist Joseph Briggs said in a note that the Omicron variant could slow economic reopening, but the firm expects "only a modest drag" on service spending. The firm now sees 2022 gross domestic product (GDP) growth of 3.8%, down from 4.2% previously on a full year basis, and Q4/Q4 growth of 2.9%, down from 3.3% before, Briggs said. "While many questions remain unanswered, we now think a moderate downside scenario where the virus spreads more quickly but immunity against severe disease is only slightly weakened is most likely", he said. Worker shortages could last longer if people do not feel comfortable returning to work due to the variant, according to the note. Goldman pointed the spread of the virus could worsen supply shortages should other countries implement tighter restrictions, but increase in vaccination rates among foreign trade partners would prevent severe disruptions. Goldman Sachs' U.S. forecast comes after the International Monetary Fund Managing Director Kristalina Georgieva said on Friday that the lender was likely to lower its global economic growth estimates due to the new Omicron variant of the coronavirus.

It has been reported that Xiaomi's new Xiaomi 11 Lite 5G NE phone is now receiving the MIUI 12.5 Enhanced Edition in India, Turkey, and other countries where it is available for download. The update has been released in a staged manner via the over-the-air method and will reach all the units in a few days. Xiaomi 11 Lite NE 5G was launched in India in September this year and has received the latest MIUI update in less than three months. The handset now becomes eligible to get the MIUI 13, firmware which will go official later this month. MIUI 12.5 Enhanced is basically a finishing touch to the MIUI 12.5 version, Xiaomi has been prioritising optimisation. The update has now made it to most of the eligible devices, but its performance boost has been minimal. The new OS update improves fluidity during usage drastically thanks to the new algorithm which dynamically allocates system resources based upon specific scenes; meaning everything runs smoother than ever before when using your phone for anything at all: playing games or watching videos. Here is the complete change-log for Xiaomi 11 Lite 5G NE MIUI 12.5 Enhanced Edition: To manually check for the update you can head over to Settings > About Phone > System Update. As far as its specifications are concerned, the Xiaomi 11 Lite NE 5G features an IP53 rating, a left-aligned punch-hole design, slim bezels, and a side-mounted fingerprint sensor. It sports a 6.55-inch Full-HD+ AMOLED display with a resolution of 1080 x 2400 pixels and an aspect ratio of 20:9, a refresh rate of 90Hz, HDR10+ support, and Corning Gorilla Glass 5 protection. Under the hood, the handset features Qualcomm's Snapdragon 778G octa-core chipset, paired with up to 8GB of RAM and 256GB of internal storage. The Xiaomi 11 Lite 5G NE is backed by a 4,250mAh battery with 33W fast charging support. As far as the camera module is concerned, the smartphone has a triple rear camera setup consisting of a 64-megapixel primary sensor, along with an 8-megapixel ultra-wide sensor and a 5-megapixel macro lens. The device also sports a 20-megapixel front selfie camera.

People who live outside the US are often jealous of the country getting first access to new technologies and services. Amazon Alexa is a prime example — pun intended — having initially launched as a US exclusive in 2014. The voice assistant is now available in more than 40 countries, but for some people, the jealousy remains. If you're in that camp, can you use Alexa in non-supported countries? Read more: How to use Amazon Alexa Yes, Alexa can work in non-supported countries, but only under narrow circumstances. You'll need an international version of the Echo Dot, second-generation Echo, or first-generation Echo Plus, and that speaker must also be compatible with local power standards. You'll want the Alexa app for Android, iPhone, or iPad, which may mean fudging your app store location to download it. Even if you can get an Alexa speaker up and running, some functions will be out of bounds. Can you use Alexa in non-supported countries? Can you use Alexa in non-supported countries? Yes, but Amazon has erected so many barriers that it might not be worth the effort. To begin with, you'll need an international version of the Echo Dot, second-generation Echo, or first-generation Echo Plus. It should be possible to track down one or more of these on Amazon, but the chances are you'll be ordering from the company's US, UK, or German storefronts and paying quite a bit in shipping. You'll also want to download the Alexa app for Android, iPhone, or iPad. You can complete device setup via alexa. amazon. com, but the app is required for full control over settings and routines. If the app isn't available in your region, you'll have to temporarily change location and/or billing settings for the Google Play Store (Android) or Apple App Store (iPhone and iPad). Be warned this might not be practical, since it can for instance, wreak havoc on any app subscriptions you have going. See also: How to use Alexa routines Some Alexa features are outright blocked on international Echo models. These include shopping and a lot of local information, such as news, traffic, and businesses. Some Alexa skills won't work, among them services like Audible, iHeartRadio, and Pandora. In many regions though, you can make use of Spotify, TuneIn Radio, and/or Amazon Music Unlimited. Smart home functions are a go, as are things like calendars, timers, alarms, weather, and task/shopping lists. You can get news briefings as long as you don't care about them being region-specific. Check the product pages for international Echo speakers to see what restrictions apply in your country. Also remember that international models can only speak English, German, or Spanish, so you should be reasonably fluent in one of the three. If Alexa is officially supported in your country, there's no need to go through the hoops mentioned earlier. Here's a list of supported regions, in the order in which they were added: Read more: The best smart speakers you can buy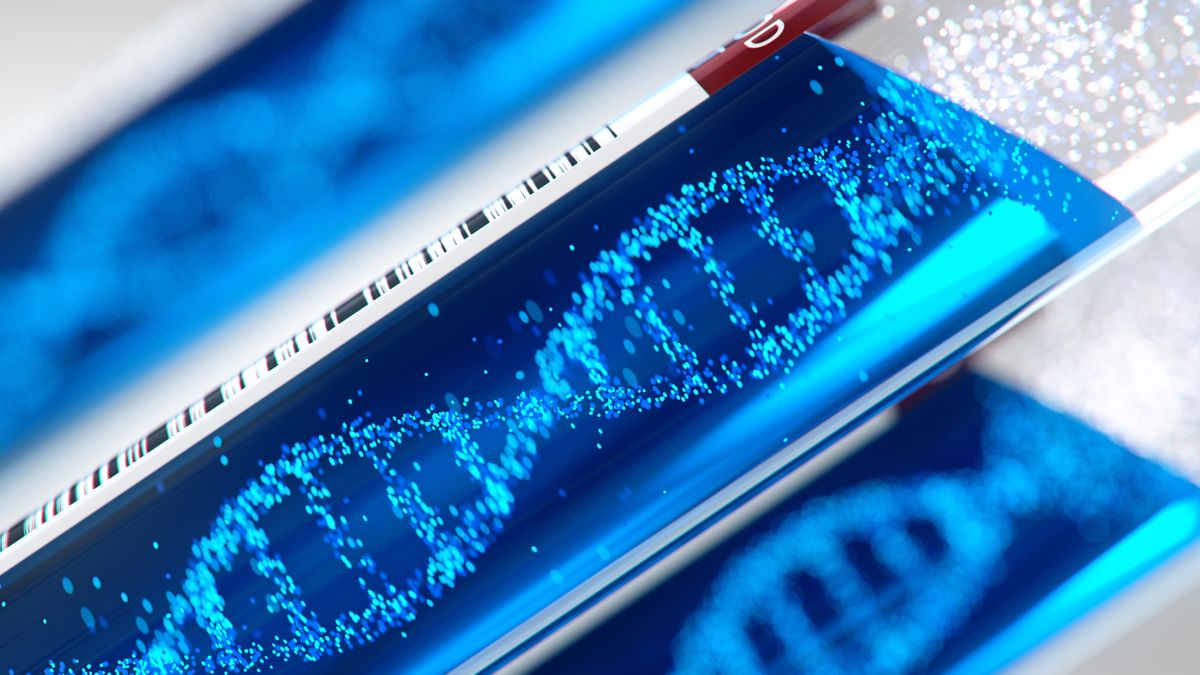 Scientists at the Center for Synthetic Biology from the Northwestern University, Illinois, have managed to produce a so-called proof of principle demonstration on DNA storage encoding three bits of information in an hour. Although this is only a tiny fraction of what others have achieved (up to 200MB per day), Dr. Keith EJ Tyo, an associate professor of chemical and biological engineering and his team believe that there's a huge potential going forward as the prospect of at-scale parallelization is a real possibility. According to a report in Technology Networks, what Tyo and his colleagues at Northwestern came up with is a new in vitro method "for recording information to DNA which relies on an enzymatic system". Key to the process is a non-replicative DNA polymerase called terminal deoxynucleotidyl transferase. Similar to the data capture approach recently proposed by a Chinese team led by Professor Liu Hong, Dr. Tyo's approach aims to simplify the current method of chemically synthesized DNA. The process "does not require washing steps and instead all the reagents for DNA synthesis stay in the mixture and the properties of the DNA polymerase are modulated reversibly." In layman's terms, the writing of the data to DNA is faster and simpler as it eliminates some of the steps while reversible modularity could imply the ability to edit content already committed to the DNA. The procedure, Time-sensitive Untemplated Recording using TdT for Local Environmental Signals, or TURTLES, is published in the Journal of the American Chemical Society. The Northwestern University news was the fourth announcement this week on DNA storage and with Shannon, the first commercially available DNA storage device, already up and running, 2022 could turn out to be a very, very interesting year for a post-silicon data storage world. Check out Microsoft's DNA storage announcement and that of the Georgia Tech Research Institute (GTRI).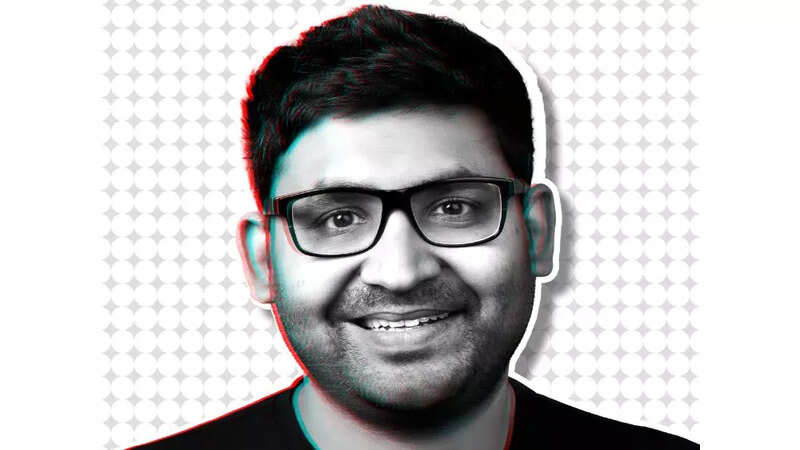 Realme has increased the price of its entry-level phone Realme C11 2021. The smartphone is now priced at Rs 7,499 onwards (2GB RAM and 32GB storage). While the 4GB+64GB storage variant will now cost Rs 8,999. To recall, the handset was launched in June this year with a price tag of Rs 6,999 and Rs 8,499 for the 2GB and 4GB RAM variants, respectively. Price of the phone was increased to Rs 7,299 (2GB model) and Rs 8,799 (4GB model) in August. With the latest price hike, Realme C11 2021 has become more expensive by Rs 200. While the overall price increase is Rs 500 since the launch of the device. Click here to read the complete story.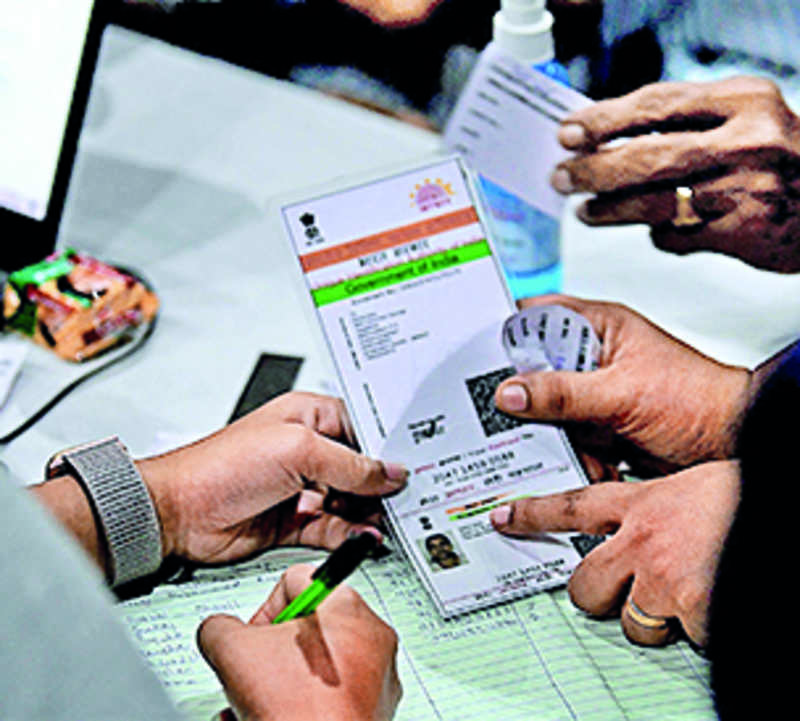 (DoT) recently launched a web portal that allows users to check mobile connections issued in their names. Named ), the portal can be used to see the list of mobile numbers issued against a user card. As per DoT guidelines, registration for up to 9 mobile connections is permitted for one user. Using the portal, citizens can also report the numbers that they don't identify or are no longer in use. "This website has been developed to help subscribers check the number of mobile connections working in their name, and take necessary action for regularising their additional mobile connections if any", reads the About page of the TAFCOP website. Here's a step-by-step guide to check phone numbers registered against your Aadhaar number and take appropriate action

While Bitcoin, Dogecoin tanked during the latest market crash, it's Shiba Inu coin, which has been reaching for the moon. Reports suggest that the Dogecoin killer is attracting millions of investors worldwide. It has become the most invested digital coin between October and November 2021. Thanks to the whales, the price of Shiba Inu is rising every day. On December 3, another Ethereum whale dubbed "Gimli" accumulated a whopping 28 billion tokens of SHIB to their portfolio. Meanwhile, there are several reasons why crypto whales are loading up more Shiba Inu coins to their bags. WhaleStats reports suggest that the average balance of the top 100 Ethereum wallets holding SHIB had gone up by a whopping 42.7% to 2.523 billion alone in a day's trade during the last week of November. This massive transaction took place following an announcement by the Shiba Inu team that the company has hired gaming industry veteran William Volk for the altcoin's potential expansion into the metaverse. It is to be noted that while most crypto investors or traders are selling their holdings amid the crypto market correction, SHIB, one of the most popular tokens among whales maintains its strong place on whale-tier addresses. Most of the time, the identity of such crypto whales remain to be a mystery. Looking at such a large scale of transactions, whales are more often a financial institution, a billionaire entrepreneur, or a business entity. International Business Times advises crypto enthusiasts and investors to be well aware of the latest updates in the crypto market and not fall for the rumours.

We all love puzzles, and some puzzles have the potential to unlock the human mind. This Cyber WEek, you can save an extra 20% on the One Million Dollar Puzzle, and give the puzzle lover on your list both a head-scratcher and a chance to unlock a $1 million prize. When you first open the box, you're confronted with a 500-piece jigsaw puzzle, 15.7″ by 15.7″ square. The MSCHF team have placed color gradients to help puzzle fans get started, but expect a challenge, as the puzzle itself is a unique QR code. There's no picture on the box to help you and every image is different, so the puzzle fan in your life will get a good mental workout, rated a 5 out of 10 by the MSCHF team, as they assemble it. Once the puzzle is finished, you'll see the QR code. All you need to do is scan the code using any code reader, such as Google Lens or the iPhone's automatic QR scanning in its camera app, and you'll see a link. Visit the link, enter the secret prize code included in the puzzle box, and you can claim your prize. Prize amounts are a quarter, $100, $1,000, $10,000, or of course the grand prize of $1 million. They'll even pay you via digital check, so you can get your prize right away. Instead of putting a scratch ticket in a stocking, you can give the puzzle fans you know something they'll enjoy on two levels. After all, the only thing that beats the satisfaction of completing a puzzle is getting a reward for doing it. Get the One Million Dollar Puzzle for $19.99 (reg. $30) with coupon CMSAVE20 in this Cyber Week Sale. Futurism fans: To create this content, a non-editorial team worked with an affiliate partner. We may collect a small commission on items purchased through this page. This post does not necessarily reflect the views or the endorsement of the Futurism. com editorial staff. Care about supporting clean energy adoption? Find out how much money (and planet!) you could save by switching to solar power at UnderstandSolar. com. By signing up through this link, Futurism. com may receive a small commission.



Total 137 articles.
Version: 9.83.38380-256015. Input files: 1, items detected: 241, scanned: 241, accumulated: 137, inserted: 137, exclude filters: 0, include filters: 0, empty media: 36, filtered media: 2, duplicated media: 1, not matched limits: 33, passed http check: 0, not passed http check: 0, http check errors: 0, skipped: {total: 104, by unique value: 0, by limits: 36, by similarity: 47, by unicity: 25, by dates: 5, by classifier: 0, by blacklist: 19, by mandatory tag: 0, from input files: 0}, bad dates: 0, similar from same domain: 126, unique Ids: 0, unchangeble patterns: 1404, words comparisons: 2569522/151359, python: 2.7.13 (default, Sep 26 2018, 18:42:22) [GCC 6.3.0 20170516]; the same images URLs found 197 times; total 0 languages detected: {}; {u'text': {u'chars': 644958, u'bytes': 2629648, u'words': 93275, u'sentences': 5184}}
Created at 2021-12-06 02:10