Announcement
DC5n United States art in english 59 articles, created at 2021-12-01 05:52 articles set mostly positive rate 4.1
(13.99/14)

1

0.3

What We Know About the Omicron Variant

The World Health Organization has declared that this version of the coronavirus poses a very high risk to public health. How did they come to that conclusion? 2021-11-30 11:09 2KB www.nytimes.com

(9.99/14)

2

0.4

Josephine Baker Becomes First Black Woman Interred in France's Tomb of Heroes

President Macron hails the American-born dancer and French resistance fighter as a symbol of unity in a time of sharp division. 2021-11-30 21:36 7KB www.nytimes.com

(6.44/14)

3

0.8

Jussie Smollett Wouldn't Help Police During Investigation Of His Hate Crime Allegations, Detective Testifies

It's alleged that the actor staged an attack against himself in January of 2019. 2021-11-30 19:09 2KB www.forbes.com

(3.45/14)

4

0.7

Holiday Gift Guide 2021: The Best Jewelry To Give Your Best Friend

This jewelry gift guide for your best friend addresses a multitude of personality types and styles, and includes some truly unique pieces. 2021-11-30 22:21 4KB www.forbes.com

(3.40/14)

5

1.4

He's baaaack! Lessons from the Smollett case

Whether cracked or attacked, there is insight to be wrung from the actor's saga. 2021-11-30 22:28 4KB chicago.suntimes.com

(3.17/14)

6

0.2

Expo 2020's workers face hardships despite Dubai's promises

Intent on making a flawless impression as the first host of the world's fair in the Middle East, Dubai poured billions of dollars in … 2021-11-30 10:14 5KB www.business-standard.com

(3.13/14)

7

0.0

Watch: Cast of 'West Side Story' bids farewell to Stephen Sondheim with online performance

The legendary composer and lyricist Stephen Sondheim died on November 26, 2021 at the age of 91. 2021-11-30 05:52 1KB scroll.in

(3.05/14)

8

0.8

Gucci family hits out at portrayal in 'House of Gucci' movie

The heirs of former Gucci fashion house chairman Aldo Gucci have hit out at Ridley Scott's "House of Gucci" movie. 2021-11-30 18:33 2KB edition.cnn.com

(2.11/14)

9

0.1

Fashion Notes: It's Jill Biden's Christmas, But Where Have All the Aesthetic Critics Gone?

For four years, an annual chorus of unfounded criticism and aesthetic analysis beat like a drum over former First Lady Melania Trump's Christmas decorations at … 2021-11-30 21:14 4KB www.breitbart.com

(2.11/14)

10

2.9

Twitter Adds Images, Videos to Its Private Information Policy

It will remove media reported by the individuals depicted if it is posted without their consent. It will remove media reported by the individuals depicted if it is posted without their consent. 2021-11-30 17:45 808Bytes www.adweek.com

(2.10/14)

11

0.5

'West Side Story' First Reactions Praise the Classic Musical's Reimagining as 'Spectacular' and 'Top-Tier Spielberg'

The first reactions to Steven Spielberg's reimagining of "West Side Story" are stupendously positive, with a few minor notes. 2021-11-30 06:05 2KB variety.com

(2.05/14)

12

0.8

Photos: Hanukkah, the Jewish Festival of Lights

Members of Women of the Wall dance around their Hanukkah menorah in the women's section of the Western Wall in the Old City of Jerusalem, Monday, Nov. … 2021-11-30 16:16 3KB www.usatoday.com

(2.05/14)

13

0.2

Everything Tom Ford Has Said About 'House of Gucci'

Fashion designer and filmmaker Tom Ford has spoken out about his portrayal in "House of Gucci" and shared his opinion on the Hollywood film. 2021-11-30 12:24 3KB www.newsweek.com

(1.03/14)

14

0.4

The Pig From The Nicolas Cage Movie 'Pig' Has Passed Away

R.I.P. Brandy. 2021-11-30 20:01 1KB uproxx.com

(1.02/14)

15

0.2

Vic Mensa's 'What You Taught Us' Is A Touching Tribute To The Late Virgil Abloh

The Chicago rapper praised the designer, writing 'legends never die,' and penning a lyrical open letter noting his impact. 2021-11-30 16:16 1KB uproxx.com

(1.01/14)

16

0.9

Detectives Work to Trace How Live Rounds Got on 'Rust' Film Set

Investigators are trying to determine whether a supplier who was supposed to provide the movie with blanks and dummies may have sent live rounds. 2021-11-30 23:36 5KB www.nytimes.com

(1.01/14)

17

1.6

Big Wan, fast-rising Milwaukee rapper, killed at 19: 'Gone too soon'

When Pitchfork profiled Milwaukee's flourishing street rap scene in March, the music news site made sure to single out Big Wan.  "Big Wan is … 2021-11-30 18:41 7KB www.usatoday.com

(1.01/14)

18

0.8

Yahya Abdul-Mateen II Forms Production Company and Sets Film Deal With Netflix

Yahya Abdul-Mateen II has launched a new production company and has set a creative film partnership with Netflix. 2021-11-30 17:25 2KB www.thewrap.com

(1.01/14)

19

1.1

Everything We Know About Channing Tatum's 'Magic Mike 3' and the 'Stripperverse'

Channing Tatum is returning to turn the "Magic Mike" franchise into a trilogy alongside the original movie's team. Here's everything we know so far. 2021-11-30 09:56 1KB www.newsweek.com

(0.02/14)

20

0.3

FACT CHECK: Does This Image Show A 1932 Archeological Discovery In Iraq?

The picture is an altered version of one captured in Egypt in 1910 2021-11-30 23:35 2KB checkyourfact.com

21

0.1

The 'Hanukkah Sessions' Duo Of Dave Grohl And Greg Kurstin Covered Barry Manilow's 'Copacabana'

It's night three of the Festival of Lights, which means it's time for a campy showtune. 2021-11-30 22:06 1KB uproxx.com

22

0.6

This New Clothing Brand Is Perfect For Cigar Connoisseurs

SIGARWEAR Core Collection is Italian-made, three-season apparel — that will take one from spring through the end of autumn — designed with the discerning cigar enthusiast in mind. 2021-11-30 21:51 8KB www.forbes.com

23

0.0

'The Undoing' Actor Matilda De Angelis Doesn't Want to Reveal All Her Tricks

During a masterclass at Torino Film Festival, the Italian actress opened up about her beginnings and being her own harshest critic. 2021-11-30 21:51 4KB variety.com

24

0.3

What's Coming to Disney Plus in December 2021

"Shang-Chi And The Legend Of The Ten Rings" will soon be available for free on Disney Plus, after debuting in U.S. theaters on Sept. 3. 2021-11-30 21:15 2KB variety.com

25

0.3

Riding The Roller Coaster Of Holiday Emotions

Hope >>> Despair. 2021-11-30 20:56 3KB www.forbes.com

26

0.7

'Mowgli' girl who survived weeks in woods places at prestigious ballet school

She went from dances with wolves to twirling alongside ballerinas. Karina Chikitova, a real-life "Mowgli" girl who was discovered living wild in Siberia , is … 2021-11-30 20:55 3KB nypost.com

27

0.1

The Modernist of Musical Theater

The late Stephen Sondheim cracked open a calcified medium and made it engage with the human condition. 2021-11-30 20:49 13KB www.theatlantic.com

28

0.7

Erykah Badu, Nas, And The Roots Are Headlining The Unreal Smokin Grooves Festival Lineup

This is easily one of the elite, and most comprehensive hip-hop and soul music festival lineups. 2021-11-30 20:06 2KB uproxx.com

29

0.6

Stephen Sondheim Wrote My Life's Soundtrack

"A Little Night Music" was all it took. 2021-11-30 19:55 5KB www.nytimes.com

30

0.4

Grinch Actor Charms Internet by Complimenting Woman's Contour in Viral Video

"I'm so glad I opened the comments and [found] that I'm not the only one who found this weirdly attractive," one commenter said. 2021-11-30 19:42 3KB www.newsweek.com

31

0.3

'Wicked' flying back to Chicago for fall 2022 engagement

The beloved Broadway musical helped change the landscape of Chicago theater. 2021-11-30 19:29 1KB chicago.suntimes.com

32

0.6

Easy, Colorful Eyeshadow Looks You Can Do In Five Minutes

Colorful eyeshadow doesn't have to involve millions of makeup tutorials or tons of brushes. Instead, you can try one of these easy, vibrant, eyeshadow looks that focus on using colors to create dramatic and bold eyeshadow looks. 2021-11-30 19:16 4KB www.elitedaily.com

33

0.4

Dancer Shan Makes It Clear That Nothing Is Going To Hold Them Back

For Uproxx's 'New Normalists' series, Shan walks us through the importance of accessibility in the dance world. 2021-11-30 18:59 2KB uproxx.com

34

2.2

Billy Porter's Fashion Awards Look Featured 9 Matching Dancers

The Fashion Awards 2021 red carpet was one to remember, from Billy Porter's ensemble outfit to Dua Lipa's '90s-inspired choker. 2021-11-30 18:38 787Bytes www.bustle.com

35

0.7

Bobby Krlic Wants His Unconventional Sound To Start A Conversation

The musician and composer shares how his career has been a case study in pushing boundaries and never playing it safe. 2021-11-30 18:22 4KB uproxx.com

36

0.5

How Following His Passion Brought Kiarash Hossainpour Financial Success

"The greatness of a man is not in how much wealth he acquires, but in his integrity and his ability to affect those around him … 2021-11-30 17:42 3KB dailycaller.com

37

0.1

The Daughter From 'The Holiday' Is A Punk Musician Now

Actor Miffy Englefield played a key role in the festive classic. 2021-11-30 17:41 3KB www.bustle.com

38

0.1

24 best gin cocktails to shake, stir and sip

From light, classic drinks to bold and bitter beverages 2021-11-30 16:59 5KB www.salon.com

39

0.7

Seven seniors ready for breakout seasons

There are a whole bunch of impactful seniors who deserve more attention than they have received –– and they will likely receive it this season. 2021-11-30 16:52 5KB chicago.suntimes.com

40

0.4

6 entertainment options happening at Southern California casinos this December

Concerts, comedy and even a cirque troupe are among the notable entertainment options at the casinos this month. 2021-11-30 16:25 3KB www.ocregister.com

41

0.3

At 80, Robert Wilson Holds On to a Singular Vision for the Stage

Slowed but not stopped by the pandemic, Wilson has had a busy fall that continues with his production of "Turandot" at the Paris Opera. 2021-11-30 16:14 7KB www.nytimes.com

42

1.1

Mannheim Steamroller brings Christmas concert to Strathmore this weekend

Their neoclassical new-age style changed the face of holiday music as we know it, and on Saturday, Mannheim Steamroller comes to Strathmore. 2021-11-30 15:52 3KB wtop.com

43

0.0

Slick Series About Jesus Upends Crowdfunding Strategy

Like any Hollywood-esque production depicting Jesus' Sermon on the Mount, The Chosen needed plenty of extras for the scene. The twist here: In this case, the extras actually. 2021-11-30 15:50 2KB www.newser.com

44

0.5

Faouzia On "Puppet," Pop Music, & Why She Loves TikTok

Faouzia is gaining fans thanks to her meaningful lyrics and inspiring TikTok page. In an exclusive interview, she reflects on "Puppet" and what's next. 2021-11-30 15:32 8KB www.elitedaily.com

45

0.2

"48 Hours" show schedule

True-crime. Social justice. Impact. To miss it would be a crime. 2021-11-30 15:09 30KB www.cbsnews.com

46

0.3

ICICI Venture divests partial stake in Go Fashion

ICICI Venture, the alternative asset arm of ICICI Bank, on Tuesday said it has divested half of its 13.5 per cent stake in the … 2021-11-30 15:00 2KB www.business-standard.com

47

0.4

Seven Sales Tips That Never Go Out Of Style

Have people forgotten about the basics of selling? 2021-11-30 14:45 6KB www.forbes.com

48

0.5

2022 Honda Civic Si: A perfect balance of power and handling for affordable fun

Attractively, but modestly trimmed, the Honda Civic Si doesn't scream for attention like some pocket rockets, but it's a scream around curves. 2021-11-30 14:36 6KB eu.freep.com

49

0.9

First Images of 2023 Genesis G90 Reveal Further Design Elegance

A revised 2023 Genesis G90 was previewed this week ahead of its full reveal in the coming months. 2021-11-30 14:29 2KB www.newsweek.com

50

0.6

Steven Hyden's Favorite Music Of November 2021

Uproxx's culture critic recounts the musical highlights of the month, from 'The Beatles: Get Back' to Big Thief's new single. 2021-11-30 14:00 7KB uproxx.com

51

0.7

Lady Gaga Escorts Tony Bennett Off The Stage One Last Time In A Touching Concert Special Clip

'Tony, we're all so grateful to have witnessed your talent, your generosity, your creativity, and your kindness,' Gaga said. 2021-11-30 13:56 2KB uproxx.com

52

0.1

'The Girl in the Fountain' Director Antongiulio Panizzi Looks at Anita Ekberg Through Monica Bellucci's Eyes

The lives of two actors come together in the Torino Film Festival entry that oscillates between reality and fiction. 2021-11-30 12:36 4KB variety.com

53

0.5

How To Assess And Improve Collective Team Performance

Here are six actions you can take to help your leadership team play at its best. 2021-11-30 12:30 5KB www.forbes.com

54

0.3

How 'The Noise of Engines' Director Philippe Gregoire Pulled Off the Ultimate Family Movie

How a feature debut pushed this Quebecois auteur from filmgoer to festival honoree. 2021-11-30 11:30 4KB variety.com

55

0.2

Our Failed Pandemic Response is The Triumph Of Symbol Over Reality

The Omicron variant of the coronavirus is here, and with it will likely come a revival of the failed, slogan-based policies that were widely … 2021-11-30 11:20 7KB thefederalist.com

56

0.4

TRENDING ON TOWNHALL MEDIA

WSJ: Skyrocketing gas pump prices are impacting economic growth. 2021-11-30 10:13 2KB hotair.com

57

0.7

'Squid Game' Debuts on Audience Measurement Chart as BARB Upgrades to SVOD Reporting

U.K. television audience measurement currency BARB has upgraded to SVOD and video-sharing platform measurement. 2021-11-30 10:04 3KB variety.com

58

0.5

Ring Camera Catches Bear Breaking Into Woman's Home, Eating $600 Worth of Frozen Meat

Videos posted by Amy Franklin show the bear opening freezer door and feasting on the contents. 2021-11-30 09:40 2KB www.newsweek.com

59

0.5

'The Summit of the Gods' Director on Mallory's Camera and the True Story Behind the Film

'The Summit of the Gods' director Patrick Imbert spoke to Newsweek about the Netflix animation and the inspiration behind its story of two men climbing Everest. 2021-11-30 08:52 3KB www.newsweek.com
Articles
DC5n United States art in english 59 articles, created at 2021-12-01 05:52
The story of the Omicron variant began a week ago, when researchers in southern Africa detected a version of the coronavirus that carried 50 mutations. Thirty of these mutations are on the spike protein — arguably the most important part of the virus — and of those, 26 were unique mutations we hadn't seen before. By contrast, the Delta variant had 10 unique mutations and Beta had 6. When scientists look at coronavirus mutations, they worry about three things: Is the new variant more contagious? Is it going to cause people to get sicker? And how will the vaccines work against it? We explore when we will get the answers to these three questions, and look at the discovery of the variant and the international response to it. South African scientists have said that while they need more data to be sure, existing treatments and precautions seem to be effective against the Omicron variant. Mutations can work together to make a virus more fearsome, but they can also cancel one another out. This phenomenon, called epistasis, is why scientists are reluctant to speculate on Omicron. Almost two years into the pandemic, finger-pointing, lack of coordination, sparse information and fear are once again influencing policy. There are a lot of ways to listen to The Daily. Here's how. Transcripts of each episode are available by the next workday. You can find them at the top of the page. The Daily is made by Lisa Tobin, Rachel Quester, Lynsea Garrison, Clare Toeniskoetter, Paige Cowett, Michael Simon Johnson, Brad Fisher, Larissa Anderson, Chris Wood, Jessica Cheung, Stella Tan, Alexandra Leigh Young, Lisa Chow, Eric Krupke, Marc Georges, Luke Vander Ploeg, M.J. Davis Lin, Austin Mitchell, Neena Pathak, Dan Powell, Dave Shaw, Sydney Harper, Daniel Guillemette, Robert Jimison, Mike Benoist, Liz O. Baylen, Asthaa Chaturvedi, Kaitlin Roberts, Rachelle Bonja, Diana Nguyen, Marion Lozano, Corey Schreppel, Anita Badejo, Rob Szypko, Elisheba Ittoop, Chelsea Daniel, Mooj Zadie and Rowan Niemisto. Our theme music is by Jim Brunberg and Ben Landsverk of Wonderly. Special thanks to Sam Dolnick, Paula Szuchman, Cliff Levy, Lauren Jackson, Julia Simon, Mahima Chablani, Sofia Milan, Desiree Ibekwe, Erica Futterman, Wendy Dorr, Elizabeth Davis-Moorer, Jeffrey Miranda and Maddy Masiello.

How Omicron, the New Covid-19 Variant, Got Its Name
nytimes.com
d75d7413048d32235dbacad4249c98e9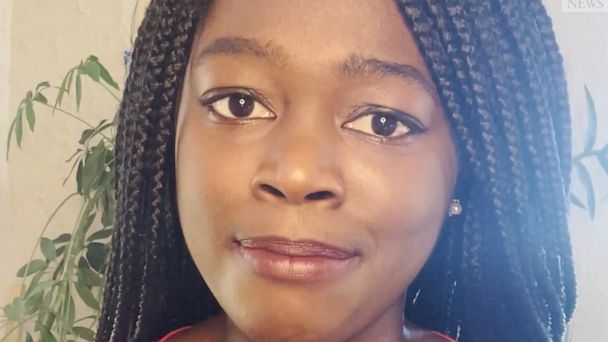 Video What to know about the omicron variant
abcnews.go.com
0f4d96837d54753008cf5a80904cad63
Why some researchers think the omicron variant could be the most infectious one yet
npr.org
907317980a24adfc9b3e8615b7e6a0f1
U.S. braces for arrival of Omicron variant
cbsnews.com
0c93454b6ca9cb62a27e7a45b48bd1e2
Omicron variant may have reached Europe earlier than thought
twincities.com
56e7bcbeb9d9d0dede65d6b2446b0c20
Why The New Omicron COVID Variant Is More Concerning
newyork.cbslocal.com
9caad88b76cf12dd4d3d6eb9c5f588f3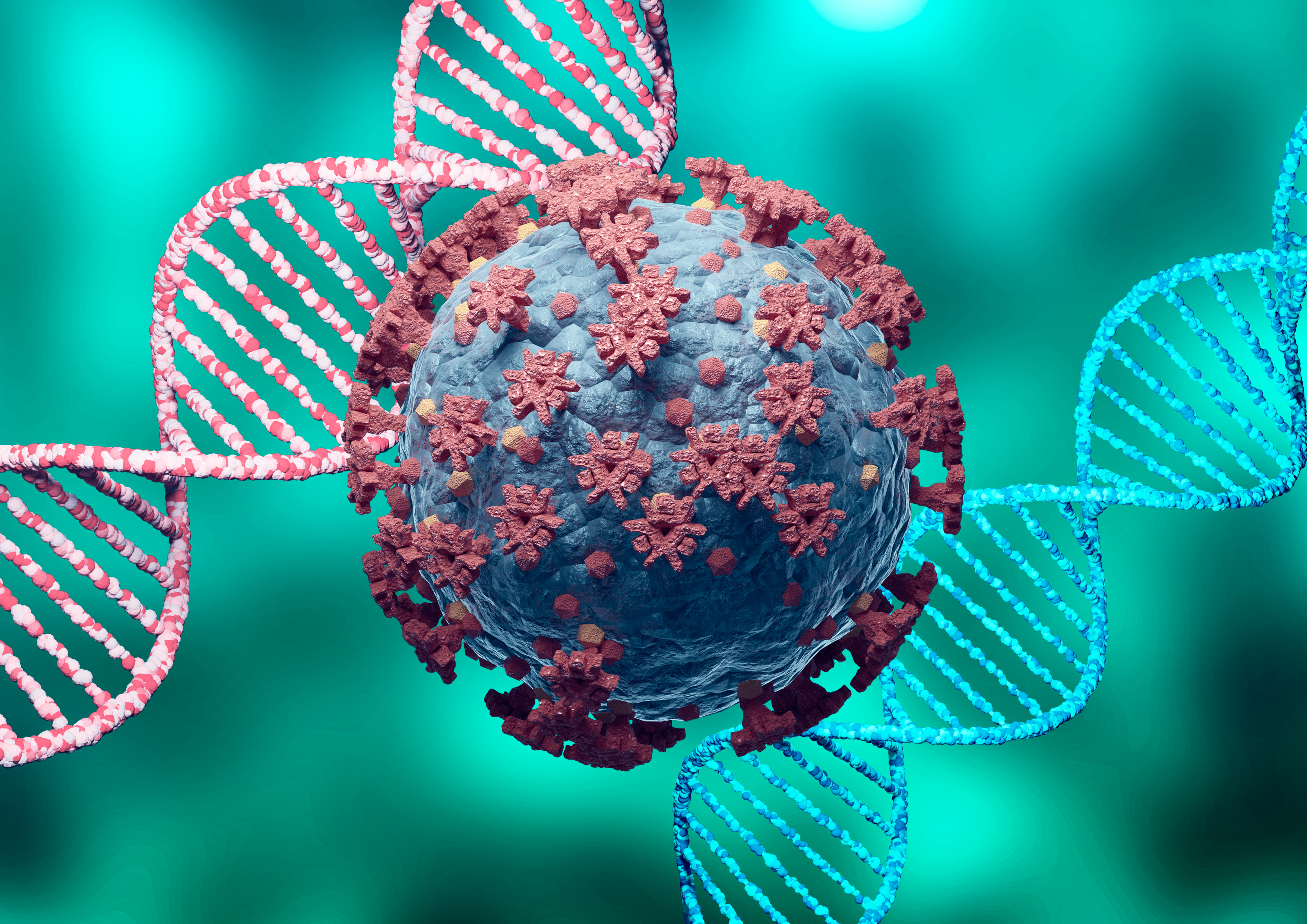 What Is a Mutation and How Many Does Omicron COVID Variant Have?
newsweek.com
b0dfcadbf317851deeaa12a7599d594d
Biden says Omicron variant is "cause for concern, not a cause for panic"
cbsnews.com
00036ebd3735230db8c738529d8e0195
Why we shouldn't write off Omicron variant cases as 'mild'
business-standard.com
a37e95c00b7658d4ce8d7621dc9e1400
Omicron is here: How to manage your anxiety about the new variant
usatoday.com
291a7298cdef7daf00739734c731e915
Covid-19: Why the WHO designated Omicron a variant of concern
business-standard.com
ccbcc2d3865a33d0e3d0a8d9467e79bb
How Are You Dealing With the Omicron Variant?
nytimes.com
c4d1ee56c6cb2e71641e85361efda1ed
How drug companies are planning for the Omicron variant
businessinsider.com
3990fb2685e67caa48b8b487896dcf3e
Japan confirms first case of Omicron variant
independent.ie
44de431e2538f2a032072af433829aea
Why The New Omicron COVID Variant Is More Concerning
chicago.cbslocal.com
734affe3f2e04a96b42f617f313205c7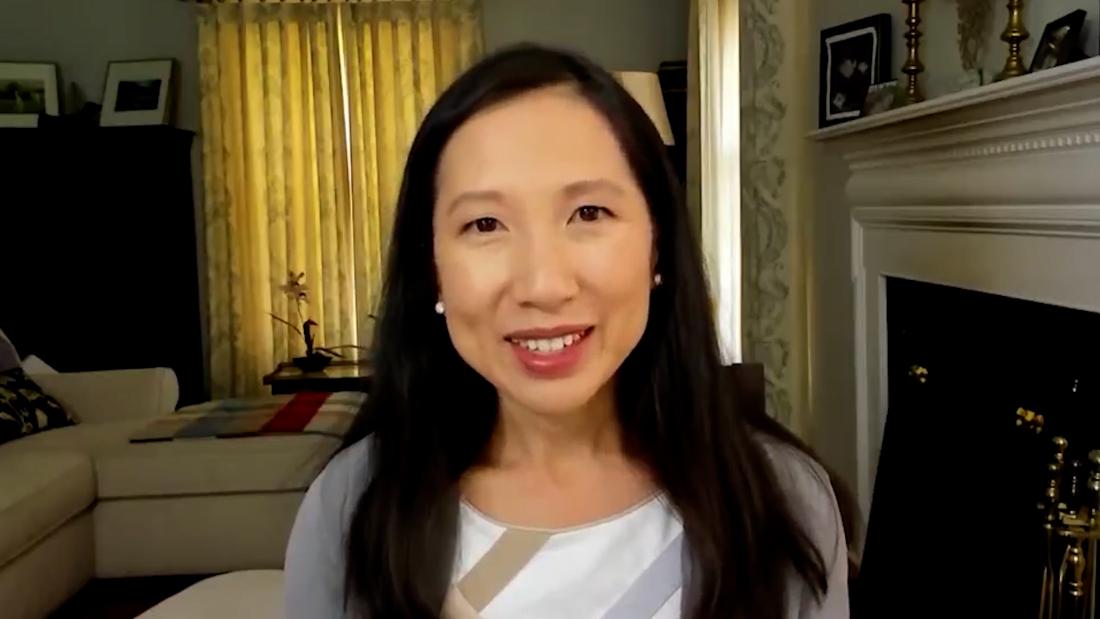 How worried should we be about Omicron, the new coronavirus variant?
edition.cnn.com
7702581baf14dd726e76b602135d62f5
Omicron variant may have reached Europe earlier than thought
ocregister.com
ea858d593ce76db46a66bee18f74c5d1
Josephine Baker, born in Missouri and beloved of France, whose life spanned French music-hall stardom and American civil rights activism, became the first Black woman to be laid to rest in the Panthéon, the nation's hallowed tomb of heroes. On a gray afternoon, 46 years after her death in Paris, soldiers from the Republican Guard bore a flag-draped coffin up the red-carpeted stairs of the Panthéon, where Ms. Baker joined 75 men and five women, including the author Émile Zola, the scientist Marie Curie, and the resistance hero Jean Moulin. The colonnaded facade of the Panthéon, with its engraved dedication to the "great men" of France, was lit with a remarkable collage of images ranging from Ms. Baker's wild nights performing at the Folies Bergères in 1926 to her appearance in front of the Lincoln Memorial beside the Rev. Dr. Martin Luther King Jr. on Aug. 28, 1963, as he spoke the words, "I have a dream." Ms. Baker's reinterment beneath the cupola that rises above Paris marked the culmination of an extraordinary journey that began in the misery and racial segregation of St. Louis; led her to fame as the provocative dance star of "les années folles," or crazy years, of 1920s Paris; and took her on to passionate political engagement in the cause of Europe's freedom from the threat of fascism and American racial equality. At a time of tension in France over issues of race and gender, and of friction with the United States, President Emmanuel Macron chose to honor Ms. Baker as a woman with "every form of courage and audacity," and "an American who found refuge in Paris and captured what it is to be French." Five months from a divisive presidential election, he portrayed Ms. Baker as a symbol of unity — what he called "the beauty of collective destiny." He held her up as an example of immigrant success, and of the multitudes a single life may contain. "France is Josephine," Mr. Macron declared, standing before the coffin. From the right to the left of the political spectrum, at least for a day, everyone seemed to agree. The longing cadences of "J'ai Deux Amours," or "I Have Two Loves," perhaps Ms. Baker's most famous song, filled the frescoed mausoleum during the ceremony. Its avowal that Ms. Baker's heart went out at once to "Paris et mon pays" — "Paris and my country" — seemed to capture her unusual odyssey. At the time the song was recorded in 1930, Ms. Baker was still an American citizen. She became French in 1937, 12 years after her arrival in France. She is the first person of American origin to be entombed in the Panthéon, a distinction that was marked by the lighting Monday of the Empire State Building in the red, white and blue of the French flag. "She had a double affection for the two countries," Ms. Baker's daughter, Marianne Bouillon-Baker, said at an American reception on the eve of the entombment. After the racial violence she witnessed as a Black American child and the repeated humiliations of segregation and discrimination, Ms. Baker, who was born Freda Josephine McDonald, said she found a freedom and dignity in France for which she was "eternally grateful." Other Black American artists, including James Baldwin and Richard Wright, had similar experiences, with the result that France is particularly sensitive to American criticism that its avowedly colorblind social model masks widespread discrimination. Mr. Macron said that Ms. Baker's life had encapsulated "a universal struggle." Her goal was not "to define herself as Black before defining herself as American or French." Her guiding idea was not the "irreducibility of the Black cause," but to be "a free and dignified citizen, completely," he added. His words appeared to reflect his government's rejection of what it often portrays as divisive American identity politics that threatens to undermine French universalism. Mr. Macron's characterization of Ms. Baker's beliefs was consistent with his government's fierce defense of universalism. Still, her presence on the Mall with Dr. King and her repeated expressions of outrage at the treatment of Blacks in the United States make clear that the specific Black fight for equality was very important to her. Ms. Baker became an object of wild Parisian fascination when, just 20, she appeared in 1926 at the Folies Bergères theater dressed in little more than a skirt made of 16 rubber bananas at a show called "The Negro Review." The cabaret played off white male colonial obsessions with Black women and their bodies in a France then fascinated by Black and African arts. Clowning and exaggerating, gyrating and waving her arms, Ms. Baker contrived to use and subvert the stereotypes, ridiculing them through what Mr. Macron called her use of the "burlesque." Her fame extended far and wide; writers from Jean Cocteau to Ernest Hemingway fell under her thrall. But when artistic folly of the 1920s yielded to the Fascist military folly of the 1930s, Ms. Baker demonstrated that she did not take her success, or the gifts of her adoptive country, for granted. She joined the resistance. It was in her Free French uniform, hung with her various French military and civilian honors, that she appeared with Dr. King at the March on Washington. "I have walked into the palaces of kings and queens and into the houses of presidents," she said. "But I could not walk into a hotel in America and get a cup of coffee, and that made me mad." She exhorted the crowd to fight on. "You can't go wrong," she said. "The world is behind you." Gabriel Attal, the government spokesman, told Europe 1 radio that Ms. Baker was a "magnificent symbol who incarnates the love for France that can also come from people who are not born here." His statement seemed pointed at immigration, which remains an explosive subject in France — the main theme of the election, along with purchasing power at a time of economic difficulty. If Ms. Baker embraced France, many immigrants, particularly from North Africa, have found that much harder because of the prejudice they have encountered. Her reinterment came on the same day as Éric Zemmour, a hard-right polemicist and TV star with fierce anti-immigrant views, declared his candidacy for the presidency. Polls suggest he has significant support. Of Ms. Baker, Mr. Macron said: "She did not defend a certain skin color. She had a certain idea of humankind and fought for the freedom of everyone. Her cause was universalism, the unity of humanity, the equality of everyone ahead of the identity of each single person."

Black artist Josephine Baker honored at France's Pantheon
lasvegassun.com
6cf9ba85787e6c2247184c4f3475b1d1
Josephine Baker Becomes First Black Woman to Enter France's Pantheon
variety.com
0e0b8771746fc2e88b5d7f13815eec3c
Black artist Josephine Baker honored at France's Pantheon
wtop.com
ed52f290f518152543e55ba0a9303464
Josephine Baker first Black woman to be honored at France's Pantheon
chicago.suntimes.com
860527aa365d5312e66c864ca1a0b0c3
Black entertainer Josephine Baker honoured at France's Pantheon
independent.ie
ea24199d454c12fef11b0f860461880d
Black entertainer Josephine Baker honoured at France's Pantheon
independent.ie
af489576923895f7e99a1c23de918d29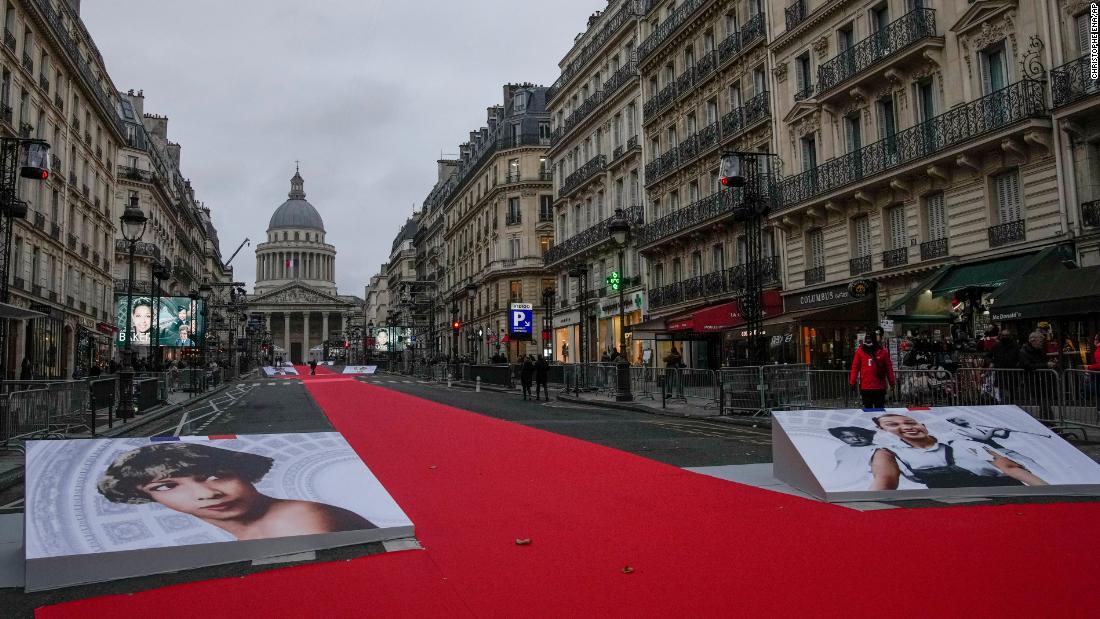 Josephine Baker becomes first Black woman honored at the Pantheon in Paris
edition.cnn.com
9673ddd975ea2451ae2476641860f2ea
Black artist Josephine Baker honored at France's Pantheon
eu.detroitnews.com
14b93dae776bed36f4ee6e7956a6a679
Black artist Josephine Baker honored at France's Pantheon
bostonherald.com
2e8a5e086c209f7919c526ac9f612383
Josephine Baker is the first Black woman to be inducted into France's Pantheon
npr.org
015abbe54f7f7be93cd8d10eeefc3828
As testimony kicked off in the trial of actor Jussie Smollett, who has been charged with disorderly conduct for allegedly filing a false report that he was a victim of a hate crime attack in 2019--an incident that police say Smollett staged—the lead detective who investigated the incident stated in court that Smollett was uncooperative during the Chicago Police Department's initial probe. "Jussie Smollett is a real victim," Uche said in his opening statement Monday and claimed the Osundairo brothers really attacked Smollett, the Associated Press reported. Smollett, who starred on the show Empire at the time of the incident, claimed he was attacked on January 29, 2019, by two men who poured a liquid on him and hung a noose around his neck. Chicago police initially reported that Smollett was reluctant to report the attack, which Smollett commented on during an interview with ABC in the weeks after the incident, saying he refused to hand over his phone to protect the private information stored on it. The Osundario brothers were arrested in mid-February after learning that one had worked on Empire, but they were released without charges and police turned their attention to Smollett. The actor was charged with disorderly conduct for filing a false report on February 20, 2019. Those charges were later dropped, though a year later he was indicted on six counts of disorderly conduct for making false statements to police. The Jussie Smollett trial: Timeline of how this case ended up in court (ABC News) Google Ordered To Hand Over Location And Private Data Of 'Empire' Star Jussie Smollett (Forbes)

Detective: No rush to judgment in Jussie Smollett case
wtop.com
3e980f44294076cb3117b07e906dd346
Video Allegedly Captures Jussie Smollett Practicing 'Dry Run' of Fake Hate Crime
dailywire.com
e22bc8455ea87163f320d87ea8be3b44
Lawyer says Jussie Smollett is 'real victim,' detective takes stand in trial: Everything we know
usatoday.com
6f9a8a8638bcff9f6ee49dca177e2f37
Police tracked alleged Jussie Smollett co-conspirators through Uber receipt the night of the attack, detective testifies
nydailynews.com
ca76cc71b53f889349cfa856ddacdf01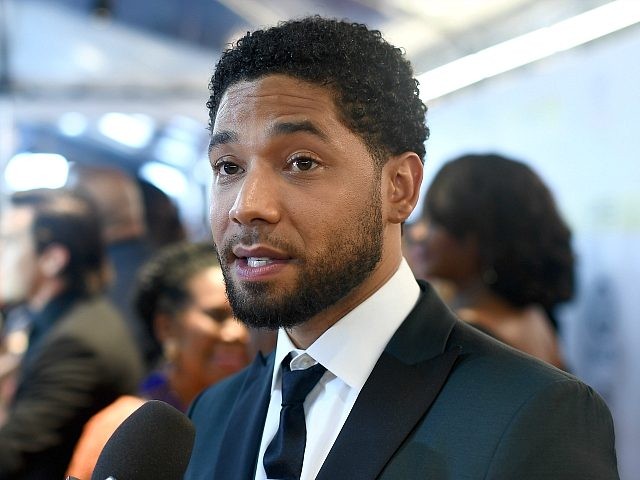 Jussie Smollett Lawyer Claims Disgraced Actor 'Is a Real Victim' of Hate Crime
breitbart.com
e437bc8d7158ee0b890e5956b8d4ff30
Jussie Smollett, Osundairo Brothers Went Through 'Dry Run' Of Hate Crime Hoax, Prosecutor Says
dailycaller.com
75b8c21c9832ab1e8e41a67da9dabaec
Your bestie: she, he or they are the best, and you want to show them how special they are to you with the perfect holiday gift. But it's so dang hard to find the perfect thing. Jewelry is good choice because it's so personal, but it's also difficult to choose something you can be sure your bestie will love. No matter how long you've been buds or how well you might know each other, bestowing the perfect bauble can be a challenge. So I've come up with a jewelry gift guide that addresses a multitude of personality types and styles, and includes some truly unique pieces. I'm keeping my fingers crossed that one of the pieces below will make your BFF feel the glow of the season (and your BFF love) when they unwrap your present. Little Ideograms, $49 Pietro Bembo, a 16th-century champion of poetry for the people, originally designed the typeface used for these charming 14k Little Ideograms. They're the perfect present for you BFF who already has a developing charm situation (bracelet or necklace), or you could also gift them one of Fiat Lux's beautiful chains. The charms come in 14k yellow, rose, or white gold. Leona earrings, $60 Candice Cox established Candid Art in 2011, and the brand has evolved to become an artisanal Jewelry, home décor and kids lifestyle brand. These earrings are big and statement making, but lightweight. Handmade in Oakland, California of acrylic, 14k gold-filled ear hooks and measuring 3.2 inches long, they're perfect for the fashion-forward friend who likes to turn heads. Maxi Cala earrings, $118 Handcrafted in brass by artisans in Kenya using traditional techniques, these playful yet sophisticated earrings will be your bestie's go-to for all the dance parties to come. They're just as appropriate for a casual brunch. Whether dressed up or down, they are destined to become a favorite. Keen Eye diamond pendant, $795 Featuring a hand-engraved heart, set playfully with two sparkling diamond eyes, this is a great gift for your bestie who already has a chain started with her favorite pendants. Or, add the Ariel-recommended 1.5mm bead chain. Also note that the deadline for custom orders has passed, but you'll find plenty of worthy gifts in stock. Petit Four Mesh Earrings, $175 Designer Maral Rapp creates incredible mesh jewelry by piecing together vintage Whiting & Davis bags, which were originally meticulously handcrafted by women artisans in Massachusetts. Her Petit Four earrings in pastel pink and blue mesh with a red accent are the perfect gift for you bestie who might want to make a statement but doesn't love a huge earring. But if she does, Rapp has options for her, too! Named for her pug doggies, San Francisco-based designer KT Carney created Cody Ferris in 2013 after studying sculpture and jewelry in college. One of her intricately woven, beaded necklaces could be the perfect gift for your BFF—but also check out her beaded earrings, crafted in surprising plaid and check patterns, as well as her modern, colorful wall art. Bead Party necklace, $125 and up This customizable necklace from Los Angeles designer Adina Reyter goes one (ok maybe more than one) step beyond your basic everyday gold necklace. Your favorite friend will reach for it daily, but every time they see that pop of color they'll remember how lucky they are to have a bestie like you. Choose a gold or silver necklace and pile on your choice of colorful enamel beads. Angelina Jolie lip to chin cuff, $50 If you have a friend who's ready to channel their inner super hero, this is the jewelry gift for them! Angelina Jolie wore it to the premier of Eternals, and Chloe of Chloe X Halle has also worn this unique piece. Each one is made to order so don't wait! Also check out the Matrix Ear Cuff for a superhero embellishment you can wear while eating.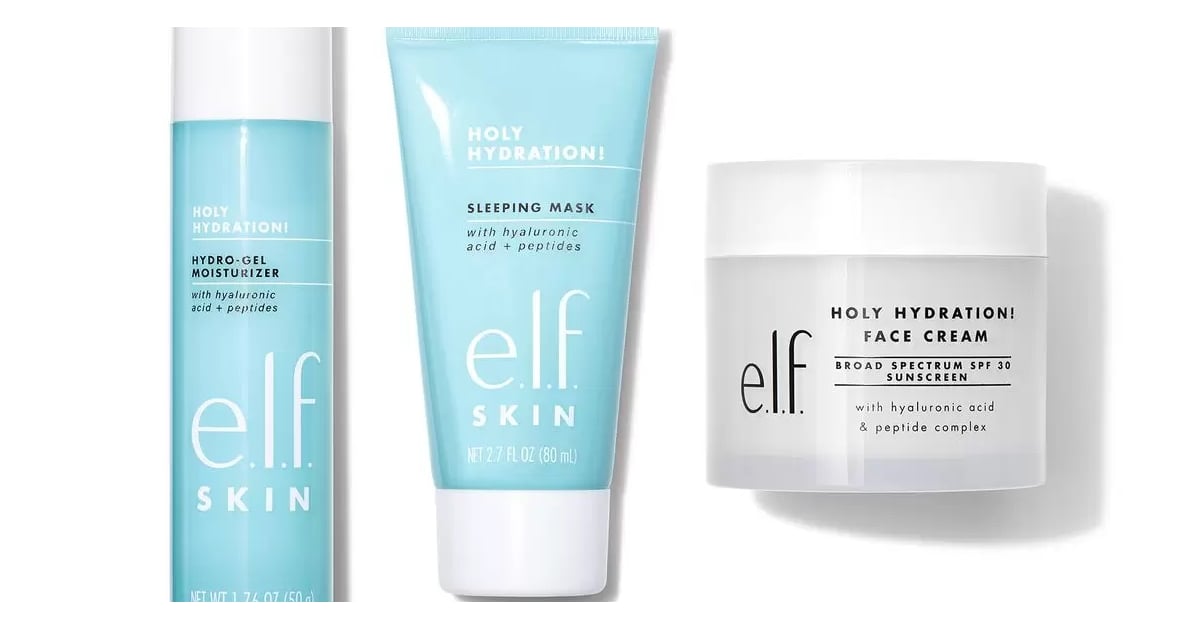 10 Holiday Gifts Your Skin-Care-Obsessed Friends Will Squeal Over
popsugar.com
e942c94cb5c3bf9ee6cde2d573f38b5c
The best diamond rings and jewelry pieces from James Allen for holiday gifts
nypost.com
0ca4b07bd49aa2b5dccc8649c1174ede
Holiday Gift Guide 2021: The Best Baked Goods Baskets
forbes.com
b157e705122c4cee8c47362637306a41
Holiday Gift Guide 2021: The Best Skincare Gifts For K-Beauty Lovers
forbes.com
6e40da2eaa2b3e0b186ed3d3e2360f2d
Holiday Gift Guide 2021: The Best Gifts For A Travel-Themed Gift Basket
forbes.com
aa3c7f8e95a8bd71a4e173aa87801476
Holiday Gift Guide 2021: Most Indulgent Chocolate Gift Baskets
forbes.com
959568e9c446016e176f1373ea031f3e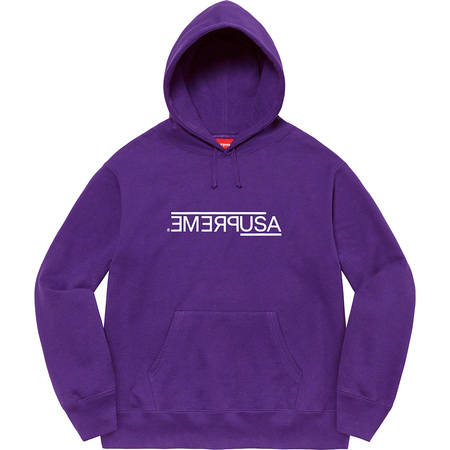 The Ultimate Streetwear Gift Guide For The 2021 Holiday Season
uproxx.com
0e60c7a147461cf7bdd32edf35e61f8b
Holiday Gift Guide 2021: The Best Gifts For Home Bakers
forbes.com
40e5df0d13c80ef4921f06c2e195cba1
Has the law ever been compared to a dim cat? No? Good, then let me be the first. Waking Monday morning to see the dead mouse of the Jussie Smollett case dropped on our collective pillow is a reminder not only of walnut-brained felines, but that when Hamlet lists the reasons to kill himself, "the law's delay" is No. 2, right after the pangs of unrequited love. Almost three years. Longer than COVID-19, and COVID-19 feels like forever. You'd think it should be done by now. But no. He's baaaaack. Given that a trial is going on, journalistic convention discourages me from endorsing either of the two possible narratives: A) That Smollett was the victim of this strange racist/homophobic attack committed by a pair of his employees, as the defense now suggests. Or B) Smollett himself paid his two associates $3,500 — by check, since we are not dealing with Lex Luthor here — to stage the attack in some kind of cracked effort to boost his profile and hence his salary. I'm not publicly endorsing one or the other. Let's just say I believe the one that doesn't require a suspension of common sense. While we're waiting for the jury to choose, no one can fault us, the unwilling audience, if we pass the time by trying to extract a bit of benefit out of this waste by noting three of the general lessons illustrated here. 1) Don't lie. Lying is a trap. Alas, the same sort of person who fabricates stuff also lacks the fortitude to admit it when caught. And so it continues. We've seen this on a national scale as the election fraud lie of Donald Trump has become the bedrock belief of the Republican Party. Worse than merely a lie, it's a flimsy lie. They obviously don't really believe the election was stolen from them in some amorphous way they can't explain, never mind prove. If they actually believed that, why vote at all? Rather, it's just the lie they use to grease the skids of their bad behavior to fool themselves, if nobody else. The way Smollett is ignoring the fact that at one point he did community service — not the usual route taken by victims of hate crime — before Cook County State's Attorney Kim Foxx's special alternate system of justice for TV stars came to light and the matter was taken out of her hands and given to a special prosecutor. 2) An example isn't proof. Smollett became the poster child for the frantic GOP dance to deny endemic racism in this country — most recently seen in the whole "critical race theory" canard. They celebrate this possible farce as a code — another in an endless series of nudges and leers and winks. Just as individual crimes committed by immigrants are tossed up by those who hate immigrants, criminal or not, so the Smollett incident, whatever the law eventually deems it, is offered in the smirking suggestion that all racist attacks are fabricated. When, of course, they're not. Just a few isolated rare instances, without pointing any fingers at any situations being adjudicated right now. 3) The general tendency to assume people aren't loathsome haters trips us up. I get this from Jews every time I write anything even mildly negative concerning any Jewish practice, or individual, or the state of Israel. They shrey (Yiddish for "cry out in a complaining manner) that I am just providing ammunition for anti-Semites. This gives anti-Semites way too much credit by suggesting they're weighing reality and trying to decide in what direction the evidence goes. "Hmmm, should I be a decent human being or throw in my lot with Hitler? Here's a data point to add to my decision chart." Not what happens. The people who are going to hold up Smollett as indicative of anything beyond what may or may not have occurred are just using him as propaganda. They're also ignoring he could be innocent. Maybe the confederates are the liars, hiding behind a fabricated story. It's possible. I believe it would take the best actor in the world to convince a jury of that. Maybe Jussie Smollett is the best actor in the world. Maybe not. A big part of success in acting is knowing what roles to pick. This tawdry drama is not something a decent person would want to cast himself in. Like any lousy production, it can't end soon enough.

Prosecutors to begin case against Jussie Smollett in Chicago
eu.detroitnews.com
3e2647bd0384f4bac778e262ad81df63
Detective: No rush to judgment in Jussie Smollett case
wtop.com
3e980f44294076cb3117b07e906dd346
Prosecutors to begin case against Jussie Smollett in Chicago
lasvegassun.com
280669031322b50fc87b36688722b34c
Intent on making a flawless impression as the first host of the world's fair in the Middle East, Dubai poured billions of dollars in the pandemic-delayed Expo 2020, hoping to attract 25 million visitors to its pristine fairgrounds and jubilant festivities that opened last month. Propping up the world's fair is the United Arab Emirates' contentious labour system that long has drawn accusations of mistreating workers. Dubai, highly sensitive to its image, is aware that Expo is drawing attention to its labor practices. It has held companies on the project to higher-than-normal standards of worker treatment. Contractors offer better wages and benefits to Expo workers, compared with elsewhere in the country, and many say they are grateful for the jobs. But violations have persisted, according to human rights groups and interviews with over two dozen workers by The Associated Press. Advocates blame the UAE's labour sponsorship system that relies on chains of foreign subcontractors, ties workers' residency to their jobs, and gives outsised power to employers. Workers say they have had to pay exorbitant, illegal fees to local recruiters to work at the world's fair; employers have confiscated their passports; promises are broken on wages; living conditions are crowded and unsanitary; food is substandard or expensive; and there are 70-hour workweeks in sometimes brutal heat. You can have the best standards in the world, but if you have this inherent power imbalance, workers are in a situation where they're at risk of exploitation all the time, said Mustafa Qadri, executive director of Equidem, a labour rights consultancy that recently reported on Expo workers' mistreatment during the pandemic. When questioned by the AP, Expo organizers referred to their previous statement in response to Equidem's report, saying Expo takes worker welfare extremely seriously." The statement acknowledged that the workers' most regularly raised topics of concern involved wage payments and food, without elaborating. Expo did not answer any questions from the AP about alleged worker mistreatment, including reports of illegal recruitment fees and confiscated passports. Citing labour abuses at Expo and other human rights concerns, the European Parliament urged a boycott of the event. The UAE called the resolution factually incorrect, without elaborating. Emirati authorities did not respond to the AP's repeated requests for comment. Mohammed, 27, one of scores of workers who sweep the vast fairgrounds eight hours a day, said he landed the job through a recruiter in his hometown in southern Ghana who promised him over $500 a month food and housing included. First, however, he had to pay a fee of $1,150, using years of savings, although the agent assured him he'd quickly make that back. When he arrived, Mohammed learned he would earn as little as $190 a month. In six months, he would make less than what he paid to get the job. If I had known, I never would have come, said Mohammed, who asked to be identified by only his first name because he feared reprisals. Most workers interviewed by the AP spoke on condition of anonymity out of fear of losing their jobs. Equidem documented multiple cases of abuse at Expo's construction site when the pandemic began. Workers described going hungry as employers withheld up to five months of promised wages and termination benefits. Some were deprived of their documents, unable to change jobs or leave the country. Many lived in packed accommodations, in one case with over 80 people sharing a single toilet. Expo workers interviewed by the AP described other forms of exploitation, with inadequate food a central concern. Many complained of long hours in withering heat. Several workers from West Africa and Pakistan said they'd paid hundreds of dollars to recruiters. Others claimed employers confiscated their passports, with the lack of freedom a core complaint of a system where absconding from employers is grounds for arrest and deportation. Eric, a cleaner from Cameroon, said he and his colleagues protested to Dubai-based Emrill Services about expensive food and the lack of kitchen access but got no response. They make less than $300 a month, with no food allowance. We don't eat to our satisfaction, because if you do, you will have no salary by the month's end, he said. In response to a request for comment, Emrill promised to investigate the complaints, saying it takes employee well-being very seriously. Guards at the Expo entrance working for Abu Dhabi-based construction company Arkan said they were promised hot meals during their break in an eight-hour shift. Despite repeatedly asking supervisors for the past three months, the guards received nothing, leaving them hungry throughout the day. Arkan did not respond to requests for comment. Expo's security guards work the longest hours 13-hour shifts, including a 40-minute lunch. Aside from brief breaks, they spend hours in the withering weather. Temperatures in Dubai regularly exceeded 50 degrees Celsius (120 degrees Fahrenheit) in the summer.

PM Modi may visit UAE in January to attend Dubai Expo 2020
siasat.com
03dfe974ce588ed4310a9bce5a09bf91
Expo 2020's workers face hardships despite Dubai's promises
wtop.com
4feab7834550c2df049a77c7f5724724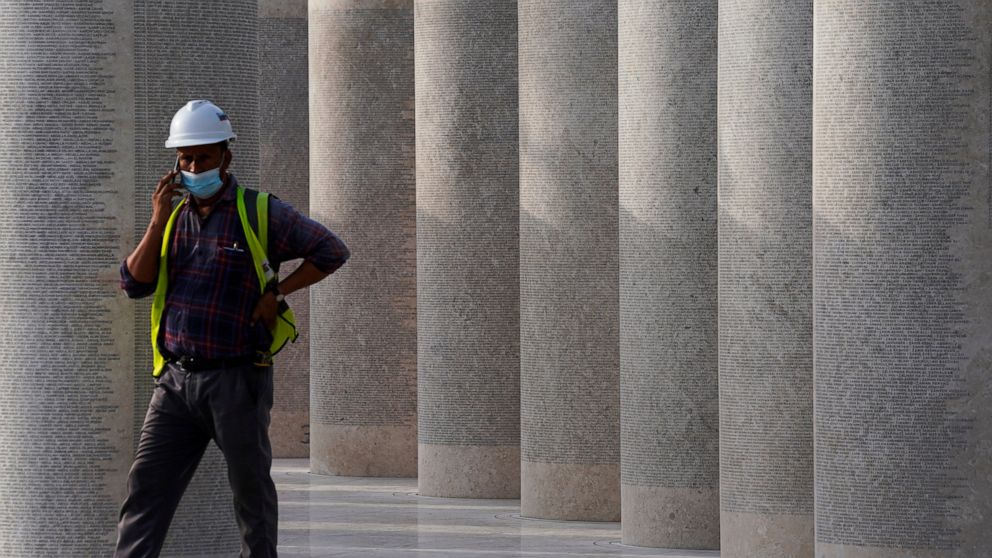 Expo 2020's workers face hardships despite Dubai's promises
abcnews.go.com
a40b8053ae768d8cec3f60076621002b
Expo 2020's workers face hardships despite Dubai's promises
wtop.com
e1925ba1ae3d8520642dca67fdaa0d94
As the West End dim their lights tonight in honour of Stephen Sondheim, we wanted to share our tribute to his incredible work and lasting impact on musical theatre. A snippet from our phenomenal West Side Story cast's online performance of 'Somewhere' ❤️ pic.twitter.com/eYHwqQqZ4y

Steven Spielberg and 'West Side Story' Cast Remember Stephen Sondheim's Legacy at New York Premiere
variety.com
c2c07a4ebb973391b38d02625d510c80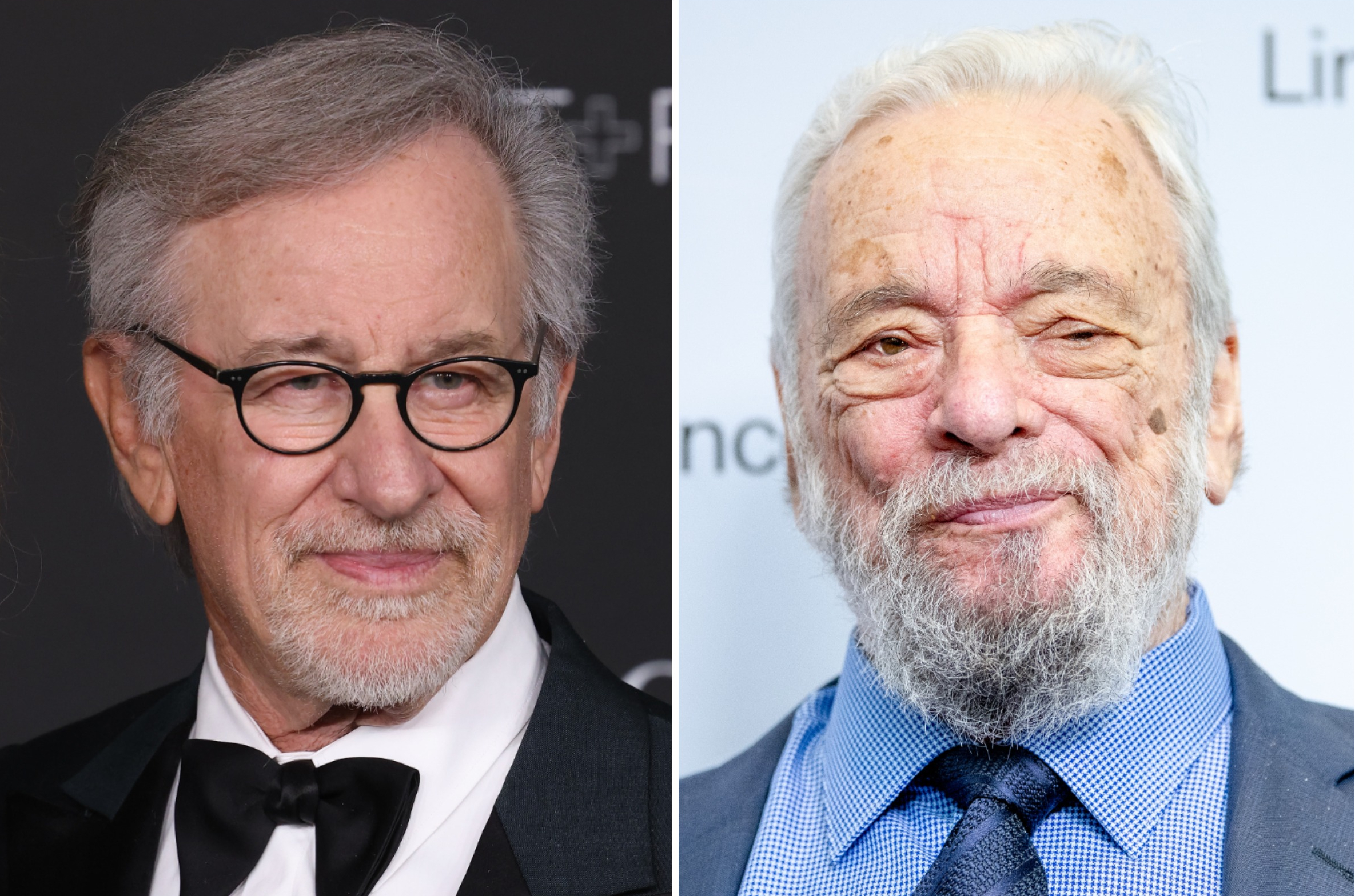 Steven Spielberg Honors Stephen Sondheim at 'West Side Story' Premiere
newsweek.com
434739fa2a9521b052927f8c07a45e62
Where to Watch Steven Spielberg's 'West Side Story' on Streaming
decider.com
e1185f96b609773a0ad5f539accd32dd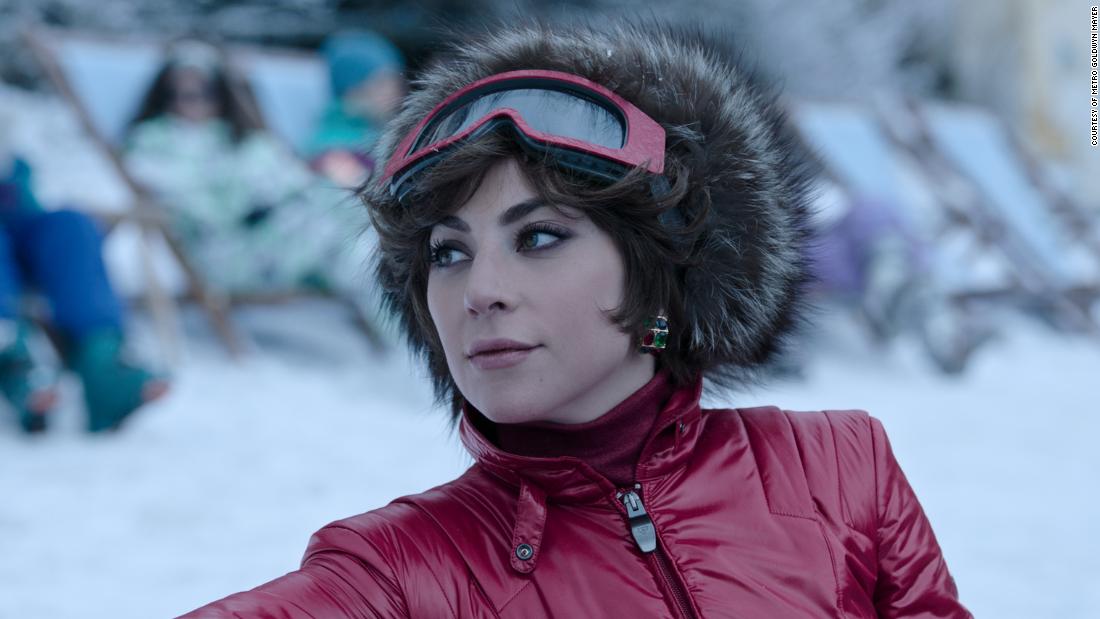 The family took particular issue with the depiction of Reggiani, played by Lady Gaga, as "a woman definitively convicted of ordering the murder of Maurizio Gucci. as a victim" in the movie itself and in statements by cast members, Italian media agency ANSA reported. The heirs criticize "the indulgent tones towards a woman who, definitively convicted of having been the instigator of the murder of Maurizio Gucci, is painted not only in the film, but also in the statements of the cast members, as a victim trying to survive in a male and male chauvinist corporate culture", ANSA continued. The letter went on to say that Gucci "was an inclusive company", adding that in the 1980s, when the film is set, there were several women who occupied top positions in the company. "The Gucci family reserve the right to take every initiative (necessary) to protect their name and image and those of their loved ones", a letter signed by Aldo Gucci's heirs said. The statement also alleged that in the movie members of the Gucci family were falsely portrayed as "hooligans" who were "ignorant and insensitive to the world that surrounded them", ANSA added. "I lived as (Reggiani) for a year and a half", she is quoted as saying. "And I spoke with an accent for nine months of that. Off camera, I never broke. I stayed with her. It was nearly impossible for me to speak in the accent as a blonde. I instantly had to dye my hair, and I started to live in a way whereby anything that I looked at, anything that I touched, I started to take notice of where and when I could see money."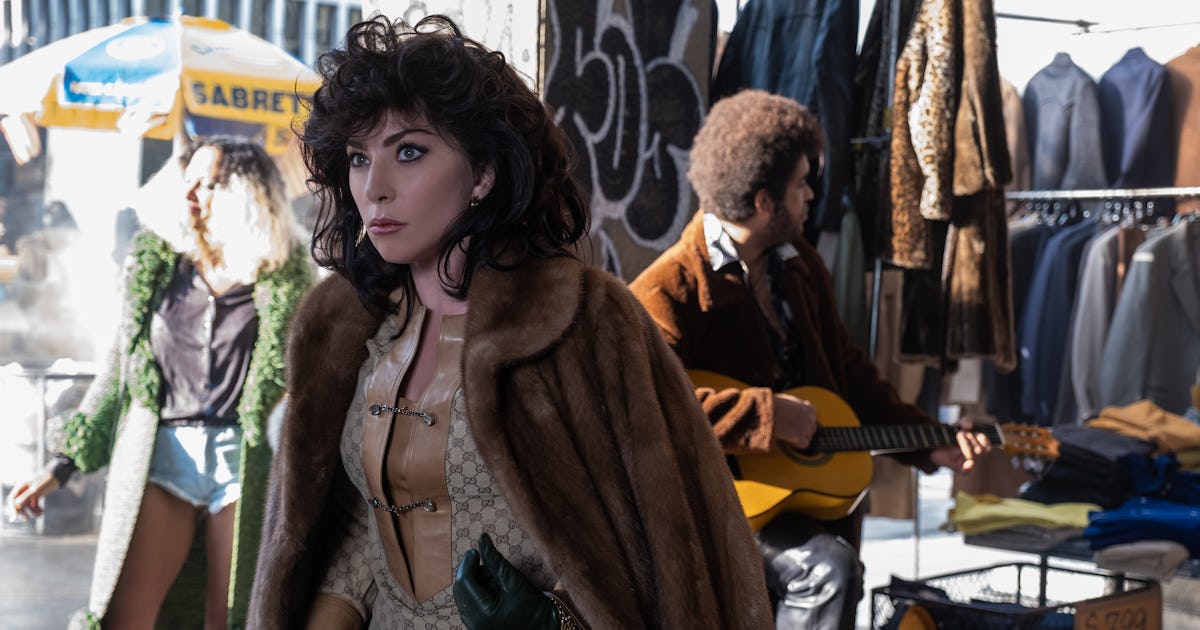 The Real Patrizia Regianni Is Not A Fan Of Lady Gaga, Or 'House of Gucci'
bustle.com
3ff2320ace5d58e940a6975cf4ef92f4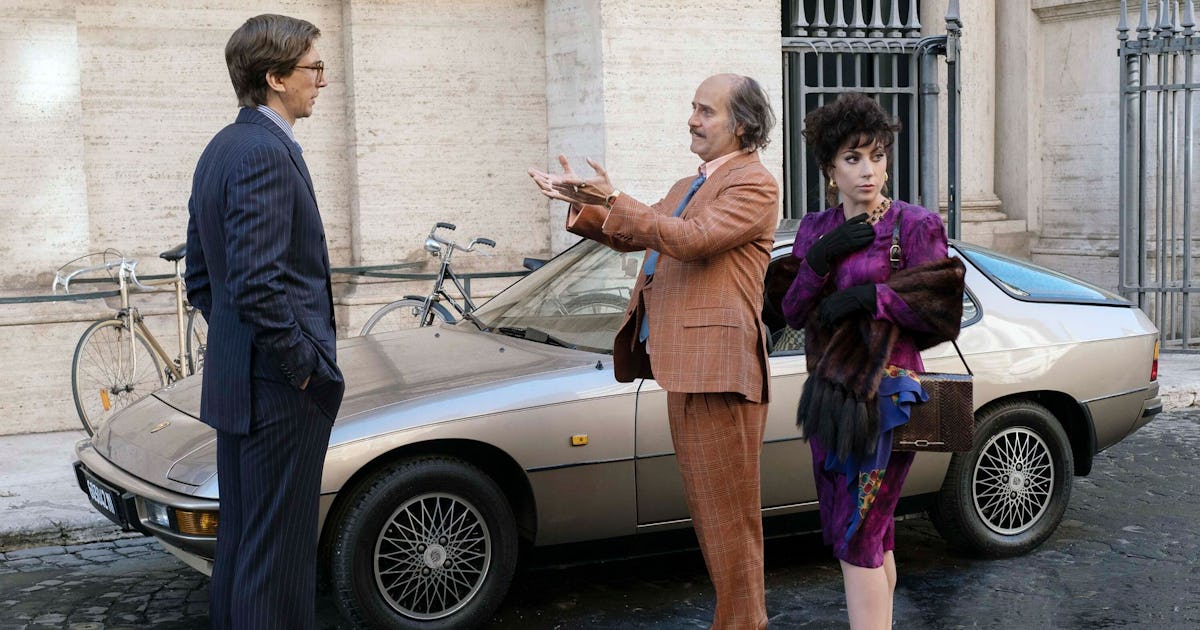 The Real-Life Gucci Family Is Pissed About 'House Of Gucci'
elitedaily.com
165f6626f45d9afaec6c26193554b756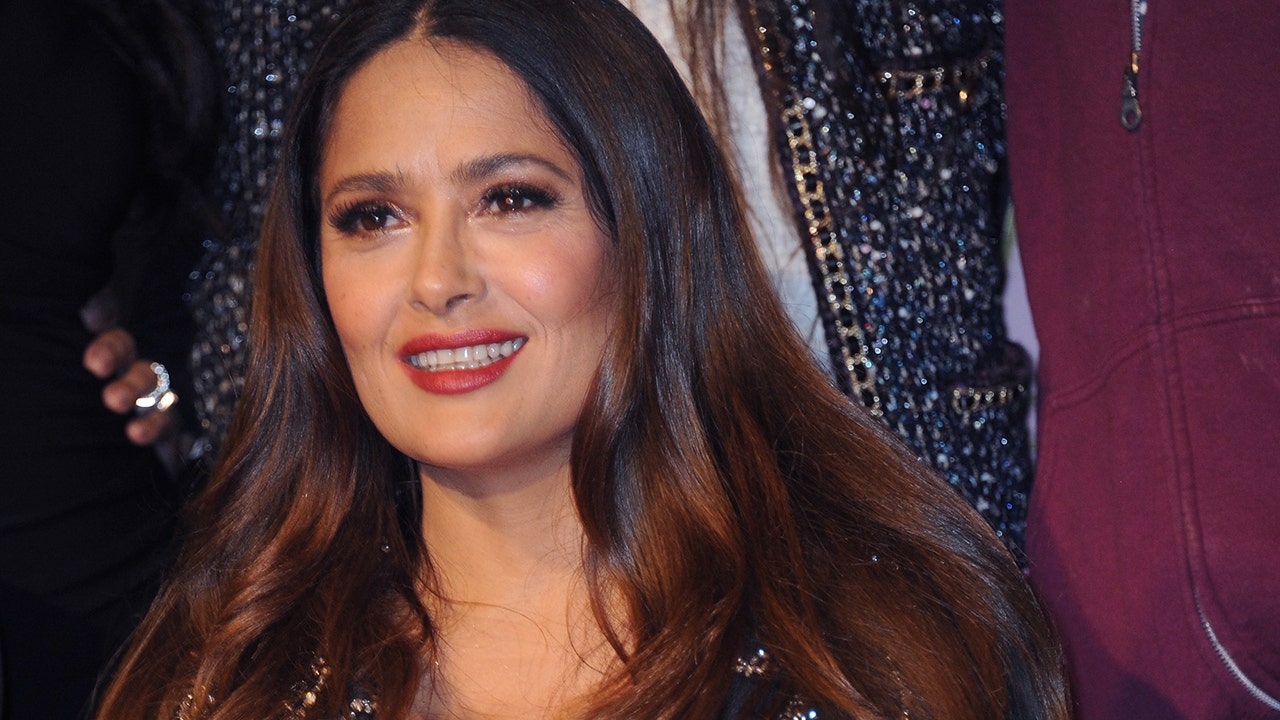 Salma Hayek promotes 'House of Gucci' movie in cleavage-baring swimsuit
foxnews.com
805bab6b2732830784844b95f4d49c73
For four years, an annual chorus of unfounded criticism and aesthetic analysis beat like a drum over former First Lady Melania Trump's Christmas decorations at the White House. Now, it's First Lady Jill Biden's turn but where have all the critics gone? Don't worry, I'm still here and I should start by reminding loyal Fashion Notes readers that it was the haters who stereotyped Melania Trump as a stone-cold, joyless Eastern European who secretly hated the frills of Christmas. They did so by seizing on her winter white decor in the East Wing in 2017. The haters did it again a year later when Mrs. Trump unveiled beautiful red trees throughout the East Collonade of the White House. It should be noted that Mrs. Trump's Christmas decorations from 2017 to 2020 were a triumph for beauty after nearly two decades of the traditional and modernist designs from former First Ladies Laura Bush and Michelle Obama. Perhaps Mrs. Trump's most successful years for the White House Christmas decor were 2019 and 2020. For the millions of Americans who will not see the White House up-close-and-personal, photos are everything. These two years, with their glimmering lights and emphasis on American architecture, struck just the right note between the traditional style of Mrs. Bush (and other former First Ladies) and the modernist approach that Mrs. Obama came to love. That brings us to Jill Biden's Christmas decorations which she unveiled this week and detailed on Tuesday in a speech. The biggest disappointment thus far is that Mrs. Biden did not take photos or release video footage of herself putting the final touches on the decor. Every year, Mrs. Trump would release a video and then, later, some photos of herself walking through the halls of the White House in admiration of what the residence's design team had pulled off. An impeccably-dressed First Lady standing next to her vision should become a tradition though Mrs. Biden has already bucked it. Mrs. Biden's most startling decorations are in the East Collonade and the entrance of the West Wing. They are overtly cartoonish and appear as though a child designed them. The sophistication of the White House looks out of place with the gold stars and blue dots hanging through the hallway. The stars, according to Mrs. Biden, represent "frontline workers" or something. We're in year two of the Chinese coronavirus pandemic, can we leave COVID-19 out of the decor? It is exhausting. The blue dots appear like a giant solar system school project while the wreaths on the doors across from them are entirely disconnected from the color scheme. Then, at the entrance of the East Wing, oversized Dr. Seuss (didn't they cancel him?) Christmas presents are stacked to create an archway around the doors. The screaming shade of red is detached from all the other shades of red throughout the White House decor and the giant bow atop the arch is wrinkled. Wasn't President Biden's big campaign message "Build Back Better?" Why not a Christmas theme that aligned more with her husband's overarching theme for the year? "Gifts from the Heart" seems misplaced. It is hard to screw up Christmas. Most of everything revolving around the holiday is glitzy, twinkling, rich, and grand — especially when the White House is the backdrop. It's why even when a few rooms of Christmas decorations are approaching fugly, other rooms are stunning. Take, for example, Mrs. Biden's hallway in the White House and the theme of the State Dining room. In the hallway, polished arches are filled with greenery with traditional red berry accents and soft lights. The State Dining room is the best of the bunch. Mrs. Biden says the trees on either side of the fireplace were turned effectively into photo albums as they are adorned with ornaments that showcase the former first families that have resided in the White House. Hanging at the center of the trees, on the mantle, are striped stockings. It's the picturesque traditional/contemporary balance, that is particularly lacking in many other rooms, which makes this display simply the best of them all.

Jill Biden's White House Christmas Looks Very… Normal
nytimes.com
38cc17bc7fc37294cb395f7125ef9e67
Jill Biden Goes Maskless as Children Forced to Wear Masks at the White House for Christmas Event
breitbart.com
00d0d7566d653a6ef08f5acc73170cb7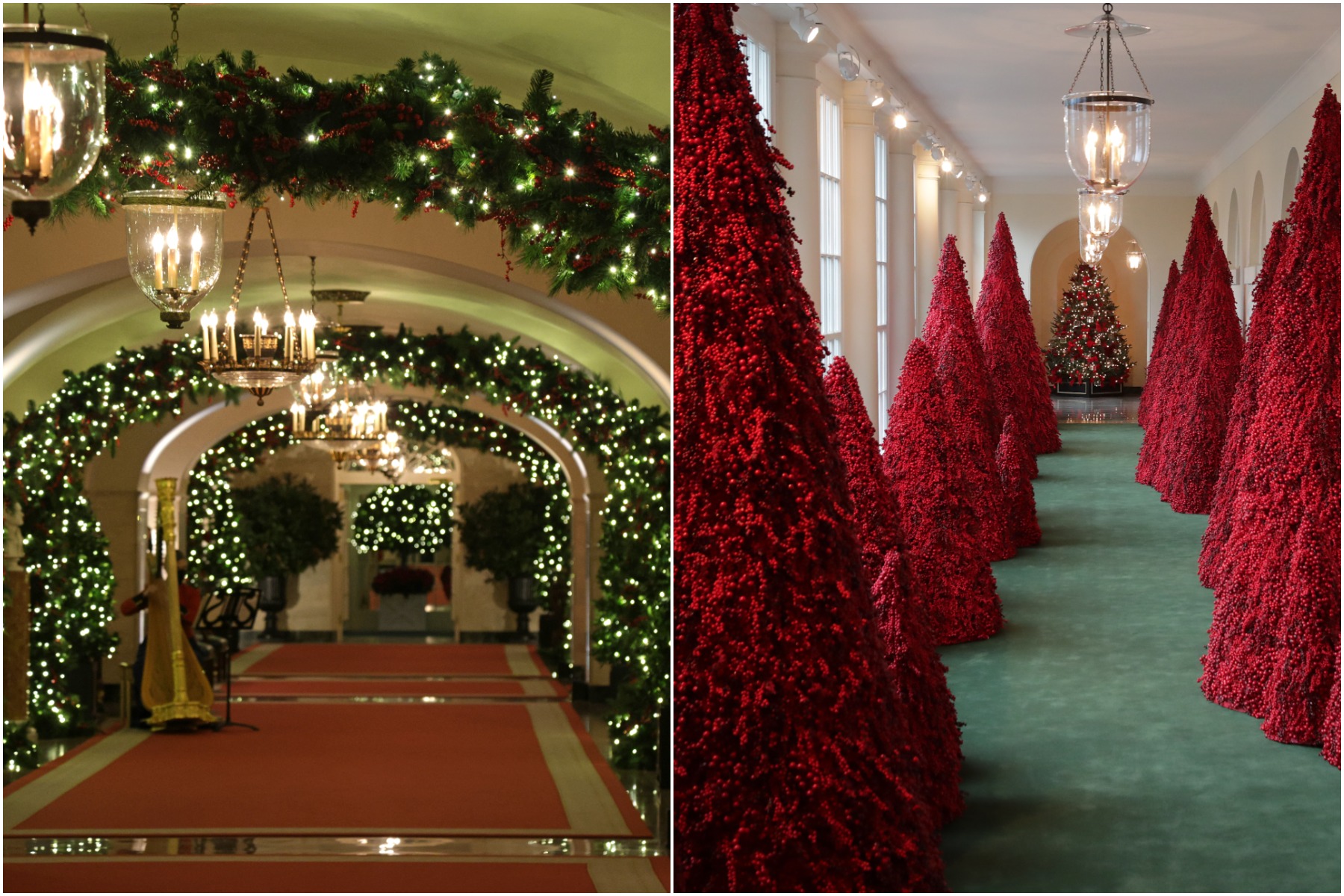 How Jill Biden's White House Christmas Decorations Compare to Melania Trump's
newsweek.com
7c014fa8abd16352d8424a0dc3d572e0
Media Media Awards & Honors Audio & Podcasting Mediaweek Platforms The Future of Identity Publishing &copy2021 Adweek - All Rights Reserved. Do not sell my personal information Terms of Use Privacy Policy

Twitter bans images and videos of private individuals without consent
sfgate.com
f8e26e44114652042963d65b0a428baa
Twitter may remove private images shared without consent under new policy
upi.com
a98e2bcee92046dd4562f11ef646e87a
The first reactions to 20th Century Studios' "West Side Story" are beginning to pour in following the film's premiere in New York City on Monday evening. Those who attended the screening took to social media, voicing praise for director Steven Spielberg's reimagining of the classic musical. In this new version, Rachel Zegler and Ansel Elgort portray Maria and Tony, whose ill-fated romance flags the fires of the bitter rivalry between local street gangs the Sharks and the Jets. The cast also includes Ariana DeBose as Anita, David Alvarez as Bernardo and Mike Faist as Riff. Rita Moreno, who won an Oscar for her performance as Anita in the 1961 film adaptation of the musical, appears in the remake in a new role and served as an executive producer. The remake was written by Tony Kushner ("Angels in America") and marks Spielberg's first feature length musical. Variety's own executive editor of film and media Brent Lang called the film "bold and stirring." He also voiced some criticism for Elgort's lead performance before highlighting the overall production as a likely Oscar contender. Chris Evangelista, chief film critic at /Film, hailed the film as "top-tier Spielberg." Film critic Robert Daniels prefaced his favorable opinion by declaring his surprise over having enjoyed the film. After voicing a few issues on the technical side, he highlighted the performances of DeBose, Moreno and Alvarez. Thrillist senior entertainment writer Esther Zuckerman simply affirmed that Steven Spielberg and Tony Kushner are not talents to be doubted. Film critic Jesse Hassenger also enjoyed the film, highlighting the misfortune of there being no other Steven Spielberg-directed musicals on the immediate horizon. See more reactions below. I'm in awe at how phenomenal WEST SIDE STORY is. Steven Spielberg makes it look easy — but every frame of this film is him at the top of his game. Oh, and @rachelzegler is about to be one of the biggest stars on the planet. pic.twitter.com/9tZ0yZpPBj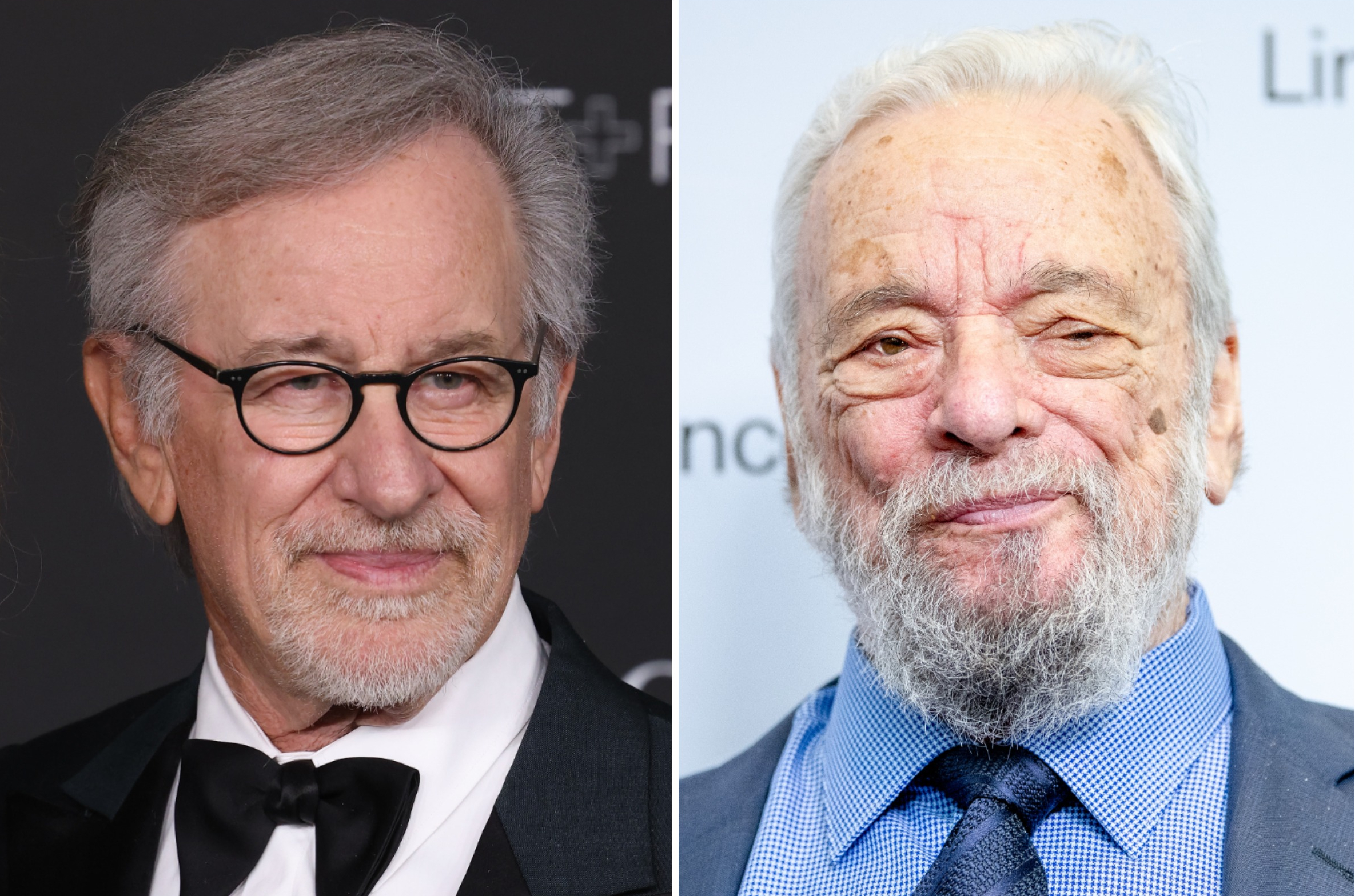 Steven Spielberg Honors Stephen Sondheim at 'West Side Story' Premiere
newsweek.com
434739fa2a9521b052927f8c07a45e62
Where to Watch Steven Spielberg's 'West Side Story' on Streaming
decider.com
e1185f96b609773a0ad5f539accd32dd
Members of Women of the Wall dance around their Hanukkah menorah in the women's section of the Western Wall in the Old City of Jerusalem, Monday, Nov. 29, 2021. Ultra-Orthodox Jews light candles on the second night of the Jewish holiday of Hanukkah in Jerusalem on November 29, 2021. Four-year-old Riley Gillet, of Orlando, lights a candle with her family, marking the beginning of the traditional Jewish holiday of Hanukkah, during the Chabad of Greater Orlando's "Chanukah on the Park" celebration in Winter Park, Fla., late Sunday, Nov. 28, 2021. Held at Central Park, the event included the lighting of a giant menorah, live performers, music and dancing. Drew Zuckerman, 12, turns one of two bulbs during the annual menorah lighting in the Dr. Arthur Rosenthal Square on West Main Street in North Adams, Mass. on Sunday, Nov. 28, 2021 on the first night of Hanukkah. People dance in front of the world's largest Hanukkah menorah during the celebration of the first night of Hanukkah in New York City, Nov. 28, 2021. Second gentleman Doug Emhoff makes remarks prior to lighting the National Menorah on the Ellipse in Washington, DC, Nov. 28 2021. Looking on at right is Rabbi Levi Shemtov, Executive Vice President of American Friends of Lubavitch (Chabad). A woman holds her dog and a toy reading "Happy Hanukkah" in front of the world's largest Hanukkah menorah during the celebration of the first night of Hanukkah in New York City, Nov. 28, 2021. A projection of lit candles is displayed on the old city walls of Jerusalem marking the Jewish holiday of Hanukkah, on Nov. 28, 2021. Rabbi Nachman Nachmenson lights the menorah on top of his car after the lighting of the menorah for Hanukkah in Garfield Square in Pottsville, Pa., on Sunday, Nov. 28, 2021. New York City Mayor-elect Eric Adams (2R) and Rabbi Shmuel M. Butman light the world's largest Hanukkah menorah during the celebration of the first night of Hanukkah in New York City on Nov. 28, 2021. Rabbi Levi Duchman lights a large menorah at the Israeli Pavilion of Expo 2020 in the Gulf emirate of Dubai on Nov. 28, 2021, marking the Jewish festival of Hanukkah. A large menorah is seen lit at the Israeli Pavilion of Expo 2020 in the Gulf emirate of Dubai on Nov. 28, 2021, marking the Jewish festival of Hanukkah. Ultra-Orthodox Jews light candles on the first night of the Jewish holiday of Hanukkah in Jerusalem on Nov. 28, 2020. A Hanukkah Menorah illuminated, marking the beginning of the Jewish Festival Of Lights, at the Pariser Platz near the Brandenburg Gate in Berlin, Germany, Sunday, Nov. 28, 2021. People visit a giant Hanukkah menorah during the Jewish holiday of Hanukkah, in Tel Aviv, Sunday, Nov. 28, 2021. Hanukkah, also known as the Festival of Lights, is an eight-day commemoration of the Jewish uprising in the second century B.C. against the Greek-Syrian kingdom, which had tried to put statues of Greek gods in the Jewish Temple in Jerusalem.

Hanukkah 2021: Celebrating the Festival of Lights
commdiginews.com
484bdba43ce7870a77b6493eb04881e0
Hanukkah 2021: Andy Cohen, Mayim Bialik and More Celebrate the Festival of Lights
usmagazine.com
fe942aede985443642c4f5a4ed563cab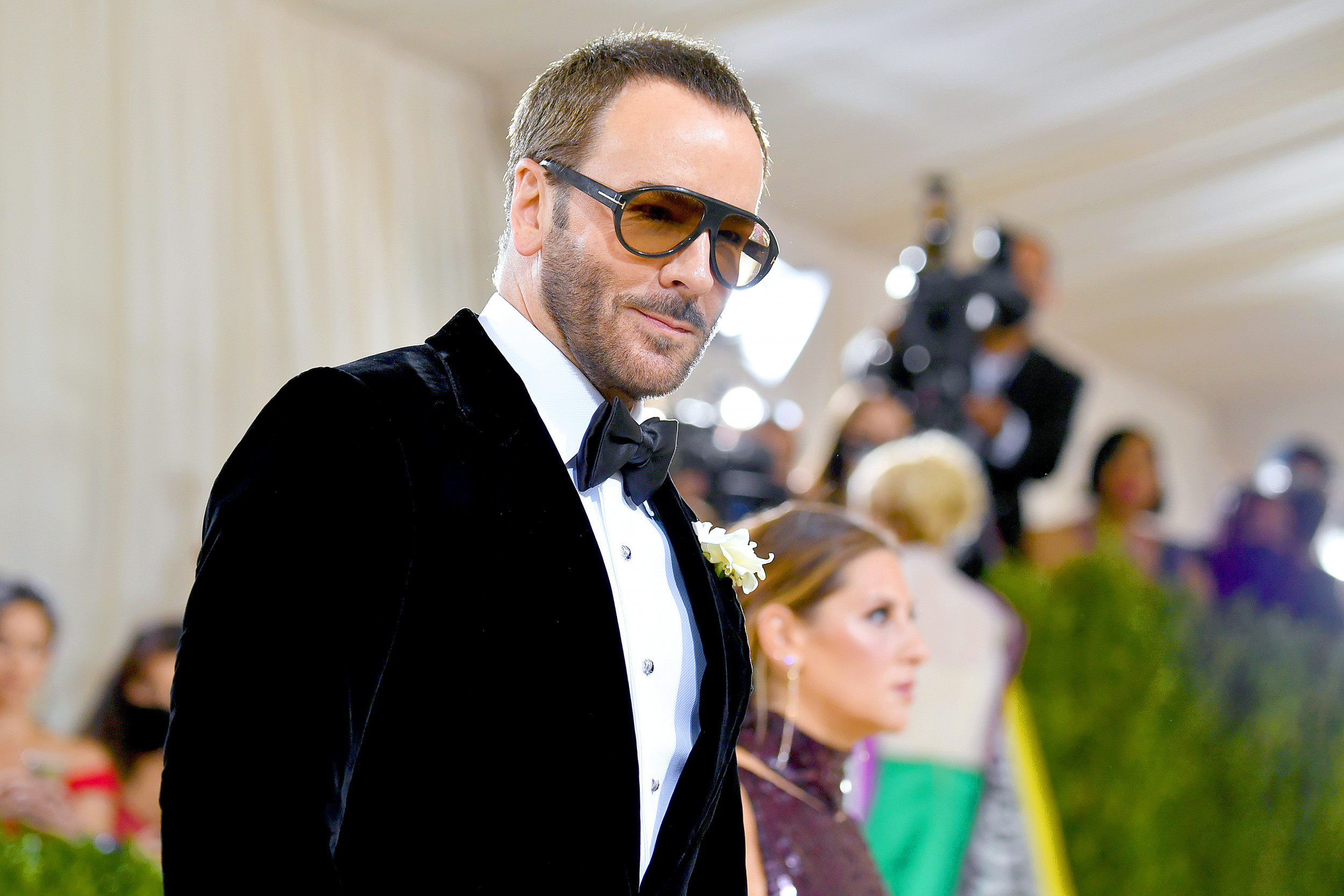 In his essay, he praised the performances of Lady Gaga as Patrizia, Adam Driver as Maurizio, Jeremy Irons for playing Maurizio's father Rodolfo, and Salma Hayek as psychic Pina Auriemma. But he did raise concerns about the film's accuracy and delivery, writing he found it hard to see "the humor and camp in something that was so bloody." He reflected: "Was it a farce or a gripping tale of greed? I often laughed out loud, but was I supposed to?" He wrote: "It was hard for me to see the humor and camp in something that was so bloody. In real life, none of it was camp. It was at times absurd, but ultimately it was tragic." Ford took issue with the show's accuracy, particularly regarding his own story. He wrote: "Maurizio had been bought out of the company by the time I assumed the position of creative director of Gucci and had my first hit collection. He certainly never toasted me after that show as he does in the film. Movies have a way of becoming truth in people's minds, an alternate reality that in time obliterates the reality of what was." Ford described Al Pacino as Aldo Gucci and Jared Leto as Aldo's son Paolo Gucci performances at times as similar to a "Saturday Night Live version of the tale." Ouch. In particular, he pointed to the unfortunate fact Leto's acting talents were "literally buried under latex prosthetics." For the role, Leto worked with prosthetics designer Göran Lundström, who designed eight prosthetic pieces and a balding wig to complete the look. In an interview with i-D, Leto said he was "snorting lines of arrabbiata sauce" and "olive oil for blood" to prepare for the role of designer Paolo Gucci. He shared: "This was a deep dive I did. If you took a biopsy of my skin, it would come back as parmesan cheese! This is my love letter to Italy. There was a lot of work and preparation, and yes, I had an Italian accent and I enjoyed and embraced that, and lived in that space as much as I could, and for as long as I possibly could. I climbed into that creative cave and came out through the bowels and intestines into the esophagus of the one and only Paolo Gucci." In Ford's eyes, audiences were "subject to pointless and sometimes confusing scenes", which he argues were included solely to allow the leading actors to shine. He wrote: "Under different circumstances, there is no doubt that some of those scenes would have ended up on the cutting-room floor. But because they stayed in, there is no time for the character development of the key players and thus we have little attachment to—or empathy for—any of them. The result, sadly, is a story in which we identify with no one." Ford confesses he was jealous of the scene, writing: "It was something that I always wanted to do myself, as I was constantly being asked to try to revive that damned scarf."

The Guccis Are Really Not Happy About 'House of Gucci'
nytimes.com
11159c5900fcc515f55ff6340729ecf2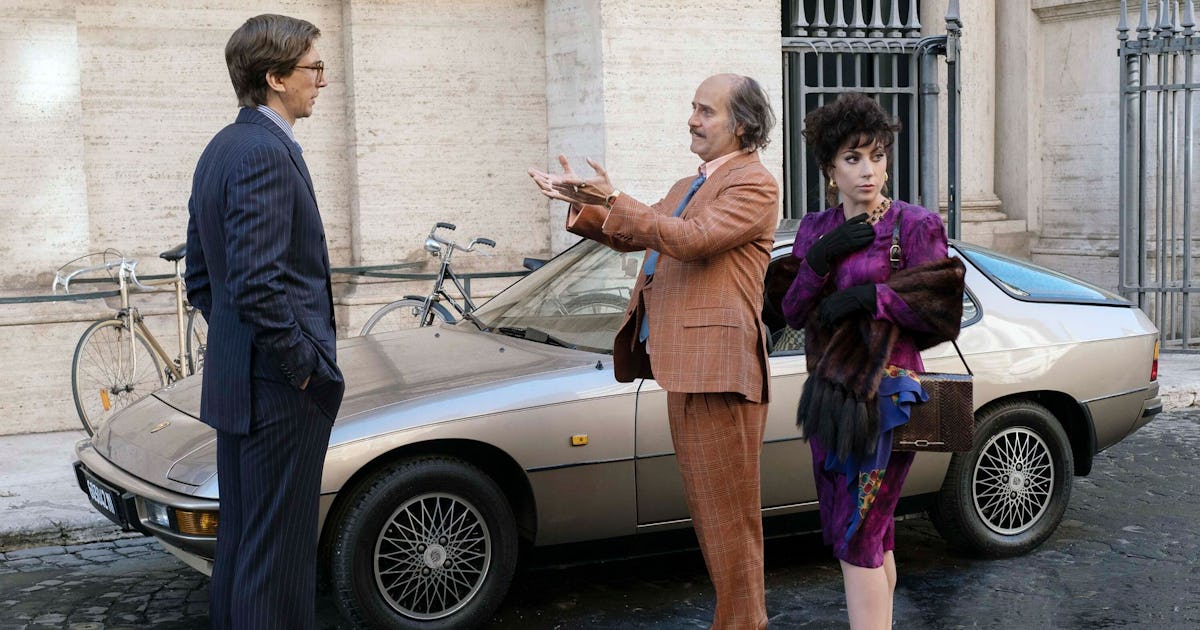 The Real-Life Gucci Family Is Pissed About 'House Of Gucci'
elitedaily.com
165f6626f45d9afaec6c26193554b756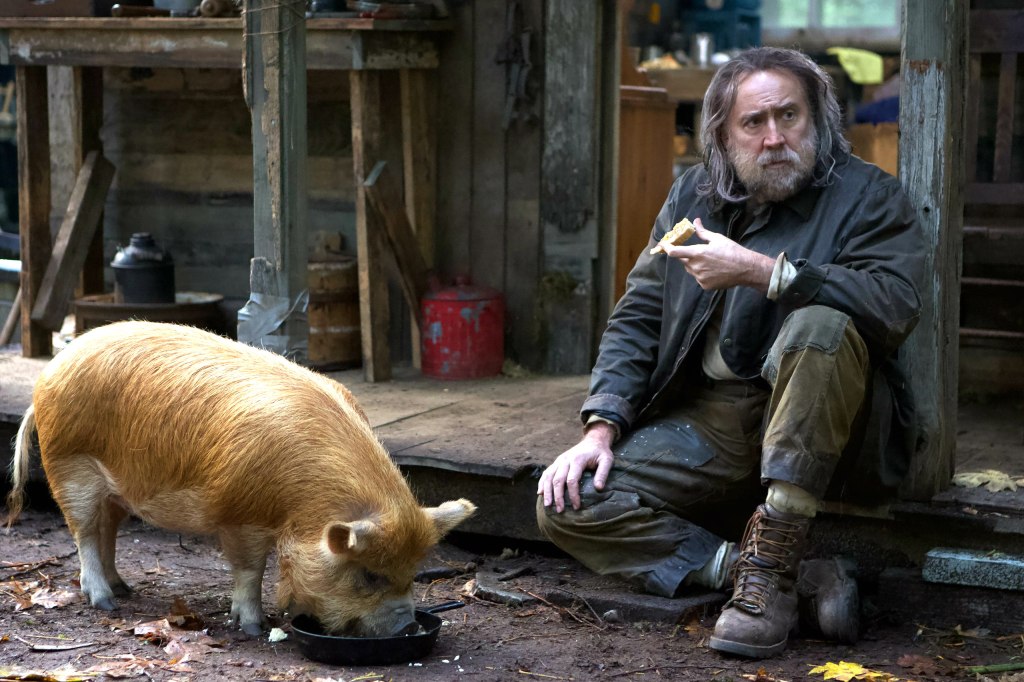 Nicolas Cage is the top-billed actor in Pig (the most critically-acclaimed movie in his Oscar-winning career), but everyone knows the film's real star is the titular truffle-hunting pig, played by Brandy. Sadly, as director Michael Sarnoski revealed in a recent interview with the Film Stage, Brandy passed away last year. "She got a jaw infection, actually, at the beginning of COVID, and the sad thing is because of COVID all of the vets weren't taking, like, new clients, so they couldn't treat her. So she passed away, which was really sad," he said. That's a bummer, but there is some happy news. "She actually was pregnant while we were shooting Pig, so she does have some piglets still running around today," Sarnoski added. Cage (who's truly excellent in the film) was asked about Pig getting Oscar buzz at Monday's Gotham Awards. "Any kind of enthusiasm is always welcome," he told ET Online. "But the reality is, it's all about telling stories that communicate with the people. And I think this movie did, and that's what we brought, and that's good enough for me." Even if Cage isn't nominated, Brandy better show up during the In Memoriam. Pig is available on VOD. You can read our interview with the film's food consultant here. (Via the Film Stage)

Nicolas Cage to Play Dracula in Universal's 'Renfield' Movie
variety.com
d4f8984c24edace25599d01434adcb3e
Vic Mensa is the latest rapper to pay homage to the late Virgil Abloh, dropping the touching tribute track "What You Taught Us." Over a soulful, self-produced beat, Vic writes an open letter to the designer, who passed away on Sunday at age 41 after a two-year battle with cancer. "You showed us we could all be designers of our own destinies of our legacies," he rhymes. "Our environments from Chicago streets to Paris fashion weeks." In a press release, Mensa shared how watching Abloh opened his eyes to more possibilities for his own future. "Virgil Abloh is synonymous with visionary," he says. "To see him go from DJing Superfun parties in Chicago that Hollywood Holt would sneak me in when I was 16 to revolutionizing the way we think about design and its applications is a true inspiration to a generation that was blessed to be raised under his tutelage. Legends never die." Vic isn't the only one to write about Virgil's impact. Tyler The Creator also shared a post on Instagram revealing the way the designer pushed him to try new things and begin using "more of my African last name OKONMA because of how regal Virgils felt." Likewise, Frank Ocean also shared his own post on Instagram, calling Virgil "a hero." You can listen to Vic Mensa's new song "What You Taught Us" below.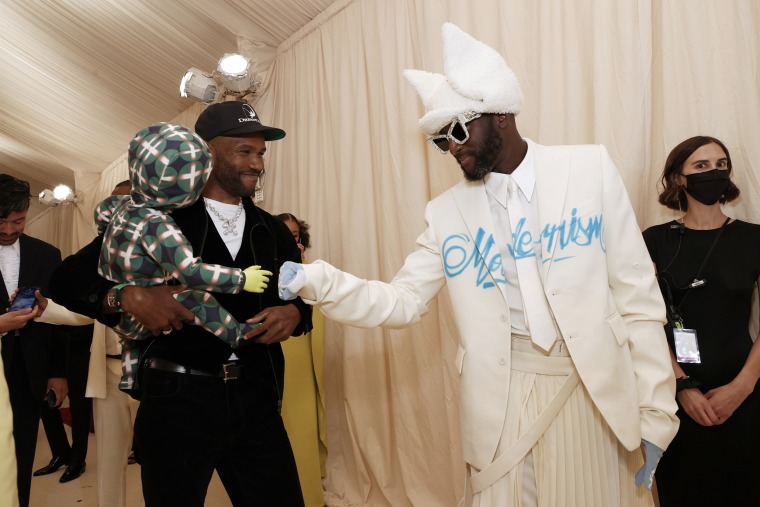 'You're a hero': Frank Ocean pays tribute to late designer Virgil Abloh
nbcnews.com
bd907c8d5fdba518e0fe5cf3b0d4522a
Detectives investigating the deadly shooting on the set of the film "Rust" are trying to determine whether Seth Kenney, who was supposed to provide the production with blanks and dummy rounds, may have sent live ammunition as well, according to court documents filed on Tuesday. The focus on Mr. Kenney came to light in a warrant issued to search his business in Albuquerque, called PDQ Arm & Prop. Investigators sought the search warrant after crew members told them that ammunition for "Rust" came from various sources, including Mr. Kenney, who has also done business out of Arizona and California. The fatal shooting took place on Oct. 21, when the actor Alec Baldwin was practicing drawing a gun he had been told contained no live rounds, when it went off, killing the film's cinematographer, Halyna Hutchins, 42, and wounding its director, Joel Souza, 48. Immediately after the shooting the film's prop master, Sarah Zachry, inspected the box of ammunition on a props cart on the set and discovered that some cartridges "did not rattle," according to an affidavit for the search warrant filed Tuesday in Bernalillo County. Dummy rounds are often distinguished from live rounds by replacing the powder inside with a ball bearing, giving the round a distinctive rattle when shaken. The fact that the cartridges did not rattle suggested there were other live rounds on set, Ms. Zachry told a detective, according to the court document. "Sarah said this led her to believe some of the other rounds in that box were live ammo," according to the affidavit, which was signed by Detective Alexandria Hancock of the Santa Fe County Sheriff's office. The affidavit details efforts by investigators to trace the source of all the ammunition used in the production. Ms. Zachry said the ammunition on the set had come from "various sources," according to the affidavit, including from Mr. Kenney; Hannah Gutierrez-Reed, the film's armorer, who was said to have brought some from a previous production; and from someone identified only as "Billy Ray." Ms. Gutierrez-Reed told investigators that the guns and ammunition used on the "Rust" set had been supplied by Mr. Kenney, according to the affidavit. On Oct. 27, as the police executed a search warrant on the set, Mr. Kenney told investigators that he had provided the production with dummy rounds and blanks that came from a company called Starline Brass, the affidavit said. Two days later, it said, Mr. Kenney called back to say "he may know where the live rounds came from." In that call, Mr. Kenney told the police that a couple of years ago he had received "reloaded ammunition" from a friend, the affidavit said. "Reloaded ammunition" can refer to ammunition that has been reconstituted from the brass casing of a fired round by adding a new bullet, primer and powder, according to Clay Van Sickle, a movie industry armorer. Mr. Kenney declined to comment in response to a phone call. Mr. Kenney told investigators that in this case, he believed the ammunition had been reloaded because the cartridge of a live round had the Starline Brass logo on it, and Starline Brass "only sells components of ammunition, and not live ammunition, and therefore it had to be a reloaded round." Starline, which is based in Sedalia, Mo., did not immediately respond to requests for comment. Another lead on where the live round might have originated came from Ms. Gutierrez-Reed's father, Thell Reed, a weapons expert who has worked and consulted on a number of films. The detective said that she received a statement from Mr. Reed in mid-November saying that he had worked with Mr. Kenney on another set in August or September where the actors were trained "for live fire with firearms, conducted on a firearms range," and that Mr. Kenney had asked him to bring extra live ammunition in case they ran out. "Thell stated he did bring an 'ammo can' with live ammunition from a friend," the affidavit said, "and this ammunition was not factory made rounds." Mr. Reed said that the can had contained "approximately 200-300 rounds," the document said. Mr. Reed told the police that when the production was over, Mr. Kenney had taken the remainder of the ammunition that had been in the can back to New Mexico. "Thell stated this ammunition may match the ammunition found on the set of 'Rust,'" the affidavit said. Suspected live ammunition was among the items taken during a search of the set the day after the shooting, and identified during processing by a crime scene technician, Marissa Poppell, according to the affidavit.

'Rust' Investigators Focus on Film's Gun Supplier to Trace Source of Live Ammunition on Set
thewrap.com
0c5a939d28005c6f3611d0b47b62ef64
When Pitchfork profiled Milwaukee's flourishing street rap scene in March, the music news site made sure to single out Big Wan. "Big Wan is the city's finest (expletive) talker", wrote Pitchfork's Alphonse Pierre, who paid particular praise to the rapper's trademark punchlines. "Wan also has a sharp ear for production.… He's behind some of the most fun rap in a city that has no shortage of it right now." Eight months later, the life and career of Big Wan, one of the scene's most promising talents, was cut short. Big Wan — birth name Dawan Turner — was shot and killed Friday morning, according to Milwaukee police. He was 19. Turner was fatally struck by shots fired into a home on the 3800 block of North 13th Street around 9:05 a.m. Friday, according to Milwaukee police. Turner was staying there with his mother and grandmother, according to family friend Hilda Alayeto. Turner, who was in an upstairs bedroom at the time of the shooting, was pronounced dead at the scene, according to a Milwaukee County medical examiner's report. His death has been ruled a homicide by Milwaukee police. There are no known suspects at this time. "He liked to make people laugh and smile", said Alayeto, who has been best friends for 30 years with Turner's mother, Rosemary Gonzalez, and knew him his entire life, even planning his baby shower. "Dawan was very lovable. He's always the kid to hug you, to make sure you are OK. He was almost like a big teddy bear." As Gonzalez's only son (who was also sweetly "spoiled" by his grandmother, Milagros Rosa), Turner as a child charmed family and made plenty of friends with his wit, Alayeto said. "He was just a jokester who had a comeback and a joke for anything you say", Alayeto said. "He was quick on his feet. When you answer the phone, even if you just ask him what you're doing, it's a punchline." It didn't take long for Turner to take his sense of humor to the recording studio. Alayeto said he started recording his first hip-hop tracks when he was 11 or 12, initially mentored by local rapper Wonderbread Rie, before he fell in with a group of hip-hop-loving friends that included his future go-to producer, RichieWitDaHitz, and future manager Bagzz. To Bagzz (real name Will Norton), Turner's natural charisma, ambition and technical skills were reminiscent of rap legend The Notorious B.I.G. Even as a teen, Turner "was the type of young guy who could get in the grown people's club and perform and rock the whole club", Bagzz said. "Sometimes everything is so uptight when you're making music, and he would just come and loosen people up." "He was just so humble", Bagzz continued. "He just picked up on everything and he never disagreed. He listened. He was just focused on really making it." The single "Fast Lane Lifestyle", which came out in November 2019, was Big Wan's breakout track. His low-key swagger and distinct delivery — engagingly droll, with a slurred word sometimes playfully disrupting his sharp flow — drew listeners in to his witty wordplay. The music video for the song, directed by popular Milwaukee music video director TeeGlazedIt, has been viewed more than 400,000 times on YouTube. The song appeared on his debut mixtape, 2019's "Dog Slayers", with the 10-track "Dog Slayers 2" coming out last year. "Dog Slayers 3" will be released on Jan. 24 as planned, on what would have been Turner's 20th birthday, Bagzz said. Big Wan released other boastful, one-off singles the past two years accompanied by hit TeeGlazedIt-directed videos, including "8ight Blocks" (434,000 YouTube views), "Eggshell" (268,000 views) and "Kill" (115,000 views). When Pitchfork's Pierre took stock of Milwaukee's music scene for a column in March, Big Wan was one of five acts he highlighted to illustrate the rising hip-hop scene's strength, alongside more established Milwaukee rap stars like Lakeyah, Chicken P and Mari Boy Mula Mar. "He saw how people were listening to his music, and then he started doing small openings at clubs before other artists", said Alayeto, who for a time helped Turner field requests for features from other rappers around the Midwest. "He started seeing all the love that Milwaukee had for him and that motivated him." "You always want things to end differently", Alayeto continued. "He didn't grow up in the best of environments on the east side of Milwaukee.… But he wasn't a person who showed hate or anger. Because of it, he thought, 'I'm going to work hard to get me out of this.'" In February 2020, Turner was one of two dozen people charged by the U.S. Attorney's Office in Milwaukee for their alleged association with the Buffum Meinecke Boys, a drug-trafficking gang that reportedly operated in Milwaukee's Harambee neighborhood. Turner was charged with selling/distributing/dispensing a controlled substance. He pleaded guilty, and this past March, was sentenced to time served, plus three years of supervised release. He didn't shy away from the arrest in his music. A segment of a TV news report preceded the music video for "Eggshell", with Big Wan rapping, "They locked me up, but I never tell", and boasting "I'm on top/They can't stop me now." Turner's goal was to make it in the music industry, and he was on his way, Bagzz said, maintaining ownership of all of his songs and investing the royalties back into the music. "He was setting the tone to be a boss with your own music", Bagzz said. Following Turner's death, fans, collaborators and fellow musicians have paid tribute to Big Wan on social media. "Alright wan time to come out and tell everybody that u joking", young Milwaukee rapper Lil Trav, who recorded multiple songs with Wan, wrote on Instagram. Trav appeared on Wan's latest track, "Designer Drugs"; the video for the song was released the day of Wan's death. "Anybody that ever came across u was lucky to have you", Trav wrote. "I love you." "Gone too soon", Grammy-nominated, Milwaukee-born producer Bizness Boi wrote on Big Wan's Instagram page. "Rest up young king." Alayeto said the turnout for a balloon release in Turner's honor Sunday was so large that the family has decided to host a memorial service in a bigger venue than initially planned. Details are pending. "The outpouring of support… makes (his mother) feel better", Alayeto said. "It makes her know he was loved by people through his music that didn't know him personally. I think that helped her a lot." The investigation into Turner's death is ongoing. Anyone with any information is asked to contact Milwaukee Police at (414) 935-7360. If you wish to remain anonymous, you can contact Crime Stoppers at (414) 224-TIPS, or through the P3 Tips app.

Rising Milwaukee rapper Big Wan, 19, killed in shooting
nypost.com
a2b83827f1d90f2a5e4fe9677bdf544a
Yahya Abdul-Mateen II, the actor known for "Candyman" and the upcoming "The Matrix: Resurrections," has launched a new production company and has set a creative partnership with Netflix. Abdul-Mateen II's company will be called House Eleven10, named after his childhood house in which he grew up as the youngest of six siblings. His deal with Netflix will have him starring in and producing films via the new banner. House Eleven10 is being described as a home for different narrative universes where the actor's youth will live on and with a focus on stories of both the magic and humanity within those universes and extraordinary stories about ordinary people. And the projects will be made in the spirit of play and freedom for which he learned in that house. "I am so proud of the vision of House Eleven10 and couldn't be more excited about Netflix's shared passion for the ideas we'd like to put into the world. I want our films and shows to be soulful in their world-building and dynamic in their character. We want to employ a creative process that makes space for magic and humanity in various narrative universes, and across all genres. Lastly, House Eleven10 seeks to showcase the talent of traditionally underrepresented or overlooked communities within the industry by including diverse filmmakers, writers, and staff throughout our projects," Abdul-Mateen II said. "Yahya is an incredibly bright talent and we're privileged to have been there from the start with his career from 'The Get Down' to more recently 'The Trial of the Chicago 7.' We're excited to continue to collaborate creatively with him through House Eleven10," said Tendo Nagenda, Vice President of Original Film. Abdul-Mateen II's first career role came in Baz Luhrmann's "The Get Down" for Netflix, and he also appeared in "The Trial of the Chicago 7," "Black Mirror" and "First Match." Most recently he starred in "Candyman," and he'll next star in "The Matrix: Resurrections," Michael Bay's "Ambulance" and "Aquaman 2." He also recently exited the "Mad Max: Fury Road" prequel "Furiosa," and he has several projects for which he's an executive producer, including Dwayne Johnson's "Emergency Contact" and "Scent of Burnt Flowers" from Blitz Bazawule, the latter of which is also a House Eleven10 project. Abdul-Mateen II is represented by WME, M88 and Ziffren Brittenham.

Yahya Abdul-Mateen II Launches Production Company House Eleven10, Partners With Netflix
variety.com
37ec3fc71f5505a6210e3f9977828d14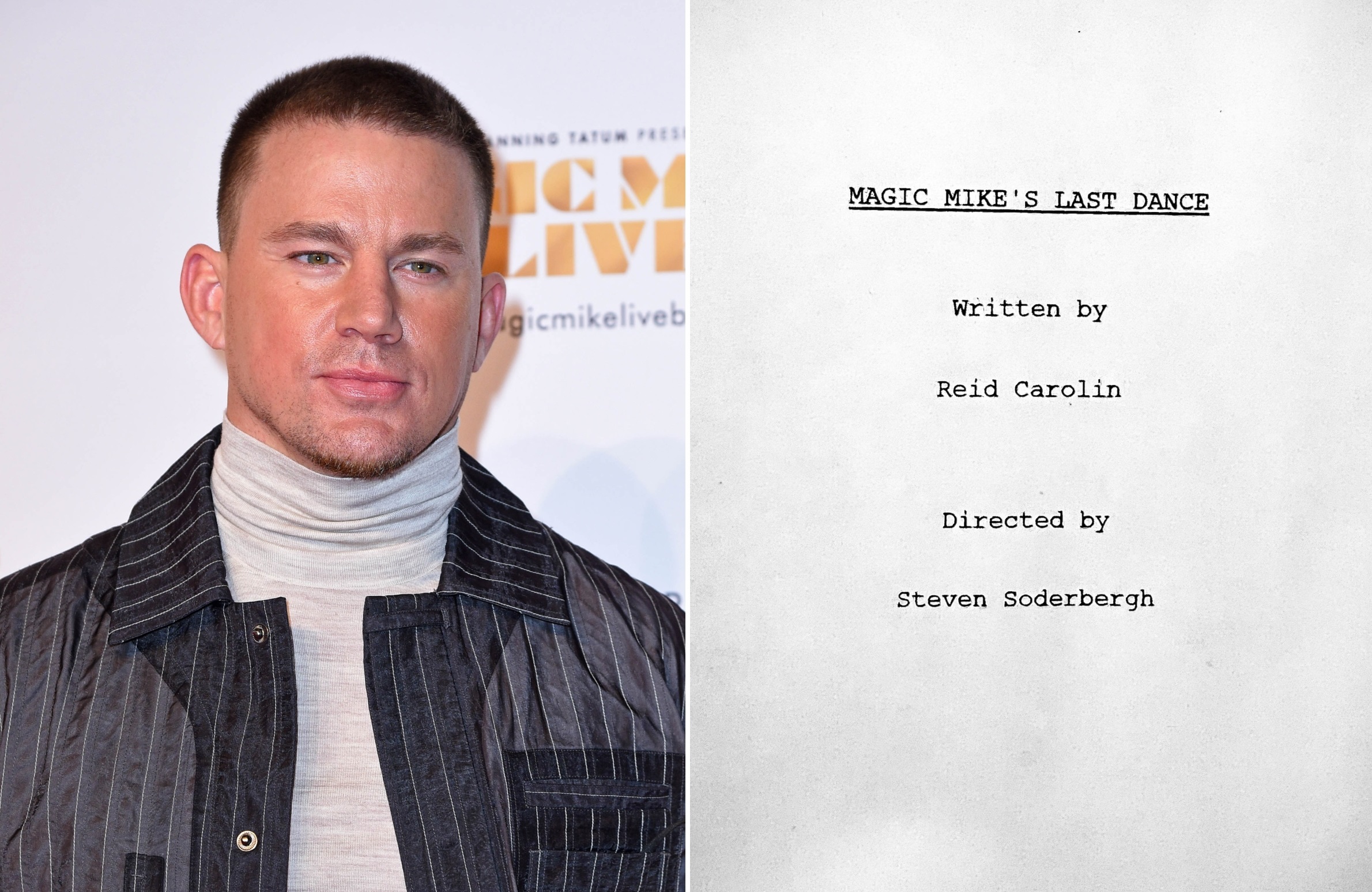 Magic Mike will ride again as a third movie in the series has been announced by Warner Bros. and by Channing Tatum himself. Channing Tatum also confirmed the title by sharing an image of the script on his social media channels. He wrote: "Well world, looks like Mike Lane's tapping back in." Soderbergh admitted that the live shows rejuvenated his interest in the franchise and inspired him to create another Magic Mike movie. ""As soon as I saw what Channing, Reid, and the 'Magic Mike' choreographic team did with the live show, I said we have to make another movie. Mike Lane's dream of connecting people through dance must be realized", Soderbergh said.

Channing Tatum returns to 'Magic Mike 3'
siasat.com
d41ef188781d2e3c5f9ff818d1fc9a46
An image shared on Facebook over 200 times purportedly shows an artifact discovered in Iraq by English archeologists in 1932. Verdict: False The picture is an altered version of one captured in Egypt in 1910, not Iraq in 1932. In the original, no such artifact is visible. The image shared on Facebook shows a black-and-white photo of what appears to be an archaeological excavation site where several men are standing around a large rectangular stone object inscribed with markings. "November 29, 1932, Iraq," reads the Nov. 28 post's caption. "A group of English archaeologists discovered a complex set of solid granite structures, with intriguing highlights and cuneiform language." (RELATED: No, British Parliament Didn't Ban Lipstick In 1770 For Fear It Had 'The Power To Seduce Men Into Marriage') However, the image does not depict a real historical event in Iraq. It was first shared on Instagram in May as a work of art by Italian artist Andrea Bonazzi, whose first initial and last name appear in the lower right corner of his Instagram post and the image shared on Facebook. Similar content can be seen on the artist's blog and Instagram account. Bonazzi explained in an email to Check Your Fact that he created the piece of artwork by photoshopping the rectangular stone object into a real historical photo. He said the stone object is actually a sculpture he created that can be found on his website. "Yes, this is one of my artworks, a Photoshop composition made with one of my own sculptures placed in a historical but modified background," said Bonazzi. "I make sculptures and illustrations largely based on Horror, Fantasy and Weird fiction, especially inspired by the works of H.P. Lovecraft." The original, unaltered historical photo was taken at the site of an ancient temple in Meroë, Egypt, in 1910, according to the Garstang Museum of Archaeology, and does not include the rectangular stone object. A version of the old picture can be found on the stock photo website Alamy. Other images from the 1910 excavation in Meroë, Egypt, can be found in a 2016 article from The Guardian.

FACT CHECK: Does This Picture Show An X-Ray Of A Toddler's Teeth?
checkyourfact.com
d39d080ac27859279817cfda7b4a531b
It's only night three of this year's Festival Of Lights, so Dave Grohl and Greg Kurstin are just getting into full swing with their now annual " Hanukkah Sessions " series. Last year, the pair wiled away time spent in lockdown by covering eight Jewish artists to correspond with the eight nights of Hanukkah, and they're repeating the tradition this year. Kicking off Sunday with Lisa Loeb's iconic "Stay," and following up yesterday with the full on punk of The Ramones' jumpy "Blitzkrieg Bop," tonight they've changed gears a bit, and are tackling Barry Manilow's classic "Copacabana." As you might expect, Grohl and Kurstin are more ready than ever to ham it up to the campy hit single, which is the kind of song that everyone loves to sing along to at a bar, and both donned sparkly suit jackets to pull the whole affair off. With plenty of bongos, cowbell, keyboard and drums, it's Dave, obviously, who takes on the signature role of Barry, while interstitial clips show him playing the drums, too. It's just more musical fun with these pair who can pull off covers most people dream of accomplishing with a little tinsel, a keyboard, and a drum kit. Watch above.

Cigar aficionados, rejoice. One of the industry's biggest champions, author Aaron Sigmond has recently launched SIGARWEAR, a collection of ready-to-wear and a scented candle with cigar smokers in mind. The author of Assouline's The Impossible Collection Of Cigars and Playboy: The Book of Cigars has created made-to-order shirts that have pockets large enough to hold plenty of cigars, and other design details that cigar connoisseurs will love, like a patent-pending "cigar shell" pocket. He speaks to us about the collection, its design, and craftsmanship today. Why did you decide to launch SIGARWEAR? Like so many recent entrepreneurial undertakings, SIGARWEAR started as a pandemic project — something that was dreamt up during quarantine. And truthfully, it wasn't my idea. It was my business partner and long-time tailor's, Max Girombelli, proprietor of Duca Sartoria New York, a custom made-to-measure atelier on Manhattan's Upper East Side. Or at least for what became the Core Collection was his idea. As a dedicated cigar smoker, I am always looking for a way to carry cigars on me, but in an unencumbered and discreet manner. Traditionally most cigar aficionados wear the classic Cuban guayabera—the large pockets can accommodate a bounty of cigars. However, the guayabera doesn't fall into my personal style preferences, nor Max's. We wanted something closer to a contemporary Italian camp collar shirt, but one with the ability to carry one's precious Havanas or Dominican cigars. Max designed a number of sample shirts, all with iterations of our now patent-pending and trademarked signature two-finger cigar shell™ pocket. The field jacket and vest, as well as trousers and Bermuda shorts with the three-finger cigar shell pocket followed. Wanting to build on the overall concept and was inspired by niche/boutique brands like Bape, Human Made, Supreme, and global brands, like Louis Vuitton, I thought it would be fun to do periodic, limited-edition, one-off collaborative drops of different personal and home accessories. The SIGARWEAR No. 11 candle was done with Brooklyn-based fragrance studio and handcrafted candlemaker Joya. The SIGARWEAR artist series ashtray No. 1 is by ceramicist Dean Roper. More limited drops are already in the pipeline. Is there really a need for clothing that incorporates cigars? The clastic guayabera is a Latin American (in Mexico, it is the "Mexican wedding shirt"), Caribbean (Cuban), South Florida, and Texas menswear staple, and has been since the mid-twentieth century. However, the basic design concept goes all the way back to the 18th century. By the late nineteenth century, according to, The Guayabera: A Shirts Story: "Archival records describe the guayabera as a shirt or jacket, which may have resembled the uniforms of Spanish and Cuban soldiers of the period. Unlike the contemporary guayabera, these military garments featured four pockets positioned along the hem." Today the four pockets are positioned with two at the waist/hem and two breast pockets, with the top pockets exceedingly suitable for cigars. A Shirts Story continues, "Other sources describe its use in the countryside by Cuban landowners and field workers." Regardless, typically, one of the breast pockets was reserved for cigars. The made-to-order SIGARWEAR Core Collection shirts in long and short sleeve, available in two fabrics and multiple colors, are a distinctive fusion of the Cuban guayabera and the Italian camp collar shirt. It's a natural menswear evolutionary step. As for the utility nature of the shirt, one needs a cigar shirt as much as one needs a dive watch that never gets wet, desk divers as they are called. How does the cigar shell pocket protect cigars? The signature two-finger and three-finger cigar shell pocket is a combination of a rather innovative textile engineering incorporated into a proprietary pocket design, combined with a removable hand-stitched soft Italian leather "shell" or case that works in conjunction with the pocket design to protect the wearers' cigars. The design is original to Max, and it works flawlessly. I have been wearing various SIGARWEAR samples for over a year, and it's an ideal system. I mean, it's not carbon fiber or Kevlar, but for normal use, it works perfectly and comes in two sizes. One accommodates more traditional-size cigars, the other bigger sizes favored by many cigar smokers these days. What inspired the design? Are there any historical elements related to cigar culture? SIGARWEAR Core Collection is Italian-made, three-season apparel — that will take one from spring through the end of autumn — designed with the discerning cigar enthusiast in mind. Each traditionally tailored core-collection garment is made to order and constructed from high-quality fabrics for today's casual and active lifestyle — all while maintaining a refined sartorial sensibility. The Core Collection is cut for a comfortable fit and perfectly suited for city, country, and travel dressing. Again, the initial inspiration for the shirts was the classic Guayabera, and Italian camp collar shirts, the field jackets and are essentially just that, with the addition of the cigar shell pocket, of course. Where is the collection produced? The Core Collection is handmade in Italy. The limited-edition home and personal accessories will be made wherever our respective partners are located. The candle was made in New York City, and the ashtrays are made in St Louis, Missouri. You have taken a unique, more personalized approach to distribution. Can you describe the experience and why you went this direction? Shopping online via an e-commerce site and via a social media link is massively impersonal. So, we decided to take the very opposite approach when it comes to the Core Collection. That being a far more personalized style than most digitally driven brands. Truthfully, while not identical, SIGARWEAR has decidedly based its customer service style — be it in person at a trunk show or the NYC atelier, or a completely virtual exchange — on Max's signature old-world, personal, hospitality-driven customer care approach that he has perfected over the years while tending to his custom made-to-measure patrons — the emphasis is decidedly on old-school service. So, while we exclusively promote SIGARWEAR on Instagram via the @sigcigar and @sigarwear feeds, the Core Collection experience only starts there. After that all exchanges are either via Zoom, email or in-person — a combination there of. For us Instagram is exclusively a marketing and promotions tool — a means to get the word out. It is far from the whole of the experience, as is the case with so many brands. When it comes to the accessories and other limited edition items, that is a traditional e-commerce experience, but not the Core Collection. What elements of craftsmanship are most important to you? The one element that I suppose is most important to me personally is a tad bit cliché, nonetheless, clichés exist for a reason, and that element is 'passion.' As for the rest, it's easy to say that the basis of my entire career and writings are founded on the great admiration of artisanal and traditional craftsmanship — irrespective if that craft is sartorial, millinery, hand-rolled cigars, craft distillates, hand-assembled and finished fine Swiss timepieces, hand-honed knives, and so on. As such, I couldn't narrow it all down to all-encompassing elements per se — everything is important. As the Mies van der Rohe attributed expression goes, "The devil is in the details." So, in short, everything matters. It really does, which is why passion is precious and paramount. What are the hidden components that are the most special or unique? Again, certain details that make one smile. A personal embroidered message or secret pocket in a garment. The very nature of bespoke, bench-made, made-to-measure, and made-to-order is the combination of artisanship and whimsy. Look at the Fabergé eggs — superlative, truly sublime craftsmanship, with an element of delight. Achieving the blending of crafts and fancy is what it's all about. If not, buy off the peg and be done with it. This interview has been lightly edited and condensed.

Currently shooting her upcoming Netflix series "Lidia," about Italy's first female lawyer, Lidia Poët, actor Matilda De Angelis was joined by her agent Gianni Chiffi for a masterclass at Torino Film Festival. "When we decided to open our agency in 2014, Matilda was the first person we met. She was about to begin her cinematic journey and if I hadn't met her, I wouldn't be here. That's the truth," said Chiffi, who co-founded Volver alongside Consuelo De Andreis. When receiving the David di Donatello award in 2021 for Netflix drama "Rose Island," De Angelis thanked both, calling them "her angels." Born in 1995 in Bologna, the actor made her international breakthrough in Susanne Bier's "The Undoing," alongside Nicole Kidman and Hugh Grant. "As agents, we are the ones driving the car and they are the passengers, but there comes the moment when you finally let them drive," said Chiffi, describing "The Undoing" as De Angelis' professional "epiphany." "A producer once told me: 'Luck is when talent meets opportunity,' " he added. De Angelis admitted that when she first moved to Rome, still a teenager, she was "pissed off at the world," fresh off auditions for her debut film "Italian Race," directed by Matteo Rovere. "I felt 'ripped away' from my life. A director comes along and says: 'You are the lead actress in my new movie.' But you have never studied acting, you don't expect it. I'm a slight perfectionist, which means I don't like to do things I'm not prepared to do. Besides, I was afraid. When I met Gianni, I was angry because I was scared. He understood I wasn't an actress; I was a human being, too." Encouraged to discuss the differences between shooting in Italy and abroad ("There is one: the budget. The more money you have, the more time you have. A scene that in an Italian production, even a big one, is shot in a day, in America is shot in three days. Everything else is the same," she observed), De Angelis also noted that, as an actor, it's good to keep some secrets. "Cinema builds imaginary worlds so that people can dream. I believe that the actor has the need to preserve their intimacy in order not to reveal all the tricks. But times have changed: the divide between what's private and public becomes increasingly vague. Some actors expose themselves more as this instrument of empathy, to raise awareness of the topics that are closest to them. I try to balance these two aspects." Despite her responsibilities, sometimes she still doesn't feel like a "grown-up," she said, admitting she recently decided to take up therapy. "At a certain point, I understood that I was much more cruel to myself than anyone else. First of all, you need to work on yourself. Also, the only judgment that counts is that of the people who love you. It's a hectic job and it doesn't leave you much time to think about yourself, about what you want. But when you remove your makeup, you look at yourself in the mirror and ask: 'Without all that, who am I really?,' " she said. "I don't know if I will be able to sustain this pace all my life. To be in front of the camera, do interviews, share a part of me with the people I don't even know. I have so many aspirations, so I can't tell if I will be an actress all my life." De Angelis, who started out as a singer, doesn't feel she has given up on her musical career just yet, despite having prioritized acting for the last couple of years. "In life, there are different phases and priorities. I haven't 'given up' anything for acting, it's a choice and I keep making my choices every day. I could also take a break and concentrate on music or sculpture, or hiking in the mountains," she said, noting it "takes a lot of madness" to endure in this industry. "Everyone who works with me on set is crazy; we all are. Am I willing to give up my entire life for the duration of this series? Yes, I am. For this movie? Yes. Am I willing to work 13 hours a day? Yes. Having started so young I have lost some things on the way and now I am trying to pick up the pieces. But I continue to make these choices, every day, precisely because I am crazy."

As 2021 comes to a close, Disney Plus is adding heaps of new titles for the holiday season. Subscribers can ring in the season with holiday programs including "Christmas… Again?!" on Dec. 3 and both "Home Alone 4" and "Home Alone: The Holiday Heist" on Dec. 17. The new titles follow the recently released "Home Sweet Home Alone," starring Rob Delaney, Ellie Kemper and Archie Yates. The animated Colombian family film "Encanto" will be available for free on Disney Plus starting Dec. 24. The heartwarming and magical film, which features original songs written by "Hamilton" creator Lin-Manuel Miranda, is currently playing in theaters and collected $40.3 million at the box office over the Thanksgiving holiday, beating Lady Gaga's "House of Gucci." The animated film "Ron's Gone Wrong," starring Jack Dylan Grazer and Zach Galifianakis, will hit Disney Plus on Dec. 15 after a deal between Disney and WarnerMedia carved up Fox's (now 20th Century Studios) film slate through 2022. The film follows a socially awkward middle-schooler named Barney (Grazer), who receives Ron (Zach Galifianakis), a malfunctioning, digitally connected device that's supposed to be his "best friend out of the box." A new, animated adaptation of "Diary of a Wimpy Kid," the "Ice Age" movies and more episodes of Marvels' "Hawkeye" continue to release throughout December, in addition to the new Star Wars series "The Book of Boba Fett" launching on Dec. 29. For more streaming suggestions, see what's new on Netflix here and get an overview of what to watch on all the streaming services here. See the full list of titles below: Dec. 3 "Christmas… Again?!" "Diary of a Wimpy Kid" "Disney Holiday Magic Quest" "Edward Scissorhands" "Ice Age" "Ice Age: Continental Drift" "Mickey & Minnie Wish Upon A Christmas" "Million Dollar Arm" "Mr. Popper's Penguins" "The Rescue" Dec. 8 "Hawkeye" (Ep 4) "Disney Insider" (Ep 112) "The Chicken Squad" (S1, 4 episodes) "Gabby Duran & The Unsittables" (S2, 11 episodes) "Life Below Zero: Northern Territories" (S1) "Muppet Babies" (S3, 4 episodes) "Spidey And His Amazing Friends" (S1, 4 episodes) "Welcome to Earth" "Wicked Tuna: Outer Banks (S8, 10 episodes) Dec. 15 "Hawkeye" (Ep 5) "Ron's Gone Wrong" "Disney's Magic Bake-Off" (S1, 4 episodes) "Foodtastic" (11 episodes) "Gigantosaurus" (S3) "Life Below Zero" (S17) "Science Of Stupid" (S8) Dec. 17 "Arendelle Castle Yule Log: Cut Paper Edition "Home Alone 4" "Home Alone: The Holiday Heist" Dec. 24 "Encanto" "King Tut In Color" "Lost Tombs Of The Pyramids"

As we enter the heart of the 2021 holiday season, many people (including myself) have been grappling with a roller coaster of emotional highs and lows. In my own case, I and my loved ones faced multiple personal and public health issues, in additional to miscellaneous world events. On the plus side, we were able to travel safely and enjoy a nice Thanksgiving gathering with friends and family. On the minus side, several of family members faced serious health scares over the past few weeks (which mostly turned out ok). Some of our older extended family are doing well, whereas others will face a challenging winter. The day after Thanksgiving, we all learned about the Omicron variant of Covid-19. And this past weekend, my beloved University of Michigan football team finally beat arch-rival Ohio State and now has a legitimate shot at the national championship. This past month has been full of ups-and-downs. In these turbulent times, I'd like to offer a few strategies to help cope with the emotional roller coaster. They might not all apply to everyone. But they might be helpful to some readers. 1) When COVID makes long-range planning difficult, savor the joys of the here-and-now. I have no idea how soon I will be able to again visit some of family members in other cities. So I tried to make the most of the time we had together and savor the experience. In-person time with loved ones is precious, and I plan to treat it as such. 2) Be nice to one another. All of us are carrying our own burdens and challenges — many of which might not be apparent to others. Conversely, others' challenges might not be immediately apparent to us. So be nice to one another. You don't know what difficulties others — friends, family, or strangers — are coping with. Go the extra mile to be benevolent to others. Leave a nice tip for the waiter at a restaurant. Smile at a passerby on the street. Call that family member you haven't spoken to in a while. Small acts of kindness might make more difference than your realize. 3) Don't give up hope. In times of uncertainty, it's easy to fill in the unknowns with one's worst case fears. Whenever I'm tempted to indulge in unjustified pessimism, I think of this bit of wisdom from Tolkien's Lord Of The Rings, uttered by Gandalf the wizard: "Despair is only for those who see the end beyond all doubt. We do not." So hang on to hope, and think of brighter days to come. I realize some of these thoughts may sound trite or silly. But if they help even a few folks better ride the emotional roller coaster of late 2021, then I'll be satisfied. Happy holidays, everyone!

She went from dances with wolves to twirling alongside ballerinas. Karina Chikitova, a real-life "Mowgli" girl who was discovered living wild in Siberia, is one step closer to becoming a professional ballerina after landing a spot at a prestigious dance academy in Russia. "This is the start of a new chapter in Karina's life," proud guardian Albina Cherepanova, 61, told East2West News of the tiny dancer, 11, who is now the newest member of Yakut Ballet School — the world's northernmost professional ballet school. The adoptive parent, who first inspired Chikitova to take up the art, added that this is the "next major step on her way to becoming a ballerina." This marks a major accomplishment for the former wild child, who made international headlines in 2014 after surviving for two weeks alone in the remote Olyokminsky district in southwestern Yakutia — one of the coldest regions on earth. The survival saga began after the then 4-year-old Chikitova wandered into the woods after her father, who claimed he had no idea she was trailing him. By the time her parents realized she was missing, the tyke was hopelessly lost. For the next 12 days, the tough tot was left to fend for herself in a forest teeming with wolves and bears, East2West News reported. She ate wild berries for sustenance, slept in a bed of tall grass, and clung to her dog, Naida, for warmth, as she waited to be rescued from her unforgiving surroundings. Naida eventually returned the village, giving the rescuers hope the courageous girl was still alive. When they finally found Chikitova, she was dehydrated, exhausted, and carpeted in mosquito bites and cuts from walking in the woods. After she returned home, a statue of the hardy tyke and her faithful pooch was erected in her in honor in Yakutsk. Chikitova has since become a global sensation, spawning a children's book based on her exploits and winning a Mini Miss beauty pageant in her region in 2018. A film about her life is also reportedly in the works. Now with her placement in Yakut's advanced ballet program, Chikitova is closer than ever to her goal of dancing at Russia's iconic Bolshoi Theatre. "I am very pleased Karina's hard work and dedication has paid off," gushed Cherepanova. She found Chikitova's achievement especially amazing as half the girl's in her class were cut from the internationally-renowned dance school. Of course, her adoptive daughter's not yet out of the woods (so to speak). According to Cherepanova, the plucky pupil will now have undergo years of "rigorous training and performances," and one-on-one coaching – all while completing her general education. If that wasn't arduous enough, her boarding school only has breaks in winter and summer, during which the devoted daughter visits her mother in the Olyokminsk district, some 350 miles away. Nonetheless, like with her Siberian survival saga, Chikitova is reportedly rising to the occasion. "She is wise beyond her years," said Cherepanova of the statuesque prodigy, who at almost 12-years-old, is also half a head or more taller than her classmates. Chikitova's surrogate mom says she'd like take the "dreamer" to Moscow when winter exams are over, so she can check out the Bolshoi Theatre and perhaps see a performance of "The Nutcracker." Despite her arduous childhood, Cherepanova says her pride and joy "has a wonderful personality" and is "very inquisitive, happy and down-to-earth."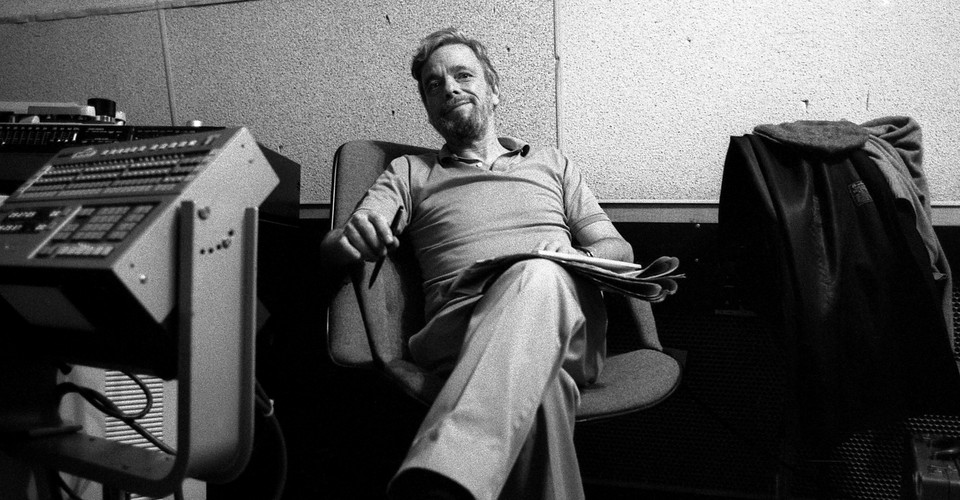 It was Madonna who first introduced me to Stephen Sondheim, which sounds infinitely more chic than what happened in reality: Someone gave a 7-year-old girl a cassette of I'm Breathless, the 1990 album Madonna recorded during her gauzy showgirl period, pegged to her role as Breathless Mahoney in the movie adaptation of Dick Tracy. At the time, Cats had been running on Broadway for eight years. I had recently furthered my own artistic evolution by playing the title role in our class production of Joseph and the Amazing Technicolor Dreamcoat. Musical theater in London was largely defined by plasticized melodies, Schönberg and Boublil, and soap-opera stars grinning out from West End billboards. But lurking within I'm Breathless —among dubious Carmen Miranda impersonations ("I'm Going Bananas") and odes to light S&M ("Hanky Panky") —were three works written by Sondheim. The film's director and star, Warren Beatty, had asked the composer and lyricist to contribute five original songs, three of which made it onto the album. They vary drastically in style. "More" is a jaunty anthem to avarice that's also a tricky retooling of lyrics cribbed from the Great American Songbook. "Sooner or Later" is a smoky ballad that expresses both Breathless's sexual fixation on Dick Tracy and Tracy's charged compulsion to lock up his criminal nemesis. "What Can You Lose?," a duet between Madonna and the frequent Sondheim collaborator Mandy Patinkin, is a torch song about bottling up unrequited love. All three works are, in their way, expressions of yearning, the profound emotional core of Sondheim's work. Given a relatively simple assignment— write some songs for a comic-book movie! —Sondheim delivered a puzzle disguised as pastiche, an Oscar-winning theme song that complicates the rigid masculinity of an American icon, and a heartbreakingly circular expedition through romantic hope, doubt, and repression that occupies a mere two minutes. With his songs for Dick Tracy, Sondheim, who died on Friday, did what he did throughout his career: engaged with a traditional discipline while simultaneously cracking it open from within. He was the modernist of musical theater, turning a comfortably staid genre into a knotty, disaffected, aching form of experimentation. He made the musical new. He brought a mathematician's mind to the business of lyricism, confronting each song as a conundrum of marrying emotional clarity with melodic emphasis and the structural limitations of rhyme. But, crucially, he also made art for outsiders, which is why his most devoted fans tend to be artists. Sondheim's work takes the typically unseen—aging women, married couples, bystanders—and forces them into the spotlight. Once you connect with Sondheim, you're his forever. No one else captured love as he did—not as a prize, or as an ending, but as something fleeting, hungered for, impenetrable, or even toxic. (One of my favorite songs of his is "Unworthy of Your Love," from Assassins, in which John Hinckley Jr. and Lynette "Squeaky" Fromme sing poignantly about their ardor for Jodie Foster and Charles Manson.) Starting with Saturday Night, his first professional musical, which he finished writing in 1954, Sondheim's characters were people on the margins with a fierce longing to be center stage. Their desires are profound, if not always straightforward. Before Sondheim, musical theater was largely defined by characters whose hearts were squarely and earnestly pinned on their sleeve: "Singin' in the Rain," "I'm in Love With a Wonderful Guy," "I Hate Men." What he introduced to the genre was simple but revolutionary: subtext. His peers weren't Lerner and Loewe so much as Pinter and Albee, iconoclasts intent on a more charged engagement with the modern condition. But musical theater, midway through the 20th century, wasn't a form characterized by innovation. Sondheim's work often perplexed and even irritated audiences, not to mention critics, who maligned his lack of "hummable" songs and—in the case of John Lahr —accused him of killing the exuberant, old-fashioned musical. It's not that Sondheim doesn't offer, in moments, pure musical catharsis—the soaring, emphatic crescendo of "Aren't they a gem?" or "the grass or the stick or the dog or the light." It's that, as Stephen Schiff wrote in a shrewd 1993 New Yorker profile, "Sondheim's accompaniments are sumptuous, but they don't allow a melody to plunk neatly into place; they don't allow it to resolve; they don't give it a home." His composed works are reticent: They tantalize but hold back total gratification. Sondheim long resisted the idea that any of his work offered a read into his own psyche, and elements of his own identity—his sexuality, his Jewishness—are defiantly absent from his art. His songs, he insisted to the writer and his longtime friend Frank Rich, are "nothing to do" with him and are rather fully realized outpourings of fictional characters. At the individual level, I'd say this is true (although Company 's confirmed bachelor, Bobby, seems to have distinct shades of a man who didn't enter a meaningful romantic relationship until his 60s). But as a whole, his work is shot through with a kind of detached but intense longing, the loneliness of one who knows love can't be trusted. This duality is hard not to tie to Sondheim's mother, an emotionally abusive woman who, he wrote, interspersed verbal beration of her son with inappropriately sexualized ploys to get his attention. Later in life, she wrote him a letter saying that giving birth to him was her life's one regret. When she died in 1992, Sondheim didn't go to her funeral. Sondheim's strikingly bitter childhood was sweetened by circumstance: His mother was friends with the wife of Oscar Hammerstein II, and the lyricist became his champion and mentor. Without Hammerstein, Sondheim writes in Finishing the Hat, he might never have become a songwriter. And yet, with a kind of Oedipal glee, he also uses the book to distance his work from that of a man who, he proclaims, "is not my idol." The truth, he writes, "is that in Hammerstein's shows, for all their revolutionary impact, the characters are not much more than collections of characteristics—verbal tics and quirks… Refining his innovations was left to my generation." Nevertheless, Hammerstein gave Sondheim a masterclass in both craft and work. Writing, Sondheim came to understand, wasn't about thunderbolts of inspiration but the careful honing of techniques in service of experimentation. Though he claimed that he never cooked, he read cookery columns with fanatical devotion, comparing the technical details of "timing, balance, form, surface versus substance" to the alchemy of songwriting. It was on Hammerstein's advice that Sondheim accepted his first major jobs as a precocious lyricist: 1957's West Side Story, with Leonard Bernstein and Arthur Laurents, and 1959's Gypsy, with Laurents and Jule Styne. With the former, Sondheim largely felt pigeonholed into Bernstein's lush, romantic vision for the show, but with Gypsy, he writes in Finishing the Hat, "I came of age—lyrically, at any rate." The characters (not least, one imagines, the monstrously narcissistic and self-deluded stage mother Rose) "were types familiar to me." And the narrative, he felt, had more dramatic weight and complexity than the products of Broadway's earlier eras. Yet Gypsy, for all its vibrant theatricality and old-fashioned grandeur, also has a decided sourness to it. That's not a critique—more an assessment of how the show acknowledges the hustle at the heart of the American dream, the innate ugliness of striving and manifesting a vision. A Funny Thing Happened on the Way to the Forum, the first show to feature both music and lyrics by Sondheim, was a hit in 1962 and scored six Tony Awards, including Best Musical. But it was 1970's Company that really outlined Sondheim's virtuosity and variation. Devised initially with the playwright George Furth as a series of loose vignettes on the subject of romantic relationships, Company was formed into a show by the addition of Bobby, a single man staring down 35 while his various "good and crazy" married friends urge him to settle down despite their own states of unhappiness. Sondheim initially had no sense that the show would seem so unsettling to audiences. The primary elements of musical theater—humor, cheerful melodies, "I Want" anthems—are all present. But coming after the end of the '60s, at the tail end of the Summer of Love, Company 's defining quality, its skepticism and ambivalence toward partnership, felt too cataclysmic for some. Musicals were supposed to ratify love as a guiding ideal, not disrupt it altogether. Lurking beneath the surface of Company is an idea that Bobby's ambivalence isn't his own—that the structures holding social and romantic relationships together are destabilizing in front of the audience's very eyes. "'Cold,'" Sondheim writes, "is an adjective that frequently crops up in complaint about the songs I've written, both individually and in bulk, and it all began with Company." The show, like most exceptional works of postmodernism, is suffused with irony and disenchantment with the tentpole narratives of Western culture. Broadway-goers more accustomed to romanticized stories of self-actualization may have balked, but the musical, as Schiff wrote, "felt grown-up," perhaps for the first time. It suggested a new model for what the form could do and be. Follies, a devoted eulogy for the bygone days of musical theater that confronts the absurdity of its characters' dreams in show business, was even darker and more neurotic. With every show that followed (a musical about the westernization of Japan, a musical about cannibalism, a musical about sacrificing your artistic integrity, which goes backward in time), Sondheim seemed to be testing every limit he could throw himself against. Not every show was a success—the majority weren't initially, although they came to be appreciated later—but each has its defenders and detractors. Sunday in the Park With George, a 1984 show about the painter Georges Seurat that processed some of his feelings of failure regarding 1981's Merrily We Roll Along, is one of my favorites for the sweep of its ambition and the sharpness of its yearning amid an acknowledgment that making art is inherently isolating. But Into the Woods, a 1986 pastiche of the fairy-tale musical, seems, to me, the capstone of Sondheim's career. It's not the greatest of his works, or the most blazingly innovative, or even the most fun. Rather, it feels like the culmination of so many things that defined his craft: the challenging of archaic story forms, the acknowledgment of life's arbitrary cruelties, the pairing of dissonant melodies with moments of striking musical purity. "Sometimes people leave you / Halfway through the wood," the Baker's Wife sings in the finale of Into the Woods. "Do not let it grieve you / No one leaves for good." If the moment feels oddly sentimental for a writer who's such a cockeyed realist, it's countered by Cinderella's version of the line in an earlier song: "Others may deceive you / You decide what's good." This essence of choice and ambiguity and convolution is what Sondheim gave to theater—the idea that there's infinitely more contained within the tragicomedy of human experience than can ever be set to music and sung on a stage.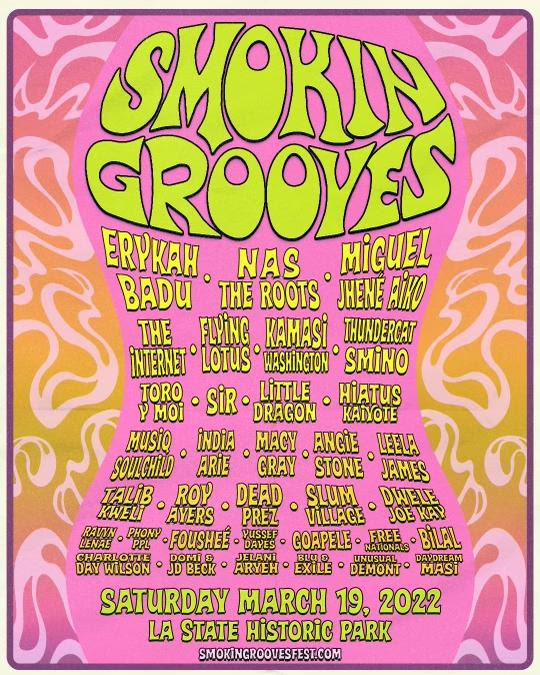 Ready for one of the best, most comprehensive hip-hop and soul music festival lineups ever? Formerly taking place at the Queen Mary Ship & Events Park in Long Beach, CA, Smokin Grooves Fest has moved to Downtown Los Angeles and the lineup is unreal. Going down on Saturday, March 19th at LA's State Historic Park, Smokin Grooves has Erykah Badu, Nas, and The Roots leading the way for it's flat out spectacular lineup. Miguel, Jhene Aiko, The Internet, Flying Lotus, and Kamasi Washington are also on the festival's top slates and also all happen to be from the Los Angeles area. But don't be fooled, this is much more than a regional fest and is on par with the biggest and best hip-hop culture festivals around the nation. The names on this bill from top to bottom are impressive. From the eclectic indie sounds of Toro y Moi, Little Dragon, and Hiatus Kaiyote, to a legend like composer and vibraphonist Roy Ayers, to the vital lyricism of Talib Kweli and millennial backpack hip-hop of Slum Village and Dead Prez. There's a stellar R&B slate with Macy Gray, India. Arie, Musiq Soulchild, and Angie Stone, plus sneaky awesome names on the rise at the bottom of the bill like Toronto's Charlotte Day Wilson and Chicago's Ravyn Lenae. Pre-sale ticketing sign-ups for this extravaganza go on sale this Friday 12/03 at 10 am PT. Any unsold tickets will be made available to the general public at 2 pm PT on the same day. Register/purchase tickets and check out the full lineup and info at https: //www.smokingroovesfestival.com/.

The last thing I wanted to sit through, one evening during my senior year in college, was something called "A Little Night Music." A friend had tickets to a local production of it and dragged me along. I was imagining that it was going to have something to do with setting Mozart's " Eine kleine Nachtmusik " to some kind of story. Little did I know that that evening was going to be, in a way, the beginning of the rest of my life. "A Little Night Music" turned out to be, of course, a musical by Stephen Sondheim, a musicalization of Ingmar Bergman's " Smiles of a Summer Night." Around the middle of the early number combining the songs "Now," "Soon" and "Later," I realized that I was hearing some of the most wonderful music of any kind I had ever heard. The harmonies were Ravelian, the lyrics were dense yet conversational and genuinely funny. "What in God's name is this?!" I kept thinking. I walked out on air. I get obsessed with things. After that, I wanted to hear more music by Sondheim and started collecting the requisite cast albums. Devotees I knew kept raving in particular about " Sweeney Todd," and I will never forget the cloudy afternoon in the summer of 1985 when I stretched out on a sofa, listened to it from beginning to end and arose feeling almost reborn. Then I wanted to know what the roots of this man's work were, what had inspired him. His " Follies " is a pastiche score in which many of the songs were intended to sound like ones by composers such as Cole Porter and Irving Berlin. This led me to want to know what their songs were like, and one thing led to another. I didn't grow up caring about musicals in any real way — I was steeped mainly in jazz and classical. But these cast recordings were a revelation to me. I had no idea what " My Fair Lady " was or why anybody would care about something called " No, No, Nanette." I soon found out: In a few years I had amassed hundreds of recordings (mostly on cassettes!) and had become a fan of musical theater. I stayed that way. But always, and forever, Sondheim has been my favorite. His work centers the genre for me — everything is either before or after him — and is one of my favorite things on Earth. His passing last week threw me quite a bit: He had been talking about a new work coming, and there was a possibility that I would have the opportunity to interview him myself for an audiobook series. Alas, that won't be in the cards. But Sondheim's work has threaded throughout my life since that night in 1984: The second musical my older daughter saw was a production of " A Funny Thing Happened on the Way to the Forum." She and my younger daughter argue in the car over whether we're going to listen to "Follies" or " Company." Way back, I (rather miscast) played the lead in a small production of " Merrily We Roll Along," and I have played piano for productions of "Funny Thing" and " Into the Woods." Somehow, Sondheim has never gone away for me. Part of the reason is that Sondheim's characters are often saturnine types like me. In "Sunday in the Park With George," the painter George Seurat sings of the difficulty in deriving ultimate pleasure from creation, as his lover seeks his company. Any writer can relate: "Look, I made a hat," he quietly declares, as if to say, "Here's why I couldn't be with you — isn't it worth it?" To me that might as well be, "Look, I wrote an essay." In "Follies," Ben in middle age rues the things in life he didn't get to, and now knows he never will in " The Road You Didn't Take." When I heard that song in my 20s, I just knew I was going to feel that way when I was Ben's age and dreaded it. Now, here I am, musing on exactly that sort of thing as I consider that in four years, I'll be 60. Then there's the architect Addison Mizner (yes, Sondheim wrote a musical about him and his brother) coming to realize, as he gathers a mess of objets from parts hither and yon, that he has found his métier at last. Only Sondheim, in " Addison's Trip," would write a song about a man finding what Aristotle called virtue. When I became a musicals addict in the '80s, I noticed that there was a type of 50-something fan who had never taken to Sondheim's music; they stopped roughly at "Fiddler on the Roof," "Mame" and "Pippin." I always vowed I would not become like them and would always be as open to the new stuff as to the old. But in truth, while they couldn't get to Sondheim, I'm not sure I have ever really gotten past him. I try my best, but I don't listen to "Hamilton" or "Hadestown" as much as I listen to "Follies" and "Sweeney Todd." I'm beginning to accept that and to stop feeling guilty or incurious about it. There's no place like home, and Sondheim's work has been one of my home bases for most of my life. I don't intend to die at all (that's a whole different conversation), but if by chance I do, I hope I can do that interview with him at last. Have feedback? Send a note to McWhorter-newsletter@nytimes. com. John McWhorter ( @JohnHMcWhorter) is an associate professor of linguistics at Columbia University. He hosts the podcast " Lexicon Valley " and is the author, most recently, of " Woke Racism: How a New Religion Has Betrayed Black America."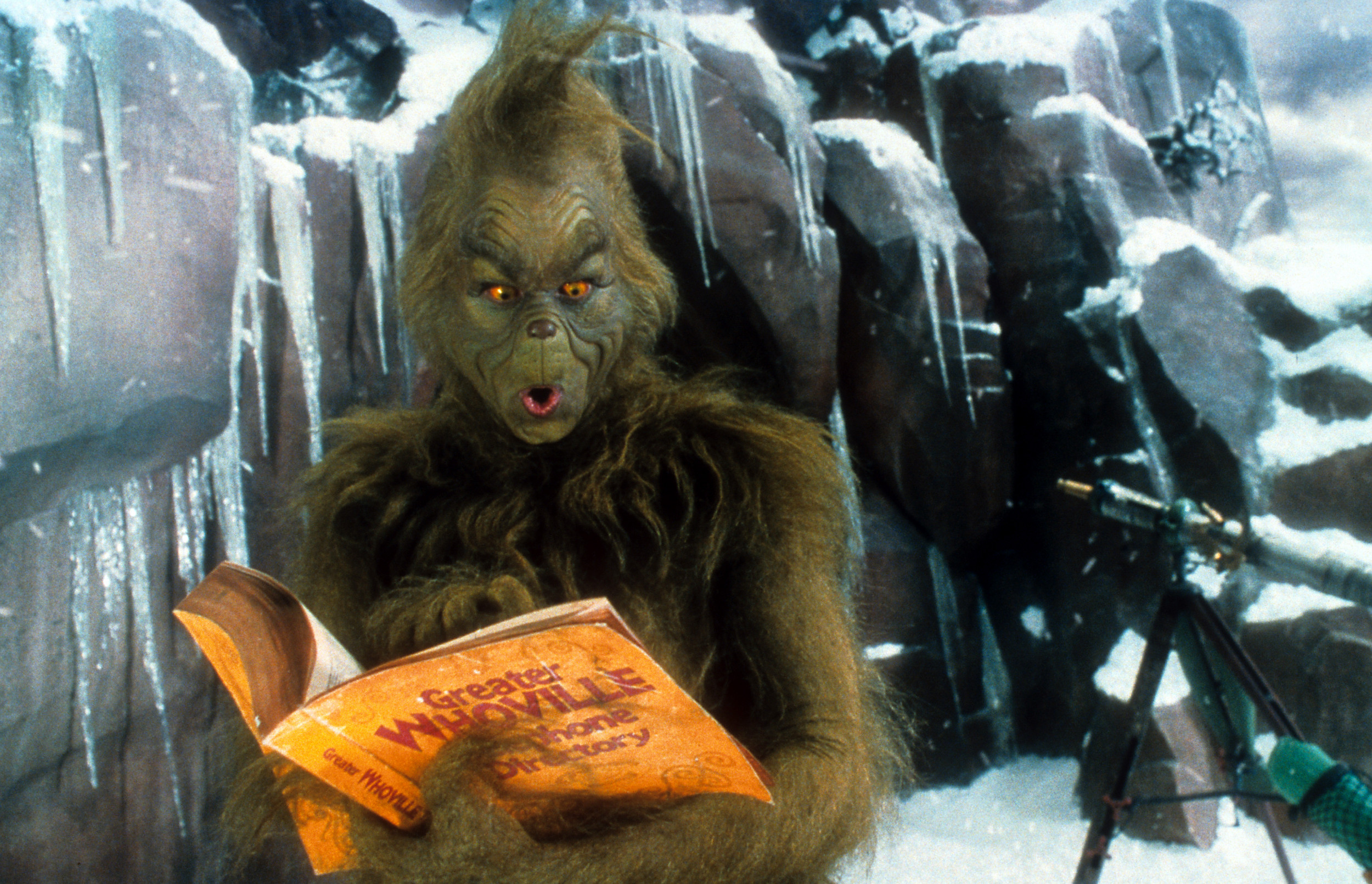 The internet is swooning over a Grinch actor from Universal Orlando Resort who complimented a woman's contour in a now-viral video. The video was posted to TikTok last week by Alessa Dufresne (@thatdisgirl), who wrote: "The Grinch was crabby, but liked my makeup." The post has since racked up more than 16 million views and over 4 million likes. Before complimenting Dufresne's contour, the TikToker and the Grinch actor shared a conversation that many commenters described as "flirty." "Your outfit's chic", Dufresne told the Grinch at the beginning of the video. The actor asked Dufresne to repeat herself, telling her that he thought she called his outfit "cheap." "[That] would be correct because I made this outfit myself", he said. "It's a DIY." The two talk about his outfit for a moment before Dufresne stops and says: "I just noticed one other thing, though." At this, the Grinch rolls his eyes. "We have the same lashes on", she said. The actor is forced to stifle a laugh, and asks: "Do we? Let me see, come here." He bends forward to get a closer look at Dufresne's lashes, but claims that hers are "fake." As she laughs, the actor adds: "But you're doing great work with the contour." The Grinch actor was out and about as part of Universal Orlando's "Grinchmas" celebration. Click Orlando reported that Seuss Landing—located in Islands of Adventure—has been transformed into Whoville as part of the holiday celebration. "The area will feature oversized candy canes, Christmas trees, wreaths and beautiful tinsel. Guests will also get to see the Whos spreading Christmas cheer around the land", said the station. Universal's website also stated that other holiday goings-on will include a holiday parade that will end with the lighting of an 80-foot Christmas tree, as well as a light display on Hogwarts castle. According to the theme park's website, the merriment will last until January 2. Commenters couldn't get enough of the actor, with many expressing that they'd developed a crush on him after watching the 32-second clip. "HELP WHY IS HE HOT", commented gianaxelena. "The 'Doooo we!?' we 100% out of character ya hear the voice change so cute", said Echo. "I'm so glad I opened the comments and [found] that I'm not the only one who found this weirdly attractive", wrote Monica Kim. However, viewers were stumped as to why they found the actor—who was dressed in a full Grinch costume—so attractive, so a couple of commenters offered their own explanations. Tweason reasoned: "Proof that people find someone's personality hot and don't care about looks. He's hot after breaking character cuz it sounded so genuine and cute." More than 73,000 TikTokers liked the comment in agreement. "To everyone wondering why they are attracted to him: it's the genuine confidence", added a.sliver.of.grey.

Theater fans will be seeing green next year when "Wicked" returns to Chicago for an extended fall engagement. The beloved Tony- and Grammy Award-winning musical will put down stakes at the Nederlander Theatre for an extended run, Sept 28-Dec. 4, 2022, it was announced Tuesday by Broadway in Chicago. "Wicked" changed the landscape of Chicago theater when it arrived for its initial six-week Chicago run in 2005 at the then Ford Center for the Performing Arts/Oriental Theatre. The production, due to unprecedented popular demand, would close four years later. The show, based on Gregory Maguire's 1995 novel "Wicked: The Life and Times of the Wicked Witch of the West," and featuring music and lyrics of Stephen Schwartz, a book by Winnie Holzman, and the megahits "Popular," "For Good" and "Defying Gravity," tells the story of the Land of Oz from the perspective of its two most fabulously witchy characters. Tickets are currently available for groups of 10 or more by calling Broadway In Chicago Group Sales at (312) 977-1710 or emailing GroupSales@BroadwayInChicago. com. Individual tickets will go on sale at a future date.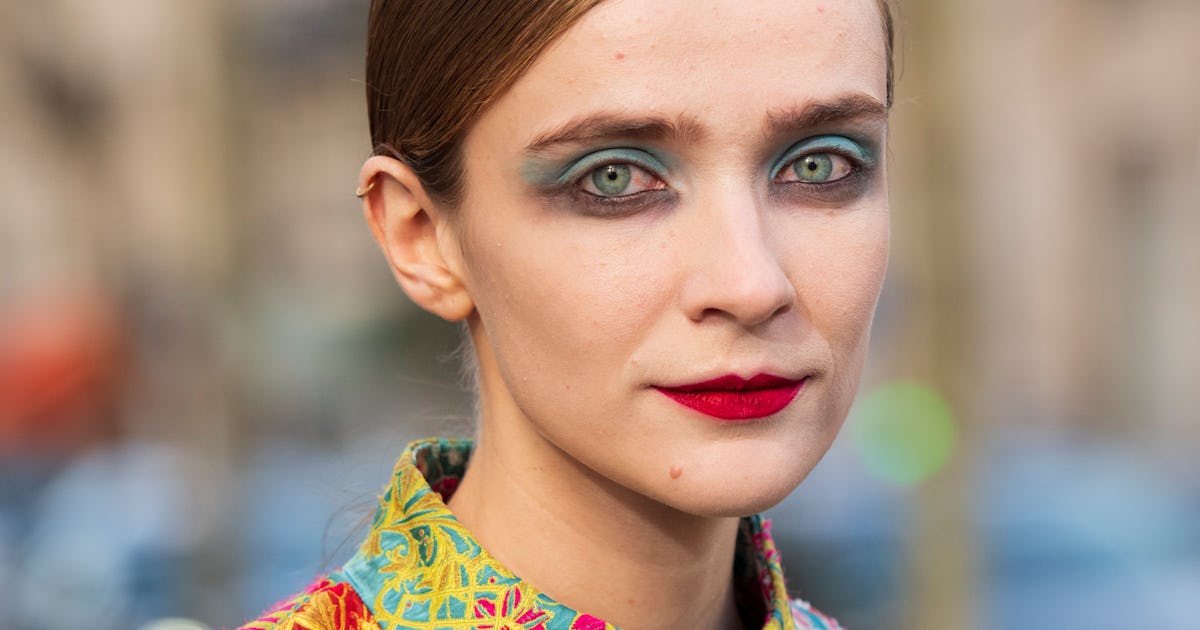 Get ready for eyes that absolutely pop. One of my absolute favorite things in the world is colorful eyeshadow. Just a dash of a vibrant shade on your eyelid can change your whole look, and you don't even need to break out millions of makeup tutorials to recreate a bright eye at home, on your own. All you need is some daring energy, at least one fun palette, and you're off to the races with tons of inspo for your next colorful eyeshadow look. I consider myself an expert in DIY colorful eyeshadow looks. While I love nothing more than layering on the colors, I've also refused to ever learn how to do a proper cut-crease look or anything else that requires actual skill. So, when I say these makeup styles are easy, I mean easy. Some of these can even be mastered without brushes and in five minutes or less. So if you're ready to test them out but feeling a little nervous, know there's nothing to fear in the least. There are many different kinds of colorful eyeshadow styles out there. You can go down a single shade route or try out a halo style, or if you're really feeling the rainbow fantasy, load up as many colors as possible. The limit does not exist when it comes to playful eyeshadow. So, grab your most exciting palette, set up your mirror, and try out these easy, eyeshadow looks. The simplest colorful eyeshadow style can be achieved, unsurprisingly, by using just one bright color on your eyelid. For this, I personally love to use reds or a highly pigmented pink because both colors will pop without you needing to do any more work. Just grab a makeup brush, powder it up, and you've got an eye-catching look. When it comes to lighter shades and pastels, they can more easily fade into your skin and not pack the punch you want. To combat that, all you have to do is smoke out your under-eye with a darker shade. It doesn't have to be cleanly done to look super cute. If you just want to dip your toes into the world of colorful eyeshadows, you can lightly apply the pigment of your choice to your under-eyes as well as the outer corner of your eye. This look works better with a soft touch, so be prepared to gently apply and possibly wipe some excess away from your lids. OK, you don't have to go down the Christmas route in order to achieve this look, but you can start playing with the rainbow by painting each eye a different color. (And, if you're headed to a holiday party, then Christmas-themed eyes might actually work.) For this, you should probably check out the color wheel and stick to contrasting or complementary colors. Think purples and greens or, if you're feeling daring, shades of blues and oranges. If you're feeling like you've got a good handle on using one color for each eye, then it's time to get a little bit more complicated with your look and break out your little makeup brushes. Once again, there's no need to be precise for this makeup to look good. In fact, the best part is that each of the colors should shine on its own, so you don't even need to blend this colorful eyeshadow look. To go down a glam route, you can try out halo style eyeshadow. All you need to do to accomplish this is to use your colorful shadow on the inner and outer corners of your eyes. Then, pat a shimmering shade into the middle and blend it out toward your eyebrow. Accentuate the look with mascara to really draw out the drama. Create your own little gradient by choosing a color you have in a few shades. Start with the lightest pigment you have on the inner corner of your eye work your way outward so that you're using the darkest on your outer corner. Once you've used all the colors, blend them together. If this isn't dramatic enough for you, you can very lightly add some black to the darkest eyeshadow to make it darker. You don't need to go to beauty school to master colorful eyeshadow, just try these looks instead.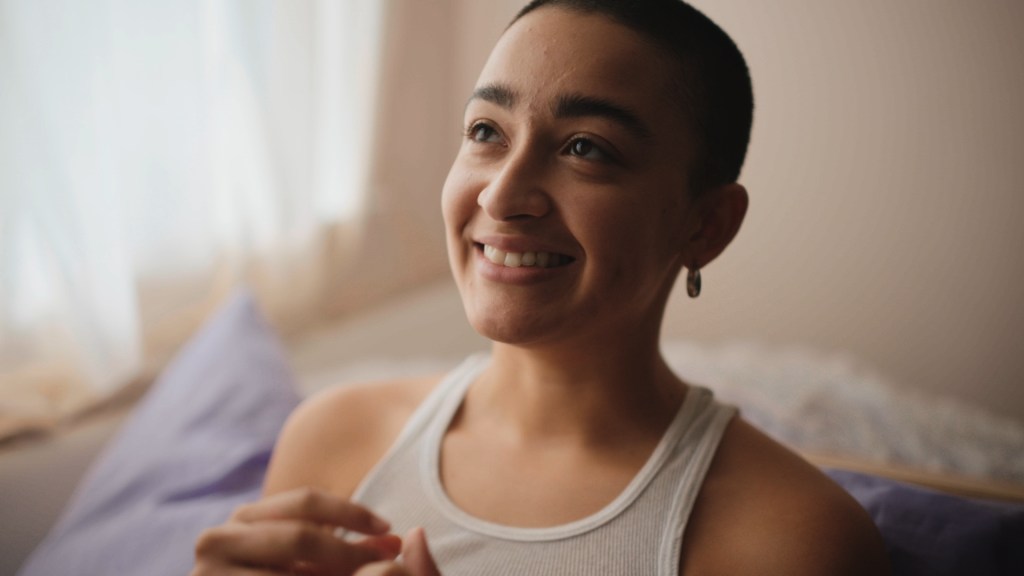 Shan has always dreamed of dancing since they were little, even when it wasn't possible for them. As someone diagnosed with the chronic pain disorder Fibromyalgia at a young age, Shan was told that they wouldn't be able to do much physically as they got older. But as they started to dance, Shan learned that with the help of determination and their community, nothing could hold them back. For Uproxx's New Normalists series presented by Instagram, Shan explains how their love for dance has helped them stay more in touch with themselves. Through mastering different choreography, Shan started to become more connected with their body and with what dance meant to their efforts to live with Fibromyalgia. "I feel so much and I feel so intensely and I think dance was the only thing that I could utilize to get that energy and anger and sadness out because it would have destroyed me otherwise quite honestly," they said. While they have to spend more time warming up before practicing a routine, Shan has come to understand that dance is more than simply moving your body — it's about "healing and bringing people together." Shan stays connected to the dance world through Instagram. By sharing their routines and connecting with other disabled dancers on the platform, Shan continues to stay inspired spread awareness about the importance of accessibility. "Accessibility is really important in discussing ableism in dance and how accessibility looks different for every single person," they said. "You don't have to be a professional dancer and go to crazy classes and do all these moves. Everyone functions differently and can bring different things to the table." Watch Shan share their passion for dance above and find more of Uproxx's New Normalists series here.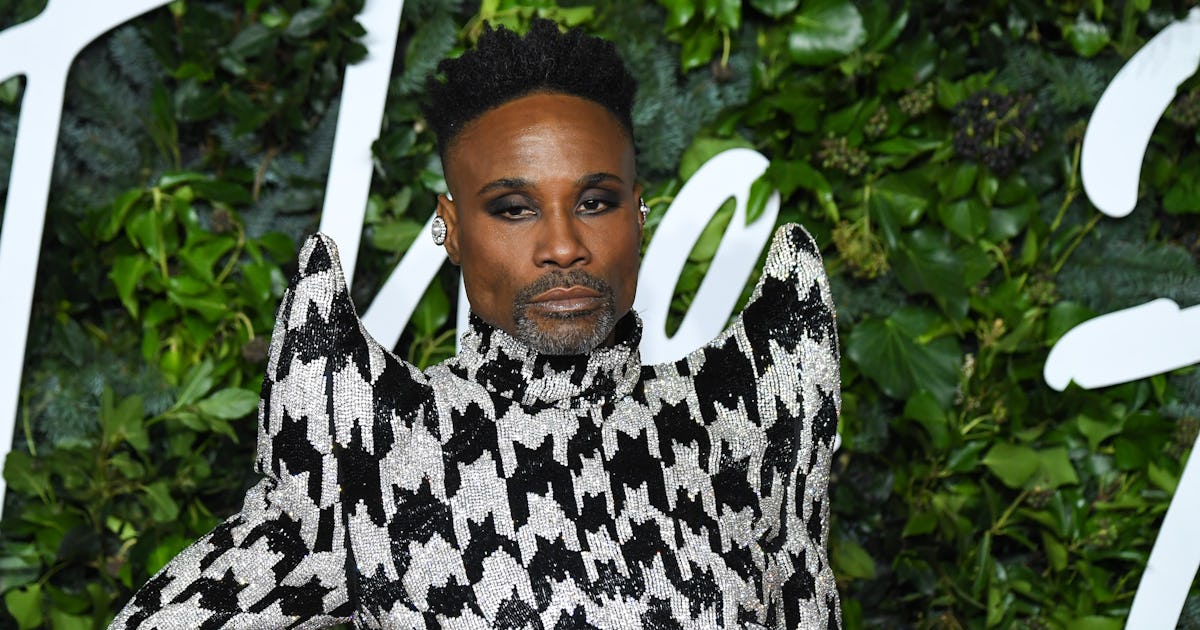 The British Fashion Council played host to London's Fashion Awards on Monday night, ensuring that the industry was fêted in the way that they deserved. From Billy Porter's ensemble entrance to Dua Lipa's choker, here are all the must-see moments from that stylish event.

You've likely heard Bobby Krlic's sound, even if you don't immediately recognize his name. It's unnerving, the music Krlic creates – a sonic mélange of oppressive bass and teeth-clenching drone metal that brews a heady mixture of dreamy hypnosis and sinister pandemonium. Krlic's melodies are the sort that belong in horror movies, building an audible sense of dread as main characters unwittingly confront death or the demonic… or Swedish cults. It's a good thing then that the musician, producer, and composer can count director Ari Aster as a fan. The pair connected on Aster's recent horror hit Midsommar, with Krlic crafting the movie's soundtrack and scoring some of the most unsettling images we've seen on film in a long time. But he didn't begin his career expecting to match wailing strings and orchestral wind instruments to stories about unlucky tourists. In fact, he can chart his love affair with music to his early childhood. Krlic remembers having a guitar in his hand by age six. His parents, both musicians, encouraged him to follow his artistic passions. He played in different bands in high school and, by the time he reached college, he knew that music was what he wanted to study and perfect. Even then, however, Krlic wasn't sure there'd be a space for his experimental sound. "I kind of imagined that the music I made was probably too strange," Krlic tells us. But that didn't stop him from pursuing it. In fact, it made him that much more determined to forge his own path in the industry, reaching out to production houses and eventually dropping his own album under the stage name The Haxan Cloak. "I've always had an attitude of, if somebody says no, I'll just keep trying until somebody eventually says yes," he explains. Eventually, people did start to say yes. A lot. Krlic has produced music for everyone from Troye Sivan to Khalid. In 2013, he got a call from famed film composer Atticus Ross to work on scoring a couple of movies, which led to work crafting the sound of popular TV shows like Snowpiercer and The Alienist. He's released more music under The Haxan Cloak, and his work with Aster on Midsommar has earned him plenty of acclaim – and an Ivor Novello award. To hear Krlic talk about his wholly original sound is to hear an artist testing his own limits. He often refers to music as simply "a conversation" and he sees his role as a composer in a very serviceable, almost utilitarian way. "I see music and art and culture as just this ongoing conversation, one that I would love to, in any small way, keep contributing to and keep pushing forward," Krlic says. "I try and concern myself with something that I want to see or hear, that I'm not seeing or hearing currently. That doesn't mean that it has to be this grandiose thing, it just means no one's doing that like I want to." He's built his own sonic style by staying true to his creative instincts, even if that means challenging the status quo and breaking some rules. Actually, when it comes to Krlic's music, it's about breaking all the rules. That, in part, is why being chosen as one of The Next 9 by Porsche seems to humble him so much. When asked what that kind of recognition means for his art, he's quiet, thoughtful, and intentional with an answer. "Being part of The Next 9, I think what we're really talking about is a shift of the culture," Krlic begins. "I think it's people who are not concerned with the here and now, they're just concerned with what's next and what hasn't been seen yet." Krlic's urge to create art that defies convention isn't about earning clout for himself as a musician and composer. Being noticed by a brand like Porsche is flattering of course, but his deeper desire is to inspire more artists to embrace the things that make them original and make their art meaningful. "You can be utterly true to yourself and you can still resonate with people," Krlic says. "I view music, art, film, culture, and fashion as a way of bringing people together and asking questions. That's what I hope I'm doing." For more on The Next 9 series, check out our hub page.

"The greatness of a man is not in how much wealth he acquires, but in his integrity and his ability to affect those around him positively." – Bob Marley Wealth without a rich heart is no less than a beggar. People often equate wealth with materialistic pleasure without realizing real wealth lies in sustainability. You can be rich with lots of money, but to be wealthy, you have to nourish great ideas that will be sustainable for a lifetime and also help other people along the way. Thankfully, 22-year-old millionaire Kiarash Hossainpour know on youtube under his stage name Kyle Hoss realized this early in life. He became financially independent at 18 with crypto and is now working to help others live the lifestyle they have always dreamt of. Kiarash started his career at the young age of 13, doing some coding for websites. It was then he was introduced to the world of cryptocurrency and Bitcoin. Initially, he was mesmerized by this decentralized monetary system that is creating millionaires across the world. As he started exploring the complex blockchain technology, he started gaining a complete insight into the system and found it extremely interesting. After a detailed study of the monetary system, he discovered the incredible possibilities it allowed him to create a new future for himself and his family. He started investing in crypto, and within a few years, he became financially independent, fulfilling all his dreams. This made him realize that so many people struggling like him can find financial freedom with crypto. It is just that people find it difficult to penetrate the industry because of a lack of knowledge or understanding of the technology. To spread his expert knowledge about this fascinating industry, Kiarash has dedicated his time completely to creating a YouTube channel under his stage name Kyle Hoss. He studies various crypto trends and shares them through his videos. He also reviews new entries to the crypto market and various crypto trends that create a buzz. Kiarash always tries to provide authentic and current news to people to help them make educated decisions regarding investment. His initiative has paid off, earning him over 50K followers on his channel. His endeavors to help people live the life of their dreams don't end here. Kiarash, along with his business partners, started a crypto fund in 2020. The sole purpose of the fund is to invest in new crypto trends and opportunities. The fund is managed by the team and involves only their capital. Through this investment venture, Kiarash broadens his perspective on profitable crypto values and shares them with people. Since the day Kiarash became a successful crypto trader and a financially independent entrepreneur, he knew happiness doesn't lie in wealth. It lies in helping people around you and supporting your family. He doesn't believe in chasing materialistic pleasure for the rest of his life. He buys luxury cars and eats at posh restaurants, but all that is never his goal in life. Kiarash Hossainpour wants to inspire others through his story of rag to riches. He doesn't want to just hit the milestone of being Germany's largest crypto-influencer, entrepreneur, and angel investor. He wants to add value to people's lives through his success and help them walk his footsteps to a fulfilling life.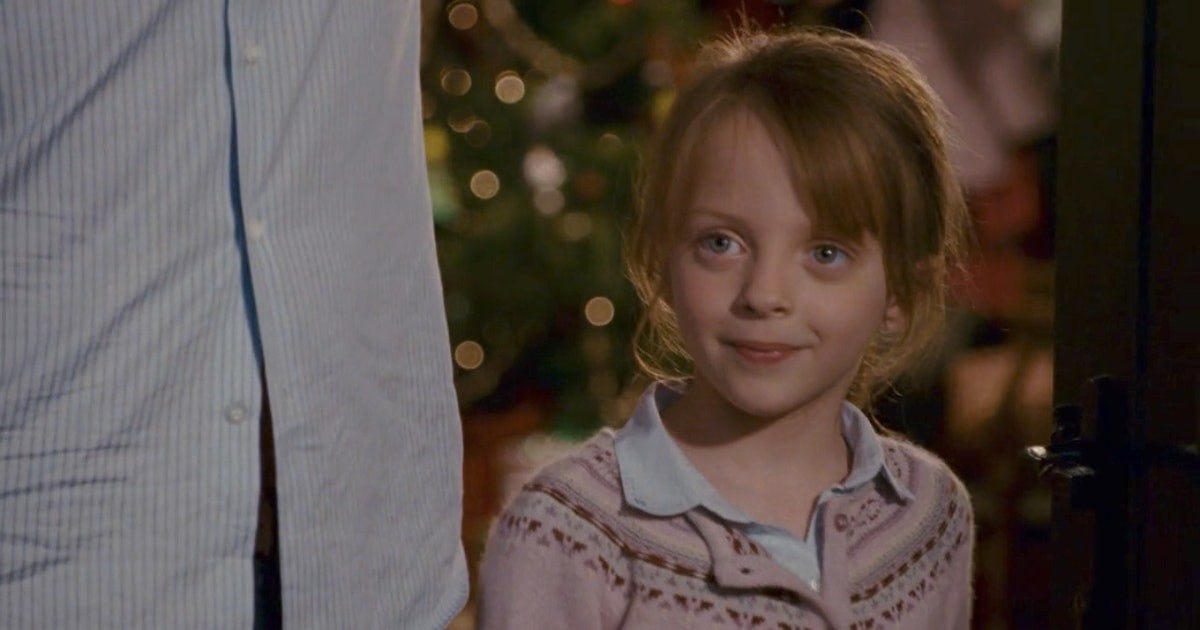 TV & Movies Miffy Englefield is all grown up. This time 15 years ago the world was treated to The Holiday, a festive staple starring Jude Law, Cameron Diaz, Kate Winslet, and Jack Black. Now streaming on Netflix, now's the perfect excuse to get all nostalgic over Christmas — especially when it comes to the film's youngest stars, who played Jude Law's on-screen children. But where are the daughters from The Holiday now? Miffy Englefield, who starred in the movie as Sophie when she was six-years-old, had a few telly roles after her film debut including The Whistleblowers and Casualty. Englefield stopped acting when she was in her early teens, however, as home life and looking after her siblings because her main responsibility. Explaining her on Instagram last year, she said, " It's not that I wouldn't love to act again. Trust me, that's all my heart wants in the world. Unfortunately my situation as a child from a working class, single parent family meant I couldn't continue." She added, "As an adult, I've found that casting directors aren't overly seeking people who 'look like me' to play roles, even though body modification isn't rare these days and is the most common it has eve been." Englefield, now 22, has had a drastic style change from the cute cardigans and bright red hair we saw in The Holiday. She now described herself as " Pint sized punk. Always overdressed. Mini skirt fanatic. Thrift queen." She occasionally performs gigs as a singer and guitarist and also runs an OnlyFans account under the name Barbie Punk. In April 2020, Englefield welcomed her daughter Frankie into the world. "She has the largest and most loving family with the most ridiculous mix of beautiful people around her," she captioned on a now-deleted Instagram post announcing Frankie's arrival. "We cannot wait for you all to meet her once the world begins to return to a more normal state." Englefield has very fond memories of her time on The Holiday set, despite not knowing who the big names were — apart from Black. Speaking to Fabulous magazine " My dad was really into alternative music and I liked [his band] Tenacious D," she told Fabulous magazine in 2020. "The first time I met him I bounded up to him and said, 'I love your music.' He was like, 'that is ridiculous, you are six years old!'" Once her daughter is older, Englefield will definitely show The Holiday to her. "If she wanted to be an actress I would support her," she told Fabulous. "And I know what people will say 'the little girl from The Holiday is a mum' — god, I must be really old." Although they haven't spoken since filming, Englefield became close with Law and Diaz while filming The Holiday. The actors even gave her and her co-star Emma Pritchard denim jackets with their names on after filming wrapped. " They made all this time for these two little kids running around," Englefield told the New York Times. As for Pritchard, who played Olivia, it seems like The Holiday has been her only acting credit. As Tyla notes, she seems to be keeping a low profile and doesn't have any social media accounts. You can stream The Holiday now on Netflix UK. This article was originally published on Dec. 7, 2020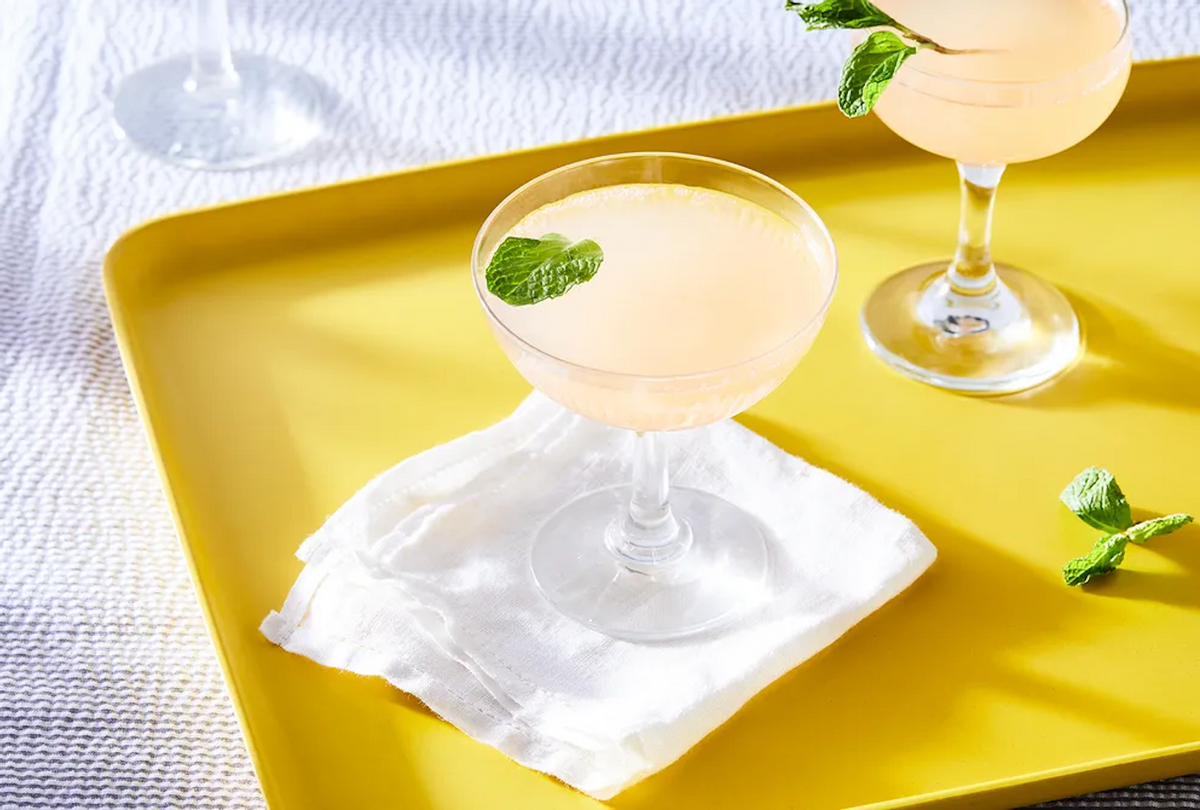 Gin cocktails can range from refreshing sips featuring mint leaves, tonic water, and lemon simple syrup to the bold and bitter, like a Negroni made with dry gin, dry vermouth, and Campari. In this roundup of 24 essential gin cocktail recipes, we'll start you off with the basics — a classic (and a frozen!) gin and tonic — before diving into the frothy, fizzy, and everything in between. Best gin cocktail recipes 1. Frozen Gin and Tonic Frozen cocktails aren't just reserved for margaritas. This big-batch classic cocktail is exactly what we want to drink poolside. Or on the balcony of a cruise ship. Or sprawled out on a big picnic blanket on a hot summer day. Or maybe tucked into a blanket on the couch, imagining those things. 2. Gin Fizz with Cointreau, Orange Juice, and Orange Flower Water Four kinds of orange flavor — Cointreau, fresh orange juice, orange flower water, and an orange twist — bring the flavor of Florida sunshine to this creamy cocktail inspired by the 19th century Ramos Gin Fizz. 3. Frozen Peach Lemonade with Gin "Sweet-tart lemonade and juicy, ripe peaches are summer classics, so why not combine the two for an ultra-refreshing cocktail? A quick honey syrup brings the sweetness, but you can dial the amount up or down depending on how sweet (or tart) you like your drinks", writes recipe developer Erin Alexander. 4. The Gin Hound This four-ingredient citrus cocktail pairs gin, lemon juice, freshly squeezed grapefruit juice, and vermouth. Our team likes using Hendricks for its subtle notes of refreshing cucumber, but choose your favorite. 5. Gin Martini With this recipe, you won't only learn how to make a gin martini. You'll learn how to make the best gin martini using the right ratio of gin to vermouth and the right temperature of alcohol. 6. Grapefruit Tarragon Gin and Tonic Tart grapefruit juice is a surprisingly good pairing for earthy tarragon in this delicious twist on a gin and tonic. 7. Gin Spritz It doesn't take much to make a spectacular spirit like gin even more special. In this case, a little bit of lime juice, fresh mint, sugar, and a splash of something bubbly go a long way. 8. The Fall 75 - Fall Champagne Cocktail From Halloween parties to harvest festivals to Thanksgiving, this festive fall cocktail made with vanilla berry syrup, blood orange juice, gin, and champagne is the ultimate way to celebrate. 9. Rhubarb and Rose Ramos Gin Fizz Gin and tonics are lovable and drinkable year-round, but the addition of rose water, rhubarb syrup, and equal parts lemon and lime juice bring this cocktail into spring territory. 10. Gin Rickey Is it bad to drink before noon? With a refreshing cocktail like this in hand, we don't see how anyone could wait until 5 o'clock. 11. The Written Word "A riff on the classic pre-Prohibition era cocktail, The Last Word, this drink seamlessly blends the citrusy flavors of the Cointreau (which replaces the traditional maraschino liqueur) and lime juice with the herbal notes from the gin and green Chartreuse", says our editors. 12. Bowie Knife Cocktail Combine equal parts gin and lemon juice, plus simple syrup, in a shaker with ice and then top with sparkling rosé. 13. Kiss the Ring (a riff on the French 75) As the name implies, this refreshing cocktail is a summery twist on the French 75. Pair gin with Cointreau, fresh-squeezed blood orange juice, and Prosecco for a celebratory cocktail. 14. Ramos Gin Fizz To make one of the world's classiest gin cocktails, combine gin, half-and-half, simple syrup, lemon juice, lime juice, orange blossom water, and egg white in a cocktail shaker. Shake as hard as you possibly can to get a very frothy, foamy consistency. 15. Cucumber-Fennel Fizz Cocktail "The cucumber is the standout flavor with a hint of fennel in the background. The lime juice and vinegar add a nicely sour edge. The fizz makes everything livelier", write our editors. 16. Italian Sparkler: A Gin Amaro Cocktail The more bitter the amaro, the better for this gin and prosecco cocktail. 17. Salty Dog Cocktail Rebecca Firkser developed this recipe for a staple gin cocktail. A salty dog is a greyhound (that's roughly one part vodka or gin to roughly four parts grapefruit juice, served in a rocks glass over ice) with a salted rim, she explains. 18. Blood Orange French 75 A classic French 75 is made with gin, lemon juice, simple syrup, and champagne. You can enjoy a nearly timeless version by using blood orange juice in place of lemon. 19. Southside "The Southside is a fantastic cocktail to exhibit the transformative power of mint. At its heart it's basically a fresh gin gimlet with some mint in the shaker", writes recipe developer Erik Lombardo. It dates back to the mid-19th century but has stayed relevant more than 150 years later. 20. Minty Orange Gimlet Think beyond lime juice for the perfect gin cocktail. Muddled mint leaves, sliced oranges, and, yes, lime juice perk up gin and a splash of seltzer. 21. Bowery Punch Our team assures every host or hostess out there that this gin cocktail recipe will appease drinkers who prefer something lighter and brighter, and those who crave something more robust. 22. French 52 Cocktail Preparing this aromatic wine syrup requires a little extra effort, but it's well worth it for this extra-special gin and Prosecco cocktail. 23. Tom Collins Timeless and always appealing, this four-ingredient cocktail tastes like a gin-kissed lemonade. 24. The Perfect Negroni Take a sip of the Italian countryside in the form of this simple, three-ingredient cocktail.

Enough talk about the senior stars headed to high-major programs. There are a whole bunch of impactful seniors who deserve more attention than they have received –– and they will likely receive it this season. Some may be breakout players in their final season of high school while some are stars in their own right already but might not be receiving the due they deserve. Here is a portrait of high school seniors who will be stars for their respective teams this season with way more attention coming their way. This is a Division I recruit headed to Cornell who put up significant numbers as a junior for a team that won. He's not exactly flying under any radars. But it's still a player who, nonetheless, is under-valued by most. While it's true that teammate Nick Martinelli receives a whole lot of attention –– and deservedly so –– Noard's presence and production helps form one of the top duos in the state. He averaged 18.1 points a game and shot 42 percent from the three-point line last season. The 6-1 guard is competitive and isn't afraid of the moment, which should pay big dividends in what could be a monumental season for Glenbrook South. The smooth point guard plays in a fun, stylish way with the pass and an improved perimeter shot. Yogi has been a household name in the Central Suburban League while closing in on 1,000 career points and being a part of a lot of wins in three varsity seasons. But now it's his team, his senior year and he's playing with an even higher level of confidence as a point guard who can control a game with his feel, vision, upgraded scoring potential and approach to the game. It's also time for more college coaches to take notice in a true point guard who handles pressure, makes others better and brings big-time academics to the table. The 6-3 guard is a different type of player. The defensive acumen and impact he provides at the lesser-talked-about end of the floor is where he hangs his hat on as a player. Jones is arguably the best defender you'll see as he's disruptive with tips, steals and is a heck of an on-the-ball defender. It's not as if Jones isn't impactful as an offensive player –– he led the Spartans in scoring last season and continues to make strides as an effective overall scorer. Despite being the Mid-Suburban League West Player of the Year last season, the 6-6 versatile perimeter player is relatively unknown outside the northwest suburbs. But having the returning POY in the league is always a good place to start. Grudzinski, who led the Broncos in scoring as a junior, can beat you in a number of ways. He's a threat from the three-point line, the skill to put it on the floor and get to the basket and length and size to impact defensively. Senior teammate Kolby Gilles signed with Air Force and junior Richard Barron garnered a whole bunch of Division I interest and offers this past offseason. But this 6-3 guard is a four-year varsity player and Mr. Reliable for one of the state's top teams. The overlooked Redd does a little of everything and is a numbers guy. He put up 11.7 points, 6.2 rebounds, 2.7 assists and over a steal a game last season as a junior. With another number-producing season, Redd has the chance to end up as the all-time leader in points, assists and steals in program history. An explosive scoring guard in the city who has the ability to take over a game. Last year he averaged 19 points and four assists a game. But in the Chicago Public League where the heavyweights and high-profile players tend to gobble up the headlines, it's often hard to get noticed. As a senior, however, for a team that has a chance to be dangerous over the course of a full season, Hall will have every opportunity to be noticed. We often don't notice the late-developing big man until the final stages of their high school career. It's time to take notice of the 6-8 Marlowe, who remains an intriguing prospect with his face-up shooting ability. But he also turned into a productive player a year ago as a junior after flashing so much promise and potential as a sophomore. Marlowe arrives as a three-year starting senior with a better package of experience, skill and potential to dominate than he's been given credit for up to this point. The numbers don't lie as he's coming off an abbreviated season where he averaged 14.7 points, 7.4 rebounds, 2.1 assists and almost two blocks a game while shooting 41 percent from the three-point line.

Looking for a reason to get out of the house this month? Take our pop quiz to see who's coming to the area's casinos in December. Q: This singer coming to Agua Caliente Resort Casino Spa Rancho Mirage shares his name with a German composer. Who is he? A: Engelbert Humperdinck the composer was best known for his opera "Hansel and Gretel." British pop star and balladeer Engelbert Humperdinck is best known for hits "The Last Waltz," "Release Me," and "After The Lovin." He brings his classic melodies to the Show at Agua Caliente Resort Casino Spa Rancho Mirage on Saturday, Dec. 4. 8 p.m. Saturday, Dec. 4, 32-250 Bob Hope Drive, Rancho Mirage. $45-$65. 800-514-3849, aguacalientecasinos. com Q: Which popular stand-up comedian also has a role in "The Mandalorian?" A: If you watch the Disney+ show, you'll see stand-up comedian, actor and podcaster Bill Burr portraying mercenary Migs Mayfield. Burr brings his comedy act to Harrah's Resort Southern California on Friday, Dec. 10. He released his most recent Netflix stand-up special, "Paper Tiger," in 2019. He's also made appearances in movies "The King Of Staten Island" and "The Guilty." 7:30 p.m. Friday, Dec. 10. 777 S. Resort Drive, Valley Center. Guests must be at least 18 years old. $79-$99. 800-745-3000, ticketmaster. com Q: Who is the iconic singer who roasted Tyler, the Creator for his fashion choices at the American Music Awards? (Hint: The burns were done on Twitter.) A: Grammy-winning singer and recent Twitter superstar Dionne Warwick will bring her holiday show to Fantasy Springs Resort Casino on Friday, Dec. 17. The show will consist of a mix of holiday songs and her own classics. Warwick's hits include "Walk on By," "Heartbreaker," "Do You Know the Way to San Jose," "I Say a Little Prayer" and "Don't Make Me Over." 8 p.m. Friday, Dec. 17, 84-245 Indio Springs Parkway, Indio. $39-$69. 800-827-2946, fantasyspringsresort. com Q: Which country star competed in the second season of "Celebrity Apprentice"? A: Clint Black made it to the top five of the season of the reality TV competition that Joan Rivers ultimately won. Black, known for hits such as "Killin' Time," "A Better Man," and "Like The Rain," will perform at Morongo Casino Resort and Spa on Saturday, Dec. 18. 9 p.m. Saturday, Dec. 18, 49500 Seminole Drive, Cabazon. $59-$79, plus fees. 951-755-5186, ticketmaster. com But those aren't the only events happening at the area's casinos in December. If you enjoy variety shows, here are two others to put on your calendar: Circovia 2.0: This cirque-style show combines dancing, motorcyclists, acrobats and daredevils from around the world. It will have two performances at the Show at Agua Caliente Casino Spa Rancho Mirage. 8 p.m. Friday, Dec. 10 and Saturday, Dec. 11. 32-250 Bob Hope Drive, Rancho Mirage. $45-$80. 800-514-3849, aguacalientecasinos. com Paris By Night 132: The highly popular Vietnamese variety show, which includes musical performances, sketch comedy, and plays, returns to Pechanga Resort Casino Dec. 11 and 12. Tickets for Saturday, Dec. 11, are already sold out, but tickets for Sunday's show are still available. 8 p.m. Sunday, Dec. 12. 45000 Pechanga Parkway, Temecula. $85-$500. 714-894-5811, pechanga.com

The American director Robert Wilson has one of the most recognizable styles in modern theater. Honed over decades, his starkly drawn tableaus of abstract lines and shapes, lit with minute precision, have adorned Shakespeare plays and Philip Glass operas alike. And Wilson, who turned 80 in October, isn't about to depart from that formula. Last week, as the Paris Opera put the finishing touches on his production of Puccini's "Turandot," which premiered at the Teatro Real in 2018 and opens here with a preview for young audiences on Wednesday, Wilson zeroed in on the minuscule imperfections, nudging performers centimeters closer to their marks. A misshapen reflection of the moon on the stage brought rehearsal to a stop. As the lighting team scrambled to fix the spot, he turned to them and asked, "Where is it?" "Some of his shows have 2,000 light cues, so you have to be very organized," John Torres, a lighting designer who has worked with Wilson for a decade, said during a rehearsal break. "It's a little bit of a puzzle." Wilson has 184 stage productions to his name, along with many revivals, and neither age nor the pandemic have slowed him down. "I forget that I'm 80, because I'm fortunate that I'm still working," he said in an interview at the Opéra Bastille. "I'm booked for the next two years, solid." In Paris alone this fall, Wilson has brought four shows to stages around town. In addition to "Turandot," his " Jungle Book," a 2019 musical inspired by Rudyard Kipling, brought stilted animals to the Théâtre du Châtelet. He also reunited with the choreographer Lucinda Childs, with whom he staged Glass's landmark "Einstein on the Beach" in 1976: As part of the Paris Autumn Festival, they presented a new creation (" Bach 6 Solo ") and a revival (" I Was Sitting on My Patio This Guy Appeared I Thought I Was Hallucinating," from 1977). While Europe has long celebrated Wilson as one of the most important directors of the past century, he has been less of a prophet at home. His boundary-pushing artistic statements — " Deafman Glance," a hit in France in 1971, was seven hours long and wordless — never secured him regular commissions in the United States, even though Wilson has had what he calls his own arts "laboratory," the Watermill Center on Long Island, which will celebrate its 30th anniversary next year. Speaking about his busy Paris season, Wilson said that he probably won't have as many productions in New York "until I die." His longstanding disdain for naturalism hasn't helped. "What are they thinking about, in these dramas in New York?" he asked. "They have all this psychology. Does it have to be that complicated?" In lieu of psychology, Wilson's work is driven by image and sound, and was shaped by early encounters with forward-looking choreographers. After a difficult youth as the gay son of a conservative family in Texas, where he initially studied business administration, Wilson moved to New York in 1963 and discovered the work of Merce Cunningham and, especially, George Balanchine, whose large repertoire of plotless ballets have Wilson's favor. (Nonetheless, he admitted to liking Balanchine's ever-popular "Nutcracker" staging, a fixture of the holiday season at New York City Ballet and elsewhere.) "That changed my life," Wilson said. "I thought that if theater could be like that, if opera could be like that, then I was interested." Wilson approaches theater and opera in the same way. Even when he works with straightforward plays, as in his production of Shakespeare's " The Tempest " that opened in October in Sofia, Bulgaria, sentences tend to be distorted in artificial ways. "His take on text is almost strictly musical," said the French performer Yuming Hey, who plays Mowgli in "Jungle Book." In an email, Childs, the choreographer, said that "rhythm and timing are his foremost concerns" and that Wilson's vision "hasn't changed" much in the five decades she has known him. In fact, Wilson's aesthetic has been singularly consistent, down to details like the white makeup performers wear and their stylized hand gestures. To his critics, this sameness glosses over the differences between the works he stages. To Wilson, it's just a way of acknowledging that a stage is "unlike any other space in the world," as he told the cast of "Turandot," and to craft visuals that help the audience "hear better than with their eyes closed." "To see someone try to act natural onstage seems so artificial," he said in an interview later. "If you accept it as being something artificial, in the long run, it seems more natural, for me." Hey said that during preparations for "Jungle Book," the first step for him was to learn what he called "Wilson's grammar," which is often taught by assistant stagers. In auditions, he was given exercises with directions such as "stand still, like a sun, and shine while keeping the position and staying focused." Somewhat paradoxically, Wilson's work has consistently been described as avant-garde as other aesthetic trends have come and gone. "It's a very interesting word, because for me, avant-garde means to rediscover the classics," Wilson said. "All my works are based on classical patterns." Work, for Wilson and his team, starts at 7 a.m. and often extends late into the evening. "It's just what he does, so he kind of expects everyone to do the same," said Julian Mommert, who was Wilson's assistant for two years and now works as international relations and tour manager for the choreographer Dimitris Papaioannou. Mommert remembered Wilson as "very open and funny and warm," but ultimately left in 2014, because of exhaustion. Wilson's only break each year is a one-week trip to Bali around Christmas. "I go to a very modest hotel," he said. "I've been going there for 30-something years, and no one knows who I am. I like the people; I like the food." Wilson didn't even take a substantial break during the pandemic. In 2020, he spent several months in Berlin, at the Akademie der Künste. "I had a beautiful studio and I made lots of drawings," he said. How did he fare away from the stage? "Of course one is upset, but working is like breathing. I just kept on breathing." Still, the forced pause had "a tremendous impact" on his production machine, Wilson said. Performances were canceled, along with the Watermill Center's 2020 summer festival and gala — which, he said, typically brings in "as much as 2 or 2.4 million" dollars. For summer 2021, because of travel restrictions, he did not invite his usual international roster of guests and residents but more local artists instead, for a weeklong festival organization with the artist Carrie Mae Weems. "Work for me is not really work; it's a way of living," Wilson said. "I'm still the same person I was when I first started working in the theater." And at the Paris Opera, behind his single-minded focus and solemn demeanor, a hint of playfulness occasionally resurfaced with the cast of "Turandot." Wilson described the opera as "a fairy tale, another world," in which the Chinese princess Turandot, who initially refuses to marry, "is having fun being evil." His minimalist aesthetic steers clear of orientalism, although the comic trio of ministers, renamed Jim, Bob and Bill when the production was performed by the Canadian Opera Company in 2019, are here restored as Ping, Pang and Pong. "The reason we make theater is to have fun," Wilson told the singers. "You can't take this work too seriously."

Listen to the full conversation on our podcast "Beyond the Fame." Their neoclassical new-age style changed the face of holiday music as we know it. On Saturday, Mannheim Steamroller comes to Strathmore in North Bethesda, Maryland. "We put a star on this date on our calendars that this is a highlight show for us," drummer Tom Sharpe told WTOP. "When we walk into that theater, it is just breathtaking, so it's a real special treat for us to be coming back to Strathmore. It's wonderful. We have at least one new member that we've already been telling, 'You're not going to believe this place.'" The band will perform its breakthrough album "Christmas" (1984) from start to finish. "We have 'Deck the Halls' on there, 'God Rest Ye Merry Gentlemen' — of course 'Silent Night' is on there.… When you think back to the first time you heard that work, it was revolutionary." What about it musically made it so groundbreaking at the time? Sharpe said it's about founder Chip Davis' background and influences, particularly "the unique instrumentation between the synthesized parts and all the orchestral instrumentation." Davis' background is as a classical bassoonist "I believe that was his university training," Davis said. "So he's bringing in all sorts of different unique styles and genres.… Before this, it was Bing Crosby and Elvis." Their second album, "A Fresh Aire Christmas" (1988), included the hit "Carol of the Bells," which no doubt inspired future renditions by Trans-Siberian Orchestra and John Williams. "As the drummer, that's a very challenging piece for me," Sharpe said. "It's high-energy; there's a lot going on, so to play a piece like that is a highlight in the show. I actually look forward to playing all of the pieces, whether they're the high-energy or more introspective pieces.… How did that piece sound before Chip did it?" You may even hear cuts from Davis' Grammy-winning "Fresh Aire" albums, which started coming out in 1975. "Chip has eight albums that are called 'Fresh Aire'," Sharpe said. "When you look at his catalog, it's really mind-boggling to see the amount of material that he has. There was a good nine- or 10-year period before the Christmas music came out that these 'Fresh Aire' albums… were doing extremely well. It didn't come out of nowhere in 1984." Today, Davis has retired from the road, but he supports the tour from afar. "We do video presentations, so he'll say hi in that way," Sharpe said. There are six members in the touring band, surrounded by an orchestra. "To see it in action is really quite something," Sharpe said. "There's not a one of us that's just playing one instrument. We all have multiple things to do, switching back and forth between traditional and electronic instruments." Sharpe joined the group in 2008, and says new generations keep discovering Mannheim. "It's parents bringing their kids and now their kids bringing their kids, so it really has transcended," Sharpe said. "It's timeless music. It's going to go on forever, because it's that good." Listen to the full conversation in our podcast "Beyond the Fame."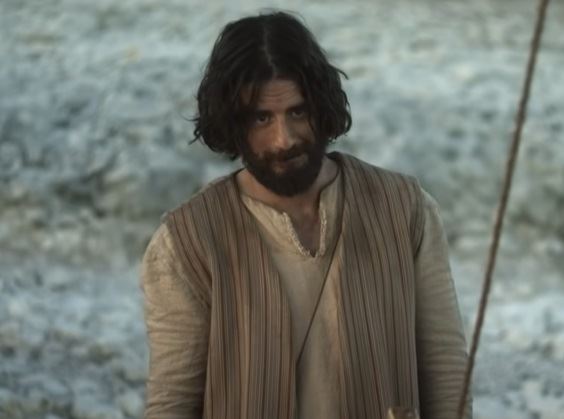 (Newser) – Like any Hollywood-esque production depicting Jesus' Sermon on the Mount, The Chosen needed plenty of extras for the scene. The twist here: In this case, the extras actually paid for the privilege, with most shelling out at least $1,000 each. Welcome to the unusual—and successful—production model of the Christian streaming series. As John Jurgensen writes at the Wall Street Journal, The Chosen is "financed completely by its audience." The most common way people watch it is via the show's free app—viewers are encouraged to donate by clicking on a "Pay It Forward" button—and it's not exactly a shoestring operation. Season Three is about to start shooting, with a budget of $18 million. Prior to The Chosen, the previous record for a crowdfunded entertainment project was the $6 million raised for a season of Mystery Science Theater 3000. The first 16 episodes have been viewed more than 300 million times, perhaps because this isn't exactly a traditional religious show. Biblical characters, including Jesus, are humanized as never before. The apostle Matthew, for example, is on the autism spectrum. All this "has inspired fan discussion, debate, and squabbling on a level more typical of the Marvel or Star Wars series", writes Jurgensen. "Except that for 'Chosen' fans, the dynamic is fueled by religious faith." The series is the brainchild of filmmaker Dallas Jenkins, who had a short and not-too-successful career in Hollywood before he gave it up and began making films for his Illinois church. One caught the attention of online video service Angel Studios, and Jenkins now has a successful franchise on his hands. Read the full story, which notes that a Chosen Christmas special will be in theaters starting Wednesday. (Read more Longform stories.)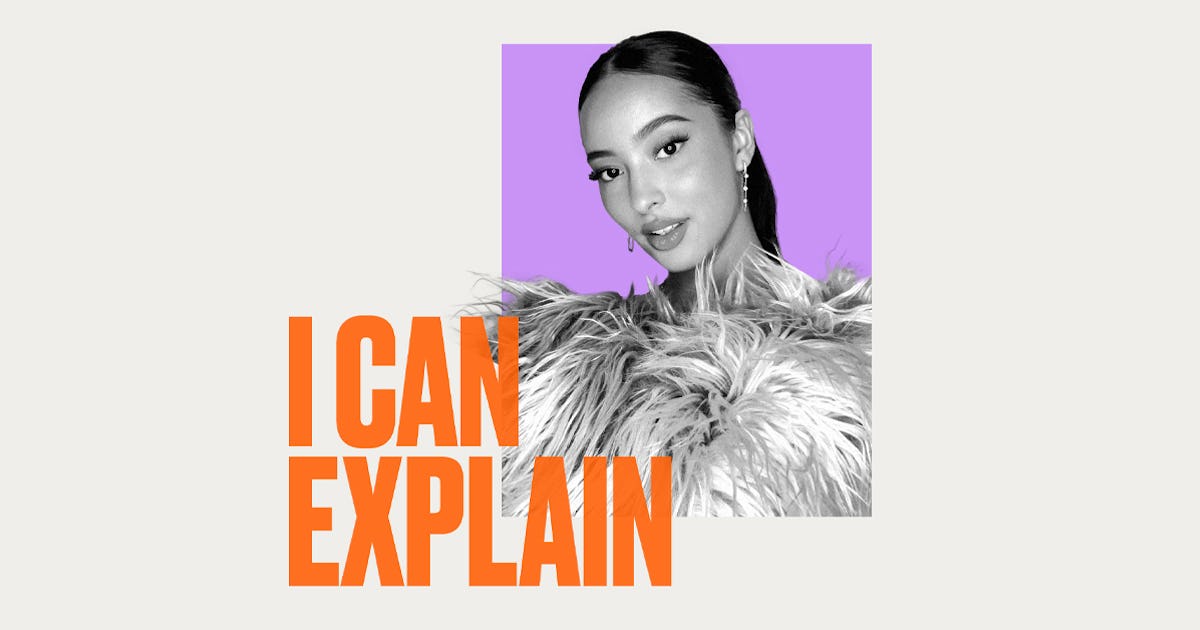 "Music really does bring people together." In Elite Daily's I Can Explain… series, we're asking celebrities to revisit their most memorable photos and tell us what really went down behind the scenes. In this piece, we chat with Moroccan-Canadian singer-songwriter Faouzia about making music with authenticity. Faouzia's latest single speaks volumes about her artistry. In a world where pop stars are often controlled by major labels and industry execs, she's taking matters into her own hands when defining her sound. How so? The Moroccan-Canadian singer-songwriter refuses to play into pre-conceived notions of what pop music should sound like, meaning she won't deliver cookie-cutter, bubble gum tunes anytime soon. The budding singer prides herself on making music that is both infectious and impactful, just like her October 2021 single, "Puppet," which contains empowering lyrics within every verse. At 21, she's already had some impressive career highlights, including a collab with John Legend ("Minefields") and an accompanying performance on The Today Show. With "Puppet," she has an important story to tell about self-love. "I wanted to create something that had depth to it," she tells Elite Daily. "I always want to have depth to my music, and I just think that it's so cool when you can unpack a song and just keep listening and finding different layers to it." In the chorus, Faouzia sings, "You tried to pull me under / said I was too much / you're just not enough." The lyric is an emblem of her strength and the vulnerability she puts forth in her music. Oh, and she's also dropped versions of "Puppet" in Arabic and French, showcasing her worldly point of view. "It's very important to me for the lyrics to have a deeper meaning and to have a strong message behind them," she says. "Growing up, I would pay attention to lyrics, almost more than the melodies and almost more than the production. I loved writing. And I loved reading stories." Fauzoia is not only an open book in her music, but she also prides herself on being transparent with her TikTok fans — all 2.6 million of them. For her, social media is special for its ability to bring strangers together. "Everyone at the end of the day is human," she says. "And when you show your vulnerability, and when you show your true colors, and start talking about your own stories. that's why people will connect to it. I think that's why it might resonate with others as well. Music really does bring people together." Up next, Faouzia says she's looking forward to releasing a full-length project, one that'll be reflective of her roots. Below, she shares the backstory behind three of her most memorable photos from her musical journey so far. This interview has been edited and condensed for clarity. Elite Daily: Where was this photo taken and where did you get the hat from? Faouzia: I was performing at a private event in Egypt and this was after I had performed and I was kind of winding down. I got to go with my parents, which was very special. They accompanied me throughout the trip. It was a very short trip, but it was still very fun. My dad actually brought the traditional Moroccan hat that you saw in that photo — it's called the tarboosh. And just to be funny, I put it on, and I took a picture, but I ended up really liking it. I wanted to kind of touch on my roots in an Instagram post and have photos with it. ED: You've made several nods to your Moroccan roots in your work. Why is that important for you to do? Faouzia: I feel like my Moroccan roots are so ingrained in me that I couldn't — even if I wanted to, which I definitely don't — I couldn't escape my roots if I tried. I grew up speaking Arabic, listening to Arabic music and just eating Moroccan food, wearing Moroccan traditional dresses, kaftans, everything. So I am super, super Moroccan, even though I grew up in Canada, and I just think it's such a beautiful culture. I think there's just so much more for me to discover and to learn even as an adult. That's something that I really want to do in the future as well. ED: How did your parents incorporate your Moroccan heritage into your upbringing? Faouzia: They spoke to us fully in Arabic. And just our mannerisms are very Moroccan, too. You know, like my sisters and I are super Moroccan. It's just very evident. ED: Your hair looks amazing in this BTS shot from your "Puppet" cover art shoot. Did you work with a hairstylist to achieve this look? Faouzia: I worked with a hairstylist; His name is Josh and he is absolutely incredible. He brings hairstyles to life and he creates iconic looks with his clients. With this specific look, he just had this vision of creating these bubble-like pigtails, and he put a wire in them so that he could manipulate how they sat. That's why they were kind of, like, swooped up. He worked super hard and he's just so creative. He doesn't see hair just as hair; He also sees it as a way to, like, express yourself and his art. ED: In "Puppet," you sing about someone trying to "dim your light," and this IG caption references being told you're "too much." What message do you have to anyone with haters? Faouzia: Well, just like the line says. you're just not enough. I feel like if you're trying to bring someone down and if you're trying to like, just break them, if they're just, like, living their life, living their best life, they're being confident, they're being expressive, and you're trying to bring them down? I think that says a lot more about you than the person that's just trying to do their best and live their best life. If anyone's ever trying to dim your flame, I think you should take it as a challenge and shine even brighter. ED: How would you define your style? How much has it changed since embarking on a music career? Faouzia: I feel like my style has always been the same in essence, but it's been evolving. I just think it's becoming a lot more refined over the years as I understand myself more and as I understand my sound more, because I think my fashion is a reflection of my music. I feel like I'm entering this very powerful and dark and mysterious world with my music, and my fashion is becoming that as well. It's very bold, it's very confident. I've been trying to be a little bit out of the box as well. There's also the side of me that likes to be very casual and very comfortable. So, I'll try to be extra but also wear something that's very cozy. ED: This was on the set of your "Minefields" music video with John Legend. Where was it shot and why did you choose that location? Faouzia: It was in California, but it was kind of like middle of nowhere California. And we decided to shoot in two different places. One was on the water, but it was with a different look, and then this one was in a field. It was just very, very dreamy. Like you said, it just feels like a place that you've seen before. Everyone kind of feels that nostalgia when they see that type of environment. It reminded me of my childhood. When I was there, I felt like I was in a Disney movie, and the the dress itself feels like a Disney princess gown. It was really cool because when the video came out, lots of people made comments on the dress and it was actually a topic of conversation. Lots of people thought it was very polarizing. Some people were like, "I've never seen something like that. What is that?" ED: Did you get hot while filming in that big dress? Faouzia: It actually wasn't. I remember that we got lucky with the temperature. I remember though, that I was getting a lot of like, sharp terrain that was poking through my boots. I was like, "Just keeping smiling, just keep singing." ED: "Minefields" features John Legend, of course. What about him made you want to collab? Faouzia: John Legend. He was just like a wish list type of name that we wrote down. I didn't really expect anything from it, it was just kind of like, "It would be amazing, it would be such a dream to have him on the song." When we got news he was going to be on the track, it was just super mind-blowing. It didn't feel real. John Legend just has that type of voice that's very classic, it's timeless, and I feel like "Minefields" has that type of vibe, too. It's a ballad. It's very much about love in any way that you can relate to it. It was just such an honor to be able to perform and sing with him on this song. Faouzia's new single, "Puppet," is out now.

"48 Hours" is the one to watch Saturday nights at 10/9c on CBS. SATURDAY, NOVEMBER 27 | 10:01/9:01c A Promise to Ahmaud: When Ahmaud Arbery was chased by three White men and shot in the street, his mother laid him to rest promising to get him justice. The promise is fulfilled when the men are found guilty. CBS News correspondent Omar Villafranca reports. DVR ALERT: Please note the show started one minute late at 10:01/9:01c PROGRAM NOTE:: Our previously scheduled show, "What Happened to The Perfect Child", will air on Saturday, December 4 at 10/9c. SATURDAY, NOVEMBER 20 | 10/9c : When a woman uploads her DNA to a genealogy website, authorities show up at her door. Is there a double murderer in her family tree? "48 Hours" correspondent Erin Moriarty reports SATURDAY, NOVEMBER 13 | 10/9c : An undelivered engagement ring leads to murder. "48 Hours" correspondent Peter Van Sant reports. SATURDAY, NOVEMBER 6 | 10/9c : A 15-year-old girl beaten to death with a golf club in a wealthy Connecticut neighborhood. Does her diary hold clues to the killer? SATURDAY, OCTOBER 30 | 10/9c : Five deaths with a connection to one family. "48 Hours" contributor Nikki Battiste investigates SATURDAY, OCTOBER 23 | 10/9c Club owners open up for the first time after deadly fire kills 100. "48 Hours" contributor Jim Axelrod reports. SATURDAY, OCTOBER 16 | 10/9c :The "voice" of 11-year-old Linda O'Keefe goes viral in the search for her killer. CBS News correspondent Tracy Smith reports. SATURDAY, OCTOBER 9: "48 Hours" did not air due to college football on CBS. SATURDAY, OCTOBER 2 | 10/9c : Socialite Jasmine Hartin admits killing a top police official in Belize. For the first time she tells her detailed story of what happened to "48 Hours." Correspondent Peter Van Sant reports. SATURDAY, SEPTEMBER 25 | 10/9c : "48 Hours" goes inside the disappearance of Gabby Petito and the hunt for Brian Laundrie. CBS News national correspondent Jericka Duncan reports. SEASON PREMIERE| SATURDAY, SEPTEMBER 18| 10/9c : How did images of a 17 year old girl's murder go viral? CBS News national correspondent Jericka Duncan reports. SATURDAY, SEPTEMBER 11 | 10/9c : A judge's son is gunned down by a man delivering a package. 2,800 miles away, an eerily similar crime - this time the target is a lawyer. Who is behind the killings? "48 Hours" contributor Tracy Smith reports. SPECIAL NIGHT| WEDNESDAY, SEPTEMBER 8| 10/9c : ALL NEW: A former ballerina shoots her husband. Did she kill to save herself or was it out of spite? "48 Hours" contributor Jim Axelrod reports. DOUBLE FEATURE| SATURDAY, SEPTEMBER 4| 10/9c : A former beauty queen vanishes. One man said he had answers. Why didn't anyone listen?. "48 Hours" correspondent Peter Van Sant reports. DOUBLE FEATURE| SATURDAY, SEPTEMBER 4| 9/8c : A man dies from a gunshot wound – his friends say they discovered him. Police rule out foul play, but his family says there are troubling clues. "48 Hours" correspondent Peter Van Sant reports. SPECIAL NIGHT| WEDNESDAY, SEPTEMBER 1| 10/9c : ALL NEW: The Daybell children claim their father was framed for the murders of JJ and Tylee. CBS New correspondent Jonathan Vigliotti reports SATURDAY, AUGUST 28 | 10/9c : College student Aniah Blanchard had a deep fear of being kidnapped. When she disappears, UFC fighter Walt Harris battles for justice for his stepdaughter. CBS News special correspondent James Brown reports. SPECIAL NIGHT| WEDNESDAY, AUGUST 25| 10/9c : ALL NEW: An anonymous letter writer threatens to expose a town's rumored secrets. Is anyone safe? "48 Hours" correspondent Erin Moriarty reports. SATURDAY, AUGUST 21 | 10/9c : A little girl grows up wondering who murdered her mother. Decades later, prosecutors learn a secret that answers the question."48 Hours" correspondent Maureen Maher reports. SATURDAY, AUGUST 14 | 10/9c : After a chance encounter at a bar a college student is murdered. Was it because she resembled the killer's ex? CBS News' Jim Axelrod reports. DOUBLE FEATURE| SATURDAY, AUGUST 7| 10/9c : Did a love triangle lead to murder? After his fiancée is found dead, a man researches time travel to "correct a horrible mistake." CBS News correspondent Tracy Smith reports. DOUBLE FEATURE| SATURDAY, AUGUST 7| 9/8c : Michelle Martinko fought for her life in a parking lot. Her attacker was left bleeding - creating the evidence that solved the case. CBS News correspondent Jamie Yuccas reports. DOUBLE FEATURE| SATURDAY, JULY 31| 10/9c : Did a love triangle lead to murder? After his fiancée is found dead, a man researches time travel to "correct a horrible mistake." CBS News correspondent Tracy Smith reports. DOUBLE FEATURE| SATURDAY, JULY 31| 9/8c : Did Lizzie Borden really hack her parents to death? A surprising answer and an inside look at the haunting crime scene. "48 Hours" correspondent Erin Moriarty reports DOUBLE FEATURE| SATURDAY, JULY 24| 10/9c : A young woman says she accidentally shot her boyfriend. Police say she confessed to murder – but there's no audio to prove it. What will the jury decide? CBS News correspondent David Begnaud reports. DOUBLE FEATURE| SATURDAY, JULY 24| 9/8c : A man on death row says his blood was planted at the crime scene. Will an empty vial help his case? "48 Hours" correspondent Erin Moriarty reports. SATURDAY, JULY 17 | 10/9c: : A music producer on the edge of stardom has a dark premonition – then he's gunned down. His parents want answers. "CBS This Morning: Saturday" co-host Michelle Miller reports. SATURDAY, JULY 10 | 10/9c : A young woman vanishes from her Florida condo - security footage captures a phantom figure calmly parking her car. Is it the kidnapper? "48 Hours" correspondent Peter Van Sant reports. SATURDAY, JULY 3 | 10/9c : A survivor deals with the trauma after her stepbrother is convicted of killing her family in order to go to the prom. CBS News chief investigative and senior national correspondent Jim Axelrod reports. SATURDAY, JUNE 26 | 10/9c : A boxer is shot and stabbed by her husband but refuses to go down for the count. CBS News correspondent David Begnaud reports. SATURDAY, JUNE 19 | 10/9c : A mother fights for the truth behind her son's killing - captured on video. Ahmaud Arbery was jogging when he was chased and shot. CBS News correspondent Omar Villafranca reports. SATURDAY, JUNE 12 | [10:22/9:22 start time due to SRX Racing on CBS] : A beloved cheerleader dies - what explains the unusual injuries to her body? "48 Hours" correspondent Peter Van Sant reports. SATURDAY, JUNE 5 | 10/9c : Did an out-of-control home makeover lead to murder?"48 Hours" correspondent Erin Moriarty investigates. SATURDAY, JUNE 5 | 9/8c : Notorious serial killer Ted Bundy targeted three young Florida women in one of his final attacks. They survived and share their terrifying ordeal and long road to recovery. CBS News correspondent Tracy Smith reports. SATURDAY, MAY 29 | 10/9c : A brilliant Ivy League student is murdered after he went to a California park with a former high school classmate. Was he killed because he was gay and Jewish? CBS News correspondent Tracy Smith reports. SATURDAY, MAY 29 | 9/8c : The untold story of how investigators found Lori Vallow's missing children – buried on Chad Daybell's property. CBS News correspondent Jonathan Vigliotti reports. SATURDAY, MAY 22 | 10/9c : Millionaire Forrest Fenn hid a gold-filled chest somewhere in the Rockies and wrote a poem with cryptic clues. Tens of thousands searched for it and five people died trying. A story of obsession. "CBS This Morning" co-host Tony Dokoupil reports. SATURDAY, MAY 15 | 10/9c A Sister's Fight for her Brother: A sister stands by the brother accused of murdering their parents. She insists he's innocent and there's more to the story. "48 Hours" correspondent Erin Moriarty reports. SATURDAY, MAY 8 | 10/9c : A mother disappears. Texts reveal she has coronavirus - was someone using COVID to cover up a killing? "48 Hours" correspondent Peter Van Sant reports. SATURDAY, MAY 8 | 9/8c : A college student goes missing and a podcaster turns up the heat to solve the case. "48 Hours" tracks down the prime suspect. CBS News correspondent Jonathan Vigliotti reports. SATURDAY, MAY 1 | 10/9c : He was convicted of murdering his pregnant wife. The "other woman" recorded his calls for the prosecution. With his death sentence now overturned there's a renewed push to clear him. CBS News correspondent Jonathan Vigliotti reports for "48 Hours." SATURDAY, APRIL 24 | 10/9c : Dani Green claimed the family dog killed her ex-husband, Ray, but when police arrived at the home there was no sign of man or dog. Dani told police they could search anywhere on the grounds -- except for a large toolbox. Peter Van Sant reports. SATURDAY, APRIL 17 | 10/9c : The emotional homecoming of a man imprisoned for nearly 32 years. A judge ruled he was wrongfully convicted of murder, but is he home for good? Questions linger about the witness who blamed him. Erin Moriarty reports. DOUBLE FEATURE| SATURDAY, APRIL 10| 10/9c : A woman is found dead and the scene appeared to be staged with a bottle of absinthe. West, a Marilyn Monroe look-alike, posted on OnlyFans, a website some use to share adult content - was a fan involved? "48 Hours" correspondent Maureen Maher reports. DOUBLE FEATURE| SATURDAY, APRIL 10| 9/8c : A teenager learns she's the target of a hit on the dark web. "48 Hours"' Peter Van Sant goes on a global manhunt to find Yura, the shadowy figure behind murder-for-hire sites. SATURDAY, APRIL 3: "48 Hours" did not air due to the 2021 NCAA Men's Basketball Tournament on CBS. SATURDAY, MARCH 27 | 10/9c : A 12-year-old is kidnapped from her home 36 years ago. An unusual suspect is charged. "48 Hours" correspondent Richard Schlesinger reports. SATURDAY, MARCH 20: "48 Hours" is preempted due to the 2021 NCAA Men's Basketball Tournament on CBS. *GAME DELAY: Our March 13 double feature started 12 minutes late in the east and central time zones due to NCAA basketball on CBS. DOUBLE FEATURE| SATURDAY, MARCH 13| 10/9c* : Did an item found in many medicine cabinets play a role in the death of a millionaire? "48 Hours" correspondent Peter Van Sant reports. DOUBLE FEATURE| SATURDAY, MARCH 13| 9/8c* : The FBI believes skulls drawn in blood are the number of victims murdered by a prolific serial killer. Inside the FBI search to identify them.:"48 Hours" correspondent Peter Van Sant reports. SATURDAY, MARCH 6 | 10/9c : College student Aniah Blanchard had a deep fear of being kidnapped. When she disappears, UFC fighter Walt Harris battles for justice for his stepdaughter. CBS News special correspondent James Brown reports. SATURDAY, FEBRUARY 27 | 10/9c : Thirteen years after a child is abducted investigators have a credible suspect. Is the puzzle of what happened to her complete? "48 Hours" correspondent Peter Van Sant investigates. DOUBLE FEATURE| SATURDAY, FEBRUARY 20| 10/9c : A judge's son is gunned down by a man delivering a package. 2,800 miles away, an eerily similar crime - this time the target is a lawyer. Who is behind the killings? CBS News correspondent Tracy Smith reports. DOUBLE FEATURE| SATURDAY, FEBRUARY 20| 9/8c : A wealthy Florida businessman is arrested after a violent confrontation with his wife – she survived. Did his daughter's sumptuous wedding lead to a murderous rage? "48 Hours" correspondent Peter Van Sant reports. SATURDAY, FEBRUARY 13 | 10/9c : Newly released video shows police grilling Michelle Troconis, the ex-girlfriend of Fotis Dulos, about the disappearance of his wife Jennifer: "I didn't do it." But does she know more? "48 Hours" correspondent Erin Moriarty reports. SATURDAY, FEBRUARY 6: "48 Hours" did not air due to the "NFL Honors" on CBS. Join us on February 13 for an all-new show. SATURDAY, JANUARY 30 | 10/9c : She was last seen leaving a casino. How her mom and detectives teamed up to find her body hidden for 15 years. "48 Hours" correspondent Erin Moriarty reports SATURDAY, JANUARY 30 | 9/8c : A college student goes missing -- the "Find My Friends" app leads to her body as her suspected killer flees the country. Will he get away with murder? CBS News contributor Maria Elena Salinas reports SATURDAY, JANUARY 23 | 10/9c : A little girl grows up wondering who murdered her mother. Decades later, prosecutors learn a secret that answers the question. "48 Hours' correspondent Maureen Maher reports. SATURDAY, JANUARY 16 | 10/9c : After a chance encounter at a bar a college student is murdered. Was it because she resembled the killer's ex? CBS News' Jim Axelrod reports. DOUBLE FEATURE| SATURDAY, JANUARY 9| 10/9c : A man dies from a gunshot wound – his friends say they discovered him. Police rule out foul play, but his family says there are troubling clues. "48 Hours" correspondent Peter Van Sant reports. DOUBLE FEATURE| SATURDAY, JANUARY 9| 9/8c : A 13-year-old girl vanishes in 1981. Detectives believe she was murdered. Years later, a woman appears and claims to be the missing girl. Is she an impostor? "48 Hours" correspondent Maureen Maher reports. SATURDAY, JANUARY 2 | 10/9c : A former beauty queen vanishes. One man said he had answers. Why didn't anyone listen?. "48 Hours" correspondent Peter Van Sant reports. DOUBLE FEATURE| SATURDAY, DECEMBER 26| 10/9c Did Lizzie Borden really hack her parents to death? A surprising answer and an inside look at the haunting crime scene. "48 Hours" correspondent Erin Moriarty reports DOUBLE FEATURE| SATURDAY, DECEMBER 26| 9/8c : A story of tragedy and triumph -- the murder of a young woman and how a her killer's heart saves the life of a dying woman. CBS News' Jim Axelrod reports. SATURDAY, DECEMBER 19: "48 Hours" did not air due to the SEC Championship on CBS: Alabama @ Florida. SATURDAY, DECEMBER 12 | 10/9c : New clues in one of the largest unsolved murder cases in the U.S. A victim's daughter speaks out for the first time. "48 Hours" correspondent Erin Moriarty reports. PROGRAM NOTE| SATURDAY, DECEMBER 5: "48 Hours" did not air due to the SEC on CBS: Alabama @ LSU SATURDAY, NOVEMBER 28| 10:01/9:01c : A college student goes missing and a podcaster turns up the heat to solve the case. "48 Hours" tracks down the prime suspect. CBS News correspondent Jonathan Vigliotti reports. DOUBLE FEATURE| SATURDAY, NOVEMBER 21| 10/9c The Case Against Nicole Addimando: A young mother shoots her partner claiming self-defense and abuse. The killing of the popular gymnastics coach divides a town. CBS News' Jericka Duncan reports. DOUBLE FEATURE| SATURDAY, NOVEMBER 21| 9/8c : A woman accused of setting her house on fire and then intentionally running over her husband as he escaped the flames speaks out for the first time. "48 Hours" correspondent Erin Moriarty reports. SATURDAY, NOVEMBER 14 | 10/9c A boxer is shot and stabbed by her husband but refuses to go down for the count. CBS News correspondent David Begnaud reports. SATURDAY, NOVEMBER 7 | 10/9c : Michelle Martinko fought for her life in a parking lot. Her attacker was left bleeding - creating the evidence that solved the case. CBS News correspondent Jamie Yuccas reports. 'SATURDAY, OCTOBER 31 | 10/9c The Murder of Anna Repkina: Did a love triangle lead to murder? After his fiancée is found dead, a man researches time travel to "correct a horrible mistake." Correspondent Tracy Smith reports. SATURDAY, OCTOBER 24 | 10/9c A young woman vanishes from her Florida condo - security footage captures a phantom figure calmly parking her car. Is this the kidnapper? "48 Hours" correspondent Peter Van Sant reports. PROGRAM NOTE: SATURDAY, OCTOBER 17: "48 Hours" was preempted due to the SEC on CBS: Georgia at Alabama. We return Saturday, October 24 at 10/9c with an all-new show. DOUBLE FEATURE| SATURDAY, OCTOBER 10| 10/9c : A mother fights for the truth behind her son's killing - captured on video. Ahmaud Arbery was jogging when he was chased and shot. CBS News' Omar Villafranca reports. SATURDAY, OCTOBER 10 | 9/8c : A rare look inside a murder case where virtually everything from the first moments of the investigation through the verdict are captured on camera. "48 Hours" correspondent Richard Schlesinger reports. SATURDAY, OCTOBER 3 | 10/9c : The untold story of how investigators found Lori Vallow's missing children – buried on Chad Daybell's property. CBS News correspondent Jonathan Vigliotti reports for "48 Hours." WEDNESDAY, SEPTEMBER 30, 2020 | 10/9c : A music producer on the edge of stardom has a dark premonition - then he's gunned down. His parents want answers. "CBS This Morning" co-host Michelle Miller reports. SATURDAY, SEPTEMBER 26, 2020 : A farmer says he found his wife impaled by a corn rake. The rake has just four tines – so why does she have six puncture wounds? CBS News chief investigative and senior national correspondent Jim Axelrod reports WEDNESDAY, SEPTEMBER 23, 2020 : A young woman says she accidentally shot her boyfriend. Police say she confessed to murder – but there's no audio to prove it. What will the jury decide? CBS News correspondent David Begnaud reports. SATURDAY, SEPTEMBER 19, 2020 : A beloved cheerleader dies - what explains the unusual injuries to her body? "48 Hours" correspondent Peter Van Sant reports. WEDNESDAY, SEPTEMBER 16: "48 Hours Suspicion" will not air due to the Academy of Country Music Awards on CBS. The show returns Wednesday, September 23 -- with an all-new episode. SATURDAY, SEPTEMBER 12, 2020 [SEASON PREMIERE] : Did an out-of-control home makeover lead to murder? "48 Hours" correspondent Erin Moriarty investigates. SEPTEMBER 9, 2020 [SERIES PREMIERE] A woman denies feeding her husband to tigers - what happened to Don Lewis? "48 Hours" has new clues. Correspondent Richard Schlesinger reports. SEPTEMBER 5, 2020: : A family man targeted for death lives to climb out of his own "grave." Who wanted him dead? "48 Hours" goes inside the sting that took down a hit man-for-hire scheme. "48 Hours" correspondent Peter Van Sant investigates. AUGUST 29, 2020 : An investigation into the death of a Hollywood therapist. Did the system do enough to protect her from alleged killer Gareth Pursehouse? Her former fiancé Drew Carey calls for updated laws. "48 Hours" correspondent Erin Moriarty reports. AUGUST 22, 2020| DOUBLE FEATURE : Did a Florida man hire a look-a-like to kill his wife? A GPS leads police right to the hitman's door. "48 Hours" correspondent Erin Moriarty reports. : Survivors confront the man known as The Golden State Killer, after his 40 year reign of terror. Correspondent Tracy Smith has the latest in the case. AUGUST 15, 2020 : A survivor deals with the trauma after her stepbrother is convicted of killing her family in order to go to the prom. CBS News' Jim Axelrod reports. AUGUST 8, 2020 : Hear from the woman at the center of a case prosecutors said was all about "sex, lies, money and murder." "48 Hours" correspondent Peter Van Sant reports. AUGUST 1, 2020| DOUBLE FEATURE Justice for Kelsey Berreth: An inside look at the startling evidence that helped convict against Colorado man Patrick Frazee for the murder of his fianceé. CBS News correspondent Nikki Battiste reports. Storm of Suspicion: "48 Hours" goes behind the scenes with investigators as they search for a mother of two who vanished just before Hurricane Harvey hit. Correspondent Maureen Maher investigates. JULY 25, 2020 A California man shot dead in his home — his ex-wife admits she pulled the trigger. Did a photo posted on social media lead to the man's death? "48 Hours" correspondent Erin Moriarty reports. JULY 18, 2020| DOUBLE FEATURE : How a bakery worker's secret plan to recover DNA from a discarded Coke can helped investigators solve the cold case of a college student murdered over Thanksgiving weekend. "48 Hours" correspondent Peter Van Sant reports. : More than two decades after Iowa TV anchor Jodi Huisentruit disappeared, "48 Hours" reveals new information into the investigation. CBS News' Jim Axelrod reports. JULY 11, 2020 : Twenty-six school children abducted and buried alive in a truck trailer by three young men. An incredible survival story. CBS News correspondent David Begnaud reports. JULY 18, 2020 : Nearly four decades after the death of Hollywood star Natalie Wood, Los Angeles County Sheriff's investigators reveal new clues, new witnesses and a shocking revelation. "48 Hours" correspondent Erin Moriarty reports. : "48 Hours" explores the family feud over radio legend Casey Kasem -- how he died and who was responsible. At stake: an estate that could be worth $100 million. "48 Hours" Correspondent Peter Van Sant reports. JUNE 27, 2020 : A brutal murder and police have DNA evidence. Could a discarded cigarette lead investigators to a possible killer and close a case two decades later? CBS News correspondent Anne-Marie Green reports. JUNE 20, 2020| DOUBLE FEATURE : A woman repeatedly threatened to kill her ex. She enlisted her father to help make good on her promise. Why couldn't anyone stop her? "48 Hours" correspondent Peter Van Sant reports. Cold-Blooded Killer: A father goes hunting in a Florida lake and vanishes. Many thought he was eaten by alligators, but not his mother. Seventeen years later, stunning courtroom revelations: it was murder. "48 Hours" correspondent Richard Schlesinger reports. JUNE 13, 2020| DOUBLE FEATURE : The wife of a NYC businessman is suspected of murdering him with help from her brother -- why would she want him dead and why did it take more than two decades to crack the case? "48 Hours" correspondent Richard Schlesinger reports. : "48 Hours" goes inside a family's mission to restore their son's reputation after he was fatally shot by a police officer. CBS News special correspondent James Brown reports. JUNE 6, 2020 An Ohio mom is brutally murdered. A detective pursues the wrong suspects, while the real killer walked free. It would take a dedicated sheriff to find a real suspect. Were there other victims? CBS News' Jim Axelrod reports. MAY 30, 2020 : Four young women attacked, only one survivor. "48 Hours"' Maureen Maher has been on the trail of serial killer Michael Gargiulo for more than a decade. How "48 Hours" helped crack one of the cases. MAY 23, 2020 : The parents of Brooke Skylar Richardson speak out -- the real story behind the international headlines in the case of an alleged unthinkable crime. "48 Hours" correspondent Erin Moriarty investigates. MAY 16, 2020 : Two children vanish and an Idaho mother won't say where they are. In their first network TV interview, her mother and sister say she'd never harm her children. So where are the kids? CBS News correspondent Jonathan Vigliotti reports. : A young woman vanished after a night out in Milwaukee in October 2013. Did a meeting set up on a dating app lead to the disappearance or was it someone she knew? "48 Hours" correspondent Peter Van Sant reports. MAY 9, 2020 : The FBI believes skulls drawn in blood are the number of victims murdered by a prolific serial killer. Inside the FBI search to identify them. "48 Hours" correspondent Peter Van Sant reports. MAY 2, 2020 : A 13-year-old girl vanishes in 1981. Detectives believe she was murdered. Years later a woman appears and claims to be the missing girl. Is she an impostor? "48 Hours" correspondent Maureen Maher reports. APRIL 25, 2020 : A college student goes missing -- the "Find My Friends" app leads to her body as her suspected killer flees the country. Will he get away with murder? CBS News contributor Maria Elena Salinas reports for "48 Hours." APRIL 18, 2020 : Did a young white woman cause a wrongful conviction by blaming a murder on a "black guy"? "48 Hours" correspondent Erin Moriarty has new details in the case she been covering for 20 years. APRIL 11, 2020 : Notorious serial killer Ted Bundy targeted three young Florida women in one of his final attacks. They survived and share their terrifying ordeal and long road to recovery. CBS News correspondent Tracy Smith reports. APRIL 4, 2020 : A wealthy Florida businessman is arrested after a violent confrontation with his wife – she survived. Did his daughter's sumptuous wedding lead to a murderous rage? "48 Hours" correspondent Peter Van Sant reports. MARCH 28, 2020 : Did Lizzie Borden really hack her parents to death? A surprising answer and an inside look at the haunting crime scene. "48 Hours" correspondent Erin Moriarty reports. MARCH 21, 2020 : A man on death row says his blood was planted at the crime scene. Will an empty vial help his case? "48 Hours" correspondent Erin Moriarty reports. MARCH 14, 2020 : A story of tragedy and triumph -- the murder of a young woman and how her killer's heart saves the life of a dying woman. CBS News' Jim Axelrod reports. MARCH 7, 2020 : A rare look inside a murder case where virtually everything from the first moments of the investigation through the verdict are captured on camera. "48 Hours" correspondent Richard Schlesinger reports. FEBRUARY 29, 2020 Find Yura – Manhunt on the Dark Web: A teenager learns she's the target of a hit ordered on the dark web. "48 Hours"' Peter Van Sant goes on a global manhunt to find Yura, the shadowy figure behind murder-for-hire sites. FEBRUARY 22, 2020| DOUBLE FEATURE : An investigation into the death of a Hollywood therapist. Did the system do enough to protect her from alleged killer Gareth Pursehouse? Her former fiancé Drew Carey calls for updated laws. "48 Hours" correspondent Erin Moriarty reports. : An Irish businessman is killed by his American au-pair-turned-wife and her father. They claim self-defense. The dead man's sister fights to clear his name. "48 Hours" correspondent Maureen Maher investigates. FEBRUARY 15 2020 : Did a Florida man hire a look-a-like to kill his wife? A GPS leads police right to the hitman's door. "48 Hours" correspondent Erin Moriarty reports. FEBRUARY 8, 2020| DOUBLE FEATURE : A young woman claims she was attacked by an ex-boyfriend who carved the word boy into her arm. But the crime scene tells a different story. CBS News correspondent Jamie Yuccas reports. : Could a teenager be brainwashed by one parent to help murder the other parent -- and then make it look like a suicide? "48 Hours" correspondent Erin Moriarty reports. FEBRUARY 1, 2020 : A woman accused of setting her house on fire and then intentionally running over her husband as he escaped the flames speaks out for the first time. "48 Hours" correspondent Erin Moriarty reports. JANUARY 25, 2020 : A survivor deals with the trauma after her stepbrother is convicted of killing her family in order to go to the prom. CBS News' Jim Axelrod reports. JANUARY 18, 2020| DOUBLE FEATURE : Hear from the woman at the center of a case prosecutors said was all about "sex, lies, money and murder." "48 Hours" correspondent Peter Van Sant reports. : Michelle Carter, convicted of involuntary manslaughter because she used text messages to encourage a friend to take his own life, is being released from jail. "48 Hours" correspondent Erin Moriarty has the latest in the headline-making case. DECEMBER 31, 2019 : Three murders in Austin, Texas, and little evidence to go on. Did a man testing a thermal imaging camera inadvertently capture the image of one of the killers? "48 Hours" correspondent Maureen Maher investigates. DECEMBER 14, 2019 : Hostages chillingly reveal the terrifying three hours they spent held captive by a gunman inside a California supermarket. CBS News' Jim Axelrod reports. DECEMBER 7, 2019 : A California man shot dead in his home — his ex-wife admits she pulled the trigger. Did a photo posted on social media lead to the man's death? "48 Hours" correspondent Erin Moriarty reports. : A former TV producer and windsurfing champion says he's in prison for a murder he didn't commit -- the only physical evidence against him: a teaspoon of sand. "48 Hours" correspondent Erin Moriarty investigates. NOVEMBER 30, 2019 : How a bakery worker's secret plan to recover DNA from a discarded Coke can helped investigators solve the cold case of a college student murdered over Thanksgiving weekend. "48 Hours" correspondent Peter Van Sant reports. NOVEMBER 23, 2019 Justice for Kelsey Berreth: An inside look at the startling evidence that helped convict against Colorado man Patrick Frazee for the murder of his fianceé. CBS News correspondent Nikki Battiste reports. NOVEMBER 16, 2019| DOUBLE FEATURE : A woman repeatedly threatened to kill her ex. She enlisted her father to help make good on her promise. Why couldn't anyone stop her? "48 Hours" correspondent Peter Van Sant reports. : Can a daughter's frantic 911 call convict or free her father from charges that he killed his wife? CBS News'Jim Axelrod reports. NOVEMBER 9, 2019 : A brutal murder and police have DNA evidence — could a discarded cigarette lead investigators to a possible killer and close a case two decades later? CBS News correspondent Anne-Marie Green reports. NOVEMBER 2, 2019 : A young woman vanished after a night out in Milwaukee in October 2013. Did a meeting set up on a dating app lead to the disappearance or was it someone she knew? "48 Hours" correspondent Peter Van Sant reports. OCTOBER 26, 2019| DOUBLE FEATURE : The wife of a NYC businessman is suspected of murdering him with help from her brother -- why would she want him dead and why did it take more than two decades to crack the case? "48 Hours" correspondent Richard Schlesinger reports. : A teen's death appeared to be a suicide -- but investigators say she was helped by a friend who recorded it and weeks earlier texted "it's like getting away with murder." CBS News correspondent David Begnaud reports. OCTOBER 19, 2019 An Ohio mom is brutally murdered. A detective pursues the wrong suspects, while the real killer walked free. It would take a dedicated sheriff to find a real suspect. Were there other victims? CBS News' Jim Axelrod reports. OCTOBER 12, 2019 : Twenty-six school children abducted and buried alive in a truck trailer by three young men. An incredible survival story. CBS News' David Begnaud reports. OCTOBER 5, 2019 : A mom vanishes and now her fiancé is in jail awaiting trial for her murder. His former rodeo queen girlfriend says she knows what really happened. CBS News correspondent Nikki Battiste reports. SEPTEMBER 28, 2019 : The parents of Brooke Skylar Richardson speak out -- the real story behind the international headlines in the case of an alleged unthinkable crime. "48 Hours" correspondent Erin Moriarty investigates. SEPTEMBER 14, 2019| SEASON PREMIERE : Four young women attacked, only one survivor. "48 Hours"' Maureen Maher has been on the trail of serial killer Michael Gargiulo for more than a decade. How "48 Hours" helped crack one of the cases.

ICICI Venture, the alternative asset arm of ICICI Bank, on Tuesday said it has divested half of its 13.5 per cent stake in the recently concluded IPO of Go Fashion (India) Ltd, which owns women's wear brand Go Colors. ICICI Venture, through its fourth private equity fund India Advantage Fund Series 4 (IAF4), had invested Rs 100 crore in Go Fashion for 13.5 per cent stake in 2018. Through the stake dilution, the alternative asset firm made five times return in its investment made in Go Fashion, ICICI Venture said in a statement. The initial public offering (IPO) of the company had received a strong response from investors with the issue being oversubscribed 135 times. The company had a strong listing on the exchanges on Tuesday and based on the listed share price, the residual stake of IAF4 in the company is valued at around nine times, it added. "We are pleased to have supported the company in its growth journey of the last 4 years, during which Go Fashion emerged as India's largest women's legwear brand, achieved 3x growth in owned store footprint, an excellent revenue scale up and increase in profit margins. We believe the company is well placed for further growth going forward", said Puneet Nanda, MD and CEO, ICICI Venture. Earlier this year, another IAF4 portfolio company, Krishna Institute of Medical Sciences or KIMS Hospitals, also had a successful IPO. In 2019, ICICI Venture had successfully exited from Star Health and Allied Insurance from two of its PE funds to a consortium of financial and strategic investors. ICICI Venture has had a successful track record of exits having successfully concluded over 70 exit deals worth about USD 2.25 billion in the last decade. This is believed to be amongst the highest exit tallies in India.

Took a startup to $5m ARR in 6 years| Founder of Dux-Soup, the world's leading LinkedIn automation tool| F1 fan In my teens, I used to regularly visit a local store to buy Superman comic books. What I didn't realize is that the store owner was using sales techniques that have never gone out of fashion. In my experience, there are many parallels with salespeople using core selling skills that are arguably even more relevant to newer business development techniques, such as social selling and growth hacking. For example, the owner would put aside my regular order to make sure I didn't miss an issue. He would also suggest other comics I might like, as well as special editions that cost a bit more. I usually bought these, too. He understood my needs, was able to provide a quality product and cross-sold, thus increasing the amount I spent. I was reminded of this store owner because of two things: First, I was sent a LinkedIn connection request that showed no understanding of who I am. Second, I read a 2019 blog from marketing guru Drayton Bird titled, "Why LinkedIn reminds me of rotten sardines." The post was critical of how LinkedIn is used for lead generation. Let me highlight one comment: "So much for the wonders of digital marketing, which leads people so far astray that basic selling skills are ignored." I wondered, in the rush to exploit the reach and potential of LinkedIn for lead generation, have people forgotten about the basics of selling? As the CEO of an automated LinkedIn lead-generation tool, I have summarized seven best practices for salespeople to follow that I believe will never go out of style: 1. Know your customer. According to HubSpot, "Understanding your customer's needs is the key to keeping them happy and loyal to your business." If you know your target market, it is easier to sell to them. You can do this in a number of ways, including building personas, subscribing to research reports, speaking to existing customers and documenting pain points. Armed with this knowledge, you can communicate more knowledgeably with your prospects. When conducting outreach, personalize your messages according to the other person's company name, industry type, location and more. This allows you to retain that personal touch and demonstrate that you know the customer. 2. Engage with your connections. Many salespeople have thousands of LinkedIn contacts to whom they rarely talk. However, on LinkedIn, you can engage with your prospects by sharing articles or information of value. You can also show you really understand your prospects by speaking the same language and demonstrating you know their pain points and how to solve them. This is an essential key to building stronger relationships. 3. Prioritize empathy. Greek philosopher Epictetus is often attributed with the quote, "We have two ears and one mouth so that we can listen twice as much as we speak." Create a genuine connection with prospects by showing empathy and understanding. This begins with listening to what your prospects have to say about their problems and challenges. Only then should you start using your sales skills to show how your product or service can help. 4. Use the power of social proof. Positive testimonials and reviews can help increase consumers' trust. Social proof works by showing how an existing customer has already used your product or service to solve their problems. Don't be afraid to ask for testimonials; they can be worth their weight in gold. Comments or reviews from your advocates carry so much more weight than the features and functions you see mentioned in typical sales outreach. For example, in my company, I've found that regularly posting LinkedIn automation use cases lowers resistance during the sales cycle from prospective customers. 5. Think about "WIIFM." Put yourself in the prospect's place and ask yourself, "What's in it for me?" If you are offering something of value, such as a free consultation or a white paper, then be transparent about what you want in return. This could be a commitment to a discovery call or just an email address. In my experience, most people are happy to comply if they are getting something genuinely useful in return. 6. Use precise targeting. It is rare that a scattergun approach to selling is going to be more successful than a finely targeted campaign. You can use the filtering in LinkedIn's Sales Navigator to zero in on your ideal target profile based on factors such as geographic location, job title and keywords. I find a good number to aim for is around 200 prospects for a campaign. You can target your messages more precisely, and this will be manageable from a follow-up perspective, too. 7. Allow enough time to see results. Digital marketing lends itself to immediate feedback thanks to the campaign tracking capabilities that now exist. But in a world of instant gratification, you see many salespeople giving up too early. It would be wise to heed Drayton Bird's advice from his aforementioned blog post: It takes at least three months to see results "because you are building a relationship." Bird also said it can take up to six months to see a decent return on investment. The Basics Of Good Selling It is vital that we don't lose sight of traditional sales techniques. The basics outlined in these tips still apply, even in this digital age that we live in. Forbes Business Council is the foremost growth and networking organization for business owners and leaders. Do I qualify?

MALIBU, Calif. — Honda's sold hundreds of thousands of Civic Si compacts since the badge debuted in 1986, but in an SUV-crazed world, the sporty little car just may qualify as the auto industry's best, and best-kept secret. Attractively, but modestly trimmed, the Si doesn't scream for attention like some pocket rockets, but it's a scream around curves, as the coppery one I drove around some of southern California's most challenging mountain roads proved shortly before Thanksgiving. The Si — all new this year and based on the new Civic model that debuted a few months ago — is easy to drive in everyday traffic, but it comes to life on twisting roads, where it's precise steering, beefy brakes and stiff chassis and modest yet enjoyable power pay off. The Civic Si and the VW Golf GTI — also new this year — ensure that while SUVs may rule the sales charts, there's a lot of life left in the class of sporty and affordable compacts they lead. Civic Si prices start at $27,300. All models get a 200-horsepower turbocharged 1.5L four-cylinder engine and six-speed manual transmission. There is no automatic transmission, a throwback trait that will limit Si sales but make its devotees even more committed to the car. Summer tires add $200. It's money well spent, and less of an extravagance than you might think: Swap them for winter tires when the temperature falls below 40 F; they'll last longer than you expect and the winters will keep you safe and protect the Si's striking matte black alloy wheels from winter corrosion and dings. Honda charges a destination fee of $1,015. The Si also gets bigger brakes than regular Civic sedans, standard Bose audio, dual exhaust, rev matching, limited slip differential, 18-inch black alloy wheels, sport seats and red accents. Performance compacts used to be a growth market. Virtually every brand offered a model that at least looked sporty. Some actually were, though many were all show and no go. The attrition in compact cars that attended SUV's ascendance weeded out the poseurs. The OGs are pretty much all that's left: Civic Si, VW Golf GTI and Subaru WRX — of which more shortly (I drive the new model in December. Merry Christmas to me). 😊 The Hyundai Elantra N hopes to join the leaders soon. It'll have more power and a correspondingly higher price. (I expect to drive one in early 2022.) Sedan Hatchback Si Prices do not include destination charge ($1,015) The compact performance class is about more than raw power, though. Handling and tractability matter at least as much, in part because the front-wheel-drive format that dominates the group doesn't reward the massive torque rear-drive sports and muscle cars boast. Modest power is one of the Civic Si's defining characteristics and greatest charms. While a mere 200 hp may not look like enough to exit the parking lot in a world full of Dodge Hellcats, ludicrous-mode Teslas and WTF-mode GMC Hummers, it's not how many, but how you use 'em. The Honda Civic Si uses every horsepower and each of its 192 pound-feet of torque widely. The 1.5L turbo charged engine is remarkably flexible, pulling smoothly without complaint at low speed in second and third gears. Honda's shifters remain among the industry's best, with short throws and easy action. The clutch didn't require much effort. One of the beauties of a modestly powered vehicle and a great chassis on a tight challenging road is that you can have loads of fun without going dangerously fast. On snaky Mulholland Highway and neighboring canyon-clinging roads in LA and Ventura counties that included some tight curves that lived up to their 15-mph posted speed. The Si's steering is firm and precise, equally suited to mountain nail-biters and sweeping curves on the scenic Pacific Coast Highway. The cabin is quiet and comfortable. There was little wind or road noise, despite the grippy summer tires. The interior is attractive and comfortable. The front seat bolsters were effective and comfortable. Headroom and rear legroom are fine. At 14.1 cubic feet, the trunk is a bit snug, but a wide opening makes loading large cargo easy so you can make the most of it. The gauges are big and clear. A 9-inch touch screen controls many features and displays navigation and other information well. Wireless Apple CarPlay and Android Auto are available. Wireless charging is not. Honda gets full marks for gauge clarity and climate control ease of use, but for some reason the automaker continues to balk at providing a tuning dial for its audio system. Thankfully, it has restored a volume dial. I realize that most people don't tune their radios often, relying on presets, but having to press the "skip" command on the touch screen for each station you advance, or retreat to another menu for a list of all stations, is a pain in the neck. Other than that admittedly minor shortcoming — shared with other Civic models — it's hard to find any fault in the Civic Si. Compact front-wheel drive, four-door sporty sedan Base price: $27,300 (excluding $1,795 destination charge) On sale now Vehicle tested: 2022 Honda Civic Si Price as tested: $27,500 including destination. Engine: 1.5L turbocharged four-cylinder Output: 200 hp @ 6,000 rpm; 192 pound-feet of torque @ 1,800-5,000 rpm Transmission: Six-speed manual Estimated EPA fuel economy rating: 27 mpg city/37 highway/31 combined. Premium gasoline recommended for rated power EPA estimated annual fuel cost: $2,050 (at current prices) Wheelbase: 107.7 inches Length: 184 inches Width: 70.9 inches Height: 50.5 inches Curb weight: 2,952 pounds Passenger volume: 96.6 cubic feet Cargo space: 14.1 cubic feet Assembled in Alliston, Ontario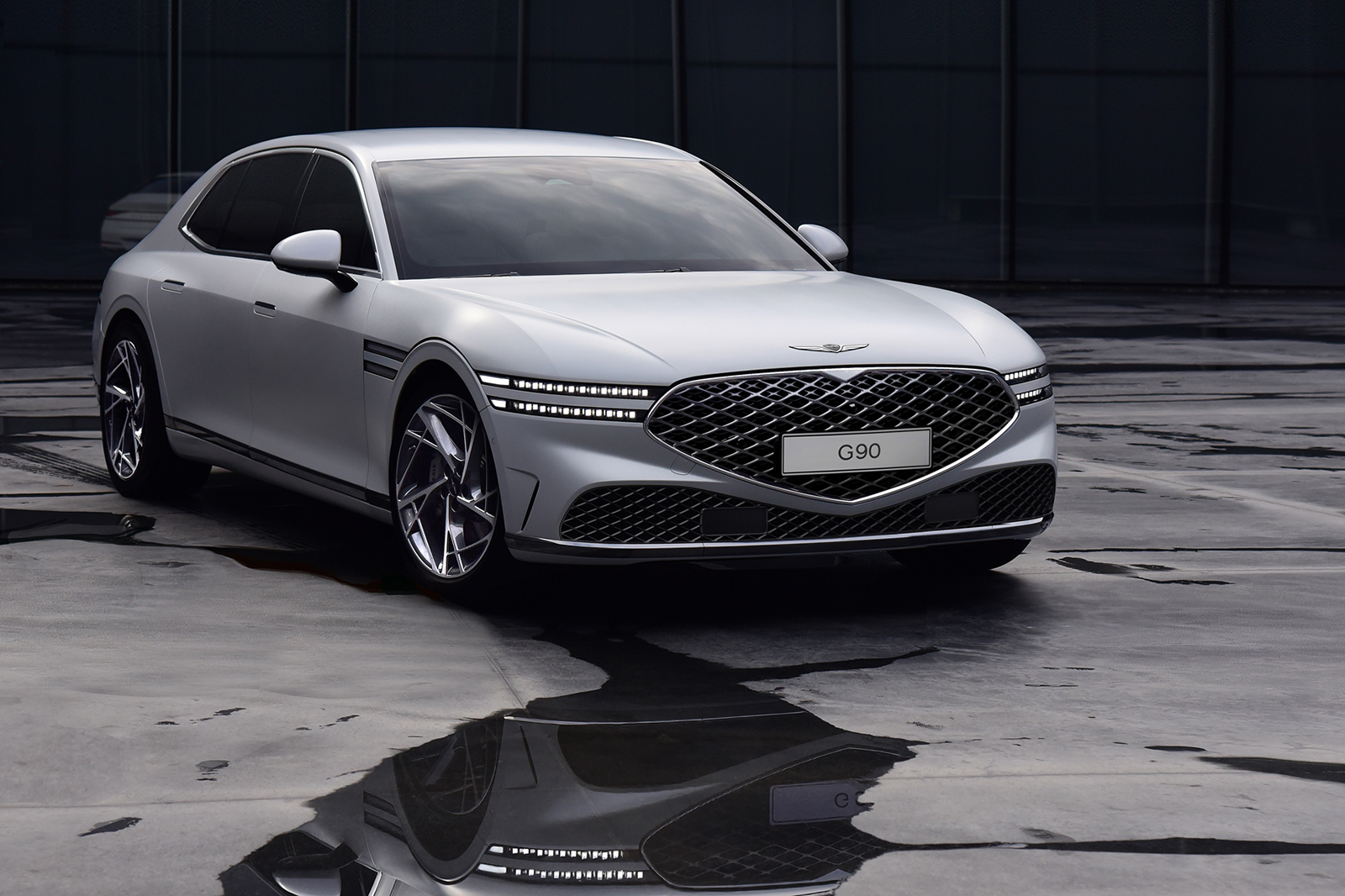 The flagship sedan experience is typically the most luxurious of the lot. Automakers debut their most sophisticated technology in those models, which also feature cabins bathed in soft and supple materials. The 2023 Genesis G90 looks to redefine those norms. "G90 will redefine the flagship luxury design experience in a unique way only offered by Genesis." said Head of Genesis Global Design, SangYup Lee. "G90 is the ultimate expression of Athletic Elegance that carefully balances dynamic driving and an elegant rear seat experience." A new take on the company's signature Crest Grille sits at the front of the car's face, flanked by Two-Line headlights that are designed to resemble the brand's emblem. The grille features a layered finish consisting of two G-Matrix patterns on top of each other. G90's headlights are the thinnest ever achieved by Genesis. The feat uses intercrossed lenses from the car's daytime running lights to deliver the desired effect. The car's front emblem also gets thinned out in the new model, achieving its desired effect while being 80 percent slimmer. At the rear, large "Genesis" lettering is spelled out across the trunk like it is on the G80, the G70's compact SUV brother. As is commonplace in other luxury cars, the G90 features a clamshell hood that combines the hood and fenders, eliminating panel gaps. A feature line draws the eye from the hood along the car's side panels, via the bottom of the windows, and to the trunk. The car's stance is solid but not aggressive. Thick C-pillars allow passersby to see that the G90 is an executive level sedan. The rear of the car features its license plate holder, sensors, and reverse lights positioned low across the tail in order to give the main part of the vehicle full, clean attention. Interior design, specifications, pricing and arrival date for the North American market will be announced later.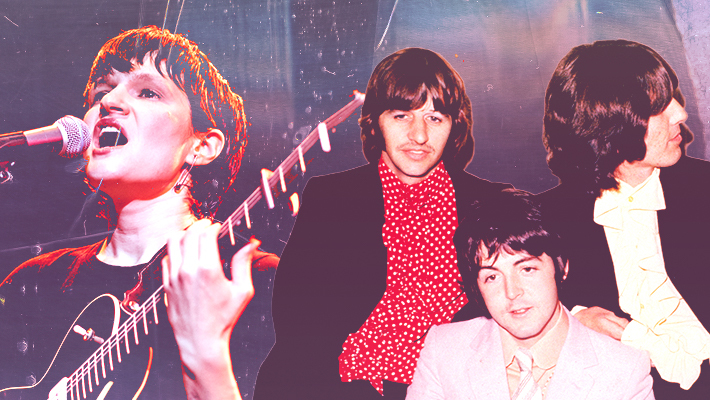 Every month, Uproxx cultural critic Steven Hyden makes an unranked list of his favorite music-related items released during this period — songs, albums, books, films, you name it. I'm glad I wasn't tasked with reviewing Peter Jackson's eight-hour Lords Of The Rock documentary. How do you quickly assess a movie in which there's twice as many hours as Fab Four's? I feel like I'll be regularly dipping in and out of this for as long as I keep my Disney+ subscription. (I assume a Blu-Ray with — dare I say it — additional previously unseen footage will soon be made available for certifiable Beatles lunatics like yours truly?) But here's my immediate impression: This is the greatest depiction of a band's inner life — how they work, how they interact, how they grow apart while always feeling like a tight-knit family — ever put on film. It's hard for me to think of another film that even comes close. Maybe Metallica: Some Kind Of Monster? Though that 2004 film by Joe Berlinger and Bruce Sinofsky is "only" 141 minutes and documents the making of a minor album. In Get Back, we see the creation of future rock classics like "Don't Let Me Down" and "Let It Be" unfold in real time — the initial flash of inspiration, the lyrical dead ends, the arrangement choices not taken, the moment when the songs we all know by heart appear to suddenly (miraculously!) fall into place. (And then there's the film director who won't shut up already about Libya. Michael Lindsay-Hogg, you come off like a dope!) Most incredibly, there's the scene from Part 1 in which Paul McCartney aimlessly strums his bass until he slowly discovers the skeleton of "Get Back," one of the most illuminating depictions of the creative process I've ever seen. As it is, I can't relate to anyone who feels this is "too much" Beatles. John and George are gone now, forever. Paul and Ringo are deep into their twilight years. In that context, eight hours of an immersive "hangout" experience with the greatest rock band ever feels, if anything, rapidly fleeting, like the most beautiful sunset in mankind's history sinking too fast into the horizon. Even now, I'm left wanting more. The jamband-ification of Big Thief continued this month with this excellent single from their forthcoming double album, Dragon New Warm Mountain I Believe In You, due out Feb. 11. I am, of course, fully on board with one of the best indie bands on the planet sounding like a cross of Blind Melon and Billy Breathes. And I'm, ahem, high on the new bountiful LP, the promo of which I've been spinning regularly for the past few weeks. Beyond that, I should keep my mouth shut until closer to the release. I'm still catching up with young bands who had the misfortune of putting out debut albums in the shadow of the pandemic in 2020. One of my fave "Class of 2020" groups is this Brooklyn outfit, who make moody synth-rock in the mold of early Depeche Mode and Orchestral Maneuvers In The Dark. Their first album released last year, Introduction, Presence, spotlighted these millennials' close studying of delectably ancient keyboard tones. But this year's A Way Forward ups the ante on songwriting, with tracks like "Across That Fine Line" and "The Grey Commute" leaning into their burgeoning pop grandiosity. Here's an album I've enjoyed listening to this month, but I expect to love once barbecue season rolls around again in the spring of 2022. Born Neal Francis O'Hara, Francis is a recovering child prodigy who toured Europe in his teens and then fell into addiction. After cleaning himself up, he re-emerged with a throwback big-band sound that recalls the highs of 1970s funk and swamp rock — lovers of Dr. John, Leon Russell, and The Meters will immediately feel at home amid Francis' fat-bottomed, bluesy bangers. On the first Snail Mail record, 2018's Lush, Lindsey Jordan focused almost solely on guitar, to the point of aligning herself with indie "shredders" like Kurt Vile and Steve Gunn. But on Valentine, she's expanded her musical palate significantly, layering her songs with keyboards and strings in a manner consistent with "mature sophomore efforts" from young indie phenoms. For Jordan, the grown-up, MOR indie of Valentine is a subtle hint that she's no longer a precocious wunderkind of Lush, and therefore shouldn't be fetishized solely for her youth or confessional lyrics. And yet Valentine isn't fully grown up, just as nobody at 22 is fully grown up. Jordan still portrays herself in these latest songs as a person who falls in love a little too hard, and then has to deal with the consequences when things fall apart. This, of course, is the most "young person" subject matter imaginable. (She apparently wrote the songs for Valentine back at her childhood bedroom in Baltimore.) Is she underrated now? At the time of Sometimes I Just Sit And Think, And Sometimes I Just Sit, Barnett seemed like the next great indie singer-songwriter. But now that indie rock is awash in guitar-slinging memoirists of a slightly younger generational vintage, Barnett seems a little taken for granted. It's true that Things Take Time, Take Time doesn't vary radically from her previous work. About half of the songs sound like "Avant Gardner," and about half of the songs resemble "Depreston." This is "merely" another collection of witty and winsome mid-tempo rockers with guitar solos that slowly rise from the malaise like a layabout peeling off the couch for a graveyard shift at a dead-end service job. But Barnett is still really, really good at this. In five years, people are going to wonder why this album was slept on. As someone who would gladly buy a box set compiling every live version of "The Diamond Sea" performed by Sonic Youth during the Washing Machine era, I see this new archival release as a step in the right direction. Though, if I have to quibble, a "Sea" that is "only" about 14 minutes feels kinda skimpy. The album version is actually about five minutes longer. Can the powers that be at Sonic Youth HQ work on getting our "Diamond Sea" stats up, please? Fourteen minutes are rookie numbers. We need many more minutes, if not hours, of blissed-out distortion. Only in a month in which an eight-hour Beatles documentary dropped would this incredible new live record and concert film from the Boss be overshadowed on the classic-rock part of my brain. But this really is a momentous release for Bruce heads, capturing him at an absolute sweet spot — one year after the fire-spitting fury of the Darkness On The Edge Of Town era (still my favorite Springsteen tour of all time), and one year before the release of one of his greatest albums, The River. Some of those songs are previewed here, including the desolate title track, which gets its live debut (!) in front of an appropriately stunned audience at Madison Square Garden. But the album (which compiles both No Nukes benefit shows) and film don't dwell long on doleful ballads. This is Bruce at the height of his arena-rock powers, playing hard and long (though not as long as usual) in front of a band determined to kick as much ass as possible. The back half is especially supercharged, in which the band tears through a Stone Pony-approved collection of rock and soul oldies as well as the unbeatable live war horse "Rosalita." Whereas Get Back is leavened with an air of melancholy, The Legendary 1979 No Nukes Concerts is a blast of pure joy. Play it loud.

Now is Tony Bennett's time to shine. The 95-year-old singer recently became the oldest artist to ever be nominated for the Album Of The Year Grammy Award, and he's also fresh off the release of his One Last Time: An Evening With Tony Bennett And Lady Gaga concert special. Now, CBS and Entertainment Weekly have shared a highlight from the show, the emotional moment when Gaga escorted Bennett off the stage for the final time. A post shared by CBS (@cbstv) Before doing so, Gaga says, "Tony, we're all so grateful to have witnessed your talent, your generosity, your creativity, and your kindness, your service through all the years." After pausing for applause, Gaga added, "Mr. Bennett, it would be my honor to escort you off the stage." Bennett gave a quiet "thank you" and nodded subtly as he gazed over the cheering crowd. Gaga then kissed the singer's hand, locked arms with him, and walked as Bennett smiled and waved to the audience. The Radio City Music Hall concerts were full of special moments, like one Gaga told Anderson Cooper about last month: "For the first couple of weeks that I saw Tony since COVID, he called me 'Sweetheart.' But I wasn't sure he knew who I was. [Radio City Music Hall was] the first time that Tony said my name in a long time. I had to keep it together, because we had a sold-out show, and I have a job to do. But I'll tell you, when I walked out on that stage, and he said, 'It's Lady Gaga,' my friend saw me. And it was very special."

Anita Ekberg, the Swedish star immortalized in Federico Fellini's "La Dolce Vita," where her character decides to walk into the Trevi Fountain to the delight, and terror, of Marcello Mastroianni, has a "complicated" story, Italian director Antongiulio Panizzi tells Variety. In "The Girl in the Fountain," produced by Dugong Films and Eagle Pictures, and presented at the Torino Film Festival alongside Panizzi's documentary "Piano Lessons: The Life and Art of German Diez Nieto," he implies that the iconic scene turned out to be a burden for the actor, who got to experience what Rita Hayworth meant when she said that "they go to bed with Gilda; they wake up with me." "Anita was actually very famous already before 'La Dolce Vita.' Then, she turned into this image that Fellini created for her. Even when she was older, she would always play these very sexualized women, like in 'The Killer Nun' – she is a nun, a killer and still very attractive. We wanted to show that she couldn't get away from what Fellini gave her." In order to tell Ekberg's story, he decided to welcome a modern icon into the film as well, realizing that Monica Bellucci would be the perfect match. But while Bellucci was also initially underappreciated as an actor because of her looks, she managed to steer her career in a completely different direction. "We can see Anita through Monica's eyes. But unlike her, Monica is in charge of her life, working on many films and generally at a great place in her career. Maybe the perception of women was different at that time? Either way, Anita was stuck in that fountain." Panizzi was surprised by what he found out about Ekberg, who once threatened the paparazzi with a bow and arrow. As well as her earlier success in the States, where she went immediately after winning the Miss Sweden contest. "There were so many things that we couldn't fit in the film, even though they really showed her larger-than-life character. Even the way she drove was completely crazy!," he says. In the film, he also decided to feature some old interviews with Bellucci, in order to establish the connection between the two. But while the actor herself started to notice certain similarities between their respective lives and careers, in "The Girl in the Fountain," reality always mixes with fiction. "We show this fictional director, played by Roberto De Francesco, who wants to make a biopic about Anita. He asks Monica to play her and, predictably, she goes: 'Why me?' They are both beautiful women but she is older than Anita was when she made 'La Dolce Vita.' She is hesitating," he says, admitting that Bellucci, who played a "very active role" in making the film, was much more enthusiastic in real life. "It was a small production and she was so generous with everyone. We follow her everyday life, in the theater [Bellucci acted in 'Maria Callas – Letters & Memoirs'] and when posing for Vogue, but there is something fictional in every scene. It's funny, because when she talks to her daughter about homework, it's fake and yet everyone thinks it's real. When her driver says that he actually met Anita in the past, it's true and everyone thinks it's fake. We had no idea – it was the first time he has ever admitted it." Asking Bellucci to follow Ekberg's footsteps, also by visiting her old house, Panizzi started to create a ghost story of his own. "I like this comparison because you have Monica, this modern icon, trying to summon Anita and this hidden, intimate side of her. What impressed me the most, however, was that on our last day of shooting, Monica arrived at the set with a letter she wrote to Anita. She wrote it the night before. She told me she would like me to read it, because that's how she felt about her. We ended up using a part of it in the film."

Jean-Francois Cousin, Global Executive & Team Coach, Speaker and Author; Chairman of the ICF Global Board in 2019; Coaching for Greatness. Is the leadership team you head playing at its best? If not, what can you do to embed in your team members the kinds of behaviors that sustain high performance? Let's start by briefly assessing your team members' behaviors. Based on my experience coaching leadership teams around the world, I have gathered 20 behaviors adopted by members of the highest performing teams and listed them below. I invite you to score the occurrence of those behaviors in your team, attributing zero points for "rarely," one for "usually" and two for "always." How often do your team members: 1. (Re) establish clarity on roles and responsibilities? 2. Ensure that their individual objectives are not conflicting? 3. Communicate with sincerity and humility? 4. Listen for value in what others say? 5. Seek others' ideas and feedback? 6. Offer candid and constructive feedback to team members? 7. Ask their peers for help? 8. Offer to help their peers? 9. Help their peers play at their best? 10. Jump in to help solve problems? 11. Propose new ideas and initiatives? 12. Dare to experiment outside of their comfort zone? 13. Learn from mistakes? 14. Demonstrate full accountability despite challenges? 15. Place the team's interest ahead of their own? 16. Trust their peers to have the team's best interest at heart? 17. Engage in conflict without personal bias and work out win-win solutions? 18. Bring up and discuss thorny issues until resolution, however uncomfortable that may be? 19. Praise others' success? 20. Celebrate the team's accomplishments? Please add up your scores and compare the sum with the following benchmarks. If your sum is: • Between 35 and 40, congratulations! Your team is doing a great job. Keep it up. • Between 27 and 34, good job! Hone in on the lower scores and discuss with your team what it will take to adopt those behaviors more consistently. • Below 27, your team members' behaviors and relationships must improve. Reflect on how you can enhance psychological safety within your interactions. Then, decide which two or three behaviors you should all model to increase respect and trust between yourselves. As a team leader, the impact of your behaviors and actions can be significant, in both positive and negative ways. For example, imagine that, for some reason, you stop truly listening to your team members. Gradually, they stop expressing their ideas or even searching for ideas, and eventually, your meetings become a monologue — yours. Hence, the first thing I recommend is that you model the behaviors listed above. You may also invite your team members to rate themselves against the whole list and commit to demonstrating the behaviors they feel they haven't displayed enough. A second suggestion is for you to assess whether your team members' objectives are conflicting. For instance, if the production team is tasked with reducing costs and inventory, while sales is focused on increasing customers' satisfaction, their respective objectives must be in harmony to avoid conflict. With those basics in place, here are six actions you can take to help your leadership team play at its best. 1. Continuously enhance your team members' self-esteem through positive feedback. For instance, let Jane know you appreciate her choice of actions in a challenging situation that helped create a valuable outcome. Do so on the spot, sincerely, and be very specific in your feedback — go beyond a simple "good job!" and include details. 2. Make it uncomfortable to practice the unacceptable behaviors. For example, if John chronically interrupts others say, "John, I know you don't mean to interrupt others. Please hold back." There's a way to politely and professionally call team members out and make them aware. 3. Have honest conversations. If Richard is consistently abandoning behaviors of a great team player, ask him privately, "How will you ensure that you get back to displaying X?" If Richard answers with excuses or an empty promise, repeat the question until you get a real commitment. 4. Foster accountability. If two of your team members come to you to arbitrate a conflict that you believe they can resolve by themselves, tell them so. If you play the role of rescuer, it can activate the "aggressor" or "victim" attitudes in your employees. Instead, encourage them to be accountable for generating win-win solutions on their own to the conflicts they are party to. 5. Build connections. One-on-one meetings with managers are common, but your team can benefit from meeting with each other too. Request team members hold bi-monthly one-on-one check-ins with each other to express appreciation for the support they recently offered each other and share where they need help going forward. 6. Get feedback. Once a quarter, invite your team to identify one or two ideas to make your team meetings even more valuable. Not sure where to start? Draw on these questions and activities. If your team is experiencing a time of crisis, there are additional steps you, the leader, and your team may want to take to catalyze your team's collective intelligence. Here's to wishing you and your team an enriching journey as you ascend to new heights of individual and collective performance together. Forbes Coaches Council is an invitation-only community for leading business and career coaches. Do I qualify?

As he took questions both onstage and later out on the street following a Sunday night screening at the Torino Film Festival – where his film, "The Noise of Engines," played in competition – director Philippe Grégoire found himself on the opposite end of an interaction he knew all too well. Like so many filmmakers, Grégoire himself was once an eager festivalgoer, often staying late after a screening to hear this or that director speak about their craft; in a move perhaps less common, Grégoire could pinpoint one of those moments – a Q&A with fellow Quebecois director Denis Côté, to be precise – as the exact point he decided to step behind the camera. "I was in the same exact place," he tells Variety. "I had to take a decision. I figured even if no one would watch my movie, even if it was risky, even if I wasn't sure whether something was a good idea or not, to go for it." By 2018, Grégoire had authored a handful of self-funded shorts, nearly all of them shot in his hometown of Napierville, Quebec – a spartan municipality, just 20 miles north of the U.S. border, that mostly filled the pipeline for Canadian Customs recruits. In his early adulthood, the director had been one of them, working for a spell as an arms instructor once the federal government decreed that all agents pack heat. It was a time of life he didn't particular wish to relive and knew he had to revisit as he prepped his feature debut. "I figured I would write a movie and probably have to shoot with my own money and have to ask friends for help," he says. "I wrote it thinking of what I had access to. I had a room in the house where I grew up, so I figured it might as well be there." Recognizing that his film would build on personal experience, and on the intense and conflicted emotions one feels for their hometown, Grégoire worked a degree of ironic distance into the script – devising an absurdist take on state bureaucracy and early adulthood ennui that follows 20-year-old Alexandre (Robert Naylor) as he returns home on a particularly fraught workplace suspension. Confident in his hand, Grégoire played his cards. "I thought this could be the exact kind of movie that could fit with [Telefilm Canada's] Talents to Watch," he says. The public program, which offered a dedicated support fund to emerging filmmakers prepping feature debuts, would be celebrating an anniversary in 2018, marking for a uniquely auspicious moment. "They were celebrating the 50th anniversary of Telefilm Canada, so they said let's fund 50 projects," Grégoire explains. "If you're not afraid of anything, if you're willing and able, they could be open. I knew I had this card to play… So I was focusing on being at the right spot at the right time." The bet paid off. Armed with $125,000 (of a total of budget that, thanks to additional supports, would top out just under $200,000) in public funds, Grégoire went about assembling a 15-strong team that mostly consisted of people he already knew – sometimes very well. "My girlfriend Amélie did the costumes, my mom did the cooking and my dad was the gofer," he says. "I used the same crew I had for my shorts, who are all good friends. When you've been working with them for so long, they come through for you no matter the budget." As he enjoys festival acclaim and an international tour that has already taken him to San Sebastian and Torino, ahead of an early 2022 domestic release before additional global hits, Grégoire admits to a certain degree of reticence when making this DIY effort. "This is something I'd been crossing my fingers and hoping for, but I would never have said as much out loud when making the movie," he says. "I just made it for people like myself, and quietly hoped." Not that his current circuit doesn't bring a different set of challenges. "I was thinking that I'd be a lot closer to home, that I would have some time to work, because I have some ideas for new projects," he says with a laugh. "Only now I've been at film festivals, I'm just trying to be as effective as I can. That isn't always the case. I have some emails that are already two months late!"

The Omicron variant of the coronavirus is here, and with it will likely come a revival of the failed, slogan-based policies that were widely embraced early in the pandemic: lockdowns, social distancing, mask mandates, and of course vaccines and boosters for everyone, whether you want them or not. In a video statement Friday, the World Health Organization said that with the arrival of the Omicron variant, the important thing is to "lower your exposure" to the virus and embrace "proven public health measures" like masking, social distancing, avoiding crowded spaces, and so on — all the things, in other words, that made no difference to the spread of Covid the first time around. What the WHO is proposing, in other words, is not a policy response rooted in science and real-world experience with the pandemic, but one rooted in symbol. Indeed, symbol-based policy has largely come to rule not just our pandemic response, but much of American public life. Remember "two weeks to stop the spread" last spring? That was a slogan, a symbolic response to justify the first of what would become many government-mandated lockdowns and business closures. It was not an actual solution to a real-world problem, but the sort of thing you get when you put liberal arts majors in charge of public health policy during a global pandemic. The Technical Advisory Group on SARS-CoV-2 Virus Evolution met today to review what is known about the #COVID19 variant B.1.1.529. They advised WHO that it should be designated a Variant of Concern. WHO has named it Omicron, in line with naming protocols https://t.co/bSbVas9yds pic.twitter.com/Gev1zIt1Ek World Health Organization (WHO) (@WHO) November 26, 2021 Just because it was a symbol, however, did not mean it did not have real-world consequences. The past 20 months have indeed been full of real-world consequences, some of them dire. But they have not stopped our commitment to symbols over hard realities and trade-offs. This has been a persistent feature of the pandemic response in the United States and other western countries. In Australia, the authorities are so committed to symbol-based pandemic policies they kept millions of people locked in their homes for months on end and deployed police in riot gear to attack anyone who dared to protest. We're not quite there yet, but there is tendency in American politics going back many years to govern by symbol over reality, even when the consequences are horrible. For example, when activists and lawmakers on the left rally around calls to "defund the police," they are governing by symbol, not reality. Often, this goes badly. For example, few on the left actually desire the rather predictable results of defunding police departments, which in the real world translates directly to more crime, violence, and lawlessness. Consider the brazen mass burglaries in San Francisco recently, in which dozens of people looted a string of upscale stores and cannabis dispensaries, and the next day some 80 people burglarized a Nordstrom in Walnut Creek, Calif., 25 miles away. These robberies come amid a sharp increase in shoplifting throughout the city in recent years that has been encouraged by a lack of police response and an aversion to prosecuting property crimes, all of which is directly related to the idea — the symbol — of "defund the police." The purpose of "defund the police" as political movement is not, of course, to cause a spike in shoplifting and burglaries, much less violent crime. Its proponents claim it is about social justice and combating "systemic racism" (itself a symbol), but mostly it is about making people feel better about a problem that seem unsolvable. In practice, using symbols this way works chiefly as a tool to identify allies, form coalitions, and expose enemies. It is a signifier, much like "black lives matter," "kids in cages," and the "Green New Deal." How you respond to these symbols indicates which side you're on. The right does this, too. Think "the war on terror" or "the war on drugs," or even "build the wall." But no matter which side enacts symbol as policy, the costs are imposed on all of us. The cost of "the war on terror" symbol, it turns out, was 20 years in Afghanistan with nothing to show for it. Closer to home, the costs are more immediately felt. American cities governed by left-wing activists, like San Francisco and Seattle, routinely enact symbol-based policies that almost always end up having unintended, acute negative consequences. That's how you get, for example, members of the city council in Washington, D.C., asking Mayor Muriel Bowser to stop clearing out homeless encampments in the winter, even though it would mean moving the homeless from tents to housing. Or as my colleague Emily Jashinsky put it, "urging the city to enable illegal outdoor living to prevent hypothermia." The progressive experiment playing out in our cities is so backwards, so illogical, and so tragic. In this case, progressive officials are urging the city to enable illegal outdoor living to prevent hypothermia. https://t.co/JuO49rqHdQ @ShellenbergerMD pic.twitter.com/8q7K6wndEL — Emily Jashinsky (@emilyjashinsky) November 29, 2021 What, you might ask, is the symbol at work here? It is something like, "homelessness is not a crime," and it functions exactly as all the others do. A desire to do something about homelessness ends up, by way of a symbol, creating a policy that encourages and enables homelessness during the most dangerous months of the year. Why do we do this? Why do we consistently act as though a symbol can actually solve very complex and intractable problems in the real world? The answer to that question is itself complex, but in short the answer is that some problems cannot be solved by policy, or any amount of government action. Some problems are in fact impossible to solve, even given unlimited government power. So instead of facing that reality and grappling with its implications, we conjure up symbols and pretend they are solutions. In doing so, we feel good about ourselves, because what matters in a world defined by symbols is not the consequences of our actions or policy choices, but the ability to choose actions or policies based on their correspondence to the symbol. That brings us back to the Omicron variant. When public health authorities begin lecturing us once again about how we have to stay in our homes, wear masks, and keep society locked down, remember that they are not really proposing solutions to a complex real-world problem. At best, they are pretending to have solutions to a difficult and likely unsolvable problem rather than admit there is no solution. At worst, they are using symbols to identify allies and enemies, to find out who will comply with the government's newfound pandemic powers, and who will resist.

Cyber Monday sales have become as much a holiday shopping fixture as Black Friday, and until yesterday even more reliable. Even in last year's pandemic-impacted economy, online sales grew year-on-year as they always do. Not this year, however, as CNBC reports that sales dropped for the first time ever: The news isn't all bad from Adobe, however. Don't get too confident in that prediction. CNBC's Lauren Thomas concludes that Americans have spread out their purchases across the entire month rather than waiting for Black Friday or Cyber Monday deals. That's likely part of the explanation for the retreat, but another is the supply-chain crisis. Americans are shopping early because they have to start earlier. Many products, especially in consumer electronics and in larger-ticket items, are back-ordered. It might already be too late to go Christmas shopping if the aim is to have presents under the tree. If that's the case, then the shopping curve may bend downward sooner and more sharply than Adobe projects. That's not the only reason that Cyber Monday shopping may be down or why shopping curves may start declining more sharply. We see another big factor every time we go to the pumps, although we might not know the amplitude of gas-price inflation. The Wall Street Journal settles that point, and makes another about the way it's eating into family finances: The hit from higher gas prices comes in two directions. First, it costs 50% more to fill the tank, which is a big deal for working-class families with smaller amounts of disposable income. Less directly, fuel-price increases drive higher prices for goods at the market, especially for fresh vegetables and meats, which are the basis of better diets. Groceries and gas are eroding the disposable income for working- and middle-class families and setting up incentives for discounted and less health fare. In this environment, we can't expect robust holiday shopping, even with inflation making it look better than it really is. If fuel and food prices continue to climb at this rate, we're looking at a bleak Christmas season.

Netflix's "Squid Game" and "The Guilty" have debuted on BARB, the U.K. television audience measurement currency, as the organization has revealed a "once-in-a-generation upgrade." Subscription video-on-demand (SVOD) and video-sharing platform measurement has been introduced in BARB's service bouquet. BARB is now able to measure the reach and total time spent viewing SVOD services such as Amazon Prime Video, Disney Plus and Netflix, and video-sharing platforms like TikTok, Twitch and YouTube. Regardless of whether these services have chosen to subscribe to BARB, measurement is done via data collected from router meters installed in BARB panel homes. BARB can also now report the audiences to programs viewed on TV sets on the most-watched SVOD services in BARB panel homes — Amazon Prime Video, Disney Plus and Netflix — whether they are BARB subscribers or not, using Kantar's SVOD programme measurement system. The organization has released a preview chart of its new measurement services that covers all broadcast and streamers in October. This shows that Netflix's "Squid Game" ranked 10th with 5.7 million viewers, after BBC One's "Strictly Come Dancing" (10.4 million), 's "The Great British Bake Off" (8.8 million) and ITV's "The Larkins" (6.5 million) in the top three spots respectively. A further three Netflix shows — "The Guilty, "You" and "Maid" — and one Disney Plus title, "Black Widow," placed in the top 100 most-watched programmes in October. Amazon Prime Video's highest-ranked entry didn't make it into the top 100 for this calendar month. BARB has now updated its definition of total television viewing to total identified viewing with three constituent parts: Total broadcaster viewing – time spent watching linear broadcast channels and BVOD services, including live viewing, pre- and post-broadcast viewing and viewing to archive box-sets on a BVOD service. Viewing is reported across four screens (TV sets, tablets, PCs and smartphones). For tagged services, this includes any viewing streamed through something other than the home WiFi network. Total SVOD/AVOD viewing – time spent viewing 16 VOD services, including Amazon Prime Video, Disney Plus and Netflix, on four screens. This only includes viewing through a home's WiFi network. Total video-sharing viewing –time spent viewing platforms such as TikTok, Twitch and YouTube, on four screens, through a home's WiFi network. From January 2022, BARB's website will feature a regular monthly breakdown of total identified viewing. Justin Sampson, BARB chief executive, said: "Understanding people is at the heart of BARB's remit and it's been clear for some time that streaming services have started to attract viewers who have traditionally relied solely on linear channels for their viewing entertainment." "It's great news for the television and advertising industry that we're upgrading our always-on measurement service to include SVOD and video-sharing platforms. For the first time there is audience measurement for these services that bears all the hallmarks of a joint-industry currency: independence, objectivity and transparency," Sampson added.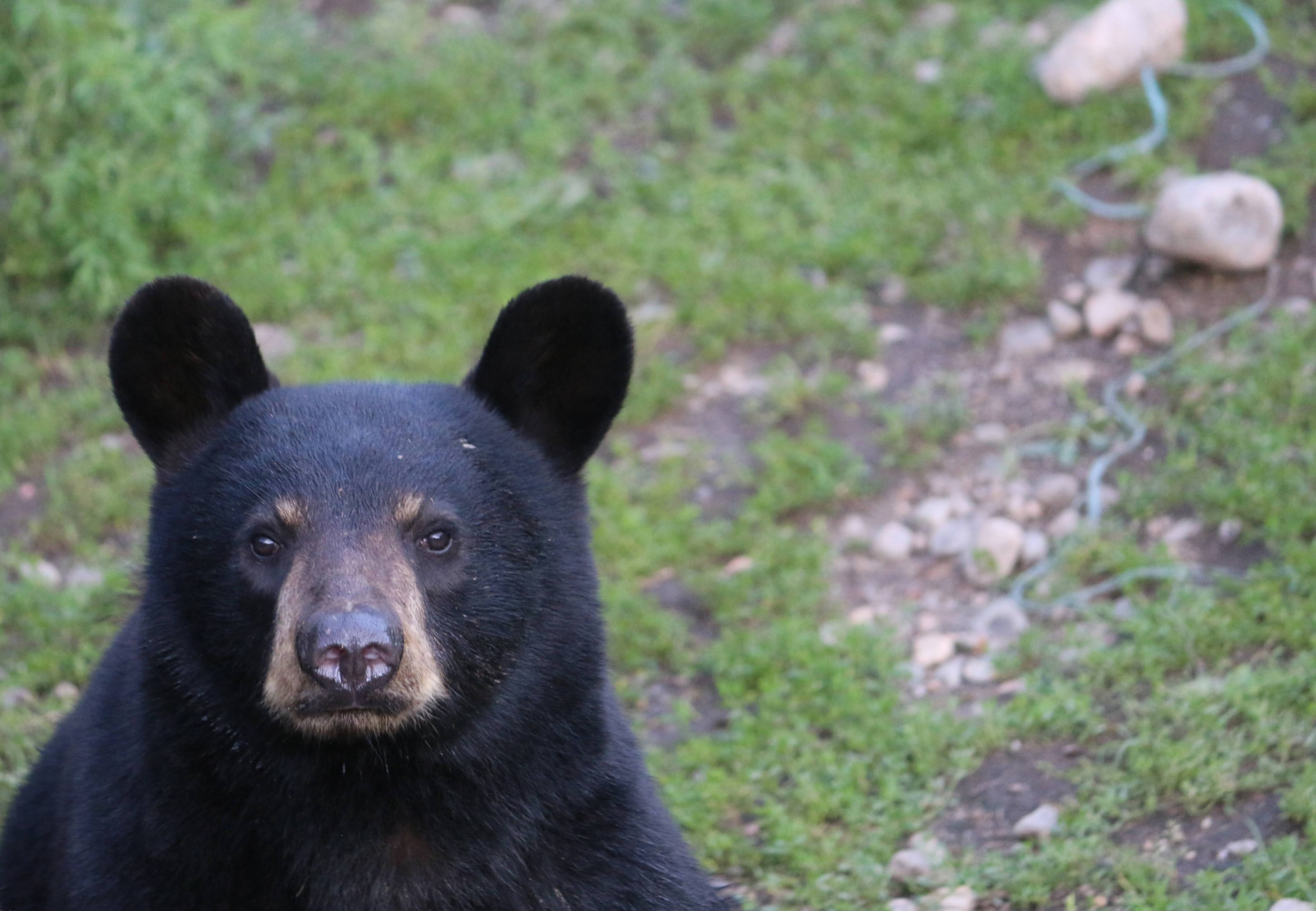 A Ring doorbell has captured the moment a bear broke into a woman's home and helped himself to hundreds of dollars worth of frozen meat from her freezer. Amy Franklin, from Colorado, posted the video of the bear enjoying the contents of her garage freezer to Facebook, writing: "I forgot to shut the garage door. Won't make that mistake again. "He was here for an hour and a half. the videos are amusing." She told Nexstar Media Wire that the garage was a bit of a mess the next day. In total, the ursine invader consumed over $600 of meat. The bear was caught on Franklin's Ring camera just before midnight local time. Footage from inside her garage shows the bear opening the freezer door and chowing down on the food inside. Franklin said the bear "made out like a bandit" before going on his way. This visit to Franklin's home took place in October. The following month another bear came to visit, with Franklin posting a video of that encounter as well. "This guy has it out for me", she wrote. "Good thing we heard him. Jake scared him off right before he jumped into the back of the truck." There are an estimated 8,000 to 12,000 black bears living in Colorado. Bears enter a state of pre-hibernation in fall known as hyperphagia. At this time they need to consume up to 20,000 calories per day and encounters can increase as a result. In 2020, there were almost 5,000 reports of bears in the state, with a third of these being related to trash. Colorado Parks & Wildlife (CPW) said it euthanized 120 bears in 2020. Trash and bird feeders tend to be the first way bears associate with people and they serve as the first step in a bear being habituated, the CPW said. "After learning this house or neighborhood has easy calories available to them in those forms, the next place they may look to for more is in an open garage, or pet food on your deck, or even break into your car for a treat it can smell", it said. "Breaking into a home is the leading cause of bears being put down." Fatal bear attacks are rare in Colorado. In May a 39-year-old woman from Durango was found dead after a suspected bear attack. She is thought to have gone walking with her dogs before returning to her home. Her boyfriend arrived at 8.30 p.m. local time and found the dogs outside. The woman's body was later found with signs of consumption. A female bear and her cubs were found nearby and euthanized.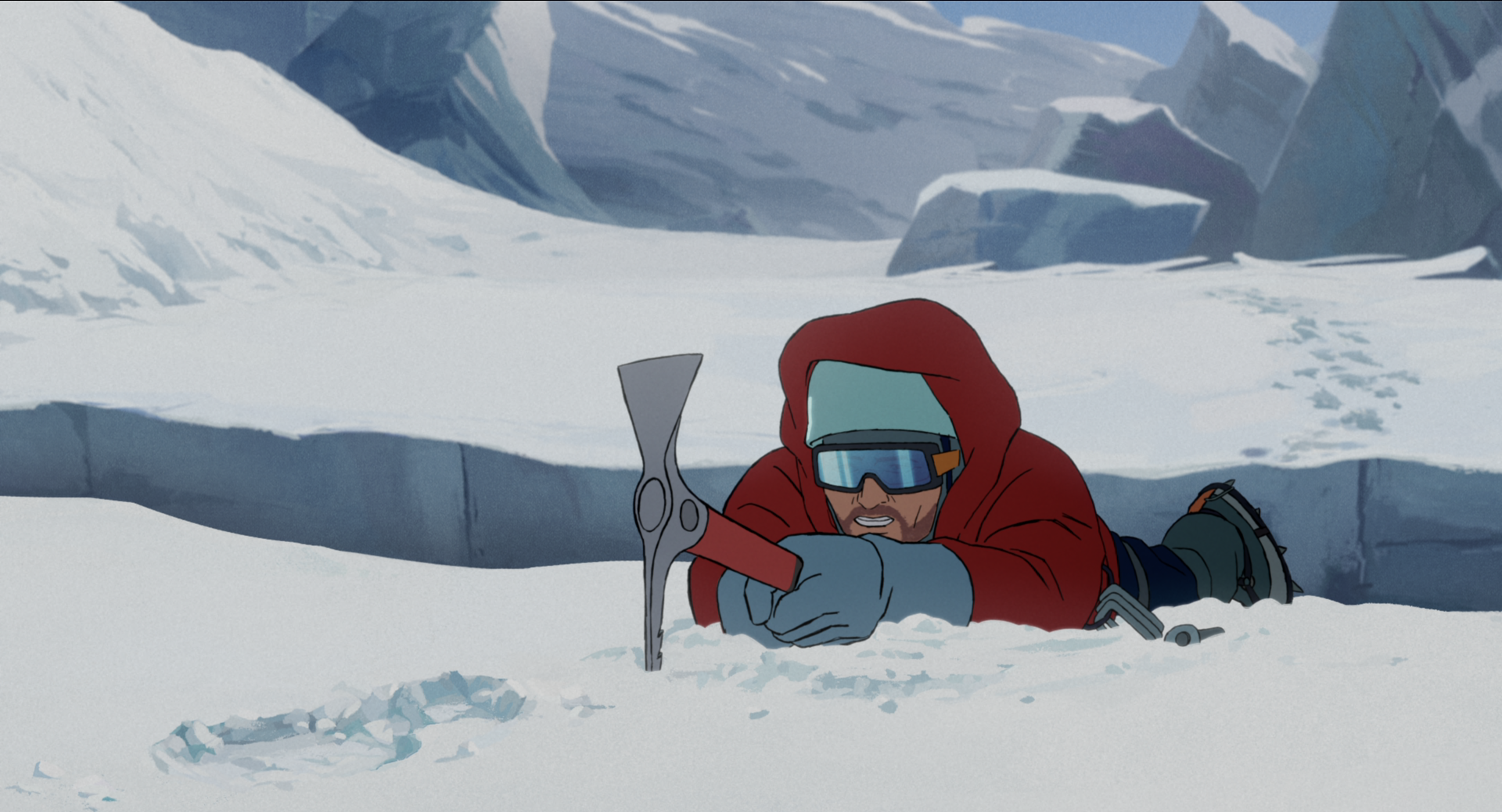 Directed by Patrick Imbert, the French-language animation centres on journalist Makoto Fukamachi (voiced by Damien Boisseau) and his quest to find Habu Joji (Eric Herson-Macarel), as well as their survival in the harsh climates that took Mallory and Andrew Irvine's lives. While Fukamachi and Joji aren't real people, Mallory and Irvine certainly were and the two mountaineers disappeared in 1924 during an expedition on the Himalayan peak. Mallory's body was found in 1999 but Irvine still remains missing to this day, and the former's camera is something that historians and mountaineers alike have been keen to find since their death, because they feel it will prove whether or not Mallory and Irvine made it up to the summit, or not, before they died. "When the novel was written the bodies hadn't been found at all, so the novelist was free to write whatever he wanted for the end of the story, and for the manga it [was] the same", Imbert explained of the film's storyline. "But in the meantime there was an expedition, there were a lot of expeditions looking for them and they found Mallory's body, but unfortunately he didn't have the camera with him so the mystery is still [around]. "There is still a mystery because they haven't found the body of Andrew Irvine, and maybe he's the one with the camera. We don't know. Everybody's looking for Andrew Irvine's body." But while Imbert included the camera in the film he was keen on not making it the centre of the story, instead preferring to focus on Fukamachi and Joji's journey and what they learned through climbing Everest. Calling the camera "convenient", he said: "Hitchcock used to call it a MacGuffin, it is anything that allows the story to start, to begin, right? So it's more or less this." In the film, Fukamachi is given the camera and discovers the truth behind Mallory and Irvine's ascent when he develops the photographs, but Imbert chose to keep this hidden from viewers because he "didn't feel comfortable" with giving a definitive answer to the ongoing debate. Imbert explained: "In the manga, at the end, there's a kind of tribute to [Mallory and Irvine] and they have the answer on the picture, Fukamachi has the answer and the reader knows what is on the picture. "But when I had to adapt [it] I didn't feel comfortable with this, because, for me, it's not important to know what happened. So I changed the story. "But, still, it is a real story. But I tried to make [the camera] less important, so it's important but [the focus] veers more and more towards [Fukamachi and Joji]." Imbert added that while the camera was key to Fukamachi's character arc, he was meant to find more meaning to life through the journey he went on, rather than because of the device itself. "Everything he experienced to get to this point leads him to think 'ok this is not important anymore', and this is the message of the movie. "It changes him and the message is no matter who was first at the summit, no matter who was better we don't care, the main thing is to do what you want to do."



Total 59 articles.
Version: 9.83.38380-256015. Input files: 1, items detected: 6749, scanned: 6749, accumulated: 59, inserted: 59, exclude filters: 0, include filters: 0, empty media: 324, filtered media: 372, duplicated media: 165, not matched limits: 744, passed http check: 0, not passed http check: 0, http check errors: 0, skipped: {total: 6690, by unique value: 0, by limits: 1505, by similarity: 39, by unicity: 614, by dates: 860, by classifier: 4642, by blacklist: 627, by mandatory tag: 0, from input files: 0}, bad dates: 0, similar from same domain: 3411, unique Ids: 0, unchangeble patterns: 1404, words comparisons: 93999616/11149468, python: 2.7.13 (default, Sep 26 2018, 18:42:22) [GCC 6.3.0 20170516]; the same images URLs found 5508 times; total 0 languages detected: {}; {u'text': {u'chars': 9342365, u'bytes': 38441128, u'words': 1512256, u'sentences': 96834}}
Created at 2021-12-01 05:52