Announcement
DC5n United States financial in english 97 articles, created at 2021-07-08 07:16 articles set mostly positive rate 6.0
(14.99/15)

1

0.7

Bill and Melinda Gates Foundation sets 2-year, post-divorce power share trial

If they can't work together, he'll essentially buy her out, and she'll start her own charitable entity. 2021-07-07 20:13 5KB www.ocregister.com

(11.99/15)

2

0.3

England outlasts Denmark to reach Euro 2020 final

Harry Kane converts the rebound after his initial penalty shot is saved in the 104th minute for a come-from-behind 2-1 win in extra time. England will face Italy on Sunday in its first final since … 2021-07-07 22:56 4KB www.ocregister.com

(5.99/15)

3

1.1

Transit Workers Honored During Hometown Heroes Ticker Tape Parade: They 'Carried The City On Their Back'

Wednesday's Hometown Heroes ticker tape parade featured the transit workers who helped get people around the city through COVID. 2021-07-07 22:54 3KB newyork.cbslocal.com

(5.31/15)

4

0.2

What's behind the push for a fourth stimulus check

As the IRS distributes the $1,400 stimulus payments, some lawmakers say the money won't last three months. 2021-07-07 11:14 8KB www.cbsnews.com

(3.13/15)

5

0.1

Vatican Insider: Pope Francis 'Will Never Be the Same' After Colon Operation

ROME — Luis Badilla, editor of the semi-official Vatican news aggregator Il Sismografo , said Wednesday that Pope Francis' health situation is "severe" and when … 2021-07-07 14:59 3KB www.breitbart.com

(3.09/15)

6

0.0

Tax Refund Delays: The IRS Still Has 35 Million Unprocessed Tax Returns

While the IRS sent out two stimulus checks and updated the Child Tax Credit this year, it fell short of its core mission. 2021-07-07 16:19 8KB chicago.cbslocal.com

(3.07/15)

7

0.6

Nevada State Athletic Commission votes not to discipline boxers, MMA fighters for marijuana use

The most significant regulator of combat sports has made a huge move in the way it deals with ... 2021-07-07 21:23 771Bytes lasvegassun.com

(1.16/15)

8

0.2

Here's Why Cigna Is A Better Buy Compared To UnitedHealth Group Stock

We think that Cigna (NYSE: CI) currently is a better pick compared to UnitedHealth Group. CI stock trades at about 0.5x trailing revenues, compared to around 1.5x for UnitedHealth. Does this gap in Cigna's valuation make sense? We don't think so. While both the companies have benefited... 2021-07-07 14:20 4KB www.forbes.com

(1.15/15)

9

0.4

Roaring miners lift FTSE as US stocks left behind

European mining shares were boosted on Wednesday as commodity prices rose, offsetting falls elsewhere on the index FTSE 100. 2021-07-07 15:07 4KB www.independent.ie

(1.13/15)

10

0.3

Biden readies order to rein in worker non-compete clauses and make switching jobs easier

President Joe Biden will call on the Federal Trade Commission to curtail worker non-compete agreements and eliminate "unnecessary" licensing requirements. 2021-07-07 18:45 4KB www.cnbc.com

(1.06/15)

11

0.0

Stocks fall, banks see declines as bond yields sink quickly

Stocks were slightly lower Wednesday, a day after the S&P 500 snapped a seven-day winning streak. 2021-07-07 14:55 2KB eu.detroitnews.com

(1.05/15)

12

0.9

Stock futures tick higher after S&P 500, Nasdaq notch fresh records

Futures inched higher at the start of the overnight trading Wednesday after both the S&P 500 and Nasdaq Composite closed at records. 2021-07-07 23:06 3KB www.cnbc.com

(1.05/15)

13

0.8

Zomato raises IPO size amid robust demand; issue likely to open on July 14

Read more about Zomato raises IPO size amid robust demand; issue likely to open on July 14 on Business Standard. IPO price band likely to be Rs 70-72 per share 2021-07-07 15:32 2KB www.business-standard.com

(1.05/15)

14

0.3

European Commission sees the economy recovering faster than expected.

Nineteen countries in the eurozone are expected to grow 4.8 percent in 2021, half a percentage point more than previously forecast. 2021-07-07 11:22 14KB www.nytimes.com

(1.01/15)

15

0.2

Angelina Jolie Wants to Sell Her Winery With Brad Pitt, Accuses Him of Blocking the Sale

Angelina Jolie wants to sell the Miraval winery she shared with Brad Pitt but claims he's trying to block her from doing so — read more 2021-07-07 22:00 3KB www.usmagazine.com

(1.01/15)

16

0.3

Car sales slump as vehicle prices continue to surge

Used cars cost nearly $5,000 more than a year ago, driven by a shortage of computer chips that's crimping production. 2021-07-07 21:37 7KB www.cbsnews.com

(1.01/15)

17

0.4

Stocks stumble anew as Delta peril remains

The benchmark Philippine Stock Exchange Index (PSEi) lost ground on Wednesday as Asian markets retreated and investors worried about the pace of recovery amid the … 2021-07-07 21:12 1KB business.inquirer.net

(1.01/15)

18

0.8

The 20 most popular things our readers bought from Amazon in June

— Recommendations are independently chosen by Reviewed's editors. Purchases you make through our links may earn us a commission. June was full of big milestones— … 2021-07-07 20:36 13KB www.usatoday.com

(1.01/15)

19

0.7

How major US stock indexes fared Wednesday

Stocks are closing higher Wednesday, led by gains in Apple, Oracle and other tech companies. The S&P 500 rose to a record high. Banks rose despite another drop… 2021-07-07 20:25 1KB wtop.com

(1.01/15)

20

0.2

Amazon, Apple And S&P 500 Hit New Highs As Big Tech Stages Massive Rally

Ushering in the market's gains, Federal Reserve officials signaled they're not ready to pull their unprecedented economic support just yet. 2021-07-07 20:17 2KB www.forbes.com

(1.01/15)

21

0.5

S&P 500 closes at record high as FOMC minutes show little changes to rate outlook

The S&P 500 closed at a record high on Wednesday amid falling Treasury yields as minutes from the Federal Reserve's June meeting showed … 2021-07-07 20:13 2KB markets.businessinsider.com

(0.99/15)

22

0.9

New Sling TV subscribers can get $25 off their first month, or 2 months for free with select Verizon plans

Good Subscriber Account active since When you buy through our links, Insider may earn an affiliate commission. Learn more. Dollar for dollar, Sling TV is … 2021-07-07 20:05 5KB www.businessinsider.com

(0.99/15)

23

0.4

TRENDING ON TOWNHALL MEDIA

The media should probably just stop reporting on these, at least until there's a strain out there that really does reliably punch through the vaccines. Otherwise, what's the point? Neither... 2021-07-07 18:01 4KB hotair.com

(0.27/15)

24

0.6

Oil and Gas stocks slide

Read more about Oil and Gas stocks slide on Business Standard. Oil and Gas stocks were trading with losses, with the S&P BSE Oil&Gas index decreasing 111.63 points or 0.69% at 16036.37 at 13:49 IST. 2021-07-07 08:30 2KB www.business-standard.com

(0.21/15)

25

0.1

Nifty July futures trade at premium

Read more about Nifty July futures trade at premium on Business Standard. NSE VIX fell 0.5% to 12.21. 2021-07-07 11:30 1KB www.business-standard.com

(0.08/15)

26

0.5

A £8 Billion WISE Way To Start A Listed Era - ValueWalk

Wise PLC (LON:WISE) may have flown into the stock market blindfold, given that by choosing a direct listing, its share price wasn't decided 2021-07-07 14:35 3KB www.valuewalk.com

(0.07/15)

27

0.5

Don't hire a remote salesperson unless they have this quality - ValueWalk

Obviously, when hiring a remote salesperson - really, any salesperson - you want the driven adaptors, not the hammock hitters. 2021-07-07 18:10 8KB www.valuewalk.com

(0.06/15)

28

0.4

All India Peak Electricity Demand Crosses 200 GW

Read more about All India Peak Electricity Demand Crosses 200 GW on Business Standard. Powered by Capital Market - Live News 2021-07-07 12:50 1KB www.business-standard.com

(0.03/15)

29

2.8

Indie Agency Engine's Sale Sparks Questions of Who Might Buy

The network could also be a major player in post-pandemic M&A growth. The network could also be a major player in post-pandemic M&A growth. 2021-07-07 16:43 1008Bytes www.adweek.com

(0.03/15)

30

0.7

Wise makes history as London's biggest ever tech listing

Money transfer firm Wise joined the London Stock Exchange on Wednesday in the biggest flotation of the year and the largest tech listing in the stock market's history. 2021-07-07 11:14 4KB www.independent.ie

(0.03/15)

31

0.2

Has Harley-Davidson's Stock Already Priced In Recovery?

Harley-Davidson's stock, has gained 27% - moving from about $37 to $47 since the end of 2020. The price rose in 2021 as the company started recovering after it was hit hard due to the pandemic in 2020. In 2020 sales volume fell by 32% for the year, which caused revenue to fall by 25% y-o-y to... 2021-07-07 09:00 2KB www.forbes.com

(0.02/15)

32

0.4

Under Armour is discounting hundreds of styles to keep you cool and dry this summer

Under Armour always takes quality into consideration for its clothing, shoes and accessories — but certain options can get pricey. That's why we're hyped for UA's Semi Annual Sale, which means up to 50% off hundreds of items. 2021-07-07 16:34 3KB us.cnn.com

(0.02/15)

33

0.8

Opaque raises $9.5M for encrypted data analytics

Opaque, a startup leveraging encryption technologies for data and analytics, has raised $9.5 million in venture capital. 2021-07-07 15:20 4KB venturebeat.com

34

0.3

Egypt urges UN to back call for binding deal on Ethiopia dam

UNITED NATIONS (AP) — Egypt's foreign minister said Wednesday he will urge the U.N. Security Council to require Egypt, Sudan and Ethiopia to negotiate a binding… 2021-07-07 22:12 5KB wtop.com

35

0.2

EU Plans to Exempt Celebs' Private Jets From Green 'Climate Tax'

The European Commission's draft changes to environmental directives argue both cargo and private business flights should not have to pay extra fuel duties when they are... 2021-07-07 21:47 1KB sputniknews.com

36

0.7

California bill would regulate booming debt settlement industry

A bill aims to create new rules for California's mostly unregulated debt settlement industry. AB 1405, expected to pass through Senate committees, comes at a time when the industry expects to see a… 2021-07-07 21:34 10KB www.ocregister.com

37

0.1

Tax justice group calls on Detroit to fix 'unfair' property assessments

Group wants the city to compensate those who had homes taken from them. 2021-07-07 20:58 6KB eu.detroitnews.com

38

0.6

The 5 best Amazon deals you can get this Wednesday

— Recommendations are independently chosen by Reviewed's editors. Purchases you make through our links may earn us a commission. With July underway, summer is in … 2021-07-07 20:42 4KB www.usatoday.com

39

0.7

MarketAxess, Valero fall; Steel Dynamics, LGI Homes rise

Stocks that traded heavily or had substantial price changes Wednesday: SMART Global Holdings Inc., up $8.47 to $56.02. The computer memory technology company… 2021-07-07 20:22 1KB wtop.com

40

0.8

Designers Are Trying To Make 'Toe Shoes' A Thing & I Have Questions

From Schiaparelli's toe shoes to Giambattista Valli's tulle, find the top moments from Fall 2021 Couture Fashion Week here. 2021-07-07 20:01 4KB www.bustle.com

41

0.3

World's largest asset manager downgrades its outlook on SA and other emerging markets' equities

BlackRock is downgrading its outlook for emerging market equities and currencies from overweight to neutral. 2021-07-07 20:00 3KB www.news24.com

42

0.5

Homeowners in Missouri are Selling Fast, Reflecting US Market Trends

The housing market is seeing a rise in sales. National new home construction in May was up 34.9 percent from May of 2020, and … 2021-07-07 19:33 5KB www.theepochtimes.com

43

0.5

Luggage and travel gear deals for your well-deserved summer vacation

Save money on this season's most popular suitcases, carry-on bags, backpacks and more for summer trips. 2021-07-07 19:23 4KB www.cbsnews.com

44

0.2

Congress may curb abuses of this charitable deduction used by the wealthy

Wealthy Americans can claim tax deductions for preserving land. 2021-07-07 19:22 5KB www.cnbc.com

45

1.1

Josh Richards Is A Business Mogul

Josh Richards has formed a production company with Mark Wahlberg, created the BFFs podcast, helped form a $15m venture capital fund and so much more in the last six months. 2021-07-07 19:14 5KB www.forbes.com

46

0.0

Fed officials were divided over inflation risks and bond-buying when they met in June.

The Federal Reserve's policymakers debated the risks of overheating and the path ahead for policy at the central bank's last meeting. 2021-07-07 18:45 4KB www.nytimes.com

47

0.2

Montenegro Looks to Refinance Chinese Debt Trap Loan Used to Build 'Road to Nowhere'

Montenegro is negotiating with "a number of Western banks from Europe and the United States" to refinance almost a billion dollars in loans taken out … 2021-07-07 18:45 10KB www.breitbart.com

48

0.1

How To Trade Momentum Stock Nvidia

Several Wall Street analysts have recommended buying Nvidia over the last several days. Not so fast--read this before making any moves. 2021-07-07 18:42 3KB www.forbes.com

49

0.7

German Market Waiting for Russian IT Products

A panel discussion on Russian exports to Germany has been held at INNOPROM 2021. 2021-07-07 18:33 2KB sputniknews.com

50

0.3

DeFi Reinvents the Bucket Shop for the Better

There are certainly risks to decentralized finance, but history reveals benefits to go along with those risks. 2021-07-07 18:28 5KB www.bloomberg.com

51

0.3

What Can Be Classified as an Annuity and Not a Perpetuity? - ValueWalk

A perpetuity is a security that pays for an infinite amount of time," explains Julia Kagan over at Investopedia. In the finance world 2021-07-07 18:26 9KB www.valuewalk.com

52

0.5

Reduce prices or quit: Congress to PM on high fuel rates

New Delhi: As petrol price crossed the Rs 100-mark in Delhi, the Congress on Wednesday hit out at the government accusing it of "tax extortion" and 2021-07-07 17:46 4KB www.siasat.com

53

0.5

HVS 1Q21: Interviews With Arkto Capital and Old West - ValueWalk

Hidden Value Stocks issue for the 2Q ended June 30, 2021, featuring interviews with Arkto Capital and Old West Investment Management. 2021-07-07 17:03 4KB www.valuewalk.com

54

0.4

Cryptocurrency May Wreak Havoc on Economy — Especially on People With No Assets

A sudden uptick in hedge fund failures and corporate bankruptcies could lead to mass layoffs and a recession. 2021-07-07 16:59 13KB truthout.org

55

0.1

Redditors are pledging to avoid Robinhood's IPO, even as the company goes out of its way to lure day-trader interest

Robinhood wants the retail crowd to buy into its initial public offering , but some investors on Reddit are pledging to avoid the IPO. The trading … 2021-07-07 16:40 3KB markets.businessinsider.com

56

0.4

This Is The Key Level To Reignite The Bitcoin Rally

The Bitcoin price has shown low volatility lately. Its price is trading in a tight range, under $36,000. It is down more than 40% since its peak in April. 2021-07-07 16:29 3KB www.forbes.com

57

0.5

India Touts Its Controversial Farm Laws as Free Trade Agreement Negotiations With EU Make Headway

According to India's annual Economic Survey, the agriculture sector made up nearly 20% of the country's overall gross domestic product (GDP) in 2020, the highest in 17... 2021-07-07 15:40 4KB sputniknews.com

58

0.6

Pay no interest until 2023 on everything you buy with the U. S. Bank Visa Platinum credit card

If you need to finance a major purchase or even some everyday expenses over time, the no-annual-fee U.S. Bank Visa Platinum Card offers the longest introductory offer on both purchases and balance transfers, and cell phone protection to boot. 2021-07-07 15:38 7KB us.cnn.com

59

0.2

China is cracking down on stocks that trade on U. S. exchanges. Here's what it means if you hold them

China has vowed to crack down on domestic companies that list on U.S. exchanges, a move that could upend a $2 trillion market. 2021-07-07 15:10 6KB www.cnbc.com

60

0.6

A pack of smokes should cost at least R28 to fight illicit trade, says BATSA

Ipsos' survey shows that about 41% of sampled retailers sell cigarettes below the minimum collectible tax amount of R21.60 per pack of 20. 2021-07-07 15:09 3KB www.news24.com

61

0.1

Insider data breaches can cost companies as much as 20 percent of revenue

Data breaches from insiders can cost as much as 20 percent of annual revenue according to a new study from insider risk management company Code42. 2021-07-07 14:45 2KB betanews.com

62

0.8

Matterport SPAC Merger Imminent

Matterport, which makes 3D scans of building interiors, is going public later this month. 2021-07-07 14:45 5KB www.forbes.com

63

0.5

Is Clean Energy Fuels Stock Worth A Look After Recent Sell Off?

Clean Energy Fuels, a company best known for collecting and transporting renewable natural gas that is produced from the animal waste collected at dairy farms and related sources, has seen its stock rally by about 10% over the last month driven by interest from Reddit traders... 2021-07-07 14:40 6KB www.forbes.com

64

0.5

Consider these tax moves before paying for college

Before making college tuition payments, parents can plan tax-efficient ways to cover university costs. Here's what to consider before opening your checkbook. 2021-07-07 14:35 4KB www.cnbc.com

65

0.0

China will release more metals stockpiles in an effort to control soaring commodities prices

China is pumping copper, aluminum, and zinc into commodity markets to tamp down soaring materials costs, the country's strategic reserves agency announced on Wednesday. … 2021-07-07 14:24 1KB markets.businessinsider.com

66

0.6

Dollar General hires chief medical officer, as it looks to become a health-care destination in rural areas

The fast-growing discounter has many stores in parts of the country with few nearby grocery stores or major pharmacies. 2021-07-07 14:09 3KB www.cnbc.com

67

0.3

13 applications for a bitcoin ETF are in limbo as the SEC deliberates. Some fund managers see a double standard around how the regulator treats crypto.

If you invest in crypto, "ask questions and demand clear answers." That advice , from former SEC Chair Jay Clayton, is now being put to practice … 2021-07-07 13:33 4KB markets.businessinsider.com

68

0.1

Debt To Capital: Unscrubbed Data Creates Misleading Credit Ratings

This report explains how the "Adjusted" Debt to Capital ratio is different than the "Traditional" ratio because the Traditional ratio is based on unscrubbed financial data. 2021-07-07 13:20 12KB www.forbes.com

69

0.5

How RPA-As-A-Service Can Power The Next Mid-Market Winner

The cloud has become the default option for many enterprise applications because it has delivered on the promises of scale, security and internet availability. 2021-07-07 13:20 6KB www.forbes.com

70

0.5

Barcelona Midfielder 'Wants' Summer Transfer, Says Club Chief

The club has been "negotiating directly" with Barcelona and is confident of securing a transfer. 2021-07-07 13:17 3KB heavy.com

71

0.2

Duterte signs law enhancing congressional oversight over energy sector

President Rodrigo Duterte has signed into law a bill enhancing the powers and functions of the Joint Congressional Energy Commission (JCEC). Republic Act No. 11571, … 2021-07-07 13:15 1KB newsinfo.inquirer.net

72

0.7

Jobs Platform Creatively Sets Banking Partnership to Speed Freelance Payments

The Creatively Pay venture is designed to speed up the payment process for users of the online freelance job listings platform. 2021-07-07 13:00 2KB variety.com

73

0.3

DiDi's $3 Bln Options Payday: Who Might Have Gained?

Controversies are swirling around China's ride-sharing leader after its shares plunged in New York only days after its IPO. 2021-07-07 12:15 5KB www.forbes.com

74

0.6

14 Business Security Functions That Can And Should Be Automated

If you're looking to automate your security processes and aren't sure where to start, this expert advice can help point you in the right direction. 2021-07-07 12:10 7KB www.forbes.com

75

0.0

The U. S. wants to make EV batteries without these foreign metals. Should it?

Nickel and cobalt have precarious international supply chains, but eliminating them from batteries raises questions 2021-07-07 12:00 9KB www.salon.com

76

0.1

Morgan Stanley Stock To Increase Quarterly Dividend By 100%

Morgan Stanley's stock has gained 34% YTD, and at its current price of $92 per share, it is trading slightly above its fair value of 89 – Trefis' estimate for Morgan Stanley's valuation. The Federal Reserve released its 2021 Comprehensive Capital Analysis and Review ("CCAR") stress test results... 2021-07-07 12:00 11KB www.forbes.com

77

1.1

Currency In Circulation Gains 4.2% This Fiscal

Read more about Currency In Circulation Gains 4.2% This Fiscal on Business Standard. Powered by Capital Market - Live News 2021-07-07 11:58 1KB www.business-standard.com

78

0.1

Avoid The Double Tax Trap When Making Non-Deductible IRA Contributions

Before making after-tax contributions to a traditional IRA, understand the rules to avoid the double tax trap on withdrawals. 2021-07-07 11:40 7KB www.forbes.com

79

0.5

How Lawyers Can Sign More Cases Without Investing In More Marketing

How much time and energy is being wasted on marketing when the core issue of intake isn't being addressed? 2021-07-07 11:40 3KB www.forbes.com

80

0.8

Should Event Planners Hire Keynote Speakers Or Purchase Celebrity Videos?

Here are some things to consider if you're thinking of trying a celebrity video for your event instead of a keynote: cost, personalization and convenience. 2021-07-07 11:30 6KB www.forbes.com

81

0.6

Piramal Capital to raise up to Rs 1,000 crore through bond issue

Read more about Piramal Capital to raise up to Rs 1,000 crore through bond issue on Business Standard. The firm plans to issue non-convertible debentures of various tenors 2021-07-07 11:28 3KB www.business-standard.com

82

0.2

7 Trends For Adapting To A Post-Pandemic World

Here are a few predictions to help organizations fulfill future consumer needs. 2021-07-07 11:20 6KB www.forbes.com

83

0.3

Are state interest-rate caps an automatic win for borrowers?

Small-dollar, short-term lenders, unburdened by a federal maximum interest rate, can charge borrowers rates of 400% or more for their loans. But more states are… 2021-07-07 11:00 5KB wtop.com

84

0.5

Why do we buy what we buy?

A sociologist on why people buy too many things. 2021-07-07 11:00 16KB www.vox.com

85

0.5

The Three Benefits Of Corporate Venture Capital (And How To Choose The Right Firm)

When our CEO gathered our small team to share the good news in the form of the VC's freshly-cut check, I was inspired by what it meant beyond mere funding: Someone believed in our vision so much that they were willing to help us keep building what we were creating. 2021-07-07 11:00 6KB www.forbes.com

86

1.1

Quick Wrap: Nifty Metal Index gains 2.20%

Read more about Quick Wrap: Nifty Metal Index gains 2.20% on Business Standard. Powered by Capital Market - Live News 2021-07-07 10:30 1KB www.business-standard.com

87

0.5

Gauteng Treasury loses R6m after bungled Microsoft payment

The Gauteng Department of Treasury has lost more than R6 million after it erroneously paid for services in dollars instead of rand. 2021-07-07 10:28 2KB www.news24.com

88

0.1

Duterte says he allows gambling because 'we have no money'

MANILA — President Rodrigo Duterte said on Tuesday he has allowed gambling operations in the country because state funds are running low, even as he at one point said he hated it. 2021-07-07 10:04 2KB news.abs-cbn.com

89

0.4

Opinion: Iowa school board elections are the next flash point as pressure groups make plans

Retired educator: Get to know the candidates by asking a few questions and demanding answers.\u00a0Let's prevent a storm from striking. 2021-07-07 10:04 4KB eu.desmoinesregister.com

90

0.8

A Bitcoin ETF Would Be Good for Investors and Regulators

The SEC could mandate standards on transparency, fraud prevention and conflicts of interest in cryptocurrency exchanges. 2021-07-07 10:00 5KB www.bloomberg.com

91

0.2

Passive Income And Why You Need To Know About It

The reason why passive income is appealing is that it requires little effort to make money. This is what is often referred to as making your money work for you. Generally, you invest your money in a product that will generate an income. 2021-07-07 10:00 4KB www.forbes.com

92

0.2

Steel stocks in focus; SAIL, Tata Steel, JSL gain up to 5%

Read more about Steel stocks in focus; SAIL, Tata Steel, JSL gain up to 5% on Business Standard. Higher export orders and lower raw material prices are likely to support the profitability margins of players during FY22 2021-07-07 09:48 3KB www.business-standard.com

93

0.6

Strong Q3 '21 Earnings Could Help Micron Technology Stock Gain 20%

Despite an almost 2.4x rise from its low in March 2020, at the current price of $80 per share, we believe Micron Technology stock has further upside potential. Micron stock rose from $34 in March 2020 to $80 currently, while the S&P increased by around 90% from its lows. Further, the stock is up... 2021-07-07 09:30 4KB www.forbes.com

94

0.8

Start-Ups Aim Beyond Earth

Advancements in space technology and new means of financing are driving a flurry of investor interest. 2021-07-07 09:00 8KB www.nytimes.com

95

0.2

Inflation seen rising in India, China, other big Asian nations in 2022

Read more about Inflation seen rising in India, China, other big Asian nations in 2022 on Business Standard. Surging costs of imported commodities have driven China's factory inflation to the highest level since 2008, while selling prices to consumers are holding fairly steady. 2021-07-07 08:28 3KB www.business-standard.com

96

0.3

Fullerton India's acquisition value accretive for Sumitomo: Moody's

Read more about Fullerton India's acquisition value accretive for Sumitomo: Moody's on Business Standard. The substantial goodwill that the deal will generate will result in SMFG's Common Equity Tier-1 ratio declining by only around 22 basis points in fiscal 2021 2021-07-07 08:03 2KB www.business-standard.com

97

0.1

Japan Nikkei falls 1%

Read more about Japan Nikkei falls 1% on Business Standard. At closing bell, the 225-issue Nikkei Stock Average was down 276.26 points, or 0.96%, to 28,366.95. The broader Topix index of all First Section issues on the Tokyo Stock Exchange fell 16.82 points, or 0.86%, to 1,937.68. 2021-07-07 07:29 3KB www.business-standard.com
Articles
DC5n United States financial in english 97 articles, created at 2021-07-08 07:16
NEW YORK — Bill Gates and Melinda French Gates will continue to work together as co-chairs of their foundation even after their planned divorce. However, if after two years Gates and French Gates decide they cannot continue in their roles, French Gates will resign her positions as co-chair and trustee, The Bill and Melinda Gates Foundation announced Wednesday. If French Gates resigns, Gates would essentially buy her out of the foundation, one of the world's largest private charitable organizations, and she would receive resources from him to do her own philanthropic work. The resources received would be separate from the foundation's endowment, according to the announcement. Mark Suzman, the foundation's CEO, said in an interview with The Associated Press that the announcement was made so the former couple could be "transparent about an agreement they've made with each other." "That is part of the private agreement between the two of them as part of their wider divorce agreement," Suzman said. "They've both assured me, individually and together, and in the way they've been showing up in the work for the last two months, that their full intent and commitment is to be long-term co-chairs trustees of the foundation. And that's exactly what we're planning around." To reflect that commitment to continue the Gates Foundation – which the Gateses refer to as their "fourth child" – together, Gates and French Gates announced an additional $15 billion to the foundation's endowment, which had stood at nearly $50 billion. It's the largest private foundation in the world, granting out $5 billion annually for programs in global health, education and other areas. "It makes sense if somebody is going to leave to do their own thing, it would be Melinda," said David Callahan, the founder of the Inside Philanthropy website and author of "The Givers: Wealth, Power, and Philanthropy in a New Gilded Age." French Gates has raised her profile on women's and girls issues in recent years. In 2019, she committed $1 billion toward advancing gender equality in the U. S., citing the low rates of women in leadership positions. She was also one of the speakers at last week's U. N. Women's Generational Equality Forum, where the Gates Foundation made a $2.1 billion, five-year pledge to advance gender equality. "You could easily imagine her going off and starting a new philanthropic enterprise that's focused on gender equity and women's empowerment, that's very different than the Gates Foundation," Callahan said. "But it's hard to imagine Bill Gates starting his own thing outside the Gates Foundation, because much of what he's interested in is what the Gates Foundation does." Suzman also announced Wednesday that the foundation would expand its board of trustees, though the number of trustees has not been determined. Currently, only Gates and French Gates are on the board of trustees, after Berkshire Hathaway CEO Warren Buffett resigned as trustee in June. His departure, Suzman says, signaled to the charitable group that it was time to expand its leadership. "We thought even if they (Bill and Melinda) do work effectively and continue to work effectively together, that's not going to be optimal governance," Suzman said. "And so, this is the right time to expand the number of trustees and bring in some independent and thoughtful outside voices who can help guide and strengthen the foundation over the long-term." Suzman and the foundation's chief operating officer and chief legal officer, Connie Collingsworth, will lead the search for new trustees. Bill and Melinda Gates will then approve the selections, with new trustees expected to be announced in January 2022. Gates and French Gates said separately that the changes will sustain the foundation's mission and bring more diverse perspective to its leadership. The news will likely be welcomed by many philanthropy experts, who have called for diversity in the foundation's leadership, arguing that too much power is concentrated in a few hands. But Suzman says outside calls for change have not influenced their decision to expand the board of trustees. "This is a decision taken by Bill and Melinda in consultation with Warren after he decided to step down from the board," Suzman said. Questions about the sustainability of the foundation swirled after Gates and French Gates announced in May that they were divorcing after 27 years of marriage. The declaration stunned many, including Suzman, who heard about the divorce about 24 hours before it was made public. "It's clearly a surprise when the two people whose name is on the building, and who are my bosses, announce they're getting divorced," he said. "I think it was a surprise to the foundation staff. But I think we've all been adjusting." The foundation has also faced scrutiny following recent allegations that Bill Gates pursued women who worked for him at Microsoft Corp., the company he co-founded, and at the foundation. Microsoft decided last year that it wasn't appropriate for Gates to sit on its board as they investigated the billionaire's prior romantic relationship with a female Microsoft employee that was deemed inappropriate. The Bill and Melinda Gates Foundation has said that it is not investigating the allegations in the media made by "an anonymous former employee." ___ The Associated Press receives support from the Lilly Endowment for coverage of philanthropy and nonprofits. The AP is solely responsible for all content.

Bill, Melinda Gates to run foundation jointly after divorce
wtop.com
Bill, Melinda Gates to run foundation jointly after divorce
abcnews.go.com
Bill Gates could make ex Melinda French Gates resign foundation in two years
nydailynews.com
Bill and Melinda Gates to continue foundation roles after divorce
independent.ie
Bill Gates Can Remove Melinda French Gates From Foundation in Two Years
nytimes.com
Melinda French Gates could quit foundation if she and Bill Gates can't work together in 2 years
cbsnews.com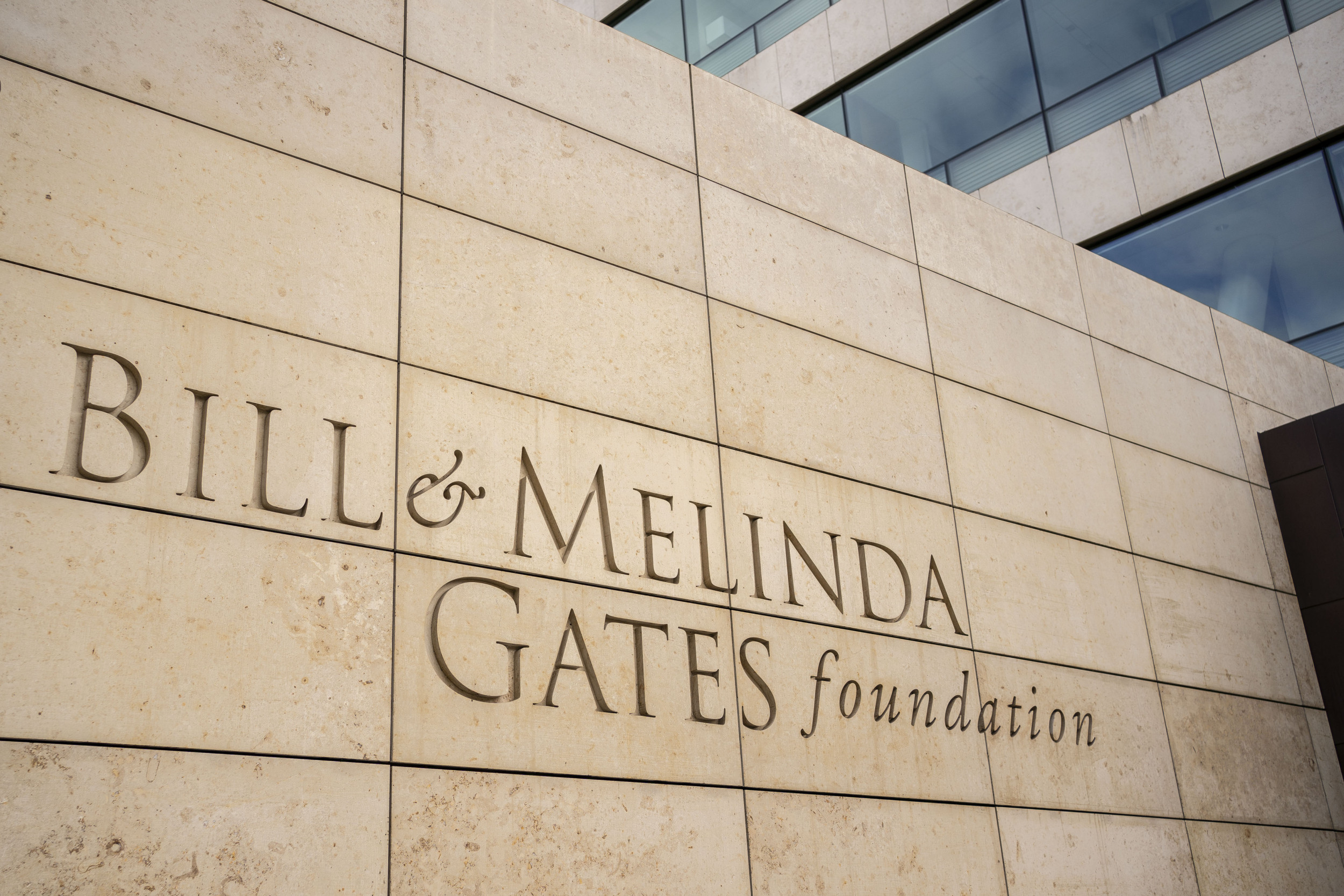 Bill & Melinda Gates Foundation Expanding Board of Trustees, Will Announce Names in 2022
newsweek.com
Melinda Gates agrees to quit foundation if she can't work with Bill Gates
nypost.com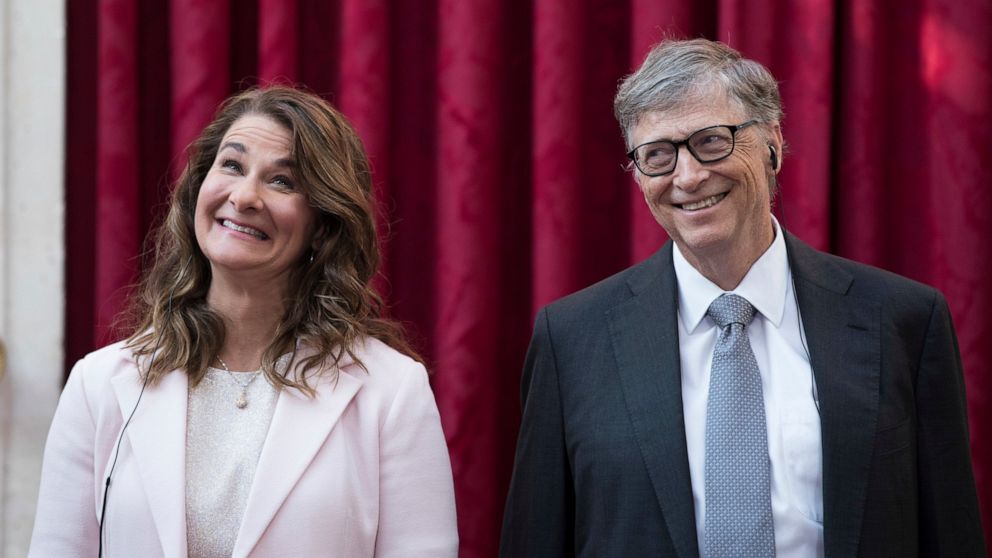 Bill, Melinda Gates to run foundation jointly after divorce
abcnews.go.com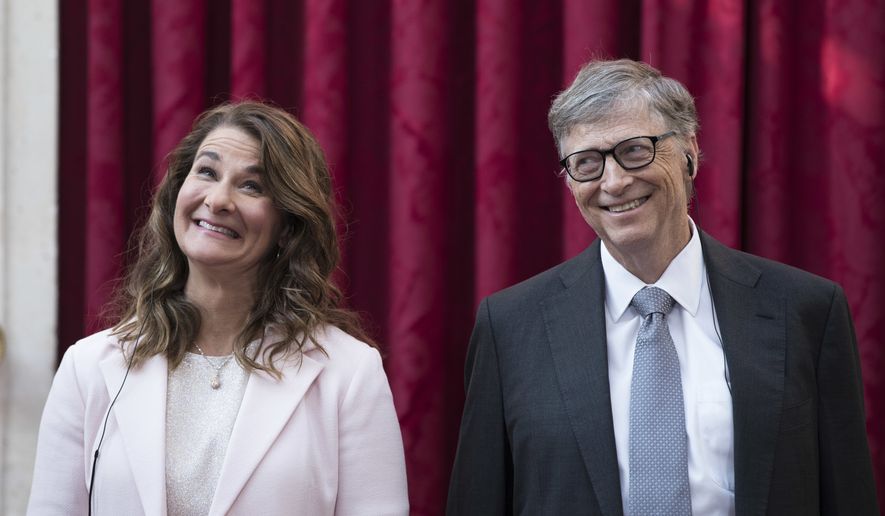 Bill, Melinda Gates to run foundation jointly after divorce
washingtontimes.com
Melinda French Gates can resign from the Gates Foundation in 2 years if she and Bill cannot work together
businessinsider.com
Bill Gates Can Remove Melinda French Gates From Foundation Work in Two Years
nytimes.com
If Bill And Melinda Gates Can't Work Together After 2 Years, Melinda Will Step Down From Gates Foundation
forbes.com
Melinda French Gates will resign if she and Bill Gates can't work together at their foundation
cnbc.com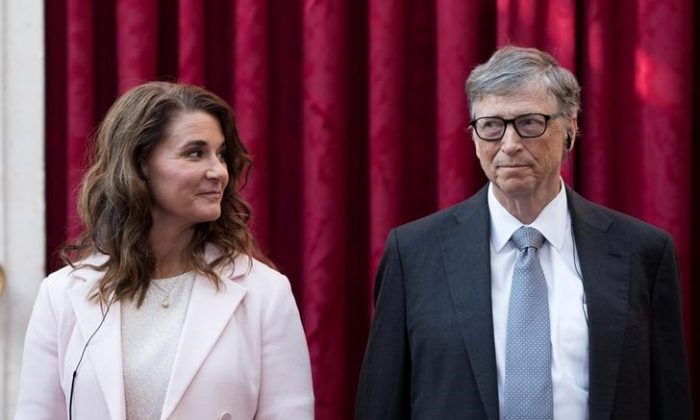 Melinda Gates Will Resign If She and Bill Gates Can't Work Together: Foundation
theepochtimes.com
Gates Foundation sets 2-year, post-divorce power share trial
bostonherald.com
LONDON — England has broken through its semifinal ceiling at major soccer tournaments. A title match awaits for the first time in 55 years. Harry Kane converted the rebound after his initial penalty was saved in the 104th minute to give England a come-from-behind 2-1 win over Denmark in extra time in the European Championship semifinals on Wednesday at Wembley Stadium. England will return to its national soccer stadium on Sunday to play Italy and will be competing in its first final since the 1966 World Cup. That remains England's only international title. In the intervening 55 years, the English have lost in the semifinals four times in either the World Cup or the European Championship. For that reason, this will go down as one of the most significant victories in English soccer history, and the celebrations demonstrated just that. Kane led the jubilant England fans in a crowd of more than 60,000 – the biggest gathering for a sporting event in Britain since the coronavirus outbreak nearly 16 months ago – in a rendition of "Sweet Caroline." The players and management walked around the perimeter of the field, waving to fans and then their loved ones. England coach Gareth Southgate was serenaded with a song, and he would have appreciated this win more than anyone. Two of those semifinals losses – in 1990 and 1996 – were decided via a penalty shootout, with Southgate missing a crucial kick in one of them against Germany. And a shootout looked like where England and Denmark were headed until Raheem Sterling wriggled into the area down the right, cut inside and fell under the challenge Mattias Jensen. The contact looked minimal, and a video review was needed. Denmark goalkeeper Kasper Schmeichel guessed the right way to block Kane's penalty, but the England captain reacted quickly and put the ball into the net from six yards out. Denmark's players, whose emotionally charged run to the semifinals was powered by a resolve to win the title for Christian Eriksen after his collapse on the field during the group stage, were almost on their knees by that point. And Danish hopes of an equalizer were damaged by having to play with only 10 men for the second half of extra time after Jensen was forced off injured. Denmark had already used up its six substitutes by then. England showed another side by rallying for victory after conceding a goal for the first time at Euro 2020 when Mikkel Damsgaard scored with a free kick in the 30th. It was a shot that Eriksen – Denmark's captain who is recovering at home after suffering cardiac arrest and collapsing on the field against Finland on June 12 – would have been proud of as his replacement in the team whipped the ball over the defensive wall and into the top corner. At that stage, Denmark was playing the better soccer, with its pressing and slick passing in midfield causing England problems and sparking concern among the previously boisterous home fans. Denmark wasn't ahead for long, though. Moments after Sterling was denied from point-blank range by Kasper Schmeichel, Bukayo Saka was sent free down the right by Kane's pass and the winger's low cross was bundled into the net by Denmark defender Simon Kjaer in the 39th, under pressure from Sterling. It was the 11th own-goal of Euro 2020. The second half saw England control the game, helped by the introduction of substitute Jack Grealish and the injury-enforced departure of Denmark defender Andreas Christensen. Schmeichel had to be alert to save Harry Maguire's header and Mason Mount's curling shot and the addition of six minutes of stoppage only increased the tension, with Denmark's tired players now largely retreating deeper into their own half. More to come on this story.

'No One Believed We Could Do It': Italy Boss Roberto Mancini on Reaching Euro 2020 Final
sputniknews.com
The Euro 2020 soccer championship will be broadcast this Sunday on ESPN — here's where to stream the finals without cable
businessinsider.com
England beats Denmark 2-1, reaches Euro 2020 final
wtop.com
England vs Denmark: Second Euro 2020 semi-final, what's at stake?
business-standard.com
Videos: England Overcomes Danish Team, Qualifies for Euro 2020 Final
sputniknews.com
England will beat Denmark to advance to Euro 2020 final
nypost.com
Euro 2020 semis: England vs Denmark live telecast begins at 12:30 am
business-standard.com
Euro 2020: England beats Denmark in extra time, advances to final
pressherald.com
England and Italy to play for Euro 2020 title at Wembley
wtop.com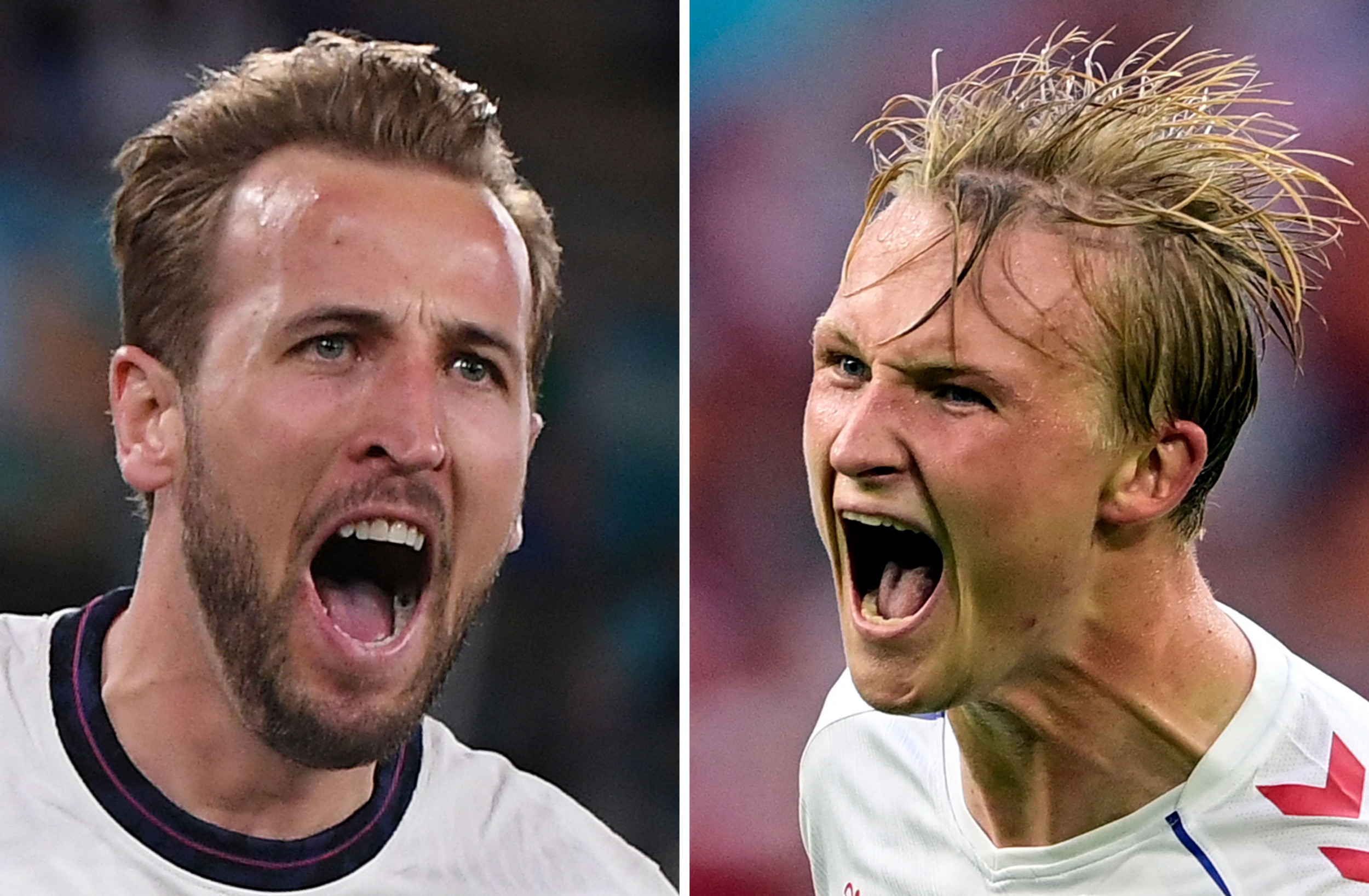 Euro 2020 TV Schedule USA: England vs. Denmark Kickoff Time, How to Watch Live
newsweek.com
Harry Kane's extra-time goal sends England into Euro 2020 final
nypost.com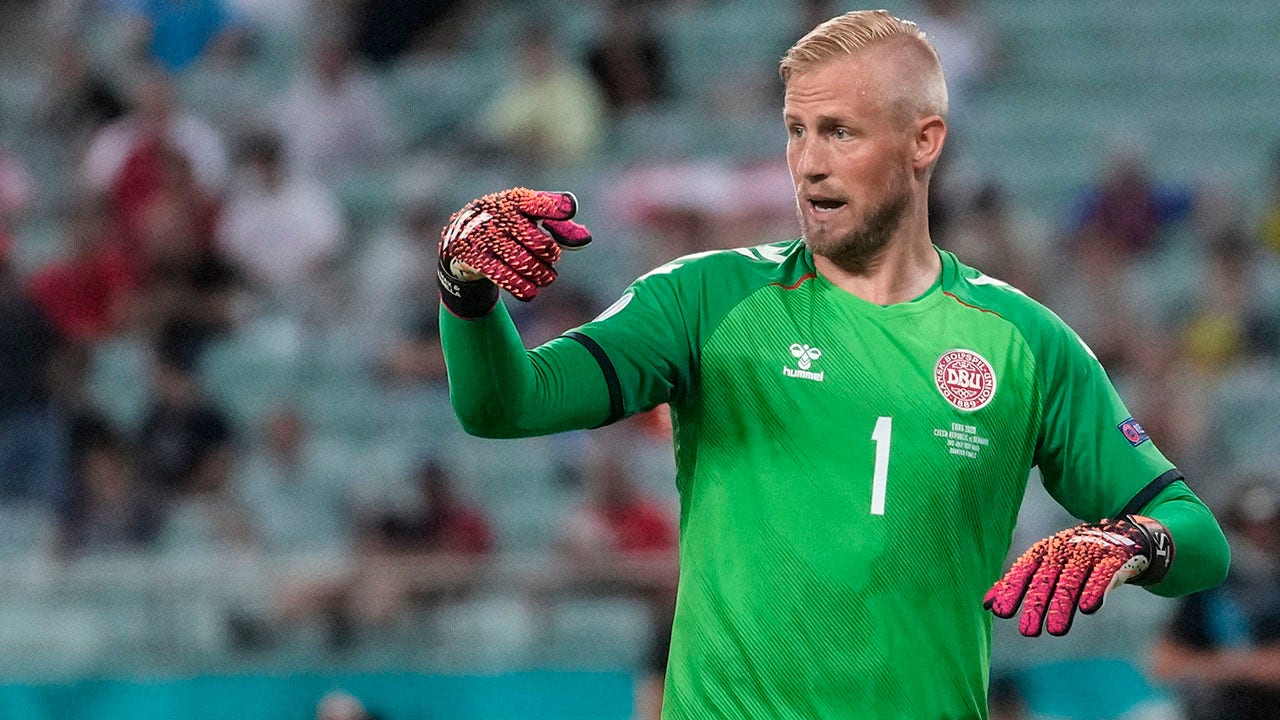 Denmark's Kasper Schmeichel takes swipe at England before Euro 2020 match
foxnews.com
England reaches Euro 2020 final, beats Denmark 2-1 in extra time
wtop.com
Euro 2020 soccer: England beats Denmark, reaches final
upi.com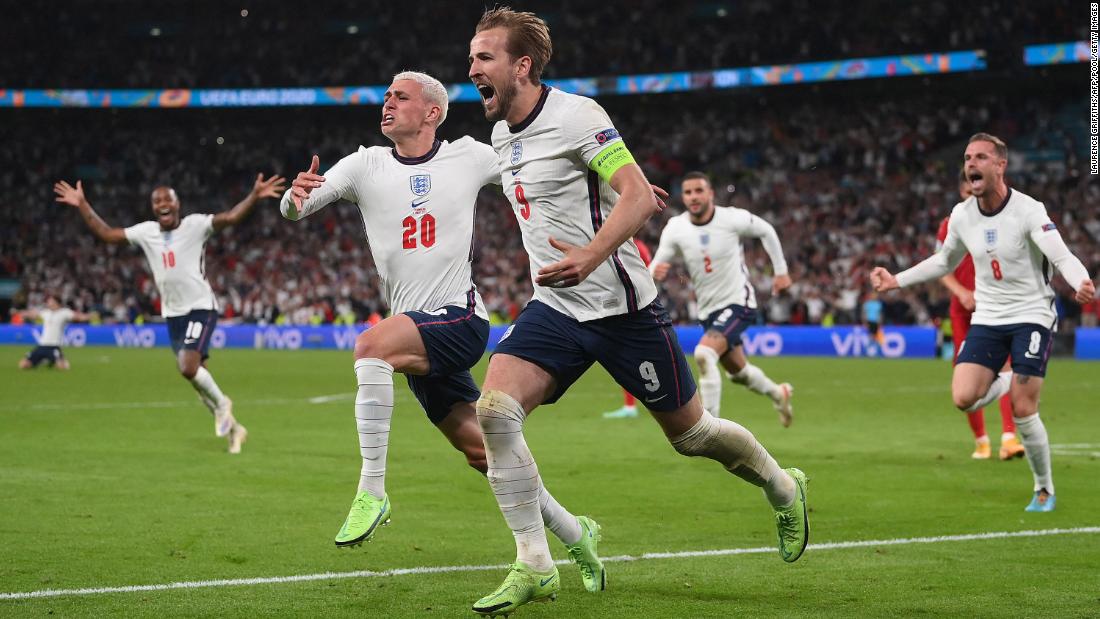 England reaches first major final since 1966 after tense Euro 2020 victory over Denmark
edition.cnn.com
Football Fans Celebrate as England Reaches Final After Defeating Denmark
sputniknews.com
England Suffers, Then Survives, to Reach the Euro 2020 Final
nytimes.com
NEW YORK (CBSNewYork) – Wednesday's Hometown Heroes ticker tape parade featured the transit workers who helped get people around the city through COVID. CBS2's Jenna DeAngelis hopped on board an antique train car to join them on the parade route. "MTA, going your way!" the workers on the float chanted. It was all smiles aboard the MTA float from the essential workers who carried the city through the pandemic, like Kenneth Mendez, who worked to make sure the subways were clean and safe. "It's a great honor. You see all the people that turned outand all the workers that are here, you know. We're all very appreciative and loving New York," Mendez said. It was the love of the city and family that fueled the father of four to show up to work every single day through the unknown, along with MTA bus driver Louis Jimenez. It was an emotional moment for the transit worker of 22 years, seeing his family honoring him along the parade route. "I do it for them. I do it for them, and that's why I would do it all over again," Jimenez said. "You know, they showed up day in and day out, carried essential workers, carried the city on their back for 18 months and I'm so grateful," said Sarah Feinberg, interim president of MTA NYC Transit. Carrying the transportation workers through the Hometown Heroes ticker tape parade was a 118-year-old antique train car, the oldest in the New York Transit Museum's collection. "And it's very fitting because this subway car was in use during both World Wars and actually the first global pandemic in the early 1900s," said Concetta Bencivenga, director of the New York Transit Museum. "Bringing it out of retirement for this parade, what does that mean?" DeAngelis asked. "There's really no better purpose than to celebrate our colleagues at transit, the entire MTA, who really showed up through the entire pandemic, day in and day out, kept the city moving, allowed the doctors and nurses to get to the hospitals to take care of folks during this pandemic," Bencivenga said. The essential workers on the float are among the many that kept the city strong through the pandemic and for that, we say a heartfelt thank you.

Hometown Heroes Parade: Sandra Lindsay Honored To Be Grand Marshal: 'A Big Hug… From The Entire City'
newyork.cbslocal.com
Hometown Heroes Parade: How Fresh Direct Food Delivery Workers Helped Feed Neighbors In Need
newyork.cbslocal.com
Why ticker tape? History of NYC's iconic parades as city honors essential workers
abc7news.com
Hometown Heroes Ticker Tape Parade
newyork.cbslocal.com
NYC hosts 'Hometown Heroes' parade to honor Covid frontline workers
msnbc.com
New York City honors pandemic essential workers at 'Hometown Heroes' ticker-tape parade| WATCH LIVE
abc7chicago.com
How To Watch New York City's Hometown Heroes Ticker-Tape Parade Honoring Frontline Workers
newyork.cbslocal.com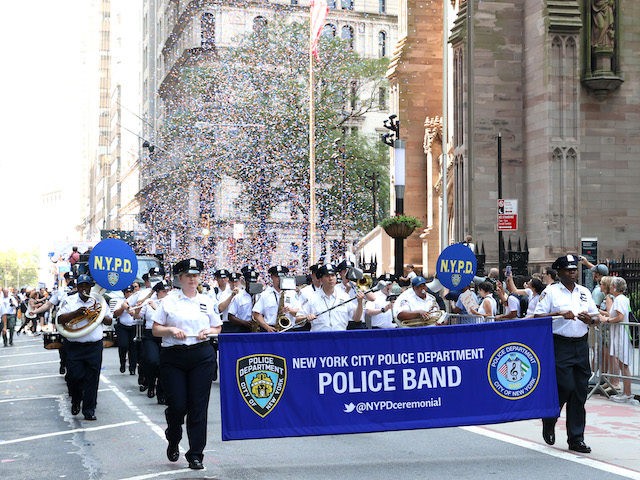 NYC Frontline Workers to Boycott Hometown Heroes Parade: Mayor de Blasio 'Uses Us for PR Photo-Op'
breitbart.com
Hometown Heroes parade for essential workers kicks off amid scorching NYC temps
nypost.com
Hometown Heroes Parade: MTA Worker Kenneth Mendez Proud To Keep City Running During Uncertain Days
newyork.cbslocal.com
New York City honors pandemic essential workers at 'Hometown Heroes' ticker-tape parade| WATCH LIVE
abc7news.com
The IRS has issued almost 167 million payments in the third round of direct stimulus aid, with another 1.8 million people last week receiving the $1,400 checks. But some lawmakers are pushing for a fourth round of stimulus aid that would effectively send recurring payments until the pandemic ends. So far, the federal response to the economic crisis caused by the has delivered $3,200 to each eligible adult: $1,200 via the Coronavirus Aid Relief and Economic Security Act in March 2020; $600 in a December relief measure; and $1,400 under the American Rescue Plan signed in March by President Joe Biden. Despite that financial assistance, millions of Americans remain in financial distress, with about 4 in 10 people saying their income remains below its pre-pandemic levels, according to a survey from financial services firm TransUnion. Nationwide, nearly 16 million people are receiving some form of jobless assistance. The unemployment rate far higher than its pre-pandemic level of 3.5%, and jobless rates remain especially elevated in low-wage industries such as food services and hospitality. One in four Americans struggled to pay their household expenses in the previous week, according to a Center on Budget and Policy Priorities analysis of Census survey data from early May. For many people, in short, the latest round of $1,400 checks may not last long — an issue that is on the who continue to struggle with joblessness and a weak labor market. Indeed, more than 2.3 million people have signed a Change.org petition started last year that calls on lawmakers to pass legislation for recurring $2,000 monthly payments. Some lawmakers have picked up the idea. Twenty-one senators — all Democrats — signed a March 30 letter to Mr. Biden in support of recurring stimulus payments, pointing out that the $1,400 payment being distributed by the IRS won't tide people over for long. "Almost 6 in 10 people say the $1,400 payments set to be included in the rescue package will last them less than three months," the senators wrote in the letter. Meanwhile, millions of California residents via a new effort from Governor Gavin Newsom. His plan would send $600 stimulus checks to state residents under a multibillion-dollar spending plan he introduced in May, with about two-thirds of Californians possibly receiving a stimulus payment under his proposal. The letter from the U. S. senators doesn't specify how large are the payments they are seeking, but a separate effort from Democratic lawmakers in January for $2,000 monthly checks until the pandemic ends. Instead, the American Rescue Plan authorized $1,400 for each eligible adult and dependent. So far, people who have received the three rounds of stimulus payments said they're using most of the funds to pay down debt or sock away the money in savings, according to a recent analysis from the Federal Reserve Bank of New York. That could indicate that people are using the money to whittle down debt they incurred during the pandemic as well as to build up an emergency fund in case of another shock. Still, many people said they planned to spend their stimulus funds on the basics — food and housing costs were cited as the top two uses of the third stimulus check following savings, according to a February poll from Bloomberg/Morning Consult. Almost 7 in 10 Americans who have received, or believe they will soon get, a third payment say it's important for their near-term finances, Bankrate.com said in April. That's down from about 8 in 10 people in March 2020, when the pandemic caused widespread unemployment, but overall the share of people who need additional support remains elevated more than a year later, according to the personal finance firm. About 1 in 3 people said the stimulus aid would help support them for less than one month, the survey found. Millions of Americans were spared hardship due to the three rounds of stimulus payments, researchers have found. But when stimulus has faltered, such as last fall when Congress was deadlocked on another round of aid, hardship increased "markedly" in November and December, according to a May analysis of Census data from the University of Michigan. Some top economists have called for more direct aid to Americans. More than 150 economists, including former Obama administration economist Jason Furman, signed a letter last year that argued for "recurring direct stimulus payments, lasting until the economy recovers." Although the economy is improving, including a, millions of people continue to suffer from reduced income and have not been able to tap government aid programs, said Greg Nasif, political director of Humanity Forward, a nonprofit pushing for recurring stimulus payments. Only 4 in 10 jobless workers actually received unemployment aid, according to a March study from economist Eliza Forsythe. Many people never applied for unemployment benefits because they didn't think they were eligible, while others may have given up due to long waits and other issues. "You'll see reports about how the economy is starting to grow, but there are a lot of Americans living paycheck to paycheck, and for a lot of them the government relief programs haven't been able to help," Nasif said. Don't hold your breath, according to Wall Street analysts. "I think it's unlikely at this time," Raymond James analyst Ed Mills told CNBC. One reason is that the Biden administration is focused on advancing its nearly , which would reshape the economy by rebuilding aging schools, roads and airports, as well as investing in projects ranging from affordable housing to broadband. The proposal, which the White House says would be funded by boosting the corporate tax rate from 21% to 28%, may be "tougher to pass" than the relief bill that provided the $1,400 checks to most Americans because of opposition from both Republicans and some Democrats, noted Stifel chief Washington policy strategist Brian Gardner. Even so, only about one-third of Americans believe the American Rescue Plan will help them a lot, according to a poll from Politico-Harvard. That suggests some households feel they need more aid to help get through the next several months. That help could this summer, when many households will get a form of additional stimulus aid when families with children under 18 will get direct payments for six months through the revised Child Tax Credit. From July through December, families with children under 6 will get $300 per month, and those with kids between 6 to 17 will receive $250 per month per child. "Many people are going to be surprised when that first check comes in," Nasif said. "That obviously is going to add to the surge in popularity for the checks." Families may enjoy more of a tax break in coming years, if Mr. Biden's moves forward. Under that plan, the Child Tax Credit's expansion would last through 2025, giving families an additional four years of bigger tax breaks for children. At the same time, the economy is expected to rebound this year thanks to rising COVID-19 vaccination rates and as states start to reopen. JPMorgan Chase CEO Jamie Dimon predicted in his latest annual letter to shareholders that an economic boom. "[W]ith excess savings, new stimulus savings, huge deficit spending, more [quantitative easing by the Federal Reserve], a new potential infrastructure bill, a successful vaccine and euphoria around the end of the pandemic, the U. S. economy will likely boom. This boom could easily run into 2023 because all the spending could extend well into 2023," Dimon wrote in the April 7 letter. That could diminish the rationale for the government offering more direct aid, especially if the jobless rate recovers and more workers come off the sidelines. By year-end, the nation's unemployment rate could fall to 4.3%, according to Oxford Economics. Even so, the path to recovery "remains long" as there are still 4 million workers who have dropped out of the workforce, noted Oxford Economics economists Oren Klachkin and Gregory Daco in a research note. "Looking ahead, the labor market is poised for an impressive run as expanding vaccine distribution, more reopenings and fiscal stimulus drive a hiring surge," they forecast.

Fourth Stimulus Check: Will There Be Another Relief Payment?
newyork.cbslocal.com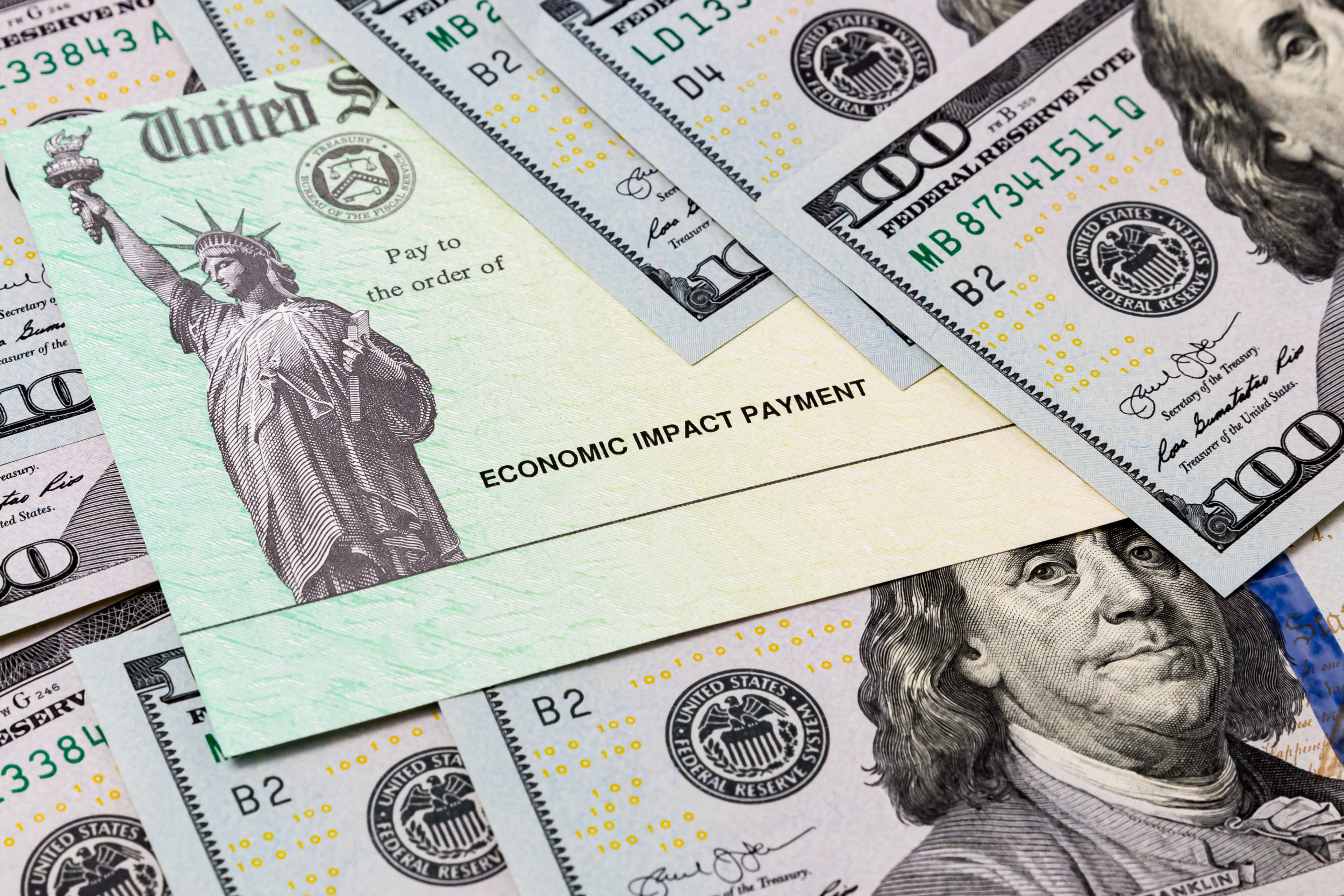 Fourth Stimulus Check: 3 Reasons Why it Won't Happen
newsweek.com
Fourth Stimulus Check: Will There Be Another Relief Payment?
chicago.cbslocal.com
Fourth Stimulus Check: Will There Be Another Relief Payment?
miami.cbslocal.com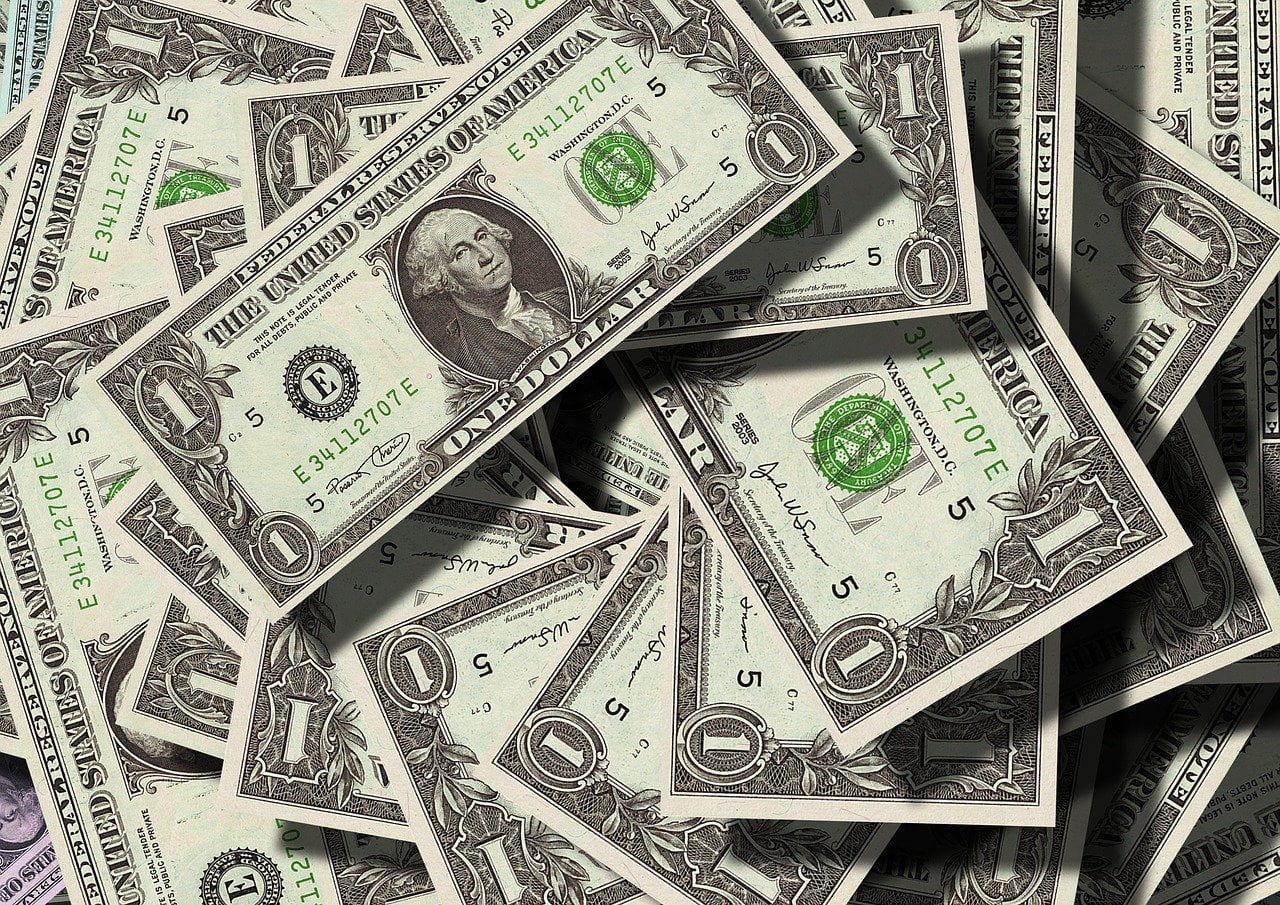 Are there any concrete proposals for more Coronavirus stimulus checks this year?
valuewalk.com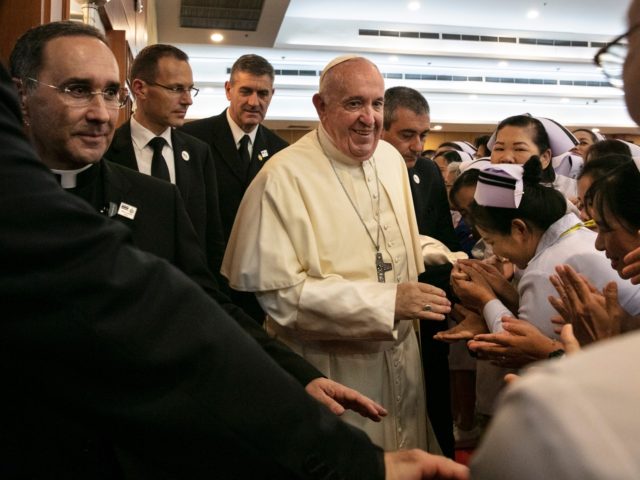 ROME — Luis Badilla, editor of the semi-official Vatican news aggregator Il Sismografo, said Wednesday that Pope Francis' health situation is "severe" and when he returns from hospital he "will never be the same again." In his sobering blog post, Badilla declares that journalists and commentators are not doing the pope any favors when they downplay the seriousness of his illness. There is a very significant detail that many "underestimate, ignore, or manipulate," he writes, namely that "the disease that has affected Pope Francis is severe and degenerative" and "could also be chronic." "The Holy Father will certainly return to the Vatican to resume his path in the footsteps of Peter but he will never be the same again," Badilla insists. "All the rhetoric about a Jorge Mario Bergoglio 'superman' damages his image and charisma." In his post, Badilla notes several details of the pope's recent surgical operation to treat his diverticulitis that give cause for concern. As cited by numerous authoritative press sources, on Sunday evening the pope underwent general anesthesia and was administered powerful sedatives, Badilla observes, after which he was "subjected to laparoscopic surgery (almost a sort of scouring of the lower part of the abdominal cavity, with small, very sophisticated probes) and immediately afterwards to an 'open' or 'open sky' surgical intervention to allow hands-on work with full visibility." The laparoscopy encountered "insurmountable obstacles," Badilla asserts, and therefore, the surgeon and his team decided "to switch to another method that allowed the removal of several centimeters of colon that are now being examined for rigorous histological controls." Given the gravity of the surgery, Badilla insists, it is counterproductive for journalists to act as if the intervention weren't a big deal. "People who read, listen to, or see the news are not stupid or unable to reflect and ask questions also because millions of families have had similar experiences with their elders," he states. "It is good to wait with affection and serenity for what the Holy Father will want to do so that everything is the result of his decisions and of the doctors who advise him, without having to suffer pressure from the media," he insists. Meanwhile, the state of the pope's health may well affect future travel plans and other events, he adds. "It is clear that Francis is eager to go to Budapest in mid-September for the closure of the 52nd International Eucharistic Congress and then on to Slovakia," Badilla notes, "but no one knows today whether this pilgrimage will be possible."

Pope Francis thanks supporters in first message since colon surgery
upi.com
Pope's recovery from surgery 'regular and satisfactory', Vatican says
independent.ie
Vatican: Pope Francis' recovery from intestinal surgery is "satisfactory;" he had "severe" narrowing of colon
wtop.com
(CBS Baltimore) — The Internal Revenue Service (IRS) has had a lot on its plate during the recent tax season. In addition to processing 136 million tax returns, according to a report from National Taxpayer Advocate Erin Collins, it sent out a round of stimulus checks, updated rules for unemployment insurance, and prepared to launch advance payments for the Child Tax Credit. And the IRS, which has seen staffing and funding cuts over the previous decade, did all of this during the tail end of a pandemic. But their efforts to weather what Collins described as a "perfect storm" came up a little short. The agency still has about 35 million unprocessed tax returns. "The IRS and its employees deserve tremendous credit for what they have accomplished under very difficult circumstances, but there is always room for improvement." Collins wrote in her report. "This year, the IRS is dealing with an unprecedented number of returns requiring manual review, slowing the issuance of refunds," Collins continued. "These processing backlogs matter greatly because most taxpayers overpay their tax during the year by way of wage withholding or estimated tax payments and are entitled to receive refunds when they file their returns. Moreover, the government uses the tax system to distribute other financial benefits." The 35 million pending returns account for 20 percent of the total returns submitted. And with the May 17 federal tax deadline over seven weeks in the past, the IRS is well beyond the 21-day processing time it typically strives for. Myriad reasons account for the delay. Many of the factors that contribute to the backlog are largely beyond the IRS's control. The agency came into the most recent tax season with millions of pending tax returns from 2019 and before. As with most office workers, many IRS employees had to do their jobs from home for much of the pandemic. Paper returns, which sat in trailers awaiting processing, were inaccessible. Only when workers returned to the office could they tackle these outstanding paper returns. Pandemic-related changes to the tax code were also passed just weeks before tax season. The Consolidated Appropriations Act,2021, which included the $900 billion second stimulus package, contains a "lookback rule." That lets filers who qualify for the Earned Income Tax Credit (EITC) or the Additional Child Tax Credit (ACTC) use their 2019 income to figure out the right amount on their 2020 return. The IRS didn't have enough time to change forms and adjust computer systems. As a result, millions of forms have to be processed manually through their Error Resolution System. Discrepancies with the Rebate Recovery Credit were also set aside for manual processing. This is the credit people can claim if they received less than they were eligible for in their first or second stimulus check. At one point, the Treasury Inspector General for Tax Administration reported that about one-third of those who had claimed the Rebate Recovery Credit had their forms flagged for review. Since the start of 2021, the IRS has issued the second and third economic impact payments, better known as stimulus checks. The second, for up to $600, started going out at the end of December 2020, as part of the Coronavirus Response and Relief Supplemental Appropriations Act. The third, for up to $1,400, started going out in the middle of March, as part of the American Rescue Plan Act. The IRS began accepting tax returns on February 12. So the latest check was processed during tax season, its busiest time of the year. Another key component of the American Rescue Plan is the updated Child Tax Credit. Starting July 15, the IRS will pay $3,600 per child to parents of children up to age five. Half will come as six monthly payments, and half as a 2021 tax credit. That comes out to $300 per month and another $1,800 at tax time. The total amount changes to $3,000 per child for parents of six to 17 year olds, or $250 per month and $1,500 at tax time. The IRS has also been standing up this new program of monthly Child Tax Credit payments during tax season. While the agency has now sent out three stimulus checks, it has no experience sending out millions of periodic payments. Resources dedicated to setting up this program are resources not dedicated to its core mission, which is to "provide America's taxpayers top quality service by helping them understand and meet their tax responsibilities and enforce the law with integrity and fairness to all." Americans have not received that top quality service this year. That lesser service started online and extended to in-person interactions over the telephone. With delays across the country, people looked to the IRS's Where's My Refund tool to find information on their pending refunds. (For the 2021 filing season, the IRS processed 96 million refunds worth a total of $270 billion.) The tool can tell a taxpayer that their filing was received, approved, or sent. It does not provide any specifics about what's holding up the refund, what additional information might be needed for processing, or when it might be issued. That lack of transparency inevitably pushes people to call on the telephone. Taxpayers seeking information and guidance turned to the agency's toll-free phone lines. And the number of people inquiring was staggering. The IRS received 167 million calls during the 2021 tax season, almost quadruple the number it received during the 2018 tax season. At peak times,1,500 calls came in per second. Unsurprisingly, the level of service dropped dramatically. Only nine percent of callers seeking tax help reached someone who could provide it. Calls to the 1040 support line specifically reached a live person only three percent of the time Collins's report also cites limited resources and technology issues as reasons for delays in processing tax returns. The agency operated under many of the same limitations that have affected office workers the world over during the pandemic. That included remote work, which can affect efficiency. The IRS is also understaffed and underfunded. Congress has continually reduced the agency's budget over the last decade. Funding and total employment are both down by about 20 percent. An IRS watchdog informed Congress that budget cuts limit the agency's ability to keep up with technology and collect taxes. The agency has long relied on an old programming language called COBOL. That isn't necessarily a problem, unless the code isn't kept up to date. And the IRS hasn't kept it up to date. So when stimulus checks or changes to the tax code come along, the agency has to find and pay programmers to fix things. The IRS initiated a modernization effort in 2019, but it relied on future funding. President Biden is also looking to increase the agency's funding by $80 billion over the next decade. The budget would grow at a rate of 10 percent per year, and the workforce at a rate of 15 percent per year. Beginning the tax season at a disadvantage contributed to the 35 million-return backlog. Tasking the IRS with stimulus checks and the updated Child Tax Credit at the same time drew resources away from processing tax returns. And a history of understaffing and underfunding set them up for failure. All of this put a strain on Americans who were counting on timely refunds. "The IRS's historically high number of returns requiring manual review means that most individual taxpayers in this group and many business taxpayers will not receive timely refunds and will have to wait until the IRS eventually processes their returns," wrote Collins. "For taxpayers who can afford to wait, the best advice is to be patient and give the IRS time to work through its processing backlog. But particularly for low-income taxpayers and small businesses operating on the margin, refund delays can impose significant financial hardships." First published Friday, July 2,2021 at 3:39 p.m. ET.

Tax Refund Delays: The IRS Still Has 35 Million Unprocessed Tax Returns
newyork.cbslocal.com
Tax Refund Delays: The IRS Still Has 35 Million Unprocessed Tax Returns
miami.cbslocal.com
Still waiting for a tax refund? IRS backlog has grown to 35 million returns
cbsnews.com
The most significant regulator of combat sports has made a huge move in the way it deals with marijuana, ESPN reports. To read the full story, click here.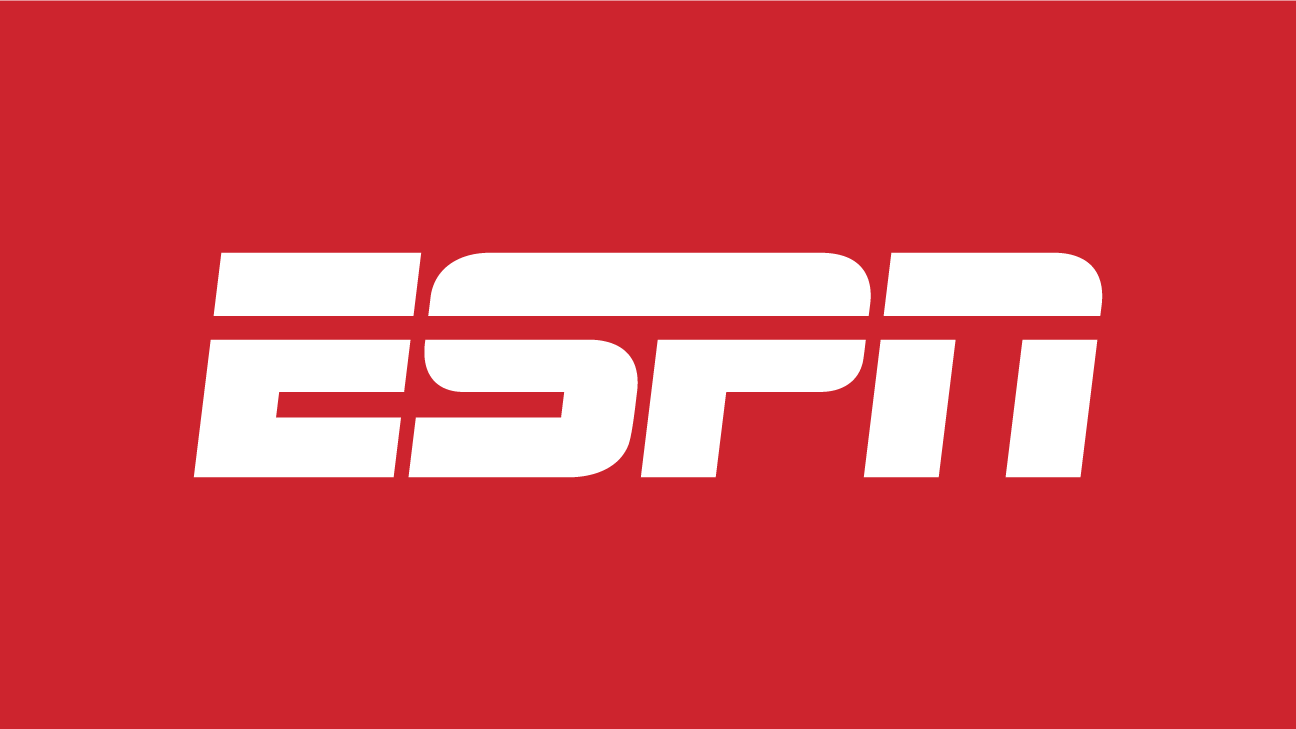 Nevada State Athletic Commission votes not to discipline boxers, MMA fighters for marijuana use
espn.com
Nevada OK's Marijuana For Boxers And MMA Fighters; Cannabis Legalized In UFC.
forbes.com
Nevada amends marijuana policy; fighters no longer face discipline for detection or usage
mmajunkie.usatoday.com
We think that Cigna (NYSE: CI) currently is a better pick compared to UnitedHealth Group. CI stock trades at about 0.5x trailing revenues, compared to around 1.5x for UnitedHealth. Does this gap in Cigna's valuation make sense? We don't think so. While both the companies have benefited in the pandemic with an overall increase in Medicaid membership, CI stock has been weighed down over the recent years, partly due to its high levels of debt post the Express Scripts merger in Dec 2018. However, there is more to the comparison. Let's step back to look at the fuller picture of the relative valuation of the two companies by looking at historical revenue growth as well as operating income and operating margin growth. Our dashboard UnitedHealth Group vs. Cigna: CI stock looks undervalued compared to UNH stock has more details on this. Parts of the analysis are summarized below. 1. Cigna Has Seen Better Revenue Growth UnitedHealth's revenues grew 14% to $257 billion over the last twelve month period, compared to $226 billion in 2018. This can be attributed to increased sales for its Optum Health segment, which provides health care through local medical groups. Our UnitedHealth Group Revenues dashboard summarizes the segment-wise breakup of the company's revenues. Looking at Cigna, its total revenue surged 3.3x to $160 billion over the last twelve-month period, compared to $49 billion in 2018, primarily due to its Express Scripts acquisition in Dec 2018. Looking forward, now that nearly half of the U. S. population is fully vaccinated for Covid-19, the overall economic activities are likely to move a step closer to normalcy, boding well for these companies. 2. Comparable Margins Cigna's operating margins stood at 7.7% over the last twelve month period, reflecting a 70 bps decline from the levels of 8.4% in 2018. This compares with operating margin of 8.7% over the last twelve month period for UnitedHealth, reflecting a rise of 100 bps from the 7.7% figure seen in 2018. The margins in 2020 were bolstered by a decline in volume of elective surgeries due to the pandemic, resulting in lower medical costs for the health insurance companies. The Net of It All Although UnitedHealth's revenue as well as membership base is much larger than Cigna, the latter has seen higher growth in revenues over the recent years and the operating margins for both the companies are comparable. Looking at the post-Covid recovery, Cigna has fared better in the Q1 2021, with revenues rising at a higher pace 9.1%, compared to 7.5% growth for UnitedHealth. The revenue growth for Cigna was higher sequentially, compared to that for UnitedHealth. Despite this, Cigna has a comparatively lower P/EBIT of 7x, compared to 17x for UnitedHealth. We think this gap in valuation will eventually narrow over time to favor Cigna, which is more attractively priced. As such, we believe that CI is currently a better buying opportunity compared to UNH stock. While CI may outperform UNH in the near term,2020 has created many pricing discontinuities which can offer attractive trading opportunities. For example, you'll be surprised how counter-intuitive the stock valuation is for Johnson & Johnson vs. UnitedHealth Group. See all Trefis Featured Analyses and Download Trefis Data here

How to buy a stock: A step-by-step guide to help you get started investing
businessinsider.com
European mining shares were boosted on Wednesday as commodity prices rose, offsetting falls elsewhere on the index FTSE 100. T he top index in London ended the day on a healthy 0.7% rise, led higher by Anglo American, BHP, Rio Tinto and Antofagasta. The index ended at 7,151 points, an increase of 50. Many people in England have been gearing up for the semi-final of Euro 2020 tonight, but this has had little impact on the stock market, said Danni Hewson, AJ Bell financial analyst. "In the UK the anticipation that a certain game of football will lead to the consumption of a few million pints hasn't translated into gains for hospitality businesses on either the FTSE 100 or 250," she said. "Only take away supremoes Dominos and Just Eat and those supermarket beer aisles get a pre-match boost. And when you look at all the rhetoric around opening up, mask wearing and case numbers you can understand why investors are a little nervous." In Europe, Germany's Dax index finished the day up 1.1%, while the Cac in Paris rose 0.3%. It put London and Frankfurt at odds with the US, where markets were only slightly in the green when European traders went home for the day. Both the S&P 500 and the Dow Jones had risen just 0.1%. "Investor enthusiasm for US stocks appears to be waning, now that we are less than a week away from the start of earnings season," said IG analyst Chris Beauchamp. "High-growth tech names have undergone a bit of a reversal today, and the Nasdaq in particular looks rather overextended in the short-term, after a straight-line rally since mid-May that has seen the index and the growth complex come back into fashion in spectacular form." Oil giant Shell announced plans to increase its payouts to shareholders by 20% to 30% from the end of this month because of rising oil prices. Its shares initially rose on the news, but oil showed it was not to be taken for granted when Brent crude dropped in price to 72.97 per barrel, a 2.1% fall. Shell therefore ended the day down 0.5% along with rival BP which closed down 1%. Wise, formerly TransferWise, listed in London on Wednesday. Shares were initially trading at around 800p, but had risen closer to 900p by the end of play in the City. It is the largest listing of a technology company in the history of the London Stock Exchange. Ten Entertainment said its sales have risen by more than 27% compared to 2019 since reopening sites on May 17. Its shares closed up 3.3%. Both Page Group and Robert Walters were also trading up around 3% by the end of play in London. The recruiting firms released results showing they are bouncing back from the pandemic, although their UK businesses are lagging behind other markets. Housebuilder Vistry's results were better than expected, with average weekly sales up 10% on 2019 levels. Shares rose 0.6%. Shares in 888 proved a poor gamble on Wednesday, dipping 5.7% after it warned that the benefit it has received from customers being stuck at home by their computers will likely fall away in coming months. Also in the red was JD Wetherspoon, down a little under 2%. The pub chain said like-for-like sales dipped between mid May and early July, a drop that accelerated during the Euro 2020 tournament. The biggest risers on the FTSE 100 were BHP up 68p at 2,201.5p; Anglo American up 90.5p at 2,991p; Glencore up 8.15p at 318.15p; Rio Tinto up 153p at 6,038p and Antofagasta up 35.5p at 1,440p. The biggest fallers were Informa down 23.2p at 512.4p; Entain down 62p at 1,807.5p; IAG down 5.72p at 180.8p; Rolls-Royce down 2.78p at 100.88p and Flutter down 255p at 13,375p.

Barometrs trade with minor gains
business-standard.com
Barometers trade with minor gains
business-standard.com
WASHINGTON -- President Joe Biden will issue a forthcoming executive order that calls on the Federal Trade Commission to adopt rules to curtail worker non-compete agreements, part of a broader set of executive actions aimed at increasing competition in the marketplace. The order is expected to be signed and released in the coming days, and it will fulfill Biden's "campaign promise to promote competition in labor markets," White House press secretary Jen Psaki said Wednesday. In a related action, Biden will call on the FTC to ban "unnecessary" occupational licensing requirements, Psaki said. "While occupational licensing can serve important health and safety concerns, unnecessary or overly burdensome licensing can lock people out of jobs," she added. Biden will also encourage the FTC and the Department of Justice to work together to limit employers' rights to share worker pay information in ways that could negatively impact workers looking for better paying jobs. The text of the orders has not been released, but their long-term effectiveness will depend upon whether the regulators who write the rules make them capable of surviving legal challenges and of actually forcing change in the marketplace. Occupational licensing requirements, for example, are typically determined by individual states, and not by the federal government, so it's unclear how much impact new federal rules would have on state regulations. Taken together, these orders are part of a broader push within the Biden administration to encourage more competition in the U. S. economy by limiting how the biggest corporations and employers can exert their power over both their competitors and their employees. The concept of using executive branch actions to strengthen workers' hands and rein in industry giants has its roots in the final years of the Obama administration. In the spring of 2016, then-President Barack Obama issued an executive order designed to "increase competition" by calling on federal agencies to address anti-competitive behavior in their respective purviews. Then-Vice President Biden also threw himself behind the push to end non-compete agreements. "Folks, no one should have to sit on the sidelines because of an unnecessary non-compete agreement," Biden said in a statement in October of 2016. "We have the most dynamic, productive workers in the world, but they can't reach their true potential without freedom to negotiate for a higher wage with a new company, or to find another job after they've been laid off." Former President Donald Trump's election in 2016 effectively hit the pause button on plans to expand regulations across the entire U. S. economy. Instead, it ushered in four years of laissez-faire fiscal and regulatory policy. Biden ran for president against Trump partly on a pledge to eliminate non-compete clauses. In 2020, his campaign said the agreements, "hinder the ability of employees to seek higher wages, better benefits, and working conditions by changing employers." Biden's election in November of last year flipped the policy switch again, and brought the broader conversation about how to empower smaller companies and individual workers back to the center of the federal policy making debate.

A Planned Biden Order Aims to Tilt the Job Market Toward Workers
nytimes.com
Biden is preparing an executive order targeting noncompete clauses for workers.
nytimes.com
New York – Stocks were slightly lower Wednesday, a day after the S&P 500 snapped a seven-day winning streak. Investors are watching the bond market, where yields have tumbled sharply in the last couple of days despite strong economic data. The S&P 500 index was down 0.1% as of 10:35 a.m. Eastern. The Dow Jones Industrial Average fell 0.3%, and the Nasdaq Composite slipped 0.1%. Bond yields were quickly moving lower, an unusual occurrence given there's been no economic data to imply an economic slowdown or deflation. In fact, the data for several weeks has shown the opposite – an economic growing quickly out of the pandemic, and inflation tied to demand for raw materials and workers. We're offering a great deal on all-access subscriptions. Check it out here. The benchmark 10-year Treasury note was trading at 1.29%, down from 1.37% the day before. A month ago, the 10-year note was trading at around 1.62%. The last time bond yields moved lower so quickly was in March 2020 when the pandemic effectively shut down the U. S. economy. Lower bond yields can be good for many parts of the economy, however. Mortgage rates are tied closely to bond yields, and government borrowing costs fall when the cost of issuing bonds decreases. Stocks that are heavily influenced by interest rates, particularly banks, were among the hardest hit on Wednesday. The KBW Bank Index of the 24 largest banks in the country was down 0.5%. Bank of America, Citigroup, Goldman Sachs were all down roughly 1%. Investors will get minutes from the Federal Reserve's June meeting at 2 p.m. Eastern. Wall Street will be looking for additional clues about the Fed's thinking on interest rates and inflation. After the last meeting, Fed policymakers said they planned to raise interest rates as soon as 2023, which was sooner than the market expected.

US futures rise after S&P 500 snaps 7-day winning streak and bond yields fall to 5-month lows
markets.businessinsider.com
US stocks rise and bond yields fall to 5-month lows as investors await FOMC minutes for clues on inflation
markets.businessinsider.com
Futures contracts tied to the major U. S. stock indexes inched higher at the start of overnight trading Wednesday after both the S&P 500 and Nasdaq Composite closed at records. Contracts tied to the S&P 500 and Nasdaq 100 both ticked north of their respective flatlines with gains of less than 0.1%. Dow futures rose 17 points. The moves in futures came after a positive regular session for U. S. markets. The S&P 500 rose 0.3% to an all-time high of 4,358.13, while the Dow Jones Industrial Average advanced 104.42 points to 34,681.79. The technology-heavy Nasdaq Composite closed just above its own flatline to eke out a record close. Popular internet and technology stocks again outperformed the broader market on Wednesday as investors bought equity in companies that prioritize growth instead of the reopening names in the energy and retail sectors that proved popular in the first half of the year. Apple, Microsoft and Amazon — up 1.8%,0.8% and 0.5% on Wednesday — are each up by double-digits over the last month. While traders have cited several reasons for the shift back into Big Tech, most mention a marked decline in bond yields when discussing the move. The downshift in the benchmark 10-year Treasury note yield continued Wednesday, when the rate fell to 1.296%, its lowest level since February. Higher yields reduce the value of future earnings relative to current earnings, meaning that the appetite for growth stocks tends to rise when rates fall. "The 40 basis point decline in the yield on the benchmark 10-year Treasury note since late-March suggests that the global grab for yield remains a potent force, despite the Fed's desire to let the economy run hot," Steven Ricchiuto, U. S. chief economist at Mizuho Securities, wrote on Tuesday. "A stronger currency, increased virus concerns oversea, and the associated demand for long-term Treasury notes and bonds implies reduced inflation expectations and increased risk of importing global deflation," he added. Looking ahead to Thursday's session, investors will pore over the Labor Department's latest jobless claims figures. The weekly update offers Wall Street regular insight into the pace of layoffs in the U. S. economy, which has been declining amid the Covid-19 vaccine rollout. Economists expect to see 350,000 first-time applicants for unemployment benefits for the week ended July 3, according to Dow Jones.

US futures rise after S&P 500 snaps 7-day winning streak and bond yields fall to 5-month lows
markets.businessinsider.com
Jim Cramer sees market opportunities, lays out 7 themes for the second half of 2021
cnbc.com
Food delivery company Zomato's Rs 9,375-crore initial public offering (IPO) will open for subscription on July 14, said investment banking sources on Wednesday. The company initially was looking to raise Rs 7,500 crore through the offering. Investment banking sources said the issue size has been increased because of the robust demand from investors. On the other hand, Info Edge, the only selling shareholder in the IPO, has cut its offer for sale (OFS) size from Rs 700 crore to Rs 375 crore. Market sources said the price band for the could be in the range between Rs 70 and Rs 72 per share. They said the company is eyeing valuation between Rs 55,000 crore and Rs 60,000 crore on a post-diluted basis. Queries sent to the company and investment bankers didn't elicit a response immediately. Grey market players said Zomato's shares are changing hands in the range between Rs 85 and Rs 90 in the grey market ahead of its Last week, market regulator Sebi had cleared Zomato's draft red herring prospectus (DRHP), which was filed on April 28. Zomato's will be India's third-largest offering in terms of fresh funds raised. Reliance Power and DLF had raised Rs 10,123 crore and Rs 9,188 crore fresh capital in their IPOs in 2008 and 2007. For the nine months ended December 2020, had total cash and cash equivalents of Rs 4,967 crore. Earlier this year, the company had raised Rs 1,800 crore from Tiger Global, Kora, and others. After the IPO, the company will add Rs 9,000 crore to its kitty, taking the total to over Rs 15,500 crore. Analysts will give Zomato's major financial muscle to tap the rapid growth in the food delivery space in India. Currently, the company is burning cash to get a strong foothold in the market. Zomato's losses widened every year between FY18 and FY20, from Rs 107 crore to Rs 2,386 crore. However, the cash burn helped the company grow its top line by five times -- from Rs 466 crore to Rs 2,605 crore.

Wise IPO tops growing list of London tech listings
independent.ie
Top headlines: Zomato raises IPO size; 15 ministers inducted into Cabinet
business-standard.com
The European Commission said Wednesday that successful vaccination drives and government stimulus will allow the eurozone economy to make up the ground lost because of the pandemic by the end of the year, instead of early next year as previously forecast. The commission, the European Union's administrative arm, said in its official summer forecast that the 19 countries in the eurozone will grow 4.8 percent in 2021, half a percentage point more than previously forecast. The European Union, which includes the eurozone plus eight additional countries, will also grow 4.8 percent this year, compared with an earlier forecast of 4.2 percent, the commission said. "The European economy is making a strong comeback with all the right pieces falling into place," Valdis Dombrovskis, executive vice president of the commission, said in a statement. Consumer spending will pick up as people get back to work, while businesses will invest in expansion, the commission said, though it warned that the spread of new variants remains a risk. Annual inflation in 2021 will average 1.9 percent in the eurozone, the commission forecast, because of strong demand and shortages of some goods. For most of 2019 and 2020, inflation in the eurozone was below 1 percent. If the forecast is accurate, inflation will approach the European Central Bank's official target. But the central bank is unlikely to begin withdrawing stimulus to the eurozone economy until there is more evidence that the bloc has fully recovered from the effects of the pandemic. "We will have to keep a close eye on rising inflation, which is due not least to stronger domestic and foreign demand," Mr. Dombrovskis said. — Jack Ewing When USA Today was introduced nearly 40 years ago, its short articles, copious charts and detailed weather coverage were disdained by the staid newspaper industry, which nonetheless quickly found itself copying many of the upstart's novel features. But on Wednesday, USA Today announced it was playing catch-up with its contemporaries, becoming the final major national daily to require readers to pay to read news online. In a note to readers published Wednesday online and in the print edition, two executives at Gannett, the newspaper chain that owns USA Today, laid out their pitch. "This is a big change; our digital news has always been free," wrote Maribel Perez Wadsworth, USA Today's publisher and the director of news across Gannett, and Nicole Carroll, the editor in chief of USA Today. "But USA Today was founded on boldness. Your subscription is an investment in quality journalism that's worth paying for, journalism that strengthens our communities and our nation." USA Today's shift to a digital subscription model, which comes after the rest of Gannett's roughly 250 daily newspapers already made that change, signals the definitive end of an era when newspapers relied primarily on advertisements in its print edition for revenue. As readers have flocked to smartphones, laptops and tablets, causing print readership and the overall value of advertising to decline, newspapers' most important revenue stream increasingly consists of charging digital readers. The announcement could prove just the beginning of USA Today's transition into a subscription company, Mayur Gupta, Gannett's chief marketing and strategy officer, said in an interview, pointing to USA Today-branded destinations for sports betting and games. It might also make sense in the future for Gannett to offer subscriptions that bundle USA Today and a local newspaper, he said. "It's inevitable that at some point we will create a much stronger value proposition from stitching it all together," said Mr. Gupta, a former executive at the streaming giant Spotify. USA Today's digital destinations (not all Gannet outlets, as previously reported here) routinely receive around 90 million unique visitors per month, the company said. That puts it on par with rivals with paywalls such as The New York Times, The Washington Post and The Wall Street Journal, according to Comscore, a media measurement company. USA Today has among the highest weekday print circulations in the country. It does not publish print editions on weekends. The paywall will extend to USA Today's entire audience. But it will not cover all stories. Breaking news, particularly of a public service nature, will remain free, Ms. Perez Wadsworth and Ms. Carroll said. The money from the paywall will help fund an already beefed-up investigations unit and visual journalism, they said. In an interview, Ms. Perez Wadsworth promoted the strengths of the so-called USA Today Network, which includes the local papers published by Gannett in 46 states such as The Arizona Republic and The Detroit Free Press. "The fact that we have the deep roots, expertise and trust in the local markets is an enormous strength, for those brands and for USA Today, because our national report is informed by that expert local knowledge," she said. There will be three subscriptions for sale, all with lower monthly prices for the first three months that then graduate to higher ones: a digital-only tier, with an entry price of $4.99 per month rising to $9.99 per month; a digital-only tier without ads, which will start at $7.99 and rise to $12.99; and a home-delivery subscription that will include complete digital access, with a teaser rate of $9.99 rising to $29.25. The announcement on Wednesday followed a pilot over the past few months in which 25 percent to 50 percent of USA Today's digital visitors were confronted with a paywall. Gannett executives learned that subscribers were spending at least 20 percent more time than anonymous users, Mr. Gupta said. Ms. Perez Wadsworth said she was encouraged by the results of the pilot. "When we focus on what's unique and exclusive to us," she said, "our readers do make choices to subscribe." Alain Delaquérière contributed research — Marc Tracy transcript The increase in ransomware attacks far predated the president taking office, and it is something that from Day 1, he has made a priority and has asked his team to focus on where we can have an impact, how we can better work with the private sector, and what we can do across the federal government to help address and reduce ransomware attacks on our critical infrastructure, but also on a range of entities in the United States. And we are continuing to up our partnership with the private sector, which is a key part of best practices in ensuring we are reducing the impact of the, I should say, the vulnerability of private-sector entities. But there is more that can be done, and it warrants and requires an interagency process and discussion in order to move those policies forward. The attack over the weekend underscores the need for companies and government agencies, as well, to focus on improving cybersecurity. And we've talked a bit in the past about the importance of private-sector entities hardening their own cybersecurity, putting in place best practices that have been recommended by the federal government for some time. Between 800 and 1,500 businesses around the world were compromised or affected by a cyberattack on Friday that security experts said could be the largest attack in history using ransomware, in which hackers shut down systems until a ransom is paid. "This is the worst ransomware incident to date, but if we don't take action, the worst is yet to come," said Kyle Hanslovan, the chief executive of the cybersecurity firm Huntress Labs. Hackers compromised Kaseya, a Miami-based software maker that provides technology services to tens of thousands of organizations around the world. Many of its customers are so-called managed service providers, which in turn provide security and tech support to other companies and collectively reach millions of businesses. "It totally sucks," Fred Voccola, Kaseya's chief executive, said in a video posted on YouTube early Tuesday, addressing the company's customers. "If I was you, I'd be very, very frustrated, and you should be." He said Kaseya was working with the F. B. I., the Department of Homeland Security and the White House to address the issue. About 50 of Kaseya's direct customers were compromised when it was breached, Mr. Voccola said, including dozens of managed service providers. A Russian-based cybercriminal organization known as REvil claimed responsibility on Sunday for the attack, boasting about it on its site — called "Happy Blog" — on the dark web. Some victims were being asked for $5 million in ransom, Huntress Labs said. Brett Callow, a threat analyst for the cybersecurity firm Emsisoft, said REvil was also asking for $45,000 in cryptocurrency for each computer system a victim wanted restored. REvil also said it would publish a tool that would allow all infected companies to recover their data if it were paid $70 million in Bitcoin. "If you are interested in such a deal, contact us," the group wrote, adding that it had provided a way for victims to contact the organization. Jack Cable, a security researcher for Krebs Stamos Group, said that he had reached out to REvil over the weekend and that the group said it was willing to negotiate. It offered to slash the price for the tool to $50 million in Bitcoin, he said. Jen Psaki, the White House press secretary, said during a news conference on Tuesday that "we advise against companies paying ransomware, given that it incentivizes bad actors to repeat this behavior." Ms. Psaki said American national security officials had been in touch with Russian government officials over the attack. When President Biden met with President Vladimir V. Putin of Russia in Geneva last month, he demanded that Russia rein in ransomware attacks, which have become increasingly common in recent months. The F. B. I. said REvil was behind the hacking of the world's largest meat processor, JBS, in May. "If the Russian government cannot or will not take action against criminal actors residing in Russia, we will take action, or reserve the right to take action, on our own," Ms. Psaki said. The Kaseya cyberattack has had cascading effects around the globe, touching companies in more than a dozen countries, including the United States, Germany, Australia and Brazil. In Sweden, the grocery retailer Coop was forced to close more than 800 stores Saturday, and each location had to be visited to fix the problems caused by the hack. A Swedish railway and a pharmacy chain were also affected, security researchers said. Mr. Voccola said such an attack was bound to happen. "Even the best defenses in the world get scored upon," he said. A common refrain he has heard from government officials and security experts, he said, was that when it comes to cyberattacks, "it's not a matter of if, it's a matter of when." — Kellen Browning The chief roadblock to a deal by OPEC Plus over oil production is a fight between the United Arab Emirates and Saudi Arabia over whether to raise output limits. The dispute may signal a fundamental realignment of the nations in the gulf, Stanley Reed reports for The New York Times. The Emirates' ambitions for a more diverse economy, seeded with Western investment, are prompting it to step more forcefully outside Saudi Arabia's shadow. Led by Dubai with its collection of futuristic skyscrapers and alluring shopping malls, the Emirates has made itself into a business, financial and tourism hub, although the pandemic has clearly been a setback. The real power in the Emirates, though, lies with Abu Dhabi, which produces the oil that bankrolls the place. Abu Dhabi has 98 billion barrels of reserves, about 6 percent of the world total. It has financial muscle that has given the Emirates a chance to stand apart from other countries in the region and take some views that might seem unusual. In the view of Abu Dhabi's leadership, the environmental pressures that are pushing multinational oil companies to dial back investment in new wells may work out in favor of the oil-rich emirate, which does not have to deal with such concerns at home. In particular, Emirates is eager to pump — and sell — more oil at today's higher prices. And it has big ambitions that have raised eyebrows in Saudi Arabia, the longtime de facto leader of the Organization of the Petroleum Exporting Countries. The first signs of trouble appeared last summer when the Emirates substantially exceeded the amount it was allowed to pump, but matters came out in the open on Thursday when it demanded a substantial recalculation of his country's quota if he was to go along with a Saudi plan to extend the overall production agreement when it expires after April. The Defense Department said on Tuesday that it would not go forward with a lucrative cloud-computing contract that had become the subject of a contentious legal battle amid claims of interference by the Trump administration. The Pentagon had warned Congress in January that it would walk away from the contract if a federal court agreed to consider whether former President Donald J. Trump interfered in a process that awarded the $10 billion contract to Microsoft over its tech rival Amazon, saying that the question would result in lengthy litigation and untenable delays. The Defense Department said Tuesday in a news release that the contract for the Joint Enterprise Defense Infrastructure, known as JEDI, "no longer meets its needs." NBCUniversal said on Tuesday that, starting next year, its movies would bypass HBO and have their initial post-theatrical runs instead on Peacock, the media giant's nascent streaming service. The exclusive 18-month post-theatrical "window" for films made by Universal and its specialty arm, Focus Features — some 30 movies annually — had been held by HBO since 2005. That post-theatrical window will now be broken into three parts. Universal movies will begin to flow to Peacock no later than four months after they appear in theaters, and they will remain on Peacock for four months. The movies will then move to third-party streaming services for 10 months under licensing deals still to be announced. The movies will return to Peacock for the final four months.

EU upbeat over economic growth, concerned about inflation
wtop.com
European Commission sees the economy recovering faster than expected.
nytimes.com
Battling it out. Angelina Jolie wants to sell Château Miraval, the French castle and winery she shared with Brad Pitt, but she claims he's trying to prevent her from unloading the property. The Maleficent star,46, filed a petition on Tuesday, July 6, asking a judge to remove the automatic temporary restraining order (ATRO) on her divorce from the Oscar winner,57. The ATRO is a common order that prevents either party from making any financial decisions that would hurt the other throughout the divorce proceedings. (The former spouses were declared legally single in 2019 but have not finalized a settlement or custody agreement.) In court documents obtained by Us Weekly, Jolie's lawyers claim that the actress has found a third-party buyer for Nouvel, LLC, but she cannot finalize the sale because her ex has not yet consented to lifting the ATRO. Unless a judge agrees to her request to lift the ATRO, she will not be able to sell Miraval. "After all these years of trying to extricate herself from being business partners with her ex-husband on acceptable financial terms, Ms. Jolie is extremely desirous of closing the pending agreement for the sale of Nouvel, LLC, and requests that the Court issue an order lifting the ATROs and specifying that they shall not apply to Ms. Jolie's sale of Nouvel, LLC," read a declaration filed by her attorney. The Salt star previously filed an emergency application to remove the ATRO on June 30 so that the third-party buyer wouldn't have time to back out of the sale. The judge, however, ruled that Jolie's legal team had not proved there was "immediate danger/irreparable harm or immediate loss/damage to property." Additionally, the actress' legal team claimed that the property was solely hers to begin with since it was purchased before the duo wed in 2014. They have requested a hearing for September 22, in which she'll ask the judge again to lift the ATRO so she can move forward with the sale. Pitt and Jolie held their wedding in the chapel at Miraval after 10 years of dating. They announced their split in September 2016 and have since been battling it out for custody of their six children: Maddox,19, Pax,17, Zahara,16, Shiloh,15, and twins Knox and Vivienne,12. Earlier this year, a judge awarded the Moneyball star joint custody of the kids despite Jolie's objections. "She will never forgive him," a source told Us in June. "She maintains it's far from over and still believes that justice will prevail." With reporting by Marjorie Hernandez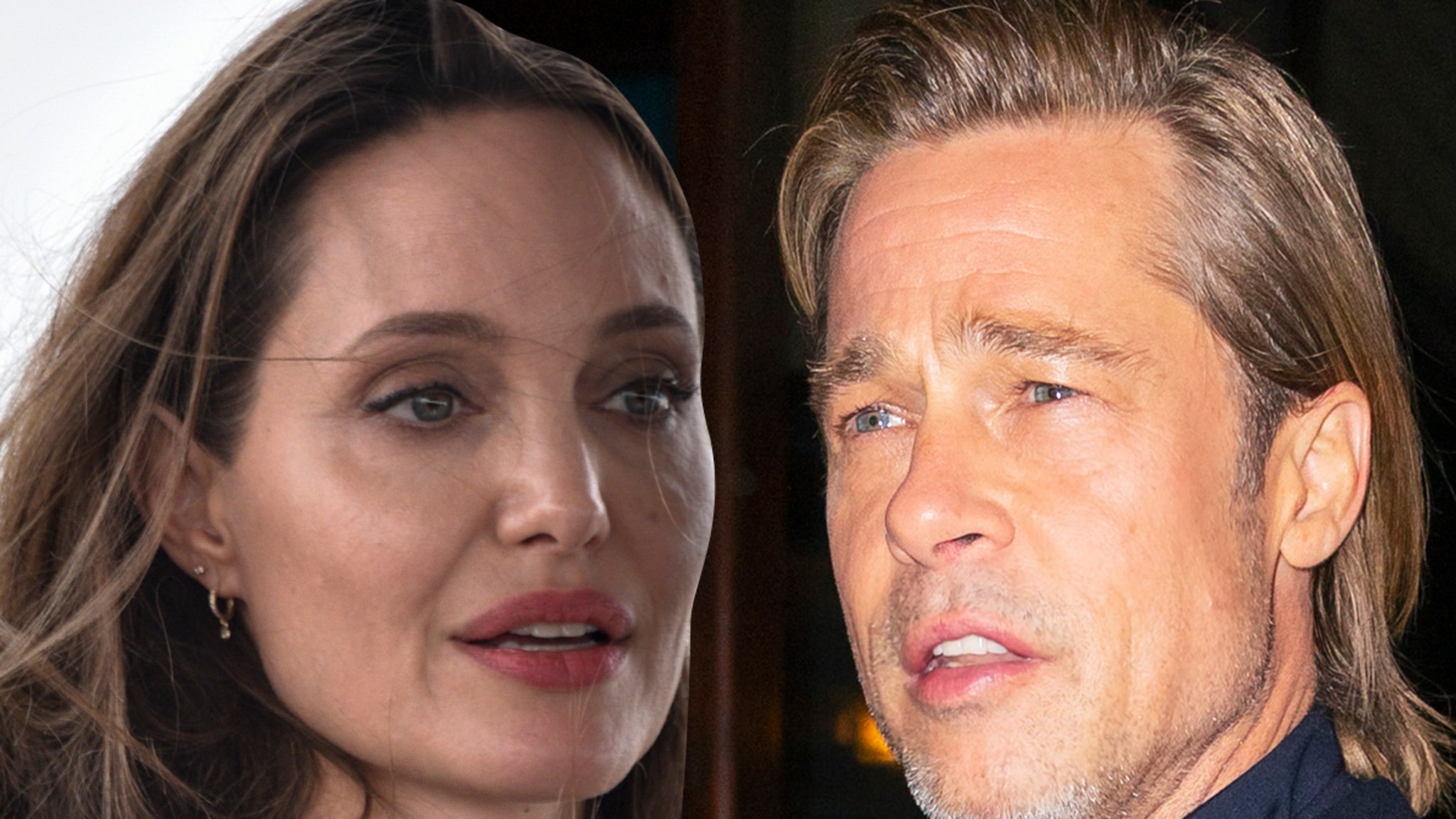 Angelina Jolie Wants Out of Wine Biz with Brad Pitt, Asks Judge to Approve Sale
tmz.com
Vehicle sales dropped again in June, the second month in a row of declining vehicle sales, as rising prices and shortages keep would-be buyers away. Imported vehicle sales fell 13.1% from the previous month while domestic vehicle sales also declined, down 8.7% overall as auto sales shrank 11.2% and truck sales fell 8%. The declines dragged car sales to below their pre-pandemic level. "Vehicle sales have contracted for two consecutive months as extremely high prices, particularly for used cars, is cutting off demand," Oxford Economics' Mahir Rasheed said in a research note. Consumers are feeling the pinch. The portion of households who said June was a good time buy a vehicle was at its lowest level in nearly 40 years, according to the University of Michigan. Oxford Economics expects the drag on car sales to last through the year. "While robust domestic demand and an improving health backdrop will keep a floor under vehicle sales through the rest of 2021, the pace of sales will be weighed down by inventory constraints," Rasheed wrote. A shortage of semiconductor chips, which are essential components of new cars and trucks and most of which are imported, has reduced the production of new vehicles and pushed used-car prices to record levels. The chip shortage has led U. S. automakers to shut down production to keep peace with the chip supply. Last week Ford said it would for several weeks this summer, affecting production of the bestselling F-150, Mustang, Escape and Lincoln Nautilus brands. The carmaker expects to lose $2.5 billion this year from chip supply shortages. A General Motors plant in Kansas City, Kansas, has been closed for six months thanks to the chip shortage. All that pent-up demand is pushing car buyers into the used-car market, pushing those prices to unseen levels. The average price for used vehicles between April and June jumped to $25,410, up from $20,942 in the year-ago period, according to Edmunds.com — the highest price on record for the auto research firm. Used vehicle prices are responsible for one-third of the rise in consumer prices, according to the Labor Department. When it was new, a typical 2019 Toyota Tacoma SR double cab pickup came with a sticker price just under $29,000. Two years later, dealers are paying almost $1,000 more than that to buy the same vehicle, even though it's used, and are reselling it to consumers for more than $33,000. Edmunds said the average price of a new car in the second quarter was $40,827, up from $38,895 a year ago. In the past year, used vehicle prices on average have climbed 30%, according to Black Book, which tracks car and truck data. That's created situations where high-demand vehicles are selling for more than they did when they were new, said Alex Yurchenko, the company's senior vice president of data science. "The market is very strange right now," said Yurchenko. "Dealers need the inventory, so they are paying lots of money for their vehicles on the wholesale market." Yurchenko found 73 models of 1- to 3-year-old vehicles being sold at auctions (where dealers buy their vehicles) for prices above their original sticker, which is called the manufacturer's suggested retail price. Many of the models Yurchenko found were high-priced trucks and SUVs or highly sought-after loaded-out vehicles, including the high-performance Ford F-150 Raptor pickup, the 2019 Jeep Wrangler Unlimited Rubicon SUV and the boxy Mercedes G-Class AMG63 high performance SUV. But the two-wheel-drive Tacoma SR is the lowest-priced model of Toyota's top-selling small pickup. To be sure, higher end versions of the Tacoma also were on the list, but even more mainstream vehicles are selling for more than their original prices. For instance, the 2020 Kia Telluride and Hyundai Palisade made the list even though both are considered good values compared with more expensive SUVs with three rows of seats. Yurchenko says the crazy prices are moving further into more ordinary vehicles. "Before we get through this, prices for many mainstream vehicles will get closer to their manufacturer's suggested retail price," he said. When it was new, the window sticker price on a typical 2019 Toyota Tacoma SR double cab pickup was just under $29,000. Two years later, dealers are paying almost $1,000 more than that to buy the same vehicle, even though it's used. Then they're selling it to consumers for more than $33,000. The main factor pushing up used car prices is scarcity, according to Jessica Caldwell, executive director of insights at Edmunds. Nearly all of the regular sources of used cars have been disrupted by the pandemic, she said. Fewer new car sales in the past year means fewer trade-ins. People are extending their leases. Rental car companies, normally a reliable source of used cars, are instead buying used cars themselves in order to that were sold off last year as business travel and tourism came to a halt. It all started in April and May of last year, when U. S. automakers were forced to close factories for eight weeks to help stop the novel coronavirus from spreading. That cut production, limiting inventory even as demand remained surprisingly strong. The factories came back faster than expected, and, in the meantime, computer-chip makers had switched to manufacturing semiconductors for phones, laptops, gaming systems and other consumer electronics. That created a shortage of automotive chips, which is forcing car companies to temporarily close factories, leaving some dealers with few new vehicles. The lack of new vehicles and higher prices have sent more people into the used vehicle market, so demand is high there, too. Plus, rental car companies, normally a source of late-model used vehicles, are keeping their cars longer because they can't get new ones, Yurchenko said. At present, consumers who have to replace a vehicle don't have much choice. "Unfortunately, if you need a vehicle, you'll need to pay the price," Yurchenko said. But there are signs that price increases are starting to slow. Used car prices rose 0.75% last week, the lowest weekly gain in 17 weeks. Trucks and SUV prices grew 0.68%, the lowest weekly gain in 15 weeks, according to Black Book. Karl Jensvold, owner of PricedRite Auto Sales, a used vehicle dealer in Lincoln, Nebraska, said he's seeing wholesale prices leveling off, but he doesn't expect them to drop anytime soon. "I think the normal used car market has reset to a different price point," he said. "I don't think we'll see the prices (from) before COVID for a while." Yurchenko said at some point prices will have to go back to normal and used vehicles will depreciate once again. The timing depends on how long it takes to get more computer chips so automakers can resume normal production, he said. "Once the new inventory levels start increasing, that's where the pressure on the used market will be relieved," he said.

With prices of used vehicles soaring, now is the best time to sell your car — if you have one you don't need
businessinsider.com
The benchmark Philippine Stock Exchange Index (PSEi) lost ground on Wednesday as Asian markets retreated and investors worried about the pace of recovery amid the spread of the more contagious Delta variant. The PSEi closed the session lower by 0.71 percent, or 49.43 points, to 6,943 while the broader all-shares index was down 0.62 percent, or 26.50 points, to 4,272.16. The PSEi moved in lockstep with Asian indices and followed mixed results in Wall Street overnight. Apart from the pandemic, inflationary pressures and the subsequent easing of stimulus spending were also viewed as risks. PSE subsectors all ended in negative territory during the session, led by services, down 1.29 percent, and mining and oil, down 0.98 percent. Volume was relatively low with 1.7 billion shares valued at P4.46 billion changing hands. There were 127 losers versus 59 gainers, while 57 companies closed unchanged. AC Energy Corp. was the most actively traded during the session as it slipped lower by 0.34 percent to P8.67 per share. It was followed by International Container Terminal Services Inc., down 0.55 percent to P164; Metro Pacific Investments Corp., down 1.28 percent to P3.87; BDO Unibank Inc., down 0.09 percent to P114.50 and Ayala Corp., down 1.66 percent to P798 per share. —MIGUEL R. CAMUS

Cautionary Tale: Falling Yields Raise Questions Ahead Of Fed Minutes Later Today
forbes.com
— Recommendations are independently chosen by Reviewed's editors. Purchases you make through our links may earn us a commission. June was full of big milestones— graduation, Father's Day, Prime Day —and yet somehow, it's hard to believe it's already over. For our readers, it was a big opportunity to take advantage of great deals on everything from robot vacuums to smart doorbells, and everything in between. Get expert shopping advice delivered to your phone. Sign up for text message alerts from the deal-hunting nerds at Reviewed. Here at Reviewed, we not only focus on what makes a product great via real in-lab testing and hands-on reviews, but by paying attention to what items our readers actually get excited about. Check out the 20 most popular things our readers bought in June, which could give you some terrific ideas for what to grab this month, too. Need help finding products? Sign up for our weekly newsletter. It's free and you can unsubscribe at any time. If vacuuming is your least favorite chore, say hello to the best solution: an iRobot Roomba. While there are tons of great robot vacuums to choose from, iRobot makes our all-time favorite, the iRobot Roomba i7+, as well as several other high-performing models, like the iRobot i6+, a smart robot vac with comparable suctioning power to the i7+, but without the extra bells and whistles included. During the month of June, our readers were eager to take advantage of Prime Day savings on iRobot Roomba models, including the iRobot i3+, a sister model to the iRobot Roomba i4+ and iRobot Roomba i6+, but without the visual navigation and custom cleaning options of the i6+. This Cuisinart air fryer was one of the biggest sellers during the month of June, not only because it was on sale for Prime Day, but because it's just so versatile. It functions as both an air fryer and toaster oven, so you're getting two appliances in one and can save valuable counter space in the process. Nearly 17,000 Amazon shoppers swear by it and give it a 4.5-star rating on the site. Get the Cuisinart TOA-60 Air Fryer Toaster Oven at Amazon for $187.51 If you haven't hopped aboard the Apple AirPods express yet, this could be a great time to finally give these coveted 'buds a go. Apple's most swank version of AirPods are among our favorite true wireless earbuds, and during the month of June, our readers were gung ho about grabbing them at a much reduced Prime Day price. While they're not as discounted as they were for Prime Day, you can grab a set of the 4.8-star rated Pros on sale at Amazon for just under $200, which is still a win-win in our book. More than 214,000 happy Amazon shoppers would agree that it's a worthwhile investment. Get the Apple AirPods Pro at Amazon for $197 (Save $52) You can start tackling your home's toughest cleaning jobs with the Sun Joe electric pressure washer, which has a 4.5-star rating on Amazon and more than 7,000 glowing reviews on the site. For our readers in particular, this item—which you can use for home exteriors, outdoor projects and cleaning cars—was a must-grab because it dropped in price for Prime Day. You can still get it for 24% off right now on the site, and get busy crossing cleaning tasks off your to-do list. Get the Sun Joe SPX3001 Electric Pressure Washer at Amazon from $173.72 (Save $56.27) There's a lot to appreciate about this streaming device, especially if you tend to use Amazon Prime to access all of your channels, including Netflix, Shudder and others. The Amazon Fire TV Stick 4k streaming device supports 4K (including HDR10 and Dolby Vision), Dolby Atmos sound, and comes with a great Alexa-enabled remote control, which makes browsing for your favorite movies and TV shows a breeze. In June, it was on sale for Prime Day, and while you can't get this 4.7-star rated device for that discounted rate anymore, it's still a great option for a home theater at its original retail price ($49.99) when you consider how seamless it makes browsing for titles on your TV. Get the Amazon Fire TV Stick 4K Streaming Device with Alexa Voice Remote at Amazon for $49.99 In June, our readers were ready to see what all the fuss is about with the Revlon One-Step, the cult-favorite hair dryer and volumizer with more than 273,000 positive reviews on Amazon. This hair tool, which has a 4.6-star rating on the site, has a lot of buzz and actually works. In our review, we liked how effective it was for simultaneously drying and smoothing hair out. Best of all, you can still get it on sale right now, with prices starting from $39.99, so you can save up to $20. Get the Revlon One-Step Hair Dryer and Volumizer at Amazon from $39.99 (Save $7.74 to $20) Every Prime Day, we more or less bank on Crest 3D White Professional Effects Whitestrips going on sale, and every time, Amazon delivers. During the month of June, this kit—which has a 4.6-star rating on the site and offers 20 treatments plus two one-hour express treatments—was a major hit. Readers were able to grab it for less than $28, and while it's no longer available for that discounted rate, we still think this is a great buy, especially if you're trying to explore at-home teeth whitening options. Get the Crest 3D White Professional Effects Whitestrips 20 Treatments from Amazon for $49.99 As one of our favorite cookware sets of all time, the Cuisinart MCP-12N 12-Piece set is a great value at any price because you're getting so much bang for your buck, including a medium-sized sauté pan and large stockpot, which is great for stews, soups, pastas and more. In the month of June, this affordable set was on sale for Prime Day and that made it even more alluring for shoppers, especially those in need of a high-quality set that won't break the bank. Get the Cuisinart MCP-12N 12-Piece Stainless Steel Cookware Set at Amazon for $299 (Save $371) If you've been wanting to explore smart home technology but haven't known where to start, the 4th Generation version of the Echo Dot is a good place to start your journey. It's one of the best smart speakers we've ever tested because of its sleek, streamlined appearance and easy-to-use functionality. During June, this 4.7-star rated pick scored big with readers (and close to 280,000 Amazon shoppers swear by it, too) and you can still save about $5 on it if you grab it now on the site. Get the Echo Dot (4th Gen.) at Amazon for $44.99 (Save $5) iRobot makes incredible robot vacuums, but if you—like many of our readers in June—are really on the hunt for the best affordable vacuum that really delivers, the eufy by Anker BoostIQ 11S is a terrific choice. It's slim, offers solid dirt pickup performance, and is designed to hit hard-to-reach areas, like under sofas and around tight corners. Although it was on sale for a huge discount thanks to Prime Day, you can still get it on sale for less than $170 right now on Amazon. Nearly 46,000 Amazon shoppers also give it high marks and a 4.5-star rating on the site. Get the eufy by Anker BoostIQ 11S Slim Robot Vacuum at Amazon for $168.40 with on-page coupon (Save $61.59) If you want to take smart tech to the next level, the Echo Auto could be just the thing you've been waiting for—our readers in June certainly thought so, anyway. This device will bring Alexa to your car (talk about an excellent co-pilot) and supports smart-lock and temperature-control functionality. This 4-star rated item was on sale for Prime Day, and while it's no longer discounted, you may still want to give it a try. More than 118,000 shoppers on Amazon enjoy it, too. Get the Echo Auto at Amazon for $49.99 From French fries to veggies, most food tastes better through an air fryer, and during the month of June, readers were obsessed with grabbing the Cosori Air Fryer Max XL, our favorite affordable air fryer, on sale for Prime day. With a 4.7-star rating on the site and more than 53,000 enthusiastic reviews, this model is a crowd-pleaser, but also scores top marks on account of its large size (great for big quantities), easy-to-use digital controls, nonstick and dishwasher-safe parts, and more. Get the Cosori Air Fryer Max XL at Amazon from $99.98 (Save $12 to $20) Summer is here and so are the bugs, but thanks to this electric bug zapper, which has a 4.5-star rating on Amazon and close to 2,000 positive reviews, you can bellow, "Bugs be gone!" from the rooftops and actually trust that they won't be anywhere in sight—at least for a little while. In June, this handy gizmo went on sale, and you can nab it for a reduced price still if you pick it up right now on the site. Everyone has a favorite way to eat eggs. Some like them poached, others prefer omelets. The beauty of the 4.7-star rated Dash 6-Egg Capacity rapid egg cooker is that you can use it to make any type you want. In our review, we were wowed by how well this kitchen gadget prepared a variety of eggs. When it went on sale in June during Prime Day, our readers were quick to take advantage of the discounted rate to try this device, which close to 4,000 Amazon customers swear by. Get the Dash 6-Egg Capacity Rapid Egg Cooker from Amazon from $16.99 (Save $2 to $3) Thanks to a killer bundle deal with the Echo Dot (4th Gen.) on Prime Day, readers were able to snag the 4.3-star rated Sengled smart light bulbs on sale for an extremely low price. While that deal is no longer active, these color-changing lights are still a sight for sore eyes and work beautifully with Alexa-enabled devices to create a unique ambiance in any space they're set up on. While we haven't tested these bulbs specifically, we're big fans of Sengled at Reviewed and consider the brand's products among the best smart lights we've ever tested. Get the Sengled Smart Light Bulbs, Color Changing at Amazon for $14.99 Thinking of grabbing a Fire TV stick? You definitely want to consider tricking out your Prime Video account while you're at it. Signing up for new channels like Paramount+, Starz and Showtime can make your Prime Video account more expansive and makes streaming easier, too (after all, everything's in one place). In June, our readers were pumped to do the same, thanks to a mega-deal on select add-on channels. While that's no longer available, you can still subscribe now and make your next movie night in that much sweeter. Get channels on Prime Video Ring is well-known in the world of smart doorbells, but the brand-new Ring Video Doorbell Wired is already making waves (in a good way) as it offers up great features like high-definition (HD) video, advanced motion detection and smart notifications, and all at a price that's affordable compared to other units (see: anything from Arlo). During June, this doorbell—which has a 4.5-star rating and more than 10,000 good reviews—was among the most popular products purchased by our readers because it went on sale. Get the Ring Video Doorbell Wired at Amazon for $59.99 Cooking delicious meals is only half the battle. If you're someone who's also interested in food prep, you need to make sure you have the right food containers to store grub in once you're done munching down. Rubbermaid's popular airtight containers were a big seller during Prime Day, which accounts for why they were among the most popular items purchased in June. The 16-piece set —which has a 4.8-star rating and more than 1,000 positive reviews on Amazon—is no longer on sale, but you can invest in it for $60, which may seem like money well spent if you consider how much you won't be shelling out for takeout. Get the Rubbermaid Brilliance 16-Piece Food Storage Container Set at Amazon for $59.99 Smoothies are good year-round, but the lure of a smoothie during summertime is something that's nearly impossible to resist. This 11-piece Magic Bullet blender was a hit in June with shoppers, in big part because of Prime Day but also because, heck, a good deal is just a good deal. Portable, easy to use, and among the best personal blenders we've ever tried, the Magic Bullet blender is a steal at this price. Originally $39.88, this 4.5-star rated set (which has nearly 55,000 positive reviews) is on sale for just over $29, so you'll save about $10. Get the Magic Bullet Blender,11-Piece Set at Amazon for $29.04 (Save $10.84) How does one of the best-known Shark Tank products still manage to charm shoppers, all these years later? It's simple—it works. We've tested this stool before and absolutely love it, and during the month of June, it was on sale, which gave readers who had yet to try it out an excuse to sit back and put their feet up (literally) and give this item, which has a 4.7-star rating and more than 37,000 rave reviews on Amazon, a go. Get the Squatty Potty at Amazon for $24.99 (Save $1.99) The product experts at Reviewed have all your shopping needs covered. Follow Reviewed on Facebook, Twitter, and Instagram for the latest deals, reviews, and more. Prices were accurate at the time this article was published but may change over time.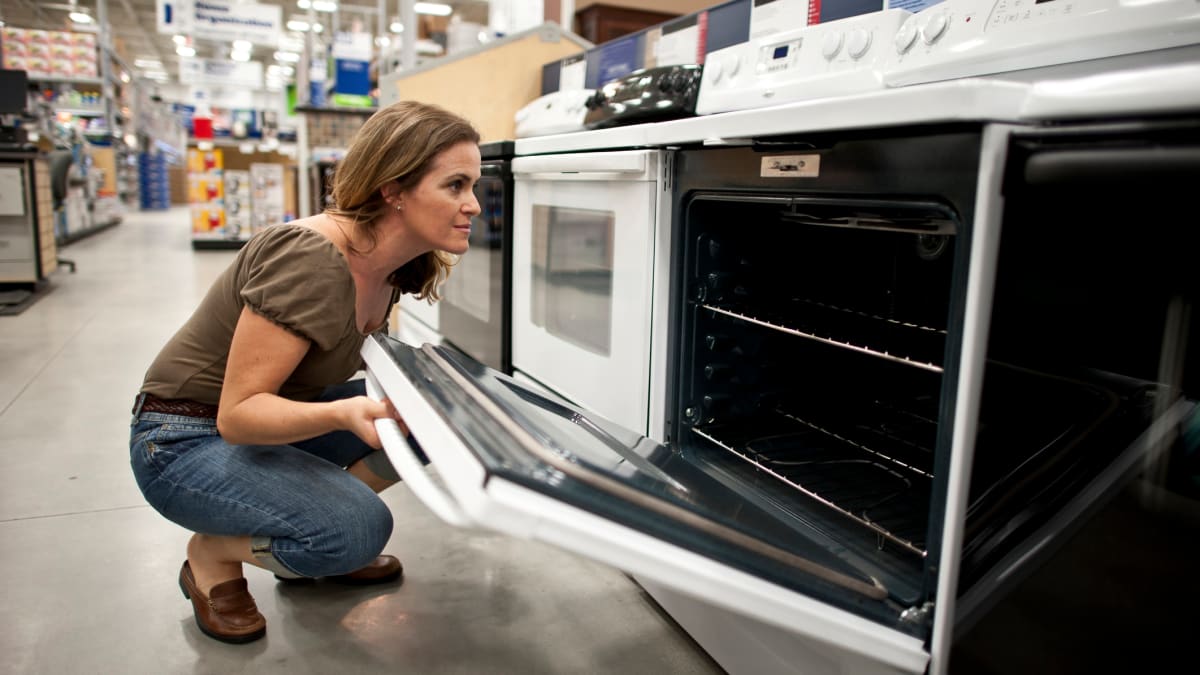 11 things you need to know before buying a kitchen range
reviewed.com
Stocks are closing higher Wednesday, led by gains in Apple, Oracle and other tech companies. The S&P 500 rose to a record high. Banks rose despite another drop in bond yields. Industrial stocks and health care companies were also among the gainers. Energy stocks fell as the price of oil dropped. Stock indexes and Treasury yields had little reaction to the minutes from the June meeting of Federal Reserve policymakers, which showed Fed officials discussed the timing of reducing bond purchases. On Wednesday: The S&P 500 rose 14.59 points, or 0.3%, to 4,358.13. The Dow Jones Industrial Average rose 104.42 points, or 0.3%, to 34,681.79. The Nasdaq rose 1.42 points, or less than 0.1%, to 14,665.06. The Russell 2000 index of smaller companies fell 21.66 points, or 1%, to 2,252.85. For the week: The S&P 500 is up 5.79 points, or 0.1%. The Dow is down 104.56 points, or 0.3%. The Nasdaq is up 25.74 points, or 0.2%. The Russell 2000 is down 52.92 points, or 2.3%. For the year: The S&P 500 is up 602.06 points, or 16%. The Dow is up 4,075.31 points, or 13.3%. The Nasdaq is up 1,776.78 points, or 13.8%. The Russell 2000 is up 277.99 points, or 14.1%. Copyright © 2021 The Associated Press. All rights reserved. This material may not be published, broadcast, written or redistributed.

US stocks point to higher open
edition.cnn.com
Big technology stocks like Amazon and Apple led major indexes to new records Wednesday, signaling to experts that investors are plowing into risky assets in search of market returns as stock valuations return to unprecedented highs. "Stocks bounced back Wednesday as investors were forced back into risky assets after the bond market rally sent Treasury yields sharply lower," Oanda Senior Market Analyst Edward Moya said shortly before the market close. Fueling bullish sentiment, Federal Reserve officials revealed Wednesday afternoon they have started discussions about when they should ease their pandemic-era policy measures but said the group is still content with its efforts to aid the economic recovery and doesn't yet plan to begin tapering efforts. Since March 2020, the Fed has been buying back $120 billion in bonds each month to bolster economic growth by injecting liquidity into the market. Earnings season kicks off next week with a slew of reports from big banks, including Goldman Sachs and JPMorgan Chase on July 13. "Thanks to the strong start to this bull market, stock valuations have become a widespread concern," LPL Financial analysts wrote in a note last week, forecasting the S&P will only climb about 3% higher in the second half of the year. "After a big rally, more optimism is priced in, and that higher bar then opens the door to disappointment." Here's How Rich Jeff Bezos Got As Amazon's CEO (Forbes)

S&P 500 rises to new record as Big Tech stocks gain
wnd.com
The S&P 500 closed at a record high on Wednesday amid falling Treasury yields as minutes from the Federal Reserve's June meeting showed policymakers are continuing to make progress towards reaching their threshold to scaling back asset purchases. The minutes showed that several participants are still uncertain about the outlook for growth and inflation, saying it's "too early to draw firm conclusions about the paths of the labor market and inflation." Fed officials also discussed tapering asset purchases but there was no consensus on the timeline. Here's where US indexes stood at the 4 p.m. ET close on Wednesday: Read more: How to earn up to 100% interest on your crypto: A TikTok influencer shares 5 platforms he uses to stake bitcoin and 8 altcoins - and the interest each one offers "We didn't expect much from today's FOMC Minutes, and our expectations were met. The majority of the new information delivered by the Fed was already distributed to the markets via the Summary of Economic Projections and the 'dots'," said economists from Jefferies. Jefferies expects more details on the future of policy to emerge from the Fed's meeting at Jackson Hole later this summer. The yield on the US 10-year Treasury fell as low as 1.295%, the lowest point since late February. The S&P 500 has hit a record closing high in eight of the past nine trading days. Amid massive US stimulus and record high stocks, BlackRock strategists have switched to a neutral stance on US stocks while upgrading their views on European and Japanese equities, which they see as growing beneficiaries from the further reopenings of economies shut down by the COVID-19 crisis. The BlackRock Investment Institute outlined, among other items, its six to 12-month tactical views on selected assets in a mid-year report released Wednesday. Bitcoin traded just under $35,000 on Wednesday after briefly overtaking the level. Oil prices recovered after falling on Tuesday, despite rising sharply earlier in the day after a meeting between the OPEC+ group of oil-producing countries was abruptly called off. West Texas Intermediate crude fell as much as 3.1%, to $71.07 per barrel. Brent crude, oil's international benchmark, dropped 2.6%, to $72.60 per barrel, at intraday lows. Gold climbed as much as 0.7%, to $1,810 per ounce.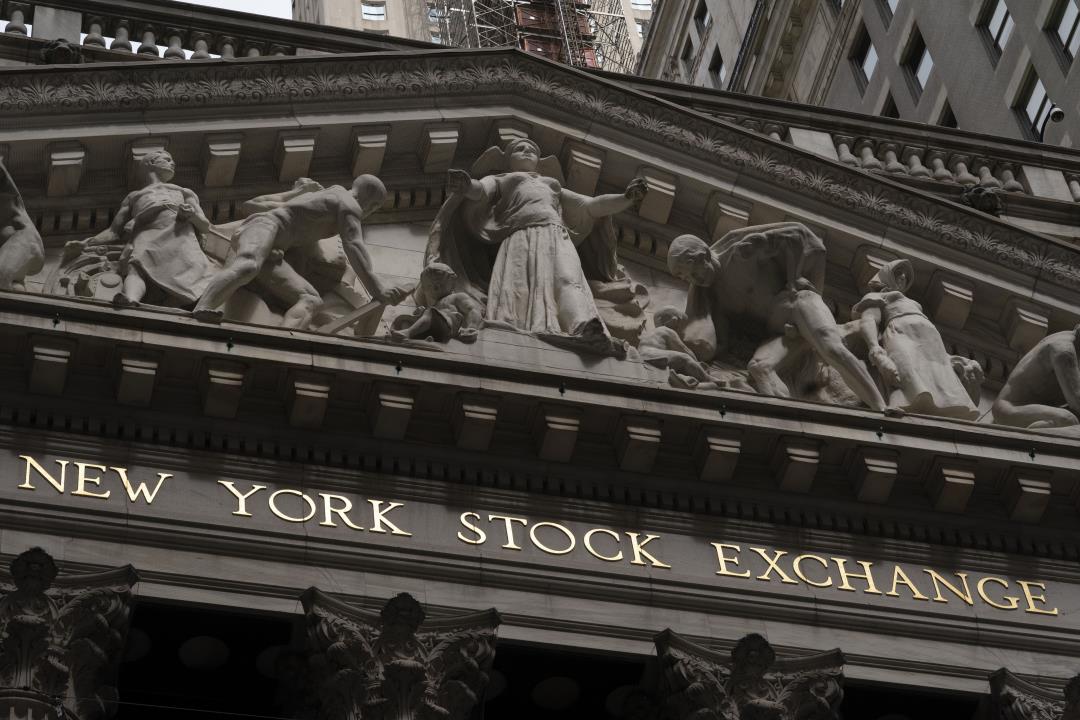 S&P 500 Returns to Setting Record Highs
newser.com
Good Subscriber Account active since When you buy through our links, Insider may earn an affiliate commission. Learn more. Dollar for dollar, Sling TV is one of the most affordable live TV streaming services on the market, offering a large selection of channels and on-demand content. Like most streaming platforms, Sling TV provides various promotional deals and free trial offers on a regular basis. That said, the conditions of these trials and discounts often change. Right now, new subscribers can get $25 of their first month. Or, if you're an eligible Verizon customer, you can two months of Sling for free. Sling offers other bonuses for new subscribers as well, including free device bundles. Here's a full rundown of all the Sling TV offers and deals available right now. For a limited time, Sling is offering a $25 discount on the first month of service for new members. This brings the price down to as low as $10 for your introductory month. The promotion also includes one month of Sling's DVR Plus upgrade, which offers 200 hours of storage. This deal often comes and goes every few months or so. Sling hasn't announced when the current "$25 off" deal will expire, so we recommend new subscribers snag the promo now before it's gone. Subscribers can choose between Sling Orange, Sling Blue, or the Sling Orange/Blue combo plan to receive the $25 discount. With the deal, your first month of Sling Orange or Blue comes out to $10, while your first month of the Sling Orange/Blue combo comes out to $25. You must provide an email address and credit card when you sign up. After your first month, your subscription will continue under the regular monthly price unless you cancel. If you want to keep the DVR Plus upgrade you need to pay an additional $5 a month. Verizon is offering a limited-time promotion for Sling subscribers. New and existing Verizon customers who are new to Sling TV can get two months of Sling's Orange or Blue plan for free. The deal is good for Fios, wireless, and 5G Home internet customers. Existing Verizon members who activated their account before May 19 have until July 18 to redeem the offer. New and existing Verizon customers who signed up after that date can redeem the offer within 60 days of their Verizon activation. The promotion ends on February 19, 2022. Sling's International and Latino plans are also included in the deal. Verizon customers can choose between two free months of the International Plan or three free months of the Latino Plan. Your subscription will automatically renew at Sling's standard monthly price after your trial is over unless you cancel. This offer is not valid for customers in Maine or New Mexico. You can visit Verizon's website for more information regarding this deal. Sling's website does not currently include a regular free trial option, but the site has offered a three-day trial in the past. People who sign up for Sling through the Sling TV app on select devices, however, can still receive a three-day trial. The app is available on most smart TVs and media players, including Roku, Fire TV, Apple TV, and Chromecast. If you don't want a discounted month or the Verizon deal, new members can opt for a free device instead. You can get a free AirTV Mini when you prepay for two months of Sling. The AirTV Mini streaming device typically costs $80 and you can use it to watch Sling and other apps on your TV. The AirTV Mini can be paired with an AirTV 2 and an antenna to add local programming. Subscribers who just want a simple solution to get local channels can instead get a free antenna ($45 retail value) when they prepay for two months. Though an antenna by itself won't integrate with your Sling app, it will let you watch local channels that aren't included with Sling, like ABC and CBS, through your TV. In addition to the antenna and AirTV Mini offer, Sling currently has two other packages that'll get you discounted devices if you prepay for three months at the regular price. For $49, you can get an AirTV 2 ($100 retail value) and an antenna ($45 retail value). If you want to record local channels with a built-in DVR, you can opt for a $99 bundle featuring an AirTV Anywhere and an antenna ($245 total retail value).

Preview the best Nordstrom Anniversary Sale 2021 beauty deals, including steep discounts on La Mer and NuFace
businessinsider.com
The Ever Given has been released, more than 3 months after it first got stuck, following a protracted fight for compensation with Egypt
businessinsider.com
How to buy a stock: A step-by-step guide to help you get started investing
businessinsider.com
Peacock offers free and premium plans with tons of NBC shows and Universal movies — here's how to sign up
businessinsider.com
If you can wait until fall to buy a car or furniture, you could get a better price
businessinsider.com
The best Nordstrom Anniversary Sale 2021 deals you can preview now, including discounts on Nike, La Mer, and more
businessinsider.com
A supply crunch has sent used car prices sky high. These 16 models are now worth more used than new
businessinsider.com
Coursera Plus gets you access to online courses and certificate programs led by Princeton, Yale, Google, and more — here's why it can be great for gaining career skills
businessinsider.com
How to watch 'Monsters at Work' — John Goodman and Billy Crystal reprise their roles from 'Monsters, Inc.' in the new Disney Plus show
businessinsider.com
Your rents are going to keep going up
businessinsider.com
The best women's style deals you can preview ahead of the 2021 Nordstrom Anniversary sale
businessinsider.com
The 2021 Nordstrom Anniversary Sale starts soon — get a first look at the best men's style deals, including discounts on Nike
businessinsider.com
Gas prices are expected to increase by as much as 20 cents this summer, hitting a 7-year high
businessinsider.com
One chart shows how the pandemic made it much harder to fill jobs than ever before
businessinsider.com
Goldman junior bankers' reluctant return
businessinsider.com
New Apple Music subscribers can get 6 months free from Best Buy, no purchase necessary. Here's how to get the deal.
businessinsider.com
Your coffee is about to get more expensive, thanks to the latest shortage
businessinsider.com
How to seamlessly share your Wi-Fi password on iPhone or Android
businessinsider.com
The media should probably just stop reporting on these, at least until there's a strain out there that really does reliably punch through the vaccines. Otherwise, what's the point? Neither the vaccinated or the unvaccinated are going to behave differently until there's a gamechanger. And the unvaccinated probably won't behave differently even then. The new "variant of interest" is C.37, a.k.a. "Lambda," and it's been working its way around South America for months. Lately several cases have turned up in the UK, one of a few dozen countries where the variant has been found. The two hardest-hit nations are Chile and especially Peru, where Lambda was detected as far back as last August and now accounts for 81 percent of cases. Peru's case curve doesn't look much different than anyone else's, raising the question of why scientists would be anxious about Lambda: There's an answer to that question, though. Measured by deaths per capita, Peru has had the worst COVID outbreak on Earth — by a country mile: Scientists are trying to figure out why Peru's death rate is so freakishly high, dwarfing even Brazil's, and are looking at C.37 as a possible culprit. The variant does have some "unusual" mutations that may make it more capable of breaking through immunity: It could be more transmissible, more deadly, more vaccine-resistant, or all three — although if it's more transmissible then Peru's case curve becomes hard to explain. In fact, despite the gruesome results in Peru, scientists aren't sure yet that Lambda is any worse than any other variant. It's been in the UK since February and has yet to explode there, being outrun by the B.1.617 "Delta" variant from India. There's also some early evidence that the Pfizer and Moderna vaccines are effective against it. It could be that the bizarre lethality of Peru's pandemic is due to unrelated factors, like poor health care — or much more thorough reporting on COVID deaths than other countries. There's another X factor. South American countries like Peru and Chile are using China's weak vaccines, which may be easier for Lambda and other variants to defeat. The "CoronaVac" vaccine mentioned in the excerpt above is another name for China's Sinovac vaccine, which is famously ineffective after one dose and not very effective at preventing transmission even after two doses. Is Lambda really more vaccine-resistant than other strains of the virus or does it just have the good fortune to be circulating in a part of the world with substandard vaccine immunity? Also, if Chile is also rife with the Lambda strain, with some one-third of current cases caused by C.37, then why isn't their death rate similarly off the charts? They rank 25th in the world in deaths per capita, behind Brazil, the U. S., the UK, Italy, Spain, and Mexico. They haven't experienced a true spike in deaths in a year, in fact, although their daily toll remains stubbornly constant: Maybe Lambda will end up being the latest variant to kick up enough of a fuss to grab scientists' attention and then to lose it when it turns out not to be much different in any meaningful way from other strains of the virus. Remember the California and New York variants? They popped up in America's COVID hot spots, gave researchers a scare as they became more prevalent, but ended up not wreaking the sort of havoc that the Alpha and Delta variants from abroad have. Maybe C.37 is in the same category — concerning at first blush, ho-hum upon further review. As for the difference between Peru's catastrophic death rate and Chile's bad-but-not-unusually-so one, maybe this graph explains it. Although both countries are battling Lambda, Chile's doing it with a lot, lot more vaccines than Peru is: The Chinese vaccines are bad at preventing transmission but not bad at preventing serious illness after both doses. Maybe Chile's done better at keeping people out of the ICU simply because it's gotten many more doses into people, with those doses working (for the most part) even against Lambda.

TRENDING ON TOWNHALL MEDIA
hotair.com
TRENDING ON TOWNHALL MEDIA
hotair.com
TRENDING ON TOWNHALL MEDIA
hotair.com
TRENDING ON TOWNHALL MEDIA
hotair.com
TRENDING ON TOWNHALL MEDIA
hotair.com
TRENDING ON TOWNHALL MEDIA
hotair.com
TRENDING ON TOWNHALL MEDIA
hotair.com
TRENDING ON TOWNHALL MEDIA
hotair.com
TRENDING ON TOWNHALL MEDIA
hotair.com
TRENDING ON TOWNHALL MEDIA
hotair.com
TRENDING ON TOWNHALL MEDIA
hotair.com
TRENDING ON TOWNHALL MEDIA
hotair.com
TRENDING ON TOWNHALL MEDIA
hotair.com
TRENDING ON TOWNHALL MEDIA
hotair.com
TRENDING ON TOWNHALL MEDIA
hotair.com
TRENDING ON TOWNHALL MEDIA
hotair.com
Oil and Gas stocks were trading with losses, with the S&P BSE Oil&Gas index decreasing 111.63 points or 0.69% at 16036.37 at 13:49 IST. Among the components of the S&P BSE Oil&Gas index, Adani Total Gas Ltd (down 1.97%), Oil & Natural Gas Corpn Ltd (down 1.89%),Indian Oil Corporation Ltd (down 0.74%),Reliance Industries Ltd (down 0.62%),GAIL (India) Ltd (down 0.46%), were the top losers. Among the other losers were Gujarat Gas Ltd (down 0.3%), Hindustan Petroleum Corporation Ltd (down 0.28%), Indraprastha Gas Ltd (down 0.07%), and Petronet LNG Ltd (down 0.02%). On the other hand, Bharat Petroleum Corporation Ltd (up 0.23%), turned up. At 13:49 IST, the S&P BSE Sensex was up 70.72 or 0.13% at 52931.9. The Nifty 50 index was up 16.4 points or 0.1% at 15834.65. The S&P BSE Small-Cap index was up 19.38 points or 0.08% at 25719.35. The S&P BSE 150 Midcap Index index was up 14.43 points or 0.18% at 7962.76. On BSE,1642 shares were trading in green,1473 were trading in red and 149 were unchanged.

Consumer Durables shares drop
business-standard.com
Energy shares fall
business-standard.com
Barometrs trade with minor gains
business-standard.com
Barometers trade with minor gains
business-standard.com
The Nifty July 2021 were at 15,897.65, a premium of 18 points compared with Nifty's spot closing of 15,879.65. Turnover on the National Stock Exchange's & options (F&O) segment was Rs 46.48 lakh crore compared with Rs 47 lakh crore in the previous session. In the cash market, the Nifty 50 index rose 61.40 points or 0.39% to 15,879.65. The NSE's India VIX, a gauge of market's expectation of volatility over the near term, fell 0.5% to 12.2125. Tata Motors, Tata Steel and RIL were the top traded stock contracts in F&O segment for July expiry. The July F&O contracts will expire on 29 July 2021.

Barometers trade with minor gains
business-standard.com
Barometrs trade with minor gains
business-standard.com
Sensex, Nifty end with decent gains
business-standard.com
"Wise PLC (LON:WISE) may have flown into the stock market blindfold, given that by choosing a direct listing, its share price wasn't decided in advance, but the payments firm has had a smooth landing, with shares rising since trading began.'' Q2 2021 hedge fund letters, conferences and more There were 47 million trades in the first half hour, pushing the price up by 3% from the opening auction price of 800p (total trades, not trades just through HL). Shares came out of auction at 820p before dropping slightly and then rebounding to 825p by midday. The launch has put a value of the company of around £8 billion, a big step up from the £5 billion price tag attached to the company by private investors last July. The unruffled start to trading should help London 's efforts to maintain its reputation as a Fin Tech hub as it has struggled to attract fast growing companies keen to list. The UK has gone out of floatation fashion with just 5% of companies delivering an IPO choosing London as the launch pad. This particularly worrying because we see IPOs as an opportunity to bring more people to investing for the first time But now more firms might see direct listings as a good alternative to traditional IPOs which are more costly, needing the input of expensive services from investment banks. Direct listings are more of a level playing field for all investors. Instead of institutional investors usually being given first dibs, retail investors get an equal bite of the cherry. More direct listings would be a welcome development given that retail investors have been excluded from 97% of IPOs since 2017. WISE has made a feature of bucking tradition and disrupting systems ever since it launched in 2011 as Transfer Wise. It now boasts 10 million customers worldwide and has been profitable for the last four years. It's expanded from a personal peer-to-peer service to offer businesses faster payments solutions and that is an attractive feature of its growth prospects. But there are plenty of risks ahead: the company has rivals snapping at its heels in the revolutionary world of payments and to stay competitive it may be forced to cut fees faster than it can reduce costs. It has also noted that excessive volatility in currency markets could also affect its profits." Article by Susannah Streeter, senior investment and markets analyst, Hargreaves Lansdown About Hargreaves Lansdown Over 1.6 million clients trust us with £132.9 billion (as at 30 April 2021), making us the UK's largest digital wealth management service. More than 98% of client activity is done through our digital channels and over 600,000 access our mobile app each month.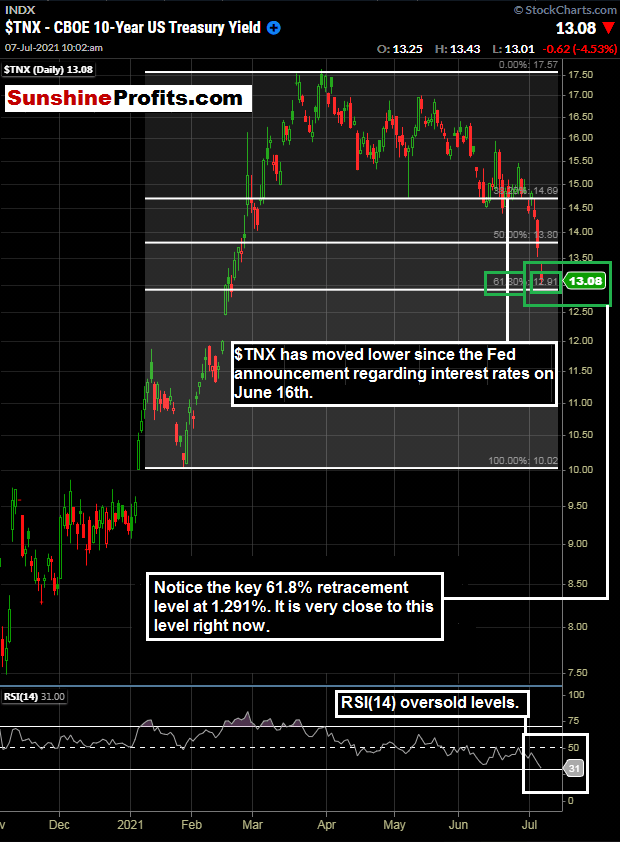 Interest Rates: Making the Improbable Today's Reality - ValueWalk
valuewalk.com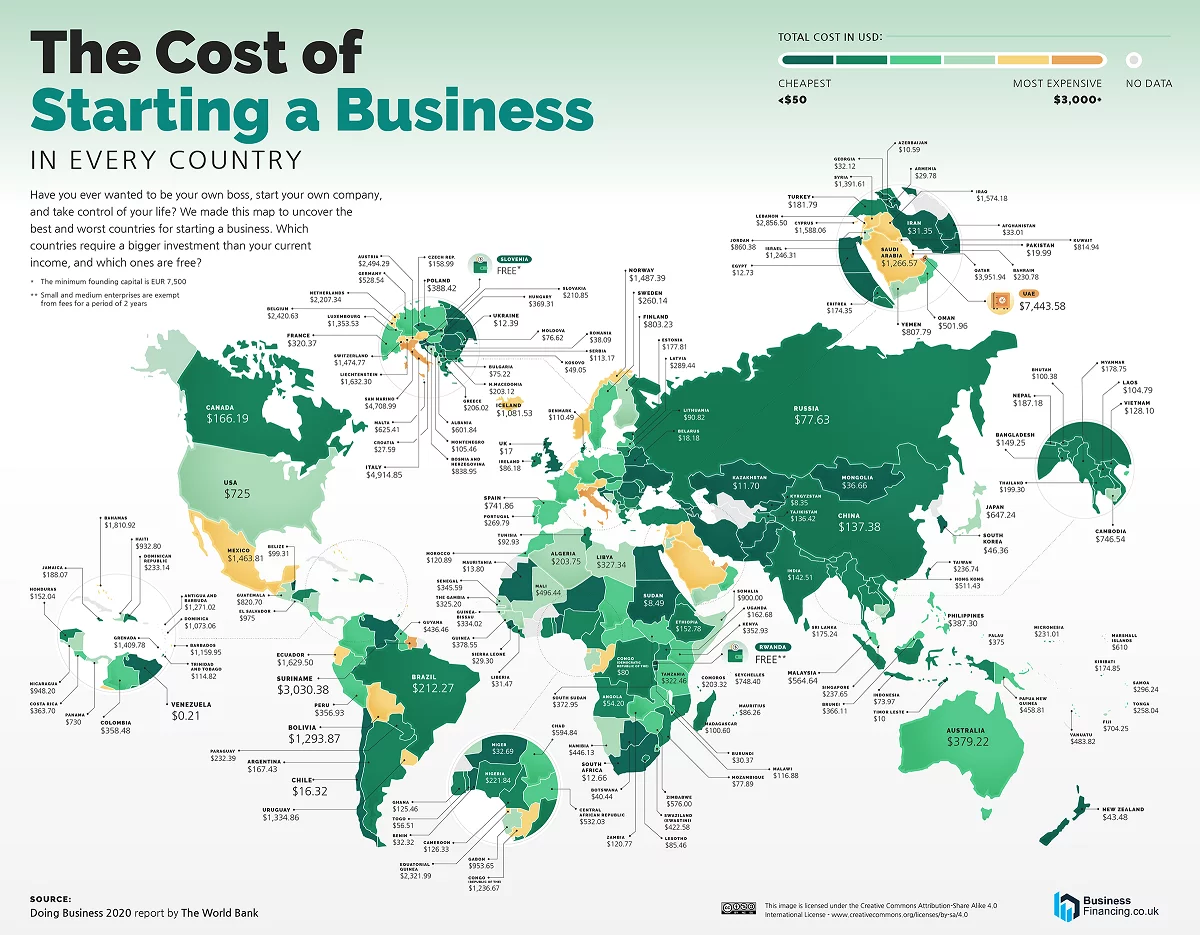 The Best (And Worst) Countries For Starting A Business - ValueWalk
valuewalk.com
Robinhood to Fetch $30 Billion Valuation - ValueWalk
valuewalk.com
How can you be sure the person you hire will actually be selling while working from home? Dr. Chris Croner says you have to test them for Drive. (Oh…and watch out for interview fakers.) Q2 2021 hedge fund letters, conferences and more Chicago, IL (July 2021)—As the debate around remote work rages on, it's clear many employees will never return to the office. And if you're a sales manager, you may be in a position you'd never have anticipated pre-pandemic: hiring a remote salesperson. But don't just hire anyone to work outside your line of sight, says Dr. Chris Croner. Instead, make sure they have one non-negotiable quality. Drive. "The pandemic separated the wheat from the chaff," says Dr. Croner, the psychologist, sales retention and recruitment expert, and principal at SalesDrive, a content-rich resource center overflowing with educational articles, podcasts, MasterClasses, science-based sales psychology strategies, and other tools and techniques aimed at helping companies maximize their sales team's performance. "When it hit, high-Drive salespeople ran home and figured out how to work Zoom and how to sell in a completely new environment," he adds. "They adapted quickly. Low-Drive salespeople thought 'Great, I get some time off to see how this all shakes out.' Instead of hitting the ground running, they hit the hammock." Obviously, when hiring a remote salesperson - really, any salesperson - you want the driven adaptors, not the hammock hitters. You want someone who will be disciplined and productive while working without supervision, despite the rejection and setbacks that come with sales. Dr. Croner—who is also coauthor along with Richard Abraham of Never Hire a Bad Salesperson Again: Selecting Candidates Who Are Absolutely Driven to Succeed (The Richard Abraham Company LLC, ISBN: 978-0-9741996-1-0, $19.95)—says Drive is made up of three non-teachable traits: Need for Achievement, Competitiveness, and Optimism. It's this first part that's most important. (This is especially true if you're hiring a "Hunter" for new account acquisition.) Psychologist David McClelland first recognized the connection between high Need for Achievement and sales ability across several cultures. In his 1961 book, The Achieving Society, McClelland observed that achievers are attracted to sales careers because of the opportunity to exercise personal responsibility in areas like taking moderate risk, choosing the prospects they will call, finding creative persuasive methods, and tracking their success. "If you hire someone with low Need for Achievement, you'll regret it," warns Dr. Croner. "These candidates may see your home-based sales job as their lucky break, an opportunity to kick back and relax, spending the day surfing Facebook without supervision." This lack of production is devastating to your company. An underperforming salesperson, working remotely or in the office, can cost you six to seven figures annually in lost revenue. Several of them on the same team can be lethal. And when you consider that Hunters are rare—only 20 percent of the population—you'll see this is a very real risk. "You may be tempted to simply look for a candidate who sounds like a 'go-getter' and appears highly motivated in the interview," says Dr. Croner. "However, salespeople can be great actors, and the interview may be the best sale you ever see out of them." So how can you make sure you hire the right candidate? There are three steps: After you post a job listing and begin to collect applications, conduct an effective résumé review. When you review a candidate's résumé and/or LinkedIn profile, there are a few indicators of high Need for Achievement: Furthermore, if you need a salesperson who is ready to hit the ground running, look for two to three years of previous experience at a similarly sized company. "You might see a candidate with a strong record of performance at a larger company and think surely they will bring that same level of success to you," says Dr. Croner. "However, you need to know whether that previous success was because of their own effort or because they had strong brand recognition and collateral materials opening the door for them." The best way to screen sales candidates before the interview is to administer a sales assessment test that measures Need for Achievement, as well as Competitiveness and Optimism, the three non-teachable characteristics essential for Hunters. Make sure your assessment uses a question format that eliminates faking and can track your candidates' level of consistency in their responses. Most sales candidates are great fakers! Using an assessment prior to the interview helps ensure you spend time on only high-potential candidates with a greater likelihood of working well unsupervised. It also allows you to uncover hidden dynamics underneath the surface, making you much more powerful as an interviewer. Candidates who pass the sales assessment earn the opportunity to meet with you for a one-on-one behavioral interview. Here, you ask the candidate to discuss their previous work-related behaviors that reflect the characteristics you need in your new hire. And, the best predictor of future behavior is previous behavior. A few questions to assess Need for Achievement and the candidate's ability to work unsupervised remotely: Q: What's the toughest goal you've ever set for yourself? How do you plan to top it? (Allow the candidate to fully answer the first question before proceeding to the second question.) A: Has accomplished a very challenging work goal; has a specific plan to top that goal. Q: What kinds of sacrifices have you had to make to be successful? A: Substantial past sacrifices for success at work (time, other pursuits, etc.). Q: Tell me about the last time you worked with no direct supervision. What was most challenging about that assignment for you? A: Challenges relate more to keeping others (e.g., colleagues, customers) on schedule, rather than their own time management. SalesDrive's MasterClass The Ultimate Behavioral Interview Guide for Sales Managers provides more guidance in this area. Once you've hired an achievement-oriented salesperson, you might be tempted to let them go and start selling on their own. But even salespeople with a high Need for Achievement require direction and guidance. Here are a few tips for managing a virtual sales team effectively. Figure out what method(s) of communication works best for each team member. Then, accommodate them if you can. Some people communicate well using email or online chat platforms, such as Slack, while others prefer the phone or video conference software, like Zoom. Whether that be company goals or individual sales goals, make sure your sales reps understand what is expected of them and how their performance will be tracked. Salespeople high in Need for Achievement want to do well, so understanding how performance is measured is key for them. When managing a remote sales team, access to information and to other people will be structured differently than in an office setting. Consider investing in resources and tools to help your team in the following ways: Creating a sense of community and connection within a virtual sales team may seem like a daunting task, but camaraderie is possible. A few tips: "Hiring a salesperson who will actually work from home without supervision is a challenge," admits Dr. Croner. "These candidates are rare, but they do exist. Don't trust your gut or be fooled by a savvy interviewer. There is no substitute for a science-based sales assessment test to make sure your hire has the discipline and focus to work remotely and produce for you." About the Author: Dr. Christopher Croner is principal at SalesDrive and coauthor (along with Richard Abraham) of the book Never Hire a Bad Salesperson Again, which details his research and practice in identifying the non-teachable personality traits common to top producers. Dr. Croner received his BA in psychology from DePaul University and his master's and PhD in clinical psychology from Southern Illinois University at Carbondale. He developed the proprietary DriveTest ® online sales test and The Drive Interview ®, both used for hiring "Hunter" salespeople. Using this methodology, he has helped over 1,200 companies worldwide to hire and develop top-performing salespeople. To learn more please visit https://salesdrive.info. About the Book: Never Hire a Bad Salesperson Again: Selecting Candidates Who Are Absolutely Driven to Succeed (The Richard Abraham Company LLC, ISBN: 978-0-9741996-1-0, $19.95) is available from major online booksellers.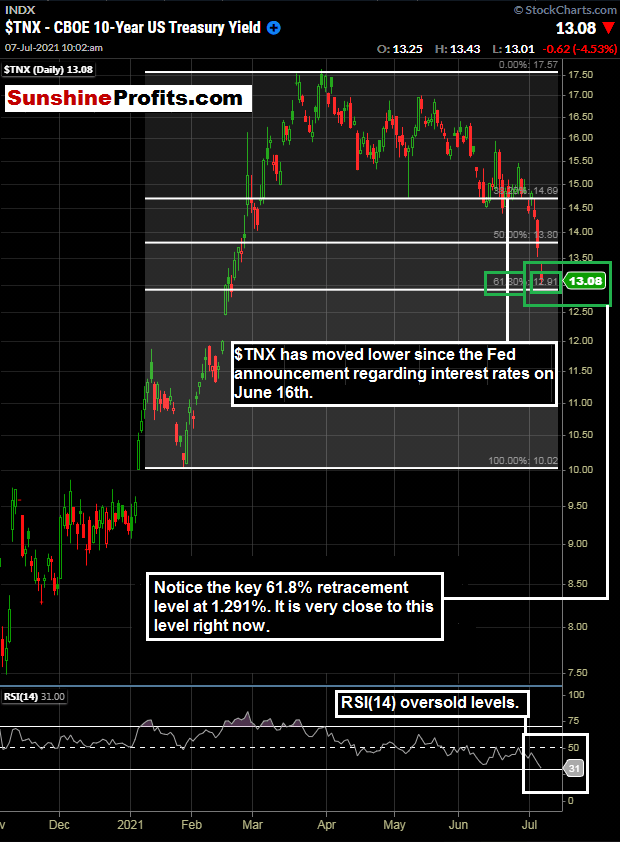 Interest Rates: Making the Improbable Today's Reality - ValueWalk
valuewalk.com

Invest in Energy Metals to Profit from Electricity Consumption - ValueWalk
valuewalk.com
Business Standard has always strived hard to provide up-to-date information and commentary on developments that are of interest to you and have wider political and economic implications for the country and the world. Your encouragement and constant feedback on how to improve our offering have only made our resolve and commitment to these ideals stronger. Even during these difficult times arising out of Covid-19, we continue to remain committed to keeping you informed and updated with credible news, authoritative views and incisive commentary on topical issues of relevance. We, however, have a request. As we battle the economic impact of the pandemic, we need your support even more, so that we can continue to offer you more quality content. Our subscription model has seen an encouraging response from many of you, who have subscribed to our online content. More subscription to our online content can only help us achieve the goals of offering you even better and more relevant content. We believe in free, fair and credible journalism. Your support through more subscriptions can help us practise the journalism to which we are committed. Support quality journalism and subscribe to Business Standard. Digital Editor

Infosys to announce Q1 results on 14 July
business-standard.com
REC taps international bond market to raise USD 400 mn
business-standard.com
Agencies Awards & Honors Accounts AgencySpy Creative Independent Agencies Media Agencies Adweek Wire &copy2021 Adweek - All Rights Reserved. Do not sell my personal information Terms of Use Privacy Policy

Instagram Shop: How to Add a Product to Your Wishlist
adweek.com
Money transfer firm Wise joined the London Stock Exchange on Wednesday in the biggest flotation of the year and the largest tech listing in the stock market's history. T he company, formerly known as TransferWise, completed its direct listing on Wednesday – instead of a traditional Initial Public Offering (IPO) – valuing the business at £7.96 billion. Shares traded at 800p-a-pop and quickly jumped to 825p in early trading with the company saying investor demand was oversubscribed. The volatility of the price occurred because a direct listing involves the open market setting a price, rather than a range set by traditional investment banks who drum up support for the float from institutional investors. Shares started trading at 7.50am, allowing enough time for the price to settle before joining the market properly by mid-morning where institutional investors and amateur retail investors could buy shares at the same time. Susannah Streeter, senior investment and markets analyst at Hargreaves Lansdown, explained: "A direct listing system is viewed as cheaper and simpler than a traditional IPO where the whole process is managed by expensive investment banks which underwrite new shares and help find institutional and sometimes retail buyers for them. "Instead of new shares being listed, only existing ones held by early investors or the founders are traded on an exchange, so underwriters don't have to be paid and shares aren't diluted. "However, the risk is that not as much interest is drummed up, and there is no guarantee for share sales as it relies purely on supply and demand." She added: "The Wise listing will be another test for London as a Fintech hub, as the UK grapples with its post-Brexit status in an era when it has struggled to attract fast growing companies looking to launch an IPO." The sky-high valuation beat the next biggest listing on the London Stock Exchange in 2021 – Deliveroo, which had a disastrous flotation in March. The food delivery platform was valued at £7.6 billion on its launch as a public company but shares soon tanked more than 30%. They have yet to return to their opening price of 390p-a-share. Wise issued 994.6 million shares to the stock market and has taken advantage of new listing rules to create class "A" and class "B" shares. The class "B" shares hold nine votes per share and allow the founders to hold a greater level of power when it comes to voting on company matters, compared with the one vote per share afforded to those with "A" shares. The additional powers for the "B" shares will last for five years and are non-transferable. Financial institutions and the Government will hope that the listing is a sign that the UK can grow its credentials as a tech hub and woo more tech firms to its stock exchange. Julia Hoggett, chief executive of the London Stock Exchange said the direct listing "demonstrates the flexibility of the London market… and help ensure the UK's public markets remain attractive for both high-growth innovative businesses and for a broad range of investors." She added: "Wise joining the Main Market through its Direct Listing demonstrates that global tech companies can build, scale-up and go public in London. "London offers access to deep pools of international capital, alongside high standards of corporate governance and effective regulations." Zoe Stabler, of personal finance comparison site finder.com, pointed out the valuation makes Wise 18% more valuable than Western Union and more than 10 times bigger than MoneyGram – although almost 97% smaller than PayPal. She added: "Wise was valued at £5 billion in July 2020, so they will be pleased to have launched well over this valuation, especially as there were concerns over the dual class share structure they opted for."

Wise IPO tops growing list of London tech listings
independent.ie
Harley-Davidson's stock (NYSE: HOG), has gained 27% - moving from about $37 to $47 since the end of 2020. The price rose in 2021 as the company started recovering after it was hit hard due to the pandemic in 2020. In 2020 sales volume fell by 32% for the year, which caused revenue to fall by 25% y-o-y to $4.1 billion. In Q1 2021, recovery was seen in its main market i.e. North America as sales volume increased by 30% y-o-y for the region. Overall the sales volume increased by 9% y-o-y for the quarter. The recovery in volume led to revenue growth as the company posted revenue of $1.4 billion, up 10% y-o-y. At the current price of $47 we believe Harley-Davidson's stock is in line with its potential. Our dashboard, ' Buy or Sell Harley-Davidson Stock? ' provides the key numbers behind our thinking, and we explain more below. Harley-Davidson's revenues have fallen by 27% from $5.7 billion in 2018 to $4.1 billion in 2020. In the same period, the net income margin has fallen to 0.03% in 2020 from 9.3% in 2018 as the company suffered due to waning demand of heavy motorcycles and the Covid pandemic. The shares outstanding decreased during the same period which partially offset the RPS fall. Harley's P/S was around 0.9x at the end of 2018 and has increased continuously. It reached 1.4x at the end of 2020 and has reached 1.7x currently. We expect the company to continue on its revival path post the pandemic and sales volume to recover across regions. This would lead Harley-Davidson's revenue to rise by 31% to $5.3 billion for 2021. Further, its net income is likely to increase to $215 million, increasing its EPS figure to $1.40 in 2021, which coupled with the P/E multiple of 34.3x will lead to Harley-Davidson's valuation of $48, which is in line with the current market price. What if you're looking for a more balanced portfolio instead? Here's a high-quality portfolio that's beaten the market since 2016. See all Trefis Featured Analyses and Download Trefis Data here

Starbucks Stock To Grow As Recovery Continues?
forbes.com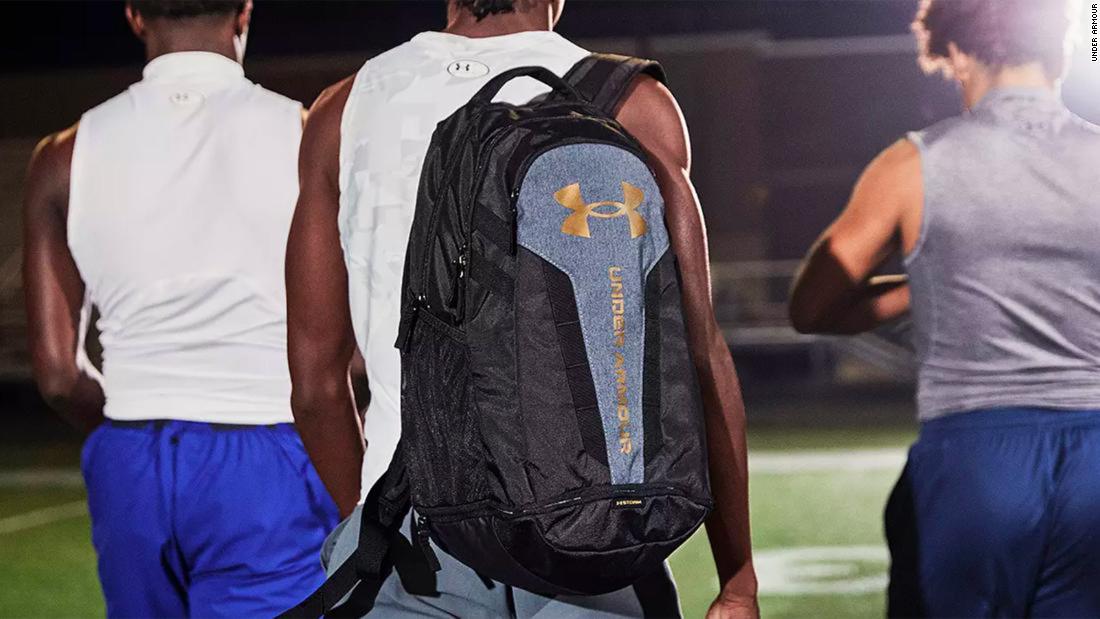 Finding the workout gear that feels comfortable and matches your level of activity can be a challenge, especially when you're looking for a deal. Fortunately, Under Armour always takes these things into consideration when it comes to the quality of its clothing, shoes and accessories — but certain options can get pricey. That's why we're hyped for UA's Semi Annual Sale, which means up to 50% off hundreds of items. The event is going on now through July 20 and features sales on apparel, shoes and accessories for men, women and kids. You can find styles suited for outdoor summer exercise, or gear up for the upcoming chill with options that are perfect for winter. Sports-specific gear like cleats, running shoes, golf apparel and more are also marked down, with orders over $60 automatically receiving free shipping. We're already seeing some bestselling items sell out in specific sizes and colors, so don't wait if your workout gear needs a refresh. Here are a few items from the sale that are worth shopping. If you're a serious runner, you know that any old pair of sneakers won't cut it when you hit the pavement. For comfort and durability, the Assert 8 Running Shoes are a great option. They feature Charged Cushioning midsoles with compression foam to help your shoes better respond to your movements, while the mesh upper offers breathability. These bestselling shorts are loved for their ultra-soft feel and quick drying ability, but many colors and sizes are already sold out, so snatch them up before they're completely gone. Like the HeatGear leggings, this long sleeve shirt is designed to be a cooling base layer that never feels too heavy or stays wet for too long. Mesh panels have also been added under the arms and in the back for extra ventilation. Finding the ideal sports bra can be just as difficult as shopping for an everyday bra; not only do you have to find the correct fit, you also have to make sure the bra itself is suited for the activity you will be using it for. If you're looking for something supportive during medium-impact activities like cycling, boxing or weight training, the Infinity Mid Heather Cover Sports Bra is designed specifically to work with the movement of your body during these workouts. Black leggings are a staple in any workout, but your favorite pair might not also work as a cooling base layer. These HeatGear No-Slip Ankle Leggings do both — they're incredibly light so they can be worn under other clothing, but they're also odor-proof and sweat-wicking, so you will never feel uncomfortable no matter how you're wearing them. A warm sweatshirt doesn't have to be heavy. The Rival Fleece Hoodie is lightweight but features a brushed fleece interior to keep you warm, no matter what weather you're working out in. The hoodie also has pockets, meaning your hands won't freeze either.

The best sales to shop today: Rocketbook, Old Navy, Samsung and more
us.cnn.com
Opaque, a startup that helps organizations analyze encrypted data in the cloud, today announced that it closed a $9.5 million seed funding round led by Intel Capital with contributions from Race Capital, The House Fund, and FactoryHQ. Cofounder Raluca Ada Popa says that the funds will help to expand Opaque's ongoing contributions to the open source and data security communities. A majority of data sits in private hands. By 2025, it's predicted that 80% of data worldwide will reside in enterprises, and the global data economy is pegged at $3 trillion. Moreover, Gartner predicts that by 2025,50% of large organizations will adopt privacy-enhancing data computation techniques. Opaque, whose solution integrates with popular data and machine learning libraries like Apache Spark and XGBoost, allows users to share and analyze sensitive data without widely exposing that data. The platform leverages a combination of cryptographic fortification and secure hardware enclaves, or locked-down hardware in a processor that safeguards data from attack and attempted access outside of a trusted execution environment. Opaque builds on the open source MC 2 (Multiparty Collaboration and Competition) Project, which emerged several years ago from the University of California, Berkely's RISE Lab. As Popa explained, the codebase contains an assortment of components that lets data owners perform analytics and train machine learning models on their data without revealing individual data to each other. "Vast amounts of confidential data is locked down at many organizations due to privacy concerns, and with it, tremendous value is lost," Popa added. "Our vision is to set free the value of this data by providing privacy-enhancing analytics and machine learning on confidential data regardless of where it is coming from. Opaque will have a profound impact on society — banks can collaborate to fight money laundering or human trafficking, hospitals can collaborate towards better disease diagnosis and treatments, all while keeping their confidential data not visible to each other." Opaque's cloud-based implementation of MC 2 enables companies to migrate encrypted data and models to the cloud. Data is never exposed unencrypted on the cloud, and organizations can apply analytics or machine learning directly to the encrypted data. Using Opaque, data owners across different teams within an organization — or across different organizations — can jointly analyze their collective data. Each data owner retains control over how their data is used, allowing them to process structured data using technologies like Spark SQL. Enthusiasm for data encryption has given rise to an industry estimated to be worth $268.3 million by 2027. Duality Technologies pitches its homomorphic encryption platform as a privacy-preserving solution for "numerous" enterprises, particularly those in regulated industries. In March 2019, Paris-based Cosmian raised €1.4 million (about $1.5 million) for a data encryption product that combines functional and homomorphic encryption. There's also TripleBlind and Enveil, which is developing "enterprise-scale" data encryption solutions, and security-conscious collaboration platform Cape Privacy. But San Francisco, California-based Opaque says that Intel has collaborated with it since its inception at the RISE Lab, resulting in new data analytics, data training, and aggregation capabilities. Moreover, the startup claims that its technology has already been used by companies including Scotiabank, IBM, Ant Group, and Ericsson. "We've had a very successful collaboration with the Opaque team. By enabling secure data sharing between multiple banks, Opaque's technology has the potential to tackle several challenges, including credit risk assessment and detecting financial crime," Ant Group chief scientist Benyu Zhang said in a statement.

Database optimization startup Silk raises $55M
venturebeat.com
UNITED NATIONS (AP) — Egypt's foreign minister said Wednesday he will urge the U. N. Security Council to require Egypt, Sudan and Ethiopia to negotiate a binding agreement within six months on the contentious issue of water availability from the dam that the Ethiopians are building on the main tributary of the Nile River. Sameh Shukry said in an interview with The Associated Press that 10 years of negotiations over the hydroelectric dam on the Blue Nile have failed to ensure that water will continue to flow downstream in sufficient amounts to Sudan and to Egypt, where 100 million people are dependent on the river as their sole source of water. Shukry said Egypt and Sudan called for a Security Council meeting in light of "the existential threat" to the people of both countries from the Grand Ethiopian Renaissance Dam. He also cited Ethiopia's decision to start a second filling of the dam's reservoir, which he said violates a 2015 agreement. The Security Council is scheduled to meet Thursday and will hear from Shukry, Sudan's foreign minister and Ethiopia's water minister as well as its 15 member nations. Tunisia, the Arab representative on the council, has circulated a draft resolution that requests Egypt, Sudan and Ethiopia to resume negotiations at the invitation of the African Union chairman and U. N. Secretary-General Antonio Guterres to finalize a legally binding agreement by next January on filling and operating the dam. It says the deal must ensure "Ethiopia's ability to generate hydropower… while preventing the inflicting of significant harm on the water security of downstream states." In addition, the draft resolution would urge Ethiopia "to refrain from continuing to unilaterally fill" the dam's reservoir and call on Egypt, Sudan and Ethiopia "to refrain from making any statements, or taking any action that may jeopardize the negotiation process." "We certainly do support it and believe it's a balanced resolution," Shukry said. He said it "empowers the central role of the African Union chairman to conduct negotiations in an enhanced format" to find ways to resolve "the issues that have obstructed reaching a conclusion to these negotiations." The dam is 80% complete and is expected to reach full generating capacity in 2023, making it Africa's largest hydroelectric power plant and the world's seventh-largest, according to reports in Ethiopia's state media. Ethiopia says the $5 billion dam is essential for making sure the vast majority of its people don't lack electricity. Shukry has been in New York for several days meeting with all council members to make his case that the resolution is a call for the U. N.'s most powerful body to act under its mandate to ensure international peace and security. He said he also has argued that the council taking up the issue would not set a precedent for future discussions of water issues. "On the contrary, the main element of the resolution is very apparent — that it is encouraging the states to continue to resolve a conflict through peaceful means, through negotiations," he said. Asked if he foresaw any opposition among the 15 council members to the resolution, Shukry said Egypt believes many of them recognize the importance of addressing the issue. "So we believe that in principle, and on the responsibility of the council, there should be no opposition," he said. He said his message on Thursday will be "that negotiations have to have a conclusion," The resolution offers the best to ensure that Ethiopia can take advantage of the dam to promote its development "while avoiding any significant harm on either Sudan or Egypt," he said. Stressing the Egypt is 95% desert, and that 60% of Egyptians depend on agriculture for their livelihoods, Shukry said there must be legally binding rules governing the filling of the reservoir and guaranteeing "as an insurance that during drought, or an extended drought, Ethiopia would fill the dam in a responsible manner in conformity with the international guidelines and rules that govern this issue." Shukry said his message to Ethiopia is that agreements have been reached elsewhere in Africa, including Senegal and Niger, as well as in Europe on the Danube River and in Asia on sharing water on rivers that cross borders. If this can't be achieved, he said, millions of people in Sudan and Egypt will live without security with "devastating effects" on their livelihoods. Egyptian President Abdel Fattah el-Sissi warned Ethiopia earlier this year that his government would not tolerate any moves that would reduce Egypt's share of water from the Nile. He said that "all options are open" should Egypt's share be "touched," urging Addis Ababa to cooperate with Cairo and Khartoum to avert any conflict. Asked if military action was a possibility, Shukry said Egypt will continue to seek a peaceful resolution of the dispute. "So far, unfortunately, our Ethiopian brethren have not demonstrated the necessary flexibility or moderation that can lead to an agreement," Shukry said. The Egyptian government, he said, "will take whatever measure is necessary to protect the people of Egypt and their water rights." Copyright © 2021 The Associated Press. All rights reserved. This material may not be published, broadcast, written or redistributed.

The European Union plans to exempt business jets and private "pleasure flights" from its new green tax on aviation fuel. The European Commission, the EU's appointed executive that drafts all legislation for the European Parliament, will publish proposed revisions to the 2003 energy taxation directive on July 14. The Commission argues that airlines should not be made to pay energy taxation directive taxes when they are already being charged under the EU's emissions trading system (ETS) and the International Civil Aviation Organisation's Carbon Offsetting and Reduction Scheme for International Aviation (CORSIA). Murphy has argued for a "leisure-driven" fuel tax for the private aviation sector. He was the co-author of a May report that found carbon dioxide emissions from private jets rose by 31 per cent across the continent between 2005 and 2019 — with a major increase in flights to holiday destinations in the summer.

Before the pandemic, Graciela Gomez relied on two jobs to keep up with her expenses. After losing her part-time job at Macy's in March 2020, she had to choose between paying off her credit cards or paying her rent. She chose the latter. "I didn't know who to talk to, who to contact. I was embarrassed," Gomez said. An ad for a debt settlement company appeared on her social media feed promising to lower her debt. After following up, she says what she got was a lawsuit from one of her credit card companies in March. She's still fighting today. As California emerges from the pandemic, some residents face crippling personal debt, even as many of the state's richest residents have seen their wealth grow. Among the economic winners is the booming debt settlement industry, composed largely of online companies that promise to reduce personal debt by negotiating with banks and credit card companies on the customer's behalf. But consumer advocates point out that these companies often prey on financial desperation and fail to warn customers of the potential consequences — like ending up in court. Now California lawmakers are considering legislation that would more tightly regulate the industry after largely overlooking personal debt from credit cards and loans in pandemic-era legislation focused on relieving rental and utility debt. The bill is reviving a perennial debate in the Capitol over whether alternative financial services — like payday loans, debt settlement, and credit repair — are financial predators or a needed lifeline for Californians with little or poor credit. Assemblymember Buffy Wicks, a Democrat from Oakland who authored the bill, contends that existing federal regulations don't go far enough to protect Californians. "Let's make sure that if they are working with these companies, that there's transparency and empowerment for the consumer in that process," Wicks said. After Gomez's first phone call with ClearOne Advantage, the debt settlement company, she said she was under the impression that the company would pay off all her debts, and that she would only need to make one monthly payment to the company until she paid off the balance. "She made it sound easy, like 'We're here to help…. Your life is going to change. It's going to be so much easier.' And I believed it," Gomez said. ClearOne Advantage declined to comment on Gomez's experience. The company provided what it said was testimony from a satisfied customer, but refused to provide contact information so CalMatters could interview the customer. Desiree Nguyen Orth, director of the Consumer Justice Clinic at the East Bay Community Law Center, explained how most debt settlement companies work. Customers who enroll in a debt settlement plan make a monthly payment to a debt settlement fund. According to Nguyen Orth, debt settlement companies wait until the customer has defaulted on their debts — which can sometimes take up to six months — before they begin to negotiate with creditors. The defaults must occur before the negotiation process can begin, but the debt settlement companies avoid explicitly saying this, Nguyen Orth said. Debt settlement companies like ClearOne Advantage make money by charging customers a percentage of the total debt owed. In a best-case scenario, willing creditors agree to settle the debt for less than the amount owed. After the customer agrees to the new terms, the debt settlement fund will be used to pay the debt. The outcome is worse if a creditor refuses to work with the debt settlement company. As part of the program, customers sign a cease-and-desist letter that prohibits creditors from contacting them directly. In an effort to collect the debt, creditors will sue customers, often resulting in a judge ordering that the money be taken out of the customer's bank account or paychecks. "They come to me when they get sued and they're like, 'Why am I being sued? I enrolled in a debt settlement plan. I don't get it,'" Nguyen Orth said. She added that most customers don't realize they can negotiate with creditors themselves. For free. "I think (debt settlement) is one of the options that need to be there," said Tomas Gordon, CEO of ClearOne Advantage and president of the Consumer Debt Relief Initiative, a debt settlement industry advocacy organization. "We educate people the right way, and make sure that we self-police the industry to make sure that consumers are getting the best possible outcomes." As part of the enrollment process, Gomez provided her income, expenses, and debts to establish a monthly budget. But she said she was left with the impression she could afford to pay a monthly $250 deposit into her settlement fund when she really couldn't. The ClearOne Advantage representative also told her that they could not help her if she was not enrolling at least $10,000 in debt, she said — prompting her to enroll in a credit card on which she had been making regular payments so she could participate in the program. The agreement Gomez signed, which CalMatters reviewed, has no mention of minimum requirements to enroll in the program but does charge a fee assessed at 25% of the total debt. That means the company ultimately plans to charge her just over $2,500. As of June 2021, Gomez deposited $2,259 into her settlement fund, of which $1,053 has been debited as service and transaction fees. It wasn't until Gomez was sued by Bank of America, she said, that she learned she had defaulted on all her credit cards and she was now facing a court judgment. "If I had known since day one that I could have been sued, I think right there, I would have stopped and I would have tried to get more research to try to understand what was the point of paying (ClearOne Advantage)," Gomez said. Assembly Bill 1405 wouldn't change how debt settlement companies work, but it would add more regulation. Existing federal regulation is limited to companies servicing customers across state lines. The state bill would mimic some of those federal rules, applying them to California-based companies, as well as adding new rules like giving customers a three-day "cooling off period" before the contract takes effect. The bill is advancing despite almost unanimous opposition from Republicans. Several lobbies have removed their opposition after successfully pushing for amendments, including one that would remove regulations around referral fees, a major source of income for the industry. But before the most recent amendments, the debt settlement industry had coalesced in opposition to the bill. The Consumer Debt Relief Initiative, composed of members of the debt settlement industry, maintained that new regulations would harm the very consumers that the bill is trying to protect by driving debt settlement companies out of California, leaving consumers with few options. "Why would any state take away debt settlement as an option to these families during this pandemic?" said Willie Brown, former Assembly Speaker and mayor of San Francisco, in a Consumer Debt Relief Initiative video . "It's a vital service to those who need it most." The alternative for many families, Brown and the industry argue, is bankruptcy or worse. "You're left with nothing but bad actors — it creates almost a black market," said Gordon, the group's president. Assemblymember Wicks disagreed. "For the bad actors, if they feel like they can't operate in California, then they can go somewhere else," she said. "And for the good actors, they can stay here and they can help our working families that do need help." Gordon said he believes the bill is more about benefiting banks and credit card companies who don't like having to negotiate customer debts down. OneMain Financial, the only creditor backing the bill, declined to comment but wrote in a letter of support for the bill that their main goal is to work directly with their customers who default on their debts. Despite loan forbearance from the federal CARES Act and a statewide eviction moratorium that aims to protect Californians, personal debt such as credit cards and medical bills have been largely overlooked by lawmakers, leaving consumers exposed to potential predatory practices by alternative financial services. "That is a huge bubble of people who are primed for debt settlement," Nguyen Orth said. The debt settlement industry expects to do very well. In a February meeting of the Consumer Debt Relief Initiative, an Accenture market analysis said that the industry projects a 75% increase in the number of accounts enrolled in debt settlement services in 2021. The new California Consumer Financial Protection Law, which took effect Jan.1, gave the state Department of Financial Protection and Innovation new authority to regulate the industry. The agency says it won't start tracking debt settlement companies until 2023. According to Nguyen Orth, everything ClearOne Advantage did in this case is legal, so it's unlikely that AB 1405 would have changed much for Gomez. But the bill would address some of the more egregious practices that Nguyen Orth has seen, she said, like promising unrealistic outcomes without advising customers of the possible risks or offering predatory loans that can lead to further debt. Gomez ended her contract with ClearOne Advantage at the end of June, but she is still working with Bank of America to settle the lawsuit and outstanding balance. Her advice for others? Avoid debt settlement companies at all costs. "It's an absolute scam. They prey on people like me," Gomez said. "Call the credit cards or collection agencies yourself…. It's easier, and the money will go directly to who you owe." This article is part of The California Divide, a collaboration among newsrooms examining income inequity and economic survival in California.

Detroit — Community activists Wednesday celebrated thousands of Detroit and Wayne County homes spared from tax foreclosure this year amid the pandemic and renewed a call for Detroit officials to halt inflated property tax assessments that they contend have fueled the problem. Tax foreclosures were put on hold in Wayne County in 2020 due to the COVID-19 crisis. The county continued its moratorium this year, sparing about 2,400 homes from foreclosure, noted the Coalition for Property Tax Justice, a grassroots group that advocated for the extension. "We are here to celebrate those brothers, those sisters, those grandmothers and those grandfathers... our neighbors ... who were saved from foreclosure in 2021," said Bernadette Atuahene, a visiting Wayne State University professor and lawyer. "Today is about celebrating that victory. "But today is also about demanding Mayor (Mike) Duggan provide compensation for those families who have already been evicted from their homes due to illegally inflated property tax assessments," she said. "We are here to demand justice for those families." Atuahene made the remarks Wednesday during a news conference outside a home on Schoenherr Road near Seven Mile on the city's east side alongside Congresswoman Rashida Tlaib, D-Detroit, Detroit City Council President Pro Tem Mary Sheffield, activists and Detroiters who have lost homes to foreclosure. Both Tlaib and Sheffield are supporters of the coalition, which formed in 2017 to stop inflated property taxes, and have called for changes to the city's system for property assessments. A January 2020 investigation by The Detroit News found that Detroit failed to accurately bring down property values in the years following the Great Recession and overtaxed homeowners by at least $600 million over a six-year span from 2010 to 2016. Detroit completed a $10 million state-ordered reappraisal of all residential property in 2017 to correct its overassessment problem but, still, thousands of Detroiters faced foreclosure over back taxes. Of the more than 63,000 Detroit homes with delinquent debt in fall 2019, more than 90% were overtaxed, by an average of at least $3,700, between 2010 and 2016, according to calculations by The News. The debt owed on about 40,000 of those homes is less than the properties were overtaxed over those seven years, the investigation revealed. "The city continues to fail its homeowners and its duty to make amends," Tlaib said Wednesday. Sheffield, who represents Detroit City Council District 5, added the fight against inflated tax assessments is far from over. "To date, the city has not made any recommendations on how to resolve the issue," she said. "Our lowest valued homes are still be over-assessed. And this isn't just a local city and county issue. We need our state legislators to come in. We need everyone on deck to fight this issue." Detroit City Council last fall narrowly rejected a resolution from Duggan's administration to give residents potentially overtaxed before 2014 priority in affordable housing, home-buying discounts and job opportunities because a majority of members said it didn't go far enough. The plan — opposed by the tax justice group and several council members who argued it fell short of providing meaningful relief — sought to offset losses from 2010 to 2013 as part of an effort to address the overtaxing of Detroiters. The resolution, defeated by a 5-4 vote, included eight preference programs to be funded with a one-time $6 million appropriation of surplus dollars from the city's 2020 fiscal year budget Duggan's office said this spring that it is working with council to try to develop a revised plan. Detroit's Deputy Mayor Conrad Mallett said Wednesday the city is grateful that the Wayne County treasurer's office put a stop to the foreclosures of occupied residential properties during the pandemic. "We join others in celebrating the fact that these residents now have additional time to save their homes," he said. "With this additional time, we have an opportunity and a mandate to make sure that homeowners with delinquent taxes take advantage of the tools that can permanently stop foreclosure and eliminate their debt." Mallett urged low-income homeowners to complete the city's Homeowners Property Tax Assistance Program to eliminate current-year taxes and qualify for the Pay As You Stay program, or PAYS, to reduce and eliminate delinquent taxes. A 2020 study released in March by Christopher Berry of the Center for Municipal Finance at the University of Chicago concluded the city's residential property tax methodology continues to harm Detroiters. Duggan and Detroit Assessor Alvin Horhn have pushed back on Berry's findings, saying the gap between home prices and assessments was largely closed in 2014 when the mayor took office and reduced assessments. The administration has said it doesn't believe overassessments are still happening in Detroit but stressed that assessments vary by neighborhood. Horhn in March acknowledged he's "painfully familiar" with the assessment failures in Detroit's past and it took a lot of time and money to fix them. But the city has vowed not to let it happen again, he's said. Detroit, Horhn has said, is "an open book" and welcomes any warranted examination by Wayne County equalization officials or the state's tax commission. Resident Joe Bates is among the residents who lost a home to foreclosure over the city's tax assessments. On Wednesday, his east side home served as the backdrop for the news conference. He was able to secure it with aid from the coalition, he said. Bates contends the city "illegally and unfairly" took his former home in southwest Detroit by inflating the value. The house had been in his family since the early 1900s, he said. "This is not how humans are supposed to treat each other," he said. "This is not right. We're losing our homes and our property, things that our families worked for and built." For information about the property tax assistance program, call (313) 224-3011 or the Detroit Property Tax Relief Fund at (313) 224-0274. cramirez@detroitnews.com Twitter: @CharlesERamirez

— Recommendations are independently chosen by Reviewed's editors. Purchases you make through our links may earn us a commission. With July underway, summer is in full swing, and Amazon has tons of items on sale to help you make the most of it. From an under-$40 inflatable swimming pool that will keep the whole family cool on hot summer days to a gorgeous (and travel-friendly!) propane fire pit that's on sale for lower than its Prime Day price, you can't go wrong with these deals. Get the Sennheiser CX 400BT Wireless Earbuds for $99.95 (Save $30) Looking for a way to keep your car, office or hotel room smelling lovely while keeping you calm in the process? The InnoGear USB essential oil diffuser is marked down from $24.99 to $19.99, a savings of 20%. While we didn't review this particular model, we deemed its in-home version, the InnoGear Upgraded diffuser ($14.99), a feature-packed bargain. More than 8,000 happy Amazon buyers love this diffuser, with many praising the way it fits neatly into most car cup holders—one reviewer said they use scents like peppermint oil in the car to keep them alert. This diffuser is powered by USB, which means you can bring it with you and plug it in virtually anywhere to keep the air fresh and therapeutic, no matter where you are. At under 5 inches tall, you can pop it in your purse or even your carry-on luggage, and it also doubles as a vaporizer, mini humidifier and night light. Get the InnoGear USB Essential Oil Diffuser for $19.99 (Save $5) Hate digging through the cabinets trying to find the right pan or lid? A handy organizer, like the SimpleHouseware kitchen cabinet pan and pot lid organizer rack, is key—and it's on sale for $15.97, a savings of 36% from the $24.99 list price. More than 16,000 previous buyers confirm that this organizer is sturdy on its own without needing to be fastened to the cupboard. Reviewers noted that it does take up quite a bit of space, however, so make sure you measure the cabinet and shelves first to ensure it will fit, either vertically or horizontally. Get the SimpleHouseware Kitchen Cabinet Pantry Pan and Pot Lid Organizer Rack Holder for $15.97 (Save $9.02) Who's ready for a pool party? With the OEVES inflatable swimming pool, down now from $59.99 to $38.99, you can get the entire family relaxing in the water at home for a steal. With a 4.5-star rating, this pool earned rave reviews from buyers who said it inflated easily (in about five minutes) and was "super durable." Buyers also said the pool was easy to deflate, pack up and move to another location, too. Measuring a generous 95-inches by 56-inches, the manufacturer claims it can accommodate up to two adults and four kids at once. Get the OEVES Inflatable Swimming Pool for $38.99 (Save $21) If you missed the Amazon Prime Day deal on this amazing outdoor fire pit and have been kicking yourself ever since, rejoice—it's on sale for an even better price. Right now, you can get the Outland Firebowl 893 deluxe propane fire pit for just $133.99, which is down $26 from its current price of $159.99 (and $5.73 cheaper than it was on Prime Day!). It's the perfect way to keep everyone warm as you tell ghost stories outside at night in your backyard. It sets up easily in minutes, offers smokeless flames and comes with a cover and carry kit, so it's super-easy to bring on the go. The vast majority of owners who purchased one already from Amazon rate this fire pit 5 stars—we're talking more than 7,000 5-star ratings!—noting that it's lighter than most, packs up small and is simple to use. "We've used it almost daily," wrote one happy customer. Need help finding products? Sign up for our weekly newsletter. It's free and you can unsubscribe at any time. The product experts at Reviewed have all your shopping needs covered. Follow Reviewed on Facebook, Twitter, and Instagram for the latest deals, reviews, and more. Prices were accurate at the time this article was published but may change over time.

Stocks that traded heavily or had substantial price changes Wednesday: SMART Global Holdings Inc., up $8.47 to $56.02. The computer memory technology company gave investors an encouraging profit forecast. Steel Dynamics Inc., up $3 to $61.22. The steel producer increased its stock buyback program by $1 billion. MarketAxess Holdings Inc., down $21.72 to $450.08. Investors were disappointed by the bond trading platform operator's latest volume and transaction fee update. LGI Homes Inc., up $6.67 to $168.74. The homebuilder gave investors an encouraging update on home closings in June. Valero Energy Corp., down $2.39 to $72.31. Falling oil prices weighed down energy stocks. Citigroup Inc., down 28 cents to $67.93. Bond yields continued falling, crimping banks' ability to charge more lucrative interest on loans. Dollar General Corp., up $3.10 to $221.50. The discount retailer said it is expanding its offering of healthcare products, including over-the-counter medicines. Clorox Co., up $4.07 to $185.37. The bleach and household products maker made gains as investors shifted money toward more defensive stocks. Copyright © 2021 The Associated Press. All rights reserved. This material may not be published, broadcast, written or redistributed.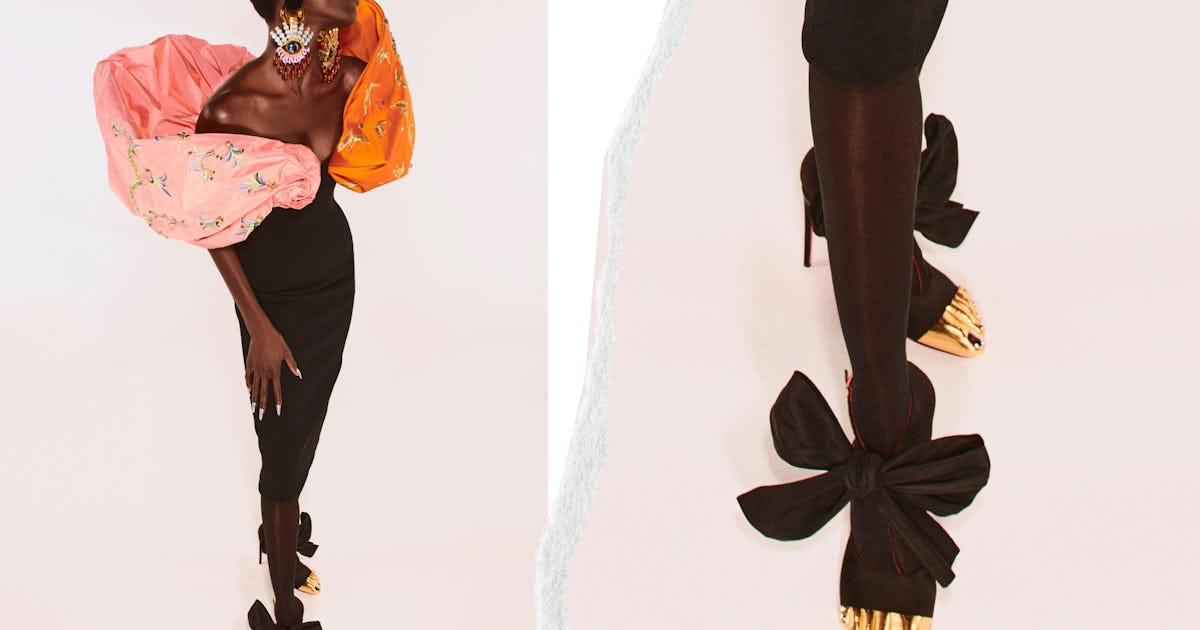 Fashion Week From candy cane tulle to toe shoes. Couture season is upon us, bringing with it a plethora of hand-made gowns, coats, suiting, and more. It may not produce the most wearable garments, but it's arguably the most exquisite of all Fashion Weeks. While some people do shop from the shows, more just sit in awe, inspired by the forward-thinking trends and innovative designs on display. Each intricate creation you see floating down the runway is truly one-of-a-kind. For the Fall/Winter 2021-2022 season, designers embraced the whimsy, the structured, and the bold. Dior showed tweed coats, mesh tops, and boulé skirts, while Chanel presented tiered ruffles, woven florals, and feathers alike. Balenciaga made its first ever entrance into the couture scene, though one might argue that their ready-to-wear has long since skirted the category all on its own. And Schiaparelli debuted shoes that looked like golden feet while Giambattista Valli paraded tulle confections for every princess fantasy. And while the fashion itself is memorable enough, you can't ignore the theatrical nature of each event. Dior was staged at the Rodin Museum in Paris, where Maria Grazia Chiuri tapped artist Eva Jospin to create a "Silk Chamber," covering the walls in prints. Chanel featured their traditional bride at the finale, including a bouquet toss caught by InStyle editor-in-chief Laura Brown. Ahead, find the top moments from Couture Fashion Week for Fall/Winter 2021-2022. Inspiration awaits. Staged at the Rodin Museum in Paris, Maria Grazia Chiuri tapped artist Eva Jospin to create the "Silk Chamber," covering the walls of the stark room in prints. Chiuri used a plethora of fabrics, perhaps to evoke the notion of the world returning to a more tactile feeling, versus a virtual one. The collection itself included tweeds, sheer silks, knits, and bouclés alike. Schiaparelli's collection was a true artistic vision, with everything from life-sized roses to metallic clouds constructed out of silk, leather, and more. Silhouettes were exaggerated, and embellishment was used with reckless abandon — right down to the shoes, which were all gold-tipped toes (quite literally). Is this the high-fashion version of flip flops? Questions that need answers. Inventive footwear aside, to look at the latest Schiaparelli collection is to stand in a museum and gaze upon a new work of art — both individually as well as in its entirety. This season's couture collection for the house of Chanel was inspired largely by the costumes Coco herself would wear to parties in the 1930s. Think bustles, crinolines, and more statement-making silhouettes. As such, nearly every look was exaggerated in some way or shape, be it through tiered ruffles, oversized shoulders, or the like. In a collection crafted of a mix-and-match selection of colored tweeds, woven florals, and feathers, Chanel is certainly showing the world how to dress for the parties you want, as you hopefully move on from quarantine for good. Valli was a series of tulle confections that mesmerized individually and as a collective. To Vogue, the designer explained, "The past is very heavy and the future is very uncertain, so it's about being open and free," adding, "You make no exceptions." There were minis and maxis; silk that flowed in the wind and cut tulle layers that held their shape as if sprayed with hairspray. And, on the topic of hair, the direction was the bigger, the better, with many models actually walking the runway boasting a curly up-do of cotton candy pink locks that matched their dresses to perfection. This couture collection was a first for Balenciaga, as Creative Director Demna Gvasalia presented the design house's debut show. To be fair, much of his career has been made on ready-to-wear collections that are crafted and shaped nearly like couture. But for his first official spot on the Couture calendar, Gvasalia has put his own, modern, spin on everything. Consisting largely of black suiting for the first half of the 63 looks, the latter pieces included oversized silk coats, capes, and robes alike. What's more, in a space that is largely dominated, if not exclusive to, women's looks, Balenciaga's first ever couture collection was designed for men and women alike.

The world's largest asset manager has downgraded its outlook on emerging markets, including South Africa, choosing to be more neutral than bullish on developing economies' equity markets. BlackRock, which held its midyear outlook on Wednesday, also downgraded emerging market debt and currencies from overweight to neutral. "We're downgrading emerging market equities across the board from overweight to neutral, and that includes China, and that includes South Africa," said Li Wei, MD and global chief investment strategist at the BlackRock Investment Institute. Li said while emerging markets are currently enjoying tailwinds like commodity prices boom, those are being finely balanced by headwinds like the heightened US dollar volatility. The asset manager also expects a monetary tightening cycle in the emerging markets as many struggle with runaway inflation. The Covid-19 and Delta effect She said there is also a "bigger question mark" about the depth of structural scars that Covid-19 has left behind in these markets. "Specifically in the context of South Africa, we don't have a country coverage view. But the comments that I made apply to South Africa as well in terms of the direction of policy. The next move seems to be more towards tightening potentially. "Also, if you think about the degree of the lockdown, it's moving in a direction the opposite of what we're experiencing in the developed world," said Li. But at least for now, BlackRock has only chosen to be neutral on emerging markets. It could have chosen to be underweight in its outlook, a move that could drive some investors out of emerging economies' stock markets. Li said BlackRock did not expect to downgrade emerging markets to underweight. But it will be looking closely at how the Covid-19 Delta variant affects different emerging markets. She said in the developed markets, the variant has not translated into a rapid rise in new infections and hospitalisation rates. "But in emerging markets where the vaccination rate is further behind, this is something that we are going to very, very closely, watch out for. Also, any overreaction to future taper discussions can have ripple effects to emerging markets," said Li. On the other hand, BlackRock said it is starting to see growth in developed markets like Europe and Japan accelerate and catch up with the US. So, it has upgraded European equities to overweight and upgrade Japanese stocks from underweight to neutral. Jean Boivin, the head of BlackRock Investment Institute, said because what the world is currently going through is not a business cycle dynamic, markets not undergoing a recovery, but a complete restart. So, the growth acceleration the investment house been observing in these developed markets is quick, and it's broadening. "The US and the UK are already kind of ahead of that curve. China was, even last year, showing what the next stage could look like," said Boivin. That said, he cautioned against extrapolating too much from the numbers that are coming out of economic data right now.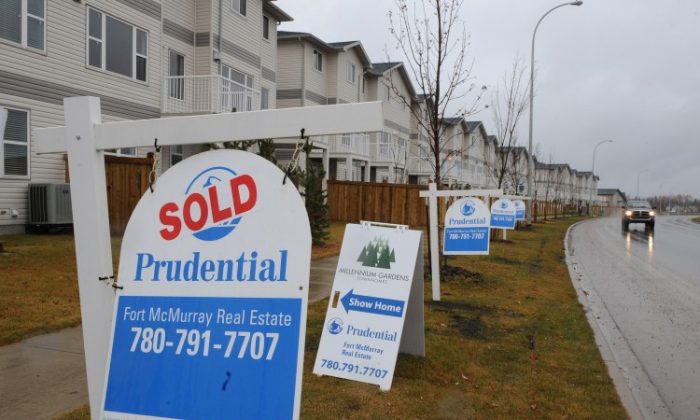 The housing market is seeing a rise in sales. National new home construction in May was up 34.9 percent from May of 2020, and existing home sales are continuing to rise ( pdf). One couple in St. Peters, Missouri, opened up about their personal experience putting their house on the market and just how quickly properties are being sold. The Handleys have lived in their house for ten years and have two young daughters, a 5-year-old and a 3-month-old infant. When asked why they decided to sell, Mr. Handley told The Epoch Times: "Because we have plans to move out in the countryside, regardless, and the market is hot." Mrs. Handley noted, "Having the market the way that it is, we couldn't NOT do it right now." When asked if the pandemic had anything to do with the final decision, Mrs. Handley nodded. "It is for me. I don't want my daughter wearing masks anymore and I want to put her in a community where that's not a requirement." Mr. Handley elaborated, "I would say that concerns about us having to restrict our lives because of that is a problem." Missouri never had a mask mandate, but many businesses and schools implemented their own safety practices based on national trends. But this wasn't the only factor in the Handleys' decision. "We had food and supply line disruptions as part of COVID," said Mr. Handley. The couple has plans to move out to Bourbon, Missouri, as soon as their current home is sold. Mrs. Handley then noted, "The end goal is some sort of a homestead. Not just a rural house, but a homestead where we grow food and (raise) meat, agriculture." They both expressed a desire to own a greenhouse and keep bees. Then they went on to describe their belief that self-sufficiency is better achieved in small communities with schools they can trust. "Being in St. Peters, we had her [thier eldest daughter] in a private school because we were concerned about what was being taught in the public schools." She then added, "But in Bourbon, she will go to a public school. Because I've already called them and talked to the administration about various issues that concern me, and I am satisfied with their answers." Their diligence over the health and well-being of their children has been a major reason for this move, but the Handleys also expressed how hard it is to leave after living there for a decade. "This is the only home that my eldest has ever known." Mr. Handley chuckled, "The littler one probably isn't going to remember anything about it." But Mrs. Hanldey continued, "Leaving behind her [the eldest] school… and her friends… She's excited. I don't think she understands what it means to move that far away." The Handleys' realtor told them "the market is hot!" and that she gets about thirty viewings a day. Many houses get sold within four days of being put up for sale. But the Handley's house is in the upper income level, and so they only experienced one viewing a day. They currently have a pending offer, and Mrs. Handley spoke about the stress that led up to it. "It was day five that we got the offer. And on day four, on day four we were stressing out that we would never sell the house." Realtor.com reported that the average home currently spends about 37 days on the market in the United States. But with the June housing rise, those numbers may soon need to be adjusted. June is a big month for home sales. Mrs. Handley said this was an important reason for going on the market when they did. "People want to be settled into their homes and know what school their kids are going into to register them, just like we want to. So, it was important for us to have it on the market before June was over." Because buyers are afraid of getting into bidding wars, and houses are going so fast, many people are offering above asking price. Mr. Handley confirmed that they were offered above asking price, and that the people who sent them the offer also waived the appraisal. "They're not going to use the appraisal's value… basically if the appraisal comes below the asking price, they'll just pay the difference and accept that on the mortgage." Because things are moving ahead with their pending offer, we asked if they're packing yet. Mr. Handler sighed. "Barely." Mrs. Handley said, "We packed to stage the house. We haven't packed much since then." She then noted the anticipation to close. "If this one falls through, we have to re-stage everything, have people coming through again." When offering advice for first-time home-sellers, Mr. Handley said, "sell now." Mrs. Handley added, "Do it fast! We had spoken with a couple that moved into the neighborhood last year, and they said that even last year, before all the talk about this market, they were being outbid on every house, that the only way they got theirs was finding … they found a listing that was coming soon, hadn't gone on the market yet. They offered, to those people, we'll take the house off your hands. You don't have to show your house, no people coming through, no viewings. And that's how they got the house that they did." Mr. Handley nodded, "attempts before that, they were getting into bidding wars and being outbid." "So this market started last year," Mrs. Handley concluded. The Handleys are expected to close at the end of the month, along with countless sellers across the nation. They are just one of many families entering the market.

It's official: Vaccinated people face very low risk of coronavirus infection during travel. The CDC has said as much, which makes right now a perfect time to upgrade a luggage set. Luggage brands are offering deep discounts on popular styles of suitcases and other essentials to match increasing demand. Whether you're backpacking through the mountains with friends, jaunting to the city for a romantic weekend, flying to a resort for a luxurious vacation or even just taking a quick work trip, there are deals out there for suitcases, backpacks, duffels and more that are perfect for you. CBS Essentials has done the research: Here are nine great summer luggage and travel gear deals. Calpak is a California-based luggage brand selling stylish, high-quality pieces that look and feel a lot more expensive than they actually are. Luggage, available in tons of fun colors, can be purchased à la carte or as a 2- or 3-piece set. We're partial to the shimmering, rose-gold-hued Ambeur hard shell-style carry-on. It's perfect for a weekend getaway, and currently reduced from $165 to $124. Brics by Ulisse expandible spinners not only look great coming down the baggage carousel, but also weigh a reasonable 8-ish pounds. They effortlessly roll in any direction. Nordstrom Rack has carry-on,28-inch and 31-inch sizes available, all at approximately 50% off. There are several bright colors to choose from, making your luggage easier to spot at the airport, as well as neutrals for those less daring. Each suitcase has a TSA-approved lock to keep belongings safe. The hardshell style holds up well with travel, and there's a hidden name tag up top so your suitcase can always be identified. Tumi is one of the most respected luggage brands in the world, known for producing high-quality, sophisticated pieces for the frequent flier. And a travel backpack is just about the largest personal item you can take on a plane, so take full advantage of all the space you're offered with this one. The Davis backpack is available in two colors, and holds a laptop, tablet and much more. Originally $375, it's now going for $299. Bent earrings and tangled necklaces -- need we say more? A travel jewelry wallet can help you save big in the long run by protecting your precious pieces, and Mark & Graham's vegan leather option is even monogrammable. It organizes bracelets, earrings, rings and necklaces for $60, reduced from $79. Patagonia's Black Hole collection, made out of recycled plastic bottles, is designed to withstand all weather conditions. As the name implies, this duffel bag is a toss-it-all-in packing solution -- perfect for those surfing, kayaking and other sporty trips that don't involve suits and dresses. There are two good reasons to be happy with a Patagonia purchase: The company has a reputation for having a low environmental impact, and Patagonia offers an "ironclad guarantee" -- if there is ever an issue with the Patagonia Black Hole duffel, the company will fix it or replace it for free. Direct-to-consumer luggage company Away Travel launched in 2015, offering sleek and sophisticated luggage for the millennial traveler. Thanks to social media and cool features like a removable, rechargeable battery for on-the-go phone charging, the polycarbonate bags with spinner wheels amassed a fast following. The Bigger Carry-On from the aluminum collection, available in rose gold, silver and black, is definitely a luxury piece from the line. Looking nearly identical to the coveted Rimowa, the perfect dupe is a fraction of the price -- $495 versus $1,100. Score the nylon Tumi Voyageur Semla cosmetics case for 21% off right now. It has a zipper pocket and three slip pockets inside, plus two exterior pockets for storing makeup. Its sleek black hue will go with just about any gear you have, and it hides minor stains well. The North Face has been making built-to-last outdoor gear for decades. The Terra 65 is a go-to for experienced backpackers, offering an ample amount of space for clothes and gear, and a comfortable fit. The twill beige and Sullivan green version here is currently on sale for $114 from $190 at The North Face.

Last December, two Atlanta tax professionals pled guilty to a scheme that defrauded the IRS of more than $250 million in taxes. The scam claimed more than $1.2 billion in fraudulent charitable deductions through so-called syndicated conservation easements, a strategy most taxpayers probably have never heard of. Conservation easement tax incentives were created by Congress to help promote land preservation. Property owners give up certain rights with regard to use or development in order to keep the land as open space. In return, they get a charitable deduction to help offset the loss of value. However, abuses of the incentives have popped up, targeted at taxpayers looking for deductions. People who invest in the deals may get inflated appraisals on the land, which then leads to higher tax deductions that are shared among a group of investors. Promoters of these deals typically promise big returns. In the case of the Atlanta tax professionals, they promised more than $4 in charitable tax deductions for every $1 invested with "no economic risk." The IRS has increased its efforts to clamp down on these abuses. In recent years, the IRS announced it planned to step up its enforcement actions tied to syndicated conservation easements. "Putting an end to these abusive schemes is a high priority for the IRS," said IRS Commissioner Chuck Rettig. The case of the Atlanta tax professionals was the first Department of Justice criminal prosecution tied to conservation easements. Other investigations are ongoing. Despite the IRS efforts to curb abuses, the total deductions claimed in recent years has ballooned, according to the Land Trust Alliance, a national land conservation organization. From 2010 to 2018, a total of $36 billion in deductions were claimed through these kinds of transactions. Notably, $22 billion of that occurred even after the IRS put bad actors on notice in 2016 by citing certain syndicated conservation easements as tax avoidance measures. "It's just so egregious, it's mind boggling," said Lori Faeth, senior director of government relations at the Land Trust Alliance. Now, some Congressional leaders are stepping in. A bill was recently reintroduced in the House of Representatives that would block charitable deductions in excess of 250% of the amount invested in properties with easements. The proposal, called the Charitable Conservation Easement Program Integrity Act, was introduced by Rep. Mike Thompson, D-Calif. A companion bipartisan bill was also introduced by Sens. Steve Daines, R-Mont., and Debbie Stabenow, D-Mich. The goal of the bill would be to protect valid uses of the deduction, such as family farms or ranches. "This is just a small handful of bad actors who are abusing the tax code," Faeth said. "[For] any CPA, there are very obvious indications that they should steer clear of these types of transactions and they should not recommend investors invest in them," she said. In order to participate in these deals, individuals must have so-called accredited investor status. An accredited investor is defined as someone with at least $200,000 in earned income or a net worth of more than $1 million. The bill could help limit abuse of the technique and free up the IRS to focus on other issues, Faeth said. The proposal has strong bipartisan support, she said, as it is a revenue generator. A previous estimate for another version of the bill by the Joint Committee on Taxation indicated it could produce $11.4 billion. In the meantime, the government is continuing to crack down on abuses of the deduction. The IRS urges people who have participated in an abusive syndicated conservation easement to work with an independent counsel in order to come into compliance. "The vast majority of these transactions are legitimate and ethical for all the right reasons, but this handful of bad actors are abusing the incentive to help wealthy people become much, much wealthier," Faeth said.

I interviewed TikTok creator Josh Richards, six months ago. We talked about how he ended up becoming the fifth highest paid TikToker in the world, according to this Forbes list. When his manager recently pitched him again, I thought, "Didn't we just cover everything that Richards has going on? What could've changed in six months?" The answer is: A lot. In the last six months, Richards has: Launched a production company with Mark Wahlberg, formed a $15 million venture capital fund, became an N. H. L advisor, formed a marketing agency and developed the most popular new podcast of the year. Richards said, "A lot of people don't expect to see the moves that we make. And we love keeping people on their toes. What we like to say here is, 'If we aren't making moves that make people say, "What the f—?" then we probably didn't make a big enough move.'" Making moves like this takes a lot of work. Richard's schedule is usually booked, in 30-minute increments, from 9:30 a.m. to 7 p.m. with calls. And he usually attends a business dinner at night. One of those calls led to a meeting with Mark Wahlberg. They eventually formed CrossCheck Studios, a joint production team. Wahlberg said, "I am impressed with Josh and all of the things he's already accomplished." That's high praise from the successful actor and entrepreneur. Richards said, "When I think about who I look up to, Mark Wahlberg is right at the top of the list. His ability to pivot: Going from Marky Mark, to Calvin Klein model, to starting to act and then going from an actor to an entrepreneur; it's exactly the path that I want to go on." One of the most impressive projects has been Animal Capital: A $15 million fund that he formed with Marshall Sandman, a former Goldman Sachs investment banker and Michael Gruen, Richards' business partner. Fellow TikTokers Griffin Johnson and Noah Beck are operating partners in the fund. Their advisory team includes Justin Kan, founder of Twitch, and Tyler and Cameron Winklevoss, the world renowned bitcoin billionaires. Their LP list includes moguls such as: Rich Miner, the founder of Android, Kevin Mayer, the chairman of DAZN and former CEO of TikTok and Chairman of Direct-to-Consumer & International division of The Walt Disney Company and Marc Randolph, cofounder of Netflix. They sorted through 400 potential companies to invest in and finally selected 12. Richards didn't just attach his name to the project; he's actually meeting with companies and advising the group about which ones that he feels most passionately about. Richards is also showing brands how to connect with a younger generation. He formed an agency, HawkeZ, with the premier marketing agency, Hawke Media. Richards said, "It's a marketing agency aimed at Gen-Z. We help brands to reach that younger audience that they might not be in touch with. Or, if it's a company that went out to a different demographic, say 35-50, and now they want to start reaching people 18-24. It's helping them with different marketing strategies on TikTok or Instagram or whatever platform they want." As a Canadian, and lifelong hockey fan, his new advisory position to the N. H. L. might be his favorite project of the year. Richards will attend events and share ideas about future events or initiatives in order for the N. H. L. to reach younger fans. Richards said, "I have always wanted to use my platform to educate and inspire and I look forward to sharing my passion for hockey with millions." In addition to starting companies, and forming partnerships, he's also developing content on new platforms. He created the BFFs podcast, with Barstool Sports owner Dave Portnoy, and it's been the most popular new podcast of 2021. Richards said, "The partnership with Dave might seem odd but I love Dave and he's been able to teach me a lot about hosting, about podcasting, about being confident when on the mic, all of it. So, I have a huge amount of respect for him and I think we've gotten to be a lot closer from the podcast. Filming the BFFs podcast is the most fun that I have all week." And let's not forget about what got him here: Creating content on TikTok. He doesn't follow trends or try to duplicate the hottest dance of the moment anymore: He documents his life. Now, we're with him as he goes throughout his day. Whether he's in Miami, at a crypto conference, or in L. A. taping his BFF podcast, we're along for the ride. And it's pretty exciting ride to be on.

Federal Reserve officials continued to call a recent surge in inflation "transitory" even as it made many of them wary, minutes from their June meeting showed, and policymakers debated details as they began to work toward a plan for moving monetary policy away from its emergency setting. The conversations — which underlined growing divisions within the central bank at a moment of intense uncertainty — were outlined in minutes of the June 15 -16 meeting, which were released on Wednesday. The June discussion took place before the recent rise of the Delta variant made it clear that coronavirus outbreaks remain a front-and-center risk to the global economy, and also before a recent jump in oil prices. The details will be scoured by investors who are focused on the prospects for the Fed's enormous bond-buying campaign, the fate of which is highly dependent on the outlook for growth and inflation. The Fed is also in the spotlight as politicians and some economists fret about the risk of breakaway price increases. Yields on government debt have fallen recently, possibly reflecting concern about growth going forward. The Fed's 18 officials, called "participants" in the release on Wednesday, said "economic activity was expanding at a historically rapid pace, led by robust gains in consumer spending," even as inflation rose faster than expected amid "widespread supply constraints in product and labor markets" and "a larger-than-expected surge in consumer demand as the economy reopened." "Several" Fed officials thought supply chain limitations and input shortages would keep prices rising quickly into next year. That caused many to strike a more concerned tone about the inflation outlook. "A substantial majority of participants judged that the risks to their inflation projections were tilted to the upside because of concerns that supply disruptions and labor shortages might linger for longer and might have larger or more persistent effects on prices and wages than they currently assumed," the minutes said. Even so, "several" still cautioned that inflation might still drop to uncomfortably low levels as temporary price gains reverse. The reading on when and how bond purchases might slow was also anything but unanimous. The Fed is buying $120 billion in government-backed bonds each month, split between Treasury debt and mortgage-backed securities. The purchases stoke economic demand by keeping many kinds of borrowing cheap. Fed policymakers have been clear that they want to see "substantial further progress" toward their goals of maximum employment and stable inflation that averages 2 percent over time before tapering off that buying. They are now beginning to discuss a plan for the "taper," a conversation that the minutes said would happen over "coming meetings." Officials "generally judged that, as a matter of prudent planning, it was important to be well positioned to reduce the pace of asset purchases, if appropriate, in response to unexpected economic developments," the minutes said. But how that should happen was a topic of debate: "Several" prepared to slow mortgage-backed bond buying sooner or faster than Treasury bond-buying, given how hot the housing market has become. Others saw no need to differentiate. Central bank officials are also holding their policy interest rate at near-zero, where it has been since March 2020, to try to coax the economy back to health. The Fed has set a higher standard for raising interest rates from rock bottom: They want the economy to return to full employment and they want to have solidly achieved their inflation goal. A set of economic projections released after the June meeting showed that officials increasingly expect to achieve those standards in the coming years. More than half projected two interest rate increases in 2023, and the share expecting rate increases as soon as next year increased. A "few" officials "mentioned that they expected the economic conditions set out in the committee's forward guidance for the federal funds rate to be met somewhat earlier than they had projected in March," the minutes said. But "several" said that "uncertainty around the economic outlook was elevated and that it was too early to draw firm conclusions about the paths of the labor market and inflation."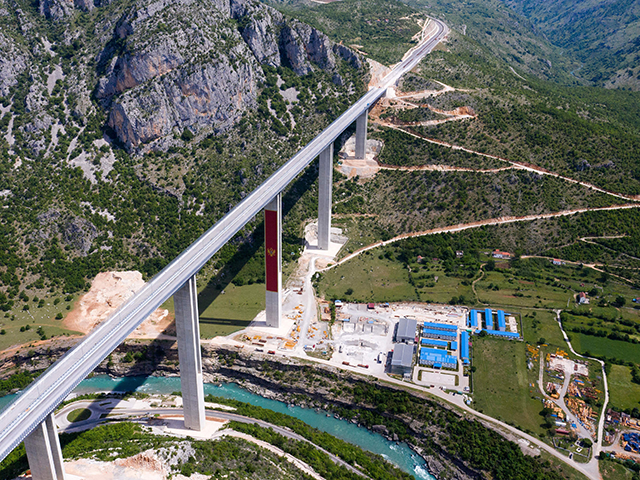 Montenegro is negotiating with "a number of Western banks from Europe and the United States" to refinance almost a billion dollars in loans taken out from Chinese banks to finance a lavish road construction project, the country's economy minister, Jakov Milatovic, said Wednesday. Milatovic did not name any of the banks in question, but said he is "very optimistic" a deal will be reached within "weeks" to refinance Montenegro's two-percent Chinese debt at one percent or less. "There are two options: the first is to refinance, the second is to swap the loan, or the third option is to do part of the first one and part of the second one. We believe we can get much better terms," he insisted. Milatovic's optimism is difficult to reconcile with Montenegro's repeated failures to convince Europe to rescue it from the Chinese debt trap that Europeans strongly urged Montenegro to avoid. In April, as the first titanic payments to China loomed, Montenegro appeared convinced the European Union would bail it out, because the EU would never let a prospective member – especially its gateway into the Balkans – get dragged into Beijing's sphere of control by loan defaults. The EU took a long, hard look at the pile of bad Chinese debt heaped atop Montenegro's tiny economy and decided not to get involved, although it did offer to help finish the overpriced, underperforming road project China convinced the previous Montenegrin government to build under the aegis of China's Belt and Road Initiative (BRI). In June, Montenegro took another pass at tapping into EU credit by selling off state assets so it could pay down the Chinese loans before pitching a refinance deal. The new pitch to the EU suggested that lower debt service costs through refinancing would give Montenegro more money to invest in revitalizing its coronavirus-ravaged tourism-based economy. Finance Minister Milojko Spajic said in June that a "strategic overview of our state-owned sector" is underway to determine which assets could be sold for debt relief. Potential sales items include the state-run power company, two airports, a seaport, and Adriatic beachfront property. Bureaucrats in Brussels talked about putting together a consortium of German, French, and Italian banks to take over the Chinese loans, but to date no firm offer has been announced in public and Milatovic's talk of looping American banks into the deal suggests European bankers remain reluctant to swallow Montenegro's debt. Another stumbling block is that China might well refuse to agree to a refinancing deal. Beijing continues to insist the bloated BRI road project is good for Montenegro's "socio-economic development" and Beijing wants to develop even closer ties (meaning even greater control) over the tiny Balkan nation. China agreed to defer Montenegro's first loan payment to late 2022 when panic about missing the payment settled in. "This cooperation is mutually beneficial and win-win. If someone puts negative labels on China's investment, it is not only unfair to China, but also disrespectful to the countries of the western Balkans," the Chinese embassy to Montenegro sniffed when asked about debt trap allegations. Montenegro took out a $944 million loan from China in 2014 – a sum that approaches 20 percent of the entire Montenegrin economy, even before the Wuhan coronavirus pandemic – to build a 25-mile highway that would eventually be part of a road network connecting the port city of Bar to land-locked Serbia. The deep-water port at Bar is now one of the assets Montenegro might have to sell to pay down the debt it incurred to build its Belt and Road highway. China might be able to seize the port, which it deeply covets, if its loan goes into default. BRI loans frequently contain secret clauses that forfeit the sovereignty of smaller countries to China if payments are not made. The project was dubbed the "Road to Nowhere" and the "Highway to Hell" by critics of former President and Prime Minister Milo Djukanovic. Everyone Montenegro's new administration is trying to refinance the loan with, including the European Investment Bank, the International Monetary Fund, and a slew of analysts in the United States, warned Djukanovic the road was too expensive, construction was too risky, and projected revenues would not justify the expense. Djukanovic resolutely ignored their advice to take money from Beijing. After a string of feasibility studies from various countries said the project was a disaster in the making, China's state-run Export-Import Bank paid some professors at the University of Montenegro to concoct a secret study that concluded it was somehow viable. Both Chinese and Montenegrin officials refuse to let outside observers see that document. Massive corruption scandals caused piles of that expensive Chinese loan money to disappear without a trace. The project, which required building some 40 bridges and 90 tunnels to get across Montenegro's mountains and valleys, faced a string of construction delays without good explanations from the Chinese construction company Djukanovic hired with the money he borrowed from China. As with most of China's debt-trap Belt and Road projects, almost all of the "good jobs" promised from the Road to Nowhere were snapped up by Chinese companies rather than Montenegrin firms. Local subcontractors were accused of funneling kickbacks to government officials, including Djukanovic, and delivering substandard work. "There was no public procurement procedure for the subcontractors. Most of the project was declared as a state secret. All the benefits that [China's] CRBC receives, such as not paying VAT [Value Added Tax], or no taxes on labor, or no customs on imported goods, was also applied to the subcontractors with absolutely no control," an unhappy resident whose property was seized for the road told EuroNews in May. The road project also became an environmental nightmare, with devastating impacts on the Tara river valley and its fish stocks. Construction debris may have irreversibly damaged the riverbed. Djukanovic and his Chinese business partners apparently failed to notice their planned highway would compromise a UNESCO World Heritage Site, Tara Valley's Durmitor National Park. Milatovic claimed on Wednesday that a strong recovery is forecast by the end of 2022, notoriously corrupt and incompetent state agencies are being cleaned up and reformed, and Chinese control can be resisted with a little help from the West, so Montenegro is a good investment for Europe and the United States. The new administration of Prime Minister Zdravko Krivokapic, which includes many opposition leaders who pleaded with Djukanovic not to borrow money from China, appears determined to escape from the debt trap. Krivokapic has pledged to address widespread corruption and repair ties with the EU. Skeptics note the cost of the Belt and Road highway is running at about $40 million per mile, making it one of the most expensive roads on the planet, and the recovery promised by Milatovic remains in doubt. Montenegro's economy contracted over 15 percent during the pandemic and its public debt now exceeds 103 percent of GDP, a balance that will probably get even worse when the economic fallout from the pandemic year is fully factored in. Paying off Chinese loans could be politically difficult for many Western leaders. Key terms of Montenegro's loan from China remain secret, making European bankers nervous about buying the debt. The dire revenue projections Djukanovic resolutely ignored to get his bags of money from Beijing are not looking any better seven years later, as analysts see no way the BRI road could ever generate enough income to cover its annual maintenance costs, let alone repay that billion-dollar loan. It won't generate much revenue at all until the entire road network to Serbia is complete, and that could be many years away, if completion is even possible. As slow as progress has been thus far, it might get even slower once the EU standards and environmental regulations that were cheerfully disregarded by Chinese state-owned construction companies are enforced against European replacements. The highway looks to apprehensive Euro bankers like a money pit that cannot be filled by simply refinancing the billion-dollar Chinese loan. "There is a big question about how they complete it. Their fiscal space has shrunk enormously. They have strangled themselves. And for the time being this is a highway to nowhere," an EU official sighed to Reuters in 2018, after American company URS estimated the highway would have to beat revenue estimates by over 400 percent to become financially viable. After a good deal of public pleading with the EU for help in the spring, the Montenegrin government suddenly went silent at the end of June, leading some analysts to suspect they were quietly negotiating with China to restructure its debt at the same time. New talk this week from government ministers about last-ditch attempts to refinance with Euros and U. S. dollars looks suspiciously like Montenegro trying to play the East and West against each other. The EU might be getting tired of this game, suspecting the threat of falling into Beijing's sphere of influence will be employed to squeeze money and political concessions out of Europe indefinitely. There is no shortage of European officials telling reporters how the EU cannot possibly afford to let the gateway to the Balkans fall into Chinese hands. Surely those comments have been heard by Krivokapic and his ministers.

Several Wall Street analysts have recommended buying Nvidia (NVDA) over the last several days. I say be careful as the stock traded is setting a new all-time intraday high almost daily. Today, July 7 the stock set a new high at $835.00. When you chase momentum, you must have a sell stop order to minimize a loss if the stock tops out. I like buying on weakness and booking profits on strength. Nvidia has been above a golden cross for more than a year. My strategy has been to buy weakness to its 200-day simple moving average. This buy was doable on March 4 when the 200-day was at $489.68. My strategy in the second half of the year is to employ a sell stop below its quarterly pivot at $780.31. This would lock in a gain of 59%. I do not have an upside target now, but the stock is trading below this week's pivot at $825.52. A close today below its July 6 low of $814.01 would be a key reversal. The weekly chart shows that Nvidia is in an inflating parabolic bubble formation. This occurs when the 12x3x3 weekly slow stochastic reading rises above 90.00 on a scale of 00.00 to 100.00. The stock has a P/E multiple of 84.57 and a dividend yield of 0.08%, according to Macrotrends. The Daily Chart for Nvidia has been above a golden cross for more than a year. This occurred when the 50-day simple moving average rose above the 200-day simple moving average to indicate that higher prices lie ahead. With this profile the strategy is to buy weakness to the 200-day SMA. You can see that this opportunity occurred at $489.68 on March 4, 2021. This average was tested again at $501.60 on March 25. The stock reached this week's pivot at $825.52 yesterday and today. Remember that a close today below Tuesday's low of $814.01 would be a key reversal day. This initial downside risk is to its quarterly value level at $780.31. The Weekly Chart for Nvidia The weekly chart for Nvidia is positive but overbought. The stock is above its five-week modified moving average at $729.27. The stock is well above its 200-week simple moving average or reversion to the mean at $307.81. Back during the week of June 7, 2019, this average provided a buying opportunity at $134.77. The 12x3x3 weekly slow stochastic reading is at 92.85 above 90.00. This indicates that NVIDIA is in an inflating parabolic bubble formation. Trading Strategy: Buy Nvidia on weakness to its quarterly value level at $780.31 and reduce holdings on strength to its weekly pivot at $825.52.

"Today, we have the 'ingredients' needed to 'soup up' the entry of Russian IT products onto the German market. German experts admit that Russian IT products are often superior to German ones. This shows the demand for Russian technologies on the global market, including the German sector. But there are a few ingredients that need to be added: regulation and trust on the part of partners", Andrey Sobolev,Russian Federation Trade Representative to Germany, said at INNOPROM 2021 during a panel discussion on exports to Germany as part of the Russian Export Centre's Business Mission. Matthias Schepp, chairman of the German-Russian Chamber of Commerce Abroad, confirmed the German interest in Russian IT developments, and added: "The level of IT products in Russia is undeniably at the top of the world markets". According to panel moderator Sergei Vologodsky, vice president of REC JSC, the share of information and communication technology exports in total services exports has seen an upward trend, growing over the past two years from 8.1% in 2018 to 12.7% in 2020: Exporters had a chance to discuss with experts the existing barriers for Russian products, the requirements of the German market, and also to share their experience of communicating with their German partners. In assessing this year's session, Sergei Vologodsky noted that the German market is open for Russian IT producers, and several successful cases of exporters are a prime example. At the same time, further synchronisation of work between development institutions, business associations, and trade missions is necessary to increase the exports of Russian IT solutions, while the established support system can help in entering foreign markets.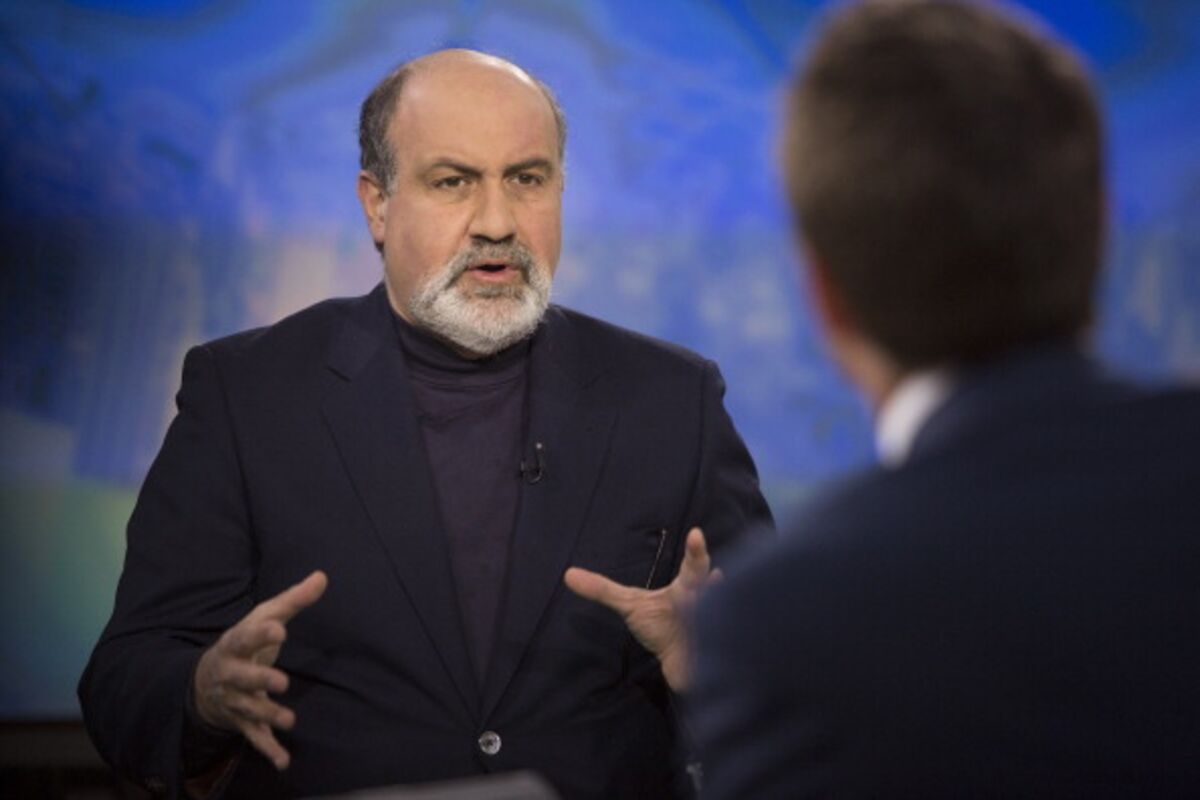 Modern futures markets originated in the U. S. Midwest during the mid-1800s and were originally democratic institutions that accepted all comers. The legal foundations for enforcing futures contracts were shaky, and the regulatory foundations non-existent. But as futures exchanges matured over succeeding decades and became more important economically, they began to exclude the hoi polloi with larger lot sizes, margin requirements and membership fees. By the 1870s, traders excluded by these financial restrictions (or by social, religious, ethnic or gender classifications) organized into decentralized networks that came to be called "bucket shops" because they bucketed orders among customers rather than offering or promising delivery of the underlying commodities. Even people who could have traded on official exchanges often preferred the bucket shops for their longer hours of operation, customer-friendly conditions, lower overhead and more convenient locations. This is precisely the story we are seeing in decentralized finance – or DeFi – now, where people unable to open brokerage accounts or put off by account minimums or burdened with too many regulations prefer to trade directly with other investors on the blockchain. There are risks to this, and Nassim Nicholas Taleb is correct to warn anyone considering trading crypto stock tokens to learn the history of bucket shops. But that history reveals benefits to go along with those risks. (I've known Taleb for 36 year and have learned much from him. I always find his comments provocative and usually right.) Why do many people have a negative view of bucket shops today? In the 1890s, organized exchanges began legal and public relations campaigns to have them outlawed. One reason was that bucket shops were growing and exchanges didn't like the competition. Another reason was that exchanges were being threatened themselves by people who claimed futures trading was gambling. The exchanges' defense was to emphasize the possibility of physical delivery of their contracts — even though it was rare — and to point to the bucket shops as the gambling dens. The campaign involved making up false etymologies for the term "bucket shop," usually involving unpleasant images such as homeless street urchins selling dregs from waste buckets of disreputable saloons. More seriously, the exchanges paid newspapers to exaggerate stories of financial scandals at these unregulated shops, and if that failed to invent stories. The first lesson modern traders should learn is there was quite a bit of fraud and scandal at these shops. But traders should also reflect there was a lot of chicanery at official exchanges as well. Although no statistics exist on the subject, I'd hazard a guess that the average amateur trader stood a better chance of making money at a bucket shop than with official futures brokers. Yes, there was a greater risk that your bucket shop would go bankrupt or turn out to be a front for crooks. But with official exchanges, the money extracted by fees and shady execution practices could virtually guarantee long-term losses for small customers. The second lesson is that a DeFi stock token is not precisely the same as owning a share of stock. For one thing, most do not pay dividends, so they are like stock futures contracts rather than the stocks themselves. Of course, tokens come without voting rights. No one has offered tokens with automated ways to handle corporate actions such as stock splits, so you have to trust the pool organizers—and that also means pool organizers can steal the collateral. Even if everyone is honest, the token will not track the stock for very large moves—how large depends on the size of the collateral pool, an important parameter for stock token traders to monitor. Profits (if any) are generally paid in stablecoins, which have their own risks. The disadvantages of DeFi stock tokens outweigh advantages for long-term investors legally allowed to open regulated brokerage accounts, especially with the rise of customer-friendly places that allow fractional share trading. But day traders and people turned away by brokerage firms have a compelling alternative with tokens. I predict an orchestrated campaign by regulated financial institutions and regulators to suppress these tokens, and also that the campaign will fail. I think a lot of retail short-term trading will move to tokens, and the next logical step — token version of exchange-traded funds — will be a very big business in a few years. To contact the author of this story: Aaron Brown at aaron.brown@privateeram.com To contact the editor responsible for this story: Robert Burgess at bburgess@bloomberg.net

Have you been thinking about your retirement lately? If you haven't, it's about time you do. After all, you want to enjoy your golden years and not stress about money. But, you also don't want to be a burden to your family. And, you want to make sure that you won't outlive your savings. What can be classified as an annuity and not a perpetuity? And — what the difference? Q2 2021 hedge fund letters, conferences and more Obviously, the first place to start is to max out defined contribution plans, like your work 401(k). You could also look into an IRA. If you want a guaranteed lifetime income that you won't outlive, though, then you definitely shouldn't overlook annuities. But what about a similar product known as perpetuity? Well, let's answer that question by explaining each product, its similarities, and how they differ. An annuity is a product that is commonly sold by an insurance company. It's a retirement product that guarantees payments for either a specific time period or the rest of your life. In most cases, you purchase an annuity premium with an upfront lump-sum payment or a series of smaller payments. In return, you'll receive regular disbursements that begin immediately or sometime in the future. Annuities come in a variety of shapes and sizes, but the main types of annuities are; Moreover, all of these annuity types can be either immediate or deferred. Immediate annuities would be exchanging a lump sum payment for a series of payments back to you during retirement. These can be drawn immediately. Deferred annuities must be withdrawn later. And, you can purchase a deferred annuity with either a lump sum or multiple payments. Since there all sorts of annuity variations out there. So, before committing to this long-term investment, speak with your financial or retirement advisor to ensure that an annuity is right for you. "A perpetuity is a security that pays for an infinite amount of time," explains Julia Kagan over at Investopedia. In the finance world, "perpetuity is a constant stream of identical cash flows with no end." And, there's also a handy formula to calculate a perpetuity's current value or security with perpetual cash flows; PV= (1+r) 1 C + (1+r) 2 C + (1+r) 3 C ⋯= r C Where; If finance isn't your wheelhouse, this might cause your head to spin. But, the "concept of a perpetuity is also used in a number of financial theories, such as in the dividend discount model (DDM)," adds Kagan. Specifically, analysts use the perpetuity calculation to determine the value of stocks that pay fixed dividends. It's also used for real estate that earns rent and annuity insurance products. If you didn't catch the common thread, all of which have cash streams that theoretically can last forever. But, if you want the purest example of perpetuity, look no further than Consols. These are bonds issued by the British government. There's no maturity date, and as long as the British government is in existence, bondholders will receive annual interest payments forever. Additionally, there are actually two types of perpetuities; Both an annuity and perpetuity pay a constant stream of income. And, while extremely similar, that's pretty where you draw the line as these two are vastly different. Most annuities stop when the contract owner dies. But, there are also annuities that promise a continuous cash flow for a set period of time. Known as non-life contingent annuities, temporary annuities, period-certain annuities, or term-certain annuities, these have a specified end date, such as 20-years. If you die before the end of the term, the remaining payments may be able to be passed on to a beneficiary. Perpetuities, on the other hand, payout indefinitely. So, in the general sense of the word, a perpetuity is a kind of annuity that both offer regular payments for the rest of your life. Then, when you die, payments will continue as normal to your heirs. The future value of an annuity can be easy to figure out. This is especially true with a fixed annuity. Again, Due pays 3% on every dollar deposited. But, the value of perpetuity can be difficult, if not impossible, to calculate. Annuities rely on compound interest to calculate the future or present value. Perpetuities use the simple interest method to calculate their present value. Annuities are commonly used in financial markets. However, they're also becoming a growing product in the insurance world to address longer life expectancies and retirement concerns like outliving your savings. Perpetuities are not commonly used in financial markets. In fact, the primary uses of perpetuity are to determine the value of a business's future cash flow or calculate the theoretical value of a given business or project. You can receive annuity payments as either a lump sum or through a series of payments. However, with perpetuity, you will only receive an ongoing cash flow. An annuity is not considered a perpetuity. However, perpetuity is viewed as a type of annuity — even though it's relatively rare. Short answer? No. Unlike perpetuities, annuities eventually expire. When that happens, payments cease. This is because the term has ended or the contract owner has died. In other words, if it's spelled out in your contract that you'll receive annuity payments for 20-years, then payments will stop at that point. What if you've named a beneficiary and have opted to receive lifetime payments. In this scenario, the remaining value of the annuity will go to your heirs until the funds run dry. But, of course, this is also the case if you die prior to the conclusion of the term. Perpetuity in action can be viewed as an annuity. However, it's designed so that payments will last forever. And, you don't need to tack on a death rider for payments to be down to your heirs. "A perpetuity and an annuity are similar instruments in that both offer a fixed set of cash flows over time," says Kagan. "However, the key difference between them is that annuities have a predetermined end date, known as the 'maturity date,' whereas perpetuities are intended to last forever." "Importantly, both annuities and perpetuities can be valued using DCF analysis," she adds. "Neither type of security is inherently preferable. Instead, their attractiveness will always depend on their specific terms, such as their interest rates and payment schedules." While it "may seem as though an instrument that offers an infinite stream of cash flows would be almost infinitely valuable," that's not true. "Mathematically speaking, the value of a perpetuity is finite, and its value can be determined by discounting its future cash flows to the present using a specified discount rate," explains Kagan. "This procedure, known as discounted cash flow analysis (DCF), is also widely used to value other types of securities, such as stocks, bonds, and real estate investments." "An obvious question with perpetuity is this – can cash stream payouts really go on forever? Technically, yes, but there is a huge caveat," notes Brian O'Connell for The Street . "While perpetuity does allow for the payment of money with no end in sight, that cash payout diminishes on a gradual, year-by-year basis as inflation chews into the value of those fixed payouts." As a consequence, "the real value assigned to cash streams made in perpetuity does decline over time – especially endless time." "There is a form of perpetuity that fuels ongoing growth in asset payments made over time," he adds. "That's called a growing perpetuity. Here, instead of garnering steady, fixed payments in perpetuity, the recipient gets a regular stream of payments that grow steadily." So, if there's a growing perpetuity payment with a growth rate of 7%, then each future payment amount will be higher by 7%. "As the real value of perpetuity cash streams declines over time, it's also worth noting that the present value of those regular cash payments is highest in the early years, even though the payout is fixed," says O'Connell. "As inflation eats away at the value of the payments, that value deteriorates," he states. "That's why the cash flows – way down the road – wither down to almost nothing, but technically never to a zero amount." To sum things up, perpetuity can be an annuity. Namely because, like an annuity, it provides a fixed cash flow over time. However, an annuity isn't considered perpetuity as it has a predetermined end date — either for a specific timeframe or until you die. What's more, annuities are common retirement products sold by a number of insurance or annuity companies. But perpetuities are extremely rare in the world of investments. For businesses, however, the theoretical calculations perpetuities provide can be useful. Tl;dr, unless you're investing in a business, perpetuity doesn't deserve too much of your time. But, if you're looking for a guaranteed income to last you throughout retirement, an annuity is worth exploring. Article By John Rampton, Due About the Author John Rampton is an entrepreneur and connector. When he was 23 years old while attending the University of Utah he was hurt in a construction accident. His leg was snapped in half. He was told by 13 doctors he would never walk again. Over the next 12 months he had several surgeries, stem cell injections and learned how to walk again. During this time he studied and mastered how to make money work for you, not against you. He has since taught thousands through books, courses and written over 5000 articles online about finance, entrepreneurship and productivity. He has been recognized as the Top Online Influencers in the World by Entrepreneur Magazine, Finance Expert by Time and Annuity Expert by Nasdaq. He is the Founder and CEO of Due.

New Delhi: As petrol price crossed the Rs 100-mark in Delhi, the Congress on Wednesday hit out at the government accusing it of "tax extortion" and asked Prime Minister Narendra Modi to either bring down inflation or quit. Congress leader Rahul Gandhi charged that the Modi government runs on "tax extortion". Petrol prices crossed the Rs 100-a-litre mark after fuel prices were increased in line with international oil trends. "Your car may run on petrol or diesel, Modi government runs on tax extortion," Gandhi tweeted in Hindi, using hashtag 'TaxExtortion'. Congress general secretary and chief spokesperson Randeep Surjewala said petrol has crossed the century-mark in 200 cities across the country, including the national capital, and accused the government of being insensitive towards the plight of people during the pandemic. "The Congress party would be organising cycle marches and protests and demonstrations across the country as part of its campaign from July 7 to 17 to highlight the rising fuel prices and high inflation at every block and city. "Our only slogan is PM Modi should either bring down prices or quit and vacate his chair," he told reporters. Surjewala said while the international crude oil price is continuously decreasing, the price of petrol and diesel kept rising in the country due to heavy taxes imposed by the Modi government. He termed the government as "most insensitive" in independent India and alleged that when looters sit in power, the incomes of people reduces and the days become expensive. The Congress leader said the "Modi government is just enjoying the fruits of power and the income of 140 crore Indians is being looted". "The promise was of minimum government, maximum governance, but just the opposite has happened – maximum government and zero governance. Today the price of petrol has crossed Rs 100, cooking oil crossed Rs 200 and cooking gas LPG crossed Rs 850, such is the shameless Modi government. "The BJP government at the Centre has changed the very definition of democracy. By throwing the public in the fire of inflation, the Modi government is squeezing the income of even the person standing in the last row and is only thinking about their wealthy friends," he alleged. Surjewala said today in about 200 cities of the country including Delhi, petrol has crossed Rs 100 a litre-mark and diesel has touched Rs 90 per litre, after the Modi government increased the prices of petrol and diesel 69 times between January 1, 2021 to July 7, 2021. He said by increasing the excise duty of petrol and diesel from April, 2014 to June, 2021, the Modi government has earned Rs 25 lakh crore rupees. It has increased the excise duty on petrol by 258 per cent and on diesel by 820 per cent in seven years, he claimed. He also alleged that when people were without oxygen and their family members were dying, when people were looking for hospital beds, "Modi ji was increasing the excise duty of petrol and diesel". "In the coronavirus period alone, Modi ji has increased the excise duty on petrol by Rs 13 per litre and on diesel by Rs 16 per litre," he said, adding that in the last two months, the price of petrol has been increased by 9 rupees 81 paise per litre and that of diesel by Rs 8.80 per litre. The Delhi Congress held a demonstration near the residence of Oil minister Dharmendra Pradhan carrying placards and raising slogans, after the price of petrol crossed an all-time high of Rs 100 per litre in the national capital. Petrol price was increased by 35 paise per litre, while diesel rates were increased by 17 paise a litre, according to a price notification from state-owned fuel retailers. In Delhi, the price of petrol rose to Rs 100.21 per litre and diesel rates increased to Rs 89.53 a litre. The national capital is the last of the metro cities to see petrol rising above the Rs 100-a-litre mark. Mumbai, Chennai, Hyderabad, Bengaluru and Pune already have prices above that mark. Get the news updates on WhatsApp & Telegram by subscribing to our channels. For all the latest Politics updates, download our app Android and iOS.

Hidden Value Stocks issue for the second quarter ended June 30, 2021, featuring interviews with Arkto Capital and Old West Investment Management. Welcome to the June 2021 (Q2) issue of Hidden Value Stocks. In this issue, we have our usual two interviews and extracts from letters of funds previously profiled. The first section includes an update from Ben Claremon, the principal portfolio manager and research analyst at Cove Street Capital. Cove Street offers small-cap value investment strategies that capitalize on inefficiencies in public markets. Mitchell Scott, CFA, the founder and managing partner of Choice Equities, is our second interviewee. Choice Equities's flagship investment fund, the Choice Equities Fund, returned 29.2% on a net basis in the first quarter of 2021. Last year, the firm's concentrated small-cap holdings helped it achieve gains of 76.3% for the year. In our interview, Scott talks about the process that has helped Choice achieve this outstanding return and highlights his two favorite small-cap ideas on the market today. We hope you enjoy this issue of Hidden Value Stocks, and if you have any questions or comments, please feel free to contact us at [email protected] Sincerely, Rupert Hargreaves & Jacob Wolinsky. The December 2019 issue of Hidden Value Stocks contained an interview with Peter Rabover, the founder of Arkto Capital. Peter highlighted Research Solutions Inc (NASDAQ:RSSS) and Gaia Inc (NASDAQ:GAIA) in the interview, and since the issue was published, these stocks have gone on to return -22% and +44%, respectively. In the year to the end of March 2021, Arkto returned 65.7%, and its portfolio returned 30.9% net of fees in the first quarter of the year alone. One of the firm's best-performing positions last year was Hirequest Inc (NASDAQ:HQI). Arkto still owns the position and believes it remains undervalued despite the stock's recent performance. Commenting on the holding in his first-quarter letter to investors, Rabover stated: "The company, led by their impressive CEO, Richard Hermans, and their solid cash positive balance sheet, navigated the tumultuous waters of the past year with $9mm positive cash flow and, in the 1st quarter, added two "tuck in acquisitions" in the South, that increased its system-wide sales by 50%. Between the acquisitions and its own base business, the company is still operating 50% below its pre-pandemic levels while generating impressive cash flow ($4mm in 10 ex acquisitions)." The letter went on to state: "With the United States "open for business," we expect the rest of the year to go gangbusters, especially with the increasing demand for labor, and expect this $250mm market cap company to potentially generate over $30mm in Free Cash Flow in the next twelve months. While we have certainly enjoyed the 200%+ return we have had in the holding so far, we expect at least another 100% to 200% in the intermediate future as the market recognizes the operating leverage and the cash flow generating potential for this impressive company." The September 2018 issue of Hidden Value Stocks featured an interview with the Old West Investment Management team. One of the companies the firm profiled in the interview was Zedge Inc (NYSEAMERICAN:ZDGE), which has since become one of the best-performing stocks profiled in this newsletter. Since the interview was published, shares in the company have returned around 730%. Old West outperformed the market by a wide margin in the first quarter. Limited partners saw a return of 25% on average after fees, compared to 6% for the S&P 500. Zedge was spun off from IDT Corporation (NYSE:IDT) in 2016, and Old West continues to support the company as well as IDT's newest spinoff, Rafael Holdings. Commenting on the Rafael holding in his first-quarter letter, Joseph Boskovich, Sr. the Chairman and Chief Investment Officer of Old West, noted: "We believe that an investment in Rafael Holdings represents an extremely asymmetric opportunity where a portion of the company's current value is protected by its portfolio of real estate properties, LipoMedix and The Barer Institute, while its stake in Rafael Pharmaceutical is potentially worth many, many multiples of its current market cap. We also believe that the investment is hidden from the broader investment community due to its obscure structure, hence the extreme valuation discount. As an example, the company is classified on Bloomberg as an "Investment Company" due to its real estate assets rather than a biotech company where we believe the greatest level of value disconnect exists." Issue continues on Hidden Value Stocks .

High-stakes institutional investors are increasingly exposing themselves to the volatile cryptocurrency market, raising fears that the digital asset industry could wreak havoc throughout the economy — a development that would harm people who can't afford to own any financial asset, digital or otherwise. One in seven hedge funds now hold between 10-20 percent of their entire portfolios in cryptocurrency and one in four hedge funds are on the verge of investing in the asset class, according to a recent survey conducted by the auditing firm PricewaterhouseCoopers. The cohort demonstrates that segments of the financial industry have a large appetite for risk. The survey also shows that 21 percent of all hedge funds own some cryptocurrency, with the average invested firm having just 3 percent of its portfolio in digital assets. The statistic on firms with up to one-fifth of their portfolios invested in cryptocurrencies was referenced during a June 30 hearing on cryptocurrency before the House Financial Services Committee. Chair Maxine Waters (D-California) cited the findings after announcing that the panel has "begun a thorough examination of this marketplace." Waters said she is particularly interested in "the systemic risks presented by hedge funds rushing to invest in highly volatile cryptocurrencies and cryptocurrency derivatives." The price of Bitcoin, the most popular cryptocurrency, has fluctuated wildly in 2021, including a 48.4 percent decline during nine days in May, when the price of Bitcoin plunged from $59,519.35 to $30,681.50. Alexis Goldstein, a Truthout contributor and an expert witness called on by Democrats to testify, said cryptocurrency markets are particularly attractive to hedge funds because rules on disclosure don't require them to reveal what cryptocurrency they own. Popular cryptocurrency exchanges also allow customers to borrow heavily to buy digital assets. "Hedge funds are the perfect client to use those sorts of leverage," Goldstein remarked. Lending in cryptocurrency, which is known as decentralized finance, has increased this year alone by a factor of 25, according to one measure: The value of assets pledged as collateral in decentralized finance loans has ballooned from $2 billion to $50 billion. If the cryptocurrency market takes another nosedive — like it did in May, shedding some $1 trillion, or 40 percent of its global market cap — investors will scramble to cover their losses on leveraged bets. This could generate a ripple effect, bringing down commercial ventures outside of the financial sector, which would harm those least likely to own any financial asset, digital or conventional. Economic downturns disproportionately harm the poor, and 45 percent of Americans own no stock, according to a Gallup poll conducted last year, while only 14 percent of Americans own cryptocurrencies. "What happens if a huge number of hedge funds who have prime broker relationships with too-big-to-fail banks all happen to be in similar crypto positions, whether it's long or short, and there's massive volatility in the market? They may have to sell some of their other assets," said Goldstein, the director of financial policy for the Open Markets Institute and a former Wall Street banker who left the industry in 2010. She told the committee that losses on cryptocurrencies could lead to "forced liquidations" of non-crypto assets (stocks and bonds of other companies in hedge funds' portfolios). In March, for example, the failure of a private family fund called Archegos Capital dealt a blow to banks and non-financial firms alike, sending shock waves across the economy. Archegos had bet on the stock prices of certain companies to rise, including media conglomerates ViacomCBS and Discovery, by borrowing four to five times the amount of capital that it owned. When those bets started to go sour, Archegos' creditors — major banks such as Credit Suisse, Morgan Stanley and Goldman Sachs — sold off some $35 billion in stock, as it became clear that their client would struggle to pay them back. The banks themselves also took hits: Credit Suisse lost more than $5 billion, and Morgan Stanley and Goldman lost about $1 billion each, The stock prices of ViacomCBS and Discovery fell 35 percent as Archegos' creditors liquidated the shares they bought on behalf of the company. As Goldstein warned, similar fire sales could happen because of hedge funds invested in wildly fluctuating cryptocurrency, especially considering rules on disclosure and leverage. Archegos didn't have to reveal its stake in ViacomCBS and Discovery, like investors in cryptocurrency don't have to do, because it had purchased derivatives based on the firms' share prices, instead of directly investing in the companies' stock. And while Archegos leveraged up to five times its capital, some cryptocurrency exchanges, like Binance, which has processed trillions in transactions this year alone, let clients purchase digital assets with $125 in borrowed money for every $1 of the client's own money. Financial markets may be able to weather a few major failures in normal times, but a sudden uptick in the number of hedge fund failures and corporate bankruptcies could lead to a wider crisis of confidence, increasing the potential for more asset sales, the failure of financial markets, mass layoffs and a recession. The potential for the broader economy to suffer from financial sector wheeling and dealing in any market is particularly acute at the moment. Corporate debt reached record levels in 2020 driven by promises of pandemic bailouts of bondholders from the Federal Reserve, and it climbed to new heights this year with "higher-risk, speculative-grade bonds… now on pace to set their own record," as the Wall Street Journal said on June 14. Goldstein told the committee that this market structure reminded her of working the derivatives trading desk at Merrill Lynch before the 2008 financial collapse — a catastrophe caused, in part, by exponential growth in the market for derivatives like credit default swaps that were traded "over-the-counter," or without a central exchange to monitor excessive risk. Insurance giant AIG imploded in 2008 after entering into too many credit default swap agreements, which investors purchased as insurance to protect themselves from the failure of mortgage backed-securities. The contracts bankrupted AIG after the mortgage market collapsed in a failure that led to a $182 billion government bailout for the firm. Another expert witness called by the Democrats to testify — Sarah Hammer, managing director of the Stevens Center for Innovation in Finance at the Wharton School of Business — echoed Goldstein's concerns. Hammer said the lack of central clearing mechanisms remind her of the market conditions that allowed AIG to accumulate so much exposure to credit default swaps. Rules requiring derivatives to go through central clearing exchanges have been strengthened by Congress and the executive branch since the crisis. Hammer also warned that the market for cryptocurrencies is larger now than the market for subprime mortgages was before the 2008 financial crisis. She called for an interagency body created after that crisis to examine the cryptocurrency situation. "I do believe systemic risk is a key concern. I do believe that the Financial Stability Oversight Council (FSOC) is the proper authority to consider systemic risk," she said, noting that FSOC "has a specific mandate to do so." "The fact is that cryptocurrency has really infiltrated many different aspects of our financial system," Hammer added. "Regardless of what we may think the benefits and costs of that may be, that is the reality of the situation today. Not only do investors hold crypto in their individual portfolios, we see it in private funds," like hedge funds, and "we see it in banks." One major concern with cryptocurrency surrounds questions about its true value, with many people believing that the current price of popular digital assets like Bitcoin is wildly inflated on the back of irrational speculation. Cryptocurrency, for example, doesn't pay out regular dividends like stocks and bonds. Michael Burry, the hedge fund manager made famous for predicting the 2007-2008 collapse of the mortgage market (he was portrayed by actor Christian Bale in the 2015 film The Big Short) recently predicted that cryptocurrency will lead to the "mother of all crashes." "If you don't know how much leverage is in crypto, you don't know anything about crypto, no matter how much else you think you know," Burry also said, in a series of deleted tweets. Some, including world-renowned economist Nouriel Roubini, have questioned whether cryptocurrency has any inherent utility. However, because cryptocurrencies are based on "blockchain" — public ledgers that keep records of transactions and asset ownership with encrypted information — they can offer users privacy protection, if nothing else. Federal Reserve Vice Chair of Supervision Randal Quarles, who said in late May that regulators were engaged in a "sprint" toward a framework for cryptocurrency regulations, said on June 28 that Bitcoin's "attractions are its novelty and its anonymity." Hedge funds appear to have seized on the latter benefits, according to Goldstein, who told the committee that it's incredibly difficult for regulators to discern who is investing in cryptocurrencies. Institutional investors aren't required to reveal cryptocurrencies holdings in mandated quarterly disclosures because digital assets aren't "seen as an ownership interest," she said. In the words of the Securities and Exchange Commission, the disclosure reports "generally include equity securities that trade on an exchange," other assets based on company equity, "shares of closed-end investment companies, and certain convertible debt securities." "Regulators are essentially totally in the dark about what hedge funds' cryptocurrency positions are," Goldstein said. "They have to rely on the financial press or try to figure out based on the transactions on the blockchain," she added. Hammer also noted that the federal government currently lacks an official data source for cryptocurrency activity, saying that, without one, "we're a little bit in the dark about what the proper regulatory framework should like." Despite the opacity and the leverage allowed by cryptocurrency exchanges, conservatives were indignant at the thought of telling the financial industry what to do. "It really frustrates me when I hear members of this committee imply that Americans are not smart enough to know that investing in cryptocurrencies carry risk," said Rep. William Timmons (R-South Carolina), an incredible statement that glosses over the collateral damage done by the financial sector over the past 40 years. Wall Street has caused a crisis about once per decade since the 1980s, when the Reagan administration solidified the consensus in Washington around neoliberalism and deregulation, leading to the failure of 1,043 savings and loan associations later in the decade and in the early 1990s. A hands-off approach to the financial industry also fueled the dot-com bubble around the turn-of-the-century, and the Great Recession a few years later. The latter, a much more severe crisis, was characterized by rosy pronouncements about the benefits of financial innovation. In 2005, then-Federal Reserve Chair Alan Greenspan declared that subprime mortgages brought credit to "once more-marginal applicants" because "lenders are now able to quite efficiently judge the risk posed by individual applicants and to price that risk appropriately." "Especially in the past decade, technological advances have resulted in increased efficiency and scale within the financial services industry," Greenspan said . "Innovation has brought about a multitude of new products, such as subprime loans and niche credit programs for immigrants." Still, the cryptocurrency industry and its allies appear to be approaching the matter of regulation with a techno-utopian view of financial innovation. During the June 30 congressional hearing, Republican witness Peter Van Valkenburgh, director of research for the D. C.-based think-tank Coin Center, said that cryptocurrency counters rising inequality because "an open blockchain network is accessible to people that banks and tech companies ignore rather than serve," neglecting to acknowledge that it requires capital to acquire digital assets in the first place. Research indicates that the average crypto investor has an income of $110,000, which is about three times the size of the median personal income in the United States. As Goldstein noted in her opening statement, blockchain records show cryptocurrency markets themselves reflect gaping levels of wealth inequality. "The concentration of particular cryptocurrency assets into a small handful of addresses raise concerns about power concentrations," Goldstein said, pointing to Dogecoin, a digital asset that started out as a joke but increased in price earlier this year by 12,000 percent before. It [dogecoin] lost about one-quarter of its value during a 24-hour period in May, during cryptocurrency sell-offs, and is now worth about 25 percent of what it was at its peak. "As of February, the top 20 largest Dogecoin addresses held half of the cryptocurrency's entire supply," Goldstein said. Sam Knight is a reporter, editor and cofounder of The District Sentinel, a news co-op reporting on Washington and federal policy for the left.

Robinhood wants the retail crowd to buy into its initial public offering, but some investors on Reddit are pledging to avoid the IPO. The trading app, which launched in 2013 with the mission to "democratize finance for all," publicly filed for an IPO Thursday. The company said it planned to make 20%-35% of its shares available to retail investors through the IPO Access function in its app. Luring retail investors could cause price volatility and short selling, Robinhood said, potentially setting it up for a meme-stock play. Despite the company making shares available to the retail crowd, some Redditors shunned the idea of investing in the stock, and others warned against shorting it. "Why would anyone frequenting this sub even be thinking about the IPO, let alone wanting to throw away money shorting it," said one Reddit post with more than 4,000 votes on r/Superstonk. "Just forget Robinhood altogether. Let them go down in lawsuits and loss of customer base." In its filing, Robinhood warned of more than 50 lawsuits it's facing from when the app halted buying of GameStop shares amid the epic rally in January. Another Redditor, citing the filing, noted the company said it cannot assure similar events won't happen in the future. "If this last statement is not a sign to get out of Robbing the Hood, I don't know what would," read the post, which received 36,000 votes on r/Superstonk. In response, another person with 8,000 comment karma said, "Who would buy their IPO with so many lawsuits looming?" "We apes buy stock we like. And we do not like that stock," said another. The Redditors did not immediately respond to Insider's request for comment. In the r/amcstock investing thread, several warned against shorting the stock, saying, " it's a trap." "When Citadel sees you shorting them, they will buy and hold and bleed us dry," read one post with 3,000 votes . "We will be giving them money to cover their shorts with. Don't play their game." The post has since been removed. Because Robinhood is a commission-free trading app, much of its revenue comes from payment for order flow, which is the compensation brokerages like Robinhood earn by having third-party firms execute customer orders. In its S-1 filing, the company said four market makers accounted for 59% of the revenue as of the end of March, with Citadel Securities alone making up 27%. "Best thing you can do is ignore them, and move your account," one Redditor said of the IPO. Robinhood did not immediately respond to Insider's request for comment for the story.

The Bitcoin price has shown low volatility lately. Its price is trading in a tight range, under $36,000. While the dominant cryptocurrency is much higher than where it was this time last year, it is down more than 40% since its peak in April. The key level the Bitcoin price has to over come is $38,000. Above it, the rally would likely get reignited, especially at a point where the futures market is not crowded. Many traders in the cryptocurrency space are looking at the daily chart of the Bitcoin price. If the Bitcoin price exceeds $38,000, it would break out of a crucial technical formation, as seen below in a chart shared by the pseudonymous trader TeddyCleps. But, the problem is that Bitcoin is continuously trading in a small range, unable to either break upwards or correct downwards. How Would Bitcoin Break Above $38k? There are two factors that could push Bitcoin upwards, above $38,000. The first is the miner capitulation bottom signal. Recently, the Bitcoin hash rate has plummeted due to China's growing pressure on the local mining sector. Historically, whenever the hash rate dropped hard, it marked a bottom, as it made many miners capitulate. The second is the consistent selling pressure coming from the futures market. Across major exchanges, the futures funding rate of Bitcoin has frequently been negative in recent weeks. This means that many traders in the crypto derivatives market are shorting or selling Bitcoin, instead of buying. When the selling pressure becomes too intense, it opens up the possibility of a short squeeze. In the Bitcoin futures market, a mechanism called funding rate exists. Exchanges use this mechanism to reward the minority in the market. For example, if there are more buyers in the market, the futures funding rate would typically hover above 0.01%. This means that buyers have to reward sellers 0.01% of their position every eight hours, and vice versa. In recent weeks, the Bitcoin futures funding rate on major exchanges has been hovering at around -0.01%. Since this kind of market incentivizes buyers, it could increase the probability of a short squeeze, especially when met with a strong fundamental catalyst. Still, there are concerns shown by economists and analysts toward the crypto market. Namely, the negativity around stablecoins and the mining sector persist within the media circles.

European Union (EU) Commissioner for Agriculture Janusz Wojciechowski on Wednesday held discussions with India's federal Agriculture Minister Narendra Singh Tomar, with the two delegates discussing the reduction of import tariffs on agricultural products entering India. Janusz Wojciechowski (@jwojc) July 7,2021 An EU spokesperson told Sputnik that Wojciechowski "took note" of India's new farm laws, which have triggered massive protests in the South Asian country. Some of India's agricultural policies, before the new farm laws kicked in last year, were contested by the EU, US, and Canada, among others, which described them as "unfair" due to the government's involvement in the procurement of farm produce and farm loan waivers, among a host of other reasons. The EU, which was India's biggest trade partner in 2019 and globally the biggest exporter of farm products, has demanded that Delhi remove tariffs to the tune of 90 percent from farm imports entering the South Asian country. Delhi argues that a reduction of farm-related import tariffs could have consequences for domestic farmers and may also potentially put them out of business. Delhi and Brussels agreed to resume FTA talks after a summit between Prime Minister Narendra Modi and his European counterparts, European Council President Charles Michel and President of the European Commission Ursula von der Leyen, as well as the leaders of all 27 EU member states. The virtual meeting took place in May this year. Negotiations for an India-EU Bilateral Investment Protection Agreement (BIPA) had been on hold since 2013 because of concerns India had about the EU demanding greater market access for its cars, farm products, wine, and spirits, among other things. However, New Delhi has been seeking easier work and study visa rules for its citizens in the EU, which it argues would make it simpler for European companies to outsource their businesses to India. The talks were first launched in 2007. The expression of support for India's new farm laws from the EU comes months after the US also backed the contentious legislation, which sparked protests by the country's farmers. One of the three new farm laws, the Farmers Produce Trade and Commerce (Promotion and Facilitation) Act, aims to "empower" farmers by allowing them to sell their produce to any seller across the country. Currently, government-regulated wholesale markets are the preferred choice of farmers to sell their produce. The two other related laws, the Farmers (Empowerment and Protection) Agreement on Price Assurance and Farm Services Ordinance,2020, and an amendment to the Essential Commodities Act,1955, are intended to "empower" farmers when dealing with private companies PM Modi has said that the new farm laws would not only "boost" the income of Indian farmers, but also help create an "agriculture market". The Indian PM has also said that the new laws would help Indian farmers sell their products in other countries. Despite the Indian government hailing the new legislation, a section of farmers in the country has been protesting the laws, alleging that they would benefit big companies at their expense. Key opposition parliamentarian Rahul Gandhi, who hails from the main federal opposition Congress Party, has also warned that the new farm laws will not only affect farmers, but also the middle class and every Indian household in the form of inflated food prices. Critics of the farm laws claim that the legislation would pave the way for big corporations to enter the lucrative Indian agriculture market and affect the country's food security. Protesting farmers have been camping on the outskirts of India's capital Delhi since November last year, warning that they won't end their effort until the farm laws are completely repealed.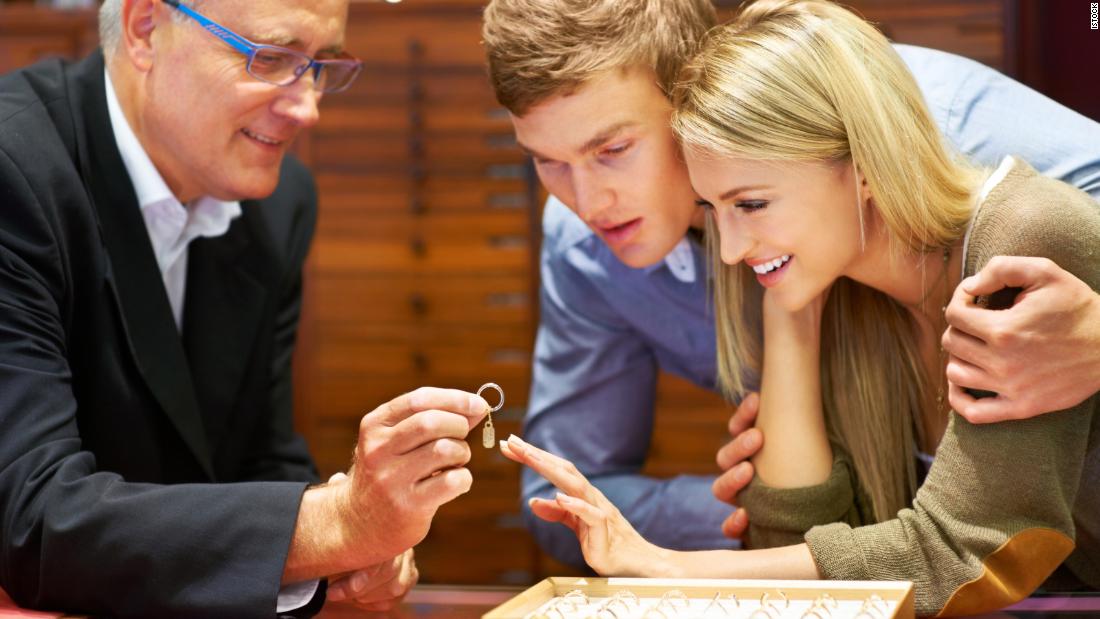 Get an introductory offer on both purchases and balance transfers with the U. S. Bank Visa Platinum card. While it's usually not advisable to carry a balance on a credit card, the U. S. Bank Visa Platinum card is an exception. It's a great option to consider if you're looking for a credit card that offers an introductory rate on purchases so you can extend out the payments on a major purchase over time, or an introductory rate on balance transfers to consolidate your existing debt on a card with no interest. In fact, this card has the best introductory offer on the market today — you'll get a 0% APR on both purchases and balance transfers for the first full 20 billing cycles. But you'll want to make sure to pay off all your debt in that time, because after that, you'll pay a variable interest rate of 14.49% to 24.49% depending on your creditworthiness. There's no annual fee on the U. S. Bank Visa Platinum either, so you can save on interest without an annual investment. Just keep in mind that a 3% balance transfer fee applies with a minimum of $5 if you choose to transfer balances from other cards to your new account. There are many other 0% APR credit cards on the market today, but the length of the offer on the U. S. Bank Visa Platinum is unmatched. If you want to avoid interest for as long as you possibly can and you're looking for one credit card to do it, this card is probably your best bet. Stop paying interest on your credit card debt with the U. S. Bank Visa Platinum card. Cell phone protection is another major benefit of the U. S. Bank Visa Platinum. When you pay your monthly cell phone bill with the card, you'll have up to $600 in coverage per claim if your cell phone is damaged or stolen. A $25 deductible applies for each claim, and you can only have two claims per 12-month period. The U. S. Bank Visa Platinum card also lets you pick your own payment due date, which is a perk that can be immensely helpful if you prefer to have a due date that aligns with your payday at work, or with a certain day of the month. Protect your cell phone with the U. S. Bank Visa Platinum card. There are several downsides of the U. S. Bank Visa Platinum card, but the biggest by far is the fact that it doesn't earn any rewards -— at all. No sign-up bonus. No cash back. No travel rewards on your purchases. A number of other credit cards offer introductory offers on purchases or balance transfers and also come with a sign-up bonus, as well as earning rewards for every dollar you spend on them on an ongoing basis. So you'll need to decide if you're ready to trade earning credit card rewards for the lengthy intro offers on the U. S. Bank Visa Platinum. Also, beyond the card's cell phone protection perk, you won't find any significant travel insurance coverage or purchase protections on this card. So if you're looking for a travel credit card that can cover you when your flight is delayed or your checked bags are lost, you'll want to look elsewhere. CNN Underscored uses the Citi® Double Cash Card as our "benchmark" credit card. That doesn't mean it's the best credit card on the market — rather, it means we use it as a basic standard to compare other credit cards and see where they score better, and where they're worse. Here's how the U. S. Bank Visa Platinum card scores against our benchmark. The features of each card in the below chart are colored in green, red or white. Green indicates a card feature that's better than our benchmark, red indicates the feature is worse than our benchmark and white indicates the feature is either equivalent or cannot be directly compared to our benchmark. As you look at these two credit cards, you'll notice some striking differences. For example, the Citi Double Cash earns cash back on everything you buy, and at a good rate at that. You'll earn 2% cash back on everything you buy with the Citi Double Cash — 1% when you make a purchase, and another 1% when you pay it off — making it one of our favorite cash-back credit cards around. However, the Citi Double Cash doesn't have an introductory rate on purchases, whereas the U. S. Bank Visa Platinum does. And you'll get a longer introductory rate on balance transfers with the U. S. Bank card than you will with the Citi card. In essence, the Citi Double Cash is a better option if your priority is earning rewards, while the U. S. Bank Visa Platinum is superior if you want to save money on interest. There are many other balance transfer credit cards that don't offer rewards, but none of them have offers as long as the U. S. Bank Visa Platinum. For example, the Citi® Diamond Preferred® Card is also a top balance transfer card that doesn't charge an annual fee, yet its introductory offer on purchases and balance transfers only lasts for 18 months, and it doesn't have cell phone protection. On the other hand, if you don't need a balance transfer offer and instead want to earn rewards while saving money on the interest on your purchases, you'll find a number of options. One of our favorites is the Chase Freedom Unlimited, which earns 5% cash back on travel booked through Chase,3% back on dining and drugstore purchases and 1.5% back on everything else. This card has no annual fee and comes with a 0% APR on purchases for the first 15 months, which rises to a variable APR of 14.99% to 23.74% after the introductory offer is over, so it could be a good choice if you don't need quite as long of a runway to pay off your purchases. And right now, the Chase Freedom Unlimited even comes with a $200 bonus when you spend $500 within three months of opening the account, plus 5% back on all your grocery store purchases (not including Target or Walmart) for the first 12 months you have the card, up to $12,000 in purchases. At the end of the day, the U. S. Bank Visa Platinum Card is best for people who need an introductory interest offer more than anything else, and want it to apply to both their purchases and balance transfers. People who want to earn rewards should look elsewhere, but if you're carrying a balance on your credit card and paying interest for it, you won't make up for it with rewards anyway. So if you're drowning in interest on your existing credit cards or you're planning to carry some credit card debt from your upcoming purchases, you'll want to consider the U. S. Bank Visa Platinum Card and see if its introductory offers make sense for you. Learn more and apply for the U. S. Bank Visa Platinum Card. Get all the latest personal finance deals, news and advice at CNN Underscored Money.

China's most powerful companies — including Didi, Alibaba and Tencent — are suddenly under immense scrutiny as country vows to crack down on domestic companies that list on U. S. exchanges. That move could upend a $2 trillion market loved by some of the biggest American investors. Beijing is stepping up its oversight on the flood of Chinese listings in the U. S., which are overwhelmingly tech companies. The State Council said in a statement Tuesday that the rules of "the overseas listing system for domestic enterprises" will be updated, while it will also tighten restrictions on cross-border data flows and security. The crackdown on tech is not a new trend. But because the nation has the ability to move quickly, any action could wreak havoc in major areas on Wall Street. Market analysts say it could not only threaten the IPOs in the pipeline, but it could also pressure the popular Chinese ADR market. Weigh the risks of owning ADRs There were at least 248 Chinese companies listed on three major U. S. exchanges with a total market capitalization of $2.1 trillion, according to the U. S.-China Economic and Security Review Commission. There are eight national-level Chinese state-owned enterprises listed in the U. S. The Invesco Golden Dragon China ETF (PGJ), which tracks U. S.-listed Chinese shares consisting of ADRs of companies that are headquartered and incorporated in mainland China, has lost a third of its value from its February peak amid the increased regulatory pressure. ADR stands for American depositary receipt and they are effectively a way for U. S. investors to buy stakes in foreign companies. "U. S. investors will have to weigh the risks of owning ADRs at a time when tensions between Beijing and Washington remain elevated while all global investors will have to balance the allure of China's vast addressable market with the possibility that officials may reshape company prospects at the stroke of a pen via the imposition of regulatory strictures," BCA Research chief global strategist Peter Berezin said in a note Wednesday. Ride-hailing app Didi became the latest victim of Chinese authorities' clampdown. The stock tumbled nearly 20% on Tuesday after Beijing announced a cybersecurity investigation, suspending new user registrations. Republican Sen. Marco Rubio told The Financial Times in a statement Wednesday that it was "reckless and irresponsible" to allow Didi, an "unaccountable Chinese company," to sell shares on the New York Stock Exchange. Meanwhile, Nasdaq-listed Weibo is now planning to go private after its operator Tencent reportedly experienced regulatory probe particularly in its fintech business. Beijing has looked to rein in Chinese billionaire Jack Ma's Alibaba by unleashing a series of investigations since last year. "You have to be able to understand the political and national security dynamics that go into an investment, a deal, your engagement with a Chinese company, your investment with the Chinese company, your interest in doing cross-border business," Longview Global managing director and senior policy analyst Dewardric McNeal said. "This is not clean and neat and just the numbers." Some of these major Chinese companies are darlings on Wall Street. For years, Alibaba has been among the five-most owned stocks by hedge funds, along with Facebook, Microsoft, Amazon, Alphabet, according to Goldman Sachs. Billionaire investor Leon Cooperman recently said Baidu and Alibaba were some of his biggest holdings as he touted stock-picking as a way to success for the second half of the year. IPOs in jeopardy Chinese regulators are eyeing a rule change that would allow them to block a domestic company from listing in the U. S. even if the unit selling shares is incorporated outside China, Bloomberg news reported citing people familiar with the matter. The move could be a huge blow for Chinese companies which have clamored to list in New York in recent years. In 2020,30 China-based IPOs in the U. S. raised the most capital since 2014, data from Renaissance Capital shows. There could be fewer and slower new listings in U. S. due to the government crackdown, said Donald Straszheim, senior managing director of China research at Evercore ISI Group. "Beijing [is] no trying to stop all U. S. listings. Still business ties between the U. S. and China are better than not, " Straszheim said in a note. " Beijing [Is] trying to add a layer of protection against corporate foreign compliance." As of late April, about 60 Chinese companies were still planning to go public in the U. S.this year, according to the New York Stock Exchange. Enjoyed this article? For exclusive stock picks, investment ideas and CNBC global livestream Sign up for CNBC Pro Start your free trial now

British American Tobacco SA (BATSA) wants a pack of cigarettes to retail at a minimum of R28 as part of efforts to fight illicit trade. The cigarette manufacturer on Wednesday issued a statement raising concerns on the findings of an Ipsos survey which showed that packs of 20 cigarettes were retailing for less than the minimum collectible tax amount (which includes excise duties and VAT) of R21.60. The research was commissioned by BATSA and independently conducted by Ipsos in June. This is the third wave of data released by the market research company. The sample for the third wave was smaller at 4 248 compared to the first wave at 4 430. The data showed that 1 751 or 41% of retailers were selling cigarettes at and below R21.60. This is slightly lower than the 44% recorded in the first wave. As for a carton of ten packets of cigarettes, the lowest price point detected was an outlier of R60. This translates to R6 per packet. The "most frequently mentioned" lowest price for a carton was R210. "In three of the nine provinces in South Africa, purchases at R21.60 and below, occurred at more than 50% of the retail stores sampled," the report read. The three provinces are the Free State, the Western Cape and Gauteng. Data for the Eastern Cape showed a spike in incidences of sales for cigarettes at or below R21.60, from 20% to 42%. KwaZulu-Natal's data also lifted from 32% to 44%. Low pricing was detected across different channels such as informal trade, wholesale, general trade and forecourts at petrol stations. According to the report, manufacturer Gold Lead Tobacco Corporation's brands were among those detected to be the cheapest products on offer. "There was a general increase in the number of sample stores that stock non-South African brands from neighbouring countries, when compared with the previous study, pointing to an influx of foreign brands into the market," the report read. The report shows an increase in incidences of cigarettes at and below R21.60 by manufacturers such as Gold Leaf Tobacco Corporation South Africa, Carnilinx, Protobac, Mastermind Tobacco, Global Tobacco and Amalgamated Tobacco, among others. 'Damning' research BATSA's brand Pall Mall had a 1% incidence of being sold at and below R25. It has 0% incidence of pricing at or below R21.60 per pack. "This research is damning proof that authorities have failed to bring South Africa's colossal criminal market in cigarettes under control," said BATSA general manager Johnny Moloto. Moloto called for a "full-scale" inquiry into the whole industry. Apart from selling cigarettes at a minimum of R28 for a pack of 20, BATSA also wants government and the South African Revenue Service (SARS) to ratify the World Health Organisation Illicit Trade protocol to fight illicit trade and to introduce a track-and-trace system for cigarettes. However, SARS Commissioner Edward Kieswetter told Fin24 in an interview that between April and June, the revenue service managed to seize R77 million in illegal cigarettes, up from R50 million last year. In June, SARS also began the process of destroying cigarettes seized from previous busts. SARS has earmarked R120 million to modernise its customs, according to Kieswetter.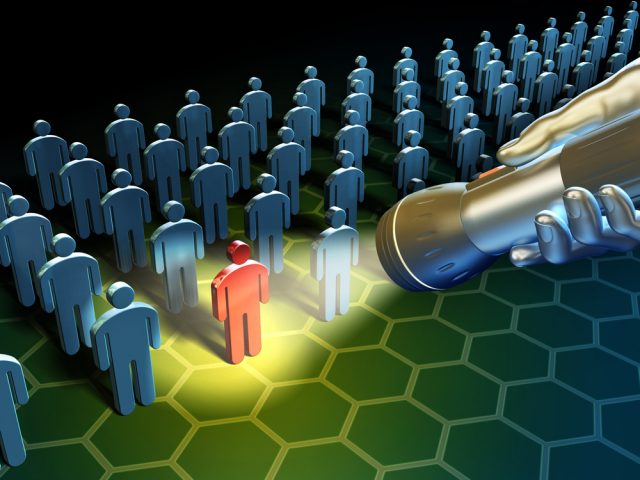 Data breaches from insiders can cost as much as 20 percent of annual revenue according to a new study from insider risk management company Code42. Combine this with a recent Microsoft report showing that 40 percent of people are planning to switch jobs as we emerge from the pandemic, and clearly there's a risk as the very technologies that enable the free flow of data in an organization are also the ones that make it easy for insiders to exfiltrate data. According to the findings at least 33 percent of reported data breaches involve an insider and 78 percent of those insider data breaches involve unintentional data loss or exposure. This is perhaps not surprising when 75 percent of organizations say they don't have consistent, centralized visibility into file movements happening across their environments. In 2020, a data breach was 4.5 times more likely to happen on end-user endpoints than on back-end servers, emphasizing the importance of endpoint security for borderless workforces. The report also reveals that each day, trusted insiders cause an average of 13 data exposure events by moving corporate files to untrusted locations via email, messaging, cloud or removable media. "Data stewardship has become a boardroom imperative. And while Insider Risk is not a new problem in security, managing it effectively in today's open and collaborative business climate -- with enough resources -- is," says Joe Payne, Code42's president and CEO. "We know that one out of three data breaches involve an insider, though it's likely much higher. Important ideas and key IP encompasses much more than just the company crown jewels -- it's the very digital and portable information like source code, customer lists and salary structures -- data that when taken can leave a devastating impact on a company's competitive position and bottom line." The report identifies three rules for quantifying a business' risk: You can read more about the findings on the Code42 blog. Image Credit: Andrea Danti / Shutterstock

Back in February, 2021, Matterport, announced it would be merging with Gores Holdings VI (NASDAQ: GHVI), led by institutional investors including Tiger Global Management, LLC, Senator Investment Group, Dragoneer Investment Group, Fidelity Management & Research Company LLC, funds and accounts managed by BlackRock, Miller Value Partners, Darlington Partners, Untitled Investments and Lux Capital. The combined company will trade as MTTR and is expected to have a post-transaction enterprise value of approximately $2.3 when the merger is completed later this month. Matterport is a vertically integrated company that makes hardware and software for 3D location scans. While Google and Apple are mapping the exterior of the physical world, Matterport is scanning the interior. A SPAC is a company created to raise money through an IPO. At the time of their IPOs, SPACs have no existing business operations or acquisition targets. They have two years to complete an acquisition or they must return their funds to investors. This increasingly popular method of raising money from public markets is suspect in some financial circles, as these business combinations are lightly regulated, which has led to high profile failures like Lordstown Motors. Others say the rise of SPACs is an example of the democratization of equity investing. Matterport houses the largest spatial data library in the world comprising more than 15 billion square feet of space and five million digital twins of all sizes from more than 150 countries - and growing at a pace of 230,000 a month. Using its hardware or platform agnostic apps, Matterport can be used to scan anything. There are professionals who do spectacular scans using Matterport's proprietary $3,000 camera, the Pro 2, or they can be done by anyone using a smartphone app. Photographs capture what a place looks like; scans can capture the space, the physical relationship of things. A scan or digital twin is machine readable, and searchable. The models are cross platform and can be navigated with a mouse, VR headset or mobile phone, or anything with a browser. "Today Matterport turns buildings into data," said CEO RJ Pittman in an interview in June. "Tomorrow our data will increase the value of every building." Matterport is becoming a standard. "Matterported," a word. The company recently announced an agreement with Facebook to share its technology, which can be used to guide robots. They have also worked with Apple on its lidar scanner technology. Any space can be Matterported, including the interior and exterior of homes, vacation rentals, offices, museums, schools, factories, hospitals, retail stores, yachts, trucks and vehicles. Pittman says his ambition is for Matterport to eventually host a "3D capture of the built world." They are ubiquitous in the rapidly expanding sliver of the space they occupy. To be sure, companies like Sketchfab, Polycam, and Trnio are indirect competitors in this space, but they are much broader in focus. Through it's Lightship platform, Niantic is acquiring a massive amount of data, mapping the physical world, including interior spaces, as well. But Matterport's focus on AEC real estate, travel, design, construction and insurance industries give it a huge source of revenue. Matterport SPAC will provide capital to accelerate the company's international expansion and SaaS tech/hosting, and will become a platform for even competitors' scans. Privacy is also an issue with a digital twin of a private interior space and again, here Matterport also has an edge. Matterport is pursuing a multi-pronged business plan that starts with scanning, but rolls straight into AI and data technology. The platform is powered by Cortex AI, the company's patented deep learning neural network. Cortex accurately creates 3D digital twins by handling complex tasks like 2D to 3D reconstruction, advanced image processing, automatic color correction, object recognition, room labeling, and more. The camera, scanning services, and hosting are Matterport's key business, but it is pushing into digital twins of all kinds of commercial objects, keeping them accurate, and making them searchable. Gores SPAC will provide up to $640 million in gross proceeds, comprising $345 M cash from Gores Holdings VI and $295 million in fully committed common stock purchase at $10.00 per share. When the transaction is completed, MTTR will join the growing ranks of pure-play spatial computing companies, which include booming companies like PTC, which just joined the S&P 500, and Autodesk. Adding fuel to the fire is the phenomenal growth of the real estate market. Matterport recently announced its second quarter results. Total revenue was $26.9 million, up 108% year over year. Subscriber revenue of $13.8 million, up 84% year over year. Annual Recurring Revenue (ARR) of $55.2 million. Spaces Under Management (SUM) grew to 4.9 million, up 88% from a year ago, surpassing 5 million in April. Subscribers increased to 331,000, up 531% year over year.

Clean Energy Fuels (NASDAQ: CLNE), a company best known for collecting and transporting renewable natural gas that is produced from the animal waste collected at dairy farms and related sources, has seen its stock rally by about 10% over the last month driven by interest from Reddit traders. However, the stock has corrected a bit, declining by about 7% over the past week and by around 15% over the last two weeks. The recent decline comes on account of share issuances as well as news that the company's largest shareholders, Total Energies, reduced its stake by over 10 million shares. So is the stock likely to correct further, or is a rally looking more likely? Per the Trefis Machine learning engine, which analyzes historical stock price data, CLNE stock has a 52% chance of a rise over the next month. See our dashboard analysis on CLNE Stock Chances Of Rise for more details. So is CLNE stock a buy for longer-term investors? Although Clean Energy Fuels' performance over the last several years has been quite mixed, with the company posting little or no revenue growth, we think that things are poised to only get better from here. Sales are projected to grow by about 10% each year over 2021 and 2022, per consensus estimates, driven by growing demand for the company's renewable natural gas, which can be used to power heavy-duty trucks and buses while effectively producing negative greenhouse gas emissions. The company is looking to improve its RNG production, from just about 40% of its total fuel supply mix last year to 100% over the next five years by investing in its RNG value chain. Clean Energy Fuels is also poised also benefit from favorable regulation as well as deals with top energy companies such as Total, and BP, and retail behemoth Amazon. Although the stock trades at a relatively high 7x forward revenue, the company's leading position in the RNG space, the sizable market opportunity, as well as potential regulatory tailwinds under the Biden Administration could make the stock worth considering. [6/1/2021] Why Clean Energy Fuels Stock Is Up 3.5x Over The Last Year Clean Energy Fuels (NASDAQ: CLNE), a company best known for supplying natural gas, has seen its stock price rally by over 270% over the last 12 months, with the stock now trading at levels of close to $8 per share, although it remains down from levels of around $18 seen in February. This compares to the S&P 500 which is up by just about 37% over the last 12 months. The rally comes despite a weak financial performance, with the company recording no growth between 2017 and 2019 as sales stood at levels of around $340 million, with sales declining to about $290 million in 2020. Clean Energy Fuels has also remained largely unprofitable over its 14 years as a public company. However, the markets are valuing the company much more richly, with its P/S multiple, based on trailing sales, rising from 0.9x in 2017 to about 5.4x currently. So is Clean Energy Fuels stock still a buy? We think it is, for a couple of reasons. See our analysis on What's Driving Clean Energy Fuels Stock's 270% Rally? for an overview of how CLNE's key financial and valuation metrics have trended. Clean Energy Fuels is best known for its fueling network of over 540 stations across the United States, engaged in the supply of compressed natural gas, liquified natural gas, and renewable natural gas. However, much of the company's surging valuation likely comes from its focus on expanding its RNG business. RNG is produced when organic waste from landfills, dairy farms, and other sources decomposes and releases methane gas, which is then further processed and purified. RNG is viewed as a clean fuel and is classified as a carbon-negative in states such as California, considering its feedstock such as dairy cow waste is a key source of greenhouse gas emissions, and by using this it takes more carbon out of the environment than it produces. This makes the fuel very attractive from an environmental standpoint and governments are incentivizing this via potentially lucrative federal and state-level renewable credits. While about 40% of the Clean Energy Fuels gas sold in 2020 came from RNG, it is targeting a 100% mix of RNG at all its fuel stations within the next five years. Major corporations have also shown a lot of interest in the RNG space with Clean Energy Fuels recently signing deals to build renewable natural gas fuel facilities and infrastructure with energy giants Total (NYSE: TOT) and BP (NYSE: BP). While RNG is used predominately in the transportation sector, powering heavy vehicles, it could eventually be used for electricity generation and even as a raw material for hydrogen production, giving it a massive addressable market. The outlook for Clean Energy Fuels financials is also looking better. Sales are projected to grow by about 10% each year over 2021 and 2022, per consensus estimates, with the company also likely to break even in 2022. Now although a 5x plus forward revenue multiple is somewhat high, the company's leading position in the renewable natural gas space, the sizable market potential, regulatory tailwinds under the Biden Administration, and the recent correction make the stock worth a look. Looking for a balanced portfolio to invest in? Here's a high-quality portfolio to beat the market, with over 150% return since 2016, versus 85% for the S&P 500. Comprised of companies with strong revenue growth, healthy profits, lots of cash, and low risk, it has outperformed the broader market year after year, consistently. See all Trefis Featured Analyses and Download Trefis Data here

As the fall semester approaches, some parents may be opening their checkbooks or making 529 savings plan withdrawals to pay for college. However, a few strategic moves may both reduce taxes and help with those costs, financial experts say. "The more time you give yourself, the more flexible you can be," said Dennis Nolte, certified financial planner and vice president at Seacoast Bank in Winter Park, Florida. Before making payments, parents may consider how they use 529 plans, tax credits and other strategies to ease the burden of high education costs. Here's what every family with college-bound students needs to know. 529 plan strategies Those with a 529 college savings plan may finally have the chance to tap those tax-deferred funds. However, to avoid levies, they must use it for so-called qualified education expenses — such as tuition, fees, books, room and board, computers and more. Families should start by adding up qualified expenses and subtracting tax-free education assistance, said Jim Shagawat, CFP and partner advisor at AdvicePeriod in Paramus, New Jersey. For example, let's say a student has $20,000 in qualified expenses. They may receive a scholarship for $2,000 and employer assistance for $3,000, leaving $15,000 to pay. But before forking over the $15,000, families should see if they qualify for the American Opportunity Tax Credit or the Lifetime Learning Credit, both subject to income limits. Here's why: Families may use 529 money and still receive a tax credit, but not for the same expenses. "The IRS considers that double-dipping," said Shagawat. The bigger write-off, the American Opportunity Tax Credit, is 100% of the first $2,000 and 25% of the next $2,000 per student. To claim the full $2,500 credit, families may pay $4,000 of expenses out of pocket and use the 529 for costs above that, he said. Families may receive the credit up to four tax years per student. "That's the best way to make sure you're getting the most from these 529 distributions," Shagawat added. While the American Opportunity Tax Credit only applies to the first four years of higher education, the Lifetime Learning Credit may pay for undergraduate, graduate or professional degrees. There's a comparison of the two here. Other college funding options Families with more than one source of money for college may consider their long-term tax plans, said Nolte. While the future of President Joe Biden's tax proposals is unclear, those worried about future tax hikes may choose to sell stocks with gains sooner, he said. "Maybe you want to pay the capital gains now at a lower tax rate," said Nolte. With the flexibility to change 529 beneficiaries, families may opt to use their savings for another child or family member. But the ability to easily make changes isn't always a good thing, he said. If grandparents set up a 529 plan for their children, families may want to use that money first, in case the owner decides to use it elsewhere, said Nolte. "You want assets you can control, and you can't control your parents," he said. There is one downside of using non-parental 529 money, however. The withdrawals may count as the student's income on next year's Free Application for Federal Student Aid, or FAFSA, which may affect financial aid. The Consolidated Appropriations Act of 2021 made changes to the FAFSA, simplifying the form and removing this penalty. However, the Department of Education has delayed the FAFSA revisions, and non-parental 529 payments may still impact future aid in the meantime.

China is pumping copper, aluminum, and zinc into commodity markets to tamp down soaring materials costs, the country's strategic reserves agency announced on Wednesday. The move, which was first reported by Bloomberg, comes as commodity prices have marched steadily upward for months, with the S&P GSCI commodity index rising more than 30% year-to-date. Last month, the strategic reserves agency pledged to keep commodity prices down, to prevent supply cost crunches that have begun to creep in. June saw China's producer price index, a measure of inflation faced by suppliers, rise 9%, the highest rate in over a decade. China appears to still be keeping some of its powder dry, however. Wednesday's commodity reserves dump - consisting of around 100,000 tons of copper, aluminum, and zinc - is just a fraction of the country's estimated reserves. Prior to this sale, China held two million tons of copper,800,000 tons of aluminum, and 350,000 tons of zinc in reserve, according to a Citibank estimate reported by CNBC. Copper futures were up about 2% overnight.

Dollar General said Wednesday that it has hired its first chief medical officer and will add products like cold and cough medication and dental supplies to shelves as it aims to become a health-care destination. CEO Todd Vasos said the company's new push is inspired by customers who said they want more convenient and affordable health-care products and services. "Our goal is to build and enhance affordable healthcare offerings for our customers, especially in the rural communities we serve," he said in a press release. The fast-growing discounter has more than 17,400 stores across the country, including many in rural areas that don't have many other grocers or major pharmacies nearby. However, it has been criticized by some lawmakers for selling few healthy foods, such as fresh fruits and vegetables, and boxing out other retailers that would otherwise open in the areas and sell a wider array of groceries. In recent years, Dollar General has added fresh produce and meats to more of its stores. It has fresh produce in more than 1,300 stores — or roughly 7% of its total stores. It has said it may expand that assortment to up to 10,000 stores. It has piloted new ways to provide medical care, too. Last month, it offered free Covid-19 testing at select locations through a partnership with the Virginia Department of Health. The Centers for Disease Control and Prevention said it was in talks with the company about turning stores into Covid vaccine sites, though the CDC and Dollar General have yet to announce any official plans. Dollar General's new and remodeled locations will also make room for more aisles of health products and coolers of food. The company said in the spring that it is building bigger stores, as it opens more than 1,000 new locations this year. On Wednesday, the retailer said it hired Dr. Albert Wu as its chief medical officer. He previously worked for McKinsey & Company, where he led a team that focused on health-care related projects, such as providing care to thousands of rural patients, modeling how to support pandemic relief efforts and designing a digitally-driven health insurance. Wu joined Dollar General on Monday, according to the press release. Dollar General said he will focus on building relationships with companies that provide health-care products and services, so the retailer can roll out its own offerings. In a research note, Jefferies analyst Corey Tarlowe said the expansion into health care will help the retailer gain market share and boost profitability, as customers visit stores more regularly and toss additional items into shopping carts. Drugstores, in particular, have been a place where Dollar General is stealing market share, he said. Dollar Store's prices tend to be 40% cheaper than drugstores,20% cheaper than grocery stores and in line with mass-market retailers, according to the firm's research. With the effort, he said Dollar General is "further solidifying the company's moat" as a leader among value and discount retailers.

If you invest in crypto, "ask questions and demand clear answers." That advice, from former SEC Chair Jay Clayton, is now being put to practice as his successor, Gary Gensler, grills the industry over pending approval of a bitcoin ETF. Yet as the seven-year quest to get the regulatory go-ahead drags on, some fund managers and crypto executives who spoke with Insider question whether Gensler's SEC has taken too hawkish an approach. These bitcoin ETF proponents say common concerns about crypto, like volatility and potential market manipulation, could be said of other asset classes, too. They note that Canada, Europe, and Brazil all have functioning bitcoin funds in circulation. And they argue that repeatedly putting off approval carries its own set of risks. Anxieties that the bitcoin market may be rife with fraud and manipulation are "a bit of a red herring," said Will Rhind, CEO of GraniteShares, which filed for a bitcoin futures ETF in 2017. "There are many markets that are open to manipulation, but that doesn't stop them from existing or people from launching products in them," he said, pointing to existing ETFs for penny stocks and oil, long swayed by petrostate cartel OPEC. Ryan Louvar, general counsel at WisdomTree, which manages several European bitcoin ETFs and has applied for one in America, shares the sentiment. The regulatory standard applied to bitcoin funds has been "very, very high - maybe even novel," he said. In WisdomTree's view - one echoed across much of the industry - the SEC's slow roll on greenlighting a bitcoin ETF is far from risk-free. As the agency delays, demand for bitcoin and other crypto products is not letting up. The result is that the crypto-curious are left with more dubious avenues for investing their money. On balance, such risks to retail investors ought to outweigh the SEC's manipulation concerns, Louvar said. It is a view that the SEC is, at a minimum, curious about. In a call for industry comment last month, the commission asked precisely this question: how should the investor protections brought by regulated bitcoin ETFs weigh against fears of manipulation? Across the Atlantic, that question has been asked and answered, said Jason Guthrie, WisdomTree's Europe head. Under the EU's "passporting" regime - which lets financial-services firms seek regulatory approval in 30 European nations simultaneously - crypto ETFs have multiplied across the continent. Sweden was the first domino to fall, starting in 2015, prompting EU-wide approval. The last major holdout is the UK, tied down by messy Brexit negotiations. But while Europe's ETF experience may make the SEC look like a laggard, the broader reality is more subtle, said Guthrie. American regulators have moved proactively to regulate crypto-custodial companies such as Coinbase Custody and Fidelity Digital Assets. For evidence, look no further than the fact that many European-listed crypto ETFs, like those of WisdomTree and ETC Group, use custodians based in America. Regulators across the world are "looking at different things and at different paces," said Guthrie. Nor do all fund managers fault the SEC for taking its time. Some think approving a bitcoin ETF opens the floodgates to all manner of newfangled crypto products. "It's not just about bitcoin," noted Greg King, CEO of Osprey Funds, which runs an off-exchange bitcoin fund. SEC staffers "have to be thinking in the back of their head - how is this going to set a precedent for anything else?" Leah Wald, CEO of Valkyrie, another bitcoin ETF hopeful, added the SEC is being "deliberate" in combing through an industry that has rapidly matured. She said that she wished the process was faster but that the agency's concerns were fundamentally valid. SEC approval may ultimately rest on the industry developing surveillance methods that give regulators a handle on when and where markets are being manipulated, said Chen Arad, COO of Solidus Labs, a monitoring firm that works with regulators. "Once you open the door, it's harder to go back. The best thing the industry can do is work on providing assurances through data-sharing agreements and shared surveillance," he said. The SEC didn't respond to a request for comment.

To demonstrate the difference my firm's proprietary Adjusted Fundamental data makes, I continue my series of reports that compare my firm's Credit Ratings to legacy firms' ratings. This report compares "Adjusted" Debt to Capital ratio to the "Traditional" ratio because the Traditional ratio is based on unscrubbed financial data. Debt to Capital is one of the 5 ratios that drives my firm's Credit Ratings. No Bias, More Coverage, and Better Analytics: A New Paradigm for Credit Ratings Though legacy providers, e.g. Moody's, S&P, and Fitch, have dominated the credit ratings industry for some time. Most importantly, superior fundamental data drives material differences in my firm's Credit Ratings and research compared to legacy firms' research and ratings. This report will show how Debt to Capital ratings for 8% of S&P 500 companies are misleading because they rely on unscrubbed data. I also detail the differences that data makes at the aggregate[1], i.e. S&P 500[2], level and the individual company level (see Appendix) so readers can easily quantify the benefits of my firm's superior data. Unscrubbed Debt Is Understated by -7% for the S&P 500 I use Debt as the numerator for the Debt to Capital ratio. Figure 1 shows the difference between Traditional Debt and Adjusted Debt since 2016. Over the trailing twelve months (TTM), Traditional Debt understates Adjusted Debt by -$586 million, or -7% of Traditional Debt. Figure 1: Traditional Vs. Adjusted Debt for S&P 500 Adjusted Debt provides a more complete view of the fair value of a firm's total short-term, long-term, and off-balance sheet debt. Traditional Capital Is Understated by Just -1% for the S&P 500 I use capital as the denominator for the Debt to Capital ratio. The difference between Traditional and Adjusted Capital are driven by adjustments to Debt. Over the TTM, Traditional Capital is understated by -$586 billion, or -1% of Traditional Capital. Figure 2: Traditional Vs. Adjusted Capital for S&P 500 Traditional Debt to Capital Ratio Is Understated by -5% at the Aggregate Level At the aggregate level, differences between Traditional and Adjusted Debt drive the difference between the Traditional and Adjusted Debt to Capital ratios. Figure 3 shows that the Traditional Debt to Capital ratio has been understated since 2016. Over the TTM, the Traditional Debt to Capital ratio of 0.20 is higher than the Adjusted Debt to Capital ratio of 0.19 and is understated by -5%. Figure 3: Traditional Vs. Adjusted Debt to Capital Ratio for S&P 500 Even Bigger Differences Emerge at the Individual Company Level When analyzing individual companies, I see very large differences in Traditional and Adjusted Debt, Traditional and Adjusted Capital, and Traditional and Adjusted Debt to Capital ratios. For example, even though there is just a 1% difference between Traditional and Adjusted Capital at the aggregate level, at the company level, I find Traditional Capital understated by as much as 30% and overstated by as much as 24%. Eight percent of the firms in the S&P 500 have Traditional Capital that is over/understated by 5% or more. Figure 4 shows the number of S&P 500 companies with understated and overstated Debt to Capital ratios. Companies with negative Debt to Capital Ratio distortion[3] are understated and those with positive Debt to Capital distortion are overstated. About 78% of S&P 500 companies' Traditional Debt to Capital ratios are overstated and 20% are understated. Figure 4: Number of S&P Companies with Under/Overstated Debt to Capital Ratios: TTM Figure 5 lists ten S&P 500 companies with the most understated and overstated Debt to Capital ratios, by Debt to Capital Ratio distortion, over the TTM. Note: I detail the data and disclosures that drive the differences in Traditional versus Adjusted Debt and Capital for Advanced Micro Devices (AMD) and Expedia Group (EXPE) in the Appendix to this report. Figure 5: Companies with Under/Overstated Debt to Capital Ratios: TTM Ratings Based on Traditional Ratios Are Misleading Not surprisingly, differences between Traditional and Adjusted ratios drive differences in the Credit Ratings my firm derives for Debt to Capital. Figure 6 shows how my firm's Credit Ratings align with legacy firms' ratings systems and the percentage of Traditional Debt to Capital ratings that are different from ratings based on Adjusted ratios for companies in the S&P 500. Overall,8% of the Traditional Debt to Capital ratings are different from Adjusted Debt to Capital rating because they rely on unscrubbed data. As I explain in my firm's Credit Ratings methodology, I set the Debt to Capital ratio thresholds so that the distribution of my firm's ratings is comparable to the distribution of ratings for legacy firms. I use the Traditional version of the Debt to Capital ratio to set thresholds so that the difference in my firm's ratings comes from the difference in my firm's data. Figure 6: S&P 500: Percent of Traditional Debt to Capital Ratings That Are Misleading Figure 7 provides more details on the number of companies whose Traditional Debt to Capital ratings are different from the rating based on Adjusted Debt to Capital ratios. For example,21 out of 150 (14%) companies that earn an attractive Debt to Capital rating based on the Traditional ratio earn a different rating based on the Adjusted ratio. Figure 7: S&P 500: Number of Misleading Traditional Debt to Capital Ratings I dedicate the Appendix of this report to showing readers exactly how Adjusted values for Debt and Capital are different than the unscrubbed versions. Disclosure: David Trainer, Kyle Guske II, Alex Sword, and Matt Shuler receive no compensation to write about any specific stock, style, or theme. Appendix: Auditing the Differences in Traditional Vs. Adjusted Values This Appendix will show exactly how Adjusted values for Debt and Capital differ from the Traditional versions for Automatic Data Processing and Expedia. Automatic Data Processing: The Difference in Traditional Vs. Adjusted Values Figure 8 shows the differences between the two components of the Debt to Capital ratio, Debt and Capital for Automatic Data Processing. The difference between Automatic Data Processing's Traditional Debt and Adjusted Debt is -$987 million, or -40% of Traditional Debt. The difference between Traditional Capital and Adjusted Capital is -1% of Traditional Capital and is entirely driven by the difference between Traditional and Adjusted Debt. Figure 8: Automatic Data Processing: Traditional Vs. Adjusted Debt to Capital Components Reconciling Automatic Data Processing's Traditional and Adjusted Debt Automatic Data Processing's understated Debt drives its understated Debt to Capital ratio. Figure 9 shows the firm's Traditional and Adjusted Debt since 2016. Figure 9: Automatic Data Processing: Traditional Vs. Adjusted Debt: 2016-TTM The -$987 million difference between Automatic Data Processing's Traditional Debt and Adjusted Debt is driven by: Figure 10 reconciles Automatic Data Processing's Traditional Debt and Adjusted Debt and details each of the adjustments listed above. Figure 10: Automatic Data Processing: Adjusted Vs. Traditional Debt Detailed Comparison Reconciling Automatic Data Processing's Traditional and Adjusted Capital Figure 11 shows Automatic Data Processing's Traditional Capital and Adjusted Capital since 2016 have been nearly identical. Figure 11: Automatic Data Processing: Traditional Vs. Adjusted Capital: 2016-TTM Figure 12 reconciles Automatic Data Processing's Traditional and Adjusted Capital and shows that the difference between Traditional and Adjusted Debt drives all of the difference between Traditional and Adjusted Capital. Figure 12: Automatic Data Processing: Adjusted Vs. Traditional Capital Detailed Comparison Automatic Data Processing's Debt to Capital Ratio Is Understated With large understated Traditional Debt and slightly understated Traditional Capital, Automatic Data Processing's Debt to Capital ratio is one of the most understated of all companies in the S&P 500. Per Figure 13, Automatic Data Processing's Debt to Capital ratio has grown increasingly understated since 2019. Figure 13: Automatic Data Processing: Traditional Vs. Adjusted Debt to Capital Ratio: 2016-TTM Expedia: The Difference in Traditional Vs. Adjusted Values Figure 14 shows the differences between the two components of the Debt to Capital ratio, Debt and Capital for Expedia. The difference between Expedia's Traditional Debt and Adjusted Debt is $1.6 billion, or 18% of Traditional Debt. The difference between Traditional Capital and Adjusted Capital is 5% of Traditional Capital and is entirely driven by the difference between Traditional and Adjusted Debt. Figure 14: Expedia: Traditional Vs. Adjusted Debt to Capital Components Reconciling Expedia's Traditional and Adjusted Debt The primary driver of Expedia's overstated Debt to Capital ratio is overstated Debt. Figure 15 shows the firm's Traditional Debt has moved from being understated to overstated over the TTM. Figure 15: Expedia: Traditional Vs. Adjusted Debt: 2016-TTM The $1.6 billion difference between Expedia's Traditional Debt and Adjusted Debt is driven by: Figure 16 reconciles Expedia's Traditional Debt and Adjusted Debt and details each of the adjustments listed above. Figure 16: Expedia: Adjusted Vs. Traditional Debt Detailed Comparison Reconciling Expedia's Traditional and Adjusted Capital Figure 17 compares Expedia's Traditional Capital and Adjusted Capital since 2016. Figure 17: Expedia: Traditional Vs. Adjusted Capital: 2016-TTM Figure 18 reconciles Expedia's Traditional and Adjusted Capital and shows that the difference between Traditional and Adjusted Debt accounts for all the difference between Traditional and Adjusted Capital. Figure 18: Expedia: Adjusted Vs. Traditional Capital Detailed Comparison Expedia's Debt to Capital Ratio Is Overstated With overstated Traditional Debt and Traditional Capital, Expedia's Debt to Capital is one of the most overstated of all companies in the S&P 500. Per Figure 19, Expedia's Debt to Capital has moved from understated to overstated over the TTM. Figure 19: Expedia: Traditional Vs. Adjusted Debt to Capital Ratio: 2016-TTM [1] I calculate the S&P 500 Traditional and Adjusted Debt by aggregating the results for all current members of the S&P 500. [2] In this analysis, I use the 494 companies for which I have data back to 2016 and are currently in the S&P 500. [3] Debt to Capital Ratio Distortion equals (Traditional Debt to Capital ratio - Adjusted Debt to Capital ratio) / Traditional Debt to Capital ratio. [4] This number is the Debt to Capital Ratio Distortion, which equals (Traditional Debt to Capital ratio - Adjusted Debt to Capital ratio) / Traditional Debt to Capital ratio. [5] I use a standardized discount rate across all companies under coverage to calculate the Adjusted NPV of Operating Leases to ensure comparability and remove management discretion in calculating operating lease liabilities. [6] Traditional NPV of Operating Leases equals the operating lease obligation reported in the firm's 2Q20 10-Q. [7] This number is the Debt to Capital Ratio Distortion, which equals (Traditional Debt to Capital ratio - Adjusted Debt to Capital ratio) / Traditional Debt to Capital ratio. [8] I use a standardized discount rate across all companies under coverage to calculate the Adjusted NPV of Operating Leases to ensure comparability and remove management discretion in calculating operating lease liabilities. [9] Traditional NPV of Operating Leases equals the operating lease obligation reported in the firm's 2Q20 10-Q.

Uday Birajdar, CEO and co-founder at AutomationEdge, the leading AI-powered IT automation and robotic process automation company. Nowhere is the mission of a mid-market company sharper than at the starting line, when founders have the clearest vision of their charter. Typically with fewer than 1,000 employees, these companies often need to outsource activities that distract from the core offering. The way I see it, the recent exodus to the cloud is definitive proof that companies have wholeheartedly taken to this philosophy. The cloud has become the default option for many enterprise applications, including robotic process automation (RPA), because it has delivered on the promises of scale, security and internet availability. Mid-market companies also place big bets on their employees. Innovation is the culture; experimentation is encouraged. Being a relatively small, tight group, these companies are the masters of their domain, well-versed in their processes. Automation should have come easy to them if only the RPA market had not gotten so confusing. Between the myriad pricing models from different RPA vendors and the bundled offerings with features, most of which would be required much later in the enterprise's growth cycle, it has become a not-so-trivial purchase for the enterprise. RPA-as-a-service (RPAaaS), however, is an easy way of giving the developers automation superpowers without the incumbent fixed costs of infrastructure and licenses. With RPAaaS on the cloud, a company can do away with investing in expensive infrastructure, upfront license costs and hefty consulting costs that go into massive implementations. Current RPAaaS offerings, including the solution we offer at AutomationEdge, are low on code and high on "drag and drop" functionality, making the intuitive user interfaces open to automation across the enterprise. With an RPAaaS solution that has plug-ins that connect to the common systems of record in the enterprise, RPA is no longer an island, but rather a means of intergalactic travel across the enterprise galaxy. RPAaaS Advantages Over On-Premise RPA With less than a thousand employees, I find that most mid-market companies are short on the resources required to support a full-blown RPA system through implementation, which becomes a little like landing a plane on a helipad. Once installed, such systems need to be maintained and kept up to date. This is where RPAaaS comes in handy. Users have to worry less about the version and more about the automation of the function they are designing. Users get to work in an "always updated" environment, rather than worrying about the latest version, patches and updates. Full-blown, on-premise RPA implementations come with mature governance models, which are unnecessary at the start of a company's life. A check-the-box approach to governance that meets all mandatory legal, financial and accounting requirements is adequate for this stage of growth. Not all processes need to be run every day; many are run once a quarter or even annually. Employees can monitor these processes much easier. Another advantage of RPAaaS is having access to a robust RPAaaS community that can help developers keep in touch with the latest hacks, patches and previews that they can then bring into their craft. I've found that RPAaaS platform-supported communities have become the backbone, complementing the DIY mentality of its users. Further, the right RPAaaS partner can provide the unconditional support that a burgeoning company needs before taking off. Understanding RPA's Evolution And Its Pricing Most of the leaders in the RPA space first led the market with an on-premise product. The first RPA offerings came with periodic releases that halted all businesses with huge implementation protocols. Expensive consultants had to come in to customize the "last mile" to those implementations — no different from the on-premise software implementations of years past. These implementations needed expensive hardware. Customers were locked into the upgrade releases on the vendor's calendar. The next-generation RPA companies came up with cloud-native offerings that eliminated the issues with earlier RPA offerings. Cloud-native offerings provide behind-the-scenes development with upgrades that happen unbeknownst to the user. Being inherently self-service, they provide an automated management experience across private, public and hybrid clouds. With these new offerings, I find that current buyers are often confused by the pricing doublespeak. Pricing bundles abound. Some products are charged per user, others are charged per month. The higher the number of licenses, the steeper the discounts. The longer the contracted time, the higher the price breaks. I believe users should pay for only what they consume, so I recommend looking for transparent offerings that track how much has been consumed. One Size Does Not Fit All The RPA market has matured with offerings ranging from the agile RPAaaS to the mammoth conventional, license-based models of yesterday. While the conventional model may be right for some enterprises, the leaner RPAaaS option can offer small to medium-sized enterprises the camaraderie of community and hand-holding. With the right approach, RPAaaS can become the solution of choice. Forbes Technology Council is an invitation-only community for world-class CIOs, CTOs and technology executives. Do I qualify?

Getty Barcelona midfielder Carles Alena Barcelona is in transfer talks with Getafe regarding a summer transfer for 23-year-old midfielder Carles Alena, according to club chief Angel Torres. The Getafe president told reporters on Wednesday that he is confident a deal can be done to bring the 23-year-old to the Coliseum Alfonso Pérez ahead of the new La Liga season, as reported by Diario Sport. "Aleñá's operation is pending on Messi's. The boy wants to come to Getafe and Barcelona knows it. I think it will have a happy ending," he said. "I am negotiating directly with Barcelona and I hope Aleñá is here before we go to La Manga." Barca is desperate to offload players to trim the wage bill and Alena looks like the next player to leave. It would be no surprise to see the youngster sold given he has never managed to secure regular football at Barcelona and his current contract expires in 2022. The report suggests Barca could sell for a fee of around € 8 million, and the deal could even include a buyback option. Follow the Heavy on Barcelona Facebook page for the latest breaking news, r umors and content! If Alena does leave he will become the latest academy product to depart the club in search of regular football. The midfielder joined the club at the age of seven and went rights through the ranks, making his first-team debut in November 2016 against Hercules in the Copa del Rey. Yet Alena has been unable to go on and cement a place in the first team. The midfielder was sent out on loan to Real Betis for the second half of the 2019-20 season and spent half of the last campaign with Getafe. Alena featured regularly for Los Azulones, making 22 appearances in La Liga, and now looks set to make his stay permanent. He will join Konrad de la Fuente, Jean-Clair Todibo, Francisco Trincao, Matheus Fernandes, and Junior Firpo in leaving the club this summer. Barcelona may also wave goodbye to fellow midfielder Miralem Pjanic before the start of the new campaign after just one season with the Catalan giants. The 31-year-old spent most of last season on the bench and admitted he had been left with a "bitter taste" in a post on socia media after the campaign. According to Mundo Deportivo, Barcelona has offered Pjanic the chance to leave for free in a bid to get the veteran off the wage bill. Barca must cut costs to be able to renew Lionel Messi's contract and still comply with La Liga's salary cap. Premier League clubs Chelsea and Tottenham Hotspur are thought to be keen on signing Pjanic, as reported by Marca. However, the midfielder is said to be in "no rush" to decide his future. Yet a decision will need to be made soon with Barcelona players due back for medical checks ahead of the start of pre-season on July 9 and 10. The team then has a little over a month to prepare for the team's first game of the season on August 15 against Real Sociedad. READ NEXT: Messi Ruthlessly Mocks Former Barcelona Teammate [WATCH]

President Rodrigo Duterte has signed into law a bill enhancing the powers and functions of the Joint Congressional Energy Commission (JCEC). Republic Act No.11571, signed on July 6 but which copy was only released to the media on Wednesday, amends the Electric Power Industry Reform Act and provides that the JCEC shall exercise its oversight functions in the implementation of all existing energy laws. Under the new law, the JCEC may conduct hearings and receive testimonies, reports, and technical advice; invite or summon any public official, private citizen, or any other person to testify before it or require any person to produce records or documents the body may require. It shall be assisted by a secretariat to be composed of personnel who may be seconded from the Senate and the House of Representatives and may retain consultants. The Commission shall be headed by an executive director who has sufficient background and competence on the policies and issues relating to electricity industry reforms. To carry out its powers and functions, an initial amount of P25 million shall be charged against the current appropriations of the Senate. Any amount necessary for its continued operations shall be included in the annual General Appropriations Act. The new law will take effect 15 days after its publication in the Official Gazette or in one newspaper in general circulation.

Creatively, the online professional network designed for freelancers in creative fields, has teamed with fintech firm Orum for a venture that aims to speed up the payment process for freelance workers. Creatively Pay is designed to eliminate the wait times that can be as long as 45 days or more for freelancers to get paid for their services. Orum will work with Creatively to advance the fees to freelancers who work for companies that use Creatively's platform for job postings. Creatively bowed in May 2020 as a startup venture backed by Stacey Bendet Eisner, CEO and creative director of the Alice + Olivia fashion brand. Creatively CEO Gregory Gittrich and Orum founder and CEO Stephany Kirkpatrick previously worked together as part of the executive team that launched SoulCycle's at-home business. When the two compared notes on their new startup ventures, they saw a ripe opportunity to ease some of the strain of working freelance. "We did a survey of our members and found the No.1 hassle for freelancers is getting paid in a timely manner for their work," Gittrich told Variety. Orum assumes the risk for fronting the money and verifying the payment process. The service is free for Creatively's individual users. Monetization comes from the companies that pay Creatively monthly fees to post job availabilities on the site. To date, Gittrich said about 160,000 freelancers are using the site free of charge to showcase visual portfolios of their work. About 1,000 companies have signed on to use the platform to scout for freelance talent. Orum's goal is "to become to money movement what Amazon is to same-day delivery," Kirkpatrick said.

The more than 20% wipeout in DiDi Global shares at the New York Stock Exchange on Tuesday following word of a China cybersecurity probe only two days after its U. S. trading debut has brought heated criticism and class-action lawsuits. Controversy has also erupted from more detailed coverage of a June 28 announcement by the ride-sharing service that "certain directors and executive officers" were granted options at a "nominal exercise price per share" that will create share-based compensation expenses of $3 billion at the money-losing company. The U. S. SEC filing didn't say which directors or executive officials were on the receiving end. Here below is a list of DiDi's board members and executive directors, based on the company prospectus and bios filed to the SEC. Ties to Goldman and Alibaba stand out, as well as the billionaire standing of at least three board members. Will Cheng: Cheng has been DiDi's founder and chairman since January 2013, as well as CEO since Feb.2015. Cheng worked at Alibaba from 2005 to 2011, most recently as vice president of Alipay, and before that, in a number of sales-related positions, including as regional manager. Forbes estimates Cheng held more than $3 billion of DiDi shares as of yesterday. Jean Liu: A co-founder and DiDi's president since Dec.2014, Liu is the daughter of China tech pioneer Liu Chuanzhi. "She champions a more collaborative approach for the new tech sector to work with policymakers, public transport bodies and the automotive industry to address the world's mobility, environmental and employment challenges," the company's prospectus says. Previously, Liu was a managing director in the "Principal Investment Area" in Goldman Sachs in Beijing, primarily responsible for private equity investment, portfolio management, and investor relationships in China, the prospectus says. Liu is also a board member of fashion heavyweight Kering. Stephen Zhu: Zhu has been a director since June 2016 and senior vice president since Jan.2019 responsible for strategy, capital markets and international business. Before joining DiDi in 2014, Zhu was executive director in the "Principal Investment Area" of Goldman Sachs in Hong Kong, the prospectus says. He has also worked at Bain Capital, Morgan Stanley and the Boston Consulting Group. Martin Lau: A director since 2015, Lau is president of China Internet heavyweight Tencent Holdings and holds a fortune with $3.4 billion on the Forbes Real-Time Billionaires List today. Before joining Tencent, Mr. Lau was an executive director at Goldman Sachs (Asia) L. C.'s investment banking division and the chief operating officer of its telecom, media and technology group. Lau's also a director at China tech leaders such as Kingsoft, Meituan, Vipshop, Tencent Music Entertainment Group and JD.com. Adrian Perica: A director since June 2016 and an independent director since June 29, 2021, Perica is Apple's vice president of corporate development, reporting to CEO Tim Cook. Earlier, Perica also worked at Goldman Sachs and Deloitte Consulting. Daniel Zhang: A DiDi director since April 2018, Zhang has been chairman of Alibaba Group since Sept.2019 and its CEO since May 2015. Wang Gaofei: Wang been an independent director since June 29, the day before DiDi's U. S. listing. He's been CEO of Weibo and previously worked at Sina, both influential China media businesses. Wang Yusuo: Wang chairs ENN, a China energy conglomerate, and has a fortune worth $8.6 billion on the Forbes Real-Time Billionaires List today that he shares with family. Wang joined as an independent director since June 29, a day before DiDi's listing. Bob Zhang: Zhang is co-founder and chief technology officer. Before joining DiDi, Zhang was a senior technology leader at Baidu. Alan Zhuo: Zhuo has been CFO since April 2021 and held other posts at DiDi earlier. Before joining DiDi, Zhuo worked at Sculptor Capital Management, Goldman Sachs, and Morgan Stanley. Rui Wu: Wu is a co-founder and has served as vice president since September 2015 with responsibility for our risk control and compliance functions. Prior to 2012, Wu worked at Alibaba in sales management. Jinglei Hou: Hou has been chief mobility safety officer since April 2019. Min Li: Li is vice president of public communications. Shu Sun: Sun has been CEO of DiDi's China ride-hailing business since Dec.2020. Before joining DiDi, Sun was an associate at Tsing Capital from 2014 to 2015 and a senior associate at Bloomberg New Energy Finance from 2009 to 2014. David Xu: Xu has been the vice president and head of capital markets since March 2018. Previously, he worked for Apax Partners, UBS Investment Bank and Goldman Sachs Asia. @rflannerychina

Advances in technology have allowed businesses to automate and streamline various processes across most industries. However, there's one area that business leaders may not consider when they're exploring automation opportunities: security. Some security tasks and functions can and should be automated to efficiently and effectively protect an organization. If you're looking to automate your security processes and aren't sure where to start, read on for expert advice from the members of Forbes Technology Council. 1. Defensive Actions Security scans of online resources are common to identify potential cyberthreats. However, manual intervention is usually required to take action when a threat is confirmed. Automating the actions required to defend against identified security vulnerabilities is an area that can benefit businesses a lot in terms of minimizing downtime and its associated costs. - Ahmad (Al) Fares, Celitech - Cellular Data Platform 2. Data Encryption Businesses should encrypt all of their data all of the time and automate this process. There just isn't room for unencrypted data anymore, as it poses too much risk to an organization. If we could automate the process to create encrypted backups continuously, businesses could ignore ransomware demands and simply roll back quickly to the last encrypted backup, with minimal impact to operations. - Bruce Kornfeld, StorMagic 3. Bot Activity Monitoring Bot activity monitoring needs to be part of any automation program design. Bot privileges should never be tied to end-user accounts. System credentials needed by the bot should be encrypted and not accessible in plaintext. Bot actions should be centrally logged during runtime. Wherever possible, bots should run on their own VLANs to simplify the network monitoring and risk management process. - Sarah McKenna, Sequentum Inc. 4. Compliance, Audit And Incident Response The areas in IT security that I've seen successfully automated are the ones that are implemented at scale, repeatable and risk-mitigated. Good examples are compliance, audit and incident response. From simple steps such as documenting access removal in offboarding employees for SOX compliance to complex incident pattern-based recovery procedures, automation can achieve significant risk reduction. - Ashok Balasubramanian, Open Weaver Inc Forbes Technology Council is an invitation-only community for world-class CIOs, CTOs and technology executives. Do I qualify? 5. Operational Technology Cybersecurity Security orchestration, automation and response (SOAR) addresses this in cybersecurity. In the operational technology cybersecurity space, which is typically a blind spot for the organization, it is even more crucial. Imagine a healthcare device is sharing patient data because it is connected, but it does not get classified as IT. It's OT and should be included in automated security responses. - Asim Rizvi, Nuvolo 6. Initial Alert Triage Initial alert triage can be automated largely through the use of SOAR products. Security operations center analysts spend an inordinate amount of time addressing hundreds, thousands or even millions of alerts in large-scale global enterprises. Automation in the SOC helps close the gap on personnel shortages and allows personnel to more effectively spend their time. - MK Palmore, Palo Alto Networks 7. Platform And Application Operations More often than not, I see products that try to automate entire processes such as "incident response" or "application security." This approach hasn't proved itself so far. We should focus on automating operations of security in its different verticals. We already have best-of-breed products to detect and prevent for us; now is the time to automate the operation of our platforms and applications. - Shira Shamban, Solvo 8. Log Review Log review is perfectly suited to being automated. It is a mundane and repetitive task. The problem is simple: Detect something out of the ordinary. Security automation systems use AI to learn what is normal network traffic and what is not. Training a new log reviewer does not take that much training and can save your security personnel hours of monotonous work. Plus, they help keep your network safe. - Mercedes Soria, Knightscope 9. Security Training Security training should be automated so that employees receive tailored, in-the-moment feedback that prevents them from engaging in risky security behavior. For example, automated alerts can notify employees when they've received a potential phishing email or if they're about to send an email with the wrong file attachment. Training is most effective when personalized and done in real time. - Edward Bishop, Tessian 10. Audit Reporting With the number of security regulations companies have to adhere to, I advise them to automate audit reporting. There are solutions that track what's happening across the IT environment and configuration states that can then generate reports mapped to requirements, such as the California Consumer Privacy Act (CCPA) and HIPAA. Thus, you won't have to waste days or weeks compiling the data and can pass audits faster and ensure continuous compliance. - Ilia Sotnikov, Netwrix 11. Endpoint Data Analysis Tech leaders should ensure they have appropriate tools to view the entirety of their endpoint landscape as well as ingest all data from their endpoints with an automated solution to help them identify vulnerabilities. A security tool that can automate detection with MITRE-mapped, out-of-the-box detections allows security teams to focus their often limited resources. - Kim Huffman, Elastic 12. Deception Technology I think it's worth investing in AI-powered deception technology. These programs can identify red flags in log-in and browsing behavior. The AI can then alert your team and slow down the attacker while your team manually removes them from the equation. This one preventative step could stop a potential breach and keep your data secure. - Thomas Griffin, OptinMonster 13. Rebuilding Critical Systems One not-so-obvious example is to automatically rebuild critical systems to known-secure configuration. Malware goes undetected for too long, allowing for lateral movement and data exfiltration. Rebuilding systems automatically eliminates undetected malware, reduces dwell time and therefore reduces damage and loss. - Richard Tracy, Telos Corporation 14. DDoS Protection Without quick DDoS detection and response, organizations are at the mercy of attackers. In a situation where speed is key, automation is crucial to gaining an advantage against attackers who are constantly evolving their tactics. The combination of automation and flexibility via a cloud-based solution will help right-size the response and enact defenses to the threat. - Rodney Joffe, Neustar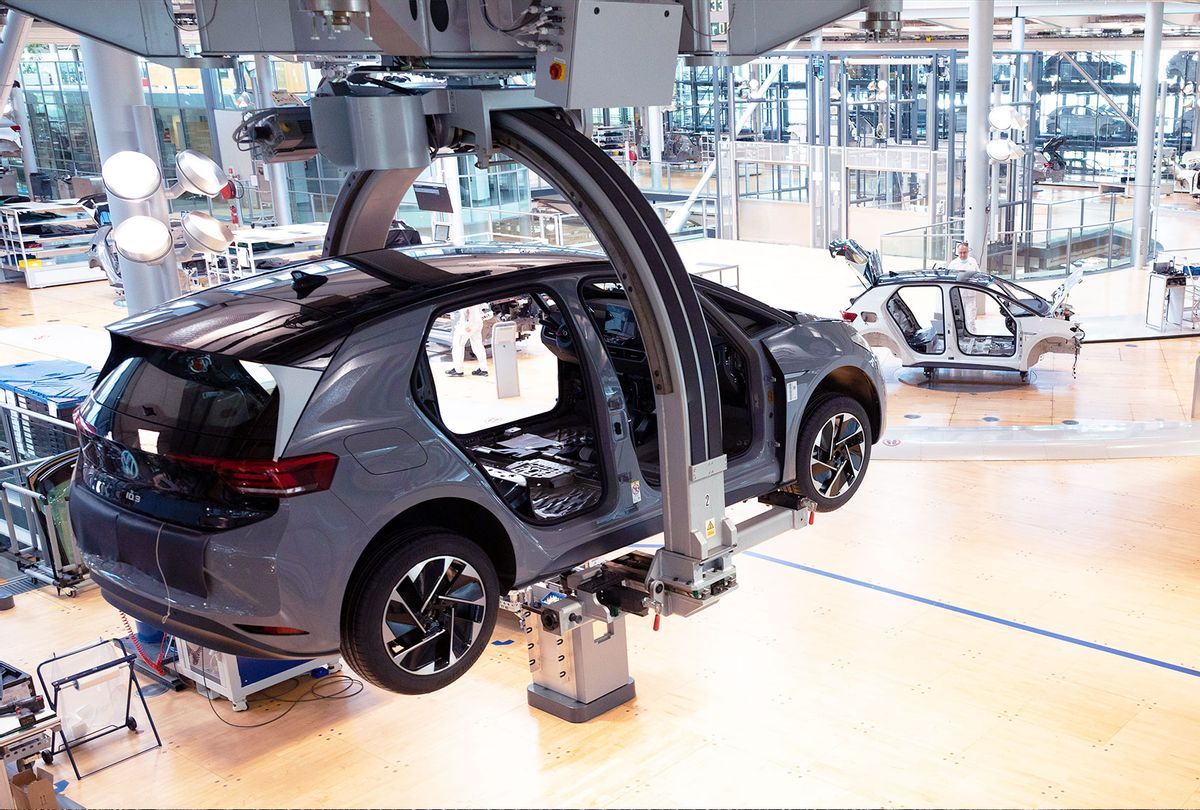 The electric vehicle or EV revolution owes its existence to lithium batteries, and those batteries have a cocktail of specialized minerals to thank for their high performance. In most cases, that cocktail's ingredient list includes cobalt and nickel, minerals that help deliver the long lifespan and range that consumers increasingly demand of EVs. But with hundreds of millions of new EVs expected to hit the streets in the coming decades, skyrocketing demand for nickel and cobalt could strain mineral supply chains. Fearing a supply shortage that would slow the EV boom, the U. S. Department of Energy is now proposing that we eliminate cobalt and nickel from batteries altogether. Earlier this month, the Federal Consortium for Advanced Batteries, a cross-agency group chaired by the Department of Energy, released the first ever National Blueprint for Lithium Batteries to guide the development of a domestic battery industry that helps the U. S. meet its climate targets. Among other goals, the blueprint calls for eliminating nickel and cobalt from lithium batteries by 2030 to develop "a stronger, more secure and resilient supply chain." That goal is more challenging — and fraught — than it may sound. While experts say nickel- and cobalt-free batteries that outperform today's commercial counterparts could be commercialized in the next 10 years, mass adoption by the EV industry is likely to take far longer. And while such batteries might reduce the American auto industry's vulnerability to future supply shocks, it could also have complex impacts on mining abroad. Mining watchdogs, who worry that eliminating certain metals from batteries will increase the pressure to extract others, say policymakers and auto manufacturers should focus on responsible sourcing and battery recycling instead. EV batteries come in a variety of shapes, sizes, and chemistries, but the market is currently dominated by so-called NMC batteries, which contain nickel, manganese, and cobalt in their cathodes. All of these metals have a specific role to play: Nickel boosts the battery's energy density and range, cobalt helps extend battery lifespan, and manganese helps batteries operate more safely at higher temperatures. The proportions favored by automakers are optimized "to give the best performance between parameters of lifetime, safety, cost and power," said Jason Croy, a materials scientist at Argonne National Laboratory in Illinois. Batteries that don't contain cobalt or nickel already exist, but there are tradeoffs. Lithium manganese oxide or LMO batteries, used in the e-bike market and some commercial vehicles, are known for their high performance and long lifespan, but they fall short of NMC batteries when it comes to energy density. Cheap and durable lithium iron phosphate or LFP batteries have made inroads in the Chinese EV market, where Tesla uses them in its standard-range Model 3 cars. However, these batteries also have limited energy storage capacity and range compared with their NMC cousins. "In general, going away from something like a nickel-rich NMC right now means giving up on energy or lifetime," Croy said. "For the foreseeable future, nickel-rich batteries will be the choice for high-performance applications." That said, concerns over mineral scarcity and human rights abuses at mines in the Democratic Republic of Congo or DRC, where 70 percent of the world's cobalt originates, have spurred manufacturers to significantly reduce the cobalt content of EV batteries over the past decade. The EV industry hasn't faced the same kind of pressure to reduce its nickel use, but "there's a lot of options on the table" should it want to, says Venkat Viswanathan, an associate professor of mechanical engineering at Carnegie Mellon University who is working on next-generation batteries. For instance, lithium-rich cathodes that contain little to no nickel or cobalt and store more energy than NMC batteries are an active area of research, though more work is needed to improve their lifespan for commercial applications. Pressure to bring high-performance NMC alternatives onto the streets seems to be growing. A May report by the International Energy Agency found that global demand for cobalt and nickel could rise approximately 20-fold by 2040 if the world churns out lithium batteries at the pace needed to limit global warming to 2 degrees Celsius (3.6 degrees Fahrenheit). In the U. S. alone, the amount of lithium, cobalt, and battery-grade nickel needed to electrify every light-duty vehicle on the roads surpasses the total amount of these metals mined globally in 2019, according to a recent Biden administration report on supply chain vulnerabilities. That same report concluded that the U. S. does not have the geologic reserves needed to meet its future demand for these metals, meaning it will likely continue to rely on foreign supply chains dominated by China, the DRC, and a few other nations. David Howell, the acting director of the Vehicle Technologies Office at the Department of Energy's Office of Energy Efficiency and Renewable Energy, says that concern over future scarcity of cobalt and nickel prompted the Federal Consortium for Advanced Batteries to call for developing new batteries that eliminate them. Howell, who was involved with the establishment of the battery consortium last year as well as the drafting of the new report, says the Department of Energy and other research agencies plan to continue supporting basic research on alternative cathode chemistries and leveraging the purchasing power of the federal government to make the most promising alternatives commercially competitive. Howell says the Vehicle Technologies Office spends roughly $12.5 million on this type of research and development each year, and that the Department of Energy's fiscal year 2022 budget request would "more than double" that annual investment. "What we want to do is make sure that by 2030, we've demonstrated these materials can be used in EVs and be substituted by any auto company that wants to use them instead," Howell said. Viswanathan is "fairly optimistic" cobalt- and nickel-free cathodes that measure up to or even outperform NMC ones can be commercialized in 10 years. "It doesn't require a new breakthrough invention," he said. "It simply requires careful engineering and optimization." Kwasi Ampofo, the head of mining and metals research at energy consultancy BloombergNEF, is more skeptical. Eliminating cobalt and nickel from batteries "is a very easy thing to say, but quite difficult to actually attain," he said, noting that it took current battery technologies decades to mature to a commercial level. In Ampofo's view, if the U. S. government wants to reduce its vulnerability to cobalt and nickel shortages, it should be doubling down on battery recycling in order to create alternative supplies of these metals. The government's recent battery blueprint also calls for beefing up EV battery recycling, but moving to cobalt and nickel-free chemistries could paradoxically make that harder, since these are two of the most valuable metals that can be recovered. If nickel and cobalt are eliminated from batteries, there will be less economic incentive to recycle, and federal policies mandating recycling, along with new technologies that make recycling more lucrative, may be necessary. Eliminating nickel and cobalt from batteries could also lead to more mining of the metals that replace them, such as lithium and manganese, warns Benjamin Auciello, who coordinates a program called Making Clean Energy Clean, Just, and Equitable at the environmental nonprofit Earthworks. Instead of eliminating specific metals, Aucilello believes the Biden administration should "aim to mitigate the social and environmental impacts of extraction while putting recycling and public transit alternatives first." Saleem Ali, a professor of energy and the environment at the University of Delaware, suspects that the Biden administration sees resources like cobalt and nickel as "too much of a headache" given activist pressure to reduce mining over labor and environmental concerns. But Ali feels that divesting from these supply chains entirely is "parochial from an environmental justice perspective" because it leaves communities that depend on mining revenue without any clear path to economic development. Thea Riofrancos, an assistant professor of political science at Providence College in Rhode Island, agrees that eliminating specific resources from global supply chains is "a complex thing from a global justice perspective," said. While Riofrancos, like Auciello, thinks the U. S. should focus on recycling and reducing personal car usage to alleviate the pressure to mine, in communities where extractive industries are deeply ingrained, "the transition is challenging," she said. "You need to invest in alternative livelihoods." "When you say cobalt-free, you're saying 'DRC, you're going to be disarticulated from the global supply chain," Riofrancos went on. "I'm not sure what justice looks like for the DRC is being snipped off from a potentially valuable global supply chain."

[Updated 7/07/2021] Morgan Stanley Update Morgan Stanley's stock (NYSE: MS) has gained 34% YTD, and at its current price of $92 per share, it is trading slightly above its fair value of 89 – Trefis' estimate for Morgan Stanley's valuation. The Federal Reserve released its 2021 Comprehensive Capital Analysis and Review ("CCAR") stress test results on 24 June. While the Fed imposed restrictions on dividend payout and share buyback by large banks in 2020 to preserve capital in light of the Covid-19 crisis, it has cleared all the 23 participating financial institutions this year. As a result of the positive stress test results, Morgan Stanley has decided to increase its common stock dividend by 100% to $0.70, beginning the third quarter. Further, it announced a share repurchase plan of $12 billion, which will be valid for the next four quarters. Morgan Stanley reported total net revenues of $48.2 billion for the full year 2020 – up 16% y-o-y. It was primarily due to strong growth in sales & trading investment banking businesses driven by higher trading volumes and a jump in underwriting deals. Further, the wealth management and investment management segments have seen significant growth in client assets – the wealth management division received a big boost from the acquisition of E*TRADE in the last quarter of 2020. The same trend continued in the first quarter of 2020 as well, with the firm reporting 66% y-o-y growth in institutional securities (sales & trading and investment banking) followed by strong asset growth in both wealth management and investment management segments. Moving forward, we expect the trading volumes and underwriting deal volumes to normalize over the subsequent quarters. However, wealth and investment management businesses will likely drive growth for the company, enabling Morgan Stanley's revenues to touch $54.6 billion in FY2021. Additionally, the firm is likely to report a EPS of $6.89 in the year, which coupled with a P/E multiple of just below 13x, will lead to the valuation of $89. [Updated 1/29/2021] Morgan Stanley Stock Has More Room For Growth Having gained close to 150% since the March 23 lows of the last year, Morgan Stanley stock (NYSE: MS) is trading 23% above its pre-Covid peak in February 2020. That said, we believe that it has more scope for growth. Trefis estimates Morgan Stanley's valuation to be around $78 per share - around 15% above the current market price. Morgan Stanley is one of the top five U. S. investment banks and is a market leader in the equities trading space. Its strength in sales & trading was the primary reason for its positive growth in the year, which was also evident in the recently released fourth-quarter results. The bank reported better than expected results with total revenues of $13.6 billion – up by 26% y-o-y. Sales & Trading revenues jumped by 32% y-o-y coupled with a 46% growth in the investment banking segment. Notably, Wealth Management revenues grew 24% y-o-y in Q4, driven by the E*TRADE acquisition – E*TRADE was integrated with the wealth management segment at the start of October 2020. Morgan Stanley reported revenues of $48.2 billion for the full year 2020 – up 16% y-o-y. It was primarily driven by 27% y-o-y growth in the Institutional Securities segment, which includes both sales & trading (up by 37%) and investment banking (up by 26%) businesses. The bank has a strong sales & trading arm, which benefited from higher trading volumes in 2020. Similarly, its investment banking segment gained from a jump in underwriting deal volume. However, as the economic condition improves, higher trading and underwriting deal volumes are likely to normalize in the subsequent quarters. This is likely to hurt Institutional Securities revenues in FY2021. Despite this, positive growth in investment management and wealth management revenues are likely to take Morgan Stanley's revenues to around $49 billion in FY 2021 – slightly above the 2020 figure. Despite the Covid-19 crisis, the bank reported a 23% y-o-y improvement in its adjusted net income figure in 2020. The growth was partly due to higher revenues and partly driven by lower operating expenses as a % of revenues. This led to an EPS of $6.47 – up 25% as compared to 2019. However, we expect the net income margin to slightly suffer in FY2021, reducing the bank's EPS figure to $6.06. Additionally, the bank is likely to start its share repurchase program from the first quarter of 2021. Overall, the EPS of $6.06 coupled with the P/E multiple of just below 13x will lead to a valuation of around $78. [Updated 11/20/2020] After Positive Q3 Results, Morgan Stanley Stock Is Fairly Priced In view of more than a 100% gain since the March bottom, we believe Morgan Stanley stock (NYSE: MS) has achieved its near-term potential. Trefis estimates Morgan Stanley's valuation to be around $58 per share - marginally below the current market price. The company has benefited from strength in its sales & trading arm, which has delivered better than expected results over the recent quarters. In its recently released third-quarter 2020 results, Morgan Stanley surpassed the consensus estimates and reported total revenues of $11.66 billion – up 16% y-o-y, mainly driven by a 35% y-o-y jump in sales & trading revenues coupled with an 11% growth in the investment banking segment. We expect the bank to report $44.3 billion in revenue for FY 2020 – 7% more than the year-ago period. However, its net income is likely to remain around the previous year level due to higher operating expenses, slightly improving the EPS figure to $5.24 for FY 2020. Thereafter, Morgan Stanley's revenues are expected to decline to $43.8 billion in FY2021, mainly driven by a drop in investment banking and sales & trading business. The investment banking giant has completed the acquisition of E*TRADE on 2nd October 2020 in an all-stock transaction, which will further add to its wealth management business. This is likely to improve the wealth management revenues in the subsequent year, partially offsetting the weakness in other segments. The EPS figure is likely to remain around $5, which coupled with the P/E multiple of just below 12x will lead to a valuation of $58. [Updated 07/30/2020] Morgan Stanley Stock Gained 83% Over Recent Months, Is It Still Undervalued? Morgan Stanley stock (NYSE: MS) lost more than 44% - dropping from $50 at the end of 2019 to around $28 in late March - then spiked 83% to around $51 now. This means that the stock has touched the level seen at the end of 2019. There were two clear reasons for this – The Covid-19 outbreak and economic slowdown meant that market expectations for 2020 and the near-term consumer demand dropped. This could cause significant losses for businesses and individuals alike, impacting their loan repayment capability and exposing Morgan Stanley to sizable wealth management loan losses. The multi-billion-dollar Fed stimulus provided a floor, and the stock recovery owes much to that. But this isn't the end of the story for Morgan Stanley stock Trefis estimates Morgan Stanley's valuation to be around $58 per share - about 15% above the current market price - based on an upcoming trigger explained below and one risk factor. The trigger is an improved trajectory for Morgan Stanley's revenues over the second half of the year. We expect the company to report $42.4 billion in revenues for 2020 – 2.4% higher than the figure for 2019. Our forecast stems from our belief that the economy is likely to open up in Q3. Further, as the lockdown restrictions are easing in most of the world, consumer demand is likely to pick up too. The company has derived positive growth in Q1 and Q2 mainly due to strength in its trading arm, followed by higher investment banking revenues. This jump could be attributed to the Fed stimulus, which set the floor for businesses to raise corporate debt, benefiting both underwriting business and the sales & trading division of the bank. This has largely offset the impact of weak revenues in other segments. While the trading income is expected to decline as compared to the first two quarters, it is likely to drive positive growth in the second half as well. Overall, we see the company reporting an EPS in the range of $4.92 for FY2020. Thereafter, Morgan Stanley's revenues are expected to slightly drop to $42 billion in FY2021, mainly due to a drop in the sales & trading business. Further, the bank has regularly invested in share repurchases and is likely to buy back stock close to 2019 levels, leading to an EPS of $5.02 for FY2021. Finally, how much should the market pay per dollar of Morgan Stanley's earnings? Well, to earn close to $5.02 per year from a bank, you'd have to deposit about $555 in a savings account today, so about 110x the desired earnings. At Morgan Stanley's current share price of roughly $51, we are talking about a P/E multiple of just above 10x. And we think a figure closer to 12x will be appropriate. That said, Investment Banks are riding on the wave of higher trading volume and growth in underwriting deals, which is a volatile business. Growth looks less promising, and long-term prospects are less than rosy. What's behind that? The economic downturn could cause significant losses for businesses and individuals alike, impacting their loan repayment capability. This could result in sizable losses for Morgan Stanley, as it has a substantial loan portfolio of wealth management loans. The bank generated around 43% of its revenues from the wealth management business in 2019. Further, as the economy slows down, it will likely become expensive for the bank to attract funding, negatively impacting all its operations. We expect the bank's net income margin to decline from 20.5% in 2019 to 17.7% by FY 2021. The same trend is visible across Morgan Stanley's peer – Citigroup. Its revenues are expected to benefit from positive growth in its trading arm and investment banking business in FY2020. However, its margins are likely to suffer due to build-up in provisions for credit losses in anticipation of bad loans. This would explain why Citigroup's stock currently has a price of just below $53 but looks slated for an EPS of around $6.13 in FY2021. Think Bitcoin could disrupt the banking industry? Looking for upside from Bitcoin adoption, without buying into the cryptocurrency itself? You can find more about our theme on Cryptocurrency Stocks here. See all Trefis Featured Analyses and Download Trefis Data here

The Reserve Bank Of India (RBI) has reported that currency in circulation contracted by 0.2% on the week to stand at Rs 29.73 lakh crore as on July 2, 2021. The central bank stated further that the overall reserve money rose 0.7% on the week to Rs 37.26 lakh crore. Currency in circulation rose around 11.50% on a year ago basis compared to 21.3% growth at the same time last year. In the current fiscal, the currency in circulation has increased by 4.2% so far while the reserve money has increased by 3.5%.

Anyone with earned income can make a non-deductible (after tax) contribution to an IRA and benefit from tax-deferred growth. But it may not be worth it due (in part) to often overlooked ongoing recordkeeping requirements. For many, the biggest risk and most common downfall is significant: paying taxes again when withdrawing the money in retirement. Before making after-tax contributions to a traditional IRA, understand the rules to avoid the double tax trap on withdrawals. The contribution rules and limits are the most well-known part of the process. This is problematic, as investors assume the recordkeeping and withdrawal rules are either on autopilot or non-existent. To summarize the rules for making non-Roth after-tax IRA contributions: The financial institution where you keep your IRA may set certain guardrails, like not allowing you to add more than $6,000 for one tax year. But they can't help if you have IRAs at multiple institutions. They also don't track, report, or verify whether you made a pre-tax or non-deductible IRA contribution. That's up to you, taxpayer. When making after-tax contributions to an IRA, you must inform the IRS that you've already paid tax on those dollars. This is done using Form 8606. If you don't report, track, and file the form, you'll lose the ability to shield part of your IRA withdrawal from tax when you take the money out. In another words: you'll pay federal income tax on the same dollar twice. This is the double tax trap. The good news is this can be an easy problem to fix. From a tax reporting standpoint, you can simply file a Form 8606 with your next tax return to reflect historical non-deductible IRA contributions. No penalty, no problems. Unfortunately, in reality, few taxpayers maintain records of making non-deductible contributions. As your income, job, or marital status changes, you may cross between deductible and after-tax IRA contributions, perhaps skipping some years altogether or finding yourself in the middle of the phase-out. Sometimes, the financial institution doesn't accurately reflect your additions on statements. Another double tax trap with non-deductible IRA contributions is keeping the documentation (forever) and staying on top of what you've done in the past. Remember, the IRS doesn't track your after-tax basis, even when you file the appropriate tax forms! According to John LeVangie, who holds an LLM in Taxation and is a Wealth Advisor at Darrow Wealth Management, this is a major reason many non-deductible contributions go awry. "The burden is on the taxpayer to track these contributions throughout their lifetime, from when the contributions are made all the way throughout retirement when distributions are taken from the account. But the time in-between could be substantial. You're doing the right thing by saving for retirement, but it's important not to undo it by failing to maintain proper records." For example: Imagine you're 35 years old and make a $6,000 non-deductible IRA contribution for 10 years. You have an accountant, and each time he files the Form 8606. Fast forward 20 years from your last contribution: you're 65 and take money from your IRA. Your old accountant has retired. Since you don't have to file the Form 8606 in years you don't make a non-deductible IRA contribution, you can't find your after-tax basis. After all, most of us don't keep tax returns for 20+ years. The result: you'll pay tax twice on $60,000 of lifetime post-tax contributions. If you've made both pre-tax and after-tax IRA contributions over your lifetime, you may be disappointed to learn you can't simply choose which to withdraw. The pro-rata rule applies to distributions from a traditional, SEP, or SIMPLE IRA with tax deductible and after tax (non-deductible, non-Roth) funds. This determines the percentage of a withdrawal that will be tax-free and taxable. To calculate the tax-free percentage: Your Total Basis (e.g. lifetime non-deductible contributions – previous nontaxable distributions) / Total IRA Assets (e.g. balance in all IRAs (except Roth) as of 12/31 + all distributions in the current year + outstanding rollovers) To find the tax-free dollar amount, multiply the tax-free percentage by the full amount of IRA distributions throughout the year. When you file your taxes for the year, you'll update the Form 8606 to reflect your pro rata tax-free withdrawal and new adjusted basis. This is how you prevent non-deductible IRA contributions from being taxed twice. A taxable brokerage account is a completely flexible way to invest for any goal. There are no contribution limits, withdrawal rules, mandatory distributions...or tax benefits (except at death - called the step-up in basis - which is currently hotly debated). A Roth IRA is funded with after-tax dollars, just like a non-deducible contribution. But there are income limits on who can make contributions. For taxpayers who earn too much, consider a backdoor Roth or Roth conversion strategy instead. In a Roth conversion, pre-tax IRA dollars are taxable income for the year, which converts the money into Roth dollars. Again, the pro rata rule applies, so it's often most advantageous to consider a Roth conversion when rolling over an old 401(k). In a Roth 401(k), employees contribute after-tax dollars to a designated Roth account within the 401(k) plan. The annual contribution limit is tied to the 401(k) additions limit - much higher than the IRA limit. One special note: unless rolled over to a Roth IRA, the Roth 401(k) will be subject to RMDs in retirement. In a backdoor Roth, investors make a non-deductible contribution to a traditional IRA and then quickly convert to a Roth IRA. Once the money is in a Roth IRA, it's tax-free when taken out (if you meet the holding period and age requirements). This strategy only works if you don't have any other traditional IRAs. Otherwise, the pro rata rule applies. In a mega backdoor Roth, you max out individual additions to your 401(k) then make after-tax (non-Roth) contributions up to the annual maximum (combined employee and employer). You then elect an in-plan Roth 401(k) rollover or roll the after-tax contributions into a Roth IRA. Not all employer plans allow this and there are other considerations to keep in mind before implementing this or any of the other strategies in this article. In our view: probably not. Due to the ongoing recordkeeping and tax reporting requirements, pro rata rule, and other complexities, non-deductible IRA contributions usually aren't worth it. Especially when considering the relatively low contribution limit and other options to achieve tax diversification. Taxes should be a factor, but not the driver, when making financial decisions.

By Chase Williams, Managing Partner at Market My Market, helping businesses generate new clients by implementing the right marketing systems and strategies. Congratulations, you are the big lawyer in your city. You get hundreds of leads a month. All of your hard work filming commercials, investing in search engine optimization (SEO), putting up billboards and being active in your community has finally paid off. Even though you are the go-to lawyer in your city, most likely you are leaving a ton of money on the table. It's great to know how many leads your firm generated last month, but do you know your current conversion rate of leads to clients? So many legal marketers and business development specialists focus on the importance of marketing and forget to stress the significance of intake and conversion. Would you rather be the lawyer who gets 100 leads per month and signs up 95 new cases or the lawyer who gets 1,000 leads per month and signs up 50 cases? How much time and energy is being wasted on marketing when the core issue of intake isn't being addressed? It's all about the customer experience. If a potential client can't get ahold of someone on their first point of contact or is placed on a long hold, what does that say about how the rest of the experience will be working with your firm? Tips To Help With Conversion And Intake • Hire a third-party answering service for weekends and out-of-office hours. The service can also take care of running your website's online chat. • If you can't do proper intake in-house, hire an intake company. Many leads are lost due to hold time, poor phone etiquette or the receptionist not understanding what the firm can offer potential clients. Note that there is a huge difference between an answering service and an intake service. An answering service will go off a very specific script and try to connect the client directly to the firm or lawyer. An intake service will own the entire lead process and even sign clients on your behalf. • Update your Google My Business listing to say that you are open 24 hours. No one is going to call the law firm that says they are closed on Google. Rely on your newly hired answering service to take care of these incoming calls. • Follow up with potential leads until they tell you they have hired another attorney. Customer relationship management (CRM) software can assist with automated follow-ups, as well. • When speaking to a client, make the first touchpoint about them. Don't focus on how great your firm is or the awards you've won. For many potential clients, this may be their first time speaking to a lawyer, and they just need someone to listen and understand their situation. • Integrate software to track your intake and leads. This will help you gather further insight into your marketing return on investment as well. • Keep your team accountable. Compare outcomes from various team members. • Audit your hold time. If a potential customer calls and is placed on hold for four minutes before talking to someone, how much harder is it going to be to sell them on hiring your firm? • Gather all your leads in one place. CRM software will be a big help in getting your data organized. You'll want records of who the client is, their name, e-mail, phone number, how the client found you, notes about their potential case and a log of each touchpoint with the client.

Ken Sterling is based in Santa Barbara and serves as EVP at BigSpeak. He is also a lecturer at UC Santa Barbara and executive coach. Lately, event planners have been asking me about the benefits of using a short celebrity video for their event compared to hiring a celebrity for a full keynote. As a speakers bureau executive who curates keynote speaking experiences many times a day, I get this question a lot. Fortunately, these celebrity video app services aren't in direct competition with speakers bureaus, so I'm happy to explain the benefits of using them instead of a keynote. If you haven't heard, there are many celebrity services you can use through a phone app or computer, like Cameo, CelebVM, Chartitybuzz, Greetzly, Prizeo and myFanPark. Each of them offers celebrity access. Not all of them focus on video recording offerings. Several services offer short, personalized video messages. Each offers a different selection of celebrities and variable pricing. On the other hand, if you're looking for more interaction with your celebrity (say, a cooking class with your favorite chef or an acting lesson from your actor crush), there are services for that too. While the video services are marketed inexpensively to the average consumer (so they can send a personalized birthday greeting or congratulations message to a friend or family member), they are generally more expensive for businesses. For example, a personal birthday greeting could cost between $200 and $600, depending on who you select. On the other hand, if it's a business "shoutout," the fee could be $10,000 or higher. So here are some things to consider if you're thinking of trying a celebrity video for your event instead of a keynote: cost, personalization and convenience. Cost At first glance, the biggest advantage might be the pricing for a video compared to a keynote. Instead of paying $100,000 for a keynote, you could request a short celebrity video for $20,000 or less. (The actual fee, of course, is largely dependent on the fame of your celebrity and the length of the video you want.) Hold on, though — wouldn't that make the cost per hour (or per minute) much higher? The short answer is yes. Your average $100,000 celebrity virtual keynote for an hour works out to $1,667 per minute, while paying $10,000 for three minutes is $3,333 per minute (and it may still be $20,000-$30,000 for that three minutes). You get overall savings but pay more per minute. Unfortunately, you probably can't pose as an average consumer and order a less expensive video for your event. When I recently sampled one platform to order a kick-off message from one of The Office cast members for our sales team at the cheaper rate, I got "kicked over" to the more expensive business side. Personalization When it comes to personalization, short videos might be better for your event than a standard keynote. Often, your typical celebrity has a set story that doesn't change for your company, although they will mention the company name at the beginning. With a short video, however, celebs can tailor a message to apply to your company, conference or trade show. By tailor, I mean that you can often write the message to ensure your celebrity delivers exactly what you want your team to know. Convenience These short video services have one clear advantage over keynotes (and speakers bureaus): convenience. You can easily set up an account in a few minutes and order the celebrity you want — sometimes at the last minute. You don't have to schedule a keynote months in advance or go through a maze of managers, lawyers or paperwork. Likewise, you don't have to worry about the celebrity's busy work schedule, flight times, hotel bookings or city traffic delays when you hire them for a keynote. They make the video prior to the event, and you can schedule it for exactly when you want to use it. So if you're an event planner who wants to book your favorite celebrity to add zest to your conference or meeting, you might want to consider hiring a celebrity for a short video message. While a full keynote could give you a better price per hour, I have to admit that a short celebrity video could be more personalized and convenient to book. Plus, if you've absolutely maxed out your budget and need the sizzle of a celebrity, a short video could be the answer. As an event planner, you will be faced with choosing the right celebrity, format and video content for your very important event. The first and most important factor is choosing a celebrity guest and experience that aligns with the event, theme and audience. Also, you want it to be fun, memorable and customized to the group. For example, if it's a sales organization that's highly competitive and numbers-driven, a professional athlete or coach could be a great option. If it's an HR group and The Office is a common joke or conversational theme with this crowd, one of the cast members of the show could be a great option. If it's an entrepreneurial group, one of the Shark Tank panelists could be a great idea. (Full disclosure: BigSpeak represents some panelists as keynote speakers.) Remember that fees for business groups could range from $1,000 to $25,000 or higher. Forbes Communications Council is an invitation-only community for executives in successful public relations, media strategy, creative and advertising agencies. Do I qualify?

and Housing Finance Limited (PCHFL) Wednesday said it is looking to raise up to Rs 1,000 crore by issuing non-convertible debentures of various tenors. The tranche-I issue has a base issue size of Rs 200 crore with an option to retain oversubscription up to Rs 800 crore. The tenors of NCDs are 26 months,36 months,60 months and 120 months, with coupons in the range of 8.1 per cent to 9 per cent on an annualised basis. In the 26 months-NCD, there are two interest payment options- annual and cumulative. Piramal Retail Finance Chief Executive Officer Jairam Sridharan said the funds will be utilised for growing the retail business. Over the last year, we have launched a lot of new businesses in retail, including affordable housing, digital lending and used car financing. We hope to continue to do more of this in the coming months, and so we feel the need to have the right kind of funding structure for that business, which is where this (NCD issue) comes in, Sridharan said. The issue will open for subscription on July 12, 2021, and close on July 23. The NCDs have been rated CARE AA (CWD) (under credit watch with developing implications) by Care Ratings and ICRA (AA) with outlook (negative) by Icra Ratings. The bonds are proposed to be listed on BSE and NSE. In June this year, the Mumbai bench of the National Company Law Tribunal (NCLT) had approved the resolution plan of PCHFL for the debt-ridden Dewan Housing Finance Corporation (DHFL). Piramal Group Chief Financial Officer Rajesh Laddha said post the acquisition of DHFL, PCHFL's loan book size will be close to Rs 58,000-60,000 crore and the retail and non-retail mix will be close to about 50 per cent each on an immediate basis. One of the primary reasons or motivations for us to do this (DHFL) acquisition was that on day one, the retail portfolio will go up significantly and the concentration of non-retail will come down, Laddha said. He said there will not be any additional provisioning requirement after the acquisition. On DHFL book, there will not be any additional provisioning requirement post-merger as well because we will be recording the portfolios in a way where incremental provision will not be required, Laddha added.

Managing Director and Principal at Dendro, serving as creative growth partners for ambitious leaders. As we make our way out of the pandemic knowing we likely won't have herd immunity in the U. S., what are some of the trends that will impact how brands connect with people? The future that will emerge years from now is often hard to predict, and many brands are still faced with a myriad of uncertainties, needing new playbooks. After speaking with our network of clients and cultural experts, and reading loads of data on the effects of the pandemic, here are a few predictions to help organizations fulfill future consumer needs. The Wellness-First Workplace Health and wellness in the workplace will move from a "nice to have" to a new normal. During the pandemic, we have adopted many behaviors driven by apps, wearable technology and home-based exercise equipment. According to Mintel, almost half of adults feel more in control of their health since being at home more. This fundamental shift will require organizations to adapt as people return to physical offices, expanding in-office perks to wellness perks. For example, many businesses are exploring four-day workweeks and extra parental support via companies like Cleo. Brand Stands Or Purpose-Washing? Almost every brand has become a purpose-driven brand. Moving beyond mere marketing tactics, brands must find ways to demonstrate values and behaviors while proving that they are actively practicing their purpose. Some examples include Dove's Self-Esteem Project, REI's #OptOutside movement, Ben & Jerry's stands on social inequities and Frida Mom addressing postpartum stigmas head-on. According to the 2020 Edelman Trust Barometer Special Report,80% of Americans want brands to solve societal problems along with solving their personal problems. But 86% say authenticity is important when deciding what brands they like and support. This ushers in the important question: When is it right for a brand to take a societal stand? There are many things to consider, but authenticity, relevance and action are necessary. It's good to take a stand if it reflects the true values already inherent in the company. It's often more successful if the stand is germane to the industry/category in which the brand competes. And finally, the stand must be supported by more than mere marketing, showing how the company itself is contributing in multiple ways to solve a societal ill. Brand Bonding Experience Putting customer interests first with flexible refund, pricing and change policies often leads to strong brand performance. A recent study found that, even during the pandemic, 87% of consumers say they are loyal to a few brands. However, with online shopping as the new norm, brands must find new ways to demonstrate their value and optimize customer interactions. We're seeing massive growth opportunities in improving customer service, removing friction and adding service add-ons, such as free consultations, coaching or advice sessions. Upskilling Vs. Hoarding Brands that are helping people upskill are winning. During the pandemic,87% of people took up new hobbies and activities. People are much more likely to measure their own value by the things they know how to do versus the items they've accumulated. For example, Stitch Fix, Peloton, Noom, Calm and Talkspace are built around adding a layer of advice to traditional products like fashion, exercise, dieting, mindfulness and therapy. It's a huge opportunity for established brands to create new ways to connect with consumers. One way to apply this trend is to assume you're not just selling product, but instead sell advice. What advice could your brand credibly supply to consumers? Can you make them better cooks, investors, drivers, readers, artists? Enable consumers to better themselves and acquire new skills. Hyper-Local Future And Hygienic Demands Consumers' shifting interests, combined with remote working, have driven a surge in "localism" around the world. According to research from Shopify,61% of consumers said "they plan to buy from local and independent retailers six months from now." Consequently, companies will face a higher demand for hygiene. Pre-pandemic, people might have focused on price, service and cuisine when choosing where to dine out. But Covid-19 has sparked a shift in people's priorities, with sanitation becoming a key factor when choosing a restaurant. Isolation Yields Togetherness The most missed in-person activities during the pandemic were social gatherings: only 40% of Americans planned to gather during the holidays in 2020 prior to the vaccine rollout. Brands can connect deeper with customers by focusing on sharing and enhancing relationships offline. Our memories are watered down by shallow virtual interactions. Physical togetherness has become our most precious resource, and the desire to create memories creates an opening for brands to help facilitate shared experiences. Zero Waste As The New Necessary We were already questioning the practices of inefficient and wasteful goods, and during the pandemic we became even more mindful about them. According to Mintel GNPD,69% of food/drink introductions globally in 2020 included an on-pack claim about environmentally friendly packaging. Moving forward, consumers will start to pay more attention to durability and the ability to reuse goods. This means brands will need to put an emphasis on recycled and upcycled materials to stay relevant. Consumers have adapted their behaviors to the uncertainty caused by the pandemic to different degrees. It has prompted lifestyles to shrink, revolving mostly around our homes and neighborhoods. Many have reprioritized wellness over work and balance over ambition. As a result, people are reevaluating how they want to spend their money and time. Now is the time for brands to improve and innovate offerings that will let your customers know their interests are first. Forbes Agency Council is an invitation-only community for executives in successful public relations, media strategy, creative and advertising agencies. Do I qualify?

Small-dollar, short-term lenders, unburdened by a federal maximum interest rate, can charge borrowers rates of 400% or more for their loans. But more states are bringing that number down by setting rate caps to curb high-interest lending. Currently,18 states and Washington, D. C., have laws that limit short-term loan rates to 36% or lower, according to the Center for Responsible Lending. Other states are weighing similar legislation. "This legislative session we've seen an increased and renewed interest in limiting interest rates and limiting the harms of payday loans," says Lisa Stifler, director of state policy for the CRL. Rate-cap opponents say that when a state caps interest, lenders can no longer operate profitably, and consumers with already limited options lose their last resort. Consumer advocates say that caps free borrowers from predatory lending models. Here's what happens when a state caps interest rates and what alternatives consumers have for small-dollar loans. LEGISLATION TARGETS APR To deter high-interest lenders and protect consumers against predatory loans, legislation targets the somewhat complex and decidedly unsexy annual percentage rate. APR is an interest rate plus any fees a lender charges. A $300 loan repaid in two weeks with a $45 fee would have a 391% APR. The same loan with an APR reduced to 36% would have a roughly $4.25 fee — and much less revenue for the lender. APR isn't an appropriate way to view the cost of a small loan, says Andrew Duke, executive director of the Online Lenders Alliance, which represents short-term online lenders. "The number ends up looking a lot higher and more dramatic than what the consumer perceives to be the cost of the loan," he says. Duke says consumers should instead use the actual fee to assess a loan's affordability. But what the fee doesn't show is the costly, long-term debt cycle many borrowers end up in, Stifler says. More than 80% of payday loans are taken out within two weeks of repaying a previous payday loan, according to the Consumer Financial Protection Bureau. "The business model of payday loans and the industry is based on repeat borrowing," Stifler says. "It is a product that causes a debt trap that actually pushes people out of the financial system." In states that don't allow interest rates above 36% or otherwise ban payday lending, there are no storefront payday lenders, according to the Pew Charitable Trusts. CONSUMERS HAVE OTHER OPTIONS Some high-interest loans, like pawn loans, may remain after a rate cap is implemented, Duke says, but limiting consumers' options could force them to miss bill payments or incur late fees. Illinois State Sen. Jacqueline Collins, D-Chicago, who was a chief co-sponsor on the consumer loan rate cap in Illinois that was signed into law in March, says she hopes that the new law will remove the distraction of payday and other high-interest loans and give the state's residents a clearer view of affordable alternatives. Credit unions, for example, can offer small loans. While credit scores are considered on a loan application, a credit union often has a history with a borrower and can assess their ability to repay the loan using other information. This can make it easier to qualify. For consumers struggling to pay bills, Stifler suggests contacting creditors and service providers for a payment extension. She recommends consumers turn to credit counseling agencies, which can offer free or inexpensive financial assistance, or religious organizations, which can help provide food, clothing and help with transportation to a job interview. Exodus Lending is a Minnesota nonprofit that advocates for fair lending laws and refinances residents' high-interest loans with interest-free ones. Many people who come to Exodus for help say they chose a high-interest loan because they felt too ashamed to ask a friend or family member for help, says Executive Director Sara Nelson-Pallmeyer. If Minnesota caps interest rates on short-term, small loans — which a bill on hold in the legislature aims to do — she says she's not worried about how consumers will fare. "They're going to do what people do in states where they aren't allowed," she says. "Borrow from people you care about, ask for more hours, take on a second job, sell your plasma — just the things that people do who don't go to payday lenders, and that's most people." ____________________________ This article was provided to The Associated Press by the personal finance website NerdWallet. Annie Millerbernd is a writer at NerdWallet. Email: amillerbernd@nerdwallet.com. RELATED LINKS Center for Responsible Lending: Map of U. S. Payday Interest Rates https://www.responsiblelending.org/es/research-publication/map-us-payday-interest-rates NerdWallet: 9 Alternatives to Payday Loans to Consider During a Crisis https://bit.ly/nerdwallet-payday-loans Copyright © 2021 The Associated Press. All rights reserved. This material may not be published, broadcast, written or redistributed.

A sociologist on why people buy too many things. What's at the root of modern American consumerism? It might not just be competition among the brands trying to sell us things, but also competition among ourselves. An easy story to tell is that marketers and advertisers have perfected tactics to convince us to purchase things, some we need, some we don't. And it's an important part of the country's capitalistic, growth-centered economy: The more people spend, the logic goes, the better it is for everybody. (Never mind that they're sometimes spending money they don't have, or the implications of all this production and trash for the planet.) People, naturally, want things. But American consumerism is also built on societal factors that are often overlooked. We have a social impetus to "keep up with the Joneses," whoever our own version of the Joneses is. And in an increasingly unequal society, the Joneses at the very top are doing a lot of the consuming, while the people at the bottom struggle to keep up or, ultimately, are left fighting for scraps. I recently spoke with Juliet Schor, a sociologist at Boston College, about the history of modern American consumerism — what it's rooted in, how it's evolved, and how different groups of people have experienced it. Schor, who is the author of books on consumerism, wealth, and spending, has a bit of a unique view on the matter. She tends to focus on the roles of work, inequality, and social pressures in determining what people buy and when. In her view, marketers have less to do with what we want than, say, our neighbors, coworkers, or the people we follow on social media. Our conversation, edited for length and clarity, is below. When I think of the beginning of what I perceive as modern American consumerism, I tend to go back to the 1950s and post-World War II, people moving to the suburbs in the cookie-cutter homes. But is that the right place to start? Scholars differ on how to date consumerism. I would say we need to go back a bit earlier to the 1920s, which is when you get the development of mass production, which is what makes mass consumption possible. This perspective differentiates the 20th century from the earlier period, in which you have shopping and you have consumer fads. But what changes beginning in the 1920s is that the production technologies make it possible to produce things cheaply enough that eventually you can get a majority of the population consuming them. In addition to the things that are happening in factories, the automobile is the leading industry where you move from stationary production to a moving assembly line and big declines in costs. You also have the beginnings of the modern advertising industry and the beginnings of consumer credit. Then it stalls out, of course, because of the Depression and the war. What happens in the 1950s is the model gets picked up again, this time with major participation by the federal government to spur housing, road building, the auto industry, education, and income. We get into durable goods and household appliances. As we know, that's really confined to white people post-war. I imagine it's changed across the decades, but why do we buy things, often more than we need? Scholars have different answers to this question. Economists just assume that goods and services provide well-being, and people want to maximize their well-being. Psychologists root it in universal dimensions of human nature, which some of them tie back to evolutionary dynamics. I don't think either of those are particularly convincing. The key impetus for contemporary consumer society has been the growth of inequality, the existence of unequal social structures, and the role that consumption came to play in establishing people's position in that unequal hierarchy. For many people, it's about consuming to their social position, and trying to keep up with their social position. It's not necessarily experienced by people in that way — it's experienced more as identity or natural desire. But I think our social and cultural context naturalizes that desire for us. If you think about the particular things people want, it mostly has to do with being the kind of person that they think they are because there's a consumption style connected with that. The role of what are called reference groups — the people we compare ourselves to, the people we identify with — is really key in that. It's why, for example, I've found that people who have reference groups that are wealthier than they are tend to save less and spend more, and people who keep more modest reference groups, even as they gain in income and wealth, tend to save more. Increases in inequality trigger what I've called " competitive consumption," [the idea that we spend because we're comparing ourselves with our peers and what they're spending]. It can be hard to keep up, particularly if standards are escalating rapidly, as we've seen. I want to dig into this idea of competitive consumption. How are we competing with each other to consume? We have a society which is structured so that social esteem or value is connected to what we can consume. And so the inability to consume affects the kind of social value that we have. Money displayed in terms of consumer goods just becomes a measure of worth, and that's really important to people. How do we pick our "reference groups" if it's not necessarily by wealth? We don't know too much about it. The argument that I made in [my book] The Overspent American was that in the postwar period, we had residentially-based reference groups. So it was really your neighborhood. People moved to the suburbs, and they interacted with people in the suburbs. Those were reference groups of people of similar economic standing because housing is the biggest thing that people buy, and houses tend to cost the same amount roughly within a neighborhood. Family and friends and social networks have always been really important. Then the next big thing that happens is that you get more and more married women going into the workforce. That really changes reference groups, because they go from a flat social structure in the suburbs to a hierarchy in the workplace, particularly if you're talking about better-remunerated work and white-collar work. People interact with people above and below them in the hierarchy. So people were exposed to the lifestyles of the people above them in the informal socialization that goes on in the workplace. Then there is the impact of media, and increasingly now, social media. It's the friends that you don't actually know, the Friends on TV. The reference groups change under different socioeconomic dynamics, but it mostly has to do with who you're in contact with — what you're seeing in front of you, so your neighbors, your coworkers, what you're seeing on TV, in movies, on social media. I think the key point here that differentiates this approach from that of many people who think about consumption is that it is not saying that it's primarily driven by advertising. It's not a process of creating desire where it didn't exist. Critics of advertising say it's just making people want stuff they don't need and doesn't have value to them. And you have to think, "Okay, why do they keep doing that? Why do they keep falling for the advertisements?" Many of the things that people desperately want are not particularly advertised. My approach is rooted in really deep social logic. It can be very rational and compelling for people to do something that in the end doesn't necessarily make them all that better off but that failing to do requires really a major effort and going against the social grain in a very big way. People aren't buying a house because they saw a commercial for it. Exactly. It's because their sibling got one and their best friend got one. Everybody they know is getting a house, and then they think, "Okay, am I just going to be a renter?" How has the role of women evolved in consumerism? Women are often driving what to buy, right? Men still dominate in certain kinds of purchases, and particularly the big ones. Women were responsible for everyday purchasing: food and apparel and things like that. There's that old binary that "men produce, women consume," which comes out of the differences in roles we have in our economy to a certain extent. It's fascinating, though, because I did some work trying to estimate models of differences between men and women and various kinds of consumption, and I never found any gender differences. But if you are looking at data from marketers, you see a disproportionate amount of spending done by women. What about Black Americans? You alluded to this earlier, but they were at least left out of the '50s version of consumerism. The literature on Black Americans' consumption is not large. If you look at it as a whole, you get a couple of things. The biggest takeaway is that Black consumers are not that different from white consumers. Now, they do spend on different things, but it's not like there are two types of consumers, whites and Blacks, and they have different orientations and dynamics. You have differences that are occasioned by some of the dynamics of structural racism — for example, the lower rates of Black homeownership. You've got some particular things that you see in part due to the high urban population. Urban dwellers spend more on shoes because they walk a lot more. You have dynamics among Black consumers that are driven in part by racism. So, for example, sartorial choices in which middle-class and upper-middle-class Black people will have to spend more on their wardrobes in order to avoid being stigmatized in retail settings, the so-called "shopping while Black phenomenon." Cassi Pittman Claytor, a sociologist at Case Reserve Western University, wrote a wonderful dissertation [ now a book] on middle-class and upper-class Black people in New York City, and one chapter is on the shopping while Black question. Some of the consumption choices are driven by the attempts to manage racism and stigma in the workplace and outside of it. Another important phenomenon around the racial discourse in consumption goes back to the period of enslavement of Black Americans in which consumption was a prohibited activity. You see the linkages from the period of enslavement where you've got white moralistic discourses against consumption [by] African Americans. A lot of this is in the context of poverty and poor Black people, and the illegitimacy of their consumption choices. And that's still present today. It's a really pernicious line of discourse back to enslavement and the ways in which whites attempted to control consumption [by] enslaved people. What about anti-consumerism? How has that evolved, the people who try to reject consumerism? There's a long history of consumer rejectors. You have it in the 19th century as well, and often these were religious groups or sects of people who went into intentional communities, like the Shakers. To me what's interesting about anti-consumerist movements of the current period is that there's a certain kind of mainstreaming going on of them. They're growing. My work is focused on the connections between work choices and consumer choices. So with downshifters, these are people who made decisions to work less and consume less, and it was often the decisions around work that were driving them. Many of them were not people who wanted to consume less in and of itself, but they wanted to take control of their time. And they were willing to make that trade-off. You do have this minimalist movement now where the stuff is first, though it has a whole story around not getting tied to a burnout job. It's connected with financial independence and this big "FIRE" movement — financial independence, retire early — and that's really mainstream. It has much less of a countercultural aspect of it. You've got people coming from the ecological side of things, like buy-nothing groups, and some of these are really big now. They have an ethic of anti-consumerism. What we're not sure about is how much participating in one of these actually reduces people's consumption of new items. But people who participate in buy-nothing groups, most of them don't buy nothing. Has the conversation around consumerism and the environment picked up? Should we be talking about consumerism more in the context of saving the planet? I think we should, and there are two parts to it. One is consuming differently, and the other is not consuming as much. So, volume and composition. To meet climate targets, we need to do both. There are also issues of inequality of consumption. Look at the inequalities of income and wealth, which have led to these really gross disparities — the excess consumption of people at the top and the deprivation of huge numbers of people both domestically and abroad. It's not just the bottom, it's a big swath of the population that doesn't have enough. So the distribution of consumption is really key, and a lot of the discourse around climate ignored that for a long time. The Green New Deal really put it at the center — it doesn't lead with a critique of consumerism by any means, but it's about meeting people's needs and equity. It has a lot of implications about how we live. The climate situation does compel us to look differently. In Plenitude: The New Economics of True Wealth, a book I wrote which is now 10 years old, one of the things I looked at was the volume of consumption of consumer goods over the decade before the crash [ahead of the Great Recession]. There was a massive speedup in what I call the cycle of acquisition and discard, just the volume of things people were buying. The fast fashion model that we saw in apparel happened in all sorts of other items, too. The crash led to a hangover in which you haven't seen that acceleration again, but it was just a period that showed how dysfunctional the consumer system has become. Did the Great Recession change how we're behaving and what we're buying? It really slowed down that cycle of acquisition and discard. From 1991 to 2007, the number of pieces of apparel people were buying, on average, went from 34 pieces of new apparel a year to 67. That number hasn't really budged in the last 10 years. We haven't had a massive discontinuity in how the consumption system is operating, but people had less money. And that's part of the rejecter dynamic — when it's more difficult for people to participate in that system, either because of its growing cost or their own incomes stagnating, they are likelier to reject it. It will be interesting to see whether there are any wider impacts of Covid and the fact that people lived with not much more than basic necessities for a while. My own view is that the work patterns are really key in driving consumption. The standard economic view is that it's the consumer decisions and desires that drive work patterns, and I don't think that's the way it works. I think that work patterns actually end up driving consumption. People make decisions about work, and the hours of work and the incomes associated with them are fixed with the decision. In general, if I decide to take my job as a professor, it has a salary that goes with it, and then that's what drives my consumption decisions because it drives my income. If I can't work this hard anymore, I'm going to go part-time and my income gets cut in half, then I have to adjust my consumption. And that's not to say it doesn't go in the other direction — if I want to buy a house, I am going to work some more. But this is my analysis of how the work and spending sides fit together, which is that the work side is a little more dominant. So we are entering a moment where lots of people have been sitting at home for a year and a half, and as you said, there's a lot of pent-up demand. Plenty of people I know are ready to spend. Is it odd that we're responding to the end of a crisis by spending money? We're just talking about the people who have it. One of the things about the pandemic is that it made the inequalities in income and spending power more visible to many Americans. You had so many people who just were struggling through the pandemic to meet basic needs. If you think of that as a working-class phenomenon, you also had this middle-class phenomenon of people whose salaries continued. They were stuck in their houses, so the money was coming into their bank accounts every month and they didn't have much to spend it on at all. There are people with considerable disposable income right now. We're going to see a burst of spending now, and we'll see how long it lasts.

Matt Carbonara, Managing Director, Venture Investments at Citi Ventures, investing in early-stage startups in the United States and Israel. Although I've been an investor for over two decades, I wasn't always a venture capitalist. In fact, I started my career in technology on the other side of the table — as one of the first engineering hires at an ambitious startup looking to grow. I'll never forget the moment our fledgling company received our first substantial investment. When our CEO gathered our small team to share the good news in the form of the VC's freshly-cut check, I was inspired by what it meant beyond mere funding: Someone believed in our vision so much that they were willing to help us keep building what we were creating. Since then, I've been fortunate to occupy that supporting role for other early-stage startups; I've invested with conviction in the mission-driven people and projects that are actively shaping the future. And my role as an investor has taken me across venture capital's many forms, from boutique VC firms to in-house M&A teams at enterprise-software corporations and everything in between. I've seen the particular value each type of funding can provide, and it's helped me better match entrepreneurial teams with the exact kind of support they need. In my current role, I'm able to leverage the unique strengths of corporate venture capital (CVC) to help our portfolio companies advance their missions. While each form of funding has its benefits, below are just a few of the key advantages I've seen make corporate venture capitalists strong partners in a startup's syndicate of investors. 1. Built-In Distribution Networks While an enterprising startup may have created an industry-disrupting solution, getting its product out to new users is often a never-ending challenge, and customer acquisition is one of the first places new funding often gets funneled. That said, growing companies need more than a scattershot marketing budget to help them rapidly extend their reach. This is where large-scale CVCs offer a valuable advantage over traditional venture capital firms. Small startups looking to partner with CVCs should look for companies that will allow them to immediately tap into their massive customer base and where the CVC will serve as the trusted champion that forges those initial introductions. For CVCs that are part of international institutions, these crucial connections aren't only personal (and personalized) — they're also global. In addition, if they have access to the CVC's large team of enterprise salespeople and advocates as part of their extended startup team, startups partnering with CVCs can expect a huge leg up when kicking off new distribution efforts. 2. Investors As Customers When my team and I are considering potential portfolio companies, we're thinking about the ways their solutions can help our own clients. But as investors specializing in enterprise technology, we're also actively looking for ways their innovations can boost efficiency within our company. This is similar to other organizations' CVCs who are looking for solutions to solve key problems. With that perspective, startups should look for CVCs that provide real-world, actionable feedback to portfolio companies so they can tweak and improve their solutions for a growing customer base. In addition, startups that onboard CVCs as actual customers should make sure they'll get exposure to their large-enterprise procurement processes, supplier verification and legacy-systems integration. This gives startups the training they need for large-customer acquisition. Last but not least, the CVC's customer account should add real, incremental revenue to the startup's bottom line. 3. Corporate Symbiosis Because a CVC represents a larger organization with its own unique set of solutions, they're bringing a different value proposition than the pocketbooks and Rolodexes of traditional VCs. As a result, startups receiving CVC investment typically also gain access to a one-stop shop for a number of utilities that can help their business grow even more effectively. From banks providing financial products to tech firms offering IT solutions, having many of the portfolio company's new-growth needs under a CVC's roof can help streamline its expansion while strengthening the overall investment relationship. Metrics For Matchmaking While these features help distinguish CVCs from other funding institutions, startups and founding teams should still ask themselves a few questions to make sure they're partnering with the best match for their long-term goals. How does the venture group operate? Is it well-respected, with a good investment track record? Does its team have expertise and connections within the startup's specific industry? Is the team transparent about their investing process? In my experience, this kind of holistic synergy is what leads to the greatest success for investors and startups alike. In a truly collaborative partnership, the financial aspect is just one part of an ecosystem where each side can actively work to benefit the other. Corporations are certainly taking note; according to Global Corporate Venturing Analytics data ( via fDi Intelligence), more and more have entered the field of venture funding in recent years, and I believe they realize that the innovation found in those investments will help them evolve for the future. That's great news for founding teams thinking about the next step in their journey toward growth, as they could discover an even broader, mutually vested interest in these unique CVC partnerships. Forbes Finance Council is an invitation-only organization for executives in successful accounting, financial planning and wealth management firms. Do I qualify?

Nifty Metal index ended up 2.20% at 5286.45 today. The index has slipped 1.00% over last one month. Among the constituents, National Aluminium Company Ltd rose 6.12%, Tata Steel Ltd jumped 4.40% and Steel Authority of India Ltd gained 4.06%. The Nifty Metal index has soared 161.00% over last one year compared to the 47.04% increase in benchmark Nifty 50 index. In other indices, Nifty Realty index gained 1.96% and Nifty Commodities index increased 0.79% on the day. In broad markets, the Nifty 50 increased 0.39% to close at 15879.65 while the SENSEX increased 0.37% to close at 53054.76 today.

The Gauteng Department of Treasury has lost more than R6 million after it mistakenly paid for services in dollars instead of rand. The department erroneously paid $20 million instead of R20 million as per e-Government payment advice for the cost of Microsoft fees, DA spokesperson Adriana Randall said. READ| Government departments not paying suppliers on time harms the economy, PSC warns This saw more than R318 million debited from the e-Government bank account. After the error was made, the provincial treasury recalled the full amount from Microsoft, but R6 million was lost due to a change in the exchange rate. Gauteng Finance and e-Government MEC Nomantu Nkomo-Ralehoko addressed the issue while responding to questions posed in the provincial legislature, reported Times Live. Nkomo-Ralehoko reportedly said the department prepared a payment advice document for the payment of Microsoft fees amounting to more than R20 million. The department submitted the payment advice to the provincial treasury, cash book and banking services for processing. The provincial treasury erroneously made the payment in dollars instead of rand, as advised by the department, Nkomo-Ralehoko reportedly said. The amount was reportedly successfully recalled in February. Nkomo-Ralehoko reportedly said the provincial treasury had instituted an investigation. "While the DA welcomes the investigation into this forex transaction, we believe that stronger action should have been taken, and the official responsible for this should have been suspended immediately and the money recouped from the official. "Consequence management is the only way in which errors like these will not happen and will send a strong message to any government official that is involved in negligence as seen at the e-Government department," Randall said. News24 approached the provincial treasury for comment but had not received a response at the time of publication. It will be added, once received. Do you want to know more about this topic? Sign up for one of News24's 33 newsletters to receive the information you want in your inbox. Special newsletters are available to subscribers.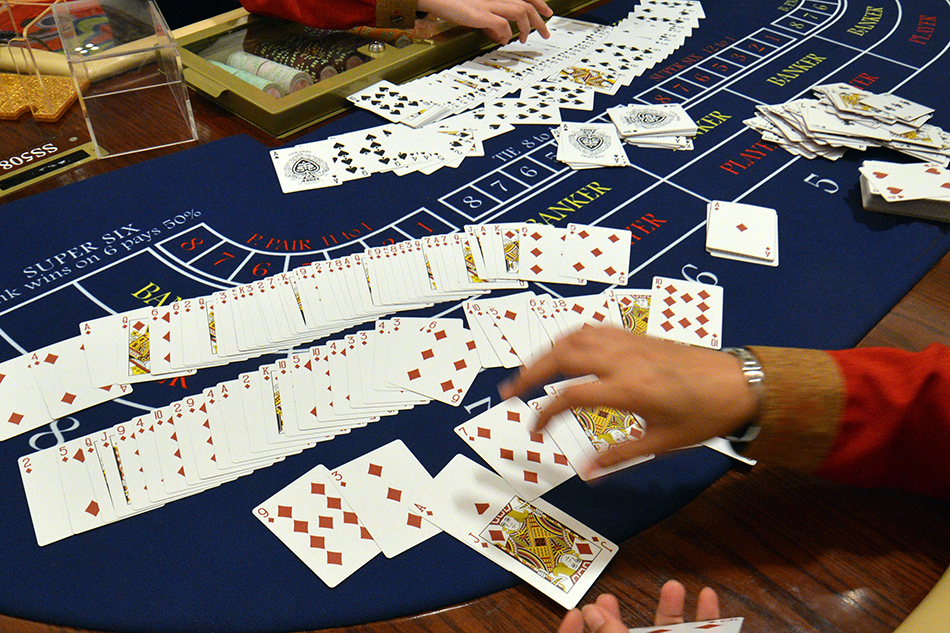 MANILA — President Rodrigo Duterte said on Tuesday he has allowed gambling operations in the country because state funds are running low, even as he at one point said he hated it. Duterte noted he once said he was against gambling. But he said the COVID-19 pandemic forced government to use its reserved funds. "Sabi nila sa panahon ko, pinayagan ko ang sugal (they say that during my term, I allowed gambling). Correct. That is true. I do not deny it," Duterte said in a taped meeting his political party, which aired on Wednesday. "Now itong sugal, bakit ko pinayagan? Wala tayong pera eh," he added. (Why did I allow gambling? We have no money.) Duterte in 2018 said he "hate[s] gambling." But mostly Chinese-run online gambling hubs had proliferated in the Philippines under his term, even before the COVID-19 crisis. "Ngayon kasi kailangan natin ng pera, the most sensible thing is really just to encourage those activities, though it may sound not really repulsive, maybe repugnant to some lang," Duterte said. "Magdusa na muna kayo kasi kailangan ko talaga ang pera para sa bayan." (Now that we need money, the most sensible thing is really just to encourage those activities, though it may sound not really repulsive, maybe repugnant to just some. Just suffer for now because I need funds for our nation.) "The times are not really conducive to being a moralist now. You have to be pragmatic about it," he added. However, Duterte said he rejects gambling on "the barangay level" because there would be "no control."

In Iowa politics,2021 is considered an "off year." But for folks who really care about public schools, the school board elections on Nov.2 make 2021 a very "on year." I know politicians want everyone to believe every election is the most important of a lifetime. While I'm not selling that cliché, I am providing an early warning for a November storm already brewing. Sound ominous? It is. Everyone knows for a storm to roar; the atmospheric conditions need to be unstable. Those conditions were ensured by Iowa's Republican legislative majority and governor attacking public schools throughout this last session. First, they gave public schools insufficient funding again. Then they tried to spend public money on private schools by trying to pass private school vouchers (or "savings accounts"). When that didn't work, they passed "vouchers lite," a for-profit charter school law with little accountability. In the final hours of the session, not satisfied just attacking school districts, they chose to meddle with the classroom curriculum. They rammed through two poorly written laws interfering with classroom instruction. The so-called ban on divisive concepts for diversity training attempted to censor the teaching of systemic racism. While this law really doesn't do what they intended, it opens the door for small groups of radical parents to scream at school administrators until they overact enough to censor meaningful classroom content. The companion law that helps complete the unstable atmosphere was an amendment attached to the education appropriation. This law allows a small number of those voting in the most recent school board election an opportunity to petition their local school board about any issue of concern, including curriculum content. Until the school board holds a hearing, the curriculum would be on hold. In an unstable atmosphere, the second condition that could ignite a storm are new pressure groups formed to influence local elections. Here are just a few. The Proud Boys, one of the groups that stormed the Capitol on Jan.6, have announced they intend to be involved in local elections. They haven't been clear on their involvement, but they indicated some of the members will run for local office. More specific to Iowa is a group called "No Left Turn," active in both Waukee and Ankeny. According to its website, its mission is, "To revive in American public education the fundamental discipline of critical and active thinking which is based on facts, investigation, logic and sound reasoning." I didn't know it was dead. Another group active in Ames is called "Ames Deserves Better." This began as an anti-Black Lives Matter group in response to the Ames district announcing it would sponsor a Black Lives Matter week of action. Another view: Lawmakers should learn from Ames school leaders on diversity There's nothing wrong with groups forming to influence elections. It happens all of the time. What is wrong is when the candidates for local office hide their agenda and refuse to acknowledge they are members of a particular pressure group. What can we do for storm prevention? Get to know the candidates by asking a few questions and demanding answers. Let's do more than take cover from a storm. Let's prevent it. Bruce Lear lives in Sioux City and retired after 38 years of being connected to public schools. He was a teacher for 11 years, and a regional director for Iowa State Education Association for 27 years until retirement.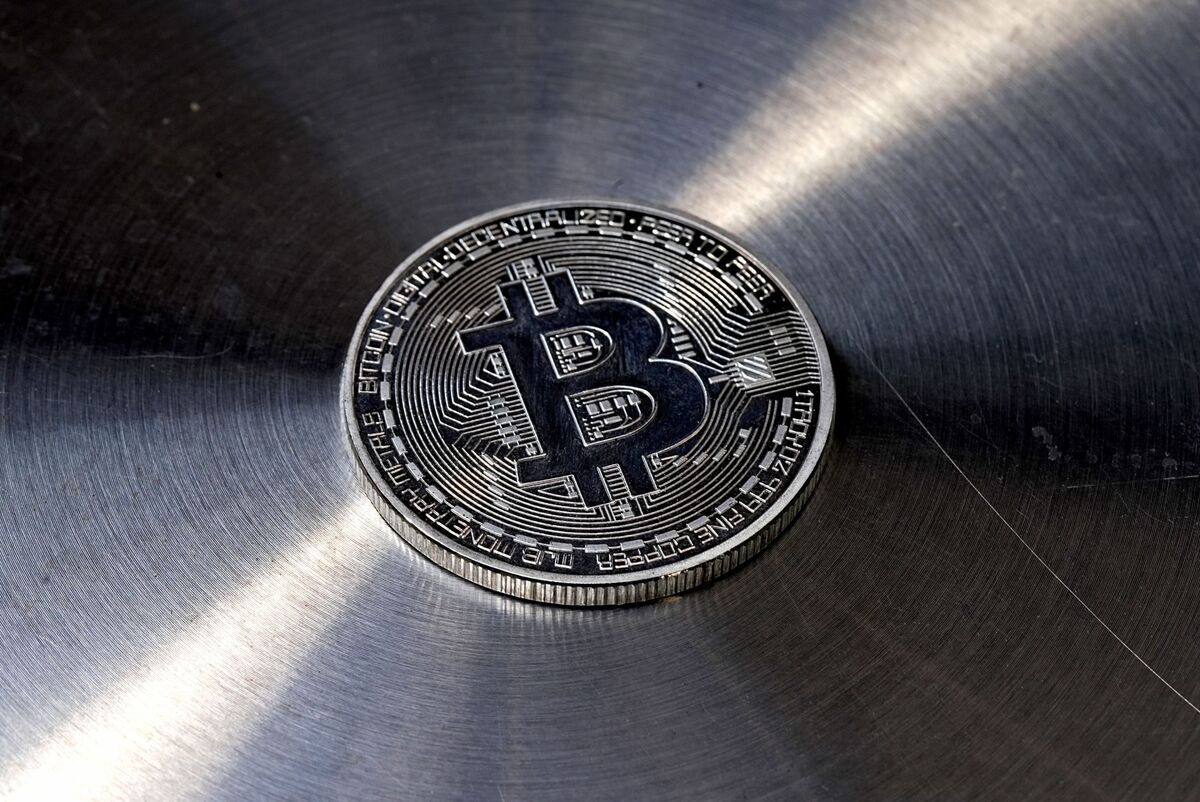 The Securities and Exchange Commission faces an important decision about cryptocurrency: Whether to approve a Bitcoin exchange-traded fund. Although it would be best to see such ETFs approved only after Congress has strengthened crypto regulation generally, the likelihood of that happening in the near future is low. The next best thing, then, is for the SEC to approve an ETF conditionally in a way that would enhance transparency and integrity in the industry. A Bitcoin ETF would be a way for retail investors to invest in cryptocurrency without having to actually purchase it and deal with the complexities of custody. There have been several applications to create Bitcoin ETFs pending with the SEC for years. To determine the price of shares of the ETF, they would rely on indices of Bitcoin prices derived from trading on crypto exchanges. The problem is that those crypto exchanges are unregulated, and former SEC Chairman Jay Clayton was apparently unwilling to move forward on any ETF application because of well-founded concerns about the risk of fraud and manipulation in the underlying cash market. The SEC does not have the authority to regulate these exchanges, because it can only regulate exchanges that trade securities, and Bitcoin and the other widely traded tokens are not securities. The Commodity Futures Trading Commission does not have the power, either. It regulates derivative exchanges. This means neither agency has the authority to set standards for Coinbase, Kraken and other U. S.-based crypto exchanges. And it means investor protection is weak. There are no rules to prevent fraud, manipulation and other abusive practices. There are no disclosure or reporting requirements. There are no prohibitions of conflicts of interest — some exchanges have proprietary trading operations that can compete against customer trades, and some have financial interests in the crypto assets they list. Many who believe that Gary Gensler, the new SEC chairman, should approve an ETF argue that the market has grown so big today that it is difficult to manipulate. Some also point out that there are now Bitcoin futures that lead price discovery, and those trade on CFTC-regulated exchanges. Those two developments are helpful but not sufficient. The SEC could use the ETF approval process to improve transparency and integrity of trading on crypto exchanges. The approval would be granted on the condition that the ETF price be based on an index of exchanges meeting certain prescribed standards, similar to those for securities and derivatives exchanges. These could include standards on reporting and disclosure, prevention of fraud, governance, prohibition on conflicts of interest, risk management, operational security and so forth. This would create a market incentive for exchanges to adopt such standards and for trading to flow to them. And it could create a blueprint for future legislation. The CFTC, for its part, could incorporate similar standards into its approval process for crypto-derivatives, which can involve examining the risk of manipulation in the underlying cash market. This approach could also draw on the work over the last decade to improve financial benchmarks for commodities, something that Gensler is quite familiar with from his tenure a decade ago as CFTC chairman and bringing enforcement cases for manipulation of the London interbank offered rate. Those cases led the International Organization of Securities Commissions to develop its Principles for Financial Benchmarks, which set standards for integrity and transparency that widely followed price indices must meet, such as those used in the oil industry. This approach could also provide an incentive for decentralized exchanges to develop ways to meet such standards. DeFi is an increasingly important part of the crypto ecosystem, and this would avoid the common problem that regulations often favor the largest and best capitalized players in an industry. Some might say approving an ETF only further legitimizes an industry that we should be trying to contain. But the traditional approach to financial market regulation is to refrain from such judgments, and instead to require transparency and integrity in markets and let investors make their own decisions. So, if it's unlikely that Congress will act to improve crypto regulation, let's create market incentives for better self-regulation. This type of conditional approval would be a way to increase the industry's transparency, integrity and investor protection, not just its mass appeal. To contact the author of this story: Timothy Massad at timothy_massad@hks.harvard.edu To contact the editor responsible for this story: Tobin Harshaw at tharshaw@bloomberg.net

Passive income has to be one of the most delightful ways to make money. Passive income is money which flows in regular intervals without the need for putting in a considerable amount of effort to create it. The reason why passive income is appealing is that it requires little effort to make money. This is what is often referred to as making your money work for you. Generally, you invest your money in a product that will generate an income. But beware, passive income is taxable. However, don't let the tax deter you from creating a passive income. Passive income is taxed differently than active income, but it is still taxable so be knowledgeable before investing. The goal of passive income is to earn money while you sleep. This is how to get your assets working for you. You invest time in building something upfront that will generate income down the road with little effort on your part. Building a business that requires time upfront but allows you to work less as the business gets going is a great way to generate passive income. Investing in financial products that produce dividend income or interest income and appreciate in value over time is ideal. There are many ways a beginner can start investing and making money. As Warren Buffet is known to say, "If you don't find a way to make money while you sleep, you will work until you die." Often when people need more money they turn to a part time job or side hustle. The better option would be to stop trading time for money and create passive income. A common method for passive income is investing in financial instruments such as bonds or GICs. The financial instrument protects your initial investment and offers interest payments in exchange for you lending them money. They are a safe investment, but the drawback is they offer lower interest payments. There's more risk in investing in the stock market as there are no guarantees, but the idea is to purchase shares in exchange for those shares to appreciate in value. The good shares will offer dividend payments as well. Investing in rental property can be passive if you hire someone to do the maintenance and repairs in the building. Ideally the building you invest in will appreciate over time and you will be earning rental income each month. A royalty is a legally binding payment made for the use of assets such as copyrighted works (books, music), franchises, and natural resources. This is when you earn a commission for selling another's product or service. Many bloggers and podcasters use affiliate marketing to add to their income streams. There is no work involved on your end when you sell other peoples products. Creating an educational product to sell to others, creating membership sites and creating templates or tools to sell to others are a great way to make passive income. The work goes in at the start to create the product, but once that product is created, there is very little to do. Just watch your product sell. Tech companies are disrupting the traditional methods of investing and allow people to invest in fractions which is more affordable. Real estate and stocks are crowdsourced and this makes investing more affordable. The bottom line is getting your money to work for you is a smart way to earn money. It frees up your time pursuing active income and it's an excellent way to protect the value of your money. Ideally you are investing your money in appreciable assets that offer passive income as well.

Shares of steel manufacture were in focus on Wednesday with Tata Steel, Steel Authority of India (SAIL) and Jindal Stainless Ltd ralling between 4 per cent and 5 per cent on the BSE in the intra-day trade on expectations that higher export orders and lower raw material prices are likely to support the profitability margins of players during the current financial year 2021-22 (FY22) who are witnessing month-on-month (M-o-M) volatility in domestic demand owing to the pandemic-led restrictions/lockdown. JSW Steel, Jindal Steel and Power (JSPL), Tata Steel Long Products, Tata Steel BSL and Jindal Stainless (Hisar) were up in the range of 2 per cent to 4 per cent. At 03:00 pm, the S&P BSE Metal index, the top gainer among sectoral indices, was up 2 per cent as compared to a 0.23 per cent rise in the S&P BSE Sensex. According to CARE Ratings, the credit quality of the domestic steel manufacturers has seen an improving trend over the last three quarters of FY21, largely on account of improving cash flows arising due to significant improvement in net sales realizations (NSR). Despite decline in sales volumes for most of the players, the profitability in absolute terms has only improved, as the increase in realizations more than compensated the fall in volumes, it said in a report. "CARE Ratings expects NSR's to remain healthy, though a downside risk cannot be ignored on account of the onset of monsoon and the possible impact of second wave on the domestic prices. As far as volumes growth is concerned, demand improvement and low base effect of FY21 is likely to help improve the volumes of the domestic players. The solvency ratios of steel companies are expected to improve on account of accretion to net worth and healthy cash accruals," the rating agency said in a update. Riding on the back of various stimulus packages, a sharp re-bound in global demand had significantly widened the demand supply gap, resulting in an upsurge in steel prices. However, CARE Ratings believes, the current up-cycle witnessed in steel prices over the last one year, is likely to show some respite now, largely on account of the improving supply-side situation. While the demand continues to remain robust, normalcy in the economic activity, post relaxation of lockdown restrictions, has resulted into higher finished steel output across all major steel-producing economies. On the demand front, the agency expects the domestic steel demand to grow at a CAGR of about 7.5 per cent during the next 2-3 years. While the demand for flat products in the domestic market is likely to be supported by the pipe manufacturing, roofing and the automobile sectors, demand for long products will continue to increase largely on the back of the infrastructure spend. The housing and construction activity is also likely to witness some amount of recovery. CARE Ratings believes the government-targeted infrastructure spend is likely to be the key monitorable when it comes to domestic demand outlook for the

Despite an almost 2.4x rise from its low in March 2020, at the current price of $80 per share, we believe Micron Technology stock (NASDAQ: MU) has further upside potential. Micron stock rose from $34 in March 2020 to $80 currently, while the S&P increased by around 90% from its lows. Further, the stock is up almost 40% from the level it was at before the pandemic. However, we believe that Micron stock could rise around 20% to regain its April 2021 high of $96, driven by expectations of steady, continuing demand growth and strong Q3 2021 results. Our dashboard What Factors Drove 153% Change In Micron Technology Stock Between 2018 And Now? has the underlying numbers behind our thinking. The stock price rise since 2018-end came despite a 16% drop in revenue from $30.4 billion in FY 2018 to $25.5 billion over the last 12 months (Micron's fiscal year ends in August). Net margins dropped from 46.5% to 16.2% over this period, as a drop in ASPs led to a drop in gross margins. Despite a 3% drop in outstanding share count, EPS dropped 70% from $12.27 in 2018 to $3.69 on an LTM (last twelve months) basis. Meanwhile, Micron's P/E (price-to-earnings) multiple rose from 3x in 2018 to 31x by 2020 end, as the semiconductor supply glut cleared out, implying a rise in demand. The multiple has since pulled back to 22x currently, but we believe that the company's P/E ratio has the potential to increase more in the near term on expectations of continuing demand growth and a favorable shareholder return policy, thus driving the stock price higher. Where Is The Stock Headed? The global spread of coronavirus and the resulting lockdowns have led to a rise in online activity as more and more people have started working from home. With streaming services seeing a surge in demand and people relying more and more on cloud storage, demand for physical storage devices has taken a hit. However, enterprise memory demand is rising, and this has led to a rise in overall memory device demand. This is evident from Micron's Q3 2021 results, where revenues came in at $7.4 billion, a more than 35% jump from $5.4 billion in Q3 2020. COGS and other operating expenses rose at a much slower rate, and this helped drive operating margins from 16.3% to 24.2%, a strong 1.5x jump. This helped drive a more than 2x rise in net income from $803 million to $1.74 billion over this period. Further, for the first 9 months of FY 2021, revenue stands at $19.4 billion, up from $15.4 billion for the same period in FY '20. Operating income has seen a significant jump from $1.85 billion to $3.3 billion over this period, which is a strong indicator of the rise in demand and selling prices. Further, with the lockdowns being lifted and vaccines being administered globally, we believe the company will continue seeing strong revenue growth in the medium term, and if Micron Technology continues to successfully control expenses, profitability could rise further in the near to medium term. This will raise investor expectations, driving up the company's P/E multiple. We believe that Micron stock can rise around 20% from current levels, to regain its recent highs of around $96. While Micron Technology stock may move higher, it is helpful to know how its peers stack up. Micron Technology Stock Comparison With Peers summarizes how Micron Technology compares against peers on metrics that matter. You can find more such useful comparisons on Peer Comparisons. See all Trefis Featured Analyses and Download Trefis Data here

When Lisa Rich held a call with investors in March to raise money for Aurvandil Acquisition, a company that buys start-ups focused on space technology, her goal was to bring in several million dollars. Ms. Rich, a member of Aurvandil's board, almost reached her goal within an hour. "That just doesn't happen," she said, laughing. Richard Branson is scheduled to fly to space on Sunday, on a ship built by his company Virgin Galactic. Jeff Bezos, who stepped down as Amazon's chief executive on Monday, is set to take a spaceflight about a week later, in a spacecraft built by his company Blue Origin. And Elon Musk's SpaceX company has a deal with the National Aeronautics and Space Administration to land Americans on the moon. But moguls are far from the only people with their eyes to the skies. Investors are putting more money than ever into space technology. Space start-ups raised over $7 billion in 2020, double the amount from just two years earlier, according to the space analytics firm BryceTech. That trend is continuing this year, said Carissa Christensen, BryceTech's chief executive. The largest deals are going to companies that launch rockets into space, like SpaceX and Relativity Space, which announced $650 million in new money last month, a day after Mr. Bezos declared that he would fly to space. But start-ups in every sector of the space industry — including launch and satellite communications, human life support, supply chains and energy — have investors' attention. Astranis, a satellite internet company, closed a $280 million deal in April. Axiom Space, which aims to build the first commercial space station, raised $130 million in February. "I've never seen a market like this, ever," said Gabe Dominocielo, a co-founder of Umbra, a start-up that develops satellites designed to take pictures regardless of weather or light conditions. "Since last year, the amount of phone calls I've received — as a start-up, typically, the start-up is typically making a phone call to an investor. Now it's completely the reverse." The boom, many executives, analysts and investors say, is fueled partly by advancements that have made it affordable for private companies — not just nations — to develop space technology and launch products into space. Thanks to technology developed for mobile phones, for example, start-ups like Planet can afford to build and deploy satellites that can image the entire Earth every day. And analytical abilities enabled by machine learning, artificial intelligence and cloud computing have increased the demand for the data those satellites produce. "You can do a lot more with a smaller satellite and launch many more of them," said Mike Safyan, a vice president at Planet, "which ends up enabling new types of missions that you couldn't do if you're just building one satellite the size of a school bus that has very expensive space-specific technology." Also, satellite companies can now pay to have their technology hitch a ride on a rocket, greatly lowering their economic barriers. For example, if a rocket has a 500-kilogram capacity and the primary payload is 300 kilograms, another company can use 200 kilograms. Astra, a start-up founded in 2016, wants to make it even easier to go to space by offering smaller, more frequent launches — positioning itself as a building block of the space industry similar to cloud computing's role in enabling web start-ups. The company is competing in the small launch market with other and more established start-ups like Rocket Lab, but hopes to stand out by aiming for even smaller and cheaper launches. Astra has scheduled its first launch with a payload for this summer and has 50 launches under contract, including for Planet and NASA. "Astra is there filling in this gap in the market where you have hundreds of these companies, they all have new technologies they're developing, and you don't want to wait until next year when SpaceX can get you there," said Chris Kemp, Astra's chief executive. "Even if it's free, even if SpaceX paid me money to wait a year, the value of being able to get to space next month is incredibly valuable to a start-up that's burning millions of dollars a month." SpaceX is also working on another milestone: rockets like Falcon 9, which has a reusable booster, and Starship, which is designed to be fully reusable. In May, SpaceX successfully launched and landed its latest Starship prototype for the first time. "The ability to reuse something and make it consistent and reliable is transformative in the space industry," said Ms. Rich, who is also a founder of Hemisphere Ventures, which has invested in space companies since 2014, and a founder and the chief operating officer of Xplore, a company designing orbital missions. The latest wave of deals has also been driven in part by a spate of special purpose acquisition companies like Ms. Rich's Aurvandil. The sole purpose of these publicly traded shell companies, known as SPACS, is to buy one or more private companies. They have been one of the financial world's hottest trends over the past year. From the start-up's perspective, merging with a SPAC is an efficient way to raise large sums at an earlier stage. It also changes the calculus for investors. Some investors shied from space start-ups in the past because the technology often takes much longer than software, like a social media service or an app, to develop and generate revenue. "If you're in a software company and you deploy an app and it doesn't work, you just spin up a new app. That failure maybe cost a month or two months of time," Mr. Dominocielo of Umbra said. "If you have a satellite, you're spending just millions of dollars, and if that satellite fails, you've lost years." But SPACs allow companies to go public earlier than a traditional initial public offering, giving investors an opportunity to cash out much earlier. The value of the public company is often based in part on growth projections rather than actual revenue. Nine companies in the space industry have announced plans for a SPAC merger, including six in 2021. Astra is one of the six. The merger with Holicity will infuse Astra with about $489 million in cash, allowing it to expand fast enough to keep up with what Mr. Kemp calls "absolutely insatiable" demand. "When you get to the point where you need half a billion dollars of capital to build a rocket factory, then you have to go public because you're beyond the venture stage of financing," he said. "That's where the SPACs really play well." Astra began the merger process in December and went public on Nasdaq last week. In total, $3.9 billion has been raised through the nine SPAC deals, and the companies have a combined enterprise value of $20 billion, according to Ms. Christensen of BryceTech. Investors, founders and analysts expect the space industry to continue to expand rapidly. Morgan Stanley estimated that space will be a $1 trillion industry by 2040, up from $350 billion in 2020. Ms. Christensen said increased government contracts, both for research missions like NASA's Artemis moon program and for military and national defense purposes like the Space Force, are expected to continue to drive industry development. Others see commercial space travel as the "railroad" that will catalyze mass access to the final frontier. "Everyone's sort of waiting to see if Elon can pull off Starship," said Rick Tumlinson, a founding partner of SpaceFund, a venture firm. "And then there'll be a lag time when he actually starts flying, when people get businesses and the stuff they want to fly together and the funding, so there'll be this bump that occurs in, I would say, three years." "It's like the week before the internet for us," he said.

Renewed virus restrictions across Asia have weakened consumer spending, but may keep ticking higher in some of the region's biggest economies. China's consumer prices will climb an estimated 80 basis points next year, the most in Asia, followed by Indonesia seen observing an increase of three quarters of percentage point, according to economists surveyed by Bloomberg. Analysts see the biggest price falls in the Philippines, where is seen easing 1.2 percentage points. Diverging paths will determine the different paces at which Asia's monetary authorities start to wind down pandemic-era stimulus. In South Korea, where a gauge of consumer prices ran at 2.4% last month, the central bank is expected to start raising interest rates this year. The Reserve Bank of Australia is seen hiking in 2023. Surging costs of imported commodities have driven China's factory inflation to the highest level since 2008, while selling prices to consumers are holding fairly steady. The trend is likely to reverse next year, with consumer inflation is expected to tick up to 2.3% from 1.5% this year, while producer prices slow to 1.9%. in will gain a firmer footing later this year and into 2022, helping to narrow the gap between supply and demand, said Jinyue Dong, senior economist with BBVA. Average inflation in the Philippines is expected to settle at 4.2% this year and ease to 3% next year. The recent higher inflation is partly the result of statistical base effects that will start to fade out from November, according to economist Michael Ricafort at Rizal Commercial Banking Corp. While inflation in most of Asia is likely to stay below 4% next year, India and Sri Lanka are seen as different. Price gains in those countries are expected to top 4.7%, out-pacing regional peers for a second year. India is experiencing something similar to China's cost-push inflation, where higher input prices are the main factor pushing up the cost of goods and services. Concern about Indian inflation have triggered a recent selloff in shorter-maturity rupee bonds, a trend that may accelerate if prices continue to increase.

Sumitomo Mitsui Financial Group's (SMFG's) investment in Temasek-backed Credit Company (FICC) will improve SMFG's profitability and diversify its overseas operations. These benefits will accrue without any significant weakening of its balance sheet, according to rating agency Moody's. The deal to initially acquire 74.9 per cent shareholding and eventually have 100 per cent stake will result in significant goodwill and is credit positive for SMFG. Japanese financial services group has inked a pact with Fullerton Financial Holdings, a subsidiary of Singapore government-owned Temasek to acquire a 74.9 per cent stake for $ 2 billion. However, the goodwill is a result of the high price book ratio of 4.7x at which SMFG is making the investment exposing SMFG to a high risk of future valuation losses on the investment. The substantial goodwill that the deal will generate will result in SMFG's Common Equity Tier-1 ratio declining by only around 22 basis points in fiscal 2021. The investment is in line with SMFG's aim to expand its franchise in Asia. SMFG aims to realise synergies by leveraging its knowledge of personal loans, loans to small and medium-sized enterprises (SMEs) and online lending in Japan. This it would do so by providing FICC's loan products to SMFG's Japanese customers in India, and giving funding support to FICC. SMFG's international business accounted for around 40 per cent of its risk-weighted assets as of March 31, 2021. The additional foreign acquisitions will challenge its ability to manage its growing overseas business alongside its strong domestic franchise, Moody's added. FIIC offers unsecured loans and loans against property, mainly to SMEs, the self-employed, and mass-market customers and has more than 650 branches across India. It had the sixth largest assets under management among non-banking in India as of March 31, 2021, and the highest net interest margin of 11.3% as of March 31, 2021.

Japan stock market finished session lower on Wednesday,07 July 2021, with every industry category lost ground except for precision instrument issues, as investors sentiments spooked by the recent acceleration in the new wave of coronavirus cases, particularly in Olympic city Tokyo At closing bell, the 225-issue Nikkei Stock Average was down 276.26 points, or 0.96%, to 28,366.95. The broader Topix index of all First Section issues on the Tokyo Stock Exchange fell 16.82 points, or 0.86%, to 1,937.68. Trading volume turnover in the 1st section increased to 1,066 million shares from 794 million shares in previous session. Trading value turnover increased to 2,293.89 billion yen from 1,690.96 billion yen in previous session. Total 32 of 33 sectors sub-indexes on the Tokyo exchange ended lower, with worst performers were Mining (down 3.5%), Oil & Coal Products (down 2.3%), Insurance (down 2.1%), Iron & Steel (down 2%), Banks (down 2%),Securities & Commodities Futures (down 1.9%), and Nonferrous Metals (down 1.8%) issues. Chip-related shares were lower amid stronger yen against greenback, with Tokyo Electron slipping 0.4%, Advantest falling 0.82% and Shin-Etsu Chemical dropping 3.27%. Toyota Motor fell 0.6% to 9,734 yen and Sony Group declined 1% to 11,125 yen. Bank shares fell, with Mitsubishi UFJ Financial Group falling 2%, Mizuho Financial Group losing 1.9% and Sumitomo Mitsui Financial Group falling 1.8%. Energy-related stocks dropped on the back of crude oil futures following a standoff over production levels among the Organization of the Petroleum Exporting Countries and other major oil producers. Inpex slipped 3.7% to 825 yen and Cosmo Energy Holdings lost 2.2% to 2,585 yen. Technology start-up investor SoftBank Group fell 0.6% as Didi Global, which it backs, fell as much as 25% in early U. S. trading on Tuesday after Chinese regulators ordered Didi's app be taken down. CURRENCY NEWS: The U. S. dollar fell to the mid-110 yen range as a safe-haven asset demand resumed after the U. S. data showing slower-than-expected growth in the services sector. The Japanese yen traded at 110.69 per dollar, stronger than levels above 110.8 seen against the greenback earlier this week.



Total 97 articles.
Version: 9.55.35971-219432. Input files: 1, items detected: 6646, scanned: 6646, accumulated: 97, inserted: 97, exclude filters: 0, include filters: 0, empty media: 432, filtered media: 484, duplicated media: 139, not matched limits: 667, passed http check: 0, not passed http check: 0, http check errors: 0, skipped: {total: 6546, by unique value: 0, by limits: 1661, by similarity: 106, by unicity: 624, by dates: 1140, by classifier: 4287, by blacklist: 678, by mandatory tag: 0, from input files: 0}, bad dates: 0, similar from same domain: 1897, unique Ids: 10145, unchangeble patterns: 660, words comparisons: 87941493/10230124, python: 2.7.13 (default, Sep 26 2018, 18:42:22) [GCC 6.3.0 20170516], dynamic containers: {u'nlpu.stemWordsBackHash': -1, u'nlpu.languagesMap': -1, u'nlpu.languagesCache': -1, u'bcla.similarCache': -1, u'bcla.tagsClassificationPopWordsData': -1, u'nlpu.stopWordsCache': -1, u'nlpu.stemWordsBackHashFreqs': -1, u'bcla.autoWeightedWords': -1, u'nlpu.stopWords': -1, u'bcla.tagsSimilarityPopWordsData': -1, u'nlpu.synonimsReplacedCache': -1, u'nlpu.stemWordsBackHashFreqsStemmed': -1, u'bcla.synonyms': -1, u'nlpu.posHash': -1, u'bcla.notSimilarCache': -1, u'nlpu.stopwordsCustom': -1}; the same images URLs found 5344 times; total 0 languages detected: {}; {u'text': {u'chars': 9063215, u'bytes': 37256564, u'words': 1451918, u'sentences': 103297}}
Created at 2021-07-08 07:16