Announcement
DC5n United States software in english 144 articles, created at 2021-07-08 00:03 articles set mostly positive rate 5.9
(3.09/4)

1

0.1

Former President Sues Facebook, Twitter, and YouTube In Desperate Plea for Platform

On Wednesday, Donald Trump, once again, demanded the right to post. 2021-07-07 17:42 5KB gizmodo.com

(3.05/4)

2

0.3

Ubisoft announces Assassin's Creed Infinity, a live service AC game

Ubisoft wants you to play Assassin's Creed forever (and ever, and ever, and...) in its latest live service game, codenamed Assassin's Creed Infinity. 2021-07-07 20:11 5KB www.thumbsticks.com

(2.99/4)

3

0.5

Best cheap washer and dryer deals for July 2021

We have selected some of the best deals on washers and dryers for you so you can make an informed decision and save some money. 2021-07-07 18:02 2KB www.digitaltrends.com

(2.75/4)

4

0.7

Samsung Galaxy Z Flip is getting the July security patch

Samsung is in the process of rolling out the latest security patch to its Galaxy smartphones. The latest premium Galaxy phone to get the July security patch is the company's first clamshell foldable phone, Galaxy Z Flip. The Galaxy Z Flip 3 is now getting the July 2021 security patch alongside a fix for Android […] 2021-07-07 17:24 1KB mspoweruser.com

(2.32/4)

5

0.5

The best VPN for the iPhone or iPad in 2021

If you're not using a VPN to protect your iPhone or iPad, then you could be putting yourself at risk. Here, we take a look at the best VPNs for the iPhone. 2021-07-07 15:25 8KB www.digitaltrends.com

(2.09/4)

6

1.0

Nintendo, stop trying to get me to play my Switch outside

Nintendo announced the rumored new Nintendo Switch OLED Model. While their commercial shows people playing the Switch outside, I don't think I'll ever want to play it outside. 2021-07-07 20:38 3KB www.polygon.com

(2.06/4)

7

0.5

Windows 11: Everything you must know about Microsoft's latest software

PC owners will experience some big changes to their Windows software later this year. 2021-07-07 18:38 3KB techxplore.com

(2.06/4)

8

0.2

Loki's weirdest Easter egg is the biggest video game in urban legend history

What's Polybius? Only one of the biggest video game urban legends, all about an arcade game that could take control of your mind. Disney Plus' Loki folks the legend of Polybius in with the Marvel Cinematic Universe and the Time Variance Authority. 2021-07-07 18:00 2KB www.polygon.com

(2.04/4)

9

0.8

Intel is discontinuing the Lakefield chips that were supposed to go in the Surface Neo

Intel has started its process of discontinuing its Lakefield processors, which were once headed for Microsoft's Surface Neo. 2021-07-07 18:18 2KB www.xda-developers.com

(2.04/4)

10

0.7

Red Dead Online: Blood Money arrives July 13th

Red Dead Online is getting more content that'll have you after diamonds, rubies and emeralds at the behest of a notorious underboss Guido Martelli. 2021-07-07 16:49 1KB mspoweruser.com

(1.04/4)

11

0.4

Spec analysis: Switch OLED model - new display, old tech

A missed opportunity to improve docked play. After months of pent-up expectation surrounding the 'Switch Pro' and hopes of a new, improved machine, Nintendo finally … 2021-07-07 16:47 11KB www.eurogamer.net

(1.03/4)

12

0.7

Fortnite Chapter 2 Season 7 Week 5 Challenges Guide

With another week, comes more challenges; join us as we show you how to complete Fortnite Season 7 Week 5 Challenges for more experience! 2021-07-07 18:17 3KB segmentnext.com

(1.03/4)

13

0.4

The 512GB MacBook Air is down to the lowest price we've ever seen

Amazon is selling the 512GB MacBook Air for $1,100, knocking $150 off the price. 2021-07-07 16:43 1KB www.macworld.com

(1.02/4)

14

0.6

The best Xbox Series X games for 2021

The Xbox Series X is here, kicking off the next generation of consoles with memorable games. Here are the ones to check out. 2021-07-07 18:08 11KB www.digitaltrends.com

(1.02/4)

15

0.4

Xbox Game Pass Will Help Contraband "Grow" But Not For Cash, Says Avalanche CEO

Contraband will be published by Xbox Game Studios and will hence land on Xbox Game Pass on day one. 2021-07-07 16:30 2KB segmentnext.com

(1.01/4)

16

0.5

Microsoft's Out-of-Band fix for PrintNightmare already by-passed by hackers

Yesterday Microsoft released an out-of-band patch for the PrintNightmare Zero-day exploit that grants attackers full Remote  Code Execution capabilities on fully patched Windows Print Spooler devices. It turns out however that the patch, which was released in record time, may be flawed. Microsoft only fixed the remote code exploit, meaning the flaw could still be […] 2021-07-07 20:12 1KB mspoweruser.com

(1.01/4)

17

0.7

The Best Apple Watch Bands

Swap the standard Apple Watch band for one that matches your lifestyle. These picks are functional, stylish, and (mostly) affordable. 2021-07-07 19:21 1KB uk.pcmag.com

(1.01/4)

18

0.0

Google Pixel Watch release date, price, news and leaks

Rumors suggest Google is working on its own flagship smartwatch to show off Wear OS – here's what we know so far. 2021-07-07 18:53 12KB www.techradar.com

(1.01/4)

19

0.6

How to pre-order The Legend of Zelda: Skyward Sword HD

The re-release of The Legend of Zelda: Skyward Sword is nearly upon us. Here's how you can pre-order Skyward Sword HD and which retailers are offering bonuses. 2021-07-07 18:37 4KB www.digitaltrends.com

(1.01/4)

20

0.6

DICE LA rebrands as Ripple Effect Studios

The EA-owned game development studio unveiled its new name and look today, noting in a blog post that, while DICE remains part of its DNA, the team wa 2021-07-07 18:35 2KB www.gamasutra.com

(1.01/4)

21

0.1

Blade Runner anime nabs all-star voice cast, first look coming at Comic-Con

Blade Runner: Black Lotus, the upcoming anime from Crunchyroll and Adult Swim, will have a first look panel at Comic-Con 2021. The show has also cast stars like Brian Cox, Stephen Root, and Jessica Henwick for its English-language voice cast. 2021-07-07 17:52 2KB www.polygon.com

(1.01/4)

22

0.1

Nvidia might be working on the RTX 3080 Super, but there's a catch

A new rumor suggests that Nvidia is working on the RTX 3080 Super and RTX 3070 Super for laptops, but they might not release for a while. 2021-07-07 17:29 2KB www.digitaltrends.com

(1.01/4)

23

1.4

You can now visit the Crema offices in Temtem

Additionally, the latest update adds competitive tournaments to the game. 2021-07-07 16:07 789Bytes www.gamereactor.eu

(0.99/4)

24

0.8

Uptime Is For Amateurs

Brian Murphy, SRE Manager at G-Research, explains how SRE teams operate, what success looks like, and why uptime isn't the most important metric. 2021-07-07 19:27 1KB dzone.com

(0.06/4)

25

0.2

Cheap AirPod Alternatives: The Best True Wireless Earbuds Under $100

You don't need to spend a ton of money to get a decent pair of true wireless earphones. We've tested plenty of models that deliver quality audio and useful extra features for as low as $25. 2021-07-07 17:26 6KB uk.pcmag.com

(0.02/4)

26

0.8

Transform 2021: Finance's Key Topics

Join finance leaders at Transform 2021, the industry's premier AI digital event. Transform gathers thought and action leaders from public and private banks, global financial advisers, wealth management leaders, bank executives, and many more for highly informative sessions, focused roundtables, and unbeatable networking opportunities. 2021-07-07 20:12 8KB venturebeat.com

(0.02/4)

27

0.8

Codemasters CEO and CFO step down following EA acquisition

Dirt dev Codemasters is losing its executive leadership following its acquisition by EA earlier this year. 2021-07-07 19:26 2KB www.gamasutra.com

(0.02/4)

28

0.5

Pay What You Want for this Complete 2021 Internet Side Business Bundle

Earn passive income online! This skill success bundle gives you 35 hours of content on selling products on amazon, creating e books, freelancing and more, while paying what you want for it. 2021-07-07 17:45 1KB www.neowin.net

(0.02/4)

29

0.6

God of War: Ragnarok PS5 release date, trailer, news and rumors

Here's everything we know so far about God of War: Ragnarok. 2021-07-07 17:33 8KB www.techradar.com

(0.02/4)

30

0.5

Please welcome Imogen Mellor as your host for GDC 2021

Game journalist and streamer Imogen Mellor will be your host for the 35th annual Game Developers Conference. 2021-07-07 17:28 2KB www.gamasutra.com

(0.02/4)

31

0.5

The Best Noise-Cancelling Headphones for 2021

Noise cancellation removes unwanted sounds. The best noise-cancelling headphones let you block out the world around you to enjoy your music...or the sweet sound of silence. 2021-07-07 17:26 8KB uk.pcmag.com

(0.02/4)

32

0.5

WellSaid raises $10M to generate synthetic voices

WellSaid, a company developing technology to create synthetic voices, has raised $10 million in venture capital. 2021-07-07 16:00 5KB venturebeat.com

33

0.3

OnePlus says Nord 2 5G phone is on the way, MediaTek powered

When OnePlus revealed the original Nord phone last year, it signaled that it wanted to get serious about the mid-range segment (again). The $460 OnePlus Nord looked... 2021-07-07 20:35 2KB www.techspot.com

34

0.1

Update your Windows PC now to fix this critical PrintNightmare security flaw

A serious security flaw known as Print Nightmare is impacting Windows, and Microsoft has issued a fix for it. Here's how you can update to stay safe. 2021-07-07 20:34 4KB www.digitaltrends.com

35

0.8

Need more RAM? How to upgrade the RAM in the Acer Nitro 5

Acer's Nitro 5 is a great starting point, but it doesn't have a lot of memory. Here's how to upgrade the RAM on the Acer Nitro 5. 2021-07-07 20:30 3KB www.xda-developers.com

36

0.4

Mobile Suit Gundam Hathaway Shines Brightest Away From Its Mecha Stars

Hathaway takes fans back to Gundam's revered Universal Century—and sets the stage for some interesting reflections on its political landscape. 2021-07-07 20:30 10KB gizmodo.com

37

0.7

It's An ROG Round Up! Three Z590 Motherboards In Fierce Competition

It's An ROG Round Up! Three Z590 Motherboards In Fierce Competition If you are shopping for a new motherboard for that fancy Alder Lake CPU you just picked 2021-07-07 20:20 1KB pcper.com

38

0.6

Google Home app prepares to let you control Quiet Time and Quick Responses for Nest Hello doorbells

You'll soon be able to control the Quiet Time and set Quick Responses for your Nest Hello Video Doorbell through the Google Home app. 2021-07-07 20:16 2KB www.xda-developers.com

39

0.7

Crossbows and Catapults reboot coming from HeroQuest board game designer

Crossbows and Catapults, the cult classic board game from the early 80s, is being rebooted. Legendary designer Steve Baker is at the helm of the project, which will begin with a crowdfunding campaign and end with a big-box retail toy. Expect plenty of Kickstarter exclusives to be announced in 2022. 2021-07-07 20:09 2KB www.polygon.com

40

0.2

This modded Sega Dreamcast is actually a stealth, AMD-powered gaming PC

A modder managed to cram a gaming PC inside a Sega Dreamcast shell, and the results are impressive. 2021-07-07 20:00 2KB www.digitaltrends.com

41

0.5

Frostpunk's three expansions finally coming to PlayStation and Xbox at the end of July

Arriving alongside a Complete Edition for consoles. It's been a long old wait, but fans of 11 Bit Studios' celebrated post-apocalyptic city builder Frostpunk … 2021-07-07 19:53 3KB www.eurogamer.net

42

0.7

20i review

20i's excellent custom control panel and wealth of features make this UK-based web host easy to recommend. 2021-07-07 19:30 10KB www.techradar.com

43

0.0

SDCC Faces Changes, Challenges in 2021 and Beyond

io9 spoke to SDCC's spokesperson about this year's At Home convention, November's in-person event, and more. 2021-07-07 19:30 9KB gizmodo.com

44

1.0

What devices can you install the Windows 11 ARM download on?

There are a number of ARM devices that support Windows 11, but not all of them will actually accept a Windows 11 ARM64 installation. 2021-07-07 19:22 2KB www.gamerevolution.com

45

0.8

The Father of Mario is Hooked on Pokemon Go

Pokemon GO is without any doubt, the most popular and most developed AR game on the market at the moment. There are more than 100 million active users 2021-07-07 19:14 1KB www.futuregamereleases.com

46

0.3

Minecraft is now 19+ in South Korea

Due to South Korea's "Cinderella law" Minecraft has been turned into a 19+ game due to needing an Xbox Live account, The Korea Herald reports.  While Minecraft continues to be recommended for ages 12 and up elsewhere, South Korean gamers are now unable to play Mojangs ever-popular building survival game, due to needing an Xbox […] 2021-07-07 19:14 2KB mspoweruser.com

47

0.4

Should Kaseya pay REvil ransom? Experts are torn

REvil has lowered its demand to $50 million, but some believe Kaseya and other affected companies still should not pay. 2021-07-07 19:14 9KB www.zdnet.com

48

0.4

What is Anon Inu Token? Anonymous crypto price and how to buy

The Anon Inu token has been revealed, with crypto investors wondering about its price and how to buy the BSC. Here's a guide on the Anonymous cryptocurrency. 2021-07-07 19:10 2KB www.gamerevolution.com

49

0.8

Best business laptops 2021: top devices for working from home, SMB and more

These are the best business laptops available, for any use case. 2021-07-07 19:03 9KB www.techradar.com

50

1.0

The best smart locks for 2021

A good smart lock should have a combination of security, aesthetics, and convenience. We pick our favorite smart locks of the year, and what we love about them. 2021-07-07 19:00 19KB www.digitaltrends.com

51

0.6

XDA Basics: How do I use Windows 11? A guide to the new OS

Is the transition to Microsoft's new operating system a little too jarring? Read our guide to learn how to use Windows 11. 2021-07-07 19:00 12KB www.xda-developers.com

52

0.5

What's up with Voldo?

Soulcalibur's Voldo is a beloved weirdo who has appeared in every installment of the fighting game so far. But what's his deal? Join us for a deep dive into Voldo's historical origins. 2021-07-07 19:00 1KB www.polygon.com

53

0.1

Microsoft defends intrusive dialog in Visual Studio Code that asks if you really trust the code you've been working on

'All the subtlety of a GDPR cookie banner and the charm of Clippy' 2021-07-07 18:55 4KB www.theregister.com

54

0.6

Destiny 2 Compass Rose| God Rolls, stats, and farming

Want to add the Compass Rose to your weapon rotation? Our Destiny 2 Compass Rose guide tells you how to get it and what the best god rolls are! 2021-07-07 18:50 2KB www.vg247.com

55

0.6

The best city-building games on PC

The best city-building games represent hundreds of hours of gameplay, from designing a modern metropolis to surviving the fallout of a volcanic winter. 2021-07-07 18:48 10KB www.digitaltrends.com

56

0.2

iPhone users take note: this nasty Wi-Fi bug can make your life miserable

While Apple is busy convincing people that iPhones are the safest bet when it comes to the protection of users' privacy and security, a recently-discovered nasty Wi-Fi bug suggests that iPhones and iPads are still quite vulnerable to hacking. As reported by ZDNet, Software engineer Carl Schou has discovered a Wi-Fi bug, exploiting which a hacker can […] 2021-07-07 18:41 1KB mspoweruser.com

57

1.2

Intel Officials Warned of Hate Groups Using Ashli Babbitt to Incite Terrorism Days After Capitol Siege

Police were warned as early as Jan. 15 about violent groups using Babbitt in calls for violence. 2021-07-07 18:40 11KB gizmodo.com

58

0.6

The story of Karateka's decades-old Easter egg

Jordan Mechner is arguably best known for creating Prince of Persia, but before starting work on the 1989 classic, he cut his teeth on a martial arts... 2021-07-07 18:39 2KB www.techspot.com

59

0.0

Luca may not be a gay narrative, but it's absolutely a queer one

Pixar director Enrico Casarosa drew heavily from familiar coming-out stories and other "gay narrative" tropes for his animated movie Luca. (It's all there, from conversion therapy to passing privilege.) But he's still denying any gay content, shutting down queer viewers who see themselves in the film. The debate mirrors other cases, from Star Wars' Luke Skywalker to Anthony Mackie's comments on The Falcon and the Winter Soldier, where LBGTQ+ viewers interpret stories through their own lenses, and the creators try to deny them. Here's why freedom of interpretation matters. 2021-07-07 18:37 1KB www.polygon.com

60

0.2

The Boys Launches a Fake News Show Starring a Tucker Carlson Lookalike

Amazon Prime Video's "Vought News Network" digital series will get fans updated for season three. 2021-07-07 18:30 2KB gizmodo.com

61

0.8

Microsoft Store's Back-to-School deals are now live

Microsoft Store's Back-to-School sale is back. In this limited time sale, you can get great discounts on Surface devices, Windows laptops, PC accessories and more. In addition to the discounts on the products, for a limited time, you can save 20-30% on Microsoft Complete, Microsoft Store's hardware warranty plan, when purchasing select Surface devices. Microsoft […] 2021-07-07 18:24 1KB mspoweruser.com

62

0.6

Doom Eternal's next-gen patch tested on PS5 and Xbox Series consoles

Ray tracing, 120Hz support - and even more impressive visuals. Released at the tail-end of last week, Doom Eternal's upgrade for PC and next generation … 2021-07-07 18:21 8KB www.eurogamer.net

63

0.0

One Day, Black Holes Will Be All That's Left of This Star Cluster

Palomar 5 is being gravitationally stripped away, with only its most massive residents left behind. 2021-07-07 18:20 3KB gizmodo.com

64

0.4

TIE Fighter: Total Conversion Looks Gorgeous

TIE Fighter: Total Conversion Looks Gorgeous TIE Fighter stands out among Star Wars space sim games as having one of the more interesting single player 2021-07-07 18:17 1KB pcper.com

65

0.4

AI Job Interview Software Can't Even Tell If You're Speaking English, Tests Find

The MIT Technology Review found two AI hiring tools gave good marks to an applicant who read a German-language Wikipedia page instead of answering questions. 2021-07-07 18:10 6KB gizmodo.com

66

0.4

July 2021 Android security update is now rolling out to Pixel phones

Google has published the Android Security Bulletin for July 2021, and they've also started rolling out the security update to Pixel phones. 2021-07-07 18:04 2KB www.xda-developers.com

67

0.4

Dozens of Android Cryptocurrency Mining Apps Turn Out to Be Scams

According to Lookout, 25 of the programs were available on the Google Play Store, ranging in price from $10.99 to $20.99. Google has since taken them down. 2021-07-07 18:02 3KB uk.pcmag.com

68

0.4

How to Fix Apartments

The apartments of 2030 will have to address the climate, housing, and public health crises we face. Here are six ways to do just that. 2021-07-07 18:00 17KB gizmodo.com

69

0.2

Is Chivalry 2 cross-platform?

Chivalry 2 features 64-player lobbies engaged in medieval war. Are you playing with others on your console, or does Chivalry 2 have cross-platform support? 2021-07-07 17:59 3KB www.digitaltrends.com

70

0.3

Ceneva F158G business laptop review

Does Windows 10 Pro, a fingerprint reader and a numeric keypad make a good business laptop? 2021-07-07 17:58 5KB www.techradar.com

71

0.6

Facebook to Help Build a Fiber Network in the Democratic Republic of Congo

Facebook will provide funding and network planning, but Liquid will own, build, and operate the fiber network. 2021-07-07 17:57 2KB uk.pcmag.com

72

0.4

Crowfall Tips for Surviving in the Eternal Kingdom

Crowfall is a complex MMORPG with a lot of moving parts. We'll be showing you the way with these Crowfall Tips for Beginners 2021-07-07 17:56 5KB segmentnext.com

73

0.1

RoboCop: Rogue City coming in 2023

A brand new RoboCop game has been unveiled during the Nacon Direct event, and it's coming to us from the creators of Terminator: Resistance. 2021-07-07 17:54 1KB mspoweruser.com

74

0.4

Wadjet Eye's acclaimed urban fantasy adventure Unavowed is now available on Switch

And there's 10% off until next week. Switch owners with a taste for cracking yarns, urban fantasy, and a smattering of demonic possession have a … 2021-07-07 17:53 2KB www.eurogamer.net

75

0.9

Big data, big city transformations: Transport and well-being

As the world changes, so do our priorities. We are now needing to place human needs before technical needs when designing urban areas for the future. Sustainability is at the heart of these considerations as we look to include green spaces, utilize big data effectively, and introduce efficient travel. Technology is central to these ideas, particularly for the use of big data in smart cities. 2021-07-07 17:51 6KB betanews.com

76

0.1

Secure web gateways are essential for the remote workforce

Originally designed to shield against malicious websites or unacceptable content, secure web gateways (SWGs) have evolved to become essential to enterprise security, especially for remote workforces. This is especially true since early 2020, when COVID-19 created millions of remote workers almost overnight. 2021-07-07 17:42 5KB betanews.com

77

0.6

pfSense CE 2.5.2 Released, With Some Challenges For Early WireGuard Adopters

pfSense CE 2.5.2 Released, With Some Challenges For Early WireGuard Adopters pfSense Community Edition is the open source branch freely available for use, as 2021-07-07 17:40 1KB pcper.com

78

0.1

Fish Can Get Addicted to Methamphetamine

New research shows how methamphetamine—a drug often found in waterways—alters the behavior of brown trout. 2021-07-07 17:40 4KB gizmodo.com

79

0.4

StarTech.com launches USB-C to HDMI cable adapter with HDR10 support

Many laptops don't have HDMI outputs anymore, instead only offering USB-C ports. So this means you can't connect the computer to your TV or monitor, right? Wrong! Many USB-C ports (not all) will also output video, allowing you to connect to HDMI by using an adapter or dongle. 2021-07-07 17:39 2KB betanews.com

80

0.6

Pokemon Go Android Users to Receive a Special Sponsored Gift

Trainers, Google Play is now the official sponsor of Pokemon Go Fest 2021 and Android users will receive special Sponsored Gifts, three months of YouTube 2021-07-07 17:38 2KB www.futuregamereleases.com

81

0.0

After years on a weird island, the X-Men are finally superheroes again

The first new X-Men team of the Krakoan era are Jean Grey, Cyclops, Wolverine, Rogue, Polaris, Sunfire, and Synch! And with X-Men #1 ,they're bringing superhero style back to the very high-concept Krakoan era of Marvel Comics' X-Men line. 2021-07-07 17:32 1KB www.polygon.com

82

1.0

Should you buy a Chromebook? Absolutely, here's why you should switch!

In this article we look at the benefits of switching to Chromebook over a PC or Mac. We discuss price, apps, and battery life. 2021-07-07 17:30 5KB www.xda-developers.com

83

0.3

In the TikTok vs. YouTube Battle, Short-Form Wins in the US and UK

TikTok surpasses YouTube for average time spent per user in the US and the UK, App Annie says. 2021-07-07 17:25 2KB uk.pcmag.com

84

0.2

The Best Password Managers for 2021

If you use weak passwords (or the same one everywhere), you are only making it easier for someone to compromise all your accounts. Start using one of our top-rated password managers to help create a unique and strong password for every website. 2021-07-07 17:22 10KB uk.pcmag.com

85

0.1

Is your business being targeted by cryptojackers?

Thanks in no small part to Tesla CEO Elon Musk, Bitcoin, Dogecoin and other cryptocurrencies have become much more widely known, but not necessarily understood. 2021-07-07 17:12 7KB betanews.com

86

0.5

The best meal-planning apps for 2021

Deciding what food to make can be a chore at the end of a long day. The best meal-planning apps save time in prep, grocery shopping, weight loss, and more. 2021-07-07 17:12 12KB www.digitaltrends.com

87

0.2

Michael Flynn's Family Claims They Weren't Reciting a Qanon Oath, Just Doing Some Family Bonding

So they say, in a new court filing in their $75 million defamation suit against CNN. 2021-07-07 17:08 4KB gizmodo.com

88

0.3

Bill and Melinda Gates take 2-year trial period at their foundation to assess partnership post-divorce

The Bill and Melinda Gates Foundation will still be led by its recently-divorced namesakes, but the foundation announced Wednesday a two-year trial period to… 2021-07-07 17:06 3KB www.geekwire.com

89

0.2

20 of the best movies on Amazon Prime Video right now

Amazon Prime Video's movie selection has tons of great films, so if you need a good movie to watch, it's a strong Netflix alternative. Here are some of the best movies on Amazon in 2021, including The Man Who Fell to Earth, Drug War, The Elephant Man, Perfume: The Story of a Murderer, Timecrimes, and more. 2021-07-07 17:04 16KB www.polygon.com

90

0.0

Vampire: The Masquerade - Swansong has been pushed back to February 2022

A new trailer has been released confirming the delayed date. 2021-07-07 17:04 742Bytes www.gamereactor.eu

91

0.4

The Journey Beyond Fear: How to transform pressure into passion

In The Journey Beyond Fear, entrepreneur and renowned business strategist John Hagel III shares insights and tools you need to know to successfully overcome uncertainties and fear. 2021-07-07 17:01 9KB www.zdnet.com

92

0.7

Users can now sell unused domain names for cash with GoDaddy

GoDaddy's new List for Sale service takes the hassle out of selling unused domain names and it's completely free to use. 2021-07-07 17:00 2KB www.techradar.com

93

0.8

HPE acquires Ampool to bolster its Ezmeral software business

HPE said Ampool will help accelerate Ezmeral's analytics runtime for interactive SQL workloads and bolster its ability to handle data-intensive workloads. 2021-07-07 16:58 2KB www.zdnet.com

94

0.9

Best Chromebooks 2021: the top Chromebooks for kids, students and more

We've searched far and wide for the best Chromebook you can buy, always up to date and thoroughly tested. Here are our top picks of the best Chromebooks in 2021. 2021-07-07 16:54 10KB www.techradar.com

95

0.1

Rep. Katie Porter Calls for Investigation Into FDA Approval of Controversial Alzheimer's Drug

"Patients should have confidence that their treatment plans are based on science, not cozy relationships between Big Pharma and FDA officials," Porter said. 2021-07-07 16:50 6KB gizmodo.com

96

0.5

How to watch Table Tennis at Olympics 2020: key dates, free live stream and more

Can anybody stop China's domination on the ping pong table? Discover how to watch table tennis at this year's Olympics, with free live stream options explained. 2021-07-07 16:45 4KB www.techradar.com

97

0.6

Best portable monitor 2021: Work from anywhere

With millions now working outside of the office, portable monitors have quickly become a necessity. 2021-07-07 16:44 1KB www.zdnet.com

98

1.3

1 Billion Sea Creatures Cooked to Death in Pacific Northwest Heat Wave

"A mussel on the shore in some ways is like a toddler left in a car on a hot day." 2021-07-07 16:40 4KB gizmodo.com

99

0.5

4 tactics mobile app makers can steal from game companies

Games succeed where many other mobile apps fail -- getting installs. Don't whine about it -- just learn from their tactics instead. 2021-07-07 16:37 5KB venturebeat.com

100

0.7

Free Teams event shares the latest tips for your classroom

The pandemic has forever changed the ways technology is used for learning and education. As some educators, IT professionals, and school leaders prepare to return to in-person learning, they will increasingly consider how to incorporate the technology-enhanced learning innovations students have grown accustomed to during remote and hybrid learning. 2021-07-07 16:37 2KB educationblog.microsoft.com

101

0.9

Open-source growth and venture capital investment: Data, databases, challenges, and opportunities

Open-source software used to be poorly understood by commercial forces, and it's often approached in a biased way. A new generation of investment funds goes to show that things are changing. 2021-07-07 16:31 8KB www.zdnet.com

102

0.5

New Lord of the Rings: Gollum trailer narrows down release window

A new trailer for The Lord of the Rings: Gollum has confirmed it'll be arriving in late 2022. 2021-07-07 16:29 2KB www.techradar.com

103

0.2

Trump's Gettr Social Platform Hacked Twice

Hackers hacked Trump's newly launched social media platform twice, exposing personal information of users 2021-07-07 16:27 2KB news.softpedia.com

104

0.4

Red Dead Redemption 2 gets Nvidia DLSS support to make it run better on your PC

DLSS comes to another big-name game, after it was recently introduced to Doom Eternal. 2021-07-07 16:26 2KB www.techradar.com

105

0.5

Using mundane objects to evoke heartfelt memories in

When you find an object you have not seen for a long time, you start to figure out why you had that object. That moment felt very human to me. 2021-07-07 16:26 6KB www.gamasutra.com

106

0.5

This Is Who's Buying Your Social Media Data

Social networking sites and messenger services are free—but they're profiting off of you and your data. 2021-07-07 16:21 2KB uk.pcmag.com

107

0.7

Get a Mario Golf: Super Rush theme for Tetris 99

If you earn 100 event points by July 13 you can permanently unlock this theme. 2021-07-07 16:20 1KB www.gamereactor.eu

108

0.7

Hulu - how to sign up, app devices, shows, Live TV explained

We'll detail everything you need to know about Hulu here, including how to sign up, what you can look forward to watching, and how much you'll pay for a subscription. 2021-07-07 16:13 11KB www.techradar.com

109

0.8

The Facebook Portal smart display is on sale with a massive $110 price cut

The first generation Portal smart display is on sale for just $69 thanks to this massive $110 price cut from Facebook. 2021-07-07 16:11 1KB www.techradar.com

110

0.2

An Ancient Hypernova Filled This Star With Unusual Elements

An explosion in the early universe gave way to a star that is loaded with heavy elements. 2021-07-07 16:11 4KB gizmodo.com

111

0.5

Mass Effect Legendary Edition mod puts the butt shots back into the game

A fan posted a mod of Mass Effect Legendary Edition on Nexus Mods that puts close-up shots of Miranda's butt back into the game. This was the same modder who once edited the butt scenes out of BioWare and EA's game. 2021-07-07 16:10 2KB www.polygon.com

112

0.5

Law Firm Gets Court Order Asking Hackers Not to Publish Stolen Data

Will the law firm be able to convince cybercriminals not to publish the stolen data based on this paper? 2021-07-07 16:09 2KB news.softpedia.com

113

0.6

An Ode to Optimization Videogames

A subgenre of strategy games, optimization/logistics games have attracted fans to a different kind of gameplay and thinking that I wanted to talk abou 2021-07-07 16:09 11KB gamasutra.com

114

0.3

1Spatial Adds New Products to its API Suite

1Spatial, a global geospatial software and solutions provider, is aiming to make complex workflows simple to manage with the latest releases of their core products, 1Integrate and 1Data Gateway. 1Data Gateway 2.4 now has an extended REST API enabling automated submission of data. 2021-07-07 16:08 2KB www.programmableweb.com

115

0.5

Biden Drafting Executive Order to Promote 'Right to Repair'

The Biden administration has also directed the US Department of Agriculture to develop new rules that'll grant farmers the 'right to repair their own equipment how they like.' 2021-07-07 16:05 2KB uk.pcmag.com

116

0.9

Bridging the gap between 'smart' and 'products'

Software Development News One of the most common challenges to successful smart product development and launch is the disconnect between developers and manufacturers. 2021-07-07 16:01 5KB sdtimes.com

117

0.6

Forza Horizon 5's Realistic Skies Were Achieved With 75TB Of Real-World Photos

Forza Horizon 5 will feature ultra-realistic skies to fulfill its promise of "ever-evolving open world landscapes." 2021-07-07 16:00 2KB segmentnext.com

118

0.5

Zoho Commerce review

Zoho can help you set up your online store quickly and easily but does it provide budding online entrepreneurs with everything they need? 2021-07-07 16:00 6KB www.techradar.com

119

0.9

Blankos Block Party will auction of Deadmau5 limited edition NFT collectibles

Mythical Games said that it will auction off collectibles from musical artist Deadmau5 inside its Blankos Block Party NFT-based game today. 2021-07-07 16:00 3KB venturebeat.com

120

0.0

Superplastic and Christie's will auction NFTs for virtual celebrities Janky & Guggimon

Superplastic has teamed up with the auction house Christie's to auction off nonfungible tokens (NFTs) based on the virtual celebrities Janky & Guggimon. 2021-07-07 16:00 7KB venturebeat.com

121

0.8

Google Nest Mini (2nd Gen) review: Even faster, even smarter

We tested the Nest Mini to see how it stacks up against the rest of the pint-sized smart speaker pack. Here's our full review of the Nest Mini 2nd Generation. 2021-07-07 16:00 8KB www.digitaltrends.com

122

0.2

Finally, text-to-speech that doesn't suck

Big backing for company that makes machines sound human. 2021-07-07 16:00 3KB www.zdnet.com

123

0.6

What to do if you receive a FaceTime link

If you use Windows, Android, or Linux, you may in the future receive a FaceTime invite from an Apple-wielding colleague. 2021-07-07 15:58 3KB www.computerworld.com

124

0.6

The best electric toothbrushes 2021: get the best possible clean

Get a deeper clean and improve your technique with the best electric toothbrush for your budget. 2021-07-07 15:57 7KB www.techradar.com

125

0.2

Newegg launches PC building service for an additional $99

For an additional $99.99, Newegg's ENIAC Assembly Service will build your rig and submit it to "quality control methods and rigorous testing onsite." Processing time is seven... 2021-07-07 15:57 2KB www.techspot.com

126

0.6

Dell gaming laptops slashed by hundreds of dollars today

Whether you're looking for a new gaming laptop or desktop, you might want to check out Dell's crazy deals going on today! 2021-07-07 15:55 2KB www.digitaltrends.com

127

0.2

Warframe Ambassador Rifle: How to get and what the best Ambassador Rifle builds are

Looking to get your hands on the new Warframe Ambassador Rifle? Our Ambassador Rifle guide has everything you need to know and the best builds. 2021-07-07 15:54 2KB www.vg247.com

128

0.5

American Express boosts Digital Receipts tool with new Amazon partnership

Amex is expanding its Digital Receipts feature to help consumers identify their card purchases more easily. 2021-07-07 15:50 2KB www.techradar.com

129

0.7

The Best Office Suites for 2021

Microsoft 365 is not your only choice for word processing, spreadsheet, and presentation software. Whether you want local or cloud-based apps, our roundup of the best office suites helps you choose the one for your needs. 2021-07-07 15:50 7KB uk.pcmag.com

130

0.3

Among Us reveal swanky Collector's Editions

Arriving later this year, Among Us has unveiled a line of Collector's Editions. with boxed copies of the game, a plush toy, and posters. 2021-07-07 15:49 1KB mspoweruser.com

131

0.1

Universal and Dreamworks' Movies Fly to Peacock After Theater Releases

As the streaming wars rage on, Universal and Peacock and teaming up to take on the competition. 2021-07-07 15:45 4KB gizmodo.com

132

0.5

Warframe Waverider quest: How to do Frontline Clutch and get Yareli parts

Wondering how to get Yareli in Warframe? Our Warframe Waverider quest guide has the best way to complete each challenge to get the Yareli blueprint. 2021-07-07 15:40 4KB www.vg247.com

133

0.3

Rebekah Koffler: Russia's Cyberattacks on the U. S. Reveal Biden's Failings

Putin is taking advantage of Biden's non-reaction 2021-07-07 15:38 2KB news.softpedia.com

134

0.6

Everything we know about Final Fantasy VII Remake Part 2

The Final Fantasy VII Remake saga has only just begun, and we know we'll be getting a second entry. Here's what we know about Final Fantasy VII Remake Part 2. 2021-07-07 15:37 9KB www.digitaltrends.com

135

0.2

This quantum computer with a 3D chip is heading into the cloud

A University of Oxford spin-out start-up aims to compete against US-based tech giants in providing access to quantum computing over the internet. 2021-07-07 15:35 5KB www.zdnet.com

136

0.0

An Inspector Gadget-Like Robotic Arm Is Headed to the International Space Station

Capable of moving like an inchworm, the "smart spacewalker" will launch to the ISS on July 15. 2021-07-07 15:33 4KB gizmodo.com

137

0.7

New Ryuk ransomware strain targets web servers

Ryuk learns new tricks to embarrass its victims by putting the ransom note on their public portals. 2021-07-07 15:32 2KB www.techradar.com

138

0.8

President Biden says REvil ransomware attack caused minimal damage to US businesses

A ransomware attack took place last Friday targeting Kaseya's VSA cloud-based system management platform, which is used for remote monitoring and IT management. The Miami-based company said... 2021-07-07 15:22 2KB www.techspot.com

139

0.4

Konami dumps France and Barcelona star Antoine Griezmann after racism allegations

"Discrimination of any kind is unacceptable." Konami has cancelled its contract with Antoine Griezmann after a video in which the France and Barcelona star appears … 2021-07-07 15:18 3KB www.eurogamer.net

140

0.6

Disney Plus' new TV series Monsters At Work ups the stakes for Monsters, Inc.

Monsters at Work balances a large cast of old and new characters from Pixar's 2001 movie Monsters, Inc., as well as different styles of humor. It tentatively works, but it'll be crucial to see where the show goes after the two episodes. Mike (Billy Crystal), Sulley (John Goodman), and Celia (Jennifer Tilly) return, alongside new characters voiced by Henry Winkler, Ben Feldman, Mindy Kaling, and Lucas Neff. New episodes drop on Wednesdays. 2021-07-07 15:15 1KB www.polygon.com

141

0.3

Canadiens vs Lightning live stream: how to watch NHL Stanley Cup Final 2021 online from anywhere

Can the Bolts repeat? Will the Habs break Canada's 28-year drought? Here's how to watch the Canadiens vs Lightning and live stream NHL Stanley Cup Final hockey where you are. 2021-07-07 15:13 2KB www.techradar.com

142

0.7

Lemnis Gate is hosting a PC beta July 22-26

It\'s set to feature four maps and two game modes. 2021-07-07 15:11 601Bytes www.gamereactor.eu

143

0.0

5 easy tasks that supercharge your security

Protect your PC and your online accounts with these 5 simple tasks that supercharge your security. 2021-07-07 15:10 5KB www.pcworld.com

144

0.5

Among Us gets a physical release packs with crewmate plush and more extras

Among Us has a physical release on the way that includes all DLCs, pets, a crewmate plush, access cards, and more goodies. 2021-07-07 15:06 1KB www.digitaltrends.com
Articles
DC5n United States software in english 144 articles, created at 2021-07-08 00:03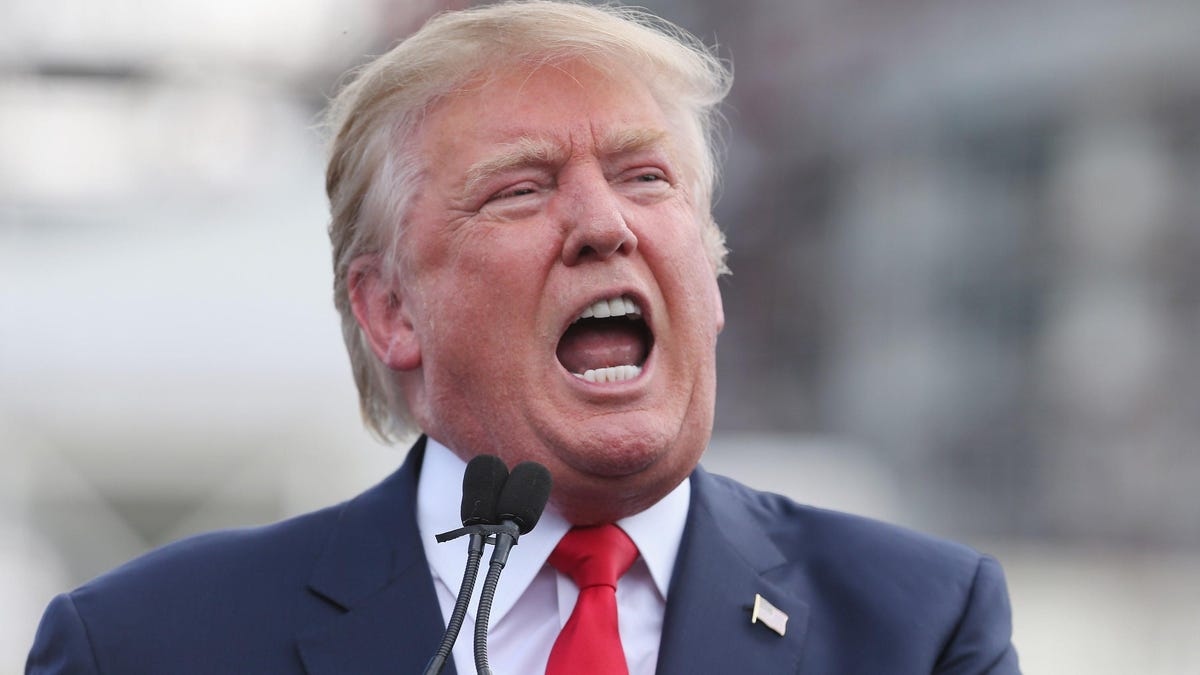 After getting "canceled" by them earlier this year, Donald Trump has announced a trifecta of class action lawsuits against Twitter, Google, and Facebook, thus generously giving Americans the opportunity to join our former POTUS in his valiant mission for personal revenge. The lawsuits (embedded below), which were filed in federal court in Florida on Wednesday and list both the companies and their respective CEOs as defendants, are being supported by the America First Policy Institute, a political nonprofit culled together several months ago by former members of the Trump administration. Trump himself announced the suits in a " press conference " held at his golf club in Bedminster, New Jersey, on Wednesday. The club was suspiciously styled to look just like the White House. "We're asking the US district court for the southern district of Florida to order an immediate halt to social media companies' illegal, shameful censorship of the American people," Trump said, standing at a podium, behind which was what looked like a fabricated Pennsylvania Avenue soundstage. Indeed, the suits, while having a somewhat convoluted legal argument, essentially argue that Trump and other conservative organizations had their First Amendment rights trampled by the likes of Big Tech when Big Tech exercised its First Amendment rights to boot undesirables. "We're demanding an end to the shadow banning, a stop to the silencing, a stop to the blacklisting, banishing, and canceling that you know so well. Our case will prove this censorship is unlawful. It's unconstitutional, and it's completely un-American. We all know that. We know that very, very well," Trump said today. In a press release, AFPI similarly framed the legal filings as a defense of Americans' freedom of speech, adding that it applauded Trump and "other brave patriots representing Americans who have had their First Amendment rights violated by Defendants Facebook, Inc., Mark Zuckerberg, Twitter, Inc., Jack Dorsey, Google LLC, and Sundar Pichai." Yet while the suits claim to be a defense of Americans against a censorious tech oligarchy and its Democratic party enablers, they are, in reality, merely a reflection of the fact that Trump was personally ejected from these platforms in January—largely due to the perception that he had used them to incite a violent insurrection that left five people dead and has resulted in hundreds of federal charges. Dorsey sacked Trump's account permanently two days after the lethal tumult at the nation's capitol. Less than a week later, Google, too, silenced the former President, shutting down his YouTube channel "due to the risk of incitement to violence." In June, Facebook's Oversight Board made the softer decision to suspend Trump from its platform for the next two years—essentially giving the Donald just enough time to recoup and plan his social media strategy for a White House run in 2024. At today's press conference, Trump's team used that decision to claim that Facebook's suspension was wrong. As President, Trump's routine grift was to goad his followers into believing that whatever ego tantrum he was currently exorcising was, somehow, actually about their needs and rights. In other words, whatever attacks the media or other officials happened to be making against him was, through the magic of optics, consistently spun into an attack on Republican voters and America writ large. These lawsuits appear to be more of the same. These lawsuits, which seem destined to go nowhere, are deeply funny for a lot of reasons—the least of which is that it's incredibly hilarious to watch a man who can't string a coherent sentence together launch a campaign in defense of free speech. If you want to join Trump's crusade against the corporations that wounded his ego, you can "join the lawsuit by going to takeonbigtech.com," as one of Trump's counsel directed his followers to do today. More likely, Trump would rather you just make a direct donation to one of his slush funds political organizations. You can read all three suits, in full, embedded below:

Trump to Sue Facebook, Google, Twitter Over Social Media Bans
uk.pcmag.com
Donald Trump is suing Facebook, Google, Twitter, and their CEOs
neowin.net
Trump announces anti-censorship lawsuit against Facebook, Twitter
techxplore.com
Ubisoft wants you to play Assassin's Creed forever (and ever, and ever, and ever, and…) in its latest live service game, codenamed Assassin's Creed Infinity. Published on By Ubisoft wants you to play Assassin's Creed forever (and ever, and ever, and ever, and…) in its latest live service game, codenamed Assassin's Creed Infinity. Live service titles are the hottest thing in gaming at the moment. (At least, in business model and revenue terms. The fans don't always love them, but that's another story.) With franchises like Fortnite, Call of Duty: Warzone, Destiny, and Apex Legends raking it in with a constant flow of content, it really comes as no surprise when the latest take on the model arrives. Something that has turned heads, and not for the best of reasons, is the newly-announced Assassin's Creed Infinity – the franchise's first foray into live service. You'd be right in being a little confused, as for the past 14 years Assassin's Creed has remained as a primarily single-player franchise. However, the latest announcement, first brought to light by a Bloomberg report, revealed that Ubisoft is currently in the early stages of development for a new installment that will allegedly feature "multiple settings with room to expand to others". The report claimed that the shift to a live service model had been influenced by the success of Fortnite and GTA Online. Ubisoft then released a statement of its own, acknowledging the existence of Assassin's Creed Infinity, a project that will "guide, grow, evolve, and define the overall future of Assassin's Creed," apparently. Ubisoft also announced that both Ubisoft Montreal and Quebec will work on the title, as it dons a more collaborative approach to development. This bold move for the franchise may induce an eye-roll or two, particularly after the relative flop of its latest live service title, Ghost Recon Wildlands. But remember: Ubisoft previously stated its intentions to shift attention to " high-end free-to-play " games. While surprising considering the nature of the Assassin's Creed franchise, with games like The Division and Rainbow Six Siege under Ubisoft's belt, not to mention the profit potential in the mode, this move was an eventuality. Assassin's Creed Infinity is still some way away, as it remains in the early stages of development. However, transitioning a single-player experience to a constantly evolving service will be both of the dullest and most interesting attempts at the model in years. Follow Thumbsticks on Twitter and Facebook for more announcements. We hope you found it useful, or informative, or thought provoking, or maybe even a little entertaining. Perhaps it was a guide that helped you through a tight spot, or we even saved you some money? Lovely stuff! If you'd like to say "thanks" you could always buy the team a cup of coffee. The most passionate casual gamer about, Aaron is a filmmaking graduate, Premiere Pro aficionado, and film and gaming journalist hailing from the windy realms of Scotland. He loves to split his time between writing articles, hosting his film podcast, producing some top-notch video content and building up a backlog of games he'll probably never complete. Ubisoft pencils in 'final' release date for Riders Republic Avatar: Frontiers of Pandora, and everything else announced at Ubisoft Forward E3 2021 Rainbow Six Extraction to get full reveal at Ubisoft Forward When is the Ubisoft E3 2021 press conference? Ubisoft increases support for Google Stadia Ubisoft finally admits one of its games is political Ubisoft wants you to play Assassin's Creed forever (and ever, and ever, and ever, and...) in its latest live service... Our big guide to the difference between the Nintendo Switch OLED Model and the original Nintendo Switch. In case you missed it, here's a quick roundup of this week's new Xbox digital game sales and promotions. It might not be the beefed-up Nintendo Switch Pro people were expecting, but the Nintendo Switch OLED Model does feature... How much will it cost to play the Director's Cut of Ghost of Tsushima? Well, it varies, but it costs... Bandai Namco has released the opening movie from Tales of Arise, animated by the renowned anime studio, Ufotable. Sony has revealed a tip-top lineup of video games joining PlayStation Now in July 2021. Next week's lineup of new PlayStation Store releases includes the PS5 edition of A Plague Tale: Innocence plus expansions for Watch...

Ubisoft reportedly takes a 'leap of faith' with online-only Assassin's Creed game
techspot.com
Assassin's Creed takes a calculated risk with its new live-service direction
venturebeat.com
Ubisoft turning to live services with Assassin's Creed Infinity could be a galaxy brain move
gamerevolution.com
When you think of new and exciting technology, chances are washers and dryers don't make the cut. However, washers and dryers are appliances that everyone needs and uses, and they have come a long way in technological improvements over the years. If you are in the market for a new washer and dryer, the choices are vast, and options can get pricey. To help you out, we have selected some of the best washer and dryer deals for you, so you can make an informed decision and save some money. Traditionally, washing machines were top-loaders and no one ever had to choose between a that and a front-loader in the past. Today, however, the choice comes down to a matter of comfort, the size and layout of your laundry area, maintenance concerns, and effectiveness. It has been said that a top-loader's twisting wash motion, whether the washer has an agitator or not, is not as effective as a front-loaders tumbling wash method. It should also be noted that most front-loaders use less water than top-loaders and are therefore more environmentally friendly. That said, you can purchase a high-efficiency top-loader that will use less water and energy. Front-load washers have been shown to be better at removing stains than top load washers. However, if you are already in the habit of pre-treating stains or if your clothes aren't generally that stained and are just dirty, this probably won't be an issue for you. Newer top-loaders also have tubs that are much deeper than their predecessors, and this could prove to be an issue for shorter people who can't reach the bottom of the container. In general, today's appliances use more plastic parts than older ones. They are also packed with many more electronic components than older appliances. This said, modern machines, in general and according to several appliance repair people I've talked to, do not seem to last as long as they used to. When it comes to which design lasts longer or requires more maintenance, there isn't a huge difference between front-loaders and top-loaders.

Best cheap refrigerator deals for July 2021
digitaltrends.com
Best cheap juicer deals for July 2021
digitaltrends.com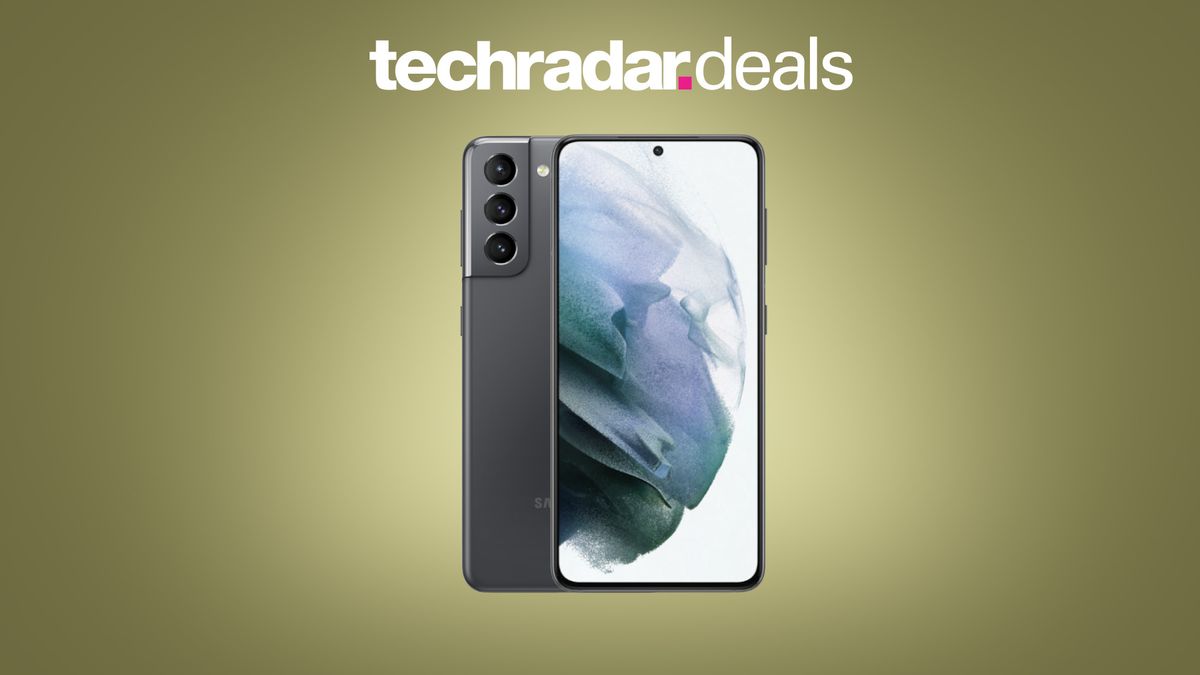 The best Samsung Galaxy S21 deals for July 2021
techradar.com
Best cheap oven deals for July 2021
digitaltrends.com
Best cheap Nespresso deals for July 2021
digitaltrends.com
Best UK Tablet & iPad Deals for July 2021
techadvisor.com
Best cheap grill deals for July 2021
digitaltrends.com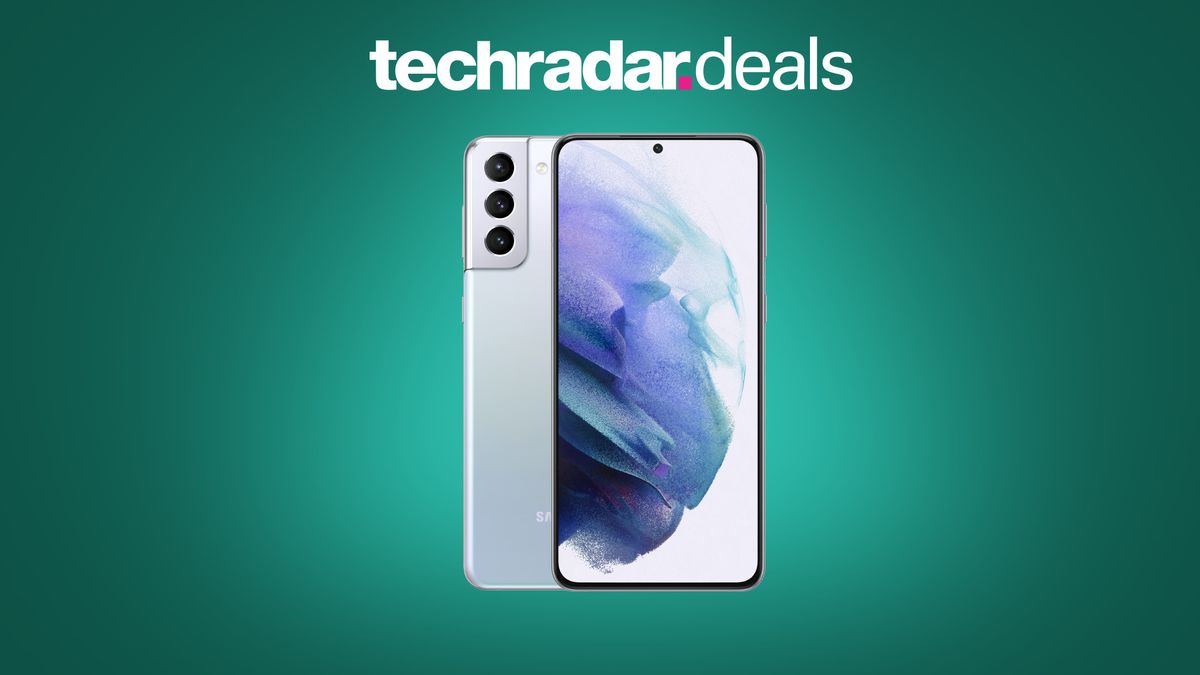 The best Samsung Galaxy S21 Plus deals for July 2021
techradar.com
Best cheap KitchenAid appliance deals for July 2021
digitaltrends.com
Best cheap blender deals for July 2021
digitaltrends.com
Best cheap microwave deals for July 2021
digitaltrends.com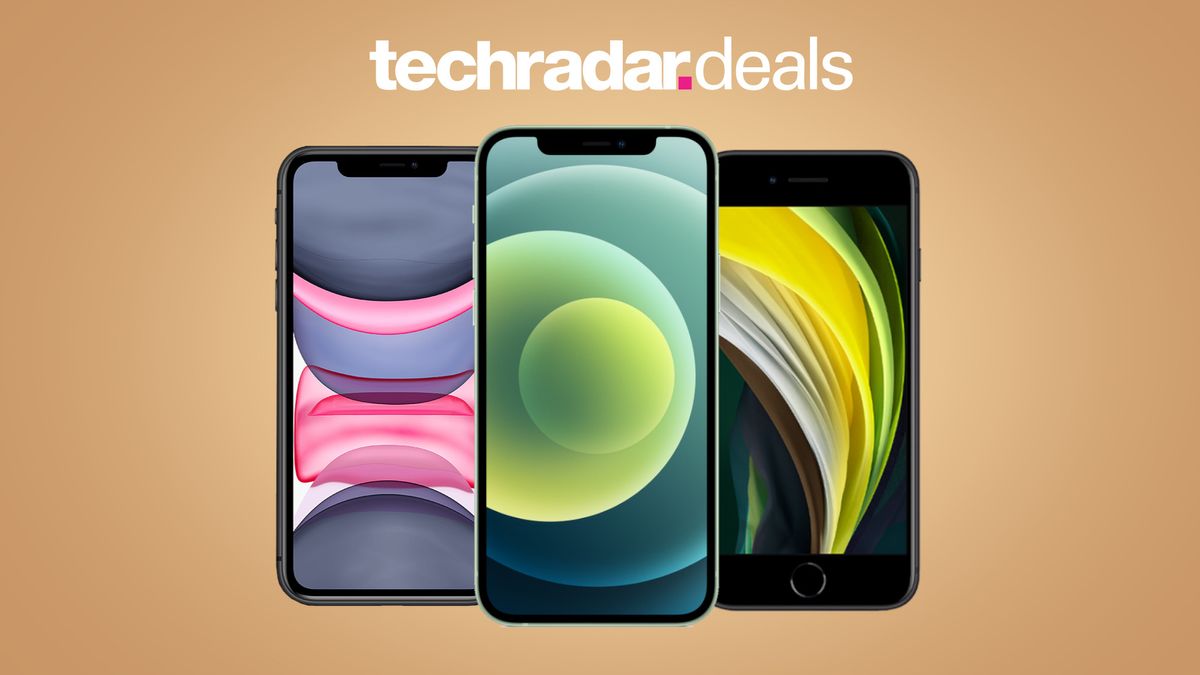 The best iPhone deals and prices for July 2021
techradar.com
Best cheap air purifier deals for July 2021
digitaltrends.com
Best cheap Keurig deals for July 2021
digitaltrends.com
Best cheap dishwasher deals for July 2021
digitaltrends.com
Best cheap coffee maker deals for July 2021: Keurig, Ninja, Breville, and more
digitaltrends.com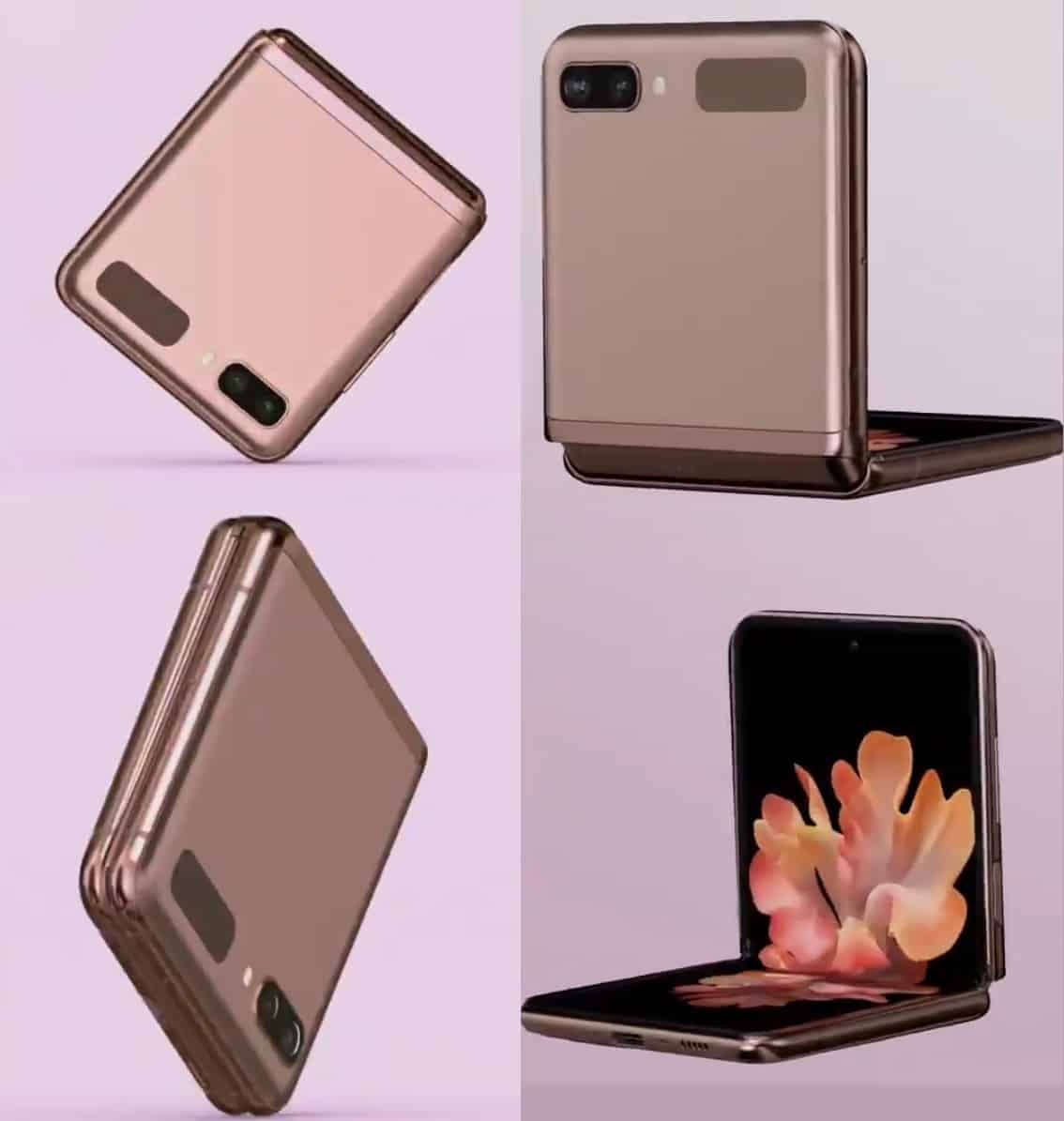 Samsung is in the process of rolling out the latest security patch to its Galaxy smartphones. The latest premium Galaxy phone to get the July security patch is the company's first clamshell foldable phone, Galaxy Z Flip. The Galaxy Z Flip 3 is now getting the July 2021 security patch alongside a fix for Android Auto-related bugs through a firmware update. The update carries a firmware version number F707BXXU3DUF4 and is now rolling out to all Galaxy Z Flip users in Germany. We also expect the update to become available for users in other parts of the world in the coming days. The July security patch is already available for premium Galaxy smartphones like Galaxy Note10, S20. And the company will push the security patch to more flagship Galaxy phones in the coming days. Meanwhile, Galaxy Z Flip users can check the update manually by navigating to Settings> Software update. via SamMobile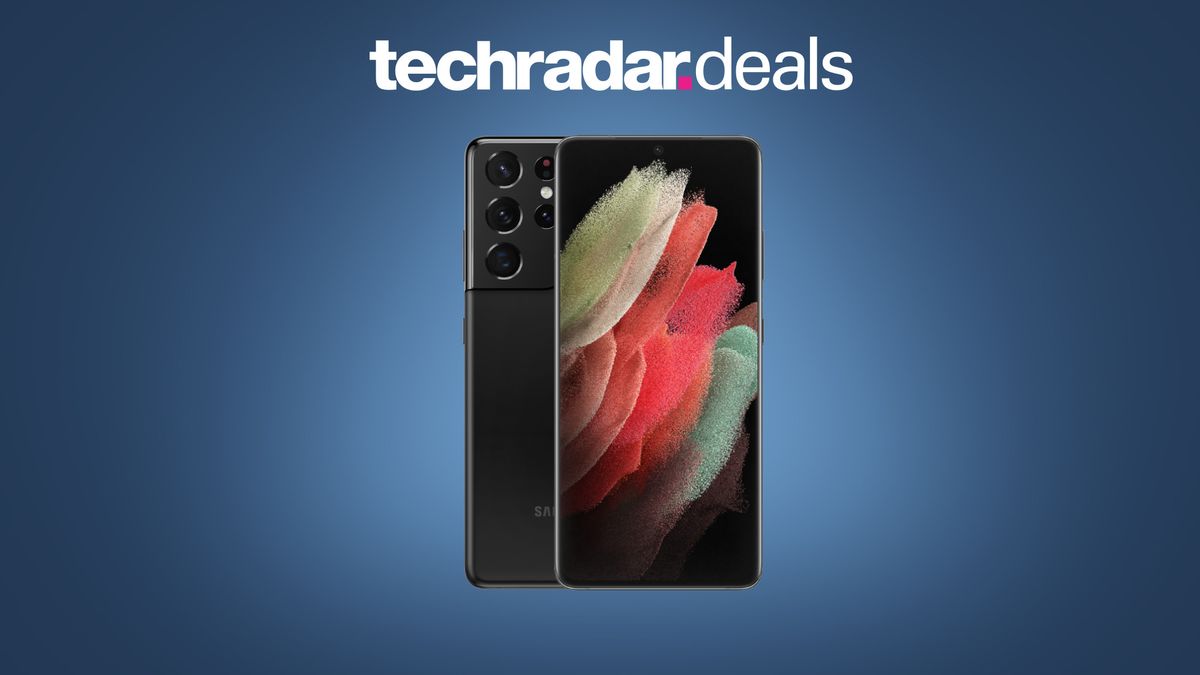 The best Samsung Galaxy S21 Ultra deals for July 2021
techradar.com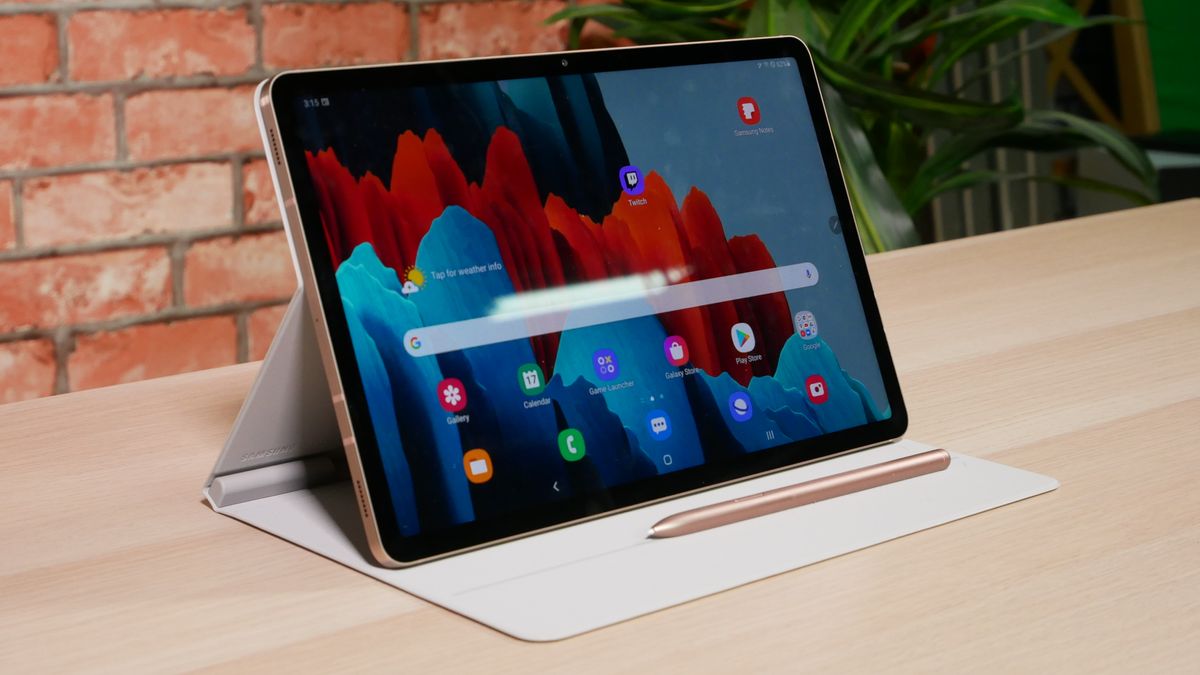 Samsung Galaxy Tab S8: what we want to see
techradar.com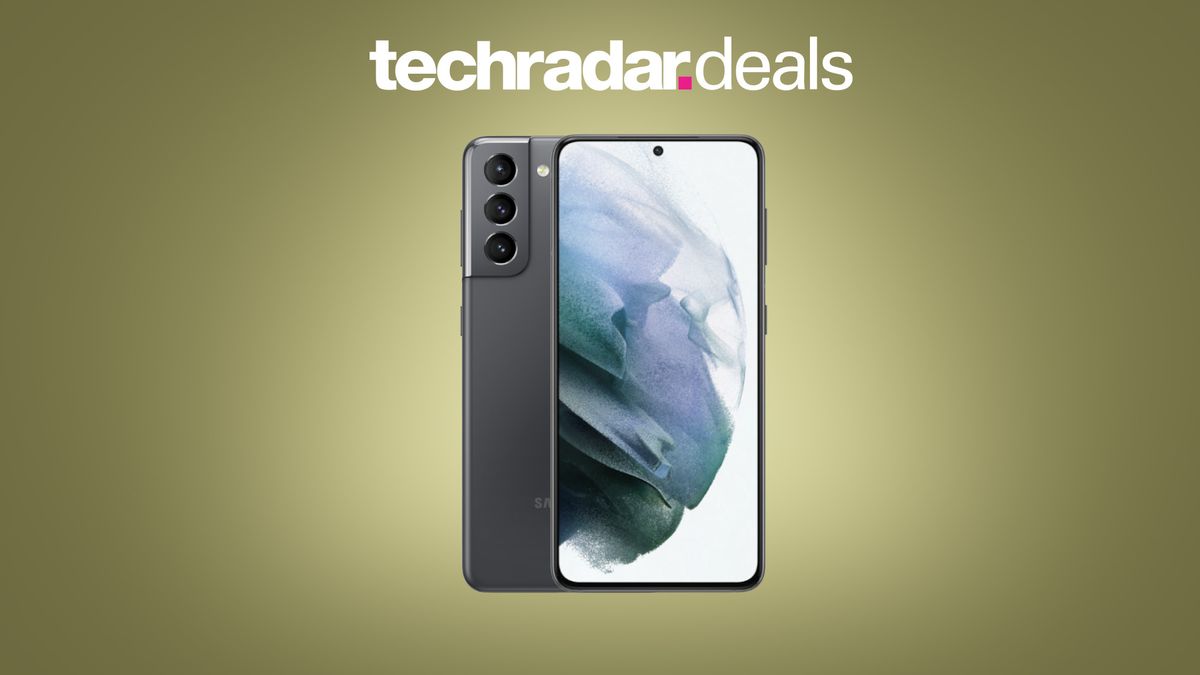 The best Samsung Galaxy S21 deals for July 2021
techradar.com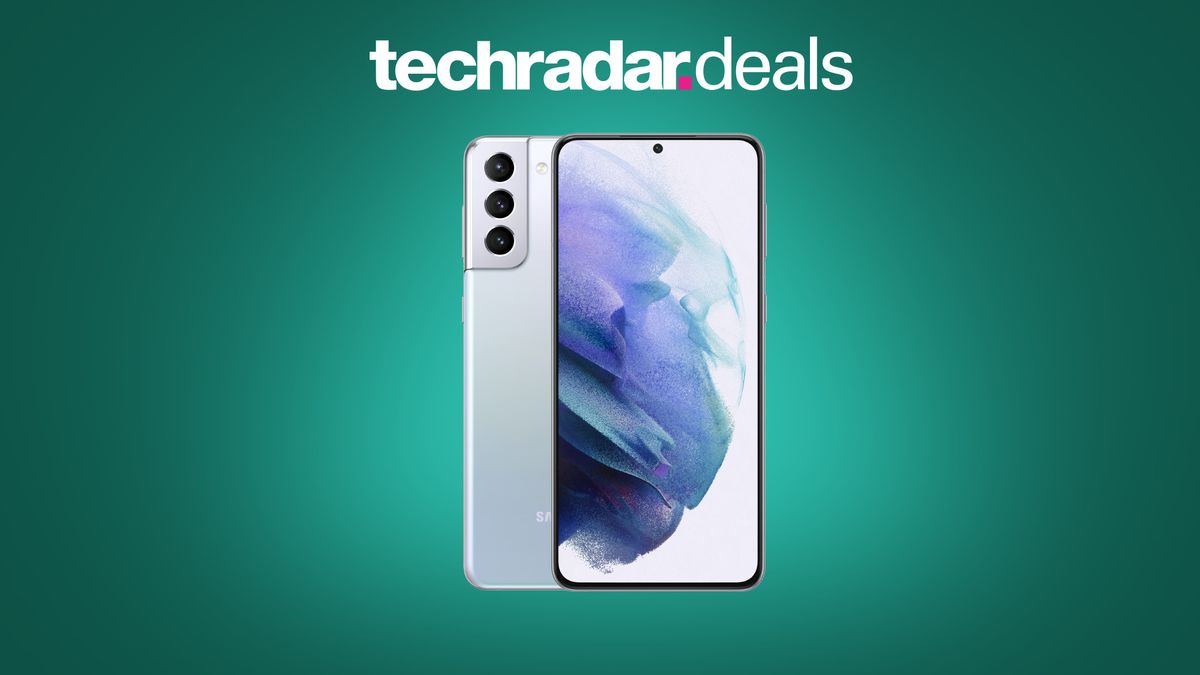 The best Samsung Galaxy S21 Plus deals for July 2021
techradar.com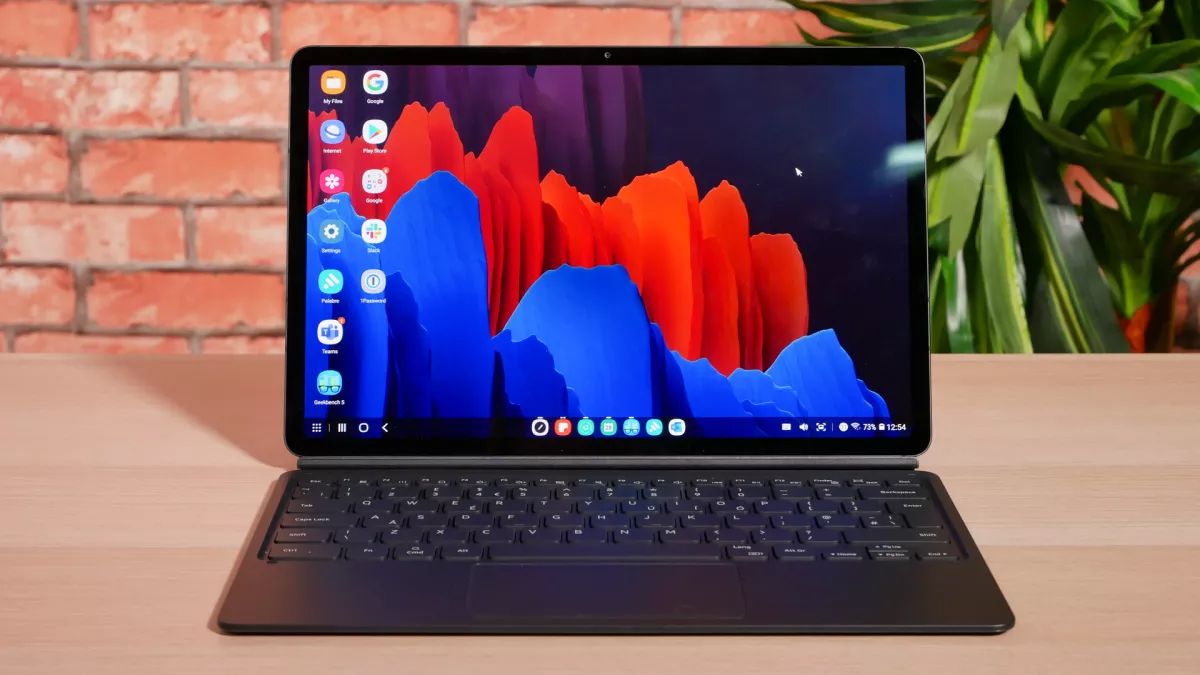 Samsung Galaxy Tab S8 might not land until next year
techradar.com
Samsung Galaxy Chromebook 2 Review: Addition by subtraction
xda-developers.com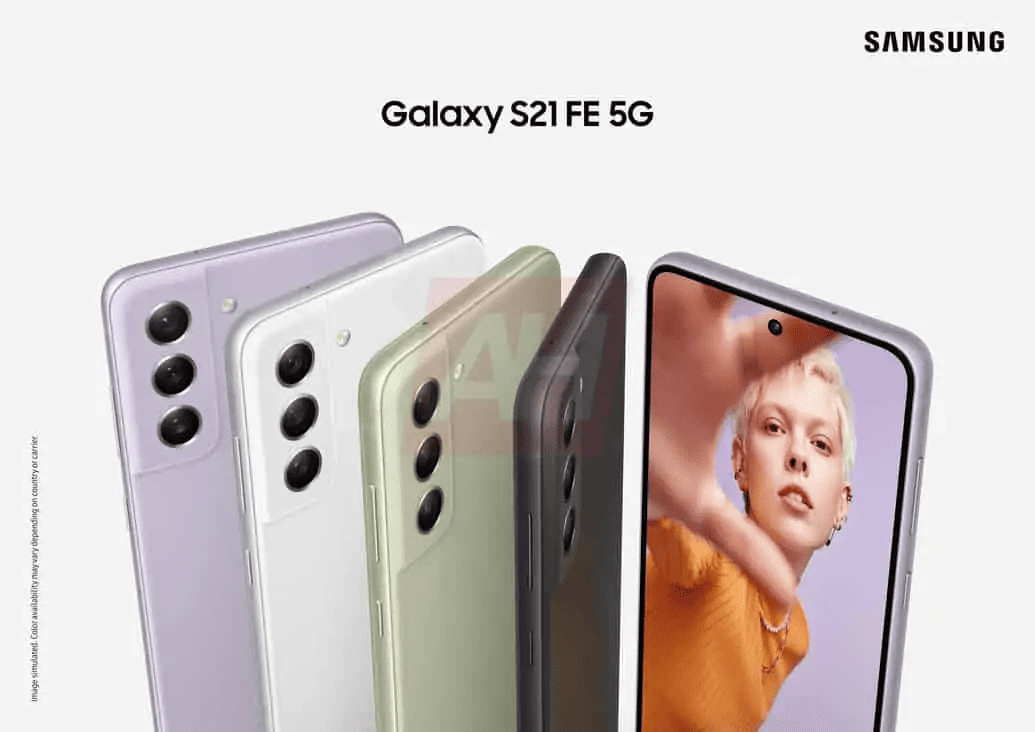 See the Samsung Galaxy S21 FE from all directions in leaked 3D render
mspoweruser.com
Your phone stores tons of private information about you and what you do online. Many of the apps you use can and do access to your data, and can sell it at will. How can you protect yourself? A virtual private network (VPN) makes it easy to shield your browsing data and other private information. When you set up a VPN app for iPhone, it creates a VPN configuration profile installed in your iPhone's settings. After installation, you can enable or disable the VPN session directly from the app or manually select which VPN server country to connect to. While Apple concentrates heavily on protecting user privacy and will be including a VPN in iOS 15, but at the moment it can only do so much. It cannot control criminals snooping on unencrypted web traffic, apps that leak user data, rogue Wi-Fi networks, or carriers that sell your data. Only a VPN can protect your data from snoopers and mask your true location. It hides your online activity in a secure tunnel that outsiders can't penetrate, but you must choose wisely since you're trusting your VPN provider with all your online activities. Do some research to make sure the company behind the VPN isn't selling your data or bandwidth to third parties. If the service is free, you have to wonder whether you're the product. Here, we'll tackle what you need to know about VPNs and take a closer look at the best and most secure options to protect your private information. If you're looking for additional ways to keep your data private, check out our encryption explainer to find out what it is and why it works. Keep in mind that you may need to install the OpenVPN Connect client and follow a guide in order to take advantage of the OpenVPN protocol on iOS. All the apps below work with IPSec or another protocol by default. Surfshark VPN takes the astronomical time element out of managing your privacy and security. The app secures your online identity with a no-log policy, hides your IP address, encrypts all traffic, shields your true location, and makes sure public Wi-Fi is safe, all in a speedy and powerful package. It can connect to 3,200 servers in more than 65 countries to send your confidential files, protect against DDoS or doxxing, conduct online banking, or anything you need to do online. It costs $11 per month or $48 per year. App Store CyberGhost is a solid VPN service that offers decent speeds. You can select from more than 7,000 servers in 90 countries, connect up to seven devices simultaneously, and get secure access to streaming services. It's also available for Android, Windows, and MacOS. The service supports PPTP, L2TP/IPSec, and OpenVPN protocols and offers up to 256-bit encryption. CyberGhost has a decent privacy policy and doesn't log your activity or store personal data. CyberGhost VPN is a subscription plan that costs $10 per month or $50 per year, but is free for a seven-day trial. App Store The Private Internet Access (PIA) anonymous VPN service is a popular option on iOS. Speeds are generally fast, and the service supports 256-bit encryption and OpenVPN. It's also based in the United States and promises not to log traffic and VPN usage. While the desktop clients offer all sorts of configuration options, the iOS app is very straightforward. You log in, pick a destination from a list, and away you go. Speed information is an obvious omission, and it does sometimes disconnect you. There's no free trial for PIA, but the service does offer a seven-day, money-back guarantee. It costs $7 per month or $40 for the year. App Store With ExpressVPN, you can connect to more than 3,000 servers in 94 countries worldwide. You'll also find support for 256-bit encryption and OpenVPN. There's no logging policy, so the service won't track your online activities. The app shows locations in a list or on a map, and you can tap to connect. There are more than 160 regions to choose from, with the option to set your favorite for later. Express VPN also offers Windows, MacOS, Android, Linux, and router apps with support for devices running Apple TV, Fire TV, and Android TV. Subscriptions run $13 a month, $60 for six months, or $100 for the year. You can connect five different devices simultaneously. App Store NordVPN has had an interesting couple of years. Having confirmed in 2019 that one of its 5,000+ servers had been breached in 2018, it has since made security improvements that have helped it regain trust and re-earn a place on this list (as well as our best VPNs list). It now employs double 2048-bit SSL encryption, making your connection highly secure, while also offering servers in around 60 nations worldwide. Other notable features include unlimited data, high connection speeds, custom DNS addresses, two kill switches, and the ability to use six devices with a single account. It's easy to use and set up, making it one of the best VPNs for the iPhone. The newest versions feature multi-factor authentication to boost your account's security. Dark web alerts now come in the language of your app. App Store With 700 servers placed in over 60 different countries, you shouldn't run into any issues with connecting to IPVanish. It guarantees zero-logging while still effectively offering substantial support for OpenVPN and 256-bit encryption. Further, it admits P2P traffic, which is usually blocked by some other services. You'll discover that the iOS app is relatively user-friendly. You can quickly and easily scan through using your current location and the most popular countries. It has a broad array of premium subscriptions — $10 per month, $27 for three months, or $75 each year. It offers infinite bandwidth, and you can have a maximum of 10 concurrent connections on various devices. IPVanish The short answer is yes. Using a VPN keeps your online data and identity secure and protects against hackers, snoops, and thieves by encrypting your data, masking your iPhone's IP address and anonymizing your internet use by re-routing traffic through the VPN's servers. It lets you use unsecured public Wi-Fi hot spots or browse via Wi-Fi at home without worrying about your data getting exposed. With cybercrime increasing, a VPN is almost a must-have for some people. Internet use is perilous, and most of that contact is through your mobile phone. So having a VPN on your phone has multi-pronged advantages, particularly if you are a traveler or must use public Wi-Fi. VPNs not only protect you from criminals, they also prevent your own trusted carrier from monetizing your data and invading your privacy. In the U. S., carriers like Verizon, AT&T, and T-Mobile can track your online activity to create profiles it can sell for advertising. The U. S. Federal Communications Commission levied $200 million in fines against Verizon, AT&T, Sprint, and T-Mobile for their sale of user location data without consent. An iPhone-based VPN hides your internet activity from your mobile carrier, in the same way that it hides your online activity from your ISP. Having a VPN on your Apple mobile device confers many advantages. It can help improve your gaming experience, bypass workplace and campus firewalls, bypass geographical restrictions, remotely connect to your workplace or home network, and even circumvent censorship statutes in some countries. Using a VPN with iPhone gaming ensures your connection is optimal. Hiding your gameplay prevents your ISP from throttling your connection and chopping your bandwidth, a serious impediment to a gaming experience. A VPN can help you get around browsing, search, or time restrictions imposed by network administrators of all types and institutions from school to work. And while we do not encourage it, we acknowledge that VPNs can help you dodge geographical restrictions — rules that do not allow viewing of certain content because of your location. Since VPNs hide your location, you could be anywhere. Do you have any more questions about VPNs? Here's everything you wanted to know about VPNs but were afraid to ask.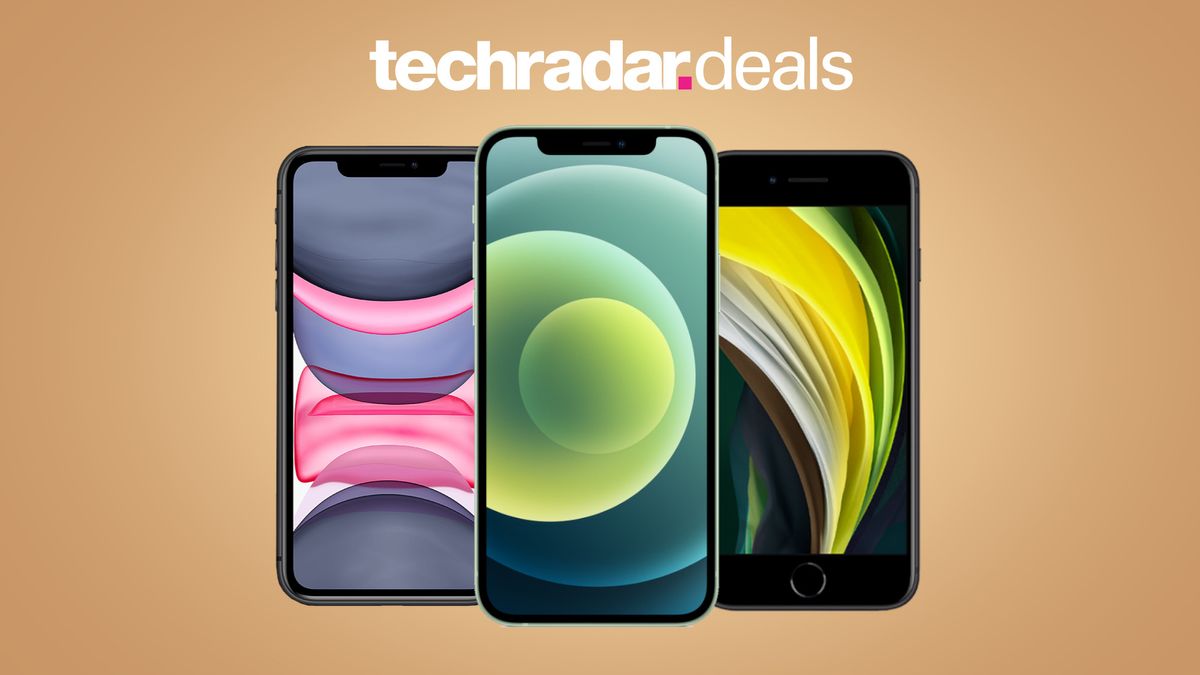 The best iPhone deals and prices for July 2021
techradar.com
Best UK Tablet & iPad Deals for July 2021
techadvisor.com
Nintendo's making a new Nintendo Switch, one with a bigger OLED screen. They gave it a trailer on Tuesday, showing beautiful people taking the console outside and playing it on the go. Who does this? The advertisement looks like every other promo we've seen for the Switch since it launched in 2017. It's filled with a diverse cast of smiling faces all enjoying the console while upbeat music plays. As a good trailer should, it emphasizes the features that are unique to the Nintendo Switch and make it worth spending $349.99 MSRP. Basically, it's portable. In the new trailer, people take it outside and bring the console along with them wherever they go in their interesting daily lives. At one point, we see a young red-headed individual playing the new Nintendo Switch while lounging on a pool chair outside. They look focused and enthralled by the contents of the game. Later on, we see a family playing chess on a table outside using the Switch. While watching, I was shocked that once again, Nintendo was pushing this idea that the Nintendo Switch is enjoyable to play outdoors. For a visual supplement, here's a gallery of people "enjoying" the Nintendo Switch outside. Don't get me wrong, bringing the Switch around is good and dandy — I, for one, love taking mine on road trips and while flying. However, I don't think the Nintendo Switch will ever feel good to play outside in a park. Its screen is not bright enough to play outside, and even if you crank up the brightness, and can see the screen, it'll burn through your battery life. If you're OK with, say, playing a bright game out under the sunshine, well then there's still the anxiety of bringing an expensive, somewhat fickle $299.99 console outside. Let's face it, the Nintendo Switch can't be battered around like a Game Boy Advance could. The console gets hot if it's directly in the sun! Also, I'm just generally worried about it getting stolen if I take it around town. Look, it's not that I expect advertising to be accurate or realistic. I get that much of the role of marketing is to generate hype, regardless of the feasibility of scenarios. Still, after seeing this video, and after four years since the console launched, I just couldn't help but feel that Nintendo should stop pushing the idea. Nintendo has been advertising the Switch as an "outdoors console" since its first hype trailer in 2017. In that, we see a person take it out to play it at a park at sunrise. We see their friends play it on a basketball court (at night, interestingly). In 2019, the trailer for the Nintendo Switch Lite pushed the play-it-outside idea even further with an entire group of cool kids playing their Switches at a bright and sunny skate park. And in theory, that's great! Maybe there are outdoorsy, well adjusted people that take their Nintendo Switch out to the end of the Santa Monica Pier or the bottom of the Grand Canyon. That's not me. I'm more than content with playing it handheld while snuggled up in my bed.

Where to pre-order the Nintendo Switch OLED
vg247.com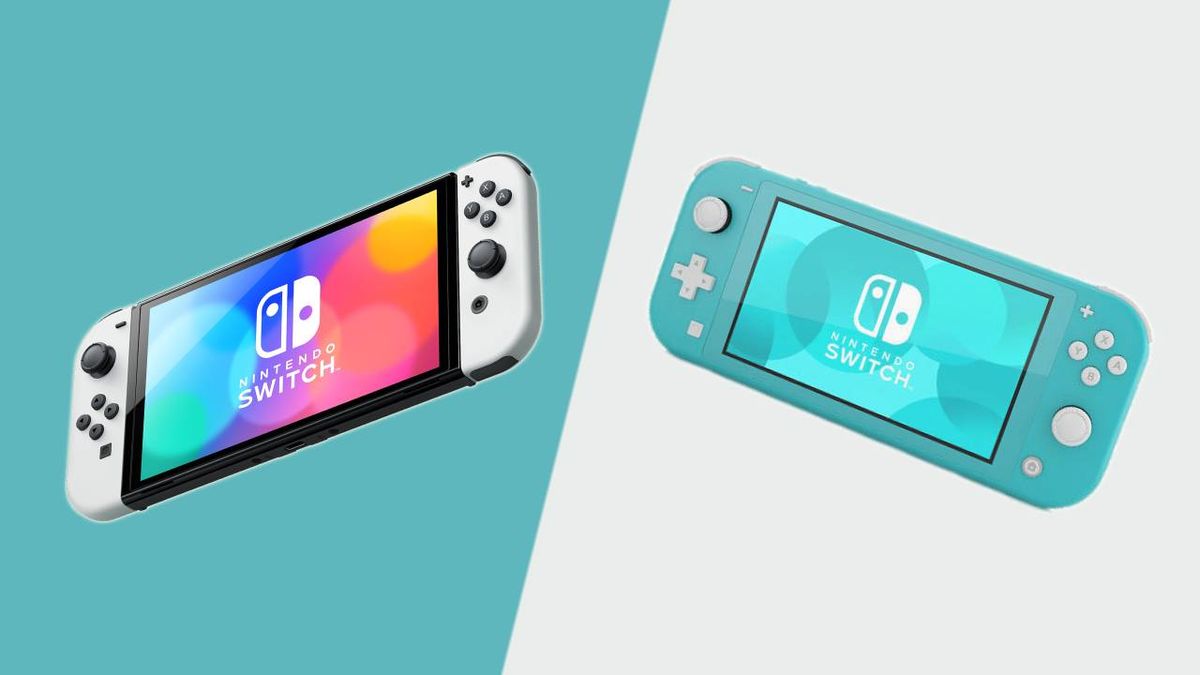 Nintendo Switch OLED vs Nintendo Switch Lite: which Switch is right for you?
techradar.com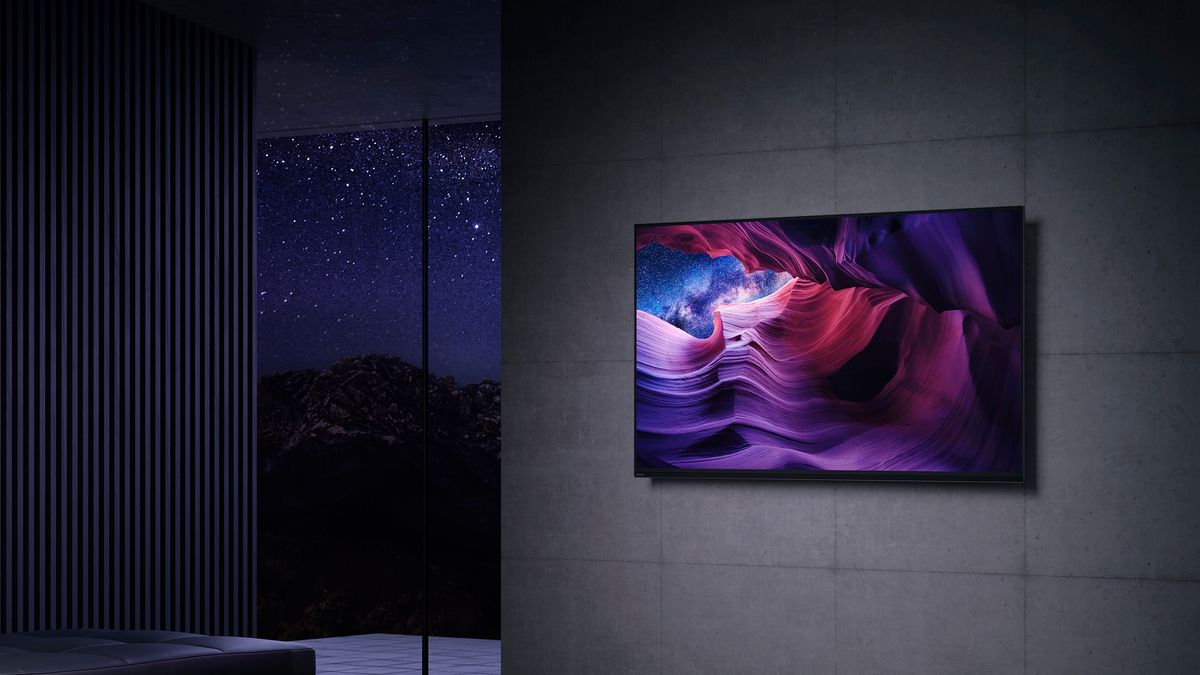 Best OLED TV 2021: 7 unmissable TVs from LG, Sony and more
techradar.com
July 7,2021 PC owners will experience some big changes to their Windows software later this year. Last month, Microsoft unveiled Windows 11, the latest operating system powering personal computers. And the company says it is scheduled to roll out in late 2021 and continue into 2022. Panos Panay, Microsoft's chief product officer for Windows and devices, wrote in a June blog post the changes were inspired by shifts in PC usage among consumers during the COVID-19 pandemic, as remote work surged. "This is what inspired us as we were building the next generation of Windows. To build you a place that feels familiar, where you can create, learn, play and most importantly, connect in all new ways," wrote Panay. Got questions about Windows 11? We've got answers. Here's everything you must know about Windows 11: The software will roll out starting in late 2021, according to Microsoft, and will continue throughout 2022. It's free to upgrade. Microsoft says computers and Surface devices pre-installed with Windows 11 will launch later this year. Most PCs running Windows 10 that are currently available should also support the Windows 11 upgrade so long as they run the appropriate specs. Microsoft had initially released a PC Health Check app to test whether your device could run Windows 11. However, Microsoft said "confusion" over how the tool was assessing a device's compatibility prompted the company to take it down. According to CNet, a new independent open source tool called WhyNotWin11 could help users figure out whether Windows 11 will work. Most notable is the interface itself looks sleeker compared to earlier versions of Windows. The software has bolstered its Snap layouts, which allow users to quickly snap an application to their screen, to support multiple configurations depending on what users desire. The operating system also simplifies the docking and redocking process to eliminate the need to reconfigure apps. Windows 11 will also support Android apps made available through the Amazon app store. Although it lacks the breadth of Google Play, the store still offers big names including TikTok. Other big features include a revamped Microsoft Store, more detailed Widgets, and different typing options including a one-handed option if you're on a Surface tablet. Windows 11 is also reportedly ditching the "blue screen of death," a Windows PC owner's nightmare. It will be black instead, according to The Verge. If you're on Windows 10 and want to go back after you upgrade, Microsoft says users will have a 10-day window "where you can move back to Windows 10 while keeping files and data that you brought along with you." Past that, users have to back up data and perform a "clean install," which means re-installing Windows 10 from scratch. No rush. Microsoft isn't pulling away from Windows 10 anytime soon. If you stick to Windows 10, Microsoft says it will continue supporting it through 2025. 2021 U. S. Today. Distributed by Tribune Content Agency, LLC. 5 hours ago 0 Jul 06,2021 0 Jul 06,2021 0 Jul 05,2021 0 Jul 05,2021 0 14 minutes ago 52 minutes ago 3 hours ago 4 hours ago 4 hours ago 5 hours ago 5 hours ago Jun 24,2021 Jun 03,2021 Jun 16,2021 Jun 01,2015 Jun 24,2021 Jan 13,2020 Jul 06,2021 Jun 30,2021 Jun 24,2021 Jun 24,2021 Jun 23,2021 Jun 22,2021

Will my PC run Windows 11?
techadvisor.com
Windows 11: Everything you need to know
techadvisor.com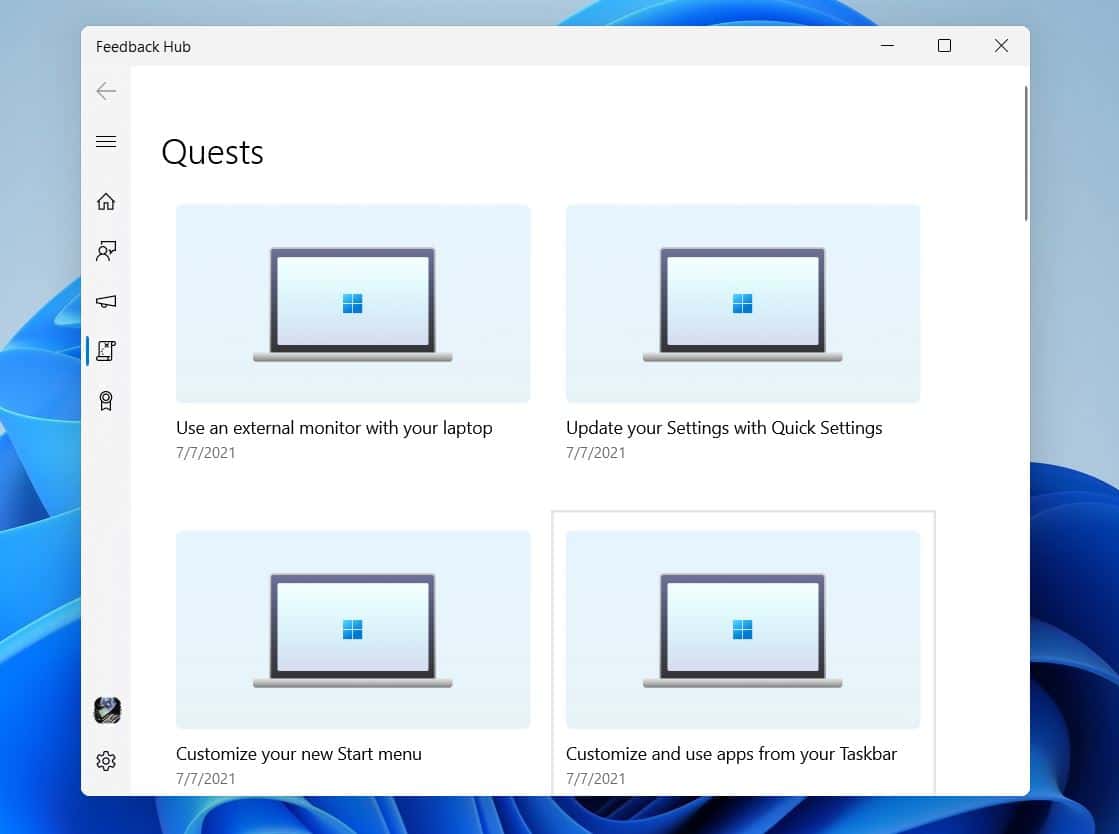 Participate in Microsoft's Windows 11 Bug Bash and earn an achievement badge
mspoweruser.com
Fans are noticing a ton of Marvel Comics Easter eggs in the latest episode of Loki, from license plates that spell significant names to full-on character cameos. But there's one more reference in Loki 's fifth episode, "Journey Into Mystery," and it has nothing to do with Marvel Comics. And while we've known about it since the first footage of Loki was revealed, now we can take a guess at how it fits into the wider Marvel Cinematic Universe. [ Ed. note: This post contain spoilers for Loki through episode 5.] In episode five, we are introduced to the strange bunker/hideout of four pruned Lokis, banished to the end of time for crimes against the Time Variance Authority. Inside a converted bowling alley is a motley collection of pruned objects from across history, including, of all things, a Polybius arcade cabinet. Polybius is the stuff of urban legend. The myth of Polybius involves an arcade machine that was supposedly test marketed in Portland, Oregon in the early '80s. Players quickly became addicted to the game, the story goes, but suffered from psychoactive side effects. Adding to Polybius ' mystery are tales of man-in-black-style government agents monitoring the machines and collecting data about players' behavior. Polybius has been cheekily referenced by The Simpsons and was eventually made into a real-life video game by Jeff Minter, developer of trippy fare like Tempest 2000 and Space Giraffe. The Polybius cabinet appears in more than one shot of the episode of Loki, as if some set dresser really didn't want it to be missed in the edit. Perhaps the presence of the game is the entire reason this bowling alley was pruned — man-in-black-style government agents certainly sounds a lot like the TVA. In a way, the use of a Polybius cabinet in the background is not unlike Loki 's early flashback that reveals that Loki is the mysterious criminal, D. B. Cooper. It ties a real mystery/urban legend to the events of the Marvel Cinematic Universe, hinting at a supernatural explanation. The episode doesn't go out of its way to explain how it fits into our own timeline, but simply leaves it there for those in the know to pick up on — just like the best Easter eggs. Prices taken at time of publishing. Sign up for a month- or year-long subscription to catch Marvel's six-part MCU series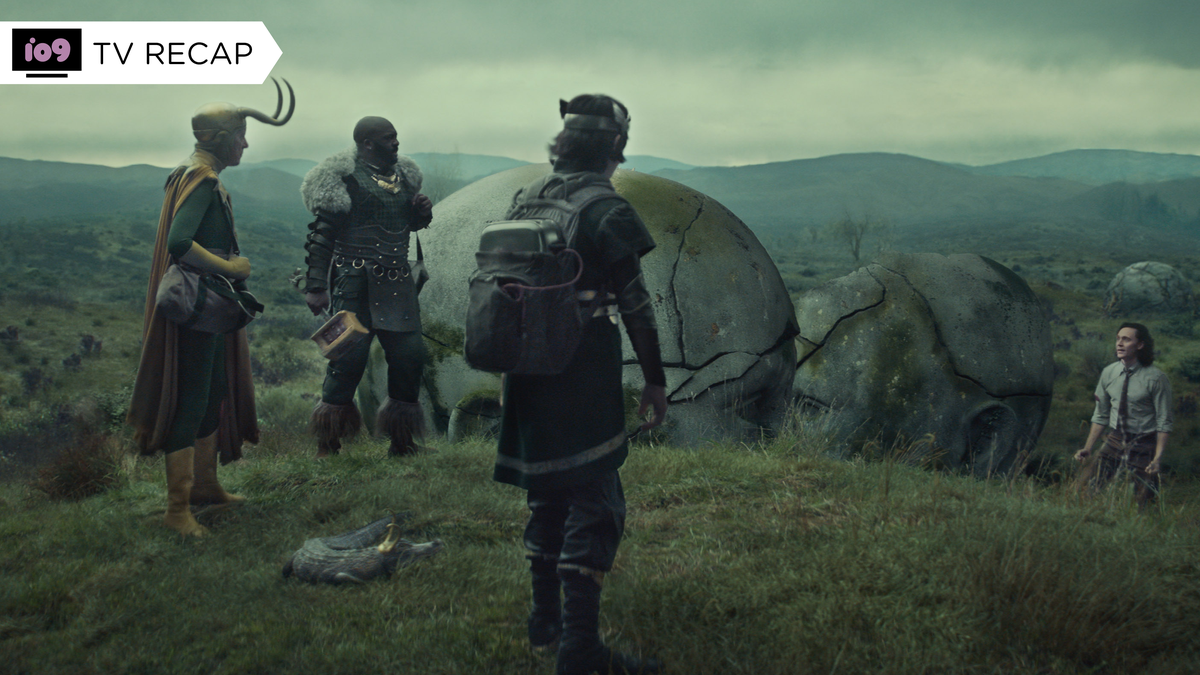 On Loki, Friendship Really Is Magic
gizmodo.com
Loki now has more Lokis than it has episodes
polygon.com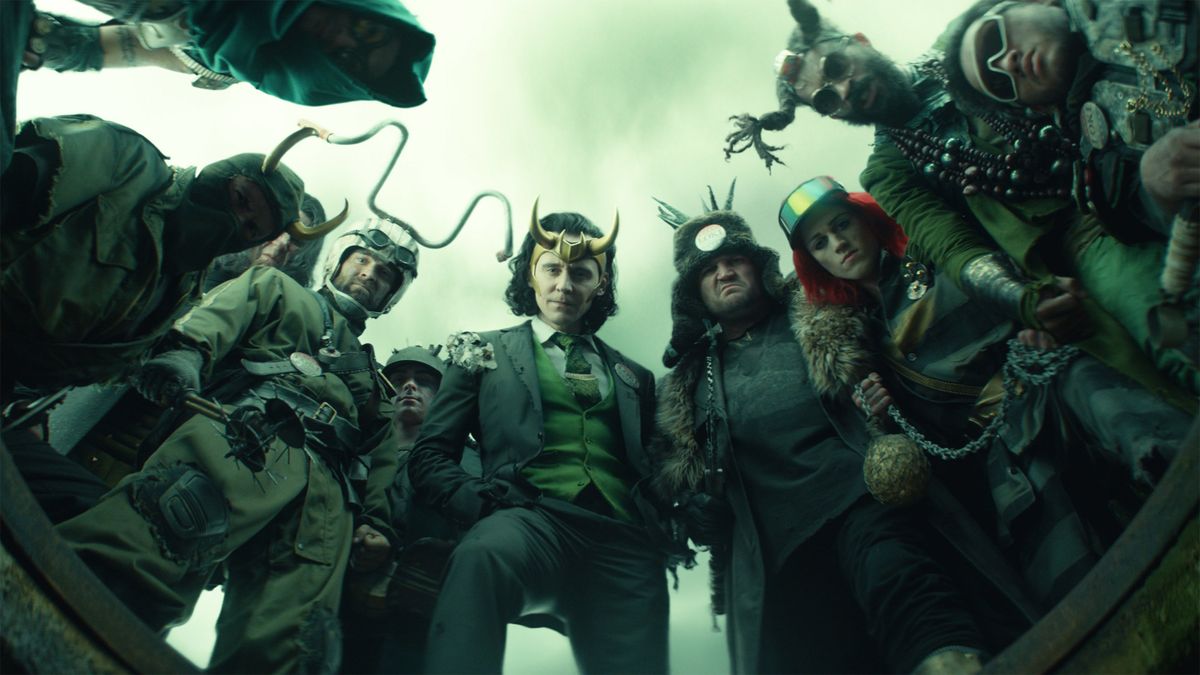 Loki episode 6: will [spoiler] be revealed as the show's true villain?
techradar.com
Two years ago, Intel's Lakefield processors were something of a big deal. They were Intel's first attempt at replicating the big. LITTLE architecture that we see on ARM chips. Of course, Intel isn't one to admit that it makes little anything, so Intel's Hybrid Technology was called big-bigger. Now, Intel Lakefield is being discontinued, or at least beginning Intel's long process of being discontinued. It also wasn't very good. The processors, which only came in Core i3 and Core i5 variants, had five cores. There was a single big core, which was along the lines of a Y-series chip, and then there were four little cores, which were along the lines of Atom processors. Intel's Lakefield CPUs only shipped in a handful of products, like the Lenovo ThinkPad X1 Fold and the Samsung Galaxy Book S. They were made for new form factors, like the foldable screen on the ThinkPad X1 Fold. But also, they were for dual-screen devices like Microsoft's Surface Neo, a product where it's looking more and more like it won't see the light of day. The Surface Neo was set to run Windows 10X, Microsoft's dual-screen operating system that was actually announced alongside the Neo. But eventually, Windows 10X was repurposed for single-screen devices, citing wanting to meet people where they're at, even though you'd have to buy a new device anyway. Microsoft said it was pushing back its dual-screen device plans until they made sense. It shipped the Surface Duo anyway. Some thought that with Windows 11 on the way, the Surface Neo might make a return. It hasn't, and if it does, it's going to need a different CPU. But even if this didn't happen and the Surface Neo shipped later this year, it would be shipping with old hardware. Of course, the Surface Duo shipped with last-gen hardware, and by now, it's two generations old. It would just seem like Intel would have a replacement in the pipeline. Perhaps, plans between Microsoft and Intel to create dual-screen and foldable devices have simply been scrapped. There are other alternatives, of course, such as using ARM processors. Intel also isn't simply throwing its Hybrid Technology in the trash. It's already said that its next-gen 'Alder Lake' processors are going to use it to some degree. Presumably, the firm has learned some lessons and will do a better job of it. The last product discontinuance shipment date for Intel's Lakefield chips is set to be April 29, 2022.

Intel is discontinuing 10th-gen Core, Lakefield, Celeron, and Pentium laptop processors
techspot.com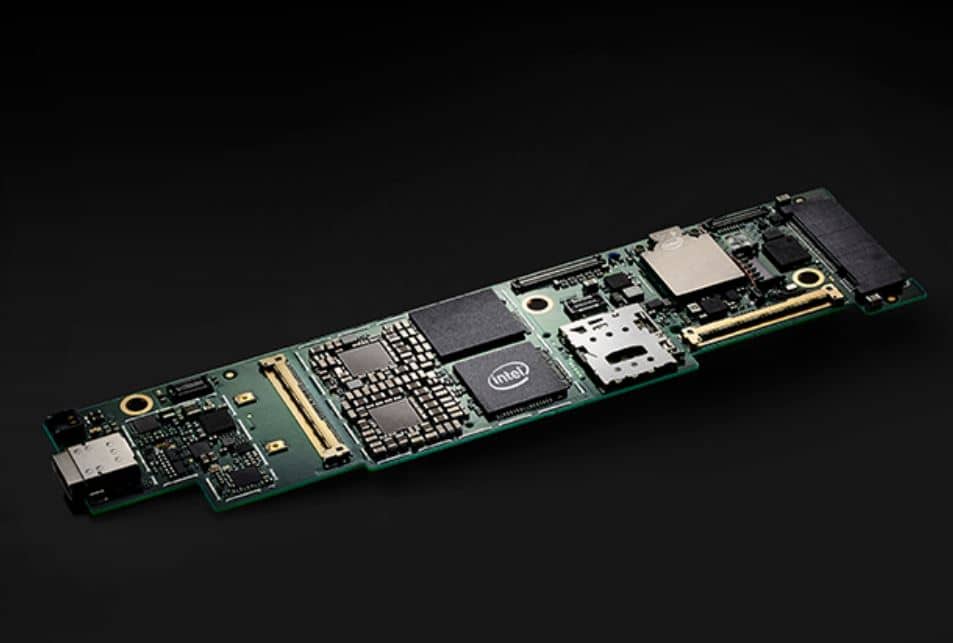 Intel discontinues Lakefield processors which featured 3D packaging technology
mspoweruser.com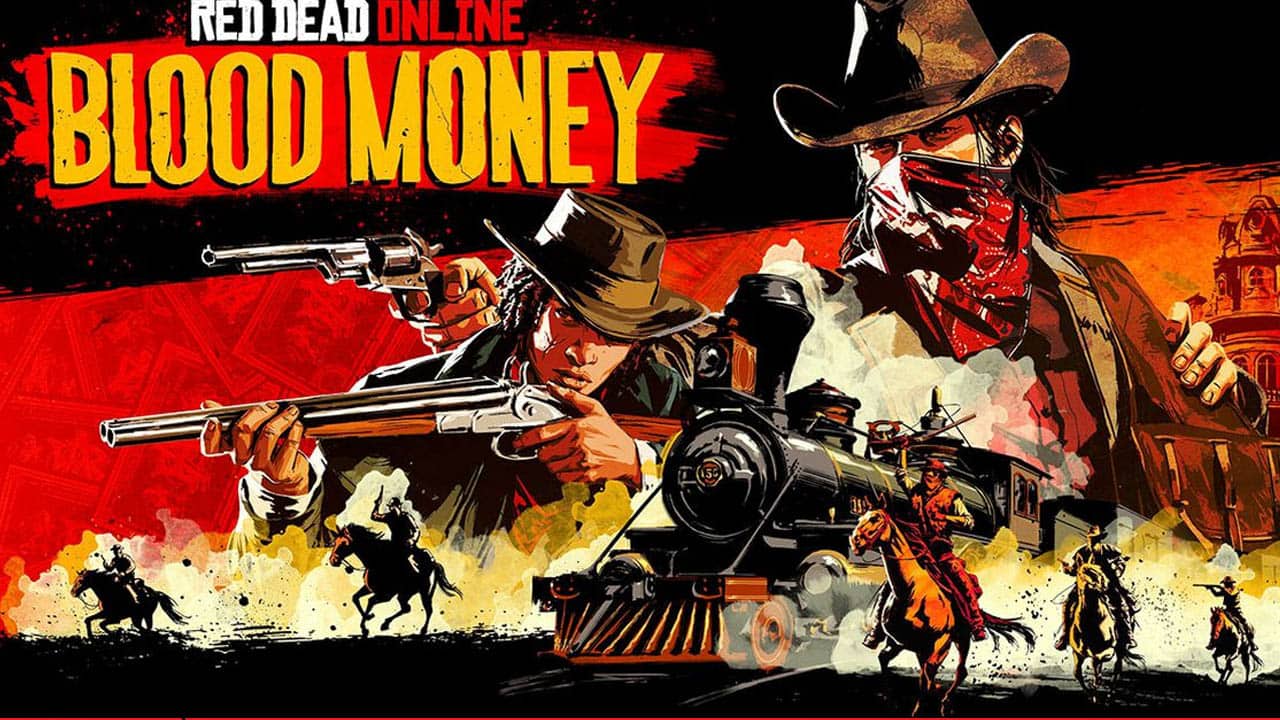 Red Dead Online is getting more content that'll have you after diamonds, rubies and emeralds at the behest of a notorious underboss Guido Martelli. If you can believe it, throughout the Blood Money update you'll be committing crimes, ranging from cloak-and-dagger coach holdups to multi-stage robberies — including kidnapping, brutal debt collections, and more. Crimes are actually a new type of work in Red Dead Online: Blood Money despite being set in a country that made jaywalking illegal, but these crimes won't land you with a citation, instead they lead to "Capitale" and the titular blood money, With enough Capitale Guido Martelli will reveal Opportunities which are a "scheme to stifle a rising Lemoyne senator who is disrupting Bronte operations throughout the region," Rockstar reveal in a newswire post. Each opportunity will have various approaches where you can listen to nearby conversations for more information and look out for important targets to uncover new paths through the opportunity. There are going to be three of these opportunities available in time, but only one of which will be available on July 13th when Red Dead Online: Blood Money launches. While the crimes and opportunities added via Blood Money won't require any upfront Gold Bars, the Quick Draw Club's four upcoming passes will do. Each membership entitles you to "rewards, bonuses, and items to help live life on the fringe of the law — starting with Dutch's outfit, The Redcliff," with extra bonuses if you choose to buy each consecutive pass.

Red Dead Online's new Blood Money update will not be paywalled
digitaltrends.com
Rockstar details Red Dead Online's Blood Money update with new trailer
eurogamer.net
A missed opportunity to improve docked play. After months of pent-up expectation surrounding the 'Switch Pro' and hopes of a new, improved machine, Nintendo finally revealed its new OLED model yesterday and it is effectively a product refresh with a higher quality screen, more storage and a revised dock. No promises are being made about any actual enhancements to the performance of the machine because there are none. The same 16nm+ version of the Tegra X1 found in current Switches also beats at the heart of the OLED model, so the end result is a machine that improves the quality of the handheld experience but does not address what is arguably the Switch's biggest drawback - the quality of docked play. All of which raises the question of how the Switch Pro hype train kicked off in the first place, since reputable outlets with good sources seemed to indicate that an upgraded model with a new Nvidia processor was a done deal. At Digital Foundry, we pegged the new unit as being a product refresh a few months back (see the very first DF Direct for commentary) especially as the Atmosphere custom firmware team had revealed the existence of a revised Switch with a new screen but the same core spec back in January. Apparently, the machine - internally codenamed 'Aula' - first appeared in the Switch firmware with update 10.0.0, which went public in April 2020. The only real explanation I can suggest is that development of the OLED and the actual next-gen Switch got confused at some point, birthing the Switch Pro rumour. In terms of how the new Switch evolves, Nintendo's strategy is to add to the existing family of consoles. For now at least, the original model remains, as does the handheld-only 'non-Switchable' Lite. The OLED model gains a higher grade, physically larger 7-inch screen, improved audio and a multi-position kickstand, along with a light sensor on top - presumably to help with auto-brightness adjustment. Overall dimensions are much the same, but the unit is very, very slightly wider and a touch weightier. Switch OLED is confirmed to work with older docks but gets a more refined rendition with an onboard LAN port. This new dock is available for purchase separately and also works with older Switch models but there is a drawback to it - you lose the internal USB port, while the two external USB 2.0 sockets remain. John Linneman and Rich Leadbetter share their initial reactions to the Switch OLED model reveal. In essence then, Switch OLED doubles down on the handheld experience that was already the strongest part of the package. The OLED screen should provide a bigger, much higher quality picture. We can confirm that there is no HDR functionality but in its comms with developers, Nintendo says that "OLED screen colours are more vivid". We can't judge the quality of the improved audio until we hear it, but Nintendo talks about "an improved sound pressure level" for the new model. The new kickstand - reminiscent of Microsoft Surface - certainly addresses a key problem from the original model, which had a stand so flimsy, it couldn't really be relied upon for stability on anything other than a rock-steady surface. However, nothing in Nintendo's marketing materials describes anything other than standard Switch performance. The size of the battery remains the same at 4310mAh, battery life is described in terms that are identical to the existing standard Switch - 4.5 hours to nine hours, depending on the application. The Verge has a statement from Nintendo clarifying that "Nintendo Switch (OLED model) does not have a new CPU, or more RAM, from previous Nintendo Switch models." The new machine does have more storage - 64GB of NAND compared to the original's 32GB, but beyond that, we now have complete confirmation that the internals are essentially unchanged. The same 16nm+ rendition of the Tegra X1 - codenamed 'Mariko' - is retained for the new model. In the current environment of severe semiconductor shortages, sticking with the existing silicon on what is now a relatively old production process should ensure that Nintendo can provide adequate volumes of the new machines in a world where its competitors are struggling, and make a decent profit on them too. In theory, the new Switch could be overclocked to improve the fluidity of performance-challenged games - something we can test with homebrew mods to older systems. So, for Nintendo and indeed game developers, the Switch OLED model is very much business as usual, to the point where the platform holder is telling game makers that no new development kits are essential for making games and there are no new technical requirements that require changing standard Switch iconography in-game to accommodate the new model. On top of that, games running on Switch OLED have no idea they are running on anything other than a standard unit - Nintendo's developer documents reveal that there is no way for their games to query the system, to figure out whether they are running on Switch OLED or not. With that said, the firm does recognise the need for developers to test their games on the new screen. With that in mind, a new ADEV development model is being made available to co-exist alongside the existing SDEV and EDEV versions. For reasons undisclosed by the Nintendo, this machine ships with 8GB of onboard memory compared to the 6GB in the other development models and the 4GB of all retail units. With the Switch approaching four-and-a-half years in the market, it now seems almost certain that Nintendo will not deploy a mid-generation refresh in the mould of the DSi or the New 3DS and its offshoot models. With prior handhelds, the platform holder introduced new specs and the ability for developers to tap into extra horsepower, even if developer take-up for the extra power ended up being rather slight. That does not seem to be the case for its most modern machine. There has been disappointment that Switch OLED isn't Switch Pro - or features any performance advantages at all - and that is a shame because the longer this generation continues, the more obvious the machine's challenges as a docked home console become. In one way, Nintendo's hybrid is a celebration of what's possible with a mobile chipset, one that is significantly under-clocked compared to its reference specs. We've seen feats on the 1.02GHz CPU that are extraordinary, while the GPU is relatively slow but is based on a relatively modern architecture, opening the door to many of the 'impossible ports' we've seen. Working in concert, games like Doom Eternal and The Witcher 3 have appeared running reasonably well on what is a six-year-old model chipset. However, while the machine holds up for handheld play, the docked situation looks fairly grim - with many games, sub-1080p, sub-720p and even lower resolutions just don't hold up on today's gigantic flat panels. There was much discussion of some kind of 4K upscaling for the new Switch, but it hasn't come to pass. Wired LAN port aside, there are no improvements for docked users whatsoever - and that is undoubtedly a missed opportunity. What does RT Lego Builders Journey have to do with Switch? Well, we also cover the latest enhancements to DLSS too - which could be relevant to a future Switch. With a new Nvidia chip ruled out, could the existing model have provided any form of improved performance for docked users? Absolutely, but not to a genuinely game-changing degree. Overclocking (or indeed underclocking) the Switch has been a component of the homebrew scene for years now, with system hacks able to boost CPU from its standard 1.02GHz to the full spec 1785MHz, while the docked clock of 768MHz can easily be boosted to 921MHz. On paper it's a 75 percent boost to CPU performance and a 20 percent uplift for the GPU. The 'Mariko' Tegra X1 graphics core can even run at 1.267GHz - a sizeable 65 percent improvement to the Switch spec. However, despite the presence of extra venting on the new dock, it seems unlikely that Nintendo will open up full performance to developers. In theory it is possible, but there's certainly nothing in the SDK to make it happen for game makers. And in truth, based on our overclocking tests, you gain extra stability and a cleaner picture on games that support dynamic resolution scaling, so while there is an improvement, it's not enough to comprehensively solve the docked play problem. Of course, the truth is that only a fundamental redesign of the Switch itself can address this - something that does not really make business sense to Nintendo in the here and now, and would only cause headaches to developers in supporting a third performance profile. Any kind of smart upscaling solution capable of making truly low resolution images into something acceptable on a living room display requires new silicon, and while Nvidia DLSS has been mooted as a solution, this technology requires tensor cores baked into the hardware - and these are not present in Tegra X1. DLSS cannot work as a standalone 'add-in' chip in its current iteration, and neither can it be liberally applied to any game - it needs to be plumbed into the game engine. And both factors, combined with Nvidia's recent improvements to DLSS, make the technology a better fit for an actual Switch successor based on more recent GeForce architecture. The potential is certainly mouth-watering. DLSS performance mode runs internally at a quarter of output resolution: 720p becomes 1440p,1080p becomes 4K. The results aren't perfect, but would certainly work well on a TV viewed at range in living room conditions. DLSS ultra performance mode can actually scale 720p to 4K. Yes, there's a quality hit, but it works. DLSS or a technology similar to it is the missing piece of the puzzle for making docked play from a mobile chipset viable, but the reality is that this is next generation stuff. So, is this the actual Switch Pro that has been talked about for months now? Would it still be a Switch Pro - or should we start referring to it as Switch 2 or Super Switch instead? Will you support the Digital Foundry team? Digital Foundry specialises in technical analysis of gaming hardware and software, using state-of-the-art capture systems and bespoke software to show you how well games and hardware run, visualising precisely what they're capable of. In order to show you what 4K gaming actually looks like we needed to build our own platform to supply high quality 4K video for offline viewing. So we did. Our videos are multi-gigabyte files and we've chosen a high quality provider to ensure fast downloads. However, that bandwidth isn't free and so we charge a small monthly subscription fee of €5. We think it's a small price to pay for unlimited access to top-tier quality encodes of our content. Thank you. Find out more about the benefits of our Patreon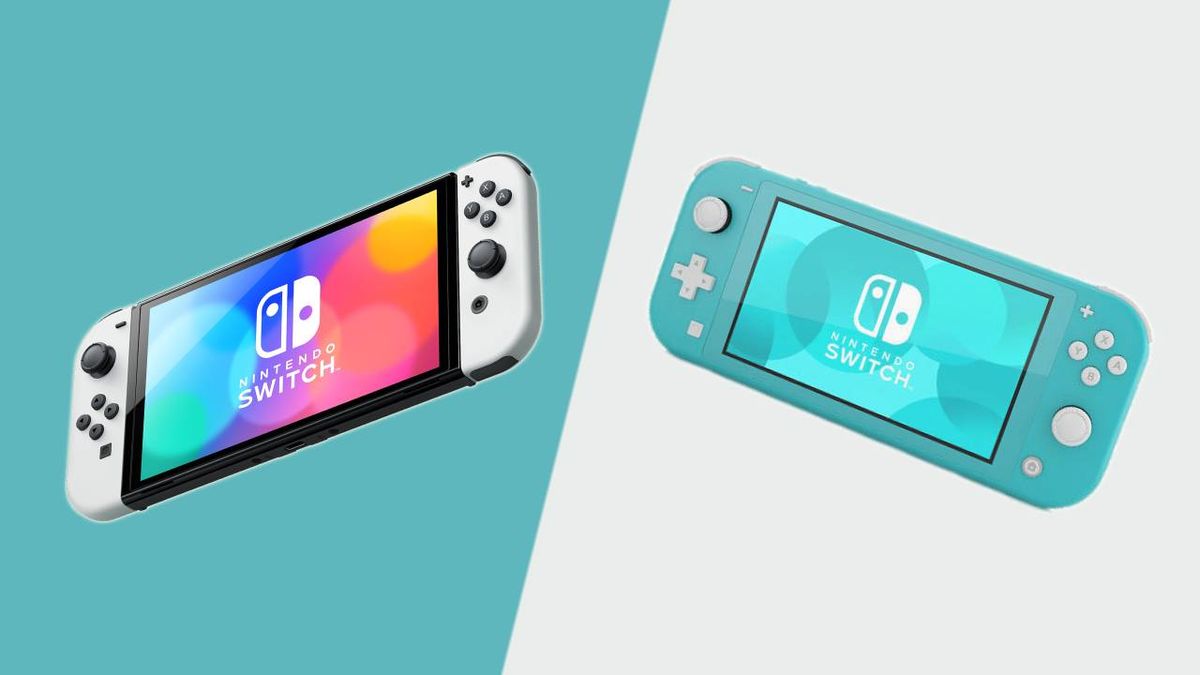 Nintendo Switch OLED vs Nintendo Switch Lite: which Switch is right for you?
techradar.com
Legendary quests will release on July 7th, and the epic quests will release on July 8th. If you are looking for a guide to plan your strategies for the challenges, here is a complete Fortnite Chapter 2 Season 7 Week 5 Challenges guide for this week's challenges. So, the legendary and epic quests for this week are listed below to help you level up the battle pass and get ready for the upcoming Superman skin. As always, Legendary quest is added to the game first and the Epic quest follows a day later. You have to complete the quest steps in order for them to count and grant XP. The legendary quests for Week 5 of FN Chapter 2 Season 7 are The epic quests are Firstly, coming to the legendary quests we will guide you on how to complete each of them. You just need to go to any of the locations of the payphone and take orders from Slone. Simply interact with the payphones to get the orders. One can easily find payphones at bus stops. The image below shows the exact locations of the payphones. Go to the location marked in the image below and interact with a radio to complete the quest. All the CB Radios are available at different spots in Believer Beach so interact with whichever one you can find. After reaching Holly Hatchery or as it was previously known in the game as Holly Hedges, you just need to place two gifts to complete this quest. You just need to deploy alien nanite one time. So, one can throw just one alien and complete the challenge. Alien Nanites are pretty difficult to find but they are part of the floor loot and also available on the Abductors (unavailable at the moment) or the Mothership. Zyg and Choppy were added to the game as boss NPC but then were disabled. As for now, Zyg and Choppy will appear right at Hydro-16. You can even kill him for a cool ray-gun while you're at it. First, go to a UFO. Following are the locations of UFOs. After reaching a UFO, enter the Mothership. Here, you have to find an alien and get infected. Let the alien latch on to your head to get infected. Another way can be that you find an animal infected by the alien or alien hatchlings in their green pods on the ground and then get infected by that alien. Now, go to Believer Beach and talk to Sunny. Time to jump onto the lesser rewarding, but important all-the-same; this week's epic quest. You can either land at any satellite station or the top of a house at Corny Complex. The better place is the top of the house, as here one can easily destroy three pieces of computer equipment. One has to damage 250 IO guards to complete this quest. The better place to complete this quest will be Corny Complex, as there are many IO guards there. So, just go to Corny Complex and damage the guards. Look on the map for purple named POI and land there. Now, get the weapons and shoot down UFOs that the Kymera Aliens are using. To complete the challenge, players need to eliminate two aliens. To get the alien weapons, you can go to Mothership or just land at the purple named POI that is marked on the map. Now, eliminate Kymera alien to complete the challenge. As there is a choice, you can also deal damage with IO weapons that can be found in the IO chests. You need to loot 2 supply drops that can be easily completed in Team Rumble. First, check whether it counts on aliens using the UFO, otherwise one need to find a real player on the UFO. Now, damage it while the player is inside. The best place is at the top of the house at Corny Complex. You can easily find an IO chest there. Here is an image showing the exact location of the IO chest.

Fortnite Season 7 Week 5 Alien Artifact Locations Guide
segmentnext.com
Destiny 2: Season of the Splicer seasonal and weekly challenges (week 9)
digitaltrends.com
Apple's M1 MacBook Air is one of the best values you can get in a laptop at its regular price, but today it's a downright steal. Amazon is selling the 512GB MacBook Air for $1,100, good for $150 off the MSRP, and the best price we've ever seen. The MacBook Air has the same M1 chip as the 13-inch MacBook Pro and 24-inch iMac, so you're getting tons pf power and performance in a small package. The smallest of Apple's laptops, it's got a 13-inch retina display, Magic Keyboard,512GB hard drive, whisper-quiet fanless operation, and a pair of Thunderbolt ports. Since this is the step-up model, you're getting the full8-core GPU too, so the only things you're giving up compared to the $1,499 MacBook Pro is the Touch Bar and a fan. You're going to be hard-pressed to find a better value in a laptop for $1,100, so go grab one before the price shoots back up. Note: When you purchase something after clicking links in our articles, we may earn a small commission. Read our affiliate link policy for more details.

New MacBook Pro: All you need to know about the 14in and 16in redesign
techadvisor.com
New MacBook Air release date, pricing, design and spec rumours
techadvisor.com
After an uneven console cycle with the Xbox One, Microsoft's latest consoles are aimed at getting the ship back on course. The Xbox Series X is a next-generation powerhouse that rivals gaming PCs, while the Xbox Series S is an affordable stopgap for those who are curious about trying new games. There's no shortage of games to play on either console thanks to Xbox Game Pass, which gives players immediate access to a library of titles old and new. That built-in catalog is an extra value on top of all the new games available on the system that take advantage of its impressive technical specs. When it comes to first-party exclusives, the Series X is still growing. Halo Infinite is the biggest exclusive currently in the works, but there's not a lot else lined up for 2021. That'll likely change soon as Microsoft's recent Bethesda acquisition will bring exclusives in the near future, but the console's strength lies in third-party support. With the Series X and Series S out in the world, we've combed through the current batch of new Xbox games to put together a running list of titles that new console owners shouldn't miss. It Takes Two might be the best multiplayer game of its kind. The two-player adventure game is a labor of love by Hazelight Studios and director Josef Fares. Rather than pitting players against each other, it's a pure co-op game in which players solve puzzles and platform together. Each level features entirely new mechanics that keep things fresh throughout the 12-hour adventure. It's a game that was designed from the ground up with multiplayer in mind and that shows. Good co-op games are hard to come by. While there are tons of multiplayer games out there, few ask players to work together to progress through an authored story. It Takes Two is a rare example of a game that cares about multiplayer mechanics as much as it cares about narrative. The story is a romantic comedy about a couple on the verge of divorce who are turned into tiny dolls. They must work together to both get back to normal and repair their relationship. It's a clever narrative framework that pairs perfectly with a genre that's built on good communication and cooperation between players. It's a multiplayer game that'll save your friendships, not destroy them. Read our full It Takes Two review Over the past few years, IO Interactive has been knocking it out of the park with its Hitman series. The stealth action game got a huge boost of adrenaline in 2016 with the first game in a sort of rebooted trilogy called World of Assassination. Hitman introduced an ingenious puzzle element to the long-running series, allowing players to find creative and outrageous ways to take out targets. The series has only stayed consistent since, and now Hitman 3 offers a perfect capper to the trilogy. Hitman 3 doesn't shake the formula up in many ways, instead opting to double down on what's made the previous games so enjoyable. The levels are better than ever, offering sprawling sandboxes filled with challenges and surprises. The game's murder mystery Dartmoor level is especially noteworthy, bringing a classic whodunnit movie setup to the game. Hitman 3 essentially acts as a house for all three games as players can import progress and levels from Hitman and Hitman 2, making it a must-own "complete edition" of the series. Read our full Hitman 3 review Control was a massive fan favorite when it originally launched in 2019. Remedy Entertainment's off-kilter action game offered some mind-bending telekinesis and a bizarre story straight out of Twin Peaks. The game even landed a coveted Game of the Year nomination at the 2019 Game Awards. Now, next-gen console owners can get an Ultimate Edition of the game, which contains all of its DLC in one package. Control: Ultimate Edition frankly makes the game even better. While the original Control suffered from some tech hiccups and an unstable framerate, the next-gen version runs much more smoothly. New tech means that the game looks better than ever too thanks to ray-tracing. For players who missed out the first time around, the next-gen version is a perfect excuse to jump back into one of the more inventive AAA games to launch in the past few years. No one would blame you if you mistook Scarlet Nexus for a PlatinumGames project. The action RPG features the kind of fast, complex combat that you'd expect from something like Bayonetta or Vanquish. The game's futuristic police force setting also makes it feel like a long lost cousin to Astral Chain. The game actually comes from developer Bandai Namco, which has delivered a stylish hidden gem with a wild, twisting narrative and the intense fights to match. The main hook of Scarlet Nexus is that players can use telekinesis to hurl objects at enemies, not unlike Control. That goes hand in hand with fast-paced slashing, which allows players to rack up some astonishing combos. The complexity doesn't stop there. Players can bring along allies, each of which has a different elemental power that augments the standard move set. One ally may add electric powers to your move set, while another can temporarily slow down time. The joy of Scarlet Nexus is seeing how all of those little abilities can come together and interact to create a ballet of colorful action. Read our full Scarlet Nexus review In another year and under different circumstances, Outriders may have flown under the radar. The third-person shooter from Bulletstorm developer People Can Fly was a new IP that could have had trouble standing out amidst a sea of high-profile shooters. When 2021's launch schedule slowed down due to mass delays, Outriders quickly became one of spring's most exciting games. It helped that it launched on Xbox Game Pass too, giving Xbox Series X owners something to do. It's not just good because there was nothing else to play, though. Outriders is a legitimate blast. It's a high-octane action game where players control a superpowered hero who can shoot and launch space magic at once. There are tons of ways to tweak and build characters thanks to multiple character classes and a deep perk system that augments every piece of gear. Three-player co-op also turns it into one of the better multiplayer experiences available on Series X right now. As far as new IPs go, it's a franchise with a bright future ahead of it. Read our full Outriders review After all these decades, Tetris is still a perfect puzzle game. Clearing four rows of blocks with one straight tetromino piece is still the most satisfying experience in gaming. While several games have found clever ways to play with the formula (see Tetris 99 or Puyo Tetris), Tetris Effect is hands down the most gorgeous way to experience the game. Originally released on PlayStation 4 with an excellent VR mode, the Xbox version brings the game's trippy visuals to the Series X. Players essentially play through rounds filled with aesthetically pleasing visuals and music, making it the perfect chillout game. The Xbox version features new multiplayer options (hence the Connected moniker), bringing co-op and competitive play to the game. While it lacks the VR component that made the original release a hit, it's still a pleasing puzzler filled with good vibes. The next generation of consoles started out as big as possible thanks to Assassin's Creed Valhalla. The Series X| S launch title is an open-world behemoth that amps up everything the Assassin's Creed franchise has to offer with a Viking twist. With a main story that'll keep players occupied for over 60 hours and a seemingly endless list of activities to complete, it's the kind of game that can be played for months on end. There's a lot to enjoy in Assassin's Creed Valhalla due to its wealth of systems. Whether it's building a settlement, discovering organic quests throughout the world, or crafting the ultimate raiding machine, the game offers a lot for players to sink their teeth into. Not every mechanic totally hits its mark, but few really miss either. The result is a sprawling epic built for the kind of players who just want to lose themselves in a game world. Read our full Assassin's Creed Valhalla review Sega's Yakuza series has been on the rise for quite some time. The niche franchise gained steady popularity in recent years just in time for Yakuza: Like a Dragon to usher in next-generation consoles. What once was a weird oddity is now an ace in the hole for Microsoft thanks to high critical praise that made it one of the next generation's most-talked-about launch games. Unlike previous Yakuza games, Like a Dragon trades in beat-'em-up action for turn-based combat. Players put together a party of four characters who brawl together in battle and can use the environment to their advantage. While that core concept is a departure for the franchise, it still retains its signature wackiness with unpredictable missions and side-quests. For players who have never played a Yakuza game before, Like a Dragon is a perfect jumping-off point that starts a fresh chapter for the franchise. The Gears of War franchise has always been known for its fast-paced action and larger-than-life gunplay. So it might be surprising to hear that Gears Tactics, a spinoff of the popular shooter series, is a turn-based strategy game where players methodically plot out attacks. Surprisingly, the genre flip isn't as drastic as it might sound. This is still very much a Gears of War game, complete with cover-based shooting, oversized weapons, and hordes of aliens. Compared to other strategy games, Gears Tactics is much heavier on action. Enemies spawn frequently and players can do much more in one turn than just move and fire one shot. For those who love the Gears universe, it's a fresh take on the franchise that reimagines the pace of a strategy game. Read our full Gears Tactics review Ubisoft has become synonymous with "open-world games" over the past decade. Franchises like Assassin's Creed continually set the bar higher and higher for the genre with gigantic worlds chock-full of content. While there is no shortage of options to choose from when it comes to Ubisoft's vast catalog, Immortals Fenyx Rising shouldn't be overlooked. While its name isn't as well-known as some of the studio's more established games, the new IP could be the company's most exciting new franchise in years. Immortals Fenyx Rising is Assassin's Creed meets The Legend of Zelda: Breath of the Wild. Building on Zelda's free-roaming mobility, the game is all about offering players more fluid and rewarding exploration. That means that the game is less about following a checklist of map activities and more about seeking out and discovering the world's secrets. It's a vibrant, funny game that playfully uses Greek mythology to create an entertaining open-world experience that gives Breath of the Wild fans something new to try. Read our full Immortals Fenyx Rising review

Xbox Game Pass Will Get New Games in July 2021
futuregamereleases.com
Contraband will be published by Xbox Game Studios and will hence land on Xbox Game Pass on day one. However, the decision to approach Microsoft for the use of its subscription-based service was not entirely motivated by cash. Speaking with GamesIndustry in a recent interview, developer Avalanche Studios' CEO Pim Holfve stated that Xbox Game Pass will help Contraband reach a high player-base, which is important because the game features co-op play where players must pull off heists in an open world inspired by the 1970s. A growing player-base will in turn help with revenue but money was never the main reason behind having Contraband on Xbox Game Pass. Avalanche Studios wants to use the platform to "entertain" a massive community of smugglers. "Our main key objective is growing our userbase… even if it's not ours directly — in this case, it's going to be Xbox's," said Holfve. "But we know that if we grow the userbase, we know that the money and revenue will come. The main motivator for us as a company is not cash, it's entertainment — we're entertaining vast numbers of people." Holfve also noted that Contraband was never a concept which Avalanche Studios could pitch to any other publisher. There were other options out there but it "made a lot of sense to work with Xbox on this because of the grandness of the project." Contraband was announced by Microsoft during its Xbox & Bethesda Games Showcase at E3 2021 last month. It remains without a release window and according to Holfve, will release "some time in the future" for Xbox Series X and Xbox Series S as well as PC. Confirming a release date would be too soon at this time since Avalanche Studios has not even shown its new co-op heist game. The only thing confirmed is that the developer will be "pushing boundaries" on Xbox consoles with its updated Apex Engine, which powered the Just Cause franchise.

Xbox Game Pass Will Get New Games in July 2021
futuregamereleases.com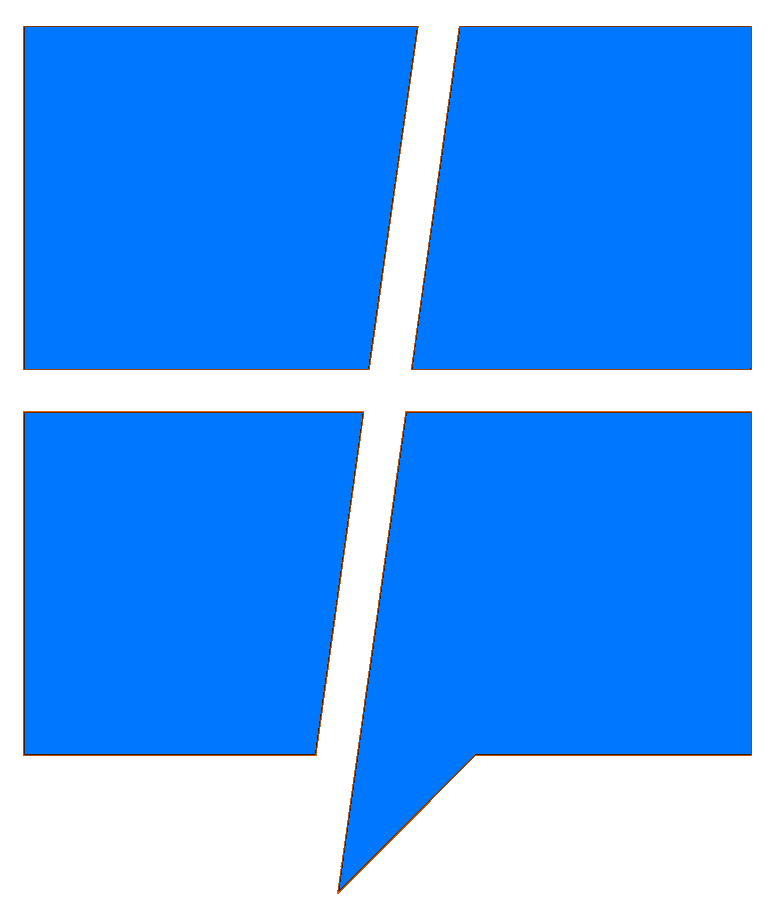 Yesterday Microsoft released an out-of-band patch for the PrintNightmare Zero-day exploit that grants attackers full Remote Code Execution capabilities on fully patched Windows Print Spooler devices. It turns out however that the patch, which was released in record time, may be flawed. Microsoft only fixed the remote code exploit, meaning the flaw could still be used for local privilege escalation. In addition hackers soon discovered that the flaw could still be exploited even remotely. According to Mimikatz creator Benjamin Delpy, the patch could be bypassed to achieve Remote Code Execution when the Point and Print policy is enabled. This bypass was confirmed by security researcher Will Dorman. Currently, security researchers advise that admins keep Print Spooler service disabled until all the issues are fixed. Read much more detail at BleepingComputer here.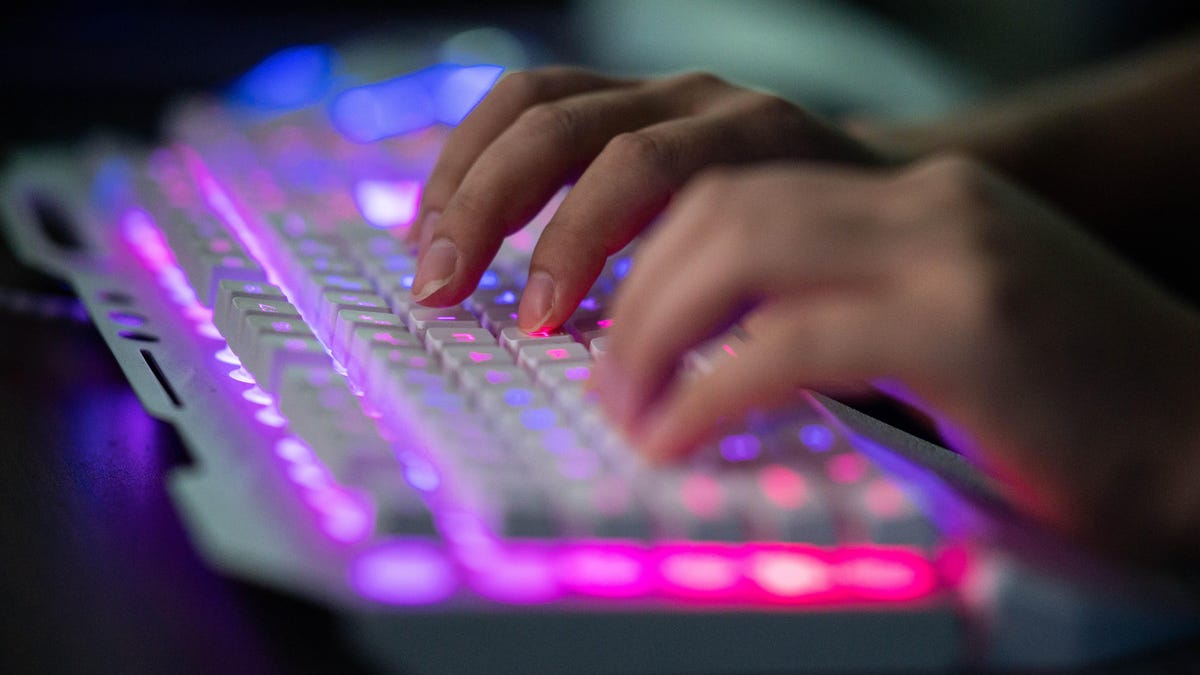 PrintNightmare: Windows Users Need to Install This Emergency Patch Right Now
gizmodo.com
Does your Apple Watch make your heart go pitter-patter? If it's the Series 6, the smartwatch will be sure to let you know. But no matter which Apple Watch you have, switching up the bands on it can make your heart race. The three Apple Watch models that are currently being sold are Series 6, the lighter in features SE, and the Series 3. While the Series 4 and 5 are discontinued, you'll find plenty of bands for them since they share their 40mm and 44mm sizes with the Series 6.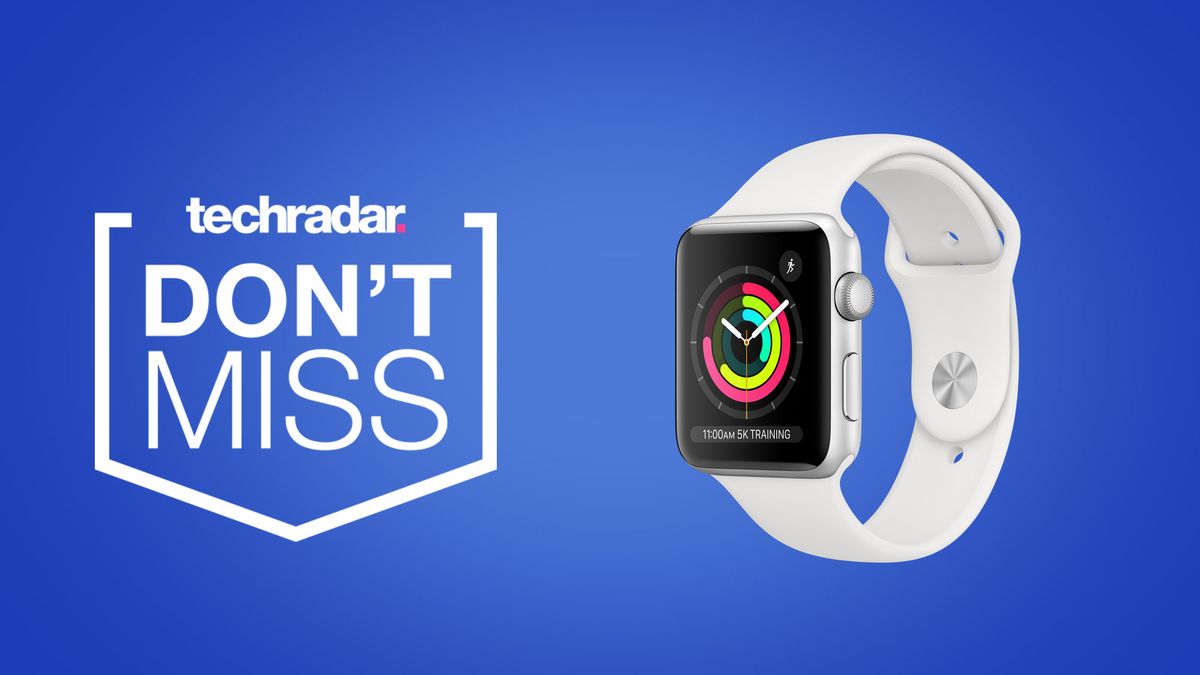 Cheap Apple Watch deal: the Apple Watch SE is on sale for just $249 at Amazon
techradar.com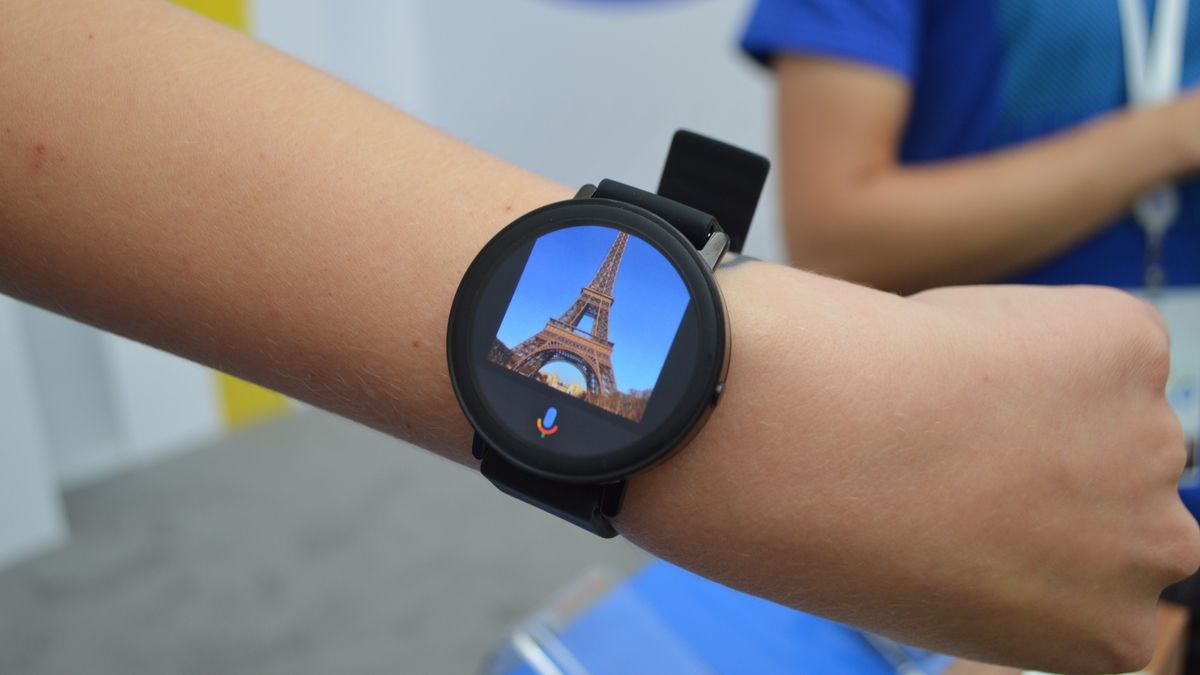 The Google Pixel Watch could finally launch this year based on the latest leaks – but if so, it'll land later on given it wasn't revealed at Google IO 2021. Given all we've heard about a Google Watch, we can surmise that it's been in development, but the big question is when it will arrive. Just like how Pixel phones are a showcase for Android, the Google Pixel Watch is expected to be an example of the full potential of Wear OS – and given the wearable operating system's big update shown off at Google IO, we figured the watch wasn't far behind. However it now looks as though the Google Watch might land alongside the Pixel 6 in October instead. It's hard to be too hopeful though when multiple rumored launch windows have come and gone. One leak even suggested the Google Watch would be announced alongside the Google Pixel 4, but that didn't happen. An early report in mid-2018 from reliable Twitter leaker @Evleaks says he had information from a trusted source that a Google Watch was in development. His source said it would be announced alongside the Pixel 3 and Pixel 3 XL, but that – perhaps obviously – didn't happen either. But a recent leak in April 2021 shows a supposed image of the smartwatch (whether real or render is unclear), suggesting it could be getting ready to release, and Google itself has confirmed that it's working on a premium Fitbit running Wear OS – which might end up being the Pixel Watch. Below we're going to break down everything we know so far about the new watch, including our thoughts on whether it will ever actually happen. Then, further down, we've put together a list of the features we'd like from the first flagship Google Watch. An exact release date for the rumored Google Pixel Watch isn't clear – just predictions based on leaks. If it's to land in 2021 our best guess would be at the Google Pixel 6 launch towards the end of the year, and indeed that's been rumored. More specifically, all of these devices could land in October. Of course, Google Watch launch rumors have wrongly predicted its release before – a tweet from noted leaker Evleaks claiming a "reliable source" said it would be announced alongside the Google Pixel 3 and Pixel 3 XL back in 2018, then a rumor claimed the Goole Watch would land on October 15 2019 at the Pixel 4 launch – but of course, neither happened, and we're still waiting. It's possible that the Pixel Watch could benefit from Google's acquisition of Fitbit, which could see the latter company's wearable skills put towards Google smartwatch hardware, but that deal was only finalized in January 2021. A smartwatch based on Fitbit's tech is probably unlikely to land in the near future – though Google has announced that a premium Fitbit running Wear OS is in the works. Better still, at Google IO 2021 the company announced that Wear OS is integrating features from Samsung's Tizen OS, which could suggest what's coming in the Google Watch. We've also heard that Google has reportedly ordered processors from Samsung (according to ETNews) which would be capable of detecting body movements. There's no guarantee that these are for a smartwatch (they could be for a Pixel phone) but a wearable would be an obvious fit. That, then, is strong evidence that some form of Pixel Watch is in the works. However, a codename has also been spotted for a device called medaka. A medaka is a tiny fish (Google always uses codenames of sea creatures for its products) and the device is said to not sport a notch so some have taken this to mean it's the Pixel Watch. That's a fairly old leak too though. But in April 2021, leaker Jon Prosser released rendered images based on info he'd received, including a potential October 2021 release date, which fits the usual release window for flagship Pixel phones. Prosser also suggested that the watch could be coming in October, supposedly around the usual release window for flagship Google Pixel phones, but that the timeline was fungible. As for price, we don't currently have any idea how much this watch will cost. Considering the Pixel range is usually high-end products with generally flagship level prices, we'd expect that but we don't currently have any evidence supporting it. In terms of spec, there isn't much known about the Google Pixel Watch, though one source suggests it will use a 5nm chipset - likely the same one as the Samsung Galaxy Watch Active 4 is rumored to have. You can expect a 5nm chipset to be much more powerful than the ones we've seen in current Wear OS watches. We've also seen a Google patent, which details a gesture control system that would allow a smartwatch to detect movements you make with your arm, wrist or fingers. For example, you could make a fist to launch Google Assistant and open the fist to dismiss it. These gestures would be done on the arm or hand that the watch is worn on. However, patents aren't always used, so there's no guarantee we'll see this. There could also be a big focus on fitness, both because Google is buying Fitbit, and because Google sent out a survey asking people about features they'd like to see in Wear OS, and those features included things like SPO2 (oxygenation) tracking, sleep apnea detection, sleep analysis, heartbeat alerts, recovery time monitoring, stress tracking, pairing for medical devices and gym equipment, rep detection, and calorie tracking. Of course, it's unlikely they would all be added, but some may well be, and it shows that Google is thinking about health and fitness. As for specs, the Pixel Watch is likely to run Qualcomm's latest Snapdragon Wear 3100 chipset that will mean improvements to battery life and more power for running your favorite apps on your wrist. That said, with any luck it will use something even newer, as the 3100 is getting on a bit now and a successor is overdue. One rumored feature was something codenamed 'Blackghost'. It was thought to be a power management integrated circuit built into the chipset itself that will allow the watch to listen out for voice commands at all times without draining the battery. That isn't a feature on the Snapdragon Wear 3100, but it may be Google has found a way to make it an exclusive feature for the Pixel Watch when it launches - or that the watch will indeed use a newer chipset. If so, expect to be able to ask Google Assistant questions without either draining your smartwatch after a few hours or having to press a button beforehand. Another report - this time from WinFuture - has suggested there may actually be three versions of the Pixel Watch in development. The website has heard word of devices with code names Ling, Triton and Sardine all in development at Google HQ. Exactly what the differences for the devices would be are currently unclear. It may mean we'll see three variants of the Pixel Watch. That same report also suggested at least one version of the watch will come with 1GB of RAM. This report could mean there will be one watch in the range with LTE or another that's designed to be more focused on fitness, but so far we've yet to hear any rumors of what those different versions will be. This report is also quite old now, so it may no longer be relevant. Rumors died down for over a year until April 2020, when a leak suggested the Pixel Watch could have a feature typically reserved for analog timepieces: a physical crown, according to a new image from leaker Jon Prosser. Prosser followed up with a batch of rendered images based on info provided by a source which show potentially the first full looks at the Pixel Watch's supposed design. Here's the full video of Prosser's reveal: Per the renders, the Pixel Watch looks like a circular smartwatch with a bezel-less display, no buttons, and a single physical crown on the right side. The renders also recreate the suggested interface, including a watch face with radial time markers, giving it an analog timepiece look. The apps look very simple, suggesting Google could be going for a more elegant minimalist design. Below we've put together a list of the things we want to see from the Google Pixel Watch. Before the switch to Wear OS, Android Wear 2.0 put a big focus on how the design had been reworked to play well with rotating bezels and crowns, but then we haven't seen many watches embrace that. Why not use it for the Google Pixel Watch? Those features may be far in Google's rear view mirror as the Wear OS updates take precedent, but we'd love to see an innovative way of interacting with the watch such as a rotating crown or bezel. If Google really wants to put the Pixel Watch on the map, adding an in-display fingerprint scanner would go a long way to doing that. Currently Wear OS watches (and the Apple Watch) allow you to secure them with a PIN code – but that's not the most secure form of protection available. With an in-display fingerprint scanner, the secure biometric technology would fit seamlessly into the wearable without disrupting the visual appeal of the watch. It would also allow you to approve purchases over the current contactless limit (assuming the Pixel Watch comes with NFC). There are a couple of potential negatives here though. Firstly, the addition of this fledgling technology could increase the thickness of the watch – and no one wants an overly chunky wearable – but secondly it'll also likely push the price tag way up. If Google can overcome these two things though, you can sign us up for a Pixel Watch right now. We're used to smartwatches coming with a level of dust and water resistance, but few carry an IP certification high enough to ensure their survival when we cannonball into the local pool. A fully swim-proof Google Pixel Watch would not only allow you to keep the wearable on in the bath, but also allow you to track workouts in the pool without fear of malfunction. This is a simple one, but we want the Google Pixel Watch to last as long as it can. Imagine a fully fledged smartwatch that doesn't need charging after two days of intensive usage. Wear OS is integrating a useful enhanced battery saver mode that should give you a lot more time with your smartwatch, but it'll limit the amount of features you can use when it's on. Clearly Google wants to improve how long your watch will last from one charge, but we'd love to see a big battery inside the watch and well optimized software that offers the best battery for a smartwatch on the market right now. Another simple one here, but quite a few Wear OS watches don't come with NFC built in so you aren't able to use Google Pay features on your wrist. That's a frustration for a lot of people, so we're hoping Google will include an NFC chip inside the watch. That'll especially be useful when you're out for a run and you need to buy a bottle of water, but you've left your wallet at home. While we're on the topic of running, we want the Pixel Watch to compete with the fitness prowess of the Apple Watch 3 as well as top-end specialist watches like the Garmin Forerunner 935. Imagine if Google can include all of the latest tracking tech including accurate GPS, LTE so we can listen to music on the go as well as a top of the range heart rate tracker. We want to be able to strap the Google Pixel Watch to our wrist and head out for any type of exercise and know we'll be tracked accurately and get as much fitness stats as we possibly can. This one is a given, but we want to see a watch that you're not embarrassed to wear on your wrist. Not every Wear OS watch is a gorgeous creation, so we wish Google will be able to offer a slimmer option than most other manufacturers that uses high-end materials and feels like a proper timepiece you're excited to wear. If you're going to be spending a fair amount of money on a new watch, you'll want it to look great on your wrist so this is one of the most important things we want to see on the new wearable. Main image: Misfit Vapor running new Wear OS Image Credit: TechRadar

The Boys season 3 news, rumours, cast and release date
techadvisor.com
The release of The Legend of Zelda: Skyward Sword HD is just around the corner. This high-definition re-release take s gamers back to the very beginning of the Legend of Zelda story, to a world in the clouds where a boy and a girl find themselves front and center in a battle between a goddess and an ancient evil. Gamers can expect crisp visuals with a boosted resolution and frame rate, updated controls, and a myriad of small quality-of-life improvements to make this the best Skyward Sword experience possible. If you're looking to get your hands on Skyward Sword the day it's released, you should probably pre-order. Here's everything we know about pre-ordering The Legend of Zelda: Skyward Sword HD, including which retailers are offering pre-order bonuses. Skyward Sword HD will release on July 16, exclusively for the Nintendo Switch, for $59.99. There will be both physical and digital copies of the game but no special or collector's editions. Physical copies of the game can be picked up or delivered on the release date. Digital versions can typically be preloaded and unlocked on launch day. Ordering digital is convenient, as there is no cartridge to keep track of, but it does take up more of the storage space on your Nintendo Switch. You may want to consider purchasing a micro SD card to beef up your storage for the occasion. Some retailers will include small pre-order bonuses for buying from them. Here are the ones we've found: Amazon has both physical and digital copies available. The digital copy comes in the form of a code to input into Nintendo eShop, giving you access to the game the minute it comes out. There are no announced pre-order bonuses at Amazon. Gamestop offers physical and digital versions as well. Digital codes will be sent when payment is processed, allowing players to download Skyward Sword HD now and start playing on July 16. GameStop also offers a free poster for pre-ordering, which can be picked up at the store with proof of purchase while supplies last. Best Buy is only offering physical copies of the game and including Zelda decals as a pre-order bonus. Walmart, like Best Buy, carries just the physical version of Skyward Sword HD. Pre-orders with them will include Zelda socks and a keychain. Players can, of course, always buy directly from the Nintendo eShop. This is an all-digital marketplace, and there are no pre-order bonuses, but it is easy to buy directly from your Nintendo Switch or online. Nintendo is celebrating the release of Skyward Sword HD with some Zelda-themed accessories. First is the limited-edition pair of Joy-Cons. These detachable controllers are themed to match the game. The right Joy-Con is colored to mimic the Master Sword held in Link's right hand, and the shield in his left hand is mirrored on the colors of the left Joy-Con. Inventory is pretty constrained, but you can potentially order these here: Nintendo has also released a brand new Zelda and Loftwing amiibo. This figurine is not just for show. Normally, the only way to return to the sky from ground level is by locating one of the save points scattered across the world. This amiibo, however, allows you to instantly travel to the sky from any point on the ground, even inside of dungeons, and return anytime you want. That is a significant quality-of-life upgrade, and it requires this specific amiibo. Amiibo are often in high demand and sell out quickly. Your best bet for tracking down a Zelda and Loftwing amiibo is to check daily up to and including the July 16 release of Skyward Sword HD at the following retailers:

The Legend of Zelda: Skyward Sword HD merch available with pre-orders
vg247.com
DICE LA has emerged from the other side of its promised rebrand as Ripple Effect Studios. The EA-owned game development studio unveiled its new name and look today, noting in a blog post that, while DICE remains part of its DNA, the team was eager to carve out its own unique identity as Ripple Effect. "We're so proud of our work as DICE LA and the DICE team will forever be a part of our DNA, but over the past eight years, we've developed our own culture and our own way of doing things," reads a statement from Ripple Effect GM Christian Grass."We're excited to look towards the future, expand the team and establish our own identity." News of a new direction for the studio once known as DICE LA first came last year when Respawn Entertainment co-founder Vince Zampella announced he would be stepping in to help manage the studio (while still maintaining his position at Respawn). With the team all set up as Ripple Effect, Zampella is set to stay on board and lead the studio alongside Grass as Ripple Effect takes aim at an in-development Battlefield 2042 experience and a yet-unannounced project.

DICE LA becomes Ripple Effect Studios as it works on Battlefield 2042 and a new project
venturebeat.com
Crunchyroll and Adult Swim revealed the cast for their upcoming anime Blade Runner: Black Lotus on Wednesday, and announced a first-look panel at Comic-Con@Home 2021 later this month. The announcement about the still-mysterious series includes character descriptions, along with the names of each character's English- and Japanese-language voice actors. On the English-language side,Game of Thrones and Iron Fist actor Jessica Henwick will play the lead character, a replicant named Elle with a secret past. Meanwhile, the series will also include Brian Cox ( Succession), Wes Bentley ( The Hunger Games), Stephen Root ( Office Space), and many other recognizable names. Here's a look at the full cast and character list from Crunchyroll and Adult Swim: The series will run 13 episodes and will be directed by Shinji Aramaki ( Appleseed) and Kenji Kamiyama ( Ghost in the Shell: Stand Alone Complex). The series will be animated by Sola Digital Arts ( Ultraman 2019). Meanwhile, legendary director Shinichiro Watanabe, who has directed series like Cowboy Bebop, Samurai Champloo, and Carole & Tuesday, will serve as a creative producer on the series. Blade Runner: Black Lotus ' Comic-Con panel will be held on Friday, July 23 at 8 p.m. ET. The panel will include a first look at the series as well as a panel that will include both the series' co-directors, star Jessica Henwick, executive producer Joseph Chou, voice director Wes Gleason, and senior vice-president and creative director for Adult Swim, Jason DeMarco, who will moderate the panel. Blade Runner: Black Lotus will air on Adult Swim and Crunchyroll sometime later this year.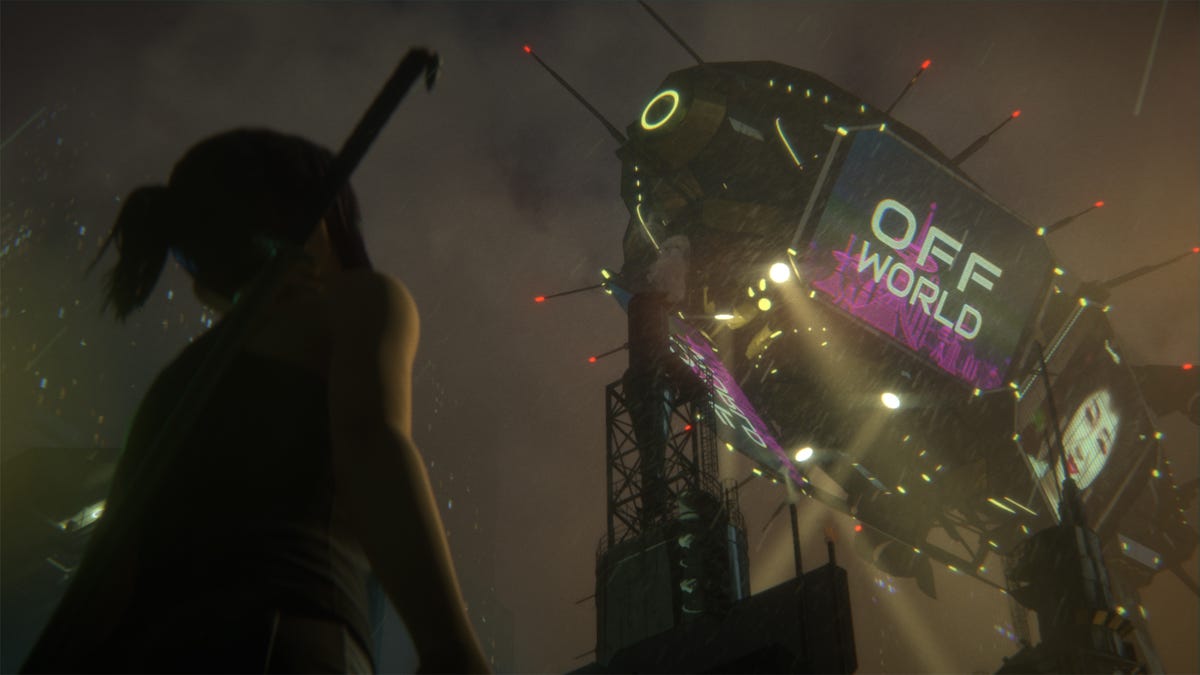 Blade Runner: Black Lotus' Cast Has Been Revealed
gizmodo.com
A new rumor suggests Nvidia might be working on the RTX 3080 Super and RTX 3070 Super for laptops. The rumor falls in line with a leaked roadmap from Lenovo last month, which listed the upcoming ThinkPad X1 Extreme Gen 4 sporting either an RTX 3080 Super or RTX 3070 Super. We may know the names of the cards, but that's about it. The rumor comes from Videocardz, who spotted a tweet from Greymon55 saying that the range is set to launch next year. The Twitter account was only set up this month, but it has already caught the attention of some well-known leakers. The tweet alone doesn't say much, but the Lenovo leak lends it some creditability. The original leak shows that you can configure the X1 Extreme Gen 4 with an Nvidia GTX 1650 Ti, RTX 3060, RTX 3070 Super, or RTX 3080 Super. Meanwhile, Lenovo's X1 Extreme Gen 4 product page lists the RTX 3080, RTX 3070, RTX 3060, or RTX 3050 Ti as graphics options in the upcoming machine. The RTX 3080 Super and RTX 3070 Super will allegedly come with 16GB and 8GB of GDDR6 memory, respectively. That's the only spec we know about, but these Super variants, if they exist, will likely come with more CUDA cores. The RTX 2080 Super mobile, for example, came with 128 more CUDA cores than the RTX 2080 mobile. The cards will likely use the same Ampere architecture, but they could come with a redesigned GPU core. Looking at last-gen's launch cadence, it's possible that Nvidia could announce Super variants in late 2021 or early 2022. The RTX 2080 mobile released in January 2019, and the RTX 2080 Super followed in April 2020. Similarly, the RTX 3080 mobile was announced in January 2021, putting the RTX 3080 Super mobile on track for an early 2022 release. Nvidia hasn't announced or hinted at anything at this point, though, and it's still too soon to say these cards are coming.Last year, Nvidia was apparently working on a 20GB version of the RTX 3080 Ti and a 16GB version of the RTX 3070 Ti, both of which never made it to market. The cards were reportedly canceled to make way for the RTX 3080 Ti and RTX 3070 Ti that are available today. If previous launches are anything to go by, Nvidia is likely working on an update to its mobile RTX 30-series range. However, it's possible that the design will be reworked, rebranded, or completely scrapped before next year rolls around.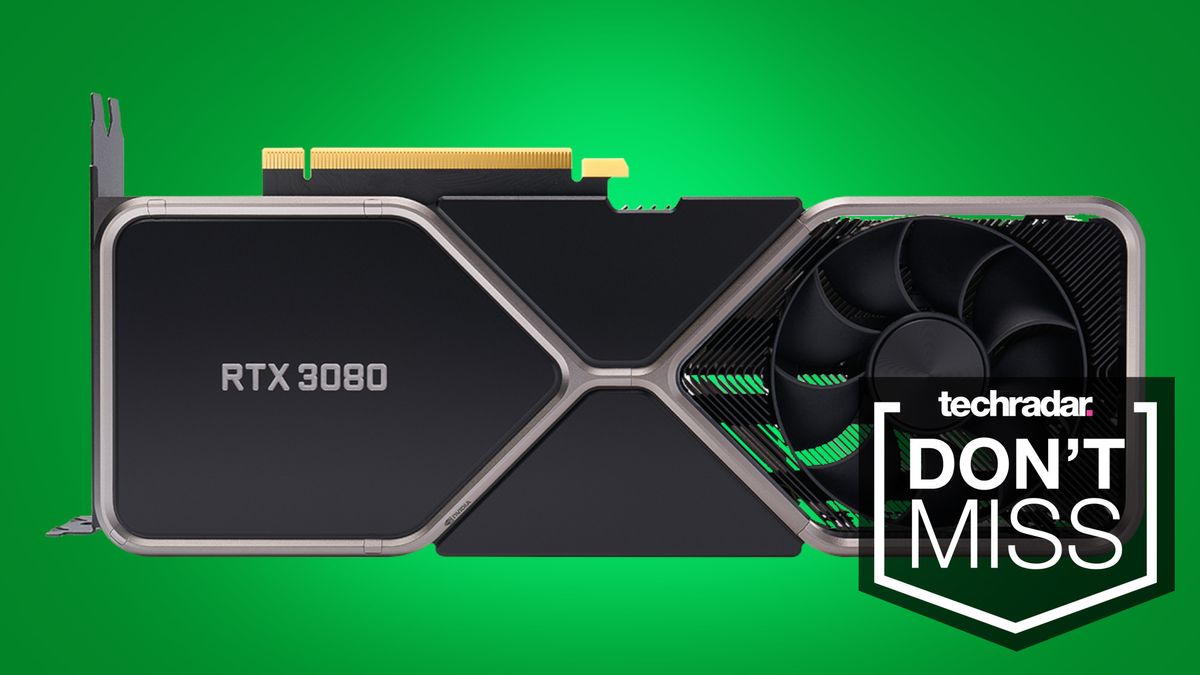 The RTX 3080 may be back in stock at Best Buy soon – here's how to track it
techradar.com
Additionally, the latest update adds competitive tournaments to the game. It also pushes the level cap up to 72. The new update adds Cipanku Island, Mythical Temtem, and the ability to teleport. The creature catching RPG comes to the PS5 ahead of its launch on Switch and Xbox Series. The update is live now and free for all users. The wait is almost over for part two of the Summer Update.

Xbox Series S xScreen funded in 20 minutes, Series X could be next
gamerevolution.com
Join the DZone community and get the full member experience. You've probably heard of Site Reliability Engineering, but what does it really mean? My good friend Brian Murphy knows. As the SRE Manager at G-Research, Brian has spent his career building and managing successful SRE teams. He joins me on Dev Interrupted to explain how SRE teams operate, what success looks like, and why uptime isn't the most important metric. With over 1200 members, the Dev Interrupted Discord Community is the best place for Engineering Leaders to engage in daily conversation. No sales people allowed. Join the community >> Published at DZone with permission of Dan Lines, DZone MVB. See the original article here. Opinions expressed by DZone contributors are their own.

WebSockets Tutorial: Creating a Real-Time WebSocket Server
dzone.com
Microservices With JHipster
dzone.com
How To Execute Javascript Commands in Cypress
dzone.com
The Floating Point Precision Error
dzone.com
Selenium IDE for Chrome
dzone.com
Ping – Unix/Linux Command, Beginners Introduction With Examples
dzone.com
Java TimerTask to Setup Hard Timeout for HTTP Calls
dzone.com
Cloud Data Warehouse Comparison: Redshift vs BigQuery vs Azure vs Snowflake for Real-Time Workloads
dzone.com
A Guide To Spring Boot Log4J2 Configuration With Examples
dzone.com
The Great Migration: Peculiar Complexities of Monolith to Microservices Migration
dzone.com
Apple's AirPods are arguably the most popular true wireless earphones on the market, but it's not because they're cheap. The AirPods Pro sell for $249, while the standard AirPods start at $159 and go up to $199 when you add wireless charging (let's not even get started on the AirPods Max, which are $549 over-ear headphones). If you want a pair of AirPods and can afford them, go for it (though we highly recommend the more expensive Pro model). But keep in mind that it's possible to save a significant amount of money if you're willing to buy another brand. All of the earphones on this list cost under $100. One pair costs just $25. Are any going to have the same wow factor as the AirPods, which seamlessly integrate with your iPhone? Not really, but there are some winners here that can do other things far better. From exercise-focused models with higher water-resistance ratings, to audiophile-friendly pairs with better audio performance, you don't need to have a pair of AirPods in order to enjoy a high-quality true wireless experience. Economical Earbuds for Exercise Are you going to be sweating a lot or moving around vigorously while using your earphones? The good news is that nearly all true wireless models deliver a very secure fit. The bad news is that not all of them are quite as resistant to water as they might claim to be. If you're looking for a pair of water-resistant (or fully waterproof) earphones, a high IP (ingress protection) rating is critical—look for IPX6-IPX8 if you're going to be wearing them in the rain or need to wash them off under a faucet with reasonable water pressure. Now, the rating can have any number in place of the X and the above criteria still holds true—an IP56 rating has the same liquids protection as an IPX6-rated product. For a deeper dive on this, see our guide to IP ratings. As mentioned, in-ear fit is another factor to consider. If you find yourself needing to swap out eartips and earfins often to find the perfect fit, you'll want to focus on a pair that provides a generous array of fit options. More often than not, exercise-focused in-ears ship with eartips that have fins for added stability, or with separate fins and tips that can be mixed and matched in a variety of sizes. For models geared specifically toward exercise, see our list of the best true wireless earbuds for running. Affordable Earbuds for Audiophiles For the best audio performance, you want a pair of earphones that supports the AptX and AAC codecs. Otherwise, on some phones, you'll find the earphones defaulting to SBC when they don't support the mobile device's native codec. That said, SBC doesn't sound terrible, and most users probably won't notice a difference. See How We Test Headphones See How We Test Headphones Until every audio manufacturer gets on board with the codec support—and it does cost manufacturers more to deliver AAC/AptX support—judging the drivers' audio performance is still the best way to gauge which in-ears sound the best. Interestingly, many of the best-sounding pairs we've reviewed so far actually lack either AAC or AptX support. If noise cancellation is important to you, you'll be happy to know that we're finally starting to see some solid true wireless models for under $150. Of course, the best noise cancellation is going to cost you far north of $200, but there are still some pairs we consider good enough to make the cut for this list. For more, see our picks for the best noise-cancelling true wireless earphones. And if all of this is totally above your head, your best bet is to either try out the earphones yourself if possible, or go by the sonic evaluation in our reviews. Every review tells you specifically how the earphones sound on various tracks that range from sub-bass-loaded electronic music to transparently recorded classical compositions. More Bang for Your Buck Most true wireless models work with a companion app that helps connect the earphones to your phone. Plenty of apps beef up their appearance by offering the same controls you already have on the earphones themselves. This can add some convenience, but it doesn't add a layer of control. Some apps offer the ability to make tweaks to certain settings, like assigning your phone's voice assistant to a shortcut button, or adjusting auto-play/pause when the earphones are placed in your ears or taken out. Aside from potentially crucial firmware updates, one of the best things an app can do is enhance the listening experience with user-controllable EQ. Not all apps have EQ, but allowing you to tweak the bass or treble to your taste is a huge plus—and apps that have customizable presets are becoming more and more common. A few manufacturers don't use a companion app at all, including Apple. Though you can argue that this makes the overall experience easier and more streamlined, we like the added control an app provides. We include a rundown of companion apps and how they work in each of our reviews. Caring for Cheap Earbuds Even if you don't spend a ton of money on your earphones, you should still take good care of them. To that end, see our five easy tips to extend the life of your headphones. And if you're still looking for the perfect pair of earphones and are willing to increase your budget, check out our picks for the best true wireless earbuds overall.

AirPod Alternatives: The Best True Wireless Earbuds for 2021
uk.pcmag.com
The Best Noise-Cancelling True Wireless Earbuds for 2021
uk.pcmag.com
Join finance leaders at Transform 2021, the industry's premier AI digital event. Transform gathers thought and action leaders from public and private banks, global financial advisers, wealth management leaders, bank executives, and many more for highly informative sessions, focused roundtables, and unbeatable networking opportunities. Hear from top finance industry experts on strategy and technology in the main application areas of AI/ML Automation Technology, RPA, data analytics, conversational AI, intelligent AI assistants, AI at the edge, IoT, computer vision, AR/VR, & robotics. Register today to join finance leaders at Transform 2021. Find the full agenda online, or keep reading to discover all of the finance vertical's key topics throughout Transform 2021. Monday, July 12, 2021 – 8:50 am – 9:15 am (America/Los Angeles) 5 things Public & Private sector Cybersecurity leaders need to know to make hybrid work safe. The number of connected devices continues to multiply at an exponential rate, offering new, potentially vulnerable, points of entry into organization systems. As we move toward an increasingly remote or hybrid working environment, both the public and private sector will need to brace for new liabilities like shadow IT, and employees connecting their personal devices to sensitive company information. So who is accessing these devices and endpoints? Are they vulnerable to compromise? Are they compliant with company security standards? Google Cloud's Vint Cerf will discuss why a zero-trust security framework is critical to maintaining a secure network as devices continue to sprawl and fewer and fewer employees plan to work from the physical office. This discussion will shed light on the future of cybersecurity and best practices that need to be implemented now by public and private sectors as we march toward a hybrid working environment. Speakers: Vint Cerf, Co-Father of the Internet & Chief Internet Evangelist for Google Fahmida Rashid, Executive Editor – VentureBeat Monday, July 12, 2021 – 12:10pm – 12:35pm (America/Los Angeles) Risk(AI)y Business: How Mastercard is using AI to better understand and adapt to risk Our lives revolve around a network of infinite connections. Connections between businesses, governments, ideas, technology, and people. And now, it's digital connections that are largely driving our interactions. All these connections bring both incredible opportunities while also opening us up to vulnerabilities – stretching well beyond traditional payments. Every point of interaction and every experience needs to be protected. And as the number of digital connections between consumers, businesses, and governments grows exponentially, monitoring this complex web of connections can be overwhelming. That's why Mastercard cyber capabilities enable organizations (big, small, and everything in between) to protect the people, transactions, and devices that power their business – from the inside out to the outside in. AI powers all of this. It consumes all of the data and turns into meaningful intelligence in order to take action. Speakers: Johan Gerber, Executive Vice President Security & Cyber Innovation – Mastercard Fahmida Rashid, Executive Editor – VentureBeat Tuesday, July 13, 2021 – 1:25pm – 1:50pm (America/Los Angeles) Confidential Computing: The emerging new security paradigm and what it means for your enterprise. More than a decade into the cloud computing era, the most pressing demand for migrating data and applications has largely been met. To convince companies to put even more core functions and sensitive data in the cloud, a wide range of companies are pushing for a new standard that would guarantee more profound levels of security and privacy. Dubbed "Confidential Computing," this standard moves past policy-based privacy and security to implement safeguards on a deeper technical level. By using encryption that can only be unlocked via keys the client holds, Confidential Computing ensures companies hosting data and applications in the cloud have no way to access underlying data, whether it is stored in a database or passing through an application. Join Adrien Treccani, CEO of METACO in conversation with Chris O'Brien from Venturebeat in this intriguing discussion about this promising new technology and learn what it means for your organization. Speakers: Adrien Treccani, CEO – METACO Chris O'Brien, European Correspondent – VentureBeat Wednesday, July 14, 2021 – 10:45 am – 11:10 am (America/Los Angeles) Securing AI assistants: How do we protect confidential data, while delivering a great user experience? Engaging with AI assistants has become commonplace in many industries — from virtual personal assistants on consumer devices to virtual agents providing customer service. Despite their capabilities, AI assistants, at heart, are applications drawing upon disparate data sources, some of which contain confidential, or sensitive data. That means any conversation about securing these assistants is essentially a data security one. In this fireside chat, Jamie Tomasello, head of security programs and GRC at Gusto, discusses how securing these applications should be part of the organization's threat modeling exercises. What are the security risks to the data that AI assistants have access to? AI assistants are also the ultimate accessibility tool, so we will consider potential bias in the model or data being used. Speakers: Jamie Tomasello, Head of Security Programs and GRC – Gusto Fahmida Rashid, Executive Editor – VentureBeat Thursday, July 15, 2021 – 10:45 am – 11:10 am (America/Los Angeles) How AI can help secure your organization's devices running on the edge throughout their lifecycle; Hear different perspectives from Goldman Sachs and AMD AI plays a critical role in solving an industry-wide problem: supply chain security. Goldman Sachs (GS) works closely with its suppliers to drive state-of-the-art computing and security solutions. Fingerprinting a hardware system and its components is critical to enable a "known and trusted" place to monitor systems in use and detect abnormalities(i.e. anomaly detection) to identify potentially tampered or malicious hardware. While several methods are being explored, one such method is to measure/monitor hardware performance counters. Through implementation and adoption, GS looks to significantly reduce its CapEx and OpEx by tens of millions of dollars annually. These types of applications rely on computer hardware capable of supporting the highest processing capabilities (speed, capacity, and organization) to simultaneously manage complex data sets from multiple input streams. Join Goldman Sachs Principal Engineer Michael Mattoli in conversation with AMD CTO & EVP Mark Papermaster and learn how GS looks to address the opportunities and challenges faced when implementing AI to reduce liabilities and risks with supply chain provenance and traceability, why this type of application requires high performance AI from the data center to the edge, the ability to trust data, and how these technologies help to advance security. Speakers: Mark Papermaster, CTO – AMD Michael Mattioli, Principal Engineer – Goldman Sach Fahmida Rashid, Executive Editor – VentureBeat Thursday, July 15, 2021 – 11:10 am – 11:35 am (America/Los Angeles) Jump into Edge AI with Your Eyes Wide Open and Security Vulnerabilities Closed AI can bring opportunities and challenges with IoT, and they are especially interesting at the Edge when it comes to security. Edge AI's value and shortcomings are discussed, with actions to evolve our AI understanding and security measures. We discuss if AI running at the edge will enhance data security due to localization or open up new vulnerabilities and provide easy entry points into the wider network due to the ever-increasing population of IoT devices. With the use cases of IoT devices running AI at the edge being so diverse across various industries, we discuss what are the best security strategies to ensure we counter cybersecurity threats. Join Dr. Celeste Fralick, the Chief Data Scientist of McAfee in this insightful discussion. Speakers: Celeste Fralick, Chief Data Scientist – McAfee Fahmida Rashid, Executive Editor – VentureBeat Find the full agenda online and register today to join finance leaders at the AI event of the year.

Transform 2021: Healthcare's key topics
venturebeat.com
Codemasters CEO Frank Sagnier and CFO Rashid Varachia will both depart the Dirt developer at the end of July as a result of the studio's $1.2 billion acquisition by EA earlier this year. A statement given to GamesIndustry notes that the executive departures may have happened ahead of schedule, but have "always been part of the plan" for Codemasters' induction into the EA Sports brand. In his own statement shared to LinkedIn, Sagnier, who joined as CEO in 2014, notes that he felt the time was right to step down and that he remains "very confident Codemasters will reach new heights" as part of EA Sports. Varachia, meanwhile, joined Codemasters in 2012 and, as noted in EA's parting statement, played a key part in Codemasters' success over the years by "driving key acquisitions, listing on the stock market back in 2018, and leading the due diligence and integration of Codemasters into EA." "We are incredibly thankful to Frank and Rashid for everything they have done for Codemasters and Electronic Arts, and we all wish them the very best," continues that statement from EA. "We know the culture they have created and their innovative spirit will very much live on at the studio through their outstanding leadership team."

Codemasters CEO and CFO step down following EA acquisition
gamasutra.com
Today's highlighted offer comes via our Online Courses section of the Neowin Deals store, where you can Pay What You Want for the Complete 2021 Internet Side Business Bundle. Earn passive income online! This skill success bundle gives you 35 hours of content on selling products on amazon, creating e books, freelancing and more. Unlock the following courses with a minimum of the average price: Pay What You Want for the unlocked courses: That's OK, there are other deals on offer you can check out here. Neowin Deals · Free eBooks · Neowin Store Disclosure: This is a StackCommerce deal or giveaway in partnership with Neowin; an account at StackCommerce is required to participate in any deals or giveaways. For a full description of StackCommerce's privacy guidelines, go here. Neowin benefits from shared revenue of each sale made through our branded deals site, and it all goes toward the running costs.

Save 98% off this Complete 2021 Python Expert Super Bundle
neowin.net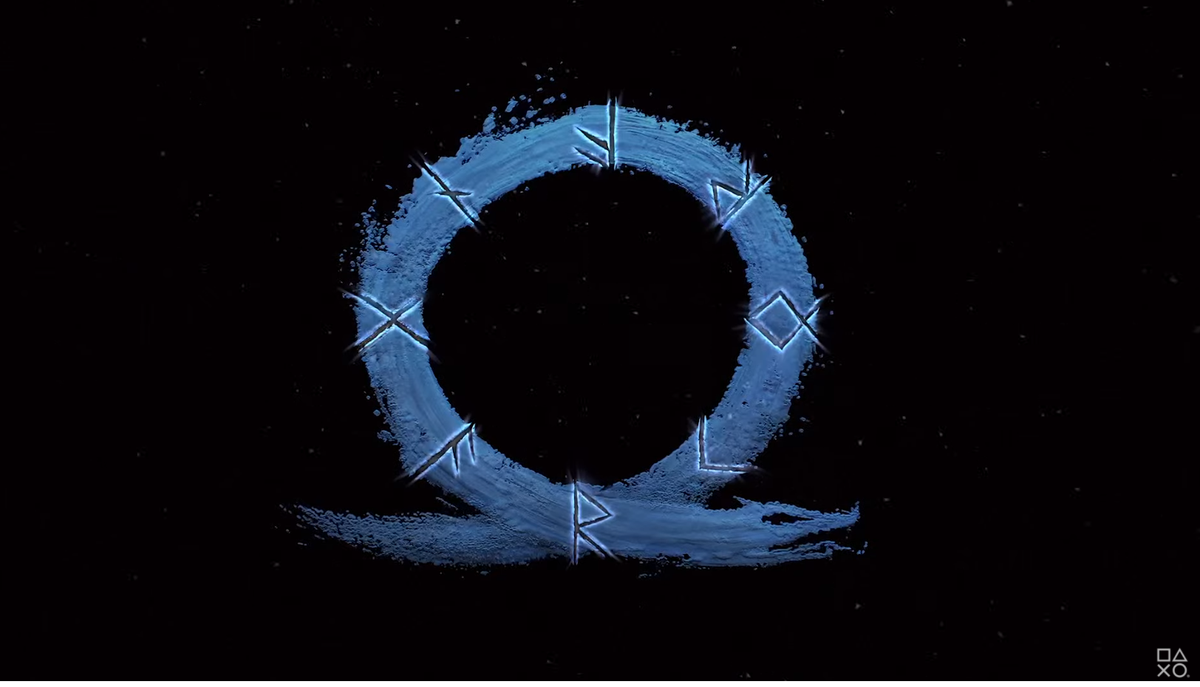 God of War: Ragnarok is coming, and you can expect it to land on PS5 and PS4 in 2022. Sony dropped a teaser for the God of War sequel at the end of its PlayStation 5 showcase in September 2020, confirming what we all hoped for: a return of Kratos and his son. Since this announcement, things have been very quiet around God of War: Ragnarok and firm details on the long-awaited sequel are light, with a delay from 2021 until 2022 confirmed by Sony in June 2021. While we have a bit longer to wait, and details on the God of War sequel remain thin on the ground, at the very least, we know that it is coming, and it could be called Ragnarok – the name for a cataclysmic series of events in Norse mythology, which is fitting for a game where you're almost certainly going to be wreaking havoc and killing Norse gods. (Yes, it's also the name of a Marvel movie – and the name of a Netflix series. It's a cool word, ok?) So, with that out of the way, we've gathered together all the news and rumors surrounding God of War: Ragnarok for your consideration right here – and be sure to check out our run down of all the other new PS5 games on the way, too. [Update: Sony has announced plans for a July State of Play but don't expect to see any God of War news during it. Read on to find out more.] God of War: Ragnarok is due to release in 2022 on PS5 and PS4, following a delay from its initial 2021 release window. There was already speculation that Ragnarok could be delayed, given that Sony hadn't mentioned the sequel in its plans for 2021 since the game's announcement. Sony Santa Monica Studio confirmed the delay in June 2021, releasing a statement on Twitter. It's unclear when in 2022 we can expect God of War: Ragnarok, but we're hoping Sony gives us an update sometime later this year. The God of War: Ragnarok trailer dropped right at the end of Sony's live stream event in September,2020, and shows off a brief logo and the words "Raganarok is coming". It's the only trailer we've seen for the game to date. Check it out below: Not in July's State of Play but what about August? Sony has announced its next State of Play will take place on July 8 but you shouldn't expect to see God of War: Ragnarok during it. Sony announced the livestream on a PlayStation blog post, confirming that it'll last 30 minutes with a focus on Deathloop but was very clear that it "will not include updates on the next God of War, Horizon Forbidden West or the next generation of PlayStation VR." A small ray of hope comes at the close of the post as, while God of War and other titles won't be a part of the livestream, it says "Stay tuned throughout the summer though, as we'll have more updates soon." Sony sat out E3 2021, meaning we had no chance of learning more about God of War: Ragnarok during the show, but it's perhaps not entirely surprising that the game won't be present during the July State of Play, given its delay until 2022 was only announced in early June 2021. This news comes after recent rumors that God of War: Ragnarok would be a part of Sony's next State of Play, with Nick Baker (via Screenrant), the co-founder of XboxEra.com and co-host of the XboxEra Podcast, tweeting that he was told Sony will show off some God of War: Ragnarok gameplay footage as part of an upcoming PlayStation State Of Play livestream. With this stream's focus on third-party and indie releases alongside Sony saying to "stay tuned throughout the rest of the summer", perhaps there's a chance we could still see God of War: Ragnarok get its own first-party focused State of Play stream before the season is out. A new rumor from Redditor QuimSix (via Wccftech) certainly seems to point towards this. According to this leaker, PlayStation is planning a first-part focused stream for August, during which we'll finally learn more about the God of War sequel. This should, of course, be taken with a grain of salt. At the moment, Sony hasn't confirmed any plans for an August follow-up to its July State of Play. It'll launch 'when its done', says creative director Following the absence of an update on God of War: Ragnarok during PlayStation's February 2021 State of Play, Santa Monica Studios Creative Director, Cory Barlog, appears to have posted a tweet in response to those asking for an update on the game. Reading "When it's done it's done", Barlog's tweet doesn't directly mention God of War: Ragnarok but it seems likely that's what he's referring to. The game still has a fairly wide release window of 2021, but there have been rumors that it might be looking at a delay and this tweet doesn't exactly clear them up. But, as Barlog says, "Trust that it's what's best for everyone." Coming to PS4 too PlayStation Studios boss Herman Hulst seems to have confirmed that God of War will be coming to PS4. In a PlayStation Blog post, when asked about how PS4 factors into PlayStation Studios' vision, Hulst said: "Where it makes sense to develop a title for both PS4 and PS5 — for Horizon Forbidden West, the next God of War, GT7 — we'll continue looking at that. And if PS4 owners want to play that game, then they can. If they want to go on and play the PS5 version, that game will be there for them." Previously God of War: Ragnarok was only confirmed to release on PS5. PS5 Showcase God of War: Ragnarok was briefly teased at the end of the PS5 Showcase event on September 16 2020, where Sony also announced the price and release date of the next-gen PS5 console. Cory Barlog also changed his Twitter header to a redacted latinate script – and his Twitter avatar to a picture of ice. It suggests we're moving further north, and into colder climes... Job Listings As spotted by GamesRadar, SIE Santa Monica Studio posted job listings last year for a number of roles across its programming, art, design, and tech art teams – with one listing clearly citing the God of War reboot. Applicants for Senior Combat Designer "Must have knowledge of God of War (2018) and be able to speak in depth about the combat systems, mechanics and enemies". A listing for Facial Blend Shape Character Artist also specifically mentions "next-gen videogame platform experience" for the role: something that should whittle down prospective applicants to relatively few animators, given that the next generation of consoles have yet to launch. The waters were muddied slightly with a Senior Gameplay Animator posting, which asks for someone "to help us push the boundaries of action and combat movement and set the bar for gameplay feel on the PS4 ". God of War PS4 theme Back in April 2019, a new dynamic theme appeared on PS4 to celebrate the anniversary of the God of War reboot. The theme showed Kratos and Atreus rowing, however the theme contained a secret message (discovered by eagle-eyed God of War fans on Reddit). The boat the pair are rowing in has runes etched on its side which translate (in English) to "Ragnarok is coming" – which we now know to be a pretty official slogan for the game. No God of War DLC God of War director Corey Barlog had said there were originally plans for DLC for the 2018 reboot, but said they were halted for being "too ambitious". That means the studio can invest resources into an entirely new game as opposed to post-launch content. God of War (2018) PS5 update To make the wait for God of War: Ragnarok a little easier, Sony Santa Monica have released a God of War PS5 update that boosts the game's resolution to a checkerboard 4K resolution while maintaining a 60fps target. Hopefully this means that Ragnarok will continue the pleasing trend of more PS5 games hitting 60fps, even if it means compromising or dropping the resolution slightly to achieve it. [Warning: spoilers for the ending of God of War ahead.] Exploring that ending further At the end of God of War, we found out that Kratos' wife (and Atreus' mother) Faye was actually a Giant called Laufey. That means Atreus is half God and half Giant and, what's more, he has a different name altogether: Loki. You know Loki, the trickster of Norse mythology. Hopefully God of War: Ragnarok will explore this further and we'll find out more about Faye's secret past, as well as why she kept it all a secret in the first place. We're also hoping Atreus will embrace the shape-shifting abilities that Loki is notorious for instead of simply standing on the sidelines firing arrows at enemies. Atreus isn't a boy anymore The God of War sequel may continue on directly from the events of the previous game, however we think it would be more interesting to see how a teenage Atreus and grumpy dad Kratos fair on an adventure.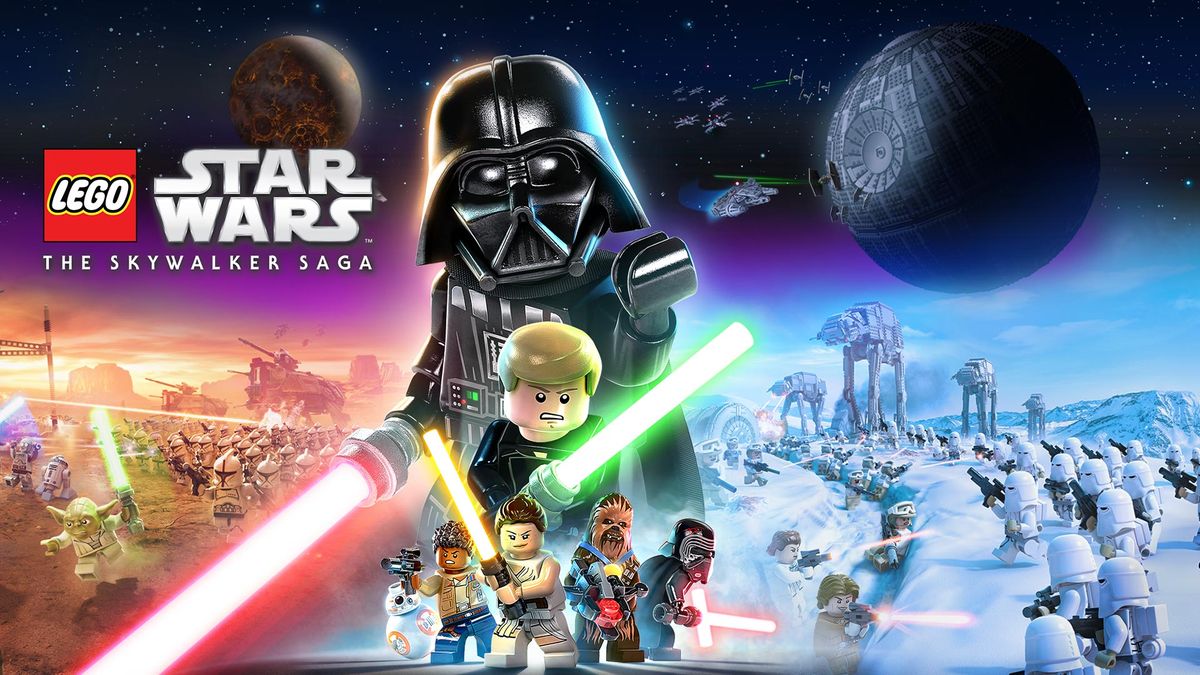 Lego Star Wars: The Skywalker Saga release date, trailers, news and gameplay
techradar.com
The organizers of the all-digital 2021 Game Developers Conference (running July 19th – 23rd) are pleased to announce that the multitalented Imogen Calypso Mellor will be joining us as our host for this year's show. Mellor is a games journalist, writer, content creator, and presenter. Starting her career as a staff writer for a PC gaming site, she started streaming and presenting during the pandemic, working on as many projects as she could to cope with while being stuck inside. She now regularly streams on Twitch under the name M0rmento while working as a journalist at GAMINGbible. She's raised money for the NAACP with Eurogamer and was part of the 2020 Day of the Girl for WarChild. Imogen has also worked with Studio ZA/UM to stream Disco Elysium: The Final Cut upon its release, recorded a special Holiday edition of Dungeons and Dragons with Wizards of the Coast, and even released a Harper Collins children's book teaching kids about the wonders of virtual reality. If she's not working on half a million projects (and scrolling through Twitter) she's probably either playing an instrument or shooting her Olympic recurve bow, because being at least a little prepared for a zombie apocalypse is an important part of a well-rounded person in her opinion. When you log into Swapcard each day during GDC 2021, Mellor will be on your screen, showing off some of the top highlights for each day's events. Be sure to start checking out the full schedule as we ramp up for this year's show! And if you're not signed up yet, be sure to register for GDC 2021 today! For more details on GDC 2021 visit the show's official website, or subscribe to regular updates via Facebook, Twitter, or RSS. Gamasutra and GDC are sibling organizations under Informa Tech

Visit our friends at Omdia when you attend GDC 2021
gamasutra.com
Headphones are great for blocking out the world and letting you enjoy your favorite music, podcast, or audiobook. Sometimes the outside world can bleed through, though, and the sound of planes, traffic, and crowds can cut into your listening experience. If you want to avoid all the noise, you should consider headphones with active noise cancellation (ANC) to really get the job done. Now is a good time to consider a pair of noise-cancelling headphones, as the once-wide gap between Bose and other audio manufacturers has finally shrunk enough for Bose to face some serious competition in the space. It still offers some of the best ANC on the market, but headphones from a numbber of other brands have high-quality noise cancellation of their own. Beyond that, many of these options offer sound signatures that you might prefer over what you get from Bose. What was once a thin field with only a few truly standout options is now littered with four-star (and above) products. With that in mind, here's what you need to know when shopping for noise-cancelling headphones. Active Noise Cancellation (ANC) vs. Passive Noise Isolation Plenty of headphones (and earphones) can claim to be isolate or reduce noise, but that doesn't mean they offer proper noise cancellation in the form of ANC. Passive noise isolation, sometimes called passive noise cancellation, is basically a fancy term for what earplugs do. Simply put, when an object blocks sound, like a thick earpad with memory foam sealing off the area around the ear, it is passively (without any battery power) reducing the ambient noise you hear. When you put your fingers in your ears when a loud siren goes by, that's a form of passive noise isolation. See How We Test Noise-Cancelling Headphones See How We Test Noise-Cancelling Headphones Active noise cancellation is much more complicated. It uses microphones that actively sample the surrounding noise in a room, and then produce an inverse wave that essentially cancels out the sound. Think of it like this: If you have a perfect sine wave and play it along with its inverse wave—the mirror opposite—the result would be no wave at all. It works on a graph, though in real life the results are messier. Regardless, ANC is quite effective at (nearly) eliminating low and mid-range frequencies. Battery power is required for ANC circuitry to work, hence the "active" part of the name. Nearly all ANC headphones use some degree of passive noise isolation in addition to their active circuitry, primarily for one reason: It's an easy way for the noise cancellation to sound even more effective, and ANC is typically not nearly as good at tamping down high-frequency noises compared with low and middle frequencies. What Noise Cancellation Can and Can't Do If you haven't used ANC headphones before, you need to understand this: While noise cancellation does decrease the volume of surrounding noise, it doesn't fully eliminate noise, and is notably less effective at eliminating inconsistent noise. It's not like going into a soundproof chamber every time you put ANC headphones on—it's more like using highly effective earplugs. What does this mean? Most ANC headphones worth their price will be able to tamp down the rumble of an airplane or a train quite well. The same goes for the whir of a loud AC unit or fan. But these are consistent, relatively unchanging noises—it's easy for the circuitry to reduce lower and middle frequency sounds that don't change much. But noise like music, conversation, dogs barking—anything that is more complex than a constant drone—is going to give ANC some trouble. The best noise cancellation will eliminate these sounds to a degree, but you're still going to hear some of it. Should Noise Cancellation Add Hiss? Some ANC adds an audible hiss—like white noise—to the signal. It doesn't sound awful, but it serves to mask the high frequencies that the circuitry is less good at eliminating. ANC works far better on lows and mids than it does on highs, so getting some of the high-frequency noise reduced passively is essential. The hiss adds another layer that can enhance the sense of quiet you get, but is actually somewhat deceiving. You'll know if there's hiss or not when you enable ANC in a very quiet room. If it's there, the hiss will have the opposite effect of noise cancellation in this scenario—it'll be louder than the quiet room itself. Most hiss will not be a deal breaker, and when the music is playing, it won't even be audible. But generally speaking, the better the noise cancellation, the less it will add any hiss at all. Here we should also note that some people feel pressure inside their ears when using powerful ANC, while others don't notice a thing. It's worth trying on multiple pairs of headphones in a store before you invest in an expensive product that can potentially cause you discomfort. On-Ear, In-Ear, and Over-Ear Noise Cancellation The most effective ANC is typically found in over-ear (circumaural) headphones. The earcups can create a seal around the ear, and the earpads act as a barrier. That said, the less-common on-ear ANC models can still eliminate plenty of surrounding noise, are often considered far more comfortable, and are usually more compact and easier to stow away. In-ear ANC has also improved quite a bit in recent years. In-ear models also have perhaps the greatest advantage in terms of passive isolation—the eartips seal off your ear canal, so high frequencies are more or less eliminated before you turn the ANC on. The advantages one style may present over another are less about ANC performance at this point, and more about personal preference and comfort. As wireless in-ears shift to cable-free "true wireless" designs, there are now solid ANC options in this realm, as well. Wired vs. Wireless Noise Cancellation It makes sense that wireless ANC basically replaced wired models on the market—this is largely what has happened to the headphone industry as a whole. It's also likely because most of the wireless ANC headphones available can also be used with an included cable, and often with the ANC enabled. You'll want to check if the model you're interested in has this option if it's a priority. However, some wireless ANC models suffer from a notable issue: The ANC has an audible effect on the audio when enabled. We always make sure to point out which headphones suffer from this issue, and whether the effect is so minor that it can be dismissed as irrelevant. Any model that has a profoundly different sound signature when ANC is enabled has basic design shortcomings, and you won't find us giving it a high rating. For more, see our story on The Best Noise-Cancelling True Wireless Earbuds. Noise Cancellation Apps Many noise-cancelling headphones work with free apps that can alter the ANC's performance to better suit your environment. And most ANC models feature an ambient mode, which allows you to hear your surroundings and talk with someone nearby without removing the headphones. It's a useful, nearly ubiquitous feature, but some manufacturers have taken it an extra step and allow you to blend ANC levels with ambient levels to your preference. When this is available, it's usually accomplished with a slider in an app. How Much Should You Pay for Noise-Cancelling Headphones? Noise cancellation circuitry isn't cheap. If a model has been around for more than a year or two, you might find some deals, but it's rare that a quality pair of headphones will sell for less than $200. If they do, the ANC on offer is probably solid for the price, but not on the same level as the top-tier options. If you're looking for the best of the best, be prepared to pay around $350 to $400. The exception is in-ear models, which can have solid ANC at lower prices, like the $250 Apple AirPods Pro. If noise cancellation isn't a big deal for you, you can focus on other characteristics with our lists of the Best Wireless Headphones, the Best Earphones, and the Best Headphones overall. And if you're shopping on a tight budget, check out the Best Headphones Under $50. Once you've found the right pair of headphones, make sure to take good care of them. To start, read up on our 5 Easy Tips to Extend the Life of Your Headphones.

Anker Soundcore Life P3
uk.pcmag.com
WellSaid Labs, a startup developing synthetic voice technology, today announced it has raised $10 million in a series A round led by Fuse, with participation from Voyager, Qualcomm Ventures, and GoodFriends. The round, which was oversubscribed, will support the company's R&D and grow its team, according to CEO Matt Hocking. Creating natural-sounding speech from text is considered a grand challenge in the field of AI and has been a research goal for decades. Content creators and product designers have long faced tradeoffs between quality and scalability when using text-to-speech tools versus human voiceovers. But with AI, creators, product developers, and brands have the potential to power experiences with a wide variety of voice styles, accents, and languages at scale. Startups creating virtual beings, or artificial people powered by AI, have collectively raised more than $320 million in venture capital to date. WellSaid launched in 2018 as a research project at the Allen Institute of Artificial Intelligence, a lab started by Microsoft cofounder Paul Allen with the mission of conducting pivotal AI research and engineering. WellSaid's team set out to create the most lifelike synthetic voices, with CTO Michael Petrochuck leading R&D to build the key AI. "What started as a research project… is now a growth-stage startup with thousands of customers in media and advertising, technology, manufacturing, defense, pharmaceuticals, healthcare, and education," Hocking told VentureBeat via email. "In terms of the fundamentals of the business, [due to the pandemic] our mid-market and enterprise customers [have] accelerated and shifted a substantial amount of their voiceover and media productions from in-person to remote locations. This added more moving pieces and quality issues to their productions." Using WellSaid, companies can pick from a range of voice avatars and create voiceovers straight from a script, with one or many voices based on style, gender, and production type. They're able to make edits to the copy, change the pausing, or use a different voice and teach the platform to say terms with unique spellings and pronunciations. WellSaid also allows users to share projects and files with team members, as well as building voice avatars for branded content, creating avatars from the voice of a real person with only a few hours of recordings. Over two years, WellSaid incrementally improved the naturalness of its synthetic voices, aiming for "human parity," according to Hocking. In a July 2019 study, the company asked participants to listen to a set of randomized recordings created by WellSaid and by human voice actors and rank them on a scale of 1 to 5, with 5 being the highest quality. The voice actors achieved an average rating of around 4.5, while WellSaid's voices earned scores close to their human counterparts (4.282). The current focus for Seattle, Washington-based WellSaid, which has 12 employees, is improving the platform's handling of different text lengths and styles, as well as speeding up voice generation. The company said it takes about 4 seconds to create a 10-second audio file. "Enterprises use WellSaid Studio to create voiceovers for training and corporate content. They choose WellSaid to optimize their workflows because of the high-quality voices available and to gain cost efficiencies," Hocking continued. "Product developers integrate [our] API to their experiences to enable voice across their user experience. They rely on the quality of the voices, scalability of the infrastructure, and real-time rendering unmatched by other providers. [As for] brands and creators, [they] use WellSaid to create their own and exclusive AI voice avatars to spec. We partner with them to design, build, host, and deploy their unique AI voices according to their needs and production specs." WellSaid's technology and comparable offerings from Microsoft, Amazon, Resemble AI, Synthesia, Deepdub, Papercup, and others have fueled concerns around misuse and deepfakes, or synthetic media used for nefarious purposes like imitating executives during earnings calls. But Hocking said WellSaid doesn't create voice avatars without actors' permission and subscribes to the " Hippocratic Oath for AI " proposed by Microsoft executives Brad Smith and Harry Shum. "With WellSaid, companies that might have not been ready to deploy synthetic media can now invest in the technology, as it gives them the ability to continue to produce and publish mission-critical content without sacrificing quality," Hocking said. "We are proud of what we've accomplished and grateful for the business we've built." This latest round brings WellSaid's total raised to date to $12 million.

Opaque raises $9.5M for encrypted data analytics
venturebeat.com
Something to look forward to: With the Nord series, OnePlus has made a much-needed return to its roots of offering mid-range features at a budget price. Although there are no official numbers to quantify its success, the original Nord is getting a successor in the form of the Nord 2 5G, possibly as soon as this month. When OnePlus revealed the original Nord phone last year, it signaled that it wanted to get serious about the mid-range segment (again). The $460 OnePlus Nord looked good on paper, even if a little boring and generic from a design perspective, as well as quite fragile in most common durability tests. Despite being restricted to Europe and India distribution at first, it eventually arrived to the US this past January as part of a wave of wallet-friendly Nord models starting at just $180. Today, the company confirmed rumors that a successor to the Nord is on the way. The OnePlus Nord 2 5G is official, although the company didn't give away all the details about upcoming new device. OnePlus says the Nord 2 will be powered by the MediaTek Dimensity 1200 SoC, so we're looking at a departure from Qualcomm's mobile platform in favor of a solution from the new largest phone chipset vendor by volume. That said, OnePlus won't be using the standard Dimensity 1200 chipset. The company worked with MediaTek to add AI-focused enhancements that are supposed to offer improved mobile photography, better gaming performance, and even some display enhancements. The resulting chipset is called the Dimensity 1200-AI, but we'll have to wait until the Nord 2 5G lands to learn more about how this variant differs from the original. The rumor mill says the new Nord 2 5G will also come with a high refresh rate display capable of 90 Hz, or even as high as 168 Hz. The Dimensity 1200-AI will be paired with up to 12 GB of RAM, and the battery could see a small bump in capacity to 4,500 mAh. There's even a possibility the main rear shooter will be equipped with Sony's 50-megapixel IMX766 sensor, same as the OnePlus 9 Pro. There's no official release date yet, but according to one tipster it could happen by the end of this month. If you're excited for the Nord 2 5G, it's worth pointing out that OnePlus could be getting close to revealing its very first Android tablet as well.

You might have heard the news about " PrintNightmare," a vulnerability in the Windows Print Spool service that could leave hackers in control of your PC under certain conditions. After raising concern about the issue last week, Microsoft has now officially issued a patch that resolves the issue and urges all Windows users to install it as soon as possible. We'll spare you the technical aspects of the patch, but it is quite an easy patch to install. However, not everyone might know how to get the patch today to ensure that your PC stays safe when sending documents from your PC to your printer through the Windows Print Spool service. We've got you covered with a quick guide on how to fix the PrintNightmare issue on Windows 10 right now. To get started, you'll need to visit the Start Menu, and then click on the Settings icon on the left side of your screen. From there, you'll be taken to the Windows 10 settings app, where you need to click Update & Security followed by Check for Updates. Windows 10 will then begin checking for updates. If you're on the latest version of Windows, which covers the May 2021 Update (21H1) to the May 2020 Update (20H1), you'll need to make sure you see KB5004945 listed in Windows Update to fix PrintNightmare. This is the automatic patch for Windows 10 Home, Pro, and other versions of Windows 10 that addresses the issue. Let Windows 10 download the update and install it in the background. After a few minutes, you will be prompted to restart your computer with Restart Now button. Once you restart, things will be fixed. If you're on an older version of Windows 10, (Windows 10 November 2019 Update, aka 19H2), then you'll be seeing KB5004946 as the patch. For all other versions of Windows 10 (Windows 10 April 2018 Update, aka version 1803), you should be seeing KB5004949 as the patch in Windows Update. In all cases, your PC will install right away and will require a quick restart. In the rare event that you're not seeing the patches we mentioned above, then you can manually download by visiting the Microsoft Update Catalog. Just be sure to search for the appropriate KB version we mentioned above. We also mentioned and linked to these KB versions for you below for your convenience, where available. Again, KB5004945 applies to all of the most recent versions of Windows 10, while KB5004946 for the Windows 10 November 2019 Update. Lastly, there's KB5004949 for the Windows 10 April 2018 Update or version 1803. Once you click the download button next to these updates on the catalog, then you'll be prompted with a pop-up window. Click on the MSU file that you see linked and allow it to download to your PC. Once downloaded, you can click on the file (directly from the browser window) and have Windows run and install it. You'll see that it will search for the update, then install it. Your PC will then restart. If you're on an older version of Windows, (Windows 8.1 or Windows 7 through extended support), then the KB versions will be different for you. You'll need to visit Windows Update and check for updates the same way as you usually would. On Windows 8.1, you'll see the patch labeled as KB5004954. Meanwhile, on Windows 7, you'll see it as KB5004953. Again, in the rare instance that you're not seeing these KB updates to patch PrintNightmare, you can visit the links we just dropped above to manually download and install. However, since Microsoft is calling all of these KB patches to address PrintNightmare an out-of-band update (meaning it's not on the regular schedule), then these updates will install automatically and should be showing up on your PC without any action on your end.

The Acer Nitro 5 is a very popular laptop, and there's a good reason for it. While it's not a mind-blowing machine compared to more expensive laptops, the Nitro 5 stands out as a great budget gaming laptop. It's one of the most affordable gaming laptops out there, and it has great specs to boot. However, it does start with just 8GB of RAM. That's good enough for day-to-day use, but if you're trying to play modern games, it won't be the best experience. Luckily, you can upgrade the RAM in the Acer Nitro 5 fairly easily, and we're going to tell you how. One thing to note is there are a couple of different designs for the Acer Nitro 5. Older models had a dedicated door you could use to access just the RAM slots, which made things a little easier. For the latest models, you have to remove the entire back cover, but the process is still relatively easy. The first thing you need to do before trying to do any work inside your PC is to make sure it's turned off completely. It may seem obvious for some people, but you absolutely don't want to risk touching electrical components when they're running. You could very easily break your PC or even hurt yourself. Also, unplug the laptop from the power adapter. Another thing you may want to do is ground yourself to avoid any electrical discharges from damaging your components. You can touch a metal structure before starting to discharge yourself, but wearing an anti-static wristband is also a good idea if you want to be extra careful. Also, avoid working on rugs or other fabric, and keep pets away from the working environment. In terms of tools, you'll only need a Philips screwdriver and a spudger to help pry open the base. And of course, the RAM stick you want to use. You'll need a SODIMM RAM stick that matches the speed of what's already inside your Nitro 5. It's always best to check what's inside your model before making a purchase, but Crucial offers a model that's certified for compatibility with some models of the Nitro 5. If you have a newer Acer Nitro 5, there's no easy access door for components like the RAM as there used to be. That means you have to remove the entire base cover to upgrade the RAM, but otherwise, it's not a complicated process. Close the lid on the laptop and flip it over to get started. Older models of the Nitro 5 have an easy-access upgrade panel that doesn't require you to remove the whole base cover. This makes the upgrade process a little easier. Flip the laptop over to see the base with the exhaust vents at the top and follow these steps: That's about all you need to do to upgrade the RAM on the Acer Nitro 5. It's a pretty painless process, as long as you're careful and you get the right RAM. If you want to be absolutely sure you're getting the right RAM, open up the laptop to see what's already inside before buying anything. And of course, always make sure you're grounded to avoid any electricity discharges. If you're looking to buy a gaming laptop that's easily upgradeable, the Acer Nitro 5 is a solid choice, since the RAM slots are pretty easy to get to. You can buy the latest model from the link below. There are also other options from Acer if you're looking for more premium offerings.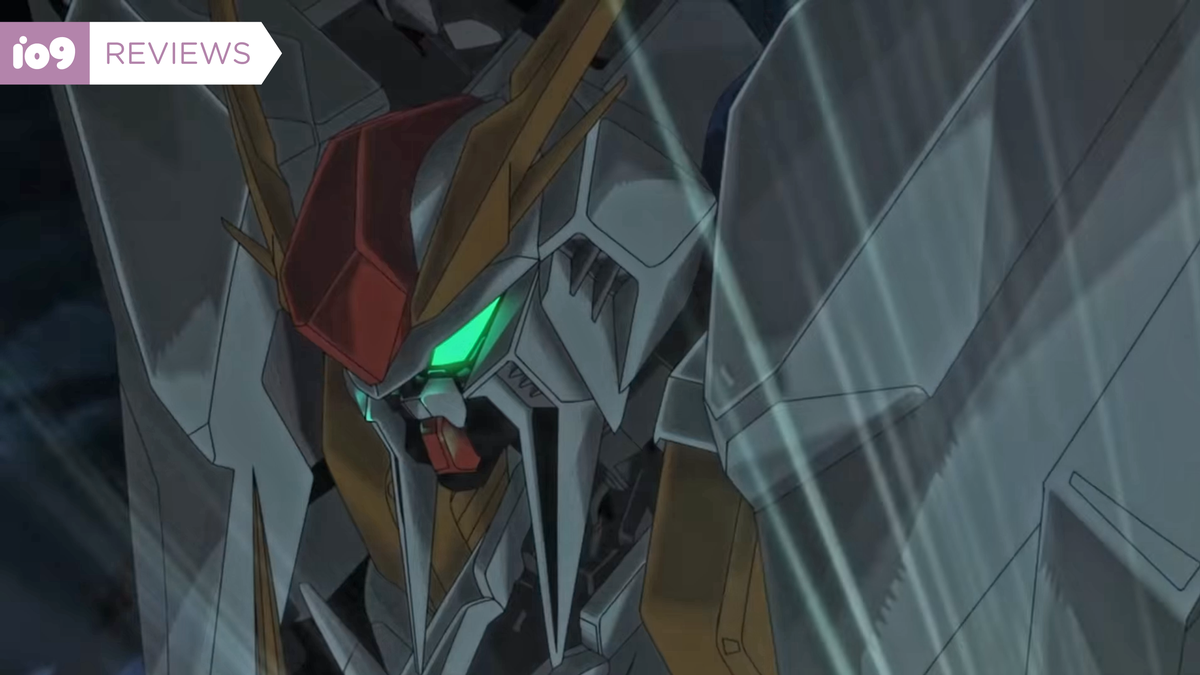 Mobile Suit Gundam as a franchise might be most widely known for its titular mechanical warriors, their designs as iconic as they have become toyetic in the decades since the original show began its rocky road to international renown. But the latest cinematic entry in the franchise, premiering on Netflix this month, seeks to downplay its titular mecha to ask some big questions about Gundam 's wider world. The animated feature, Mobile Suit Gundam: Hathaway, is directed by Shūkō Murase and written by Yasuyuki Muto. It's the first in a planned trilogy of movies set in the year U. C.0105—the "Universal Century" timeline that plays host to a majority of the Gundam franchise's works, including the original 1979 animated series —and 12 years after the events of the beloved animated movie Char's Counterattack. In a world where the globalized Earth Federation is no longer actively at war with its interstellar colonies, the movie follows the titular Hathaway Noa (Kensho Ono), a former Federation mobile suit pilot and the son of famous commander Bright Noa as he returns to Earth on a new mission. No longer a Federation soldier but instead disillusioned with its increasingly totalitarian policies against "spacenoid" citizens (humans who have become accustomed to, or were born, living in space colonies), Hathaway has taken on the identity Mafty Navue Erin as the head of the self-titled dissident group Mafty, seeking to violently silence Federation ministers and advocate for the colonies' right to self-govern. But when confronted on his trip by a mysterious young woman named Gigi Andalucia (Reina Ueda), and brought face to face with the Federation commander tasked with hunting Mafty down, Kenneth Sleg (Junichi Suwabe), Hathaway is forced to re-examine his own past traumas as well as his current ideological beliefs as Mafty's actions against the Federation continue to escalate. It is that wider astropolitical picture that makes Hathaway a fascinating thing to witness over its roughly 90-minute runtime, more so than any particular moments of mecha action it may contain. If anything, it intentionally downplays some of its bigger action setpieces to put its worldbuilding at the forefront. Outside of the opening scene, where terrorists claiming to be part of Mafty attack the ship Hathaway and prominent Federation ministers are trave ling to Earth on, action plays second fiddle to quieter scenes of conversation and interrogation. Hathaway is a gorgeously animated film, but its action is not the focus of that detail. There are only really two major conflicts in the film: an eventual Gundam vs. Gundam duel between Hathaway and Federation forces at the film's climax, and a breakout highlight scene depicting an on-the-ground Mobile Suit attack that cleverly subverts our typical perspective of Gundam 's action to give it the feel of something more out of a disaster movie than a sci-fi mecha action film, accentuating its critiques of the powers at play in its world. If giant robots are not Hathaway 's primary interest—outside of reminding us just how petrifying giant mechanized soldiers really are—its focus, then, is on the quieter moments and details of Gundam 's "Universal Century" setting. Taking place in an important period of that established timeline, Hathaway's return to Earth asks him to navigate what humanity's crucible, and the people in control of it, have become in peacetime since his traumatic experiences in Char's Counterattack. The devil is in its details, contrasting beautiful, lavish shots of tropical locales with the encroaching, technologically advanced cityscapes hosting the Federation's elite members—Hathaway walking among them in "disguise" as his father's son, rather than as Mafty's leader. But it twists the thematic knife further still, contrasting those decadent cityscapes with the rundown, crowded streets where the normal, put-upon people of the Federation rise and grind in systems of capital— scraping by to maintain their statuses as Earth-living citizens while Federation "Manhunter" squads stalk the streets for dissident activity, militaristically policing who stays on Earth and who is forcefully emigrated to the colonies. This is far from the first time Gundam has engaged with the idea that the "heroes" of its original series, the Earth Federation, are anything but heroic. The original show cast a doubtful eye over its intentions plenty of times, and successor series like Zeta Gundam and Gundam Unicorn more explicitly tackled the evil the Federation was capable of. But bringing it back to the forefront in Hathaway, over the potential spectacle of the mechanized action the franchise is beloved for, is a powerfully promising idea that this first part of the trilogy delivers on. It's a move that feels truthful in a world rocked by climate crises, rising totalitarian and fascist governments, and real questions over what our evolving society, and the people who hold power in it, are doing to the planet. That it is also an adaptation of one of Gundam 's most famous non-anime works—the 1989 trilogy of novels Hathaway's Flash, penned by Gundam creator Yoshiyuki Tomino—feels like even further grim commentary. The themes Tomino was writing about over 30 years ago still feel ripped-from-the-headlines as timely and resonant for today. What doesn't quite work in Hathaway 's favor as it engages with these critiques is how little it does to onboard newcomers to the franchise —who, say, happened upon a title card of a giant robot thanks to a splashy Netflix deal to bring the film outside of Japan after a year of pandemic-induced delays. It's a peculiar release scenario that could never have been predicted and is not entirely fair to the film itself. But while Netflix did its best to provide the option for audiences to get some preparation for Hathaway 's release —the streamer acquired rights to the film compilation trilogy of the original Mobile Suit Gundam, as well as Char's Counterattack, in mid-June—so much of what makes Hathaway interesting, both the movie and its titular characters, is built on prior experience with the franchise that the film itself coasts by on. We're never given the setup as to why it's interesting that the Earth Federation has become so openly totalitarian, nor are we given the reasons why Hathaway's moral crises throughout the movie are drawn from his past, fleeting relationship with Quess Paraya in Char's Counterattack— and how he begins to imprint that relationship onto Gigi in this movie as she pokes and prods at his decision to become the head of a violent terrorist group like Mafty. These are things that, as the audience is primarily intended to be Gundam fans invested in the Universal Century setting, are just meant to be framing the film inherently. But in making that choice, it serves to undercut moments Hathaway wants to hit hardest without providing even a little context—too busy patting itself on the back for a throw away flashback shot evoking a famous scene from Char's Counterattack, for example, rather than making its place in the wider Gundam world more explicit to anyone but its most invested fans. But for those already invested in that world, Hathaway serves as a fascinating primer for future exploration. Gundam as an entity, as it sprawls out across different mediums and continuities, has become increasingly reflective of its roots as of late —whether through the nostalgic embrace of mobile suit merchandise, or through re-litigating the setup of its world in adaptations like The Origin and other early-UC projects like Thunderbolt. To get a film that honors those roots then, not just in a faithful adaptation of an older, highly-regarded work in Tomino's novels (which have still yet to be officially translated into English), but in re-visiting critiques of its worldview and worldbuilding that the franchise has played with from almost its very beginning, is much more fascinating than the idle exploration of familiar imagery and designs. Hathaway 's evocation of some of Gundam 's most interesting themes provides much more to chew on than a splashy mecha fight with designs we're familiar with from decades of anime, manga, and model kits —even if it sacrifices a little accessibility to a wider audience to begin engaging with it. It's clear that Hathaway is more about setup than it is payoff. There's still much more for Murase and Muto to explore as they dive deeper, not just into Hathaway's character, but the world around him, in the remaining two entries, whenever they may come. But while this first entry in the series might not capture the flash that Gundam fans looking for an all-out mecha royale may want, it sets the stage to re-examine some of the franchise's most enduring themes in a compelling new light. Mobile Suit Gundam: Hathaway is now streaming on Netflix. Wondering where our RSS feed went? You can pick the new up one here.

Posted by Jeremy Hellstrom| Jul 7,2021| Motherboards| 0 If you are shopping for a new motherboard for that fancy Alder Lake CPU you just picked up, a trip to KitGuru might be a good idea. They have just posted a comparison of the mini-ITX ROG STRIX Z590-I Gaming WiF, and the full ATX ROG STRIX Z590-E Gaming WiFi and Maximus XIII Hero. That provides a variety of implementations of Z590 from SFF to mid range to high end, and could help make your decision about what you should be pricing out. All three motherboards were tested with a Core i9-11900K,32GB DDR4-3600MHz, RTX 3080 and a WD Black SN750, the only big difference was ASUS' Adaptive Boost. It seems that trying to use both XMP memory settings and Adaptive Boost at the same time is a bit problematic. ASUS is currently working on a BIOS update to resolve this, but this is the reason only the STRIX Z590-E Gaming WiFi has both Boost on and Boost off results. This is rather disappointing as the setting does have a noticeable effect on performance. Looking at the Boost off results, the performance of the three motherboards is essentially the same. There are slight differences but not noticeable ones and for the most part fall within the margin of error that exists in these tests. That makes the features available on each of the boards the main deal maker or breaker and KitGuru breaks it all down for you in their review. Share:

The Google Home app is your one-stop shop for controlling all Google Assistant-enabled devices, including Google's own Nest-branded products. Google is still migrating features from the Nest app to the Home app, a process that began over a year ago, and the latest version of the Google Home app rolling out today reveals more Nest Hello controls are coming to the Home app. Google Home 2.40.1.10 rolled out on Google Play earlier today, and a quick peek at the APK's resources reveals new strings. These strings suggest that the Nest app's "Quiet Time" and "Quick Responses" features will be added to the Home app. Specifically, they'll appear in a tab at the bottom of the Nest Hello's live video feed in the Home app. For those unfamiliar, Quiet Time lets you mute indoor chime and visitor announcements for 30 minutes,60 minutes,90 minutes,2 hours, or 3 hours. It's accessible from within the Nest app by tapping on your Nest Hello doorbell's video feed and then tapping the "Quiet Time" button with the chime icon in the bottom right corner. Quick Responses let you quickly play a prerecorded voice message when a visitor rings your doorbell. You can have the Nest Hello doorbell say "you can leave it", "we'll be right there", or "no one can come to the door" by tapping on the desired response in the notification that appears on your phone when someone rings the doorbell. You can't customize the Quick Responses in either the Nest app or Home app, however, it seems that you'll at least be able to send them through the Google Home app rather than only through the notification the Nest app sends you. We've managed to enable the new "More" tab and surface the Quiet Time and Quick Response settings in the Google Home app, as shown in the screenshots embedded below. The features are not live for users in version 2.40.1.10 of the Google Home app, but they'll likely roll out soon as part of a server-side update. Thanks to PNF Software for providing us a license to use JEB Decompiler, a professional-grade reverse engineering tool for Android applications.

Crossbows and Catapults, the popular dexterity game first published in the 1980s, is getting rebooted. Restoration Games ( Downforce, Return to Darktower), which specializes in revitalizing older tabletop franchises, announced Wednesday that it has secured the license. Best of all, legendary designer Steve Baker — the man behind HeroQuest and BattleMasters — is signed on as the designer. Crossbows and Catapults was first released in 1983. It featured a selection of rubber band-powered plastic siege engines that players used to fling projectiles as fortifications. The raucous gameplay was a hit with kids, even when they were just flinging plastic bits at their siblings. According to Restoration's Rob Daviau ( Pandemic Legacy), Baker's design is highly scalable. The final game will include army building, multiple weapons, and alternate victory conditions. Crossbows and Catapults will begin life as a Kickstarter campaign some time in 2022. While the base game will eventually show up in Target stores, thanks to a partnership with Goliath Games, the team assures Polygon that there will be plenty of items that will only be available through the crowdfunding campaign. The Crossbows and Catapults style of play was recently reinvigorated with Catapult Feud, developed by Vesuvius Media and published by Iello Games. That game also began life as a Kickstarter campaign. Prices taken at time of publishing.

In the world of stealth gaming PCs, it doesn't get much better than cramming a rig into a retro console. Along those lines, a modder managed to cram a Ryzen 4650G APU,2TB of storage,16GB of RAM, and a dual-band Wi-Fi chip into a Sega Dreamcast shell to create the perfect stealth mini PC for retro fans. Temujin123 showed off their work on the ComputerBase forums, including a video documenting the process of hollowing out the Dreamcast shell and adding the new components in. Step one was the disc drive, which the modder replaced with a Matshita DVD drive wired up to a magnetic switch. The switch triggers the drive to spin when the lid is closed and stop spinning when it's open. Thankfully, that looked like the most complicated part. Temujin123 fashioned a mounting plate with standoffs out of sheet metal to mount the mainboard. Instead of an off-the-shelf motherboard, they used an ASRock X300M bare-bones kit. The tiny board comes with the essential connections for a build like this but nixes PCIe connectivity for builds that don't need a graphics card. Critically, the board includes connections for M.2 SSDs and Wi-Fi cards, allowing Temujin123 to install a 1TB Samsung 970 Evo,960GB Corsair Force MP510, and a dual-band Intel Wi-Fi chip directly on the board. They also managed to fit a 120GB Samsung 830 SATA SSD, which sits below the mainboard. To keep everything cool, Temujin123 chose the Noctua NH-L9a CPU cooler, which is only 37mm thick. Still, the cooler juts slightly out of the bottom of the Dreamcast shell. Temujin123 installed the mainboard upside down to draw cool air in through the bottom, with warm air being exhausted out the side. After a coat of paint and a few USB ports in place of the controller jacks, the Dreamcast gaming PC was finished. As for performance, the Ryzen 4650G can run recent AAA games between 30 frames per second (fps) and 60 fps at 720p with Medium settings. Although the aging Vega graphics cores inside the chip can't stand up to a discrete GPU, they still provide enough power for indie titles and games that are a few years old. It's not a high-end gaming PC, but it's hard to argue with that kind of performance inside a Sega Dreamcast. Temujin123 says they are planning a "Dreamcast Two" for AMD's upcoming but still unannounced Ryzen 6000 APUs. These APUs reportedly feature new RDNA 2 graphics cores, which should greatly improve performance.

Arriving alongside a Complete Edition for consoles. It's been a long old wait, but fans of 11 Bit Studios' celebrated post-apocalyptic city builder Frostpunk on Xbox and Playstation will finally be able to get their hands on the game three expansions from Wednesday,26th June. Frostpunk launched on consoles toward the end of 2019, introducing its narrative-rich blend of survival sim and city builder - in which players must overcome gruelling conditions to keep their fledgling community alive in a desolate sub-zero world - to a legion of new fans. Since then, three distinctive expansions have built upon Frostpunk's punishing, but wonderfully compelling core in interesting new ways, and it's these that will finally debut on consoles later this month. The first of these to be released on PC, The Rifts, is the smallest of the bunch, adding a new Endless Mode map that splits the landscape into awkward chunks. To help players survive in this challenging new locale, the expansion adds a new mechanic in the form of constructible bridges, enabling players to ferry gathered resources between the map's scattered islands. Frostpunk Console DLCs - Date Announcement Trailer. Next up is The Last Autumn, a prequel expansion beginning on the first day of Frostpunk's big freeze. This takes the form of a brand-new scenario set in an area, so far untouched by snow, known as Site 113. Here, players must lead a group of engineers in an attempt to construct a generator before the freezing cataclysm seen in the main campaign takes hold. It features a new narrative, new lore, new buildings, new Books of Laws, unique technologies, and, of course, a new, non-snowy environment. Lastly, there's On the Edge, taking place at the opposite end of Forstpunk's timeline, coming as it does after the Great Storm and the ending of the base game. This time, players are tasked with establishing a civilisation at a newly discovered outpost which flips many of Frostpunk's familiar core mechanics on their heads. For starters, there's no generator, meaning players will need to find alternative ways to keep their people warm. Additionally, the small surrounding area only provides limited resources, and players will struggle to survive independently. Instead, they'll need to rely on supplies shipped from New London, which will only keep coming for as long as players are able to fulfil its requests. As it result, it becomes vital to head out, explore, and forge relationships with other settlements on the new Frostlands map - so that players might acquire the resources unavailable back home to fulfil New London's needs. The Rift, The Last Autumn, and On the Edge will be available for purchase separately or together in a season pass when they come to PlayStation and Xbox on 21st July. Additionally, for those yet to experience Frostpunk's critically acclaimed strategy action,11 Bit Studios is releasing a Complete Edition bundle, featuring the base game and all three expansions on the same day.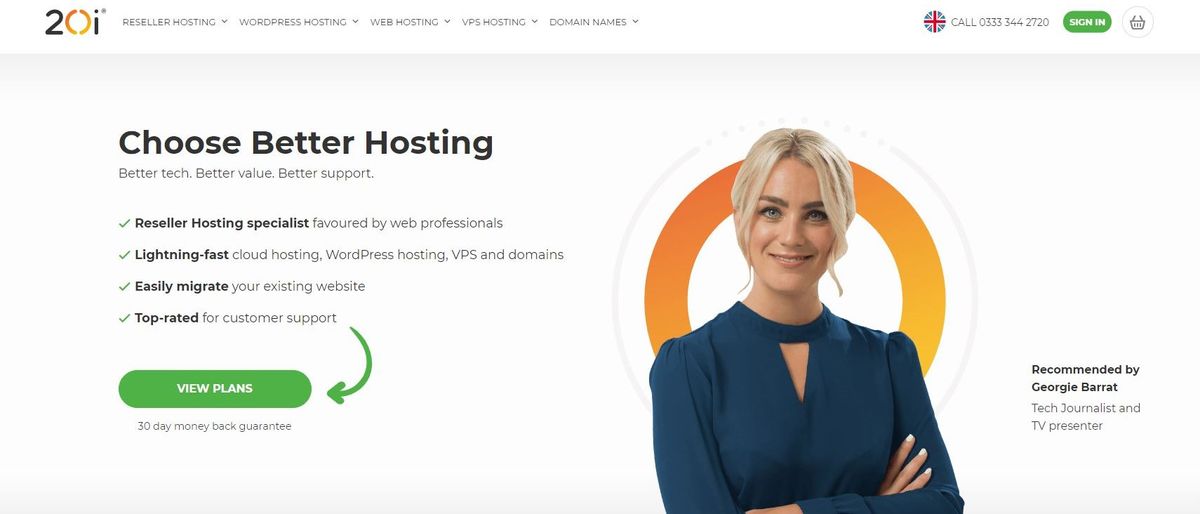 The company with the curious name of 20i was launched in 2016 by a dynamic duo consisting of two brothers, Tim and Jonathan Brealey. Although 20i is still basically a newborn in the trade, its creators are industry veterans, having gathered extensive web hosting experience while working on their previous creations. The first in line was Webfusion, which was the first company to offer a customized version of a control panel called Virtual Control Panel. Three years later they founded 123-Reg, which remains a market leader in domain name registration in the UK. Another notable point in their professional biography was Heart Internet that was established in 2004 as one of the fastest growing internet companies in the UK. However, its story came to an end in 2014. Finally, two years after their last project reached its end, the brothers made use of their two decades of experience to launch a hosting company that would (in their words) "break the mold" (let's hope for the better). 20i's head office is located in Ransom Wood (the UK) and instead of having servers all over the world (their data centers are based in Midlands, UK), they provide a global CDN (content delivery network) with twenty-one locations across Europe, North and South America, Asia and Africa. Like the company itself,20i's main website gives off an impression of novelty, which is a good thing. Everything you should know before taking your chance with 20i's web hosting solutions (besides reading this remarkable review) can be found on their website and all without a hitch. Their blog is everything a blog of a web hosting provider should be: informative, up-to-date and reader-friendly. In addition to this,20i is rather active on several social networks including Facebook, Twitter, Instagram and YouTube. 20i has several packages for each of the hosting types it provides: three for shared hosting, three for managed WordPress hosting, six for VPS hosting, three for managed VPS (which is their latest product) and one-and-only for reseller hosting. Those who have a limited budget will most likely take an interest in their budget-friendly shared hosting plan suitably named " Startup ". For £4.99 ($6.93) per month, it will provide you with an ability to host one website, use up to 10GB of web space (SSD),50GB of monthly bandwidth, utilize one MySQL database,10GB of mailboxes, and get an access to more than 80 one-click installations and a free website builder. What is more, you will get a free Wildcard SSL certificate, daily backups, malware scanning and DDoS protection, so you don't have to worry about the safety of your website on the web. All shared and reseller hosting packages come with a 30-day money-back guarantee, but here is none for VPS ones. As for payment methods,20i currently accepts all major credit cards, PayPal, direct debit and BACS (which is UK-exclusive). Even though 20i focuses on reseller hosting, its shared, WordPress and VPS packages offer a wide array of fantastic features such as free website migration, CDN, website acceleration suite and much more. All hosting plans are presented in a very detailed manner where you can get all needed information about web hosting packages, their cloud platform, security measures, e-mail features, supported web hosting software and their promises (some of which are backed by a guarantee) within a few clicks. After you select a plan, you'll be provided with a few options regarding the domain name. Here, in addition to the typical options (register a new or use an old one), you can choose to feed the little master of procrastination that lives in all of us and decide to, well, decide later what to do about your domain. In any case, the rest of the process is everything one might expect from it. You are required to provide a first round of personal data, opt for a payment frequency (monthly or annual, with the annual one getting you one month of free hosting) and go through 20i's terms and conditions. Now it's time for the second round of personal data and the content of a form slightly differs depending on whether you are acting as an individual or on behalf of a company. Now let's get to the most interesting part and that is 20i's own control panel (named simply My20i) that, without much subtlety, proclaims its superiority over the fan-favorite "old-school" Linux-based cPanel. Funnily enough, My20i and cPanel look like chips off the same old block, which is something even the casual eye would take a notice of. However, we have to admit, My20i is one of the most user-friendly tailor-made control panels we have seen and the one that will make everything you need readily available at your fingertips. It is a genuine one-stop solution for managing all of your web hosting, e-mails, databases and software. In addition to this, it has to be noted that My20i is included with all hosting packages, so you won't be driven to pay extra just to enjoy its elegant simplicity and intuitive ease of use. As an alternative (not that you will need one), you can use 20i's drag-and-drop website builder, but if you haven't opted for their "Startup", "Premium", "Business" or any of the reseller plans, it will come at a price. Considering that 20i utilizes worldwide CDN and their own website acceleration suite in order to improve your site speed and "make it fly", we came with a certain set of expectations regarding the speed performance. After we performed a speed test on 20i's main website (provided by GTmetrix), our expectations were pretty much justified. The page fully loaded in just 1.8 seconds (the average result is 8.1) and it required 55 requests to do so (the average being 98 requests). In addition, all other vital web metrics were ahead of the curve i.e. all but one, and that is total blocking time that regrettably took 352 milliseconds, although ideally it should be less than 150. Nevertheless, GTmetrix rated the speed performance of 20i's site with a B (86%), which is one of the better performances we have seen so far. 20i emphasizes security of their "state-of-the-art" data centers that are manned day-and-night and reinforced with high-level physical security measures that cover everything from backup power generators to advanced fire protection. However, oddly enough, they failed to say a lot about the uptime we can expect while doing business with them. As per usual, we put the uptime of 20i's main website to the test, so you don't have to. After a month of steadfast monitoring (via tireless UptimeRobot), our efforts were rewarded by pretty promising results. There was no recorded downtime at all resulting in an impeccable 100% of uptime. Although all visitors to 20i's website have an option to reach its support staff via telephone, if you are looking for some good old customer support, you will notice that their help is primarily text-based. The first pick for most of us will be live chat, which seems available during the working hours at a minimum. Fortunately (for both parties), after testing the willingness of their helping hands, we were well pleased with all the hand-holding we got. If you're not in a rush, you can get in touch with 20i's technical team via support ticket or e-mail. However, if you want to remain as self-sufficient as humanly possible, there are some excellent options for you as well. The principal one is their knowledgebase (titled "Support Database") as it manages to cover all key issues and concerns in an easy-to-understand way. On the other hand, if you are more into how-to video guides,20i's YouTube channel features a stack of them (actually, around sixty) and those we have checked out seem really handy. Most newcomers looking for a well-balanced reseller hosting solution are likely to consider web hosting providers like InMotion Hosting, HostGator and A2 Hosting at some point, and not without reason. Since you are here, you are presumably taking 20i into consideration. And if you pick them out, you are right to expect a full list of features (many of which are unlimited), lightning speed and powerful performance in general, together with a standard 30-day money-back guarantee. However, if this should be your first close encounter with reseller web hosting, InMotion Hosting is most likely your safest bet. Their packages present a great value for money at a pocket-friendly price of $26.59 (with 20i it is about $49.50) per month, with cPanel, WHM and WHMCS included together with an overgenerous 90-day money-back guarantee that will give you quite a bit of time to try them out before making any definitive decision. Although HostGator is not as reseller-focused as 20i, its reseller plans can grab anyone's attention, particularly in terms of features. For a really reasonable price HostGator will put no limitations on the number of domains, subdomains, email accounts, MySQL databases and FTP accounts. However, if you want an unlimited hosting in its true form, you'll have to go with 20i for they will throw in an unlimited number of websites, unlimited storage space (100% SSD), unlimited bandwidth and unlimited Wildcard SSL certificates. Bluehost is another popular alternative for those on the lookout for a novice-friendly hosting provider that has something to meet most needs. However, while Bluehost offers no reseller packages (which are 20i's specialty),20i doesn't provide an option for demanding users in need of dedicated servers (and Bluehost does). This is one of those differences that can serve as a decisive point for certain types of users. In terms of features, GreenGeeks is comparable with InMotion Hosting, but one feature that sets them apart from all the hosts above is (not hard to guess considering the name of the company is highly suggestive) their dedication to eco-friendly hosting. If we add that they guarantee 99.98% of uptime, provide 24/7 live support chat and all at a price starting at $10.95 (you can get about 80% off on sale), going green might sound even better. One of the hallmarks of hosting with 20i is their very own custom-made My20i control panel and it is the closest thing to an industry-standard control panel (such as cPanel and Plesk) we have seen since the Jurassic period of web hosting. Its beauty lies in its simplicity, intuitive design and sheer user-friendliness, which is something we seldom see with non-standard counterparts. At the same time,20i has been quietly gaining worldwide momentum thanks to its well-structured, feature-rich and easy-to-set up hosting solutions, a performance one can rely on and a professional and polite in-house support staff. That being said, since a big part of our job is to look for flaws, we are obliged to mention the lack of dedicated servers as one of 20i's weaknesses. Therefore, if you are in search of that, you'll have to look elsewhere, and perhaps have a peek at what hosts such as HostGator, GoDaddy or DreamHost have to offer.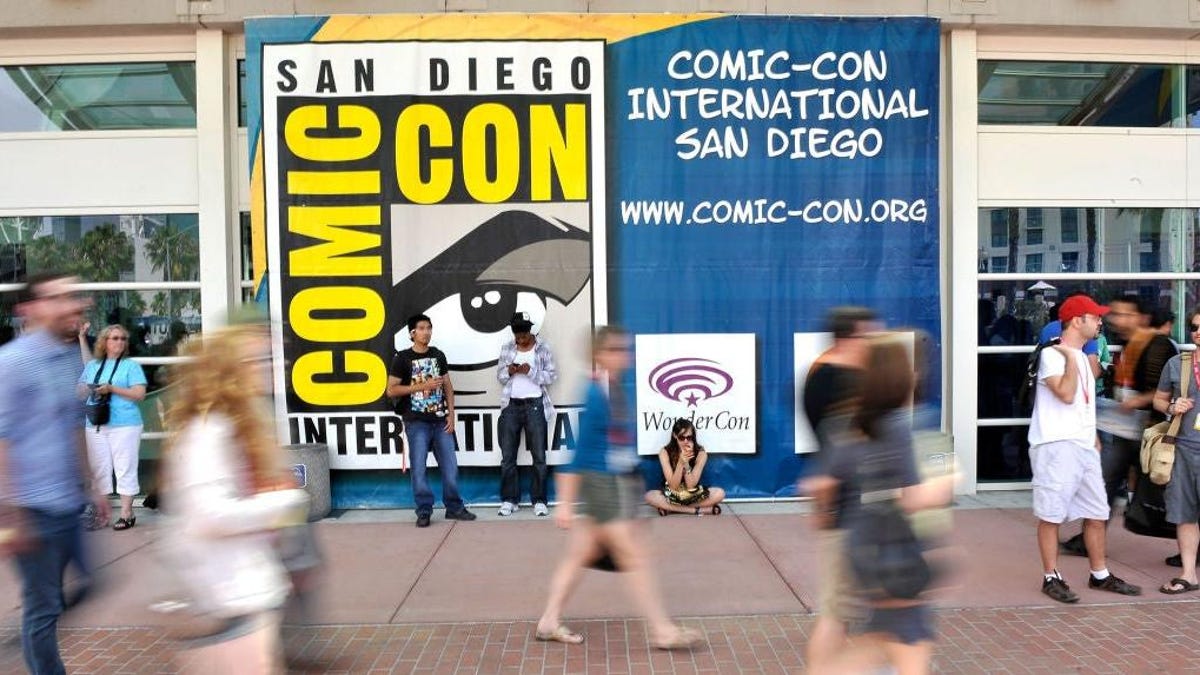 Comic-Con International: San Diego is coming up in a few short weeks, and that you may not have realized that seems significant. For years, San Diego Comic-Con (as it's colloquially known) has been the crown jewel of the pop culture calendar: four days in San Diego, California, filled with comics, movies, toys, and all sorts of news that breathes life into fan passions and the pop culture news cycle. However, like all big events last year, SDCC was forced to close its doors due to covid-19, and this year, it'll do the same. SDCC 2021 takes place virtually from July 23-25. Last year, the non-profit organization was one of the first to pivot to a fully online experience. As a result, the newly dubbed Comic-Con@Home had a fraction of the impact the convention usually has and failed to capture the excitement it's long been known for. You could largely chalk that up to the situation the world was in a year ago due to covid-19, not to mention that sitting in front of a screen can't compare to an in-person experience. But as the pandemic wore on, similar online events such as New York Comic Con (no relation), DC Fandome, and even a Walt Disney Investors Call ended up generating closer to the kind of experience Comic-Con is known for. Now, a year later, the event is back at home and the question is: can it recapture the magic? For the answer, io9 spoke to SDCC's communications and strategy officer, David Glazer, who also happens to be its spokesperson. "Putting on an event, whether it's in person or virtually, is still putting on an event," Glazer told io9 on a video call. "I think people thought, 'Oh, you know what, it's online. It'll be so much easier.' There's still a lot of logistical issues to deal with as everybody, now that we've done the Zoom thing for a year or so, realizes." SDCC made the decision to cancel its annual in-person event in April 2020 and the online offshoot happened in July. In such a short timeframe, pivoting a production like SDCC to a new format couldn't have been easy. And as Glazer explained to io9, it wasn't. "We were kind of one of the first ones out of the gate. And now that hopefully we're seeing the end of this pandemic—fingers crossed—we may be one of the last ones... as well." Glazer said. "But, it's all about content. And hopefully, people have a good time and enjoy us and join us for the virtual event in July." Last year, Comic-Con@Home had many issues. Pre-recorded and edited panels were unceremoniously uploaded to YouTube, making them feel rather insignificant (plus you could just skip through them). Talent all being in their homes cut back on spontaneous interactions that make the event special. And fan interaction was limited. One would hope a year later, maybe some of the panels could be broadcast live. Maybe vaccinated panelists could gather in groups for more interaction. Maybe something new and exciting would be introduced. Glazer wouldn't flat out say how, or if, Comic-Con@Home was going to change this year but he seemed to suggest that while the company would love to do give itself an upgrade, it simply can't. "Comic-Con has relied on our in-person events to fund ourselves. And while we always had a buffer, a nest egg, should something happen that we couldn't have a convention and thereby generating income, I don't think we ever in a million years would have thought that we wouldn't have had any events for close to two years," Glazer said. "Both our WonderCon shows we couldn't have in person. Both of our Comic-Con shows we couldn't have in person. And those are things that generate income. So while I think there are a ton of things we would love to do if we had unlimited resources and bandwidth—you might see it be a little more flashy— but I think the content is what matters. And we've tried to stay true to that." Programming for this year's Comic-Con@Home has begun to trickle out (AMC, Paramount, Doctor Who, and DC Comics have already announced panels) with the full schedule coming July 8. Glazer confirmed, though, that most of it will be similar to last year, with panels pre-produced for YouTube in addition to certain interactive elements through platforms like Discord and Scener. And while the team has discussed adding more elements, it's simply not in the cards. "The reality is people have said, 'Well, are you guys going to do live streaming?' And, I don't know that we really have the resources to do that," Glazer said. "We're a live events organization ... [and] I think that will always be your focus. But we will make the best of the situation that presented to us and we hope to do that with @Home this July." Comic-Con@Home isn't the only thing Glazer and his team are working on. There's also an in-person "Special Edition"—a name used by competitor ReedPop in NYC years ago—scheduled for Thanksgiving weekend. The announcement was met with passionate responses from many fans, all of which Glazer and the team saw. However, he explained that with the world opening up more every day, dates at the San Diego Convention Center were filling up fast and the company felt Thanksgiving weekend, while not ideal, was its best bet. "We really do understand that we've been in lockdown for a year and a half. So a lot of people are going to want to spend that time with their family and we totally understand that," Glazer said. "And that's why I think we made a point to name this 'Special Edition.' It isn't Comic-Con. It isn't the July show moved to Thanksgiving weekend. It's a smaller, more intimate show, an ability for us all who are able to attend to kind of stick our toe in the water." Plus, there's no guarantee it happens, as health and travel conditions continue to change and the Delta variant spreads around the world. Planning also continues for SDCC 2022, which is already sold out due to tickets being transferred from the previously sold-out 2020 show. Looking ahead, Glazer thinks virtual events will end up having something of a positive impact in the long run. "One of the great things that we heard afterwards was the ability for people to see a lot of programs and virtually attend the show that they were never able to really do in person," he said. "It was great that some programs that might have been in a 350-seat room were seen by a few thousand people. So that was a good thing. And I think going into it this year we're trying to keep all that in mind... I think if there is something that we'll see in the future, I think that is some continuation of an online presence. It's a great ability to reach out to people who are all over the planet, some who couldn't get tickets even if they wanted to." Something else that's sure to continue in the future is more competition. For decades, SDCC has been in a class of its own. But in recent years, events like Star Wars Celebration and the D23 Expo, and newcomers like Netflix's WitcherCon, threaten to take some of the biggest name brands out of San Diego. "Do we hope they'll always be a part of us? We really do," Glazer said when asked about these competing studio events. "And I think one of the things that's unique with Comic-Con is that it really kind of is an umbrella organization... Everybody can certainly have events about what their properties are and more power to them. But we are lucky enough to be able to have participation from a variety of different companies. And I think our fans and attendees appreciate that." But will they appreciate it this July? November? Next July? No one knows, Glazer especially. As a fan himself, though, he knows no matter what happens, the goal is getting back to normal. "It's going to be somewhat emotional to actually see these people in person after not being able to see them for over a year," he said. "There is something about the camaraderie. There is something about the community. To know that you're among friends who share your passion or have passion and interests that you're not even aware of, but to know that you're in a safe environment to share that. My hope is that that'll happen. We'll hopefully all ease right back into it." Comic-Con@Home takes place on the internet-enabled screen of your choice on July 23-25; all Comic-Con@Home 2021 panels on YouTube are pre-recorded videos that will begin to go live to the public Wednesday, July 21. The full programming schedule will go live tomorrow, July 8, at 10:00 AM PT. io9 will bring you more news and updates on that and November's Special Edition as we know it. Wondering where our RSS feed went? You can pick the new up one here.

Microsoft is growing the Windows brand by making sure Windows 11 is compatible with a wide range of devices. Specifically, the new operating system supports ARM architecture, while is used in a number of mobile and portable machines. This support means its technically possible to install Windows 11 on mobile phones, tablets, convertibles, and even Chromebooks. Here's a look at which devices you can install Windows 11 ARM on. Windows 11 is compatible with several different ARM devices. Microsoft's documentation website lists Windows 11 ARM support specifically for Qualcomm processors, but the operating system also works on several other ARM devices. Providing a comprehensive list of Windows 11 ARM devices is nearly impossible. Not all ARM chips are meant to run Windows 11, and even fewer actually can. With that said, early adopters have been playing around with the Windows 11 beta, and the operating system works on more machines than you might think. Here's the full list of ARM compatible processors supported by Windows 10, including examples of which devices are powered by the given CPU or chip. Theoretically speaking, Windows 11 should be able to support any device running on any of these chips. There may be a few other mobile-oriented platforms ready to support Windows 11, but these are the ones that should technically work. Of course, that's all just theory. In truth, the Windows 11 PC Health Check app has turned away more systems than it should. That's because many users have been able to get Windows 11 running on several SoC devices that don't make Microsoft's official list, including the Raspberry Pi 4. Recent word around the web reports that both Snapdragon 845 and 855 chips also support Windows 11 ARM64. Plus, the team at Parallels is currently working on bringing Win 10 to M1 Macs, hopefully adding yet another chip to the unofficial list. While Windows 11 technically supports ARM architecture, the list of supported devices is short. Thankfully, Microsoft is still tweaking the requirements for its latest operating system. Hopefully more mobile-ready devices will make the cut by the time it's released later this year.

Pokemon GO is without any doubt, the most popular and most developed AR game on the market at the moment. There are more than 100 million active users that visit the game on an hourly basis. As you all know, once per year, there is an Annual General Meeting of Shareholders at Nintendo, and this year they marked their 81st Annual General Meeting. Many were asked what their favorite game was nowadays, and surprisingly, Shigeru Miyamoto, known as the creator of Mario, said that his favorite game was Pokemon GO. He said that by playing the game, his whole family can engage, even his neighbors. Here is his statement (translated in English): "I basically tend to play the games I created myself, so I haven't been influenced much by the games of other companies. That said, the first game that influenced me when I started the job of game development was Pac-Man, and from a design perspective, I think Tetris is wonderful. I'm currently hooked on Pokémon GO. This game, which I'm playing with my wife, is a dream come true of playing a game with my whole family. I've been enjoying Pokémon GO with my wife and neighborhood friends for some two years now. The average person playing Pokémon GO in Japan is probably around 60 years old." We cannot help but get flashbacks of our childhood days and how we played Super Mario Bros., a game that is President Shuntaro Furukawa's favorite. Others mentioned several games, among which is Mario Kart Live: Home Circuit. Which was your favorite childhood game? What about now?

Due to South Korea's "Cinderella law" Minecraft has been turned into a 19+ game due to needing an Xbox Live account, The Korea Herald reports. While Minecraft continues to be recommended for ages 12 and up elsewhere,South Korean gamers are now unable to play Mojangs ever-popular building survival game, due to needing an Xbox Live account, which is restricted to people 19 years old, or older, in South Korea. This is due to 2011's "Cinderella law," which prohibits children from playing games between midnight and 6am. Rather than creating dedicated servers or a screening feature for Korea, at the time Microsoft instead chose to make users certify their age, and important that they're 19 or older, via Xbox Live. Since Minecraft acquired Mojang Studios back in 2014, players have been able to access the game via their Mojang Studio's accounts rather than their ones for Xbox Live, however, this wasn't always to be the case. Last December, Microsoft decided that to play Minecraft, you'd indeed an Xbox Live account once more due to security issues, according to The Korea Herald. Players were asked to migrate their Mojang Studios accounts to Xbox Live, however, this didn't account for Korean gamers who weren't 19 or over. As a result, Minecraft has been made to be a 19+ game in South Korea now that the migration period has ended, much to the dismay of fans, who have previously been enjoying the game, and its recent updates, from a much younger age. Thankfully it's not all bad news, as speaking to GamesIndustry.biz, a Microsoft representative commented that "we're working on a longer-term solution for existing and new players under the age of 19 in South Korea and will have more to share on this later this year."

About 1,500 small to medium-sized companies and 50 MSPs are still struggling to deal with the fallout from the massive ransomware attack launched by REvil last week. Dozens of small law offices and dental clinics are dealing with ransomware infections while 800 Coop supermarket chain stores in Sweden had to temporarily close after they were unable to open their cash registers. Kaseya has not said if it is considering paying the ransom but ZDNet reported that the company missed a July 6 deadline they set for relaunching SaaS servers. It planned subsequent configuration changes to improve security, including an on-premise patch. Also: This major ransomware attack was foiled at the last minute. Here's how According to a statement from Kaseya, "an issue was discovered that has blocked the release" of the VSA SaaS rollout. "The R&D and operations teams worked through the night and will continue to work until we have unblocked the release," Kaseya said in a statement, adding that it is working "around the clock to resolve this issue and restore service." Operators with REvil initially demanded $70 million for decryption keys but CNBC reported that private negotiators are saying the group is willing to lower their demands to $50 million, despite no changes to the figure on the leak site. "It's just a business. We absolutely do not care about you and your deals, except getting benefits. If we do not do our work and liabilities -- nobody will not cooperate with us," the ransomware group said in a message on its site. "Its not in our interests. If you will not cooperate with our service -- for us, its does not matter. But you will lose your time and data, cause just we have the private key. In practice -- time is much more valuable than money." In two of the most recent high profile ransomware attacks on Colonial Pipeline and meat processor JBS, both companies paid millions in ransoms to get their data and systems back online with varying success. Colonial Pipeline paid almost $5 million to DarkSide operators while JBS paid $11 million in Bitcoin to REvil, the same group behind the Kaseya attack. While the official government answer is for companies to never pay ransoms, Rep. Eric Swalwell told ZDNet that situations like this are why he believes "Congress, in partnership with the White House and law enforcement, needs to take a coordinated approach to consider questions like this." "We can't wait any longer. Every light on the dashboard is flashing. Ransomware attacks are increasing in frequency and threatening to shut down entire sectors of the US economy," Swalwell said. "These attacks threaten both the economy and national security. Businesses are outmatched, and criminal organizations are holding them hostage. Ransomware is a threat to any person, business or organization that relies on computers." Many cybersecurity experts urged Kaseya not to pay the ransom for a variety of reasons. Some said there was no evidence the decryption keys would work while others said payment would only validate the gang's decision to launch such a widespread attack. Mat Gangwer, vice president of Sophos Managed Threat Response, explained that he was not aware of any examples of REvil's decryptor not working and said there was no incentive for them to provide one that was unusable. "REvil has been quite proud of what they put together and wouldn't want to jeopardize that here," he said. Bryson Bort, CEO of SCYTHE, said the kind of ransom REvil was demanding was unprecedented. Bort said he thought it was "not on Kaseya to pay the $70 million" and that they would need to "collect money from affected parties for a combined payment." "This has never been done before that I'm aware of. No one knows what that process would even look like -- they individually contribute to the same wallet and just trust?" Bort asked. Also: Best enterprise identity access management software Ross McKerchar, Sophos vice president and CISO, said that regardless of whether the decryption keys are provided, the recovery effort will still be significant. "Impacted organizations use MSPs, to begin with, because they have limited IT resourcing, and these MSPs will be inundated with requests for assistance, restoring backups, and more, and the very tool MSPs use to access customer environments to remediate issues in this particular situation is offline," McKerchar explained. John McClurg, CISO of BlackBerry, told ZDNet there is no golden rule when it comes to dealing with ransomware attacks. While paying ransoms is publicly discouraged, there are many instances where there may be no other way to recover. The financial impact of downed systems, reputational damage and the potential for permanent data loss can be catastrophic for many companies, McClurg said. David White, president of Axio, said Kaseya should instead reimburse individual companies for all the associated impacts connected to the attack, including any ransom payments individual companies may make. He argued that this would benefit the people who were hurt rather than the people behind the attack. According to White, it may also cost far less than the $70 million or $50 million ransom considering some companies may recover on their own. White added that in the recent case of JBS, the decryption keys worked after it paid a ransom but he cited analysis from Coveware that showed REvil sometimes demands a second payment and sometimes releases data that they promised to destroy. CYE CEO Reuven Aronashvili also noted that by paying ransoms, companies get put onto "blacklists" by ransomware gangs that know which companies will be willing to pay up in the event of an attack. Aronashvili also disputed White's assessment of the cost of recovering, explaining that $70 million is "definitely lower than the accumulated costs of the different organizations." But even with that, he suggested Kaseya not pay the ransom. Allan Liska, a ransomware expert and member of the computer security incident response team at Recorded Future, explained that any ransom paid to REvil will probably be used to buy another exploit for a zero day. But he said that while Kaseya is feeling the heat for this fiasco, more pressure may be on REvil members, as evidenced by their willingness to drop their ransom demand from $70 million to $50 million. "This is a big mess for them that they don't want. They still have a limited staff and we already know that REvil is behind on processing negotiations and publishing to their extortion sites. They're just publishing data to their extortion sites from attacks that happened in the beginning of June," Liska said. "They're already overwhelmed with the number of attacks they have. Imagine having 1,500 victims going to your chat services trying to figure out what the ransom is and all this other stuff. It's a mess for them. And you've now got the attention of all these different world governments." The brazenness of the attack has not gone unnoticed by world leaders, who will now devote significant resources to bringing the group down, Liska said, adding that due to hubris, the people behind REvil will want this to go away as quickly as possible but can't simply hand out decryption keys. REvil operators also have to contend with the fact that some MSPs may begin to help clients recover, damaging the group's ability to profit from the attack. "So they're going to get horribly bad press and they're going to make very little money. This started off as a very sophisticated operation. You have a zero day vulnerability with a zero day exploit being pushed through MSPs to push down. And then after that, it all looks like a cracker jack operation," Liska said. "It all looks like it's amateur hour, so they may need to do something else to save a little bit of face because while the front part of it looks very effective, the aftermath looks like a complete disaster for them." For Kaseya, Liska said paying the ransom would only compound the problems they face. In his experience, the decryptor given out to REvil victims has been lackluster and difficult to use. "So on top of whatever the ransom cost is, they'd have to pay Mandiant to write a real decryptor that they could distribute to the MSPs who could then distribute it to their clients. A lot of the clients that are hit hardest by this are lawyer shops that maybe have a staff of 10 or 15. They don't have the infrastructure to be able to recover from something like this so they're counting on their MSP to do it," he said. "But at the same time, you'd be giving a lot of money to a bad actor who has shown that they will use that money to do even worse things." None of the MSPs have paid any ransoms but Liska said he has heard reports from other researchers who said some of the end victims have paid. But, overall, Liska told ZDNet he believes most people would understand if Kaseya decided against paying the ransom even if it would help a lot of people. Unlike other attacks, victims may be down for about a week or more, Liska added. "A lot of it is going to depend on how much access the MSPs have to backups and other things that can help with the restore," Liska said. "It does look like Kaseya is ready to push out the patch in the next couple of days and if that happens then, all of the MSPs are going to be able to bring their VSA back online and really start assessing what the damage is."

Anon Inu token has been announced, with the upcoming cryptocurrency advertised by the online group Anonymous having done the rounds on social media. But what is Anon Inu token, what's its price, and when will it be available to buy? Here's all you need to know. Anon Inu token will seemingly be available to buy on July 8, 2021. This is indicated by a countdown from the verified Anonymous News Facebook account. The price has yet to be set given that it has yet to become available to purchase. Anon Inu is set to be available to purchase via Pancake Swap. However, as is the case with all BSC traded via this platform, users must be cautious of who they're trading with given that anyone can register a token on the platform. Pancake Swap typically informs traders if a token's creator is unverified, meaning that it doesn't know if the trade will be legitimate. Anon Inu is described as the following on its official site: "The lustrous ANON INU has arrived to Binance Smart Chain (BSC). INU was mistreated his whole life and has finally found a loving place to stay he calls home. ANON INU's goal is to keep his holders happy by being a Defi token that has three functions: manual burns, adding towards liquidity and distributing his holders." The Anonymous Facebook page has over 10 million likes, so this will likely generate a whole bunch of attention to the token compared with other fledgling crypto. It remains to be seen if Anon Inu token will become profitable or will be another meme token that's swiftly forgotten about, but with the likes of Shiba Inu Coin and Baby Doge gaining ground, there's still the possibility of Anon Uni coin making unexpected ground and becoming a big thing for investors. With it having yet to be released, we'll have to wait to see the validity of the token.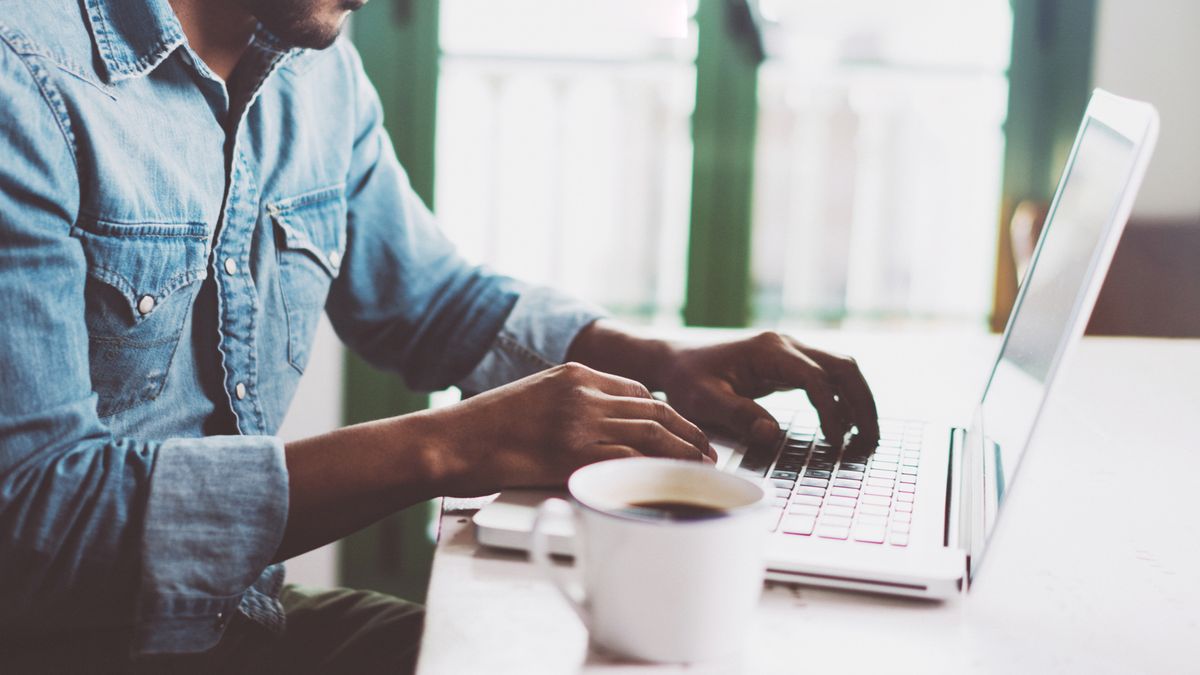 This new work from home trend is reviving the best business laptops in a massive way. Don't get us wrong; business laptops have always been around. However, innovations in portable computing has somewhat forced them in the shadows, as general consumers set their sights on sleeker Ultrabooks and more affordable laptops. Now, with more and more professionals working from home, the best business laptops have found their place in the sun again. These powerful, versatile and robust machines are the perfect solutions for professionals no longer tied to their office desks – much like they have been for those who often traveled for business. As added perks, many of them are thinner, more lightweight and longer-lasting than ever. Whether you're looking for one with long battery life and perhaps a rugged build, or you want the thin and light option, we found the best business laptops of 2021 for you. From the most common Windows laptops to a Linux laptop and a more economical Chromebook, here are our top picks. For more options, check out our best mobile workstation and best thin client guides where you'll find something for your small startup or your home office-based one-man team. If you're looking for something with a bit more oomph, one of the best business desktop PCs or even a workstation might be a better fit. Alternatively, check out our best tablets for business guide as well. While you're at it, consider which accessories you may need, such as l aptop bags, docking stations, and portable chargers to keep the battery going. Also, make sure you check out our best laptop 2021 roundup for top choices no matter what kind of device you're after. Combining staggering power in a stylish thin and light chassis, this laptop doesn't hold back when it comes to internals and features that improve your computing experience overall, making this one of the best business laptops around. Among those amazing features are a gorgeous bright display with 500 nits of brightness, an extremely comfortable keyboard, impressive speakers, and a terrific trackpad. We're not saying that this laptop is perfect, but our coveted 5 out of 5 rating should speak for itself. Read the full review: Dell XPS 15 If you don't want a Windows laptop and you want only the best Mac laptop you can get, then the MacBook Pro 16" is truly the best laptop from Apple you can choose. Aside from its large and beautiful 16" screen, the technical specifications make this probably the most powerful laptop on this list, and should provide many years of excellent use. There's a choice of 6-core or 8-core processor, and for RAM the base model comes with 16 GB with the option to expand to 64 GB. There's also a choice of graphics cards available, allowing this laptop to handle even the most demanding applications. All in all this is a beautiful and powerful machine, but as you'd expect, it comes with the biggest price tag of all of the laptops featured here. If you want only the best, then the MacBook Pro 16" should probably be at the top of your list. Previous versions of the Lenovo ThinkPad X1 Carbon have been the absolute best-in-class when it comes to business laptops, and this year's model is no exception, with Lenovo delivering a thinner and smaller design with practically no trade-offs. If you're looking for one of the best Lenovo laptops with business grade capabilities, you've got an ace here. Despite its small size, the ThinkPad X1 Carbon comes with pretty much every feature you need in a productivity machine, making it the best business laptop money can buy. Thanks to a battery life of up to 15.5 hours, and a rapid charging feature that brings the battery back up to 80 percent capacity in only an hours, the X1 Carbon is an ultrabook that lets you keep on working while you're on the move. Huawei may not be the first name you think of when looking to buy a new business laptop - whereas Dell and Lenovo are two names you'd more likely associate with notebooks for work, but the Chinese company has proved to be an excellent laptop manufacturer with its new MateBook X Pro. It has a beautiful design that will get appreciative looks in the boardroom, it's light enough to carry around with you, and it has powerful components and excellent battery life. It's also one of the cheaper ultrabooks on the market. Read the full review: Huawei MateBook X Pro If the Dell XPS 15 is a little large or expensive for your needs, then the Dell XPS 13 makes for an excellent second. This ultraportable laptop – as Dell puts it – punches above its weight with Windows 10 Pro across the entire range as well as rather attractive pricing. This award winning laptop (it won best laptop of the year from us and many others) manages to pack a 13.3-inch display into the chassis of an average 11.6-inch model. It was also refreshed in 2019 with even better components, for a much improved business laptop experience. The laptop can be upgraded to 16GB of RAM and a 1TB M2 SSD drive. Battery life is exceptional as well with almost 22 hours of continual use when using productivity applications. Dell has once again given the Dell XPS 13 a boost when it comes to components, and the webcam is now placed above the screen for better video calls, which helps make the Dell XPS 13 once again one of the best business laptops money can buy. Read the full review: Dell XPS 13 The MacBook Pro (13-inch,2020)'s entry-level model may miss out on some of the lineup's new toys. However, going for the higher-end configurations will get you new (and powerful) Intel processors and improved RAM speeds for better performance, all packed in the 13-inch incredibly svelte body. Apple rounds it all out with that incredible Magic Keyboard from the new 16-inch, finally getting rid of that problematic keyboard. Even if you don't go for the 10th-generation Intel Core configurations, you might still appreciate the fact that all models come with more storage capacity for the same price as their predecessors. Read the full review: MacBook Pro (13-inch,2020) Even its limited ports and small trackpad cannot hold the Lenovo ThinkPad X1 Nano back. One of the best business laptops we've ever tested, this portable is not only the lightest laptop we've ever tested, but also surprisingly powerful considering how sleek it is. That makes it the most ideal choice for professionals who are always on the go. Excellent features abound as well, with the likes of a crisp 2K 16:10 touchscreen, a physical webcam shutter and advanced biometrics of the fingerprint scanner adding to its value and making it worth its steep price. At least if portability and performance are your top priorities. Read the full review: Lenovo ThinkPad X1 Nano Apple's thinnest and lightest MacBook came back with a vengeance in 2020. Not only did it fix a lot of the complaints with its predecessors – namely, that problematic keyboard, replaced by a drastically improved keyboard. But it also came with new and more powerful internal components, even more storage space options, and a lower price of entry. There are a couple of things we'd do better, like the muted screen and the average battery life. However, all things considered, this model of the MacBook Air is better than anything we've seen from the line to date, and among the best business laptops for Apple fans who want to travel light. Read the full review: MacBook Air (2020) The Surface Book 2 (13.5-inch) is another entry from Microsoft in our best business laptop list, and it's worthy of its spot, as Microsoft has crafted one of the most powerful 2-in-1 laptops in the world. The Surface Book 2 has some powerful enough components to handle most day-to-day tasks, and even some light gaming and video editing if you go for a model with a dedicated graphics card. If you want a bigger screen, then there is also a 15-inch version of the Surface Book 2, which comes with more powerful components. Read the full review: Microsoft Surface Book 2 (13.5-inch) Google continues its tradition of making the best Chromebook in the world. This is a Chromebook that proves that these devices can be just as stylish and powerful as traditional laptops, and the Pixelbook Go brings a lot of the original Pixelbook's premium features to a more affordable device. It also features a fantastic battery life and a brilliant keyboard that makes typing on a pleasure. This is among the best business laptops for professionals looking to save some cash. Read the full review: Google Pixelbook Go Newcomer Ceneva has created an affordable business laptop that includes a backlit keyboard, a fingerprint reader and ships with Windows 10 Pro. The Ceneva F158G also features a CNC-machined body with a brushed metal finish and weighs just over 1.5kg which makes it quite portable. The fingerprint reader is built in to the huge touchpad and the keyboard includes a numeric keypad for working with spreadsheets. The Ceneva F158G also features a large 15.6 inch FHD screen with a 5mm border and a 90 percent screen-to-body ratio. This is because the webcam is built into the bottom bezel but some may find its placement off-putting while video conferencing due to the angle. Read the full review: Ceneva F158G Michelle Rae Uy also contributed to this article. Check out our laptop buying guide video below.

Keeping thieves out of your home is one part of their job description, but smart locks are also preventive guards that can track whenever a door is opened or closed at home. Locks with fingerprint sensors can inform you if the kids came home within a designated time, while others can automatically lock themselves if you happen to forget to do it yourself. Smart locks have transformed the way we interact and safeguard our homes, offering us the same peace of mind that security cameras offer. Smart locks use your Wi-Fi, mobile apps, and popular voice assistants. Leading smart lock designs, such as the kind found with the August Wi-Fi Smart Lock, are also sleek and attractive, allowing the hardware to blend in with the natural features of your home. There are even some that are multi-functional, offering security features to protect your home beyond just locking the door. On the other end of the spectrum, smart locks are now more affordable than ever before — so owning one is only marginally more expensive than a standard lock. Best of all, you don't need to be a professional to install them. We've tested dozens of smart locks, so we have a recommendation that will work for every owner and every home that covers the range. If you're looking to cover more of your home, you can also take a look at the latest home security discounts. Whichever you end up choosing, you might be surprised by what they're capable of doing beyond the obvious. Why you should buy this: This lock is sleek, secure, easy to use, and now works without a bridge. Who it's for: Those who want no-muss, no-fuss installation and functionality. Why we picked the August Wi-Fi Smart Lock: This latest iteration of the August Smart Lock breaks free from the bonds of its predecessors' need for a bridge to operate remotely. Thank to its built-in Wi-Fi connection, the August Wi-Fi Smart Lock connects to your home's wireless network without the need for a bridge or other additional hardware. Beyond that, it's one of the simplest smart locks to install and setup. Plus, it's able to retain your existing lock — so you don't need new keys. What's impressive is that the company adds in the Wi-Fi connection, while shrinking the overall size of the lock. It is 45% smaller in volume and 20% slimmer, making it a sleek little lock, and comes in either silver or matte black plastic. In addition to using the app to remotely operate the lock, the August Wi-Fi Smart Lock supports Amazon Alexa, Google Assistant, and Apple's Siri. Meaning, it integrates nicely with just about any smart home platform. There are also some advanced features that make it a premier offering, like virtual keys that work on a set schedule, and automatic lock/unlock as you approach or leave your home. Read our in-depth August Wi-Fi Smart Lock review Why you should buy this: You don't have to worry about losing your house key because the Nest X Yale uses a keypad and no physical key. Who it's for: Those who want a smart lock that works seamlessly with Google Assistant. Why we picked the Nest X Yale: This attractive smart lock is a product of Nest and Yale. An elegant touchscreen keypad replaces the regular old lock and key mechanism, and the exterior surround comes in satin nickel, oil-rubbed bronze, or polished brass. The oval-shaped outside keypad is 4.59 inches tall by 2.59 inches wide, while the interior lock is 7.03 inches tall by 2.78 inches wide. Four AA batteries power the lock, and the batteries should last about one year before you have to replace them. You choose a passcode (between four and eight digits) to unlock the door, and you can also use the app. Additionally, the Nest X Yale has an automatic locking feature that activates after a duration of time that you select, and it has a home/away feature that locks the door automatically. Google Home users can voice control the Nest X Yale. You can check the status of your lock from the road, lock your door when you're not home, and add your lock commands to Google Routines. The Nest X Yale is not the most feature-rich lock on the market. However, the features it has work well, and it incorporates very well into a smart home run by Google Assistant. Read our in-depth Nest X Yale review Why you should buy this: This lock is extremely attractive and easy to use. Who it's for: Those who want a sleek-looking device on their front door. Why we picked the Yale Assure SL: No matter how smart it is, most people won't be excited about a new door lock. Locks are functional, utilitarian, and often bulky. But the Yale Assure SL smart lock is different. With its sleek, smooth onyx face and small footprint, this lock is a stylish device that you'll admire every time you walk through your front door. The lock is perfect for those seeking a simplified yet elegant looking lock that, when paired with a Network Module, works with Apple HomeKit. You can tell Siri to lock and unlock your door, plus you can use the app to manage pin codes and receive notifications. The Yale Assure SL comes in brushed silver, polished brass, or oil-rubbed bronze and features a numeric keypad that illuminates when you press the bottom left corner. The keypad is easily visible even in bright sunlight or at night. When no one is punching numbers on the keypad, the numbers disappear, and it's just a gleaming onyx facade. Overall, it's an attractive lock that will make your front door better looking. Read our in-depth Yale Assure SL review Why you should buy this: Schlage is an established company with a reputation for excellent hardware. Who it's for: Those who want solid hardware with voice assistant compatibility Why we picked the Schlage Encode: Schlage has been around for quite some time — well before there was such a thing as a smart lock. But Schlage has now evolved into one of the best smart lock makers in the biz. The Schlage Encode isn't just a beautiful piece of hardware, it's also a device that works well with Alexa, as well as a wide range of other third-party applications, including Amazon's Cloud Cam, Key by Amazon, and Ring security products. You can also use it with the Schlage Home app. Read our in-depth Schlage Encode Lock review Why you should buy this: You'll be able to generate temporary codes for guests who are staying at your place. Who it's for: Anyone that frequently rents out their home to guests will appreciate the vast options for granting access to the lock. Why we picked the Lockly Vision: Lockly already had a phenomenal offering with the Secure Pro, but its follow up takes it one step further. The Lockly Vision has everything that Airbnb hosts crave. From its ability to unlock via fingerprint, pin code, or even through a phone, there are plenty of options to choose from. Guests that do plan on staying at your home or Airbnb residence can be given temporary key codes that they can punch into the touchscreen keypad when they arrive, which can also be made time-sensitive for additional security. Once their stay is complete, you can have another set of codes for the next guest. Everything is tracked by the app, which can tell you the method that was used to unlock the lock — including if it's the old fashion way with a key! What makes the Lockly Vision even more appealing is its integrated video camera, which allows it to act very much like a video doorbell camera. Read our in-depth Lockly Vision review Why you should buy this: The design is bulletproof, and you can unlock your door a bunch of different ways, from your phone to your finger. Who's it for: Those that want the most secure hardware they can get their hands on. Why we picked the Securam Touch: The Securam Touch is not afraid to show off its powerful design, which is part of why we love it. The deadlock casing is wrapped in an impenetrable milled metal shell, and the bolt itself is stainless steel. Any cat burglars looking to swipe this bad boy from your front door will be hard-pressed to pry it loose. We tried to make it budge ourselves (with tools to do so!) and had zero luck popping it free. For those concerned about hackers hacking away at your data, the Touch boasts an additional layer of armor through its AES 128-bit encryption. Setup was a breeze with the step-by-step guide in the Securam app (available for iOS and Android), and the Touch boasts an impressive arsenal of smart lock features. Users can lock/unlock with their phone, the keypad, the sleekly housed fingerprint scanner, or with a physical set of keys (keyhole is located underneath the deadbolt). We also love that the Securam app allows you to issue visitor codes to your guests and will log all entrances and exits through your selected door. Hands full on the way out the door? The Securam Touch will lock once you press any button on the touchpad. If you can't even spare one finger, that's not a problem, either. Once you and your phone are out of range, the Touch will lock automatically. Why you should buy this: Setup is quick and simple, and the Wyze app is loaded with features and easy to use. Who's it for: Those looking to add a reputable smart lock to their home without breaking the bank. Why we picked the Wyze Lock: There's nothing better than quick and painless. Wyze's entire suite of smart home products — from lightbulbs to cameras — is designed for the DIY weekend warrior… and the Wyze Lock is no exception. Setup is just a matter of retrofitting your existing deadbolt. The Wyze hardware pops right onto the inside thumb latch, and installation necessitates nothing more than a screwdriver and working Wi-Fi. With the Wyze app, you can lock and unlock the door from pretty much anywhere. For those not looking to whip their phone out every time they return home, there's Auto Lock/Unlock. Once configured, the Wyze Lock detects your phone when you're approaching the door, unlocking it so you can step in and then locking it behind you once you're inside. We also love the Simple Sharing function, which lets you grant guests access to your home and logs their entries and exits. The Wyze Lock is now compatible with Alexa and Google Assistant, which means you can lock and unlock your door from the comfort of your couch. Assistant control is also great for those of us who would rather do our on-the-go unlocking with the Alexa or Google Home app. Read our in-depth Wyze Lock review Why you should buy this: It blends in with your door's aesthetic. Who it's for: Homeowners that don't want something that blatantly looks like a smart lock. Why we picked the Level Lock: Most smart locks don't try to hide their hardware. From the outside, it's easy to spot them on a door because of the digital keypads that are typically placed near the deadbolt or handle, which is why the Level Touch is unique in the space. While it's a slight iteration of its previous smart lock, the Level Touch, it still retains the same sleek design that meshes nicely with any door's aesthetics — you won't be able to tell that it's a smart lock just by looking at it. That's the beauty of the Level Touch, but it can be conveniently opened by either touching the lock's frame, your smartphone, or even these NFC cards that you can assign. You can also set a timer for it to automatically lock itself, as well as setting up temporary codes for different guests and users. Best of all, it's a breeze to install and can be done all in under 10 minutes. It's one of the pricier smart locks, but you won't find anything else like the Level Touch. Read our in-depth Level Touch review Why you should buy this: You get instant access just by using your fingerprint. Who's it for: Those looking for a no-frills, instant access to their smart lock Why we picked the Kwikset Halo Touch: Simplicity is a core fundamental quality for any gadget, but for a smart lock, nothing's more aggregating than wasting time on unlocking it. That's why the Kwikset Halo Touch is here to save you from that particular hassle. All you really need to unlock it is just a slight touch of your finger against its fingerprint sensor — much like what you get in today's smartphones. What's impressive is that it's spot on every time, ensuring that users have proper authorization. While some other smart locks offer features like auto-unlock that will unlock the deadbolt as you approach, they can sometimes fail. That's why Kwikset's approach with the Halo Tough is notable, since it works every time. The Kwikset Halo Touch is still very much advanced, offering useful features such as auto-unlock, stores up to 100 fingerprints, and a durable design. Read our in-depth Kwikset Halo Touch review How do smart locks work? An old school lock typically contains internal pins, and when you insert the proper key, it puts the exact right amount of pressure on each pin and the lock opens. Smart locks are electronic, and they work using a keypad, touchpad, or other means; and they also work with your smartphone, so you can operate them remotely via Wi-Fi. To work, they typically have electronic parts like small motors and actuators, and when you unlock the device with your smartphone or through other means, you're sending an electrical impulse to the device, as opposed to inserting a key and physically moving pins. Can I install a smart lock myself? This depends on the smart lock you purchase and your DIY skills. Some locks, like the August Smart Lock, retrofit over your existing deadbolt, which makes them incredibly easy to install in about 10 minutes. Other locks require a bit more effort, but you can probably self-install if you're handy with a screwdriver and hammer. The Kwikset Kevo Convert is an example. You'll need a few tools, but you can get the job done in less than an hour. You just need to pop off your old deadbolt and replace it with the Kwikset Lock. On the other end of the spectrum, some smart locks, like Schlage Sense, have a more complicated installation process. Can Alexa or Google Assistant control smart locks? Smart locks typically have a corresponding app, which is compatible with Alexa, HomeKit, and/or one of the other voice assistants. This allows you to use voice commands like, "Alexa, lock the door," or "Alexa, is my door locked." To find out specific voice assistant compatibility, visit the manufacturer's website. Are smart locks secure? As with any Wi-Fi connected device, there's always a small risk the device will be hacked if the user doesn't take steps to protect themselves. However, there's also a risk that someone can breach or pick a regular (non-smart) door lock. By taking the proper precautions, like using a strong and unique password and taking advantage of two-factor authentication when available, this can help to greatly reduce the risk of a breach. Do smart locks also work with a key? Some smart locks work with a key and some don't. Smart locks typically allow you to remotely control your lock via Bluetooth, Wi-Fi, or Z-wave. So, you can operate the lock without a key, and perhaps even when you're away from your home. Smart locks may also include a key fob, keypad, or fingerprinting system instead of (or in addition to) a standard key. Some of the corresponding apps also allow you to issue temporary access (eKeys) to guests, neighbors, or work people who need to enter your home temporarily. This way, you don't need to give them a tangible key and worry about them making a copy of your house key. Can smart locks work with geofencing? Some smart locks, like the August Smart Lock, have geofencing. If you set up the geofencing feature, it can detect when you're nearby (or when your phone is nearby) and unlock the door when you approach. It can also detect when your phone has left a specific vicinity, and then automatically lock the door. You set this feature up in the smart lock's app. Do I need a smart doorbell with my smart lock? A smart lock can help you to prevent or grant access to your home, and it acts as a barrier to entry. However, few smart locks (few good ones at least) have cameras, and a smart lock doesn't provide the same features as a video doorbell, which acts as a sort of digital doorman. A smart video doorbell can show you who's at the door, so you know whether or not you want to answer for that person. A good video doorbell can also act as additional security, catching suspicious activity on video and helping to deter porch pirates. Does a smart lock require a smart home hub? You can get a smart lock up and running with just the device and your phone. However, some locks require an additional network module or an added subscription fee if you want to have all of the features the lock has to offer. If you want to use your compatible smart lock with Alexa or Google Assistant, you typically just need any Amazon Echo or Google Home speaker. You shouldn't require a smart home Hub with most locks. What's the best platform to buy into — Ring, Nest, or another? This depends on the features you want. Do you want a system where the products all work in tandem? Nest does a good job of making its smart products work together. For instance, when you unlock your Nest X Yale lock, this can automatically disarm your Nest Secure security system as well. Do you want to focus on affordability? Your best bet might be to go with the older models or to mix platforms. You can still set up routines and control your devices via the Alexa app. Do you want Alexa-compatible products? Ring is a solid option. Want Google Home compatibility? Nest is a good choice. Again, it all depends on your individual preferences. For the past several years, we've put dozens of smart locks through the gauntlet (ok, not literally) in our test homes. We test for things like ease of installation and the quality of the product overall. We want to know whether a professional installation is necessary or if the average consumer can DIY. While having smarts is essential for a smart lock, the thing we consider first and foremost is whether the device features secure hardware that will protect us. We'll admit it, though, we're also on the lookout for good-looking equipment. After all, no one wants an ugly, clunky lock on their front door. We want something with a bit of aesthetic appeal, or at least options that fit various home styles. Next, we test for functionality. We investigate whether the device works as promised. We determine whether it's easy to use, even if you're not a total techie. Scoping out connectivity issues is another aspect we consider. Software compatibility and restrictions (or the need for additional setup) is on our list. And, looking for battery backup or Wi-Fi outage protection factors into the evaluation equation. After all, getting locked out of your "smart" house is a huge drag. One final thing we look for is the smart home piece, which often comes in the form of an app. We decide whether the app works the way it promises. User-friendliness is a consideration, as is the layout. Voice assistant compatibility is a helpful feature – and so is pairing with smart home hubs. We want to know whether we can unlock the door with voice commands, or if specific keycodes are required in-app. After all of that, we take a hammer and try to hack off the lock. Ok, not really, but we let the locks weather the elements over time to make sure that they're tamper-proof, waterproof, or whatever-proof they claim to be.

Microsoft is preparing to release Windows 11 later this year, and Windows Insiders can already try it today. The new operating system brings a lot of visual and design changes, as well as new features and apps. It's the biggest visual overhaul Windows has received since Windows 10 launched, so there's a lot to get used to. If you're struggling with how to use Windows 11, we're here to help. Before we get started, if you want to know everything that's new in Windows 11, you can check our guide. We've listed every major and not-so-major change that's already available to try. You can also read our Windows 11 coverage to learn more about what's still to come. If you've used Windows 10 or other versions, some changes will be apparent as soon as you boot into the desktop. Out of the box, the taskbar icons will be centered instead of on the left side. You can change the taskbar alignment in the Settings app -> Personalization -> Taskbar. The option is under Taskbar behaviors. You'll also notice a new icon for Windows, in addition to a few new icons next to it. One of these icons is Search, and you might already be familiar with it from Windows 10. It lets you search your PC and the web for just about anything. The icon with a black and white square is Task View, and it lets you see all of your open apps. You can also hover over the icon to see your desktops, which we'll get into a bit more later. Finally, there's another new icon for widgets, which we'll also talk about later. You can remove any of the buttons (except for Start) and apps by right-clicking them and then clicking Unpin from taskbar. Over in the right corner of the taskbar, you'll find a few things. At the very end of the taskbar, there's an invisible button that lets you see the desktop. When you put your mouse over it, a small black line will appear, so you can use that to know if you're in the right spot. Right next to that button is your notification counter along with the time and date. If you click this area, you'll see a calendar showing the events you've added to your Outlook calendar. The calendar shows a full month, though you can collapse using the arrow at the top, so it shows just two weeks. The notifications are listed above the calendar. Apps and websites can send you notifications to alert you to things like messages and events, and if you don't see them right away, they're stored here. Next, there's a set of three icons – Network, sound, and battery. Clicking this will give you access to the Quick Settings panel. Here, you'll see sliders for your system volume level and the display brightness, along with a number of quick actions. By default, these are: You can also customize these Quick Settings using the gear icon at the bottom of the panel to add and remove items to your liking. Also, if you're playing any media on your PC, you're going to see playback controls above the Quick Settings panel. Finally, there's the overflow menu. You'll notice it by the OneDrive (cloud) icon that should show up by default, along with the arrow to expand the list. These are icons for certain apps and they serve as quick shortcuts to those apps. What you see here is dependent on the apps you install. In the case of OneDrive, that's preinstalled with Windows 11, and the icon lets you see quick information about your sync status. The Start menu is at the launchpad for almost everything you do on Windows, and Windows 11 shakes things up significantly. The Start button has a new icon, and clicking it brings you to this view. As you can see, lots of things are different. Live Tiles are gone, and instead, you get a grid of pinned apps at the top. You can click the All apps button to see a list of all your installed apps. You can right-click an app to pin it or unpin it from the Start menu. If you want to re-arrange your pinned apps, you can simply click (or touch) the app and drag it around. At the bottom, a Recommended section shows you your recent files and recently installed apps. You can click the More button to see all recommended items. If you don't want a particular item to be listed, you can right-click it and choose Remove from list. The bottom bar of the Start menu contains the user and power menus. Clicking your user name lets you change accounts settings, while the power button lets you shut down or restart your PC. You can also customize certain shortcuts to show up in this bar. To do that, go to the Settings app and head to Personalization -> Start. Another thing that's brand new in Windows 11 is the new widgets panel. As we mentioned above, you can open it by clicking the icon on the taskbar, and what it does is show you quick glanceable information from apps and services. At the top, you'll see widgets for things like weather, Microsoft To Do, OneDrive, and things like sports scores. You can click the ellipsis icon near the corner of each card to resize or remove it, or use the Add widgets button to add new widgets. Right now, there aren't a lot of widgets to choose from, but there are a few Microsoft ones. Hopefully, more will be added over time. Below the widgets, you'll see news stories related to topics of your interest. If you want to change the topics you're interested in, you can click your profile picture in the top right corner of the widgets panel. From there, click Manage your news and interests near the bottom of the pop-up that appears. A web browser window will open, allowing you to change your interests. Edge is Microsoft's web browser for Windows 10 and Windows 11. It's been around since 2015, but if you haven't used it in a while, it's significantly different and much better now. It's based on the same foundation as Google Chrome, so it should work identically across the web. The big difference is it will sync your data using your Microsoft account instead of a Google account. Edge is also available on phones, so you can more easily sync your data across different devices. You shouldn't have a hard time figuring out the basics if you've used any modern browser. The address bar is at the top, along with the usual navigation buttons. You can find everything else you need using the menu near the top right corner. Click the ellipsis icon to get access to all the major options you might need. Your history, downloads, and favorites (bookmarks) are all there. You can also right-click any of them and click Show in toolbar if you want the buttons to show up next to the address bar without using the menu. As Edge is based on Chrome, that also means it can now install extensions made for Chrome, including themes. Find any extension you want on the Chrome Web Store and you should be able to install it normally. Of course, you can still install any browser you prefer, including Google Chrome. But you might not have as much of a reason to switch now. There are two main ways you can install apps in Windows 11. You can use the Microsoft Store, where apps are verified by Microsoft, or you can download them using a browser. Microsoft introduced a brand-new store in Windows 11, and it has a radically different look. Most of the space is taken up by the spotlight section, which highlights popular or recent additions to the Store. You'll find different categories on the side menu for apps, games, and movies. You can also access your library to find apps you've installed before. To get the apps you want, you can use the search bar at the top to search for them, or just browse the store until you find what you're looking for. Most of the changes to the Microsoft Store in Windows 11 are actually behind the scenes. Microsoft is making it easier for developers to put their apps on the store, so you may soon see many more apps showing up there. If you can't find what you want on the store, you can use your browser to look for apps on the web. If you want to change something about your Windows 11 PC, the Settings app is probably the place to do it. The most important settings you might want to change are here, and in Windows 11, the app has a brand-new design. The side menu gives you access to all the main sections of the app, which are the following: Windows 11 comes with a bunch of apps that help you get things done out of the box. These apps include all the basic functionality you'd expect from a PC. These are all the apps that come pre-installed: Windows 11 has some great multi-tasking tools, and some of them are new even if you've already used Windows 10. There are a few key things that make Windows 11 good for multi-tasking. Windows 10 introduced the concept of virtual desktops in Windows, and now Microsoft just calls them desktops. Desktops let you create separate spaces for different types of apps. For example, you may have a desktop for your games, and one for your work apps. In Windows 11, you can rename the desktops and order them in any way you'd like. To access your virtual desktops, you can click the Task View button or press Windows key + Tab. Another thing that's new in Windows 11 is you can hover your mouse over the Task View icon to quickly see your different desktops or to create a new one. That way, you don't have to bring up the whole task switcher interface. Windows 11 lets you easily snap apps next to each other, too. Like in Windows 10, you can drag windows to the sides of the screen to snap them to a specific position. But now, there's a new feature called Snap layouts. When you hover your mouse over the maximize/restore down button, you'll see a grid of possible layouts you can choose to automatically snap apps on your screen. This includes some new layouts like seeing three apps side-by-side. When you snap the first app, Windows will guide you to finish the layout with the apps you want. Once you've set up a Snap layout, you can also get back to it quickly if you happen to open another app over it. Hover your mouse over any of the taskbar icons for the apps in your Snap layout, and you'll see the full Snap group as an option. Click it, and you'll be back to the layout you were using. Many people like to use two or more monitors to help increase productivity. In the Settings app, you can change how the two displays are laid out relative to each other. Using multiple monitors is nothing new to Windows, but Windows 11 brings some improvements. Now, when you unplug a monitor, the windows in that monitor are minimized automatically, and when you plug it back in, your windows are restored in the right monitor. It makes multi-tasking much easier. If you have a tablet with Windows 11, there are some extra things you may want to know about using a touchscreen. The basic things are what you'd expect. Tapping something acts like a left mouse click, while tapping and holding is a right-mouse click. It's not too far off from using a modern smartphone. However, there are some gestures you might want to know about to make the most of your experience. For starters, swiping in from the left side of the screen will bring up the Widgets panel, whereas in Windows 10, it opened the Task View. Swiping in from the right still brings up your notifications, but instead of Quick Settings, now you'll see your calendar. To access your Quick Settings, just tap the group including the Wi-Fi, sound, and battery icons. Then there are the multi-finger touch gestures, which are brand-new in Windows 11. These gestures are like what you might find on laptops with a Precision touchpad. You can swipe left or right with three fingers to switch to your most recently used app, or swipe down to minimize all the windows. Swiping up with three fingers opens Task View, but if you swipe up after swiping down, you'll just restore the windows you minimized. Finally, you can swipe left or right with four fingers on the screen to switch between virtual desktops. That should cover most of the basics of how to use Windows 11. Whether you're a complete newbie to Windows or you've used a previous version, there's a bit of a learning curve. However, once you get the hang of it, it should feel just like Windows 10, and everything should work as expected. Do you have any questions about using Windows 11? Let us know in the comments!

I like watching people fight. In animation, staged contests, virtual contests, and sometimes, real contests. But there are parts of fighting culture that bother me, and I'm still trying to unpack them. Martial arts is a huge, ancient, awesome thing, but its most public gatekeepers encourage men to act… not cool. I wanted to make a video where I examined those macho ideals by surveying all the fighting game dudes who didn't fit the hyper-masculine mold. Necro, Lee Chaolan, Faust, Belial — the list goes on. But no matter where my research took me, I always got pulled back to an inescapable, singular figure, and the contradictions he embodies. Voldo. What. Is up. With Voldo? He's haunted us since he first wriggled into our lives in 1995. Everything about him is evasive, slippery, hard to pin down: I mean his character, and his combat game plan, and reasons for existing. Click the video up top to join me on a journey of discovery that swerves through gay biker clubs, heavy metal legends, and wrestling ballerinas. You can find this video and all of Polygon's videos on YouTube. Subscribe for the latest.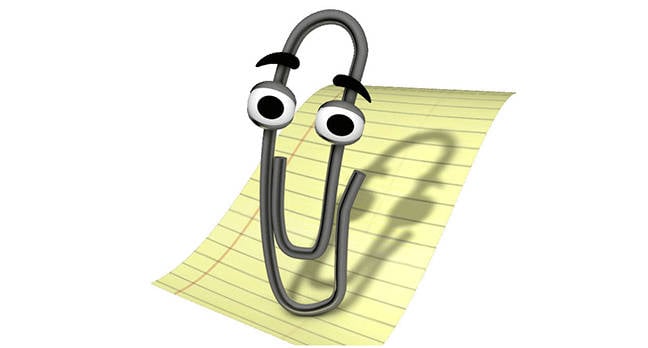 Visual Studio Code program manager Chris Dias has defended an intrusive new "Workspace Trust" dialog, saying it is to "raise awareness that there are many attack opportunities when you download code from the internet." The feature, introduced last month in version 1.57, was initially described as "extra security against code execution when browsing unfamiliar source code." Unfamiliar code in this context might include code the developer has just written. For example, create an empty folder, add a readme.txt (or even leave it empty), open the folder in VS Code, and the editor presents a scary dialog asking "Do you trust the authors of the files in this folder?" The options are either to "enable all features" or to "browse folder in restricted mode." Restricted mode "tries to prevent automatic code execution by disabling or limiting the operation of several VS Code features: tasks, debugging, workspace settings, and extensions," state the docs. According to Dias, VS Code "is capable of running code from the workspace on your behalf to provide a richer development experience," which exposes developers to risks such as "the npm module that steals your crypto wallet private keys." Dias noted there are multiple ways in which VS Code and its extensions execute code, some of them automated, such as pre-launch tasks that build a project for debugging, and potentially could have "an extra task executing arbitrary code unrelated to the build." Jupyter notebooks run code, as does ES Lint, a linting tool for JavaScript. Initially, Dias explained, the team introduced warnings before all such actions, but then felt that multiple prompts for different purposes were worse than a single prompt for the whole workspace. In VS Code, opening a folder is equivalent to opening a workspace. Dias acknowledged the ugliness of the dialog that "is pretty big and it keeps coming up for every new folder you open, unless you take action to configure it." However, he said that when the team tried "passive notification," or disabling trust until specifically enabled, "usage data showed a very low rate of granting trust through the passive notification. In user studies, we watched people spend all their time thinking they had broken something." Therefore the current design has one modal, intrusive dialog that, once passed, enables everything. There is even an option to "trust the authors of all files in the parent folder" so that the feature can in effect be disabled for an entire collection of projects. There is also an option in Settings – Security to disable the feature completely. The feature is problematic, as VS Code users were quick to observe. "I was very happy to figure out how to disable the new 'Workspace Trust' feature in #vscode… if I didn't trust the code it wouldn't be on my system," said one . "It has all the subtlety of a GDPR cookie banner and the charm of clippy," said another . "When you ask #microsoft to make #vscode secure this is the stuff they come up with. #VistaPrompt," was another take. Workspace Trust does have a use case: safely browsing suspect code. But the notion that all the source code on a developer's PC is suddenly untrusted by default is an odd one, and modal dialogs are a blunt instrument that developers may confirm simply in order to get on with their work. Modern JavaScript projects, for example, often have thousands of files, many buried under a directory called node_modules. It is not humanly possible to check each one, and a huge number of different authors may be involved. Asking the developer to declare that they trust those authors may not materially improve security. A developer commented to one of several GitHub issues seeking to improve or remove the feature by complaining that VS Code is "gradually sliding from sweet simplicity into a DevOps platform designed for users with no IT experience." Workspace Trust is well intentioned but the feature seems out of step with the philosophy of an editor that is lightweight and does not get in the way. That said, the feature is optional and perhaps achieves the goal of raising awareness of the risks "when you download code from the internet." Dias promised a number of fixes and improvements "coming in the 1.58 release based on your input." ®

Destiny 2 Compass Rose is the new Legendary shotgun added as part of the Solstice of Heroes event. It boasts impressive stats and some good perk potentials, but if you're hoping to get your hands on the gun, prepare for some Compass Rose farming. There's a bit of RNG and a lot of event grinding in store. However, the Compass Rose is worth the time and effort, especially if you're looking for a good PvP shotgun. Watch on YouTube You'll actually get your first Compass Rose just by completing Solstice of Heroes' first quest. Unless you're very lucky, you'll likely need a few extra rolls to get a good version of the new shotgun. That means starting the Compass Rose farm process of earning Solstice Key Fragments and unlocking Solstice Packages. Each Package costs 15 Key Fragments to open. Fortunately, Destiny 2 isn't skimpy with handing out Solstice Key Fragments. You can get plenty of them from Crucible matches, Strike playlists, or Eva Levante bounties. However, the best way to get more Solstice Key Fragments is defeating minibosses in the European Aerial Zone. Solstice Packages may contain a number of items, including armor and materials. There's no sure chance of getting a Compass Rose, so prepare for the long haul if you want the Compass Rose god roll. Here's how the Compass Rose stacks up to other shotguns. Impact: 70 Range: 66 Stability: 47 Reload speed: 53 Handling: 42 Magazine: 5 Rounds per minute: 65 Aim Assistance: 73 Recoil: 75 Zoom: 12 Inventory size: 45 Bounce intensity: 25 Bounce direction: Tends vertical Barrel: Rifled Barrel, Smoothbore, Smallbore, Barrel Shroud, Corkscrew Rifling, Full Choke Magazine: Extended Mag, Assault Mag, Appended Mag, Steady Rounds, Accurized Rounds, Light Mag, Tactical Mag, Slot 1: Genesis, Dual Loader, Field Prep, Lead from Gold, Quickdraw, Surplus Slot 2: Adrenaline Junkie, Snapshot Sights, Trench Barrel, One for All, Vorpal Weapon, Wellspring Our Destiny 2 Compass Rose PvP build maximizes speed, range, and handling. Quickdraw Light Mag Barrel Shroud Compass Rose PvE isn't the best option, but this roll would improve range and damage. Vorpal Weapon Smoothbore Steady Rounds If you're still making your way through the new season, make sure to check out our other Season of the Splicer guides, including: How to get Glacial Harvest and other Stasis Aspects How to create Ornaments using Armor Synthesis Best new weapons in Season of the Splicer

Blink while playing one of the best city-building games, and you'll lose countless hours expanding your city, refining your infrastructure, and focusing your trade. Every game on our list represents hundreds of hours of simulation gameplay, regardless of if you want to build a modern metropolis, conquer strange Viking lands, or terraform the Red Planet. Although city-building games usually carry a steep learning curve and tons of content, beginners can dive into any option on our list and have a good time. We have a mix of hardcore survival experiences like Frostpunk and minimalist builders like Islanders, so there's something for everyone. Cities: Skylines is the best city-building game you can play right now. It takes all of the best parts of SimCity, ignores the bad parts, and expands on the mechanics to create a city-builder that's enjoyable for hundreds of hours. Starting with a small square off the highway, you'll build your infrastructure to accommodate new residents, businesses, emergency services, schools, and more. The base game gives you plenty of challenges to overcome, including managing emergencies, keeping your residents happy, and dealing with the flow of traffic throughout your city. Cities: Skylines really comes alive through its DLC, though. Green Cities, for example, gives you 350 assets to build a more eco-friendly city, while After Dark gives you new tourist attractions and an international airport so you can draw more people in. Plus, there's mod support, so you can add community assets and grab inspiration from custom-built maps. Cities: Skylines is the city-building game on PC, and it's a must-own if you're a fan of the genre. Anno 1800 puts you at the beginning of the Industrial Age. Starting with a trade port and a small plot of land, you'll attract farmers and workers to build your city from a farming village into a modern manufacturing powerhouse. From there, you'll make your mark on the world with a network of trade routes, diplomatic agreements, and expeditions around the globe. Like other Anno games, this one is focused on production and industry. Instead of engaging in war or appeasing your citizens, Anno 1800 mainly tasks you with building and maintaining supply chains and then exploiting those supply chains to generate as much revenue as possible through trade. You'll need to fight from time to time, but only to defend your industry. We chose Anno 1800 not only because it's the most recent but also because the setting captures the spirit of the gameplay. If you're looking for a different setting, Anno 1404 throws you into the age of colonization, and Anno 2070 looks forward to near-future industry. Frostpunk is a city builder under the worst possible circumstances. You are the leader of a surviving colony after the fallout of a volcanic winter. Eruptions and catastrophic weather have wiped out most of the world's population, and it's your job to build a city around a steam-powered engine stuck in the center of a frozen wasteland. Frostpunk puts on the pressure early and never lets up. You'll have to send citizens out to gather materials, knowing some of them won't make it back, enact laws to extract 24-hour labor, and choose who gets rations and medical treatment first (if at all). Frostpunk is as grim as video games come, but it still provides a riveting experience where building your city feels like just a means to an end. Eager to settle the Red Planet? Surviving Mars is for you. It's a traditional city builder where you need to build infrastructure, tend to the needs of your citizens, and grow your industry, but instead of dealing in electricity and housing, Surviving Mars deals in oxygen and space domes. It's one thing to attract people to your colony on Mars. It's another thing to keep them alive. Surviving Mars comes from Paradox Interactive, the same publisher behind Cities: Skylines. That means a lot of DLC. New content is still rolling out, but Green Planet gives you new terraforming options so you can turn land into sources of water and vegetation, and Space Race throws you in the center of an international struggle to colonize Mars first. In a lot of ways, Surviving Mars is Cities: Skylines in space, but even that description sells it short. It combines survival, exploration, and city-building into a neatly defined package that never fails to entertain. El Presidente is back in Tropico 6, giving you another chance to rule, manipulate, and build your own banana republic. If you haven't played a Tropico game, they are city builders where you're allowed to do all of the devious, corrupt things you're not supposed to do while building a city. As the absolute ruler of your island, your job is to make lofty speeches to keep your citizens happy while exploiting the land and resources for all they're worth. The world will know the name of your island — for better or worse. Tropico 6 is a joy to play, not only because it's so silly but also because it's a genuinely fun city builder. That said, it gets even better with DLC. Lobbyisto opens the doors to foreign leaders for some backdoor politics and helps you cover your corruption, and Spitter makes El Presidente a superstar on social media to attract celebrities and faction leaders to your island paradise. It's hard overstating how much of a joy Tropico 6 is to play. If the cold industry of Anno 1800 and the hopeless survival of Frostpunk are just too much, give Tropico 6 a spin. Banished is a city builder that puts your citizens at the heart of the experience. You lead a group of exiled travelers looking to establish their own colony, and unlike a lot of similar games, growing that colony is your sole focus. Banished does away with currency and skill trees; instead, you're tasked with managing the resources your colony can harvest and ensuring that your colonists can start families to keep your colony running into the future. Banished is a methodical city builder that rewards thoughtful resource management and punishes rash expansion. Instead of conquering new land, you'll focus more on assigning jobs to your citizens, replacing natural resources you've harvested, and growing your city only when there's a need to. If you're looking for a city builder with loads of DLC and mod support, Banished isn't for you. Instead, it's a game that focuses on doing one thing well, and it succeeds. RimWorld is a colony simulator where almost anything can happen. You lead the establishment of a new colony on a rim world, a planet located on the edge of known space. Your colonists all come with a randomly rolled list of traits, which dictate how they act. You may have a genius who learns quickly but is suspectable to a mental break or someone with bloodlust who gets a mood boost from killing strangers and making clothes out of their skin. Seriously. All of the traits are tongue and cheek, despite how serious they get (nudists, for example, get a mood bonus while they're naked). The combination of traits across your colony gives you a wholly unique experience every time you load up the game. Your colonists will interact with each other based on their traits, and that's where much of the basis for gameplay is formed. On top of that, an artificial intelligence (A. I.) storyteller heads up your experience, providing random events based on your difficulty and game settings. Events can be everything from two colonists breaking up with each other to a revenge assault of animals you've hunted too much. RimWorld is a generator of unique and memorable gameplay experiences, and it's one of the best simulation games on the market. Islanders is a bite-sized city builder about building a city on an island. It does away with skill and research trees, trade, and resources and focuses on the building itself. At the start of the game, you have the choice between different packs of buildings. Regardless of the one you choose, they'll fill your inventory with buildings that you can place on your island. It doesn't cost anything to place them, but you'll get a score depending on where you place them. As you build and raise your score, you'll unlock new buildings and refill your inventory. From there, it's just a matter of how far you can go. Once you fill up an island, you'll have the option to move to the next island and expand your empire. And if you run out of buildings before you can refill your inventory, the game ends. Islanders is a simple game that anyone can pick up and play, but it rewards players who pay careful attention to building placement and resource management. If you're looking for a city builder that isn't bogged down my menus and systems, Islanders is for you. Northgard puts you in charge of a Viking clan looking to conquer the mysterious shores of Northgard. Either against A. I. opponents or real-life players, your goal is to expand your kingdom to win. Similar to Civilization VI, Northgard provides a few different win conditions, including Wisdom, which is awarded for recruiting loremasters and receiving blessings, and Fame, which is awarded for conquering new territory and becoming a king. The game pushes into the 4X territory of the best strategy games but still manages to keep things accessible. Although conflict with rival clans and beasts is to be expected, Northgard still includes a jobs system for your Vikings, farming, and trading, so you can build your city the way you want. The SimCity franchise has been dethroned by Cities: Skylines, so there isn't much of a reason to pick up the latest entries in the franchise.2003's SimCity 4, however, remains a staple of the genre. It's a nostalgia trip that allows you to build a network of cities connected by public transit, summon natural disasters at will, and tend to the varied needs of your citizens as you build a sprawling metropolis. At the time of publication, however, SimCity 4 is 18 years old and hasn't received the attention it deserves. If you're interested in playing the game, we recommend installing a few mods and bug fixes to get the game running smoothly. Otherwise, you'll deal with frequent crashes and/or game-breaking bugs.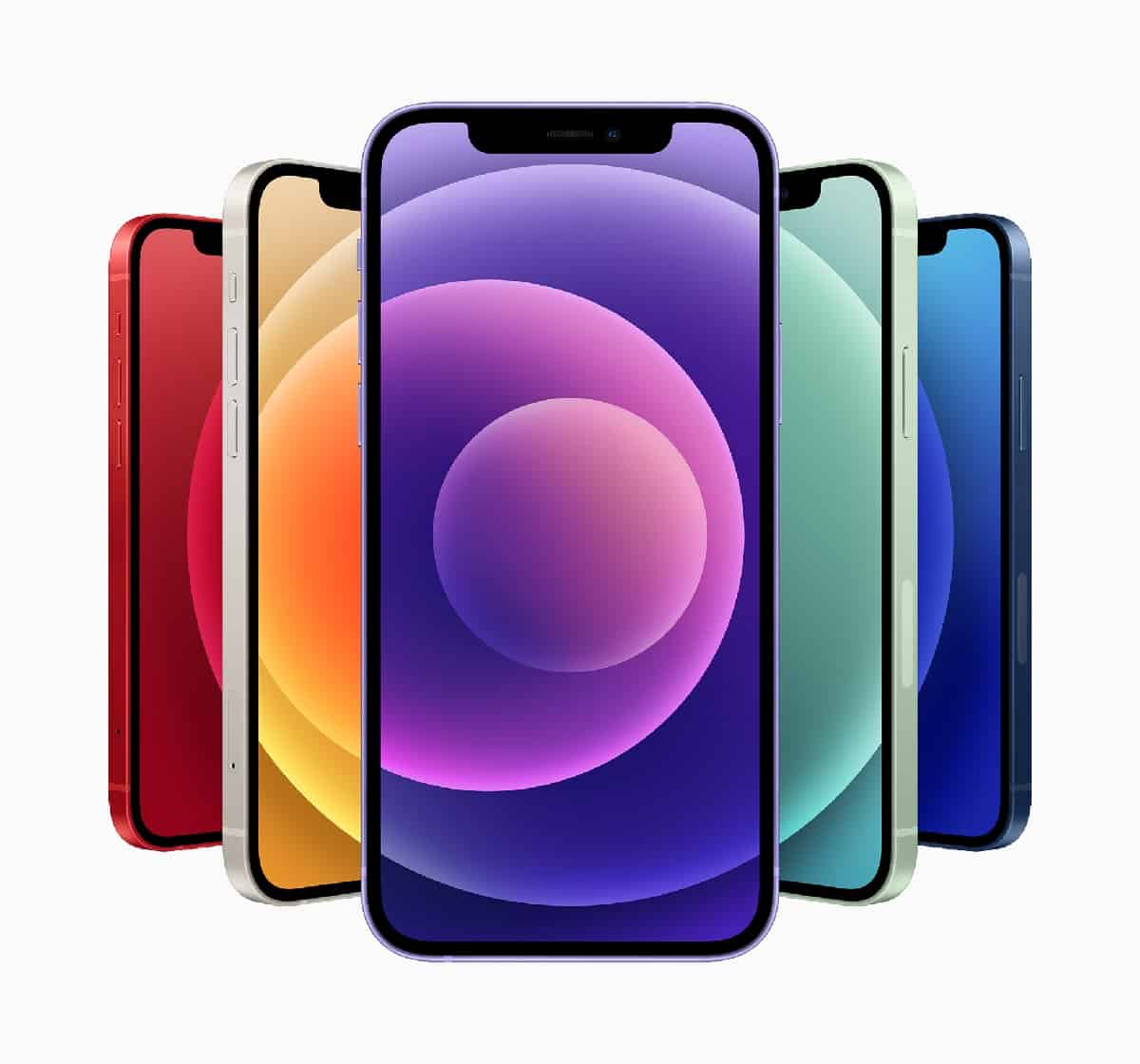 While Apple is busy convincing people that iPhones are the safest bet when it comes to the protection of users' privacy and security, a recently-discovered nasty Wi-Fi bug suggests that iPhones and iPads are still quite vulnerable to hacking. As reported by ZDNet, Software engineer Carl Schou has discovered a Wi-Fi bug, exploiting which a hacker can permanently disable the ability of your iPhones and iPads to connect to a Wi-Fi hotspot. According to the software engineer, a specific network name — %secretclub%power — can cause this problem, and there is no easy way to fix the issue, unfortunately. The software engineer, however, managed to restore his iPhone to normal by removing the malicious network name from his iPhones. It isn't as easy as it sounds, as Schou had to go back to a backup and manually edit the file in order to remove the network name — quite a task for an average user! And now, there is some good news. You can make your iPhones or iPads immune to this attack. All you'll have to do is go to Settings > Wi-Fi and set the Auto-Join Hotspots to Ask to Join or Never on your iPhone and iPad. Now, your iPhones and iPads can no longer automatically connect to a Wi-Fi hotspot that requires no password to join, meaning attackers won't be able to trick you into joining the malicious network. Do this now to protect your iPhones and iPads!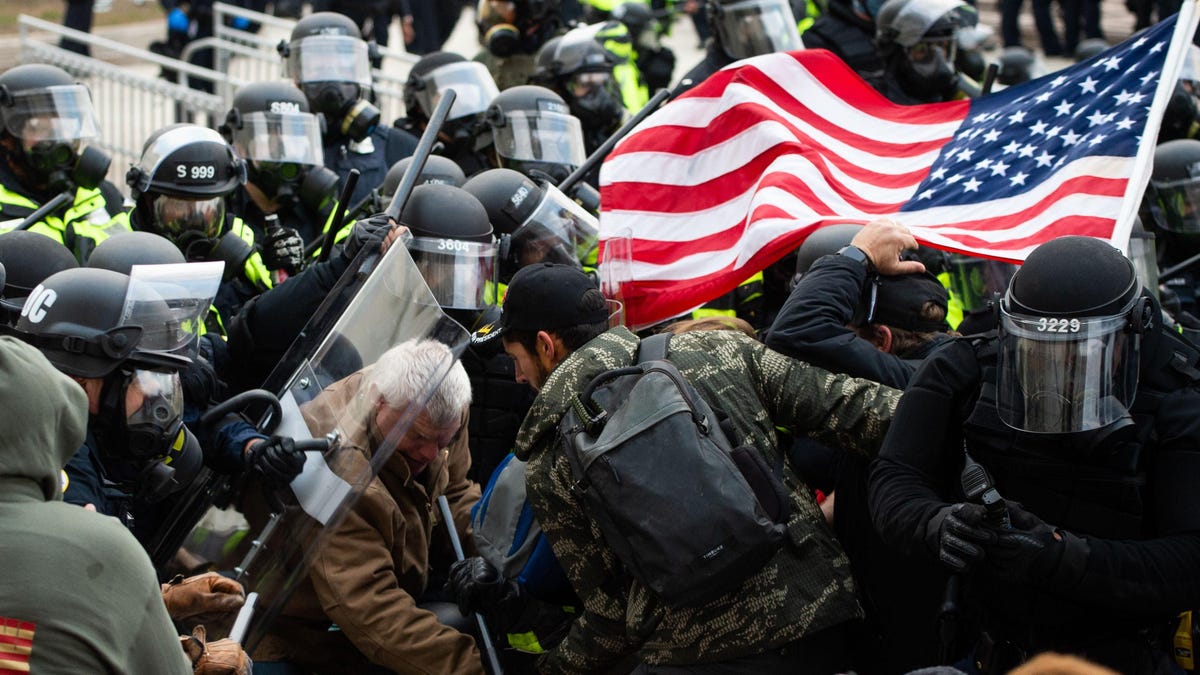 Hardly a week had passed since a violent mob of Americans had laid siege to their own capital on Jan.6 in a brutish but futile attempt to reverse the course of a national election. U. S. intelligence analysts charged with monitoring terroristic threats emanating from the internet's darkest corners were awash with reports of extremists demanding violent reprisals against U. S. politicians: Democrats as well as Republicans whom they deemed "traitorous" to President Trump. Across a vast and notorious network of anti-government and white hate organizations, a disturbing new trend caught the analysts' eyes. Alarming intelligence officials was the sudden deification by assorted hate groups of Ashli Babbitt, the 35-year-old Air Force veteran killed during a frantic attempt by insurrectionists to breach the hall of the House of Representatives. The day of the attack, a decision to delay the evacuation of the House chamber—so that Republican Rep. Paul Gosar could wrap up a speech aimed at undermining the election results—had left members of Congress trapped on a balcony overlooking the House floor. Only a handful of police officers stood between them and the mob, which could be heard shouting directions to abduct and assault the members. "Drag them out!" newly released footage shows a man yelling, a stone's throw from the chamber, moments before a Capitol officer fired on Babbitt, fatally striking her in the left shoulder as she scaled a police barricade—one of only two obstacles remaining between the raging mob and elected representatives. That Babbitt, a zealous proliferator of QAnon conspiracies, was hailed as a martyr by believers of the Big Lie—a slew of disproven electoral fraud claims conceived by President Trump—was not alone worrisome. But according to reports shared among police and intelligence officials in January and reviewed by Gizmodo, they took seriously that Babbitt's image had been so widely co-opted by violent hate groups. An effort to encourage a fresh wave of attacks, reports said, against not only politicians and their families, but any law enforcement agents who stood in the way, was being mobilized around the memory of Babbitt, no longer alive to denounce, or endorse, any calls for violence. Within a week of the siege, analysts at one of Florida's three intelligence "fusion centers," run jointly by Homeland Security and state police officials, had issued a bulletin highlighting for local agencies a surge of violent threats stemming from the failed coup. The papers described members of a widely recognized network of right-wing extremists, including white nationalists and pro-authoritarian groups driven by racial animus, urging their die-hard followers to avenge Babbitt by carrying out terrorist attacks across the country. As Gizmodo previously reported, police had been quietly warned about extremist groups calling on fanatics to martyr themselves through killing sprees designed to be broadcast on social media. Literal sainthood was promised to those who died for the cause. Such intelligence notices are rarely if ever made public; however, a few were obtained this year by Property of the People, a group of seasoned record-seekers founded in the wake of Trump's 2016 victory. Documents obtained by the nonprofit have fueled numerous investigations of government spending at Trump-branded properties like Mar-a-Lago, as well as violations of the Domestic Emoluments Clause. In 2017, it successfully sued the government to gain access to White House visitor logs, which the Trump administration had fought to keep secret in an effort conceal meetings with lobbyists. (Video above courtesy NBC News) On Jan.15, intelligence officials warned in one bulletin that Babbitt's death at the hands of a Capitol Police officer had spawned a Joan of Arc-like legend among a host of violent groups based across various social media. In particular, an image representing Babbitt, whom the extremists had dubbed "the martyr that was shot in the neck," had been plastered on a black flag being widely adopted as an authoritarian symbol by groups under the government's eye. The flag featured four stars representing "the 4 Martyrs" who died during the siege—even though none, save Babbitt, had died at the hands of police. (A 34-year-old Georgia woman who collapsed in the crowd was eventually ruled dead of an amphetamine overdose, while two other men died of heart-related illness prior to the Capitol's breach. Capitol Police officer Brian Sicknick, who died after suffering two strokes that police linked to the riot, is not represented.) "Many [domestic violent extremists] are using this as a battle flag and have encouraged any future actions be done under the banner of this flag," intelligence officials wrote, pointing as an example to the Boogaloo Boys, a far-right, anti-government movement that's promoted civil war. A December report authored by the FBI warned of some members' "willingness to commit violence in support of their ideology," according to Yahoo News. One Boogaloo adherent who "considered himself at war with the government," the report said, had at one point suggested using trip-wire explosives to seize Michigan's capitol. "On various platforms, many anti-Government Violent Extremist (AGVE) and WRMVE are using this flag as their profile photos," the analysts wrote, using an internal designation for violent white supremacists. They went on to report on monitored discussions among extremists on Telegram who'd encouraged users to livestream violent attacks, including against the mayor of one small town. Police who interfered should be executed, they said. In April, authorities cleared the officer who killed Babbitt of any criminal wrongdoing. Federal prosecutors who'd scrutinized the officer's actions announced there was insufficient evidence to show they were anything but reasonable. To charge the officer, prosecutors would have to demonstrate the officer had willfully disregarded the law with the aim of depriving Babbitt of her civil rights. No evidence could be found, however, to suggest he had opened fire for any reason other than to defend himself and fleeing lawmakers, who faced imminent harm or capture. In recent interviews, Babbitt's family has sought to put a human face to the highly propagandized San Diego native, who deployed as a senior airman to Iraq and Afghanistan over her four years of active duty. In what now seems an ironic twist, CNN reported in June that Babbitt was once a member of the "Capital Guardians," a D. C. Air National Guard unit whose missions include civil defense. A one-time Obama supporter, Babbitt is said to have grown increasingly incensed with the Democratic Party over issues such as border control. After throwing her support to Trump, she reportedly became deludedly obsessed with QAnon, a conspiracy theory casting Trump at the head of classified war against a powerful—and fictitious—cabal of satanic pedophiles. "So many people either love my sister or they hate her," Babbitt's brother, Roger Witthoeft, told CNN. "Most of them have never met her." Messages reviewed by Gizmodo across prominent Telegram channels trafficking heavily in neo-Nazi rhetoric show Babbitt was practically canonized by white supremacists who sought to use her death as a recruiting device. Communiques would link the shooting to a wide range of grievances held by white-hate communities, including demographic shifts in America painted as a far-reaching conspiracy to replace the "white race." "If you're a cop who accidentally kills a parasite resisting arrest, you get named and charged. If you're a cop who kills an unarmed white woman for no reason, you get to walk free with your anonymity intact," one user wrote in a message typical of the thousands-strong channel, alongside video of Fox News host Tucker Carlson casting Babbitt as an American patriot. An array of conservative personalities have loudly criticized the decision not to identify the officer who shot Babbitt, which was made after the officer had "faced death threats," according to the Washington Post. The loudest supporter of doxing the officer is perhaps now former President Trump, who last Thursday issued a press release that read simply: "Who shot Ashli Babbitt?" One of Trump's most vocal supporters, five-term Republican Congressman Paul Gosar, has led the charge in the House to unmask the officer, whom he's falsely accused of "lying in wait" to murder Babbitt. In a hearing last month, Gosar—whose own ties to known white supremacists have been repeatedly called into question —pressed FBI Director Christopher Wray over the decision to withhold the officer's name. (Wray declined to respond, saying the FBI was not involved in the case.) "Who executed Ashli Babbitt?" he went on to ask acting U. S. Attorney General Jeffrey Rosen, dismissing the conclusions of investigators. Rosen declined to respond. One of 147 Republicans who voted to ignore the election results, Gosar went on to join 21 of his colleagues last month in opposing medals for the officers who defended the Capitol—more than 150 of whom were injured. Turning a blind eye to officer Brian Sicknick's death and the reams of footage showing rioters calling for lawmakers to be physically assaulted, Gosar insisted in a statement Tuesday there was "no lethal threat," while accusing prosecutors of engaging in a cover-up. "We have rejected vigilantism and police abuse for generations," he said. "Wink-and-nod white supremacists like Trump and Gosar are echoing their openly white supremacist peers," said Ryan Shapiro, executive director of Property of the People, "highlighting Babbitt's death to distract from the plain fact that Babbitt and hundreds of others attempted a deadly fascist coup provoked by Trump himself." Correction: A previous version of this article stated that Babbitt had been shot in the "upper chest." According to the D. C. medical examiner, the bullet entered around her left anterior shoulder. The story was corrected to reflect a more apt description of the wound.

In brief: Mechner developed Karateka while still a student at Yale University, and with the help of publisher Broderbund, launched it at the tail end of 1984 on the Apple II. What you may not know is that it features what some consider the greatest Easter egg of all time. Jordan Mechner is arguably best known for creating Prince of Persia, but before starting work on the 1989 classic, he cut his teeth on a martial arts action game called Karateka. As the story goes, one of the programmers working on the game's copy protection mechanism realized that by tinkering with the bit table, the whole game could be played upside down. "We thought it would be hilarious if we burned the flipped version of the game to the other side of the disk," Mechner revealed during a Q&A session at the San Diego Comic-Con in 2008. "We figured of all the people who buy the game, a couple of them would accidentally put the floppy in upside down," he continued. "That way, when that person calls tech support, that tech support rep would once in blue moon have the sublime joy of saying, 'Well sir, you put the disk in upside down,' and that person would think for the rest of their life that's how software works." The team didn't think the executives at Broderbund would go for the gag, since implementing it would require an assembly line change. But surprisingly enough, they were receptive to it and gave them the green light. When the game dropped, it did indeed feature the Easter egg. Over the years, gamers would slowly discover the gag and eventually, it became more widely shared thanks to the Internet. If you haven't seen it, YouTuber Geek With Social Skills recently shared a video of it in action that's worth a look. Just imagine the sort of reaction you'd get if you "discovered" this on your own. Great stuff. Found is a TechSpot feature where we share clever, funny or otherwise interesting stuff from around the web.

Luca on Disney Plus $7 Prices taken at time of publishing. The latest Pixar original is streaming for free with a Disney Plus monthly subscription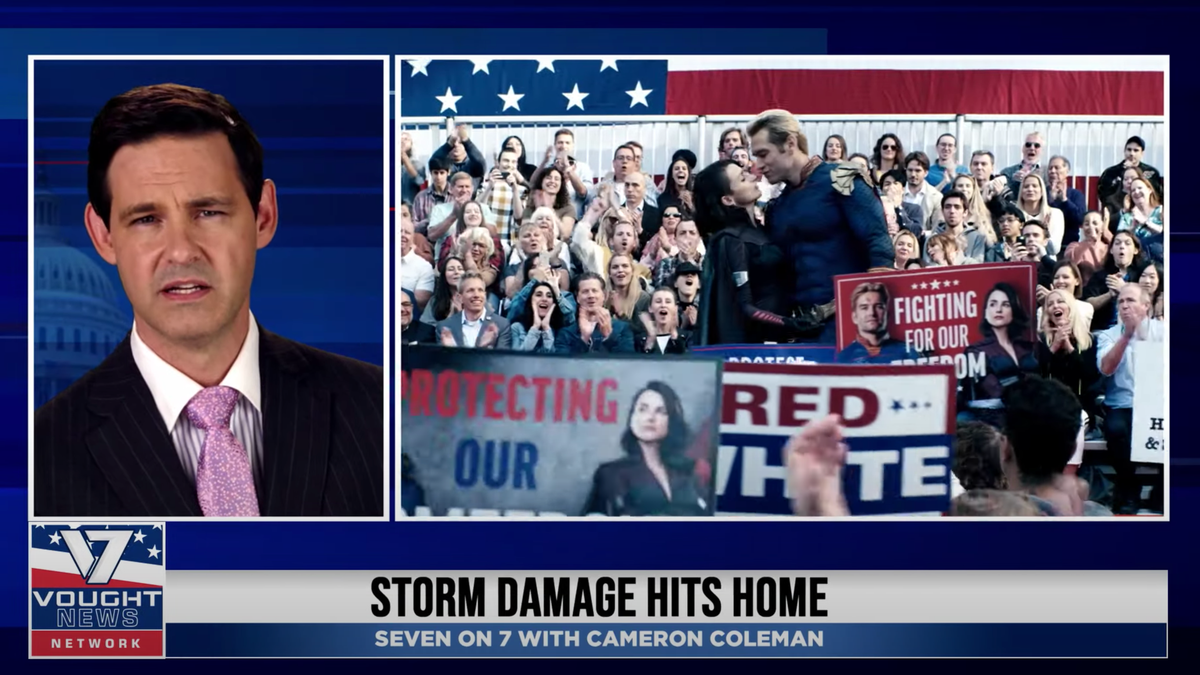 Dying to know what's been going out with those pesky Boys? Why read a recap when you can check out good ol' fashioned American propaganda! The Boys has launched a new digital series designed to bridge the gap between the superhero series' seasons two and three, taking the form of a news show starring some guy with a very punchable face. Amazon Prime Video has released the first episode of "Seven on 7 on VNN [Vought News Network]," a seven-episode digital series where VNN anchor Cameron Coleman (Matthew Edison) gives the latest news a "pro-Super" spin. The show takes place in the world of The Boys but takes its cues from Fox News, One America News, and other conservative outlets that have decided it's cool to spread disinformation so long as they garner views and advertising deals from the network's only remaining sponsor, " Our Sheet." New episodes of "Seven on 7" will be released on the seventh day of every month, with seven episodes planned in total (I'm sensing a theme here). In a statement, showrunner Eric Kripke said the content in the digital news show will help set things up for season three, which the showrunner previously said would largely focus on America's growing political divide. As part of this effort, Edison will reprise his role as Cameron Coleman in season three. "Since the very start of The Boys, we've seen Vought's propaganda arm—I mean, news channel," Kripke said. "We'll be digging deeper into those fair and balanced patriots next season, so as a teaser, we're introducing 'Seven on 7' with VNN's biggest star Cameron Coleman. The episodes are in world canon, serving up brand new information that bridges the story gap between Seasons 2 and 3. So enjoy the hot takes and catheter commercials, just like your parents do." Season three of The Boys is currently being filmed and no expected release date has been announced. It sees the return of key Supers and Boys, along with the debut of Supernatural's Jensen Ackles as Soldier Boy. Wondering where our RSS feed went? You can pick the new up one here.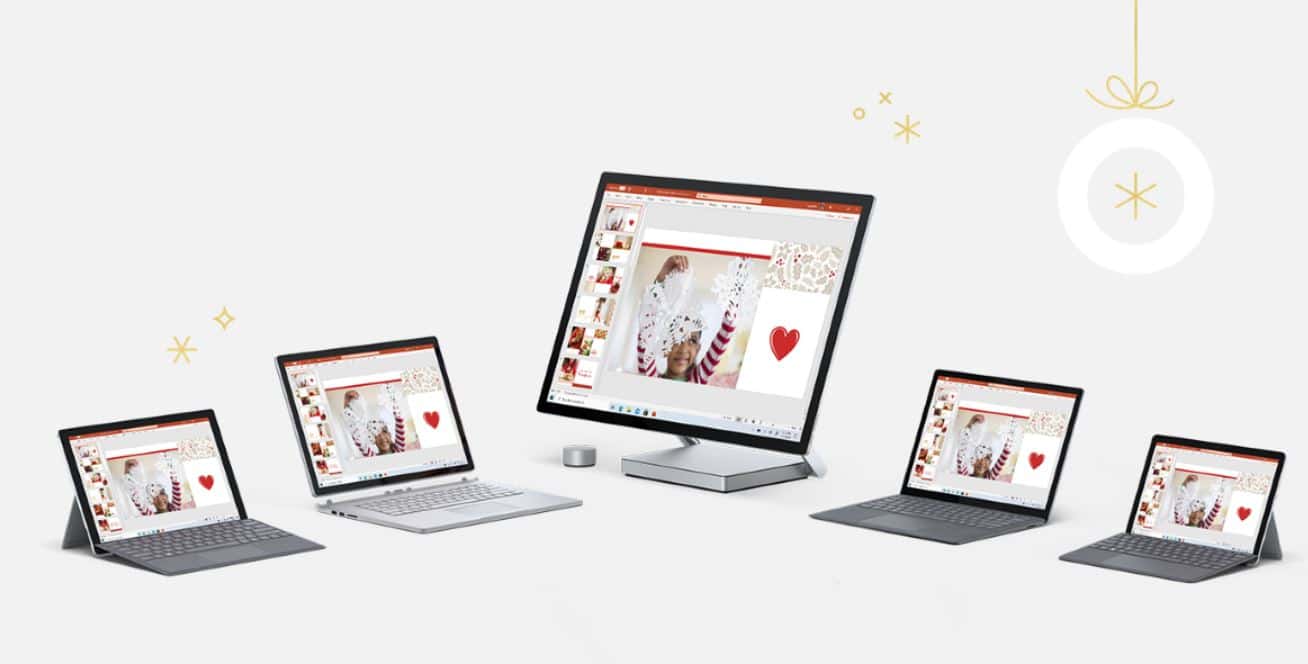 Microsoft Store's Back-to-School sale is back. In this limited time sale, you can get great discounts on Surface devices, Windows laptops, PC accessories and more. In addition to the discounts on the products, for a limited time, you can save 20-30% on Microsoft Complete, Microsoft Store's hardware warranty plan, when purchasing select Surface devices. Microsoft Store's top back-to-school deals include: You can find the deals here at Microsoft Store.

Ray tracing,120Hz support - and even more impressive visuals. Released at the tail-end of last week, Doom Eternal's upgrade for PC and next generation consoles is an important release - it's our first chance to see how the tech masterminds at id Software are choosing to approach the new features of the latest hardware. Ray tracing, in the form of accurate, real-time reflections, is key to the upgrade, but in putting the new consoles through their paces, a trio of modes are available - and we've tested all of them on PS5, Xbox Series X and Series S. We'll go into the specifics shortly, but putting this latest update into context, it's just part of a series of patches and upgrades that have served to further evolve a game that was already brilliant at launch. Two additional DLC packs have provided excellent extra content - rare for a single-player game - along with extra features and tweaks. id isn't done either, as it looks like a horde mode is also arriving for the game at some point too. Doom Eternal. Eight game modes in total are tested across three different consoles. It's very, very impressive. But returning to the next-gen upgrades, we've already looked in-depth at the PC version of the game with a particular focus on the real-time reflections id software has added to the game's aesthetic, dramatically improving upon the standard cube maps and screen-space reflections the game has had since launch. There's a dramatic level of scalability in the implementation - which goes far beyond the 'baked in' presets - and that's accessible via the command line. On PlayStation 5 and Series X, the same RT features are in place and they are effectively on par with the PC's medium RT quality level, with reflections rendered at one third the current resolution. Elsewhere, expect settings broadly on par with the PC version at ultra, but for some reason, anisotropic filtering seems to be disabled on all consoles, diminishing image quality on textures observed from oblique angles. Dynamic resolution scaling is also in effect, with a top ceiling of 3200x1800, while drops to around 70 percent on both axes are observed, with the absolute minimum set to 50 percent. There's the sense that something is missing here, that the image isn't quite as sharp as it could be and that applies to both consoles. In terms of pixel counts, Series X does seem to resolve higher numbers in stress points compared to PlayStation 5. Meanwhile, Xbox Series S has no RT support at all. Bearing in mind how scalable the game is across the board, its absence is disappointing. Next up, there's the 120Hz mode, which works best on HDMI 2.1 displays, allowing for the game's full resolution to successfully resolve at full frame-rate. This looks to offer something akin to the last-gen Doom Eternal experience at twice the performance level. Xbox Series X operates at a dynamic 1800p, while PlayStation 5 tops out at 1584p - and it is visibly blurrier. Finally, Series S aims to deliver 120 frames per second at a maximum of 1080p, though drops to 70 percent on both axes is possible, which is a touch higher than 720p. Here's the Digital Foundry deep dive into the PC version of the new upgrade. Finally, id delivers a balanced mode, which retains the ultra settings but turns off ray tracing, deploying the freed up GPU resources on increased resolution: 4K on PS5 and Xbox Series X, and 1440p on Series S. There's little we can say about this mode except to note that while DRS is present, it's mostly as a fallback measure. To our eyes, the game simply rolls out at a locked 60 frames from start to finish and of all the modes available, this provides the sharpest image. We've not talked about performance yet because fundamentally, the story is rather uninteresting - in a good way! In almost all scenarios, Doom Eternal hits its 60fps and 120fps targets. We've seen some titles struggle with high frame-rate modes but in a world where a £150 Core i5 can run Doom Eternal on PC at upwards of 300fps, a mere 120fps seems like a walk in the park for the CPUs in the new consoles. Meanwhile, the excellent GPU scalability found in idTech 7 takes care of everything else, giving you a rock-solid lock to 60fps or 120fps in all relevant modes on all consoles. The only noticeable exception is checkpoint stutter - where the game momentarily pauses for a split-second to auto-save your progress. Now, we can't test the entire game, of course, but we did give the first half of the game a decent workout on all three consoles in all available modes. The only actual drop we could find was in the Arc Complex and making the game dip from its frame-rate target involves being in a certain area, looking in one specific direction and firing a bunch of rockets. In this very select series of conditions, all three consoles were affected, with Series S affected most and Series X affected least. However, this is very much the exception that proves the rule - this game is super-fast and smooth overall and it's beautifully optimised. Yes, Doom Eternal scales up to the latest and greatest - but it runs on Switch too. Check out this developer interview to find out how. It's also interesting to note that Xbox Series consoles use the hardware-based tier two VRS feature of the RDNA2 hardware, which is not present on PlayStation 5. VRS stands for variable rate shading, adjusting the precision of pixel shading based on factors such as contrast and motion. Pre-launch there was plenty of discussion about whether PS5 had the feature or not and the truth is, it doesn't have any hardware-based VRS support at all. However, developers can tap into the MSAA anti-aliasing hardware and exploit it to deliver something very similar to a tier one VRS solution. Metro Exodus does this on PlayStation 5, while Call of Duty Warzone does something similar on all consoles. In combination with Series X's extra GPU grunt, the use of variable rate shading may explain why the Microsoft console achieves higher resolutions overall. Ultimately though, this is an excellent upgrade for all three consoles - the cherry on top for what is one of my favourite games of last year. Criticisms are few and far between - the only negative aspect for me was the next-gen upgrade procedure on PlayStation 5. Initially it did not work. And when it did work, I discovered that none of my saves from PlayStation 4 could be transferred across. Meanwhile, everything just worked on the Series machines, I could pick up where I left off with no problem. Like it or not, cross-gen is a part of the experience and things do need to be smoother and more seamless on PS5. Other than that though, there's little to take issue with. A brilliant game just got better. It looks and plays beautifully on the new wave of console hardware. Will you support the Digital Foundry team? Digital Foundry specialises in technical analysis of gaming hardware and software, using state-of-the-art capture systems and bespoke software to show you how well games and hardware run, visualising precisely what they're capable of. In order to show you what 4K gaming actually looks like we needed to build our own platform to supply high quality 4K video for offline viewing. So we did. Our videos are multi-gigabyte files and we've chosen a high quality provider to ensure fast downloads. However, that bandwidth isn't free and so we charge a small monthly subscription fee of €5. We think it's a small price to pay for unlimited access to top-tier quality encodes of our content. Thank you. Find out more about the benefits of our Patreon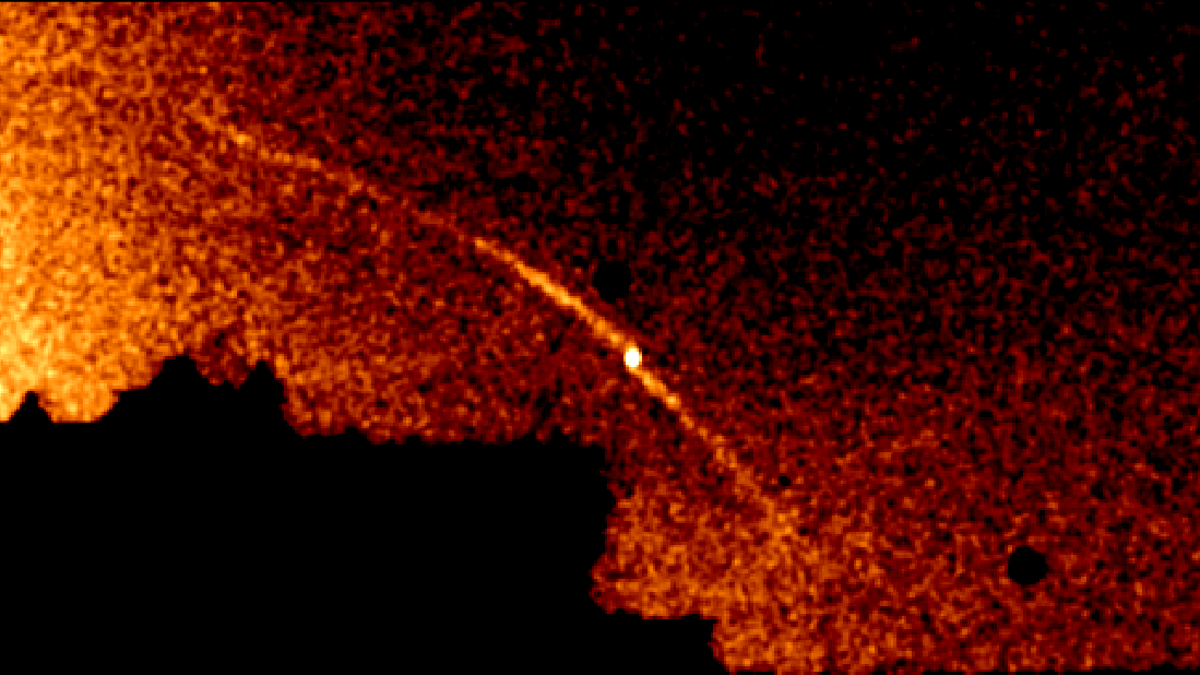 Some 80,000 light-years away, a group of black holes is slowly becoming the only show in town, according to a team of astronomers that recently modeled a globular cluster called Palomar 5. The cluster, which has streams of stars issuing from two arms on either side of it, will eventually be solely constituted by black holes. Palomar 5 is a 10-billion-year-old globular cluster orbiting in the halo of our galaxy. It's less massive but more sprawling than typical clusters, and its black hole-iness is described by researchers in a paper published this week in Nature Astronomy. "The number of black holes is roughly three times larger than expected from the number of stars in the cluster, and it means that more than 20% of the total cluster mass is made up of black holes," said Mark Gieles, an astronomer at the University of Barcelona and lead author of the study, in a university press release . "They each have a mass of about 20 times the mass of the Sun, and they formed in supernova explosions at the end of the lives of massive stars, when the cluster was still very young." The team modeled the orbits and evolutions of each of the stars in the cluster, from formation to death. The team determined that Palomar 5 initially had a lower black-hole-to-star ratio, but stars had an easier time making it out of the globular cluster than the very massive black holes. The most massive black holes sank into the center of the cluster, while other objects (stars, but also some smaller black holes) were ejected through gravitational interactions with those more massive black holes and black hole binaries. "This work has helped us understand that even though the fluffy Palomar 5 cluster has the brightest and longest tails of any cluster in the Milky Way, it is not unique," said Denis Erkal, an astrophysicist at the University of Surrey in the United Kingdom and a co-author of the study, in the same release. "Instead, we believe that many similarly puffed up, black hole-dominated clusters have already disintegrated in the Milky Way tides to form the recently discovered thin stellar streams." The team determined that, in a billion years, just before the cluster completely dissolves, it will be dominated by the black holes that are congregating at its center. A dark ending for the cluster, perhaps, but maybe that's why so many stars are leaving the party early. More: Astronomers Don't Know What Our Black Hole Ate, but They Definitely Saw It Belch

Posted by Jeremy Hellstrom| Jul 7,2021| General Tech| 0 TIE Fighter stands out among Star Wars space sim games as having one of the more interesting single player campaigns to come out of the series. That is not to knock X-Wing Vs. Tie Fighter but memories don't lie, right? As we have seen with other games, such as the original Deus Ex, even the best stories and gameplay can be hard to enjoy if the graphics are painful to look at. Thanks to a dedicated team of modders, you won't have to worry about that if you want to check out TIE Fighter: Total Conversion. This is more than just a port of the original game into the new XWA engine, the team enlarged the maps, added more ships to the fleet battles and even added in their own missions. That brings the total count of missions up to 145 thanks to the inclusion of Defender of the Empire and Enemies of the Empire expansions in the mod. You will need X-Wing Alliance to add the mod to, currently 65% off on Steam or ~$10 on GOG. Check out the full trailer at Rock, Paper, SHOTGUN to see the new cockpits, battles and effects. Share: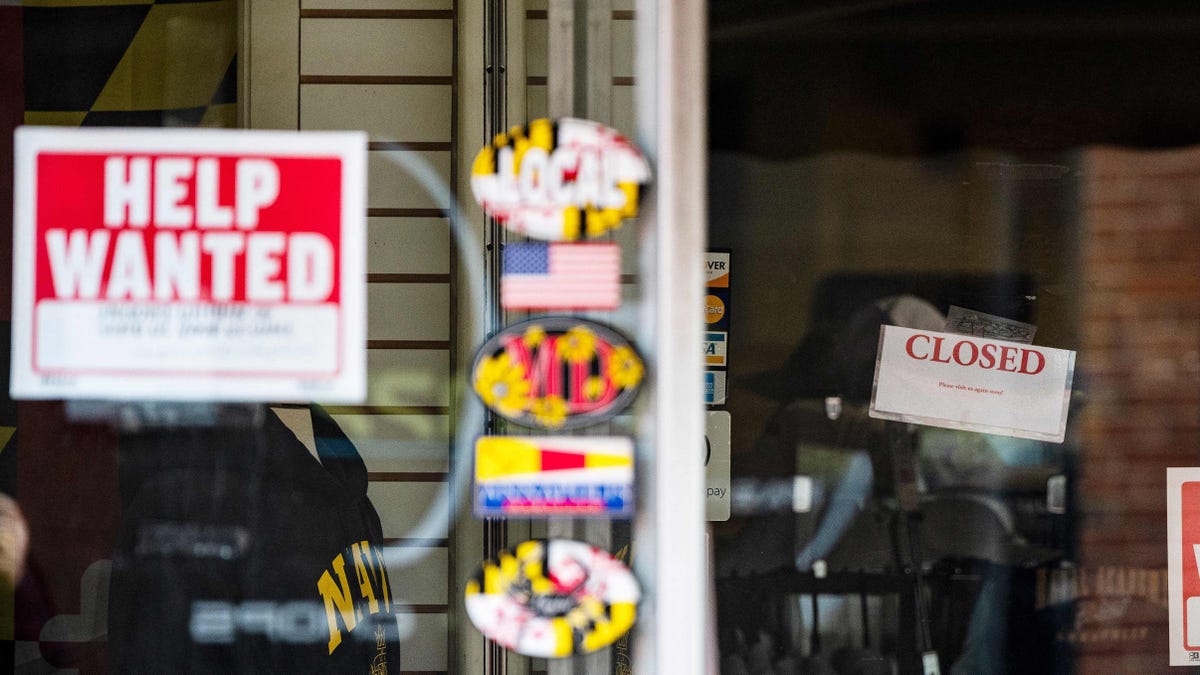 AI-powered job interview software may be just as bullshit as you suspect, according to tests run by the MIT Technology Review 's "In Machines We Trust" podcast that found two companies' software gave good marks to someone responding to an English-language interview in German. Companies that advertise software tools powered by machine learning for screening job applicants promise efficiency, effectiveness, fairness, and the elimination of shoddy decision-making by humans. In some cases, all the software does is read resumes or cover letters to quickly determine if an applicant's work experience appears right for the job. But a growing number of tools require job-seekers to navigate a hellish series of tasks before they even come close to a phone interview. These can range from having conversations with a chatbot to submitting to voice/face recognition and predictive analytics algorithms that judge them based on their behavior, tone, and appearance. While the systems might save human resources staff time, there's considerable skepticism that AI tools are anywhere near as good (or unbiased) at screening applicants as their developers claim. The Technology Review's tests add more weight to those concerns. They tested two AI recruiting tools: MyInterview and Curious Thing. MyInterview ranks applicants based on observed traits associated with the Big Five Personality Test— openness, conscientiousness, extroversion, agreeableness, and emotional stability. (While the Big Five is widely used in psychiatry, Scientific American reported that experts say its use in commercial applications is iffy at best and often flirts with pseudoscience.) Curious Thing also measures other personality traits such as "humility and resilience." Both tests then offer assessments, with MyInterview comparing those scores to the characteristics hiring managers say they prefer. To test these systems, the Technology Review created fake job postings for an office administrator/researcher on both apps and constructed fake candidates they believed would fit the role. The site wrote: On Curious Thing, Schellmann completed one video interview and received an 8.5 out of 9 for English competency. But when she retook the test, reading answers straight off the German-language Wikipedia page on psychometrics, it returned a 6 out of 9 score. According to the Technology Review, she then retook the test with the same approach and got a 6 out of 9 again. MyInterview performed similarly, ranking Schellmann's German-language video interview at a 73% match for the job (putting her in the upper half of applicants recommended by the site). MyInterview also transcribed Schellmann's answers on the video interview, which the Technology Review wrote was pure gibberish: While HR staff might catch the garbled transcript, this is concerning for obvious reasons. If an AI can't even distinguish that a job applicant isn't speaking in English, then one can only speculate as to how it might handle an applicant speaking English with a heavy accent, or just how it is deriving personality traits from the responses. Other systems that rely on even more dubious metrics, like facial expression analysis, may be less trustworthy. (One of the firms that used expression analysis to determine cognitive ability, HireVue, stopped doing so in the last year after the Federal Trade Commission accused it of "deceptive or unfair" business practices.) As the Technology Review noted, most companies that build such tools treat knowledge of how they work on a technical basis as trade secrets, meaning they're extremely difficult to externally vet. Even text-based systems are prone to bias and questionable results. LinkedIn was forced to overhaul its algorithm that matched job candidates with opportunities, and Amazon reportedly ditched an internally developed resume-reviewing software, after finding in both cases that computers continued discriminating against women. In the case of Amazon, sometimes the software allegedly recommended unqualified applicants at random. Clayton Donnelly, an industrial and organizational psychologist that works with MyInterview, told the Technology Review the site scored Schellmann's personality results on the intonation of her voice. Rice University professor of industrial-organizational psychiatry Fred Oswald told the site that was a BS metric: "We really can't use intonation as data for hiring. That just doesn't seem fair or reliable or valid." Oswald added that "personality is hard to ferret out in this open-ended sense," referring to the loosely structured video interview, whereas psychological testing mandates "the way the questions are asked to be more structured and standardized." But he told the Technology Review he didn't believe current systems had gathered the data to make those decisions accurately or even that they had a reliable method for collecting it in the first place. Sarah Myers West, who works on the social implications of AI at New York University's AI Now Institute, told the Chicago Tribune earlier this year, "I don't think the science really supports the idea that speech patterns would be a meaningful assessment of someone's personality." One example, she said, is that historically AIs have performed worse when trying to understand women's voices. Han Xu, the co-founder and chief technology officer of Curious Thing, told the Technology Review this was actually a great result as it "is the very first time that our system is being tested in German, therefore an extremely valuable data point for us to research into and see if it unveils anything in our system." [ MIT Technology Review]

The monthly Android Security Bulletin is typically posted on the first Monday of each month, but the first Monday of July 2021 — ie. July 5th — was the day that many American workers observed the country's Independence Day holiday. (If you're wondering why then, it's because when a U. S. federal holiday falls on a weekend, most M-F workplaces observe the holiday on the closest weekday instead). Thus, Google moved the release of the July 2021 ASB to today, and now the latest security update is rolling out to Pixel phones. The Android Security Bulletin for the month of July 2021, which can be viewed here, details multiple security vulnerabilities ranging in severity from high to critical. The 2021-07-01 security patch level addresses vulnerabilities discovered in Android components including the Framework, Media Framework, System, and three Project Mainline components. Meanwhile, the 2021-07-05 security patch level addresses vulnerabilities discovered in not only Android's Framework and System but also in MediaTek and Qualcomm components and Widevine DRM. As we've seen in the past, many of the disclosed vulnerabilities don't offer additional documentation that explains what is affected and how the patch addresses the issue. You can read up on how monthly Android security updates work here. In addition to providing information about vulnerabilities in the general Android Security Update Bulletin, Google has also patched additional vulnerabilities in the security update rolling out for Pixel devices. Unfortunately, this month doesn't coincide with a new Pixel Feature Drop, so the latest monthly update is less exciting than last month's update. You should be getting the July 2021 security update starting today on your Pixel device, so long as you own one of the currently supported models. That includes the Pixel 3, Pixel 3 XL, Pixel 3a, Pixel 3a XL, Pixel 4, Pixel 4 XL, Pixel 4a, Pixel 4a 5G, and Pixel 5. Here are the build numbers for each Pixel device: Pixel Factory Images||| Pixel OTA Images Samsung has already started rolling out the July 2021 security update to a couple of Galaxy devices, including the Galaxy Fold, Galaxy S20 series, and Galaxy Note 10 series. Expect other devices to follow.

Be careful around Android apps that claim you can mine Bitcoin in the cloud. A security firm has uncovered dozens of cloud-mining apps for Android that do nothing but defraud their users. The findings come from antivirus vendor Lookout, which identified over 170 Android apps that scammed people interested in cryptocurrencies. Many of the apps offered cryptocurrency mining services through servers operated on the internet. In exchange, users had to pay for the app. However, Lookout's investigation discovered no cryptocurrency was actually generated. "Based on our analysis, they scammed more than 93,000 people and stole at least $350,000 between users paying for apps and buying additional fake upgrades and services," Lookout said, citing installation numbers for the apps. Twenty-five of the programs were also available on the Google Play Store, ranging in price from $10.99 to $20.99. In response to Lookout's report, Google took down the apps. The rest of the apps are being circulated on third-party stores. According to Lookout, Google's own security vetting failed to detect the bogus apps, likely because they contained no malicious software processes. "In fact, they hardly do anything at all," the company added. "They are simply shells to collect money for services that don't exist." The apps work by offering a virtual dashboard that lets you monitor the cryptocurrency mining rate. The same dashboard shows you how much virtual coin has been generated. However, Lookout examined the computer code in the apps along with the network traffic, and found the coin balance displayed was actually fictitious. (Credit: Lookout) "The value displayed is simply a counter slowly incremented in the app. In some of the apps analyzed, we observed this happening only while the app is running in the foreground and is often reset to zero when the mobile device is rebooted or the app restarted," the company said To prevent users from learning the mining is a scam, the same apps prevent you from immediately withdrawing your earnings. Instead, you can only withdraw the coin when your mining has reached a minimum balance. Even so, Lookout found withdrawal was never possible; the app would reset the coin balance or display an error message during the cash out process. To swindle even more money, the apps also offered subscription-based services and expensive upgrades to the fake mining that could reach up to $259. Lookout produced a separate report with the names of the various scam cryptocurrency mining apps. To stay safe, the company encourages consumers to research the developers behind any cloud-based cryptocurrency mining services and also read user viewers before installing. "Take your time, and if a deal is too good to be true, it probably isn't real," Lookout added.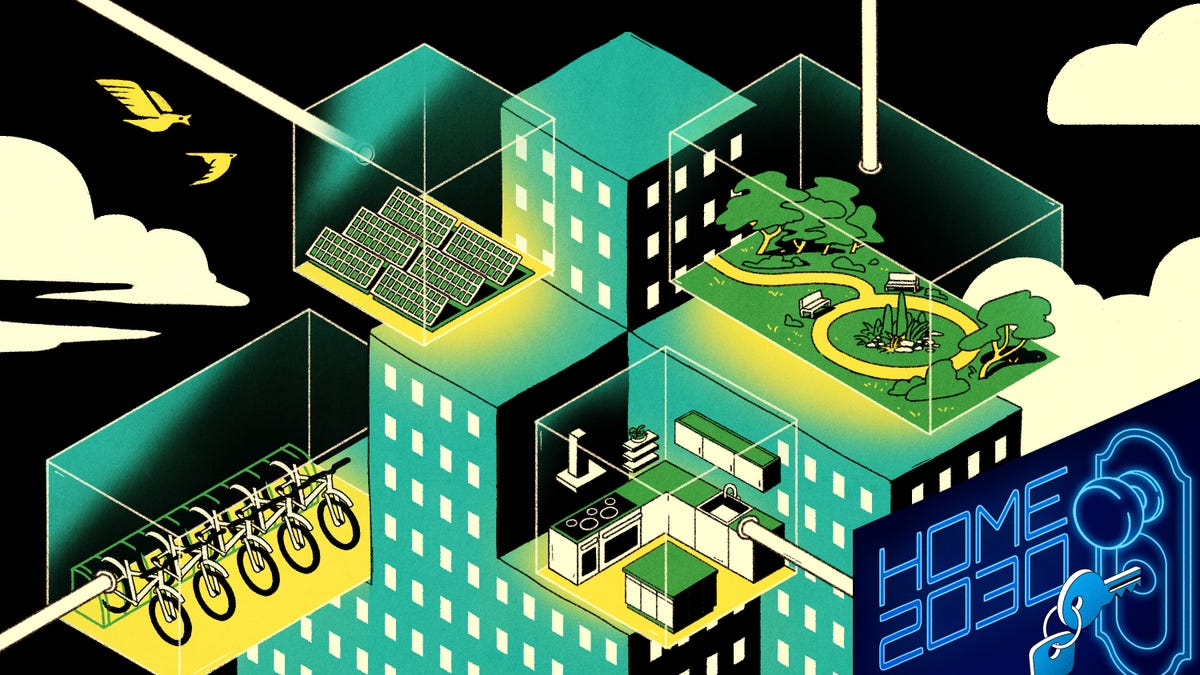 Roughly 40.1 million Americans live in apartments. For many, they're living in the past. Nearly half of all apartments were built before 1980, according to the National Multifamily Housing Council and the National Apartment Association. That means many of the 40.1 million nation's apartment dwellers are living with outdated heating (radiators, anyone?), gas stoves, and other appliances and amenities that are harmful to health and wellbeing (as well as their finances). In public housing, the situation is even more dire, with $70 billion in backlogged repairs. Upgrading all these existing apartments, as well as ensuring any new buildings are energy efficient, clean, and affordable has never been more important. The U. S.—and indeed, the world—is urbanizing. The apartments of the next decade will need to be decarbonized, yes. But it also wouldn't hurt if they were actually pleasant places to live and accessible to everyone. There are several ways that developers and agencies in charge of public housing could improve apartments and make life better for city dwellers over the next decade. Here, we look at five of the most important. The apartments of the future will have to balance keeping people cool ( and, at least occasionally, warm) in an increasingly hot world with not contributing to climate change. Right now, most heating and cooling systems rely on fossil fuels and emit millions of tons of greenhouse gas pollution annually. Heating is the largest source of carbon emissions for New York's more than 1 million buildings, according to the Urban Green Council. Air conditioning may feel sweet on a hot day, but 10% of Americans don't have access to it. Both central air conditioning and window units can also be costly to run and taxing on the electric grid, in addition to producing some of the most damaging greenhouse gases on Earth. But rather than waiting for new solutions to be invented to keep the apartments of 2030 comfortable, the technology already exists. The National Apartment Association suggests variable refrigerant flow (VRF) systems as an alternative to radiators, though these may not be agreeable with the electrical systems of older buildings. VRF systems are heat pumps that provide both heating and cooling simultaneously. They transfer heat rather than generating it, making them energy efficient, and the systems can operate at whatever capacity is needed for the desired warmth or coolness of a space. Compare that to an air conditioner, many of which simply have two options—on or off—or a third energy-saving mode, if you're lucky. They also reduce heating or cooling loss by limiting the amount and size of the holes you need to put in to install them. VRF systems are modular, meaning that if you add apartments to a building, you can easily add a new VRF unit to the system—a convenient adaptation for apartment living and a world where building denser cities could help address carbon pollution and the housing crisis. The heat pumps in VRF systems also have been shown to improve air quality and represent a manageable way American cities could clean up their act on an energy front. Heat pumps are common in the southern states, where they have an easier time functioning than in colder climates. Modern improvements have enabled their use elsewhere. In fact, the success of heat pumps in Scandinavian countries has shown the technology has major potential in chillier locales. And in older cities like New York—where over half of multifamily housing units are more than 80 years old —overhauling HVAC systems while making them more energy efficient is a must-do initiative. The same goes for broad swaths of the South and Southwest, where heat can have dangerous impacts on human health. But as the June heat wave that scorched the Northwest shows, even traditionally cooler places are going to need to be ready to beat the heat. The black tar rooftops of many older buildings contribute to worsening the heat island effect in cities. An undulating expanse of tar is also hardly an inviting environment to congregate on. Some newer buildings have roof decks, but these can't be relegated solely to upscale developments. We need welcoming roof decks for the people. Green roofs come with multiple benefits. Adding shade to a roof can make it a more enjoyable space for people to hang out than your standard black tarmac while also cooling down the surrounding environment by as much as 5 degrees Fahrenheit (2.8 degrees Celsius). As with open streets, roof decks for all could also ensure that people have places to gather outdoors, lowering the risk of disease transmission. Besides heating and cooling, gas stoves are among the worst climate culprits in apartments. They're also major sources of indoor air pollution. Nitrogen dioxide, carbon monoxide, and formaldehyde all spew from them, and these pollutants then tend to sit in your apartment unless you use a ventilation hood. (Even then, some hoods just recirculate air, rather than moving it outside.) Nitrogen dioxide has been shown to heighten the risk of asthma in children, as well as other respiratory issues and even some neurological ones. Gas stoves also perpetuate the climate crisis. Continuing to use them in new construction, let alone allowing them to exist in older buildings, could lock in decades of more climate-damaging emissions. Some cities and states have moved to ban new gas hookups for buildings, with California leading the way. The gas industry and some conservative lawmakers are fighting to ban the bans. But the reality is we need to move in the opposite direction. It's not enough to ban hookups for new buildings, since older apartments are the lion's share of the units currently in existence. We need to retrofit them for electric and induction stoves. Having cleaner spaces to live in—and now work from—could be an integral part of future housing plans. "Cleaner" in this case means everything from surfaces to air filtration systems, the latter of which are also increasingly important in areas choked with wildfire smoke. The Environmental Protection Agency suggests actions like opening windows or running air conditioners to keep airflow moving—nothing spectacular as far as futuristic thinking goes. But the pandemic has especially reminded us of the importance of proper ventilation. Even when you're not worried about hazardous aerosols (pollutant or infectious), it pays to have consistent fresh air. What does this actually look like? More outdoor space, either attached to units or shared spaces in the building. Appliances that are energy efficient and safe should become the norm as we phase out inefficient and unhealthy appliances of the past. VRF units will quiet the work of regulating your home's temperature and will make an easier purchase than buying and installing a different air conditioning unit in every room you plan to use during the warmer months. There are plenty of Jetsonian visions for exactly what this future looks like, but by starting with the health and energy needs of residents, design (hopefully) will follow. Though we know covid-19 is airborne, the next emergent disease might not be. Instead, it could live on surfaces. (There's certainly some hygiene theater still happening around covid-19, despite the risk of surface transmission being low .) The pandemic has awoken architects and developers to that risk and apartment dwellers' preferences, and we could see more contactless technology appearing in the apartments of the next decade. Some trends die hard, but more cautious living standards may not be one of them. "Touchless is huge now, and I don't see that going away," said Paula Munger, the associate vice president of industry research and analysis at the National Apartment Association. "The sort of sanitizing and cleaning that started during this pandemic is going to stick, and if you're an owner investing in touchless technology now, that's something you want to keep going." There has never been a greater need for more affordable housing. Plenty of units sit unoccupied with high rents few can afford, while empty apartments with low rent are taken off the market as landlords wait for rents to rise. It's tough to know exactly how many unhoused people live in the U. S., but New York City is a microcosm of the problem cities face. The Coalition for the Homeless said more than 50,000 New Yorkers slept in the city's shelter system in April. Meanwhile, luxury real estate sales are booming in the city, with a $170 million listing on Manhattan's Billionaire's Row just in late June. While homeownership offers wealth-building opportunities (and could help close the racial wealth gap), fewer and fewer Americans are able to afford it. According to a Pew Charitable Trusts report, rent-burdened families are increasing in number. "Unless there is truly a national commitment to, let's say, new, affordably priced housing for lower-income people, the future is grim," said Nicholas Bloom, an urban planner and housing expert at Hunter College. "Overcrowding is the future, just as it is today." It doesn't have to be this way. According to NMHC and NAA data,328,000 apartments need to be constructed every year in order to meet American housing demands through 2030. Every one of those apartments is an opportunity to do things better. But those apartments also depend on things like lumber for their construction, a resource recently in short supply. "It was already hard to build before the pandemic, and then now you have this issue of real costs getting even higher, and now you can't even get supplies," said Caitlin Sugrue Walter, vice president of research at the NMHC and an expert on apartment housing trends. "What does that do to the overall ability to build at a variety of price points?" New apartments are being built across the country. But as Bloom said, more of that housing needs to be accessible to those most in need. Proposals like the Green New Deal for Public Housing seek to upgrade current public housing units and transition the public housing stock to carbon-neutral facilities. The Homes For All Act came on the heels of the aforementioned proposal and seeks to go even further in building affordable, efficient rental units for Americans. The Affordable Housing Credit Improvement Act was another suggested bill, which some argued would create more affordable units for people. Enough luxury residents are being built that wealthier folks seeking a home have plenty of choices. Some of these issues are up to developers. Some require the government to see through. Little is actually up to people who want to live in an apartment, outside of continuing to advocate for changes. But sweeping government legislation will probably be necessary to ensure that homes for all Americans are not only built, but built to last in a brighter future. To envision the apartment of 2030, you need to think about what's around them and how to navigate that space. The home is really just your private annex of the city. By having a home in a city, you are making a commitment to that community—at the very least tax-wise—and apartments offer a greater immediacy to joining the throngs of people that live above, below, and around you. Cities would do well to make residents feel more at home in their cities, rather than just at home in their apartments. Since the mid-20th century, cities have largely been built for cars. What Americans want now, though, is changing. Notwithstanding the pandemic exoduses, which saw many wealthy people fleeing to second homes outside of dense cities as well as non-wealthy people seeking more affordable options given the pandemic's economic impacts, way more of us are living in cities now than in suburbs. In a growing number of places, that means there's a critical mass of people and a critical need to figure out how to help them get around. Relying on personal vehicles alone would be a disaster, both because of traffic and its impact on the climate. That means cities need to think about life beyond cars, whether it be Houston or Boston. For the last 40 years, Rice University's Kinder Institute for Urban Studies has put out a survey that takes stock of the preferences of Houston's now 2.2 million residents. In the survey's most recent data, one sees the story of America: shifting demographics and desires, growing awareness and desire to address climate change, and a consistent plurality of respondents saying that traffic is the biggest problem facing their city today. "We're a different folk today than we were when we went out and built the sprawling metropolis and had the concept of the suburban life as the ideal life," said Steven Klineberg, a sociologist at Rice University and founding director of the Kinder Institute. A recent National Multifamily Housing Council survey found that 71% of respondents wouldn't rent without secure parking guarantees, and 88% said secure parking was important in deciding where to rent. While it's likely that some respondents simply love to drive (I'm assuming they don't just love to park for parking's sake) and some have to due to disabilities or other physical limitations that our public transit doesn't do a good enough job of addressing, it's worth considering whether accommodations for drivers are desired by renters or seen as necessities due to the infrastructure built around them. Klineberg noted that "we've inherited a way of thinking about the built environment that made sense for the Baby Boom period—the quarter-century after World War II—that makes less and less sense today." This goes beyond just one city, too. In NMHC's Disruption report, Niles Bolton, principal of Niles Bolton Associates, an Atlanta-based design firm, said some cities are finally considering limits on parking spaces afforded to developers. Those cities, Bolton said, "are finally becoming aware they don't need all this parking," but "lending institutions still don't think you can rent without a parking space or two per unit." A mix of policy and personal decisions could help transform our relationship with cars and cities. That includes drivers making smarter use of their cars and a significant federal investment in public transportation. In addition, there's a major need for funding for infrastructure for personal transportation that isn't a car, including bikes, scooters, e-bikes, and other ways of getting around. Funding protected bike lanes rather than new roads for cars could make the city-as-home easier to navigate carbon-free. There's also something to be said for building city streets for pedestrian life rather than vehicular life. In recent years, there's been buzz about American superblocks, emulating the localized street reclamation program so successfully deployed in Barcelona, which is also stepping up its urban greening plan to combat the city's urban heat island. Superblocks are self-contained mini-grids in Barcelona's streets, bordered by roads with normal vehicular traffic. Within their bounds, vehicular traffic is restricted to local traffic, and cars must obey significantly lower speed limits. One intersection was transformed into playgrounds and a mini soccer field in 2016. Picnic tables and greenery have sprung up in others. The superblocks' implementation was met with some pushback, but they have fostered a more residential feel in the areas they've been established and reduced noise pollution throughout the city. Before the pandemic, Seattle was mulling over a similar transformation; now, with nearly half of Americans fully vaccinated against covid-19, that talk is coming back in cities like Boston. Salt Lake City and Minneapolis, among many other cities, have open street days, but a superblock would make such a practice permanent—similar to how New York has made some open streets permanent following their success during the coronavirus pandemic. These approaches would make the public spaces of a city more accessible and pleasant, expanding our definition of what home truly is. You open your eyes. It's a Saturday morning in July 2030, and rays of light are spilling across your bedspread. Your apartment is nice and cool thanks to your VRF system (your old AC rattled annoying, you vaguely remember). You fry up an egg on your induction stove, pondering the errands you need to run before the BBQ you've planned on your roof that night with friends who live two floors below. The noise of kids playing while darting between trees on the street below bubbles up; they haven't had to worry about cars since the local superblock was put in place. Birds chirp outside, no longer drowned out by the fracas of irritable drivers. Turns out the good life does exist; we just needed to build it.

Chivalry 2 is shaping up to be the game of the summer. The medieval first-/third-person sword and shield game pits up to 64 players against each other in all-out dark-age combat. Whether you're playing team objective or team deathmatch, Chivalry 2 keeps eyes spinning and heads rolling through hours of exciting gameplay. Are you playing with others on your PlayStation, or did you just lop the arm off an Xbox rival? We want to know, does Chivalry 2 have cross-platform support? At the moment, cross-platform support in Chivalry 2 is a little ambiguous. The short answer is yes; Chivalry 2 does feature cross-platform support. However, crossplay only exists when matchmaking at the moment. Players on different consoles cannot group up and play together. That means PlayStation players will be put into matches with Xbox and PC players, but they can't invite them to a group. Furthermore, PlayStation 5 players cannot invite their PlayStation 4 friends to a Chivalry 2 party. They can work around this by running the PS4 version of Chivalry 2 from their PS5. Xbox Players are in luck as Chivalry 2's party system does appear to be working for cross-gen players. Xbox One can party up with Xbox Series X| S without issue. Crossplay has become an expected feature among modern multiplayer games. Even older games like Overwatch have begun to adopt crossplay. Currently, Overwatch is in a beta crossplay phase as they iron out the finer mechanics. If you're adamant about only playing with others on your console, you can turn off crossplay in Chivalry 2. From the main menu: You'll know it's off when it reads Disabled, and the yellow circle disappears. Turning off crossplay in Chivalry 2 has no benefit, and you'll only find yourself waiting longer for matches. Chivalry 2's in-and-out matchmaking is one of the quickest we've seen in modern gaming. You barely have time to check your phone at the end of Lionspire before you're already gearing up for the Fighting Pit. Until PC hackers start invading the world of Chivalry 2 (god save us from aim-bot Ballistas), Chivalry 2 is an entirely fair crossplay community. Devs learned from the Chivalry 2 beta that cross-platform parties were something the fans wanted. Unfortunately, it wasn't on the drawing table before launch. Now, post-launch, devs at Torn Banner Studios are hard at work to bring cross-platform parties to Chivalry 2. Torn Banner is incredibly transparent when it comes to what they're working on for Chivalry 2. They've even gone as far as to make their Trello board open to the public. As you can see, cross-platform parties are among their top priorities.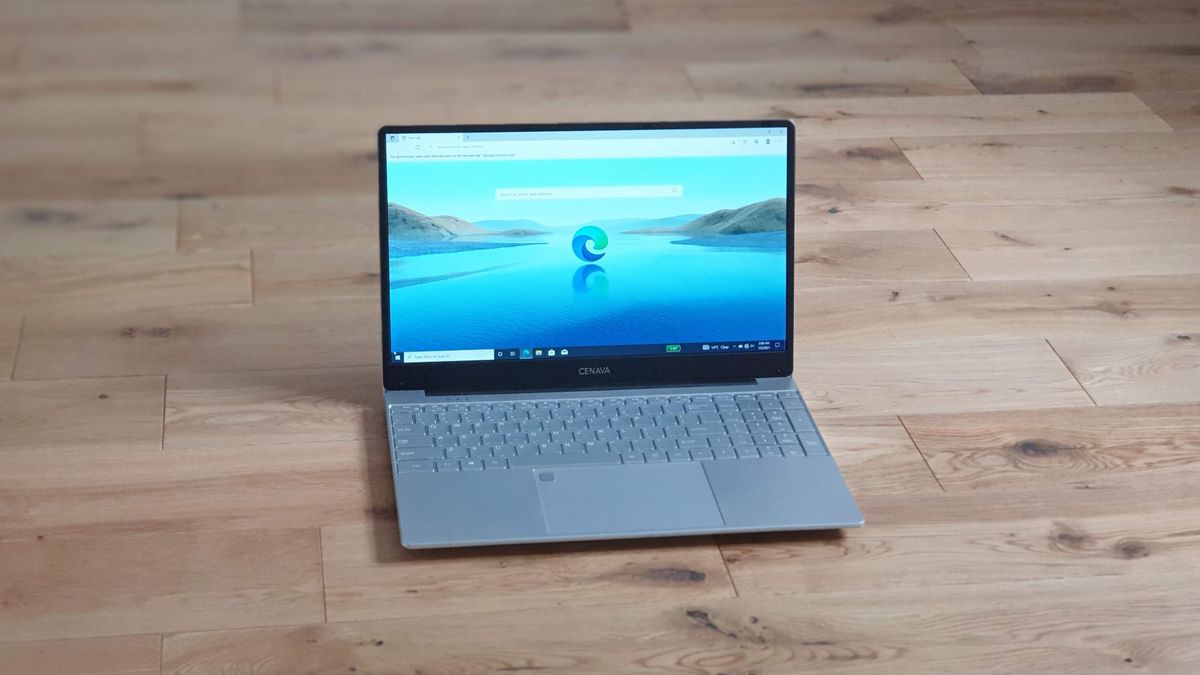 Business laptops can be surprisingly affordable but very often the entry level models will lack the sort of bells and whistles mainstream notebooks come with: Windows 10 Pro, a fingerprint scanner and plenty of memory and storage are desirable features that sadly don't necessarily feature on the specification list. Newcomer Ceneva is aiming to change this with the F158G, an affordable 15.6-inch business laptop with an appealing price tag and a few tricks up its virtual sleeve. The Ceneva F158G costs $340 at Chinese online retailer Banggood at the time of writing with the coupon code BGCEN072. As always, terms and conditions apply and you may have to pay additional fees for shipping, handling and local taxes. Given the surprising inclusion of Windows 10 Pro in the feature list, we were expecting some corners to be cut and low and behold, we got a laptop that - Ceneva claims - has a CNC-machined body with a brushed metal finish. It looks like aluminum rather than the more expensive magnesium alloy. That explains why this 15.6-inch laptop weighs just over 1.5Kg, making it comfortably portable. Ceneva didn't try anything to cut down on its overall dimensions. At 360 x 238 x 18mm, it has plenty of real estate with a proper dedicated keypad, a huge touchpad (138 x 92mm) with an embedded fingerprint reader. Ceneva prides itself on its large screen with a 5mm border and a 90% screen-to-body ratio. It does have a thick bezel at the bottom but that's partly because the webcam is located there, more precisely, near the bottom left corner, just above the hinge. There's no card reader or Type-C connector, which is a bit of a letdown. On the left side is a full size USB 3.0 port, a barrel-type power connector and a micro HDMI port. On the opposite edge is an audio connector and another full size USB 3.0 connector Note that other than a sticker found underneath, there's no mention of Ceneva anywhere, not even on the cover. Another worthy feature is that there's two flaps underneath the F158G, one that allows you to access the SSD and one that allows you to plug in a 2.5-inch SATA drive ( SSD or HDD). The only real weakness of the F158G is the Intel Celeron J4125 processor that powers it. It remains a decent CPU, roughly equivalent to a Core i5-6200U from 2015, that is to say it is still pretty capable. Alongside it is an integrated graphics unit, the HD Graphics 600, which is one of the better entry level GPUs. The rest of the hardware consists of a single 8GB LPDDR4 memory module, a 512GB SATA SSD (LS M300), a rare Realtek 8821CU chip which provides Wi-Fi 5 and Bluetooth 4.0, a small 65W charger (19V,3.42A) and a 29.6Whr battery which is one of the smallest ones we've seen on a laptop of this size. The location of the webcam is not ideal and gives you the dreaded, rather unflattering up-your-nostril view. Not ideal during conference calls to be perfectly honest. The keyboard is another problematic aspect of the F158G. While we applaud the fact that it has backlit, we're puzzled by the decision to opt for a white font colour on a grey background. This makes it hard to read under normal lighting conditions. The keyboard also has some flex which may infuriate some touch typers. In use, both the keyboard and the touchpad performed as expected: average for both with shallow travel but good feedback. The touchpad was accurate but noisy and without physical left and right buttons. General performance was on par with similarly configured laptops based on the J4125 except for the graphics subsystem which mysteriously underperformed compared to the likes of the Chuwi GemiBook Pro. Storage benchmarks were more than decent for a SATA model which is a positive. Another plus is the absence of roaring fans when the device was under load. The screen, a matte full HD IPS model, delivered an honest albeit underwhelming performance. Pictures appeared slightly washed out, bland, not helped by its inability to dial up the brightness when needed. The biggest disappointment though has to be the very poor battery life, a bit more than three hours. That's not a problem per se when you're working mostly from home but if you use it on a long commute that will be an issue. A combination of a small battery and a large screen explains the poor show of the F158G. You can, technically, update from Windows 10 Home to Windows 10 Pro almost as soon as you reach the desktop the first time but it will be an expensive endeavour. One thing we did find out is that laptops that are bundled with Microsoft's business operating system don't come cheap. HP's cheapest one, the 255 G8, costs more than $550 - a near-60% premium with a worse display and less onboard storage. Dell does marginally better with the Inspiron 15 3000 ($479) but it does suffer from the same drawbacks as its HP rival. Lenovo's V14 sits nicely between the two with specifications that surpass the F158G (faster CPU, more RAM) but also a $499 price tag. Last but not least, the Toshiba Dynabook Tecra A50-F is the cheapest of the lot ( $460 at Newegg) but has the weakest processor as well. All laptops come with at least 8GB of RAM. There's a lot to like about the F158G if you're happy to turn a blind eye on after sales support. You won't find better value for money if you are looking for a Windows 10 Pro business laptop with some serious expansion capabilities and biometric security features. As long as you're aware of its limitations like the poor battery life, average peripherals, so-so monitor and lightweight processor performance, then the F158G will more than fit the bill.

(Credit: Getty Images) Pan-African tech company Liquid Technologies Inc. is teaming up with Facebook to build a long-haul fiber network in the Democratic Republic of Congo and improve internet access for over 30 million people in the region. Liquid will lay 2,000 kilometers (1,243 miles) of fiber cable through Central Africa. Facebook will provide funding and network planning, but Liquid will own, build, and operate the fiber network. In a statement from both companies, Liquid Group CEO Nic Rudnick said that "Liquid Technologies and Facebook have a common mission to provide affordable infrastructure to bridge connectivity gaps, and we believe our work together will have a tremendous impact on internet accessibility across the region." According to February data from Surfshark, Africa ranks last in terms of quality and affordability, meaning many people who live in African countries need to work more than the global average just to afford sub-par internet. The proposed fiber network will stretch from the DRC to the eastern border of Rwanda, connecting to 2Africa, a major undersea cable that was also co-developed with Facebook. This new corridor will connect DRC to neighboring countries like Angola, Congo Brazzaville, Tanzania, Uganda, and Zambia. "We know that deploying fiber in this region is not easy, but it is a crucial part of extending broadband access to under-connected areas," says Ibrahim Ba, director of network investments and emerging markets at Facebook. The deal will make Facebook one the largest investors of fiber networks in Central Africa, Bloomberg notes. In 2018, Liquid also announced plans to connect Cairo, Egypt, to Cape Town, South Africa, and create "the shortest direct fiber route between South Africa and Egypt."

Crowfall is a massively multiplayer online game that involves online role-playing and real-time strategies. It is different from the traditional MMO games, which makes it a little tricky. The game consists of a bunch of servers, weapons, and resources that can get quite overwhelming at first. But don't worry, we've got your back with these Crowfall Tips to get you started! In this guide, we'll be touching on every aspect of the game and possible hindrances you can face. We'll be discussing some fundamental Crowfall Tips for Beginners that you absolutely need to know if you're going to survive in the ruthless MMORPG. Let's see how we can improve your overall gameplay experience with these Crowfall tips for beginners. Before you start with your journey in Crowfall, we suggest you take some steps in advance. Hit the enter button and choose a character of your liking. For example, we recommend you select a Nethari Assassin as your character because he's a better option for fast mobility and will provide you with a lot of flexibility to move around. If you have a Backer Pack of a base level, we recommend you check your inbox and redeem the Mount available there. Of course, you can get a Mount through the tutorial, but the Mount present in the inbox is much faster and better. Also, if you find some Sigils here, redeem them too to get some extra buffs before entering the world. If you want to learn how Crowfall works, select the server tab and explore the options. You can choose whatever option you like, but we suggest you start with the "God Reach US East 2" server to begin your journey. This server captures the gist of the MMO questing overall and teaches you what you need to learn. When you step into this world, you'll find yourself in a hall with Guillermo. Guillermo is a quest giver, and it is best if you begin your journey from here. Take his quests and follow the routes he navigates you to. This will help you with leveling up and will influence your performance. Doing so will also help you learn slowly about the type of MMO Crowfall is and provide you with in-game knowledge. In case you don't feel like completing the tasks, you can always leave them in between. You can level up through questing, or you can directly jump to Level 25. Visit a tree hall located downstairs, and here you'll find a Level Up Pedestal that will boost you to Level 25. However, keep in mind that only those who purchased Backer Pack before starting the game or the VIPs can avail of this boost. If you aren't a VIP, go to the vendor beside the pedestal, and he'll sell you Level Up for 40 thousand gold. If you don't want to follow the instructions and want to play the game freely, leveling up will help you immensely, and you can start from Level 25. Joining a Guild provides you the best opportunity to learn more about Crowfall and tips to excel in the game and servers. You can also switch between the Guilds to absorb more information. Guild will help you level up and help you stick around for a lot longer. Once you've hit Level 25, it becomes essential for you to level up from here onwards. Before you go to the PVP zone, redeem the Mount you earlier collected and use that to move faster. Also, before you make your way there, get an idea of your gear. If you don't have any, go out and get some novice weapons from the Class Trainer. He'll also inform you about your class and give you some poison to make you stronger. You can also purchase some weapons from the advanced vendors present in the temple to have better protective gear. To enter the PVP zone, you'll have to go to the south side of the Earth Temple. You'll find four portals here that you'll either reach after following the NPE or right after leveling up to level 25. Following the NPE will directly take you to the Sun or Moon temple, but while playing freely, you can choose to go to the PVP zones. Based on the faction you're present in, the portal will take you to the PVP relevant to it. When you enter these PVP zones, start capturing outpost and mob camps to acquire gold and weapons. Then, start farming and level up to Level 30. You can also find other portals here to get you to different PVP zones where you'll find other players playing. Keep in mind if you enter a portal, and it leads you to a PVP zone belonging to someone other than your faction, you can get killed easily. Also, look around for hot zones that will give you extra loot on your first day in the world. Once you've enough gold from farming, you can select whatever you want to harvest from the "Harvest Discipline Vendor." If you buy Logger and Skinner on day one, it'll allow you to craft the intermediate version of the tools. You can get one of these free if you come by following NPE instead of Level boosting. After that, go to the Exploration Room and use the "General Crafting Station" to acquire the ability to craft the tools. Then, use these tools to harvest items with higher ranks to obtain the "Green Discipline." Once you've made your way to Level 30 through harvesting, looting, and PVPing, you can now explore the Sky Point. Make sure before you come here, you don't have enough gold on you. In case you do, you'll lose 100% gold when you get killed. You'll also have higher camps and nodes here to increase your chances of obtaining better gear and gold. If you want to have a smooth experience and learn things in a short amount of time, make friends. Expand your squad and add people to your faction. PVP together and harvest a bunch of tools. Doing so will help you level up soon, and you can obtain some good loot.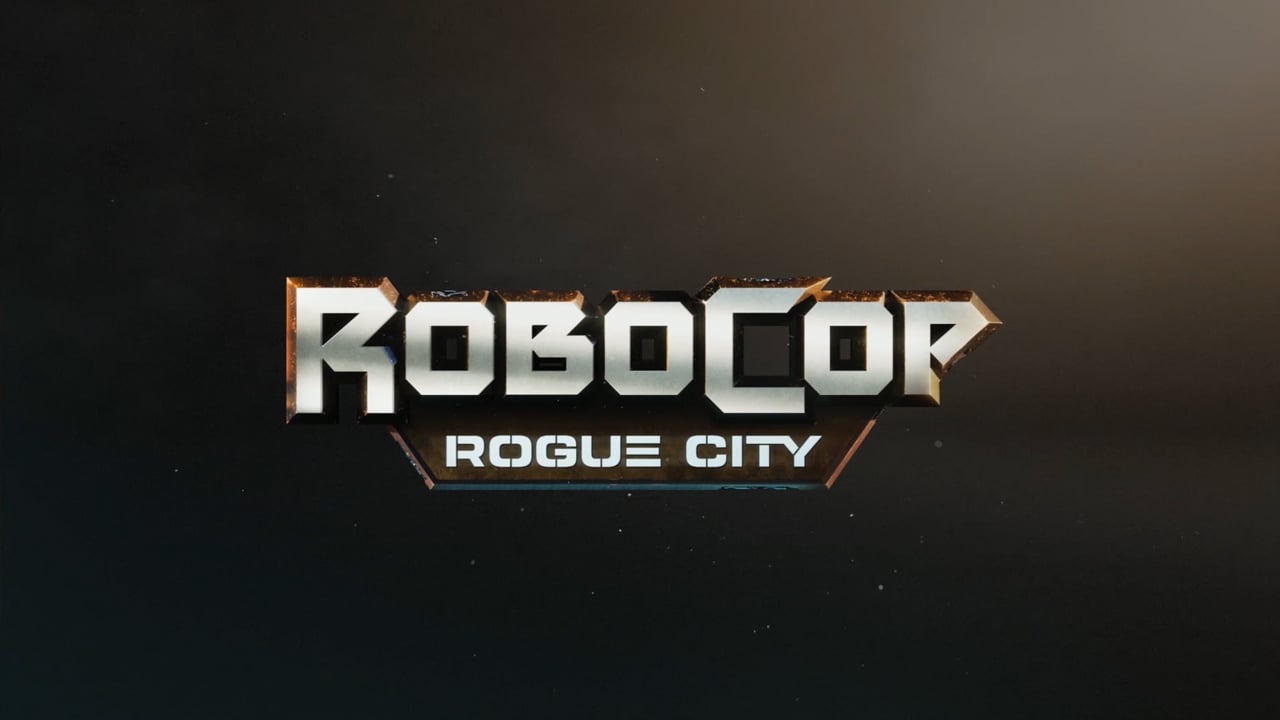 A brand new RoboCop game has been unveiled during the Nacon Direct event, and it's coming to us from the creators of Terminator: Resistance. It's been 18 long years since the last terminator game all the way back in 2003, and we've still got two more years to wait before RoboCop: Rogue City launches in 2023 to make it an even 20 years of waiting. The brief teaser trailer doesn't show us all too much to get excited about beyond the game's existence, unfortunately, as after a brief glimpse of old Detroit, it's just a slow pan over the credits and a sneaky peek of the titular robotic copper's leg holster at the end of the teaser. Thankfully, an accompanying press release for the trailer lets us know that Teyon and MGM will be working together to create "an authentic RoboCop game experience that is faithful to the franchise's DNA, while immersing gamers in an original story that enables them to play as none other than RoboCop himself." The trailer's description also provides a little more information, while sounding like it's straight out of the '80s, saying that in the game you'll "become the iconic hero whose part man, part machine, all cop as you attempt to bring justice to the dangerous, crime-ridden streets of Old Detroit in RoboCop: Rogue City." RoboCop: Rogue City is set to arrive on unannounced consoles and PC sometime in 2023, with more details hopefully arriving sometime in the future.

And there's 10% off until next week. Switch owners with a taste for cracking yarns, urban fantasy, and a smattering of demonic possession have a bit of a treat in store; developer Wadjet Eye's superb point-and-click adventure Unavowed is available on Nintendo's platform from today. Unavowed - which is the work of Dave Gilbert, the designer behind Wadjet Eye's renowned Blackwell series - was enormously well-received when it released on PC back in 2018, receiving much acclaim for its ambitious structure and wonderfully compelling storyline, all built around an immediately appealing premise. Players take on the role of a (somewhat definable) character who's spent the last year terrorising New York City in a demonically possessed frenzy - and who now, after intervention from a crack team of supernatural specialists, finds themselves in the employ of an ancient, evil-battling secret society and ready to put their mistakes right. Unavowed - Nintendo Switch trailer. The ensuing adventure is an irresistibly pacy, wonderfully written, and surprisingly ambitious urban fantasy thriller, offering an impressive degree of flexibility in how the branching story unfolds. For starters, players can choose from one of three backstories, each impacting how they'll be able to approach events in their new paranormal investigator role. As an actor, for instance, they'll be able to lie convincingly in order to get characters to do their bidding, while the bartender is able to quickly get others to open up and reveal important information. Boosting replayability further, Unavowed includes four diverse companion characters that can accompany players on their adventures. However, only two can be picked to join their party at the start of each chapter, and that selection can have a significant effect on how each episode plays out, altering the mood, narrative events, even the puzzles players will need to solve. I absolutely loved Unavowed on PC, and enough time has passed that I'm pretty excited to return to it again on Switch and rediscover its delights anew. And if you're also intrigued, Unavowed costs £13.49/$14.99 USD on Nintendo's eShop - with 10% off until 14th July.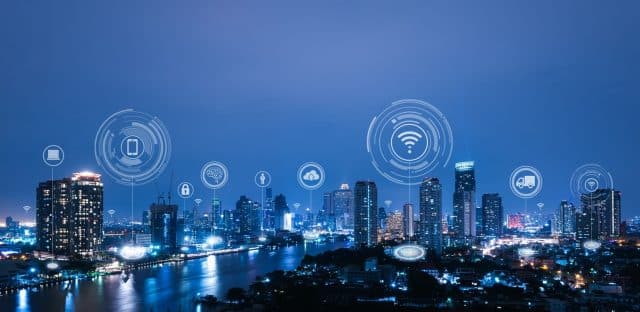 As the world changes, so do our priorities. We are now needing to place human needs before technical needs when designing urban areas for the future. Sustainability is at the heart of these considerations as we look to include green spaces, utilize big data effectively, and introduce efficient travel. Technology is central to these ideas, particularly for the use of big data in smart cities. In today's society, governments and leaders are given a plethora of insights and data that improve how we live. Gathering such rich and useful information about built-up areas like cities is not only efficient and relatively quick but can work towards providing the best living conditions for residents as well as the environment and other species that inhabit it. What are smart cities? Smart cities are a relatively new concept that use technology to gather data and insights to improve services and solve problems. Cities only account for 2 percent of our planet's total surface area. However, data from the UN reports that cities will house 68 percent of the global population by 2050. The need for cities that can safely house a high population creates challenges like mobility issues, traffic congestion, and pollution, among many more we already face in our everyday lives. Smart cities can help solve societal challenges we are facing from an ever-increasing human population. City data provides an in-depth and accurate look into what we need without breaching earth's ecological boundaries. Successful smart cities Amsterdam was one of the first smart cities, using data to ensure the city's roads, housing, services, and quality of life continue to improve. The city manages all this while becoming more sustainable to avoid air pollution too. Plus, the city is making use of a unique asset to gather data -- its bridges. Amsterdam has more bridges than any other city in the world at 1,800 in total. These bridges can communicate information to other infrastructures in order to optimise travel -- the MX3D bridge is equipped with sensors to visualize information about traffic on bridges, the neighborhood, environment, and its structural integrity. Maintenance will automatically be alerted when it needs work on it. It can even communicate with traffic lights to change timing to reduce congestion when it's busy. Efficient transport Railways have always been key spaces within cities and maintain connectivity between neighborhoods. Trains are the optimum mode of transport in busy cities and will continue to be in the future -- for example, transport in London would be near enough impossible without the intricate underground and overground train system. With a population expected to reach around 10 billion by 2050, smart rail systems will be needed more than ever to evolve with the rapidly growing urbanization In today's world, smart trains use data for passenger information systems to inform on live news, connecting information, time tables, as well as real-time data to inform engineers of predictive maintenance to keep services running smoothly and regulate trains. Machine-to-machine communication with input from the cloud enables passengers to seek the fastest route and find out which trains are the busiest, keeping footfall smooth and reducing congestion in built-up areas. Dubai's new ways of travel Dubai's pollution is hitting high levels, risking vulnerable groups like young children, older people, pregnant mothers, and the ill. This is contributed to by the high number of personal vehicles emitting noxious pollution as well as heavy-duty vehicles. Last year, Dubai engineered an entirely new transport system to the city, named Sky Pods. These will travel alongside the Dubai Metro, transporting two to five people around set routes to meet their mobility targets. Mattar Mohammed Al Tayer, the director-general and chairman of the RTA, commented: "The signing of the agreement is part of RTA's efforts to deploy autonomous transit means in line with the Dubai Self-Driving Transport Strategy aimed at diverting 25 percent of total mobility journeys in Dubai to autonomous transit means by 2030." Similarly, the city is looking for ways to cut down rush hour for commuters. The new Virgin Hyperloop took its first travelers in November last year and can travel between Dubai and Abu Dhabi in 12 minutes, transporting 10,000 passengers each hour both ways. Integrating green spaces Recent research suggests that while we should integrate technological features into our cities, a lot of focus needs to be shifted towards environmental sustainability. Smart cities are also being designed for public health and well-being. Satellites can identify how much greenery exists in a city and areas to improve. This can enhance air quality and support ecosystems as well as offer pedestrians places to wind down and relax in nature. Smart parks can ensure lawns and plants are watered in response to weather changes, making plant maintenance an automated process. These considerations are becoming increasingly important. For example, in the UK,54,000 acres of green space were turned into artificial surfaces between 2006 and 2012, which is equivalent to an area twice as large as the city of Liverpool. The technology involved in smart cities can not only help transportation and efficiency but improve the quality of life and emotional well-being of those who live among it. Image Credit: Shutterstock, by Vasin Lee Lucy Desai is a copywriter who creates high quality content across many diverse industries, with an interest in technology, and culture. She works with Nomad Digital a leading provider of passenger and fleet rail connectivity solutions.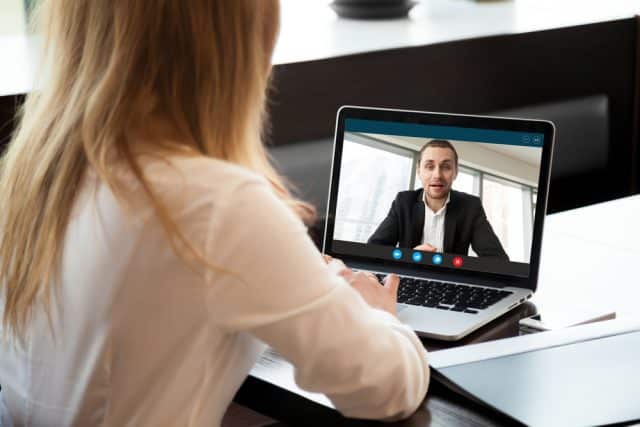 Originally designed to shield against malicious websites or unacceptable content, secure web gateways (SWGs) have evolved to become essential to enterprise security, especially for remote workforces. This is especially true since early 2020, when COVID-19 created millions of remote workers almost overnight. The VPNs that were widely implemented as an early response to the worldwide health crisis allowed secure access to network resources but came with an impact on productivity and network throughput. Meanwhile, for remote workers connecting directly to SaaS and cloud-based applications and data, VPNs weren't even part of the equation. The reality is, with business-critical apps and data residing outside the network perimeter, remote users need access to these resources from anywhere. SWGs are essential to ensuring that access. But how and where a SWG is implemented can make the difference between real protection and a false sense of security. Putting the "S" in "SWG" SWGs started as a means of URL classification -- identifying and blocking online destinations and content that was deemed inappropriate. Early on, organizations saw this as a productivity solution, keeping the inside sales team from going to sports sites when they should be making calls. As SWGs became more about security, rather than productivity, they evolved to provide a level of protection beyond firewalls and anti-virus software; in particular, they enforce security policies by preventing users from reaching certain websites and keeping risky material off the network. The problem is, they also require sites to be categorized. Some of this can be automated, but much of the time, the security team needs to continually refresh the approved or blocked sites lists. This sort of manual updating doesn't account for "safe" sites that get infected by malicious code; a site that was known to be safe yesterday may be compromised today, and until the block list is updated, systems and data remain at risk. SWG appliance deployed on-premises means that all traffic needs to be backhauled through the network infrastructure, adding latency and increasing the need for corporate bandwidth. In a remote work environment, this just isn't practical, especially for users who rely on cloud and SaaS resources. These solutions also require regular updates and upgrades to both software and hardware to address changes in technology and next-generation threats. The core issue with how SWGs and other security solutions were implemented in the past is that they depend on a "detect and remediate" model. These solutions can't keep up with evolving attack vectors, malware variants and compromised websites. All it takes is one wrong click to create an untenable security situation. Even if your solution is effective 99 percent of the time, that remaining one percent can leave you vulnerable to attack. Does this mean SWGs are not effective for current security needs? In fact, the opposite is true. What has changed, though, is how an SWG fits into a complete strategy. From Productivity Enhancer to Security Heavyweight In a cloud-driven era, CISOs have to protect productivity while securing users and data from both known and unknown threats -- all in a remote or hybrid working environment. As the security stack moves from the network to the cloud, a SWG has become a fundamental building block of a Secure Access Service Edge (SASE) framework. All elements of your security stack need to coordinate and talk to each other, from your SWG to your cloud access security broker (CASB) to your data loss prevention (DLP) solution. There's one more factor that can make a critical difference in the effectiveness of a comprehensive security strategy: a zero trust approach that assumes every contact between a user and a resource is malicious until proven otherwise. To create a true zero trust environment requires an array of authentication and verification methods, but is also supported through isolation -- that is, creating a virtual gap between the user and the online resource. Using a SWG with an isolation core, users can view and interact with websites and online applications but active content can never actually touch an employee's system. This is zero trust at its most fundamental: nothing is trusted, yet productivity is preserved. A cloud-based security stack, centered around a SWG to enforce policies and inspect traffic to and from that isolated environment, can enable users everywhere to safely access web resources without the slowdowns or incomplete protection of conventional solutions. Threats Keep Evolving -- Security Must Evolve to Match Where people work -- and where data resides -- has radically shifted; security, as always, will continue to follow suit. Going forward, the internet is the corporate network, and must be treated as such. While COVID-19 put VPNs in the spotlight, remote work will accelerate SWGs to the mainstream of security solutions. A cloud-based security stack, powered by isolation and featuring the configurability and capability of an SWG, is essential to ensuring both productivity and security, no matter where work happens. Image credit: fizkes / Shutterstock Mark Guntrip is Senior Director, Cybersecurity Strategy at Menlo Security

Posted by Jeremy Hellstrom| Jul 7,2021| General Tech| 0 pfSense Community Edition is the open source branch freely available for use, as opposed to pfSense Pro which is the new closed source branch. pfSense CE 2.5.2 has just been released for you packet junkies out there, but as ServeTheHome discovered it may not be a simple upgrade for some. After the release of pfSense 2.5, pfSense and FreeBSD pulled back on kernel WireGuard support which many had been using in conjunction with pfSense. This means that a number of users out there are running a router with an outdated version of Wireguard and that will prevent a happy upgrade to 2.5.2, which returns Wireguard support as an experimental add-in. Upon installing the update, those few brave souls running Wireguard will be faced with error messages stating that all Wireguard interfaces and tunnels must be removed before the installation can succeed. This is inconvenient but as the number of users that will see the message is quite low the decision makes some sense. In order to upgrade the existing version of Wireguard, pfSense would have to put a fair amount of work into testing and development for this patch. This could change thanks to the open source nature of pfSense CE, but ServeTheHome is not holding much hope for that at the moment. In the mean time, they suggest a workaround using OpenVPN; not the best solution but perhaps less time consuming that rebuilding your Wireguard configuration from scratch. Share: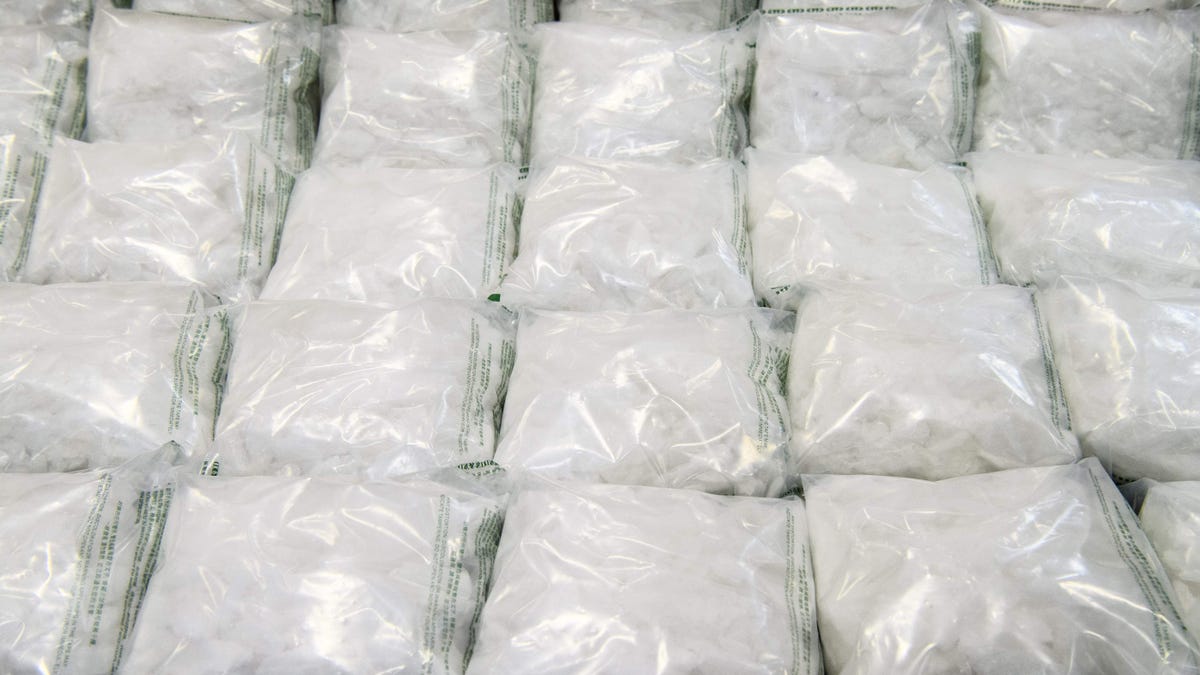 When people consume drugs, they metabolize a good portion of them. But what isn't metabolized can come out when people pee, and sewage treatment plants aren't designed to filter those trace amounts of drugs out. That means these trace chemicals end up contaminating our waterways. In a study published in the Journal of Experimental Biology on Tuesday, behavioral ecologists looked into what effect this is having on fish populations. The authors focused on the stimulant methamphetamine and its impact on brown trout. To examine methamphetamine's effects on brown trout, the team examined two groups of 40 fish each, which they placed into two separate holding tanks. One tank was laced with the same levels of the drug that have been found in contaminated freshwater rivers (1 microgram per liter), and one tank had the same water conditions but no methamphetamine. After the fish spent eight weeks in these tanks, the scientists transferred them all into a shared freshwater environment. They found that the methamphetamine-exposed fish exhibited signs of behavior linked to addiction disorders. For their first four days out of the methamphetamine tank, they were markedly less active than the control group, which the researchers interpreted as signs of anxiety and stress—typical symptoms of methamphetamine withdrawal for humans. Every other day while the researchers were observing the fish, they also injected water laced with similar methamphetamine concentrations to the drugged fishes' previous home into the freshwater tank. The trout that had been exposed to methamphetamine gravitated toward the stream in 50.5% of observations, while the control group swam there in just 41.5% of cases. "Our results suggest that emission of illicit drugs into freshwater ecosystems causes addiction in fish," the study says. The scientists later euthanized the fish to analyze their bodies and brain tissue. At this point, none of the fish had received a dose of methamphetamine for 10 days. Yet they still found traces of the drug in the previously exposed trouts' brains. Similar things, the study suggests, could be happening out in the world when methamphetamine users' runoff gets into lakes and streams. The ecological implications of exposing fish to drugs could be serious. For instance, the new trout study suggests that methamphetamine cravings "could overshadow natural rewards like foraging or mating," which could seriously disrupt food chains and waterways' ecology. This isn't the first time scientists have found that human drug use is affecting marine creatures. A 2018 study by Italian researchers found that cocaine flushed into rivers was making eels "hyperactive" and that even low rates of exposure could damage their skeletons and muscles. In another report from the same year, scientists found that mussels in Puget Sound had tested positive for the addictive prescription opiate oxycodone. And in 2019, researchers also found traces of cocaine and ketamine in freshwater shrimp in the UK. Even commonly used medications such as anti-depressants can have impacts on marine life; a study from just last month shows that crayfish acted more "boldly" after hanging out in water laced with SSRIs. The study calls attention to the strange environmental implications of human behaviors. 'The elicitation of drug addiction in wild fish could represent another example of unexpected pressure on species living in urban environments," Pavel Horký, an ecologist at the Czech University of Life Sciences' department of zoology and fisheries who led the study, said in a statement.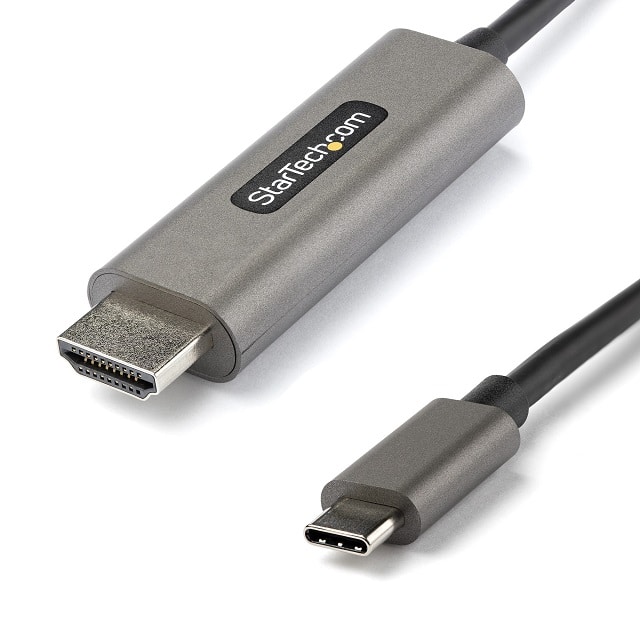 Many laptops don't have HDMI outputs anymore, instead only offering USB-C ports. So this means you can't connect the computer to your TV or monitor, right? Wrong! Many USB-C ports (not all) will also output video, allowing you to connect to HDMI by using an adapter or dongle. Of course, not all cables are created equally. While Amazon is littered with many USB-C to HDMI cables, a lot of them are of poor quality. If you don't want headaches, you should stick with a reputable brand, such as the much-respected StarTech.com. Today, that company launches a new such cable adapter, and it even features HDR10 support. The cable is compatible with Windows, Mac, and Linux-based operating systems (including Chrome OS and Android). ALSO READ: Nintendo Switch OLED Model isn't the Pro console we wanted, but you should pre-order "The USB-C video converter cable is fully compatible with your HDMI 2.0b equipment, supporting resolutions up to 4K 60Hz (3840x2160) and bandwidths up to 18Gbps. The cable offers 4:4:4 chroma subsampling, so every pixel gets its own unique color. It's also backward compatible with earlier versions of HDMI. With HDR support, you can enjoy lifelike images with increased contrast, brightness and colors and greater luminosity than standard digital imaging," says StarTech.com. ALSO READ: Lexar launches Professional CFexpress Type B USB 3.2 Gen 2x2 Reader The StarTech.com USB-C to HDMI cable adapter is offered in five lengths, ranging from 3 feet to 16 feet. Believe it or not, pricing doesn't vary too much amongst them -- the longest cable is not obscenely more than the shortest. For instance, right now on Amazon, the 3 foot version is $34.70 while the 16 foot variant is just $49.82. Please note: Some of the above links may be affiliate links, meaning we, or our writers, may receive payment if you purchase one of these items (or other items) after clicking on them.

Trainers, Google Play is now the official sponsor of Pokemon Go Fest 2021 and Android users will receive special Sponsored Gifts, three months of YouTube Premium, Google Play Points multiplayer and exclusive content with The Try Guys. Pokemon Go and Goole Play as partnering up and Android users are probably the luckiest players during the Go Fest 2021 event. Google Play is now the official sponsor of Pokemon Go Fest 2021 and to celebrate the fifth anniversary of Pokemon Go, eligible players will get three months of YT Premium for free, meaning players can enjoy on the YT app without seeing any ads, offline and in the background. From Monday, July 12, 2021, to Sunday, July 18, 2021, Google Play subscribers will earn 4× Google Play Points on all purchases made in Pokémon GO – including tickets to Pokémon GO Fest 2021. Google Play Points can be redeemed for Pokémon GO coupons and more. If you use an Android device and don't have a Google Play subscription, you can sign up for one here. Pokemon Go also teamed up with The Try Guys for a different Pokemon Go experience. For last, and probably the most exciting news is the free Google Play Sponsored Gift for Trainers using Android devices. On the first day of Pokemon Go Fest 2021, July 17, Android users will receive a free Google Play Sponsored Gift bundle containing x1 Incense, x1 Super Incubator, and x30 Ultra Balls. Sponsored Gifts and Sponsored messages appear randomly on the map and are attached to a balloon. Tap on the Sponsored Gift Balloon, then tap open and the items are now added to your account/inventory. To close it, just tap the X. In addition, child accounts CAN'T and WILL NOT receive Sponsored Gifts in any case.

For the past two years, Marvel Comics has been moving the X-Men franchise further and further away from superhero tradition by positioning mutants as an intergalactic political power. The myriad X-books have focused on mutants working together to defend their island nation of Krakoa, and expand its influence. But in the process, the X-Men have strayed from their initial purpose: protecting a world that fears and hates them.

Operating systems are a big part of our daily lives. If you've used a Mac or Windows PC for years, you might be asking yourself, should I buy a Chromebook? On the other hand, the appeal of something new is exciting. Are you intrigued by the idea of lower cost hardware and 5 second boot times? If so, Chrome OS and a new shiny Chromebook might be for you. Generally, Chromebooks and Chromeboxes are much more cost-effective than a Mac or PC machine. If you can make the move to the cloud, you also won't need top of the line specs for a pleasant Chrome OS experience. Price isn't the only consideration though — you also get amazing battery life and access to millions of Android apps. Let's run down the main reasons you should make the move to a Chromebook today. When we say Chromebooks are more cost-effective, we mean by a wide margin. You can get a quality Chromebook for around $300, and one that doesn't sacrifice experience for price either. This is possible because Chrome OS doesn't require the same specs as Windows or macOS. You don't need a Core i7 and 16GB or RAM to have a decent experience running apps or opening a lot of Chrome browser tabs. In addition, there isn't a need for a large SSD with Chrome OS. This does require some commitment to cloud-based storage, but this is fairly easy once you get used to it. Services like Google Drive and Dropbox make storage in the cloud an elegant and unified solution across all devices. Of course, if you want a high-end machine, you can still get that with a Chromebook too. On the higher end, Chromebooks still undercut PC and Mac machines on price. The excellent Samsung Galaxy Chromebook 2 is occasionally on sale for under $400. This machine offers a Core i3 processor,8GB of RAM, and a 128 GB SSD for storage. Those are fairly beefy specs by Chrome OS standards, with an amazing price to boot. Other excellent Chromebooks with top specs around the $500 price point include the Acer Spin 514 and the Lenovo Yoga Chromebook. Chrome OS is one of the lightest operating systems out there. Owing to its cloud-based nature, lag is nearly nonexistent on Chrome OS devices. Even with lower end devices, you won't notice much slowness or stuttering around the general user interface. Boot times on a Chromebook are also nearly instantaneous. Most Chromebooks we've tested boot to the login screen within 5 seconds, some of them much faster. Using web apps is also very convenient. With cloud storage you won't lose any of your important files if your Chromebook becomes corrupted locally. If you care about security, Google also has you covered in Chrome OS, which locks malicious code in a sandbox. Sandboxing locks a process into an isolated environment that doesn't share resources with anything else. There are far fewer exploitable bugs on Chrome OS when compared to Windows, or even macOS. Considering Chromebooks run primarily in a browser, the incredible security comes as a surprise to many. Fast, efficient, and secure — what more could you want? Battery life is a chief concern to all users. Using a laptop all day for work and play can chew through your battery quickly. On a Mac or PC, it's fairly common to expect between 5-8 hours of battery life on a typical day. With lighter use, you could squeeze around 10 hours of use out of ultrabooks like the MacBook Air. With a Chromebook,10 hours of battery life is pretty much the norm. You can expect almost all Chromebooks to get around 10 hours of regular use (working on documents, listening to music, watching media). Some Chromebooks, like the Lenovo Chromebook Flex 3, can reach up to 16 hours of battery life on a single charge. If you use an Android phone on a daily basis, you'll already know how to install apps from the Play Store. On the other hand, the process might be a bit new for those using an iPhone as their daily device. Installing apps from the Play Store is very similar to the process for Apple's App Store for iOS or macOS. We recommend downloading Microsoft Office, Netflix, and Twitter to get started. Check out our full guide to Android apps on Chrome OS for more app suggestions. What exactly can you accomplish running Linux apps? Chrome OS by default is a cloud computing platform, which leaves out some desktop-class apps you might see on a Mac or PC. For instance, if you need to run Photoshop natively, that's not possible on your Chromebook. Video editing is also quite difficult by default on Chrome OS. Both of these problems are addressed by Linux apps. In addition, if you're a developer, you undoubtedly need Linux for coding tools. While not all Chromebooks support Linux apps (there are some baseline system requirements), most modern Chromebooks will have the option available. You can also grab a docking station and connect an external monitor to maximize productivity. As mentioned before, you need to check that your Chromebook actually supports Linux apps first. To do this: The process to download and install Linux apps is a bit technical, but you can check out our full guide to Linux apps on Chrome OS for the full step-by-step overview. Chrome OS is powerful and versatile, running on a variety of hardware. There are Chromebook options out there for just about anyone. If you are in the market for a new Chromebook, check out our guides on the best Acer Chromebooks, Samsung Chromebooks, and Lenovo Chromebooks. Also, if you want a Chromebox for a desktop experience, we have an excellent primer on choosing a Chromebox as well. Let us know your favorite part about switching to Chrome OS in the comments below.

(Photo by Rafael Henrique/SOPA Images/LightRocket via Getty Images) Among social and video streaming apps, YouTube and TikTok are battling it out for eyeballs, but TikTok has now surpassed YouTube for average time spent per user in the US and the UK, according to data from App Annie. The company compared app trends in Q4 2019, before the pandemic took hold here, to Q2 2021, when markets started to open up. App Annie finds that "social habits formed during the pandemic are sticking around — and deepening." As of May 2021, TikTok users in the US spend an average of 24.5 hours per month using the app, while users across the pond are at 26 hours per month. For YouTube, it's about 23.1 hours in the US. The average US user is spending 50% more time in TikTok on Android phones (it's 80% in the UK) compared to December 2019. (Image: App Annie) YouTube still holds an edge globally. It's the No.1 video-streaming app by time spent in all markets except China. In Japan and South Korea, it has "a sizable 2.5x lead over TikTok in average time spent per user in May 2021." In South Korea, the average user spends about 40 hours per month with TikTok only averaging about 18 hours per month. But TikTok's growing popularity—App Annie predicts it'll top 1.2 billion average monthly active users this year—"could represent a competitive threat," App Annie says. In 2020, it increased its US user base by 85.3% compared to the previous year, according to Statista. And TikTok parent company ByteDance reported 2020 revenue at $34.3 billion, an 111% increase from 2019. App Annie says audio-only apps like Clubhouse also had a breakout Q1 and Q2, despite being an iOS-exclusive until May 2021 and invite-only.

Nearly every website you visit insists you create a user account and think up a password, from dating apps to hyper-secure banking sites. The human memory can't keep up with dozens and dozens of these. Some folks get the bright idea to use the simplest possible passwords, things that are easy to remember, like "123456789" or "password." Others memorize one superbly random password and use it for everything. Either path is likely to make you the latest victim of identity theft. Don't be like them—use a password manager. And use all of a password manager's features correctly correctly. With a password manager, you don't have to remember that strong, unique password for every website. The password manager stores them for you and even helps you generate new, random ones. That's great, because, for many people, forgetting a password is a cause for panic. We've tested and analyzed dozens, so you can pick the password manager that best fits your needs. Not happy with your initial choice? Don't worry. Most services allow you to export your saved data or import from other products, easing the process of switching password managers. All of the products in this roundup cost money (though you can use some of them for free if you accept certain limitations). If you don't want to spend money and don't want limitations, don't worry. We've rounded up the best free password managers in a separate article. Most of the free tools lack the most advanced features, but they get the job done. We don't include any password managers in that roundup that either restrict the number of passwords you can save or inhibit cross-device syncing. In light of LastPass's upcoming syncing restrictions for free users, we have removed it from that roundup. If you are considering leaving LastPass because of this change, check out our top LastPass alternatives. Secure Your Passwords on Every Platform When you sign up for a password manager, one of the first things you need to do is create a master password for your account. Your master password is used to encrypt the contents of your password vault, so you should make it something difficult for anyone else to guess or find out. However, it can't be so random that you forget it; your master password is likely unrecoverable if you do. Read our tips on creating secure, complicated passwords for guidance. As an additional precaution, you should set up two-factor authentication to secure your password manager account, be it biometric, SMS-based, or via time-based one-time passwords (TOTPs) stored in an authenticator app. The best password managers support authentication via U2F- or OTP-based hardware keys such as from YubiKey and Titan Security. Before you commit to any password manager, you need to make sure it supports each device platform you use and doesn't prevent you from syncing your passwords across all of your devices. Although support for Windows and macOS platforms is a given, several password managers now offer native Linux apps, too. The best password managers have browser extensions for every popular browser that can operate independently of a desktop app. Full support for mobile platforms is a requirement for any modern password manager as most people frequently use their mobile devices to access secure sites and apps. Most experiences and features translate to mobile platforms without issue, but no one wants to enter a password like @2a&AY8mePu8HU@H on their smartphone's tiny keyboard. Fortunately, password manager apps typically let you authenticate using your fingerprint or face and directly fill in-app credentials with the tap of a button. The Password Basics Most people primarily use a password manager to manage website credentials. In practice, when you log in to a secure site, the service offers to save your credentials. When you return to that site, it offers to fill in those credentials. If you've saved multiple logins for the same site, the password manager lists all those options. Most also offer a browser toolbar menu of saved logins, so you can go straight to a saved site and log in automatically. Some products detect password-change events and offer to update the existing record. Some record your credentials when you create a new account for a secure website. For maximum convenience, you should avoid password managers that don't automatically capture passwords. Getting all of your existing passwords into a password manager is a good first step. Next, you need to identify the weak and duplicate passwords and replace them with tough ones. Many password managers flag weak, duplicate, or compromised passwords and help you improve them. Others go as far as to check whether you have set up two-factor authentication for those services in your vault that support it and whether your personal information appears in any data breaches. When you create a new secure account or update a weak password, don't strain your brain trying to come up with something strong and unique. Let your password manager take care of that. You don't have to remember it, after all. Make sure your generated passwords are at least 20 characters long and include all of the major character types (uppercase, lowercase, numbers, and symbols); all too many products default to a shorter length. Fill Forms Automatically Since most password managers can autofill stored credentials, it's just a small step for them to automatically fill in personal data on web forms—first and last name, email address, phone number, bank cards, passport numbers, and so on. You'll even find products that use realistic images of credit cards with the correct color and bank logo to store your payment options. Storing payment and identity details in an encrypted vault is a much safer way than saving them to a website or browser. Most of the top-rated products include a web form-filling component. The breadth and flexibility of their data collections vary, as does their accuracy when matching web form fields with their stored items. Even if they miss a field or two, the ones they do fill are ones you don't have to type. Think about how many sites you go to that want all the same information; this feature is a huge time-saver. Each password manager handles form filling differently. Some immediately fill fields automatically, but others wait for your input. Advanced Password-Management Features Given that all these products take care of basic password management tasks, how do any of them stand out from the pack? One handy advanced feature is the ability to capture and fill credentials for desktop applications, not just websites. It's uncommon for modern password mangers to not be able to fill credentials for mobile apps, however. Another is a secure browser, designed to protect sensitive transactions and invoked automatically when you visit a financial site. The ability to automate the password change process seems to be less and less common these days. Some password managers never offered this feature to maintain zero-knowledge policies. Most password managers include a built-in mechanism for securely sharing passwords with other users, but some go a step further with advanced permissions. For instance, a few password managers allow you to share a login without making the password visible, revoke sharing, or make the recipient an owner of the item. On a grimmer note, what happens to your secure accounts after you've died? A growing number of products include some provision for a digital legacy, a method to transfer your logins to a trusted individual in the event of your death or incapacity. Logging in with your secure username and password to a website that doesn't use a secure HTTPS connection is a big no-no. Some password managers even warn you about insecure login pages. Even when you do use HTTPS, sniffers and snoops can still learn some things about your activity, such as the simple fact that you're logging in to the secure site, and the IP address from which you're connecting. Running your secure connections through a virtual private network, or VPN, adds a layer of protection. Dashlane includes a simple built-in VPN. RememBear and NordPass respectively come from the same companies behind Editors' Choice VPNs, TunnelBear VPN and NordVPN. Secure storage is an increasingly common feature among password managers, too. The storage allocation won't replace the need for a dedicated cloud storage and syncing service, but in many cases, it's enough for storing important documents in an encrypted state. What's Not Here As mentioned earlier, you also won't find any only-free password managers here; those products are in a separate roundup. The password managers that offer both excellent paid and free tiers appear in both roundups. A password manager isn't the only thing you need to secure your digital life. We already mentioned the importance of using a VPN and two-factor authentication, but you should also use a security suite. It never hurts to verify that all your security software works, either. The Top Password Management Software Although a password manager needs to offer advanced features, it should remain easy to use and avoid needless complexity. Users who get annoyed or baffled by a password manager may well abandon it and go back to using sticky notes to store and share passwords or, worse, applying the same password everywhere. Our Editors' Choice winners for the category are Dashlane, Keeper Password Manager & Digital Vault, and LastPass. Slick and polished Dashlane boasts a ton of features. Keeper offers a full set of advanced capabilities, a sleek and elegant user interface, and support for every popular platform and browser. LastPass Premium excels because of its ease of use and competitive security tools, despite the upcoming changes to the free version of LastPass. You won't go wrong choosing any one of these products. Products that do not earn an Editors' Choice award still have their merits, however, and you may even prefer one of them.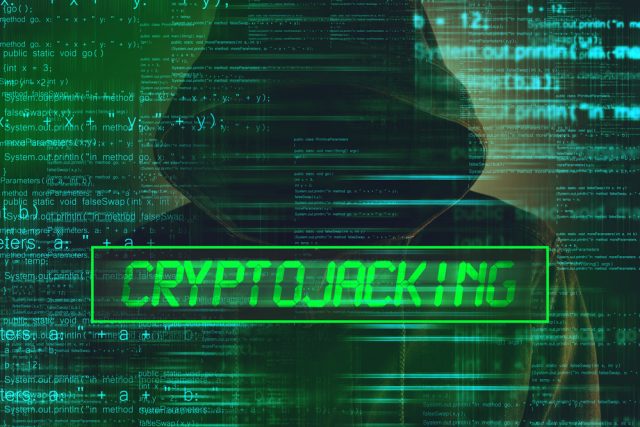 Thanks in no small part to Tesla CEO Elon Musk, Bitcoin, Dogecoin and other cryptocurrencies have become much more widely known, but not necessarily understood. Recent booms and burst bubbles have exposed how volatile, speculative and easy to manipulate those cryptocurrencies are, not to mention the environmental concerns attached to how they are mined. Nevertheless, cryptocurrency mining can be hard to resist when there is potential for massive payouts to successful miners. To try and gain an edge, miners have formed blockchain mining farms and invested in high-end computing systems. But with opportunity brings risk -- in this case, it's in the form of sophisticated cyber criminals gaining unauthorized access to personal and company computers. Increasing threat of cryptojacking It was only a matter of time. The large rewards from successfully mining cryptocurrencies has the full attention of criminals using computer systems to illegally mine for cryptocurrencies unbeknownst to the people, businesses and organizations that own them. According to Threatpost, a cryptocurrency-mining malware called WatchDog was found in Feb 2021 to have been running under the radar on at least 476 Windows and Linux devices for more than two years. Researchers called it one of the largest and longest-lasting cryptojacking attacks of its kind to date. Case and point: in many instances of cryptojacking the victims are completely unaware their systems are being exploited. And the effects can be damaging: slow down in the performance of computers, reduction in the lifespan of devices, irreparable damage to hardware, and significant increases in energy bills. All in all, cryptojacking represents yet another concern that IT departments across the world need to be on the lookout for. Cryptojacking -- the warning signs There are three common methods of cryptojacking that IT teams need to be aware of. The first is to load code directly onto a computer when the victim clicks on a malicious link. After the computer is infected, the cryptojacker quietly hides in the background and mines cryptocurrency. The second is to embed a piece of JavaScript code into a web page and perform cryptocurrency mining on machines that visit the page. This is known as 'drive-by cryptomining'. Victims are completely unaware their computer is being used to mine cryptocurrency because the code uses only enough system resources to remain undetected. The last is to use common exploits to infect servers or multiple machines to gain access to much larger CPU resources for their cryptomining efforts than ordinary desktop PCs provide. This is what happened with the supercomputers in Europe. How exposed is your IT? The success of cryptojacking is dependent on evading detection for as long as possible and the rise of remote working during Covid-19 has widened the target for cyberattackers. IT assets no longer reside purely within a secure office network. They are now frequently moved between the office network to less secure home networks and back again. Employees may also be using their own, less secure, devices to access the office network from home which opens up another attack surface for cybercriminals. Devices are more exposed to cyberthreats outside the corporate network perimeter and not only can they become infected while they are outside the office network, they can also be used as a trojan horse to spread those infections across the corporate network if correct security measures are not in place. Remote working and cryptojacking -- the perfect storm The surge in remote working and the value of cryptocurrencies represents a perfect storm for opportunists. Although the growth in remote tools and third-party apps such as Teams, Slack and Zoom have helped maintain productivity, they are also linked to internal systems, providing access to their data. Not to mention increasing the likelihood of employees being tricked by fake malicious meeting invitations. The other side of the remote working challenge is employees using their professional and personal computers and other devices for work purposes, widening the risk area and adding to the already increasing vulnerability of these devices. Lack of comprehensive network security solutions, and even basic firewall and malware protection, is eating away at organizations with remote workforces. The challenge for organizations, businesses and users begins with detection, as you can't protect what you can't see. Businesses leaving the door wide open Being able to visualize and analyze devices on a network, either home or work, will help to detect any malicious code and repel cryptojacking attacks, as well as the broader vulnerabilities created by dispersed workforces and devices such as malware and phishing. Most organizations will have a list of IT assets and feel confident they have secured their devices. But even with this list, they can find themselves vulnerable because while the front door is locked and bolted, the garage door is wide open. To address these concerns, IT departments need effective IT asset management with the right tools to build a clear, complete picture of devices on a network. This allows them to create a complete inventory of all devices on the network, including Windows, Linux and Mac devices, printers, routers and switches. The scanned devices are then automatically sorted into categories based on their device type. This makes locating devices and checking their configuration quick and extremely easy. IT departments can sort devices by IP or find a specific one through a filtered search. It is time for IT leaders to regain control and visibility of their IT infrastructure, and not live in fear of being left vulnerable to cryptojacking and other nefarious cyberattacks. Having a detailed insight of their IT infrastructure should provide them with stronger capabilities to defend themselves against future threats and attacks. There are plenty of criminals seeking to mine cryptocurrency to try and get rich quick, but with effective IT asset management policies it won't be at the expense of the business. Image credit: stevanovicigor / depositphotos.com As Chief Product Officer of Lansweeper, Maarten Saeys is focused on innovative conceptualization and sustainable development. Since joining Lansweeper in 2014, Maarten has made it his ambition to tackle the challenge of managing IT through simple, sustainable solutions. His work helps to implement and simplify many of the challenges IT professionals face every day.

One of the best solutions for busy people to eat better at home is to plan and prep ahead. Preparing nutritious and delicious meals at home is especially critical these days when eating out and food shopping are more challenging. For many people, it can be hard to get started. If lack of inspiration — or organization — is holding you back, try one of the apps on this list to give you a shove in the right direction. From organizing menus to creating shopping lists, these meal-planning apps help take the stress off your plate, swapping it for delicious homemade meals. Looking for even more app-spiration? Check out our larger list of Android apps and the best iPhone apps. If you're looking to lose weight, PlateJoy is one of the best apps around. Designed and supported by nutritionists, it offers a subscription that's a bit more expensive than some other apps on our list, although you could subscribe for free, depending on your health insurance provider. A subscription costs $69 for six months or $99 for 12 months. Sign up, fill out a lifestyle survey, and PlateJoy's nutritionists will tailor a unique, personalized meal plan just for you, complete with an automatically generated shopping list you can integrate with various grocery delivery services. Nutritionists also are available for consultation via phone or live chat, and you can sync the app with your FitBit to track calories. Meal plans are available for any lifestyle, including vegan, vegetarian, gluten-free, paleo, and many more. There's a free trial, too, so you can see if the app is right for you before signing up. iOS Android MealPrepPro helps you save time and money shopping, planning meals, and cooking. The app offers a free trial, after which you pay a monthly $7 subscription (or choose an annual subscription to save money) that you can cancel at any time. Create nutritionist-approved meal plans customized to your fitness goals and dietary requirements, add a partner to your meal plans if you're cooking for two, and get a weekly shopping list sorted by aisle, to save you time grocery shopping. Each recipe comes with a handy step-by-step video to help you cook, and the app integrates with Apple Health. Plans are available for a wide range of lifestyles and dietary needs including high protein, low-carb, vegan, gluten-free, and more, and you can filter for allergies like fish, eggs, peanuts, etc. MealPrepPro makes it really easy to set and track health goals — and the tailored meal plans mean no more calorie counting. iOS BigOven makes it easy to gather all your favorite recipes in one central place and offers many ways to incorporate them into the app. It not only helps with mealtime inspiration, but it also assists in meal prep, grocery shopping, and incorporating leftovers into new meals. Clip recipes from your favorite sites or upload recipes by snapping a photo, or mark existing recipes as a favorite to save for later. Organize and filter recipes by category to find any recipe with seasonal collections or suggested dishes, or tap to save and share meal ideas. Add recipes to your planner, create a grocery list, and discover recipes with ingredients you already have to reduce food waste. The app sponsors a home-cooking community for additional ideas and feedback. It's free to use BigOven but you can sign up for a Pro subscription for $2 per month or $20 per year, which gives you access to features like advanced search filters and custom folders to store your recipes. iOS Android Are you vegetarian, vegan, or aspiring to a plant-based diet? If so, Forks Plant-Based Recipes is the ultimate recipe app from the makers of the film Forks Over Knives. It features over 600 meals from 50 leading chefs, with new recipes added for free every week. Every recipe exemplifies the plant-based lifestyle that is increasingly recognized for its health benefits and humane treatment of animals. The app also features gorgeous high-resolution meal photos, instructions on how to prep featured dishes, ingredients, prep steps, a shopping list for each meal, and other tips for maintaining a meat-free diet. iOS Android If you need some help and some company in the kitchen, Allrecipes Dinner Spinner's food-centric social app, with its community of more than 30 million home cooks, can help you put some variety in your dietary life. This personalized app gets smarter as you follow, save, or prepare various dishes. Tailor your selections by searching by keyword or ingredients to focus on dietary needs and time restrictions and then use the app to save, create, organize, and share recipe collections. You can also economize by cooking what's on sale near you, and the app can suggest recipes when you walk to certain stores. Tap to add full recipes or ingredients to your shopping list, which you can cook with the help of some 1,000 step-by-step cooking videos, complete with cooking instructions. iOS Android Veganized is a plant-based diet meal planner that lets you search, create, and share your favorite vegan products and recipes and track your nutrition. Veganized helps you plan meals and create shopping and grocery lists to gather all the items you need to prepare vegan recipes. It's a recipe app with a social networking platform, so you can find new recipes and create and share your own recipes with the community. A nutrients function lets you check all energy, macronutrient distribution, fiber, vitamin, and mineral information for each dish. Veganized helps you plan your meals every day and personalizes nutrient intake according to your age, gender, weight, and level of physical activity. And it generally helps to promote a vegan diet and lifestyle. Android Mealime (no, not a typo) is designed around planning family or guest meals the easy way. You can create profiles of everyone you are cooking for, which can list likes, dislikes, general eating habits, allergies, and so on. You can also create profiles for couples or whole families to make planning a little easier. You can then look for recipes that match all those requirements. Pick one, and it gives you full instructions and can automatically add the necessary ingredients to your grocery list. Most recipes are focused on fast prep times around 30 minutes, so you may be able to save even more time in the kitchen. Recent updates to the app include new recipes, retooled older recipes, six-person servings and custom serving sizes, improvements to delivery integration with Instacart, revamped recipe descriptions and history, and the ability to share your list with other apps, print from your phone, or share with your family members inside the app. iOS Android FoodPlanner is based around recipes. It allows you to browse the web for healthy recipes and download them onto the app. It gives you the nutritional data for the meals and allows you to automatically generate a shopping list. An extra inventory-management system for the truly serious foodie allows you to keep track of your current ingredients, and you can also make recipes from scratch if you wish. There are sharing features as well that can help you figure out how to meal prep. Android MealPlan presents you with meal tags that you can drag and drop into a weekly schedule to quickly plan your meals (and even email them to other people). The tags make it easy to search for specific meals, and can automatically generate grocery lists for you. You can also tweak meals to add snacks, put in links to specific recipes, or remove certain meals entirely. You can search for new meals and generate a tag for them, too. There's a learning curve, but it's a fun system, particularly if you have an iPad or an Apple Watch. iOS Do you love to customize every little detail? Then MealBoard may be the app for you. It acts like many of the other apps on our list, with a search function for meals pulled from the internet, the ability to plan out meals on a calendar, and the option to generate a grocery list. But a couple of features make it unique: The interface is particularly pleasant to use and easy to customize, and there's a pantry mode that allows you to move ingredients to your pantry when you buy them and remove them when you run out. You can also import meal plans and recipes shared by other users, and easily share your recipes, meal plans, or shopping list via text or email. iOS Here's a different approach: If your primary goal is to lose weight, then Eat This Much encourages you to enter your food preferences, how much money you want to spend, your schedule, and how many calories the meals will contain. It will then generate meal plans for you and provide grocery lists for the ingredients. If you like cooking ( as opposed to meal delivery) but want to develop healthier eating habits, this app could help you do just that. Recent versions add the option to count and generate food based on net carbs. Subscribers can now order groceries online through AmazonFresh. Food Search has been overhauled, allowing you to browse multiple categories of foods at once, with your favorites easier to find, while clarifying the distinction between different food genres. Sign up as a premium user and you'll automatically receive a week of meal plans and an accompanying grocery list via email. iOS Android Lose It! is a weight-loss app, but instead of recording the number of calories you want per meal, you just set general goals and a bodyweight target that you want to reach. Then you accurately track what you are eating and what sort of exercise you are getting. The app includes a food database with millions of options to choose from, a scanning function so you can instantly add purchased foods, and even some photo recognition for basic foods. Lose It! is ideal if you like to combine meal planning with tracking both your food intake and exercise levels. It's especially handy if you're running Apple devices already; it's compatible with Apple Health and the Apple Watch. In recent updates, the app now sends recipe ingredients as separate food items to the Apple Health App. The newest versions update the recipe feature to let you copy a recipe and add additional serving units. There are also updates to the Apple Watch and Steps connection and enhanced status screens. The app now supports viewing your grocery lists on your Apple Watch. iOS Android Paprika makes the meal planning process interactive. Not only does the Paprika Recipe Manager 3 provide standard features like searching for recipes, forming lists, and meal planning for a certain amount of time, but it gives you tools to make the process more thorough. You can customize ingredients automatically, check each one off as they mix into your dish, and then publish recipe pictures. If you're serving a big group of people, the app will adjust ingredients amounts accordingly. Paprika makes your weekly trips to the grocery store more efficient by providing a customized and organized list by aisle. Newer app editions include a recipe description search, allowing you to find recipes, even if you can't remember the name. Recent updates also feature enhanced syncing capabilities. iOS Android Yummly is an app for sharing and finding recipes. You can find recipes using customer ratings and crisp photos to find out more about the most popular ones. It also provides how-to videos and recipe recommendations. This app is excellent when it comes to making sustainable improvements to your meal prep process. The most recent edition of the app includes Ingredient Recognition, which recognizes precisely which ingredients you have and which you need. The app will recommend recipes that use ingredients you already have on hand. The app makes it easy to make the most out of what you already have in the kitchen without having to stress about it. The Pro version of Yummly only costs $5 per month and gives you access to a catalog of cooking programs with renowned chefs. My Connected Kitchen, the latest version of Yummly, introduces the use of its smart thermometer that accurately assesses cooking times and temperatures. iOS Android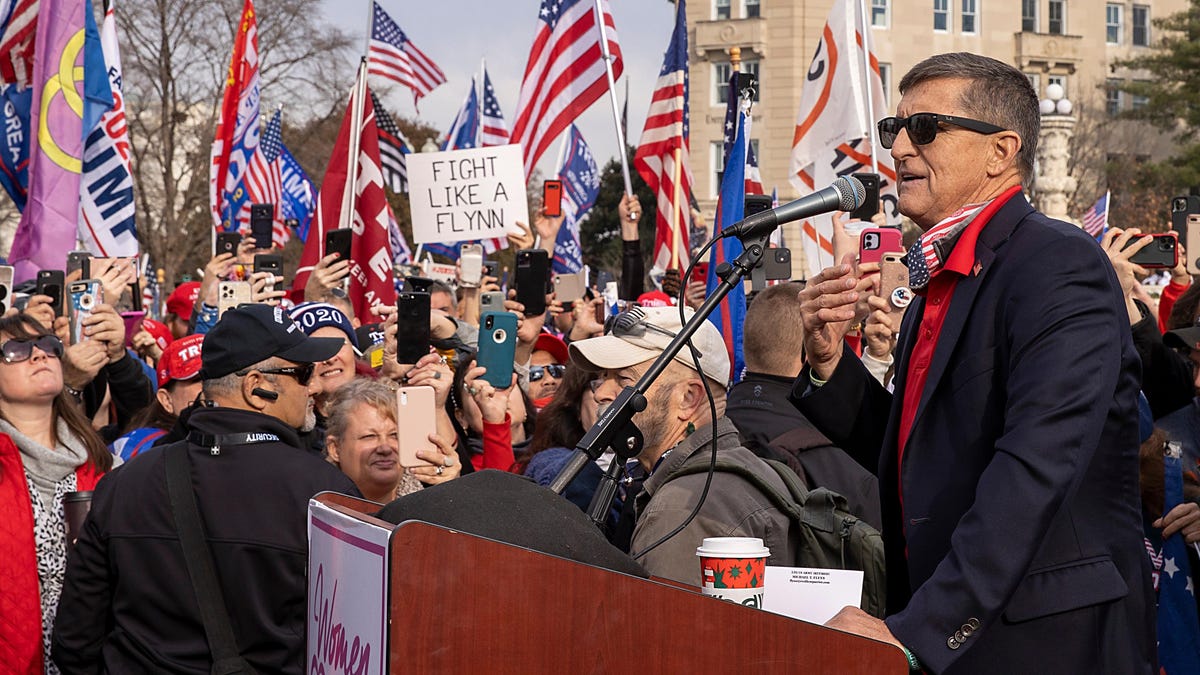 If you've ever been to a sleepover, you may have witnessed a family performing an eerie ritual, like holding hands before eating or playing charades after dinner. Michael Flynn's family thing is firing up the grill, standing in a line, and reciting a famed QAnon oath—which was just a loving familial gesture that has absolutely nothing to do with QAnon. In a new filing in a $75 million libel suit against CNN, Michael Flynn's brother Jack and sister-in-law Leslie assert that on Independence Day 2020, they merely held up their hands and repeated a "July 4 statement" including the QAnon slogan "where we go one, we go all" as a "statement of support for each other." "The Flynn's [sic] repetition of the phrase 'where we go one we go all' at the July 4, 2020 barbecue did not signify any kind of support for QAnon," the filing reads. "It was not an oath of allegiance to QAnon, or any kind of oath at all. It was a simple, family, July 4 statement of support for each other." The initial complaint, filed on March 25th, says that the phrase was inscribed on a bell on one of John F. Kennedy's sailboats. It in fact comes from the 1996 movie "White Squall" starring Jeff Bridges. "Plaintiffs may want us to think that they said the QAnon Slogan because they were feeling poetic or having a great fondness for 1990s sailing movies, but the truth is that they said it and then publicized their having done so on Jack Flynn's Twitter feed," CNN later remarked in a motion to dismiss. (Here's Jack's archived tweet, marked "WWG1WGA," in the customary QAnon styling of the rebel cry.) The Flynns' filing goes on to say that connecting the Flynns with QAnon "is no different than accusing them of being Nazi sympathizers." Interesting. Many families swear oaths to each other on the July 4th holiday (possibly), but the oath in its entirety bears a striking coincidental resemblance to Q's oath, which they had urged followers to repeat weeks earlier. The June 24th drop, captioned "take the oath," is the standard congressional oath of office with "where we go one, we go all" tacked on. It reads, in full: The Flynn family oath, which Michael Flynn appears to read off of an iPhone or tiny booklet, goes: Michael Flynn posted the video to Twitter, which suspended his account in the midst of a QAnon purge. The archived tweet shows that Flynn tagged the post #TaketheOath, which the filing claims that CNN " falsely claimed" was a "QAnon hashtag." (QAnon followers, including Oregon Senate candidate Jo Rae Perkins, used the hashtag with the oath, which BBC reporter Shayan Sardarizadeh reported trended for days, some tagging Michael Flynn, who also added it to his Twitter bio three days after Q posted "Take the oath.") In March 2021, he delivered what sounds like a rousing speech at a non-QAnon conference filled with QAnon leaders and believers, who've worshipped him as a leader of a Deep State rebellion. That's the information. You can make the judgment quietly in your mind or else face the Flynn legal team. The issue, the new filing states, was that CNN conveniently clipped the "God bless America" part in a segment titled on YouTube "QAnon followers react to Trump refusing to condemn them." For what it's worth, CNN also clipped the preceding verbatim oath of office on which Q also coincidentally modeled their oath. "In the clip, CNN intentionally edited out the oath to the United States Constitution and omitted the words 'God Bless America', fraudulently making it appear and insinuating that the Flynns pledged an oath of allegiance to QAnon," the filing reads. Gizmodo has asked the Flynns' attorney whether this is a family tradition or just a phrase that inspired them last year and will update the post if we hear back.

The Bill and Melinda Gates Foundation will still be led by its recently-divorced namesakes, but the foundation announced Wednesday a two-year trial period to see how effectively the pair can work together. If they can't, Melinda French Gates would resign from the foundation as co-chair and trustee. She would receive personal resources from Bill Gates for her philanthropic work, but this money would not come from the foundation's endowment. The pair also said today it contributed an additional $15 billion to the foundation's endowment, marking their largest contribution since 2000. This brings the total amount of money endowed to $65 billion. The new money will be used to fight poverty, disease and inequity around the world. "Our vision for the foundation has grown over time, but it has always been focused on addressing inequity and expanding opportunity for the world's poorest people," Bill Gates said in a statement. "These new resources and the evolution of the foundation's governance will sustain this ambitious mission and vital work for years to come." Questions have been swirling about the future of the Seattle-based Gates Foundation, which employs more than 1,700 people, has an endowment worth nearly $50 billion, and has issued close to $55 billion in grants since launching more than 20 years ago. Since the couple's divorce in May, both Bill Gates and Melinda French Gates made clear they would remain long-term partners and co-chairs of the foundation. They are the remaining trustees following the departure of Warren Buffett last month. Gates Foundation CEO Mark Suzman said in a note to staff Wednesday that the foundation would expand its number of trustees. The appointees will be finalized by January. "These governance changes bring more diverse perspectives and experience to the foundation's leadership," French Gates said in a statement. "I believe deeply in the foundation's mission and remain fully committed as co-chair to its work." The foundation said it expects the new appointees to "enhance the diversity, experience, and expertise of the foundation's leadership and continue to uphold a culture of integrity." Suzman and Connie Collingsworth, chief legal officer, will oversee the appointments. The foundation previously announced it will commit $2.1 billion to increasing gender equity, GeekWire reported last month. The cash, which was one of the largest single donations in the foundation's history, was part of the Gender Equity Forum convened by UN Women. Melinda French Gates has a history of promoting gender equity. GeekWire reported shortly after the split that Melinda French Gates could use her platform in Pivotal Ventures, founded in 2015, to support female-focused venture capital and philanthropic efforts.

We've all been there: Flipping through Amazon Prime Video's movie offerings, but stuck wondering Uh, what's good? The commercial giant's streaming service has quietly collected a giant archive of films, and since 2006, has released a number of acclaimed films under the Amazon Studios banner, like Kenneth Lonergan's Manchester By the Sea, Jim Jarmusch's Paterson, and Luca Guadagnino's Suspiria remake. Prime Video is a great service, but there's a ton of content to sift through. Don't worry, we're here to help. We've looked through the service and cherry-picked 10 of our favorite films currently on the platform to try out. Nicolas Roeg's The Man Who Fell to Earth, David Lynch's The Elephant Man, and Johnnie To's blistering crime thriller Drug War — we've got you covered with the good stuff. Without further ado, here are the top 10 best films to stream on Prime Video right now. John Landis' shaggy horror comedy stars David Naughton and Griffin Dunne as David and Jack, two college students whose chance encounter with a lycanthrope changes one of their lives, and ends the other. In visitations from beyond the grave, Jack begs David to off himself so he won't attack other people, but David may have a thing going with the woman who nurses him back to health. This oddball ticking-clock movie is bolstered by prosthetic effects by the legendary Rick Baker, which are every bit as agonizing and mesmerizing as they were in 1981. —Matt Patches This may be the Coen brothers' meanest film, and it feels more uncomfortably topical in 2021 than ever before. When a draft of a memoir by a disgruntled former CIA analyst (John Malkovich) accidentally falls into the hands of two gym employees (Frances McDormand and Brad Pitt), chaos ensues, involving spies, Russians, and utter cluelessness on the part of the government. Stressful though the increasingly deadly hijinks are, the film is worth watching at least for Pitt's perfectly pitched comic performance. — TE Last year, it was announced that a sequel to Chicken Run, the 2000 stop-motion animated comedy directed by Peter Lord and Nick Park, was slated to release on Netflix in the near future. Starring the voices of Julia Sawalha, Mel Gibson, Tony Haygarth, Miranda Richardson, and more, the original film follows a band of chickens who attempt to escape from their Yorkshire farm after the arrival of a dashing American rooster named Rocky. Releasing to critical acclaim, Chicken Run remains the highest-grossing stop-motion-animated film ever released, and an irrefutable classic of the medium. —TE Though Johnnie To might go unrecognized by a majority of Western filmgoers, he's one of the most prolific Hong Kong directors of his generations, renowned for his tense action crime thrillers and gangster dramas. Drug War, To's first feature produced in mainland China, is as excellent an introduction to his work as any. It's a tightly wound cat-and-mouse game focusing on Zhang Lei (Sun Honglei), a relentless police captain trying to topple an illicit drug cartel, and Timmy Choi (Louis Koo), a mid-level drug smuggler who agrees to cooperate with police in order to escape the death penalty for his offenses. If you're looking for a taut, pulse-pounding crime film with blistering action and dark twists, Drug War is a must-see. —TE Set in Victorian London, David Lynch's The Elephant Man taps into the real-life story of Joseph "John" Merrick (John Hurt), a severely disfigured man who works as a sideshow oddity before being taken in by Frederick Treves (Anthony Hopkins), a physician with a particular fascination and sympathy for Merrick's condition. Though initially thought mute, Merrick is revealed to be an especially kind and intelligent sophisticate who quickly becomes popular among the city's upper class, all while hounded by his former owner Bytes (Freddie Jones). Lynch, who had only directed Eraserhead until that point, was chosen by producer Mel Brooks to direct the film; he took the young director under his wing and gave him the support to further his career. The Elephant Man was nominated for eight Academy Awards, and though it didn't win any, it's celebrated as a pivotal work in Lynch's oeuvre. —TE David Fincher's Fight Club embodied the zeitgeist of turn-of-the-century modernity back when it released in 1999, with The New York Times going so far as to dub it the " defining cult movie of our time " on the 10th anniversary of the film's release. Edward Norton stars as a disgruntled automobile recall specialist who, dissatisfied with the course of his life and career, develops a case of chronic insomnia. After he crosses paths with a charismatic soap salesman named Tyler Durden (Brad Pitt), the two strike up a fast friendship which eventually inspires them to create an underground fight club in order to channel their pent-up aggression. The fight club takes on a life of its own, escalating into a nationwide phenomenon that threatens to upend not only the main character's life, but the future of American society as we know it. By now you probably know the twist; after all, the film has been a nigh-ubiquitous touchstone of popular culture for over two decades now. But just in case you haven't, you absolutely must see it without spoilers. —TE David Fincher's take on Stieg Larsson's massive international bestseller feels a lot colder and more aggressive than the earlier Scandinavian co-production starring Noomi Rapace in the lead role as uncompromising punk hacker Lisbeth Salander. This 2011 version, with Rooney Mara as Lisbeth and Daniel Craig as crusading journalist Mikael Blomkvist, is more obviously reaching for blockbuster status, which it didn't quite achieve — it was a minor box-office disappointment, coming just after Larsson-mania peaked. It's worth watching, though, to see exactly what took the world by storm in 2005, when the book version of Dragon Tattoo first came out: a grim and exploitative thriller-procedural, with Mikael and Lisbeth separately pursuing a series of horrific predatory men, and bringing them to grotesque forms of justice. — Tasha Robinson No one has made or may ever make a better Hellboy movie than Guillermo del Toro. Based on Mike Mignola's cult success comic series, Ron Perlman stars as the eponymous paranormal investigator from Hell, who defends humanity from the forces of darkness. With several notable performances, including John Hurt as Hellboy's adoptive father Trevor "Broom" Bruttenholm, and frequent del Toro collaborator Doug Jones as the amphibious Abe Sapien, Hellboy stands apart from other superhero action movies of its ilk as a film that's emotionally effective as well as gorgeous. —TE Even though this movie shares a name with Isaac Asimov's 1950 short-story anthology, Alex Proyas' 2004 sci-fi action film I, Robot was only named as such late in its production — it's actually based on an original short story by screenwriter Jeff Vintar. Will Smith stars as Del Spooner, a technophobic homicide detective in a version of 2035 populated with mass-produced synthetic androids. When Spooner is brought in to investigate the murder of Alfred Lanning, a renowned robotics scientist, his immediate impulse is to accuse Sonny— Lanning's unique personal model android. As the case unfolds, however, detective Spooner discovers a multifaceted conspiracy whose endgame could radically reshape the course of human and robot-kind's existence. —TE Director Robert Eggers and his brother Max conceived of The Lighthouse as a ghost movie, but it plays more like an abstract vampire film. In the two-hander, Robert Pattinson and Willem Dafoe play the attendants of a lighthouse on a diminutive island off the coast of New England in the 1890s. The two men — both named Thomas — have no companionship but each other and the light of the lighthouse. The Fresnel lens that casts light across the sea becomes a point of fixation, an immortal beacon that saps the men of their very will. Eggers and his film are part of the recent push of critically lauded horror films. If you enjoy The Lighthouse, you should also try Eggers' debut, The Witch. —Chris Plante Jonathan Demme's 2004 remake of John Frankenheimer's 1962 The Manchurian Candidate is a profoundly unsettling movie. The film updates the original's Korean War backdrop to the Gulf War, as veteran Bennet Marco is plagued by frightening dreams concerning his deployment alongside Sergeant First Class Raymond Shaw (Liev Schreiber), now a New York Congressman and vice presidential hopeful. As Marco works to uncover the truth behind his disturbing visions, he inadvertently stumbles upon a vast, insidious conspiracy of mind-boggling scope, and its potential orchestrators — the mysterious Manchurian corporation and their inscrutable benefactors. Throw this one on if you're primed and ready to be freaked the fuck out. —TE David Bowie embodies the role of Thomas Jerome Newton, an extraterrestrial who disguises himself as a human in order to save his dying planet in Nicolas Roeg's The Man Who Fell to Earth. Based on Walter Tevis' 1963 novel, the film has been championed as a cult classic in the years since its release, due to its surreal imagery, esoteric plot with analogies to the ravages of fame and human excess, and Bowie's inimitable performance as a wayward alien who descends into a spiral of alcoholism and self-destruction. It's a beautiful, bewildering film that will stick with you long after it's over, as only the best films do. —TE Millennium Actress is the second of four features produced by late Japanese director Satoshi Kon, and arguably his greatest work. A love letter to cinema, the film is a magical-realist odyssey experienced from the perspective of Chiyoko Fujiwara, an actress reflecting on her career at the behest of a passionate documentarian working to create a tribute to her life. From references to 1954's Godzilla and Kurosawa's 1957 classic Throne of Blood to achingly beautiful and surreal sequences of Chiyoko and co. jumping back and forth through time as she recollects over her past, Millennium Actress is an anime classic, and one of the most beautiful and unique animated films ever produced. —TE One of the few non-Marvel projects Tom Hiddleston's made time for since rising to fame in the Thor series, Jim Jarmusch's vampire flick is another movie that defines cool. Adam (Hiddleston) and Eve (Tilda Swinton) are two bloodsucking ex-lovers who reconnect after years apart. Adam is in Detroit. Eve is Tangier, Morocco. As they draw closer together, Jarmusch sinks his teeth into every form of culture, from lavish clothes to pristine soundtrack curation. It's style as substance, through the worldview of two supernatural beings who've been around for centuries. Don't expect too much plot — this is all about luxuriating in the picture, and sucking down every ounce of blood Jarmusch has drawn from his obsessions. — MP Alan J. Pakula's The Parallax View, the second in the director's "Paranoia Trilogy" of films bookended by 1971's Klute and 1976's All the President's Men, is celebrated as one of the best conspiracy films ever made. It's a noir-inflected thriller that taps directly into the political and social anxieties of mid-'70s America in the wake of the assassinations of John F. Kennedy, Robert Kennedy, and Dr. Martin Luther King Jr. The film stars Warren Beatty as Lee Carter, a charismatic but troubled television journalist who witnesses the assassination of a popular presidential candidate while atop the Seattle Space Needle. Three years later, a rash of mysterious deaths among those who witnessed the assassination prompts Carter to look closer at the connections, leading him to uncover the assassin's ties to an intensely clandestine organization known as the Parallax Corporation. —TE Based on Patrick Suskind's novel of the same name, Perfume: The Story of a Murderer stars Ben Whishaw as Jean-Baptiste Grenouille, a "gifted and abominable" monster in 18th-century Paris — an era and place with no lack of gifted and abominable monsters. An orphan with heightened olfactory senses, Jean-Baptiste is taken under the wing of France's finest perfumers as an apprentice. As he grows, however, so do his ambitions, and he develops a dark, violent obsession with craft the perfect perfume distilled from the essence and beauty of the women he covets and resents. An extravagant, macabre historical horror fantasy, Perfume: The Story of a Murderer is a feast for the senses. —TE Kiyoshi Kurosawa's 2001 Japanese horror classic Pulse is absolutely terrifying. Set near the turn of the century, Kurosawa's film follows a group of Japanese teenagers who, in the wake of their friend's inexplicable suicide, begin to experience strange visions and unsettling encounters linked to a mysterious floppy disk their friend was investigating. Pulse is widely championed as one of the definitive works in the canon of Japanese horror, with several critics and fans citing it as the definitive internet horror film of the 21st century. Be sure to have all the lights off for this one… and something to cover your eyes when you get too freaked out. You will. —TE Unfortunately for all other movies, cinema doesn't get better than Stop Making Sense. Take it from me, a man who has never listened to a single Talking Heads album from front to back, when I say that Jonathan Demme's 1984 concert film is one of the most electrifying, unique, and essential cinematic experiences of the late 20th century. Where else are you going to see David Byrne noodle-dancing in a gigantic oversized suit before belting out infectiously euphoric rock anthems guaranteed to get you out of your seat? Eat your heart out, James Murphy. —TE Sam Mendes' 2012 turn at the venerable spy action franchise is a scintillating, melancholic turn for the series, probing at the interiority of James Bond's history and allegiances in a way that no previous installment (save for maybe On Her Majesty's Secret Service) has done before. Skyfall follows Daniel Craig as he reprises his role as everyone's favorite MI6 operative, going toe-to-toe with former agent Raoul Silva (Javier Bardem) as he mounts a globe-spanning plot to bring the organization to its knees and enact vengeance on Bond's handler M (Judi Dench) for abandoning him years ago. — TE Nacho Vigalondo's time-travel thriller follows the story of Hector (Karra Elejalde), a middle-aged man who moves to a secluded home in the country with his wife Clara. After spying a naked woman in the woods and venturing into the forest after her, Hector discovers not only her corpse, but a mysterious man cloaked in pink bandages who stabs him in the arm. Attempting to flee, Hector runs into a strange scientific facility which houses the extraordinary source of all this trouble: a time machine. If you're looking for more wibbly-wobbly timey-wimey weirdness in the vein of 2004's Primer or 2014 Predestination, Timecrimes is well worth a watch. —TE Set in the 1950s, The Vast of Night focuses on two teenagers investigating a mysterious radio frequency. Over the course of one night, switchboard operator Fay (Sierra McCormick) and radio DJ Everett (Jake Horowitz) go on a supernatural scavenger hunt, investigating everything from reels of tape to anonymous phone calls as they attempt to uncover the frequency's source. From our review, It's an intimate movie, interrupted only by an impressively showy one-shot that sends a camera hurtling through the town, establishing the contrast between its open, silent spaces and the busy huddle of the big high-school basketball game. And while cinephiles make this point so often that it's become tedious even if it's true, it's a film designed for a dark room with no interruptions. It's designed to cast a delicate spell over the audience, but the audience has to participate to make the trick work. Amazon Prime Video

A new trailer has been released confirming the delayed date. Big Bad Wolf's upcoming vampire RPG Vampire: The Masquerade - Swansong's new trailer invites all Kindred to what's to come. The Council studio Big Bad Wolf is bringing this tale featuring multiple viewpoints within the Camarilla.

"The edge is where you learn the most." Even so, John Hagel discovered most leaders stop short of living on the edge. Bold progress rarely follows bold proclamations due to one common cause. Hagel is an entrepreneur, prolific bestselling author, and renowned business strategist. He served as a partner at McKinsey, where he helped open its Silicon Valley office and launched two new practices. "Debilitating pressure to perform leads to fear," says Hagel. "More and more people around the world are acknowledging the fear they feel and are seeking ways to overcome it. Fear had been spreading well before the current pandemic, but the pandemic has intensified it. The pandemic has helped to make it more acceptable to acknowledge the fear and increased our desire to move beyond fear." Hagel has spent over 40 years in Silicon Valley as a management consultant, entrepreneur, speaker and author. What drives him to live on the edge is his desire to help individuals and institutions around the world increase their impact in a rapidly changing world. Realizing results is synonymous with taking The Journey Beyond Fear, a personal and a professional journey Hagel details in his newly released book of the same title. In The Journey Beyond Fear, Hagel provides the insights and tools you need to know during times of uncertainty when fear sets in. Hagel provides a framework for drawing out positive emotions to improve outcomes using three positive pillars: "All of us are living the same paradox, feeling on one hand a sense of nearly limitless potential and on the other hand, a fear of being left behind," Hagel explains. "Our challenge is to respond to this pressure in ways that build hope and excitement, allowing us to seize the opportunities before us and make the most of them." The stories we tell ourselves and others -- from our colleagues to our customers to our communities -- stimulate our imaginations and our emotions. What's missing from our stories are narratives, specifically opportunity based narratives. "Narratives are open-ended, have no resolution, and matter to your audience," Hagel explains. "What makes narratives so powerful is their explicit call to action -- the message that their successful resolution depends on what we do. The power of narratives is that they move us from observers to active participants. Narratives help persuade us that what we do matters. Narratives without stories are too abstract, and stories without narratives can have limited impact." Narratives have the opportunity to: All narratives are either threat-based or opportunity-based. Threat-based narratives reinforce who and what we should fear. By design, they create polarization and limit our belief that alternative choices are always on and always available. Threat based narratives also make us more skeptical of and resistant to change. By contrast, opportunity-based narratives "focus...on the ability to achieve a positive impact for yourself or for those you care about by doing something you previously thought impossible," according to Hagel. "We all hunger for hope and opportunity. We all want to accomplish more than we have in the past and achieve more of our potential. We need to find new ways to craft and propagate opportunity-based narratives that can bring us together and motivate us to accomplish the seemingly impossible." Take a moment to consider your organization's marketing messages. Your employee engagement campaigns. And your customer communications. How much of your narrative is focused on opportunity? On achieving the impossible? Or on a call to action that motivates your audience to create the future with you? "The best institutional narratives reveal a deep understanding of what the customer needs, inspiring them to seek it out themselves," Hagel continues. That may seem counterintuitive until you consider the success of Apple's "Think Different" campaign. Rob Stilton, who was part of the creative team, describes what it was like to create this opportunity based narrative. "It was a billboard campaign that had simple black and white photographs of revolutionary people and events. One ad had a photo of Einstein. Another had a photo of Thomas Edison. Another had a photo of Gandhi. Another had the famous photo of flowers placed in gun barrels during the protest of the Vietnam War. At the top of each image was the rainbow-colored Apple logo and the words "Think Different." Nothing else. After the video played, a series of title cards appeared. There are people who see the world differently. They see things in new ways. They invent, create, imagine. We make tools for these kinds of people. Because while some might see them as the crazy ones, we see genius. Think different. Apple played to one of the most powerful positive human emotions: belonging. Its opportunity based narrative reinforced that being different is the basis of belonging -- a message that matters to every human on earth. The call to action? To invent, create and imagine. To reveal your genius. "If narratives are properly framed, they can unleash a wave of experimentation, tinkering and exploration that can lead to breakthrough insights from unexpected quarters," Hagel explains. "And Apple's campaign is one brilliant example." Creating the future requires moving beyond fear. "Fear shortens time horizons," Hagel explains. "And short time horizons are the enemy of strategic thinking and planning. Breakthrough innovation happens on a long-term horizon. And fear traps us in survival mode on a short-term horizon." One technique Hagel teaches to strike a balance between living in present fear and living in the future is called Zoom In, Zoom Out. The mistake most companies make, he asserts, is focusing their strategic planning efforts on the three to five year horizon. The best companies zoom in to the 6 to 12 month horizon. Then zoom out to the 10 to 20 year horizon. And, within the Zoom In, Zoom out activity, the goal is to explore on compelling question: What is the opportunity that could be meaningful and exciting to everyone? Ray Wang, CEO and founder of a Silicon Valley-based advisory firm Constellation Research, and I spoke with Hagel on our weekly show DisrupTV about the power of narratives, passion of the explorer and how to best use platforms to scale positive outcomes. Hagel offers three other questions to consider while creating the future and crafting the resulting opportunity based narratives: Hagel provides insights on how to transform pressure into passion. He reminds us that there is opportunity to turn our stress and fear into excitement that can lead to higher impact. Hagel concludes that these are the actions we need to take in order to use positivity as an enabler for success. It starts with finding and nurturing our passion of the explorer. We must explicitly reflect and develop our own personal narrative. Write it down and share it with others. We must evolve our environment in order to find greater alignment with our narrative and surroundings. We must connect with others because people will amplify your efforts. Finding your personal tribe can help with celebrating successes, raising the bar, encouraging others when obstacles arise, holding each other accountable, and improving the cycle of goodness that can only come from a community. We must harness platforms including learning platforms to scale efforts. We must focus on small moves at the beginning. "Smart moves, smartly made, can set the big things in motion," said Hagel. "Narrative, Passions & Platforms are the three pillars of positive emotions we all need if we are going to reach our destinations," Hagel concludes. "If we don't understand the emotions driving our choices and actions, we'll never be able to get people to have more impact." This article was co-authored by Karen Mangia, vice president, Customer and Market Insights at Salesforce. Her work focuses on strategies for personal and professional success, and she regularly works with executives, managers, and future leaders at companies of all sizes globally. Mangia launched two new books in 2020: Listen Up! How to Tune In To Customers, And Turn Down the Noise and Working From Home: Making the New Normal Work For You -- both from Wiley. Mangia has been featured in Forbes and regularly writes for Thrive Global and ZDNet. Committed to diversity and inclusion, Mangia serves on her company's Racial Equality and Justice Task Force. Mangia is a TEDx speaker and the author of Success With Less, a book that chronicles her own personal journey through a life-threatening health crisis. Mangia's high-impact keynotes help organizations to access the future of work via innovative insights around the voice of the customer.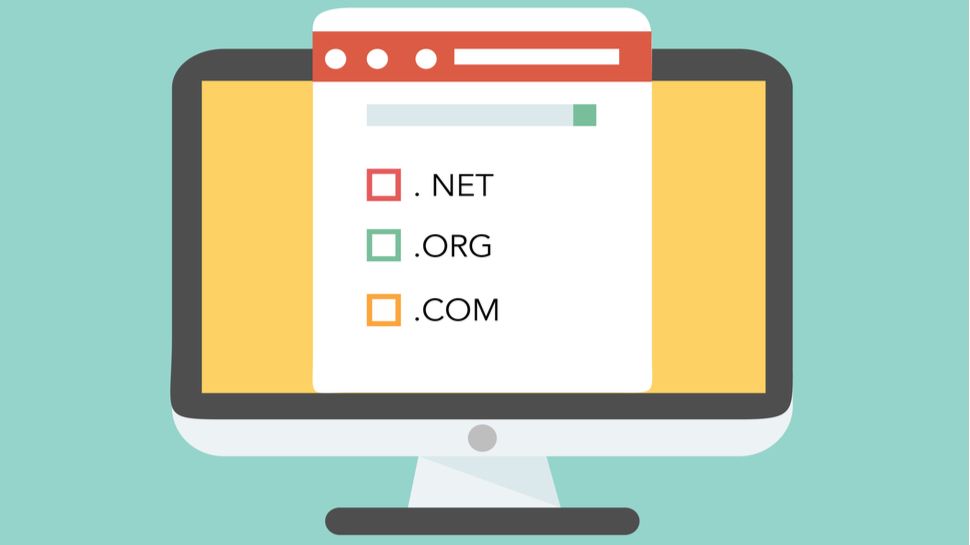 Getting rid of your old, unused domain names is about to get a whole lot easier for GoDaddy customers as the web hosting company has launched a new service called List for Sale. When entrepreneurs come up with business ideas, one of their first instincts is to buy a domain name or even multiple domain names for their new ventures. However, not every business idea ends up working out and sometimes these purchased domain names go unused. With the launch of List for Sale, GoDaddy customers can now easily list and sell their unused domain names for free in order to earn extra cash. If you domain name does end up selling, you'll only have to pay a small commission. To make things easier for entrepreneurs and others who have purchased domain names they no longer need, List for Sale uses a three-step process to take the hassle out of selling a domain name online. To get started, GoDaddy domain owners simply need to click the "List for Sale" button in their domain control center. From here they'll set a sales price but they can also use GoDaddy's GoValue for an estimated appraisal and to create a "For Sale" landing page to let others know their domain is for sale. The domain is the listed on the domain marketplace and domain registrar Afternic which is owned by GoDaddy. Since releasing in beta back in January, GoDaddy customers have used List for Sale to help sell off their old domains with the highest domain name sold using the service so far bringing in $57,500. If you're a GoDaddy customer with unused domain names, then List for Sale may be worth a try especially as the service is free to use and could help you earn some extra cash for your next business idea.

HPE on Wednesday said that it's acquiring Ampool, makers of a data platform designed to boost Structured Query Language (SQL) processing speeds at scale. Financial terms of the deal were not disclosed. HPE said Ampool will join its Ezmeral software business to help accelerate Ezmeral's analytics runtime for interactive SQL workloads and to bolster its ability to handle data-intensive workloads. Launched last year, HPE Ezmeral runs and controls applications and data, and also powers HPE GreenLake cloud services such as machine learning operations and containerization. HPE exited the software game in 2017 following the $8.8 billion spin-merge of its software portfolio with Micro Focus, but the launch of Ezmeral marked the return of the company's software efforts. As for Ampool, HPE said the acquisition will bring in key technology components and open source expertise that will expand the Ezmeral portfolio and reinforce HPE's investment, focus, and execution toward an open-source-based, IP-rich capability for the Ezmeral software line. Over time, HPE said Ampool's technology will be turned into a set of SQL acceleration services made available through the HPE GreenLake cloud platform. "Our next focus area is to support SQL runtimes, specifically open source Presto as well as best of breed ISV products for fast, interactive, ad-hoc analytics use cases," HPE said in a blog post . "The Ampool team brings open source expertise and technology to provide a caching layer to address speed. The use of multiple ephemeral container-based SQL compute engines, such as Presto and Spark, introduces the need for persistent metadata to be stored and managed externally. Ampool has deep expertise in building a shared metadata catalog with role-based access control, which provides a consistent view of the different backend data sources."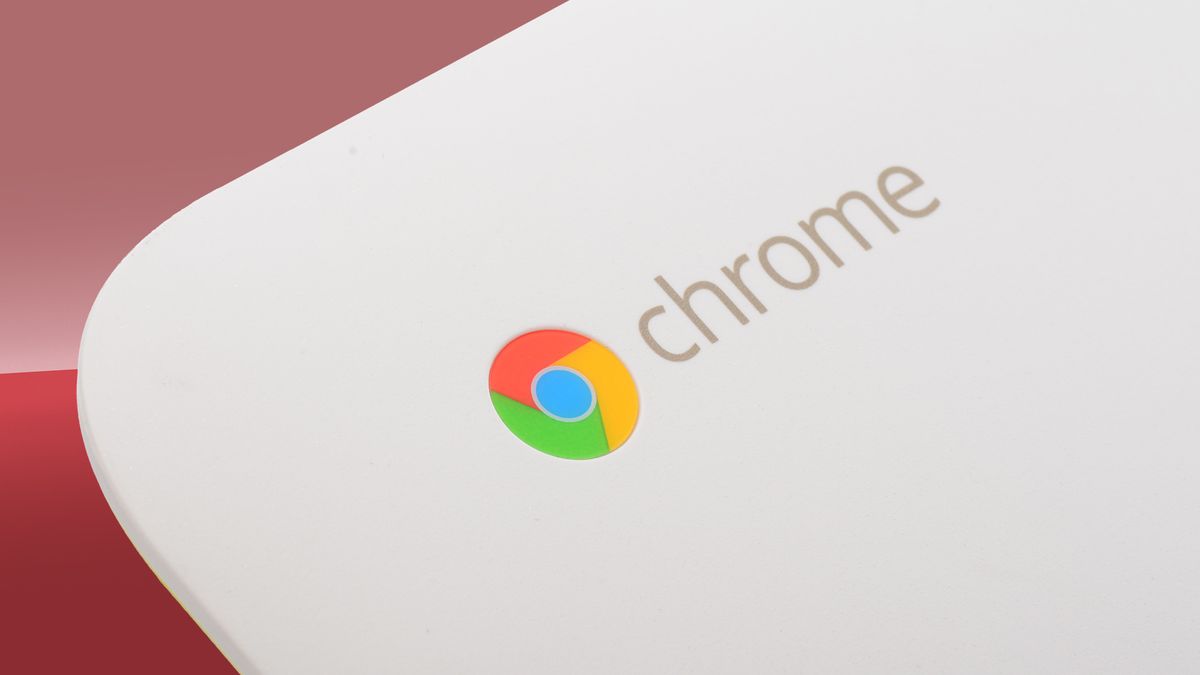 The best Chromebook 2021 has to offer is much more capable than people give it credit for. It may be different from traditional laptops, specifically because the Chrome OS that powers it is more lightweight than the macOS or Windows 10. However, it's just as reliable for multitasking and performing everyday computing tasks as some of the best laptops. In terms of handling daily tasks, build, and features, the best Chromebook 2021 comes with top-notch build, strong specs, a great feature set, and a surprisingly long battery life. In fact, many Chromebooks boast similar features as the best 2-in-1 laptops like that 2-in-1 form factor, touchscreen capability, and pen support. That's while keeping things affordable and accessible to budget-minded buyers. As long as you're ok with a lightweight operating system, you'll find the best Chromebook 2021 has to offer to be powerful enough to handle all your daily tasks, some photo editing, and even a bit of light gaming. It might even work in your favor if you don't really need anything powerful, as it is more economical than the best MacBook or the best Windows 10 laptop. Whether you should move to a Chromebook depends a lot on what you need out of a laptop. Our guides on whether or not you should buy a Chromebook and comparing Chromebooks vs laptops can help you make up your mind. Also check out our Chromebook reviews, or at least our reviews of the ones below so you can get a better idea of how these machines work. Students considering one for school should check out our best student Chromebooks and the best laptops for kids lists. These make for even more affordable alternatives to the best laptops for college. Meanwhile, the more budget-conscious consumers should find the cheap Chromebook deals helpful. Google continues its tradition of making the best Chromebooks in the world. While it's older Pixelbook used to occupy the top spot, it's been replaced by Google's latest Chromebook: the Pixelbook Go. This is a Chromebook that proves that these devices can be just as stylish and powerful as traditional laptops, and the Pixelbook Go brings a lot of the original Pixelbook's premium features to a more affordable device. One of it's most impressive features is the fantastic battery life, which can outlast many traditional laptops with ease, and means you can go a full work or school day without needing to charge it. We also love the fact that you can close the lid, leave it for a few days, and when you pick it up again, it's still got plenty of battery life left - something Windows 10 laptops never achieve. Its brilliant keyboard is also worth pointing out. It feels fantastic to type on, and makes working on it incredibly comfortable. In fact, this has meant we've stopped using much more powerful (and expensive laptops) in favor of the Pixelbook Go - it really is that good. Read the full review: Google Pixelbook Go Is it a Chromebook or is it a tablet? Well, luckily, you won't have to decide with the brilliant Lenovo IdeaPad Duet Chromebook. True to its name, this Chromebook delivers two form factors in one, while utilizing the versatility of the Chrome OS and setting you back much less than many of the top Windows tablets out there. Of course, like all the best Chromebooks, its battery packs an incredibly long life of almost 22 hours – so you could pull an all-nighter, work through the day and mid-afternoon, and you'll still pass out before it runs out of juice. For this price, sacrifices have to be made, naturally – the keyboard is tiny, the trackpad isn't as reliable, and the charger and headphones share one port. However, if budget is your top priority, those are definitely not deal-breakers. Read the full review: Lenovo IdeaPad Duet Chromebook The Lenovo ThinkPad C13 Yoga Chromebook lands straight in our best Chromebooks list due to the fact that it is one of the most powerful Chromebooks money can buy in 2021. While you're going to pay extra for this kind of horsepower, especially if you want some of the best features that come with the high-end models, it's well worth it if you're looking for something future-proofed. Based on the Chromebook reviews we've done, we can tell that this one is going to last you for years to come. As a 2-in-1 device, it's got the flexibility that many other Chromebooks lack, and the screen on this thing is stunning. Best of all, it comes packing the new AMD 3000C-series processors - starting with an Athlon 3150C and scaling up to a Ryzen 7 3700C - and this means you'll get more processing power out of this Chromebook than many of it's competitors. For students especially, then, this is one of the best Chromebooks money can buy right now. Read the full review: Lenovo ThinkPad C13 Yoga Chromebook The best Chromebooks balance a bargain price and efficient use of Chrome OS – and the HP Chromebook 14 is the perfect example of that. While it's similar to the Acer Chromebook 15 in a lot of ways, this 14-inch Chromebook is a tad more compact and looks slightly better. Complemented by a bright blue finish and a screen made to astound, the HP Chromebook 14 offers excellent value – that's based on the many Chromebook reviews we've ever done. Even if the battery life and performance are average – the HP Chromebook 14 is easily one of the best Chromebooks to date. We were particularly impressed with how slim and light this Chromebook is, and it means the HP Chromebook 14 is a great device for anyone who wants a long-lasting laptop that they can comfortably carry around with them. If you want a laptop to work on while lounging on a sofa, this is a great choice as well. Also, unlike some other Chromebooks, the HP Chromebook 14 comes with plenty of ports, including HDMI-out, USB 3.0 and a microSD card slot, making this a brilliantly versatile Chromebook for the price. Read the full review: HP Chromebook 14 The Asus Chromebook Flip is a brilliant Chromebook that proves that these devices can be sleek, stylish and premium - and not just budget. With an Intel Core processor and a full-HD display, the Asus Chromebook Flip is a powerful performer that will keep up with any day-to-day task you require it to perform, and offers plenty of value without compromising on performance - a tricky balancing act that many other Chromebook makers fail to achieve. This is a Chromebook that's been out for a while now, but it still impresses with brilliant performance and an excellent build quality that's thin and light, and puts many more expensive laptops to shame. If you're on a budget, this is one of the best Asus laptops to consider. Read the full review: Asus Chromebook Flip Stylish, affordable and versatile, the Acer Chromebook Spin 513 is one of the best Chromebooks to come out this year, boasting a 2-in-1 design, a great looking panel, and a great battery life of up to 13 hours. That means it's a great value laptop to those who don't need a lot of firepower. It's a good thing since the Snapdragon CPU that powers isn't as powerful as its rivals. There's a great trackpad as well, and fast USB-C charging. Read the full review: Acer Chromebook Spin 513 If versatility is a top priority, then look no further than the Acer Chromebook Spin 311. This all-rounder has all the makings of a great Chromebook, from its good battery life to its robust build and solid usability. However, the Acer Chromebook Spin 311 takes it further with its impressive levels of versatility, thanks to its abundance of ports considering its size,2-in-1 design, portable size and excellent touchscreen display. It also boasts a keyboard and a touchpad that are not only reliable, but also satisfying to use. That's a rare thing in a machine at this price point. The small size of this Chromebook means it's really easy to carry around with you, so if you're looking for the best Chromebook for travelling with, this is it. However, that small size may mean some people find it uncomfortable to use for long periods of time, especially if you're more used to larger laptops. Read the full review: Acer Chromebook Spin 311 Premium Chromebooks occupy their own space in the laptop market, bridging that gap between powerful traditional laptops and super lightweight Chromebooks. And, the Asus Chromebook Flip C436F is perhaps one of the very few examples of these out there, with its combination of superb power, terrific feature set, premium build and a price tag that's cheaper than its rivals. During our time with the Asus Chromebook Flip C436F, we were really impressed with its gorgeous design, with a magnesium alloy body, stunning 1080p screen, and wonderful keyboard. This could easily rival premium laptops like the Dell XPS 13 or MacBook, and it even comes with features like Wi-Fi 6 support and a fingerprint sensor. If you're looking for a lightweight OS machine that touts more power than the rest of the clan, this is one of the best Chromebooks on offer. Read the full review: Asus Chromebook Flip C436F With a solid build quality that rivals a MacBook, it's easy to excuse the Acer Chromebook 15's aversion to 2-in-1 form factors. Still, given that the best Chromebooks rolling out this year are fully convertible, thanks to the wide adoption of Android app support, the Acer Chromebook 15 had to prove itself with more than great style. Beyond its aptitude for laying flat using a 180-degree hinge, this beautiful 15-inch Chromebook also makes a great impression with its battery life, lasting nearly 17 hours in our battery test. Read the full review: Acer Chromebook 15 The best Chromebook for professionals currently available might just be the Acer Chromebook 714 whose premium and seriously solid chassis is just the ticket for the business-oriented bunch. It's not especially stylish, sadly, but that decent performance and strong battery life make up for its lack of fashion sense. And, aren't those all the more important if you're meeting with clients, tackling paperwork and balancing the books all day? In fact, the quad-core processor is good enough for light content creation tasks, making it a boon for those starting out in the content creation industry as well. Read the full review: Acer Chromebook 714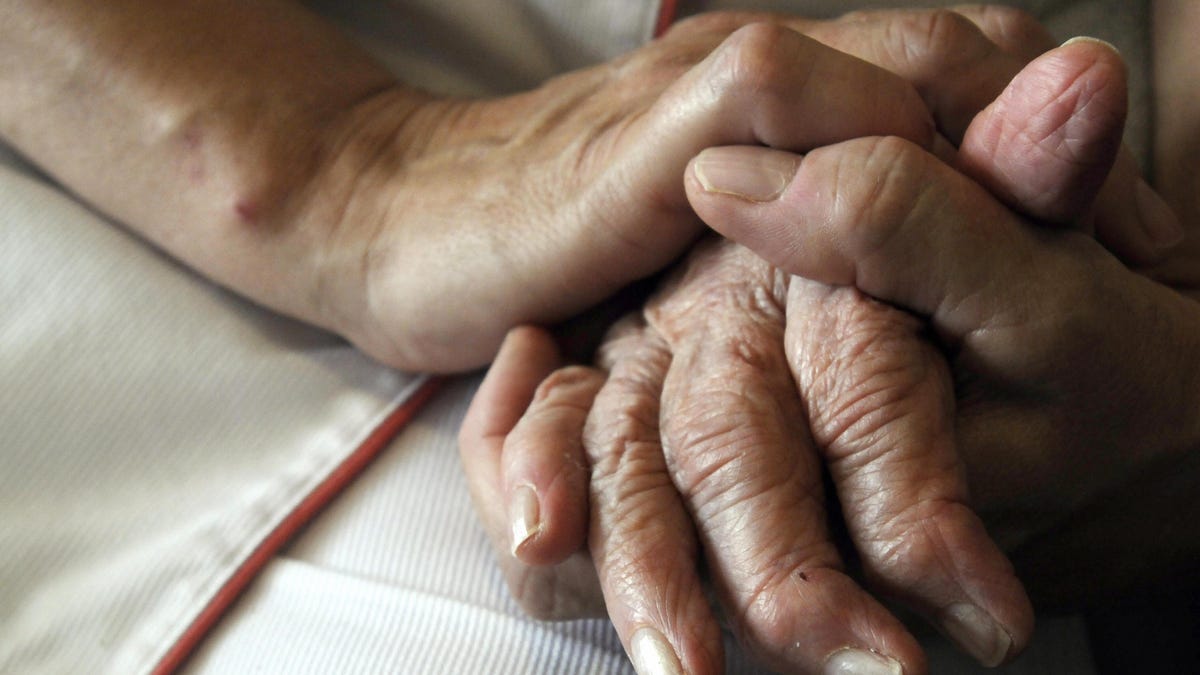 Lawmakers are asking questions about the process that led the Food and Drug Administration to approve a controversial drug for Alzheimer's disease. The latest is House Representative Katie Porter (D-CA), who released an open letter late Tuesday calling for the inspector general of Health and Human Services to investigate the relationship between the FDA and the drug's makers, Biogen. In early June, the FDA approved Biogen's antibody-based treatment aducanumab for Alzheimer's. Now marketed as Aduhelm, the drug is given through infusion once a month and is the first ever treatment intended to slow the progression of the incurable, ultimately fatal neurological condition, rather than simply treat its surface symptoms. While hailed by some Alzheimer's patient groups and organizations, many scientists expressed concerns about the actual effectiveness of Aduhelm long before its approval—concerns that have only gotten louder since. "Patients should have confidence that their treatment plans are based on science, not cozy relationships between Big Pharma and FDA officials," Porter said in a tweet announcing her letter. In November 2020, the FDA assembled an expert panel to review the clinical trial evidence of Adhulem, a step often taken before they weigh in themselves. The experts were unanimous in not recommending the drug for approval (one expert voted uncertain, while the other 10 voted no). At the time, it seemed to doom the drug's chances, since the FDA seldom disagrees with an advisory committee's verdict. However, in justifying their decision, the agency used a loophole of sorts. They gave Aduhelm an accelerated approval, a designation intended for treatments of a serious or life-threatening illness that are expected to be better than existing options. Importantly, the accelerated approval allowed the FDA to use a "surrogate endpoint" as evidence for the drug actually working as claimed—in this case, the reduction of amyloid plaque, the deposits of beta amyloid that build up in the brain and are thought by many scientists to play a pivotal role in causing Alzheimer's disease. In clinical trials, Aduhelm did seem to reduce amyloid in patients. But both of Biogen's Phase III trials were terminated early in 2019 on the instruction of an independent monitoring board, which determined the drug would not noticeably improve patients' cognitive function. Outside experts have since disagreed with Biogen's later interpretations of the data that suggested Aduhelm could work at higher doses. The company is now mandated to conduct a new clinical trial to confirm the drug's benefits, but it's a process that could take up to nine years, all the while selling the drug at an estimated $56,000 a year. Soon after the FDA's approval, three of the advisory members recruited by the FDA to review potential new neurological drugs resigned from their positions, including two involved in reviewing Aduhelm. One of these members, Joel Perlmutter, warned at the November meeting that approving an Alzheimer's drug without strong evidence could set back efforts to approve a truly promising drug "for more than a couple of years, for many years." In his resignation letter, another member, Aaron Kesselhelm, called the Aduhelm approval "probably the worst drug approval decision in recent U. S. history." Porter's letter brings up these points, as well as more recent reporting from STAT News on the lengthy collaboration between members of the FDA and Biogen prior to Aduhelm's approval. According to STAT News, the company embarked on a dedicated mission (dubbed Project Onyx) to woo Billy Dunn, head of the FDA's office of neuroscience, following its decision to apply for approval. In mid-2019, Dunn's office reportedly met with Biogen to advise they go for an accelerated approval, and both sides continued to work together on collecting and analyzing the data used for the formal application. Perhaps damningly, the FDA has publicly asserted that it only considered an accelerated approval for Aduhelm this year, and it did not tell its advisory members of the possible switch to this pathway. "It appears very clear that Biogen had an inside route to FDA officials and had undue influence over their decision making and the evidence presented in various settings," Porter stated in her letter. Porter has joined others, including former health secretary Donna Shalala and consumer advocate groups like Public Citizen, in calling for the HHS' Office of Inspector General to look into the approval. The letter also follows an announcement in late June by House representatives Frank Pallone, Jr. (D-NJ), chairman of the Committee on Energy and Commerce, and Carolyn B. Maloney (D-NY), chairwoman of the Committee on Oversight and Reform, that their respective committees would hold their own joint investigation on Aduhelm's approval and its pricing. There remain many questions surrounding Aduhelm, including whether its high costs will overwhelm the coffers of the federal Medicare program, which covers the majority of Alzheimer's patients, and whether drugs designed to tackle amyloid remain viable treatments for Alzheimer's in the first place. Far from bringing relief to patients and families, it's now looking more likely to cause major problems for everyone else.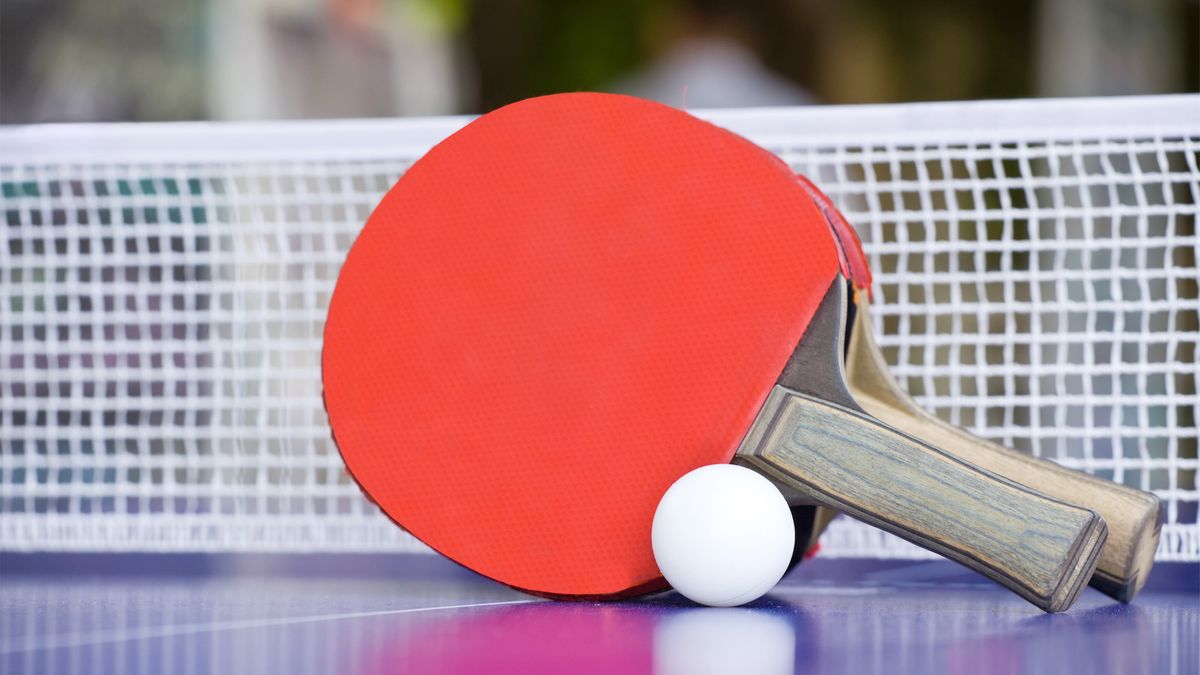 In an Olympics fortnight when speed is often paramount, not many events look faster than the lightning-quick table tennis action. Whether you call it ping-pong, whiff-whaff or any other weird and wonderful names, you've landed on the right page to discover how to watch an Olympics table tennis live stream at Tokyo in 2021 - with free options explained, alongside the key dates to pop in your diary. There aren't many Summer Olympics events that are dominated more resoundingly by one nation than table tennis. You have to go back all the way to 2004 to find an event that China didn't win gold at, with them taking the clean sweep across all categories in 2008,2012 and 2016. And, frankly, you can probably expect more of the same this time around, too, with China dominating the world rankings. And this year there's one extra gold they can go for, with mixed doubles joining the singles and team disciplines. Ma Long is the reigning male champ, but will do well to beat world number one Fan Zhendong, while we'll have a brand new women's gold medallist following Ding Ning's retirement. Hosts Japan are probably best placed to break up the Chinese whitewash. Look out for Tomokazu Harimoto and Mima Ito vying to become national heroes in Tokyo. Keep reading to find out the key dates schedule of this year's gold medal matches, as well as all the information you need to get a table tennis live stream at the Olympics in 2021. - Mixed doubles final: Monday, July 26 from 8pm JST / 12pm BST / 7am ET - Women's singles final: Thursday, July 29 from 8pm JST / 12pm BST / 7am ET - Men's singles final: Friday, July 30 from 8pm JST / 12pm BST / 7am ET - Women's team final: Thursday, August 5 from 7.30pm JST / 11.30am BST / 6.30am ET - Men's team final: Monday, July 26 from 7.30pm JST / 11.30am BST / 6.30am ET The online Olympics Channel looks set to have global broadcast of events around Tokyo, which is a handy free resource and will inevitably cover the very biggest events live (as well as highlights and other programming). But if you want more in-depth coverage, you'll probably need to look at domestic broadcasters. Those living in the UK have the benefit of the BBC's free-to-air coverage for example, with soooooo much being available on BBC iPlayer. It's a similar story in the likes of Australia (Channel 7 and 7plus online), Ireland (RTE), France (TF1) and, Germany (ARD and ZDF). We have further information about worldwide Olympics streams below. You should be able to find an Olympic Games stream (whether paid or free) in whatever country you happen to be in. But you may find that: a) your usual domestic coverage is geo-blocked when overseas; or b) that your place of work or college has blocked the ability to watch online where you are. There's a really easy way to solve those issues, thankfully. By downloading and installing a VPN, you can effectively trick your computer, phone or tablet into thinking that it's somewhere completely different. That way you can enjoy your usual coverage without having to find an illegal stream. Use a VPN to watch Tokyo 2020 Olympic Games from anywhere Using a VPN is as easy as one-two-three... 1. Download and install a VPN - as we say, our top choice is ExpressVPN 2. Connect to the appropriate server location - open the VPN app, hit 'choose location' and select the appropriate location 3. Go to the broadcaster's live stream - so if you're from the UK, just head to BBC iPlayer It won't come as a surprise that the Olympics is being shown in most corners of the globe - although with varying levels of coverage and without free broadcasters in some countries. If you're not in any of the countries mentioned above, then we'd suggest taking a look at the dedicated Wikipedia page of all of the world's Olympic Games channels.

Remote work looks like it's here to stay, with millions continuing to work from outside of traditional office spaces due to the COVID-19 pandemic. The global home office spending market is expected to grow at 15.3% CAGR between 2020 and 2030, according to a report from Future Market Insights. Many are decking out their offices with the latest technology and are looking to recreate some of the luxuries available in the workplace, like having multiple screens. Representatives from major manufacturers like HP, Lenovo, and ViewSonic said in December that sales of portable monitors skyrocketed in 2020 as teleworkers look for tools that allow them to work from any location in their home. IDC reported in December that PC monitor sales volume grew 15.9% in Q3 2020 compared to the same quarter last year. The 37.5 million units sold in the quarter represented an eight-year high in sales, with most coming from companies like Dell, Samsung, HP, and others. While most portable monitors are around 15 or 16 inches, many offer a variety of features and plug-ins. Here are some of ZDNet's current picks for the best portable monitors available.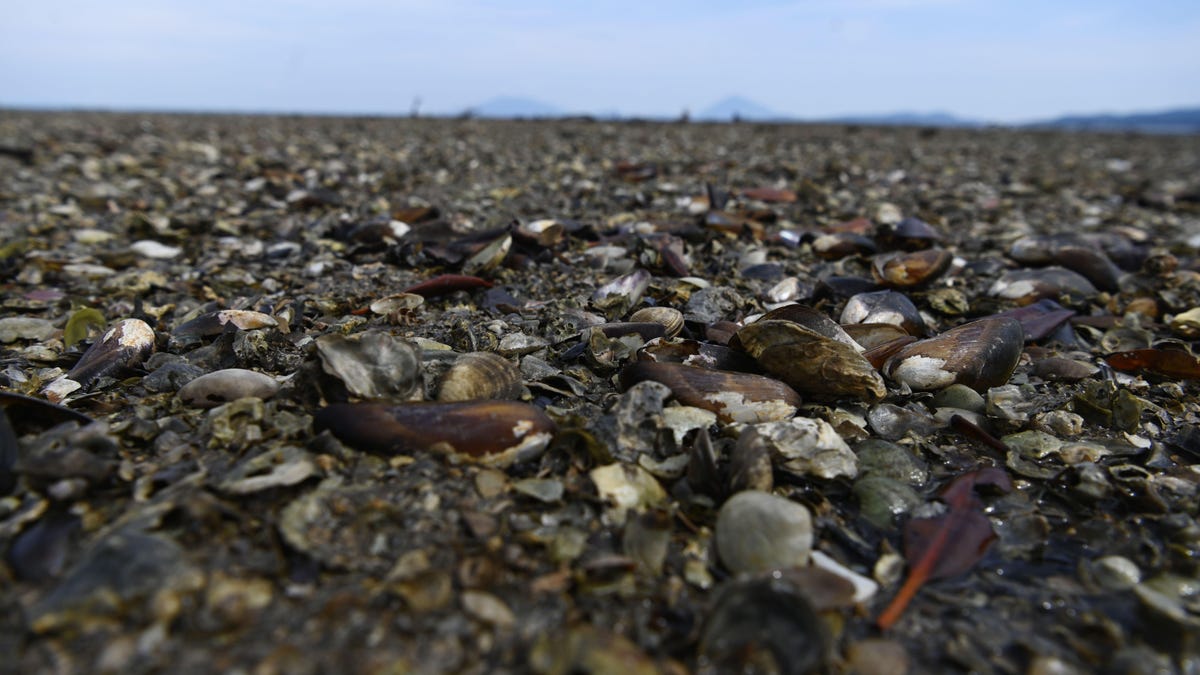 There's bad news for crustacean lovers. Some researchers are estimating that more than 1 billion sea creatures—including clams, mussels, barnacles, and snails—basically cooked to death during the record Pacific Northwest heat wave. Chris Harley, a marine biologist at the University of British Columbia, told the CBC that he was "pretty stunned" walking along Vancouver's Kitsilano Beach late last month, where was able to smell the mass death and see endless amounts of mussels cracked open with meat inside—which indicates they had recently died. The incredibly hot temperatures in Vancouver and some poor timing with the tides seem to have combined to create an incredibly sad situation for the region's crustaceans. During the heatwave in late June, when temperatures reached 104 degrees Fahrenheit (40 degrees Celsius) in Vancouver, Harley's lab recorded temperatures up to 122 degrees F (50 degrees Celsius) along the shoreline using a thermal imaging camera. Crustaceans like mussels and clams were then exposed to these crazy high temperatures for more than six hours when the tide went out. "A mussel on the shore in some ways is like a toddler left in a car on a hot day," Harley told the CBC. "They are stuck there until the parent comes back, or in this case, the tide comes back in, and there's very little they can do. They're at the mercy of the environment. And on Saturday, Sunday, Monday, during the heat wave, it just got so hot that the mussels, there was nothing they could do." He and students in his lab said they are working on gathering evidence to calculate how many sea creatures died in the Salish Sea, an inland sea encompassing the waters off Vancouver and Seattle, during last week's heat wave, but he estimates that the number is at least 1 billion, based on some back-of-the-napkin math he did while walking the beach. "If you're losing a few hundred or a few thousand mussels for every major shoreline, that quickly scales up to a very, very large number," he said. The large number brings to mind the widespread suffering seen in Australia during the bushfires of 2019-20, when an estimated 3 billion animals perished or were otherwise impacted. But more tragically, it's also a data point in the widespread damage happening to the ocean as the climate continues to warm. Harley said that while the populations along the coast should rebound in a year or two, more intense and recurring heat waves could eventually damage crustacean populations. That's bad news for the creatures that serve both as food for mussels and clams, like plankton, as well as larger animals that feed on crustaceans. Ocean acidification, another impact of climate change, has also been a huge problem on the West Coast and has taken a toll on mussels and other shell-forming creatures. "Eventually, we just won't be able to sustain these populations of filter feeders on the shoreline to be anywhere near the extent that we're used to," Harley told the CBC. The impacts of climate change are hardly limited to crustaceans or the Pacific Northwest alone. Sea stars have died off in droves in recent years due to a wasting disease that's become more common years of extreme ocean heat. And just this past month, the United Nations warned that the Great Barrier Reef is "in danger" due to rapidly warming waters. It's not just Harley who noticed nature's grisly clam bake last week. Hama Oyster Company, a shellfish farm sitting on a fjord of the Salish Sea on Washington's Olympic Peninsula, documented dozens of cracked-open, seemingly cooked clams dotting an expanse of mud. "We've been worried about climate change for a long time," Lissa James Monberg, Marketing Director of her family's Hama Company, told our friends at The Takeout . "I want people to know that it's not something abstract happening to people far away. It's not someone else's problem. It's our problem. This is our food supply."

Don't be jealous of that successful gaming app swimming in installs. Your apps about news, retail, food delivery, transportation, and more can join them. Winning today's ad game requires range and creativity in advertising experiences — something that games have been doing successfully for years. It's beyond time that other apps learn from the success of games and apply their methods. So instead of being jealous, here's four tips to learn from that game app, along with examples of how other categories might be able to use them. Grabbing a user's attention typically happens within a content feed they're already engaged in. That's a tough sell to start with. But even if you succeed there, users are taken to an app store and greeted with reviews, competitive apps, and a lot of other noise that can distract them from hitting install. Game developers have mastered the art of grabbing a user's attention and holding it until the install is complete. For example, a playable ad gets them potentially hooked on a game before they install it. And that's the simplest way to be sure they hit download. Consider a fast-casual restaurant. They could use the playable ad to invite the user to build their ideal burrito or ice cream sundae. And when they finish creating their concoction, they'll be drooling over the desire to download the app and have it delivered right away! Since gaming apps don't typically have a mobile web component, the survival of mobile game publishers relies on getting users to try and then become fans of their wares. In response, game publishers live on the cutting edge when it comes to finding innovative ways to help players discover their app. In addition to playable ads, we've seen game publishers have success using Instant Apps, Interactive Video Polls, Dynamic End Cards, and other solutions that all are built to break through the competitive noise. Marketers should look to these engagements that make the advertisement more of an "experience." Let's take a hypothetical example of a tax-preparation app. They could use interactive video to show features of the user interface. And then have a Dynamic End Card that enables users to engage with it to see the potential impact certain variables (such as adding a dependent or a 401k) might have on their tax return. Game publishers go inside the heads of their players every day. This user understanding has paid off in not just installs but also delivering long-term value. One thing that has paid off smartly for them is their use of on-device techniques like preloads and set-up wizards — a solution they employ five-times more than any other app category. These solutions help not only with the new phone buyer (who are three-times more likely to install apps), but also gives the game constant impressions every time they swipe through the device. That's a great way to stay top of mind! A particularly clever on-device method is Game folders that organize all the games on a user's device into one location. While users get the benefit of having all their games in one place, the games folder will suggest new games for the user to play. And, after all, what's more appealing to a game user than another new game experience sitting right at their fingertips? Now let's consider a retail app that specializes in children's apparel. They could align an on-device component with Back to School season to help build equity and exposure so that their brand is in the user's head when they need to buy clothes for their kids. Additionally, their app will be in set-up wizards for new phone buyers during that time period ensuring their app is seen before any competitive apps. While gaming publishers might not necessarily use all of the above solutions, they have tested them and found the ones that worked for them. All of these tactics can be deployed by other categories of apps, including news, social media, retail, streaming services and task-specific apps. And while some of these solutions won't be suitable for every app, the important part for developers is to think outside the box and test the ones that might work well. Gaming apps have helped illuminate opportunities and now it's up to other apps to find their way to the light. What's more, all of these tactics have been market-tested and perfected by game developers, whose existence depends on breaking through the noise, which means there's no need to reinvent the wheel. So it's time to stop being jealous of that successful game app down the street and start copying them and reap the rewards! Scott Tomkins is the senior vice president of global revenue for Digital Turbine.

The pandemic has forever changed the ways technology is used for learning and education. As some educators, IT professionals, and school leaders prepare to return to in-person learning, they will increasingly consider how to incorporate the technology-enhanced learning innovations students have grown accustomed to during remote and hybrid learning. For both K-12 and higher education institutions, this might also mean reimagining what courses, classrooms, and student engagement looks like too. If this is top of mind for you, or you're just looking to explore the use of communication, collaboration, and personalized learning technology, join us for a day (or two) of learning with Microsoft Teams experts. You'll hear about common scenarios where Teams has been and can be useful, and have your questions answered live. Speaking of questions, let's dive into a few FAQs about the sessions! Sessions will be held on the following days. Please note, each day offers two options for different time zones but will cover the same content. Tuesday, July 13: School leaders & IT professionals Wednesday, July 14: Educators And more! Check out the full agenda. Not to worry—sessions will be recorded and available to watch on demand. If you plan on attending a live session, be sure to register today to save your spot. We hope to see you there!

Open source software is a lot of things to a lot of people. For some people -- engineers, mostly -- it's a way to work on their passion, be involved in a community, and give something back to the world. For others -- business people, mostly -- it's a way to grow projects organically and sell software without actually investing too much in sales. It's a nuanced topic, and we've tried to explore it from many angles. From the business angle, we've explored open source vendors relationships with hyperscalers, mostly Google and Amazon. From the contributor and license engineering angle, we've explored different models for commercial open source projects. And from the community angle, we've explored metrics for community health and value generation evaluation. Today, we explore open source software (OSS) and its commercialization from yet another angle: the investment angle. There are a couple of venture capitals out there that seem to be ahead of the curve in terms of their understanding of, and investment in, commercial open source companies. Runa Capital is one of them, and we caught up with Konstantin Vinogradov, Runa Capital Principal, who shared his views, findings, and outlook for commercial OSS. Runa Capital was established in 2010, and it supports founders who are building disrupting companies across three areas: B2B SaaS, deep tech (middleware, open source platforms, machine learning, and cloud infrastructure), and software for regulated industries (fintech, edutech, and digital health). Runa Capital has a few investments under its belt, including some iconic OSS companies such as Nginx -- one of the two most popular web servers -- and MariaDB, a fast-growing SQL database. Runa's founders were involved in startups themselves, and Vinogradov described the people at Runa as tech-savvy -- most of them have backgrounds in software engineering and science. This, Vinogradov said, has led Runa to invest in open source companies from Day One, before it became mainstream: "The common perception on the market was, well, how to make money off of something which is totally free and could be easily copied and so on. That has changed. Now the market understands how open source works. And open source companies can get quite high prices". Vinogradov identified 2017 as the time when the tide shifted, and he believes there are a few reasons for that. It comes down to people caring more about decentralization, cost efficiency, and customization, which are all things OSS provides. He also identified what is now an obvious advantage of OSS: the fact that OSS projects that see adoption effectively sell themselves in a bottom-up fashion, bypassing costly and lengthy top-down sales to some extent. Vinogradov also elaborated on the data sovereignty aspect, claiming it's a key driver for OSS adoption. We pointed out that while this seems to hold at first blush, transitioning from the pure-play open source version to the enterprise edition typically means transitioning to a SaaS approach, too. So, perhaps that argument does not hold? Vinogradov thinks that a hybrid strategy, in which data never leaves the perimeter of the customer, is also viable. The idea is that the software works like SaaS, but it never has access to customer data. That was something of a novelty to us, and we were not sure how that would work, but Vinogradov pointed to a company in Runa's portfolio called Forrest Admin as an example. That's all fine and well, but the truth is, we approached Runa Capital and Vinogradov for something specific: the ROSS (Runa OSS) Index. Runa considers an active developer community to be instrumental for open-source businesses. The people at Runa look for promising companies with a fast-growing army of fans, and keep track of them at Github as part of their investment plans. Initially, Vinogradov said, they were doing this internally only, for their own purposes. However, after a wave of interest from developers and investors alike, Runa decided to open-source their findings as an index. The ROSS index highlights the top-20 open-source startups by annualized growth rate (AGR) of Github stars at their repositories. As anyone who has played a bit with OSS-related metrics knows, this is not a perfect proxy for growth, or for value. The people at Runa know this very well, and they also use more elaborate metrics internally. While Github stars are not a perfect metric for community evaluation for a number of reasons, they let Runa understand which OSS products were on top of developers' mind every quarter. Runa collects data on Github repositories with 1,000+ stars and compares their metrics at the beginning and the end of every quarter. Afterwards, all repositories are manually filtered to only include startups. For purposes of the ROSS index, Runa defines startups as product-focused commercial organizations, with a product that has a meaningful connection with an open-source repository. The organization also has to have been founded less than 10 years ago, raised less than $100M in total known funding, and must not have been acquired or gone public before the end of the target quarter. The ROSS index uses only public data from Github, Crunchbase, mass media, and other sources. The July 2021 update of the ROSS index was just released, and we asked Vinogradov to highlight some of his favorite startups in it. Starting at the top, there is NocoDB, a no-code database tool alternative to Airtable. Then we have Jina AI, a neural search ecosystem for businesses and developers. In terms of databases and data-related platforms, which are of particular interest to us, this ROSS index also includes QuestDB, a time-series database, Supabase, a framework for RESTful APIs for PostgreSQL, Airbyte, a data integration platform, and Prisma, a GraphQL layer which we have covered previously. Vinogradov mentioned he believes in specialized indexes as well, so very soon Runa will launch their first index for open source databases, where they are compared by active contributors, new contributors, and other meaningful metrics -- not only by stars. Elaborating a bit on different metrics and insights that can be derived based on these indexes was interesting. The top database in the world right now, based on new contributors in the past 12 months, would be Clickhouse, Vinogradov said. In terms of total number of contributors, Spark SQL and Elasticsearch rank at the top. Speaking of databases and other products in the broader area of data management and machine learning, we wondered what Vinogradov's view is on the multitude of options that currently exist. Could it be that there is a tad too much choice? Does he see consolidation happening? Vinogradov is of the "let 1,000 flowers bloom" opinion. The proliferation of so many different databases is because of the fact that there are so many different workloads, and it's hard to have a one-size-fits-all solution, according to Vinogradov. While leaders in specific database categories will exist, we should not expect to see any new Oracles emerging. As far as funding goes, Vinogradov noted that it definitely helps, especially when talking about enterprise offerings. There are some examples of successful companies who have raised very little capital, but, according to Vinogradov, those are built mostly around consumer-oriented software offerings. If you want to sell to enterprises, a healthy amount of funding seems to be required. Either way, the ROSS index is a valuable source of information for fast-growing OSS startups, and Vinogradov's views offer interesting insights from the investment point of view. We look forward to Runa Capital's special index on OSS databases, and we'll keep an eye on the ROSS index as it gets updated on a quarterly basis.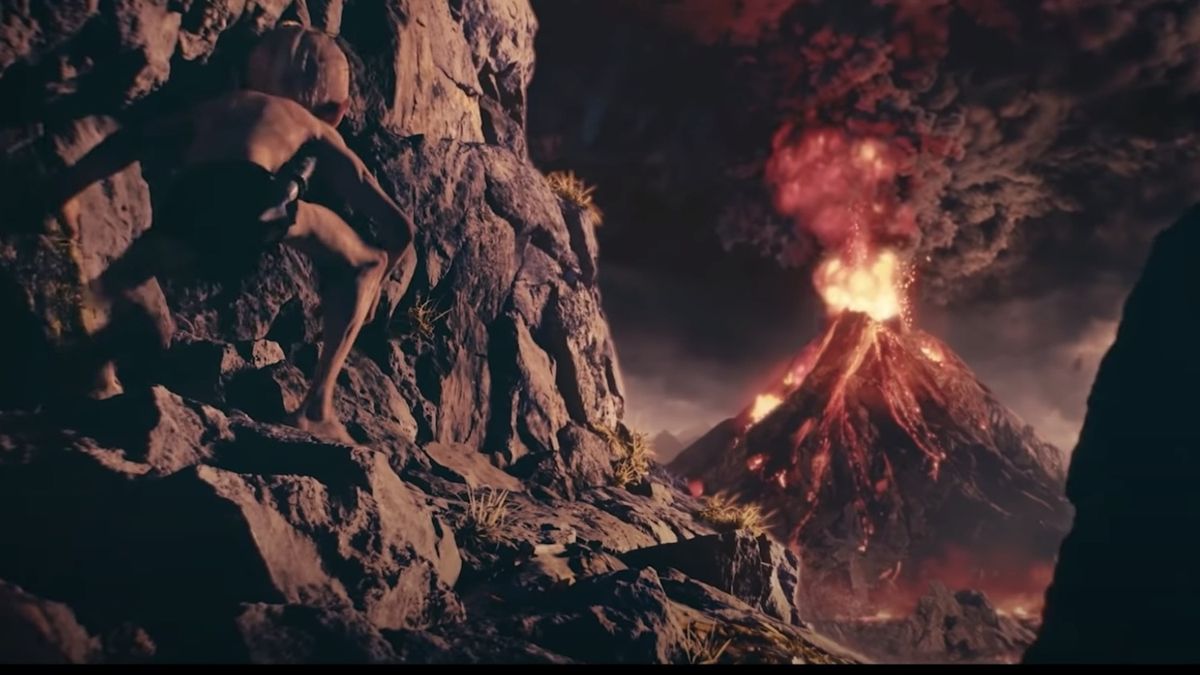 The Lord of the Rings: Gollum developer, Daedalic Entertainment, has released a brand new trailer for the game and narrowed down its 2022 release window to "Fall 2022". Revealed as part of publisher Nacon's livestreamed conference, Nacon Connect, the trailer offers some brief glimpses at pre-alpha gameplay footage while producer Harald Riegler gives an overview of what players can expect and what Daedalic Entertainment is aiming to do with the game. You can watch the trailer for yourself below and get a look at some of the game's environments, as well as character models for Gandalf, Lieutenant of Barad-dûr, aka Mouth of Sauron, and Thranduil. Riegler says that the team at Daedalic have been "highly faithful to the descriptions in the books" by J. R. R Tolkien in creating the characters. You have to go digging into the video description for that narrowed-down release date where it's stated that The Lord of the Rings: Gollum will arrive "in Fall 2022 on PC, PlayStation 5, PlayStation 4, Xbox Series X| S, Xbox One and Nintendo Switch." The Lord of the Rings: Gollum was first announced back in 2019 and it originally had a 2021 release date. In January 2021, this release date was pushed to 2022 and now we know it'll be late 2022. Our last look at the game came in March of this year, when the first gameplay footage made its debut. As described by Riegler in this new interview trailer, Gollum is "a cinematic stealth action adventure" which "mixes stealth and parkour gameplay", so as Gollum you'll have to "sneak, creep and trick [your] way" through Mordor. Players can also expect to have to make decisions through the game, taking into account the different desires of Gollum and Sméagol and which side of his personality you'd rather indulge. According to Riegler, "Gollum has pretty much travelled everywhere, he's also pretty much met everyone and by looking at events from his angle, players will experience Middle Earth through the eyes and twisted mind of one of the most iconic characters of all time." The Lord of the Rings: Gollum is now expected to launch in late 2022 on PlayStation 4, PlayStation 5, Nintendo Switch, Xbox One, Xbox Series X /S, and PC but Riegler advises fans to keep an eye on the game's social media channels for future updates.

Gettr, the new social media network was hacked not once, but twice. Apart from releasing customers' data online, hackers enjoyed themselves by flooding the platform with Sonic the Hedgehog-themed pornography and tampering with users' profiles, according to Threat Post. Gettr can be described as another Twitter alternative that focuses on posts regarding the current topics. The organization describes itself as "a non-bias social network for people all over the world." When Gettr was first launched, cybersecurity professionals recognized that the APIs were poorly written and full of vulnerabilities. Ashkan Soltani, a security researcher, uncovered a flaw that allows a threat actor to launch a brute-force attack targeting the API by giving it a list of emails and receiving a response listing the ones muted or blacklisted. One of the first blows against Trump's conservative-oriented network entailed the publishing of erotica featuring Sonic the Hedgehog over Independence Day weekend. On top of that, hackers had a good time by spamming the platform's first post with fake graphic footage of Hillary Clinton's face superimposed onto a woman's naked body. The next phase of the hack happened on the 4th of July, when numerous important users' profiles have been defaced. Alon Gal, a cybersecurity researcher at Hudson Rock, explained that the cybercriminals were able to exploit the insecure APIs implemented on Gettr. A data set allegedly containing 90,000 users' status updates, location information, email addresses, usernames, and other data was released Tuesday as part of the hack's next step. According to Jason Miller, a senior adviser to Trump "The problem was detected and sealed in a matter of minutes, and all the intruder was able to accomplish was to change a few user names,"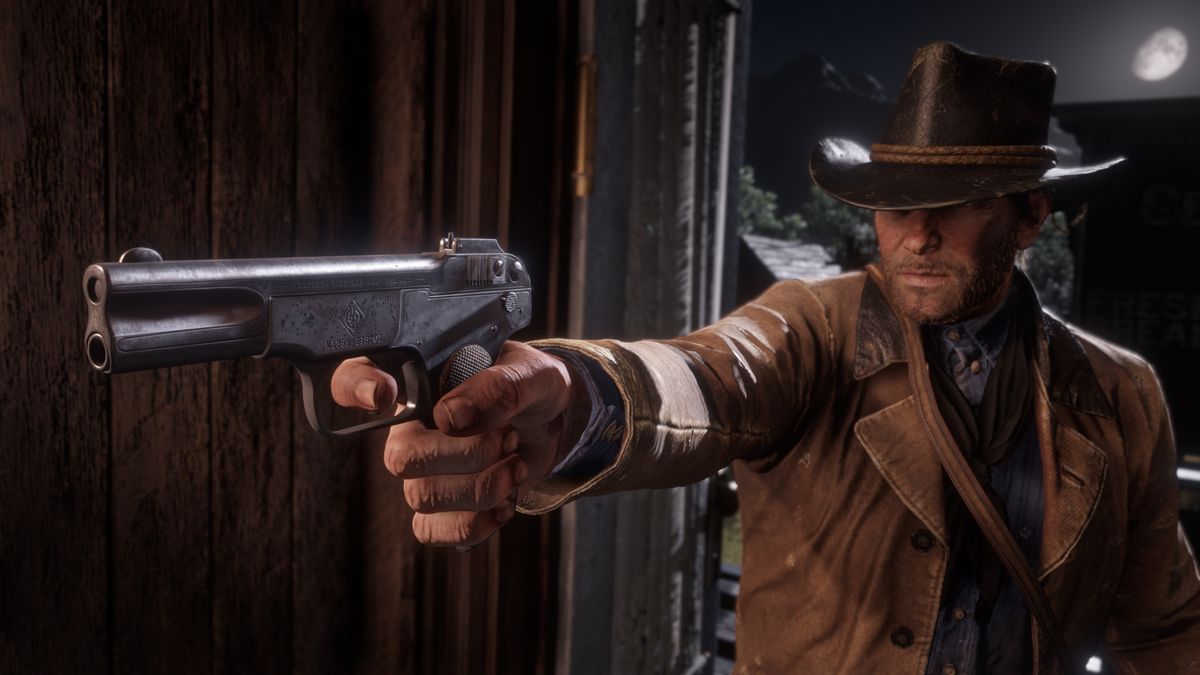 Red Dead Redemption 2 and the multiplayer spin Red Dead Online will very soon get support for Nvidia DLSS. Rockstar announced that Red Dead Online is set to get a big update for the summer by the name of 'Blood Money' which arrives on July 13 and will also pack DLSS functionality. That means the single-player and online games will benefit from smoother frame rates thanks to Nvidia's clever AI-powered upscaling chops – although naturally you'll need an RTX graphics card. DLSS is slowly coming to more big-name games on the PC and lately that includes Rainbow Six Siege, Call of Duty: Warzone and Doom Eternal. It's very much a case of the more, the merrier, because DLSS really does shift things up a gear in performance terms with supported titles. The Blood Money update for Red Dead Online introduces 'crimes', a fresh type of work that can be tackled solo or with a group, and includes the ability to carry out multistage robberies among other nefarious deeds. Free Roam mode will also open up the possibility of pillaging camps and homesteads. Further bits and pieces coming with the July 13 update include 'Quick Draw Club' passes, of which there will be four. Rockstar notes: "Purchasing each membership entitles you to rewards, bonuses, and items to help live life on the fringe of the law – starting with Dutch's outfit, The Redcliff. With each consecutive pass you purchase, you'll earn additional perks and rewards for continuing the journey." Those who buy the full complement of four passes will get a neat freebie, namely the incoming Halloween Pass 2.

This interview is part of our Road to the IGF series. Some Old Stuff, which was nominated for Best Student Game in this year's IGF, sees players going through their old things at their parents' house, recalling memories of an old friend through the objects. Gamasutra spoke with Hao Fan, Harry Chen, Emi, and Haku, developers of the game, learning about the personal inspirations behind the game, what helped them choose the items they felt would stir up memories, and how they hope this will make players recall their own beloved memories and people through the objects that help them remember. Fan: I am Hao Fan. I did the game design, programming, art direction, and also the writing for the project. I started my study at NYU Game Center in 2019. Before that, I was working as a product designer and during my spare time, I participated in several game jams and made table-top games for my friends. Chen: I am Harry Chen (Weizhong). I created environments and did level design for Some Old Stuff. I also did the design and narrative part with Hao. I joined NYU Game Center in 2019 for an MFA in game design. My undergraduate major is Architecture. In my Junior year, I made my first game, which was architecture related. I started making games since then. Haku: I am Haku. I did the character modeling and also the design and narrative part with my teammates. I joined NYU Game Center in 2019 for an MFA in game design. My undergraduate major is Animation. Emi: I'm Emi and I did the English localization for the game. I also started at the NYU Game Center in 2019. I have a background in comedy and screenwriting and started making games with friends for fun when I was a film student in undergrad. Fan: I am always interested in the relationship between objects and their owners. So, in a class at Game Center, we started to make several prototypes around that idea while thinking of the narrative of the game. Chen: We want to tell some daily, but powerful stories reflecting the relationship between objects and people. I had a childhood memory which I thought could express this prompt really well. My best friend in elementary school never come back after telling me he was taking a trip to Japan for a week with his mom. My best friend disappeared all of a sudden. This became the original concept of the game. Haku: We think of objects as representing memories. At first, we wanted to recall the life of A "mother" by her children sorting through her belongings, but later we thought that Harry's childhood memories were more concrete and more real. Fan: We used Unity as the game engine; Fungus, a plugin in Unity for implementing the dialogue system; Blender and Maya for all 3D assets. Fan: For me, any lifeless project would become alive and personal when a human started to interact with it. When you find an object you have not seen for a long time, you start to figure out why you had that object. That moment felt very human to me. Chen: I think mass-produced objects become unique after they bond with memories, stories, and thoughts. When different people use it, these associated memories are physically "marked" by different use traces. I personally think these memories evoked by objects are more vivid and personal than looking at photos. Fan: We mainly thought of those products that are easier to store personal information or experience. It could be an object itself indicating where it comes from, like the Japanese folk toy, or it could be something that people can easily change, like how you can draw on the back of a beer bottle cap. Chen: This is a game depicting both Lin's and my childhood. It is not only about Lin. The setting in "my" parents' house also reflects who "I" am. When "I" was checking the stuff in the box, the surroundings - SlamDunk Poster, Gundam Model, and textbooks - are also speaking about "my" childhood. We also took into consideration whether the items we chose could serve the purpose of the level well or not. For example, the cassette player offered a smooth transition into credits when the cassette was inserted and music was being played. Fan: I personally like unlit shaders. Since it does not have much depth, you have to design the shape and color of each thing in the game more carefully. Also, we planned to finish the game within three to four months, and this kind of art style could save us much time to work on other parts of the game. We used different color palettes to fit each scene's emotion. Chen: Besides what Hao has mentioned, in order to create a believable personal memory, in each level, key objects were chosen to be carefully textured. Then, the scene could resemble what we remembered in our childhood in east Asia. Fan: Their personal memories with someone when they play our game. And (hopefully) they can think of our game when they find some old stuff in their future life. Chen: The slight bitter sweetness in childhood was one of the feelings we initially intended to evoke. But eventually, we hope Some Old Stuff can help them think of their own memories and the "stuff" related to it. Fan: It feels cool and important to be personal when making a game. Chen: Conveying an emotion has always been a fun thing for me. And a game is one of the best tools for that. This game, an IGF 2021 honoree, is featured as part of the Independent Games Festival ceremony. You can watch the ceremony starting at 4:30PM PT (7:30 ET) Wednesday, July 21 at GDC 2021.

When you share something on social media, you might have a bigger audience than you think. There's a general rule that if you're not paying for something, you're the product. Social networking sites and messenger services are free and very profitable (Facebook makes $86 billion a year in ad revenue), and it's your data that's for sale. ClearVPN looked at who's watching what you post: It analyzed the policies of social networking sites and messenger services regarding data collection, storing, and sharing. That valuable personal data includes your phone number, email address, contacts, location, health data, payment info, chat content, search history, media stored on your phone, device ID, and user ID. All of these things can be sent to advertisers, ad-affiliated sites, law enforcement, researchers, data-measurement companies, and vendors. While the data is often said to be anonymized, it does not take much to get a very clear picture of a single person from an accumulation of this data. Aside from privacy issues, the dispersion of data in so many locations leaves people open to data breaches that can result in fraud and identity theft. More alarming are the social and political implications of targeting users with false information. Misinformation spreads quickly on social media, and the right mix of data makes it easy to find those who might be the most open to manipulation. Shunning all social media is nearly impossible, but you can always be more cautious about what you share and aware of where it may end up and how it can be used against you. Consider which services are essential, stick to those, and try to limit the data you share. PCMag has a few other simple tips for things you can do to be more secure online.

"It's the perfect counterpoint to the Puyo mash-up and the VR chill of Effect." If you earn 100 event points by July 13 you can permanently unlock this theme. Players will have a chance to unlock the theme March 4-9. The event is set to run January 7 -11. The event will be held December 4 - 7 and players can unlock the theme permanently if they secure enough points. Tetris 99 players can now earn a Paper Mario theme for the game by playing the game and earning points in the new event. Nintendo recently announced that it's sending its lovely life sim Animal Crossing: New Horizons on a field trip to the realm of Tetris 99.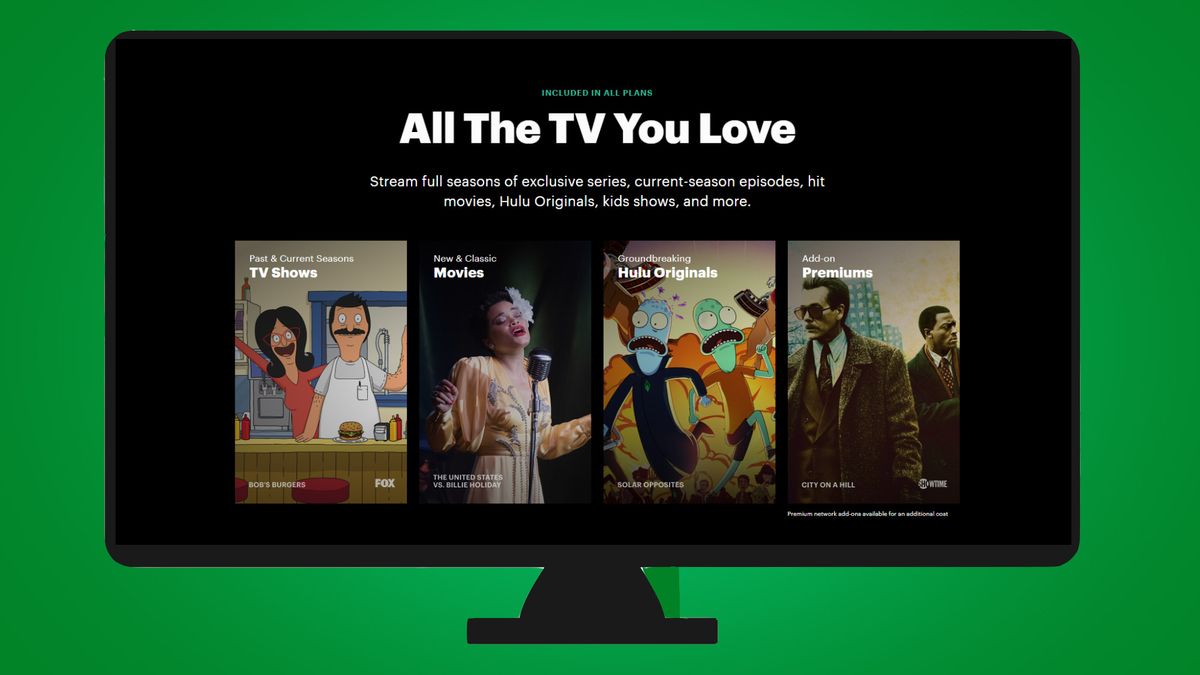 Hulu has been entertaining Americans with top shelf TV shows and movies since 2007 - and its video on-demand platform is no different. With award winning titles under its belt, quality Hulu Originals, and the fact it's also offering a comprehensive replacement to cable TV with its Hulu + Live TV plan, Hulu is certainly one of the most versatile streaming platform out there. Netflix may still hold the title for streaming platform with the most viewers worldwide, but Hulu comes in with both its aforementioned versatility, as well as its incredible affordability with its ad-supported $5.99 a month plan. Here you can plunge head-first into the world of both classic and contemporary films, and popular, quality titles like the Emmy-winning The Handmaid's Tale. You'll also be able to watch entire seasons of TV series from networks like FX and ABC. And, unlike Netflix, Hulu has a TV plan including over 65 live broadcast channels. It's brilliant value, a steal for students, and the platform's original content keeps winning awards, with both Nomadland and The United States Vs. Billie Holiday bagging Golden Globes in 2021. You can have it all with Hulu, and here we'll explain exactly what a subscription actually entails and how to sign up. As you'd also learn from our full Hulu review, a basic Hulu subscription grants you instant access to over 2,500 films and 1,650 TV series. This includes original series and movies from Hulu in addition to content from major networks like ABC, AMC, Comedy Central, VH1, FX, Cartoon Network and the Disney Channel, plus new episodes of hit TV shows a day after airing. Upgrade to the ad-free plan for $6 more and you'll endure fewer interruptions (for licensing reasons ads remain on a select few programmes). You can also bolt-on extras to your basic plan to make it fit your viewing needs better. Unlimited Screens, for example, lets you share your account with any number of people (theoretically) as long as they're connected to your home network. And, if you want, you can add Premium channels like HBO Max or Showtime for an extra fee. For those missing the eclectic diversity of traditional cable, then a Hulu + Live TV subscription will grant you more than 65 channels without breaking the bank. You'll get news and sports (local and national), reality TV and documentaries, scripted comedy and drama, lifestyle programming, and much more. That's on top of the thousands of hours of on-demand content that comes with a Hulu basic plan. You'll also benefit from Hulu's Cloud DVR, which lets you record up to 50 hours of live television. The same Hulu basic extras are available with a Hulu + Live TV plan. Additionally, you can purchase the Enhanced Cloud DVR to increase your storage to 200 hours, or bolster your line-up with the Entertainment Network and Español Network Add-ons. Know which plan you want to go for? You can sign up to Hulu now! An entry-level Hulu membership lets you binge entire seasons of hit shows, catch new episodes the day after broadcast, enjoy kid's entertainment and Hulu Originals, and watch TV series and films old and new from major studios. There are hundreds of exclusive Hulu Originals, among them the Emmy-winning The Handmaid's Tale and the Golden Globe-nominated Palm Springs. Castle Rock, Little Fires Everywhere, The Act and Monsterland are just a few gripping original drama series, while idiosyncratic comedies include Future Man, PEN15, Woke and Ramy. But, in addition to more mature material, you've got a healthy dose of children's entertainment, like the Steven Spielberg-produced Animaniacs revival and Utopia Falls. The platform also hosts older shows from dozens of networks, among them A&E, AMC, VH1, MTV, TNT, Disney Channel, and Discovery. So, you're just a click away from Sons of Anarchy (FX), Modern Family, Black-ish, and American Idol (ABC), Broad City and Key and Peele (Comedy Central), and animated classics like Bob's Burgers and The Simpsons (Fox). Whatever you pick, you'll have a lot of fun watching it. Of course, you can bulk up your roster of content with the renowned Disney Plus Bundle. It unites a mind-boggling amount of popular TV shows from Hulu and blockbuster films from Disney+ with live sports action from ESPN+ - and all at a very reasonable price. Everything detailed above, PLUS over 65 live channels which range from sports, news, lifestyle, entertainment, film, documentary and children's programming. Subscribers receive both local and national channels, so depending on your location you could get well over the advertised number (a New York City zip brings back well over 80). Hulu + Live TV has something for everyone. You get ample sports coverage from myriad ESPN channels, the Big Ten Network, Motortrend, CBS Sports and more, while breaking news comes from the likes of CNN, Fox, NBC and CNN International. There's a respectable amount of general entertainment here too. Thirsty TV and film fans will be sated by ABC, FX, The CW, A&E, Bravo, Turner Classic Movies and TNT, while those looking to work their gray matter can turn to Discovery, National Geographic, or Animal Planet. Then there are the networks looking to pacify younger viewers, with programming from the Disney Channel, Freeform, Cartoon Network and Universal Kids. It's $5.99 a month or $59.99 a year for the basic Hulu plan, which makes it one of the best value VOD platforms around. Students have it better, though, because they only need to pay $1.99 for the same content. Note that you can upgrade to the ad-free plan, or purchase Premium channels, but doing so will increase your monthly bill. At $64.99, the Hulu + Live TV plan isn't cheap. But for that you get a plethora of live TV coupled with an incredible amount of on-demand content. Again, you can pay extra to tweak your subscription plan, by upgrading your Cloud DVR to 200 hours or purchasing Unlimited Screens, and the ad-free option is available here too. There's no dodging the adverts on live broadcasts, but you can fast-forward through them if watching content recorded on your DVR. Check out our Hulu plans and prices guide for a full breakdown of subscription options and Add-Ons. Or, if you're ready to sign up, why not visit Hulu's website now? Oh yes! And it's a doozy. If you want to try the Hulu basic or it's Hulu (No Ads) equivalent, you're entitled to a 30-days free trial, which gives you a month to explore the platform's thrillingly diverse programming. Note that the free trial is only available to new members or eligible returning customers (that means a year must have lapsed since you were last subscribed). Meanwhile, Hulu + Live TV plan provides a 7-day free trial before you have to pay a thing. Cancel before the week is up to avoid being charged, or do nothing to keep your subscription active. Registering to Hulu is pretty simple. Just click on the "Start your Free Trial" button on the homepage and select the plan you want to subscribe to. There are four options: basic Hulu, the Hulu (No Ads) plan, Hulu + Live TV, and the Hulu, Disney Plis, and ESPN Plus bundle option located just below the three main options. After you click "Select" on the plan you want, you'll be asked to enter your email address, account password, name, and date of birth. Press "Continue" to enter your billing information on the next screen, including credit card details and zip code. Valid methods of payment are U. S based credit or debit cards (Visa, Mastercard, American Express, Discover), or a digital payment service like PayPal or Venmo, and remember that you won't be charged until the free trial expires. Then just submit your info, sign in and start streaming! The latest Hulu app and all its features, including Live TV and Premium Add-ons, are supported by the follow devices: Click here for a detailed list of Hulu-compatible devices and models. * While PlayStation 3 and Xfinity devices have the latest Hulu app, they do not support live TV programming. If you've got the hardware to support 4K Ultra HD, then you're in luck because some of Hulu's best shows are available to stream in this format. Considering Hulu is home to over 4,000 titles, it's a pretty small selection. But it still provides around seventy with which you'll get a sharper image, deeper colour, and 8 million pixels pummelling your eyeballs. Pretty much all Hulu Originals are ready to stream in 4K – that includes supernatural thriller Helstrom, science-fiction comedy Future Man, all seasons of The Handmaid's Tale, and horror anthology series Into the Dark. There's also a clutch of FX titles to enjoy too, like Mayans M. C, Black Narcissus, and the star-studded miniseries Mrs America. Any content available in this format will display a "4K" badge on the details page. You can currently watch 4K UHD content on the following devices: Apple TV (5th generation and above), Chromecast Ultra, Fire TV and Fire TV Stick, LG TVs (2017 UHD models and above), Roku, Vizio SmartCast TVs, and Xbox One (S and X models). However, HDR is not supported right now, so all 4K UHD content would be streamed in Standard Dynamic Range (SDR). The most ubiquitous VOD platform, Netflix boasts over 5,000 films and TV series. It produces hundreds of Netflix Originals a year, including Oscar-nominated films and highly popular shows like Stranger Things. But at $8.99 a month for an entry-level plan, providing one stream in SD quality, a Netflix sub doesn't offer the best value. Hulu may have less content, but for a few dollars less a month you still get thousands of thrilling titles, two simultaneous streams, and access to HD and UHD content. Amazon Prime Video is even pricier than Netflix. But with circa 18,000 titles its content library is more beefed up than Arnold Schwarzenegger. Granted, the overall quality is questionable, but Prime Video does include plenty of brilliant Amazon Originals like The Boys and high-calibre movies old and new. Yes, it's around twice the price of Hulu. But the benefits of a subscription, such as free delivery, Prime reading and ad-free music streaming, justify the inflated price. On the downside, you're limited to three streams per account (you can purchase "Unlimited Screens" with Hulu), and, when it comes replicating the cable experience, Hulu + Live TV is far more cost-effective than adding individual Amazon Channels. On the most expensive end of the VOD spectrum is HBO Max. It's the most expensive of the quartet, even with the recent introduction of its ad-supported plan, which allows you to stream to three different devices at once. If you're a fan of HBO's output – and let's face it, who isn't? – then registering is a no brainer. Yet as well as ground-breaking dramas like Six Feet Under, The Wire, and Game of Thrones, subscribers get a wide range of titles from Warner Brothers, their subsidiaries, and third-party companies. That means easy access to all Studio Ghibli animations, DC Comics movies, The Lord of the Rings films, and a curated selection of classic movies thanks to TCM. Or you could just add HBO Max to Hulu as a Premium Add-on.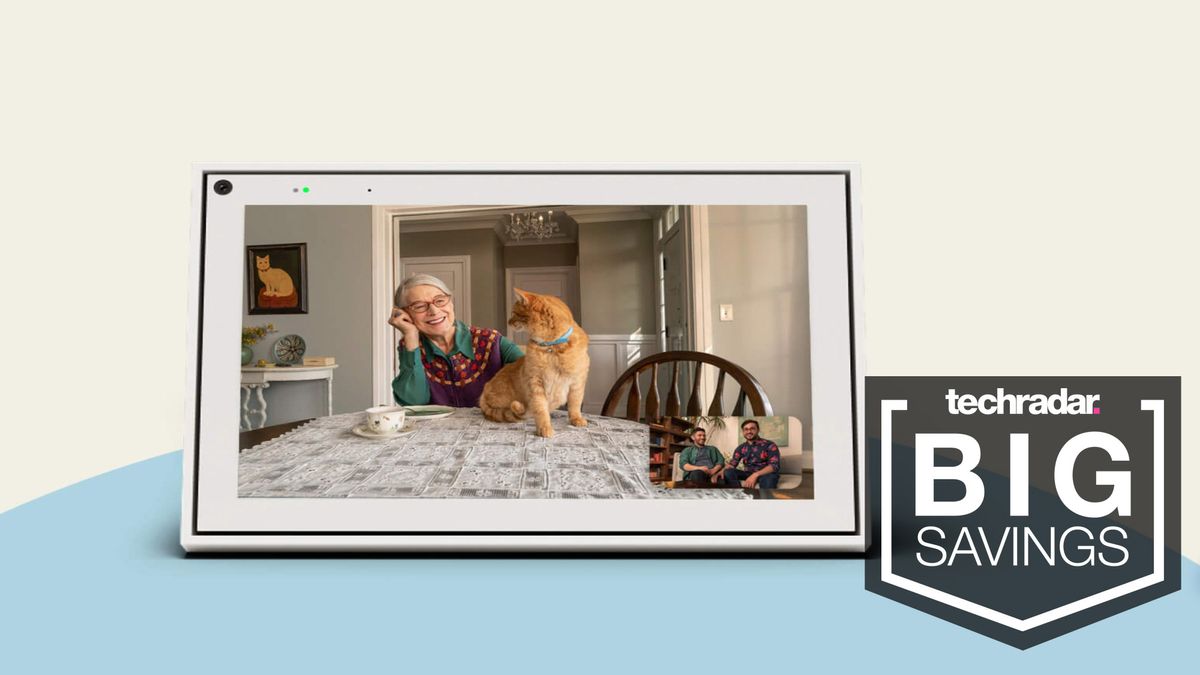 Connect with family and friends and save money with this fantastic deal that we've spotted on the Facebook Portal smart display. For a limited time, you can score a massive $110 discount on the first generation Portal when you apply the code PORTALSUMMER at checkout. That brings the price down to just $69, which is a fantastic deal for a feature-rich smart home display. The 10.1-inch smart home display is part of Facebook's mission to improve video calling by making it completely hands and distraction-free. The first generation Portal features a smart camera that pans, zooms, and widens automatically, so you can move and talk freely while always staying in frame. The Alexa-enabled display also allows you to play music, make calls, and check the weather completely hands-free, and display photos from Facebook, Instagram, and your phone. This is not only a fantastic deal but also $60 cheaper than Amazon's current price on the Portal. Keep in mind, this is a limited-time offer that ends on July 31, so you should take advantage now before it's too late. See more smart home display deals with our roundup of the best cheap Amazon Echo prices and deals that are happening now.

The peculiar elemental makeup of one star in the Milky Way could be due to a massive type of stellar collapse in the early universe, a team of astronomers announced today. The finding could help astronomers understand the diversity of ways in which the universe's heavy elements, like gold, originated. The star in question, SMSS J200322.54-114203.3, is 7,500 light-years from the Sun and sits in the halo on the periphery of our galaxy. The team believes a stellar explosion even more energetic than a supernova—called a "hypernova"—is responsible for the star's unusual chemistry. Elements heavier than iron require intense forces to be created: The merging of neutron stars, as well as the collapse of large stars in supernova explosions, are two common ways. Heavy elements are forged when lighter elements absorb many neutrons, some of which decay into protons, eventually landing on a stable isotope of a heavy element. Those elements are then dispersed into the interstellar medium by the force of the explosion or collision, eventually ending up in other stars and on planets like Earth. Scientists say this particular star's chemistry—a very low iron content and very high amounts of nitrogen, zinc, europium, and thorium—pointed to a different source of heavy elements than the typical neutron star merger. Their research is published today in Nature. "The key question this research addresses is, 'How were the heaviest elements produced in the early universe?'" said David Yong, an astronomer at the Australian National University and lead author of the recent paper, in an email. "The mergers of neutron stars (the extremely dense remnants of massive stars) were recently confirmed as sources… Our results reveal magnetorotational hypernova (an energetic explosion of a rapidly rotating star with magnetic fields) as another source of those heavy elements." The team was looking for a star with a large amount of heavy elements like zinc, thorium, and europium. They sifted through 26,000 stars from the SkyMapper Southern Sky Survey, a project that has built up a catalogue of some 600 million objects in the night sky. They narrowed down to a set of 150 candidates, but only SMSS J200322.54-114203.3 had the specific high-nitrogen, high-zinc signature the team was searching for. The star simply had more heavy elements than it should, based on known rates and energies of star deaths. "The extra amounts of these elements had to come from somewhere," said Chiaki Kobayashi, an astronomer from the University of Hertfordshire in the United Kingdom, in an ARC Center press release. The team determined that the star formed some 13 billion years ago, quite early in the universe's timeline, out of the soupy aftermath of a gargantuan hypernova. Hypernovae are really a type of supernova; they describe stellar explosions about 10 times more energetic than an ordinary supernova. "Since the star has such low iron content, it must have formed when the Milky Way galaxy was very young," Yong said. "Given the short time constraint, it is easier to produce all elements in a single event (magnetorotational hypernova) rather than in the neutron star merger scenario." The team believes this huge, magnetized, fast-spinning star collapsed 13 billion years ago, blasting elements hither and thither. Kobayashi's models of the Milky Way's chemical evolution suggest that hypernovae may have had a bigger part to play in shaping the galactic chemistry we see today. Finding more stars with a similar makeup will likely help the team understand just how important hypernovae were in the early cosmic kitchen. For now, SMSS J200322.54-114203.3 is the sole indicator of the elemental mystery at large. More: Astronomers Think They've Spotted a Rare Kind of Supernova Only Predicted to Exist

The modder who took out the gratuitous butt shots from Mass Effect 2 and 3 has now put them back in. It's a comedic twist that has brought a long-running video game drama full circle. Scottina123, whose mod published last winter discreetly removed all the close-up shots of Miranda's butt from the original Mass Effect series, now offers a mod that puts all the butt shots back into Mass Effect Legendary Edition. In the development of Legendary Edition, BioWare's developers subtly acknowledged some of their questionable camera choices in the original games and changed the scenes for the remastered release. Mass Effect's original trilogy launched in 2007,2010, and 2012. Even then, folks noticed that there were more than a few scenes where the camera fixated on the butts of some characters. Perhaps the most well-known case happens in Mass Effect 2 when Miranda Lawson has a conversation with Commander Shepard about rescuing her family. As the two realize the seriousness of their life-or-death predicament, the camera focuses primarily on Miranda's ass. Not everyone liked the exaggerated fan service. So, in 2018, Scottina123 released a mod called " No More Butt Shots " that removed the gratuitous butt shots from that conversation. On the mod's original page, Scottina123 said that the camera positioning annoyed them, and that "it was extremly disrepectful [sic] to Miranda's character." Well and good. And this year, BioWare's people said Mass Effect Legendary Edition would have remastered, reframed sequences that significantly dialed down the amount of booty. (You can watch a comparison video here). So Scottina123, in what can only be described as a cheeky move, has created a mod that adds the sequences back into Mass Effect 2 and 3. Now people can play the remastered version with the original camera angles. If you'd like to play a prank on an unsuspecting Mass Effect fan, you should check out this other related mod, which restores the butt shots and adds farts to the scenes. Fraaap!

Following the hack of 4 New Square Chambers, the company won a court order preventing the hackers from publishing stolen data from a prior cyberattack, according to The Register. The attack carried on June 12 is essentially a breach that stole private data from the company. As expected, the cybercriminals threatened to make public all information gathered. The plot twists is that judge Mrs. Justice Steyn issued a provisional injunction prohibiting the cybercriminals from using, publishing, or communicating to any party regarding the stolen data or sections of it. Despite the fact that the injunction return deadline is this Friday, no data appears to have been disclosed on the dark web hacker forums yet. This type of response has never occurred before, and it will be very fascinating to watch if it sets a precedent. While highly unlikely, everyone is curious if hackers will back down on their ransom demands and avoid revealing the stolen data. We cannot predict the impact of this court order because cybercriminals have begun to launch more large-scale attacks against Western countries disregarding the United States and European Union efforts on the matter. The most powerful cybercriminal groups engaged in ransomware attacks are concentrated in geographical areas such as Iran and North Korea, with the majority of them based in Russia. All of these countries have one thing in common: they do not enforce U. K. court orders. They don't appear to mind if they target a country's key infrastructure, and their cyberattacks continue to evolve as time passes and they gain more experience. In fact, it seems they are emboldened by the knowledge that large corporations who fall victims have begun to pay their demanded ransoms.

Everyone plays videogames for different reasons and there are fans of all sorts. Some of you reading this love to see the "you win" sign appear on a fighting game, maybe you really like saving Princess Peach with some platforming or enjoy wandering the land with Geralt. For today, I want to talk about one of the most niche genres and why there are fans like myself who just love watching stuff move from point A to point B. One of my very few developer chats which sadly cannot be viewed was an email correspondence with Chris Beatrice who was the lead designer at Impressions and Tilted Mill. Speaking with him, we had a massive conversation about city-building design and the state of the genre back in 2012. From that conversation, we spoke about how there was a huge difference between city builders and logistics/optimization games like Anno, Factorio, Satisfactory, Logistical, Final Upgrade, and Dyson Sphere Program. Both genres (I'm not including idle games even though they are optimization games) are essentially offshoots from real-time strategy: the player constructs buildings, said buildings produce something, the player uses that something. The difference with city building, and why it is so specific, is that city builders are supposed to simulate the needs and desires of the citizens. This is where the concept of the walker system that has been used heavily by the genre comes in. The point of a city builder is to watch how your city and the people in it interact with each other. Because you are focusing on the needs of the people, and how those needs can change, there isn't really the ability to create a 100% optimized city. Logistics games may have cities and people in them, but they are nothing more than number generators. In Anno 2205 I had literally islands of thousands of workers whose only reason for existing was to pay me money while they sat around all day consuming water and ramen. In a logistics game, there is no confusion about how things work or ways to influence it. If the game tells me something will happen in three minutes, five seconds,2 milliseconds from now, then that's when it's going to happen. Given the set nature, and the lack of simulation going on, you may think that logistics games are very basic in their gameplay, but these games are all about finding creative solutions to ongoing problems. As I said at the start, people don't play logistics games for high octane action or involved stories, but for dealing with an infinite number of small problems. At its core, you can solve any issue in a logistics game by doing every construction by hand. Of course, this is anathema to a fan of logistics games, and where the core gameplay loop begins to take shape. Every game starts with the first challenge of gathering the essential resources you need. This is slow, ponderous, and can feel like pulling teeth out in terms of walking around to each resource node in the area. And that presents the first problem to solve: How do I automate this? With each new production chain set up, the player is solving a problem that they are personally dealing with, and that is a powerful motivator for progression. New researches and upgrades will unlock something new, make something the player is using better, add a new wrinkle to the production, or all the above. Earlier in this post, I mentioned idle games, and while they are not part of this discussion, they do feature similar gameplay loops — you are making numbers go up to make other numbers go up. The reason why logistics games become so personal is that while the game does have an intended path through, the player is in complete control over their progress. One person may decide that they are fine with manually crafting a certain item, while someone else will not move on until every constructible item is being automated. And over the course of playing, how the player approaches these tasks will change based on the tools available and their own knowledge of the game. The game I'm currently enjoying is Dyson Sphere Program, while it's still in early access with more content coming, at the moment it is one of my favorite takes on the genre. The game is set up similar in tone to Anno 2205, your mission is to solve the energy crisis, this time by building a Dyson sphere. What may prove to be a controversial opinion, I like the fact there is no military/combat system to distract. This is a game that is all about optimization. You are literally given a universe to harvest resources from and use to build your elaborate assembly lines, and that's where DSP differs from Factorio. Factorio is more micro-oriented, and the intimacy of not only setting up production chains but building the necessary defenses and weapons to keep you alive. Whereas DSP wants to send you out into the galaxy to set up larger and larger production chains. A major part of what makes DSP interesting is the larger scale and being able to solve your production and resources problems by literally traveling to different star systems. This is handled well by how production works. Many of the mid to late-tier items will often require goods that need multiple resources. By exploring the universe, you may find rare resources that can skip production steps and reduces the number of resources and space needed to make the same product. One major point where DSP takes a turn in terms of optimization is with the introduction of "logistics towers" that show up around the mid-game on the research tree. These towers serve as storage areas for your goods and allows transportation between towers using drones. With their arrival, the need for planet-spanning conveyor belts is over, and this prepares the player for the next stage of their optimization. The goal then becomes setting up factory systems that essentially run themselves provided there are resources in their respective towers. I spent a good three hours completely rebuilding my factories to "future proof" them for my needs going forward. There is this great sense of growth in DSP and being able to see that not only on your starter world but exploring the galaxy that I haven't really seen done before in logistical games. The fact that it is this good now while it still has plenty of time in early access speaks volumes about the pros of this design. With that said, logistical games are a lot harder than just having numbers go up. When I look at other logistical games, and even idle design, there are a few areas where I see novice developers miss the point on. The first is having a reliable "carrot on the stick" to keep players engaged. Progress in this kind of design is about a lot of small incremental goals, not one giant, "20 hours later" grand project to achieve. The player needs to feel like things are going in the right direction, not just standing still. This is where the upgrades and unlocks come in. Good design is about providing the player with enough starting tools that they can already get a sense of how to design their production lines, while still having unlocks of greater complexity and utility down the line. In DSP, one of the major progression points like Factorio is producing and automating "science cubes" that are used for tech. For each new cube unlock, you are going to have to spend some time reconfiguring your lines to accommodate the increased yield. One area where DSP falters at the moment is that the big push into the universe is not as grand as you would think. While systems come in different star types, what you're doing on each planet does not change. You are still going to have one or two "factory worlds" that do all the production and refinement, everything else is just mining colonies. And this is one area where I would like to see more diverse options and elements in future patches. UI/UX is often a major stumbling point. Logistics games at the end of the day are just slightly above idle games as being "UI the game." Elements like hotkeys, camera controls, and even an easy-to-understand main screen UI, are essential. One of the major problems that was in Anno 1800 at the start was no clear way to spot optimization problems with your islands in terms of not producing enough resources. It took several months before the ability to see your exact production/consumption rate of a resource was added in. The Logistical series is one of the most complicated examples of the genre, but it, unfortunately, has the worse approachability and onboarding of the games I've played. A problem with Satisfactory is that I felt the progress at the start is a little too slow. Another area where some developers falter is making the beginning too frustrating or locking too many elements behind progression. That annoying start I mentioned a few paragraphs up? That should only be at most 5–10 minutes of the entire playtime. You want to define essentially early, mid, and late game optimization systems and make sure that the player has ways of making life easier for them at each stage. Just adding more "stuff" to build is not enough of a hook, there needs to be different rules, procedures, and strategies for building advanced resources. In Factorio the game slowly unfolds additional elements like harvesting liquids, electrical power, the as-for-mentioned defenses, and more. That depth and level of detail is the reason why people have thousands of hours in Factorio. Unlike survival games where the player is not supposed to reach a point of stability, optimization games are about becoming stable, but that's not the ultimate goal. The Anno series is all about getting all the different production lines, needs, and transportation stable, and then breaking it with the next thing and doing the optimization dance again. It's interesting to me with how far optimization games have come both in terms of aesthetics and complexity. Anno 1800 is perhaps the most recognized in the mainstream, and the most successful of the series to date, now having three years of post-release DLC support. Meanwhile, Factorio and Dyson Sphere Program are two very different takes on similar elements, with massive potential and reach for both. Not every game needs to be about conflict and saving the universe. Sometimes the greatest stakes needed is trying to fit that one conveyor belt in that's messing up your entire assembly line and you can't seem to move any machinery out of the way. For the reader: Do you have a favorite optimization game, and what attracts you to the genre? If you enjoyed my post, consider joining the Game-Wisdom discord channel. It's open to everyone.

1Spatial, a global geospatial software and solutions provider, is aiming to make complex workflows simple to manage with the latest releases of their core products,1Integrate and 1Data Gateway. 1Data Gateway 2.4 now has an extended REST API enabling automated submission of data from other applications, whilst maintaining access control and security of your data supply chain. Submission metadata can be passed back into 1Integrate sessions for downstream processes and analysis.1Integrate 2.10 can also be configured to "fast-track" certain sessions onto higher priority engines, ensuring important submissions are never left queuing behind other routine jobs. Ricardo Cifres,1Data Gateway Product Manager says: "Even though 1Data Gateway is primarily a user Portal to our rules engine, the addition of the Submission API will allow our customers to integrate the power of 1Data Gateway into automated workflows and access the rich statistical data collected from the submissions." Bob Chell, CPO for 1Spatial adds: "It's great to see that with our latest releases, you can really fine-tune your automated workflows whilst maintaining oversight of your data supply chain. The combination of 1Data Gateway and 1Integrate as components of the 1Spatial Platform are really popular right now. It's also great to consistently get parallel releases shipped for our customers to work on these types of product combinations and give us the feedback we need to influence the product roadmaps."

(Photo by Armin Weigel/picture alliance via Getty Images) The Right to Repair movement is getting an important new ally: The Biden administration. On Tuesday, the White House Press Secretary Jen Psaki revealed President Biden is preparing an executive order on "competition." At the same time, the Biden administration has directed the US Department of Agriculture to develop new rules that'll grant farmers the "right to repair their own equipment how they like." According to Bloomberg, the upcoming executive order will also direct the Federal Trade Commission to craft new rules to stop manufacturers, including phone makers, from imposing onerous repair restrictions on their products. The news represents a significant win for Right to Repair advocates. For years now, the movement has been calling on electronics vendors, including Apple, to make their products easier to fix, citing the benefits to consumers and to the environment. However, many consumers must instead go through official repair services from the tech companies, which can cost more. Farmers have been among the biggest supporters in the Right to Repair movement, and point to company John Deere as a major offender for blocking access to the software and tools needed to fix their tractors. Those tractors can cost $800,000, but John Deere has argued the farmers don't own the software onboard, citing intellectual property laws. According to Bloomberg, the scope of Biden's upcoming executive order will be up to the FTC to decide. In May, the commission itself signaled it's already mulling a crackdown on repair restrictions across the industry. In a 56-page report sent to Congress, the FTC found "scant evidence to support manufacturers' justifications for repair restrictions." Last month, US Rep. Joe Morelle (D-NY) introduced federal right-to-repair legislation.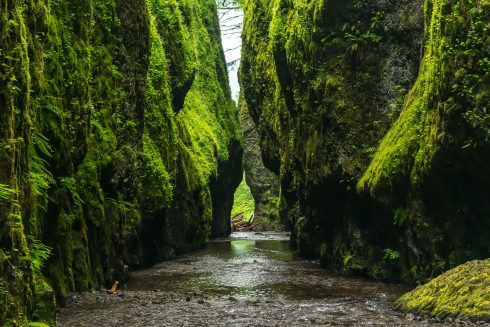 The demand for smart products is growing to previously unimaginable levels. For example, the recent IDC Quarterly Smart Home Device Tracker stated that worldwide shipments of smart home devices alone would surpass 1.4 billion units in 2025 with a five-year compound annual growth rate (CAGR) of 12.2%. Simply put, any physical product that can be enhanced with connectivity likely will be in due time. However, for many companies, the demand for smart products is growing beyond their capabilities to produce them. One of the most common challenges to successful smart product development and launch is the disconnect between the software teams that develop connected components and those tasked with manufacturing the traditional physical product. It is often a case of the left hand not knowing what the right hand is doing—or how and when it's doing it. This lack of coordination leads to launch delays, costly mistakes, recalls, and unsafe products to the market, potentially impacting brand reputation and eroding consumer confidence. To fully enjoy the ROI that smart product manufacturing can yield, manufacturers are recognizing and overcoming five common obstacles that prevent the 'smart' and 'product' sides from working in a cohesive manner: alignment, governance, predictability, visibility and risk control. Competing rhythms, cultures and methodologies between physical and digital product engineering and development lead to friction, delays and higher production costs. The direct line between smart product strategy and execution is broken at the operational level. The solution: The product realization process for smart, connected products requires alignment between departments, especially physical product development and software development. Allow each functional group to work the way they want to work while harmonizing deadlines, outputs and KPIs. The entanglement of multiple functions can leave governance unclear, resulting in conflicts of interest, power imbalances, high costs of restarts, and a lack of visibility into the smart product lifecycle. The solution: Establish a best-practice innovation management framework, ensuring it's clear who is responsible for what, the status of each facet of the development process and whether the launch is on track. For large manufacturers, an enterprise innovation management software, which is the face of your framework, can automate new product development (NPD) processes and increase transparency for confident decision making. Meeting market and customer needs for smart product realization requires a predictable, efficient product development process that transcends disciplines and corporate hierarchies. Manufacturing plants cannot plan robust investments in new product lines if there's a lack of predictable designs, timelines and more. Similarly, product lines can't reasonably predict future sales and revenue if launches are unsure and the scope of the product changes during the process. The solution: Conduct comprehensive product line planning, tying together market segments, regions, needs with the realization of features, products, and assembly. With an established innovation governance framework in place (see Solution in Obstacle 2), it's clear if in-flight and future products are on track to meet established deadlines. Product owners are faced with disparate data and no way to leverage it for a better understanding of market segment needs. They have an incomplete picture of the consequences created by delays at the feature/project level within the product portfolio. Therefore, they can't know what's going on behind the feature development doors, including functionality, scope, delivery timing, costs, and resource needs. The solution: A "single source of truth" is needed to gain cross-organizational agreement on product investments, launch timelines and revenue expectations while coordinating physical and digital teams, product engineering and manufacturing, and third-party suppliers – all using different methods and systems. When all relevant data is visible in one place, it's easier to respond sooner to the impacts of changes and delays. Disconnection in the smart product development process can bring costly mistakes, recalls, and unsafe products to market. It can impact brand reputation and erode consumer confidence in a company's products. A lack of familiarity with the requirements of and the regulations governing each function can make this problem worse, with potentially disastrous results. The solution: Put an effective process of accountability in place at every stage of the product realization process. Distribute decision-making across the entire innovation chain, not just manufacturing or engineering. Clear communication and accountability are non-negotiable aspects of successful smart product development. The market expectations are too high to allow blind spots that can delay launches or, even worse, compromise the quality and safety of products. Companies that implement solutions and policies that promote department-to-department transparency are the ones that will enjoy market differentiation and long-term success.

Forza Horizon 5 will feature ultra-realistic skies to fulfill its promise of not only "ever-evolving open world landscapes" but also a true next-generation racing simulation. According to a new Let's iGo! episode (via VGC) from last week, developer Playground Games captured around 75TB of real-world pictures of the skies over Mexico to help achieve the realistic sky domes of Forza Horizon 5. Playground Games used a specialized camera setup that took pictures of Mexican skies every 30 seconds in 8K resolution. That amounted to nearly 3,000 pictures a day or nearly 50,000 pictures for around three weeks. "We have three cameras that can take a third of the sky each and we take that back and stitch it together and then we have up to a 12K image that we can use for our sky domes," said senior lighting artist Adan Currey. "Each one of these cameras takes an 8K image but what they do is take a refracted shot of the sky. That means we can capture the full dynamic range of the lighting in that situation." 75TB worth of data is a lot and as such, Playground Games had to physically ship hard drives back to its main studio in England to be processed. Transferring the enormous data over the cloud was not an option. To further accentuate the amount of work done into making the realistic skies of Forza Horizon 5, the developer went through every simple photo before selecting only the very best. It gets even better. Forza Horizon 4 had about 300 sky presets. Forza Horizon 5 will have well over 2,000 and players will be able to pick any one of them while creating custom races, which is where the dynamic weather conditions come to play as well since both weather and skies work in tandem. Forza Horizon 5 looks to be shaping up nicely and will land on Xbox One, Xbox Series X and Xbox Series S, and PC on November 9,2021.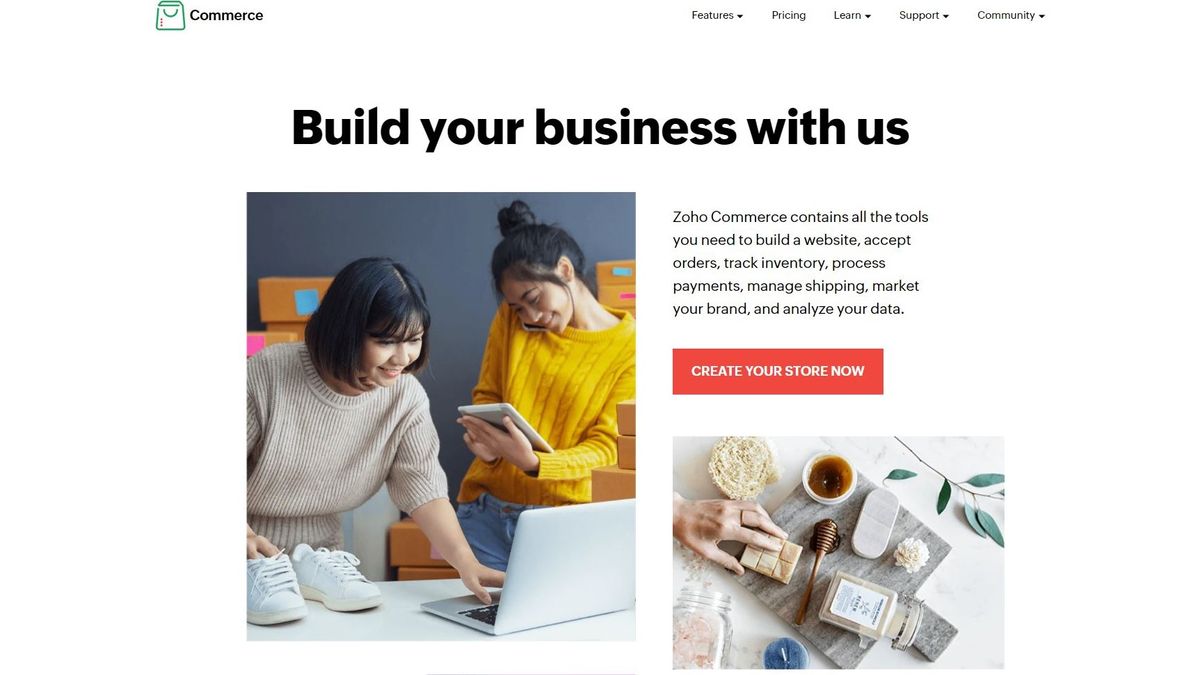 Selling products online is becoming ubiquitous - it's almost getting to the point where it's unusual that a little shop doesn't have a means of selling their wares on the internet. So it's little surprise that a slew of services are available to let you do exactly that. Zoho Commerce is one such, which we'll be exploring here. Zoho offers to do all the grunt work for you - it takes care of order management, shipping integration, product catalogues, payment gateways, SEO integration, email automation, and more. All you have to worry about it adding your products and customising your store. And you can test it all for free: all you need to get started is a username, password and your phone number. Zoho will then ask you for some information relating to your business, like what you're selling, how many products you intend to see, you current annual revenue, that sort of thing. But all these questions are not compulsory, and you're able to skip them if you prefer. Choosing a template is a simple matter of clicking on one of the 22 on offer. There's no way of getting a larger preview of what you're getting before you commit yourself, but you're able to change templates at will later on, should you be displeased with your initial choice. Once done, you'll be sent to your Dashboard. This is where you can add your products, configure your taxes, means of payment, and shipping information, all through the main section of the page. The sidebar on the left is where analytical reports, order information, and site customisation are accessed. Altering your page is incredibly easy to do. As you mouse over its preview, you get to see which sections can be edited. You'll be offered a bunch of contextual tools depending on the element you click on. Click on a header or text box, for instance, and you'll get text editing controls. Adding an element is a simple matter on clicking on the blue 'add element' buttons that are peppered throughout the page. These can be as simple as a text box, or an image gallery, to buttons, dividers, integration with Google Maps, YouTube or Vimeo. The same section also grants you access to various apps (to add a comment box for instance, or links to social media), forms, your product collections, or an individual item you have for sale. Adding images (as a standalone picture or as part of a gallery) is easy: just add the appropriate element, then upload your desired image. We liked that all the images you use can be accessed from a central repository, meaning if you use the same shot more than once, you only have to upload it once. You also have access to vast stock image libraries courtesy of Unsplash, Pixabay and Google, by clicking on the 'Open Image Library' button. Your image editing abilities are sparse, to say the least. You can resize images to small, medium, large, original, or 'fit' (takes up all available space within its element), and that's pretty much it. You don't have pixel-perfect precision editing, but it's an easy way to quickly customise your store with the minimum of hassle. There are some interesting options, like being able to hide an element if your page is being viewed on a specific device (like a computer, tablet or phone), and you also have access to some basic animation (slide, bounce and fade) which you can apply to each element to give you page a more dynamic feel. Adding items to your store is a very simple process. Should you choose to add them one at a time, just click on the 'Add Product' button in the Dashboard, and fill in the required information. There are enough fields to be quite thorough, from the basics like title, retail price and description, to the specific, such as dimensional weight and product identifiers (ISBN, UPC and such like). There's also room for SEO information. But if you have a lot of products to sell, doing this manually can be a heck of a pain, so it's good that Zoho lets you import all the info in bulk via a CSV or XLS file. Unfortunately, Zoho can only handle physical products. They don't as yet support digital downloads although they claim to be working on it, and there's no word if they'll include support for services any time soon. As you're building your site, you can preview the result at any time, via the 'Preview' button, top right of the page. Switching between devices is a breeze, and any animation you've added can be seen. The free service allows you to test the features, but you can't publish anything until you select a paid plan. There are three on offer: Commerce Starter will cost you $22 per month when paid annually (otherwise it's $27 per month). For that, you get free web hosting with SSL, unlimited bandwidth,50GB of storage, the ability to provide coupons, a newsletter subscription, and Facebook Pixel and Google Shopping integration among many other features. You also get to have 2 user accounts, support for up to 2,000 products,2,000 customer accounts, up to 10 campaign pages,1 pickup location, and Zoho takes a 1% transaction fee on anything above $1,000 per month. It's a great plan for those getting started. Commerce Professional bumps the cost to $60 per month if paid annually, or $75 otherwise. It improves on Starter in various ways, like removing any limits on storage, allowing product reviews and ratings, and offering advance coupon features, for instance. You can also have up to 5 user accounts, up to 10,000 products, an unlimited number of customer accounts, and Zoho only takes a 0.75% fee on anything above $5,000 per month. If you want more, there's Commerce Advanced for $140 per month when paid annually ($175 monthly). Some of the additional features include price lists for customer groups, serial batch tracking, and filters. You can have up to 25 user accounts,50,000 products,50 pickup locations, and Zoho takes a 0.50% fee above sales of $10,000 per month. Zoho shows a lot of promise, offers you simple templates which you can alter to suit your more specific needs, while simplifying the process of selling online. It's a shame that only physical products are supported for now, limiting its potential.

Mythical Games said that it will auction off digital collectibles from musical artist Deadmau5 inside its Blankos Block Party NFT-based game today. At 3 p.m. Pacific time, the game maker will auction of NFT (nonfungible token) art from artist Dan Lish and Grammy-nominated Joel Zimmerman, more commonly known as Deadmau5 (pronounced "dead mouse"). It's part of Mythical's attempt to bring NFTs to mainstream gaming. NFTs have exploded in applications such as art, sports collectibles, and music. NBA Top Shot (a digital take on collectible basketball cards) is one example. Built by Dapper Labs, NBA Top Shot has surpassed $540 million in sales, just six months after going public. And an NFT digital collage by the artist Beeple sold at Christie's for $69.3 million. Gaming has a couple of new unicorns, or startups valued at $1 billion, in Animoca Brands and Forte. NFTs are now selling at a rate of $23 million a week, though the initial hype around NFTs is dying down. Some people will scoff at NFTs as a hype train. But it enabled Mythical Games to raise $75 million in venture capital funding. The NFT drop will include the Deadmau5 helmet as a digital accessory for any Blanko, or character in the game. Fans can tune in to Twitch this afternoon as Deadmau5 streams Blankos Block Party on twitch.tv/deadmau5 for a launch celebration of this collaboration. Fans can also join him in player-created minigames to show off their own Deadmau5 collectibles. The limited-edition, limited-quantity Professor Meowington Blanko ($160) and Deadmau5 helmet accessory ($40) will be available for purchase in-game and on the Blankos.com web store. Only 1,000 of the Professor Meowingtons Blanko will be minted, along with 2,000 helmet accessories. Digital items in Blankos Block Party, like the Professor Meowingtons Blanko and Deadmau5 helmet, are playable NFTs that have the same utility as any skin or accessory you might buy or earn in another game, but unlike most games, in Blankos players actually own what they buy and can sell their items for cash when they no longer want or need them, unlocking the real-world value of their time and money spent in game, through blockchain technology. Blankos Block Party and the Mythical Marketplace are built on a private EOSIO blockchain using a Proof of Authority model that is more environmentally friendly and sustainable than the Proof of Work model (neither the game nor Blankos NFTs use or require any crypto mining). Mythical partners with artists, creators and brands to bring these curated NFTs into the game, ensuring their partners are not only credited for their designs, but that they're able to earn ongoing commissions for their work, even in secondary sales. The game world of Blankos Block Party is styled like a giant block party, where players can compete in and explore a variety of gameplay types, including racing, shooting, tag, collection, and more, across minigames built by Mythical and by players.

Superplastic has teamed up with the auction house Christie's to auction off nonfungible tokens (NFTs) based on the virtual celebrities Janky & Guggimon. Yes, it seems the real artists, who have been auctioning off NFT art like there's no tomorrow, will soon be upstaged by virtual celebrities, or those who only exist as animated characters. The series of auctions starts on July 9 and continues through July 22. During that time, more than 9,240 unique NFTs will drop at jankyheist.com. Janky & Guggimon have become viral synthetic celebrities or virtual beings. In the Christie's deal, they're going to stage a faux heist, breaking into the auction house in an attempt to steal a bunch of stuff. Janky & Guggimon were created by the global entertainment brand Superplastic, which will drop eight one-of-a-kind NFTs during the upcoming Trespassing auction. "I've been creating stuff like this my whole life. We're making things and inventing them and it's been a blast," said Paul Budnitz, CEO of Superplastic, in an interview with GamesBeat. "It's just a brand new medium." Let me rephrase that. I think it was Budnitz I was interviewing, but he was dressed up as his virtual character, Guggimon. His PR person insisted it was him, or at least his voice. NFTs have exploded in applications such as art, sports collectibles, and music. NBA Top Shot (a digital take on collectible basketball cards) is one example. Built by Dapper Labs, NBA Top Shot has surpassed $700 million in sales, just seven months after going public. And an NFT digital collage by the artist Beeple sold at Christie's for $69.3 million. Gaming has a couple of new unicorns, or startups valued at $1 billion, in Animoca Brands and Forte. NFTs are now selling at a rate of $23 million a week, though the initial hype around NFTs is dying down. Regarding whether NFTs will last, Budnitz doesn't know if it will be a tidal wave or just get our feet wet. But he said, "I know the waves will just keep on coming." As part of the auction, Janky & Guggimon will be creating NFTs in partnership with artists including Gucci Ghost, OG Slick, Shantell Martin, Alex Pardee, among others. The genesis of Janky & Guggimon's groundbreaking NFT drop is documented in Superplastic: The Janky Heist, a short film the duo edited together from security and police footage, and that follows their unsuccessful attempt to break into Christie's New York at Rockefeller Center to steal rare works of art. After accidentally blowing up the building, Janky & Guggimon escape into the night with fistfuls of broken NFTs. The drop employs blockchain mechanics and a custom-built reverse Japanese auction mechanism in which scarcity increases while NFT prices go down over time. Superplastic's Janky & Guggimon are already pretty successful on the NFT sales front, as they have sold more than $3.5 million worth to date. Noah Davis, digital art specialist at Christie's, said in a statement that this is the first time it will be auctioning off works of art created by virtual artists. It's also the first time someone has blown up Christie's as part of an auction. Budnitz said he is sorry that Janky & Guggimon blew up Christie's headquarters. "It's amazing that Christie's let us blow up their building in the video," Budnitz said. "They have a really awesome legal team. We'll see how it goes." Starting July 9 at 7 a.m. Pacific time, the Trespassing auction will feature Janky & Guggimon at Christie's NY: The online-only sale curated in partnership with Ronnie K. Pirovino with eight NFTS created as a collaboration between Janky & Guggimon and artists including Gucci Ghost, OG Slick, Shantell Martin, Alex Pardee, Stickymonger, and Aleksandar. Todorovic. On July 13 at 1 p.m. Pacific, the Janky Heist by Janky & Guggimon, sponsored by Superplastic in collaboration with Christie's will debut over 9,240 unique CryptoJanky NFTs available for purchase in a reverse Japanese-style auction with prices that go down over time. The CryptoJanky NFTs are based on the recombination of 22 broken Janky figures stolen by Janky & Guggimon from Christie's during their failed Heist. Bidders are initially presented with a randomly selected unique CryptoJanky NFT which is generated out of three parts: head, torso, feet. If the bidder wants it they hit the buy button. If they prefer to gamble, they hit the "try again" button, which generates a new unique NFT. Bidders can do this as many times as they want — but once an NFT is gone, it's gone! In addition, Golden Ticket and special NFTs earned by collecting special combinations make this first-of-its-kind drop even more fun. Full drop details and mechanics can be found at http://jankyheist.com. Budnitz has been following the wave of virtual influencers for a while. He said he loves characters that are born from toys, and he capitalized on that with KidRobot, which he sold in 2012. Budnitz (the creator of KidRobot, Ello, Budnitz Bicycles) started Superplastic as a global brand for entertainment. With Superplastic, he thought it would be neat if the next famous universe of animated characters came from social media rather than TV shows or movies. Many of the first ones were very realistic in their human appearance. But Budnitz believes that those look kind of creepy and that animated characters are going to rule. "Using them, we were able to tell a story in a way that I think no one's been able to tell before," he said. "The stories are interactive, and so we get to tell these awesome stories. We can get into the fun stuff." About 18 months ago, he launched 3D-animated characters like Janky and others and it was a viral success. With the NFTs, the characters are the artists and people are collecting toys and art designed by those characters. It has more than six million followers, and its Instagram and TikTok sensations include Janky, Guggimon, Dayzee, Staxx, Pandakat, Kranky, Shüdog and many others. In June 2021 Guggimon became one of eight new playable characters in Fortnite. As for the NFT downturn, he said, "I think certain people who make great work are going to thrive. And I think for some people, it's not going to be very profitable. We will have everything in between. Over time as it starts to settle. I think in the very beginning, there was all this hype, and it was just like anything could sell, right? We all saw that people were just selling widgets with their feet. And but I think in the long run, I think that anytime you do awesome work, and you build an awesome following, that will be sustainable." He added, "What's really interesting about NFT's is their use that is their uniqueness. They create a permanent trail for themselves. This goes back to a lot of what we do, which is blurring between reality and metaverse, virtual stuff. OUr characters move in and out of the real world and gaming worlds and virtual worlds all the time. " Previously, Superplastic was selling NFTs at the Nifty Gateway. Then the company built its own platform for the Janky & Guggimon NFT drop, Budnitz said. Shopify is providing some of the solution. The auction can take place with U. S. dollars. "There are all kinds of surprises that I can't quite talk about yet," he said.

The Nest Mini (2nd Gen) is Google's newest Mini Speaker. Released on October 22,2019, the Nest Mini features an assortment of improvements, like better sound, faster processing, and much more, to deliver a better experience for the user than its predecessor. Similar to its predecessor, it's a wonderful entry if you're looking to finally get on board with a smart home — supplementing Google's lineup with previous devices like the Google Home Mini and Google Home Max. The company's latest smart speaker is the Nest Audio, which currently sits in the middle of its lineup at $100 and offers a substantially more robust audio performance. What's interesting is that Google is still selling its predecessor, the Google Home Mini for $49. However, if you craving for something with more substance, consider Google's current smart displays — the Google Nest Hub (2nd Gen) and Nest Hub Max. We tested out the Nest Mini to see how it stacks up against the rest of the pint-sized smart speaker pack. The Nest Mini looks almost identical to the Google Home Mini. It's 1.65 inches tall and 3.85 inches in diameter, and it has a fabric design and the same rounded shape. The Nest Mini comes in four color choices: Chalk, charcoal, coral, and a new sky color. We received the chalk color for our review. The new Mini has some improvements in design over its predecessor. Although you may not notice much difference at first glance, the differences become more apparent during the setup process. For instance, there's a small cutout for a screw on the back of the device that allows you to mount it on a wall. The top fabric portion of the Nest Mini is made from 100% recycled plastic, while the external enclosure is comprised of at least 35% post-consumer recycled plastic. The Nest Mini is slightly heavier than the Home Mini (181 grams versus 173 grams), and you can feel the quality of the craftsmanship when you hold the Nest Mini in your hand. The Mini is powered by a 15-watt power adapter connected to a DC power jack, a change from the former's standard Micro USB connection. Even though it would've been ideal to get USB-C, given that it's unlikely for the Nest Mini to be moved frequently, it's perfectly alright for Google deciding to go with a proprietary connection. There's no 3.5mm audio jack to connect an external speaker, but there is Bluetooth support. The Mini still has a microphone-off slider switch on the side, so you can disable the microphone anytime. The volume controls are capacitive touch buttons, but they're now located on the sides of the device — with accompanying embedded LEDs to indicate their placements. When you touch each side of the device, the volume goes up or down. Manually controlling the volume isn't all that necessary with the Nest Mini though, as the device automatically adjusts its volume based on the background noise in the room. We noticed when there was a lot of conversation or when TV was playing, the Nest Mini would produce louder music and responses than when the room was completely quiet. The Nest Mini has 360-degree sound and the same size (40mm) speaker driver as the Home Mini. However, with the Nest Mini, Google made updates to the audio tuning software that help to improve the sound quality. It's supposed to have two times stronger bass without compromising on sound clarity. When we listened to the same songs on full volume, one after another on the Nest Mini and on the Echo Dot 3rd generation (which has a 1.6-inch driver), there was no doubt the Echo Dot 3rd gen had louder sound and stronger bass. The Nest Mini's sound was clearer though, and we could hear every layer of the music — clear mid tones, high tones, and bass. When it comes to voice detection, the Nest Mini is top-notch. It hears commands even in the noisiest of situations, and we feel it outperforms the Echo Dot 3 in this area in spite of the fact that the Dot has four far-field microphones and the Nest Mini only has three. Google added a machine learning chip with up to one TeraOPS of processing power to Nest Mini, which allows the device to process commands locally. We absolutely noticed a difference in the response time, and in the quality of the Mini's responses. It quickly answers specific questions like, "How much will it cost to remodel my kitchen?" and then it listens for and immediately responds to follow up questions like, "How long will it take to remodel my kitchen?" The answers it provides are becoming more and more useful, and also, more detailed. Google continues to add more and more features to its home devices. The Nest Mini can make free phone calls via Google Duo (it basically acts as a home phone) and you can use it as an intercom to call other Google/Nest speakers in the home. Additionally, you can take advantage of stream transfer, and move content (music, podcasts, etc.) from your Mini to other compatible devices with your voice. Google Nest speakers can now control more than 30,000 different smart home devices, you can have the Nest Mini speak multiple languages, and so much more. Did you know Google Assistant can deliver personalized information to multiple people in the home? Google Assistant is now capable of supporting up to six people's voices with Voice Match on a smart speaker or display, so that you only get relevant details that pertain to you. In busier or noisier areas, it's possible that Google Assistant can be initiated by accident. If you want to adjust the sensitivity whenever the wake phrase "Hey Google" is spoken, you can now do it through the Google Home app. It's more critical than ever before to ensure you wash your hands properly, especially with the pandemic continuing to spread. The Nest Mini offers a brand new feature to help out kids. You simply say, "Hey Google, help me wash my hands," and from there, it'll play a tune for 20 seconds to encourage adequate time for washing hands. Isn't it annoying when you've misplaced your keys somewhere at home while running late to an appointment? Your Google Nest Mini can help you track them down, if you're using one of Tile's Bluetooth trackers. In order to track them down, you simply just say, "Hey Google, where are my keys?" From there, Google Assistant will tell its last known location. Having trouble figuring out what to cook? With Google Assistant, you can get some ideas with the ingredients you already have at home. You can simply say, "Hey Google, what can I make using flour, lemon, and sugar?" We were a bit surprised that Google waited so long to update its Mini speaker, yet it didn't make any drastic changes to the device's overall appearance. In part, that's because they didn't want to fix what wasn't broken. Google made changes to the Mini only where needed, maintaining the affordable price, without compromising on design quality. It depends. Some people may prefer the Echo Dot 4th Gen (retails for $50) or the Echo Dot 4th Gen with LED Clock (retails for $60), simply because they prefer Amazon's assistant Alexa or the Amazon Alexa app. Some people feel the Google Home app is not as intuitive and user-friendly as the Alexa app. Also, Amazon's Echo Dot speakers include a 3.5 mm audio output jack, while the Nest Mini doesn't offer one. But as of right now, the Nest Mini brings a faster and smarter assistant. Yes, the Echo Dot comes with a marginally better app and more options (more speaker choices, more smart home product compatibility, compatibility with Apple Music, etc.), but the Nest Mini still has a lot to offer for those who enjoy Google Home devices. It's $49 online, which surprisingly is the same current selling price of the Google Home Mini ($39). It's an obvious decision to invest in the newer Nest Mini. Want more options? Check out our favorite smart speakers of 2019. Durability and longevity are areas where Google Nest speakers tend to thrive. Historically, Google routinely makes landmark updates to its assistant than to its smart speakers, and this allows customers to feel confident knowing their devices won't immediately become obsolete because they'll be replaced by an updated version a few months later. Yes. If you want a powerful, fast, and attractive smart speaker for an affordable price, you won't be disappointed with the Nest Mini.

We're a couple of decades into the 21st century, cars are literally starting to fly, a vacation to space is just around the corner... and yet somehow, computers still sound like parodies of confused robots whenever asked to convert text-to-speech (TTS). Come on, devs, there has to be a better solution. A firm called WellSaid Labs believes it has one, and it's getting a boost thanks to an oversubscribed Series A. "Plain and simple, WellSaid is the future of content creation for voice. This is why thousands of customers love using the product daily with off-the-charts bottom-up adoption. Matt and Michael have assembled a world-class team, and we couldn't be more thrilled to be a part of the WellSaid journey," says Cameron Borumand, General Partner at FUSE, which led the round. I'll just cut to the chase and tell you can listen to samples of the voices here. The problem of making a digitized voice sound human when converting text to speech is deceptively complex, one of the grand challenges in the field of AI and a subject of considerable research in fields like computer science, human-machine-interface, and robotics. In June 2020, according to a statement, WellSaid Labs' text-to-speech became the first to achieve human parity for naturalness on short audio clips across multiple voices. "We've added AI Voice to the toolkit of thousands of content creators and their teams," says Matt Hocking, CEO of WellSaid Labs. "Our human-parity AI voice can be produced faster than real-time and updated on-demand. Opening up new and exciting opportunities to "add voice" was never before perceived possible. AI voice easily ensures every production can be created and updated efficiently at scale." The human parity milestone has significant implications for how audio content is created, which has made investors keen to jump on board. Use cases include streaming services, radio, programmatic advertising, digital marketing, and corporate training content. WellSaid Labs has a Voice Avatar library that provides access to multiple read styles and tones. In addition, brands can create their own AI Voice Avatars to capture the voice's likeliness, style, and uniqueness needed to tell their stories. "Content creators or product experience designers were previously faced with difficult tradeoffs between quality and scalability when using TTS tools or human voiceover. WellSaid's incredible voices, accessible through a studio application or a scalable API, remove the need to choose whether you want natural, lifelike speech or infinitely scalable and easily editable voice content. WellSaid provides both and delivers it however your team would like to consume it," says James Newell of Voyager Capital. "Creative teams have found it to be extremely useful when they need to produce multiple pieces of high-quality content in a consistent voice in hours instead of weeks."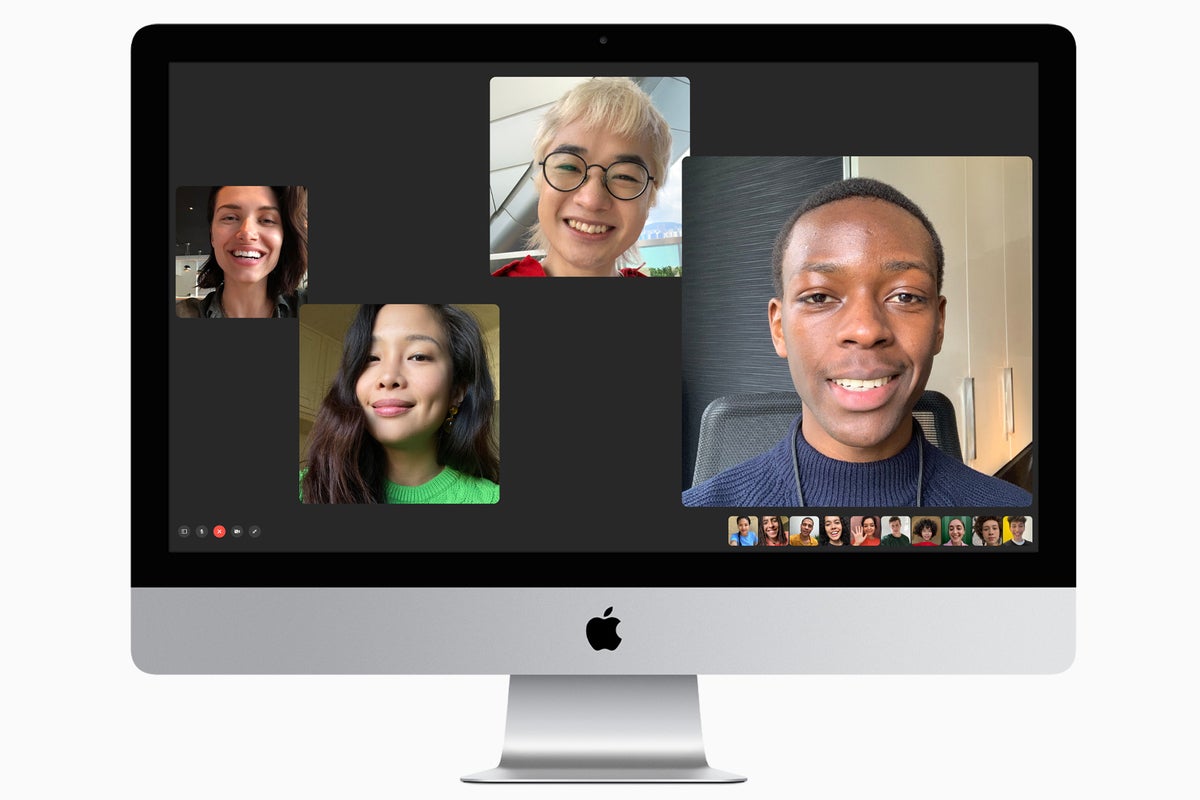 Most business users will continue to use Zoom, Teams, and WebEx for video meetings, but once iOS 15 and macOS Monterey appear, it seems probable we'll see some meetings that use FaceTime. What does this mean and what do you do? Apple has at last taken a step toward breaking FaceTime out of its walled garden by enabling Windows and Android users to join a FaceTime meeting using a web browser. "FaceTime calls also extend beyond Apple devices with the ability to create a link from iPhone, iPad, or Mac, and share it through Messages, Calendar, Mail, or third-party apps," the company said when announcing the improvement. This is a significant step, though it falls far, far short of what Steve Jobs promised in 2010 when he said FaceTime would become an "open industry standard." It didn't, and while FaceTime still has a lot to offer, it has been about as much use as a chocolate teapot during the pandemic when it comes to supporting conversations between people on different platforms. No enterprise really makes serious use of it, and I know of at least one huge computer company that you might expect would use it for externally focused meetings that uses something else instead. Zoom has become what FaceTime could have been. If you are using a Windows, Linux, or Android device, you cannot begin a FaceTime meeting. The new support simply means you can open a link to access a meeting started by someone on an Apple device in your browser. You also don't get all the bells and whistles of the complete FaceTime experience. Apple users can create a link to a FaceTime call from within FaceTime: The person who originates the meeting link can also delete it. If they do, the link will no longer work in the event someone else taps it. If there is one good thing about this, it is that a person using an Apple device can share a FaceTime link with others using other platforms, which their contacts can subsequently use to page a call request to them. I'm not convinced how useful that might be in the long term, but it does at least mean you and your contact can engage in free video calls using your choice of device. Nevertheless, this seems to have limited use for the enterprise. Apple is unfortunately in a position of " too little, too late " with FaceTime as a cross-platform solution, though perhaps the company now intends to create platform-specific app wrappers for its web-based solution. If it does, it's conceivable it may find a way to make FaceTime an actively useful enterprise tool. In the current iteration, it's just useful to know how it works.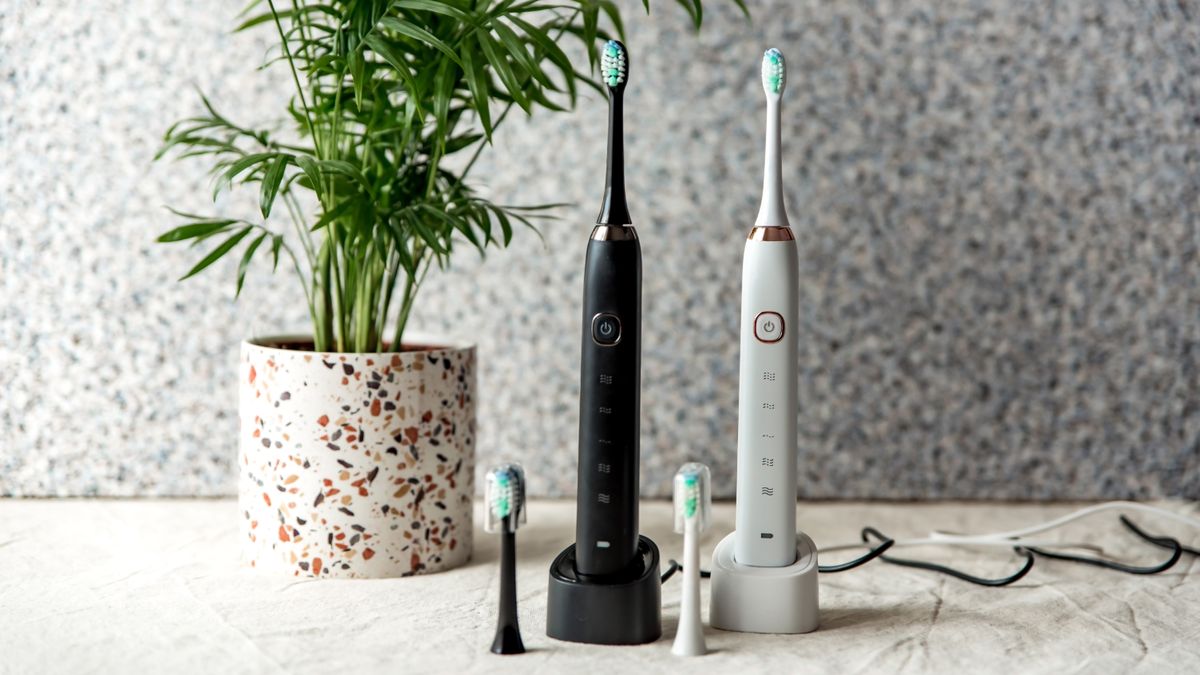 We've tested and ranked the best electric toothbrushes available today, so you can be confident you're choosing the right brush to keep your teeth and gums clean and healthy. Oral health is hugely important – not just for keeping your teeth and gums in good condition avoiding the need for fillings, root canals and extractions, but for your whole body. Gum disease (periodontitis) has been linked with diseases throughout the body, including heart failure, due to systemic inflammation that begins in the mouth and spreads through the blood. You can get a good, thorough clean without an electric toothbrush, but electric brushes have been found to be more effective at removing sticky plaque and preventing gum disease, which makes them well worth considering. Whichever toothbrush you choose, your brushing technique is also hugely important for making sure you remove plaque from all tooth surfaces. Many of the electric toothbrushes in this guide offer real-time guidance to help you brush more effectively, applying the right amount of pressure and not missing any areas. Budget is an important consideration too, and electric toothbrushes vary hugely in price, with premium models costing several hundred dollars or pounds. It's worth bearing in mind that prices drop dramatically a few months after launch though, and electric toothbrushes are often steeply discounted (particularly during sales events like Amazon Prime Day and Black Friday) so there's a good chance of picking up a top-end brush for a bargain price. The Oral-B iO Series 9 takes our award for the best electric toothbrush of 2021, thanks to its smooth action that effectively removes sticky plaque while gliding from one tooth to the next, and its valuable real-time feedback that encourages you to improve your brushing technique, whether you use the Oral-B Bluetooth app on your smartphone or not. The brush is very quiet (much more so than a typical oscillating brush) and feels smooth as you work your way around your mouth. The in-built pressure sensor not only warns you if you're pressing too hard, but also if you're not applying enough pressure to get a good clean, helping you achieve an optimum result. Once you finish brushing (the timer will alert you), the iO Series 9's bright color display will rate your brushing with an appropriate emoji. It's a quick way to get feedback on your technique, and surprisingly motivating, but for more in-depth guidance you can turn to the Oral-B app. This will detect which section of your mouth you're currently brushing, with graphics that update in real time to show when you've thoroughly cleaned each surface. When you're done, you'll get a report on your performance, and you can earn badges and awards along the way. The downside of the Oral-B iO Series 9 is that it's one of the most expensive electric toothbrushes around. It cost $300 / £500 at launch, though its price has dropped significantly in the months since its release and you can now pick it up far more cheaply. Additional brush heads are also pricey, and the iO Series 9 isn't compatible with heads from older models, so you won't be able to use your spares if you're upgrading from a different Oral-B brush. If your budget can stand it, though, this is an extremely well designed electric toothbrush that will have a real impact on how you clean your teeth, and will help set you up with better habits that can have a long term effect on your oral health. Read our full Oral-B iO Series 9 review The Philips Sonicare 9900 Prestige is another very impressive electric toothbrush designed to improve your technique long-term by monitoring your brushing and giving real-time feedback. If you make too much of a scrubbing action, the app will display an alert advising you to reduce your movements, and the handle will buzz gently. Press too hard, and the handle will pause, then resume with a lower intensity in reaction to your technique. The Sonicare app monitors the brush's position in your mouth, helping ensure you clean every surface thoroughly, with on-screen graphics and timers to ensure you don't miss a spot. The app is less kid-friendly than the Oral-B equivalent, and won't shower you with emojis and awards for a job well done, but it will give you personalized tips, track your brushing technique and allow you to monitor it over time. It's a seriously stylish electric toothbrush too, with a sleek, minimalist design and chic carry case to keep it charged on the go. The only downside is that there are no controls for adjusting modes or choosing an intensity setting on the brush itself. Instead, all the customization is done through the mobile app. That's not an issue once you've set it to your exact preferences though, and provided you don't like to switch modes on the fly, it's a superb brush. The sheer number of features offered by the Oral-B Genius 9000 might seem daunting, but having used one ourselves, we can safely say that it's easy to get to grips with, and you can use as many or as few of the extras as you like. It comes with a selection of heads so you can experiment and decide which you like most (personally we tended to favor the 'cross-action' head). These are presented in a neat display stand, but if that takes up too much space on your bathroom counter you can remove the charging puck to minimize clutter. It also comes with a phone holder because, yes, this is a toothbrush with Bluetooth. The Oral-B app uses the brush's position and pressure to guide you around your mouth, ensuring you brush each surface well. It's completely optional, but is particularly handy for helping kids develop good technique. Brush too hard and not only will a red pressure sensor illuminate, but the brush will slow down as well. Once you're done, you'll receive feedback through the app so you can do an even better job next time. A great electric toothbrush doesn't have to be expensive, as the simple but effective Oral-B Vitality Plus (also known as the Oral-B Pro 500) proves. There's no Bluetooth connectivity or AI guidance here, but this budget brush takes exactly the same small, well-designed brush heads as the far pricier Genius 9000 above, and includes a quadrant timer so you can be certain you're cleaning each part of your mouth for the recommended time. You're not getting the pressure sensor you'll find in more expensive electric toothbrushes, so you'll have to be careful not to press too hard. There's also no battery level indicator on the handle, so it's a good idea to leave it on its charging puck when not in use to avoid running out of power mid-brush. Many modern electric toothbrushes can coach you in better brushing technique, but the Bluetooth-enabled Colgate Connect E1 takes things one step further with a selection of apps that make oral hygiene into a game, encouraging kids to work on their brushing habits for higher scores. Although the Connect E1 works with both iOS and Android devices, it's best suited to the Apple ecosystem due to its connectivity with the Apple Watch and Apple Health. Over time, it builds up a 3D model of your mouth and lets you see where you tend to miss, and whether you're improving. Even if you don't have time to link the Colgate Connect E1 to your phone in the morning, the handle will store data from your brushing session so it can be synced later. You can even choose to share that info with oral health researchers to help develop better brushes in the future.

In brief: Newegg has rolled out a new option as part of its PC Builder configuration platform in which the company's in-house team will assemble your newly purchased hardware into a finished desktop before shipping it your way. For an additional $99.99, Newegg's ENIAC Assembly Service will build your rig and submit it to "quality control methods and rigorous testing onsite." Processing time is seven to 10 business days, and every build is covered under Newegg's standard return policy. While most PC enthusiasts shopping at Newegg likely prefer to build their own rigs, the retailer has identified a subset of customers that don't fall into this category for various reasons. Perhaps someone is just now getting into computers and doesn't have the experience needed to assemble their own rig, or maybe a company is configuring a fleet of systems and doesn't have the time or resources to assemble everything. The ENIAC team can turn out more than 1,000 builds per day, so there shouldn't be any significant delays in processing time, assuming everything you purchase is currently in stock. One potentially questionable practice involves what Newegg calls a "hot item," or in-demand item. According to Newegg's FAQ, these items can only be purchased with the PC Builder Assembly Service, potentially locking them behind a "paywall" or sorts. Here's Newegg's full explanation of hot items: Products considered in-demand or a "hot item" product with limited supply can only be purchased with PC Builder Assembly Service or you cannot go through the checkout process. Hot items will not be the same throughout the day, this depends on the market. To qualify for assembly service with your hot item, just add the following components to your build: CPU, Motherboard, Memory, Video Card, Case, Power Supply.

So, you're looking for a new gaming rig? The question is whether or not you want a desktop or laptop. There are some awesome Dell laptop deals, and plenty more gaming laptop deals going on right now. You might consider grabbing something from one of those lists. Alternatively, you can get either the Dell G5 Gaming Desktop or the Dell G7 15 Gaming Laptop, both of which are on sale at Dell. The G5 Desktop is $700, which is $230 off the normal price. The G7 15 Laptop is $1,100, which is $360 off the normal price. Both are packed with powerful hardware, and they're ready to rock. You can read more about the deals and the computers below. For those looking to outfit their new office or gaming station, the G5 Desktop is a good choice. It's powered by a 10th-generation Intel Core i5 processor (up to 4.3GHz),8GB of DDR4 RAM (2666MHz), and an AMD Radeon RX 5300 GPU with 3GB of dedicated GDDR6 VRAM. You also get Windows 10 Home, a 256GB M.2 PCIe NVMe solid-state drive, a 1TB 7200 RPM 3.5-inch SATA drive, and Wi-Fi 802.11ac built-in. Normally $930, Dell is offering the G5 Gaming Desktop for $230 off, which brings the final price to $700 plus free shipping. You can read more about the initial Dell G3, G5, and G7 gaming laptops in our hands-on. The G7 15 Gaming Laptop is a top-rated option, especially with the specs it has. Starting with a 10th-gen Intel Core i7 processor (up to 5GHz), you also get 16GB of DDR4 RAM (2933MHz) and a Nvidia GeForce GTX 1660 Ti with 6GB of dedicated GDDR6 VRAM. The 15.6-inch anti-glare LED display offers a 144Hz refresh rate at 1920 x 1080. A 512GB SSD and Killer Wi-Fi 6 AX1650 (2×2) round out the feature set. Dell is currently taking $360 off the normal price of the G7 15 Gaming Laptop ($1,460), so you can get it for $1,100 plus free shipping. That's a crazy deal for this high-performance laptop. Not interested in either of the Dell computers that are on sale? There are plenty more — you just need to know where to look! Luckily, we scooped up all of the best deals for you below.

The Warframe Ambassador Rifle is a new weapon added in the Sisters of Parvos update, and it's worth the grind to get it. The Ambassador Rifle has impressive power potential, even though it falters against a specific kind of foe. Our Warframe Ambassador Rifle guide covers how to get it and what to do once it's in your arsenal. Watch on YouTube As with other weapons, you'll need to assemble the Ambassador Rifle using multiple blueprints and pieces. However, the Ambassador Rifle parts take a bit of time and grind to get. All the Ambassador Rifle parts come from Empyrean Survival missions, and you'll need to stick it out to get them. The drops only happen in the C Rotation rounds, so you'll have to survive until then and avoid extraction. While each part drops in a specific area, the drop chance isn't the highest. Still, the chance of obtaining one of the Ambassador Rifle parts exists every four rounds. Keep fighting through if you don't get what you need the first time. The new rifle's biggest strengths are its high critical chance, rate of fire, and accuracy. It also gets a strong critical multiplier and has a fully automatic mode. Since the Ambassador Rifle is an electric weapon, your best bet is using it against machine-type enemies. It does not support mods that increase slash or impact damage, however, and the large magazine gets used up quickly thanks to the rifle's high rate of ammo consumption per shot. These are the four parts that make up the Ambassador Rifle and where to get them. Again, these all drop in Empyrean Survival missions Round C. Venus Proxima – Blueprint Veil Prosima – Blueprint Neptune Proxima – Stock Pluto Proxima – Receiver Any Ambassador Rifle build should maximize its damage output to make up for the high ammo consumption. There's nothing you can do to make it effective against Alloy armor, so enhancing the electric damage or adding other elements is a viable strategy too. Here's our preferred build: Amalgam Serration Split Chamber Infected Chip Stormbringer High Voltage Hellfire Hunter Munitions Heavy Caliber Rifle Riven mod If you're looking for a set of low-key challenges after all that grinding, check out our Waverider quest guide for how to get Yareli. We've also got an updated list of Warframe promo codes for free cosmetics and the best way to capture animals in Orb Vallis.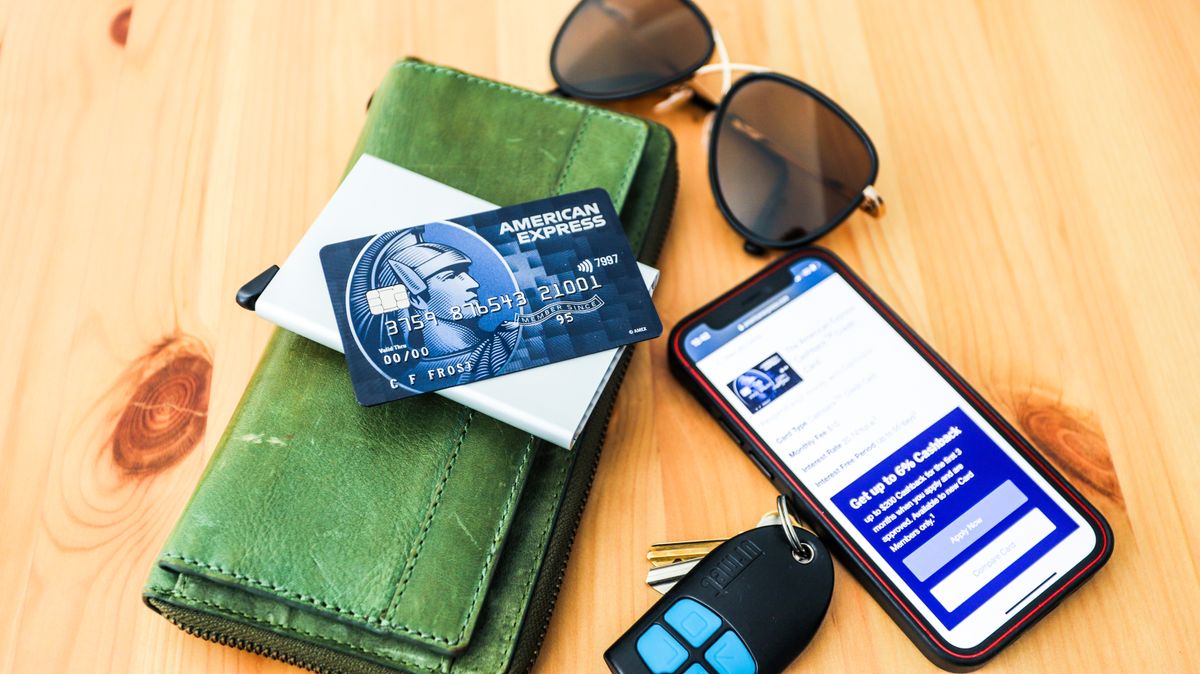 American Express is expanding its Digital Receipts feature, allowing purchases made on Amazon in the US to be included as part of the service. The Amex Digital Receipts service was launched earlier this year and offers US card members the option of viewing detailed transaction information directly from their smartphones. This latest expansion comes as new data has revealed that total online retail sales in the US during Amazon's annual Prime Day sales extravaganza exceeded $11 billion. The figure represents a 6.1% increase compared to overall e-commerce transactions generated during the 2020 event. It also underlines just how much attention consumers are paying to their finances, especially in the wake of the chaos created by the coronavirus pandemic. Along with a growing uptake of money tracking apps, consumers are looking for easier ways to manage their finances and keep on top of transactions. The Digital Receipts option has so far proved popular with American Express card members, with the majority of customers questioned reporting that they find the idea useful. In fact, a total of 81% of those questioned for Amex Trendex, a trend report from American Express, felt that using Digital Receipts would allow them to more easily distinguish between legitimate and fraudulent charges on their card account. Meanwhile,75% reckoned that Digital Receipts helped improve the overall customer experience and a further 72% thought that it would make them less likely to dispute a charge. "We know our customers value transparency and rely on us to introduce new products and services that make their lives easier," said Ramesh Devaraj,Vice President, Global Merchant Processing and Policy at American Express. "With this in mind, we rolled out Digital Receipts with a select group of Merchants earlier this year and are excited to continue to evolve the product today with Amazon. Digital Receipts is one of the many ways we are evolving to assist with our customers' changing needs and we are excited to continue building on this progress and expand to more Merchants in the future."

Go back one millennium, and the term office suite meant a bunch of rooms in a brick-and-mortar building where people gathered on weekdays to type letters, hold meetings, calculate earnings, design advertisements, and waste time at the water cooler. Today, most people understand an office suite to be a batch of applications on your computer or mobile device that you use to do all those tasks, either alone or with collaborators, and not just during the workweek). Office suites haven't replaced the water cooler, but your company's business messaging app might have. Microsoft 365, the current name for what used to be Office 365, is the colossus of office suites and the one that much of the world uses by default. That doesn't mean that Microsoft 365 is necessarily the best suite for your specific purposes, however. We've surveyed work-a-like and work-almost-alike suites from Apple, Google, SoftMaker, Corel, and The Document Foundation to help you pick the best one. Pricing Differences Some office suites, such as those from Apple, LibreOffice, and Google ( Docs, Sheets, and Slides), are free. SoftMaker also offers a free version. Others, such as Corel WordPerfect, require you to pay a one-time cost. Google Workspace is a subscription-based service, while Microsoft 365 and SoftMaker Office both offer standalone and subscription-based versions. The cost of a subscription depends on how many devices you need to use the software on, as well as which apps you need. With any subscription-based office suite, your apps automatically stay up to date with all the latest features and security updates. That's an important benefit, but if you don't really care about getting the absolute newest updates, then you might prefer to purchase a standalone version. Many office suites offer the latest version to existing users at a discount, so you might not need to pay full price when you decide it's time for an upgrade. What Do You Get in an Office Suite? Three apps remain the core of every office suite: a word-processor, a spreadsheet editor, and a presentation app. Depending on the suite, and, in some cases, depending on which version of a suite you choose, you also get a mail and calendar app, a database manager, PDF-editing software, a note-taking app, website creation tools, and any of a dozen miscellaneous apps and services that cover anything from web conferencing to form-building. One thing that all of today's suites have in common is that their core apps—the word-processor, spreadsheet, and presentation app—share much of their underlying code. That means, for example, that the drawing tools in the presentation app are typically also available in the word-processor and spreadsheet apps. Also, the core apps typically share a similar interface, so you can move from one to the other without difficulty. Cloud or Local Apps One important decision to make before you choose an office suite is whether you want to work online, offline, or both. Both types of software have advantages. For instance, online apps allow you to collaborate with others and can help ensure that your files are available everywhere. Local apps are typically more powerful and reliable, however. Corel WordPerfect, LibreOffice, and SoftMaker Office all lack web versions and confine you to working on documents on your local machine. Google's commercial and consumer apps, by contrast, are web-first experiences. For instance, all the apps within those suites are available via a browser and every document you work on is saved to cloud storage. Although you can work on Google Docs files offline, that's not as viable a solution as downloading full-featured local-disk versions of apps. Microsoft 365 offers the best of both worlds. By default—though it's easy to change this—Microsoft's apps save documents to its cloud storage service, Microsoft OneDrive, which allows you to keep copies of your documents both online and in the cloud simultaneously. Microsoft makes it easy to edit and access your documents either online through a browser or locally through top-notch desktop apps. Apple's iWork apps (Page, Numbers, and Keynote) are available online, as well as on macOS, iOS, and iPadOS devices. Apple, unlike Microsoft, doesn't provide Windows or Android versions of its office apps. File Conventions For better or worse—and we think it's mostly for better—Microsoft 365 sets the standard for document formats; all other suites let you save documents in Office's file formats. The only document formats that every suite we reviewed can handle are Microsoft's Word and Excel formats. You can set up your non-Microsoft apps to save in those formats, but you'll typically need to swat away message boxes and other warnings when you do. If you only share documents within an organization that's standardized on non-Microsoft formats, this isn't an issue. In fact, some security-conscious users or businesses may prefer to keep potentially sensitive documents exclusively in LibreOffice's open-source formats. However, if you frequently send documents to recipients outside your organization, watch out for compatibility problems. Google's apps handle file types uniquely. You can download Google's documents in standard formats, such as those used by Microsoft 365 or LibreOffice, but the originals that are saved to the cloud can only be edited in Google's web and mobile apps (with some special exceptions). All of the apps within Apple's iWork suite use proprietary formats, which makes sharing difficult. Should You Use an Alternative to Microsoft 365? When deciding on an office suite, you should consider whether you are picking one for yourself or your whole organization. If it's the former, use whatever feels most comfortable. If you do choose anything other than Microsoft 365 and plan to send your files to anyone else, be prepared to set up your suite to export files in the standard Microsoft Office formats. If you're choosing an office suite for a small business or a large organization, then matters get more complicated. Microsoft 365 is the most effective, reliable, and easiest to use of all the suites, but it has two disadvantages: It's expensive and you may have strong reasons to avoid proprietary software. If you insist on open-source software, then LibreOffice is your only serious choice. That software suffers from a clunky interface with menus that can confuse even expert users. If you want free software, and you only use a Mac, then you can use Apple's iWork apps. For free software on any other desktop OS, consider SoftMaker Office's free version. If you're content with cloud-only software, then Google's apps are powerful and intuitive. If you're in an industry or research field that uses WordPerfect, then Corel's suite is the only choice. Microsoft 365 clearly leads the field, but it's not for everyone. Unfortunately, there's no clear preference among the Office alternatives, but you can test all of them—and Office itself—with free or trial versions.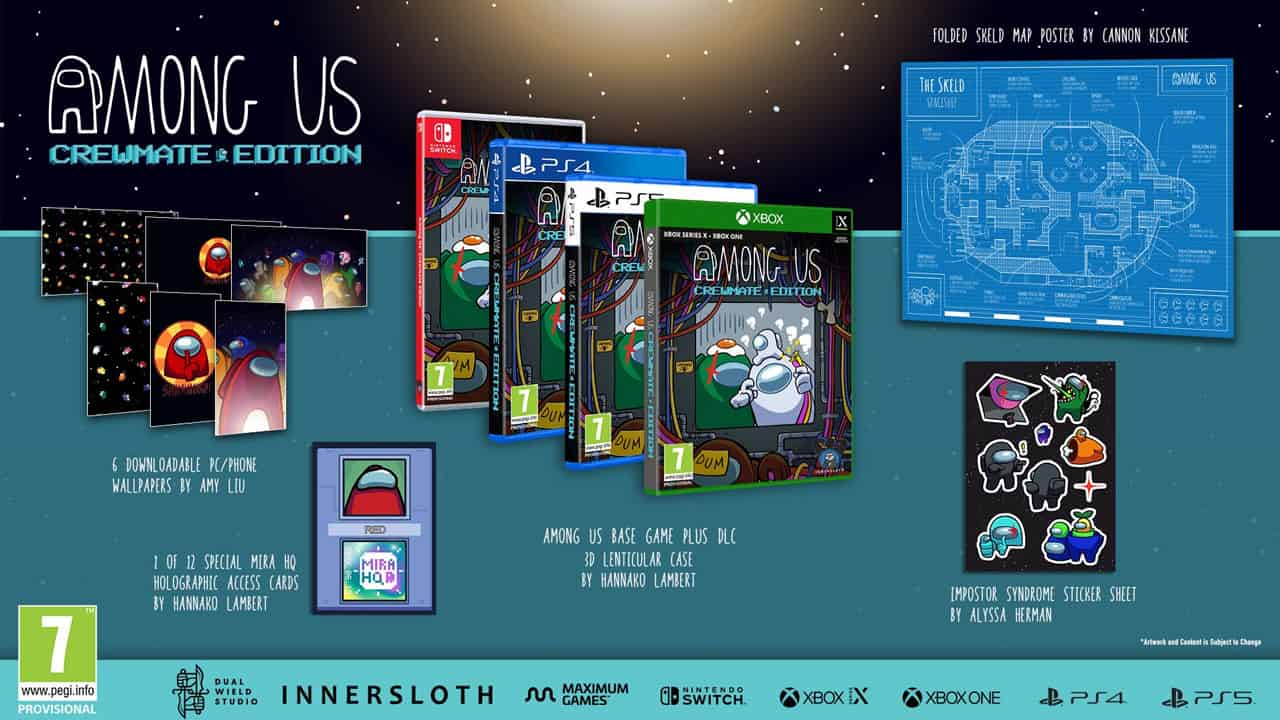 Arriving later this year, Among Us has unveiled a line of Collector's Editions. with boxed copies of the game, a plush toy, and posters. While some gamers may complain about Among Us' minuscule price tag, even that it's got ads while being free on mobile, for players who want to spend more, there's now an option for that, with the Among Us Collector's Editions that range in price from £27.99 to £74.99. While there are a lot of nifty physical items included within any level of the three tiers of Collector's Editions, there'll also be in-game content that'll be exclusive to these retail editions. Inner Sloth hasn't announced exactly what exclusive in-game content you'll be getting, but hopefully, it'll be worth the price tag if you're willing to shell out for it. If you want to know exactly what's included, here's a list for each of Among Us' special editions: Among Us: Crewmate Edition – £27.99 Among Us: Impostor Edition – £44.99 Among Us: Ejected Edition – £74.99 These Among Us Collector's Editions are set to arrive sometime "later this year" according to the press release, but if you really want to secure your desired edition of the game early then preorders are open already. While no release date has been confirmed just yet, we're also expecting to see new roles and bigger lobbies come to Among Us in the future, as the future development of the game has been outlined in a roadmap trailer.

As the onset of the covid-19 pandemic ground much of the entertainment industry to standstill in 2020, a number of studios pivoted to streaming platforms in a big way in order to bring their movies to audiences at home while movie theaters across the world were closed. Now, Universal has rolled out a new plan for how you can view its most anticipated films. Despite some initial concerns, there was little question that the plan was always to bring films back to theaters in some capacity once it was safe. But what became clear during the early months of the pandemic was that audiences were keen on the idea of being able to watch new would-be blockbusters on the couches on the day of (or relatively close to) their intended theatrical releases. Following somewhat in Disney and Warner Bros.' examples with their respective streaming platforms, Universal is now getting in on the accelerated home release game with Peacock. Universal and Peacock announced that beginning in 2022, all Universal Filmed Entertainment Group (UFEG) projects from branches including Focus Features, Illumination, and DreamWorks Animation will be available on Peacock four months after their initial releases in theaters. In a public statement, the companies said the Jurassic World: Dominion, a new original film from Jordan Peele, DreamWorks Animation's The Bad Guys and Puss in Boots: The Last Wish, and Minions: The Rise of Gru will be some of the first titles hitting Peacock in 2022. Though Peacock's relatively new to the streaming game, Matt Strauss, NBCUniversal's chair of direct-to-consumer and international markers, emphasized that the studio is focused on turning the platform into a go-to destination for movie fans. "Since launching Peacock just one year ago, we have seen incredible viewership of movies and continue to expand our catalog with a range of films for every fan and occasion," Strauss said. "Universal Filmed Entertainment Group has been a fantastic partner and we are excited to not only bring their amazing slate of blockbuster films and beloved franchises to Peacock in the first-pay window, but also provide a steady stream of fresh, original films exclusively for Peacock customers throughout the year." To put this all more simply, NBC and Universal are trying to make Peacock happen, which is going to be something of a challenge given that most consumers are already paying for a handful of similar streaming subscriptions. In theory, the bigger Peacock's catalog of content becomes, the more attractive it is to potential customers, but it's unclear whether larger offerings will be enough to make these platforms successful. Beyond the announced movies, there will also be a slew of wholly original new films produced just for the streamer in the coming months, and it's going to be very interesting to see if Peacock manages to take flight when this new phase of its life begins in 2022. Wondering where our RSS feed went? You can pick the new up one here.

The Waverider quest in Warframe is an optional mission you can miss, but you definitely don't want to let this one pass you by. Completing the Waverider quest involves gaining a better understanding of the Vent Kids, but more importantly, it also earns you the Yareli Warframe blueprint. However, you'll need to brush up your K-Rider skills and complete several quests to obtain the Yareli blueprint, and that's before even starting to manufacture Warframe's Yareli parts. Here's everything you need to know about how to get Yareli in Warframe. Watch on YouTube You'll need the K-Rider to start the Waverider quest, so if you haven't finished the Thursby quest yet, go ahead and do that. You'll receive a call from Roky once you have the Waverider. Follow the quest to the Vent Kids hideout, and you'll eventually be tasked with completing a book of quests to unlock the Yareli comic. Each page of the book has a set of Waverider challenges to complete during one of the Vent Kid races. Most of them are fairly easy, though a few might take more than one attempt. The first page is essentially a tutorial for how to do tricks. Earn 2000 Vent Kids Standing in a single K-Drive race Copter x 5 50 Point Grindy Kill 5 enemies with a Secondary Weapon while riding a K-Drive Perform 5 5x Combos Things get a bit more difficult on page two. Earn 2400 Vent Kids Standing in a single K-Drive race Frontside Rollout x 3 50 Point Frontside Clutch x 5 Get 5 headshot kills with a Secondary Weapon while riding a K-Drive Earn 500 points in a K-drive trick chain You're asked to complete five Frontside Clutch moves, which requires good timing and a specific layout. Frontside Clutch is a mid-air move you can use the left mouse button right directional input to pull off (or the corresponding inputs on your PS4 or Xbox controller). For it to count in this challenge, you need to release the clutch, i.e. end the move, before your board hits the ground again. The best place to do Frontside Clutch moves is a flat area with no obstacles nearby. You should be able to loop around in a wide circle to stay in that area, then keep pulling off the clutch until you get five under your belt. Earn 3000 Vent Kids Standing in a single K-Drive race Nose Planket x 5 50 Point Backside Skyrocker x 5 Slam Shockwave Kills Earn 1000 points in a K-drive trick chain The Warframe shockwave kill currently has a very small working hitbox. If you don't land directly on the enemy, you'll likely deal minimal amounts of damage. Earn 3400 Vent Kids Standing in a single K-Drive race Backside Clutch x 5 50 Tail Clutch Planker x 5 Obtain five seconds of air on a K-Drive Earn 1500 points in a K-drive trick chain The best way to get five seconds of air on the K-Drive is going to the south part of the map. Between the Transit Depot and Spaceport is a chunk of rock jutting out over the Orb Vallis, and if you speed up and charge your jump right before flying off the edge, you should be able to get the necessary five seconds. Page five is challenging, but there's nothing particularly noteworthy about the requirements here. Earn 3600 Vent Kids Standing in a single K-Drive race Tail Spinja x 5 Earn 2000 Points in a K-Drive trick chain Keep a K-Drive trick chain alive for 20 seconds Perform 5 10x combos Completing the Waverider quest unlocks the Yareli blueprint — but, as always, that's just the start. You'll also need to acquire the Yareli component blueprints, which are obtained in a different way. Head to the Clan Dojo and search for the Bash Lab. Select and build it, once you have the necessary materials. For smaller clans, the base cost is: 1000 Credits 450 Ferrite 250 Circuits 100 Thermal Sludge 1 Forma It multiplies as usual the larger the clan is. Head to the back of the Bash Lab and interact with the machine there to begin researching Yareli parts. You can research the Yareli Chassis, Yareli Neuroptics, and Yareli Systems simultaneously, but it'll take 24 hours to finish. Once that's all finished, you can finally buy the Yareli parts blueprints. Yareli Chassis 10,000 Credits 1 Mutagen Mass 1 Morphics 500 Polymer Bundle 1,000 Salvage Yareli Neuroptics 10,000 Credits 1 Detonite Injector 1 Neurodes 500 Rubedo 1,000 Alloy Plate Yareli Systems 10,000 Credits 1 Fieldron 1 Gallium 500 Circuits 1,000 Nano Spores Yareli looks good, but if you're needing something else to shake up your Warframe look, check out our list of codes for Glyphs.

It seems that Biden Administration's foreign policy contains unachievable objectives, according Rebekah Koffler, a former Defense Intelligence Agency officer cited by Fox News. Biden's naive approach involves pleading with Russia's leader, Vladimir Putin, to cooperate in combating Russian cybercrime. By insisting on an overly controlled situation and demanding that Russian hackers refrain from using cyberattacks on a regular basis, Joe Biden and his team of advisors are sending a weak message to a Russian president who is not interested in stability and sees cyberattacks as useful weapons. Despite President Biden's silly attitude that led him to pass a list of "do not attack" vital infrastructure targets to Putin during a meeting in June, Russia was undeterred in continuing its cyber warfare campaign. Putin believes that Russia's so-called low grade cyber warfare, that he says aims to destabilize the United States, will not compel the United States to react with military force. The asymmetric doctrine that Russia has adopted, according to which the battle would be waged below the level of a kinetic conflict, consists of many components. Putin showed that he ignored Biden's requests by engaging in a catastrophic assault on the United States some weeks after Biden had asked him to stop cyber attacks on the country. In Putin's mind, the summit was a spectacle, an opportunity for him to publicly embarrass the U. S. while also validating his self-portrayal as a world leader who could stand toe-to-toe with the U. S. The Russian journalists who followed the meeting described how Biden's advisors had ridiculed the team by stating that the U. S. is more frightened of a cyberattack than a nuclear one. As Putin devotes a great deal of time and effort to project the image of a strong leader, Biden's approach, that seems sluggish and weak, allows the Russian leader to behave in this manner.

To many fans, Final Fantasy VII Remake is the ultimate showcase of nostalgia. The remake retells the story of Cloud, Aerith, Barret, and Tifa while featuring enhanced visuals, new mechanics, and a more modern feel, breathing new life into the beloved RPG. The odd thing about this 2020 remake is that it only covers a small portion of the original game. Final Fantasy VII Remake lasts around 40 hours and takes place during the Midgar section, which is — comparatively speaking — a minor section from the PlayStation classic. Because of this, developer Square Enix intends to release multiple parts to wrap up the entire story — culminating in a large, overarching saga. While most of the plans for this full project probably haven't been ironed out just yet, we do know we'll be getting a follow-up, colloquially referred to as Final Fantasy VII Remake Part 2 (though it's uncertain if that will end up being its official name). It's not entirely clear how much of this original game this new installment will cover or whether additional installments will release after it. Despite this, there's still a lot we know about the forthcoming installment in the Final Fantasy VII Remake saga. Here's everything we know about Final Fantasy VII Remake Part 2. Recommended reading: Currently, there's no word on when we'll get to play Final Fantasy VII Remake Part 2. The first part of the remake saga was infamous for its long development cycle, so fans were worried the next installment would be in the same boat. While it's likely Part 2 will have a much shorter development cycle than the first one, you shouldn't expect to play it until at least 2022. Up until this point, Square Enix hasn't given us an official look at the upcoming sequel, so it's likely still a ways off. The bright side is that Square Enix already has a lot of the groundwork laid out, thanks to the first part, so it shouldn't take as long as some would expect. Development on the second part had already begun in 2019, and although it was in pre-production then, two years is plenty of time to make significant progress. Considering Square Enix already has an idea for what the Final Fantasy VII Remake saga should look like, many are hoping for the company to be able to crank out each installment much faster. According to a Famitsu interview (as relayed by ComicBook) with the game's producer Yoshinori Kitase last year, development on Part 2 is well underway. "Development for [ Final Fantasy VII Remake Part 2] is progressing smoothly. However, please wait a bit longer for more details." "My aspirations, not just in 2021 but beyond, will be how the story will broaden from here on out. It's so exciting that I can't even imagine what it will be like." Final Fantasy VII Remake and its Intergrade enhanced edition are both exclusive to PlayStation systems currently. The verbiage leading up to the game's initial launch is that it would be a timed exclusive, though it's not quite clear which additional platforms the first remake will come to. With that in mind, the same logic can be applied to Final Fantasy VII Remake Part 2. It'll be available for PlayStation and possibly other platforms later down the line. Fans are hoping it'll be available on PC and Xbox consoles, but given the saga's history thus far, it's tough to say if this will come to be. The original 1997 Final Fantasy VII was always associated with PlayStation, and it seems Square Enix is sticking close to that idea with the remakes. There isn't a trailer for Final Fantasy VII Remake Part 2 at this time. In attempts to not repeat the same mistakes from the first part's marketing cycle, Square Enix is likely waiting until Part 2 is further along to show it off for the first time. As you might recall, the first installment of the remake saga was shown in 2015 but underwent many developmental changes after its reveal. In fact, it was originally supposed to be created by CyberConnect2 before Square Enix brought it in-house. All of that is to say that we'll likely see a trailer for Part 2 much closer to release, possibly next year sometime. Some speculate a trailer for it could be shown at The Game Awards 2021, though it's tough to say for certain. The gameplay introduced in Final Fantasy VII Remake was substantially different from the original. It removed the strictly turn-based combat in favor of a real-time action/menu-based system that felt modern while calling back to its roots. During a CEDEC interview with producer Yoshinori Kitase and co-director Naoki Hamaguchi (as translated by Twitter user @aitaikimochi), Square hinted at possible changes to the combat in Part 2. "A word that pops into mind is 'action battle,'" Hamaguchi said. "They experienced a new type of action battle system, and they want to contribute to the system too," he added, in reference to the fans who played the first remake installment. When asked about the new staff working on Part 2, Hamaguchi said, "They definitely contribute different ideas that will hopefully allow us to create new surprises to the battle system as well!" With Part 2 taking place after Midgar, the game will open up a lot more, so you should expect a less linear design than in the first remake. Based on what Square Enix has said, it seems like Part 2 will almost feel like an open-world game. "The next installment will involve Cloud and company to leave Midgar and explore the world map," Hamaguchi told IGN . "Our next challenge will be to create gameplay that leverages the vastness of the world, unlike what we did in this current title." Part 2 will also carry over some of the new elements introduced in the remake's Intermission DLC. During an interview with The Washington Post, Hamaguchi referenced one of these features. "Additionally, with Intermission, there's another element introduced: Combo movies where Yuffie and Sonon team up… which makes for a different feel in battle strategy. I would like to leverage these, including other elements we tried out in Intermission, in our next story." The first remake took many liberties and featured lots of changes from the 1997 original. Players should expect lots of changes with Part 2, too, not just in the gameplay but narratively as well. "Although those who played the original game know the story, they're probably thinking what will happen now?" Kitase said during the CEDEC interview. "We want to create something that can surprise them and that they can enjoy that lives up to their expectations. We did something similar in part 1." Beyond a handful of interviews here and there, Final Fantasy VII Remake Part 2 is a mysterious game that has far more questions attached to it than answers. How will the progression from the first part work? Will your characters' levels reset in Part 2? What will be the pricing model for each subsequent part? How many parts will there be? When will they all launch? Will the story of the entire saga mostly stick to that of the original? However Part 2 turns out, it's shaping up to be a fitting continuation that borrows elements from the first installment while implementing new ideas. It seems Square Enix wants to keep the same general themes and story beats from the original 1997 release, but with many differences and improvements to allow it to stand on its own in a modern sense. The original Final Fantasy VII from 1997 was a strictly single-player experience, as was the first remake from 2020, so it's highly unlikely the next installment will have any multiplayer modes. Square Enix has said Part 2 will differ from the original, but we doubt it'll go as far as having a multiplayer component. For a Final Fantasy multiplayer experience, Final Fantasy XIV is the go-to option right now. The Final Fantasy games do have a history of including DLC, especially with recent entries. The most relevant example is the Yuffie DLC that was added to Final Fantasy VII Remake alongside the Intergrade version of the game. But aside from large story additions like that, the game has also received a fair share of cosmetic and gameplay items as downloadable content. With that in mind, it's highly likely Final Fantasy VII Remake Part 2 will include DLC of some kind — it's just too early to know for sure at this point. It may come with some nifty pre-order bonuses that grant in-game items or something similar. While it's still too early to know, it's a safe bet the next installment will feature DLC. Perhaps it will lead into the third installment like the Yuffie DLC did to bridge the gap from part 1 to part 2. Again, since we haven't even gotten an official reveal trailer for Final Fantasy VII Remake Part 2, it isn't available to pre-order just yet. Once the game has its first major showing, it's possible it'll be available to pre-order depending on the route Square Enix is taking with the marketing. We'll update this post when pre-orders go live.

A start-up in the UK is now offering cloud-based access to its own superconducting quantum computer – but with a twist which it hopes could one day help it compete against the processors developed by quantum giants the likes of IBM and Google. Oxford Quantum Circuits (OQC), a start-up that spun out of the University of Oxford, is approaching superconducting quantum computing slightly differently. Leading superconducting quantum systems are typically built in a two-dimensional plane, with each qubit acting like a unit cell that requires intricate wiring for controls and measurements. Increasing the number of qubits means increasing the amount of wiring – and on a 2D plane, this comes with a higher risk of creating environmental noise that can damage the quality of the system. Instead, OQC's researchers use a three-dimensional architecture that moves the control and measurement wiring out of plane. With key componentry off-chip, says OQC, the superconducting quantum processor is a more flexible and engineerable system. Dubbed the "Coaxmon," this new design approach ultimately has the potential to make it is easier to scale up the number of qubits on the processor without losing coherence, the company said. "The Coaxmon was designed from principle to meet some of the underlying scaling challenges with superconducting technologies," Ilana Wisby, the CEO of OQC, tells ZDNet. "We've taken all of that wiring – which is a really big element to reducing the power of what we can do with a processor – off the chip, meaning that the Coaxmon is inherently a lot more scalable." According to Wisby, the 3D architecture means that it is possible to increase the qubit count on the processor without resorting to complex fabrication steps for extra wiring, and without running the risk of reducing the system's coherence. Despite the promising pitch, the quantum computer that OQC has just brought online, called Sophia, is only four qubits strong. In comparison, IBM's current quantum processor can support 65 qubits, and the company is working towards launching a 127-qubit system by the end of the year. Even then, IBM's quantum computer won't be bringing any significant business value for users: quantum technologies are not expected to start showing any real-world usefulness until they are capable of supporting at least 1,000 qubits. In that light, OQC's new quantum computer still seems to have some way to go before it can compete against the services offered by some of the largest corporations dominating the quantum ecosystem. But Wisby explains that this is just the start. As a University of Oxford spin-out, she says, OQC has until recently mostly developed in the context of university labs, where cost-efficiency was key and minds were focused on proving the fundamentals of the technology. In the last year, however, OQC built and opened its own quantum lab, a facility fitted with all of the cryogenic equipment, cleanrooms, power and data supplies, ducted fume cupboards and other exotic quantum essentials that are necessary to building up a quantum system. Sophia's low qubit count is therefore a business problem rather than a technology one, argues Wisby. "But setting up our own independent commercial lab has marked a moment of independence for the company," she says. "It's only really now that we've changed our company goals to proving the business model, which obviously has more focus on scaling the full system." The long-term goal, she assures, is to build a universal, fault-tolerant quantum computer – an objective that aligns with that of the largest tech giants currently developing quantum technologies. Of course, there remain many obstacles to scaling. While increasing the number of qubits in the processor is a challenge in itself, it is also key to ensure that the overall system's support infrastructure and architecture can grow in parallel. OQC, therefore, has secured partnerships with companies like Oxford Instruments to start thinking about the future iterations of Sophia. For now, OQC is focusing on attracting customers to its brand-new cloud service, which it has just launched to provide customers with access to Sophia via a private cloud. OQC has now invited businesses to join the company's beta list, to test how they could experiment with new quantum approaches. With only four qubits, however, the scope of potential applications will remain very limited. Among those already signed up, fellow UK-based quantum computing company Cambridge Quantum is already planning to test Sophia with its IronBridge platform – a cybersecurity service that leverages the unpredictability of quantum computers to generate un-hackable cryptographic keys. Wisby also points to a long-standing partnership with software company Riverlane, which has already been using OQC's quantum computer to run a chemical simulation algorithm names alpha-VQE. Riverlane and OQC have also been working together to develop a quantum operating system, Deltaflow. OS, which would allow the same quantum software to run on different types of quantum computing hardware.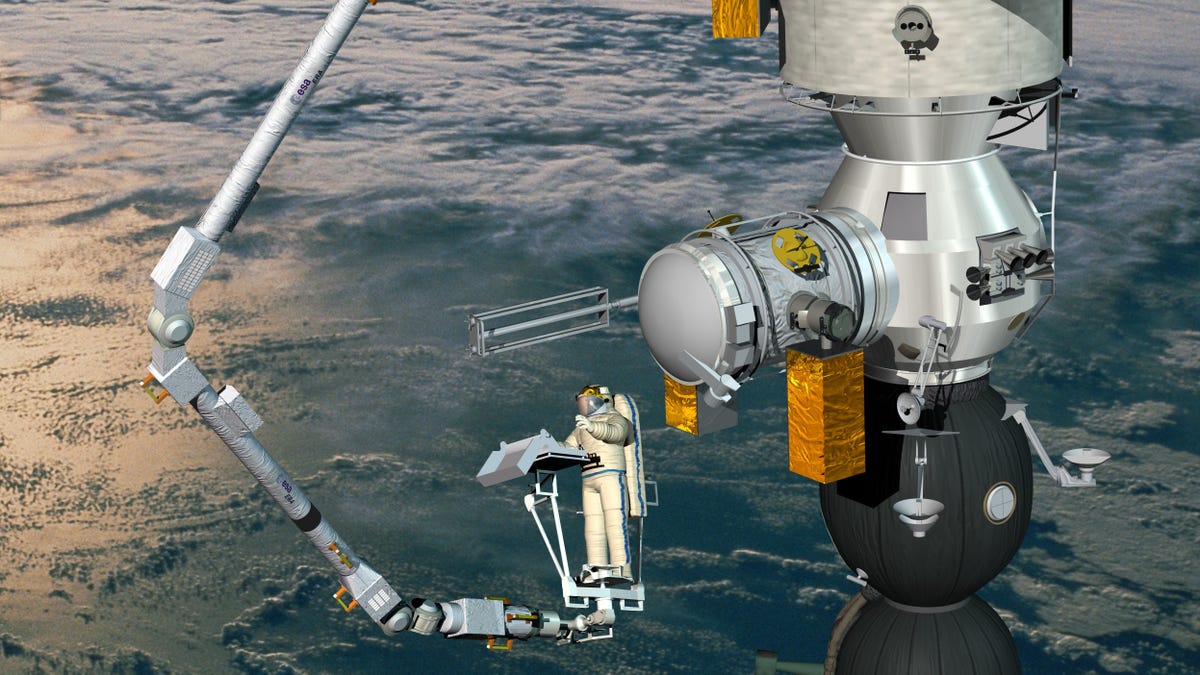 The European Space Agency is finally ready to deliver its new robotic arm to the International Space Station. The 37-foot-long arm features an array of impressive features, including the ability to work autonomously and "walk" across the exterior of the orbital outpost. Originally designed to fly on NASA's S pace S huttle, the European Robotic Arm (ERA) is finally going to space after "two decades of technical and programmatic challenges," according to the European Space Agency. The arm, along with a new Russian module named Nauka, are scheduled to launch atop a Proton rocket from the Baikonur Cosmodrome on July 15, 2021. A European consortium led by Airbus Defense and Space in the Netherlands developed the robotic arm for ESA. Airbus designed the arm and its software functions and also tested the system. The arm, equipped with seven joints (one at the elbow and three on each wrist), measures 37 feet (11.3 meters) in length and has a reach of 31.8 feet (9.7 meters). The two-handed device features a symmetrical design, so there's no true top or bottom to the arm. Because of this, ERA can "walk" across the ISS exterior, moving hand-over-hand as it travels from one fixed anchor point to another. So it's basically a large, robotic inchworm capable of working in space. ERA is launching with Nauka, also known as the Multipurpose Laboratory Module, and two control stations (one internal and one external). The arm will begin its duties on the new module, becoming the first robotic device to service a Russian segment. On its arrival to the space station, ERM will join Canadarm2 and the Japanese Experiment Module Remote Manipulator System (JEMRMS), neither of which can reach the Russian segment. Incompatible base points and payload mounting units don't allow Canadarm2 and JEMRMS to function on other parts of the station, according to ESA. ERA's first tasks will be to set up the airlock and install a radiator inside the new Nauka module. The versatile arm can be controlled remotely by ISS astronauts or cosmonauts, whether they're inside or outside the station. ERA has its own internal computer and can perform tasks either fully or semi- autonomously. The tip of each arm is like a Swiss Army Knife, equipped with an electrical power outlet, data bus, video line, and a rotating drive machine. The arm can work to a precision of 5 millimeters and move loads as heavy as 17,640 pounds (8,000 kg). The ISS crew will use the arm to move payloads, install solar arrays, transport spacewalking astronauts from spot to spot, inspect the station with infrared cameras, and generally assist with jobs outside the station. The ISS is expected to remain in service until around 2030, but the future of the outpost is in doubt. In early June, Russia's space chief threatened to leave the station in four years unless the U. S. lifts sanctions that are hurting the country's space sector. It would be a shame to see the Russians leave, especially given the pending arrival of the new arm and module.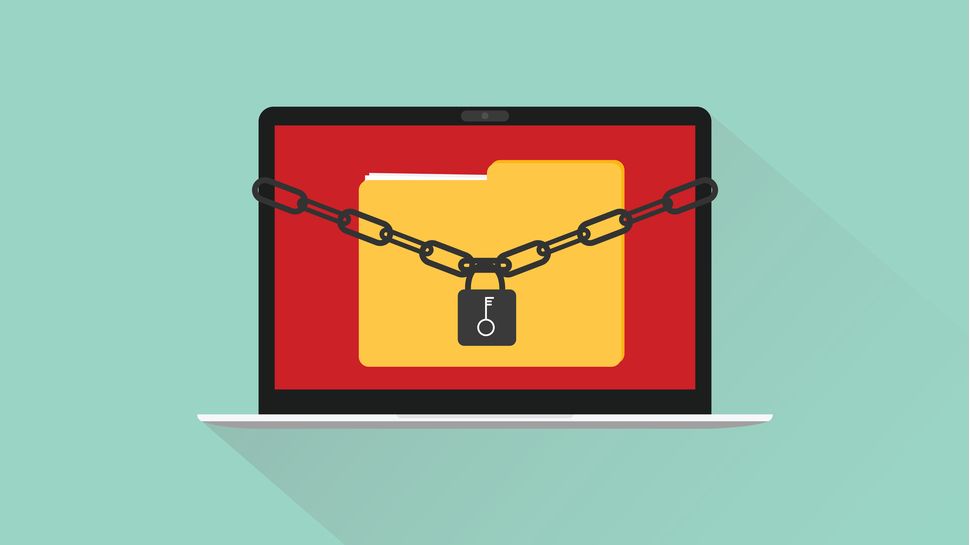 Cybersecurity researchers have discovered a new strain of the Ryuk ransomware that appears to be going after web servers. McAfee Enterprise's Advanced Threat research team notes that Ryuk, which first took victims in an August 2018 campaign against several businesses, previously functioned like all other ransomware, encrypting its victim's files and demanding a ransom in cryptocurrency. However, the new strain has added a couple more tricks to the ransomware's arsenal in order to further traumatize its victims, forcing them to cough up the ranson. "It is believed that this [new] functionality was added to newer versions of the malware to target web servers and deface public websites with the Ryuk ransom note. This is a tactic never seen before in the ransomware landscape and whose final purpose is to pressure victims to pay," writes McAfee in a new technical report. Earlier McAfee research has revealed similarities between Ryuk and the Hermes ransomware that's on sale in underground forums and has been used by multiple threat actors. McAfee believes Ryuk is used exclusively in targeted ransomware attacks, and often attacks its victims either via spear-phishing emails, or by exploiting compromised credentials for remote access systems, or piggybacking on other commodity malware. The new Ryuk sample though has shifted its attention to targeting web servers. McAfee says the new strain doesn't encrypt the HTML index files on the machine, and instead replaces them with the ransom note. Since all visitors to the website will now be shown the ransomware note, the new tactic helps Ryuk put additional stress on the victims to force them to the negotiation table. Furthermore, once it's done encrypting the files, the ransomware will inundate the victim by printing fifty copies of the ransom note on the user's default printer, further pressuring them to bow to the demands of the threat actors. The new ransom note prompts victims to install the Tor browser in order to facilitate contact with the ransomware operators.

What just happened? President Joe Biden says damage suffered by US businesses in the Kaseya ransomware attack appears minimal, though agencies are still gathering information on the incident carried out by the Russia-based REvil group last week. A ransomware attack took place last Friday targeting Kaseya's VSA cloud-based system management platform, which is used for remote monitoring and IT management. The Miami-based company said fewer than 1,500 businesses worldwide appeared to have been impacted. It is expected to release a patch today. Kaseya said that the attack never posed a threat to critical US infrastructure. It comes three weeks after Biden warned President Vladimir Putin that Russia needs to do more when it comes to stopping hackers within the country attacking the US. Also read: The Evolution of Ransomware: How Did We Get Here? On Saturday, Biden said, "The initial thinking was it was not the Russian government but we're not sure yet." If that proves to be the case, "I told Putin we would respond." At the same time that the ransomware attack took place over the weekend, a Republican National Committee third-party provider, Synnex Corp, was breached, but an investigation by Microsoft determined that no RNC data had been accessed. Bloomberg writes that the notorious Cozy Bear group linked with the Russian government was behind the incident. White House spokeswoman Jen Psaki on Tuesday said, "If the Russian government cannot or will not take action against criminal actors residing in Russia, we will take action, or reserve the right to take action, on our own." Psaki added (via Reuters) that Biden would meet with officials from the Justice Department, State Department, the Department of Homeland Security, and the intelligence community today to discuss ransomware and US efforts to counter it. REvil earlier this week said it is willing to negotiate for a universal decryption key that will unlock all the encrypted files, with the starting price set at $70 million in BTC. It had previously asked for $5 million from MSPs (managed service providers) for the tool and a $44,999 ransom from their customers. The attack affected business in at least 17 countries. The majority of the 800 Coop supermarkets in Sweden had to shut due to their cash registers not working, and it knocked more than 100 New Zealand kindergartens offline.

"Discrimination of any kind is unacceptable." Konami has cancelled its contract with Antoine Griezmann after a video in which the France and Barcelona star appears to ridicule Asian hotel staff resurfaced this week. The Snapchat video, which appears to show Griezmann as well as teammate Ousmane Dembele mocking Asian technicians during Barcelona's tour of Japan in 2019, has sparked a vociferous backlash amid racism allegations. According to ESPN, in the video Dembele says to Griezmann: "All these ugly faces, just so you can play PES, aren't you ashamed?" Dembele then appears to mock the Japanese language before asking: "are you advanced in your country or not?" Griezmann's audio is hard to make out, but he is seen laughing as the hotel staff try to fix a television so he can play PES. In response, Konami has ditched Griezmann as its Yu-Gi-Oh! contents ambassador, and asked Barcelona, which is a PES partner club, how it will handle the situation. "Konami Digital Entertainment believes, as is the philosophy of sports, that discrimination of any kind is unacceptable," Konami said in a statement. "Previously we had announced Antoine Griezmann as our Yu-Gi-Oh! contents ambassador, however in light of recent events we have decided to cancel the contract. "With regard to our eFootball PES franchise, we will be requesting FC Barcelona as a club partner to explain the details of this case and its future actions." Barcelona's main sponsor, the Japanese e-commerce company Rakuten, had already demanded an explanation from the Catalan club in relation to the video. Griezmann has posted an apology on Twitter, saying he has "always been committed against any form of discrimination". "I firmly refute the accusations made against me and I am sorry if I have offended my Japanese friends," he continued. Dembele has also apologised on social media, insisting no racist intent. Barcelona issued a statement today, saying Griezmann and Dembele "displayed a lack of respect in their attitude towards several employees in the hotel in which they were staying". "This attitude in no way coincides with the values that FC Barcelona represents and defends." Barcelona then went on to apologise, insisting it's "committed to making sure episodes of this nature do not repeat themselves". "The players have already shown their regret and have apologised to Japanese fans and partners, something that the club values. Nevertheless, FC Barcelona reserve the right to take the internal measures that it considers appropriate." Konami has a close relationship with Barcelona, and has issued special club editions of PES that involve promotional work from its players, including Griezmann.

At the end of Pixar's 2001 movie Monsters, Inc., the very fabric of monster society is torn asunder, as an entire world populated by monsters and powered by the fear of human children suddenly learns that kids' laughter elicits more power than screams. With the evildoers in charge, who planned on terrorizing children forever, out of the way, the heroes look toward humor to fuel their world. Twenty years later, the Disney Plus series Monsters at Work picks up right after this shocking revelation, following the power company Monsters, Inc. and the society it serves, as both of them deal with a radical transition.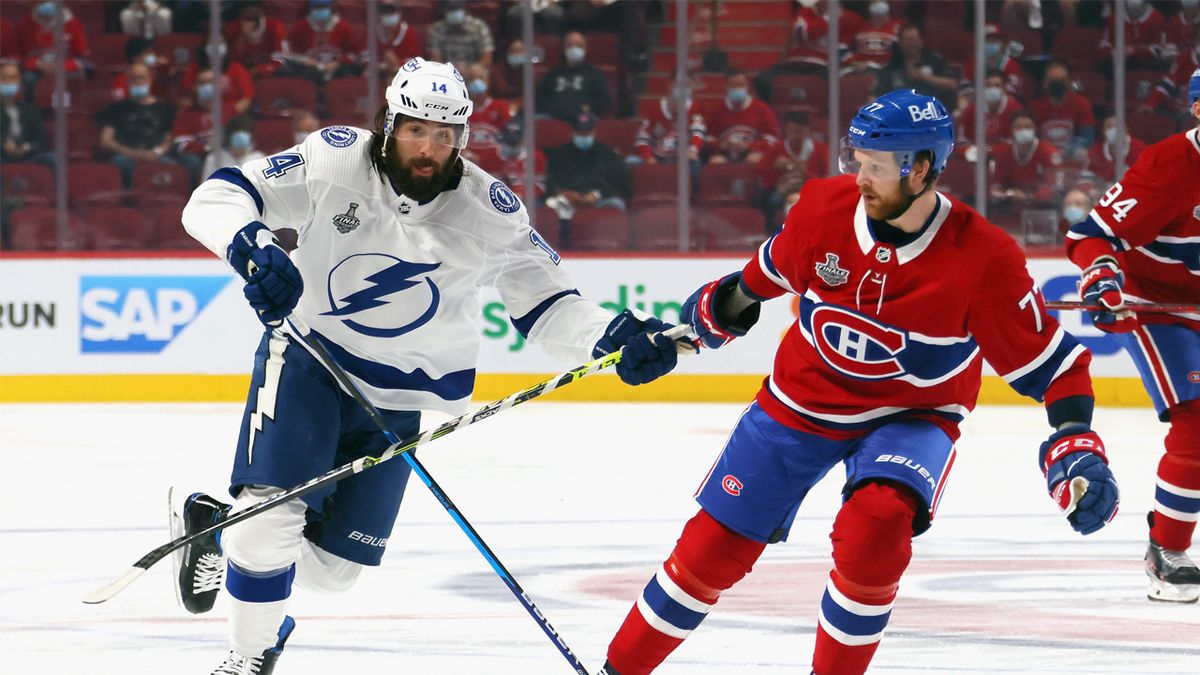 It's Canada vs the US; the NHL's most successful franchise vs the reigning champions; Canadiens vs Lightning in this blockbuster Stanley Cup Final clash. While all signs are pointing towards a thunderous success for Tampa Bay, Montreal managed to claw a win from the jaws of defeat to bring the series 3-1, and still have a fighting chance. Here, we explain how to get a Canadiens vs Lightning live stream and watch the Stanley Cup Final 2021 online from anywhere. The drought in the Great White North has raged for 28 years, the Canadiens' 1993 triumph - their 24th overall - marking the last time The Holy Grail was carried off to Canada. Can Montreal make it rain again? The Habs have been underdogs throughout, and true to form, they're up against it again, with Dominique Ducharme set to miss at least the first two games of the series, after his positive Covid test. His opposite number, meanwhile, is hoping to become just the 12th coach to lift the trophy in two consecutive seasons. The Lightning boast the playoffs' leading goal and points scorers, in Brayden Point and Nikita Kucherov, as well as the best goaltender in the league, in Andrei Vasilevskiy. However, as they've already proved on so many occasions, the Canadiens are much more than the sum of their parts. Read on for details on how to watch the Canadiens vs Lightning online and get a 2021 Stanley Cup Final live stream from anywhere. Scroll down for all the ways you can watch the Canadiens vs Lightning online in a number of countries around the world - including the US and Canada. But first, you should know that if you're abroad at any point during the series, you probably won't be able to watch the Stanley Cup Final like you normally would at home. This is because of geo-blocking, a digital restriction that means certain streaming services are only accessible in the region they're based in. The simplest and most reliable solution is to use a VPN service to change your IP address to a different location. This will generally let you tune in to your local coverage, just as you would from home, and means you don't have to trawl the sketchier corners of the internet for an illegal stream. Use a VPN to watch Stanley Cup Final 2021 online from anywhere Here's how this Stanley Cup Final series between Montreal and Tampa Bay looks:

It's set to feature four maps and two game modes. Players can now pre-order the game and receive a 20% discount. An interesting shooter with a niche appeal. The time-bending shooter was part of the line-up during Opening Night Live.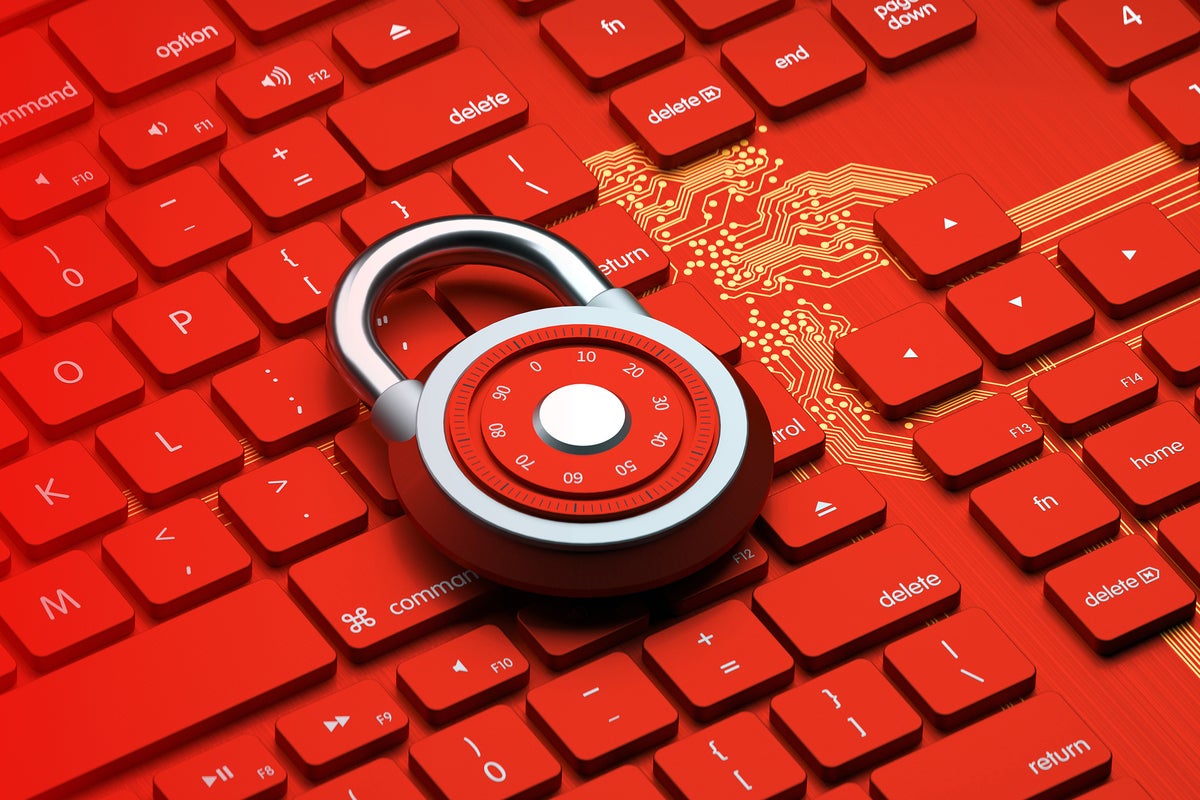 Protecting your personal data isn't just smart these days—it's a necessity. As the world grows more and more connected, your private info becomes more and more valuable. Whether it's using leaked info from website breaches to hack into your other accounts or holding your personal computer ransom for money, malicious evildoers won't hesitate to ruin your day if it puts profits in their pockets, as evidenced by the massive Kaseya ransomware attack that brought over a thousand businesses to their knees. All is not lost though. Following some basic security principles can help protect you from most of the attacks you'll find on the World Wild Web. Better yet, these five easy security tasks should take only a short while to get set up. Do them now and sleep easier at night. On of the biggest security risks these days is password reuse. Major websites and services report massive data breaches on a shockingly regular basis. If you're using the same email and password for multiple accounts, and any of those accounts leak, attackers can hack into your other ones using the information. Using strong, unique passwords for every account you own protects against that—but memorizing a different random password for every website you create an account for is next to impossible. That's where password managers come in. These tools can create strong randomized passwords for you, store the information, and automatically fill in login fields on websites and software alike. Browsers are starting to offer basic password management tools too. They work in a pinch but aren't good enough overall. Investing in a proper password manager is well worth it (especially because many services offer a free tier). Our guide to the best password managers can help you find the perfect fit for your needs. The FIDO Alliance's U2F open standard lets compatible USB key drives and other small devices simplify two-factor authentication. Most major services now offer a two-factor authentication feature, especially if they handle more sensitive personal data. Turn it on whenever you can. If a hacker does somehow manage to gain access to your login information,2FA can still save your bacon. Two-factor authentication requires you to confirm your account two ways before you're able to log in: with something you know, and something you have. The "something you know" is your username and password. The "something you have" comes courtesy of an authorized tool you have in your possession. Usually,2FA requires you to input a code that's either sent to you via text message or email when you try to log in on a device for the first time, or to grab a code from a supported 2FA app, or connect a security device devoted to account authentication. The exact method varies by service, and many offer several 2FA options. Without that code, hackers can't break into your account even if they have your login information. Our two-factor authentication guide explains the concept more deeply, and includes our picks for the best 2FA apps and hardware. Now that your online accounts are locked down, it's time to turn our attention to security for your personal computer. You don't want malware secretly siphoning off your information while you're banking or browsing your medical history, after all, while ransomware can lock you out of your computer completely until you pay a bounty. That's where security software comes in. Yes, you still want to run antivirus and a firewall even in 2021. Good news, though: The Microsoft firewall that ships with Windows 10 gets the job done just fine these days, while the Windows Security tools that come bundled with the operating system (including antivirus) now offer surprisingly good protection. Better yet, they're enabled by default in Windows 10 if you aren't running a third-party alternative. You can't install software or run elevated permissions with a standard account, but that's a good thing for security. Here's one of the biggest under-the-radar security pro tips around: Don't use a Windows administrator account day-to-day. Instead, use a secondary standard account. A lot of malware tries to sneak itself on your system. Only administrator accounts can install software in Windows. If you're using a standard account, you won't be able to allow a rogue program onto you PC accidentally (at least not easily). For the best security, set up your computer with all the software you need using an admin account, but then use a secondary standard account to go about your business in general life. It's very easy to switch over to your administrator account quickly when you need to install something new. There's no single way to back up your data. Some people take "images" of the entire operating system, others rely on online backup services, and some folks simply drag key files over to external hard drives on the reg. Any method works as long as you're doing something! We've got several resources that can help you set up a data recovery plan, including guides to the best Windows backup software and the best online backup services. We've also rounded up the top free backup services, and have a guide explaining how you can back up your data for free using built-in Windows tools. Using free tools typically require a more patchwork, intensive process than the user-friendly premium offerings, but hey—they work.

Among Us is receiving a physical release, which will hit retailers later this year. This version of the multiplayer deduction game will have three versions, each with its own set of extras for diehard fans to enjoy. Among Us is quite possibly one of the biggest sleeper hits in gaming. The game was initially released in 2018, but didn't gain popularity until 2020. Its social nature and "whodunnit" based gameplay became a hit with major streamers, turning it into a big hit during social lockdowns during the height of the COVID-19 pandemic. Its first physical release is coming from publisher Maximum Games in the form of three separate collector's editions for the Nintendo Switch, PS4, PS5, Xbox One, and Xbox Series X/S. Each version includes the actual game plus all the DLCs and builds upon the goodies of the last. The special editions do not have a set release date yet, but will launch sometime this year. A $30 Crewmate Edition includes extras like stickers and a lenticular case. Bumping up to $50 gets players a purple crewmate plush, a collector's box, and more. For the most dedicated players, a $90 Ejected Edition throws in a fleece, beanie, and more. Here's what each edition includes and how much it'll cost, per the official Maximum Games website.



Total 144 articles.
Version: 9.55.35971-219432. Input files: 1, items detected: 229, scanned: 229, accumulated: 144, inserted: 144, exclude filters: 0, include filters: 0, empty media: 4, filtered media: 6, duplicated media: 1, not matched limits: 5, passed http check: 0, not passed http check: 0, http check errors: 0, skipped: {total: 84, by unique value: 0, by limits: 3, by similarity: 71, by unicity: 10, by dates: 0, by classifier: 0, by blacklist: 4, by mandatory tag: 0, from input files: 0}, bad dates: 0, similar from same domain: 159, unique Ids: 1971, unchangeble patterns: 660, words comparisons: 3769734/234336, python: 2.7.13 (default, Sep 26 2018, 18:42:22) [GCC 6.3.0 20170516], dynamic containers: {u'nlpu.stemWordsBackHash': -1, u'nlpu.languagesMap': -1, u'nlpu.languagesCache': -1, u'bcla.similarCache': -1, u'bcla.tagsClassificationPopWordsData': -1, u'nlpu.stopWordsCache': -1, u'nlpu.stemWordsBackHashFreqs': -1, u'bcla.autoWeightedWords': -1, u'nlpu.stopWords': -1, u'bcla.tagsSimilarityPopWordsData': -1, u'nlpu.synonimsReplacedCache': -1, u'nlpu.stemWordsBackHashFreqsStemmed': -1, u'bcla.synonyms': -1, u'nlpu.posHash': -1, u'bcla.notSimilarCache': -1, u'nlpu.stopwordsCustom': -1}; the same images URLs found 215 times; total 0 languages detected: {}; {u'text': {u'chars': 713976, u'bytes': 2908476, u'words': 104407, u'sentences': 6033}}
Created at 2021-07-08 00:03