Announcement
DC5n United States software in english 400 articles, created at 2021-07-01 02:32 articles set mostly positive rate 6.0
(9.79/10)

1

0.7

Bloober Team reportedly working on a Silent Hill project

In a new partnership, Bloober Team will be teaming up with Konami, publishers of Silent Hill, to reportedly create a new game in the franchise. 2021-06-30 18:16 1KB mspoweruser.com

(8.99/10)

2

0.1

Windows 11 did away with folder icon thumbnails, and we did not even notice

When Microsoft introduced new folder icons for what turned out to be Windows 11, the long-awaited design update was much lauded, such that we did not even notice that we were losing a major feature. It turns out the new shell icons in Windows 11 no longer show previews of the content of the folders. […] 2021-06-30 20:00 1KB mspoweruser.com

(5.56/10)

3

0.0

Watch the Samsung Galaxy Z Flip 3 spin in new leaked 3D renders

Leaked marketing photos unveil the upcoming Galaxy Z Flip 3 from every angle. 2021-06-30 22:00 1KB mspoweruser.com

(5.47/10)

4

0.7

iOS 15 is official, and you can get the public beta version now

New iOS 15 software is official and coming soon, with a variety of enhancements and new features for the Apple iPhone. Here's everything you need to know. 2021-06-30 19:38 6KB www.digitaltrends.com

(5.40/10)

5

0.4

Google might have just complicated running Android apps in Windows 11

Google is moving away from using Android APKs in the Google Play Store in August, and this might make sideloading Android apps in Windows 11 a bit harder. 2021-06-30 22:08 2KB www.digitaltrends.com

(4.75/10)

6

0.7

LG prices its QNED mini-LED TVs starting at $2,000

LG has finally announced the official rollout of its QNED Mini-LED TVs. There are 4K and 8K models in three sizes. All six models will hit stores by July. 2021-06-30 20:32 2KB www.digitaltrends.com

(4.59/10)

7

0.9

Best Samsung Galaxy Chromebook 2 accessories for 2021

In this buying guide we look at the best accessories to pair with your Samsung Galaxy Chromebook 2. We look at mice, sleeves, and more. 2021-06-30 21:00 4KB www.xda-developers.com

(4.09/10)

8

0.3

PS Plus Games for July: Call of Duty: Black Ops 4, A Plague Tale: Innocence

Last chance to download PS Plus games for June 2021-06-30 20:10 2KB news.softpedia.com

(3.20/10)

9

0.1

The Most Anticipated Game Releases of July 2021

A truly prosperous month for the gaming industry 2021-06-30 20:36 3KB news.softpedia.com

(3.12/10)

10

0.6

Remedy Entertainment working on two new Control games

Remedy has announced that they're working on two new Control Games, in a publishing and development agreement with 505 Games. 2021-06-30 19:25 1KB mspoweruser.com

(3.10/10)

11

0.8

Microsoft acquires AT&T networking tech to bolster its Azure for Operators strategy

Microsoft and AT&T are expanding their existing partnership around 5G and edge computing. 2021-06-30 16:47 2KB www.zdnet.com

(3.10/10)

12

0.3

Loki has a post credits scene this week

It will be the first episode of the season to feature one. 2021-06-30 11:22 1KB www.gamereactor.eu

(3.09/10)

13

0.8

Diablo-like Magic: Legends shutting down after less than a year

Just a few months after the open beta launch, Magic: Legends is shutting its doors. 2021-06-30 10:37 1KB www.vg247.com

(2.62/10)

14

0.4

The Best Cheap Phones for 2021

Looking for a new phone that won't wipe out your bank account? Whether you want a flip phone or a smartphone, we've gathered the best budget-friendly handsets on the market for less than $300. 2021-06-30 18:58 6KB uk.pcmag.com

(2.61/10)

15

0.0

The Full Nerd ep.182: Dissecting Windows 11's best features and worst controversies

In this episode of The Full Nerd, resident Microsoft guru Mark Hachman joins the gang to discuss all things Windows 11. 2021-06-30 13:57 2KB www.pcworld.com

(2.44/10)

16

1.5

Microsoft details improvements coming to print experience in Windows 11

Microsoft yesterday revealed the improved print experience coming in Windows 11. As you can see from the screenshot above, you can now add a printer in the Windows 11 Settings app. For Universal Print driver printers, Microsoft is adding the ability to add a PIN to a print job. You can read about other print […] 2021-06-30 14:07 1012Bytes mspoweruser.com

(2.38/10)

17

0.4

What is Mini LED? The TV display tech explained

Mini LED is at the fore of this year's TV ranges, but what exactly is it, and why should you even care? 2021-06-30 11:05 7KB www.techradar.com

(2.32/10)

18

0.9

Former Blizzard devs open a new RTS studio for Tencent Games

Tencent Games subsidiary Lightspeed and Quantum Studios Group announced the formation of Uncapped Games Studios. 2021-06-30 16:00 1KB venturebeat.com

(2.31/10)

19

0.6

Windows 11 Features a New File Transfer Progress Indicator You Could Easily Miss

The transfer progress is now indicated in the taskbar 2021-06-30 17:05 2KB news.softpedia.com

(2.18/10)

20

0.8

ToughBook G2: Panasonic launches new rugged 2-in-1 for ultimate versatility

Panasonic has unveiled the Toughbook G2 which will serve as the successor to both the Toughbook G1 and Toughbook 20. 2021-06-30 21:30 3KB www.techradar.com

(2.11/10)

21

0.8

Slack announces scheduled send, video messages and huddle audio chat

Slack today announced three new brand-new features that are not available on Microsoft Teams. Read about the new features below. 1) Huddles: https://d34u8crftukxnk.cloudfront.net/slackpress/prod/sites/6/05_Huddles_2x.mp4 Scheduling meetings is a huge task. Even to have a quick 10-mins casual conversation, we need to send a meeting invite so that the others can join. Slack huddles are a lightweight […] 2021-06-30 17:31 1KB mspoweruser.com

(2.10/10)

22

0.7

WhatsApp feature lets you send disappearing photos and videos, here's how you can use it

Last year WhatsApp announced disappearing messages and the company is now taking it to next level by adding support for disappearing media that will be deleted once it has been viewed by the receiver. 2021-06-30 12:22 1KB www.neowin.net

(2.09/10)

23

0.3

Everything we know about Starfield, Bethesda's upcoming sci-fi RPG

We go over what we know about Bethesda's upcoming sci-fi RPG, Starfield, from when we'll get to play it to the systems it'll be available on. 2021-06-30 21:06 12KB www.digitaltrends.com

(2.07/10)

24

0.5

The Best Free PC and Console Games to Claim in July 2021

You love video games, but you're not made of money. Lucky for you, game studios and subscription services offer a handful of free titles every month. Don't miss out. Here's what you can download in July. 2021-06-30 17:08 21KB uk.pcmag.com

(2.06/10)

25

0.8

What's new on Paramount+ in July 2021

Here's what's new on Paramount+ in July 2021. You'll find the SpongeBob Squarepants musical, Bill and Ted Face the Music, and more additions to the library. 2021-06-30 20:47 1KB www.digitaltrends.com

(2.06/10)

26

0.5

Bethesda: "Think of Elder Scrolls VI as still in a design phase"

The anticipated continuation of the series will be coming after 2022\'s Starfield. 2021-06-30 14:05 845Bytes www.gamereactor.eu

(2.05/10)

27

0.4

Sony Bend Studio's New IP Has Multiplayer Elements

Sony Bend Studio has been working on a new triple-a intellectual property for a while now which appears to feature multiplayer elements. 2021-06-30 14:26 2KB segmentnext.com

(2.05/10)

28

0.5

Greedfall PS5 free upgrade not available to players who claimed PlayStation Plus version

If you picked up Greedfall when it was free on PlayStation Plus, you're not eligible for the free PS5 upgrade. 2021-06-30 14:07 1KB www.vg247.com

(2.05/10)

29

0.3

Doom Eternal's next-gen update is out now

Id Software's Doom Eternal has received its long-awaited next-gen update, bringing in ray tracing and 4k 60fps support on Series X|S consoles. 2021-06-30 13:24 1KB mspoweruser.com

(2.05/10)

30

0.6

Control is getting a sequel and multiplayer spin-off

Because Remedy wasn\'t busy enough with Alan Wake, CrossfireX, Vanguard and more... 2021-06-30 11:04 1KB www.gamereactor.eu

(2.04/10)

31

0.3

This crooked VPN service was collecting user data the whole time

Cybercriminals thought they were anonymous but DoubleVPN was actually keeping detailed logs on their online activity. 2021-06-30 21:30 2KB www.techradar.com

(2.04/10)

32

0.4

Parrot's 4G-connected Anafi Ai drone is the Google Maps car of the skies

Parrot's new 4G-connected Anafi Ai drone has no range limits and a powerful camera for breathtaking photography. 2021-06-30 19:25 3KB www.digitaltrends.com

(2.04/10)

33

0.4

Latest PUBG update takes a page out of Call of Duty: Warzone's playbook

PUBG players will be able to revive themselves with a new item, another feature that was seemingly borrowed from other battle royale titles. 2021-06-30 18:01 2KB www.digitaltrends.com

(2.04/10)

34

0.5

GitHub's Copilot Is an OpenAI-Powered Coding Partner

GitHub's new Copilot feature uses artificial intelligence to help programmers while they code. 2021-06-30 17:22 2KB uk.pcmag.com

(2.04/10)

35

0.7

TCL brings its premium C Series range of 4K TVs to India

TCL today launched its C series range of premium 4K TVs in India that offer support for features like 120Hz MEMC, variable refresh rate support, and much more. 2021-06-30 10:35 2KB www.xda-developers.com

(2.04/10)

36

0.7

Cops seize criminal VPN used by ransomware gangs

A coordinated sting has ended the operations of the DoubleVPN service, the owners of which are accused of harbouring cyber criminal activity. 2021-06-30 10:15 4KB www.computerweekly.com

(2.03/10)

37

0.3

Every true wireless earbud feature explained

There are now hundreds of models of true wireless earbuds available, from $25 to $400. Learn about the features that will matter most to you before you buy. 2021-06-30 20:18 14KB www.digitaltrends.com

(2.02/10)

38

0.8

Which model iMac should I buy: Price, configurations, colors, and more

Planned on getting the iMac with M1? Read on for everything you need to know about which iMac model is the right fit for you. 2021-06-30 22:30 5KB www.xda-developers.com

(2.02/10)

39

0.8

Sony says Housemarque deal is definitely not an 'arms race' of acquisitions

Sony doesn't consider acquisitions a competition between rival companies to have the biggest and best developers under its umbrella. 2021-06-30 14:53 2KB www.vg247.com

(1.29/10)

40

0.1

Horizon Forbidden West release date, trailer, news and rumors

Horizon Forbidden West is the sequel to Horizon Zero Dawn. Here's everything you need to know. 2021-06-30 18:21 13KB www.techradar.com

(1.17/10)

41

0.8

Lord of the Rings on Amazon Prime: release date, cast and what we know

Here's everything you need to know about Amazon's adaptation of Lord of the Rings, including its possible release date. 2021-06-30 15:23 14KB www.techradar.com

(1.14/10)

42

0.1

Succession season 3: release date, predictions, story and everything we know

Here's everything we know about the latest season of HBO's addictive family drama, Succession. 2021-06-30 14:59 10KB www.techradar.com

(1.13/10)

43

0.0

Loki episode 4 recap: the best one yet?

The best instalment yet, but who's the real villain in the Loki episode 4? 2021-06-30 17:00 7KB www.techradar.com

(1.07/10)

44

0.1

Good Omens gets renewed for a second season by Amazon

It will begin filming in Scotland later this year. 2021-06-30 12:38 1KB www.gamereactor.eu

(1.06/10)

45

0.8

Android Users Are Getting Closer to an iMessage-Like App

With AT&T signing on to bring RCS to its Android phones, Verizon is the last hold-out. 2021-06-30 19:55 3KB gizmodo.com

(1.06/10)

46

0.3

Halo Infinite isn't a 'make or break' title for the franchise, says Phil Spencer

Phil Spencer says he is confident in Halo Infinite but that the future of the franchise doesn't depend on this one game. 2021-06-30 17:24 3KB www.techradar.com

(1.05/10)

47

0.3

ADT Medical Alert Plus

ADT offers fast in-home alerts, but few frills 2021-06-30 19:38 6KB uk.pcmag.com

(1.05/10)

48

0.1

Blizzard details Diablo 4 customization options and new enemies

Diablo 4 will have new character customization options for players to use to create their own looks and style. 2021-06-30 18:18 2KB www.digitaltrends.com

(1.05/10)

49

0.6

Is Black Widow coming to HBO Max?

Black Widow is out very soon, marking the return of the much-loved Marvel Cinematic Universe. With some theaters still closed, it's left many wondering how they'll watch the film, and which streaming services will broadcast the spy-action thriller. 2021-06-30 16:19 2KB www.gamerevolution.com

(1.04/10)

50

0.6

This week's Edge Dev build enables Tab Groups by default, adds Collections integration

Microsoft has released Edge Dev 93.0.933.1 that enables the Tab Groups feature by default. The firm is also adding the ability to send these groups directly into a Collections list, and more. 2021-06-30 20:08 2KB www.neowin.net

(1.04/10)

51

0.4

These are the Best Game Controllers for Android: Razer, SteelSeries,8Bitdo, and more!

Looking for a game controller for your Android smartphone? Here are some of the beest game controllers you can get for your phone right now! 2021-06-30 13:15 8KB www.xda-developers.com

(1.03/10)

52

0.7

Former BioWare GM Casey Hudson has founded a new game company called Humanoid Studios

The developer will be looking to "deliver the future of interactive entertainment". 2021-06-30 12:22 2KB www.gamereactor.eu

(1.03/10)

53

0.6

PlayStation VR 2: PSVR 2 is coming to PS5, here's everything you need to know

PlayStation VR 2 plans are likely tied to the PlayStation 5 release date, so what exactly can we expect? 2021-06-30 10:46 37KB www.techradar.com

(1.02/10)

54

0.3

T-Mobile's new 5G phone has a huge display and is really cheap

The T-Mobile REVVL V+ 5G has launched, and it has a huge display, a Dimensity 700 chip, and 5G support, and it only costs $200. 2021-06-30 21:25 2KB www.xda-developers.com

(1.02/10)

55

0.4

How to access Xcloud on mobile devices

Looking to jump into Xcloud but not sure where to start? Our guide here has everything you'll need to start utilizing Microsoft's new cloud gaming service. 2021-06-30 20:59 5KB www.digitaltrends.com

(1.02/10)

56

0.4

Loki and The Simpsons Team Up in Disney's New Corporate Synergy Stunt

Tom Hiddleston reprises his role as Loki in a new Disney+ Simpsons short. 2021-06-30 19:15 2KB gizmodo.com

(1.02/10)

57

0.1

Microsoft Releases Emergency Windows 10 Cumulative Update KB5004760

Out-of-band cumulative updates for Windows 10 is live 2021-06-30 16:57 2KB news.softpedia.com

(1.02/10)

58

0.5

Queer readings of The Lord of the Rings are not accidents

Did Rings trilogy author JRR Tolkien write a secret queer romance into the Lord of the Rings? We'll never know for certain, but a historical read of the 1800s, literature, and the Middle-earth books like the Silmarillion, appendices, and Unfinished Tales tells us one thing: the love is in the text. 2021-06-30 16:26 1KB www.polygon.com

(1.02/10)

59

0.8

Live in Canada? Best Buy to Sell RTX 3000 Graphics Cards in Stores Today

The sales are occurring today, June 30, at 17 Best Buy locations in Canada. But whether the company will resume in-store sales in the US remains unclear. 2021-06-30 15:30 2KB uk.pcmag.com

(1.02/10)

60

0.6

Roll by ADP

Basic, mobile-first payroll from a trusted provider 2021-06-30 15:24 12KB uk.pcmag.com

(1.02/10)

61

0.4

Slack Introduces Huddles for When You Just Want a Quick Chat

Paying Slack users can start a huddle with a single click and anyone can join in. 2021-06-30 15:15 2KB uk.pcmag.com

(1.02/10)

62

0.4

These are the Best Chrome Extensions: Buster, MightyText, Inssist, and more!

Here are some of the best chrome extensions to help you improve your productivity or just enable more nifty features on websites! 2021-06-30 10:32 12KB www.xda-developers.com

(1.02/10)

63

0.3

Battlefield 2042 to support Nvidia DLSS and Reflex

Battlefield is keeping its partnership with Nvidia. 2021-06-30 08:11 2KB www.vg247.com

(1.01/10)

64

0.3

Robinhood Ordered to Pay Millions In Restitution to Ripped Off Customers

The full $70 million fine is the largest that FINRA's ever issued. 2021-06-30 21:50 3KB gizmodo.com

(1.01/10)

65

1.0

Best bank for small business 2021: Find the right bank

There are many banks out there that cater to small business needs. Below are some of our top picks for the best banks for small businesses in terms of products offered and small business services. 2021-06-30 21:44 1KB www.zdnet.com

(1.01/10)

66

0.2

Apricorn launches largest ever external SSD - and it's an absolute whopper

An ultra-secure 20 TB portable SSD to help you keep data away from prying eyes. 2021-06-30 20:24 2KB www.techradar.com

(1.01/10)

67

0.5

Play Game Boy cartridges on your computer with this $50 accessory

Epilogue likens the GB Operator to a cartridge slot for your computer. With it, users can play Game Boy, Game Boy Color and Game Boy Advance cartridges... 2021-06-30 20:22 1KB www.techspot.com

(1.01/10)

68

0.0

Aliens Is Back, Fireteam Elite Drops On August 24th

Aliens Is Back, Fireteam Elite Drops On August 24th A serious decline in quality over the lifetime of a series has not stopped game developers from developing 2021-06-30 19:59 2KB pcper.com

(1.01/10)

69

0.8

Final Fantasy Pixel Remaster series of Final Fantasy 1-3 will be released on July 28

The first three entries in the Final Fantasy Pixel Remaster series will be released on July 28. 2021-06-30 19:04 2KB www.vg247.com

(1.01/10)

70

0.4

Rumored OLED iPad Air could outshine iPad Pro, confuse buyers

Last year, Apple gave us a confusing dilemma when choosing between the iPad Air and iPad Pro. A new report suggests that decision is about to get tricky again. 2021-06-30 19:00 3KB www.digitaltrends.com

(1.01/10)

71

0.6

Amazon announces Echo Dot Kids for UK families

Amazon has revealed its Echo Dot Kids smart speaker which it plans to launch in the United Kingdom next month. The device has been tailored so that it's child-friendly. It'll cost £60 on Amazon. 2021-06-30 17:32 2KB www.neowin.net

(1.01/10)

72

0.0

GTA 6 rumoured to launch in 2025

Unluckily for hopeful Grand Theft Auto fans waiting for the next instalment, GTA 6 is reportedly going to launch in 2025 according to new leaks. 2021-06-30 17:30 2KB mspoweruser.com

(1.01/10)

73

0.5

iPhone 12 series reached 100 million sales milestone two months faster than the iPhone 11

The global research firm said cumulative iPhone 12 sales crossed the 100 million unit mark in April 2021. 2021-06-30 17:13 1KB www.techspot.com

(1.01/10)

74

1.1

Xiaomi announces Mi Notebook Pro X 15 with OLED display and 11th gen Intel processors

Chinese OEM Xiaomi today announced its latest flagship laptop, the Mi Notebook Pro X 15. The main highlight of Mi Notebook Pro X 15 is its 15-inch 3.5K E4 OLED with 600-nits brightness, 100% DCI-P3 color support and the Corning Gorilla glass protection. The Mi Notebook Pro X 15 also features a premium build quality […] 2021-06-30 16:37 1KB mspoweruser.com

(1.01/10)

75

0.8

What's New in Microsoft Teams

Welcome to the June edition of What's new in Teams. This was another month where we released several features to make Teams even more useful for you. We 2021-06-30 16:35 20KB techcommunity.microsoft.com

(1.01/10)

76

0.2

Sea of Thieves Dark Brethren Journals locations| Where to find the Coral Fortress

If you're looking to nab all the Dark Brethren commendations, you'll need the Sea of Thieves Dark Brethren journals as well 2021-06-30 16:24 3KB www.vg247.com

(1.01/10)

77

0.8

YouTube TV

Still the best way to stream Live TV 2021-06-30 16:09 15KB uk.pcmag.com

(1.01/10)

78

0.7

The best 4th of July laptop deals: save on Dell, HP, Samsung and more

We're rounding up all the best 4th of July laptop deals in one place, with big savings on Chromebooks, ultra-books and more. 2021-06-30 16:00 1KB www.techradar.com

(1.01/10)

79

0.8

The boss joins Thunderful

From Sega, to PlayStation, to Xbox, and now Thunderful, Agostino Simonetta is joining the Swedish publisher. 2021-06-30 15:38 2KB www.gamereactor.eu

(1.01/10)

80

0.6

Bulletin, Facebook's newsletter subscription service is now live

Available now, Bulletin allows users to find articles, podcasts and more about various topics. Whether it's about food, science, sports or any other subject you might enjoy,... 2021-06-30 15:18 2KB www.techspot.com

(1.01/10)

81

0.9

Xbox Series S xScreen lets you game on the go

Today, the Xbox Series S xScreen was revealed. It's an unofficial peripheral that will increase the portability of your console, with a flip-up screen at its core. Read on to see what the new accessory includes, and how it could change your Xbox experience. 2021-06-30 15:02 2KB www.gamerevolution.com

(1.01/10)

82

0.6

Best external hard drive 2021: Top SSDs and storage

Back in 1981, storage prices ranged up to $50/MB. Today you can get deals at $15/TB, more than a three million times improvement. Here are the best options, sorted by price from low to high. 2021-06-30 14:00 1KB www.zdnet.com

(1.01/10)

83

0.6

Some Couples Say Social Media Actually Helps Keep Them Close

Respondents to a survey said services like Facebook and Twitter helped them relive memories and communicate. 2021-06-30 13:51 1KB uk.pcmag.com

(1.01/10)

84

0.7

Watch this amazing dance routine by Boston Dynamics' Spot robots

The video is a celebration of Boston Dynamics' acquisition by automaker Hyundai, which closed a $880 million deal with SoftBank earlier this week to take an 80-percent... 2021-06-30 13:45 2KB www.techspot.com

(1.01/10)

85

0.7

Manufacturing and healthcare among top targets for phishing attacks

A new report from cloud email and collaboration specialist Avanan shows healthcare and manufacturing as two of the top industries being targeted by hackers in the first half of the year. 2021-06-30 13:38 2KB betanews.com

(1.01/10)

86

0.4

Western Digital Explains How Attackers Wiped My Book Live Devices

Two vulnerabilities were exploited to remotely wipe the data and install a trojan in some cases. 2021-06-30 10:57 3KB uk.pcmag.com

(0.99/10)

87

0.3

Distributed Databases: An Overview

In this article, see a brief overview of distributed databases. 2021-06-30 22:43 5KB dzone.com

(0.20/10)

88

0.9

All working Bubble Gum Simulator codes for free luck and hatch speed [June 2021]

Looking for Bubble Gum Simulator codes? Our up-to-date list has all the working Bubble Gum Simulator codes for luck, shiny chances, and more 2021-06-30 15:57 2KB www.vg247.com

(0.20/10)

89

0.1

Moveworks raises $200M to automate enterprise IT tasks

Moveworks, a startup developing a platform to automate common IT tasks, has raised $200 million at a $2.1 billion valuation. 2021-06-30 14:17 4KB venturebeat.com

(0.16/10)

90

0.8

The best mobile VPN apps 2021

Online freedom shouldn't end at home – download the very best mobile VPN app to keep you safe when you're out and about. 2021-06-30 16:11 8KB www.techradar.com

(0.16/10)

91

0.9

All working Brookhaven codes for music [June 2021]

Looking for more Brookhaven music to shake up your game? Our up-to-date Brookhaven music codes list has everything you need. 2021-06-30 16:08 2KB www.vg247.com

(0.13/10)

92

0.7

Best phone 2021: the top 15 smartphones you can buy in the US right now

These are the best phones in the US, including the Samsung Galaxy S21 Ultra, iPhone 12 and thirteen other top picks 2021-06-30 13:01 3KB www.techradar.com

(0.12/10)

93

1.4

Piral, a Modern Microfrontends Library

Piral is a JavaScript library for creating modular microfrontends application based on React. 2021-06-30 17:00 1KB www.infoq.com

(0.12/10)

94

0.2

Escape From Tarkov Players Can No Longer Run Through Bushes in Patch 0.12.11

Escape From Tarkov's patch 0.12.11 has added a new mechanic that will tackle bush wookies. Battlestate Games has decided to prevent players from running 2021-06-30 15:22 1KB www.futuregamereleases.com

(0.06/10)

95

0.8

The Best 75-Inch (and up) TVs for 2021

Why stop at a 65-inch TV when you can go even larger? Whether you're looking for a 75-inch or even an 85-inch panel, these are the big-screen TVs we've tested. 2021-06-30 17:59 7KB uk.pcmag.com

(0.06/10)

96

0.4

iPhone 13 release date, price, specs and every new iPhone leak

Apple's new iPhone 13 is coming later in 2021, and here's everything you need to know about Apple's next iPhone family. 2021-06-30 10:56 20KB www.techradar.com

(0.05/10)

97

0.8

Microsoft Office app on iOS will soon offer a clearer view of your PDFs

Microsoft today announced the release of the July Beta Channel update for Office app on iOS. This new Version 2.51 (21062802) build comes with a new improvement for PDF reading. Previously, the Office app title bar could get in the way of focusing on your content. With this update, the on-screen aspects of the app […] 2021-06-30 21:00 1KB mspoweruser.com

(0.05/10)

98

1.0

Satya Nadella on LinkedIn: Millions are using a free skills program to find unexpected career

As the world recovers from COVID-19, skilling displaced workers will be more important than ever. These stories are inspiring examples of the millions ... 2021-06-30 17:48 1KB www.linkedin.com

(0.04/10)

99

0.5

Chromebooks vs laptops: which is the best for students?

We pit Chromebooks versus laptops to see which is the best for students, professionals, and casual users. 2021-06-30 18:21 7KB www.techradar.com

(0.04/10)

100

0.4

Windows 11 Ruins the "Show Desktop" Button, Hopefully Just a Glitch

"Show Desktop" button on the taskbar now just a thin line 2021-06-30 17:03 2KB news.softpedia.com

(0.04/10)

101

0.8

Best blogging sites of 2021: Free and paid blog platforms

Take a look out our picks for the best blogging sites, free and paid options. Any of these will help kickstart your blogging adventure 2021-06-30 16:50 9KB www.techradar.com

(0.04/10)

102

0.8

Xbox has 'never been in a better position', according to Microsoft

Microsoft's Phil Spencer says that Xbox has "never been in a better position" thanks to the Xbox Series X, Xbox Series S and Xbox Game Pass. 2021-06-30 09:55 4KB www.techradar.com

(0.02/10)

103

0.4

Developers express ire over PlayStation's promotional policies

A number of smaller developers are sharing details today about seemingly unfavorable conditions selling games on the PlayStation store. 2021-06-30 22:03 3KB www.gamasutra.com

(0.02/10)

104

0.6

Is your business ready for the low-code revolution?

In an increasingly digital world, low-code development platforms are now a necessity for businesses keen to make a mark. 2021-06-30 21:22 4KB www.techradar.com

(0.02/10)

105

0.2

Automate your workflows with low-code app development

Low-code app development can be the key to digital, automated workflows that will save resources while also freeing up your IT department. 2021-06-30 21:20 4KB www.techradar.com

(0.02/10)

106

0.1

How your business can scale app delivery without sprawl

Take part in the low-code revolution without sacrificing quality or security. 2021-06-30 21:19 3KB www.techradar.com

(0.02/10)

107

0.6

Instagram Experimenting With Video Push to Compete With TikTok, YouTube

The Facebook-owned app plans to experiment with serving more video to users in the coming months. 2021-06-30 21:08 2KB uk.pcmag.com

(0.02/10)

108

0.2

The Best Rugged Laptops for 2021

Ordinary notebooks are 98-pound weaklings next to the drop-tested survivalists known as rugged laptops. Whether you're getting wet or getting your hands dirty, these machines shrug off abuse and stay productive in the worst environments. We tested to find the best. 2021-06-30 20:10 10KB uk.pcmag.com

(0.02/10)

109

0.3

Fortnite Season 7 Week 4 Alien Artifact Locations Guide

In this Fortnite Season 7 Week 4 Alien Artifact Locations Guide, we'll be guiding you to the new Alien Artifacts for Kymera upgrades 2021-06-30 17:46 2KB segmentnext.com

(0.02/10)

110

0.8

Save 70% off on a lifetime subscription to Lightkey Pro

With today's highlighted deal, you can bag a lifetime subscription to AI-powered text predictions in 85 languages, let this app takes your typing experience to the next level via Neowin Deals. 2021-06-30 17:46 2KB www.neowin.net

(0.02/10)

111

0.6

How much does a POS system cost? What you need to know about software & hardware prices

Budgeting for a point of sale system? Here's a rundown of the key components of POS solutions and how much they cost. 2021-06-30 17:06 6KB www.techradar.com

(0.02/10)

112

0.9

Best cloud storage services of 2021

We've reviewed dozens of the best cloud storage providers, but which one is best? 2021-06-30 16:30 11KB www.techradar.com

(0.02/10)

113

0.4

Game writer Sam Maggs is your host for the 2021 Game Developers Choice Awards

Bestselling game, TV, and comics writer Sam Maggs is your host for the 2021 Game Developers Choice Awards. 2021-06-30 16:08 2KB www.gamasutra.com

(0.02/10)

114

0.8

GitLab spins out open source data integration platform Meltano

GitLab today announced that it's spinning out open source ELT (extract, load, transform) platform Meltano as a standalone business. 2021-06-30 16:00 7KB venturebeat.com

(0.02/10)

115

0.5

The RTX 3080 and RTX 3070 are in stock at Newegg Shuffle today – and prices aren't unreasonable

The RTX 3080 GPU is now on sale through the Newegg Shuffle, and these Nvidia GPUs are close to MSRP. Here's the cost. 2021-06-30 15:54 4KB www.techradar.com

(0.02/10)

116

0.7

Room 8 Group opens Montreal studio to offer external support to more developers

Room 8 Group has opened a new studio in Canada to provide creative, development, and management services to development partners working on free-to-pl 2021-06-30 15:54 2KB www.gamasutra.com

(0.02/10)

117

0.0

Slack CEO Stewart Butterfield on the future of remote work

Slack CEO Stewart Butterfield responds to Apple's hybrid work model and what the future of remote work will look like. 2021-06-30 15:48 779Bytes www.cnbc.com

(0.02/10)

118

0.7

Google is creating new synergies between Workspace apps

Google is on a mission to improve the interoperability of its Workspace apps and services. 2021-06-30 15:32 2KB www.techradar.com

(0.02/10)

119

0.9

Scarlet Nexus gift list| Every gift for each Scarlet Nexus character

If you're looking to raise your Scarlet Nexus bond levels or earn the gift trophy, our comprehensive companion gift list is here to help. 2021-06-30 15:10 2KB www.vg247.com

(0.02/10)

120

0.0

Fire Emblem Three Houses Chapter 15 Valley of Torment Walkthrough

This guide acts as a detailed walkthrough of Chapter 15 of Fire Emblem Three Houses. This will include details about all of the quests you encounter in 2021-06-30 12:11 4KB segmentnext.com

(0.02/10)

121

0.5

Download: MIUI 12 stable update rolling out to several Xiaomi, Redmi and POCO devices

MIUI 12 stable builds have begun rolling out to several Xiaomi, Redmi, and POCO devices. Head on over for Recovery ROM and Fastboot ROM download links! 2021-06-30 12:10 4KB www.xda-developers.com

(0.02/10)

122

1.0

Your last chance to save 60% in this Bitdefender antivirus deal

Get world-leading protection for up to 5 devices and save a bob or two with the current antivirus deals on Bitdefender packages. 2021-06-30 11:36 1KB www.techradar.com

(0.02/10)

123

0.7

Vela Games raises $17.3 million to create debut co-op title codenamed 'Project-V'

Vela Games, the Dublin-based studio established in 2018 by a group of former Riot and EA developers, has raised $17.3 million in Series A funding to b 2021-06-30 10:33 2KB www.gamasutra.com

(0.02/10)

124

0.6

New partnership brings Checkout.com payment platform to BigCommerce

BigCommerce merchants will be able to enjoy a raft of payment tools within the Checkout.com domain. 2021-06-30 10:25 2KB www.techradar.com

(0.02/10)

125

0.5

How to watch Wimbledon 2021: live stream tennis for free and from anywhere

Two years since the last one, but it feels like we never left SW19. Discover how to watch a 2021 Wimbledon live stream from anywhere...and for free! 2021-06-30 10:15 5KB www.techradar.com

(0.02/10)

126

0.8

Zoom is about to tear down the language barrier

Zoom acquisition will help users communicate in real-time with colleagues and partners from around the world. 2021-06-30 09:55 2KB www.techradar.com

(0.02/10)

127

0.3

owner Krafton buys interactive content production company Thingsflow

South Korean video game company Krafton has acquired Thingsflow Inc, the interactive production company behind chat-based content platform Hellobot. 2021-06-30 09:53 3KB www.gamasutra.com

128

0.1

I Had to See This Space Jam A New Legacy Clip, and Now You Do Too

Oh. Oh no. Oh no no no no no no no no no no no no no. 2021-06-30 22:30 3KB gizmodo.com

129

0.5

Mailerlite website builder review

Mailerlite helps you reach a larger audience and grow your business through effectively delivering your message to the world. 2021-06-30 22:18 6KB www.techradar.com

130

0.7

Throwable Ground Vehicles Sent to Aid Rescuers at Florida Condo Collapse

The small, unmanned vehicles could help rescue teams sort through the rubble, but have important limitations. 2021-06-30 22:10 7KB gizmodo.com

131

0.9

United's Newest Planes Support Bluetooth Audio, and It's About Time

We need to talk about the state of in-flight technology, because it's dire. 2021-06-30 22:00 6KB gizmodo.com

132

0.4

A doctor, a researcher and an activist: Perspectives on how sharing data is advancing health care

Visit the post for more. 2021-06-30 21:55 12KB news.microsoft.com

133

0.1

Someone Hackintoshed macOS Big Sur onto a custom-built handheld computer

YouTuber T Sanglay Jr (iketsj) posted a video on Monday showing how he installed Big Sur on a handheld computer. Running macOS on a tiny screen with... 2021-06-30 21:44 1KB www.techspot.com

134

0.5

Tim Berners-Lee Sells NFT of the Source Code for the World Wide Web for $5.4 Million

The "Father of the Web" plans to donate the money to charity. It's not the worst idea. 2021-06-30 21:40 3KB gizmodo.com

135

0.6

Star Wars Detours Probably Won't Ever Be Released and Here's Why

Co-creator Seth Green explains why the animated Star Wars comedy is likely frozen in carbonite 2021-06-30 21:30 4KB gizmodo.com

136

0.2

France Says Streaming Services Like Netflix Must Invest Set Amount in Local Content

France is the first to enforce new legislation meant to create parity for streaming services in Europe. 2021-06-30 21:29 2KB uk.pcmag.com

137

0.2

Resident Evil Village: A beginner's guide to The Mercenaries

The Mercenaries return to Resident Evil Village with eight challenging stages. Here's how to unlock The Mercenaries with a few helpful tips to get S ranks. 2021-06-30 21:22 9KB www.digitaltrends.com

138

0.8

CyberRes unveils enterprise-class data security solution for Amazon Macie

Micro Focus subsidiary CyberRes this week unveiled the integration between Amazon Macie and Voltage SecureData. 2021-06-30 21:21 3KB venturebeat.com

139

0.7

A CIO weighs in on how AI can benefit non-technical roles, particularly HR

Jeff Gregory, the Thirdera CIO, discussed how AI can impact non-technical roles in an organization, especially in the realm of human resources. 2021-06-30 21:20 4KB venturebeat.com

140

0.5

Exxon Lobbyists Reveal Climate Delay Strategy in Secret Recordings

A sting by Greenpeace UK exposes how the company talks a big climate game while ensuring nothing actually gets done. 2021-06-30 21:19 7KB gizmodo.com

141

0.5

Panda Dome Complete

Plenty of security features for plenty of cash 2021-06-30 21:14 22KB uk.pcmag.com

142

0.2

Kena: Bridge of Spirits (for PC)

A beautiful journey 2021-06-30 21:14 4KB uk.pcmag.com

143

1.1

One of the best VPNs just got a massive price cut

Now's the perfect time to get an excellent deal on a VPN subscription, as one of the best VPNs out there just massively cut its price. Take a look! 2021-06-30 21:11 2KB www.digitaltrends.com

144

0.1

Aqua Computer LEAKSHIELD, Watercooling With Peace Of Mind

Aqua Computer LEAKSHIELD, Watercooling With Peace Of Mind If you have considered watercooling in the past but are worried about running all that conductive 2021-06-30 21:07 1KB pcper.com

145

0.6

New Jetpack library adds backward compatibility for Android 12's Splash Screen API

A new Jetpack library has been released which backports the new splash screen API in Android 12 all the way back to API level 23/Android 6.0. 2021-06-30 21:06 2KB www.xda-developers.com

146

0.4

Dell's UltraSharp 4K webcam is a serious competitor for Logitech's Brio 4K

For people who want a serious webcam, Logitech's Brio 4K HDR has been a go-to for years, and there have been few challengers since its debut in... 2021-06-30 21:06 3KB www.techspot.com

147

0.5

Project Warlock II's Kickstarter Campaign Gets Delayed

Fans will have to wait until August to pledge their support 2021-06-30 20:56 2KB news.softpedia.com

148

0.3

Decoding the data: Leaders from American Express, Accenture, and more open up about challenges and successes

Panelists will break down the steps their organizations took to analyze and normalize data, ensuring accuracy and reliability, and more. 2021-06-30 20:53 3KB venturebeat.com

149

0.7

Destiny 2: Season of the Splicer seasonal and weekly challenges (week 8)

Destiny 2 Season of the Splicer brings a new series of weekly and seasonal challenges to complete. Here are all the challenges through week 8. 2021-06-30 20:52 10KB www.digitaltrends.com

150

0.3

Five Common Headaches in Small Business Bookkeeping—and How to Avoid Them

Optimizing your bookkeeping process can help your business thrive. 2021-06-30 20:48 4KB uk.pcmag.com

151

0.3

Small game publishers imply it's difficult to succeed on PlayStation

Indie games are withering on PlayStation consoles, according to multiple developers. But Sony may not have any reason to care. 2021-06-30 20:47 4KB venturebeat.com

152

0.9

#eWEEKchat July 15: VDI and Enabling Hybrid Work

Calling all Virtual Desktop Infrastructure experts on Twitter – join the #eWEEKchat on July 15, 11 AM PT: VDI and Enabling Hybrid Work. 2021-06-30 20:45 2KB www.eweek.com

153

0.7

New York Faces Blackouts as Extreme Heat Strains the Grid

Thousands of people have seen power outages, and many more could be on the way. 2021-06-30 20:41 4KB gizmodo.com

154

1.0

Mars First Logistics looks like the game Death Stranding wishes it was

Mars First Logistics, the latest game from Melbourne-based Ian McClarty, is a game about making deliveries in a harsh environment. 2021-06-30 20:33 4KB www.thumbsticks.com

155

0.1

Amazon Releases Cowardly Statement, Is Clearly Afraid of FTC Chair

The tech giant thinks that Lina Khan, the Federal Trade Commission's new chairwoman, has been too critical of its practices in the past. Sweet. 2021-06-30 20:30 3KB gizmodo.com

156

0.3

CDC Stands by Masking Guidelines, Says Vaccinated Americans Are Safe From Delta Variant

The CDC's Rochelle Walensky said the agency won't change its guidance on vaccinated people not needing to wear masks in most situations. 2021-06-30 20:29 5KB gizmodo.com

157

0.6

Hayao Miyazaki's Glorious Lupin III Movie Is Coming to Theaters in 4K

Lupin III: The Castle of Cagliostro was Miyazaki's first in the director's chair, and still remains one of the beloved Ghibli legend's finest movies. 2021-06-30 20:20 3KB gizmodo.com

158

0.6

Staples is practically giving away the Lenovo IdeaPad Flex 5 right now

The Lenovo IdeaPad Flex 5 has a hinge that allows you to manipulate its 14-inch touchscreen into several shapes, including a tent and tablet. 2021-06-30 20:17 2KB www.digitaltrends.com

159

0.5

Roku to Kick Off Its Own Slate of Originals With 'The Demi Lovato Show'

The show represents the first in a wave of new shows set to premiere on the Roku Channel 2021-06-30 20:16 2KB uk.pcmag.com

160

0.7

Pokemon Go Bidoof Special Research Branching Quest

Trainers, the Bidoof Day event is underway and a new free event-exclusive Special Research story and branching quest are now available for all players. 2021-06-30 20:16 4KB www.futuregamereleases.com

161

0.4

Micron Technology sees DRAM, NAND demand holding firm, supply tight through 2022

Micron's upbeat outlook comes amidst worries about the supply crunch and possibly over-ordering. 2021-06-30 20:12 2KB www.zdnet.com

162

1.3

Does the Nintendo Switch have Bluetooth?

Does the Nintendo Switch have Bluetooth wireless technology? If so, how do you connect Bluetooth headphones, controllers, or other accessories? 2021-06-30 20:10 2KB www.gamerevolution.com

163

1.0

Red Hat OpenShift 4.8 shines on CI/CD, serverless functions

Update to the Kubernetes-based application development platform also features sandboxed containers, which run in a lightweight virtual machine. 2021-06-30 20:09 1KB www.infoworld.com

164

0.5

Surprise, surprise! Microsoft exec says the government is spying on you

Intelligence agencies may have begun life as a good idea -- a way to keep their respective countries safe -- and in the beginning we mostly trusted them. But their overt secrecy soon became apparent with things like the famous Roswell incident and the best known 2021-06-30 20:03 2KB betanews.com

165

1.0

Shopify Launches Online Store Version 2.0

​Shopify is currently hosting its Unite conference and has announced the release of v 2.0 of the company's online store. With this update, Shopify has unlocked new opportunities for developers to build platform experiences and themes. The company has also provided guidance for upgrading themes. 2021-06-30 19:57 2KB www.programmableweb.com

166

0.9

This is the Google Pixel Buds deal you've been waiting for

Staples has a great deal on the Google Pixel Buds live right now. It's an opportunity to get the wireless earbuds and charging case for cheap. 2021-06-30 19:57 2KB www.digitaltrends.com

167

0.9

Deal Alert: Surface Book 3 i5(8GB+256GB) is $200 cheaper today

Amazon is offering a handsome $200 discount on Microsoft Surface Book 3. The i5 variant of the Book 3(8GB+512GB) is now available at a price point of $1,399.00, down from $1,599.99. If you do the math, that's an impressive $200.99 discount! The design of the Surface Book 3 remains the same, however, Microsoft has upgraded […] 2021-06-30 19:42 1KB mspoweruser.com

168

0.9

Right-Wing Media Outraged Energy Secretary Mentions Climate Change and Miami Condo Collapse

Secretary Granholm said that sea level rise may have played a role in Surfside's recent condo building collapse. Conservatives are freaking out. 2021-06-30 19:41 4KB gizmodo.com

169

0.8

NASA makes more than 800 innovations available to public

There are hundreds of programs in the agency's latest software catalog that the public can now download. 2021-06-30 19:40 3KB www.zdnet.com

170

0.5

Google Pay can securely store your COVID-19 vaccine info

The Google Passes API has been updated so you can access your COVID-19 vaccine passport or testing status from Google Pay on your phone. 2021-06-30 19:39 2KB www.xda-developers.com

171

0.0

Warhammer Vermintide 2 Update Adds Sister of the Thorn, Chaos Wastes to Consoles

The update is available for PlayStation and Xbox platforms 2021-06-30 19:32 2KB news.softpedia.com

172

0.4

Far-Right Site Gab Is Very Mad Their Favorite One-Term President Passed on Them

Gab's CEO, Andrew Torba, immediately spun up an anti-Semitic conspiracy theory to explain why Donald Trump joined video site Rumble instead. 2021-06-30 19:31 7KB gizmodo.com

173

0.5

Best audio PC in 2021: Digital Audio Workstations and audiophile machines

Looking for the best audio PCs and laptops? We list the top Digital Audio Workstations money can buy. 2021-06-30 19:21 6KB www.techradar.com

174

1.4

A new, gay Captain America can't save United States of Captain America #1

Marvel Comics' new series The United States of Captain America has Steve Rogers and Sam Wilson/the Falcon hunting down a killer who preys on — people who call themselves Captain America! 2021-06-30 19:17 1KB www.polygon.com

175

0.5

FPS documentary will capture the history of first-person shooter games

CreatorVC launched a Kickstarter campaign for its film FPS: First Person Shooter, which will chronicle first-person shooter games. 2021-06-30 19:15 3KB venturebeat.com

176

0.7

Apple Tips International Collection Bands for Apple Watch Ahead of Tokyo Olympics

The national-themed Sport Loop bands arrive just in time for the rescheduled games. 2021-06-30 19:14 2KB uk.pcmag.com

177

0.8

5 things I love about returning to the OnePlus 9 Pro, and 1 I want to love more

Three months after its release, I've returned to the OnePlus 9 Pro for a week to find five things that I love, and one that still needs attention. 2021-06-30 19:11 7KB www.digitaltrends.com

178

0.0

What we can learn from Google's cookie deprecation delay

Google threw speed bumps at the digital media industry Thursday when it pushed back third-party cookie deprecation by nearly two years. 2021-06-30 19:10 4KB venturebeat.com

179

0.4

Intel quietly delays next generation 'Sapphire Rapids' Xeon processors

Intel pushes the launch of its next-generation of data center processors to 2022. 2021-06-30 19:03 2KB www.techradar.com

180

0.4

iOS 15: How to use the radically new Safari browser

Using Safari after upgrading to iOS 15 can be disorienting. We'll walk you though the changes so you can quickly feel at home again. 2021-06-30 19:01 5KB www.macworld.com

181

0.0

The Forever Purge is a solid thriller until it falls into the tropes it's mocking

In the Forever Purge, the fifth movie in the long-running Purge franchise, the thrills are as good as ever, but the social commentary falls short, as a story about undocumented immigrants is ultimately more interested in their white employers. Opens in theaters on Friday, July 2, 2021 2021-06-30 19:00 1KB www.polygon.com

182

0.2

Life Under Antarctica Is Surviving on Pulverized Rock

Crushed rock pulled from deep below the ice let loose methane, ammonium, and other compounds Antarctic organisms rely on. 2021-06-30 18:52 4KB gizmodo.com

183

0.1

Grounded Shroom and Doom update patch notes

Check out all of the new additions and changes made to Grounded with the full list of Shroom and Doom update patch notes. 2021-06-30 18:45 2KB www.gamerevolution.com

184

0.9

4th of July mattress sale 2021: the best sales from Nectar, Purple, Casper and more

The 4th of July mattress sale event has arrived early, and we have all the best sales from Nectar, Purple, Casper, and more. 2021-06-30 18:35 1KB www.techradar.com

185

0.7

Epson DS-530 II Color Duplex Document Scanner

Highly accurate scanning to a single workstation 2021-06-30 18:34 5KB uk.pcmag.com

186

0.7

5 lines of code allowed attackers to wipe tons of data from popular hard drive

After a series of attacks last week, Western Digital says there's another exploit impacting My Book Live and My Book Live Duo hard drives. 2021-06-30 18:34 3KB www.digitaltrends.com

187

0.1

51 New Sci-Fi and Fantasy Books to Add to Your Reading List in July

In the mood for some page-turning? We've got you covered with tons of new genre fiction (and a few non-fiction picks too). 2021-06-30 18:30 14KB gizmodo.com

188

0.4

The Best Bluetooth Trackers for 2021

Are you constantly looking for your keys, wallet, phone, or remote? End the hunt with one of our top-tested Bluetooth trackers. 2021-06-30 18:29 6KB uk.pcmag.com

189

0.6

Should I buy a Chromebook?

Opting for a Chromebook could save you a lot of cash – provided it has everything you need. 2021-06-30 18:27 5KB www.techradar.com

190

0.7

Airbnb's Flexible Destinations feature is now live

Airbnb will now allow its users to search for unique places to stay with Flexible Destinations. This feature combines with Flexible Dates and Flexible Matching to make traveling easier. 2021-06-30 18:24 1KB www.neowin.net

191

0.0

You'll be able to find a cheaper RTX 3080 soon, but you shouldn't buy one yet - here's why

Cryptominers in China are selling off large quantities of Nvidia RTX and AMD Radeon graphics cards on the second-hand market, indicating that cryptomining demand is plummeting. 2021-06-30 18:16 4KB www.techradar.com

192

0.1

Four Predictions for Data Intelligence and the Consumer Identity Challenge

What is the future for data intelligence, and how can brands solve the consumer identity challenge while remaining privacy compliant? 2021-06-30 18:01 5KB www.eweek.com

193

0.7

Sharpen & Speed Up Your PC Games: Testing AMD's FSR, Nvidia's DLSS 2.2 & More

Sharpening, supersampling, or upscaling with technologies like AMD's new FidelityFX Super Resolution and Nvidia's DLSS 2.2 can supercharge your games' speed and looks. Here's everything you need to know about the latest game-boosting tech. 2021-06-30 17:59 34KB uk.pcmag.com

194

0.6

The Best TVs for Gaming

A responsive television with low input lag can mean the difference between winning and losing. Whether you use a PlayStation 5 or an Xbox Series S/X (or any other game console or PC), these are the best gaming TVs we've tested. 2021-06-30 17:59 8KB uk.pcmag.com

195

0.5

How to Deploy and Scale AI Analytics Across Your Enterprise

AI analytics unlocks effective bottom-up decision-making, while frontline teams are likely to find themselves entrusted with even greater decision-making authority and influence. 2021-06-30 17:58 7KB www.eweek.com

196

0.7

No, it's not just you – Google Analytics went down for a while

No, your server and site is OK and all your traffic has not just evaporated. Google Analytics appears to have gone down briefly, and real time tracking is currently unreliable. The issue has caused a lot of panic amongst site owners, but it appears to be confined to traffic monitoring. Google Analytics real time tracking […] 2021-06-30 17:53 1KB mspoweruser.com

197

0.0

Dueling Jungle Cruise Trailers Pit Emily Blunt Against Dwayne Johnson

The Disneyland-inspired action adventure comes to theaters and Disney+ on July 30 2021-06-30 17:50 2KB gizmodo.com

198

0.5

Samsung 55-Class Q70A QLED TV (QN55Q70AAFXA)

The fastest TV for gaming 2021-06-30 17:48 10KB uk.pcmag.com

199

0.7

Box CEO Aaron Levie: CIOs are driving significant digital transformation

Aaron Levie, CEO and co-founder of Box on a renaissance in enterprise software and IT and accelerated digital business transformation in the next normal. 2021-06-30 17:43 6KB www.zdnet.com

200

0.2

GamesBeat Decides: The best (and worst) Metroid games

With Metroid: Dread's recent announcement, we're in the mood to explore this franchise's past. That means it's time for another tier list. 2021-06-30 17:42 1KB venturebeat.com

201

0.2

Bluetooth is finally coming to airplane seatback entertainment systems

After years of warning passengers of the dangers of using Bluetooth devices aboard aircraft, United Airlines is adding support for the tech to its entire fleet. 2021-06-30 17:39 2KB www.digitaltrends.com

202

0.4

Sea of Thieves Season 3, A Pirate's Life, cross platform, Twitch drops and updates

Here's all the latest news from Rare's Sea of Thieves. 2021-06-30 17:36 4KB www.techradar.com

203

0.3

Forza Horizon 5's weather system makes me excited for Fable 4

Forza Horizon 5 is set to have a seasonal, localized weather system. But, with developer Playground Games also working on Fable 4, could we see this feature utilized in the upcoming action RPG? 2021-06-30 17:34 5KB www.techradar.com

204

0.3

With watchOS 8, Apple Wants to Help You Chill the Hell Out

Your Apple Watch will soon help you manage your stress. 2021-06-30 17:31 12KB gizmodo.com

205

0.2

Switching from a Mac to a Chromebook: Problems and solutions

This tutorial guides you through the process of switching from a Mac to a Chromebook. We discuss shortcuts, modifications, and apps. 2021-06-30 17:30 8KB www.xda-developers.com

206

0.6

The Smart Home Isn't Worth It

I'm not willing to jump through all the hoops needed to make my home barely smarter. 2021-06-30 17:30 8KB gizmodo.com

207

1.5

Two high-profile Microsoft presidents are leaving the company

Kate Johnson and Toni Townes-Whitley, two high-profile Microsoft presidents, have both announced they're leaving the company 2021-06-30 17:24 2KB www.zdnet.com

208

0.7

Google Cloud VMs vulnerable to hijack

Researcher claims vulnerability in key infrastructure can be exploited to gain root access to Google Cloud VMs. 2021-06-30 17:22 2KB www.techradar.com

209

0.4

Government Watchdog Finds Most U. S. Agencies Don't Even Know Which Face Recognition Systems They Use

"Thirteen federal agencies do not have awareness of what non-federal systems with facial recognition technology are used by employees," the report claims. 2021-06-30 17:20 4KB gizmodo.com

210

0.0

This Carved Snake May Have Been the Staff of a Stone Age Shaman

Measuring 21 inches long, the 4,400-year-old snake was carved from a single piece of wood. 2021-06-30 17:18 3KB gizmodo.com

211

0.1

Wyze Cordless Vacuum Review: Packs a budget-friendly punch

The Wyze Cordless Vacuum is one of the most affordable vacuum cleaners on the market, combining powerful cleaning with effective air filtration. 2021-06-30 17:16 6KB www.digitaltrends.com

212

0.0

Phantom Abyss Preview (PC)

Be the first to unlock the secrets of a temple maze 2021-06-30 17:15 2KB news.softpedia.com

213

0.6

A series of unfortunate events… Or more? What story the recent cybersecurity attacks could be telling

Recently there has been a dizzying number of major breaches disclosed within just months and sometimes weeks of each other. I've been paying close attention and doing a bit of research into the most recent data breaches, especially the more notable ones. The most recent heavily covered incident, the JBS hack, is already having an impact on the food industry. 2021-06-30 17:14 7KB betanews.com

214

0.1

The future of interactive characters, part 1/4: Twelve basic principles of behavior

Developers and players agree that innovation in character AI has largely come to a halt. This four-part series is about finding a way forward, and her 2021-06-30 17:11 14KB gamasutra.com

215

0.0

Couple Fined $18,000 for Digging Up 36 Endangered Joshua Trees

The duo dug up the iconic trees and then buried them in a hole like some kind of mafia hit on the endangered species. 2021-06-30 17:10 6KB gizmodo.com

216

0.9

ZTE Axon 30 Ultra 5G review

The ZTE Axon 30 Ultra 5G is a top-tier phone with good cameras, a great display, solid battery and other features, though its software isn't the most refined. If you want a flagship for less, this is the one to choose. 2021-06-30 17:09 11KB www.techradar.com

217

0.2

Ratchet & Clank: Rift Apart patch adds 120 Hz display mode

Insomniac Games has released a patch for Ratchet & Clank: Rift Apart, which includes various additions along with some general fixes and polishing. 2021-06-30 17:08 1KB www.vg247.com

218

0.3

What Is Clubhouse? The Invite-Only Chat App Explained

This invite-only, audio-based app is like listening in on someone else's phone call, legally. Here's what you need to know about Clubhouse for iPhone and Android, including how Elon Musk figures into its popularity. 2021-06-30 17:02 14KB uk.pcmag.com

219

0.5

Five tips for optimizing your IT team's time

Today, IT teams are short-staffed and overworked like never before. And COVID-19 has made IT professionals busier than ever, with record numbers of people working from home and using more technology resources from remote locations. This can lead to additional projects and even more support issues. IT teams are constantly juggling between day-to-day maintenance activities and more strategic, long-term projects that can drive innovation and have a positive impact on an organization. 2021-06-30 17:02 6KB betanews.com

220

1.3

Netflix's America: The Motion Picture fails at just about everything

The cast of America: The Motion Picture is hard to beat: Channing Tatum, Simon Pegg, Will Forte, Andy Samberg, Jason Mantzoukas, Olivia Munn, and many others star in this satire of America's founding. But the script, from Wonder Woman 1984 and Mortal Kombat writer Dave Callaham, is a bunch of references tied together with meta jokes about the story, and nothing more. The animation resembles The Venture Bros., and the director worked on Archer, but the humor is pure Family Guy. Streaming on Netflix now. 2021-06-30 17:01 1KB www.polygon.com

221

0.5

Sideshow's Dracula and Van Helsing Figures Are Delightfully Frightful

The Hammer Horror legends played by Christopher Lee and Peter Cushing step off the silver screen and onto your toy shelf. 2021-06-30 17:00 3KB gizmodo.com

222

0.4

Graphcore brings new competition to Nvidia in latest MLPerf AI benchmarks

Graphcore's score in BERT natural language training was the best score of any of the two-socket AMD systems submitted. 2021-06-30 17:00 14KB www.zdnet.com

223

0.3

Fans Believe Star Wars Jedi: Fallen Order 2 Will Be Announced At EA Play Live 2021

The much-anticipated Star Wars Jedi: Fallen Order 2 might be getting officially announced next month, or so do fans believe. 2021-06-30 16:54 2KB segmentnext.com

224

0.3

AOC Agon AGM700 Gaming Mouse

A budget FPS mouse that cuts some corners 2021-06-30 16:54 5KB uk.pcmag.com

225

3.6

The need for legislative reform on secrecy orders

On June 30, Tom Burt, Corporate Vice President, Customer Security & Trust at Microsoft, testified before the House Committee on the Judiciary. Here's his written testimony and a link to a video of the hearing. 2021-06-30 16:52 791Bytes blogs.microsoft.com

226

0.4

Apple goes retro with free downloads of OS X Lion and Mountain Lion

Apple is now offering free copies of Mac OS X Lion and Mountain Lion on its website. Here's how to find them. 2021-06-30 16:49 2KB www.macworld.com

227

0.8

Top 10 Jobs APIs for 2021

Developers looking to create applications for job seekers, or for those seeking to fill jobs, should check out the ProgrammableWeb Jobs category for the most suitable APIs. In this article, we highlight the ten most popular APIs from the Jobs category based on website user traffic. 2021-06-30 16:49 5KB www.programmableweb.com

228

0.8

Google Play System Update now shows percent progress on the boot animation

During Google Play System Updates, you'll soon be able to see the percent progress of the update being applied while the device is booting. 2021-06-30 16:48 2KB www.xda-developers.com

229

0.7

Little Tikes Is Roasting Parents With a 'Peloton' for Kids

The Pelican Explore & Fit Cycle brings the at-home fitness craze to the youth. 2021-06-30 16:45 2KB gizmodo.com

230

0.2

Is a Surface Pro 8 coming soon? A new Windows 11 feature adds to the evidence

Is a Surface Pro 8 on the horizon? A new clue is Windows 11's Dynamic Refresh Rate, an inking technology that uses a 120Hz screen. 2021-06-30 16:45 3KB www.pcworld.com

231

0.2

Major Linux RPM problem uncovered

Red Hat has used RPM for software package distribution for decades, but we now know RPM contained a nasty hidden security bug since Day One. It's now been unveiled and a repair patch has been submitted. 2021-06-30 16:43 3KB www.zdnet.com

232

0.8

To Conserve Battery Life, Windows 11 Can Automatically Adjust a Laptop's Refresh Rate

The feature can seamlessly lower the laptop's refresh rate from 120Hz down to 60Hz, and bring it back up again, depending on what you're doing. 2021-06-30 16:40 2KB uk.pcmag.com

233

1.2

Pokemon Go New Bonus Rewards Incoming

Trainers, a big collection of new bonus rewards was discovered in Pokemon Go's GM file, and trust me you're all going to love it. x5 Catch XP?! How does 2021-06-30 16:36 1KB www.futuregamereleases.com

234

0.2

The critical role of Zero Trust in securing our world

US Executive Order on Cybersecurity delivers valuable guidance for both public and private organizations to make the world safer for all. 2021-06-30 16:36 7KB www.microsoft.com

235

0.6

Google Launches 'Find Food Support' Tool to Combat Food Insecurity

The search tool includes over 90,000 places for food insecure individuals and families to find assistance. 2021-06-30 16:35 2KB uk.pcmag.com

236

0.4

A Man's Penis Broke Vertically During Sex—an Apparent Medical First

The awkward injury was surgically repaired and thankfully didn't lead to lasting disability, UK doctors say. 2021-06-30 16:35 4KB gizmodo.com

237

0.8

Media Molecule announces Megapenguin Rehatched, a community-driven tale built in Dreams

Megapenguin is back in Dreams, and this time he's... more buff than ever? 2021-06-30 16:33 4KB www.thumbsticks.com

238

0.7

Honor unveils X20 SE smartphone with Dimensity 700 chipset and 5G support

The Honor X20 SE is powered by the Dimensity 700 chipset and comes with 128GB of internal storage. It sports a 6.6-inch Full HD+ LCD and moving around the back, you get a triple camera setup. 2021-06-30 16:32 2KB www.neowin.net

239

0.3

Coming to Apple TV+: Negro League Baseball series about Leroy 'Satchel' Paige

Apple has a lot of original content on the way for its subscription streaming video service. Here's what you'll soon (and eventually) be able to watch. 2021-06-30 16:26 42KB www.macworld.com

240

0.3

Fireworks Being Banned as West Suffers Through Record Hot, Dry Weather

Officials are concerned that amid record heat and drought conditions, fireworks pose too much of a wildfire risk. 2021-06-30 16:25 4KB gizmodo.com

241

0.3

NASA's Hubble telescope has a mystery computer problem. Here's how they are trying to fix it

The 31 years-old Hubble Space Telescope has been on standby for two weeks, and NASA engineers are rushing to figure out what's wrong. 2021-06-30 16:21 7KB www.zdnet.com

242

0.1

Motorola Defy rugged smartphone review

An old brand is resurrected to take on a new, burgeoning market but will it work? 2021-06-30 16:20 5KB www.techradar.com

243

0.7

Samsung introduces Kiosk for contactless payment and ordering

Samsung has brought a new contactless payment and ordering solution, an all-in-one Kiosk, for its customers. This solution ensures minimal business downtime and is available in 12 countries. 2021-06-30 16:20 2KB www.neowin.net

244

0.5

Iron Harvest interview: A diesel punk vision of an alternate America

Iron Harvest's Operation Eagle DLC brings a new faction to the alternative Earth of 1920+: Usonia, its version of the United States. 2021-06-30 16:17 6KB venturebeat.com

245

0.2

Scarlet Nexus Psychokinesis Finish guide| How to do Psychokinesis Finish for Totally Lost

Totally Lost makes you perform three Scarlet Nexus Psychokinesis Finish skills. Here's what that means, how to do it, and which enemies to focus on. 2021-06-30 16:15 2KB www.vg247.com

246

0.5

Loki Brings It All Together By Breaking it All Apart

For the moment at least, it would seem that the show's thesis is that there's always strength in numbers. 2021-06-30 16:15 8KB gizmodo.com

247

1.6

Season 2 of Knockout City has been detailed within a new roadmap

It will include a new map, a new ball, and five new playlists. 2021-06-30 16:12 863Bytes www.gamereactor.eu

248

0.5

On the future of work, Apple is in retrograde

Apple denies the new world of remote work in favor of its own somewhat inflexible hybrid working policy. 2021-06-30 16:03 4KB www.computerworld.com

249

0.8

These are the best Microsoft Surface PCs: Tablets, laptops, and more

Looking for a new Surface but not sure which one is for you? These are the best Microsoft Surface PCs you can buy for different use cases. 2021-06-30 16:00 8KB www.xda-developers.com

250

0.5

Best ways to share big files in 2021: Cloud sharing large folders made simple

If you need to share big files online, there are various ways to do that, and we highlighted the best of them 2021-06-30 16:00 9KB www.techradar.com

251

0.3

Best mesh Wi-Fi system 2021: Top routers compared

With remote working and video calls becoming the "new normal," now is a good time to upgrade your Wi-Fi with the latest mesh networking systems for improved coverage. 2021-06-30 16:00 2KB www.zdnet.com

252

0.2

WhatsApp Spanish-Language Moderators Allege Pay Discrimination

In an internal letter to Facebook, WhatsApp, and the contract company Accenture, employees claim they've been denied a premium for years. 2021-06-30 16:00 3KB gizmodo.com

253

0.6

Get Razer's Basilisk Ultimate gaming mouse and a $50 Steam gift card for just $129.99

For a limited time, you can pick up the Razer Basilisk Ultimate wireless optical gaming mouse with a charging dock for $129.99. Boosting the bundle's value is... 2021-06-30 15:57 1KB www.techspot.com

254

0.8

Million Doge Disco is Pokemon Go meets Tamagotchi with real crypto

Million Doge Disco is an NFT-based mobile game that lets players earn real Dogecoin (DOGE) to make money. Here's the latest on a Million Doge Disco release date so players can start getting crypto via Android and iPhone (iOS). 2021-06-30 15:53 2KB www.gamerevolution.com

255

0.8

Tabletop exercises: Six sample scenarios

Tabletop exercises are a low-stress, high-impact way to test your plans for handling a crisis. Here are some tips for getting the most out of the process, plus six scenarios you can use to start your journey. 2021-06-30 15:53 1KB www.csoonline.com

256

0.8

Weav Co-Founder Discusses the Challenges of Developing a Universal API for Commerce Platforms

Weav, an API-first fintech infrastructure company, has set out to provide a universal API for commerce platforms and therein simplify the process of extracting valuable e-commerce business data. ProgrammableWeb spoke with Nadav Lidor to discuss Weav's mission and the challenges it has faced. 2021-06-30 15:52 12KB www.programmableweb.com

257

0.6

How employee demands for benefits have evolved — and how to measure up (VB Live)

The pandemic has impacted employee expectations for company benefits in a way that industries cannot back down from. 2021-06-30 15:45 4KB venturebeat.com

258

0.2

Playing The Last of Us without music feels too real

All gone. Spoiler warning: This article discusses plot points from throughout The Last of Us and its sequel. The Last of Us, the game that left … 2021-06-30 15:45 4KB www.eurogamer.net

259

0.4

Tech firms stay out of the office while Google starts work shuttle buses

Silicon Valley tech firms face a dilemma -- allow staff to work remotely or force staff back into the office and risk losing them. 2021-06-30 15:43 2KB www.zdnet.com

260

0.3

Sony Reportedly Wants $25,000 And 30% Earnings To Feature Your PlayStation Indie Game

Sony Interactive Entertainment has been gunning to support the indie scene on PlayStation, or at least based on official statements. 2021-06-30 15:40 2KB segmentnext.com

261

0.5

Visual Studio gets several accessibility updates

Software Development News Microsoft released new accessibility features for Visual Studio. The company calls for user feedback in order to achieve the best results. 2021-06-30 15:30 2KB sdtimes.com

262

0.4

A Nintendo Switch Online 12 month membership is now over 25% off

Nintendo Switch Online Membership for 12 months is now £12.99 at CD Keys. Find out all the best features about the nintendo membership and how to sign up. 2021-06-30 15:26 3KB www.vg247.com

263

1.2

The Best Webcams for 2021

If you want to look your best in video calls, your laptop's little camera won't cut it. Here's what you need to look for when shopping for the right add-on webcam, along with our product recommendations. 2021-06-30 15:20 1KB uk.pcmag.com

264

0.9

Top 7 games releasing in July – Monster Hunter, Zelda, Death's Door, and more

We highlight the biggest games coming to consoles and PC in July 2021.July is a decent month for games with something for everyone to be excited about. We might not be getting any massive AAA games but there is definitely no shortage of titles. In the video below we pick the seven biggest games of … 2021-06-30 15:04 1KB www.vg247.com

265

0.2

Starfox programmer wants to bring the series back without gimmicks

One of the original Star Fox programmers spoke about it in an interview. 2021-06-30 15:03 1KB www.gamereactor.eu

266

0.7

In Resident Evil: Infinite Dark, Democracy Dies in Conspiracy

Resident Evil: Infinity Dark's story about war, civil unrest, and a deadly plague feel almost too on-the-nose for this moment. 2021-06-30 15:00 5KB gizmodo.com

267

0.4

Russia Files Charges Against Tech Giants for Not Deleting Content

Facebook, Telegram and Instagram charged by Russian court 2021-06-30 14:55 2KB news.softpedia.com

268

0.4

Why a standing desk is an essential purchase in 2021

Owning a standing desk is a must-have in 2021. Working from home means a sit-stand setup is a must for maintaining good health and posture over time. 2021-06-30 14:54 2KB www.gamerevolution.com

269

0.3

Back pain? Amazon's tiny fitness tracker might be able to help

Amazon is rolling out a new feature for the Halo fitness tracker that helps you build functional strength for everyday tasks. 2021-06-30 14:53 3KB www.techradar.com

270

0.7

PUBG's new map has a Gulag-style second chance system

Birds of a feather glock together.   PUBG's much-teased Taego map has finally arrived on PC test servers, bringing with it some new … 2021-06-30 14:53 2KB www.eurogamer.net

271

1.1

Get 6 months of Disney+ free with Amazon Music Unlimited

New Amazon Music Unlimited customers can enjoy the Disney streaming service for free for half a year. 2021-06-30 14:51 1KB www.techadvisor.com

272

0.6

How to watch F1 races: Austrian Grand Prix

Here's how you can watch Formula 1 races on TV and online in the UK, and when to catch the action in Austria this weekend. 2021-06-30 14:47 9KB www.techadvisor.com

273

0.5

Renault's super cute, retro-inspired electric vehicle gets a release date – and a price tag

Renault confirms plans to manufacture the Renault 5 EV for a 2024 launch. 2021-06-30 14:46 2KB www.techradar.com

274

0.8

T-Mobile brings its Test Drive program to newer iPhones via eSIM

T-Mobile recently expanded its Test Drive program to include newer iPhones, and it sounds like a seamless way to take T-Mobile's network for a spin. 2021-06-30 14:40 1KB www.techspot.com

275

0.4

Bully 2 trends as WWE Superstar Mia Yim begs 'we need it'

Why is Bully 2 trending on Twitter in June 2021? Here's the need-to-know info on the much-anticipated Bully sequel trending via social media. 2021-06-30 14:39 2KB www.gamerevolution.com

276

0.7

WP Engine scraps WordPress development tool fee

WP Engine gives back to the WordPress community by making all Local tools and features free. 2021-06-30 14:34 2KB www.techradar.com

277

0.6

Escape From Tarkov Flea Market Requires Level 20

Escape From Tarkov has delved into a new patch, titled 0.12.11. After a fresh wipe, Battlestate Games usually does some tweaks and changes, such as 2021-06-30 14:32 1KB www.futuregamereleases.com

278

0.3

Guerrilla Mail secure email review

Discover why this platform offers some of the best temporary email services we've seen in our full Guerrilla Mail review. 2021-06-30 14:30 4KB www.techradar.com

279

0.0

Slack wants to put an end to nonstop meetings and Zoom calls

The collaboration platform on Wednesday unveiled a series of new features, including new audio and video tools that aim to make Slack "your virtual headquarters" 2021-06-30 14:30 4KB www.zdnet.com

280

0.8

Facebook updates Habitat environment to train 'embodied AI'

Facebook today announced Habitat 2.0, an updated version of its simulation environment, alongside new datasets and benchmarks. 2021-06-30 14:30 7KB venturebeat.com

281

0.7

Snap Partnership Brings Augmented Reality to Rakuten Viber's Messaging App

Viber joins the ranks of other multimedia messaging services, as Snapchat aims to expand into new territories. 2021-06-30 14:30 2KB uk.pcmag.com

282

0.8

How to watch The Good Fight season 5: stream online from anywhere

Christine Baranski is back for an explosive fifth season of this acclaimed spin-off series. Here we explain how to watch The Good Fight season five online, no matter where you are. 2021-06-30 14:26 3KB www.techradar.com

283

0.1

Ransomware: Exploring the Hidden Costs

Fines, lost business, laborious efforts to recover all factor into the true cost of ransomware. 2021-06-30 14:23 4KB www.csoonline.com

284

0.1

Janelle Monáe's Dirty Computer Will Expand in a New Sci-Fi Anthology Book

Janelle Monáe's story about time-travelling freedom fighters on the run from the law is getting an upgrade. 2021-06-30 14:20 3KB gizmodo.com

285

0.2

Pokemon Go Special Lure Modules, Pokemon Attracted to Rainy, Glacial, Mossy and Magnetic Lures

As you already know, we use Lure Modules to attract a certain type of Pokemon at the chosen PokeStop for 30 minutes. There are different Special Lures in 2021-06-30 14:12 1KB www.futuregamereleases.com

286

0.6

Sharp Aquos R6 Hands-On: This huge 1-inch camera sensor can't compensate for lackluster software processing

The Sharp Aquos R6 has some headline grabbing features -- but how does it perform? We test it against the Galaxy S21 Ultra and others. 2021-06-30 14:12 9KB www.xda-developers.com

287

0.9

YouTube Update Stirs Dead Space Reboot Rumors

Electronic Arts (EA) has managed to ignite recent rumors about a new Dead Space reboot in the works, either intentionally or coincidentally. 2021-06-30 14:06 2KB segmentnext.com

288

0.8

Netgear expands range of Wi-Fi 6 access points for SMBs

Netgear now has a range of WiFi 6 access point devices for the price conscious SMB segment. 2021-06-30 14:03 2KB www.techradar.com

289

0.1

Why Apple Arcade isn't the cross-platform utopia we were promised

Apple Arcade was meant to solve Apple's gaming woes. Instead, it's creating even more problems, forcing developers into compromises where no one wins. 2021-06-30 14:00 5KB www.digitaltrends.com

290

0.2

Work Safer from Home with WOT Browsing Security

If you've found yourself working from home or using your personal computer as a work machine, you're not alone. Many people have changed their work environment since the beginning of the pandemic, which shifts the responsibility of cybersecurity from your company to you. If you're looking to beef up the internet security on your computer, 2021-06-30 14:00 2KB www.xda-developers.com

291

0.8

PayPal makes in-store payments push as it launches Zettle POS reader in the US

With Zettle, PayPal will now be able to serve in-store small businesses in the US with a complete point-of-sale system and Zettle's new POS reader. 2021-06-30 14:00 3KB www.zdnet.com

292

0.5

Super Smash Bros. Ultimate patch makes adjustments to over 10 fighters

Alongside Tekken's Kazuya Mishima arriving in Super Smash Bros. Ultimate is a patch that includes fighter adjustments. 2021-06-30 13:58 1KB www.vg247.com

293

0.3

Quantum computing: This new approach could be the fastest path to real applications

Rigetti has designed a brand-new approach to building quantum processors that could pave the way for large-scale quantum computers. 2021-06-30 13:47 4KB www.zdnet.com

294

0.7

Editing out fake news

Fake news and misinformation have become commonplace in the political, economic, climatic, and social arenas in recent years and are amplified significantly by social media with important repercussions for political outcomes ... 2021-06-30 13:45 3KB techxplore.com

295

0.5

Ashampoo WinOptimizer

A new 'shampoo 2021-06-30 13:45 6KB uk.pcmag.com

296

0.8

How do we get to a possible future with AI? Meet the AI Adoption Maturity Curve

PROS Chief AI Strategist Dr. Michael Wu outlines a valuable maturity model for AI - something sorely needed as AI increasingly becomes a necessity and a commodity. 2021-06-30 13:42 23KB www.zdnet.com

297

0.8

The best Apple Watch bands and straps for 2021

These are the best Apple Watch bands and straps to stylize your timepiece. We've got a veritable feast of wrist-wear for every budget. 2021-06-30 13:42 12KB www.digitaltrends.com

298

0.5

The Xbox Wireless Headset is in stock - and at a discount

The well-reviewed Xbox Wireless Headset has been tough to track down since it launched back in March but it's now available once again - and at a small discount from Currys PC World. 2021-06-30 13:39 2KB www.eurogamer.net

299

0.9

Here Are 16 of the Best Astronomy Photos of 2021

This year's Astronomy Photographer of the Year competition received over 4,500 entries from both professional and amateur photographers. 2021-06-30 13:35 4KB gizmodo.com

300

0.5

This 'Thicc Charizard' Pokemon card is being sold for over $30,000

The Pokemon family is getting larger, as a range of Thicc Pokemon NFTs are storming digital markets. From Thicc Zubat to Thicc Charizard, you'll never look at your favorite Pokemon in quite the same way. 2021-06-30 13:33 2KB www.gamerevolution.com

301

0.7

AMD Radeon Adrenalin 2021 Edition Graphics Driver 21.6.2 Hotfix

Download AMD Radeon Adrenalin 2021 Edition Graphics Driver 21.6.2 Hotfix. OS support: Windows 7/8/10. Category: Graphics Cards 2021-06-30 13:32 2KB www.techspot.com

302

0.6

The Metaverse EFT will let you invest in stocks that are the internet's future

The metaverse may be the receptacle for our dreams of the future, but you can invest in it now. 2021-06-30 13:30 9KB venturebeat.com

303

0.9

Google Chrome prepares to add an HTTPS-only mode for more secure web browsing

Google Chrome is preparing to add a new HTTPS-only mode that will upgrade all your connections to the HTTPS protocol automatically. 2021-06-30 13:26 2KB www.xda-developers.com

304

0.4

Vin Diesel Still Has Hopes For Riddick's Future

Plus, Star Trek's Alex Kurtzman has some all-singing, all-dancing ideas for the franchises 'Short Treks' anthology. 2021-06-30 13:25 3KB gizmodo.com

305

0.6

How to use WhatsApp

WhatsApp, a free text and VoIP app, uses Wi-Fi and cellular data and offers a profusion of features. We show you how to get the most out of it. 2021-06-30 13:24 9KB www.digitaltrends.com

306

0.5

Using TLS to Avoid Detection is On the Rise

Hiding in encrypted traffic is the newest way to breach a network and do damage. Here's how security leaders can guard against this tricky tactic. 2021-06-30 13:14 3KB www.csoonline.com

307

0.7

MWC 2021 news, dates and everything so far from the big smartphone show

MWC 2021 is almost over - here's everything significant that's been announced. 2021-06-30 13:12 8KB www.techradar.com

308

0.7

Orange builds experimental 'zero-touch' 5G network

Network will give Orange an idea of how networks of the future will run 2021-06-30 13:08 3KB www.techradar.com

309

0.7

Combine XDR with Human Threat Hunters to Help Halt Cyber Attacks

Stealthy hackers use common IT tools to pull off exploits and move around in networks. XDR, combined with skilled human threat detection, recently helped thwart a potentially damaging attack. 2021-06-30 13:03 3KB www.csoonline.com

310

0.8

HP Elite Dragonfly Max review: A work-from-home dream machine

If you're a businessperson who lives on Zoom and has a serious budget, then the HP Elite Dragonfly Max is for you. 2021-06-30 13:00 20KB www.digitaltrends.com

311

0.9

T-Mobile lets iPhone users try out its network for free without swapping SIMs

If you have an unlocked iPhone, T-Mobile is offering a free 30-day network trial with 30GB data and unlimited text and talk. 2021-06-30 13:00 2KB www.xda-developers.com

312

0.4

Amazon Halo

A smart band for better health 2021-06-30 13:00 28KB uk.pcmag.com

313

0.3

Durabook S14I

Take a licking, keep on clicking 2021-06-30 12:53 10KB uk.pcmag.com

314

0.5

Mushkin Gamma

This budget SSD maker is picking up the pace 2021-06-30 12:52 9KB uk.pcmag.com

315

0.6

Apex Legends Bangalore Edition turns the soldier into a superhero

Apex Legends Bangalore Edition contains some sweet exclusive cosmetics, but is it worth the asking price? Here's the need-to-know info on if the Apex Legends Bangalore Edition is worth it. 2021-06-30 12:52 2KB www.gamerevolution.com

316

0.3

Supply Chain Attacks on Docker and Kubernetes Increased

New worrying patterns in Virtual Environments hacking 2021-06-30 12:51 2KB news.softpedia.com

317

0.2

Former Googlers launch Neeva, a $4.95 p/m search engine with no ads and a privacy focus

Sridhar Ramaswamy and Vivek Raghunathan, two former Google executives (about 30 percent of their company's staff are ex-Googlers), hope their newly launched search engine Neeva will be... 2021-06-30 12:47 2KB www.techspot.com

318

0.5

19 Tricks to Master Google Photos

Unlimited photo storage may be gone, but Google Photos still has plenty to offer. Here's everything you need to know about Google's photo storage and editing service. 2021-06-30 12:45 13KB uk.pcmag.com

319

0.8

Best fax machines of 2021: 5 top picks for sending faxes

Still rely on sending and receiving faxes? Here's our pick of the best fax machines of 2019 2021-06-30 12:40 3KB www.techradar.com

320

0.4

Advancing safe deployment with AIOps—introducing Gandalf

The continuous monitoring of health metrics is a fundamental part of this process, and this is where AIOps plays a critical role. In the post that follows, we introduce how AI and machine learning are used to empower DevOps engineers, monitor the Azure deployment process at scale, detect issues early, and make rollout or rollback decisions based on impact scope and severity. 2021-06-30 12:37 11KB azure.microsoft.com

321

0.2

Call of Duty: Modern Warfare's disappearing maps are back

A ghost from the past.  Remember those Call of Duty: Modern Warfare maps that were surprise-added ( and then removed ) earlier this year? Well, … 2021-06-30 12:32 2KB www.eurogamer.net

322

0.3

KVM flaw on AMD servers gave malicious VMs a route to take over the host

Vuln thankfully patched following Google Project Zero disclosure 2021-06-30 12:26 5KB www.theregister.com

323

1.0

FTX Crypto Stock: What is the Tom Brady crypto price?

FTX crypto stock is a hot-button topic and is the latest example of celebrities getting involved in cryptocurrencies. Here's what the current value of Tom Brady crypto is, and how his involvement might help boost the currency. 2021-06-30 12:14 2KB www.gamerevolution.com

324

0.0

SaaS misconfigurations are putting businesses at serious risk

An excess of tools is preventing CISOs from conducting security audits regularly. 2021-06-30 12:14 2KB www.techradar.com

325

0.6

These are the Best File Manager apps for Android: Files by Google, Cx File Explorer, MiXplorer Silver, and more!

File manager can be a very useful tool on Android. And, there are tons of on them in Google Play. We've selected the best for you. 2021-06-30 12:10 7KB www.xda-developers.com

326

0.6

Check out this modern take on the classic luggable PC

Luggable PCs, which first arrived in the early 1980s, could weigh between 15 and 30 pounds and were usually only slightly easier to move around than a... 2021-06-30 12:10 2KB www.techspot.com

327

0.5

When To Rewrite

A working system is a valuable asset. It works. It lets you test new ideas cheaply. Don't take that for granted. 2021-06-30 12:01 5KB gamasutra.com

328

1.2

Hiber raises $15M for user-generated games created with phones

Hiber has raised $15 million in a second round of funding for its user-generated content platform on the web. 2021-06-30 12:00 5KB venturebeat.com

329

0.8

Best coding bootcamp 2021: Reputable coding camps

A reputable coding camp is an alternative to the four-year commitment of obtaining a computer science degree at a college or university. Graduates of the best coding camps generally are ready for many high-demand jobs. 2021-06-30 12:00 2KB www.zdnet.com

330

0.4

Kevin Feige confirms Abomination is in Shang Chi – what does it mean for the MCU?

Kevin Feige has confirmed the new trailer for Shang-Chi shows off Abomination and Wong, so what does this mean for the MCU? 2021-06-30 11:58 2KB www.techradar.com

331

0.3

Brazilian banks see evolution of mobile channels during Covid-19

Financial inclusion via the national emergency aid scheme and the roll-out of instant payments are among the factors boosting adoption of mobile platforms, which account for more than half of all banking transactions in Brazil, according to research. 2021-06-30 11:45 3KB www.zdnet.com

332

0.7

Revealed: Why Windows Task Manager took a cuddlier approach to (process) death and destruction

Won't someone think of the children 2021-06-30 11:44 4KB www.theregister.com

333

0.7

The best antivirus software 2021

Discover the best antivirus to keep your devices safe and sound. Choose the right virus protection with free antivirus and business solutions included. 2021-06-30 11:41 24KB www.techradar.com

334

0.5

WhatsApp's Expiring Media feature starts rolling out on the beta channel

WhatsApp has finally started rolling out its expiring media feature on the beta channel, allowing users to share disappearing photos, videos, and GIFs with friends. 2021-06-30 11:32 2KB www.xda-developers.com

335

0.3

Drop Fake raises $9M to hit the reset button for gaming authenticity

Drop Fake has raised $9 million in seed round funding for a game studio that focuses on authentic fan experiences. 2021-06-30 11:30 7KB venturebeat.com

336

0.7

REvil affiliates offer hefty ransom discounts, data reveals

REvil or Sodinokibi ransomware activity is higher than ever, but its success appears to be relative, with some affiliates prepared to dramatically cut their prices 2021-06-30 11:30 4KB www.computerweekly.com

337

0.7

Samsung takes back smartphone market share from Apple in Korea

Samsung has reclaimed some of its lost smartphone market share from Apple in South Korea during the first quarter from launching the Galaxy S21 series earlier than usual. 2021-06-30 11:19 2KB www.zdnet.com

338

0.3

GeForce GTX 1060 Revisit: A Good Buy in 2021?

For around $300 on the second hand market, the GeForce GTX 1060 6GB should deliver solid performance for 1080p PC gaming and then some. Let's check out... 2021-06-30 11:13 13KB www.techspot.com

339

0.8

What is 4K resolution? Our guide to Ultra HD viewing

4K resolution features in more televisions than ever – but what does that mean for viewers? 2021-06-30 11:06 15KB www.techradar.com

340

1.0

Match-3 team at Turkey's Dream Games raises $155M at $1B valuation

Dream Games has raised $155 million at a valuation of $1 billion thanks to its focus on match-3 casual mobile games. 2021-06-30 11:00 4KB venturebeat.com

341

0.3

Breath of the Wild's weapons are a window into the heart of video games

Spirited away. I'm a little late to this particular party. Nintendo's E3 direct was a solid two weeks ago and the ensuing conversation, about … 2021-06-30 11:00 11KB www.eurogamer.net

342

0.7

Reputation Management: Duking It Out With Doxing

Cancel culture and politics aside, one of the more brutal threats lurking in the shadows of the internet is the slander industry. All too often, unsuspecting people become victims of websites that promote slanderous, often unverified information about individuals. This false and vilifying information lives on the internet forever and can sully an otherwise spotless reputation. 2021-06-30 11:00 9KB www.technewsworld.com

343

1.7

Cooking Pal Multo review: This beastly smart appliance wants to take over your kitchen

Promising to automate meal prep for novice chefs and people who are too busy to cook, the Multo and its companion tablet handles most of your food prep and cooks everything, too. 2021-06-30 11:00 743Bytes www.techhive.com

344

0.7

Cheap printer paper: Huge savings at Staples today

Save big on a wide variety of different printer and copy paper at Staples right now. 2021-06-30 10:59 2KB www.digitaltrends.com

345

1.2

Best smart plugs and switches 2021: ranking the top smart plugs and switches we've tested

The best smart plugs and switches we've tested for your smart home 2021-06-30 10:53 2KB www.techradar.com

346

0.2

LinkedIn denies exposure of 700 million user records is a data breach

Data relating to 700 million users of the LinkedIn networking platform has appeared for sale, but the firm says it is the victim of data scraping, not a breach 2021-06-30 10:53 5KB www.computerweekly.com

347

0.3

NIST defines "critical software" with a broad range of security functions

The goal is to enable stronger security practices for government-purchased software mandated by President Biden's cybersecurity executive order. 2021-06-30 10:48 6KB www.csoonline.com

348

0.3

UK data exchanges with EU can continue after adequacy decision - but for how long?

The European Commission finally granted the UK data adequacy yesterday, only two days before the expiry of the extended transition period for data flows. This means that, for now, European businesses can continue to send data to the UK without additional safeguards and paperwork. This is great news for UK plc, especially the tech sector, but there's a sting in the tail.   The UK adequacy decision is uniquely vulnerable. It has a sunset clause, so will have to be formally reviewed and re-presented for approval in 2025.    It will be under continuous review because the Commission, the European Parliament and the European Data Protection Board all fear that the UK intends to diverge significantly from the approach to data protection enshrined in the GDPR. 2021-06-30 10:45 2KB www.computerweekly.com

349

0.6

The best electric toothbrushes 2021: get the best possible clean

Get a deeper clean and improve your technique with the best electric toothbrush for your budget. 2021-06-30 10:33 7KB www.techradar.com

350

0.1

Best cordless vacuum 2021: ranking the top stick vacuums for pet hair and hardwood floors we've tested

the best cordless vacuums, including stick vacuums from Dyson, Shark, and more 2021-06-30 10:32 5KB www.techradar.com

351

0.5

Three laptop ports you can't live without

Which ports are the most important to have on your laptop right now, in 2021? Here's our take. 2021-06-30 10:30 5KB www.pcworld.com

352

0.8

We're playing Alex Kidd in Miracle World DX on today's GR Live

The game is a remake of one of SEGA\'s earliest platforming classics. 2021-06-30 10:21 874Bytes www.gamereactor.eu

353

0.7

Interxion creates London-wide colocation datacentre hub through £1.1m fibre cable roll-out

Colocation giant Interxion has invested £1.1m in a network roll-out that will connect up eight of its London-based datacentres. 2021-06-30 10:15 3KB www.computerweekly.com

354

0.5

iPhone 13 and iPhone 13 Pro design leaked in dummy unit photos

The iPhone 13 range has leaked yet again, this time giving us a good look at the likely design and camera. 2021-06-30 10:10 2KB www.techradar.com

355

1.1

Microsoft release June 2021 Update for Surface Duo (changelog)

Yesterday Microsoft released their monthly update for the Surface Duo, taking it to build 2021.525.62  (North America) and 2021.525.64 (Europe). The update weighs in at 84 MB and contains the June Android security update, and some minor improvements. The official changelog is now available and reads: This update: Android security update – June 2021. Improve device […] 2021-06-30 10:01 1KB mspoweruser.com

356

0.4

Kim Jong Un Warns of 'Great Crisis' in North Korea During Cryptic Speech About Covid-19

North Korea officially claims to have zero cases of coronavirus. 2021-06-30 10:00 3KB gizmodo.com

357

0.7

The M1, macOS Monterey and the next Mac power shift

While the Mac isn't going to stop being a power tool, the next few years will change its nature in some fundamental ways. 2021-06-30 10:00 5KB www.macworld.com

358

0.9

IKEA Tradfri wireless control outlet review

The IKEA Tradfri wireless control outlet is a simple-to-use smart plug that works with the IKEA Tradfri GATEWAY. It can be controlled via Alexa, Google Assistant or HomeKit. 2021-06-30 10:00 5KB www.techradar.com

359

0.2

Rust tutorial: Get started with the Rust language

How to get your feet wet using Rust's tool chain, creating projects, working with third-party code, and managing libraries. 2021-06-30 10:00 9KB www.infoworld.com

360

1.0

How to use filters in ASP. NET Core MVC

Take advantage of filters to execute custom code at specific points in the request processing pipeline and avoid code duplication across actions. 2021-06-30 10:00 5KB www.infoworld.com

361

0.7

Why private cloud is among the elite

Discover why private cloud, a single-tenant environment, is rapidly becoming the industry's top choice. 2021-06-30 09:48 6KB www.techradar.com

362

0.2

Tour technology: It's a lot more than bike and rider these days

When cycling grand tours were first getting started more than one hundred years ago, things were a whole lot different. Bike frames and hardware hailed mostly from Italy and, while that hasn't completely changed, riders no longer cover 300 miles in a stage, have to take naps during a stage, change their own tires or, as happened on at least once occasion, stop to weld a broken frame along the way. 2021-06-30 09:38 3KB betanews.com

363

0.1

Singapore startup touts need to mitigate risks, automate cloud security

Every business whether large or small is a target and should look at minimising security risks, especially as more move to the cloud, says the CEO and co-founder of Singapore-based Horangi, which peddles cloud compliance automation tools. 2021-06-30 09:37 4KB www.zdnet.com

364

0.7

Shopify unveils its vision for the future of ecommerce

The ecommerce platform has revealed a host of new features and functions at its Shopify Unite event. 2021-06-30 09:23 3KB www.techradar.com

365

0.5

Long-lost Minecraft build found via an old tweet

Nether say nether.  If you've ever felt bad about keeping all your old files in a mess, here's something to make you … 2021-06-30 09:19 3KB www.eurogamer.net

366

0.8

This kids' fitness tracker lets your little ones make video calls from their wrists

The TCL MoveTime Family Watch 2 includes a front-facing camera for selfies and video chats, plus improved GPS. 2021-06-30 09:12 2KB www.techradar.com

367

0.6

Best access control systems of 2021

We feature the best access control systems currently available: we've done all the research and found the best systems for businesses, government, healthcare and more. 2021-06-30 09:08 14KB www.techradar.com

368

0.3

Xiaomi Mi 11 Ultra Review: The best hardware in a Xiaomi phone yet

The Xiaomi Mi 11 Ultra is a fantastic smartphone with amazing hardware, but software problems with MIUI 12.5 have soured the experience. 2021-06-30 09:00 22KB www.xda-developers.com

369

0.1

How to test the impact of new Windows DCOM Server authentication

Microsoft has hardened authentication for its DCOM Server in response to a vulnerability. Check for the impact on your network now before the change becomes permanent. 2021-06-30 09:00 2KB www.csoonline.com

370

0.5

Post-pandemic recovery drives NHS digitisation

NHS staff see a role for remote healthcare, to enable the health service keep up with increased demands 2021-06-30 09:00 3KB www.computerweekly.com

371

0.7

XDA Basics: How to Set up Face Unlock or Face ID on your iPhone and iPad

Here's how you can set up Face ID or Face Unlock on your iPhone or iPad to keep it secure and make unlocking the phone more convenient. 2021-06-30 08:51 2KB www.xda-developers.com

372

0.2

Playing with expectation to create tension in Local Space Survey Corps, LLC's

Vessels is a game of ever-shifting identities and pretending to be who you need to be to stay alive, doing anything you can to get out of being dumped 2021-06-30 08:28 10KB www.gamasutra.com

373

3.5

Key Loki character deaths leave episode 4 viewers stunned

"Is Mobius dead in Loki?" will be one of the big questions fans are asking at the end of episode 4. Here's the need-to-know info on Owen Wilson's character. 2021-06-30 08:24 2KB www.gamerevolution.com

374

2.6

You can pre-register for Marvel Future Revolution now

The game will be available on iOS and Android devices. 2021-06-30 08:06 551Bytes www.gamereactor.eu

375

0.7

Asus ZenFone 8 & 8 Flip: Everything you need to know

The Asus ZenFone 8 ditches the series' iconic camera for a compact form factor, but the less powerful ZenFone 8 Flip keeps it around for the faithful. 2021-06-30 07:58 1KB www.techadvisor.com

376

0.2

How to watch Euro 2020

Euro 2021, or Euro 2020 as it's still officially known, is now well underway. Here's how to watch all the quarter-final action live and for free. 2021-06-30 07:30 8KB www.techadvisor.com

377

1.2

Naver founder offers belated apology after employee suicide

Naver founder has apologised for the suicide of an employee who allegedly suffered from overwork and bullying. 2021-06-30 07:17 2KB www.zdnet.com

378

0.1

Master the macOS command line: How to delete files and folders using Terminal

When it comes to quickly taking care of daily tasks, the command line can be both powerful and dangerous. Take the commands in this article … 2021-06-30 07:15 5KB www.macworld.com

379

0.5

QNAP TS-130 review

The QNAP TS-130 offers an affordable way to upgrade your network to the next level. 2021-06-30 07:07 7KB www.techradar.com

380

0.8

Google Messages now lets you star messages so you can find important texts

You can now star messages in Google Messages, making it easier to find important texts quickly. The feature is rolling out to all users. 2021-06-30 07:02 2KB www.xda-developers.com

381

0.4

Dell release fix for remote exploit BIOS flaw affecting 30 million laptops, download yours now

We wrote last week of a flaw in Dell's remote BIOS update software that opens Dell laptops up to a man in the middle attack which allows attackers to remotely execute code within the BIOS of up to 129 different Dell laptop models. "Such an attack would enable adversaries to control the device's boot process […] 2021-06-30 07:00 2KB mspoweruser.com

382

0.1

Pride Week: Finding Queerness in Larp

An introduction to the LGBT+ live-action role-playing scene. Hello! All this week Eurogamer is celebrating Pride with a series of stories examining the confluence … 2021-06-30 07:00 6KB www.eurogamer.net

383

0.7

NSW government expands QR code check-in mandate to workplaces and beyond

Workplaces, universities, schools, TAFE, supermarkets, and more will be required to use a Service NSW QR code from July 12. 2021-06-30 06:52 4KB www.zdnet.com

384

1.1

Lakehouse concept aims to merge data lake and data warehouse

Data lakes are big, amorphous and difficult to access. Data warehouses are costly and aimed at structured data. The data lakehouse aims at analytics in an age of unstructured data 2021-06-30 06:45 1KB www.computerweekly.com

385

0.2

Ethical hacking: What, why, and overcoming concerns

Declan Doyle, head of ethical hacking at the Scottish Business Resilience Centre, explains why and how hitting yourself with a cyber attack can help improve your security. 2021-06-30 06:30 1KB www.computerweekly.com

386

0.8

Rigetti unveils the world's first multi-chip quantum processor for scalable quantum computers

Rigetti has introduced a novel modular chip design that will help scale up quantum computers. The chip will feature in an 80-qubit quantum computer that will be revealed by the end of this year. 2021-06-30 06:14 2KB www.neowin.net

387

0.5

Best WFH apps of 2021: services for work from home employees and remote workers

These are the best WFH apps to bring office-level efficiency to a home working environment. 2021-06-30 05:25 4KB www.techradar.com

388

0.8

Google Camera Port Hub: Get the best GCam APK for Samsung, Xiaomi, Redmi, and other phones!

This is a hub for all the various Google Camera ports for devices from Google, Samsung, Xiaomi, Motorola, ASUS, Nokia, and many more. 2021-06-30 05:15 1KB www.xda-developers.com

389

0.3

South Korea to allocate more 5G spectrum in November

The country's tech ministry is hoping that more spectrum becoming available will lead to the development of new services in sectors such as smart farming and robotics. 2021-06-30 05:02 2KB www.zdnet.com

390

0.4

The Nikon Zfc's substance doesn't quite match its iconic style

The Nikon Zfc is one of the best-looking cameras you can buy, but established retro rivals hold one big advantage over the DX star. 2021-06-30 05:00 6KB www.techradar.com

391

0.9

Adobe Spark review

Find out whether you should use this popular media creation platform in our complete Adobe Spark review. 2021-06-30 04:48 5KB www.techradar.com

392

0.1

Trellis Data using machine learning to analyse shipping containers entering Australia

Working with the Department of Agriculture, Trellis Data is analysing shipping containers using its machine learning technology to determine any biosecurity risks to Australia. 2021-06-30 04:48 2KB www.zdnet.com

393

0.5

SoftBank attributes having enough Pepper robots for decision to halt its production

The robotics arm of SoftBank is undergoing restructuring, but the decision to halt production of its humanoid Pepper robot was something separate, a company spokesperson said. 2021-06-30 04:44 2KB www.zdnet.com

394

0.7

Quizziz raises $31.5M to motivate students with gamified lessons

Quizziz has raised $31.5 million so that it can motivate students with gamified quizzes and interactive lessons. 2021-06-30 04:30 3KB venturebeat.com

395

0.6

Higher NBN speeds and changing retailers does not make web browsing faster: ACCC

A user's internet connection speed does not impact web browsing as much as page design, numbers of ads, and how heavy it is. 2021-06-30 04:18 3KB www.zdnet.com

396

0.6

Awesome spacewalk time-lapse shows a day at the office 250 miles up

Watch this awesome time-lapse showing two astronauts busily working during a recent spacewalk outside the International Space Station. 2021-06-30 04:00 2KB www.digitaltrends.com

397

0.4

India to open-source its Co-WIN national vaccination booking platform

An eager queue has already formed in Asia, Latin America, and Africa — but do those nations know about the glitches, or the digital divide issues? 2021-06-30 03:58 1KB www.theregister.com

398

0.7

Samsung carbon emissions rise despite 100% renewable energy in China, Europe, the US

The Galaxy smartphone maker has failed to meet its emissions target for 2020, releasing more than double the target amount. 2021-06-30 03:39 3KB www.zdnet.com

399

0.1

Carrier suspected of injecting ads into two-factor SMS messages

An unidentified carrier is suspected of injecting advertisements into two-factor authentication SMS messages from Google. 2021-06-30 03:30 2KB www.xda-developers.com

400

0.3

NSA Denies Tucker Carlson Show Worth Sabotaging

"Tucker Carlson has never been an intelligence target of the agency," the NSA said. 2021-06-30 03:05 3KB gizmodo.com
Articles
DC5n United States software in english 400 articles, created at 2021-07-01 02:32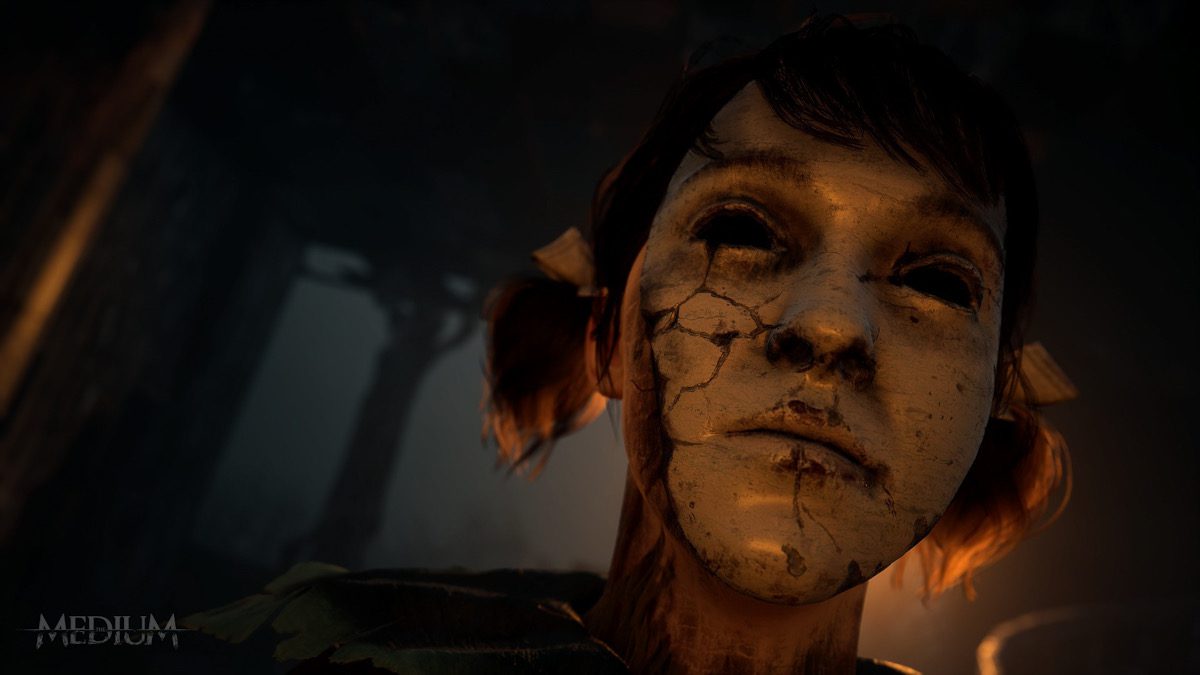 In a new partnership, Bloober Team, creators of The Medium, will be teaming up with Konami, publishers of the Silent Hill series, to reportedly create a new game in the franchise. This "strategic cooperation agreement" between Bloober Team and Konami will "include jointly developing selected contents and exchanging know-how," according to Bloober Team's press release about this new partnership. It's not been officially confirmed what Bloober Team might be working on alongside Konami, however, VGC reports that "one of the projects it's working on is Silent Hill related," which corroborates past rumours and reports we've heard as well. It's believed that this won't be the only Silent Hill in development at the moment, as VGC has also reported previously that a "prominent Japanese developer" is also creating a game for the franchise, which should be revealed later this summer. This all but confirmation that Bloober Team is working on a Silent Hill game should be great news to fans of the franchise, as The Medium was a fantastic horror adventure that used the best of the new generation's hardware. In our review, we thought that The Medium was a "deeply captivating and powerful experience," so they should do wonders with Silent Hill.

Silent Hill Reboot Rumors Fly As Konami Partners With Bloober Team
segmentnext.com
The Medium dev Bloober Team partners with Konami, intensifying rumors of new Silent Hill game
techspot.com
Konami and Bloober Team enter strategic partnership
gamereactor.eu
The Medium dev Bloober Team working with Konami on new projects
vg247.com
Konami/Bloober Team partnership adds more fuel to rampant Silent Hill rumors
digitaltrends.com
Konami deal sets Silent Hill fan tongues wagging
eurogamer.net
Bloober and Konami team up for what's probably Silent Hill
pcgamesinsider.biz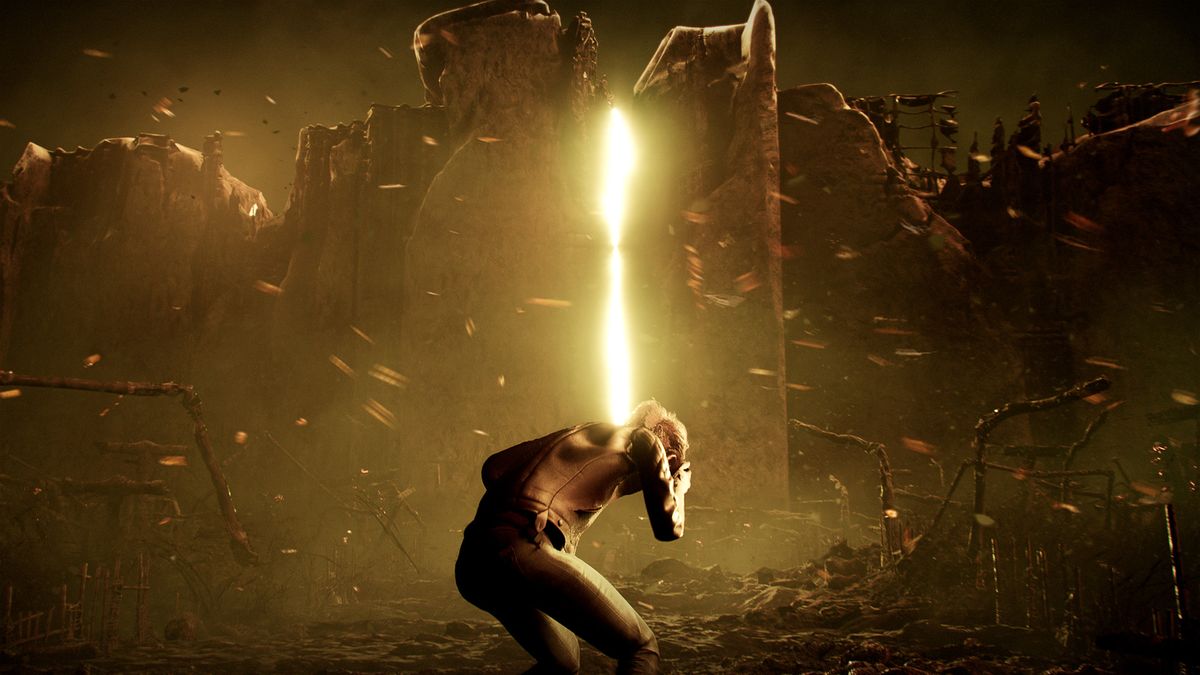 Silent Hill reboot rumors resurrected as Konami pairs with the perfect developer
techradar.com
New Silent Hill game could be in development, but fans are worried
gamerevolution.com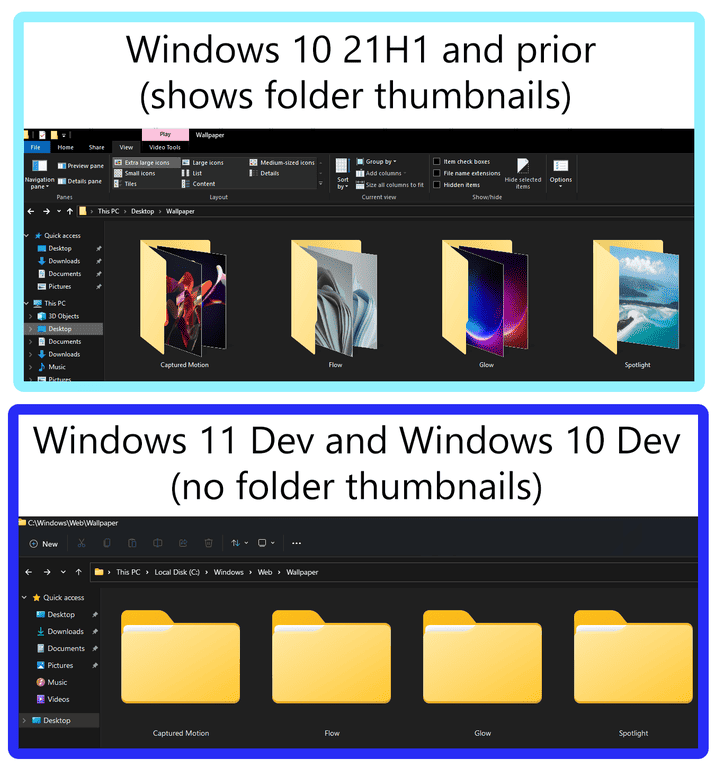 When Microsoft introduced new folder icons for what turned out to be Windows 11, the long-awaited design update was much lauded, such that we did not even notice that we were losing a major feature. It turns out the new shell icons in Windows 11 no longer show previews of the content of the folders. Noticed by OmNomDeBonBon on the Windows 11 Subreddit, the change means you can no longer easily see what kind of files are inside a folder. The change may explain some of the speed improvements in Windows 11, and it is not clear if Microsoft plans to bring the feature back again. There is an additional question of what such previews would look like with the horizontal folders, with some Windows 11 users suggesting the Windows XP-style thumbnails would be the perfect solution. Did any of our readers notice this change, and do you prefer the new look? Let us know below.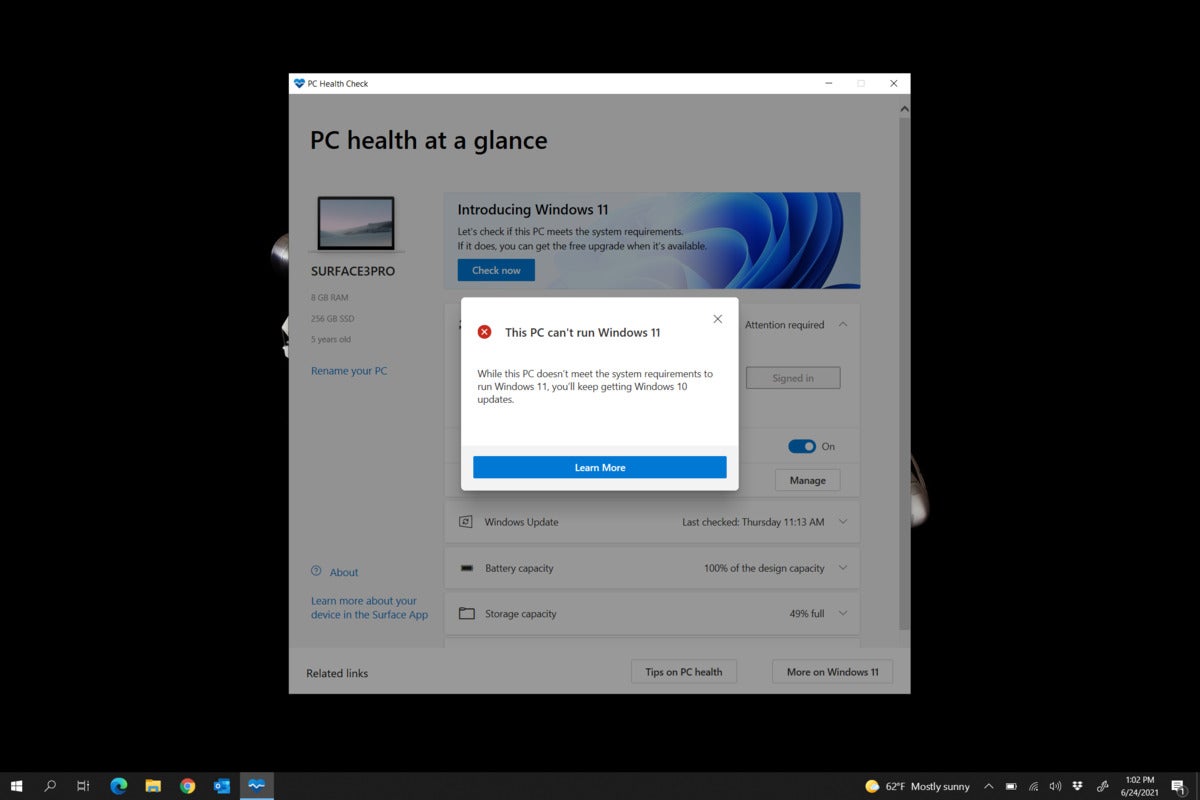 Microsoft explains why you'll need a TPM for Windows 11
pcworld.com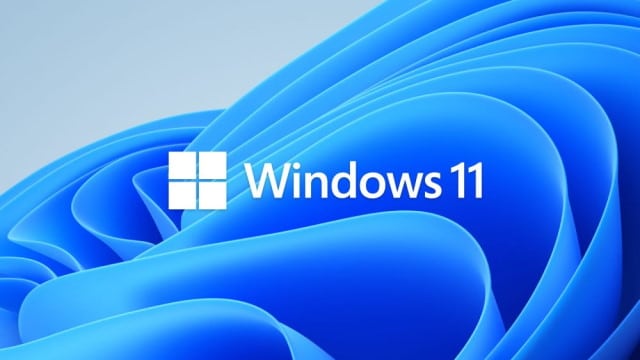 The Windows 11 release date is almost certainly in October
betanews.com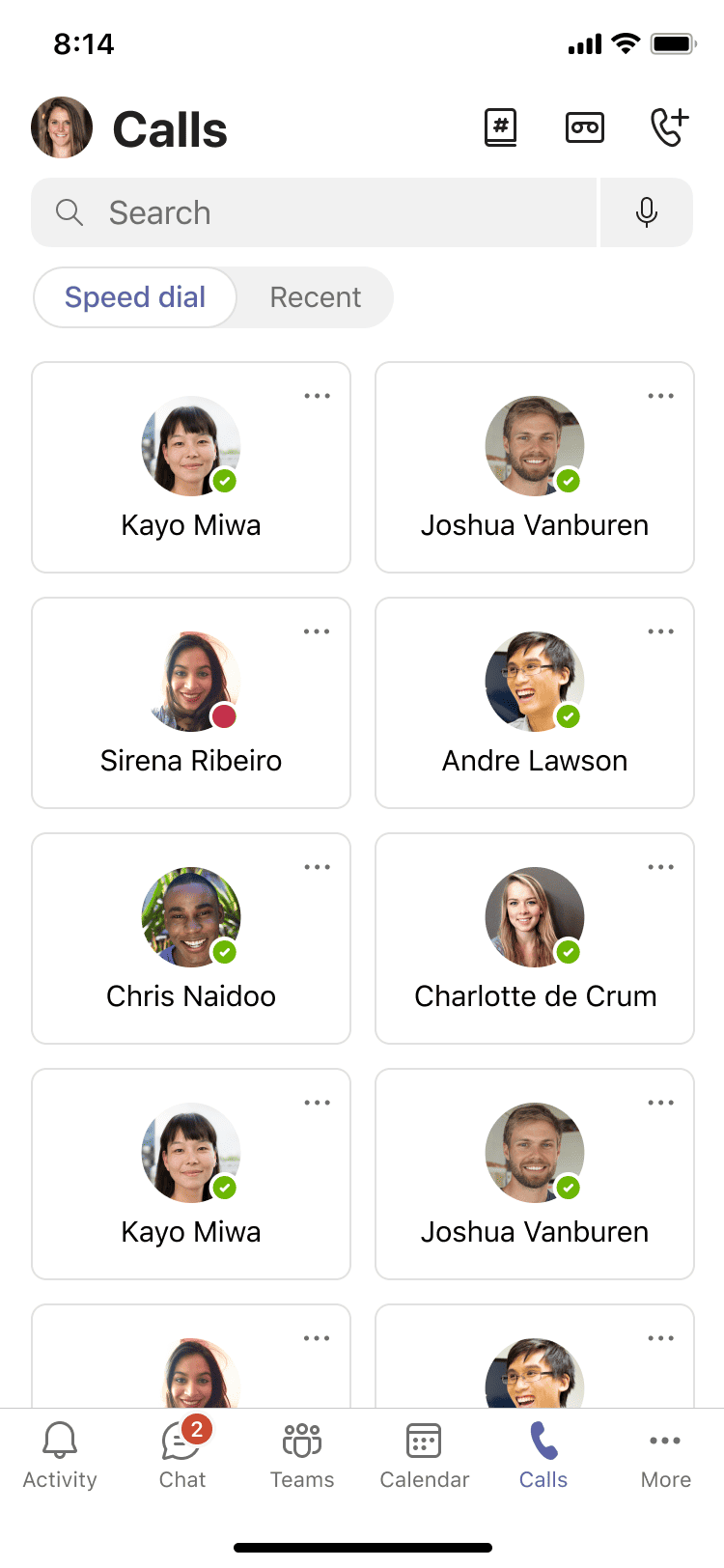 Speed Dial coming to Microsoft Teams mobile apps
mspoweruser.com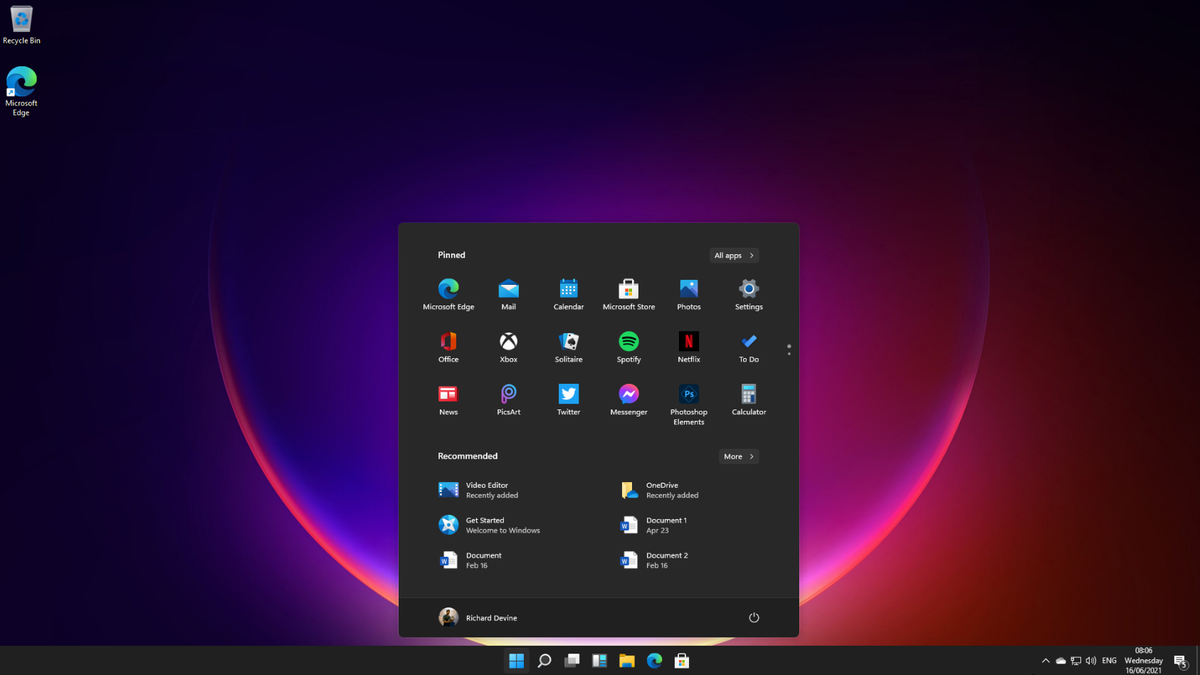 Windows 11 release date, features and everything you need to know
techradar.com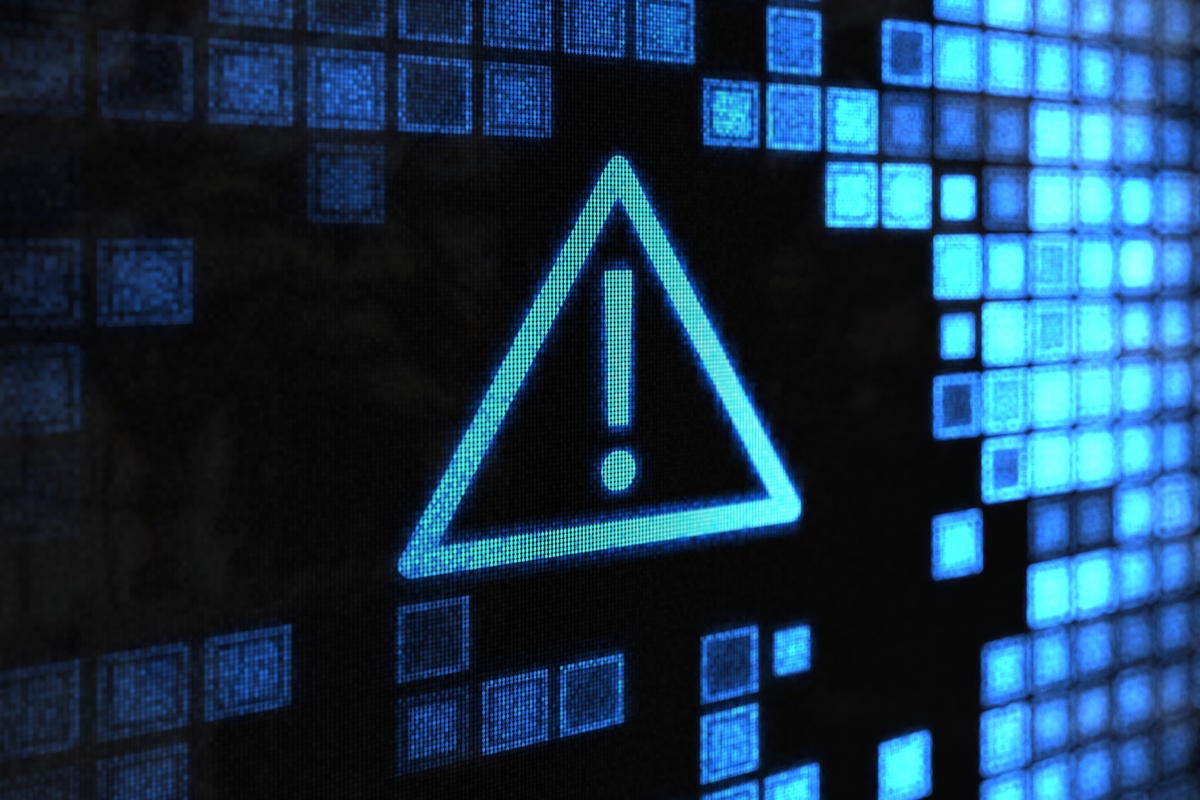 The Windows 11 rollout: Microsoft's most-botched announcement ever
computerworld.com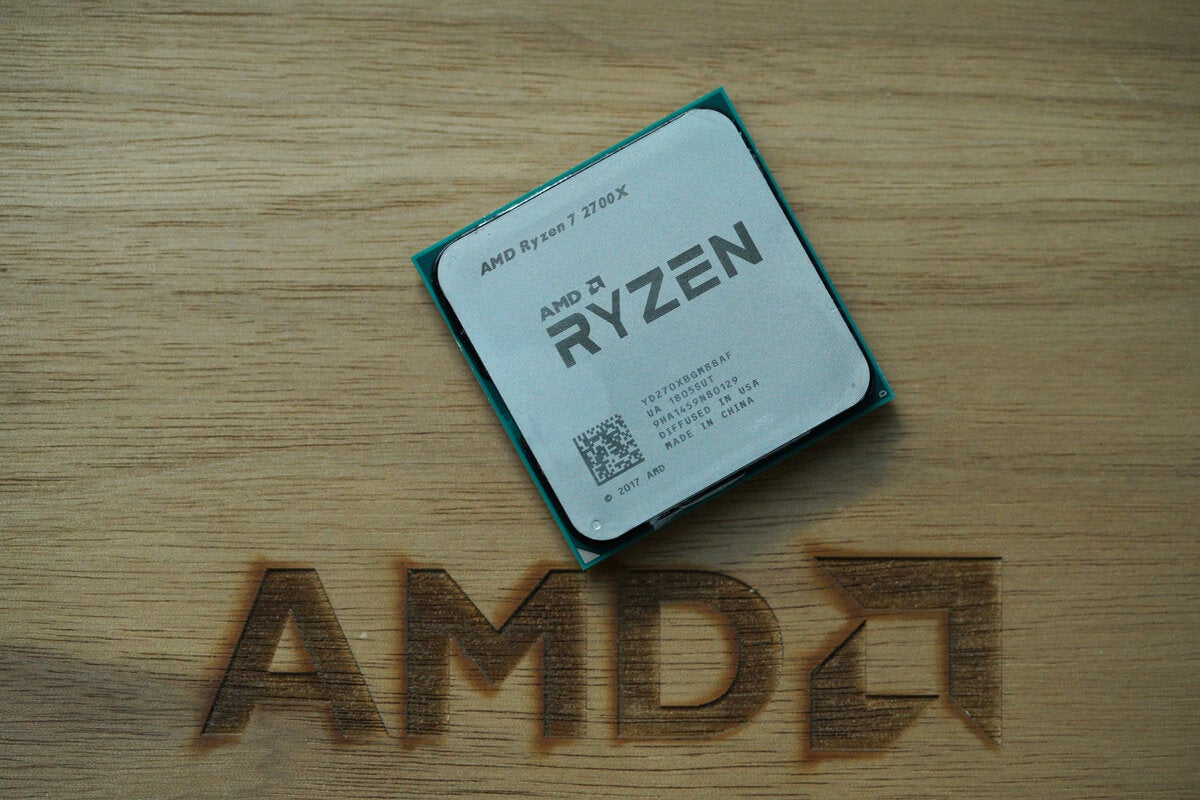 Here are the CPUs that officially can run Windows 11
pcworld.com
Seven Windows 10 features missing in Windows 11
techadvisor.com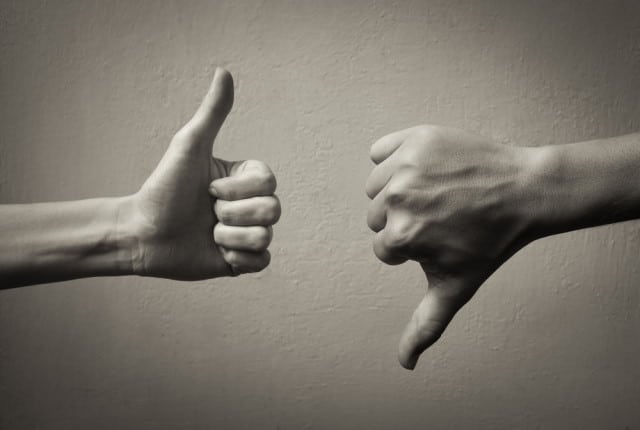 Check whether your computer can be upgraded to Windows 11 using Win11SysCheck
betanews.com
Not satisfied with Windows 11? Here's how you can rollback to Windows 10
neowin.net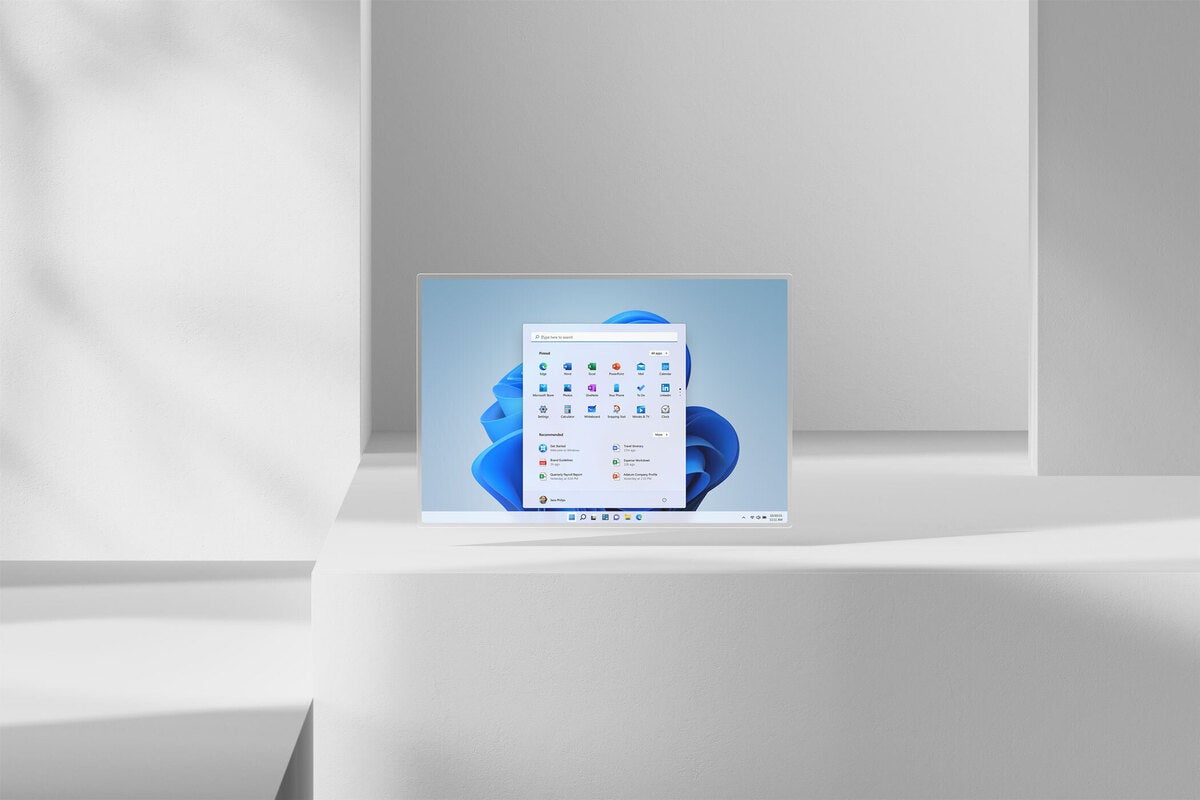 What Windows 11 means for developers
infoworld.com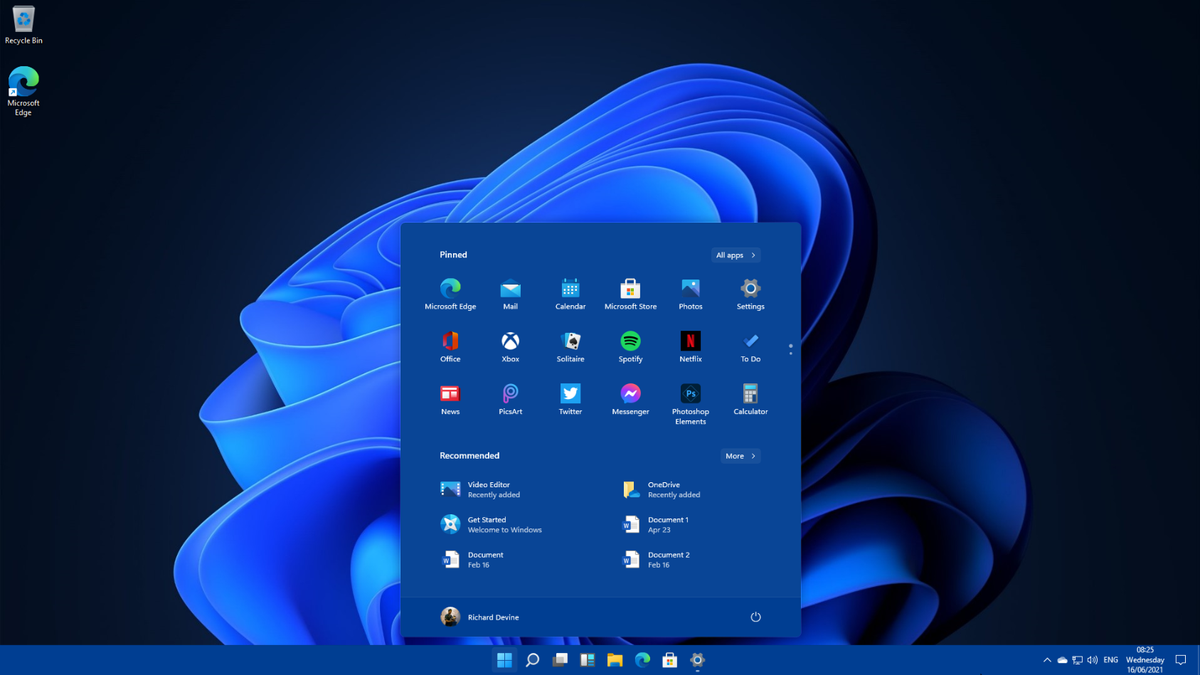 Windows 11 release date, features and everything you need to know
techradar.com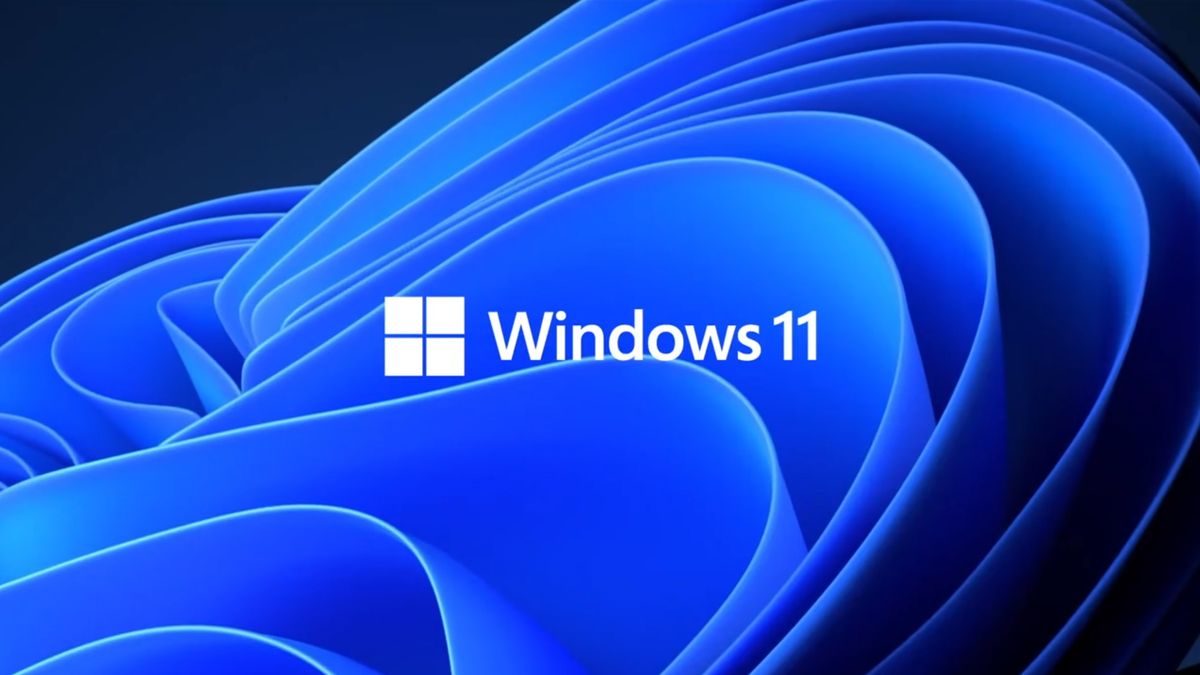 Windows 11 problems have already appeared – here's how to fix them
techradar.com
How to get the Windows 11 beta now
techadvisor.com
Windows 11 Creates Electronic Garbage?
pcper.com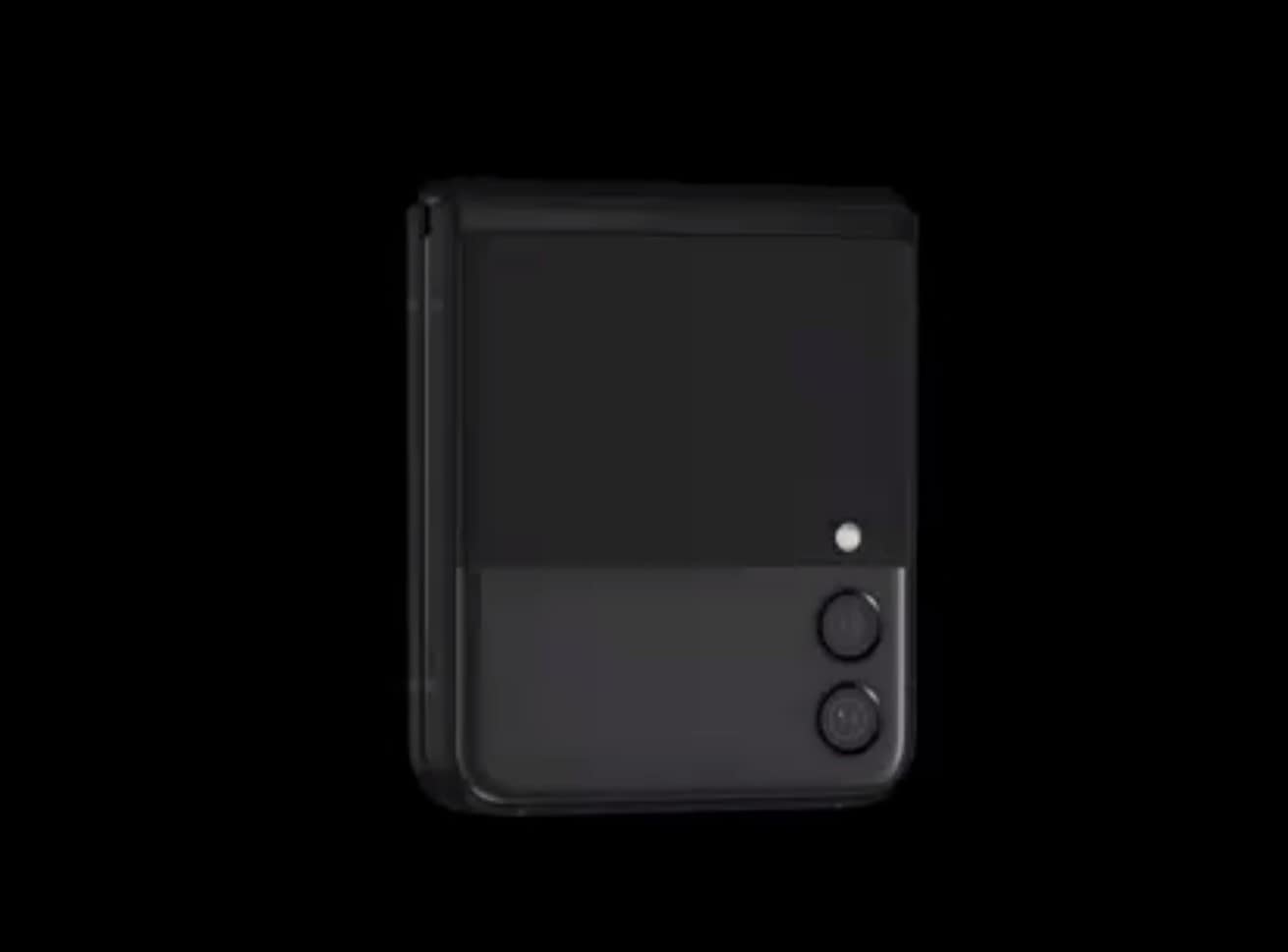 Yesterday we saw marketing renders of the Samsung Galaxy Z Flip 3 from a number of angles, and today we have a full 3D rotation, courtesy of reliable leaker Evan Blass. The Galaxy Z Flip 3 is Samsung's one of the exciting smartphone releases this year. The leaked marketing photos show a two-tone design for the Z Flip 3. The clamshell foldable phone will be available in multiple color variants: dark green, light violet, beige, grey, black, pink, dark blue, white. According to the leaked marketing photos, the external display on the cover is slightly larger than the one in the first-generation Galaxy Z Flip 3. Samsung Galaxy Z Flip is rumoured to be powered by Snapdragon 888 and is expected to feature a 6.7-inch display with a screen refresh rate of 120 Hz and a 1.9-inch external display. The Galaxy Z Flip successor is also rumoured to feature an under-display selfie camera, just like the Galaxy Z Fold 3. Rumour has it that it'll feature a dual-camera setup at the back, just like its predecessor. Other rumoured features include a 3,300mAh battery with support for 15W charging, a dual-camera setup on the back, an 8/128GB storage configuration as standard, and a USB-C port. The Z Flip 3 will reportedly be significantly cheaper than its predecessor. The clamshell foldable phone is expected to be priced anywhere between $959 and $1,099 in the United States. For the sake of comparison, the first-generation Z flip costs $1,380. You can know more about the device here. Meanwhile, Samsung will unveil the Galaxy Z Flip 3 on August 28, so we're roughly two months away from the launch.

Samsung's Galaxy S21 Ultra 5G wins the 'Best Smartphone Award' at GLOMO 2021
neowin.net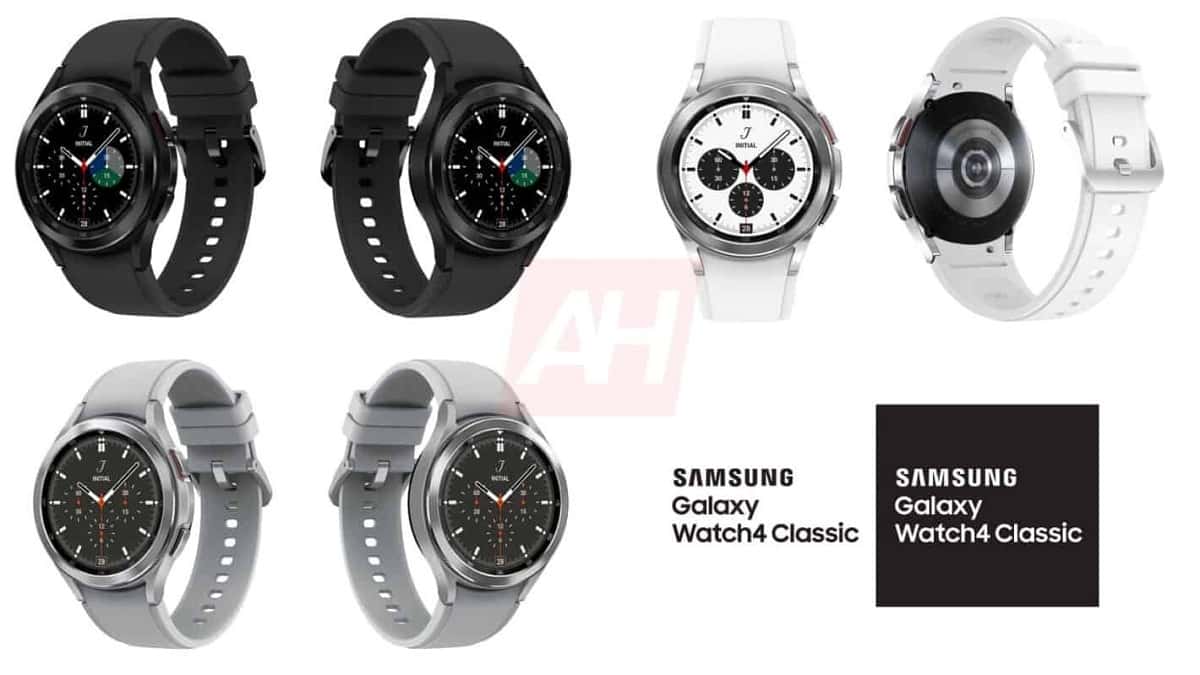 Official renders of Samsung Galaxy Watch4 Classic leaked online
mspoweruser.com
This is our first look at the Samsung Galaxy Watch 4 Classic
xda-developers.com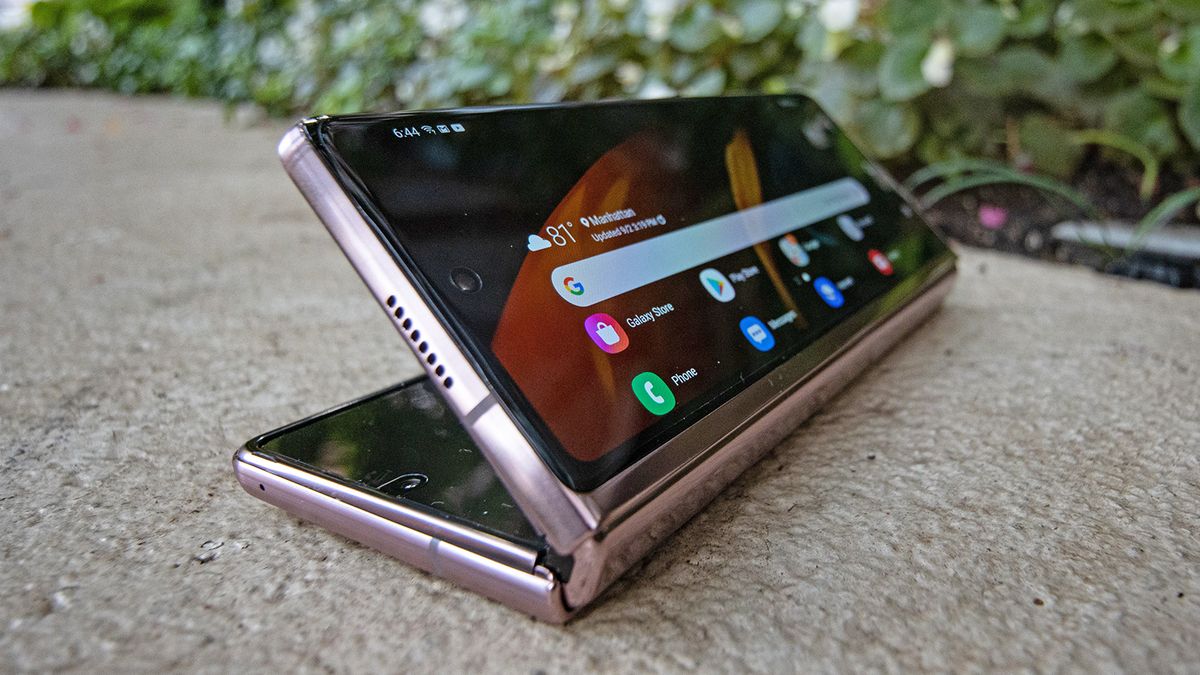 Samsung Galaxy Z Fold 3 leak shows the full design and a whole bunch of colors
techradar.com
Samsung's Galaxy Watch 4 may be offered in a "Classic" model
xda-developers.com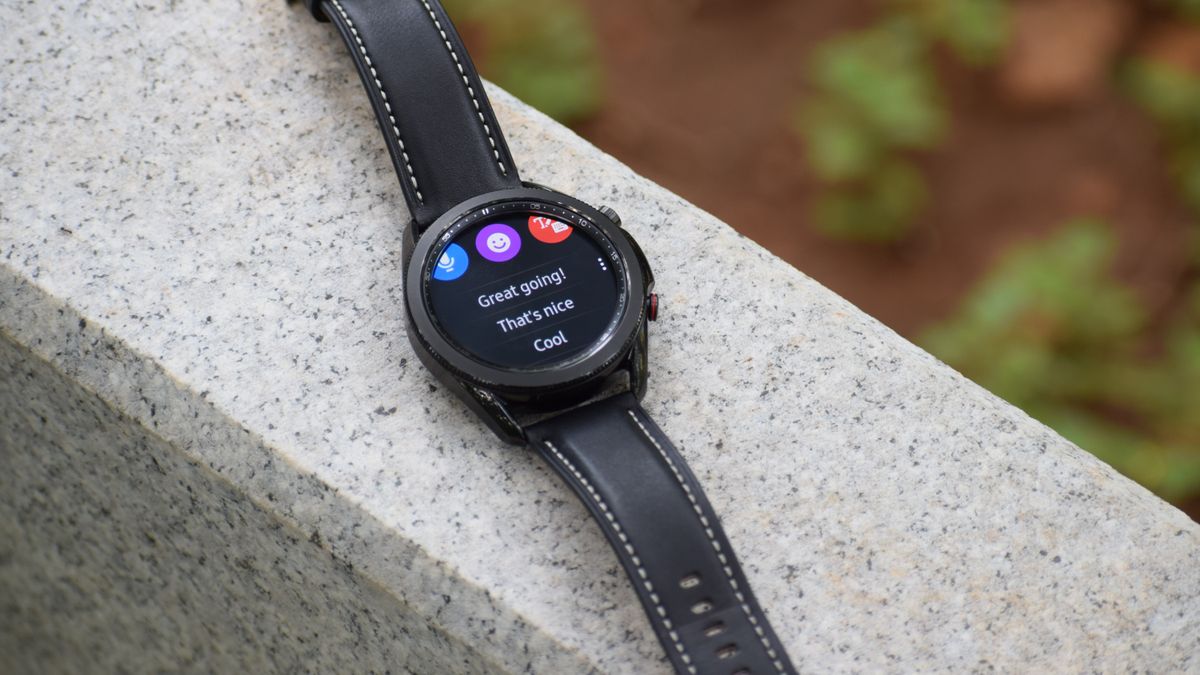 Samsung Galaxy Watch 4 Classic could be on the way, putting form over fitness
techradar.com
Samsung One UI Watch to launch on new Galaxy Watch
techadvisor.com
Leaked renders of the Galaxy Z Fold 3 showcase two new colorways
xda-developers.com
Rumors and renders reveal Samsung's Galaxy Z Fold 3 and Z Flip 3 5G
digitaltrends.com
Apple announced iOS 15, the newest version of its mobile operating system, at WWDC 2021. The software will eventually replace iOS 14 on compatible iPhone models, and adds new features and several changes to the overall look. The final release will come later in 2021, but the public beta can be downloaded and tried from June 30. Whether you decide to download it or not, settle in while we explain what's coming to an iPhone near you soon. If you can't wait until the end of the year to try iOS 15, there's good news. Apple released the public beta version of the software on June 30, which means anyone with a compatible iPhone can download and install the software right now. It's easy to do: Just visit Apple's dedicated iOS 15 beta website and sign in, and Apple will guide you through the process to enroll your iPhone. Just be aware the software is not final, and some features may not work, some apps may not be compatible, and bugs may stop your phone from working normally. Therefore, it may not be suitable for the phone you use and rely on each day. Now, let's take a look at the features included in iOS 15. Apple knows how important video calls and messaging are today, and it has announced a variety of new features for both FaceTime and Messages that are all built around SharePlay. SharePlay is about listening, watching, and sharing together with friends and family. For example, during a FaceTime call, you can simply press play in Apple Music and listen to a song together, all synced up right from the start. Anyone on the call can play or pause, giving everyone control over the entertainment. This also works with video, which can be streamed to an Apple TV at the same time, while always remaining in sync for callers. Apple's SharePlay API will bring SharePlay to different apps, with Disney+, Hulu, HBO Max, Twitch, and TikTok all among the partners. It's also possible to share your iPhone's screen with people on a call, letting everyone browse the web or even provide advice on how to change a setting. Shared With You works throughout the iPhone, from Photos, News, and Podcasts to Safari, and lets you share articles, songs, and photos with friends as a message. Photos integrates shared photos from friends who have added you to friends and family on iCloud, and iOS 15 will sort photos with you in them and place them in your gallery. News shared with you in this way is placed at the top of your list, and you get reminders about who sent you the story. Notifications in iOS 15 are changing a lot. The biggest visual change is the Notification Summary, a block shown on the lock screen with all your notifications ordered by priority for a cleaner, more useful look. To make sure you don't miss anything important, the summary separates notifications and identifies those that can be addressed later, such as app reminders. It uses on-device intelligence to assess which apps you interact with often, and what's important to you, to help prioritize. The new Focus feature enhances the Notification Summary even further. You have the option to select between modes — Work, Personal, Sleep, and Do Not Disturb — so iOS 15 can prioritize notifications based on your circumstance. New widgets for the home screen let you see the notifications in your Focus mode. It can even be set to a location, and once you set your status, it automatically applies across all connected Apple devices. Throughout the notification system in iOS 15, look out for larger icons for apps and clearer text to make it easier to see what's new and important. Apple has introduced a text scanning feature to the iPhone's camera, and then supercharged it. Live Text unlocks text-based information from photos and works with screenshots and online photos, too. When you take a photo, it recognizes text, which can be copied and pasted into an email or text message, or you can select text from an existing photo to search online. It also recognizes phone numbers, which can be called directly from the photo. The new iOS 15 uses on-device intelligence to look closely at images. Visual Lookup lets you search a photo for information on art, books, nature, and landmarks. Elsewhere, Spotlight now searches for photos based on text, someone's name, or even elements in a photo. You don't even have to search for someone you know, as Spotlight also recognizes actors and other famous names. Apple Music has been integrated into Memories, where iOS 15 will build more exciting, personal collages of photos and videos based on your activities. It now builds these short shows with Apple Music tracks personalized from your tastes and appropriate to the setting. Images are all timed to the beat. To personalize them further, you can edit these using Memory Mixes to change the pacing, songs, and even the look using different filters. And iOS 15 continues to analyze the Memory and makes further recommendations on songs to use, all based on your personal tastes. Apple Wallet already keeps hold of your payment cards, membership cards, and car keys. Now, it's expanding to include hotel keys. Hyatt Hotels is one of the first partners and will soon bring to iOS 15 keys to 1,000 hotels around the world. Wallet will also take your work identity cards in iOS 15. Your driver's license will be the first personal identity document stored in Apple Wallet, where it will be encrypted and stored in the iPhone's secure space. Apple stated that the Transportation Security Administration is working to accept the digital ID soon, and when you share it, a list of what will be accessed is shown. Apple wasn't specific on when this feature would be added or whether the feature will be available outside the U. S. The popular Weather app has been redesigned with new animations to show current conditions, more in-depth graphs to show what's happening, and full-screen, high-resolution weather maps. Apple is expanding Maps coverage to Spain and Portugal soon, and then Italy and Australia before the end of the year. It is also introducing an augmented reality (AR) view to a selection of cities before year's end. It has been given a visual overhaul with an interactive globe overview. There are lots of new details, including custom-designed landmark icons, distances, elevation, and a night mode with a moonlight look. Driving directions have been updated in iOS 15 with more granular details on the map, including bus lanes, crosswalks, bike lanes, and better guidance for complex junctions and turn lanes. Initially only for Maps on iOS, these changes will come to CarPlay later this year. For transit guidance, Maps will follow the route for you and remind you when it's your stop.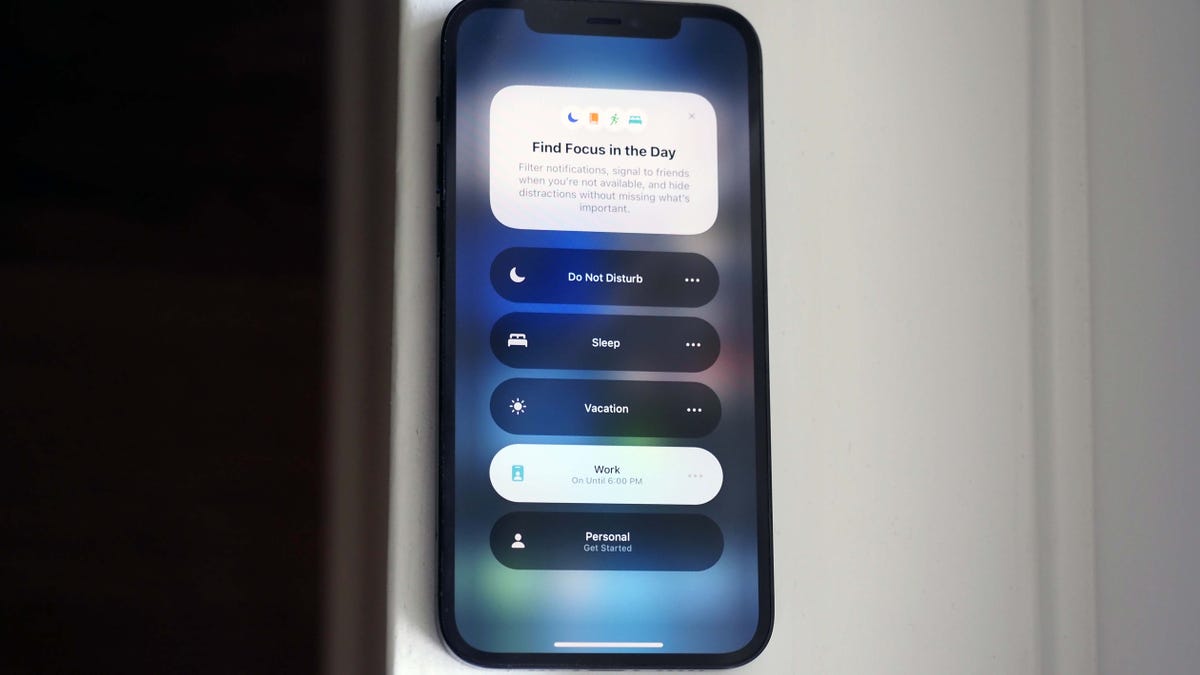 iOS 15 Could Be the Cure for Your iPhone Addiction
gizmodo.com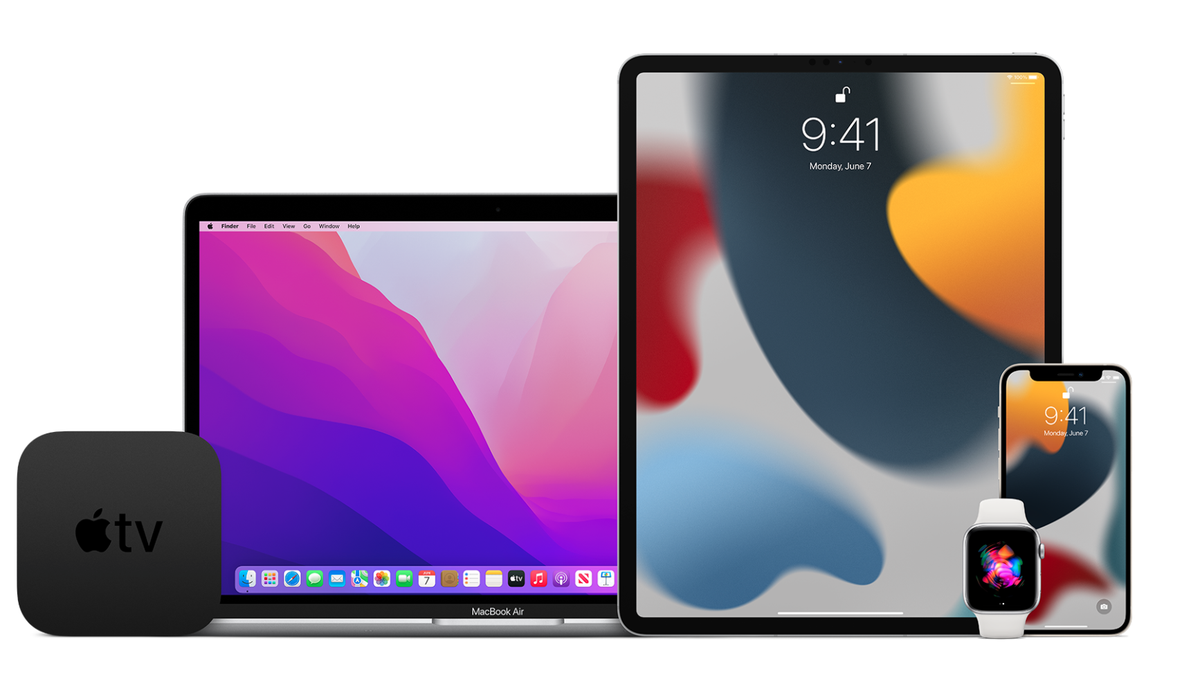 How to Try iOS 15, watchOS 8, and iPadOS 15 Right Now
gizmodo.com
Anyone can install the iOS 15 public beta now – here's how
digitaltrends.com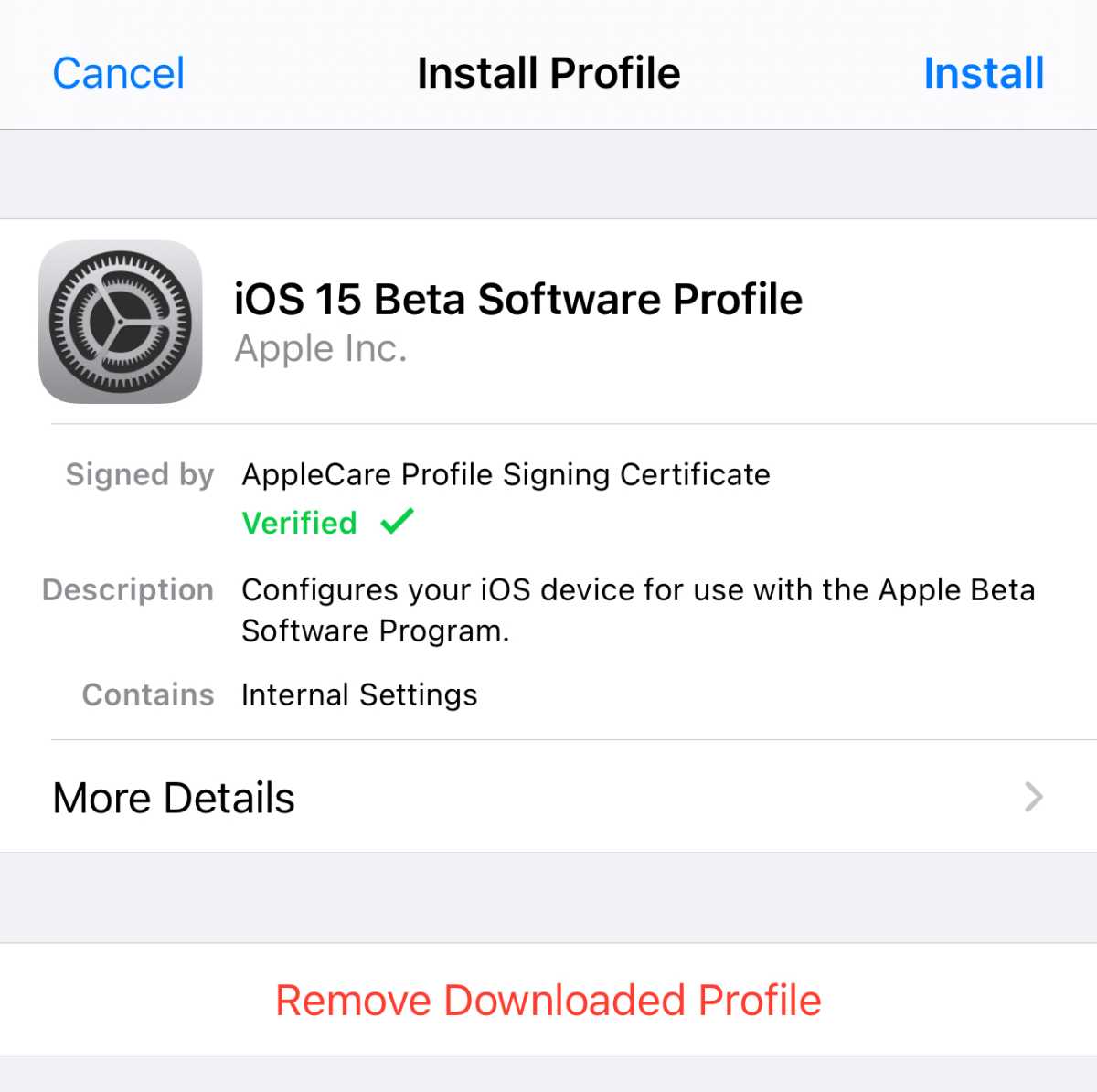 How to get the iOS 15 and iPadOS 15 beta—the Public Beta is out now
macworld.com
How to Get the iOS 15 Public Beta
uk.pcmag.com
iPadOS 15 hands-on review: What works and doesn't work
zdnet.com
Apple releases iOS 15, iPadOS 15, WatchOS 8 public betas
zdnet.com
Apple iOS 15 public beta now available for download
mspoweruser.com
Running Android apps via the Amazon App store is one of the biggest features of Microsoft's new Windows 11 operating system, but Google might have just complicated things a bit. In a change of policy, Google is requiring app developers to embrace the new Android App Bundle standard, and move away from the APK file format that otherwise could have been used to sideload Android apps in Windows 11. Although the change only applies to new apps listed on the Google Play Store starting August 2021 (and not third-party or private apps,) Google runs through some important notes in its announcement of the change. The first of those is that the new Android App Bundle format will replace APK as the standard publishing format. In fact, over 1 million apps are already using the Android App Bundle format, per Google. This is great in the long term for Android. In the other note, Google mentions the new format allows for smaller app sizes, as well as security features — but this could still pose a bit of a problem in Windows 11. That's because the Amazon App Store's catalog of apps is limited in scope. Many users are already hoping to sideload otherwise unavailable and popular Android apps by using APK files on Windows instead — which Microsoft said would be possible. Of course, sideloading APKs poses security risks and other issues, but the reaction to the news seems to be upsetting Windows and Android fans. With APKs on the way out, it could be harder to sideload popular Android apps in Windows 11 come the time when the feature is available. The Android App Bundle format only works with Google Play, which depends on Google Play services, which appears to not support Windows 11. Windows 11 will be coming this fall, and it comes with some new features other than the Android app support via the Amazon App Store. A visual redesign and multitasking features are two features. The new Widgets section, an improved tablet mode, redesigned File Explorer, and a new settings app are just some of the other changes. You can beta test Windows 11 for yourself now via the Windows Insider Program in just a few steps — without the Android app support, of course. Microsoft mentioned that this feature would be coming at a later point this year.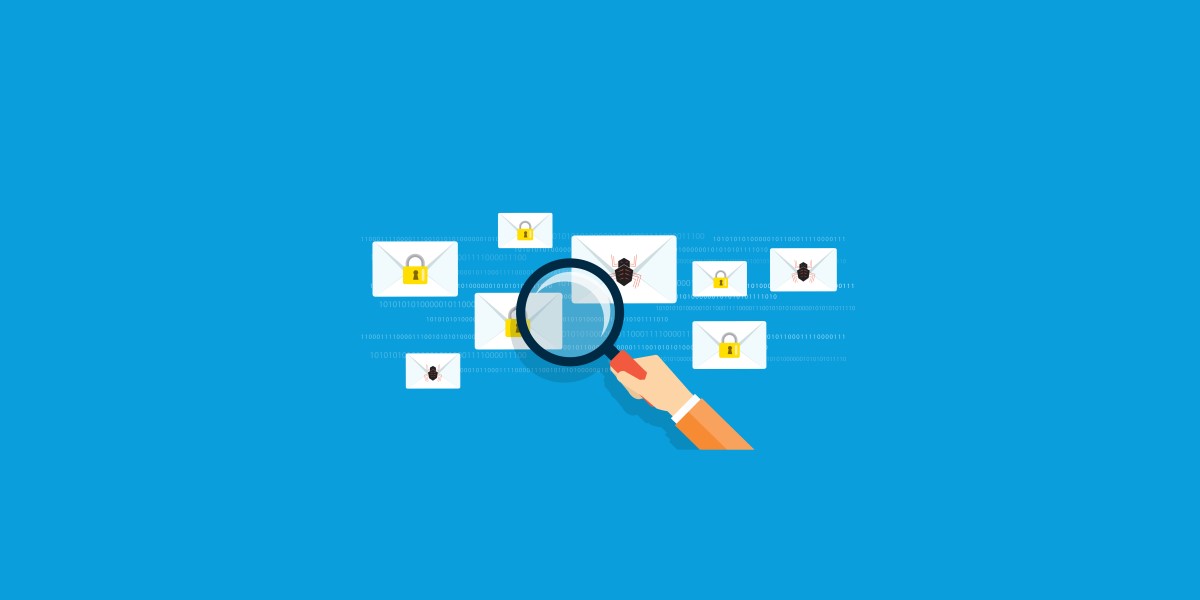 Google tweaks Android Messages app to auto-classify or auto-delete messages
theregister.com
AT&T's Android phones will use Google Messages for RCS
xda-developers.com
Zoom's new web app for Chromebooks lands on the Play Store
xda-developers.com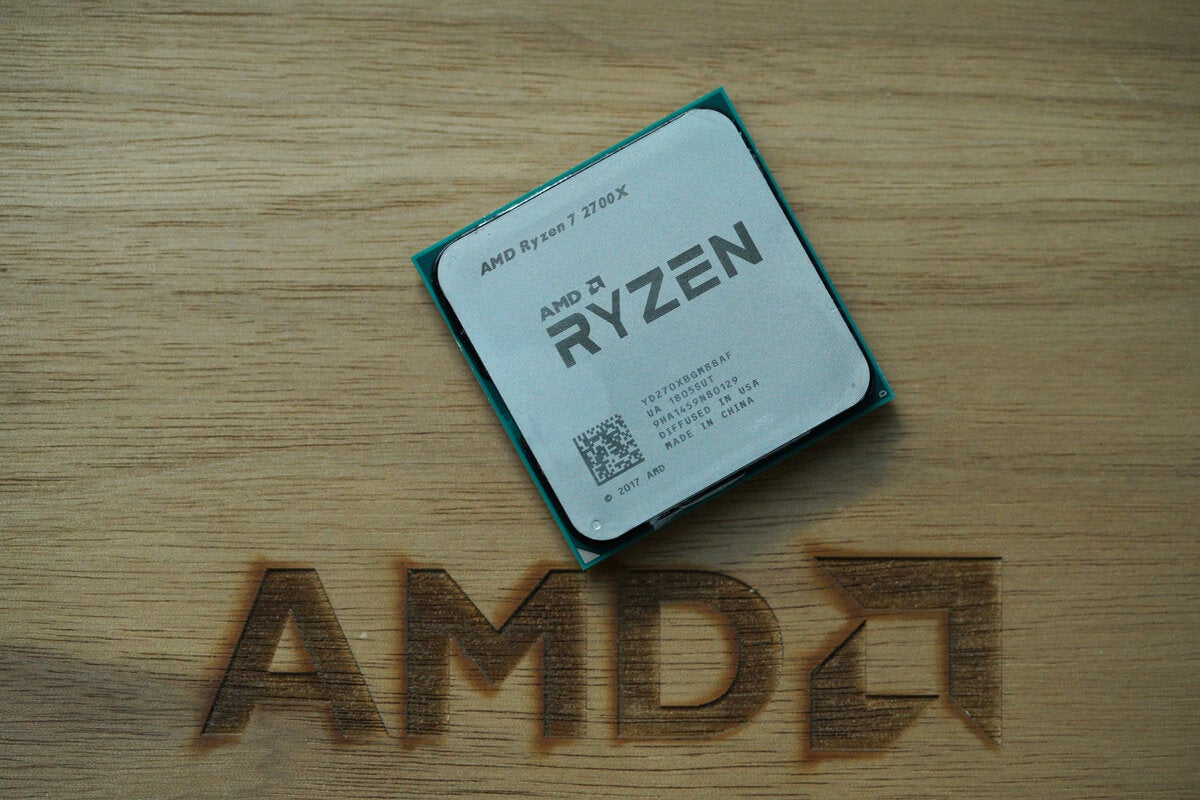 Here are the CPUs that officially can run Windows 11
pcworld.com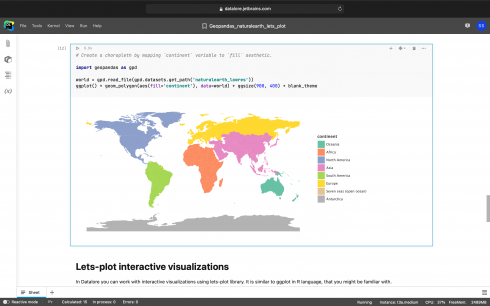 SD Times news digest: JetBrains Datalore for Enterprise, Google to require all new apps be published with Android App Bundle, MariaDB partners with AWS
sdtimes.com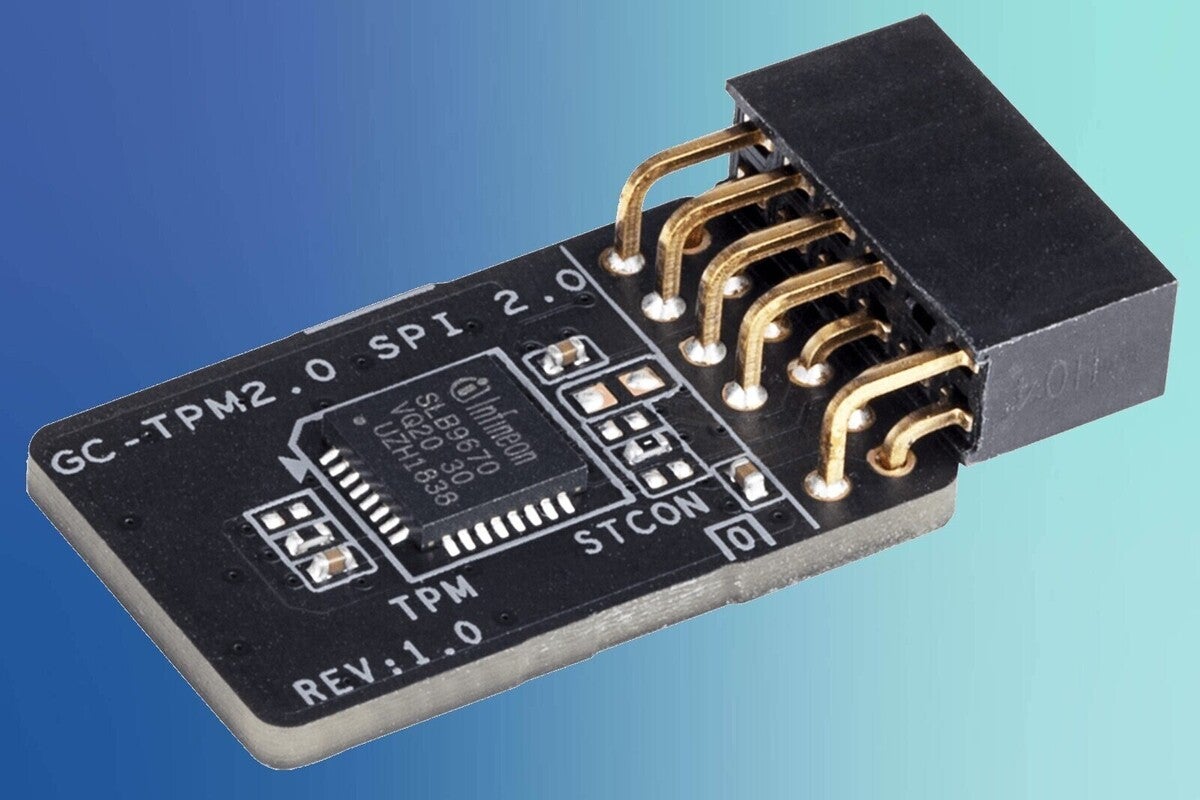 What is a TPM and why isn't mine working?
pcworld.com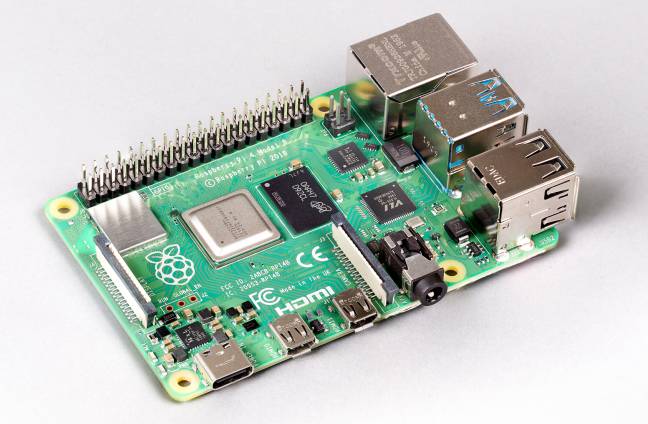 Microsoft wasn't joking about the Dev Channel not enforcing hardware checks: Windows 11 pops up on Pi, mobile phone
theregister.com
Google Chrome is testing a new "Shortcuts" widget on Android
xda-developers.com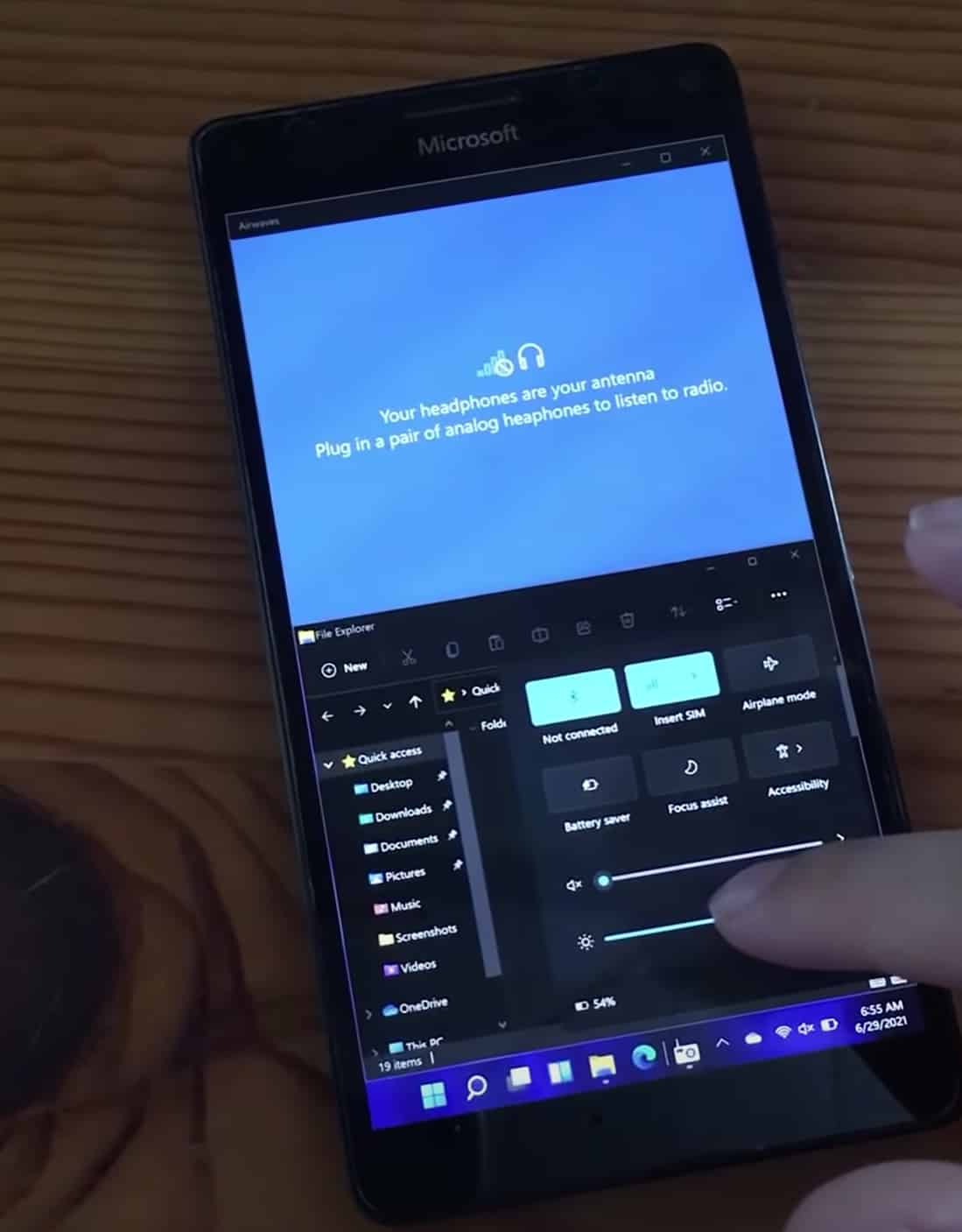 This time its real – Windows 11 running on the Lumia 950XL (video)
mspoweruser.com
At CES 2021, we learned that LG planned to upgrade its LCD TV lineup with mini-LED backlight technology under the label " QNED TV," but now we finally have more details, including pricing and availability. LG's first QNED TVs will hit retail outlets in July, with an entry price of $2,000 for a 4K 65-inch model. There will also be 8K models available. LG has always touted the picture quality benefits of its OLED TVs, and for good reason. On an OLED TV, each pixel generates its own brightness, resulting in the best black levels and contrast you can get in a TV. But with the advent of mini-LED backlighting, it's possible for LED and QLED TVs to get much closer to OLED's advantages in this area because they allow for much finer-grained control over brightness than regular LED backlights. Mini-LEDs are so small, manufacturers can fit thousands of them into a space that once held hundreds of LEDs or even fewer. LG's 86-inch 8K QNED99, for instance, has about 30,000 mini-LEDs, which are then divided into 2,500 local dimming zones. LG says this lets the QNED99 deliver a 10x better contrast ratio than the company's non-QNED models. In addition to using thousands of mini-LEDs for better brightness and contrast, LG's QNED TVs also use the company's quantum dot nanocell technology. These tiny particles help to improve the TV's color accuracy without diminishing overall brightness. LG claims that its QNED TVs achieve 100% of the Digital Cinema Initiatives' P3 color space (DCI-P3) — an important capability if you want to see movies in their full glory. Beyond the new picture performance enabled by mini-LED backlights, these QNED models boast most of the features we've come to expect from LG's OLED TVs, like Dolby Vision HDR, Dolby Atmos, hands-free voice control, Google Assistant and Alexa Built-in, and Apple Airplay 2. They also sport excellent support for HDMI 2.1 features, like HDMI eARC, variable refresh rate (VRR), auto low-latency mode (ALLM), and 4K resolution at 120Hz — all of which will make gamers very happy indeed. Here's the full 2021 QNED TV lineup:

LG announces launch of LG QNED Mini LED premium TVs
neowin.net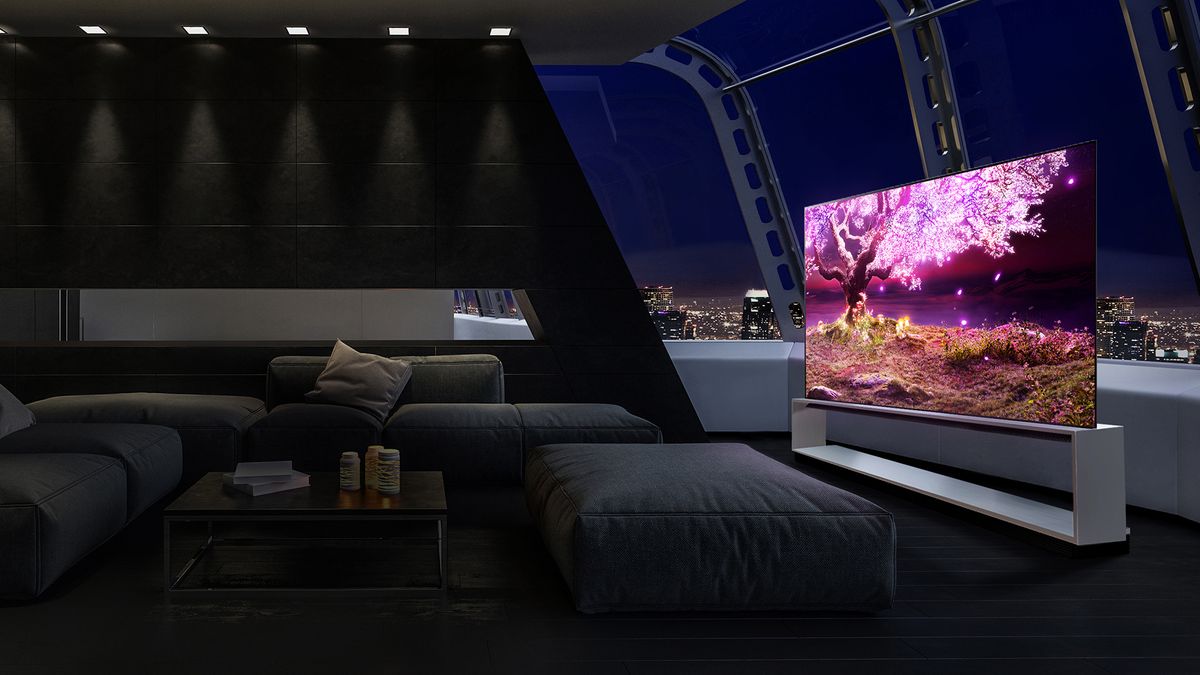 LG is making twice as many OLED TVs as last year
techradar.com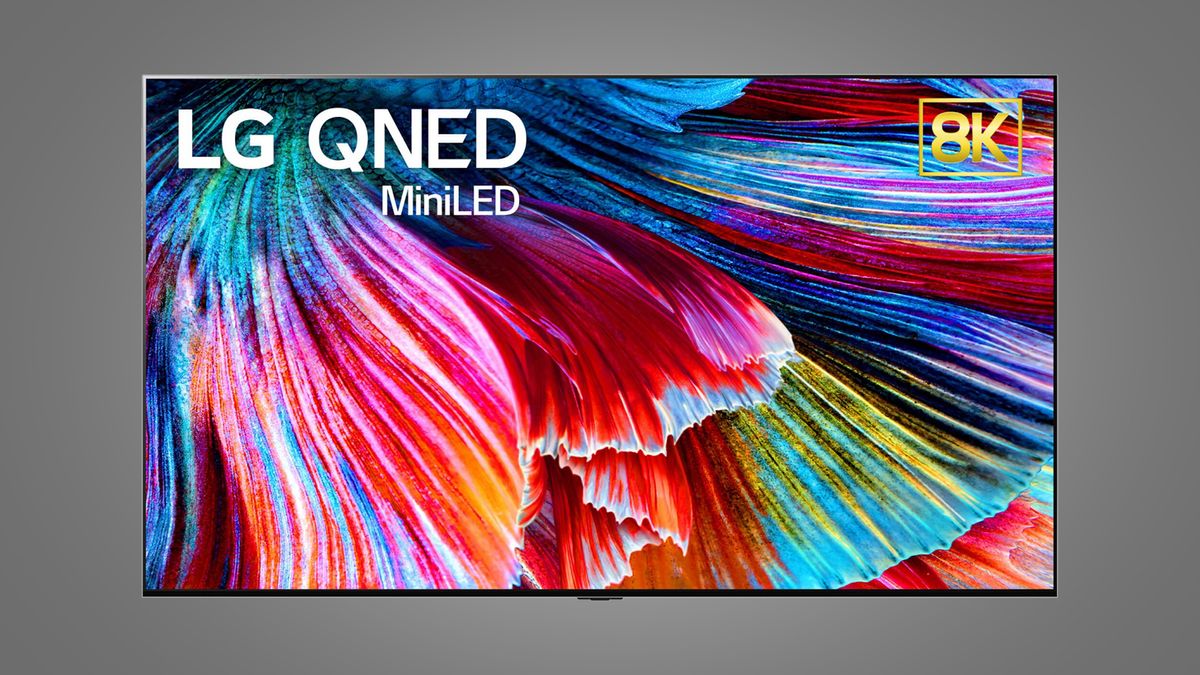 What is QNED? LG's new Mini LED TV range explained
techradar.com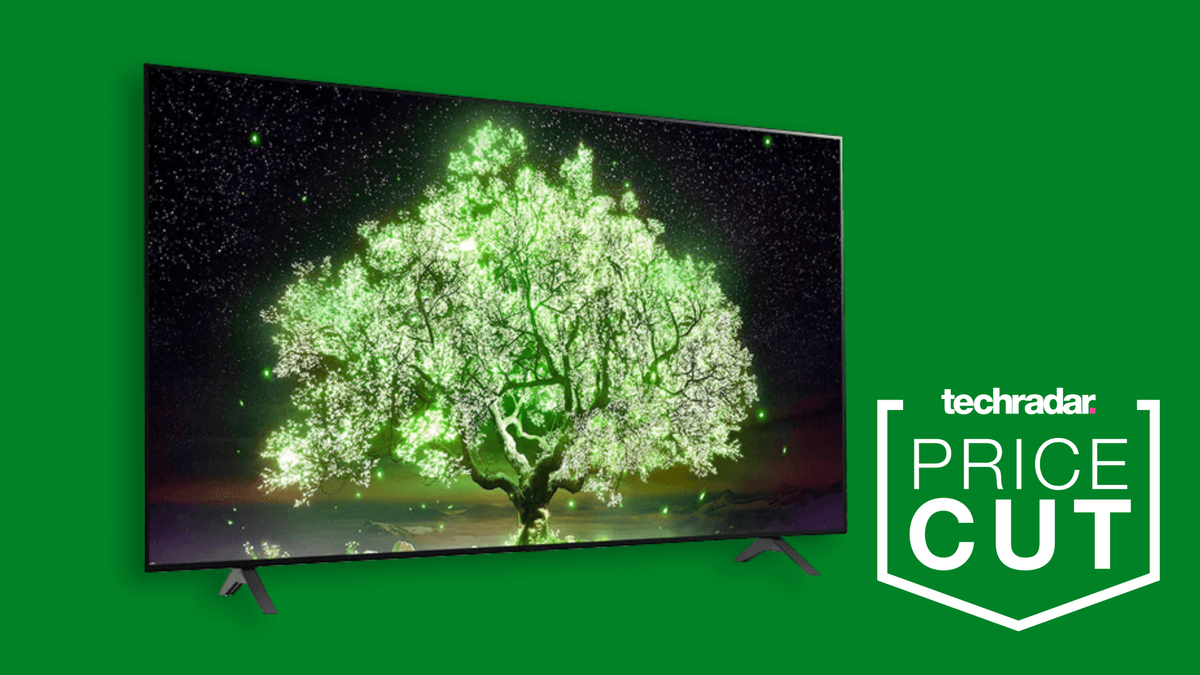 The LG A1 OLED TV has got very cheap very fast
techradar.com
LG's QNED Mini-LED TVs go on sale next month
techadvisor.com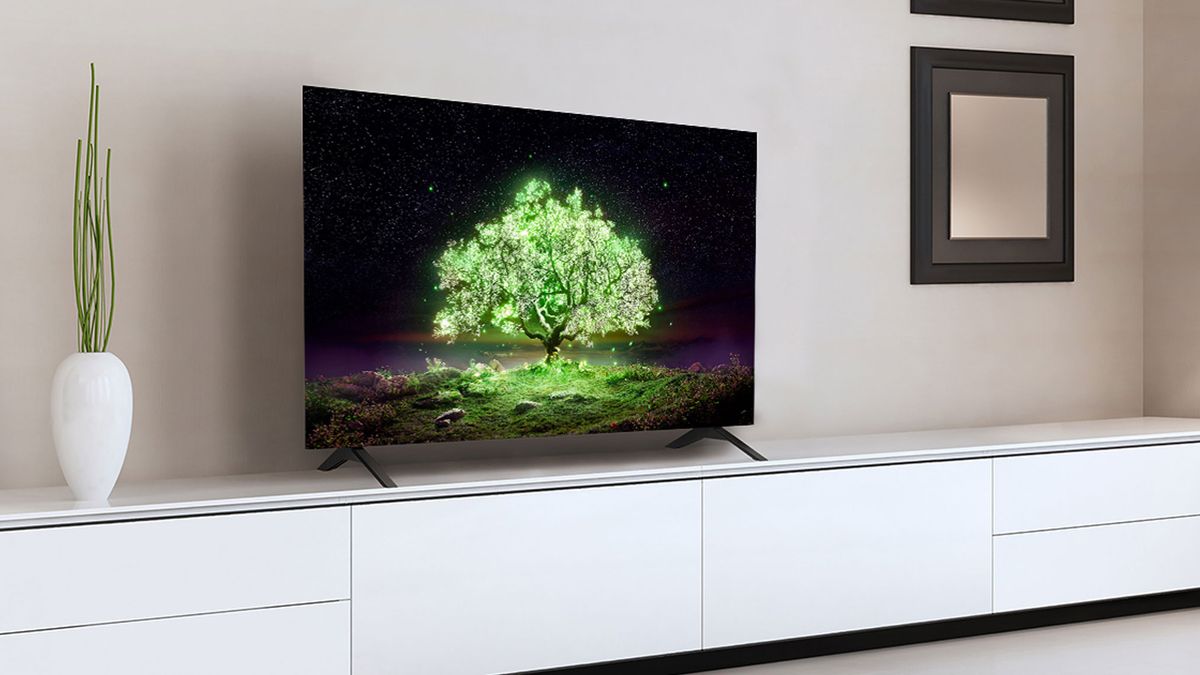 Should I buy the LG A1 OLED?
techradar.com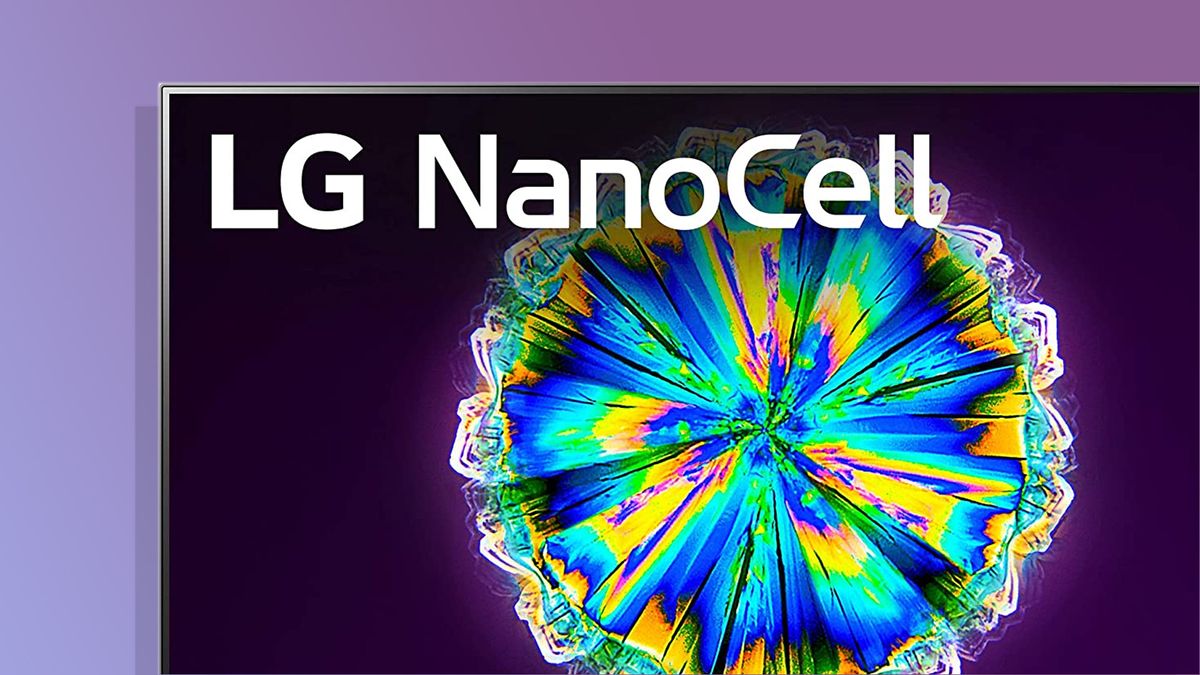 Should I buy an LG NanoCell TV?
techradar.com
LG's Quantum Dot NanoCell Mini LED TVs Available in July
uk.pcmag.com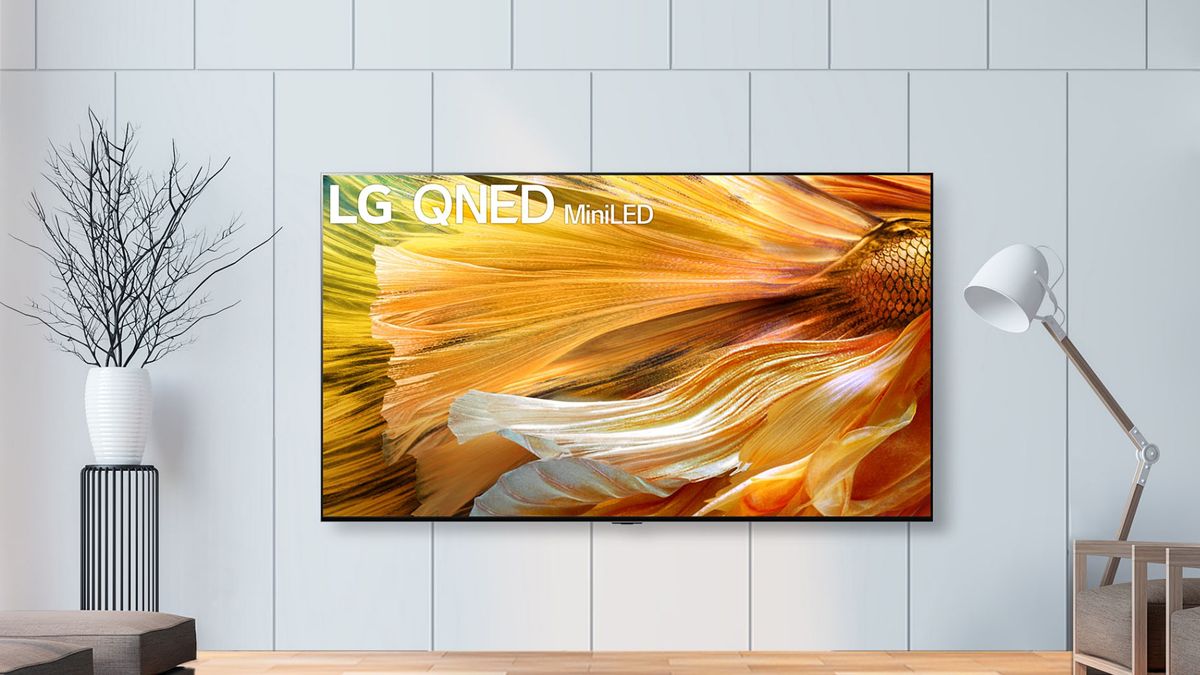 LG Mini LED TVs are rolling out – but can they take on OLED?
techradar.com
Samsung is one of the largest manufacturers of consumer electronics. Ranking number four on the list of Chromebook vendors by volume, Samsung has an impressive lineup of devices running Chrome OS. If premium design is your thing, Samsung is definitely one of the top Chromebook manufacturers to consider. Indeed, the new flagship Samsung Galaxy Chromebook 2 is one of the best Chromebooks you can buy. With the first ever QLED display on a Chromebook, this laptop is excellent for work and play. Those that use a Samsung Android phone as their daily device will also enjoy further integration into the rich Samsung ecosystem. If you use your Galaxy Chromebook 2 for work or school, you could use it with a docking station and external monitor. Using an external monitor can provide more screen real estate, and docking stations can offer additional ports for multi-tasking. Of course, you'll also need an excellent mouse for when you take your Galaxy Chromebook 2 on the road. It's also useful to have a nice sleeve to carry your Chromebook in on a daily basis, even if you use a backpack. In this list, we'll take a look at the best Samsung Galaxy Chromebook 2 accessories. From mice to styluses, we've got you covered. Are you looking to use your Galaxy Chromebook 2 with an external display? Then you'll likely want to add a docking station to increase the number of available ports. With a good docking solution, you can greatly expand your Chromebook's versatility. You can use it to connect a mouse, a mechanical keyboard, external storage devices, multiple monitors, or all of them at once. On top of that, with some docking stations, you can even keep your Chromebook charged as long as it has a compatible USB Type-C port or thunderbolt port. Overall, you'll want a docking station if the Galaxy Chromebook 2 is your daily productivity laptop. When shopping for a mouse to pair with your new Galaxy Chromebook 2, comfort is king. In this list, we'll prioritize the comfortable operation of each mouse over other advanced features. After considering the day-to-day usage, we'll look at battery life, price point, and of course integration with Chrome OS. Mice come in all shapes and sizes, so it's worth viewing a large volume of options before reaching a final decision. Your Galaxy Chromebook 2 is a portable workstation with a lot of power. To protect your investment when out and about, you can grab a sleeve or bag at a fairly low price. Most of these options are on sale often, making the deal even sweeter. With so many options available, you can find something that fits your personal style and has functionality for daily work and play. Unlike the original Galaxy Chromebook, the new Galaxy Chromebook 2 doesn't come bundled with a built-in S-pen. Samsung removed this premium feature to make the Galaxy Chromebook 2 a more affordable device. Unfortunately, the Galaxy Chromebook 2 isn't even compatible with other Samsung pens you may have lying around from a previous device. Instead, you'll need to pick up a third-party stylus if you want to write or draw on your screen. The good news is the Galaxy Chromebook 2 supports the Universal Stylus Initiative (USI) protocol. Universal Stylus Initiative (USI) defines industry-wide standards for interoperable communication between an active stylus and touch-enabled devices, such as phones, tablets, and computing and entertainment platforms. Thus far, there are quite a few solid USI pens available on the market, but they're a bit pricier than the old-school capacitive styli. We recommend choosing one of the USI options below if it's in your budget, otherwise we provide a budget option that'll do the job in a pinch. That's our roundup of the best accessories for your Galaxy Chromebook 2. As the first QLED Chromebook on the market, it's truly one of the best Samsung laptops out there. Hopefully you now have everything you need to use your new Samsung Chromebook comfortably at home or on the go. Our ideal setup includes the Tiergrade USB-C Docking Station, Logitech MX Master 3 mouse, and the Penoval USI stylus, Sleeve and bag options are really all about personal preference and style. If you try out some of our picks, let us know how they work for you in the comments section below.

Samsung Galaxy A52 5G
uk.pcmag.com
This is our first look at the Samsung Galaxy Watch 4 Classic
xda-developers.com
Samsung's Galaxy Watch 4 may be offered in a "Classic" model
xda-developers.com
Samsung Galaxy S21 Was the Best-Selling Phone in Korea in Q1
news.softpedia.com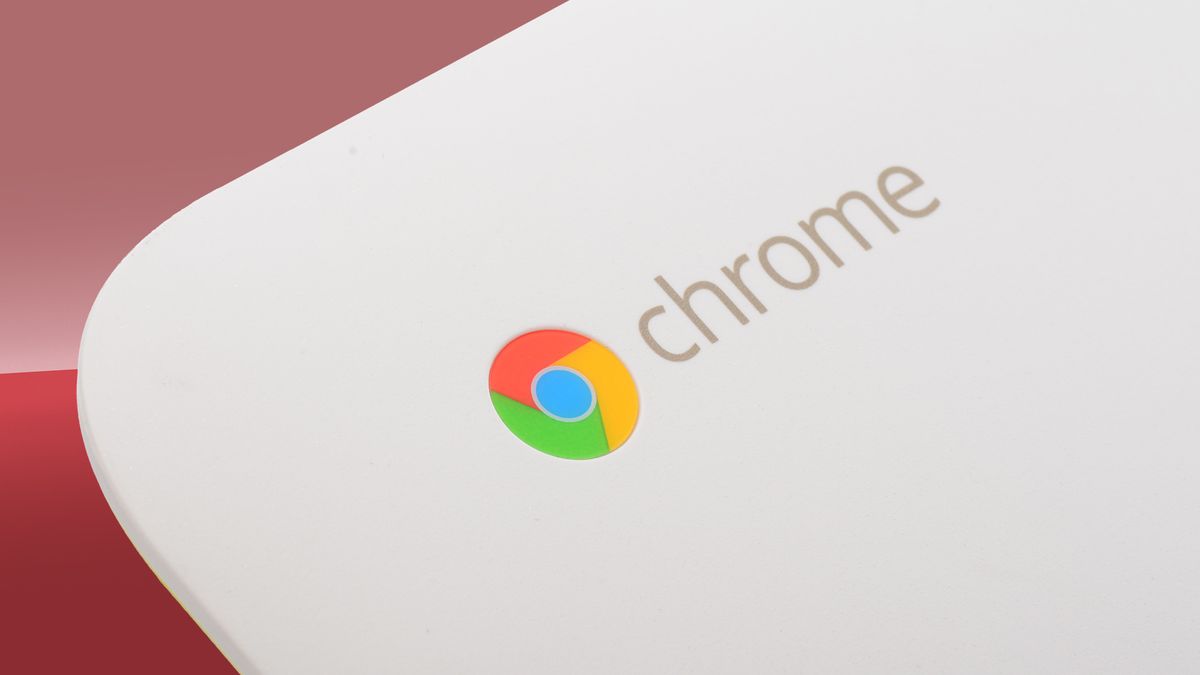 Best Chromebooks 2021: the top Chromebooks for kids, students and more
techradar.com
Samsung Galaxy S21 FE: Everything you need to know
techadvisor.com
Samsung Galaxy A32 5G
uk.pcmag.com
Best Lenovo Chromebooks for June 2021: Yoga, Duet, and more
xda-developers.com
Sony PlayStation has just announced the freebies PS Plus subscribers will get in July. The highlight of the trio of games is clearly Call of Duty: Black Ops 4, but for those who don't like shooters, there's another high-profile title that we can't recommend enough, A Plague Tale: Innocence. Developed by Asobo Studio and launched on PC, PlayStation 4, and Xbox One two years ago, A Plague Tale: Innocence will be getting a sequel called Requiem, which is set to arrive in 2022. On top of that, the team behind the franchise announced during E3 2021 that PlayStation 5 and Xbox Series X/S versions of the game will be available in July. The good news is those who haven't yet played the PlayStation 4 version will now be able to get the game for free. The main drawback is that only the PlayStation 5 version of A Plague Tale: Innocence will be available for free for PS Plus subscribers. As far as the other two games that will be added to the PS Plus catalog, Call of Duty: Black Ops 4 is exclusively a multiplayer experience that made its debut on PC and consoles three years ago. The third and last game coming to PS Plus in July is WWE 2K Battlegrounds, a new entry in the series that promises over-the-top, arcade action. It's important to mention that A Plague Tale: Innocence (PS5), Call of Duty: Black Ops 4 (PS4), and WWE 2K Battlegrounds (PS4) will be available to add to your console library starting July 6 until August 2. On a side note, current PS Plus subscribers can still get the PS Plus games for June – Star Wars: Squadrons and Operation: Tango, which will remain free until July 5. The third PS Plus game for June, Virtua Fighter 5 Ultimate Showdown will be available on PS Plus for a second month, so subscribers can get it until August 2.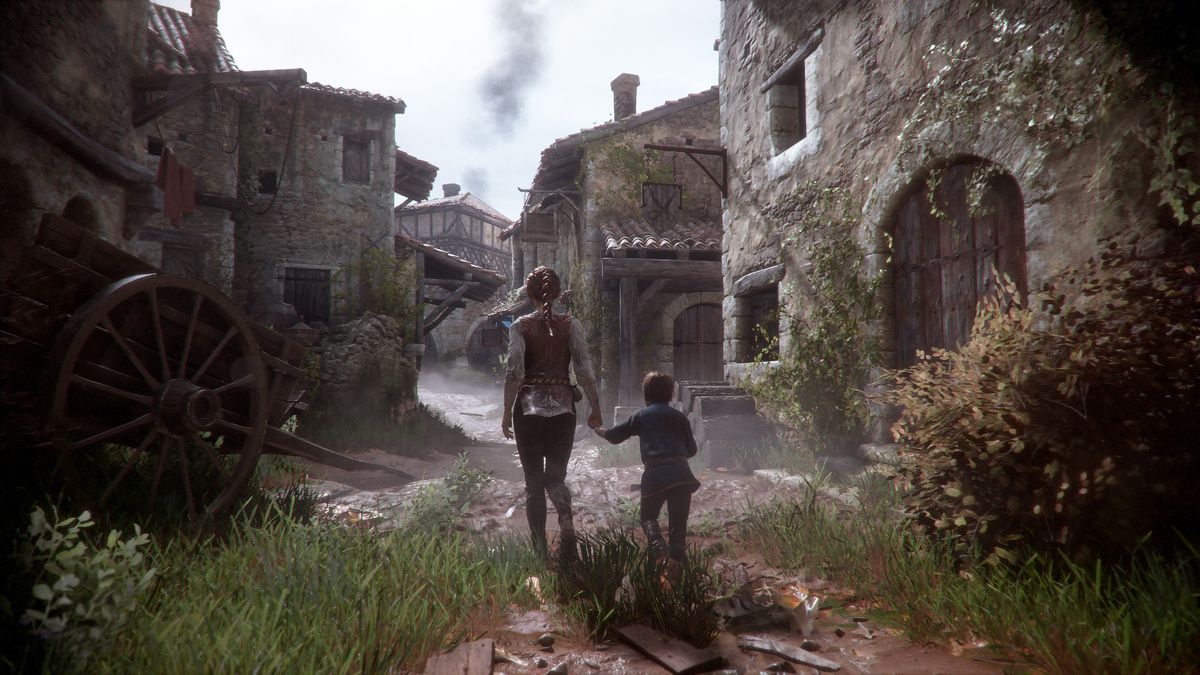 PS Plus free games for July include a gripping PS5 adventure
techradar.com
PlayStation Plus games for July include A Plague Tale: Innocence and Black Ops 4
vg247.com
Get ready to start over; Doom Eternal for PS5 has no way to transfer your progress
techspot.com
A Plague Tale: Innocence headlines July's PS Plus lineup
digitaltrends.com
Although summers are typically weak for big game releases, JRPG fans will have a lot of titles to juggle with next month. On top of that, we have a new Monster Hunter game coming and a Zelda remaster, so it's all good. Now, the interesting thing is most of the important new games are launching after the first week of July. But once the train starts moving, it will be hard to stop it. We have Sniper Elite VR coming to Rift, Quest, PS VR, and Steam VR on July 8, as well as an indie game called Boomerang X, which is set for launch on PC and Switch on the same day. One of the biggest releases of the month, Monster Hunter Stories 2: Wings of Ruin drops on PC and Nintendo Switch on July 9. One of the indie games that piqued our interest, Black Skylands launches on PC via Steam Early Access on the same day, July 9. The next games to release for PC are set to arrive on July 13: Radio Viscera and Claire de Lune. Guild of Darksteel, another interesting indie game with soulslike vibes is expected to launch on PC and Nintendo Switch on July 15, followed by two major titles on July 16: The Legend of Zelda – Skyward Sword HD (Nintendo Switch) and F1 2021 (PC, PS4, PS5, Xbox One, Xbox Series X/S). July 20 is another important day for the gamers, as we have three new titles arriving on the same day: Fallen Knight (PC, PS4, Xbox One, Nintendo Switch), Cris Tales (PC, PS4, PS5, Xbox One, Xbox Series X/S, Nintendo Switch, Google Stadia), and Death's Door (PC, Xbox One, Xbox Series X/S). After making its debut on Nintendo Switch last year, the racing game Urban Trial Tricky is getting released on PC, Xbox One, and PS4 on July 22. The next day, fans of the Orcs Must Die series will be able to get the third entry in the series on their favorite platform. It's been a long time since the Samurai Warriors series didn't get a new game, but that's about to change on July 27 when Samurai Warriors 5 is set to hit PC, PS4, Xbox One, and Nintendo Switch. JRPG fans will be happy to know that The Great Ace Attorney Chronicles will arrive on PC, PS4, and Nintendo Switch on July 27, along with action RPG NEO: The World Ends with You (PS4, Nintendo Switch). Tribes of Midgard (PC, PS4, PS5) and Eldest Souls (PC, PS4, PS5, Xbox One, Xbox Series X/S, Nintendo Switch are two other titles launching on the same date, July 27. Also, Microsoft Flight Simulator is finally coming to Xbox Series X/S. The long-awaited The Forgotten City point-and-click adventure game is set for launch on PC, PS4, PS5, Xbox One, and Xbox Series X/S on July 28, followed by Unbound: Worlds Apart (PC, Nintendo Switch), a unique indie platformer. But wait, there's more! It looks like July will end with a bang, as we have at least three other interesting games launching on the same day. Nothing to Remember (PC), Paint the Town Red (PC, PS4, PS5, Xbox One, Xbox Series X/S, Nintendo Switch), and The Ascent (PC, Xbox One, Xbox Series X) will be released on July 29. It's important to mention that The Ascent will also be available for free on Xbox Game Pass. Also, Project Warlock 2 has been delayed to late August, so it won't be coming next month. Last but not least, we have yet to learn when Little Devil Inside will arrive on PC, PS4, and PS5.

Here are the free games for PS Plus subscribers in July 2021
xda-developers.com
PS Plus Games for July 2021
futuregamereleases.com
Opinion: Windows 11 System Requirements Actually Make Sense
pcper.com
Remedy has announced that they're working on two new Control Games, in a publishing and development agreement with 505 Games. Codenamed Condor, the next game within the Control franchise is going to be a multiplayer spin-off title that's "set to expand the world we kicked off with Control," according to Control game director Mikael Kasurinen. "We kicked it [Control] off with Jesse's entry into the Oldest House, but there is more to this world. Oh, so much more. And Project Condor will be an expression of that," Kasurinen continued, before later revealing a concept image for project Condor. In this image, we see four variously armed and equipped players with a bodybag at their feet, dragged in from off-screen. Waiting for their number to be called to process their kill, it looks like project Condor might have some bounty hunting vibes if we want to get speculative. In the blog post, it was revealed that project Condor wasn't the only project that Remedy is working on, as they're also working on a much more secretive game that'll "expand the Control franchise with a bigger-budget Control-game." There are no release dates for either of these projects, and Kasurinen even closed the blog post by saying that "it is going to be a long time before we show off these projects," but hopefully both these games will be well worth the wait whenever they release.

Funcom acquires majority stake in developer The Outsiders
gamasutra.com
Two new Control games in the works
eurogamer.net
Funcom acquires majority stake in developer The Outsiders
gamasutra.com
Remedy developing two new Control games,505 Games to co-publish
thumbsticks.com
AT&T has been working with Microsoft for several years to test its 5G workloads on Azure. Today, June 30 -- the last day of Microsoft's fiscal 2021 -- the pair announced the renewal of their partnership, with Microsoft acquiring AT&T's carrier-grade Network Cloud platform technology. Does this mean Microsoft is becoming a mobile operator? No. Nor is AT&T getting out of the telco business. The Network Cloud Platform is what AT&T has used to run its 5G technology since 2018. Microsoft plans to take this Network Cloud platform, specifically the intellectual property and technical expertise around it -- and bring it to its Azure for Operators telco offering, the pair said. "This move brings real-world production 5G workloads to Azure for Operators," said Microsoft via a press release. Microsoft will make offers to the AT&T Network Cloud platform engineering team to move to work for Microsoft. Announced last year, Azure for Operators is about making Azure more appealing to telecommunication companies. Microsoft officials said at the time that it had no intentions to become a telco provider in its own right. Microsoft also bought a couple of 5G-centric companies in recent months -- Metaswitch Networks and Affirmed Networks -- to further bolster its ability to sell Azure to telcos. Telecommunications is one of Microsoft's key vertical markets. The company already counts NTT, Vodafone, T-Mobile, Verizon Business, Deutsche Telekom, Telefonica, and Telstra, along with AT&T, as partners and/or customers in this space. Today, AT&T officials said they are moving their 5G mobile network to Microsoft's cloud, which provides a path for all of its mobile network traffic to be managed using Azure technologies. The first piece to be moved will be AT&T's 5G core, which connects mobile users and IoT devices with Internet and other services. In 2019, Microsoft and AT&T announced Azure technology would be woven into AT&T's 5G and edge networks, so that A T&T's virtualized 5G core Network Cloud will be able to deliver Azure services to customers. Today's announcement advances the original 2019 deal between the two companies.

Satya Nadella on LinkedIn: AT&T to run its mobility network on Microsoft's Azure for Operators
linkedin.com
AT&T to run its mobility network on Microsoft's Azure for Operators cloud, delivering cost-efficient 5G services at scale
news.microsoft.com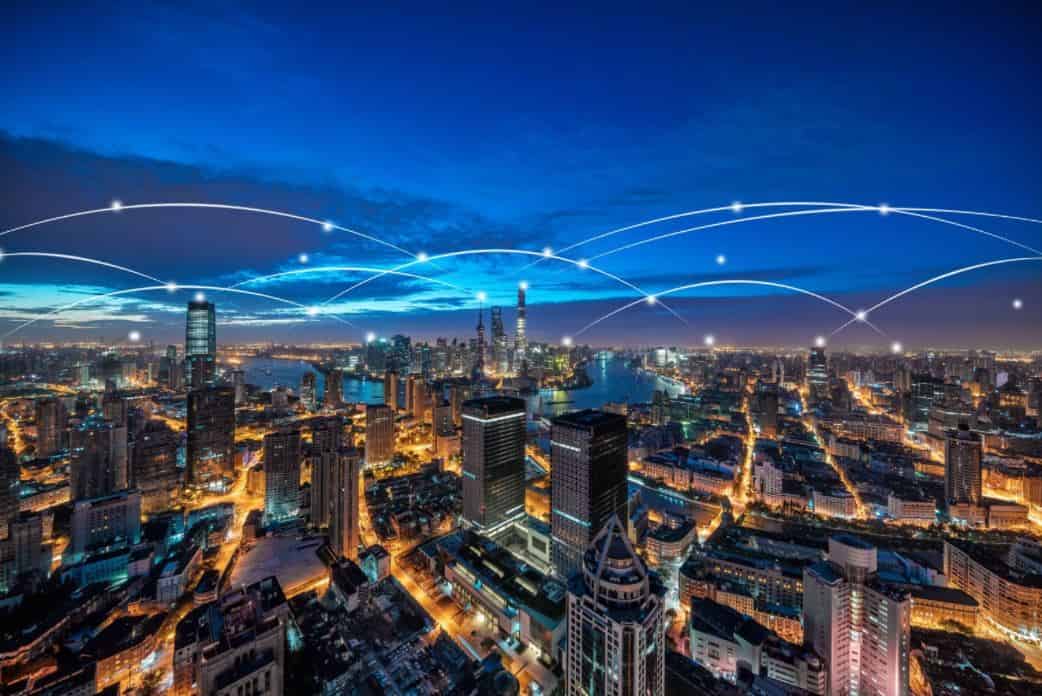 Microsoft to acquire AT&T's Network Cloud technology and Azure will power AT&T's 5G network
mspoweruser.com
This fourth episode of Loki is now available on Disney Plus, and while we won't dive into what will be shown in the episode to prevent spoilers, it is worth noting that this will be the first episode of the season to feature a post credits scene. The series based on the God of Mischief, has been airing new episodes each week on Disney's streaming service since June 9, taking the Asgardian prince on all manners of wild journeys beyond the limits of time. You can check out our review of the first episodes here if you haven't yet had the chance to check out the show yourself. Episode 4 titled "The Nexus Event" is 49 minutes long, so be sure not to switch off until the credits have rolled to stay up to date with everything being shown in the Marvel Cinematic Universe show. You must be logged in to comment. If you are not yet a member - join now! Loading next content Gamereactor uses cookies to ensure that we give you the best browsing experience on our website. If you continue, we'll assume that you are happy with our cookies policy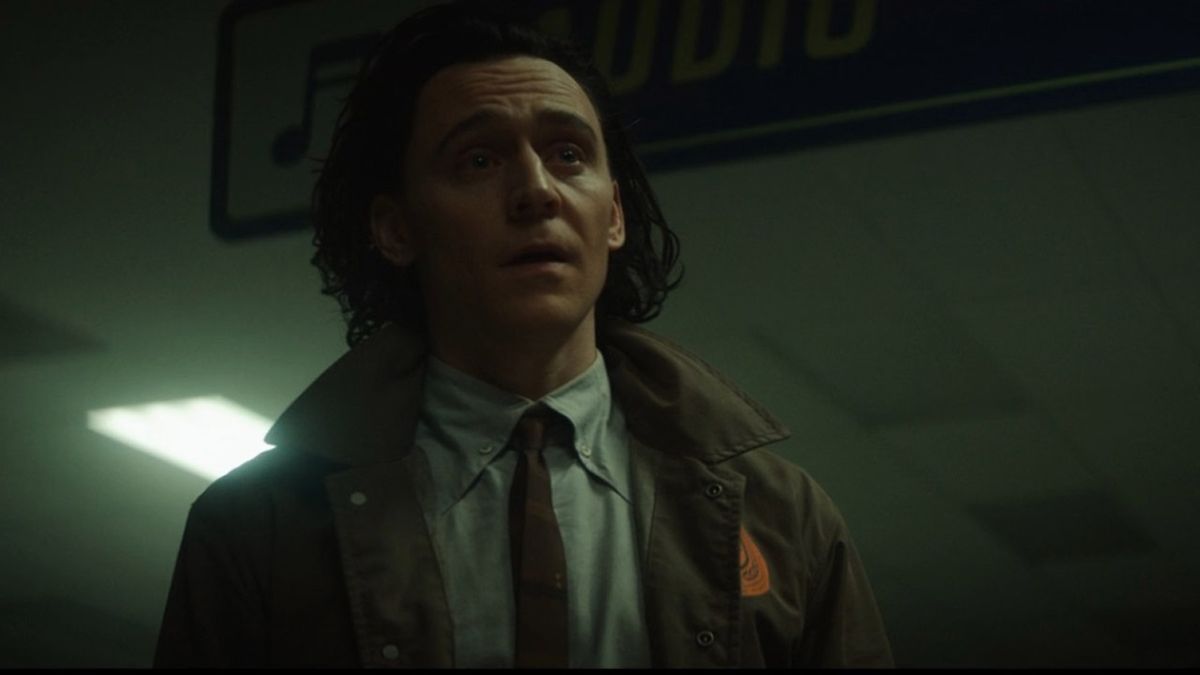 Loki episode 4 post-credits scene explained
techradar.com
The Simpsons and Loki crossover arrives on Disney+ next week
techadvisor.com
Here's what the Loki episode 4 post-credits scene means
gamerevolution.com
Just a few months after the open beta's launch, Magic: Legends is shutting its doors. Magic: Legends, the free-to-play action RPG from Cryptic and Perfect World, will not be leaving open beta. That game's servers are going offline October 31. Previously announced console versions are also being cancelled. Watch on YouTube Cryptic broke the news in a blog post, saying that while servers will be live until the end of October, the Zen Shop premium store and the game's paid currency will be going offline today. Items previously on sale in the Zen Shop will be available for purchase using Aether, the free currency earned through play later this week. Players who spent any real money on the game will have their purchases completely refunded. This includes virtual currency, as well as the Planeswalker Bundle itself. "Our vision for Magic: Legends missed the mark, but we are proud of what we achieved," executive producer, Steve Ricossa, wrote. "Thanks to Wizards of the Coast, we got to bring the expansive Magic: The Gathering Multiverse to a wide audience and explore new angles within the established ARPG genre. "We learned several valuable lessons along the way, and we will use them to improve Cryptic's future development efforts." Magic: Legends wasn't very well received by players or critics, who called out its monetisation model, grind and middling gameplay.

Magic: Legends shut down while in open beta
pcgamesinsider.biz
Magic: Legends will be shut down on October 31
gamereactor.eu
Diablo-like Magic: Legends is shutting down
eurogamer.net
Affordable phones are better than ever. Sure, you'll still find plenty of flimsy handsets with dated software out there, but if you do some digging, there are lots of excellent flip phones and smartphones that work far better than their low prices suggest. If you're buying on a budget, we're here to help. We've gathered the top phones you can buy for less than $300, along with the most important features to look for when shopping. What to Look For in an Affordable Phone While budget-friendly phones don't have all the perks that come along with midrange or flagship models, that doesn't mean you can't find a perfectly capable device to suit your needs. Let's start with the features we believe are absolutely essential when choosing a cheap phone. Keep in mind that most of these recommendations are for smartphones, so if you're in the market for a flip phone, many of these tips don't apply. TCL 10L Battery Life: There are lots of variables to consider when it comes to battery life, but ultimately you want your phone to last at least until the end of the day. If you're shopping for a phone with a screen smaller than 6 inches, look for a battery capacity of 3,500mAh or higher. For phones with larger screens, you'll want to look for a minimum battery capacity of 4,500mAh. Chipset: Unless you want to spend less than $150, you should generally look at Qualcomm chipsets released within the past year or phones that use older 7 or 8 series processors. The Snapdragon mobile platform is evolving quickly and there are incredible options in every series If you're planning to keep your phone for a few years before upgrading, the Qualcomm 480 5G and 690 5G mobile platforms are solid options, as are most 7 and 8 series chipsets. Compatibility: Before you make a purchase, you'll want to decide whether you're ready to jump on the 5G bandwagon or if you'd rather stick with LTE. No matter your choice, make sure your phone has the appropriate band support for your carrier. Search for 5G and LTE bands by the phone's model number, not its name. Once you have a list of bands, you can check out this handy article from Phone Scoop to make sure the phone will work on your carrier. You'll also want to know if the phone has support for the bands that best suit your needs. For example, T-Mobile customers in rural areas will want a phone with LTE band 71 support, while AT&T and Verizon customers will want to look out for C-band coverage on 5G budget phones. Motorola Moto G Play (2021) Connectivity: Connectivity has a huge impact on call quality and data speeds. For the most part, you're going to want a phone with a Qualcomm X12 or X51 5G modem. If you're looking at flip phones, make sure the modem has voice over LTE (VoLTE), voice over Wi-Fi (VoWIFI), and Enhanced Voice Services (EVS) for the best call quality. You'll also want 802.11ac Wi-Fi as well as Bluetooth 4.1 or later. Operating System: Look for the latest generation of Android, which is currently Android 11, though it's quite possible you might have to settle for Android 10. Don't go back any farther than that. RAM: Simply put, the more RAM the merrier. For phones under $200, look for at least 4GB of RAM. If you're willing to spend more, make sure you get a minimum of 6GB. Storage: Like RAM, you can't have too much storage. Look for at least 32GB of storage on phones under $200, and make sure the phone has a microSD slot. If you spend more, you'll want no less than 64GB of storage, ideally with a microSD slot. See How We Test Phones See How We Test Phones Not Essential, but Nice to Have Once you have the essentials covered, you'll want to see what extra perks you can find. Keep in mind you won't find many of these features on the majority of budget-friendly phones, but chances are we'll start seeing them trickle out more over time. Multi-Lens Cameras: Most affordable phones have multi-lens camera stacks that allow you to capture wide-angle and macro shots. For the most part, these phones can capture solid images if you have a steady hand and good light. NFC: NFC is slowly making its way to the affordable phone market. It's a great feature to have as contactless payments have become more popular. Stereo Speakers: A handful of budget-friendly phones have stereo speakers and even advanced features such as custom tuning and Dolby audio. Though no phone is going to sound as good as even an inexpensive Bluetooth speaker, it's definitely an upgrade over a single driver. Splash Resistance: Though we've yet to see a budget offering with an official ingress protection (IP) rating, a handful of affordable phones now feature splash resistance. They're usually treated with a nanocoating such as P2i and can withstand rain and other minor splashes, but not a drop in the pool. Strengthened Glass: If you're spending more than $100 on a phone, it should have strengthened glass to protect the display from crack and scratches. Gorilla Glass 3 seems to be the standard for most budget phones, but we've seen a few with Gorilla Glass 5. In general, each generation of Gorilla Glass is softer than the last; phones with Gorilla Glass 5 displays are less likely to shatter when dropped, but they're also more likely to accumulate hairline scratches. What's the Cheapest iPhone? You'll notice we haven't included an iPhone here. That's because we're trying to keep this list as affordable as possible, and as much as we like the new iPhone SE, its $399 price places it firmly in midrange territory. That said, if you're looking for an affordable iPhone, it's the one to get. Also see our in-depth explanation of which iPhone to buy. Apple iPhone SE For more, see our stories on the best cheap phone plans and how to get the best price on a new phone. We also have a few other affordable options in our list of the best phones for seniors. And we'll be adding new phones here as we review them, so make sure to check back soon.

Best cheap Newegg deals for July 2021
digitaltrends.com
Best cheap PS Plus deals for July 2021
digitaltrends.com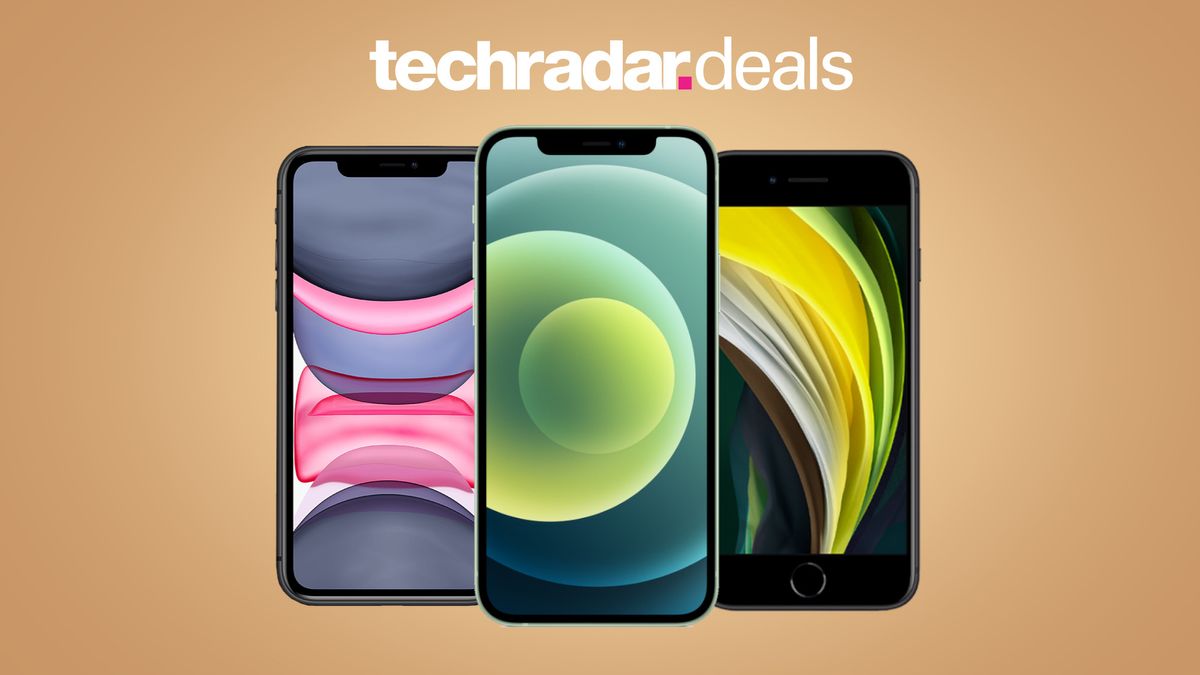 The best iPhone deals and prices for June 2021
techradar.com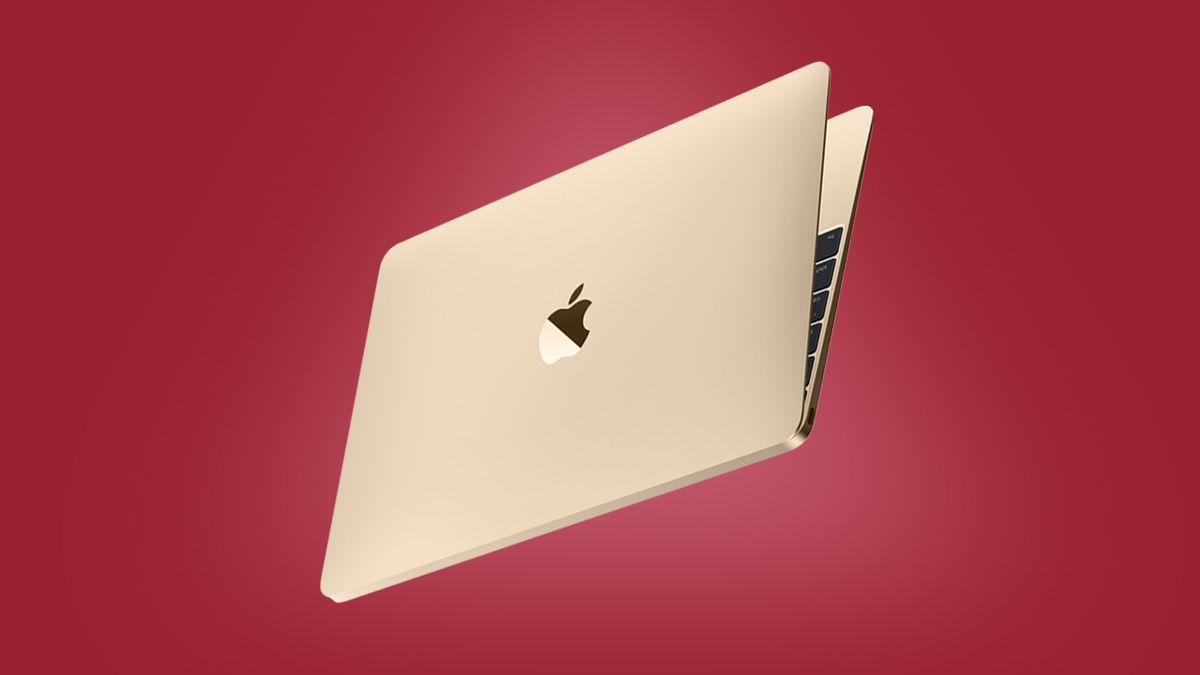 The best cheap MacBook deals, sales and prices in June 2021
techradar.com
Best cheap gaming chair deals for July 2021: AKRacing, Respawn, and more
digitaltrends.com
Best cheap PlayStation deals for July 2021
digitaltrends.com
The Best Android Phones for 2021
uk.pcmag.com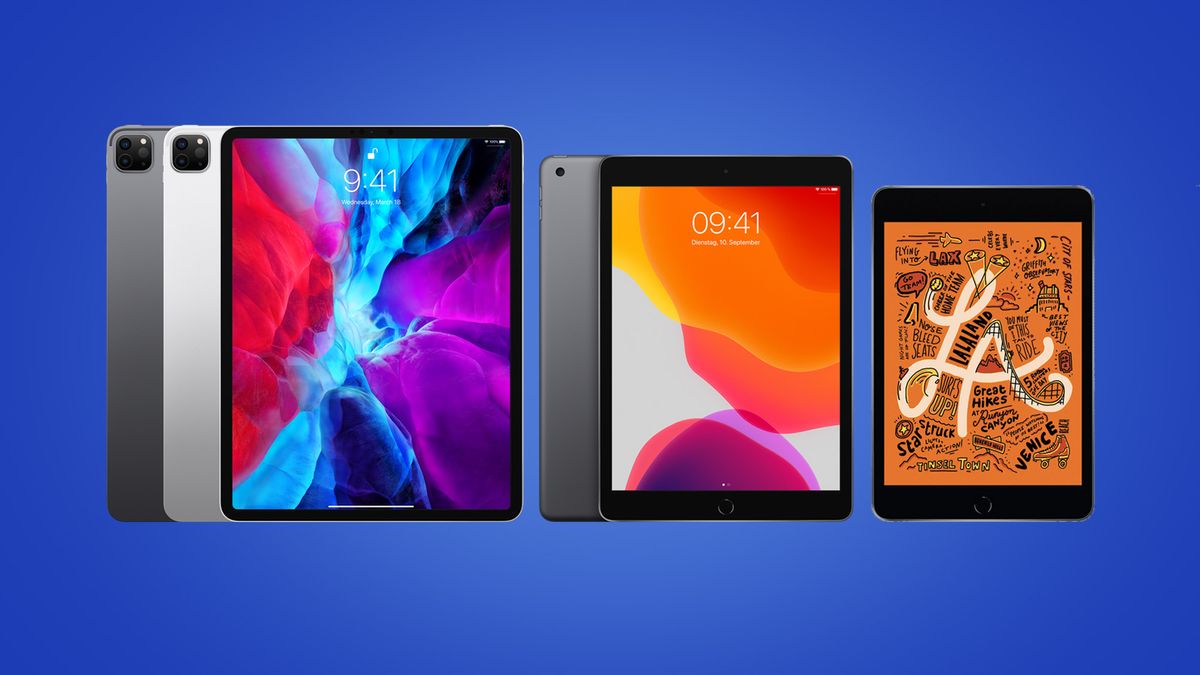 The best cheap iPad deals in June 2021
techradar.com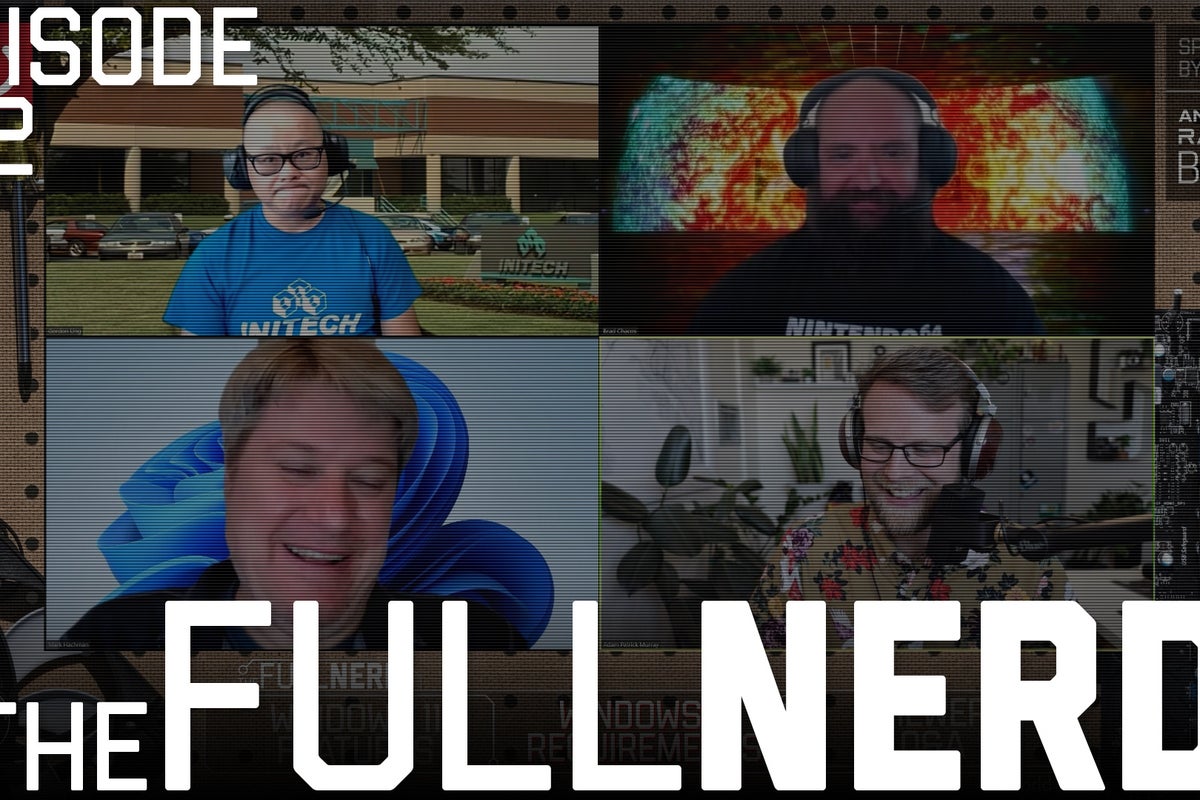 In this episode of The Full Nerd, Gordon Ung, Brad Chacos, Adam Patrick Murray are joined by PCWorld's resident Windows guru Mark Hachman to delve deep into the newly announced Windows 11. Mark has spent endless hours tinkering with both leaked and official Windows 11 builds to discover everything you need to know about the operating system. First, we go over the hottest new features you need to know about, then shift gears to discuss more controversial subjects, like Windows 11's strict TPM requirements, limited CPU support list, and required Microsoft accounts. There's a lot to cover, and we spent roughly two hours debating Windows 11's intricacies and fielding pointed questions from the live audience, all through the lens of true desktop enthusiasts. Don't miss out. You can give the Windows 11 beta a whirl for yourself if you're a Windows Insider, too. You can witness it all in the video embedded above. You can also watch The Full Nerd episode 182 on YouTube (subscribe to the channel while you're there!) or listen to it on Megaphone.fm if you prefer the audio alone. Speaking of audio, you can subscribe to The Full Nerd in iTunes (please leave a review if you enjoy the show). We're also on Pocket Casts, Google Podcasts, Spotify, or you can point your favorite podcast-savvy RSS reader to: https://feeds.megaphone.fm/IDG8935300959 If you want to wear your geekiness on your sleeve, check out our Full Nerd merch! Have a PC- or gaming-related question? Email thefullnerd@pcworld.com and we'll try to answer it in the next episode. You can also join the PC-related discussions and ask us questions on The Full Nerd's Discord server. Finally, be sure to follow PCWorld on Facebook, YouTube, and Twitch to watch future episodes live and pick our brains in real time!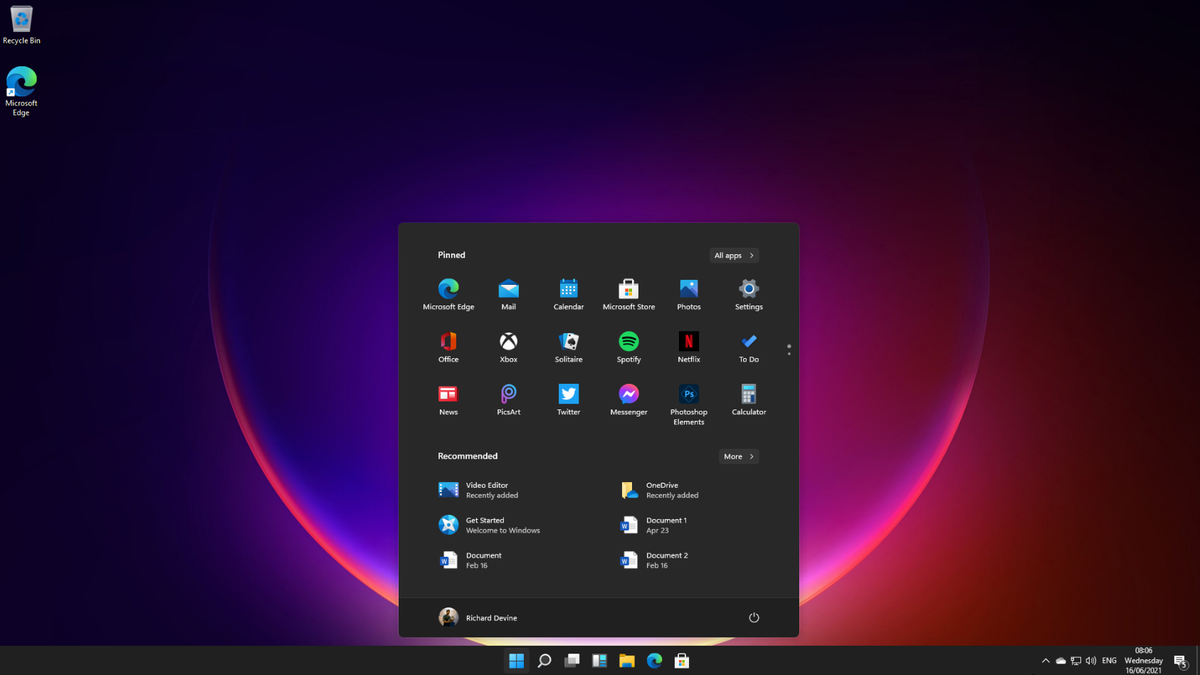 Windows 11 release date, features and everything you need to know
techradar.com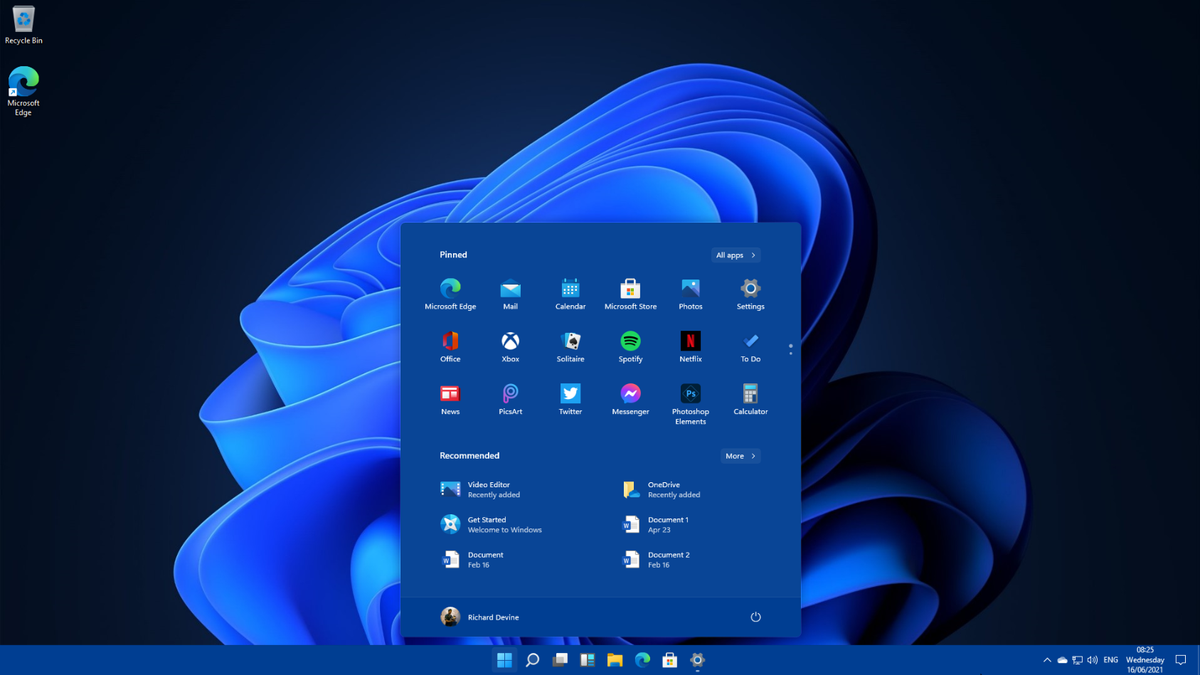 Windows 11 release date, features and everything you need to know
techradar.com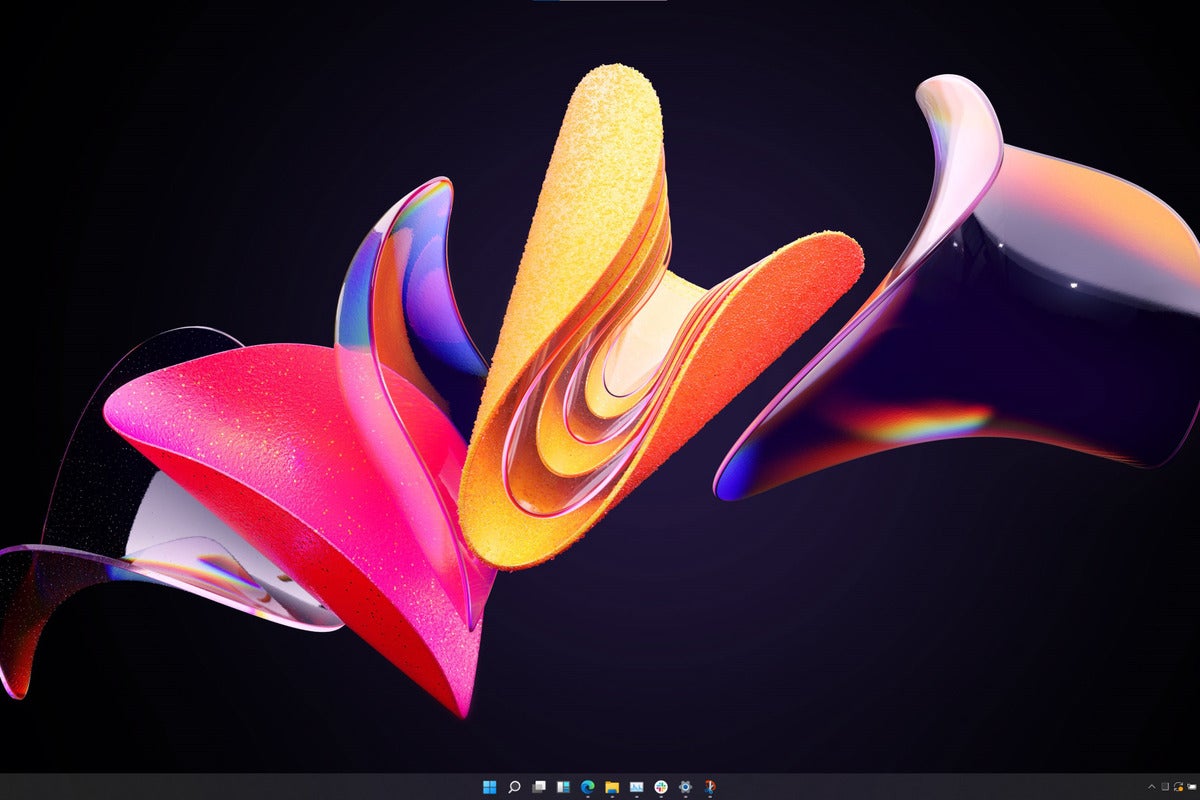 Windows 11 FAQ: Answers to your most burning questions
pcworld.com
Seven Windows 10 features missing in Windows 11
techadvisor.com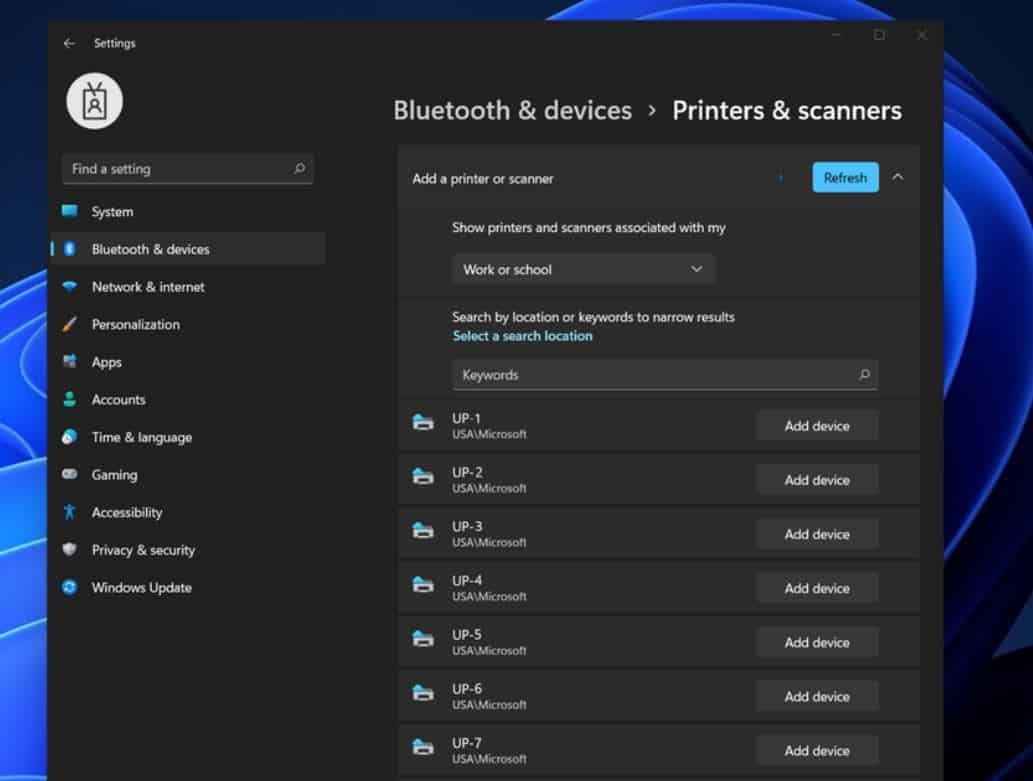 Microsoft yesterday revealed the improved print experience coming in Windows 11. As you can see from the screenshot above, you can now add a printer in the Windows 11 Settings app. For Universal Print driver printers, Microsoft is adding the ability to add a PIN to a print job. You can read about other print related improvements coming in Windows 11 below. Source: Microsoft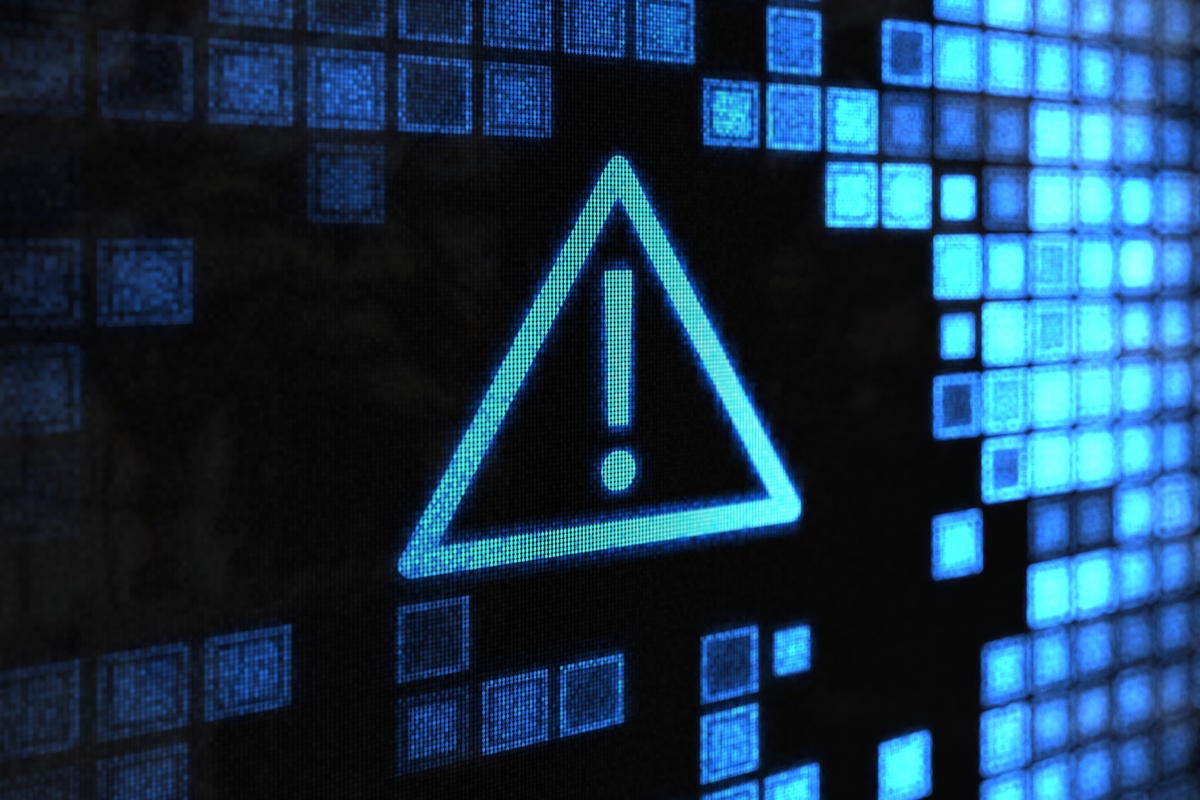 The Windows 11 rollout: Microsoft's most-botched announcement ever
computerworld.com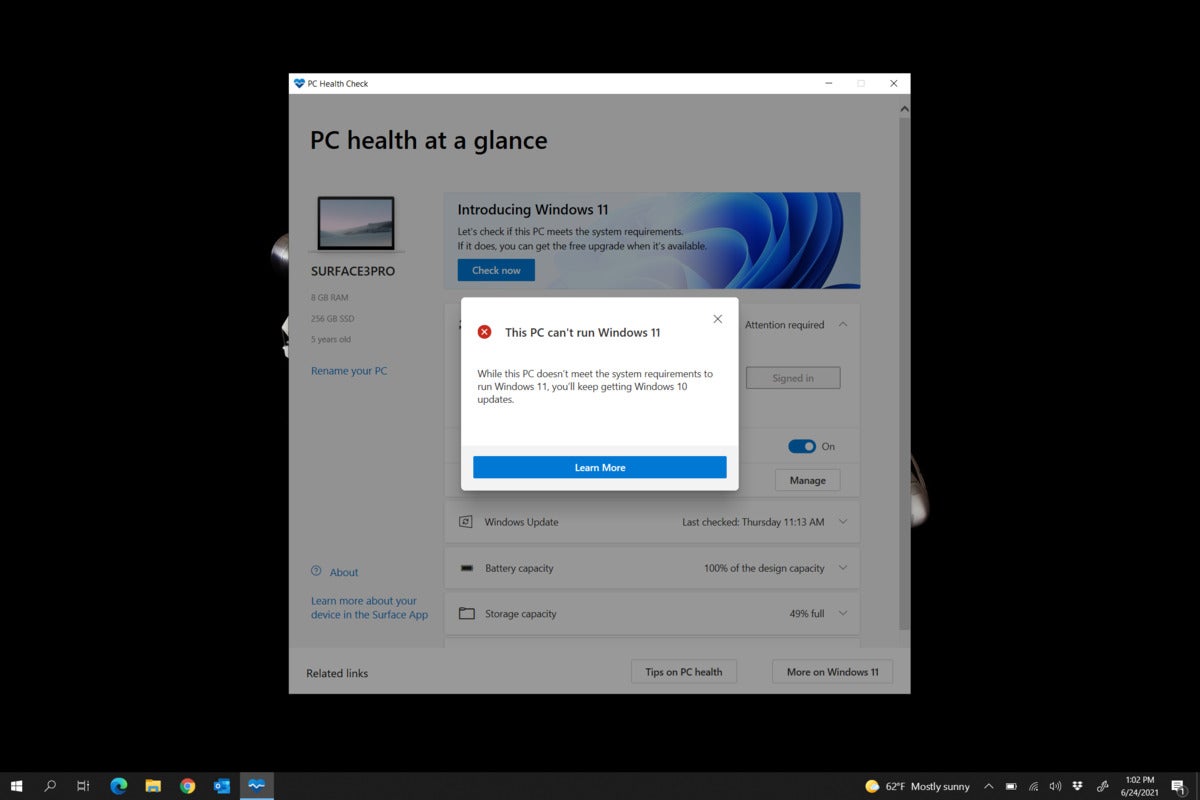 Microsoft explains why you'll need a TPM for Windows 11
pcworld.com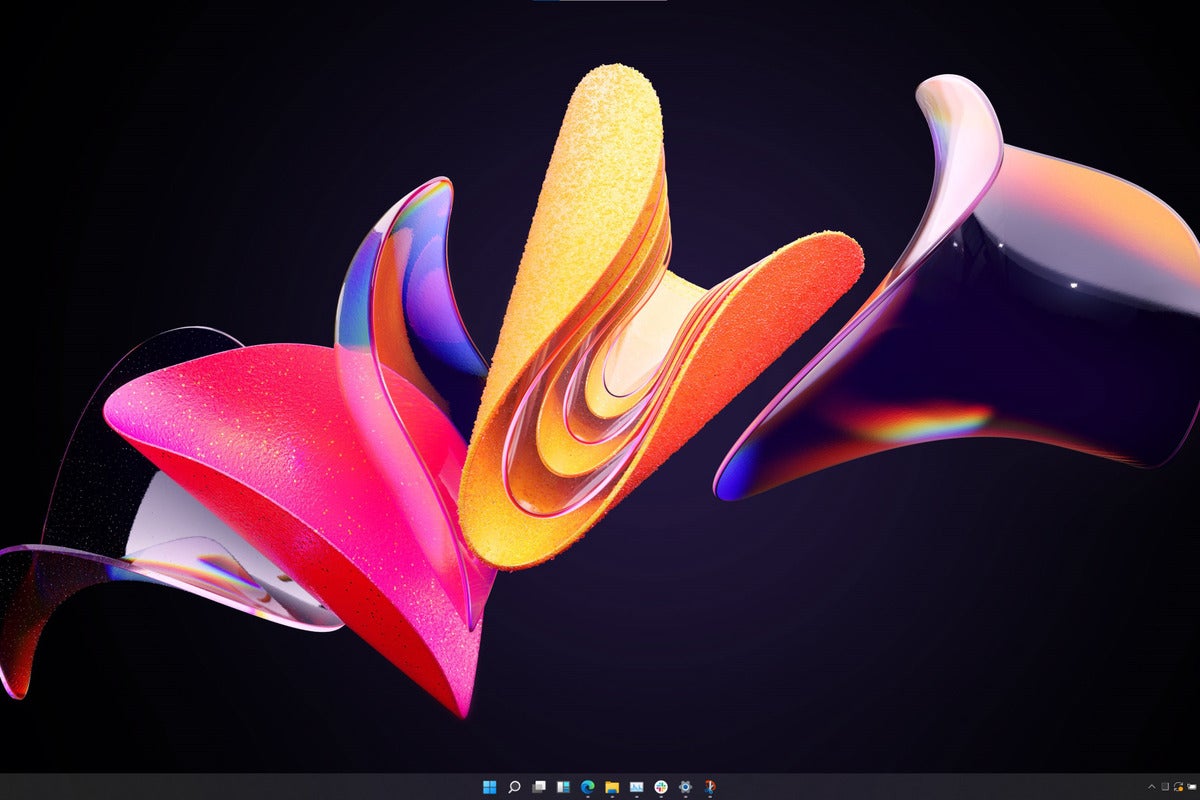 Windows 11 FAQ: Answers to your most burning questions
pcworld.com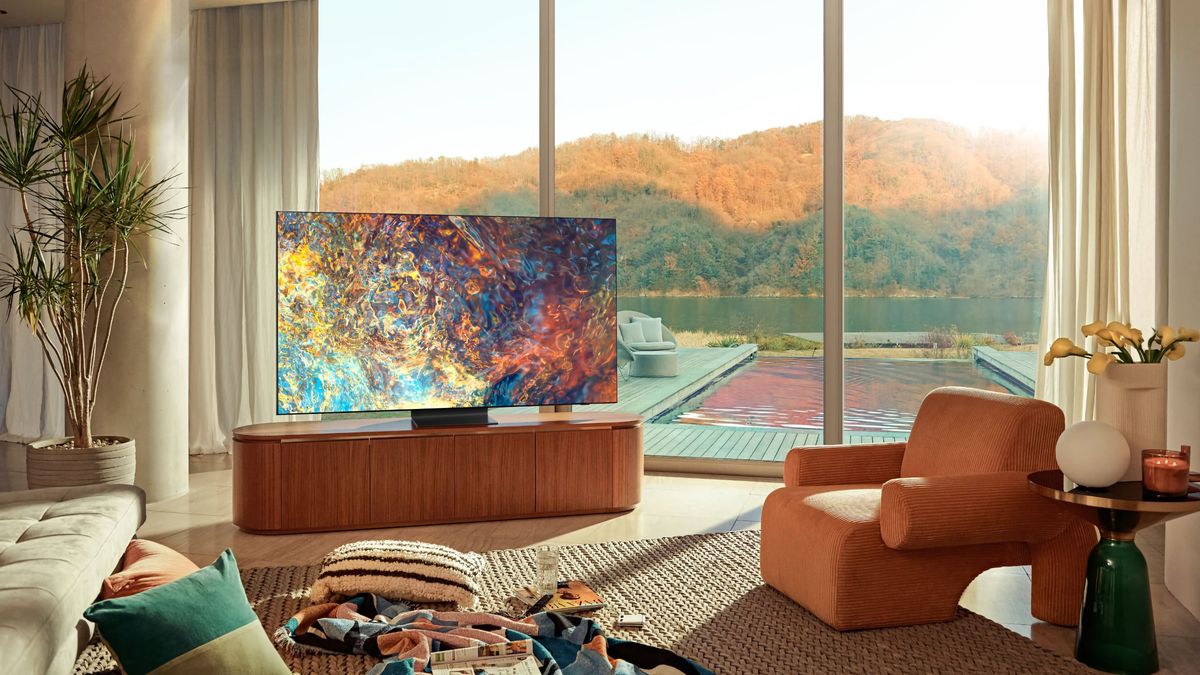 Mini LED is at the fore of this year's TV ranges, with the likes of TCL, Philips, LG and Samsung all pursuing the TV backlight technology – and even Apple opting to use Mini LED tech in its new iPad Pro – but what exactly is it, and why should you even care? Mini LED is largely a TV term, but you're likely to be seeing it in smaller devices going forward too, with the 2021 iPad Pro featuring a Mini LED backlight, and even the Nintendo Switch 2 rumored at one point to feature Mini LED tech too. But the TV market is where the most Mini LED action is happening, and 2021 is its biggest year yet. As the name suggests, Mini LED shrinks the LED modules that provide backlighting to LCD screens. LCD pixels can't illuminate themselves – like OLED can – so they need a light-source behind them to shine through, creating the necessary brightness and color. Because of this extra layer of backlighting, too, the pixels in an LCD display can never be turned all the way off. So the blacks not only lack the inky quality of their OLED equivalents, but if an LCD TV's backlight is poorly implemented and/or controlled, there can be discernible unevenness to the way the screen describes what should be uniform areas of black. Consider the end credits of many a movie: a black screen with white text scrolling up it. It's very common for an LCD TV to allow a halo of light to surround the words, or to let its backlight betray 'bleed' from the corners of the screen, turning what should be black into a cloudy gray. No one ever bought a television for how it handles the end credits of a film, it's true. But this kind of lumpy picture quality is what has increasingly made LCD technology look a little bit backward compared to its shiny OLED competitor. However, there may yet be a way for LCD technology to reassert itself among the best TVs – and that's through Mini LED. Mini LED is a more efficient, and more effective way of backlighting an LCD screen. Officially a diode no bigger than 0.2mm can be classed as 'mini' – but this is the consumer electronics industry we're dealing with here, and you can expect the word 'mini' to be used quite loosely. The basic principle, though, is that smaller LED diodes allow for more LED diodes. Fitting more, and smaller, LED diodes behind the LCD pixels means images can be brighter. It means backlighting control can be more targeted and precise. It should allow for better control, which ought to mean less backlight bleed and stronger contrasts. If it's deployed effectively, Mini LED backlighting should allow LCD panels to get much closer to OLED levels of performance than has been possible before. These theoretical advantages are pretty compelling. And, of course, that's without OLED's perceived problems: LED/LCD technology has never been the subject of screen-burn scare stories, nor does it fall prey to the eventual but inevitable drop-off in performance that's the price of the 'organic' element of OLED. Of course, the success of Mini LED will come down to the way the technology is implemented. There's a lot of variation in the performance of similarly priced, similarly specified LED-backlit LCD screens - you only have to have a quick glance at our numerous TV reviews to see that. And if some TVs are found wanting when it comes to controlling a few dozen backlight dimming zones, can they really be expected to be any better when they have control of what could be thousands? Apple pursuing Mini LED for its 12.9-inch iPad Pro 2021, making for 600 nits of brightness, will only raise awareness and hype for the technology too. Intrepid Chinese manufacturer TCL was quick out of the blocks in incorporating the technology into its screens, and others are now following suit. LG, Philips and Samsung have all announced Mini LED ranges for 2021. LG's Mini LED range – called ' QNED ' – has immediately become its premium LCD offering, combining Mini LED with quantum dot technology. It's positioned above the NanoCell LCDs that were previously the company's most aspirational LCD TVs. The QNED99 is the hero of the range. It's an 8K,120Hz television with full array local dimming (all the better to show off exactly what Mini LED is capable of). It's available in 65-inch,75-inch and 86-inch variants. The QNED95 swaps the 120Hz panel of the QNED99 for just 60Hz, but retains the 8K resolution and all the other technological highlights – the 86-inch size aside. There are a couple of 4K QNED ranges that are similarly arranged. The QNED90 has a 120Hz panel in front of its Mini LED Full Array Local Dimming arrangement, while the QNED85 makes do with a 60Hz panel instead. Over at Samsung, 'Neo QLED' is the way the company is describing its Mini LED televisions for this year. Along with a 'micro layer' to guide the light of the Mini LEDs (perhaps as many as 5,000 individual diodes for a single screen) through the quantum dots, Samsung has developed its most precise dimming and power distribution algorithms to date. All of which bodes well for the chances of the range-topping QN900A. This is an 8K 120Hz screen, available in 65-inch,75-inch or 85-inch sizes. The QN800A retains the 8K resolution and the selection screen size options – it just doesn't have quite the whistles-and-bells audio system of the QN900A. The 4K flag for Samsung is flown by the QN95A and QN90A: these are both 120Hz panels, and both available in 50 in-inch,55-inch,65-inch,75-inch and 85-inch screen sizes. The QN95A also features Samsung's One Connect box, which takes all connectivity requirements away from the screen itself. There's also the QN85A, which retains the 120Hz panel of its siblings but doesn't have quite as many dimming zones or speaker drivers. Philips, of course, has its unique selling point to bring to the Mini LED party: Ambilight. Both the 9639 and 9506 are available in 65-inch or 75-inch sizes, and both have four-sided Ambilight as well as Mini LED backlights. As with LG, Philips' Mini LED TVs slot into the television series just below the pricier OLED ranges. TCL fans can opt for the 6-Series QLED with Mini LED in the US – or the upcoming C825 QLED in the UK, which is set to launch at £1,099 for its smallest 55-inch size. Ultimately, there are a few factors that will determine the success (or otherwise) of individual Mini LED TVs. The panel driver and video processing engine that's fitted to the television, for instance, will have a huge say in the way the screen performs – and if they're indifferent components, the sheer complexity of the Mini LED arrangement could conceivably create more, rather than fewer, backlighting and contrast issues. We shouldn't have to wait too long to find out, though. The start-of-the-year announcements are all done, the specifics of model ranges and prices are starting to trickle down, and by the middle of the year (at the very latest) we'll have had our hands (and eyes) on enough Mini LED TVs to know if the technology is a) effective and b) worth your money.

LG announces launch of LG QNED Mini LED premium TVs
neowin.net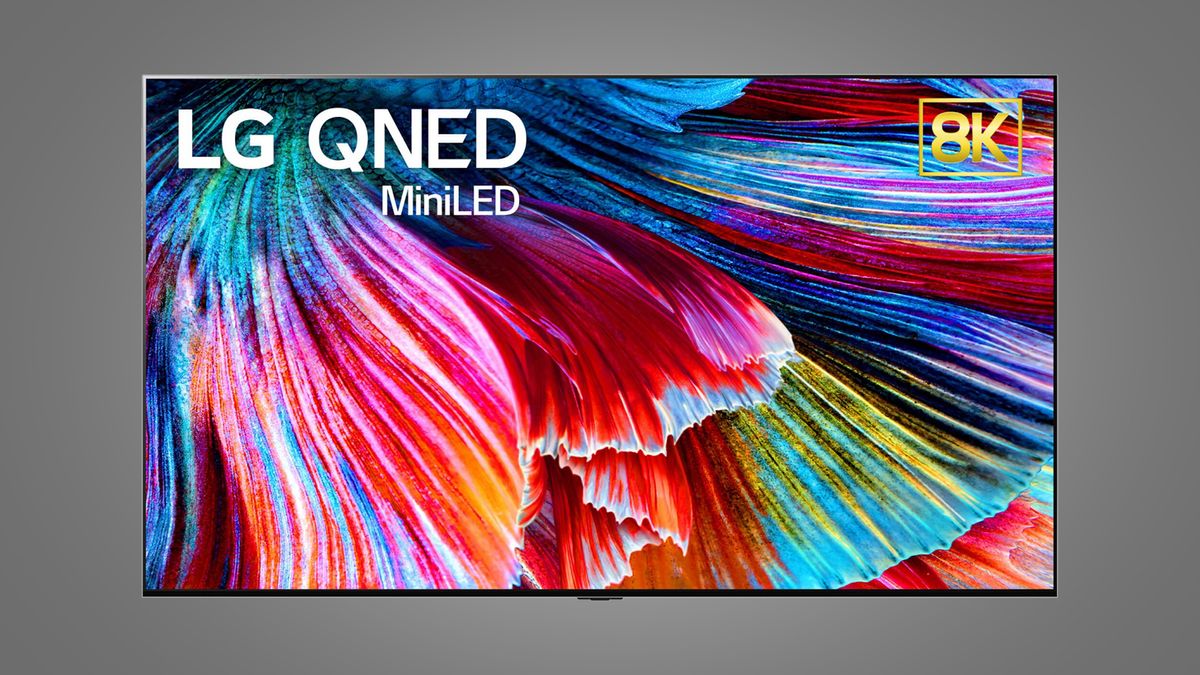 What is QNED? LG's new Mini LED TV range explained
techradar.com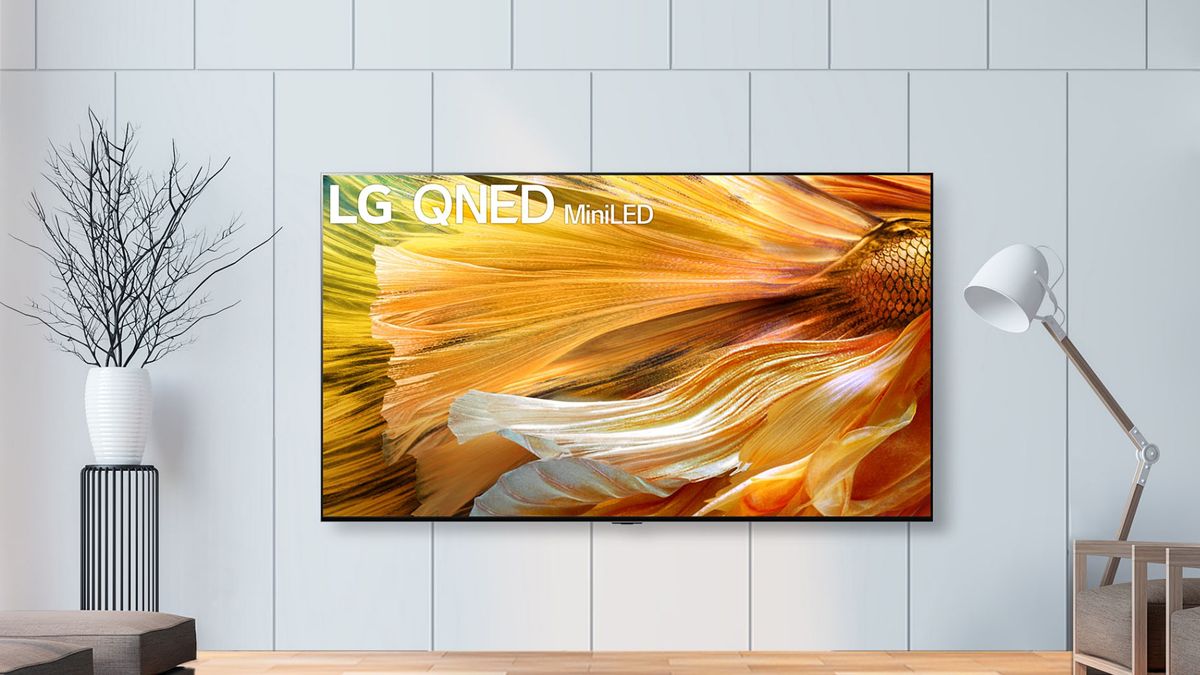 LG Mini LED TVs are rolling out – but can they take on OLED?
techradar.com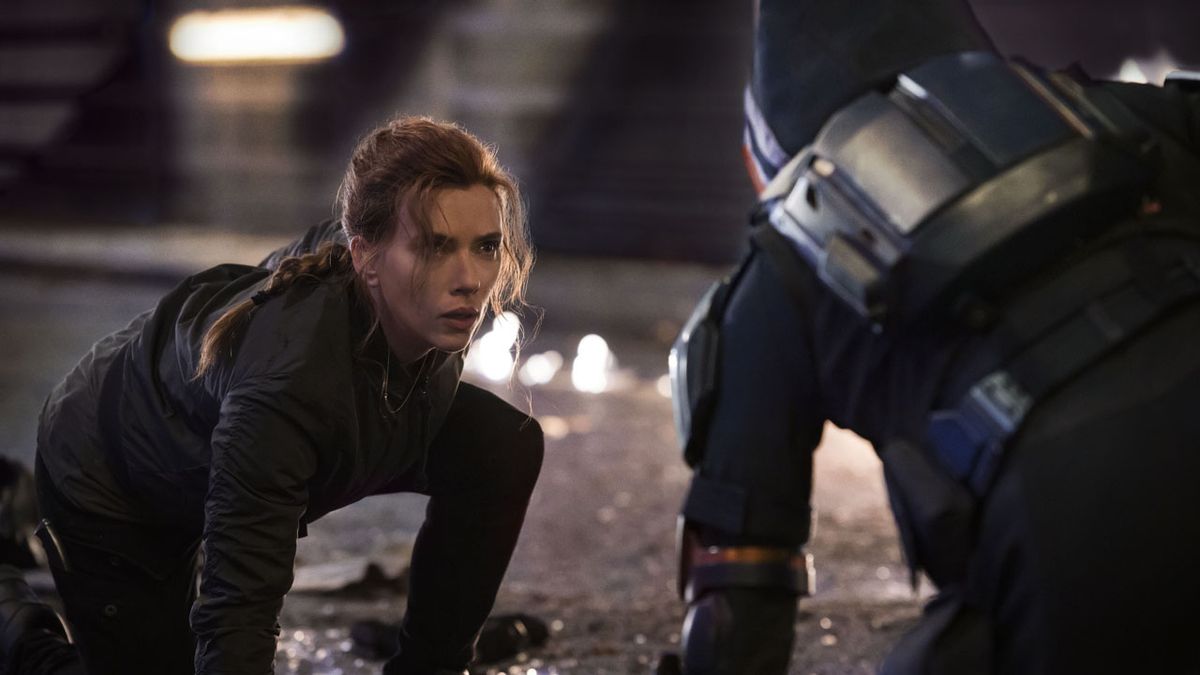 10 things to stream on Netflix, Amazon Prime, HBO Max and more in July 2021
techradar.com
LG's Quantum Dot NanoCell Mini LED TVs Available in July
uk.pcmag.com
Tencent Games subsidiary Lightspeed and Quantum Studios Group, developer of the hit PUBG Mobile, announced the formation of Uncapped Games Studios. This new team is based in Los Angeles and is working on an RTS game for PC. Two former Blizzard employees, David Kim and Jason Hughes, are leading the studio. Kim worked on StarCraft II at Blizzard, so he has experience with the RTS genre. He was the lead systems designer for Diablo IV until his departure from Blizzard in April. Hughes was working as Diablo IV's lead game producer before announcing his departure from the company in May. We've seen multiple studios come up around former Blizzard staff in recent years. Another, Frost Giant Studios, is also working on an RTS game.

Former Riot Games devs band together to establish new studio Amihan Entertainment
gamasutra.com
Konami and dev Bloober Team partner to create new games
gamasutra.com
Konami and dev Bloober Team partner to create new games
gamasutra.com
New Silent Hill game could be in development, but fans are worried
gamerevolution.com
Windows 11 has already landed in the Windows Insider program, and while some big features like support for Android apps and the Microsoft Teams integration are currently missing, there are several smaller ones that users gradually discover as they install this early build. For example, Microsoft has added a little yet neat file transfer progress indicator right in the address bar, thus making it easier to figure out when a transfer is supposed to complete. If you've used Windows before, you certainly know this isn't a new feature, though the previous operating system used a different approach, as the taskbar icon was filled with a green pattern as the transfer progressed. But in the case of Windows 11, Microsoft is going for a more modern approach, so there's now a small progress bar placed right below the icon, as you can see in the screenshot here. But while this new feature is without a doubt a nice little modern touch, the file transfer dialog still uses the design that was introduced by Microsoft back in the Windows Vista days. The corners are indeed rounded, as per the new Windows 11 design approach, but other than that, the dialog uses the same design that was available in Windows Vista, Windows 7, Windows 8, Windows 8.1, and Windows 10. Whether or not Microsoft plans to change this design is something that remains to be seen, as the company could further polish the experience with Windows 11 by the time the operating system sees daylight later this year. Microsoft hasn't shared any specifics on the ETA of Windows 11, but there's a good chance the new OS lands for production devices in October. It will be offered as a free upgrade to certain eligible devices already running Windows 10.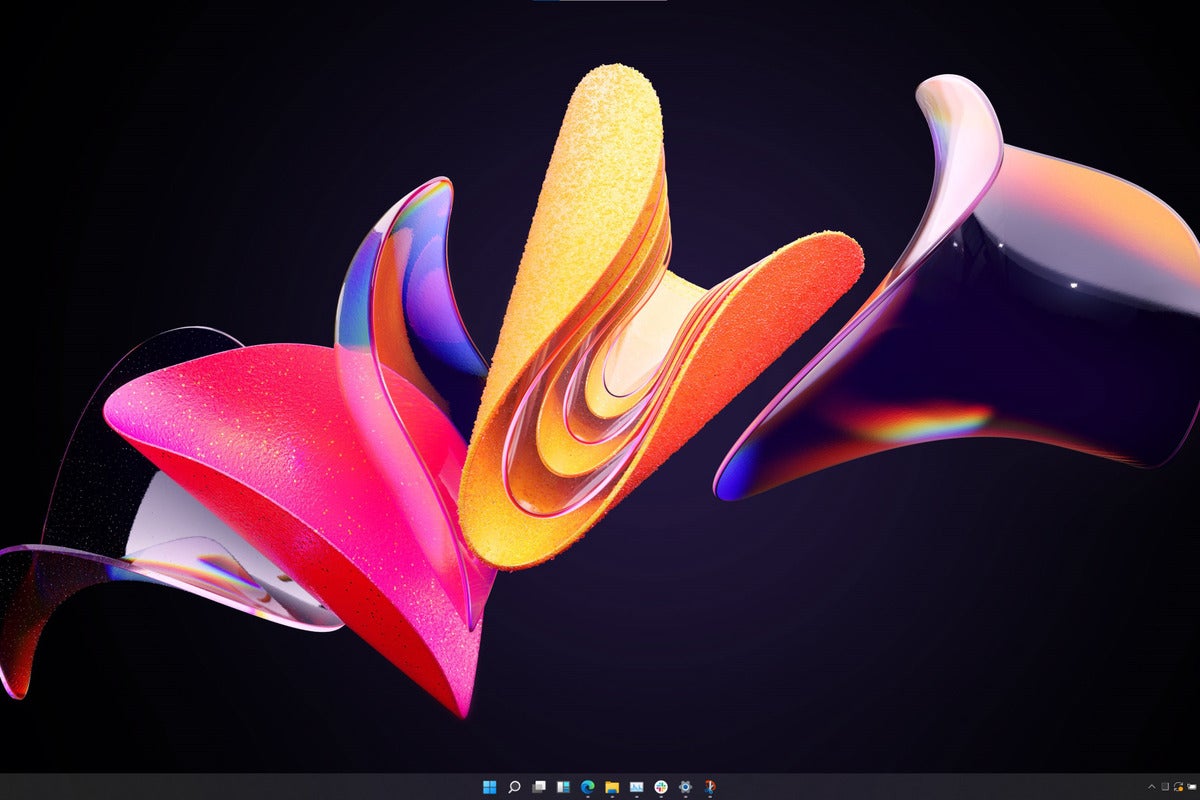 Windows 11 FAQ: Answers to your most burning questions
pcworld.com
Seven Windows 10 features missing in Windows 11
techadvisor.com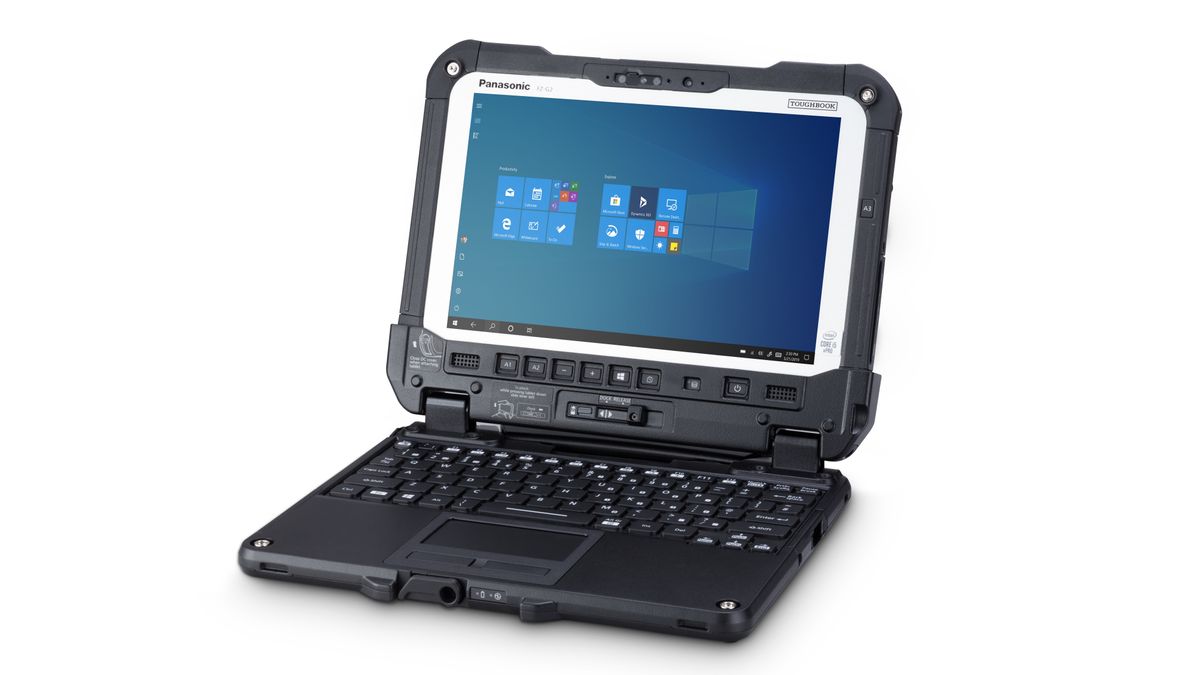 Panasonic has unveiled the Toughbook G2 and the new 2-in-1 combines the power and performance of a rugged laptop with the portability and versatility of a rugged tablet. The device has been designed with usability and security in mind while still providing mobile workforces with access to important legacy systems. It's also more secure as it is a Microsoft Secured-Core PC that runs Windows 10 but will be upgradable to Windows 11. New additions to the Toughbook G2 include eSIM and 4G connectivity for field workers and the next generation 2-in-1 also features double the RAM and storage of its predecessor. Improved screen brightness makes the Toughbook G2 easier to use in direct sunlight while three customizable buttons on the front frame of its display offer quick access to frequently used applications and settings. The Toughbook G2 features a 10th Gen Intel Core Processor (Quad Core) with Intel vPro technology and 16GB of RAM though it can be outfitted with a total of 32GB of RAM. The new 2-in-1 will be available in both a Standard and a Quick Release SSD model and the latter is ideal for data sensitive sectors such as emergency services, police forces and defense. Just like the Toughbook G1 and Toughbook 20 that came before it, the Toughbook G2 is compatible with a rich ecosystem of dedicated accessories including vehicle docks that can be used with and without a keyboard, hand straps, shoulder straps and cases with sanitizable options. It's also worth noting that the G2 will be backwards-compatible with accessories from both of its predecessors including vehicle docks. Thanks to the inclusion of a user-exchangeable expansion bay area, customers will be able to add contact smart card and contactless smart card readers to the G2 for additional functionality. The Toughbook G2 can also be equipped with an optional emissive backlit keyboard that adds an extra USB-A and USB-C port. When mobile workers return from the field, the Toughbook G2 can be plugged into an optional laptop docking station from Panasonic that allows the device to output in 4K to two external monitors. Senior product marketing manager at Panasonic's mobile solutions business, Dirk Weigelt provided further insight on how the new Toughbook G2 outshines its predecessors in a press release, saying: "Mobile workers loved the TOUGHBOOK G1 and 20 but the G2 will steal their hearts. It truly is the next generation rugged device for mobile workforces. It offers all the benefits of the latest technology, while maintaining important access to legacy systems, all wrapped up in a more flexible, secure and ultimately even more useable device." The Toughbook G2 will be available at the end of the July and prices will start at €2,450 / £2,218 + VAT in the EU and UK though US pricing has not yet been released.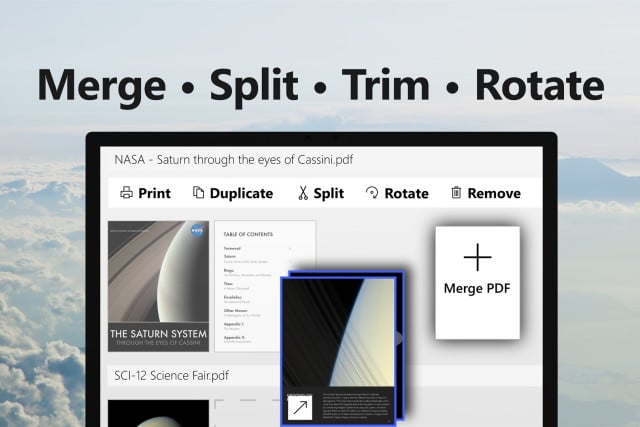 Move quickly to grab this PDF editor for Windows for free!
betanews.com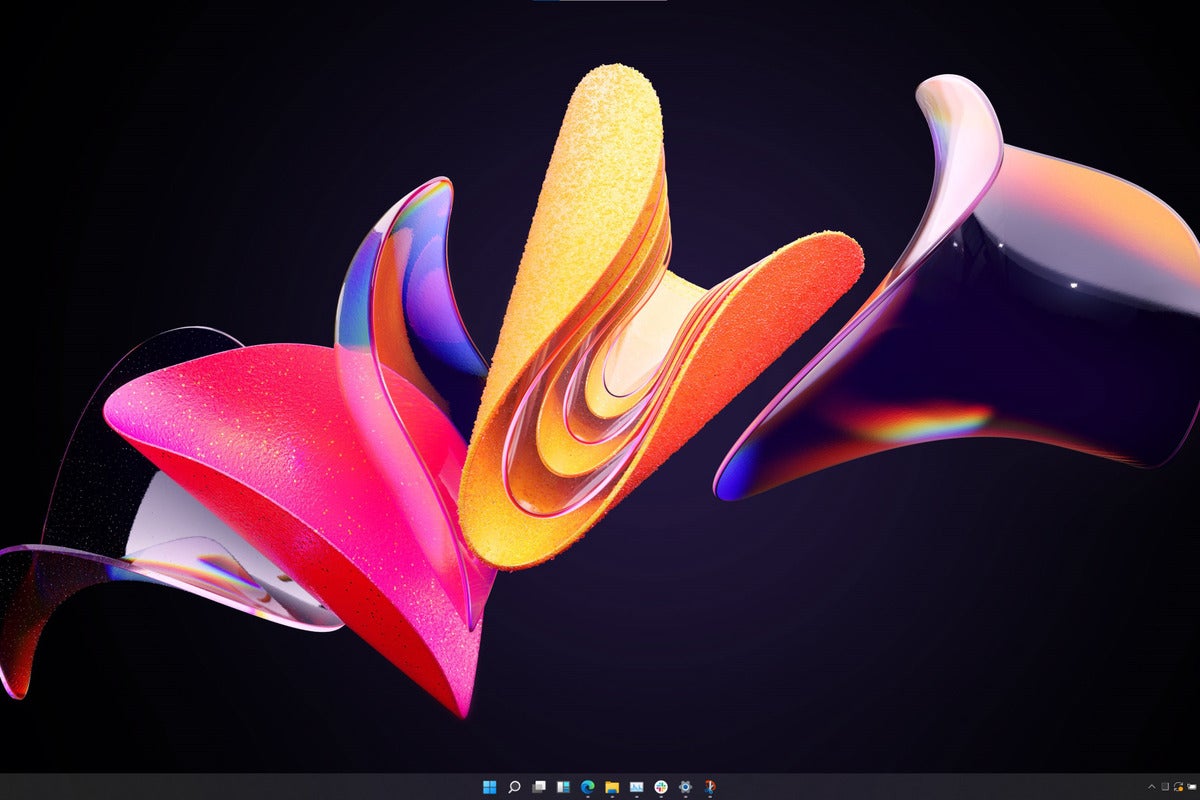 Windows 11 FAQ: Answers to your most burning questions
pcworld.com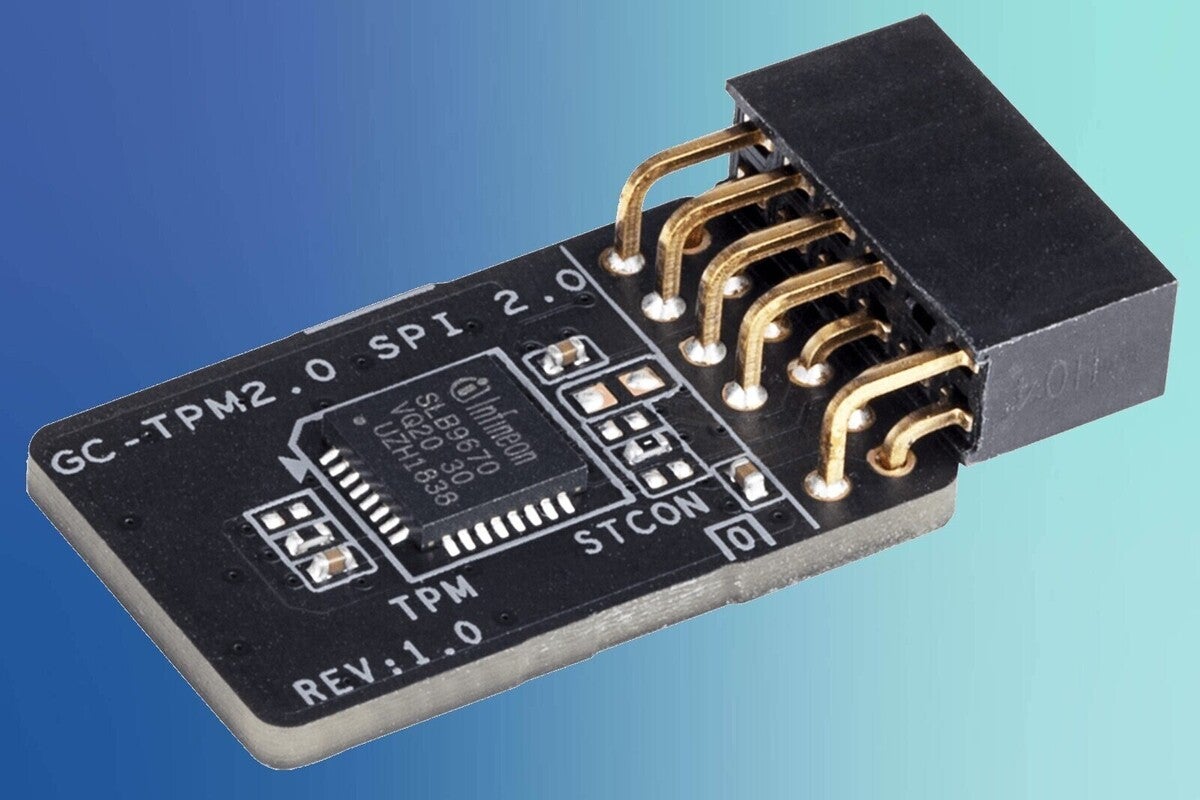 What is a TPM and why isn't mine working?
pcworld.com
Slack today announced three new brand-new features that are not available on Microsoft Teams. Read about the new features below. 1) Huddles: Scheduling meetings is a huge task. Even to have a quick 10-mins casual conversation, we need to send a meeting invite so that the others can join. Slack huddles are a lightweight audio-first way to start live conversations. You can start a huddle in any channel or DM with a single click. Everyone in that channel is free to join and leave as they please. You can even share your screen within a huddle. Slack huddles are now rolling out to paid customers. 2) Audio, video and screen recordings: You can now send audio, video and screen recordings as messages to others. When a recording is shared in Slack, anyone can watch whenever they want. Slack also announced a new and improved playback experience. You can speed up or slow down the content or read through the transcript. Recordings made in Slack are also archived with searchable transcriptions. Video, voice and screen recordings are coming to paid teams over the coming months. 3) Scheduled send: You can now schedule a message to be sent. Scheduled send feature is now rolling out to all Slack users. Source: Slack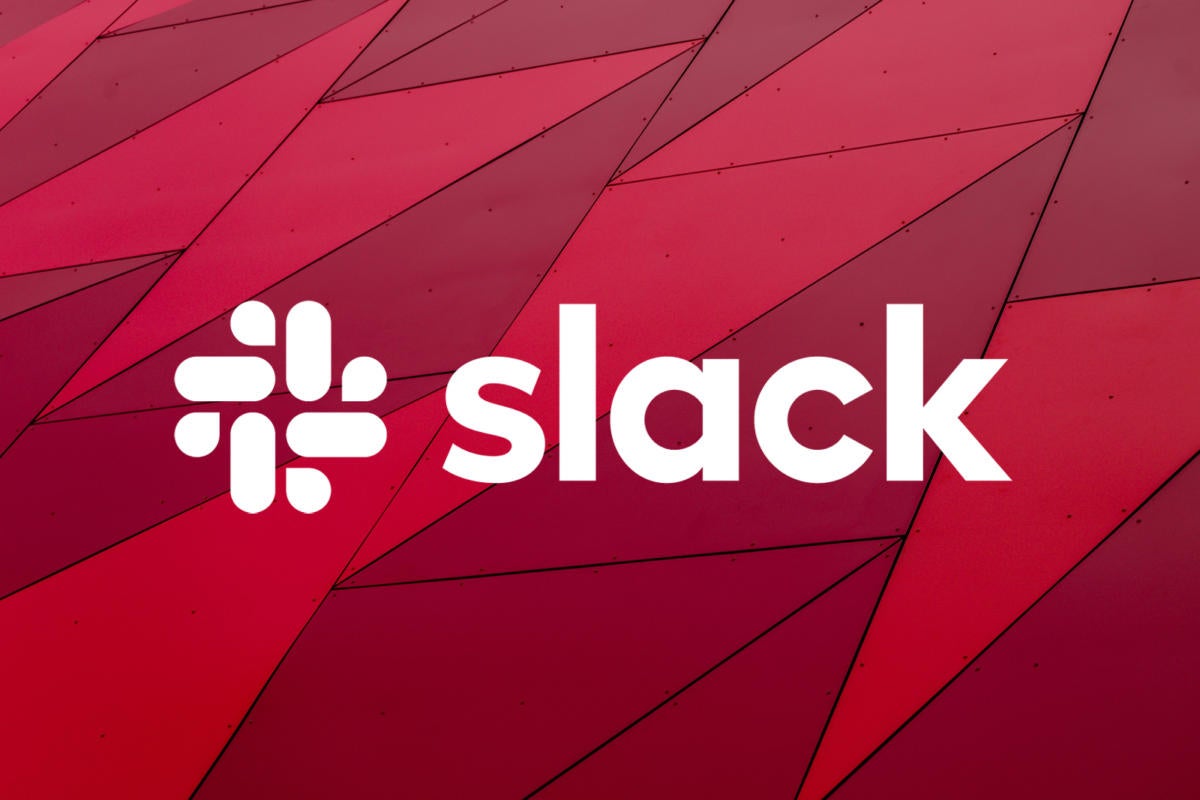 A Clubhouse for the office? Slack unveils 'Huddles' audio chat rooms
computerworld.com
New Silent Hill game could be in development, but fans are worried
gamerevolution.com
Earlier this month, Facebook CEO Mark Zuckerberg and WhatsApp head Will Cathcart confirmed that WhatsApp will soon allow users to send disappearing images. This came months after the company announced support for disappearing messages on the platform. The new disappearing media option will allow users to send photos or videos that will be deleted after they have been opened. It works similar to Snapchat and deletes the media file as soon as it has been viewed. The implementation is simple, and you can follow the steps below to try it out for yourself: Unlike Snapchat, WhatsApp does not prevent users from taking screenshots so it should be used with trusted contacts only. Furthermore, the sender can see when the media was opened, even if you have turned off read receipts on WhatsApp. Lastly, the feature will still work even if the receiver has not updated WhatsApp to the latest version. Currently, WhatsApp is rolling out disappearing media to a select group of Android beta users (version 2.21.14.3). There is no word on when the company plans to do a public rollout of the feature.

How to Send Self-Destructing Photos & Video on WhatsApp
techadvisor.com
WhatsApp is rolling out disappearing photos and videos to Android
techradar.com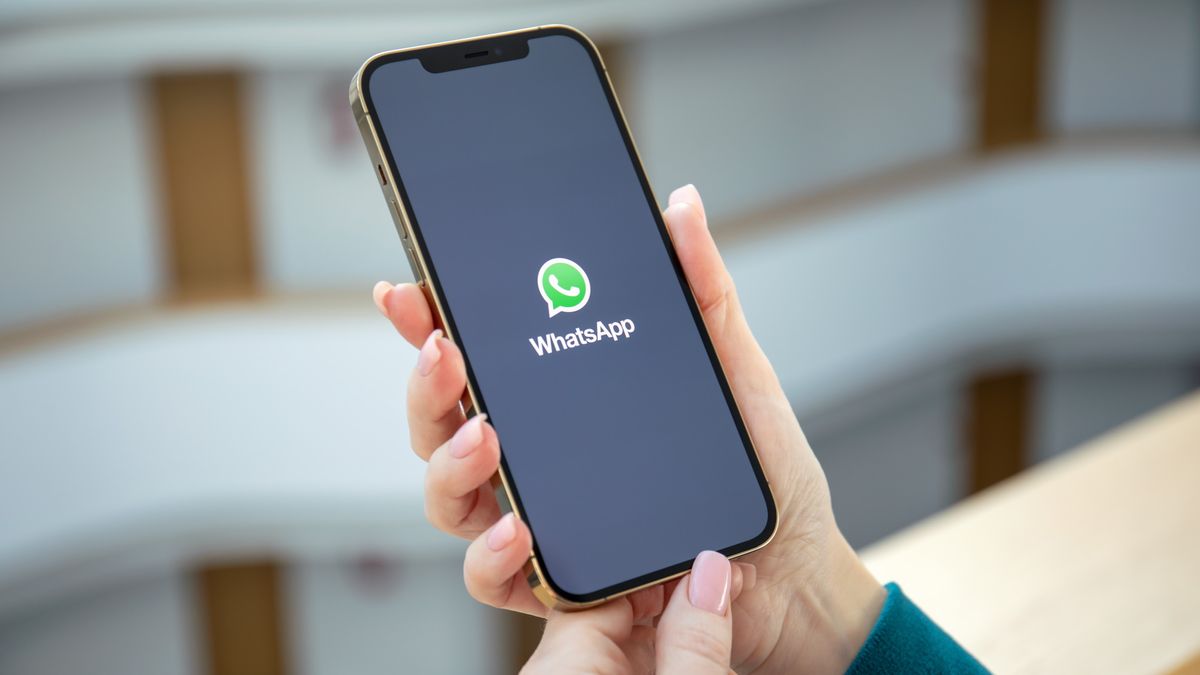 WhatsApp is rolling out disappearing photos and videos to Android
techradar.com
Bethesda is a studio that has found great success with its massive single-player RPG games like The Elder Scrolls V: Skyrim and Fallout 3. While the company's recent fumbles with games like Fallout 76 (and, to a lesser extent, Fallout 4) might've dropped its stock with gamers, the studio is pushing forward and has some ambitious projects on the horizon. One such project is Starfield, a game that was first announced during Bethesda's 2018 E3 presentation. Following Microsoft's acquisition of Bethesda, rumors about Starfield's release have ramped up, and it's possible we'll get to see more during E3. Microsoft and Bethesda are planning to hold a joint E3 2021 showcase, so what better time than then to show off Starfield? We still don't know much about it, but we've gathered as much information as we could to bring you everything we know about Bethesda's upcoming sci-fi RPG. Starfield is gearing up to launch on November 11,2022, which is 11 years after the original release of The Elder Scrolls V: Skyrim. This was revealed during the Microsoft and Bethesda E3 2021 presentation, where we got another look at the upcoming space adventure. During an interview with GameSpot, Howard advised that "everyone should be very patient" when it comes to getting their hands on Starfield. Bethesda hasn't said when it'll be able to show us more, which is partially why there was an internal debate concerning its reveal at E3 2018. There was discussion that Bethesda was originally planning to ship Starfield much earlier — possibly in 2020 or 2021. If the company was counting on shipping Starfield in 2021, the COVID-19 pandemic likely slowed production, pushing it further out. Following the poor reception to Fallout 76 in 2018, Bethesda likely wants its next game to be as refined and polished as possible, which will take time. Pete Hines told Eurogamer that development times haven't changed at all when compared to the studio's past games. In reference to when we'd learn more about Starfield, Hines said, "Timeframe-wise, it would still be about as long as you'd expect when you look at Fallout 3 to Skyrim to Fallout 4 to Fallout 76. It's still going to be those periods of time — that hasn't changed. Or at least, I don't think it will change from that based on what I know." What we do know is that Starfield will release for Xbox Series X| S and PC. At this point, it's clear it won't come to other ecosystems since Bethesda is now a first-party Microsoft developer. Before the game's E3 2021 showcase, GamesBeat's Jeff Grubb said that Starfield will not appear on PlayStation, stating that it's exclusive to Xbox. Microsoft confirmed this during its most recent showing. Now, whether or not it'll ship on Xbox One is another story since it's a new game that will likely need faster processing to run effectively. Bethesda has hinted that it probably won't come to Xbox One. The team is currently working on the game, focusing on their vision, and will optimize afterward. Bethesda Game Studio's executive producer Todd Howard told GameSpot that releasing for current-generation hardware is "not out of the question… but there is a question there. I'm being honest; I don't the answer to that yet." Based on the game's E3 2021 trailer, only Xbox Series X| S and PC were mentioned. We got our first glimpse at Starfield during Bethesda's E3 presentation in 2018, and aside from conveying tone, it didn't reveal much. Bethesda was actually reluctant to reveal the game so early, but, as Howard explained during an interview with NoClip, fans had already suspected the team was working on Starfield following its trademark filing in 2013. The team wanted to give fans a roadmap for what to expect from Bethesda Game Studios going forward and decided to pull the cloak off — but maybe too early, as some fans have pointed out. The more cynical side of the internet believes the company revealed Starfield when it did to distract from the announcement of Fallout 76, which didn't have the best reception, even prior to its release. The company had to have known the community wouldn't take kindly to an online Fallout game, so perhaps Starfield and The Elder Scrolls: VI were revealed to hold fans over. Bethesda would never admit that, of course. Fast forward to E3 2021, where Bethesda showed off even more of Starfield, along with its release date. The two-minute trailer didn't feature any gameplay, but it did convey the aesthetics and sort of what to expect from its tone and themes. It did have some gorgeous visuals — all of which were in-engine. In the trailer, a character can be seen gearing up a spacecraft for flight, though it's unclear if this is something you'll do in the game. We also got a look at a mysterious planet, a robot of some kind, and the inside of the spaceship. It was probably surprising to see Bethesda unveil a new game — and one set in space, at that. Starfield is a single-player sci-fi RPG and is the studio's first new IP in 25 years. Though the developer attempted to create a game set in space in the '90s, it ultimately failed and was canceled. It seems that Starfield won't share the same fate, as the team has prioritized its development and aims to bring it to current-generation consoles. Presently, it's the studio's main priority, as a smaller portion of its developers continues work on Fallout 76 and The Elder Scrolls: VI. Bethesda has four main studios under its belt, located in Austin, Dallas, Montreal, and Rockville, Maryland — all of which are assisting with Starfield's development. Speaking of current-generation hardware, the question of whether Starfield will be running on a new and improved engine has been on the minds of Bethesda fans since its announcement. After all, many of the studio's past games have been notoriously buggy and have felt outdated, even at the time of release. With Starfield, it's not clear how it'll run, but Bethesda has gone on record to confirm it will use the same engine as Skyrim, Fallout 4, and Fallout 76, known as Creation Engine. This might be an immediate turnoff to some, but when you consider the engine has evolved tremendously since 2011, it might as well be something totally new. As GamesRadar explains, Bethesda has added to the engine — so much so that calling it the "same" isn't as informative as you'd think. "For Fallout 76, we changed a lot of it," Howard explained. "All new renderer, new lighting model, new landscape system. Then when you go to Starfield, even more of it changes, and then Elder Scrolls VI, which is really out on the horizon, even more of it changes." In short, the fact that Starfield is still running on Creation Engine might not necessarily be something to worry about. Parts of Starfield were already playable as of E3 2018. That was three years ago, and the game is in even better shape now. "We know the game we're making now, and one of the reasons we announced it is that it's looking really awesome. We have [a] runway in front of us, and we know what's happening," Howard told GameSpot in 2018. When it comes to the gameplay and what to expect from Starfield in comparison to Bethesda's other games, Howard concluded, "It has what you'd expect and more." "It's different, but if you sit down and play it, you would recognize it as something we made, if that makes sense? It has our DNA in it. It has things that we like," Howard told Eurogamer in 2018. The studio is, of course, keeping tight-lipped when it comes to revealing information about Starfield, but the main point is that it'll likely satisfy those players who love "classic" Bethesda games. In recent years, the company has tried new things like The Elder Scrolls: Blades and Fallout Shelter — two games that were designed with mobile devices in mind. Starfield, on the other hand, will not be like that at all, though what we'll be doing in it remains to be seen. In an interview with The Telegraph, Howard said, "The game is set about 300 plus years in our own future, and Constellation is this kind of last group of space explorers. It's like NASA meets Indiana Jones meets the League of Extraordinary Gentlemen, a group of people that are still searching for answers." "There are a lot of factions in the game, but that's the main one that you'll become a part of. It's kind of like Skyrim in terms of the structure of the game, where you're going to be who you want to be, and then there's different factions that you can join and really carve your own path." It's still unclear if you'll be able to freely explore the universe like you can in No Man's Sky, but at this point, Bethesda hasn't given us any reason to believe it'll be designed that way. We do know science and religion will play a part in Starfield, as stated by Howard. "We ask some big questions in the game — the kind that people have asked when they look to the sky, you know? 'What's out there?' Why are we here? How do we get here?' And we get into science, we get into religion." Fans worried about multiplayer getting in the way of a quality single-player story (looking at you, Fallout 76) should rest easy. According to a Eurogamer interview with Bethesda's Peter Hines, Starfield "is decidedly single player." The company has described Starfield as a core Bethesda game we've come to expect — only this time, it's set in space, which is new to the studio. Since we aren't exactly sure what this game will look like yet, it's still too early to know about possible Starfield DLC. But if Bethesda's other main franchises — Fallout and Elder Scrolls — are any indication, DLC is a safe bet for Starfield. It's possible this could come in the form of additional single-player content or perhaps new cosmetics and in-game gear. All we can do is speculate at this point, but if we had to bet, we'd say there will likely be add-on content of some kind in this game. At E3 2019, Todd Howard, Elon Musk, and The Game Award's Geoff Keighley had a discussion about developing games, among other things — and Starfield was brought up. Howard told the audience he went to Musk's company, SpaceX, to gather information and inspiration for Starfield. This means Bethesda is attempting to keep the game based in reality while still making it fun to play. Howard used the word "authenticity" to describe the way Starfield is supposed to feel. In the same chat, Howard described possibly using Helium-3 to fuel rockets in-game. This ostensibly hints that some sort of space travel will be available in the final product. "We have to game-ify it some, so it's not as punishing as actual space travel," Howard added. He compared space travel in Starfield to "flight in the '40s" in that it's still fairly dangerous. All of this will be fully realized, thanks in part to collaboration with Musk's SpaceX. This talk occurred in 2019, so much of what was mentioned could change — as games typically evolve tremendously throughout their development. Certain ideas stick, while others — even if enormous amounts of time and resources are spent on them — might not ever come to be. Typically, Bethesda has multiple projects going on at once — with one getting the majority of the focus while the others sit to the side and gestate. We know the company filed for Starfield's trademark in 2013, which means it had to have been thinking about it for a while prior to that. In speaking with Eurogamer, Howard said the studio had been at least discussing the game since 2004, with Bethesda fully dedicating staff to it around 2015. Despite the company having Starfield in mind since as early as 2004, that doesn't mean it's been actively working on it since then. But at the very least, we know it is well in development and has been the studio's focus for the better part of the past five years. Howard told Geoff Keighley during a Gamelab discussion, "It took us a while to get that cohesive 'this is what Starfield is,' and now that project is off and running in a good way, and that was also why we felt good announcing it." For context, it took Bethesda at least around five years to complete development on Skyrim, assuming the team started work on it as soon as The Elder Scrolls IV: Oblivion shipped in 2006. With that in mind, the current COVID-19 pandemic has had an effect on the game's development due to studios being forced to work remotely. This practice — although necessary — is one that has slowed the production of many forms of media, not just video games.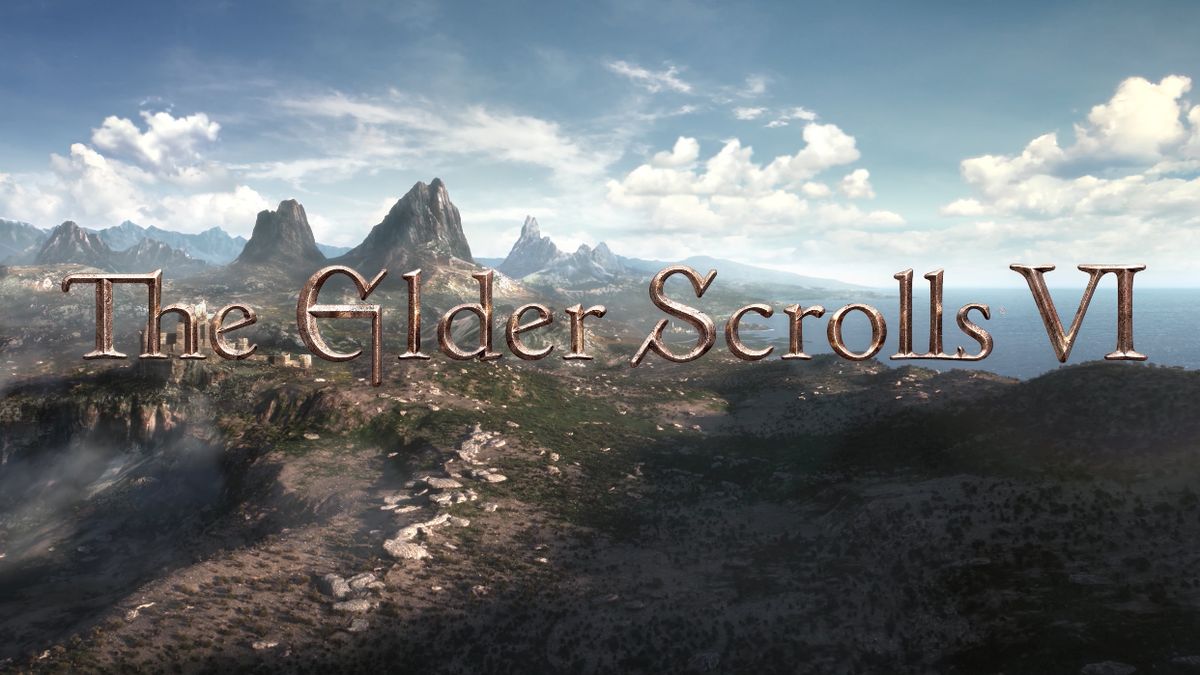 The Elder Scrolls 6 release date could be years away
techradar.com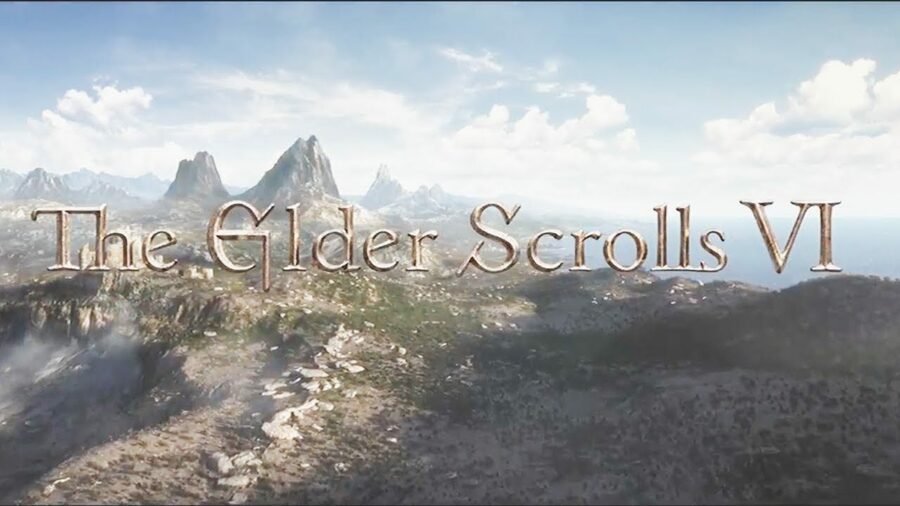 Todd Howard reveals The Elder Scrolls 6 still in design phase
mspoweruser.com
Star Wars: Squadrons (Image: EA) Everyone loves free games. Steam has a hefty collection of them, but some places offer titles for only a limited amount of time. Epic Games gives away multiple games a week. Amazon's Prime Gaming subscription service has new titles each month. But if you're not paying attention, you'll lose out on a PC game you could have kept forever. In an effort to help gamers know what's out there to claim, we're tracking the best free games available in a given month. While some titles are free outright, others are included as part of a subscription service. Here's everything you can grab this month. Free Epic Games Store Games Epic Games gives away free titles every week; no need for a subscription. Head over to the Epic Games Store website or open the launcher, scroll down to the Free Games section, and hit the Free Now banner on the title you want. Then, go through the process as if you were purchasing the game. You won't be charged, and the game will appear in your games library on the Epic Games launcher. Horizon Chase Turbo (Until July 1) Inspired by the retro racing games of the '80s and '90s, Horizon Chase Turbo features split-screen multiplayer,16-bit inspired graphics, and a soundtrack by Barry Leitch, the musician behind memorable games including Lotus Turbo Challenge, Top Gear, and Rush. Sonic Mania (Until July 1) Remember when Sonic the Hedgehog games were actually good? The developers of Sonic Mania do! This game brings the franchise back to its 2D,60fps glory days with levels and gameplay inspired by the classics. The Spectrum Retreat (July 1 - July 8) In the first-person puzzle game The Spectrum Retreat, you wake up in a mysterious hotel with no memory and no one around other than a few robot assistants. You must solve color-based and physics-based challenges to uncover the truth about what is really going on. Rocket League (Now Free) Rocket League, a game in which you play soccer with race cars, combines high-speed racing with competitive sports gameplay to make it an Editors' Choice winner among competitive esports titles. It's now a free-to-play game exclusive to the Epic Game Store. Free GOG Games GOG doesn't have regular giveaways as some other websites do, but it offers a small collection of free games, which mainly comprises classic computer games. Titles including Shadow Warrior Classic Complete and Postal: Classic and Uncut, which you would have to pay for on Steam, are free on GOG. Other classics, such as Ultima 4 (1985) and Akalabeth: World of Doom (1979), are not available anywhere else. Akalabeth: World of Doom (1979) Ascendant (2014) Beneath a Steel Sky (1994) Bio Menace (1993) Cayne (2017) Delores: A Thimbleweed Park Mini-Adventure (2020) Doomdark's Revenge (1984) Eschalon: Book I (2006) Flight of the Amazon Queen (1995) Jill of the Jungle: The Complete Trilogy (1991) The Lords of Midnight (2013) Lure of the Temptress (1992) Postal: Classic and Uncut (2003) Sang-Froid: Tales of Werewolves (2013) Shadow Warrior Classic Complete (1997) Stargunner (1996) Sunrider: Mask of Arcadius (2014) Teenagent (1994) Treasure Adventure Game (2011) Tyrian 2000 (1999) Ultima 4: Quest of the Avatar (1985) Ultima World of Adventure 2: Martian Dreams (1991) Worlds of Ultima: The Savage Empire (1990) War Wind (1996) Children of Morta (While Supplies Last) This giveaway requires you to make a purchase first. GOG and Visa are giving away 53,000 codes for the action RPG Children of Morta. Get the game by signing up at the giveaway page, then making a $25 payment using a Visa card. Save the card to your account for future purchases to receive a free copy of this roguelike tale of the Bergson family's journey to free Mount Morta of the evil Corruption. The Witcher: Enhanced Edition GOG allows you to score a free copy of the first Witcher game if you download the GOG Galaxy desktop client. Go to the Recent view and click the giveaway button at the top of the screen. As long as you agree to let GOG send you news and offers, the game is free to claim. Free Itch.io Games Tired of big blockbusters? Itch.io is a digital game store dedicated to indie titles you won't find anywhere else. Check out the sales page for free titles. Other games will set you back a few bucks; pay up or fork over a little more if you're feeling generous. You can then download the game directly to desktop or claim it and add it to your library. Calmed By the Dark Neon (Until July 1) This open-world RPG, developed with RPG Maker MV, puts you in the role of a monster hunter in a futuristic city. In Calmed By the Dark Neon, you complete missions, fight with sword and gun, and drive your high-speed motorcycle. Glint: Flickering Light (Until July 1) Glint is something of an endless runner. You must guide a small flame in a bid to get as far as possible in the game. On the way, you collect items and abilities that help you on the journey. You start over if your flame extinguishes, but coins can be used to purchase upgrades for the next run. Ricochet Bounce (Until July 1) In the puzzle game Ricochet Bounce, you deflect a ball through a course to reach the end. The further you get, the harder it becomes to collect everything, finish each level, and get a perfect score. Stealth Fishing (Until July 1) In Stealth Fishing, you have to catch fish in order to save them from an aquarium. Cast your line and avoid the searchlights while grabbing as many fish, coins, and collectables as you can. Vehicle Stunt Simulator (Until July 1) The sandbox car physics game Vehicle Stunt Simulator lets you take control of a car and perform amazing stunts within the game world. Free Microsoft Store Games Microsoft doesn't usually give away games on the Microsoft Store, but there are a few titles the company has decided to make free moving forward (some you can find only on the web, and not the desktop app). If you have a game code to redeem, sign into your Microsoft Account, then enter the code at redeem.microsoft.com; from the web app, go to More > Redeem a code. If it's a game for your Xbox console, you must first make sure remote install is set up on your console. Crackdown 1 & 2 (Now Free) Microsoft has made the sandbox-style third-person shooters Crackdown, and its sequel Crackdown 2, available for free from the Microsoft Store. The games let you cause massive amounts of destruction as you fight enemies within the game world. Farming Simulator 14 & 16 (Now Free) Farming Simulator lets you grow crops, care for animals, and run a farm while operating true-to-life farming equipment. Newer editions have been released, but the 2014 and 2016 versions are now free in the Microsoft Store, giving you a good chance to try out the games before investing in the newest version. Phantom Dust (Now Free) The original Xbox release Phantom Dust combines third-person combat with card collecting to create a unique real-time strategy experience. Complete missions to gain new skills and equip unique builds for each new battle. The game was supposed to get a remaster on Xbox One, but was made free instead after it was cancelled. Too Human (Now Free) The action RPG Too Human is a science-fiction retelling of Norse mythology, where all the gods are cybernetically enhanced humans who must stop Loki's machine army. Free PlayStation Plus Games PlayStation Plus is Sony's online multiplayer and games subscription service that costs $9.99 for one month, $24.99 for three months, or $59.99 for a full year. As part of the service, you can claim two new games to keep every month. They'll be accessible as long as you have an active PlayStation Plus subscription. Subscribers who own a PS5 will also be able to keep games from a curated selection of titles. There are two ways to claim these games from your console. Choose the PlayStation Plus icon from the PlayStation home screen to see the currently available games, plus previously claimed titles. Claimed games can be re-downloaded from this page. You can also go through the PlayStation Network Store and select PS Plus in the left-hand menu. The other way allows you to add games to your console directly from the PlayStation Store as long as you have Automatic Downloads enabled. Once this is set up, you can choose the games you want from the web page and they will be remotely downloaded to your console. Operation: Tango - PS5 Only (Until July 5) In the espionage-themed co-op game Operation: Tango, you play as either an agent or hacker and must work together to complete missions and save the world. While the game requires an internet connection to play, your friends can play with you for free. Star Wars: Squadrons (Until July 5) Take control of an X-Wing or TIE Fighter in this space combat game set in the Star Wars universe. Each side has its own strengths and weaknesses, with different classes each possessing their own capabilities in battle. The game, which is played exclusively in a first-person perspective, includes two multiplayer modes and a story mode. A Plague Tale: Innocence - PS5 Only (July 6 - Aug.2) In the action-adventure game A Plague Tale: Innocence, you play as a young woman who must sneak her way past enemies while also avoiding hordes of ravenous rats. Your trusty sling is all you have to defeat or distract guards, avoid obstacles, unlock new areas, and stop the rats from attacking. Call of Duty: Black Ops 4 (July 6 - Aug.2) Black Ops 4 is a multiplayer shooter that puts emphasis on the role of Specialists; player characters with special abilities and equipment. The game features single-player Solo Missions, a Zombies co-op mode, and the Blackout battle royale mode. WWE 2K Battlegrounds (July 6 - Aug.2) WWE 2K Battlegrounds features fast-paced, arcade-style gameplay that greatly differs from the realism of traditional wrestling games. You can play as WWE superstars from the company's history, unleash special finishing moves, and battle it out in co-op mode. Virtua Fighter 5: Ultimate Showdown (Until Aug.2) Remember Virtua Fighter 5? The game that was first released in 2006 has now been remade under the title Ultimate Showdown. The new game includes upgraded graphics, new music, an updated interface, new cinematics, and online features. PlayStation Plus Collection - PS5 Only Those who own a PlayStation 5 and subscribe to PlayStation Plus now have access to a curated collection of PS4 games. Games can be claimed at any time and remain playable as long as there is an active subscription. The current lineup, from Sony and partner studios, includes: Batman: Arkham Knight Battlefield 1 Bloodborne Call of Duty: Black Ops III – Zombies Chronicles Edition Crash Bandicoot N. Sane Trilogy Days Gone Detroit: Become Human Fallout 4 Final Fantasy XV Royal Edition God of War Infamous Second Son Monster Hunter: World Mortal Kombat X Persona 5 Ratchet and Clank Resident Evil 7 biohazard The Last Guardian The Last of Us Remastered Uncharted 4: A Thief's End Until Dawn Free Prime Gaming (Twitch Prime) Games Prime Gaming (formerly known as Twitch Prime) is a subscription service that provides in-game loot, free games, and many other perks each month. The service costs $12.99 a month with a free 30-day trial or comes included with your $119 Amazon Prime subscription. Navigate to the Prime Gaming page, scroll down to the "Games with Prime" section, and select the Claim button next to the titles you want. To play games offered by Prime Gaming, you must download the Amazon Games launcher. Click the "Download and Play" link that appears next to the Claim button. In the pop-up window, click the link that says Download the Amazon Games Apps (Windows) to install the launcher. Once installed, Prime Gaming games can be claimed via the launcher. Batman: The Telltale Series (Until July 1) In this episodic point-and-click adventure game, you play as Batman in his fight against crime. The game allows you to investigate crimes, fight criminals through QTEs (quick time events), and choose a path on the game's divergent narrative. Newfound Courage (Until July 1) In the story-driven adventure game Newfound Courage, you explore a town, uncover numerous mysteries, and fall in love with your best friend. Lost in Harmony (Until July 1) Lost in Harmony is a musical runner, in which you must dodge obstacles and move to the beat to advance the story. BFF or Die (Until July 1) This couch co-op game asks you to solve cooperative puzzles and manage different gadgets as you rescue missing alien beings. Spitkiss (Until July 1) This one-finger platformer with precision gameplay asks you to control bodily fluids so you can communicate between colorful creatures. Mugsters (Until July 1) In this physics-based action puzzle game, you must fight off an alien invasion with vehicles, traps, and explosives across sandbox-style levels. Automachef (Starting July 1) The resource-management puzzler Automachef lets you design automated kitchens to feed humanity. Batman: The Enemy Within (Starting July 1) In this episodic point-and-click adventure game, you play as Bruce Wayne and his alter-ego Batman in a battle to save Gotham City from the Riddler. Meanwhile, Batman must navigate the return of the Joker and the emergence of a mysterious government agency headed by Amanda Waller. Portal Dogs (Starting July 1) The title of this puzzle platformer tells you everything you need to know. You must navigate dogs through levels to send them through portals. RAD (Starting July 1) In the roguelike Rad, your character must navigate procedurally generated terrain in a quest to save the human race. Along the way, you'll gain mutations and bonuses that can alter gameplay and increase your stats. If your character dies, they're replaced with a new character, and you must build their mutations anew. Tales of the Neon Sea (Starting July 1) In this retro-style pixel-art adventure game, you play as a hard-boiled detective in your investigation of a crime. Investigate the clues and talk to NPCs as you discover hidden secret about the expansive cyberpunk city. The Wanderer: Frankenstein's Creature (Starting July 1) Taking inspiration from Mary Shelley's Frankenstein, The Wanderer is an adventure game that lets you experience the story of Frankenstein's monster and make your own decisions along the way. Free Steam Games Steam has many free games you can download at any time, but limited-time free titles are a rare occurrence. In the event that you do find a free game, you can "buy" it on Steam like you normally would, but it will be automatically added to your library instead of having to check out. If you have a Steam Key code, you can claim the game by launching the Steam client and clicking Games Menu > Activate a Product on Steam. Follow the instructions to complete the process and get your game. You may also need to connect your Steam account with another online retailer (e.g. Humble Bundle) before you can enter the code. Nights Into Dreams (While Supplies Last) It turns out that Sega has a few more Steam codes to give out from its 60th anniversary celebration. Register your email with Sega, then claim a key for the classic console game Nights Into Dreams in your email. Crusader King II (Now Free) The grand strategy game Crusader Kings III has been well received, but you can preview the experience for free. Paradox Interactive has made Crusader Kings II free-to-play, giving gamers a chance to see what the excitement is all about. While the base game is free on Steam, the game's many DLCs are still paid. Endless Space Collection You can get the 4X strategy game Endless Space and its Disharmony DLC directly from the developer thanks to its Games2gether platform. Sign up for an account and open the reward page (the present icon in the top-right corner) to see your free game. Just link your Steam account to receive the free Steam key and save $10. Samorost (Now Free) The surrealist point-and-click puzzle game Samorost was initially released in 2003 but has now been remastered with enhanced sounds, graphics, and new music. The developer has made the game free forever. Total War: Shogun 2 - Battle of Kawagoe (Now Free) If you already have Total War: Shogun 2 in your Steam library, you can grab the Battle of Kawagoe map for free. It was originally released as a pre-order bonus in 2011, but now anyone can play the legendary battle that saw the Hojo clan launch an attack against the Uesugi, Ogigayatsu, and Ashikaga clans under the cover of night. Free Xbox Live Gold Games Xbox Live Gold is the premium subscription tier of the Xbox Live online gaming service that costs $9.99 a month or $24.99 for three months. It is also included in the cost of Xbox Game Pass Ultimate. Among the many perks you get is free Xbox games every month. While original Xbox and Xbox 360 titles are yours to keep forever, Xbox One games can only be played as long as you have an active Xbox Live Gold subscription. To claim your free games with an Xbox Live Gold subscription, go to the Gold section on your Xbox One console or visit this page on a computer to queue up the game for download on your console. Games are added on the 1st and 16th of every month. Shadows: Awakening (Until July 15) In this action RPG, you control a demon who can consume the souls of long-dead heroes. Each hero has their own abilities and storylines, which you can switch to in combat at any time. Now it's up to you to either save the world or destroy it. Conker: Live & Reloaded (July 1 - 15) Remember Conker's Bad Fur Day for Nintendo 64? Rare released a remake of the 3D platformer for the Xbox following the studio's acquisition by Microsoft. The new game includes a brand new multiplayer mode for Xbox Live. Planet Alpha (July 1 - 31) You must survive a harsh alien world in a game that combines platforming action with puzzle solving and stealth elements. Escape from dangerous enemies, avoid environmental obstacles, and control the planet's night and day cycle to find your way. Midway Arcade Origins ( July 16 - 31) This compilation of arcade games from Midway includes classics like APB, Arch Rivals, Defender, Gauntlet, Joust, Rampage, Sinistar, Smash TV, Wizard of Wor, and more. Rock of Ages 3: Make & Break (July 16 - Aug.15) This competitive tower defense game has you build your castles then fight each other with controllable boulders, arcade-style. The game includes a level editor, multiple game modes, and bizarre sense of humor. Miscellaneous Free Games Not every free game is part of a larger program or initiative. If we find a random giveaway or a DRM-free download, we will share them below. Apogee Classics Before 3D Realms created the Duke Nukem series, the company created adventure games for MS-DOS under the name Apogee Software Productions. You can grab several of these games for free if you create an account at 3drealms.com. Claimed games will appear under My Games, which can then be downloaded directly to your computer. Here's the list of Apogee games: Alien Carnage Arctic Adventure Bio Menace Major Stryker Monuments of Mars Pharaoh's Tomb Stargunner Blizzard Arcade Collection The Blizzard Arcade Collection brings together the definitive editions of three classic games: 1994 action platformer Blackthorne,1993 puzzle platformer The Lost Vikings, and 1994 isometric racing game Rock N' Roll Racing. While Blizzard expects you to pay $20 for the upscaled versions, you can still download and play the original games without needing to pay. The Elder Scrolls: Arena The Elder Scrolls: Arena is the first entry in the popular Bethesda series and has been free of charge since 2004. Download the full game on the company's website. It combines designed spaces with procedurally generated areas to create a vast, explorable game far bigger than what was usually possible back in the '90s. The Elder Scrolls II: Daggerfall has been free since 2009; get it from the Bethesda website. Like Arena, Daggerfall features thousands of towns and dungeons to explore, as well as guilds to join, which offer their own questlines. Marathon Trilogy Before Bungie developed Halo for Microsoft, the company created Marathon, a Doom clone set in space that is considered a spiritual predecessor to Master Chief's adventures. Bungie developed Marathon, Marathon 2: Durandal, and Marathon Infinity in the mid-90s, then publicly released the source code prior to the Microsoft purchase. Now, Aleph One continues support and development of the games, which you can download and play here. StarCraft Blizzard released StarCraft: Remastered in 2017, so it made the original real-time strategy game, and its sequel, free to play. You can download StarCraft Anthology, which packaged the original game with the Brood War expansion pack, and StarCraft II: Wings of Liberty for free. Whispering Willows In the adventure game Whispering Willows, Elena must venture into a haunted mansion in order to find her missing father. Along the way, she gains ghost powers and must interact with the spirits around her. You can claim this game from IndieGala.

Here are the free games for PS Plus subscribers in July 2021
xda-developers.com
Get ready for TV-style commercials in console and PC games
techspot.com
The name Paramount+ might be new, but the streaming service formerly known as CBS All Access has been around for quite a while now, quietly cultivating a competitive library of new and classic movies and shows, as well as critically praised original projects. July brings another list of new arrivals to the Paramount+ library, including the long-awaited sequel Bill & Ted Face the Music and a recording of The SpongeBob Musical: Live on Stage! Read on for the highlights, as well as everything else coming to the streaming service throughout the month. Below, you'll find the full list of July's additions to the Paramount+ library with our recommendations in bold. If you subscribe to other streaming services, we also have helpful guides to the best movies on Netflix and best shows on Netflix, as well as the best movies streaming on Amazon, best TV shows streaming on Amazon, and plenty of guides for Hulu, Disney+, and HBO Max, too.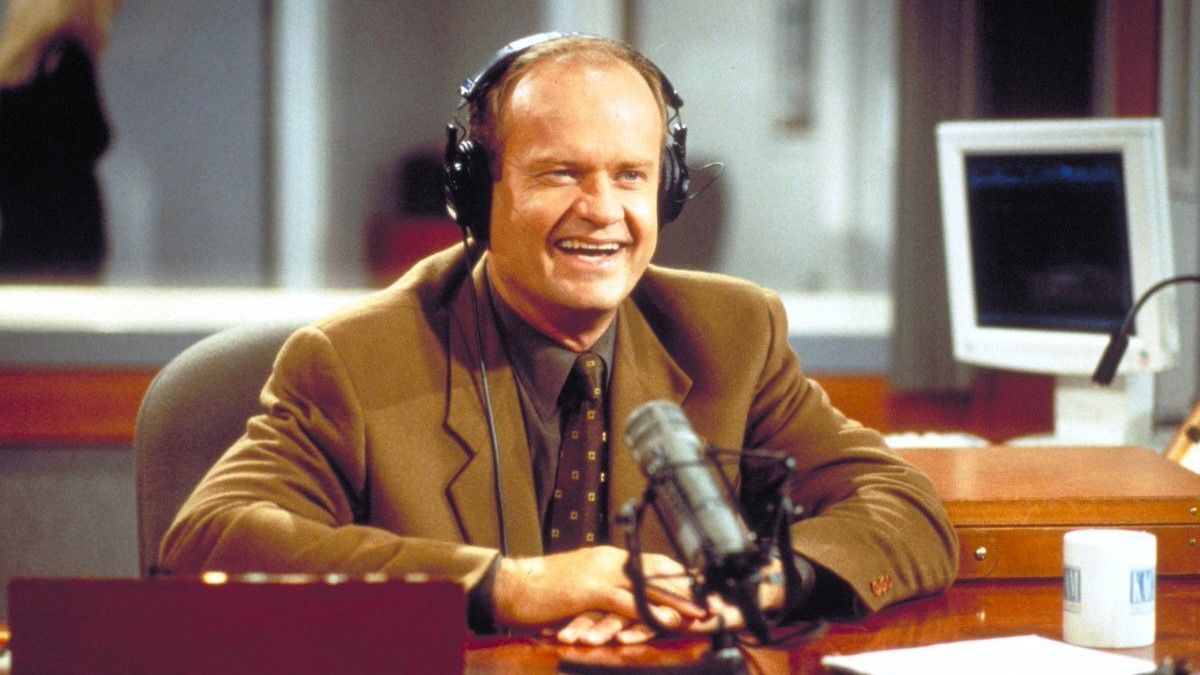 The Frasier revival on Paramount Plus has a tentative release date
techradar.com
What's new on Peacock in July 2021
digitaltrends.com
What's New on Showtime in July 2021
uk.pcmag.com
The anticipated continuation of the series will be coming after 2022's Starfield. No new information, however. Bethesda's Pete Hines took to Twitter to reassure fans. The rumoured show is expected to be big budget as well. That said, Todd Howard feels that it's hard to imagine the game not coming to PS5. The Xbox boss hinted to how they plan on making the ZeniMax deal work for them.

The Elder Scrolls 6 in design phase, being built on new Starfield technology
eurogamer.net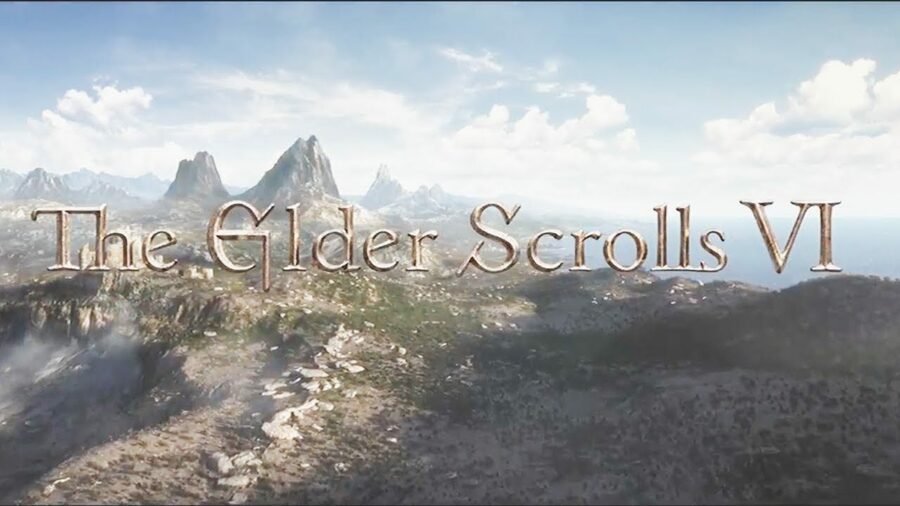 Todd Howard reveals The Elder Scrolls 6 still in design phase
mspoweruser.com
Sony Bend Studio has been working on a new triple-a intellectual property for a while now which appears to feature multiplayer elements. According to a new job listing from earlier today, Sony Bend seeks a senior network programmer for its "next high-profile AAA console title" and who must be familiar with "programming that centers around the support of low-level network issues, multiplayer engine design/architecture" among other requirements. Sony Bend embracing multiplayer should not come as a surprise. While the acclaimed Days Gone was perfect to feature some sort of multiplayer support, it was highly reported that a Days Gone 2 would have had a cooperative mode. The sequel however was shut down by Sony Interactive Entertainment because of how the first game had a lengthy development cycle and the mixed reception at release. Days Gone 2 was marked to not be a "viable option" for PlayStation 5, forcing Sony Bend to move on to something new. Whatever Sony Bend has been working on for the past year will be built upon the same open-world technology and features which were originally developed for Days Gone. This was confirmed by head of PlayStation Studios Herman Hulst earlier in the month. The unannounced game will hence have the deep open-world of Days Gone and seemingly a multiplayer or cooperative mode of the scrapped Days Gone 2 pitch. Days Gone is now available on both PlayStation 4 and PlayStation 5 as well as PC. The game joins a growing list of first-party PlayStation exclusives to break away and land on PC. It would hence be safe to say that while Sony Bend's new game will be coming to PlayStation 5, there will also be a PC release either at launch or later down the road.

Ex-BioWare GM Casey Hudson starts a new studio to work on a new IP
vg247.com
Ex-BioWare boss announces new studio working on fresh IP
eurogamer.net
If you picked up Greedfall when it was free on PlayStation Plus, you're not eligible for the free PS5 upgrade. Greedfall 's Gold Edition, and its recently-announced The De Vespe Conspiracy expansion both launched today. Outside of the new content, existing owners have also been looking forward to PS5 and Xbox Series X/S upgrade patches that enhance performance and boost visuals. Watch on YouTube Unfortunately, this free upgrade is only available to players who paid for the original Greedfall release. If you're among the many whose introduction to the game was through the PlayStation Plus promotion from January, your "free" copy will continue to run in backwards compatibility mode without any of the new enhancements. The game's official Twitter account confirmed this earlier, to a torrent of angry comments from followers. Greedfall publisher Focus Home Interactive declined to comment when contacted, though it did confirm that this is indeed the case. This is far from being the only time the PlayStation Plus version was denied a free next-gen upgrade. As with most other cases, you'll need to buy the Gold Edition to get the upgrade patch.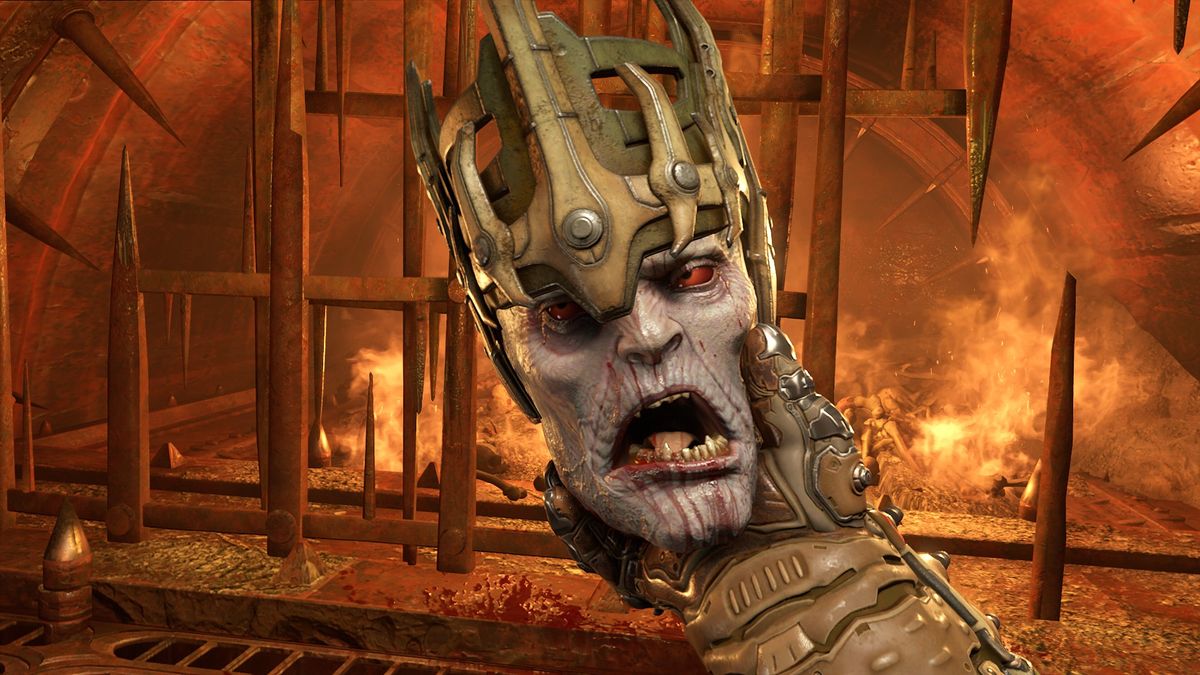 Doom Eternal's next-gen upgrade is raising hell for PS5 owners
techradar.com
PS Plus version of Greedfall cannot be upgraded to PlayStation 5
gamereactor.eu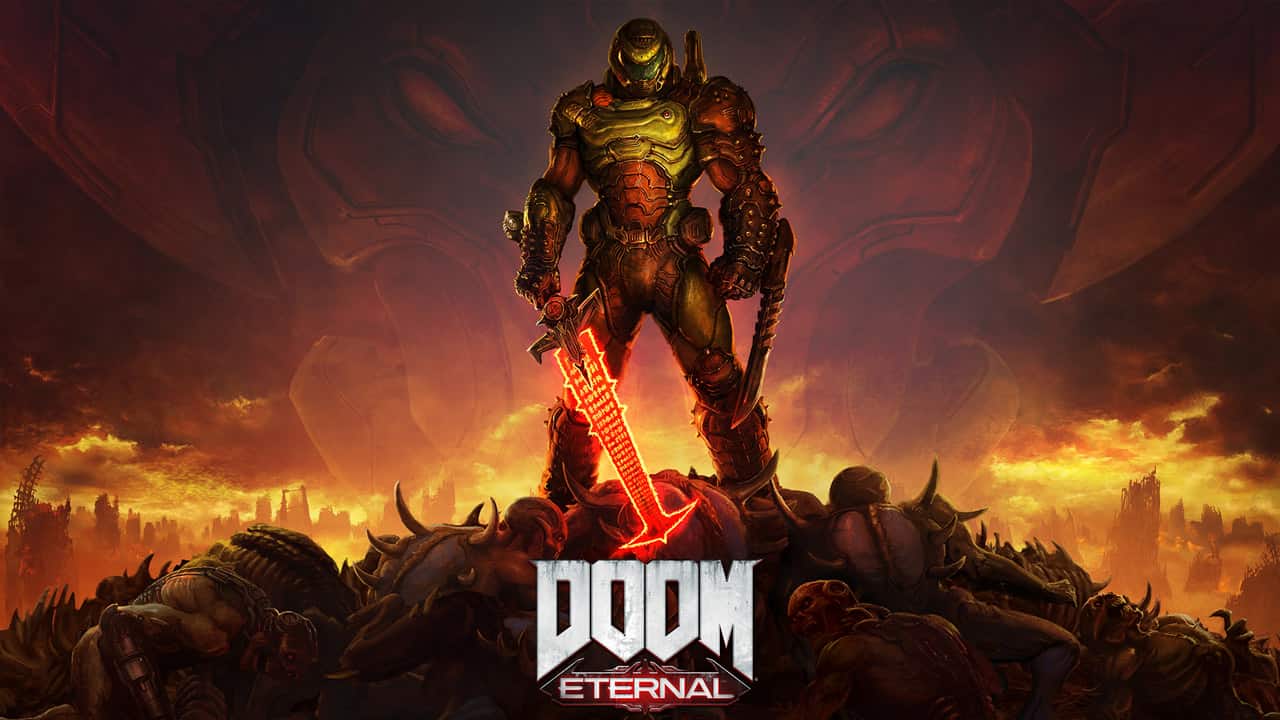 Id Software's Doom Eternal has received its long-awaited next-gen update, bringing in ray tracing and 4k 60fps support on Series X| S consoles. Doom Eternal's Update 6 has launched, with next-gen enhancements available for all the latest consoles. Each console lets you choose between a blistering 120 fps mode or enhanced graphical quality to tailor just how you want DOOM to look. Here's a little run down of exactly what you can expect from each console and mode. Xbox Series X Xbox Series S PlayStation 5 It's not just graphical goodness that Update 6 brings to Doom Eternal, as there's also a new Master Level to test your skills, a new Battlemode Arena called Corrosion, and a whole suite of other graphical and gameplay enhancements to make your first, or next playthrough of the game even better. Having tested the update for ourselves, the Ray Tracing on the Xbox Series X looks absolutely outstanding, however, it's hard to notice it within the overwhelmingly hectic fray of combat. Nevertheless, it adds a nice ambience to Doom Eternal's environments if you choose to turn it on over higher framerate options. PlayStation 5 users sadly haven't been having as good of a time, with a plethora of issues plaguing Sony's latest system. Some players reportedly haven't been able to get the PS5 version working at all, while others have realised that campaign data doesn't transfer between the PS4 and PS5 so have been left playing through the, admittedly stunning, game again.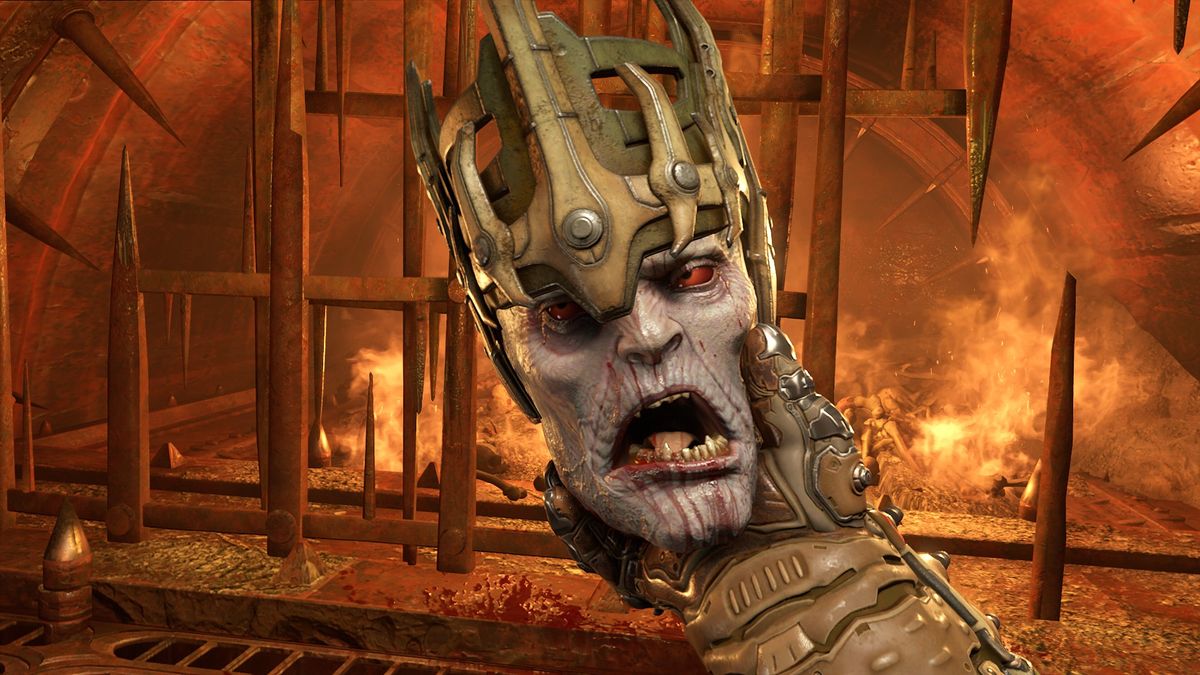 Doom Eternal's next-gen upgrade is raising hell for PS5 owners
techradar.com
DOOM Eternal Gets Vulkan Ray Tracing Support - Download Adrenalin 21.6.2
drivers.softpedia.com
The definitive way to play one of 2019's best games. "If you're a fan of Alan Wake and Control, it's worth picking up, but if you never played Alan Wake, you're better off sitting this one out." Because Remedy wasn't busy enough with Alan Wake, CrossfireX, Vanguard and more... The Ultimate Edition will let us choose between 30 fps with ray tracing or 60 fps without it. Much due to having its best month ever in November...and we got a tiny tease about Remedy's next game. The studio needs more time to make the game "awesome." The upgrade path that 505 Games said wasn't possible has this week been granted and revoked from players on PS4. Existing fans hoping to get the full experience of next-gen Control will have to go Ultimate.

Remedy is making a multiplayer Control spin-off
pcgamesinsider.biz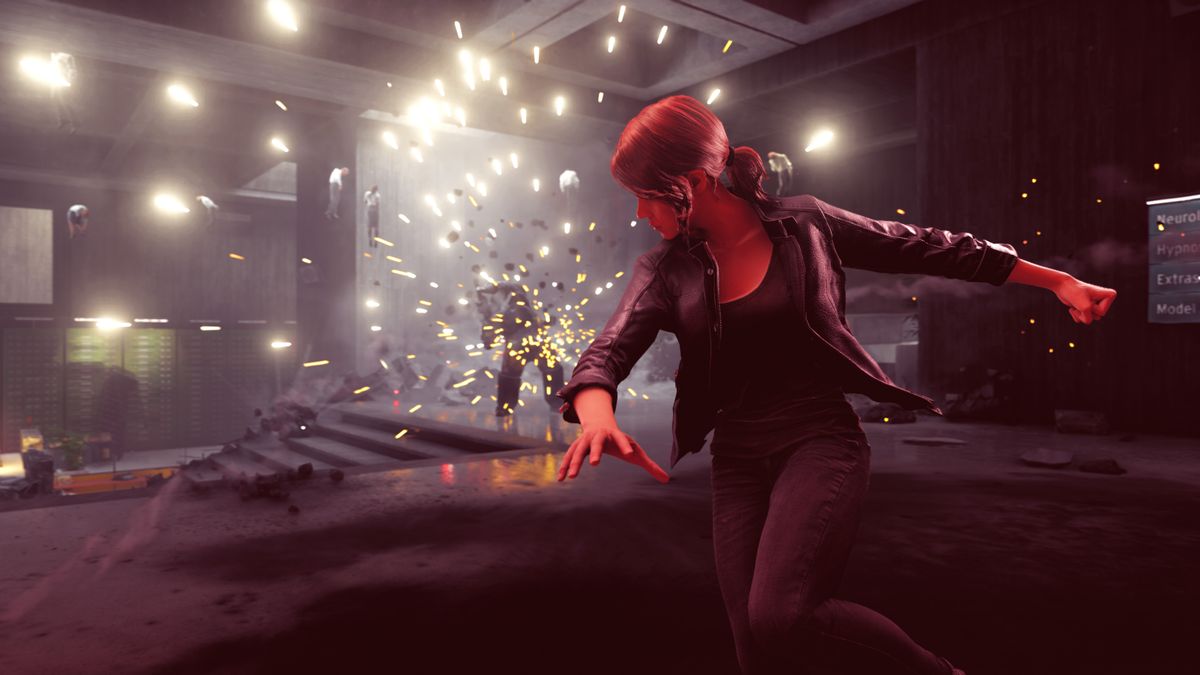 A Control sequel and multiplayer spin-off are in the works
techradar.com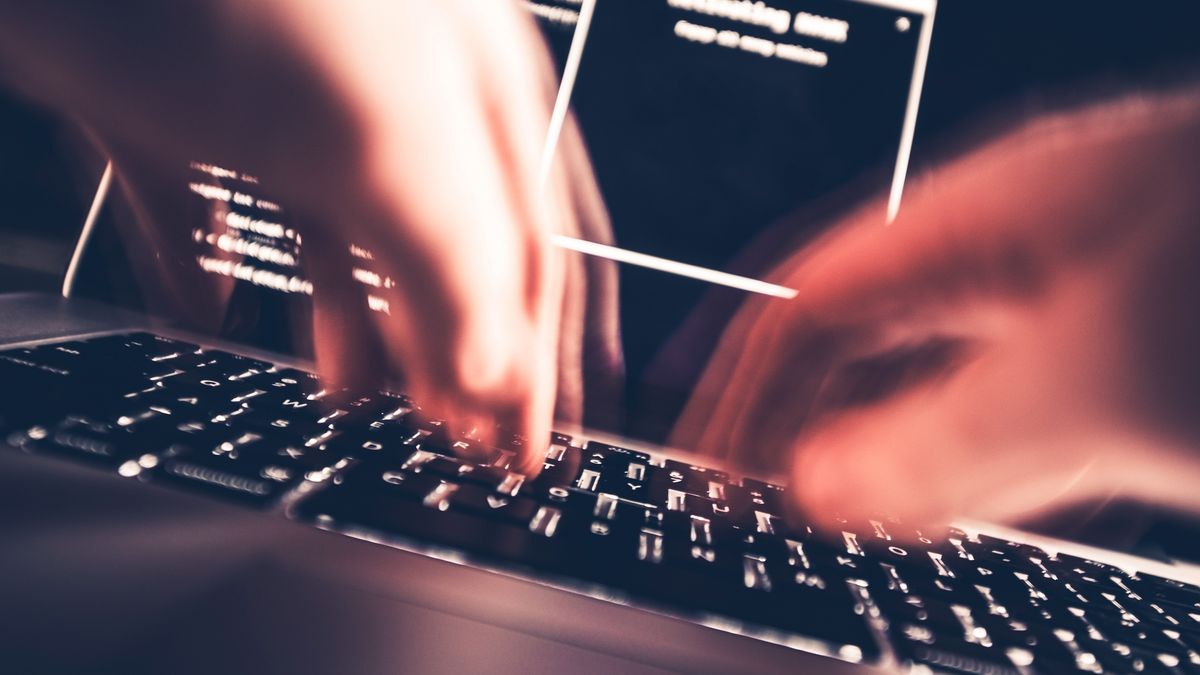 A Russian-based VPN service that was popular among cybercriminals has been seized by an international law enforcement operation led by the Dutch National Police with support from Europol and Eurojust. As reported by BleepingComputer, DoubleVPN was commonly used by cybercriminals due to the fact that it offered a double-encryption service to help them evade detection when conducting their illegal activities online. However, what they didn't know is that the service was keeping tabs on them in the form of customer logs that were seized along with servers and data from the company. When using DoubleVPN, requests are encrypted and transmitted to one VPN server and then sent to additional VPN servers before finally connecting to the final destination. This allowed cybercriminals to hid both their real locations and originating IP addresses when launching cyberattacks on both businesses and consumers. DoubleVPN's website is now offline after it was taken down by law enforcement and in its place, there is now a website seizure notice that explains how the VPN's owners "failed to provide the services they promised". While cybercriminals thought they were getting a secure VPN that would help them stay anonymous, in reality the company was collecting personal information on them as well as logs and statistics on their online activity. Europol provided further details on how DoubleVPN was marketed to cybercriminals and used to compromise networks worldwide in a press release, saying: "DoubleVPN was heavily advertised on both Russian and English-speaking underground cybercrime forums as a means to mask the location and identities of ransomware operators and phishing fraudsters. The service claimed to provide a high level of anonymity by offering single, double, triple and even quadruple VPN-connections to its clients. DoubleVPN was being used to compromise networks all around the world." Via BleepingComputer

This VPN service used by ransomware gangs was just taken down by police
zdnet.com
Ransomware Groups Can't Hide Their Identity Using DoubleVPN Anymore
uk.pcmag.com
Drones have exploded in popularity, but their range often leaves something to be desired. Midrange drones can reach as far as 1.5 miles, while high-end consumer drones can go as far as 4.5 miles away. Distance has been the limit to true freedom — until now. The new Parrot Anafi Ai drone uses 4G connectivity to eliminate any and all range restrictions. You can precisely control the drone from any distance, no line of sight is required, and obstacles won't interfere with the connection. Thanks to the embedded Secure Element, the link between your phone and your drone is encrypted. This provides thorough data privacy and reduces the risk of someone hacking and stealing the drone. The Anafi Ai drone stands out for another reason, too: It's the first drone in the industry to make its piloting application open-source. Parrot provides a Software Development Kit that developers can use to create custom code for the drone. This opens its flight sensors, obstacle avoidance sensors, and more up for customization, which means the potential of the custom software is limited only by developers' imaginations. The Anafi Ai has a 48-megapixel main camera as well as a 4K 60 frames per second/HDR10 capable camera for snagging detailed aerial images and video footage. The drone is designed with photographers in mind and is capable of taking amazing videos thanks to the stabilization around its 4K camera. The HDR10 capability means that even high-contrast areas will be captured with clarity. The camera boasts 6x digital zoom; according to Parrot, users can make out 1-centimeter-sized details from a distance of 75 meters. The gimbal tilt allows the camera to be adjusted from -90 degrees to 90 degrees along its axis. Enhanced artificial intelligence can use photogrammetry to automatically create flight plans and improve productivity. Professional drone operators can use this feature to create flight plans based on the land registry of a building. In essence, the drone can create a 3D map and follow it to better avoid obstacles as it flies. You can think of it much like those Google Maps cars you may see out on the road, but for the skies. There's no need for a subscription. Any SIM card capable of sending data will work for controlling the drone. The Anafi Ai is easy to use, folds for easy storage, and can be set up and operational in just one minute. Perhaps just as importantly, it's resistant to rain. You can fly even in wet conditions, and your photos will still look great even in high winds. The gimbal ensures sharp photos in crosswinds up to 12.7 meters per second. The Anafi Ai is scheduled for release in the second half of 2021. No price has been given yet.

Parrot Brings 4G to Drones With Anafi Ai
uk.pcmag.com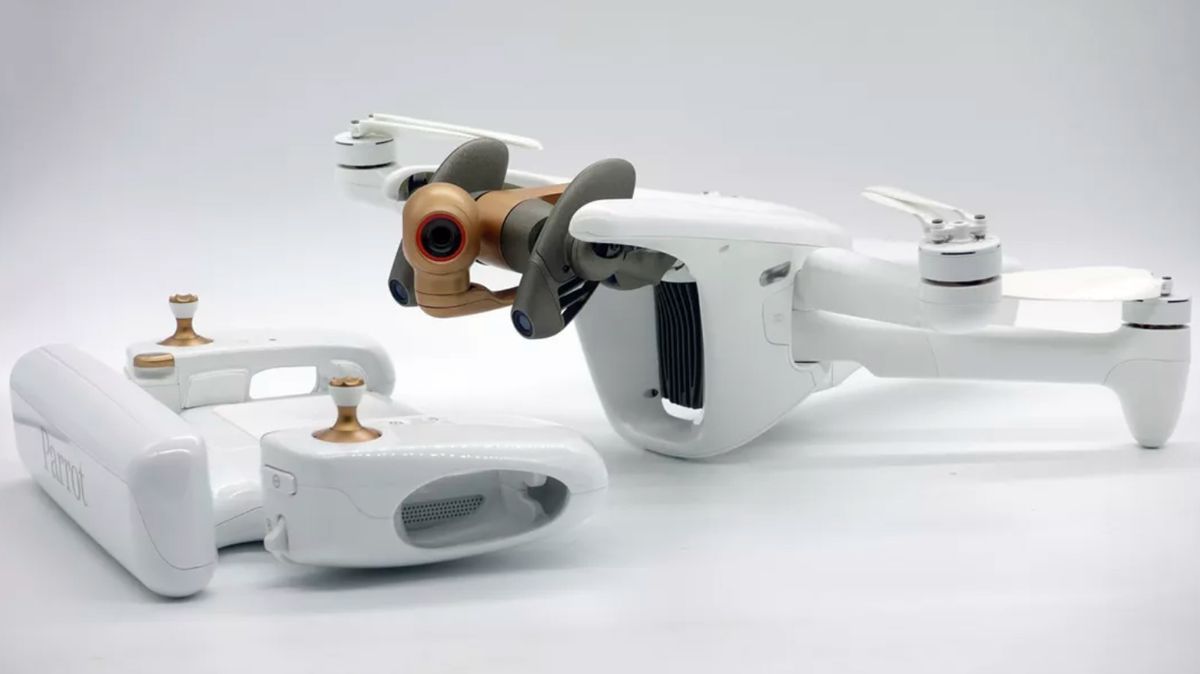 The Parrot Anafi AI is a 4G-connected drone that looks like a basking shark
techradar.com
With the battle royale format more popular than ever, it's no surprise that some games will borrow features from others. PlayerUnknown's Battlegrounds has followed this trend in its latest update, adding a comeback mechanic to its newest map. The new system puts defeated players in a "Comeback Arena" that sounds eerily like Call of Duty: Warzone 's gulag. The 12.2 patch for PUBG adds a new map called Taego, which is the same size as its first map. Players can currently play on the new map in solo or squad modes, and it notably doesn't have a red zone or any inclement weather. The map itself also has a number of unique characteristics, like landmarks and wildlife that will react to the sound of gunfire. However, its most unique elements are all gameplay-centered, including the aforementioned comeback mechanic and a new self-revive item. Players who die when playing on Taego during the game's first Blue Zone phase will be transported to the Comeback Arena, a separate area where survivors can battle it out. Anyone that stays alive long enough in this arena will be transported back to the main map during the third Blue Zone phase. It's worth noting that, unlike in Warzone, this feature is only available if you're playing squads, leaving solo players out in the cold. Solo players looking for a second chance will have to get lucky and come across a Self AED. This new item will let knocked-out players revive themselves and is available in both solo and squad games. A number of other changes and additions were also made with PUBG 's 12.2 patch, all of which can be viewed on the game's site .

PUBG's new 8x8km map, Taego, arrives alongside self-revives and a Gulag-like arena
vg247.com
CoD: Warzone FARA 83 nerf is finally here in the new Season 4 update
gamerevolution.com
Apex Legends season 10 teaser dates found in data mine
gamerevolution.com
Some of the code in future apps, websites, and operating systems might be written by artificial intelligence. GitHub has partnered with OpenAI to develop a new technology, dubbed Copilot, to help programmers "write better code." But don't worry, the company says AI won't replace human coders. GitHub stressed that Copilot is more than a super-powered autocompletion engine similar to the ones found in existing code editors and integrated development environments (IDEs). The utility will offer autocompletion suggestions, true, but it can also write entire chunks of code with minimal user input. Some of Copilot's standout features include the ability to write tests used to check code quality, write boilerplate code, and show alternative solutions to a given coding problem. A human programmer will still have to do most of the coding, but Copilot will automatically handle some of the most repetitive tasks. Copilot was trained using "a selection of English language and source code from publicly available sources, including code in public repositories on GitHub," and it relies on a technology called OpenAI Codex that is expected to be made available to other developers via the OpenAI API "later this summer." GitHub says that it recently tested Copilot to see if it could fill in the bodies of "a set of Python functions that have good test coverage in open source repos." It was said to have succeeded on the first try 43% of the time, and when it was given 10 chances, it successfully filled in those bodies 57% of the time. Copilot "works with a broad set of frameworks and languages, but this technical preview works especially well for Python, JavaScript, TypeScript, Ruby, and Go," GitHub says. The feature will likely become more proficient with other frameworks and programming languages as its training data continues to expand. This reliance on a lot of data makes GitHub the ideal partner to test OpenAI Codex. The platform hosts many open-source projects that can be used to effectively teach Copilot and similar models how to code. The feature will get better as it becomes more popular, too, and as more projects are shared via GitHub. Copilot "requires state-of-the-art AI hardware" to function, so it's currently available to a limited number of testers as a technical preview. "When we launch a commercial product," GitHub says, "we will make it available as broadly as possible." The company didn't offer a timeline for that commercial launch.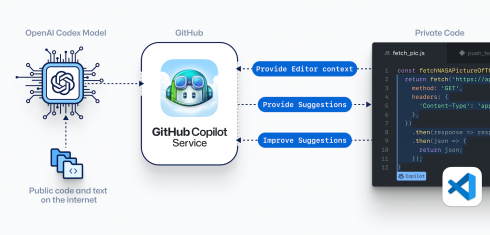 GitHub Copilot aims to help developers write better code
sdtimes.com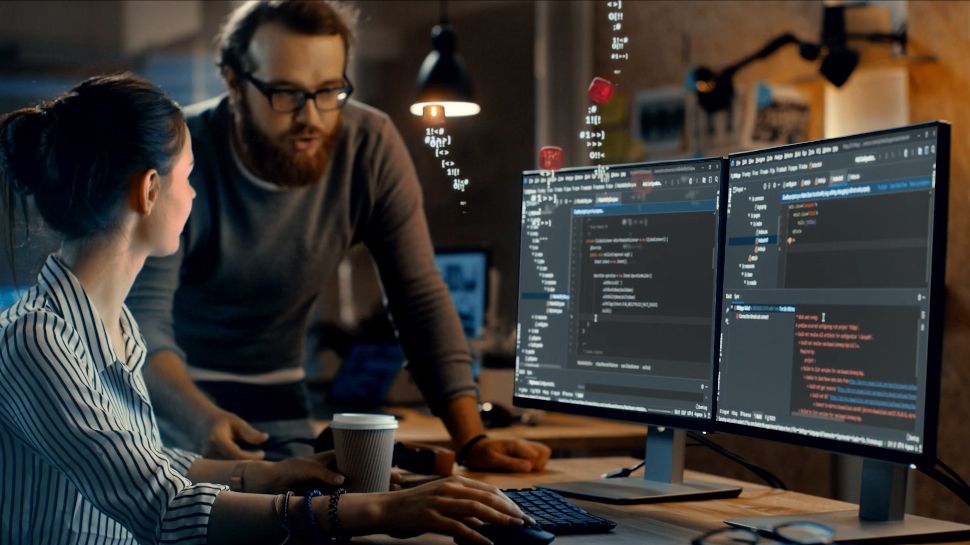 AI-powered GitHub tool will pretty much write your code for you
techradar.com
TCL today launched three new premium 4K TVs in the Indian market. The new range features 120Hz MEMC support, Dolby Vision, Dolby Atmos, IMAX Enhanced, Game Master, Hands-free voice control 2.0, and a host of other features. The new range will also be upgraded to the new Google TV interface, starting Q3 2021. Here's a quick look at all the new models in TCL's C Series lineup: The TCL C825 Mini LED 4K TV is the crown jewel of TCL's new TV range. It offers support for a range of premium features, including full array local dimming, Dolby Vision HDR, Dolby Vision IQ,120Hz refresh rate with MEMC support, Game Master with HDMI 2.1 input, and IMAX Enhanced certification. The TV also comes with a 1080p magnetic camera that can be used to make video calls using Google Duo or Zoom. Furthermore, the TV features an integrated Onkyo Soundbar with a built-in subwoofer and Dolby Atmos support. The TCL C825 will be available in two size variants in the Indian market — 55-inch and 65-inch — priced at ₹114,990 and ₹149,990, respectively. The TCL C725 features a 4K QLED panel, and it also offers support for features like Dolby Vision, HDR10+, MEMC, and hands-free voice control 2.0. Much like the C825, the C725 comes with a webcam for video calls and an integrated soundbar from Onkyo with Dolby Atmos support. The TV will be available in three screen sizes — 50-inch,55-inch, and 65-inch — priced at ₹64,990, ₹72,990, and ₹99,999, respectively. Rounding off the list is the new TCL C728 TV, which also features a 4K QLED panel. The TV is squarely aimed at console gamers, and it features Game Master support with HMDI 2.1 input,120Hz MEMC, and hand-free voice control. The TV also offers variable refresh rate (VRR) support, an auto low-latency mode (ALLM), and eARC. The TCL 728 will be available in three sizes — 55-inch,65-inch, and 75-inch — priced at ₹79,990, ₹102,990, and ₹159,990, respectively. All three models will run TCL UI based on Android TV out of the box, and they'll be upgraded to Google TV later this year. The TVs will be available on Amazon.in, Reliance Digital, TCL's website, and select offline retail stores. It's worth noting that the company will start smartphone and TV display panel manufacturing in India later this year, which should effectively bring down the price for the aforementioned models.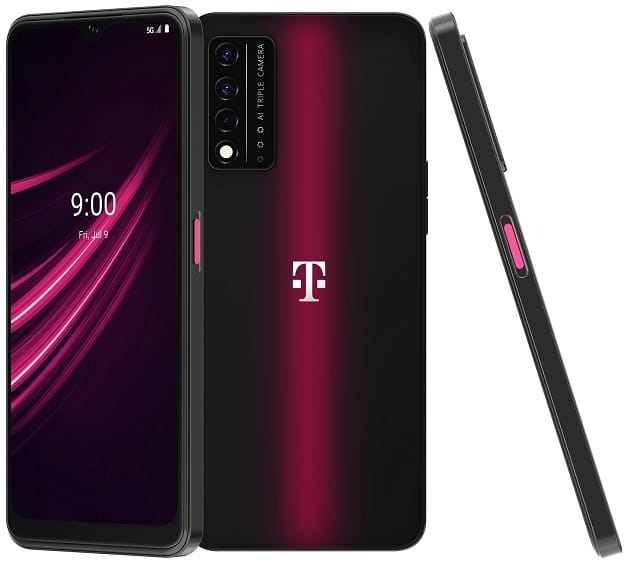 T-Mobile REVVL V+ 5G Android 11 smartphone costs less than $200
betanews.com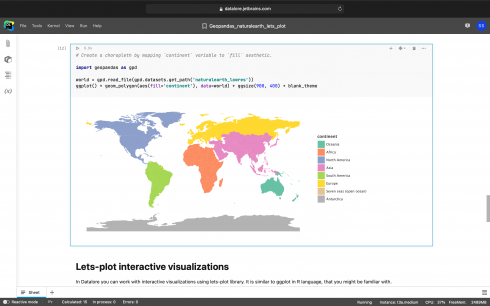 SD Times news digest: JetBrains Datalore for Enterprise, Google to require all new apps be published with Android App Bundle, MariaDB partners with AWS
sdtimes.com
The DoubleVPN virtual private network (VPN) service has been forced offline and servers seized in a coordinated law enforcement operation against the service, which is accused of providing a safe haven for malicious actors, including ransomware crews, to attack their victims. In an operation with echoes of recent stings against Encrochat, an encrypted telecoms network that is currently the subject of legal action in multiple jurisdictions, the coordinated takedown was let by the Dutch National Police with international action overseen by Europol and Eurojust under the framework of the European Multidisciplinary Platform Against Criminal Threats (EMPACT). Other agencies involved in the operation, which has been eight months in the planning, include law enforcement bodies from Bulgaria, Canada, Germany, Italy, Sweden, Switzerland and the US, as well as the UK's National Crime Agency (NCA). "This criminal investigation concerns perpetrators who think they can remain anonymous, while facilitating large-scale cyber crime operations," said Dutch public prosecutor Wieteke Koorn. "By taking legal action, including the special investigatory power for digital intrusion, we want to make it very clear there cannot be any safe havens for these kind of criminals. Their criminal acts damage the digitalised society and erode the trust of citizens and companies in digital technologies, therefore their behaviour has to be stopped." Edvardas Šileris, head of Europol's EC3, added: "Law enforcement is most effective when working together and today's announcement sends a strong message to the criminals using such services: the golden age of criminal VPNs is over. Together with our international partners, we are committed to getting this message across loud and clear." The operators of DoubleVPN had allegedly heavily advertised their service on Russian and English-language dark web forums as a useful means to hide the location and identity of ransomware gangs and phishing scammers. They claimed to provide high-levels of anonymity via single, double, tripe and sometimes quadruple VPN connections to its client servers. Its cheapest connection is understood to have cost as little as £19. At the time of writing, its web domains have been replaced with relevant law enforcement splash pages. John Denley, deputy director of the NCA's National Cyber Crime Unit, which took the UK node of the DoubleVPN network offline on 29 June, described the operation as significant as it was the first time law enforcement had been able to take direct action against a crime-enabling service of this nature. "Double VPN was a multi-layered virtual private network service run by cyber criminals, to enable fellow cyber criminals to mask their identities online. It allowed them to anonymously communicate, identify victims then effectively sneak in and conduct reconnaissance on their systems as a precursor to launching a cyber attack," he said. Denley added that the NCA had established the identities of several UK-based victims whose networks were unlawfully accessed by DoubleVPN, all of which have been notified and are receiving support if needed. "We know that criminal services such as DoubleVPN are used by the organised crime groups behind some of the world's most prominent ransomware strains, which have been used to steal data from and extort victims," he said. "Ransomware attacks have evolved and increased in severity over recent years, with government and national infrastructure being targeted. The NCA is working closely with partners to bolster our capability to respond to this national security threat and strengthen the UK's response to cyber crime."

This VPN service used by ransomware gangs was just taken down by police
zdnet.com
Ransomware Groups Can't Hide Their Identity Using DoubleVPN Anymore
uk.pcmag.com
Are you interested in buying a set of true wireless earbuds, but you're overwhelmed by the sheer number of brands, models, features, and prices on Amazon? You're not alone. Ever since Apple launched the AirPods in 2016, the true wireless earbuds space has exploded. More choice is always a good thing for buyers, but it also means you need to do a little more research before you make your decision. We can help. We'll explain every single feature and buzzword that you might run into and what to look out for when those buzzwords sound too good to be true. We'll also update this article regularly because even a few months can make a big difference in terms of what you can expect to get for your money. It's not a very common feature, but some charging cases have extra-large batteries and a built-in USB-A charging port that lets you recharge a phone or almost any other device. Whether it's worth carrying the extra bulk in order to have this option is going to be a personal decision, but it doesn't add much cost to the earbuds, so price likely won't be a factor. Active noise cancellation (ANC) uses the earbuds' onboard microphones to detect external sounds and attempts to cancel them out by producing sounds with an inverse phase. There can be a big difference in ANC effectiveness from one model to another, with more expensive earbuds usually doing a better job than lower-priced models. Beware of claims like the number of decibels (dB) canceled by ANC, as this can be misleading. Check trusted review sites for evaluations of how well a specific earbud's ANC works. Pay specific attention to reviewers' observations around the kind of sounds the ANC cancels best — some ANC is better at dealing with consistent noise like an airplane's engines, while others do better with dynamic noises like traffic or conversations. This is easily the most variable feature from one model of true wireless earbuds to another. We've seen some that last as little as three hours per charge and only 12 hours with the charging case, while others can last as long as 13 hours per charge and up to 48 hours when you include the charging case. More expensive earbuds often last longer, but there are exceptions to this. Apple's $249 AirPods Pro only get 4.5 hours with ANC turned on, while the $50 Earfun Air get seven hours per charge and 35 hours total with their charging case. As a wireless technology, Bluetooth always compresses digital music in order to transmit it to your earbuds. Very high-quality earbuds compensate for this with top-notch signal processing, audio drivers, and amplifiers. But it's also possible to moderately increase the sound quality through the use of Bluetooth codecs like aptX, aptX HD, or LDAC. These codecs preserve more of the original source, but the caveat is that both the earbuds and the smartphone (or tablet, etc.) need to be compatible. A set of earbuds that support LDAC, for instance, won't sound any better if used with an Apple iPhone as iPhones don't work with LDAC. Though it's a rarity on true wireless earbuds, some models use Bluetooth Multipoint, which lets them connect to two Bluetooth source devices simultaneously, like a phone and a laptop. This makes switching between these two devices very fast and easy, with no need to pair them again every time you want to swap. At the moment, only Jabra offers this feature for all kinds of Bluetooth devices, but Apple's AirPods line of earbuds and headphones can do it, too — as long as you're signed in to iCloud on all of your Apple devices. Bluetooth wireless range is another highly variable feature. Some models lose their connection after about 10 feet while others can go much farther. For the best possible wireless range, look for earbuds that are considered class 1 Bluetooth devices — these have the longest range you can get. Though exceptions do exist, like the Bose QuietComfort Earbuds, true wireless earbuds are usually only so-so for call quality. Look for trustworthy reviews that discuss an earbud's call quality, as it can vary from totally unusable to very good — and there's no way to tell by looking at a product's specifications or price. This is your earbuds' home when they're not in your ears, and there are a lot of features to consider. How many extra charges does the battery hold? How small/pocketable is it? Does it have wireless charging? Does it use USB-C or MicroUSB for cable charging? Is it easy to remove and replace the earbuds? Does the hinge mechanism seem flimsy? Would it survive a fall onto a hard surface? What about water resistance? Bored of basic black? Look for earbuds that come in a range of color options, though be warned: Many models that offer this variety are on the low end in terms of features and sound quality, so definitely do your homework. Being able to choose which combination of taps or clicks are used for different functions is a nice option, but support for this can vary highly between models. Some let you customize every gesture on each earbud, while others only let you modify one or two. Some don't let you make any changes at all. Price isn't a reliable indicator: Some high-end buds have no customization of any kind, while some sub-$50 models have lots. When it comes to earbuds, the two main technologies for producing the sound you hear are dynamic drivers (which look like teeny-tiny speakers) and balanced armature drivers (which look like rectangular boxes with a hole at one end). Balanced armatures are usually tuned to specific frequencies, which means you'll often get two or three in a single earbud. This arrangement tends to produce the most accurate sound, which is why balanced armatures are favored for professional in-ear monitors. But balanced armatures take up more room, making it hard to use them in wireless earbuds, which need space for batteries, microphones, and lots of circuitry. So dynamic drivers are the go-to tech for most true wireless earbuds. But there's no need to get fixated on the kind of drivers used when buying earbuds. As with so many things, you can have awesome dynamic drivers and terrible balanced armatures — it's more important to read reviews about how these drivers succeed (or don't) at creating great sound. Some earbuds — especially those aimed at athletes — include earfins or earwings in addition to various sizes of eartips. These create an even more secure fit than the eartips alone. Some models treat the earfins as optional, like Amazon Echo Buds, while others make them a requirement, like the Bose QuietComfort Earbuds. Some folks find earwings uncomfortable, so if you don't need the extra stability they offer, you may want to consider earbuds that don't have them or that give you the option of not using them. You may see this feature advertised as noise-canceling, which might lead you to think that's it's active noise cancellation — but it's not the same. Environmental noise cancellation (ENC) or Clear Voice Calling (CvC) are technologies that prevent external sounds from interfering with your voice during calls — they do not cancel those noises when listening to music. All earbuds come from the factory tuned for a specific sound signature. That signature may emphasize low-end bass or ultra-clear highs. If the earbuds come with EQ adjustments either built into the hardware or you can make them via a smartphone app, you'll be able to make changes to how they sound. Some offer one or two adjustments, while others offer a wide array of options. It's not always tied to price: Some high-end earbuds like those from KEF or Grado don't have any EQ settings at all. Some earbuds feature quick charging that lets you grab an extra hour or two of additional playtime for just a few minutes spent in the charging case. Without quick charging, it can take twice to three times as long to get an equivalent boost. Pairing true wireless earbuds used to be a pain, but these days it's rarely more than a two-step process. Still, some models make it even easier with Fast Pair technology. Apple uses this on its AirPods and Beats models when they're connecting to iOS devices, and there's a similar version from Google for Android devices. Many newer models now come with the ability to locate missing earbuds and/or their charging case using the manufacturer's app. As of 2021, some models are equipped with Apple's Find My capability, which doesn't require a third-party app if you're using an iOS device. Finding capabilities will vary: Some apps let you trigger a locating sound from the earbuds, and some — like Skullcandy's line of earbuds and headphones — use Tile's tracking technology, which gives you a large community of users who can aid in locating lost items. A growing number of earbuds now include a fit test as part of their smartphone app. It's typically only offered on earbuds that have feedback microphones for ANC. After playing a short test tone, the app will let you know if the eartips you've chosen are creating a strong enough seal for the best audio quality. Because Bluetooth compresses digital audio (see: Bluetooth codecs) there's really no such thing as hi-res audio -capable true wireless earbuds. But that hasn't stopped the Japan Audio Society from declaring the LDAC and LHDC codecs as "hi-res wireless audio." It basically means that earbuds equipped with these codecs deliver the closest possible experience to true hi-res audio in a wireless product. But again, codecs aren't as important to overall sound quality as software, drivers, and amplifiers, so keep that in mind. You might expect that all true wireless earbuds can work independently from one another, but this isn't always the case. With some, you must always use both earbuds. With others, only one side works on its own. Water and dust resistance has become nearly universal on true wireless earbuds, but there can be a big difference between models. Some offer no official water resistance, like the AirPods, while others can be fully immersed, like the IP68 Jaybird Vista 2. Unlike some features such as ANC, you can find excellent waterproofing even in very affordable earbuds. These are the key to both great ANC/transparency and great phone calls. But don't assume that just because a set of earbuds has two, four, six, or even eight microphones, that ANC and calling will be awesome — much depends on the way the mics are used and the signal processing that the earbuds employ. The key to getting the best sound and the best fit from a set of true wireless earbuds is finding the right size of silicone or foam eartips for your ears. This is easier when companies include a variety of eartip sizes. The lowest standard is the inclusion of three sizes (small, medium, and large), but increasingly, we're seeing companies across the price spectrum beginning to include many more sizes and shapes to help buyers get the perfect fit. Check the description of what comes in the box to find out what each product offers. Passive noise isolation is an earbud's ability to block external noise by preventing those sounds from entering the ear canal. Typically, the earbuds with the best passive noise isolation are those with silicone or foam eartips that create a tight seal in the ear canal's opening. Some earbuds do such a good job at blocking sounds passively, that active noise cancellation (ANC) doesn't make that much difference. Earbuds that don't use eartips, like the AirPods or the Samsung Galaxy Buds Live, usually do a poor job at noise isolation. Similar to transparency mode, sidetone lets you hear yourself more clearly on phone calls. Some models have a default level of sidetone, while others give you adjustments to fine-tune how much of your voice comes through. If you want to make changes to the EQ, the controls, or simply get firmware updates, your true wireless earbuds really need to have their own smartphone app. This is the one category where you usually get what you pay for. It's possible to find lots of affordable true wireless earbuds that sound good, and even a few that sound way better than their price suggests, but as a rule, if you want the best sound quality, you're looking at the high end of the price spectrum, starting at about $220. The majority of true wireless earbuds have touch-sensitive controls because it makes it easier to do things like waterproofing. But while some touch controls are highly responsive, many can be difficult to use. Unless a reviewer has indicated that a model's touch controls are good, you may want to consider models that use physical buttons instead, like the. Beats Studio Buds, Jabra Elite 75t /85t, and Master & Dynamic MW08. If your earbuds offer ANC or they simply have very good passive noise isolation, having a transparency mode (often referred to as ambient sound) is helpful. When activated, it uses the onboard microphones to pipe external sounds into your ear. Some earbuds let you fine-tune the amount of external sound, and some even offer the option of amplifying that sound as a form of hearing enhancement. Transparency modes are not only helpful for having a conversation without needing to remove the earbuds, but they also offer greater situational awareness when you're near potential hazards like traffic or construction, or even just to hear a crying baby. USB-C has become the standard charging connector for Android smartphones and even Apple iPads, so the majority of true wireless earbuds also use this connector on their charging cases. But some models still use the older Micro USB plug — if this matters to you, check the specs carefully before buying. It's rare to find true wireless earbuds that don't let you trigger your phone's voice assistant but double-check the specs to make sure. More and more models are now offering advanced voice assistant functions. Some models give you a choice of Google Assistant or Amazon Alexa in addition to whatever assistant is on your phone by default. Yet others, like the JBL Tour Pro+, let you speak to these assistants using just their wake word instead of pressing a button. If this matters to you, look for models that promise "hands-free" voice assistant access. Wear sensors will let you automatically pause your music or podcast when you remove one or both earbuds, and by extension, they'll auto-resume the tunes when you reinsert them. This is very handy for conversations, but as long as you don't mind pressing the play/pause button, it's not a must-have. Most let you turn the feature on and off, but for some, it's alway on. This feature lets you recharge the earbuds' charging case by dropping it on a Qi-compatible charging mat, instead of plugging it into a USB cable. If your phone supports accessory charging, you should be able to recharge the case from your phone, too.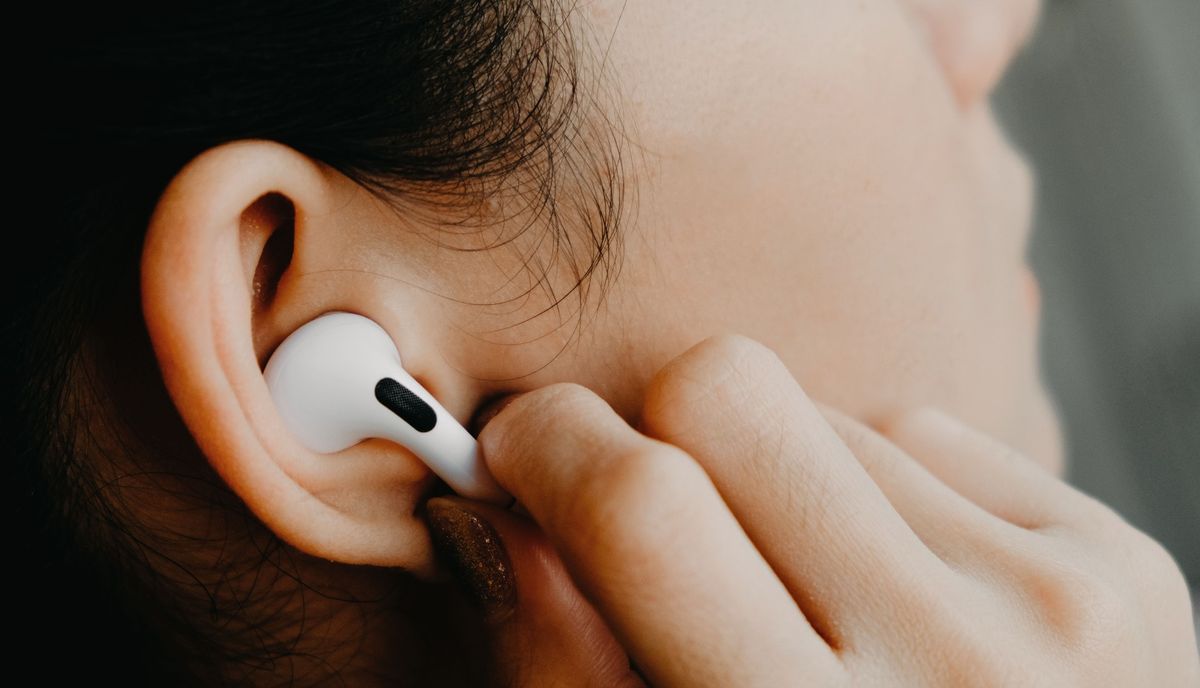 Apple AirPods Pro 2 could release next year, says analyst
techradar.com
Huawei FreeBuds 4 true wireless earbuds review
neowin.net
Apple's new 24-inch iMac was refreshed at its Spring event earlier this year as an all-purpose PC for the masses. It's now powered by the M1 Silicon, Apple's ARM-based processor that currently powers the MacBook Air, MacBook Pro 13, iMac mini, and even the new iPad Pro 2021. The new iMac also gets a much-needed design refresh where Apple is offering the machine in seven different colors in a sleek and slender design. If you're planning to buy one, there are some important things to consider and we're going to list all the differences so you can make an informed decision. Before we list the differences, let's take a look at all the common features on the new iMac that are available across variants. The most obvious one is the chipset, the M1 Silicon, Apple's first ARM-based microprocessor that's based on TSMC's 5nm process. According to Apple, it has the world's fastest CPU core in low power silicon and the world's best CPU performance per watt. It's also Apple's first step into moving away from Intel chipsets. The new iMac comes with an updated 23.5-inch 4.5K Retina display which offers a brightness of up to 500-nits, support for one billion colors, P3 color gamut, and Apple's True Tone technology. All models of the new iMac also feature at least 8GB of memory, the new and improved 1080p camera, a six-speaker system with support for Dolby Atmos, triple microphone array, Wi-Fi 6, Bluetooth 5.0, and, last but not least, a 3.5mm headphone jack. All models also come with two Thunderbolt 4/USB 4 ports, however the higher tier models have additional ports (more about this later). There are a total three configurations available priced at $1,299, $1,499, and $1,699. The new colors are one of the most attractive selling points on the new iMac. It's available in Blue, Green, Pink, Silver, Yellow, Orange, and Purple. However, if you're planning to buy the $1,299 base variant, you can only choose between Blue, Green, Pink, and Silver. Only the more expensive models of the iMac offer all seven color options. There are plenty of SSD storage options on the iMac. The base storage starts at 256GB on the $1,299 model which can be configured with 512GB and 1TB for an additional $200 and $400 respectively. The $1,499 model also starts at 256GB with upgrade options of 512GB,1TB and 2TB for an additional $200, $400 and $800. The top $1,699 model comes with 512GB as standard and offers an upgrade to 1TB storage for an additional $200 and 2TB for $600. Unless you're a content creator who deals with a lot of heavy files, we suggest that 256GB of SSD storage should be more than enough. You can always look at cloud storage or external USB drives in case you fall short on storage space. Apple uses the new M1 chip on all three models, however the chipset also has different variants with different GPU and memory options. The base variant comes with a 7-core GPU while the other two get an 8-core version. As for the memory,8GB is standard on all, but you can bump up to 16GB for an additional $200. There's only a marginal difference between the two GPU options when it comes to performance, however getting extra memory is advised if you plan on heavy multitasking workloads. If you plan on using the iMac as a regular home PC, then 8GB of memory shouldn't be an issue. The new iMac comes with a limited number of ports due to its super slim design. All three models come with two Thunderbolt 4/USB 4 ports and a 3.5mm headphone jack. Note the $1,499 and $1,699 models offer two additional USB-C ports. You don't get any USB-A or HDMI ports, which means the port selection is very limited and you might have to invest in a good USB or even better a Thunderbolt dock for additional ports. It's worth noting that the new iMac supports one external monitor with up to 6K resolution and a 60Hz refresh rate. This is a limitation of all M1-powered Macs and according to Apple's documentation, you can't increase the number of supported monitors by using a dock either. The new iMac also comes with an Ethernet port that's placed right into the charging brick, which is a neat solution to cut down on cable clutter. The base model doesn't come with an Ethernet port, but you can pay an extra $30 for one. Both the $1,499 and $1,699 models come with Ethernet embedded into the charging brick. A new introduction to the iMac, Apple has added Touch ID via the Magic Keyboard which now comes in the same colors as the new iMac itself. Having fingerprint authentication not only lets you log in securely, but you can use Apple Pay and switch between profiles with just a finger. The feature should be great for consumers who have multiple users at home. The new Magic Keyboard with Touch ID is available on the $1,499 and $1,699 models. The $1,299 model comes with a standard wireless Magic Keyboard, however you can upgrade for an additional $50. If you're going for the base variant, our recommendation is to pay that extra $50 for the Touch ID-equipped Magic Keyboard for seamless authentication without the need for typing in passwords. In our opinion, it's worth spending the extra $200 for the $1,499 iMac rather than the base variant. For the extra money you're getting additional USB-C ports along with an Ethernet connection, Magic Keyboard with Touch ID, slightly better graphics performance, and of course more color choices. If you're planning on getting one, make sure you check our guides on the best external monitors, docks, mice, and keyboards for the new 24-inch iMac with M1. Additionally, check out our roundup of the best laptops for 2021.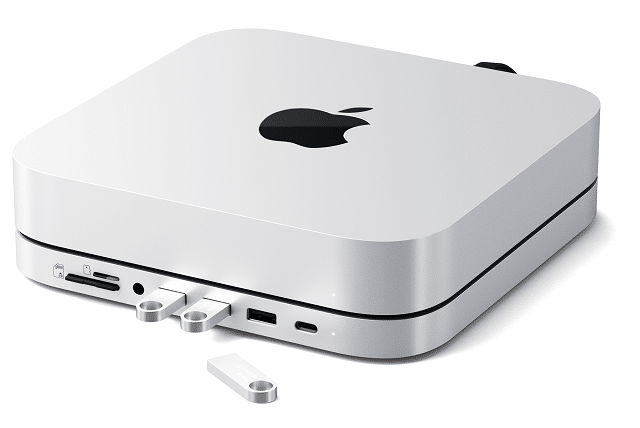 Satechi launches USB-C stand and hub for Apple Mac mini with integrated SSD enclosure
betanews.com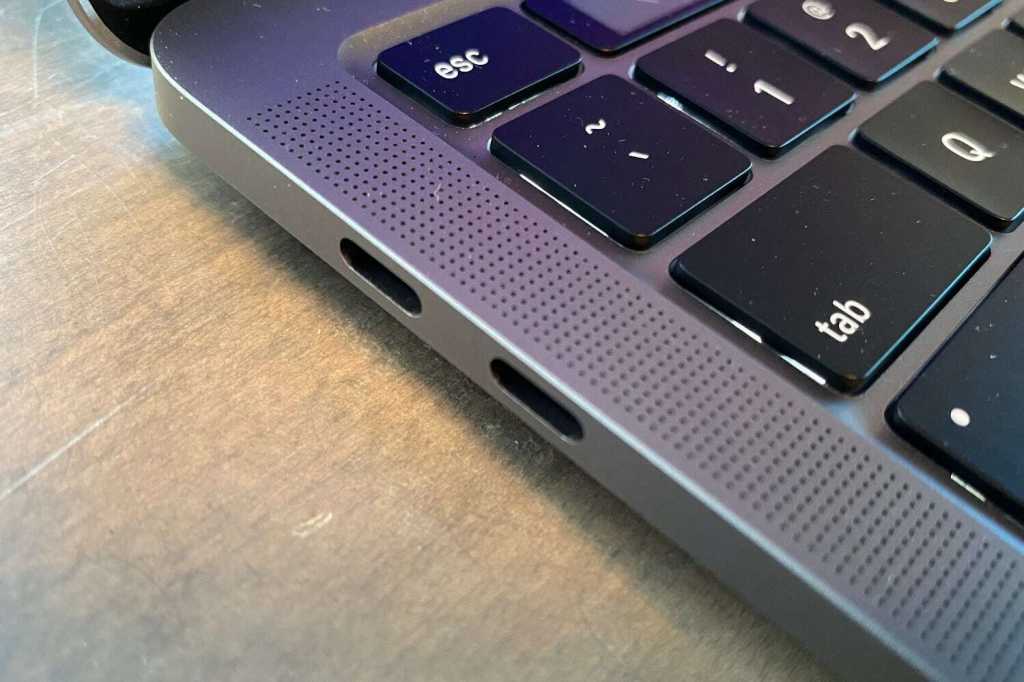 The next MacBook Pro: A late fall launch is all but certain
macworld.com
Sony doesn't consider acquisitions a competition between rival companies to have the biggest and best developers under its umbrella. In fact, the company is very selective about which studios it acquires, according to PlayStation Studios head Herman Hulst, and the deal to acquire Housemarque wasn't something that was decided overnight. Watch on YouTube Speaking with GQ, Hulst said buying a studio isn't some random decision as the company takes into consideration whether astudio has a similar set of values and creative ambitions. "We're very selective about the developers that we bring in," said Hulst. "Our last new acquisition was Insomniac [for $229 million in 2019], which has worked out very well. I'm always looking for people that have a similar set of values, similar creative ambitions, and work very well with our team that we can further invest in and help grow as creators. It's not like we're going around and just making random acquisitions. "They're very, very targeted acquisitions of teams that we know well. The amount of collaboration between our external development group and Housemarque on the technical side, the production management side, and even on the creative side has been so deep. So for us, it just makes so much sense to do that. Hulst goes on to say he and his team have been working on bringing Houseqmarque into the fold for quite a while but didn't want to distract the core group at the studio while it was working to get Returnal out the door. Plus Returnal, according to Hulst, "fills a unique part" of Sony's PS5 slate of games, and "to take that further: to the next level with the acquisition was "just super attractive." Housemarque is now PlayStation Studios' 13th fully-owned studio. Ilari Kuittinen, Housemarque's co-founder and managing director, and his team will continue to lead the studio and will be aided by PlayStation Studios' External Development team. As for what's next for Housemarque, after a much-needed break, Kuittinen told GQ the team is looking to build upon what it created with Returnal, and future titles may "be even bigger and even more ambitious."

Sony: We are doing "targeted acquisitions of teams that we know well"
gamereactor.eu
This is the best Sony headphones deal we've seen in a long time
digitaltrends.com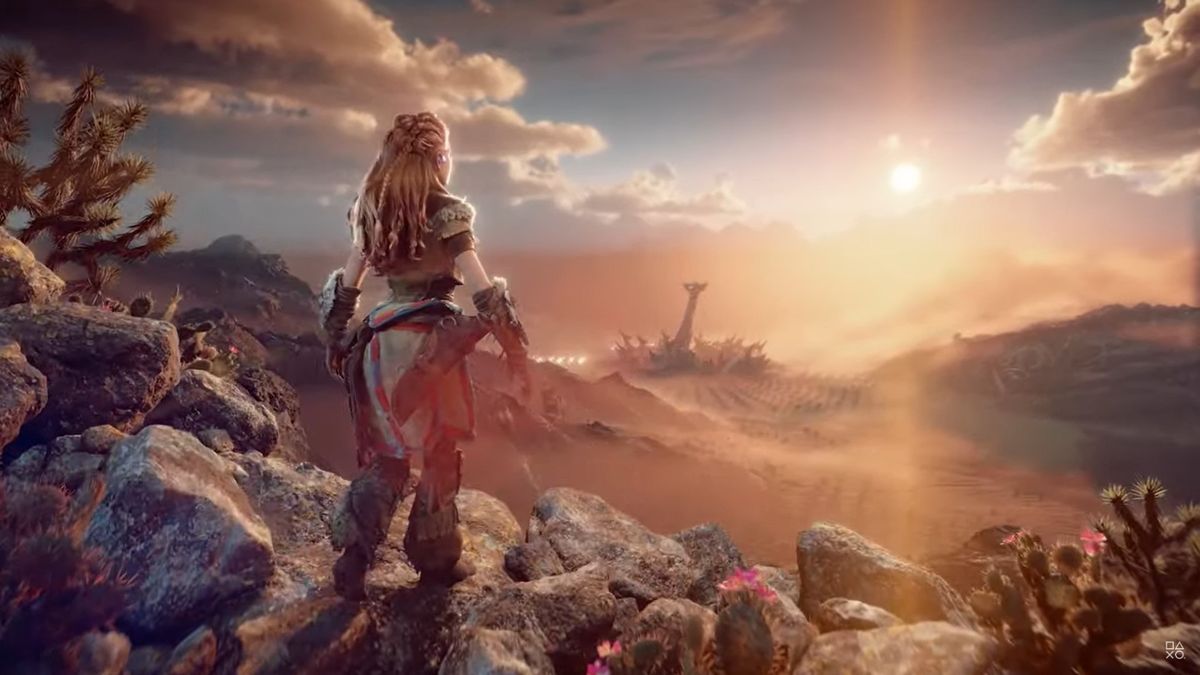 Horizon Forbidden West is the long-awaited sequel to the critically-acclaimed Horizon Zero Dawn and it's coming to PS5, and perhaps somewhat surprisingly, PS4 sometime in 2021. Horizon Forbidden West continues Aloy's story, and takes her to a post-apocalyptic western United State to recover a piece of ancient technology needed to stop a mysterious threat. The game will offer a whole new open world to explore replete with new machines, gadgets for traversal and weapons. In the latest 14-minute trailer for the game shown during the May 2021 State of Play, we got a chance to see Aloy in action using the new grappling hook, breathing mask and glider to easily navigate the ruins and rubble of the coastal environments, as well as two new weapons to take down a mammoth-like Tremortusk. The visuals look stunning, but it is – admittedly – still a work in progress and a solid release date is yet to be confirmed. Want all the juicy details? Here's what we know about Horizon Forbidden West so far, including its release date, trailer and more. While the Horizon Forbidden West release date was notably absent from the gameplay reveal, developer Guerrilla Games released a dev diary video last year confirming that the Horizon Zero Dawn sequel will release in 2021. We now know it will also come to PS4, too – meaning you won't have to upgrade to new hardware to play the game. Developer Guerrilla Games took to Twitter shortly after the May 2021 State of Play to address the absence of a confirmed release date for Horizon Forbidden West. While offering nothing concrete, Guerrilla reassured fans that "development is on track" and will have more updates "very soon." Back in February, PlayStation boss Jim Ryan told GQ he felt "pretty good" that Horizon Forbidden West will still arrive in 2021. Fairly recent social media advertisements have also stated that Horizon Forbidden West will arrive in "late 2021" or "second half of 2021", meaning it's likely we won't see the game until the tail end of this year. However, PlayStation Studios head Hermen Hulst has expressed a cautious approach to the release date, saying in a PlayStation Blog Post: "We think we are on track to release this holiday season. But that isn't quite certain yet, and we're working as hard as we can to confirm that to you as soon as we can." We got our latest look at Horizon Forbidden West during a May 2021 State of Play.14 minutes of gameplay were shown off, giving us a better idea of what we can expect from Aloy's adventures out west. Watch it for yourself below: Sony and Guerrilla Games revealed the first Horizon Forbidden West trailer at the PS5 games reveal event on June 11, 2020. The trailer below provides a three-minute glimpse at the kinds of varied landscapes you'll explore in the second game, and which machines you can expect to fight (mammoths and alligators, by the looks of it). We also get the sense that Horizon Forbidden West will be heavy on underwater gameplay, based on how much of a big deal the trailer makes of Aloy using her scuba gear at the 1:40 mark above, and the shots of underwater ruined cities. We know that Horizon Forbidden West sees Aloy traveling to post-apocalyptic California and will feature locations such as San Francisco and Yosemite. Based on the trailer it seems like Aloy's journey could take her all over the Western Seaboard, down the coast to Mexico, and potentially back out east to the Caribbean Sea. Along the way, we'll see a bunch of new enemies, including the velociraptor-esque Clawstriders and some new aquatic machines that look pretty intimidating. To make matters worse, raiders have learned to control some of the machines, making Aloy's life out west that much harder. We'll learn more about the game's plot as we move closer to launch, but the key point is that there's a blight that could destroy all of the life on the planet – and it's up to Aloy and her crew to stop it before it does. We've compiled all the latest Horizon Fordbiden West news and rumors below for your perusal: Developing for PS4 hasn't held anything back Horizon Forbidden West is coming to PS4 and PS5 but according to the game's director, getting the game ready for last-gen's consoles hasn't held it back or forced the team to scale back. Speaking with Hardware Zone (via VGC), Mathijs de Jonge said, "I don't think the cross-generation development was limiting in any way. When we started with the concept of this game, we had so many great ideas that ended up being included – to the point that we didn't really think about hardware limitations or anything, we just wanted to design a really nice, unique experience for the player. An awesome adventure. "That's how we also brainstormed all the quests and events the player is going to go through." That said, there are differences between what the consoles can do and de Jonge added, "I think that the big delta between these two consoles, apart from the 3D audio, quick loading and DualSense of course, is on the graphical side of things. On the PlayStation 5, we can add so much more detail graphically. We can see the tiny hairs on Aloy's face, for example. You can also see a ton of detail from far away." This lines up with a previous interview with Game Informer, in which de Jonge revealed that "A lot of the development has taken place on the PlayStation 4, and a lot of playtesting has been done on PlayStation 4. So we are ensuring that owners of that console have a great experience and the game will look fantastic on that console." Huge variety of weapons Writing in a PlayStation Blog post, Narrative Director Ben McCaw explained how Aloy will have a "huge variety of weapons" at her disposal, with combat having an emphasis on tactics and choice. "Aloy's trusty Spear is good for close combat and enables a new set of combos," McCaw wrote. "Bows with specialized ammo types strip armor off machines to expose their weak spots. Adhesive grenades can be fired from slingshots, temporarily stalling foes. Plus many more, and all of them can be upgraded at a workbench." New tools Aloy will have a bunch of new tools at her disposal in Horizon Forbidden West, according to Narrative Director Ben McCaw. Writing in a PlayStation Blog post, McCaw said: "This dangerous and unfamiliar land is full of challenges and threats, but Aloy will have new tools to help her on her way. The Pullcaster speeds up climbing, getting her quickly out of trouble; the Shieldwing allows her to safely descend from great heights (or surprise enemies from above); and with the Diving Mask, a whole new underwater world is open for exploration. Not to mention big upgrades to her Focus, which now shows areas that allow free-climbing and gives her the ability to override more machines for mounts or combat." 60fps mode and other advantages on PS5 In an interview with French YouTube content creator Julien Chièze, Guerrilla Games confirmed that the PS5 version of Horizon Forbidden West will feature a 60fps mode, double the frame rate of the original PS4 game and the recent gameplay footage. It's not clear at this time what visual cutbacks (lower resolution, for example) will be required to achieve this frame rate, though. In an interview with Game Informer, Game Director Mathijs de Jonge said that because of its power, "the PlayStation 5 can go much further [than the PlayStation 4]". De Jonge explained that, "Visually we can add a lot more detail. Graphically, the rendering technique for the underwater scenes is special for the PlayStation 5, it has extra details and extra systems, like the wave technique is better on that system." On top of this, "The lighting on Aloy on PlayStation 5 has much more definition," as they "use a special cinematic lighting rig, that on the PlayStation 4 is only used in cutscenes because the game is not running and we have more processing power in those scenes. But with the PlayStation 5 we have plenty of processing power, so we can have that lighting rig always available, so she always looks great with that lighting setup traveling with her anywhere." But PS4 owners shouldn't be worried about the game's performance. According to de Jonge, "A lot of the development has taken place on the PlayStation 4, and a lot of playtesting has been done on PlayStation 4. So we are ensuring that owners of that console have a great experience and the game will look fantastic on that console." In the "last stages of development" Horizon Forbidden West doesn't have a solid release date just yet but in an interview with Hardware Zone, game director Mathijs de Jonge has said that it's in the "last stages of development". "We have just successfully completed our beta milestone, which is pretty far along," said De Jonge. "We're now in the final stages of development. So we are polishing the game and fixing bugs. We are also wrapping up certain aspects of the game, like some of the machines being behind schedule - because it takes an enormous amount of time to build them. We're working on the final cinematic. So, we're really wrapping up. There's still a lot to do with a game of this size and magnitude, but we're in the final stages." This comes not long after PlayStation Studios head Hermen Hulst expressed a cautious approach to the release date, saying in a PlayStation Blog Post: "We think we are on track to release this holiday season. But that isn't quite certain yet, and we're working as hard as we can to confirm that to you as soon as we can." So, while anything could happen with the game's final release date at the moment, it is in its final stages. Climb anywhere and swim underwater in a larger world Following the new footage of Horizon Forbidden West revealed during the recent State of Play, Game Director Mathijs de Jonge and Narrative Director Benjamin McCaw spoke to IGN, touching on some of the advancements players can expect to see in the sequel. Players can, for example, expect more freedom in free climbing, with de Jonge saying, "In terms of the traversal and the human combat, this was a point from Horizon Zero Dawn, where we wanted to improve the mechanics…you can now free climb anywhere in the world" thanks to an "automatic system that just detects if there is a latch somewhere in the geometry [of rocks, cliffs and mountain sides]." Horizon Forbidden West will also have a larger, more dense game world than Zero Dawn. According to de Jonge: "The map is a little bit bigger, but in general, we've really looked at increasing the density, and adding more content, making sure there's a lot more to do for the player across the map, and then making that content also engaging by telling little micro-stories." Some of the additional breadth and depth in the world is coming from new underwater exploration. Benjamin McCaw explained that "Exploration is really the theme. And it's not enough for us to just show underwater. We wanted to make sure that it's every bit as beautiful as what you see in the natural world above it. But it wasn't just enough that you could swim around underwater. We wanted to do some things that are really surprising and interesting. And I think that's where some of the story stuff comes in, and we just absolutely can't wait for players to see what they're going to experience." A brand new skill tree and how Valor Surge works In an interview with Game Informer, game director Mathijs De Jonge revealed that Horizon Forbidden West's skill tree hasn't simply been updated since the first game, instead the previous skill tree has been "completely redesigned and repopulated with new skills", with new options to allowing players to upgrade Aloy's skills to suit their playstyle. De Jonge also explained how the skill tree is how players will be able to unlock 'Valor Surges', the powerful electric move we saw Aloy unleash during the recent Horizon Forbidden West gameplay reveal. According to De Jonge, Valor Surges are unlocked by spending skill points in the skill tree, with players then being able to choose which Valor Surge is active at any moment. To unleash a Valor Surge move, the Valor Surge bar in the bottom right of the screen needs to be filled. This is done by "playing technically", headshotting humans or removing components from enemies, which will reward players with specific technical combat XP, which is its own point system, that can be spent in the skill tree. Guerrilla Games also revealed that Horizon Forbidden West will have full PS5 3D audio and DualSense support, a new free-climbing system and a new melee system that allows for combos. Virtually no loading screens During a dev diary video from Guerrilla Games, Horizon Forbidden West game director Mathijs de Jonge explained how the sequel will utilize the PS5's super-fast SSD. "With the PS5's SSD, there will be virtually no loading screens," Jonge said in the video. "In an open-world game like Horizon Forbidden West, if you open up the map and fast travel from one end to the other, or restart from a checkpoint, it will be super fast. When you boot up the game, you're right there in the action." Check out the video below: Adaptive triggers You can expect improved use of haptic feedback and adaptive triggers on the PS5, and Horizon Forbidden West is no exception, with its unique mix of bows, slings, and ropecasters. Guerrilla Game Director, Mathijs de Jonge, has said that "The DualSense wireless controller adaptive triggers will help us to make the weapons feel even more unique and satisfying to use."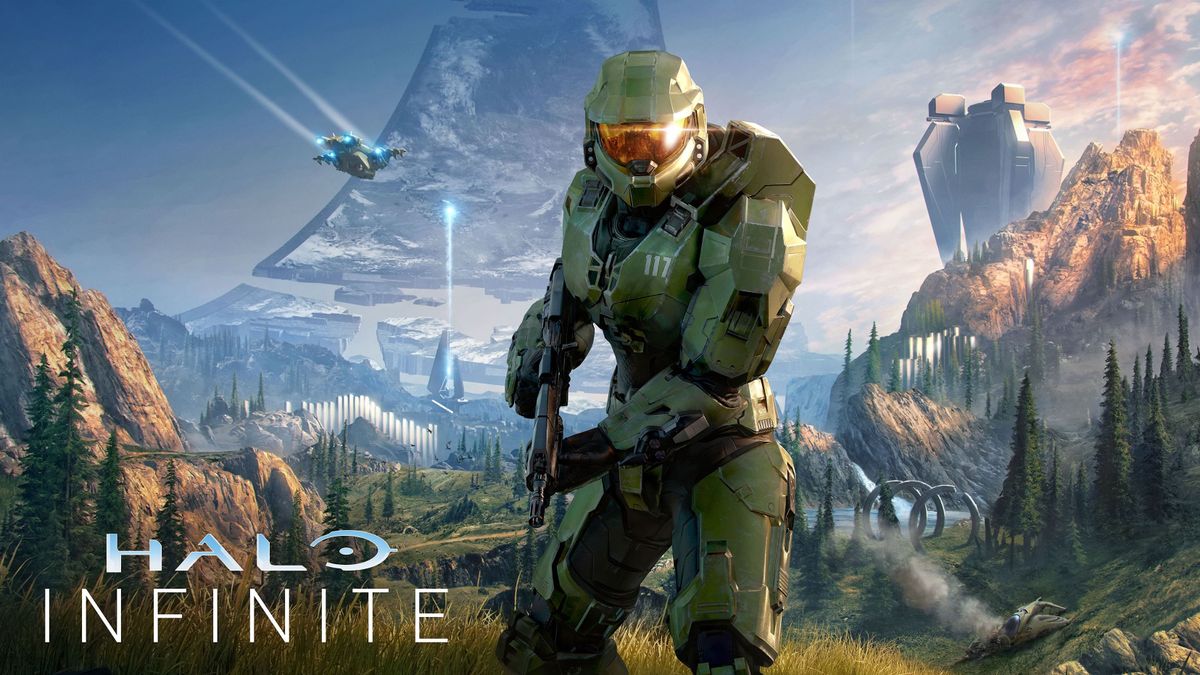 Halo Infinite release date, trailers, multiplayer, gameplay and news
techradar.com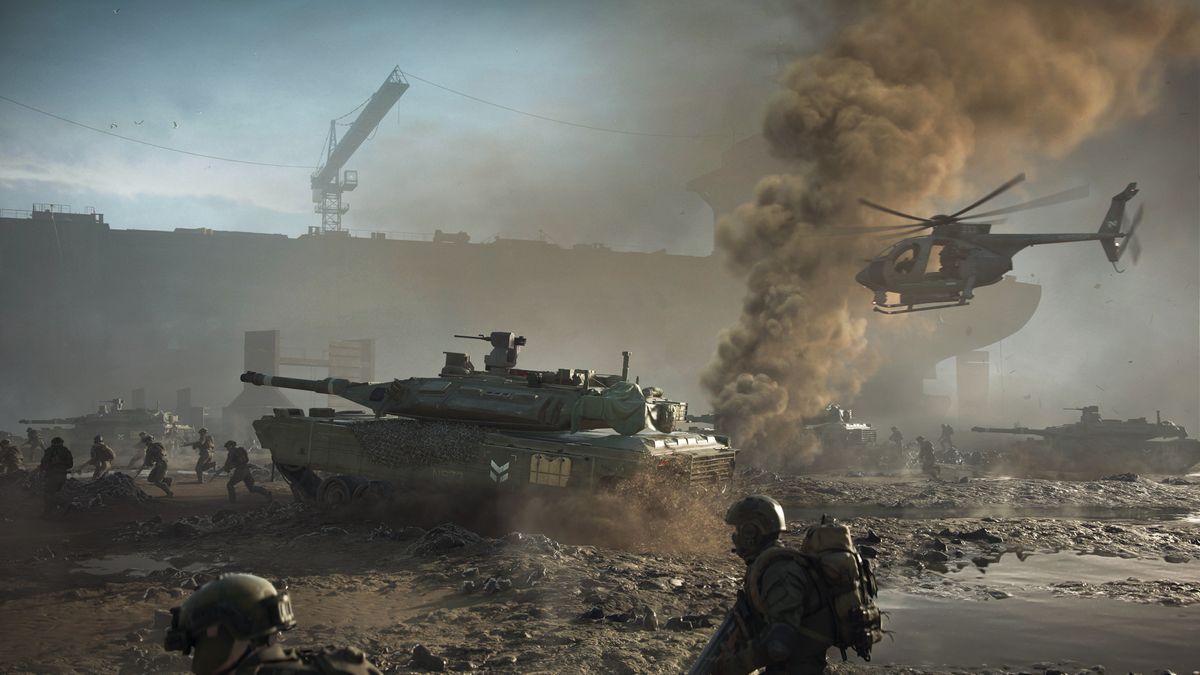 Battlefield 2042 release date, trailers, gameplay and modes
techradar.com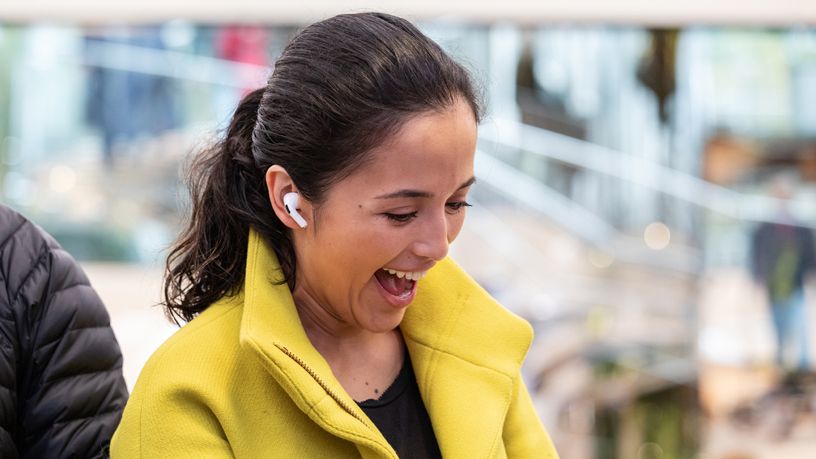 Apple AirPods Pro 2 release date, news, and rumors
techradar.com
Good Omens season 2 news, cast, rumours and release date
techadvisor.com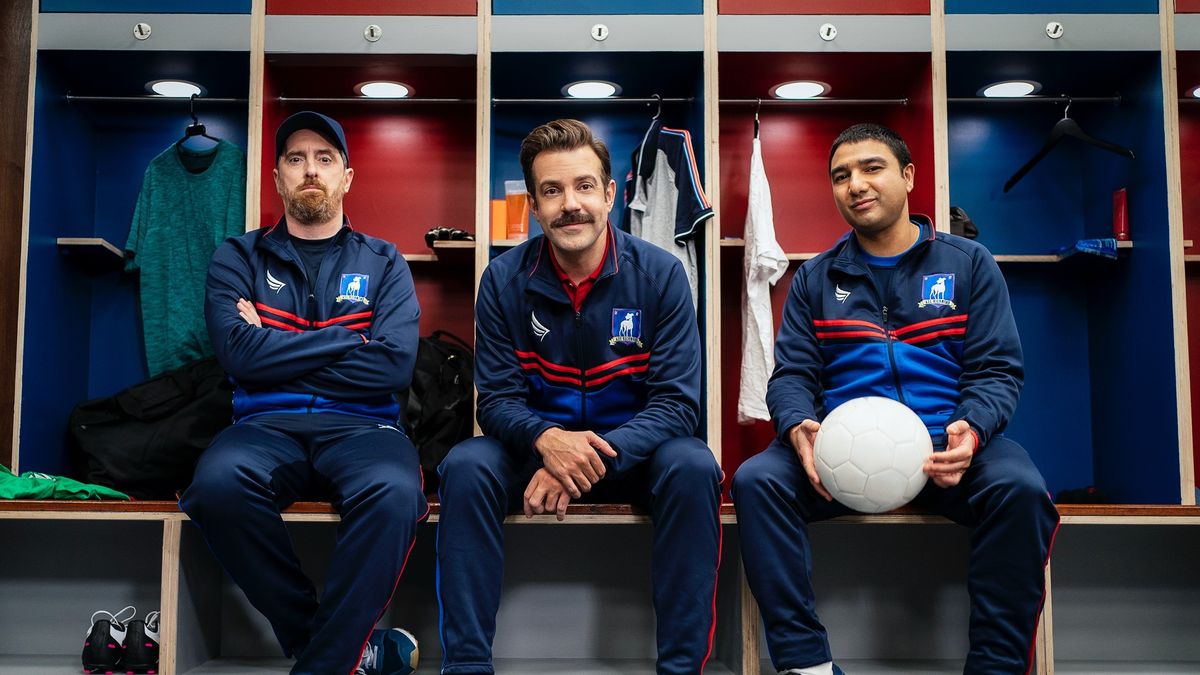 Ted Lasso season 2: release date, trailer, cast and everything we know so far
techradar.com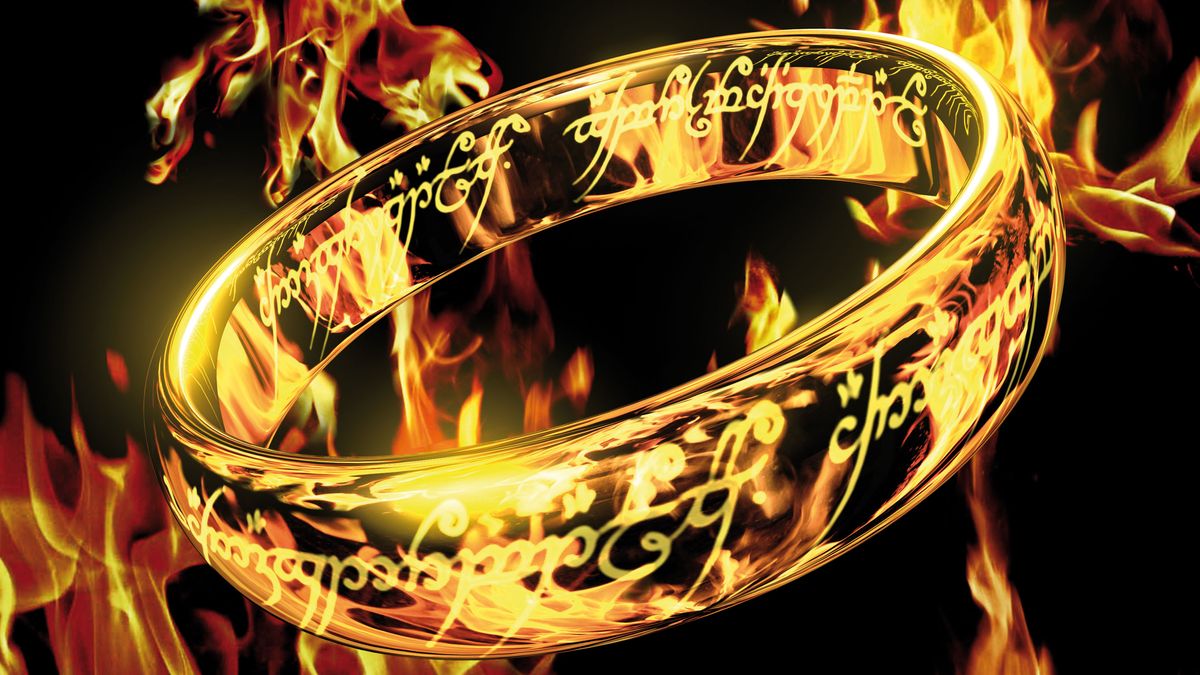 The Lord of the Rings is making the jump from the big to the small screen. That's right, a live-action TV series based on J. R. Tolkien's fantastical world is coming to Amazon Prime Video in collaboration with the Tolkien estate. We've already been treated to two film trilogies – one is better than the other, admittedly – but this is the first time that a live-action Lord of the Rings TV show has been attempted, and it'll depict an era we haven't seen on screen before. So, what do we know about the series so far? The latest bit of information comes from one the series' many cast members, who has revealed that it could be something of a long wait for season 1. Below, you'll also find sections relating to other news and rumors surrounding Amazon's Lord of the Rings, including a possible release date, cast, potential plot details and more. Let's waste no more time, then, diving into everything worth knowing about Lord of the Rings season 1 on Amazon Prime. At the moment, there isn't one, but filming has been underway since February 2020 (per Stuff.co.nz). Production on the series hasn't been without its issues. Stuntwoman Elissa Cadwell was injured just days into filming the first two episodes, while the Covid-19 pandemic caused production to shut down in New Zealand in March 2020 (per New Zealand Herald). In July 2020, New Zealand government minister Phil Twyford granted exemptions to seven film and TV productions. This allowed cast and crew members to enter the country during the pandemic while its borders remained closed to non-New Zealanders. The Lord of the Rings was one such project, and pre-production recommenced in July 2020 (h/t Stuff.co.nz). Filming resumed in late September, according to Deadline, with principal photography starting up again in January 2021 following a two-break Christmas break (h/t New Zealand Herald). Hunters director Wayne Che Yip will direct four of the series' eight episodes, with the British-Chinese helmer following J. A. Bayona in the directorial hot seat. Bayona directed the series' first two instalments, including the pilot episode, and production on these wrapped on December 23 (h/t ComicBook.com). Another directorial addition is Charlotte Brändström. The Swedish-French director, whose credits include Netflix's The Witcher and Jupiter's Legacy, as well as Amazon's The Man in the High Castle, has been drafted to direct two of season 1's episodes. With principal photography still ongoing in New Zealand, we shouldn't expect Amazon's Lord of the Rings series to arrive anytime soon. If filming wraps within the next few months, it's possible that the TV show could land in Q4 2021. It would be well-timed, on Amazon's part, if its Lord of the Rings series arrived for the winter TV schedule. It'll be 20 years since The Fellowship of the Ring movie arrived in theaters on December 10, so lining up the Lord of the Rings' TV premiere for that date would be the perfect anniversary gift. All of this depends on how long the filmmaking process will take, though, and whether reshoots will be necessary. According to Benjamin Walker, who was part of the show's December 2020 cast announcements, it could be a while before we see season 1 air. Speaking to Collider, in June 2021, about how much longer it'll take to film season 1, Walker said: "It is a bit nebulous at this point. We've been here a long time and they'll let us go when they're done with us." Australian actor Tom Budge has already left the TV show after Amazon Studios decided to go in a different direction with his character. If there are other adjustments needed during filming, we could see the series further delayed, which would push its release date back. Morfydd Clark, who will portray a young Galadriel in Amazon's Lord of the Rings, also spoke to Esquire (in April 2021) about her involvement. Clark explained that she would be filming in New Zealand for "a few months" before being able to return home. Clark also seemingly admitted that she was locked in for five seasons of Amazon's production, which tallies with reports that Amazon want this to be a long-running TV series. Despite comments to the contrary, however, our predicted 2022 release could be on track if a new leak is to be believed. According to the Fellowship of Fans Twitter account, principal photography on season 1 is due to end on July 30 – although there's been no official confirmation on this from Amazon. This is a week earlier than the series' initial August 6 wrap date, but only takes the main run of filming into account. As we said, reshoots may be necessary but, right now, it seems that Amazon's Lord of the Rings is in the final stretch of filming. Check out the tweet below and make your own minds up: A series on this scale needs a huge cast, and Amazon's Lord of the Rings ensemble is absolutely stacked. There are 35 actors currently listed as appearing in the TV show, according to the official casting page (Budge is still there despite having departed the project). You can check out who will be appearing in Amazon's adaptation on that page, and then read on to find out who may be portraying who. According to Variety, Morfydd Clark (Saint Maud) has been cast as a young Galadriel. Lord of the Rings fans will know that the powerful elf was played by Cate Blanchett in the Lord of the Rings film trilogy. As this series is set during the Second Age, though, Galadriel will be younger than her movie counterpart. Another role that we're fairly certain of is Simon Merrells. According to the actor's biography page on the Warring and McKenna management agency website, Merrells (Good Omens) will be playing an original character called Trevyn. However, there have been rumors surrounding the identities of other actors' roles. In July 2019, The Hollywood Reporter claimed that Markella Kavenagh (The Cry) had signed on to play a character called Tyra, while a December 2020 Deadline report suggested that Lloyd Owen (Monarch of the Glen) would portray someone known as Loda. Robert Aramayo, who played a young Ned Stark in Game of Thrones, is believed to have replaced Will Poulter as Beldor, one of the TV show's main heroes (h/t Deadline). Joseph Mawle, who played Benjen Stark in Game of Thrones, is also thought to have been cast as the series antagonist Oren (h/t Deadline). However, it's unclear if this character has ties to Sauron – more on him later – or if he'll be a supporting villain. Other series regulars, according to an official Amazon's Lord of the Rings Twitter thread, include General Hospital's Nazanin Boniadi, and Welsh theater actor Owain Arthur. Additionally, Amazon Studios announced 20 cast members who would play supporting roles in the TV show last December (h/t Deadline). Those announcements included British comedian-actor Sir Lenny Henry, Years and Years' Maxim Baldry, Divinity's Maxine Cunliffe, A Discovery of Witches' Trystan Gravelle, and Power's Cynthia Addai-Robinson. One thing that's certain is that we won't see the likes of Frodo, Sam or Aragorn in this adaptation. For reasons you'll read further down this page, these characters were born in Middle-Earth's Third Age, which places the show outside of their timelines. If you're expecting anything other than a cameo from any of the film trilogy's hobbits or men, you'll be sorely disappointed. There are key Second Age players, including elven High King Gil-galad, elven smith Celebrimbor, dwarf King Durin III, and Numenorian King Elendil, who haven't had their castings revealed yet either. It's likely that these individuals will be part of the announced cast but, once we have confirmation, we'll update this section. On this front, we have more concrete news. Taking to Twitter in January, TheOneRing.net uploaded the synopsis that Amazon Studios released just weeks into 2021: Obviously, the synopsis doesn't dive into any character reveals or heavy plot points, but there's enough here to go on for now. Amazon's Lord of the Rings will be set during Middle-Earth's Second Age, which lasted for nearly 3,500 years and ended with Sauron's eventual defeat at the hands of the alliance between men and elves. This is the battle that opened Lord of the Rings: The Fellowship of the Ring, so it's possible that we may see this adapted again at some point in Amazon's series. Judging by Amazon's synopsis, however, that will be some way off if it does appear. There's lots of Middle-Earth history that Amazon's Lord of the Rings could cover, and we know that we'll be seeing live-action debuts for new areas of Tolkien's world in the TV show. It would be amazing for audiences to visit the likes of Numenor, Lindon and Eregion, and seeing Barad-dur being built – as well as the proper forging of the One Ring – would be awesome call backs to the source material and Peter Jackson's Lords of the Rings trilogy. While we wait for more news on the story front, we have also seen a map of what Middle-Earth looked like during the Second Age: Amazon is reportedly committed to producing five seasons of its Lord of the Rings series, according to a 2018 IGN report. Per a GameSpot article in November 2019, only two of those season have currently been greenlit. Future instalments will seemingly depend on the Tolkien estate, too, with an Engadget article from 2019 quoting Tolkien scholar Tom Shippey as saying that the author's estate has the right to veto anything that strays too far from Middle-Earth's lore. With Amazon sticking to much of the Second Age's lore, then, we should see how Sauron returns and almost ends up ruling over Middle-Earth. The Lord of the Rings' big bad has a huge role in how the Second Age plays out, so we can expect to see his rise to power again and the eons-spanning fallout after he tries to enslave men, dwarves, and elves with the Rings of Power. Another element of Amazon's adaptation is that it'll be more adult than some fans have envisaged. According to TheOneRing.net, Amazon hired a well-known New Zealand intimacy coordinator – Jennifer Ward-Lealand – back in October 2020. It's unclear what level of intimacy Ward-Lealand has been hired for, but some Tolkien fans have already voiced their displeasure over Ward-Lealand's hiring. Why? Well, intimacy – as an industry term – usually refers to nudity or sex scenes. Think along the lines of HBO's adaptation of Game of Thrones and you'll get the idea. If, and it's a big if as we don't know Amazon's plan for its adaptation, nudity is a part of the company's Lord of the Rings series, you can expect it to receive a high age rating when it finally airs. Amazon bought the rights to the Lord of the Rings TV show for $250 million in November 2017 (h/t Deadline). If Amazon completes its five-season run, it'll be expected that the entire production will have cost $1 billion, according to The Hollywood Reporter. This would make Amazon's Lord of the Rings the most expensive series of all-time. That $1 billion mark is moving closer to reality, if not more, too. As New Zealand-based publication Stuff recently revealed, season 1 of the show will reportedly cost $650m New Zealand dollars to produce. Converting that into US dollars, Amazon's Lord of the Rings season 1 will cost upwards of $465 million. However, it turns out that Amazon Studios will get a portion of its production costs knocked off the bill by the New Zealand government. Reuters has reported that Amazon is getting an extra five per cent from the nation's Screen Production Grant due to the jobs and work it has generated for the country's economy. This means that Amazon Studios is eligible to receive a rebate of NZ$162 million (US$116 million) from the New Zealand government – funds that will reduce Amazon's financial outlay for season 1, at the very least. Amazon Studios is working alongside HarperCollins and New Line Cinema – the latter helped produced both film trilogies – as well as the Tolkien estate. It's unclear, though, if New Line is helping to pay for production costs. As well as Yip, Bayona and Brändström, key members of the production team include show creators J. D. Payne and Patrick McKay. The two writers have been on board since July 2018 (h/t The Hollywood Reporter) and are also executively producing the series. Other executive producers include Bayone, Lindsay Weber, Callum Greene, Jason Cahill, and Gennifer Hutchinson. Kate Hawley is leading costume design on the series, while concept artist John Howe – one the film's chief conceptual designers – is also part of the crew. One person who hasn't returned for Amazon's adaptation is Peter Jackson. The director of The Lord of the Rings and The Hobbit trilogies had been tapped by Amazon, but ultimately declined to get involved. In a 2018 Metro UK article, Jackson revealed that he and his partners were happy to look over scripts for the TV show if necessary, before adding that he "wished them [Amazon] all the best" with their adaptation. Around the same time, Jackson also told Fandom that he "would hope to just be able to go into a Tolkien story and enjoy it like an audience member, which I've never been able to do". Jackson will get his wish, then, when Lord of the Rings lands exclusively on Amazon Prime Video in the future. Finally, Howard Shore – who scored all six Lord of the Rings movies – has revealed that he hasn't been contacted about writing the music for Amazon's TV show. Back in January in an interview with Observer.com, the composer admitted that he would "consider it" if the streaming giant approached him, but we'll have to wait and see if there's movement on this front. No, it won't. Lord of the Rings on Amazon Prime is set centuries before The Lord of the Rings: War of the Rohirrim, so don't expect there to be any crossover between these events. For those who may have missed this announcement: Variety recently reported that Warner Bros. Animation is developing a Lord of the Rings anime movie. Focusing on the history of Helm's Deep, the legendary Rohan stronghold that was the scene for Lord of the Rings: The Two Towers' massive battle, War of the Rohirrim will tell the tale of King Helm Hammerhand, whose reign is remembered for a long and costly war that occurred throughout his time on the throne. Anime filmmaker Kenji Kamiyama, who has helmed Netflix's Ultraman series among other projects, will direct War of the Rohirrim, which will supposedly tie into the six main Lord of the Rings films. However, given that King Hammerhand's reign took place around 260 years before Lord of the Rings' main events, it won't be linked to Amazon's TV series. The latter is set during Middle Earth's Second Age, which is set millennia before The Hobbit and the Lord of the Rings.

Amazon's Lord of the Rings won't air anytime soon, says star
techradar.com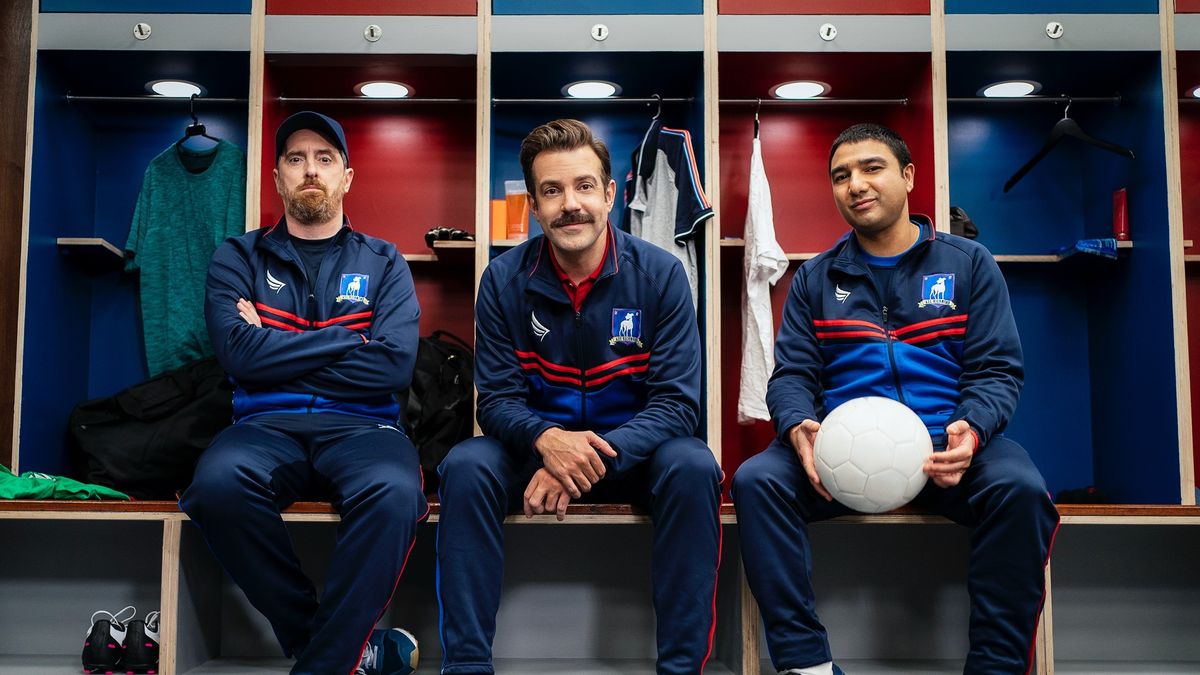 Ted Lasso season 2: release date, trailer, cast and everything we know so far
techradar.com
Good Omens season 2 news, cast, rumours and release date
techadvisor.com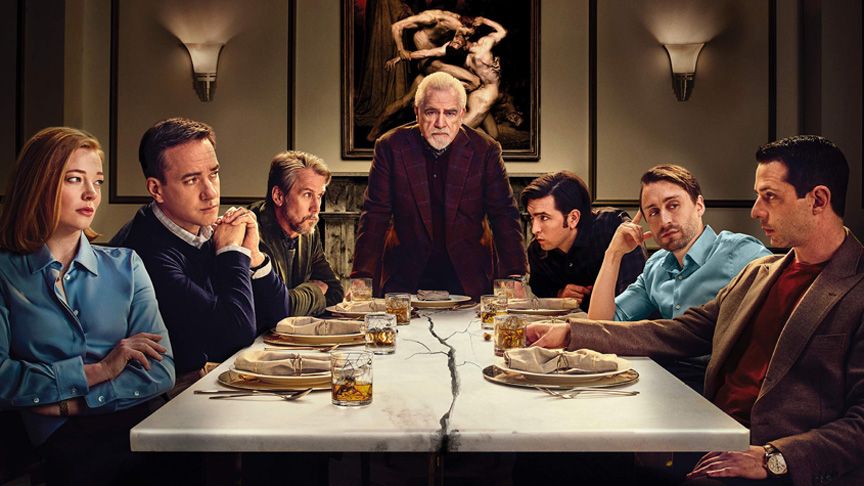 The third season of HBO's award-winning family drama, Succession, is officially in the works – but as with most new series on the horizon, the Covid-19 pandemic put a pin in our hopes for its imminent return to our screens. One of the most addictive shows around, Jesse Armstrong's series follows the clashes, twisted affections and downfalls of the rich and influential Roy family, and is loosely inspired by the main players in the Murdoch media empire. An exceptional second season followed a promising first outing to put the unpredictable drama – which, at times, treads the line of a comedy – on the pop culture map, and we're eager to see where Succession takes us next. Succession season 3 was made official all the way back in 2019, and while we already know filming is underway, we're slowly learning more details as to what to expect from the show's return – not least the exciting new additions to its cast. Below, we'll take you through Succession season 3's expected release date, story, cast and everything else you need to know. Naturally, spoilers for the first two seasons follow, so proceed with caution. While we don't know the precise Succession season 3 release date yet, we have a ballpark figure – the last few months of 2021. Both the previous seasons landed in the summers of 2018 and 2019, and considering that series 3 was commissioned by HBO only two episodes into season 2, a summer 2020 launch made sense – before the arrival of Covid-19, that is. Amid the pandemic-induced chaos, WarnerMedia Entertainment shut down production on all its series, including Succession and Barry, which ruled out season 3's expected 2020 release date. Writing for the new season did continue, though, and cast members have since hinted at a 2021 return following confirmation that filming got back underway in February. Most recently, in a May interview with British GQ, Nicholas Braun (who plays Cousin Greg) revealed he is "currently spending most of his days filming" – so we know the wheels are moving when it comes to the show's production. Helpfully, Succession fans have taken to Twitter (see the thread below from user @waystarceo), to outline any updates to filming of the latest season. Given that Succession was included on HBO Max's 2021 release slate, too, we anticipate seeing Brian Cox (Logan Roy) swear his way through a series of swanky new locations by the end of the year. Speaking to Deadline, HBO chief content officer Casey Bloys said that in a "normal world" he would hope for Succession season 3 to premiere in the fourth quarter of 2021. "But that would be [dependent on whether we] get hit with any Covid delays," he added, "so it's hard to predict right now." Bloys has since re-affirmed those hopes, claiming that Succession is scheduled to arrive some time during the last few months of this year (that's Fall, for our American readers). Luckily, we do know which cast members will be returning – and who'll be joining them – for Succession season 3. According to The Hollywood Reporter, most of the show's actors successfully nabbed a pay bump to $300K-350K per episode before filming began, which gives us a good idea of who'll be reprising their roles in the new season. Brian Cox, Jeremy Strong, Sarah Snook, Kieran Culkin and Alan Ruck are among those who negotiated a pay rise, so expect all the Roy family mainstays to make a return for the new episodes. Matthew Macfayden and Nicholas Braun are also mentioned in the article, so we anticipate seeing Tom Wambsgans and Cousin Greg again, too (with the latter confirming his involvement in an aforementioned GQ interview). As for new names joining the show, it's been confirmed that Oscar winner Adrien Brody (The Pianist, The Grand Budapest Hotel) will play Josh Aaronson, a billionaire activist investor who becomes pivotal in the battle for the ownership of Waystar. Big Little Lies' Alexander Skarsgård will also make his Succession debut, with sources describing his character as "a successful, confrontational tech founder and CEO." Emmy-nominated actor Hope Davis has signed on for a multi-episode arc, too, playing Sandy Furness, daughter of Sandi Furness (yes, that's not a typo) – Logan Roy's long-time rival. In other words, expect plenty more dialogue-duelling conversations and boardroom bust-ups. According to HBO, season 3 of Succession will, again, find Kendall and Logan going head-to-head in a Shakespearian battle. "Ambushed by his rebellious son Kendall at the end of Season 2, Logan Roy begins Season 3 in a perilous position," an official statement reads. "Scrambling to secure familial, political, and financial alliances, tensions rise as a bitter corporate battle threatens to turn into a family civil war." We still haven't fully recovered from the twist that concluded season 2, to be honest. As Kendall Roy (Jeremy Strong) was due to take the fall for the sexual harassment allegations and subsequent cover up attempt plaguing Waystar Royco, he ignored his prepared press statement and blamed his father, Logan. He refused to be the 'blood-sacrifice' for the firm and finally stood up for himself, and fans have been debating what that could mean for Succession season 3. Logan, of course, watched with a twisted smile on his face. The narrative twists and turns make Succession almost impossible to predict. How will Logan react to his son's betrayal? Will he be able to maintain his grip on the firm? His final, inscrutable smirk seemed to suggest a kind of pained pride – he seemed impressed by his son's bravery despite being humiliated on national television. We know, however, that Logan has proof of Kendall's involvement in the accidental death of a waiter in season 1's trip to the UK, so it's likely that dark secret will eventually see the light of day. Kieran Culkin's Roman Roy could be vital in this new run of episodes, too. A popular Succession theory maintains that each series focuses on one particular member of the Roy family: season 1 was Kendall, Shiv was season 2. Could Roman be the focal point of Succession season 3? Culkin light-heartedly claimed it as "my theory" in a chat with Entertainment Weekly. Even the main cast can have little idea of where the plot is going. Take the unlikely 'thing' going on between Roman and Gerri (J. Smith-Cameron), for instance. "I'm not sure where the writers land on that question," Smith-Cameron told Entertainment Weekly. "I think they were kind of floating this idea, but it's the nature of television writing, and definitely our show, that there is a sort of fluid feeling of sticking your toe in the water of a certain storyline, and then deciding as you go along." Could future series transcend American borders? While scriptwriter Lucy Prebble told Deadline back in 2019 that the writing team don't "want it to be too on the nose about what is happening now in the world," there are "talks about going more international than we've gone before, which is to do with the relationship between the media industry and international countries." Perhaps the question of who truly holds power will go beyond just the Roy inner circle in Succession's future. That said, since this interview was conducted pre-pandemic, it's possible that plans around the show have subsequently changed, at least in terms of where the action in new episodes will take place. Speaking of which: how will the pandemic play into Succession season 3? Sarah Snook, who plays Shiv on the series, told Variety that if Jesse Armstrong (the show's creator) chose to include the pandemic as part of season 3's storyline, "he wants to be delicate about it and classy." "I think it's a thing that everybody's aware of, and audiences are really intuitive these days," she said. "Even just seeing a mask in the background of something or hand sanitiser, those things that have become part of our daily lives, those things maybe, but nothing that is so overt that is going to really tackle it head on, because that's not the show." Nicholas Braun was equally cryptic about the pandemic's role in the new season. In his chat with GQ, he suggested that whether or not the show addresses Covid, it will "stand out from the previous series, if only aesthetically." He also confirmed that the cast and crew have been grounded in New York, meaning that gallivanting to yachts in Europe or estates in Scotland is not an option. It doesn't seem like the pandemic will play a major role in Succession's main plot, then, but it might be used to explain some less-than-cosy board meetings and socially-distanced gatherings, at least. It's fairly clear we shouldn't expect much globe-trotting, either. Still, we have seen reports suggesting filming for certain episodes is taking place in Italy. The show's costumer, Midge Denton, recently shared images which hint at a European setting for the season finale – so maybe there will be some travelling, after all. Succession's premise shouldn't be as enticing as it is: who cares about the problems of rich people as they scheme to get even richer? It shouldn't work, but Jesse Armstrong's unpredictable HBO knockout got its claws in us early and left us desperate for more. After that season 2 finale, there are plenty of threads to be tied up, and if the improvement between seasons is anything like as noticeable as last time, we're in for a real treat. We've also got an indication of when Succession will end, too. According to the show's executive producer, Georgia Pritchett, Succession is unlikely to go beyond five seasons. "I think the maximum would be five seasons, but possibly more like four," she told the Times, "at this point [Armstrong] is saying only one more." Before that, though, we'll update this page each time we learn more details about the plot, cast and release date of Succession season 3. Here's hoping we won't have to wait too long for it to arrive.

Good Omens season 2 news, cast, rumours and release date
techadvisor.com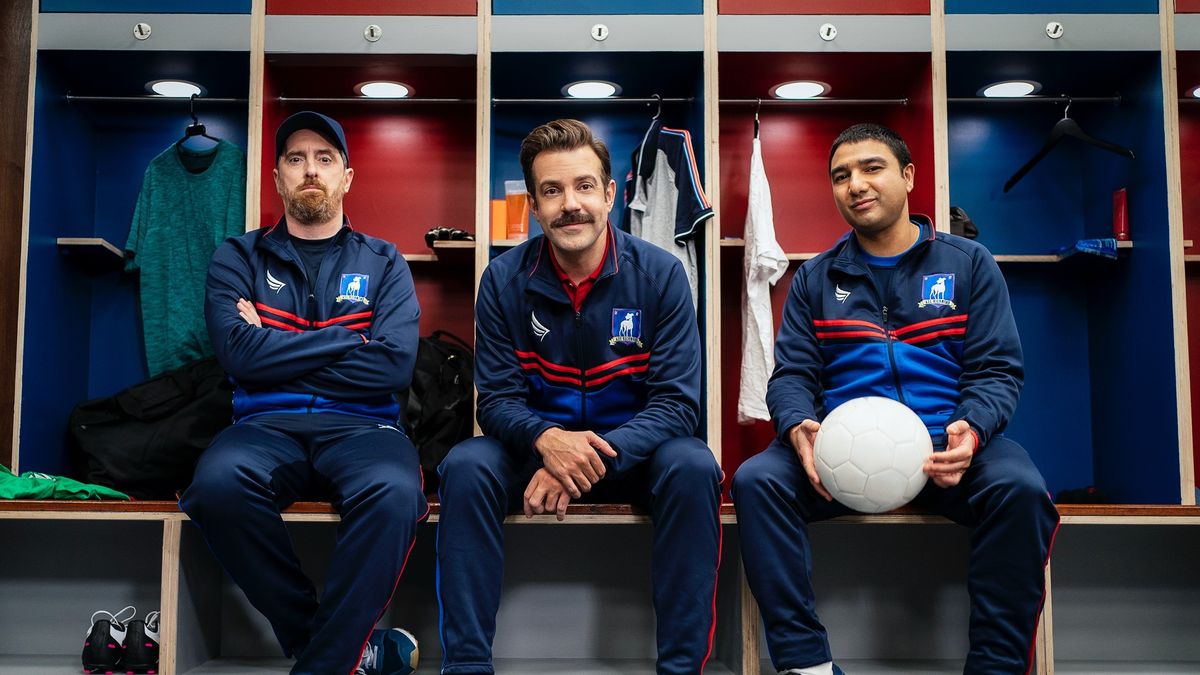 Ted Lasso season 2: release date, trailer, cast and everything we know so far
techradar.com
Spoilers for the first four episodes of Loki follow. Watch them first before reading this, and don't miss the Loki episode 4 post-credits scene. Once upon a time, it was easy to tell the comic book superheroes from the villains they thwarted. Sure, the good guys usually had some minor flaws to deal with, but there was never any question that the likes of Superman, Spider-Man, Wonder Woman and their counterparts fought on the side of the angels. In recent years, however, the lines between good and bad have become more blurred – Batman overstepping numerous moral boundaries in Christopher Nolan's Dark Knight trilogy; Iron Man and Captain America becoming enemies in Civil War – but you could still (nearly) always tell them apart. Loki is different. The late, great Obi-Wan Kenobi once said that "many of the truths we cling to depend greatly on our own point of view," and 'The Nexus Event' feels like it's been built around that principle. It's the culmination of four episodes where almost every major character has flirted with being hero and villain, sometimes even in the same scene. It's also fun and clever, and comes with some killer twists at the end – but more on that later… One of the fundamental ideas behind Loki's fourth outing is that one small piece of information can completely alter the way you view a character. Indeed, while on one level the episode's title refers to a key scene on Lamentis-1, it's also a handy catch-all term for a succession of life-changing revelations. Last week's bombshell that every TVA agent is a Variant plucked out of their own timeline proves particularly pivotal. For the no-nonsense Hunter B-15, it means a glimpse at an existence where she was "happy" and reason to question everything she takes for granted. In the case of the unfortunate Hunter C-20, meanwhile, impact is more tragic, as we gradually learn that her knowledge of a past life frightened the TVA management so much that they had her eliminated. For Sylvie herself, the perception shift comes courtesy of a flashback to her childhood on Asgard. As soon as we learn she was abducted from her home as a kid (by Ravonna Renslayer, no less), she instantly shifts from antagonist to victim. Subsequent revelations that she spent her childhood on the run, growing up leaping from apocalypse to apocalypse, humanize her further, making sure you sympathize with her mission to take down the TVA 100 per cent. Now we've established they're (probably) on the same side, Loki and Sylvie's relationship has moved to another level – there's even a hint of unlikely romance. This is undeniably weird, yet feels appropriate for a character as unashamedly narcissistic as the god of mischief – who else could win a Loki's heart but a Loki? When their shared 'moment' on the doomed world of Lamentis-1 creates the eponymous Nexus Event that allows the TVA to find them, the episode skirts perilously close to the 'love is a powerful force' trope that's become a sci-fi cliché everywhere from Interstellar to Doctor Who. It works here, however, because it's played for laughs, the writing team totally embracing the ridiculousness of the situation. Kudos also to the underplayed nature of their rescue. But the real star of the episode is undoubtedly Owen Wilson's Mobius. Seeing him verbally sparring with Loki once again, you realize just how much episode 3 missed the TVA's biggest jet-ski aficionado – there's no question his relationship with the god of mischief is now one of Marvel's greatest double-acts. Initially hurt by Loki's betrayal at the Roxxcart superstore ("You're just kind of an asshole, and a bad friend"), Mobius quickly turns the tables by throwing the Asgardian into an ingenious Groundhog Day-inspired prison, where he's forced to relive an awkward moment with Lady Sif again and again and again – a fun surprise cameo from Jaimie Alexander, reprising her role from the Thor movies. What this big reveal means for the show – and the MCU as a whole – is anyone's guess, but it's an intriguing twist in a series that's proved masterful at giving you key information at exactly the right time. And if Loki survived his own pruning, maybe there's hope that his new pal Mobius is still out there too… But as Mobius gradually starts to process Loki's claims about the TVA's questionable recruitment policies, he turns detective. What really happened to C-20? Why does Sylvie "scare the hell" out of Renslayer? And why do the Time-Keepers want to witness Sylvie's "pruning" for themselves? We eventually see a new side to the lifelong company man, as he steals his boss's TemPad, and decides to join Team Loki. Unfortunately for Mobius, we don't get to find out if the alliance could have grown into a beautiful friendship, thanks to his Renslayer-sanctioned pruning in the series' biggest shock moment so far. He didn't even stick around long enough to see B-15 turn hero by freeing Loki and Sylvie, or witness the MCU's answer to the 'what's behind the curtain?' reveal in The Wizard of Oz when the Time-Keepers turn out to be robot fakes. He also missed Loki being vaporized in an epic final battle. If there's one thing the MCU has taught us, however, it's that a Loki rarely stays dead for long. Here it's mere minutes before his survival is confirmed, as a surprise scene in the closing credits shows him on the surface of a new world, face-to-face with three (maybe four…) alternative Loki Variants. "Is this Hel? Am I dead?" he asks. "Not yet. But you will be unless you come with us," comes the cryptic reply from a man dressed like the comic book version of Loki. Verdict: After episode 3 attracted entirely justified comparisons with Doctor Who, this week's instalment of Loki shifts gears once again, ensuring that the most predictable thing about the show is its unpredictability. While early episodes established Sylvie as the villain of the piece, the title of 'antagonist in chief' now seemingly belongs to Ravonna Renslayer – especially now the Time-Keepers have been revealed as a sham. The question is, is she working alone, or is some higher power pulling the strings? If so, how much will Renslayer divulge to Sylvie? Just like WandaVision earlier this year, Loki revels in making you question what you think you know about the Marvel Cinematic Universe. In fact, its rules may be shifting before our very eyes as episode 4 takes the show in a whole new direction. "I think episodes 4 and 5 [are my favorites]," star Tom Hiddleston told theoriesbyt . "The two of them together, the whole series takes off in a direction that I certainly didn't see coming when I read it, and I'm really excited for the audience to see it. That's where we just expand into new territory." We can't wait to find out what he means… New episodes of Loki debut on Disney Plus every Wednesday.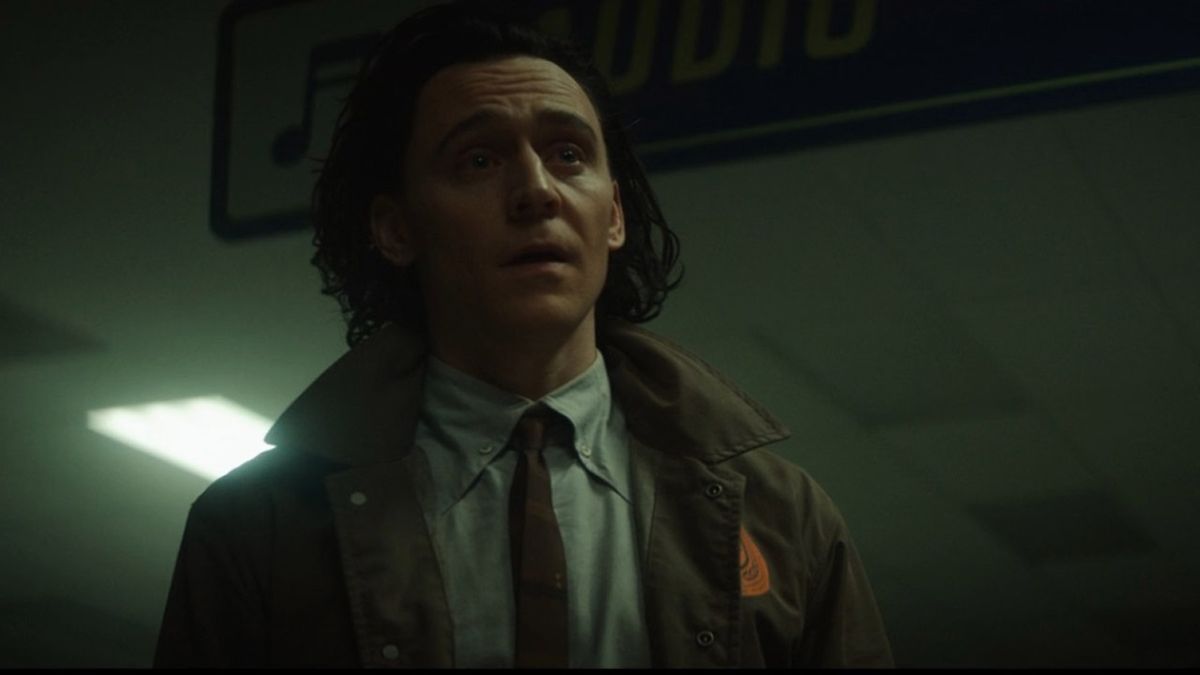 Loki episode 4 post-credits scene explained
techradar.com
Loki episode 5 spoilers: What happens next?
gamerevolution.com
Here's what the Loki episode 4 post-credits scene means
gamerevolution.com
Following the release of its first season in 2019, Amazon's Good Omens has finally been renewed for a second season. The comedy drama based on the work by Terry Pratchett, stars David Tennant and Michael Sheen as the demon Crowley and the angel Aziraphale respectively, and will begin filming later this year in Scotland. According to Variety, the second season will see Crowley and Aziraphale living in London among mortals when an unexpected messenger presents a "surprising mystery". That's about all we know about the second season unfortunately, as it also doesn't have a release date attached yet. Neil Gaiman will also be back as a co-showrunner and executive producer alongside Douglas Mackinnon, who will also return to direct the show. Are you excited to see where the second season will take Crowley and Aziraphale? You must be logged in to comment. If you are not yet a member - join now! Loading next content Gamereactor uses cookies to ensure that we give you the best browsing experience on our website. If you continue, we'll assume that you are happy with our cookies policy

Good Omens season 2 news, cast, rumours and release date
techadvisor.com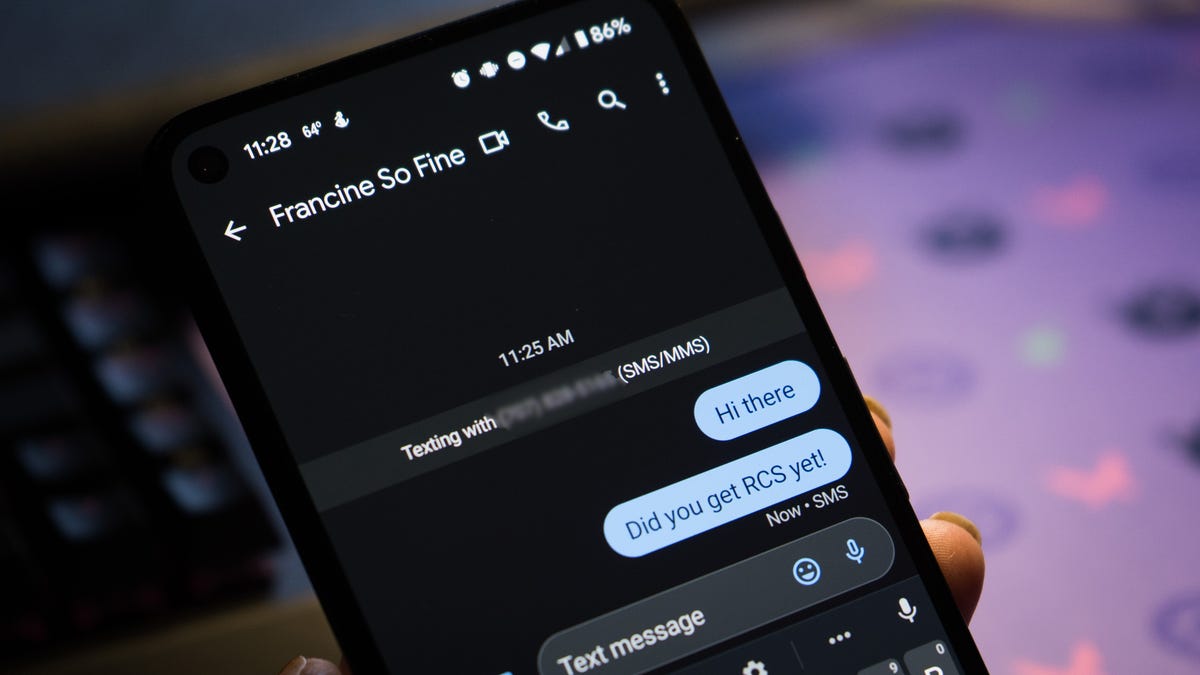 AT&T has announced it's collaborating with Google to make Messages by Google the default messaging app on all Android phones supported by the network. This means AT&T subscribers will have access to Rich Communication Services (RCS) and Messages by Google's built-in encryption abilities. RCS would effectively bring some iMessage-like features to all Android devices via the native Google Messages app. It includes simple features like an animated indicator to let you know a friend on the other end is typing out their reply. It's also what enables nifty features like messaging over wifi and high-resolution photos and video. Of course, Apple would have to adopt RCS for it to work cross-platform. But for now, all Android users want is an iMessage-like way to interact with other devices running the same operating system on a different provider. Google has been pushing carriers toward RCS since it announced compatibility with its messaging app back in 2019. With AT&T and T-Mobile on board, Verizon Wireless is the last hold-out, though RCS, or "Advanced Messaging," is available on select Samsung devices. Part of why RCS adoption has stayed in a veritable gridlock is that the carriers have been dragging their feet. Before T-Mobile acquired Sprint, the carriers tried to form their own Cross Carrier Messaging Initiative (CCMI) with another third party rather than adopt RCS. Google wasn't part of that plan, which would have meant further fragmentation for Android users had the deal gone through. AT&T subscribers will also have access to the other perks afforded through Messages by Google, including full-resolution photo sharing, high-quality video messages, read receipts, and the ability to send and receive messages over wifi. Group chats will also work a bit more fluidly, provided the other folks are on Android devices and have RCS available. (It's always tricky when an iPhone user enters the chat.) Google's messaging fragmentation issue hasn't been solved yet. But with AT&T's near 45% market share in the U. S., it'll hopefully light a fire under Verizon, the second largest carrier. It's time for Big Red to abandon its bloated Verizon Messages app in favor of the stock app from Google that Android users want to use. Just don't bet on Apple adopting it any time soon. Android users are lucky they even got an invite to FaceTime. And n one of this has anything to do with Google Chat, a standalone chat application connected to your Google account. That app also works on your mobile devices, though it's akin to an instant messenger rather than a text message coming from your phone number. Regardless, all this consolidation work means Google is actively working on moving everyone toward unification.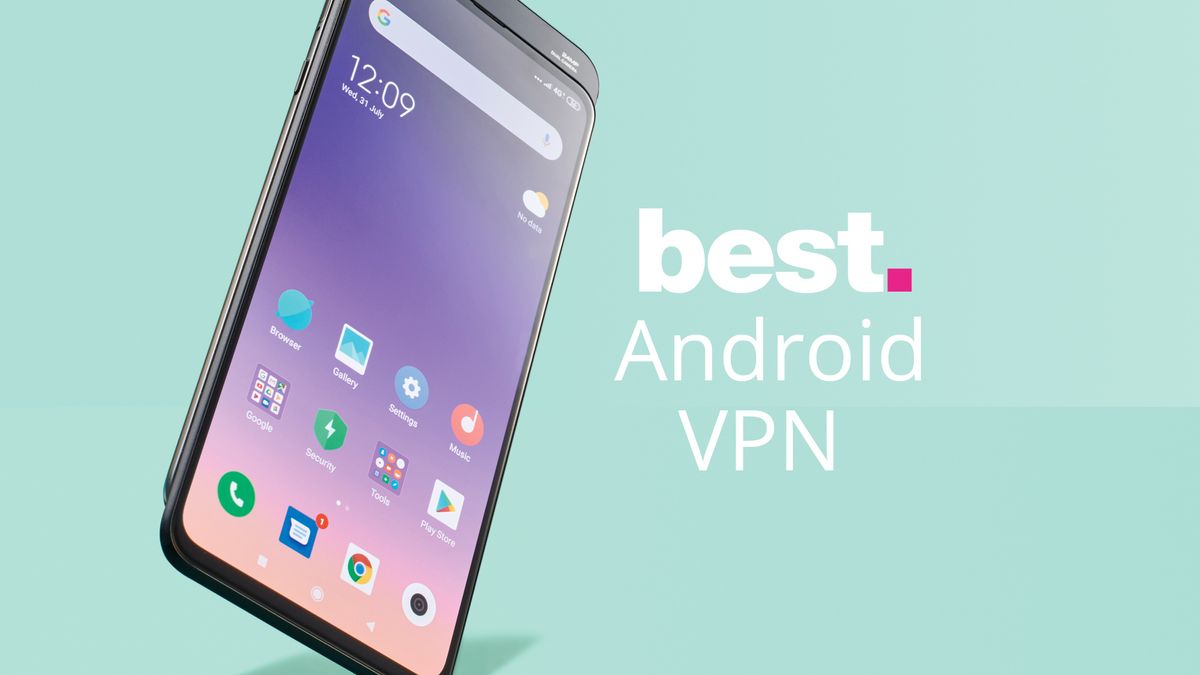 The best Android VPN apps 2021
techradar.com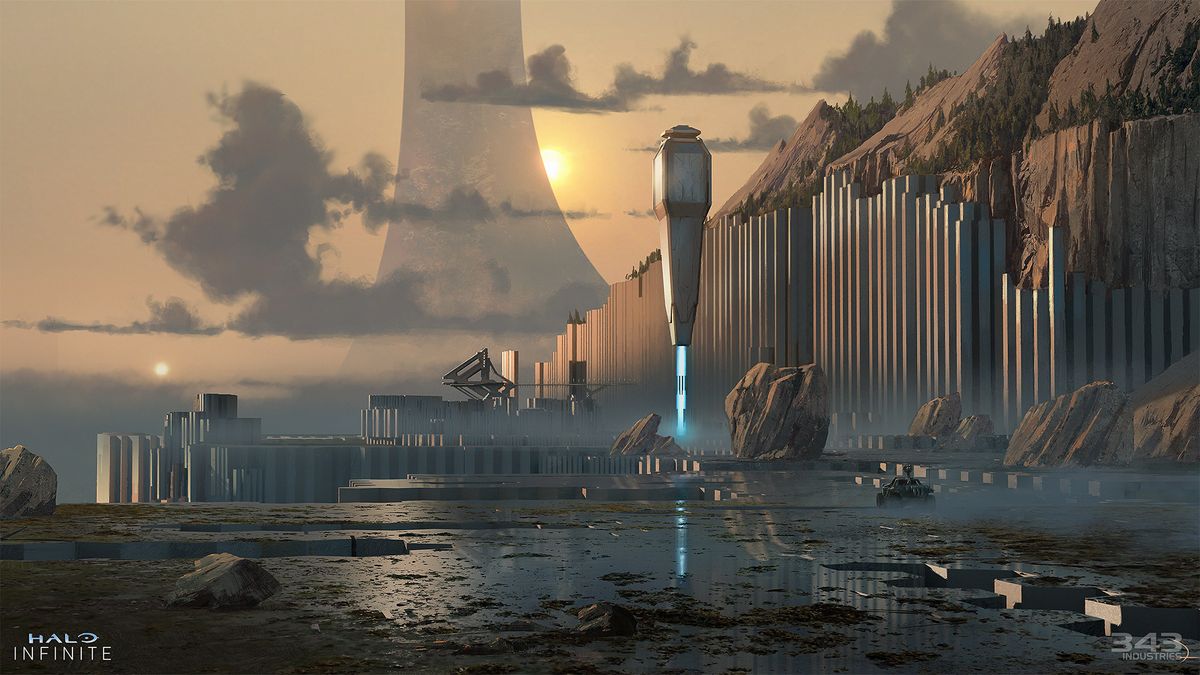 Head of Xbox, Phil Spencer, has expressed confidence in Halo Infinite but says it's not a "make or break" title in terms of the future of the Xbox franchise. When asked how much is riding on Halo Infinite in terms of the future of the franchise during a recent episode of IGN's Unlocked podcast, Spencer responded, "I don't think about it that way. Like the future of the franchise, I think, Halo will be here ten years from now. Is Infinite the lynchpin on whether it survives that long? Absolutely not." "The game has such a rabid fanbase and such a history and lore that it's just an IP that's going to be with us. We don't take that for granted, but I definitely believe in my core that is true." That's not to say that Spencer is apprehensive about Halo Infinite. In fact, he seems confident in its success and said he was happy with the reception the game's multiplayer received during the E3 2021 showcase. He is clearly reluctant, however, to put too much pressure on the team at 343 Industries, adding, "I never want to put a team in a position where they feel, 'hey this one's got to land or who knows'." "I'm not one of these dire prediction people," Spencer continues, "I think game teams, whether it's our teams or any team out there, they put enough pressure on themselves in delivering for customers and when you're on a franchise that's as big as Halo with such focus on every step and every word that's said. I trust the team, I trust the progress they're making, and I have confidence in Halo infinite and I think that's all that needs to be said there. I don't think it's a make or break, I just don't believe that." Spencer, who says in the interview that he's been testing Halo Infinite "once a month", praised the game's Arena experience and placed creating and perfecting "a really great Halo multiplayer experience" above things like re-imagining multiplayer or adding a battle royale mode. "If you don't get that right," he said, "you don't get permission to do anything else." "With a lot of the innovations and evolutions that have happened in FPS multiplayer over the years, there was something very pure about coming back to a Halo Arena experience and how clean it was and how tight the gameplay loop was... Right now on our platform there are not a lot of games that are going back to that tried and true formula and perfecting what they have, and I think that's what the goal of this team is." Since the game's multiplayer reveal, we've heard a little more about how its seasons will be structured and the team's aim of creating a "player-first" battle pass via a Halo Waypoint blog post. In terms of modes, Spencer teased the team "is going to do more. I don't want to say there's one multiplayer mode" but he couldn't be drawn on revealing any more. As far as a release date is concerned, Spencer reiterated what he said last week, confirming that the game is on track for its Holiday 2021 window but that they're "not quite there on the exact day." That, he said, is the "next thing" and added we'll hear more about the exact release date in the "not too distant future".

Xbox boss talks mergers and acquisitions, says telling studios not to sell is 'short-sighted'
gamasutra.com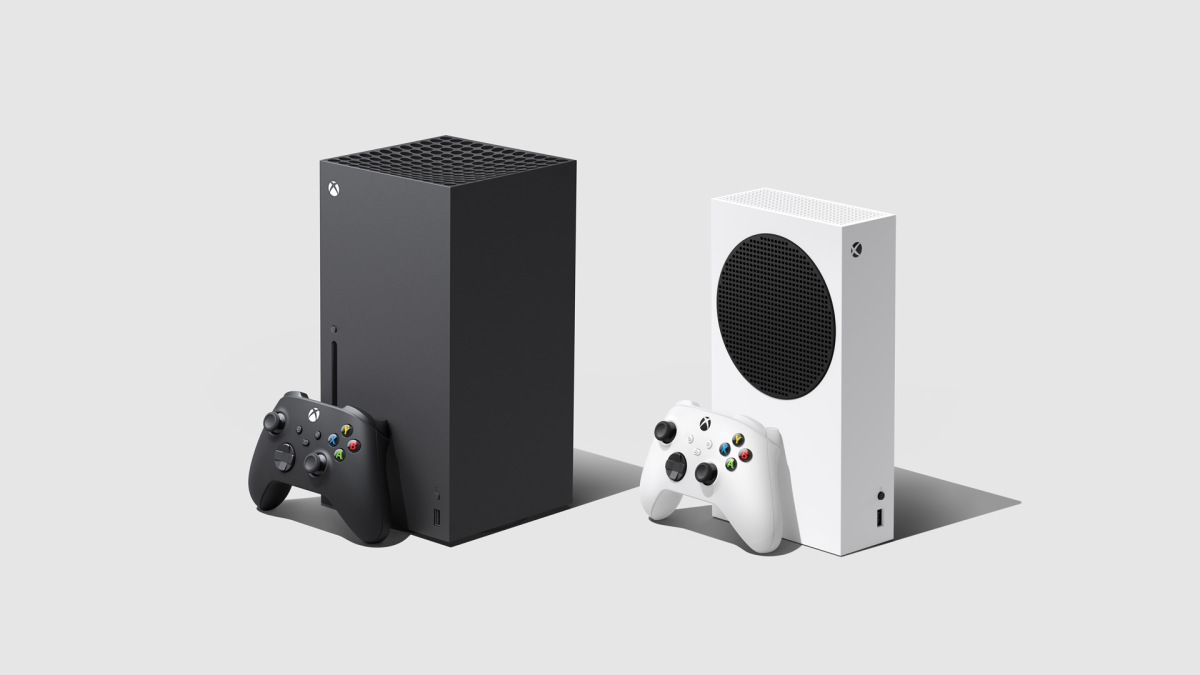 An Xbox Series X redesign isn't coming out anytime soon, Microsoft confirms
techradar.com
The Medical Alert Plus ($35.99 per month) from ADT is an in-home medical alert system that connects you to a live emergency response agent with a single button press. It uses cellular technology to make the call and doesn't require a landline, and it's equipped with large backlit buttons and an easy-to-read status LCD. The system performed flawlessly in testing, but it's more expensive than most of the competition and doesn't offer a mobile app or any of the add-on services that you get with our Editors' Choice winner, the MobileHelp Classic. Features and Pricing The ADT Medical Alert Plus comes with a cellular base station, a wearable pendant or wristband help button, and a user guide. The base station looks identical to the one that you get with the MobileHelp Classic and is in fact a later generation of the same model. The wedge-shaped device has a white finish and contains large teardrop-shaped Emergency and Reset buttons, a smaller Test button, a 2.2-inch wide LCD, a speaker, and a microphone. A power cord is hardwired to the back of the device, where you'll also find an on/off switch and a mini USB port (reserved). Inside is a cellular radio that uses AT&T's network to connect you to a 24/7 emergency response center when the Emergency button or a pendant button is pressed. There's also a backup battery that will provide up to 30 hours of power in the event of an outage. The oval pendant help button is 1.7 inches long and 1.4 inches wide, and has a range of up to 600 feet from the base station. It is waterproof and can be worn in the shower. When powered up, the base station's Emergency button glows red and the Reset button glows blue. There's no way to dim these buttons, so keep this in mind when selecting a location for the base station. The Test button glows green when activated and the LCD gives you the current room temperature, the date and time, the internal battery level, and the cellular signal strength. It also has volume up and down buttons. The Medical Alert Plus will cost you $35.99 per month and doesn't require a contract. Still, that's more expensive than competing devices including the MobileHelp Classic ($29.95 per month), the GetSafe Medical Alert Starter ($24.95 per month), and the Medical Alert At Home ($29.95). You can order the ADT system with fall detection, but that'll cost you an extra $10 per month. ADT doesn't offer any of the additional services that you get with systems like the MobileHelp Classic and the LifeFone At Home Medical Alert System, such as daily wellness calls, medicine reminders, and access to medical experts for medical advice. Moreover, it doesn't come with a mobile app or a web console that lets family, friends, and caregivers monitor activity and input medical information and emergency contact information. Using the ADT Medical Alert Plus Setting up the Medical alert Plus system is easy. Once you've plugged in the base station and turned it on, the Emergency and Reset buttons and the LCD will light up. A voice prompt will say, "system ready," and after another couple of seconds, the date and time will automatically sync up with the cellular network's date and time. ADT recommends testing the system right away by pressing the Test button. The Test button will turn green and a voice prompt will tell you to press the emergency button or a pendant button. The voice will continue to tell you that a user test call has been sent to the emergency response center and doesn't stop until you're connected, at which time another voice will say, "user auto test completed". It's a good idea to test your pendant range from various parts of the house, including the yard, to make sure you can connect to the base station from anywhere in your home. The Medical Alert Plus turned in speedy response times in testing (we measure response time as the time it takes to be connected to a live agent once the button is pressed). Its average speed of 16 seconds was faster than what we saw with the Aloe Care Health System (35 seconds), and significantly faster than its predecessor, the Medical Alert At Home No Landline System (61 seconds), but just a few seconds slower than the WellBe Medical Alert Plus System (10 seconds). The pendant showed excellent range, connecting to the base station from the far corners of my house and backyard. I took it outside and down the street where it was able to connect at 400 feet, matching the signal range of the Bay Alarm Medical In-Home pendant. Two-way audio with the response agents was crisp and distortion-free, and the agents were always professional and friendly. Fast Response Times, Light on Extras If you require a cellular based in-home medical alert system that offers fast response times, the ADT Medical Alert Plus performed admirably in our tests, has big, brightly illuminated buttons, and offers clear two-way audio communication. Additionally, the backup battery will keep things running in the event of a power outage. That said, you don't get any extras with this system—it lacks add-on services such as medicine reminders, daily wellness calls, and medical advice, and it doesn't offer a companion mobile app that lets family and caregivers provide important medical information, edit contact information, and view system activity. Our Editors' Choice for in-home medical alert systems, the MobileHelp Classic, not only costs less, but offers web and mobile apps as well as medicine reminders and email status alerts. If you want a system that does more than connect you to an emergency response center, meanwhile, the WellBe Medical Alert Plus (also an Editors' Choice winner) comes with a smart speaker and a smartwatch and offers medicine, appointment, and prescription refill reminders. It not only covers you at home and on the road, but will also play your favorite tunes and control your smart home devices.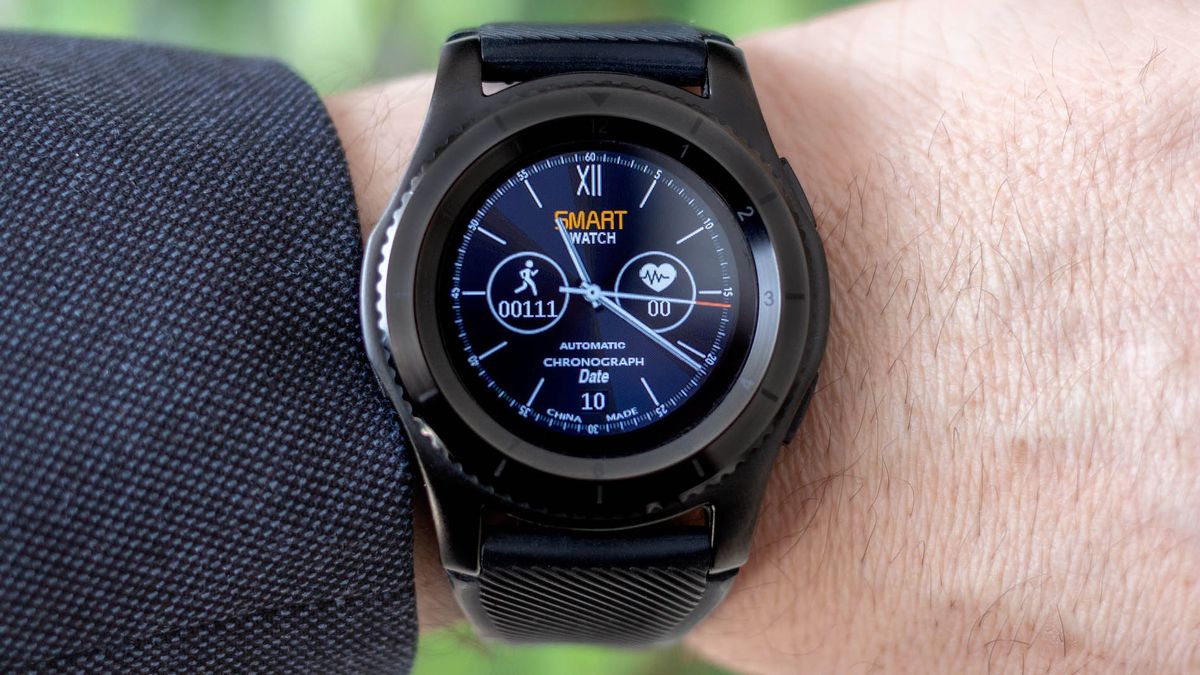 Best medical alert smartwatches of 2021
techradar.com
ADT On-the-Go Medical Alert System
uk.pcmag.com
Blizzard Entertainment has shed some light on Diablo 4 's customization options. Players can change multiple aspects of their character, including skin tone, hairstyle, and tattoos. Armor dyes are also now in the gam, giving players even more ways to change up their looks. Blizzard Entertainment posted its quarterly update for Diablo 4 to fill players in on what it's currently working on. One of the main subjects is character customization. Diablo 4 allows players to change their character's skin tone, jewelry, hairstyle and hair color, tattoos, and makeup. Specific customizable options will only be available to certain classes in order to support the classes' specific backgrounds. Armor dying is also available for players who want to really create their own personal character. Each set of armor will feature multiple sections to recolor and there will be access to a myriad of colors. Diablo 4 is the first game in the series that will have in-game cutscenes featuring player characters. Normally, the series features prerendered cutscenes and cinematics that involve characters in the narrative, but never the actual players. With these new in-game cutscenes, players will now see their characters interact with the story in a more cinematic way. This means that your customizable options will be on full display during these cutscenes. The update also shows off some enemies, new and old, that players will encounter during their journey through Sanctuary. Blizzard Entertainment has confirmed that classic enemies such as succubi and skeleton warriors will make a comeback in the fourth installment of the franchise. The Blood Bishop is a new enemy that was announced in the quarterly update. This sanguine spellcaster will pelt players with magic from a distance while also using area of effect skills to deny them ground to move around. This creature seems to be created completely out of blood and arteries with a golden crown on top of its head. It will use blood clots that explode and do damage to a wide area to attack against players. There is currently no release date for Diablo 4.

Blizzard details Diablo 4 customization options and new enemies
digitaltrends.com
Blizzard gives us a new look at Diablo 4's classes and classic enemies
polygon.com
Black Widow is the long-anticipated return of the Marvel Cinematic Universe, and it's out very soon. Directed by Cate Shortland, and once again starring Scarlett Johansson, it's due for release on July 9. However, as the pandemic has caused so many films to land straight on streaming sites, many are wondering if Black Widow is coming to HBO Max. No, you won't be able to watch Black Widow on HBO Max. That service is owned by Warner Bros., and as such, only films from their own studio get the exclusive day-one release on there. Instead, you'll be able to catch Black Widow in theaters where applicable, and on Disney+. In the same vein as other Disney films like Raya and the Last Dragon and Cruella, Black Widow will release on Disney+ as a Premier Access film. This is where you pay an extra add-on fee to watch films at the same time that they're in the cinema. Purchasing Black Widow in this manner will set you back $30. Of course, if you don't want to spend that much on Black Widow, you can still find it in cinemas. If you've got an active Disney+ subscription, it'll also release free of charge to existing subscribers on October 6, so it all depends on whether you want to wait the extra three months or not. The key fact, though, is that Disney+ is the only way you'll be able to watch Black Widow at home, prior to its DVD/Blu-Ray release. HBO Max, for better or worse, won't be there to stream Black Widow. Therefore, if you want to catch up on the super-spy Avenger after two years since the last MCU film, Disney+ is the place to head. In other Marvel news, the latest episode of Loki is here, with a shock death that you won't have seen coming. There's also an end credits scene to boot, which we break down here.

HBO Max: Everything you need to know
techadvisor.com
Where is HBO Max available?
techadvisor.com
It's a new week, which means it's time for a new Edge build for users in the Dev channel. Today, Edge Dev build 93.0.933.1 is rolling out to users, bringing with it a few new features and the usual set of bug fixes. In addition to this build for desktop users, the firm is officially announcing that all Insider versions of Edge are now available for Android users, with the latest entrant being the Beta version, which has been out for a few weeks. The release of Canary, Dev, and Beta channels for Android comes as part of the effort to unify the browser's codebase across platforms. The company recently also opened up TestFlight sign-ups for iOS users. With the release of the latest Insider builds for Android, the browser version across devices will now be identical. However, there is no word on when the stable version based on the unified codebase will be released to all users. As for today's build, the changes are minor as the teams head into the holiday weekend in the U. S. The most noteworthy change is that the Tag Groups feature is now being enabled by default, letting users select multiple tabs and group them without having to enable the feature via the hidden flags. Automatic tab grouping, however, still needs to be manually enabled. Additionally, users will be able to send entire groups to a Collection. Here is the complete list of fixes in today's build: As usual, the release brings with it a bunch of fixes. Here's are the fixes that improve the reliability of the browser: And here are the fixes that address changed behavior: There are a bunch of known issues that users running the Dev channel builds must be aware of. Here is the complete list: Lastly, the Redmond firm notes that there will not be a Dev channel build next week, likely due to the holidays. As is the case always, today's build should be automatically downloaded and installed in the background. Alternatively, users can head into the About Microsoft Edge settings to force the browser to check for an update.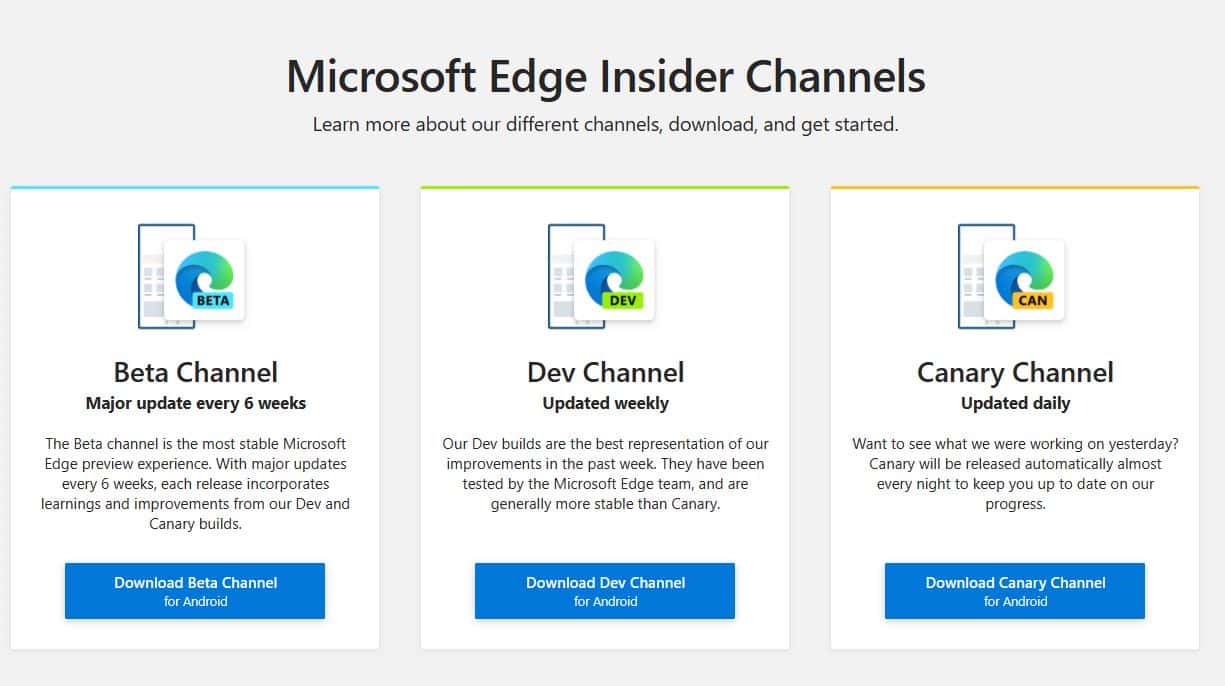 Microsoft Edge Dev and Beta channels now available for download on iOS and Android
mspoweruser.com
Android has, over many years, become a platform where you can now play games that are not just Candy Crush re-skins. This means FPS and fast-paced titles such as Call of Duty: Mobile, PUBG Mobile, and Fortnite are all playable on your smartphone, and emulation also allows users to play older games from older consoles as well. In all of these scenarios, while you can use touch buttons and gestures to play these games, it's not really ideal. If you're really into gaming on your Android smartphone, you obviously need a good smartphone. But it also makes sense to get a controller for your phone, relieving your fingers from hot touchscreens and accidental swipes. If you're thinking about that, here are some of the best controllers you can grab for your Android smartphone right now. From known options to more dedicated ones, Android-compatible game controllers come in all shapes and forms. Navigate this guide: The Razer Kishi goes in first as one of the best controllers for Android simply because it's made from the ground up with smartphone gaming in mind. It features a similar format and layout to the Nintendo Switch Joy-Cons. There are separate left and right controllers that hook on the sides of your phone, allowing you to use your smartphone like you would use a Nintendo Switch. It also connects to your smartphone via USB-C, meaning that latency should be greatly reduced compared to a regular Bluetooth controller. It's one of the best controllers you can get for Android if you're looking into either going after a Switch-like look or simply something that integrates with your smartphone seamlessly. Further complementing the Switch look is the GameSir X2. GameSir is a brand that's currently making a name for itself in the gaming gadgets space, and the GameSir X2 puts up a good fight to the Razer Kishi while managing to undercut it in pricing. With Razer, you're going for a known brand in the gaming space, but if you don't really care about that, the GameSir X2 provides a similar feature set, including connection over USB-C for lower latency. If you're debating on getting a controller for Android, this is definitely one of the best options to have in mind. For everything that's not a console, SteelSeries is usually among the top tier of controller makers, and we can sure see why. Unrivaled compatibility and excellent build quality are just some of the reasons SteelSeries controllers are so great, especially for smartphones. The SteelSeries Stratus Duo is a top competitor that often shows up in a lot of recommendation lists. There's several reasons for that — excellent battery life, support for both Bluetooth and 2.4 GHz wireless (although we're more interested in Bluetooth here), and more. It's a fine controller that gets the essentials right, which is why it makes our list of the best controllers for Android. The Razer Raiju was initially conceived as an e-sports focused controller for the PlayStation 4. The Razer Raiju Mobile keeps most of the DNA from that particular device, including the same overall shape and build quality, making up for a splendid controller for e-sports and fast-paced titles such as first-person shooters. Since it's made to work with smartphones, it also features a docking clip where you can put your phone while you play, connects to your phone via Bluetooth, and is made by Razer, so you can expect the same quality from this controller as you would get from their other products. It's an amazing game controller for people invested in the Razer ecosystem and for people looking for a "pro" controller for their smartphones. Sometimes the best options come in the shape you would least expect, or if you're a console gamer, it may even come from what you already have. The Xbox Core Controller is the standard Xbox controller that's bundled with the Xbox Series S and the Xbox Series X. But it's also a surprisingly solid controller for both PC gaming as well as any device that'll take a Bluetooth controller. And that includes Android. The Xbox Core Controller is as barebones as an Xbox controller can get, but it includes a slightly tweaked design from the Xbox One. Most of all, it's fully compatible with any game that supports it, and you can even get mount clips for mounting your phone to the controller. It's one of the best controllers you can get right now unless you're looking for something more specific for your device. PlayStation controllers are also solid options for other devices as well, despite some of its features being proprietary to their consoles, and the DualSense is no different. The successor to the DualShock 4 is included in the PlayStation 5 and comes with a handful of new features, most notably, things like adaptive triggers and sublime haptics to enhance your experience in games. Most of these features won't be directly working on an Android phone, but you end up with a controller with an amazing new ergonomic design and refreshed look over the aging DualShock 4, a controller that was also a solid option for Android gaming. It's one of the best controllers out there, and given that it still gives you the ability to hook it up to an Android smartphone via Bluetooth, it's a nice bonus. The MSI FORCE GC30's best feature is it's nothing special. That's pretty much all there is to it. It's not bad, but it's not particularly good either compared to the other options in this list. But it's cheaper than most of those other options in this list, and it does the job in a pinch, which is pretty much its intended purpose. The FORCE GC30 features an Xbox layout (and the shape is also eerily similar to that of the Xbox 360's controller) with the company's logo, black and red accents, and Bluetooth support for connecting to a smartphone. It's the best game controller available if all you're looking for something that's a step up from touch buttons, and you don't want to spend that much on a controller. If you're the kind of person who plays retro games on an emulator, you'll know that with some games, such as platformers, touch controls can quickly get annoying. Modern controllers will sometimes not translate as well as you'd think to an older title. This is where the 8BitDo Sn30 Pro+ comes into play. Think of it as a Super Nintendo controller on steroids — it's wireless, it features two joysticks, and it's a tad bit more ergonomic. It's actually very similar to the Nintendo Switch's Pro Controller in a lot of ways, including button layout and joysticks. If you're going to do a lot of retro gaming on your smartphone, the 8BitDo Sn30 Pro+ is probably the best game controller to get. If the retro gaming you're planning on doing involves SEGA consoles, particularly consoles like the SEGA Genesis, then the 8BitDo M30 is a better option for you. This is because of the console's unique 6 button + d-pad layout that doesn't really translate well to other controllers. The 8BitDo M30 keeps the same layout and looks like a super-powered SEGA Genesis controller with wireless Bluetooth support. This should give you way better compatibility with your games, allowing you to play them the way you're supposed to. It's quite likely the best game controller for SEGA fans. On the Razer side, Razer includes several products, including the Razer Kishi and the Razer Kaiju Mobile, that will sit in perfectly with whatever use case you're looking for. If that's a little bit on the expensive side for you, the SteelSeries Stratus Duo looks like an amazing option, while the controllers you probably already have in your household can also be a nice improvement over trying to get kills in Call of Duty: Mobile using the tiny buttons showing up on your screen. Note that some controllers would need a clipping mount as well, and here's a clip that is compatible with the Xbox One Controller.

Two new Control games in the works
eurogamer.net
Previously known for his role as the general manager over at BioWare, the very studio that gave us Mass Effect, Casey Hudson has now founded a new game company known as Humanoid Studios. With Hudson at the helm, the studio has also been founded alongside "talented developers from around the world", as the website for Humanoid states. Set to "deliver the future of interactive entertainment", Humanoid is based in Canada and has offices in both British Columbia and Alberta, and is currently still in the process of hiring extra team members, including a senior gameplay programmer, director of operations, and a senior creative director. As for what it is Humanoid is working on, the website mentions the studio is producing "something special", with the senior gameplay programmer job posting looking for people with experience in "shipping multiple AAA titles". The senior creative director however, notes that Humanoid is looking for people experienced in "developing new IP", with the director of operations listing stating employees will be responsible for driving "a program of ancillary products based on Humanoid IP, such as movies and TV, toys, books, and apparel". Not a whole lot to go from right now, as Humanoid is keeping the information very close to the chest, but it does seem like Humanoid is aiming quite high with whatever it does have planned. Hopefully we'll get more news about what this developer has planned over the coming months. You must be logged in to comment. If you are not yet a member - join now! Loading next content Gamereactor uses cookies to ensure that we give you the best browsing experience on our website. If you continue, we'll assume that you are happy with our cookies policy

Ex-BioWare GM Casey Hudson starts a new studio to work on a new IP
vg247.com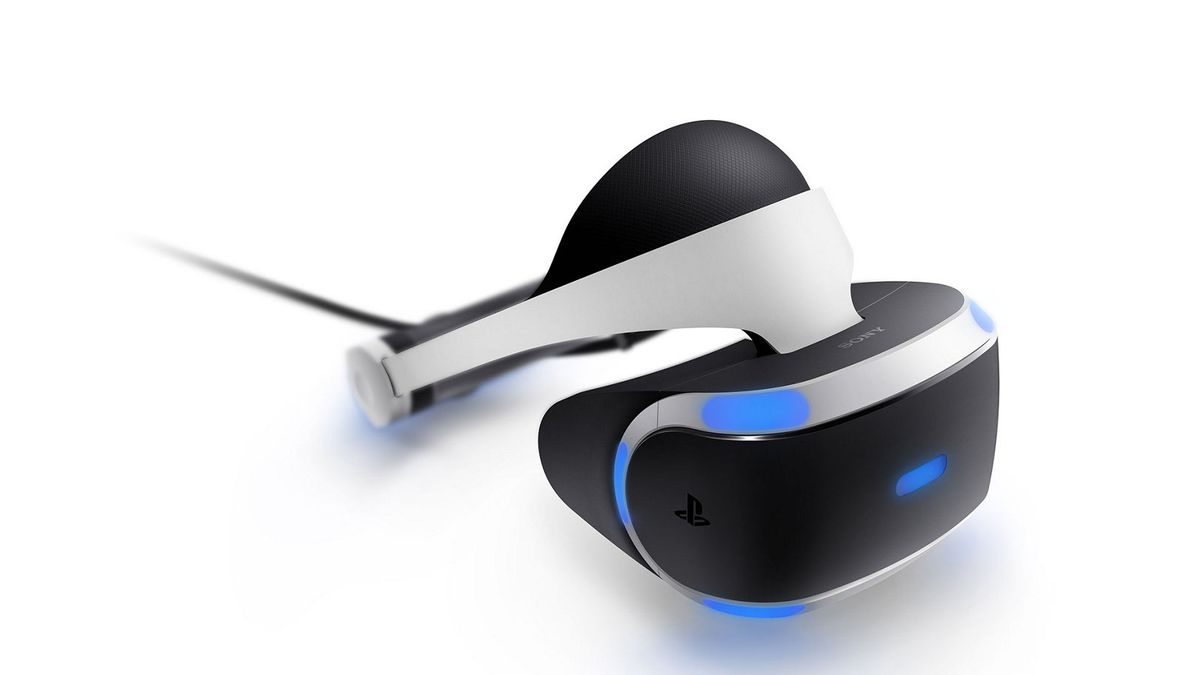 Sony has confirmed that the PSVR 2 is coming. It'll be a successor to the original PlayStation VR that was launched in 2016, and it'll work with the PS5. No official launch date has been revealed yet, but rumors suggest it could be with us as soon as Christmas 2022. In a post on the PlayStation Blog posted in early 2021, Sony reaffirmed its commitment to virtual reality by announcing its new PSVR system is in development. We don't know its name yet, but for now we're calling it the PSVR 2. There aren't many official details about the PSVR 2 available, but as time goes on more news and rumors are landing. What we do know so far is the PSVR 2 will improve on the original PSVR in every way. The new VR headset will support higher resolutions, a wider field of view and improved tracking and input. What's more, as of May 2021, a new set of rumors about the PSVR 2 detail a resolution of 4000 X 2040 pixels (that's 2000 X 2040 per eye and slightly more than the Oculus Quest 2), a dial for lens adjustment, gaze tracking and a motor within the headset itself that might be used for haptic feedback. However, the new headset won't be completely wireless like the Quest 2. It will connect to the PS5 using a single cord. Which isn't ideal, but is still a far more simplified setup than the current PSVR. The new PlayStation VR headset will also incorporate the DualSense wireless controller and Sony recently unveiled what the dedicated new PSVR 2 controllers will look like. From what we can tell so far, they appear to be a huge improvement over the PS Move controllers from the original PSVR, with haptic feedback and finger touch detection. The headset won't be launching in 2021, as Sony admits "there's still a lot of development underway for our new VR system". But sources suggest we could have a PSVR 2 by Christmas 2022, at least according to a recent report from Bloomberg. In an interview with Nikkei, as flagged by UploadVR, Sony Interactive Entertainment President and PlayStation boss Jim Ryan says the potential for VR is "huge" and the PSVR 2 is a "strategic opportunity." So you can bet when it finally does arrive, it'll be worth the wait. Sony did technically release a second PSVR headset back in 2017: the CUH-ZVR2, which added an HDR pass-through, integrated headphones and a smaller connective cord. But, for all intents and purposes, it was still the same headset. Instead, the true PSVR 2.0 promises to provide a much greater jump in specs that will ultimately take advantage of the PS5's more powerful hardware—upping its resolution, pixel quality and refresh rate. Now we know the PSVR 2 is coming, the most pressing questions we'll want Sony to answer is how much will the PlayStation VR 2 cost, what the headset will look like and what cool advances we can expect. It'll also be interesting to see whether it will include features like inside-out tracking or other technology its competitors like the Oculus Quest 2 have. Here's everything you need to know about the upcoming PlayStation VR 2 so far. We know that the PSVR 2 won't release in 2021, as confirmed by Sony, and that it's almost certain that PSVR 2 will work exclusively with the PlayStation 5. Sony already has a VR solution on PS4 after all, and the added horsepower of the PS5 will be key to making the most of the new hardware. Sony's confirmation that PSVR 2 is coming actually caught us of guard, particularly as Sony Interactive Entertainment CEO Jim Ryan said that while PlayStation still believes in VR, we might not see a PSVR 2 headset for a couple of years. "Will it be this year? No. Will it be next year? No. But will it come at some stage? We believe that," said Ryan. If Sony mostly allocates its manpower to PS5 production (which seems likely given demand), then the PSVR 2 could launch much later than the console's release date - perhaps even years later. PlayStation VR launched three years after the PS4, after all. But the relative success of PSVR means that Sony is likely to expediate the process this time around. The latest PSVR 2 rumor is concerned with its release date, which sources suggest could be Christmas 2022 – yep, we're still got a long wait – according to a new report from Bloomberg. Some of the most concrete news we have about the upcoming PSVR 2 is that is controllers will be getting a significant performance and design upgrade. In March 2021, PlayStation announced its new PSVR 2 controllers that'll work with the PS5. From what we can tell so far, they appear to be a huge improvement over the PS Move controllers from the original PSVR. Instead, they look rather similar to the Oculus Quest 2 's Touch controllers. The PSVR 2 controllers will feature baton-like handles with a plastic orb around them. They also make use of the same adaptive trigger features found in the current DualSense PS5 pads. This will allow for differing tensions on any given in-game action. The PSVR 2 controllers will also feature haptic feedback and finger touch detection, letting a game know where your digits are resting without you touching a button. "This enables you to make more natural gestures with your hands during gameplay," says Hideaki Nishino, head of platform planning and management at PlayStation. What's changed from the first PSVR? Speaking to GQ, Sony's Jim Ryan said PSVR will be a "completely new VR format for PS5" and that "dev kits are about to go out". Ryan said Sony "believe in VR" but he said "we're not actually releasing any specs at this stage" but that "over the course of this year" we should find out more. The PSVR 2 might used OLED panels – not LCD This is a small but interesting rumor. According to a new report from Bloomberg, PlayStation might be using OLED panels in its next VR headset rather than LCD. Sony hints at PSVR 2 on PS5 Sony has hinted that the PS5 may get its very own VR experience, separate to the PS4's PSVR headset. It was in a recent interview with Japanese publication AV Watch (via Nibel on Twitter), that Sony Interactive Entertainment's senior vice president of platform planning and management, Hideaki Nishino made the hints. "I would like to expect the PS5 to have a VR experience that is appropriate for the PS5," Nishino said. "I can't comment any further, but I'm looking forward to it [laughs]". This isn't an official confirmation of the PSVR 2 but it's certainly the most promising mention of future VR hardware for PlayStation we've heard in a while. Of course, any PSVR 2 may be a while away, based on previous comments made by the Sony Interactive CEO Jim Ryan who suggested it could still be a couple of years until we see another headset iteration from Sony. The PSVR 2 could be significantly more powerful than the PSVR As of May 2021, a new set of rumors about the PSVR 2 have landed and they're very exciting. Among other things, they detail a resolution of 4000 X 2040 pixels (that's 2000 X 2040 per eye and slightly more than the Oculus Quest 2), a dial for lens adjustment, gaze tracking and a motor within the headset itself that might be used for haptic feedback. These come from "reliable sources" that have been speaking to UploadVR. They all suggest that Sony's next-gen headset is going to be a very powerful head-mounted display – and far more impressive than its original PSVR counterpart. Haptic feedback on the horizon for PSVR 2? A recent patent unearthed by LetsGoDigital suggests that haptic feedback could be a feature in a future PSVR headset. The patent, filed all the way back in 2016 and granted in November 2020, primarily explores ways in which VR or AR headsets could be made easier and more comfortable to wear. The patent suggests multiple sensors—whether they're pressure, motion or stretch sensors—built into the headset which can send signals indicating whether or not it's being worn properly. If the headset isn't on right, the user might receive tips to fix it, with feedback displayed on screen or by speech through built-in speakers. The patent also mentions haptic feedback and LEDs which could be used as part of feeding back to the user how they're wearing the headset. Haptic feedback in the PSVR 2 would tie it in neatly with the capabilities of the PS5's new DualSense controller but as this is a patent there's no guarantee anything described within it will ever make it into a product Sony might release. We now know that the PSVR 2 controllers for the PS5 will have huge improvements over the PS Move controllers the original PSVR was lumbered with, including haptic feedback and finger touch detection. The future of VR won't arrive until after 2021 In an interview with The Washington Post 's gaming vertical, Launcher, PlayStation CEO Jim Ryan has said that while "PlayStation believes in VR", we are "more than a few minutes from the future of VR," and he doesn't think VR will be a "meaningful component of interactive entertainment" until after 2021. Ryan is keen to underline that PlayStation is "very pleased with all the experience that we've gained with PlayStation VR" and that it looks "forward to seeing where that takes us in the future." So a PSVR 2 isn't off the table but his words do suggest that we're still a while away from seeing any kind of successor to the original PSVR headset, likely 2022 at the earliest. The latest Bloomberg report, which detailed OLED panels in the PSVR 2, also suggested that the next-gen headset will be getting a Christmas 2022 release. This would certainly make sense with other rumors we've seen and we all know a Christmas release date will make the most of the holiday spending season. Jim Ryan says VR is still unproven but intriguing PlayStation CEO Jim Ryan has said (via UploadVR) that VR is still an "unproven space" (even several years into the lifecycle of PSVR) but that the company is still "really intrigued" about where it will go. Although it's not a confirmation of a successor to the PSVR headset, it does show a continued interest on the part of PlayStation in VR for its consoles. Ryan's view of the technology appears to be optimistic as he added, "I think the distinction between what's a gaming experience and a non-gaming experience which, hitherto, has been really clear, really binary… I think those lines will start to blur and you'll have VR experiences with a certain sort of light touch of interactivity but which still technically might be games. Some of those could be the finest virtual reality entertainment experiences you will ever have, but they will be very simple to enjoy." VR gets a mention in Astro's Playroom PlayStation has been fairly quiet on the VR front, what with the launch of the PS5. However, a small reference to PSVR in PS5 launch title Astro's Playroom shows it's not been completely forgotten. We've had the chance to go hands-on with the PS5 and Astro's Playroom which is a platformer that uses exotic locales to hide artifacts from Sony's PlayStation hardware catalogue. Over the course of our gameplay we found a PlayStation VR Aim Controller hidden in a snowbank in one level. It's a small nod, but a comforting one for VR fans. More importantly for the future of VR, though, our first impression of the PS5 is that it's a truly powerful console, offering a "rock-solid" and "buttery smooth" frame rate. This jump in power bodes well for the future of VR and we can only hope that Sony will use its next-gen hardware to one day support a new, improved VR headset with smoother, more high-quality gameplay. Wireless Remote Play? Twitter user Lumen has reported (via PSU) references to PSVR wireless remote play in the PS5 Remote Play App which could hint at capabilities of the PSVR 2 if it's in the works. According to Lumen, a specific reference in the code said: "Can't use a microphone with Remote Play when the VR headset is turned on." Lumen went on to suggest that it would make sense for this to be referencing a prospective PSVR 2 rather than the current headset due to Wi-Fi 6 capabilities. Sony is still being very quiet when it comes to revealing VR plans and nothing has been confirmed yet so naturally this should be taken with a big pinch of salt as the code referenced could be out of date or be tied to a different scenario related to the original PSVR headset. Motion Sickness Reduction Patent A patent filed in 2019 and published on WIPO in 2020 points to efforts from Sony to reduce motion sickness in what could be a PSVR 2. The patent describes "a VR sickness reduction system, a head-mounted display, a VR sickness reduction method, and a program with which it is possible to further reduce VR sickness." Finding that much motion sickness in VR is caused by "a difference between the movement of the viewpoint and the user's feeling in a situation where a moving image showing the appearance from the viewpoint is displayed on the display", the patent posits a potential solution which appears to involve vibrations or oscillations. The patent reads "An HMD (12) is provided with a display unit (38), which is disposed in front of the eyes of a user when the user wears the HMD (12). A shaking unit (42) can shake the head of the user wearing the HMD (12). An entertainment device (14) causes the display unit (38) to display a moving image representing a view as seen from a viewpoint. The entertainment device (14) controls the shaking of the shaking unit (42) in accordance with the acceleration condition of the viewpoint for the moving image displayed by the display unit (38). " The overall aim, it would seem, is to better unite what the player is seeing in the PSVR headset with what they're feeling outside of it. Patents are never any guarantee of a final product, but this could be an insight into problems Sony is looking to overcome in any future iterations of the PSVR headset. eSports streaming patent A patent published on WIPO in July 2020 points to eSports streaming capabilities in the PSVR or maybe the PSVR 2. The patent is for "insertion of VR spectator in live video of a live event" and describes methods to make it possible for a user to spectate eSports remotely, "so that the remote spectator can experience the e-sports event as if he/she were present in-person at the venue where the e-sports event occurs." The patent describes "assigning the virtual reality spectator to a seat in a venue in which the live event takes place; receiving a plurality of video feeds from a plurality of cameras positioned in the venue; accessing video processing parameters that are stored in association with the seat; using the video processing parameters to select and stitch selected ones of the video feeds to generate a composite video that provides a view of the venue from a perspective that is substantially defined by a 3D location of the seat in the venue; transmitting the composite video over the network to the client device for rendering to the head-mounted display." The patent goes on to explain "a head-mounted display can provide a visually immersive virtual reality experience to the user, as the HMD renders a three-dimensional real-time view of the virtual environment in a manner that is responsive to the user's movements. The user wearing an HMD is afforded freedom of movement in all directions, and accordingly can be provided a view of the virtual environment in all directions via the HMD." This being a patent and merely exploratory means nothing is certain but it does suggest that Sony has been considering plans for the future of its VR headset that exist outside of simply playing games. It also lines up with previous patents (detailed below) in which Sony was exploring the idea of using VR to view live events. Resident Evil and Rockstar in VR's future Although Sony's June stream of PS5 games didn't include any PSVR titles, there have been some reports and rumors that could give us a hint as to the quality of experience we might expect from the next generation of consoles and maybe a new iteration of PSVR. In a recent job listing on LinkedIn, the development studio Video Games Deluxe shared that it was "now gearing up for a new project, a AAA open world title in VR for Rockstar.2020 marks our 7th year of working exclusively for Rockstar in Sydney and we are excited to taking on this ground breaking project." The studio previously worked with Rockstar on the VR iteration of L. A. Noire (L. A. Noire: The V. R. Case Files) on PC and PSVR, so it seems pretty likely that this is happening. We don't know what the game will be, but GTA 5 seems like a good bet since it's still a money-maker for Rockstar and is coming to PS5 in an enhanced form. There have also been rumors that Resident Evil 8 will support PSVR. Dusk Golem, a leaker who has been correct in the past and leaked Resident Evil 8 before it was officially announced, has tweeted that they've heard from an insider that there will be VR support for the PlayStation version of the game. Capcom hasn't shared any VR plans for Resident Evil 8, though, so naturally this should be taken with a pinch of salt. However, given the success that Resident Evil 7 had on PSVR, we wouldn't be surprised if Capcom opted to go down this route again. Could PSVR 2 be wireless? LetsGoDigital has unearthed a patent for the next-generation virtual reality hardware that suggests that PlayStation VR 2 will be wireless, boasting built-in cameras and a transparency mode that would give you the ability to see the world around you through the headset's screens. Sony Interactive Entertainment filed a patent earlier this year - which was approved on October 3,2019 - with the United States Patent and Trademark Office titled 'Data processing'. This patent details a virtual reality headset with three built-in cameras - two at the front and one at the back - alongside motion detection technology. If that's not enough, it looks like the PSVR 2 headset could also be wireless, and boast a built-in power supply, microphone and its own video/audio signal source. In other words, no more plugging in headphones for sound or cables for imagery, with speakers built-in. This is a big change from the current PSVR headset that is wired, and lacks a built-in speaker and microphone, although the actual look of the potential PSVR 2 headset doesn't look far off its predecessor if the patent proves indicative of industrial design. The potential PSVR 2 headset could also be much better at movement tracking, according to the patent, with numerous LEDs positioned around the back of the headset to better allow any external tracker to gauge player movement. While the headset itself may be wireless, a separate camera (like the PlayStation Camera) may still need to be used to track these LEDs. Next up is the potential addition of transparency mode. This would allow the headset the ability to show a certain amount of transparency when required, allowing the user to see their real-life environment. The purpose of this? To allow for AR applications, as well as a safety option, restoring the player's view of their immediate surroundings without the need to remove the headset. Leaked internal email - debunked According to a 'leaked internal email' from Sony (and posted to NeoGaf), the PS5 will be unveiled at a "PlayStation Meeting 2020" launch event on February 12, 2020. This meeting, according to the rumor, aims to showcase "the future of Sony PlayStation to the whole world". In addition, the email states that "new investments have also been made in the VR sector of the company", with "numerous tests being carried out on the new PSVR 2 prototype". The email also states that "top management of the marketing team started planning official consultations on the official marketing presentation of the new PSVR 2 device before the start of the fiscal year 2021", suggesting PSVR 2 may not release until late 2020 or 2021. However, we've now passed that date with no official reveal or news from Sony. Live events? Siliconera spotted two filings relating to Sony's virtual reality headset which could point to the sort of experiences the company is planning for the future. The pair were filed in 2017 and 2018 respectively, suggesting that (if they've been pursued by Sony) they could soon bear fruit. The first relates to live events. Sony's patent describes a scenario where a user is in attendance at a real world location, such as a sports stadium, with the headset "anchoring" them "to a physical location in the venue". They'd be surrounded by real-world attendees, letting them watch the event as if they were actually there. It sounds similar to other live VR applications, like Next VR, Melody VR or Oculus Venues. Buddies as NPCs A second patent describes turning buddies from your PSN games list into spectators of your games as you play. So, rather than generic NPC crowds in the stands of a FIFA match or along the track of a Gran Turismo race, your friends could chose to have an avatar representation of themselves turn up in your game. These avatars could be true to life, or any sort of stylized representation they choose to submit. They could either choose to spectate in real-time in virtual reality, or show their support through a "pre-programmed" clip. Could it track eye movement and head motion? A new patent suggests the PSVR2 track eye movement as well as head motion. What will that do for VR? According to the Sony Interactive Entertainment patent, it will enhance immersion by refining what each eye sees - aka 'parallax images' - for improved stereoscopic depth. Sony is also developing tech to keep those images relative when you rotate/tilt your head. But there are other possibilities for eye-tracking in VR, including alternative control methods and/or interface options - which would be a great accessibility option for disabled gamers. PlayStation VR 2 could fuel the future of Gran Turismo In a roundable interview with GT Planet, Gran Turismo series creator Kazunori Yamauchi revealed that, when it comes to harnessing the power of next-gen consoles, Polyphony Digital's focus is primarily on VR. "The first thing that's going to be affected by more power is VR," Yamauchi told GT Planet. "I don't think that there's anything else that requires that much processing power. I really like VR; I'm one to believe in the possibilities of it, and it's very suited for a driving game." As Gran Turismo is a PlayStation exclusive series, it's likely that the future of the racing franchise will be fuelled by PlayStation VR and its likely successor: PlayStation VR 2. We did see a trailer for Gran Turismo 7 during Sony's PS5 games reveal event, but no VR footage was shown or hinted at. While Sony hasn't officially confirmed that PSVR 2 is in development, Yamauchi's comments suggest that the company will be leaning into VR in a big way when it comes to the upcoming PS5. "VR is something that really depends on the evolution of GPU power, and the hardware for it, like display devices even," Yamauchi continued. "It's something where you can never have enough computing power; there's always going to be that hardware limit, and that limit is never going to be high enough for us! Obviously that's going to gradually improve over time and we'll make sure to follow that." Current PSVR headsets will work with the PS5 The first details about the PS5 landed in early 2019, bringing with them confirmation that your current PlayStation VR headset will work with the next-gen console. Speaking to Wired, Mark Cerny (lead system architect at Sony working on the upcoming console) confirmed that all existing versions of the PlayStation VR will be compatible with the next-gen console. Whether there will be a new PlayStation VR 2 at launch is currently unclear. Cerny said, "I won't go into the details of our VR strategy today." While he didn't say that Sony won't be updating its virtual reality headset at the launch of the next-gen console, he was swift to clarify that it's worth buying an existing PSVR if you haven't already got one. He also said, "VR is very important to us and the current PSVR headset is compatible with the new console." Backwards compatible "Almost all" of the top 100 PlayStation 4 games are set to be backwards compatible with the PlayStation 5 at launch, but we're unsure which PSVR games will make the cut at this stage. Good news for glasses wearers? According to published patent (spotted by Upload VR), Sony is working on "prescription glasses with eye gaze tracking and electro optical signaling to a HMD". These Sony developed prescription glasses would be custom-designed for the wearer and gaze would be able to be detected by the VR headset via an encoded sensor. In other words, glasses-wearers could use VR much easier. We don't expect these glasses to come cheap, but the implementation of eye gaze software does mean we can probably expect it to arrive in the PSVR 2... Sony posts a job listing for development of a next-gen VR headset It looks like Sony could indeed be working on a PlayStation VR 2, according to a new job listing. The job states (via Google Translate) that the successful applicant will be "in charge of the development and design work for the housing and barrel of the next-generation VR head-mounted display" and that their job is to "develop a mechanism for a VR head-mounted display with a view to five years from now." Could this be PSVR 2? Possibly, but we'll have to wait and see. Games could be exclusive to PSVR 2 In June 2021, a Sony investor catch-up document was made public, which details "New Growth Vectors", with its upcoming VR hardware accessory taking a prime position in a related slide show. As well as the "New Levels of Immersion" that the PSVR 2 will offer. The document states that the headset will deliver to gamers "unique experiences that are synonymous with PlayStation." This is speculation for now, but we imagine that "Unique" can be read as "exclusive", meaning PSVR 2 gamers will be treated to titles that their Oculus Quest 2 and Steam VR compatriots will miss out on. The mention of PlayStation titles suggests some exclusive franchises could be getting VR elements added. The same document also goes on to reiterate things we already know about the upcoming PSVR 2, like its single-cable connection to the PS5 console. The current PlayStation VR starter bundle retails for $200 / £259 / AU$420, but this affordable cost came after several price drops. The original price for a full bundle, $499 (£399, about AU$650), could give us a good idea of what Sony will charge for the PSVR 2 headset. Of course, this new headset will have some potentially expensive tech to go with the PS5's increased potential such as the new VR controller Sony has announced. Japan Display (JDI), a LCD manufacturer co-run by Sony, recently unveiled its 3.2-inch,1,001 pixels-per-inch (ppi) displays with 2160 x 2432 resolution. PSVR currently uses 386 ppi and 1920 x 1080 resolution for its one 5.7-inch screen. Adding better display quality, as well as doubling the screen count, could jump up the price. For comparison, a "premium" VR headset currently on the market is the HTC Vive Pro, which retails for $800, £800 or around AU$1,045. Depending on the PSVR 2's hardware, Sony could choose to list it as a premium device. But, that would likely go against its brand of offering an affordable entry into VR. We're hopeful Sony will avoid pricing all but the wealthiest among us out of VR. The most concrete info we have on what PSVR 2 could be capable of comes from JDI's announcement of its 3.2-inch display with 1,001ppi and 2160 x 2432 resolution. JDI claims that this display will reduce latency to 2.2msec (compared to >18msec today), allow for 120Hz (same as the PSVR 1), and demand less processing power to achieve better image quality—potentially unlocking a lighter, smaller design for the headset. The upgraded AMD Ryzen chip that Sony has implemented in the PS5 could certainly achieve the processing power necessary to support these displays. Sony, which uses JDI's screens for its smartphones, will very likely rely on these upgraded displays for its new headset. Considering we already found the PSVR 1's design comfortable for long playing periods, this could make its heir apparent even more enjoyable to use. Of course, if the PlayStation VR 2 does go with dual displays, this will make the graphical demand for the headset much more difficult to achieve. For example, if Sony wanted 4K VR, then the PS5 would need to be capable of 8K output - which it will be. By doing so, Sony will also make it easier to support room-scale tracking for PSVR 2. Oculus and HTC have supported it for a couple of years now, and it's one of the primary areas in which PSVR falls short of its competition. The PlayStation Camera does track your head and controller movements as you play while seated, but can struggle to keep track accurately if you move around (especially with your back to the camera), and our reviewers found that it frequently lost track of the controller even while motionless. Adding support for room tracking will only help Sony in increasing the size of its game library, as it will support more experiences that rely on wandering around a room. It's unclear whether the new camera we saw during the recent PS5 games reveal event will support this functionality. Of course, this could mean that the new PSVR 2 bundle will include a couple of room sensors to augment the Camera's tracking – or opt for 'inside-out' tracking that uses onboard cameras in the headset to monitor the space around it. PlayStation VR starts this decade as a wholly underrated virtual reality system with a litany of quality games in its catalogue at an approachable price point. Easily the most cost-efficient way to get into VR (other than the standalone Oculus Quest 2), Sony's brazen first steps into the ecosystem have us excited for PSVR 2, which will no doubt arrive soon if a series of patents are anything to go by. Here's what the TechRadar staff hopes will appear in the PSVR 2. Wireless gameplay: An obvious next step for the platform, many HMD makers are pushing to remove the wires that are all too easy to tangle yourself in when you're playing in virtual reality. Whether you're peeking corners in Firewall or moving between cover in Blood and Truth, there's nothing worse than feeling that constraint and realizing you can't go any further into the action. PSVR would benefit from this upgrade considerably, especially given its cheap price point and promising accessibility for those who already own a console in the PlayStation ecosystem. Like EyeToy, and other popular family-friendly tools that came before it, virtual reality will only succeed when the barrier to entry is lowered even further. VR is still seen as an expensive, exclusive club with a low player-base - by making the setup easier and introducing a wireless HMD, PSVR 2 could be passed around in a family setting and open up further possibilities for local gameplay that involves more users. Oculus has already proven that it can be a success with its wireless Quest headset, which offers top-quality virtual reality gameplay on the move, proving itself a hit with a casual audience. With the backing of Sony's first-party development studios, and a tandem launch with a major console, PSVR 2 could capitalize on this market and push VR further into the mainstream by adding it to the PS5 package. Potential patents unearthed by LetsGoDigital suggest a transparency system and built-in cameras for PSVR 2, necessary steps towards a wireless setup for the next iteration. Here's hoping! A room-scale tracking solution: One of the major issues with PSVR is the tracking system, which involves a lone camera to capture your controllers and head movements. Even prior to PSVR, this issue was solved by the more high-end players in the field like Oculus and Vive - though the privilege of a room-scale tracking system came at a high price. Now that the iterative virtual reality space has been shifting and warping for the most part of a decade, we can expect that Sony may bundle in a room-scale tracking system if it hopes to elevate the more tired teleported movement and 'shooting gallery' gameplay that we've seen working with the PSVR so far. Being able to commit to full 360-degree motion, and explore environments without being locked into a rigid space with your upper body, is clearly the future of the platform - just take a look at Half-Life: Alyx's ducking and weaving gameplay. This would certainly be an enticing prospect for Sony's developers, who will only want to take a risk on creating a VR game when they know the hardware has the capacity to truly realize their vision. Again, the aforementioned patent unearthed by LetsGoDigital shows potential front and rear cameras on the head-mounted device, as well as cameras on the new controllers to ensure you never hit that fuzzy black 'disconnected' screen when you're trying to get lost in the moment. Updates to ancient peripherals: Whilst the PSVR has had many successful exclusives, some of the most compelling games debuted on the platform were built to work best with a gamepad. Astro Bot: Rescue Mission is the best example of this, a platformer that used a lot of the hidden features of the Dualshock 4 to delightful platforming effect. However, there's a reason for this emphasis gamepad compatibility: we're a bit sick of the PS Move controllers. The PS Move controllers' accuracy was impressive in 2010, but breaking them out now always feels like a compromise. Sony's plasticky orb wands are a decade old and it's very easy to see the downsides when you've used the system for some time. Despite the upgrade to a Micro USB connection in 2017, the batteries inside are still woeful, the button design is clunky and there are no analog sticks. With pitiful haptics and drift issues abound, it's a miracle that the PS Move controllers still work with modern hardware. It's starting to become clear that they're dragging down the vision of the exclusive games that have come to PSVR, especially near the end of its life cycle. With the next iteration of PSVR, we're begging for a set of modern controllers designed in tandem with the headset. We've seen how much a revolution in the controller space can enhance gameplay with Valve's knuckle kit that allows for full finger-tracking in VR. Sony needs a similarly imaginative input method to change how we approach virtual reality games in the next generation. We can't keep relying on ancient hand-me-down tech as the means to engage with the future of virtual reality. The Move controllers that drop out when you pivot in Beat Saber have to go, and the 1200 x 800 camera could be removed entirely and replaced with base stations or a built-in wireless approach, as it is also starting to show its age. A meaningful display upgrade: Out of all the popular virtual reality headsets on the market, the PSVR's display resolution is by far the worst, using a single 1920x1080 screen (960x1080 per eye) to deliver its games to the user. The grain and blur will be the first thing you notice when you strap on the HMD, which is why PSVR 2 must improve the display if it wants to succeed in an increasingly volatile and graphics-intensive market. Windows Mixed Reality headsets now offer a better display at a tremendously low price point (1440p per eye), which proves that higher definition VR is possible at a low cost. This display bump would be an eye-catching promise to those who pick up a PS5 as a potential virtual reality machine instead of a gaming PC. With the 8K UHD and ray-tracing power of Sony's next-generation console backing it, PSVR 2 could bring the headset display in line with the resolution we can see on the screen outside of the device, which would be a big step in legitimising the PSVR and dragging more casual players into the fold. More excellent exclusives: The best part about owning a PSVR headset is the exclusive games available on the platform. Sony has been very particular about curating high-quality titles for its virtual reality system, which has led to exciting experiences like Astro Bot: Rescue Mission, Blood and Truth, Arkham VR, Psychonauts in the Rhombus of Ruin and Tetris Effect (the latter three being available on PCVR now.) The variety of experiences in this first generation has proven that Sony's talent pool can do a lot with a little as far as the hardware and peripherals are concerned, with exclusive VR games on other platforms paling in comparison to PSVR's current lineup. With SIE London Studio and SIE Japan Studio's ASOBI Team both in between games right now, PSVR 2 could deliver the exciting launch titles that its first iteration sorely lacked, building on the success of games that arrived late in its life cycle like Astro Bot and Blood and Truth. With a number of popular Sony franchises waiting in the wings, who's to say that the next Ape Escape, Sly Cooper or Gravity Rush game couldn't be a PSVR 2 exclusive? PlayStation VR hasn't met Sony's sales expectations, but its sales are nothing to sneeze at compared to the high-end VR headset competition, but Sony had expected the entire VR market to grow. Instead, Sony likely worries that VR will stay too niche to make the profits the company once hoped for. Kodera said Sony would have a more "realistic outlook" on what kind of future sales it can expect. Kodera's statement implies that Sony remains committed to producing more VR devices. Unfortunately, the tepid VR market could mean Sony invests less time and money into future VR experiences. But, ideally, the PlayStation VR 2 and other next-gen headsets with better specs and fewer cords could revitalize the market and keep Sony fully on board with VR.

iPadOS 15 hands-on review: What works and doesn't work
zdnet.com
One of the cheapest 5G smartphones to hit the United States will arrive on the 23rd of July, and it's the new T-Mobile REVVL V+ 5G. This device costs just $199 and has a massive 6.82-inch HD+ display and 5G support with the MediaTek Dimensity 700 chip. This puts it right up against the OnePlus Nord N200, which interestingly, the carrier offers for free with a trade-in of literally any functional mobile device (flip phones included) as part of its " 5G for all " offer. The T-Mobile REVVL V+ 5G comes with 4GB of RAM and 64GB of storage, expandable via a microSD card. It runs Android 11 with a nearly stock UI. The 5000mAh battery can be charged at 18W speed with the included USB-C charger in the box. The triple camera setup on the back is comprised of a 16MP primary shooter and two additional 5MP and 2MP cameras. The front-facing camera offers 16MP resolution shots. The MediaTek Dimensity 700 only supports sub-6GHz 5G connectivity so there's no mmWave support, though you're honestly not missing out on much. It's not as if mmWave is particularly common on T-Mobile let alone in the U. S.. T-Mobile's REVVL devices are "white-label" smartphones, meaning that they are rebranded smartphones from other manufacturers. While we can't tell exactly what the original device is, it seems to resemble the TCL 20 SE, though that has a rear fingerprint scanner instead of being on the side. It also doesn't have the MediaTek Dimensity 700, so it doesn't support 5G. Some of T-Mobile's previous REVVL devices have been rebranded TCL smartphones, so it's not out of the question for the REVVL V+ 5G to be made by TCL. Regardless, T-Mobile's REVVL V+ 5G is perhaps the cheapest 5G device that you can get in the U. S. right now, but as competition heats up, it's possible we'll see something even cheaper in the future. You can purchase the REVVL V+ 5G in Metro by T-Mobile stores starting July 12th and in T-Mobile stores and online starting July 23rd. Qualifying T-Mobile customers can get the device for $8.34/month over 24 months on an EIP, and some lucky customers can snag one for free by playing T-Mobile's new AR game .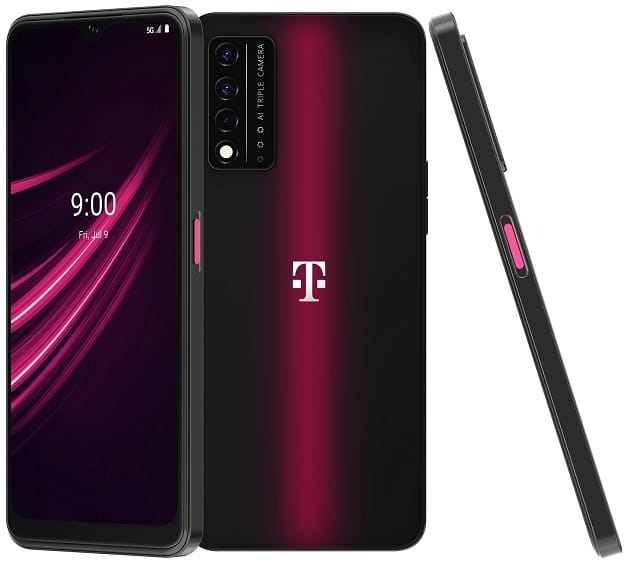 T-Mobile REVVL V+ 5G Android 11 smartphone costs less than $200
betanews.com
The shift to video game streaming has been slow, but developers and platform-holders have been making strides toward the inevitable future. While we certainly aren't where many companies would like us to be, there are a handful of streaming services that are worth checking out. Arguably the most notable is Xcloud (or Xbox Cloud Gaming), a service that allows you to stream Xbox games to your PC, tablet, and mobile devices. It's a fairly new service that has been in the works for quite some time, but it's now available across iOS and Android devices — allowing you to play Xbox games from anywhere. Since this is a new service, you might be unsure of how it works and how to access it on your mobile devices. In this guide, we'll walk you through how to access Xcloud on mobile, including iOS and Android. Recommended reading: Xcloud (or Project Xcloud, as it was once referred to) is Microsoft's new streaming service that allows you to play a select number of Xbox games on many devices. This not only allows you to play from wherever, but it also eliminates the need for a powerful console. Microsoft wants its audience to play games by any means necessary. The company isn't totally concerned with selling you its consoles. Instead, it wants you to subscribe to its subscription service, which houses a slew of games — many of which are available through Xcloud. This includes new Xbox Series X titles, as well as older games from Xbox One and prior. It's a win-win for everyone. Players are able to access the newest games at an affordable price, while Microsoft makes a profit without having to create an expensive piece of hardware. Granted, the company is still in the business of making consoles for now, but systems aren't known for generating profits until later in their life cycle. From a business perspective, having monthly subscribers is ideal, more predictable, and, in many cases, more profitable than selling hardware. Because of all this, Xcloud is an appealing service that likely signals the future of video games. If all of that sounds appealing, you're probably considering hopping aboard. Here's what you need to know. The first thing is that you must have a compatible controller to play Xbox games via Xcloud. Many controllers will work and can sync to compatible devices that support Xcloud. If you own a modern console, chances are you have a compatible controller such as the DualShock 4 or wireless Xbox controller. Controllers from the following companies are functional with Xcloud: For more on compatible controllers, visit Microsoft's website to see the full list. In order to gain access to Xcloud, you'll need to be an Xbox Game Pass Ultimate member. It's $15 per year and gives you access to Xbox Game Pass, Xbox Live Gold, and the ability to play games via Xcloud. If you're someone who wants to have a massive library of games to choose from — on the go or from a console or PC — this is the service for you. Just the Game Pass titles alone are worth the entry price, along with the ability to play online, thanks to Xbox Live Gold. Game Pass and Xbox Live Gold are separate, but Xbox Game Pass Ultimate bundles them together, giving you lots of value for a low monthly price. The final piece of the puzzle is to make sure you have a compatible device that supports Xcloud. You can play from an iPhone, iPad, or compatible Android tablet or phone. On Apple devices, make sure you've got iOS 14.4 or later, along with Bluetooth 4.0. USB connections work with some controllers, so refer to the previous section for more info on that. As for Android, you'll need Android 6.0 or later and Bluetooth 4.0 to play wirelessly. The other thing Microsoft recommends is having internet speeds of at least 10Mbps minimum with 5Ghz Wi-Fi in order to get the most out of your gameplay experience. Therein lies the problem with game streaming, as it's tough for everyone to have internet speeds that can keep up with it. Now that you've got a compatible device, controller, and an Xbox Game Pass Ultimate membership, you'll be ready to start playing! Depending on the device you have, there are a couple of ways you can go about accessing Xcloud. Those with iOS devices will need to access their Xcloud games via a browser, so boot up Chrome, Safari, or Microsoft Edge to begin. Then, visit the Microsoft website and sign in. Assuming the account you're signed into has Game Pass Ultimate, you'll gain access to over 100 games right from the browser. From there, you simply control the menu just like you would on an Xbox console. The best thing about this is that there's no need to download anything. All the compatible games are available straight away, assuming your internet can handle it. On Android, there's an additional option, but it works similarly to the way it does on Apple. You can either access Xcloud from a browser just like you can on iOS, or you can utilize the Xbox Game Streaming app. Either way, the process is the same. Sign in with your Xbox Game Pass Ultimate account and gain access to over 100 games right from your phone or tablet. The list of games is over 100 strong, and it includes many recent releases. We won't go through all of them here, but we will highlight some fan favorites you should definitely try: For the full list, check out Microsoft's site. Keep in mind, this list will grow just as Game Pass has expanded since it launched. And presumably, each and every first-party release will be available through Xcloud.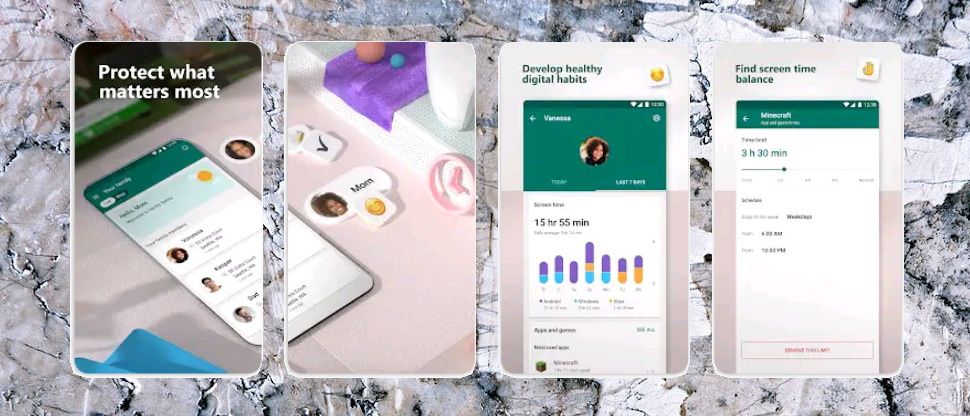 Microsoft Family Safety parental control software review
techradar.com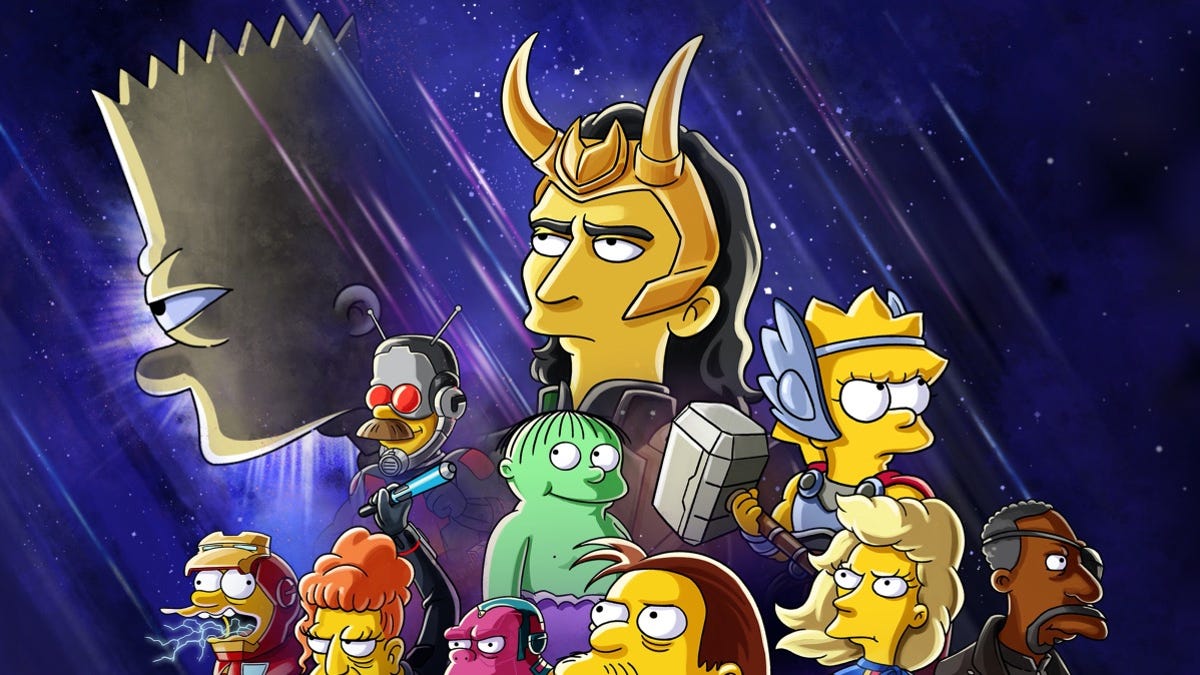 You know how Disney owns everything now? Here's another chance to see it on display in The Simpsons' latest Disney+ animated short, which sees Tom Hiddleston 's Loki taking a break from, well, Loki to visit Springfield and do things with Bart Simpson. In an emailed press release, Disney+ announced a new animated short called "The Good, The Bart, and The Loki." Created in the vein of the previous Simpsons crossover short "Maggie Simpson in The Force Awakens from Its Nap, " this one places the All-American Sitcom Family in the path of the Marvel Cinematic Universe. Hiddleston reprises his role as Loki, who has been bouncing around the timeline in the Disney+ series Loki. Here's a synopsis for the upcoming animated short: "The Good, The Bart, and The Loki" will debut on Disney+ July 7, which happens to be the same day the penultimate episode of Loki comes out. The series has focused on Loki's time (heh-heh) in the Time Variance Authority, an organization sworn to preserving "The Sacred Timeline." It's believed the series, much like WandaVision, is setting things up for the Doctor Strange in the Multiverse of Madness, which will help introduce Marvel's multiverse into the MCU (alongside the upcoming Spider-Man threequel). Loki has given us plenty of twists and turns, which is fitting for the God/Goddess of Mischief, but none of them have included turning Loki animated and sending him into a town that's existed for 700+ episodes. Until now, that is. Hey, remember when The Simpsons did a crossover episode with The Critic and creator Matt Groening hated it? Random thought. Wondering where our RSS feed went? You can pick the new up one here.

The Simpsons and Loki crossover arrives on Disney+ next week
techadvisor.com
Microsoft has released an out-of-band cumulative updates for the latest stable versions of Windows 10, as the company wanted to quickly address a bug hitting PDF documents. More specifically, the new Windows 10 cumulative update is KB5004760, and it is pushed to devices running Windows 10 version 2004,20H2, and 21H1. In other words, the three most recent stable versions of Windows 10 are getting this cumulative update, and needless to say, given it's an out-of-band release, users are recommended to install it as soon as possible. According to the official changelog provided by Microsoft, this cumulative update resolves a glitch making it impossible to open PDF documents on Windows 10 devices. "Addresses an issue that might prevent you from opening PDFs using Internet Explorer 11 or apps that use the 64-bit version of the WebBrowser control. Additionally, a PDF might render as just a gray background when using the Adobe Acrobat plug-in," Microsoft explains. There are no new known issues in this cumulative update, aside from the ones already acknowledged in the previous releases for the aforementioned Windows 10 versions. One of them concerns the Microsoft Japanese IME, which the company says may not get the Furigana characters, while the second is tied to Microsoft Edge Legacy, the original Windows 10 browser that has already been ditched. "Devices with Windows installations created from custom offline media or custom ISO image might have Microsoft Edge Legacy removed by this update, but not automatically replaced by the new Microsoft Edge. This issue is only encountered when custom offline media or ISO images are created by slipstreaming this update into the image without having first installed the standalone servicing stack update (SSU) released March 29, 2021 or later," Microsoft says. The new cumulative update can be downloaded from the Microsoft Update Catalog here.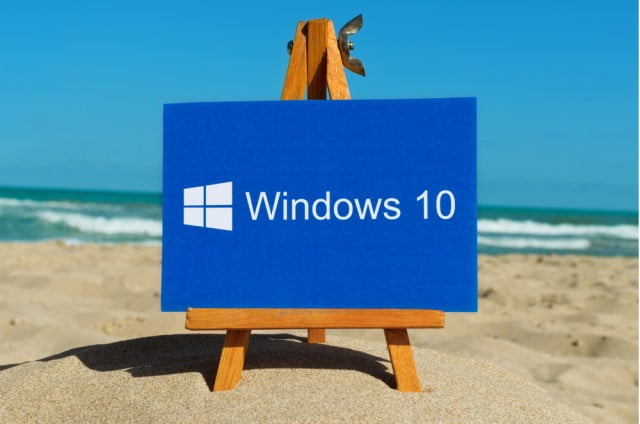 Microsoft releases KB5004760 update to fix PDF problems in Windows 10
betanews.com
I was 12 in 2003, when The Return of the King was in theaters, and Frodo kissing Sam goodbye as he left Middle-earth made me sob like my heart was being ripped out, without understanding why. Outside of the safe darkness of the theater, in the Mordor-like wasteland of middle school, the movies were synonymous with the favored insult of the time — " gay." Brokeback Mountain wouldn't come out for two more years, and none of us had seen a movie on the big screen where men hold each other, comfort each other, kiss each other's foreheads. Early-2000s preteen America was a time of gay jokes, of "no homo," of mocking voices and slurs, and secret, punitive violence enacted in the locker room against anyone who had a whiff of otherness. In that world, the Lord of the Rings trilogy stood out as deeply earnest, and therefore vulnerable.

Amazon's Lord of the Rings won't air anytime soon, says star
techradar.com
(Photo by Artur Widak/NurPhoto via Getty Images) In Canada, Best Buy is going to start selling Nvidia RTX 3000 graphics cards exclusively inside select stores. The sales start today, June 30, and will occur at 17 Best Buy stores across Canada, the retailer wrote in a blog post, which contains location information. The company plans on setting up a queue at each outlet. "Employees at participating stores will hand out tickets, one per customer / per household," Best Buy said. "We'll have as many tickets as graphics cards available at each store, which means if a customer gets a ticket, they will be guaranteed the opportunity to purchase a graphics card inside the store once the store opens on the day of the sale," the company added. All 17 stores open at 11 a.m. local time. How much inventory is on hand remains unclear. But Best Buy notes: "selection will vary by store and we provide no assurances about any particular make or model being available at any particular store on the day of the sale." (Credit: Best Buy) There's no word on whether Best Buy will bring the policy to the company's US stores. Earlier this month, the company sold Nvidia's RTX 3080 Ti Founders Edition exclusively at select Best Buy locations in the US. The event generated massive lines outside company stores across the country, and caused some people to camp out the whole night. Unfortunately, Best Buy only had 64 units or less in stock at each location. As a result, many consumers who waited in line came up empty-handed. But despite the disappointment, customers have been urging Best Buy to resume the in-store sales. "I knew there was almost no chance to get a (GPU) online. There are too many people using bots to buy them. This is the most reliable way to get one," said one customer named Joseph, who waited at the Best Buy store in West Los Angeles. It's unclear if the in-store sales in Canada represent a one-time event. But Best Buy's Canada blog previously noted: "We have heard your feedback and have made the decision to release RTX 30-series inventory in select stores going forward." In Canada, Best Buy is requiring customers to wear face covering inside the stores. "We will have masks available at the door for anyone who wants one," the company added.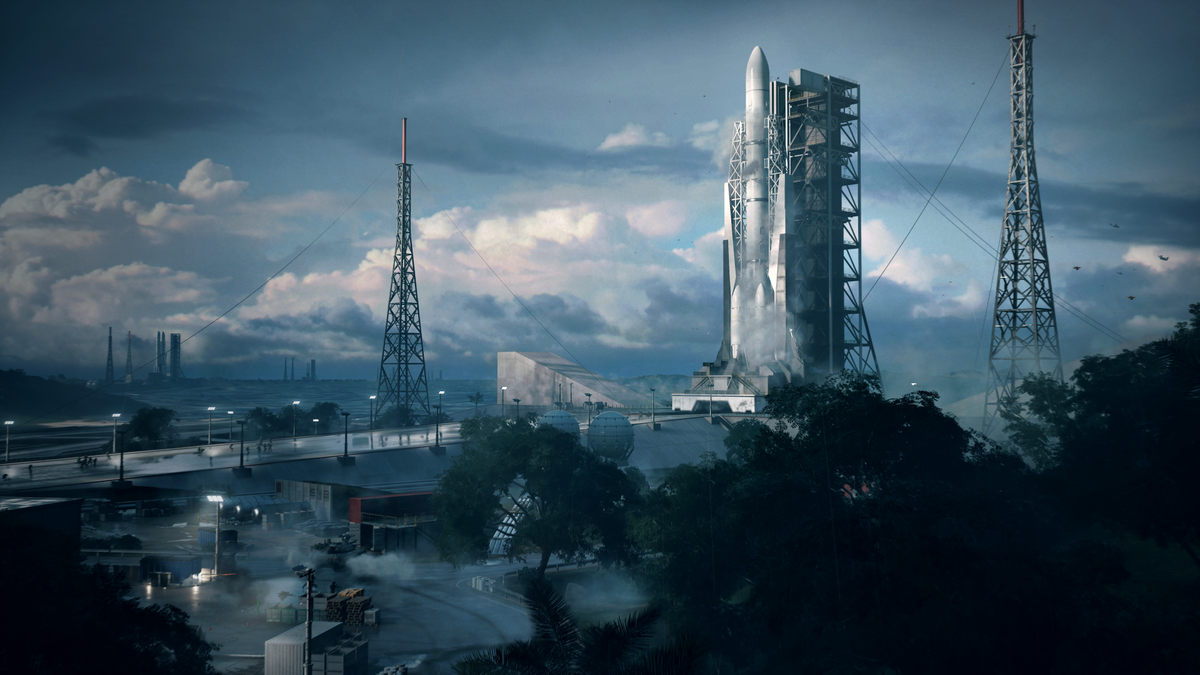 Battlefield 2042 could be a great reason to buy an Nvidia RTX graphics card (if you can)
techradar.com
ADP, one of the best-known names in the payroll world, recently launched a payroll -processing solution called Roll that's unlike anything we've tested before. With this service, you use chat commands to do everything from setup to data maintenance to the actual running of a payroll. Roll's command structure takes some getting used to, but the app helps you along by using artificial intelligence (AI) to gain an understanding of your company and its payroll patterns. We reviewed the first iteration of the app, which provides the basics of payroll processing, but lacks the depth, robust feature set, and customizability of its browser-based competitors. Comparing Roll to the other payroll websites we reviewed is difficult. While they all have companion mobile apps—some very good, and capable of running a payroll—these tools only replicate the desktop experience; they don't try to reinvent the payroll experience. If you want a more traditional payroll-processing application, we recommend one of our Editors' Choice winners, Gusto (for very small companies) or Rippling (for small and larger businesses). How Much Does Roll Cost? Roll's regular price is $29 per month plus $5 per employee or contractor, which makes it one of the cheapest available options. At the time of writing, the service is available at a discount, for $17 per month plus $5 per worker. Patriot Software 's Basic plan ($10 per month plus $4 per month per employee) is cheaper, but this version requires you to file your own payroll taxes. Most payroll applications are much pricier and cost roughly $40 per month plus per-employee costs. Intuit even has a version of QuickBooks Payroll that goes for $125 per month plus $10 per employee per month. However, Roll is missing functionality that you get with competing payroll services. You can't view voluminous reports. Employee records are less comprehensive, and you don't get extras like extensive Human Resources (HR) and Benefits Administration (BA) tools. You can't create accrual policies for vacation and sick time. Earnings types are limited, as are help options. And, of course, you're limited to doing everything through chat commands. But Roll's price and cutting-edge technology might appeal to payroll managers who want the most streamlined experience possible, who don't have many employees or complex payroll needs, and who don't mind Roll's mobile-first approach. What You Need to Know Roll woks similarly to other payroll sites. It offers a setup process. It allows you to start creating employee records, then invite employees to complete their profiles. It supports multiple pay schedules and unlimited payroll runs. You can edit and run a payroll, and the app pays all payroll taxes for you automatically. You can run off-cycle payrolls and easily pay bonuses to employees, too. As you set up Roll, or anytime during you use it, you can add benefits like medical insurance. (Photo: Kathy Yakal) Benefits administration is very limited. You can set up employee deductions and company contributions for medical and dental insurance, as well as for Health Savings Accounts (HSAs), Flexible Spending Accounts (FSAs), and vision insurance, but the retirement plan option wasn't operational during my testing period. You can't yet set up sick or vacation pay either. This is another example of ADP starting development of the app cautiously, which is smart. Companies that need robust benefits administration and human resources tools should consider Rippling, which isn't that much more expensive. Even after you complete the setup, you can still go back and add options like compensation types. (Photo: Kathy Yakal) Roll offers limited earnings type options and you can't create your own. The app includes Regular Pay, Hourly or Flat Fee Contractor, Overtime, Holiday Premium Pay, Performance Bonus, Sign-on Bonus, and Business Expenses. You can also add Shift Differential Premium Pay, Business Expenses, and Call-Back Premium Pay. The app supports next-day direct deposit and prepares W-2 forms (you have to print your own 1099s). The only report is an Excel file that you get via email after each pay period with all payments and deductions. You can share this report with your accountant, but the app doesn't integrate with any accounting websites yet. Roll does offer live chat support in the app between 8 a.m. and 5 p.m. EST Monday through Friday. Slick Setup and Navigation Like everything else in Roll, you go through the setup process using chat commands. Again, this method may be hard to visualize, but it works. Roll walks you through every step required to run a payroll, including information about your company, state payroll taxes, employees, payroll frequency and first pay period, compensation, and earnings types. It concludes by asking if you give ADP permission to, for example, serve as Reporting Agent and grant the company limited power of attorney to sign, pay, and file payroll taxes. You use your finger to enter your signature on your phone screen. You can skip over some questions if you don't have the information at hand; these unfinished tasks appear on your to-do list. As part of setup, you indicate your pay frequency and establish your first payroll dates. (Photo: Kathy Yakal) Roll displays five icons at the bottom of the screen for navigation. The first is a QR code reader. You go to roll.adp.ai website on a desktop browser and scan the code that appears with the mobile app to view Roll's web version. This worked fine in my testing. The browser screen replicated the chat stream on my phone and displayed dozens of links to common tasks in the right pane of the window, an option that doesn't appear in the mobile app. You have access to the other icons' functions from your browser, too, which makes it easier if you're entering a lot of employee details, for example. By scanning a QR code, you can open a mirror version of the mobile app on a desktop browser. Icons in the lower left takes you to all sections. (Photo: Kathy Yakal) The second icon takes you to your company profile, and the third to your chat stream. The fourth takes you to your Timeline, which is something of an audit trail that shows past actions, to-do's, and notifications. Finally, the fifth icon takes you to your employee records. The setup includes entering the details of employee compensation. (Photo: Kathy Yakal) Roll is very good at responding to commands that it understands. It returns responses quickly (except when it's calculating payroll) and its conversations with you are understandable. When it doesn't understand a request you enter, it says something like, "It's not clear to me what you want to do. Please tell me again in a different way." The app allows you to respond to its queries in a variety of ways. Sometimes, you just enter a response in a blank field. Other times, you click on an up arrow or the words OK or Continue to advance to the next step. It may also ask you to choose between multiple options, such as 06/18 Payroll, Off-Cycle Payment, Give Me More Options, or I Have the Funds. Throughout testing, I always knew what I needed to do to move the conversation along. Roll makes sure you know what funds it will withdraw and when. (Photo: Kathy Yakal) But I still encountered problems in some situations. For example, I wanted to know how to enter sick pay hours during a payroll run (the app does not allow you to do this yet). I entered Set up sick pay, and Roll took me to the beginning of a payroll run. There's no Cancel or Back button in the chat area, but anytime you find yourself in a conversation stream that you want to exit, you can click on the three little vertical dots on the screen to pause, cancel, or continue a conversation. Also, I noticed that the Android app caused my screen to flicker on and off occasionally during some testing sessions. Entering Employee Data, Other Commands Roll allows you to create a record for each employee or contractor, but its format is not nearly as robust as that of the competition. You can indicate who they report to and whether they get paid by direct deposit or check. Your records also contain title and compensation, a history of the positions they've held, and basic contact details. You enter the worker's social security number, birth date, gender, start date, and employment status (such as employee or contractor). You can view abbreviated versions of these records once you've completed them and edit details individually by entering, for example, Change [an employee's] position. Each employee gets their own profile in Roll. (Photo: Kathy Yakal) Here is a small list of some of the example commands that Roll's chat function understands: "Hire Alex" or "Terminate Alex" "Change Alex's rate" or "Give Alex a raise" "Change Alex's job title" or "Change my job title" "Run payroll" or "Change payroll" "Update my company tax withholding" or "Change Alex's W-4" I don't know how robust Roll's recognition ability is, but I intentionally misspelled some words and entered commands such as Change Alex rate (minus the 's). In my tests, the app always understood me well enough to return the correct response. Running Payroll Because Roll has such a simple structure and limited options, payroll runs go fast. The app first asked if I wanted to run the next regularly scheduled payroll or make an off-cycle payment. I selected the current period. The app then displayed the pay period dates and a list of my employees and contractors. I had already run a payroll, so the same numbers of hours worked for each individual was already filled in. You can change these defaults by clicking on them. This screen also displayed each worker's hourly pay or salary as well as their gross pay for the current pay run. The More option under each employee offers the option to enter Holiday Premium Pay, a Performance Bonus, or a Sign-on Bonus. Roll also let me change the pay rate and payment method here. You can add or change compensation details as you run payroll. (Photo: Kathy Yakal) After I clicked Continue, Roll showed the deadline for processing the payroll as well as the total payroll cost, the amount ADP would withdraw, and the total for checks to be printed by me. Clicking the down arrow next to each employee's name reveals a pay stub with their pay and deductions. After I clicked Continue again, the app told me what checks I had to write—Roll also reminded me the day they needed to be printed. Roll provides details and instructions after you submit your payroll. (Photo: Kathy Yakal) On the next screen, the app told me once again what ADP would withdraw and when. I could either click the Give Me More Options (such as skip some employees, only fund taxes, or skip the payroll) or I Have The Funds. I opted to skip an employee; after I selected the employee, the new cash requirement amount appeared. I had the chance to review all of the paychecks again before submitting the payroll. Payrolls are available to review in the Timeline section and you can enter Change Payroll if you need to edit anything before the deadline. The whole process took just a couple of minutes. An Intelligent App Roll uses AI and tools like pattern recognition to automate your payroll tasks. For example, it dispatches an alert if your payroll run differs enough from your typical paydays. The app learns as it goes along so that eventually it sets up your to-do list based on your company's history. And it sends notifications when tasks are due. A Humble, Innovative Start This initial version of Roll was designed for very small businesses with very modest payroll needs. The app is the most innovative, unique payroll solution we've seen, and we anticipate that ADP will continue to add features and flexibility as it grows. In the meantime, businesses that need more features can turn to more traditional options. Two stand out above the rest, Gusto and Rippling. Both get Editors' Choice awards this year because of their functionality, usability, and customizability. Gusto is the best choice for very small businesses. Rippling can support larger companies, though its pricing is comparable to other small business payroll solutions, and it could be a good choice for a very small business that expects to grow.

Zoom's new web app for Chromebooks lands on the Play Store
xda-developers.com
When Clubhouse first appeared, audio-first experiences suddenly became important and existing messaging services started implementing their own versions. The latest to do so is Slack, which has just launched "a lightweight audio-first way to start live conversations." The feature is called Slack huddles, and the focus is on encouraging casual conversations like colleagues used to have when they were all in the same office. Now with many people working remotely, and remote-work seeming to be the new normal going forward, the ability to initiate a quick chat is going to remain a challenge. A huddle can be started in either a Slack channel or via a DM. It's not limited to people working within an organization, either. Of course, like many new features, paying Slack customers get the feature first and it should already be available to use. Slack also took the opportunity today to tease a new feature for creating and sharing video, voice, and screen recordings as a way of replacing the daily meeting. The idea is to allow everyone to record what they want to share in the meeting ahead of time, be that a set of slides, a voice recording, or video clip, and then share it. Sharing can also be scheduled to go live at a specific time. Everyone else on the team can then view these recordings at their leisure, as a stream of content from different people, and with the ability to speed up or slowdown playback. The meeting still happens, it's just not live anymore. Slack also offers live captioning for all recorded content and for huddles, too. Unlike huddles, though, the new recording feature won't be available to paid users for a few months yet.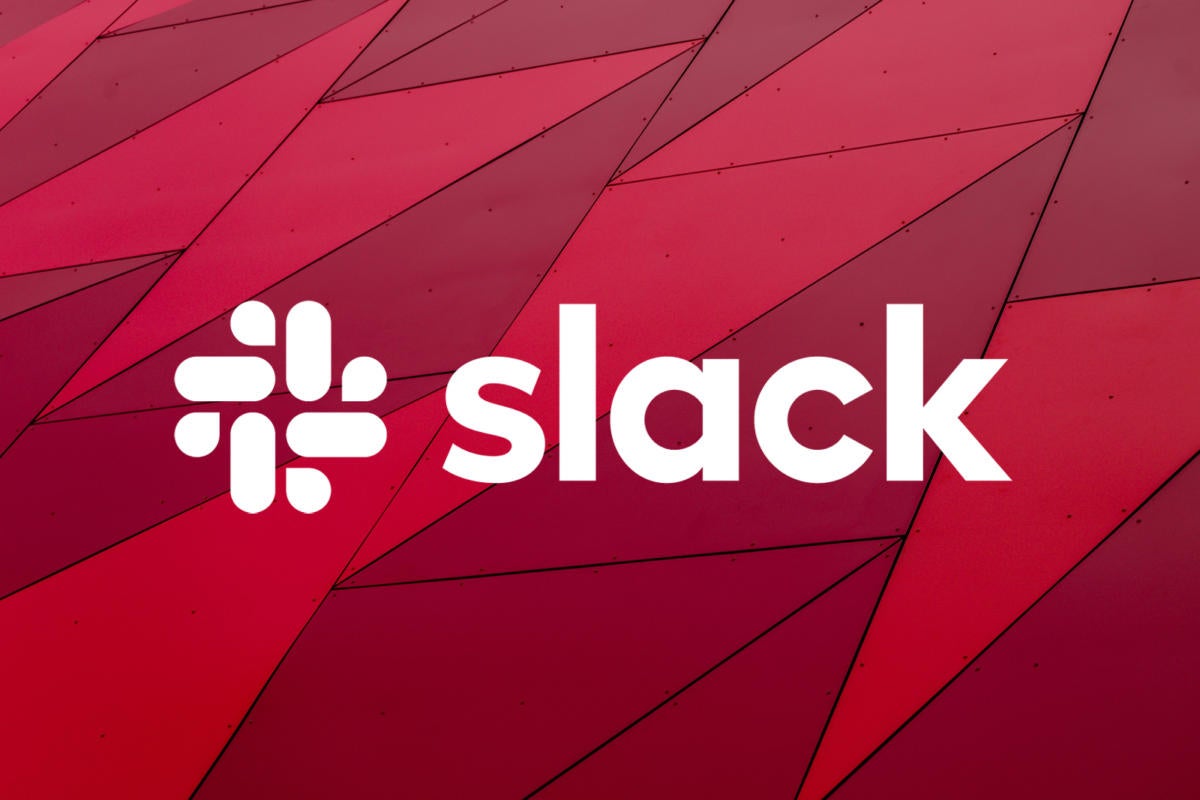 A Clubhouse for the office? Slack unveils 'Huddles' audio chat rooms
computerworld.com
It's hard to deny that Google Chrome is one of the most popular web browsers used by a majority of people across the world, regardless of the platform. It comes pre-installed on all Android smartphones and Chromebooks, and has also become the browser of choice for a lot of people on Windows computers, because it syncs your data across all devices that use Chrome. Even if you don't use Chrome directly and use alternatives like Brave or Microsoft Edge instead, those browsers still use the Chromium engine. So a lot of elements like the sync functionality and Chrome extensions remain uniform. Chrome extensions are a great way to increase the functionality of your web browser and add functions that extend beyond just browsing around on the web. We've tried various Chrome extensions across different genres to see which ones actually stand out and add some value to your browsing experience, and here are some of the best ones we found. The list contains Chrome extensions for everyone regardless of what you do on the internet. From productivity to entertainment, we've tried covering all bases to make sure there's something that interests everyone. All of these extensions can be used on any Chromium-based browser and platforms including Mac, Windows, Linux, ChromeOS, etc. If you have a ChromeOS-based device, we have a list of the best keyboards for Chromebooks and even a guide to opt out of Google's Privacy Sandbox on Chrome that you may want to check out if you're a privacy nerd. Navigate this guide: These are the extensions we feel everyone must use on their browsers and can benefit from in different ways. From helping you save money to saving important data on the cloud, these extensions will help you while performing different activities on the web. Save to Google Drive is quite a basic one and the name tells you what it does. Don't write it off just yet though — we've included it under essential extensions for a reason. How many times have you come across a webpage, image, video, or file that you wanted to save for later or share with someone? If your answer is often, this extension is for you. It basically adds a Save to Google Drive button in the contextual right-click menu in your browser so next time you see something you want to save or share, just right-click and select Save to Google Drive and it'll be automatically added to Drive. From there, you can either download it for yourself or share the link with anyone you want. If you're a shopaholic and order a lot of things from different e-commerce websites online, this one's for you. Honey is a Chrome extension that checks for the best deals and offers you can apply while checking out on multiple online shopping websites. You can compare deals and buy whatever you want from the portal that offers the best price. Honey has a database of discount and coupon codes that it tries to apply automatically on almost all popular shopping websites which can save you a lot of money especially if you order stuff regularly. From ordering food to expensive electronics, Honey claims you can save upwards of $100 every year using their extension. If you hate captchas, Buster is for you. A lot of websites often ask you to enter or solve captchas which can get boring or sometimes confusing too, especially when you're using Chrome in incognito mode or if you're using a VPN. You'll be prompted to solve a captcha quite frequently and after a point, it does get really annoying. Don't worry, Buster has got you covered. Every time you see a captcha, the bottom section of the captcha window will now have an extra icon that fires up Buster once you install the extension. Clicking on the button will automatically solve the captcha for you in a matter of seconds. These extensions contribute towards improving your productivity while you're working and help you get more out of your web browser. You can integrate these extensions into your workflow to help you do your work in a better way, manage time properly, or even multitask in a more efficient manner. These are our top three productivity-related extensions. We've featured Todoist as a part of our best WearOS apps article as well, and that's because it's one of the best services to create a to-do list. The Chrome extension from Todoist doesn't require any additional app installation but offers a great deal of functionality. It sits in your browser in the extension bar and a single click will reveal a window where you can access all your tasks and tick them off whenever you're done with them. It's a great way to start your day by inputting all your pending work and it's quite satisfying to check all the boxes as and when you complete your work. MightyText is a great way to avoid constantly checking your phone while you're working on your computer. It enables you to send and receive SMS messages directly from the Chrome extension, so if you're texting your friends and colleagues or just want an OTP for a transaction, you no longer have to reach out for your phone. We all know if you pick up your phone to reply to a message, it doesn't just stop there. You'll probably open a social media app and end up spending more time than required, so this is a good app to avoid such distractions. You've probably heard of Google's own picture-in-picture extension and probably even use it to watch videos in PiP mode on your browser. However, the Google Meet PiP extension lets you have a PiP window of a Google Meet call running on your screen while you continue to do other tasks. This is very helpful if you're in a meeting and someone is sharing their screen for a presentation and you need to refer to some notes or you're just involved in other important work. You won't have to stay on the meeting tab all the time while still continuing to see the presentation. If you attend a lot of meetings, this is a great addition. These are some extensions on Chrome that make your job a lot easier or introduce features that can be really nifty. While you may initially think you don't really need these features, using them a few times will make you realize what you were missing out on before you had them installed! If you download a lot of images from the web, this extension makes your job a lot easier. While most images are in popular formats like JPG or PNG, there are some websites that have images in less popular formats like WebP which are not very easy to open or edit on a few devices. Save as Image Type adds an option in the contextual menu when you right-click on an image and allows you to save the image in whatever format you want. It saves the time and effort of first downloading the image and then converting it to the required type. While most instant messaging services like WhatsApp, Telegram, and Signal have the option to enable read receipts for messages, there's no such option on Gmail. If you're sending an important email, there's no way of knowing if the recipient has opened your email or not, let alone knowing when or how many times they've opened it. Well, Mailtrack solves that problem. Once you install the extension and authorize it with your Google account, you will be able to track all the emails that you send and receive a notification every time your mail was opened by the recipient. You can even see how many times an email was opened which is neat. Once you start using Mailtrack, there's no going back. This one's quite self-explanatory. While most smartphones have a built-in dark mode to make viewing the screen easier on your eyes in the dark, a lot of websites still don't have a dark mode, and Chrome by default doesn't have the option to enforce dark mode. Dark Reader is an extension that does exactly that. You can enable dark mode on every single website, so if you're using Chrome on an OLED display, you can save some battery while also reducing the strain on your eyes especially at night. While you can take screenshots on your computer using the default tools on Windows, Mac, or any other OS for that matter, Awesome Screenshot and Screen Recorder lets you take customized screenshots within Chrome itself which can be very handy if you want to capture only specific portions of the webpage or a scrolling screenshot of the entire webpage. Additionally, you even get a screen recorder built-in that can either record the entire Chrome window or a specific tab along with feed from your webcam which can be very handy if you're shooting a tutorial or just recording something to help somebody. This is another of those must-have extensions. If you open a lot of tabs on your browser and don't close them for whatever reason, The Great Suspender is a godsend. It puts unused tabs in a suspended state meaning a tab will not be active anymore if you haven't opened it in a while. When you have too many tabs open, your browser — especially Chrome — consumes a lot of RAM that can in turn slow down your entire computer. By using this extension, you can put all of those unused tabs to sleep to save memory on your device and make Chrome, as well as your computer, run smoother. Whenever you open a suspended tab, you just have to refresh it to bring it back to life. Enough of work and productivity, it's time to have some fun and get entertained. Here are some extensions to improve your experience while consuming media on your browser or even add some features to social media apps that are not present by default. If you want to watch your favorite shows and movies with friends and family, we've got that covered too. Instagram is arguably one of the most popular social media platforms but is also the one with the worst web interface. Even after being around for years, the Instagram web app doesn't allow users to upload posts or stories onto their profile which is a pain. Even the ability to check and reply to DMs was introduced only recently so that tells you how unimportant its web client is to Instagram. The way to fix this is by using Inssist. It's an extension you need to authorize by logging into Instagram, and once you've done that, you will be able to post photos, videos, and even stories onto your Instagram profile directly from your computer without having to open the app on your smartphone. YouTube is a great platform to watch videos on. However, YouTube can often just be used to listen to music as well, since a lot of artists upload their tracks to YouTube along with other music streaming platforms. While you can use YouTube Music on your smartphone to listen to the song without the video playing along, there's no such thing on the web. So if you only want to listen to the music, the video stream consumes your internet data unnecessarily. Audio Only YouTube fixes that by adding a button that allows you to stream just the music and saves up to 50% of data. Here's another Chrome extension for YouTube. There are times when you want to skip to a particular section in the video where the creator mentions a specific thing you were looking for. It's quite tedious to manually scroll through the seek bar to find the exact section especially if it's a long video. That's where Invideo for YouTube comes in. It makes use of YouTube's transcription feature to search within a video and find the section where the creator mentions the term you're looking for. Just search for the word or phrase you want to find in a video and you can skip directly to that timestamp. You're probably aware of this one but for those of you who aren't, Watch Party allows you to watch your favorite TV shows and movies with your friends and family in sync. It can be a pain to stream video together, especially if you're a lot of people and while hosting an online meeting is an option, it doesn't work too well with audio at times or everyone in the meeting doesn't get controls to play/pause the content. Apple recently introduced a similar feature built into Facetime, but not everyone has an iPhone and this extension is universal and works across devices. A host of services are supported so pick your favorite show and start binging with your friends! From productivity to entertainment, all of these extensions add immense value to your usage and can help you save time or enable features you didn't think could be done. You can install all of them to try them out and keep the ones that are really helpful to you. However, note that Chrome extensions do consume a good chunk of memory so make sure you limit yourself to a few extensions. You can install the rest whenever you want to use them temporarily for a specific purpose and then delete them later. Which of these extensions interested you the most? Are there any useful extensions that we missed out on which you use? Let us know in the comments below so we can add them to the list.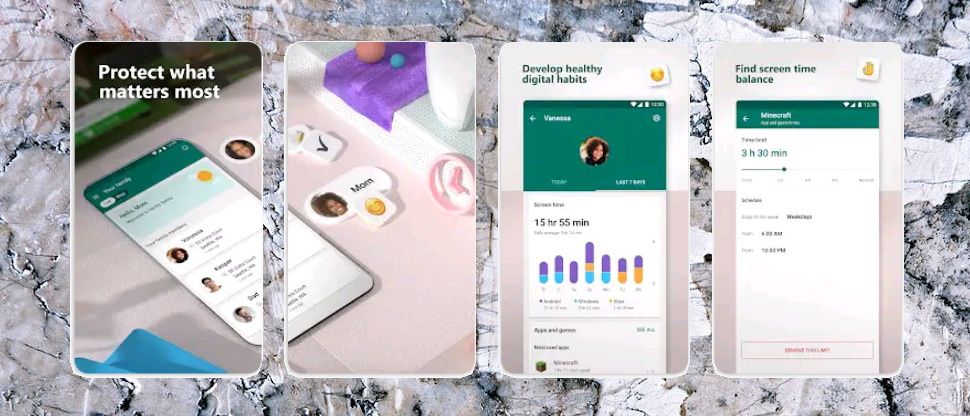 Microsoft Family Safety parental control software review
techradar.com
Battlefield is keeping its partnership with Nvidia. EA and Nvidia have announced that Geforce will be the official GPU partner for DICE's upcoming Battlefield 2042. This partnership means the multiplayer shooter will make use of some of Nvidia's most advanced features. Watch on YouTube Chief among those, of course, is DLSS, the company's renowned AI-powered upscaling technology, which everyone's been raving about for years. DLSS should make running the game at high framerates very manageable, particularly considering Battlefield 2042's much bigger scale compared to past iterations. Battlefield 2042 will also make use of Nvidia's Reflex, the low-latency mode that optimises the rendering pipeline to create the lowest input lag. Reflex has been adopted by a number of competitive games, including Call of Duty: Warzone more recently. Interestingly, the press release does not make any mention of ray tracing. Battlefield 5 was one of Nvidia RTX's poster games, having been among the initial batch of big titles to support ray tracing. It's not clear whether Battlefield 2042 will drop ray tracing, or if it will simply be announced at a later date. Indeed, the game's lack of a single-player campaign – typically intended as technical showcases for Battlefield – may have lessened the value of ray tracing somewhat. After all, multiplayer games don't always benefit from the revolutionary tech. Watch on YouTube Elsewhere in the same announcement, EA also confirmed that Xbox Series X/S is Battlefield 2042's console partner. This isn't surprising, of course, considering the gameplay trailer debuted on a Microsoft stage, and the fact Battlefield games have usually aligned with Xbox. EA did not, however, announce any special bonuses for playing the game on Xbox. Call of Duty's PlayStation partnership, for instance, grants PS4/PS5 players regular free cosmetics, and locks one mode exclusively to PlayStation for year. We'll no doubt learn more closer to Battlefield 2042's launch on October 22.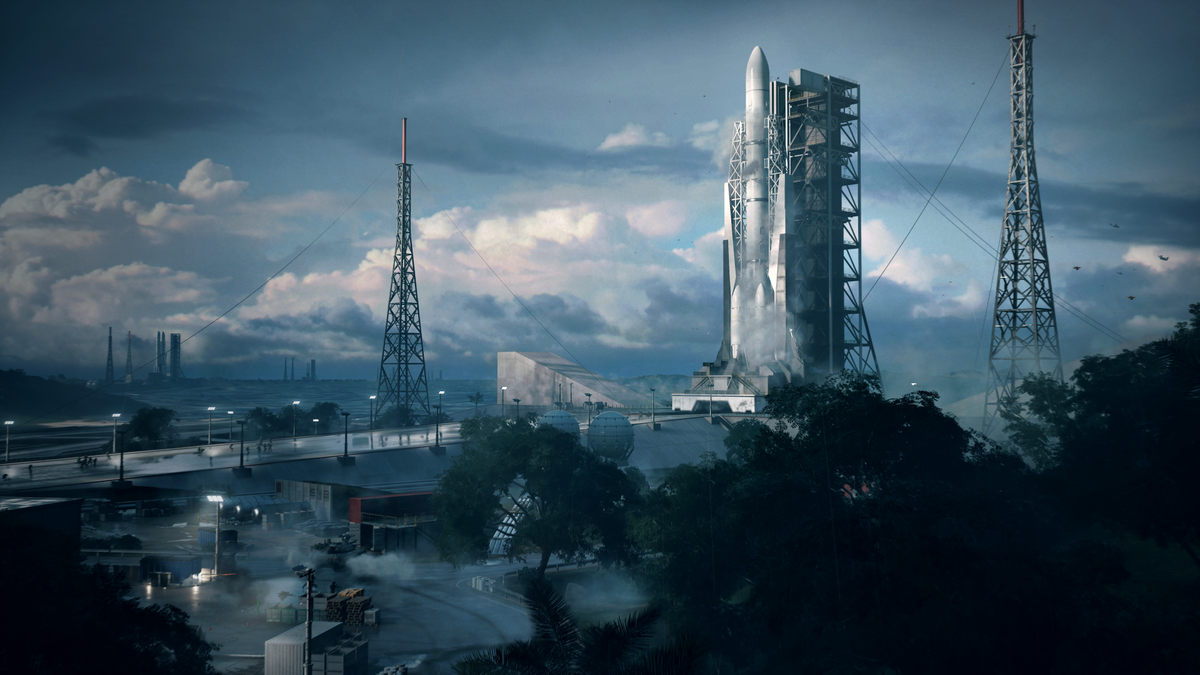 Battlefield 2042 could be a great reason to buy an Nvidia RTX graphics card (if you can)
techradar.com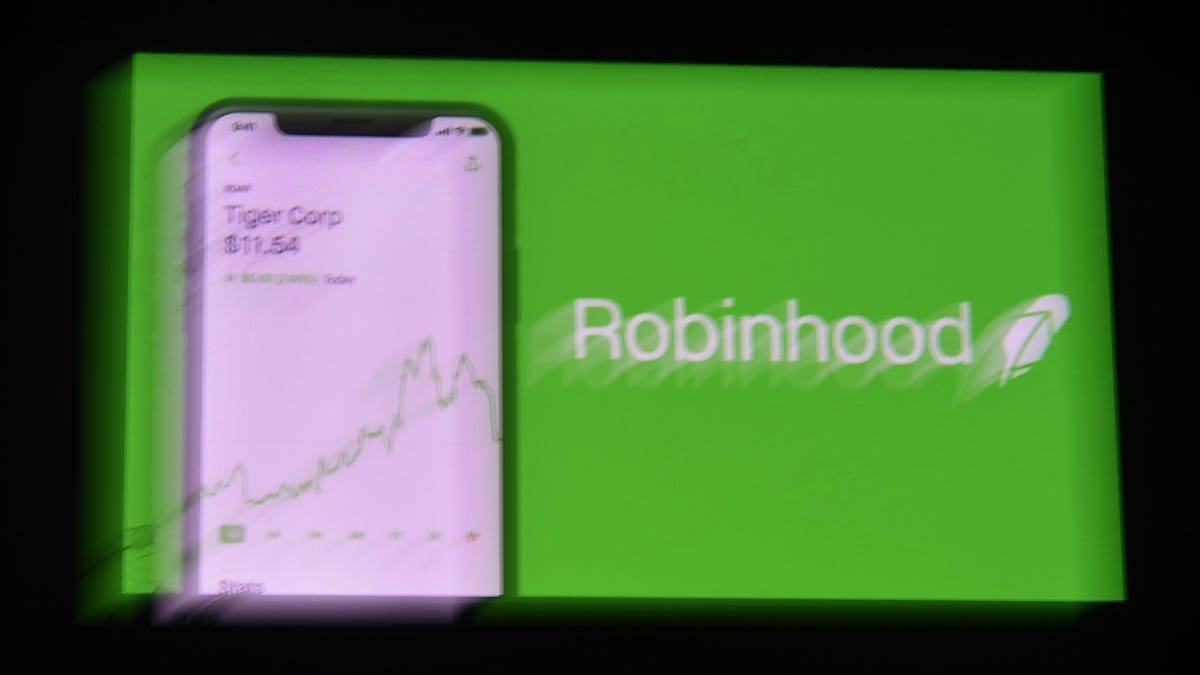 After facing countless class actions and probes from multiple regulators, the financial platform Robinhood is finally paying up. On Wednesday, the Financial Industry Regulatory Authority (FINRA) announced it fined the company $57 million and ordered the company to pay back $12.6 million in restitution, plus interest, to the thousands of customers it had screwed over in myriad ways over the past year. All told, the settlement will cost Robinhood about $70 million. "The sanctions represent the largest financial penalty ever ordered by FINRA and reflect the scope and seriousness of the violations," the authority wrote, adding that the multi-million dollar fine was determined to be an appropriate punishment for the "widespread and significant harm" Robinhood's customers suffered during the company's widespread outages last March. FINRA also notes that the fine is meant to repay the "thousands of customers" that the company approved to trade risky options, even when they probably shouldn't have. Authorities first launched their investigation into Robinhood this past August, following the company's bungled response to multiple outages in March 2020 that coincided with two dismal days for stocks. At least one Robinhood customer responded by filing a class action suit against the company, alleging that the company breached its contract by failing to offer a trading platform that... actually worked. And while FINRA's announcement doesn't address Robinhood's role in the Gamestop fiasco at all, Robinhood faced dozens more class actions from irate customers after the platform restricted trades of certain stocks, including Gamestop's. On top of those flubs, FINRA's investigation also found that Robinhood had "negligently communicated" information that was either misleading or flat out false to its customers about a "variety of critical issues." Whether Robinhood's customers could place trades on margin, how much cash was in a person's account, and how much "buying power" these customers had are just a few of the topics that investigators found Robinhood being less-than-truthful on. According to the authority, Robinhood's misstatements cost thousands of these customers "more than $7 million" in lost cash, which it will need to pay back in restitution. That's on top of the $5 million that Robinhood is now required to pay back to the customers who lost "tens of thousands" in cash lost during the platform outages. Not long after FINRA published its announcement, Robinhood published its own blog that didn't deny any of the charges the authority made but didn't really address them either. "We've made investments in expanding customer support - and are now offering phone support for several areas, including options and equities trading, account security, and other use cases," the company wrote. "We've enhanced our options offering, education about options, and how information is displayed in the app." Now we just need to see if the company will stop lying to its customers, too.

Robinhood to Pay $70 Million Fine for Harming 'Millions of Consumers'
uk.pcmag.com
When you run a small business, banking is about more than just the regular banking experience. Suddenly you need to keep in mind additional features geared toward helping your small business succeed. A major service banks provide to small businesses is the perks offered with certain credit cards, since cashback and mile rewards can help your business thrive. Every small bit of help towards your bottom line counts. On top of credit card offerings, you'll need to assess what types of savings and checking accounts are available, whether the bank offers loans and if the bank even helps with merchant services. Below are our top picks for the best banks for small businesses that offer these services and more.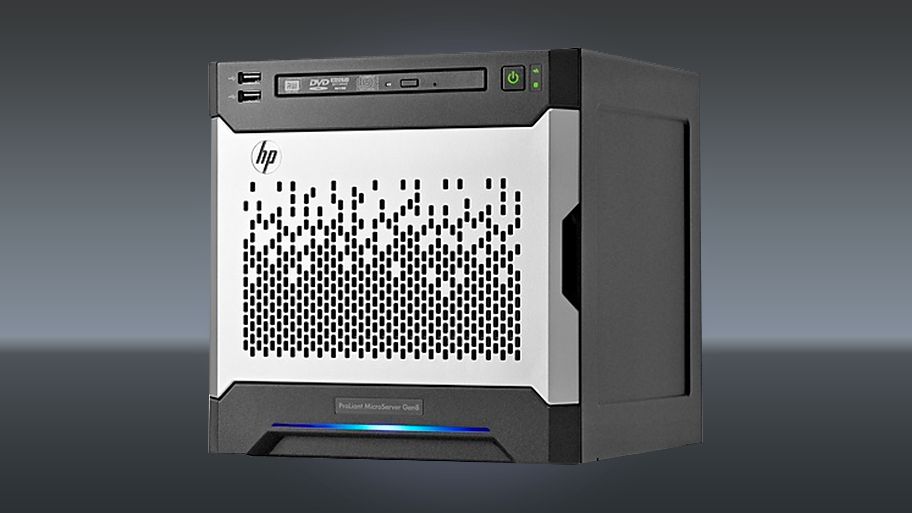 Best small business servers of 2021
techradar.com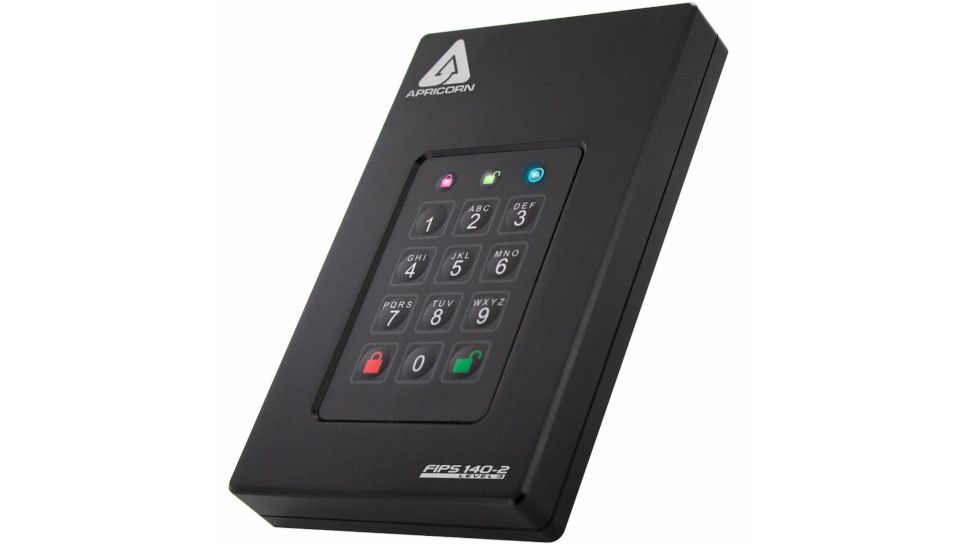 Secure storage device vendor Apricorn has unleashed a mammoth 20 TB Solid State Drive ( SSD), which it bills as the industry's largest portable drive. Like all Apricorn products, the Fortress L3 SSD series of drives feature hardware-based 256-Bit AES XTS encryption and ship in rugged enclosures. The new 20 TB standard-compliant drive is designed to help businesses ferry large amounts of sensitive data securely. "The 20TB Aegis Fortress L3's mass storage capabilities enable fast response, restoration, and recovery in the event of a disaster, reducing downtime and minimizing financial and reputational damage," said Jon Fielding, Managing Director EMEA at Apricorn. "This is critical for businesses looking to build resilience at a time when ransomware attacks, in particular, are becoming an almost daily occurrence." Apricorn argues that the drive makes more sense in the current climate, which has necessitated the need for encrypted offline backups for public and private enterprises across all sectors. The new 20 TB variant conforms to the FIPS 140-2 level 3 parameters, which it claims is the highest level of FIPS validation attainable for portable devices. Furthermore, thanks to a new, ultra-fast encryption chipset, the L3 range boasts the fastest, most robust, highest capacity drives in Apricorn's portfolio. The drives are enclosed in a tamper resistant enclosure made with 6061 aircraft-grade aluminium alloy and ship with interchangeable type-A and type-C connector cables. The drives are available in different capacities, from 500GB to the newly launched 20 TB variant. Apricorn told TechRadar Pro the 20 TB variant features 9.5mm Novachips NS379C20T0VC0-U0.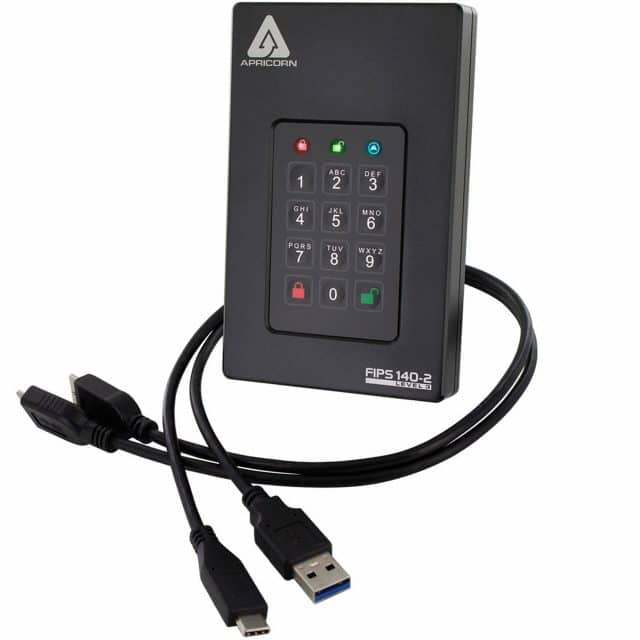 20TB Aegis Fortress L3 SSD is the world's largest encrypted portable drive
betanews.com
In brief: Devices like the Analogue Nt and the Duo have led to a recent resurgence in retro gaming, a trend we're seeing trickle down to smaller manufacturers. One such example is Epilogue, who recently started accepting pre-orders for its GB Operator. Epilogue likens the GB Operator to a cartridge slot for your computer. With it, users can play Game Boy, Game Boy Color and Game Boy Advance cartridges on their computer just as they would on original hardware. It's even compatible with the Game Boy Camera accessory, should you still happen to have one of those lying around. The device's creator says its cross-platform desktop application (Windows, Mac and Linux) is based on mGBA, an open-source Game Boy Advance emulator that's been around for years, but adds that users are free to utilize their favorite emulator as well. GB Operator is even reportedly able to detect counterfeit cartridges, an added perk for those looking to amass a collection of original carts. Non-Nintendo hardware used to play Game Boy carts isn't new, mind you, but they're also somewhat hard to come by. Analogue announced its Pocket handheld in 2019 but we're still waiting for it to hit the market. Hyperkin was also working on a Game Boy remake years ago, but I'm not certain if it ever launched. The GB Operator is available to pre-order now priced at $49.99 plus shipping, and is expected to go out sometime in August.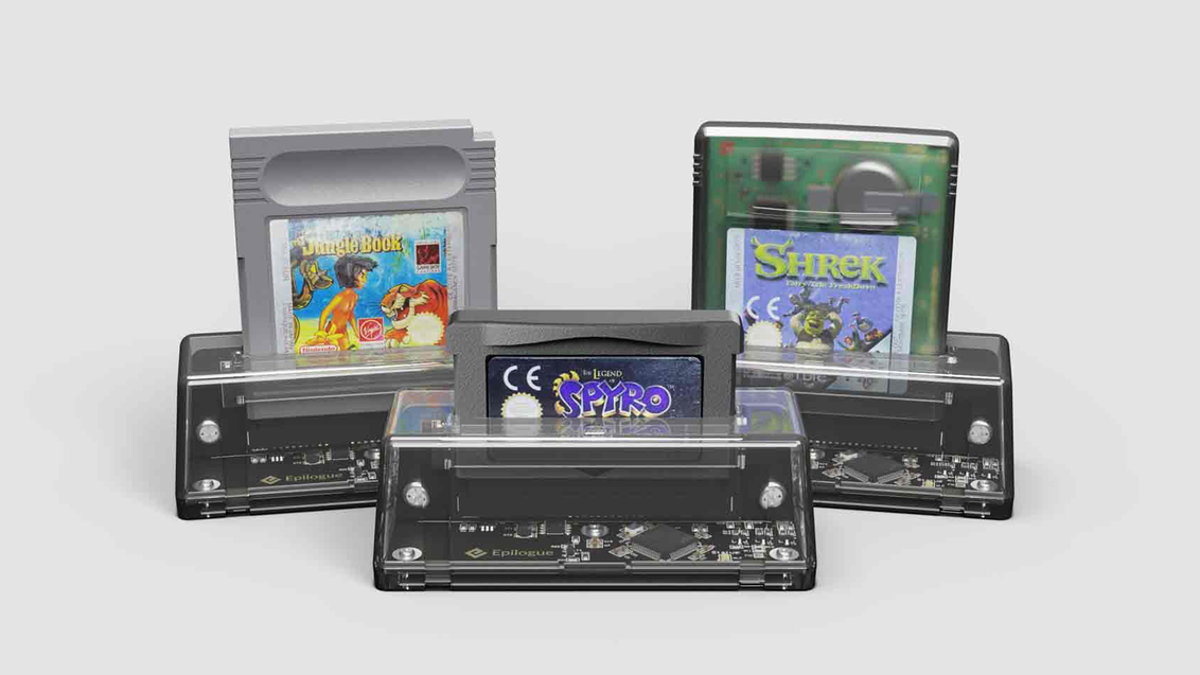 This $50 Emulator Box Might Be the Easiest Way to Play Game Boy Cartridges on Your Computer
gizmodo.com
Posted by Jeremy Hellstrom| Jun 30,2021| General Tech| 0 Taking the Aliens movies and transferring that world from the big screen to a computer screen seemed like an easy thing to do well. Indeed the first few games, up to the first incarnations of the Aliens Versus Predator series were indeed quite fun and the 90's version of Aliens offered an incredible multiplayer experience, with a somewhat decent single player campaign as well. Since that time the games, with the exception of Alien: Isolation and it's unique game play style, have ranged from poor to abysmal. A serious decline in quality over the lifetime of a series has not stopped game developers from developing new games in the past, and Aliens is no exception. On August 24th Aliens: Fireteam Elite will arrive on Steam and we will get a chance to see if the series has somehow been revived successfully or if this is another example of how not to design a game. This time it will be a three person co-op shooter, which seems to be at least partially a third person cover based shooter, with the possibility of first person play implied by the trailer over at Rock, Paper, SHOTGUN. It is rather difficult to tell from the trailer as it spends a lot of time showing video which is obviously not representative of gameplay… unless there are a lot of quick time events in the game. You will be able to choose between five classes, including the Gunner, Demolisher, Technician, Doc and Recon though we have little to no idea who does what; it's unlikely the Recon class is the one with the flamethrower. In addition to classes will be a Perk Board to improve and specialize your class abilities, and a Challenge Card system will do something as well. In case you aren't yet worried, only about half of the things you battle be Aliens and you will have 30 moddable weapons to chose from and upgrade. Let's hope that they spent a bit of time designing a decent game to play in between all the aforementioned extras. Share:

Aliens: Fireteam Elite has no crossplay
gamereactor.eu
The first three entries in the Final Fantasy Pixel Remaster series will be released on July 28. Square Enix announced the release date today for the Final Fantasy Pixel Remaster series, entires one through three. Watch on YouTube On July 28, through Steam and on mobile, you will be able to acquire Final Fantasy 1-3 with pixel-perfect makeovers. You can also expect gameplay improvements, auto-battle options, modernized UI, a rearranged soundtrack, and extras such as a bestiary, illustration gallery, and a music player which will allow further immersion into the game world. This will be the first time FF1 and FF2 have been made available on PC. A 3D remake of Final Fantasy 3 has been available on Steam since 2014. The other three titles getting the once over are Final Fantasy 4-6, each of which will be released at a later date. To that end, the current version of FF5 and FF6 will be removed from the Steam store on July 27, the day before the first three entries of the Final Fantasy Pixel Remaster series arrive on the service. The pixelated remasters of 1-6 were announced via the Square Enix Presents showcase during E3, and each will be released individually for $11.99 or $17.99, depending on the title. If you decide to pre-order, you can take 20-22% off the price of each game. You can also purchase the games in a bundle for $74.82. Buying the game individually would run you a total of $95.94. The bundle contains all six games plus a special soundtrack featuring three tracks from each game and two wallpapers for each game.

Final Fantasy Pixel Remaster finally gets a release date and details
digitaltrends.com
Last year, Apple presented us with a confusing dilemma when choosing between the iPad Air 4 and the 2020 iPad Pro. For a brief period, a processor upgrade left the cheaper Air more powerful than the premium Pro. A new report suggests that things are about to get tricky again. According to a new report from The Elec, Apple will launch several iPads with far superior OLED displays within the next few years. The iPhone maker will start with a 10.86-inch OLED iPad in 2022, followed by 11-inch and 12.9-inch OLED iPads in 2023. Those sizes are identical to the displays on today's iPad Air and iPad Pro, respectively. The report echoes what well-connected Apple analyst Ming Chi-Kuo predicted earlier this year. If the new report is to be believed, then the $599 iPad Air will spend at least several months having what should be a much better display than the $799 and $1,099 iPad Pro. Sounds strange? It is. Presumably, the iPad Air 5 would still have the same minor drawbacks it has today. It would have a slightly smaller screen, no ProMotion 120Hz display, a slower processor that's a generation behind the Pro models, and Touch ID instead of Face ID. And months after the iPad Air's release, the 2023 iPad Pro updates will reportedly bring displays that are even better than the iPad Air 5's. A quick display-tech primer: OLED stands for "organic light-emitting diode." OLED panels can turn individual pixels on and off as needed, leading to deep blacks and much better overall contrast. A well-made OLED display will also have richer colors than the LCDs used in today's iPads. The 12.9-inch iPad Pro you can buy today has an LCD panel that comes as close as possible to OLED's strengths. Its "mini LED" screen uses a backlighting trick that can dim or illuminate thousands of different display regions, giving the LCD blacks and contrast that comes close to mimicking what an OLED provides. If this confusing crossover between the iPad Air and iPad Pro sounds familiar, that's because it happened very recently. From September 2020 to April 2021, the iPad Air 4 had a newer and faster processor than the 2020 iPad Pro lineup, leaving some customers wondering why they would bother with the iPad Pro. That ended when Apple launched the 2021 iPad Pro, with its blazing-fast M1 chip that makes it as powerful as the latest high-end MacBooks. If you're thinking about buying a high-end iPad today, do you buy now or wait until next year? The OLED iPad Air 5's screen would be a massive improvement over both the iPad Air 4 and the 2021 iPad Pro lineup. If you don't need Face ID or the ultrapowerful M1 chip, the iPad Air 5 could be worth waiting for. Of course, once you get into the weeds of asking whether to buy now or wait for the next model, you can get lost in a never-ending cycle. There will always be a better gadget on the horizon. Our advice? As long as a new model isn't imminent – meaning within the next month or so – get the device you want today, and enjoy it. It won't suddenly get worse once a better model inevitably supplants it. Still, it does make us wish Apple would release new iPad Air and iPad Pro models simultaneously. That would eliminate these confusing crossover periods, making for a much more straightforward answer to what $600 gets you, versus what $800 gets you.

The iPad Air rumored to get a huge screen upgrade in 2022
macworld.com
Amazon has announced its new Echo Dots Kids product aimed at children in the United Kingdom. The device has been adapted to feature a Tiger or Panda design to make the device look more appealing and it includes parental controls, the Magic Word feature which encourages kids to say "please", explicit lyric filtering, and comes with voice purchasing switched off. The e-commerce giant said that the device is available for £60 and will begin shipping on July 21st. You'll be able to put in pre-orders over on Amazon's Echo Dot Kids product page but it will also be available for purchase online from Currys PC World, John Lewis, and Very.co.uk. Customers that subscribe to Amazon Kids+ on their Fire Kids Tablets, Fire Kids Pro, Fire TV, or on iOS and Android devices, will be able to get subscription content, features, and parental controls on Alexa at no extra cost on the new Echo Dot Kids. A subscription to Amazon Kids+ costs £1.99 per month for Prime members and £3.99 per month for non-Prime customers. Aside from the aforementioned features, this device includes Activity Review which lets you see your child's Alexa activity and review their voice recordings. There are time limits so that usage of the device doesn't intrude on bedtime, dinner time, or homework time, and there's an educational Q&A feature that can provide answers to questions about science, maths, spelling, definitions, and more.

Amazon brings Echo Dot Kids to the UK with Kids on Alexa support
techadvisor.com
Unluckily for hopeful Grand Theft Auto fans waiting for the next instalment, GTA 6 is reportedly going to launch in 2025 according to new leaks. Supplied by serial leaker Tom Henderson in a recent video, he claims that GTA 6 will see the return of Vice City in a modern-day guise when it launches in 2025, however, he notes that while his leaks are often accurate, he's not known for Grand Theft Auto leaks. Grand Theft Auto 6's Vice City is also apparently going to have Fortnite-esque elements such as a changing and evolving map over the game's lifespan. This should help to keep the ageing GTA Online feeling fresh after launch, with more than just the occasional morsel of content to keep players interested. What exactly might happen as the map evolves is unclear, however, the map is expected to be smaller than other leaks are speculating it is if you've seen those about. With the map changes bringing in new areas and expanding the map according to Henderson, it sounds like it shouldn't get too stale or stay too small for long. Henderson went on to say that GTA 6 will have multiple playable characters similar to Grand Theft Auto 5, with one of those protagonists being female. This character will supposedly be the hacker of the group, implying more focused roles rather than GTA 5's do it all protagonists. With GTA 6 set to be all the way away in 2025, there's a strong possibility that some, if not all, of these details, may change by the time the game releases. If it does indeed launch in 2025, then it sounds like there's a long time to wait yet before we get any more information while Rockstar prioritises employee health.

Rumor: GTA 6 may not be out until 2025 and will return to Vice City
gamerevolution.com
In context: Apple has sold more than 100 million iPhone 12 handsets since the 5G-enabled devices launched late last year according to Counterpoint Research. That's two months faster than the iPhone 11 series and nearly the same as the iPhone 6 series, which represented Apple's first volume supercycle. The global research firm said cumulative iPhone 12 sales crossed the 100 million unit mark in April 2021. The iPhone 6 series, if you recall, was a huge hit for Apple as it addressed pent-up demand for larger-screen iPhones and featured a significant form factor change (from flat edges to rounded edges). With the iPhone 12, Apple cashed in on another supercycle driven by the demand for 5G and OLED display tech. Apple with the iPhone 12 also reverted back to the aforementioned flat edge design. Given that iPhones are now more expensive than ever, Counterpoint Research also expects the iPhone 12 series to result in a revenue supercycle this year. Counterpoint also noticed that consumers thus far have preferred the top-end model of the iPhone 12 series. Since launch, the Pro Max version has accounted for 29 percent of iPhone 12 series sales.Last year through the same period, the highest-end model of the iPhone 11 series captured just 25 percent of sales. Image credit Marian Weyo

Apple Sold No Less than 100 Million iPhone 12 Units Since Launch
news.softpedia.com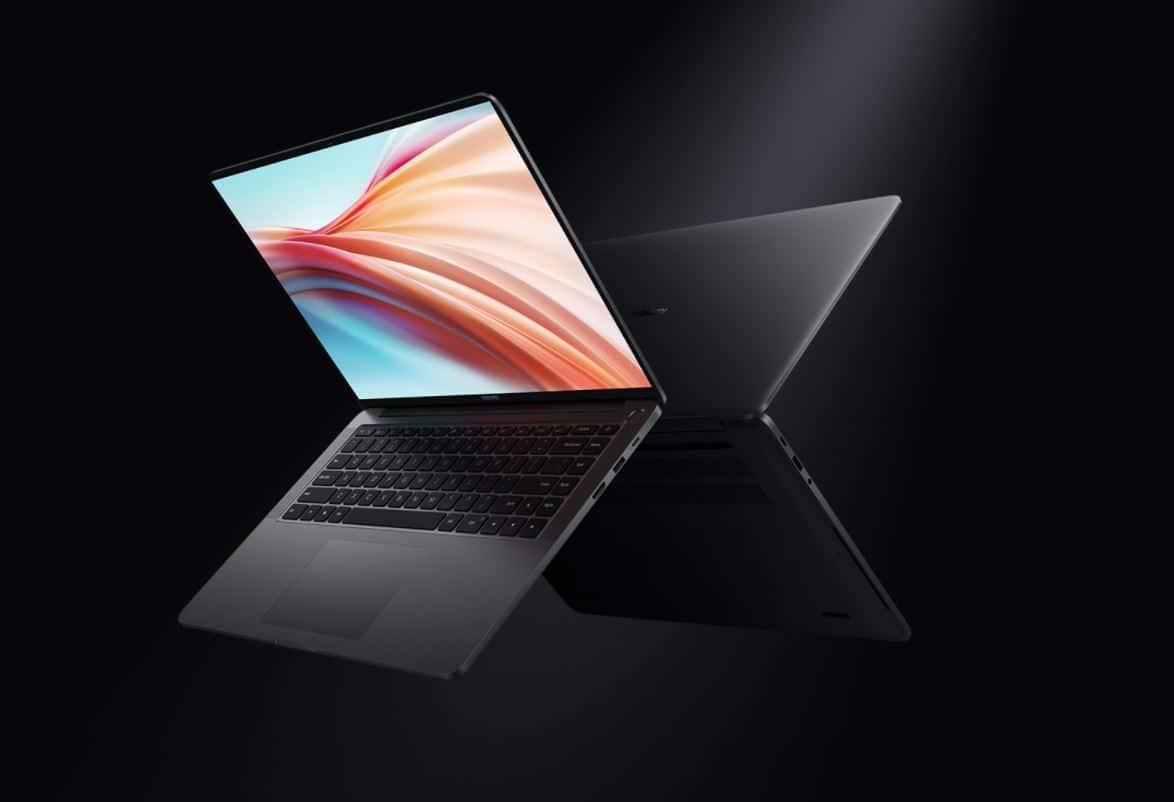 Chinese OEM Xiaomi today announced its latest flagship laptop, the Mi Notebook Pro X 15. The main highlight of Mi Notebook Pro X 15 is its 15-inch 3.5K E4 OLED with 600-nits brightness,100% DCI-P3 color support and the Corning Gorilla glass protection. The Mi Notebook Pro X 15 also features a premium build quality made of CNC aluminum,17.5mm thickness, and about 1.9kg weight. Other highlights of Mi Notebook Pro X 15: Mi Notebook Pro X 15 is now available starting at $1249 in China. Source: Xiaomi

Xiaomi announces Mi Notebook Pro X 15 with 11th-gen Intel Core Processor and OLED screen
neowin.net
Welcome to the June edition of What's new in Teams. This was another month where we released several features to make Teams even more useful for you. We also announced several new innovations coming later this year to empower people and organizations to succeed as we transition to hybrid work. Please check out this blog post by Jared Spataro, Corporate Vice President for Microsoft 365. Let's get to all the features and innovations that are available this month! Meetings and webinars Calling Devices Chat and Collaboration Management Security, compliance, and privacy Government Attendance Dashboard After finishing a meeting or webinar, organizers can view an attendance report that helps you understanding how many registered vs. attended, who attended the meeting, and whether they engaged for all or part of the meeting. This is now embedded directly within the Teams UI for your reporting and analytics needs. Click on the Attendance tab in your Meeting Details to find the attendee dashboard. Learn more. Follow up with webinar participants via Dynamics 365 Marketing You are now able to follow up with webinar participants through the attendance tab after a webinar, if you as a webinar organizer have a Dynamics 365 Marketing license. From there, you can export your attendance data into Dynamics 365 Marketing, so you can create customer journeys and send personalized follow-up emails to your webinar attendees. Lower all raised hands When at least one hand is raised, meeting organizers and presenters can now lower all raised hands with a single click. Simply navigate to the participant pane and click on the Lower all hands option. This helps quickly lower all hands when associated questions have been resolved to make way for new raised questions. Learn more. Spotlighting multiple users in a meeting Organizers and presenters can now spotlight up to 7 participants simultaneously during meetings. Previously, while an attendee can pin multiple participants for their own private view, only one participant can be spotlighted for all attendees. Once a single participant has been spotlighted, simply click on the context menu of your additional participant(s) and select Add Spotlight. For meetings that have multiple speakers or presenters, this is great to focus all attendees' view on those specific video feeds. Feature is available in both Desktop and Mobile. Learn more. Chat bubbles Chats sent during a Teams meeting now surface on the screens of all meeting participants, making the chat more central to the conversation. You no longer need to manually open the chat window within a meeting to see what participants are typing. This feature is on by default. To turn off this feature, select Don't show chat bubbles under more actions. Inking and Laser Pointer in PowerPoint Live in Microsoft Teams Virtual laser pointer and ink annotations are now available in PowerPoint Live. Presenters can engage more with their audience by drawing attention or clarifying certain sections of the PowerPoint deck. Just as you would use a physical laser point in a room, PowerPoint Live allows you to effectively point at different places in the presentation so the audience can easily follow along what's on the slide. Only the active "in control" presenter is able to see and make annotations via the annotation toolbar. Learn more. Updated Large gallery view on Teams mobile When selecting Large gallery in meetings, we are introducing a mobile-optimized layout for Teams mobile users that allow you to swipe through all the participants in a meeting. With up to 10 participants per page on your screen, you can now see all participants clearly on your mobile device. This is available in iOS 13+ and Android OS 9+ or any version with more than 4GB RAM. All other devices continues to see the current Large gallery experience. Include device audio when sharing on iOS and Android Now you can include audio when sharing on iOS and Android devices during a Teams meeting. This is great when sharing a video with voiceover and music. It allows everyone to watch simultaneously without echoes or sync issues. You can find this setting under More actions, Share screen with audio. It is available to devices with Android 10+ or iOS 13+. Live Transcription with speaker attribution for additional licenses Live transcription allows you to follow and review conversations (in English-US) alongside the meeting video or audio in real time. Attendees who joined late, or missed the meeting, can easily catch up by reading what was discussed and searching the transcript by speaker. This feature was initially available to users with Office 365/Microsoft 365 E3/E5, Microsoft 365 Business Standard, and Microsoft 365 Business Premium licenses. We are now expanding this feature to users with Office 365 E1, Office 365 A1, Office 365/Microsoft 365 A3/A5, Microsoft 365 F1, Office 365/Microsoft 365 F3, and Microsoft 365 Business Basic licenses. Learn more. Large Gallery for VDI The Large gallery feature is now available in Virtual Desktop Infrastructure (VDI). Now VDI users are able to expand their gallery, viewing up to 49 participants on the same screen during a Teams meeting. Offer: Get Audio Conferencing for free Join Microsoft Teams meetings on the go with a global dial-in number or dial out to help others join a meeting with Audio Conferencing. Eligible customers purchasing via partners 1 and web 1 can take advantage of our free Audio Conferencing offer now extended through December 31,2021. Learn more. Offer: Microsoft 365 Business Voice promotion Business Voice is a cloud-based telephony solution built into Teams that combines essential telephony components into a single package. It is designed for businesses with up to 300 users and includes a phone system, audio conferencing and a domestic calling plan. Through December 31,2021, customers can purchase Business Voice at a 25 percent discount for 12 months. Learn more. 1:1 PSTN Call Recording We have changed how 1:1 Call recording is enabled. By creating its own policy, Administrators can now delineate recording configurations between meetings and calling. Previously,1:1 Call recording has been controlled by the CsTeamsMeetingPolicy / AllowCloudRecording attribute. Now, it is controlled by the CsTeamsCallingPolicy / allowCloudRecordingForCalls attribute. This feature is only available via PowerShell. Intelligent speakers for Teams Rooms Intelligent speakers are designed for Teams Rooms and use Microsoft's voice recognition technology to identify who is speaking and apply their name to the meeting transcript. This is great when you need to catch up on a meeting asynchronously and want to understand who said what during the meeting. The first two partners to launch intelligent speakers are EPOS and Yealink. Learn more about intelligent speakers for Teams Rooms and the speakers from our partners EPOS and Yealink. Updates to Teams Rooms on Surface Hub The updated Microsoft Teams Rooms on Surface Hub experience has been redesigned to bring favorite features from the desktop and Microsoft Teams Rooms into the meeting space. Purpose built for teams to meet and co-create, the new Teams Rooms on Surface Hub experience is rolling out in preview to the Windows Insider Program for Surface Hub. Learn how to enroll in the program here. Better together mode for calls on Teams phones and Teams displays Better Together mode allows users to pair their PC with their Teams phone or display allowing for audio and video to be streamed on their Teams device and content to be viewed on their PC. This capability now extends to calls on the Teams phones and displays, enhancing a user's experience and streamlining their communications. Microsoft PC accessories certified for Teams The first collection of hardware from Microsoft certified for Teams meetings and calling is now available for purchase. From a wired or wireless headset, speakerphone and web camera, there are more options at multiple price points for users to explore to enhance their collaboration experience. Lear more about the products in this video and get started using these devices today. EPOS Adapt 200 headsets The Adapt 200 series of headsets from EPOS are now certified for Teams; this series is lightweight, affordable and comfortable making it ideal for people working in any environment. Whether at home, on the go, or at an office, you are able to be heard through a noise cancelling microphone, and can connect to two devices through Bluetooth. Check out this series and more at http://aka.ms/Teamsdevices. HP Elite Slice G2 Partner Ready The HP Elite Slice G2 Partner Ready is now available as part of a bundle solution with the Logitech Tap Controller for Microsoft Teams Rooms for small, medium and large meeting spaces with pre-installed drivers for the Logitech Tap Controller. Learn more. Lenovo ThinkSmart Core Kits ThinkSmart Core, Lenovo's first modular room kit designed for flexibility and scalability in meeting spaces. It comes in two room kit configuration. TheThinkSmart Core + Controller is a kit for spaces with pre-existing audio-visual components certified for Teams and the ThinkSmart Core Full Room Kit that also adds the ThinkSmart Cam and ThinkSmart Bar. Learn more. Logitech Rally Bar for Microsoft Teams Rooms on Android Logitech Rally allows you to set up your medium-sized conference rooms with fewer cables and components. It delivers an all-in-one video conferencing experience, featuring an Ultra-HD 4K camera, automated pan and tilt with up to 15X HD zoom, and audio for midsize meeting rooms. Learn more about Logitech Rally Bar. Approval Templates To streamline workflows, new out of the box templates provide a repeatable structure for common approvals like filling out expense reports or requesting overtime. Admins and team owners can use these as is, customize, or create new templates for their organization and teams to use. Use the structured form to input all the necessary information and eliminate back and forth on missing data for a faster approval. Learn more. Access files offline on Android The Teams mobile app on Android now allows you to access files even when you are offline or in bad network conditions. Simply select the files you need access to, and Teams will keep a downloaded version to use in your mobile app. You can find all your files that are available offline in the files section of the app. This feature was made available earlier this year for iOS. Create tasks in Teams Some messages result in follow-up actions. With this feature, you'll be able to quickly create tasks right from any Microsoft Teams chat or channel conversation without having to switch apps or windows. To create a task, click the ellipses (…) in the pop-out menu, then select 'More actions' and choose 'Create task'. Tasks created from Teams messages appears in the Tasks app for Teams. Learn more. Rich previews for SharePoint pages and news articles When you paste a SharePoint news article or page link in a Teams chat, it automatically converts into a rich display card highlighting page title, thumbnail image, author and publish date. Learn how to create and use SharePoint pages (and news). The example "Microsoft Viva – learn the pitch and demos (level 200" SharePoint page URL, after pasting it to the bottom of this chat, renders a preview of the page graphic, title, author and publish date. Customize branding for the Yammer Communities app for Microsoft Teams Microsoft Teams admins can customize the branding for the Yammer Communities app for Microsoft Teams to suit their Yammer network with their preferred app logos, naming, accent color, and more. Learn more about the Communities app for Teams and how to customize it here. MacOS native notifications in Teams Users can now choose to deliver Microsoft Teams notifications, either via Teams built-in notifications or via macOS native notifications. When choosing native notifications, Teams inherits the OS notifications settings and supports quiet hours, action center triaging and more native features. This is only available on MacOS 10.15 or later. Learn more. App risk evaluation Teams admins are now able to view the security, compliance, and data privacy details for apps coming from Microsoft Cloud App Security. This helps Teams admins save time on security reviews and enable a more focused selection-based security specifications, resulting in increased app quality. Device management automatic alerting in Teams Admin Center The feature enable IT Admin to identify devices issues by triggering notifications on device problem and device health check status that can be turned into an immediate correction action, Learn more. Security, compliance, and data protection capabilities for apps For Microsoft 365 Certified Teams apps, admins can view security, compliance, and data protection capabilities in a new tab on the app's detail page in the Teams Admin Center. This transparency gives Microsoft customers trust in the applications that run their organizations and ISVs an opportunity to showcase their hard work in becoming M365 Certified. Learn more about the Microsoft 365 App Compliance Program. These features currently available to Microsoft's commercial customers in multi-tenant cloud environments are now rolling out to our customers in US Government Community Cloud (GCC), US Government Community Cloud High (GCC-High), and/or United States Department of Defense (DoD). Together mode Together mode reimagines meeting experiences to help participants feel closer together even when you are apart. We are excited to introduce Together mode scene selections to transport your team to a variety of settings. Choose a scene to set the tone and create a unique experience for your meeting, whether it be a smaller conference room meeting, or an all-hands meeting held in an outdoor amphitheater. Available in GCC and GCC-High. Updating settings for attendees' video There are three new ways that you can now manage your attendees' camera. First, meeting attendees are able to turn their camera on or off to share video by default. You can also configure to have all attendees' camera disabled by setting Enable camera for attendees to Off from the Meeting Options web page before the meeting. Next, once this new setting is turned Off, you can also reverse this setting during the meeting to allow all attendees to turn their camera on. Finally, you can also enable or disable the camera for individual attendees. Note that these settings do not automatically turn on attendees' camera or affect presenters and meeting organizers. This feature aims to focus on attendees to prevent disruptions during a meeting and help create a safe meeting environment. Available in GCC. Learn more. Assign the Presenter Role in Meeting organizers can now assign one or more Presenters in their meetings with "Who can present?" meeting option. The Everyone option is selected by default; enabling everyone who joins the meeting with Presenter permissions and capabilities. During the meeting, the organizer and presenters can also change an individual participant's role. This new setting helps ensure all meeting participants have appropriate roles. Available in GCC-High. Learn more. Include computer sound when sharing on Mac desktop users can now include audio when sharing their desktop or window during a Teams meeting. This is great when sharing a video with voiceover and music. It allows everyone to watch simultaneously without echoes or sync issues. You can find this setting in the share content. Available in GCC. Learn more. Call Merge Call Merge gives end users the capability to merge their active 1:1 call into another 1:1 or group call. For example, during a call with someone (or a group), you need to ask someone else a question. With this feature, you may add them directly into the first conversation seamlessly. This applies to Teams VOIP calls and PSTN calls. Available in GCC. Learn more. Private channels Enable users to create channels within existing teams that can be viewed and accessed only by select members of that team. With Private channels you can create focused spaces for collaboration, and right-size the channel participation and exposure to associated conversations and content without having to create discrete teams to limit visibility. Available in GCC-High and DoD. Learn more. Approvals in Teams Approvals in Microsoft Teams enables everyone, from frontline workers to corporate headquarters employees, to easily create, manage, and share approvals directly from your hub for teamwork. You can quickly start an approval flow from the same place you send a chat, in a channel conversation, or from the Approvals app itself. Just select an approval type, add details, attach files, and choose approvers. Once submitted, approvers are notified and can review and act on the request. Available in GCC. Learn more. Tasks in Teams Tasks in Teams gives you a new unified view of your personal and team tasks, powered by Planner and To Do. It consolidates your tasks across Microsoft To Do, Planner, and Outlook. Smart lists like Assigned to me, bring tasks together across different task lists, whether you're on desktop or mobile. Available in GCC. Learn more. Task publishing Task publishing lets companies create tasks centrally and publish to targeted locations, specific store layouts, factory capabilities or other customizable attributes of your frontline teams. Frontline managers can easily assign tasks to individual employees, while frontline workers can see a simple prioritized list of those tasks on their personal or company-issued mobile device. Available in GCC. Learn more. Praise helps workers show appreciation to peers and employees to improve job satisfaction and promote a positive work culture. Send a Praise badge from a selection of badge sets or create company branded badges to express a company's unique values. Available in GCC. Learn more. Out of Office Set up a message to let others know you're not working or on vacation so you're not available to reply when they send a chat message. Your out of office status also syncs with Automatic Replies that are found in your Outlook calendar. Available in GCC-High and DoD. Compliance capabilities for card content generated through apps in Teams messages We recently extended Microsoft 365 compliance capabilities to content generated through Teams apps including support for legal hold, eDiscovery, audit, retention, and communication compliance. Available in GCC. Teams Device Management Our customers who have tenants in the GCCH environment can also manage their Teams devices from the Teams Admin Centre. Admins can now control the entire lifecycle of their Teams devices which include an increasing variety of supported device types - IP Phones, Collaboration bars, Teams displays, Teams Meeting Room devices. Available in GCC-High. 1 G et Audio Conferencing for free for 12 months. Available only for net new Audio Conferencing seats (defined as seats incremental to any existing seats as of August 1, 2020) for CSP or Web Direct customers with paid subscriptions that include Teams. Available now through December 31,2021. Available worldwide with exception s in China and India. The offer is subject to additional terms and conditions Great article Team. Thanks for keeping us updated Amazing features! Thanks to all working with the MS Teams app Some cool features. However, I'm still waiting for "push to talk" functionality like it is available in Zoom. Any info when this will be available in Teams? Love these monthly summaries. Keep up the great work. Great Work! These updates help me tremendously. Great summary. The link in "App risk evaluation" is broken though... Thanks. :smiling_face_with_heart_eyes: so much cool new content! Continued progress! Keep the improvements and features coming! As an ISV, we're 'All In' on Microsoft Teams! Good work, lot of news again! Still waiting for the organization view to filter out disabled users, like in Outlook, Delve and other apps.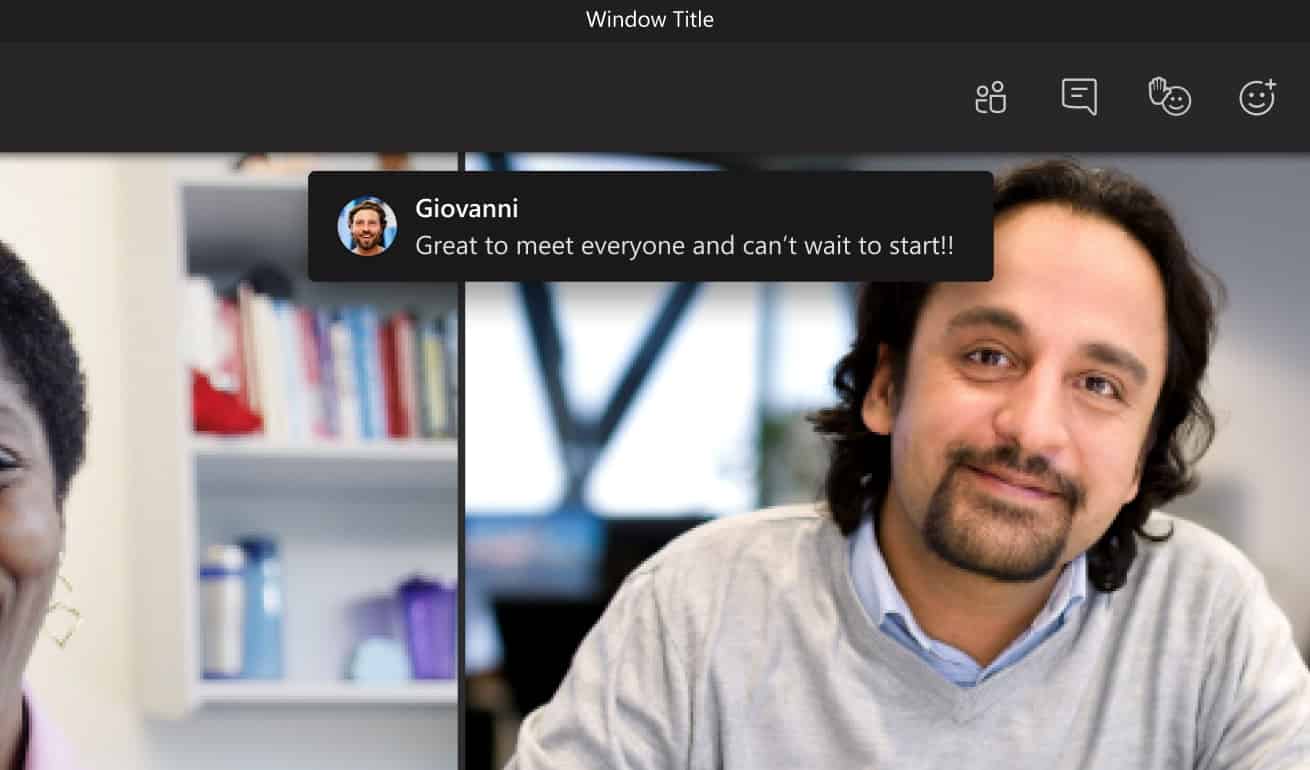 Microsoft delivered all these new features for Microsoft Teams in June 2021
mspoweruser.com
Finding all the Sea of Thieves Dark Brethren Journals is essential if you want to get all the new Dark Brethren commendations. While you won't get a reward beyond some sweet lore, you will get a nice new figurehead for finishing every commendation. Our Dark Brethren journals location guide is here to make the process easier. Watch on YouTube Sea of Thieves Dark Brethren Coral Fortress location Sea of Thieves Dark Brethren Journal 1 Sea of Thieves Dark Brethren Journal 2 Sea of Thieves Dark Brethren Journal 3 Sea of Thieves Dark Brethren Journal 4 Sea of Thieves Dark Brethren Journal 5 Sea of Thieves Dark Brethren journal 6 Before you can find the first Dark Brethren journals, you need to start the Tall Tale. You can do that at any outpost and by reading the Dark Brethren book at The Castaway's campsite. Once the scene between the Castaway and Jack Sparrow ends, your next task is finding Coral Fortress. It's not the easiest of tasks since the Coral Fortress location isn't on your map. It's right off the northern edge, between the I and J columns. Head there, find the heart-shaped door. Jack opens said door, and you can go inside. The first journal is in the room after the door. You'll see some wreckage with mushrooms growing out of it. Swim forward, and the first journal is next to some vines. Use your lantern if you're having a tough time spotting it. The second journal is in the underwater tunnel that takes you out of the room with the wreckage. You'll see an oddly shaped rocky bit in between the glowing blue plants and the pink flowers. Examine it, and you'll find the journal. The room at the end of the tunnel has a geyser that launches you to the next level. Turn right once you land, and you'll see a moving wooden arm and a ledge with glowing pink plants. Hop onto the arm, then jump to the ledge. Turn left, and you'll see the journal nestled amongst the foliage. The fourth journal is pretty easy to find. Once Jack Sparrow sneaks you into Davy Jones' ship, head below decks in the corridor with some rugs and a few tables. The table on the left has the fourth journal. The next one is fairly simple too. You'll get into a scrap with some Sea Crawlers after leaving Jones' ship. Once you've finished, dive down. Three cages are floating near the seafloor, and the one nearest you has the fifth journal. The last of the Dark Brethren journals takes a bit of prep work to get. After grabbing journal 5, shoot the ropes holding broken ship pieces down. Go to the surface, and use the pieces as platforms to make it to land. You'll find the last journal under a platform. Whether you're a new pirate or a grizzled sea veteran, we've got plenty of Sea of Thieves guides to help you on your journey. Meanwhile, check out our Sunken Pearl journal locations guide and how to complete the Siren Spire puzzle.

Sea of Thieves Sunken Pearl Journal Locations Guide
segmentnext.com
While some video streaming services primarily feature on-demand or original content, others can completely replace your cable subscription. YouTube TV takes the latter approach, offering over 80 channels of news, sports, and entertainment in one package. It also integrates excellent DVR features and supports a ton of platforms. A new 4K Plus add-on pushes its capabilities further by adding 4K streaming, the ability to download DVR recordings for offline viewing, and support for an unlimited number of simultaneous streams on your home network. Despite its high (and ever-increasing) monthly cost, the service still offers the best combination of channels and streaming specs. YouTube TV also won a PCMag Readers' Choice Award for live TV streaming services. What Channels Can You Watch on YouTube TV? YouTube TV features a collection of over 90 channels, which stacks up well against the competition. In fact, it offers one of the most complete channel lineups of all the video streaming services I've reviewed. Starting with the locals, you get all the major networks such as ABC, CBS, FOX, and NBC. If all you care about is watching your local channels, Locast is a solid, inexpensive choice. YouTube TV and Locast are the only live streaming services we've reviewed that offer local PBS channels. Some of the news channels on YouTube TV include BBC America, CNBC, CNN, FOX News, and MSNBC. That lineup compares favorably to others. Apart from the broadcast affiliates, sports channels on YouTube TV include CBS Sports, ESPN, ESPN 2, NFL Network, NBC Sports, MLB Network, and NBA TV. However, YouTube TV's RSN coverage is spotty. It includes all NBC Sports RSNs, but it lacks every AT&T-owned RSN (except SportsNet NY) and every Bally Sports RSN (previously, these were FOX Sports RSNs). The limited RSN coverage has