Announcement
DC5n United States sport in english 81 articles, created at 2021-07-01 06:22 articles set mostly positive rate 5.5
(12.99/13)

1

0.5

New York's Sloppy Vote Counting

The combination of incompetence and a new system have the mayoral race in turmoil. 2021-06-30 11:40 8KB www.outsidethebeltway.com

(8.76/13)

2

0.3

Wimbledon defends 'slippery' courts after Serena injury

Wimbledon organisers on Wednesday defended the state of the grasscourts after concerns from players that the lawns are too slippery. time champion  Serena  Williams  was … 2021-06-30 13:41 3KB sports.inquirer.net

(8.74/13)

3

0.0

NCAA clears athletes for compensation as state laws kick in

DALLAS (AP) — The NCAA cleared the way for athletes to profit off their names starting Thursday, with legislation becoming law in several states that would allow for such compensation. The expected approval from the NCAA Board of Directors came a few days after a recommendation from the Division I Council to allow athletes in […] 2021-06-30 21:51 1KB myfox8.com

(7.99/13)

4

0.2

Congress Votes To Kick Confederate Statues Out of the Capitol

Plus: Fast approval of Alzheimer's drug draws scrutiny, the value of disagreement, and more... 2021-06-30 13:30 10KB reason.com

(6.88/13)

5

0.3

Sports Digest: Olympic moms with nursing babies get OK to bring children to Tokyo

The International Olympic Committee changed its stance on the policy after an emotional plea from Canadian basketball player Kim Gaucher. 2021-06-30 18:30 6KB www.pressherald.com

(6.67/13)

6

0.2

EXCLUSIVE: 'The American People Deserve To Be Represented By Someone Who Loves Them': Former NFL Player Rips Olympian Gwen Berry

U.S. Olympian Gwen Berry felt that the playing of the National Anthem at the Olympic track and field trials on Saturday was "disrespectful" to … 2021-06-30 21:20 5KB www.dailywire.com

(6.15/13)

7

0.0

13-year-old girl, parents sue Florida over transgender sports ban

"Playing sports makes me feel like I fit in, the thought of not being able to play next year scares me." 2021-06-30 20:37 4KB www.nydailynews.com

(4.07/13)

8

0.5

Ashby Tagged, But Brewers Sweep Cubs For 8th Straight Win

The Cubs lost their sixth in a row. 2021-06-30 22:38 1KB chicago.cbslocal.com

(3.16/13)

9

0.6

Kyrgios 'not bad for a part-time player' in Wimbledon win

WIMBLEDON, England (AP) — There was more slipping and sliding Wednesday at Wimbledon, and former U.S. Open champion Bianca Andreescu made another early Grand… 2021-06-30 20:11 5KB wtop.com

(3.15/13)

10

0.8

Chip Ganassi sells entire NASCAR team to Trackhouse Racing

Chip Ganassi, who fields two cars in the Cup Series, said Wednesday that he has sold his entire NASCAR team to Justin Marks, owner of Trackhouse Racing. 2021-06-30 20:00 4KB www.espn.com

(3.11/13)

11

0.1

Team USA's Jerry Colangelo Says LeBron James' Olympic Career Looks To Be 'Over'

The days of seeing LeBron James in the red, white, and blue appear to be over.  After his Lakers were bounced in the first … 2021-06-30 19:50 4KB www.dailywire.com

(3.05/13)

12

0.7

Lakers expected to hire David Fizdale to replace Jason Kidd on coaching staff

Fizdale was an assistant in Miami, where he was a part of the 2012 and 2013 LeBron James championship Heat teams under Erik Spoelstra. 2021-06-30 16:36 3KB www.ocregister.com

(2.12/13)

13

0.2

Hawks' Lou Williams made the most of his first career playoff start

Lou Williams had himself a night in Atlanta's 110-88 Game 4 win over the Bucks on Tuesday. Williams, who usually comes off the bench for … 2021-06-30 19:09 2KB nypost.com

(2.12/13)

14

0.6

She Says It Was Assault. MLB Star Says It Was 'Rough' Sex

Last year, Trevor Bauer was named the winner of MLB's Cy Young Award for the National League. Now, the starting pitcher for the Los Angeles Dodgers has been hit with an assault... 2021-06-30 12:52 2KB www.newser.com

(2.09/13)

15

1.0

Happiest Minds hits record high; rises 10% in five days

Read more about Happiest Minds hits record high; rises 10% in five days on Business Standard. Happiest Minds Technologies jumped 5.12% to Rs 997, extending its winning run to fifth consecutive trading session. 2021-06-30 08:32 2KB www.business-standard.com

(2.07/13)

16

0.0

Here Is The 2021 WNBA All-Star Roster That Will Play Team USA In July

Seven players will be making their first All-Star appearance. 2021-06-30 20:17 2KB uproxx.com

(1.10/13)

17

0.8

Canadian boxer Bujold wins appeal to compete at Tokyo Games

TORONTO (AP) — Canadian boxer Mandy Bujold looks forward to the day when she can tell her daughter that she got in the Olympic ring with sport' 2021-06-30 21:12 5KB wtop.com

(1.09/13)

18

0.0

Giannis Injury Sees Bucks Championship Odds Slide: Phoenix Suns Betting Favorite To Win It All

The 2021 NBA Playoffs have unfortunately become more about who is not playing as opposed to those actually taking to the court, as injuries continue to sideline some of the league's top talent. 2021-06-30 21:42 4KB www.forbes.com

(1.05/13)

19

0.0

Transgender Athlete Ban Challenged

A 13-year-old Broward County soccer player and her parents are challenging a new state law that bans transgender athletes from participating on girls' and women's sports teams, arguing that it is unconstitutional and "ignores basic medical... 2021-06-30 19:37 6KB miami.cbslocal.com

(1.03/13)

20

0.6

MLB roundup: Cardinals complete sweep of Diamondbacks

Arizona's struggles continue as St. Louis pitcher Kwang Hyun Kim wins for the first time in 11 starts. 2021-06-30 21:14 2KB www.pressherald.com

(1.03/13)

21

0.1

Mets' Jacob deGrom caught on camera wrestling teammate, fans react: 'What are we doing?'

New York Mets ace Jacob deGrom was caught on MLB Network's Ballpark Cam wrestling with another Mets player in the outfield grass prior to Tuesday's … 2021-06-30 20:36 1KB www.foxnews.com

(1.02/13)

22

0.3

Crying In Baseball? No. Nick Offerman Starring In Amazon's 'A League Of Their Own' Series? Yes.

The show based on the "A League of Their Own" movie comes from Abbi Jacobson. 2021-06-30 23:03 1KB uproxx.com

(1.02/13)

23

1.1

Trump reveals ex-football star Herschel Walker will run for Senate: 'He told me he's going to'

Former President Donald Trump said former National Football League legend Herschel Walker told him he will run for the U.S. Senate in Georgia in 2022. … 2021-06-30 18:26 2KB www.wnd.com

(1.02/13)

24

0.4

The Weeknd Is Making A Show About A Cult With The Creator Of 'Euphoria'

The Weeknd is jumping into the TV game with his own HBO series, which centers on a pop star who gets involved in a mysterious cult. 2021-06-30 15:10 2KB www.elitedaily.com

(1.02/13)

25

0.6

Teenage hoop stars can get paid earlier than ever. What does it mean for the NCAA?

Basketball players as young as 16 can cash in big through leagues like Overtime Elite and the G League. 2021-06-30 12:47 14KB www.espn.com

(1.01/13)

26

0.3

IOC to expand soccer rosters to 22 for Olympics

Olympic soccer rosters will be expanded from 18 players to 22 for the Tokyo Olympics, a person with knowledge of the change told The Associated Press … 2021-06-30 20:43 2KB www.foxnews.com

(1.01/13)

27

0.5

Soccer broadcaster sorry for subtitling German anthem with Nazi lyrics

What a Blitzkrieg flop. A Dutch telecast of the European Championship soccer match got off to a risque start after broadcasters accidentally captioned the German national … 2021-06-30 17:34 2KB nypost.com

(1.01/13)

28

0.1

Barcelona Handed Tricky Start to New La Liga Season

The fixtures for the new league season have been released 2021-06-30 16:27 4KB heavy.com

(1.01/13)

29

0.7

Women's Champions League to stream free in much of world

NYON, Switzerland (AP) — European women's soccer will gain new exposure when all Women's Champions League games from the group stage are broadcast live on… 2021-06-30 15:14 1KB wtop.com

(1.01/13)

30

0.1

Nats' Kyle Schwarber bombs himself into the record book

Schwarber tied Albert Belle for the most home runs over a 10-game span since at least 1901. He has 16 home runs in 18 games since being moved into the leadoff spot in the Nationals' batting order on June 8. 2021-06-30 15:00 3KB chicago.suntimes.com

(1.01/13)

31

0.3

Abu Dhabi: New 12,000 capacity stadium to be ready for T20 World Cup

A new cricket stadium in Abu Dhabi has started it's renovation and will be ready for the start of the T20 World Cup, 2021-06-30 14:06 1KB www.siasat.com

(1.01/13)

32

0.0

Germany coach Joachim Löw's 15-year tenure ends in regret

BERLIN (AP) — Joachim Löw's 15-year tenure as coach of Germany's national soccer team is over, and many think it should have ended a long time ago. 2021-06-30 10:59 3KB wtop.com

(1.01/13)

33

1.5

See ecstatic fans celebrate England's historic win over Germany

English football fans celebrated wildly after England beat Germany in their Euro 2020 last-16 match to finally end its decades-long inferiority complex against its old, historic rival. Germany hadn't lost a knockout match to England in a major international competition since the 1966 World Cup final. 2021-06-30 09:37 1KB edition.cnn.com

(1.01/13)

34

0.7

Is Rugby League Dying?

Many are already writing the obituary on The Greatest Game Of All. 2021-06-30 09:18 10KB www.forbes.com

(1.01/13)

35

0.7

Carmelo Anthony wins social justice award named for Kareem Abdul-Jabbar

The NBA on Tuesday announced Portland Trail Blazers forward Carmelo Anthony as the inaugural winner of the Kareem Abdul-Jabbar Social Justice Champion Award. The 10-time NBA All-Star … 2021-06-30 06:56 2KB sports.inquirer.net

(0.12/13)

36

0.5

Orange County softball player of the year: Huntington Beach's Devyn Greer

The Iowa-bound senior emerged as the top pitcher and hitter on the No. 1-ranked team in the county. 2021-06-30 17:16 3KB www.ocregister.com

(0.02/13)

37

0.3

Ukrainian Striker Leaves Fans in Hysteria as He Reveals 'Bra' After Scoring Winner at Euro 2020

Emotions often get out control when athletes celebrate a goal, let alone when they score the winner. Taking off pants, doing a chicken dance or smashing the technical... 2021-06-30 17:11 3KB sputniknews.com

38

0.6

Before the Olympics, Mandy Bujold Wins a Big Fight

Bujold's challenge of qualification criteria that relied on boxing tournaments conducted while she was pregnant or postpartum resulted in a court ruling that reopened the door to her competing in Tokyo. 2021-06-30 23:33 4KB www.nytimes.com

39

0.0

MLB fan gets blasted by security guard after running onto field at Yankee Stadium

A fan at Yankee Stadium got slammed to the ground by security after he attempted to run onto the outfield grass on Tuesday night during New York's … 2021-06-30 23:06 1KB www.foxnews.com

40

0.2

Cubs blow seven-run lead, allow 15 unanswered runs in worst loss of the season

The Cubs scored seven runs in the first inning, but allowed 15 unanswered runs in 15-7 loss to the Brewers. 2021-06-30 21:57 3KB chicago.suntimes.com

41

0.6

England vs India,2nd ODI: Kate Cross, Sophia Dunkley star as hosts win by 5 wickets to seal series

For India, captain Mithali Raj top-scored with 59 off 92 balls but it was another below par batting display. 2021-06-30 21:55 2KB scroll.in

42

0.3

Pitching depth is key for the grind of a youth baseball state tournament

Coaches and players take strategy into account during Cal Ripken state tournament. 2021-06-30 21:54 4KB www.pressherald.com

43

0.4

Coach Whitworth? Rams Left Tackle Teaches Young Pass Rushers

Andrew Whitworth may have a future in coaching after his Rams career ends, revealing on the "Green Light" podcast he teaches young defenders techniques. 2021-06-30 21:46 4KB heavy.com

44

0.9

Doncic, Slovenia roll to easy Olympic qualifying win

Luka Doncic barely had to play in Slovenia's Olympic qualifying tournament debut. Zoran Dragic scored 16 points, Doncic and Vlatko Cancar each added 13 and Slovenia … 2021-06-30 21:20 3KB www.foxnews.com

45

0.4

Two New NBA Coaching Hires Create Unwanted Controversy For A Progressive League

The NBA has long been considered the most progressive of the major professional sports leagues – teams and especially players have taken the lead with … 2021-06-30 21:10 6KB www.npr.org

46

0.7

Roush Fenway driver Chris Buescher geared up for New Hampshire run

Buescher will drive the No. 17 Ford Mustang at New Hampshire Motor Speedway. 2021-06-30 21:08 4KB www.bostonherald.com

47

0.4

Remotely Riding the 'Red Ocean' of Shooter Games With Riot

Riot Games' Valorant team doubled down on social media to create an innovative social-first approach to attract players. Riot Games doubled down on social media to create an innovative social-first approach to attract players to their new game. 2021-06-30 20:28 1KB www.adweek.com

48

0.4

These 20 Snapchat Games Include Fun Obstacle Courses & Virtual Coloring

Snapchat has plenty of games you can play alone or with opponents for a friendly competition. 2021-06-30 20:17 9KB www.elitedaily.com

49

0.5

2 men who ran onto Super Bowl field given year of probation

TAMPA, Fla. (AP) — Two men who ran onto the field during the final quarter of Super Bowl LV in February have pleaded no contest to trespassing and agreed to a… 2021-06-30 20:15 2KB wtop.com

50

0.2

Grab your friends to take on this 10 lb. baked potato

Tag a friend who could help you finish this MASSIVE 10 pound baked potato! 2021-06-30 20:06 1KB abc7chicago.com

51

0.1

Does Taysom Hill have inside track for QB job with the Saints? At least one national pundit thinks so

Former BYU QB Taysom Hill, who is in the running with Jameis Winston for the job, knows about such battles from his time playing for the Cougars in Provo, Utah, to his time in the National Football League 2021-06-30 20:06 5KB www.deseret.com

52

0.0

Women to swim, bike and run for cancer cure in virtual triathlon

Hundreds of women are set to compete in Tri for a Cure, which has adopted a virtual format for the second straight year. 2021-06-30 19:52 4KB www.pressherald.com

53

0.0

Celebrity Weddings of 2021: See Which Stars Tied the Knot

See which celebrity couples walked down the aisle and wed in 2021 — pics 2021-06-30 18:49 3KB www.usmagazine.com

54

0.3

Grace McCallum's homecoming after the U. S. Olympic Gymnastics Trials was something to remember

McCallum was named to the U.S. women's gymnastics team as one of the four team members and her club gym Twin City Twisters in Minnesota made sure she knew how momentous that was. 2021-06-30 17:00 3KB www.deseret.com

55

0.4

Virginia Says You Can Gamble On This, But Not That

Casinos, sports betting, and even online lottery sales are okay. Electronic skill games have no such luck. 2021-06-30 16:45 4KB reason.com

56

0.8

Kevin Love's 'international experience' valuable to US Olympic roster, official says

Kevin Love's experience playing for the national team was part of the reason why he made the U.S. Olympic roster for the 2020 Tokyo Games, USA Basketball … 2021-06-30 16:40 3KB www.foxnews.com

57

0.7

England-Germany Soccer Match Nets Huge Ratings for BBC One - Global Bulletin

The game also set a new BBC iPlayer live viewing record as millions logged on to watch England top Germany at Wembley. 2021-06-30 16:37 5KB variety.com

58

0.8

Heather Dinich Thinks The Big 12 Might Get Two Teams In The Playoff

Heather Dinich had a hell of a college football take for her fans Wednesday morning. The ESPN star was discussing conferences with a shot at … 2021-06-30 16:09 1KB dailycaller.com

59

0.3

Summer School Is Here

But there aren't enough teachers to help students catch up. 2021-06-30 16:02 7KB www.nytimes.com

60

4.2

To Win in Business, Ignore the Doubters, Say Champion Athletes

Basketball star Kara Lawson and golfer Stacy Lewis offer insights for anyone vying for equity in the sports and entertainment industries 2021-06-30 16:00 748Bytes variety.com

61

0.5

Rick Pitino lauds 'amazing' RJ Barrett after clutch Canada performance

RJ Barrett racked up 22 points for Team Canada Tuesday, and praise – even if backhanded – from Greece coach Rick Pitino. Back on the … 2021-06-30 15:30 2KB nypost.com

62

5.6

Two robbers killed Gary bank guard and made off with nearly $10,000 to cover costs of amateur football team: Feds

When the owner of the Illini Panthers was tracked down in Georgia, he offered to "work off" the charges by becoming an FBI informant, a 17-page affidavit states. 2021-06-30 15:24 2KB chicago.suntimes.com

63

0.7

Oilers' Connor McDavid wins Hart Trophy as league MVP

McDavid became just the second unanimous Hart Trophy selection — joining Wayne Gretzky in 1982 — in receiving all 100 first-place votes from members of the Professional Hockey Writers' Association. 2021-06-30 14:42 5KB chicago.suntimes.com

64

0.4

New Zealand's World Test Championship win makes up for 2019 World Cup final heartbreak: Ross Taylor

The Kiwis beat India to claim their first major ICC title since the Champions Trophy victory in 2000. 2021-06-30 14:41 2KB scroll.in

65

0.7

Former Iowa State star Bridget Carleton selected for Canada basketball Olympic team

Former Iowa State women's basketball star Bridget Carleton is officially headed to the Olympics to play for Canada. 2021-06-30 14:26 4KB eu.desmoinesregister.com

66

3.7

The Uplift: Former basketball players build business and relationship

Two former basketball players who bonded over their love of the sport realized they had many mutual passions. Caitlin O'Kane has more with The Uplift. 2021-06-30 13:33 902Bytes www.cbsnews.com

67

0.5

AI Is Starting To Understand Us, But How Well Do We Understand AI?

Are we prepared for what's coming? 2021-06-30 13:00 6KB www.forbes.com

68

0.6

3 more Filipinos qualify for Tokyo Paralympic Games

The Philippines will have at least five athletes competing in the Tokyo Paralympic Games. Three more were added to the Philippine delegation after swimmer Gary Bejino, … 2021-06-30 12:37 1KB sports.inquirer.net

69

1.0

Brighton's Kyle Duncan wins USA Lacrosse award for service off the field

The resume of senior Kyle Duncan \ 2021-06-30 12:26 2KB eu.livingstondaily.com

70

0.3

The All-Star Game's Lack of Style Will Be Made Up in Substance

Relations between M.L.B. and its players are tense, and a crass All-Star marketing ploy drew eye rolls. But in Denver, baseball should put on quite a show. 2021-06-30 11:34 5KB www.nytimes.com

71

0.1

Will Congress Get Serious About Jan.6?

Establishing select committee is a good start. But getting Trump supporters on board will hardly help. 2021-06-30 11:34 4KB www.bloomberg.com

72

0.2

UK to Bring Forward Date to Remove Coal From Power Sector

LONDON (Sputnik) - The UK government announced on Wednesday that as part of its plan to decarbonize the power sector and reach the net zero emission target by 2050 it... 2021-06-30 11:24 1KB sputniknews.com

73

0.0

Confusion Is Winning the Race for Mayor

Kathryn Garcia surges, but more votes are to be counted and the Board of Elections can't explain its own data. 2021-06-30 11:22 6KB nymag.com

74

0.1

OP-ED: Losing Franklin's Republic to Democrats throwing it to the thugs

Franklin said we are a "Republic- if you can keep it." Unfortunately, with Democrat's Critical Race Theory and the know it alls, we lost it. 2021-06-30 11:22 5KB www.commdiginews.com

75

0.1

5 Major Olympics Scandals of the Past Decade

Competitors lucky enough to snag a spot in the international athletic competition have made headlines for everything from sex to sexism. 2021-06-30 11:00 3KB www.newsweek.com

76

0.1

'Hold my beer': Game warden says drunk driver handed him a brew

Yes, this actually happened. 2021-06-30 11:00 1KB www.chron.com

77

0.7

Semien, Bichette power Blue Jays to 9-3 win over Mariners

Marcus Semien homered and drove in five runs, Bo Bichette hit a three-run homer, and the Toronto Blue Jays beat the Seattle Mariners 9-3 … 2021-06-30 10:44 5KB www.foxnews.com

78

0.4

Kiefer Ravena still part of Shiga Lakestars roster despite PBA contract row

Kiefer Ravena's contract row with the PBA did not keep Japan B.League club Shiga Lakestars from including the crack Filipino guard in their lineup. … 2021-06-30 10:34 1KB sports.inquirer.net

79

0.9

Trans athlete bans: USA TODAY investigation finds advocacy group at forefront of movement

A USA TODAY investigation found Alliance Defending Freedom is at the forefront of the movement to ban trans girls from girl's sports teams. … 2021-06-30 09:00 882Bytes www.usatoday.com

80

0.1

Tennis Balls and Boxed Wine: What You Bought After the Covid Shot

We asked readers who were vaccinated at pharmacies if they impulsively treated themselves before they left. Here are some of their stories. 2021-06-30 09:00 5KB www.nytimes.com

81

0.6

53-Yr-Old Ex-Heavyweight Champ Riddick Bowe Is Returning To The Ring, Boxing In October

53-year-old former 2x heavyweight champ Riddick Bowe is returning to the boxing ring in October after a 12-year layoff!! 2021-06-30 07:20 1KB www.tmz.com
Articles
DC5n United States sport in english 81 articles, created at 2021-07-01 06:22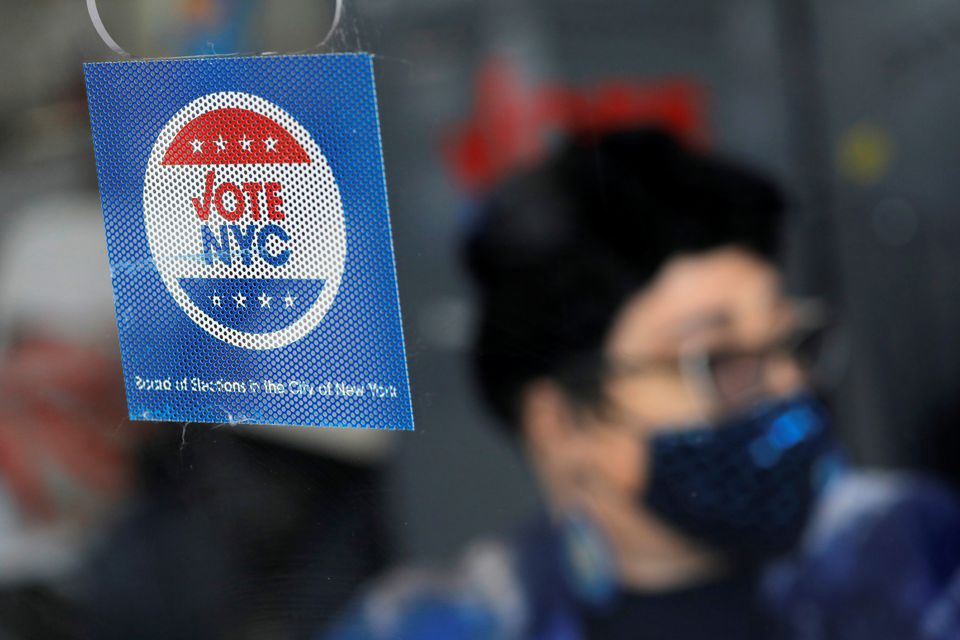 Eight days ago, New York City held its Democratic primary for mayor and other city officers. Not only will we not know who won for weeks, but they've also accidentally counted "test ballots" and had to take 135,000 votes away. AP (" Error mars vote count in NYC mayoral primary "): The Democratic primary for mayor of New York City was thrown into a state of confusion Tuesday when election officials retracted their latest report on the vote count after realizing it had been corrupted by test data never cleared from a computer system. The bungle was a black mark on New York City's first major foray into ranked choice voting and seemed to confirm worries that the city's Board of Elections, which is jointly run by Democrats and Republicans, was unprepared to implement the new system. The disarray began as evening fell, when the board abruptly withdrew data it had released earlier in the day purporting to be a first round of results from the ranked choice system. That data had indicated that Brooklyn Borough President Eric Adams, a former police captain who would be the city's second Black mayor, had lost much of his lead and was ahead of former sanitation commissioner Kathryn Garcia by fewer than 16,000 votes. Then the Board of Elections tweeted that it was aware of "a discrepancy" in its report on ranked choice voting results. It didn't initially explain what that discrepancy was, even as it pulled the data from its website. Just before 10:30 p.m. it released a statement saying that 135,000 ballot images it had put into its computer system for testing purposes had never been cleared. "The Board apologizes for the error and has taken immediate measures to ensure the most accurate up to date results are reported," it said in a statement. The results initially released Tuesday, and then withdrawn, were incomplete to begin with because they didn't include any of the nearly 125,000 absentee ballots cast in the Democratic primary. NYT (" New York Mayor's Race in Chaos After Elections Board Counts 135,000 Test Ballots ") adds: The New York City mayor's race plunged into chaos on Tuesday night when the city Board of Elections released a new tally of votes in the Democratic mayoral primary, and then removed the tabulations from its website after citing a "discrepancy." […] The extraordinary sequence of events seeded further confusion about the outcome, and threw the closely watched contest into a new period of uncertainty at a consequential moment for the city. For the Board of Elections, which has long been plagued by dysfunction and nepotism, this was its first try at implementing ranked-choice voting on a citywide scale. Skeptics had expressed doubts about the board's ability to pull off the process, though it is used successfully in other cities. Under ranked-choice voting, voters can list up to five candidates on their ballots in preferential order. If no candidate receives more than 50 percent of first-choice votes in the first round, the winner is decided by a process of elimination: As the lower-polling candidates are eliminated, their votes are reallocated to whichever candidate those voters ranked next, and the process continues until there is a winner. […] The results may well be scrambled again: Even after the Board of Elections sorts through the preliminary tally, it must count around 124,000 Democratic absentee ballots. Once they are tabulated, the board will take the new total that includes them and run a new set of ranked-choice elimination rounds, with a final result not expected until mid-July. The drive to make voting easier, which I support, has had the pernicious effect of making it less trustworthy. Eric Adams seemingly won a plurality of the vote on Election Day. But, of course, Election Day no longer exists. Some people vote early. And a lot of people, effectively, vote late because they can send their absentee ballot in on the last day and we allot an inordinate amount of time for ballots to arrive. We used to get election results almost immediately. It was rare that we went to bed on Election Day without knowing the outcome of the race. Now, we're expected to wait days—in this case, an entire month! —for results. Yet, over the same evolution, we have become to getting our information instantaneously. Even absent malfeasance such as the Republican Party leadership's attempt to falsely claim the 2020 Presidential election was somehow stolen, partisans are not going to trust a system in which their guy seemingly has the lead and then watch it slowly disappear through a mysterious process in which new votes are found and old ones are thrown out because errors are discovered. Incompetent administration—as seen here an in the most recent run of the Iowa Caucuses—certainly don't help. It just feeds the conspiracy theorists. And the addition of ranked choice voting to this particular contest—which, again, I support in theory—complicates matters further. While there's no obvious reason why a computer program can't eliminate the votes for the bottom candidate and reallocate second place votes and so on and so forth, this particular election board somehow didn't get its act together ahead of time. And, again, it's feeding the conspiracists. Some Democrats, bracing for an acrimonious new chapter in the race, are concerned that the incremental release of results by the Board of Elections — and the discovery of an error — may stir distrust of ranked-choice voting and of the city's electoral system more broadly. In a statement late Tuesday night, Ms. Wiley laced into the Board of Elections, calling the error "the result of generations of failures that have gone unaddressed," and adding: "Sadly it is impossible to be surprised." "Today, we have once again seen the mismanagement that has resulted in a lack of confidence in results, not because there is a flaw in our election laws, but because those who implement it have failed too many times," she said. "The B. O. E. must now count the remainder of the votes transparently and ensure the integrity of the process moving forward." Ms. Garcia said the release of the inaccurate tally was "deeply troubling and requires a much more transparent and complete explanation." "Every ranked choice and absentee vote must be counted accurately so that all New Yorkers have faith in our democracy and our government," she said. "I am confident that every candidate will accept the final results and support whomever the voters have elected." Indeed, the conspiracy theories starting flying even before the votes were cast: Some of Mr. Adams's supporters have already cast the ranked-choice process as an attempt to disenfranchise voters of color, an argument that intensified among some backers on Tuesday afternoon as the race had appeared to tighten, and is virtually certain to escalate should he lose his primary night lead to Ms. Garcia, who is white. Surrogates for Mr. Adams have suggested without evidence that an apparent ranked-choice alliance between Ms. Garcia and another rival, Andrew Yang, could amount to an attempt to suppress the votes of Black and Latino New Yorkers; Mr. Adams himself claimed that the alliance was aimed at preventing a Black or Latino candidate from winning the race. In the final days of the race, Ms. Garcia and Mr. Yang campaigned together across the city, especially in neighborhoods that are home to sizable Asian American communities, and appeared together on campaign literature. To advocates of ranked-choice voting, the round-by-round shuffling of outcomes is part of the process of electing a candidate with broad appeal. But if Ms. Garcia or Ms. Wiley were to prevail, the process — which was approved by voters in a 2019 ballot measure — would likely attract fresh scrutiny, with some of Mr. Adams's backers and others already urging a new referendum on it.

Fried scheduled to start for Atlanta against New York
wtop.com
Ballot counting in New York mayoral race takes turn for the chaotic
pressherald.com
Error mars vote count in NYC mayoral primary
lasvegassun.com
Ballot counting in New York mayoral race takes turn for the chaotic
washingtonpost.com
Trump: 'nobody will ever know who really won' NYC mayoral vote — 'just like' presidential election
nydailynews.com
New results due in NYC mayor race after vote count blunder
wtop.com
Trump: 'Nobody will ever know who really won' NYC mayoral vote – 'just like' presidential election
eu.detroitnews.com
New York's Board of Elections is a travesty
nypost.com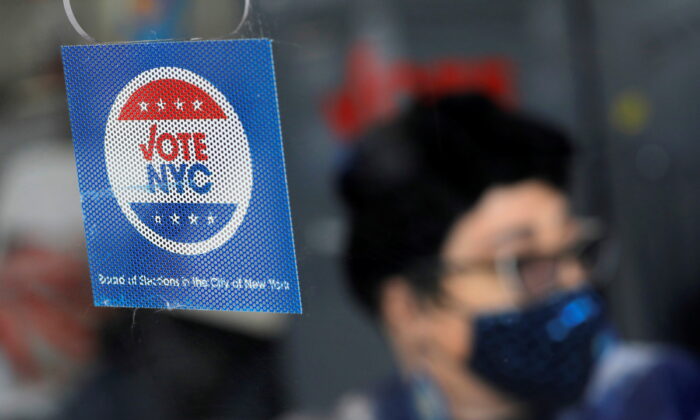 New York City's Mayoral Primary Vote Count Voided After 135,000 Ballot Discrepancy
theepochtimes.com
The Oldest Museum in New York Is Expanding
nytimes.com
Trump slams NYC elections board after botched vote count
nypost.com
New York City election in chaos after 135,000-vote 'error'
wnd.com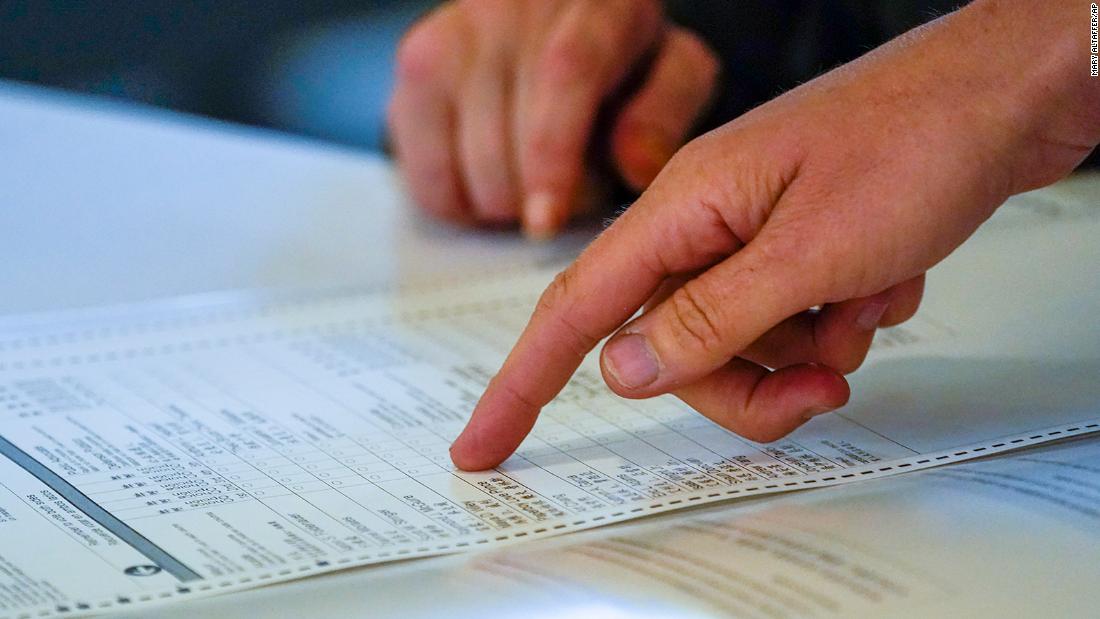 Seriously, New York? This, now?
edition.cnn.com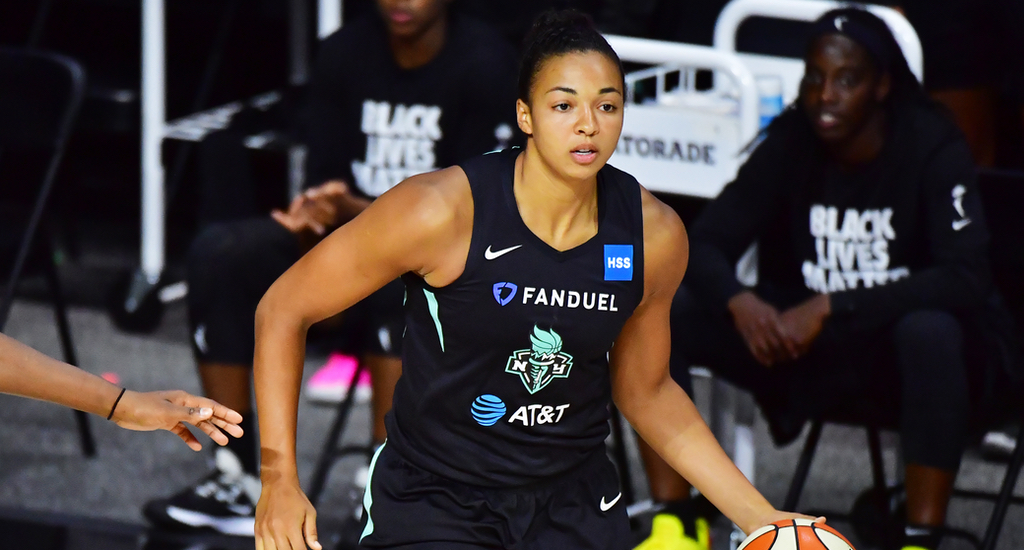 The New York Liberty Waived Kiah Stokes
uproxx.com
Wimbledon organisers on Wednesday defended the state of the grasscourts after concerns from players that the lawns are too slippery. time champion Serena Williams was forced to retire from her first-round match on Tuesday after appearing to slip and injuring her leg in the opening set against Belarussian Aliaksandra Sasnovich on Centre Court. Frenchman Adrian Mannarino also quit at two sets apiece against eight-time champion Roger Federer after sliding over on Centre Court and injuring his knee. Men's top seed Novak Djokovic fell twice in the first set of his first-round match against Jack Draper on Monday while twice champion Andy Murray said he felt that Centre Court was slippery with the sliding roof closed. The opening two days of the Championships have been wet with play disrupted on uncovered outside courts while the Centre Court and Court One roofs have been well-used. The All England Club said the courts, which were unused last year after the tournament was cancelled because of the coronavirus pandemic, have been prepared in the usual meticulous way by the groundstaff. "Each grass court is checked by the Grand Slam Supervisors, Referee's Office and Grounds team ahead of play commencing, and on both days of the Fortnight they have been happy with the conditions and cleared the courts for play," the club said in a statement. "The weather conditions on the opening two days have been the wettest we have experienced in almost a decade, which has required the roof to be closed on Centre Court and No.1 Court for long periods. This is at a time when the grass plant is at its most lush and green, which does result in additional moisture on what is a natural surface. "With each match that is played, the courts will continue to firm up." Wimbledon's lawns are prepared using state-of-the-art turf technology with measurements taken every morning for hardness and moisture content. Even under the roof, the advanced air conditioning system removes moisture from the air to prevent the surface sweating. Federer said he was asked by the referee whether he felt Centre Court was more slippery than usual. "I do feel it feels a tad more slippery maybe under the roof," Federer said. "I don't know if it's just a gut feeling. You do have to move very, very carefully out there. If you push too hard in the wrong moments, you do go down. "The first two matches are always extremely difficult. But it's always been like this. As the tournament progresses, usually it gets harder and easier to move on."

What's next for Serena Williams after devastating Wimbledon exit?
espn.com
Serena Williams 'heartbroken' over withdrawing from Wimbledon match
foxnews.com
Serena Williams withdraws from Wimbledon after on-court injury
deseret.com
Novak Djokovic wins on slippery Wimbledon court
chicago.suntimes.com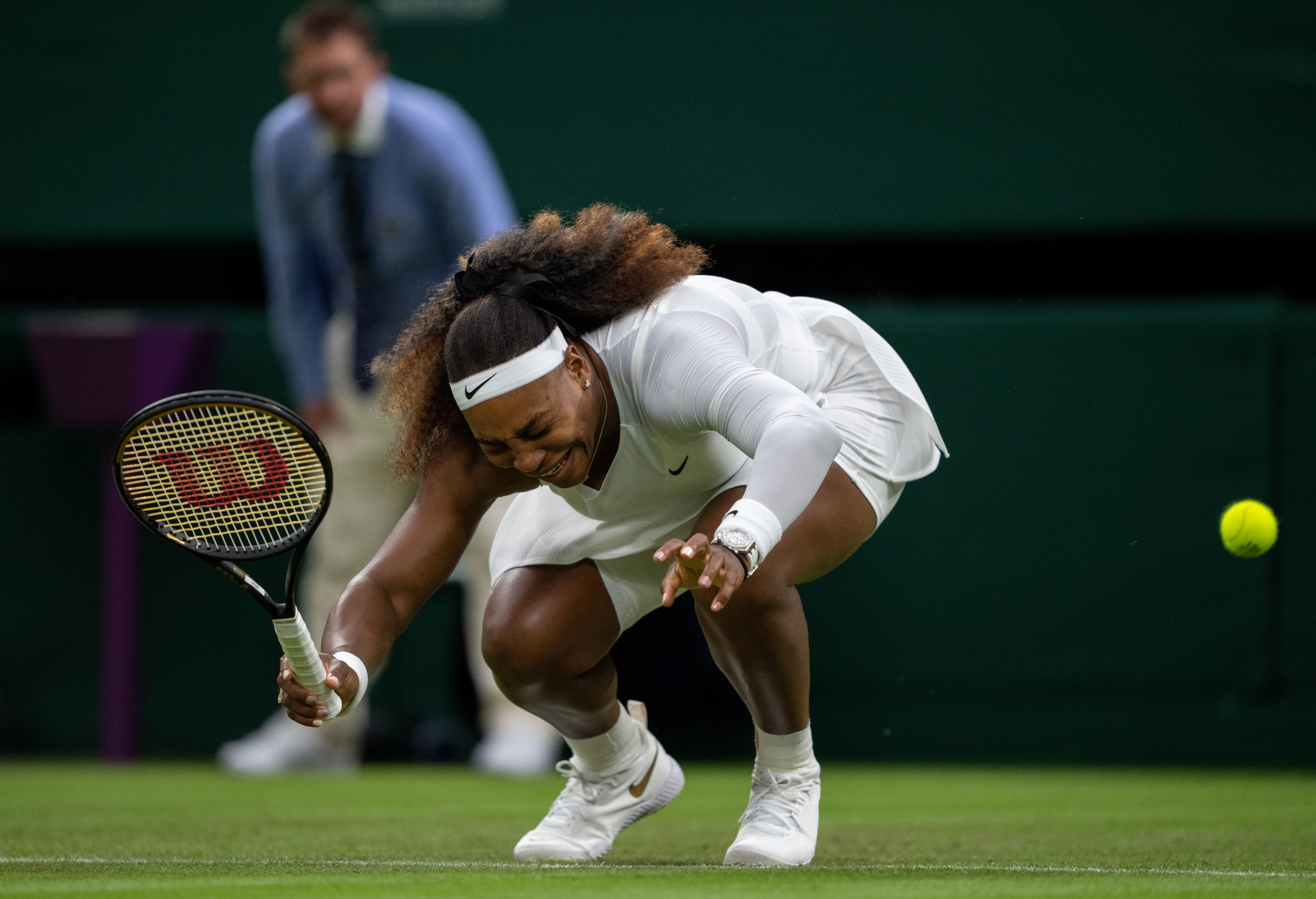 Wimbledon Players Slam Centre Court Surface After Serena Williams Injury
newsweek.com
After Serena Williams is Injured, Wimbledon Defends Court Conditions
nytimes.com
Serena Williams forced to retire from first-round Wimbledon match due to injury
abc7chicago.com
Novak Djokovic wins on slippery Wimbledon court; Venus Williams eliminated
chicago.suntimes.com
'Slippery under roof', 'a joke': Wimbledon courts under fire after Serena, Mannarino retire hurt
scroll.in
Find out first — Get the latest breaking news from FOX8 sent straight to your inbox. Find out first — Get the latest breaking news from FOX8 sent straight to your inbox. NEXT: Teen makes history as youngest track star to qualify for Olympic Games since 1964

NCAA clears way for athlete compensation as state laws loom
wtop.com
NCAA's NIL era arrives, some athletes are ready to cash in
lasvegassun.com
NCAA clears athletes for compensation as state laws kick in
eu.detroitnews.com
College athletes can earn money from their name, image and likeness, NCAA rules
cbsnews.com
As state laws go into effect, NCAA clears athletes for compensation
chicago.suntimes.com
NCAA prepares for laws that will allow student-athletes to profit
cbsnews.com
In major shift, NCAA will allow college athletes to earn compensation for use of their name, image or likeness
twincities.com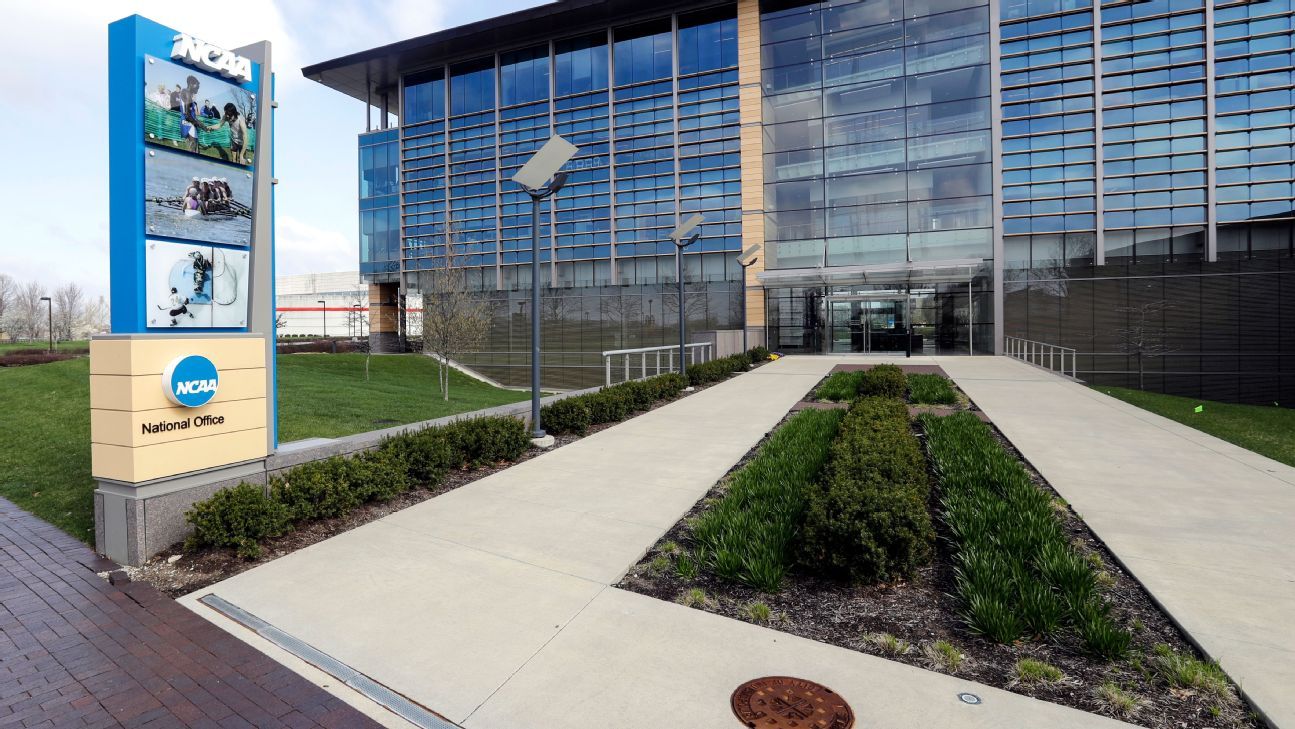 NCAA clears student-athletes to pursue name, image and likeness deals
espn.com
NCAA clears athletes for compensation as state laws kick in
pressherald.com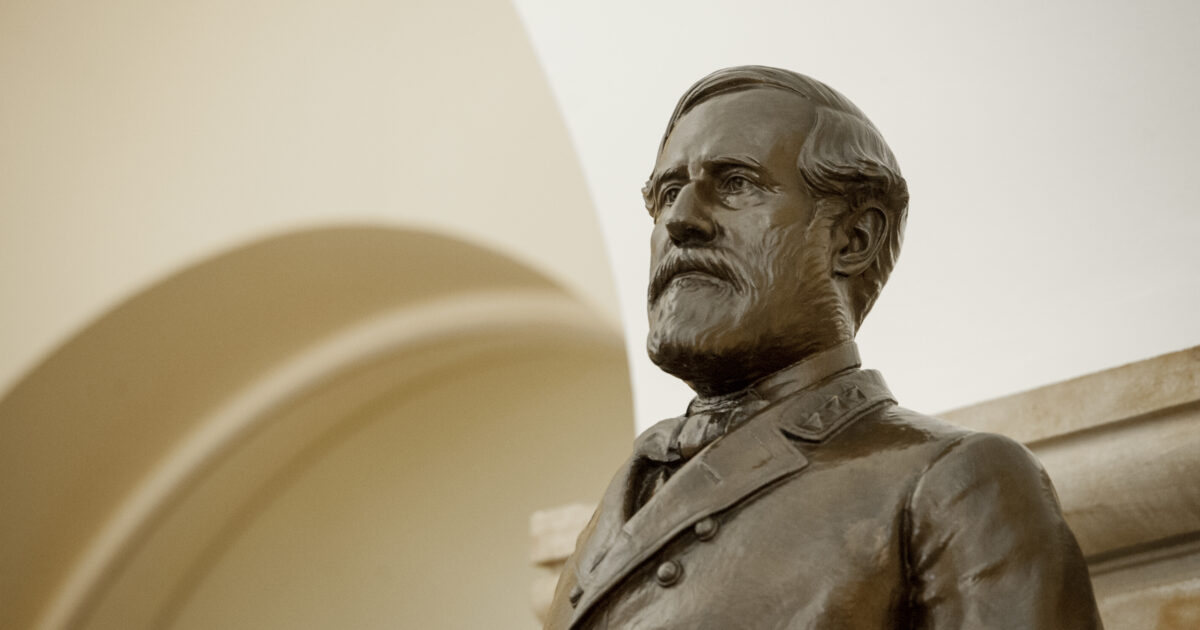 The debate over ditching statues of racists rages on. U. S. lawmakers are currently considering whether to cancel congressional artwork featuring Confederate leaders and other historical figures who defended slavery. On Tuesday, the House of Representatives voted that they should go. "Symbols of slavery, segregation, and sedition are not welcome in the halls of Congress," bill sponsor and House Majority Leader Steny Hoyer (D–Md.) said . "Individuals who worked to enshrine or perpetuate the bondage of African Americans, or prevent them from achieving full and equal rights, are not worthy of being honored in our country." In a 285-120 vote, a bipartisan roster of legislators approved getting rid of various monuments and artwork now residing in the Capitol building. All of the votes against the bill came from Republicans. However,67 members of the GOP joined with Democrats in approving the measure. At issue are several works in the National Statuary Hall Collection within the Capitol building. Specifically, the legislation calls for replacing a bust of former Chief Justice Roger Taney—who authored the 1857 Dred Scott ruling declaring that black Americans were not citizens and Congress didn't have the right to stop slavery in U. S. territories—with a bust of former Associate Justice Thurgood Marshal. Statues of former Arkansas Gov. Charles Brantley Aycock, former Vice President John Caldwell Calhoun, and former senator and North Carolina Gov. James Paul Clarke would also be removed. In addition, the bill would order the removal of "all statues of individuals who voluntarily served the Confederate States of America from display in the United States Capitol." Within 45 days of passage, "all Confederate statues and Confederate busts" must be removed "from any area of the United States Capitol which is accessible to the public," it says. As it stands, works can only be removed from this collection if the state who gifted it approves the removal. The new measure would amend that rule, by inserting the bold text below into the current statute: And the President is authorized to invite all the States to provide and furnish statues, in marble or bronze, not exceeding two in number for each State, of deceased persons who have been citizens thereof, and illustrious for their historic renown or for distinguished civic or military services (other than persons who served voluntarily in the military forces or government of the Confederate States of America or in the military forces or government of a State while the State was in rebellion against the United States), such as each State may deem to be worthy of this national commemoration; and when so furnished, the same shall be placed in the old hall of the House of Representatives, in the Capitol of the United States, which is set apart, or so much thereof as may be necessary, as a national statuary hall for the purpose herein indicated. So far, Arkansas and North Carolina have been good sports about removal, already agreeing to the replacement of their contested contributions. Arkansas approved the removal of a statue of Aycock, and North Carolina agreed to the removal of a statue of Clarke. "But the current statues remain in the Capitol until the new ones are finished," notes The Hill. Florida is also game, having agreed to replace a statue of Confederate Gen. Edmund Kirby Smith with a statue of civil rights activist Mary McLeod Bethune.Last year, Virginia agreed to replace a Robert E. Lee statue with one of civil rights activist Barbara Johns. But other states have no current plans for replacement, leaving in place statues of Taney, Calhoun (gifted by South Carolina), Confederacy President Jefferson Davis ( a statue from Mississippi), Confederacy Vice President Alexander Hamilton Stephens (from Georgia), and Confederate military officer and politician Wade Hampton (also from South Carolina). Perhaps not quite comfortable arguing for the continued presence of folks like Davis and Taney in the halls of Congress, some Republicans relied on culture war and slippery slope arguments to speak against the bill. "Unfortunately, Democrats, animated by the Critical Race Theory concepts of structural racism, microaggressions, and a United States based solely on white supremacy, have chosen to remove statues that underscore the failures of our pre-1861 Constitution," said Rep. Matt Rosendale (R–Mont.). "Make no mistake, those who won the West and George Washington are next." Whether the bill will go anywhere from here is unclear. Similar legislation passed by the House last year stalled in the senate. In a democracy, not everyone has to agree. At The Atlantic, Anne Applebaum tackles the strange new idea that mere exposure to opposing ideas and theories is a bad thing. A sample: A few months ago I interviewed Charles Mills, a philosopher whose most famous book, The Racial Contract, published in 1997, offers an alternative reading (you could call it a critical race theorists' reading) of Hobbes, Locke, Rousseau, and Kant—the Enlightenment thinkers who, anticipating liberal democracy, all argued (to put it crudely) that a legitimate government must have the consent of the governed. Mills pointed out that all of them left Black and other nonwhite people outside of the social contract, and he sketched out the consequences. I asked him whether this meant we should no longer read Hobbes, Locke, Rousseau, and Kant. He told me that, on the contrary, the last class he taught was about those philosophers and their modern critics, including himself: "To me, it's a much more fruitful way of carrying on the tradition than saying, 'These guys are racist and sexist. Therefore, stop teaching them.'" Mills told me that not all of his colleagues understand him. "They say, 'Why are you trying to keep this tradition alive? We should jettison this whole way of doing political philosophy and basically start anew.'" But he disagrees. "There is a dynamism inside liberalism that they miss," he told me. The huge advantage of liberal democracy over other political systems is that its leadership constantly adjusts and changes, shifting to absorb new people and ideas. Liberal democracies don't try, as Soviet Marxism once did, to make everybody agree about everything, all the time. The U. S. Food and Drug Administration moved quickly for a change. Cue the Congressional investigators. Two House committees are investigating the FDA's approval of aducanumab, a new drug said to treat Alzheimer's disease. The medication—made by pharmaceutical company Biogen and sold as Aduhelm—got the green light earlier this month under the FDA's accelerated approval program. One sticking point for legislators' is the drug's price tag: $56,000 for a yearly course of treatment. But a steep price tag hardly seems like a reason to keep a useful drug from everyone. "We have serious concerns about the steep price of Biogen's new Alzheimer's drug Aduhelm," said Reps. Carolyn Maloney and Frank Pallone Jr. in a statement last Friday. "We strongly support innovative treatments to help the millions of Americans who suffer from Alzheimer's disease, but Aduhelm's approval and its $56,000 annual price tag will have broader implications for seniors, providers, and taxpayers that warrant close examination," they continued. More relevant is evidence that the drug may not actually be that useful, and could be linked to serious side effects. From CNN: The FDA's Peripheral and Central Nervous System Drugs Advisory Committee concluded last year that there was not enough evidence to support the effectiveness of the drug—and thus clinical data did not support approving the treatment. Dr. Aaron Kesselheim, a Harvard Medical School professor and Brigham and Women's Hospital physician who resigned from the advisory committee after the approval of aducanumab, said last week that "the drug showed no good evidence that it worked." Kesselheim, who was one of three committee members to resign, called the approval "the worst drug approval in US history" in his resignation letter. "It had important side effects," Kesselheim said on CBS's This Morning; the drug is linked to brain swelling and bleeding that can be seen in MRI scans, as well as headache, falls, diarrhea, confusion, delirium and disorientation. Most FDA reviewers recommended approval of the drug. • The Government Accountability Office reports on the use of facial recognition technology by federal agencies. Of the 42 agencies surveyed, "20 reported owning such systems or using systems owned by others" and six said they used facial recognition tools "to help identify people suspected of violating the law during the civil unrest, riots, or protests following the death of George Floyd in May 2020." • "The number of immigrants detained by ICE has grown significantly under the Biden administration," from 14,000 earlier this year to almost 27,000 people, Buzzfeed reports . "While the Biden administration has significantly reduced the number of people who are arrested by ICE officers in the US and later detained, the flow of immigrants being transferred from Border Patrol custody has grown." • The 2021 Supreme Court has delivered more unanimous decisions than it did in the last seven years. • People can privately fund national guard deployment? • The U. S. Department of Justice is suing Georgia over its voting law. • "The Supreme Court ruled Tuesday that the PennEast pipeline can seize land from the state of New Jersey for its construction, a win for the natural gas vessel," notes The Hill . "The 5-4 decision wasn't split along ideological lines in the case that pitted fossil fuel interests against states' rights." • Fox News has settled with the New York City Commission on Human Rights for $1 million in an investigation into the alleged "culture of pervasive sexual harassment and retaliation at the network." • New legislation in Congress seeks to get the U. S. Food and Drug Administration out of the premium cigar industry's way. • "A Bay Area lawmaker's bill that would decriminalize the personal possession of several psychedelic drugs begins winding its way through the California State Assembly this week," CBS San Francisco Bay Area reports . • Minnesota moves to limit the use of asset forfeiture and require more oversight for no-knock raids. • "Mexico's Supreme Court struck down laws which criminalized the recreational use of cannabis on Monday evening," CNN reports . "The decisive 8-3 ruling comes after advocates pushed for decriminalization as a means to reduce drug-fueled cartel violence in the country."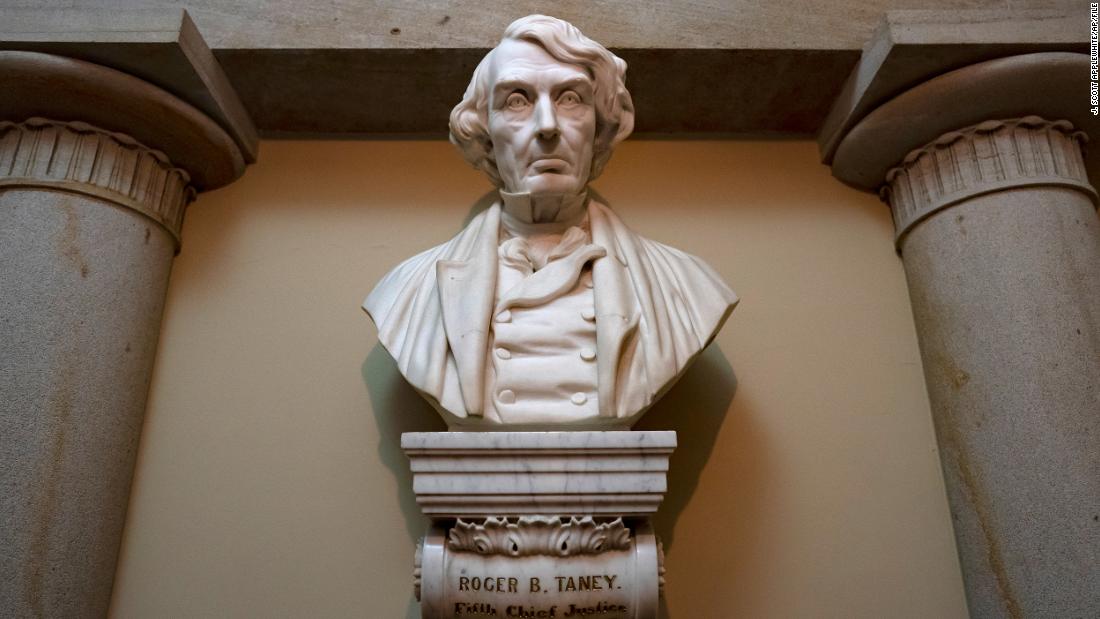 The House takes a revealing vote on Confederate statues
edition.cnn.com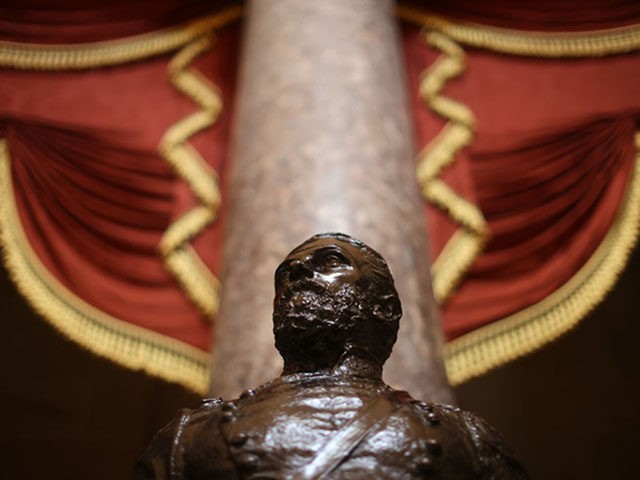 House Vote to Remove Confederate Statues Would Kick Out an American War Hero
breitbart.com
House Votes To Remove Capitol's Confederate Statues
dailycaller.com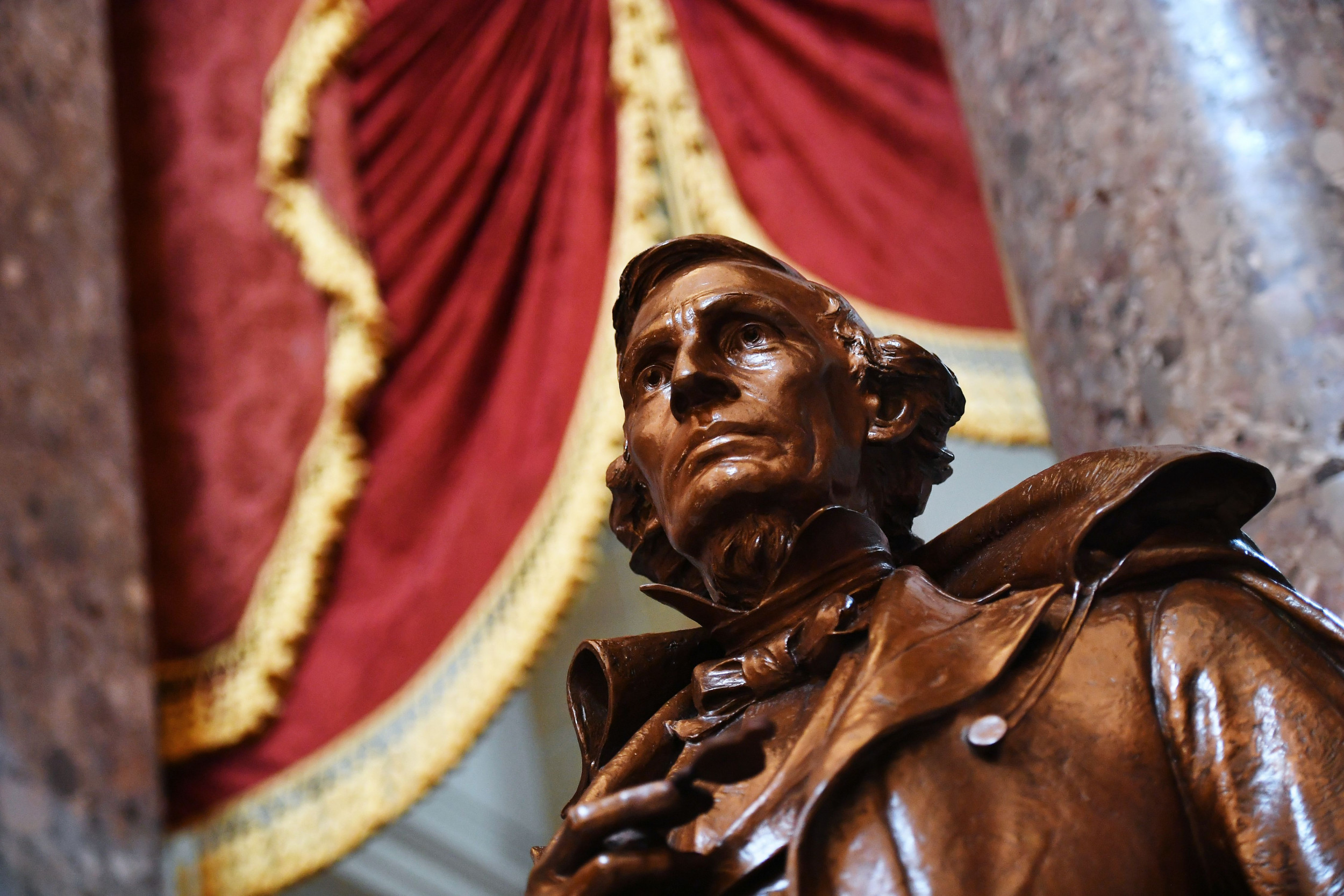 Who Was Roger B. Taney? House Votes to Remove Confederate Statues
newsweek.com
67 Republicans Join Democrats on Vote to Remove Confederate Statues From Capitol
truthout.org
House votes to remove Confederate statues from Capitol
upi.com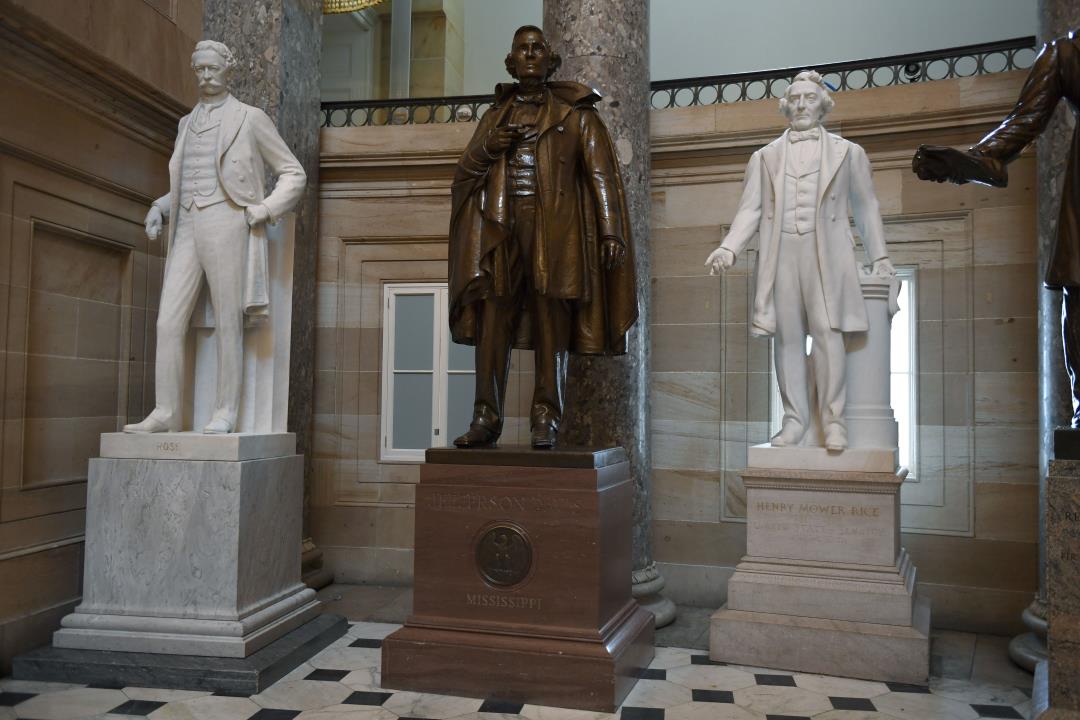 House Votes to Remove Confederate Statues From Capitol
newser.com
Canadian basketball player Kim Gaucher, who is breastfeeding her infant daughter, has won in her quest to bring the baby to the Tokyo Olympics. The International Olympic Committee says nursing mothers will now be allowed to bring their babies to Tokyo. The move comes after Gaucher made an emotional plea via Instagram to have 3-month-old Sophie travel with her to the Games. Gaucher, a 37-year-old from Mission, British Columbia, said the IOC was forcing her to make a tough choice: skip the Olympics or spend 28 days in Tokyo without her daughter. "We very much welcome the fact that so many mothers are able to continue to compete at the highest level, including at the Olympic Games," the IOC said Wednesday in a statement. "We are very pleased to hear that the Tokyo 2020 Organizing Committee has found a special solution regarding the entry to Japan for mothers who are breastfeeding and their young children." The IOC had stipulated that no family could travel to Tokyo due to COVID-19 restrictions, but Gaucher pointed out that international media and sponsors may travel to Tokyo and a capped number of Japanese spectators will be allowed in venues. "Japanese fans are going to be in attendance, the arenas are going to be half full, but I will not have access to my daughter?" Gaucher asked. "We've tried appeals. Everyone says they're on board, but nobody can do anything. Let's see if we can make a difference. It's 2021. Let's make working moms normal." The new policy affects other athletes who have qualified for Tokyo, including U. S. soccer star Alex Morgan, whose daughter, Charlie, was born in May 2020 and has been able to accompany her mother on the road. Morgan told reporters in April that it was important "to allow mothers the option to have their kids with them while they compete. . if a child is under 1 or 2, they might still be breastfeeding, so that's a huge piece of it." Gaucher and Morgan will both be competing in their third Olympics in Tokyo. The woman, not publicly identified, was arrested by gendarmes in the Finistere region who tracked her down based on "solid" accounts from people questioned this week, France Bleu Finistere said, citing a source close to the probe. Investigators had spoken to dozens of people since the incident on Saturday, the local radio station said. Tour organizers had announced after the crash on the stage from Brest to Landerneau that they would start legal proceedings against the fan, who disappeared from the crash scene. She had leaned into the path of veteran rider Tony Martin, who fell off his bike and took dozens of others down in his slipstream. German rider Jasha Sutterlin was forced to abandon the race. The Gendarmerie du Landerneau, east of Brest, had put out a call for witnesses shortly after the pileup. It refused to comment on the reported arrest. Fans gathering on the sides of roads and in villages as riders pass by is part of the tradition and charm of the Tour. But the woman in question leaned into the path of cyclists with her sign that read "Allez Opi-Omi," a mix of French and German-language terms of endearment for grandparents – "Go Grandpa-Grandma." The 22-year-old Slovenian mastered the technical 22.7-kilometer (14-mile) loop from Change to Laval to gain time on all other main contenders in an impressive display of power and technical skills. Van der Poel has limited abilities in high mountains and is not expected to remain in the mix once the race reaches the Alps later this week. Joy Mogensen said it "undermines the values and integrity of the beautiful sport that binds the world together." In a statement after a virtual meeting of the Nordic culture ministers that she hosted, Mogensen said the five nations – Denmark, Norway, Sweden, Iceland and Finland – "share a similar view of the problem." "Closeness and corruption is something we must get rid of in top sports," she said, adding that the Nordic countries must work together "if we want to get anywhere." In 2010, Qatar won the right to host the World Cup in a contentious FIFA vote that sparked corruption investigations into the entire bidding process. Evidence was not found by FIFA to warrant stripping Qatar of the hosting rights. The natural gas-rich emirate has spent tens of billions of dollars to build hotels, a new transport system and lavish stadiums to cope with staging one of the biggest sporting events. In the second half of the four-year deal, the number of free games will drop to 19 games including the final. The games will be streamed worldwide except in China, and the Middle East and North Africa region. Next season marks the start of a new format for the competition as it moves to a 16-team group stage, with the top two from each group moving to an eight-team knockout phase. The Court of Arbitration for Sport reversed an independent tribunal's October 2020 decision that at the time cleared the Bahraini 400-meter runner to compete in the Tokyo Games. "Salwa Eid Naser is sanctioned with a period of ineligibility of two years, commencing on 30 June 2021," CAS said in a statement Wednesday. The ban will end in early 2023 as Naser will get credit for just over four months "for the period of provisional suspension already served" between June and October 2020, CAS said. The 23-year-old Naser, who was born in Nigeria but competes for Bahrain, ran the fastest women's 400 since 1985 to win the world title in 2019 in Doha, Qatar. The World Athletics Disciplinary Tribunal had ruled in October 2020 that Naser had not committed an anti-doping violation related to a filing failure and missed tests between March 2019 and January 2020. Success. Please wait for the page to reload. If the page does not reload within 5 seconds, please refresh the page. Enter your email and password to access comments. Forgot Password? Don't have a Talk profile? Create one. Invalid username/password. Please check your email to confirm and complete your registration. Create a commenting profile by providing an email address, password and display name. You will receive an email to complete the registration. Please note the display name will appear on screen when you participate. Already registered? Log in to join the discussion. Only subscribers are eligible to post comments. Please subscribe or login to participate in the conversation. Here's why. Use the form below to reset your password. When you've submitted your account email, we will send an email with a reset code. Send questions/comments to the editors.

Russian Olympic Committee to send 335 athletes to Tokyo
sports.inquirer.net
Breastfeeding Olympians allowed to bring babies to Tokyo
wtop.com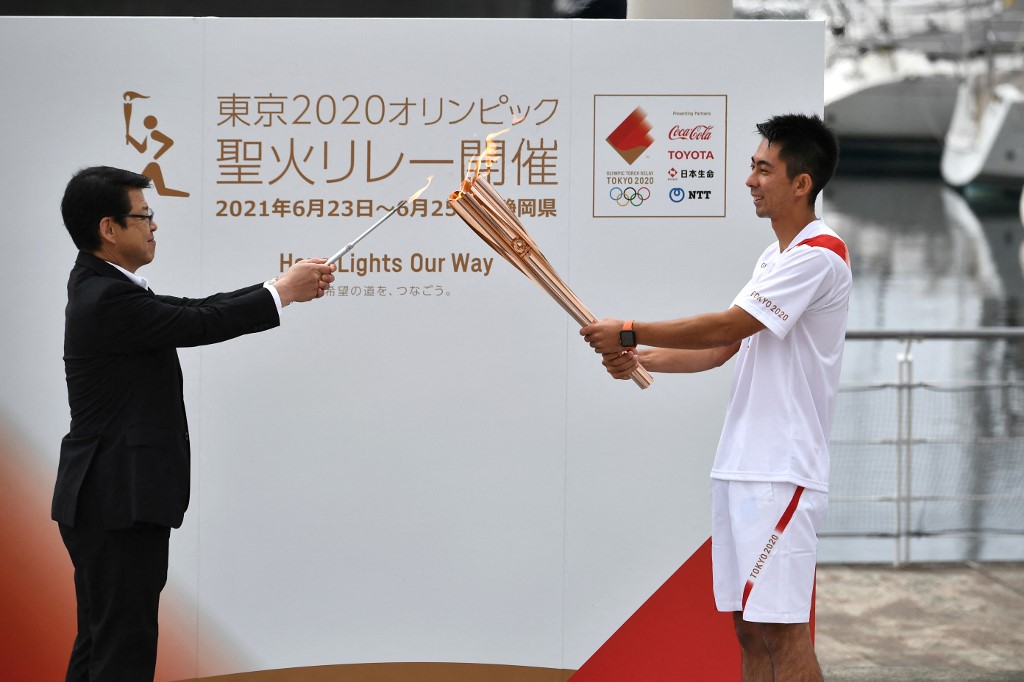 No public for Olympic torch relay in parts of host Tokyo
sports.inquirer.net
Tokyo Olympics: SAI, IOA sensitise athletes on adapting to Japanese culture
business-standard.com
Breastfeeding athletes will be able to bring children to Tokyo Olympics
usatoday.com
Breastfeeding Olympians allowed to bring babies to Tokyo
pressherald.com
BBC Injects Magic into Tokyo to Hype Olympics
adweek.com
Japan judokas aim for 'medal rush' at Tokyo Olympics
sports.inquirer.net
It's official: Srihari Nataraj qualifies for Tokyo Olympics 2021
business-standard.com
Breast-feeding athletes allowed to bring babies to Olympics
upi.com
U. S. Olympian Gwen Berry felt that the playing of the National Anthem at the Olympic track and field trials on Saturday was "disrespectful" to her. Multiple GOP lawmakers and military veterans have since called for her to be removed from the Olympic team, citing that the sole purpose of an Olympic athlete is to represent their country under the flag. "I don't think it's too much, when athletes are competing to wear the Stars and Stripes — to compete under the Stars and Stripes in the Olympics — for them to simply honor that flag and our anthem on the medal stand," Sen. Tom Cotton said on Fox News on Monday. "If Ms. Berry is so embarrassed by America, then there's no reason she needs to compete for our country. She should be removed from the Olympic team." Former NFL player Jack Brewer has been an outspoken critic of players protesting the anthem, and made his opinion clear in a conversation with The Daily Wire. "I just think about growing up as a kid and literally just in school, when you hear the National Anthem, the feeling that it gives you and the respect that you have," Brewer said when asked about Berry's move to turn her back to the flag. "The flag is not supposed to represent perfection, but the flag is the family — the American family — the country that we share. Everyone is trying to work for the same goal. That's what your country represents. That's like walking into your house and slapping your mom. It makes no sense. I don't understand it." "And now, we have a culture that is literally professing to these kids and teaching these kids that their country is inherently bad… not to respect the national Anthem and the flag. That's supposed to be the one thing that brings us together. It's heartbreaking." Athletes have been protesting the anthem since NFL player Colin Kaepernick first began kneeling in 2016, but Berry's position is different. The sole purpose of an Olympic athlete is to represent his or her country, it's not for fame or fortune as it is for professional athletes. It's what makes Berry's move so offensive to so many. "If I was a coach or if I was a part of the U. S. Olympic committee, the first criteria that you should have for anybody that wants to go compete for the country is that you embrace and love your country. How do you have someone compete at the highest level and how do you have them give everything that they have in their heart … and trust that they're going to go there with the best intention, if the very country that they're going to represent … they turn their back on. That should be the number one criteria before anyone gets or makes this Olympic team." "Our freedom is not free. The American people deserve to be represented by people who love them and people who stand for unity and all the good things that this country is about." Berry's move to protest the flag and anthem may be just the beginning of Olympic athletes protesting the flag on the international stage. Brewer believes it will continue, but only if we allow it. "I think we will continue to see it if they appease it and allow it. You've got to stop it at its root. There's no time to have this lukewarm perspective when it comes to these things. It's time to take a hard stand in this nation, to hold people accountable. You don't want to be here, you don't want to represent America, that's your choice. We have choice and free will in America." "So, anybody that wants to represent our Olympic team should not be allowed to wear that red, white, and blue if they don't love this nation. You can stop it by actually holding people accountable and not allowing you to take hostage of our American dream on the international scale, by giving someone the ability to hijack that moment for whatever their political belief is." Berry has indicated that she will not back down when she gets to Tokyo, saying she'll "figure out something to do" when she gets there. It's a statement that perplexes Brewer. "If you just listen to the reasoning behind what they claim to be fighting for… You claim to be fighting against racism, but you're literally standing against the one nation that has allowed more people to have equality and opportunity than in any place in the world! People are trying to leave by the millions to get to America. People that are really facing serious oppression and racism and all those other things." "They're coming here, yet we have athletes that don't appreciate the very freedoms in which we have. It's embarrassing." Lost in the backlash was the selfishness of the act, taking attention away from the two other Olympic hammer throwers who made the team. DeAnna Price earned gold in the event, setting an American record with a throw of 263 feet,6 inches (80.31 meters). "You took all of the focus off of the record holder. You took her moment," Brewer said. "How dare you?" Joe Morgan is the sports reporter for The Daily Wire. Most recently, Morgan covered the Clippers, Lakers, and the NBA for Sporting News. Send your sports questions to sports@dailywire.com. The Daily Wire is one of America's fastest-growing conservative media companies and counter-cultural outlets for news, opinion, and entertainment. Get inside access to The Daily Wire by becoming a member.

Russian Olympic Committee to send 335 athletes to Tokyo
sports.inquirer.net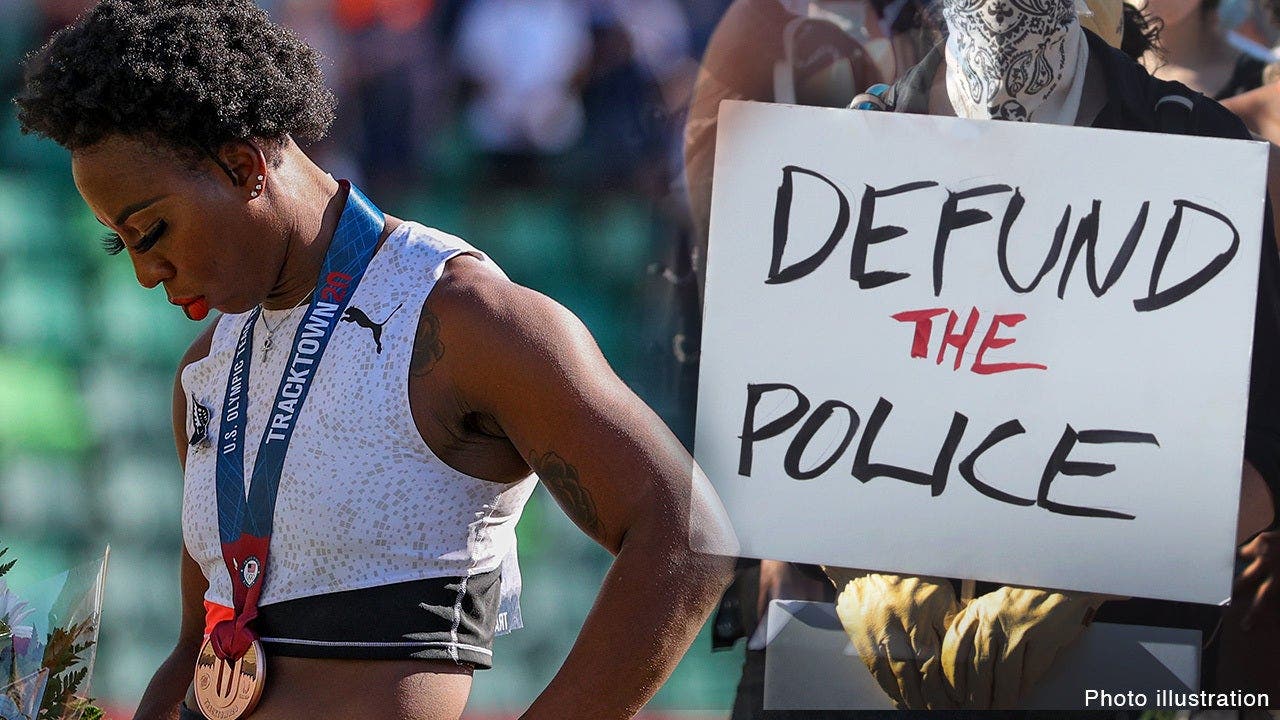 US Olympian Gwen Berry lashes out after national anthem controversy
foxnews.com
SHAPIRO: Yes, It's Ungrateful To Turn Your Back On The National Anthem
dailywire.com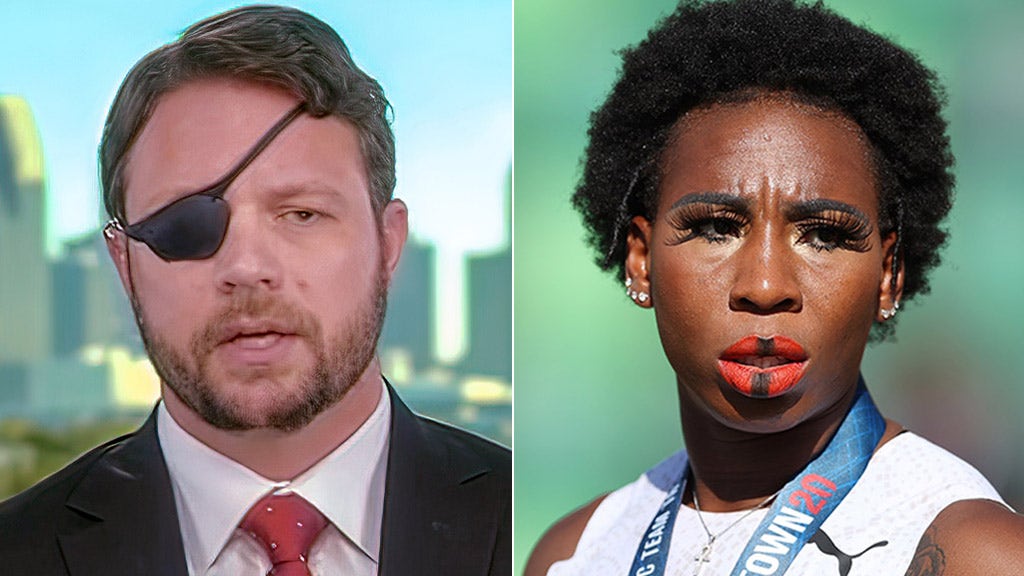 Dan Crenshaw doubles down on Gwen Berry criticism: 'You should like the USA'
foxnews.com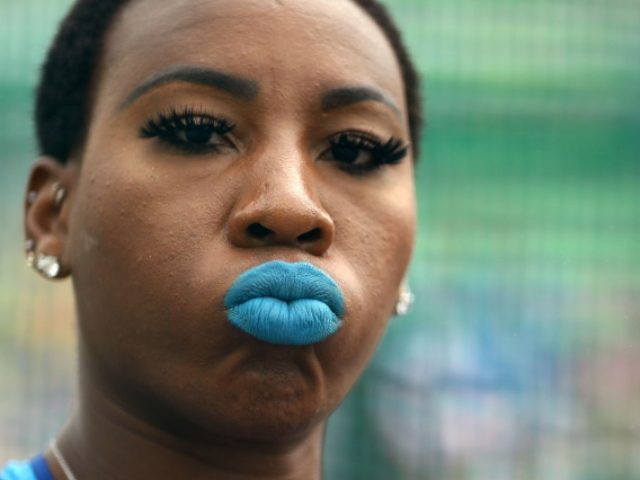 Olympian Gwen Berry: National Anthem Is 'Disrespectful and It Doesn't Speak for Black Americans'
breitbart.com
Yes, It's Ungrateful to Turn Your Back on the National Anthem
realclearpolitics.com
Colin Kaepernick Camp Boosts Anthem-Snubbing Gwen Berry
dailywire.com
Gwen Berry brings out the cancel culture hypocrites
theweek.com
Gwen Berry Makes False Claims About The National Anthem While Complaining It's 'Disrespectful'
dailywire.com
Olympian Gwen Berry doubles down, claims national anthem is 'disrespectful' to black Americans
wnd.com
A 13-year-old girl and her parents are suing Florida Gov. Ron DeSantis over a recently enacted law banning the participation of transgender girls and women in school sports teams according to their gender identity. The lawsuit, filed Wednesday by the Human Rights Campaign and the law firm of Arnold & Porter on behalf of the family, argues that the ban is discriminatory and will deprive her of opportunities. The girl, identified in the lawsuit as "D. N." and referred to by the HRC as Daisy, began receiving gender-affirming medical care in middle school with the support of her parents. Throughout her entire life, she has only participated on girl's sports teams, where she "finds joy, friendship and acceptance in basketball, softball, and currently, as a goalie on three different soccer teams," according to the HRC. However, according to Florida's so-called "Fairness in Women Sports Act," Daisy will have to either join the boys team when she starts 8th grade in the fall — or quit sports altogether. She already said that she will not play with the boys. Dropping out of sports teams would be detrimental to her academic and social development, "while also potentially risking her personal privacy and safety," the HRC claims. "Playing sports makes me feel like I fit in, the thought of not being able to play next year scares me," Daisy said. "I'm going to be lonely and sad if I can't play." Her parents, Jessica N. and Gary N., said that it's "a very helpless feeling to know that people think our daughter does not deserve the rights to play sports with her friends — she has been playing with them for the last seven years and it has not been an issue." Taking away her right would only isolate her, they said. "She is just a girl that wants to play sports with her friends and be part of a team. As her parents, we just want her to be happy." According to the HRC, there are more than 250 anti-LGBTQ bills under consideration in state legislatures across the country. Of those, more than half directly target transgender people and more than 70 would ban transgender girls and women from participating in sports consistent with their gender identity. Florida is one of eight states that have already passed a ban on trans school athletes. "Given the unprecedented onslaught of state legislative attacks, we have a responsibility to utilize every tool in our belt to safeguard the LGBTQ community, including suing the states that infringe upon our civil rights," HRC President Alphonso David told the Daily News in a statement. "Kids just want to play sports, and are confused about why their state's leaders, who are elected to represent them, are so determined to hurt them. There is no way to be more clear: transgender children are children; transgender girls are girls; transgender boys are boys; and our community deserves respect, dignity and equal protection under the law," he added. Florida's sports ban was approved by the Republican-majority Legislature in Florida late on April 28, in an 11th-hour maneuver. It was signed into law on June 1 — the first day of Pride Month — by the state's Republican governor. A day after signing the ban into law, DeSantis vetoed $150,000 in state funds that would have gone to Orlando's LGBTQ Community Center, the managing entity that supports survivors of the 2016 mass shooting at the Orlando gay nightclub Pulse, and the immediate family of the victims. He also vetoed $750,000 approved by the state legislature that would have gone to the Orlando-based Zebra Coalition, a network of organizations that provide services to homeless LGBTQ youth. So far in 2021,23 anti-LGBTQ bills have been enacted into law. States have enacted more laws this year than in the last three years combined. In addition to its Florida lawsuit, the HRC announced Wednesday that it will bring a series of legal challenges of anti-equality laws in Arkansas, Mississippi and Tennessee.

Leftists announce lawsuit challenging Florida's transgender sports law
wnd.com
Conservatives want to ban transgender athletes from girls sports. Their evidence is shaky.
eu.cincinnati.com
Conservatives want to ban transgender athletes from girls sports. Their evidence is shaky.
usatoday.com
National LGBTQ civil rights group sues Florida over transgender sports ban
orlandosentinel.com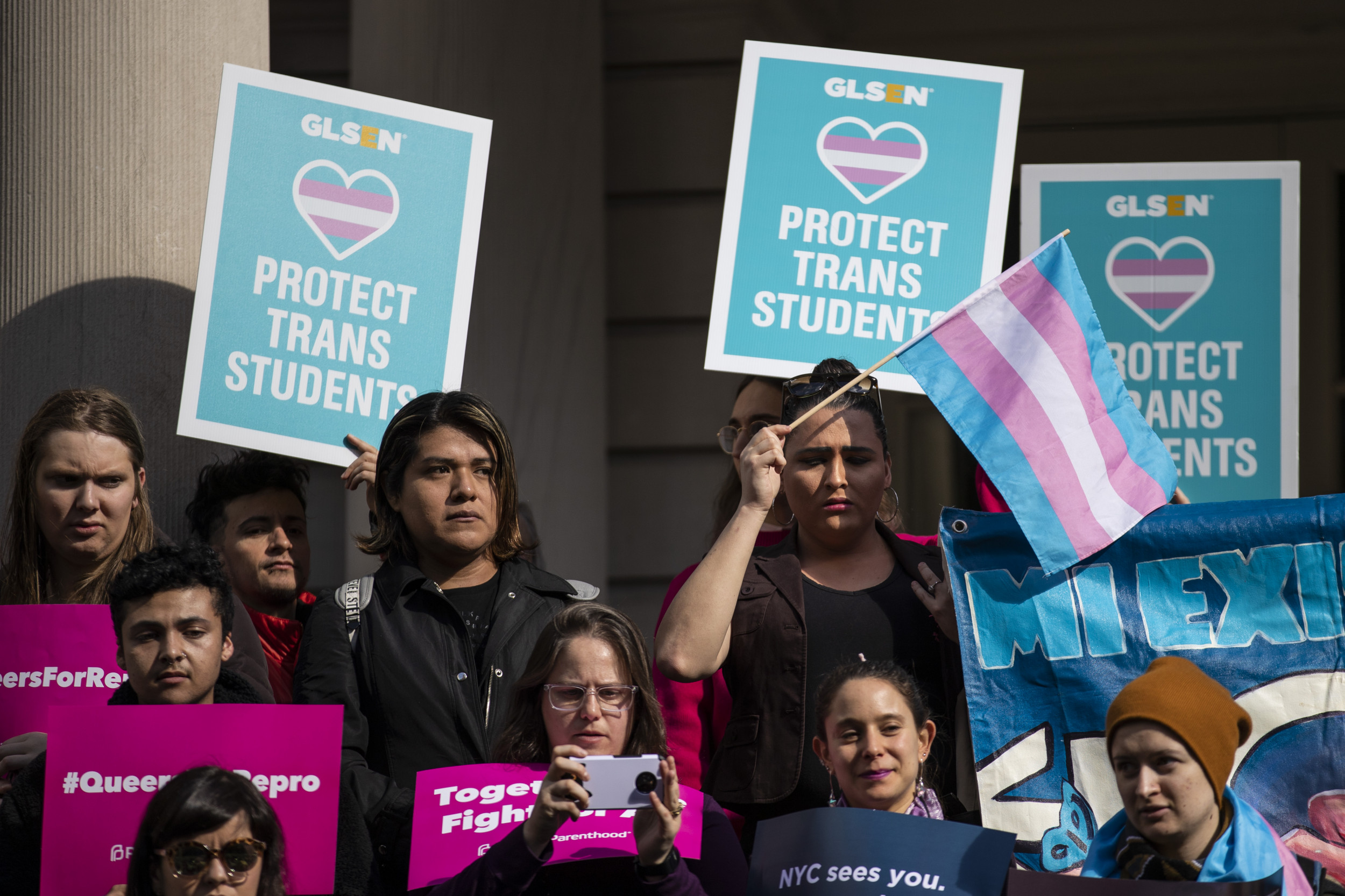 13-Year-Old Sues Ron DeSantis Over Transgender Girls Sports Ban Day Before Law Takes Effect
newsweek.com
Florida's new transgender athlete law challenged in federal court
eu.heraldtribune.com
Rocket Mortgage Classic Preview: 'Should Be A Shootout,' Says CBS Sports' Colt KnostBryson DeChambeau looks to defend his Rocket Mortgage Classic title at Detroit Country Club. Steelo Brim On MTV's 'Ridiculousness': 'People Will Never Stop Doing Stupid Things & Filming It'The TV personality shares why "Ridiculousness" has been such a huge hit on MTV since it first aired in 2011. Meet The Cast Of Love Island; Season 3 Premieres On July 7A new season of Love Island premieres on CBS July 7 and the show released its cast for season 3 on Tuesday. 'This Was The First Year I Got To Go Deep With Something': Yolonda Ross On Season 4 Of Showtime's 'The Chi'The actor shares what it was like to portray Jada's battle with breast cancer in season four of Showtime's hit series "The Chi." SRX Racing Series Heads To Tony Stewart's Home Track At Eldora: 'It'd Be Hard To Bet Against Him' Says Analyst James HinchcliffeThe man known as "Smoke" took the win in the dirt last week. Now, the question is can anyone beat him on his home track in Ohio? 'Behind The Music' Comes To Paramount+ On July 29th Featuring LL Cool J, Duran Duran, Fat JoeParamount+ has released the official trailer and key art for the iconic documentary series 'Behind The Music,' introducing Duran Duran, New Kids On The Block and Bret Michaels as featured artists.

Ashby tagged, but Brewers sweep Cubs for 8th straight win
wtop.com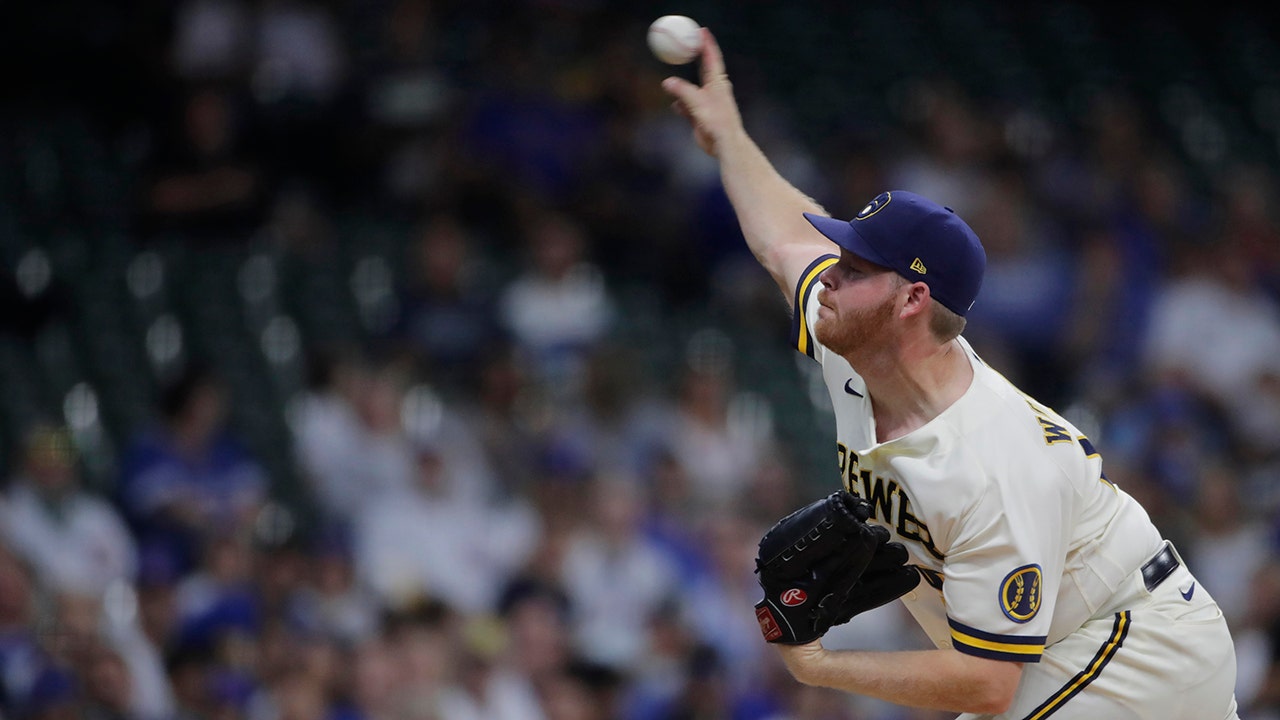 Woodruff excels, Brewers edge Cubs 2-1 for 7th straight win
foxnews.com
Police: Man Beaten With Bat And Chair, Stabbed In Midtown Attack
newyork.cbslocal.com
2021 Rocket Mortgage Classic: Here's how last year's top golfers have fared since then
eu.freep.com
WIMBLEDON, England (AP) — Nick Kyrgios was back on the scene at Wimbledon, offering his inimitable brand of showmanship and shot-making, with tennis by turns exhilarating and exasperating. Even if he hadn't played on tour at all since February, even if he came in with a grand total of 15 matches of competition over the past 18 months, Kyrgios showed he still can deliver the goods when he puts his mind to it. Just a handful of days after finishing the lengthy trek from the comforts of home in Canberra, Australia, to the grass courts of the All England Club — leaving the carefully calibrated practice and prep to others — Kyrgios made quite a return, edging No.21 seed Ugo Humbert 6-4,4-6,3-6,6-1,9-7 on Wednesday in a match suspended at 3-all in the last set a night earlier because of an 11 p.m. local curfew. "Not bad for a part-time player," a smiling Kyrgios told the crowd at No.1 Court, letting them know his plans for the rest of the day included playing video games with his girlfriend at the tournament's "bubble" hotel. His was one of more than two dozen first-round contests that wound up finishing on Day 3 after rain Monday and Tuesday scrambled the schedule and contributed to the slickness of the courts that left some players sliding and stumbling. So while 19-time Grand Slam champion Novak Djokovic — who made only six unforced errors and beat two-time major finalist Kevin Anderson 6-3,6-3,6-3 — and others such as Frances Tiafoe, Fabio Fognini, Garbiñe Muguruza and Iga Swiatek reached the third round on a chilly, overcast and busy day, some were just making their way into the second: Aryna Sabalenka, Jelena Ostapenko, Victoria Azarenka, Marin Cilic, Felix Auger-Aliassime and Taylor Fritz, among them. Sofia Kenin, the Australian Open champion and French Open runner-up in 2020, and 41-year-old Venus Williams, who won five of her seven major championships at Wimbledon, lost in the second round. Kenin's departure means 7 of the 11 highest-ranked women already are missing from the bracket, including defending champion Simona Halep and Naomi Osaka — who both withdrew before the tournament — and Serena Williams, who injured her right leg when she slipped during her match Tuesday and couldn't continue. Djokovic dealt with some less-serious footing issues but otherwise was pretty close to impeccable against Anderson, who smacked 41 aces in his opening match but managed only 11 on Wednesday. "Still a long way to go. Hopefully I can go very deep in the tournament. That's the goal," said Djokovic, who seeks a third Wimbledon trophy in a row and sixth overall and is now 16-0 in Grand Slam matches in 2021. "But I'm very pleased with the way I've been playing so far." As was Kyrgios, for the most part, wagging his racket to ask the fans for more noise as he strutted around after his best shots. Then again, he also shook his head or told himself he was "rubbish" after many a miss. Here's something else he seems to do quite a bit: store up every negative thing he reads or hears about himself and either use it as motivation or merely mock it. "Look, a lot of people were telling me: 'There's no chance. There's no point in you going with that short preparation.' I was hearing a load of things. (Someone was) telling me, 'There's no chance you can come off the couch and compete at this level,'" said the 26-year-old Kyrgios, whose 2014 debut at Wimbledon included a win against Rafael Nadal on the way to the quarterfinals, a round he hasn't reached since at the tournament. "I'm like, 'Dude, I know my game.' I know how to play on grass. I'm not scared of anyone in the draw. I know if I believe and I'm feeling good mentally, like, I know what I'm capable of," continued Kyrgios, who's been ranked as high as No.13 but is No.60 now after all of that inactivity. "I've been playing this sport since I was 7 years old.… I'm going to serve big and play big and just compete." Tongue firmly in cheek, he's likened this trip abroad to a vacation, and as he spoke to the media via video conference, Kyrgios leaned back, his head tilted to rest against his hands — a pose fit for a beach chair. Against Humbert, whom he also beat in five sets at Melbourne Park this year, Kyrgios did more than just "serve big and play big." Sure, there were the 23 aces. And the flashy forehands he flicked with no notice to end points. And, yes, naturally, the ill-advised trick shots, like the no-good-reason-for-it, between-the-legs floater on set point for Humbert — on set point! — that contributed to giving away the third. Then again, maybe that's part of the charm with Kyrgios: You never know what you're going to get, so better tune in to find out. Actually, he showed impressive patience during lengthy exchanges at the baseline in the late going, willing to wait out a point until his foe would err. Indeed, Kyrgios won 9 of 14 points that lasted at least nine strokes. Plus, he was the one who got the service break in the penultimate game to seize control. "When he's playing good," Humbert said, "he's one of the best." That checks out. Just ask him. ___ AP Sports Writer Steven Wine in Miami contributed to this report. ___ More AP tennis coverage: https://apnews.com/hub/tennis and https://twitter.com/AP_Sports Copyright © 2021 The Associated Press. All rights reserved. This material may not be published, broadcast, written or redistributed.

Nick Kyrgios Comes to Wimbledon to 'Chill Out' and Gets Hot Instead
nytimes.com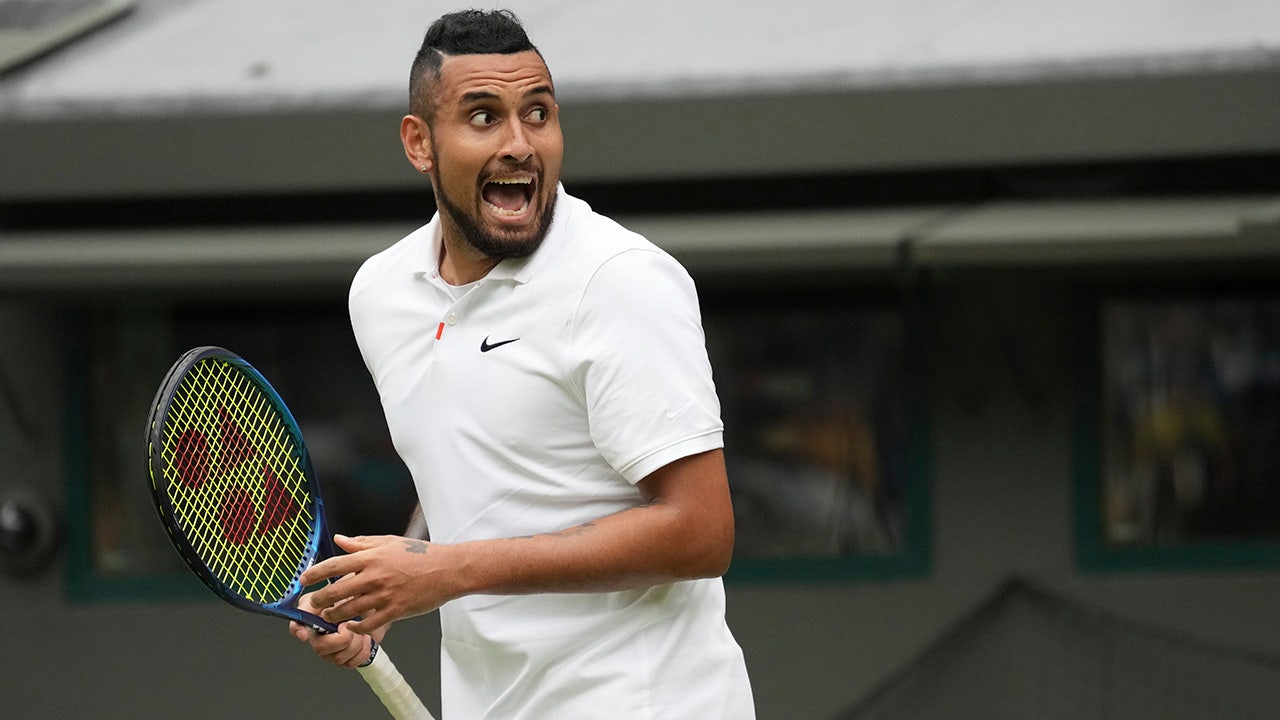 Kyrgios 'not bad for a part-time player' in Wimbledon win
foxnews.com
Novak Djokovic wins on slippery Wimbledon court
chicago.suntimes.com
CHARLOTTE, N. C. -- Chip Ganassi has sold his NASCAR team to Justin Marks, owner of Trackhouse Racing, and will pull out of the nation's top stock car series at the end of this season. Ganassi fields two cars in the Cup Series but will transfer his North Carolina race shop and all its assets to Marks for 2022. "He made me a great offer that required my attention," Ganassi told The Associated Press on Wednesday. "I'm not out of racing, I'm just out of NASCAR," Ganassi said. "I still have an IndyCar team. I still have an IMSA sports car team. I still have a Formula E team. I had an offer that I was required to consider." The sale was announced at the NASCAR Hall of Fame, where Ganassi said, "If I was trying to sell my team, I would have talked to everybody that was looking for a charter or looking for a team or looking to get involved in the sport. I did not. I talked to one person.'' Marks said Trackhouse next year will field two cars, one for Daniel Suarez and one for a driver to be named later. "It is humbling to know we have secured our position in NASCAR for the next decade. These are never decisions made without a lot of thorough consideration and deep reflection by both parties,'' Marks said. "Chip has built an iconic motorsports empire and the Ganassi brand is globally recognized as a winner in the auto racing industry. It is truly an honor that we can build from that foundation.'' Ganassi has been a fixture in motorsports for nearly 40 years dating to his driving days when he qualified for the Indianapolis 500 in 1982. Chip Ganassi Racing began as an open-wheel team that grew into one of the most successful organizations in IndyCar. The Pittsburgh-based owner expanded into NASCAR in 2001 and has fielded at least two cars every season since. Ganassi won the Daytona 500 and the Brickyard 400, two of the biggest races in NASCAR, with Jamie McMurray in 2010. He currently fields a pair of Chevrolets for Kurt Busch and Ross Chastain. Ganassi's IndyCar team is a four-car program that features six-time series champion Scott Dixon and current points leader Alex Palou. He will run his organization from its Indianapolis shop next season; the Concord shop will transfer to Marks. Overall, his teams have 19 championships and more than 230 victories, including four in 2021. His win total also includes four Indianapolis 500s, eight Rolex 24 At Daytonas, the 12 Hours of Sebring and 24 Hours of Le Mans. Marks is in his first season as owner of new team Trackhouse Racing, which counts entertainer Pitbull as a co-owner. The team leased a charter this year from Spire Motorsports to run Suarez, but Marks had been unable finalize a deal to purchase NASCAR's equivalent of a franchise. Marks has said he lost out on three charters last year as he was building Trackhouse and has balked at paying the current eight-figure asking price for one in a red-hot market. He instead bought an entire organization in a deal that includes both of Ganassi's charters. Terms were not disclosed and Marks told the AP he was "under a very strict'' nondisclosure agreement that prevented him from discussing any details. "This acquisition provides Trackhouse a platform for years to come, enabling us to field multiple teams, elevate our on-track performance, deliver great value for our sponsors and partners, build lasting community impact programs and continue to grow our brand beyond the sports conversation,'' Marks said. Marks has said he not only wanted to expand one-car Trackhouse into a two-car team, but also move the organization to Nashville, Tennessee, by 2023 and operate from the heart of Music City's entertainment district.

Sale of Chip Ganassi Racing's NASCAR Operation Sets Up Wild Offseason
heavy.com
Auto racing: Ganassi sells entire NASCAR team to Trackhouse Racing
pressherald.com
Trackhouse Racing Purchases Championship-Contending NASCAR Team
heavy.com
Chip Ganassi sells entire NASCAR team to Trackhouse Racing
wtop.com
The days of seeing LeBron James in the red, white, and blue appear to be over. After his Lakers were bounced in the first round of the NBA Playoffs by the Phoenix Suns, James announced that he intends to skip the 2020 Summer Olympics in Tokyo, choosing instead to spend his summer playing for the "Tune Squad" in his upcoming movie "Space Jam 2." "I think I'm going to play for the 'Tune Squad' this summer instead of the Olympics," James told reporters. "That's what my focus is on. Trying to beat the 'Monstars' or the 'Goon Squad.' So, didn't have much success versus the Suns, so now I am gearing my attention to the 'Goon Squad' here in July, in mid-July." "So, I'm gonna let the ankle rest for about a month and then I'm going to gear up with Lola, Taz, Granny, Bugs, and the rest of the crew. So hopefully I'll see y'all at the match," he concluded. James' decision was not unexpected after a condensed NBA season in his 18th year in the league, but at least it was his decision to make. On Wednesday, Jerry Colangelo — USA Basketball managing director — told ESPN that James' days representing the United States in the Olympics are over. "You know, Father Time takes its toll," Colangelo said . "… If you're a human being, your body is built to go so long depending on what your sport is, and then it's a downhill situation. LeBron made choices these last couple of Olympics not to participate because he's got a lot of things going on in his life. So he put in his time, he made a contribution that is appreciated, but I think his time is over." The Tokyo Olympics will be the second consecutive Olympics that James has opted out of. He's played for three U. S. Olympic teams, capturing the gold medal in the 2008 Olympics in Beijing and the 2012 Olympics in London. The 2020 Team USA roster was finalized Monday, with stars Kevin Durant, Damian Lillard, and Jayson Tatum highlighting the roster. Multiple All-Stars declined to participate due to injuries, the condensed season, and shortened offseason. Along with James, Anthony Davis is rehabbing from a groin injury, James Harden withdrew his name due to a hamstring injury, and Steph Curry also opted out. The roster selection stirred some controversy last week, as Kevin Love of the Cleveland Cavaliers was chosen to be one of the twelve on the team. His selection turned controversial after ESPN analyst Jalen Rose called his addition "tokenism." "Kevin Love is on the team because of tokenism," Rose said on "Jalen & Jacoby. "Don't be scared to make an all-black team representing the United States of America. I'm disappointed by that." "Anybody that watched the league this year knows Kevin Love did not have a stellar season, was not the best player on his team, and did not necessarily deserve to be on this squad." Rose apologized over the weekend after receiving heavy backlash for his comments. Colangelo discussed Love's selection, saying he made the team due to his "international experience." "It's because of his international experience," Colangelo said . " Yes, it's true. He hasn't played much of anything these last few years. But, his versatility is valuable up front." "We are excited about the 12 players who have been selected to represent the United States in the Tokyo Olympics," Colangelo said . "This was an unusually challenging selection process for many reasons, including the year postponement of the Olympics and the issues related to the timing of the NBA regular season and playoffs." Joe Morgan is the sports reporter for The Daily Wire. Most recently, Morgan covered the Clippers, Lakers, and the NBA for Sporting News. Send your sports questions to sports@dailywire.com. The Daily Wire is one of America's fastest-growing conservative media companies and counter-cultural outlets for news, opinion, and entertainment. Get inside access to The Daily Wire by becoming a member.

LeBron James' Olympic career likely over, according to Team USA's Jerry Colangelo
espn.com
Skims Is the Official Underwear of the U. S. Olympic Team
nytimes.com
Parker leads WNBA All-Star team that will face US Olympians
pressherald.com
With Jason Kidd now in Dallas, the Lakers are hiring another former head coach with ties to LeBron James to take his place. David Fizdale, former coach of the Memphis Grizzlies and New York Knicks, is expected to be the next new assistant for the Lakers under Frank Vogel, a person with knowledge of the situation confirmed to Southern California News Group. It was first reported by ESPN. Fizdale is an L. A. native who has nearly two decades of coaching experience in the NBA. Perhaps his most relevant resume section is his work as an assistant in Miami, where he was a part of the 2012 and 2013 championship Heat teams under Erik Spoelstra. It was this role that helped him gain a reputation as a strong communicator with star players, especially with James. That role specifically is something the Lakers are looking to replace: Kidd, who officially accepted a head coaching job for the Mavericks this week, was regarded as the star whisperer on staff. James in particular has always spoken warmly of Fizdale during his Lakers tenure. "I know Coach Fiz is a great coach, great communicator," James said in 2020 when Fizdale was fired from the Knicks. "He just tries to motivate his players." As a head coach, Fizdale has enjoyed less success with a 71-134 record and being fired twice in the middle of his second season. His firing in Memphis was tied to chemistry issues with the Grizzlies franchise star at the time: Marc Gasol. It's reasonable, however, to view both situations as disadvantageous for Fizdale, who coached the Grizzlies in one playoff series as the core was aging out of competitiveness, and who was brought to the Knicks to coach star free agents who never arrived. Gasol, who is under contract next year with the Lakers, that he and Fizdale were able to speak privately about what happened in Memphis with more perspective. "The only thing is you live, you learn and you move on and things don't happen again," Gasol said in 2018. "To me, that's what's important is we both learn from last season. We're both better professionals, better people and that's what the most important thing." Fizdale could help the Lakers' offense get more creative next season: The team was ranked No.24 in offensive rating last year (109.8) and struggled despite having the No.1-ranked defense. Fizdale was one of the people who helped revamp Miami's offense with James in the title runs — and while James is older, Fizdale's experience finding ways to use him stands as perhaps his most attractive attribute. ESPN reported that Fizdale had been pursued for other lead assistant jobs in the league. He has done work as an analyst for the network for the past two years. Related Articles Why a Lakers trade for a third star won't be so easy for the franchise Report: AEG's Philip Anschutz to sell Lakers stake to Dodgers owners Analysis: Lakers could extend Frank Vogel, shore up future as Jason Kidd departs Alexander: No, Laker fans will not root for the Clippers Report: Mavericks preparing to hire Lakers' Jason Kidd as next head coach

Former Knicks coach David Fizdale reuniting with LeBron James on Lakers
nypost.com
Lakers Hire Former Head Coach to Replace Jason Kidd: Report
heavy.com
Los Angeles Lakers finalizing deal to hire David Fizdale as assistant, sources say
espn.com
Lou Williams had himself a night in Atlanta's 110-88 Game 4 win over the Bucks on Tuesday. Williams, who usually comes off the bench for the Hawks, instead started in Trae Young's place after Atlanta's star guard suffered a bone bruise on his right foot in Game 3 — and Williams delivered in his first career playoff start After being traded from the Clippers just a few months ago — when he considered retirement — Williams fit right in with the Hawks' starting lineup and approach to Game 4 without Young. Williams recorded 21 points on 7 of 9 shooting to go with eight assists — a career playoff high — five rebounds and only one turnover in 35 minutes. The three-time Sixth Man of the Year impressed on both ends of the floor, and exploited Milwaukee's drop coverage. Williams was a force off the pick-and-roll, knocking down a number of shots, as well as making plays and dishing the ball to the Atlanta bigs. The Hawks were down by 10 when Bucks superstar Giannis Antetokounmpo went down after hyperextending his left knee late in the third quarter. Atlanta, which commanded the pace for most of the game thanks to Williams, immediately set the tempo after Antetokounmpo's injury, going on a 25-8 run to eventually even the series. After Atlanta's Game 4 win, Williams credited shifting his mindset to filling Young's shoes. "I just had to refocus my energy, put on a different hat, and get ready for the game," he said. Williams also spoke about his team's confidence being two wins away from the NBA Finals. "One thing that's been steady with this team since I've been here, this team has always been confident in their abilities," he old reporters after Game 4. "We've earned the right to be here… Did I look ahead and say, 'You know we an be championship contender day one.' Probably not. But we're two wins away like everybody else and we feel good about it." Williams also told reporters he learned he would start in Young's absence while on the training table, moments before the game. Young was listed as questionable hours before Game 4. Young's status is up in the air for Game 5 on Thursday in Milwaukee. If he's unable to go, the Hawks have a solid replacement in Williams.

Hawks pull level with Bucks as Giannis Antetokounmpo exits injured
sports.inquirer.net
Lou Williams rewards Hawks' confidence with big Game 4 starting in Trae Young's place
usatoday.com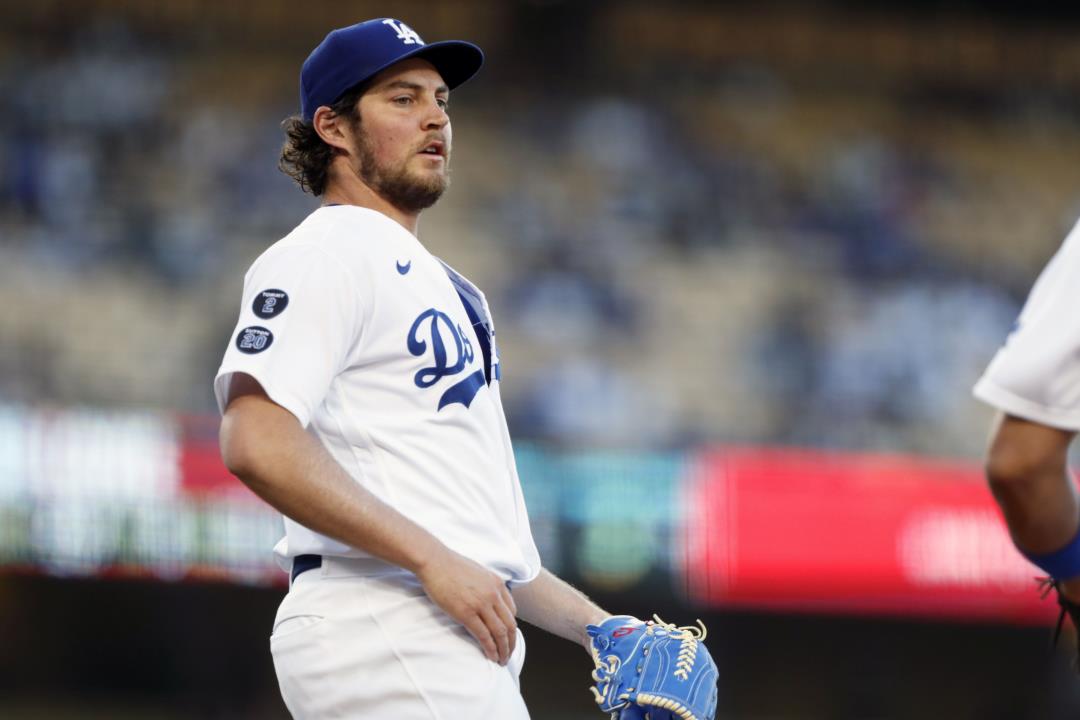 (Newser) – Last year, Trevor Bauer was named the winner of MLB's Cy Young Award for the National League. Now, the starting pitcher for the Los Angeles Dodgers has been hit with an assault claim by a woman who has since taken out an order of protection against Bauer, her lawyer, Marc Garelick, tells TMZ Sports. "The order is a result of a recent assault that took place at the hands of Mr. Bauer where [the accuser] suffered severe physical and emotional pain," Garelick says, adding he anticipates criminal charges to be filed. CBS News notes it's not clear when the incident occurred, though the Pasadena Police Department says it was around the middle of May, per ESPN. Dates aside, Bauer is pushing back that any type of assault happened, insisting instead that he had a "brief and wholly consensual" sexual relationship with the woman, with his accuser asking to be "choked out" and slapped in the face as part of desired "rough" sex, per a statement from Bauer's agent, Jon Fetterolf. Fetterolf notes the woman was the one who initiated the relationship with Bauer in April, and that after meeting up only two times, the woman kept messaging Bauer "with friendly and flirtatious banter." It was only days after their second get-together when the woman messaged Bauer to say she'd had to get treatment for a concussion, at which point Bauer "responded with concern and confusion," Fetterolf says, adding the woman was "neither angry nor accusatory." "Any allegations that the pair's encounters were not 100% consensual are baseless, defamatory, and will be refuted to the fullest extent of the law," Fetterolf notes. A source tells ESPN that MLB knows of the accusation and is set to investigate. The Dodgers have already responded, noting they contacted MLB themselves once they heard the allegations, and that they "take any allegations of this nature very seriously." (Read more Los Angeles Dodgers stories.)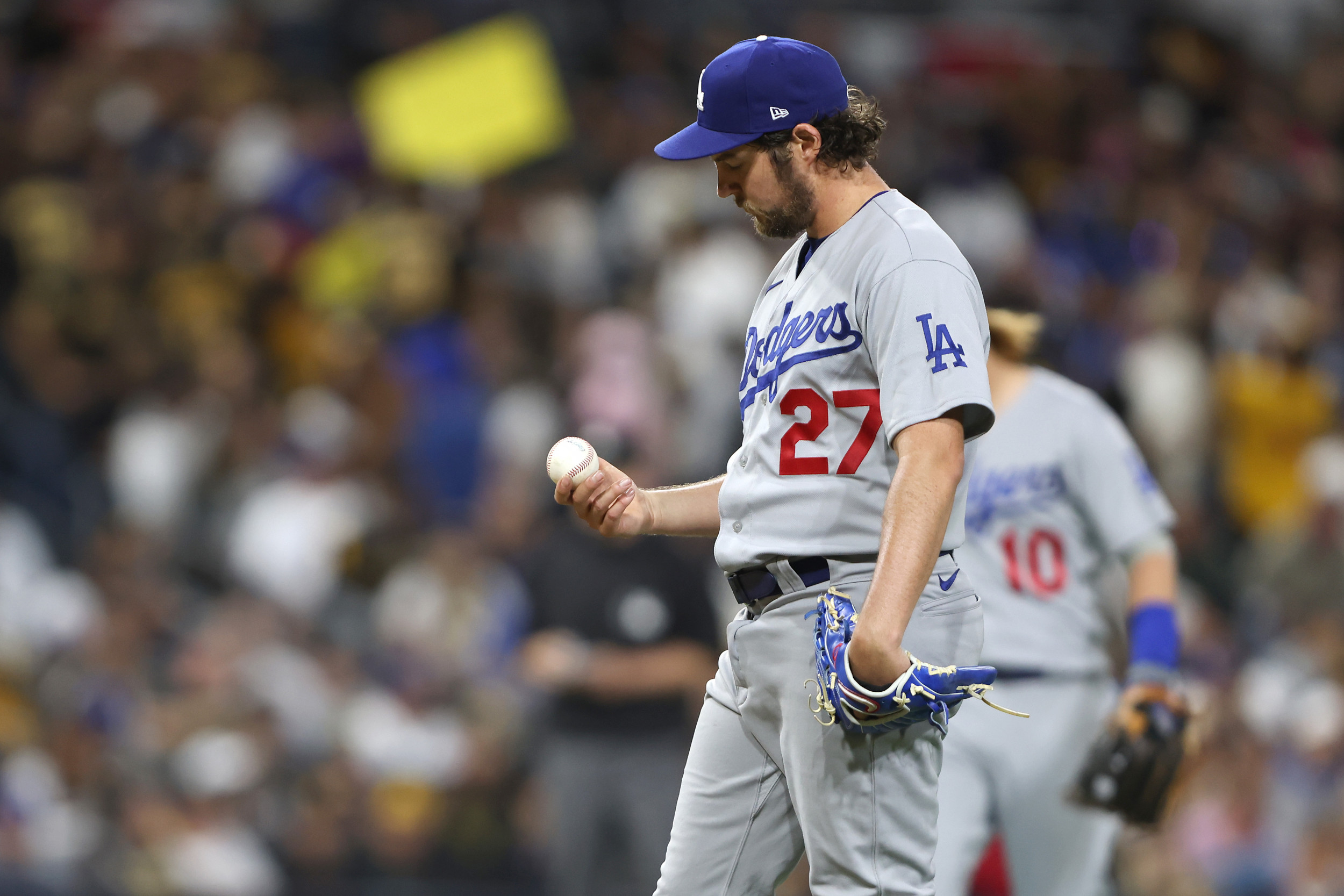 Trevor Bauer Assault Allegations: What We Know so Far
newsweek.com
MLB looking into assault allegations against Los Angeles Dodgers pitcher Trevor Bauer
cbsnews.com
Happiest Minds Technologies jumped 5.12% to Rs 997, extending its winning run to fifth consecutive trading session. Shares of Happiest Minds zoomed 10% in five trading sessions from its previous closing low of Rs 908.20 on 23 June 2021. The counter hit a record high of Rs 1,005 in intraday today. The stock has surged 251% from its 52-week low of Rs 285.55 recorded on 5 November 2020. In last one month, the stock has moved 15% higher as compared to a 2.25% rise in Nifty 50 index. On the technical front, the stock's RSI (relative strength index) stood at 74.947. The RSI oscillates between zero and 100. Traditionally the RSI is considered overbought when above 70 and oversold when below 30. The stock is trading above its 50 and 100 days simple moving average placed at 826.75 and 675.47 respectively. These levels will act as crucial support zones in near term. Happiest Mind Technologies is an IT services provider. It leverages a spectrum of technologies such as: Big Data Analytics, AI & Cognitive Computing, Internet of Things, Cloud, Security, SDN-NFV, Blockchain, Automation including RPA, etc. The IT company's consolidated net profit fell 14.5% to Rs 36.05 crore on a 14.5% increase in revenue to Rs 220.71 crore in Q4 FY21 over Q3 FY21.

KNR Constructions hits record high; rises over 13% in two sessions
business-standard.com
The Latest: Russia hits record death toll for 2nd day in row
wtop.com
Dow rises 200, S&P hits record high as Wall Street wraps up strong first half of 2021
wnd.com
The 2021 WNBA All-Star roster was announced on Wednesday with seven first-time honorees named including Liberty standout guard Betnijah Laney, Aces two-time reigning Sixth Woman of the Year Dearica Hamby, and last season's scoring champion, Wings guard Arike Ogunbowale. The complete roster for the All-Star team includes: Candace Parker, Liz Cambage, DeWanna Bonner, Kahleah Copper, Dearica Hamby, Brionna Jones, Jonquel Jones, Betnijah Laney, Arike Ogbunowale, Satou Sabally, Courtney Vandersloot and Courtney Williams. WNBA legends Tina Thompson and Lisa Leslie will serve as the team's co-head coaches. This season, the All-Star Game will be under unique rules as the All-Star team will compete against Team USA's Olympic team in Las Vegas on July 14. The 12 U. S. Olympians who they'll be competing against include: Sue Bird, Diana Taurasi, Chelsea Gray, Skylar Diggins-Smith, Jewell Loyd, Ariel Atkins, Tina Charles, Napheesa Collier, Breanna Stewart, A'ja Wilson, Sylvia Fowles, and Brittney Griner. Dawn Staley is the team's head coach. The most noteworthy exclusion from both teams was 2016 MVP Nneka Ogwumike, whose snub from the Olympic team was highly controversial. Her omission from the All-Star Game made more sense as the veteran is recovering from a knee sprain and has only appeared in five games this season. Voting was open from June 15 to June 27 at 11:59 p.m. ET. On two Sundays, votes counted twice. Fans and media were able to vote for four backcourt and six frontcourt players. Fan vote accounted for 50 percent of the total vote, and media and WNBA players accounted for 25 percent of the vote each. The top 36 players (nine backcourt and 15 frontcourt) were then put in a pool that WNBA coaches voted for. Coaches could not vote for their own players. Starters for both teams will be determined by their respective head coaches. The WNBA finding a way to add an All-Star Game in an Olympic year is a wonderful add for both players and fans. Every four years since 2000, the league's best players weren't awarded an All-Star nod for their performance. Now they'll be able to add this accolade to their resume

Three Sky players named to Team WNBA roster for All-Star game
chicago.suntimes.com
Parker leads WNBA All-Star team that will face US Olympians
pressherald.com
TORONTO (AP) — Canadian boxer Mandy Bujold looks forward to the day when she can tell her daughter that she got in the Olympic ring with sport's highest court — and won. The 11-time national flyweight champion has won her appeal to the Court of Arbitration for Sport, allowing her to compete in the Tokyo Olympics. The CAS ruled Wednesday that the International Olympic Committee's boxing task force must include an accommodation for women who were pregnant or postpartum during the qualifying period. "Years down the road, I'm going to have a conversation with my daughter about this stage in my boxing career, I'm now going to be able to tell her that I took time off to become a mom and came back a stronger, better woman and proved that you can have a family and be an Olympian," Bujold told The Canadian Press. "This decision has impacted not only my future, but also the future generation of young girls." Bujold appealed to the CAS after her qualifying tournament in Argentina was scrapped due to COVID-19. "We did it!" she said in announcing the news on Twitter. The 33-year-old from Kitchener, Ontario, and her lawyer Sylvie Rodrigue, lost their original appeal to the IOC in May, leaving the CAS her last chance to box in what would be her final Olympics. Bujold argued discrimination based on sex, because she'd taken time off for pregnancy. After a competitive year erased by COVID-19, Bujold was confident she'd clinch an Olympic berth at the qualifier in Buenos Aires, but after that event was canceled, boxers were selected on a revised ranking system that used three events between 2018 and 2019 — events she missed because they conflicted with her maternity leave. Bujold's daughter, Kate Olympia, was born on Nov.5,2018. "I'm pleased that the members of the (CAS) tribunal have seen the importance in not only my case, but in setting a precedent for the future of women's sport," Bujold said. "This decision can give hope to young aspiring athletes around the world, knowing that they don't have to decide between an Olympic dream and starting a family." The news came on a momentous day for female athletes. Earlier Wednesday, the IOC announced that breastfeeding Olympians could have their babies with them in Tokyo, a move that comes a week after Canadian basketball player Kim Gaucher made an emotional plea to bring 3-month-old daughter Sophie to the Games. The Canadian Olympic Committee said in a statement that it strongly believes in gender equity in sport and is pleased with the CAS decision regarding Bujold. "We understand that the qualification systems have been extremely complicated and some decisions resulted in unintended consequences," the COC said. "We agree with the decision to grant this appeal recognizing these consequences and the need for accommodation in cases where discrimination has resulted." Boxing Canada said in a statement that it applauded Mandy on "this historic decision, and in her fight for gender equity." "What an incredible and rightful decision, not only for Mandy and her legal team, but also for all the other female athletes who will benefit over time from this decision," Boxing Canada executive director Roy Halpin said. Rodrigue said Bujold's legal challenge boiled down to human rights. The law states that penalizing a woman because of pregnancy or a postpartum period is discrimination. "We recognize that the pandemic may have required making changes to the qualification criteria for boxers in the Americas, the only continent by the way where the qualifying event was canceled," she said. "But discrimination of any kind, including based on sex remains illegal, pandemic or not. "Mandy did not choose not to go to a qualifying event . .. Mandy planned her pregnancy according to the Olympic cycle, specifically so she would be ready to compete at these Olympic qualifiers." It's unknown how Bujold will be added to the Tokyo tournament and what her seeding will be. "Right now Mandy is continuing her training and we are in a waiting mode in a way," Rodrigue said. The full Canadian team will be announced Monday. "Mandy will be on that list. So from our perspective, the next step is Tokyo," Rodrigue said. Bujold is a two-time Pan American Games gold medalist. Illness derailed her quest for a medal at the 2016 Rio de Janeiro Olympics. The night before her quarterfinal bout she was in hospital receiving an IV. She lost that match. ___ More AP Olympics: https://apnews.com/hub/olympic-games and https://twitter.com/AP_Sports Copyright © 2021 The Associated Press. All rights reserved. This material may not be published, broadcast, written or redistributed.

Breastfeeding Olympians allowed to bring babies to Tokyo
pressherald.com
The 2021 NBA Playoffs have unfortunately become more about who is not playing as opposed to those actually taking to the court, as injuries continue to sideline some of the league's top talent. Milwaukee's Giannis Antetokounmpo became the latest casualty, in what is becoming an all-to common occurrence, as the two-time MVP was forced out of last night's Game 4 after hyperextending his knee in the third quarter. The Bucks entered Tuesday's Game 4 against the Atlanta Hawks as the -114 NBA Championship favorites, but their stock with sports bettors has taken a massive blow given the uncertainty surrounding their star player's availability. The Milwaukee Bucks are now available at +300, with MyBookie's NBA Championship odds pegging the Phoenix Suns as the -135 favorite. "It was tough to see Giannis go down, an injury that will have a drastic effect on the Bucks chances to win the Eastern Conference," commented MyBookie head oddsmaker David Strauss. "However, not so drastic that they are the underdog. With Game 5 being set at Bucks -2.5, the Bucks are a slight favorite with or without Giannis. If Trae Young comes back in the Series, the odds will quickly move in Atlanta's favor." As Strauss points out, while Giannis' absence is obviously a concern, Atlanta also finds themselves with their star player sidelined. Trae Young did not suit up for last night's battle, but his Hawks were still able to maintain the lead for the entire game. Milwaukee did manage to keep within a single-digit margin for most of the first half, but the injury early in the third-quarter clearly shook the team in a way that saw them unable to respond. In a post-game interview, Milwaukee head coach Mike Budenholzer said that the team would have more information available Wednesday, but it is expected that Giannis will be unavailable for Game 5, if not the remainder of the series. While Giannis sells the jerseys, Khris Middleton is the unsung hero of this team's playoff run, with the two-time All-Star averaging 22.7 points,7.9 rebounds and 4.7 assists in the Bucks' 15 playoff appearances this season. Jrue Holiday is adding an additional 16.5 points,8.1 assists and 5.3 rebounds this post season. As the series returns to Milwaukee, the Bucks find themselves in familiar surrounding and the shock of the Giannis injury has somewhat worn off. Coach Budenholzer is not know for his adjustments, but as the betting odds indicate, the Bucks are still very much alive in this series. Holiday and Middleton alone could be the Game 5 storylines, obviously depending on Trae Young's availability. NBA Championship Odds The adjust odds are more a product of the uncertainty rather than actual probability at this point, with all team in contention dealing with questionable lineups. Phoenix's Devin Booker is taking the court in a facemask, and the young star's shooting percentage has fallen since suffering a broken nose earlier in the series. Suns fans are also weary of point guard Chris Paul's ability to put on more miles, as CP3 has a long history of playoff injuries that lead to early exits. Given those left in the running, the Atlanta Hawks are a legitimate contender, only that oddsmakers are clearly concerned about Trae Young's ankle. A late blow to the face of Clint Capela also saw the Hawks send another player to the locker room. The extent of his eye injury is currently unknown, but his availability in Game 5 will is critical if the team hopes to advance. Los Angeles isn't excluded from the injury bug, as Kawhi Leonard is already ruled out for the Clippers in Wednesday's Game 6, missing his 8th straight game with an ACL injury.

Hawks pull level with Bucks as Giannis Antetokounmpo exits injured
sports.inquirer.net
TALLAHASSEE (CBSMiami/NSF) – A 13-year-old Broward County soccer player and her parents are challenging a new state law that bans transgender athletes from participating on girls' and women's sports teams, arguing that it is unconstitutional and "ignores basic medical science" about trans students. The measure (SB 1028), one of the most hotly debated issues of the 2021 legislative session, will make female athletes' eligibility for sports teams contingent on their "biological sex" on birth certificates issued "at or near the time of the student's birth." The legislation, signed June 1 by Gov. Ron DeSantis, is similar to proposals considered or passed this year by numerous other Republican-controlled legislatures across the country. In a federal lawsuit filed Tuesday in the Southern District of Florida, lawyers for the student identified by the initials D. N. and her parents alleged that the new law will force her to abandon "the sports that mean so much to her" because she will not be able to participate on high-school girls' athletic teams. The ban is unconstitutionally discriminatory and violates a federal law, known as Title IX, which prohibits sex-based discrimination in schools or education programs that receive federal money, the lawsuit said. D. N. would be "sidelined and ostracized solely because of her gender identity" if she isn't allowed to play on girls' and women's teams, lawyers with the Human Rights Campaign, a national non-profit organization that advocates for LGBTQ rights, and the Arnold & Porter firm wrote in the 20-page complaint. According to the lawsuit, D. N. has identified as a girl since she was a young child and has participated in girls' sports for many years. "D. N. dreams of being on high school sports teams, whether it is in soccer or volleyball. She cannot imagine life without these experiences and feels it would be cruel to take this opportunity away from her. D. N. has lived as a girl for years now and this is her true identity," her lawyers argued. Republican lawmakers tucked the transgender athlete ban into a wide-ranging education bill in an eleventh-hour move during the legislative session that ended April 30. DeSantis and other supporters maintain that the ban is necessary to prevent male athletes from having a competitive edge over female competitors. "I can tell you this, in Florida, girls are going to play girls' sports, and boys are going to play boys' sports. That's what we're doing, and we're going to make sure that that's the reality," DeSantis said as he signed the bill on the first day of June's Pride Month. But critics contend that the ban will further isolate transgender students who are already at risk of being bullied or worse. D. N., referred to as "Daisy" in a news release issued Wednesday by the Human Rights Campaign, takes estrogen and her testosterone levels have been suppressed for more than a year, her attorneys said in the lawsuit. "D. N.'s identity and development are that of a girl and she is on estrogen. She has no competitive advantage merely because of the sex assigned to her at birth. Now and when she enters high school, from an athletic perspective, she is similarly situated to her cisgender female teammates," they argued. The state law runs afoul of Title IX and federal regulations, which do not permit "a state or locality to discriminate based solely on a person's gender assigned to them at birth," the plaintiffs' lawyers said. The law also violates transgender female athletes' equal protection rights, the lawyers argued, because "it is neither tailored to the achievement of a compelling governmental interest nor substantially related to an important state interest." "Florida's purported state interest in athletic 'fairness' ignores basic medical science about transgender students, as well as the impact of hormone suppressants," the plaintiffs' attorneys wrote. Under the new law, other students who contend they are "deprived of an athletic opportunity" or suffer "direct or indirect harm" because of violations of the transgender ban will be able to sue schools or colleges. Transgender girls "must now face the risk their participation will be subject to legal challenge," D. N.'s lawyers wrote. "Any such suit would, of necessity, require the production of private medical and academic records, which in any other context would not be available to other students or those students' families, let alone the general public." The law would subject D. N. "to an invasion of privacy" if she had to participate on boys' teams and use boys' locker rooms, although she is receiving estrogen and will continue to develop as a girl through puberty, her lawyers said. "Her social network and support system are the girls on her team, and she would be ostracized and bullied if she were to be forced to be on a boys' team. Compelling her to be on the boys' team also would force her to disclose her transgender status to the entire school," they argued. The ban violates transgender female athletes' constitutional right to privacy, wrote D. N.'s lawyers, who are asking a judge for an injunction against the law. The Human Rights Campaign also plans to challenge similar laws in Arkansas, Mississippi, and Tennessee, according to Wednesday's news release. "Given the unprecedented onslaught of state legislative attacks, we have a responsibility to utilize every tool in our belt to safeguard the LGBTQ community, including suing the states that infringe upon our civil rights," said Alphonso David, the organization's president. "On the first day of Pride Month, a moment of celebration, Gov. DeSantis signed a bill into law attacking transgender children—now, on the last day of Pride, we are sending a message to him, and all anti-equality officials, that you cannot target our community without retribution."

Florida's new transgender athlete law challenged in federal court
eu.heraldtribune.com
ST. LOUIS — Kwang Hyun Kim won for the first time in 11 starts, pitching five solid innings and helping himself with a two-run double as the St. Louis Cardinals beat the Arizona Diamondbacks 7-4 Wednesday for a three-game sweep. Kim (2-5) had lost five straight decisions since his last win on April 23. He stranded six runners through his first four innings, giving up just an RBI single to Asdrúbal Cabrera. Kim retired the last five batters he faced. He struck out five, walked three and allowed three hits as the Cardinals won for the fourth time in their last five games. Alex Reyes earned his 20th save in as many opportunities. Arizona lost its fourth in a row. Kim's opposite-field double to left in the second scored Yadier Molina and Edmundo Sosa to give the Cardinals a 2-0 lead. The two RBI were Kim's first in the majors, and it was also the first extra-base hit for the 32-year-old lefty – he was 1 for 15 in the big leagues before that. Arizona lost its fourth straight on the road since winning Saturday at San Diego to end a record 24-game road losing streak. The Diamondbacks are a major league-worst 22-60, including 10-36 away from home. Success. Please wait for the page to reload. If the page does not reload within 5 seconds, please refresh the page. Enter your email and password to access comments. Forgot Password? Don't have a Talk profile? Create one. Invalid username/password. Please check your email to confirm and complete your registration. Create a commenting profile by providing an email address, password and display name. You will receive an email to complete the registration. Please note the display name will appear on screen when you participate. Already registered? Log in to join the discussion. Only subscribers are eligible to post comments. Please subscribe or login to participate in the conversation. Here's why. Use the form below to reset your password. When you've submitted your account email, we will send an email with a reset code. Send questions/comments to the editors. « Previous

Diamondbacks look to stop 3-game losing streak against Cardinals
wtop.com
Kim ends skid, helps with 2-run double, Cards sweep D-Backs
wtop.com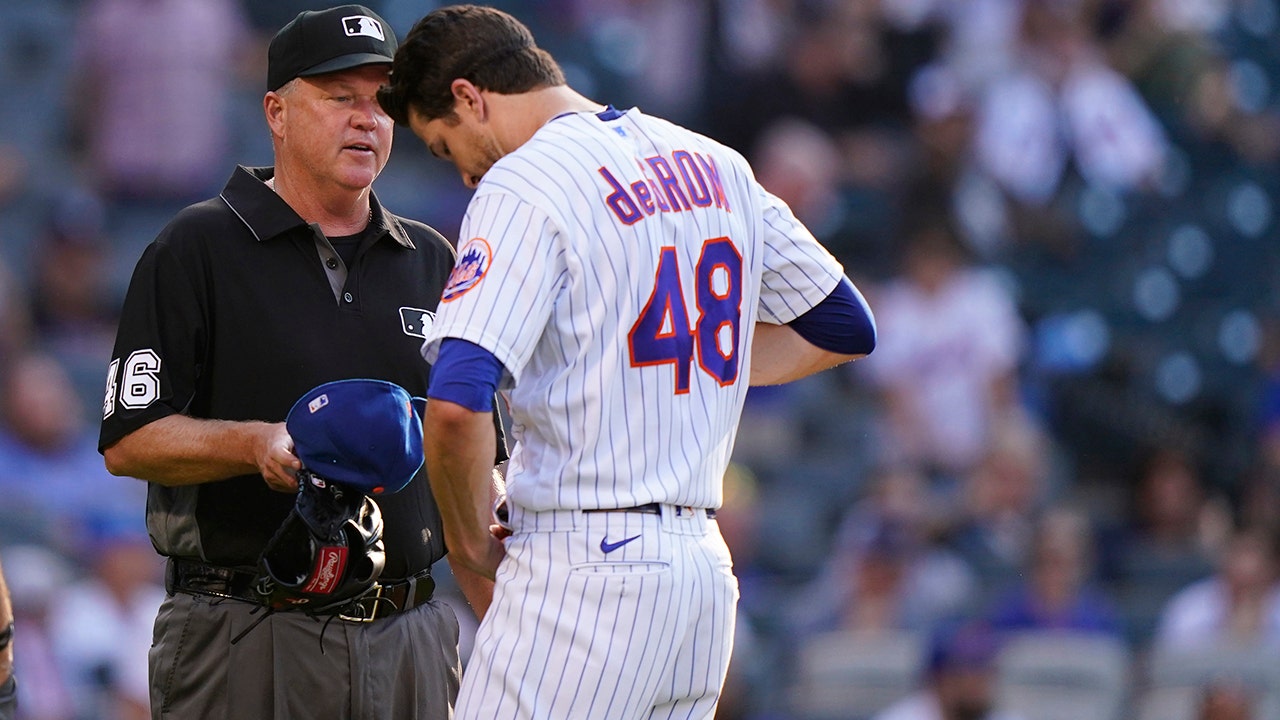 New York Mets ace Jacob deGrom was caught on MLB Network's Ballpark Cam wrestling with another Mets player in the outfield grass prior to Tuesday's game against the Atlanta Braves. DeGrom pinned the other player to the ground, and a third Mets player made his presence felt by mimicking a referee and signaling that the two-time Cy Young award winner came away victorious. Mets fans were worried about deGrom suffering an injury to his right arm, which led to a ton of reactions on social media. WFAN radio host Evan Roberts – who is a Mets fan – wasn't happy about it either. "This is a guy who has had 15 different injuries in the last month," Roberts said passionately. "What are we doing?" DeGrom, who has spent 16 days on the injured list this season, had right flexor tendonitis, right shoulder soreness, and he dealt with tightness to his right side at one point as well. If it's frustrating for Mets fans to see, coaches and other Mets staff may be annoyed with deGrom as well. Through 13 starts this season, deGrom has an unprecedented 0.69 ERA, which is by far the best in all of baseball. He is scheduled to make his next start against the Braves on Thursday.

Jacob deGrom caught on camera wrestling on field in Mets fans' nightmare
nypost.com
McCann, Lindor come through, Mets rally past Braves 4-3
foxnews.com
One of Ron Swanson's earliest iconic moments on Parks and Recreation was the Pyramid of Greatness. "It's a perfectly calibrated recipe for maximum personal achievement," he says about his creation. Categories include Discipline ("the ability to repeat a boring thing over and over again"), Friends ("one to three is sufficient"), and Greatness Itself ("the best revenge"). If Ron were to add two more boxes, they could be Transportation ( "never hire someone named Lou") and Crying in Baseball ( "no"). Nick Offerman has been cast in the Tom Hanks role in Amazon's A League of Their Own series from creators Abbi Jacobson and Will Graham. He won't be playing Jimmy Dugan, but rather, Casey "Dove" Porter, the team's coach. He's described as a "former Cubs pitcher who is brought in to coach the Rockford Peaches. The character is most famous because his forkball killed a dove in mid-air in the middle of a game. Inspiring and charismatic, Dove was thought to be the next big MLB star, but blew his arm out after three years. Now he's looking to make his comeback by making the Peaches into champions." He's like Henry Rowengartner meets Randy Johnson meets this poor bird. It's impossible to get tired of that clip. Anyway, the A League of Their Own show (which has director Penny Marshall's blessing) also stars Jacobson, Chanté Adams, D'Arcy Carden, Gbemisola Ikumelo, Kelly McCormack, Roberta Colindrez, and Priscilla Delgado. There's no premiere date yet. (Via the Hollywood Reporter)

Nick Offerman to Star in Amazon's 'A League of Their Own' in Tom Hanks-Esque Role
thewrap.com
Former President Donald Trump said former National Football League legend Herschel Walker told him he will run for the U. S. Senate in Georgia in 2022. The announcement took place during an interview on the " Clay Travis and Buck Sexton Show " on Tuesday evening. "He told me he's going to, and I think he will," Trump said, according to the Daily Caller . "I had dinner with him a week ago. He's a great guy. He's a patriot. He's a very loyal person. They love him in Georgia." "He was the greatest running back in the history of the state," Trump added. "He is one of the best in the history of the country." When asked how Walker would do running for Senate, Trump said, "I think he'd win. I think it would be very, very hard to beat Herschel. Beating him would be very tough. And I think he's going to run." If Walker announces a run, he'll serve as a potential Republican candidate against Democratic Sen. Raphael Warnock in 2022. Warnock won a Georgia seat in a special election in January to help give his party a 50-50 tie in the Senate. Trump also encouraged Walker to run in a statement released in March. "Wouldn't it be fantastic if the legendary Herschel Walker ran for the United States Senate in Georgia?" Trump said in a statement at the time. "He would be unstoppable, just like when he played for the Georgia Bulldogs, and in the NFL. He is also a GREAT person. Run Herschel, run!" A February poll conducted by the Trafalgar Group showed that Walker would likely beat Warnock in a Senate race. The poll showed that Walker had the support of 47.7 percent of participants, compared to just 45.5 percent for Warnock, who defeated former Republican Sen. Kelly Loeffler in the January runoff election. The poll reported a margin of error of +/- 2.88 percentage points. Walker has kept mum about a possible campaign, according to the Atlanta Journal-Constitution, which noted that the former Dallas Cowboys star currently lives in Texas and would need to move to Georgia to seek the Senate seat. This article appeared originally on The Western Journal.

Trump Says Herschel Walker Plans to Run for U. S. Senate in Georgia
pjmedia.com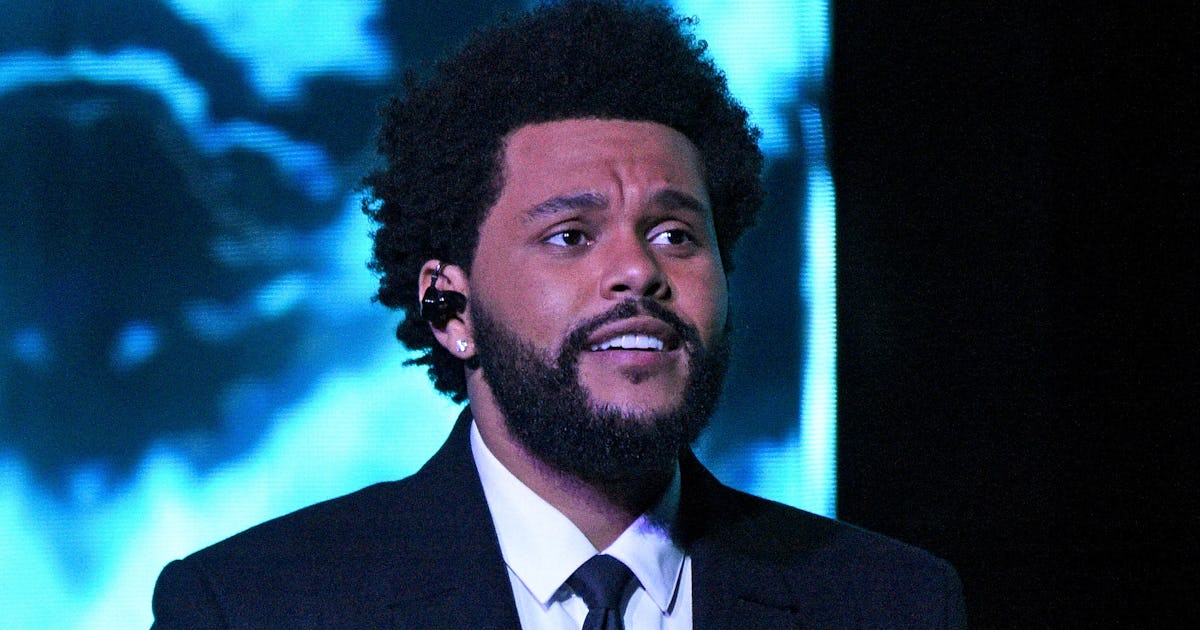 Sign me up. A couple years after Drake helped launch HBO's hit series Euphoria, the rapper's protégé The Weeknd is following in his mentor's footsteps with a trippy new show of his own. The hitmaker is developing a juicy HBO series that combines the worlds of pop music with underground cults, which is basically already guaranteed to be a must-watch experience. Not only will The Weeknd write and produce the show, but he will also star in it, making his acting debut. Here's what fans need to know about The Weeknd's HBO show The Idol, because it's about to be what everyone's talking about. The Idol will tell the story of a female pop singer who falls into an unexpectedly dangerous world when she learns the mysterious club owner she's begun dating is also the leader of a secret cult. It's not yet confirmed if The Weeknd will be playing the cult leader boyfriend or another character, but he is set to star in the series, along with writing and executive producing it. This will mark The Weeknd's first major acting role, following a cameo appearance as a version of himself in 2019's Uncut Gems. The superstar singer is co-creating the show with Sam Levinson, who is best known for creating the psychedelic teen drama Euphoria for HBO. The Weeknd's longtime friend and collaborator Drake executive produces Euphoria, deepening the shared DNA between these two series. There's not much info about the newly announced series just yet, but here's what fans can expect. Since the new show is still in early development, it likely won't premiere anytime soon. Fans will probably have to wait until 2022 to check out the series. As of the show's announcement, The Weeknd is the only confirmed cast member... and even his role is unclear. The hitmaker will likely play the club owner/cult leader at the center of The Idol 's mysterious drama, but the bigger question is who will play the female pop star who will serve as the show's protagonist. Given The Weeknd's impressive connections in the music industry, an IRL pop star could potentially join The Weeknd in making an acting turn to helm the series. The Idol won't release any first looks until it enters production, so fans will have to sight tight and look out for any photos or trailers either later in 2021 or sometime in 2022.

The Weeknd teams with 'Euphoria' creator on new HBO series
upi.com
A few years ago, Mahlon Williams realized his preteen son, Mikey, was famous, and he couldn't understand how it had happened. "I'm not really into Instagram," Mahlon says. "I wasn't aware when he touched a million. I wasn't aware when he touched two million. Then he got to almost three million, and I was like, wow." Mikey Williams is now 17, and he has been ranked among the best basketball players in his age group since he was in seventh grade. His Instagram is filled with basketball highlights and soulful shots of him in fashionable clothes and sneakers and sitting in muscle cars. He and his father have spoken about the tough times their family had as well as Mikey's desire to do for his family what LeBron James did for his. They have been on the national AAU circuit for years, and last year, when it looked like all California winter sports might be canceled, Mikey transferred from his San Diego high school to North Carolina. His father and younger brother went with him. His sister, a softball player, stayed in California with their mother. With two years of high school left, Mikey has 3.1 million Instagram followers and options previous generations never had. He could accept one of numerous college scholarship offers -- his father says he is leaning toward a historically Black school -- or he could start earning money as a professional, right now. In the Overtime Elite League (OTE), scheduled to begin play this fall, Mikey Williams could be paid as a high school player. If he finishes high school, he has the chance to get paid in the Professional Collegiate League, which offers college-age players $50,000 to $150,000, or the NBA's G League, which started a team for prospects last year. He could go overseas to be a professional. If the NBA drops its one-and-done rule, as it is expected to in its next collective bargaining agreement, he might have the option of going straight to the league. And if he does choose college, he will soon be able to cash in on his name, image and likeness and, as of last week's Supreme Court decision, compensation related to his education. "It's definitely different," Mahlon Williams says. There has been a seismic shift in basketball over the past year, although the alternative paths to the pros are still a long way from dismantling the NCAA. Between OTE, the PCL and the G League's Ignite, the three leagues will roster about 140 players, as compared to the 5,549 who played in Division I men's basketball in 2019-20. Consider, though, that there are only 60 players chosen in the first two rounds of the NBA draft every year; leagues that pay six-figure salaries could significantly cut into the number of elite players who choose the college route. The catalyst is social media, which has turned highlights into a commodity and given young players a power that previous generations couldn't have imagined. Mikey Williams has value to leagues like OTE and PCL in large part because of those 3.1 million followers. That leaves the basketball world with two questions: Can players draw an audience when they aren't wearing college jerseys? And will fans still watch college jerseys without some of the best players in them? For colleges to thrive, North Carolina A&T men's basketball coach Will Jones says, they need to recognize that they're now just one of many suitors for the player. "Now, it's not that the kid needs a college," he says. "It's really a partnership, and that partnership needs to be balanced a little bit more than it is now." Well before the Supreme Court turned the NCAA's idea of amateurism on its ear, entrepreneurs were realizing there was growing public support for paying players; and in the past couple years, they began betting that there was a market for alternatives. The Professional Collegiate League, announced in April 2020 but delayed by the pandemic, says it will educate and pay college-age players from $50,000 to $150,000. The league will play in one city this fall, with plans to establish eight teams around the country next year, eventually growing to 24. It recently announced a rights deal with Next Level -- a cable and digital sports network -- to broadcast games. "The idea that amateurism was something inherently worth preserving never really made sense," says Andy Schwarz, PCL's co-founder and chief innovation officer. "Amateurism is a myth that never existed." The perfect example, he says, is the Olympics. Proponents of amateurism predicted that fans wouldn't watch Olympic sports if athletes were paid, but the continued growth of the Games "disproved that lie." When Overtime Elite's launch was announced in March, the news generated mostly positive press and a general attitude of, "Well, sure." "If someone had talked about the idea even as recently as five,10 years ago, it would have been met with resistance and basically that, 'This is not the way things are done,'" says Zack Weiner, co-founder of Overtime, the social media company that created the new league. A key element of the plan is the promise to build a school and set aside $100,000 in college tuition for each player, in addition to his salary, in the event he doesn't fulfill his NBA dreams. The league will have up to 30 young men over the age of 16, all seen as likely to become NBA players. Last month, OTE announced it will base the league and its school in Atlanta, and it recently began construction on a 100,000-square-foot facility in the city's Atlantic Station neighborhood. League officials say they are going to pay players at least $100,000 a season; provide a high school education as well as classes to prepare them for life as a professional; and let them profit off their name, image and likeness. If it works, the company says it will do the same with young women. Games and highlights will be broadcast on Overtime's many platforms. The company has 5.1 million Instagram followers,2.2 million YouTube subscribers and 850,000 Twitter followers, and it says it has 50 million followers across all platforms,90% of whom are under 35 years old. Revenue will come from advertising, sponsorship deals and merchandising, all driven by online content. Overtime announced in April it had raised $80 million in its latest round of fundraising from investors, including Jeff Bezos, Drake and 25 current and former NBA players. NBA commissioner Adam Silver gave his endorsement, saying, "It's generally good for the community to have optionality." Avery Johnson, the former NBA and college player and coach who is now a paid advisor to OTE, says the league is not in direct competition with the NCAA but rather designed for players who "probably weren't going to enter college for whatever reason." A perfect candidate will be someone like Jonathan Kuminga, a five-star recruit who signed with the G League's Ignite last July. Kuminga, a 6-foot-7 small forward who immigrated from the Democratic Republic of the Congo when he was 14, went to three U. S. high schools, each in a different state. His older brother played basketball at UNLV and Texas Tech, but Kuminga says he had no interest in the college game. "I just wanted to be a professional at a young age. And so when they would present me about the G-League Ignite, I was like, man, I'm only 17 and I'll be the youngest player to be in the team Ignite," he says. "I just forgot about college after that." For now, the vast majority of players still opt for college. Ignite pays as much as $500,000, but "you didn't see top players opt for the Ignite program, even though it's NBA-owned," agent Todd Ramasar says. "[No.1 ESPN recruit] Chet Holmgren didn't go to Ignite," Ramasar says. "He's going to Gonzaga. One of the top players decided to go to Spokane [Washington]. That's amazing." In fact, only two of this year's ESPN 100 top recruits chose Ignite. The remaining 98 have either committed or signed letters of intent with colleges. OTE's success in recruiting "is all going to be contingent on the success of its first year," Ramasar says. "Then it becomes a herd mentality. If there's success and it works, then obviously more players are going to make that choice. To attract fans, you always need authentic competition. If not, then all you have is a reality show, and not a very good one." So far, OTE has signed seven players, starting with two sets of five-star American twins, Matt and Ryan Bewley, and Amen and Ausar Thompson. The league also signed Dominican guard Jean Montero, who has been playing professionally in Spain, and Emmanuel Maldonado, a five-star recruit currently in high school in Florida. Asked what concerns the league has about signing enough players for the fall, a spokesman said, "None." Still, Lou Richie, the boys' basketball coach at Bishop O'Dowd High School in Oakland, California, says he expects many parents to be skeptical of OTE, as they would with any unknown venture. "It's a matter of taking that chance. Who wants to go to Duke after Coach K leaves? There's going to be some conjecture, some doubt," says Richie, who played at UCLA and Clemson. "And I hope that they do it right; I'm not saying they won't. When you're talking 15-,16-year-olds, and you're talking a lot of money, you always worry that there's someone behind it trying to make out like a bandit. The not knowing has my fear and my antennae up about them." Mahlon Williams says his son currently plans to attend college but that they consider themselves to be in the "wait and see" camp about OTE. "This time next year, we might be talking differently," he says. "It might have the type of credibility and coaching and development where you have to think about it." The NCAA remains steadfastly opposed to paying college players a salary, as NCAA president Mark Emmert repeated in a Senate hearing this month, but the proliferation of alternative leagues will add to the pressure on the NCAA to compensate players, numerous coaches and administrators said. (The NCAA did not respond to several requests for comment.) Jones, the North Carolina A&T coach, wants colleges to do more for athletes financially, short of paying a salary, and then emphasize the best thing college has to offer: an education. OTE and PCL might be good options, he says, but only if they emphasize education the way they have promised. "This is coming from an African-American coach who coaches basketball: I don't want our athletes to be confused and chase fast money. I want them to get money if they can get money, but some of these kids need to get that diploma," Jones says. "The four years in college, many individuals say they were the best time I've ever had in my life. And a lot of kids giving up that just for basketball? We've got to make sure that we're not making decisions based on one aspect of life that's going to run out. And we know it's going to run out." University of Missouri men's basketball coach Cuonzo Martin says he's all for options and that players should have the ability to make money off their NIL rights or choose an alternative league that pays them. But even if the top players opt for OTE and PCL or the NBA ends one-and-done, he doesn't see the college game suddenly declining. "College basketball is always going to be successful because it's entertainment," Martin says. "When the one-and-done goes and plays college basketball, the fans embrace them and cheer them on because they are part of their team. The fans become attached to that person, and when they leave after a year, it's hard on them because they're looking at that person leaving through the lens of someone whose team just lost a talented player. Whereas, if that one-and-done never steps foot on campus, the fans don't have that same attachment because the one-and-done was never part of their program." College does still have an appeal that none of these leagues can replicate, says former U. S. congressman and NBA veteran Tom McMillen, who is now president and CEO of Lead1, an association of college athletic directors. "The 'stickiness' of college sports is so strong, and it's built up of 50 and sometimes 100 years of alumni support that no new league, no G League, no one can replicate that." McMillen sees a silver lining in the prospect of elite players opting out of college. Rather than watch the likes of Michael Porter Jr. and Zion Williamson spend one season in college, the NCAA might be able to get back to a more traditional vision, of players who go to school for the scholarship and stay for several years rather than use it as a springboard to the NBA. The new leagues can actually relieve the pressure on the NCAA to become more professionalized, McMillen says. "We did a survey: 96% of our ADs want to decentralize college sports, to curtail salaries and expand, not cut sports," he says. "They're fine with kids having the ability to monetize their publicity rights and have some flexibility. But they don't want to turn into a model of the NBA. "What ADs want is ways to curtail the arms race." Ricky Volante, co-founder of the PCL, says he has heard the same sentiment: "A senior NCAA official said to me, 'If you're successful, it solves our problem.'" LeVelle Moton, the men's basketball coach at North Carolina Central University, says it's possible the college game could become more stable but that just because a player chooses college over a pre-NBA professional route, it doesn't mean he is going to stay at one school for his career. The only thing he's sure of, he says, is that players recognize that they now have significant power within the system. "All college basketball can say is well, damn, we had a good run," Moton says. "All good things come to an end.... We've got to find another hustle."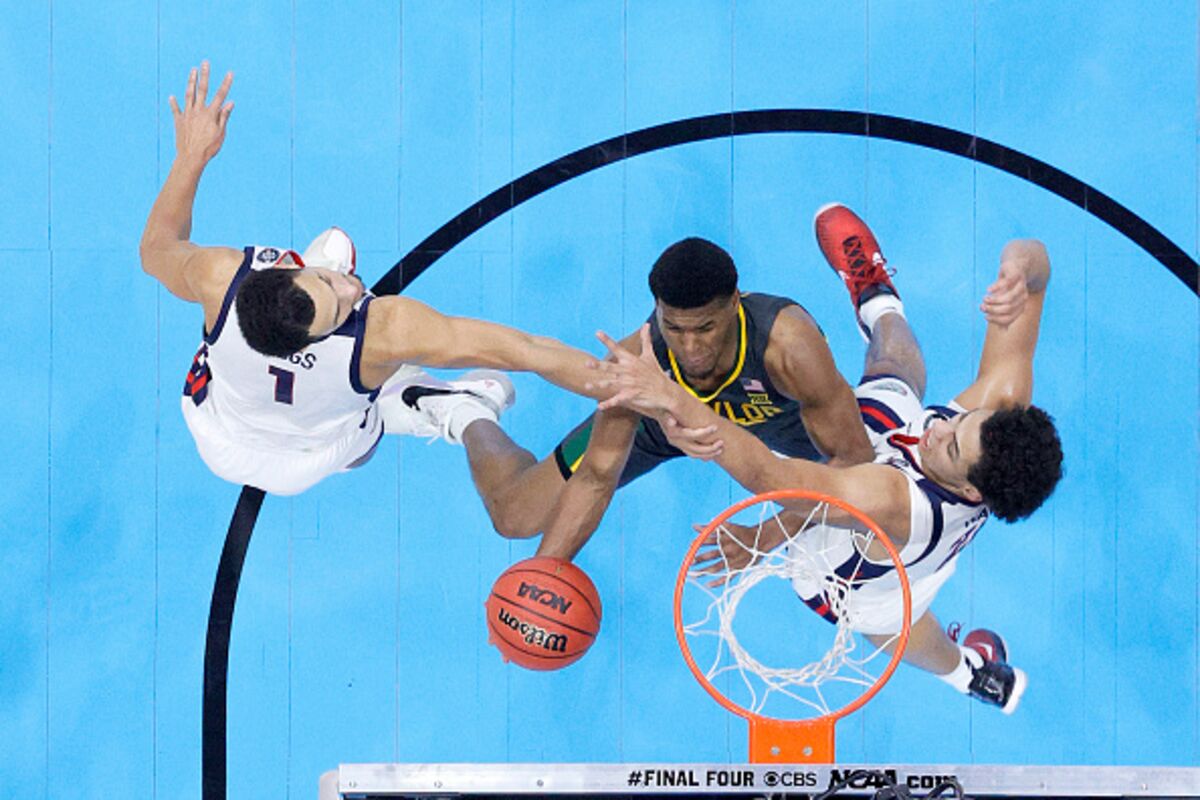 NCAA Athletes' Pay Victory May Leave Them Worse Off
bloomberg.com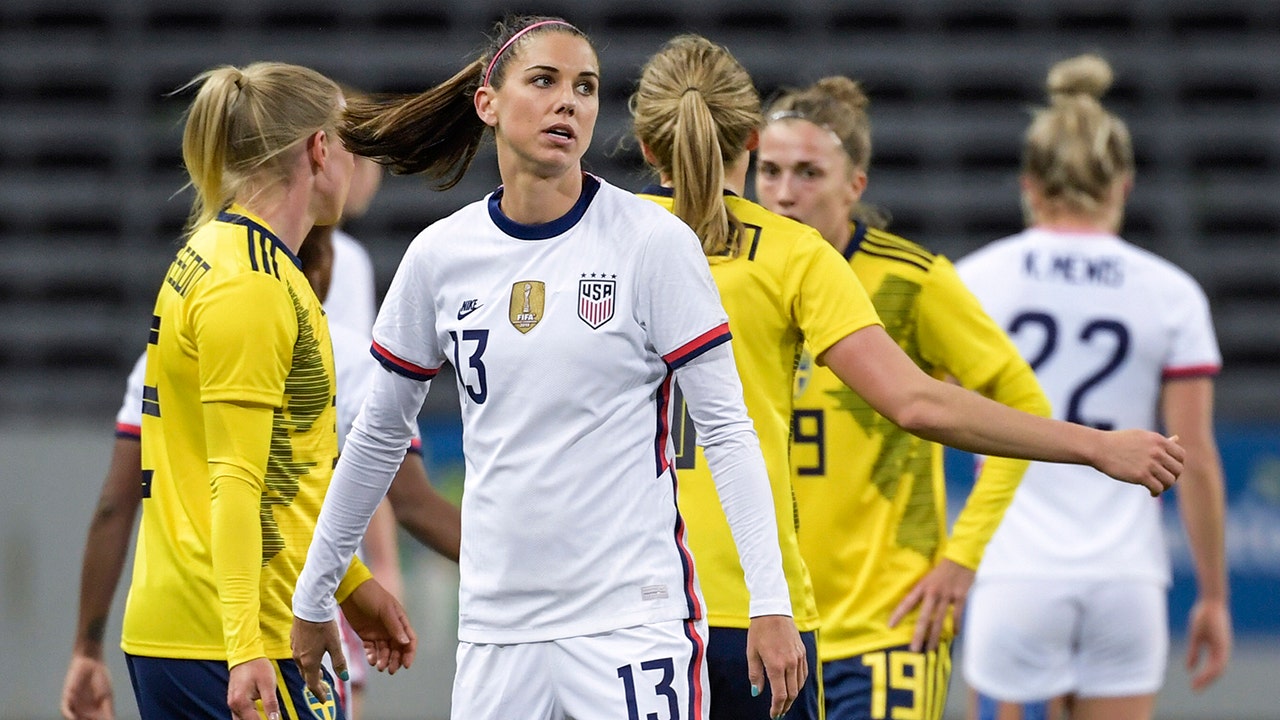 Olympic soccer rosters will be expanded from 18 players to 22 for the Tokyo Olympics, a person with knowledge of the change told The Associated Press on Wednesday. Teams can include 22 players on squads, but must stay with 18 on team sheets for individual matches, said the person, who spoke on the condition of anonymity because the change had not been formally announced by the International Olympic Committee. The change was considered because of the challenges teams faced as a result of the pandemic. Olympic squads are normally limited to 18 players, including four alternates. At any time during the tournament, teams can make a roster change due to injury — unlike in the World Cup, when rosters are frozen after the first match. However, World Cup rosters can include 23 players. Wednesday was the deadline for countries competing in the Olympic soccer tournament to finalize their rosters. U. S. women's national team coach Vlatko Andonovski said he anticipated some kind of change to the roster rules. "We're getting word from the IOC that we will have a little flexibility on the roster. We're very happy about it, and as of right now we're just waiting to see a little more details on what all the rules and regulations are going to look like," Andonovski said. Because there had been previous talk about using expanded rosters, Andonovski said the United States was preparing for that possibility. "Obviously we thought about it, we were preparing in some ways for it if it happened, so we're hoping to be ready if the changes are in place," Andonovski said.

AP source: IOC to expand soccer rosters to 22 for Olympics
wtop.com
What a Blitzkrieg flop. A Dutch telecast of the European Championship soccer match got off to a risque start after broadcasters accidentally captioned the German national anthem with lyrics associated with Nazi Germany. "The wrong verse was accidentally shown. This is a mistake by one of our subtitlers," the Netherland's main channel NPO tweeted of the slip, which occurred Tuesday as England faced off against Germany at Wembley Stadium in London, the Telegraph reported. NPO's subtitle service had reportedly displayed text from the first verse of the "Song of the Germans," which had been outlawed by the Allies in 1945 due to its association with the Third Reich. The problematic stanza — which included the words, "Germany, above all / above everything in the world" — had infamously been adopted as a hymn by Hitler in 1933 because he felt it embodied his goal of world domination. That wasn't the ballad's only controversial part. A second verse praising German wine and women was similarly scrubbed after World War II due to its alleged sexist connotations. Meanwhile, the third stanza — which espouses "unity and freedom and justice" — became Germany's official anthem when the nation reunified. The Dutch broadcasters expressed remorse over the gaffe, writing "We apologize to viewers who were disturbed by this." This isn't the first time a Gestapo song has flown under the radar. This past July, a Nazi-themed jingle went viral on TikTok, racking up more than 6.5 million views across multiple videos before getting pulled.

The Latest: Dutch TV shows wrong subtitles for German anthem
wtop.com
Getty Lionel Messi against Real Sociedad in 2020-21 Barcelona has been handed a tough opening fixture for the new 2021-22 La Liga season with Real Sociedad the first visitors to the Camp Nou on Sunday, August 15. 📌 @LaLiga 2021/22 ❗ Barça's first game against Real Sociedad 🗓 15/08/2021 ⚽ Week 1 🏟 Camp Nou pic.twitter.com/aOdyxMUcCJ FC Barcelona (@FCBarcelona) June 30, 2021 The Catalan giants will open up the campaign at home against Imanol Alguacil's side who finished in fifth place in the table last season. It was a strong campaign from the Basque side who also claimed victory in the delayed 2020 Copa del Rey final played in April 2021. Real Sociedad beat Basque rivals Athletic 1-0 thanks to a penalty from Mikel Oyarzabal to claim a first trophy for 34 years. However, the club's reign as Copa del Rey winners was short-lived as Barca won the 2021 edition of the trophy two weeks later, also beating Athletic in the final. Follow the Heavy on Barcelona Facebook page for the latest breaking news, r umors and content! Barca has also confirmed the dates of some other key fixtures after the draw for next season's fixtures was made at the headquarters of the Spanish Football Federation in Madrid on Wednesday. The new season will see the rivalry between Barcelona and local rivals Espanyol renewed. Los Periquitos are back in the Spanish top flight after being promoted last season and will head to the Camp Nou in November. ⚠ The derby is back! ▶️ Week 14 🗓 11/21/2021 ⚽ #BarçaEspanyol 🏟️ Camp Nou ▶️ Week 24 🗓 02/13/2022 ⚽ #EspanyolBarça 🏟️ RCDE Stadium pic.twitter.com/T6lCUGxNKR — FC Barcelona (@FCBarcelona) June 30, 2021 Two of the most eagerly-anticipated dates on Barca's calendar are undoubtedly the two meetings with Real Madrid in the infamous Clasico. Barca welcome Los Blancos in Week 10 and head to the Santiago Bernabeu in Week 29. ❗ We have the dates for #ElClásico in @LaLigaEN ! ▶️ Week 10 🗓 10/24/2021 ⚽ Barça v Real Madrid 🏟️ Camp Nou ▶️ Week 29 🗓 03/20/2022 ⚽ Real Madrid v Barça 🏟️ Santiago Bernabéu pic.twitter.com/9FQrH3fLYH — FC Barcelona (@FCBarcelona) June 30, 2021 Both Barcelona and Real Madrid will be keen to make amends for last season when the two giants of Spanish football were beaten to the title by Atletico Madrid. The Rojiblancos finished top of the pile, two points clear of Real Madrid and seven ahead of Barca. Barca will meet the champions early in the season with a trip to the Wanda Metropolitano Stadium scheduled for early October. Atletico will not head to the Camp Nou until 2022. ❗ You should also make a note of the @LaLigaEN dates against Atlético Madrid ▶️ Week 8 🗓 03/10/2021 ⚽ #AtletiBarça 🏟️ Wanda Metropolitano ▶️ Week 23 🗓 06/02/2022 ⚽ #BarçaAtleti 🏟️ Camp Nou pic.twitter.com/0coJL857Sr — FC Barcelona (@FCBarcelona) June 30, 2021 Ronald Koeman will again take charge of Barca in 2021-22 but will need to improve on his record in big games. The Dutch coach failed to win a single match against Atletico or Real Madrid last season. Last season also saw a dramatic end to the campaign with Barca in contention until disappointing results against Granada, Atletico, Levante, and Real Madrid saw the team's title hopes disappear. Koeman will hope his team have learned from their mistakes but face a tricky end to the campaign. Barca will sign off the season with a visit from Europa League winners Villarreal at the Camp Nou. 📌 The last game of @LaLigaEN 2021/22 will be… ⚽ #BarçaVillarreal 🗓 22/05/2022 🏟 Camp Nou pic.twitter.com/UKAyzzC2vr — FC Barcelona (@FCBarcelona) June 30, 2021 The Yellow Submarine enjoyed a memorable 2020-21 campaign by beating Manchester United in the Europa League final to win a first major European trophy in the team's history after an epic penalty shoot-out. The victory also means Villarreal qualifies for the Champions League next season and will, like Barcelona, play in Europe's top competition. Villarreal had looked set to miss out on the Champions League after finishing seventh in La Liga but the cup win guaranteed qualification and made for an unforgettable campaign. READ NEXT: PSG's 'New Messi' Set For Barcelona Return: Report

L. A.'s new plan to restrict homeless camping: What you need to know
latimes.com
NYON, Switzerland (AP) — European women's soccer will gain new exposure when all Women's Champions League games from the group stage are broadcast live on YouTube by DAZN for the next two seasons. In the second half of the four-year deal, the number of free games will drop to 19 games including the final. The games will be streamed worldwide except in China, and the Middle East and North Africa region. Next season marks the start of a new format for the competition as it moves to a 16-team group stage, with the top two from each group moving to an eight-team knockout phase. ___ More AP soccer: https://apnews.com/hub/soccer and https://twitter.com/AP_Sports Copyright © 2021 The Associated Press. All rights reserved. This material may not be published, broadcast, written or redistributed.

World champion fighter blazing trail for women in the MMA
abc7news.com
Kyle Schwarber's power display is making history. His relationship with the Home Run Derby appears consigned to it. After Schwarber led off the first inning with his 12th home run in 10 games to help the Washington Nationals to a 4-3 victory on Tuesday night, Schwarber said he has not been approached about participating in this year's derby on July 12 at Denver's Coors Field. If Schwarber is asked, he said he probably would pass, two years removed from his duel with then-Nationals slugger Bryce Harper in the event in Washington. "It was definitely a moment that you're not going to forget. You kind of check that off your bucket list," Schwarber said. "But if I was approached I would probably not do it. You get a little sore afterward. It's four minutes of straight hacking as hard as you can." Schwarber tied Albert Belle in 1995 for the most home runs over a 10-game span since at least 1901. He has 16 home runs in 18 games since being moved into the leadoff spot in the Nationals' batting order on June 8. Schwarber drove Rich Hill's first pitch, an 83 mph fastball,434 feet off the upper-deck facade in right for his major league-leading seventh leadoff home run — all in June. Schwarber's 16 home runs this month are the second-most in any June behind Sammy Sosa's 20 in 1998. "I felt really good at the plate and was happy to put it out in that situation," Schwarber said. "And yeah, just smiling. Just keep riding the wave." The 28-year-old Schwarber is batting .253 with 25 homers and 53 RBIs. He is tied in home runs with San Diego's Fernando Tatis Jr., three shy of the major league-leading total of the Los Angeles Angels' Shohei Ohtani and one back of Toronto's Vladimir Guerrero Jr. "It's kind of a joke at this point," Nationals starter Joe Ross said. "It's like every time he goes up there, he hits a ball 350,370 to right field." Schwarber became a free agent Dec.2 when the Cubs failed to offer a 2021 contract. He agreed in January to a $10 million, one-year contract with the Nationals calling for a $7 million salary, a deal that includes an $11.5 million mutual option for 2022 with a $3 million buyout. Juan Soto followed two batters later with a two-run drive, and Victor Robles added a solo homer in the second for a 4-0 lead off Hill (6-3), who said catcher Mike Zunino spotted him tipping his pitches during the first two innings. "I'm glad we caught it," said Hill, who allowed eight hits over six innings. "I was able to go out there and execute for the next few innings and give us a chance. But it sucked putting us in that position early on." Washington has won three straight and 13 of 16 and at 39-38 has a winning record for the first time since beating Atlanta on opening day. Ross (5-7) gave up two runs and six hits in 6 1/3 innings for his third win in his four outings. Brad Hand allowed Zunino's 17th homer leading off the ninth, then got three straight outs for his 18th save in 20 chances. Brandon Lowe hit his 16th homer in the fifth, and Kevin Kiermaier doubled in a run in the sixth.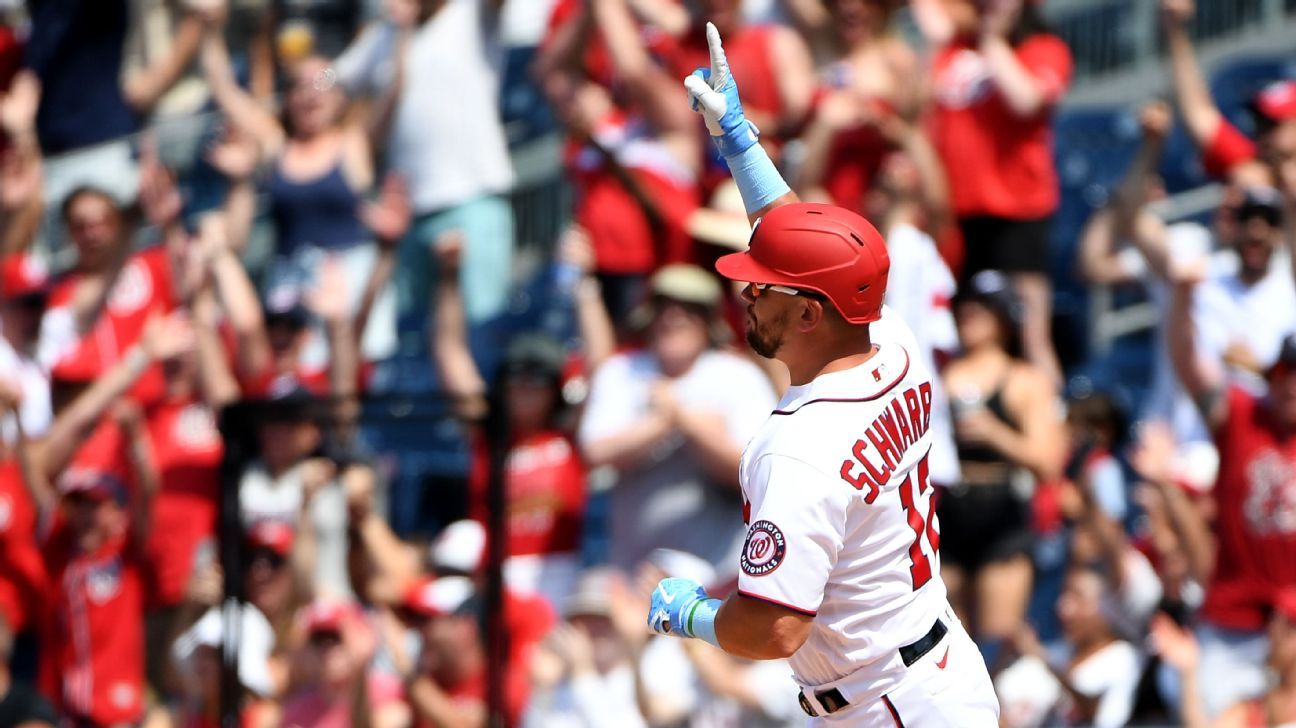 Kyle Schwarber has 16 home runs in 18 games, and shows no signs of letting up
espn.com
Abu Dhabi: A new cricket stadium in Abu Dhabi has started its renovation and will be ready for the start of the T20 World Cup, and available for use if needed. The International Cricket Council (ICC) on Tuesday confirmed that the ICC Men's T20 World Cup 2021 will be staged in the UAE and Oman due to the ongoing COVID-19 situation in India. The BCCI will remain the hosts of the event, which will now be held in Dubai International Stadium, the Sheikh Zayed Stadium in Abu Dhabi, the Sharjah Stadium, and the Oman Cricket Academy Ground, from October 17 to November 14,2021. Eight weeks ago, the Abu Dhabi Cricket began revamping the second of the three ovals on its site. Grass Bbanks were established with the capacity to host about 12,000 people. Matt Boucher, CEO of Abu Dhabi Cricket was quoted by the National as saying, "The ground – which will be known as the Tolerance Oval – has been upgraded with the goal of improving "the hosting capabilities of Abu Dhabi and the UAE as a whole." With agency inputs Get the news updates on WhatsApp & Telegram by subscribing to our channels. For all the latest Middle East updates, download our app Android and iOS.

India-England series to kick off second World Test C'ship, equal points to be awarded for every game
scroll.in
BERLIN (AP) — Joachim Löw's 15-year tenure as coach of Germany's national soccer team is over, and many think it should have ended a long time ago. The Germans at least advanced from the group stage this time, unlike three years at the World Cup when they were defending champions, but then lost to England 2-0 at Wembley Stadium on Tuesday in the round of 16 of the European Championship. Löw led Germany to the World Cup title in 2014, and a semifinal appearance at Euro 2016, but his team never recovered from its early exit at the last World Cup. An attempted reboot after the tournament in Russia failed to yield the desired results. First there was the embarrassing 6-0 loss to Spain last November, and then a 2-1 loss to North Macedonia in World Cup qualifying in March. Shortly before the second of those two surprising results, Löw announced that Euro 2020 would be his last tournament. And with no need to personally to persevere with the team's rebuilding process, he recalled veterans Thomas Müller and Mats Hummels for the pandemic-delayed tournament. Both Müller and Hummels played key roles in helping Germany advance from a difficult group that included World Cup champion France, European champion Portugal and a well-organized Hungary team. But Germany's chances at the tournament were ultimately undone by a failure to make more of its opportunities. Essentially, Germany still hasn't found a replacement Miroslav Klose and his goals. The World Cup's all-time leading scorer with 16 goals retired after winning the title in Brazil seven years ago. Against England, Müller and Timo Werner failed to convert the best of Germany's chances. Kai Havertz also went close, but England forwards Raheem Sterling and Harry Kane scored a goal each to show the Germans how it's done. Löw's 198th match in charge was his last. It was only the second time Germany had failed to reach the quarterfinals of a major tournament since Löw took over as coach after the 2006 World Cup. The problem for Löw is that it was right after the first. Hansi Flick, Löw's former assistant, will take over for World Cup qualifying. Flick, who had a very successful spell in charge of Bayern Munich, will inherit the problems Löw faced — most notably the lack of an out-and-out scorer — but he has some excellent young players to work with. Midfielders Leon Goretzka and Joshua Kimmich, whom Flick already knows from their time together at Bayern, will assume leadership roles. Germany also has some outstanding prospects coming through, like 18-year-old Bayer Leverkusen midfielder Florian Wirtz and Borussia Dortmund forward Youssoufa Moukoko, the Bundesliga's youngest scorer at 16. Jamal Musiala showed against Hungary that he can also make a difference for Germany. But Löw only brought the tricky Bayern Munich forward into the match in the 92nd minute against England. It was much too late — for him, for Löw and for Germany. ___ More AP soccer: https://apnews.com/hub/soccer and https://twitter.com/AP_Sports ___ Ciarán Fahey on Twitter: https://twitter.com/cfaheyAP Copyright © 2021 The Associated Press. All rights reserved. This material may not be published, broadcast, written or redistributed.

After highest of highs and lowest of lows, Joachim Low ends bittersweet stint as Germany coach
scroll.in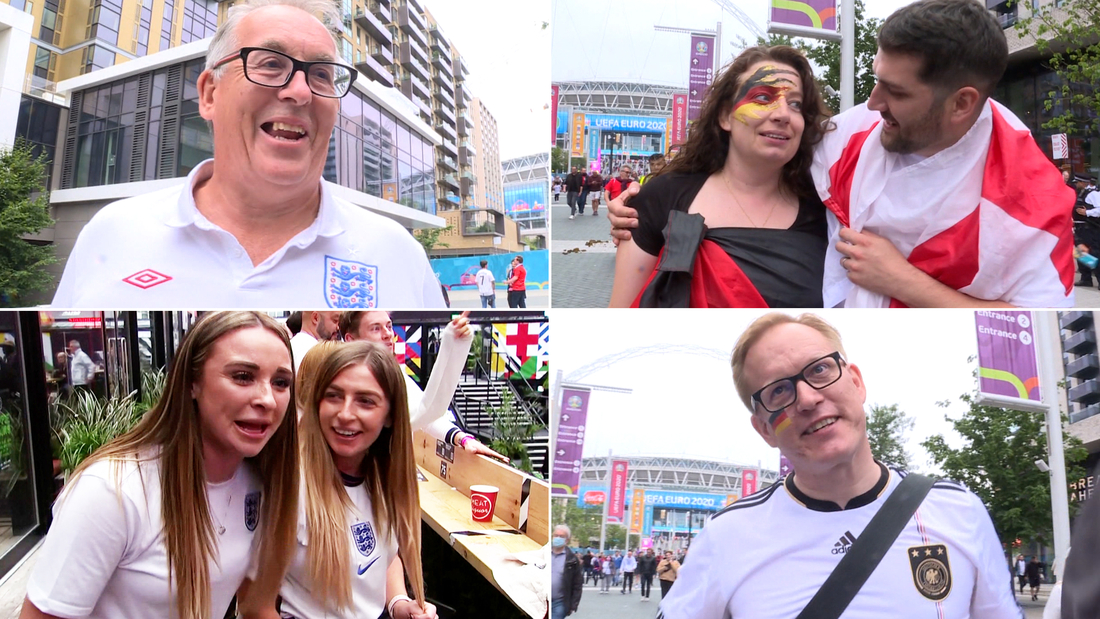 English football fans celebrated wildly after England beat Germany in their Euro 2020 last-16 match to finally end its decades-long inferiority complex against its old, historic rival. Germany hadn't lost a knockout match to England in a major international competition since the 1966 World Cup final.

Stormzy Joined Fans At Euro Party After England's Historic Win
bustle.com
There's a rule in journalism, known as 'Betteridge's law of headlines', which states that any question posited in a headline is always answerable with 'no'. So good news, then, because rugby league is apparently dying. The late rites for the game have been delivered across social media, traditional media and just about anywhere else you care to look in the last week. With Australia and New Zealand potentially pulling out of the 2021 World Cup, plus a State of Origin landslide, a crackdown on concussions in the National Rugby League (NRL) and England losing to a ragtag bunch of "All Stars" last Friday night, you might as well write the obit now. Actually, to draw back the curtain of journalism again, it'll already be written. As anyone who has heard this week's Rugby Reloaded podcast by the ever-excellent historian Tony Collins will know, the sport has been DOA for decades: it was pronounced stillborn 5 weeks after conception in 1895, then roughly once every two weeks ever since. In fact, it's hard to think of a time when we weren't at death's door. Happily, I'm here to tell you that it is a load of nonsense. Sure, Australia and New Zealand might pull out of the World Cup, which would result in it being postponed by a year, but international rugby league won't stop and is actually being played more widely than ever before. The death of international game has been predicted for decades, always prematurely, but the machinations behind the scenes ( as reported in these pages last week) are creating a situation where, for the first time ever, it might end up having a sustainable future. Super League is at a low ebb, but there's this big pandemic going on (if you haven't noticed) and Northern England, more than pretty much anywhere else in Europe, has been harshly hit. It's hard to get metrics on how it is going without the traditional currency of attendances, but if you look at TV ratings ( up), a different story is told, especially when you factor in the general move away from traditional methods of consuming broadcast sport. For a game that is apparently dead outside of small Northern towns, both the first and second tier are topped by French teams, while the women's game, as evidenced by the recent Challenge Cup Final (the first to be broadcast nationwide in the UK) and Women's Origin, is bigger and better than ever before. Women's participation numbers are up almost 200% in New South Wales. Jermaine McGillvary, the Huddersfield winger, gave a shopping list of problems last week, and said that the game had declined. The question that nobody asked of him was "compared to when?" Five years ago, Super League had a confusing structure that nobody liked, England performed poorly at the Four Nations and the gap between the Super League and the NRL had never been wider. Ten years ago, England got thrashed by Australia in the Four Nations Final, lost to an international All Stars team and Super League saw one of its teams, Crusaders, withdraw from the competition, while another, Wakefield, were in administration. I'm not sure that we're worse off than then, especially given the huge factors that have been outwith the control of Super League, such as the pandemic. Before the 2008 World Cup, the tournament was considered untenable, such was the failure in 2000. The 2006 Tom Brock Lecture in Sydney, delivered by eminent academic David Rowe, described rugby league described the game as " the most vulnerable of the football codes in Australia, and the one with the slightest prospects for future prosperity ". Internet evidence is harder to find earlier than that, but I read the letters page of League Express for about the decade before that and it was hardly a hive of optimism. As for the NRL, it's hard to see what Australian rugby league fans are complaining about. New South Wales' crushing victory over Queensland is killing State of Origin, except when Queensland crushed New South Wales for the better part of a decade, Origin TV ratings actually went up. The game is apparently dead because of lopsided results in the NRL caused by the six again rule, except if you look at all the other competitions that use it, blowouts occur no more frequently than they ever did. The crackdown on concussions in Australia is a good thing that everyone else in the sport has been doing for years, not to mention something that is designed to stave off lawsuits in the future. As Benjamin Pavard's farcical concussion incident in Euro 2020 showed, other, bigger sports are light years behind rugby league (and others) in dealing with this. The recent media narrative would make one think that there is something uniquely rugby league about the early prognosis of death of the game. This could not be further from the truth. In my life, I am first a supporter of rugby league, then a supporter of Scottish football (or at least, the green and white bit of it), and thirdly a supporter of test cricket. Naturally, I'm quite used to being told that my favourite sports are dying. If you type "Is test cricket" into Google, the first autocorrect follows with "dying". If you type "Is rugby union" into Google, the second is "dying in Australia". You get similar answers for baseball, boxing and golf. If you type "Is football" you get "on TV tonight". There might be a message in there. (If you type "Is Scottish football" you get "a joke?", ironically a joke I couldn't bear to leave out). It's quite telling that the answer for "Is rugby league" comes up with "dying" first and "in the Olympics" second, which seems like a quantum moment for the direction of the sport. David Mark, of the Australian Broadcasting Corporation, wrote a similar piece on the death-non-death of Test Cricket. Previously, spin bowling died and latterly, batting has died. Shashank Manohar, no less than the President of the International Cricket Council at the time, read the last rites on Test Cricket in early 2019. You'll notice that, two years and a pandemic later, we just had a World Test Championship Final, Australia hosted an all-time great Test series with India and there's an Ashes about to happen. Rugby union in Australia, apparently, is stone dead in the ground, killed by (variously) concussion, AFL and rugby league. If you're in the UK, it's "staring into the abyss". If you're in New Zealand, it's sold its soul to private equity, which made me keel over laughing that rugby union people could possibly be outraged at their sport having too many rich people. Obviously, rugby league is not dying. More people play it professionally than ever before. More people watch it on television and through other, less easily quantifiable means, than ever before. Stadiums are better, facilities are better and 50% of the population actually have pathways now. That isn't to say that it is in rude health, but to be honest, in my 32 years on this planet, I'm not sure that it ever has been, at least not in the eyes of the rugby league public. In the late 80s, when (if you listen to English rugby league fans) everyone from the Queen downwards knew who Ellery Hanley was, there was one full-time professional team and attendances were roughly half of what they were in 2019. Oh, and there was zero rugby league on British TV outside of the Challenge Cup for two whole seasons. When the English game finally got a shot in the arm from pay TV, Australia promptly tore itself apart over, you guessed it, pay TV. I'm not saying things aren't bad, but as a sport, rugby league excels in fake nostalgia. As fans, rugby league people can be chippy, pessimistic, parochial and prone to distrust authority. This lot are a shower, sack 'em all, couldn't organize a piss up in a brewery. Disgrace since 1895. Only care about themselves that lot. As the only game created by and for working class people, this isn't surprising at all: the game began and thrived in one of the most heavily unionized societies in history, where authority was (rightly) held in contempt, and its culture was devised by the world's most advanced and educated working classes. Subsequently, those people had most of what they held dear taken away from them, as staple industries were killed off and jobs extinguished, never to return. As the line from the 1990s went: 'they took our jobs, now they're taking our leisure'. If people are chippy and negative, it's because they've had things taken off them for years and had to fight for everything they hold dear. Rugby league people are also bloody-minded, humble and prone to take the side of the collective over the individual. When players do well, it's always 'the boys' (or more recently, 'the girls') and never themselves. As a sport, sublimation of the individual to the team is paramount. That's why, despite a century of obituaries, we continue, forwards, onwards. Having grown up in the heartlands of British rugby league, it is heartening to see that these values are largely shared in Australia's rugby league regions. Listening to rugby league people, you'd think that rugby league had never had a good administrator at any point, despite existing for more than 125 years. The last thing that chimes with rugby league culture is a sense of perspective: every rule change, structural change and innovation has been made on the fly, every prognosis terminal, every decision a disgrace, every administrator a clown. As a sport, we deal in feelings and monochrome, which is entirely our right as fans. But step back, and perspective, history and trajectory disagree. Rugby league is not as strong as it was in the late-2000s. Then, it appeared that the growth of the Pay TV boom in the mid-1990s had solidified and expanded, the international game had been rejuvenated and Super League and the NRL were both relatively strong. Needless to say, there were still countless discussion pieces to be found online about the death of the game, in Sydney, England and elsewhere. So stop panicking. Try to think about where we were, where we have come from and where we are going. It's not perfect. But it's not dead. The NRL Outsider drops every week. To read it first, subscribe for free above by clicking in the top right-hand corner of your screen. You can also follow my work on Twitter at @MikeMeehallWood. Follow me on Twitter.

Patriot League rugby all-stars
bostonherald.com
The NBA on Tuesday announced Portland Trail Blazers forward Carmelo Anthony as the inaugural winner of the Kareem Abdul-Jabbar Social Justice Champion Award. The 10-time NBA All-Star was selected from a group of five finalists due to "his dedication over the past year to pursuing social justice and advancing Abdul-Jabbar's life mission to engage, empower and drive equality" for people who have been traditionally marginalized. In July 2020, Anthony joined fellow NBA stars Chris Paul and Dwyane Wade to establish the Social Change Fund, which is aimed at addressing social and economic justice challenges facing Black communities. Some of its focuses include criminal justice reform, expanding voter access, representation in government and community investment. Among his other achievements, Anthony helped advocate for making Juneteenth a national holiday, which was ultimately signed into law this year. He lent his celebrity and voice to the Vera Institute of Justice to promote criminal justice reform. And he founded the content creative company Creative 7 Productions, which aims to be inclusive and elevate diverse voices. The Portland Art Museum's Black Arts and Experiences Initiative will receive a $100,000 contribution on his behalf. The other finalists were Sacramento Kings forward Harrison Barnes, Philadelphia 76ers forward Tobias Harris, Milwaukee Bucks guard Jrue Holiday and Golden State Warriors forward Juan Toscano-Anderson.

Carmelo Anthony Won The NBA's Inaugural Kareem Abdul-Jabbar Social Justice Champion Award
uproxx.com
Devyn Greer felt grateful to play softball this spring after the pandemic wiped out last season. The Huntington Beach High senior also felt well-supported and ready to show all her abilities. Greer, in many ways, appeared to have the ideal environment to excel like never before, and that is precisely what she did. The Iowa signee led Orange County's top-ranked team in hitting and pitching and helped the Oilers (21-5) capture the tough Surf League by two games. For her efforts, Greer is the Register's Orange County softball player of the year. "She really had a great year," Huntington Beach coach Jeff Forsberg said. "She was very confident." Greer delivered in her first season as the Oilers' ace, posting a 9-2 record with two saves and an 0.68 ERA. She struck out 123 batters in 82 innings en route to being selected the Surf League's most valuable pitcher and an Orange County all-star. Greer highlighted her time in the circle by collecting two victories against Los Alamitos, the league's preseason favorite. The right-handed pitcher also led Huntington Beach to a 3-1 victory against Great Oak in the first round of the CIF Southern Section Division 1 playoffs. Greer was equally as productive at the plate for the Oilers, who were upset by Mater Dei in the second round of the playoffs. She hit.467 with 10 home runs and 37 RBIs as she formed a potent duo with Mikaela Carmen. The left-handed hitter also tormented Los Alamitos with her bat. She belted two home runs, including a walk-off, three-run shot that invoked the mercy-rule in a 12-1 victory. Greer explained that being grateful for the spring season ended up helping her play better. "I felt that I didn't put pressure on myself because I was grateful to have the opportunity to play my senior season, which a lot of girls didn't (last year)," she said. "And I had great teammates who supported me all year long. Coach Jeff kept everything calm and fun all the time." Greer did her part by being ready to step into the ace role vacated by Grace Uribe, the Register's pitcher of the year in 2019 who is now at Texas A&M. Part of Greer's preparation was playing travel ball with powerhouse Athletics Mercado, her club team since the eighth grade. "This year, I genuinely put more time and effort into the sport," she said. "I fell in love with every aspect of the game, which really led me to be successful. I had coaches who believed in me day-in, day-out, and teammates who made me a better person and player every day at practice." Related Articles Mater Dei's Brooke Demetre selected Gatorade state player of the year in girls basketball Orange County girls wrestler of the year: El Modena's Grace Doering Orange County boys wrestler of the year: Luke Gayer, Calvary Chapel Orange County softball pitcher of the year: Villa Park's Sydney Somerndike Upland's Emily Capobianco voted Southern California Girls Athlete of the Week

Orange County softball pitcher of the year: Villa Park's Sydney Somerndike
ocregister.com
Orange County boys wrestler of the year: Luke Gayer, Calvary Chapel
ocregister.com
Orange County girls wrestler of the year: El Modena's Grace Doering
ocregister.com
When Ukraine's striker Artem Dovbyk scored in the 120th minute during the last 16 game against Sweden, he instantly became a hero of millions of his compatriots since this is the first time Ukraine has advanced to the quarter-finals of a European Championship. But he became an internet sensation because of how he celebrated. No - he didn't do a triple somersault or make provocative gestures to the fans of the rival team. In fact, his celebration was pretty mundane – the athlete took off his shirt and ran to the corner flag. However, what he had on under his shirt caused social media to explode. Ukrainian goal scoring hero Artem Dovbyk's bra-like vest became instantly iconic tonight pic.twitter.com/NREXa4c12r Many users were baffled by the sight and even wondered whether the athlete belongs to the LGBT community. Can someone please explain why Ukraine's Dovbyk is wearing a lady's sports bra under his shirt? And why on earth he would choose to reveal that to the whole world in his moment of goal-scoring glory?!?! #SWEUKR #UKR #SWE #UKRSWE #EURO2020 pic.twitter.com/IOCINHnx6g Lol Dovbyk rocking a sports bra. He just came out? #SWEUKR Even more open-minded people said they were stunned… I consider myself an open minded girl, yet I don't think I can get behind this bra scenario... 👀 #Dovbyk #Ukraine pic.twitter.com/N6LZFrb3R0 Some suggested that this was a homage to US female athlete Brandi Chastain, who took off her shirt after scoring a winning penalty in the finals of the 1999 Women's World Cup. Love the Brandi Chastain celebration from Artem Dovbyk at the end there #SWEUKR pic.twitter.com/ARbgYPR8FV Other netizens joked about the issue and some even came up with new football chants. Asked to comment on Artem Dovbyk's sports bra, a @UEFA spokesperson said: "A number of male players wear G-strings too. What's your point?" pic.twitter.com/ehab7p7Tvs He scores in a bra, he scores in a braaaaa. Artem Dovbyk, he scores in a bra In fact the "sports bra" the athlete wore turned out to be nothing more than a GPS performance tracker, which is used to measure the athlete's performance. It measures, speed, acceleration and deceleration as well as heart rate with data being streamed to a tablet, phone or smartwatch. Besides improving performance, the tracker also helps to prevent injuries with coaches seeing when players are being pushed to the limit. Having beating Sweden, Ukraine will now face England in the quarter-finals of Euro 2020.

Russian Football Fan Attacked by Ukrainians at Euro 2020 Match in Glasgow - Photo
sputniknews.com
After a monthslong battle, Mandy Bujold is one step closer to participating in this summer's Olympic boxing tournament. At 6 a.m. Wednesday, Bujold's lawyer called to tell her that she had won an appeal that would make her eligible to compete in Tokyo beginning in July. Her hopes were in jeopardy because of the pandemic and changes in the qualifying rules that effectively disqualified Bujold because she had a child. Bujold's quest to win an Olympic gold medal for Canada remains intact after the Court of Arbitration for Sport ruled on Wednesday that the qualification criteria created by the International Olympic Committee's Boxing Task Force must include an accommodation for women who were pregnant or postpartum during the qualification period. It's not exactly clear what will happen next for Bujold, a 33-year-old flyweight, after winning her appeal. The ruling makes her eligible to compete in Tokyo, but her spot isn't technically solidified yet. Monday is the Canadian Olympic Committee's deadline to register athletes for Tokyo, and Bujold said in an interview that her name would be on that list. In April, the I. O. C. said boxers from the Americas would qualify for Tokyo based on their rankings at three tournaments from 2018 and 2019. Bujold, however, was either pregnant or postpartum during the 11-month period when those tournaments took place. Bujold initially asked the I. O. C. to recognize her pre-pregnancy ranking — when she was No.8 in the world and second in the Americas — but the committee denied that request, saying that making a concession might lead other athletes to ask for exceptions too. In her letter, which she sent in April, Bujold pleaded the case for herself and other women who might find themselves in the same position. "These are things that do not affect a man. They don't have to plan their career and sport around a pregnancy or around breastfeeding," Bujold said, referring to a decision the I. O. C. made on Wednesday that will allow mothers to take their breastfeeding infants with them to the Olympics. The I. O. C. had previously prohibited family members from traveling with Olympians to Tokyo because of pandemic-related restrictions. Kim Gaucher, a Canadian basketball player who publicly asked via Instagram for her infant daughter to be able to travel with her to Tokyo, said: "Women's sport is evolving. And I think sometimes it just takes a little bit of time for everybody to get on the same page." Gaucher made the post last week after exhausting other efforts, including appeals. "Everyone says they're on board, but nobody can do anything," she said in her post. Bujold said winning this appeal was more about setting a precedent than about her Olympic berth. Her situation is one of many disputes between sports organizations and mothers who return to competing after giving birth. In 2019, the Olympic sprinter Allyson Felix was one of several athletes who are mothers who openly criticized Nike for reducing the performance pay of women who had a child, forcing the company to end the financial penalties for pregnant women. "Having a child is a blessing, and it shouldn't be used against women in any way, shape or form," Bujold said. If she does end up competing in Tokyo, her last fight there will also be the last of her career. She's an 11-time Canadian national champion and the winner of two Pan American Games titles. Bujold, the 2006 Canadian boxer of the year, also made a trip to the 2016 Rio Olympics, where she was favored to win a medal before getting sick and losing in the quarterfinals. After her career is over, Bujold said, she will be able to look back at this process and know that she stood up for what is right and later tell her daughter, who is 2 years old, that she doesn't have to give up on her dreams just because she wants to have a family. "I'll be happy that this is my last fight in every sense of the word," she said. "This has been a long process, mentally, physically, emotionally. I've been doing this for over 16 years. I have over 165 fights. This is a good moment for me to end my career on and to start a new chapter."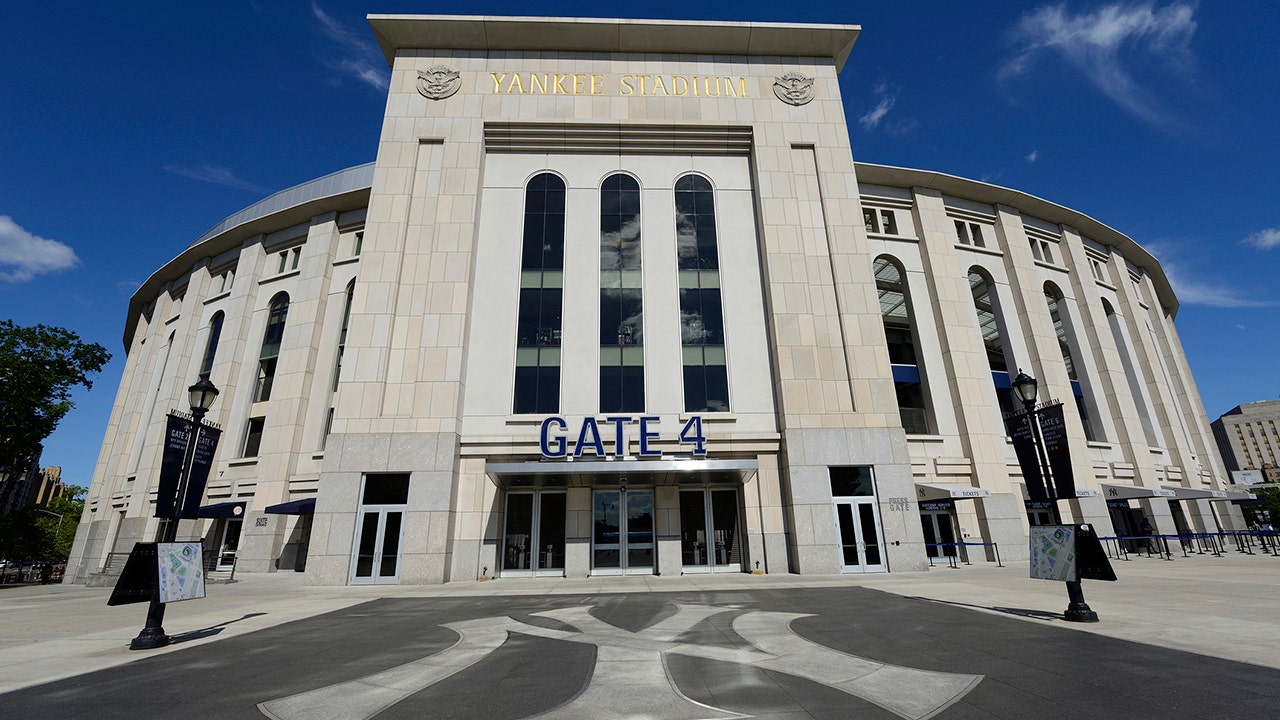 A fan at Yankee Stadium got slammed to the ground by security after he attempted to run onto the outfield grass on Tuesday night during New York's game against the Los Angeles Angels. TMZ Sports obtained the video of the incident, which occurred during the sixth inning of the game. The fan decided to hop over the wall and expected to take a run around the outfield grass, but a security guard was there as soon as he stepped onto the dirt near the third baseline. Two other Yankee Stadium security guards ran onto the field to assist the guard who tackled the fan to the ground. They eventually wrapped handcuffs around the fan's wrists and took him off the field. TMZ Sports reported the fan was detained for approximately five hours after the incident happened. However, he reportedly didn't face any permanent ban from the stadium. The website cited sources saying that he was hit with a citation and was allowed to leave. The Yankees ended up pulling out an 11-5 victory over the Angels. Gary Sanchez and Miguel Andujar clobbered solo homers, and Aaron Judge smashed a two-run bomb to lead New York's offensive outburst. Shohei Ohtani went 2-for-5 with two homers and three RBI for the Angels in the loss.

When things are going well, everything seems easy. But when things are not going well, everything becomes a challenge. The Cubs have found themselves in the latter category over the last month and Wednesday's series finale against the Brewers was no different. The Cubs have been in the midst of a month-long tail spin and in their final game of June, they officially hit rock bottom. Not only did Wednesday's 15-7 loss to the Brewers give Milwaukee a sweep and push their deficit in the division to six games, but also handed the Cubs what was easily their worst loss of the season. Manager David Ross had said repeatedly that this week's series against the Brewers didn't define their season, but after the way the series went, Wednesday's meltdown felt like a culmination of the last month. "Bad ending to not our best road trip," Ross said after the loss. "Definitely an emotional roller coaster during that game.... I think we all have to be better." After draining losses to the NL Central-leading Brewers on Monday and Tuesday, it looked like the Cubs would be on their way to a blowout victory of their own. The offense that had struggled to find that big hit all series came through in the first inning, turning Brewers starter Aaron Ashby's major-league debut into a nightmare. They got hits from Willson Contreras, Javy Baez, Eric Sogard and two hits by Patrick Wisdom, along with three walks and two stolen bases, leading to seven runs and giving them a comfortable 7-0 first-inning lead. But that was the last positive in the game for the Cubs as things would quickly spiral out of control. "They're pretty hot right now," Baez said. "They just came back and every inning they scored." Starter Jake Arrieta struggled in the backend of the first half and after being spotted with a 7-0 lead, those struggles reappeared. The lead quickly evaporated as he allowed a run in the first inning before the Brewers scored five in the second, chasing Arrieta from the game after just 1 2/3 innings and closing his month of June with a 8.31 ERA. Holding onto a 7-6 lead by a thread, the Cubs once-large lead was gone in a flash as Jace Pederson's two-run single in the fourth inning gave Milwaukee an 8-7 lead. They'd never trail again. Not only did the Brewers go on to score eight runs in the inning, but after the Cubs' 7-0 first inning, they scored 15 unanswered runs. It's just the second time in 50 seasons a team has scored seven runs in the first inning and lost by 7+ runs. When the Cubs began the month of June they were riding high after a red-hot May and were at the top of the division. But after a 12-16 and putting themselves into a six-game hole in the division, things have slowly started to slip.

England beat India by five wickets in the second ODI to take a 2-0 series-clinching lead in Taunton as the visitors paid the price another below par batting display. Sophia Dunkley (73 not out) and Katherine Brunt (33 not out) shared 92 runs for the unbroken sixth wicket to chase down the target of 222 with 15 balls to spare on Wednesday. England vs India,2nd ODI as it happened: Brilliant Sophia Dunkley leads England to a 5-wicket win Opener Lauren Winfield-Hill (42) was the other notable contributor for England. For India, leg-spinner Poonam Yadav took two wickets for 63 runs while veteran Jhulan Goswami, Shikha Pandey and Sneha Rana got one wicket each. Earlier, captain Mithali Raj top-scored with 59 off 92 balls and stitched a 68-run partnership for the fourth wicket with Harmanpreet Kaur (19) as India were all out for 221 after being put in to bat. Young opener Shafali Verma contributed 44 off 55 balls. For England, pacer Kate Cross was the most successful bowler with impressive figures of 5/34. She was declared player of the match. Brief scores: India: 221 all out in 50 overs (Mithali Raj 59, Shafali Verma 44; Kate Cross 5/34). England: 225 for 5 in 47.3 overs (Lauren Winfield-Hill 42, Sophia Dunkley 73 not out, Katherine Brunt 33 not out; Poonam Yadav 2/63).

AUBURN — A youth baseball team's schedule can become quite full around this time of the year should it advance deep into a state tournament. Take, for example, the Ararat 12U all-stars, who on Wednesday played their sixth game in five days in the double elimination state tournament. Throw in a sweltering heat that has engulfed the state of late, and the grind can be a bear. "Our team was built for a tournament like this one," said Ararat 12U head coach Jon Hiltz on Wednesday before his team played Noble in the state title game. "We have a deep and talented pitching staff that was a big reason we won in 2018, and is a big reason why we're where we are now." Ararat and Noble met for the third and final time in this tournament on Wednesday night to decide a state champion. Noble defeated Ararat 10-2 on Monday to clinch a berth in the final. Ararat emerged from the loser's bracket and defeated Noble 7-1 on Tuesday to set up yet another showdown between two teams that have a little history together. Ararat defeated Noble in the 2018 9U state final to reach the New England tournament. When it comes to strategy, pitch counts remain a priority. A player can throw a maximum of 85 pitches a day. However, a pitcher can finish an at-bat should he reach that threshold. Afterward, the player is ineligible to pitch for two days. Anyone who throws between 1 and 40 pitches can turn around and throw the next day. A pitcher would need a day's rest should he throw between 41 and 66 pitches. Sixty-six or more pitches calls for a two-day rest. The strategy of conserving arms in a tournament is almost always at the forefront of his mind, Hiltz said. Ararat has mainly been riding the arms of three players — Daniel Beal, Will Davis and Colby MacFawn. Lefty Brady Hiltz, Jon's son, also is called upon to pitch some big innings. "Absolutely, it's a huge part of the process," said Hiltz when asked about how pitch counts play a role in his decision making. "We've been riding Colby as much as we can. He's been awesome for us every time he's stepped on the hill for us." Beal and Davis have also been solid for Ararat and Hiltz knows he can turn to them whenever he needs. Beal has also been excellent — he pitched a complete game gem in the victory over Noble on Tuesday. David Edwards also made an appearance in Monday's game against Noble. Along with the packed tournament schedule, players have had to cope with the heat and humidity. "The heat has been a factor for sure. We've made some decisions to try and combat it," said Hiltz. "Winning our first two games definitely helped us out so we didn't have to play seven games instead of six." Wednesday's game will be the third time the two sides have squared off in a matter of three days. With Noble hosting the New England regional tournament, set to begin July 16 in Berwick, it is guaranteed a spot in the tournament. So, too, is Ararat because Maine is required to send a representative outside of the host. Despite having already secured a spot in the regional tournament, Hiltz and Ararat insist they are playing to win. "Driving home after the loss two nights ago compared to driving home after the two wins yesterday (Tuesday) were two completely different feelings," said Hiltz. "We aren't looking at it like we already have our spot. I know they're ready to play their best game (Wednesday)." The New England regional will consist of Noble, Ararat and teams representing Connecticut, New Hampshire, Rhode Island, Vermont and two teams from Massachusetts. Comments are not available on this story. Send questions/comments to the editors. « Previous Next »

Getty Andrew Whitworth runs a team blocking drill during 2020 training camp. Whitworth revealed on the "Green Light" podcast on Tuesday that he often spends his practice time teaching young edge rushers proper techniques, giving off the feeling that coaching could be in his future. Is Andrew Whitworth a closet defensive line coach with the Los Angeles Rams? For 16 seasons and in 220 career starts, the left tackle has held a job where he's supposed to eliminate pass rushers from the play regardless if it's on Sundays or during the weekday with his Ram teammates. He plays a spot where he can't be friends with the guy in front of his eyes. But on the Tuesday edition of the "Green Light" podcast with Chris Long, Whitworth revealed that over the years, he's spent time with young pass rushers on the Rams in teaching them proper techniques – giving off the notion he channels an inner defensive line coach. "Whit," however, goes into teaching and coaching mode to help get them and himself better for upcoming seasons or games. Long, who shares the Rams connection with Whitworth having played his first eight seasons with the franchise, asked Whitworth how he reacts to young edge rushers at the age he's in. Whitworth revealed he gets into a teacher/coach role with those players. "I tell young rushers and tackles 'Hey, there's not one way to do things. You need to find you,'" Whitworth said on the show. "Every great rusher has their go-to thing that they're going to do 90% of the time when they rush. Then they're going to be using things they do off of that. But go with the thing you're good at and get great at it, then build off of that." Whitworth shared with Long that sometimes, young edge rushers get antsy during drills where it's supposed to be half-speed and not full tilt. That's a perfect time for him to become a field mentor. "I try to treat live reps as just role. But let's say it's a walk-through or half (speed) period: You get some of these young guns and it's like 'Hey man, we're walking through and you're like full speed trying to jump counts and rip underneath.' I'm like, 'Calm down. You get all the reps you want in one-on-one pass rush and team and all that kind of stuff,'" Whitworth explained. "During this, let's work our technique: You put your hands on me and let's get to know how to do this thing and how to actually feel some of the things you're going to want to do.'" While offensive tackle and defensive ends have different methods of attack in football, Whitworth said there are comparisons between the two positions, even though they intersect each other during practices and games. "I think that's what's tough when you get into the league as a tackle or any lineman and guy up front: You're worried about winning the rep," Whitworth said. "But at the same time, you need to get the benefit of truly working your craft and understanding to try different things and find the best version of you. The reality is, all tackles set differently (into their blocking) but they all have their groove with how they set and how they use their hands. Rushers are no different." From 2006 to 2016, Whitworth had to protect Carson Palmer and Andy Dalton from the likes of Terrell Suggs, James Harrison, Dwight Freeney and J. Watt in the AFC. Now, Whitworth is dealing with Nick Bosa, Chandler Jones and his former Bengals teammate Carlos Dunlap twice a year in the NFC West. At his current age, Whitworth admits he's had to change his blocking techniques to counter who he faces on a weekly basis. "Obviously, at 39, I've had to change over the years. I can't set like how I used to set," Whitworth said. "Sometimes I end up waddling backwards. But it's about finding a way. That's what's been fun for me: Find a way to get the job done, finding new ways and creating new ways." He's preached the same to the young DE's he goes against, saying on the pod "You get more out of this, and I do too, if we just engage each other and feel balance, pressure and everything else." And with Whitworth announcing Tuesday that he believes this is his final season, perhaps coaching could be the next career move even if he teaches DE's.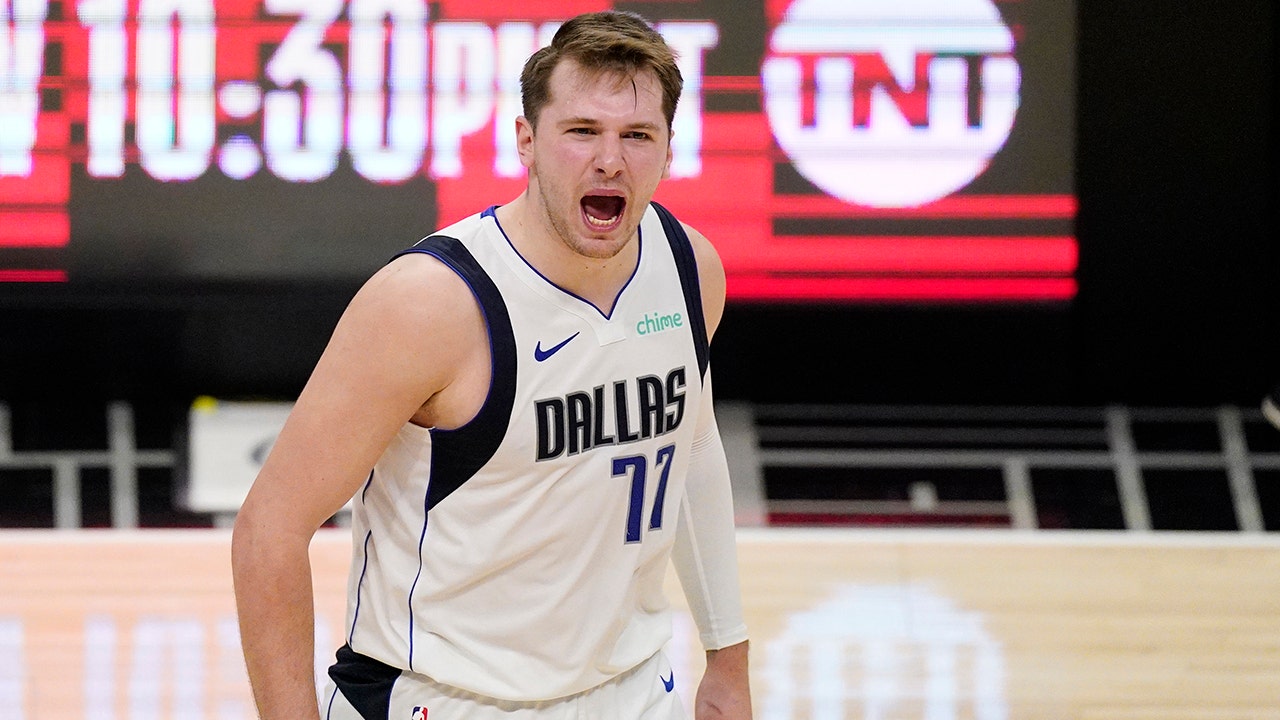 Luka Doncic barely had to play in Slovenia's Olympic qualifying tournament debut. Zoran Dragic scored 16 points, Doncic and Vlatko Cancar each added 13 and Slovenia rolled past Angola 118-68 on Wednesday during qualifying play at Kaunas, Lithuania. Doncic only played 17 minutes, checking out for good midway through the third quarter. "We had a great start," Doncic said. The qualifying tournaments going on this week — taking place in Lithuania, Croatia, Serbia and Canada — will determine the final four teams in the men's field for the Tokyo Olympics. Group play runs through Thursday, followed by semifinals on Saturday at all four sites and finals a day later. The winners of those four games on Sunday, one team from each site, will be the final additions to the Olympic tournament. Yanick Moreira scored 15 points for Angola, which was eliminated from Olympic contention with the loss. Records: Slovenia 1-0, Angola 0-2. Up next: Slovenia plays Poland on Thursday. Both teams will advance to Saturday's Kaunas region semifinals. Also at Kaunas on Wednesday, Venezuela had a 21-point lead in the third quarter trimmed to one before hanging on to defeat South Korea. Venezuela led 59-38 early in the third before South Korea went on a 26-6 run, drawing within 65-64 on a 3-pointer from Byeon Junhyeong late in the quarter. But Venezuela never lost the lead, and outscored the South Koreans 29-16 in the final 11 minutes. Heissler Guillent led Venezuela with 17 points, while Pedro Chourlo and Michael Carrera each had 16. Records: Venezuela 1-1,South Korea 0-1. Up next: South Korea plays Lithuania on Thursday. FIBA said Venezuela will advance to Saturday's semifinals, which means the South Korea-Lithuania winner will as well. Mexico outscored Russia 19-7 in the third quarter, the decisive 10 minutes in what became an eight-point win. Francisco Cruz scored 21 points for Mexico. Semen Antonov led Russia with 13 points. Mexico trailed 38-31 early in the third quarter, then finished on a 41-26 run. Records: Mexico 1-1, Russia 0-1. Up next: Russia faces Germany on Thursday in a must-win game for their Olympic hopes. Rafael Hettsheimer scored 20 points and Brazil rolled into a semifinal spot. Bruno Caboclo added 17 points for Brazil, which is now off until Saturday. Bojan Bogdanovic scored 16 for Croatia. Records: Brazil 2-0, Croatia 0-1. Up next: Croatia faces a must-win game against Tunisia on Thursday. Boban Marjanovic had 25 points and 10 rebounds as Serbia moved into the semifinals with a hard-fought win. Ognjen Dobric added 16 for the winners. Kakou Ange Franck Williams Kouame led the Philippines with 17 points. Records: Serbia 2-0, Philippines 0-1. Up next: The Philippines plays the Dominican Republic on Thursday in an elimination game.

The NBA has long been considered the most progressive of the major professional sports leagues – teams and especially players have taken the lead with their activism and focus on social issues. But coaching hires this week have critics wondering whether the NBA has taken a step back. As new Portland Trail Blazers head coach Chauncey Billups sat down for his introductory press conference on Tuesday, it was a difficult moment. Billups is a highly-respected former player and seemed to be a good fit for a team that prides itself on hiring high character people. During his playing career, which included an NBA title with Detroit in 2004, Billups was honored with several character-based awards, including the J. Walter Kennedy Citizenship Award and the NBA Sportsmanship Award. But a story recently emerged about Billups when he was an NBA rookie in 1997. He was accused of rape. Billups always maintained he and his accuser had consensual sex. He was never charged with a crime. In 2000, he and a teammate who was also accused, reached a financial settlement with the woman who made the allegations. So, it was difficult, as Trail Blazers general manager Neil Olshey went right to the issue. "We took the allegations very seriously and we treated them with the gravity that they deserved," Olshey said, adding "even though other NBA organizations, business partners, TV networks, regional networks, have all enthusiastically in the past and present offered Chauncey high profile positions with their organizations, we wanted to make sure we had our own thorough process, because some things are just bigger than basketball." Olshey said the team commissioned an independent investigation that found Billups' claim was right – nothing non-consensual happened in the 1997 incident. For his part, Billups seemed open and thoughtful when he addressed the media. "There's not a day that goes by," he said, "that I don't think about how every decision we make could have a profound impact on a person's life. Every decision has consequences, and that's led to some really, really healthy but tough conversations I've had to have with my wife...who was my girlfriend at the time in 1997...and my daughters, about what actually happened. And about what they may have to read about me in the news and the media." Billups said the experience has shaped his life in many ways. "My decision making, obviously," he said, "who I allow to be in my life, the friendships and relationships I have and how I go about them. It's impacted every decision that I make. It really has. And it's shaped me in some unbelievable ways." But then, as reporter's questions began, the team no longer could easily control the message. And the seeming transparency turned opaque. Olshey was asked for details about the independent investigation. Who did you hire to conduct it? Who did they talk to? What specifically did they tell you that led you to the conclusion you got to? "That's proprietary," Olshey responded. "So you're just going to have to take our word that we hired an experienced firm, that ran an investigation, that gave us the results we've already discussed." After that, a reporter asked Billups about his earlier statement that the incident helped shape him in unbelievable ways. Could you elaborate on that, the reporter asked, and how it helped shape you? But before Billups could speak, the press conference moderator stepped in. "We appreciate your question," the team PR person said, "We've addressed this. It's been asked and answered so...happy to move on to the next question." "It was frustrating to watch that," said Dia Miller, who writes for the team's fan site, Blazer's Edge. "To know that people wanted answers, people wanted transparency and that's not what we were given." Before the press conference, Miller had written a story about her reaction to Billups' hire – as a longtime Blazers fan, but also as a woman and a victim of abuse. Miller noted the Dallas Mavericks also made a recent controversial hiring – they chose as their new head coach Hall-of-Fame player Jason Kidd. In 2001, he pleaded guilty to spousal abuse. "While there are differences between the allegations and the outcome of Kidd's case and Billups' case," Miller wrote, "the feelings surrounding them are similar – and both are problematic and triggering for those who have dealt with the sensitive issues of abuse, domestic violence and rape." For Miller and other Portland fans, team management made the situation tougher by floating Becky Hammon's name as one of the top coaching candidates. Since 2014, Hammon has been an assistant coach with the San Antonio Spurs and, in Portland, she was poised to make history as the first female NBA head coach. She made it to the "ownership level" in the interview process, Olshey said, adding, "that's an endorsement as far as how far she's come and how close she is." But ultimately, the Blazers chose the less-experienced Billups, who's currently finishing up his first year of coaching, as an assistant with the Los Angeles Clippers, who're still playing in the Western Conference finals. When it comes to Billups, Miller has mixed feelings. "I believe in second chances," she said. "I believe in growth and I believe in people becoming better people. And so there's a part of me that wants to believe that this is somebody that can represent our team. But at the same time, having been a victim of abuse and what that has done to me going forward and how that's traumatized me and the way that has shaped my reactions, that I don't have any control over....whether he did this or not, now...he's connected with that. And there's nothing that anyone can really do about that. And it's not necessarily even fair." Miller counts herself as one of the fans struggling with the hiring decision. There are similar struggles in Dallas over the Kidd hiring. He takes over a Mavericks team that, in 2018, went through a scandal that revealed a long-running pattern of workplace and sexual harassment of female employees. At the time, team owner Mark Cuban tearfully vowed to be better. Kidd has his introductory press conference, with team officials, on July 15 th.

Chris Buescher came of age as a NASCAR Cup Series driver under the banner of Roush Fenway Racing. Buescher is enjoying his second tour of duty with RFR inside the No.17 Roush Fenway Ford Mustang and on July 18, he will compete in the Foxwoods Resort Casino 301 at New Hampshire Motor Speedway in Loudon, N. H. Buescher was an ambitious 16-year-old from Prosper, Texas, when he joined the Roush Fenway organization as a developmental driver in 2009. Buescher found the workload strenuous and the track conditions demanding but he made it work to his advantage. He earned his bones as a driver on the junior level by winning the 2012 ARCA Menards Series Championship in partnership with Roulo Brothers Racing. "I was a developmental driver for Roush Fenway and what that entailed early on was really working in the pit stop practice area, going into the gym with the trainers and then running in ARCA the first four years," said Buescher. "But I always had the developmental side of it through Roush and I always planned on being in a Cup car with that organization. It was neat to see it all come full circle and come to fruition and now I'm starting to see us get into our stride here." Buescher advanced up the developmental ladder when he began competing on the Xfinity Series with RFR. He competed in 74 Xfinity races over five seasons and made steady improvements along the way. Buescher brought home Hall of Fame owner Jack Roush's eighth NASCAR championship by capturing the Xfinity title in 2015. Buescher moved up to Cup Series racing in 2016 when he became a full-time driver for Front Row Motorsports through an alliance with RFR. Buescher was essentially traded from RFR to JTG Daugherty Racing in 2017, where he competed through the 2019 season. He notched his only Cup Series victory as a rookie in the Pennsylvania 400 at Pocono on Aug.1,2016. "It was kind of more circumstantial than anything where we were at with Roush Fenway and where the sport was at," said Buescher. "It worked out well to be able to go over to Front Row in the alliance with Roush Fenway and get my first year of Cup experience under my belt. "I was able to win a race and make my way into the playoffs my rookie year, which was pretty awesome. Everybody did a good job that season getting it done for a rookie learning a lot along the way as well." Buescher was still under the Roush Fenway umbrella when the team parted ways with driver Ricky Stenhouse Jr. after the 2019 season. Buescher made his return from the pandemic-interrupted 2020 season, where he entered into a racing triangle with crew chief Luke Lambert and driver Ryan Newman. Lambert had been Newman's crew chief during their stint together with Richard Childress Racing but he was assigned to Buescher. "I came back to where I always figured I would end up when I was 16 years old starting out in stock car racing," said Buescher. "The way it worked out over the years I was able to find my way to where I figured I would be and it all went as smoothly as it could have." Buescher is currently 15th in the driver standings with 427 points after placing 20th and 19th, respectively, in a weekend Cup Series doubleheader at Pocono. He has four top-10 finishes this season with a best of seventh at Atlanta. Buescher will compete in two more races before the No.17 crew arrives at the Magic Mile. Boston Red Sox principal owner John Henry bought a 50% stake in Roush Racing in 2007 and the outfit was rebranded Roush Fenway Racing. If the Red Sox were playing at home during race week, Henry likely would have tendered Buescher an invitation to throw out the first pitch at Fenway Park. Stenhouse and Newman were Henry's ballpark guests in the past. "I would assume New Hampshire has a special place for Mr. Henry and we really want to make a strong showing," said Buescher. "With that being said, Loudon has been a challenge for us for a handful of years." Buescher has competed in seven Cup Series races at NHMS with an average finish of 23.6 and a best of 15th in July 2019. "This is a track we are continuously working hard at trying to improve but we have not checked all the right boxes just yet," said Buescher. "All it is going to take is to hit it right just one time and it will completely change our perception of the race track. "We are hoping it is this time around and we will continue to do our work on it right up until race weekend at Loudon. We want to be as good as we can be with the tools that we have."

Media Awards & Honors Audio & Podcasting Mediaweek Platforms The Future of Identity Publishing &copy2021 Adweek - All Rights Reserved. Do not sell my personal information Terms of Use Privacy Policy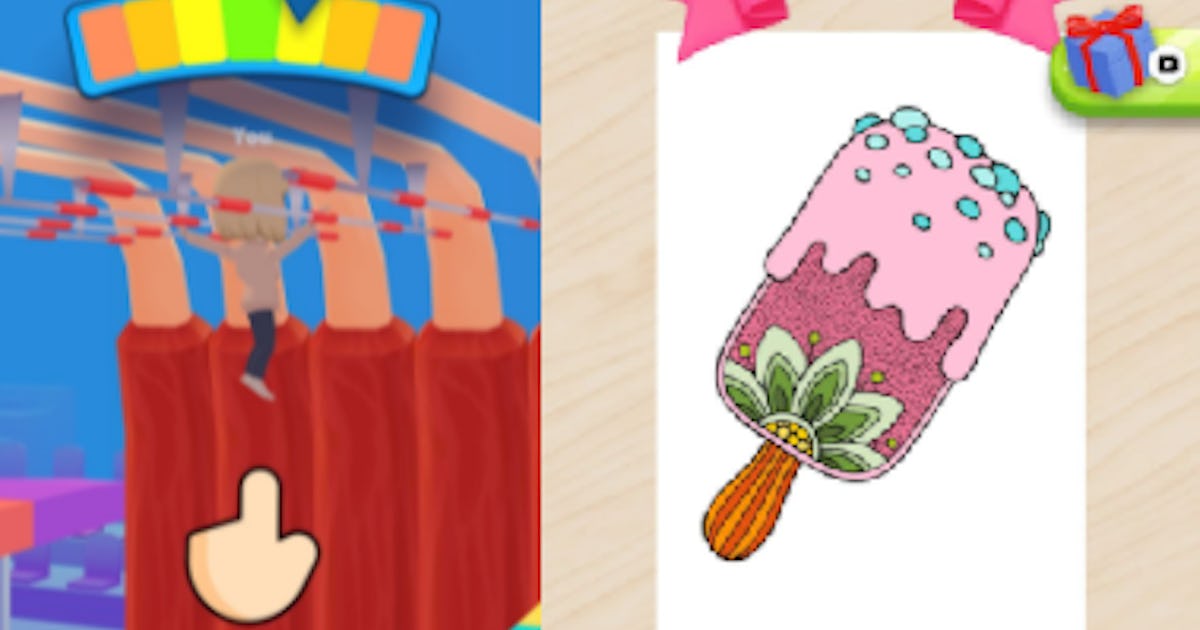 Watch your Bitmoji crush the competition. When you can't spend time with your friends IRL, Snapchat comes in to help keep you connected. Everyone knows that sending Snaps or talking in a chat on the app are fun ways to bond, but there's also so much more you can do on the app that you might not take advantage of. Take Snapchat Games, for example: Since the introduction of Snappables in 2018, Snapchat has continually added new ways to challenge your friends right in the app. The best Snapchat Games you can play will keep you and your friends competing for hours. Snapchat first introduced virtual reality ( VR) games called Snappables in April 2018, but those games rotate and change constantly, so there's no telling which ones will appear. Thankfully, there's a place where you can always find games to help you pass the time. The official Snapchat Games are in the Chat section of the app, and it's filled with plenty of options. To access the games, you can go to a one-on-one or a group message window, and you can find Snap Games when you tap the rocket icon at the right side of the chatbox. There are so many different kinds of games to choose from, like relaxing coloring pages and more competitive time-management games. Some of the games offer a leaderboard feature, where you can compare your score to your friends and keep challenging each other for the top-ranking spot, while others are cooperative games for more chill game sessions. In this waterpark-themed game, the goal is to race other players down a giant waterslide. You control your floatie with your finger and drag it to either side of the screen to move your Bitmoji as you pass by obstacles or bump other people off the slide. Be careful not to oversteer, though, because if you fly off the slide and land outside of bounds, you're out of the game. Even if you don't like sports games, Bitmoji Tennis is still tons of fun. It's challenging enough to hold your attention and it's oddly satisfying to play. Moving your character with your finger takes a bit of coordination, and you'll need to get the hang of the targeted aim while tilting your phone. Once you become familiar with it, you'll rock the court. This Snapchat zombie game is apocalyptic AF. In-game, you work with a team of people to defend a zombie-infested landscape and yourself. There are power-up items and healing potions throughout to help keep you in the game. When the timer is over, make sure you get back to the chopper in time. To add a friend in this game, tap the friend icon next to the chat and select "Ring." This eatery is run by adorable cats, and the customers include dogs, bunnies, birds, badgers, skunks, and more. There are several rooms in the restaurant, and you unlock different ones — a garden, a courtyard, a fish pond, a buffet, and a to-go area — as you progress through the game. Every time you play, you earn cod (the in-game currency) and have the ability to upgrade your restaurant and meet more customers. You can see where you rank against your friends' restaurants on the leaderboard. This Snapchat game includes relaxing background music and virtual coloring sheets for you to fill in by number. You can zoom in and out with your fingers as you go to fill in the right spots. When you first start, you won't have access to most of the pictures, but as you earn points, you unlock new pictures to color in. You can also share your finished product when you're done. In HexFrvr, you match hexagons together to score points. There are a bunch of different shapes, so you need to be strategic about where to place each group of hexagons inside the beehive-like structure. The goal of the game is to keep matching shapes together without running out of moves. Once you run out of space to fill, the game is over. In Crazy Run, you race through a challenging obstacle course against your friends. Challenges include avoiding hot steam, climbing over walls, dodging giant sausages, and swinging across bars. To move, drag your finger across or tap the screen, and the game gives you prompts for how to continue through each challenge. As you play, you'll see other players' Bitmojis struggling through the course, so it's perfect for challenging friends. This game offers a leaderboard to keep you updated as you compete for the top spot. Reminiscent of Where's Waldo, Find My Friends is an interactive search game, but you need to scout out the right Bitmoji, down to the pose and the face. Sometimes it's super easy to find the Bitmoji, but other times the Bitmojis can be obstructed, making it a little more difficult. Slide The Shakes might become your go-to game as you get the hang of it. When you start, you see your friend's Bitmoji sitting at the end of a diner counter. The object of the game is to slide the milkshake down to your friend so it stops within the green portion of the counter. As you play, tap the shake to see how much you need to help the shake slide. You can keep going as long as you don't overshoot a shake off the counter. Ludo Club is so similar to the board game Sorry! In Snapchat's version, you can play with a random player online, or you can invite your Snapchat friends to play with you. The aim of the game is to get your pawns out of their square and into the home space. Of course, it isn't as easy as it sounds because a player can "kill" your pawn when they land on the same space it occupies. This game also has a leaderboard so you can keep an eye on your friends' progress. Get ready for virtual bumper cars because Zynga's Bumped Out on Snapchat Games delivers. You control your car with your finger using a little direction pad on the screen. It's harder than it looks, but once you get a feel for it, staying on the island isn't too bad — it's your friends you need to look out for. Pizza Cat is a skills game that lets you compare your high scores to your friends on Snapchat. The main point of the game is to feed a virtual kitty entire cheese pizzas. Each level gets a bit more challenging as obstacles and golden coins are thrown your way. Collecting the coins gets you extra points, but if you miss the cat's mouth and hit an obstacle, the game's over. While your instinct might be to rush, if you press and hold your pizza before you release it, you'll see where it's going to (hopefully) land. Snapchat's Battleship is a virtual take on the classic tabletop game. You can challenge your friend to a head-to-head battle or choose to instantly battle a random online player. The rules are the same as the OG version: The goal is to sink all of your challenger's ships before they sink yours. In Sling Racers, you need to swing and hook yourself through a concrete jungle using a grappling hook like something out of the classic Tomb Raider games or Spider-Man. You can play solo through different tournament leagues alongside other online players or select "Play with Friends" to battle it out to see who can last the longest. You can also keep tabs on the leaderboard to see who has the highest score. In Bitmoji Party, you compete with friends in different mini-games. You can play with up to seven of your friends, and if none are available, you can play with other Snapchatters online. A "Game Master" is randomly selected at the beginning, and the games range from a pool party to a Zombie Escape to a football drill-inspired game. The games aren't too difficult, but what makes it fun is the friendly competition. This game is an easy (and fun) way to pass the time. First, you select your character and whether you want to play a quick game or compete with friends. Then, you get to soar through a track on a skateboard. The goal is to collect as many coins as possible — and it'll definitely have you singing "Sk8er Boi" at one point or another. Snapchat's Ready Chef Go! is the perfect pick for when you want to race the clock. In this game, you're in charge of preparing and serving food to guests. Your timer is at the top of the game on the money progress bar and it varies depending on which level you play. You can compare your scores with friends on the leaderboard and unlock new restaurants the longer you play. Color Galaxy was created by developer Gismart in partnership with Snapchat. It's a real-time multiplayer game that lets you compete against your friends in a fun racing-style game. The game uses your Bitmoji, but you get to choose the type of car or animal you want to race with. Drive around the map and try to close your loop — which is designated by a specific color — before your opponents close theirs. A general-knowledge trivia game, Smart Rush features a fun board game layout and tiki markers that travel across the board after you answer a question correctly. Race with friends to see who makes it to the finish line first. To find this game, you need to go to Snapchat's Snappables, which are located on the left side of the Lens carousel. These often disappear and reappear on a rotating basis, so if you don't see it right away, it may reappear later. This game asks you three questions on a topic that you can share and compare with your friends. The tagline asks, "What secrets are you hiding?," and once you click "Start," you'll see your selfie on a dancing skeleton. Choose one of the two categories shown on your screen. With truth-or-dare vibes, this feels a bit reminiscent of sharing secrets with BFFs at sleepovers. To find this game, look in the Snappables section on the left side of the Lens carousel. This article was originally published on 02.16.20

TAMPA, Fla. (AP) — Two men who ran onto the field during the final quarter of Super Bowl LV in February have pleaded no contest to trespassing and agreed to a year of probation. The two reached the deal Tuesday during a virtual hearing in Tampa, Florida. Under the terms of their probation, the men must perform 100 hours of community service, pay a $500 fine and write letters of apology to the National Football League, according to the Tampa Bay Times. "I think you can tell by now, what might have been amusing back during the Super Bowl was not very amusing," Hillsborough County Judge Jack Gutman said. "It inconvenienced a lot of people. You exposed people to injury. And hopefully you learned your lesson about all this. It's not funny at all." One of the men told the judge, "No more streaking. I promise." He had scampered onto the field Feb.7 in the fourth quarter of the championship game between the Tampa Bay Buccaneers and the Kansas City Chiefs. He was wearing shorts and a pink leotard or swimsuit. He was eventually tackled and removed from the stadium. The other man ran onto the field first, distracting security officers. One of them said they planned the gag with another man, a social media personality who runs an adult website that was written on the front of the pink outfit. The Buccaneers won the game 31-9. Copyright © 2021 The Associated Press. All rights reserved. This material may not be published, broadcast, written or redistributed.

Roy Burns Sr. opened Burns BBQ in Houston's Acres Homes neighborhood in the early 1970s. His family carries on his rich barbecue legacy to this day, and that's why their motto is "Great BBQ Lives On!"Thrust into the national spotlight by a 2016 episode of Anthony Bourdain's "Parts Unknown," Burns is famous for its ribs, homemade links and other smoked treats. And, if you're really hungry, feel free to tackle the 10 pound baked potato, which comes with everything from butter to sausage to brisket and nearly everything in between!

Taysom Hill is fighting to prove himself once more. Even after signing a nice bulky contract with the New Orleans Saints and starting four games last season when Drew Brees got injured, the former BYU quarterback feels that old familiar drip on his soul: What have you done lately? Hill is in a battle with Jameis Winston heading into training camp. It's a cutthroat race for emergence. Many in New Orleans give the more experienced Winston a light edge. But Hill's work ethic, his consummate drive, his willingness to do anything possible to get on the field, is a force that Saints players respect. If there is one trait Hill has shown during the course of his athletic life, it is his desire to succeed. He cares. He hates failure. And he truly believes he can achieve his goals. That's what makes him so valuable. He refuses to be defined by others. He leaves that job for himself. In a YouTube video, "The Taysom Hill Story," which has had 741,087 views since April 2018, Hill explains, "We can't control what life brings, we can only control how we respond to it. My journey to the NFL has had the highs, the lows, and everything in between — and I'm grateful for all of it." John Hendrix, writing for Saints FanNation.com, wonders if folks are selling Hill short in this QB derby. This, even though Hendrix is on record saying Winston has the edge to start. Hill apparently impressed reporters in early June when he frankly and honestly outlined some of his goals to get better. He is working on his throwing mechanics. He wants to get rid of the ball faster — something he struggled to do in his starts this past season. He is fully aware that to win the job, he needs to put some distance between himself and Winston and prove it on the field. "I think every quarterback would tell you that your feet should take you where the ball goes," Hill said during a minicamp session. Related "I think as you throw routes on air, you're just trying to get work in, but then you get into a game and you're trying to replicate a rush and everything else. Those are the things that I'm employing. I think that I could have sped some things up, based on some offensive concepts, where I was maybe a little bit late on a throw, but I felt like we weren't ready to deliver the ball." Both Hill and Winston reportedly have approached this challenge with class and professionalism. They've been supportive of one another and have not tried to — at least outwardly — politick themselves into the role by splitting the team or running personal campaigns that could be disruptive. Winston did fly out several Saints receivers to a throwing session with him in Miami this summer, trying to build some timing and chemistry. Related Winston's big challenge is interceptions. He can turn it over in bunches. But he has a very strong arm and intends to use it in an offense that didn't require Brees to stretch the field much in his later years. On the other hand, Hill had some great moments as a starter. And he had some ugly plays that went sideways, including five fumbles, three of which were lost to the other guys. In what amounted to three "legitimate" starts for New Orleans last year, Hill completed a respectable 73 of 98 passes (74.4%) for 756 yards, an average of 7.7 yards per attempt. He tossed four touchdown passes and one interception. He also rushed for 165 yards on 39 carries, a whopping 5.7 yards per tote. NBC sportscaster Chris Simms has Hill beating out Winston. The debate is alive and well fed in NFL circles. Hill's critics didn't like the fumbles. And they wish he'd tried to not do so much, place so much on himself, perhaps targeting Alvin Kamara more than just three times for seven yards in that stretch of games. Hill is no dummy. He knows all this. But his athletic life has been reliant on his strength and speed. He has elite speed on a football field and it's been his golden parachute his whole life. It would be hard to take that away from his mindset — that he can fix plays, extend plays, make something happen with a short burst against a linebacker. But it's clear, and it's always been clear, that to succeed at that level, he will need to become a playmaking passer that can extend drives, move the chains and produce touchdown passes. Then, his escape talent can accentuate it. Can Hill do it? Well, he's getting paid the money to make it worth his while. Both he and Winston are working to get another contract — much bigger money. And the satisfaction of leading the Saints' offense as QB1. But for Hill, it's a familiar refrain: He has to prove himself. Again. Get the inside scoop on your favorite team in this email for true Cougar fans. Check your inbox for a welcome email. Start your day with the top stories you missed while you were sleeping. Check your inbox for a welcome email.

Hundreds of women will swim, bike, and run this month to raise money for the Maine Cancer Foundation during the 14th annual Tri for a Cure triathlon. The event will be virtual for the second consecutive year because of the coronavirus pandemic. Virtual race dates: July 1 – July 18 Last day to register: July 9 Live 5K for those who have raised at least $250: 8:30 a.m., July 18 at SMCC The fundraiser, normally held at Southern Maine Community College, requires individual athletes and relay teams to complete a 1/3-mile swim,15-mile bike ride and 3.1-mile run. This year, athletes can complete the events between July 1-18. Typically – with 1,200 and 1,300 women, including many cancer survivors, competing in the traditional in-person triathlon – it's been difficult to draw as many participants to the virtual event, said race organizer Julia Bachelder. "Many people have enthusiastically done virtual events, but getting people excited for another season of them has been a little bit more challenging," said Bachelder, who said around 700 women are currently registered for the race. But Bachelder added that the virtual format could make the event more accessible by giving women the flexibility to split up the swimming, biking and running components of the race. "I was very excited about it being virtual because I'm not a great runner," said Falmouth resident Donna Flanigan,59. "There's like no pressure whatsoever." Flanigan, who usually competes in the swimming leg of the race as part of a relay team, did the entire triathlon near her home last year and plans to repeat the feat this July. She liked the flexibility to switch the order of her bike and swim legs, and to take a lunch break before walking the last portion in her neighborhood. "I hope they keep the virtual component in there, because I think they'll raise more money that way," said Flanigan. "I can't be the only one that feels like this." Raising money is a key goal of the event for competitors like Flanigan, who competed in the first Tri for a Cure in 2008 before being diagnosed with breast cancer two years ago. The race, which raised nearly $1.3 million last year after topping $2 million in 2019, brings in over 50% of the Maine Cancer Foundation's annual budget, according to Bachelder. The foundation funds programs dedicated to cancer prevention, screenings, and care across the state. Normally, athletes must raise a minimum of $500 to race, but organizers waived the requirement this year (though racers must raise $250 to earn a T-shirt and medal). Still, participants like Janet Gilchrist of Phillips are working to raise all they can. Gilchrist, a breast cancer survivor who has raced as an individual or team member each year since 2013, primarily raises money by collecting bottles from family and friends around the community. "Wow, that seems like a lot," Gilchrist remembered thinking about the fundraising minimum for her first Tri for a Cure in 2013. "But in the scheme of things, it was nothing compared to what I'm collecting now." Gilchrist estimated that she raised close to $3,000 in her best fundraising year, though she typically shares some of that money with other competitors who need help meeting the minimum. "It's a lot of work," she said. "But I just keep reminding myself it's for a good cause." That cause normally brings together a supportive community of athletes that Gilchrist called "amazing." "It's like you're all just one big family," she said. "Even during the race, everybody is cheering you on, giving you encouragement." And while this year's event is mostly virtual, live training clinics have allowed small groups of athletes to meet each other over the past several weeks. A celebratory 5K at SMCC on July 18 will offer a taste of the normal race to those who have met the fundraising minimum. "It's a way to have some small piece of that energy that we get in a normal year," said Bachelder. "People seem to be very excited about that." Event registration will remain open through July 9, according to Bachelder, who said Tri for a Cure's flexibility and supportive community make it the perfect first triathlon for prospective racers. "It's a big challenge for people," she said. "But we make it as achievable as possible." Comments are not available on this story. Send questions/comments to the editors.

Even a pandemic can't stop wedding bells from ringing. As the world slowly began to open back up in 2021 following the COVID-19 crisis, stars were eager to exchange vows. First came Alexander Ludwig and Lauren Dear, who announced they'd eloped in Utah following a one-month engagement on January 4. Next up, Jennifer Wayne and Austin Moody wed on January 9 after a two-week engagement. "I'm still in complete shock but I'm humbled and honored to introduce you to Mrs. Moody," the bluegrass musician wrote via Instagram at the time. "Now more than ever, I am able to truly admire and appreciate everything she is. I've never met anyone so kind and generous to people she knows as well as complete strangers. Without even knowing it, she teaches me how to be a better person every day that I am with her. I can't believe I got to marry my best friend… Jennifer, now I stand before the world a brand new man because of the love you've shown me. From this moment on you will never walk alone." Another 2021 trend? Secret weddings! Aubrey Plaza subtly revealed on May 7 that she and her longtime beau, Jeff Baena, tied the knot by referring to him as her "darling husband" in an Instagram post. "Whoa!!!! Just took in the word husband and I am sending you both love and congratulations and blessings!!!!!❤️❤️❤️," Mary Steenburgen wrote in a comment. "UM HUSBAND HOLD ON THERE," a fan added. Just over a week later, Ariana Grande and Dalton Gomez got married in a secret ceremony. "It was tiny and intimate — less than 20 people," Grande's rep told Us Weekly on May 17. "The room was so happy and full of love. The couple and both families couldn't be happier." Us confirmed the pair's engagement five months earlier. "Ariana is beyond excited. She has really enjoyed getting to know and falling in love with Dalton out of the spotlight, something she didn't get to do in her past relationships," an insider said in December 2020. "They are so in love and committed to spend the rest of their lives together." Other 2021 newlyweds included two Duggar brothers — Justin Duggar and Jed Duggar — who married Claire Spivey and Katey Nakatsu, respectively. "We are overjoyed about adding another daughter-in-love to our family," Jim Bob Duggar and Michelle Duggar wrote via Instagram to celebrate one of their son's weddings . "Jed and Katey have enjoyed a quiet, low-key relationship that has allowed them to prepare for a beautiful life together. Congrats to this wonderful couple on their wedding day! We are excited to see how their story continues to unfold in the future." Scroll through the gallery to see the other lucky lovebirds who tied the knot in 2021:

Since Grace McCallum became an Olympian on Sunday, she's celebrated on national television, been interviewed by NBC's Hoda Kotb, and suited up alongside her fellow Olympians for official team photos. None of that compares to what the Isanti, Minnesota, native experienced on her return home, though. Related On Tuesday, McCallum returned to her club gym — Twin City Twisters — to a heartwarming scene. Her teammates, young and old, formed a welcoming line in front of the gym's entrance and cheered her on while John Williams' "Olympic Fanfare and Theme" played in the background. There were red, white and blue streamers and confetti and a red carpet made of gym mats leading to an American flag and McCallum's name laid out on the floor of the gym. Crying happy tears again the foam name, the confetti, the drama?? pic.twitter.com/4uW56SXrkc While it wasn't the opening ceremony of the Olympic Games themselves, the celebration was an indication of how much McCallum's success means to her teammates and coaches. On Monday, Steve Hafeman, coach and owner of Twin City Twisters, wrote in a Facebook post about McCallum, "Words cannot even begin to express how proud I am of this young lady! Grace, you have taught me so much over the years and continue to amaze so many of the people in your life. To become an Olympian, it takes much more than exceptional talent. It starts with a dream and requires an unbelievable work ethic, holding yourself to the highest standards possible, a never give up attitude, a strong support system and perfect timing. To add to this challenge, you have to perform when it matters the most and you did just that! "The fact that you have defied the odds and battled through so many challenges throughout the years to be make your dreams come a reality is beyond inspiring! One of my favorite parts about you earning this spot on the team to Tokyo, is that you 100% deserve it!! Name a quality any coach or parent values…you've got it! Kind, smart, humble, I could go on and on…but my point is that good things happen to good people! Grace keep being you, THE AMAZING GRACE!" Related After undergoing surgery on her hand in January, McCallum didn't actually believe she'd make the Olympic team. "I was kind of devastated," she said Monday during a press conference. "I thought my Olympic dreams were gone because the recovery was gonna be long. At the time, bars was my best event... where I was in January, a 15 was my goal (on bars). It was really hard for me to process knowing I'd have to relearn everything again." Entering the second day of trials, though, she knew she had a genuine shot at achieving her lifelong goal, and after a text of encouragement from former Twin City Twisters teammate Maggie Nichols — an elite former gymnast at Oklahoma — McCallum pulled it off. "My goal was always to be in (an Olympic) position," McCallum said Monday. "I just knew I needed to work my butt off to get there. It's been a long process but I'm really happy with where I've come." Get the inside scoop on your favorite team in this email for true Ute fans. Check your inbox for a welcome email. Start your day with the top stories you missed while you were sleeping. Check your inbox for a welcome email.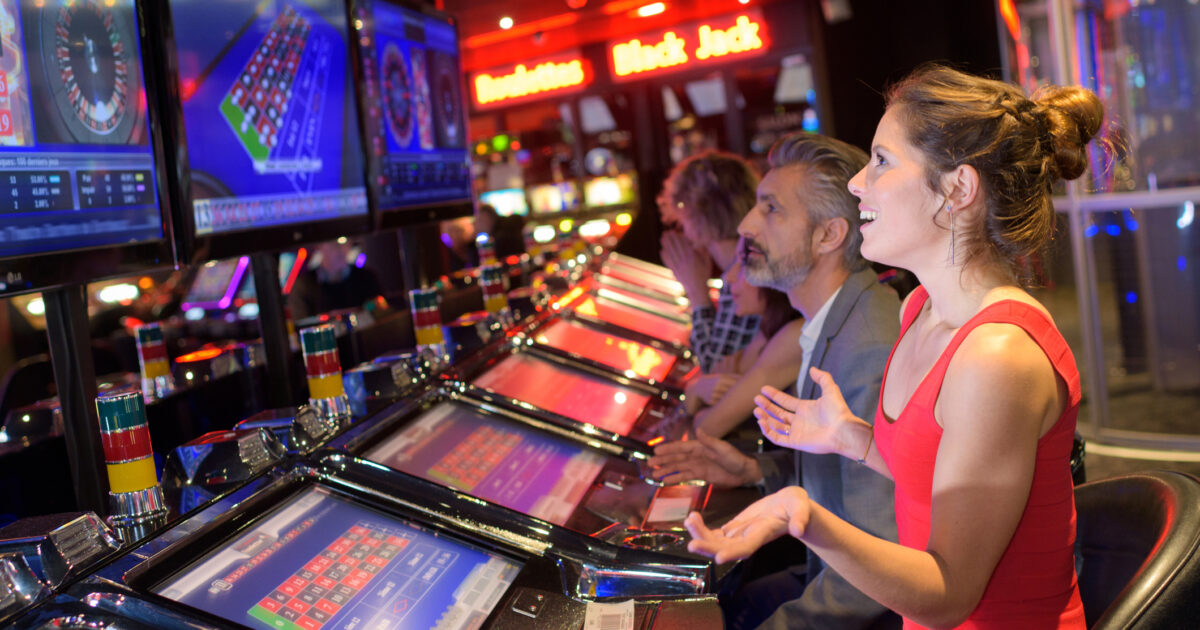 Come Thursday, Virginians will be able to bet on sports from their phones, but not on electronic skill games at gas stations. Once casinos open within a few years' time, people will be able to play video slots at the casino but not at the truck stop in the next town over. Meanwhile, a "family entertainment center" can put the same games out and offer tickets that can be redeemed for prizes at ridiculous markups, but the bar next door can't put the same game out unless it rebrands itself as a family venue. Of course, Virginians will still be able to gamble on a state-run scratch-off or lottery ticket bought at a convenience store. If that sounds like a confusing standard, that's because it is. Even some Virginia legislators can't figure out what's legal and what isn't. "If you read the bill, it is so vague and ambiguous to the point where I can't tell who's legal or not legal," State Sen. Bill Stanley (R–Franklin County), told Reason. "The law is so poorly written that its enforceability is suspect at best." For decades, electronic skill games—any electronic gambling game that does not rely sheerly on chance—have been unregulated in Virginia. For the past year, they were regulated and taxed as part of a one-year deal "that allowed the state to collect more than $100 million in new taxes on the machines while protecting income for small businesses that house them," The Richmond Times-Dispatch reported. The new law Virginia passed seeks to permanently clarify what kind of gambling is allowed (and where) going forward. As Stanley explained it, the law bans skill games statewide, except at family entertainment centers. An establishment must advertise itself as a place for kids and families to meet that definition and get the exemption. That's why Dave & Buster's and Chuck E. Cheese aren't sweating the ban on skill games. Stanley is also a lawyer and is representing truck stop owner and former NASCAR driver Hermie Sadler in a suit seeking to overturn the ban on First Amendment grounds. What does free speech have to do with a ban on a certain type of gambling? "[Sadler]… would have to conform his speech to say 'Come to the Sadler Truck Stop, a family entertainment center.' So the government is forcing him to conform his speech in order for him to transact an otherwise lawful business," says Stanley. On Monday, a separate legal complaint was filed by the Asian American Business Owners Association, alleging that the ban disproportionately harms businesses owned and frequented by racial minorities. State Sen. Joe Morrissey (D–Richmond) cited discrimination as a reason to undo the ban. Regardless of the legal approach to challenging the ban, the gist of these suits is the same: The Virginia government is picking winners and losers in the gambling world. Legislators may think the games are low-class (one called them "unseemly" and "sleazy"), crowding out the state lottery (Stanley says evidence shows otherwise), or preying on low-income Virginians (what do they think the state lottery does?), but there's no moral or economic reason that electronic skill games should be banned if other forms of gambling get to thrive. Stanley voted against the 2020 bill to allow five casinos to open in Virginia, but he now says, "If you're going to allow casino gambling…you better just rip the band-aid off and [say] all gambling is okay, and it should be available to all people who choose to spend their extra money that way, regardless of their socioeconomic status or location geographically in Virginia. I mean, it's just not fair." Of course, this double standard is not unique to Virginia. In Georgia, for example, people can play the lottery but nearly every other form of gambling is illegal, even poker games played among friends in private. Kentuckians can play the lottery and bet on horses but not on other sports. Californians can go to tribal casinos, bet on horses, and play daily fantasy sports, but can't bet on sports in other ways. Hopefully, legislators in every state will soon realize all gambling should be treated the same and stop trying to pick the right way for people to spend (or earn) their money. But don't bet on it.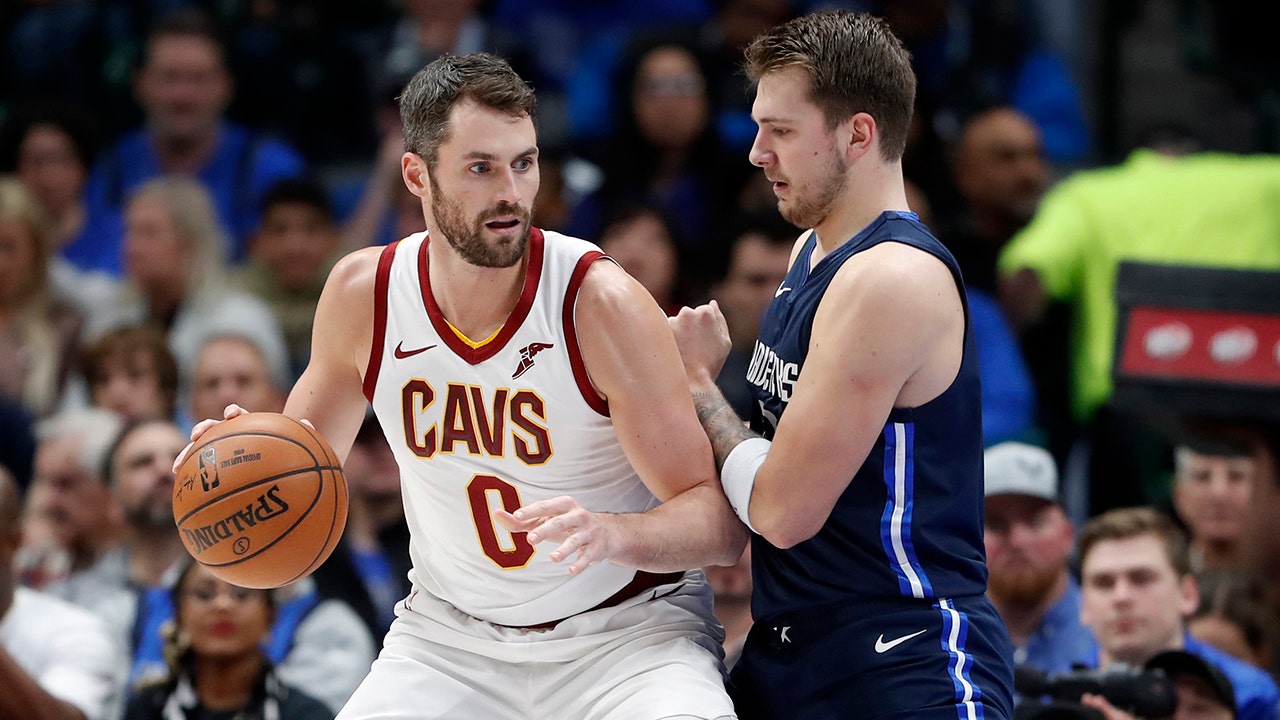 Kevin Love's experience playing for the national team was part of the reason why he made the U. S. Olympic roster for the 2020 Tokyo Games, USA Basketball managing director Jerry Colangelo said Monday. Love was the target of ESPN analyst Jalen Rose's controversial remarks. Rose, who later apologized, said Love was making the team because of "tokenism." Colangelo pointed more toward Love's experience in international competition as to why he was on the team instead of someone who had a better 2020-21 season like New York Knicks star Julius Randle. "It's because of his international experience. Yes, it's true. He hasn't played much of anything these last few years. But his versatility is valuable up front," Colangelo said, via SB Nation. Love, Bam Adebayo, Bradley Beal, Devin Booker, Kevin Durant, Jerami Grant, Draymond Green, Jrue Holiday, Zach LaVine, Damian Lillard, Khris Middleton and Jayson Tatum also made the team. Head coach Gregg Popovich leads the staff with Steve Kerr, Lloyd Pierce and Jay Wright. Colangelo touted the roster in a press release. "We are excited about the 12 players who have been selected to represent the United States in the Tokyo Olympics," Colangelo said in a press release. "This was an unusually challenging selection process for many reasons, including the year postponement of the Olympics and the issues related to the timing of the NBA regular season and playoffs." He went on to say: "Our roster features players who are experienced in the international game, and this team has outstanding athleticism, versatility and balance. We also believe we have excellent leadership which is a necessity in order to develop the needed chemistry. We still have a lot of challenges in front of us, but I believe these players will become a team that all Americans will be proud of." Retired Gen. Martin Dempsey, the chairman of the USA Basketball Board of Directors, separately highlighted the quality of players the team has. "USA Basketball selects players to represent our country in international competition with the skills, character, experience, and desire to win," Dempsey said. "We build teams that are versatile and resilient in the short, intense competitions we face. We're fortunate that this group of elite athletes has volunteered to represent us in Tokyo this summer." Love only appeared in 25 games for the Cleveland Cavaliers during the 2020-21 season. He still finished in the top five on the team in scoring with 12.2 points per game and was third in rebounds with 7.4 boards per game. He's also emerged as a vital mental health advocate for the league.

"A staggering 20.6 million of you watched England's victory on BBC One last night," tweeted "Match of the Day" host and English soccer legend Gary Lineker on Wednesday as the viewing numbers from Tuesday night's UEFA European Football Championship round of 16 match between England and Germany came in. Those numbers make last night's match the most-watched of the tournament in the U. K., surpassing the Home Nations derby between England and Scotland, which peaked at 19.4 million.6.5 million live streams were also accessed across BBC iPlayer and BBC Sport online and set a new iPlayer live viewing record of 5.6m streams. In total, more than 27 million Brits tuned in or logged on to watch the game. Next up for the Three Lions is a trip to Rome where they will face Ukraine on Saturday evening. ViacomCBS International Studios (VIS), a division of ViacomCBS, and AGC Television, the TV wing of Stuart Ford's AGC Studios, have closed a two-year,10-project development first-look deal for Spanish language content. The first title in the agreement is "Te Buscaré Hasta Encontrarte," in English "I Will Look for You Until I Find You," which examines trauma suffered by human trafficking victims. "We continue to strengthen our strategy by collaborating with international partners that provide innovative content to our global audiences," said JC Acosta, president of VIS and Networks Americas. "AGC has an amazing track record and global content pipeline." Free film streaming/social media platform Filmzie will be made available as a channel on Rakuten TV in the U. K. The channel will be added automatically to the Rakuten app and will not require any additional software to be downloaded. Filmzie allows users to stream a range of curated films and fosters community building among audiences through its social platform. The arrival on Rakuten TV is part of a larger international rollout at Filmzie, with additional territories and platforms to be announced throughout the year. Cineflix Rights has closed deals for several programs with broadcasters and streamers in North America. "Wizard of Paws" seasons one and two are heading to Nat Geo Wild in the U. S. with Blue Ant Media scooping season one in Canada. "My Big Family Farm," "Five Years on the Farm," "Living on the Veg" and "The Day Will and Kate Got Married" were all picked up by CBC Gem in Canada. From Cineflix's true crime catalog A&E bought the first two seasons of "Killer Cases" while Investigation Discovery snagged season three of "Homicide: Hours to Kill." And finally, Bell Media Canada acquired two films in "I Was Lorena Bobbitt" and "An Ice Wine Christmas." Ahead of the 80th anniversary of the Pearl Harbor attacks this December, Channel 5 and Barcroft Studios have teamed up on a three-part documentary series, "Attack on Pearl Harbor: Minute by Minute." Comprised of survivor interviews, experts, archive material (including the actual naval communications from the period) and new footage of the underwater shipwreck, each 60-minute episode will take audiences through the events that transpired on Dec.7 1941. The series was commissioned by Channel 5's Guy Davies. Peter Wyles will executive produce for Barcroft Studios. Channel 5 will broadcast the series in the U. K. Barcroft Studios retains the rights for the US and Canada. BritBox has acquired the rights to feature-length documentary "Sparkling: The Story of Champagne," and will be the exclusive home to the film starting July 29. Directed by Frank Mannion, the film features Stephen Fry and a cast from the world of champagne including Taittinger heiress Vitalie Taittinger, Bruno Paillard, Oz Clarke, best-selling authors Don & Petie Kladstrup, Cristal wine-maker Jean-Baptiste Lecaillon, and Sir Nicholas Soames, Conservative party MP and grandson of Winston Churchill, who allegedly consumed over 40,000 bottles of Pol Roger in his lifetime. Kidscreen is launching Pitchfest, a five-day speed pitching event aimed at addressing U. K. industry needs for kids and family content. Running Sept.13-17, Pitchfest will host more than 2,000,15-minute one-on-one meetings between creators of kids TV content and buyers looking for new programming. Attendees can schedule virtual meetings via the KidscreenXchange platform and/or use Kidscreen's lottery software which will make the matches for them. Online registration is open now at pitchfest.kidscreen.com. Lionsgate has boarded Blackbox Media's supernatural crime drama "Costa" from Gaby Chiappe ("The Beast Must Die") and Alex Perrin ("The Level"), as a co-producer and distributor. The news came just as it was announced that Spain's rapidly expanding Conecta Fiction TV meet-mart had selected the series to participate in its Pitch Copro Series. In the series, Cathy and her three children are on the run, managing to escape a violent past in the sanctuary that is Casa de Salamandras, only to learn that the location is home to a disturbed spirit of a murdered hitman.

Heather Dinich had a hell of a college football take for her fans Wednesday morning. The ESPN star was discussing conferences with a shot at multiple playoff teams on "Get Up," and she thinks the Big 12 could get Iowa State and Oklahoma in. You can listen to her break it down below. In a surprise to literally nobody, Paul Finebaum was not impressed, and neither am I. Do I think Iowa State or Oklahoma could make the playoff? Without a doubt. Both of them? Hell no. Iowa State has literally no realistic super tough opponent during the regular season outside of the Sooners. Iowa and Texas might be solid, but there's literally no guarantee of that at all. Strength of schedule matters and the Cyclones simply don't have it. There's a better chance the B1G sends Ohio State and Wisconsin than ISU and Oklahoma both make it. I literally don't see that happening at all. Oklahoma will probably go but ISU is a stretch. Of course, we play the game for a reason! We'll see what happens once week one rolls around!

This is the Education Briefing, a weekly update on the most important news in American education. We're going on summer break, but sign up here to get this newsletter in your inbox next fall. Today: The start of summer school and a legal win for transgender students. A pivotal summer As the U. S. emerges from the worst of the pandemic, this summer is a critical opportunity for students to make up ground academically and re-engage with school. But with more students than usual set to take summer classes in many cities, many schools are once again being forced to play catch-up. "This on-ramp to summer has been really rapid," said Christine Pitts, who helped lead an analysis of summer programming for the Center on Reinventing Public Education. A vast majority of large school districts are offering some kind of summer school this year, according to that analysis. A typical district is offering about five weeks of programming. Some are offering both in-person and remote summer classes, others only in-person, and a small number only remote. Many are combining academic instruction with activities like field trips, art projects and outdoor recreation. "It's really important that we kind of reintroduce the school day to kids this summer: 'By the way, this is what it feels like to learn for four hours at a time and be engaged academically,'" Pitts said. "Part of it is balancing building that stamina in the learning and also making sure we're allowing kiddos to have that time for peer-to peer connections." Here's a selected rundown: New York City and Los Angeles, the two largest U. S. districts, are offering summer school to all students for the first time. About 100,000 students are attending classes in L. A. In New York, where the spring semester only just ended,200,000 students have signed up, and the city is still encouraging more families to enroll. Philadelphia plans to serve 15,000 students, about triple its usual amount. Some students will be in classrooms for the first time since March 2020. Roughly 12,000 students have attended the summer program hosted by Guilford County Schools in North Carolina so far, about 10 times as many as in previous, nonpandemic years. Broward County, Fla., will have about 45,000 students, up from about 8,000 to 10,000. But there are challenges: A Missouri district had to move two of its programs online after more than half of its students tested positive or had to quarantine. And old buildings aren't always equipped for summer heat: Some schools in New Jersey do not have air-conditioners, and students are sweltering behind masks. Many districts have had trouble finding enough teachers for summer school, as worn-out educators understandably want a break from a stressful year. Fairfax, Va., announced it would have to delay a summer program for about 1,200 students with disabilities for about a month as the district looked for more educators, The Washington Post reported. Nearby Arlington also reduced its summer program to 3,000 from 5,000 students because of staff shortages. Chicago, which is hoping to serve 50,000 more students than usual, still has 67 teacher vacancies and is offering teachers who agree to work in the understaffed programs an extra $200 in pay per week. And while summer school enrollment is up about 30 percent in Watertown-Mayer Public Schools, in Minnesota, the district has struggled to find enough adults to staff the program. In mid-June, it was considering hiring paraprofessionals from outside the district or even high school students to fill the spots. "This year, more than any others, teachers were burnt out," Darren Schuler, the superintendent, told a local news station . "This is the one summer where teachers needed that time to recalibrate and start fresh next school year." Transgender protections endure The Supreme Court will not hear a case challenging the bathroom rights of transgender people, leaving in place an appeals court ruling that a Virginia school board's policy violated the Constitution and a federal law. "Having to go to out-of-the-way bathrooms severely interfered with my education," said Gavin Grimm, who was barred by the Gloucester school board from using the boys' bathroom. "Trans youth deserve to use the bathroom in peace without being humiliated and stigmatized by their own school boards and elected officials." Last year, the court for the first time ruled in favor of transgender rights, saying that a federal employment discrimination law applied to L. G. B. T. Q. workers. But Justice Neil Gorsuch, writing for the majority, said the ruling did not address access to restrooms. Now, with the yearslong battle over the Virginia bathroom case at an end, advocates say the fight has moved on. "What were headlines about bathroom fights years ago has been replaced with athletic bans and trans medical bans," Melanie Willingham-Jaggers of the L. G. B. T. Q. student group GLSEN told The Washington Post. Around the country Wednesday is the last day to apply for federal financial aid, or FAFSA. A powerful N. C. A. panel recommended that college athletes be allowed to profit off their names, images and likenesses. Gov. Ron DeSantis signed a law mandating that Florida 's public universities take "viewpoint" surveys of their populations to assess political diversity, potentially threatening state funding. The trustees of the University of North Carolina at Chapel Hill will vote on Wednesday whether to grant the Times journalist Nikole Hannah-Jones tenure. The Yale School of Drama will be tuition-free moving forward, after a $150 million donation from the entertainment mogul David Geffen. An opinion in Politico: Sheryll Cashin, a law professor at Georgetown, argues that colleges should consider permanently disregarding the SAT and ACT. A good read from The Times: Medical schools in the Caribbean often fail their students, our colleague Emma Goldberg reports. School nurses, who have protected their communities through the pandemic, feel excluded from conversations about next fall. In Texas, one of the first states to release full data from spring standardized tests, math scores haven't been this low since 2013. Public schools in Arlington, Va., won't have police officers in hallways next year. A Catholic school in New Jersey fired an unmarried teacher who got pregnant. She is now suing, and her lawsuit will test the First Amendment limits of religious freedom. A queer valedictorian in New Jersey finished his speech from memory after his principal took away a copy of his prepared remarks. Educators are pushing to teach the histories of race massacres in cities including Tulsa, Okla., and Elaine, Ark., even as Republican politicians in several states try to block curriculums that emphasize systemic racism. A good read from The Times: After a pandemic hiatus, students at a Catholic high school in New Jersey renewed the school tradition of taking a mandatory hike along the Appalachian Trail. We're going on summer break The Education Briefing will be back in your inbox around the time school supplies start going on sale. When we sent our first edition last August, the world looked very different. And you've stayed with us through it all. Thank you for your loyal readership, suggestions and support. Congratulations on getting through a school year unlike any other. We'll see you soon!

Basketball star Kara Lawson and golfer Stacy Lewis offer insights for anyone vying for gender equity in the sports and entertainment industries

RJ Barrett racked up 22 points for Team Canada Tuesday, and praise – even if backhanded – from Greece coach Rick Pitino. Back on the court for the first time since June 2 when the Knicks were eliminated by the Hawks, Barrett was rusty in the first half. But he poured in 12 fourth-quarter points to key Canada's 97-91 victory over Greece in an Olympic qualifier in Victoria, British Columbia. Barrett, who started at shooting guard, hit two free throws with 34 seconds left that clinched it. Canada still must win out to make it to Tokyo, and it faces China Wednesday night before the elimination round this weekend. Pitino, the Iona coach and formerly at Louisville, said of the Knicks 2019 lottery pick out of Duke: "Barrett in college couldn't really shoot a 12-foot shot and I absolutely love players that work at their game and get better. I'm obviously a big Knicks fan so I'm a big RJ fan, but the fact that he's improved so much is amazing to me." "If you give him his left hand he's unstoppable," Pitino added of the 2019 No.3 overall pick. "He's strong. He's tough." Barrett scored just three points in the first half. He finished 8 of 14 – just 1 of 6 from the shortened FIBA 3-point stripe. He hit 5 of 7 free throws. "It was our first time playing together [so] I was definitely sloppy coming out for the gate, but picked it up and we got it done collectively," said Barrett, a Toronto-area native. Canada hasn't made the Olympics since 2000 but has eight NBA players, including Andrew Wiggins. Barrett's father, Rowan, who played at St. John's, is the Canadian team's GM. "Last time we made the Olympics, my dad was wearing 9 and now I'm wearing it," Barrett said. "It feels right."

Two men shot and killed a bank security guard in Gary and robbed nearly $10,000 to pay off bills of an amateur football team, according to federal prosecutors who say they are considering the death penalty. When one of the suspects — an owner and coach of the Illini Panthers — was tracked down in Georgia days after the June 11 attack, he offered to "work off" the charges against him by becoming an FBI informant, a 17-page affidavit states. Hailey Gist-Holden,26, is facing charges of armed bank robbery, using a firearm during the robber, and causing death. A second suspect, James Anthony King Jr.,24, of Miami, Florida has been indicted on the same charges. The two are accused of ambushing guard Richard Castellana as he was walking on the sidewalk outside First Midwest Bank and shooting him in the face. Castellana,55 — a retired Cook County sheriff's deputy — "did not even see them before he was shot," according to the federal complaint. Gist-Holden and King walked into the bank, one demanding money from the teller while the other stood as a lookout, the complaint said. They made off with a total of $9,771.09. King was tracked down in a nearby wooded area within hours. Police said they found a backpack with cash and a.40-caliber Glock handgun near where they caught King. He told authorities that he was a player on the football team and that his coach was the one who shot Castellana, the complaint said. Gist-Holden was arrested following a high-speed chase June 18 in Georgia after he crashed his car, the complaint said. Gist-Holden was facing financial troubles: He couldn't pay rent on his house in Gary or the hotel bill where team members were staying in Downers Grove, the complaint stated. Acting U. S. Attorney Tina Nommay said her office will ask the U. S. Department of Justice for permission to seek the death penalty against one or both of the suspects. She said such action would have to be approved by a committee of senior Justice Department officials in Washington, D. C. as well as the U. S. attorney general and his deputy. Castellana had been a Cook County sheriff's deputy for 35 years before retiring. He had lived in Tinley Park.

Connor McDavid's award-winning season came with one regret. In earning his second career MVP honor Tuesday, the Edmonton Oilers captain wished his team was still playing. "We had a special group this year, and obviously we didn't do what we wanted to do," McDavid said, referring to the Oilers being swept in the first round of the playoffs by the Winnipeg Jets. "But it was still so fun to be a part of, and get the fans of Edmonton excited again for what's to come," he added. "We had so many guys take the next step, and I'm just part of that. If we're all continuing to do that, we're going to go and do some special things in this league." McDavid became just the second unanimous Hart Trophy selection — joining Wayne Gretzky in 1982 — in receiving all 100 first-place votes from members of the Professional Hockey Writers' Association. The 24-year-old doubled up on honors by also winning his third Ted Lindsay Award as the league's most outstanding player, which is voted on by NHL players. The NHL presented its awards remotely for a second consecutive season because of the coronavirus pandemic, and a day after Tampa Bay opened the Stanley Cup Final series with a 5-1 win over Montreal. In previous years, the awards ceremony was held in Las Vegas after the playoffs, and with an audience and players present. McDavid, who also won MVP honors in 2017, led the way, much like he did during a regular season in which he had already won his third Art Ross Trophy in six years for leading the NHL with 105 points (33 goals,72 assists) in 56 games. The next closest player in the points standings was teammate Leon Draisaitl with 84, with Boston's Brad Marchand a distant third with 69. Toronto's Auston Matthews finished second in the MVP voting, followed by Colorado's Nathan MacKinnon. Vegas' Marc-Andre Fleury beat out Tampa Bay's Andrei Vasilevskiy and Colorado's Philipp Grubauer to win his first Vezina Trophy as the NHL's goalie of the year. The Golden Knights tandem of Fleury and Robin Lehner already won the William M. Jennings Trophy, for combining to allow an NHL-low 124 goals this season. The 36-year-old Fleury finished third in the NHL with 26 wins, a 1.98 goals-against, .928 save percentage and six shutouts in 36 games. He also closed the season with a nine-game winning streak, while moving into third place on the NHL career list with 492 wins. New York Rangers' Adam Fox won the Jack Norris Trophy as the NHL's top defenseman, beating out Tampa Bay's Victor Hedman and Colorado's Cale Makar. The 23-year-old Fox led NHL defensemen with 42 assists and second with 47 points. He also ranked seventh among skaters in ice-time. Fox became the second player to win the Norris in his second season, joining Bobby Orr winning in 1968. Minnesota's Kirill Kaprizov won the Calder Memorial Trophy as rookie of the year in becoming just the fourth rookie since 1993-94 to lead his team in scoring. The 24-year-old from Russia led NHL rookies with 27 goals and 51 points, and became the first Wild player to win the Calder. Carolina goalie Alex Nedeljkovic and Dallas forward Jason Robertson were the other two Calder finalists. Oilers players have now won the Hart in three of the past five years, with Draisaitl winning it last year. McDavid was informed of winning both awards by Draisailt. "To have your fellow peers recognize you, it means a lot. Just feel so humbled and grateful to have won this award a few times," McDavid said of winning the Ted Lindsay honor, before personally thanking Draisaitl for personally helping contribute to his point production. Joining Kaprizov, Nedeljkovic and Robertson on the NHL's All-Rookie team were Ottawa Senators forward Josh Norris, Rangers defenseman K'Andre Miller and New Jersey defenseman Ty Smith. The First All-Star team features McDavid at center, Marchand at left wing and Toronto's Mitchell Marner at right wing, Fox and Makar on defense, with Vasilevskiy in goal. The Second All-Star team had Matthews at center, Florida's Jonathan Huberdeau at left wing and Colorado's Mikko Rantanen at right wing, Hedman and Carolina's Dougie Hamilton on defense and Fleury in net. The NHL previously announced other winners, with Carolina's Rod Brind'Amour winning the Jack Adams Award as coach of the year, and the New York Islanders' Lou Lamoriello winning the Jim Gregory general manager of the year award. Florida's Aleksander Barkov won the Frank J. Selke Trophy as the NHL's top defensive forward, and Carolina defenseman Jaccob Slavin won the Lady Byng Memorial Trophy for sportsmanship and gentlemanly conduct. Philadelphia's Oskar Lindblom, a cancer survivor, was this year's recipient of the Bill Masterton Memorial Trophy, presented to a player who exemplifies perseverance and dedication to hockey. The Mark Messier NHL Leadership Award was presented to Boston's Patrice Bergeron. Matthews won the Maurice "Rocket" Richard Trophy for leading the NHL with 41 goals.

Senior New Zealand batsman Ross Taylor feels the World Test Championship triumph has "probably" made up for the heartbreak of the ODI World Cup final two years ago. England had won the 2019 World Cup final against New Zealand on a controversial boundary count rule after 100 overs and a subsequent super over produced a thrilling tie. "I guess at the start of my career, there were a few ups and downs. We played in a few inconsistent sides, but, no, I guess over the last few years, the team has built into a fantastic consistent side and after the heartbreak of the 2019 World Cup, this is definitely the highlight and I think probably makes up for that," said Taylor in a virtual media interaction on Wednesday. It was a fitting end to the WTC final as Taylor and skipper Kane Williamson remained unbeaten to ensure an eight wicket win over India for their maiden world title. Taylor hit the winning runs and then came a moment he will never forget. "… Once the winning runs were hit, walking off with him (Willamson) and the discussions afterwards, it's something that I'll never forget. "It was still touch and go when I went out there to bat; to get through that hard period and Kane's been a fantastic captain and ambassador for the game and our country. "And for him to be out there and on that last ball before, he sort of gave me a stare: 'hurry up and finish it' so that he doesn't have to. So it was nice to hit the boundary and celebrate what was a tough match with a lot of hard work over the last two or so years."

When Iowa State women's basketball coach Bill Fennelly and his staff were recruiting Bridget Carleton, they told her about the big women's basketball fanbase at Iowa State, the Cyclones' track record of success and their history of player development. Then Fennelly tried to sell one more thing that was specifically directed at Carleton. Fennelly, knowing that Carleton's dream was to one day play for Canada in the Olympics, told her they could help make that become a reality. "I really think that was a huge, huge piece of it," Fennelly said. "I think that just really checked off all the boxes." Those pitches helped convince Carleton to come to Iowa State. And Fennelly followed through on that promise to help her try to reach the Olympics. Carleton, a former star for the Cyclones, was officially named to Canada's Senior Women's National Team Olympic roster Tuesday night. The news was more of a formality for Carleton, a native of Chatham, Ontario, Canada. Carleton, who has competed for Team Canada since 2013, was a member of the FIBA Olympic Qualifying Tournament team that went 3-0 and earned Canada its third-straight Olympic appearance. She averaged 5.3 points,4.3 rebounds and 1.3 assists while averaging 25.3 minutes per game. Previous coverage: Her selection to Canada's Olympic roster marks her first selection to the Olympic team. It's been a long-time dream of Carleton's, even before she got to Iowa State. "When we recruited her, we told her that 'We want you to be a great player here but we're going to do everything we can because that was her dream obviously," Fennelly said. Fennelly and his staff followed through on that promise. Carleton, a four-year starter for the Cyclones from 2015-2019, was one of the best players in school history. She finished her career with 2,142 points,211 steals,124 blocked shots and 255 3-pointers. After college, Carleton was selected in the second round of the WNBA draft by the Connecticut Sun. She now plays for the Minnesota Lynx. But Fennelly believes that time in Ames helped play a big role in her journey to the Olympics. The Cyclones provided instant playing time for Carleton, something Canada Basketball wanted for her early in her college career. They also worked around her schedule. Carleton missed significant time during her college summers to train and play for Canada. Fennelly said his staff even stayed in close contact with Canada's coaching staff to make sure they were on the same page for workouts. "It was a lot of coordination of everyone's part," Fennelly said. "Team Canada was great to work with. But I think we di dour part and Bridget was really, really good at keeping us aware of, 'Hey, this is coming."" Fennelly said that after Carleton's sophomore year at Iowa State, he realized the Tokyo Olympics may be a possibility for Carleton. It was and now it's a reality after all the work Carleton put in with Canada and the Iowa State women's basketball program over the years. "We loved doing it," Fennelly said. Canada will begin its Olympic run on July 26 when it takes on Serbia in the group stage. Tommy Birch, the Register's sports enterprise and features reporter, has been working at the newspaper since 2008. He's the 2018 and 2020 Iowa Sportswriter of the Year. Reach him at tbirch@dmreg.com or 515-284-8468. Follow him on Twitter @TommyBirch.

Two former basketball players who bonded over their love of the sport realized they had many mutual passions. Caitlin O'Kane has more with The Uplift.

Founder at TrendMiner. CTO with substantial experience in algorithm design, time-series analytics, and product strategy. Artificial intelligence (AI) still often overpromises and underdelivers, but we are seeing AI begin to understand us and adoption has accelerated rapidly. Are we prepared for what is coming? Will AI Weed Out My Job? If you are a truck driver or a travel booking agent, advances in image recognition and natural language processing could potentially make your job redundant. The prospect of digital transformation has caused many traditional stores to struggle, banks to close offices and factories to operate with less personnel. But much like digitalization and social media created new non-technical jobs (think about influencers), AI promises to create new employment. In addition to the increasing demand for data scientists and data engineers, data labeling and testing needs will create opportunities for a much larger group. At the same time, the digital revolution makes it easier than ever to start working for a food delivery or rideshare platform, start your own boutique hotel with AirBnB or work as a handyman via a digital platform. We should be expecting a lot more of these possibilities to emerge in tomorrow's economy. Governments are still primarily thinking in small increments and struggle to fit in new disruptive economical models. Perhaps it is time we become more proactive in stimulating new job types and in thinking about their social implications, instead of holding on to current recipes. Bold thought experiments are needed here. For instance: What would the labor market look like if we remove the difference between self-employment and payroll status altogether, so everyone can more flexibly compile their own job package? And if we do so, how could we guarantee that our social system does not collapse and everyone remains sufficiently protected? To support this transition, I believe education will be key: Curriculums at schools and universities need to be adapted and employees retrained to prepare them for the changing workplace. Will AI Make Mistakes? It is inevitable that AI will make mistakes. You will likely get frustrated by an AI agent that fails to understand your question or a personalized ad that has it all wrong. You will likely hear about self-driving cars crashing. The true question is not whether AI will make mistakes but rather whether we are prepared for these scenarios. Accountability and liability are the keywords here. Let's take self-driving cars as an example. Legislation for autonomous vehicles has been an active topic for years now, yet countries still often depend on the reinterpretation of old laws. Regulation needs to be harmonized further to avoid issues when higher-level autonomous vehicles need to start moving across borders. Insurance needs for parties that carry liability such as software providers are unclear. In addition, systems that automatically adapt in time pose additional challenges to current legal frameworks, and cybersecurity threats do not always fit well with current safety certifications. A closely related topic that has been getting more attention recently is bias or unfairness in AI systems. The previous era of model-driven AI suffers from hidden biases in many benchmark data sets on which the AI breakthroughs have been reached. Recently a lot more attention is going to ensuring diversity and quality of the training data in all its aspects — as it should. Will AI Get Abused? AI is a power that can and should be used for good, but I expect it will unfortunately also be used for bad. The risk may not lie in the development of big killer robots, but more realistically in cyberthreats. Over the past years, we have observed more and more sophisticated phishing attacks. But these threats are only scratching the surface compared to AI-based scams that are likely to emerge shortly. Recent deep fake videos of Queen Elizabeth dancing or Tom Cruise performing a magic trick prove that this threat is not as far-fetched as you might think. The technology to create such videos is rapidly improving, requires much less data than we previously thought and could become more mainstream soon. There are many other areas in which AI-supported crime is likely to emerge, or in which AI systems could be vulnerable to hacking with serious consequences. Additionally, there is a risk that governments and companies, especially big tech (which have become a type of macro-government in a sense) could silently institutionalize bias in what we see, hear, learn and have access to. The fact that AI can be abused is not a reason to ban or abandon it altogether, but we need to anticipate it. Risk assessments should become a central component of our AI strategies, and investing in technologies and tricks such as secret code words to unmask deep fakes could be key. Additionally, a key challenge will be to provide proper education so people know what to watch out for. So, Are We Ready? As AI accelerates further, it is clear that there is no time to waste. We need to adapt our job market and social systems, anticipate mistakes and prepare for new types of crime. The impact of AI for good and bad will depend on finding that middle ground between two seemingly contradictory issues: stimulation and regulation. Very recently the EU put forth its risk-based framework for AI, which is definitely a good step. But governments and legislations are always running behind — and we have to be aware that with AI, that can be a dangerous thing. Forbes Technology Council is an invitation-only community for world-class CIOs, CTOs and technology executives. Do I qualify?

The Philippines will have at least five athletes competing in the Tokyo Paralympic Games. Three more were added to the Philippine delegation after swimmer Gary Bejino, wheelchair racer Jerrold Mangliwan and discus thrower Jeanette Aceveda secured their spots through bipartite slots on Wednesday. Bejino, Mangliwan and Aceveda joined early entrants taekwondo jin Allain Ganapin and swimmer Erwin Gawilan. Table tennis player Josephine Medina, who bagged the bronze in the 2016 Rio Paralympic Games, is still waiting for her official confirmation. Medina, who ended the country's 16-year medal drought, is expected to participate in her third straight Paralympic Games.

Kyle Duncan of Brighton is the Michigan recipient of the Bob Scott Award, presented by USA Lacrosse. The award is given to "high school seniors who go above and beyond in service to their team, school and community," according to USA Lacrosse. That sounded like a perfect description of Duncan to his coach, Jim Carl, who nominated him for the award. "He's just one of those guys who, if you need help, if you need anything, he'll not only be there, but he'll get other people there," Carl said. "I've been around a long time. I look at his resume and I'm just wowed. If you were to sit down and build a mythical resume, you'd come up to one pretty close to his." Carl said Duncan had a 4.0 grade point average and an "off-the-charts" SAT score. Among Duncan's activities outside of sports are serving in a leadership group at school, going on a missions trip each summer to work on schools and build homes in Tennessee, volunteering with Habitat for Humanity, and participating in the Livingston Day of Caring. "I nominated him because the service he's had over the course of his high school career is better than anything I've ever seen," Carl said. "I've been a Scout leader for 40 years. I've never seen anybody with a better resume than this kid." Duncan was a captain and midfielder for a Brighton team that reached the regional championship game before losing 14-10 to eventual state runner-up Hartland. He made a position change following a 16-10 regular-season loss to Hartland to increase the Bulldogs' chances of winning the rematch. "He was a really good midfielder," Carl said. "He went into quarantine right after the (regular-season) Hartland game. We decided if we were going to play Hartland and try to win, we were good on defense, but we needed to be great. "We moved him from short-stick offensive midfielder to a defensive long-stick middie. If he had been there all year, he'd have been the guy in charge of that defense. He took us from very good to great. I know we lost to Hartland, but it was a pretty good game. We were in that game because of our defense and (all-staters John Aurandt and Carson Billig)." Duncan was an All-Livingston County defensive back during football season. He will attend Ohio State University to study aviation. Contact Bill Khan at wkhan@gannett.com. Follow him on Twitter @BillKhan.

The venue will be different, and so will the visuals. But the All-Star Game is returning on July 13 after a one-year hiatus, giving Major League Baseball a chance to highlight all that makes it great, instead of all that drags it down. Those competing story lines have played out in the first half against a tense backdrop of mistrust between the league and the players' union. The sides are dealing with the looming task of negotiating a new collective bargaining agreement after the season. In actively trying to raise the game's appeal — by stimulating action, lately through mandatory checks of pitchers for foreign substances hidden on their gloves, caps and belts — the league has acknowledged that something important is missing. It is a paradox for M. L. B.'s marketers, and the All-Star Game should be a respite. But even this year's host city comes with a touchy story line: In April, Commissioner Rob Manfred decided to move the game to Denver from Atlanta in response to Georgia's new voting laws. From a stylistic standpoint, the game will look like a callous, corporate cash grab. Instead of the traditional quirky kaleidoscope of colors on one field — with players wearing their regular jerseys, in a nod to the fans back home — the league will outfit the teams in matching antiseptic All-Star jerseys. The National League will wear white, the American League navy, and either can be yours for just $139.99. The talent, though — well, the talent is undeniable. Whatever the league and the fans think of the product on the field, nobody questions the remarkable skill of the modern player. And as baseball encourages more offense, it picked the ideal spot in Coors Field, the mile-high home of the Colorado Rockies. Shohei Ohtani, the two-way sensation of the Los Angeles Angels, will participate in the Home Run Derby on All-Star Monday, along with the Mets' Pete Alonso, who won the event in Cleveland in 2019. Also participating: the Rockies' star shortstop, Trevor Story; the Baltimore Orioles' Trey Mancini, who missed last season as he fought colon cancer; and others. Even without Vladimir Guerrero Jr. of the Toronto Blue Jays and Fernando Tatis Jr. of the San Diego Padres, who declined, it will be quite a show. As for the game itself, the results of the fan vote for starting position players will be announced on Thursday, with the full rosters revealed on Sunday. Each team must have 32 active players, including 12 pitchers, and every team must be represented — thankfully, that tradition remains. Here's how the rosters should look for the managers, Dave Roberts of the Los Angeles Dodgers and Kevin Cash of the Tampa Bay Rays. Roberts will surely pick Jacob deGrom of the Mets as the N. L. starting pitcher for the first time in deGrom's career. If Cash has a sense of drama, he will not only make Ohtani the starting pitcher but also bat him leadoff — ensuring that two most sensational performers of the first half will match up to start the game. At that moment, if it happens, everyone will forget about sticky stuff, labor strife and tacky uniforms, and remember what makes baseball so captivating, no matter what it does to itself. Here are my picks for the All-Star Game Rosters (starters are in bold). National League Max Muncy, Dodgers Freddie Freeman, Braves Adam Frazier, Pirates Jake Cronenworth, Padres Fernando Tatis Jr., Padres Brandon Crawford, Giants Trea Turner, Nationals Justin Turner, Dodgers Kris Bryant, Cubs Buster Posey, Giants Carson Kelly, Diamondbacks J. T. Realmuto, Phillies Ronald Acuna Jr., Braves Nick Castellanos, Reds Jesse Winker, Reds Bryce Harper, Phillies; Tyler O'Neill, Cardinals; Bryan Reynolds, Pirates; Kyle Schwarber, Nationals Jacob deGrom, Mets Yu Darvish, Padres; Kevin Gausman, Giants; Josh Hader, Brewers; Kenley Jansen, Dodgers; Craig Kimbrel, Cubs; German Marquez, Rockies; Freddy Peralta, Brewers; Trevor Rogers, Marlins; Max Scherzer, Nationals; Zack Wheeler, Phillies; Brandon Woodruff, Brewers Walker Buehler, Dodgers; Charlie Blackmon, Rockies; Corbin Burnes, Brewers; Clayton Kershaw, Dodgers; Evan Longoria, Giants (injured list); Mark Melancon, Padres; Joe Musgrove, Padres; Omar Narvaez, Brewers; Alex Reyes, Cardinals American League Vladimir Guerrero Jr., Blue Jays Matt Olson, Athletics Jose Altuve, Astros Marcus Semien, Blue Jays Xander Bogaerts, Red Sox Carlos Correa, Astros J. P. Crawford, Mariners Rafael Devers, Red Sox Yoan Moncada, White Sox Jose Ramirez, Indians Salvador Perez, Royals Christian Vazquez, Red Sox Michael Brantley, Astros Aaron Judge, Yankees Cedric Mullins, Orioles Adolis Garcia, Rangers; Austin Meadows, Rays Shohei Ohtani, Angels (starting at pitcher) Nelson Cruz, Twins J. D. Martinez, Red Sox Chris Bassitt, Athletics; Shane Bieber, Indians; Aroldis Chapman, Yankees; Emmanuel Clase, Indians; Gerrit Cole, Yankees; Kyle Gibson, Rangers; Liam Hendriks, White Sox; Lance Lynn, White Sox; Sean Manaea, Athletics; Casey Mize, Tigers; Ryan Pressly, Astros; Carlos Rodon, White Sox Yordan Alvarez, Astros; Matt Barnes, Red Sox; Aaron Civale, Indians (injured list); Tyler Glasnow, Rays (injured list); Yuli Gurriel, Astros; John Means, Orioles (injured list); Whit Merrifield, Royals; Jordan Romano, Blue Jays; Jared Walsh, Angels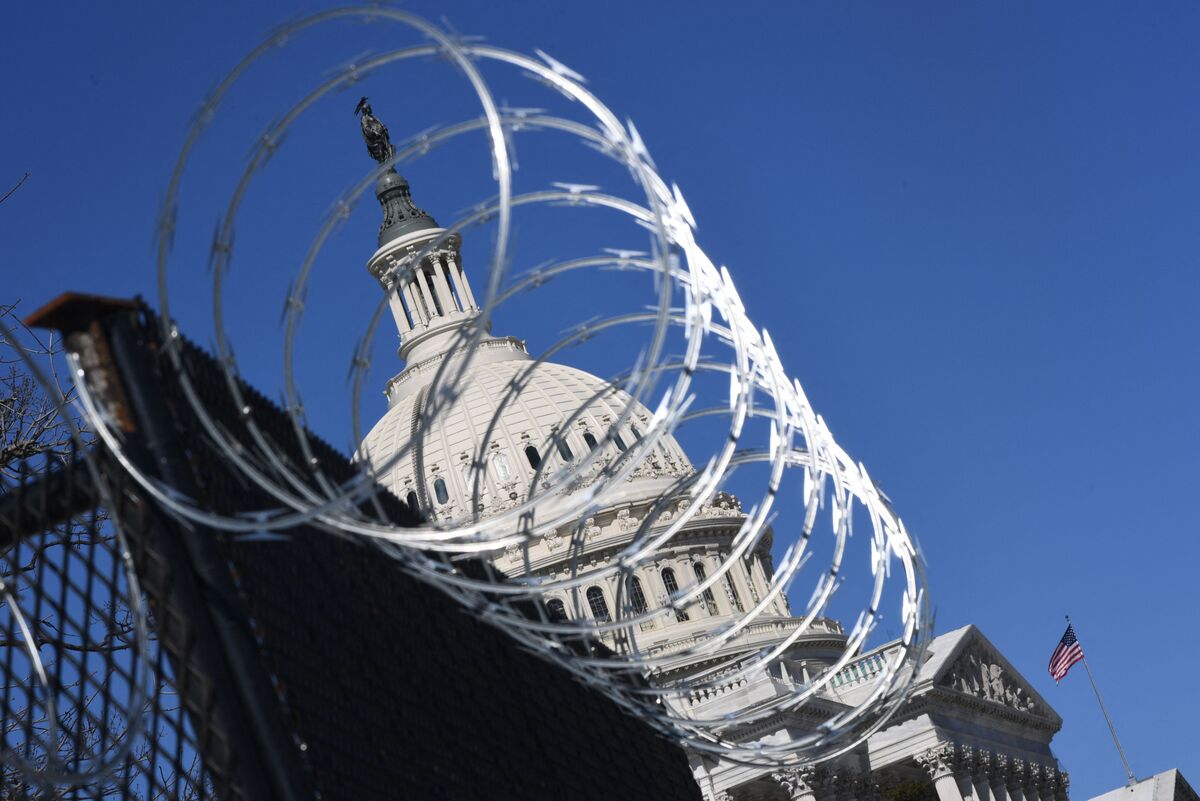 Get Jonathan Bernstein's newsletter every morning in your inbox. Click here to subscribe Now that Senate Republicans have defeated an independent commission to investigate the Jan.6 insurrection, House Speaker Nancy Pelosi is moving ahead with a backup plan and setting up a House select committee. Right away, she's going to have a difficult decision to make. By rule, Pelosi has the authority to veto Republican selections for the committee; by custom, parties choose their own members for such panels. But this is, to say the least, an unusual situation. Only a handful of House Republicans voted to impeach former President Donald Trump over the attack on the Capitol. Only 35 voted to support the originally proposed commission. It's not clear how many Republicans even acknowledge that Joe Biden won the election and was legitimately inaugurated; most of them will at least say that he's president, but many duck the question of how he got there. Some still back Trump's false claims about fraud. And a handful participated publicly in riling up the crowd on Jan.6. One would hope that Minority Leader Kevin McCarthy would only select lawmakers who at least accepted that the attack on the Capitol was a terrible assault on U. S. democracy. We should be prepared to be disappointed, however. For one thing, Politico's Olivia Beavers reports that few Republicans want to serve on the committee, with the main exceptions being the most enthusiastic Trump supporters. That's perhaps not surprising. Any Republican who fails to support everything Trump says is liable to draw his wrath, the anger of his strongest supporters and therefore a primary challenge. McCarthy probably isn't eager to select publicly declared candidates such as Representatives Matt Gaetz (who is in the middle of his own scandal), Marjorie Taylor Greene or Lauren Boebert — all of whom are loose cannons who would be more likely to backfire against the Republicans than help. But he also is unlikely to pick lawmakers who voted for the independent commission and might try to take this investigation seriously; instead, he'll probably seek Trump allies such as Representative Jim Jordan, who will attempt to make the proceedings a clown show without necessarily acting like the main clowns. That's where Pelosi will have a decision to make. She's already circulating the possibility that she might choose a Republican for one of the eight spots. That might give her some space to veto one or more of McCarthy's picks. My first instinct was that she should draw a line in the sand — such as requiring that all committee members accept that Biden won the election. But on second thought, I'm not so sure that's worth doing. What's really important is that the committee's rules and procedures be stacked in favor of a serious investigation. With such rules in place, and a strong group of Democrats on board, it probably isn't worth fighting over which Republicans are involved. The media already believes (with good reason!) that the insurrection was a really bad thing and that Republicans were responsible for blocking a nonpartisan commission to look into it. I think it's unlikely that adding a group of Trump loyalists to the select committee will change that.1. Susan P. Liebell on John Locke and dangerous Second Amendment narratives.2. Christina Greer on Kamala Harris.3. Dave Hopkins on Harris and the vice presidency. One thing I'd add: All vice presidents become objects of ridicule; it just seems to go with the job. No matter how impressive the occupant was previously, the office tends to at least temporarily diminish them. But in the long run, former vice presidents are almost invariably considered well qualified for the presidency. 4. Tom Paskhalis, Bryn Rosenfeld and Katerina Tertytchnaya at the Monkey Cage on authoritarian control of the media.5. Walter Olson on the Electoral Count Act of 1887.6. Joyce White Vance on the Justice Department's action against Georgia.7. And Neil Irwin on post-pandemic supply chains. Get Early Returns every morning in your inbox. Click here to subscribe. Also subscribe to Bloomberg All Access and get much, much more. You'll receive our unmatched global news coverage and two in-depth daily newsletters, the Bloomberg Open and the Bloomberg Close. To contact the author of this story: Jonathan Bernstein at jbernstein62@bloomberg.net To contact the editor responsible for this story: Timothy Lavin at tlavin1@bloomberg.net

The UK, which will be hosting the UN Climate Change Conference (COP26) summit in Glasgow in November, went 5,000 hours without coal-fired electricity in 2020, and earlier this year broke a new wind power record, with just over a third of the country's energy coming from wind, the government said. Under the post-Brexit "green industrial revolution" announced by Prime Minister Boris Johnson last year, the UK will ban the sale of new gasoline and diesel cars by 2030 and boost the production of offshore wind, hydrogen and nuclear energy. The government also pledged to support planes, ships and other difficult-to-decarbonise industries to become greener, build more energy-efficient homes and public facilities, protect and restore the natural environment and develop the cutting-edge technologies needed to achieve the new energy ambitions. The Climate Change Committee warned last week, however, that the government had been too slow in delivering its "historic" promises to tackle climate change and is risking losing face before the rest of the world at the upcoming COP26 summit. According to the report issued by the independent body on June 24, the government's 10-point plan to deliver the country's 2050 net zero target must be backed with firm policies.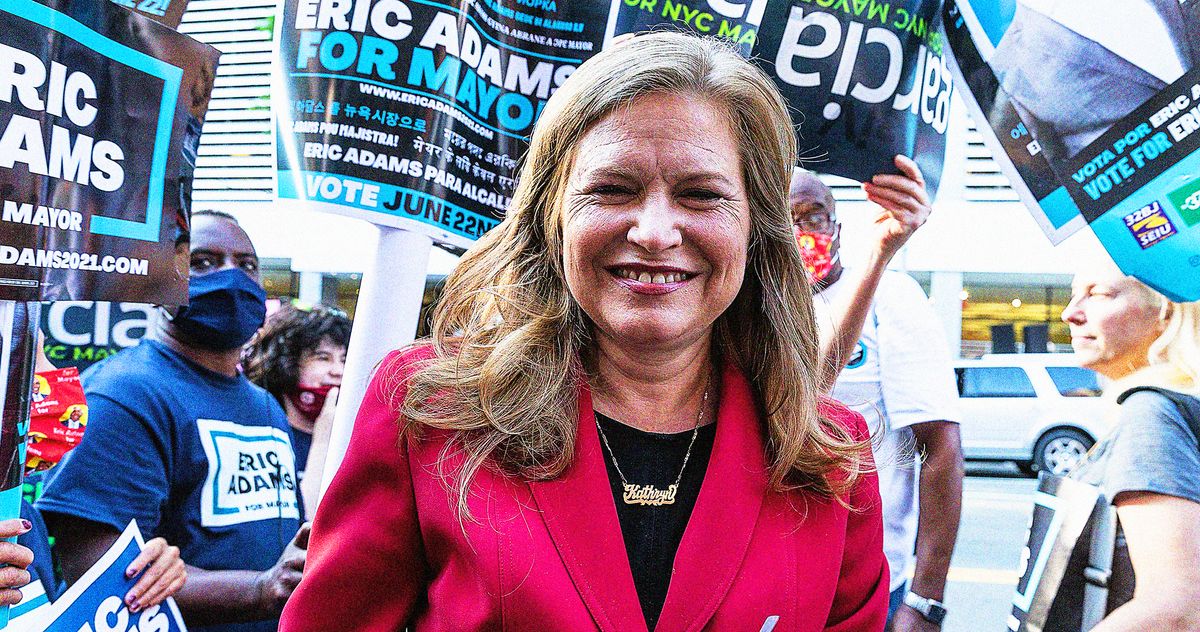 On Tuesday, the next mayor of New York City was revealed to be: Are You Fucking Kidding Me? One week after Election Day, the city's Board of Elections released preliminary results of the ranked-choice primary votes for mayor and it showed that Kathryn Garcia had significantly closed the gap with Eric Adams in the Democratic primary. Adams maintained a tight two-point lead over Garcia after 11 rounds of balloting, while Maya Wiley, who came in second place on election night, would be eliminated in the 10th round. That was a remarkable twist in its own right. Later in the evening though, the Board of Elections tweeted a mysterious message about a "discrepancy" and took down the newly posted vote totals, replacing them with a notice that (presumably correct) results would be published "starting June 30." In a word, chaos. As of late Tuesday evening, it was unclear whether the briefly posted tallies were directionally accurate. But they showed Adams's final lead was less than 16,000 votes. A margin that small would be likely to shift over the coming weeks as more than 124,000 absentee ballots are left to be counted and — to say the least — many questions remain. The preliminary tallies were announced on the same day that the absentee ballots needed to be received by the BOE, leading to widespread confusion even among campaign insiders who thought that the BOE's announcement of the RCV results meant that Adams was the winner, full stop. In the temporarily posted results, not only was Adams not the winner, but Wiley, who was listed as "eliminated" in the final round on the BOE's website, was seemingly very much in the mix. The now-vanished results showed Garcia pushing past Wiley into the final round by grabbing 45 percent of Andrew Yang 's voters after he was eliminated. Yang and Garcia joined forces in the race's final weekend, barnstorming through his strongholds in Flushing and in hers in Manhattan. While Garcia remained circumspect about who she was voting for as her number two, Yang enthusiastically pushed his voters to rank Garcia just behind him. Wiley's vote went to Garcia over Adams by a nearly three-to-one margin. When BOE released the new totals, several observers immediately noticed a discrepancy: There were 799,827 votes reported in the Democratic primary on Election Day, but that figure jumped to 941,832 votes on Tuesday. Adams immediately blasted the BOE in a statement, saying that the discrepancy raised "serious questions" and asking the board to explain such "irregularities." Adams added that he remained confident of victory. A spokesperson from the BOE did not return a request for comment, but the BOE tweeted it was aware of the discrepancy. "We are working with our RCV technical staff to identify where the discrepancy occurred. We ask the public, elected officials and candidates to have patience," it said. We are aware there is a discrepancy in the unofficial RCV round by round elimination report. We are working with our RCV technical staff to identify where the discrepancy occurred. We ask the public, elected officials and candidates to have patience. On Election Night, the Brooklyn borough president had a more than a ten-point lead on Wiley and a more than 12-point lead on Garcia. His election night party had the air of a victory speech, and in the days after, Adams looked and sounded like someone very much ready to step out on the national stage, proclaiming himself to the "face of a new Democratic Party" and urging party officials to follow his lead, promising the would lose subsequent elections unless they adopted a message similar to the one that propelled him to the top tier of the mayoral field. Adams promised on the campaign trail that he would be "a blue collar mayor" who would keep the city safe while focusing on bringing more resources to low-income communities. (Garcia, meanwhile, said she used the time since Election Day to do the laundry and do repairs around her home.) A winner is supposed to be officially named July 12, but the prospect of irregularities in the count and noisy protests from the Adams camp — and possibly others — may mean that lawsuits stretch throughout the summer. Strategists affiliated with the Garcia campaign always believed that she was the lone candidate running a race tailored to the new RCV environment. She made an effort to be second on as many ballots as possible, and declined to criticize her opponents even when given chances to do so. Polls had Adams up in the race's final weeks, but during the final weekend he harshly criticized the Yang-Garcia alliance, accusing them of teaming up to deny a person of color a chance to be the mayor. (Adams later clarified that he meant a Black or Latino person once it was pointed out that Yang too was a person of color.) Adams surrogates went so far as to suggest that the RCV tallies would be fraudulent, and strategists from rival campaigns wondered if some of his comments turned off voters he would need in the race's final hours. Both the Garcia and Adams campaigns have been confident that the absentee vote favors them, with Garcia pointing out the large number of Manhattan votes among them while Nathan Smith, an consultant working with the Adams campaign, wrote on Twitter after Election Day of the remaining ballots: "Why will it be any different than early vote or [election day] vote? (because you want it to isn't an answer). Adams won both. Absentees are more diverse/older than [the early vote,] both favor Adams." Of course such sniping should be rendered moot by July 12, when the vote is scheduled to be certified and all theories of the case settled one way or the other. As it stands, we may get there eventually, but it does not look like it is going to be anytime soon.

Benjamin Franklin – A republic if you can keep it TEXAS: There is a reason that certain words or phrases or notions are absent from certain texts of the long past. For example, the various documents often labeled with the misnomer as "Founding" documents: The Declaration of Independence, the Articles of Confederation, the U. S. Constitution, and Magna Carta (which aided in defining Americans' rights as Englishmen). Those founders said they were creating a Republic of self-governance. From there we do not find a right to vote nor a defense of democracy. Neither of these "missing links" could do anything but destroy a republic. And they have. The republic is gone. The demon of democracy is upon us. And it has been for awhile. We hold these truths to be self-evident…that they are endowed by their Creator with certain inalienable rights. Did God give us a right to vote? Really? Or did God tell us that He was delivering certain Commandments to us and that we should sit down, discuss them, kick them around, then vote on them? I have a different understanding i.e. He said thou shall, or thou shall not. There wasn't any voting on it. What He did do, as the authors of the Declaration of Independence, Constitution, etc. seemed to view., was to allow us to govern ourselves. Free will and all. Such a concept allows for, no demands, responsible voting. And some great minds, notably Englishmen, men that studied the advancement of civilization through mostly western culture and academia, came to realize that a republican government was the best service of governance. At least it was under God's guidance through both rights and responsibilities. Fast forward two or three millennia to "The Squad" and the thought must arise: If Darwin was correct, and things evolve, what happened to intelligence. Do some things evolve downward? Oh well, just a pithy "aside." As another aside, the above notions of western civilization and Englishmen have no special connotation among the four races of this planet (Caucasoid, Negroid, Mongoloid, and Australoid—see H. G. Wells' Outline of History for more than casual historical events, etc). No more than to say that Mongoloids are brilliant for inventing gunpowder, nor Negroid for their proto-Saharan system of writing presentation. This interlude aside is for the babbling chatterers and scribblers who get apoplectic at the concept of racial division. That is, if there are more "races" than simply the eponymous "human" race, then that equality and equity stuff gets all jumbled in their little minds. All lives matter, kind of, sort of. Hence the colonies to the Americas leaned heavily on English reflection of the modern republican state (or states). But, in the alleged warning of Benjamin Franklin when supposedly asked what kind of government the Constitutional Framers had endowed the people with, he said, They (we) did not keep it. This is seen not only in Washington with its barbed wire and armed guards keeping the people away from the seat of government. But now, this "democracy" with its' concomitant so-called voting rights is creeping out among the locals. Mayors defunding the police when convenient. But at the same time, funding the police to arrest people trying to speak at their own tax-payer supported school boards. Critical race theory discord continues at Oldham County school board These are not isolated incidents. They have become routine. And they probably will continue. But wait, now liberals are blaming Republicans for defunding the police. Because it did not work, so the other guys must have done it. ( Chris Wallace goes full-force leftist to blame GOP for defunding police) A political ideology that impeaches presidents with no legal charges, both in and out of office. One that steals from the treasury openly and spends it on votes that have been charged as "rights"? And one that fraudulently puts a man in office who is on the threshold of dementia. A nab whose son would be on trial, if not in jail, with the mountain of scandal and evidence before him publicly? You probably don't stop the monster. He has fed on the poisonous words of democracy and voting rights. And the digestion has vomited into a national empire. Poison rots from within. No, Dr. Franklin, they did not keep it. They lost it a long time ago. A lot longer than four score and seven years ago to be dang sure! And the seeds of that loss are beginning to bloom. God bless America—even you dumb Yankees. About the author: Paul H. Yarbrough is originally from Jackson, Mississippi. For the past forty years, he has lived in Houston, Texas, where he has worked for two oil companies and been an independent consultant in the oil business, mostly as a landman. Paul Yarbrough is a widower with one grown son. Paul has published a handful of short stories, flash fiction, and essays in a variety of forums: The Abbeville Institute, The Daily Caller, Lew Rockwell, Virginia Right, Independent Journal Review.writes novels, short stories, poetry, and essays. His first novel. Mississippi Cotton is a Kindle bestseller. Visit Paul's website. His author site can be found on Amazon. He writes political commentary for CommDigiNews.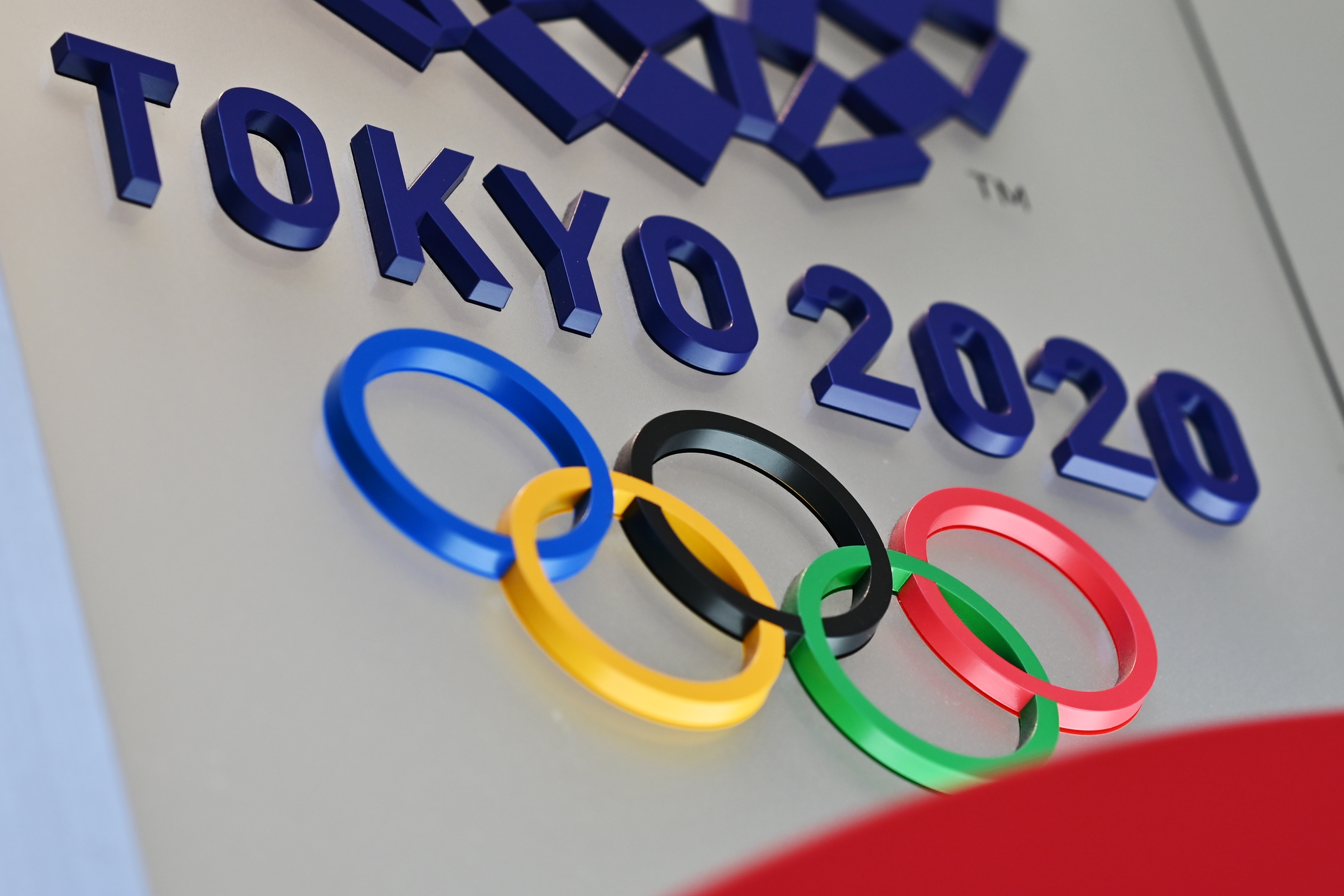 1. Jackie Chamoun's (Nearly-)Nude Photo Scandal Shortly before the 2014 Winter Olympics began, Lebanese skier Jackie Chamoun was censured by a surprising entity: her home country. In 2011, Chamoun was photographed and filmed modeling for a calendar in ski boots and a thong. When the footage resurfaced, it went viral on Lebanese social media, prompting then-Caretaker Minister of Youth and Sports Faisal Karami to denounce Chamoun for allegedly damaging the Middle Eastern country's "reputation," according to Time. Ultimately, however, Chamoun was permitted to compete. 2. Caster Semenya's Right to Compete Debated For nearly as long as she has been running competitively, Caster Semenya, who produces more testosterone than the average woman, has been facing accusations that she has a biological advantage over her opponents. Following the South African's win at the 2016 Summer Olympics, Sebastian Coe, the president of World Athletics, then known as the International Association of Athletics Federations (IAAF), announced that the organization would challenge the ruling. In 2018, IAAF instated a new set of rules that required female athletes to reduce their testosterone levels to five nanomoles per liter before entering competition, according to The Guardian. In response, Semenya sued IAAF, alleging discrimination. 3. Egyptian Martial Artist Islam al-Shehaby Snubs Israeli Opponent Political tensions between Israel and its neighbors reached a fever pitch at the 2016 Summer Olympics when Egyptian judoka Islam al-Shehaby refused to shake hands with his Israeli opponent Or Sasson after Sasson bested him in the over-100-kilogram category, according to Egypt Independent. 4. Ryan Lochte and Swimming Teammates Allegedly Vandalize Rio Gas Station American swimmer Ryan Lochte 's reputation took a nosedive (or a swan dive) when Rio de Janeiro authorities contended that he had lied about being robbed at gunpoint at the 2016 Summer Olympics. In actuality, surveillance footage revealed that Lochte and fellow Olympians Jack Conger, Gunnar Bentz and Jimmy Feigen had been confronted by security guards after they vandalized a gas station bathroom on their way back from a party on the night of August 15. In the wake of the report, Lochte was charged with filing a false police report and lost high-profile sponsors such as Speedo USA and Ralph Lauren. 5. Tokyo Soldiers On With the 2020 Summer Olympics As if that wasn't enough, Japanese Olympic Committee President Yoshiro Mori resigned in February when he made derogatory comments about women. "Board of directors meetings with many women take a lot of time. When you increase the number of female executive members, if their speaking time isn't restricted to a certain extent, they have difficulty finishing, which is annoying," Mori said at a committee meeting.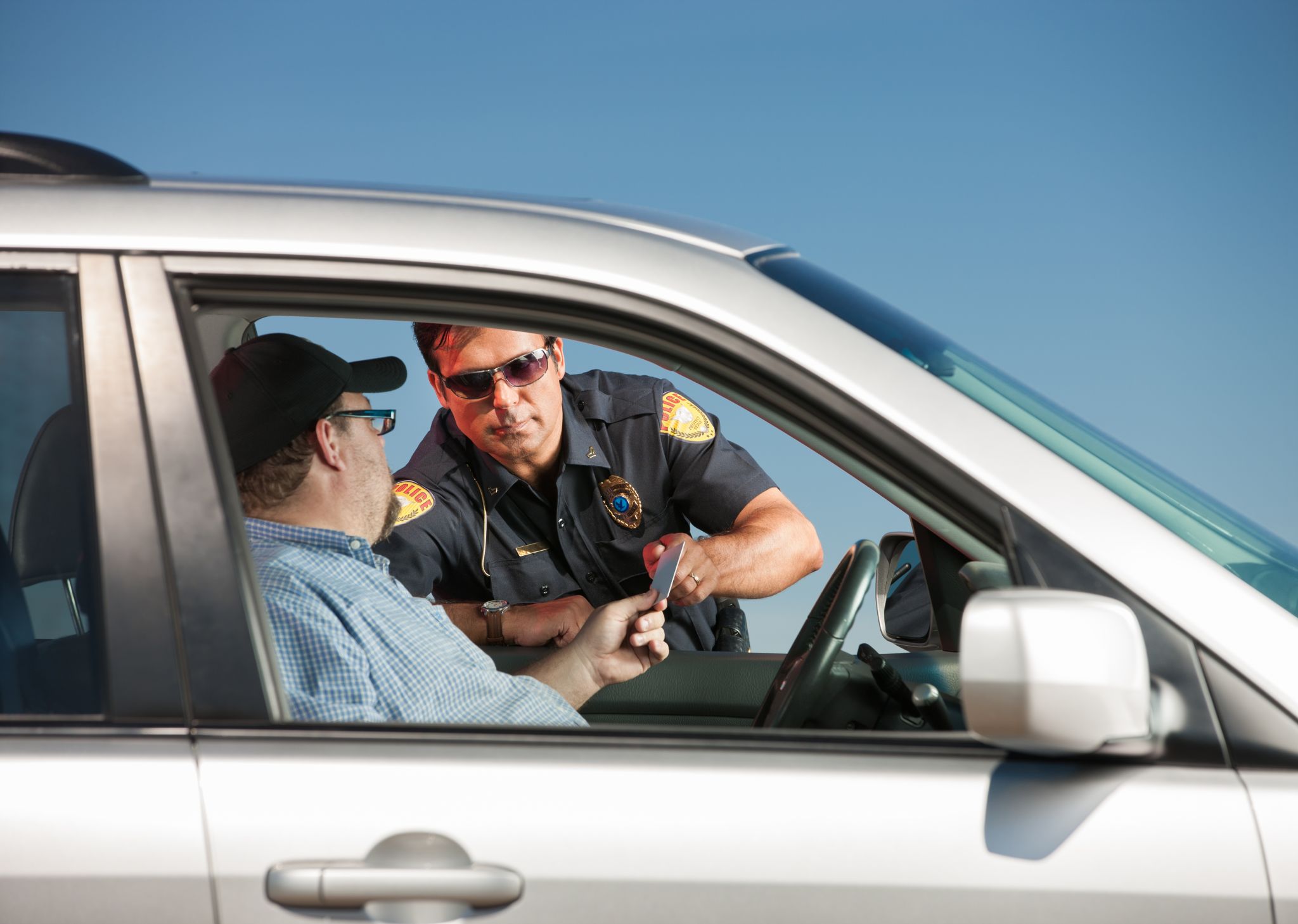 Two women chatted in a bathroom. They soon realized they were each a... Elon Musk's Texas home is literally a tiny little box Evan Gattis: Astros players warned Dodgers about cheating talk Battleship Texas will open one last time before leaving Houston TV reporter fired after going off-script on live TV Giant poisonous worms are invading Houston & we must defeat them Jeff Bagwell perfectly drops 420 reference into Astros broadcast What Orioles pitcher had rubbed on him before pitching vs. Astros Beer, wine purchases will soon start at 10 a.m. on Sundays Marvel's Black Widow gets the spotlight she deserves, only to have it... Houston company produces T-shirts that mock 'F--- Altuve' chants Someone finally went too far with the 'Be Someone' sign Jay R. Jordan writes about how we get around Houston, among other topics like the environment and hot takes on complimentary bread.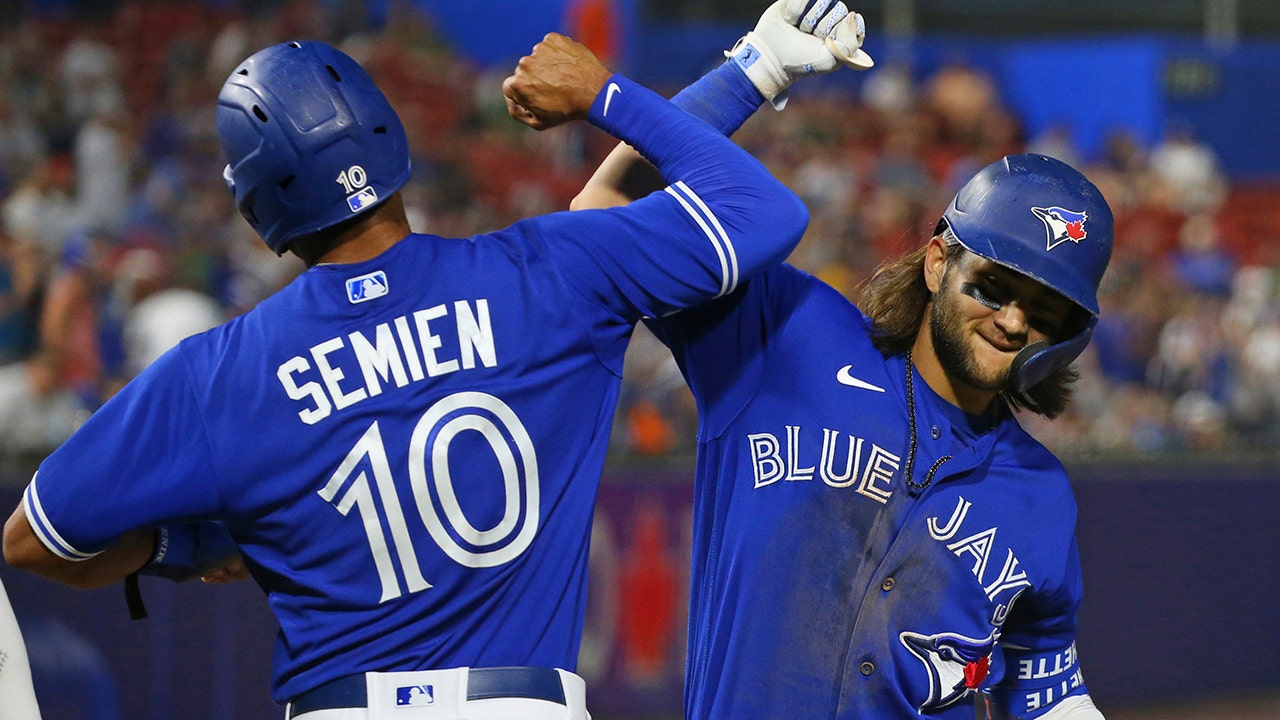 Marcus Semien homered and drove in five runs, Bo Bichette hit a three-run homer, and the Toronto Blue Jays beat the Seattle Mariners 9-3 on Tuesday night. The Blue Jays had 15 hits — with all nine starters getting at least one — in the opener of the three-game series while winning for the eighth time in nine games. It's the 35th game in which Toronto had at least 10 hits, matching Houston for the most in the majors. Semien had three hits, including a three-run homer in the seventh inning — his 19th, the most among major league second basemen. He also had a two-run double in the second inning. "Our old nemesis," Mariners manager Scott Servais called Semien, who played six seasons in Oakland before signing with Toronto in the offseason. "He's always been a thorn in our side and he had some really quality at-bats tonight. Vladimir Guerrero had two hits to bring his AL-leading total to 96. His 27 multihit games lead the majors. The Blue Jays also got two hits apiece from Teoscar Hernández, Lourdes Gurriel Jr. and Bichette, who broke open a tie game in the sixth inning by hitting his 15th home run. "It's really fun to watch these guys get in the box and take those swings," said Blue Jays starter Robbie Ray (6-3), who struck out 10 while giving up five hits, a walk and three earned runs over six innings. "It's not just the top four, five, six hitters. It's all the way down through the lineup. Everybody is swinging the bat well now." Ray settled down after allowing two baserunners in the first inning and got 14 outs in a row to earn his fourth win in his last six starts. "That first inning, I felt like they were more patient, they ran my pitch count up to 30," Ray said. "Then once I turned the lineup over and got back to the top of the order, they were hacking." Tim Mayza, Jacob Barnes and Tayler Saucedo combined for three shutout relief innings. Ty France hit a tying three-run homer in the sixth for the Mariners, who fell to 2-2 in the fourth of a six-game road trip. Mitch Haniger and Tom Murphy also had two hits. Chris Flexen was tagged for seven hits, three walks and three runs over five innings. Rafael Montero (5-3) gave up four hits in the sixth inning, including Bichette's homer. "That was not a good pitch," Servais said. "It wasn't in the game plan, wasn't what we were supposed to do there. And we paid the price." Servais said pitchers can't afford to make those mistakes against the Blue Jays' potent lineup. "They've got a really good offensive club and if you make mistakes, they take advantage of it," Servais said. "Especially in this ballpark." The Blue Jays improved to 7-6 at Buffalo's Sahlen Field, home of their Triple-A affiliate. They have hit 19 homers and scored 72 runs in those 13 games. "Every day, it's somebody different," Blue Jays manager Charlie Montoyo said. "It's a great feeling to know that." Mariners pitcher Héctor Santiago became the first player disciplined under Major League Baseball's crackdown on grip-enhancing foreign substances, as he was given a 10-game suspension Tuesday. Michael Hill, the former Marlins general manager who is MLB's senior vice president for on-field operations, announced the penalty two days after Santiago was ejected from a game at the Chicago White Sox. Santiago also was fined an undisclosed amount. Santiago appealed the decision to MLB special adviser John McHale Jr., and the suspension will be delayed until the appeal is decided. Servais insisted before Tuesday's game that there was no foreign substance on Santiago's glove and that it was rosin. Toronto acquired injured outfielder Corey Dickerson and reliever Adam Cimber in a trade Tuesday with the Miami Marlins in exchange for infielder Joe Panik and minor league reliever Andrew McInvale. Dickerson is sidelined with a bruised left foot and expected to be in a walking boot for at least two more weeks. He's batting.260 with two homers and 14 RBIs. The sidewinding Cimber has a 2.88 ERA in 33 games. He is expected to join the Blue Jays in Buffalo on Tuesday, Montoyo said. The Blue Jays called up outfielder Jonathan Davis to replace Panik, and designated left-handed pitcher Travis Bergen for assignment Mariners: RHP Erik Swanson (groin) did not pitch his scheduled rehab assignment for Triple-A Tacoma on Monday because of a sore back....1B Evan White (hip) received a cortisone shot.... Servais had no update on RHP Justin Dunn (shoulder) following his appointment with a specialist last week. Blue Jays: RHP Rafael Dolis (finger) threw 25 pitches during batting practice and could be designated for a rehab assignment with this week, Montoyo said.... LHP Steven Matz (COVID-19) returns Wednesday. The series continues Wednesday night when Mariners LHP Justus Sheffield (5-7,5.69 ERA) takes the mound against Matz (7-3,4.26).

Kiefer Ravena's contract row with the PBA did not keep Japan B. League club Shiga Lakestars from including the crack Filipino guard in their lineup. The Lakestars on Tuesday announced their official roster for the upcoming 2021-22 B. League season with Ravena part of the 12-man roster. "The average age at the start of the club is 26 years old, which is the youngest lineup in the history of the club, but under the new HC Luis Gil Torres, the club as a whole will fight through the new season," the club said in a statement. Earlier this month, Shiga made a surprise announcement that it has signed Ravena as its Asian import. The move, however, hit a roadblock due to Ravena's preexisting contract with PBA team NLEX bound by the Uniform Player's Contract (UPC) which prevents a player from playing in other leagues. The 27-year-old guard signed a three-year extension with the Road Warriors last September.

A USA TODAY investigation found Alliance Defending Freedom is at the forefront of the movement to ban trans girls from girl's sports teams.

The 15 minutes after getting a Covid shot can be a time of profound emotion, a moment of relief or gratitude or release as you wait to make sure you don't have a bad reaction to the vaccine. So we were curious: If you got vaccinated in a pharmacy, did you wander the aisles while you waited, and if so, did you treat yourself to something impulsive or important or out of character? We recently ask readers what they indulged in. We received hundreds of responses. You told us stories of celebration, practicality, and occasional mishaps — and we asked our photographer Kyle Berger to re-envision some of those stories. Here are a select few with your responses, edited and condensed for clarity. A boozy match What items did you buy during your observation period? I bought a can of Penn tennis balls and a four-pack of High Noon hard seltzers. I then went from the pharmacy to the tennis courts to meet a friend who was also vaccinated that day. We played a boozy match with sore arms, where we were both incredibly woozy and dry-mouthed. The next day was brutal. Why did you buy these items? Celebratory! We were excited to get out in the world and be active together after getting the vaccine. We probably should've waited a few days before the side effects subsided. — Thea Traff, Los Angeles A gift for heroes What items did you buy during your observation period? As a twist on this question, I did not buy something for myself in the moment but bought a big pile of gourmet chocolate bars for the staff giving shots. I tied the pile in a big Aqua ribbon and gave it to the man who administered my shot. I asked him to share it with the others. Why did you buy these items? Everyone working to vaccinate our community is a hero. I'm grateful for what they do and what they put up with! — Kari Nelsestuen, Portland, Ore. Chocolate for dinner What items did you buy during your observation period? Since lockdown, I became a chocoholic. It started innocently. While waiting my 15, I fell upon a Russell Stover display. I ripped open the cellophane of the incredible peanut clusters. I felt no guilt as I went through the box. Paying for my half-eaten dinner, the cashier offered me tissues to clean off the chocolate smears on my lips and fingers. Thank you, Moderna. Why did you buy these items? Oh, I celebrated. I never bought chocolate prepandemic. — Kevin Larkin, Los Angeles Some pizazz for Covid hair What items did you buy during your observation period? Reese's peanut butter cups and old-fashioned hair curlers! Why did you buy these items? Totally celebratory. I RARELY eat a peanut butter cup, and because I have crazy long Covid hair I wanted to give it some pizazz. — Gab Carbone, Lambertville, N. J. Perfume for the teenager in me What items did you buy during your observation period? Drakkar Noir perfume. Why did you buy these items? I have no idea why I bought it — probably something subconscious about being able to smell things without a mask. The hilarious thing is, I haven't worn this perfume since 2002, and it smells like a teenage version of me going to the club for the first time. — Y. V., Miami, Fla. Healthy and not-so-healthy treats What items did you buy during your observation period? Special organic "greenie" treats and bones for my dogs and a soon-regretted bag of Lay's Classic chips I ate in the car in the parking lot. The dogs seemed pleasantly surprised — although one ended up puking a bright green puddle on my mom's new rug soon after because of the unfamiliar snacks and a sly meal in the compost pile. Why did you buy these items? I felt very emotional and grateful, and I wanted to spread the joy to my furry loved ones. — Ariana Lewis, Atlanta A road trip fantasy What items did you buy during your observation period? A die-cast 1963 Volkswagen Bus toy by Welly (blue with peace, love and flower decals). Why did you buy these items? During the pandemic, when the walls of our house seemed to close in, I enjoyed a long-running fantasy about buying an old VW van, loading up my two small girls and heading out on the road for weeks, maybe months (an extended version of the real summer car trips I made with my mom and brother when I was a kid). As I waited in line for my first shot at a CVS, I found myself standing beside a display case of Welly vehicles — and only one of the dozens on the shelves was a VW bus. I took it as a sign of some sort — not so much that I should, in fact, buy an old van, but that our world would soon open up again. — Diane McKay, Dobbs Ferry, N. Y. Boxed wine and Band-Aids (because they were there) What items did you buy during your observation period? Bota Brick boxed wine ($9.99 on sale!), matchbox toy truck for my 2-year-old, three different kinds of hand lotion, Band-Aids. Why did you buy these items? Boxed wine for celebration (also because it was on sale). Hand lotion because my poor hand skin is tired of being washed, Band-Aids because they were just there, and the toy truck for fun. — Jennie Eldon, Corvallis, Ore.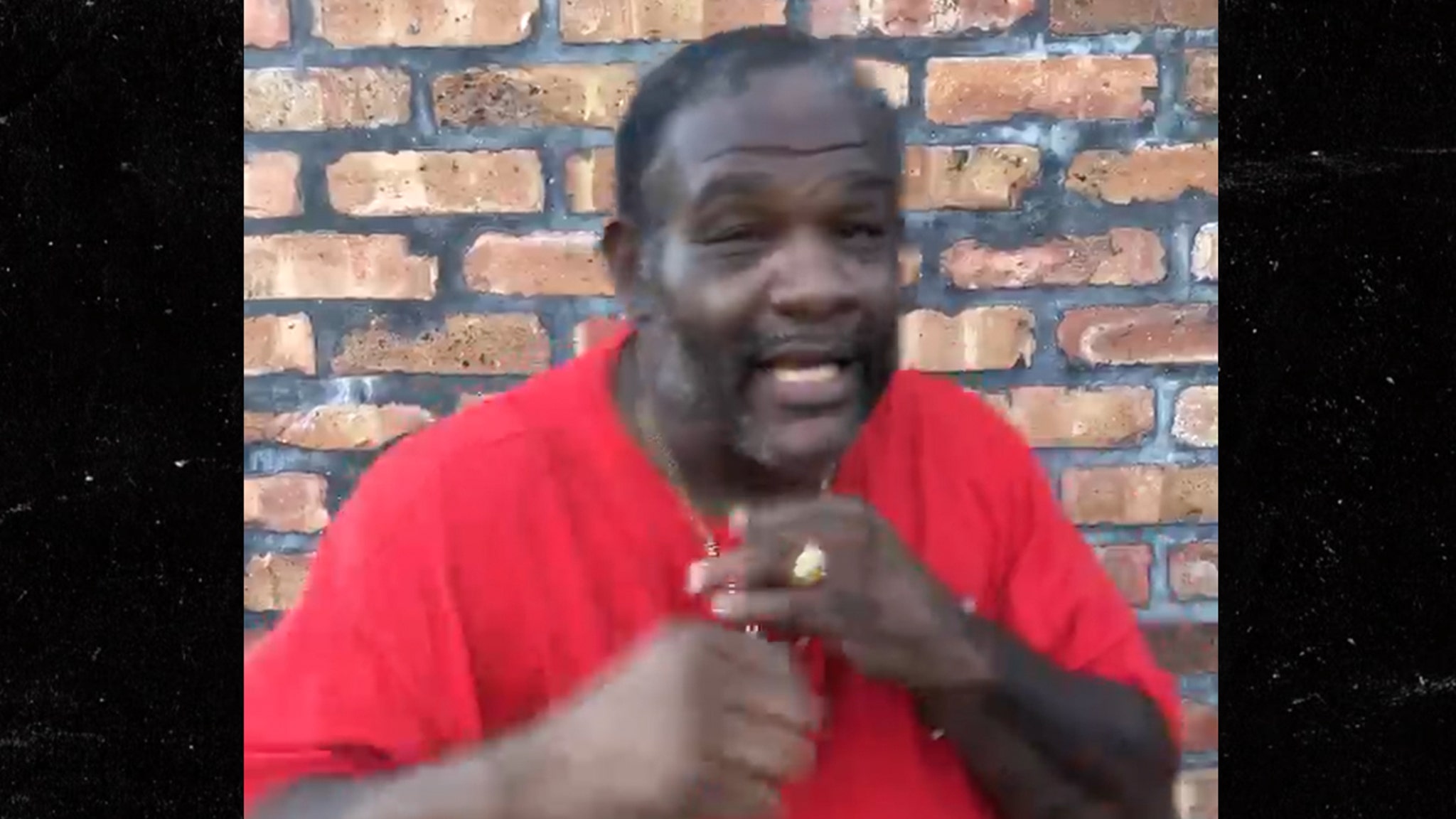 Riddick Bowe is back!! We're told the 53-year-old former 2x heavyweight champion has inked a deal with Celebrity Boxing to fight October 23 in Miami. Bowe -- who last fought to a unanimous decision victory in December 2008 -- does not yet have an opponent. Back in his day, Riddick was one of the BADDEST dudes in the world. His pro record stands at 43-1 (33 KO's)... with 1 of those big wins coming at the expense of the legendary Evander Holyfield. Bowe is just the latest 50-something former champ to re-lace up the gloves. Late last year, Mike Tyson and Roy Jones Jr. fought an exhibition match that ended in a draw. Speaking of 55-year-old Iron Mike... we're told Bowe actually has interest in fighting Tyson. It's a fight boxing fans badly wanted back in the day, but the stars never aligned for Mike and Riddick. We're told fight promoters are currently tracking down an opponent... and an announcement will be made sometime over the next few weeks.



Total 81 articles.
Version: 9.55.35971-219432. Input files: 1, items detected: 7407, scanned: 7407, accumulated: 81, inserted: 81, exclude filters: 0, include filters: 0, empty media: 414, filtered media: 491, duplicated media: 162, not matched limits: 658, passed http check: 0, not passed http check: 0, http check errors: 0, skipped: {total: 7324, by unique value: 0, by limits: 1898, by similarity: 64, by unicity: 584, by dates: 1367, by classifier: 4877, by blacklist: 703, by mandatory tag: 0, from input files: 0}, bad dates: 0, similar from same domain: 27819, unique Ids: 10961, unchangeble patterns: 660, words comparisons: 111315306/12693650, python: 2.7.13 (default, Sep 26 2018, 18:42:22) [GCC 6.3.0 20170516], dynamic containers: {u'nlpu.stemWordsBackHash': -1, u'nlpu.languagesMap': -1, u'nlpu.languagesCache': -1, u'bcla.similarCache': -1, u'bcla.tagsClassificationPopWordsData': -1, u'nlpu.stopWordsCache': -1, u'nlpu.stemWordsBackHashFreqs': -1, u'bcla.autoWeightedWords': -1, u'nlpu.stopWords': -1, u'bcla.tagsSimilarityPopWordsData': -1, u'nlpu.synonimsReplacedCache': -1, u'nlpu.stemWordsBackHashFreqsStemmed': -1, u'bcla.synonyms': -1, u'nlpu.posHash': -1, u'bcla.notSimilarCache': -1, u'nlpu.stopwordsCustom': -1}; the same images URLs found 6120 times; total 0 languages detected: {}; {u'text': {u'chars': 10237895, u'bytes': 42064120, u'words': 1643170, u'sentences': 115300}}
Created at 2021-07-01 06:22