Announcement
DC5m United States mix in english 100 articles, created at 2018-07-02 12:08 articles set mostly positive rate 1.3
(28.99/29)

1

1.1

Five Takeaways From Mexico's Election of Andrés Manuel López Obrador

Mr. López Obrador won the presidency with vows to end Mexico's stubborn culture of corruption and battle its high poverty and yawning inequality. 2018-07-02 08:17 7KB www.nytimes.com

(14.99/29)

2

1.4

Two-Time NBA Champion JaVale McGee Will Join LeBron And The Lakers

The Lakers add some championship pedigree to their roster for 2018-19. 2018-07-02 03:13 1KB uproxx.com

(13.99/29)

3

0.0

Mexico City elects first Jewish, female mayor

Not only is Claudia Sheinbaum Pardo the first Jew, but also the first woman to be elected as mayor of Mexico City. 2018-07-02 07:34 908Bytes www.jpost.com

(10.97/29)

4

0.0

Germany's Seehofer Delays Resignation Amid Clash With Merkel on Migration

MOSCOW (Sputnik) - German Interior Minister and head of Christian Social Union in Bavaria (CSU) Horst Seehofer said Monday he had postponed his resignation, which he threatened over dissatisfaction with German Chancellor Angela Merkel's migration policy. 2018-07-02 08:02 1KB sputniknews.com

(9.99/29)

5

0.3

Japanese Emperor Advised to Rest, Cancels Duties After Feeling Dizzy

Last year, the 84-year-old said he would abdicate the Chrysanthemum Throne in April 2019, citing health concerns. 2018-07-02 08:16 1KB sputniknews.com

(9.81/29)

6

1.3

I never said that! High-tech deception of 'deepfake' videos

New technology on the internet lets anyone make videos of real people appearing to say things they've never said. Lawmakers predict this high-tech way of putting words in someone's mouth will become the latest weapon in disinformation wars against the United States and other Western democracies. 2018-07-02 05:40 6KB www.stripes.com

(9.59/29)

7

0.3

All of Trump's SCOTUS Women

As the list of possible SCOTUS picks narrows to rumored likelies, what about the women? 2018-07-02 08:50 6KB www.weeklystandard.com

(8.75/29)

8

3.6

Mayor Assassinated During Flag-Raising Ceremony

A Philippine provincial city mayor known for parading drug suspects in public but also alleged to have drug ties himself was shot and killed Monday during a flag-raising ceremony in front of horrified... World News Summaries. 2018-07-02 08:01 2KB www.newser.com

(8.64/29)

9

0.0

Mahathir expands cabinet, appoints youngest-ever minister

Malaysian PM picked 25-year-old Syed Saddiq Abdul Rahman as youth leader and created a new entrepreneur development ministry 2018-07-02 07:48 3KB www.scmp.com

(8.64/29)

10

1.1

Supermarket staff suffer customer 'bag rage' as Australia imposes plastic ban

Dozens of supermarket staff suffer abuse as two major Australian grocery chains struggled to impose a ban on single-use plastic bags 2018-07-02 04:05 3KB www.scmp.com

(8.50/29)

11

1.4

Iranian protesters clash with police for a second night

Iranian state media say protesters have clashed with police over water scarcity in the southwest for a second straight night. 2018-07-02 06:13 1KB www.miamiherald.com

(7.46/29)

12

0.3

Trump anti-abortion Supreme Court pick 'not acceptable', says Republican senator

Susan Collins says a woman's right to have an abortion is 'a fundamental tenet' of the US judicial system 2018-07-02 08:37 4KB www.scmp.com

(7.44/29)

13

0.4

Separations at the border didn't worry some Trump officials

WASHINGTON (AP) - The government's top health official could barely conceal his discomfort. As Health and Human Services secretary, Alex Azar was responsible for caring… 2018-07-02 04:48 7KB www.cbs46.com

(6.99/29)

14

1.5

This is LeBron James' ultimate chance to rewrite his legacy

The debate grew teeth during the NBA playoffs: Is LeBron James better than Michael Jordan? Those favoring James grew in numbers during those weeks he… 2018-07-02 05:46 4KB nypost.com

(6.72/29)

15

0.4

Angela Merkel Seemed to Get a Reprieve Over Migrants. It Didn't Last.

A threatened mutiny within her conservative alliance has weakened Germany's chancellor, a leader once seen as the guardian of the liberal rules-based order. 2018-07-02 03:13 8KB www.nytimes.com

(6.36/29)

16

0.7

Nine people, including six children, wounded during stabbing spree at child's birthday party

A man went on a stabbing spree at a 3-year-old's birthday party at an apartment complex housing refugee families in Boise on Saturday, injuring nine people, including six children, poli 2018-07-02 06:16 4KB www.independent.ie

(6.36/29)

17

0.9

British climbers rescued by Pakistan army after Austrian dies in avalanche

Pakistan's army has recovered the body of an Austrian mountaineer and rescued two British climbers who were injured when an avalanche hit their tent last week. 2018-07-02 05:05 3KB www.independent.ie

(6.36/29)

18

0.3

US plans for dismantling NKorea nukes may face resistance.

WASHINGTON (AP) - The United States has a plan that would lead to the dismantling of North Korea's nuclear weapons and ballistic missile programs in… 2018-07-02 04:48 5KB www.cbs46.com

(6.36/29)

19

0.5

France aiding Egypt repression through arms sales: NGOs

France has "participated in the bloody Egyptian repression" for the past five years by delivering weapons and surveillance systems to President Abdel Fattah al-Sisi's government, rights groups charged in a report released Monday. 2018-07-02 04:10 2KB www.digitaljournal.com

(6.36/29)

20

0.1

Malaysia's former deputy premier quizzed in 1MDB graft probe

Malaysia's former deputy premier is being questioned by the anti-graft agency as part of an expanded investigation into alleged theft and money-laundering at the 1MDB state investment fund. 2018-07-02 03:51 1KB www.charlotteobserver.com

(6.35/29)

21

1.1

Divers make progress in flooded Thailand cave in search for missing boys

Rescue divers are making progress through a key passageway inside the flooded mountain cave in northern Thailand where 12 boys and their soccer coach have been missing for more than a w 2018-07-02 06:04 4KB www.independent.ie

(6.27/29)

22

0.7

Trump's former personal lawyer says his 'silence is broken'

President Donald Trump's longtime personal lawyer, who is under investigation by federal prosecutors in New York, says he sat down for an interview with ABC News and his "silence is broken." 2018-07-02 04:32 1KB www.wral.com

(5.60/29)

23

0.3

China's manufacturing growth slows again as trade tensions with US add to uncertainty

New export orders contracted for a third consecutive month and the most in two years, survey data suggests 2018-07-02 05:43 3KB www.scmp.com

(5.57/29)

24

0.3

Dan Gilbert Thanked LeBron For Delivering Cleveland A Championship

This time around, Dan Gilbert was much more appreciative in his letter about LeBron leaving Cleveland in free agency. 2018-07-02 04:42 1KB uproxx.com

(5.38/29)

25

0.3

Collins opposes a nominee who would overturn abortion ruling

WASHINGTON (AP) — Republican Sen. Susan Collins, a key vote on President Donald Trump's pick for the Supreme Court, said Sunday she would oppose any… 2018-07-02 04:34 4KB www.boston.com

(5.37/29)

26

1.2

Tearful reunion for mom, daughter separated at border

It had been nearly two months since Buena Ventura Martin Godinez has seen her 7-year-old daughter after the frightened young mother was separated from her family trying to cross from Mexico into the U. S. They've spoken tearfully by phone, but seeing her at a Miami airport Sunday for the first time, she grabbed the child in a tight embrace, tears running down her cheeks during a 2018-07-02 03:07 4KB www.wral.com

(5.25/29)

27

0.9

Professor Fiona? Famed baby hippo an educational force

Just call her Professor Fiona: Cincinnati Zoo's famed premature hippo in books, classrooms. 2018-07-02 07:01 3KB www.sacbee.com

(5.24/29)

28

2.1

Police investigating shooting that left 14-year-old injured in Tooele

Police are investigating the shooting of a 14-year-old boy that left him critically injured. 2018-07-02 04:56 1KB www.deseretnews.com

(4.51/29)

29

2.3

Islamic State claims attack on Sikhs, Hindus in Afghanistan

The Islamic State group has claimed responsibility for a suicide bombing in eastern Afghanistan that killed at least 19 people, mostly Sikhs and Hindus. 2018-07-02 07:30 1KB www.heraldonline.com

(4.41/29)

30

1.4

The Lakers Got Their Man. (That's What the Lakers Do.)

LeBron James, like Wilt Chamberlain, Kareem Abdul-Jabbar and Shaquille O'Neal before him, was drawn to Los Angeles. But can he deliver like they did? 2018-07-02 05:49 7KB www.nytimes.com

(4.34/29)

31

0.3

Asian stocks sink on weak data ahead of US-China tariffs

Asian markets plunge on weak China factory data as higher China-US tariffs loom. 2018-07-02 07:54 4KB www.miamiherald.com

(4.27/29)

32

0.2

Kyle Higashioka ended his misery in best way possible

No Yankee position player has ever taken longer to get his first major league hit than Kyle Higashioka, but the catcher broke through in style.… 2018-07-02 05:06 3KB nypost.com

(4.27/29)

33

0.9

Aaron Hicks goes wild as Yankees put on home-run clinic

When provided with a choice of what is more important to a baseball team always go with a pitching gem over a bevy of home… 2018-07-02 03:39 4KB nypost.com

(4.16/29)

34

0.8

Australia ends direct aid to Palestinian Authority

Australia has ended direct aid to the Palestinian Authority because it says its donations could increase the self-governing body's capacity to pay Palestinians convicted of politically motivated violence. 2018-07-02 08:34 1KB www.thenewstribune.com

(4.16/29)

35

0.9

US citizens take to streets against Trump's immigration policy

Washington: Thousands of people across the US have taken to the streets protesting against President 2018-07-02 06:34 1KB www.siasat.com

(4.16/29)

36

0.0

Recent developments surrounding the South China Sea

A look at recent developments in the South China Sea, where China is pitted against smaller neighbors in multiple disputes over islands, coral reefs and… 2018-07-02 05:40 4KB abcnews.go.com

(4.16/29)

37

3.8

Amnesty: Indonesian forces behind unlawful killings in Papua

JAKARTA, Indonesia (AP) — Indonesia's police and military are responsible for at least 95 unlawful killings in the easternmost Papua region since 2010, including… 2018-07-02 04:55 3KB townhall.com

(4.16/29)

38

0.6

United Airlines plane evacuated after smoke in cabin

The Metropolitan Washington Airports Authority says passengers evacuated a plane at Reagan National Airport after smoke was reported in the cabin. 2018-07-02 03:57 1KB www.heraldonline.com

(3.50/29)

39

0.8

Interpol issues arrest warrant for billionaire Indian diamond merchant Nirav Modi

Nirav Modi is accused of being at the centre of a US$1.8 billion fraud involving India's second largest public lender, the Punjab National Bank (PNB) 2018-07-02 07:14 2KB www.scmp.com

(3.48/29)

40

0.2

Twitter Pans Albright After She Calls Trump 'Most Undemocratic' US President

The statement comes amid increasing furor over Donald Trump's crackdown on immigrants. The White House's "zero-tolerance" immigration policy has faced a public backlash which resulted in demonstrations in the US capital last week. 2018-07-02 07:16 4KB sputniknews.com

(3.12/29)

41

0.8

Helsinki Hotel Industry Expects Boost in Revenues Amid Putin-Trump Meeting

While about 2,000 people, mostly journalists, are expected to gather in the Finnish capital for the Putin-Trump meeting, the prices for a double room on the days of the presidential summit are already as much as €200 ($233) more expensive than the week before. 2018-07-02 06:28 3KB sputniknews.com

(3.09/29)

42

1.7

Supermarket chains Tesco, Carrefour form strategic alliance

British supermarket giant Tesco and French grocery chain Carrefour are creating a strategic alliance to give them more clout with global suppliers. 2018-07-02 08:38 1KB www.heraldonline.com

(3.09/29)

43

0.5

Drones buzzed French prison months before spectacular escape

France's justice minister says investigators believe that drones seen months ago buzzing above a prison may be linked to the brazen escape of a notorious French criminal. 2018-07-02 08:28 1KB www.thenewstribune.com

(3.09/29)

44

0.3

Israel denies entry to Jewish-American boycott activist

Israel has denied entry to a Jewish-American activist for advocating boycotts of the Jewish state. 2018-07-02 07:35 1KB www.heraldonline.com

(3.09/29)

45

0.2

Malaysian authorities probing 41-year-old man's marriage to 11-year-old girl

Kuala Lumpur, Malaysia — Malaysian authorities are investigating the marriage between an 11-year-old Thai girl and a 41-year-old Malaysian Muslim that… 2018-07-02 05:26 3KB newsinfo.inquirer.net

(3.07/29)

46

3.9

Five more beaten to death in India lynchings

Indian police said Monday they have arrested 23 people after five men were bludgeoned to death by a crazed mob in yet another horrific lynching to rock the country. 2018-07-02 05:00 2KB www.digitaljournal.com

(3.05/29)

47

0.5

Evacuations ordered as winds fuel Northern California fires

Evacuations were ordered as dry, hot winds fueled a wildfire burning out of control Sunday in rural Northern California. 2018-07-02 06:43 3KB www.cnbc.com

(2.46/29)

48

0.7

World Cup Day 18: Talking Points From A Penalty-Ridden Fiesta

Croatia reached the last eight for the second time, but for hosts Russia the achievement is even bigger. According to SkySports, World Cup day 18… 2018-07-02 03:54 5KB www.inquisitr.com

(2.42/29)

49

0.3

Stuck in Soccer Limbo, in the Shadow of the World Cup

The Crimean soccer league is neither Russian nor Ukrainian, leaving its teams and its players marooned in sporting purgatory since Russia annexed the peninsula in 2014. 2018-07-02 04:00 10KB www.nytimes.com

(2.38/29)

50

0.7

Red Corner Notice issued against Nirav Modi

New Delhi: A Red Corner Notice has been issued against absconding diamantaire Nirav Modi by the Inte 2018-07-02 05:42 1KB www.siasat.com

(2.29/29)

51

0.9

Chicagoans watch as Mexico counts votes in presidential election

The world is watching Mexico as the country counts the votes in its presidential election. 2018-07-02 03:25 7KB abc7chicago.com

(2.25/29)

52

2.4

ESPN sources: Javale McGee reaches deal with LA Lakers

ESPN sources report that free agent JaVale McGee has reached an agreement for a one-year deal with the Los Angeles Lakers. 2018-07-02 03:52 1KB abc7news.com

(2.16/29)

53

1.0

Denmark, Merkel, Russia: Your Monday Briefing

Here's what you need to know to start your day. 2018-07-02 04:36 8KB www.nytimes.com

(2.11/29)

54

0.5

UN chief hears of 'unimaginable' atrocities as he visits Rohingya camps

UN Secretary General Antonio Guterres said he heard "unimaginable" accounts of atrocities during a visit Monday to vast camps in Bangladesh that are home to a million Rohingya refugees who fled violence in Myanmar. 2018-07-02 07:10 3KB www.digitaljournal.com

(2.11/29)

55

0.2

SC agrees to urgent listing of petitions on 'Nikah Halala'

New Delhi: The Supreme Court on Monday agreed to list urgent petitions against Nikah-halala and poly 2018-07-02 06:58 1KB www.siasat.com

(2.11/29)

56

1.2

Cavs owner praises LeBron, promises to retire his jersey

Cavaliers owner Gilbert praises LeBron, vows to retire his jersey. 2018-07-02 05:32 3KB www.charlotteobserver.com

(2.10/29)

57

0.7

On This Day: Charles Hall is first African American to shoot down enemy in WWII

On July 2,1943, Lt. Charles Hall became the first African-American pilot to shoot down a Nazi plane in World War II. 2018-07-02 07:00 4KB www.upi.com

(2.06/29)

58

1.1

Francesco Molinari Pulls Away From Tiger Woods and Everyone Else

Molinari won the Quicken Loans National by eight shots. Woods closed with a 66, his lowest final round in more than five years, and tied for fourth. 2018-07-02 08:05 4KB www.nytimes.com

(2.06/29)

59

0.4

Bank of Japan survey shows corporate sentiment worsening

A central bank survey shows Japan's corporate outlook has worsened from three months ago. 2018-07-02 03:46 2KB www.sacbee.com

(2.04/29)

60

0.6

Mohamed Salah signs new long-term contract with Liverpool

English Premier League top scorer Mohamed Salah has signed a new long-term contract with Liverpool. 2018-07-02 08:23 2KB www.charlotteobserver.com

(2.04/29)

61

1.0

Teams re-sign stars a year ahead of free agency

When John Tavares' contract ran out with the New York Islanders, he took the opportunity to talk with other teams. "I felt like I owed… 2018-07-02 08:18 5KB www.cbs46.com

(2.04/29)

62

0.9

Trump now indicates North Korea deal might not work out

A day after US intelligence findings revealed ldquounequivocal evidencerdquo of North Korea efforts to ramp up its enriched uranium productionTrump flips 2018-07-02 07:17 7KB www.bignewsnetwork.com

(2.04/29)

63

0.5

On Basketball: LA will still be there for Paul George

Paul George can count. That's what we forgot. Everyone knows that the lure of home is strong for George, a Los Angeles kid who… 2018-07-02 06:29 4KB townhall.com

(2.04/29)

64

2.2

Slain US journalist to be honored at memorial

OWINGS MILLS, Md. — Relatives, friends and colleagues of slain journalist Rob Hiaasen will gather to remember the man who was one of five victims… 2018-07-02 05:28 1KB newsinfo.inquirer.net

(2.04/29)

65

1.2

Police seek Houston woman missing since June 25

Brittany Burfield, 37, was last seen by family on June 25. Police found her car in west Houston. 2018-07-02 03:02 1KB www.chron.com

(2.04/29)

66

0.8

Police identify officer shot in drug raid

COLUMBUS, Ohio (AP) - Authorities have identified the officer who was shot during a drug raid in Ohio. Columbus police say Officer Robert Lagore was struck… 2018-07-02 05:05 1KB www.washingtontimes.com

(2.04/29)

67

0.3

Miniseries highlights stories behind Tennessee brands

A miniseries that airs beginning this month highlights the personal stories behind six iconic Tennessee brands. 2018-07-02 04:30 1KB www.heraldonline.com

(2.04/29)

68

1.1

Mumbai plane crash: UY Aviation extends 'full co-operation' in probe

Mumbai: Mumbai-based private chartered aircraft firm, UY Aviation have extended 2018-07-02 04:30 2KB www.siasat.com

(2.04/29)

69

1.1

Tropical storm grows off Mexican Pacific; no threat to land

A new tropical storm off Mexico's Pacific Coast is intensifying quickly, and forecasters say it could reach hurricane strength Monday and grow into a major hurricane Tuesday, although it is not expected to pose any threat to land. 2018-07-02 04:18 1KB www.heraldonline.com

(2.03/29)

70

1.1

SC upholds appointment of KV Chowdary as CVC

New Delhi: The Supreme Court on Monday upheld the appointment of KV Chowdary as Central Vigilance Co 2018-07-02 06:39 1KB www.siasat.com

(2.02/29)

71

1.1

Burari deaths: Handwritten notes found hints towards 'mystical practices'

"Certain handwritten notes were found which indicated observance of some definite spiritual or mystical practices by the whole family." 2018-07-02 05:47 2KB www.siasat.com

(1.57/29)

72

2.5

SGPC chief calls Jalalabad blast 'deliberate attack'

Srinagar: Shiromani Gurdwara Parbandhak Committee president GS Longowal on Monday called the 'barbar 2018-07-02 06:45 1KB www.siasat.com

(1.40/29)

73

1.3

Sharon Cuneta's brother to run for mayor of Pasay City

The brother of Megastar Sharon Cuneta has set his eyes on the mayoralty of Pasay City, the same post held by their father the late mayor Pablo Cuneta. 2018-07-02 03:13 1KB news.abs-cbn.com

(1.39/29)

74

0.2

China drags on Asia shares, politics on euro and peso

A renewed slide in Chinese shares and a sobering set of factory surveys sucked Asian markets lower on Monday, while the euro and the Mexican peso were both jolted by political developments at home. 2018-07-02 06:17 5KB www.reuters.com

(1.23/29)

75

0.4

Limited, injured, unfancied but resolute: Tenacious Russia defy odds to beat dour Spain

The hosts were offered a little chance to get out of their group stages before the start of the tournament. 2018-07-02 06:08 5KB scroll.in

(1.15/29)

76

1.6

'Red edition' of OnePlus 6 launched in India

New Delhi: China-based smartphone manufacturer OnePlus on Monday unveiled the 2018-07-02 06:27 1KB www.siasat.com

(1.11/29)

77

0.8

Nawaz Sharif says government agencies harassing PML-N candidates

London: A very disappointed and frustrated former Pakistan prime minister Nawaz Sharif has said that 2018-07-02 06:33 1KB www.siasat.com

(1.10/29)

78

0.6

Fifa World Cup 2018: Today's match schedule free live streaming for Monday

Read more about Fifa World Cup 2018: Today's match schedule free live streaming for Monday on Business Standard. Watch FiFA World Cup 2018, in the today's match of Round of 16 (knockouts). Check today's match schedule list and watch a match of Brazil vs Mexico and Belgium vs Japan. Catch latest updates on FIFA World Cup 2018. 2018-07-02 05:30 1KB www.business-standard.com

(1.09/29)

79

1.1

Miss Bum Lets Her Main Assets Out to Congratulate Russian Team

The Brazilian model who made a name with her exceptional curves has sent her sexy kudos to the Russian team after they beat Spain in a Round of 16 match at the FIFA World Cup and thanked her Russian fans for their love wearing only a top, panties and knee socks. 2018-07-02 08:13 2KB sputniknews.com

(1.09/29)

80

0.4

This gene holds key to human immunity

Washington: The 'C6' gene, which has existed in human body for more than 500 million years, holds th 2018-07-02 07:53 2KB www.siasat.com

(1.07/29)

81

1.0

Global cues subdue equity indices, Sensex down over 250 points

Mumbai: Weak global cues depressed the key Indian equity indices on Monday afternoon, with the BSE S 2018-07-02 08:25 1KB www.siasat.com

(1.05/29)

82

0.5

Poe to launch probe on PNP's purchase of P1.89-B Mahindra patrol vehicles

Senator Grace Poe on Monday said she would push for an inquiry to determine the culpability of Philippine National Police (PNP) officials in connection with the purchase… 2018-07-02 07:01 2KB newsinfo.inquirer.net

(1.05/29)

83

1.2

Yankees have fully embraced their power and it's terrifying

"I feel sorry for the baseballs." — Giancarlo Stanton, YES Network, Dec. 11,2017 Six baseballs collected serious frequent-flyer points on a scorching… 2018-07-02 05:27 4KB nypost.com

(1.05/29)

84

1.5

Liam Payne and Cheryl announce split

Liam Payne and former "X Factor U. K." judge Cheryl are going in separate directions. 2018-07-02 03:58 1KB edition.cnn.com

(1.04/29)

85

1.1

Delhi tree cutting protest: Environment loses to development

Read more about Delhi tree cutting protest: Environment loses to development on Business Standard. Thousands of trees are to be cut do redevelopment of colonies in Delhi and Delhi residents want it stopped 2018-07-02 06:51 3KB www.business-standard.com

(1.04/29)

86

0.3

Gujarat: Ahmed Patel moves SC seeking to quash plea challenging his election to Rajya Sabha

BJP candidate Balwantsinh Rajput had challenged the election panel's decision to declare two votes invalid. 2018-07-02 07:26 1KB scroll.in

(1.04/29)

87

0.8

Massive Manhunt Launched in France After Movie-Like Helicopter Prison Break

The runaway convict, who was sentenced to 25 years in jail for a failed bank robbery and killing a policewoman, has already escaped once in a commando-style operation. Over the course of his criminal career, he's lived on the run in Israel, disguised as an Orthodox Jew, authored books and achieved near folk hero status in Paris's immigrant suburbs. 2018-07-02 07:01 3KB sputniknews.com

(1.04/29)

88

0.8

Netanyahu: Syrians fleeing war will not be allowed in Israel

Civilians fleeing Syria's war will not be allowed to enter Israel, says Prime Minister Benjamin Netanyahu, adding however that his government will continue providing them with humanitarian aid. 2018-07-02 03:36 3KB www.news24.com

(1.03/29)

89

2.1

Cops arrest 'self-confessed' gunman in Nueva Ecija priest's slay

The alleged gunman in the slay of a priest in Nueva Ecija has been arrested, the Philippine National Police said Monday, just days after a local court ruled that a previously arrested suspect was not the killer. 2018-07-02 03:30 2KB news.abs-cbn.com

(1.02/29)

90

1.3

China to Uphold WTO Principles, Resist Trade Protectionism - Commerce Minister

BEIJING (Sputnik) - China will promote the principles of the World Trade Organization (WTO) and counteract any forms of trade protectionism, Zhong Shan, the country's commerce minister, said on Monday. 2018-07-02 07:57 1KB sputniknews.com

(1.02/29)

91

1.4

FDA repays industry by rushing risky drugs to market

The FDA is increasingly fast-tracking expensive drugs with significant side effects and unproven health benefits 2018-07-02 07:00 33KB www.salon.com

(1.02/29)

92

0.8

Supreme Court upholds appointments of central vigilance commissioner and vigilance commissoner

NGO Common Cause had argued that the appointments committee had ignored 'serious charges' of impropriety against the two officials. 2018-07-02 06:50 2KB scroll.in

(1.01/29)

93

1.5

Kerala: SFI leader in Kochi hacked to death

Kochi: A 20-year-old Abhimanyu was hacked to death while two others were injured in an attack in Ker 2018-07-02 08:26 1KB www.siasat.com

(1.01/29)

94

0.7

SC extends deadline to publish final draft of Assam's National Register of Citizens to July 30

NRC coordinator Prateek Hajela had said that it would not be possible to meet the June 30 deadline due to floods in the state. 2018-07-02 08:21 2KB scroll.in

(1.01/29)

95

1.5

PICS: Meghan supports hubby Prince Harry at Audi Polo Challenge

The Duchess of Sussex spent her weekend effortlessly supporting her husband the Duke of Sussex and Prince William at a polo event. 2018-07-02 08:20 1KB www.channel24.co.za

(1.01/29)

96

0.9

'Doctors continue to bear the brunt of social aggression'

New Delhi: With India possessing a mere 9.09 percent of the World Health Organisation (WHO) recommen 2018-07-02 08:18 5KB www.siasat.com

(1.01/29)

97

0.6

EU Warns US Against Car Tariffs as Response to Affect $294 Bln of US Exports

Trade row between the transatlantic partners have been gaining steam, as Brussels does not seem to leave US trade restrictions unanswered. 2018-07-02 08:03 1KB sputniknews.com

(1.01/29)

98

1.4

When an Indian hospital was running out of oxygen, these doctors tried to help. So why were they sent to jail?

It was a shocking story: A government hospital in the far north of India ran out of liquid oxygen because it hadn't paid the supplier. Over the next two days, 35 children died in the crowded intensive care units. Amid a national uproar, authorities jailed nine people on charges including embezzlement and homicide. 2018-07-02 08:00 9KB www.heraldonline.com

(1.01/29)

99

0.1

Not all cancer drugs work

Washington: Not all cancer drugs works on patients suffering from the fatal disease. The research fi 2018-07-02 07:43 3KB www.siasat.com

(1.01/29)

100

1.0

Hockey: Dipsan Tirkey to lead India U-23 for six-nations tournament in Belgium

Apart from India and hosts Belgium, the other participating nations are Great Britain, Ireland, Malaysia and the Netherlands. 2018-07-02 07:39 2KB scroll.in
Articles
DC5m United States mix in english 100 articles, created at 2018-07-02 12:08
MEXICO CITY — After 18 years of establishment politics, Mexicans decided on Sunday that enough was enough, electing the leftist candidate Andrés Manuel López Obrador as president in a landslide victory in an election of firsts.
Capturing more than half the vote, according to early returns, he won by the largest margin in a presidential race since the nation transitioned to democracy nearly 20 years ago.
Here are five takeaways from the stunning victory of Mr. López Obrador and what to expect:
To grasp the stark repudiation of the establishment, and Mr. López Obrador's ability to capitalize on it, it is helpful to understand the recent electoral history of Mexico.
President Enrique Peña Nieto's Institutional Revolutionary Party, known as the P. R. I., dominated politics in Mexico from 1929 until 2000, when it was unseated by the conservative National Action Party, or P. A. N., at the time led by Vicente Fox.
The arrival of a new party after seven decades of single-party rule stirred tremendous hope among Mexicans — hopes that were eventually dashed. Over the six-year term, poverty remained pervasive and corruption unchecked.
Though the party was re-elected to office in 2006, President Felipe Calderón took the nation to war, deploying the military against the nation's drug cartels. More than a decade later, with more than 100,000 dead, violence is at record highs.
Mr. Peña Nieto appeared in 2012, a fresh-faced candidate selling a new-and-improved P. R. I. That, too, turned out to be a mirage, exposed by corruption scandals, record violence and entrenched inequality that has kept nearly half of the population living under the poverty line.
With 18 years of layered disappointments, Mexicans are hungry for change, and, perhaps, a bit of revenge. This explains why a man who has been rejected twice by the electorate — once in 2006 and again in 2012 — can fare so differently all these years later.
On Sunday night, President Trump congratulated Mr. López Obrador on his victory. "I look very much forward to working with him," Mr. Trump said in a tweet. It was a hopeful start to a new chapter in a bilateral relationship that is arguably at its worst point in years.
Mr. Trump has badgered Mexico since he announced his candidacy, criticizing its migrants, threatening to abandon the North American Free Trade Agreement and promising to build a wall between the two countries. Reflecting the current frostiness, Mr. Trump and his counterpart, Mr. Peña Nieto, still have not met since the American president took office.
Though a leftist, Mr. López Obrador has drawn comparisons to Mr. Trump for his nationalist impulses, populist rhetoric and combative personality. But from time to time he has also displayed a pugnaciousness toward Mexico's northern neighbor and has left no doubt that he is prepared to go toe-to-toe with Mr. Trump to defend Mexico's interests.
The chronic ills that Mr. López Obrador railed against, propelling him to victory, now become his problems to solve.
Among them is corruption. On the campaign trail, he was short on details about how he intended to confront the problem, but said he would lead by example: His professed honesty and ethical cleanliness, he said, would flow downward through the ranks of his government and help change the nation's culture.
He also inherits a nation reeling from rampant violence left unfettered by an anemic and corrupt public security system. More homicides were reported in May than in any other month since the government launched its current record-keeping system two decades ago, and 2017 was the deadliest year on record during the same time period.
Mr. López Obrador will also have to deliver on his promises to address widespread poverty and yawning inequality. He has laid out a development agenda that would drastically increase spending on social programs, including increasing pensions for older citizens, expanding educational opportunities for students and bolstering subsidies for farmers.
Mr. López Obrador's victory puts a leftist at the helm of Mexico for the first time in generations, and represents a resounding rejection of the two establishment political parties that have dominated Mexican politics for the past two decades: the centrist P. R. I., and the center-right P. A. N.
The results were particularly brutal for Mr. Peña Nieto and the P. R. I., which not only lost the presidency but faces steep losses in Congress and in most state governor races. The party was once the powerhouse of Mexican politics. But Sunday's results plunged the P. R. I. into an existential crisis, and a deeply uncertain future.
The prospects for the P. A. N. remain equally cloudy. Its candidate, Ricardo Anaya, is considered one of the most agile — and ambitious — politicians in Mexico, and with an eye on the 2024 election, he may seek to position himself as the leader of the opposition.
For as long as Mr. López Obrador has been running for president, accusations that he will sink the economy have chased him. He was likened in the news media to Hugo Chávez, the former socialist leader of Venezuela, and questionable news reports tried to link his campaign to Russia, creating a narrative of a radical and dangerous leader.
While the comparisons to Mr. Chávez are overblown and the connections to Russia totally unproven, Mr. López Obrador must still convince investors that his policies will be business friendly.
"They are far from enthusiastic but they are adopting a wait-and-see attitude," said Duncan Wood, the director of the Mexico Institute at the Wilson Center in Washington.
Mr. López Obrador has promised an ambitious slate of social programs while assuring investors that he will exercise fiscal prudence and respect the independence of Mexico's highly regarded central bank. In his acceptance speech Sunday night, he echoed those promises.
But how will he pay for his social programs? His advisers estimate they will eat up about 10 percent of the federal budget, or roughly $25 billion, annually. Mr. López Obrador promises to pay for his programs by cutting waste and corruption from government spending. Analysts question whether that will be enough.
Investors will also be watching his approach to Mexico's energy reform, which opened up vast parts of the industry to private investment and generated commitments of $80 billion in investment to explore and produce oil. Mr. López Obrador has been a fierce opponent of attempts to privatize the oil industry, but he has said he will respect existing contracts and the rule of law.

Lopez Obrador set to win Mexican presidential poll
business-standard.com
Two Mexican Politicians Killed on Election Day – Reports
sputniknews.com
Mexican Lopez Obrador wins historic election landslide for left
reuters.com
Mexico's Lopez Obrador Claims Historic Win, Broad Mandate
www1.cbn.com
Andres Manuel Lopez Obrador wins Mexico's presidential election in massive landslide
charlotteobserver.com
Trump congratulates new leftist Mexico leader
digitaljournal.com
Lopez Obrador wins Mexican presidential polls: Electoral body
business-standard.com
The Latest: Mexico's AMLO claims win in presidential vote
cbs46.com
Mexico leftist vows no tolerance on corruption after historic win
reuters.com
China shares slip anew, Mexico peso up as Obrador wins
reuters.com
The Latest: Trump congratulates Mexico's Lopez Obrador
sacbee.com
Mexico's 'Bernie Sanders' Wins in a Huge Historic Landslide With Mandate to Reshape the Nation
commondreams.org
Andres Manuel Lopez Obrador wins Mexico's presidential election in massive landslide
heraldonline.com
Mexico gives leftist Lopez Obrador big presidential win
townhall.com
Trump congratulates newly elected Mexican President
siasat.com
Mexico's Lopez Obrador claims historic win, broad mandate
cbs46.com
Anti-Trump mood sways Mexican voters in U. S. in favor of Lopez Obrador
reuters.com
Mexico gives leftist Lopez Obrador big presidential win
sacbee.com
Mexico's Andres Manuel Lopez Obrador claims presidential win
abcnews.go.com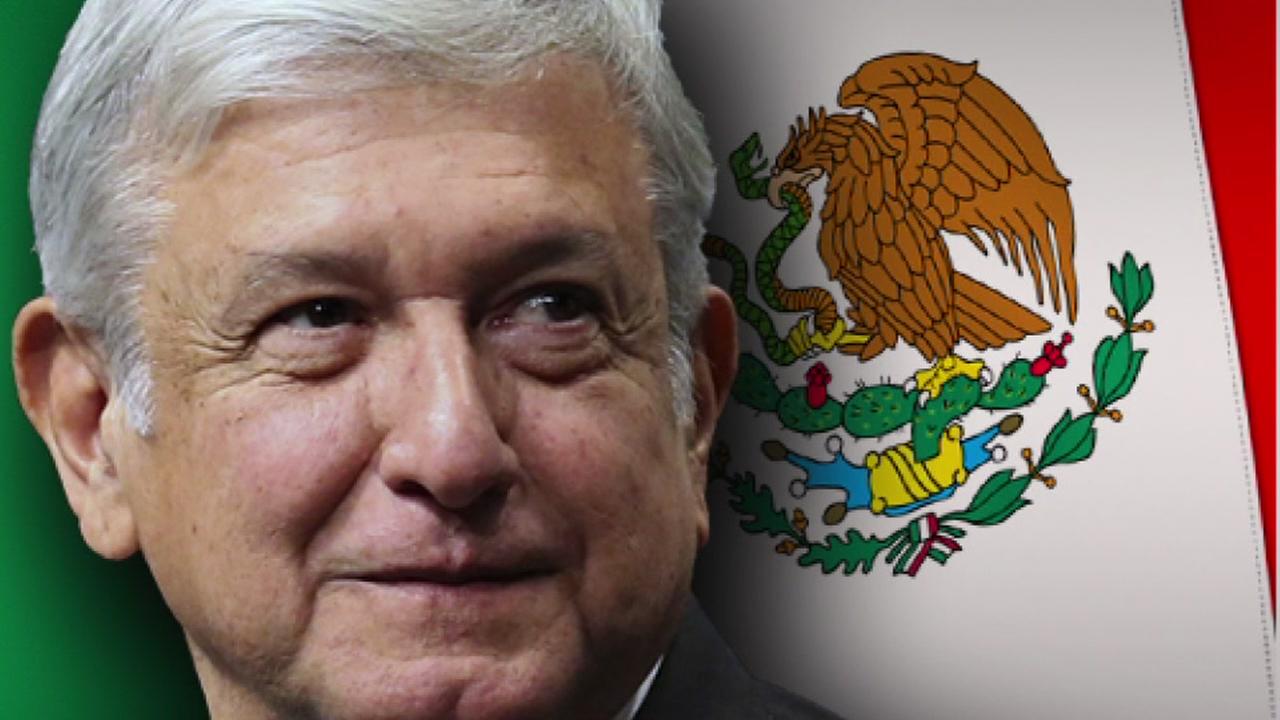 Andres Manuel Lopez Obrador elected president of Mexico
abc7news.com
López Obrador wins landslide victory in Mexican presidential race
upi.com
Mexico hands leftist Lopez Obrador big presidential win
independent.ie
Mexico's Lopez Obrador on brink of historic presidential win
abcnews.go.com
Mexico gives leftist Lopez Obrador big presidential win
wtop.com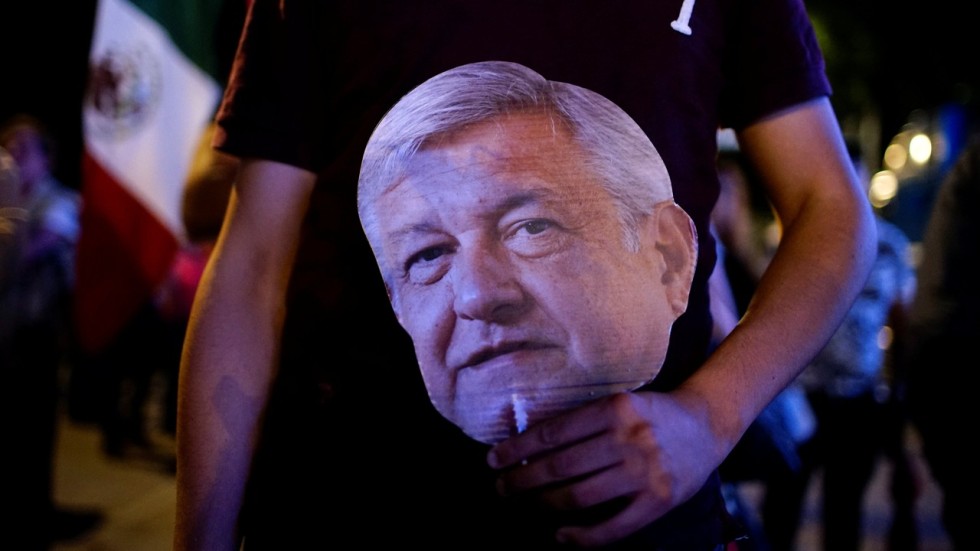 Oye Trump! Mexico's next president thinks you're erratic and arrogant, and a lot else, too
scmp.com
Leftist Manuel López Obrador Poised For Landslide In Mexico's Presidential Vote
iowapublicradio.org
Mexico's Lopez Obrador claims historic win, broad mandate
newsinfo.inquirer.net
The Latest: Trump congratulates Mexico's Lopez Obrador
cbs46.com
Trump's Message to Mexico's New President-elect Andrés Manuel López Obrador
newsweek.com
Mexican leftist Lopez Obrador wins presidency: exit polls
reuters.com
The Lakers had a very active Sunday night as they filled out the majority of their roster with free agent signings. The biggest, of course, was LeBron James choosing to come to Los Angeles for the next four years in a league-altering move.
However, L. A. still had a lot of cap space to utilize before they were done in free agency and with Paul George staying in Oklahoma City they got to work on filling out the roster with veterans on 1-year deals. Lance Stephenson and Kentavious Caldwell-Pope were the first two to agree to deals to spend a season with LeBron in Staples Center, with Stephenson being an interesting choice to say the least.
The Lakers weren't done there, though, as they swiped center JaVale McGee away from the defending NBA champion Warriors on a 1-year minimum deal, which indicates that his time in Golden State had run its course from the Warriors' perspective.

NBA Rumors: Lance Stephenson, Who Had Long-Running Feud With LeBron James, Is Now Joining Him On The Lakers
inquisitr.com
'Welcome to the family': Hollywood rolls out red carpet as LeBron James seals deal with LA Lakers
scroll.in
Cleveland fans aren't burning LeBron James jerseys this time
nypost.com
James agrees to four-year, $154 million deal with Lakers
reuters.com
This is LeBron James' ultimate chance to rewrite his legacy
nypost.com
LA-Bron: James agrees to 4-year contract with Lakers
townhall.com
Twitter on Fire as LeBron James Joins Lakers on $153.3 Million Deal
sputniknews.com
NBA Free Agency: Twitter Reacts To Lance Stephenson Teaming Up With LeBron James
inquisitr.com
NBA free agency tracker: LeBron James picks Los Angeles Lakers
eu.freep.com
Why LeBron James chose the Los Angeles Lakers in free agency
eu.usatoday.com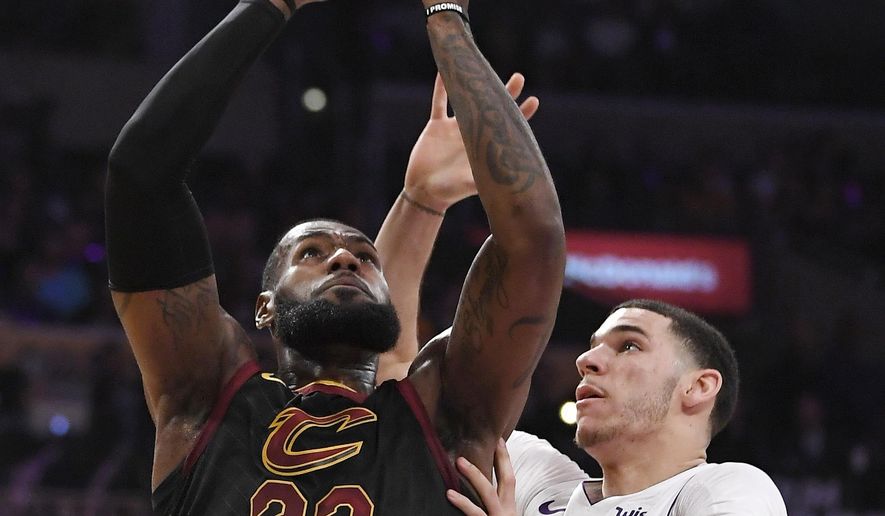 LA-Bron: James agrees to 4-year contract with Lakers
washingtontimes.com
As LeBron James news spreads, Lakers fans start celebrating outside Staples Center
eu.usatoday.com
LaVar Ball told everyone LeBron James was going to Lakers
nypost.com
LeBron James' greatest antagonist will now be on his side
nypost.com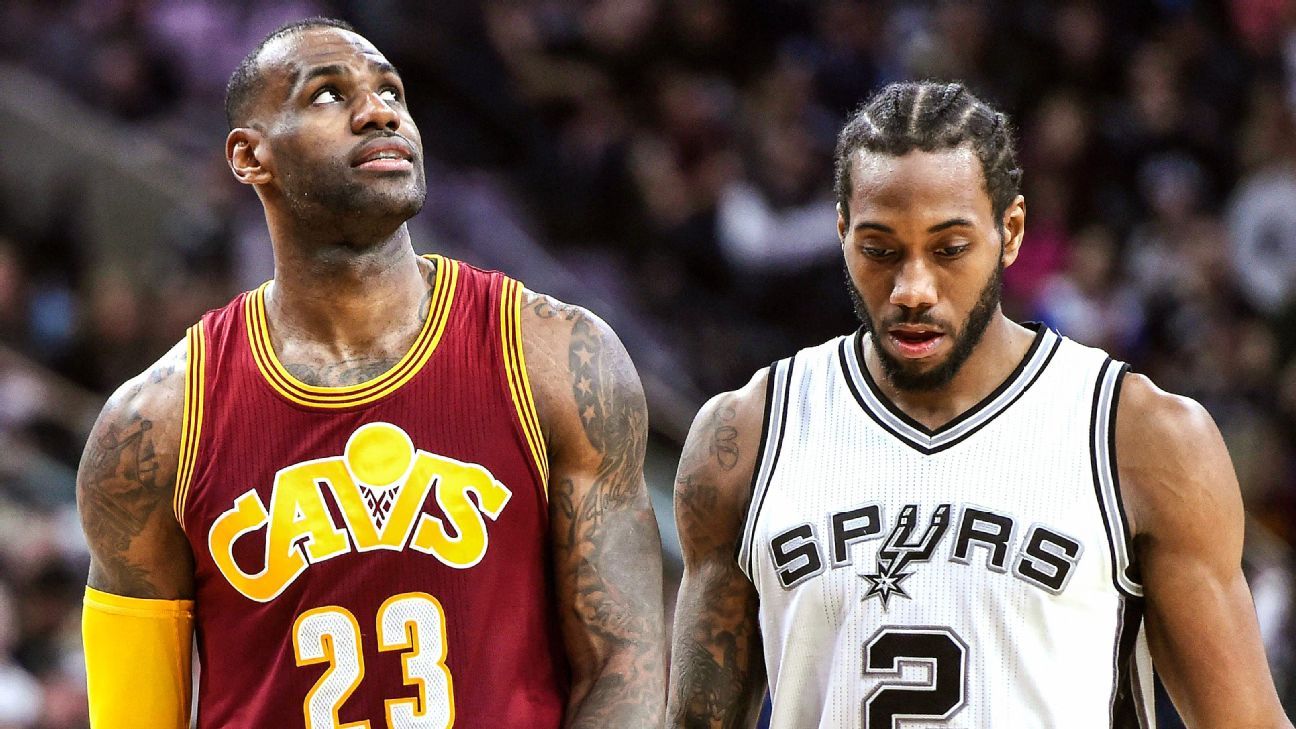 What's next for LeBron James and the Los Angeles Lakers? - NBA 5-on-5 debate
espn.com
Why Did LeBron James Go to the Lakers Instead of the Sixers?
newsweek.com
Bill Plaschke: LeBron James gives Lakers the star power they have been lacking
charlotteobserver.com
LeBron seals $154 million deal with Los Angeles Lakers
business-standard.com
Lakers score James with assist by Magic
charlotteobserver.com
NBA Free Agency: JaVale McGee will reportedly sign with Los Angeles Lakers
sfexaminer.com
NBA Rumors: Leaked Details Of LeBron James' Lakers Contract Shows Opt-Out Year, But Won't Have No-Trade Clause
inquisitr.com
Kobe Bryant Loves LeBron James' Decision To Join The Lakers
inquisitr.com
LeBron James agrees to join Los Angeles Lakers in a four-year, $154 million deal
scroll.in
Showtime: LeBron James' business, basketball worlds collide in Los Angeles
eu.usatoday.com
Claudia Sheinbaum Pardo, running on the slogan "Together we shall tell history," broke tradition as the first Jewish mayor of Mexico City, the largest city in North America, on Sunday. Greater Mexico city is home to more than 21 million people and is the largest spanish-speaking city in the world with a Jewish minority population estimated to be no more than 50,000.

Philippine city mayor gunned down during flag-raising event
miamiherald.com
Mexico's national elections, at a glance
thenewstribune.com
Philippine city mayor gunned down during flag-raising event
thenewstribune.com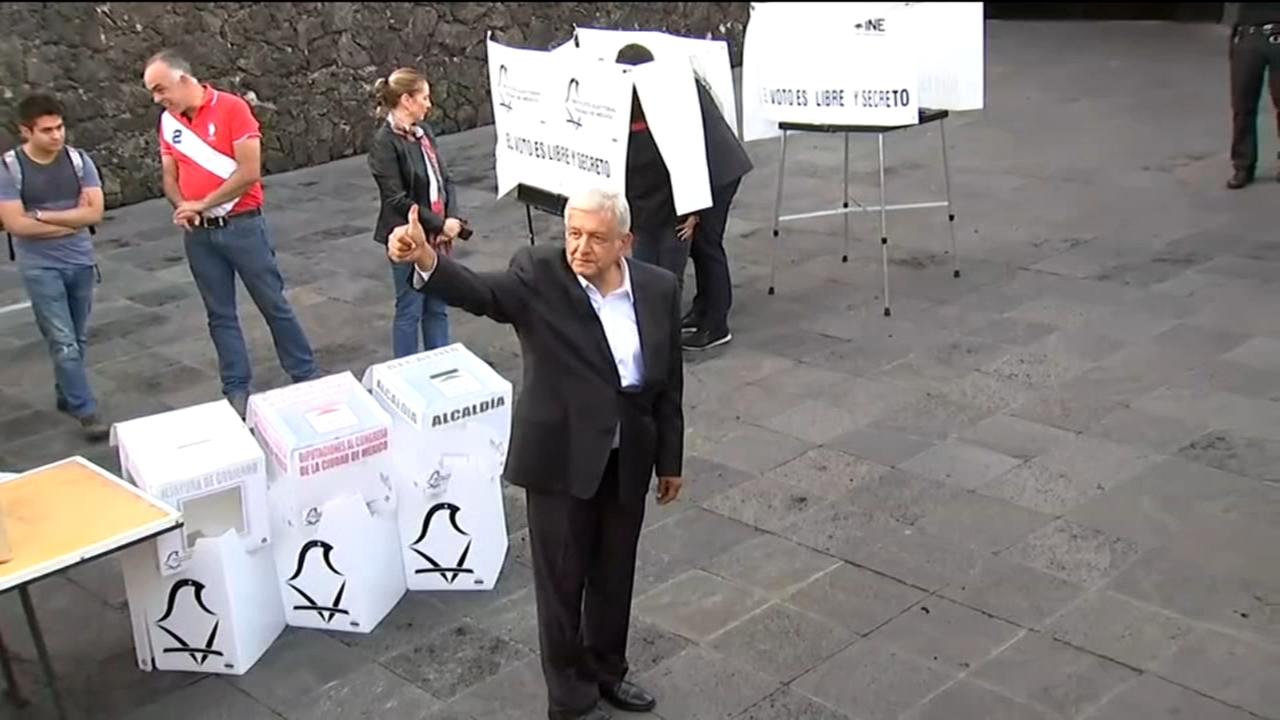 Chicagoans watch as Mexico counts votes in presidential election
abc7chicago.com
Mexico's national elections, at a glance
wtop.com
Mexico Elected A New President & Here's What He Really Thinks About Trump
bustle.com
Philippine city mayor gunned down during flag-raising event
abcnews.go.com
Mexico's national elections, at a glance
miamiherald.com
Philippine city mayor gunned down during flag-raising event
charlotteobserver.com
Mexico Elects Leftist President
newser.com
Philippine city mayor gunned down during flag-raising event
heraldonline.com
Mexico elects left-leaning populist as president by wide margin
eu.usatoday.com
Philippine city mayor gunned down during flag-raising event
wtop.com
Philippine city mayor gunned down during flag-raising event
townhall.com
Philippine city mayor gunned down during flag-raising event
sacbee.com
Obrador claims victory in Mexico's presidential election
abc7news.com
"I have said that I would resign from both jobs, that I would do it in the next three days. And that, nevertheless, we have made another step toward reaching a compromise with CDU. Everything else will be decided after a conversation with the CDU," Seehofer said at a press conference held early on Monday morning.
The interior minister added that his party would hold talks with the CDU later on Monday "in hopes of reaching mutual understanding."
On Sunday, local media reported that Seehofer had expressed intention to step down both as the interior minister and as the leader of the CSU, part of the coalition government with Social Democratic Party of Germany (SPF) and Merkel's Christian Democratic Union (CDU).
EU leaders agreed on a new migration plan last week, which would include controlled centers for new arrivals set up in member states and relocation across the bloc on a voluntary basis. At the weekend, Merkel stressed in an interview with the ZDF broadcaster that she would like to continue working with the CSU, adding that the two parties agreed that the asylum seekers could not choose what country they wanted to go to.

German government under threat as interior minister offers to resign over immigration deal: Reports
scroll.in
Merkel's political alliance hangs in the balance
cnbc.com
German Minister Offers To Step Down Over Merkel's Handling Of Migrants
iowapublicradio.org
Key German minister may quit over migrant plans
independent.ie
Angela Merkel Seemed to Get a Reprieve Over Migrants. It Didn't Last.
nytimes.com
Little sign of compromise in German government showdown
foxnews.com
Little sign of compromise in German government showdown
wtop.com
Little sign of compromise in German government showdown
townhall.com
A look at the numbers in Germany's parliament
thenewstribune.com
A look at the numbers in Germany's parliament
wtop.com
Little sign of compromise in German government showdown
charlotteobserver.com
According to the Imperial Household Agency, Japanese Emperor Akihito, 84, has canceled or postponed his public duties on Monday.
Empress Michiko reportedly called a palace doctor earlier in the day after she found the emperor suffering from excessive sweating. The monarch felt dizzy and nauseous due to cerebral anemia caused by insufficient blood circulation to his brain.
The emperor cancelled or postponed his Monday engagements after the doctor had advised him to rest at the Imperial Palace, adding he didn't have a fever.
Emperor Akihito announced in December 2017 that he would step down on April 30,2019, suggesting that his age and health would affect his ability to perform his duties. This would become the first abdication by a Japanese monarch in nearly two centuries.
Akihito's stepping down will mark the end of the Heisei imperial era, which started in 1989 when he took over the throne. The emperor will be immediately succeeded by his son, Crown Prince Naruhito.

Japan's Emperor Akihito being treated for cerebral anemia
newsinfo.inquirer.net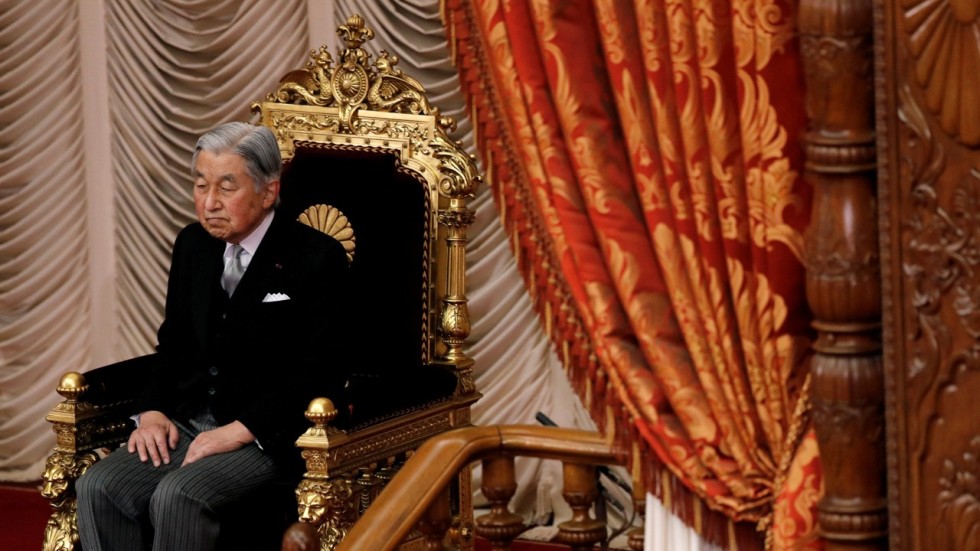 Japan's emperor is being treated for a brain condition
scmp.com
Japan's 84-year-old emperor has dizziness, advised to rest
heraldonline.com
Japan's 84-year-old emperor has dizziness, advised to rest
charlotteobserver.com
Japan's 84-year-old emperor has dizziness, advised to rest
miamiherald.com
Japan's 84-year-old emperor has dizziness, advised to rest
thenewstribune.com
Japan's Emperor Akihito suffers dizziness, advised to rest
newsinfo.inquirer.net
Japan's 84-year-old emperor has dizziness, advised to rest
sacbee.com
Japan's Emperor Akihito cancels engagements after dizzy spell
independent.ie
Japan's 84-year-old emperor has dizziness, advised to rest
wtop.com
Japan's 84-year-old emperor has dizziness, advised to rest
heraldonline.com
WASHINGTON — Hey, did my congressman really say that? Is that really President Donald Trump on that video, or am I being duped?
New technology on the internet lets anyone make videos of real people appearing to say things they've never said. Republicans and Democrats predict this high-tech way of putting words in someone's mouth will become the latest weapon in disinformation wars against the United States and other Western democracies.
We're not talking about lip-syncing videos. This technology uses facial mapping and artificial intelligence to produce videos that appear so genuine it's hard to spot the phonies. Lawmakers and intelligence officials worry that the bogus videos — called deepfakes — could be used to threaten national security or interfere in elections.
So far, that hasn't happened, but experts say it's not a question of if, but when.
"I expect that here in the United States we will start to see this content in the upcoming midterms and national election two years from now," said Hany Farid, a digital forensics expert at Dartmouth College in Hanover, New Hampshire. "The technology, of course, knows no borders, so I expect the impact to ripple around the globe."
When an average person can create a realistic fake video of the president saying anything they want, Farid said, "we have entered a new world where it is going to be difficult to know how to believe what we see." The reverse is a concern, too. People may dismiss as fake genuine footage, say of a real atrocity, to score political points.
Realizing the implications of the technology, the U. S. Defense Advanced Research Projects Agency is already two years into a four-your program to develop technologies that can detect fake images and videos. Right now, it takes extensive analysis to identify phony videos. It's unclear if new ways to authenticate images or detect fakes will keep pace with deepfake technology.
Deepfakes are so named because they utilize deep learning, a form of artificial intelligence. They are made by feeding a computer an algorithm, or set of instructions, lots of images and audio of a certain person. The computer program learns how to mimic the person's facial expressions, mannerisms, voice and inflections. If you have enough video and audio of someone, you can combine a fake video of the person with a fake audio and get them to say anything you want.
So far, deepfakes have mostly been used to smear celebrities or as gags, but it's easy to foresee a nation state using them for nefarious activities against the U. S., said Sen. Marco Rubio, R-Fla., one of several members of the Senate intelligence committee who are expressing concern about deepfakes.
A foreign intelligence agency could use the technology to produce a fake video of an American politician using a racial epithet or taking a bribe, Rubio says. They could use a fake video of a U. S. soldier massacring civilians overseas, or one of a U. S. official supposedly admitting a secret plan to carry out a conspiracy. Imagine a fake video of a U. S. leader — or an official from North Korea or Iran — warning the United States of an impending disaster.
"It's a weapon that could be used — timed appropriately and placed appropriately — in the same way fake news is used, except in a video form, which could create real chaos and instability on the eve of an election or a major decision of any sort," Rubio told The Associated Press.
Deepfake technology still has a few hitches. For instance, people's blinking in fake videos may appear unnatural. But the technology is improving.
"Within a year or two, it's going to be really hard for a person to distinguish between a real video and a fake video," said Andrew Grotto, an international security fellow at the Center for International Security and Cooperation at Stanford University in California.
"This technology, I think, will be irresistible for nation states to use in disinformation campaigns to manipulate public opinion, deceive populations and undermine confidence in our institutions," Grotto said. He called for government leaders and politicians to clearly say it has no place in civilized political debate.
Crude videos have been used for malicious political purposes for years, so there's no reason to believe the higher-tech ones, which are more realistic, won't become tools in future disinformation campaigns.
Rubio noted that in 2009, the U. S. Embassy in Moscow complained to the Russian Foreign Ministry about a fake sex video it said was made to damage the reputation of a U. S. diplomat. The video showed the married diplomat, who was a liaison to Russian religious and human rights groups, making telephone calls on a dark street. The video then showed the diplomat in his hotel room, scenes that apparently were shot with a hidden camera. Later, the video appeared to show a man and a woman having sex in the same room with the lights off, although it was not at all clear that the man was the diplomat.
John Beyrle, who was the U. S. ambassador in Moscow at the time, blamed the Russian government for the video, which he said was clearly fabricated.
Michael McFaul, who was American ambassador in Russia between 2012 and 2014, said Russia has engaged in disinformation videos against various political actors for years and that he too had been a target. He has said that Russian state propaganda inserted his face into photographs and "spliced my speeches to make me say things I never uttered and even accused me of pedophilia."

I never said that! High-tech deception of 'deepfake' videos
foxnews.com
I never said that! High-tech deception of 'deepfake' videos
miamiherald.com
I never said that! High-tech deception of 'deepfake' videos
boston.com
I never said that! High-tech deception of 'deepfake' videos
wtop.com
I never said that! High-tech deception of 'deepfake' videos
townhall.com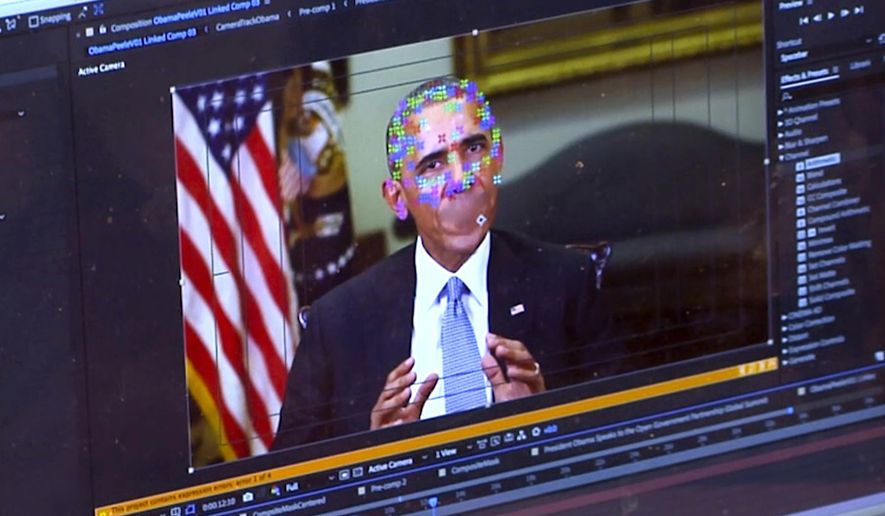 I never said that! High-tech deception of 'deepfake' videos
washingtontimes.com
I never said that! High-tech deception of 'deepfake' videos
cbs46.com
I never said that! High-tech deception of 'deepfake' videos
charlotteobserver.com
I never said that! High-tech deception of 'deepfake' videos
technology.inquirer.net
Who will Trump pick to replace retiring Justice Anthony Kennedy? We have some clues: "It will be somebody from that list," the president said Wednesday, referring to the 25 names he published in November. Reports since then have narrowed down these top contenders to five insider favorites. "We have to pick one that's going to be there for 40 years, 45 years," Trump also said, suggesting a judge's relative youth may be a deciding factor. There are six women on the list, and one in pretty much everyone's top five. Interestingly, none of these six went to the Ivies, already a point of difference from the current nine. Plus, women tend to live longer than men, maximizing the longevity factor for a lifetime appointee. And the appointment of a female justice would (a) Be helpful to a White House with preexisting women problems, while (b) making Democrat's full-scale resistance to the pick harder and potentially more costly.
Here's a look at the women who might make the Court:
Amy Coney Barrett of Indiana is a Seventh Circuit judge and has been on everyone's list of likely finalists. At 46, is among the youngest women on the list. As Ramesh Ponnuru pointed out in Bloomberg, "it cannot be good for conservatism that all three women now on the court are liberals." And it will look especially not good if the court reconsiders Roe. Barrett was a law professor at her alma mater Notre Dame until her federal appointment, and a lifelong Catholic, which you may recall from the bizarre questions asked of her by Dianne Feinstein during her confirmation hearing. ("The dogma lives loudly within you, and that's of concern," the California senator said.) There's much more to Barrett than her judicial record, her relationship with God, and her gender, of course. We'll probably be hearing more about her. No shortage of it from her students at Notre Dame, who fondly remember her as a mentor of rare quality. "Amy Coney Barrett is someone who spent the time and energy in teaching and mentoring, cultivating good students of the law," one former student told TWS Friday. "Compared to other law professors, it's clear that she cares about people—her students would all attest to that." Classmates look back on their time with Barrett fondly, this student said. In more ways than one, "She's a favorite."
Another of the favorites is the Tenth Circuit's Allison Eid. Fifty-three years old, Eid replaced Neil Gorsuch on the federal appeals court last year. She clerked for Justice Thomas, and the recommendation he wrote for her nomination to Colorado's Supreme Court recalled a strength of conviction and a style of thought and debate that former colleagues say was shaped by her time with Thomas. "Allison did not vacillate because others disagreed," Thomas wrote in his recommendation: "She engaged in constructive debate about very difficult matters, always looking for a way to solve the problem." Eid, a married mother of two, was raised by a single mom in Spokane and won a scholarship to attend Stanford where she earned her B. A., before attending law school at the University of Chicago. As a law professor, Eid was a mentor to Colorado Senator Cory Gardner—who introduced her at her confirmation hearing last year. "Justice Eid will side with what the law says," Gardner told the Judiciary Committee. "And she will do it in that commonsense Westerner way. "
Another former professor, Sixth Circuit Judge Joan Larsen, 49, clerked for Justice Antonin Scalia before serving as a deputy assistant attorney general under George W. Bush. Most of her career, however, has been in academia: Larsen was a law professor at the University of Michigan until her appointment to the Michigan Supreme Court in 2015, months before Trump nominated her to the federal appeals court. At her confirmation hearing, Larsen said she'd been surprised to find herself on Trump's list. The Seventh Circuit's Diane Sykes, 60, on the other hand, has been a likely SCOTUS nominee before. After her 2004 appeals court nomination, Wisconsinite Sykes' name came up among those then President Bush would pick were a vacancy to arise in his second term. Her rulings have made headlines over the years, especially on religious liberty and voter ID laws. Trump singled her out as a favorite last February on Meet the Press.
A lesser-known contender, Court of Appeals of the Armed Forces Judge Margaret Ryan, 54, is a former Justice Thomas clerk with a fearsomely powerful resume: She attended Notre Dame Law School on a military scholarship after multiple Marine Corps deployments and served as a JAG officer for four years before her clerkship. Her confirmation to the Armed Forces appeals court came in 2006.
Ryan, Sykes, Larsen and Eid were all among the 21 names candidate Trump listed during the campaign while Barrett was a November addition—along with Georgia Supreme Court Justice Britt Grant, the youngest on the list at age 40 and a nominee to Eleventh Circuit Court of Appeals who is awaiting confirmation: The mother of two, a veteran of the Bush White House, was one of the federal court nominees Arizona senator Jeff Flake held up amid tariff negotiations. "I could tell, even at her very young age, that here was someone committed to public service and mature beyond her years," said Grant's former White House colleague and Weekly Standard contributor Tevi Troy. "To see her listed above Brett Kavanaugh, for whom she worked, was really cool," he added.

Collins opposes a nominee who would overturn abortion ruling
townhall.com
Too Catholic for the Democrats
spectator.org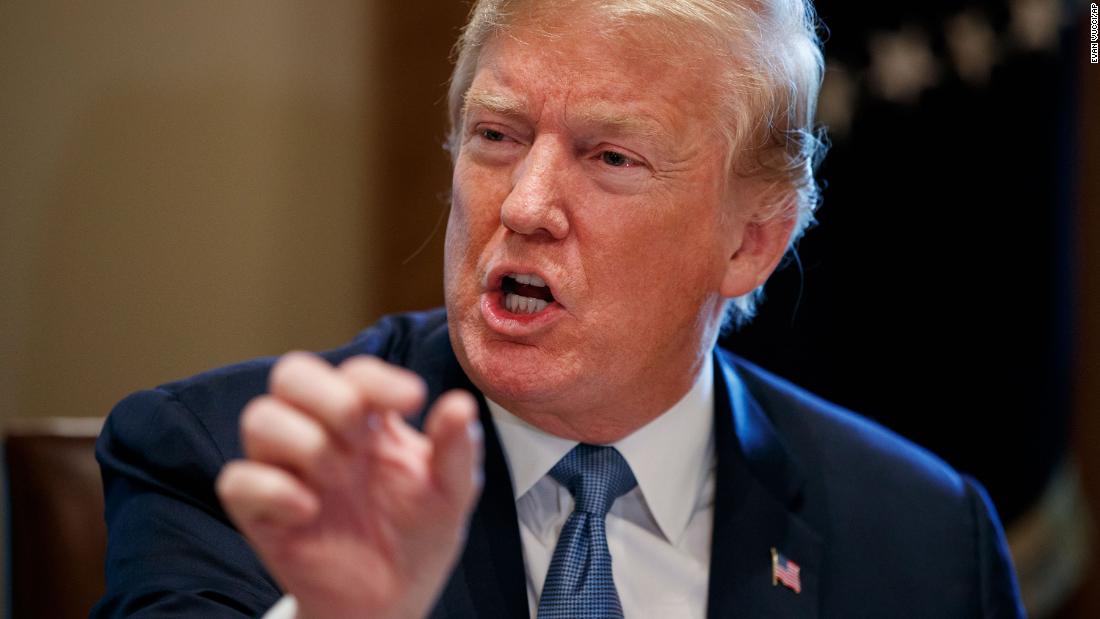 Trump's midterm message gets spark from progressive rhetoric
edition.cnn.com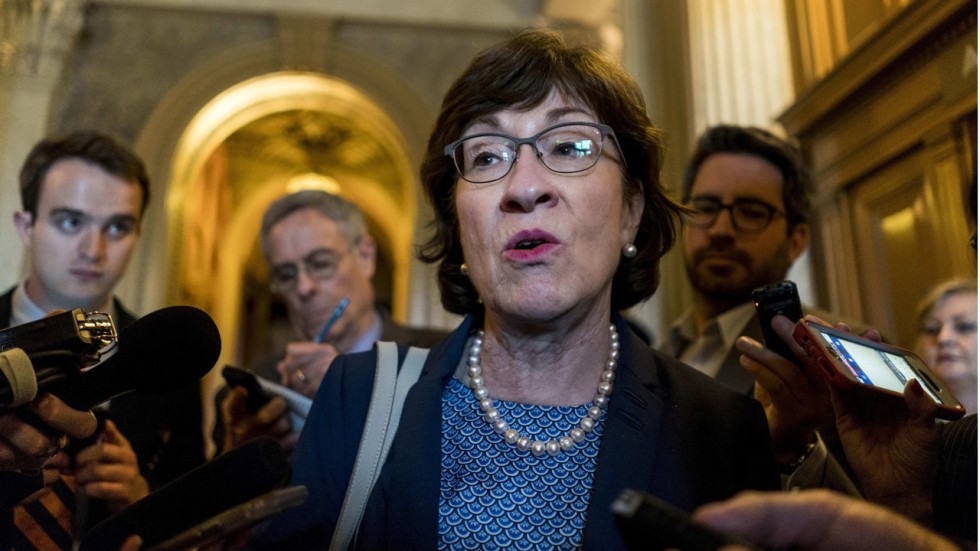 Trump anti-abortion Supreme Court pick 'not acceptable', says Republican senator
scmp.com
Collins opposes a nominee who would overturn abortion ruling
miamiherald.com
Collins opposes a nominee who would overturn abortion ruling
cbs46.com
Collins opposes a nominee who would overturn abortion ruling
boston.com
Collins opposes a nominee who would overturn abortion ruling
wtop.com
John Oliver Predicted How The Supreme Court Will Look Without Anthony Kennedy & Wow
bustle.com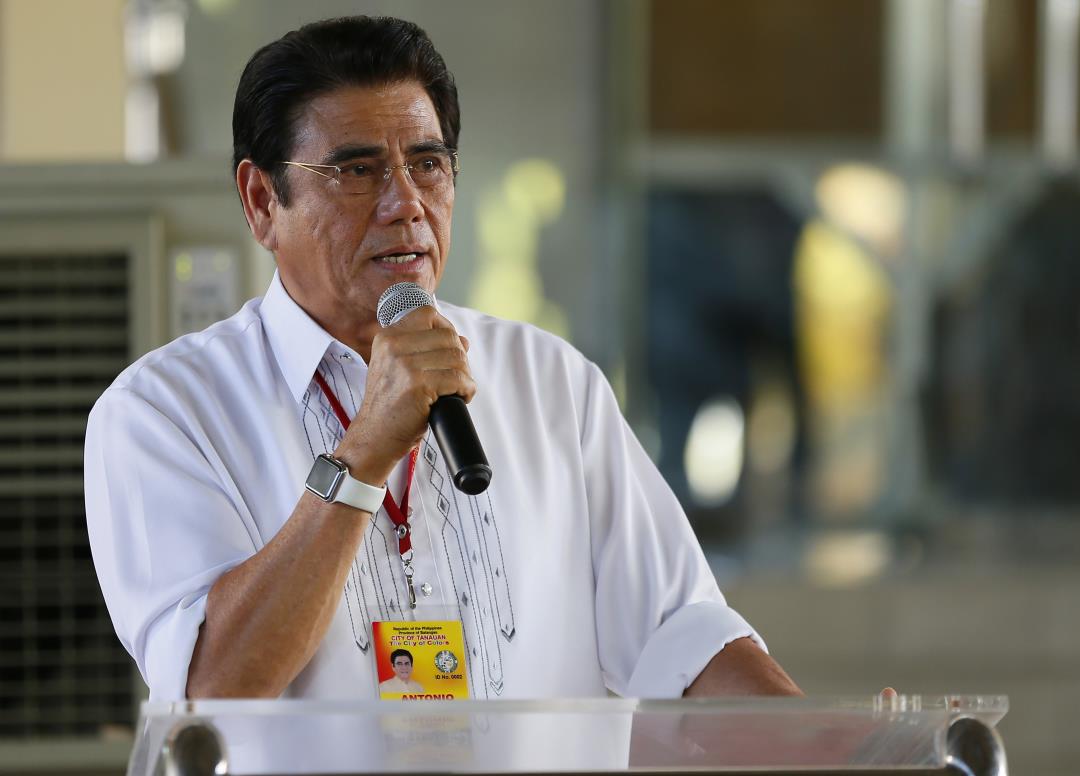 (Newser)
–
A Philippine provincial city mayor known for parading drug suspects in public but also alleged to have drug ties himself was shot and killed Monday during a flag-raising ceremony in front of horrified employees, the AP reports. Mayor Antonio Halili of Tanauan city in Batangas province, south of Manila, was shot by a still-unidentified attacker and died while being brought to a hospital, Philippine National Police chief Oscar Albayalde said. The gunman escaped. "They did not see anybody approach him. They just heard a gunshot so the assumption or allegation was it could have been a sniper shot," Albayalde said in a news conference. Dozens of employees and officials scrambled to safety when the gunfire rang out as they were singing the national anthem outside city hall.
The bullet hit a cellphone in Halili's coat pocket then pierced his chest, police said. Police scoured a nearby elevated grassy area, where the gunman may have fired the shot. Halili became controversial two years ago when he ordered drug suspects to be paraded in public in Tanauan, a small city about 43 miles south of Manila, in a campaign that was dubbed "walks of shame." The suspects were forced to wear cardboard signs that read "I'm a pusher, don't emulate me" in a campaign that alarmed human rights officials. Police officials, however, also linked Halili to illegal drugs, an allegation he strongly denied. He said at the time that he would resign and would be willing to be publicly paraded as a drug suspect if police could come up with evidence to support the allegation.

Lacson wants 'stricter' gun control rules after 'brazen' Tanauan mayor slay
newsinfo.inquirer.net
Philippine mayor who held drugs war 'walk of shame' shot dead
reuters.com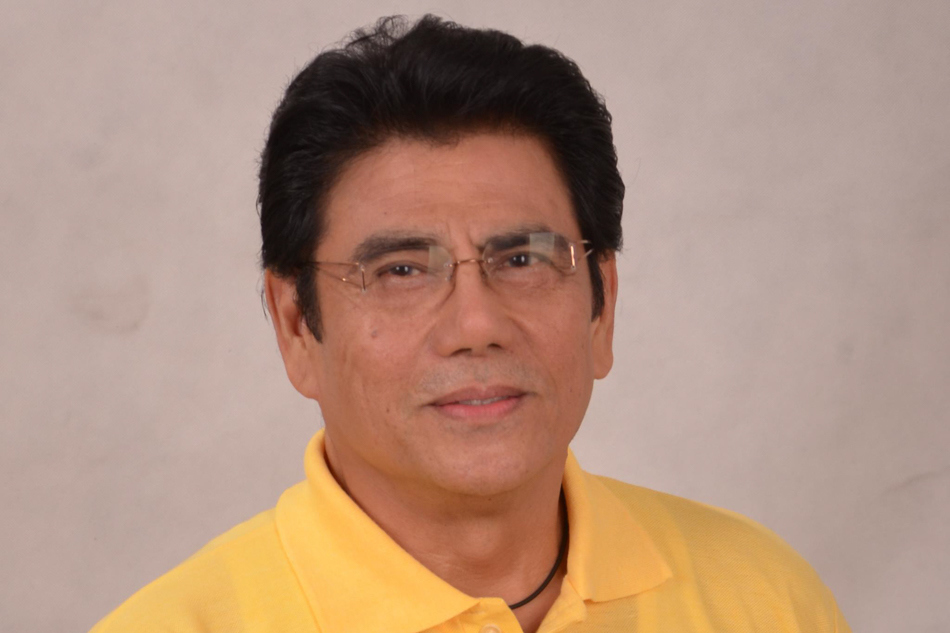 Palace condemns Tanauan mayor's slay
news.abs-cbn.com
Philippine Mayor Who Shamed Drug Suspects Is Killed During Flag Ceremony
nytimes.com
Philippines mayor shot dead during flag-raising event
independent.ie
Anti-Drug Mayor Shot Dead by Sniper at Flag-Raising Ceremony
newsweek.com
Philippines mayor shot dead during flag-raising ceremony
upi.com
Tanauan mayor gunned down while singing national anthem – witnesses
newsinfo.inquirer.net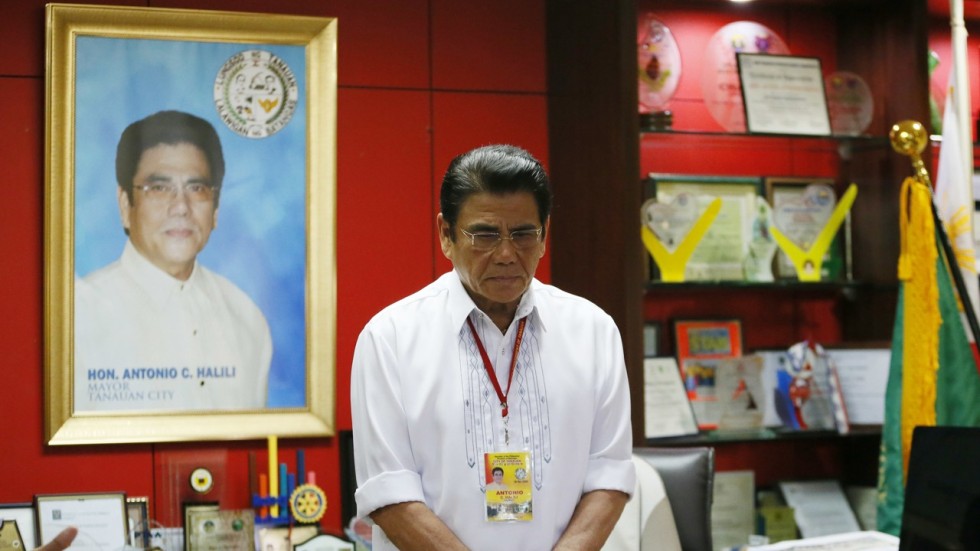 Philippine mayor known for parading drug suspects shot dead by sniper in front of horrified employees
scmp.com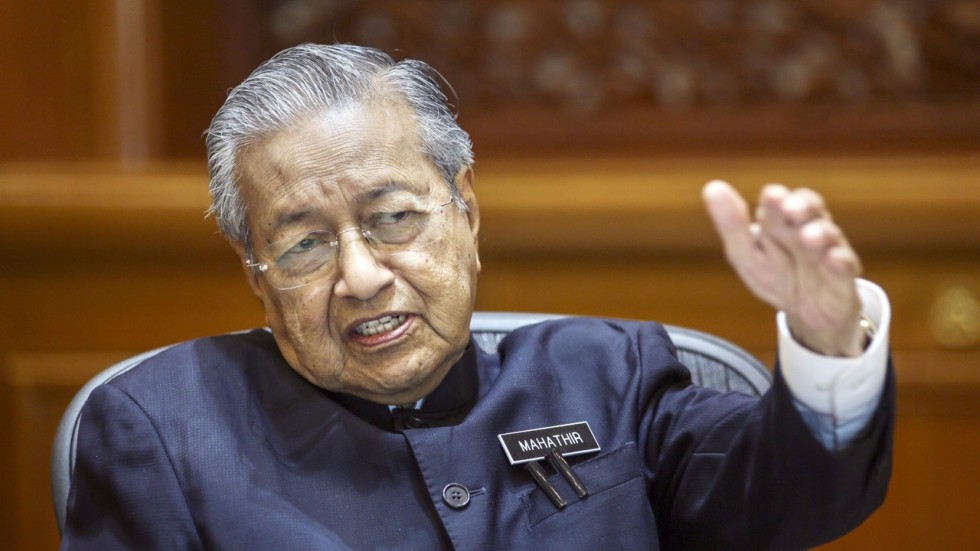 Malaysian Prime Minister Mahathir Mohamad completed his cabinet on Monday, with the appointments of another 13 lawmakers, including a 25-year-old touted as the country's youngest minister and a science minister who will focus on green technology.
The cabinet expansion is expected to stabilise the government and comes nearly two months after Mahathir led a four-party alliance to oust the National Front coalition that had held power since Malaysia's independence from Britain in 1957.
The 13 new ministers and 28 deputy ministers were sworn-in at a palace ceremony.
Syed Saddiq Abdul Rahman, a 25-year-old law graduate who was a prominent debater and currently youth chief of Mahathir's party, was appointed youth and sports minister, making him the youngest ever to be appointed to the cabinet.
Engineer Yeo Bee Yin, 35, was given the energy, green technology, science and climate change portfolio. An entrepreneur development ministry was also created for the first time, led by a 61-year-old former engineer.
The new foreign minister is Saifuddin Abdullah, 57, a former deputy minister who quit the then-ruling party in 2015 over the 1MDB scandal. The alleged looting and corruption at the state investment fund fuelled the public anger that led to Mahathir's victory after he pledged to fight corruption and institute reforms.
Now the world's oldest elected leader at 92, Mahathir formed an initial 14-member cabinet with a mix of senior politicians, lawyers and a lecturer. Horse-trading among the four alliance parties slowed formation of the full cabinet.
Mahathir's deputy is Wan Azizah Wan Ismail, the wife of politician Anwar Ibrahim and the country's first female deputy premier.
The government is seen as transitional since Mahathir has agreed to hand over power to Anwar in two years, under an election pact after the two former foes buried their two-decade old feud to join forces for the historic vote.
Anwar was convicted in 2015 of a sodomy charge which he said was concocted to destroy his political career, and was freed in May after obtaining a royal pardon. Anwar, 70, said he plans to run in a by-election to return to parliament later this year but will not hold any cabinet post and is in no rush to take over the top job.

Malaysia expands Cabinet, appoints youngest-ever minister
wtop.com
Malaysia expands Cabinet, appoints youngest-ever minister
business-standard.com
Malaysia expands Cabinet, appoints youngest-ever minister
miamiherald.com
Malaysia expands Cabinet, appoints youngest-ever minister
townhall.com
Malaysia expands Cabinet, appoints youngest-ever minister
heraldonline.com
Malaysia expands Cabinet, appoints youngest-ever minister
charlotteobserver.com
Malaysia expands Cabinet, appoints youngest-ever minister
newsinfo.inquirer.net
Malaysia expands Cabinet, appoints youngest-ever minister
thenewstribune.com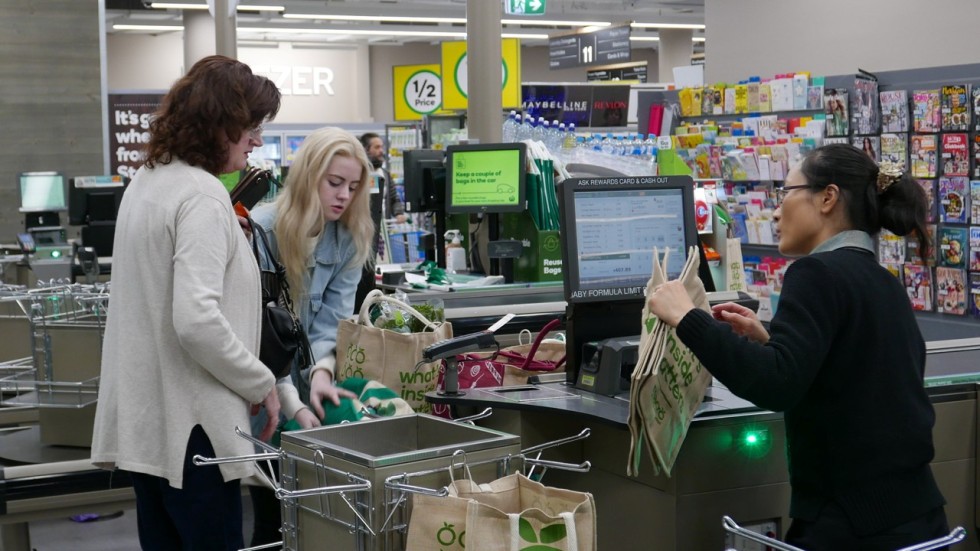 Australia's biggest supermarket chains are scrambling to combat "bag rage" as frustrated shoppers vent their anger over the removal of single-use plastic bags.
One man put his hands around a supermarket worker's throat, the West Australian newspaper reported, while grocery stores are putting on more staff to help customers get used to the change.
The removal of single-use plastics is part of a national push to reduce waste.
As of July 1, major retailers in all but two Australian states will be fined if they supply single-use plastic bags.
National supermarket chain Coles, owned by Wesfarmers, on Sunday removed single-use plastic bags from its stores, soon after rival Woolworths banned the bags on June 20.
Consumer complaints forced Woolworths to backflip on charging customers 15 Australian cents (11 US cents) for a reusable plastic bag, with the retailer now offering them free until July 8.
"They just want a little extra help from us to get through the transition," said Claire Peters, Woolworths managing director, in an emailed statement.
After seeing the backlash at its rival, Coles said it would open every checkout lane on Sunday to reduce queue lengths as staff explain the changes to customers.
The Shop, Distributive and Allied Employees' Association, the union that represents Australian shop assistants, has launched a public awareness campaign on the issue.
The union conducted a survey earlier last week and of 132 members who responded, 57 said they suffered abuse due to the plastic bag ban.
It included a worker being assaulted by a customer after being told there were no free plastic bags at a store in Western Australia state.
"A male customer in the self-serve area swore loudly at a female worker," the union's assistant secretary Ben Harris said on Monday.
"She provided him with some complimentary bags and apologised."
The customer then made a mistake by scanning an item twice, but when the same worker came to help him, "he walked up behind her and put his hands around her throat", Harris said.
Other customers have thrown grocery items on the floor and stormed off after swearing at staff.
"While we understand that some customers may be frustrated by this change, there is absolutely no excuse for abusive or violent behaviour towards retail staff," Gerard Dwyer, the union's national secretary said.
He said the ban could also pose a health risk, with people bringing filthy used bags to pack their shopping without considering hygiene issues.
"In some cases, customers have attempted to use bags which contained vomit, dirty nappies or rat faeces. This is obviously unacceptable and presents a serious health risk to retail staff," he said.
According to US journal Science, 8 million tonnes of plastic are dumped into the Earth's oceans and seas each year, with toxic particles ingested by fish and, through the food chain, by humans.
The UN wants to eliminate single-use plastic by 2022 and says more than 60 countries have so far taken steps to ban or reduce plastic consumption.
In Hong Kong, there is HK$0.50 plastic bag levy.
Reuters, Agence France-Presse

Australian supermarket staff attacked in free bag ban anger
townhall.com
Australian supermarket staff attacked in free bag ban anger
abcnews.go.com
'Bag rage' as Australia supermarkets impose plastic ban
newsinfo.inquirer.net
'Bag rage' as Australia supermarkets impose plastic ban
business-standard.com
Australian supermarket staff attacked in free bag ban anger
wtop.com
Australian supermarket staff attacked in free bag ban anger
thenewstribune.com
Australian supermarket staff attacked in free bag ban anger
miamiherald.com
'Bag rage' as Australia supermarkets impose plastic ban
digitaljournal.com
Iranian state media say protesters have clashed with police over water scarcity in the southwest for a second night.
IRNA says protesters threw stones and debris at police and set a car on fire in a protest that began late Sunday in the city of Abadan.
The report says police blocked roads near the protest and that the situation is "under control."
Similar clashes over water scarcity broke out in the nearby city of Khorramshahr late Saturday. Authorities say one protester and 10 police were injured, and videos posted online showed gunfire ringing out.
Abadan is home to Iran's biggest oil refinery. The two cities are in the oil-rich Khuzestan province, which borders Iraq and is home to a large Arab community. The region has suffered from a yearslong drought.

Iranian protesters clash with police for a second night
abcnews.go.com
Iranian protesters clash with police for a second night
heraldonline.com
New water pollution protests hit southwest Iran
business-standard.com
Iranian protesters clash with police for a second night
charlotteobserver.com
Iranian protesters clash with police for a second night
townhall.com
Iranian protesters clash with police for a second night
thenewstribune.com
Iranian protesters clash with police for a second night
sacbee.com
Iranian protesters clash with police for a second night
wtop.com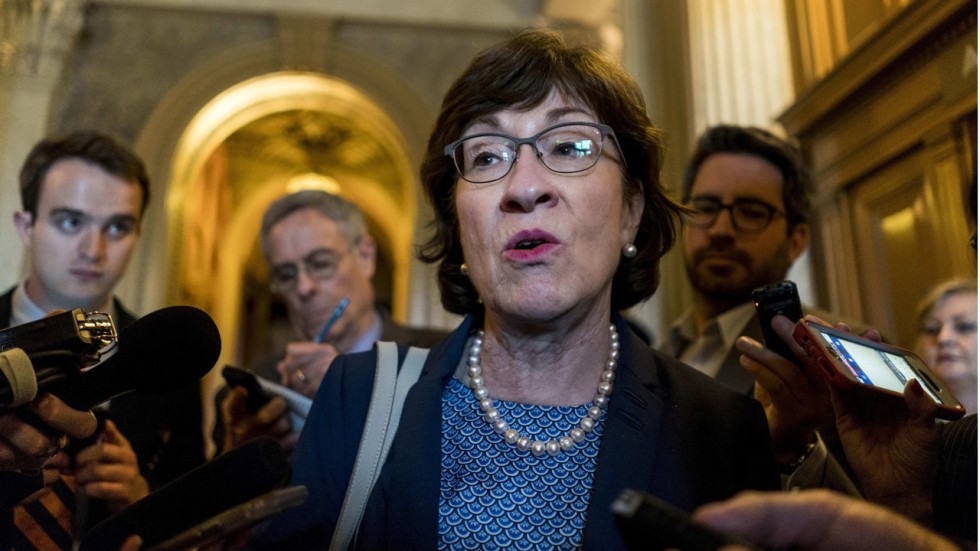 "A candidate for this important position who would overturn Roe v Wade would not be acceptable to me because that would indicate an activist agenda that I don't want to see a judge have," Republican senator Susan Collins told ABC's This Week, referring to the 1973 court decision protecting abortion rights.
Trump, however, said on Sunday the abortion issue could be returned to the states, suggesting that a future court could overturn the federal abortion rights protections created by Roe.
"We'll see what happens but it could very well happen with the states at some point," Trump told Fox Business, repeating a view he expressed soon after his election.
The president has said he will announce his pick to fill the seat of retiring justice Anthony Kennedy on July 9. He was due to begin interviewing candidates from an existing 25-strong list this weekend, from his Bedminster golf club in New Jersey.
Collins said Trump had told her personally he would not ask potential nominees about their position on Roe – the president told reporters the same on Friday, on Air Force One. But the intensive conservative vetting of potential nominees is such that an anti-abortion disposition is practically ensured.
Vice-President Mike Pence, an outspoken evangelical Christian, has called for Roe to be relegated to "the ash heap of history ".
"I would not support a nominee who demonstrated hostility to Roe v Wade," Collins told CNN's State of the Union, "because that would mean to me that their judicial philosophy would not include a respect for established decisions, for established law, and I believe that is a fundamental tenet of our judicial system. Roe v Wade is a constitutional right that is well established."
Almost every Republican in the Senate, which will confirm the successful nominee, is expected to vote with Trump as a matter of course. But Collins has in the past bucked party and president, notably with her opposition in 2017 to Trump's education secretary nominee, Betsy DeVos, and to attempts to repeal Barack Obama's health care law.
Collins has also voted with the president, however, including in a crucial December 2017 vote in favour of a tax cuts package that ended the health care law's individual mandate.
She voted for Neil Gorsuch, Trump's first Supreme Court pick. On Sunday she told CNN she did not believe Gorsuch would try to undermine Roe, because he wrote a book on judicial precedent.
"Someone who devotes that much time to writing a book on precedent, I think understands how important a principle that is in our judicial system," Collins said.
Collins and fellow senator Lisa Murkowski of Alaska are the only two nominally Republican abortion rights advocates in the Senate. Both voted in favour of a 2003 legislative amendment to endorse Roe.
In 2002, according to Talking Points Memo website, Collins said: "The Republican Party should be as synonymous with protecting a woman's right to choose as the Democratic Party is with expanded government or raising taxes."
The Republicans hold only a 51-49 majority in the Senate, meaning any defections over the Supreme Court nominee could be costly, especially as Senator John McCain, who is receiving treatment for cancer in his home state of Arizona, may not be on hand for the confirmation vote.
But Trump may not need every Republican if he can pick off some Democrats. Three senators – Joe Manchin of West Virginia, Joe Donnelly of Indiana and Heidi Heitkamp of North Dakota – who voted for Trump's first Supreme Court nominee, Neil Gorsuch, met Trump on Thursday to talk about the new court vacancy.
All three are up for re-election in November in states where Trump won handily.

Trump's Latest Comments On Roe V. Wade & The Supreme Court Are Zero Percent Comforting
bustle.com
Collins opposes a nominee who would overturn abortion ruling
townhall.com
Big week: Trump, ahead of US top court judge pick
siasat.com
Collins opposes a nominee who would overturn abortion ruling
miamiherald.com
Collins opposes a nominee who would overturn abortion ruling
cbs46.com
Collins opposes a nominee who would overturn abortion ruling
boston.com
Collins opposes a nominee who would overturn abortion ruling
wtop.com
John Oliver Predicted How The Supreme Court Will Look Without Anthony Kennedy & Wow
bustle.com
WASHINGTON (AP) - The government's top health official could barely conceal his discomfort.
As Health and Human Services secretary, Alex Azar was responsible for caring for migrant children taken from their parents at the border. Now a Democratic senator was asking him at a hearing whether his agency had a role in designing the Trump administration's "zero tolerance" policy that caused these separations.
The answer was no.
"We deal with the children once they're given to us," responded Azar. "So we don't - we are not the experts on immigration."
Separating families while sidelining the agency responsible for caring for the children was only one example of a communication breakdown in the federal government that left immigrant children in limbo, parents in the dark about their whereabouts and enraged Americans across the country.
Today, the Trump administration is still dealing with the fallout: It's still not clear how officials will implement the policy or comply with a court order requiring that families be reunited within 30 days.
Instead, the administration is hoping Congress will fix the mess, despite its recent failure to pass immigration legislation.
"We are happy to change the policy when Congress gives us the tools to do it. That's what we're asking for," Marc Short, White House director of legislative affairs, said on MSNBC.
The idea of separating families goes back to the first two months of the Trump presidency. John Kelly, then the Homeland Security secretary, said it could be used as a deterrent. But the notion was quickly dropped, even as President Donald Trump pushed a hard line on immigration, a crucial issue for his political base.
But behind the scenes, senior policy adviser Stephen Miller and others hadn't given up on the concept. It suddenly reappeared this spring after a persistent spike in illegal crossings. It took the form of the zero-tolerance policy announced by Attorney General Jeff Sessions that requires criminally prosecuting anyone coming to the U. S. illegally. Sessions and others argued families would have to be separated because children can't go to jail with their parents.
How or whether families would be reunited wasn't much of a concern to the policymakers, according to administration officials and others with knowledge of the discussions who spoke to The Associated Press on condition of anonymity. That lack of planning was evident in an interview Kelly, now White House chief of staff, did with NPR in May.
"The children will be taken care of - put into foster care or whatever - but the big point is they (the parents) elected to come illegally to the United States," he said.
The policy sowed confusion and anger not only in the border region, but in Washington. There was a lack of coordination among some of the government agencies involved in the process, the officials said. And there were multiple agencies involved: Customs and Border Protection, part of Homeland Security, detains immigrants. Health and Human Services is responsible for caring for children. Adults are referred to the Justice Department for prosecution. After those cases are resolved - generally a quick process - the adult immigrants are detained by Immigration and Customs Enforcement, another DHS agency.
Children were being sent hundreds of miles away from their parents and parents were unable to access hotlines to help them find their children. Some were deported without their kids. There was no system set up beforehand to link families and no plan on how to bring them back together, the officials said. More than 2,000 children were being separated from about 2,000 parents.
Religious and humanitarian leaders decried the policy. Doctors warned of serious trauma from separation. A pediatrician spoke of seeing a toddler weeping uncontrollably in a shelter and staff prevented from comforting her. Audio leaked of Border Patrol officers joking amid sobbing children.
As the crisis worsened, Trump tried to blame Democrats. Sessions quoted the Bible in his defense of the policy. Homeland Security Secretary Kirstjen Nielsen took questions during a tense White House press briefing and said there wasn't a policy to separate children. She was later heckled at a Mexican restaurant where she was eating dinner.
As criticism became more intense, Trump sought to calm the situation, the officials said. He had initially wanted to sign a full immigration bill as part of an executive order, but was told by attorneys that it wasn't possible, they said.
So, instead, Trump said he wanted an order written, and written quickly, they said. By midday on June 20, about six weeks after the policy started, Trump had signed papers that stopped separation - but also still required 100 percent criminal prosecution for improper entry.
"We're going to have strong, very strong borders, but we're going to keep the families together," Trump said.
Now, the administration is arguing over how to implement the hastily formed order. They're struggling with how to reunite the families - pushed by a court order this past Tuesday requiring they do so within 30 days, and within 14 days for children younger than 5.
While administration officials insist they know where all the children are, there has been no clear plan on how families will be reunited. Parents are still detained. Some 500 children were already returned to their parents, but those kids never made it out of Border Protection custody.
Some White House aides were determined to reunite families with their children as soon as possible, recognizing it was the only way to put the episode behind them. But another group, including Miller and many at the Justice Department, were advocating a more combative approach, prioritizing removals and prosecutions. Any shift toward the humanitarian concerns, some in that camp have argued, would be a sign of weakness that would reflect poorly on the president, the officials said.
Trump continues to advocate immediate removal, without an appearance before a judge or other due process, for those apprehended entering the country illegally.
Vice President Mike Pence and Nielsen met with Central American leaders on Thursday to discuss the number of migrants trying to cross into the U. S.
In a speech in Guatemala, he said the U. S. was working to reunite families "from your nations who've been caught trying to illegally enter the United States - because we believe that we can - as the old book says - "do justice and love kindness."
But Pence also cautioned: "If you want to come to the United States, come legally, or don't come at all."
___
Associated Press writers Jill Colvin, Lisa Mascaro and Zeke Miller contributed to this report.
Copyright 2018 The Associated Press. All rights reserved. This material may not be published, broadcast, rewritten or redistributed.

Tearful reunion for mom, daughter separated at border
heraldonline.com
Separations at the border didn't worry some Trump officials
charlotteobserver.com
Tearful reunion for mom, daughter separated at border
wral.com
Tearful reunion for mom, daughter separated at border
wtop.com
Immigrant families are being forced to pay massive airfares to reunite with children separated by the Trump administration
businessinsider.de
Separations at the border didn't worry some Trump officials
boston.com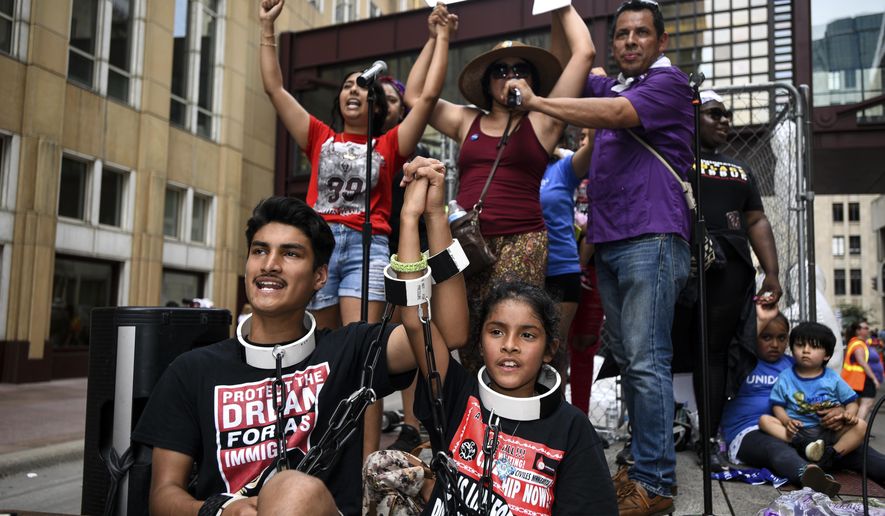 Separations at the border didn't worry some Trump officials
washingtontimes.com
The debate grew teeth during the NBA playoffs: Is LeBron James better than Michael Jordan?
Those favoring James grew in numbers during those weeks he willed the Cavaliers to the NBA Finals with a postseason performance for the ages.
Now James is heading to Los Angeles to play for the Lakers, where he has the chance to finally end the debate about who is the best basketball player of all time.
If James can win an NBA title in Hollywood the way he did in Miami and Cleveland, he will have delivered championships to three different cities. Think about that. It's an accomplishment that would stack up to the six titles Jordan won with the Bulls. It would make James the best ever to play the game.
I still believe Jordan is the best. He dominated games when he needed to dominate games and he got every ounce of talent out of his teammates, who delivered when called upon. Jordan, Dr. J, Bird, Magic and Jabbar would be my starting five. But none of those ever did what James will try to do: win championships in three different cities.
It makes sense going to Los Angeles: He'll be in movies and he can launch his own line of whatever he wants, while working out of his Brentwood mansion. South Beach vs. Venice Beach; it's a good gig. Still, James wouldn't make this move unless he saw a championship somewhere in the Lakers near future, which is a leap of faith with the Warriors owning back-to-back titles and Houston coming on in the West.
Signing a four-year deal for $154 million shows James' commitment to the franchise, which gives the Lakers time to build the kind of team that can contend in the West. If somehow he achieves the ultimate and delivers a title to Los Angeles then he'll improve his argument that he is the GOAT.
Meanwhile, this actually works out for the Knicks. James had his pick of just about any team — Houston, Philadelphia, or Cleveland — and it would have been especially disastrous if James had landed with the Sixers. The resurgence of the division rival only underscores how pitiful the Knicks have been in rebuilding their own franchise.
While the Sixers, the Celtics and even the Wizards have become playoff-caliber teams, the proprietors of the World's Most Famous Arena can't seem to get it right. If James had gone to Philly, it would have made the Knicks look second class.
Now he's on the West Coast and the Knicks can build their franchise without the fantasy that James is coming to New York. James can start building a team that can beat the Warriors.
This is what the NBA has become — a kind of high-stakes pickup game where the best players try to align with each other to dominate the court. The Warriors, with the addition of Kevin Durant, have done a pretty good job of it winning three titles in four years. James taking Cleveland to its first title in 2016 kept the Warriors from capturing four straight.
James reached a milestone by appearing in his eighth straight NBA Finals this year. A four-game sweep by the Warriors stole the spotlight from a feat that is arguably every bit as impressive as Jordan's three-peats.
Jordan played for one team until he wasn't Jordan anymore. There is a charm in that which James will never really enjoy. He has become a very expensive hired gun, signed to bring championships to a franchise.
If he can do it for the Lakers, he'll end the argument about who is the best ever to play the game.

LaVar Ball told everyone LeBron James was going to Lakers
nypost.com
LeBron James' greatest antagonist will now be on his side
nypost.com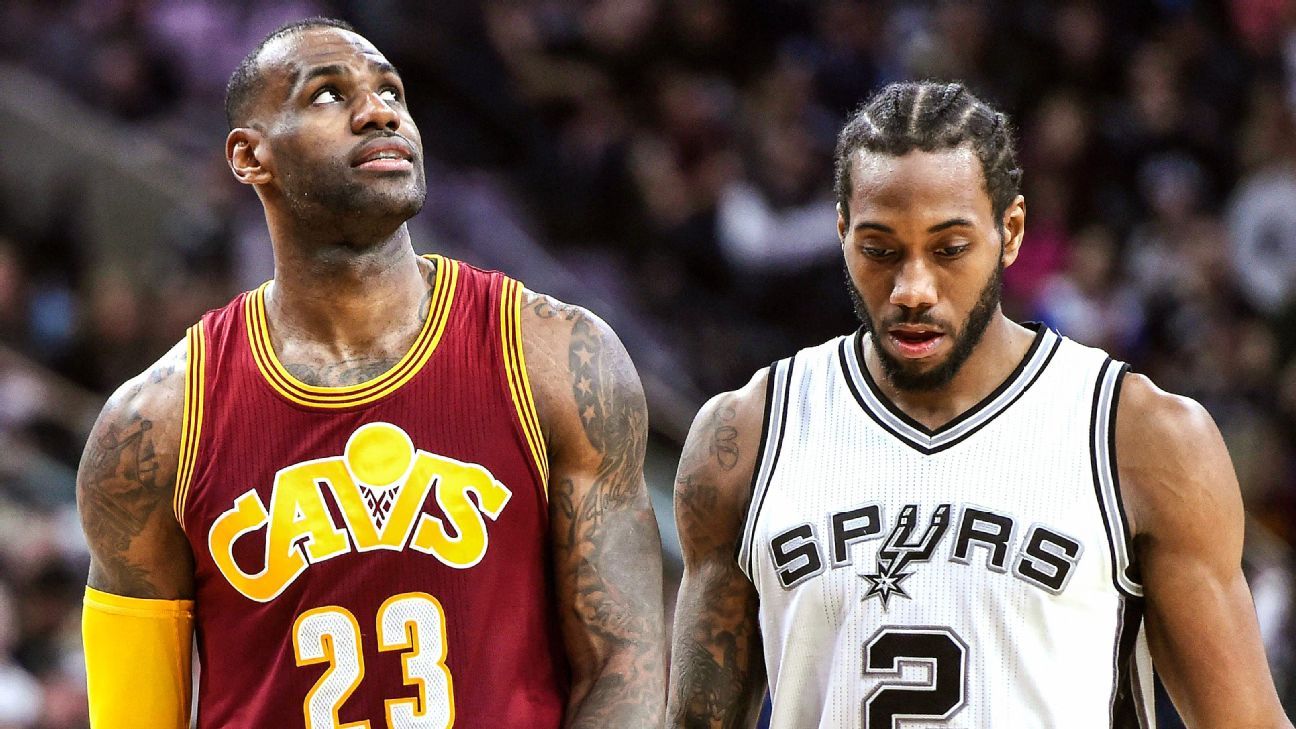 What's next for LeBron James and the Los Angeles Lakers? - NBA 5-on-5 debate
espn.com
'Welcome to the family': Hollywood rolls out red carpet as LeBron James seals deal with LA Lakers
scroll.in
NBA Free Agency: JaVale McGee will reportedly sign with Los Angeles Lakers
sfexaminer.com
Why Did LeBron James Go to the Lakers Instead of the Sixers?
newsweek.com
NBA Free Agency: Twitter Reacts To Lance Stephenson Teaming Up With LeBron James
inquisitr.com
Cleveland fans aren't burning LeBron James jerseys this time
nypost.com
Kobe Bryant Loves LeBron James' Decision To Join The Lakers
inquisitr.com
Why LeBron James chose the Los Angeles Lakers in free agency
eu.usatoday.com
BERLIN — Chancellor Angela Merkel of Germany thought she had fended off a mutiny within her own conservative alliance after returning from marathon talks with fellow European leaders on Friday with an agreement on how to handle migration.
But instead, the rebellion escalated late on Sunday, further weakening Ms. Merkel, who was once seen as a rock of European politics and the guardian of the liberal world order.
In the latest twist, Ms. Merkel's interior minister, Horst Seehofer, threatened to resign over the dispute with the chancellor's migration policy. Talks between the chancellor's party and Mr. Seehofer's Christian Social Union party are expected to take place Monday.
If Mr. Seehofer resigns as minister and party leader, but the Christian Socialists remain in the governing coalition, Ms. Merkel's government will limp on. If he takes his party out of the coalition — a partnership the parties have forged in Parliament since the end of World War II — she loses her majority.
Whatever the outcome, the last two weeks have left the chancellor badly damaged and many Germans wondering how much longer she will last.
They have exposed the spectacular weakening of a leader who not long ago was seen as a key defender of liberal values — a sentiment that culminated in her decision in 2015 to welcome to Germany hundreds of thousands of migrants from the Middle East, Africa and elsewhere who were not wanted by neighboring European countries.
Three years later, as nationalism and populism take root in various corners of Europe and Germany itself, observers say Ms. Merkel is a political dead woman walking.
"Merkel was synonymous with the liberal world order," said Andrea Römmele of the Hertie School of Governance in Berlin. "She was an authority at home and abroad, but that is history."
"If she doesn't go down now, she goes down in the next crisis," Ms. Römmele said.
Over the last nine months, Ms. Merkel has stumbled from one political crisis to another. In the September election, her party saw a significant decline in voter support and a far-right party entered Parliament for the first time in more than 60 years. In November, a first attempt at forming a coalition broke down. Earlier this year, a second attempt hung in the balance for weeks. In the end it took Ms. Merkel nearly six months to form a government.
Three months later, the Bavarian rebellion could undo the fractious coalition after all.
Bavaria, with its 500-mile land border, found itself on the front line of the migrant crisis in 2015. And even though migrant arrivals have slowed sharply since then, the far-right Alternative for Germany party has been making gains.
Ahead of state elections in October, Mr. Seehofer's conservatives have responded by veering sharply to the right themselves.
A former Bavarian premier with a towering stature and a sharp tongue, the interior minister has been one of Ms. Merkel's fiercest critics on migration over the past three years and has often sounded more in line with the nativist forces shaping politics in neighboring countries than with his own boss.
A friend of Victor Orban, Hungary's semi-authoritarian prime minister, he has recently mulled an alliance on migration policy with his far-right counterparts in Austria and Italy.
The latest standoff is over a demand by Mr. Seehofer that Germany turn back at the border migrants who are already registered elsewhere in the European Union, to ensure security in the country.
Ms. Merkel has championed a European solution on the migration issue, warning that unilateral action could endanger freedom of movement within the European Union, a central precept of the 28-member bloc.
It is hard to overstate the scope of German influence over European affairs during the Merkel era. During the financial and debt crises, Germany imposed austerity policies on debtor countries like Italy, Spain, Portugal, Ireland and, especially, Greece. Even as the Obama administration and an array of economists called for looser policies, the Germans held firm.
Beyond economics, Ms. Merkel has been the rock of European foreign policy, demanding a tough line on maintaining economic sanctions against Russia after the conflict in Ukraine while other European countries were far less enthusiastic.
And it has been Ms. Merkel who has pointedly stood up to President Trump, to the cheers of many Europeans and others who have embraced her as a defender of the liberal order.
Yet the political landscape has shifted radically, not only in Germany, but also elsewhere in Europe.
The rise of President Emmanuel Macron in France has marked a rebalancing of power away from Berlin. But France still needs Germany, and a distracted and fragile Ms. Merkel has been unable to be the strong partner Mr. Macron needs.
At a European Union summit meeting in Brussels last week, the chancellor turned to her European partners for help on the issue of migration, winning agreements from more than a dozen nations to take back people registered in their countries and other measures to tighten the bloc's outer border.
But the leaders of the Czech Republic, Hungary and Poland — all of whom are ruled by nationalist or populist parties that have rejected a common European Union approach to migration, and even calls to take in refugees — raised questions about their willingness to help Germany.
At stake at home is not just the chancellor's clout and coalition, but her own political survival. Since the end of World War II, her conservative Christian Democratic Union has worked together in Parliament with the Bavaria-only Christian Social Union. If the sister parties were to break, Ms. Merkel could face a vote of confidence, decide to step down, or try to continue a minority coalition with the Social Democrats.
Mr. Seehofer and the chancellor met for hours deep into the night on Saturday before the leadership of each party convened separately on Sunday to discuss the matter among themselves.
Heading into Sunday's talks, the chancellor had sounded confident that the measures she secured in Brussels were sufficient to meet Mr. Seehofer's demands for increased security for Germany.
"I share the C. S. U.'s aim of on the one hand reducing the number of immigrants being brought to Europe by smugglers, and on the other hand I also share the view that asylum seekers can't simply choose which country they want to go to," Ms. Merkel told the public broadcaster ZDF before the talks began.
The issue has consequences beyond Germany's borders. Austria's chancellor, Sebastian Kurz, said that if Mr. Seehofer were to order refugees registered in other European Union countries to be turned back from the Germany-Austria border, the Austrian government would follow suit.
"If Germany brings about such measures, then we will, of course, do the same in order to avert damage to the Republic of Austria," Mr. Kurz told the German newspaper Bild on Sunday.
Ms. Merkel had warned of such a chain reaction, which could effectively spell an end for the free movement of people and goods across the Schengen area, a 26-nation grouping including Austria and Germany that has open borders among member states.
In an interview on Sunday, the chancellor defended her decision to seek a European solution. "We are living in times when there is a lot at stake," Ms. Merkel said, adding a warning that Europe "is perhaps more in danger than we think."
"The question of migration can break Europe apart," she said.

German Minister Offers To Step Down Over Merkel's Handling Of Migrants
iowapublicradio.org
Little sign of compromise in German government showdown
foxnews.com
Little sign of compromise in German government showdown
wtop.com
Little sign of compromise in German government showdown
charlotteobserver.com
A look at the numbers in Germany's parliament
thenewstribune.com
A look at the numbers in Germany's parliament
wtop.com
Little sign of compromise in German government showdown
townhall.com
Laura Zuckerman
July 2 2018 7:16 AM
A man went on a stabbing spree at a 3-year-old's birthday party at an apartment complex housing refugee families in Boise on Saturday, injuring nine people, including six children, police said on Sunday.
Timmy Kinner, a 30-year-old from Los Angeles who had been staying at the complex, has been arrested, Boise police said. He is not an immigrant and went on the rampage a day after being asked to leave by one of the residents, police said.
Kinner was being held without bail at the Ada County jail on 15 charges, including six of injury to a child and nine of aggravated battery, jail records showed. There was no lawyer listed for Kinner in the records.
Kinner may have wanted to "extract vengeance" for being kicked out by a tenant who took him in, Police Chief Bill Bones said at a press conference on Sunday.
The woman who took Kinner in was not harmed and was not at the residence at the time of the attack. Kinner assaulted the children at the party after he was unable to find the woman, police said, adding his motive was still under investigation.
"This was an attack against those who are the most vulnerable, our children. It's untenable, unconscionable and is pure evil," Bones said.
The children who were attacked ranged in age from three to 12, Bones said. Three adults were wounded trying to stop the assault.
Four of the victims had life-threatening injuries, and the victims included people from Syria, Iraq and Ethiopia, Bones said.
The attacker, who has an extensive criminal past, did not know the victims, he said.
The Idaho Statesman newspaper said the apartment complex catered to low-income families and was run by a Boise nonprofit.
Kinner was due to appear in court on Monday.
Boise Mayor Dave Bieter said the "horrific attack" did not represent the state capital, which is the largest city in Idaho and has some 225,000 residents.
Idaho is deeply conservative, particularly outside of Ada County where Boise is located. The issue of whether to welcome refugees to the state has proved controversial.
In 2015, opponents of a federally funded refugee welcoming center in Twin Falls, Idaho, campaigned unsuccessfully for the facility to be closed.
Reuters
Harriet Alexander in Ciudad Juarez Mexicans yesterday voted to choose their new president in the most significant election in a generation.
Tom Embury-Dennis A restaurant manager in Canada has been sacked after refusing to serve a man wearing a "Make America Great Again" (MAGA) hat.
A man went on a stabbing spree at a 3-year-old's...
Eleven members of a family were found dead in...
Pakistan's army has recovered the body of an...
Andres Manuel Lopez Obrador has claimed victory in...
Eleven members of an extended family were found dead at their home in New Delhi...
Rescue divers have cleared a key hurdle in the increasingly desperate search...
At least 48 people were killed when an overcrowded bus plunged off a mountain...
The US ambassador to Estonia has resigned in frustration over Donald Trump's hostility to...
A British cabinet minister has refused to rule out...
German Chancellor Angela Merkel was last night fighting for her political future after...
Police release the emergency call of the man who...
A man armed with smoke grenades and a...
CCTV catches the moment a man rams a van...
It is the eve of Saudi Arabia's historic...
Former TV presenter John Leslie gives a...
Warning: Viewers may find the following...
Due to the bears small size, it was initially thought to be five or six years old.
A television reporter who was groped and kissed while broadcasting...
President Donald Trump has signed an executive...
Donald Trump hugged the American...

Police: Motive unclear in birthday party stabbing attack
wtop.com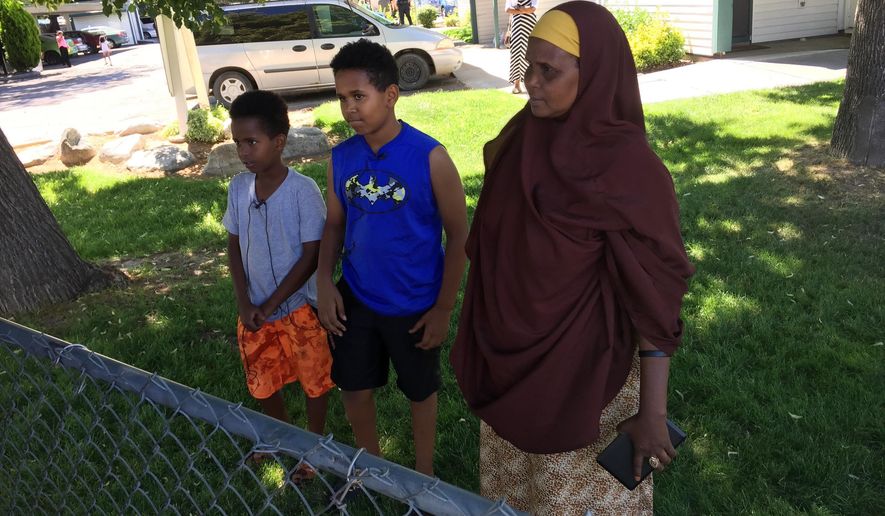 Police: Motive unclear in birthday party stabbing attack
washingtontimes.com
Police: Motive unclear in birthday party stabbing attack
charlotteobserver.com
Police: Motive unclear in birthday party stabbing attack
cbs46.com
Police: Motive unclear in birthday party stabbing attack
wral.com
Police: Motive unclear in birthday party stabbing attack
townhall.com
By Associated Press Reporters
July 2 2018 6:05 AM
Pakistan's army has recovered the body of an Austrian mountaineer and rescued two British climbers who were injured when an avalanche hit their tent last week.
The British mountaineers, Bruce Normand and Timothy Miller, were rescued on Sunday from the Ultar Sar Peak in the Hunza Valley.
The body of Christian Huber was recovered.
Karrar Haidri, of the Alpine Club of Pakistan, said on Monday that the Britons were being taken to Islamabad for better medical care.
The three-member team was scaling the Ultar Sar Peak in the Hunza Valley at a height of 19,357ft (5,900m) when the avalanche struck Friday during a storm.
Mr Haidri said the military carried out the rescue operation despite bad weather.
Press Association
Suvashree Choudhury and Nigam Prusti Eleven members of a family were found dead in India's capital on Sunday, most of them hanging from the ceiling of their home, blindfolded, gagged and with hands tied behind the back, with...
By Associated Press Reporters Andres Manuel Lopez Obrador has claimed victory in Mexico's presidential election, calling for reconciliation after what he called a "historic day".
Aijaz Hussain Eleven members of an extended family were found dead at their home in New Delhi in what police believe could have been a ritual killing.
Eleven members of a family were found dead in...
Pakistan's army has recovered the body of an...
Andres Manuel Lopez Obrador has claimed victory in...
Eleven members of an extended family were found dead at their home in New Delhi...
Rescue divers have cleared a key hurdle in the increasingly desperate search...
At least 48 people were killed when an overcrowded bus plunged off a mountain...
The US ambassador to Estonia has resigned in frustration over Donald Trump's hostility to...
A British cabinet minister has refused to rule out...
German Chancellor Angela Merkel was last night fighting for her political future after...
The leader of the right-wing party in Italy's populist government has told tens of thousands...
Police release the emergency call of the man who...
A man armed with smoke grenades and a...
CCTV catches the moment a man rams a van...
It is the eve of Saudi Arabia's historic...
Former TV presenter John Leslie gives a...
Warning: Viewers may find the following...
Due to the bears small size, it was initially thought to be five or six years old.
A television reporter who was groped and kissed while broadcasting...
President Donald Trump has signed an executive...
Donald Trump hugged the American...

Pakistan army rescues 2 injured British climbers
miamiherald.com
Pakistan army rescues 2 injured British climbers
charlotteobserver.com
Pakistan army rescues 2 injured British climbers
heraldonline.com
Pakistan army rescues 2 injured British climbers
wtop.com
Pakistan army rescues 2 injured British climbers
business-standard.com
Pakistan army rescues 2 injured British climbers
thenewstribune.com
WASHINGTON (AP) - The United States has a plan that would lead to the dismantling of North Korea's nuclear weapons and ballistic missile programs in a year, President Donald Trump's national security adviser said Sunday, although U. S. intelligence reported signs that Pyongyang doesn't intend to fully give up its arsenal.
John Bolton said top U. S. diplomat Mike Pompeo will be discussing that plan with North Korea in the near future. Bolton added that it would be to the North's advantage to cooperate to see sanctions lifted quickly and aid from South Korea and Japan start to flow.
Bolton's remarks on CBS' "Face the Nation" appeared to be the first time the Trump administration had publicly suggested a timeline for North Korea to fulfill the commitment leader Kim Jong Un made at a summit with President Donald Trump last month for the "complete denuclearization" of the Korean Peninsula.
Despite Trump's rosy post-summit declaration that the North no longer poses a nuclear threat, Washington and Pyongyang have yet to negotiate the terms under which it would relinquish the weapons that it developed over decades to deter the U. S.
Doubts over North Korea's intentions have deepened amid reports that it is continuing to produce fissile material for weapons.
The Washington Post on Saturday cited unnamed U. S. intelligence officials as concluding that North Korea does not intend to fully surrender its nuclear stockpile. Evidence collected since the June 12 summit in Singapore points to preparations to deceive the U. S. about the number of nuclear warheads in North Korea's arsenal as well as the existence of undisclosed facilities used to make fissile material for nuclear bombs, according to the report.
It said the findings support a new, previously undisclosed Defense Intelligence Agency estimate that North Korea is unlikely to denuclearize. Some aspects of the new intelligence were reported Friday by NBC News.
A U. S. official told The Associated Press that the Post's report was accurate and that the assessment reflected the consistent view across U. S. government agencies for the past several weeks. The official was not authorized to comment publicly on the matter and requested anonymity.
Bolton on Sunday declined to comment on intelligence matters.
He said the administration was well aware of North Korea's track record over the decades in dragging out negotiations with the U. S. to continue weapons development.
"We have developed a program. I'm sure that Secretary of State Mike Pompeo will be discussing this with the North Koreans in the near future about really how to dismantle all of their WMD and ballistic missile programs in a year," Bolton said. "If they have the strategic decision already made to do that, and they're cooperative, we can move very quickly," he added.
He said the one-year program the U. S. is proposing would cover all of the North's chemical and biological weapons, nuclear programs and ballistic missiles.
Even if North Korea is willing to cooperate, dismantling its secretive weapons of mass destruction programs, believed to encompass dozens of sites, will be tough. Stanford University academics, including nuclear physicist Siegfried Hecker, a leading expert on the North's nuclear program, have proposed a 10-year roadmap for that task; others say it could take less time.
Pompeo has already visited Pyongyang twice since April to meet with Kim - the first time when he was still director of the CIA - and there are discussions about a possible third trip to North Korea late next week but such a visit has not yet been confirmed.
Trump reiterated in an interview broadcast Sunday that he thinks Kim is serious about denuclearization.
"I made a deal with him. I shook hands with him. I really believe he means it," the president said on Fox News Channel's "Sunday Morning Futures with Maria Bartiromo."
Trump defended his decision to suspend "war games" with close ally South Korea - a significant concession to North Korea, which so far has suspended nuclear and missile tests and destroyed tunnels at its nuclear test site but not taken further concrete steps to denuclearize.
"Now we're saving a lot of money," Trump said of the cancellation of large-scale military drills that involve flights of U. S. bombers from the Pacific U. S. territory of Guam.
"So we gave nothing. What we are going to give is good things in the future. And by the way I really believe North Korea has a tremendous future. I got along really well with Chairman Kim. We had a great chemistry," Trump added.
Pressure will now be on Pompeo to make progress in negotiations with North Korea to turn the summit declaration into concrete action. He spoke with the foreign ministers of China, Japan and South Korea in recent days about the situation with the North, according to the State Department, which has declined to comment on any upcoming travel.
Pompeo postponed plans to meet with Defense Secretary Jim Mattis and their counterparts from India on July 6, citing unavoidable circumstances, which has fueled speculation he will make a third trip to Pyongyang.
Copyright 2018 The Associated Press. All rights reserved. This material may not be published, broadcast, rewritten or redistributed.

US plans for dismantling NKorea nukes may face resistance.
wtop.com
US plans for dismantling NKorea nukes may face resistance.
foxnews.com
US plans for dismantling NKorea nukes may face resistance.
miamiherald.com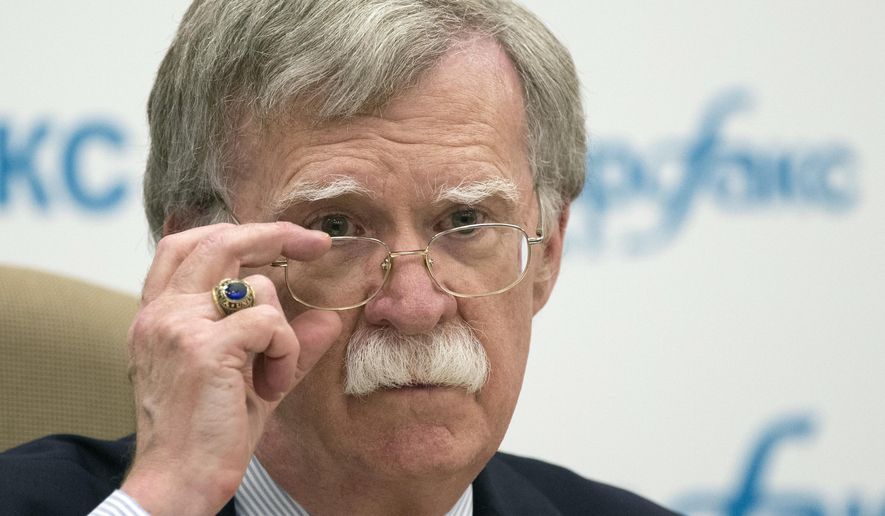 US plans for dismantling NKorea nukes may face resistance.
washingtontimes.com
US plans for dismantling NKorea nukes may face resistance.
townhall.com
US plans for dismantling NKorea nukes may face resistance.
boston.com
France has "participated in the bloody Egyptian repression" for the past five years by delivering weapons and surveillance systems to President Abdel Fattah al-Sisi's government, rights groups charged in a report released Monday.
Commissioned by four French and Egyptian human rights groups, the study found French arms sales to Egypt had leapt from 39.6 million to 1.3 billion euros ($1.5 billion) between 2010 and 2016.
In addition, "by supplying Egyptian security services and law enforcement agencies with powerful digital tools, they have helped establish an Orwellian surveillance and control architecture that is being used to eradicate all forms of dissent and citizen action," the groups said.
They charged that French companies were also complicit in what they called a "relentless crackdown" since Sisi overthrew Islamist president Mohamed Morsi in 2013.
The report notably cited companies selling technology used for mass data interception and crowd control, used for a surveillance system under which tens of thousands of opponents and activists had been arrested.
"The Egyptian revolution of 2011 was driven by an ultra-connected 'Facebook generation' that knew how to mobilise crowds," said Bahey Eldin Hassan, director of the Cairo Institute for Human Rights Studies (CIHRS), one of the group's behind the report.
"Today France is helping to crush this generation through the establishment of an Orwellian surveillance and control system aimed at nipping in the bud any expression of protest," he said.
The report charges that at least eight French companies have "profited from this repression" despite a European Union declaration in 2013 that member states had suspended export licences to Egypt for equipment that could be used for domestic repression.
The companies include Arquus -- formerly Renault Trucks Defense -- as well as major defence supplier DCNS.
"Our organisations seek from French companies and authorities an immediate end to these deadly exports," the groups said.
The report was commissioned by the CIHRS alongside the French-based International Federation for Human Rights, Human Rights League and Armaments Observatory.

Human rights group denounce France's military sales to Egypt
heraldonline.com
France aiding Egypt repression through arms sales: NGOs
siasat.com
Human rights group denounce France's military sales to Egypt
sacbee.com
Human rights group denounce France's military sales to Egypt
thenewstribune.com
Human rights group denounce France's military sales to Egypt
charlotteobserver.com
Human rights group denounce France's military sales to Egypt
miamiherald.com
Malaysia's former deputy premier is being quizzed by the anti-graft agency as part of an expanded investigation into alleged theft and money-laundering at the 1MDB state investment fund.
Ahmad Zahid Hamidi, who was elected over the weekend as the new chief of the former ruling Malay party, smiled at reporters upon arrival at the agency Monday. The agency recently froze the party's bank accounts as part of its investigation.
Local media said Zahid is expected to be grilled on his claims in 2015 that he had met the Arab price who donated some $700 million that made its way to then Prime Minister Najib Razak's bank account. Anger over the 1MDB saga led to the shocking defeat of Najib's long-ruling coalition in May 9 polls.

Malaysia's former deputy premier quizzed in 1MDB graft probe
wtop.com
Malaysia's former deputy premier quizzed in 1MDB graft probe
business-standard.com
Malaysia's former deputy premier quizzed in 1MDB graft probe
miamiherald.com
Malaysia's former deputy premier quizzed in 1MDB graft probe
townhall.com
Malaysia's former deputy premier quizzed in 1MDB graft probe
sacbee.com
Malaysia's former deputy premier quizzed in 1MDB graft probe
thenewstribune.com
By Tassanee Vejpongsa, Associated Press
July 2 2018 7:04 AM
Rescue divers are making progress through a key passageway inside the flooded mountain cave in northern Thailand where 12 boys and their soccer coach have been missing for more than a week.
Thai navy Seals said in a Facebook post early on Monday that, since Sunday night, divers had reached a bend where the half-mile long passage splits in two directions.
The divers are aiming for a sandy chamber on higher ground in the cave, where they believe the group would be safe.
The boys, aged 11 to 16, and their 25-year-old coach entered Tham Luang Nang Non cave in Chiang Rai province on June 23.
Heavy rain that flooded key passages is believed to have trapped the group and has thwarted the search for them.
Divers have been hampered again and again by muddy water rising and filing sections of the cave and forcing them to withdraw for safety reasons.
When water levels dropped on Sunday, they went forward with a more methodical approach, deploying a rope line and extra oxygen supplies along the way.
"I hope that today we will continue to have another good day. It will be even better if everything else could run smoothly," Chiang Rai Governor Narongsak Osatanakorn told reporters on Monday.
He said the passageway the divers are making their way through goes up in some places and down in others and is extremely narrow. It is difficult for divers with all their gear to fit through.
In addition to the divers, teams have been working to pump out water as well as divert groundwater.
Other efforts have focused on finding shafts on the mountainside that might serve as a back door to the blocked-off areas where the missing group may be sheltering.
Teams have been combing the mountainside looking for fissures that might lead to such shafts. Several have been found and explorers have been able to descend into some, but so far it is not clear whether they lead to anywhere useful.
Governor Narongsak said they were focusing on two of the shafts on Sunday.
Experts in cave rescues from around the world continued to gather at the site.
An official Australian group has now followed a US military team, British cave experts, Chinese lifesaving responders and several other volunteer groups from various countries.
Press Association
Laura Zuckerman A man went on a stabbing spree at a 3-year-old's birthday party at an apartment complex housing refugee families in Boise on Saturday, injuring nine people, including six children, police said on Sunday.
Suvashree Choudhury and Nigam Prusti Eleven members of a family were found dead in India's capital on Sunday, most of them hanging from the ceiling of their home, blindfolded, gagged and with hands tied behind the back, with...
By Yuri Kageyama, Associated Press Japan's Emperor Akihito has cancelled or postponed his engagements after feeling nauseous and dizzy and being advised to rest.
A man went on a stabbing spree at a 3-year-old's...
Rescue divers are making progress through a key...
Eleven members of a family were found dead in...
Japan's Emperor Akihito has cancelled or...
Tesco is to form a "strategic alliance" with...
A provincial city mayor known for parading drug suspects in public but also alleged to...
A resolution to Germany's government crisis has proved elusive after the...
Pakistan's army has recovered the body of an...
Andres Manuel Lopez Obrador has claimed victory in...
Eleven members of an extended family were found dead at their home in New Delhi...
Police release the emergency call of the man who...
A man armed with smoke grenades and a...
CCTV catches the moment a man rams a van...
It is the eve of Saudi Arabia's historic...
Former TV presenter John Leslie gives a...
Warning: Viewers may find the following...
Due to the bears small size, it was initially thought to be five or six years old.
A television reporter who was groped and kissed while broadcasting...
President Donald Trump has signed an executive...
Donald Trump hugged the American...

Classmates yearn for safe return of Thai boys trapped in cave
digitaljournal.com
Thai navy divers widening passage in search for boys lost in cave
reuters.com
Divers with extra supplies advance in Thai cave passageway
foxnews.com
Divers with extra supplies advance in Thai cave passageway
townhall.com
Divers with extra supplies advance in Thai cave passageway
cbs46.com
Divers with extra supplies advance in Thai cave passageway
sacbee.com
NEW YORK — President Donald Trump's longtime personal lawyer, who is under investigation by federal prosecutors in New York, says he sat down for an interview with ABC News and his "silence is broken."
Michael Cohen tweeted a photo Sunday of him sitting with ABC News' George Stephanopoulos.
He said in the tweet that he sat down with Stephanopoulos for an interview to air Monday on "Good Morning America" but it wasn't on camera. Stephanopoulos tweeted a similar photo.
FBI agents raided Cohen's home, office and hotel room in April as part of a probe into his business dealings.
Cohen was Trump's longtime fixer and a key player in the Trump Organization.
Trump said last month that he hasn't spoken to Cohen in "a long time" and that he was "not my lawyer anymore."

Trump's former personal lawyer says his 'silence is broken'
wtop.com
Trump's former personal lawyer says his 'silence is broken'
cbs46.com
Michael Cohen promotes 'Good Morning America' interview, says 'My silence is broken'
foxnews.com
Trump's former personal lawyer says his 'silence is broken'
miamiherald.com
Michael Cohen to break silence on 'Good Morning America'
nypost.com
Trump's former personal lawyer says his 'silence is broken'
townhall.com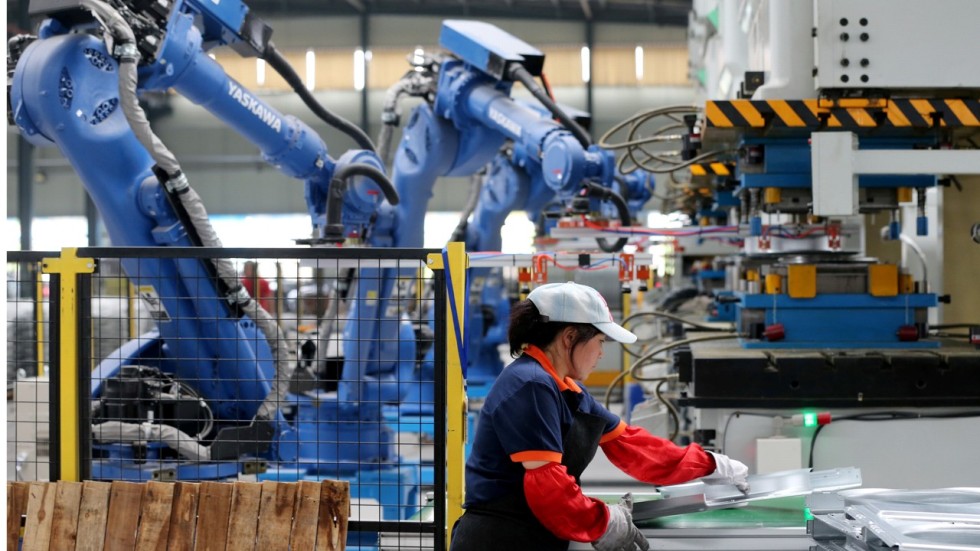 Growth in China's manufacturing sector cooled slightly in June as firms faced rising input costs and a decline in export orders during the escalating trade dispute with the United States, a private survey showed on Monday.
The Caixin/Markit manufacturing purchasing managers' index (PMI) declined to 51.0 in June from May's 51.1, matching economists' forecast.
It remained above the 50-point mark that separates growth from contraction for the 13th consecutive month.
A subindex for output rose to 52.1 in June, a four-month high, though new order growth slowed and companies chose to sell down existing inventories instead of restocking.
The survey showed new export orders contracted for the third straight month and the most in two years, though there was no significant slide from the previous two months.
China faces ongoing trade tensions with the US, its largest export market, adding to uncertainty about the manufacturing sector at a time when domestic demand also appears to be cooling.
Economic data in May showed China's economy is finally slowing, with weaker credit growth and a tighter liquidity environment hurting investment in local government building projects, which have helped boost the industrial sector.
This week the US and China are set to impose new tariffs on each other's imports, with both sides threatening to up the ante if the other doesn't back down.
Investors have punished Chinese stocks and the yuan currency since the trade dispute intensified over the last month, with the yuan taking a battering against the dollar in June and domestic stocks tumbling the most in a month since January 2016.
For now, though, China's factories appear to have maintained solid overall growth, despite the government's war on industrial pollution, a slowing housing market and a tightening funding environment.
The official PMI released on Saturday did show a slowing of factory growth in June, with the manufacturing index slipping to 51.5 from May's 51.9.
Underscoring growing anxiety about the outlook, Caixin's June survey found that manufacturers were the least optimistic they have been about future growth prospects since December.
"Overall, the manufacturing PMI survey pointed to strengthening price pressures in June," Zhong Zhengsheng, director of macroeconomic analysis at CEBM Group, said in a note accompanying the survey.
"Deteriorating exports and weak employment, along with companies' destocking and poor capital turnover, put pressure on the manufacturing sector."
Input price pressures picked up again in June, with firms citing higher prices for commodities such as steel, signalling an increase in cost burdens for Chinese factories.
Manufacturers raised their sales prices at the fastest pace since September.
The employment situation for factory workers worsened in June, with a sub-index showing Chinese factories cut staff at the fastest pace since last July.

Surveys show Chinese manufacturing growth cooling
miamiherald.com
China June manufacturing sector growth ebbs as export orders shrink - Caixin PMI
business-standard.com
Trump rules out backing down on trade tariffs against China
business-standard.com
Japan June manufacturing PMI shows growth but export orders contract
business-standard.com
June manufacturing PMI records fastest growth in 2018 so far
business-standard.com
The global economy is losing momentum even before tariffs hit
businessinsider.de
Surveys show Chinese manufacturing growth cooling
cbs46.com
Surveys show Chinese manufacturing growth cooling
wtop.com
At 53.1, June manufacturing PMI records highest growth since Dec 2017
business-standard.com
LeBron James' second stint with the Cleveland Cavaliers officially came to an end on Sunday night as he chose to take his talents to Los Angeles, agreeing to a four-year max deal with the Lakers.
With that move, the Lakers immediately became a contender in the West, although still behind the Warriors and Rockets on the odds sheet, and the Cavaliers fell back into general obscurity among the league's worst teams at 500-1 to win the title. Still, the general tenor out of Cleveland with LeBron's departure this time around was far different than in 2010, when people were burning James jerseys in the streets.
This time, there was a feeling of thankfulness for LeBron coming back and delivering them a championship in 2016, fulfilling the chief promise in his return letter in 2014. Cavs owner Dan Gilbert, who penned the infamous Comic Sans letter to fans in 2010, released a statement just after midnight on Monday that echoed that change from Cavs fans and thanked LeBron for the last four years and the title.

Monday sports on TV/radio
eu.detroitnews.com
'Welcome to the family': Hollywood rolls out red carpet as LeBron James seals deal with LA Lakers
scroll.in
NBA Free Agency: JaVale McGee will reportedly sign with Los Angeles Lakers
sfexaminer.com
Cavaliers owner Dan Gilbert thanks LeBron James in classy farewell letter
eu.usatoday.com
Showtime: LeBron James' business, basketball worlds collide in Los Angeles
eu.usatoday.com
Weekend Sports in Brief
charlotteobserver.com
WASHINGTON (AP) — Republican Sen. Susan Collins, a key vote on President Donald Trump's pick for the Supreme Court, said Sunday she would oppose any nominee she believed would overturn the landmark Roe v. Wade decision that legalized abortion.
The White House is focusing on five to seven potential candidates to fill the vacancy of retiring Justice Anthony Kennedy, a swing vote on the court. The Maine senator said she would only back a judge who would show respect for settled law such as the 45-year-old Roe decision, which has long been anathema to conservatives.
"I would not support a nominee who demonstrated hostility to Roe v. Wade because that would mean to me that their judicial philosophy did not include a respect for established decisions, established law," Collins said.
Such a judge, she said, "would not be acceptable to me because that would indicate an activist agenda."
Trump spent the weekend at his New Jersey golf club conferring with his advisers, including White House counsel Don McGahn, as he considers his options to fill the vacancy that might make precedent-shattering court decisions on abortion, health care, gay marriage and other issues.
The president told reporters Friday that he was homing in on up to seven candidates, including two women, and would announce his choice on July 9.
Trump is expected to begin his search in earnest this week at the White House and said the process could include interviews at his golf club before he reaches a final decision following the Fourth of July holiday.
During his 2016 campaign and presidency, Trump embraced anti-abortion groups and vowed to appoint federal judges who will favor efforts to roll back abortion rights. But he told reporters on Friday that he would not question potential high-court nominees about their views on abortion, saying it was "inappropriate to discuss."
The Supreme Court legalized abortion in 1973, but anti-abortion advocates hope Roe v. Wade will soon be overruled if Trump gets the chance to appoint a justice who could cast a potentially decisive vote against it.
Without Kennedy, the high court will have four justices picked by Democratic presidents and four picked by Republicans, giving Trump the chance to shift the ideological balance toward conservatives for years to come. Both Chief Justice John Roberts and Justice Neil Gorsuch, Trump's first pick to the high court, have indicated more broadly that they respect legal precedent.
On Sunday, Leonard Leo, an outside adviser to Trump on judicial nominations, said he expected Trump to select a nominee who is mindful of precedent but who is also more "originalist and textualist." That judicial approach typically involves a more literal interpretation of the Constitution as compared to broader rulings such as Roe.
Possible nominees being eyed include Thomas Hardiman, who serves alongside Trump's sister on the Philadelphia-based 3rd U. S. Circuit Court of Appeals, and Raymond Kethledge, a federal appeals court judge who clerked for Kennedy. Also of interest are Amul Thapar, who serves on the federal appeals court in Cincinnati; Brett Kavanaugh, a former clerk for Kennedy who serves on the federal appeals court in Washington, D. C.; and Amy Coney Barrett, who serves on the federal appeals court in Chicago.
Echoing Leo's view, Sen. Lindsey Graham, R-S. C., a member of the Judiciary Committee, said he didn't think Trump would be overly focused on the Roe ruling.
"You don't overturn precedent unless there's a good reason," Graham said. "I would tell my pro-life friends: You can be pro-life and conservative, but you can also believe in 'stare decisis,'" he said, citing the legal term involving legal precedent that means "to stand by things decided."
Republicans hold a narrow 51-49 majority in the Senate, and it's even closer because of the absence of ailing Sen. John McCain of Arizona. Even though McConnell changed Senate rules last year to allow confirmation by simple majority, if Democrats hold together, he cannot afford defections. Vice President Mike Pence can be called on to break a tie.
Collins appeared on ABC's "This Week" and CNN's "State of the Union," Leo spoke on "Fox News Sunday" and Graham was on NBC's "Meet the Press."

Collins opposes a nominee who would overturn abortion ruling
townhall.com
Collins opposes a nominee who would overturn abortion ruling
miamiherald.com
Collins opposes a nominee who would overturn abortion ruling
cbs46.com
Collins opposes a nominee who would overturn abortion ruling
wtop.com
John Oliver Predicted How The Supreme Court Will Look Without Anthony Kennedy & Wow
bustle.com
MIAMI — It had been nearly two months since Buena Ventura Martin Godinez has seen her 7-year-old daughter after the frightened young mother was separated from her family trying to cross from Mexico into the U. S. They've spoken tearfully by phone, but seeing her at a Miami airport Sunday for the first time, she grabbed the child in a tight embrace, tears running down her cheeks during a reunion she feared may never happen.
"I feel very happy, now and to complete my joy I would like to have my husband released," Martin said in Spanish as her daughter Janne clutched a stuffed dog and blue balloons and played with her younger brother at baggage claim.
Martin carried her infant son from Mexico into the U. S in May, fleeing what she said were threats from violent local gangsters demanding money in their hometown in northwestern Guatemala. Her husband followed two weeks later with the young girl.
But the family was caught by the Border Patrol and scattered about under President Donald Trump's zero-tolerance immigration policy forcing families to be separated when crossing the border. Her husband, Pedro Godinez Aguilar, was convicted of the misdemeanor offense of illegal entry into the U. S. and awaits almost certain deportation at a jail in Atlanta. Martin was held for a week with her infant in Arizona and Texas, at times sleeping on the concrete floor of a detention facility before she was released. She now wears a heavy black monitoring device strapped to her ankle. She and her baby boy are with relatives in a gritty town south of Miami.
The little girl was in the custody of a child welfare agency in Michigan and made heartbreaking calls to her mother, asking when they'd be reunited.
The family is one of thousands who have tried to find refuge in the U. S. in recent weeks only to be caught up in the harsh reality of an immigration system that has never been as welcoming as many desperate migrants hoped and has grown harsher under Trump, with the separation of parents from children being used as a means of discouraging illegal immigration.
More families are crossing the Southwest border from Guatemala than any other nation, with 29,278 families apprehended between October and the end of May.
Martin and her husband could easily have been apprehended under the previous administration, too, and would have faced a tough battle for asylum. But the father wouldn't have been prosecuted for a first-time crossing; he would likely have been briefly detained with his daughter and then released with a monitoring device while they battled their future out in court. Their daughter also would not have been shipped alone across the country, leaving them desperately trying to get her back.
At Sunday's emotional reunion, the child's uncle Nicolas Godinez said his family had been sick with worry about her return. They'd heard unsubstantiated rumors the U. S. government was putting children like Janne up for adoption.
"To receive her is the most marvelous thing I could receive," he said through tears.
Martin, who worked as a nurse in Guatemala, said she and her husband decided to leave San Juan Atitan because masked men were demanding extortion payments from her husband's small business selling internet access.
They traveled by bus to an area just south of the border in Arizona. She said they didn't use smugglers, though many Central Americans do and find themselves paying off the fees for years. Martin said she waded through knee-deep water with several other migrants and was immediately apprehended. Court records show her husband was caught in the same area on May 16.
Martin has been getting some help from a local activist since she can't afford a lawyer. She has been working at a nearby plant nursery, earning $9 an hour. She puts her baby in day care as she presses her case for asylum.
As the grateful mother clutched her daughter Sunday, she had a warning for other families.
"I would advise people to find another country to seek refuge... because here the law is very tough. People don't have a heart," she said with tears streaming down her cheeks. "Your child is a treasure and to have them separated is very painful."

Mother and daughter re-united at Miami International Airport after separation at border
miamiherald.com
Tearful reunion for mom, daughter separated at border
cbs46.com
After nearly 2 months, 7-year-old and her mother reunited after separation at border
nola.com
Tearful reunion for mom, daughter separated at border
wtop.com
Tearful reunion for mom, daughter separated at border
heraldonline.com
Just call her Professor Fiona.
The Cincinnati Zoo's famous premature baby hippo does more than delight social media fans and help sell a wide range of merchandise. She's also an educational and literary force; heroine of a half-dozen books so far and a popular subject for library and classroom activities.
The latest book is "Saving Fiona" (Houghton Mifflin Harcourt) written by the zoo's director, Thane Maynard.
"She has taught us a lot," Maynard said. It's believed Fiona is the smallest hippo ever to survive. Born nearly two months early, she was 29 pounds (13 kilograms), a third the size of a typical full-term Nile hippo and unable to stand or nurse.
A zoo staffer hand-milked her mother Bibi, and Smithsonian's National Zoo in Washington helped develop a special formula. Nurses from Cincinnati Children's Hospital were enlisted to put in a hippo IV.
"We were a nervous wreck every day," Maynard said of Fiona's first six months after her birth in January 2017.
His book is aimed at young readers, telling Fiona's against-the-odds story while loading in facts about hippos, such as that they can outrun humans and are herbivores that can be dangerous because of their size of up to 5,000 pounds (2,267.96 kilograms).
"Part of the zoo's mission is public education," Maynard said. "(The book) is reaching kids and families with a message of hope... never giving up."
The combined Fiona library of books by various authors and illustrators has sold tens of thousands so far.
Educators say students are attracted to lessons themed around animals. Fiona has been on the cover of three Scholastic News Magazines that reached millions of students with stories accompanied by reading exercises or math formulas such as finding how many bathtubs the water in her zoo would fill.
"Everybody just falls in love with her," said Stephanie Smith, editorial director for Scholastic News grades 3-6. "Kids will just gobble it up. It makes teaching easy."
Mike Shriberg, Great Lakes regional director for the National Wildlife Federation, said conservationists see celebrity-type attention to Fiona that glosses over the serious challenges for hippos and other animals facing shrinking habitats and illegal hunting.
"There is a deeper message to be conveyed," he said.
However, Shriberg, who said growing up in Cincinnati as a frequent zoo visitor helped lead him into wildlife conservation, said the Fiona mania — which has seen her image marketed on items from playing cards to beer — is a positive development overall.
"We are certainly in favor of anything that is engaging people with wildlife, and Fiona has been a phenomenal success," he said. "You've got the American public and people around the world really caring about hippos and animals, through the lens of Fiona."

Professor Fiona? Famed baby hippo an educational force
wral.com
Professor Fiona? Famed baby hippo an educational force
miamiherald.com
Professor Fiona? Famed baby hippo an educational force
townhall.com
Professor Fiona? Famed baby hippo an educational force
heraldonline.com
Professor Fiona? Famed baby hippo an educational force
wtop.com
TOOELE — Police are investigating the shooting of a 14-year-old boy that left him critically injured.
Shortly after 1 p.m., a neighbor called 911 to report a shooting at 684 American Way, Tooele Police Sgt. Jeremy Hansen said.
The neighbor reported hearing a gunshot and seeing the injured teenager come outside, Hansen said. The boy suffered critical injuries and lost consciousness as he was being taken from the scene by ambulance, but his condition later stabilized at a hospital, according to the sergeant.
Hansen declined to rule out any possible explanations for the shooting, saying several people were inside the home at the time and police had to track them down to interview.
"The scene was kind of chaotic," Hansen said, and some who were there at the time of the shooting "didn't necessarily stick around."
No other details were available.
— Ben Lockhart

Police identify 2 killed in Boston neighborhood
washingtontimes.com
Police identify 2 killed in Boston neighborhood
miamiherald.com
Police identify 2 killed in Boston neighborhood
charlotteobserver.com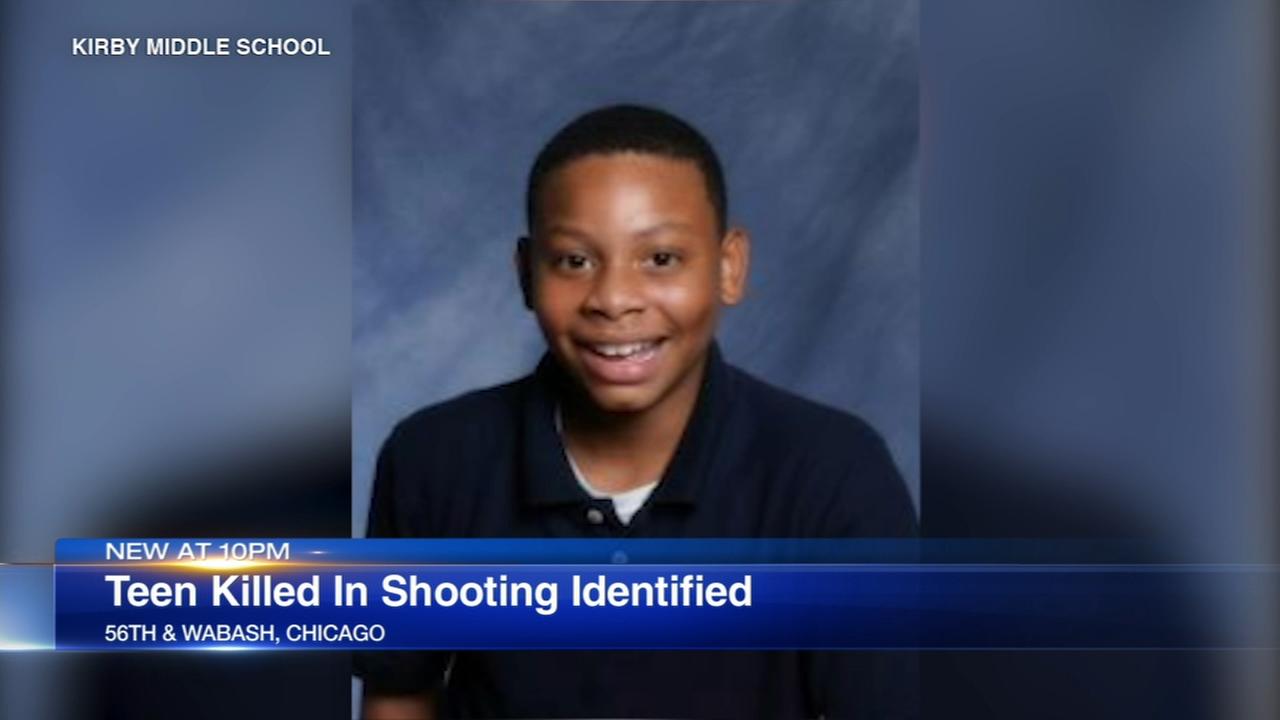 Boy, 14, shot to death in Washington Park identified
abc7chicago.com
Police: 22-year-old killed in rollover car crash
washingtontimes.com
Police identify 2 killed in Boston neighborhood
thenewstribune.com
The Islamic State group has claimed responsibility for a suicide bombing in eastern Afghanistan that killed at least 19 people, mostly Sikhs and Hindus.
The bomber targeted a delegation from the minority communities as it was traveling to the governor's residence in the eastern city of Jalalabad on Sunday for a meeting with President Ashraf Ghani.
Avtar Singh Khalsa, a longtime leader of the Sikh community, was among those killed. Another 20 people were wounded.
In a statement released Monday, IS said it had targeted a group of "polytheists."
Sikhs and Hindus face discrimination in the conservative Muslim country and have been targeted by Islamic extremists in the past, leading many to emigrate. The community numbered more than 80,000 in the 1970s, but today only around 1,000 remain.

Islamic State claims attack on Sikhs, Hindus in Afghanistan
business-standard.com
Sikh politician among 19 killed in Jalalabad blast, PM Modi condemns attack
business-standard.com
Islamic State claims attack on Sikhs, Hindus in Afghanistan
townhall.com
ISI targeting Sikhs in Pakistan and Afghanistan
siasat.com
PM Modi condemns terrorist attack in Afghanistan
business-standard.com
Afghanistan: Only Sikh politician in the fray in parliamentary elections killed in Jalalabad blast
scroll.in
Lone Sikh candidate among those killed in Jalalabad blast
business-standard.com
Fans of the Los Angeles Lakers can be forgiven if they are not exactly bowled over by the news that LeBron James, a once-in-a-generation talent, decided to join their team. After all, they have been watching this scenario play out since the late 1960s.
The Minneapolis Lakers of the 1950s had been a powerhouse dynasty led by the homegrown George Mikan, but starting with the acquisition of Wilt Chamberlain in 1968, the team has shown a knack for knowing when their homegrown stars need an injection of star power.
James, whom they acquired on Sunday, is one of four players, each of whom joined the Lakers reasonably close to their prime, who have a legitimate claim at being among the N. B. A.'s 10 best players of all time.
There are those who might try to include Karl Malone, Gary Payton, Dwight Howard and Steve Nash in a list of the team's acquisition highlights, but beyond Howard — a rental who did not work out for a variety of reasons — those players had already lost several steps by the time they arrived.
A look at the Lakers' Big Four acquisitions reveals some similar themes in terms of the player deciding Los Angeles was the right home for them, their previous teams having been fairly powerless to stop them, and, in what could be good news for current Lakers fans disappointed by the team's current five-season playoff drought, they led to championships.
Acquired via trade, July 9,1968
Age at his Lakers debut: 32
Accomplishments: 10-time All-Star, four-time most valuable player, one-time champion entering his 10th season.
Chamberlain, who in 1968 was the N. B. A.'s all-time leading scorer, was considered the finest offensive player the game had ever seen and was coming off a season in which he had averaged 24.3 points, 23.8 rebounds and 8.6 assists a game. His Philadelphia 76ers had been knocked out of the playoffs in the second round, and the knock against him at that point was that he was not a winner like Bill Russell of the Boston Celtics. He wanted to move along, so he joined a Lakers team that already had Elgin Baylor and Jerry West but had thus far been unable to top the Celtics in the finals.
The trade: The Lakers sent to the 76ers Jerry Chambers, Archie Clark and Darrall Imhoff
In his coach's (dramatically understated) words: "Over all we're going to be quite a bit stronger," said Butch van Breda Kolff, the Lakers coach . "We had our rebounding problems last year, but I don't envision them this year."
How it turned out: Chamberlain played the final five seasons of his career for the Lakers, going 1 for 3 in finals appearances.
Acquired via trade, June 16,1975
Age at his Lakers debut: 29
Accomplishments: Six-time All-Star, three-time most valuable player and one-time champion entering his seventh season.
Abdul-Jabbar was a force of nature for the Milwaukee Bucks, leading the team to an N. B. A. title in just the third year of the team's existence, and he was coming off a season in which he had averaged 30 points, 14 rebounds and 4.1 assists a game. But with Oscar Robertson having retired, the Bucks missed the playoffs in 1974-75 and Abdul-Jabbar badly wanted out of the small city, saying "I'm not criticizing the people here, but Milwaukee is not what I'm all about. The things I relate to aren't in Milwaukee." The Lakers, beyond playing in the city where Abdul-Jabbar went to college, were a bit of an odd choice, as Gail Goodrich was the team's only truly significant player at that point, and the veteran of the 1972 title-winning team was already 32, but Abdul-Jabbar had them back to winning titles by his fifth season with the team.
The trade: The Bucks sent Abdul-Jabbar and Walt Wesley to the Lakers for Junior Bridgeman, Elmore Smith, Brian Winters and Dave Meyers.
Quotation from one of the guys he was traded for: "Frankly, I think the Bucks really got the best of the deal," Bridgeman said .
How it turned out: Abdul-Jabbar played his final 14 seasons for the Lakers, winning five titles and retiring as the N. B. A.'s all-time leading scorer, a record he still holds.
Signed as a free agent, July 18,1996
Age at his Lakers debut: 24
Accomplishments: Four-time All-Star and one-time N. B. A. finalist entering his fifth season.
O'Neal, despite being so young, was already one of the most dominant players in the game, and was coming off a season in which he had averaged 26.6 points, 11 rebounds and 2.9 assists a game. He had formed a terrific partnership with Anfernee Hardaway and had already led the Orlando Magic to one finals appearance, and in his final season with that team took them to the Eastern Conference finals. Orlando made the largest offer to O'Neal, but the big center yearned for something new and he chose instead to sign with the Lakers. At the time, he had no way of knowing that the rookie the team had just drafted, Kobe Bryant, would prove to be a perfect complement to him on the court (regardless of how poorly they got along everywhere else).
The deal: He signed a seven-year contract worth $121 million.
Quotation from the man himself (which would prove fairly prophetic): "To me, change is for the good," O'Neal said . "I'm a military child, used to moving every three or four years."
How it turned out: O'Neal stuck around for the full seven years, but by that point the relationship between him and Bryant had severely deteriorated. The team traded him to the Miami Heat for Caron Butler, Brian Grant, Lamar Odom and two draft picks, but not before he and Bryant had led them to three championships.
Agreed to terms as a free agent, July 1,2018
Age at his Lakers debut: 33
Accomplishments: Fourteen-time All-Star, four-time most valuable player and three-time champion going into his 16th season.
James had what could be considered his finest season last year, averaging 27.5 points, 8.6 rebounds and 9.1 assists a game and leading the Cleveland Cavaliers to their fourth consecutive appearance in the N. B. A. finals. Unfortunately, everything around him was wrong. The roster was incomplete after the Kyrie Irving trade and a midseason shake-up failed to fix it. James often felt like a one-man show — never more so than an the end of Game 1 of the finals when he watched helplessly as J. R. Smith dribbled out Cleveland's chances of winning — and it became clear that a change of scenery was attractive even after he had ended the city's long pro sports championship drought. In the end, Los Angeles was where he wanted to live.
The deal: He signed a four-year contract worth $154 million .
Quotation from James's social media account: "Thank you Northeast Ohio for an incredible 4 seasons. This will always be home."
How it will turn out: There is far too much roster maneuvering to possibly predict that, but with Paul George having re-upped in Oklahoma City, building a roster that can compete with the Golden State Warriors will be difficult.

LeBron Signs $154M Deal to Leave Cleveland
newser.com
'Welcome to the family': Hollywood rolls out red carpet as LeBron James seals deal with LA Lakers
scroll.in
The Latest: Lance Stephenson joining LeBron on Lakers
cbs46.com
Dan Gilbert Thanked LeBron For Delivering Cleveland A Championship
uproxx.com
Asian markets were broadly lower on Monday after surveys showed a deteriorating outlook for Chinese manufacturing ahead of higher tariffs expected to be imposed by Beijing and Washington starting Friday. Japan also reported weaker data. U. S. attempts to gain an upper hand in trade have also triggered retaliatory measures from the European Union and Canada.
KEEPING SCORE: Japan's benchmark Nikkei 225 index plunged 2.3 percent to 21,803.51 and South Korea's Kospi shed 2.2 percent to 2,276.13. The Shanghai Composite index slipped 2.1 percent to 2,788.37 while Australia's S&P/ASX 200 lost 0.2 percent to 6,181.50. Hong Kong's Hang Seng was closed for a market holiday. Taiwan's benchmark fell but Southeast Asian indexes were mixed.
WALL STREET: Major U. S. benchmarks finished mostly higher on Friday. The S&P 500 index rose 0.1 percent to 2,718.37 and the Dow Jones industrial average gained 0.2 percent to 24,271.41. The Nasdaq composite added 0.1 percent to 7,510.30. The Russell 2000 index of smaller-company stocks dropped 0.1 percent to close at 1,643.07 on Friday.
WEAK CHINESE DATA: China's manufacturing activity slowed in June, adding to concerns that the economy is cooling due to tighter government controls on lending. The National Statistics Bureau's purchasing managers' index, which was released on Saturday, declined to 51.5 from May's 51.9 on a 100-point scale. Numbers above 50 show acceleration. Exports, which support millions of manufacturing jobs, have shrunk as a share of China's economy and contribute less than 1 percent of annual growth. On Monday, China's Caixin Manufacturing PMI for June came in at 51.0, slightly lower than 51.1 in May.
U. S-CHINA TARIFFS: The U. S. is set to impose a 25 percent tariff on up to $50 billion of Chinese products starting this Friday. In response, China will raise import duties on $34 billion worth of American goods. On Sunday, Canada started billions of dollars in retaliatory tariffs against the U. S., in a tit-for-tat response to the Trump administration's duties on Canadian steel and aluminum. The items include ketchup, lawn mowers and motor boats. Some items will be subject to taxes of 10 or 25 percent. The U. S. has also faced hit back from the European Union. Iconic American motorcycle maker Harley-Davidson will move some production overseas to avoid tariffs the European Union is placing on motorcycles made in the U. S.
JAPAN'S TANKAN: A central bank survey showed Japan's corporate outlook has worsened from three months ago, highlighting risks to its export-reliant economy from trade tensions. The Bank of Japan's "tankan" survey measuring confidence among large-scale manufacturers was at 21 points, down 3 from the March survey, which was the first decline in two years. The manufacturers surveyed include automakers and electronics companies that are the mainstay of Japan's economy.
ANALYST'S TAKE: "There is caution over the imposition of tariffs this weekend. Taken together, weaker-than-expected data gives markets room for thought on whether Trump protectionism has seeped into the real economy," said Song Seng Wun, an economist at CIMB Private Banking.
ENERGY: Trump has claimed that Saudi Arabia will raise oil production by "maybe up to 2,000,000 barrels" in response to turmoil in Iran and Venezuela. This is higher than the 1 million barrels-a-day increase that OPEC countries have agreed on, sending oil futures on a decline. Benchmark U. S. crude fell 64 cents to $73.51 a barrel in electronic trading on the New York Mercantile Exchange. The contract gained 1 percent to $74.15 a barrel in New York on Friday. Brent crude, used to price international oils, fell 92 cents to $78.31 in London.
CURRENCIES: The dollar eased to 110.70 yen from 110.74 yen in late trading Friday. The euro weakened to $1.1647 from $1.1695.

Surveys show Chinese manufacturing growth cooling
wtop.com
Asian stocks fall on weak data ahead of US-China tariffs
wtop.com
Surveys show Chinese manufacturing growth cooling
cbs46.com
Asian stocks fall on weak data ahead of US-China tariffs
townhall.com
Asian stocks fall on weak data ahead of US-China tariffs
charlotteobserver.com
Asian stocks fall on weak data ahead of US-China tariffs
cbs46.com
No Yankee position player has ever taken longer to get his first major league hit than Kyle Higashioka, but the catcher broke through in style.
Higashioka snapped an 0-for-22 streak to start his career with a home run off David Price in Sunday's 11-1 win over the Red Sox in The Bronx.
Playing without Gary Sanchez — on the disabled list with a strained right groin — and Austin Romine — held out after leaving Saturday's loss with a cramp in his left leg — the Yankees started Higashioka, who first got called up last year.
Not only did Higashioka guide Luis Severino through 6 ²/₃ scoreless innings, he turned on a Price pitch to start the bottom of the fourth and drilled it into the second deck in left.
It was one of five home runs surrendered by the Boston lefty in the rout.
After Higashioka circled the bases, he got a quick congratulations from Brett Gardner in the on-deck circle, but received the silent treatment in the dugout.
He was eventually mobbed by his teammates after giving the Yankees a 7-0 lead.
Higashioka insisted the rough start at the plate wasn't weighing on him.
"The thing I was most concerned about was getting a win against the Red Sox,'' the 28-year-old said.
"That's the kind of power we've seen from him at times,'' Aaron Boone said. "That was a big-time shot for your first hit."
As for Sanchez, the Yankees figure to be without him perhaps through the All-Star break. Although Sanchez said he feels better than he thought he would, he still hasn't run.
The Yankees are likely to go with Romine and Higashioka until then.
Romine believed he could have started Sunday, the Yankees opted to be cautious and go with Higashioka, hitless in 18 at-bats a year ago and 0-for-4 this season before his blast off Price.
Boone said the Yankees "dodged a bullet" with Romine, who underwent an MRI after Saturday's game. They feared the injury could be more serious, but Boone indicated Romine would start Monday against the Braves.
General manager Brian Cashman doesn't expect to add more catching depth in Sanchez's absence, citing a lack of talent at the position.
Neither catcher at Triple-A Scranton/Wilkes-Barre, Wilkin Castillo or Francisco Diaz, is on the 40-man roster — and Neil Walker served as the emergency catcher Sunday, but he hasn't caught in a game since 2006, when he was in the minors.
Perhaps of greater concern is the fact Sanchez has been unable to get going offensively and already suffered injuries to his groin and calf.
"I'm trying to get strength in the region where the injury occurred,'' Sanchez said through an interpreter. He added he feels no pain or discomfort, but he's been limited to playing catch and working in the gym.
Asked if he felt he needed to make any changes in order to keep his legs healthy, Sanchez said: "It's hard to say. You never get a warning. It just happens.… My mind is fine. Nobody wants to be injured. Using the injury to refresh my mind is not what I want."

Yankees' Aaron Hicks Leads Home Run Parade In Win Over Boston
newyork.cbslocal.com
Hicks hits 3 HRs, Yankees rout Red Sox 11-1 to win series
eu.usatoday.com
Hicks hits 3 HRs, Yankees rout Red Sox 11-1 to win series
cbs46.com
Hicks hits 3 HRs, Yankees rout Red Sox 11-1 to win series
charlotteobserver.com
When provided with a choice of what is more important to a baseball team always go with a pitching gem over a bevy of home runs even when one man swats three and the team six.
A night after the Yankees got one-hit, shut out and watched Sonny Gray get pummeled by the Red Sox, Luis Severino on Sunday showed each team and a national television audience how an ace acts.
Severino didn't need a sizzling performance to keep his name in the All-Star discussion. Nor did he require what he did to stay in the AL Cy Young conversation. What the Yankees needed was for Severino to stifle the Red Sox lineup long enough for them to get to David Price.
Four runs in the first when Aaron Judge and Gleyber Torres homered and two in the second when Aaron Hicks went deep for the first of three were more than enough for Severino to work with on the way to an 11-1 victory that was witnessed by 46,795 at a sweltering Yankee Stadium where the first pitch was delivered in 91-degree heat.
Severino posted his fourth straight victory and sixth in seven starts and is 13-2. He lowered his AL-leading ERA from 2.10 to 1.98. In 6 ²/₃ innings, Severino allowed two hits, walked three and fanned six.
When Aaron Boone replaced Severino with two outs and the bases empty in the seventh, the sweaty crowd provided a rousing ovation that Severino acknowledge by lifting his cap off his head.
The victory enabled the Yankees to take two of three from their blood rival and move eight percentage points ahead of the visitors into first place in the AL East. The 54-27 Yankees have won five of the nine games against the 56-29 Red Sox.
Kyle Higashioka's first big-league hit was a fourth-inning homer to left off Price who surrendered five of them. He gave up eight runs and nine hits in 3 ¹/₃ innings. In two starts (total 4 ¹/₃ innings) against the Yankees this year, Price is 0-2 with a 27.02 ERA.
Severino allowed one runner to get into scoring position through five innings when he gave up one hit, walked two and fanned five.
The Yankees' fourth inning consisted of two homers and three runs that increased their lead to 9-0.
Higashioka, filling in for Austin Romine, opened the inning with a towering homer that landed in the second deck of the left-field seats for his first big-league hit. The right-handed hitting catcher was hitless in 18 major league at-bats last year and entered Sunday night 0-for-3 this year and had struck out in the second inning.
Hicks' second homer of the game and 13th of the season made it 8-0 and Didi Gregorius' sacrifice fly upped the lead to 9-0 after Judge singled and Giancarlo Stanton doubled.
After watching the Red Sox rip into Gray for four runs in the first inning Saturday night, the Yankees did the same to Price, who has turned into a batting-practice pitcher versus the Bombers.
With one out Judge lofted a 2-2 pitch over the center-field fence for a 1-0 lead. It was Judge's 22nd homer and was followed by Stanton's hard ground single to left field and Gregorius' double to right-center that put runners at second and third for Torres.
He ambushed Price's first pitch and sent it deep into the right-field bleachers for his 15th homer of the year and a 4-0 lead.
The Yankees used the long ball to up the advantage to 6-0 in the second when Hicks followed Brett Gardner's one-out infield single with an opposite-field homer to right-center. It was Hicks' 12th homer of the year.
The 6-0 cushion after two innings was the same margin the Red Sox had after two frames on Saturday.
Severino gave up his first hit in the third and escaped the initial taste of trouble.
With two outs Mookie Betts drew a walk in front of Andrew Benintendi's single to right. Benintendi swiped second before Severino came back from a 2-0 count to whiff J. D. Martinez on a 3-2 slider.

Hicks hits 3 HRs, Yankees rout Red Sox 11-1 to win series
cbs46.com
Hicks hits 3 HRs, Yankees rout Red Sox 11-1 to win series
eu.usatoday.com
Yankees' Aaron Hicks Leads Home Run Parade In Win Over Boston
newyork.cbslocal.com
Hicks hits 3 HRs, Yankees rout Red Sox 11-1 to win series
charlotteobserver.com
Australia has ended direct aid to the Palestinian Authority because it says its donations could increase the self-governing body's capacity to pay Palestinians convicted of politically motivated violence.
Foreign Minister Julie Bishop said Monday that funding to a World Bank's trust fund was cut after she wrote to the Palestinian Authority in late May seeking assurance that Australian funding was not being misspent.
She said in a statement she's concerned that providing further funds allows the authority to use its own budget to spend on activities that "Australia would never support."
Australia's 10 million Australian dollar ($7.4 million) donation to the trust fund would now be re-routed to the United Nations' Humanitarian Fund for the Palestinian Territories, which provides vulnerable Palestinians with health care, food, water, improved sanitation and shelter.

Australia ends direct aid to Palestinian Authority
heraldonline.com
Australia ends direct aid to Palestinian Authority
wtop.com
Australia ends direct aid to Palestinian Authority
charlotteobserver.com
Australia ends direct aid to Palestinian Authority
abcnews.go.com
Washington: Thousands of people across the US have taken to the streets protesting against President Trump's immigration policy which separates children from their parents at the border with Mexico. A protest march was taken out from Washington DC to Los against the policy.
Over 750 events were planned across all 50 states under the slogans "Families Belong Together" and "Freedom for Immigrants".
Protesters flooded more than 700 marches, from New York and Los Angeles and from Appalachia and Wyoming. They gathered on the front lawn of a Border Patrol station in McAllen, Texas, near a detention centre where migrant children were being held in cages, and on a street corner near Trump's golf resort at Bedminster, N. J., where the president is spending the weekend.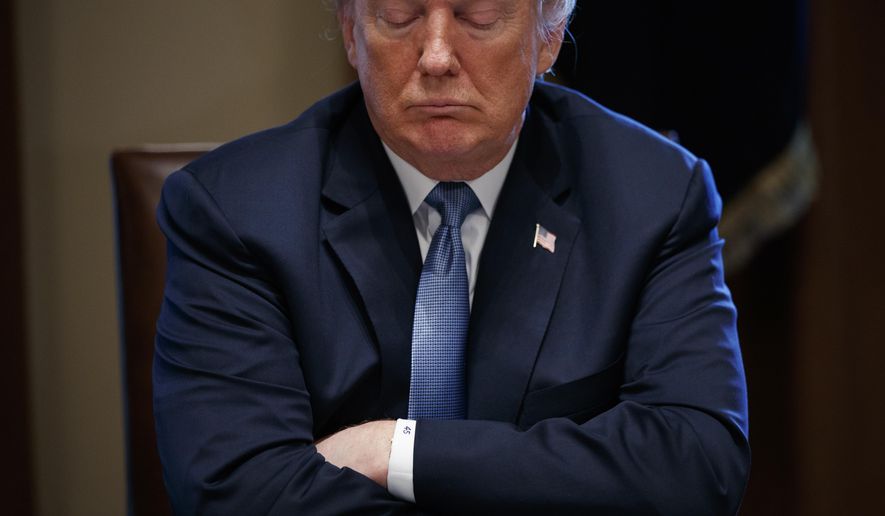 AP FACT CHECK: Trump's tax 'miracle,' immigration flip-flops
washingtontimes.com
AP FACT CHECK: Trump's tax 'miracle,' immigration flip-flops
townhall.com
AP FACT CHECK: Trump's tax 'miracle,' immigration flip-flops
charlotteobserver.com
AP FACT CHECK: Trump's tax 'miracle,' immigration flip-flops
boston.com
A look at recent developments in the South China Sea, where China is pitted against smaller neighbors in multiple disputes over islands, coral reefs and lagoons in waters crucial for global commerce and rich in fish and potential oil and gas reserves:
———
EDITOR'S NOTE: This is a weekly look at the latest developments in the South China Sea, the location of several territorial conflicts that have raised tensions in the region.
———
XI ASSERTS TERRITORIAL CLAIMS IN MEETING WITH US DEFENSE SECRETARY
Chinese President Xi Jinping strongly asserted China's determination to defend territory it claims, including in the South China Sea, in a meeting with U. S. Defense Secretary Jim Mattis.
While the tone of Mattis' visit to Beijing was largely upbeat, Xi made sure to reinforce his reputation as a fervent nationalist when it comes to issues of sovereignty.
Though Xi gave no specifics in his statement, he was largely seen as indicating the South China Sea as well as self-governing Taiwan. China also claims territory held by India and uninhabited East China Sea islands controlled by Japan.
"Regarding the issue of China's sovereignty and territorial integrity, our attitude is firm and clear," state broadcaster CCTV quoted Xi as telling Mattis on Wednesday at the Great Hall of the People. "Not a single inch of the territory left behind by our ancestors must be lost, while we are not seeking to take any bit of what belongs to others."
Randy Schriver, assistant defense secretary for Asian and Pacific security affairs, said Mattis made U. S. positions clear, including its longstanding and widely shared opposition to China's militarization in the South China Sea.
"It's not for one country to diminish what are international rights for navigation as defined in international waters," Schriver said.
Mattis said the Trump administration's decision to disinvite China from a multinational naval exercise this summer was an "initial response" to Beijing's activity in the South China Sea. Mattis called the U. S. action a "relatively small consequence. I believe there are much larger consequences in the future."
———
U. S. DEPLOYS THIRD CARRIER TO PATROL SOUTH CHINA SEA
The U. S. military has deployed the third aircraft carrier this year to patrol the South China Sea, where Washington has criticized China's military buildup on new manmade islands.
The 97,000-ton USS Ronald Reagan, carrying more than 70 aircraft, anchored in Manila Bay on Tuesday for meetings between navy officials of the two countries and vacation for its thousands of sailors after weeks at sea.
The U. S. military presence in the region "promotes our ability to safeguard freedom of the seas, unimpeded commerce, to deter conflict and coercion and to promote adherence to rules-based international order," Rear Adm. Marc Dalton told reporters on board the ship.
Two other American carriers earlier patrolled the waterway.
China has reportedly deployed anti-ship and surface-to-air missiles, along with electronic jammers and other equipment, on islands it built on disputed reefs in the Spratly Islands, some of which have runways.
It also landed a bomber aircraft on Woody Island in the Paracels group, sparking alarm among rival claimants and the United States. Washington has no territorial claims in the region but has declared that freedom of navigation and overflight in the waters is in U. S. national interest.

Recent developments surrounding the South China Sea
charlotteobserver.com
Recent developments surrounding the South China Sea
wtop.com
Recent developments surrounding the South China Sea
townhall.com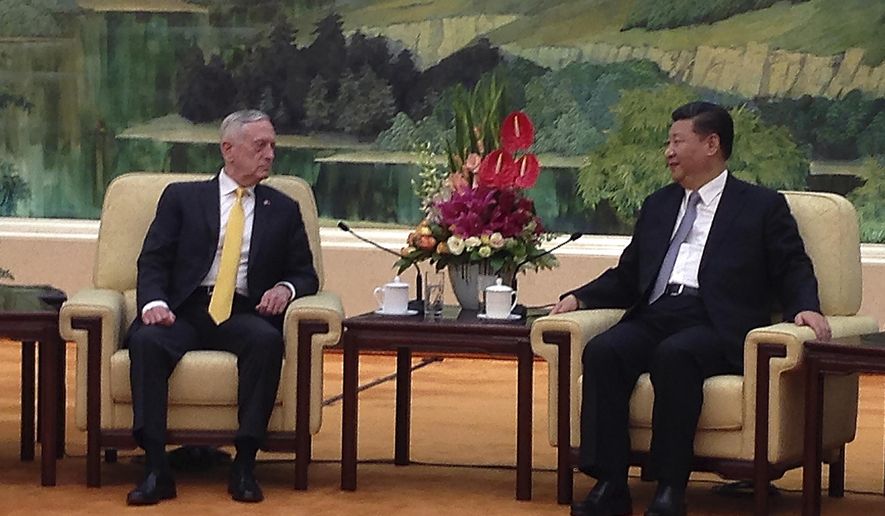 Recent developments surrounding the South China Sea
washingtontimes.com
JAKARTA, Indonesia (AP) — Indonesia's police and military are responsible for at least 95 unlawful killings in the easternmost Papua region since 2010, including targeted slayings of activists, Amnesty International said Monday, condemning a near-total absence of justice for the mainly indigenous victims.
In a report based on two years of research, Amnesty said that more than half the victims were either political activists or people taking part in peaceful protests often unrelated to the Papuan independence movement.
It said none of the killings was the subject of independent criminal investigation. In about a third of the cases, there was not even an internal investigation. When police or military claimed to have investigated internally, they did not make the findings public. Eight deaths were compensated with money or pigs.
The victims are overwhelmingly male indigenous Papuans and the majority are young, aged 30 or under.
The killings — nearly one a month for the past eight years — are a "serious blot" on Indonesia's human rights record, said Usman Hamid, executive director of Amnesty International Indonesia.
"This culture of impunity within the security forces must change, and those responsible for past deaths held to account," he said.
An independence movement and an armed insurgency have simmered in the formerly Dutch-controlled region since it was annexed by Indonesia in 1963. Indonesian rule has been frequently brutal, and indigenous Papuans, largely shut out of their region's economy, are poorer, sicker and more likely to die young than people elsewhere in Indonesia.
A majority of the killings documented by Amnesty were the result of unnecessary or excessive use of force during protests or law enforcement operations and unlawful acts by individual officers, it said.
Some occurred in circumstances related to the Papuan independence movement such as raising of the banned "Morning Star" independence flag or ceremonies marking significant dates.
The rights group said the government of President Joko "Jokowi" Widodo, elected in 2014, had failed to end the security forces' pervasive impunity in Papua, like all Indonesian governments before it.
Despite a promise by the newly elected Jokowi to bring to justice officers responsible for killing four people when they fired into a crowd of protesters in December 2014 in Paniai district, there has been no criminal investigation even after Indonesia's Human Rights Commission found evidence of "gross human rights violations," Amnesty said.
In that case, villagers were protesting the alleged beating of Papuan children by soldiers and threw stones and wood at a police and military buildings before officers opened fire. Two witnesses saw police officers beat one of the protesters and shoot him at close range after he fell to the ground, according to the Human Rights Commission.
___
This story has been corrected to show that the killings have taken place since 2010.

Indonesian forces to blame for Papua killings: Amnesty
digitaljournal.com
Indonesian forces to blame for Papua killings: Amnesty
business-standard.com
Amnesty: Indonesian forces behind unlawful killings in Papua
abcnews.go.com
Amnesty: Indonesian forces behind unlawful killings in Papua
foxnews.com
The Metropolitan Washington Airports Authority says passengers evacuated a plane at Reagan National Airport after smoke was reported in the cabin.
MWAA tells news outlets that the Houston-bound flight was taxing for takeoff when emergency crews were called for a report of smoke in the cabin on Sunday around 1:00 p.m.
Officials said in a statement that passengers and crew members evacuated without incident using slides and were returned to the gate. Airport authorities say normal airport operations have resumed.
United Airlines tells The Washington Post that the issue affected a Mesa Airlines flight that operates under the United Express brand. The cause of the smoke was not immediately known.

United Airlines plane evacuated after smoke in cabin
thenewstribune.com
United Airlines plane evacuated after smoke in cabin
charlotteobserver.com
United Airlines plane evacuated after smoke in cabin
townhall.com
United Airlines plane evacuated after smoke in cabin
sacbee.com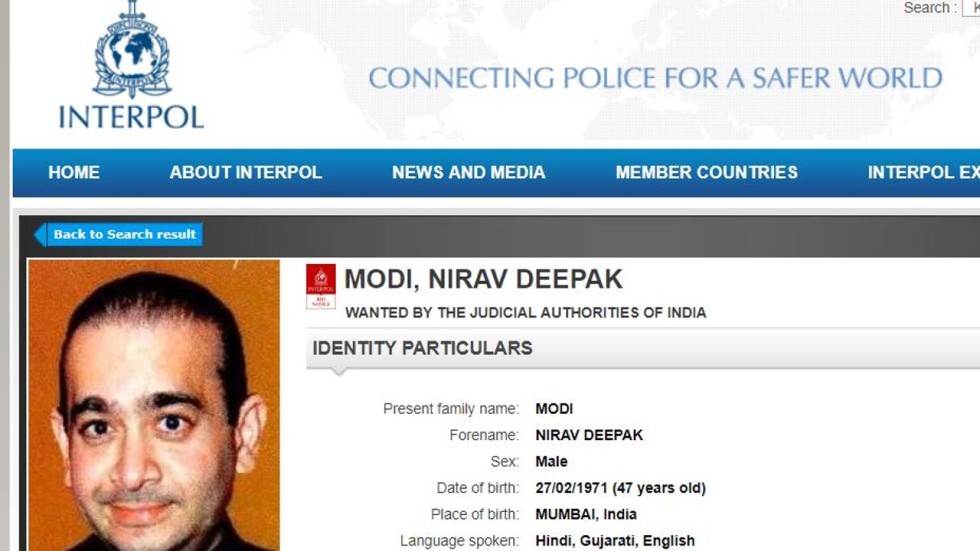 Interpol on Monday issued an arrest warrant for India's billionaire diamond merchant Nirav Modi, tightening the noose on one of the main suspects in a US$1.8-billion fraud at a major state-run bank.
Modi, thought to be in London, is a jeweller to the stars whose celebrity clients have included Naomi Watts and Kate Winslet.
His eponymous high-end brand has stores in several of the world's major cities, including Hong Kong.
A red corner notice seeks the arrest or provisional arrest of wanted persons with a view to extradition.
"Interpol cannot compel any member country to arrest an individual who is the subject of a red notice," it says on its website.
"Each member country decides for itself what legal value to give a red notice within their borders."
Indian authorities have charged Modi with money laundering and several Indian courts have issued arrest warrants over his failure to appear before them since he fled the country in February.
Modi, 47, is accused of being at the centre of a US$1.8-billion fraud involving India's second largest public lender, the Punjab National Bank (PNB).
The diamond merchant is worth US$1.73 billion and is placed 85th on India's rich list, according to Forbes. His lawyer has denied all the charges.
His escape has caused a massive public outcry, with opposition parties accusing Prime Minister Narendra Modi – no relation – of helping him flee.
Additional reporting by Reuters

Red Corner Notice issued against Nirav Modi
business-standard.com
PNB scam: Interpol issues Red Corner Notice against Nirav Modi
scroll.in
Interpol seeks arrest of billionaire jeweller Nirav Modi
business-standard.com
Interpol issues Red Corner Notice against Nirav Modi: CBI
business-standard.com
PNB scam: Interpol issues Red Corner Notice against Nirav Modi, his brother
business-standard.com
Red Corner Notice issued against Nirav Modi
siasat.com
Interpol issues Red Corner Notice against jeweller Nirav Modi in PNB fraud
business-standard.com
Former US Secretary of State Madeleine Albright has described Donald Trump as "the most undemocratic president in modern American history."
Albright made the comments in Sunday's interview with the BBC's Andrew Marr.
"By the way, it's not easy as a former diplomat to be in a foreign country and criticize one's own president. But I am concerned," she said.
When asked if she thought POTUS is a "fascist," Albright said she didn't go that far, because that would mean that the president uses violence to achieve what he wants.
However, she expressed concerns over what she called Donald Trump's "attitude towards freedom of speech, and the role of the media and his disregard for institutions."
Albright's remarks prompted mixed reactions in the internet.
Some netizens seem to share the former secretary's opinion.
Spot on. So true. He doesn't care about that or our Constitution at all. Just inciting his base and dividing us. It's getting dismally bad.
I'm not a fan of Republicans and I'd be willing to let this dictator traitor go by because he ran under their name go. BUT since they won't stand up to him they are now him. History and I will not forget.
Grown up on Hitler's books & speeches. I had been analyzing his actions for the last 5 years.
. @realDonaldTrump may not be a Fascist. But he is certainly guilty of massive cultural appropriation from Fascists.
Others, however, sided with Donald Trump, claiming it was his predecessors that were "anti-American" and her that was "the most dangerous secretary of state ever".
She is biased and her opinion is biased
Sayth the hag who cannot mention a single US achievement while she was Secretary of State! Albanian diplomats thought she was a "cleaning woman" when she arrived at their meeting. They told her to empty the wastebaskets and leave!
AND YOU WERE THE MOST DANGEROUS SECRETARY OF STATE THIS COUNTRY EVER HAD!
She is to blind to look at trumps predecessor as well as the president she worked for! Both un democratic, crooked and in the case of trumps predecessor, anti American! Go home lady, and shut up your lies!
Quick. Name a single one of her accomplishments without google.
Born in Prague in 1937, Albright fled Czechoslovakia together with her family as the Nazis invaded the country immediately prior to the beginning of World War II. She served as US ambassador to the United Nations in 1993-1997 and became America's first female secretary of state under President Clinton in 1997-2001.
Madeleine Albright has been a vocal critic of Donald Trump throughout his presidency. Her latest critical remark came last month, as she slammed Trump's immigration policy and the rhetoric he used to refer to immigrants, claiming that "what's happening in Washington and on our border is sad, wrong, and un-American."
The United States has recently been rocked by a row over the Trump administration's "zero-tolerance" immigration policy, which included the separation of immigrant parents from their children at the US border. Reports about family separations sparked a public outrage which morphed into rallies against US immigration policies in Washington, DC last week. Several hundred protesters were arrested by the police during the demonstration.

Mexico Elected A New President & Here's What He Really Thinks About Trump
bustle.com
Trump congratulates Mexico's new president: 'I look very much forward to working with him'
thehill.com
Trump congratulates newly elected Mexican President
business-standard.com
Hotel prices in Helsinki have increased dramatically against the backdrop of the upcoming meeting between Russian President Vladimir Putin and US President Donald Trump, which is scheduled for July 16, the local newspaper Helsingin Sanomat reported.
In the Sokos hotel network alone, the difference in the cost of a room for two during the summit and a week before is no less than €200 ($233).
"Every time there is a peak demand, prices do increase," Sokotel managing director Jarkko Härmälä said. According to him, this happens every time demand significantly outstrips supply.
At other hotels in the Finnish capital, the difference is also significant, exceeding €100 ($117).
A number of hotels, including those in the Hilton and Scandic networks, currently have no available rooms at all. As explained by Scandic executive director Aki Käyhkö, the network has limited the number of rooms available for booking so that they can cater to those who have made a preliminary reservation, such as international media correspondents. According to Käyhkö, the supply of the available hotel rooms may be expanded next week. He also admitted that hotel prices are expected to grow and exceed the usual level of July as the summit between the presidents of the US and Russia approaches.
"Those days are usually the most quiet in this industry. In that sense, the timing is just royal," Käyhkö said.
Laura Aalto, the executive director of Helsinki Marketing, a company owned by the Helsinki City Council, put the number of people attending the presidential summit at 2,000, most of them journalists. Most members of the press are expected to arrive during the weekend preceding the event.
According to Härmälä, Helsinki may host up to 20,000 people during major rock concerts. Compared to this, the upcoming summit is clearly not in the same class. "In terms of media attention, though, it is a far bigger thing," Härmälä said, projecting a spike in demand.
Helsinki was chosen as a meeting place for the two presidents last week. Before that, other variants such as Singapore were considered.
Previously, Helsinki has served as a neutral ground for meetings between US and Soviet/Russian leaders. In 1975, the Helsinki Accords were signed by US President Gerald Ford and Soviet leader Leonid Brezhnev. In 1990, shortly before the dissolution of the Soviet Union, Finland hosted the last meeting between US President George Bush and Soviet leader Mikhail Gorbachev. In 1997, Helsinki held talks between Bill Clinton and Boris Yeltsin.

Trump's trade critics are wrong -- His tariffs could bring major benefits to America
foxnews.com
Trump's July Diplomacy
spectator.org
At Trump-Putin summit, Trump to enlist Russia's help to oust Iran from Syria
cbsnews.com
British supermarket chain Tesco and France's Carrefour are creating a strategic alliance to give them more clout with global suppliers.
The companies say in a statement Monday that the three-year deal will cover their relationship with suppliers and include joint purchasing of the stores' own-brand goods.
They say the alliance will help both parties "improve the quality and choice of products available" and enhance competitiveness.
The deal comes as retailers adjust to intense pressure from internet rivals as more people shop online through sites like Amazon.
Tesco rival Sainsbury's in April agreed to buy Walmart's British unit, Asda, for 7.3 billion pounds ($9.6 billion) in a deal that would make it the U. K.'s largest supermarket chain.

Tesco seeks competition boost and price cuts in alliance with France's Carrefour
independent.ie
Supermarket chains Tesco, Carrefour form strategic alliance
abcnews.go.com
Supermarket chains Tesco, Carrefour form strategic alliance
wtop.com
France's justice minister says investigators believe that drones seen months ago buzzing above a prison may be linked to the brazen escape of a notorious French criminal.
Justice Minister Nicole Belloubet said authorities are urgently looking for gaps in the security system that would have allowed heavily armed men to land a helicopter in the prison yard and fly away with Redoine Faid, whose brother was visiting him.
The helicopter was found torched in a field. French media reported that the three men took the pilot hostage and later freed him. Faid's brother has been detained.
A wanted notice says Faid is believed to have made his escape in a utility company truck.
French prime minister Edouard Philippe said 2,900 officers are searching for Faid.

Drones buzzed French prison months before spectacular escape
wtop.com
Commandos in hijacked helicopter spring notorious criminal from French prison
abcnews.go.com
Top French convict flees prison in hijacked chopper
siasat.com
Israel has denied entry to a Jewish-American activist for advocating boycotts of the Jewish state.
Israel's immigration authority says the activist, Ariel Gold, arrived to Israel Sunday and was refused entry at the airport. Israel's Strategic Affairs Minister Gilad Erdan said "whoever works consistently for a boycott against Israel will not enter here."
Gold is the national co-director of CODEPINK, a group that advocates for boycotts over Israel's treatment of the Palestinians. In a statement, the group said Gold was held for seven hours before being flown back to the U. S., where she will arrive Monday.
Israel has been battling a grassroots movement calling for boycotts, sanctions and divestment. It has previously barred entry to other activists.

Israel denies entry to Jewish-American boycott activist
miamiherald.com
Israel denies entry to Jewish-American boycott activist
thenewstribune.com
Israel denies entry to Jewish-American boycott activist
townhall.com
Kuala Lumpur, Malaysia — Malaysian authorities are investigating the marriage between an 11-year-old Thai girl and a 41-year-old Malaysian Muslim that has sparked public outrage and calls for child brides to be banned.
Rubber scrap dealer Che Abdul Karim Che Abdul Hamid secretly married the girl as his third wife in Thailand, and the union became public after one of his wives lodged a complaint with police.
Muslim girls under the minimum legal marriage age of 16 can wed with the consent of the Shariah court and their parents. Muslim men in Malaysia can marry four wives.
Deputy Prime Minister Wan Azizah Wan Ismail has said the marriage was illegal as it had not been approved by the Shariah court. She is meeting officials Monday to discuss the issue, her aide said.
Photos on social media showed the groom holding the girl's hand after the marriage ceremony. Local media said Che Abdul Karim, who is also an imam in a rural village in northeast Kelantan state, already has two wives and six children aged between 5 and 18.
He told Bernama news agency that his marriage was lawful and approved by the girl's parents, who are poor rubber tappers in Malaysia. He has said he will only formalize the marriage in Malaysia when the girl turns 16 and that she will stay with her parents until then. The girl was also quoted as saying by local media that she doesn't understand the fuss over her marriage as she is in love with Che Abdul Karim.
Wan Azizah has told local media that officials are investigating if the parents approved the marriage due to poverty. She said an initial investigation showed the girl, who doesn't attend school, was wooed twice and that her mother had told the man the girl was too young and asked for the marriage to be consummated only when she turns 16.
She also said the girl's elder brother was grappling with juvenile problems, adding to the complexity of the issue.
"Pedophilia, child exploitation, child pornography… we must be firm on this as children are our responsibility," she was quoted as saying.
Activists have urged the government to raise the minimum age for marriage to 18.
The U. N. children agency called the latest child marriage "shocking and acceptable". The Human Rights Commission of Malaysia expressed concern that allowing child marriage in the name of religion might "provide cover for pedophiles and child sexual predators."
The National Human Rights Society said government data showed there were as many as 15,000 Malaysian child brides in 2010 and called for laws to criminalize child marriage to protect minors. /vvp

Malaysia investigating marriage of man to 11-year-old girl
charlotteobserver.com
Malaysia investigating marriage of man to 11-year-old girl
business-standard.com
Malaysia investigating marriage of man to 11-year-old girl
sacbee.com
Indian police said Monday they have arrested 23 people after five men were bludgeoned to death by a crazed mob in yet another horrific lynching to rock the country.
Local media estimate more than 25 people have been killed in recent months in similar cases sparked by false rumours spread on smartphones of child kidnapping or allegations of thievery or sexual harassment.
The latest incident saw eight men set upon in Dhule district, 330 kilometres (205 miles) from India's financial capital Mumbai in the western state of Maharashtra on Sunday.
Police said the attack began after locals spotted one of the eight talking to a child after they disembarked from a bus near the village of Rainpada.
"They were confronted by the locals who had gathered at the Sunday market after suspecting them to be child kidnappers," Dhule police chief M Ramkumar told AFP.
Three of them escaped but five were dragged to the village council office and beaten to death with sticks and blunt objects.
Police said they identified the alleged attackers from a video shot during the assault. Another dozen suspects were still on the run, they added.
Those killed were from Solapur district of the same state but some 450 kilometres away.
The current spate of lynchings started in May last year in eastern Jharkhand state after rumours on WhatsApp about child kidnappers led to the lynching of six men.
The rumours have since resurfaced, with attacks reported in at least 11 states.
The attacks -- usually targeting outsiders -- have left authorities scrambling to mount an effective response, with awareness campaigns and public alerts having a limited effect.
Last week a "rumour buster" official tasked with alerting the public to such hoaxes was lynched by a mob in the remote northeastern state of Tripura.

Mob lynches 5 men in west India; police arrest 23 suspects
heraldonline.com
Mob lynches 5 men in west India; police arrest 23 suspects
charlotteobserver.com
Mob lynches 5 men in west India; police arrest 23 suspects
wtop.com
Evacuations were ordered as dry, hot winds fueled a wildfire burning out of control Sunday in rural Northern California, sending a stream of smoke some 75 miles (120 kilometers) south into the San Francisco Bay Area.
The fast-moving blaze that broke out Saturday in western Yolo County charred at least 50 square miles (129 square kilometers) of dry brush and threatened more than 100 structures in ranchland northwest of Sacramento. No injuries were reported and the exact number of people evacuated was unclear. The California Department of Forestry and Fire Protection said Sunday night that there was 2 percent containment.
Autumn Edens marveled as a huge plume blocked the sun while she drove to her job as manager of the Corner Store in Guinda, a town of about 250 people just north of the fire.
"You can see the smoke and you can see an orange-red glow from the flames. It looks like a movie," she said. "I've never seen a fire like that up close and it's an intense feeling."
It was one of two major wildfires in the northern part of the state, where temperatures were soaring, humidity was dropping and winds were steady.
A blaze burning for several days to the west in Lake County jumped containment lines Saturday, prompting additional evacuation orders. That fire was more than 70 percent contained after charring about 22 square miles (57 square kilometers) of brush and destroying at least 20 structures.
Smoke from the Yolo County fire was contributing to poor air quality in Napa, Sonoma, San Mateo and San Francisco counties, according to the National Weather Service.
The haze settling on areas to the south and west and rattled nerves near wine country communities that were devastated by deadly wildfires late last year.
"A lot of friends and family were texting today and saying they were having some PTSD," said Savannah Kirtlink, who evacuated her Napa home during the blazes in December. She took photos of the smoke moving in this weekend and told KGO-TV she empathized with her neighbors to the north who were forced to flee their homes.
"I'm imagining what they're going through," she said.
A dusting of ash fell as far away as San Francisco, where tourists snapped pictures of the Golden Gate Bridge enveloped in an orange shroud of fog and smoke.
Across the bridge in Marin County, some customers coughed as they stopped for gas at the Shell station in Sausalito, employee Sergio Garcia said.
"The sky is very dark, even in the middle of the day," he said. "It's a little scary."
Officials urged people not to call 911 about smoke unless they see actively burning fire.

Evacuations ordered as winds fuel Northern California fires
townhall.com
Fast-spreading California wildfire forces evacuations in Yolo County
reuters.com
Evacuations ordered as winds fuel Northern California fires
sacbee.com
Croatia reached the last eight for the second time, but for hosts Russia the achievement is even bigger.
According to SkySports, World Cup day 18 saw hosts Russia shock 2010 world champions Spain while Croatia also managed to scrape a win against Denmark. Both games finished as 1-1 draws, with all the goals scored in the first halves of the games. Both matches went first to extra time, and when the deadlocks weren't broken even during that, the two games went to penalties.
Here are some talking points from the extraordinary day.
Perhaps the most underwhelming day at the World Cup so far in terms of the quality of football, day 18, in Russia saw some very soft goals being conceded. In total, four goals were scored across the two games, with each team involved yesterday scoring one goal apiece. The first goal of the day was scored by Spain against Russia, but it was more down to Russian player Ignashevich's blunder than Spanish innovation. Ignashevich paid more attention to trying to bundle down Sergio Ramos than looking at the ball, leading to a terrible touch which saw the ball ricochet off his feet and into the top corner. The goal scored by Russia was a penalty, but it was also a result of poor defending, rather than great attacking play. Pique handled the ball blatantly, leading the referee no option but to point to the spot.
The second match of the day, Croatia vs Denmark, witnessed a blundering and frenetic start but then the rest of the two hours made up for the amazing start with some pretty woeful stuff. Both goals came in under the first four minutes, and if Denmark's goal was lucky, Croatia's equalizer three minutes later was a series of fortunate events.
In all, it was a poor day of outfield play in Russia.
Match #51| #ESP 1-1 #RUS (PSO 3-4) #ESPRUS pic.twitter.com/60MvciiwX7
— FIFA World Cup???? (@FIFAWorldCup) July 1,2018
So now that the attackers in all four teams decided it was not a good day to score goals, it was natural that this World Cup slowly inched towards its first knockout games to be decided on penalties. In fairness, that seemed to be Russia's game-plan all along, considering they would hardly be able to live up with the tiki-taka style of Spanish football even if they tried. It worked wonders, and while no one gave Russia a chance before their game against Spain, the Russians defied all odds by reaching their first quarter-final in World Cup history.
Unlike Russia vs. Spain, though, the second game pitted two teams of similar caliber against each other in Denmark and Croatia, but it was as monotonous a game of football as has been seen this World Cup. It all burst to life, however, in extra time when Croatia was awarded a penalty, but Read Madrid wonder-boy Luka Modric saw his penalty saved. The game then went on to be decided on penalties, the end of which saw Croatia qualify for the quarter-final stage for only the second time in their history.
Half way there…
Two quarter-finals decided, two to go, with this confirmed tonight ????
Sat 7 July, 21:00 Russia vs Croatia ???????????????? Sochi #RUSCRO pic.twitter.com/EQz4X33hu2
— FIFA World Cup???? (@FIFAWorldCup) July 1,2018
Now that it came down to penalties, goalkeepers of all four teams rose to the forefront. Who could mark their names in the history books by being the one to defy the opposition?
As it turned out, the hero for Russia was its captain Igor Akinfeev. While Spanish keeper David de Gea was definitely the more talented keeper among the two, and therefore the one who was expected to make the saves. The Manchester United keeper failed to stop a single shot from Russian players, while Akinfeev saved the last and most crucial penalty, leading his team to dreamlike euphoria.
The other match witnessed even more drama. Here, Croatian keeper Danijel Subasic, as well as Denmark's goalie Kasper Schmeichel, seemed to be in an imperious mood. The latter, having already saved a penalty during extra-time, seemed impossible to breach at times, but it was Subasic who emerged the final winner.
With two goals saved from four shots each, it was sudden death for both teams. Denmark's Jorgensen had a huge responsibility on his shoulder, but his drive was stopped by Subasic, making him only the second keeper after Portugal's Ricardo to make three saves out of five penalty kicks at a World Cup. All eyes turned on Barcelona and Croatia forward Rakitic, but he cooly disposed of past Schmeichel to lead Croatia into delirium.
Only one keeper has saved 3 penalties in a shoot-out before Danijel Subasic
It happened exactly on this day in 2006 – approximately 12 years & 3 hours ago, when Ricardo helped #POR knock out #ENG
With Schmeichel also saving 3 today, 1 July is clearly a day for keepers! #CRODEN pic.twitter.com/sAVJewO2yP
— FIFA World Cup ???? (@FIFAWorldCup) July 1,2018

Croatians hail goalkeeper Subasic after World Cup heroics
business-standard.com
Preview: Upbeat Belgium wary of complacency as Japan chase World Cup history
scroll.in
Proud of team despite World Cup exit: Denmark goalkeeper
business-standard.com
Hierro dodges questions on future after Spain World Cup defeat
business-standard.com
'Subasic saved us!': Croatia hail goalkeeper after World Cup heroics
scroll.in
'We don't want to stop here': Croatia set sights on ultimate prize after dramatic win over Denmark
scroll.in
MOSCOW — An odd thing happened in December when soccer fans in Crimea, the disputed Black Sea peninsula annexed by Russia from Ukraine in 2014, began trying to buy tickets to the World Cup.
Some ticket seekers trying to make purchases through FIFA, soccer's world governing body, encountered error messages on their computers.
The problem, the president of Crimea's soccer federation told reporters, was that FIFA still recognized Crimea as part of Ukraine. Fans on the peninsula feared that World Cup tickets had joined cellphones and credit cards on a list of imported items banned by international sanctions.
But FIFA said it had imposed no restrictions on ticket purchases anywhere, acknowledging that there may have been some minor technical problems online. A solution was found, and fans in Crimea ultimately bought tickets through the Russian soccer federation. Still, the confusion illustrated the orphan nature of the sport in Crimea. Like the peninsula itself, the Crimean professional league is isolated in a geopolitical wilderness. Its season ended last month, just as the World Cup began to draw a vast international audience to Russia. The professional clubs in Crimea cannot participate in the Russian Premier League. UEFA, soccer's European governing body, forbids it. They can no longer compete in the Ukrainian Premier League, either. European competitions like the Champions League are off limits.
Crimea started its own eight-team professional league in 2015, and soccer officials acknowledge that the competition is third tier, the management and referees are inexperienced and some of the stadiums subpar. In the early days of the league, officials said, some players delivered pizza at night to augment their meager wages.
Lacking independence and subject to international sanctions, Crimea remains an outcast among the world's 211 soccer federations. It is not recognized by FIFA. It has formed its own national team, but in name only as it has yet to play a match.
"The problem is, at the moment, we can't compete with teams of other countries," Andrey Chernyi, a spokesman for the Crimea soccer federation, said by telephone through an interpreter. "We haven't received any offers of any matches."
Among World Cup players, the situation in Crimea is acutely understood by Gustav Svensson, a midfielder for Sweden. He was playing for a club in Simferopol, the Crimean capital, in 2014 and fled with some teammates in the middle of the night when Russia began its land grab.
"That was one of the scariest times in my life," Svensson, who now plays for the Seattle Sounders in Major League Soccer, said in a telephone interview after first telling his story to The Seattle Times .
He was last in Crimea in late February/early March 2014, playing in Simferopol for S. C. Tavriya. The club was formed in 1958 during the Soviet era and became the first champion of the independent Ukraine league in 1992, after the dissolution of the Eastern bloc.
In the winter of 2014, the team's midseason hiatus was ending. Svensson's girlfriend, Sara, now his wife, was visiting from Sweden. For the first time, her parents had also come to visit Crimea. Svensson wanted to show them the nearby beaches, the restaurants. Then came chaos.
Ukraine's leader, a pro-Kremlin ally, had been ousted and replaced with a pro-Western government. Russian forces without identifying insignia, along with military vehicles, began to appear on the thoroughfares of Crimea, home of Russia's Black Sea fleet. The airport in Simferopol was closed.
At first, the situation remained calm if unnerving, Svensson said. "It was pretty weird walking into the city and going to a restaurant and you see snipers on the roofs," he said. "It feels like you're walking in a movie or a video game."
After S. C. Tavriya played a final exhibition before resuming its season, Svensson said he returned to the locker room and found 300 messages and missed calls on his phone. The Russian Parliament had given President Vladimir V. Putin authority to use military force to respond to the political turmoil in Ukraine. Fearful, Svensson demanded a car or a bus to evacuate himself, his girlfriend and her parents.
"You don't want to be at the place where World War III might start," he said.
A half-dozen teammates wanted to join them — Brazilians, German-Ukrainians traveling on dual passports. Team officials provided a bus and a security guard, and carrying their documents, the players left about 9 p.m. for an overnight trip toward what they hoped was safety, not knowing exactly where they were headed.
Along the way, they were stopped at a checkpoint where fires burned in oil drums for warmth. Svensson is not certain who boarded the bus, but those who did shined flashlights and carried automatic weapons and demanded documents. Svensson said he felt scared, helpless.
"You're not such a big man when that happens," he said.
After about eight hours, the players and their families reached the airport in Donetsk, Ukraine, which would come under heavy fighting two months later. Svensson flew home to Sweden, got out of his contract with S. C. Tavriya and signed with I. F. K. Goteborg, his hometown club.
After Russia annexed Crimea, there were calls in the international community — futile as it turned out — for Russia to be stripped as host of the 2018 World Cup.
Meanwhile, Svensson said, S. C. Tavriya was left homeless and moved its operations to Turkey to complete the tumultuous 2013-14 season, flying back to Ukraine to play its matches wherever it could find a stadium.
The club was then dissolved, renamed T. S. K. Tavriya Simferopol and briefly placed with two other Crimea-based teams in a third-tier Russian league to start the 2014-15 season. But Ukraine filed a complaint, considering Crimea to be its own territory held temporarily by Russia.
UEFA, walking a delicate balance between sport and geopolitics, declared Crimea a "special zone" in December 2014, neither Ukrainian nor Russian in soccer terms. The three Crimean-based teams were ordered to stop playing in the Russian league.
In 2015, Crimea received permission to start its own league, one that would show some independence by not playing the Russian anthem at matches. But Crimea was not accustomed to fielding eight professional teams. Its officials lacked front-office management skills. There was a shortage of qualified referees. Training programs were begun and league officials said they have seen gradual improvement.
Most players come from the Russian mainland — and so does a good portion of the funding, from the Russian ministry of sport — but the league also fields players and sponsors from Crimea, along with several Brazilians and some Ukrainians, who risk being barred from amateur and professional matches in Ukraine.
"We don't have so many powerful opponents and as a result, we are somewhat weaker and we need a few years to catch up," said Roman Kartashov, the general director of the Crimean club Kafa Fedosia.
Still, he added, "I believe sooner or later Crimea will get out of this position and be properly recognized, and the Crimean league will join the Russian Football Union ."
Attendance in the third season of the Crimean Premier League varied from about 3,500 spectators at one match to 300 at others. Not all the stadiums are up to standard. One club plays on its training field. UEFA and FIFA say they continue to work with the Ukrainian and Russian soccer federations to "find a common solution to the current situation in Crimea, in light of the complex state of affairs and international sanctions that are still applicable to the region."
On June 7, a promotion/relegation match was held between Kafa Feodosia, seventh in the Crimean league, and an amateur team, Avangard Yalta, seeking to become professional.
The match was held on a sunny afternoon in the port city of Feodosia, as a stiff wind blew in from the Black Sea. Entrance was free and about 300 to 400 people came to watch. The Yalta players arrived in a van two hours before the match. "Many were working until noon today, and some were not able to come because they were not released by their employers," said Igor Kashpirko, president of the club.
And yet, Yalta prevailed 2-1, seeming to gain the upper hand before playing host to the second leg of the playoff. Given UEFA's help with youth development, the possibilities seem encouraging for soccer in Crimea, Kashpirko said.
"Don't worry, we will win the Champions League in five years' time!" he said.
Among other things, that would take some strenuous lobbying of the Football Federation of Ukraine. It has defiantly established a Crimean soccer federation and restarted a second-division club called Tavriya in the Kherson region of Ukraine, just north of the Crimean peninsula.
"It's a way for the Ukrainian government to try to legitimize its hold on Crimea," said Manuel Veth, a German-Canadian journalist and lecturer who specializes in soccer in the former Soviet orbit.
Svensson, the Swedish midfielder, has since hopscotched to clubs in Sweden, China and the United States and is now preparing with his teammates for a round of 16 World Cup game against Switzerland, on Tuesday. His agent is still seeking money owed to him by some iteration of his former Crimean club. But Svensson is not pressing the matter.
"I really don't care, to be honest," he said. "I'm happy that I got out of it in that moment, and I'm happy nothing happened, especially to my wife and her parents."

Proud of team despite World Cup exit: Denmark goalkeeper
business-standard.com
Football World Cup fever grips Oprah Winfrey
business-standard.com
Russia's World Cup upset of Spain 'only the beginning', says Cherchesov
business-standard.com
In World Cup's shadow, Rohingya find freedom on pitch
digitaljournal.com
Croatians hail goalkeeper Subasic after World Cup heroics
business-standard.com
New Delhi: A Red Corner Notice has been issued against absconding diamantaire Nirav Modi by the Interpol in connection with the multi-crore Punjab National Bank (PNB) scam.
Interpol has also issued Red Corner Notice against Nirav's brother Nishal Modi and his company's executive Subhash Parab in connection with the scam.
This comes after the Enforcement Directorate (ED) requested the Interpol to issue the notice against Nirav, who is wanted in India in the money laundering case.
It is to be noted that the notice issued by Interpol urges its member countries to detain or arrest an accused, who is wanted in a country.
Nirav, who is at the centre of the multi-crore bank fraud, is reportedly in the UK and needs to be extradited as non-bailable warrants (NBW) are already issued against him.
On June 28, the Ministry of External Affairs (MEA) official said India has requested a group of countries to deny entry to Nirav.
The Ministry also sought assistance from some European countries including France, United Kingdom, and Belgium to trace and restrict Nirav's movements.
For those unversed, the PNB detected the multi-crore scam this year, wherein Nirav and his uncle-cum-business-partner Mehul Choksi had allegedly cheated the bank to the tune of USD 2 billion, with the purported involvement of a few employees of the bank. (ANI)

Red Corner Notice issued against Nirav Modi
business-standard.com
Interpol issues Red Corner Notice against Nirav Modi: CBI
business-standard.com
PNB scam: Interpol issues Red Corner Notice against Nirav Modi
scroll.in
PNB scam: Interpol issues Red Corner Notice against Nirav Modi, his brother
business-standard.com
Interpol issues Red Corner Notice against jeweller Nirav Modi in PNB fraud
business-standard.com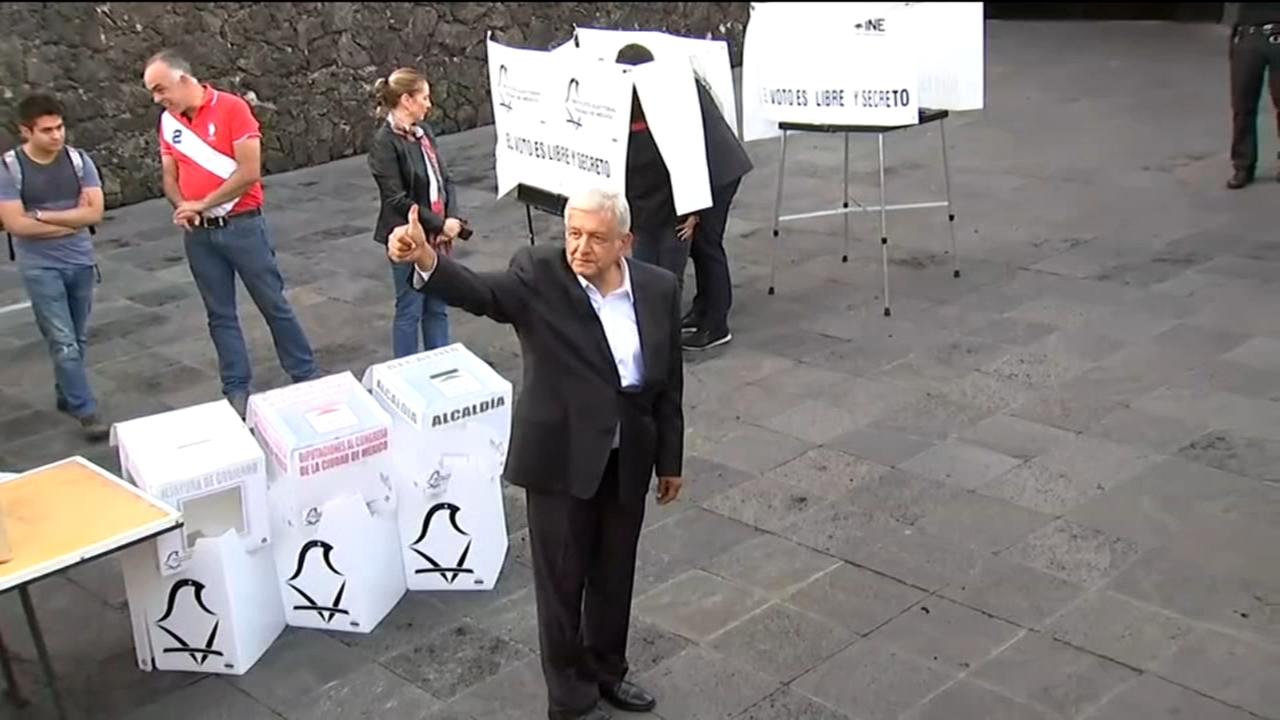 The world is watching Mexico as the country counts the votes in its presidential election. This was the largest election in Mexico's history, with more than 3,400 local, state and federal positions up for grabs. During their campaigns, candidates blasted President Trump and his policies against migrants and Mexico. Among citizens, there's a lot of concern about problems ranging from crime to corruption in Mexico. Members of Chicago's Coalition of Mexican Migrants gathered Sunday in Pilsen to celebrate the historic election. They said they are concerned about problems ranging from crime to corruption in their country."It is getting worse, the war between the cartels is killing everyone," said Nayeli Diaz. Those gathered in Pilsen said they feel this election is crucial for the future of Mexico, and they want the new president to have a working relationship with President Trump. However, they also want that president to be tough, especially when it comes to the crisis at the border. Leftist populist Andres Manuel Lopez Obrador was on the brink of a historic presidential win Sunday night as an exit poll gave him an overwhelming lead and both of his chief rivals conceded defeat. Lopez Obrador, who has vowed to transform Mexico and oust the "mafia of power" that rules the country, had a 16 to 26 point lead over his nearest rival, conservative Ricardo Anaya, and a slightly larger edge over Jose Antonio Meade of the ruling Institutional Revolutionary party, according to the survey by polling firm Consulta Mitofsky."The tendency favors Andres Manuel Lopez Obrador.... I recognize his triumph," Anaya said in a speech to supporters. Minutes earlier Meade had also conceded, saying that "for the good of Mexico, I wish him the greatest success."Electoral officials had not released any vote returns. Lopez Obrador, better known as AMLO, has said he will rule Mexico for the poor and fight rampant corruption."There is a lot of inequality, a lot of violence in this country," said Lopez Obrador voter Hugo Carlos, 73. "This situation has to be changed."Exit polls by Consulta Mitofsky also forecast clear gubernatorial wins for allies of Lopez Obrador's Morena party in four of eight state races on the ballot plus for the head of government in Mexico City. The central state of Guanajuato was predicted to go to a candidate of the conservative National Action Party. Lopez Obrador worries many who fear he could set the country back decades and lead to disaster with an interventionist economic policy. He has pledged to give scholarships or paid apprenticeships to youth, and increase support payments for the elderly."I am concerned that some candidates are making proposals that are impossible, because they're very expensive to carry out," said Juan Carlos Limas, 26, who lined up at a Mexico City precinct to vote for Ricardo Anaya, who is running second in polls for a right-left coalition. All the candidates are lambasting President Donald Trump's policies against migrants and Mexico, but voters were wondering who could best deal with Trump. Sunday's elections for posts at every level of government are Mexico's largest ever and have become a referendum on corruption, graft and other tricks used to divert taxpayer money to officials' pockets. Many saw this election as Lopez Obrador's best shot at the presidency after 12 years of near-permanent campaigning with his anti-establishment message falling on receptive ears amid widespread disillusionment with politicians."The corrupt regime is coming to its end," Lopez Obrador said at his final campaign event Wednesday. "We represent modernity forged from below."Much of the popular ire has been aimed at unpopular President Enrique Pena Nieto's Institutional Revolutionary Party, or PRI, whose market-oriented economic reforms have yet to benefit many Mexicans, and Meade struggled during the campaign to escape popular rejection of the party. Anaya tried to harness the youth vote with an emphasis on technology and new ideas, but he divided his own conservative party to take its candidacy and it's unclear if his new allies in the leftist Democratic Revolution Party will actually turn out for someone from the other end of the ideological spectrum. Sunday was the first time that an independent candidate appears on the ballot. Jaime "El Bronco" Rodriguez fought for attention with a horse-mounted "everyman" campaign and by tossing out policy bombs like his proposal to cut off the hands of public officials caught stealing. Without the big party machinery it was an uphill battle. It is also the first time Mexicans living abroad can vote for down ballot races like senators. More than 181,000 received ballots and the 97,000 that the National Electoral Institute had gotten back by Friday morning were already double what they got in 2012. Casting his own vote, Pena Nieto promised to work with whoever wins on the transition."The president of the republic and his government will be absolutely respectful and support the authorities that are elected," Pena Nieto told reporters. In both of Lopez Obrador's previous two presidential losses he alleged fraud. In his first loss - by a mere 0.56 percent to conservative Felipe Calderon in 2006 - his supporters held months-long protests in Mexico City and he referred to himself as "the legitimate president."His allies warned even before Sunday's presidential vote that there better not be any funny business. Still, the voting was by and large peaceful, apart from the usual complaints about some volunteer-staffed polling places opening late. The head of the country's electoral institute, Lorenzo Cordova, said voting was proceeding "peacefully, without major incidents," and that only four of the 156,807 polling places failed to open. On Saturday, the Democratic Revolution party said four of its members were killed in Mexico State, west of Mexico City, while trying to prevent hand-outs of goods by the ruling party to potential voters. The government of the northern state of Chihuahua reported that three people were arrested in the border city of Ciudad Juarez for allegedly trying to buy votes for an unnamed political party. And in Michoacan state, polling places in a few villages were cancelled after some inhabitants said they didn't want elections involving political parties, which they mistrust. Some ballots were stolen and burned in the town of Nahuatzen to prevent voting. In the northwestern border city of Tijuana, 29-year-old engineer Jorge Serrano Martinez said he voted for Lopez Obrador because he wanted "to give the opportunity to another political party to do different things.""He is not linked to any act of corruption and he has a history as a social fighter," Serrano said. "I think he is the least corrupt of all."

The Latest: Mexico's AMLO claims win in presidential vote
townhall.com
Breaking: Vote Buying. Fraud Rears Its Face Once Again in Mexico Election
globalresearch.ca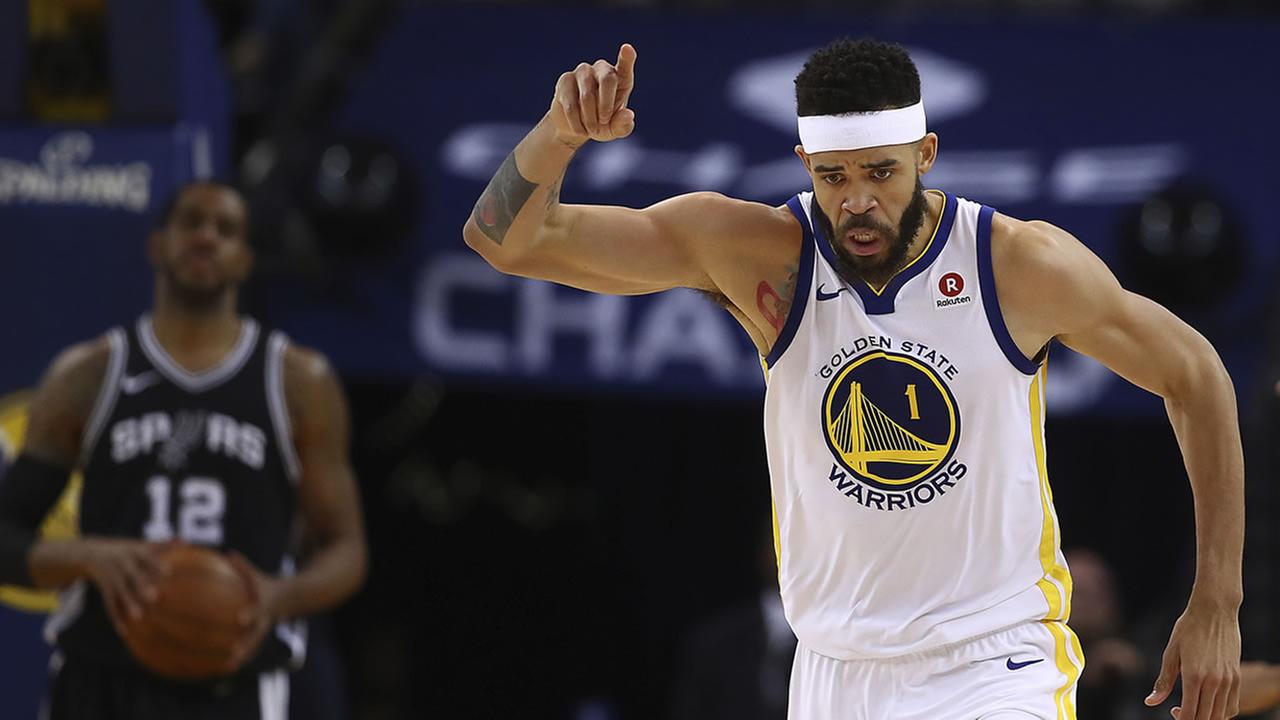 JaVale McGee gave everyone a ton of fun moments at the parade, but this one pretty much takes the cake. He looked like a reporter out on the parade route when he took Dion Lim's microphone and rocked a live hit. You go, JaVale!

Lance Stephenson agrees to join Los Angeles Lakers on one-year deal
espn.com
NBA Free Agency: JaVale McGee will reportedly sign with Los Angeles Lakers
sfexaminer.com
(Want to get this briefing by email? Here's the sign-up .)
Good morning.
Denmark targets immigrant "ghettos," Angela Merkel battles her own alliance and Russia stuns in the World Cup.
Here's the latest:
• Denmark is adopting harsh new laws targeted at immigrant "ghettos."
The Danes, who have struggled to integrate non-Western families for decades, are getting tough: From age 1, immigrant children will receive mandatory instruction in "Danish culture."
The new laws aims to regulate life in 25 low-income and heavily Muslim enclaves, officially described by the government as "ghettos" and populated by what Danish newspapers call "ghetto parents" and "ghetto children." Above, a housing project in Copenhagen that is classified as a ghetto by the Danish government.
Noncompliance could result in a halt to welfare payments.
_____
• Chancellor Angela Merkel's reprieve over migrants didn't last long.
Ms. Merkel had fended off mutiny within her conservative alliance last week after migration talks with European leaders. But Ms. Merkel's interior minister, Horst Seehofer, has threatened to resign over the dispute with the chancellors' migration policy.
If Mr. Seehofer takes his party out of the coalition, Ms. Merkel will lose her majority. The two parties are set to talk today.
_____
• Hundreds of records left behind by the Islamic State reveal how the group won points with the populace by resolving minor disputes.
It was a terrorist version of the "broken window" school of policing — prosecuting minor crimes in the communities it took over, no matter how trivial. Above, an agreement ending a dispute over a chicken, complete with the parties' fingerprints.
Nearly 400 documents abandoned in one Islamic State police station and provided to The Times show that hundreds of people trusted the group to settle their issues. It also sheds light on how the group managed to hold onto so much land at the height of its power.
_____
• Merci, Madame.
Thousands gathered on the heights of Paris's left bank to honor Simone Veil, a Holocaust survivor and women's rights champion, as she was interred at the Panthéon, above.
Ms. Veil died last year at 89. She was the fifth woman to be interred at France's burial place for some of its most illustrious citizens.
In the scorching July heat, many wept at the passing of Ms. Veil's coffin, but beyond grief there was pride and gratitude. Ms. Veil embodied much of France's modern identity: its rebuilding efforts after World War II, women's rights and European integration.
_____
• A World Cup shocker.
Russia, the lowest-ranked team in the field, beat powerhouse Spain on penalties. Our reporter described the scene:
"Stunning finish there as Akinfeev kicks away the last attempt by Aspas. The Russians pour toward him and he dives, fists outstretched into the grass to absorb their love. The crowd has gone absolutely bonkers in here."
Croatia beat Denmark, also on penalties, and will face Russia.
And Wimbledon starts today. All eyes will be on Serena Williams, but here are six other players to watch.
• Did Russia help promote Brexit? Leaked messages suggest Arron Banks, above center, the biggest donor to the Brexit campaign, had a more engaged relationship with Russian diplomats than he has disclosed.
• The BBC apologized to Carrie Gracie, a senior journalist who quit as China editor this year over unequal pay. The broadcaster agreed to pay for the years she was underpaid.
• The world's biggest luxury groups — LVMH, Kering and Richemont — have been quietly reorganizing their boardrooms as they prepare for what may be a new stage of acquisitions and consolidation.
• Here's a snapshot of global markets .
• Andrés Manuel López Obrador, above, Mexico's leftist presidential candidate, was handed a resounding victor and a mandate to reshape the country. [ The New York Times]
• An arts festival in Germany decided last month to drop the band Young Fathers from its bill because of its support of a movement protesting the treatment of Palestinians. [ New York Times]
• In a Hollywood-style jailbreak, a helicopter landed in a prison courtyard in France and flew away with a well-known criminal. A manhunt was underway for the inmate, Rédoine Faïd.[ New York Times]
• Patrice Lumumba was killed after helping Congo win independence from Belgium. Now Brussels has a square named after him. [ The New York Times]
• A bombing in Jalalabad, Afghanistan, left 19 people dead, killing mostly Sikhs and Hindus, including the only Sikh candidate running for office. [ The New York Times]
• A controversial data storage law that requires Russian telecom companies to store users text messages and phone conversations for six months went into effect Sunday. [ The Moscow Times]
• Doctors in Copenhagen have developed an artificial ovary they say could help women have children after cancer treatments that damage fertility. [ The Guardian]
Tips, both new and old, for a more fulfilling life.
• How to clean your filthy, disgusting laptop .
• Learn to make a new city your home .
• Recipe of the day: Start the week on a high note with a Canadian butter tart .
• Of all the gin joints in all the world… Rick's Café, opened in Casablanca, Morocco, in 2004 by a former American diplomat, pays homage to the movie "Casablanca," and is a testament to the power of art to affect destinies in real life.
• The Royal Opera House in London, the Komsiche Oper Berlin, the Glynedbourn Festival and the Opéra de Paris — that only skims the surface of the conductor Vladimir Jurowski's prodigious career. He discusses why he challenges audiences to rethink historic connections.
• "Pompeii's Unluckiest Man" became a meme-worthy sensation some 2,000 years after his death. But now archaeologists, who previously thought the man had been crushed by a flying boulder while fleeing Mt. Vesuvius in 70 A. D., believe he died from asphyxiation from the pyroclastic flow.
How are Wimbledon ball boys and girls chosen? As the tennis tournament's main draw begins today, here's a look at the selection process.
In 1920, Wimbledon became the first tennis tournament to introduce ball boys (girls were not included until 1977). They were initially drawn from a children's charity, then in later years from local schools.
This almost led to a shortage in 1969 when students could not be spared during examinations. The tournament faced "the prospect of the world's best players having to scurry and stoop to retrieve balls," as The Times wrote.
That would certainly not be an issue today: There are about 700 applicants each year, for 250 positions.
Candidates are on average 15 years old and are nominated by their teachers. They must pass several exhaustive written tests about the game's rules.
Next is physical training. Skills like rolling the ball are crucial, and ball boys and girls must do this "with the precision of a champion snooker player."
Once the tournament begins, there are additional challenges. "Being hit with a 120 mph serve is quite memorable," one coach said . "And it will happen to all of them."
Jillian Rayfield wrote today's Back Story.
_____
Your Morning Briefing is published weekday mornings and updated online.
Check out this page to find a Morning Briefing for your region. (In addition to our European edition, we have Australian, Asian and U. S. editions.)
Sign up here to receive an Evening Briefing on U. S. weeknights, and here's our full range of free newsletters .
What would you like to see here? Contact us at europebriefing@nytimes.com .

World Cup Day 18: Talking Points From A Penalty-Ridden Fiesta
inquisitr.com
Proud of team despite World Cup exit: Denmark goalkeeper
business-standard.com
UN Secretary General Antonio Guterres said he heard "unimaginable" accounts of atrocities during a visit Monday to vast camps in Bangladesh that are home to a million Rohingya refugees who fled violence in Myanmar.
Guterres described the situation for the persecuted Muslim minority as "a humanitarian and human rights nightmare", as he prepared to tour makeshift shelters crammed with people who escaped a huge Myanmar army operation last year that the UN has likened to ethnic cleansing.
"In Cox's Bazar, Bangladesh, I've just heard unimaginable accounts of killing and rape from Rohingya refugees who recently fled Myanmar. They want justice and a safe return home," Guterres said on Twitter.
"The Rohingya are one of the most discriminated against and vulnerable communities on Earth," he said in tweet before his visit to the camps in southern Bangladesh.
Accompanied by the head of the World Bank, Jim Yong Kim, he called it a "mission of solidarity with Rohingya refugees and the communities supporting them. The compassion & generosity of the Bangladeshi people shows the best of humanity and saved many thousands of lives".
The bulk of the Rohingya in Bangladesh, or some 700,000 people, flooded across the border last August to escape the violence.
They are loathed by many in Myanmar, where they were stripped of citizenship and branded illegal immigrants from Bangladesh, despite calling Rakhine their homeland.
A UN Security Council delegation visited Myanmar and Rakhine state in early May, meeting refugees who gave detailed accounts of killings, rape and villages torched at the hands of Myanmar's military.
The bulk of the Rohingya in Bangladesh, or some 700,000 people, flooded across the border last August to escape the violence
Munir UZ ZAMAN, AFP/File
Myanmar has vehemently denied allegations by the United States, the UN and others of ethnic cleansing.
Bangladesh and Myanmar agreed in November to begin repatriating the Rohingya but the process has stalled, with both sides accusing the other of frustrating the effort.
Fewer than 200 have been resettled, and the vast majority refuse to contemplate returning until their rights, citizenship and safety are assured.
Around 100 Rohingya staged a protest just before Guterres's visit, unhappy about a preliminary UN deal with Myanmar to assess conditions on the ground for their possible return home.
The United Nations has said however that conditions in the persecuted minority's home state of Rakhine in western Myanmar are not conducive for the refugees' safe, voluntary and dignified repatriation.

UN chief hears of 'unimaginable' atrocities as he visits Rohingya camps
business-standard.com
In World Cup's shadow, Rohingya find freedom on pitch
digitaljournal.com
Myanmar not safe for Rohingya returnees: Red Cross chief
siasat.com
New Delhi: The Supreme Court on Monday agreed to list urgent petitions against Nikah-halala and polygamy practiced by Muslims before five-judge constitution bench's final decree.
The bench headed by CJI Dipak Mishra, AM Khanwilkar and DY Chandrachud, accepted the submissions of senior Advocate V Shekhar said, "We will look into it" along with allowing Additional Solicitor General Tushar Mehta to file a response on behalf of Centre, PTI reported.
The senior advocate appearing for their Delhi-based client Sameena Begum alleges that his client was being threatened to withdraw the petition.
'Nikah-halala' is a practice to ensure Divorced partners never repeat their mistakes of divorcing their partners often seen as punishment on women counterparts but it is equally disturbing for male counterparts.
A Muslim woman is supposed to undergo the process of marriage with someone else if she wills to remarry her divorced husband.
The women also have to observe the 'Iddat' period after the divorce before she can remarry her previous partner.
Petitioner Sameena Begum in her petition said no married woman has the authority to file a complaint against the offence of bigamy.

Assam: SC to hear D Voters' case today
siasat.com
SC to consider urgent listing of pleas against polygamy, nikah halala
business-standard.com
Gujarat: Ahmed Patel moves SC seeking to quash plea challenging his election to Rajya Sabha
scroll.in
SC to consider urgent listing of pleas against polygamy, nikah halala
business-standard.com
Cavaliers owner Dan Gilbert didn't trash LeBron James on his way out of town this time.
Instead, he promised to retire his jersey.
Eight years after he famously criticized James for leaving as a free agent in a letter, Gilbert thanked the superstar for coming back to Cleveland and ending the city's half-century championship drought. James announced on Sunday night that he's agreed to join the Los Angeles Lakers, a decision that dredged up bad memories for some Cavs fans.
Although James is leaving Cleveland again, Gilbert used the occasion to wish James well, opening his statement by recalling the night in 2016 when James led the Cavs to a Game 7 win in the NBA Finals over Golden State. That victory gave Cleveland its first professional sports title since 1964.
"A championship that united generations of Clevelanders, both living and passed," Gilbert said. "Virtually anyone with roots in Northeast Ohio paused and felt the memories of the past and the utter joy that the burden of the so-called 'curse' was finally a thing of the past. Cleveland, Ohio was the home of a championship team for the first time since 1964. Words do not express the meaning and the feeling this accomplishment brought to the people of Northeast Ohio."
Gilbert, whose relationship with James improved after the Cavs' title but was always a source of speculation, went on to credit the four-time MVP for delivering on his promise to make Cleveland a championship city.
It was a striking change in Gilbert, who had written his letter in comic sans font and had called James the "so-called King." The same night of his letter, Gilbert told The Associated Press he felt James had quit during the 2010 postseason.
"None of this would have happened if LeBron James did not agree to come back home and lead the Cavaliers to the promised land," Gilbert said. "The entire Cavaliers franchise thanks LeBron for that precious moment and for all of the excitement he delivered as he led our team to four straight NBA Finals appearances.
"LeBron is a family man, first. We wish his kids, his wife Savannah, his mother Gloria, and LeBron himself nothing but the best in the years and decades ahead. LeBron's connection to Akron, Cleveland and all of Northeast Ohio will most certainly endure as his commitment to the region and his support of many important causes has been impactful to so many kids and families."
And then, Gilbert said James' jersey will one day hang from the rafters in Quicken Loans Arena. There was a time when Gilbert refused to consider the possibility.
"LeBron, you came home and delivered the ultimate goal. Nothing but appreciation and gratitude for everything you put into every moment you spent in a Cavaliers uniform. We look forward to the retirement of the famous #23 Cavs jersey one day down the line..."

Knicks fans probably should give up the LeBron dream forever
nypost.com
Cavs owner praises LeBron, promises to retire his jersey
eu.usatoday.com
Cavaliers owner Dan Gilbert thanks LeBron James in classy farewell letter
eu.usatoday.com
July 2 (UPI) -- On this date in history:
In 1776, the Second Continental Congress formally adopted a resolution for independence from Britain.
In 1788, it was announced in the U. S. Congress that the new Constitution had been ratified by the required nine states, the ninth being New Hampshire.
In 1839, slaves being shipped to Cuba revolted and seized the ship Amistad, leading to an eventual end of the African slave market.
In 1881, U. S. President James Garfield was shot by Charles J. Guiteau, a mentally unstable lawyer and office-seeker. Garfield died Sept. 19 and was succeeded by Vice President Chester Arthur. Guiteau was convicted and hanged in 1882.
In 1900, the world's first rigid airship was demonstrated by Ferdinand Graf von Zeppelin in Germany.
In 1934,6-year-old Shirley Temple signed a contract with Fox Film Corp. She went on to become one of the biggest movie stars of the era. Her mother told United Press that to keep her daughter grounded, she would tell her "You're not so good as an actress, Shirley."
In 1937, U. S. aviator Amelia Earhart and navigator Frederick Noonan were reported lost over the Pacific Ocean. They were never found. In 1932, Earhart became the first woman to fly solo across the Atlantic Ocean and later that year was the first woman to fly solo non-stop from coast to coast in the United States.
In 1943, Lt. Charles Hall became the first African-American pilot to shoot down a Nazi plane in World War II during an Allied assault on three Italian air bases. Gen. Dwight D. Eisenhower personally congratulated Hall when the escort squadron returned to base.
In 1962, the first Walmart store opened -- in Rogers, Ark. In May 2018, the retail outlet topped the Fortune 500 list for the sixth year in a row as the first U. S. company with $500 billion in yearly sales.
In 1964, the U. S. Civil Rights Act of 1964 became law with the signature of President Lyndon B. Johnson.
In 1976, North and South Vietnam reunited, forming the Socialist Republic of Vietnam and naming Hanoi the capital .
In 1986, the U. S. Supreme Court endorsed numerical hiring goals for minorities, rejecting the Reagan administration view that affirmative action be limited to proven victims of race discrimination.
In 1990, a stampede in a pedestrian tunnel at the Muslim holy city of Mecca during the annual hajj killed 1,426 pilgrims .
In 1992, the 1 millionth Corvette rolled off the production line in Bowling Green, Ky.
In 1993, South African President F. W de Klerk and African National Congress leader Nelson Mandela announced that the country's first election open to all races would be April 27,1994.
In 1993, Islamist extremists set fire to a hotel in Sivas, Turkey, in an apparent attempt to kill the translator of British author Salman Rushdie's novel The Satanic Verses. Thirty-five people died.
In 2000, Vicente Fox was elected president of Mexico.
In 2002, American Steve Fossett completed the first round-the-world solo flight in a balloon, reaching Queensland in the Australian outback to finish a 13-day, 19,428-mile trip that began in Western Australia.
In 2009, India's ban on homosexuality, in effect since 1861, was overturned by New Delhi's highest court. On December 11,2013, India's Supreme Court reinstated the ban, re-criminalizing homosexuality.
In 2013, in announcing an Affordable Care Act delay, U. S. officials said a mandate that larger employers provide health coverage for their workers, or pay penalties, would not be enforced until 2015.
In 2015,62 people were killed in the Philippines when a crowded ferry carrying nearly 200 people abruptly capsized -- just minutes after it left port.
In 2016, Elie Wiesel, the Jewish author, Nobel laureate, academic and Holocaust survivor whose writings on unthinkable Nazi brutality brought the reality of the world's largest genocide into stark relief, died. He was 87.
In 2017, Australian Jeff Horn pulled off a stunning Rocky-like upset in the "Battle of Brisbane" with a unanimous decision over Manny Pacquiao to claim the WBO welterweight title at Suncorp Stadium.

Today in History
heraldonline.com
Today in History
wtop.com
POTOMAC, Md. — Francesco Molinari delivered a record performance on Sunday in winning the final edition of the Quicken Loans National.
Molinari, of Italy, holed a 50-foot eagle putt to start the back nine, and he never stopped until he turned the final round into a runaway at the TPC Potomac at Avenel Farm. He closed with an eight-under-par 62 for an eight-shot victory, matching the largest margin this year on the PGA Tour.
Molinari followed that eagle putt with an approach to 2 feet on No. 11, one of the hardest par 4s on tour and one that had yielded only one other birdie in the final round. He made three more birdies and ended his round by missing a birdie putt from 8 feet.
No matter. He finished at 21-under 259, breaking the tournament record by seven shots.
"It was a lot easier than I thought," Molinari said with a wide grin. "I played great. The start of the back nine was incredible."
Tiger Woods closed with a 66, his lowest final round in more than five years, and he was never close. Woods tied for fourth, his best result since a runner-up finish at the Valspar Championship three months ago, though he was 10 shots behind.
"I was only four back at the time when I made the turn, and so I thought that maybe if I got on the back nine, I shot 30 — maybe 29 — that would be enough," Woods said. "Evidently, I would have to shoot 24 on the back nine. What Francesco is doing back there is just awesome."
Ryan Armour closed with a 68 and finished second, earning one of four spots in the British Open that were up for grabs. The other three went to Sung Kang, who finished third after a 64; Abraham Ancer, who tied for fourth after a 72; and Bronson Burgoon, who had a day he is unlikely to forget.
He played with Woods for the first time and encountered larger and louder crowds than he had ever experienced. And with a birdie on the final hole for a 67, he tied for sixth, earning his first trip to the British Open.
"I've never seen anything like it," Burgoon said.
Molinari's decision to stay in America paid off in a big way. He is around the fringe of Ryder Cup qualifying, and the French Open took place this past week on the Ryder Cup course outside Paris. Molinari was also No. 123 in the FedEx Cup standings, so he decided to play the National and the John Deere Classic in two weeks to improve his standing.
The victory, his second on the PGA Tour schedule, gives him a two-year exemption and moved him to No. 42 in the FedEx Cup standings.
"That's what I came here for," Molinari said. "It was not easy to skip Paris and the French Open. I made the right decision."
Molinari previously won the HSBC Champions in 2010, a World Golf Championships event in Shanghai. But that was before the PGA Tour recognized it as an official victory unless a PGA Tour member had won the tournament.
That victory was a lot like this one — a master performance by a player who relies on his tee-to-green game and thrives when the putter is hot. And the putter was as scorching as weather that approached 100 degrees.
Molinari beat Lee Westwood by one shot in Shanghai, and no one else was closer than 10 shots. This time, he had the course to himself with a back nine that was close to perfection, much like his week. Molinari missed only 10 greens in regulation over 72 holes.
Not many people saw it. Thousands were following Woods all week, even in the oppressive heat over the weekend.
Woods came to life with a pair of birdies late on the front nine, and he was in range to get even closer when he hit a lob wedge to 6 feet on No. 10. He missed the putt. He missed the 13th fairway and took bogey on that hole for a second straight day. And then he missed a 3-foot birdie putt on No. 14.
"Those are things that I can't afford to do and expect to win a golf tournament," Woods said.
Woods served as the tournament host in 2007 when the PGA Tour stayed in Washington down the road at Congressional, a tournament with a mission of honoring the military around the Fourth of July. After it lost AT&T as a title sponsor, Quicken Loans stepped in for 2014, but the Detroit-based company chose not to renew the contract, instead putting its sponsorship behind a new tournament in Detroit that starts next year.

Column: Tiger roars don't mean what they once did
townhall.com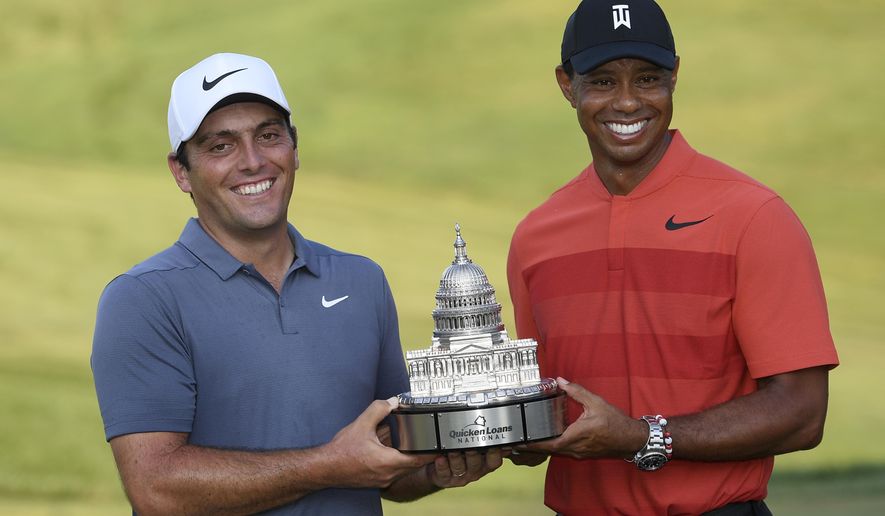 Column: Tiger roars don't mean what they once did
washingtontimes.com
A central bank survey released Monday showed Japan's corporate outlook has worsened from three months ago, highlighting risks to this export-reliant economy from trade tensions.
The Bank of Japan's "tankan" survey measuring confidence among large-scale manufacturers was at 21 points, down 3 from the March survey, which was the first decline in two years.
The manufacturers surveyed include automakers and electronics companies that are the mainstay of Japan's economy.
Exports are vital to Japan's economy and trade friction over President Donald Trump's tariffs as well as other nations' reactions to the changes in U. S. policy, including China and Europe, could impact many industries.
The Tankan, long seen as an important indicator of economic health, looks at the difference between companies surveyed that have a "favorable" outlook and those with an "unfavorable" outlook. The results show optimists outnumber pessimists but that difference is shrinking.
The tankan showed that big non-manufacturing companies, a group that includes the service sector, reported slightly better sentiment, at 24, up from 23.
That suggests domestic demand remains robust, said Chang Wei Liang, analyst at Mizuho Bank in Singapore.
The world's third-largest economy has picked up steam in recent years under Prime Minister's Shinzo Abe's "Abenomics" deflation-fighting stimulus program, which has kept credit cheap and tried to push prices higher to compel businesses and consumers to spend more.
Although Trump's tariff policies have yet to directly dent the economy, worries are simmering that they could set off a global slowdown and deaden Japan's exports, a key force for economic growth here.
Japan's longest streak of economic expansion in about three decades, or the so-called "bubble" economy of the 1980s, ended in the first quarter of this year, marking the first pullback in two years, according to government data.
But many are expecting the economy to have rebounded in the second quarter.
___
Follow Yuri Kageyama on Twitter at https://twitter.com/yurikageyama
Her work can be found at https://www.apnews.com/search/yuri%20kageyama

Japan manufacturers' morale slips for two straight quarters in blow to Abenomics
business-standard.com
Bank of Japan survey shows corporate sentiment worsening
cbs46.com
Solid capital spending plans a bright spot in Bank of Japan's downbeat tankan
business-standard.com
English Premier League top scorer Mohamed Salah has signed a new five-year contract with Liverpool.
The Egyptian forward signed the deal a year after arriving at Liverpool from Roma, and as he tries to recover from a disastrous six-week period including injury and World Cup elimination. The new contract comes without a release clause.
Liverpool coach Juergen Klopp said the new contract for Salah was a sign of the club's ambition.
"We want world-class talent to see they have a home at Anfield where they can fulfil all their professional dreams and ambitions - we are working hard together to achieve this," he said in a club statement Monday. "When someone like Mo Salah commits and says this place is my home now, it speaks very loudly."
Financial terms were not disclosed.
Salah scored 44 goals from 52 games for Liverpool last season in all competitions, including 32 goals in the Premier League.
However, he lasted just half an hour into Liverpool's Champions League final against Real Madrid before being forced off with an injured shoulder following a challenge from Madrid's Sergio Ramos. Liverpool lost 3-1.
That injury hampered Salah throughout Egypt's first World Cup campaign since 1990, which ended with defeat in all three games. Salah was criticized in British media after posing for photos with Ramzan Kadyrov, the ruler of the Russian region of Chechnya, while Egypt was training there at the World Cup.
Kadyrov, who gave Salah honorary citizenship of Chechnya, has repeatedly been accused of human rights abuses including torture and the killings of political opponents. He denies the allegations.

Mohamed Salah signs new long-term contract with Liverpool
eu.usatoday.com
Mo Salah commits himself to Liverpool by signing new long-term contract
scroll.in
When John Tavares' contract ran out with the New York Islanders, he took the opportunity to talk with other teams.
"I felt like I owed it to myself to see what else was out there," Tavares said.
Tavares' exploration led him to rediscover his childhood affinity for the Maple Leafs, and his confidence in Toronto's future led him to sign a monster $77 million, seven-year contract. The Islanders were left with nothing, a mistake other NHL franchises seem determined not to make.
Don't wait. Sometimes not even a day.
On Sunday, when Tavares' departure left a void on Long Island, the Sharks signed Logan Couture, Coyotes signed Oliver Ekman-Larsson, Kings signed Drew Doughty and Lightning signed Ryan McDonagh to long-term deals. None of them would have been free agents until July 1,2019, and this was the first possible chance to ink extensions that begin more than a year from now.
It's worth every penny to San Jose, Arizona, Los Angeles and Tampa Bay to get those contracts done now rather than risk a key player even exploring unrestricted free agency like Tavares did.
"If you wait too long and you get into the situation where they have the potential to walk or explore the UFA market, that can be challenging times," Sharks general manager Doug Wilson said.
The Ottawa Senators are trapped in such challenging times. They made a contract offer to Norris Trophy-winning captain and 2019 free agent Erik Karlsson, but it's not a great sign that the real negotiating is only just beginning.
"We're not going there," GM Pierre Dorion said. "We don't really want to talk about roster players, contract negotiations, trades, all these things, but I think we owe it to our fans and we made a promise at the town hall that we would make a contract offer to Erik Karlsson and we've done so."
Tick, tick, tick. Even a year away, the pressure is on the Senators to sign Karlsson long term or trade him before the deadline so they don't end up like the Islanders.
The Coyotes made sure they wouldn't be in that spot by locking up Ekman-Larsson to a $66 million, eight-year deal that the soon-to-be 27-year-old defenseman called "a no-brainer." Arizona GM John Chayka calls it "a huge moment for our entire organization" because there's now no fear of losing Ekman-Larsson for nothing.
"A superstar-caliber player has the option to basically go to any of the 31 teams and felt the loyalty, felt the belief in what we were doing enough to sign on long term," Chayka said, adding that the Coyotes had to convince Ekman-Larsson with actions that they were moving in the right direction.
The Kings convinced Doughty of that so much, he knew all season he was going to re-sign. He's building a new house in the LA area, is getting married this summer and is ready to start a family in a place he wants to stay for essentially the balance of his career.
"I never wanted to leave there, to be honest," Doughty said. "It will be nice not to answer the question, 'Hey are you coming to Toronto? You're coming to the Leafs, right?' No, I'm not coming to the Leafs, everyone."
Doughty signing for $88 million over eight years sets the bar for Karlsson, who could face similar questions if he goes into the season without a future contract like Tavares did. Over the past week, Tavares began wondering if he would play for his hometown Maple Leafs, a bond too deep for the Islanders to overcome.
Couture grew up not far from Toronto, but he never entertained that possibility because he signed a $64 million, eight-year deal with the Sharks. Couture respected Tavares' choice and made his own without much difficulty.
"We have some very good players: Marc-Edouard Vlasic, Brent Burns, Martin Jones, Evander Kane - very, very good players - Joe Pavelski," Couture said, rattling off core players all signed long term. "I want to win. That's my goal as a hockey player. I believe that San Jose has and will continue to have a very, very good chance at winning in the future. That's why my decision was so easy."
It was just as easy for McDonagh, who signed a $47.25 million, seven-year deal with the Lightning, who acquired him at the trade deadline. McDonagh was comfortable with Tampa Bay, which went through an almost-Tavares situation two years ago with captain Steven Stamkos before signing him on the eve of free agency.
Days after signing Stamkos in 2016, the Lightning extended top defenseman Victor Hedman at the first possibly moment like they did with McDonagh. GM Steve Yzerman knows how to work ahead, which is often essential in today's NHL with important players.
"(If you wait), you don't really know how it's going to go," Yzerman said. "We go into next year for both parties, we don't know, and I think it's worthwhile exploring the opportunity now."
___
Follow Hockey Writer Stephen Whyno on Twitter at http://twitter.com/SWhyno
___
More AP NHL: https://apnews.com/tag/NHLhockey
Copyright 2018 The Associated Press. All rights reserved. This material may not be published, broadcast, rewritten or redistributed.

Teams re-sign stars a year ahead of free agency
eu.usatoday.com
Teams re-sign stars a year ahead of free agency
charlotteobserver.com
WASHINGTON, U. S. - A day after U. S. intelligence findings revealed "unequivocal evidence" of North Korea's efforts to ramp up its enriched uranium production - contradicting the country's recent vow to denuclearize, the U. S. President Donald Trump has acknowledged the findings.
Trump claimed on Sunday that it was "possible" that a deal he claimed to have made with North Korea over denuclearization, might "not work out."
A report quoting those with knowledge of U. S. Intelligence findings revealed last week that North Korea is trying to deceive the U. S. over its vow to denuclearize - pointing out that the rogue nation has increased its production of enriched uranium for nuclear weapons at secret sites in the last few months.
The findings of intelligence agencies directly contradicted Trump's declaration that North Korea was "no longer a nuclear threat."
The intelligence assessments were also revealed less than a week after Washington-based North Korea monitoring group, 38North released commercial satellite images take ten days after the historic Singapore summit between Trump and the North Korean leader Kim Jong Un.
The satellite images reportedly revealed North Korea's effort to rapidly upgrade its main nuclear research facility, the Yongbyon Nuclear Scientific Research Centre.
38North pointed out that the satellite imagery shows several new buildings, including an engineering office and a driveway to a building which houses a nuclear reactor.
Further, the images showed that there were modifications to the centre's plutonium production reactor's cooling system.
38North's Managing Editor, Jenny Town said on Twitter that the ongoing upgrades at Yongbyon underscore "why an actual deal is necessary, not just a statement of lofty goals."
Experts have criticized the document signed by Trump and Kim Jong Un at the end of their summit for having vague wording, which omits the terms "verifiable" and "irreversible" that the Trump administration had previously insisted on.
Days later, a report in NBC quoted a U. S. official, who had been briefed on the latest intelligence findings, as saying that uranium enrichment had been stepped up in the country.
The official said, "There's no evidence that they are decreasing stockpiles, or that they have stopped their production. There is absolutely unequivocal evidence that they are trying to deceive the U. S."
Another official suggested that the rogue state may try to hide its activities while seeking concessions in nuclear talks with the United States.
An intelligence source reportedly said, "Work is ongoing to deceive us on the number of facilities, the number of weapons, the number of missiles. We are watching closely."
Trump's statement the following day, came in an apparent response to the findings, and he said in an interview with Fox Business that it was "possible" that a deal he claimed ended the nuclear threat posed by North Korea would not "work out."
Last month, after his meeting with Kim Jong Un, Trump was pressed on whether he trusted the North Korean leader, and responsed that he had "a great chemistry," to make good on promises to destroy Pyongyang's nuclear program.
Trump stated, "I made a deal with him, I shook hands with him, I really believe he means it. Now, is it possible? Have I been in deals, have you been in things where, people didn't work out? It's possible."
On June 13, upon his return from Singapore, Trump has tweeted, "Just landed – a long trip, but everybody can now feel much safer than the day I took office. There is no longer a Nuclear Threat from North Korea. Meeting with Kim Jong Un was an interesting and very positive experience. North Korea has great potential for the future!"
However, on Sunday, while speaking to Fox, Trump sought to shrink the perceived cost of the declared agreement falling through.
He sought to frame his negotiations with North Korea as having been achieved without concessions.
The President said, "We gave nothing. Think of this. What did I do, really, when you think of it? I went there. So the papers say, 'He went', oh, meaning I went to Singapore. So we had a meeting. We didn't do anything."
However, critics were quick to point out that the Trump ended a range of joint military exercises with South Korea that were initiated to act as a deterrent against the North, a week after the summit ended.
Commenting on his decision, which is being seen as a huge concession on Trump's part, the President argued that the exercises, "which I call war games," were too expensive.
He said, "They're dropping bombs all over the place every six months… it's unbelievably expensive to do that. The planes fly in from Guam, these massive bombers. It's crazy."
Meanwhile, Trump's interview came after his National Security Adviser, John Bolton, insisted that North Korea's nuclear program could still be dismantled within a year.
Speaking to CBS, Bolton refused to comment on the recent intelligence findings and satellite images and said he won't talk on "anything related to intelligence."
However, the hawkish adviser said that Trump was not being played by Kim Jong Un and was "very well aware of North Korea's patterns of behaviour over decades of negotiating with the United States."
Bolton added, "We know exactly what the risks are of them using negotiations to drag out the length of time they have to continue their nuclear chemical biological weapons programs and ballistic missiles."
He also pointed out that Kim Jong Un had been "very emphatic several times in Singapore he was different from prior regimes.
Bolton further explained, "We have developed a program… about really how to dismantle all of their WMD [weapons of mass destruction] and ballistic missile programmes in a year. If they have the strategic decision already made to do that and they're cooperative, we can move very quickly. And it's to North Korea's advantage to see these programs dismantled very quickly because then the elimination of sanctions aid by South Korea and Japan and others can all begin to flow."
Over the next two weeks, U. S. Secretary of state Mike Pompeo is due to meet Kim Jong Un.
Further, South Korean media reported on Sunday that the U. S. ambassador to the Philippines, Sung Kim, held preparatory talks with North Korean officials in the village of Panmunjom, in the demilitarized zone.

North Korea 'very serious' about dismantling nuclear weapons: Trump
business-standard.com
Several signs are pointing to North Korea still working on its nuclear program
cnbc.com
Paul George can count.
That's what we forgot.
Everyone knows that the lure of home is strong for George, a Los Angeles kid who took countless jumpers as a youngster while pretending to be Kobe Bryant and wearing purple and gold. And players tend to go home: Paul Pierce played in LA toward the end of his career, Dwyane Wade briefly played in Chicago, Chauncey Billups had stints in Denver.
So while diving into the magnitude of the numbers in George's soon-to-be-official deal with the Oklahoma City Thunder — four years at an average of $34 million a season, a contract that sure seems like it will help push the OKC payroll and luxury tax bills for next season alone to perhaps well over $200 million — there was one number that seems to have mattered most.
It is 28.
His age.
He's still a young man, even by NBA standards. Consider this: George might not even be at his NBA peak yet. Barring an extension, which is possible, he could exercise his option to become a free agent again in the summer of 2021 — and even then he'll just be 31. Los Angeles will still be there, calling, winking, tugging at his heartstrings the way it clearly has for years.
That's a sure thing.
Another sure thing: That the Thunder, while not a Super Team per se, have super pieces.
George shared the stage at a party in Oklahoma City on Saturday night with Russell Westbrook, which was fitting since they shared the basketball stage flawlessly in their first season together. All those questions — mostly variations of "how will this work?" — got answered when the Thunder went 40-22 in the final 62 games of the regular season, George got his numbers (nearly 22 points per game) and Westbrook got his again as well (averaging a triple-double).
They speak with great respect for one another. They are not the same guy: Westbrook loves fashion and flash, George would rather go fishing. But it worked, on the court and off, and that bond is necessary if the Thunder are going to challenge Golden State and Houston for Western Conference supremacy anytime soon.
It's not just those two. The Thunder have a good big man in Steven Adams. They're getting Andre Roberson back, probably in time to start next season after this past season ended prematurely because of a ruptured patellar tendon. They're keeping Jerami Grant for $27 million over three years, which in this NBA seems like a bargain. They have a good coach in Billy Donovan and by all accounts, it's a happy locker room.
George kept dropping hints all spring. When asked about his future, he raved about how much he liked being in Oklahoma City. The more he said it, the more it seemed like he wasn't just spewing the company line. It seemed real, and now, the realness has been proven.
The Thunder have some issues, mainly what to do with Carmelo Anthony.
Anthony doesn't want to come off the bench, he's going to cost the Thunder something like $70 million — the luxury tax is going to be incredibly punitive — if they keep him, and his best days are behind him. Having a high-priced deal isn't Anthony's fault; blame it on the New York Knicks and Phil Jackson, the ones who orchestrated that contract. But it's now something that the Thunder will have to manage.
That's as close as it gets to bad news in OKC right now.
George could have left, gone to the Lakers to join LeBron James, and no one would have complained. It would have been the easiest thing. Staying in OKC was the power move, though, both for George and Thunder general manager Sam Presti. George took the stage at that party, grabbed a microphone and delivered four words that shocked many.
"I'm here to stay," he said.
Stay is a relative word in the NBA. Nothing is forever, except the lure of home.
LA will still be there in three or four years, if he wants to still play there. George was smart enough to see that. And the Thunder were smart enough to not let him get away.
___
Tim Reynolds is a national basketball writer for The Associated Press. Write to him at treynolds@ap.org
___
More AP NBA: www.apnews.com/tags/NBAbasketball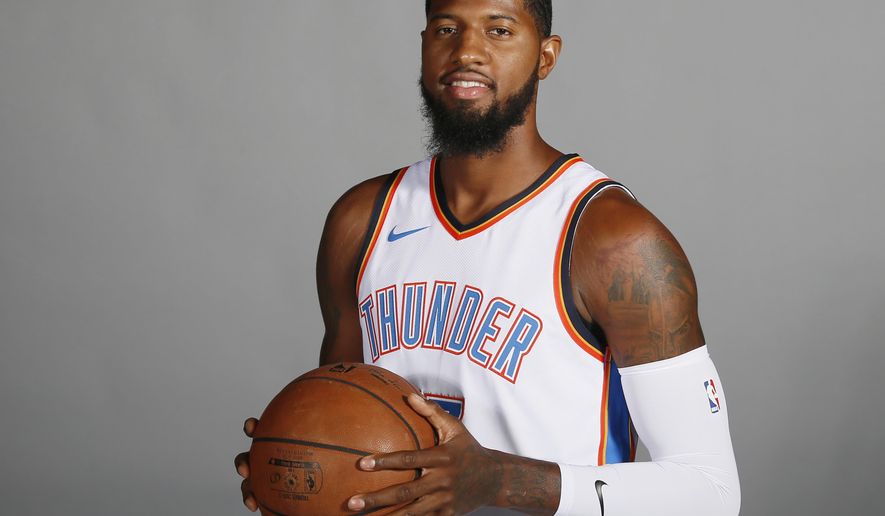 On Basketball: LA will still be there for Paul George
washingtontimes.com
On Basketball: LA will still be there for Paul George
eu.usatoday.com
OWINGS MILLS, Md. — Relatives, friends and colleagues of slain journalist Rob Hiaasen will gather to remember the man who was one of five victims killed in last week's shooting at a Maryland newspaper.
The Monday evening memorial at a Maryland nature center is expected to be a "celebration of life" for the 59-year-old assistant managing editor of the Capital Gazette in Annapolis.
Nicknamed "Big Rob," Hiaasen was known for his commitment to high standards in community journalism and his mentoring relationship with young journalists.
Hiaasen had just celebrated his 33rd wedding anniversary with his wife, Maria, whose birthday was on the day of the newsroom attack. A 38-year-old man has been charged with five counts of murder.
The slain journalist's brother is Carl Hiaasen, a prolific novelist and a longtime Miami Herald columnist. /kga

Slain journalist to be honored at memorial
charlotteobserver.com
Slain journalist to be honored at memorial
townhall.com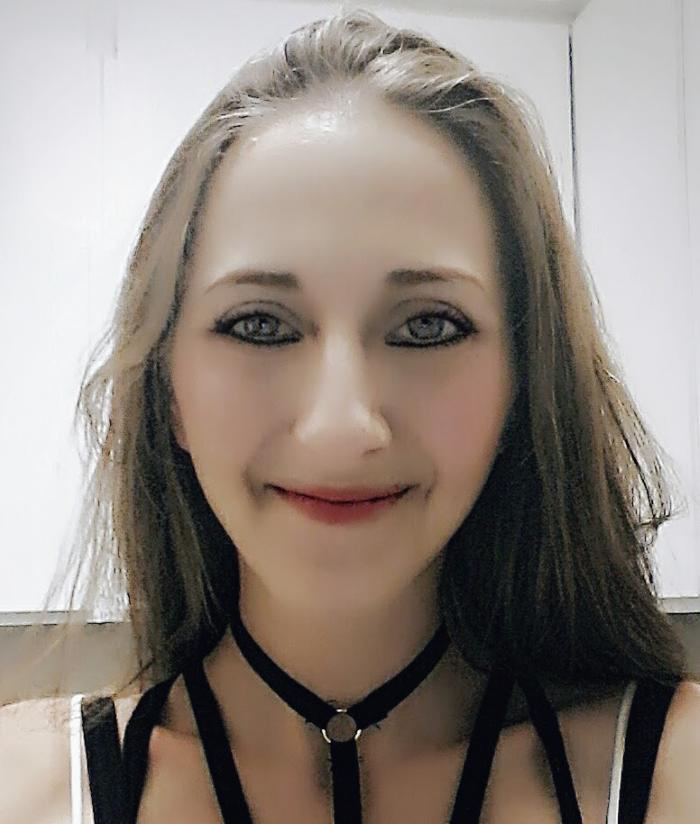 Houston police are seeking a woman who was last seen by her family about a week ago.
Brittany Burfield, 37, was last spotted about noon on June 25. Her home is in the 8700 block of Ilona Lane, which is inside the Loop near South Braeswood and Stella Link.
Police found her car in west Houston, near Richmond Avenue and the Sam Houston Toll Road.
ARREST: Man accused of indecent exposure at Deer Park store
Burfield is 5 feet, 6 inches tall and weighs about 115 pounds. She has brown hair and green eyes.
Anyone with information about Burfield is urged to call the Houston Police Missing Persons division at 832-394-1840.

Police search for former football player's missing pooch
washingtontimes.com
Police search for former football player's missing pooch
charlotteobserver.com
COLUMBUS, Ohio (AP) - Authorities have identified the officer who was shot during a drug raid in Ohio.
Columbus police say Officer Robert Lagore was struck in the foot during the raid Friday in Columbus.
Lagore is expected to fully recover.
Police say the suspect had fired through the door before officers entered the home.
Officers did not return fire, and they detained the suspect as well as five additional people inside the home.
No charges have been filed, and no other names have been released.
An investigation into the shooting is ongoing.

Police: Pedestrian dies after being hit by on-duty officer
townhall.com
Police: Pedestrian dies after being hit by on-duty officer
wtop.com
A miniseries that airs beginning this month highlights the personal stories behind six iconic Tennessee brands.
The Tennessee Department of Economic and Community Development says the companies featured in the series include Jack Daniel's, Lodge Cast Iron, St. Blues Guitars, United Record Pressing, Barrett Firearms Manufacturing and Prophetik Haute Couture.
The miniseries "Remastered" was shot and produced last year. It includes appearances by John Rich of country music duo Big & Rich; Laura Daily, chief merchant for Cracker Barrel; Ketch Secor of Old Crow Medicine Show; and Hunter Lewis, editor in chief of Food & Wine magazine.
The first episode is scheduled to air at 7 p.m. CDT July 11 on RFD-TV. New episodes will air on Wednesdays.

Miniseries highlights stories behind Tennessee brands
miamiherald.com
Miniseries highlights stories behind Tennessee brands
sacbee.com
Mumbai: Mumbai-based private chartered aircraft firm, UY Aviation have extended "full co-operation to all the regulatory and law enforcement agencies" involved in the aftermath of the tragic plane crash incident in Ghatkopar.
In a statement issued on Sunday, the firm said, "U. Y. Aviation Pvt. Ltd.is extending its full cooperation to all the regulatory and law enforcement agencies involved in the aftermath of the tragic crash."
The company also extended its condolences to the grieving families of those who lost their lives in the crash of Beechcraft King Air C90 aircraft, operating under the call sign VT-UPZ.
Stating that they wanted to put things in proper perspective, the firm clarified, "Before undertaking the test flight, it was ensured that all necessary requirements and approvals were in place."
"The ill-fated Aircraft was purchased by Silver Jubilee Aviation Pvt. Ltd. Pune, from the Government of Uttar Pradesh and was sent directly to Indamer Aviation Private Limited for building," the statement claimed.
"Subsequently on 18th August 2016, U. Y. Aviation Private Limited purchased this aircraft, which was lying with Indamer Aviation Private Limited, a reputed DGCA-approved Maintenance and Repair Organization (MRO) and they were tasked to completely rebuild the aircraft," it further said.
Five people were killed after a chartered plane crashed near an under-construction building in Ghatkopar on June 28.
The plane was about to land at the airport when it crashed near Jagruti building, where construction work was underway.
According to the Directorate General of Civil Aviation (DGCA), two pilots, two aircraft maintenance engineers, and one other person lost their lives in the crash. (ANI)

Mumbai plane crash: UY Aviation extends 'full co-operation' in probe
business-standard.com
Mumbai plane crash: UY Aviation extends 'full co-operation' in probe
bignewsnetwork.com
A new tropical storm off Mexico's Pacific Coast is intensifying quickly, and forecasters say it could reach hurricane strength Monday and grow into a major hurricane Tuesday, although it is not expected to pose any threat to land.
The U. S. National Hurricane Center said Tropical Storm Fabio had sustained winds of 70 mph (110 kph) by late Sunday. It was centered about 565 miles (910 kilometers) south-southwest of Manzanillo, Mexico, and was moving west-northwest at 13 mph (20 kph).
Forecasters said Fabio would likely be a hurricane later Monday and a major hurricane with winds of about 115 mph (185 kph) Tuesday. But the center said the storm would then begin to weaken as it moved farther out into the Pacific.

Tropical storm grows off Mexican Pacific; no threat to land
charlotteobserver.com
Tropical storm grows off Mexican Pacific; no threat to land
thenewstribune.com
New Delhi: The Supreme Court on Monday upheld the appointment of KV Chowdary as Central Vigilance Commissioner (CVC) in the Central Vigilance Commission.
A bench of the apex court, headed by Justice Arun Misra, has passed the order.
The top court, while refusing to interfere, said, there was no ground to do so with the appointment of the CVC.
The petition, filed by an NGO Common Cause, challenged the appointment of KV Chowdary as the CVC and TM Bhasin as Vigilance Commissioner (VC).
The NGO challenged that the appointment of the CVC and the VC was arbitrary and violates the principle of institutional integrity. (ANI)

SC asks Centre to inform in 10 days time frame for appointing Lokpal
business-standard.com
Supreme Court directs Centre to decide the time frame for appointing Lokpal
scroll.in
NEW DELHI: The probe into the Burari incident, where 11 people were found dead in a house, suggested 'spiritual or mystical practices', police said on Sunday.
The bodies of seven women and four me were recovered from the house in Burari area of New Delhi on early Sunday morning. The bodies recovered were found hanging on the first floor of the house with mouths gagged, hands tied up while some were blindfolded.
"During a search of the house, certain handwritten notes were found which indicated observance of some definite spiritual or mystical practices by the whole family."
"The moment they hanged themselves and began gasping for breath, they would see God saving them," said the officer, paraphrasing the note reported Hindustan Times.
The deceased were identified as Narayan Devi (77), her two sons Bhavnesh (50)and Lalit (45), her daughters-in-law Savita (48) and Teena (42), her daughter Pratibha (57), her grandchildren Priyanka (33), Nitu (25), Monu (23), Dhruv (15) and Shivam (15).
Meanwhile, the case has been transferred to the crime branch of the Delhi Police for further investigation.
"The case has been transferred to us (crime branch) and we've inspected the site. Hand-written letters that have been recovered suggest spiritual angle to the deaths. Further investigation will reveal more," said Alok Kumar, Police Commissioner (Crime).
The house was neither ransacked, nor any precious item, including mobile phones were found missing, police said.
Based on the facts and circumstances, a case of murder has been registered at Police Station Burari. A Board of Doctors has also been constituted to conduct post-mortem.

Burari deaths: No signs of struggle found in post-mortem examination, says police
business-standard.com
Fire destroys 8 heritage houses in Marinduque
newsinfo.inquirer.net
Srinagar: Shiromani Gurdwara Parbandhak Committee president GS Longowal on Monday called the 'barbaric' suicide bombing in Afghanistan's Jalalabad city, a 'deliberate' attack.
Speaking to ANI, Longowal said, "It was a deliberate attack. It's duty of the respective government to ensure the safety of people."
He also requested the Centre to talk to Afghanistan government and ensure death penalty for people responsible.
The suicide bombing in Nangarhar province of Afghanistan claimed lives of 19 people, including 11 Sikhs and injured 20 others on Sunday.
Earlier today, Prime Minister Narendra Modi condemned the incident and assured that India stands ready for assistance "in this sad hour." (ANI)

PM Modi condemns Jalalabad blast, extends assistance
siasat.com
Jalalabad blast: Swaraj to meet kin of victims today
business-standard.com
SGPC chief calls Jalalabad blast 'deliberate attack'
business-standard.com
Jalalabad blast: Punjab CM extends help to victims
siasat.com
PM Modi condemns Jalalabad blast, extends assistance
business-standard.com
Jalalabad blast: DSGMC Chief condemns 'barbaric attack'
siasat.com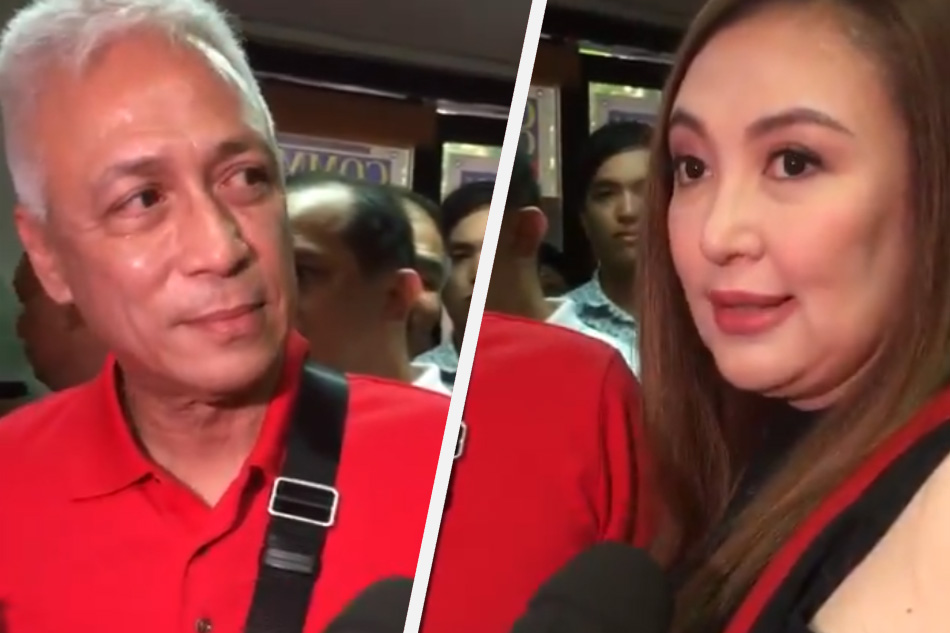 The brother of Megastar Sharon Cuneta has set his eyes on the mayoralty of Pasay City, the same post held by their father the late mayor Pablo Cuneta.
In an interview, Sharon said she will be behind her brother, Chet, 100 percent. The latter will run for mayor under the coalition supporting President Duterte.
"Kung mamarapatin niyo pong iboto ang kapatid ko ngayong eleksyon, talaga pong I shall be there behind him. Tsaka asahan niyo po ang kinikita ng gobyerno mapupunta sa tao ng Pasay, sa taumbayan," the actress said.
The actress was earlier seen dining with President Duterte and Special Assistant to the President Christopher "Bong" Go in Malacañang Palace.
The President earlier said that he is grateful for the "many things" Cuneta has done for him and his family. He said his daughter, Davao City Mayor Sara Duterte-Carpio, is an avid fan of the megastar.

Lopez Obrador set to win Mexican presidential election, show exit polls
business-standard.com
SYDNEY (Reuters) - A renewed slide in Chinese shares and a sobering set of factory surveys sucked Asian markets lower on Monday, while the euro and the Mexican peso were both jolted by political developments at home.
E-Mini futures for the S&P 500 ESc1 followed with a loss of 0.5 percent and European bourses were seen opening down.
Shanghai blue chips. CSI300 resumed their slide with a fall of 2.3 percent that soured sentiment across the region. MSCI's broadest index of Asia-Pacific shares outside Japan. MIAPJ0000PUS fell 0.6 percent, adding to a 2 percent drop last week.
Japan's Nikkei. N225 shed 2.2 percent to an 11-week low, with a survey of manufacturers showing sentiment had darkened a shade in the face of trade war threats.
The purchasing managers' index (PMI) still edged higher for June, but exports orders softened.
Tension is growing ahead of a July 6 deadline when the U. S. is due to impose US$34 billion of tariffs on Chinese exports.
"The key risk for the market isn't that Trump actually implements his trade threats but rather that a protracted period of trade uncertainty begins to weigh on economic activity," said analysts at JPMorgan in a note.
"The evidence suggesting this is happening is far from conclusive, but ominous data points are accumulating."
Two surveys of Chinese manufacturing out in the last few days showed a softening in activity, partly due to softness in exports.
A slew of factory readings from across the globe are due on Monday, while the U. S. ISM report is out on Tuesday. Minutes of the last Federal Reserve policy meeting come on Thursday and the week closes with U. S. payrolls for June. A DEAL, OR NOT?
In currency markets, the euro took an early knock on reports German Interior Minister Horst Seehofer had rejected a migration deal German Chancellor Angela Merkel negotiated at a European Union summit on Friday.
The currency then partly bounced on news Seehofer had offered to step down as minister and as chair of his Christian Social Union (CSU) party.
The move makes the future of Merkel's government even more uncertain as her Christian Democrats party (CDU) relies on the CSU to maintain power through a coalition formed three months ago to end a political vacuum.
After all that, the euro was 0.33 percent easier at $0.1642 EUR=, having skidded as far as $1.1632 at one stage.
The U. S. dollar gained 0.18 percent on a basket of currencies to 94.808. DXY, but was still below Friday's top of 95.324. It was flat on the yen at 110.68 JPY= having been as high as 111.06 at one stage.
The Mexican peso see-sawed after leftist Andres Manuel Lopez Obrador won a decisive victory for president.
Dealers said the clear win might settle one source of political uncertainty, but Obrador was also expected to sharpen Mexican divisions with U. S. President Donald Trump.
After an initial retreat, the dollar soon rebounded to be flat at 19.9050 pesos MXN=, up from last week's trough around 19.5580.
Trump also loomed large in oil markets with crude taking a spill after he tweeted that Saudi Arabia had agreed to lift oil production by "maybe up to 2,000,000 barrels".
The missive was later downplayed by the White House and Saudi Press Agency.
Brent crude LCOc1 lost 97 cents to $78.26 a barrel, while U. S. crude fell 73 cents to $73.42. The pullback was still modest given U. S. crude rallied more than 8 percent last week, while Brent gained more than 5 percent.

China shares slip anew, Mexico peso up as Obrador wins
reuters.com
Global Markets: China drags on Asia shares, politics on euro and peso
business-standard.com
Good old Russia. How could we rule them out completely? First, they were derided for being the lowest Fifa ranked team before the start of the World Cup. This could have possibly given way to talk of why they were hosting the showpiece event in the first place, conveniently ignoring Qatar having never been a part of a single edition – that will change in 2022.
Stanislav Cherchesov's side laboured in all the friendly matches leading up to the tournament. If one had to trace the starting point for the criticism, it started a year ago, when the side had a disastrous Confederations Cup campaign.
Neither were the current lot of players hailed as a talent-rich one nor did domestic performances do anything to lift the mood of their fans. How many would have given the Russians a chance in the last-16? They were up against the mighty Spanish after all. They had progressed to the knockout stages for the first time in their history.
With the stunning penalty shootout win against Spain in Moscow, Russia have now created history, and left a trail for the future generations to follow. They can now dare to dream against a Croatia side that barely scraped past Denmark in their round of 16 contest.
Their encounter against Spain may have summed up Russia's fate all through the tournament: enduring a torrid spell before making a defiant comeback. Their campaign also started in a similar vein, losing playmaker Alan Dzagoev to injury early in the first half of their opening match. It was another matter that they went on to batter a toothless Saudi Arabia outfit 5-0.
Another commanding display, this time against Egypt, had lifted the mood of the country. They had progressed to the last-16, moving away from the time they had competed as Soviet Union. But those expectations had to be tempered as Uruguay ran out comfortable winners when they faced the hosts during their final group stage game.
Facing another side with pedigree, it had all the makings of yet another painful evening for the Russians. They had fallen behind to an early goal in somewhat unfortunate circumstances.
Spain were seeing a lot of the ball and given their experience and big tournament nous, could turn defence into attack at any given point and plunder more goals. Their backline was a patched-up one. One one hand, there is Sergei Ignashevich, who turns 39 in less than three weeks time. Giving him company was left-back Yuri Zhirkov, another elder statesman in the side.
Mario Fernandes and Ilya Kutepov had recorded a grand total of 20 caps between them. Their midfield, while not being a creative force of nature like Spain's, was an industrious one. The outlets were to get Aleksandr Samedov to ping balls over the defence and for Golovin and striker Artem Dzyuba to make something of it.
Surprisingly, Spain were reticent in attack, despite making the statistical history of completing more than 1000 passes in a game. Even after Dzyuba had scored the equaliser, there was little sense of urgency from the Spaniards in trying to slice open their opponents.
The few times Spain had a sniff on goal, the defence was there to see out the danger. Wily old Ignashevich was watchful and Kutepov was stoic, letting nothing pass through the left channel. A frustrated Spain, later in the game took shots from distance, but none of it had the defence or keeper Igor Akinfeev in any kind of bother.
And make no mistake. Despite their late off-field drama before the start of the tournament, and their sluggish performances in the group stages, Spain are a side who have gone almost two years unbeaten. They have scored in each one of their last 23 games. While a scratchy, almost confused brand of tiki-taka might have plotted their failure to influence proceedings in normal time, the penalty shootout wasn't. David de Gea might have made all of two saves during the World Cup, but he would have been fancying his chances going into the shootout.
Akinfeev, tipped for big things when he was younger, had his crowing moment. De Gea couldn't get his hands on a single spot kick. The trend of a home team doing well on home soil during a World Cup continues, but none of the predecessors' chances were written off as much as Russia.

'We don't want to stop here': Croatia set sights on ultimate prize after dramatic win over Denmark
scroll.in
Football World Cup fever grips Oprah Winfrey
business-standard.com
Proud of team despite World Cup exit: Denmark goalkeeper
business-standard.com
New Delhi: China-based smartphone manufacturer OnePlus on Monday unveiled the "red edition" of its latest flagship OnePlus 6 with 8GB RAM and 128GB internal storage for Rs 39,999.
The new variant of OnePlus 6 would be available for purchase from July 16, the company said in a statement.
"We worked to avoid an overly bright red color while still capturing a sense of self-confidence and positivity," said Pete Lau, Founder, OnePlus.
The smartphone was launched earlier in May for Rs 34,999 for the 6GB RAM+64GB internal storage and Rs 39,999 for the 8GB RAM+128GB internal storage variant.
The device comes with a flagship processor, retaining the company's proprietary "Dash Charge" that fuels the 3,300 mAh battery from zero to 100 per cent in around 80 minutes, along with a 6.28-inch AMOLED display, dual 16MP + 20MP primary camera, 16MP selfie camera and the display cutting "notch."
The handset is powered by Qualcomm's flagship Snapdragon 845 chip and runs on OnePlus's customised version of Android "OxygenOS" which is based on Android 8.1 Oreo OS.
The company earlier released the "midnight black" colour variant of the smartphone late in June with 8GB RAM and 256GB internal storage priced at Rs 43,999.
IANS

Natco Pharma launches Hepatitis C drug in India
business-standard.com
OnePlus 6 Red edition announced at Rs 39,999; sale starts from July 16
business-standard.com
Natco Pharma launches Hepcinat Plus in India
business-standard.com
'Red edition' of OnePlus 6 launched in India
business-standard.com
London: A very disappointed and frustrated former Pakistan prime minister Nawaz Sharif has said that present establishment back home has made his Pakistan Muslim League-Nawaz a target of its enmity and added that, "the only purpose of this vendetta is to hurt me and my family. Whatever is happening in Pakistan can't be understood and it is just victimisation and nothing else."
Talking to media persons at the door step of the Harley Street Hospital where his wife Begum Kulsoom Nawaz is under treatment, Sharif said it is very unfortunate that PML-N parliamentary candidates are being threatened and harassed by agencies.
"It looks obvious that we didn't learn lessons from mistakes and blunders of the past. All guns have been turned onto the PML-N. The ISI (Inter-Services Intelligence) has threatened one of our candidates for the Punjab Assembly.
He was summoned by the agency and its officials slapped candidate Rana Iqbal," Sharif claimed.
He reiterated that whatever is happening in Pakistan would not be good for the country or its people.
"Avoid these tactics, otherwise this would damage the reputation of the country," he emphasized.
(ANI)

Nawaz Sharif, Maryam likely to return to Pakistan soon
business-standard.com
Nawaz Sharif says government agencies harassing PML-N candidates
business-standard.com
Nawaz Sharif, Maryam likely to return to Pakistan soon
siasat.com
By continuing to use this site you consent to the use of cookies on your device as described in our
Cookie Policy unless you have disabled them. You can change your Cookie Settings at any time but parts of our site will not function correctly without them.

Preview: Upbeat Belgium wary of complacency as Japan chase World Cup history
scroll.in
'This is our time to shine': Hazard backs Belgium to enter World Cup final
scroll.in
Model Suzy Cortez from Brazil, known as the winner of the Miss Bum Contest, has posted a sexy tribute to the Russian national team via social media. She congratulated them after they beat Spain at the 1/8 final match of the 2018 FIFA World Cup with a photo in a Russian jersey and not much else. She also left a message in Russian, not well translated, but loving and hearty.
Поздравляю мой дорогой @TeamRussia я очень рад за всех моих русских болельщиков, которые обращаются со мной с такой любовью с 2014. #RUS #WorldCup #ЧМ2018 #ВместеМыКоманда #ESPRUS 🇷🇺⚽🏆 pic.twitter.com/5rXGS0uTM4
READ MORE: Twitter Hails 'Stratospheric' Akinfeev as Russia Delivers 'Spain-ful' Defeat
Just days ago she stunned her social media followers with another provocative 2018 World Cup tribute as she posed wearing only a Brazilian crop top, undies and sneakers. However, some were puzzled and felt mislead because of the message that accompanied the photo, where she rooted for the German team in their game against South Korea. The Bundesteam lost and had to leave the tournament, but many fans appreciated the gesture, flooding the commentary section with hearts and kissing emojis as well as Brazilian flags.
Feliz 🇰🇷🇩🇪18 @toni.kr8s 😂😂😂 ⚽🇧🇷 #worldcup #russia #suzycortez #musadacopa #playboy #football #playboytv #fifa #cbf #brasil #philippecoutinho #fcbarcelona #spartakarena
Публикация от Suzy Cortez (@suzycortezoficial) 27 Июн 2018 в 9:58 PDT
On June 30 the Round of 16 at the 2018 FIFA World Cup, hosted by Russia, began. In addition to the Russian national team, who defeated Spain during a penalty shootout at Luzhniki Stadium in Moscow, France, Croatia and Uruguay have made it to the quarterfinals, while Argentina with its star Lionel Messi and Portugal, led by another football celebrity, Cristioano Ronaldo, were shut out from the tournament.
Suzy Cortez's home country, Brazil, is to play against Mexico for the" ticket" to the next round in Samara on July 2.

'What started badly, ended badly': Spain blame game begins after World Cup exit
scroll.in
FIFA Secretary Mistakes Fans' Roar for Thunder as Russia Defeats Spain in Moscow
sputniknews.com
Washington: The 'C6' gene, which has existed in human body for more than 500 million years, holds the key to human immunity.
Australia's National Science Agency identified the new gene that plays a critical role in regulating the body's immune response to infection and disease.
The discovery could lead to the development of new treatments for influenza, arthritis and even cancer.
The gene, called C6orf106 or 'C6', controls the production of proteins involved in infectious diseases, cancer and diabetes.
"Our immune system produces proteins called cytokines that help fortify the immune system and work to prevent viruses and other pathogens from replicating and causing disease," said researcher Cameron Stewart.
"C6 regulates this process by switching off the production of certain cytokines to stop our immune response from spiraling out of control," she added.
The cytokines, regulated by C6, are implicated in a variety of diseases including cancer, diabetes and inflammatory disorders such as rheumatoid arthritis.
The discovery helps to improve the understanding of our immune system, and it is hoped that this understanding will enable scientists to develop new, more targeted therapies.
"Even though the human genome was first fully sequenced in 2003, there are still thousands of genes that we know very little about," said another researcher Rebecca Ambrose.
Having discovered the function of C6, the researchers are given the privilege of naming it.
The current name, C6orf106, reflects the gene's location within the human genome, rather than relating to any particular function.
The study appears in Journal of Biological Chemistry. (ANI)

Scientist finally discover gene to fight 'cancer'
siasat.com
This gene holds key to human immunity
business-standard.com
Gene that may hold key cancer treatment identified
business-standard.com
Mumbai: Weak global cues depressed the key Indian equity indices on Monday afternoon, with the BSE Sensex losing over 250 points.
Heavy selling pressure on metal, capital goods and banking stocks weighed down the indices, analysts said.
At 1.25 p.m., the broader Nifty50 of the National Stock Exchange (NSE) traded at 10,616.05 points — down by 98.25 points or 0.92 per cent from its previous close of 10,714.30 points.
The barometer 30-scrip Sensex on the Bombay Stock Exchange (BSE), which had opened at 35,545.22 points, traded at 35,165.29 points (1.25 p.m.) — lower by 258.19 points or 0.73 per cent from its previous session's close of 35,423.48 points.
Sensex has so far touched a high of 35,578.24 points and a low of 35,106.57 during intra-day trade. The BSE market breadth was bullish with 698 declines and 1,752 advances so far.
The top gainers on the Sensex were Bajaj Auto, Asian Paints, Infosys, IndusInd Bank and Tata Consultancy Services whereas NTPC, Bharti Airtel, Vedanta, Adani Ports and ONGC were the major losers.
On the NSE, Bajaj Auto, Asian Paints and IndusInd Bank were the highest gainers while Hindalco Industries, NTPC and Bharti Airtel lost the most.
IANS

Key Indian equity indices open in red
business-standard.com
Key Indian equity indices open in red
siasat.com
Sensex skids 315 pts; Nifty slips below 10,700 on global cues
business-standard.com
Senator Grace Poe on Monday said she would push for an inquiry to determine the culpability of Philippine National Police (PNP) officials in connection with the purchase of P 1.893 billion Mahindra patrol vehicles in 2015.
The Commission on Audit (COA) has found that the purchase of India-made Mahindra Enforcer and Mahindra Scorpio vehicles became "disadvantageous" to the PNP due to some problems with vehicles.
"I will push for an inquiry to look into these and determine the culpability of the PNP officials, among others," Poe said in a statement.
The lawmaker said that in 2014, she had expressed serious concerns over the apparent tailor-fitting of the PNP patrol jeeps bidding to favor Mahindra.
"These COA findings validate my concerns to a large extent," she said.
COA said the unsound changes in minimum standard requirements made by the National Police Commission restricted the selection of the most suitable mobility assets during the bidding.
"The procurement of mobility asset in Mahindra Enforcer and Mahindra Scorpio vehicles costing ₱1.893 billion in 2015 without the benefit of operational needs assessment pushed back the full attainment of the objective of the Capability Enhancement Program (CEP) of the PNP," COA said in its report.
The state audit agency also said that the non-evaluation of the actual performance of the initial 1,656 Mahindra vehicles before buying additional units resulted to 206 units not being effectively utilized.
COA observed that the defective units suffered frequent breakdowns, as well as the car manufacturer's poor after-sales services and limited availability of spare parts.
It also noted that the PNP incurred additional costs of P 59.37 million in form of services fees which could have been used to acquire approximately 67 units of patrol jeeps. /je

Guam senators ditch invitation for Bato over Duterte admin's drug war
globalnation.inquirer.net
PNP: Suspects claim they gunned down Fr. Nilo for P100,000
newsinfo.inquirer.net
"I feel sorry for the baseballs."
— Giancarlo Stanton, YES Network, Dec. 11,2017
Six baseballs collected serious frequent-flyer points on a scorching Sunday night in The Bronx, courtesy of the 2018 New York Yankees. That Stanton, the first-year Yankee, did not contribute explicitly to this latest power display, settling merely for a single and a double that combined for 236 miles per hour in exit velocity — no vacation for those balls, either — reflects the depth and breadth of this team's offensive attack.
The Yankees pummeled David Price and the rival Red Sox, 11-1, to prevail in this weekend Yankee Stadium series, 2-1, and tie the Sawx, technically, atop the American League East penthouse while taking a two-game lead in the loss column. They accomplished this via their favorite weapon, the home run, setting a season high by going deep the aforementioned six times — with the underrated, over-hated Aaron Hicks accounting for half of that total and producing a career night.
At the season's halfway mark, the 54-27 Yankees have tallied 137 homers, putting them on pace to break the major league record of 264 held by the 1997 Mariners.
"That's probably as good a night as we've had all year," Aaron Boone said. "Just all night, a lot of different guys on a lot of different pitches.… Obviously a big series. To grab it on Sunday here, that's a peek of what we can do when we're really clicking. We just had a ton of great at-bats."
The success of ace Luis Severino, who threw 6 ²/₃ shutout innings, might have warmed the Yankees' hearts just as much, especially after Boston ace Chris Sale dominated their lineup in Saturday night's middle game. Yet shame on you if you can't marvel at what the Yankees are doing this season with their bats, or worse, if you buy into the nonsensical "They're too reliant on the home run!" narrative.
"If you don't homer, usually teams don't score a lot of runs in those games," said Boone, who became uncharacteristically animated when asked about this notion. "We have power. We're going to hit the ball out of the ballpark. The idea is you want to create as much traffic as possible and give our guys a chance. A lot of times mistakes that we hit well get put in the seats. That's just how we're built. I think that's a good thing."
Only a troglodyte would disagree. This game served as a symphony of dingers. In addition to Hicks' three-pack — the first time a Yankees leadoff hitter accomplished that — Aaron Judge slugged his team-leading 22nd, rookie Gleyber Torres launched No. 15, becoming the first Yankee (and sixth player ever) to hit 15 homers in his first 60 career games at age 21 or younger, and rookie catcher Kyle Higashioka simultaneously tallied his first big-league hit and homer, ending an 0-for-22 start to his career and earning himself the dugout silent treatment from his teammates before they pounced on him in celebration.
"Awesome," Torres said of the whole night. "We compete. [Saturday] night was a bad night, but today we focused."
Boone will challenge you ardently if you profess concern that this sort of attack depreciates come October.
"Those Royals and Giants teams that won, go back and look at those games," he said. "They stuck it in the seats and had great pitching.… When you're up against a great team with great pitching, you're going to get shut down. And it's not because you didn't hit a homer. It's because great pitching shut you down. And it's really hard against those guys to string together hits, three and four hits in an inning."
Neither Boone's sound logic nor Sunday night's laser show takes away from the reality that the Yankees have a Sonny Gray problem, that they badly want another frontline starting pitcher to accompany Severino and might not be able to land one in this uninviting trade market. Yet it's better to be making a run at homer history than not, isn't it?
To those baseballs assigned to a Yankees game: Gear up. There are miles to go before you sleep.

Yankees power past Red Sox
pressherald.com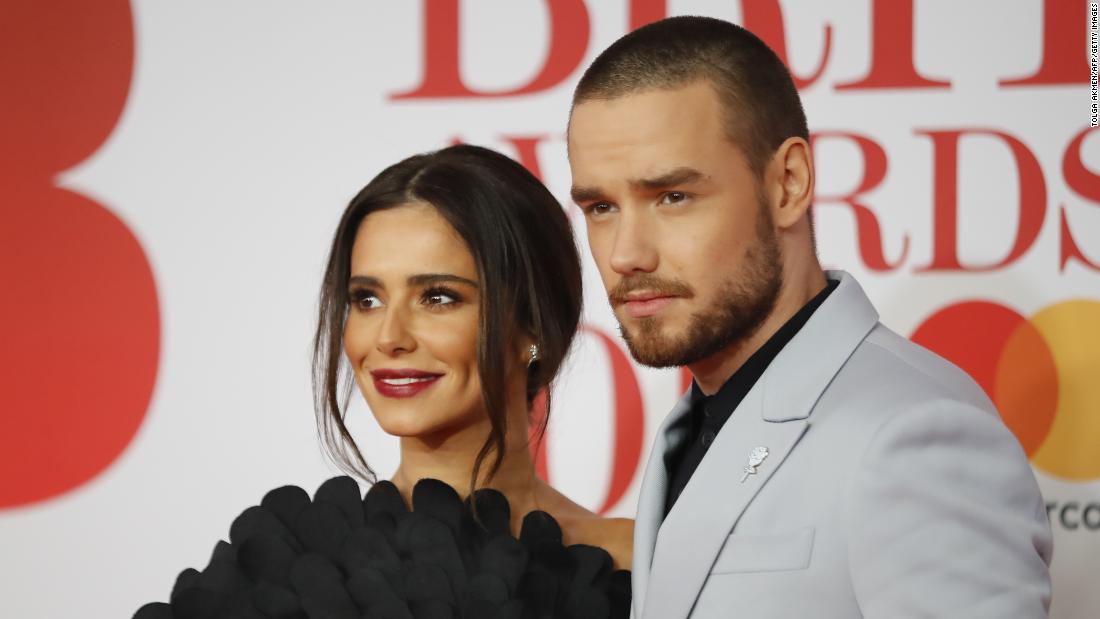 Cheryl, 35, whose has also gone by the names Cheryl Cole and Cheryl Fernandez-Versini during previous marriages, posted an almost identical statement on her social media.
They share one child together, Bear, who was born in March 2017.
At the time of the child's birth, Cheryl posted a photo of Payne cuddling their newborn, adding in the caption, "We are all madly in love and overwhelmingly happy with our little arrival."
Payne made reference to their son in his statement, adding: "Bear is our world and we ask that you respect his privacy as we navigate our way through this together."

Liam Payne and Cheryl split
business-standard.com
Liam Payne splits with girlfriend Cheryl Tweedy
business-standard.com
By continuing to use this site you consent to the use of cookies on your device as described in our
Cookie Policy unless you have disabled them. You can change your Cookie Settings at any time but parts of our site will not function correctly without them.
"No trees would be cut in the process of redevelopment of seven colonies in South Delhi", said the Housing and Urban Affairs Minister around two weeks back when the protests flared up. But, the latest update says that NBCC, the government-owned real-estate company, has got the nod from the Environment Ministry for development in Sarojini Nagar. And, in the process, around 11,000 trees will be cut.
The central government's proposal to fell nearly 17,000 trees to make room for a housing project led to an unusual sight of protesting citizens hugging trees in the heart of the National Capital Region. Hence, Delhi saw its own version of Chipko movement.
The capital saw people across the political spectrum joining hands to put pressure on the government to stop cutting of trees and save Delhi from an impending ecological disaster.
The city is already distinctively known for being the most polluted city in the world. People of Delhi have shown that they can come out on the streets to protest, like they did after the infamous Delhi rape case.
There is a shortage of accommodation for government employees in the capital. The project work was expedited due to a long list of waiting government officials for eligible housing. The government assures that the lost green cover will be compensated 15 times.

No cutting of trees in Delhi till July 19, orders National Green Tribunal
scroll.in
No tree felling for South Delhi redevelopment project till Jul 19: NGT
business-standard.com
Congress leader Ahmed Patel on Monday moved the Supreme Court, urging it to dismiss a petition that challenges his election to Rajya Sabha. The petition is pending with the Gujarat High Court. Chief Justice of Dipak Misra, and Justices AM Khanwilkar and DY Chandrachud will hear the petition on July 9, PTI reported.
Patel was elected to the Rajya Sabha in August. He defeated Bharatiya Janata Party candidate Balwantsinh Rajput, who was the Congress' chief whip but had joined the saffron party weeks before the elections to the Upper House.
Two Congress MLAs – Raghavji Patel and Bhola Gohil – had cross-voted for the BJP but their ballots were declared invalid by the Election Commission, giving Patel just enough votes to win. Rajput then filed the plea, challenging the election panel's decision. In April, the High Court reserved its order against Patel's plea seeking dismissal of Rajput's application.

Supreme Court issues notice to Uttar Pradesh government over alleged fake encounters
scroll.in
SC notice to Uttar Pradesh over fake encounters
business-standard.com
Nearly 3,000 policemen and gendarmes have been mobilized in France to search for Redoine Faid, 46, who escaped in a commandeered helicopter from a prison in the southeastern suburbs of Paris, according to a source of the French news agency AFP.
His two accomplices reportedly took a shocked flight instructor hostage, made him fly to the prison and broke into a visiting room, where the convicted repeat offender was meeting his brother, with smoke bombs and angle grinders, then flew away together in a helicopter, while the unarmed wardens activated the alarm.
The commando-style plot, which made headlines worldwide, took just 10 minutes to fulfill. The perpetrators of the jailbreak let the hostage instructor go and left the helicopter behind 60 km away from the prison. According to the cited sources, the police assume that Faid and his accomplices left the helicopter for a car, which was later found burnt in a shopping mall parking lot. According to French Justice Minister Nicole Belloubet, they allegedly "used drones to survey the location… the inquiry that's under way will tell us."
READ MORE: Dangerous Prisoner Escapes From Hospital in France's Brest — Reports
Redoine Faid, was behind a 2010 armed robbery in which a policewoman was killed. He was serving a 25-year-sentence, in accordance with an April appeals court decision, and has been in jail since 2011. He already made headlines with another movie-like prison break in 2013, when he took wardens hostage and escaped in a car, but was arrested a month later.
His criminal escapades became infamous in the 1990s, when he led a gang and robbed banks. Pursued by the police, he hid in Switzerland and Israel, where he disguised himself as an Orthodox Jew and even learned Hebrew for it, according to his autobiography, before being arrested in 1998. Later he co-wrote two book about his criminal path, nicknamed "Author" for his literary endeavors, made several TV appearances and achieved cult status in the blighted immigrant suburbs of Paris where he came from, according to the AFP.
His sources of inspiration has also been revealed to the public: in 2009 Faid told director Michael Mann, who created the 1995 "Heat" movie starring Al Pacino and Robert DeNiro, "You were my technical adviser."

French gangster uses helicopter to flee prison, manhunt under way
scroll.in
Jerusalem - Civilians fleeing Syria's war will not be allowed to enter Israel, Prime Minister Benjamin Netanyahu said on Sunday adding however that his government will continue providing them with humanitarian aid.
Tens of thousands of Syrians have fled a government offensive in the country's south that started on June 19 and some have set up makeshift camps near the Israeli-held Golan Heights.
"Regarding southern Syria, we will continue to defend our borders," Netanyahu said at the start of a cabinet meeting.
"We will extend humanitarian assistance to the extent of our abilities. We will not allow entry into our territory."
Separately, Israel's military said Sunday it had sent reinforcements to the Golan out of precaution.
Israel has long had a programme in place providing humanitarian aid to Syrians across the fence in the Golan. It has also provided medical treatment to wounded Syrians.
On Friday, Israel's military said it had mounted a nighttime operation across the armistice line with Syria.
It said it delivered 300 tents, 13 tonnes of food and 15 tonnes of baby food in that operation, as well as medical equipment and clothing to four of the camps in the Syrian part of the Golan.
Six Syrians, including four children, were also transported into Israel and provided with medical treatment on Friday night, the military said.
An Israeli military official said the army worked with NGOs to provide humanitarian aid. Soldiers open the gate and leave the aid for the NGOs without entering the Syrian side, the official told journalists.
Those given medical treatment are transported to the fence, where they are met by Israeli troops.
Since June 19, backed by its ally Russia, the Damascus regime has carried out a deadly bombing campaign in southern Syria as it pushes to retake the strategic area bordering Jordan and the Israeli-occupied Golan.
The spike in violence over the past two weeks has forced around 160 000 people to flee their homes, according to initial United Nations estimates.
These include around 20,000 to areas near the Naseeb border crossing with Jordan, a country that already hosts more than 650 000 registered Syrian refugees and says the actual figure is closer to 1.3 million.
Amman has said it cannot open its frontier to any more Syrians fleeing the seven-year conflict, but on Saturday announced it had sent aid across the border to the displaced.
Israel seized a large swathe of the Golan Heights and adjacent areas from Syria in the Six-Day War of 1967. It annexed that territory in 1981, a move never recognised by the international community.
KEEP UPDATED on the latest news by subscribing to our FREE newsletter.
- FOLLOW News24 on Twitter

Syria Challenge: How will Netanyahu act?
jpost.com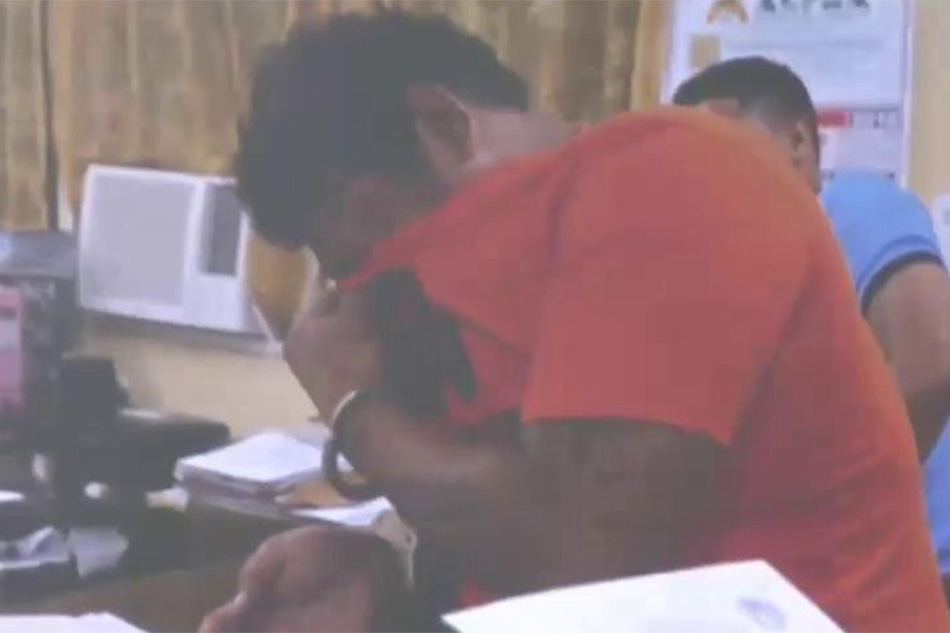 MANILA - The alleged gunman in the slay of a priest in Nueva Ecija has been arrested, the Philippine National Police said Monday, just days after a local court ruled that a previously arrested suspect was not the killer.
Police Director Roel Obusan, chief of the Criminal Investigation and Detection Group, said police traced the whereabouts of suspect Omar Mallari using the plate number of a vehicle caught in a CCTV footage when Fr. Richmond Nilo was killed.
Obusan said there was an existing warrant of arrest against the suspect for robbery with homicide in connection with a different case. The suspect, he said, confessed to shooting the priest.
"Noong siya ay nahuli sa robbery with homicide, kasama na siyempre 'yung sa investigation 'yung death ni Fr. Nilo, at dito na siya nag-self confess on the incident," the police official told reporters in a briefing at Camp Crame.
Aside from Mallari, cops also arrested suspect Manuel Torres, while two other suspects, Rolando Garcia and Marius Albis Torres, surrendered. Some suspects remain at large.
Mallari and Garcia confessed in their respective affidavits that they were paid P100,000 by Torres to kill the priest, according to Chief Supt. Amador Corpus, director of Police Regional Office 3.
Torres allegedly has grudges against Fr. Nilo for filing molestation charges against his nephew who was a seminarian.
"Nasabi nito na galit si Manuel Torres sa pari dahil hindi natuloy sa pagkapari si Christopher Torres dahil kinasuhan nga ni Fr. Nilo ng rape. We are looking into that lead right now pero it is not yet safe to say na hanggang doon lang," Corpus said.
Fr. Nilo was shot dead just before a Mass in a church in Zaragoza, Nueva Ecija last June 10. His death has raised concern in the Roman Catholic church because he is already the third priest to be gunned down in 6 months.

PNP: Suspects claim they gunned down Fr. Nilo for P100,000
newsinfo.inquirer.net
"China will resolutely promote the creation of the open world economy, defend the WTO principles, support the mechanisms of multilateral trade, promote regional economic integration, facilitate the creation of free trade zones, and resist various forms of protectionism," the Chinese minister said, as quoted by the People's Daily newspaper.
According to the minister, China will also contribute to creation of an open market and inclusive, balanced and mutually beneficial development of the world economy.
The minister's remarks came amid the escalating tensions between China and the United States over trade issues. The sides seemed to settle the issue of US President Donald Trump's steel and aluminum tariffs by negotiating to cut China-US trade imbalance in mid-May. However, earlier in June, the US president threatened to impose additional tariffs on Chinese goods, citing Beijing's "irrational behavior." China has called Trump's latest threats "an act of extreme pressure and blackmail."

China commerce minister says will significantly widen market access
business-standard.com
Nuplazid, a drug for hallucinations and delusions associated with Parkinson's disease, failed two clinical trials. In a third trial, under a revised standard for measuring its effect, it showed minimal benefit. Overall, more patients died or had serious side effects on Nuplazid than after receiving no treatment.
Patients on Uloric, a gout drug, suffered more heart attacks, strokes and heart failure in two out of three trials than did their counterparts on standard or no medication.
Nevertheless, the U. S. Food and Drug Administration approved both of these drugs — with a deadly aftermath. Uloric's manufacturer reported last November that patients on the drug were 34 percent more likely to die from heart disease than people taking an alternative gout medication. And since the FDA fast-tracked approval of Nuplazid and it went on the market in 2016 at a price of $24,000 a year, there have been 6,800 reports of adverse events for patients on the drug, including 887 deaths as of this past March 31.
The FDA is increasingly green-lighting expensive drugs despite dangerous or little-known side effects and inconclusive evidence that they curb or cure disease. Once widely assailed for moving slowly, today the FDA reviews and approves drugs faster than any other regulatory agency in the world. Between 2011 and 2015, the FDA reviewed new drug applications more than 60 days faster on average than did the European Medicines Agency.
Europe has also rejected drugs for which the FDA accelerated approval, such as Folotyn, which treats a rare form of blood cancer. European authorities cited "insufficient" evidence of health gains from Folotyn, which shrinks some tumors but hasn't been shown to extend lives. It costs more than $92,000 for a seven-week course of treatment, according to research firm SSR Health.
As patients (or their insurers) shell out tens or hundreds of thousands of dollars for unproven drugs, manufacturers reap a windfall. For them, expedited approval can mean not only sped-up sales but also — if the drug is intended to treat a rare disease or serve a neglected population — FDA incentives worth hundreds of millions of dollars.
"Instead of a regulator and a regulated industry, we now have a partnership," said Dr. Michael Carome, director of the health research group for the nonprofit advocacy organization Public Citizen, and a former U. S. Department of Health and Human Services official. "That relationship has tilted the agency away from a public health perspective to an industry friendly perspective."
While the FDA over the past three decades has implemented at least four major routes to faster approvals — the current commissioner, Dr. Scott Gottlieb, is easing even more drugs' path to market. The FDA okayed 46 "novel" drugs — whose chemical structure hadn't been previously approved — in 2017, the most in at least 15 years. At the same time, it's rejecting fewer medications. In 2017, the FDA's Center for Drug Evaluation and Research denied 19.7 percent of all applications for new drugs, biologics, and efficacy supplements, down from a 2010 peak of 59.2 percent, according to agency data.
President Trump has encouraged Gottlieb to give patients faster access to drugs. "You're bringing that down, right?" Trump asked the commissioner at a May 30 event, referring to the time it takes to bring drugs to market. "You have a lot of good things in the wings that, frankly, if you moved them up, a lot of people would have a great shot."
Faster reviews mean that the FDA often approves drugs despite limited information. It channels more and more experimental treatments, including Nuplazid, into expedited reviews that require only one clinical trial to show a benefit to patients, instead of the traditional two.
The FDA also increasingly allows drugmakers to claim success in trials based on proxy measurements — such as shrunken tumors — instead of clinical outcomes like survival rates or cures, which take more time to evaluate. In return for accelerated approval, drug companies commit to researching how well their drugs work after going on the market. But these post-marketing studies can take 10 years or longer to complete, leaving patients and doctors with lingering questions about safety and benefit.
"Clearly, accelerated approval has greater uncertainty," Dr. Janet Woodcock, head of the FDA's Center for Drug Evaluation and Research, said in an interview. When only a single trial is used for approval, "in some cases, there may be more uncertainty about safety findings or with the magnitude of effectiveness."
She attributed the increased use of expedited pathways to more drugmakers developing treatments for rare diseases, "where there's unmet need, and where the patient population and providers are eager to accept more uncertainty."
The FDA's growing emphasis on speed has come at the urging of both patient advocacy groups and industry, which began in 1992 to contribute to the salaries of the agency's drug reviewers in exchange for time limits on reviews. In 2017, pharma paid 75 percent — or $905 million — of the agency's scientific review budgets for branded and generic drugs, compared to 27 percent in 1993.
"The virginity was lost in '92," said Dr. Jerry Avorn, a professor at Harvard Medical School. "Once you have that paying relationship, it creates a dynamic that's not a healthy one."
Industry also sways the FDA through a less direct financial route. Many of the physicians, caregivers, and other witnesses before FDA advisory panels that evaluate drugs receive consulting fees, expense payments, or other remuneration from pharma companies.
"You know who never shows up at the [advisory committee]? The people who died in the trial," lamented one former FDA staffer, who asked not to be named because he still works in the field. "Nobody is talking for them."
The drug industry's lobbying group, Pharmaceutical Research and Manufacturers of America, continues to push for ever-faster approvals. In a policy memo on its website, PhRMA warns of "needless delays in drug review and approval that lead to longer development times, missed opportunities, higher drug development costs and delays in treatments reaching patients."
The agency has internalized decades of criticism that painted it as an obstacle to innovation, said Daniel Carpenter, a professor of government at Harvard and author of a 2010 book on pharmaceutical regulation at the FDA. "They now have a built-in fear of over-regulation that's set in over the last 20 years."
To be sure, nobody wants the FDA to drag out drug reviews unnecessarily, and even critics acknowledge that there's no easy way for the agency to strike the perfect balance between sufficient speed and ample information, particularly when patients have no other treatments available, or are terminally ill.
"I think it's reasonable to move drugs faster particularly in the case where you're dealing with an extremely promising new product which treats a serious or life-threatening disease," said Dr. Aaron Kesselheim, an associate professor at Harvard Medical School. "The key, though, when you do that is that you've got to make sure you closely follow the drug in a thoughtful way and unfortunately, too often we don't do that in the U. S."
Gregg Gonsalves used to be a member of ACT UP, the HIV advocacy group that tried to take over the FDA's headquarters in Rockville, Maryland, in 1988, accusing the agency of holding back cures. While he didn't storm the FDA building, Gonsalves participated in other protests that led the FDA to accelerate approvals. Now an assistant professor of epidemiology at Yale School of Public Health, he said he fears HIV activists "opened a Pandora's box" that the industry and anti-regulation think tanks pounced on.
"We were desperate. We naively had the idea that there were hundreds of drugs behind a velvet curtain at the FDA being held back from us," he said. "Thirty years of our rash thinking has led us to a place where we know less and less about the drugs that we pay more and more for."
After thalidomide, taken by pregnant women to prevent nausea, caused thousands of babies in the early 1960s to be born with stunted limbs, Congress entrusted the FDA with ensuring that drugs going on the market were both safe and effective, based on "substantial evidence" from multiple trials.
Assembling this evidence has traditionally required three stages of clinical trials; the first in a small cohort of healthy volunteers to determine a safe dosage; the second to assess the drug's efficacy and side effects; and then, if results are positive, two larger trials to confirm the benefit and monitor for safety issues. An FDA team of in-house reviewers is then assigned to analyze the results and decide whether the agency should approve the drug. If reviewers want more input, the agency can convene an advisory committee of outside experts.
As the FDA's responsibilities expanded in the 1970s, review times began to lag, reaching more than 35 months on average in 1979. The AIDS crisis followed soon thereafter, prompting complaints from Gonsalves and other activists. Their protests spurred the Prescription Drug User Fee Act in 1992, which established industry fees to fund FDA staff salaries. In return, the FDA promised to review drugs within 12 months for normal applications, and 6 months for priority cases.
The more that the FDA relied on industry fees to pay for drug reviews, the more it showed an inclination towards approval, former employees say.
"You don't survive as a senior official at the FDA unless you're pro-industry," said Dr. Thomas Marciniak. A former FDA medical team leader, and a longtime outspoken critic of how drug companies handle clinical trials, Marciniak retired in 2014. "The FDA has to pay attention to what Congress tells them to do, and the industry will lobby to get somebody else in there if they don't like you."
Staffers know "you don't get promoted unless you're pro-industry," he added.
This tilt is reflected in what senior officials choose to highlight. The agency's Center for Drug Evaluation and Research gives internal awards to review teams each year, according to Marciniak and the former FDA employee who requested anonymity. Both said they had never seen an award granted to a team that rejected a drug application. The FDA did not respond to ProPublica's request for a list of award winners.
Higher-ups would also send congratulatory emails to medical review teams when a drug was approved. "Nobody gets congratulated for turning a drug down, but you get seriously questioned," said the former staffer, adding that the agency's attitude is, "Keep Congress off your back and make your life easier."
Dr. Peter Lurie, a former associate commissioner who left the FDA in 2017, recalled that John Jenkins, director of the agency's Office of New Drugs from 2002 to 2017, gave an annual speech to employees, summing up the year's accomplishments. Jenkins would talk "about how many approvals were done and how fast they were, but there was nothing in there saying, we kept five bad drugs off the market," said Lurie, now president of the nonprofit Center for Science in the Public Interest in Washington, D. C. Jenkins declined to comment.
"I personally have no interest in pressuring people to approve things that shouldn't be approved — the actual person who would be accountable would be me," Woodcock said. She added that the FDA's "accountability to the public far outweighs pressure we might feel otherwise."
Congress has authorized one initiative after another to expedite drug approvals. In 1988, it created "fast track" regulations. In 1992, the user fee law formalized "accelerated approval" and "priority review." When the law was reauthorized in 1997, the goal for review times was lowered from a year to 10 months. In 2012, Congress added the designation, "breakthrough therapy," enabling the FDA to waive normal procedures for drugs that showed substantial improvement over available treatments.
"Those multiple pathways were initially designed to be the exception to the rule, and now the exceptions are swallowing the rule," Kesselheim said.
Sixty-eight percent of novel drugs approved by the FDA between 2014 and 2016 qualified for one or more of these accelerated pathways, Kesselheim and his colleagues have found. Once described by Rachel Sherman, now FDA principal deputy commissioner, as a program for "knock your socks off, home run" treatments, the "breakthrough therapy" label was doled out to 28 percent of drugs approved from 2014 to 2016.
Nuplazid was one of them. It was created in 2001 by a chemist at Acadia Pharmaceuticals, a small biotech firm in San Diego. Eight years later, in the first of two Phase 3 trials, it failed to prove its benefit over a placebo.
The company, which had no approved drugs and hence no revenue stream, halted the second trial, but wasn't ready to give up. Acadia executives told investors that the trials failed because the placebo patients had a larger-than-expected improvement. They asked the FDA for permission to revise the scale used to measure benefit, arguing that the original scale, which was traditionally used for schizophrenia assessments, wasn't appropriate for patients with Parkinson's-related psychosis. The agency agreed to this new scale, which had never been used in a study for drug approval.
Since there were no treatments approved for Parkinson's-related psychosis, the FDA also granted Acadia's request for the breakthrough therapy designation, and agreed that Nuplazid needed only one positive Phase 3 trial, instead of two, for approval.
In 2012, Acadia finally got the positive trial results it had hoped for. In a study of 199 patients, Nuplazid showed a small but statistically significant advantage over a placebo.
FDA medical reviewer Dr. Paul Andreason was skeptical. Analyzing all of Nuplazid's trial results, he found that you would need to treat 91 patients for seven to receive the full benefit. Five of the 91 would suffer "serious adverse events," including one death. He recommended against approval, citing "an unacceptably increased, drug-related, safety risk of mortality and serious morbidity."
The FDA convened an advisory committee to help it decide. Fifteen members of the public testified at its hearing. Three were physicians who were paid consultants for Acadia. Four worked with Parkinson's advocacy organizations funded by Acadia. The company paid for the travel of three other witnesses who were relatives of Parkinson's patients, and made videos shown to the committee of two other caregivers. Two speakers, the daughter and grand-daughter of a woman who suffered from Parkinson's, said they had no financial relationship with Acadia. However, the granddaughter is now a paid "brand ambassador" for Nuplazid. All begged the FDA to approve Nuplazid.
"Acadia or its consultants interacted with some of the potential speakers to facilitate logistics and reimburse for travel, as is common practice," Acadia spokeswoman Elena Ridloff said in an email. "… All speakers presented their own experience in their own words."
The only speaker who urged the FDA to reject the drug was a scientist at the National Center for Health Research who has never had any financial relationship with Acadia.
The witnesses' pleas affected the panel members, who voted 12-2 to recommend accelerated approval. "If there were a safe and effective alternative on the market, I would not have voted yes," said Almut Winterstein, a professor of pharmaceutical outcomes and policy at the University of Florida. "But I think that, in particular, the public hearing today was very compelling. There clearly is a need."
Dr. Mitchell Mathis, director of the FDA's division of psychiatry products, sided with the advisory panel, overruling Andreason. "Even this small mean improvement in a disabling condition without an approved treatment is meaningful," Mathis wrote, adding that its safety profile was no worse than other antipsychotics on the market. Like other antipsychotics, Nuplazid carries a warning on the label of increased deaths in elderly patients with dementia-related psychosis. Since Nuplazid's approval in 2016, Acadia has raised its price twice, and it now costs more than $33,000 a year.
As Nuplazid began to reach patients, reports of adverse events poured in. While it's impossible to ascertain whether the treatment was responsible for them, the sheer numbers, including the 887 deaths, are "mind boggling," said Diana Zuckerman, president of the National Center for Health Research.
In more than 400 instances, Nuplazid was associated with worsening hallucinations — one of the very symptoms it was supposed to treat.
That's what happened to Terrence Miller, a former Hewlett Packard and Sun Microsystems employee who was diagnosed with Parkinson's in the early 1990s. About five years ago, Miller began to experience mild hallucinations, such as seeing cats and dogs in his home in Menlo Park, California. At the time, he realized that the animals weren't real, and the visions didn't bother him, so he didn't take any medication for them. But two years later, after surgery for a hip injury, the hallucinations worsened.
"He was convinced that he hadn't had the surgery yet and people were going to harvest his organs," recalled his wife, Denise Sullivan. "He'd see spaceships outside the window and they had to call security to help restrain him."
In 2016, Dr. Salima Brillman prescribed Nuplazid. Miller tried Nuplazid twice, for a few months each time. His hallucinations became darker. "I'd say, 'Who are you talking to?' and he said, 'They're telling me to do bad stuff,'" Sullivan said. Afraid "he might hurt me because of what his evil 'friends' were telling him," Sullivan, who was paying more than $1,000 a month for the drug out of her own pocket, then stopped the treatment.
What Sullivan and Miller didn't know is that Brillman earned $14,497 in consulting fees from Acadia in 2016, ranking as the company's seventh highest paid doctor, government records show. The top five prescribers of Nuplazid in Medicare, the government's health program for the elderly, all received payments from Acadia. Dr. David Kreitzman of Commack, New York, prescribed the most: $123,294 worth of Nuplazid for 18 patients in 2016, according to data company CareSet. He was paid $14,203 in consulting fees.
Brillman and Kreitzman didn't respond to multiple requests for comment.
Miller's new doctor switched him onto Seroquel, an old drug long used off-label for Parkinson's-related psychosis. With it, he's sleeping better and the hallucinations, while remaining, have become more benign again, Sullivan said. Patients like Miller, whose hallucinations worsen, may not have been on Nuplazid for long enough, said Ridloff, the Acadia spokeswoman.
The 887 reported deaths of Nuplazid patients may be an undercount. A nurse in Kansas, who specializes in dementia care, said a resident in one of the facilities she worked at had no history of cardiac issues, yet died from congestive heart failure within a month of starting on Nuplazid. The nurse requested anonymity because she continues to work in nursing care facilities.
"We questioned the ordering physician whether this should be reported to the FDA in relation to Nuplazid and he said, 'Oh no, the drug rep said this couldn't have happened because of Nuplazid,' and it was never reported," she said.
Acadia's Ridloff said such behavior by a sales representative would be "absolutely not consistent with our protocols, policies and procedures."
She said that deaths are to be expected among patients who are elderly and in an advanced stage of Parkinson's, and that Nuplazid does not increase the risk of mortality.
"Acadia's top priority has been, and continues to be, patient safety," she said. "We carefully monitor and analyze safety reports from clinical studies and post-marketing reporting to ensure the ongoing safety of Nuplazid. Based on the totality of available information, Acadia is confident in Nuplazid's efficacy and safety profile."
After a CNN report in April about adverse events related to Nuplazid prompted lawmakers to question the FDA, Gottlieb said he would "take another look at the drug." Agency spokeswoman Sandy Walsh confirmed that an evaluation is ongoing, and the FDA "may issue additional communications as appropriate."
Nuplazid isn't the only drug approved by an FDA senior official against the advice of lower-level staffers. In 2016, internal reviewers and an advisory committee called for rejecting a drug for a rare muscular disease called Duchenne muscular dystrophy. Only 12 patients participated in the single trial that compared the drug, Exondys 51, with a placebo. Trial results showed that Exondys 51 produced a small amount of dystrophin, a protein Duchenne patients lack. But the company didn't show that the protein increase translated into clinical benefits, like helping patients walk.
Woodcock approved the drug. Internal FDA documents later revealed that she was concerned about the solvency of the drugmaker, Sarepta Therapeutics in Cambridge, Massachusetts. A memo by the FDA's acting chief scientist recounted Woodcock saying that Sarepta "needed to be capitalized" and might go under if Exondys 51 were rejected. Exondys 51 went on the market with a price tag of $300,000 a year.
"We don't look at a company and say they'll have a lower standard because they're poor, but we're trying to recognize that, small or large, companies will never work on developing a drug if they won't make a profit," said Woodcock. "Our job is to work with the field, and with the firms to try and find a path forward," especially on rare diseases where a large trial is impractical, she said.
Last month, the European Medicines Agency's advisory committee recommended rejection of Exondys 51's application, saying "further data were needed to show… lasting benefits relevant to the patient."
Sarepta is asking the committee to reconsider, the company said in a June press release.
The debate over Exondys 51 centered on the value of a so-called surrogate endpoint, a biological or chemical measure that serves as a proxy for whether the drug actually treats or cures the disease. Surrogate measures speed drug development because they're easier and quicker to measure than patient outcomes.
Some surrogate measures are well-established. Lowering cholesterol has been proven repeatedly to help reduce heart attacks and strokes. But others aren't, like how much dystrophin needs to be produced to help Duchenne patients, raising concerns that drugs may be approved despite uncertain benefits.
The jury is still out on two other drugs, Folotyn and Sirturo, which received expedited approval based on surrogate measurements. There's no proof that Folotyn helps patients with a rare cancer — peripheral T-cell lymphoma — live longer, while Sirturo, an antibiotic for multi-drug-resistant tuberculosis, has potentially fatal side-effects. Yet since both drugs were aimed at small or under-served populations, the FDA rewarded their manufacturers with valuable perquisites.
In a clinical trial, Folotyn reduced tumors in 29 of 107 patients, but the shrinkage lasted longer than 14 weeks in only 13 people. Since everyone in the study got Folotyn, it wasn't apparent whether the drug would help patients do better than a placebo or another drug. Meanwhile, 44 percent of participants in the trial suffered serious side effects, including sores in mucous membranes, including in the mouth, lips and digestive tract, and low levels of blood cells that help with clotting. One patient died after being hospitalized with sores and low white blood-cell counts.
While tumor shrinkage is a commonly used surrogate measurement in cancer trials, it often has a low correlation with longer life expectancy, according to a 2015 study. "I would say to a patient, this drug may be more likely to shrink a tumor either partially or even completely, but that may in fact be a pyrrhic victory if it doesn't help you live better or longer," said Mikkael Sekeres, director of the leukemia program at the Cleveland Clinic Cancer Center, who voted against approving Folotyn at the FDA's advisory panel discussion in 2009. He was out-voted 10 to four. Three years later, the European Medicines Agency rejected the drug.
Because peripheral T-cell lymphoma only affects about 9,000 Americans each year, the FDA designated Folotyn as an "orphan" drug, giving its manufacturer, Allos Therapeutics, tax incentives and at least two extra years of patent exclusivity. Nevada-based Spectrum Pharmaceuticals acquired Allos in 2012. At more than $92,000 per course of treatment, Folotyn is Spectrum's top-selling product, earning $43 million in 2017.
Dr. Eric Jacobsen, clinical director of the adult lymphoma program at Dana-Farber Cancer Institute in Boston, has become disillusioned with Folotyn since he helped Allos run the original trial. "Enthusiasm for the drug has waned," he said. "It's been on the market for a long time, and there's no additional data suggesting benefit." He now prescribes other options first, particularly because of the mouth sores Folotyn can cause, which make it painful to eat or drink.
The FDA approved Sirturo in 2012 without requiring Johnson & Johnson, the manufacturer, to demonstrate that patients on the drug were cured of tuberculosis. Instead, Johnson & Johnson only had to show that the treatment, when added to a traditional drug regimen, killed bacteria in the sputum faster than did the regimen alone. Sirturo was successful by that measure, but 10 patients who took it died, five times as many as the two in the group on placebo.
Dean Follmann, a biostatistics expert at the National Institutes of Health, voted as an FDA advisory committee member to approve Sirturo but wrestled with how to read the sputum data in light of the higher death rate: "The drug could be so toxic that it kills bacteria faster, but it also kills people faster."
The imbalance in deaths during the trial "was a safety signal" that led the FDA to require "its most serious warning in product labeling," known as a boxed warning, said agency spokeswoman Walsh. The packaging, she added, specified that Sirturo "should only be used for patients for whom an effective TB regimen cannot otherwise be provided. Thus, current labeling provides for a safe and effective use."
Under a 2007 provision in the user-fee law, aimed at spurring treatments for developing nations, Sirturo's approval qualified Johnson & Johnson for a voucher given to manufacturers who successfully get a tropical disease drug to market. The voucher can be used in the future, for any drug, to claim priority review - within six months instead of the usual 10. Time is money in the drug industry, and beating your competitor to market can be worth hundreds of millions of dollars. Vouchers may also be sold to other drugmakers, and have garnered up to $350 million. Sarepta received a voucher under a similar program for pediatric rare diseases when the FDA approved Exondys 51.
In South Africa, where Sirturo is mainly used, the drug is seen as a helpful option for highly drug-resistant patients. A study at one South African hospital by Dr. Keertan Dheda found that 45 out of 68 patients who took Sirturo were cured, as against 27 out of 204 before the drug was available. That doesn't rule out the possibility that Sirturo may be killing a small subset of patients, said Dheda, but the risk is "very minor compared to the disease itself."
Adrian Thomas, Johnson & Johnson's vice president of global public health, said in an interview that observational results since the drug went on the market make him "much more confident that there is no more unexplained imbalance in mortality" and that the "benefit/risk in drug-resistant tuberculosis is incredibly reasonable when you don't have other treatment choices."
Still, the World Health Organization said in a 2016 report that the "quality of evidence remains very low" regarding Sirturo. "There is still some residual uncertainty for mortality," the group said, and "specific harms" to the respiratory system "continue to be observed."
While the FDA expedites drug approvals, it's content to wait a decade or more for the post-marketing studies that manufacturers agree to do. Definitive answers about Sirturo are likely to be lacking until 2022, when Johnson & Johnson is expected to finish its study, a full decade after the drug was approved. Studies of Nuplazid and Folotyn aren't expected until 2021. Spectrum has missed two FDA deadlines for post-marketing studies on Folotyn. Spectrum spokeswoman Ashley Winters declined comment.
Post-marketing studies often take far longer to complete than pre-approval trials, in part because it's harder to recruit patients to risk being given a placebo when the drug is readily available on the market. Plus, since the drug is already on the market, the manufacturer no longer has a financial incentive to study its impact— and stands to lose money if the results are negative. Of post-marketing studies agreed to by manufacturers in 2009 and 2010,20 percent had not started five years later, and another 25 percent were still ongoing.
And, despite taking so long, most post-marketing studies of drugs approved on the basis of surrogate measures rely on proxy criteria again rather than examining clinical effects on patients' health or lifespans. In fact, Folotyn's post-marketing trials will measure what's known as "progression-free survival," or the time it takes before tumors start growing again, but not whether patients live longer.
Proving that a drug extends survival is especially hard in cancer trials because patients don't want to stay in a trial if their disease gets worse, or may want to add another experimental treatment. "In cancer, we're probably not going to get a clean answer," Woodcock said. Instead, the best evidence that cancer drugs are effective would be an increase in national survival rates over time, she said.
By law, the FDA has the authority to issue fines or even pull a drug off the market if a drugmaker doesn't meet its post-marketing requirements. Yet the agency has never fined a company for missing a deadline, according to Woodcock.
"We would consider fines if we thought companies were simply dragging their feet, but we would have the burden to show they really weren't trying, and it'd be an administrative thing that companies could contest," said Woodcock.
Even when post-marketing studies belatedly confirm that drugs are dangerous, the agency doesn't always pull them off the market. Consider Uloric, the gout treatment. Even though it consistently lowered uric acid blood levels, the FDA rejected it in 2005 and again in 2006, because trials linked it to cardiovascular problems. But a third study by the manufacturer, Takeda Pharmaceutical of Osaka, Japan, didn't raise the same alarms. So the agency decided in 2009 to let the drug on the market, while asking Takeda for a post-marketing study of 6,000 patients to clarify the drug's cardiovascular effects.
Takeda took more than eight years to complete the study. It found that patients on Uloric had a 22 percent higher risk of death from any cause and a 34 percent higher risk of heart-related deaths than patients taking allopurinol, a generic alternative. The FDA issued a public alert in November 2017, sharing the results of the trial, but left Uloric on the market.
Public Citizen has warned patients to stop taking Uloric. "There is no justification for using it," said Carome. "If the results of the most recent study had been available prior to FDA approval, the FDA likely would have rejected the drug."
FDA spokeswoman Walsh said it is "conducting a comprehensive evaluation of this safety issue and will update the public when we have new information."
Takeda is working with the FDA to "conduct a comprehensive review," spokeswoman Kara Hoeger said in an email. The company wants to ensure that "physicians have comprehensive and accurate information to make educated treatment decisions." Thomas Moore, senior scientist of drug safety and policy at the Institute for Safe Medication Practices, warned that future post-marketing findings on Nuplazid could be similarly bleak. Uloric "is the story of [Nuplazid] but a few years down the pike," he said.
Nevertheless, FDA Commissioner Gottlieb is forging ahead with more shortcuts. In May, he announced plans to approve gene therapies for hemophilia based on whether they increased the level of clotting proteins, without waiting for evidence of reduced bleeding.
Two years ago, a prescient Dr. Ellis Unger, FDA's Director of the Office of Drug Evaluation, had warned against precisely this initiative. After Woodcock approved Exondys 51 in 2016, Unger wrote, "A gene therapy designed to produce a missing clotting factor could receive accelerated approval on the basis of a tiny yet inconsequential change in levels of the factor… The precedent set here could lead to the approval of drugs for rare diseases without substantial evidence of effectiveness."
Gottlieb seems less worried than Unger.
"For some of these products, there's going to be some uncertainty, even at the time of approval," Gottlieb said when announcing the plan. "These products are initially being aimed at devastating diseases, many of which are fatal and lack available therapy. In these settings, we've traditionally been willing to accept more uncertainty to facilitate timely access to promising therapies."
His decision pleased investors. That day, while biotechnology stocks overall fell, shares of hemophilia gene therapy manufacturers rose.

RITES, Fine Organic Industries rise on market debut
business-standard.com
The Supreme Court on Monday upheld the appointments of KV Chaudhary as the central vigilance commissioner and TM Bhasin as the vigilance commissioner. The court delivered its verdict after hearing pleas by non-governmental organisation Common Cause, and the Centre for Integrity, Governance and Training in Vigilance Administration, Live Law reported.
Lawyer Prashant Bhushan, representing Common Cause, had claimed that there were serious charges against Chaudhary and Bhasin, which were ignored by the three-member appointments committee. Bhushan called the appointments "arbitrary, illegal and in violation of the principle of institutional integrity".
The Centre appointed Chaudhary and Bhasin to their posts in June 2015.
Justices Arun Mishra and Mohan M Shantanagoudar had reserved their verdict in September, but in April observed that "various files have been submitted, bulky record has been filed without proper flagging and summary by the learned counsel for the parties".
Prashant Bhushan claimed Chaudhary's name was linked to the 2012 Stock Guru scam, in which about two lakh people were duped of Rs 1,100 crore after being promised investments. He said Chaudhary could also be linked to the controversy over visitors to former Central Bureau of Investigation chief Ranjit Sinha's residence.
The advocate said the Central Vigilance Commission had indicted Bhasin in 2013 for forging and tampering with the appraisal report of the Indian Bank's general manager in his capacity as the chairperson and managing director of the institution.
The Centre had defended the appointments, saying they were chosen unanimously by a committee comprising Prime Minister Narendra Modi, Home Minister Rajnath Singh and the leader of the Opposition.

SC upholds appointment of KV Chowdary as CVC
siasat.com
Kochi: A 20-year-old Abhimanyu was hacked to death while two others were injured in an attack in Kerala's Kochi college said Police officials.
According to reports, Abhimanyu was a second-year-student and Students' Federation of India (SFI) leader. He was allegedly attacked by Campus Front workers and Popular Front of India (PFI) outfits inside the Maharaja's College located in Ernakulam, on Sunday night, PTI reported.
The Police said three workers of the PFI and Campus Front have been taken into custody in connection with the incident. The Police suspects issue over using of college walls led to the fight between student activists.
The injured students are undergoing treatment while one of the injured person is serious.
Following the incident, the SFI has called for a state-wide protest against the killing of Abhimanyu on Monday.
Abhimanyu hailed from Idukki district's Vattavada and was also a member of the organisation's Idukki district committee. His body is currently kept in Ernakulam General Hospital's mortuary.
Former Rajya Sabha member and CPI(M) state secretariat member P Rajeev has condemned the attack.
"We have not heard about such a heinous attack on student activists in recent times. All the progressive forces should come forward to fight against such outfits with extremist nature," Rajeev said.

SFI leader stabbed to death on college campus in Kerala
business-standard.com
The Supreme Court on Monday extended the deadline for publishing the final draft of Assam's National Register of Citizens to July 30, PTI reported. The top court had earlier extended the original deadline for the final draft from May 31 to June 30.
This comes days after NRC coordinator Prateek Hajela said it would not be possible to release the final draft on the scheduled date due to floods in Assam. The deluge in Cachar, Karimganj and Hailakandi districts in the Barak Valley, parts of Karbi Anglong and Hojai hampered the process to publish the NRC on time, Hajela had said. He had said that a petition was filed in the Supreme Court seeking an extension.
Assam began to update the National Register of Citizens in 2015 to create a definitive list of citizens of the state. The first draft was published on January 1, and has verified 1.9 crore people out of the 3.29 crore who applied.
As the deadline for the final draft approaches, and thousands fear they may suddenly be declared foreigners, tensions run high in Assam. Anticipating turbulence when the final draft is published, the state administration has deployed security forces across Assam and asked for reinforcements from the Centre.

SC extends deadline for Assam NRC final draft till July 30
business-standard.com
Cape Town – The Duchess of Sussex spent her weekend effortlessly supporting her husband the Duke of Sussex and Prince William at a polo event.
The royal brothers took part in the two-day Audi Polo Challenge on behalf of their charities, at the Coworth Park Polo Club in Ascot, England.
On Saturday, Meghan was photographed looking chic in a 3/4-length, sand-coloured Shoshanna Ashland sleeveless and belted dress, paired with brown Sarah Flint Grear tie-up sandals and a white Madewell x Biltmore Panama hat.
The new royal was spotted hanging out with celeb friends, Serena Williams and husband Alexis Ohanian, as Princes Harry and William played their favourite sport.
Also in attendance on Saturday was Spider-Man actor Tom Holland.
SEE PICS HERE:
Meghan was also spotted at day two of the event on Sunday, which would have been the late Princess Diana's 57th birthday.
In photos, obtained by E! News, the former Suits actress sports her most casual outfit yet during a public appearance since marrying Harry.
Following Sunday's match, Fantastic Beasts actor Eddie Redmayne was photographed with Princes Harry and William's team on the podium.
SEE PICS HERE:
(Photos: Greatstock/Splash, Getty Images)

On Princess Diana's Birthday, Prince Harry Celebrates Anniversary With Meghan Markle The Same Way His Mom Did
inquisitr.com
New Delhi: With India possessing a mere 9.09 percent of the World Health Organisation (WHO) recommended doctor density per 1000 people, frayed tempers and impatience have been manifesting themselves in various forms of aggression and violence against doctors.
Even as the nation celebrates the World Doctor's Day on July 1, incidents of aggression continue to mount and undermine this noble profession.
Violence seems to have increased in Indian society in general, if one follows the incidents of mob lynching following rumours propagated on social media outlets such as WhatsApp or Facebook.
Psychologists contend that this could be part of a larger trend in society, of not holding back and of giving vent to innate prejudices, bigotry, patriarchy or chauvinism inherent in conservative societies.
Or it could stem from a deep-rooted feeling of rebellion against oppression, injustice, unfairness, frustration and discontentment with the existing systems of governance.
A 2015 survey by the Indian Medical Association concludes that at least three fourth of all doctors have faced some form of violence at work. In March, 2017, more than 2000 junior doctors from 17 government run hospitals in Mumbai went on a 4-day strike protesting a spate of violence against doctors.
Violence can take the form of verbal abuse, threats and intimidation, sexual harassment, physical attacks, attacks with a blunt or sharp weapon, theft and damage to property. Female doctors are more vulnerable to such forms of aggression as are people from minority communities.
"Patient dissatisfaction is the commonest reason cited by perpetrators of such violence and agitated friends and relatives accompanying the patient are the chief actors involved. Trauma or emergency wards, Intensive Care Units and Recuperating wards after surgery were the most frequent stages where such violence was enacted," said Dr. AK Khokhar, Dean Training of International Institute Of Health Management Research, Delhi.
"Recent reports sensationalizing negative stories from hospitals where patient deaths were caused due to negligence often reinforce existing prejudices and add fuel to the fire of frustration faced by people already highly charged with emotion upon imposition of care for a loved one. Doctors need safe environments to think clearly and intelligently in order to perform at their best in a life threatening patient care situation," added Dr. Khokhar.
Dr. SD Gupta, chairman, IIHMR University, Jaipur said, "What hospitals and healthcare personnel need is a protocol to manage situations before they come to a head. Patients need to be educated about their rights and obligations. There needs to be clear and consistent communication with friends and relatives responsible for and who stand to be affected by a patient's medical condition, about the risks and limitations of medical therapies being administered. Expectations need to not only be established beforehand, they need to be accepted by the stakeholders. That is where a healthcare manager trained in conflict resolution and negotiating skills can make a difference.
Doctors, managers and hospital staff need to be trained in pre-empting and preventing violence by mobs in hospitals."
Healthcare is pivotal to societal well being because of its crucial role in mitigating factors that affect the fulfillment of a happier more productive life. Basic medical services that enable a dignified standard of living are an indelible part of Article 25 of the UN's Universal Declaration of Human Rights.
The highest standard of mental and physical health as well as an environment free from epidemic, endemic, occupational and other diseases is guaranteed by the International Covenant on Economic, Social and Cultural Rights via Article 12, to which India is a committed signatory. As agents of this vital human function, doctors need to be protected from violence in all its manifestations to enable them to work with dignity, dedication and contribute to making the world a happier more constructive place.
?"This is quite unfortunate and seems to be due to miscommunication and absence of understanding. Doctors are the primary bearers of news about a patient's health and any lack of emotion in conveying that news can be misinterpreted by charged friends and relatives of patients," said Sanjeev Gupta, MD, Kusum Group of Companies.
"But it has to be borne in mind that doctors, especially in public hospitals, are constrained by various factors such as absence of free beds, administrative restrictions and triage considerations. Therefore they may have to make tough decisions at times.
There probably needs to be some training for both doctors and patients to treat each other. Such violence affects the unbiased judgment of the healthcare expert and consequently the quality of care and medicines that can be recommended," he concluded.
(ANI)

'Doctors continue to bear the brunt of social aggression'
business-standard.com
The European Union has warned the US against imposing tariffs on automotive industry imports, threatening Washington with a major hit which is likely to affect up to $294 billion of US exports.
Brussels has submitted to the US Department of Commerce a 10-page document, in which the bloc expresses its stance on import duties on cars, calling them "unjustifiable" and "senseless" from the economic point of view.
The issue of automotive industry tariffs came to the surface after US President Donald Trump had odered the Commerce Department in May to conduct an investigation over the bloc's trade surplus with the US and higher import tariffs on cars. Last week, the president announced that the research was going to a close and thus Washington was mulling to introduce 20 percent duties on all vehicles assembled in the EU.
DETAILS TO FOLLOW

EU warns U. S. of major hit if car tariffs imposed
business-standard.com
It was a shocking story: A government hospital in the far north of India ran out of liquid oxygen because it hadn't paid the supplier. Over the next two days, 35 children died in the crowded intensive care units. Amid a national uproar, authorities jailed nine people on charges including embezzlement and homicide.
Nearly a year later, Baba Raghav Das Medical College and Hospital in the town of Gorakhpur is synonymous with the failings of India's public health care system. But the investigation into the deaths is exposing the failings of its justice system.
None of the officials responsible for allocating payments has been punished. Instead, doctors who tried to avert the oxygen shortage are facing charges of attempting to commit "culpable homicide" – which is similar to manslaughter – and have spent months behind bars.
"This is a politically motivated case," said Dr. Rajiv Misra, who has been jailed with his wife since August. "My wife and I have been targeted so that others can save themselves."
Misra repeatedly asked state officials to send funds for oxygen, but the money arrived too late. He and other doctors allege that they have been made scapegoats for the government's failures, and that the country's ruling party has used law enforcement, the judiciary and a corruptible media to spare itself from embarrassment.
In particular, the doctors take aim at Yogi Adityanath, an extremist Hindu priest who five months earlier had been appointed the top official in Uttar Pradesh state.
Adityanath, who had represented Gorakhpur in Parliament since 1998 as a member of Prime Minister Narendra Modi's Bharatiya Janata Party, had long touted his commitment to the hospital, which serves an area with more than 50 million people.
Days after the deaths, Adityanath vowed to take such strict action that it would "set an example."
The party has denied that it had anything to do with the administration of justice in the case. "We have never filed charges against anyone to save anyone else or to harass anyone," said Vijay Pathak, the top party official in the state.
But the investigation has been filled with inconsistencies, contradictions and startling conclusions.
The most startling is the state's assertion that the lack of oxygen was not a factor in the deaths.
Multiple government inquiries concluded that the number of deaths was not even unusually high that night. Many of the children had been admitted for encephalitis, a mosquito-borne brain infection that claims dozens of lives at the hospital every summer, and the pediatric wards were so jammed that three or four newborns were placed side by side in cots meant for one.
In the two days before the oxygen supply was interrupted, a total of 36 children died, according to one inquiry.
But since authorities never ordered postmortems, the causes of death can't be known for certain.
At least 10 adults also died the day after liquid oxygen ran out, but their medical records have not been made public, and the government has not disclosed any details about those deaths.
At the time, some parents told news media that their children suffocated due to a lack of oxygen. But charging documents filed against Misra include nearly identical testimonies from parents: "Our child died because of a serious ailment."
The finding that the oxygen shortage didn't result in more deaths has alleviated pressure on Adityanath and state health officials.
But it makes the homicide charges against Misra, his wife and two other doctors especially perplexing. The other doctors and a representative of the oxygen supplier have been released on bail. Three clerks and a hospital pharmacist remain behind bars.
"It is a farce, and a grave indictment of the justice system," said Manoj Singh, founder of the website Gorakhpur Newsline, who has closely followed the case.
Misra was a student at the medical college 45 years ago and rose to become the hospital's top administrative officer.
In a series of letters and meetings last summer, he warned state health officials that "patients would die" if the oxygen supplier's bills weren't paid. The hospital had not received any funds earmarked for drugs and chemicals for nearly six months, but state budget instructions prohibited him from using existing funds to clear back payments.
On Aug. 2, the supplier informed the hospital that it would stop supplying oxygen if it wasn't paid within 15 days, and in a videoconference the next day, Misra told his supervisors that the money was urgently needed.
The hospital finally received the funding authorization on Aug. 9 – but the payment would take two days to reach the supplier.
That was too late. At roughly 7:30 p.m. Aug. 10, an alarm went off indicating that the towering liquid oxygen tank that supplies six hospital wards was nearly empty, according to court documents and interviews. Hospital staff switched to a backup supply of oxygen gas cylinders and manual resuscitators as doctors searched for additional cylinders from local gas suppliers and medical clinics.
"It was negligence by the government," Misra, 63, said in an interview at the derelict, colonial-era jail in Gorakhpur where he is being held with his wife – a 60-year-old homeopathic doctor who wasn't employed by the hospital.
In addition to the homicide charges – which carry a maximum sentence of seven years – they stand accused of delaying payment in order to obtain kickbacks from the oxygen supplier, a charge they deny. Court documents filed by the state present no evidence of illicit payments, only allegations from other hospital employees.
In May, Misra's wife lost her appeal for bail before an appellate judge who cited a lower court that held that the lack of oxygen "led to (the) death of children." The judge did not explain why he was challenging the government's finding – or why he has ordered the release of two other doctors facing similar charges.
"It's a clear-cut indication that they are specifically trying to target my parents in this case," said the Misras' son Purak, a 32-year-old surgeon.
"They have turned the system against us."
The inquiry that led to the charges against Misra and his wife was headed by the state's director of medical education, K. Gupta, who has responsibility for approving the hospital budget. In an interview, he said Misra should have ignored budget instructions and paid the oxygen bills anyway.
"If he had paid it, no one would have questioned him," Gupta said. "He displayed a callous attitude."
Another doctor facing attempted homicide charges is Kafeel Khan, a 38-year-old pediatrician who was off duty Aug. 10 but rushed to the hospital after receiving a text message about the oxygen supply.
He was initially hailed in the national media for collecting oxygen cylinders from private nursing homes and suppliers and driving them back to the hospital.
But on Aug. 13, Khan said, Adityanath visited the hospital and told him: "So you think by arranging cylinders, you became a hero. I'll show you."
Soon, rumors about Khan began appearing on websites and social media accounts that support India's Hindu majority, accusing him of running a private clinic where he had stashed oxygen cylinders – which sell for less than $4 – meant for the public hospital. (Khan said he left that clinic in 2016.) The stories diverted attention from Adityanath and his administration, and were quickly picked up by Indian news media.
Postcard News, a site that commonly traffics in false stories that support Modi's pro-Hindu government, incorrectly described Khan as head of the encephalitis ward and accused him of carrying out a "well planned drama" with the aim of unseating Adityanath. The stories highlighted that Khan is Muslim and said the case showed "the true colors of these people who hide behind the minority tag."
Two weeks later, Khan was jailed and denied bail. In April, his family released a 10-page letter he wrote in his cell in which he denied wrongdoing and said the oxygen saga was "a total administrative failure at (a) higher level."
An appellate judge ordered him released days later, saying there was no evidence of medical negligence because the government "does not attribute the deaths to a shortage of medical oxygen."
It was the same judge who challenged that finding in denying bail to Misra's wife. He didn't explain the contradiction.
Police have provided no more clarity. They dropped the corruption allegations against Khan but persisted with the homicide charge.
Khan, who was suspended from the hospital at the time of his arrest, has applied to be reinstated.

When an Indian hospital was running out of oxygen, these doctors tried to help. So why were they sent to jail?
charlotteobserver.com
Washington: Not all cancer drugs works on patients suffering from the fatal disease.
The research findings by University of Otago shed much-needed light on why new immune checkpoint inhibitor therapies such as nivolumab and pembrolizumab- approved by the New Zealand Government for the first time in 2016 to treat metastatic melanoma- do not work on many patients.
The new immunotherapeutic drugs herald a significant advancement in a cure for cancer. But while they can be effective for some melanoma patients, for others the therapies do not work at all, and most eventually become resistant to immunotherapy treatments.
One of the key components of the immune checkpoint mechanism is a protein on the surface of cancer cells called PD-L1 which can potentially be receptive to or block immunotherapy.
The researchers were able to show that epigenetic modification– DNA modifications that do not directly alter the DNA sequence but instead change the frequency by which a cell uses specific genes — specifically DNA methylation, influences whether PD-L1 is expressed on the cancer cell surface.
"Currently, there are no reliable biomarkers for predicting benefit from immune therapy in melanoma and these are desperately needed in the clinic," said a researcher Chris Jackson.
Jackson added that biomarkers help in choosing patients who are likely to benefit and who are not.
"Many groups worldwide are searching for immune-therapy biomarkers and this Otago discovery of an epigenetic marker appears very promising," he added.
Jackson believes the findings will now need to be tested in people with melanoma undergoing treatment to see if this test can make it "from the bench to the bedside."
Another lead researcher Aniruddha Chatterjee says the findings suggest epigenetic therapies could be used in clinical trials in combination with immunotherapy in melanoma to treat patients. However, further trials would be needed before this could become a possibility.
Due to non-availability of robust biomarkers, it is difficult to predict a patient's response and also a relatively lesser understanding on the basis for resistance to immunotherapy treatment of melanoma.
There is a global effort to unlock the secrets behind resistance to immunotherapy and the Otago researchers believe they may have uncovered a key piece of the puzzle.
DNA methylation is an epigenetic mechanism that plays a key role in switching genes "on" or "off" and helps to determine cellular function. Generally, DNA methylation silences gene expression and has been implicated in cancer.
"Our research provides evidence that it is the global loss of DNA methylation that regulates constitutive expression of the immune checkpoint PD-L1 in melanoma," Chatterjee said.
The findings have been heralded by the researchers' peers internationally as "highly novel" and a major advance in understanding melanoma biology.
The study appears in iScience journal.
(ANI)

Not all cancer drugs work
business-standard.com
Defender Dipsan Tirkey will lead an 18-member India U-23 men's hockey team for a six-nation tournament in Belgium from July 14 to July 21. Apart from India and hosts Belgium, the other participating nations are Great Britain, Ireland, Malaysia and the Netherlands.
The Indian team will play their opening match against Ireland on July 14. The top two teams at the end of the round-robin matches will face each other in the Final on July 21 whereas the remaining teams will play classification matches. Apart from Tirkey, Hardik Singh has been named vice-captain.
"The U-23 Six Nations Tournament in Belgium will prove to be a good test for our younger players of the Core Group. We will be playing against some of the best youth teams from around the world, which will help in giving our players the exposure they require," said David John, Director, High Performance.
"This tour will also help in developing our team that will take part in the Sultan of Johor Cup to be held in October later this year. It will be a crucial tournament for some of the athletes as this will be their first major international exposure, but the majority of the players have represented the junior/ senior men's Team which is always a good sign," he said.
Goalkeeper: Pankaj Kumar Rajak, Prashant Kumar Chauhan
Defenders: Dipsan Tirkey, Nilam Sanjeep Xess, Pardeep Singh, Mandeep Mor, Somjeet and Mohd. Faraz; Midfield: Hardik Singh, Dharminder Singh, Raj Kumar Pal, Vishal Antil and Rabichandra Singh Moirangthem
Forward: Shilanand Lakra, Abhishek, Abharan Sudev Belimagga, Mohammed Raheel Mouseen and Mohammad Umar.

Dipsan to lead India U-23 men's hockey team for 6-Nations Tourney in Belgium
business-standard.com


Total 100 articles.
Version: 7.27983.217911. Input files: 1, items detected: 1083, scanned: 100, accumulated: 401, inserted: 100, exclude filters: 0, include filters: 0, empty media: 220, filtered media: 48, not matched limits: 638, passed http check: 576, not passed http check: 477, http check errors: 50, skipped: {total: 682, by unique value: 173, by limits: 71, by similarity: 414, by unicity: 0, by dates: 0, by classifier: 0, by blacklist: 408, by mandatory tag: 0, from input files: 0}, bad dates: 0, similar from same domain: 425, unique Ids: 2973, unchangeble patterns: 20, words comparisons: 33302406/2210325, python: 2.7.9 (default, Jun 29 2016, 13:08:31) [GCC 4.9.2], dynamic containers: {u'nlpu.stemWordsBackHash': -1, u'nlpu.languagesMap': -1, u'nlpu.languagesCache': -1, u'bcla.similarCache': -1, u'bcla.tagsClassificationPopWordsData': -1, u'nlpu.stopWordsCache': -1, u'nlpu.stemWordsBackHashFreqs': -1, u'bcla.autoWeightedWords': -1, u'nlpu.stopWords': -1, u'bcla.tagsSimilarityPopWordsData': -1, u'nlpu.synonimsReplacedCache': -1, u'nlpu.stemWordsBackHashFreqsStemmed': -1, u'bcla.synonyms': -1, u'nlpu.posHash': -1, u'bcla.notSimilarCache': -1, u'nlpu.stopwordsCustom': -1}; tag `description` the same value found 17 times; tag `content_encoded` the same value found 166 times; the same images URLs found 647 times; total 0 languages detected: {}; {u'text': {u'chars': 1577767, u'bytes': 6553908, u'words': 243626, u'sentences': 37369}}
Created at 2018-07-02 12:08