Announcement
DC5n United States mix in english 350 articles, created at 2017-07-15 12:06 articles set mostly positive rate 0.9
(20.99/21)

1

2.5

Fatal Hawaii high-rise fire was like scene from a 'horror movie'

HONOLULU — Karen Hastings was in her 31st floor Honolulu apartment when she smelled smoke. She ran out to her balcony, looked down, and saw flames five floors... 2017-07-15 08:28 4KB nypost.com

(18.99/21)

2

2.3

Raw: Fire Rages in Honolulu Apartment Building

More than 60 firefighters are battling a three-alarm fire in a Honolulu high-rise apartment building Friday. Honolulu Fire Department spokesman Capt. David Jenkin's said the fire started on the 26th floor and spread to at least the 27th floor. (July 14) 2017-07-15 03:09 1KB rssfeeds.usatoday.com

(12.99/21)

3

1.3

Trump administration appeals Hawaii court ruling on travel ban

The Trump administration late Friday night appealed directly to the U. S. Supreme Court after a federal judge in Hawaii ordered to expand the list of U. S. family relationships that refugees and visitors from six Muslim-majority countries can use to get into the country, including grandparents and grandchildren. 2017-07-15 07:48 4KB www.foxnews.com

(10.99/21)

4

0.6

Russian-American lobbyist says he was at Trump son's meeting

A prominent Russian-American lobbyist and former Soviet military officer said he was at a meeting between a Russian lawyer and President Donald Trump's son, son-in-law and campaign... 2017-07-15 06:52 8KB www.cbs46.com

(10.99/21)

5

0.8

Trump administration asks Supreme Court to clarify travel ban ruling

Lawyers for the Trump administration went back to the Supreme Court again late Friday in the ongoing battle over President Donald Trump's travel ban -- this time asking the justices to resolve the uncertainty created by last month's ruling on which foreign nationals are exempt from the ban. 2017-07-15 03:16 2KB edition.cnn.com

(7.57/21)

6

0.2

Trump stance a 'setback' in US-Cuba relations: Castro

Cuba's president said Donald Trump's hardline stance towards the country was a "setback" in relations with the United States after ties were gradually restored in 2015. 2017-07-15 08:16 3KB www.news24.com

(7.37/21)

7

3.0

Did Kremlin use Trump Jr. meeting to test Trump Campaign?

A CIA veteran writes in The Washington Post that Trump Jr's June 2016 meeting with multiple Russians looks like a 'intelligence soft pitch' by the Kremlin. Rick Stengel & Ken Dilanian discuss. 2017-07-15 03:12 1KB www.msnbc.com

(6.38/21)

8

0.8

Marchand: For Chapman and New York Yankees, these are disastrous times

The Bombers' closer isn't intimidating hitters, isn't missing bats and blew his third save Friday in Boston as the frustrating losses keep piling up. 2017-07-15 06:26 4KB www.espn.com

(5.46/21)

9

0.1

Los Angeles Angels' Mike Trout eagerly returns from 39-game injury absence

Angels outfielder and two-time AL MVP Mike Trout, returning to the lineup after a 39-game injury absence, hit a single and stole a base by sliding headfirst with no apparent worries about the action that caused his injury back on May 28. 2017-07-15 06:59 4KB www.espn.com

(5.35/21)

10

0.9

14 years after 1st Wimbledon win, Federer eyes 8th vs. Cilic

Much has changed for Roger Federer since he played in, and won, his first Grand Slam final at Wimbledon in 2003. 2017-07-15 08:35 5KB www.cbs46.com

(5.30/21)

11

6.1

Hawaii dad, mom, grandma accused of starving girl to death

A Hawaii father, mother and grandmother are charged with murder after allegedly starving a 9-year-old girl 2017-07-15 08:16 1KB www.news24.com

(5.27/21)

12

0.7

Allowed in by Trump, Afghan girls robotics team lands in DC

An all-girls robotics team from Afghanistan have arrived in Washington following a last-minute intervention by President Donald Trump 2017-07-15 07:44 1KB www.news24.com

(4.32/21)

13

20.8

Coroner: 'The Walking Dead' stuntman dies after on-set fall

A stuntman for "The Walking Dead" has died after falling on the Georgia set of the hit television show. It's the first on-set death in the U. S. in nearly three years. 2017-07-15 06:02 3KB www.cbs46.com

(4.31/21)

14

1.0

China cremates body of jailed Nobel laureate Liu Xiaobo

China cremates the body of imprisoned Nobel Peace Prize laureate Liu Xiaobo amid international criticism of Beijing for not letting him travel abroad as he had wished. 2017-07-15 07:14 5KB www.sacbee.com

(4.28/21)

15

0.0

Robinson Cano powers Seattle Mariners past Chicago White Sox

CHICAGO -- Robinson Cano hit a three-run homer and James Paxton struck out nine in six innings as the Seattle Mariners beat the Chicago White Sox 4-2 on Friday night. 2017-07-15 03:59 3KB www.upi.com

(4.26/21)

16

0.9

Indonesia limits access to Telegram app, readies total ban

Indonesia says it's blocking web versions of the encrypted Telegram instant messaging app and will block the app completely if it continues to be a forum for radical propaganda and violent... 2017-07-15 08:05 3KB www.cbs46.com

(4.25/21)

17

0.8

Uber, Lyft take down not just cab drivers, but also lenders

Ride-hailing apps such as Uber and Lyft have been so disruptive to New York City's taxi industry, they are causing lenders to fail. Three New York-based credit unions that specialized in loaning money against taxi cab medallions, the hard-to-get licenses that... 2017-07-15 05:03 5KB lasvegassun.com

(4.20/21)

18

0.5

Eight-run second propels Milwaukee Brewers to win over Philadelphia Phillies

MILWAUKEE -- Orlando Arcia hit a three-run homer and Ryan Braun belted his sixth career grand slam as the Milwaukee Brewers scored eight runs in the second inning and held on for a 9-6 victory over the Philadelphia Phillies on Friday night at Miller Park. 2017-07-15 03:56 6KB www.upi.com

(4.15/21)

19

0.6

Russell's 9th-inning homer lifts Cubs past Orioles 9-8

Russell's 9th-inning homer lifts Cubs past Orioles 9-8. 2017-07-15 04:40 4KB www.charlotteobserver.com

(3.48/21)

20

2.7

2 German women confirmed killed in Egypt knife attack

Two German women were killed in a knife attack in the Egyptian Red Sea town of Hurghada, Germany's Foreign Ministry confirmed on Saturday. 2017-07-15 07:40 2KB edition.cnn.com

(3.26/21)

21

1.7

Indian River County public records: July 15,2017

Indian River County public records: July 15,2017 2017-07-15 08:00 6KB rssfeeds.tcpalm.com

(3.23/21)

22

2.7

Winning numbers drawn in 'Cash 5' game

Winning numbers drawn in 'Cash 5' game. 2017-07-15 05:11 699Bytes www.newsobserver.com

(3.17/21)

23

1.9

Disney fans get look at 'Incredibles 2, ' 'Wreck-It Ralph 2'

Disney fans get look at 'Incredibles 2, ' 'Wreck-It Ralph 2' at fan expo. 2017-07-15 05:34 3KB www.sacbee.com

(3.16/21)

24

0.9

How the Yankees shouldn' t react to string of brutal losses

BOSTON — To steal a phrase from their manager, these 2017 Yankees are turning into a big bowl of It's Not What You Want. Their second half couldn' t have... 2017-07-15 08:06 4KB nypost.com

(3.13/21)

25

1.6

Trump's day in tweets: Friday, July 14

President Trump tweeted about: His push for Republican senators to pass revised healthcare legislationLavish praise of his visit to Pari... 2017-07-15 04:18 1KB www.latimes.com

(3.11/21)

26

0.6

Teams looking to boost lineup have options on trade market

By ROB MAADDI AP Sports Writer Teams looking to boost their offense have plenty of options on the trade market. 2017-07-15 06:35 4KB www.cbs46.com

(3.09/21)

27

0.4

All-Star break seems to do nothing for Tigers in 7-2 loss to Blue Jays

The only thing different about the first half of the season and the first game after the break for the Tigers -- a damaged centerfield 2017-07-15 05:40 5KB rssfeeds.freep.com

(2.26/21)

28

0.9

Prominent Chinese rights activist Xu Zhiyong released from prison

Campaigner walks free after 4½ years on same day a memorial service is held for fellow activist Liu Xiaobo 2017-07-15 08:27 4KB www.scmp.com

(2.25/21)

29

0.1

Moore, Augustus power Lynx; Mercury star Griner injures knee

Maya Moore and Seimone Augustus each scored 19 points and the Minnesota Lynx built a big-first half lead and coasted to an 88-71 victory over the Phoenix Mercury. 2017-07-15 08:01 1KB www.newsobserver.com

(2.23/21)

30

0.7

New GOP health care bill will determine winners, losers

The new GOP health care bill will end up making winners and losers of people of differing incomes and ages in the United States. 2017-07-15 06:37 6KB www.thenewstribune.com

(2.17/21)

31

1.0

Police chief meets with Texas mom who recorded sons' arrests

The police chief in the Dallas suburb of Arlington met Friday with a woman who alleges officers offered to drop charges against her two teenage sons in exchange for cellphone video she recorded — footage that she says shows an officer needlessly pushing... 2017-07-15 04:55 3KB lasvegassun.com

(2.16/21)

32

0.5

LEADING OFF: Bumgarner back from crash, All-Stars aplenty

LEADING OFF: Bumgarner back from crash, All-Stars aplenty. 2017-07-15 03:09 3KB www.charlotteobserver.com

(2.12/21)

33

2.7

Angels vs. Rays, Saturday game time, TV channels, starting pitchers – Orange County Register

RAYS at ANGELS When: 6 p.m. Where: Angel Stadium TV: Fox Sports West THE PITCHERS ANGELS RHP JC RAMIREZ (8-7,4.46) vs. Rays: 1-0,2.08 At Angel Stadium: 3-5,4.46 Hates to face: None Loves to face… 2017-07-15 03:30 1KB www.ocregister.com

(2.11/21)

34

1.3

The Latest: Ex-lawmaker guilty of 1 count in sex crime trial

A former Vermont lawmaker accused of soliciting sex from a farmhand in exchange for giving her free rent has been found guilty of one count of prohibited acts. 2017-07-15 03:26 2KB www.charlotteobserver.com

(2.16/21)

35

0.5

LEADING OFF: Bumgarner back from crash, All-Stars aplenty

By The Associated Press A look at what's happening all around the majors today: 2017-07-15 06:43 3KB www.cbs46.com

(2.09/21)

36

0.0

White House says budget deficit to be $99B higher this year

The White House says worsening tax revenues will cause the budget deficit to jump to $702 billion this year. That's a $99 billion spike from what was predicted less than two months ago. 2017-07-15 07:36 2KB www.cbs46.com

(2.09/21)

37

1.3

Freeman, Braves rally in 8th to beat Diamondbacks 4-3

Freddie Freeman and the Atlanta Braves topped baseball's comeback kings at their own game, scoring two runs in the eighth inning to beat the Arizona Diamondbacks 4-3 2017-07-15 04:10 5KB rssfeeds.usatoday.com

(2.08/21)

38

2.7

Eric Holder speaking at North Carolina Democrats' dinner

Former U. S. Attorney General Eric Holder is the keynote speaker at an annual North Carolina Democratic dinner and is sure to talk about his new role helping the party make electoral inroads through redistricting. 2017-07-15 08:03 1KB www.miamiherald.com

(2.08/21)

39

1.7

Bell's 3-run HR in 9th gives Pirates 5-2 win over Cardinals

Josh Bell hit a three-run homer off Seung Hwan Oh with one out in the ninth inning to lift the Pittsburgh Pirates to a 5-2 win over the St. Louis Cardinals. 2017-07-15 03:44 4KB www.charlotteobserver.com

(2.06/21)

40

0.4

All eyes on Nevada's Republican senator mulling ObamaCare decision

Republicans are not in the position to lose votes if they hope to repeal ObamaCare, so pressure is being placed on senators like Sen. Dean Heller, R- Nev., to declare allegiance on the newly crafted bill. 2017-07-15 07:48 3KB www.foxnews.com

(2.06/21)

41

1.1

Convicted ex-lawmakers enjoy access as lobbyists

Webster's dictionary defines "prowess" as having knowledge or expertise about a particular activity or field. 2017-07-15 07:01 7KB www.washingtontimes.com

(2.05/21)

42

2.9

Police: 51-year-old man killed in Far South Side motorcycle crash

A 51-year-old motorcyclist died late Friday when he crashed into an SUV on the Far South Side, according to Chicago Police. 2017-07-15 07:53 1KB chicago.suntimes.com

(2.05/21)

43

0.2

Appeals court upholds dismissal of former deputy's lawsuit

An appellate court has upheld a judge's dismissal of a lawsuit filed by a former Roosevelt County sheriff's deputy who claimed he was wrongfully terminated. 2017-07-15 07:18 1KB www.newsobserver.com

(2.05/21)

44

1.1

Pitching at premium before trade deadline; Who might move?

Teams always look for more pitching before the trade deadline 2017-07-15 06:42 4KB rssfeeds.usatoday.com

(2.05/21)

45

2.8

The Latest: Authorities: Pot dealer says he killed 4 men

A marijuana dealer says in court documents he killed four men on his family's Pennsylvania farm, shooting one of them and crushing him with a backhoe and trying to set three of the bodies on fire in a metal bin. 2017-07-15 05:16 4KB www.miamiherald.com

(2.04/21)

46

2.4

US kills Islamic State leader in Afghanistan

The Pentagon says that U. S. forces killed the head of the Islamic State group affiliate in Afghanistan in an airstrike in Kunar province earlier this week 2017-07-15 06:58 1KB www.news24.com

(2.02/21)

47

0.8

AP PHOTOS: A selection of pictures from the past week

PHOTO GALLERY: Police confront protesters in Santiago, Chile; wildfire consumes home near Oroville, California; sun sets in war-torn Mosul, Iraq. 2017-07-15 07:35 1KB www.newsobserver.com

(2.02/21)

48

0.6

House using appropriations bill to work on guns, churches

The $20 billion spending bill passed by the House Appropriations Committee does more than fund federal agencies. 2017-07-15 06:32 5KB www.charlotteobserver.com

(2.00/21)

49

0.8

Slow drip of information about Russia connections threatens to undermine Donald Trump's presidency

The firestorm over Donald Jnr's emails has been a frustrating distraction during a stretch in which some White House advisers believed they were finding their footing 2017-07-15 07:27 5KB www.scmp.com

(2.00/21)

50

1.3

When Mike Trout plays, baseball wins, even if the Angels do not

AFter 46 days on the disabled list, Mike Trout is back with the Angels, and that's a good thing for baseball even if the team struggles to win. 2017-07-15 05:45 4KB www.latimes.com

(1.10/21)

51

2.0

Mega Millions numbers: Did you win Friday's $217 million jackpot?

Here are the winning numbers in Friday's Mega Millions lottery drawing. 2017-07-15 04:00 2KB www.nola.com

(1.09/21)

52

1.9

New boy muppet promotes gender equality on Afghanistan's Sesame Street

A new muppet is joining the cast of Afghanistan's version of Sesame Street, aiming at showing boys the importance of respecting women. 2017-07-15 07:56 4KB www.independent.ie

(1.09/21)

53

0.5

Cueto leaves with blisters as Giants beat Padres 5-4

Denard Span singled home the go-ahead run in the sixth and Buster Posey homered an inning later for the San Francisco Giants, who beat the San Diego Padres 5-4 in a matchup between two of the worst teams in baseball 2017-07-15 07:03 5KB rssfeeds.usatoday.com

(1.09/21)

54

1.1

Runway lights should guide pilots away from potential disaster

A lot of people would like to know the result of this investigation. 2017-07-15 06:39 6KB newsinfo.inquirer.net

(1.09/21)

55

0.8

Mike Napoli, Texas Rangers get past Kansas City Royals

KANSAS CITY, Mo. -- Mike Napoli and Adrian Beltre homered as the Texas Rangers rallied to defeat the Kansas City Royals 5-3 on Friday night. 2017-07-15 03:51 4KB www.upi.com

(1.06/21)

56

0.0

Alderson must fix 2 problem areas: The Mets' future depends on it

Gear up for Groundhog Day, Mets fans. That was the word Friday from Sandy Alderson during a candid press conference at Citi Field before the Mets dismantled... 2017-07-15 07:51 4KB nypost.com

(1.05/21)

57

1.8

Well-known Eugene lawyer leaves firm to grow marijuana

When Ammon Bundy was arrested in January 2016 for leading the armed takeover of the Malheur National Wildlife Refuge in Eastern Oregon, he called Eugene attorney Mike Arnold for help. 2017-07-15 08:03 5KB www.miamiherald.com

(1.05/21)

58

0.9

Repairs to cause lane closures on Interstate 140 bridge

Intermittent lane closures are scheduled for the Interstate 140 bridge over the Northeast Cape Fear River. 2017-07-15 08:03 1KB www.miamiherald.com

(1.05/21)

59

1.4

McCann, Gonzalez power Astros past Berrios, Twins 10-5

Brian McCann hit a three-run home run to cap an eight-run second inning, Marwin Gonzalez had a solo homer and the Houston Astros opened the second half of the season with a 10-5 win over the Minnesota Twins. 2017-07-15 05:05 5KB www.newsobserver.com

(1.04/21)

60

0.9

Growing sinkhole swallows 2 houses, 1 boat in Florida

Growing sinkhole swallows 2 houses, 1 boat in Florida 2017-07-15 07:30 4KB www.latimes.com

(1.04/21)

61

0.0

How to watch tonight's Detroit Tigers-Toronto Blue Jays game

6: 10 p.m., Fox Sports Detroit, WXYT-FM (97.1) : Fulmer takes the mound in first starter since All-Star Game 2017-07-15 05:24 1KB rssfeeds.freep.com

(1.03/21)

62

12.3

"You killed my daughter": Mother faces teen accused of killing 11-year-old girl

Andreas Erazo, 18, faces first-degree murder and weapons charges in the death of 11-year-old Abbiegail Smith 2017-07-15 03:48 3KB www.cbsnews.com

(1.03/21)

63

2.2

Trump attending Women's Open on Saturday in NJ

The golf tournament is being held at one of Trump's properties. 2017-07-15 03:18 1KB thehill.com

(1.02/21)

64

1.2

EU leaders willing to compromise on freedom of movement, says Tony Blair

European Union leaders are willing to change the bloc's rules for the freedom of movement of workers, opening an opportunity for Britain to avoid a damaging "hard Brexit", former prime minister Tony Blair said on Saturday. 2017-07-15 08:24 3KB www.reuters.com

(1.02/21)

65

0.0

Feds give Florida $3M grant for treatment drug courts

The federal government is giving the state $3 million for drug court programs in the wake of an opioid epidemic. 2017-07-15 08:06 1KB www.miamiherald.com

(1.02/21)

66

0.6

Friends surprise family fighting disease with home remodel

Mamie Randle fell to the ground with tears in her eyes, whaling joyful screams, after she and her family drove up their Poulsbo driveway following a family vacation in July. 2017-07-15 08:03 4KB www.newsobserver.com

(1.02/21)

67

1.7

Vancouver yoga class caters to expecting and new mothers

Molly McAllister took a deep breath and prepared to go into the downward dog pose. 2017-07-15 08:03 5KB www.miamiherald.com

(1.02/21)

68

0.9

Police: Babysitter broke 3-year-old's arm for wetting pants

Authorities say a babysitter broke a 3-year-old's arm with a spatula for wetting his pants. 2017-07-15 07:49 1KB www.miamiherald.com

(1.02/21)

69

2.6

Jerusalem holy site shuttered after deadly Temple Mount attack

Israel took the rare step of closing the Temple Mount complex in Jerusalem to Muslim worshipers and tourists through the weekend, after a deadly shoot-out on Friday morning in which three Israeli Arabs killed two Israeli Druze policemen. The... 2017-07-15 07:27 5KB www.scmp.com

(1.02/21)

70

0.8

New Mexico forest warns against drones during aerial surveys

The U. S. Forest Service is asking people not to fly drones over the Gila National Forest next week because the agency will be conducting aerial surveys for insect and disease outbreaks using low-flying planes and helicopters. 2017-07-15 07:18 1KB www.newsobserver.com

(1.02/21)

71

1.7

Timeline of key moments in British Open golf championship

British Open '17: A timeline of key anniversaries in British Open history. 2017-07-15 07:04 3KB www.charlotteobserver.com

(1.02/21)

72

0.6

Summaries of British Opens held at Royal Birkdale

BRITISH OPEN '17: A capsule summary of previous British Opens at Royal Birkdale. 2017-07-15 07:04 6KB www.charlotteobserver.com

(1.02/21)

73

0.5

Police chaplains take a stronger role in community policing

The man looked stunned after Patrolman Paul Tomczyk handed him a few pieces of paper. 2017-07-15 07:01 12KB www.washingtontimes.com

(1.02/21)

74

2.4

Guest lineups for the Sunday news shows

Guest lineups for the Sunday news shows. 2017-07-15 06:37 1KB www.thenewstribune.com

(1.02/21)

75

1.5

London acid attacks: Delivery driver says it felt like 'fire on my face'

A delivery driver allegedly doused with corrosive liquid during an acid attack spree has described how his face felt like it was on fire. 2017-07-15 05:52 4KB www.independent.ie

(1.02/21)

76

0.4

Gray, A's bullpen combine to shut out Indians 5-0

Sonny Gray and three relievers combined on a four-hitter and the Oakland Athletics beat Cleveland 5-0 to spoil the return of Indians manager Terry Francona. 2017-07-15 05:07 1KB www.newsobserver.com

(1.02/21)

77

0.5

Mankato parks on the front lines of hunting invasive insects

The bags of bugs are piling up in the walk-in freezer in St. Paul, about 150 arriving every two weeks, a number expected to rise to well over 1,000 by the end of September. 2017-07-15 05:01 7KB www.newsobserver.com

(1.02/21)

78

0.0

White House weighs policy to expand DHS deportation powers

The White House is reviewing a policy that would expand the DHS's authority to rapidly deport illegal immigrants. 2017-07-15 04:48 3KB www.nydailynews.com

(1.02/21)

79

1.3

Patrick Rodgers grabs 2-shot lead at John Deere Classic

Patrick Rodgers grabs two-shot lead at John Deere Classic with second-round 64 at TPC Deere Run in Silvis, Ill. 2017-07-15 04:32 1KB rssfeeds.usatoday.com

(1.02/21)

80

0.0

Astros 10, Twins 5

Minnesota Houston ab r h bi ab r h bi B. Dzier 2b 5 1 2 4 Sprnger cf 3 2 1 Granite lf-cf 4 0 1 0 Altuve 2b 4 1 2 0 Sano… 2017-07-15 04:04 1KB wtop.com

(1.02/21)

81

2.4

Hundreds of Georgia inmates escape, but not for long

Fear and a frantic national search followed the escape last month of a pair of armed robbers who allegedly killed two correctional officers along a rural stretch of highway in Putnam County. 2017-07-15 04:01 8KB www.washingtontimes.com

(1.02/21)

82

0.3

Bryce Harper homers twice to power Nationals past Reds

Gio Gonzalez pitched four-hit ball into the ninth inning, and Bryce Harper extended his mid-July tear with a pair of homers, leading the Washington Nationals to a 5-0 victory over the Cincinnati Reds 2017-07-15 03:53 5KB rssfeeds.usatoday.com

(1.02/21)

83

1.5

Ryan Lochte Avoids Criminal Charge from Brazilian Court

The swimmer was previously accused of falsely reporting a crime during the 2016 Rio Olympics. 2017-07-15 03:41 3KB www.theatlantic.com

(1.02/21)

84

1.1

Conor McGregor doesn't see why Floyd Mayweather hurling anti-gay slur at him is a big deal

Conor McGregor says he "couldn't give a (expletive) " if Floyd Mayweather called him that name. 2017-07-15 03:24 2KB rssfeeds.usatoday.com

(1.02/21)

85

0.9

Gov. Brown blocks parole for killer of San Diego officer

For the third time, California Gov. Jerry Brown has rejected parole for a man convicted of gunning down a San Diego police officer in 1978 when he was a 17-year-old gang member. 2017-07-15 03:15 1KB www.miamiherald.com

(1.02/21)

86

1.3

An ambulance company claims its rival slashed brake lines and shot out windows, lawsuit says

A Texas ambulance company has made serious accusations of criminal behavior on the part of its main competitor in a civil lawsuit filed this week. 2017-07-15 03:10 3KB www.sacbee.com

(1.02/21)

87

1.2

Why musicians are so angry at the world's most popular music streaming service

Music industry executives have serious gripes with YouTube, which accounts for 25 percent of all music streamed worldwide. 2017-07-15 03:02 8KB www.heraldonline.com

(1.01/21)

88

3.6

55-year-old man shot to death in northwest Indiana

A 55-year-old man was shot to death Friday morning in northwest Indiana. 2017-07-15 08:14 1KB chicago.suntimes.com

(1.01/21)

89

1.8

20-year-old man critically wounded in Garfield Ridge stabbing

A 20-year-old man was critically wounded in a stabbing early Saturday in the Garfield Ridge neighborhood on the Southwest Side. 2017-07-15 08:05 1KB chicago.suntimes.com

(1.00/21)

90

4.8

Who Died in 'Game of Thrones' Season 6? Complete List of Major Character Deaths

Here is a complete list of all the major character deaths from Season 6 of Game of Thrones. 2017-07-15 07:20 2KB heavy.com

(1.00/21)

91

2.5

Friday's Sports in Brief

Friday's Sports in Brief. 2017-07-15 06:14 5KB www.charlotteobserver.com

(1.00/21)

92

1.3

Big West champion Diego Courbis from CSUF competes in Spain this summer – Orange County Register

Diego Courbis, the 2017 Big West Conference champion in the 400-meter hurdles, is training in Santander, Spain, where he was raised, to compete in several elite meets and to visit his friends and f… 2017-07-15 05:53 4KB www.ocregister.com

(1.00/21)

93

0.5

NBC-2.com WBBH News for Fort Myers, Cape Coral & Naples, Florida

A sinkhole is threatening to swallow a third home in Pasco County. This raises questions of our safety in Southwest Florida and how common sinkholes are. 2017-07-15 04:16 1KB www.nbc-2.com

(1.00/21)

94

0.0

North Korea likely has more plutonium than the world realised, according to monitor

North Korea has conducted five underground nuclear tests since 2006, and carried out its first successful test of an intercontinental ballistic missile earlier this month 2017-07-15 04:00 3KB www.scmp.com

(1.00/21)

95

1.1

NBC-2.com WBBH News for Fort Myers, Cape Coral & Naples, Florida

Little kids were charged with a big crime in Lehigh Acres. 2017-07-15 03:21 1KB www.nbc-2.com

(0.03/21)

96

3.3

Giants 5, Padres 4

San Francisco AB R H BI BB SO Avg. Span cf 5 0 1 0 0.282 Nunez 3b 5 0 1 0 1 .297 Belt 1b 5 1 2 0 2… 2017-07-15 05:47 2KB wtop.com

(0.03/21)

97

0.0

Brewers 9, Phillies 6

Philadelphia Milwaukee ab r h bi ab r h bi Altherr rf 3 1 2 0 Villar 2b 5 1 0 Perkins pr-rf 2 1 0 Thames 1b 3 1 0 Benoit… 2017-07-15 03:32 1KB wtop.com

(0.02/21)

98

1.5

High-risk, 53-year-old man reported missing from Dunning

Police are looking for a 53-year-old man who went missing Thursday from the Dunning neighborhood on the Northwest Side and could be at risk. 2017-07-15 08:34 1KB chicago.suntimes.com

(0.01/21)

99

0.4

'The Nothing Factory' Review: Offbeat Experiment In Social Theory

A shaggily eccentric but overlong and undisciplined drama about Portugal's economic woes as seen at one failing factory. 2017-07-15 08:17 1KB variety.com

(0.01/21)

100

1.5

BC-BBN–STAX04

BC-BBN–STAX04 MAJOR LEAGUE PITCHING By The Associated Press NATIONAL LEAGUE TEAM PITCHING ERA H ER BB SO Sh Sv Los Angeles 3.16 672 286 243 877 9 27 Arizona 3.44 713 308 285 839 3… 2017-07-15 05:49 1KB wtop.com

101

1.0

Stephen Curry laid out to catch this Aaron Rodger's pass

Stephen Curry showed off his football skills at the American Century Championship golf tournament in Lake Tahoe in Stateline, Nev. The Warriors superstar made a... 2017-07-15 08:36 2KB nypost.com

102

0.0

No visitors allowed on Japan's men-only UNESCO island

Visitors will not be allowed to set foot on a men-only UNESCO World Heritage island in Japan from next year, an official said Saturday. 2017-07-15 08:30 2KB m.digitaljournal.com

103

0.7

' 90 Day Fiance' Star Loren Disses Danielle And Mohamed, Opens Up About Tourette's Syndrome

Are the marriages in 90 Day Fiance even real, or do the couples just fake the drama for the sake of good television? Loren Brovarnik, who currently appears with Israeli husband Alexei on the spin-off... 2017-07-15 08:29 3KB www.inquisitr.com

104

0.1

LA woman who sparked Amber Alert with fake carjacking report gets 60 days in jail

A woman who falsely reported that her Toyota Camry had been carjacked in South Los Angeles with her 16-year-old son inside, sparking an Amber Alert, pleaded no contest to a misdemeanor charge of filing a false police report, city prosecutors announced 2017-07-15 08:17 2KB www.presstelegram.com

105

0.8

Get Pizza Hut And Domino's Half Price Through These Fantastic Online Deals — Which One Is Best? [Opinion]

Pizza lovers rejoice because you can get Pizza Hut and Domino's pizzas at half price for a limited time with these two fantastic deals. If you' re noticing stiff competition between Pizza... 2017-07-15 08:16 3KB www.inquisitr.com

106

0.1

Operate a quieter plane, get more flight slots at night: airlines encouraged to fix noise pollution

Trial scheme will focus on the problem – non-environmentally friendly and noisy planes – instead of just restricting flights at night 2017-07-15 08:15 5KB www.scmp.com

107

1.2

Use these savvy tricks to negotiate a better job offer

When Cathy texted her boyfriend to tell him that she had just accepted a job offer from a large Midtown law firm, he texted her back, "How much?" After she... 2017-07-15 08:15 5KB nypost.com

108

2.5

Suspected Abu Sayyaf killed in Tawi

ZAMBOANGA CITY – A suspected Abu Sayyaf member was killed in a village in Bongao town in Tawi-Tawi on Saturday. Brig. Gen. Custodio Parcon, commander of Jo 2017-07-15 08:10 1KB newsinfo.inquirer.net

109

0.6

Hikers ditching famous trail for Oregon Coast Trail

At the end of June, a woman picked up three young backpackers walking along the highway near Gearhart. 2017-07-15 08:02 11KB www.washingtontimes.com

110

0.4

Foreign companies dissatisfied with China's slow progress in opening up investment markets

The 'rhetoric' of Beijing's efforts to lure foreign investment 'is not matched by concrete implementations' , European chamber president says 2017-07-15 08:01 5KB www.scmp.com

111

1.7

This Date In Baseball

Compiled by PAUL MONTELLA July 16 1897 — Chicago's Cap Anson became the first major leaguer to reach 3,000 hits when he singled off Baltimore's George Blackburn. 1902 — John McGraw was named manager of… 2017-07-15 08:00 22KB wtop.com

112

1.2

Lobster Bowl: Final high school football game a tribute to mother's memory

Playing brings solace instead of a sting to a Sanford athlete whose mom died shortly before a playoff game. 2017-07-15 08:00 6KB www.pressherald.com

113

0.0

New York is the sweatiest city in America

Which U. S. city is most in need of deodorant this time of year? 2017-07-15 08:00 1KB www.aol.com

114

0.7

Sonny shines for A's in 5-0 whitewash of Indians

OAKLAND, Calif. – Before Sonny Gray's scheduled start on Friday against the Cleveland Indians, reports of him being scratched due to an imminent trade surfaced on Twitter. It turned out to be an internet hoax, but his performance on the mound was no joke. 2017-07-15 08:00 4KB www.charlotteobserver.com

115

0.0

Giants edge Padres, await return of Bumgarner

SAN DIEGO – The San Francisco Giants did not intend to reassemble out of the All-Star break, whip themselves into a frenzy and charge up a hill to wrest away fourth place in the NL West. 2017-07-15 08:00 6KB www.charlotteobserver.com

116

1.4

Maine photographer's iPhone photo goes big time on billboards around the world

Apple found Kari Herer's image on her Instagram feed and selected it for an international ad campaign. 2017-07-15 08:00 4KB www.pressherald.com

117

0.0

Maine State Museum exhibit showcases the art of wood

Opening Saturday is 'Thos. Moser: Legacy in Wood, ' featuring the innovative designs of an Auburn furniture maker. 2017-07-15 08:00 6KB www.pressherald.com

118

1.2

Quant vs Traditional Investors, And How Alphas Become Betas [Podcast]

Ahead of our big Learn2Quant conference on June 20, Leigh joins the "Invest Like the Best" podcast with Patrick O' Shaughnessy to discuss the massive shift the buy side space is currently undergoing that favors quantitative processes over fundamental. also see… 2017-07-15 07:53 2KB www.valuewalk.com

119

1.6

Judge sets new trial for protester who laughed at Jeff Sessions

A D. C. judge on Friday threw out the jury conviction of a Code Pink protester who laughed during Attorney General Jeff Session' confirmation hearing. 2017-07-15 07:48 2KB www.foxnews.com

120

1.5

Chris Paul looks to get over playoff hump in Houston

HOUSTON — Chris Paul didn' t talk about his legacy, and never uttered the word " championship" on Friday when he was officially introduced as the newest member of the Houston 2017-07-15 07:44 5KB sports.inquirer.net

121

0.3

WATCH: Woman ruins $200k worth of art while taking selfie

A woman unintentionally wrecked $200,000 (P10 million) worth of art after she tripped while attempting to take a selfie at an art exhibit. 2017-07-15 07:44 1KB lifestyle.inquirer.net

122

3.2

Iran police fatally shoot knife attacker in Tehran metro: TV

Tehran police shot dead a man who attacked a clergyman and other people with a knife at a metro station on Saturday, Iranian state television reported. 2017-07-15 07:40 1KB www.reuters.com

123

1.4

National Ice Cream Day: McDonald's Is Giving Away Free Ice Cream On Sunday — Win Free Ice Cream For A Year

You may remember the golden ticket from the movie Willie Wonka and the Chocolate Factory. For National Ice Cream Day, McDonald's isn' t giving away golden tickets, but the golden arches... 2017-07-15 07:39 3KB www.inquisitr.com

124

3.1

Abella says gov' t addressing cases of environmentalist slayings

The Philippine government is continuously addressing slay cases of these crusading environmentalists. 2017-07-15 07:37 2KB newsinfo.inquirer.net

125

1.1

Donnie Wahlberg leaves a $2,000 tip for Waffle House servers

New Kids on the Block's Donnie Wahlberg got the royal treatment at Waffle House. So he decided to return the favor. 2017-07-15 07:37 2KB edition.cnn.com

126

0.6

Historic carousel, damaged in fire, is closed for rest of the year

RYE, N.Y. — New York's historic Playland carousel will be closed for the rest of the year following a fire. Westchester County Deputy Parks Commissioner... 2017-07-15 07:36 1KB nypost.com

127

0.0

Undrafted Dylan Ennis drops 35 for Warriors in Vegas

Dylan Ennis went undrafted last month, but the Oregon product was the recipient of " MVP" chants from the crowd in Las Vegas on Friday. Ennis was nearly unstoppable as he scored 35 points 2017-07-15 07:36 3KB sports.inquirer.net

128

1.1

Gordon Hayward signs 4-year, maximum deal with Celtics

BOSTON — Brad Stevens was just a week or so into his new job as Butler head coach when Gordon Hayward was his first recruit to visit. A decade later, they' ve been reunited with the 2017-07-15 07:29 4KB sports.inquirer.net

129

5.4

Murder victim's uncle OK with alleged killer's death penalty deal: 'I'd rather see him sit in prison for the next 60 years'

Murder victim's uncle speaks out about 'methodically plotted out' killing 2017-07-15 07:29 2KB abcnews.go.com

130

0.0

WATCH: Alex Jones' Rants As Bon Iver-Inspired Song

A multimedia company has compiled some of Alex Jones' rants and turned them into a Bon Iver-style song. Watch the video and listen to the song here. 2017-07-15 07:25 2KB heavy.com

131

0.6

Proteas women geared up for Australia clash

Proteas skipper Dané van Niekerk is looking forward to her team's last round-robin ICC Women's World Cup match against Australia in Taunton. 2017-07-15 07:22 3KB www.sport24.co.za

132

0.4

Miley Cyrus Ditched Her Wild Ways For Liam Hemsworth? 'I Did Feel Sexualized'

Miley Cyrus has reinvented her image from a sweet teen star to a raunchy pop star, but it seems that she's ditching her wild ways for Liam Hemsworth. The two fell in love on the set of The Last... 2017-07-15 07:21 4KB www.inquisitr.com

133

2.0

Meetings scheduled on plan for Arizona National Scenic Trail

Federal officials plan to hold public meetings next month on development of a comprehensive plan for the Arizona National Scenic Trail, a route used by hikers, runners, mountain cyclists and horseback riders. 2017-07-15 07:16 1KB www.washingtontimes.com

134

0.3

Federal authorities looking for Deming bank robber

Federal authorities and police in one southern New Mexico community are searching for a man who robbed a Deming bank. 2017-07-15 07:16 1KB www.washingtontimes.com

135

0.0

Tempe police still trying to ID man's body pulled from lake

Police in Tempe say they're still trying to identify the body of a man pulled from the Tempe Town Lake last month. 2017-07-15 07:15 1KB www.washingtontimes.com

136

20.5

Mesa man arrested in girlfriend's shooting death

A Mesa man has been arrested on suspicion of second-degree murder in the shooting death of his live-in girlfriend. 2017-07-15 07:14 1KB www.washingtontimes.com

137

1.7

Yankees' under-the-radar prospect thriving in Double-A

A high school senior with no scholarship offers is not supposed to play professional baseball. Just like an 18th-round draft pick is not supposed to rise up the... 2017-07-15 07:12 3KB nypost.com

138

1.1

Apple to open data center in China with government ties

Apple will open a data center in mainland China with ties to the country's government, raising concerns about the security of iCloud accounts that store personal information transferred... 2017-07-15 07:12 4KB www.cbs46.com

139

1.9

Face scans for US citizens flying abroad stir privacy issues

If the Trump administration gets its way, U. S. citizens boarding international flights will have to submit to a face scan, a plan privacy advocates call a step toward a surveillance state. 2017-07-15 07:12 8KB www.cbs46.com

140

0.5

Backstage News About Nikki Bella's Return To 'SmackDown Live,' Huge Return Coming For 'Summerslam'

Have you missed Nikki Bella on SmackDown Live? 2017-07-15 07:11 3KB www.inquisitr.com

141

0.0

Warren urges supporters to take Kid Rock's Senate run seriously

U. S. Sen. Elizabeth Warren is urging her supporters to take singer Kid Rock's announcement that he plans to run for Senate seriously. 2017-07-15 07:09 3KB www.nydailynews.com

142

0.4

Carmelo Anthony Is Frustrated As New York Knicks Stop The Trade Negotiation With Houston Rockets

The Carmelo Anthony trade drama may possibly end in a sad ending for him, The deal was reported to fail, as New York Knicks management halted the multi-team trade negotiation on Friday, July 14. In... 2017-07-15 07:05 3KB www.inquisitr.com

143

1.3

Hot Property: Picture this

The Hot Property Newsletter roundup. 2017-07-15 07:05 6KB www.latimes.com

144

1.0

She achieved a perfect International Baccalaureate score... but this Hong Kong student found real success by volunteering outside school

Nicole Hon may have achieved the maximum mark in the International Baccalaureate (IB) Diploma Programme, but she has always been a success in the eyes of those she helped 2017-07-15 07:02 4KB www.scmp.com

145

0.0

Museum of Rockies' paleontologist making dreams come true

John Scannella was a little boy growing up in Queens, New York, when he first fell in love with dinosaurs. 2017-07-15 07:02 10KB www.washingtontimes.com

146

1.0

Family, friend run marathon in honor of grizzly bear victim

One year ago, Somer Treat woke up early on a June morning and walked over to the big picture windows in her bedroom that overlook the mountains on the southern edge of Glacier National Park. As morning light blanketed the tree-covered hills near Halfmoon Lake, Treat... 2017-07-15 07:02 7KB www.washingtontimes.com

147

1.7

San Francisco's urban coyotes have a friend in local 'Coyote Lady'

Janet Kessler has spent up to six hours a day the past decade watching and photographing coyotes in San Francisco's parks, where the species is entrenched. 2017-07-15 07:01 7KB www.sacbee.com

148

1.2

Valley's LGBT churches offer safe place, 'redemption'

When she was younger, Jenn LaTorre was shunned from her Orthodox Presbyterian church because of her sexual orientation. 2017-07-15 07:01 11KB www.thenewstribune.com

149

2.1

Arci Muñoz Has a Grilled Chicken Dish for Your Next Backyard Party

Weekends with family sometimes call for an old-fashioned grill party. There's the usual pork barbecue, fish, vegetables, and chicken served on skewers. Meanwhile, singer-actress Arci Muñoz had a different approach to this. All she needed were a whole chicken and... 2017-07-15 07:00 2KB preen.inquirer.net

150

1.7

Famous birthdays for July 15: Forest Whitaker, Linda Ronstadt

Actor Forest Whitaker turns 56 and singer Linda Ronstadt turns 71, among the famous birthdays for July 15. 2017-07-15 07:00 2KB www.upi.com

151

1.6

On This Day: 110 years ago, United Press is formed by E. W. Scripps

On July 15,1907, three press associations joined to form United Press, which would eventually become United Press International. 2017-07-15 07:00 5KB www.upi.com

152

0.5

How Syrians in Turkey are coping with a polarised political climate A ceasefire in Syria has begun – this is how to make it last

Turkey's welcoming of Syrian refugees was an almost unparalleled act of human decency. But like everything in the country, it has been politicised. 2017-07-15 07:00 13KB www.newstatesman.com

153

0.5

A year after the failed coup in Turkey, the purge goes on Liu Xiaobo spent his last years in prison fighting for the human rights we are discarding

The families of the almost 250 people killed in July 2016 may never see justice. 2017-07-15 07:00 11KB www.newstatesman.com

154

1.8

The Voice SA final voting stats revealed

M-Net (DStv 101) has revealed the voting results for the second season of The Voice South Africa. 2017-07-15 06:59 5KB www.channel24.co.za

155

0.9

Oregon woman arrested for towing kids in a toy wagon behind her car

An Oregon woman was charged with two counts of reckless endangerment after multiple drivers reported a car towing young children in a small, plastic red wagon going around a busy roundabout multiple times during rush hour. 2017-07-15 06:59 3KB www.nola.com

156

1.2

Mets' top two pitching prospects out with elbow injuries

The Mets need a shot in the arm. Not more shots to the arms. A season of compounding injuries to pitchers has not been quarantined to the major league level. As... 2017-07-15 06:54 3KB nypost.com

157

1.9

Kailyn Lowry And Chris Lopez Having A Baby Boy? Latest Photo Has Fans Convinced

Kailyn Lowry and Chris Lopez will be welcoming a baby boy any day now, or at least that's what Teen Mom 2's pregnant star's fans believe upon seeing her latest Instagram photo, ... 2017-07-15 06:54 3KB www.inquisitr.com

158

0.8

How Amazon Prime Day Compares To Other Shopping Bonanzas

The Chart of the Week is a weekly Visual Capitalist feature on Fridays. Earlier this week, products were flying off their figurative shelves at a pace that is pretty unusual for the summer. That's because July 11,2017 was the… 2017-07-15 06:50 3KB www.valuewalk.com

159

0.0

British Prime Minister Theresa May intervenes to prevent deportation of woman who fears daughter faces FGM

A report released last week disclosed that more than 9,000 attendances to NHS services in England in 2016 involved the identification or treatment of FGM 2017-07-15 06:47 3KB www.scmp.com

160

1.2

Indian Motorcycle introduces its new Scout Bobber

Indian Motorcycle, drafting on the current craze for chopped, custom motorcycles, has introduced a factory-chopped "Bobber" version of its V-twin Scout. 2017-07-15 06:45 2KB www.latimes.com

161

1.5

Mark Hamill and Carrie Fisher honoured as 'Legends' by Disney

Mark Hamill has been bestowed one of Disney's highest honours, but said he cannot believe Carrie Fisher was not there to see it. 2017-07-15 06:41 2KB www.independent.ie

162

1.1

College hoops coaches dish on dirty little recruiting secret

It's described as an "evaluation" period, three five-day stretches in July when college coaches watch high school basketball prospects across the country.... 2017-07-15 06:36 4KB nypost.com

163

0.8

Song Joong-Ki, Song Hye-Kyo To Make First Public Appearance As A Couple Next Week?

The stars of Descendants of the Sun, Song Joong-Ki and Song Hye-Kyo, made their relationship official last week. The couple will tie the knot on October 31. Now, fans are waiting for the celebrity... 2017-07-15 06:31 3KB www.inquisitr.com

164

1.8

Thousands sign petition to save bear known for charging at humans

Thousands of people in Canada have petitioned the Alberta government to avoid killing a grizzly bear known as "Bear 148." Provincial officials said this... 2017-07-15 06:29 2KB nypost.com

165

3.7

New Orleans man accused of attempted murder in shooting of his friend

Michael Bordley, 44, is accused of shooting a 58-year-old man described as his friend. 2017-07-15 06:28 4KB www.nola.com

166

0.5

Hiker, 75, found dead in Mount Rainier National Park, officials say

Witnesses told CBS affiliate KIRO-TV that rocks were seen falling in the area 2017-07-15 06:25 1KB www.cbsnews.com

167

0.5

'Game of Thrones' cheat sheet: Catch up before Season 7's debut Sunday

Season 7 of the acclaimed series returns on Saturday, July 16 with the fight for the Iron Throne heating up just as winter arrives in Westeros. 2017-07-15 06:24 5KB www.commdiginews.com

168

1.0

VIDEO: 5-year-old, 2 others survive being hit in Oakland crosswalk

A violent crosswalk crash involving a child was caught on camera in Oakland. Surveillance cameras on Oakland' s Lucky Three Seven restaurant captured a car plowing into three people last week. 2017-07-15 06:20 2KB abc7news.com

169

1.3

'Rick And Morty' Season 3: Series Might Feature Love Interests Of Main Characters

The nearing return of Rick and Morty Season 3 spells thrill and excitement to its huge fan base, especially after a sizeable hiatus. Interestingly, fans might be able to see the rumored love... 2017-07-15 06:18 3KB www.inquisitr.com

170

0.0

Malaysia: Seychelles debris not from MH370

A Malaysian official says two pieces of debris found in the Seychelles do not belong to missing Malaysia Airlines Flight 370. 2017-07-15 06:17 1KB www.news24.com

171

0.9

Planet Nine: Astronomers Say They' ve Found 'Signs Of The Presence Of A Planet'

Two astronomers from Spain have announced that their research has uncovered evidence that corroborates the hypothesis of a potential massive Planet Nine orbiting in the outer Solar System. Using an... 2017-07-15 06:12 4KB www.inquisitr.com

172

0.2

Robert Pattinson Winds Down After Meeting Ex-Girlfriend Kristen Stewart And Stella Maxwell With FKA Twigs' Dog

It is always awkward to run into your ex-girlfriend – especially with a hoard of paparazzi between you two. Robert Pattinson and Kristen Stewart had a chance encounter on a flight from Paris to... 2017-07-15 06:09 3KB www.inquisitr.com

173

0.0

The top things you should know about policing this week

News and opinion compiled from outlets across the country by Policing the USA 2017-07-15 06:06 4KB rssfeeds.usatoday.com

174

1.2

Woman accused of lying about rape claims psychiatric illness

A former university student accused of lying about being raped by two university football players is seeking to have the charges against her dismissed. 2017-07-15 06:04 2KB newsinfo.inquirer.net

175

1.4

Down on the border, simmering Sino-Indian stand-off raises fears for local lifeline

Sikkim MP warns that Beijing is ramping up secessionist rhetoric 2017-07-15 06:03 6KB www.scmp.com

176

0.7

Jose Quintana's team switch not a curse to his fantasy owners

As the MLB trade deadline approaches, things can get pretty treacherous for fantasy baseball owners. Those who play in AL- or NL-only formats now are at risk of... 2017-07-15 06:02 3KB nypost.com

177

0.2

Yankees could give Chance Adams shot to replace Pineda

BOSTON — Bryan Mitchell and Luis Cessa will get the first cracks at replacing Michael Pineda in the Yankees' rotation, but don' t rule out Chance Adams... 2017-07-15 05:59 4KB nypost.com

178

0.0

What Mets hitting pause means for Jacob deGrom's future

The "open for business" sign has been all but posted outside Citi Field, but it isn' t a large neon sign. This isn' t a full-on sell-off — it's more... 2017-07-15 05:53 4KB nypost.com

179

2.6

Little Canada WWII soldier finally laid to rest – Twin Cities

Services took place Friday for Staff Sgt. Gerald L. "Jerry" Jacobsen, 27, who was killed in action in France in 1944. The Little Canada native's remains, identified via DNA, were… 2017-07-15 05:52 1KB www.twincities.com

180

0.4

No one rule applies on how hot is too hot on an airliner

Every day, tens of thousands of U. S. airline passengers settle into their seats, lower the window shades and reach up to twist the air vents without the benefit of something that might do even... 2017-07-15 05:52 7KB www.news9.com

181

0.9

Sendak's 'Presto And Zesto In Limboland' To Be Published In 2018

When Maurice Sendak died on May 8,2012, the world mourned the loss of such great talent. His trove of wonder and whimsy, into which we escaped as children (and sometimes adults) , would grow no more. ... 2017-07-15 05:51 7KB www.inquisitr.com

182

0.5

Five privileged Hout Bay families to spend weekend in fire victims' temporary homes

There will be no comforts and luxury for five Hout Bay Valley households as they swap their privilege and move a short distance away to the cold, tiny 3x3m shacks. 2017-07-15 05:49 5KB www.news24.com

183

0.3

Rain, strong winds and big waves set to hit Hong Kong over weekend

Authorities warn against water sports or activities at popular beaches due to expected weather changes 2017-07-15 05:49 2KB www.scmp.com

184

0.2

Mugabe's sons 'evicted' from luxury Sandton apartment over 'unacceptable behaviour'

President Robert Mugabe's sons were evicted from a luxury apartment block in Johannesburg's affluent Sandton area because of their "unacceptable behaviour", a report says. 2017-07-15 05:48 2KB www.news24.com

185

2.0

Petaluma man accused of choking young boy has been arrested dozens of times

Petaluma police arrested 49-year-old Eric Wayne Conroy Thursday. ABC7 News has learned Conroy has had nearly 100 run-ins with police. 2017-07-15 05:46 2KB abc7news.com

186

1.4

Sun Life puts the spotlight on estate planning

Sun Life of Canada (Philippines) , Inc. is putting the spotlight on estate planning in its newest campaign featuring media mogul Charo Santos-Concio. Estate planning, which refers to the act of 2017-07-15 05:46 4KB business.inquirer.net

187

0.1

R&B Singer Jacquees Gets Kicked Off Plane After Almost Coming To Blows — Watch – Hollywood Life

Another day, another passenger kicked off a flight. This time it was R& B singer Jacquees who was booted from a Delta plane on July 14 after nearly coming to blows with a man and threatening him with violence. 2017-07-15 05:46 2KB hollywoodlife.com

188

2.4

Jersey girl chasing her LPGA major dream on home turf

A win at the U. S. Women's Open this week for Marina Alex, which also would happen be her first career LPGA victory, would be a remarkable, career and... 2017-07-15 05:42 4KB nypost.com

189

1.4

Cal State Fullerton alum, MLS vet Brian Dunseth returns to campus for women's soccer fundraiser – Orange County Register

Brian Dunseth, former Cal State Fullerton soccer star, will speak at the Titan women's soccer's fourth-annual Kick-Off Fundraiser on Aug. 6 at Golleher Alumni House. Dunseth was a standout defender… 2017-07-15 05:41 6KB www.ocregister.com

190

1.8

Costa Rica advances to Gold Cup quarterfinals with 3-0 win

Costa Rica assured itself of a spot in the knockout rounds of the CONCACAF Gold Cup by posting a 3-0 win over French Guiana on Friday night at Frisco, Texas. 2017-07-15 05:40 1KB www.latimes.com

191

0.6

LOOK: Janus del Prado shares nostalgic 'G-mik' pics

Janus del Prado tickled netizens' hearts with nostalgic photos of the ABS-CBN teen show "G-mik, " where he portrayed the role of Epoy. 2017-07-15 05:39 1KB entertainment.inquirer.net

192

1.4

Why do Leaders in Latin America Keep Getting in Trouble for Corruption?

This week, two major scandals rocked Latin American politics as two former leftist presidents, 'Lula' Luiz Inacio da Silva of Brazil (2003-2010) and Ollanta Humala of Peru (2011-2016) , face severe charges for their corrupt dealings while they were... 2017-07-15 05:36 5KB spectator.org

193

0.8

Russia warns of response if US doesn't reopen its properties

Russia's Foreign Ministry says it will expel US diplomats and shut down some US compounds in Russia if America does not reopen two Russian recreational estates in the United States that were shut down last year. 2017-07-15 05:36 2KB www.news24.com

194

0.5

Liverpool, AC Milan, Chelsea, Sevilla... Asia is their new goal

The continent's burgeoning interest in the world's top leagues continues to affect how huge clubs do their business, including how they spend the off-season 2017-07-15 05:30 11KB www.scmp.com

195

1.8

Mom found dead in SUV with kids' bodies had killed another woman hours earlier: cops

COLUMBIA, S. C. — A mother found dead in her SUV alongside the bodies of her two children had shot and killed another woman hours earlier at the South Carolina... 2017-07-15 05:30 3KB nypost.com

196

0.5

Sunwolves upset sloppy Blues in Japan

The Sunwolves have stunned the Blues in their final Super Rugby clash at the Prince Chichibu Memorial Stadium in Tokyo. 2017-07-15 05:30 2KB www.sport24.co.za

197

0.8

American doctor to travel to UK in Charlie Gard case

An American doctor who specialises in conditions such as that affecting Charlie Gard will be travelling to Britain next week to assess the critically ill child. 2017-07-15 05:29 1KB www.news24.com

198

2.2

Stitches: Iceberg, Lettuce be

"You' re as cold as ice.… You never take advice. Someday you' ll pay the price." Well it won' t be long now. A 1.1 trillion ton iceberg broke off... 2017-07-15 05:23 1KB nypost.com

199

1.5

Cathay Pacific passenger arrested after kicking, hitting flight attendant for slow service

Chinese national allegedly lashed out because of the delay in clearing her food tray 2017-07-15 05:21 2KB www.scmp.com

200

0.9

Wojo: Needing some fire, Tigers can' t find a spark

The Tigers are an exercise in numb repetitiveness, and on the first night of the rest of their season, it got worse. 2017-07-15 05:19 5KB rssfeeds.detroitnews.com

201

1.7

Phnom Penh Post joins Asia News Network

The Phnom Penh Post, Cambodia's leading English daily, has joined Asia News Network (ANN) , an alliance now comprising 23 media in 19 Asian countries. 2017-07-15 05:15 3KB newsinfo.inquirer.net

202

1.3

Xi Jinping's favourite son Chen Miner appointed party boss of key Chinese city

Confidant of Chinese president now seen as a strong contender to join the Communist Party's higher ranks during autumn reshuffle 2017-07-15 05:12 3KB www.scmp.com

203

0.2

De Kock: Honours even as Proteas look to capitalise

Proteas wicket-keeper batsman, Quinton de Kock, says it's honours even after the opening day of the second Test match against England. 2017-07-15 05:11 2KB www.sport24.co.za

204

0.6

India's next president will come from marginalised Dalit caste, strengthening Prime Minister Narendra Modi's re-election bid

Dalit support is even more important for the ruling BJP as it has mostly been shunned by Muslims, who make up about 14 per cent of the population 2017-07-15 05:10 5KB www.scmp.com

205

0.4

Angelina Jolie Is Unbothered About Brad Pitt Possibly Relapsing Because Of Quentin Tarantino [Debunked]

Angelina Jolie isn' t worried about Brad Pitt possibly teaming up with Quentin Tarantino 2017-07-15 05:07 3KB www.inquisitr.com

206

0.6

Bay Area political events: environment, health

Bay Area political events: environment, health Political events in the Bay Area Environmental action: A conversation with the Sierra Club's executive director and local environmental justice groups on what people can do to take action against President Trump's environmental agenda. Hosted by the Democratic Socialists of... 2017-07-15 05:07 2KB www.sfgate.com

207

0.7

Flight returns to DFW Airport after drunk woman slaps flight attendant, hits cockpit door, police say

An American Eagle flight returned to DFW International Airport shortly after departing Thursday night after a passenger reportedly demanded a... 2017-07-15 05:03 2KB www.dallasnews.com

208

0.3

ScHoolboy Q Furious With United Airlines After They Lost His Dog

United Airlines has screwed up again, this time putting hip hop star ScHoolboy Q's new puppy on the wrong flight and delivering a different dog to him. 2017-07-15 05:02 3KB hollywoodlife.com

209

1.8

Owners of cats killed by San Jose man say maximum sentence not enough

A San Jose man has been given the maximum sentence for stalking, kidnapping, and killing cats. In court Friday, Robert Farmer had to face some of the animal' s owners, who don' t think his punishment is harsh enough. 2017-07-15 05:02 1KB abc7news.com

210

0.5

EXCHANGE: Teacher Pipeline encourages urban school careers

In Rock Falls, Mariah Menchaca didn't have any experience with schools in an urban setting. 2017-07-15 05:02 5KB www.washingtontimes.com

211

2.3

Indiana woman finds growing business in art of face-painting

A few years ago, Renee Fowler was a single mother of a special-needs son. She needed steady income. 2017-07-15 05:02 5KB www.washingtontimes.com

212

1.6

Primate sanctuary gives rescued baboons new life in Indiana

Benjamin looks longingly at Caitlin from a distance on a recent sunny afternoon. He's never had a lady of his own, but he's in love with Caitlin. 2017-07-15 05:02 7KB www.washingtontimes.com

213

0.4

Kayaker goes it alone in the wild

Mississippi has thousands of miles of rivers and streams, and a Pearl man has paddled a number of them for days on end and much of it alone. 2017-07-15 05:01 4KB www.washingtontimes.com

214

1.0

Nebraska Agriculture center seeks to link crops and health

Jeff Raikes was unapologetic as he shot down pitch after pitch from University of Nebraska scientists aiming to connect research being done on microorganisms in the digestive tract to the broader world. 2017-07-15 05:01 9KB www.washingtontimes.com

215

0.6

Iowa military surplus store to close after 104 years

Gen. Douglas MacArthur once said "Old soldiers never die, they just fade away." 2017-07-15 05:01 5KB www.washingtontimes.com

216

1.8

Ronald McDonald House 'miracle' for Nebraska mother, son

When Kate Plock first came from Pawnee City to the Ronald McDonald House in Omaha, she thought she'd be staying about two months - long enough for her then-3-year-old son Mason to undergo feeding therapy. 2017-07-15 05:01 8KB www.washingtontimes.com

217

1.6

Family establishes reputation in Minot restaurant industry

A dishwashing job more than 40 years ago launched a satisfying career in the restaurant industry for Steve Murphy, who figures he's fed most of Minot at one time or another. 2017-07-15 05:01 8KB www.washingtontimes.com

218

0.3

Iowa plans to drain Lake Geode to improve water quality

Looking at Lake Geode, it may seem crazy to think the 174 water-filled acres, which reach a maximum depth of 44 feet, can be drained through a 24-inch pipe on the bottom of the lake. 2017-07-15 05:01 9KB www.washingtontimes.com

219

0.5

Maureen Martin retires after 41 years at DuBard School

Maureen Martin's job as a speech-language pathology student at the University of Southern Mississippi in the early 1970s was as typist for Etoile DuBard, director of what was then called the School for Preschool Deaf and Aphasic Children. Little did Martin know - on June... 2017-07-15 05:01 5KB www.washingtontimes.com

220

0.2

EXCHANGE: Uncovering history of Miller Grove in Pope County

The story of Miller Grove, a small community of freed African-Americans who settled in Pope County in 1844, is slowly coming into focus through the work of the US Forest Service and students from the SIU Center for Archaeological Investigations. 2017-07-15 05:01 5KB www.washingtontimes.com

221

4.6

Priest faces death on path to St. Pius

"It was like 'The Brady Bunch, '" the Rev. Joel Faulk says of his childhood. "There were three boys, three girls. I was the youngest of six." 2017-07-15 05:01 7KB www.washingtontimes.com

222

1.3

La Crosse river drownings inspired serial killer mystery

The characters in Gary Evans' first book are fictional, but the places and events will be eerily familiar to readers from La Crosse. 2017-07-15 05:01 4KB www.washingtontimes.com

223

0.6

Butterfly House visitors see species native to Wisconsin

With both hands gripping his butterfly net, Jim Schwiebert peered into the foliage tracing a paved pathway just outside the Butterfly House at Beaver Creek Reserve. 2017-07-15 05:01 5KB www.washingtontimes.com

224

1.1

Finally, despite odds, a family is born in South Dakota

On a windy Thursday afternoon in early April, a family of three was at home, still in the honeymoon phase of welcoming its newest member, baby Elea. 2017-07-15 05:01 17KB www.washingtontimes.com

225

0.4

How futuristic dome city was nearly built in Minnesota

A futuristic dome city was never built on the swamps of north central Minnesota. It nearly happened back in the early 1970s, but the plans were abandoned. 2017-07-15 05:01 6KB www.washingtontimes.com

226

1.8

Wilcox County could be potential location of "S-Town" trial

In its first month after being released, the podcast "S-Town" was downloaded more than 40 million times across the country and world. 2017-07-15 05:01 4KB www.washingtontimes.com

227

1.6

Jazz Camp pairs New Orleans musicians with young players

"Let's go to work." 2017-07-15 05:01 5KB www.washingtontimes.com

228

0.7

Yankton's Field of Dreams: Family embraces baseball's wonder

You've heard there's a family in Yankton that built a baseball diamond in their front yard. So you make the drive from Sioux Falls, down I-29, onto Highway 81 and just beyond the city limits, because you've got to see this thing. 2017-07-15 05:01 6KB www.washingtontimes.com

229

1.5

Former Hong Kong auditor seeks to revive dying art with start-up in photo printing

Wel Sun says company sees sizeable demand for its services such as creating photo books using Instagram pictures, with young people forming a majority of its customers 2017-07-15 05:00 4KB www.scmp.com

230

0.8

What's the story behind the Venus Rosewater Dish at Wimbledon?

Venus Williams and Garbine Muguruza will battle for it on Sunday in their Wimbledon final – the big platter has been presented to Wimbledon's ladies' singles champions for 130 years now 2017-07-15 05:00 3KB www.independent.ie

231

1.6

Dear Abby: When a 'favor' does me no favors

What do you say to someone whose act of kindness just makes things worse? 2017-07-15 05:00 1KB chicago.suntimes.com

232

1.2

What teachers and students get out of the state's school overhaul

Washington's plan to revamp public school funding includes more money for special education and academic tutoring. But its focus is fixing how teachers and other school employees are paid. 2017-07-15 05:00 9KB www.thenewstribune.com

233

2.3

PODCAST: Central Illinois Business 7-15-17

This week Alex talks with Nick Meredith of Legal Shield and educational diagnostitian Mary Rhodes. 2017-07-15 05:00 920Bytes www.news-gazette.com

234

0.3

Salt Lake's mistakes prove costly in 6-4 loss to Sacramento

The Bees committed four errors, three in the decisive fourth inning, and Sacramento took advantage. The River Cats scored six runs in the fourth, thanks to run-scoring hits by Juniel Querecuto and Jarrett Parker. 2017-07-15 04:57 3KB www.deseretnews.com

235

0.3

Khloe Kardashian's Ex Lamar Odom Tells Rob To 'Stay Strong' After Blac Chyna Split – Hollywood Life

This bromance is still going strong! Lamar Odom offered Rob Kardashian some words of wisdom following his heartbreaking split from Blac Chyna. The best thing he can do is 'stay strong' for baby Dream. 2017-07-15 04:54 2KB hollywoodlife.com

236

0.9

A Muslim mom's response to Kalkaska official's anti-Muslim posts

Jeff Sieting, the president of Kalkaska Village, posted a call on Facebook to kill all Muslims. A Muslim mom from Virginia responded. 2017-07-15 04:53 6KB rssfeeds.freep.com

237

1.0

Aguirre ready to face De Lima raps 'in any forum'

Justice Secretary Vitaliano Aguirre II is not losing sleep over the cases filed by Senator Leila de Lima. 2017-07-15 04:51 2KB newsinfo.inquirer.net

238

0.0

D23 Expo 2017: The Voices Of Numerous Disney Princesses Are Coming Together In One Of the Funniest Scenes Ever

Friday was the first day of the D23 Expo 2017 and there was so much to learn in one day, but it was one scene in just one movie that ended up stealing the whole show. The main presentation of the day... 2017-07-15 04:50 4KB www.inquisitr.com

239

1.6

Was Anna Kournikova The Best To Play At Wimbl

No Anna Kournikova was not the best tennis player to ever take the grass courts, but she just might be the best-looking to ever do so. 2017-07-15 04:48 1KB dailycaller.com

240

1.2

Finger pointing and shouts as Hong Kong Legco meeting breaks down in chaos over lawmaker disqualifications

Fresh emotions run high a day after controversial court ruling over improper oaths stripped four legislators of their seats 2017-07-15 04:47 5KB www.scmp.com

241

0.0

Why Indonesia's Widodo had to throw Ahok under a bus

After his former ally lost Jakarta's gubernatorial election three months ago, all signs point to the president cleaving to the more conservative power brokers within his party in order to survive 2017-07-15 04:47 8KB www.scmp.com

242

0.5

Primary Challenger Hits Sanders

Bernie Sanders' Vermont Senate seat has been virtually unchallenged since 2006. 2017-07-15 04:46 3KB dailycaller.com

243

1.7

Turkey marks anniversary of failed coup against Erdogan rule

Turkey is commemorating the first anniversary of the quashed military coup that sought to overthrow President Recep Tayyip Erdogan. 2017-07-15 04:46 4KB www.independent.ie

244

0.9

Tigers minors: Adduci homers, but VerHagen struggles in Toledo's loss

Jim Adduci homered and doubled, scoring a pair of runs while also driving home a couple. 2017-07-15 04:45 4KB rssfeeds.freep.com

245

1.3

Web.com Tour: You gotta believe! Wilshire does and takes second-round lead

Kentucky's Kyle Wilshire fully believes in his ability as a golfer, and it helped him shoot a 9-under-par 62 and grab a two-shot lead following Friday's second round of the Web.com Tour's Utah Championship tournament at the Oakridge Country Club. 2017-07-15 04:45 8KB www.deseretnews.com

246

2.1

He moved to a care facility, and died 36 hours later on a mattress in the lobby

Jim Black's family has sued Hearthside Manor, a University Place assisted living facility, contending he died without anyone calling 911 or performing CPR. 2017-07-15 04:45 3KB www.thenewstribune.com

247

0.3

10 Disney Princesses Are Going To Be In The Same Movie Together & There Is No Chill To Be Had – Hollywood Life

One picture. Ten Disney Princesses. One dream come true happening on the big screen in 2018. Here's how you can see the royal girl squad. 2017-07-15 04:44 2KB hollywoodlife.com

248

1.7

'I might even congratulate you for having the balls' : Philippine President Rodrigo Duterte makes yet another 'rape joke'

President also boasted to the diplomats that he faked tuberculosis to escape mandatory military training in college 2017-07-15 04:44 2KB www.scmp.com

249

0.9

'Sister Wives' Update: Robyn Brown Defends Polygamous Marriage In Her Latest Blog Post

Sister Wives star and Kody Brown's fourth wife Robyn is finally speaking up to address divorce rumors and defend her polygamous marriage. In her latest blog post, Robyn Brown recounted her... 2017-07-15 04:43 3KB www.inquisitr.com

250

1.5

For the Record

los angeles times corrections 2017-07-15 04:40 1KB www.latimes.com

251

1.0

Promise of discounted Krispy Kreme's cripples traffic for hours

How long would you wait for a discounted doughnut? To celebrate its 80th anniversary, Krispy Kreme is selling a dozen doughnuts for 80 cents once a customer... 2017-07-15 04:36 2KB nypost.com

252

0.0

JP Morgan beats Street 2Q forecasts

NEW YORK (AP) _ JPMorgan Chase & Co. (JPM) on Friday reported second-quarter earnings of $7.03 billion. 2017-07-15 04:32 1KB www.news9.com

253

0.4

How a Clarence Darrow statue shows the staying power of the Scopes trial

In 1925, two legal giants debated the origins of mankind inside a Tennessee courthouse. More than 90 years later, a bronze statue of lawyer and skeptic Clarence Darrow brings the "Scopes monkey trial" adversaries back together. 2017-07-15 04:30 5KB rssfeeds.usatoday.com

254

1.7

Boys water polo: Three standout water polo players commit to four-year schools – Orange County Register

Standout water polo players Jack Seybold of Mater Dei and Noah Hodge and AJ Rossman of Santa Margarita have committed to colleges, their high school coaches report. Seybold, a first-team All-County… 2017-07-15 04:28 1KB www.ocregister.com

255

1.3

'Days Of Our Lives' Spoilers: Jen Lilley Talks About Returning

Days of our Lives spoilers reveal that some fan favorite characters are set to return to Salem in the near future, and it seems that Jen Lilley could be one of them. After the actress' friend, ... 2017-07-15 04:28 3KB www.inquisitr.com

256

0.2

Ravena on joining PBA Draft: Only thing left to be done is pass application form

TAIPEI – With the way he talked on Friday night, Kiefer Ravena is in his final tours of duty with Gilas Pilipinas – three tournaments at the most until the end of August – before he comes 2017-07-15 04:26 3KB sports.inquirer.net

257

0.5

Andrew Giuliani ties the knot with Real Estate exec

Andrew Giuliani has gone from ­being a spectacle to a spouse. The son of former Mayor Rudy Giuliani — who famously stole the show with his gyrations at his... 2017-07-15 04:23 1KB nypost.com

258

1.3

Tori Roloff Attends Molly's Bridal Shower, Jackson Gets Showered With Kisses

Molly Roloff is getting married! The daughter of Amy and Matt Roloff celebrated her bridal shower on Friday, July 14. The Little People, Big World stars got together for some typical bridal party fun... 2017-07-15 04:21 2KB www.inquisitr.com

259

1.6

Oprah Winfrey, Whoopi Goldberg, Stan Lee become Disney Legends at D23

The D23 Expo kicked off Friday, with Oprah Winfrey, Stan Lee and Whoopi Goldberg, among others, becoming Disney Legends. 2017-07-15 04:16 1KB abc7news.com

260

0.3

Emails released Friday show racist, sexist culture in city water dept.

Several top officials at the Department of Water Management lost their jobs over the sharing of emails, which also included homophobic slurs. 2017-07-15 04:13 4KB chicago.suntimes.com

261

1.7

Uber Makes U-Turn With $3.7 Billion Yandex Tie-Up

Uber has agreed to merge its ridesharing and UberEATS businesses in Russia and several other Eastern European countries with Yandex. Taxi, the cab-hailing company of Russian search engine giant Yandex. BTC/ETH: Which is the Better Buy? Passive Investing ETFs Account For… 2017-07-15 04:10 2KB www.valuewalk.com

262

2.0

Lynx-Mercury, Box

MINNESOTA (88) Augustus 9-15 0-0 19, Brunson 2-7 3-4 8, Fowles 8-12 2-2 18, Moore 7-12 1-3 19, Whalen 3-5 1-1 8, Fagbenle 0-0 0, Howard 0-1 0-0 0, Jones 0-1 2-2 2, Montgomery… 2017-07-15 04:10 1KB wtop.com

263

0.2

MayMac Media Tour: Next Stop, Las Vegas

Risible and downright hilarious at times — like the crowd chanting for Mayweather to "take off that shirt" — cringeworthy and offensive at others. The media tour supporting... 2017-07-15 04:10 2KB www.inquisitr.com

264

0.7

2 Chainz's pink 'Trap House' makes a comeback! (Sort of.)

If you thought you' d seen the end of Atlanta' s pink Trap House...think again! 2017-07-15 04:06 2KB rssfeeds.11alive.com

265

2.0

Today in History

Today in History. 2017-07-15 04:05 6KB www.miamiherald.com

266

1.7

Tulane lands commitment from Alabama DE Charlie Ryan

Tulane now has eight commitments for the Class of 2018. 2017-07-15 04:05 1KB www.nola.com

267

0.0

While Galaxy wait, Jose Mourinho holds door open for Zlatan Ibrahimovic's return

Manchester United might not be done with Zlatan Ibrahimovic yet, according to coach Jose Mourinho. 2017-07-15 04:05 3KB www.latimes.com

268

0.0

Boxing returns to Long Island with one glaring absence

Long Island is playing host to its first boxing card in 31 years Saturday night, while its most notable boxing star is fighting in Los Angeles. Go figure. Joe... 2017-07-15 04:04 4KB nypost.com

269

0.4

Refusing to fight boyfriend's mom battles for him

Dear Carolyn: I' ve been dating my boyfriend for about three and a half years and we are moving in together. 2017-07-15 04:04 7KB rssfeeds.freep.com

270

1.7

New Goddard School in Novi takes shape

New Goddard School in Novi takes shape 2017-07-15 04:04 2KB rssfeeds.hometownlife.com

271

0.5

Bay Area officers will carry antidote to save drug-sniffing dogs from overdose

The Alameda County Sheriff's Office is pushing for officers to start carrying Narcan, an antidote for overdose effects, to protect their K-9 units while sniffing out opioids. 2017-07-15 04:03 1KB www.sacbee.com

272

1.3

He spent 9 years on McNeil Island without his day in court

Jesse McReynolds spent nine years on McNeil Island at the state's home for sexually violent predators without ever having a civil commitment trial or being convicted of a violent sexual offense. 2017-07-15 04:01 8KB www.thenewstribune.com

273

0.9

More mainland Chinese buy insurance policies in Hong Kong, and the watchdog is taking notice

Insurance Authority chairman Moses Cheng has an extraordinary job ahead of him: regulating an insurance industry that has grown enormously thanks to China's investors 2017-07-15 04:01 8KB www.scmp.com

274

1.3

UPD agrees to $1.2 million settlement with innocent man mistakenly shot by officer

SALT LAKE CITY – Nearly 20 months after an innocent man was shot by an officer by mistake, the Unified Police Department has reached a settlement with the victim. 2017-07-15 04:01 2KB fox13now.com

275

1.1

Volunteer drivers provide help for cancer patients

For the past six years, Beverly Serafin has played a key role in helping area cancer patients fight their disease. 2017-07-15 04:01 5KB www.washingtontimes.com

276

1.8

South Carolina's South of the Border survives modern times

For hours, whimsical billboards count down the miles to exit 1A on South Carolina's stretch of Interstate 95 where a giant sombrero hovers in the sky like a neon UFO. 2017-07-15 04:01 9KB www.washingtontimes.com

277

0.6

After fiery 4th, West Jordan bans aerial fireworks

Fireworks fans in West Jordan will likely have to head elsewhere to send sparks into the sky on Pioneer Day. 2017-07-15 04:01 2KB www.deseretnews.com

278

1.4

Women Are Trying New Home Pregnancy Test Where You Pee On Toothpaste

Women have started trying a new home pregnancy test where you pee on toothpaste. Life & Style Magazine shared the news about this new pregnancy test that they are doing it home. You can buy a... 2017-07-15 04:00 3KB www.inquisitr.com

279

2.0

Why dying in Hong Kong is getting more complicated... and expensive

People find it increasingly difficult to secure a burial space or funeral niche for a loved one in a land-starved city which now offers burial at sea or in gardens of remembrance 2017-07-15 04:00 8KB www.scmp.com

280

0.5

Graham: Where have all the comedies gone?

The year's big screen comedies have been no laughing matter. What's going on? 2017-07-15 03:58 4KB rssfeeds.detroitnews.com

281

1.2

Sen. Bill Nelson's war chest reaches $5 million

Nelson also announced he's won the endorsement of End Citizens United, which backs candidates who want to limit the influence of big-donor money on political campaigns. 2017-07-15 03:58 6KB rssfeeds.tcpalm.com

282

0.2

Funeral services for Nelsan Ellis will be open to the public

A public viewing will be held in Country Club Hills, followed by a funeral service in Harvey, Ill. 2017-07-15 03:56 2KB chicago.suntimes.com

283

1.4

Death of 5-year-old Queens boy deemed a homicide

The death of a 5-year-old Queens boy whose home was visited more than a dozen times by child welfare workers has been ruled a homicide. 2017-07-15 03:54 2KB www.nydailynews.com

284

1.0

Thousands gather in Salt Lake City for weekend motorcycle rally

SALT LAKE CITY -- People from all over the world are in Salt Lake City this weekend for a massive motorcycle rally at the Utah State Fair Park. They're not what you might think of when you think of the word 'biker. 2017-07-15 03:50 2KB fox13now.com

285

2.0

1 found dead in Lacombe area house fire: State Fire Marshal's office

An autopsy on the victim is planned for Saturday morning (July 15) . 2017-07-15 03:50 2KB www.nola.com

286

0.7

Abella: No intent to embarrass Duterte on inverted presidential seal episode

It's a topsy-turvy world out there! 2017-07-15 03:49 2KB newsinfo.inquirer.net

287

0.4

WWE News: Cancellation Of 'Talking Smack' Could Point To Larger Trend Within WWE Away From Unscripted Content

The WWE news about the cancellation of Talking Smack did not go over well with fans, but the company's decision to axe the show might actually be part of a larger trend that may eventually do... 2017-07-15 03:47 3KB www.inquisitr.com

288

0.3

"Grease" draws car lovers, hoop skirts to Crossroads Village

The setting at Crossroads Village is several decades older than that in the film "Grease, " but the park off Bray Road offered the backdrop Friday night for a screening of the classic musical. 2017-07-15 03:47 2KB www.mlive.com

289

0.0

ABC7 AccuWeather Weather Forecast

Watch the latest ABC7 AccuWeather forecast. 2017-07-15 03:44 1002Bytes abc7chicago.com

290

0.6

Jinger Duggar Boasts Getting Pampered By Husband Jeremy Vuolo On Instagram, Did She Go On Date Wearing Pants?

Jinger Duggar wants the world to know that she has the best husband in the world! The 23-year-old took to Instagram on Friday night to recount the perfect date night Jeremy Vuolo organized for her... 2017-07-15 03:43 3KB www.inquisitr.com

291

0.6

Nicki Minaj 'Inspired' By Beyonce's Gorgeous New Baby Twins — Wants Nas To Step Up – Hollywood Life

Baby fever! Nicki Minaj is feeling 'inspired' to have children of her own after seeing a first pic of Beyonce's twins, HollywoodLife.com has EXCLUSIVELY learned. With whom? Nas of course! 2017-07-15 03:42 2KB hollywoodlife.com

292

1.0

Pulitzer-winner's book shows how biz execs became 'too big to jail'

Arthur Andersen deserved to die. In 2001, the accounting firm was one of the "Big Five" auditors in the country with around 85,000 employees and a thriving... 2017-07-15 03:40 7KB nypost.com

293

1.1

No ordinary canoe trip as group paddles Mississippi River

An extreme adventure underway on the Mississippi River right now and our own ABC7' s Paul Meincke is on it. 2017-07-15 03:39 2KB abc7chicago.com

294

1.7

'The Bachelor' Details: Britt Nilsson Admits To Being Bulimic During Film

Britt Nilsson tried to find love on The Bachelor with Chris Soules, but things didn' t work out for her. She is now speaking out and sharing that there was a lot that fans didn' t know... 2017-07-15 03:39 2KB www.inquisitr.com

295

1.5

Review: The Night Game delights on 'The Outfield, ' to tour this summer (Includes first-hand account)

The Night Game has released their new single "The Outfield." The band announced headlining dates for their North American tour this summer, and they will also be supporting global music star John Mayer on his tour. 2017-07-15 03:39 4KB www.digitaljournal.com

296

1.5

New York Mets GM Sandy Alderson -- Tim Tebow call-up in 2017 not happening

Mets general manager Sandy Alderson, asked about calling up Tim Tebow when rosters expand to 40 in September, said he doesn't "foresee that kind of scenario." 2017-07-15 03:39 2KB www.espn.com

297

0.4

Kanye West & Kim Kardashian Are Having 'Best Sex of their Lives'

Kim Kardashian and Kanye West's sex life has never been hotter, because her body is so bangin' these days that he can't get enough of his wife. 2017-07-15 03:37 1KB hollywoodlife.com

298

0.5

Jamie Dornan May Not Be The Only Hot Actor Amelia Warner Said 'I Do' To

Amelia Warner may have been in the industry for almost two decades but the star is mostly known for being the wife of Jamie Dornan. After the success of the Fifty Shades franchise, many were... 2017-07-15 03:36 3KB www.inquisitr.com

299

0.4

Who is Rinat Akhmetshin? The mystery man who attended Donald Trump Jnr's Russia meeting

Akhmetshin began his career working for central Asian oligarchs who needed a helping hand in Washington for one problem or another 2017-07-15 03:36 4KB www.scmp.com

300

1.2

Kyle Walker wants silverware after joining Manchester City from Tottenham

Manchester City's new signing Kyle Walker wants to add multiple trophies to a CV lacking silverware after joining from Tottenham in a deal that could reach £50million. 2017-07-15 03:36 3KB www.independent.ie

301

1.4

'Little People, Big World' Star Audrey Roloff Shares Lavender Uses: Why Some Pregnant Women Should Avoid it

Audrey Roloff is in love with lavender. The Little People, Big World star has discovered over half a dozen ways to use lavender in her life, but fans of floral scents and essential oils need to be be... 2017-07-15 03:35 4KB www.inquisitr.com

302

1.2

Kobe proudly shows off new tattoo tribute to daughters

Kobe hashtagged the photos #daddysgirls #queenmamba. 2017-07-15 03:34 1KB rssfeeds.usatoday.com

303

1.9

Wanted duo accused of targeting, distracting, robbing elderly victims

If anyone knows where they are, they' re asked to call police. 2017-07-15 03:32 2KB rssfeeds.11alive.com

304

1.5

Lowest number of drug users in PH 5 years from now, Duterte vows

The number of drug addicts in the Philippines will be at its lowest five years from now, President Rodrigo Duterte has said. 2017-07-15 03:31 2KB newsinfo.inquirer.net

305

0.8

Collusion's no big deal? That's what some House Republicans say

Discussing proof of collusion in Donald Trump Jr's emails, some fierce Trump defenders on Capitol Hill are asking what's the big deal? Shannon Pettypiece, Jason Johnson, & Jim Sharpe react. 2017-07-15 03:31 1KB www.msnbc.com

306

0.5

US judge pauses quest to block sale of Toshiba chip unit

A California judge put on hold Friday a request by Western Digital to block the sale of Toshiba's chip division, suggesting a more collaborative order. 2017-07-15 03:30 3KB www.digitaljournal.com

307

1.7

Local psychologist among more than 400 charged with health care fraud

A DeKalb County psychologist is among the 412 doctors, nurses and health care professionals arrested in the largest ever bust of its kind in U. S. history. 2017-07-15 03:28 2KB rssfeeds.11alive.com

308

0.4

WATCH: Gordon Ramsay tries pineapple pizza, calls it 'Italian tragedy'

Celebrity chef Gordon Ramsay took the risk to ingest one of the dishes he despises: Pineapple pizza. 2017-07-15 03:27 2KB entertainment.inquirer.net

309

0.5

Not much Gray area when it comes to value of Quintana contract to Cubs

Whatever Wetbutt23 says about Sonny Gray and the Cubs, Jose Quintana's manageable contract gives the Cubs "a ton of options" for future rosters. 2017-07-15 03:27 3KB chicago.suntimes.com

310

1.7

VERIFY: Are there Piranhas in the Shenandoah River?

QUESTION: Are there Piranhas swimming around in the Shenandoah River? 2017-07-15 03:27 2KB rssfeeds.wusa9.com

311

0.0

Panelo: 'Time for reckoning' has come for Aquino

Atty. Salvador Panelo has given his 'two cents' but the Aquino camp is determined to answer these charges in a formal venue. 2017-07-15 03:24 2KB newsinfo.inquirer.net

312

1.1

Verlander gets little support, Jays thump Tigers

Well, they didn' t exactly come hot out of the gates to start the second half of the season. 2017-07-15 03:23 4KB rssfeeds.detroitnews.com

313

0.9

2 Investigators: Soundproofed, With Smell Of 'Burning Plastic'

The city of Chicago says they'll replace the windows, but they want something in return from Southwest Side residents. CBS 2's Pam Zekman reports. 2017-07-15 03:23 3KB chicago.cbslocal.com

314

0.9

'Jersey Shore' Cast returning for 'Reunion Road Trip' TV Series

Jersey Shore is officially back for a new series titled Reunion Road Trip. The cast members have gotten back together to film a brand new docuseries about them reuniting nearly five years after... 2017-07-15 03:23 3KB www.inquisitr.com

315

0.8

Catholic journal criticizes Trump 'value voters'

Two top adviseors to Pope Francis have strongly criticized some American religious supporters of President Donald Trump for their fundamentalist views which they say demonize others and create fear and hatred. 2017-07-15 03:23 2KB edition.cnn.com

316

0.5

Burton Malkiel Wrote "A Random Walk Down Wall Street" In' 73. Have His Views Changed?

Legendary economist and financial thought leader, Burton Malkiel shares investment lessons learned more than four decades after writing his classic book, A Random Walk Down Wall Street. ETF Dominance? Matt Hougan CEOs Who Attend Investor Conferences See Lower Operating Performance… 2017-07-15 03:22 3KB www.valuewalk.com

317

0.3

Archaeologists go high-tech in 2,500-year-old Greek cold case

More than 2,500 years ago, an Athenian nobleman named Cylon -- the first recorded Olympic champion -- tried to take over the city of Athens and install himself as its sole ruler. 2017-07-15 03:20 5KB www.digitaljournal.com

318

1.1

St. Paul bartender will brave hypothermia, bears on around-Apostle Islands swim – Twin Cities

A 36-year-old St Paul man is about to embark on a never-before-done swimming adventure in the chilled waters of Lake Superior and its off-shore archipelago of the Apostle Islands. Daniel O' Ka… 2017-07-15 03:19 4KB www.twincities.com

319

0.0

J. E. B. Stuart relatives oppose changing Fairfax Co. high school name

The drive to change J. E. B. Stuart High School' s name is personal to Eliza Stuart. 2017-07-15 03:18 3KB rssfeeds.wusa9.com

320

0.5

Dem Rep Lewis: 2016 Election Was 'Rigged' in Trump's Favor

Dem Rep Lewis: 2016 Election Was 'Rigged' in Trump's Favor 2017-07-15 03:18 2KB www.breitbart.com

321

1.3

Metro & state: Detroit City FC rallies for 3-3 tie vs. Lansing United

Le Rouge finished second in the Great Lakes Division behind AFC Ann Arbor. 2017-07-15 03:17 2KB rssfeeds.freep.com

322

0.8

Raiders' Marquette King welcomes Nick Young to Bay Area

Swaggy P seems to be having fun in the Bay Area so far. 2017-07-15 03:16 1KB rssfeeds.usatoday.com

323

1.5

Sino-Singapore relations look good now – but rocky seas ahead

Beijing's long-range geopolitical goals have become more aggressive over the decades, putting it at odds with the city state's long-held policies regarding Taiwan, Asean and the South China Sea 2017-07-15 03:16 4KB www.scmp.com

324

1.3

Australia set to join U. N. Human Rights Council: report

Australia looks set to fill one of two vacancies on the United Nations Human Rights Council following France's withdrawal from the process, the Herald Sun newspaper said on Saturday, quoting remarks by Foreign Minister Julie Bishop. 2017-07-15 03:16 3KB www.reuters.com

325

1.8

Joseph Duggar And Kendra Caldwell Get 50% Of Wedding Registry Bought In One Day

Joseph Duggar and Kendra Caldwell are the next Duggar couple up on the fast track to marriage. The two got engaged right after Joy-Anna Duggar and Austin Forsyth got married, which gave Jill &... 2017-07-15 03:15 3KB www.inquisitr.com

326

0.3

"The swamp's deeper than he thought": Trump supporters stick with him

At the Vigo County Fair in Indiana, one of the president' s supporters says he is 200 percent satisfied with Trump' s performance 2017-07-15 03:15 2KB www.cbsnews.com

327

0.2

Kermit the Frog puppeteer 'devastated' for failing his hero after being fired by Disney

Without giving details, Whitmire said executives had raised two issues with him that he had tried to remedy in the past nine months without success 2017-07-15 03:15 2KB www.scmp.com

328

2.2

15-year-old local singer opens for Willie Nelson at Koka Booth Amphitheater: : WRAL.com

A local 15-year-old performed at the Koka Booth Amphitheater in Cary Friday night, opening for legendary performer Willie Nelson. 2017-07-15 03:12 1KB www.wral.com

329

0.0

Pittsburgh Penguins' Phil Kessel responds to trade rumors

Phil Kessel has enjoyed his time with the Pittsburgh Penguins, but that doesn't mean he hasn't heard his name being included in trade rumors. 2017-07-15 03:12 3KB www.upi.com

330

6.5

Appeals court reinstates death sentence in child killing

A federal appeals court has reinstated the death sentence for a woman who stabbed to death a 9-year-old Anaheim girl in 1990. 2017-07-15 03:11 1KB www.washingtontimes.com

331

1.3

Would-be robber foiled twice by bankers' hours

Police in Iowa say a would-be bank robber was thwarted two times this week when the banks he tried to rob were closed. 2017-07-15 03:10 1KB rssfeeds.usatoday.com

332

0.4

Quiet Italy hamlets struggle with migrant 'human warehouses'

They used to be sleepy hamlets on Italy's sun-baked Padan Plain. But two years with hundreds of asylum seekers packed into overcrowded centres dubbed "human warehouse" are taking their toll -- on both migrants and villagers. 2017-07-15 03:10 4KB www.digitaljournal.com

333

1.4

China's economy slows in second quarter

China's economy lost momentum in the second quarter, a survey shows, as Beijing's efforts to curb risky lending and investment took a toll on the Asian powerhouse. The world's second-largest economy expanded by 6. 2017-07-15 03:10 3KB www.digitaljournal.com

334

0.4

dizzying rise of Afghan cricket

The manicured emerald pitch at Lord's in London, where Afghanistan played for the first time ever Tuesday, is a world away from the border refugee camps where the country found its love for cricket. 2017-07-15 03:10 5KB www.digitaljournal.com

335

0.2

Rob Kardashian Has Gone Into Business With Kylie Jenner Amid Blac Chyna Drama

Has Rob Kardashian gone into business with Kylie Jenner? Kylie Jenner's new Snapchats certainly suggest a collaboration with her half-brother. In the snaps (which can be viewed below) Kylie... 2017-07-15 03:10 3KB www.inquisitr.com

336

0.5

Chevy Cruze adds a door, and noticeable practicality

Chevrolet introduces the hatchback Cruze to the U. S. 2017-07-15 03:08 7KB rssfeeds.detroitnews.com

337

1.2

Friday's local baseball roundup: Mainers lose in 13 innings

Sanford lets a seven-run lead slip away in an 8-7 defeat against Plymouth. 2017-07-15 03:08 2KB www.pressherald.com

338

1.5

Arlington family faces eviction over boys' arrests captured in viral video

The Arlington family involved in a controversial video of police arresting two teens is now being evicted over the arrests. The boys' mother, ... 2017-07-15 03:07 3KB www.dallasnews.com

339

0.9

Queens man admits to robbing bank with help of Gotti's grandson

Michael Guidici admitted in court to sticking up a bank five years ago — with the help of John Gotti's grandson. 2017-07-15 03:06 2KB www.nydailynews.com

340

2.1

Shake-down periods suggest tweaks for Detroit's QLINE and MoGo services

Initial response to Detroit's Qline and MoGo services show users expect more in the way of public transportation options. 2017-07-15 03:05 4KB rssfeeds.freep.com

341

3.3

Man found in NYC bay identified as pastor who likely killed self

A man found dead in the waters near Pelham Bay has been identified as a pastor who police believed took his own life. 2017-07-15 03:05 2KB www.nydailynews.com

342

0.0

Where are Long Beach home prices headed? Up.

For 62 straight months, Southern California home prices have gone in one direction. Up. The median home value in Long Beach is $552,700. Long Beach home values have gone up 6.8 percent over the past year, according to the real estate website Zil 2017-07-15 03:05 10KB www.presstelegram.com

343

1.1

Scenes from Disney's convention: D23

Kristen Bell, Princess Anna of the upcoming Disney movie "Olaf's Frozen Adventure" took part in the Walt Disney Studios live action/animation presentation at Disney's D23 convention in Anaheim, Calif. The new "Frozen" adaptation will be released in U. S. theaters on Nov. 22,2017. 2017-07-15 03:04 1KB rssfeeds.usatoday.com

344

0.2

Knicks digging out of a mess that has been years in the making

It started to come crashing down three days before the start of the 2013-14 training camp. The Knicks were coming off the Eastern Conference's second seed and... 2017-07-15 03:03 4KB nypost.com

345

0.3

President Carter thanks Habitat volunteers, brushes off 'weak moment' with a joke

" My bringing attention to this Habitat project was completely unintentional, and I apologize to you for all that, but I got through fine, " he joked. 2017-07-15 03:03 3KB rssfeeds.11alive.com

346

1.8

Illinois residents brace for possibility of record flooding

" Folks think because it' s not raining anymore, things are just fine or getting better -- they' re not, " Gov. Bruce Rauner says 2017-07-15 03:02 2KB www.cbsnews.com

347

1.2

Sox fall short as more trades loom

Todd Frazier knows the White Sox might trade him and a few of his teammates before the end of the month. 2017-07-15 03:02 4KB chicago.suntimes.com

348

2.6

2 gang members get 13 years in prison for Placentia shooting death – Orange County Register

FULLERTON — Two gang members pleaded guilty and were sentenced to 13 years in prison Friday in connection with the gang-related fatal shooting of a victim in Placentia two days before Christm… 2017-07-15 03:02 2KB www.ocregister.com

349

0.6

UN envoy flays continued rights violations in Sri Lanka

UN envoy flays continued rights violations in Sri Lanka 2017-07-15 03:01 4KB abcnews.go.com

350

1.0

Director Says Cast Diversity Was Important For 'White' Backstreet Boys' 'Everybody' Video

A former Backstreet Boys music video director says he purposely packed the set of "Everybody (Backstreet's Back) " with people of color to display true diversity. Director Joseph... 2017-07-15 03:01 3KB www.inquisitr.com
Articles
DC5n United States mix in english 350 articles, created at 2017-07-15 12:06
HONOLULU — Karen Hastings was in her 31st floor Honolulu apartment when she smelled smoke. She ran out to her balcony, looked down, and saw flames five floors below her.
"The fire just blew up and went flying right out the windows, " the 71-year-old Hastings said of the first moments of the high-rise blaze that killed at least three people and injured 12. "And that was like a horror movie. Except it wasn' t a horror movie, it was for real."
The fire broke out Friday afternoon in a unit on the 26th floor, where all three of the dead were found, Fire Chief Manuel Neves said.
The building known as the Marco Polo residences is not required to have fire sprinklers, which would have confined the blaze to the unit where it started, Neves said. The 36-floor building near the tourist mecca of Waikiki was built in 1971, before sprinklers were mandatory in high-rises. It has over 500 units.
Late into the night as embers smoldered, firefighters were searching the damaged areas to make sure no additional people perished.
Hastings said the fearsome flames drove her and a neighbor to run down 14 floors until they found a safe stairwell to get some air.
"We actually saw a person laying on a ledge and I don' t know whether he made it not, " Hastings said.
The building is vast and wave-shaped, and has several sections. The blaze was mostly confined to a single section, and only the units immediately above it and to the side of it were evacuated, while many residents stayed inside.
The blaze was still burning some four hours after it broke out as the sun set, but it was down to mostly embers by then, official said. A shelter was set up at a nearby school where about 50 residents had gathered late in the evening.
Most evacuations went calmly and smoothly, security guard Leonard Rosa said.
Cory La Roe, who is from Florida and stationed in Hawaii with the Air Force, works night shifts and was asleep when sirens woke him at about 2: 15 p.m.
"First thing, I was kind of disoriented and confused about what was going on, so I looked out my window and saw people running away from the building, looking back toward it."
La Roe said he didn' t hear any verbal announcements and there were no flashing fire alarm lights in the building, but "after I saw people running out and went out to the hallway, I knew it was a fire alarm."
He saw an elderly couple come down that looked "sooty" who were taken to the hospital. He saw other people brought out on stretchers.
He didn' t realize that the building didn' t have a sprinkler system and was surprised that was the case.
"That's one thing that I wasn' t aware of prior to moving in, " La Roe said. "It was definitely shocking for me to know that there weren' t any sprinklers installed in the building."
Honolulu Mayor Kirk Caldwell said the city needs to look at passing a law requiring older buildings be retrofitted with sprinklers.
"The biggest argument is the affordability, " Caldwell said. "Residents have to pay. It's pretty expensive. But if it saves a life and it's your life, it's worth the cost."
No one from the building said they remembered recent fire drills, but Anna Viggiano, who lives on the 6th floor, said there were some after a 2013 fire that broke out two floors above her. She said since then she doesn' t hesitate to evacuate when she hears the alarm.
"It was scary, " she said. "It was terrifying."

Honolulu high-rise fire that left 3 dead like 'horror movie'
cbs46.com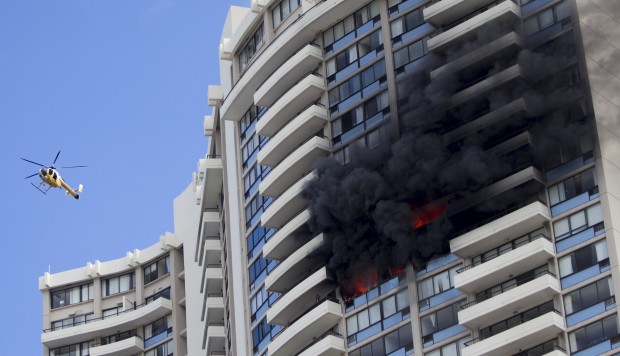 'It was like a horror movie': three dead after fire in Honolulu high-rise apartment building
scmp.com
Several dead in Hawaii high-rise apartment fire
cbsnews.com
Honolulu high-rise fire that left 3 dead like 'horror movie' :: WRAL.com
wral.com
Honolulu high-rise fire that left 3 dead like 'horror movie'
sacbee.com
Honolulu high-rise fire that left 3 dead like 'horror movie'
heraldonline.com
Honolulu high-rise fire that left 3 dead like 'horror movie'
townhall.com
Honolulu high-rise fire that left 3 dead like 'horror movie'
wtop.com
More than 60 firefighters are battling a three-alarm fire in a Honolulu high-rise apartment building Friday. Honolulu Fire Department spokesman Capt. David Jenkin's said the fire started on the 26th floor and spread to at least the 27th floor. (July 14)

Fire rages in Hawaii high-rise apartment building
newsinfo.inquirer.net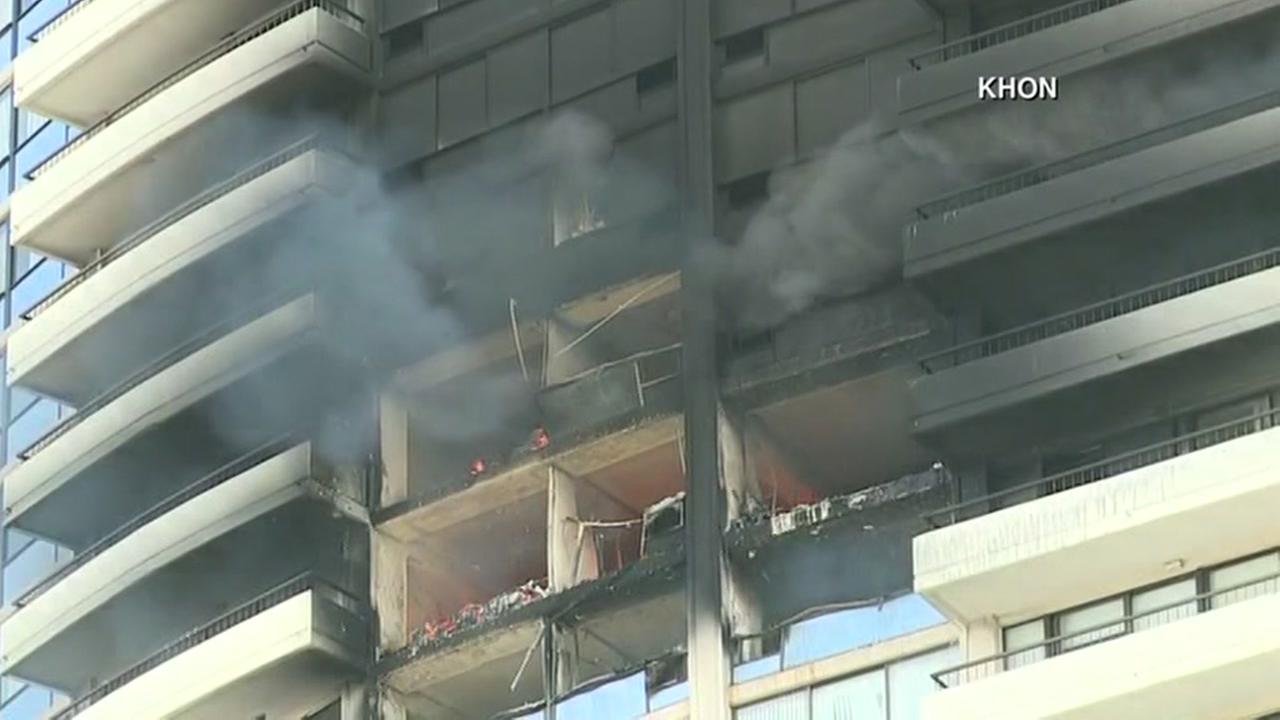 At least 3 dead as fire rages through Marco Polo condo complex in Honolulu
abc7news.com
Fire department confirms at least three people dead in fire in Honolulu high-rise apartment building
washingtontimes.com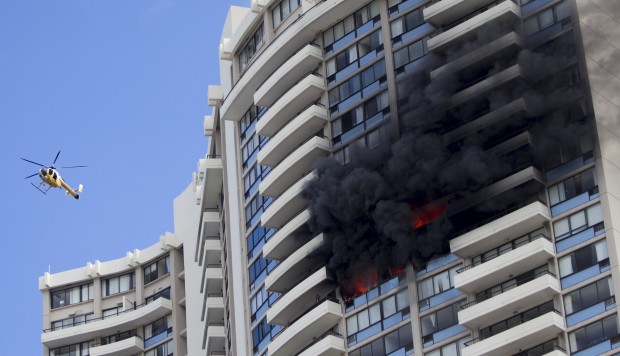 'It was like a horror movie': three dead after fire in Honolulu high-rise apartment building
scmp.com
Three dead in fire at Honolulu high-rise apartment building
independent.ie
Fire rages in Honolulu high-rise apartment building
lasvegassun.com
At least 3 die in fire in Honolulu high-rise building
latimes.com
At least three dead in fire at Honolulu high-rise apartment building
independent.ie
The Trump administration late Friday appealed directly to the U. S. Supreme Court after a federal judge in Hawaii ordered to expand the list of U. S. family relationships that refugees and visitors from six Muslim-majority countries can use to get into the country, including grandparents and grandchildren.
U. S. District Judge Derrick Watson's decision on President Trump's travel ban has reopened a window for tens of thousands of refugees to enter the United States.
In its appeal, the U. S. Justice Department said Watson's interpretation of the Supreme Court's ruling on what family relationships qualify refugees and visitors from the six Muslim-majority countries to enter the U. S. "empties the court's decision of meaning, as it encompasses not just 'close' family members, but virtually all family members. Treating all of these relationships as 'close familial relationship (s) ' reads the term 'close' out of the Court's decision."
"Only this Court can definitively settle whether the government's reasonable implementation is consistent with this Court's stay, " the Justice Department said.
Watson's ruling Thursday was the latest twist in a long, tangled legal fight that will culminate with arguments before the nation's high court in October.
It could help more than 24,000 refugees who had already been vetted and approved by the United States but would have been barred by the 120-day freeze on refugee admissions, said Becca Heller, director of the International Refugee Assistance Project, a resettlement agency.
"Many of them had already sold all of their belongings to start their new lives in safety, " she said. "This decision gives back hope to so many who would otherwise be stranded indefinitely."
Citing a need to review its vetting process to ensure national security, the administration capped refugee admissions at 50,000 for the 12-month period ending Sept. 30, a ceiling it hit this week.
The federal budget can accommodate up to 75,000 refugees, but admissions have slowed under Mr. Trump, and the government could hold them to a trickle, resettlement agencies say.
"Absolutely this is good news for refugees, but there's a lot of uncertainty, " said Melanie Nezer, spokeswoman for HIAS, a resettlement agency. "It's really going to depend on how the administration reacts to this."
Attorney General Jeff Sessions said the administration will ask the Supreme Court to weigh in, bypassing the San Francisco-based 9th U. S Circuit Court of Appeals, which has ruled against it in the case.
The administration took a first step by filing a notice of appeal to the 9th Circuit, allowing it to use a rule to petition the high court directly. There's no timetable for the Supreme Court to act, but the administration will be seeking quick action that clarifies the court's June opinion.
The justices now are scattered during their summer recess, so any short-term action would come in written filings.
The administration has lost most legal challenges on the travel ban, which applies to citizens of Syria, Sudan, Somalia, Libya, Iran and Yemen.
The Supreme Court's ruling exempted a large swath of refugees and travelers with a "bona fide relationship" with a person or an entity in the U. S. The justices did not define those relationships but said they could include a close relative, a job offer or admission to a college or university.
The Trump administration defined the relationships as people who had a parent, spouse, fiance, son, daughter, son-in-law, daughter-in-law or sibling already in the U. S.
Watson enlarged that group to include grandparents, grandchildren, brothers-in-law, sisters-in-law, aunts, uncles, nieces, nephews and cousins.
Hawaii Attorney General Douglas S. Chin, who sought the broader definition, said Thursday's ruling "makes clear that the U. S. government may not ignore the scope of the partial travel ban as it sees fit."
"Family members have been separated and real people have suffered enough, " Chin said.
The Associated Press contributed to this report

Trump administration appeals Hawaii court ruling on travel ban
foxnews.com
DOJ appeals judge's travel ban ruling to Supreme Court
cbs46.com
DOJ appeals judge's travel ban ruling to Supreme Court
charlotteobserver.com
DOJ appeals judge's travel ban ruling to Supreme Court
thenewstribune.com
The Latest: US appeals travel ban ruling to Supreme Court
sacbee.com
The Latest: US appeals travel ban ruling to Supreme Court
townhall.com
The Latest: US appeals travel ban ruling to Supreme Court
wtop.com
Travel ruling paves way for more refugees, but appeal awaits
deseretnews.com
WASHINGTON (AP) - A prominent Russian-American lobbyist and former Soviet military officer said he was at a meeting between a Russian lawyer and President Donald Trump's son, son-in-law and campaign chairman last year, adding a new wrinkle to the Trump team's evolving explanations about the June 2016 session.
Rinat Akhmetshin confirmed his involvement to The Associated Press in a Friday interview. He had not been previously identified as a participant in the meeting at Trump Tower in New York, which was billed as part of a Russian government effort to help the Republican's White House campaign.
The meeting has heightened questions about whether Trump's associates coordinated with Russia to meddle in the presidential election - to help him and thwart Hillary Clinton - and whether they've been forthcoming about their foreign contacts. Federal and congressional investigators are probing possible connections between the campaign and Moscow.
While Trump Jr. has confirmed that Russian attorney Natalia Veselnitskaya was in the meeting, he has not disclosed Akhmetshin's presence.
Akhmetshin has been reported to have ties to Russian intelligence, a characterization he dismisses as a "smear campaign." He's a well-known Washington presence, lobbying for Russian interests trying to undermine the allegations of a lawyer who died in a Russian prison and is the namesake of a U. S. sanctions law.
Akhmetshin told the AP he served in the Soviet military in a unit that was part of counterintelligence but he was never formally trained as a spy.
In emails posted by Donald Trump Jr. earlier this week, a music publicist said he arranged the meeting because a Russian lawyer wanted to pass on negative information about Democrat Clinton. The go-between stated that the discussion was part of a Russian government effort to help the GOP candidate.
The president's son has publicly discounted the meeting, saying he did not receive the information he was promised.
In a statement Sunday, Trump Jr. said the attorney had said she had information that people tied to Russia were funding the Democratic National Committee and supporting Clinton, a description that Akhmetshin backed up in his interview with the AP.
In his first public interview about the meeting, Akhmetshin said he accompanied Veselnitskaya to Trump Tower where they met an interpreter. He said he had learned about the meeting only that day when Veselnitskaya asked him to attend. He said he showed up in jeans and a T-shirt.
Veselnitskaya brought with her a plastic folder with printed-out documents that detailed what she believed was the flow of illicit funds to the Democrats, Akhmetshin said. Veselnitskaya presented the contents of the documents to the Trump associates and suggested that making the information public could help the campaign, he said.
"This could be a good issue to expose how the DNC is accepting bad money, " Akhmetshin recalled her saying.
Trump Jr. asked the attorney if she had sufficient evidence to back up her claims, including whether she could demonstrate the flow of the money. But Veselnitskaya said the Trump campaign would need to research it more. After that, Trump Jr. lost interest, according to Akhmetshin.
"They couldn't wait for the meeting to end, " he said.
Akhmetshin said he does not know if Veselnitskaya's documents were provided by the Russian government. He said he thinks she left the materials with the Trump associates. It was unclear if she handed the documents to anyone in the room or simply left them behind, he said.
Jared Kushner, Trump's son-in-law and current White House senior adviser, and then-campaign chairman Paul Manafort also attended the meeting. Akhmetshin said he recognized Kushner and Trump Jr. He also said he recognized Manafort because they worked in "adjacent political circles" but never together.
He said there were others in the room but he didn't know them. Publicist Rob Goldstone, who brokered the meeting via email with Trump Jr., has told the AP that he was there.
Asked about Akhmetshin's participation, Manafort spokesman Jason Maloni declined comment. Trump Jr.'s attorney did not respond to inquiries, nor did a spokesman for Kushner. Veselnitskaya has denied having any ties to the Russian government. When reached by the AP this week, she declined comment. She did not respond to additional attempts to contact her Friday.
The confirmation of Akhmetshin's participation in the meeting drew swift reaction from the top Democrat on the House intelligence committee, Rep. Adam Schiff of California, who said he wanted Akhmetshin to appear before the committee and provide "any relevant documents and information."
Schiff said whether Akhmetshin is connected to Russian intelligence or not "it is clear the Kremlin got the message that Donald Trump welcomed the help of the Russian government in providing dirt on Hillary Clinton." Schiff said Trump Jr.'s omission of Akhmetshin's role in his public account of the meeting and the president's son's shifting explanations "paint a portrait of consistent dissembling and deceit."
Kushner disclosed the meeting on his security clearance paperwork, but Schiff said the Akhmetshin revelation raises questions about how much Kushner disclosed about it. He said he believes Kushner's clearance should be reviewed, and "if he was not perfectly candid, " the clearance should be revoked.
Akhmetshin, who spoke to the AP while on vacation in France where he said he has been surfing, said the meeting was "not substantive" and he "actually expected more serious" discussion.
"I never thought this would be such a big deal, to be honest, " he said.
The Russian government has denied any involvement or knowledge of the June 2016 meeting. Asked Friday about Akhmetshin, Russian President Vladimir Putin's spokesman, Dmitry Peskov, told reporters: "We don't know anything about this person."
Akhmetshin has been identified in media reports as a former officer in Russia's military intelligence service known as the GRU. He has denied that, saying he served in the Soviet Army from 1986 to 1988 after he was drafted but was not trained in spy tradecraft. He said his unit operated in the Baltics and was "loosely part of counterintelligence."
Akhmetshin said he has not been contacted by the U. S. special counsel's office or the FBI about the meeting with Trump Jr. He said he's willing to talk with the Senate Judiciary Committee, whose chairman has pressed the Justice Department about why Akhmetshin has not registered as a foreign agent.
The chairman, Republican Chuck Grassley of Iowa, said in a March letter that Akhmetshin has "reportedly admitted to being a 'Soviet counterintelligence officer' and has a long history of lobbying the U. S. government for pro-Russia matters."
Akhmetshin said that the Justice Department's Foreign Agents Registration Act unit sent him a letter in April and told him, "it has come to our attention you should have filed for FARA." He said he didn't believe he needed to file. He has previously registered with Congress for the lobbying work, and he plans to raise this issue before Grassley's committee.
"I think I have a legal right to tell my story, " he said.
Separately on Friday, the data and digital director for Trump's presidential campaign said he will speak with the House Intelligence committee later this month as part of its own Russia probe.
Brad Parscale said in a statement that he is "unaware of any Russian involvement" in the data and digital operations but will voluntarily appear before the panel.
___
Associated Press writers Eric Tucker, Stephen Braun and Julie Pace contributed to this report.
___
Submit a confidential tip to The Associated Press: https: //www.ap.org/tips
___
Follow Desmond Butler and Chad Day on Twitter: https: //twitter.com/desmondbutler and https: //twitter.com/ChadSDay
Copyright 2017 The Associated Press. All rights reserved. This material may not be published, broadcast, rewritten or redistributed.

Lobbyist at Trump meeting says he's not with Russian intel
thenewstribune.com
Russian-American lobbyist says he was at Trump son's meeting
charlotteobserver.com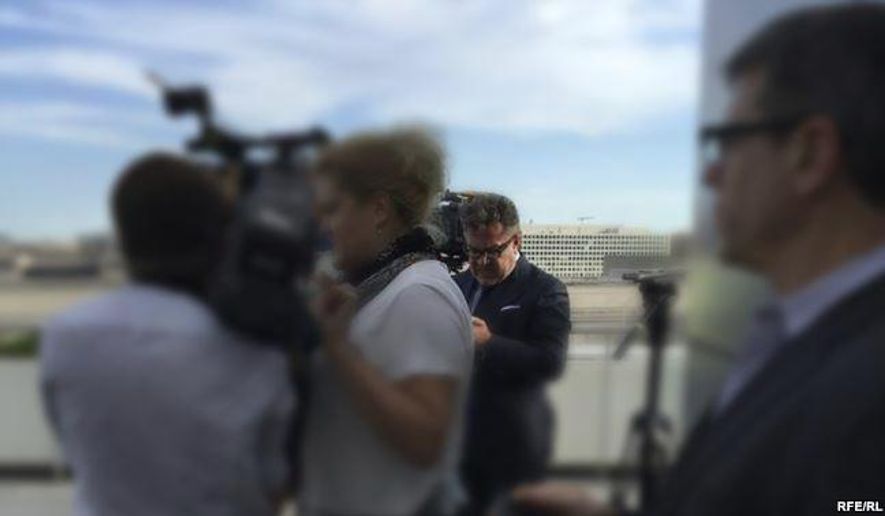 Lobbyist at Trump meeting says he's not with Russian intel
washingtontimes.com
Lobbyist at Trump meeting denies Russian intelligence connection
independent.ie
Russian-American at Trump Jr. meeting is ex-military officer
lasvegassun.com
Translator in Trump Jr. meeting identified as ex-State Dept. contractor
cbsnews.com
Did Kremlin use Trump Jr. meeting to test Trump Campaign?
msnbc.com
Why we still don't know everything about Trump Jr.'s meeting
msnbc.com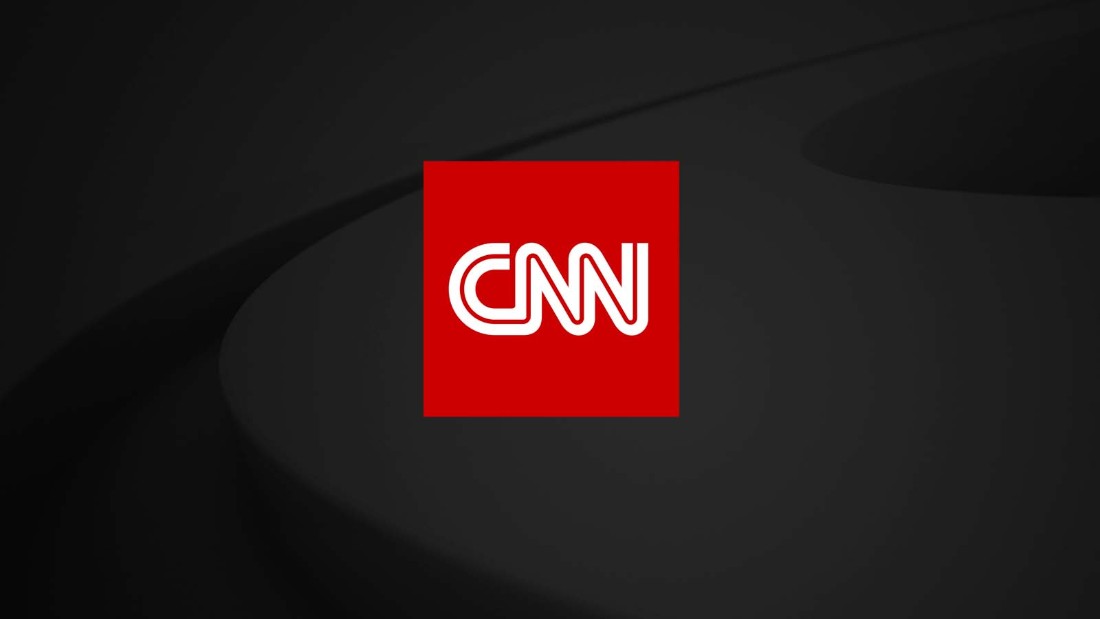 Justice Department lawyers argued in Friday night's motion that the justices should now clarify what they meant in June and, in the meantime, place an immediate freeze on the lower court's decision.
"The district court's interpretation of this Court's ... ruling distorts this Court's decision and upends the equitable balance this Court struck, " lawyers said in the motion. "And the district court's sweeping interpretation of 'close familial relationship' ... to encompass a wide range of distant relatives -- including cousins, uncles, and siblings-in-law -- effectively eliminates the 'close' requirement and has no basis in this Court's ruling."
Justice Clarence Thomas predicted in June that the Court's "compromise" decision would prove unworkable.
"The compromise will invite a flood of litigation until this case is finally resolved on the merits, " he wrote in dissent.
The justices may ask for the state of Hawaii to respond to the Justice Department's motion before issuing a decision on the latest dispute.

DOJ appeals judge's travel ban ruling to Supreme Court
thenewstribune.com
Trump administration appeals Hawaii court ruling on travel ban
cbsnews.com
The Latest: US appeals travel ban ruling to Supreme Court
wtop.com
The Latest: US appeals travel ban ruling to Supreme Court
sacbee.com
DOJ appeals judge's travel ban ruling to Supreme Court
charlotteobserver.com
Travel ruling paves way for more refugees, but appeal awaits
lasvegassun.com
Travel ruling paves way for more refugees, but appeal awaits
deseretnews.com
The Latest: US appeals travel ban ruling to Supreme Court
townhall.com
Havana - Cuba's president said Donald Trump's hardline stance towards the country was a "setback" in relations with the United States after ties were gradually restored in 2015.
Raul Castro criticized Trump's partial rollback of his predecessor Barack Obama's rapprochement with the communist island in comments ahead of the second anniversary of Havana embassy's reopening in Washington on July 20.
"The announcements made by the current president... mean a setback in bilateral relations, " Castro said Friday in remarks broadcast on state television at the closing of the first session of Cuba's parliament.
The remarks came after Trump last month stood before a crowd of anti-Castro activists in Miami's Little Havana and announced tightened rules for Americans traveling to Cuba, banned ties with a military-run tourism firm and reaffirmed the existing US trade embargo.
He framed his measures as a move against a "cruel and brutal" regime, saying progress on bilateral relations would hinge on concessions related to human rights.
Castro called the new measures a toughening of the US embargo against the island, imposed since 1962, saying they evoked "an old and hostile rhetoric that characterized the Cold War".
He also denounced the manipulation of Cuba over human rights issues.
"Cuba has much to be proud of, and it does not have to receive lessons from the United States or anyone else, " he said during the session, to which international press does not have access.
"Any strategy that seeks to destroy the revolution, whether through coercion or pressure or through subtle methods, will fail."
Castro -- who is 86 and due to leave the Cuban presidency in February -- reiterated his willingness to continue "respectful dialogue" and negotiate bilateral issues "on the basis of equality" and recognition of "the sovereignty and independence of our country."
The original Cuban government response to Trump's declaration was restrained, expressing rejection of the tightened policy but emphasizing openness to continuing "respectful" negotiation.
Trump's critics have warned his clampdown on dealings with Cuban military-run tour firms and on private US travel to the communist-run island would only impoverish ordinary Cubans and threaten diplomatic rapprochement.

Trump stance a 'setback' in US-Cuba relations: Castro
news24.com
Raul Castro warns of 'a setback' in US-Cuba relations
newsinfo.inquirer.net
Judge exempts grandparents of U. S. citizens from Trump travel ban
nydailynews.com
Cuba's Raul Castro dismisses harsher US tone under Trump
cbs46.com
Cuba's Raul Castro dismisses harsher US tone under Trump
independent.ie
Cuba's Raul Castro dismisses harsher US tone under Trump
charlotteobserver.com
Cuba's Raul Castro dismisses harsher US tone under Trump
townhall.com
A CIA veteran writes in The Washington Post that Trump Jr's June 2016 meeting with multiple Russians looks like a 'intelligence soft pitch' by the Kremlin. Rick Stengel & Ken Dilanian discuss.

Translator in Trump Jr. meeting identified as ex-State Dept. contractor
cbsnews.com
Russian-American at Trump Jr. meeting is ex-military officer
lasvegassun.com
Indira Lakshmanan on Trump Jr. meeting: 'Absolutely' more to come
msnbc.com
Why we still don't know everything about Trump Jr.'s meeting
msnbc.com
Lobbyist at Trump meeting denies Russian intelligence connection
independent.ie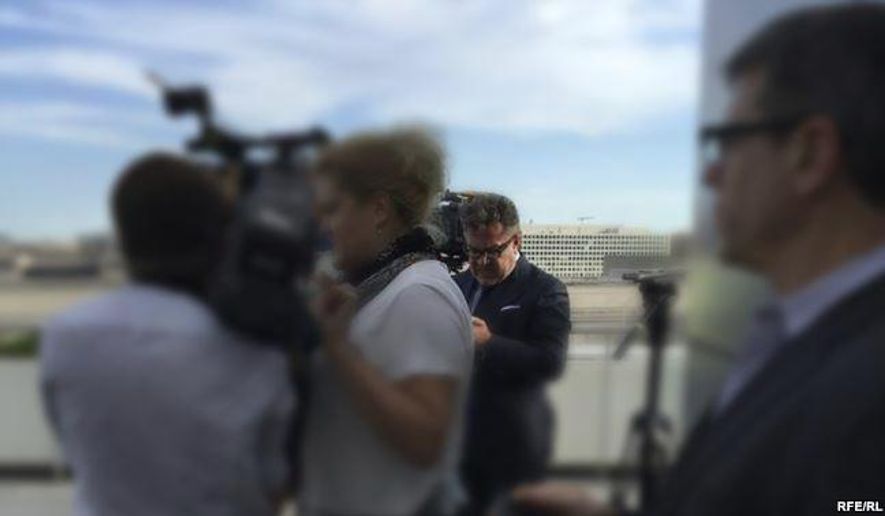 Lobbyist at Trump meeting says he's not with Russian intel
washingtontimes.com
Lobbyist at Trump meeting says he's not with Russian intel
thenewstribune.com
Russian-American lobbyist says he was at Trump son's meeting
thenewstribune.com
BOSTON -- This was a disastrous night for the New York Yankees. That might sound extreme to say during the regular season when it is just one game of 162.
But Friday night was a terrible loss to their rivals, with the ball in their closer's hands with a one-run lead in the ninth and with Boston Red Sox ace Chris Sale looming late Saturday afternoon.
The weight of the season is on the Yankees' shoulders right now and they are teetering. And that could lead to being a.500 team by the time this difficult 11-game road trip ends ... or maybe worse.
They lost 5-4 to the Red Sox on Friday night. It was their 19th defeat in their past 26 games.
They wanted to try to get the front half of that elusive two-game winning streak, but it still isn't happening. It has been more than a month (June 11-12) since they have won two in a row.
Most worrisome, in terms of the big picture, Aroldis Chapman -- he of the unwise five-year, $86 million contract -- can't miss bats. He couldn't record an out in the ninth, either.
The excuse Yankees manager Joe Girardi offered was that the Red Sox didn't hit a ball out of the infield off of Chapman. Fair point, and Chapman's defense wasn't great behind him, including a Ronald Torreyes error at second, but Chapman walked in the winning run. He is working too deep in counts. He is not intimidating any batters.
He blew his third save out of 11 chances, and the Yankees (45-42) have blown 18 of 35 save chances this season, worst in the majors.
Chapman doesn't know why he can't put guys away anymore.
"That actually is a good question, " the 29-year-old lefty said. "I'm going to go back and try to see footage and see why because, honestly, I don't know why."
This would have been a big win, if Gary Sanchez 's mammoth, go-ahead fifth-inning home run and the four scoreless innings of relief from Chad Green, Adam Warren and Dellin Betances had held up.
"You have to win those games, " Girardi said. "If you want to win championships, you have to win those games."
The Yankees don't look like a championship team and, amazingly when you consider where they were a month ago, might not even be a playoff club. They have lost Michael Pineda for the season with Tommy John surgery expected. First baseman Greg Bird might not be far behind, as he might need surgery that could end his nightmarish year.
Chapman is healthy, according to Girardi and Chapman. He just isn't dominant. It could be the hangover from the extra work he piled up in 2016 helping the Cubs win their first championship in more than a century. Whatever it is, he is not the same, and his contract is long.
"I wasn't as sharp as I would like to be, " Chapman said.
The Yankees are now facing what could be an awful weekend that potentially could effectively end their division chances, if they were to get swept. A victory Friday would have prevented that scenario, but now with Sale on Saturday against Luis Severino, Bryan Mitchell vs. Rick Porcello and Masahiro Tanaka facing David Price during Sunday's doubleheader, this possibility is still in play. As it is, the Yankees are already trailing the Red Sox by 4½ games.
Girardi tried to play the positive card, as is his wont. He channeled Little Orphan Annie.
"I don't think you can make too much of it, " Girardi said. "I really believe I will wake up tomorrow, and I don't know if it will be sunny, but the sun will come up."
It will probably rain.

Red Sox beat Yankees as Chapman walks in winning run
rssfeeds.usatoday.com
Chapman walks in winning run, Red Sox beat Yankees 5-4
cbs46.com
Boston Red Sox clip New York Yankees with 2 runs in 9th
upi.com
Chapman walks in winning run, Red Sox beat Yankees 5-4
charlotteobserver.com
Chapman blows one-run lead as Yanks suffer 5-4 defeat to Red Sox
nydailynews.com
Sox rally for two runs in ninth to edge Yankees, 5-4
pressherald.com
ANAHEIM, Calif. -- Mike Trout never got comfortable away from the action while he sat out 39 games with an injured thumb.
The two-time AL MVP is grateful to be back in the middle of it with the Los Angeles Angels .
Trout returned to the Angels' lineup on Friday, going 1-for-5 with a third-inning single when Los Angeles came back from the All-Star break to face Tampa Bay. He even stole second base, sliding in headfirst with no apparent worries about the action that caused his injury back on May 28.
"I'm extremely excited, " Trout said. "It's good to be able to come to the ballpark and see your name in the lineup. It makes you feel good, obviously, [after] all the hard work getting back here."
Trout got the first significant injury of his baseball life when he tore a ligament in his left thumb with that headfirst slide in Miami. He had surgery before pursuing a steady recovery, which culminated in a rehab stint last week in Class A ball.
"It was different, coming to the ballpark [and not playing] , " Trout said. "I think the biggest thing was when they were on the road, coming to the ballpark and seeing just four or five guys here on the DL and going home that night and watching it on TV, knowing that you're not there with the team and not participating. But it's been quick, a few weeks."
Trout was on pace for another spectacular season before his injury, leading the majors with a .461 on-base percentage while racking up 16 homers, 36 RBIs, 121 total bases, a .742 slugging percentage and a whopping 1.203 OPS.
Trout got huge ovations from the Big A crowd during pregame introductions and again when he stepped into the box for his first at-bat, driving a fly to deep center. He cracked a loud line-drive single to center in the third and then stole second easily.
He also struggled in big spots, grounding out with two runners on to end the seventh and striking out on three pitches from Tampa Bay closer Alex Colome in the 10th inning to end the Rays' 2-1 victory.
Trout attended the Angels' home games while injured, and he didn't hesitate to text his thoughts about the road games to members of the Angels' staff to relay to his teammates. The superstar remotely jabbed at outfielder Kole Calhoun in his typically good-natured style after an opposite-field homer in Detroit last month.
"I texted at him, like, 'OK, man, the wind must be blowing out to left, " Trout recalled. "Just stuff like that."
Trout was chosen for the All-Star Game for the sixth consecutive year but didn't play in Miami because the Angels wanted to make sure his thumb had fully healed. The MVP of the 2014 and 2015 games still watched on television, and he particularly enjoyed Nelson Cruz posing for a photo with umpire Joe West while stepping to the plate.
"I missed it, " he said. "I wanted to be there for sure, but obviously doing what's right for my thumb."
Before taking the field, Trout declined to express any concerns about the Angels' roster heading toward the trade deadline. The Angels (45-47) managed to stay in the AL wild-card hunt despite Trout's lengthy absence and a patchwork starting rotation.
The Angels appear satisfied with Trout's recovery after his rehab appearances against live pitching, though they will watch his swings carefully.
"There's always an adjustment period for anybody that comes back from a lengthy absence, " Los Angeles manager Mike Scioscia said. "But Mike feels good, and he needs to get in there and see some velocity, see some pitches, see just major league pitching, and he'll make his adjustments."

Mike Trout returns from injury, but Rays beat Angels in 10 innings
rssfeeds.usatoday.com
Trout returns from injury, but Rays beat Angels 2-1 in 10
newsobserver.com
Mike Trout returns from injury, but Rays beat Angels in 10 innings
rssfeeds.usatoday.com
Trout returns from injury, but Rays beat Angels 2-1 in 10
wtop.com
Mike Trout is back, but Angels go down swinging in 2-1,10-inning loss to Rays
latimes.com
Mike Trout returns to lineup as Angels fall to Rays in 10 innings – Orange County Register
ocregister.com
Mike Trout's return means the Angels matter again – Orange County Register
ocregister.com
Mike Trout eagerly returns from 39-game injury absence
charlotteobserver.com
LONDON (AP) - Much has changed for Roger Federer since he played in, and won, his first Grand Slam final at Wimbledon in 2003.
First of all, as he reminded everyone after moving into his 11th title match at the All England Club - with a shot at his eighth championship, more than any man in history - he favored a ponytail and some scruff on his cheeks way back then. Nowadays, his hair is short, his face clean shaven.
Another significant difference for Federer, whose 36th birthday is Aug. 8, making him the oldest men's finalist at Wimbledon since 1974?
"I didn't have kids running around, potentially waking me up at night, " he said. "Today we've got to, like, close down the doors. Say, 'Daddy is sleeping.'"
He's a father of four: twin boys, 3; twin girls, 8 soon.
On the court, there are ways in which the Federer who faces Marin Cilic on Sunday is not the same as the Federer who beat Mark Philippoussis 14 years ago. The larger racket, for example, or the increased willingness to hit over the top on his backhand.
In truth, though, what's most important is this: Federer is still as capable as ever of beating everyone who stands in his way.
"This guy doesn't really seem (to be) getting any older or anything like that, " said Tomas Berdych, who lost to Federer in the semifinals, "or slowing down at all."
That's certainly the case.
Federer is 30-2 and tied for the tour lead with four titles in 2017, including at the Australian Open in January.
During Wimbledon, he has not lost a set through six matches; the last man to earn the title without ceding a set was Bjorn Borg, 31 years ago. He's only been broken four times, saving 16 of 20 break points along the way.
"Roger is playing maybe (some) of his best tennis of his career at the moment, " said Cilic, the No. 7-seeded Croatian who hit 25 aces and returned quite well during his semifinal victory over Sam Querrey. "It's going to be a huge challenge."
They have played each other seven times previously, with Federer winning six, including in last year's Wimbledon quarterfinals. Cilic took the first two sets and even was one point from victory, before Federer came back.
The lone head-to-head win for Cilic came in one of the most significant matches of his career: 6-3,6-4,6-4 in the semifinals of the 2014 U. S. Open, where he went on to earn his only Grand Slam title.
"He knows he absolutely destroyed Roger, " said Jonas Bjorkman, one of Cilic's two coaches.
That knowledge is key for this match, according to Bjorkman. So, too, is the past experience of participating in, and winning, a major final.
"He knows what it takes, " Bjorkman said. "He knows how it feels to be out there, and he knows what it is to be under the pressure like that."
The 6-foot-6 (1.98-meter) Cilic, who is 28, has improved since then, too. His serve is better, as are his volleys and his inclination to move to the net. Those can help on Sunday. Would also be useful if he is able to read Federer's serves as well as he did Querrey's.
Still, it's the mental side of things that matters for Cilic, according to the only Croatian man to win Wimbledon, Goran Ivanisevic.
"He needs to just believe, " said Ivanisevic, the 2001 champion at the All England Club and Cilic's coach in New York three years ago. "It has nothing to do with tennis. In the end, it's all in your head."
Past history favors Federer by a wide margin.
His 11 Wimbledon finals are a record for a man at any Grand Slam tournament (no one else has played more than seven at the All England Club.)
His 29 Grand Slam finals are seven more than Rafael Nadal, who ranks No. 2.
His 18 Grand Slam titles are three more than Nadal, No. 2 in that category, too.
And only Pete Sampras and William Renshaw (who played in the 1880s, back when a previous year's champion only needed to win one match to retain the title) also can boast of seven men's trophies at Wimbledon.
Now Federer wants to collect another after missing out on chances with losses to Novak Djokovic in the 2014 and 2015 finals.
"It's a big deal. I love this tournament. All my dreams came true here as a player, " Federer said. "To have another chance to go for No. 8 now, be kind of so close now at this stage, is a great feeling."
___
Follow Howard Fendrich on Twitter at http: //twitter.com/HowardFendrich
___
More AP tennis coverage: https: //apnews.com/tag/apf-Tennis
Copyright 2017 The Associated Press. All rights reserved. This material may not be published, broadcast, rewritten or redistributed.

14 years after 1st Wimbledon win, Federer eyes 8th vs. Cilic
townhall.com
14 years after 1st Wimbledon win, Federer eyes 8th vs. Cilic
thenewstribune.com
14 years after 1st Wimbledon win, Federer eyes 8th vs. Cilic
rssfeeds.usatoday.com
14 years after 1st Wimbledon win, Federer eyes 8th vs. Cilic
wtop.com
Roger Federer reaches record 11th Wimbledon final
espn.com
Hawaii — A Hawaii father, mother and grandmother are charged with murder after allegedly starving a 9-year-old girl.
Police on Hawaii's Big Island on Friday arrested 49-year-old Kevin Lehano (leh-hah-noh) , 33-year-old Tiffany Stone and 59-year-old Henrietta Stone.
Hawaii County Prosecuting Attorney Mitch Roth, reading from a grand jury indictment, says they are accused of denying the girl food, water and medical treatment for about a year before she died in June 2016.
Police say officers and firefighters called to the Hilo (hee-low) home found the severely malnourished and unconscious girl lying on the floor. She was taken to a hospital, where she died.
It was not clear if the suspects have attorneys. They are being held at a police cellblock on $100,000 bail each. Court hearings are scheduled for Monday.

Dad, mom and grandma accused of starving child to death
nypost.com
Hawaii dad, mom, grandma accused of starving girl to death
townhall.com
Hawaii dad, mom, grandma accused of starving girl to death
latimes.com
Hawaii dad, mom, grandma accused of starving girl to death
cbs46.com
Washington — An all-girls robotics team from Afghanistan has arrived in Washington following a last-minute intervention by President Donald Trump.
The six girls landed early Saturday at Washington Dulles International Airport after a journey from their hometown of Herat, Afghanistan. They were greeted by Afghanistan's ambassador to the United States.
The girls will participate in the three-day competition starting Sunday in the U. S. capital.
Ambassador Alice Wells is the acting U. S. Special Envoy for Afghanistan and Pakistan. She says in an interview that the girls symbolize Afghanistan's accomplishment with U. S. and global help to increase the role of women in Afghan society.
The team says they were twice denied visas by the U. S. Their situation attracted international attention and Trump intervened to have them "paroled" into the country without visas.

Allowed in by Trump, Afghan girls robotics team lands in DC
thenewstribune.com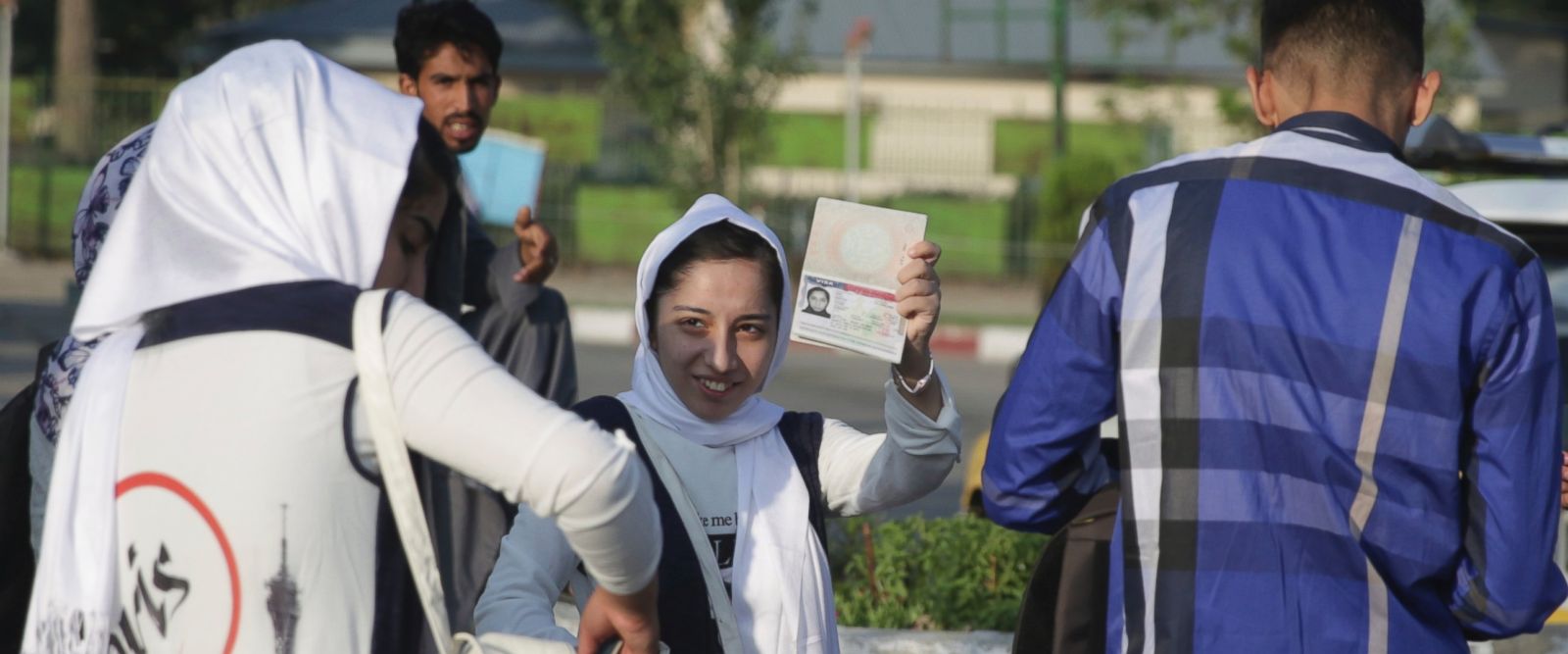 Afghan girls robotics team arrives in US following Trump's visa intervention
abcnews.go.com
Allowed in by Trump, Afghan girls robotics team lands in DC
townhall.com
Allowed in by Trump, Afghan girls robotics team lands in DC
miamiherald.com
Allowed in by Trump, Afghan girls robotics team lands in DC
washingtontimes.com
Allowed in by Trump, Afghan girls robotics team lands in DC
wtop.com
ATLANTA (AP) - A stuntman for "The Walking Dead" has died after falling on the Georgia set of the hit television show. It's the first on-set death in the U. S. in nearly three years.
John Bernecker, 33, died about 6: 30 p.m. Wednesday at an Atlanta hospital after falling on the show's set in Senoia, about 35 miles (56 kilometers) south of Atlanta, Coweta County Coroner Richard Hawk said Friday.
Bernecker died from blunt force trauma and his death is considered accidental, Hawk said.
"The Walking Dead, " the often-gory AMC show based on a comic series about people fighting to survive a zombie apocalypse, is filming its eighth season.
Phone and email messages left for AMC representatives were not immediately returned Friday.
The U. S. Department of Labor's Occupational Safety and Health Administration has opened an investigation, agency spokesman Michael D'Aquino said in an email Friday.
Bernecker's passing is the first on-set death in the United States since an audio technician for the show "Cops" was killed during a shootout in Omaha, Nebraska, in August 2014. Cameraman Bryce Dion, 38, was killed at the scene of an attempted armed robbery at a fast-food restaurant by a stray bullet from an Omaha police officer.
Earlier that year, in February 2014, Sarah Jones, 27, died when a freight train slammed into a film crew shooting "Midnight Rider, " a movie about the life of singer Gregg Allman. The crash happened on a Georgia railroad bridge where the crew was filming actor William Hurt in a hospital bed that was placed on the tracks even though owner CSX Transportation had denied permission to production managers.
A lawsuit filed by Jones' parents, who live in Columbia, South Carolina, is currently being tried in Chatham County State Court in Savannah. It says CSX shares equal blame with production managers, who never told Jones and other crew members they were trespassing. They say the railroad should have taken safety precautions to slow the train before the crash.
CSX attorneys have said any evidence that CSX failed to follow internal policies doesn't prove the railroad was negligent. They insist the full blame lies with the "Midnight Rider" production managers. The director, Randall Miller, spent a year in jail after pleading guilty to involuntary manslaughter and criminal trespassing, and the film was never finished.
Copyright 2017 The Associated Press. All rights reserved. This material may not be published, broadcast, rewritten or redistributed.

Coroner: 'The Walking Dead' stuntman dies after on-set fall
sacbee.com
Coroner: 'The Walking Dead' stuntman dies after on-set fall
wtop.com
'The Walking Dead' halts production after stuntman dies
entertainment.inquirer.net
Coroner: 'The Walking Dead' stuntman dies after on-set fall
townhall.com
China cremated the body of imprisoned Nobel Peace Prize laureate Liu Xiaobo, who died this week after a battle with liver cancer amid international criticism of Beijing for not letting him travel abroad as he had wished.
The government of the city of Shenyang in northeastern China, where Liu had been treated for advanced liver cancer, said in a briefing that the cremation took place early Saturday morning in a ceremony attended by family, including his wife.
Liu died Thursday from multiple organ failure that followed a battle with liver cancer while serving an 11-year sentence for incitement to subvert state power. He was 61.
The briefing, at which officials also provided images of the funeral, was the latest in a tightly orchestrated Chinese government propaganda campaign seemingly aimed at countering criticism that Beijing has failed to handle Liu's case in a humanitarian way. A video about Liu's hospital treatment released on the website of the city's judicial bureau Friday appeared aimed at the same objective.
The wife and other family members of China's best-known political prisoner have been closely guarded by authorities and remain largely out of contact with the outside world even after Liu's death. Governments around the world have urged China to free Liu Xia from the strict house arrest she has lived under for years even though she has not been convicted of any crime.
The handout images showed Liu's wife, who wore dark sunglasses, being comforted by her brother in a funeral parlor as they stood in a row with Liu's older and younger siblings and their wives. Liu's body lay in an open casket in the center of the room, surrounded by an arrangement of potted white flowers.
A black banner strung on the wall said "Mr. Liu Xiaobo's funeral" in white Chinese characters. It was positioned above a framed picture of Liu. A press release issued by the government said the ceremony was held at 6: 30 a.m. to the music of Mozart's Requiem and that the body was cremated shortly afterward.
The government also said the couple's friends attended the ceremony, a claim that was disputed by people who have long been close to Liu. In the handout images, none among a group of people standing by the casket were identifiable as any of Liu's friends, said Mo Zhixu, a dissident writer who is friends with Liu.
"Not a single one of his real friends were there, " Mo said by phone, adding that he thought the well-built young men with buzz cuts in the photos resembled security agents who kept track of Liu's wife. "This is just a big performance."
"This regime has long been acting without humanity, that's why they denied him even a minute of freedom even until his death. I have nothing to say other than that I'm extremely infuriated, " Mo said.
In Shenyang, a spokesman for the city's information office said at the briefing that authorities were looking out for Liu Xia's interests and insisted that she is free.
"As far as I know, Liu Xia has freedom. But she just lost her relative and is in deep sorrow, " spokesman Zhang Qingyang said. "After Liu Xiaobo's death, let Liu Xia tend to his affairs and try to keep her away from external interference."
Liu was only the second Nobel Peace Prize winner to die in prison, a fact pointed to by human rights groups as an indication of the Chinese Communist Party's increasingly hard line against its critics. The first, Carl von Ossietzky, died from tuberculosis in Germany in 1938 while serving a sentence for opposing Adolf Hitler's Nazi regime.
Tributes have rolled in from around the world to mourn Liu, but there is little mention of him in China's heavily-censored state media and social networking platforms. One notable exception is a newspaper published by the ruling Communist Party which on Saturday said the West was "deifying" Liu, a man the paper described as a criminal who was "paranoid, naive and arrogant."
"Liu's memorial tablet cannot find a place in China's cultural temple, " the Global Times newspaper said in an editorial. "Deification of Liu by the West will be eventually overshadowed by China's denial of him."
The newspaper's editorial marked a rare mention of Liu in the Chinese-language media, possibly indicating a desire to guide popular opinion amid widespread reporting of his death in the overseas press and on social media platforms such as Twitter that are blocked in China.
While Liu did have considerable renown abroad — official censorship made him virtually a non-person at home — the party frequently uses the specter of Western manipulation to demonize its critics.
Liu rose to prominence during the 1989 pro-democracy protests centered in Beijing's Tiananmen Square, and became one of hundreds of Chinese imprisoned for crimes linked to the demonstrations after they were crushed by the military. It was the first of four imprisonments.
His last was for co-authoring "Charter 08, " a document circulated in 2008 that called for an end to one-party rule.
He was in prison when he was awarded the Nobel in 2010, which Beijing condemned as an affront to its political and legal systems.
Sign up today for a 30 day free trial of unlimited digital access.

China cremates body of jailed Nobel laureate Liu Xiaobo
independent.ie
China says Nobel laureate cremated and his wife is free
reuters.com
China cremates body of jailed Nobel laureate Liu Xiaobo
townhall.com
China cremates body of jailed Nobel laureate Liu Xiaobo
lasvegassun.com
CHICAGO -- Robinson Cano hit a three-run homer and James Paxton struck out nine in six innings as the Seattle Mariners beat the Chicago White Sox 4-2 on Friday night.
Paxton (8-3) scattered five hits and allowed two earned runs on a night when the left-hander and the Mariners' bullpen combined to strike out 15 White Sox hitters.
Edwin Diaz picked up his 14th save with a scoreless ninth inning.
Cano's third-inning blast gave his team's pitchers all the offense they needed as the Mariners opened the season's second half with their fifth victory in the last 15 games.
Matt Davidson and Tyler Saladino hit RBI doubles for the White Sox, who didn't manage a hit after the fifth.
Chicago starter James Shields allowed four runs and seven hits in six innings.
The Mariners jumped out to a 3-1 lead in the third inning after Cano blasted his 18th home run of the season off the top of the right field wall. Cano belted the first pitch he saw from Shields after Mike Zunino walked and Jean Segura singled earlier in the inning.
The White Sox got to within 3-2 in the fourth inning on a Davidson double that scored Avisail Garcia, who singled and then stole second. But the Mariners quickly extended their lead back to two runs in the fifth when Segura, who doubled to lead off the inning and advanced to third on a Cano groundout, scored on a wild pitch by Shields.
Saladino gave the White Sox a 1-0 lead in the second inning with an RBI double that scored Garcia, who singled with one out. Garcia advanced to third with a stolen base and a Zunino throwing error. After Davidson struck out, Saladino, who was activated off the disabled list on Friday, lined a ground-rule double into the right field corner.
NOTES: The Mariners promoted Nasusel Cabrera to interim bullpen coach to replace Mike Hampton, who resigned July 2 to spend more time with his family. Cabrera has worked as a batting practice pitcher and assistant coach since joining the Mariners' major league staff in 2015. ... The White Sox activated RHP Miguel Gonzalez off the 10-day disabled list after he had been sidelined since June 15 with A/C joint inflammation in his right shoulder. Gonzalez is 4-8 with a 5.49 ERA in 13 starts this season. ... Chicago IF Tyler Saladino was activated from the 10-day disabled list after he had been out since May 27 with back spasms. Saladino is hitting.204 with five RBIs and 10 runs in 31 games. Saladino batted seventh and started at second base.

Cano powers Mariners to 4-2 win over White Sox
charlotteobserver.com
Cano powers Mariners to 4-2 win over White Sox
rssfeeds.usatoday.com
Cano powers Mariners to 4-2 win over White Sox
wtop.com
Mariners Beat White Sox 4-2
chicago.cbslocal.com
Major league roundup: Dodgers extend winning streak
pressherald.com
Puig hits 3-run homer in 9th to help Dodgers beat Miami 6-4
charlotteobserver.com
JAKARTA, Indonesia (AP) - Indonesia says it's blocking web versions of the encrypted Telegram instant messaging app and will block the app completely if it continues to be a forum for radical propaganda and violent militants.
The Ministry of Communications and Information Technology said in a statement Friday evening that it has asked internet companies in the world's most populous Muslim nation to block access to 11 addresses that the web version is available through.
It said "this blocking must be done" because many channels in the service are used to recruit Indonesians into militant groups and to spread hate and methods for carrying out attacks including bomb making.
Samuel Pangerapan, the director general of informatics applications at the ministry, said they are preparing for the complete closure of Telegram in Indonesia if it does not develop procedures to block unlawful content.
The measures against Telegram come as Southeast Asian nations are stepping up efforts to combat Islamic radicalism following the capture of the southern Philippine city of Marawi by IS-linked militants.
Nearly two months after the initial assault, Philippine forces are still battling to regain complete control of the city. Experts fear the southern Philippines could become a new base for IS, including Indonesian and Malaysian militants returning from the Middle East, as an international coalition retakes territory held by IS in Syria and Iraq.
But the government move has sparked a public outcry in Indonesia, with Twitter and Facebook exploding with negative comments and some people reporting they were unable to access the web.telegram.org domain. Indonesians are among of the world's biggest users of social media.
Telegram did not immediately respond to a request for comment.
Suspected militants arrested by Indonesian police recently have told authorities that they have communicated with fellow members of their group via Telegram and received orders and directions to carry out attacks through the app, including from Bahrun Naim, an Indonesian with the Islamic State group in Syria accused of orchestrating several attacks in the past 18 months.
Founded in 2013 by Russian brothers Nikolai and Pavel Durov, Telegram is a free messaging service that can be used as a smartphone app and on computers through a web interface or desktop messenger. Its strong encryption has contributed to its popularity with those concerned about privacy and secure communications in the digital era but also made it useful to militant groups and other criminal elements.
Copyright 2017 The Associated Press. All rights reserved. This material may not be published, broadcast, rewritten or redistributed.

Indonesia limits access to Telegram app, readies total ban
heraldonline.com
Indonesia limits access to Telegram app, readies total ban
heraldonline.com
Indonesia limits access to Telegram app, readies total ban
townhall.com
Indonesia limits access to Telegram app, readies total ban
charlotteobserver.com
Indonesia limits access to Telegram app, readies total ban
wtop.com
NEW YORK — Ride-hailing apps such as Uber and Lyft have been so disruptive to New York City's taxi industry, they are causing lenders to fail.
Three New York-based credit unions that specialized in loaning money against taxi cab medallions, the hard-to-get licenses that allow the city's traditional cab fleet to operate, have been placed into conservatorship as the value of those medallions has plummeted.
Just three years ago, cab owners and investors were paying as much as $1.3 million for a medallion. Now they are worth less than half that, and some medallion owners owe more on their loans than the medallions are worth.
"You've got borrowers who are under water. This is just like the subprime loan crisis, " said Keith Leggett, a credit union analyst and former senior economist at the American Bankers Association.
LOMTO Federal Credit Union, which was founded by taxi drivers in 1936 for mutual assistance, was placed into conservatorship by the National Credit Union Administration on June 26 "because of unsafe and unsound practices."
New York City has the nation's largest taxi industry, with more than 13,000 medallions.
Marcelino Hervias bought his medallion in 1990 for about $120,000 and thought its value would hit $2 million by the time he was ready to retire.
Instead, the 58-year-old said he owes $541,000 and is driving 12 to 16 hours a day to make ends meet.
"I celebrate my kids' birthdays over the phone. Why?" Hervias said.
While some medallions are held by large owners with fleets, owning a single medallion was long seen as a ticket to the middle class for immigrants like Hervias, who is from Peru.
Many of them now owe more on their medallion loans than they originally paid for the medallions because they used their equity in the medallion for a home, a child's education or other expenses.
Hervias said he borrowed against his medallion to pay for medical care for his mother, a new car and a visit to his homeland.
"Every time we want to go on vacation or do something, where do we go? To the equity of the medallion, " he said.
Other medallion owners tell similar stories.
Constant Granvil bought his medallion for $102,000 in 1987 and said he now owes more than $300,000 to his lender. He could have sold the medallion for two or three times that a few years ago, "but I said no, I'm not going to sell it, " said Granvil, who is 76. "And then I got caught."
The value of Granvil's medallion is hard to pinpoint because 2017 sale prices have varied from the $200,000s to the $500,000s depending on whether lenders are willing to finance the purchase.
Meanwhile, Granvil, who no longer drives because of poor health and uses a broker to hire a driver, said he is facing threats from the lender, Melrose Credit Union, to foreclose on not just his medallion, but also his house.
"How am I going to live?" he said. "And now Melrose wants to take my house?"
The New York State Department of Financial Services took possession of Melrose Credit Union in February and appointed the NCUA as conservator.
Critics say the federal agency is playing hardball with medallion owners like Granvil, who have been making their payments, by demanding that they pay off their loans in full or face foreclosure.
"They're approaching it with this cookie-cutter idea, " said David Beier, head of the Committee for Taxi Safety, an association of taxi leasing agents. "They want you to mortgage your house to them as collateral. It's forcing borrowers into bankruptcy."
John Fairbanks, a spokesman for the NCUA, said that the agency has hired a management team to run Melrose and that it would be inappropriate to comment on the management team's actions.
Supporters of the yellow cab industry have sued and pushed for city legislation to try to level the playing field between taxis and ride-hailing apps, which they say enjoy advantages like not paying a public transportation improvement surcharge that's levied on yellow cabs and not having to outfit a percentage of cars with disabled-access features.
City Council member Ydanis Rodriguez, who chairs the council's transportation committee, called this week for a panel to investigate the fall in medallion values.
According to a Morgan Stanley report, there were 11.1 million yellow cab trips in the city in April 2016, compared with 4.7 million Uber trips and 750,000 Lyft trips. The 11.1 million taxi rides were 9 percent fewer than the April 2015 number.
Some observers believe that the yellow cab's market share will continue to shrink and that the value of a medallion won't recover.
"This is a commodity that has been fundamentally disrupted, " said Leggett, who has written about medallion loans in his online newsletter Credit Union Watch. "I don't see the value of the medallions getting close to what they were."

Uber, Lyft take down not just cab drivers, but also lenders
townhall.com
Uber, Lyft take down not just cab drivers, but also lenders
thenewstribune.com
Uber, Lyft take down not just cab drivers, but also lenders
wral.com
Uber, Lyft take down not just cab drivers, but also lenders
wtop.com
MILWAUKEE -- Orlando Arcia hit a three-run homer and Ryan Braun belted his sixth career grand slam as the Milwaukee Brewers scored eight runs in the second inning and held on for a 9-6 victory over the Philadelphia Phillies on Friday night at Miller Park.
The second-inning explosion bailed out Zach Davies (11-4) , who gave up six runs (five earned) , seven hits and five walks while striking out six in 5 1/3 innings.
Phillies starter Nick Pivetta (2-5) went five innings and allowed a season-high nine runs with seven hits, three walks and five strikeouts.
Maikel Franco finished with four hits and Odrubel Herrera hit his sixth home run of the season for Philadelphia, which has lost six of its last seven games.
With Pivetta staked to an early 2-0 lead, he struck out the first four Brewers batters before Domingo Santana's one-out double in the second.
Pivetta allowed seven consecutive batters to reach, with Arcia clearing the bases along the way with a three-run homer -- to bring up Braun with the bases loaded.
Braun crushed Pivetta's first offering to straight-away center for his 11th home run of the season and his sixth career grand slam, giving the Brewers an 8-2 lead.
Philadelphia got two runs back in the fifth when Maikel Franco singled to right center for his second hit of the day.
Milwaukee made it 9-4 in the bottom of the inning on a sac fly by Manny Pina.
The Phillies got within three in the sixth on Herrera's two-run shot off Davies.
Corey Knebel worked a scoreless ninth for his 15th save of the season.
NOTES: Ryan Braun's second-inning grand slam was the sixth of his career, moving him into first place in Brewers history. ... The Brewers added LHP Tyler Webb to their bullpen after acquiring him in a trade with the New York Yankees a day earlier. Milwaukee also recalled OF Brett Philips from Triple-A Colorado Springs. ... LF Howie Kendrick did not join the Phillies on their trip to Milwaukee. Instead, he remained in Philadelphia rehabbing his strained left hamstring. ... Vince Velasquez allowed one run, two hits and a walk Thursday night in a rehab appearance with Class A Clearwater and could return to the Phillies' rotation Tuesday in Miami. Velasquez has been out since May 31 with a strained flexor in his right elbow. ... The teams were wearing 1980s-style throwback uniforms as the Brewers honored their 1982 American League championship squad -- the only team in franchise history to reach a World Series.

Braun and Arcia go deep, Brewers beat Phillies 9-6
charlotteobserver.com
Braun and Arcia go deep, Brewers beat Phillies 9-6
rssfeeds.usatoday.com
Braun and Arcia go deep, Brewers beat Phillies 9-6
wtop.com
Major league roundup: Dodgers extend winning streak
pressherald.com
Chicago Cubs manager Joe Maddon said his team is going to lean heavily on its offense to make a strong push for the playoffs.
His players responded to that challenge.
Addison Russell hit a solo home run in the ninth inning and the Cubs beat the Baltimore Orioles 9-8 after squandering an eight-run lead on Friday night.
"Under the circumstances of how that game was played tonight, it was really good to finish it off, " Maddon said. "We hit the ball all over the place. I thought we did a nice job of spreading it around. I thought we did a better job of putting the ball in play. Our approach was pretty good."
Mark Trumbo tied the game 8-8 with a two-run homer off Koji Uehara (3-4) in the eighth. Russell responded when he hit a first-pitch, 96 mph fastball off Brad Brach (2-2) over the left field fence.
"It feels good to come out with that win, " Russell said. "It's huge. I feel like, as a team, we know the type of goals that we have to hit. We're trying to be at the top."
Willson Contreras and Kyle Schwarber hit back-to-back homers in a four-run first inning for Chicago. Ben Zobrist also homered onto the flag court behind the right field scoreboard and Jason Heyward reached Eutaw Street with another towering shot.
Chicago improved to 3-6 in interleague play after going 15-5 against the AL last season.
Welington Castillo's ninth home run was a solo shot in the third for Baltimore, which left 10 runners on base. Trumbo went 2 for 3 with three RBIs.
"We need to play good baseball, obviously win, but show some of the signs of life that we did tonight, " Trumbo said. "We did everything we could for it to go our way, but they just did a little bit better."
Contreras provided a 3-0 lead with a homer into the Cubs' bullpen. Schwarber hammered Kevin Gausman's next pitch to almost the exact spot.
"It's frustrating, " Gausman said. "Obviously, I wanted to come out here and hit the ground running going into this second half. It was just bad."
Zobrist and Heyward hit two-run homers in the second and third, respectively, to boost the margin to 8-0. Gausman tied a career-high by allowing eight runs and seven hits over three innings. He also gave up four home runs — the most of his career.
Trumbo, Trey Mancini and Joey Rickard had RBI singles in the fifth off reliever Justin Grimm to cut the lead to 8-6.
WELCOME BACK
The Cubs were playing at Camden Yards for the first time since June 12,2003. Chicago took two of three games in that series.
MOVES
Cubs: To make room for LHP Jose Quintana, who was acquired from the White Sox on Thursday, RHP Dylan Floro was optioned to Triple-A Iowa.
Orioles: OF Craig Gentry cleared waivers and was assigned to Triple-A Norfolk.
TRAINER'S ROOM
Orioles: 1B Chris Davis (strained right oblique) returned from the 10-day DL and went 1 for 5 with an RBI double in the fourth. ... INF Ryan Flaherty (right shoulder inflammation) could begin a rehab assignment by the end of next week.
UP NEXT
Cubs: RHP Jake Arrieta (8-7,4.35 ERA) will make his second career start against his former team. He previously beat the Orioles on Aug. 22,2014, when he allowed one run over seven innings.
Orioles: LHP Wade Miley (4-7,4.97 ERA) is looking to build off his previous start when he gave up one run and eight hits over 5 2/3 innings against the Twins. Miley is second in the AL with 51 walks.
Sign up today for a 30 day free trial of unlimited digital access.

Cubs Waste Big Lead, Hang On To Beat Orioles 9-8
chicago.cbslocal.com
Russell's 9th-inning homer lifts Cubs past Orioles 9-8
rssfeeds.usatoday.com
Russell's 9th-inning homer lifts Cubs past Orioles 9-8
wtop.com
Russell's 9th-inning homer lifts Cubs past Orioles 9-8
charlotteobserver.com
Addison Russell rescues Chicago Cubs
upi.com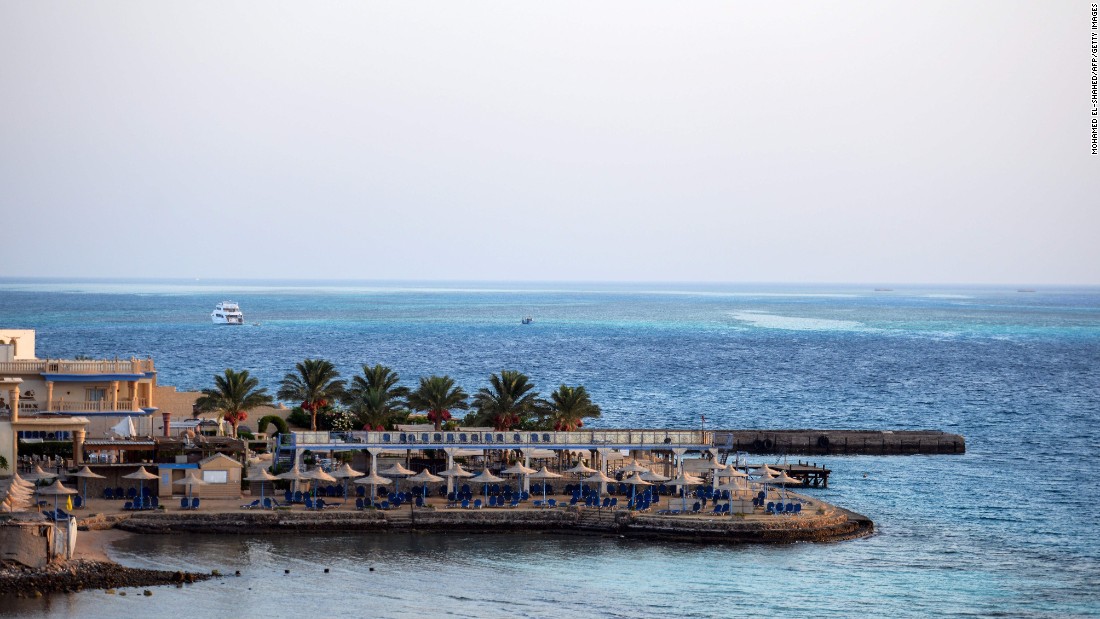 "In these dark hours, our condolences go out to their families and friends. Staff at the German Embassy in Cairo are on the ground in Hurghada and in contact with the Egyptian authorities."
Four other tourists were injured in the attack, Egyptian state-run news agency Al-Ahram reported.
A suspect has been arrested, and the victims were taken to a hospital, Egypt's Interior Ministry said.
Investigators believe the attacker swam from a public beach, according to the ministry.
No names were released, and no details were available about the condition of the injured victims. The motive for the attack is not yet known.
2016 attack in same town
Friday's attack came 18 months after a similar attack in the same town. In January 2016, two men injured at least three European tourists in a stabbing at a hotel, authorities said then.
Hurghada is situated along eastern Egypt's Red Sea coast, about 250 miles southeast of Cairo. It is a popular destination for scuba diving and other watersports.

Two German women confirmed killed in Egypt resort stabbing
independent.ie
Germany confirms two nationals killed in Egypt attack
digitaljournal.com
Germany confirms that 2 Germans killed in Egypt stabbing
charlotteobserver.com
Germany confirms that 2 Germans killed in Egypt stabbing
sacbee.com
Germany confirms that 2 Germans killed in Egypt stabbing
heraldonline.com
Germany confirms that 2 Germans killed in Egypt stabbing
thenewstribune.com
Germany confirms that 2 Germans killed in Egypt stabbing
abcnews.go.com
Germany confirms that 2 Germans killed in Egypt stabbing
wtop.com
Auto Negligence
Jeffrey S. Montpetit et al v. Robert William Ball
Robert W. Beaudoin v. Helen M. Clark et al
Robert Reyes v. Googe Transport Inc. et al
Bradford G. Wheler et al v. Maya L. Nelson et al Contract & Indebtedness
Leann Thimmer et al v. Florida Farm Bureau Casualty Insurance Company
Preserve Sulun et al v. Universal Property & Casualty Insurance Company
MIDFLORIDA Credit Union v. Trudy W. Herndon et al Evictions
Modern One, LLC v. Kenmarc Holdings LLC et al
Giessert Family LLC v. Brandon White et al
Leroy Turner v. Spencer G. Hall
Jacob Lark v. Eileen Grycowski Foreclosures
PNC Bank National Association v. Courtney J. Brooks, Sr., et al
Bayview Loan Servicing LLC v. Daniel Carrillo et al
US Bank National Association as Trustee v. Jules J. Richter et al Negligence-Premises Liability-Commercial
Joan Thomas v. Santosh International Inc. Professional Malpractice
Michael Pinheiro et al v. Asha Shah, MD et al
Marriage Licenses
Domonique Keionta Blackmon and Terrance Dyon Wallace, both of Vero Beach
Rojelio Medina and Cindy Jo Harvard, both of Vero Beach
Daniel Lee Hoffman, III and Jessica Lynne Grey, both of Vero Beach
Bradley John Lawson of Vero Beach and Danielle Esernio of West Islip, New York
Bailey Colleen Shannon and Kyle Lee Taylor, both of Middletown, Indiana Occupational Licenses Indian River County
C. Williams LLC, Christopher M. Williams, 405 16 th St. S. W., Vero Beach, lawn maintenance service
Erica Marie Dignan, 200 53 rd Court S. W., Vero Beach, cleaning/ janitorial service, miscellaneous
Franklin Mechanical Services, Franklin F. High, Jr., 3426 1 st Road, Vero Beach, consultant
Frederick P. Volk Handyman Services, Frederick P. Volk, 1405 82 nd Avenue, Unit 134, Vero Beach, miscellaneous maintenance
Indian River Lawn & Turf Inc., Peter Dennis Richard, Jr., 4630 84 th Place, Vero Beach, lawn maintenance service
Jane Larsen, 155 25 th Avenue, Vero Beach, motel/hotel/apartment/ rooming house
Ron's Pool Service Inc., Ronald Estomin, 7715 15 th Court, Vero Beach, swimming pool/spa cleaning
Taylor & Company Builders LLC, Richard Taylor, 2410 47 th Terrace, 2410 47 th Terrace, Vero Beach, certified general contractor
Titan Cleaning and Hauling, Robert A. Hibbert, 765 26 th Avenue, Vero Beach, hauling service
Treasure Coast Custodial LLC, Jay S. Glover, Jr., 655 Fox Run S. W., Vero Beach, cleaning/janitorial service
Veganical LLC, Joshua Tveraas, 645 26 th Avenue, Vero Beach, retail sales City of Sebastian
Deep Water Marine Electronics, Inc., Adam L. Phillips, 429 Columbus St., Sebastian, mobile business
Expert Promotions LLC, Anthony Furino, 1627 US 1, Suite 206, Sebastian, sign shop
Nathan Fox, 589 Belfast Terrace, Sebastian, computer services Building Permits City of Sebastian
Adams Homes of Northwest FL, 642 Oleander St., Sebastian, $256,954 new residential construction
Paul M. Abati, 317 Yearling Trail, Sebastian, $239,719, new residential construction
Lynda Murphy, 351 Benchor St., Sebastian, $30,000, swimming pools/spas
James and Alda P. Fagnant, 732 Easy St., Sebastian, swimming pools/spas Indian River County
Harmony Preserve LLC, 5945 Buttonwood Square, $421,306, residential combination new construction
DR Horton Inc., 3375 Rockport St. S. W., $424,811, residential combination new construction
Holiday Builders Inc., 3475 Diamond Leaf Drive, $317,007, residential combination new construction
Holiday Builders Inc., 3426 Diamond Leaf Drive, $306,665, residential combination new construction
Michael T. and Olga K. Hrosso, 2260 St. Christopher Lane, $517,879, residential combination new construction
GHO Summer Lake Corp., 6136 Graysen Square, $478,431, residential combination new construction
GHO Holdings Corp., 7720 Homestead Drive, $494,291, residential combination new construction
Hubbell Properties II, 676 Honeybell Court S. W., $291,712, residential combination new construction
GH Vero Beach Development LLC, 2137 Falls Circle, $462,801, residential combination new construction
GH Vero Beach Development LLC, 2142 Falls Circle, $419,427, residential combination new construction
GH Vero Beach Development LLC, 2139 Falls Circle, $413,206, residential combination new construction
Holiday Builders Inc., 5952 Buttonwood Square, $333,830, residential combination new construction
GHO Summer Lake Corp., 6124 Graysen Square, $441,867, residential combination new construction
Christian Albrecht and Barklie Eliot, 1850 Eighth St., $298,814, residential combination new construction
Steve R. and Lisa M. Padron, 5140 Rosewood Lane, $466,664, residential combination new construction
Teah N. Turnbaugh, 8755 99 th Court, $183,176, residential combination new construction
GHO Summer Lake Corp., 6141 Graysen Square, $407,225, residential combination new construction
GHO Three Oaks Corp., 7497 Whiteoak Lane, $285,233, residential combination new construction
GHO Three Oaks Corp., 7491 Whiteoak Lane, $285,233, residential combination new construction
DR Horton Inc., 7211 East Village Square, $534,695, residential combination new construction
DR Horton Inc., 7603 South Village Square, $411,972, residential combination new construction
DR Horton Inc., 7607 South Village Square, $410,462, residential combination new construction
DR Horton Inc., 7622 South Village Square, $276,284, residential combination new construction
DR Horton Inc., 1350 Caddy Court, $383,777, residential combination new construction
DR Horton Inc., 7596 South Village Square, $410,462, residential combination new construction
DR Horton Inc., 7207 Bungalow Lane, $383,777, residential combination new construction
DR Horton Inc., 7207 East Village Square, $534,695, residential combination new construction
DR Horton Inc., 7211 Bungalow Lane, $383,777, residential combination new construction
DR Horton Inc., 7215 Bungalow Lane, $383,777, residential combination new construction
DiVosta Homes LP, 5151 Longhorn Drive, $265,295, residential combination new construction

UPI Almanac for Saturday, July 15, 2017
upi.com
CEO Daily: Saturday, July 15, 2017
fortune.com
Georgia Nicols horoscopes for July 15, 2017
chicago.suntimes.com
The winning numbers in Friday evening's drawing of the North Carolina Lottery's "Cash 5" game were:
06-10-26-27-32
(six, ten, twenty-six, twenty-seven, thirty-two)
Estimated jackpot: $110,000
Sign up today for a 30 day free trial of unlimited digital access.

Winning numbers drawn in 'Lucky Money' game
miamiherald.com
Winning numbers drawn in 'Fantasy 5' game
miamiherald.com
Winning numbers for July 14, 2017
chron.com
Winning numbers drawn in 'Mega Millions' game
miamiherald.com
Winning numbers drawn in 'Mega Millions' game
newsobserver.com
When it comes to Disney, they like to keep it in the family, whether it's getting a football team's worth of original Disney princesses to cameo in "Wreck-It Ralph 2, " reuniting "The Incredibles" fourteen years after the original film hit theaters, or securing a new director for "Toy Story 4."
John Lasseter, the chief creative officer of Pixar and Walt Disney Animation Studios, led a confetti, joke and song-filled presentation of the upcoming animation slate for the studio Friday at the star-studded biannual fan convention D23 in Anaheim, just steps from Disneyland with appearances of people from Kristen Bell to Samuel L. Jackson.
Sporting his signature Disney-themed Hawaiian shirt (this time with "Inside Out" characters) Lasseter, who was also identified as a "former Jungle Cruise Skipper, " announced that he would no longer be directing "Toy Story 4." The job is going to "Inside Out" screenwriter Josh Cooley, who was previously going to co-direct with Lasseter. He assured the thousands of fans in attendance that he would be mentoring and guiding Cooley through the process as an Executive Producer. "Toy Story 4" is set for a June 2019 release.
Disney is also getting its most beloved princesses together from Ariel to Mulan for "Wreck-It Ralph Breaks the Internet, " in a humorous scene in which Sarah Silverlman's Valellope decides to mess with the princesses and finds them to be cooler than she expected.
Some of the familiar voices audiences can hear when the film hits theaters on Nov. 21 will include "Beauty and the Beast's" Paige O'Hara, "The Little Mermaid's" Jodi Benson "Mulan's" Ming-Na Wen, "Moana's" Auli'I Cravalho, "Pochahontas's" Irene Bedard, "Tangled's" Mandy Moore, and "Frozen's" Idina Menzel and Kristen Bell.
Lasseter also announced that Taraji P. Henson would be joining the cast as well as an internet savvy character named Yesss (with three s's) . The film finds Wreck-It Ralph (John C. Reilly) and Valellope exploring the internet in hopes of finding an essential replacement part for their arcade game.
Fans also got a sneak peak at "The Incredibles 2, " which will be out in June 2018 and focus on Holly Hunter's Elastagirl while Craig T. Nelson's Mr. Incredible stays at home. The scene featured the baby, Jack Jack, getting into a scuffle with a raccoon and showing off some wild powers (think: laser eyes and self-cloning) .
Lasseter also showed concept footage of a plane breaking a sound barrier test from a secretive and untitled new film set for an April 2019 release.
"Trust me when I say this, it is harder to think of a title than to get to space, " he said.
Olaf actor Josh Gad later ribbed Lasseter for the untitled and tentative films when they moved on to discussing "Frozen 2, " set for Nov. 2019.
"Oh really, it's going to be called 'Frozen 2'?" Gad prodded. "How original."
Lasseter retorted: "We're not calling it 'Thawed'"
D23, which is a nod to the year 1923 in which Walt Disney founded the company, runs through Sunday.
Sign up today for a 30 day free trial of unlimited digital access.

Disney fans get look at 'Incredibles 2,' 'Wreck-It Ralph 2'
lasvegassun.com
Disney fans get look at 'Incredibles 2,' 'Wreck-It Ralph 2'
newsobserver.com
'Wreck-It Ralph' sequel features every Disney princess in hilarious scene
rssfeeds.usatoday.com
Disney fans get look at 'Incredibles 2, ' 'Wreck-It Ralph 2'
townhall.com
BOSTON — To steal a phrase from their manager, these 2017 Yankees are turning into a big bowl of It's Not What You Want.
Their second half couldn' t have kicked off in better fashion… until it quickly transformed into the worst-case scenario, a walk-off, 5-4 loss to the Red Sox on Friday night at Fenway Park that sent them 4 ½ games behind their rivals in the American League East.
Aroldis Chapman, who blew the save and blew up four great innings of relief by his predecessors, doesn' t look like his 2016 self. Aaron Judge, in his first Yankees game as the Home Run Derby champion, went 0-for-3 with a walk. Garrett Cooper, making his major league debut at first base, might have made Yankees fans yearn for Chris Carter, going 0-for-4 with three strikeouts. Matt Holliday, returning from the disabled list, duplicated Cooper's line.
Throw in the day's early news that Michael Pineda's season (and Yankees career, probably) has ended, and maybe Greg Bird's year, too, and it reinforces an ongoing discussion point: This team, its playoff chances weakening by the day, should not sacrifice its future for the chance of unlikely present success.
"If you want to win championships, you have to win those games, " manager Joe Girardi said afterward.
The Yankees now have blown 18 saves this season. For all of last year, they recorded just 16 blown saves (thanks to Jack Curry of the YES Network for the tidbit) . For the long term, that's not necessarily a bad indicator; bullpens generally are the easiest units to fix, and relievers now have recorded 10 losses in the team's 7-19 extreme market correction. While Chapman now has a 3.92 ERA, and any eye test will reveal he isn' t as dominant last year, his 34-to-9 strikeout-to-walk ratio offers hope his five-year, $86 million contract won' t be a bust.
For the short term, though, it's a bit of a mess. To try to clean this up with an aggressive trade would be equivalent to buying more shares of your sinking stock.
If you' re looking for a road map for what the Yankees should do this month, they just offered one to you in the low-wattage form of Cooper.
The 26-year-old represents an ideal move for this not-all-in franchise: minimal risk and maybe something will click, his ugly introduction notwithstanding.
To acquire Cooper, who had been tearing it up in the hitter-friendly Triple-A Pacific Coast League for the Brewers' affiliate in Colorado Springs, the Yankees gave up lefty reliever Tyler Webb, who had offered glimpses of potential in his seven big league games. Four years ago, when the Yankees' farm system produced little besides agita, Webb might have stood out as a keeper. Now, in a stacked system, he's superfluous.
If the Yankees make a trade to improve their starting rotation, the replacement need not be as anonymous as Cooper — or, if Cooper falters, they can try again with someone more familiar.
Perhaps the Yankees could take on short-term payroll and give up little in talent for a starter like the Phillies' Jeremy Hellickson or a first baseman like Oakland's Yonder Alonso or the Mets' Lucas Duda.
As long as it's not the sort of move that will dent their armor moving forward.
Pineda, diagnosed with a partial tear of the UCL in his right elbow and likely headed for Tommy John surgery, will be missed because of his ceiling. Yet you still never knew what you would get from him, and given his track record of injuries, this serious setback doesn' t go down as a big surprise. For now, the Yankees will utilize Bryan Mitchell and Luis Cessa to plug the hole, and Chance Adams, at Triple-A Scranton/Wilkes-Barre, could pitch his way into the conversation by season's end.
Bird, meanwhile, might very well require surgery to repair his right ankle, Cashman said. With Chris Carter gone and Tyler Austin hurt, Cooper becomes the next man up, with others on the radar.
"The bar has been set very low for someone to help us at that position, " Cashman said, laughing, of first base.
The bar is set relatively low for this Yankees season, and it remained low Friday night. Which is why they shouldn' t strain themselves trying to leap too high.

Matt Holliday's three Ks not the biggest lowlight in his return
nypost.com
Imperfections and all, Red Sox still in position to bury Yankees
espn.com
Boston Red Sox clip New York Yankees with 2 runs in 9th
upi.com
Chapman blows one-run lead as Yanks suffer 5-4 defeat to Red Sox
nydailynews.com
His tweets have the power to shape international relations, send stock prices up — or down — and galvanize the American public.
We're watching how Donald Trump is using this platform of unfettered communication now that he's commander in chief. Here is everything Trump has tweeted since he was sworn in as 45th president of the United States. In many cases, we look at what he was reacting to and whether what he said was accurate. And, as much as possible, we'll relate what else was going on at the time. Check back for more as Trump continues to tweet.

Horoscopes for Friday, July 14, 2017
newsobserver.com
Michigan Lottery numbers for Friday, July 14
rssfeeds.detroitnews.com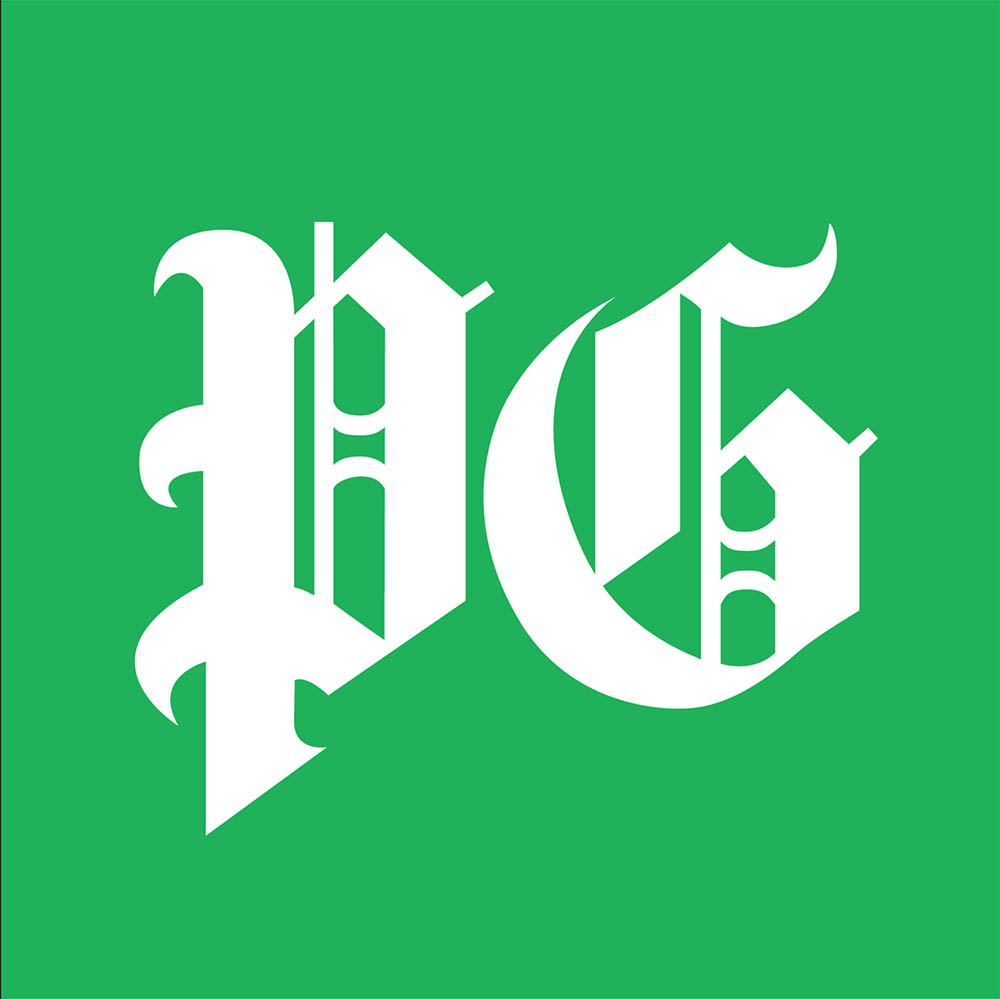 Trump returns from Paris to face growing problems
post-gazette.com
Teams looking to boost their offense have plenty of options on the trade market.
Need a slugger? The NL East has a few.
Need a catcher? A two-time All-Star could be on the move again.
Veterans, role players, pinch-hitters are all available at the right price before the July 31 non-waiver trade deadline.
The American League should have more buyers because no team is worse than 7 1/2 games behind in the wild-card standings.
Expect more National League teams to sell since only five clubs have a winning record.
Here are 11 hitters who could be switching teams before the end of the month:
Jay Bruce, New York Mets, RF: Bruce is hitting .265 with 23 homers and 59 RBIs and is in the final season of a seven-year, $63 million contract. The Mets acquired Bruce last July and tried to move him in the offseason. The three-time All-Star is a high-priced rental, but he could carry an offense for long stretches when he's hot.
___
Curtis Granderson, New York Mets, OF: Granderson has rebounded following a poor start and has 13 homers and 37 RBIs along with a .232 average. He's also a free agent after the season. Granderson has plenty of postseason experience and is an excellent clubhouse presence.
___
Lucas Duda, New York Mets, 1B: Like Bruce and Granderson, Duda is a free agent after the season and the Mets aren't going anywhere. Duda has 14 homers and 30 RBIs. He's a career.246 hitter.
___
Andrew McCutchen, Pittsburgh Pirates, OF: McCutchen has bounced back nicely after a subpar year and is hitting .295 with 17 homers and 50 RBIs. He's in the final season of a six-year, $51.5 million contract, though the Pirates hold a $14.5 million option for next season. He's only 30 and could anchor the middle of a team's lineup.
___
Tommy Joseph, Philadelphia Phillies, 1B: Joseph has 15 homers and 43 RBIs in 298 at-bats, a year after hitting 21 homers in 315 at-bats. Joseph is only 25, so interested teams could look at him as a first baseman for the future. He's available because the rebuilding Phillies have big-time slugger Rhys Hoskins waiting for an opportunity at Triple-A.
___
Jonathan Lucroy, Texas Rangers, C: Milwaukee tried trading Lucroy twice last July, though he refused a trade to Cleveland before agreeing to move to Texas. His.256 batting average is the lowest since his rookie season in 2010 and he's a free agent after the season, but Texas is right in the mix in the wild-card race.
___
Zack Cozart, Cincinnati Reds, SS: Cozart is having a career year - .311, nine homers, 35 RBIs - and was an All-Star starter, but he'll be 32 next month and becomes a free agent after the season. Most contending teams don't need a shortstop, but things can change quickly.
___
J. D. Martinez, Detroit Tigers, RF: Martinez is a costly rental because he'll be a free agent after the season, but the power hitter could improve any lineup down the stretch. He's batting.298 with 14 homers and 32 RBIs in 5 games.
___
Melky Cabrera, Chicago White Sox, LF: Cabrera is in the final season of a three-year, $42 million contract. He's hitting.283 with 10 homers and 51 RBIs. The White Sox might have to pay some of Cabrera's salary to make a deal.
___
Daniel Nava, Philadelphia Phillies, OF: Nava has been a pleasant surprise for the Phillies after getting an invitation to spring training as a non-roster player. He's hitting.297 with a .389 OBP in a limited role. Nava won a World Series with Boston in 2013 and the switch-hitter is a valuable bench player.
___
Yonder Alonso, Oakland A's,1B: Alonso is having a breakout season - .275, career-high 21 homers, 44 RBIs - and was an All-Star. He's also a free agent after the season.
___
More AP Baseball: https: //apnews.com/tag/MLBbaseball
Copyright 2017 The Associated Press. All rights reserved. This material may not be published, broadcast, rewritten or redistributed.

Teams looking to boost lineup have options on trade market
rssfeeds.usatoday.com
Teams looking to boost lineup have options on trade market
wtop.com
Live updates: Latest Detroit Tigers, MLB trade rumors!
rssfeeds.freep.com
They came back from a four-day break with hopes, however ambitious, that some time away from the field could create some separation from a bad first half.
And while the field looked dramatically different – with centerfield brown and damaged from a mid-week Metallica concert – the Detroit Tigers looked the same.
The latest snapshot of this 162-game season looked plenty familiar: Ace right-hander Justin Verlander good, but unable to get deep into the game; enough hits, but not enough runs to back Verlander; a bullpen that could not keep the score in place.
The Tigers lost to the Blue Jays on Friday night at Comerica Park, 7-2, once again falling 10 games under the .500 mark as the time continues to tick towards the July 31 trade deadline.
"I' m not really happy about it, " manager Brad Ausmus said. "You get the break and a chance to reset and we don' t do much. We certainly didn' t do much positive."
Verlander was victimized by the long ball and an elevated pitch count, which chased him from the contest in the top of the sixth inning. He was effective, allowing just two runs on three hits, But his early exit exposed the Tigers' thin bullpen once again.
More: Michael Fulmer not worried about trade rumors
He was out-pitched by Blue Jays righty Aaron Sanchez, who continued his mastery of the Tigers (2.00 ERA, 19 strikeouts in 18 innings, 0.78 WHIP in five games) with six innings of one-run baseball.
"Not happy, " Verlander said. "I think on a personal level, I need to do a better job pitching late in the game. That's what sticks out for me.… One of the major things I look at is how deep in the game you get and I wasn' t able to achieve that today. That's my goal going forward."
For Verlander, he showed his change-up in earnest for the first time in a long time. His velocity was fine, his breaking stuff good, but the trend of being unable to put away hitters continued.
He allowed two runs in the fifth inning: First, Steve Pearce smacked a two balls, no strikes fastball into the left-centerfield seats. Then, after J. D. Martinez botched a catch in rightfield, Toronto added another on a sacrifice fly.
It was enough for a Tigers offense that tallied eight singles, one double and one home run. Andrew Romine had both extra-base hits: His solo home run in the ninth inning was their first home run in four games.
"We got hits, we just didn' t get the big hits, " Ausmus said.
Verlander's put-away problems came to a head the next inning, when, after jumping ahead of Josh Donaldson, no balls and two strikes, it took eight pitches to finish him. By that point, Verlander was past 90 pitches and after back-to-back walks, his day was done.
"Obviously, I would have liked to have gone deeper in the game but those guys did an excellent job, each and every guy, working the pitch counts, " he said. "All in all, I' m pleased with the stuff, I just need to be more efficient."
Shane Greene relieved him and walked home a run. It was the first inherited runner the righty had allowed to score since May 14. One batter earlier, Nick Castellanos made a great diving stop but couldn' t capitalize on it, wildly throwing to first base.
The game only bled on from there: Warwick Saupold allowed a solo home run to Jose Bautista in the seventh; he walked two. Blaine Hardy allowed three runs in the eighth while walking three. In total, the Tigers walked 10 batters, a season-high. Twice, they walked in runs.
"You gotta throw strikes, for one, " Ausmus said. "You can' t walk 10 people and expect to win baseball games."
Verlander threw 5 1/3 innings. He walked three and struck out five.
With the loss, the Tigers didn' t lose any ground in the postseason race, staying eight games behind the Indians in the American League Central division and six games out of the league's second wild card spot.
"It matters, " Verlander said. "You' d like to ideally win the first one after the break, hit the reset button, come back and let's go."
But nothing changed. There was no reset button. It was the same bad baseball they have been playing for quite some time.
Contact Anthony Fenech: afenech@freepress.com. Follow him on Twitter @anthonyfenech.

Tigers start second half flat, fall to Blue Jays
rssfeeds.detroitnews.com
Toronto Blue Jays return with win over Detroit Tigers
upi.com
Sanchez pitches 6 strong innings as Jays beat Tigers 7-2
charlotteobserver.com
Xu Zhiyong, one of China's most prominent rights activists was released by the authorities on Saturday morning after serving a four-year sentence that prompted international criticism, according to the Beijing Municipal Administration of Prisons.
His lawyer Zhang Qingfang said he hoped Xu would be allowed to live as a free man. Zhang told Reuters he had brought Xu up to speed with "events on the outside", including the death of fellow activist and Nobel Peace Prize laureate, Liu Xiaobo. He said Xu was "upset" on hearing the news.
Friends of Liu Xiaobo criticise 'hasty' nature of Nobel laureate's funeral service
Xu's release coincided with a memorial and cremation service held for Liu, who died of multiple organ failure at the age of 61 on Thursday. He had been serving an 11-year prison sentence, but was released on medical parole in May to be treated for liver cancer.
Xu, whose "New Citizens' Movement" advocated working within the system to press for change, was detained in 2013 and subsequently convicted of "gathering a crowd to disturb public order".
Liu Xiaobo joins the pantheon of China's great patriots
One of the group's main demands had been for officials to publicly disclose their assets, a demand taken against the backdrop of the ruling Communist Party's own efforts to crackdown on deep-seated corruption under President Xi Jinping.
Zhang said that Xu, who had been incarcerated on the outskirts of Beijing, was in good physical shape and had few immediate plans beyond spending time with his family.
At the height of his activism, Xu attracted hundreds of supporters who participated in activities related to the movement. He first gained prominence in 2003 after helping victims of tainted baby formula and migrant workers without access to health care and education.
'I have no enemies' : Why Liu Xiaobo's passing is a sad story for China and its people
It prompted a crackdown from the Communist Party, which swiftly crushes any perceived challenges to its rule.
"The idea of the New Citizens Movement is not to overthrow, but to establish, " Xu wrote in a 2010 essay. "It's not one social class displacing another social class, but allowing righteousness to take its place in China."
Xu refused to defend himself at his trial in 2104, and remained silent as a way to protest what Zhang said was a controlled legal process where a guilty outcome was a foregone conclusion.
World leaders call for release of Liu Xiaobo's widow but stop short of hard line
As international rights groups and foreign governments call for China to guarantee freedom for Liu Xiaobo's widow, Liu Xia, Xu's supporters have also expressed concern as to whether he will remain under close surveillance or effective house arrest. Some said on social media they were blocked by security guards and plainclothes officers from entering Xu's apartment compound on Saturday.
Other high-profile and politically sensitive prisoners released from prison, including rights lawyer Pu Zhiqiang and journalist Gao Yu, remain closely watched by Chinese authorities.
"I hope he will be completely free, " Zhang said.
Xu taught law at a Beijing university and ran in a local election. He became prominent over a drive to abolish "custody and repatriation" powers, a form of arbitrary detention used by local governments to sweep homeless people off the streets.

Chinese legal activist released at end of 4-year prison term
newsobserver.com
Chinese legal activist released at end of 4-year prison term
miamiherald.com
Chinese legal activist released at end of 4-year prison term
heraldonline.com
Chinese legal activist released at end of 4-year prison term
charlotteobserver.com
Chinese legal activist released at end of 4-year prison term
thenewstribune.com
Chinese legal activist released at end of 4-year prison term
abcnews.go.com
Chinese legal activist released at end of 4-year prison term
townhall.com
Chinese legal activist released at end of 4-year prison term
wtop.com
Maya Moore and Seimone Augustus each scored 19 points, and the Minnesota Lynx built a big first-half lead in coasting to an 88-71 victory over the Phoenix Mercury on Friday night.
Phoenix star Brittney Griner was helped off the court early in the fourth quarter with injuries to her left knee and right ankle. She is expected to miss three to four weeks.
Minnesota (14-2) has won nine straight against Phoenix dating to 2015, including a three-game sweep in last season's playoffs.
Sylvia Fowles added 18 points and 10 rebounds for the Lynx. They shot 52 percent and held Phoenix (11-7) to 36 percent.
Griner led the Mercury with 15 points, and Diana Taurasi had 14.
Renee Montgomery hit a jumper with 5: 50 left in the first to give Minnesota a 9-8 lead and the Lynx led the rest of the way. Augustus' jumper at the buzzer made it 23-13 after one, a lead that Minnesota pushed to 17 at halftime.
Phoenix had won four straight.
Griner had tests and was evaluated by team physicians, the Mercury said. She was diagnosed with a bone bruise to her left knee and a sprained right ankle.
Sign up today for a 30 day free trial of unlimited digital access.

Moore, Augustus power Lynx; Mercury star Griner injures knee
newsobserver.com
Moore, Augustus power Lynx; Murcury's Griner injures leg
charlotteobserver.com
Moore, Augustus power Lynx; Murcury's Griner injures leg
rssfeeds.usatoday.com
Moore, Augustus power Lynx; Murcury's Griner injures leg
wtop.com
Republicans' latest health care plan would create winners and losers among Americans up and down the income ladder, and across age groups.
It would give consumers more responsibility for their insurance choices, a goal long held by conservatives who argue that's key to a true health care market. Younger adults and healthy people in the solid middle class may find more agreeable options. But low-income people may not be able to afford coverage, along with older and sicker adults.
And there are potential unintended consequences for people with employer-provided insurance, currently about 170 million Americans. Allowing individuals to pay premiums from tax-sheltered accounts may create incentives for employers to stop offering coverage, say some independent analysts.
The legislation would put limits on federal spending for Medicaid, a partnership program with states to cover low-income people, the disabled and nursing home residents. The drawback is that state officials could eventually face no-win choices, such as having to pick between paying for coverage for low-wage working mothers and support services for elderly people trying to stay out of nursing homes.
As Senate Majority Leader Mitch McConnell, R-Ky., steers toward debate and votes next week, here is a look at some of the latest changes and major issues:
___
CRUZ'S PLAN
The new Senate bill incorporates the core of a proposal from Sen. Ted Cruz, R-Texas, that would reorganize the market for policies purchased by individuals. As many as 20 million Americans get coverage this way, about half through subsidized markets like HealthCare.gov, created under former President Barack Obama.
Cruz would change basic requirements that Obama's law imposed on individual plans, including standard benefits such as pregnancy, maternity and newborn care; wellness visits and mental health treatment. The law also requires the same premium rates for sick and healthy people.
Under the Cruz approach, an insurer can offer plans that don't comply with such requirements, provided they also offer coverage that does. The problem, say critics, is that the healthy would flock to low-premium, skimpy plans, leaving the sick to face escalating prices for comprehensive coverage.
"Healthy people would have opportunities to buy lower-premium, skinnier plans, while people with pre-existing conditions not eligible for premium subsidies could find themselves priced out of insurance, " said Larry Levitt of the nonpartisan Kaiser Family Foundation.
The latest bill includes another $70 billion to help states keep health insurance affordable for older, sicker customers. But it's not clear how those backstops would work, and the federal funding eventually would end.
Some insurers are worried because of a technical change with huge practical implications: Health plans that enroll healthier customers would no longer have to cross-subsidize those with sicker patients, as is currently required.
"We think it is unworkable, " said Justine Handelman, top Washington lobbyist for the BlueCross BlueShield Association. She predicted skyrocketing costs for taxpayers also, stuck with the bill for sicker patients.
___
EMPLOYER ESCAPE HATCH?
McConnell's new bill made a major change to tax-sheltered health savings accounts, which was also advocated by Cruz.
Under the bill, health savings accounts could be used to pay premiums with pre-tax money. Under current law, they can only be used to cover out-of-pocket costs, such as deductibles and copayments.
The change is meant to level the playing field for people buying individual plans, as compared to people getting employer coverage. The value of workplace insurance is tax-free for employees and tax-deductible for employers.
But some analysts say McConnell risks undermining workplace coverage.
The upside is that the change might encourage more self-employed people to buy individual health insurance policies. The downside is that some employers may see it as an invitation to drop health benefits, particularly since the GOP also would repeal Obama's requirement that larger companies provide health care or face fines.
"Allowing individuals to purchase insurance with pre-tax dollars eliminates one of the advantages to employer-provided insurance, " said Elizabeth Carpenter of the Avalere Health consulting firm. "That may lead some employers to consider whether or not they want to continue to offer health insurance."
___
THE POOR AND THE SICK
McConnell kept some of the Obama-era tax increases used by Democrats to finance expanded coverage. But the money will be going to shore up private insurance, not the Medicaid program. Medicaid accounts for half or more of the 20 million Americans gaining coverage as a result of the Affordable Care Act.
Medicaid covers low-income people, from many pregnant women and newborns, to disabled people and many elderly nursing home residents. The GOP bill would start by phasing out enhanced federal financing for Obama's Medicaid expansion, adopted by 31 states. Perhaps more significantly, it would limit future federal funding for the overall program. As a result, it's estimated Medicaid would cover 15 million fewer people by 2026.
The bill would add $45 billion to help states confronting the opioid epidemic pay for treatment and recovery. But that hasn't swayed the American Medical Association, which points out that people in recovery also need comprehensive health insurance.
Republican governors don't like the Medicaid cuts, and some have been vocal. About half the states that expanded Medicaid now have GOP chief executives.
Nevada Gov. Brian Sandoval, a Republican who oversaw a Medicaid expansion, said more than 200,000 people gained coverage in his state.
"You think about 210,000 men, women and children, senior citizens, the drug addicted, the chronically ill, " Sandoval said. "These are people that used to get their treatment in emergency rooms, if they got any treatment at all. I keep going back to the fact that they are living a better quality of life."
Sign up now for full access to our website, the digital newspaper, apps and more!.

Heller facing hot seat on GOP health care bill decision
wtop.com
New GOP health care bill will determine winners, losers
charlotteobserver.com
Cornyn calls keeping GOP health care support 'nail-biter'
charlotteobserver.com
New GOP health care bill will determine winners, losers
wtop.com
Heller facing hot seat on GOP health care bill decision
thenewstribune.com
Heller facing hot seat on GOP health care bill decision
charlotteobserver.com
DALLAS — The police chief in the Dallas suburb of Arlington met Friday with a woman who alleges officers offered to drop charges against her two teenage sons in exchange for cellphone video she recorded — footage that she says shows an officer needlessly pushing her older son and arresting him.
Arlington police said in a statement that Chief Will Johnson met with the woman and her attorney "to answer and address their questions and concerns." Police say the matter remains under investigation by their internal affairs unit.
Latasha Nelson said during a news conference Thursday that police illegally seized her cellphone during the July 3 incident and that two officers told her they would return it after she surrendered her video footage. Nelson's attorney, Kim T. Cole, said the officers insinuated that the charges against Nelson's sons would be dropped if she agreed.
Cole has said a burglary charge against Nelson's 14-year-old son and an obstruction charge against her 16-year-old son were "pending investigation."
The Next Generation Action Network, a Dallas-based group that lobbies against police violence, posted the video on its Facebook page Wednesday on behalf of Nelson. A spokesman for the group, Dominique Alexander, said Nelson's phone was backed up to the cloud, enabling the group to post the video.
Police said in their statement Friday that they began investigating potential officer misconduct after the mother filed an online complaint Tuesday with internal affairs. That initial complaint made no reference to officers offering to drop charges in exchange for the video, police said. They added that they will "fully investigate" the claim, though.
They said the cellphone was confiscated as evidence because officers believed it contained video of the events "immediately preceding one of the individuals being placed in handcuffs."
Officers went to the family's apartment complex because someone reported there were two teens breaking into a car, police have said. The officers stopped Nelson's 14-year-old son to question him because he fit the description of one of the teens being sought, police said.
The video shows police walking the 14-year-old to a police car. Nelson can be heard asking where the officers are taking her son. An officer responds by saying he won't tell her because she has "become uncooperative."
In the statement Friday, police said the department understands the importance of parental notification when taking a juvenile into custody. They said no parental notification was captured on the video and they're investigating if it was made at another time during the incident.

Police chief meets with mom who recorded sons' arrests
rssfeeds.detroitnews.com
Police chief meets with Texas mom who recorded sons' arrests
charlotteobserver.com
Police chief meets with Texas mom who recorded sons' arrests
thenewstribune.com
Police chief meets with Texas mom who recorded sons' arrests
townhall.com
A look at what's happening all around the majors Saturday:
___
BUM IS BACK
Giants ace Madison Bumgarner returns to the mound for the first time since a dirt bike accident led to a sprained AC joint in his pitching shoulder and bruised ribs. The left-hander made four starts, going 0-3 with a 3.00 ERA, before crashing his bike during a day off in Colorado. He'll face the Padres and right-hander Jhoulys Chacin (8-7,4.32) in San Diego.
STAR QUALITY
On the second day back from the All-Star break, eight starting pitchers selected for the Midsummer Classic get their initial assignments of the second half. Among them are American League starter Chris Sale, who pitches for Boston against fellow All-Star Luis Severino and the Yankees, and National League counterpart Max Scherzer, who starts for Washington vs. Cincinnati. Other All-Stars on the mound are Michael Fulmer (Tigers) , Ervin Santana (Twins) , Jason Vargas (Royals) , Corey Kluber (Indians) and Alex Wood (Dodgers) .
TIME TO SHOP?
The Yankees are approaching the non-waiver trade deadline with holes opening faster than they can fill them. Starter Michael Pineda is mulling over what would be season-ending surgery for a partial ligament tear in his pitching elbow, and first baseman Greg Bird may require surgery for a right ankle issue. One of the top starting pitchers on the trade market, Jose Quintana, has already been moved from the White Sox to the Cubs, but hurlers like Sonny Gray or Gerrit Cole may still be available. New York did pick up minor league slugger Garrett Cooper from the Brewers on Thursday and started him at first base Friday for his big league debut, but they may still pursue a more proven option at first.
LOOKING FOR WORK
Anyone need a third baseman? Kung Fu Panda is available. Boston designated Pablo Sandoval for assignment on Friday, cutting its losses on the $95 million free agent who was never productive or healthy enough to replicate the popularity — or World Series success — he had in San Francisco. The Red Sox have seven days to trade or release the 30-year-old Sandoval, just activated from the disabled list after recovering from an inner ear infection. A two-time All-Star, Sandoval was the MVP of the 2012 World Series with the Giants. But left shoulder surgery sidelined him for almost the entire 2016 season, and he managed only 14 homers in 161 games over 2 1/2 seasons with Boston.
Sign up today for a 30 day free trial of unlimited digital access.

LEADING OFF: Bumgarner back from crash, All-Stars aplenty
charlotteobserver.com
LEADING OFF: Bumgarner back from crash, All-Stars aplenty
rssfeeds.usatoday.com
RAYS at ANGELS
When: 6 p.m.
Where: Angel Stadium
TV: Fox Sports West
THE PITCHERS
ANGELS RHP JC RAMIREZ (8-7,4.46)
vs. Rays: 1-0,2.08
At Angel Stadium: 3-5,4.46
Hates to face: None
Loves to face: None
RAYS RHP ALEX COBB (7-6,3.75)
vs. Angels: 1-2,6.51
At Angel Stadium: 1-1,6.75
Hates to face: Albert Pujols, 6 for 9 (.667)
Loves to face: None

Mike Trout returns to lineup as Angels fall to Rays in 10 innings – Orange County Register
ocregister.com
Mike Trout is back, but Angels go down swinging in 2-1,10-inning loss to Rays
latimes.com
Day 1 scores, schedule for state summer championships – Orange County Register
ocregister.com
Honolulu high-rise fire leaves 3 dead, hundreds fleeing – Orange County Register
ocregister.com
Mike Trout's return means the Angels matter again – Orange County Register
ocregister.com
The Latest on the sexual assault trial of former Vermont lawmaker Norm McAllister (all times local) :
10: 45 p.m.
A former Vermont lawmaker accused of soliciting sex from a farmhand instead of rent has been found guilty of one count of prohibited acts.
WCAX-TV reports (http: //bit.ly/2tVoXBm) the verdict in the trial of former Republican state Sen. Norm McAllister came Friday night. The 65-year-old McAllister was found not guilty on other counts sexual assault and prohibited acts.
McAllister said Friday that the woman started the relationship with him and it helped him overcome the loss of his wife. But the woman had testified Thursday about their more than two-year-sexual relationship, saying "none of it felt consensual."
___
12: 35 p.m.
A former Vermont lawmaker accused of soliciting sex from a farmhand instead of rent has taken the stand in his sexual assault trial.
WCAX-TV reports (http: //bit.ly/2uibN42) former Republican state Sen. Norm McAllister said Friday that the woman started the relationship with him and it helped him overcome the loss of his wife.
The woman had testified the day before about their more than two-year-sexual relationship. She said "none of it felt consensual."
The 65-year-old McAllister has pleaded not guilty to sexual assault and prohibited acts and maintains he's innocent.
Charges were dismissed against McAllister in a sexual assault trial involving a different accuser who lied last year.
McAllister's colleagues voted to suspend him after his arrest in May 2015.
Sign up today for a 30 day free trial of unlimited digital access.

The Latest: Ex-lawmaker guilty of 1 count in sex crime trial
thenewstribune.com
Ex-Vermont lawmaker guilty of 1 count in sex crimes trial
newsobserver.com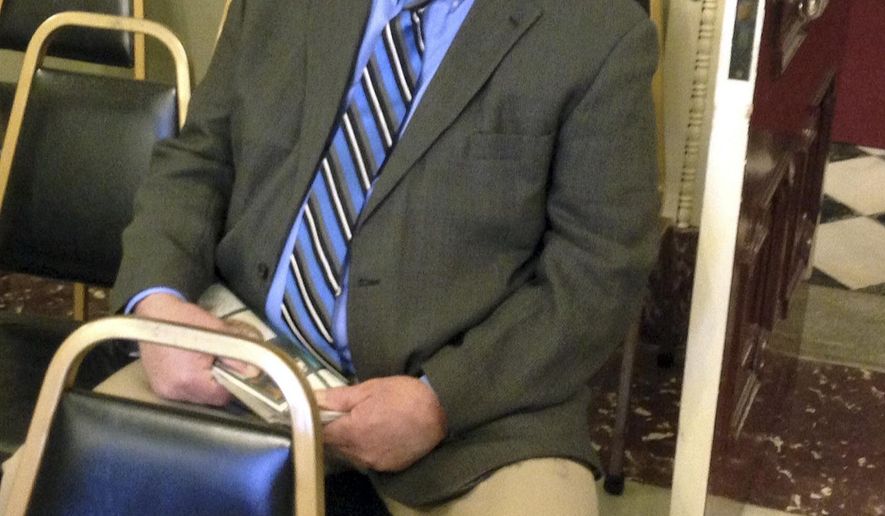 The Latest: Ex-lawmaker guilty of 1 count in sex crime trial
washingtontimes.com
A look at what's happening all around the majors today:
___
BUM IS BACK
Giants ace Madison Bumgarner returns to the mound for the first time since a dirt bike accident led to a sprained AC joint in his pitching shoulder and bruised ribs. The left-hander made four starts, going 0-3 with a 3.00 ERA, before crashing his bike during a day off in Colorado. He'll face the Padres and right-hander Jhoulys Chacin (8-7,4.32) in San Diego.
STAR QUALITY
On the second day back from the All-Star break, eight starting pitchers selected for the Midsummer Classic get their initial assignments of the second half. Among them are American League starter Chris Sale, who pitches for Boston against fellow All-Star Luis Severino and the Yankees, and National League counterpart Max Scherzer, who starts for Washington vs. Cincinnati. Other All-Stars on the mound are Michael Fulmer (Tigers) , Ervin Santana (Twins) , Jason Vargas (Royals) , Corey Kluber (Indians) and Alex Wood (Dodgers) .
TIME TO SHOP?
The Yankees are approaching the non-waiver trade deadline with holes opening faster than they can fill them. Starter Michael Pineda is mulling over what would be season-ending surgery for a partial ligament tear in his pitching elbow, and first baseman Greg Bird may require surgery for a right ankle issue. One of the top starting pitchers on the trade market, Jose Quintana, has already been moved from the White Sox to the Cubs, but hurlers like Sonny Gray or Gerrit Cole may still be available. New York did pick up minor league slugger Garrett Cooper from the Brewers on Thursday and started him at first base Friday for his big league debut, but they may still pursue a more proven option at first.
LOOKING FOR WORK
Anyone need a third baseman? Kung Fu Panda is available. Boston designated Pablo Sandoval for assignment on Friday, cutting its losses on the $95 million free agent who was never productive or healthy enough to replicate the popularity - or World Series success - he had in San Francisco. The Red Sox have seven days to trade or release the 30-year-old Sandoval, just activated from the disabled list after recovering from an inner ear infection. A two-time All-Star, Sandoval was the MVP of the 2012 World Series with the Giants. But left shoulder surgery sidelined him for almost the entire 2016 season, and he managed only 14 homers in 161 games over 2 1/2 seasons with Boston.
___
More AP baseball: https: //apnews.com/tag/MLBbaseball
Copyright 2017 The Associated Press. All rights reserved. This material may not be published, broadcast, rewritten or redistributed.

LEADING OFF: Bumgarner back from crash, All-Stars aplenty
charlotteobserver.com
LEADING OFF: Bumgarner back from crash, All-Stars aplenty
cbs46.com
WASHINGTON (AP) - The White House says worsening tax revenues will cause the budget deficit to jump to $702 billion this year. That's a $99 billion spike from what was predicted less than two months ago.
The report from the Office of Management and Budget comes on the heels of a rival Congressional Budget Office analysis that scuttled White House claims that its May budget, if implemented to the letter, would balance the federal ledger within 10 years. The OMB report doesn't repeat that claim and instead provides just two years of updated projections.
The White House budget office also says the deficit for the 2018 budget year that starts on Oct. 1 will increase by $149 billion to $589 billion. But lawmakers are already working on spending bills that promise to boost that number even higher by adding to Trump's Pentagon proposal and ignoring many of Trump's cuts to domestic programs.
Last year's deficit registered $585 billion.
The White House kept the report to a bare-bones minimum and cast blame on "the failed policies of the previous administration."
"The rising near-term deficits underscore the critical need to restore fiscal discipline to the nation's finances, " said White House budget director Mick Mulvaney. "Our nation must make substantial changes to the policies and spending priorities of the previous administration if our citizens are to be safe and prosperous in the future."
In late May, Trump released a budget plan proposing jarring cuts to domestic programs and promising to balance the budget within a decade. But it relied on rosy predictions of economic growth to promise a slight surplus in 2027. Trump's budget, however, left alone Social Security retirement benefits and Medicare, though House Republicans are poised next week to again propose cutting Medicare as they unveil their nonbinding budget outline.
CBO says that Trump relied on far too optimistic predictions of economic growth and that Trump's rosy projections are the chief reason his budget doesn't balance as promised.
Trump's budget predicts that the U. S. economy will soon ramp up to annual growth in gross domestic product of 3 percent; CBO's long-term projections predict annual GDP growth averaging 1.9 percent.
Copyright 2017 The Associated Press. All rights reserved. This material may not be published, broadcast, rewritten or redistributed.

White House says budget deficit to be $99B higher this year
thenewstribune.com
White House says budget deficit to be $99B higher this year
wtop.com
ATLANTA (AP) — The Arizona Diamondbacks had their comeback mojo working.
The Braves had Freddie Freeman, who has been as productive as ever since missing 44 games with a fractured wrist.
Freeman homered and had the decisive hit off Archie Bradley in Atlanta's two-run eighth inning to lead the Braves past the Diamondbacks 4-3 on Friday night.
Freeman has three homers in seven games since coming off the disabled list on July 4.
The biggest hit for the left-handed hitting Freeman was the line drive to left field against the shift with runners on second and third in the eighth.
"If there's a guy in scoring position and there's a hole over there, I'm going for it every time, " Freeman said.
Diamondbacks manager Torey Lovullo said he considered walking Freeman.
"We believe in Archie and Freeman just beat us, " Lovullo said. "We thought about it, but we thought Archie was the guy to get us out of the mess."
The Diamondbacks lead the majors with 29 comeback wins and were in position for No. 30 when Chris Owings scored the tiebreaking run on a wild pitch in the eighth.
The Braves answered quickly against Bradley (3-2) . Ender Inciarte beat second baseman Brandon Drury's throw to first for an infield single and raced to third on Brandon Phillips' double into the right-field corner.
Freeman's single to left easily scored Inciarte. Phillips tripped when rounding third base but then scored when the throw from the outfield went to second base. Freeman was credited with one RBI. There was no error on the play.
Arizona's Paul Goldschmidt hit his 21st homer.
Freeman has a hit in each of his seven games since coming off the DL and is hitting .352.
"He's special and we all know that, " Braves manager Brian Snitker said. "He just keeps doing it and has all year."
Rex Brothers (1-0) recorded the last out in the eighth. Jim Johnson pitched the ninth for his 20th save in 27 chances. He had defensive help when Inciarte caught up to A. J. Pollock's drive at the center-field wall to start the inning.
The Diamondbacks have lost six of seven and nine of 12. Taijuan Walker allowed two runs in six innings.
The Braves scored a run off Walker in the first when Inciarte led off with a double to left field and scored on a two-out single by Matt Kemp.
The Diamondbacks tied it with four straight singles off R. A. Dickey in the sixth. Daniel Descalso's grounder up the middle drove in Owings.
With one out and the bases loaded, Walker, who had thrown 85 pitches, was left in the game. He hit into an inning-ending double play.
TRAINER'S ROOM
Diamondbacks: RHP J. Hoover (right shoulder inflammation) allowed one run and two hits with two strikeouts in one inning for Class A Kane County on Thursday. ... RHP Rubby De La Rosa (right shoulder inflammation) is scheduled to pitch one inning in a rookie league game on Saturday.
Braves: RHP Jason Motte was placed on the 10-day DL with a back strain. He suffered the injury warming up in Sunday's game at Washington. ... OF Danny Santana (bacterial infection) has been cleared by doctors and could be activated on Monday after playing with Triple-A Gwinnett this weekend. ... RHP Arodys Vizcaino (right index finger strain) threw in the bullpen and could be close to coming off the DL. ... Snitker said IF/OF Sean Rodriguez (left shoulder surgery) is "doing really well" while playing several positions with Gwinnett. Rodriguez, who missed the first half of the season, will be evaluated following the weekend.
CHASING A BONE
Dickey allowed a run over six innings and has a 1.09 ERA in his last five starts. He endured an embarrassing play in the first when Goldschmidt's grounder bounced off his glove and dribbled toward third base. Dickey took after the ball — on all fours.
"I missed it and crawled after it, " Dickey said. "I was like a dog chasing a bone. It was horrible."
KEY MOMENT
With one out and the bases loaded in the sixth, Walker, who had thrown 85 pitches, was left in the game. He hit into an inning-ending double play.
UP NEXT
Diamondbacks: LHP Patrick Corbin (6-9,4.71) will try to extend his streak of 25 2/3 scoreless innings in his career against the Braves. The streak covers five games, including three starts.
Braves: RHP Mike Foltynewicz (7-5,3.77) is 0-1 with a 6.17 ERA in four career starts against Arizona.
___
More AP baseball: https: //apnews.com/tag/MLBbaseball
Copyright 2017 The Associated Press. All rights reserved. This material may not be published, broadcast, rewritten or redistributed.

Freeman, Braves rally in 8th to beat Diamondbacks 4-3
rssfeeds.usatoday.com
Freddie Freeman propels Atlanta Arizona Braves past Diamondbacks
upi.com
Former U. S. Attorney General Eric Holder is the keynote speaker at an annual North Carolina Democratic dinner where his new work making party inroads through redistricting will get attention given current state litigation.
Gov. Roy Cooper was also expected to address Saturday night's crowd at the party's Unity Dinner at N. C. State University.
Holder is now leading the National Democratic Redistricting Committee, which is trying to create better outcomes for the party during redistricting after the 2020 census.
Republicans benefited from the 2011 redistricting in North Carolina — considered one of the committee's targeted states. Lawsuits struck down North Carolina congressional and legislative boundaries last year. A federal court will soon decide when General Assembly maps must get redrawn and whether a special election is needed.
Sign up today for a 30 day free trial of unlimited digital access.

Eric Holder speaking at North Carolina Democrats' dinner
newsobserver.com
Eric Holder speaking at North Carolina Democrats' dinner
washingtontimes.com
With the winning run on second base as he stepped into the batter's box in the bottom of the ninth, Pittsburgh Pirates first baseman Josh Bell could feel his heart racing.
The rookie tried to get his breathing under control but couldn't. Adrenaline won out. The Pirates, too.
Bell sent a 1-2 pitch from St. Louis Cardinals closer Seung Hwan into the seats in left field to give Pittsburgh a dramatic 5-2 victory Friday night. Bell's 17th home run of the season was also his first walk-off hit in the majors, a show of power that gave the Pirates their sixth win in seven games as they try to climb into the thick of the underwhelming race in the NL Central.
"It was cool, " Bell said. "The lights go off and come back on, you're rounding third and you see all your teammates at home. I haven't had that feeling since Double-A, and the stadium here is a little louder than that."
Adam Frazier led off the inning with a double and Oh intentionally walked Andrew McCutchen with one out. Bell missed badly at the first offering from Oh (1-5) and then took a ball and a called strike before putting the ball into the seats over the outstretched arm of Cardinals left fielder Tommy Pham.
"It was too high. It was a missed pitch, " Oh said.
Bell finished 2 for 3 with four RBIs. Frazier added three hits for Pittsburgh, and Gregory Polanco had two hits and an RBI.
Felipe Rivero (4-2) retired the Cardinals on seven pitches in the top of the ninth.
"That game was a bit of a roller coaster, " Bell said. "Setting the standard the first game of this series and the first game of this homestand was big."
Jedd Gyorko hit a two-run homer in the first inning for the Cardinals, but St. Louis was limited to just four hits the rest of the way against Gerrit Cole and three relievers.
"I thought we did a good job of staying in the ballgame, playing tough and Josh coming up big after putting Andrew on, " Cole said.
Both teams sent their de facto aces out to start the second half of the season in search of some early traction as they try to chase down first-place Milwaukee the wide-open NL Central.
Cole put together a wildly inconsistent first half that mirrored the fortunes of his scuffling team. He came in allowing one run three times in his last seven starts, the same number of times he's allowed seven runs over the same span.
It looked as though it could be another bumpy outing in the first when Gyorko sent a 3-2 slider into the seats in right-center field to give the Cardinals an early 2-0 lead. Cole settled down immediately, allowing just two more baserunners over six innings of work, striking out four without issuing a walk.
Mike Leake wasn't quite as crisp. He retired the Pirates in order just once in five innings, allowing an RBI single to Bell in the fourth and another to Polanco in the fifth that tied the game, capping a two-out rally created by a rare bout of wildness from Leake, who walked the bases full. He struck out Francisco Cervelli to keep the game even.
Leake left after five, giving up two runs on seven hits with three strikeouts and five walks, his highest total since May 22,2015, while pitching for Cincinnati. Leake hinted plate umpire Jerry Layne's strike zone was part of the problem.
"It wasn't consistent, " Leake said. "If you have a consistent zone, it's all right."
TRAINER'S ROOM
Cardinals: Placed OF Randal Grichuk (lower back strain) on the 10-day disabled list and recalled OF Jose Martinez from Triple-A Memphis. Martinez hit.280 with five home runs and 17 RBIs in 50 games with St. Louis this season. ... St. Louis also activated reliever Kevin Siegrist (cervical spine sprain) off the disabled list. ... RF Stephen Piscotty left in the bottom of the ninth after straining his right groin while making a throw from the outfield. He was replaced by Martinez.
UP NEXT
Cardinals: RHP Lance Lynn (7-6,3.61 ERA) is coming off seven shutout innings in a victory over the New York Mets last weekend. Lynn is 6-6 with a 4.76 ERA against the Pirates.
Pirates: RHP Jameson Taillon (5-2,2.73) will make his third career start against the Cardinals on Saturday. Taillon is 3-1 with a 1.98 ERA since returning from treatment for testicular cancer. He was scratched from his scheduled start last Sunday against the Cubs after getting food poisoning.
Sign up today for a 30 day free trial of unlimited digital access.

Pirates fan chucks Cardinals HR ball into river
rssfeeds.usatoday.com
Major league roundup: Dodgers extend winning streak
pressherald.com
Puig hits 3-run homer in 9th to help Dodgers beat Miami 6-4
charlotteobserver.com
Republicans are not in the position to lose votes if they hope to repeal ObamaCare, so pressure is being placed on senators like Sen. Dean Heller, R- Nev., to declare allegiance on the newly crafted bill.
If Heller supports the bill, he would likely be parting ways with Nevada's popular GOP Gov. Brian Sandoval in a state that did not support President Donald Trump in the 2016 presidential election.
But if he opposes the bill, conservative groups will likely come after them like they did earlier this year after he opposed the GOP's initial health care bill.
And Democrats plan to target his seat either way in next year's mid-term elections.
Trump on Friday tweeted encouragement to Republicans on the Hill to "do what is right for the people" and get their "failed ObamaCare replacement approved."
Trump declared a day earlier that failure would make him "very angry" and that he would blame Senate Majority Leader Mitch McConnell, R-Ky.
"I will be at my desk, pen in hand!" Trump tweeted.
The reworked bill Sen. Mitch McConnell presented to fellow Republicans aims to win conservatives' support by letting insurers sell low-cost, skimpy policies. At the same time, he seeks to placate hesitant moderates by adding billions to combat opioid abuse and help consumers with skyrocketing insurance costs.
Fox News' Sean Hannity took aim Thursday night at Republican senators who expressed skepticism of or opposition to the revised health care measure that would repeal and replace ObamaCare.
"You made us a promise, the American people, for seven years. You guaranteed you' d end ObamaCare, " the "Hannity" host said. "You assured all of us you would develop a health care bill that actually worked for the American people. Stop your whining, roll up your sleeves, get to work, put your egos aside, get it done."
Last month, a pro-Trump group reportedly planned to launch the seven-figure ad campaign against Heller.
Heller is up for re-election in 2018 and is considered one of the most vulnerable GOP senators.
"Obamacare is collapsing. This is a crisis for the American people. There is no excuse for any Republican or Democrat to oppose the Senate health care bill outright, " Brian Walsh, president of the group, said in a statement at the time. "Senator Heller ... appears to be heading down a path with Nancy Pelosi, Chuck Schumer and the radical left."
The Associated Press contributed to this report

Heller facing hot seat on GOP health care bill decision
charlotteobserver.com
Heller facing hot seat on GOP health care bill decision
wtop.com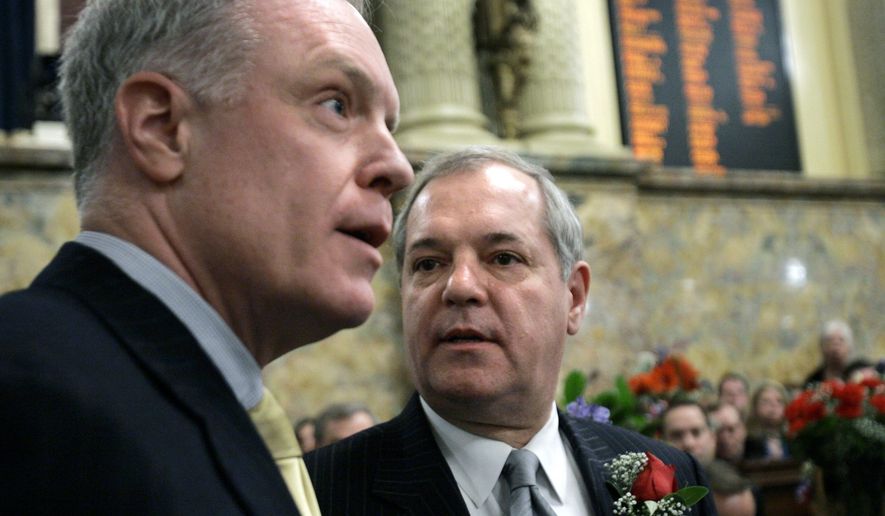 PITTSBURGH (AP) - Webster's dictionary defines "prowess" as having knowledge or expertise about a particular activity or field.
So it's no surprise that former Pennsylvania House speaker Bill DeWeese, known for his flamboyant vocabulary, chose the word when naming the one-man lobbying shop he launched this year in Harrisburg .
The former Greene County Democrat served 36 years in the state House before his 2012 felony conviction for using state resources for political gain. He now enjoys prowling the halls of Harrisburg on behalf of union clients.
"As a former member who served over three and a half decades - about two-thirds of that time as the Democratic leader - I do find it a fun and jovial challenge to make strenuous entreaties to an overwhelmingly robust Republican majority in both chambers, " DeWeese said.
Numerous former lawmakers, legislative staff and cabinet officials in Washington, D. C., and state capitals across the country have turned to lobbying. Pennsylvania requires a one-year waiting period before lawmakers and agency officials can begin lobbying former colleagues.
DeWeese is among a small group of Pennsylvania lawmakers-turned-lobbyists who spent the waiting period behind bars. Others include former House Speaker John Perzel, R-Philadelphia, House Democratic Whip Mike Veon of Beaver County and Senate Majority Leader Joe Loeper of Delaware County - all of whom left office for prison after being convicted of abuses of power.
That distinction draws winces in some circles.
Barry Kauffman, the former executive director of Pennsylvania Common Cause, said he attempted to persuade lawmakers to ban former public officials convicted of felonies from lobbying state officials - first after Loeper returned as a lobbyist and then a decade ago when the last major series of legislative indictments came down against leaders including DeWeese, Veon and Perzel .
"I worked to achieve an amendment to the lobbyist disclosure law so a person could not be a lobbyist for pay and take advantage of the system they had abused, if they had been convicted of misfeasance, malfeasance or abuse of power, " Kauffman said. "But it never gained much traction."
Bryn Mawr lawyer Mark Schwartz, a onetime aide to late House Speaker K. Leroy Irvis, urged lawmakers to act in a 2014 letter to former Gov. Tom Corbett and legislative leaders. He said permitting lawmakers convicted of abuses of power to become lobbyists promotes a culture of corruption.
"I really think the reason Pennsylvania is so corrupt is these guys get a pay increase by becoming lobbyists. It's like no big deal. It's a rite of passage. You start as a reformer, you get co-opted by the money and perks, you get caught, and then come back as a lobbyist, " Schwartz said. "I resigned from the Trial Lawyers Association when they hired Joe Loeper as a lobbyist."
Loeper, a Delaware County Republican, served in the Senate from 1979 through 2000, when he was sentenced to six months in prison for federal income tax fraud. Prosecutors said he attempted to hide some $300,000 in outside income.
The 73-year-old popular former lawmaker created a template others could hope to follow when he returned to Harrisburg as a lobbyist and promptly attracted a slew of clients, including charter schools, universities and energy and insurance companies, among others.
Loeper did not return a call for comment, nor did Perzel - who now lobbies for charter schools - or Veon, who represents the International Brotherhood of Electrical Workers.
DeWeese serves as a lobbyist for the United Food and Commercial Workers union that represents thousands of employees of the Pennsylvania Liquor Control Board. He estimates he spends 45 to 50 weeks a year in the Capitol, staying busy during Republican-led efforts to dismantle the state-controlled wine and spirits system.
Randy Haynie, of Louisiana-based Haynie & Associates and president of the National Association of State Lobbyists, said he is not familiar with any Pennsylvania lawmakers who turned to lobbying after prison. But that in and of itself should not disqualify someone from the trade, he said.
"I think everybody has a right to go on and make a living, no matter what's happened in their past, if they are doing it properly, legally, ethically and doing a good job. They have to have a profession, " Haynie said.
The numbers alone suggest that lobbying is a profession in which former lawmakers can thrive.
While former lawmakers with criminal records may comprise only a tiny minority of the profession, Haynie estimated that about 20 percent of the governmental affairs professionals, as lobbyists prefer to be called, in Washington, D. C., are former members of Congress, while about 15 percent of those who lobby statehouses around the country are former lawmakers or executive-level staffers.
Insiders say former lawmakers and high-level staffers have the advantage of knowing the lay of the land.
David Hess, a former top environmental official under governors Tom Ridge and Mark Schweiker, said it's hard to break into lobbying without the right experience.
"The General Assembly could be a foreign country if you don' t know the customs, the language, the idiosyncrasies, " said Hess, who lobbies on environmental issues at Crisci Associates in Harrisburg . "You can certainly teach that to someone, but you' d be much further ahead to hire someone who's had some experience in those customs."
The demand for such expertise has mushroomed in recent decades as every sector from business and industry to energy and higher education strives to gain traction and reap rewards from government.
"Today, everybody has somebody other than their elected officials watching every word put on every sheet of paper, " Haynie said. "Legislators today have more information to make a decision than they ever have had. Now multiple people are giving information to legislators. Legislators are getting more information on both sides of a bill."
Mike Manzo, who was DeWeese 's chief of staff before pleading guilty and becoming a pivotal witness in the state's "Bonusgate" prosecution, said hiring former lawmakers and staff is an advantage for clients seeking influence in the legislative process.
"If you' re looking for someone to champion your issue in the halls of state government, you want someone who worked in the halls of state government, " Manzo said.
While DeWeese, Veon and Perzel boast only a handful of clients, Manzo has flourished in his new profession. He is a registered lobbyist and vice president of strategic engagement at Triad Strategies, one of Harrisburg 's most-active government affairs firms.
Manzo said his advantage comes from "having grown up inside the building" and learning how to successfully navigate the convoluted processes and work the levers of the capitol machinery.
"I' ve seen all the points you have to touch to be successful, " he said.
___
Online:
http: //bit.ly/2tFWxLo

Convicted ex-lawmakers enjoy access as lobbyists
charlotteobserver.com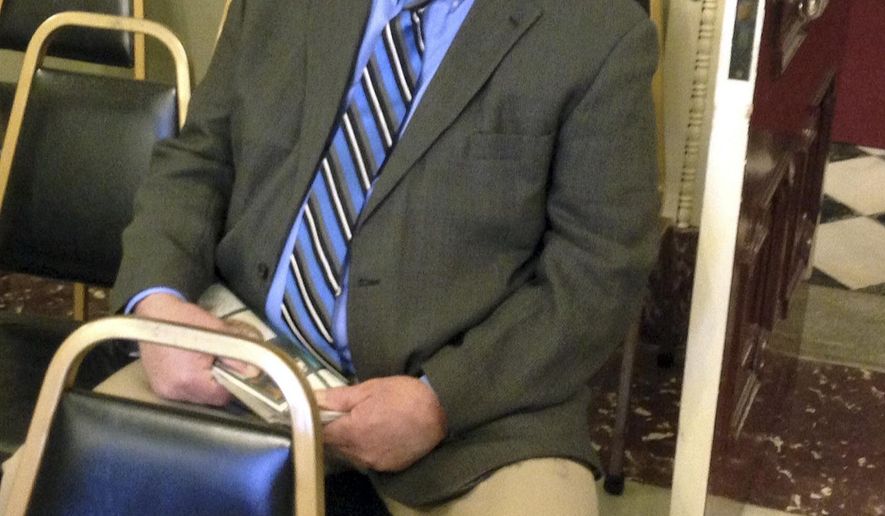 The Latest: Ex-lawmaker guilty of 1 count in sex crime trial
washingtontimes.com
Convicted ex-lawmakers enjoy access as lobbyists
thenewstribune.com
A 51-year-old motorcyclist died late Friday when he crashed into an SUV on the Far South Side, according to Chicago Police.
At 10: 51 p.m., the man was riding the motorcycle east in the 3200 block of East 95th Street when he struck the driver's side of an SUV that was making a U-turn, police said. He was pronounced dead at the scene.
No other injuries were reported in the crash, police said.
The police Major Accidents Investigation Unit is investigating the crash.

Police: 9-year-old boy killed, man wounded in Far South Side shooting
chicago.suntimes.com
Police: Distracted driving crash kills woman, child
rssfeeds.detroitnews.com
2 men wounded in East Side drive-by shooting
chicago.suntimes.com
Driver who left scene of Woodlawn crash sought by police
chicago.suntimes.com
An appellate court has upheld a judge's dismissal of a lawsuit filed by a former Roosevelt County sheriff's deputy who claimed he was wrongfully terminated.
The 10th U. S. Circuit Court of Appeals' ruling Wednesday upholds a magistrate judge who dismissed Robert Ellison's suit alleging his firing violated his constitutional rights to free speech, due process and equal protection.
Ellison contends he was fired after he was falsely accused of mishandling a traffic stop and related arrest and after he reported alleged wrongdoing by another deputy.
The 10th Circuit says Ellison's report of the other deputy's alleged wrongdoing was part of his official duties and not free speech protected from discipline.
The ruling also said a supervisor's criticism of Ellison's handling of the traffic stop and arrest didn't violate Ellison's rights.
Sign up today for a 30 day free trial of unlimited digital access.

Appeals court upholds dismissal of former deputy's lawsuit
charlotteobserver.com
Appeals court upholds dismissal of former deputy's lawsuit
washingtontimes.com
Teams always seek more pitching before the trade deadline.
Whether its aces, closers, back-of-the rotation starters or middle relievers, new arms are welcome in every clubhouse.
Of the 10 teams sitting in postseason spots at the All-Star break, eight clubs are in the top 10 in ERA.
Yes, pitching is that important.
The defending World Series champion Chicago Cubs already bolstered their rotation by acquiring 2016 All-Star Jose Quintana from the White Sox on Thursday.
Here are 10 more pitchers who could be changing teams before the July 31 non-waiver deadline:
Gerrit Cole, Pittsburgh Pirates, RHP: Cole has struggled since going 19-8 with a 2.60 ERA in 2015. He's 7-7 with a 4.43 ERA, but he's only 26 and won't be a free agent until 2020. His upside, age and contract could bring the Pirates a hefty return.
___
Jeremy Hellickson, Philadelphia Phillies, RHP: Hellickson is 5-5 with a 4.49 ERA after starting the year 4-0. He's making $17.2 million and will be a free agent after the season so it won't take too much to get him from the rebuilding Phillies.
___
Scott Feldman, Cincinnati Reds, RHP: Feldman is 7-6 with a 3.94 ERA. He's 34 and will be a free agent after the season. Feldman pitched well out of the bullpen for Houston last season so he's a nice fit for a contender that needs a starter who could pitch in relief in a postseason series.
___
Sonny Gray, Oakland A's, RHP: Gray is 10-15 with an ERA approaching five the past two seasons after winning 14 games in 2013 and 2014. But he's been outstanding in his last four starts — 1.33 ERA, 21 strikeouts, 11 hits in 27 innings. The 27-year-old won't be a free agent until 2020, so he's another starter who can find a new home and be part of the rotation for a few years.
___
Edinson Volquez, Miami Marlins, RHP: Volquez is 4-8 with a 4.19 ERA after signing a two-year, $22 million contract. The well-traveled veteran has postseason experience and won a World Series with the Royals two years ago.
___
Pat Neshek, Philadelphia Phillies, RHP: Neshek was one of the best relievers in the first half, posting a 1.27 ERA and earning his second trip to the All-Star Game. He has 36 strikeouts and only five walks in 35 1/3 innings. The 36-year-old will be a free agent after the season. He can pitch the seventh, eighth or ninth innings.
___
Brad Hand, San Diego Padres, LHP: Hand has a 2.30 ERA in 42 appearances but he's more than a lefty specialist. He pitched a scoreless inning in the All-Star Game and has been one of the most consistent relievers in baseball the last two seasons.
___
Addison Reed, New York Mets, RHP: The big righty has 15 saves, a 2.53 ERA and is versatile. Reed had 101 saves from 2012-14 and can close or pitch in the late innings. He'll be a free agent after the season.
___
Drew Storen, Cincinnati Reds, RHP: Storen has rebounded nicely after a tough season in the American League. He has a 2.72 ERA in 38 appearances and has been a successful closer in the past.
___
David Robertson, Chicago White Sox, RHP: Robertson is the best closer on the market. He has 13 saves this season and 123 saves since 2014. His contract, which has one year at $13 million remaining, might be a deterrent for some teams.
___
More AP Baseball: https: //apnews.com/tag/MLBbaseball
Copyright 2017 The Associated Press. All rights reserved. This material may not be published, broadcast, rewritten or redistributed.

Pitching at premium before trade deadline; Who might move?
charlotteobserver.com
Teams looking to boost lineup have options on trade market
rssfeeds.usatoday.com
Pitching at premium before trade deadline; Who might move?
wtop.com
The Latest on the investigation into the killings of four Pennsylvania men (all times local) :
1: 10 a.m.
A marijuana dealer says in court documents he killed four men on his family's Pennsylvania farm, shooting one of them and crushing him with a backhoe and trying to set three of the bodies on fire in a metal bin.
Cosmo DiNardo confessed Thursday and says in court papers filed Friday he wanted to set the victims up when they went to the farm to buy marijuana from him.
His cousin also is charged in the killings of the men, who included a Maryland college student.
___
3: 50 p.m.
Two cousins facing homicide charges in the disappearances of four missing Pennsylvania men will be held without bail.
A judge ruled Friday that 20-year-old Cosmo DiNardo and 20-year-old Sean Kratz will be jailed separately after prosecutors argued the men were dangers to society.
DiNardo's lawyer said his client confessed to the murders in exchange for prosecutors agreeing to not seek the death penalty. He is charged in the deaths of all four men.
Prosecutors are still weighing whether to pursue capital punishment against Kratz, who is charged with three counts of homicide.
A criminal complaint alleges the defendants brought the victims to the farm ostensibly to buy marijuana from DiNardo.
All four victims were shot and at least three set afire.
___
2: 20 p.m.
Authorities say they have identified the remains of four young men who were killed on a Pennsylvania farm and found buried there in two separate pits.
A county prosecutor said Friday that the bodies of Tom Meo, Dean Finocchiaro and Mark Sturgis were found buried 12 feet deep in one common grave in Solebury. The remains of Jimi Taro Patrick were recovered from a separate location on the farm.
All four vanished a week ago.
Twenty-year-old Cosmo DiNardo is charged in all four killings, which took place on a farm owned by his parents. His cousin Sean Kratz is charged in the killing of the three men found in the same grave.
A criminal complaint alleges the defendants brought the victims to the farm ostensibly to buy marijuana from DiNardo.
All four were shot and least three set afire. Police say DiNardo ran over Meo with a backhoe after running out of ammunition shooting at him.
___
1: 10 p.m.
A man who confessed to killing four Pennsylvania men who disappeared last week has been charged with four counts of homicide. And a second man has been accused of participating in three of the slayings.
Prosecutors filed the charges Friday against Cosmo DiNardo and Sean Kratz.
DiNardo's lawyer admitted Thursday his client's role in the four slayings. Kratz was arrested later the same day in Philadelphia.
DiNardo faces four criminal homicide counts and Kratz three. They both face multiple counts of conspiracy, robbery and abuse of corpse.
All four victims are believed buried on a farm property in Solebury, Pennsylvania, owned by DiNardo's family.
DiNardo's lawyer says his client is remorseful and led investigators to the men's remains.
Sean Kratz's mom, Vanessa, declined to comment on arrest of her son.
___
1: 30 a.m.
A person with firsthand knowledge of a drug dealer's confession to killing four young Pennsylvania men says the man killed them after he felt cheated or threatened during three drug transactions and then burned their bodies.
The person spoke to The Associated Press on condition of anonymity because he was not authorized to publicly discuss details of the case against 20-year-old Cosmo DiNardo.
The details were provided after one of DiNardo's lawyers said Thursday that DiNardo had confessed to killing the men and had told investigators where their bodies were. The lawyer says prosecutors agreed to take the death penalty off the table in return for DiNardo's cooperation.
The Bucks County District Attorney's Office had no response to the lawyer's comments Thursday night. Authorities are expected to release additional information Friday morning.
Sign up today for a 30 day free trial of unlimited digital access.

The Latest: Authorities: Pot dealer says he killed 4 men
miamiherald.com
Papers reveal pot dealer's grisly confession to 4 slayings
news9.com
Washington - The Pentagon says that U. S. forces killed the head of the Islamic State group affiliate in Afghanistan in an airstrike in Kunar province earlier this week.
Defense Secretary Jim Mattis says that killing Abu Sayed is significant because the loss of leadership sets insurgent groups back for days or weeks.
IS in Afghanistan is known as the Islamic State-Khorasan group. The U. S. and Afghan forces launched an offensive against the IS group in early March, as the militants were gaining a foothold in eastern Afghanistan.
Mattis tells Pentagon reporters that taking out a leader creates disarray in the ranks. He declines to provide any additional details on the strike.
A chief Pentagon spokesperson, Dana White, says that Abu Sayed was killed on Tuesday along with other members of the group.

Head of ISIS in Afghanistan killed: Pentagon
nypost.com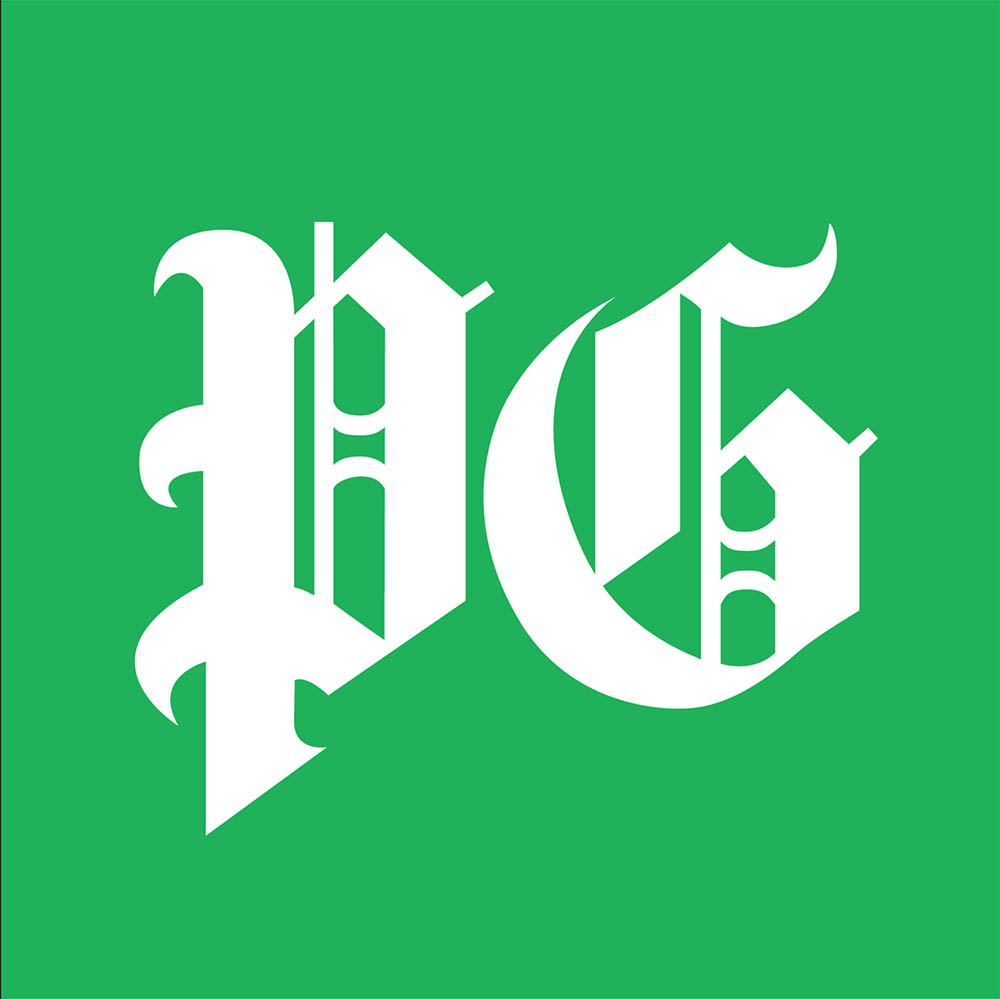 World briefs: Drone kills head of IS in Afghanistan
post-gazette.com
Highlights from the weekly AP photo report, a gallery featuring a mix of front-page photography, the odd image you might have missed and lasting moments our editors think you should see.
This week's gallery features images of police confronting protesters in Santiago, Chile; a wildfire consuming a home near Oroville, California; and the sun setting in war-torn Mosul, Iraq.
___
This gallery contains photos published July 8-14,2017.
See the latest AP photo galleries: http: //apne.ws/TXeCBN
The Archive: Top photo highlights from previous weeks: http: //apne.ws/13QUFKJ
___
Follow AP photographers on Twitter: http: //twitter.com/AP/lists/ap-photographers
Follow AP Images on Twitter: http: //twitter.com/AP_Images
Visit AP Images online: http: //www.apimages.com http: //www.apimages.com/
Sign up today for a 30 day free trial of unlimited digital access.

AP PHOTOS: A selection of pictures from the past week
townhall.com
AP PHOTOS: A selection of pictures from the past week
wtop.com
Out of the spotlight, a House panel has taken steps to help victims of gun violence, allow robust politicking from the pulpit, and prevent doctors in the District of Columbia from helping terminally ill people commit suicide.
The Republican-led House Appropriations Committee passed a $20 billion spending bill Thursday to fund the Treasury Department, the Judiciary and other federal agencies.
Quietly tucked inside were numerous provisions that have little to do with funding the federal government. These are called riders. Some are controversial while others are bipartisan. Many will be discarded when Republicans and Democrats negotiate a final spending package this fall — though some will survive.
The bill now goes to the full House. A look at some of the provisions:
___
YOUNG IMMIGRANTS
The bill would allow young immigrants enrolled in former President Barack Obama's Deferred Actions for Childhood Arrival program to apply for jobs with the federal government.
Rep. Pete Aguilar, D-Calif., said young people brought into the country as children "identify as Americans." For many, he said, the U. S. is the only country they have ever called home.
"Denying Dreamers the opportunity to serve their community and country through public service stands in stark contrast to our nation's core values, " Aguilar said, using a nickname applied to people enrolled in the DACA program.
The DACA program gives hundreds of thousands of young people illegally brought into the U. S. as children a work permit and protection from deportation.
Roy Beck, president of NumbersUSA, said Americans will be outraged to learn that people in the U. S. illegally would be able to compete for federal jobs.
"So much for Republican promises of making decisions that put American workers first, " Beck said.
President Donald Trump pledged as a candidate to "immediately end" the DACA program. But as president, he has said that class of immigrants will not be targets for deportation. He said his administration is "not after the Dreamers, we are after the criminals."
___
POLITICAL CHURCHES
One provision prevents the IRS from enforcing a 63-year-old law that prevents churches and other nonprofits from backing political candidates. Under the law, nonprofits could lose their tax-exempt status if they get directly involved in political campaigns, either by donating to them or publicly endorsing candidates.
The law doesn't stop religious groups from weighing in on public policy or organizing in ways that may benefit one side in a campaign.
The provision forbids the IRS from spending money to enforce the law against "a church, or a convention or association of churches, " unless the IRS commissioner signs off on it and notifies Congress.
___
ASSISTED SUICIDE
The bill would prohibit funding for doctor-assisted suicide in the District of Columbia. It also repeals the DC Death with Dignity Act.
In December, Mayor Muriel Bowser signed a law that makes it legal for doctors to prescribe fatal medication to terminally ill residents.
Congress granted District residents an elected mayor and legislature in 1973, though Congress retained broad authority over the city, including the ability to block local laws.
The House Oversight Committee passed a bill earlier this year to block the assisted-suicide law, but the deadline passed for Congress to act.
On Thursday, the appropriations committee adopted an amendment by Rep. Andy Harris, R-Md., that tries to stop the law by blocking money to implement it.
___
GUN VIOLENCE
The bill encourages states to use funding from the Crime Victims Fund to establish or expand hospital-based programs that help victims of gun violence.
Under such programs, gunshot victims receive counseling at hospitals to help them access community services and avoid getting shot again.
"This provision will not only allow more firearms assault victims to receive the services they need, it will save lives in at-risk communities, " said Robin Lloyd of Americans for Responsible Solutions, the group started by former Rep. Gabrielle Giffords, who was seriously wounded in a 2011 shooting in Tucson, Arizona.
___
REPEAL DODD-FRANK
The bill takes aim at the Consumer Financial Protection Bureau, which was created under the Dodd-Frank Act in the wake of the economic crisis. The agency gets funding from the Federal Reserve, a move designed to promote independence. House Republicans want Congress to control the agency's purse strings, which would give lawmakers greater say over manpower and priorities.
The bill would also strip the agency of its primary enforcement tool, the authority to go after lenders and debt collectors that it determines have engaged in unfair, deceptive or abusive practices. The agency has used that authority to return billions of dollars to consumers.
___
Associated Press writer Kevin Freking contributed to this report.
Sign up today for a 30 day free trial of unlimited digital access.

House using appropriations bill to work on guns, churches
washingtontimes.com
House using appropriations bill to work on guns, churches
wtop.com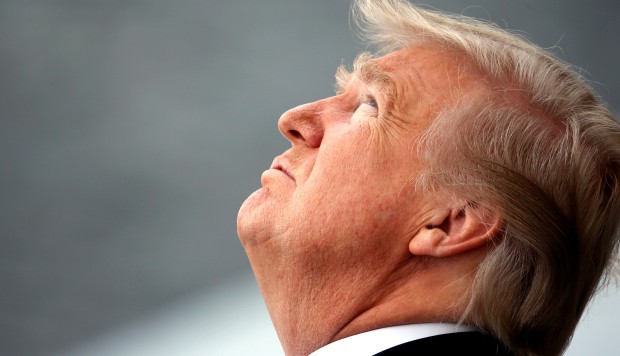 As Air Force One flew home from Europe, news was set to break about a meeting that US President Donald Trump's eldest son had with a Kremlin-connected lawyer, promising yet another round of unwelcome headlines about the president and Russia. And that happened twice within a week.
The day-after-day drip-drip-drip of revelations over the past week about Donald Trump Jnr's contact with the Russian lawyer in 2016 underscores the White House's inability to shake off the Russia story and close the book on a narrative that casts a shadow over Trump's presidency.
No matter how presidential Trump may have looked on his back-to-back trips to Europe in recent days, the persistent questions about connections between Trump's team and Russia prevent him from savouring a public relations victory and building momentum for his stalled legislative agenda.
"No successful crisis management model works the way they are doing things, " said Lanny Davis, who worked as special counsel to Bill Clinton during his impeachment hearings. "If your mission is to control a story or try to end a story, you need to tell it early, tell it all and tell it yourself."
Trump Jnr's account of his Trump Tower meeting has seemingly changed on an almost daily basis. At first, the meeting was said to be about a Russian adoption programme. Then, it was to hear information about campaign rival Hillary Clinton. Finally, Trump Jnr was forced to release emails – mere moments before The New York Times planned to do so – that revealed he had told an associate that he would "love" Russia's help in obtaining negative details about the Democratic nominee.
Even the number of people who attended the meeting has changed. On Friday, a prominent Russian-American lobbyist revealed that he, too, had been part of the discussion.
Each revelation, no matter how small, has been seized upon by Democrats and dissected in detail on cable news.
Davis is credited with helping to steer the Clinton White House through a series of investigations, allowing the president to focus on his agenda while the lawyer shouldered the burden of dumping bad news and keeping West Wing staffers in lockstep in their response. He doesn' t see a central figure doing that for Trump, and believes the president would be well-served to appoint a lawyer within the White House, instead of using a web of external attorneys.
Watch: Trump's rendezvous with Macron overshadowed by son's email
Trump Jnr and Jared Kushner – the president's son-in-law and senior adviser also attended the June 2016 meeting – also have retained attorneys separate from those hired by the president.
"They need to have one lawyer get every person in one room and figure out who knows what. No more surprises, " said Davis, who favours proactively releasing any new findings. "The facts are coming out anyway – only question is whether they come out all at once or a little bit in a time."
The firestorm over Don Jnr's emails has been a frustrating distraction during a stretch in which some White House advisers believed they were finding their footing. Trump's allies also were heartened by his trips to Europe, believing that his speech saluting national pride in Poland was a high point of his presidency and that he appeared statesmanlike during a whirlwind visit to Paris.
But behind the scenes, a group of Trump aides gathered in a cabin on the presidential aircraft flying home from Germany last weekend to begin preparing for the initial fallout from Trump Jnr's 2016 meeting. And then just six days later, as Air Force One was returning from France, more news was breaking about Trump Jnr's shifting account of the meeting, again launching a bad news cycle and straining the credibility of the president's defence team.
For some, the steady drumbeat of Russia revelations echoes how the Watergate story emerged in one Washington Post story after another.
"I think the 'drip-drip-drip' is a perfect analogy, for that's exactly what people said about Watergate and President Nixon's Oval Office tapes, " said Luke Nichter, a historian who has written several books on the former president. "They were released piecemeal and every release was damaging."
Trump vowed 'major speech' on Clinton, hours after son set up Russia meeting. But meeting was a bust and speech never happened
Even if the ongoing Russia questions don' t end in legal consequences for Trump, they can still inflict serious political damage if allowed to needlessly drag out.
"I don' t know that there's anyone powerful enough on the team to marshal this and get all the facts out now, " said Ari Fleischer, former press secretary to President George W. Bush. "Omissions are as harmful as contradictions because it seems like you' re hiding something. From a communications standpoint, it's unforgiveable."

Analysis: Slow leak of Russia news flooding White House
wtop.com
Analysis: Slow leak of Russia news flooding White House
townhall.com
The kid is cursed, or so the story goes. Mike Trout 's talent is being wasted by the Angels, yada, yada.
It's an accurate description of what's happened to the best player in baseball over the last couple of seasons, except here we are in mid-July, two weeks from the nonwaiver trade deadline and the Angels are somehow within arm's reach of a place in the postseason.
This after 46 days on disabled list for Trout, who was activated Friday ahead of the team's first game back from the All-Star break, a 2-1 loss to the Tampa Bay Rays in 10 innings.
"We' re right there in the wild card, " Trout said.
Of course, this isn' t about what the Angels are doing. It's about what the other teams in the American League aren' t.
But, hey, who's complaining?
The baseball gods punished Trout by placing him on an average team. Why shouldn' t they compensate for it by making the competition equally average?
Call it parity, call it mediocrity, but if Trout is playing meaningful games over the last 2½ months of the season, baseball wins.
If he is playing in October, even better.
Trout was enjoying the most productive season of his career when he injured his left thumb, as he was batting .337 with 16 home runs and 36 RBIs through 47 games.
The Houston Astros went into the All-Star break with a 16½-game lead in the AL West, the largest margin in any of baseball's six divisions. The Boston Red Sox and Cleveland Indians are on top of the league's two other divisions.
Beyond that is a group of teams hovering around .500, including the Angels.
The New York Yankees and the Rays were positioned to be the league's two wild-card teams at the All-Star break, with the Angels trailing the Rays by only three games.
The Angels were two games under .500, as after going 19-20 in Trout's absence. They should know soon if they are for real, at least by the AL's modest standards. They will host the Rays through the weekend. They will be visited next week by the NL East -leading Washington Nationals, as well as the Red Sox. The eight-game homestand will be followed by a trip to Cleveland.
Their last game against the Indians is July 27. Their record at the time should dictate whether they are buyers or sellers at the trade deadline.
Trout refrained Friday from publicly pleading with the Angels' front office for reinforcements. Perhaps it was out of political correctness. Or perhaps it was because he recognized the organization doesn' t have many trade chips in its barren farm system.
"As a team, as players, " he said politely, "we can' t control what happens in the front office."
They could win, which would pressure general manager Billy Eppler into making whatever modest upgrades he is capable of making. The Angels don' t have the caliber of prospects to land a front-line pitcher, but they should be able to add an arm to their heavily taxed bullpen.
If Trout's speech reflected a lack of urgency, his play did the opposite. He singled in the third inning, advancing Kole Calhoun to third base. On the next pitch, Trout bolted for second base and made a headfirst slide similar to the one on which he injured his thumb six weeks earlier. Safe.
So if you were wondering, no, Trout isn' t playing scared.
Before the game, he spoke about what it was like to be on the disabled list. He talked about showing up at Angel Stadium when the team was on the road and seeing only the few other players who were also sidelined.
"It's good to come to the ballpark and be able to see your name in the lineup, " he said. "It makes you feel good."
Especially if the games matter. Why they matter isn' t important.

Mike Trout is back, but Angels go down swinging in 2-1,10-inning loss to Rays
latimes.com
Mike Trout returns to lineup as Angels fall to Rays in 10 innings – Orange County Register
ocregister.com
Friday's Mega Millions drawing could make someone mega-rich, thanks to one of the largest lottery jackpots ever.
Here are the winning numbers in the drawing:
11-12-24-32-73; Mega Ball: 01; Megaplier: 4x
The estimated jackpot for the drawing is $217 million. The lump-sum cash option before taxes would be about $133 million.
If no one wins, the Mega Millions jackpot will get even bigger for Tuesday's drawing.
In January, one ticket purchased in California matched the five white balls and Mega ball to win a $188 million jackpot.
According to the game's official website, the odds of winning the jackpot are 1 in 258,890,850.
Players pick six numbers from two separate pools of numbers -- five different numbers from 1 to 75 and one number from 1 to 15 -- or select Easy Pick. A player wins the jackpot by matching all six winning numbers in a drawing.
Jackpot winners choose whether to receive 30 annual payments, each 5 percent higher than the last, or a lump-sum payment.
Mega Millions drawings are Tuesdays and Fridays and are offered in 44 states, Washington D. C. and the U. S. Virgin Islands. Tickets cost $1 each.

Winning numbers drawn in 'Mega Millions' game
miamiherald.com
Winning numbers drawn in 'Mega Millions' game
newsobserver.com
A new muppet is joining the cast of Afghanistan's version of Sesame Street, aiming at showing boys the importance of respecting women.
The introduction of Zeerak to the show follows last year's move to bring in a little girl character, aimed at inspiring girls in the deeply conservative Muslim nation.
Zeerak, whose name means "Smart" in Afghanistan's two official languages, is a four-year-old boy who enjoys studying and learning.
He joins six-year-old sister Zari, whose name means "Shimmering", on Afghanistan's version of the show, Baghch-e-SimSim, or Sesame Garden.
Both muppets wear traditional Afghan clothing - the baggy trousers and long embroidered shirt known as a shalwar kameez for him, and colourful native dresses and a cream-coloured hijab, or headscarf, for her.
They join the rest of Sesame Street's multicultural line-up, which includes muppets specially created for local versions of the programme in Bangladesh, Egypt and India.
Massood Sanjer, the head of TOLO TV, which broadcasts the programme in Afghanistan, said that after the overwhelmingly positive response to Zari from both parents and children, the goal was to create a boy character to emphasise the importance of gender equality and education in a country where the vast majority of girls do not go to school and the literacy rate for women is among the lowest in the world.
Mr Sanjer said: "In a male-dominant country like Afghanistan, I think you have to do some lessons for the males to respect the females. So by bringing a male character to the show who respects a female character, you teach the Afghan men that you have to respect your sister the same way as you do your brother."
In keeping with that goal, Zeerak proclaimed in a recent episode of the programme: "I love Zari so much and as much as I love Zari, I love her friends too."
It is an important message broadcast on a medium with a nationwide reach. While television in Afghanistan is largely restricted to urban areas, Sesame Street is also broadcast on radio in both official languages, Pashtun and Dari, expanding its audience to most of the country.
Both Zari and Zeerak were created in New York and their costumes incorporate fabrics and designs from all of Afghanistan's major ethnic groups to promote inclusiveness in a society racked by decades of conflict.
Afghanistan has been at war for almost 40 years, since the 1979 Soviet invasion and the subsequent mujahedeen war that lasted a decade.
That was followed by a devastating civil war in which warlords drew lines based on ethnicity and killed tens of thousands of people in Kabul alone.
The Taliban took over in 1996, and their five-year rule was one of brutal extremism in which they banned women from work and girls from going to school, confining them to their homes.
The radical Taliban regime was forced from power by the 2001 US invasion that ushered in a democratic experiment and billions of dollars in international aid to help rebuild the country.
Ahmad Arubi, the producer of the local version of Sesame Street, said he is hopeful that the new characters will eventually have a wider audience outside of Afghanistan.
He said: "Possibly, in the coming years other Muslim countries, which are running this program, might use our characters, such as Zeerak and Zari. They might use our scripts, translate them in their own languages and use them in their countries."
AP

New boy muppet in Afghanistan promotes gender equality
townhall.com
New boy muppet in Afghanistan promotes gender equality
wtop.com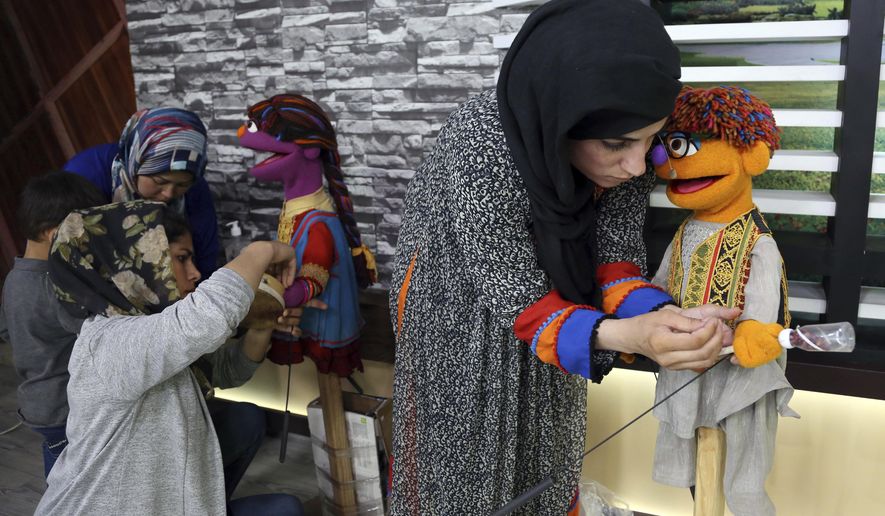 New boy muppet in Afghanistan promotes gender equality
washingtontimes.com
SAN DIEGO (AP) — Just as they're getting ready to welcome back Madison Bumgarner, the San Francisco Giants could be losing Johnny Cueto for at least one start.
Cueto lasted only four innings before being forced out by blisters on his thumb and two fingers on his right hand Friday night, when the Giants got some late runs and a high-wire act from Sam Dyson in the ninth inning to beat the San Diego Padres 5-4. Denard Span singled home the go-ahead run in the sixth and Buster Posey homered an inning later.
Afterward, Cueto had bandages on the tips of his thumb, index finger and middle finger. The right-hander had problems with blisters on two fingers in May.
"Of course I feel different now, " he said through a translator. "I think the best thing for me to do would be to take some time off. I'm not throwing very well and I don't want to hurt myself."
He said he'll have to wait to see how he feels before deciding about his next start.
"Right now it feels bad, " Cueto said. "They feel like they're cut."
Cueto said the blisters are caused by "the baseball. The three fingers, I just can't feel the ball."
He said he thinks baseballs are tighter this year and that this is the first time he's had problems with blisters.
"I just can't explain it. I really don't know what's happening, " he said.
Cueto yielded three runs and six hits. He struck out five and walked three.
"You could tell he wasn't quite right, " Giants manager Bruce Bochy said. "His command wasn't quite as sharp and sure enough, after four he said, 'I just can't finish my pitches.' I had to make a change."
Bumgarner, meanwhile, is scheduled to start Saturday for the first time since spraining his left shoulder in a dirt bike accident three months ago.
The Giants snapped a four-game losing streak and won for the second time in seven games. They remain last in the NL West, four games behind the fourth-place Padres.
Span's single with two outs in the sixth gave the Giants a 4-3 lead and chased Clayton Richard (5-9) . One batter earlier, pinch-hitter Miguel Gomez tied it with a sacrifice fly.
Posey homered an estimated 429 feet to straightaway center field with one out in the seventh, his 11th overall and first since June 22. The star catcher entered in a 2-for-19 slump before hitting an RBI single in the first.
Cory Gearrin (3-2) pitched one inning for the win. Dyson allowed three hits and one run in the ninth but hung on for his fourth save. He gave up an RBI single to Jose Pirela and loaded the bases with two outs before getting Jabari Blash on a fly to right to end it.
Gorkys Hernandez had a career-high four hits for the Giants and scored once.
RBI singles by Posey in the first and Cueto in the second gave San Francisco a 2-0 lead.
San Diego tied it in the second on Blash's RBI double followed by Erick Aybar's run-scoring base hit. San Diego took the lead on Austin Hedges' RBI single in the fourth.
Richard allowed four runs and 11 hits in 5 2/3 innings. He struck out four and walked two.
"It's really difficult when you have the lead going and you're expected to come away on top, " Richard said. "I wasn't able to do that. So that's disappointing."
Said manager Andy Green: "I thought he settled relatively nicely there, until the sixth inning. ... The sixth inning kind of got away from him."
TRAINER'S ROOM
Giants: INF Eduardo Nunez was reinstated from the disabled list after missing 18 games with a left hamstring strain.
Padres: RF Hunter Renfroe was placed on the 10-day disabled list, retroactive to Monday, with a strained neck. ... RHP Kirby Yates was placed on the paternity leave list. ... To replace them, OF Blash and RHP Jose Valdez were recalled from Triple-A El Paso.
UP NEXT
Giants: Bumgarner (0-3,3.00 ERA) is scheduled to return to the rotation Saturday night after missing three months with a sprained left shoulder sustained in a dirt bike accident April 20 during an off day in Colorado. It was his first trip to the disabled list.
Padres: RHP Jhoulys Chacin (8-7,4.32) has won four of his last six starts since June 9.
___
More AP baseball: https: //apnews.com/tag/MLBbaseball
Copyright 2017 The Associated Press. All rights reserved. This material may not be published, broadcast, rewritten or redistributed.

Span, Posey lead Giants to 5-4 win against Padres
charlotteobserver.com
Span, Posey lead Giants to 5-4 win against Padres
rssfeeds.usatoday.com
Span, Posey lead Giants to 5-4 win against Padres
wtop.com
Investigators looking into the frighteningly close call involving an airliner that nearly hit planes on the ground at San Francisco International Airport will try to determine why the pilots made such a rookie mistake and nearly landed on a busy taxiway instead of the runway.
The Air Canada plane with 140 people aboard came within 100 feet of crashing onto the first two of four passenger-filled planes readying for takeoff.
Runways are edged with rows of white lights, and another system of lights on the side of the runway helps guide pilots on their descent. By contrast, taxiways have blue lights on the edges and green lights down the center.
"The lighting is different for good reason, " said Steven Wallace, a former director of accident investigations at the Federal Aviation Administration. "Some of these visual mistakes are hard to believe, but a crew gets fixated with thinking 'That's the runway,' and it's not."
Then there is the radio transmission in which one of the Air Canada pilots sounded puzzled about seeing what appeared to be the lights of other planes on the runway. Safety experts said that should have prompted the crew to abort their approach long before they did.
When investigators interview the pilots, they will focus on understanding how mistakes occurred "and why they did not realize the sequence of errors, " said John Cox, a safety consultant and former airline pilot. Investigators will look at the pilots' use of automated-flying systems, their manual flying skills, and how they interacted with each other as uncertainty set in, he said.
Investigators from the U. S. National Transportation Safety Board may arrive this weekend and interview the pilots and air traffic controllers, an agency spokesman said Friday. They will examine information from the flight data recorder, which will tell them the plane's exact location and how it was being flown. They also will listen to the cockpit voice recorder, which may indicate whether the pilots were focused on their job or distracted.
Canada's transportation safety board said the Air Canada jet skimmed just 100 feet over the tops of two planes waiting for takeoff. After an air traffic controller ordered them to abandon their landing, the pilots pulled up their Airbus A320 just in time, circled and landed correctly on the runway. No one was injured.
The Canadian agency's summary was the first official account of just how dangerous the situation was.
An Air Canada spokeswoman said she could not comment because the incident is under investigation. She declined to describe the amount of experience of the pilots.
A recording of the radio calls between pilots and the control tower captured uncertainty in the Air Canada cockpit as the plane approached shortly before midnight on July 7. One of the pilots radioed to the tower that he saw lights—presumably other planes—on the runway. An air traffic controller assured him the runway was clear.
After a pilot apparently in one of the planes on the ground said the Air Canada jet was heading straight for the taxiway, a controller ordered the Air Canada crew to abort the landing.
From the vantage point of the Air Canada crew, four parallel surfaces appeared below them—from left to right they were taxiway F; runway 28L, which was closed; runway 28R, on which they were supposed to land, and taxiway C, where the other planes were waiting their turn to take off.
"I could see where you get lined up incorrectly, but once you start seeing lights on the runway you' re not necessarily looking at a runway, " said William Waldock, a professor at Embry-Riddle Aeronautical University. He said investigators will look at "all the visual cues that might have confused them."
Chris Manno, an American Airlines pilot, said the Air Canada crew should have stopped their approach while they figured out why they were seeing lights from other planes on what they thought was the runway.
Taxiway landings are rare, and most of them involve small planes.
In February, actor Harrison Ford landed his single-engine propeller plane on a taxiway at John Wayne Airport in Southern California after narrowly missing an American Airlines plane with 100 passengers. The actor, an experienced pilot, realized his mistake immediately and was not punished by the FAA.
Some airliners have mistakenly landed or taken off from taxiways.
In 2006 a Continental Airlines jet passed through rain that reduced visibility before landing on a taxiway in Newark, New Jersey. The captain took control of the plane from the co-pilot when he realized the mistake.
In 2009, a Delta Air Lines jet landed on a taxiway in Atlanta. In 2015, an Alaska Airlines jet landed safely on a taxiway between runways in Seattle.
Traveling on airlines has become remarkably safe. No U. S. airline has had a fatal accident since 2009.
The last fatal accident involving a foreign airline on U. S. soil was the 2013 crash at San Francisco International Airport of an Asiana Boeing 777 carrying 307. Three passengers died after the plane's tail struck a seawall while landing on runway 28L—next to the runway where the Air Canada jet landed.
The Asiana pilots came in too low and were unable to execute the kind of go-around that the Air Canada jet did.
Throughout aviation history, deadly accidents have led to safety improvements. As fatal crashes have become rare, "the only way to get better is to learn from close calls and incidents, " Wallace said. JPV

Lighting should have made pilots aware of potential disaster
thenewstribune.com
Lighting should have made pilots aware of potential disaster
townhall.com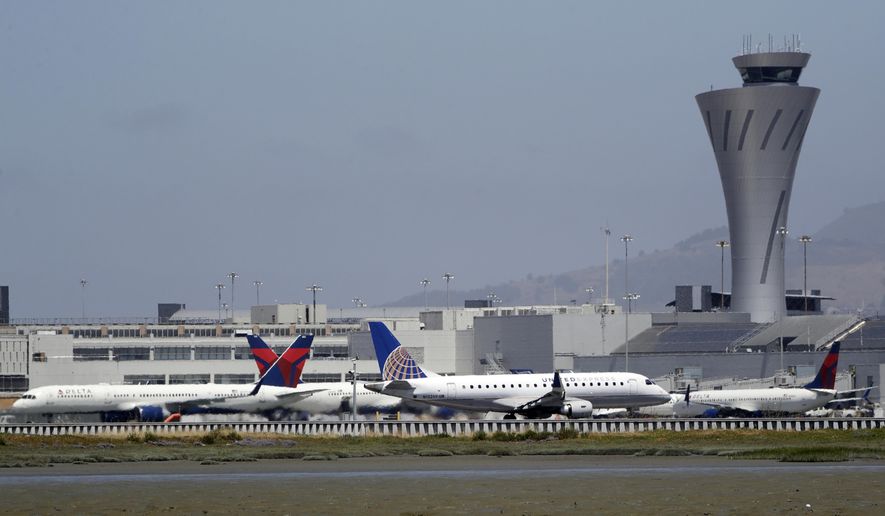 Lighting should have made pilots aware of potential disaster
washingtontimes.com
KANSAS CITY, Mo. -- Mike Napoli and Adrian Beltre homered as the Texas Rangers rallied to defeat the Kansas City Royals 5-3 on Friday night.
The Royals (44-44) dropped four straight and are winless in five games this season against the Rangers (44-45) , who won their 10th straight over Kansas City dating back to last season.
Napoli's pinch homer with Carlos Gomez aboard in the seventh broke a 3-3 deadlock. Napoli pulled Mike Minor's (5-2) pitch 444 feet out to left.
It was the Rangers' first pinch-hit home run since Leonys Martin did it May 19,2015, at Boston.
Adrian Beltre helped the Rangers rally from a 3-0 deficit with a three-run blast in the sixth. It was Beltre's 453rd career home run, moving him one past Carl Yastrzemski and into 38th place on the all-time list. That also upped his RBI count to 1,601 and put him within 20 of reaching 3,000 career hits.
The Royals increased their advantage to 3-0 in the fifth when Whit Merrifield doubled down the right-field line and scored on Jorge Bonifacio's single to center. Bonifacio was out at second, trying to stretch his hit into a double. That lead soon evaporated.
Jason Hammel did not allow a hit until one out in the sixth, but he failed to get out of the inning.
Elvis Andrus chopped one off the plate for an infield single for the first Texas hit. Nomar Mazara's fly ball single to shallow left moved Andrus to second before Beltre homered.
After Robinson Chirinos' two-out single on Hammel's 108th pitch, manager Ned Yost went to his bullpen, bringing in left-hander Minor.
Rangers' starter Martin Perez (5-6) threw 89 pitches in seven innings to pick up the victory. Perez allowed three runs on eight hits and is 3-0 in his past four starts.
Matt Bush worked a flawless eighth, while left-hander Alex Caudio got the final three outs for his second save this season.
Eric Hosmer 's infield single in the Kansas City sixth extended his hitting streak to 16 games, the longest active streak in the majors. Hosmer was quickly erased when Salvador Perez grounded into his 13th double play, one behind the league-leader.
Hammel held the Rangers hitless for the first five innings, allowing only three baserunners. He walked Beltre to leadoff the second and Carlos Gomez with two out in the fifth.
Hosmer's fielding error put Mazara on base with out in the fourth.
Alcides Escobar extended his hitting streak at home to 11 games with a second-inning home run that clanged off the left-field pole and put the Royals up 2-0. Mike Moustakas, who reached on an infield single, was aboard when Escobar homered on a 2-0 Perez offering.
NOTES: Royals RHP Neftali Feliz went on the paternity list and RHP Miguel Almonte was recalled from Triple-A Omaha to take his bullpen slot. ... Rangers RHP Keone Kela, who is on the disabled list with a stiff shoulder, is back on a throwing program, but Texas manager Jeff Banister said it is doubtful he would be activated for the weekend series with the Royals. ... Royals RHP Nathan Karns has not yet decided whether to have season-ending thoracic outlet syndrome surgery, but acknowledged he is leaning in that direction. ... OF Bubba Starling, who was the Royals' 2011 first-round pick, has been placed on the Triple-A Omaha disabled list with an oblique injury.

Beltre, Napoli homer as Rangers rally to 5-3 win over Royals
charlotteobserver.com
Beltre, Napoli homer as Rangers rally to 5-3 win over Royals
rssfeeds.usatoday.com
Beltre, Napoli homer as Rangers rally to 5-3 win over Royals
wtop.com
Gear up for Groundhog Day, Mets fans.
That was the word Friday from Sandy Alderson during a candid press conference at Citi Field before the Mets dismantled the Rockies, 14-2, on a night a hustling Yoenis Cespedes (four hits) broke out of his slump.
Other than Jacob deGrom, who improved to 10-3 and should not be traded, the Mets general manager admitted the team's pitching has been "lousy." Same goes for defense that never was good to begin with — Alderson values offense far more than defense. This is the way the Mets will continue to build.
Alderson said this is not a tear-down but a rebuild now that the "For Sale" sign has been placed on walk-away players like Addison Reed, Jay Bruce, Lucas Duda and others unless the Mets play "exceedingly well" over the next few weeks.
I applaud Alderson's honesty, but I' ve also got two simple words for him: Fix it.
Fix the pitching, because he is not giving a darn about defense.
"Overall, the defense that we' ve demonstrated has not been good, " Alderson said. "We haven' t been as sure-handed as we have been in the past, and we certainly have not had the range one would like to have.
"As a partial indictment of myself, what you have to do is you have to make choices about defense, athleticism, offense, etc. You have to set priorities. I wouldn' t say defense has always been our highest priority, and that goes all the way back to the World Series year of 2015.
"On the other hand there's sort of a de minimis level that one needs to hit."
That was a way to say defensive-wizard Amed Rosario would not have fixed the problem in Alderson's eyes.
When the shortstop arrives from Triple-A, Rosario will help that defense, but Alderson said: "It's a little simplistic to just say, we' ll if we insert one player we are going to solve the defensive issues that we face at seven or eight positions. I understand everybody wants to see Rosario in a Mets uniform, so do I.' '
Rosario tweeted Friday he is ready and wanted to "propose to Queens.' ' That tweet was soon deleted. Alderson said he wants him to stay in Las Vegas for now. Jose Reyes is hot.
"As I sit here I say, 'Gee, defense can' t possibly be as important as offense, it's only a percentage of what comes to play in run prevention,' ' Alderson said. "Not to say it's not important, but ultimately in terms of priorities, it's a little less important. What really is important on that side of the ball is pitching and our pitching has been lousy, and it's partly because of injuries and it's partly because of performance.… In terms of having a bias towards offense I think that will probably always exist with me.' '
Here's where we differ. The Mets need better "D.' '
When you are built on pitching, you need defense.
Alderson said deGrom will not be traded, a no-brainer.
"What do we do without Jake deGrom next year?" Alderson said. "This is not a tear-down situation, this is a what I believe is a sort of a pause button. We' re going to have a lot of free agents at the end of the year. A lot of payroll that will become available. So we' re not looking to rebuild, we' re looking to make sure that we have the nucleus of a competitive team going into next year.… We don' t have that much [pitching] left.
"We' re at the point in the season where things would have to go exceedingly well for us to, realistically, change direction. Not surprisingly we' ll be open to talk to clubs about various possibilities.' '
Rosario and Dominic Smith will be up at some point. So the Mets will have cost savings at shortstop and first base next season.
As for everybody's hero, Tim Tebow, he will not make a September appearance .
"I don' t foresee that kind of scenario, no, " the GM said. "By the way, his exit velocities continue to be very good."
Alderson smiled.
Better defense, better pitching, not just on deGrom Night, would make Mets fans smile.

'He's got all the skills' : Yoenis Cespedes busts out
nypost.com
MLB: Jacob deGrom lead New York Mets to rout of Colorado Rockies
upi.com
When Ammon Bundy was arrested in January 2016 for leading the armed takeover of the Malheur National Wildlife Refuge in eastern Oregon, he called Eugene attorney Mike Arnold for help.
Now Arnold, whose nearly two-decade career has taken him from a Lane County law clerk to a highprofile attorney representing accused murderers and defending Bundy in his first four months in jail, has left his firm for a job that might have made him a criminal just a few years ago.
Arnold has become a marijuana grower.
He co-founded One Gro in February with business partner PJ Martinez. They are operating on about 50 acres of farmland on two sites near the Coast Fork of the Willamette and Row rivers, with four marijuana grows totaling 40,000 plants.
He has been phasing out legal work with Arnold Law in Eugene, mentoring attorney Lissa Casey to take high-profile cases while his wife, Jacy Arnold, continues to run the firm.
When he started One Gro, Arnold planned to manage the business and Arnold Law. But as the marijuana startup rapidly grew, he knew it needed his full attention.
"For a while, I was getting up at 4 a.m. to get One Gro work done before the Arnold Law team arrived, doing legal work when I could and then heading to the farm to do tractor work at night with the headlights on, " Arnold wrote in an email. "That was unsustainable."
During the years, Arnold, 40, has been as outspoken about his love for farming as he has been about his prominent cases, like his defense of Springfield resident Gerald Strebendt in a 2014 road rage shooting case.
Arnold lives on a farm near Creswell with his wife and two children, raising poultry and American guinea hogs, growing fruit trees and running a beekeeping operation.
For more than a year, Arnold said, he had been considering entering the marijuana industry.
He put together a business team that includes experts in sales and distribution, construction, marketing and real estate.
One Gro Investments hopes to utilize Oregon as a "laboratory for our concepts, fine-tuning and moving into emerging markets (other states) as legalization happens, " according to the firm's website, and run a vertically integrated operation "from seed to retail store."
The firm's CEO is Dan Isaacson, an alcohol sales and distribution expert who has overseen millions of dollars in sales for brands such as Jack Daniels and Captain Morgan, according to One Gro's website.
Martinez, vice president of operations, has more than 25 years of experience in construction. Larry Souder, vice president of emerging markets and business development, is a local Realtor.
A list of employee biographies lists a worker likely to run a future dispensary.
"I'm sad to have left the wonderful team at Arnold Law, but I haven't left the legal profession, " Arnold wrote. "Jacy founded Arnold Law in 2002, and it will continue to thrive under her exclusive leadership. I'm simply using my legal skills and strategic vision for the sole benefit of One Gro now.
"My years of legal experience has given me unique insight into this emerging market, and it's crying out for talents that I and my team have. This was simply an opportunity for which I was in the right place at the right time by being a lawyer, entrepreneur and farmer who happened to be in Oregon in the county best suited for 'big ag' for this particularly agricultural commodity."
Arnold said legal restrictions prevented him from discussing many details about his plans for his business.
"I would love to comment more about the company and our goals but (U. S. Securities and Exchange Commission) regulations clearly state that we cannot, " he wrote.
Arnold said he started reading federal patent applications relating to THC, the psychoactive ingredient that produces the high from cannabis and byproducts, like cannabis oils. He said One Gro has secured the exclusive Oregon rights to an inhaler product that provides consistent doses of cannabis oils.
"This industry needs to be run by professionals, which is why I have hired a team of professionals to run One Gro, " Arnold wrote. "When I went to build my team, I went to experts in start-ups, agronomy, finance, total alcohol beverage, real estate, construction, high tech, etc. Most if not all of our management team doesn't even use cannabis. They joined me because they believed in my vision."
Sign up today for a 30 day free trial of unlimited digital access.

Well-known Eugene lawyer leaves firm to grow marijuana
thenewstribune.com
Well-known Eugene lawyer leaves firm to grow marijuana
washingtontimes.com
Intermittent lane closures are scheduled for the Interstate 140 bridge over the Northeast Cape Fear River to allow workers to make repairs.
The lane closures are scheduled to begin at 9 p.m. Sunday and end at 5 a.m. on Monday. Two lanes will remain open for traffic at all times.
The N. C. Department of Transportation says the closures are necessary to repair a washout on the side of U. S. 421 next to the bridge.
There will not be a detour, but travelers should expect delays.
Sign up today for a 30 day free trial of unlimited digital access.

Repairs to cause lane closures on Interstate 140 bridge
newsobserver.com
Repairs to cause lane closures on Interstate 140 bridge
washingtontimes.com
After cranking out 19 runs in Toronto on Sunday, the Houston Astros' bats stayed hot all the way through the All-Star break.
Brian McCann hit a three-run home run to cap an eight-run second inning, Marwin Gonzalez had a solo homer and the Astros opened the second half of the season with a 10-5 win over the Minnesota Twins.
Gonzalez, Alex Bregman, George Springer, Josh Reddick and Carlos Correa each had an RBI to chase starter Jose Berrios (8-3) .
"That inning just continued to go, and it's one of the things I love the most about our team, " Houston manager A. J. Hinch said. "We just keep coming at you. ... When we put at-bats like that together in a row, we're pretty dangerous."
McCann, who struck out to start the second inning, greeted Phil Hughes with his homer.
"We have been swinging the bats from Day One, " McCann said. "Our lineup is deep, and as a pitcher, you have to make pitches. We don't go out of the strike zone. We put together professional at-bats."
The Astros have scored eight or more runs in an inning four times this season, including twice against the Twins after scoring 11 runs in the eighth on May 29 in Minnesota.
Gonzalez finished with three hits and two RBIs. He smacked his solo shot in the third before Reddick hit an RBI single as the Astros built a 10-1 lead. Every Astros hitter had at least one hit.
Charlie Morton (7-3) allowed five runs — four earned — and three hits with 10 strikeouts and a career-high tying five walks in five innings.
"It was kind of a weird outing because I felt like my stuff was good, " Morton said. "I made a bunch of good pitches, but at the same time, there were some pitches right there that weren't executed."
Berrios allowed a career-high tying seven runs — two earned — and four hits in a season-low 1 2/3 innings.
"It just seemed from the get-go for whatever reason he looked uncomfortable, " Minnesota manager Paul Molitor said. "He had trouble getting settled in."
Berrios has allowed at least four runs in his last four starts.
"I don't know if I can say I didn't feel comfortable, " Berrios said through a translator. "I'm not going to use that as an excuse. ... It was just one of those days where it didn't go my way."
Brian Dozier hit his 21st career leadoff homer, setting a franchise record. Dozier hit a bases-clearing double in the fourth, and Jorge Polanco had a sacrifice fly in the fifth.
TRAINING ROOM
Twins: 1B Joe Mauer (back) worked out prior to Friday's game and participated in batting practice. "I'd be surprised if he's not ready to be active tomorrow, " Molitor said. ... OF Byron Buxton left the game in the sixth with left groin soreness. He was listed as day to day. ... 1B Kennys Vargas was pulled in the seventh with a left foot contusion.
Astros: LHP Dallas Keuchel (neck) threw a bullpen Thursday and will likely go on a rehab assignment soon, Hinch said. "We need to identify what that means and how he feels and whether it's multiple (rehab assignments) or not, " Hinch said. ... RHP Collin McHugh (right elbow) will make a fourth rehab assignment Sunday at Double-A Corpus Christi, with the plan for him to go five or six innings and throw over 90 pitches.. RHP Will Harris was placed on the 10-day disabled list with right shoulder inflammation, retroactive to July 11.
PAUL THROWS FIRST PITCH
New Houston Rockets guard Chris Paul threw out the ceremonial first pitch prior to Friday's game. Paul, who was joined by his son and daughter, threw the pitch to Keuchel, then walked over to the Astros dugout where Jose Altuve shook his hand.
COLON DEBUTS IN TRIPLE-A
RHP Bartolo Colon debuted at Triple-A Rochester on Thursday night, picking up the loss after allowing four runs in 3 2/3 innings. Colon, who was released by Atlanta at the end of June after going 2-8 with an 8.14 ERA, signed a minor league deal with the Twins last week. Molitor said he hopes to have a decision on Colon in the next 24-48 hours.
UP NEXT
Twins: RHP Ervin Santana (10-6) will start his 19th game of the season Saturday. Santana threw a complete game in his last outing but suffered the loss, while allowing two runs.
Astros: RHP Joe Musgrove (4-7) will start his 15th game of the season looking to rebound after allowing four runs in 5 2/3 innings in his last start.
Sign up today for a 30 day free trial of unlimited digital access.

McCann, Gonzalez power Astros past Berrios, Twins 10-5
rssfeeds.usatoday.com
McCann, Gonzalez power Astros past Berrios, Twins 10-5
wtop.com
A sinkhole that started out the size of a small swimming pool and continued to grow in Florida swallowed a boat, destroyed two homes and prompted officials to evacuate residents from about a dozen homes Friday.
Dramatic video showed the home in Land O' Lakes, north of Tampa in Pasco County, collapsing into the hole Friday morning. It quickly engulfed one home and a boat and then consumed about 80% of another home, said Kevin Guthrie, Pasco County's assistant county administrator for public safety.
By Friday afternoon, the hole stretched up to 250 feet wide and 50 feet deep, and threatened to damage a third home, Guthrie said.
Pasco County Fire Chief Shawn Whited told reporters that no one was home when crews responded to a call about a "depression" under a boat in the backyard of a house in Lake Padgett Estates in Land O'Lakes. Within minutes, he said, "the hole opened up" and the boat fell in.
Firefighters were able to get two dogs out of the home and retrieve some belongings before the first home started collapsing into the quickly expanding hole.
"This is people's lives. They have everything in that house. The house that I went into, the elderly woman was in a walker, so we wanted to make sure we got medications — things that she needed, " Deputy Jay Murphy said.
No injuries have been reported.
Sheriff Chris Nocco said that within roughly 30 feet of the sinkhole, the ground was soft underfoot and felt like it was moving.
"Walking down the street, you can see in people's eyes the anxiety level. They're fearful, " Nocco said.
The sinkhole had been dormant for about 90 minutes Friday night when Nocco addressed members of the media, but officials were cautious because it's the rainy season. A fence was being erected around the sinkhole. The scene is being considered a hazardous materials incident because of possible septic tank issues and building debris.
"We're all wondering what's going to happen next. We can't control this. This is mother nature, " said the sheriff, who added that plenty of rescue crews were on standby to evacuate residents quickly, if necessary.
Eleven homes were evacuated, including the two destroyed. County property records show there was a sinkhole at the property where the first house was swallowed up, and that it had been stabilized in 2014. The home was sold in 2015, according to records. Messages left for its owner were not immediately returned Friday.
Sinkholes are stabilized by boring holes into the ground and injecting concrete.
Records also show a sinkhole was stabilized at the partially destroyed home in 2007. Two sisters renting that home with four other family members said they had left the house early Friday and returned to see their neighbor's home falling into the sinkhole.
The Tampa Bay Times reported that Edilia and Theresa Villa and their relatives had time to retrieve important documents and six dogs from their house before officials declared it unsafe. Theresa Villa's 15-year-old daughter, Thalia Chapman, told the newspaper the family moved into the home after arriving from Cuba about a decade ago.
Officials say Duke Energy cut power to about 100 homes in the neighborhood. The American Red Cross is assisting residents who've been displaced.
Guthrie said he was concerned that if the sinkhole continued to grow, it would damage septic tanks that could pollute a nearby lake.
ALSO
3 dead in fire at Honolulu high-rise with no sprinklers
Immigration raids 10 years ago didn't change this meatpacking town's job market
A pipeline that would cut through the iconic Appalachian Trail sparks a fight over natural gas expansion

A fast-moving sinkhole in Florida, Friday, destroyed two houses and threatened many others
roundnews.com
When: 6: 10 p.m.
Where: Comerica Park.
TV: Fox Sports Detroit.
Radio: WXYT-FM (97.1; other radio affiliates) .
First-pitch weather forecast: Sunny, 82 degrees.
Probable starting pitchers: RHP Michael Fulmer (9-6,3.19 ERA) vs. LHP Francisco Liriano (5-4,5.56 ERA) .
Tigers lineup: To be posted later today.
Game notes: The Tigers delivered a dud in the first game after the All-Star break, dropping Game 1 of this three-game set at Comerica Park, 7-2. Tonight, Fulmer takes the mound after his All-Star-worthy first half. On the other side of the field is Liriano, who has been solid since returning from injury last month.
More Tigers news:
'Brutal': Heavy rain, Metallica concert tear up Comerica Park outfield grass
Fulmer not worried about trade rumors
Twitter updates
On mobile? Tap here for live updates.

Toronto Blue Jays return with win over Detroit Tigers
upi.com
KEANSBURG, N. J. -- A teenage neighbor of an 11-year-old New Jersey girl whose body was found near her home has been arrested and charged with her murder, authorities announced Friday, CBS New York reports.
Andreas Erazo, 18, faces first-degree murder and weapons charges in the death of Abbiegail Smith, the Monmouth County prosecutor's office said.
Erazo, who authorities said lived in an upstairs apartment, appeared in court Friday.
Prosecutors said Erazo stabbed Smith to death. The girl's family was in court for Erazo's appearance, and her mother confronted Erazo.
"You killed my daughter!" she said. "I hope you rot in jail. My one and only daughter. You look away from me. You need to rot in jail! Can't even look at us!"
Erazo's next court appearance will be Wednesday.
"I spoke to the loved ones of Abbiegail Smith. Her family doesn't wish to speak to anyone in the media at this point in time, " Monmouth County Prosecutor Christopher Gramiccioni said. "They did ask me to convey to the public and the media that what they want out of this is justice, and it's my job and my staff's job to do the best at delivering that for them."
Gramiccioni added, "By all accounts from her family and people in that tight-knit community, she was a lovely, lovely little girl."
Abbiegail was last seen in her home at the Hancock apartments around 7: 45 p.m. Wednesday and was reported missing by her mother about an hour later, investigators said. Police found her body near the apartment building Thursday morning.
"In the back area of the apartment complex behind me, where she lives, " Gramiccioni said Thursday.
"We were really hopeful that we would find her, " Gramiccioni said. "It's a punch in the gut for all of us in this community, especially with law enforcement."
A memorial for Abbiegail grows on Keansburg's Main Street, where she was often seen playing or running around.
"She was a kind girl, " schoolmate Shaft Page told CBS New York. "If she had something, she'd give it to you."
"I'm devastated, and I know all the parents here are, " said Janelle Pierce, adding, "I'm shaken to my core."
"It's outrageous, " one man said. "It's really outrageous. You would never think."
Due to the ongoing investigation, police would not speak about a motive or if the suspect knew Abbiegail, nor would they say if any sexual abuse occurred.
Prosecutors are calling the killing an isolated crime. Erazo has no prior criminal record.

Mom of slain girl screams at suspect: 'I hope you rot in jail'
nypost.com
President Trump plans to attend the U. S. Women's Open on Saturday, appearing for a second straight day at the golf tournament being held at one of his properties.
Trump wrote on Twitter that he would attend the event in Bedminster, N. J., adding, "Big crowds expected & the women are playing great-should be very exciting!"
The tournament is being held at Trump National Golf Club. Trump arrived at the golf club Friday afternoon after returning from Paris, where he met with French President Emmanuel Macron and attended Bastille Day celebrations.
Trump had no public events scheduled for Saturday, with his attendance at the tournament not listed on his daily schedule.
The president made an appearance at the club on Friday, waving at crowds from a glass enclosure, where he was joined by his second son, Eric Trump.
Since taking office in January, Trump has spent 50 days visiting at least one of his properties, according to tally by The New York Times.

Trump tweets that he'll attend U.S. Women's Open on Saturday, too
latimes.com
LONDON (Reuters) - European Union leaders are willing to change the bloc's rules for the freedom of movement of workers, opening an opportunity for Britain to avoid a damaging "hard Brexit", former prime minister Tony Blair said on Saturday.
The election of French President Emmanuel Macron had put reform of the EU on the table, meaning Britain and the EU could meet "halfway" to strike a deal that would keep Britain inside the world's largest trading area, Blair said.
"The European leaders, certainly from my discussions, are willing to consider changes to accommodate Britain, including around freedom of movement, " the former Labour prime minister said in an article published by his Institute for Global Change.
"The opposition to free movement of people, once you break it down, is much more nuanced. The French and Germans share some of the British worries, notably around immigration, and would compromise on freedom of movement."
Blair's comments are at odds with the EU's negotiating stance, which stresses there can be no "cherry picking" from the benefits of membership of the EU's single market without accepting freedom of movement for EU workers.
Blair lamented that both Prime Minister Theresa May's Conservative Party and the opposition Labour Party had set their minds on leaving the single market, without exploring the alternatives.
"Given what is at stake, and what, daily, we are discovering about the costs of Brexit, how can it be right deliberately to take off the table the option of compromise between Britain and Europe so that Britain stays within a reformed Europe?" he said.
Blair was prime minister for 10 years until 2007. He wanted to take Britain into the euro zone and believed Britain should lead the way in the EU rather than withdraw from it.

EU leaders willing to compromise on freedom of movement, says Tony Blair
reuters.com
The federal government is giving the state $3 million for drug court programs in the wake of an opioid epidemic.
The U. S. Department of Health and Human Services said Friday the funds will bolster drug court programs for those in the criminal justice system with substance use disorders and mental health problems. The programs have been praised for connecting people struggling with addiction to treatments with oversight from the courts to make sure they are following through.
Proponents say drug courts improve recovery outcomes and reduce burdens on the criminal justice system.
The announcement comes as some lawmakers fear that proposed Medicaid cuts under an Obamacare overhaul would leave them without enough resources to fight the opioid crisis.
Senate Majority Leader Mitch McConnell added a revision that gives states $45 billion to combat opioid misuse, but the bill's fate is uncertain.
Sign up today for a 30 day free trial of unlimited digital access.

Feds give Florida $3M grant for treatment drug courts
thenewstribune.com
Mamie Randle fell to the ground with tears in her eyes, whaling joyful screams, after she and her family drove up their Poulsbo driveway following a family vacation in July.
The house that was almost unrecognizable compared to the one she left behind a week before.
Randle, with her husband Craig and their four youngest children, had just returned from a six-day trip to Disney World in Florida. The trip was a gift provided by the Make a Wish Foundation for their son, Craig Randle Jr., who was recently cured of sickle cell anemia.
While they were gone, family, friends and co-workers of the Randles pitched in to remodel their home, performing tasks the Randles fell behind on when Craig Jr. was being treated.
"My son and daughter knew what my list was, they knew what I wanted to do but I could never get it all done at one time, " Craig Sr. said. "To me this is overwhelming. I never expected them to do this."
The idea got started when Tanya Johnson, who stages houses for a living, posted some of her work on Facebook. Mamie Randle jokingly commented, "come stage my house."
Aulaura Lawrance, Mamie's daughter, contacted Johnson with the idea to do something nice for the family while they at Disney World. They came up with a plan to paint the house, replace flooring and perform other jobs the family had on its wish list.
"I never expected anything. I thought she'd maybe clean the house, " Mamie Randle said.
Volunteers from a local chapter of a group called Business Network International, Emmanuel Apostolic Church of Bremerton and Craig Sr.'s shipyard co-workers all chipped in.
"We covered everything from trimming trees to see the mountain view to a new painted exterior, brand new garage doors, a brand new front porch, new flooring on the inside, a brand new painted fireplace on the inside, new furniture, roof cleanings, two brand new fireplaces converted from gas to propane, and just a good thorough cleaning and staging of the home, " Johnson said.
Chrysztyna Rowek, president of the BNI chapter, knew the family from church and worked with Johnson to get volunteers, donations and the word out.
"It's always great to see how the community comes together when a plea is put out for help, " Rowek said. "Social media has been great for this because between us we know everybody in Kitsap County and so it was really easy to say, 'Hey, I need a plumber, I need an electrician.' Whatever it is we knew at least one of them."
The crew finished almost everything they aimed to complete before the family's return.
"When you have people who give freely of themselves and purely always come from a place of service, those are the people you really want to help because they'll never ask for it and they'll never do it for themselves because they're too busy doing things for other people, " Rowek said.
The four youngest Randle children — Tiesha, Craig Jr., Sophia and Isaiah — all enjoyed their time at Disney World and are now happy for their new home.
"We mostly went on the rides all the time because that's all we wanted to do but then we took pictures at all the spots that had picture spots. My favorite ride that I went on was the Water Splasher, " Craig Jr. said.
Tiesha Randle was confused when they pulled up to the house, because it looked completely different.
"I just saw the people so I thought it was like a welcome-home party or something because I saw the signs. But then I saw the house and it was white, it was so cool, " Tiesha Randle said. "I can't even remember what the old house looks like right now, I'm really trying to remember the color."
"I just know that you have family that you never thought, this is my family right here, " Craig Randle Sr. said.
Sign up today for a 30 day free trial of unlimited digital access.

Friends surprise family fighting disease with home remodel
newsobserver.com
Molly McAllister took a deep breath and prepared to go into the downward dog pose. She spread her hands apart, tucked her toes and lifted her knees off of the ground. She lowered her head and eased into the yoga pose, stretching her hamstrings.
Then she noticed Jack's diaper needed changing.
The Ridgefield mom quickly broke from the pose and pulled 5-month-old Jack onto a portable changing pad spread out over her yoga mat. She talked to Jack as she quickly swapped out the wet diaper for a dry one.
Meanwhile, the five other women in the yoga class moved on. They shifted into the sitting position and began pelvic floor exercises.
That's when 9-month-old Izebella decided she was ready to eat. Mom Garri Hiles cradled the infant and began nursing her daughter while continuing with pelvic muscle exercises.
Changing dirty diapers. Breastfeeding hungry babies. Soothing fussy babies. It's all OK — encouraged, even — in Daniele Strawmyre's Mommy and Me Yoga class.
"There are no rules in Mommy and Me Yoga, " Strawmyre tells the moms before the class begins.
Strawmyre, a 43-year-old mother of two young children, began offering the postpartum yoga classes this spring. The class is open to women who are at least four to six weeks postpartum and their babies.
During the hour-long class, moms perform yoga moves and take breaks to tend to their babies as needed. Sometimes babies are incorporated into the class, such as "walking" on their rear ends and lifting baby while singing "The Grand Old Duke of York" or stretching down to blow raspberries on baby's tummy.
For McAllister, the class offered an opportunity for the new mom to get back into yoga after the birth of her son.
"I like doing yoga, and I don't normally have anyone to watch him while I do yoga, " she said.
For Hiles, the class was a chance to try something new.
"I really enjoyed it, " she said. "It was my first time doing yoga, even."
Izebella stayed entertained during the class by playing with cellphone cases and chewing on the top of a water bottle. But once she's mobile, Izebella and Hiles will have outgrown the Mommy and Me class.
Once babies are crawling, Strawmyre moves the moms to a different class: Multitasking Mama Yoga, which is for moms with kids younger than 4. That class, Strawmyre says, is a little more chaotic.
"The multitasking class really is a free for all, " she said.
Some of the kids want to do the yoga poses, others just want to play. All of it is OK, Strawmyre said. While the class may get interrupted, the goal is still the same as the Mommy and Me class: to let moms do something for themselves.
"Self-care is really important to being a good mom, " Strawmyre said.
MOTHER OF INVENTION
Strawmyre was a professional dancer in Philadelphia and taught dance and yoga. After teaching yoga for 10 years, she decided to get her instructor certification.
At the time she began the intensive coursework, she was 6 months pregnant with her son. As part of her training, Strawmyre had an apprenticeship with an instructor who taught mommy and me yoga classes.
"I just got so inspired by teaching pregnant women and new moms because the environment is just magical, " Strawmyre said.
Strawmyre took courses in prenatal and postpartum yoga, as well as postpartum doula, childbirth and breastfeeding trainings. She offered some yoga classes to new and expecting moms while in Philadelphia and formed a bond with the women in her class. She leaned on them when her son experienced health issues and when her mother died from cancer.
"I had created this tribe of other moms and other women, " she said. "When we moved out here, I was inspired and wanted to do something similar here."
Strawmyre's intention when her family moved west in November 2015 was to live and work in Portland. But after living with her in-laws in Ridgefield and then a rental home in east Vancouver, Strawmyre realized Clark County lacked prenatal and postpartum yoga classes and decided to base her business, ReadySetGrow, in Vancouver.
"Pregnant ladies and new moms don't want to drive into Portland for yoga, " she said.
Strawmyre started offering classes after her daughter turned 1 year in March. Currently, she has a prenatal yoga class for expectant moms, a Mommy and Me Yoga class for moms and their babies, and a Multitasking Mama class for moms with kids who are crawling, up to age 4.
The classes are offered at two downtown Vancouver studios, The Yoga Seed and Vancouver Wellness Studio. Strawmyre also offers private, in-home lessons.
As demand for her classes grows, Strawmyre plans to add more group sessions. She already plans to add another Mommy and Me class and two more prenatal sessions this fall. Eventually, she'd like to open her own space and offer kids yoga and dance classes, including classes for children with special needs.
"I haven't been this inspired, " she said. "I feel like I can be of service and help others."
Sign up today for a 30 day free trial of unlimited digital access.

Vancouver yoga class caters to expecting and new mothers
miamiherald.com
Authorities say a babysitter broke a 3-year-old's arm with a spatula for wetting his pants.
Daytona Beach police say 21-year-old Haillee Howell had been babysitting the child and his two brothers for five months. According to an arrest report, the children's mother dropped them off at Howell's home Thursday. When she picked them up, her 3-year-old was crying and said his arm hurt. X-rays revealed three broken bones.
According to the report, hospital officials also discovered bruising under the boy's eyes and in both ears.
State welfare officials interviewed the boy who said Howell hurt his arm because he wet his pants.
The Daytona Beach News-Journal (https: //tinyurl.com/ybu43tg2) reports Howell denied abusing the boy.
She was charged with aggravated child abuse. It's unclear if she has hired an attorney who could comment on the charge.
Sign up today for a 30 day free trial of unlimited digital access.

Police: Babysitter broke 3-year-old's arm for wetting pants
washingtontimes.com
Israel took the rare step of closing the Temple Mount complex in Jerusalem to Muslim worshipers and tourists through the weekend, after a deadly shoot-out on Friday morning in which three Israeli Arabs killed two Israeli Druze policemen. The attackers were killed by police, stoking fears of more religion-based violence.
In a sign of the tensions and to diffuse any potential violence at Jerusalem's holiest site, President Mahmoud Abbas held a phone call with Israeli Prime Minister Benjamin Netanyahu. During the phone call, the Palestinian leader expressed "strong rejection and condemnation" of the attack in Jerusalem's Old City.
Abbas also called on Israel to lift the closure on the holy esplanade, the site of the Al Aqsa Mosque and the Noble Sanctuary shrine, warning that the move could have "consequences."
In an effort to contain a fallout, Netanyahu said that rules for worship and visits at the holy site would not be affected. However, he also said in a released statement that the police investigation of the attack would continue through the weekend and the plaza – holy to Jews and Muslims – might remain closed until a situation assessment on Sunday. Israeli security officials vowed to tighten security checks around the holy site.
Jordan, which under its peace treaty with Israel is the official custodian of the Muslim holy sites and runs the Waqf religious authority there, also called on Israel to immediately reopen the complex.
In the hours after the attack Israeli security officers detained Jerusalem Grand Mufti Muhammad Ahmad Hussein, who called on Muslims to defy the Israeli closure.
"The government confirms its rejection of any assault on the rights of the Muslims in practising their religious rites in their holy sites, " said Jordanian government spokesman Mohammad Momani in a report on the official Petra News agency.
In two tweets on Friday afternoon, US peace envoy Jason Greenblatt, who has been meeting with Israeli and Palestinian officials here this week, welcomed Abbas' call to Netanyahu as "important" and condemned praise for the attack by Palestinian militant groups.
"Terrorism must be renounced and unconditionally condemned by all, " he wrote.
A spokesman for Egypt's foreign ministry voiced concern that the violence could undermine efforts to revive peace negotiations and called on the sides to "exercise restraint".
The fighting inside the complex was one of the worst incidents of violence on the Temple Mount in years. The plaza is the site of the ancient Jewish holy temple and revered by Muslims as the spot where the Prophet Mohammed ascended to heaven.
Police said the attack occurred shortly after 7am. The three attackers had just left the religious complex and opened fire on police nearby, using improvised machine guns, authorities said. In a police video purporting to show the incident, two gunmen appear just outside the entrance to the plaza and ambush two policemen from behind at a checkpoint.
After the attackers retreated to the mosque complex, teams of Israeli police forces entered the esplanade in pursuit and opened fire, killing three. Video from the Temple Mount esplanade showed Israeli security forces taking cover amid a hail of gunfire, and police shooting a man at close range.
"An incident like this, to the best of my memory, is unprecedented – the use of live weapons and firing from within the Temple Mount complex, " said Israeli Public Security Minister Gilad Erdan. "The terrorists desecrated the holiness of the mount."
The slain officers were identified as Hail Satawi, 30, of Mughar and Kaamil Snaan, 22, of Hurfeish, both towns Arab Druze villages in northern Israel.
Police identified the attackers as Mohammed Ahmed Mohammed Jabarin, 29, Mohamed Hamad Abdel Atif Jabarin, 19, and Mohammed Ahmed Mufdal Jabarin, 19. Police spokeswoman Luba Samri said the attackers were from the Israeli Arab city of Um El Fahm and were Israeli citizens.
Netanyahu ordered that mourning tents in the Um El Fahm be banned, indicating the potential to sow tensions between Israeli Jews and the country's one-fifth Arab minority.
Police investigators will be focusing on how the gunmen were able to smuggle the weapons past Israeli security forces and Waqf guards into the holy compound.
British woman stabbed dead by Palestinian in Good Friday attack in Jerusalem
Violent clashes on the Temple Mount have been the spark for prolonged and deadly waves of Israeli-Palestinian violence in the past: rioting on the plaza that broke out in 2000 after the visit of Israel's Ariel Sharon to the site sparked an uprising – dubbed the Al Aqsa Intifada – that lasted several years.
Frequent calls by Israeli right wing politicians to assert sovereignty and visits to the plaza by religious Jews who seek to defy a police ban on non-Muslim worship on the Temple Mount have spurred accusations among Muslims of an Israeli plan to tighten control and limit access to worshippers.

2 Israeli police officers killed in attack at Jerusalem's holiest site
post-gazette.com
The U. S. Forest Service is asking people not to fly drones over the Gila National Forest next week because the agency will be conducting aerial surveys for insect and disease outbreaks using low-flying planes and helicopters.
The annual survey work on the southwestern New Mexico forest will begin Monday.
Forest Service aircraft fly at or below 400 feet while on natural resource management missions. Officials say the combination of low-flying aircraft and drones can be deadly.
Gila Forest Supervisor Adam Mendonca is asking the public to work with the agency to help prevent any tragedies.
The data collected from the aerial surveys will be posted online. The most recent available data shows pockets of tree mortality around the Gila as well as pest damage across large swaths of the West.
Sign up today for a 30 day free trial of unlimited digital access.

New Mexico forest warns against drones during aerial surveys
charlotteobserver.com
A look at some of the anniversaries this year at the British Open:
150 years ago (1867) : Old Tom Morris captured his fourth and final title at Prestwick at age 46. He remains the oldest player to win the Open, and he was the oldest to win any major for just more than a century until Julius Boros won the 1968 PGA Championship at 48. Morris had a two-shot lead over Willie Park Sr., who also was going after his fourth title. Both closed with a 58 and Morris won by two shots.
___
125 years ago (1892) : In the first Open contested over two days and 72 holes, English amateur Harold Hilton closed with 72-74 on the final day at Muirfield — the low score in the third and fourth rounds — for a three-shot victory over amateur John Ball, Sandy Herd and Hugh Kirkaldy. It still is the only time in a major that an amateur finished first and second. Entry fees were introduced for the first time to improve the quality of the field. This was the first of 16 Opens held at Muirfield.
___
100 years ago (1917) : This was the third of five straight years the Open was cancelled because of World War I.
___
75 years ago (1942) : This was the third of six straight years the Open was cancelled because of World War II.
___
50 years ago (1967) : Roberto de Vicenzo became the first player from South America to win a major when he closed with a 70 and held off Jack Nicklaus for a two-shot victory at Royal Liverpool. The 44-year-old Argentine won the claret jug 17 years after he was runner-up to Bobby Locke. De Vicenzo tied Gary Player for a course-record 67 in the third round to build a two-shot lead over Player, with Nicklaus another shot behind. He was one shot ahead of Nicklaus, who had already closed with a 69, when he played a 3-wood over the out-of-bounds area on the 16th hole and safely onto the green for a two-putt birdie. He closed with two pars.
___
25 years ago (1992) : Nick Faldo won his third Open and never looked more uncomfortable. Never mind that he opened with 66-64 for a 36-hole record that still hasn't been beaten, or that he had a four-shot lead with nine holes to play. Faldo made three bogeys, John Cook birdied the 15th and 16th, and suddenly the American was two shots ahead. Faldo rallied and Cook collapsed. Faldo hit 5-iron to 3 feet for birdie on the 15th. Ahead of him, Cook missed a 3-foot birdie putt on No. 17 and he closed with a bogey. Faldo needed only par on the 18th to win, and he hit 3-iron onto the green to secure the most nervous victory of his six majors.
___
20 years ago (1997) : Justin Leonard won his only major and made it three straight majors for players in their 20s following Tiger Woods (21) at the Masters and Ernie Els (27) at the U. S. Open. Leonard began the final round at Royal Troon five shots behind Jesper Parnevik, who was playing in the final group with Darren Clarke. As they traded mistakes, Leonard closed with a 65 and set a target that neither Parnevik nor Clarke could match. Parnevik closed with three straight bogeys for a 73, while Clarke shot 71 as both finished three shots behind. It took Clarke 14 years to win his Open. Parnevik never won a major.
Sign up today for a 30 day free trial of unlimited digital access.

Timeline of key moments in British Open golf championship
rssfeeds.usatoday.com
Timeline of key moments in British Open golf championship
wtop.com
A capsule look at the nine previous British Opens held at Royal Birkdale:
Year: 1954
Winner: Peter Thomson.
Score: 283.
Margin: 1 shot.
Runner-up: Bobby Locke, Dai Rees, Sid Scott.
Prize: 750 pounds.
Summary: Ben Hogan did not return to defend his title, and Thomson won the first of his five British Open titles. Thomson was tied with Rees and Scott going into the final 18 holes. Thomson bogeyed the final hole from a bunker to close with a 71, leaving Locke a chance to catch him. His birdie putt came up short.
___
Year: 1961
Winner: Arnold Palmer
Score: 284.
Margin: 1 shot.
Runner-up: Dai Rees.
Prize: 1,400 pounds.
Summary: In his second trip to the British Open, Palmer seized control with a 69 in the third round, including a 6-iron from behind a bush on the 16th hole that eventually led the club to place a plaque there to commemorate the shot. He had a one-shot lead over Rees going into the final round. Palmer extended his lead to four shots with four holes to play, but Rees rallied within one shot before Palmer finished him off with a 72 for a one-shot victory.
___
Year: 1965
Winner: Peter Thomson
Score: 285.
Margin: 2 shots.
Runner-up: Brian Huggett, Christy O'Connor Sr.
Prize: 1,750 pounds.
Summary: Thomson closed with a 71 for his fifth British Open title, and some measure of validation. Some argued that he won his previous four claret jugs in the 1950s against weaker competition, but he conquered a field at Royal Birkdale that included Arnold Palmer and Masters champion Jack Nicklaus. Thomson took the lead with a 72 in the heavy rain and wind of the third round, then held off a late charge from defending champion Tony Lema, who took double bogey at the last.
___
Year: 1971.
Winner: Lee Trevino.
Score: 278.
Margin: 1 shot.
Runner-up: Liang-Huan Lu.
Prize: 5,500 pounds.
Summary: Trevino was tied for the lead after each of the first two rounds, then took the outright lead over "Mr. Lu" of Taiwan with a 69 in the third round. Trevino, coming off victories in the U. S. Open and Canadian Open, went out in 31 in the final round to build a five-shot lead and still was three clear when he drove into a sand hill on the 18th and took a 7. Lu could only manage a 5, allowing Trevino to join Bobby Jones, Gene Sarazen and Ben Hogan as the only players to win the U. S. Open and British Open in the same year. Tiger Woods joined that group in 2000.
___
Year: 1976
Winner: Johnny Miller
Score: 279.
Margin: 6 shots.
Runner-up: Seve Ballesteros, Jack Nicklaus.
Prize: 7,500 pounds.
Summary: Similar to his U. S. Open victory at Oakmont three years earlier, Miller closed with a 66 and overcame a four-shot victory to capture his second major. But as much as this showed Miller to be more than the "Desert Fox" for his victories in Arizona, Royal Birkdale is where the world first became aware of Seve Ballesteros, who showed a magical imagination in getting through the sand dunes. The 19-year-old Spaniard closed with a 74, threading a pitch shot through bunkers onto the 18th green. He would be heard from again.
___
Year: 1983
Winner: Tom Watson
Score: 275.
Margin: 1 shot.
Runner-up: Andy Bean, Hale Irwin.
Prize: 40,000 pounds.
Summary: Watson won his fifth British Open — on his fifth course, and first in England — by closing with a 70. Craig Stadler led after the first two rounds, and Watson took a one-shot lead into the final round. Among the contenders were Nick Faldo until three bogeys over the final seven holes. Watson was tied for the lead when he holed a 20-foot birdie on the 16th. Needing a 4 on the final hole, he hit 2-iron from 213 yards to 20 feet for two putts and the win. Irwin whiffed a 2-inch putt on the 14th hole of the third round, and that ultimately came back to cost him.
___
Year: 1991
Winner: Ian Baker-Finch
Score: 272.
Margin: 1 shot.
Runner-up: Mike Harwood.
Prize: 90,000 pounds.
Summary: The last time Baker-Finch was tied for the 54-hole lead was in 1984 at St. Andrews, and he closed with a 79. This time, he completed the best weekend in Open history with rounds of 64-66. Tied with Mark O'Meara going into the last day, Baker-Finch birdied five of the first seven holes and withstood a gallant bid from Harwood. Richard Boxall was three behind in the third round when he broke his leg on a powerful swing at the third, and left the course on a stretcher. O'Meara would get his due on the return to Birkdale.
___
Year: 1998
Winner: Mark O'Meara
Score: 280.
Margin: Playoff
Runner-up: Brian Watts.
Prize: 300,000 pounds.
Summary: O'Meara closed with a 68 to become at age 41 the oldest man to win two majors in one year. The Masters champion nearly lost his ball on the sixth hole, finding it with seconds to spare. Watts had one leg out of the bunker on the 18th to hit a terrific blast to 3 feet for par to force a four-hole playoff. O'Meara took the lead with a 5-foot birdie on the 15th in a playoff — Watts missed from about that range — and he had two-putt pars the rest of the way. Tiger Woods birdied three of the last four holes to finish one shot out of the playoff. Justin Rose, a 17-year-old amateur, tied for fourth. Eighteen-year-old Sergio Garcia, also an amateur, tied for 29th.
___
Year: 2008
Winner: Padraig Harrington
Score: 283
Margin: 4 shots.
Runner-up: Ian Poulter.
Prize: 750,000 pounds.
Summary: Padraig Harrington showed up with an injured right wrist and uncertainty whether he could go 72 holes in his title defense. He became the first European in more than a century to win the British Open in successive years. First he had to overcome 53-year-old Greg Norman, who took a break from his honeymoon with tennis great Chris Evert and nearly became golf's oldest major champion. Norman had a one-shot lead with nine holes to play until he staggered home with too many mistakes in the wind and shot 77. Harrington put it away with a 5-wood to 4 feet for eagle on the 17th hole. He closed with a 69 and won at 3-over 283. Ian Poulter was the runner-up. It was the first major Tiger Woods missed as a pro because of reconstructive surgery on his left knee.
Sign up today for a 30 day free trial of unlimited digital access.

Summaries of British Opens held at Royal Birkdale
rssfeeds.usatoday.com
Summaries of British Opens held at Royal Birkdale
wtop.com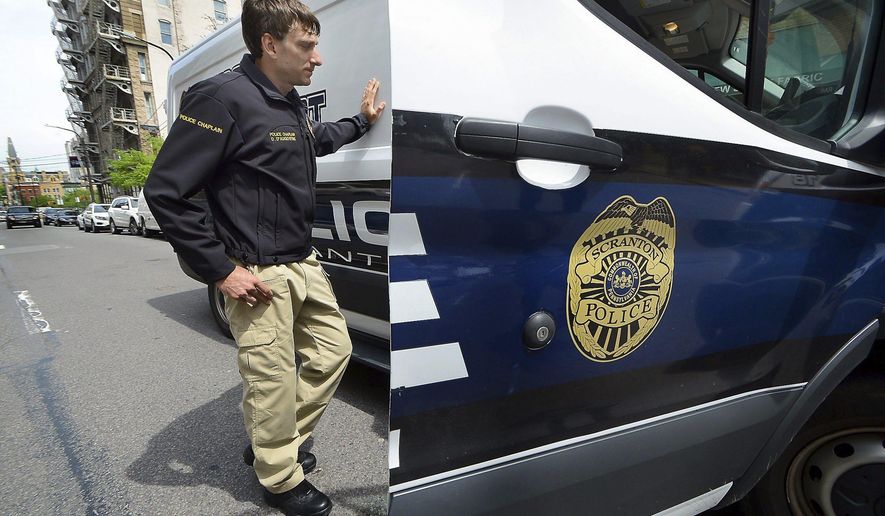 SCRANTON, Pa. (AP) - The man looked stunned after Patrolman Paul Tomczyk handed him a few pieces of paper.
The officer just finished explaining that his girlfriend, who is the mother of his children, had requested an emergency protection from abuse order against him when Capt. Dennis D'Augostine threw him another curveball.
He asked if he could pray for him.
D'Augostine, 37, is one of two front-line chaplains with the Scranton Police Department .
Formerly the lead pastor at Steamtown Church on Pittston Avenue, he stepped back to a support role there to focus on transforming what had been a ceremonial position - where the duties entailed little more than saying prayers at ceremonies - to one entwined with community policing, a brand of law enforcement in which officers forge strong personal ties with the neighborhoods they protect.
His church pays his salary, so his service comes at no expense to the city.
To go from soft-spoken, nondenominational pastor to police chaplain, he shaved his beard and cropped short his shaggy mop of hair. He wears a badge, a bulletproof vest and tactical boots. He has a radio, but carries no firearm or handcuffs. He has no authority to arrest anyone.
Jesse Miller, lead pastor at City Lights Church in Scranton, is the city's other front-line chaplain. Officer Thomas Genovese is assigned to the chaplain program as an officer liaison, though his police duties come first. The department seeks a third volunteer chaplain.
D'Augostine 's post, the first of its kind in Lackawanna County, started about two years ago. It follows a national trend in which chaplains are taking a stronger role in community policing.
Departments across the country are under increased scrutiny and reeling with public image problems amid accusations of racial profiling and brutality.
Scranton Police Chief Carl Graziano said an active chaplain, who spends time on the beat with other officers, injects a gentler demeanor into the mix.
"When you see the worst that people can do, you become very guarded, " he said of police.
A chaplain at the scene of a domestic dispute could turn a potentially explosive incident into one that ends in peace.
Since taking the top spot at the Scranton Police Department, Graziano has made a number of progressive moves to improve relations between officers and the community, including bringing back neighborhood beat officers who patrol on foot and on bicycles.
D'Augostine graduated from what is now Clarks Summit University's seminary. He lives in West Scranton with his wife, Kelly, and three sons.
He splits his working hours between his church and the department, often riding alongside another officer into the wee hours of the morning.
One of the most critical jobs D'Augostine and Miller perform is notifying family members when a loved one has died. Many officers say relief from that burden alone has made their jobs easier.
'Helpful… in a spiritual way'
Officer Nancy Baumann, a tough veteran cop from Manhattan who never lost her New York accent, pulled her cruiser around onto Front Street in South Scranton. D'Augostine was riding shotgun.
Baumann saw something she didn' t like and honked the horn.
A man emerged from one home, and she quickly explained that his car, with its rear end up on blocks, violated a city ordinance. She wasn' t leaving until he took it down.
"Normal citizens don' t know what all of the laws are, " she said. "You have to teach them."
The man explained that he couldn' t take it down without help.
"I' ll help you, " Baumann said blankly. She and D'Augostine exited the cruiser and helped guide the car onto the ground.
The man and Baumann had a history, she said. He had found his mother dead on the couch last fall, and Baumann was the officer dispatched to investigate. He was very distraught, she said, which is where a front-line chaplain might step in.
"I think Dennis would have been more helpful, maybe in a spiritual way, " she said. "I mean, I don' t know if the guy believes in God or anything, and I don' t think that that's what Dennis is here for, to make everyone believe in God or whatever, but he could do more spiritual stuff that I can' t."
'Face of God'
A Supreme Court decision from the 1970s paves the way for religion and public agencies to lock arms while upholding the First Amendment's establishment clause, which says the government cannot favor one religion over another.
In Lemon v. Kurtzman, the justices established the three-pronged "Lemon Test, " which, as it translates to D'Augostine 's position, says he must have a secular purpose, must not excessively entangle the government with religion, and neither proselytize nor inhibit religion.
That means he can ask someone if they would like to pray, but can' t preach while wearing the badge.
The Pennsylvania State Police has 71 chaplains scattered across the commonwealth. The FBI has its own chaplain program, and many large cities have chaplains - either trained officers, volunteers or both.
Chicago's Police Department began its chaplain program in 1980. Director Rev. Dan Brandt said his chaplains, some of whom are duly sworn officers, support the department's 11,500 officers and 5,000 civilian employees. They generally do not engage the community as in Scranton.
Brandt's most important job, he said, is reminding officers of the value of their work.
"In some neighborhoods, throughout the course of the day, they are the only face of God or normalcy or order that some folks get the opportunity to see, " Brandt said. "That's key - reminding them of the sacred nature of the work is something that's very important."
As they traverse the city streets of South Scranton together, Baumann and D'Augostine needle each other relentlessly.
D'Augostine grew up in a Catholic household in New Jersey. Unlike Baumann, there's no trace of an accent when he speaks.
And he and Baumann have very different opinions about where to get the best local pizza.
"I' m from Ocean City, New Jersey, originally, so I know my pizza, " he said. "I' m going to say the best pizza is …"
"I didn' t know pastors lie, " Baumann said, cutting him off and shooting him a coy look. "You' re saying, 'I' m from Ocean City, New Jersey, so I know my pizza.' "
"Where's the lying at? I' m Italian from South Jersey, " he shot back.
"Doesn' t matter, they have (expletive) pizza in New Jersey compared to Manhattan, " she said.
The conversation disintegrated into further lighthearted jostling.
"I love Dennis and Jesse (Miller) , " Baumann said. "I think they' re down to earth.… I just think it takes a lot of weight off the police officer when it comes to the really, really serious stuff."
Expanding program
While D'Augostine can respond to calls from other departments if asked, he's working to get training for other chaplains to serve on the front lines in their municipalities.
He's undergoing an intense screening period to join the FBI's chaplain program, and working with other departments in the county.
"I want to raise up chaplains for departments that want chaplains, " he said.
One Thursday afternoon, 11 men and women sat in the police headquarters roll call room for a training session.
They dissected trauma and its after-effects on the mind. They talked about how a chaplain, even without police powers, can be a critical ally.
"Most of the time, the cops want you because you' re their second set of eyes, " said Rev. Daniel Schafer, a pastor and chaplain from New Jersey who led the two-day training. "I can' t tell you how many times that a cop or a firefighter will say, 'Hey, I turned around on that call and I saw that you were there and I was OK.' "
However, not all cops see the chaplain program's purpose.
Graziano said even in his own ranks, some officers, who find comfort in routine and don' t like it disrupted, have yet to embrace it. Citing other departments, the chief said it typically takes about five years to get everyone to buy in.
Brandt said he has seen even atheists accept chaplain programs because the chaplains strengthen the whole department.
"They may not feel that they' re going to need the services, but they know that the guy next to them, whose life is in their hands, has that support system, " Brandt said. "Even if you don' t feel the need for it yourself, you' re safer for it."
David Clark, of South Canaan Twp., hung up his badge three years ago after his second DUI. He sat that day in the roll call room among other cops and pastors looking to become chaplains.
"When I got involved in law enforcement, I was working obnoxious amounts of hours, " he said, explaining that he soaked the stress from the job and all of his free time in booze. "As I got older, those behaviors became bad habits which ultimately became addictions."
He longs to return to law enforcement, but said he doesn' t feel like he deserves it unless he can give something back. So he is taking classes at Clarks Summit University, and working to obtain his equine therapy license to help other cops.
In addition to serving his local police department as a front-line chaplain, Clark envisions a retreat at his farm for police who, like he did, need a chance to dry out.
"After several falls and hard lessons learned, I decided this is the way I' ve got to go, " he said.
'Still a human'
It was almost 2 a.m. when Officer Tomczyk parked his cruiser on Thunderbird Drive.
With the emergency PFA order in hand, he and D'Augostine rapped on the apartment building's aluminum storm door.
Bewildered, and slightly agitated, a couple in pajamas answered. It took a few moments to realize that they weren' t the ones the police sought that night.
After about five minutes, the man they were seeking appeared from behind the building, still wearing his work uniform. Tomczyk had spoken with him by phone earlier and he knew the cops would be coming soon.
His girlfriend had requested the PFA, alleging that he had pushed her out of his car, threatened to kill her father and drove off with their son.
She asked the court to bar him from contacting her and their two children, the 1-year-old boy and a daughter, born just 10 days earlier and in a neonatal intensive care unit out of town.
The 22-year-old man was visibly shaken. He told the officers he and the woman had a loving relationship and didn' t understand the PFA.
D'Augostine 's prayer was simple. He put his hand on his shoulder and asked God to protect his little girl and help her body to heal.
In those few moments, the man's rigid exterior melted. He started sobbing gently.
After the prayer, he flicked on his cell phone and asked the officers if they wanted to see photos of his baby girl.
Back in the cruiser, Tomczyk debriefed the encounter.
"Whether he did what he did or not, he's still a human being, " Tomczyk, the patrolman, said. "He saw care.… He's going to be more receptive to the Scranton Police Department in the future whether he needs us or we need him."
___
Online:
http: //bit.ly/2t2n0kt
___
Information from: The Times-Tribune, http: //thetimes-tribune.com/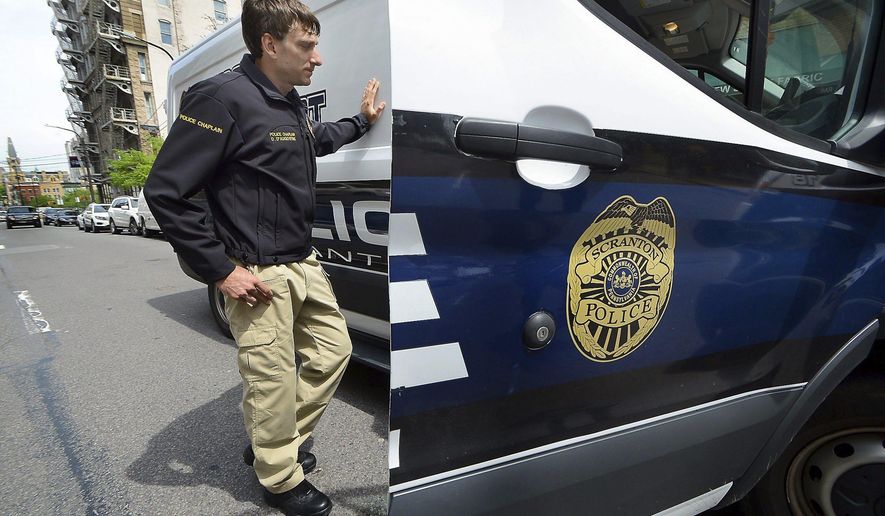 Police chaplains take a stronger role in community policing
washingtontimes.com
Guest lineups for the Sunday TV news shows:
ABC's "This Week" — Jay Sekulow, one of President Donald Trump's private lawyers; Rep. Adam Schiff, D-Calif.; Sen. Susan Collins, R-Maine; Health and Human Services Secretary Tom Price.
___
NBC's "Meet the Press" — Sekulow; Sens. John Cornyn, R-Texas, and Mark Warner, D-Va.
___
CBS' "Face the Nation" — Warner, Sekulow; Sen. Rand Paul, R-Ky.
___
CNN's "State of the Union" — Warner, Sekulow, Collins.
Sign up now for full access to our website, the digital newspaper, apps and more!.

Guest lineups for the Sunday news shows
charlotteobserver.com
Guest lineups for the Sunday news shows
wtop.com
A delivery driver allegedly doused with corrosive liquid during an acid attack spree has described how his face felt like it was on fire.
Jabed Hussain, 32, reportedly had his moped stolen when two suspects also riding a moped sprayed him with liquid in east London on Thursday night.
Two teenage boys, aged 15 and 16, remain in custody on suspicion of robbery and grievous bodily harm after a spate of assaults took place within a 90-minute period.
Five separate male victims were allegedly targeted by two moped-riding attackers in the north and the east of the capital
Mr Hussain told Sky News he was the victim of the night's first attack at around 10.25pm at the traffic lights on Hackney Road.
He had the corrosive substance thrown in his face before the two men stole the moped he was riding, he told the broadcaster.
"I heard the sound of water, like a glass of water, come on to my face. I didn't realise it was a kind of acid or anything.
"I left my bike, I ran, I don't know how I managed to run. I was just begging for the water because at that time it was burning on my face.
"Then I started screaming. I felt like somebody put fire on my face, on the left-hand side."
He was taken to an east London hospital, and his injuries are not being treated as life-threatening or life-changing.
Two of the assaults saw mopeds stolen, while another victim had "life-changing" injuries inflicted after being sprayed, the force added.
Chief Inspector Ben Clark, from Hackney Borough, said all of the victims were riding mopeds.
Both UberEats and Deliveroo, two takeaway delivery companies, confirmed one of their employees was among those attacked.
The assaults were branded "truly shocking" by Deliveroo, while UberEats called it "horrific and senseless".
Police said the 15-year-old was arrested at an address in Stoke Newington on Friday morning.
Later the 16-year-old was arrested in the early hours of Friday in Kingsbury Road after he was identified near the scene of the offences by local authority CCTV operators.
The pair are in custody at a north London police station.
Theresa May's spokeswoman said the Prime Minister viewed acid attacks as "horrific".
Commissioner Cressida Dick revealed the Home Office is working with the Met to see if a change in the law is needed.
Chief Inspector Clark said: "This is a fast-moving investigation and we have made two arrests today.
"However, I would like to ask the public for their help. Each of these offences took place in busy locations and we know there may be witnesses who have not yet contacted us. If you saw something or managed to film or photograph anything that might help us, please get in touch
Little more than 20 minutes after the first attack, at 10.49pm, a 44-year-old moped driver had been sprayed with a searing liquid at the Upper Street junction with Highbury Corner in Islington.
The victim was taken to a hospital in north London, but his vehicle was not taken.
Then at around 11.05pm, police were called after the attackers, still on a moped, swooped on a man in Shoreditch High Street, tossing a substance in his face.
His injuries were not life-threatening and his moped was not stolen, police said.
Within 15 minutes, the pair had struck again, launching a corrosive substance at a man on Cazenove Road near the junction with Upper Clapton Road, causing "life-changing" facial injuries.
Police were called to the scene at 11.18pm
The final assault was reported to police at 11.37pm, when another man was confronted as he sat on his moped in traffic in Chatsworth Road.
Liquid was sprayed in the victim's face and his moped was stolen by the attackers, who then fled.
The victim made his way home before contacting police.
He was taken to an east London hospital and police said they are waiting for an update on his condition.
The attacks come just days after John Tomlin, 25, appeared in court accused of throwing acid at aspiring model Resham Khan, 21 and her cousin Jameel Muhktar, 37.
They were left with life-changing injuries after the attack on Ms Khan's 21st birthday in Beckton, east London.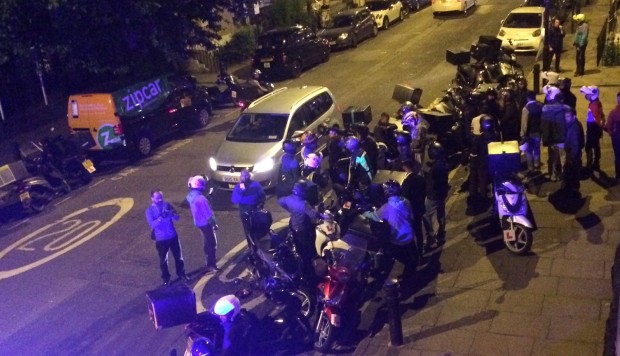 London acid attack is latest example of 'barbaric' trend that's on the rise in Britain
scmp.com
Sonny Gray and three relievers combined on a four-hitter and the Oakland Athletics beat Cleveland 5-0 on Friday night to spoil the return of Indians manager Terry Francona.
Yonder Alonso and Rajai Davis homered in the fifth inning while Matt Joyce doubled, scored and drove in a run to help the A's beat the Indians in the opener of the series after dropping three of four in Cleveland earlier this season.
It is the third shutout by Oakland this season.
Gray (5-4) allowed two hits over six innings with five strikeouts and one walk in one of his strongest outings this season. Both of the hits came in the third inning, one an infield hit by Erik Gonzalez.
Three relievers combined for the final nine outs. Santiago Casilla retired three for his 16th save.
Francona returned to the Indians bench following a six-game absence when he underwent a minor procedure for an irregular heart beat last week. The Cleveland skipper had also been tabbed to manage the American League in Tuesday's All-Star Game but had to opt out.
Sign up today for a 30 day free trial of unlimited digital access.

Gray, A's bullpen combine to shut out Indians 5-0
newsobserver.com
The bags of bugs are piling up in the walk-in freezer in St. Paul, about 150 arriving every two weeks, a number expected to rise to well over 1,000 by the end of September.
If the sack of insects from the trap at the top of Sibley Park's hill is any indication, Angie Ambourn will have picked through more than 30,000 bugs by the time she pulls the final bag from the freezer sometime next winter, the Mankato Free Press (http: //bit.ly/2tbFXRZ) reported.
With each bag, Ambourn will be searching for specific species she hopes she never sees. Zero for 30,000 would be a perfect score.
Supplying half of the dead bugs will be Patrick Walrath, who drives from Winona to Mankato to St. Cloud to Forrest Lake checking the 74 traps he's laid, including a pair at Sibley Park and couple more at Rasmussen Woods Nature Area. He places them in trees on public land, baits them with chemicals that attract different types of insects and checks them every two weeks.
Walrath fights off mosquitoes, ticks and poison ivy to do his best to capture quarry that, he hopes, doesn't exist in Minnesota.
So far, so good.
Since the traps went out in April — Walrath's 74 in the southern part of the state, an equal number tended by a counterpart in the northern forests — they haven't captured a single Asian longhorned beetle, not a solitary velvet longhorned beetle, nary a hint of any of the 17 invasive species that are the focus of the hunt.
"None, " Ambourn said during a visit to Mankato Thursday.
"That's a good thing, " Walrath said. "It's a job where you want to do your job and not find anything."
Nearly 30 cities are home to traps statewide, said Mark Abrahamson, assistant director of the Plant Protection Division of the Minnesota Department of Agriculture. Most are in larger cities, because most of the invasive species are arriving via commerce — typically wood products from Asia.
Funded for one year by a U. S. Department of Agriculture grant, work began in April, all the traps were out by early May and the survey will be completed by the end of September.
"The best case is there's nothing here and we don't find it, " Abrahamson said.
The worst case is there's something here and they don't find it. In that scenario, years could go by as a tree-killing, orchard-devastating, vineyard-wrecking new pest arrives, reproduces, spreads and establishes itself before any counterattack is launched. Most of the species — such as the Asian longhorned beetle — are doing damage elsewhere, including in the United States, but haven't been found yet in Minnesota.
"We have a better chance of taking action against them if we find them early, " Walrath said. "That's kind of the goal of the survey."
The stakes in fighting invasive species are high, for property owners with cherished trees, for workers and industries that rely on forests, for farmers of everything from grapes to soybeans. Walrath, who has also collected bugs for pest surveys involving row crops like soybeans and potatoes, said it all goes back to protecting the state's resources.
"I like to think that the woods, the water, the agriculture are what's important, " he said. "And if I can do anything to help that, I'm in."
Walrath said the lures he uses, which mimic insect pheromones or smells emitted by unhealthy trees, have scents so strong his brain has scent-flashbacks on his off-days. He talks of removing multiple ticks at the end of a long day. And he knows what lure is particularly attractive for species such as aedes vexans: himself.
"This week, a million, " Walrath said when asked how many mosquitoes he's seen while checking the traps. "The last two weeks have been ridiculous. I think they're over the whole concept of DEET. I don't think they care any more."
Dealing with the traps isn't a quick process, either. The contraptions have to be lowered from the trees, lures have to be replenished, the liquid goop at the bottom of a trap has to be run through a coffee filter to screen out the insects.... And when he gets through all 74 traps, two weeks have elapsed.
"It's like painting the Gold Gate Bridge, " he said. "When you get done, start over."
As for Ambourn, a bag of insects isn't always a bouquet of roses.
"Sometimes they get a little icky, " she said, particularly during hot, wet weather — especially if the carrion beetles find the trap and start feasting.
But a good clean batch like the one from Sibley Park ... .
"This one's a longhorned beetle. It's a native. That's a redheaded ash borer, " Ambourn said, using a tweezers to pick another native Minnesotan out of the glob of insects and tree bits at the bottom of the filter. "That looks like a click beetle."
"I think Angie's in her element, " Walrath said.
"There's some interesting stuff in here, " Ambourn said. "I mean, if you're an entomologist."
Some of the targeted species are large and distinctive, others require a microscope to count spines or leg segments or antenna segments. Any that Ambourn is uncertain about or that she believes are of interest are shipped to university laboratories around the country that specialize in particular insect types.
While it takes someone like Ambourn to tell the difference between a velvet longhorned beetle and a banded elm bark beetle, she and Walrath said it's imperative that average Minnesotans also pitch in when combating invasive species.
First and foremost, people should burn local firewood when camping or going to the cabin — not haul it from one part of the state to another. Second, they should take an interest in insects that seem to be attacking a tree or other plant, take a picture or notes and report it to arrest.the.pest@state.mn.us.
And shoppers should consider invasive species when buying furniture, especially log furniture. Ask where it comes from and consider buying an alternative produced in Minnesota. As for folks who already have furniture from Asia, if they see a bug emerging from a burrow in the wood, catch it.
"Arrest the pest, " Walrath said.
"If you think it's something you've never seen before, call it in, " Ambourn said. "Better safe than sorry."
___
Information from: The Free Press, http: //www.mankatofreepress.com
An AP Member Exchange shared by the Mankato Free Press.
Sign up today for a 30 day free trial of unlimited digital access.

Mankato parks on the front lines of hunting invasive insects
newsobserver.com
The White House is reviewing a policy that would expand the Department of Homeland Security's authority to rapidly deport illegal immigrants.
Since 2004, the agency has had the power to remove immigrants living in the country illegally for less than 14 days who were apprehended within 100 miles of the border.
The new policy would allow DHS to deport illegal immigrants picked up anywhere in the country who have not lived in the U. S. for more than 90 days, according to an internal memo obtained by The Washington Post .
A DHS spokesperson said the policy is a draft and has not been approved by Homeland Security Secretary John Kelly.
"The potential changes would allow DHS to more efficiently use resources to remove persons who have been illegally present for relatively brief periods of time while still observing due-process requirement, " the spokeswoman, Joanne Talbot, told The Washington Post.
Expanded expedited deportation authority would prevent more illegal immigrants from seeking asylum in the country, opponents of the policy said.
"This is a radical departure from current policy and practice, which takes one giant step towards implementing Trump's deportation force across the nation, Marielena Hincapie, executive director of the National Immigration Law Center, told The Washington post.
The internal DHS memo states that the policy it's considering "will enhance national security and public safety" by relieving the nation's immigration courts of "historic backlogs" that have cause hearings to be delayed for more than two years, The Washington Post reported.
At the beginning of 2017, more than 534,000 removal cases were pending in immigration court, according to the memo, according to The Washington Post.
The memo is designed to "eliminate incentives not only to enter the country unlawfully but also to attempt to quickly travel into the interior of the United States in an effort to avoid the application of expedited removal, " it says.
The number of immigrants entering the country illegally from Mexico has plummeted since Trump took office because of immigrant fears of the Trump administration's strict policies, administration officials said.

Trump administration eyes expanding DHS deportation powers: report
nypost.com
Here is a recap of Friday's second round of the John Deere Classic, played at TPC Deere Run in Silvis, Ill.:
. @PRodgersGolf leads the @JDClassic .
Shots like this help… a lot. #QuickHits pic.twitter.com/sH9pgexEjL
— PGA TOUR (@PGATOUR) July 14,2017

Patrick Rodgers leads by two at John Deer Classic
upi.com
E_Correa (7) , Y. Gurriel (7) , J. Polanco (10) . DP_Minnesota 1, Houston 1. LOB_Minnesota 11, Houston 10.2B_B. Dozier (18) , Granite (1) , Buxton (7) , Altuve (26) , Beltran (19) , Bregman (22) . HR_B. Dozier (14) , B. McCann (11) , Ma. Gonzalez (17) . SF_J. Polanco (5) , Reddick (7) .
HBP_by Pressly (Gurriel) , by Morton (Sano) .
Umpires_Home, Lance Barksdale; First, John Tumpane; Second, Ted Barrett; Third, Stu Scheuwater.
T_3: 42. A_38,006 (42,060) .
Copyright © 2017 The Associated Press. All rights reserved. This material may not be published, broadcast, written or redistributed.
Many of the most stolen vehicles continue to be older, pre-"smart key" models. See what topped the list nationwide, and in the D. C. area.
Need a break? Play a quick game of solitaire or Sudoku. Or take one of our fun quizzes!
What are the best and worst "Star Wars" movies ever made?

Astros 10, Twins 5
wtop.com
ATLANTA (AP) - Fear and a frantic national search followed the escape last month of a pair of armed robbers who allegedly killed two correctional officers along a rural stretch of highway in Putnam County.
Prison breaks are often the stuff of Hollywood movies. But how often do convicts actually get loose?
An Atlanta Journal-Constitution review of data found that Georgia has recorded hundreds of inmate "escapes" in the past seven years. But few of them spur the kind of national dragnet that Ricky Dubose and Donnie Russell Rowe's short-lived bid for freedom did. In fact, most are inmates on the verge of being released who simply walk away, records show. And more than half are back behind bars within days.
Since 2009, the state Department of Corrections has listed more than 800 "escapes." Nearly 90 percent involved inmates assigned to halfway houses as they prepared for release from state custody. In some instances, they don' t return from work or some other appointment.
"There's not a lot we can do, " said Ricky Myrick, who oversees the operation of all of the Georgia Department of Corrections facilities. "It's a calculated risk when we send them (to a halfway house or transition center) .. It's an opportunity for this individual to slowly ease back into society. The bad part is when they get out in the real world. they get around the same stuff that got them in trouble in the first place."
Dubose and Rowe represent the worst-case scenario. They allegedly gunned down correctional officers Christopher Monica and Curtis Billue with the guards' own 9 mm Glocks aboard a prison transport bus, then fled in a Honda Civic they carjacked. The fugitives were captured roughly 60 hours later in Tennessee after authorities said they held an elderly couple hostage for three hours and then led troopers on a high-speed chase with bullets flying. They eventually surrendered to a citizen after crashing a stolen Jeep.
But a more typical example is Dennis Zachery Carlyle. Sentenced to seven years for robbery, Caryle escaped from the Atlanta Transitional Center on Ponce de Leon Avenue a year before he was scheduled to be paroled. The 23-year-old fugitive was picked up the next day at an East Point package store with no reports that he harmed anyone.
All three are among the 826 escapes the state has recorded since Jan. 1,2009.
"They have to look into their procedures and protocols if they have that many people walking away from a halfway house or not returning (from an approved leave) , " said Kevin Tamez, a former federal agent and now a consultant.
'They just screwed up'
Myrick said recaptured inmates have explained they went to see a girlfriend or visit friends, and lost track of time. And then they were afraid to come back to face the consequences - as much as 10 more years in custody and reassignment to a prison.
"Mostly it boils down to 'I got drunk' or 'I got high and I got scared and didn' t want to come back,' or 'I got upset with my girlfriend and got scared.' It's rare one just runs off, " Myrick said.
He said an inmate is considered a fugitive - and a warrant issued - if eight hours have passed since the time they were scheduled to return.
Tamez said he suspects many escaped inmates planned to return to their respective transition centers, but then it got late. "Who's going to be stupid enough to get put back behind the fence?" Tamez said. "They just screwed up."
Even though many were convicted of violent crimes, by the time they are assigned to a transition center they are no longer considered a threat to society.
"They' re going to be living beside you sooner or later, " Myrick said, adding that it was "best" to ease those inmates back into society.
"On one hand, we think these are good programs, " said Martin Horn, a professor of corrections at John Jay College of Criminal Justice at the City University of New York. " (Inmates) get to find work and get int0 a routine of civilian life. But there are risks, and we' re never going to eliminate risks."
'Simple complacency'
State data shows that 717 Georgia inmates have escaped from transitional centers since 2009. Another 84 have escaped from state prisons, such as Rogers State Prison, where the DOC operates a massive farm in Tattnall County that depends on inmate labor. The rest came from lower-security lockups such as probation detention centers and county work camps where state prisoners are housed so they can provide labor for local governments.
Tamez said "99.9 percent of time" a prison escape can be attributed to "simple complacency" on the part of the correctional officers watching those inmates. Prisoners are always watching, looking for opportunities, Tamez said.
Consider Jamie Bernard Worthy and Eugene Spearman, both of whom escaped from transition centers twice - Worthy in 2010 and 2016 and Spearman in 2012 both times; once he was out for three days. Worthy was paroled in February. Spearman, whose sentence runs until March 2022, is at the Coffee Correctional Facility, awaiting a decision on parole.
The AJC based its reporting on warrant logs provided by the DOC in response to an open records request.
But there were some issues with the information provided. The AJC found several instances in which the date an inmate was recorded as being recaptured was prior to the date they allegedly escaped. There were also dozens of instances in which the logs did not include a date for recapture, yet the agency's online records showed the inmate back in prison or even paroled.
There were 36 inmates listed as escaped but with no record of recapture either in the records provided or in news accounts.
'Ready to be integrated'
Escapes like the one in Putnam County on June 13 are "rare, " said Keramet Reiter, assistant professor of criminology, law, and law and society at the University of California at Berkeley. "What it takes to get into a halfway facility is usually an incredibly clean disciplinary record. A lot of times the prisoner may be going before a parole board and proving they are ready to be integrated into society."
Out of 746 cases in which a recorded escape date and a recaptured date were chronologically logical, more than a quarter were caught the same day. More than half were back in custody within three days. Only 27 percent of those who escaped were free for more than a few months.
For instance:
" James Beggett, now 66, had served 35 years of a life sentence for a 1981 murder in Chatham County when he went to work on Jan. 26,2016. He didn' t return to the Charles D. Hudson Transition Center in LaGrange after his shift. The U. S. Marshals Service fugitive task force captured him a week later at an Alabama truck stop. He is now at Dooly State Prison.
" Phil Mincey escaped from the Macon Transition Center in 2011 and was caught five days later. He is serving a life sentence for a Dodge County murder conviction at Wheeler Correctional Facility.
" Darrell Hall, sentenced to life for possession of cocaine with intent to distribute, escaped from the Clayton Transition Center in May 2010 but was recaptured the next day. He was paroled in 2015.
Just 18 escaped inmates were still free a year later, records show.
And those who end up back behind bars have years - sometimes decades - tacked onto their sentences.
Consider Johnny Cooper Jr., who was convicted of 1965 car thefts in Habersham and Miller counties. According to the Department of Corrections, he escaped twice. DOC records show he escaped for the second time on Nov. 14,1965,15 months into his three-year sentence. Years later he was convicted in Washington and, while there, the time on his Georgia punishment was allowed to run simultaneously with the Washington sentence. According to DOC records, Cooper would have served his entire Georgia sentence on Oct. 18,1979, had he not escaped. The now-69-year-old man was released from prison in April 2016.
The Department of Corrections would not allow interviews with the inmates who escaped. The Department of Community Supervision would not provide any contact information on the former fugitives who have since been paroled and they could not be otherwise located.
___
Information from: The Atlanta Journal-Constitution, http: //www.ajc.com

Hundreds of Georgia inmates escape, but not for long
washingtontimes.com
CINCINNATI (AP) — Gio Gonzalez was tired after throwing eight shutout innings on a hot and muggy evening. His manager wanted him to face one more batter, and the left-hander took it as a compliment.
Gonzalez pitched four-hit ball into the ninth inning, retired Joey Votto to open the inning on his 113th pitch, and let the bullpen finish off the Washington Nationals' 5-0 victory over the Cincinnati Reds on Friday night.
Bryce Harper extended his mid-July tear with two homers as the Nationals got rolling out of the All-Star break with a solid all-around win.
"Just a good way to start the second half, " Gonzalez said.
Gonzalez (8-4) snapped his streak of three straight tough-luck losses. He allowed a double and three infield singles before leaving. Matt Albers gave up three singles, and Matt Grace escaped the bases-loaded threat for his first save.
Gonzalez thought he was done after the eighth inning, but manager Dusty Baker wanted him to face Cincinnati's most dangerous hitter leading off the ninth before taking the night off.
"I got some work in today, definitely, " said Gonzalez, who had not gone eight innings this season. "It was good to see that (Baker) let me go out there in the ninth. I was told to go out there in the ninth and pitch, and I felt good enough to keep pitching."
The Reds were shut out for only the second time this season. Four of their seven hits were infield singles.
Harper had a two-run shot and a solo homer off Tim Adleman (5-7) as the NL's top offense got right back in form after the All-Star break. Harper has 22 homers overall, four during his nine-game hitting streak.
Baker had offered Harper a day off if he needed one after the All-Star Game, but the outfielder turned it down.
"I want to stay in the lineup, and every single day I'm in there to do some damage, " Harper said.
The Nationals lead the league in most categories on offense and featured three starting position players in the All-Star Game — Harper, Ryan Zimmerman and Daniel Murphy. Murphy got a planned day off on Friday, and the rest of the offense carried on without him.
Anthony Rendon extended his hitting streak to eight games with an RBI single. Stephen Drew also drove in a run with a single off Adleman, who lasted only 4 1/3 innings — his season low for a start that didn't involve an injury.
Gonzalez had lost his last three starts despite allowing a total of five runs, getting little help from his offense or the bullpen. Everything fell into place to end the streak.
"We weren't able to get any pressure on Gio, " Reds manager Bryan Price said. "We didn't have any push at all to get back into the game until the ninth inning. I think we only had six baserunners. That was a dominant performance."
The Reds got only two runners as far as second base against Gonzalez, who walked two and struck out six.
NICE GRAB: Brian Goodwin saved a run in the fourth inning. He made a diving catch of Jose Peraza's sinking liner with two runners aboard for the final out, what Gonzalez called "a monster play in center field for me."
GOING, GOING ... The Reds have given up 148 homers, on pace to shatter their major league record from last season when they allowed 258. It was Harper's fourth multi-homer game of the season and the 14th of his career.
NATIONALS MOVES: Starter Joe Ross (5-3) went on the 10-day DL with a sprained elbow. There's no indication how long he'll be sidelined. The Nationals also called up relievers Austin Adams and Trevor Gott from Triple-A Syracuse and optioned LHP Sammy Solis.
TRAINER'S ROOM: Reds — C Devin Mesoraco will catch in the bullpen on Saturday. The Reds then will decide whether he needs a rehab assignment before returning from the DL. He's been sidelined since July 3 with a strained left shoulder.
Nationals — OF Jayson Werth is taking longer than anticipated to recover from a bruised left foot, which he fouled a ball off on June 5. Baker says the foot still bothers him when he runs hard.
UP NEXT: Reds — RHP Luis Castillo (1-1) makes his fifth major league start. He made his debut in Washington on June 13 and gave up solo homers to Goodwin and Rendon during five innings of a 6-5 loss.
Nationals — RHP Max Scherzer (10-5) started for the NL in the All-Star Game on Tuesday and pitched one inning.
Copyright 2017 The Associated Press. All rights reserved. This material may not be published, broadcast, rewritten or redistributed.

Bryce Harper homers twice, Nationals beat Reds 5-0
charlotteobserver.com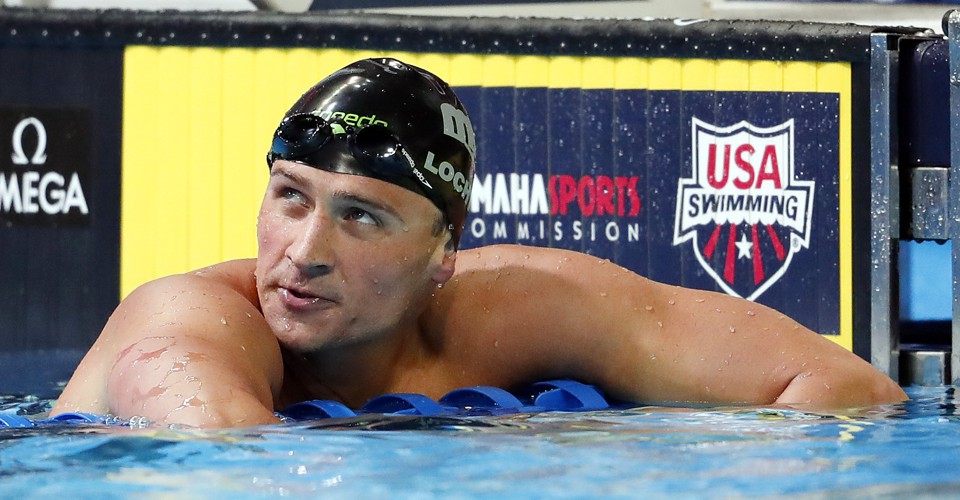 A Brazilian court dismissed its case against U. S. Olympic swimmer Ryan Lochte on Thursday, less than a year after Lochte was charged with falsely reporting a crime to authorities—an offense that carries up to 18 months in prison. While competing in the 2016 Rio Olympics, Lochte alleged that he and three of his teammates had been robbed at gunpoint at a Shell gas station after attending a party celebrating the end of the swimming competition. Brazilian officials later claimed that Lochte and his teammates had vandalized the station's restroom while intoxicated, and security guards were simply demanding payment for the damages.
Lochte's claims were quickly called into question after surveillance footage showed a less severe altercation with security officials. Three days after the incident, a Brazilian judge ordered the swimmers to remain in Rio for questioning, citing inconsistencies in their testimonies. In her filing, the judge claimed that surveillance footage from the Olympic Village showed the swimmers joking with one another after returning from the gas station. One of the swimmers, Jimmy Feigen, ultimately paid a $10,800 fine in order to leave the country, but Lochte had already departed before police had an opportunity to question him.
In an interview with NBC's Matt Lauer, Lochte apologized to the people of Brazil for his "immature, intoxicated behavior." "I know what I did was wrong, " he said. "And I know I learned my lesson." He added that he had "over-exaggerated" his account and omitted certain details.
In the wake of Lochte's apology, a USA Today investigation seemed to restore some credibility to his claims. The report found no evidence that the swimmers had vandalized the bathroom—only that Lochte had knocked a poster off a wall, which he later paid $33 for. Nevertheless, the damage to Lochte's public image had been done. The swimmer lost a number of his sponsors, including Speedo and Ralph Lauren, and was suspended from the U. S. national swim team for 10 months. Lochte was also required to forfeit $100,000 in bonuses.
In the months following the scandal, Lochte's fortune seemed to improve. He picked up new sponsors, landed a spot on Dancing with the Stars, and welcomed his first child with his fiancé. He is currently training for the 2020 Olympics and his U. S. national team suspension has been lifted. On Thursday, an appellate court in Brazil concluded that Lochte had not broken the law last summer because the investigation was initiated by Rio police, not the swimmer himself. With its ruling, the court overturned an earlier decision from a three-judge panel in a lower court, which opted to pursue the charges.
While Lochte has yet to comment on the court's decision, his attorney, Jeff Ostrow, spoke to USA Today Sports on Friday. "We are pleased that the court has finally dismissed the criminal prosecution against Mr. Lochte, while at the same time appropriately recognizing that he committed no crime, " Ostrow said. "It has been a long year, " he added, "but in the end, justice prevailed."

Ryan Lochte cleared of criminal charge in Rio gas station scandal
nydailynews.com
LONDON – Conor McGregor was no stranger to inciting controversy during the world tour with Floyd Mayweather to promote their boxing match. On Friday, though, it was Mayweather's turn.
One day after Mayweather took McGregor to task for using racially insensitive language in New York, Mayweather fired off an anti-gay slur at McGregor on the tour's final stop in London.
"I actually didn' t even hear that, " McGregor told MMAjunkie backstage at SSE Arena Wembley.
Rather than drop the subject, McGregor proceeded to explain that he felt the use of the slur is no big deal.
"People are so touchy on words. It's absolutely crazy, " McGregor said. "If he said that, I couldn' t give a (expletive) . I think what he was trying to do was to switch it up and get the people back in his favor. I think it was a bit of a (expletive) move to try and instigate that on me.
"Everyone with a sane mind that is watching knows what way it is. It is what it is. Some dirty tactics out there, but that's what to expect. The fight game is a ruthless business."
McGregor (21-3 MMA, 9-1 UFC) and Mayweather (49-0 boxing) face off Aug. 26 at T-Mobile Arena in Las Vegas in a pay-per-view event expected to be the most lucrative prize fight of all time.
Whether both men's questionable choice of words on the four-city, three-country tour ultimately turns off potential buyers on the fence, that remains to be seen.
Check out the video above to hear more from McGregor.
For more on " The Money Fight: Floyd Mayweather vs. Conor McGregor, " check out the MMA Rumors section of the site.

Reacting to Floyd Mayweather's and Conor McGregor's world tour
espn.com
For the third time, California Gov. Jerry Brown has rejected parole for a man convicted of gunning down a San Diego police officer in 1978 when he was a 17-year-old gang member.
Brown's decision late Friday rejected the recommendation of a state parole board, which said Jesus Cecena is fit to be released.
Brown also blocked Cecena's parole in 2014 and 2016.
Brown says he acknowledges Cecena youth at the time of the crime, and that he has improved himself in prison.
The governor says that while Cecena admitted for the first time this year that he wanted to execute Officer Archie Buggs, he still refuses to give a real accounting of the killing.
Cecena was tried as an adult and sentenced to life in prison for shooting Buggs.
Sign up today for a 30 day free trial of unlimited digital access.

Gov. Brown blocks parole for killer of San Diego officer
thenewstribune.com
A feud between two companies that provide emergency vehicles for cities near Houston escalated to dangerous levels, one side claims in an explosive lawsuit filed Wednesday.
The plaintiff, Republic EMS, is suing City Ambulance for damages exceeding $200,000, according to Harris County, Texas, court records. In Republic's initial filing, the company alleges that City Ambulance and its president, Mohammad Massoud, vandalized Republic's fleet of ambulances nearly a dozen times over the course of several months.
According to KTRK, Republic EMS says in its lawsuit that it has recently won over clients from City Ambulance, leading to the company taking steps to retaliate. Specifically, Republic alleges that City Ambulance hired someone to shoot out the windows and a Republic ambulance with a firearm in May 2016.
Several months later, the company says, nine of its vehicles were vandalized "at a variety of locations in Texas." It is unclear from court records what form this alleged vandalization took.
At another point, Republic says someone hired by City Ambulance cut the brake lines to one of their ambulances, according to the Houston Press, though the lawsuit does not specify when this allegedly occurred.
Because of the vandalism, Republic says it heightened security measures and ending up spending more than $100,000. While repairing the vehicles, the company says, it found GPS tracking devices that it believes City Ambulance installed to follow them and send advertising material to their clients, according to court documents.
"Defendants' conduct is not just reckless, it is malicious and criminal, " the lawsuit reads. " ... The conduct of the defendants is reprehensible. This is especially true considering that City Ambulance holds itself out as a provider of health services."
In response, however, a lawyer representing City Ambulance told KTRK that the accusations are "totally absurd."
"It sounds like something out of a movie. If they've done all this, where are the police?" attorney Robert Pelton told the station.
He also said the accusations were the result of former employees trying to damage City Ambulance's reputation.
"It's very cutthroat. It's something like Al Capone and his crew would do, " Pelton said. "This is a revenge-type deal and they're using the courts seeking revenge. That's not the way you're supposed to do things."
According to the Houston Press, City Ambulance is already fighting two lawsuits related to a February incident in which a City Ambulance driver crashed while transporting a patient to the hospital. The patient later died, and the paramedic with him in the back claims to have suffered a collapsed lung and broken wrist and arm.
According to the Mackinac Center for Public Policy, "ambulance wars, " or competition between private and public emergency medical service providers were especially heated in the 1990s, as private companies providing ambulances spread and grew nationally, especially in cities.
Sign up today for a 30 day free trial of unlimited digital access.

An ambulance company claims its rival slashed brake lines and shot out windows, lawsuit says
sacbee.com
With the money from CDs and digital downloads disappearing, the music industry has pinned its hope for the future on online song streaming, which now accounts for the majority of the $7.7 billion U. S. music market.
But the biggest player in this future isn't one of the names most associated with streaming - Spotify, Amazon, Pandora or Apple. It's YouTube, the site best known for viral videos, which accounts for 25 percent of all music streamed worldwide, far more than any other site.
Now, YouTube is locked in an increasingly bitter battle with music labels over how much it pays to stream their songs - and at stake is not just the finances of the music industry but also the way that millions of people around the world have grown accustomed to listening to music: for free.
Music labels accuse YouTube of using a legal loophole to pay less for songs than traditional music-streaming sites, calling YouTube the biggest threat since song piracy crippled the industry in the early 2000s. The industry has pressed its case to regulators around the world in hopes of forcing a change.
"I do think YouTube is starting to panic a little bit, " said Mitch Glazier, president of the Recording Industry Association of America.
But YouTube is not backing down, stressing the benefits to musicians of promotion on one of the web's most popular sites - which allows ordinary users to integrate music into their uploads. YouTube also warns against attacks that could reduce competition among streaming services.
"The industry should be really, really careful because they could close their eyes and wake up with their revenue really concentrated in two, three sources, " said Lyor Cohen, YouTube's global head of music, referring to Spotify, Apple Music and Amazon Prime Music. (Amazon founder Jeffrey Bezos owns The Washington Post.)
The music industry counters they are backed into a corner when negotiating with YouTube - a unit of Google-parent Alphabet - which is mostly shielded by federal law from being responsible for what users post on the site.
"It isn't a level playing field, " said one executive at a major music label who spoke on the condition of anonymity because he wasn't authorized to talk, "because ultimately you're negotiating with a party who is going to have your content no matter what."
Now, the battle is heating up as the European Union is expected to release new rules later this year for how services such as YouTube handle music, potentially upending some of the copyright protections that undergird the Internet.
Online streaming works like a digital jukebox, with fractions of a penny paid each time a song is played. The money comes from ads and subscriptions.
The E. U. has formally recognized that there is a "value gap" between song royalties and what user-upload services such as YouTube earn from selling ads while playing music. YouTube is by far the largest user-upload site.
How such a law would address the gap is still being decided, but the E. U. has indicated it plans to focus on ensuring copyright holders are "properly remunerated."
Even the value gap's existence is disputed.
A recent economic study commissioned by YouTube found no value gap - in fact, the report said YouTube promotes the music industry, and if YouTube stopped playing music, 85 percent of users would flock to services that offered lower or no royalties.
A different study by an independent consulting group pegged the YouTube value gap at more than $650 million in the United States alone.
"YouTube is viewed as a giant obstacle in the path to success for the streaming marketplace, " Glazier said.
The dispute boils down to what YouTube pays for songs.
Musicians from Arcade Fire to Garth Brooks to Pharrell Williams say they earn significantly less when their songs are played on YouTube than on a site such as Spotify - even though many listeners use these services in the same way. Both YouTube and Spotify allow users to search for music and find song recommendations. On YouTube, users can find music alongside cat videos and toy reviews in what is generally a free-for-all of content, while people go to Spotify and the like for a more refined experience. Some audiophiles argue the sound quality on music streaming sites is superior.
YouTube pays an estimated $1 per 1,000 plays on average, while Spotify and Apple music pay a rate closer to $7.
Irving Azoff, the legendary manager for acts such as the Eagles and Christina Aguilera, said he has one artist - whom he declined to name - who gets 33 percent of her online streams from YouTube but only 10 percent of her streaming revenue.
Smaller acts see it, too. Zoe Keating, an instrumental cello player, showed The Washington Post a statement from YouTube showing that she earned $261 from 1.42 million views on YouTube. In comparison, she earned $940 from 230,000 streams on Spotify.
"YouTube revenue is so negligible that I stopped paying attention to it, " Keating said.
YouTube admits that it pays less for songs.
But the reason for this disparity is where the two sides split.
The music industry claims YouTube has avoided paying a fair-market rate by hiding behind broad legal protections. In the United States, that's the "safe harbor" provision, which essentially says YouTube is not to blame if someone uploads a copy-protected song -unless the copyright holder complains.
This, the music industry argues, leads to a costly game of "Whac-A-Mole": hunting for illicit song uploads and filing notices with YouTube.
"You can't prevent something from going up on YouTube. All you can do is ask them to take it down, " said Stephen Carlisle, who runs the copyright office at Nova Southeastern University. "At some point, it's not worth it to do this."
YouTube says it has the solution: Its Content ID system automatically checks for violations by comparing songs detected in new uploads against a database of claimed songs, capturing 98 percent of complaints. The company says it averages fewer than 1,500 traditional copyright claims from the music industry a week.
YouTube also pointed out that it has licensing deals with music labels large and small.
Earlier this year, Warner Music Group - one of the "big three" music labels - signed a new licensing deal with YouTube, and a memo from Warner chief executive Steve Cooper leaked out, saying the deal was signed "under very difficult circumstances."
"There's no getting around the fact that, even if YouTube doesn't have licenses, our music will still be available but not monetized at all, " the memo continued.
Warner confirmed the memo's authenticity, but, like the other major labels, declined to comment for this article.
Cooper's complaints surprised Cohen, who worked at Warner until leaving for YouTube last year.
"I never heard that from his mouth during the entire negotiation, " Cohen said.
Cohen's move to YouTube created waves in the industry. After all, Cohen was famous for taking one of the hardest stands against YouTube when, in 2008, he pulled Warner's entire song catalogue from the video service to protest low song royalties. It was the nuclear option.
And it failed. After nine months and spending $2 million trying to keep its music off YouTube, Warner capitulated.
Cohen said he was sympathetic to his former colleague's complaints. But YouTube pays $1 billion in song royalties worldwide each year. Cohen said his company has been hindered by its global reach - ad rates are lower outside the United States - and its slower rollout of a subscription option, YouTube Red. Song royalties are higher with monthly subscriptions than ads.
"What I'm trying to do with YouTube is be a cheerleader to build a subscription business that the industry can be proud of, " Cohen said.
Nabila Hisham, 22, is a music fan on YouTube. Recently, the college student in Kuala Lumpur, Malaysia, has been playing one song repeatedly: "Despacito, " a chart-topping Latin pop remix featuring Justin Bieber. The YouTube video - which has a total of 412 million plays - is a photo of Bieber's tattooed neck. The video is beside the point. For, Hisham, it's about the music.
"I'm glad that YouTube exists, " she said.
Sign up now for full access to our website, the digital newspaper, apps and more!.

Why musicians are so angry at the world's most popular music streaming service
heraldonline.com
A 55-year-old man was shot to death Friday morning in northwest Indiana.
A medicolegal death investigation team was called about 5: 45 a.m. to the 1000 block of East 63rd Place in Merrillville, Indiana, where they found John R. Thiel with a gunshot wound, according to the Lake County coroner's office.
Thiel, who lived at the same address, was pronounced dead 7: 41 a.m., according to the coroner's office. An autopsy did not rule on his cause and manner of death pending further investigation.
The Lake County sheriff's office did not immediately respond to a request for more information.

Police: Man, 25, shot to death in Brighton Park
chicago.suntimes.com
Man, 44, shot in Lithuanian Plaza
chicago.suntimes.com
A 20-year-old man was critically wounded in a stabbing early Saturday in the Garfield Ridge neighborhood on the Southwest Side.
About 1: 40 a.m., he was walking south in the 6000 block of South Archer Avenue when he got in an argument with several people who got out of an SUV that pulled up, according to Chicago Police. The argument escalated, and the man was stabbed in the abdomen.
The man was taken in critical condition to Loyola Medical Center in Maywood, police said.

41-year-old man critically wounded in West Pullman shooting
chicago.suntimes.com
Man, 44, shot in Lithuanian Plaza
chicago.suntimes.com
Every season of Game of Thrones is filled with death, and last season was no exception. Some of those deaths really, really hurt, and some are still being celebrated by fans. But none of them were easy. Here's a complete list of the major characters who were killed during Season 6.
This list of people who died is in alphabetical order. Of course, we can' t even begin to count all the deaths from Cersei's wildfire destruction:
To learn more about Game of Thrones Season 6, see these stories below:
Read More From Heavy
How Many Giants Are Left on 'Game of Thrones' ?
Read More From Heavy
How Many Direwolves Are Left on 'Game of Thrones' ?
Read More From Heavy
'Game of Thrones' Refresher: A Complete Recap of Season 6
Fill in your details below or click an icon to log in:
You are commenting using your WordPress.com account. (Log Out / Change)
You are commenting using your Twitter account. (Log Out / Change)
You are commenting using your Facebook account. (Log Out / Change)
You are commenting using your Google+ account. (Log Out / Change)
Connecting to %s
Notify me of new comments via email.
Notify me of new posts via email.
HEAVY · 5 hours ago
Huffington Post · 3 hours ago
Fox News · 4 hours ago
Newsmax · 7 hours ago
Politico · 7 hours ago

'Game of Thrones' Refresher: A Complete Recap of Season 6
heavy.com
GOLF
BEDMINSTER, N. J. (AP) — Some of the best golfers in the world are competing in New Jersey this weekend — and vying for attention with a guy whose best finish was an age-group club title.
That would be President Donald Trump.
The president's arrival at his club created such a commotion that crowds at the U. S. Women's Open were asked to keep it down as golfers Lexi Thompson, Brooke Henderson and Stacy Lewis approached the 15th green.
Trump, fresh off a quick trip to France, turned up in a glassed-off patio of the clubhouse with son Eric by his side.
Acknowledging the crowds, the president waved, pointed and gave a thumbs-up, prompting squeals from a group of schoolgirls. Dozens of people swarmed around the clubhouse snapping photos and waving as the president occasionally approached the window.
BEDMINSTER, N. J. (AP) — Michelle Wie withdrew from the U. S. Women's Open because of a neck problem.
She played the final five holes of Thursday first round in pain and withdrew on the second hole of her second round the next day.
Wie said she sprained her neck two weeks ago before the final round of the KPMG Women's PGA. She finished the tournament but did not hit balls in the weeks leading to the Open at Trump National.
There was no indication of any problem in the first round Thursday until Wie returned to the course after a more than two-hour weather delay.
BASEBALL
BOSTON (AP) — Panda-mania is over in Boston before it ever really began.
The Red Sox designated third baseman Pablo Sandoval for assignment, cutting their losses on the $95 million free agent who was never productive or healthy enough to replicate the popularity — or World Series success — he had in San Francisco.
The Red Sox have seven days to trade or release the 30-year-old Sandoval, who was activated from the disabled list (inner ear infection) and returned from an injury rehab assignment with Triple-A Pawtucket. Unless they can find a taker for part of his salary, they will have paid $95 million for a total of 161 games, 575 at-bats, 136 hits and 14 homers — and not a single one of them in the postseason.
ANAHEIM, Calif. (AP) — Mike Trout never got comfortable away from the action while he sat out 39 games with an injured thumb.
The two-time AL MVP is grateful to be back in the middle of it with the Los Angeles Angels.
Trout returned to the Angels' lineup on Friday, going 1 for 5 with a third-inning single when Los Angeles came back from the All-Star break to face Tampa Bay. He even stole second base, sliding in headfirst with no apparent worries about the action that caused his injury back on May 28.
Trout got the first significant injury of his baseball life when he tore a ligament in his left thumb with that headfirst slide in Miami. He had surgery before pursuing a steady recovery, which culminated in a rehab stint last week in Class A ball.
PRO FOOTBALL
EDEN PRAIRIE, Minn. (AP) — The NFL has suspended Minnesota Vikings wide receiver Michael Floyd without pay for the first four games of the regular season for violating its substance-abuse policy.
Floyd was arrested in Arizona in December after Scottsdale police found him unresponsive at the wheel of his vehicle while it was running at an intersection, reporting a blood alcohol level of 0.217 — more than 2 1/2 times legal limit in Arizona. He pleaded guilty in February to extreme drunken driving.
Last month, an Arizona judge ordered Floyd to serve one day in jail for failing alcohol tests while under house arrest for the drunken driving conviction. He blamed the results on a type of fermented tea called kombucha.
Floyd will be allowed to participate in all preseason practices and games. He can return to the active roster Oct. 2.
BOXING
LOS ANGELES (AP) — Mikaela Mayer is giving up her gold medal dreams to chase even bigger fighting rewards.
The U. S. Olympic boxer announced her decision to turn pro. Mayer has signed with promoter Top Rank, and she will make her debut Aug. 5 in downtown Los Angeles.
The San Fernando Valley native finished one victory shy of a medal at the Rio de Janeiro Olympics, losing a tight decision in the quarterfinals. Although the 27-year-old Mayer gained fame and respect from her strong amateur performances in recent years, she wanted more out of the sport that has consumed her life for the past decade.
COLLEGE FOOTBALL
HARTFORD, Conn. (AP) — Connecticut ethics lawyers say the University of Connecticut violated the state's ban on nepotism by hiring football coach Randy Edsall's son as an assistant coach, but say Corey Edsall can serve out his contract.
In a draft recommendation to the State Office Of Ethics enforcement board, the lawyers recommend no action be taken against UConn if Corey Edsall's one-year, $95,000 contract to coach the team's tight ends is not renewed.
The draft opinion recognizes the "potential disruption" to UConn's football program if the younger Edsall is barred from coaching this year.
It also notes that "UConn and the Edsalls, based on UConn's differing interpretation of the Code of Ethics, in good faith entered into binding contracts and therefore have contractual obligations."
Sign up today for a 30 day free trial of unlimited digital access.

Trump tweets that he'll attend U. S. Women's Open on Saturday, too
latimes.com
Diego Courbis, the 2017 Big West Conference champion in the 400-meter hurdles, is training in Santander, Spain, where he was raised, to compete in several elite meets and to visit his friends and family this summer (his parents still live there) .
Courbis, heading into his junior year at Cal State Fullerton this fall, will compete in Pamplona as well as the U23 Nationals, where he placed fifth in 2016. He will also compete in the Spanish National Championship, where he will go against some of the world's best athletes.
He hopes the overseas competition will help him when he faces pros after graduation.
"I' m always excited to go home and see my parents and friends of course, " Courbis said, "but I love having the chance every year of being able to run with top-notch athletes and run in such thrilling meets."
He has been sticking to a strict training schedule provided to him by Marques Barosso, CSUF assistant coach for sprinters, hurdlers and relays who was the 2006 Big West champion in the 200 while a collegiate athlete at Fullerton.
Courbis, who is majoring in communications with an advertisement concentration, has also been training with Olympic high jump champion Ruth Beitia every day, a teammate of Courbis' since he was about 9 years old. He said Beitia is a great example and motivation for him to strive for better.
"It's an honor to have the chance to grow under her wing, " he said.
Though Courbis has found it challenging not to have a group of athletes in his event to train with like he has at Fullerton, he is benefiting from the fierce competition of meets, which has allowed him to see where he stacks up internationally.
"I' ve been running against the best athletes of the country so it's been quite a fun and challenging ride so far, " Courbis said. "Running against these kinds of people makes you realize that you can' t get distracted at all and that you will always have to work hard if what you want is to be part of the that group of athletes that make it to top in this sport."
The experience has made him a more seasoned athlete, as running presents challenges not just physically but mentally.
"I think these kinds of experiences have made me a more confident athlete whenever I' m facing tough rivals and to be able to keep my cool when most people would crumble against pressure, " Courbis said. "In a sport like track and field, the mental aspect is as or even more important than the physical side of it, and being able to control your emotions and nerves when things turn against you is key."
"This experience has made me a more mature runner, " he continued, "and it will help me greatly along the rest of my athletic career."
Courbis, who claimed the Big West crown with a time of 52.30, the first win in the 400 hurdles for Cal State Fullerton since Roberto Archibold in 2008, has high hopes for Fullerton's upcoming season.
He aims to defend his Big West title and run consistently under 52 seconds and get closer to 50 seconds in the 400 hurdles. He also aims to be more competitive on the national level, as he said that when he competed in NCAA Regionals, he felt his body wasn' t at the same condition as his competitors.
He also hopes to help the Titans repeat as Big West champions, as the program won its first-ever crown in 2017.
"There's nothing I would love more that seeing this school's program to start and become a consistent winning program and a contender with the conference champion every year, " Courbis said. "We have an amazing and talented team so my advice for rest of the schools of our conference is to watch out for us. We aren' t in this conference to take part of it, we are here to take over it."

Day 1 scores, schedule for state summer championships – Orange County Register
ocregister.com
A sinkhole is threatening to swallow a third home in Pasco County. This raises questions of our safety in Southwest Florida and how common sinkholes are.
While sink holes are more prone in central and northern Florida, one of the main reasons for the phenomenon is statewide, including in Southwest Florida.
"When you think of Florida, you think of heavy rain and flat terrain, and that is something that is also very prone for making sinkholes, " said NBC2 Meteorologist Rob Duns.
Another reason is how the groundwater mixes with the soft limestone that sits in the ground, causing the ground to give and creating a sink hole. Duns said that limestone is statewide.
The sinkhole on Friday was estimated to be 200 to 250 feet wide and 50 feet deep, appearing to be moving toward a nearby lake.
The sinkhole began as a much smaller hole hours earlier.
One topic to double check when these phenomena come up is your home insurance.
In Florida, homeowners with property insurance are covered to an extent. Insurance companies are required to provide homeowners coverage which includes, "catastrophic ground cover collapse." Additional sink hole coverage is also available.

NBC-2.com WBBH News for Fort Myers, Cape Coral & Naples, Florida
nbc-2.com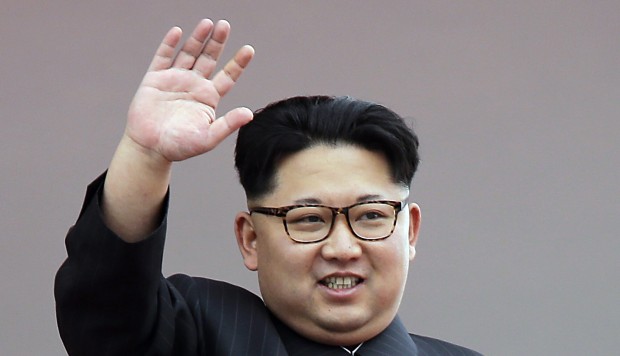 New images of North Korea's main nuclear facility show that the isolated regime has apparently produced more plutonium for its weapons programme than previously thought, a US monitor said, as tensions soar over Pyongyang's ambitions.
The respected 38 North website, a monitoring project linked to Johns Hopkins university, said on Friday that thermal imagery of the Yongbyon nuclear complex appeared to show that Pyongyang had reprocessed spent fuel rods at least twice between last September and June this year.
"The Radiochemical Laboratory operated intermittently and there have apparently been at least two unreported reprocessing campaigns to produce an undetermined amount of plutonium that can further increase North Korea's nuclear weapons stockpile, " it said.
North Korea deactivated the Yongbyon reactor in 2007 under an aid-for-disarmament accord, but began renovating it after Pyongyang's third nuclear test in 2013.
Increased thermal activity was also noted at Yongbyon's uranium enrichment facility but it was unclear whether this indicated a push to increase supplies, possibly for weapons, or if it was part of maintenance operations, the website said.
The researchers also said that analysis of thermal patterns from a probable isotope/tritium production facility at the site suggested that the plant was likely not producing tritium.
Tritium is a key component used for making sophisticated thermonuclear weapons with far greater yields than those made only of plutonium and uranium.
North Korea has conducted five underground nuclear tests since 2006, and carried out its first successful test of an intercontinental ballistic missile earlier this month.
North Korea's foreign ministry spokesman said on Friday "the resounding success" of the test demonstrated Pyongyang's ability to "annihilate the US by a single blow to the very heart of its mainland in case it fails to act with discretion".
The US is inviting its "ultimate doom" by pushing for ramped up UN sanctions against the North, the spokesman was quoted as saying by Pyongyang's state media.
North Korea, which says it needs nuclear weapons to defend itself against the threat of invasion, is subject to multiple sets of UN sanctions over its weapons programmes.
The latest launch triggered a new round of condemnation and anger, with the US and its allies seeking toughened measures at the Security Council.

N. Korea likely has more plutonium than previously thought
digitaljournal.com
Little kids were charged with a big crime in Lehigh Acres.
A group of boys, ranging in age from 10 to 12 years old, were charged with felony burglary – all over cans of soda.
A man who lives on Chestnut Street said he heard voices coming from his garage. That's when he said he spotted the boys on his driveway with two others inside rummaging through his belongings and taking sodas from his refrigerator.
After calling 911, deputies set up a perimeter and caught six boys.
Parents we spoke with said the punishment is far too harsh for such young boys.
We tried to speak to the man who chose to press charges on the kids, but he did not want to talk.
The boys told deputies it all began when they were all hanging out and one them said they wanted to grab a drink.

NBC-2.com WBBH News for Fort Myers, Cape Coral & Naples, Florida
nbc-2.com
a-out on sacrifice fly for Gearrin in the 6th. b-flied out for Maton in the 6th. c-pinch hit for Kontos in the 8th. d-walked for Gillaspie in the 8th. e-struck out for Maurer in the 9th.
E_Aybar (5) . LOB_San Francisco 9, San Diego 11.2B_Nunez (18) , Belt (20) , Crawford (14) , Hernandez (8) , Asuaje (3) , Spangenberg (8) , Blash (1) , Aybar (12) . HR_Posey (11) , off Buchter. RBIs_Span (21) , Posey 2 (37) , Cueto (3) , Gomez (2) , Pirela (15) , Blash (2) , Aybar (14) , Hedges (41) . CS_Hernandez (4) . SF_Gomez. S_Richard.
Runners left in scoring position_San Francisco 4 (Span 2, Nunez, Pence) ; San Diego 5 (Margot, Myers, Blash 3) . RISP_San Francisco 5 for 15; San Diego 3 for 11.
Runners moved up_Panik, Posey. GIDP_Span, Pence.
DP_San Francisco 1 (Crawford, Panik) ; San Diego 2 (Aybar, Asuaje, Myers) , (Asuaje, Aybar, Myers) .
Inherited runners-scored_Maton 2-0, Torres 1-0. HBP_Dyson (Spangenberg) .
Umpires_Home, Bill Welke; First, Jim Reynolds; Second, Tom Woodring; Third, Lance Barrett.
T_3: 27. A_34,970 (42,302) .
Copyright © 2017 The Associated Press. All rights reserved. This material may not be published, broadcast, written or redistributed.
Many of the most stolen vehicles continue to be older, pre-"smart key" models. See what topped the list nationwide, and in the D. C. area.
Need a break? Play a quick game of solitaire or Sudoku. Or take one of our fun quizzes!
What are the best and worst "Star Wars" movies ever made?

Giants 5, Padres 4
wtop.com
Astros 10, Twins 5
wtop.com
Brewers 9, Phillies 6
wtop.com
Rangers 5, Royals 3
wtop.com
E_Broxton (6) , Arcia (13) , Franco (8) , Pinto (1) . DP_Milwaukee 1. LOB_Philadelphia 9, Milwaukee 5.2B_Altherr 2 (20) , Franco 2 (16) , Do. Santana 2 (18) . HR_O. Herrera (7) , Braun (11) , Arcia (9) . SF_N. Williams (1) , Pina (2) .
Hader pitched to 1 batter in the 8th
Umpires_Home, Dan Bellino; First, Kerwin Danley; Second, Todd Tichenor; Third, Adam Hamari.
T_3: 10. A_41,941 (41,900) .
Copyright © 2017 The Associated Press. All rights reserved. This material may not be published, broadcast, written or redistributed.
Many of the most stolen vehicles continue to be older, pre-"smart key" models. See what topped the list nationwide, and in the D. C. area.
Need a break? Play a quick game of solitaire or Sudoku. Or take one of our fun quizzes!
What are the best and worst "Star Wars" movies ever made?

Brewers 9, Phillies 6
wtop.com
Rangers 5, Royals 3
wtop.com
Police are looking for a 53-year-old man who went missing Thursday from the Dunning neighborhood on the Northwest Side and could be at risk.
Timothy Owens went missing Thursday from the 6500 block of West Irving Park Road, according to Chicago Police. He was last seen wearing a Scorpion's T-shirt while leaving Swedish Covenant Hospital.
Owens suffers from schizophrenia, bipolar disorder, depression and suicidal thoughts, police said.
Owens was described as a slender, 5-foot-11 white man with a fair complexion and gray-and-black hair, police said. The photo provided of Owens is five years old, and he is now slender with gray hair and no teeth, police said.
Anyone with information on Owens' whereabouts should contact the Area North Special Victims Unit at (312) 744-8266.

13-year-old girl missing from Lithuanian Plaza
chicago.suntimes.com
Man, 44, shot in Lithuanian Plaza
chicago.suntimes.com
▬▬▬▬▬☛O just before I saw the paycheck which was of $9068, I did not believe …that…my father in law was like they say actually taking home money in there spare time on their computer. . there brothers friend haze done this for less than seven months and at present paid the loans on there apartment .. .★★★◕◡◕◕ ◡◕◕◡◕____BIG….. EARN…. MONEY..___❥❥❥❥❥❥❥-

Venice Gap-Financing Market Unveils Selected Projects
variety.com
Copyright © 2017 The Associated Press. All rights reserved. This material may not be published, broadcast, written or redistributed.
Many of the most stolen vehicles continue to be older, pre-"smart key" models. See what topped the list nationwide, and in the D. C. area.
Need a break? Play a quick game of solitaire or Sudoku. Or take one of our fun quizzes!
What are the best and worst "Star Wars" movies ever made?

BC-BBA–STAX02
wtop.com
Stephen Curry showed off his football skills at the American Century Championship golf tournament in Lake Tahoe in Stateline, Nev.
The Warriors superstar made a diving catch on a deep pass from Packers quarterback Aaron Rodgers on Friday much to the delight of the raucous crowd.
As for the real tournament, former major league pitcher Derek Lowe took the first-round lead Friday in the American Century Championship at Edgewood Tahoe.
Lowe shot a 2-under 70 and scored 25 points in the modified Stableford system for a one-point lead over former tennis player Mardy Fish. The scoring system awards points for eagles, birdies and pars and deducts points for double bogeys or worse.
"I' m just excited, " Lowe said. "Going to be nervous as heck tomorrow, but it should be fun."
Fish eagled the par-5 18th for five points.
"There's a lot of room to improve, " Fish said. "But you know, this format can turn right away with the points available for birdie and eagle."
Sharks center Joe Pavelski was third with 23 points.
Rodgers, Hall of Fame pitcher John Smoltz and Mark Mulder, the former pitcher who is trying for an unprecedented third straight title, had 22 points.
"It would be the greatest underdog story ever, " Rodgers said about winning the 54-hole event.
How did Curry do? He scored 13 points.
Actor-singer Justin Timberlake had four points.
Charles Barkley was last in 89-player field at minus-30 points.
Golf Channel hosts Lisa Cornwell and Blair O' Neal topped the women in the field with 18 points, and mini-tour player Paige Spiranac had 16.

Visitors will not be allowed to set foot on a men-only UNESCO World Heritage island in Japan from next year, an official said Saturday.
The tiny landmass of Okinoshima, where women are banned and male visitors must bathe naked in the sea before visiting its shrine, was declared a UNESCO World Heritage site last week.
Limited numbers are currently permitted to land on the island in the Sea of Japan (East Sea) -- this year it was 200 -- for a yearly festival that lasts just two hours, but they must adhere to strict rules.
But Munakata Taisha, the shrine which owns Okinoshima, has decided to ban travel for anyone apart from priests from next year to protect the island from being damaged, a spokesman told AFP.
"A strict preservation is required now that the island has got the UNESCO listing, " he said.
"It will be risky if 200 visitors continue to come to the island, " he said, adding that Okinoshima is "the island protected by Shinto priests".
The island is permanently manned by a Shinto priest who prays to the island's goddess, in a tradition that has been kept up for centuries.
However, academics will be allowed to land on the island for research and preservation purposes, he added.
The island, which sits off the northwest coast of Kyushu, the southernmost of Japan's four main islands, was an important window for foreign trade in Japan since ancient times, forming part of a route that linked the archipelago to the Korean peninsula and China.

Are the marriages in 90 Day Fiance even real, or do the couples just fake the drama for the sake of good television? Loren Brovarnik, who currently appears with Israeli husband Alexei on the spin-off 90 Day Fiance: Happily Ever After? Season 2, is dishing out the real scoop on the reality show.
Loren recently guested on the podcast show Reality Life With Kate Casey and talked about her relationship with Alexei. She recounted how she first met and fell in love with Alexei during an unplanned "birthright trip" to Israel a few years back.
Loren said that she's been a fan of 90 Day Fiance so when she and Alexei got engaged, she phoned TLC and asked to be a part of the show. They were first introduced in Season 3, right when Alexei got approved for his K1 visa.
Since then, Loren and Alexei have received nasty comments from critics who are doubtful of their relationship. Many are saying that the foreign partners in the show are only in it to get a green card. Loren slams this allegation, saying that this is not the case with Alexei. What many people don' t know, she said, is that Alexei has been denied a travel visa twice before he decided to apply for a K1 visa.
Like the other couples featured on 90 Day Fiance, Loren and Alexei have some major drama going on with their cross-cultural marriage. While she confessed that the show is indeed edited, Loren insisted that everything the viewers see is real.
However, Loren was quick to add that she can only speak for her marriage. Fans know that other couples featured on the show have even crazier outbursts. When asked about a controversial pair, Danielle and Mohamed, Loren slightly dissed her co-stars and said she wouldn' t hang out with them.
But Loren backtracked and said that there are couples who are genuinely in love. She revealed that she's gotten especially close to Paola and Russ Mayfield.
In last Sunday's episode, Loren learned for the first time that the disease is hereditary and can be passed down to her children. While she and Alexei were obviously shaken by this new information, Loren said in the podcast interview that they have already accepted this fact.
According to the Tourette Association of America, Tourette's Syndrome is a type of "Tic Disorder." People with the condition suffer involuntary physical and vocal movements such as blinking and coughing. Since she's been opening up more about her condition, Loren has been asked to be a spokesperson for the organization.
90 Day Fiance: Happily Ever After? Season 2 airs every Sunday, 8 p.m. on TLC.
[Featured Image by Loren Brovarnik/ Instagram]

A woman who falsely reported that her Toyota Camry had been carjacked in South Los Angeles with her 16-year-old son inside, sparking an Amber Alert, pleaded no contest to a misdemeanor charge of filing a false police report, city prosecutors announced Friday.
Charline Gatson entered the plea Thursday, and she was immediately placed on three years probation and ordered to serve 60 days in jail, although it's unclear exactly how much time she will actually spend behind bars.
According to the Los Angeles City Attorney's Office, Gatson must also pay a $220 fine, with a restitution hearing expected to be held later.
On July 6, Gatson told police that her black 2014 Camry was carjacked at gunpoint around 4 p.m. that day at 47th and Figueroa streets, according to the Los Angeles Police Department.
Gatson identified a 31-year-old acquaintance as the suspect. But as it turned out, Gatson had lent her car to the woman, who refused to return the vehicle after having it for several days, police allege.
Detectives learned "there was no carjacking, nor was there a minor child involved at any time, " according to the LAPD. Police said the motive behind the false report was unknown, but "it is believed she simply wanted to create a scenario that would warrant a police response. Her false claim led to numerous police resources being utilized, as well as the issuance of a statewide Amber Alert."
Gatson was arrested Friday, the same day the Camry and the woman who had borrowed it were found in San Bernardino.

Pizza lovers rejoice because you can get Pizza Hut and Domino's pizzas at half price for a limited time with these two fantastic deals. If you' re noticing stiff competition between Pizza Hut and Domino's you' re not alone. With two great deals, it might be difficult to choose. Which one is the better deal? Which one is best — Pizza Hut or Domino's pizza? When it comes to choosing between the two, personal taste and preference may ultimately determine which one you go for. Fortunately, with this fantastic online deal, you can always choose both.
Pizza Hut's and Domino's 50 percent off deals are only available via online ordering. Pizza Hut's deal runs until Sunday, July 23,2017 (just in time for Discovery's Shark Week) , while the Domino's deal ends on Sunday, July 16,2017. For that reason alone, many people may want to get the Domino's deal this weekend and then get Pizza Hut for half price off next weekend.
You won' t need a coupon for the Pizza Hut half price deal, but you will need to order through their official website. You can find information about the deal and how to order at Pizza Hut's deal page. The Domino's deal is available online only, and you can access it through the website or the app. When you visit the Domino's home page, the 50 percent off coupon for the pizza deal will pop up. Click on the coupon to start your order.
What do you think about these deals? Do you prefer Pizza Hut or Domino's pizza? Either way, the deals are great and it looks like there will be plenty of people ordering pizza for the next several weekends. Though these are online only deals, they still qualify for ordering via the app. You can download Pizza Hut and Domino apps through the Apple and Google Play stores for free. The apps are also a great way to keep track of upcoming pizza deals, coupons, and rewards for both pizza companies.
Those who are ordering from a gluten free menu will find that Pizza Hut has added gluten free pizza to their selection. In addition to other deals available on site, you can check out Pizza Hut's gluten free pizza here.
Are you going to order pizza based on one of these deals? Feel free to leave your thoughts, comments, and opinions below.
[Featured Image by Hans Geel/Shutterstock]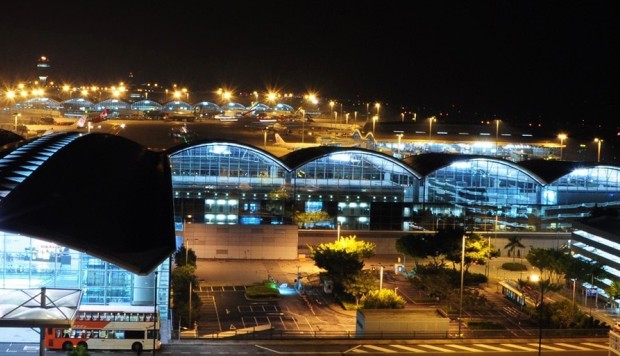 Hong Kong aviation authorities are encouraging airlines to use environmentally friendly and less noisy aircraft, in return for being able to operate more flights at night.
A trial is underway for airlines flying out of Hong Kong International Airport to phase out planes that may be older and not environmentally friendly, as such flights contribute to noise pollution, a serious issue at night for residents near the area.
As an incentive, airlines that comply will be allowed more evening flights. The scheme works by focusing on the cause of the problem, rather than restricting aircraft movements.
Oh for the quiet life: how Hong Kong battles with noise
The trial scheme came into effect in March this year, and is expected to see benefits towards the end of the year if the plan continues on a full-time basis.
"The overarching objective of the quota count scheme is to encourage airlines to use more environmentally friendly aircraft in Hong Kong's airport, " a spokeswoman for the Civil Aviation Department said.
Under the system, the noisier an aircraft is the more points each flight accumulates. By switching to more environmentally friendly and quieter aircraft, the savings in points can be maintained to start new flights by the airline.
The point savings can also be put into a pool, with all airlines having an equal chance to start new flights, as long as they work together to minimise the number of points accumulated.
The department took inspiration for the scheme from an identical noise initiative used in Britain.
Amid soaring demand and lack of space to launch new flights in the daytime, Hong Kong's airport is shifting focus to night operations, with dozens of take-off and landing slots to be made available in the coming years.
An increased number of night flights will inevitably be unwelcomed by residents living near the airport, such as those in Ma Wan, Lantau, an area directly underneath flight paths.
Hong Kong's biggest airline, Cathay Pacific Airways, has moved to phase out older aircraft or swap noisier aircraft with the quieter and fuel-efficient Airbus A350 on routes such as those to Auckland, Melbourne and Dusseldorf.
The company has ordered 48 such planes and taken delivery of 17 so far.
For its efforts, it has increased opportunities for authorities to approve new night flights.
"We are committed to growing and modernising our fleet ... These environmentally friendly aircraft are fuel efficient, much quieter and compliant with the industry's Chapter 4 noise standards, " a Cathay Pacific spokeswoman said.
As authorities double down on noise control at night for passenger and cargo aircraft, the business jet industry has appealed to the department to allow its planes to be given unrestricted access for night flights.
It has a stronger case as the government's trial scheme exempts small jets from the points system because they are quieter than conventional aircraft.
"The current lack of slots ... [has a] devastating effect on the business and general aviation industry in Hong Kong during the peak summer period, " the Asian Business Aviation Association has warned.
"This ongoing crisis, which has now reached a critical level, will impact jobs within the sector, and in turn, contributions to Hong Kong's economy."
Meanwhile Roy Tam Hoi-pong, a district councillor representing Ma Wan and chief executive of environmental group Green Sense, was briefed earlier this week by airport and department officials in his capacity as a councillor.
Tam said of the aircraft noise issue: "The problem hasn' t disappeared but there has been progress."
However, he voiced concerns about the new scheme. "With the scheme implemented, I fear there will be more medium-noise flight impact. Instead of the most noisy flights, there will constantly be medium levels of noise.
"I am afraid that this paves the way for more flights at night, and I just do not agree with that."

When Cathy texted her boyfriend to tell him that she had just accepted a job offer from a large Midtown law firm, he texted her back, "How much?"
After she told him, he asked, "What was their first offer?"
She answered with the same number.
You took the first one? Joking, right?" he replied.
It turns out that Cathy, who has asked that her last name be omitted for professional reasons, wasn' t kidding at all.
"Stupid me. I probably could have gotten $5,000 or even $10,000 more, " says the attorney, who lives in Queens.
Jobvite's Job Seeker Nation study, released in May, revealed that only 29 percent of job seekers negotiated their salary for their current or most recent job offer. Other statistics suggest it's even fewer than that.
"Most people don' t have the nerve to ask for more, " says Bob Cadet, vice president of Robert Half Technology, an information-technology staffing service in Midtown.
That's truer of women than it is of men.
"Some women think that asking for a higher salary is rude, " says Sarah Frankel, CEO of recruitment firm the 525 Group.
In fact, most employers won' t be the least bit put off if you want to negotiate your compensation. "Up to 90 percent expect it, " says Joel Garfinkle, executive coach and author of " Get Paid What You' re Worth: How to Negotiate a Raise or Higher Starting Salary " (available now at GarfinkleExecutiveCoaching.com) .
But you have to haggle in a professional manner that won' t put you at odds with what could be your future employer. So gather your facts long before you begin the conversation, experts say.
KNOW YOUR VALUE
A good place to start is by finding the market rate for the job that you are applying for. You can ask the recruiter, if you' re working with one. If not, Web sites such as Salary.com, Indeed.com and GlassDoor.com are full of information.
"This will tell you what the role is worth, " says Cadet, noting that it isn' t necessarily the same as what you deserve. If you want $100,000 and the role is graded for $50,000, you' re probably not a good fit for the job and you shouldn' t waste anyone's time, including your own.
KEEP YOUR SALARY TO YOURSELF
The employer won' t know what you' re currently earning or what you' re looking for until you actually tell them. In other words, at that point all of the cards are face up for you, giving you the upper hand until you give the employer a number. The experts all insist that you should delay talking about your salary for as long as you can.
DON' T MAX OUT
If you have a salary figure in mind that is within their budget, aim near the top of that range, but not the very top, Cadet advises. "You need to leave room for them to give you a raise once you' re in the role. Many companies won' t make an offer if it's too tight, " he says.
If you' re that exceptional, an employer may change the grade of the job, or the role itself, so that they can pay you more, but for them to even try to do that, you have to be ready to sell all the skills that you bring to the table.
"Be prepared to defend what you think is your fair market rate, " Frankel says. "This goes beyond the required qualifications listed in the job posting and might include having an advanced degree, unique experience that's valuable to the employer, or a strong track record working for a competitor. But don' t lose sight of the fact that at some point, everyone is replaceable."
BE PREPARED TO STATE YOUR CASE
Once an employer's formal offer is on the table, the final negotiations begin.
If the offer is too low, "Act surprised, " says Garfinkle. He suggests saying something like, "Based on all of the value that I bring to the table, I was expecting more." Follow up with stories about problems that have been solved because of actions you' ve taken, and "include measurable results, " Garfinkle says.
NEGOTIATE FOR MORE THAN MONEY
Frankel's approach is different. Before you go back to negotiate, she says, "be very clear about what you are looking for and what you are willing to take, " she says. Don' t limit yourself to money, either. Working from home or getting extra vacation may be just as valuable to you, so ask for that, too.
And by all means keep your personal needs out of it, says Rachel Bitte, chief people officer at Jobvite. "It's not HR's responsibility to cover your newly increased rent or car payment."
KNOW WHEN TO FOLD' EM
Once the employer comes back with a second offer, be prepared to say yes or no, say the experts. Going an extra round probably won' t get you very far and could even cause resentment.
"That's a bad way to start a relationship with your next employer, " says Cadet. ZAMBOANGA CITY – A suspected Abu Sayyaf member was killed in a village in Bongao town in Tawi-Tawi on Saturday.
Brig. Gen. Custodio Parcon, commander of Joint Task Force Tawi-Tawi, said Ibno Moro, who was allegedly involved in several kidnapping incidents and the massacre of a family in Tawi-Tawi, was killed in a raid in his hideout in Barangay Kamagong in Bongao town.
Parcon said Moro was involved in the massacre of a family in Lapid-Lapid village in Bongao in 1989; the kidnapping of Mayor Kuyoh Pajiji in Sibutu town in 2004; the kidnapping of local businessman Alvin Chua in Bongao in 2002; and another kidnapping of a father and his son in Panglima Sugala town in 2004.
"He has been hiding from the law for quite some time, " Parcon said. GAL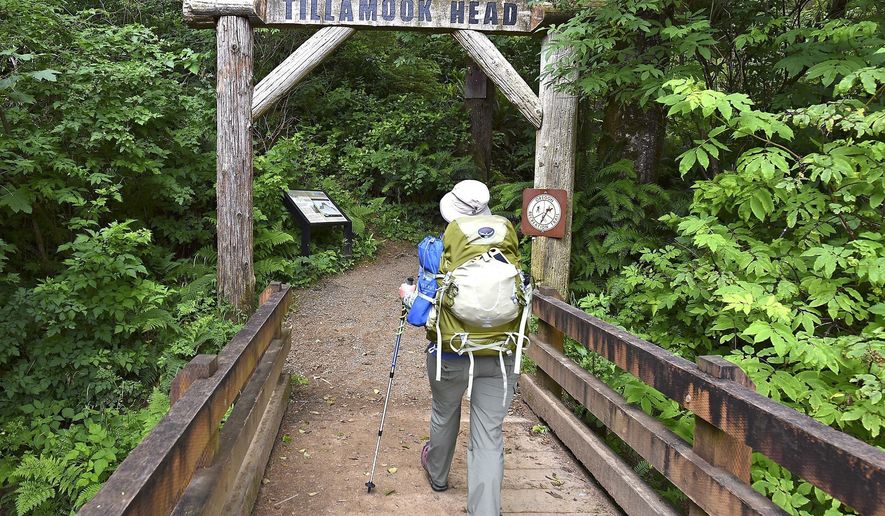 ASTORIA, Ore. (AP) - At the end of June, a woman picked up three young backpackers walking along the highway near Gearhart.
They had been hiking the Pacific Crest Trail - a 2,650-mile-long path that twists up the West Coast from the Mexico border to Canada - but heavy snowfall in the Sierra Nevada mountain range stopped them 700 miles in.
Rather than stop hiking, they decided to hop over to the lesser-known Oregon Coast Trail. And they aren' t alone.
"Everyone is coming here, " they told their driver.
This spring, dozens of hikers snowed out of California's mountains or, as the snow melts, faced with dangerous river crossings, have abandoned the Pacific Crest Trail and jumped over to the Oregon Coast Trail.
But the trail isn' t ready for them.
'PCT REFUGEES'
As he stretches next to a sign pointing back toward Arch Cape, Ryley Delgado has just been voted his group's sweatiest hiker. Again. He shrugs. The hikers gather at the edge of a road off U. S. Highway 101 to eat a late breakfast in the shade before continuing on to Falcon Cove in Oswald West State Park. Bri Hochadel sits cross-legged and looks around at the forest on either side of the road. Peter Carpenter ventures a couple of steps down the trail and then unfolds his sleeping pad to make a more comfortable seat on the ground next to Hochadel. Tanner Annichiarico, the only Oregonian in the group, remains standing, loosening his heavy pack and stretching his arms.
The four hikers started on the Pacific Crest Trail this spring. They hiked more than 500 miles before they hit snow. They heard it was even worse farther ahead. They didn' t want to split up, but they weren' t sure they wanted to push through the mountains. Should they just wait for the snow to melt?
They hadn' t expected to finish the PCT anyway. At the leisurely rate they were going, hikers who started two weeks after them had already caught up and passed them by. They were the only hikers they encountered who had packed games: Yahtzee and Frisbees. They were put off by PCT hikers obsessed with mileage, whose first question was, "How many miles did you make today?"
Then Annichiarico and Carpenter stumbled on the Oregon Coast Trail while researching alternative routes online. The group canceled a grocery run and started figuring out how to get to Astoria. They began their hike at South Jetty in Fort Stevens State Park and plan to walk the approximately 400-mile-long trail all the way to where it ends near Brookings at the California border.
The trail has been heaven after weeks of California's deserts, they say. It hugs the Oregon Coast and there are long stretches of flat beach, cliff sides thick with trees, green woods dense with mosses and ferns. But there are also challenges.
CLOSING GAPS
The Oregon Coast Trail was officially declared "hikeable" in 1988, a legacy of the state's landmark 1967 Beach Bill that granted public access to all of Oregon's beaches, writes Eugene author Bonnie Henderson in her guidebook to the trail. The trail is a work in progress.
Unlike the world-famous PCT, which winds through remote backcountry, the Oregon Coast Trail is what hikers call a "civilized" trail. In Clatsop County, sections of the trail are popular as day hikes at Fort Stevens, Ecola and Oswald West state parks. In a single day's trek, a hiker might start on the beach, cross a highway, dive deep into quiet woods, climb in and out of ravines and end up in a town packed with tourists trying to escape the heat in Portland.
The trail is not set up for backpackers, or thru-hikers. Legal campsites are few and far between. Different sections of the trail are maintained at different levels. Gaps exist where hikers must trek along highways or down neighborhood roads, or hitch rides with friendly boaters to get across waterways.
There are really only two authoritative books on the trail, one by Henderson and another by Portland resident Connie Soper. Both focus on day hikes, but also offer tips and information specifically for thru-hikers. Soper has advocated for the trail to be finished, the gaps closed.
A bill approved by the state Legislature, House Bill 3149, would do just that. It would require the state's Parks and Recreation Department to work with other state agencies, local governments and organizations and stakeholders to develop an action plan for the Oregon Coast Trail. The plan would detail what is needed to fill gaps in the trail system, and take into account "the concerns of the public and other interested parties."
Meanwhile, a number of people in coastal communities are addressing one piece on their own.
BACKYARD BUDDIES
Jeanne Henderson has never seen anything like the numbers of hikers passing by her house now.
Henderson, who is Bonnie Henderson's sister-in-law, lives in Surf Pines between Warrenton and Gearhart. On this stretch of the Oregon Coast Trail, hikers are either on the roads or walking the beach. They are hard to miss. When Henderson sees them on the road, she pulls over and offers them a ride to Seaside. They always get in her car, and they all have her sister-in-law's book.
They tell her the same story: They started on the PCT, hit snow, reconsidered their options, heard about the Oregon Coast Trail, decided to try it. Many of them plan to go back to the PCT when they' re done in Oregon.
Henderson's friend Pat Wollner has often hosted cyclists passing through the area. During the summer, her house is full most weekends. Henderson didn' t quite understood the appeal before. Now, having met so many thru-hikers, Henderson said, "It's killing me not to pick them all up."
She worries about a young Norwegian woman hiking alone - "I' ll be fine, " the woman assured her. She exchanges texts with Annichiarico, Carpenter, Delgado and Hochadel. They tell her they' ve reached Newport.
In recent weeks, she has enlisted friends up and down the coast, urging them to let hikers she meets camp in their backyards. One friend was wary at first, but quickly fell in the love with the group Henderson sent her way. When they left, she told Henderson, "I miss my backyard buddies. Send me some more."
SIGNS AND BEER
Nicole Hampsten, a teacher from California and an experienced backpacker, didn' t start on the Pacific Crest Trail this spring, but is considering jumping on it once she finishes the Oregon Coast Trail. She said the OCT is very different from other long-distance hikes and not linear. While planning how far she' ll try to hike each day, Hampsten longs for maps with mileage marked on them - something most available maps lack - and clear signage.
Hiker Andy Gosiak said signage was spotty the entire trail.
"There were about five signs the whole trail, " Gosiak joked.
"There were probably 10, " one of his hiking companions Andreas Hoepfler countered. Catching the smile still on Gosiak's face, he added, "No. I' m serious right now."
Still, there are perks.
"We' ve got beer!" said Hochadel, swinging her pack to show where the beers were tucked into its side pockets as the group hiked out of Arch Cape.
"In glass bottles!" Carpenter added.
On the Oregon trail, thru-hikers don' t need to carry much food or water. They can easily resupply at one of the nearby towns. They can indulge themselves, packing things they normally wouldn' t carry on a longer slog like the Pacific Crest Trail.
"You get spoiled, " said Hoepfler, who came from Austria to hike the PCT and ended up on the OCT.
But Hampsten is beginning to think the Pacific Crest Trail hikers are the ones who are spoiled. There are so many resources built around that trail: books, online forums, data, websites, communities. When hikers walk into a town trailing clouds of dust, clothes crisp with a week's worth of sweat, they are a familiar, even expected, sight.
By comparison, the Oregon Coast Trail, for all its proximity to civilization, is almost uncharted territory. People stopped Hochadel on Sunset Beach, curious, asking, "What are you doing? Why are you carrying that pack?"
'NO SOLID ANSWERS'
This spring, several thru-hikers contacted the Parks and Recreation Department for guidance. Nehalem Bay State Park Manager Ben Cox and his staff could only tell them: Be aware of the tides, here are the campgrounds available, check in with state parks along the way for information.
Before the Parks Department and individual parks can begin to accommodate thru-hikers, they must first address issues on the trail system itself. There are reroutes planned for some sections. There are infrastructure needs. This year, Cox applied for a Recreational Trail Program grant to work on the Oswald West section of the Oregon Coast Trail.
Though some thru-hikers might be camping on park land illegally, they are not the people that worry Cox or his rangers. The average family picnicking at Indian Beach leaves far more litter.
The hikers also know what they' re doing, Cox said. They know how to pitch and break camp and navigate a trail. They are respectful. The problem is that many of these hikers are encountering the Oregon Coast Trail for the first time.
"There are people who are journeying forth for the first time and just assuming something will be there, " he said, " . and something isn' t there."
As the Parks Department looks at thru-hikers' needs, it has to tread carefully. The answer is not as simple as requiring a permit, as the PCT does, or creating hiker campsites.
Oswald West State Park, for example, is made up of numerous parcels of land. Some parcels come with deed restrictions attached that allow or forbid certain activities and limit the department's options.
The dilemma of where they are going to sleep each night weighs on Annichiarico and the others.
"The worst thing we could do is give rangers a reason to kick everyone out, " he said.
They talk with locals when they enter a town to get an idea of what's allowed in that area. They' ve been offered backyards, and even beds. But sometimes, they' ve had to take their chances and sleep near the trail in areas where it is probably illegal.
"We' re looking at this, " Cox said. "We really are. We' re looking at things. We have no solid answers."
___
Information from: The Daily Astorian, http: //www.